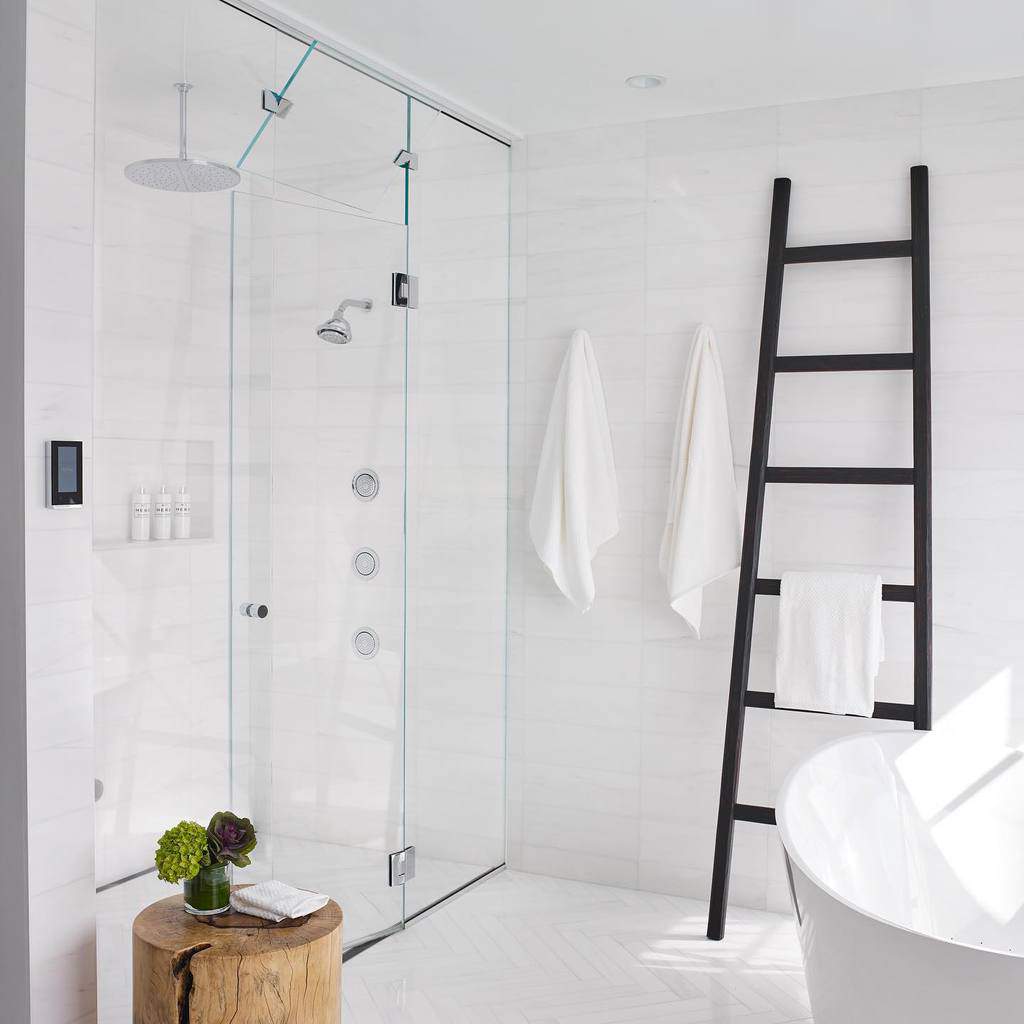 20 Master Bathroom Ideas
by — Liz Bittar

Published on March 11, 2022

Updated on October 1, 2023
A bubble bath… relaxing in the tub with a glass of wine, after a long day's work. This is what many women dream of. Working mothers, who have to attend to children, housework, career, and barely have time for themselves!
Not everyone can enjoy a bathtub at the end of the day, but we all start our mornings with our daily bathroom routine, and there's nothing worse than having nowhere to store toiletries and bumping into your significant other on a small sink with no counter space.
That's where interior design can rescue us from our misery. You can do wonders even in a small space, and we're here to help. Have a look at these awesome master bathroom design ideas, for you to get inspired and start your bathroom remodeling right now!
1. Luxurious Emerald Green Retreat
Design a Luxurious Emerald Green Retreat: Transform your master bathroom into a stunning oasis with emerald green wall tiles, complemented by white hexagon tile flooring and a chic decorative rug. This elegant combination brings both beauty and functionality to your space, enhancing your home's overall value and style. Elevate your bathroom by incorporating emerald green tiles, white hexagon flooring, and a trendy decorative rug for a timeless and captivating look.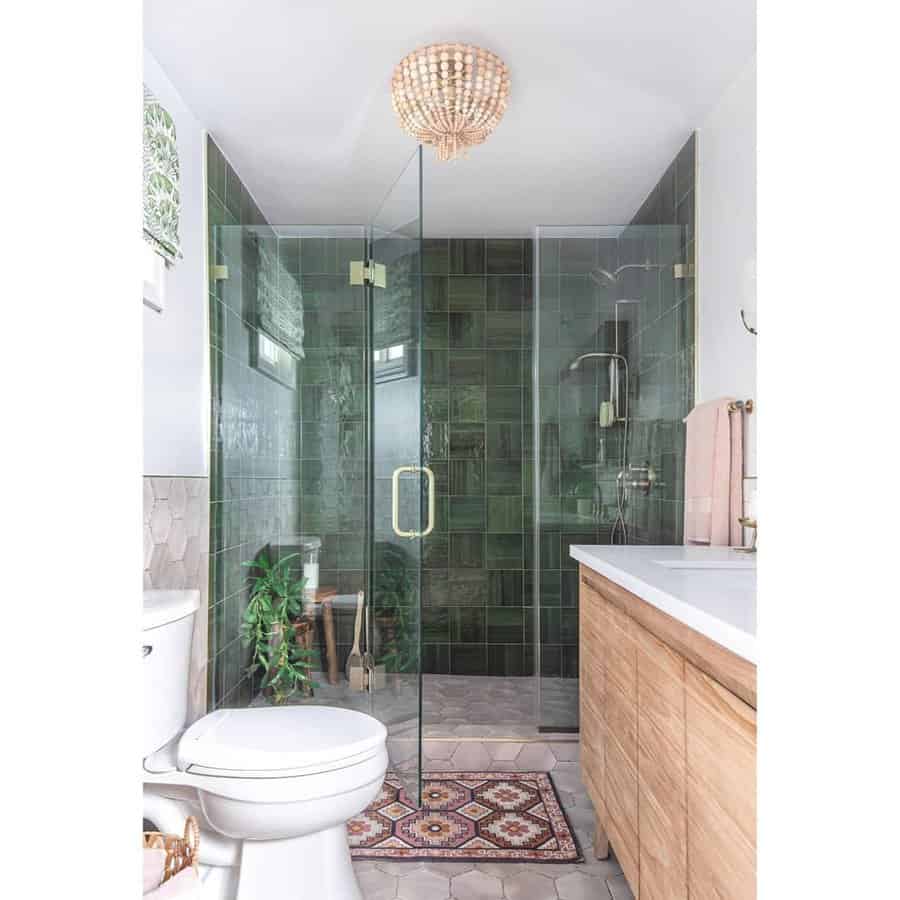 2. Bohemian Green Bathroom Inspiration
Create Bohemian Green Bathroom Vibes: Start with a crisp white interior as the canvas for your master bathroom. Elevate the look with a Bohemian-style rug to add texture and depth. To achieve the perfect oasis, incorporate abundant greenery; plants breathe life into any space.
Consider strategically placing standout plants like a fiddle leaf fig tree or a palm in a corner to transform your all-white bathroom into a lush and inviting sanctuary.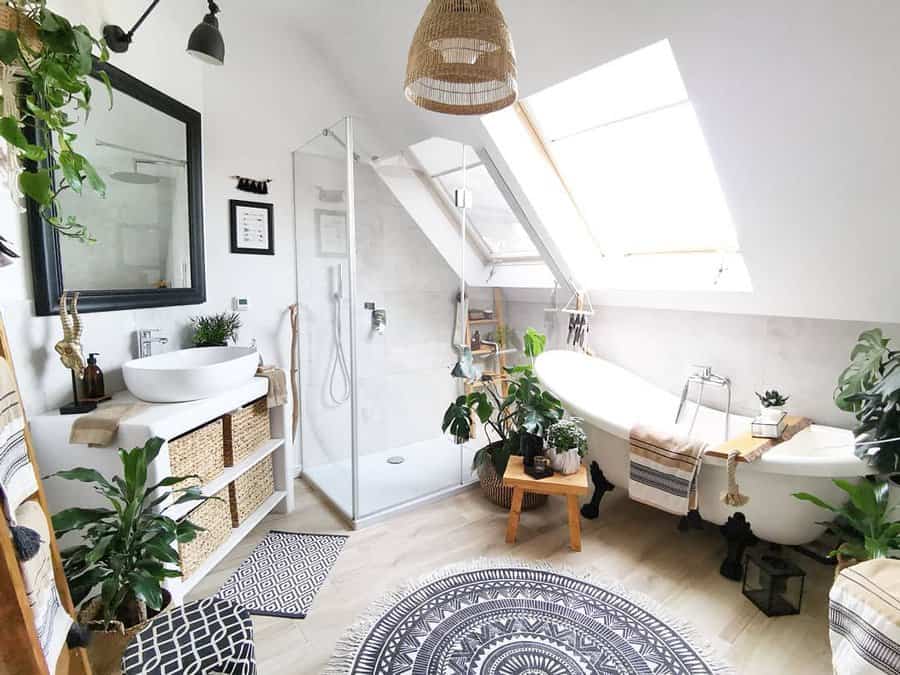 3. Chic French Bathroom Decor
Elevate Your Bathroom with Chic French Decor: To achieve that elegant French chic style in your master bathroom, begin with a clean white backdrop and incorporate rustic French-inspired elements, such as a white vanity with ornate hardware. This design creates a tranquil and timeless space where you can start your day with a spa-like experience at home. Consider adding soft pastel accents, vintage mirrors, and delicate lighting to complete the refined French look and make your daily routine truly luxurious.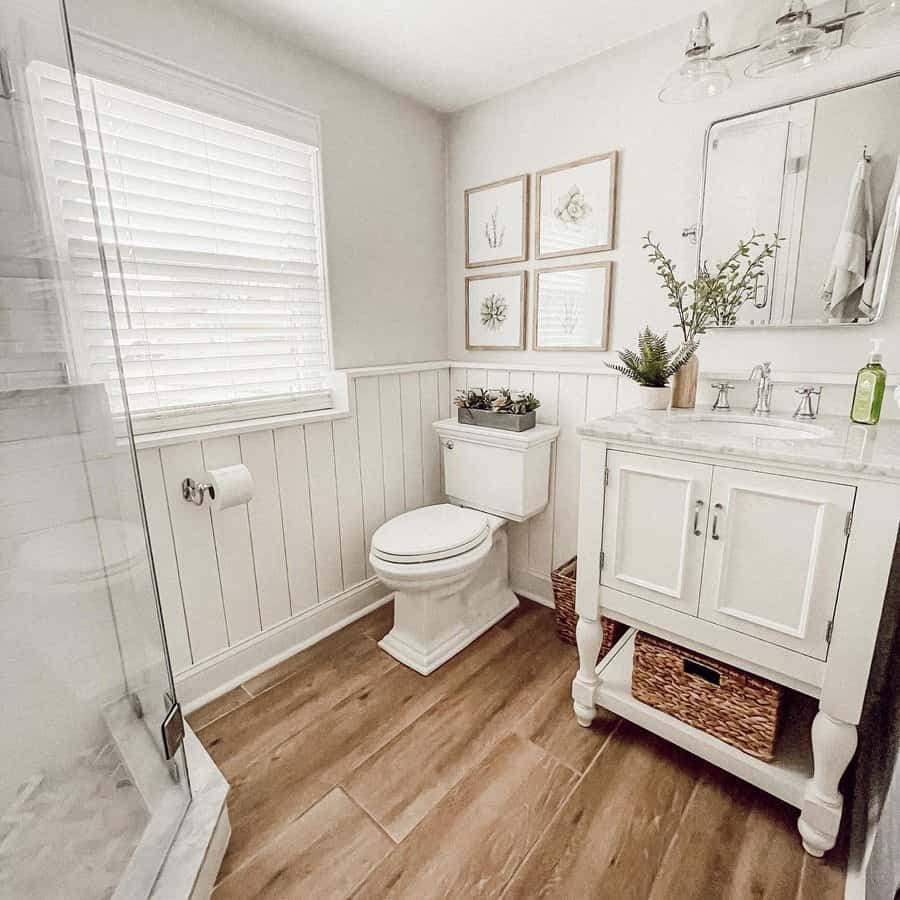 4. Embracing Modern Farmhouse Style
Achieve Modern Farmhouse Charm in Your Master Bathroom: To infuse your master bathroom with modern farmhouse style, consider incorporating black fixtures for a bold statement. Pair them with white walls to create a striking contrast, and introduce warmth through decorative flooring.
A rustic vanity can serve as the room's centerpiece, adding an inviting ambiance. By emphasizing black details, you'll create a serene backdrop perfect for unwinding and indulging in relaxation. Elevate the space with rustic shelving, shiplap accents, and vintage-inspired lighting to complete the modern farmhouse aesthetic.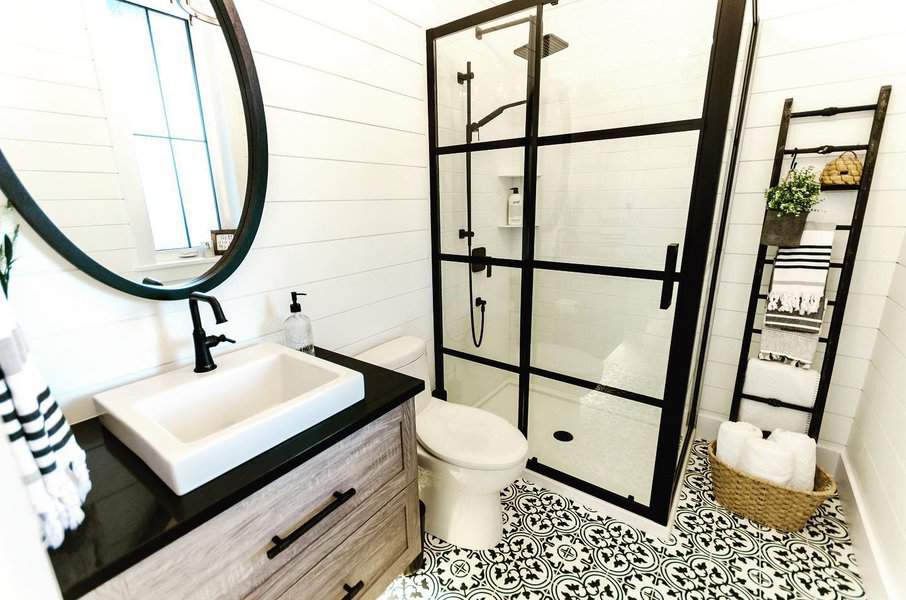 5. Sleek and Dark Minimalist Design
Craft a Tranquil Dark Minimalist Master Bathroom: Transform your master bathroom into a haven of relaxation and self-care by embracing dark minimalist design. Incorporate elements like black walls, flooring, and a built-in soaking bathtub. Combining dark tones with minimalist aesthetics creates a serene atmosphere that promotes wellness at home.
Whether it's unwinding after a busy day or indulging in self-care, a dark minimalist master bathroom transports you from the daily hustle to a sanctuary of tranquility. Enhance the ambiance with subtle lighting, sleek fixtures, and minimalist decor to complete the sophisticated look.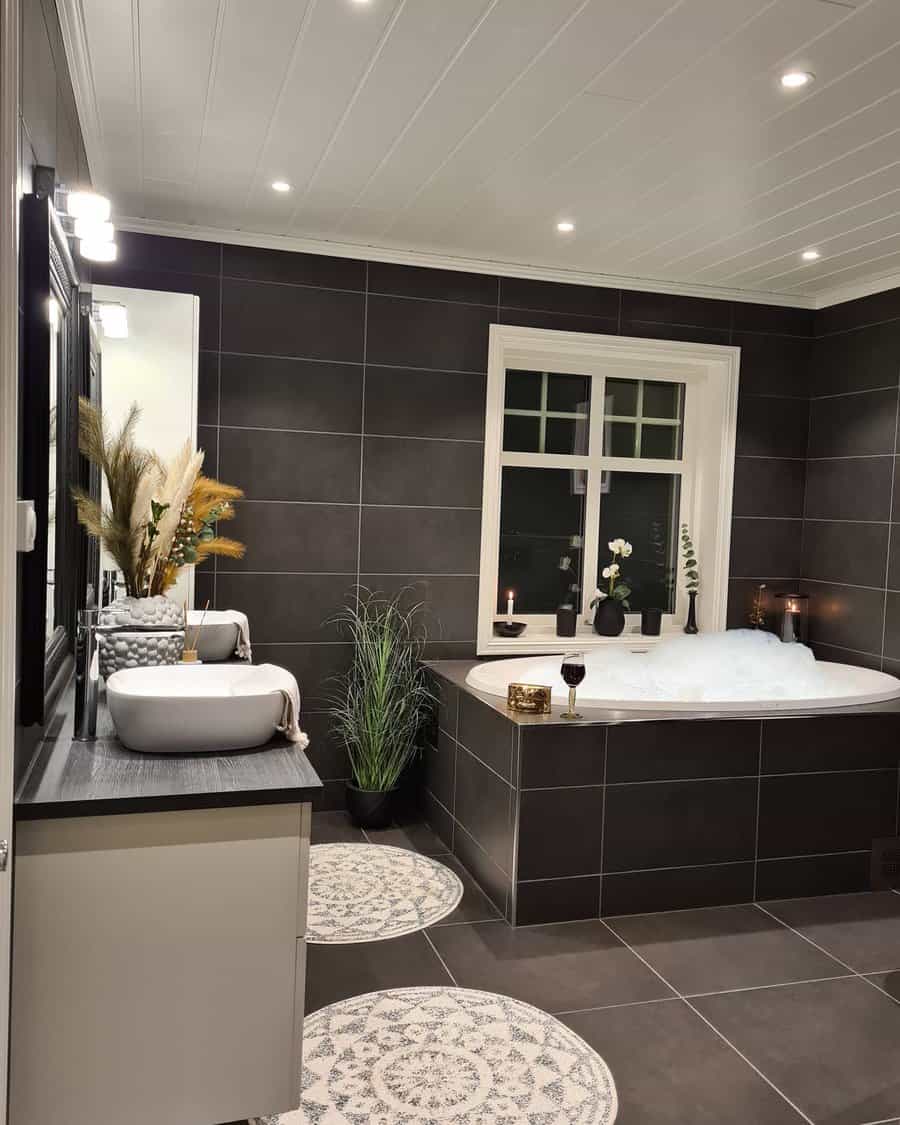 6. Timeless Classy White Bathrooms
Achieving a timeless, classy look in your master bathroom is easier than you might think. Consider opting for a pristine white bathtub and complement it with a cozy lounge chair.
Add a touch of sophistication with sparkling silver hardware. This combination creates an elegant and modern atmosphere for relaxation. To achieve this design, opt for white tiles and fixtures, and balance the look with soft, neutral colors on the walls and accessories. This classic style never goes out of fashion and can be easily achieved with the right choices.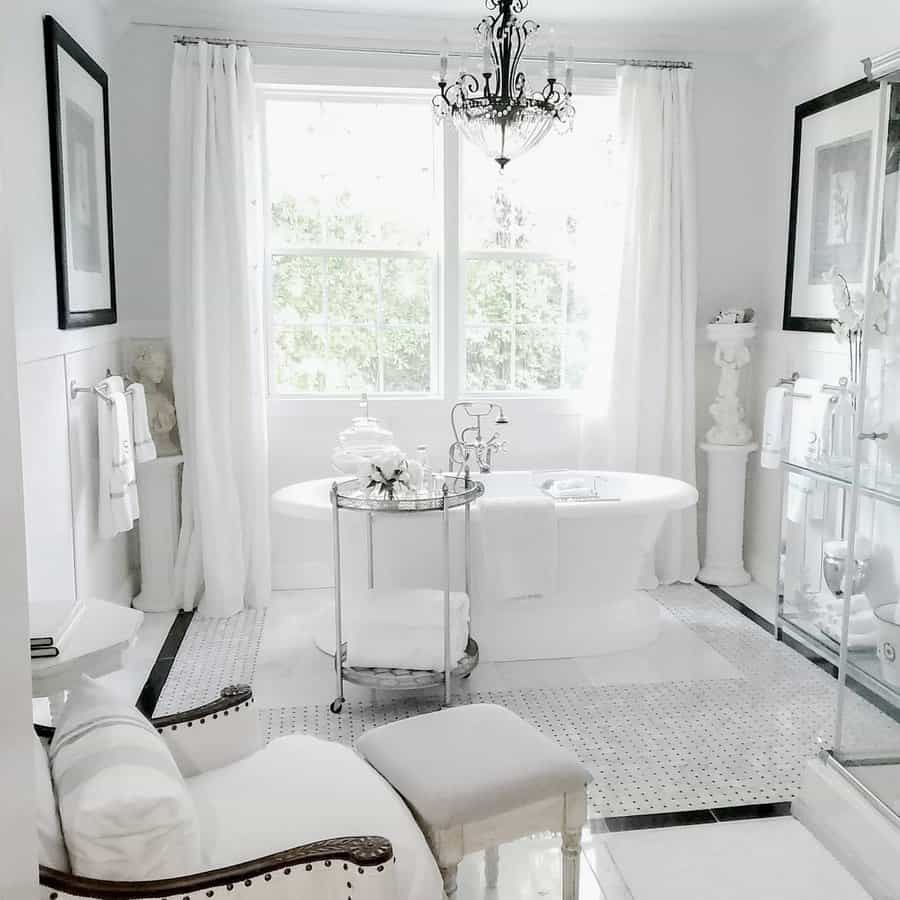 7. The Essence of Contemporary Chic
To create a spa-like haven right at home, consider the essence of contemporary chic for your master bathroom. Start by incorporating curve-edged mirrors with marble-framed vanity countertops, offering both luxury and functionality. A double vanity with ample storage is a smart choice for keeping your space organized. This versatile room can serve as your private retreat or a welcoming space for guests, seamlessly connecting with the rest of your home's design.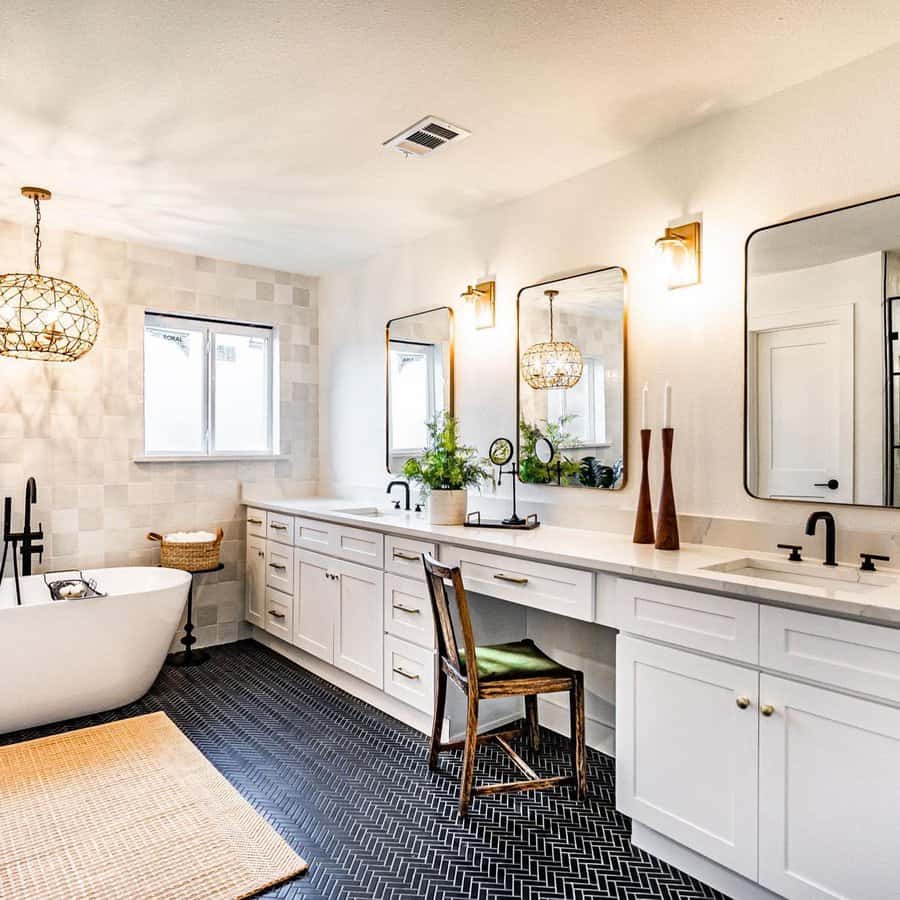 8. Minimalist Industrial Master Baths
Achieve a bold statement in your master bathroom with round glass pendant lamps and black fixtures on a maple wood vanity. This combination offers a sleek, modern, and industrial aesthetic that will impress your guests. Elevate your bathroom design by incorporating these elements for a luxurious touch.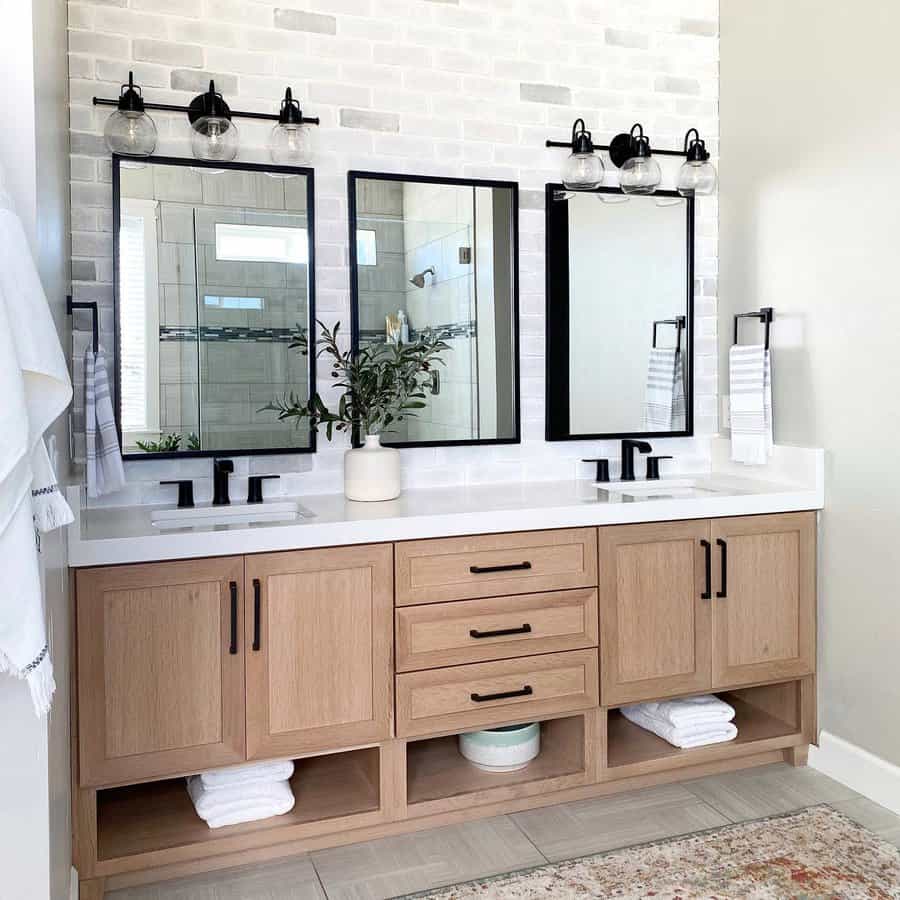 9. Elegance Meets Coastal Serenity
Experience the perfect blend of elegance and coastal serenity in your master bathroom. To achieve this serene look, opt for a light blue vanity paired with a white marble countertop. This combination evokes a calming ambiance reminiscent of coastal retreats. Complement this style with seashell decor, soft beach-themed colors, and natural textures to create a truly tranquil sanctuary. With this design, you'll feel like you're enjoying eternal summer bliss within the confines of your home.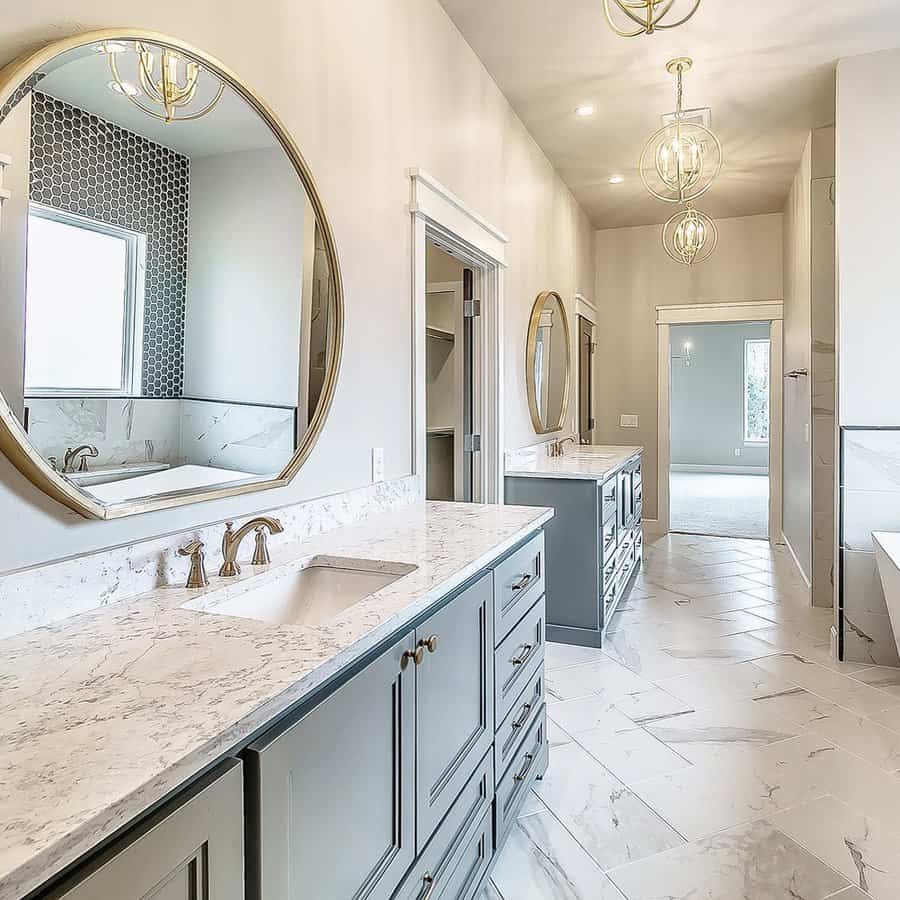 10. Simple Elegance in Transitional Design
Transform your master bathroom into a tranquil haven by incorporating marble tile walls and a striking standalone bathtub. This minimalistic yet elegant design promises luxurious comfort while adhering to a monochrome aesthetic.
To enhance the overall look, consider adding subtle touches of color through accessories or towels. This peaceful oasis will not only provide relaxation but also seamlessly blend with the rest of your home's decor, promoting a sense of balance and harmony throughout your living space.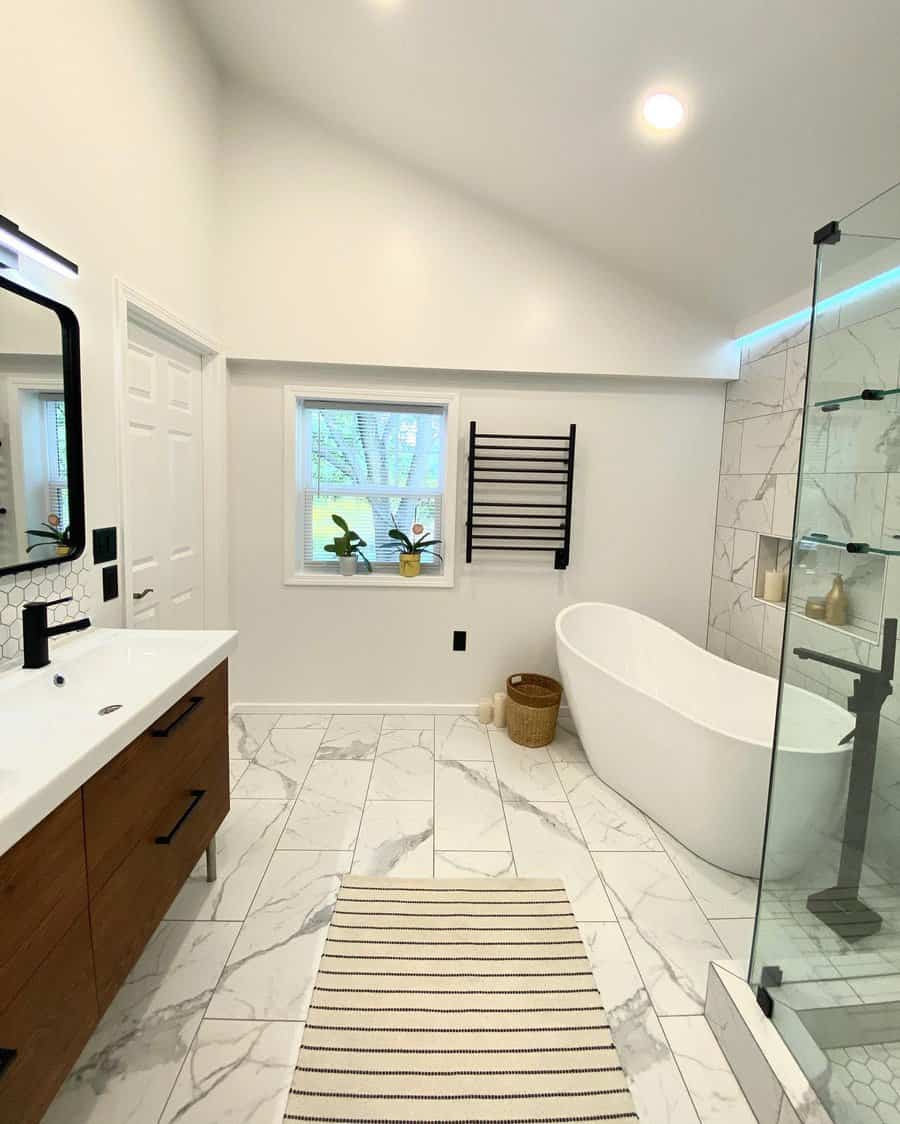 11. Embracing Modern Minimalism
Embrace modern minimalism in your master bathroom with a black and white color scheme. Incorporate black fixtures, a sleek rectangular bathtub, and white finger tiles to create a spa-like ambiance. To enhance the tranquility of this space, consider adding soft, ambient lighting and greenery for a touch of nature.
This monochromatic design not only exudes elegance but also provides the perfect setting for relaxation and self-care. Customize the space with plush towels, scented candles, and your favorite bath products to create your personal haven for unwinding after a busy day.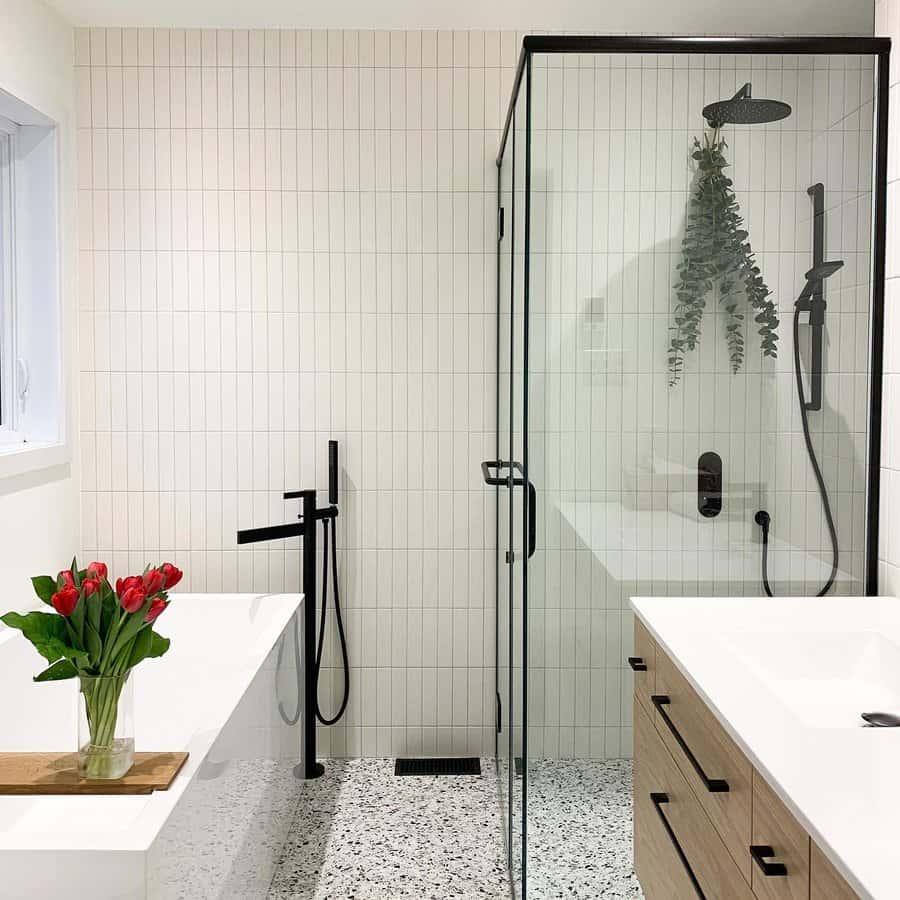 12. Tradition with a Playful Twist
Infuse your master bathroom with a touch of 1920s elegance and a playful twist. Start with a beautiful wood vanity, complemented by gold fixtures and a pendant lamp.
Hang the pendant lamp above a decorative wash basin to provide subtle yet classic lighting. To balance the vintage elements, incorporate modern touches like chrome or nickel finishes to reflect light and create a harmonious blend of old and new. This combination results in a luxurious and timelessly elegant master bathroom that captures the charm of the past while embracing contemporary design.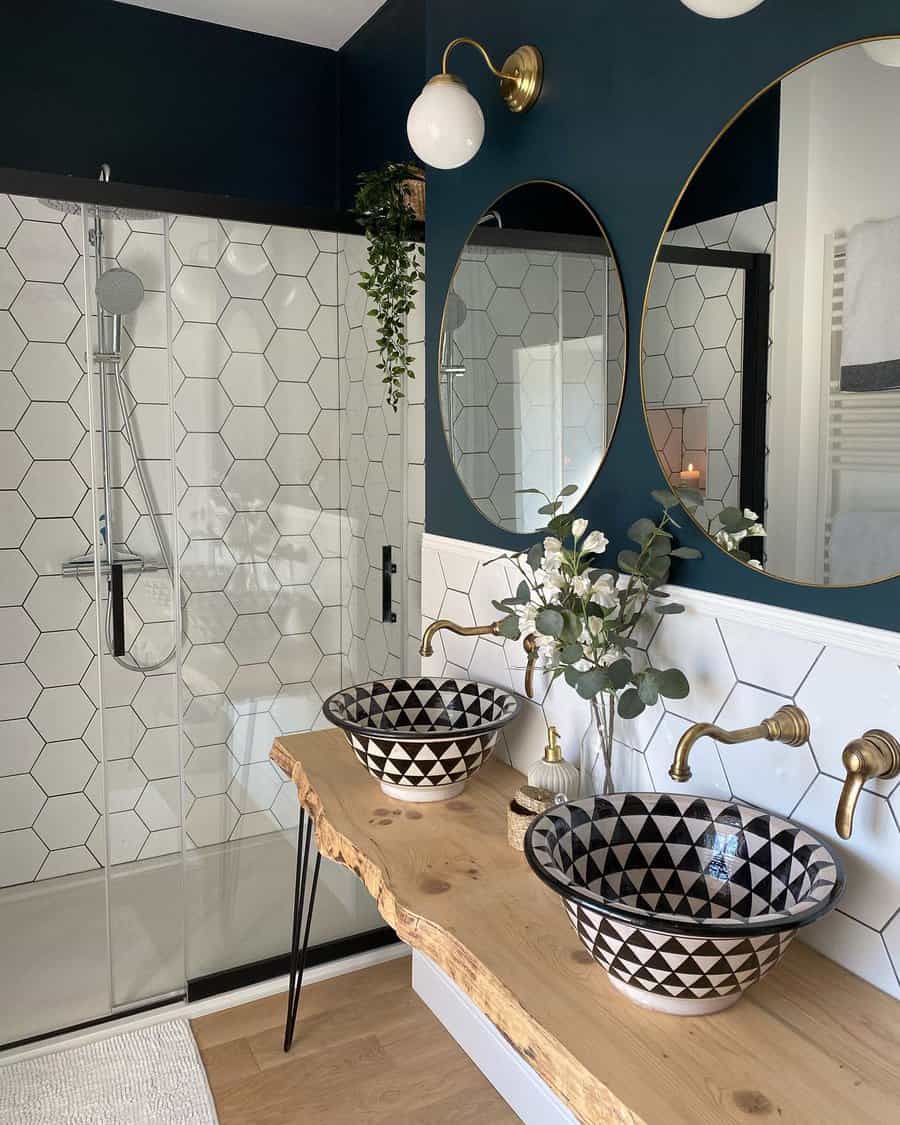 13. Timelessly Transitional Bathrooms
Designing a timeless transitional master bathroom requires a careful balance of elements. Embrace texture, color, shapes, and layering to create a harmonious blend of styles. For a modern touch, opt for black finger tiles as a unique wall covering choice.
Integrate gold fixtures to add an elegant touch and unify the diverse textures in the space. Achieve a refreshing and stylish master bathroom that embodies the essence of transitional design, seamlessly merging classic and contemporary aesthetics for modern living.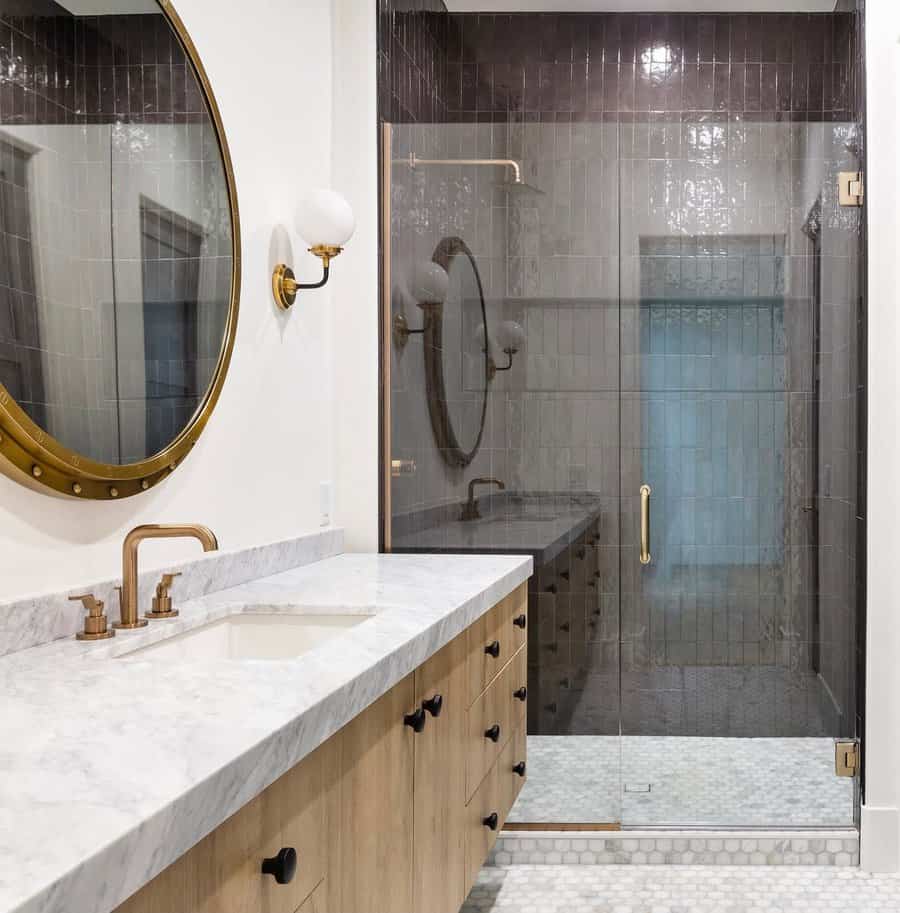 14. Minimalism with Rustic Touches
Enhance your master bathroom's minimalistic charm by incorporating a sleek wood shelf for the vanity. To elevate this design, complement it with copper fixtures and subtle rustic elements like dried flowers in a vase. Emphasize the room's modern and chic ambiance by keeping decor simple and sophisticated. Maximizing natural light with windows or skylights will not only bring life to your minimalist master bathroom but also create an inviting and visually appealing space.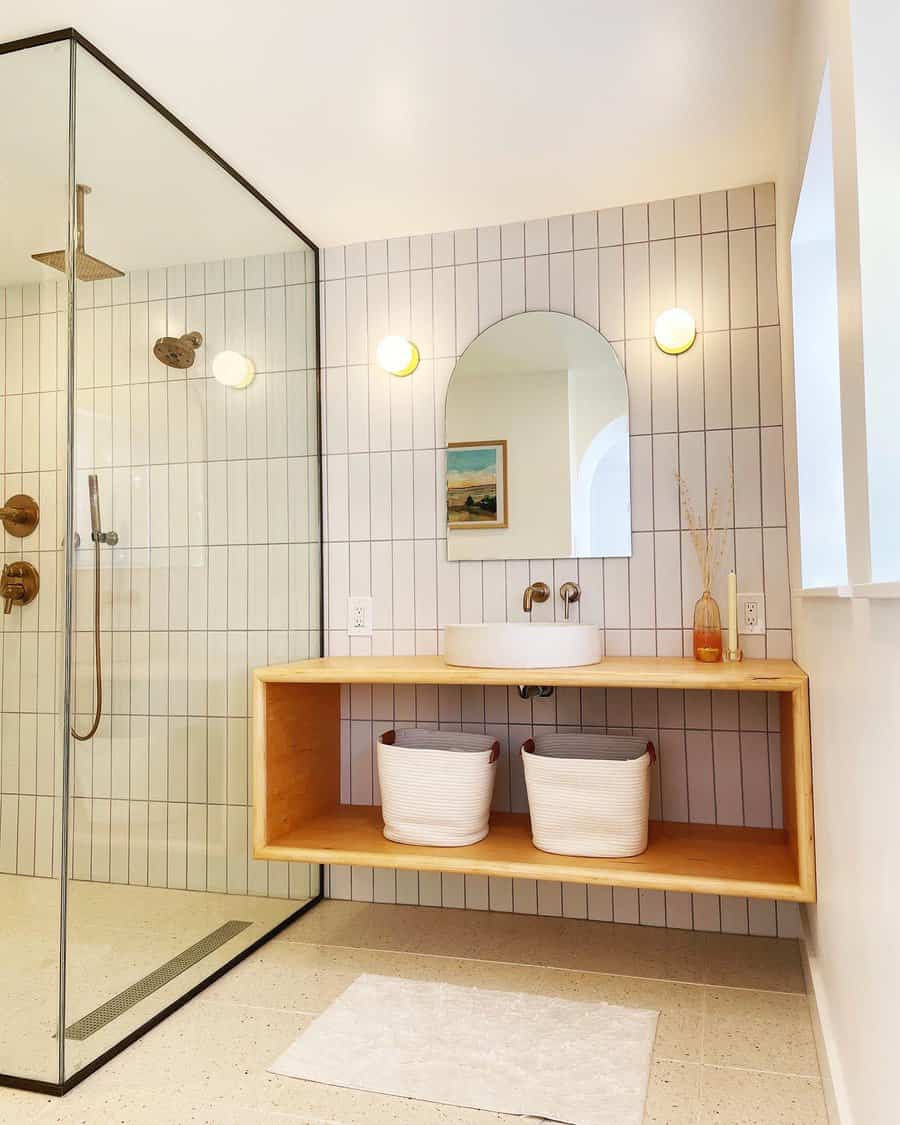 15. Industrial Meets Rustic Charm

Combine industrial and rustic charm in your master bathroom to achieve a luxurious ambiance. Begin with limewashed walls for a soft and ethereal atmosphere, and complement them with black fixtures to add a modern twist.
Enhance the overall experience by incorporating eucalyptus accents like scented candles or air fresheners to introduce a soothing botanical aroma. With this design, you can create a personal spa-like retreat within your own home, offering relaxation and tranquility after a long day. Consider adding wooden elements such as shelving or a vanity to further emphasize the rustic theme and provide storage for your bathroom essentials.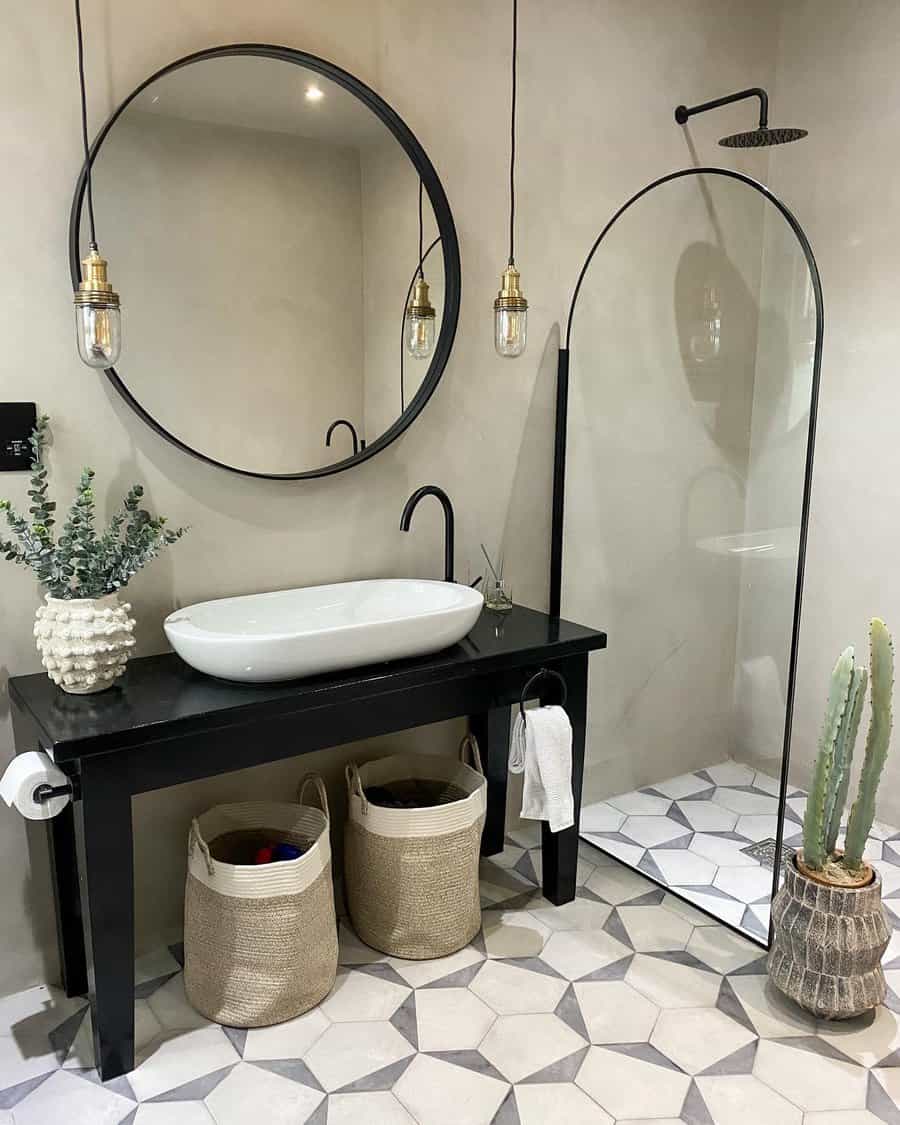 16. Mediterranean Master Bathroom Ideas
Indulge in Mediterranean-inspired master bathroom ideas to create an inviting and warm atmosphere. Begin with rich marble flooring for an elegant touch and consider adding vibrant flower wall art to invoke a sense of summertime in the Mediterranean.
To fully embrace this style, opt for earthy tones, textured tiles, and wrought iron accents. Complement the space with scented candles featuring Mediterranean fragrances and soft, plush towels. Whether you're enjoying a relaxing soak in a luxurious bathtub or simply basking in the soothing ambiance, this master bathroom provides a well-deserved retreat from life's everyday stresses.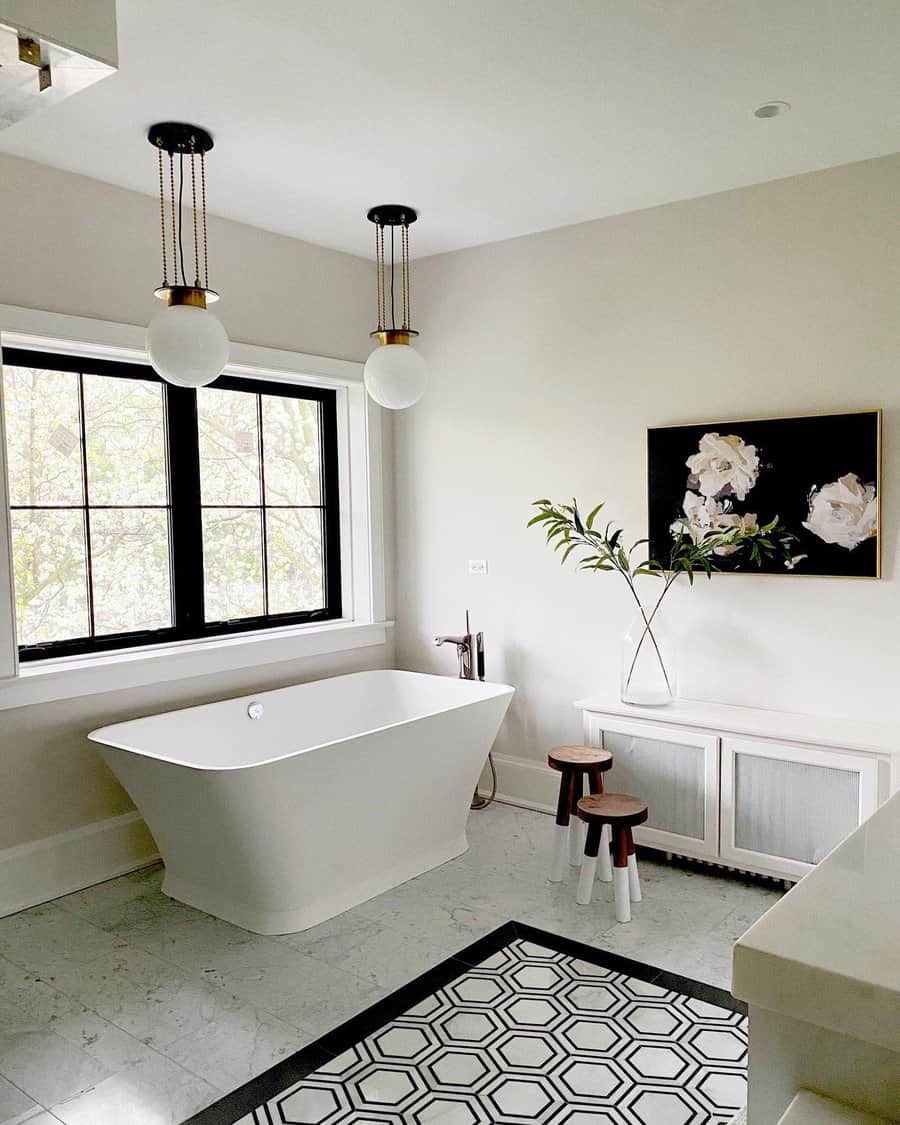 17. Farmhouse Freshness and Brightness
Infuse your master bathroom with farmhouse freshness and brightness by following these tips. Start with white walls as a clean backdrop and introduce rustic redwood furniture for that classic farmhouse feel. Incorporate green plants strategically to create a calming atmosphere and add a pleasing contrast to the white walls and furniture.
Opt for a vintage vanity with intricate design for an elegant centerpiece. With these elements, your master bathroom will exude tranquility and provide the perfect space for both preparing for the day and unwinding in relaxation. Consider adding woven baskets for storage and soft, neutral-colored towels to complete the farmhouse look.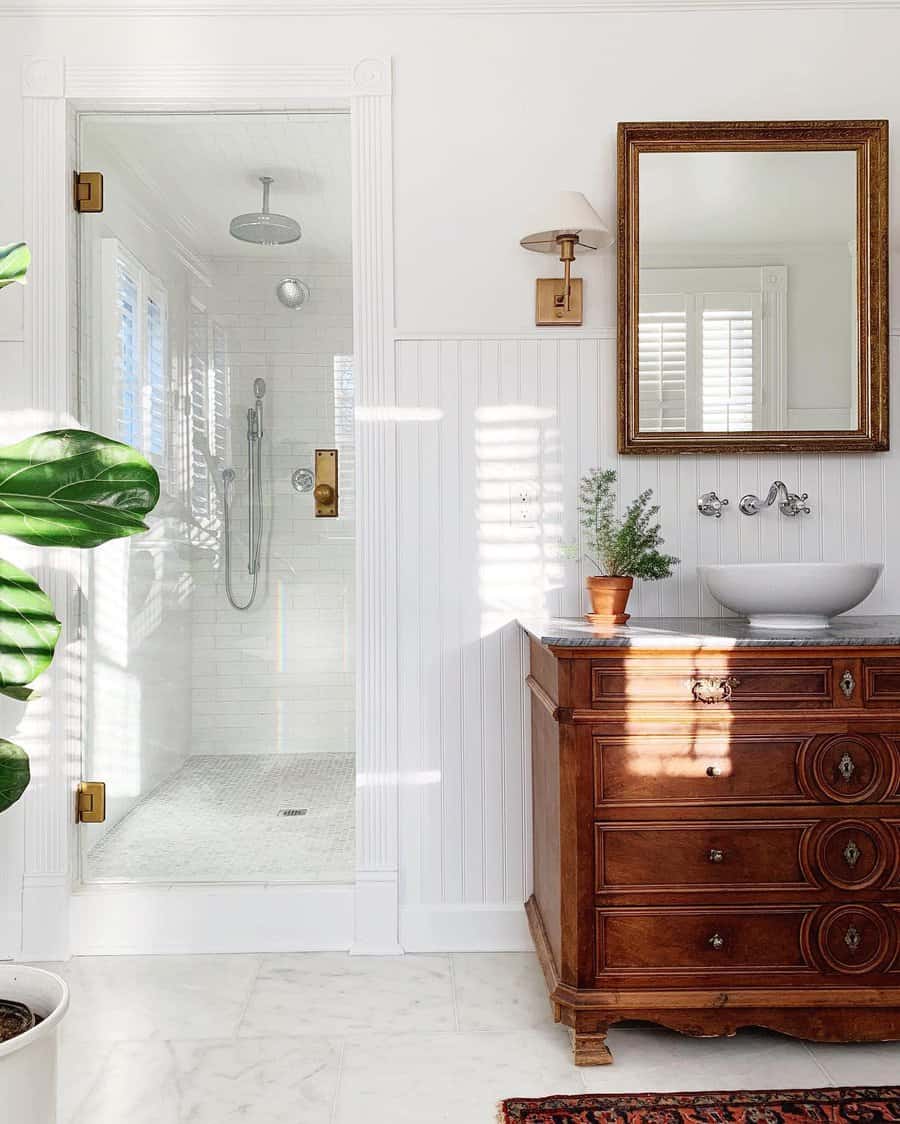 18. Rustic Elegance, European Style
To infuse European rustic elegance into your master bathroom, consider antique touches such as a deep mahogany vanity, vintage-style fixtures, and a sparkling chandelier. Create a harmonious blend of vintage and modern by pairing these elements with contemporary features like sleek mirrors or modern tiles.
For a personalized touch, incorporate cozy textiles and soft lighting to ensure a welcoming and inspiring atmosphere. This fusion of timeless charm and modern design will make your master bathroom a place of both luxury and comfort, regardless of its size or style.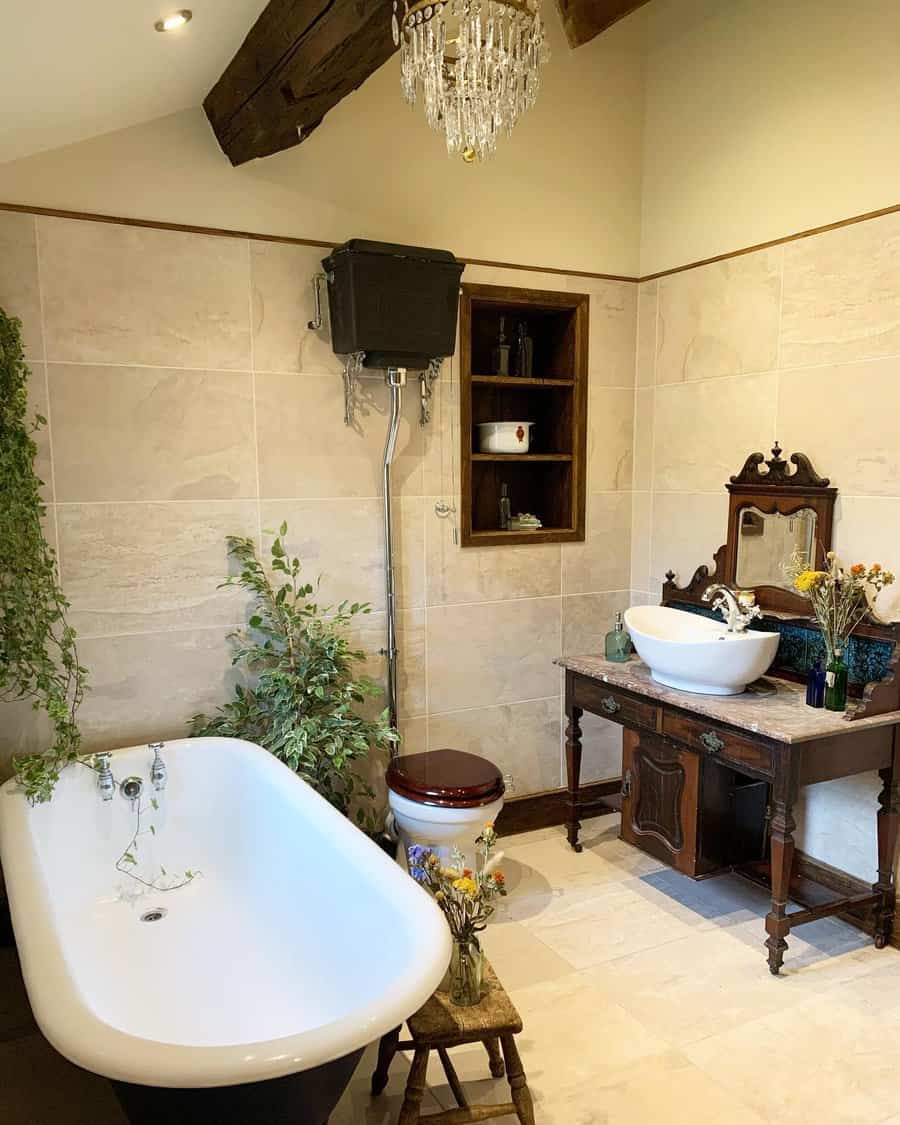 19. Unique Bespoke Rustic Retreats
Discover the charm of unique bespoke rustic retreats for your master bathroom. Begin by creating a vintage atmosphere with beveled subway tile patterns on the walls. For a standout centerpiece, consider a mustard yellow retro bathtub that exudes warmth and relaxation. Complement this with a rustic vanity in an antique blue finish to achieve a cohesive and inviting ambiance.
To complete the look, add wooden accents, warm lighting, and soft textiles for a comfortable and stylish retreat within your home. Incorporate vintage-inspired fixtures and accessories to enhance the overall rustic charm of the space.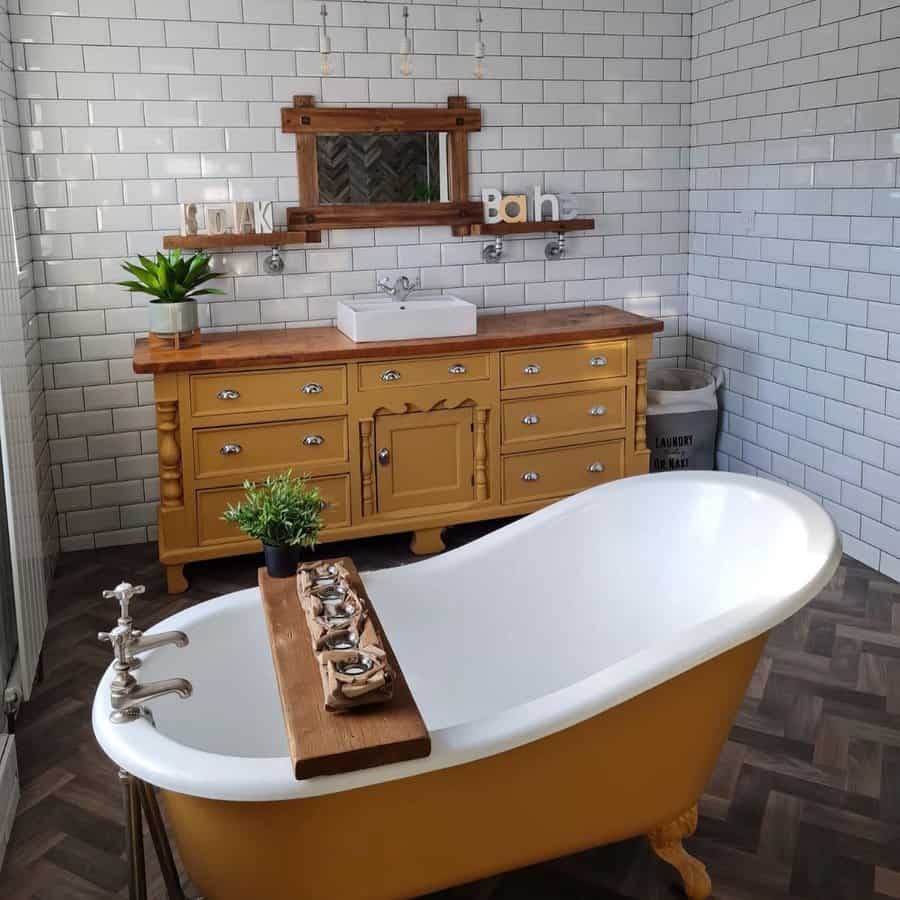 20. A Cozy Warmth of Modern Design
Create a cozy warmth in your master bathroom by embracing modern design elements. Start with crisp white walls as a clean canvas and add character with decorative tiles. Accent the space with gold fixtures to achieve a touch of luxury.
Enhance the ambiance with soft, warm lighting and plush towels for added comfort. Consider incorporating a freestanding bathtub or a spacious walk-in shower for a truly modern and relaxing experience. To complete the look, choose sleek, minimalist accessories and storage solutions to maintain the clean and contemporary feel of the space.
FREQUENTLY ASKED QUESTIONS
What is the standard size of a bathtub?
Standard bathtubs range between 60 inches long by 30 inches wide, to 60 inches long by 32 inches wide. The shortest freestanding tubs are 48 inches long by 28 inches wide, with is suited for adults of average height.
Are artificial flowers better than real flowers for bathrooms?
Artificial flowers are a perfect bathroom accessory. Natural flowers don't last long, so you'll have to replace them on a regular basis, which can become quite expensive. Bathrooms are not the ideal environment for natural plants, either. Bathrooms' high humidity will cause plants to rot and develop mildew. There are some quite realistic faux plants that require no maintenance and will cause the same visual effect as natural ones.
Which type of living wall is easier to maintain, in a bathroom?
Adding a vertical garden in your bathroom can turn out to be an expensive and high-maintenance project. Artificial plants, on the other hand, are low maintenance, attract no bugs, and require no watering. This type of living wall needs no upkeep other than an occasional dusting.
What should be the size of a shower wall for double showerheads?
Normally, it would be 3 feet by 5 feet or 4 feet by 6 feet, it depends on the square footage you have. There is no right size, as long as the couple feels comfortable space-wise.