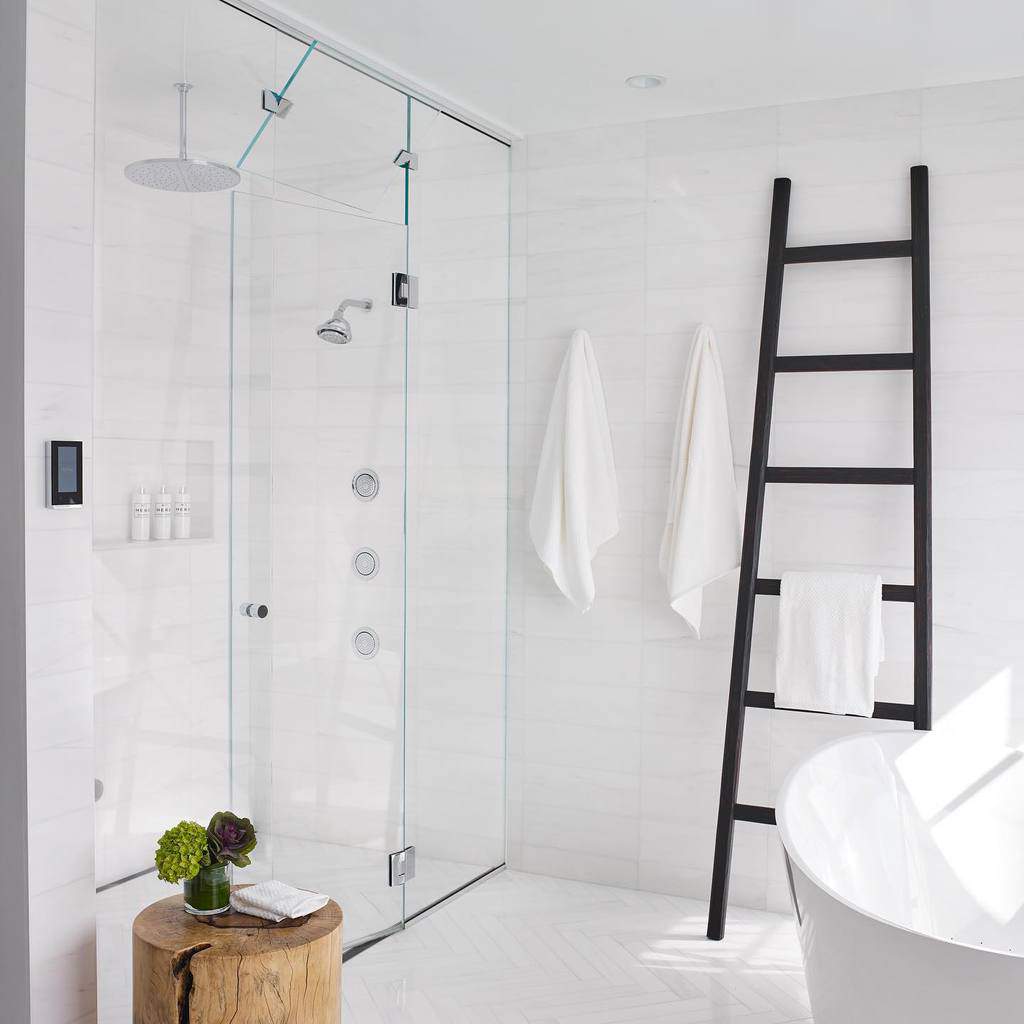 A bubble bath… relaxing in the tub with a glass of wine, after a long day's work. This is what many women dream of. Working mothers, who have to attend to children, housework, career, and barely have time for themselves!
Not everyone can enjoy a bathtub at the end of the day, but we all start our mornings with our daily bathroom routine, and there's nothing worse than having nowhere to store toiletries and bumping into your significant other on a small sink with no counter space.
That's where interior design can rescue us from our misery. You can do wonders even in a small space, and we're here to help. Have a look at these awesome master bathroom design ideas, for you to get inspired and start your bathroom remodeling right now!
1. Boho
If you want your master bathroom to be a peaceful retreat, then Bohemian-style décor is right for you. It doesn't take much to create an indoor oasis: mix natural elements, explore patterns and textures, add some vintage flare, and bring life and color to the space with potted plants and flowers.
2. Country
Explore beadboard paneling and wainscotting for a timeless country-chic vibe in your master bathroom.
Wood, light-color finishes, and natural elements like wicker baskets are the basis for this design style. You can mix and match with a bold flooring design or create an accent wall with paintings and dried flowers.
3. Dark
Black is a bold color choice for a bathroom, it can be quite elegant and sophisticated with the right décor. You can explore mirrors and crystals in a dark bathroom, for a touch of luxury and style.
White marble countertops make a nice contrast with black wall tiles. Another option is to lay black and white mosaic floor tiles. Brass fixtures stand out in a black bathroom, making a nice contrast.
4. Glam
Nothing defines a glam bathroom better than a chandelier. Along with crystal lighting, explore marbles, glass, and mirrors.
Complement the décor with a mirrored vanity, a freestanding bathtub, and shower glass panels. Add sophistication with a chaise next to a side table, ornamented with scented candles and beautiful flowers in a stylish crystal vase.
5. His and Hers
Double sinks are said to be relationship saviors. It is tricky, having to share a single sink with minimum counter space, since both men and women need room and storage for different toiletries.
So, if you're thinking about a master bathroom renovation, plan for separate vanities or his and hers sink. I don't know if this is the key to a long-lasting and happy marriage, but it will certainly make the morning rush more pleasant. Double showerheads add extra comfort and sophistication to any bathroom.
6. Minimalist
Minimalist design is all about functionality. Simple lines and functional pieces that double as décor define the minimalist style and help create a roomy space.
Keep all surfaces clear if you want a sense of amplitude, and for that, you need ample storage. Choose light colors for the walls and tiles, with some accent wood or black finishes.
7. Modern
Very much like the minimalist style, modern-style bathrooms are defined by clean lines, geometric shapes, and uncluttered, clear counters. Modern floating vanities and shelves provide the much-needed storage space in a bathroom.
Wood and concrete are complemented by straight-line elements and finishes and very few décor pieces help create a serene ambiance.
See more modern bathroom ideas here.
8. Small
Take a look at these awesome examples of how you can fit a freestanding bathtub with an independent shower in a small bathroom. You can opt for a rectangular, oval, or round bathtub. A corner bathtub may also be a solution for small spaces.
It all depends on the bathroom layout, but it may take only a few steps to transform the space into your dream bathroom. To make the space look bigger, install a large mirror over a floating vanity, and don't overdo the décor with bathroom accessories.
White marble countertops make a nice contrast with dark wood cabinets and white wall tiles, as well as white floor tiles. Add a glass shower enclosure for the showerhead, and a freestanding bathtub. You can have a chic bathroom, no matter the size!
See more small bathroom ideas here.
9. Stylish
Simple ideas make great spaces! It takes no more than a decorated porcelain vessel sink over a wooden slab to make a sophisticated and ultra-stylish vanity.
Here are other examples of simple ideas with great results!
10. Tub
The bathtub can be the centerpiece of any master bathroom. From the comfortable jacuzzi to the stylish round freestanding tubs, there is a wide variety of types that match all design styles.
Modern solid base freestanding tubs are very trendy, but other options are corner tubs, built-ins, or Japanese Ofuro soaking tubs. No matter the style, the idea is always to have that unparallel spa feel in your master retreat.
11. Vintage
A claw-foot style is the best option for a bathtub if you want a vintage master bathroom.
Another great option for a vintage-style design is to repurpose an old dresser as a vanity. The characteristic pink marble top of antique dressers is complemented by a porcelain vessel sink with a vintage faucet, creating a unique piece.
12. White
White is always a safe bet. With natural light and large mirrors, the white color gives the space a sense of amplitude and peace. Use some accent colors on the walls, or in bathroom accessories, and make sure you have some flowers over the countertop, for a touch of elegance.
You can choose an artificial flower arrangement instead of natural flowers. Some look incredibly realistic and capture the same beauty as real flowers. Dark wood cabinets make a nice contrast in a white bathroom. Complement the décor with silver, brass, or black fixtures. The same goes for sconces or pendant lights.
FREQUENTLY ASKED QUESTIONS
What is the standard size of a bathtub?
Standard bathtubs range between 60 inches long by 30 inches wide, to 60 inches long by 32 inches wide. The shortest freestanding tubs are 48 inches long by 28 inches wide, with is suited for adults of average height.
Are artificial flowers better than real flowers for bathrooms?
Artificial flowers are a perfect bathroom accessory. Natural flowers don't last long, so you'll have to replace them on a regular basis, which can become quite expensive. Bathrooms are not the ideal environment for natural plants, either. Bathrooms' high humidity will cause plants to rot and develop mildew. There are some quite realistic faux plants that require no maintenance and will cause the same visual effect as natural ones.
Which type of living wall is easier to maintain, in a bathroom?
Adding a vertical garden in your bathroom can turn out to be an expensive and high-maintenance project. Artificial plants, on the other hand, are low maintenance, attract no bugs, and require no watering. This type of living wall needs no upkeep other than an occasional dusting.
What should be the size of a shower wall for double showerheads?
Normally, it would be 3 feet by 5 feet or 4 feet by 6 feet, it depends on the square footage you have. There is no right size, as long as the couple feels comfortable space-wise.