The Top 89 Small Apartment Ideas
If you're living in a small apartment, you can probably sympathize with the notion of a "scarf-sized" floorplan. No matter its size, your home is still home. It will always be a great place to showcase your own tastes and decor preferences.
Limited space doesn't have to limit your style. Take your time checking out our best small apartment ideas and see what incredible spaces you can create within a small footprint.
1. Light Color Palette Bathroom
Turn your small apartment into a serene oasis with a light and airy bathroom design. By embracing a light color palette, you can instantly open up the space and create an atmosphere of tranquility. Opt for soft hues such as whites, pastels, and neutrals to enhance the sense of brightness and airiness in your bathroom.
These light tones will bounce off the walls, making the space feel more expansive and inviting. Pair the light color palette with ample natural light by using sheer curtains or blinds that allow sunlight to filter in. Incorporate mirrors strategically to reflect light and create the illusion of a larger space.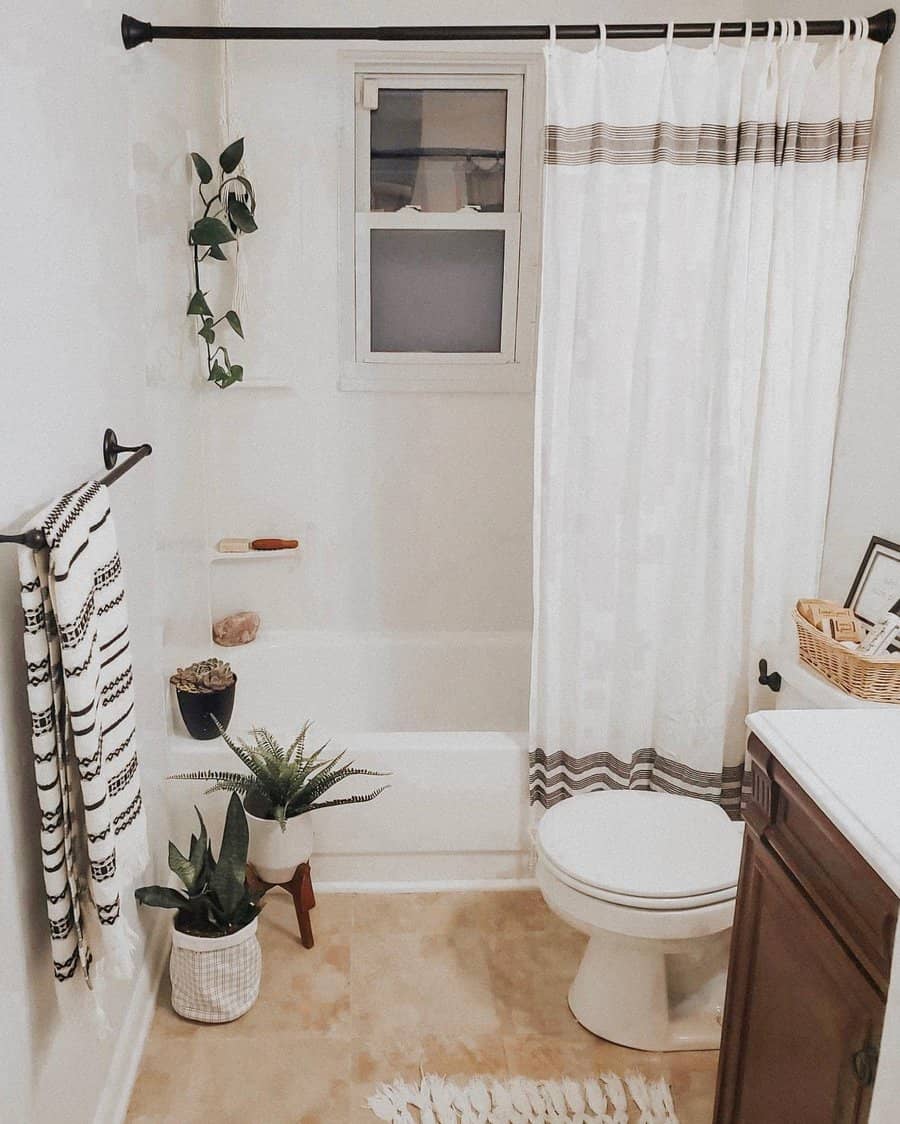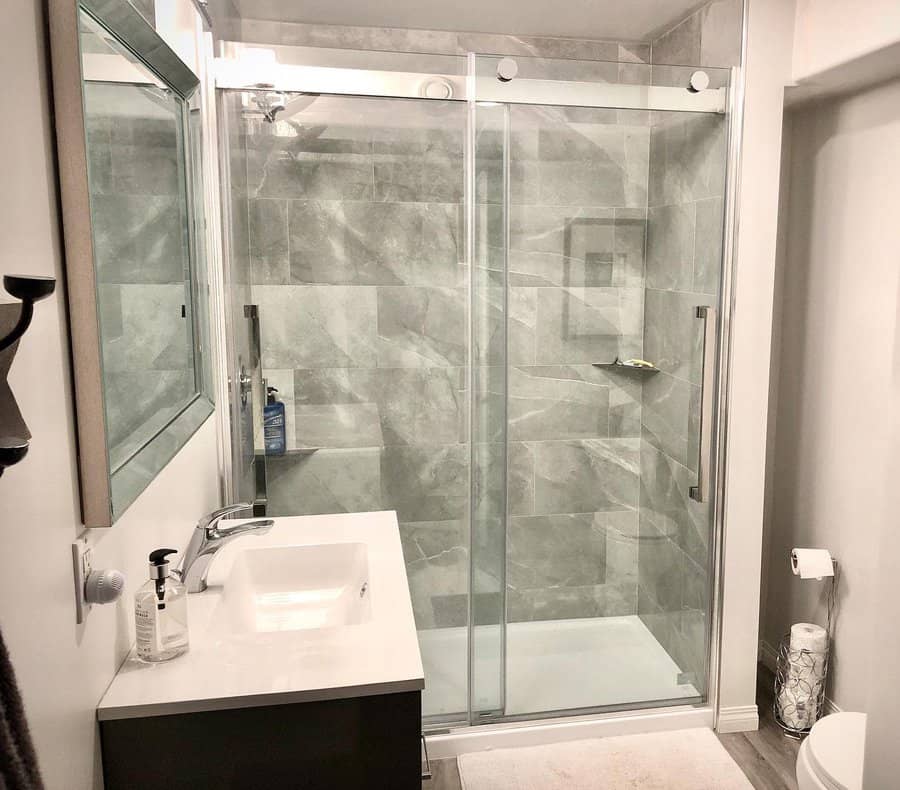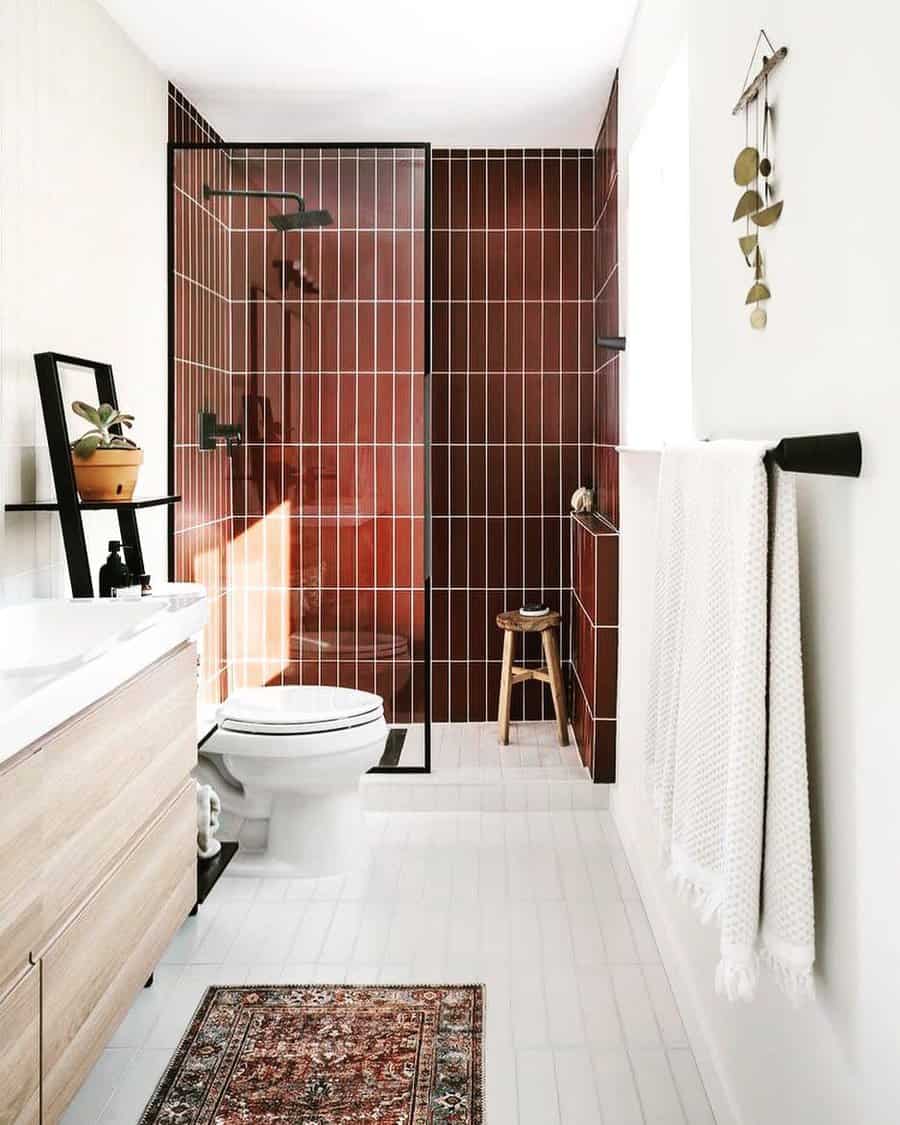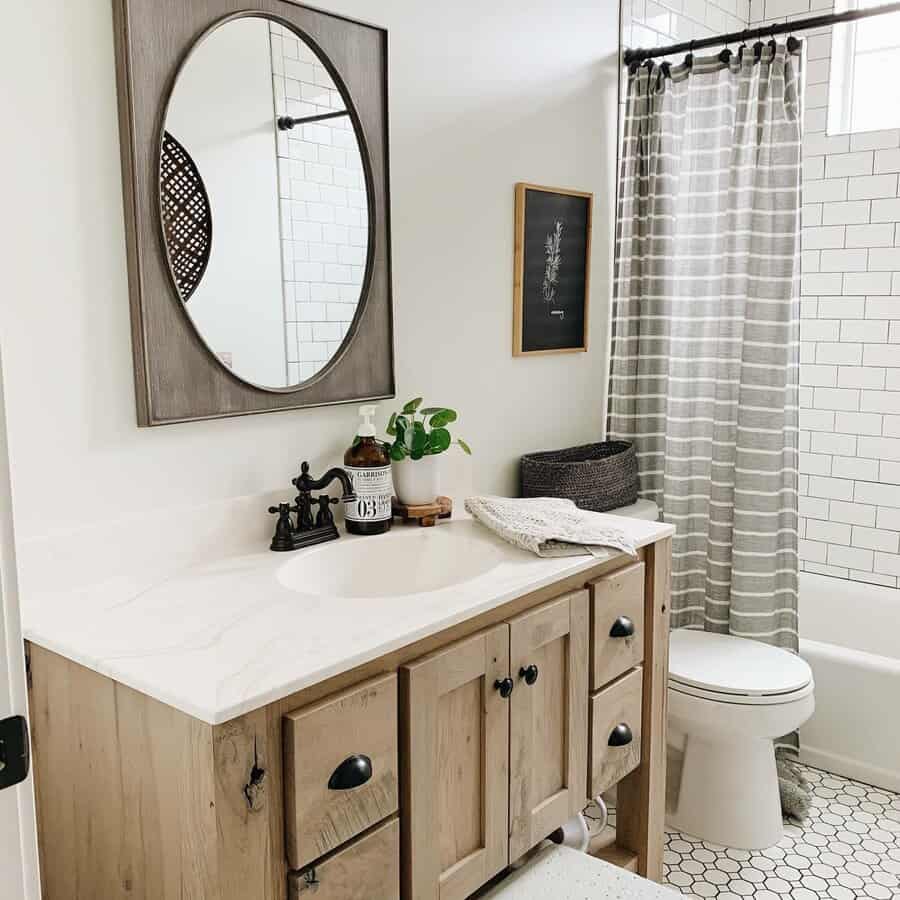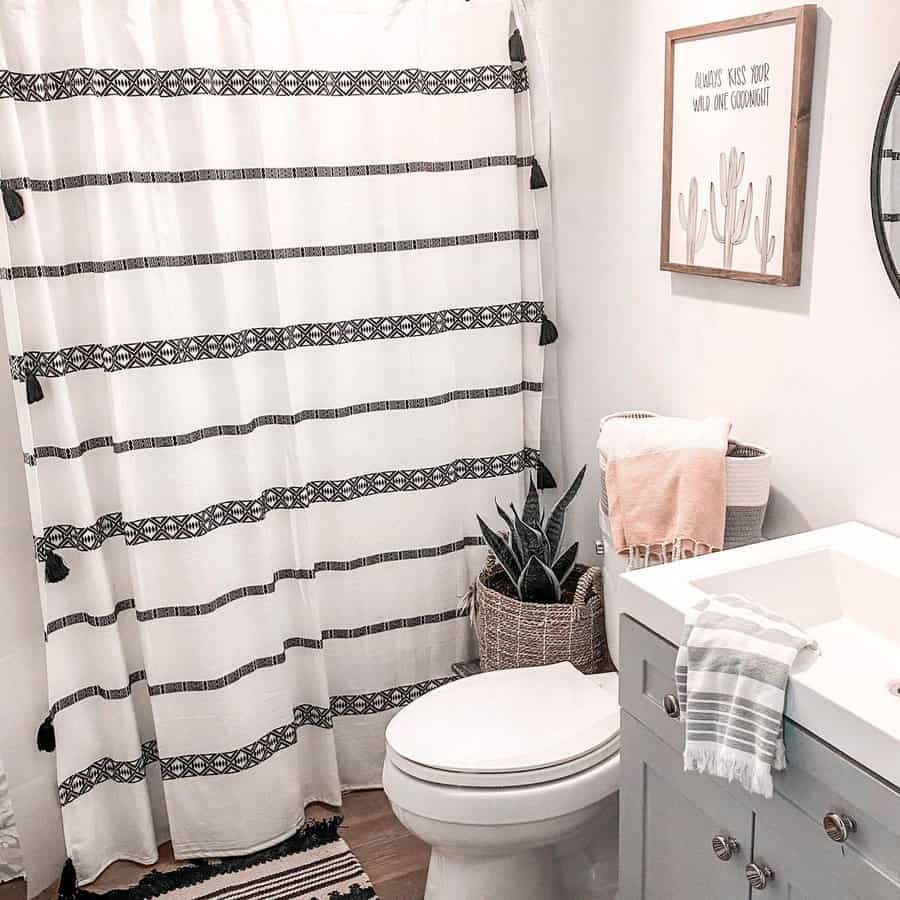 2. Bathroom Floating Shelves
These functional wonders not only provide additional storage but also add a touch of elegance to your bathroom decor. With strategically placed floating shelves, you can neatly display and access your toiletries, towels, and supplies without sacrificing precious floor space.
Utilize the vertical wall space to keep your essentials within easy reach, while simultaneously creating an open and airy atmosphere. Choose shelves in sleek and minimalist designs to enhance the modern aesthetic of your small apartment. Experiment with different shelf sizes and arrangements to create a personalized look that suits your style and storage needs.
Whether you opt for crisp white shelves to complement a clean and fresh ambiance or opt for natural wood tones to add warmth and texture, bathroom floating shelves are a smart and stylish solution for small apartments.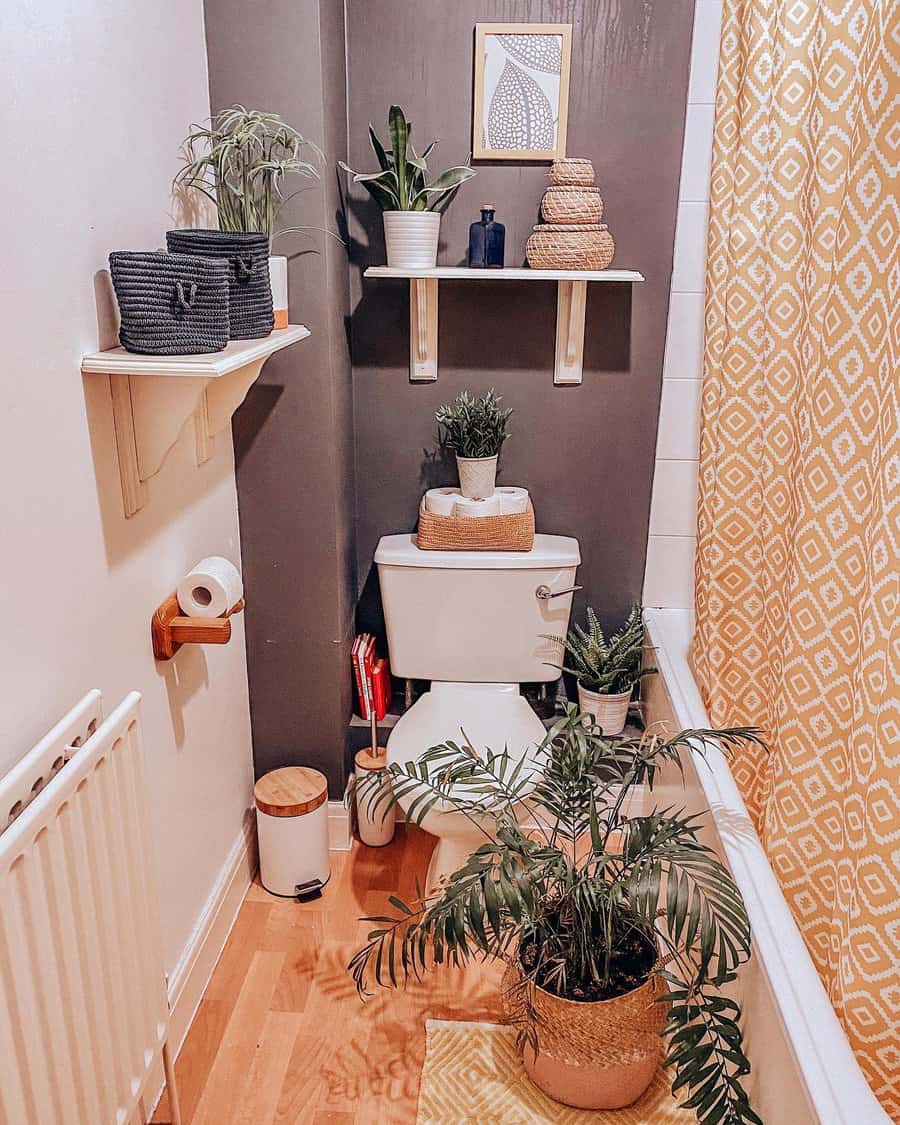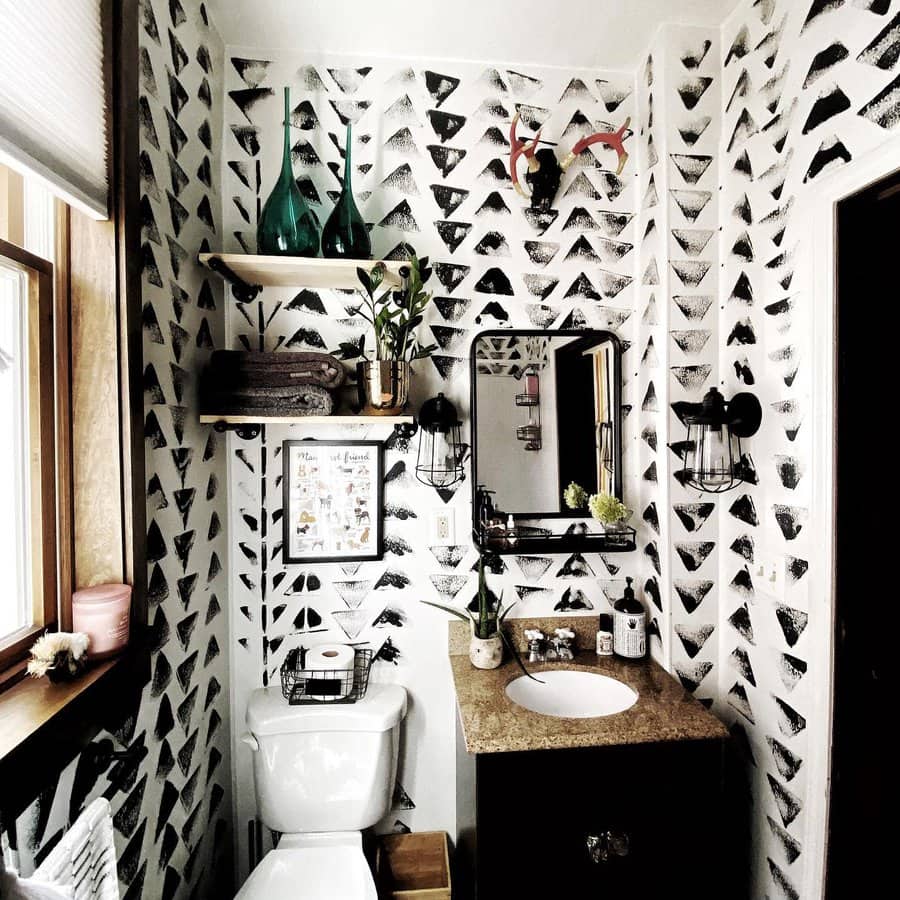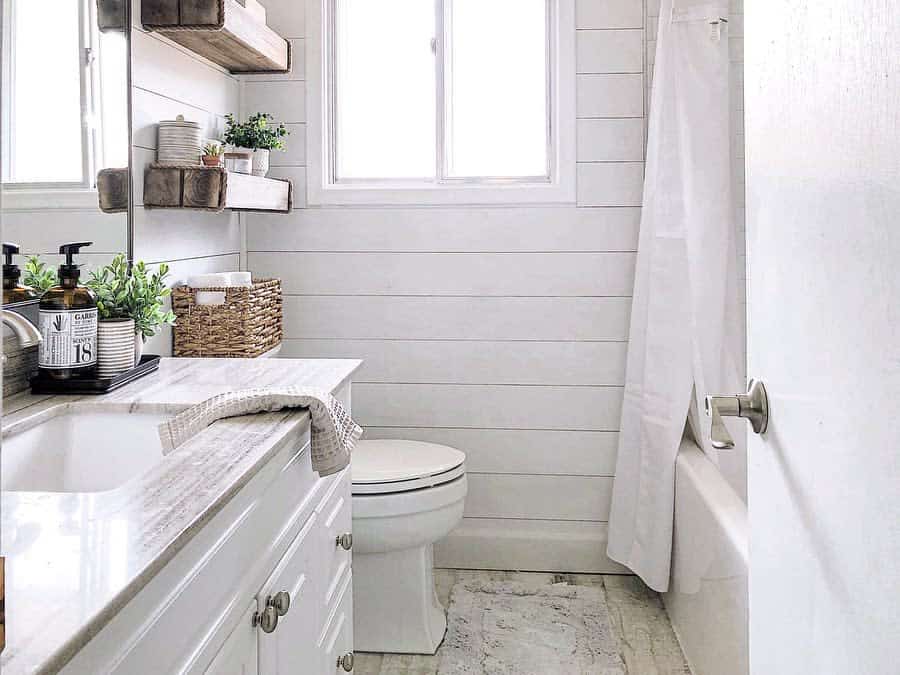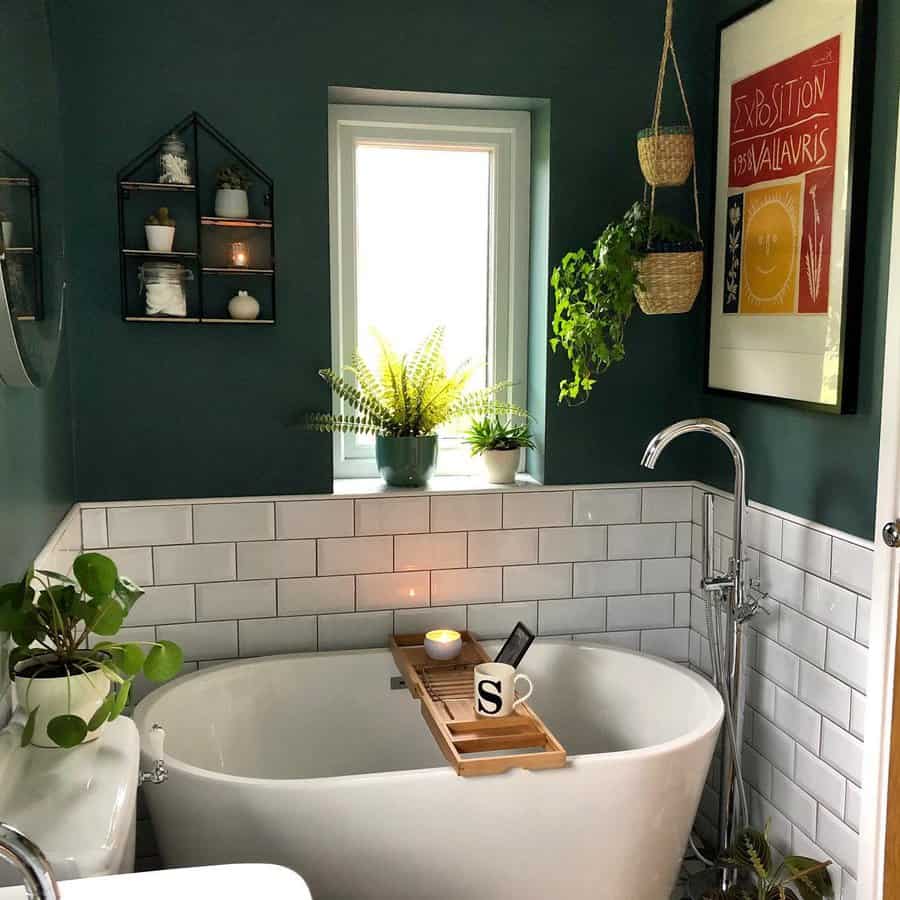 3. Concealed Cistern Toilet
Say goodbye to bulky and traditional toilet tanks that take up valuable square footage. With a concealed cistern toilet, the tank is cleverly hidden behind the wall, creating a seamless and streamlined look in your bathroom. This not only gives the illusion of more space but also adds a touch of modernity to your living quarters.
The clean lines and minimalist design of the concealed cistern toilet create a sense of openness and airiness, perfect for small apartments. Plus, with advancements in technology, these toilets are now more efficient and environmentally friendly, helping you save water and reduce your carbon footprint.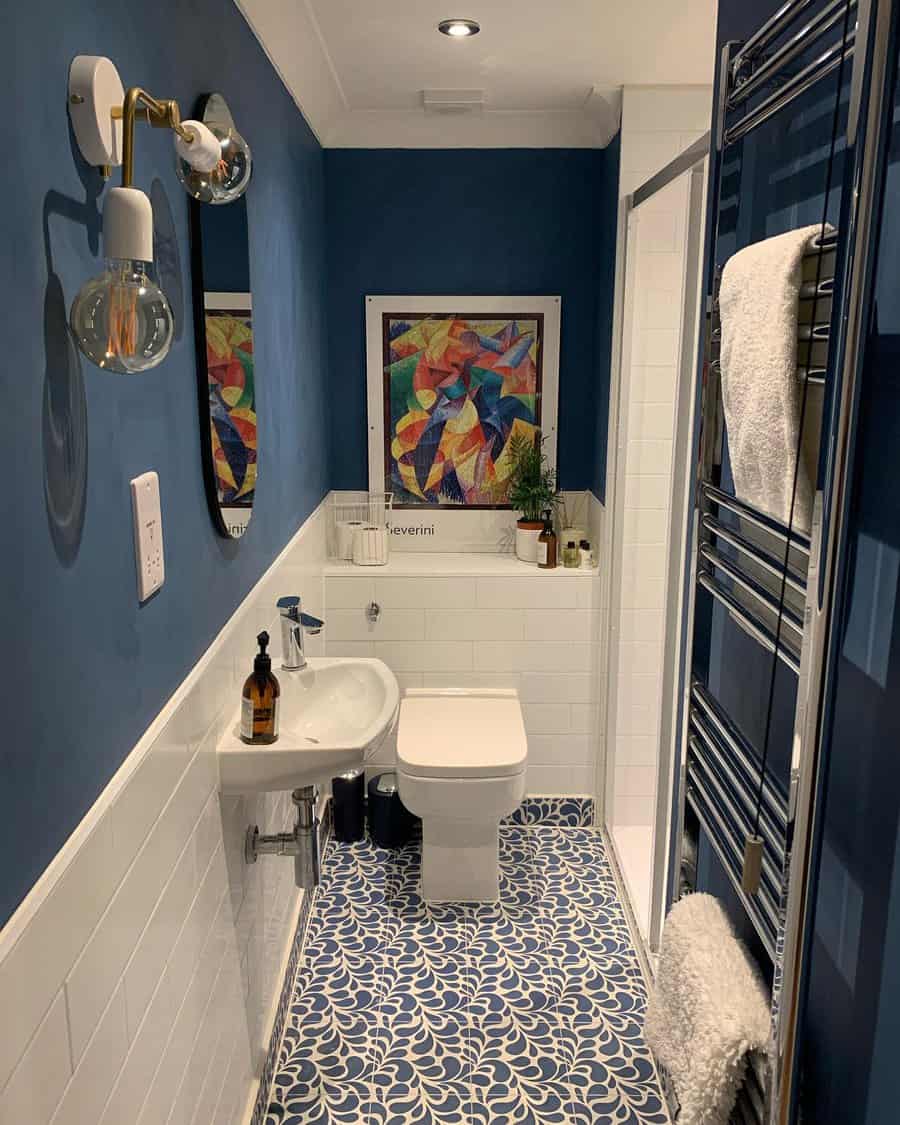 4. Decorative Wallpaper
Whether you opt for a bold and vibrant pattern or a subtle and delicate motif, decorative wallpaper has the power to elevate your space from ordinary to extraordinary. The beauty of this idea lies in its ability to create a focal point that draws the eye and adds depth to your apartment. To maximize the impact, keep your furniture minimal and let the wallpaper shine as the star of the show.
By selecting pieces that are sleek and functional, you can maintain an open and spacious feel. Embrace the charm of your small apartment by infusing it with your unique style and showcasing your personality through the captivating allure of decorative wallpaper.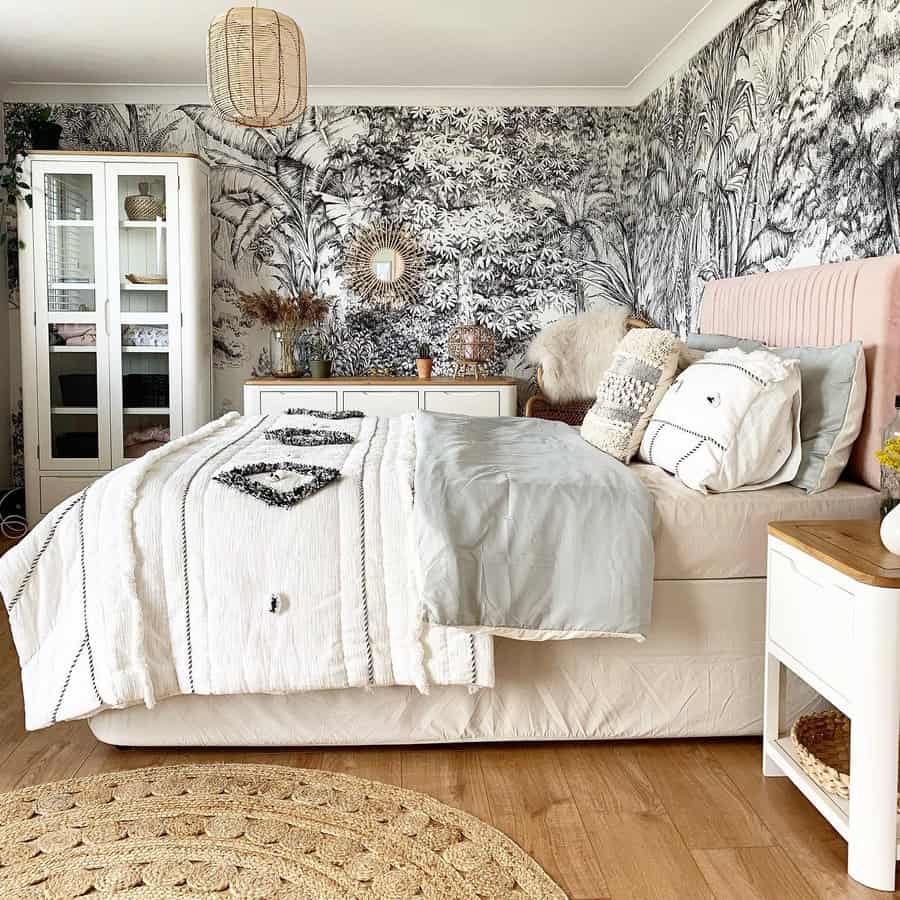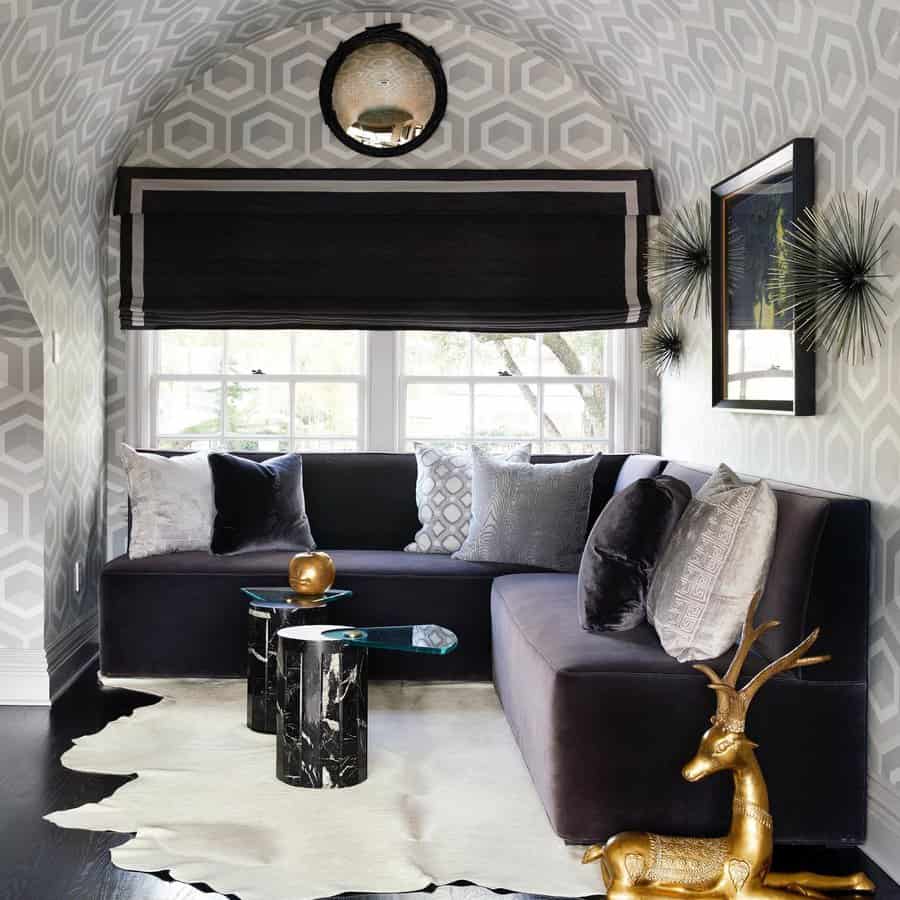 5. Lover's Seat
If you're looking to make the most of your compact living area, consider the enchanting concept of a lover's seat. This clever and whimsical idea brings charm, comfort, and functionality to your small apartment. The lover's seat is a small seating arrangement designed for intimate moments or cozy gatherings. It provides a dedicated space for relaxation, conversation, or simply enjoying a cup of tea with a loved one.
Whether it's nestled in a corner or positioned by a window, this miniature seating area adds a touch of romance and elegance to your living space. Choose a stylish and compact loveseat or a cozy settee that perfectly fits your apartment's dimensions. Opt for soft and plush cushions in vibrant hues or patterns to create a striking focal point. Don't forget to incorporate a small side table or a stylish tray for holding drinks, books, or decorative items.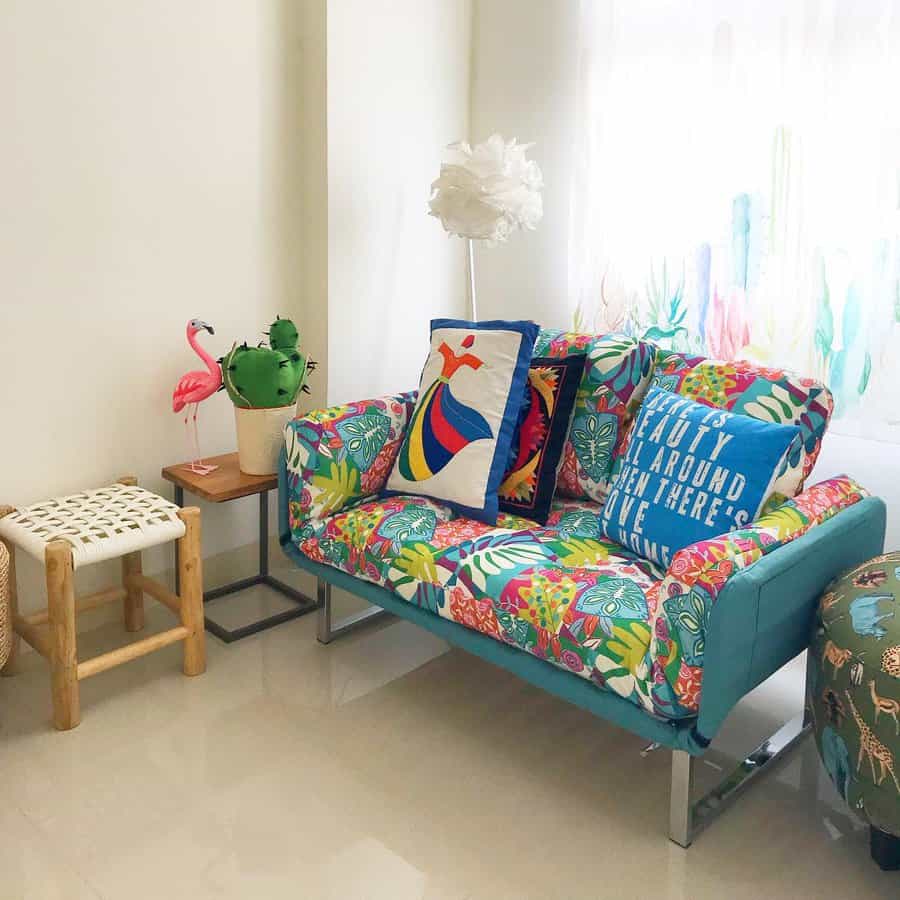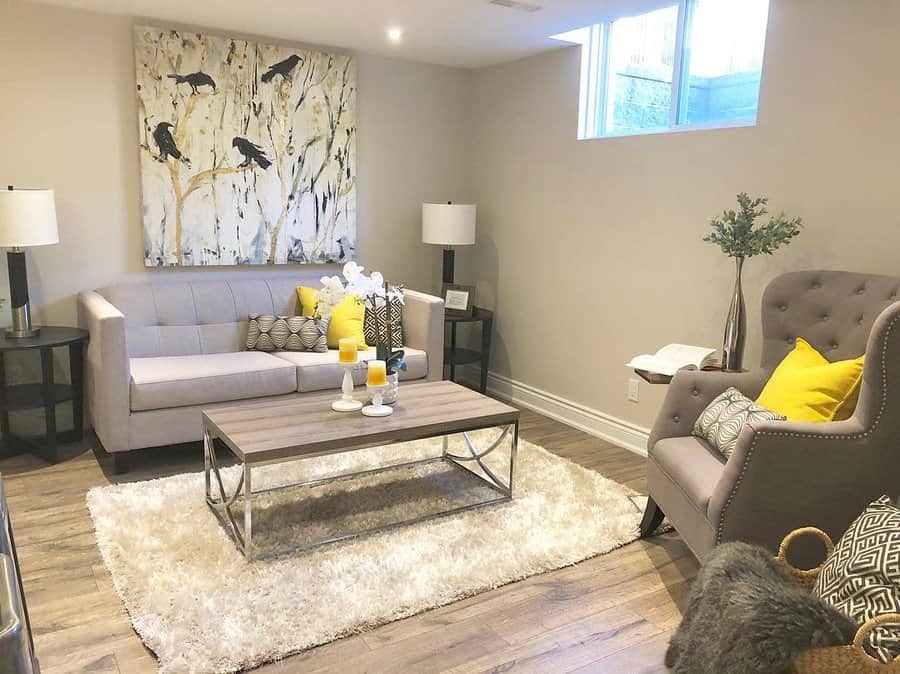 6. Incorporate Greenery
Let your creativity flourish as you explore various ways to incorporate plants into your living room. Consider hanging plants in macrame planters, effortlessly suspended from the ceiling, adding a whimsical and bohemian touch to your space. These cascading plants not only save precious floor space but also create a visually captivating focal point. Mix and match different types of plants to create a vibrant and dynamic atmosphere. From leafy ferns to trailing vines, the possibilities are endless.
Don't shy away from experimenting with different planters and stands to add height and dimension to your green display. Whether it's a sleek modern planter or a charming vintage pot, each choice contributes to the overall aesthetic of your living room. Not only do plants purify the air and improve indoor ambiance, but they also bring a sense of tranquility and serenity to your small apartment.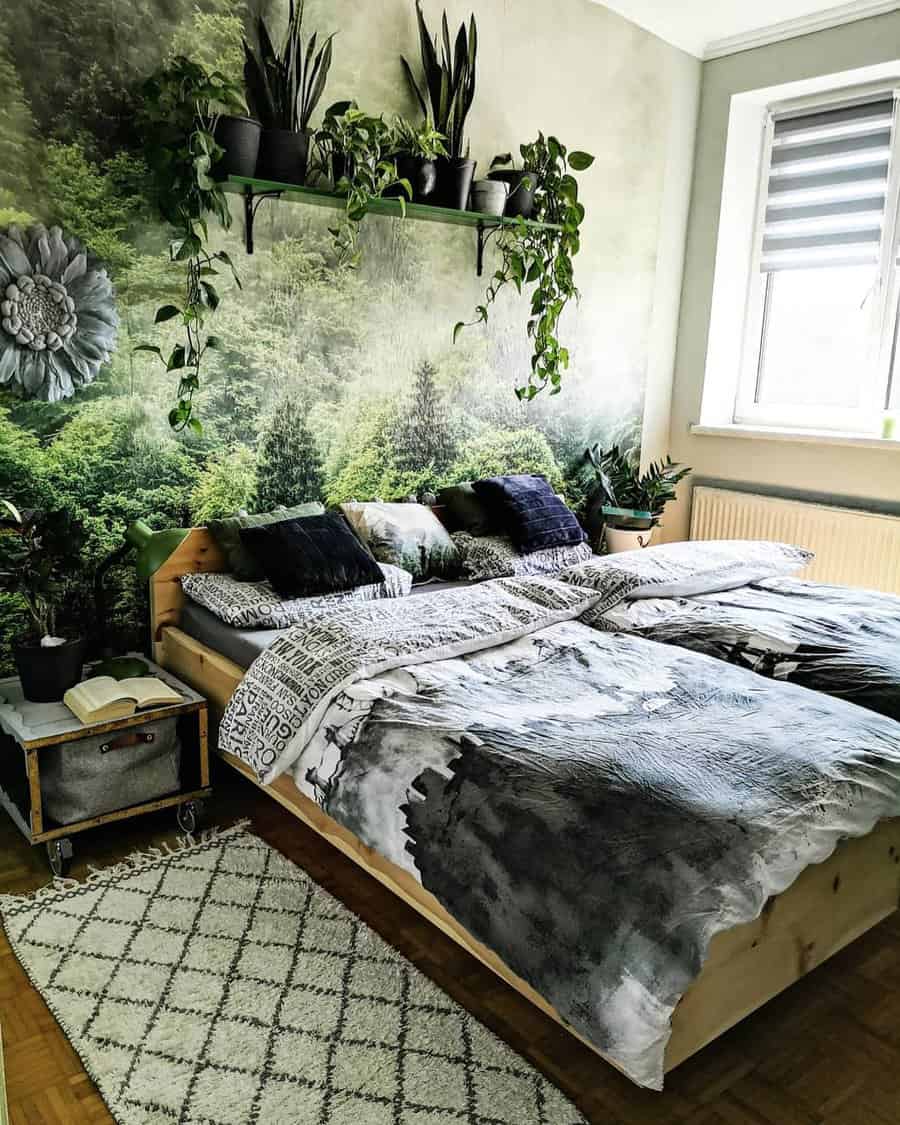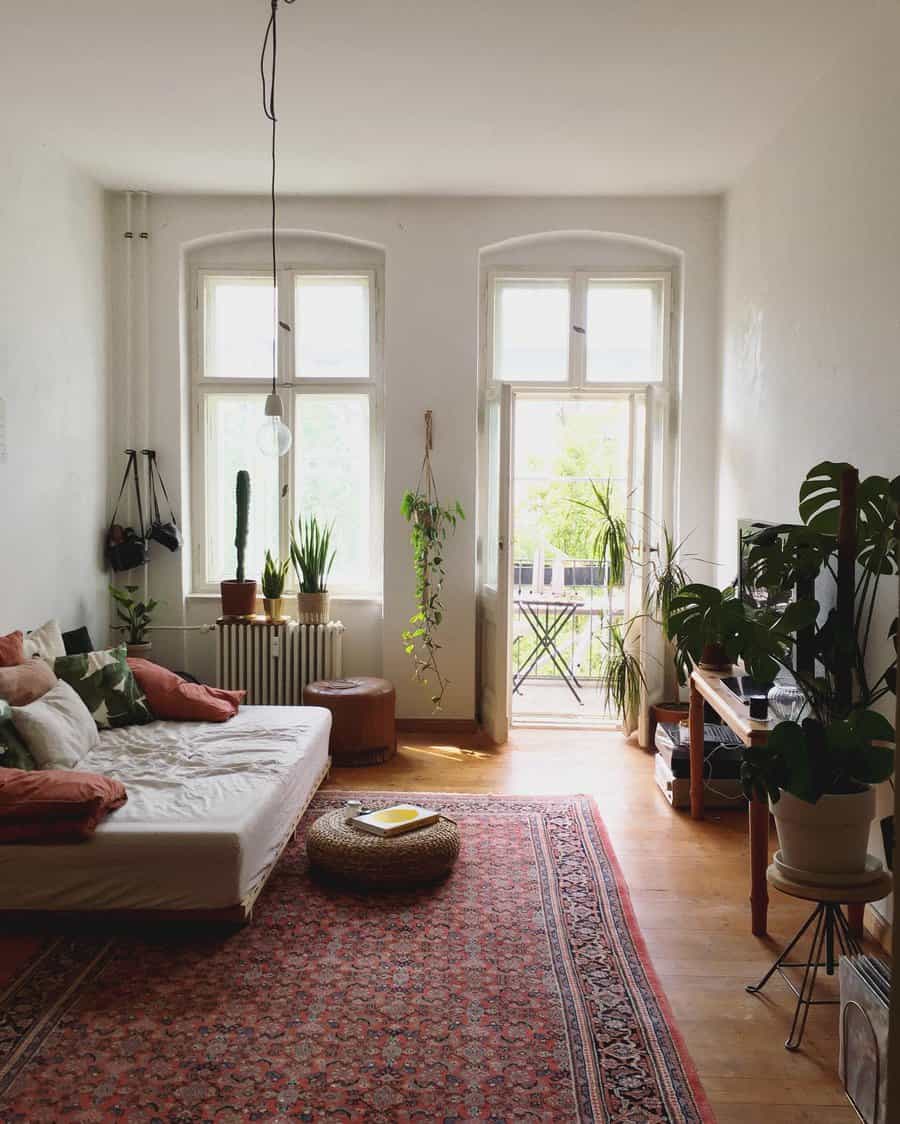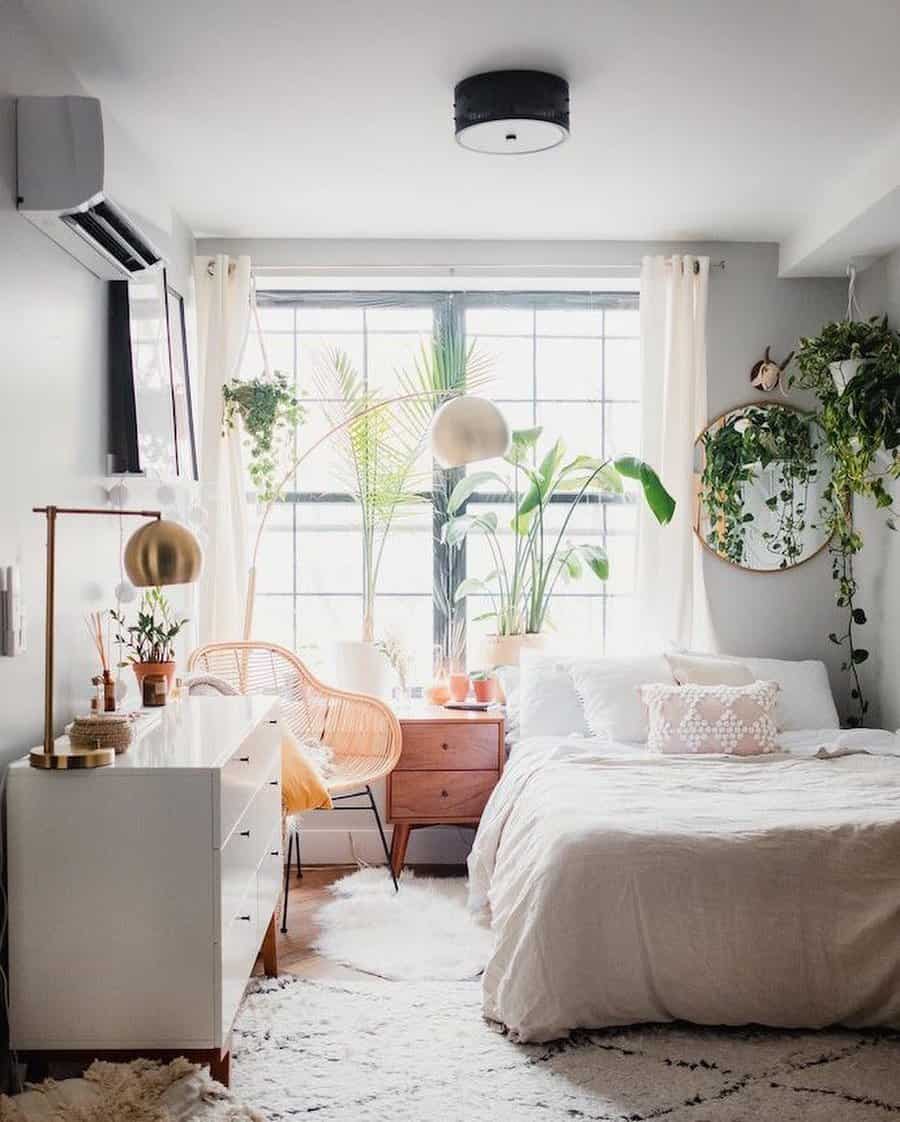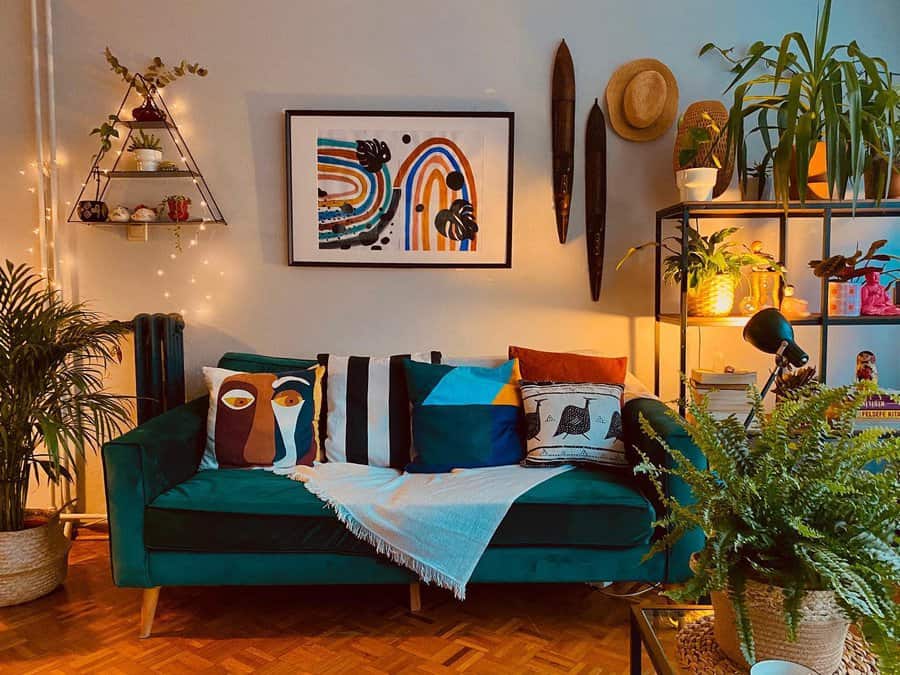 7. Mirrors
Mirrors have long been known to create the illusion of space, and they are the perfect solution for maximizing the potential of your cozy living quarters. By incorporating a large bedroom mirror, you not only add a functional element but also create a sense of openness and depth.
Pick a statement mirror that not only reflects light but also becomes a stunning focal point in your bedroom. Whether you choose a sleek and modern design or a vintage-inspired piece, the right mirror can instantly elevate your space and make it feel much larger than it actually is.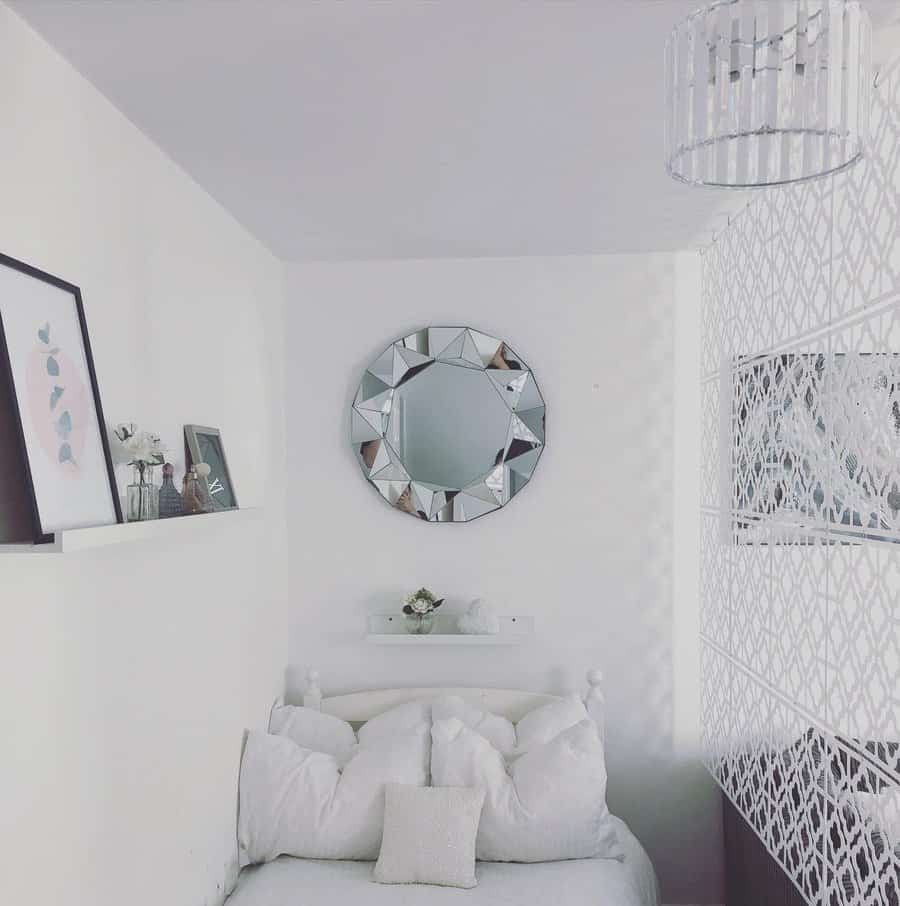 8. Floating Bedroom Shelves
Embrace the charm and functionality of small apartment living with a clever design idea: floating bedroom shelves. These innovative shelves not only maximize your vertical space but also add a touch of style to your cozy sanctuary. By utilizing the walls, you free up valuable floor space and create a sense of openness in your bedroom.
These floating shelves are perfect for displaying your favorite books, cherished decor pieces, and personal mementos. They not only provide storage solutions but also serve as decorative accents that reflect your personality and interests.
Whether you're a bookworm looking to showcase your literary collection or an art enthusiast wanting to display your favorite pieces, floating bedroom shelves offer a practical and visually appealing solution.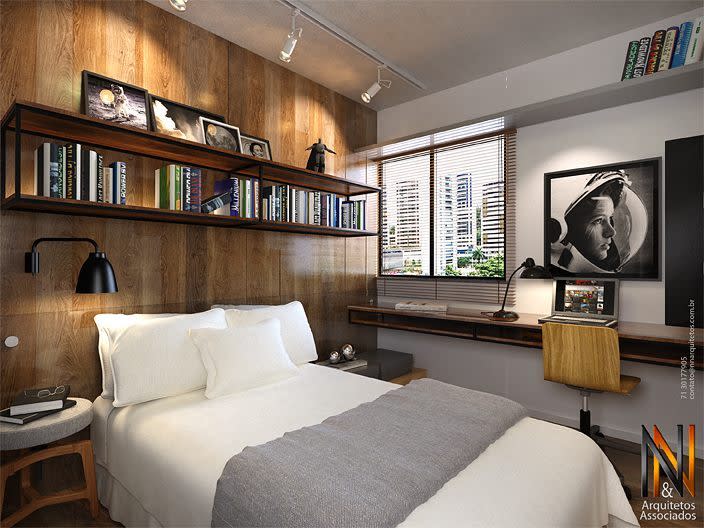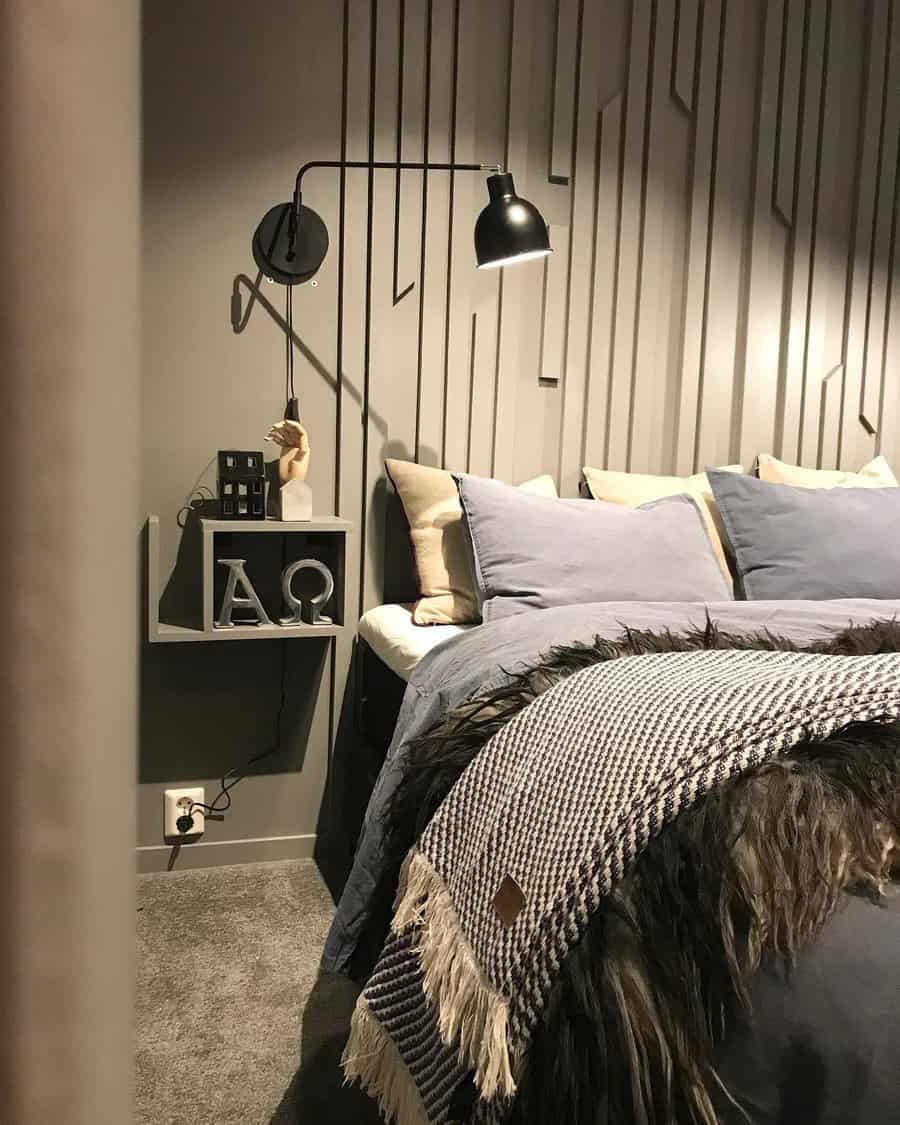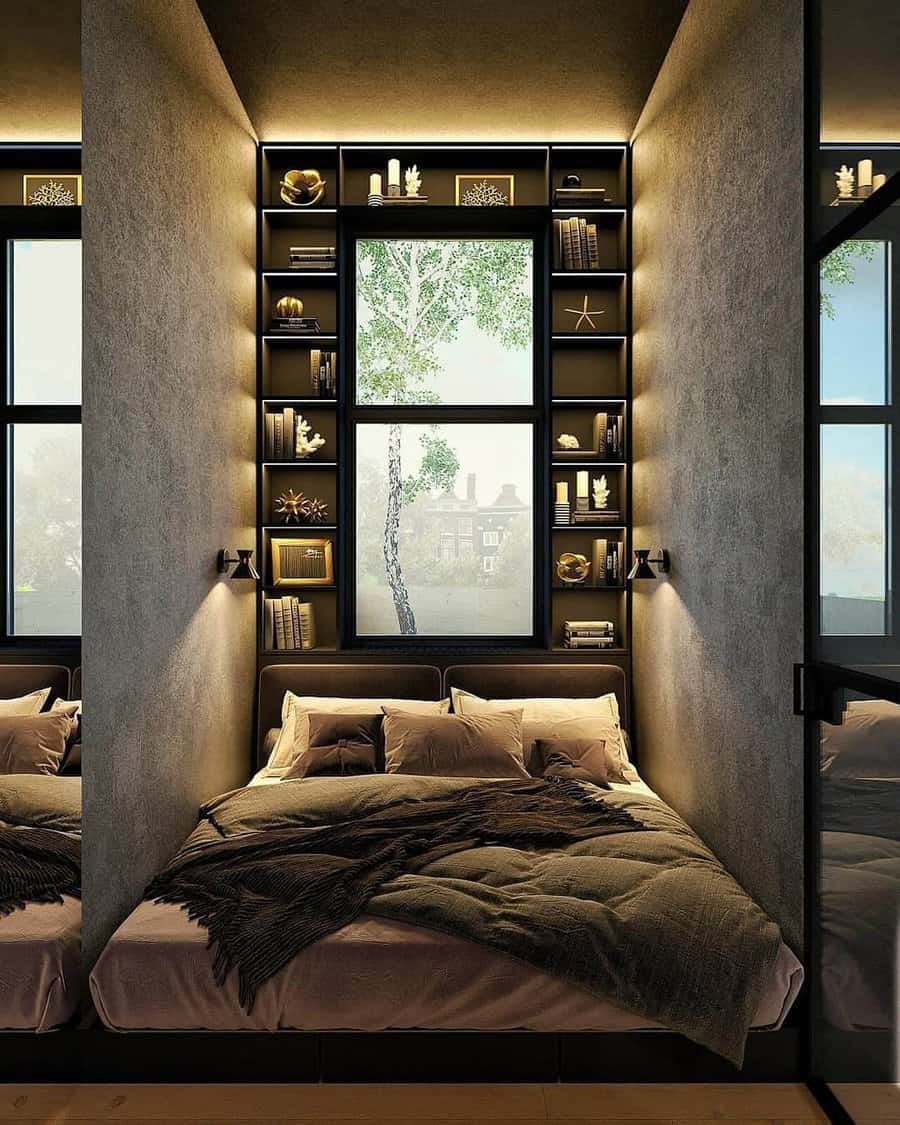 9. Monochromatic Color Palette
If you're looking to make the most of your limited space, a living room with a monochromatic color palette is a fantastic idea. Embracing a seamless blend of colors creates a sense of harmony and openness, making your small apartment feel larger and more cohesive.
Choose a single color, such as shades of grey, white, or even pastels, and incorporate it throughout your living room, from the walls and furniture to the accessories and decor. By using different shades and textures within the same color family, you create depth and visual interest without overwhelming the space.
This monochromatic approach allows for a clean and sophisticated look that is both modern and timeless. It also provides a versatile backdrop for adding pops of color through vibrant throw pillows, artwork, or plants, injecting personality and character into your living room.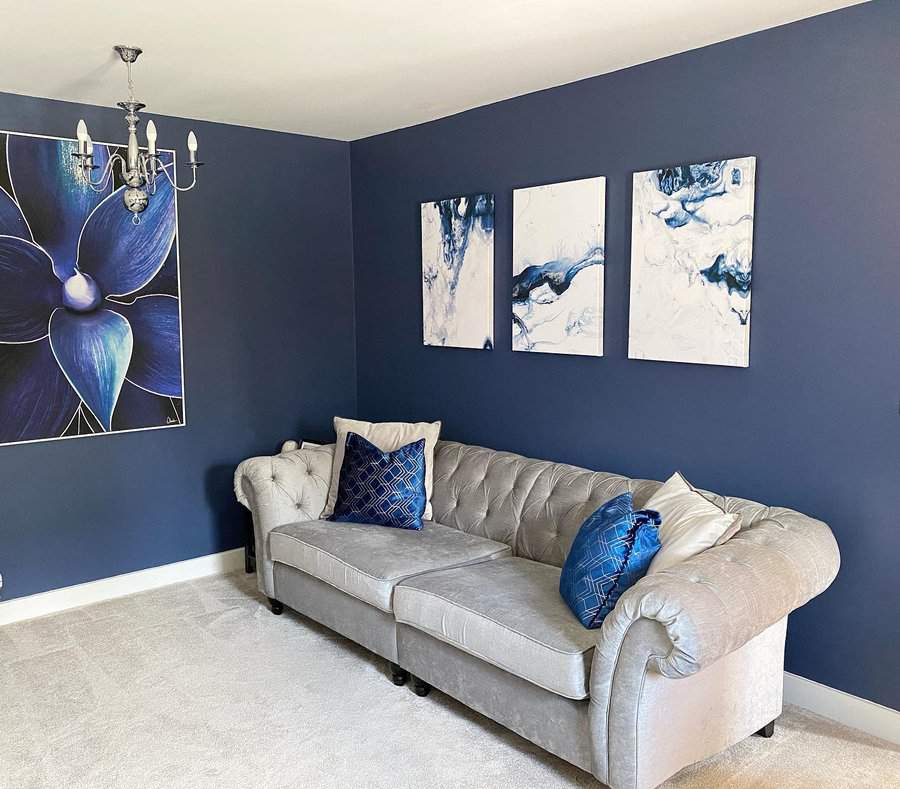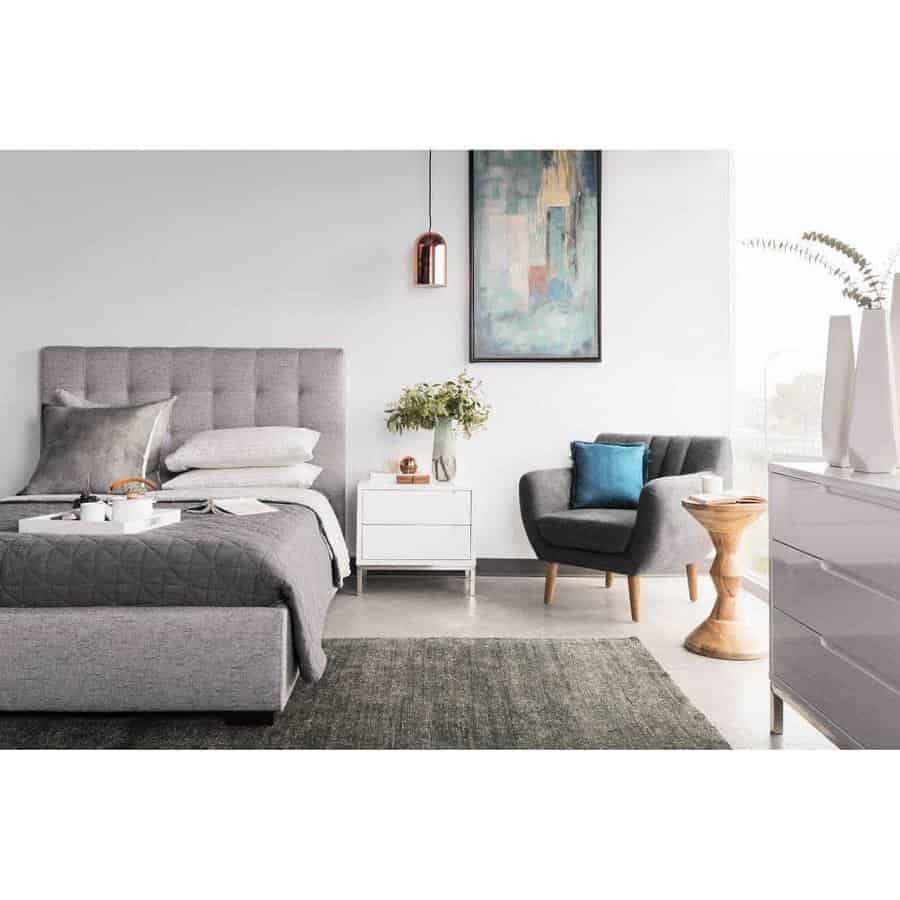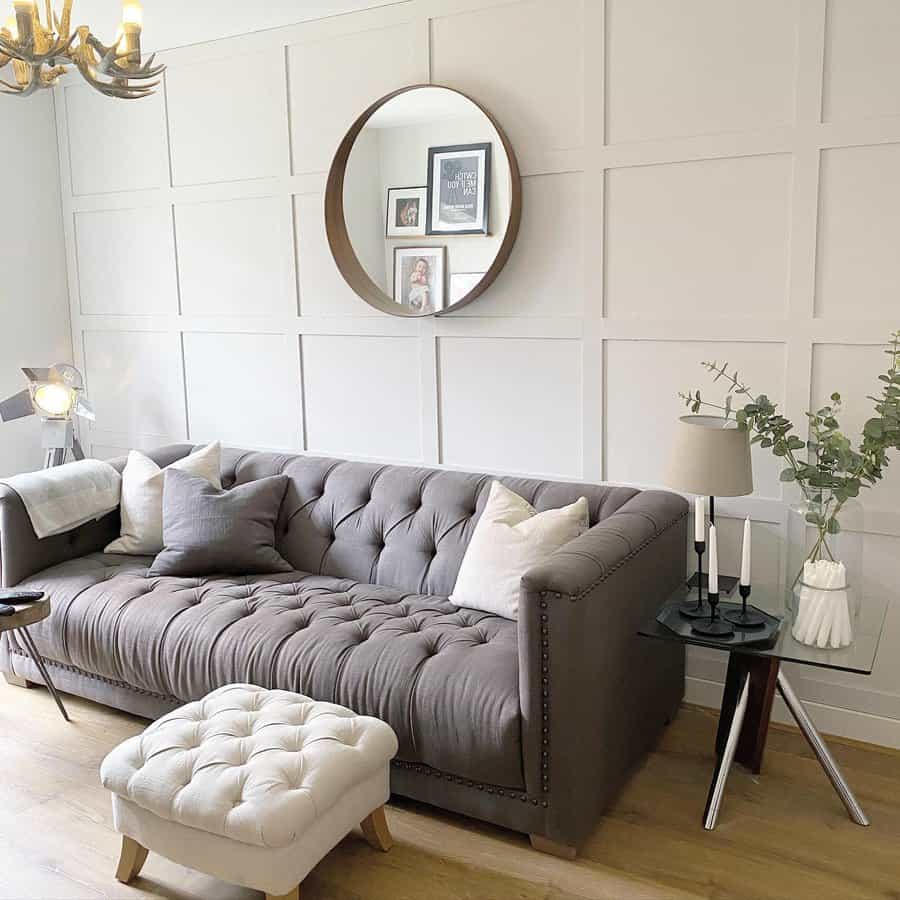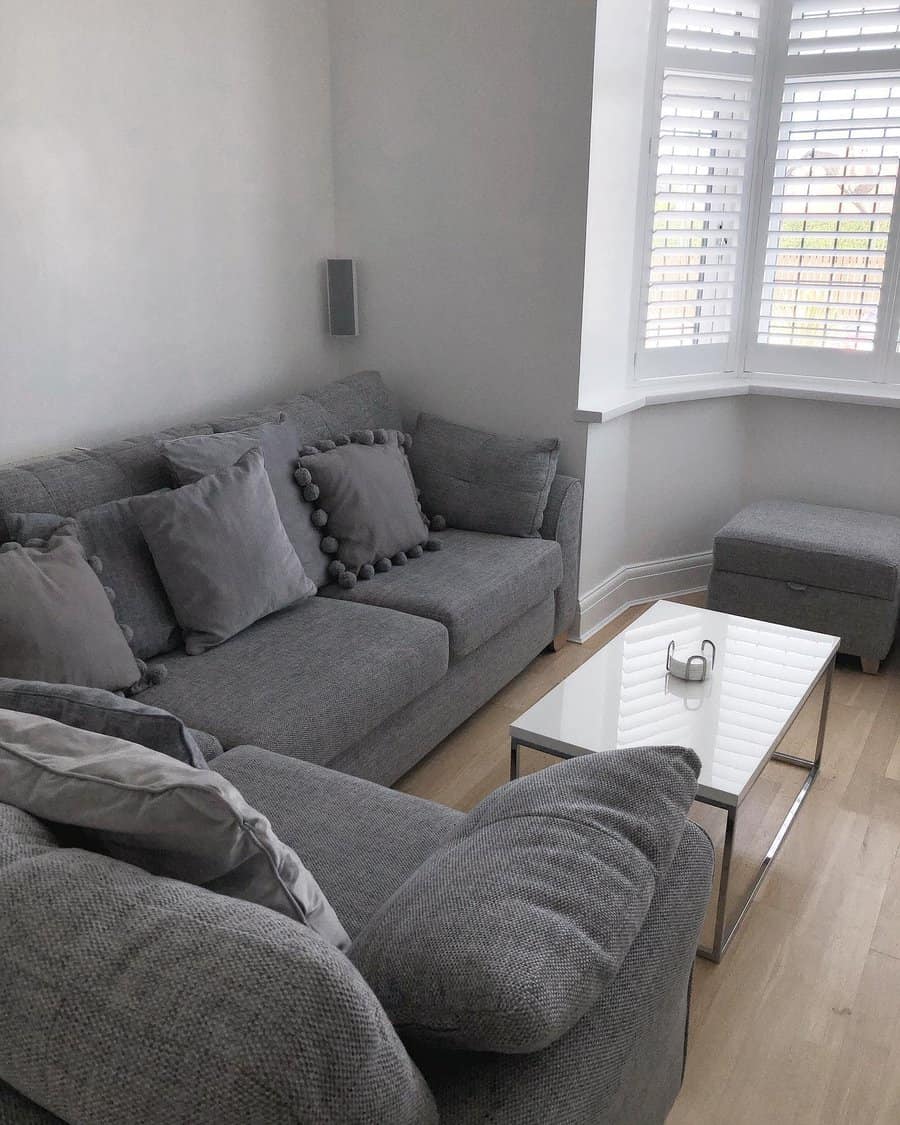 10. Transparent Glass Coffee Table
The clean lines and minimalist aesthetic of a transparent glass coffee table blend seamlessly with any interior style, whether it's contemporary, eclectic, or even Scandinavian. The beauty of this design lies in its ability to visually expand your living area without overwhelming the space.
By opting for a transparent glass coffee table, you can maintain a sense of openness and maximize the functionality of your small apartment. Whether you use it to showcase your favorite books, display decorative accents, or simply enjoy a cup of coffee with friends, this elegant piece of furniture is a versatile addition that effortlessly elevates your living space.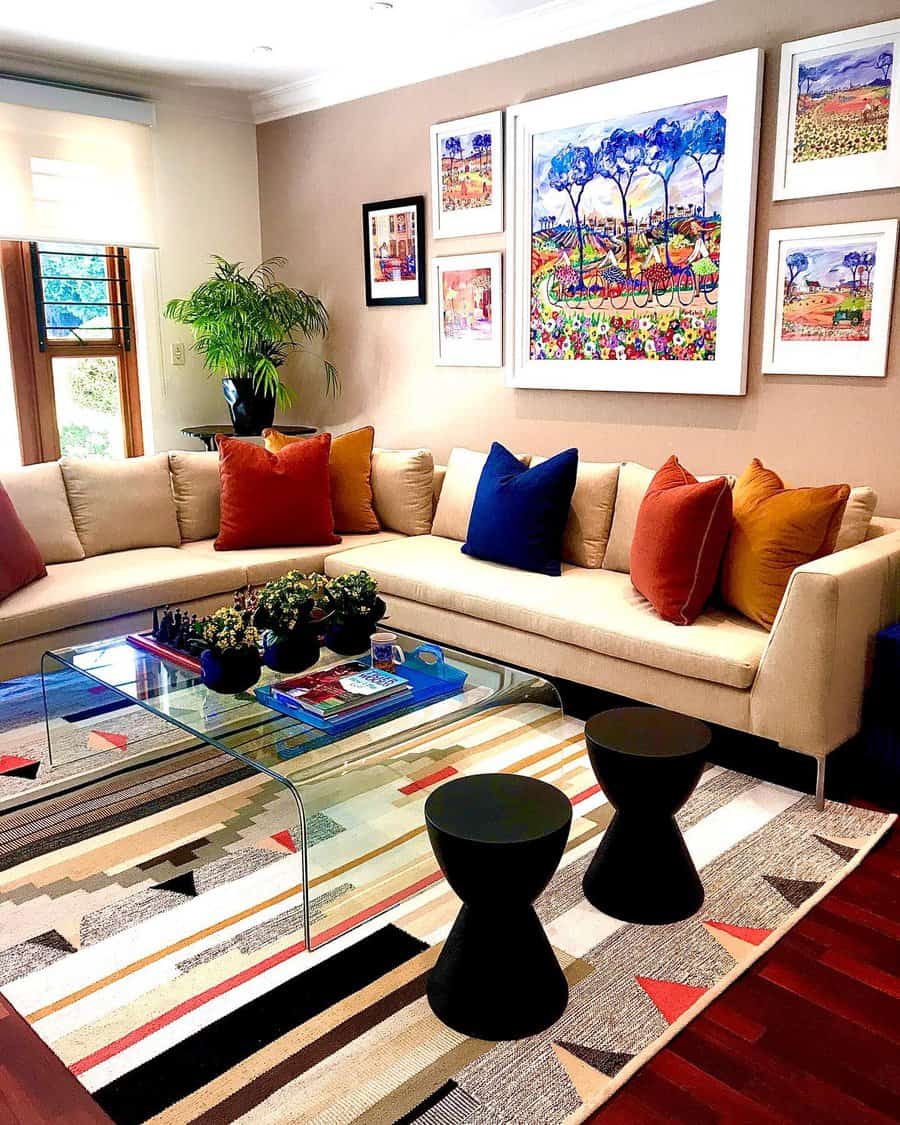 11. Area Rug
Transform your small apartment into a cozy and stylish sanctuary with a carefully chosen living room area rug. When working with limited space, every design element counts and the right rug can make a significant impact. Opt for a rug that not only enhances the aesthetics but also serves a functional purpose. Choose a size that complements your living room layout and allows the furniture to sit comfortably on it.
From bold patterns and vibrant colors to subtle textures and neutral tones, there's a wide range of options to suit your personal style and enhance the overall ambiance of your space. A well-placed area rug can define the living area, add warmth and comfort underfoot, and create a visual anchor that ties the room together. It's the perfect opportunity to infuse your small apartment with personality and character.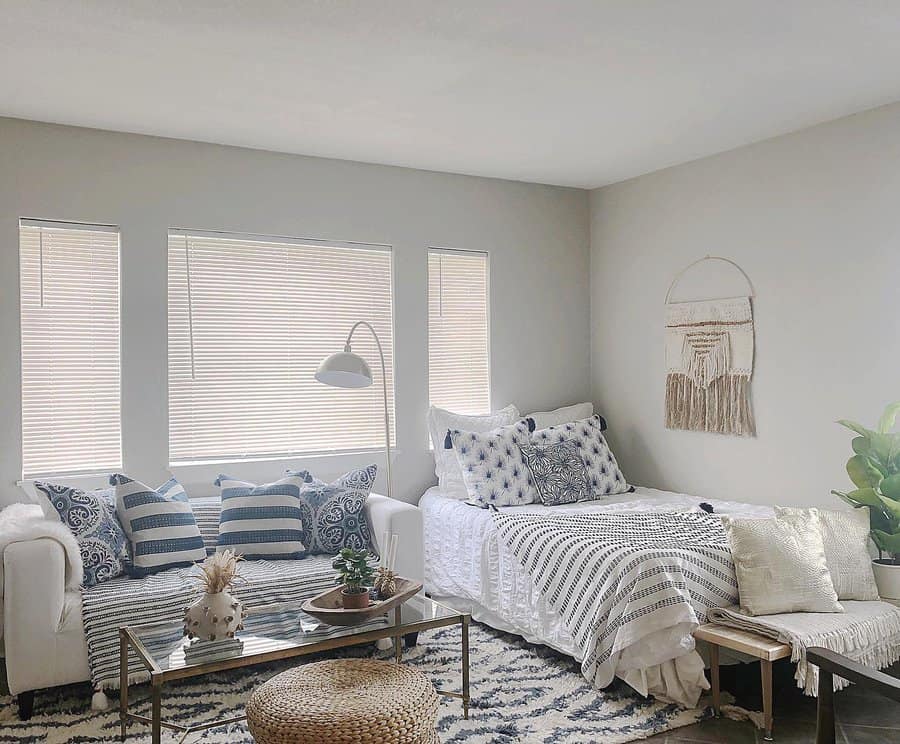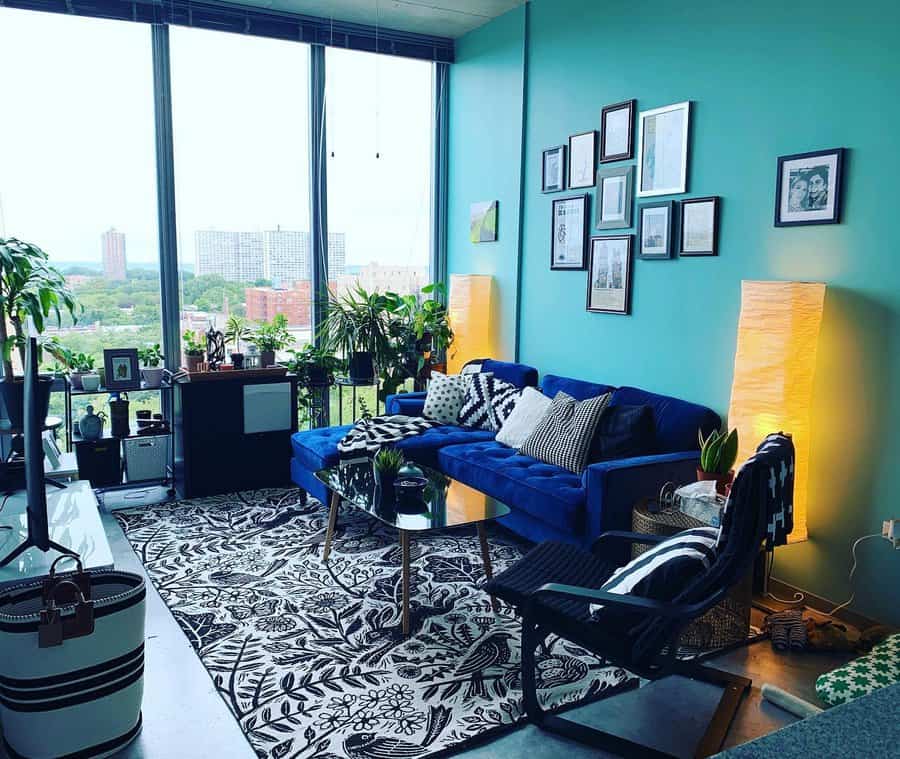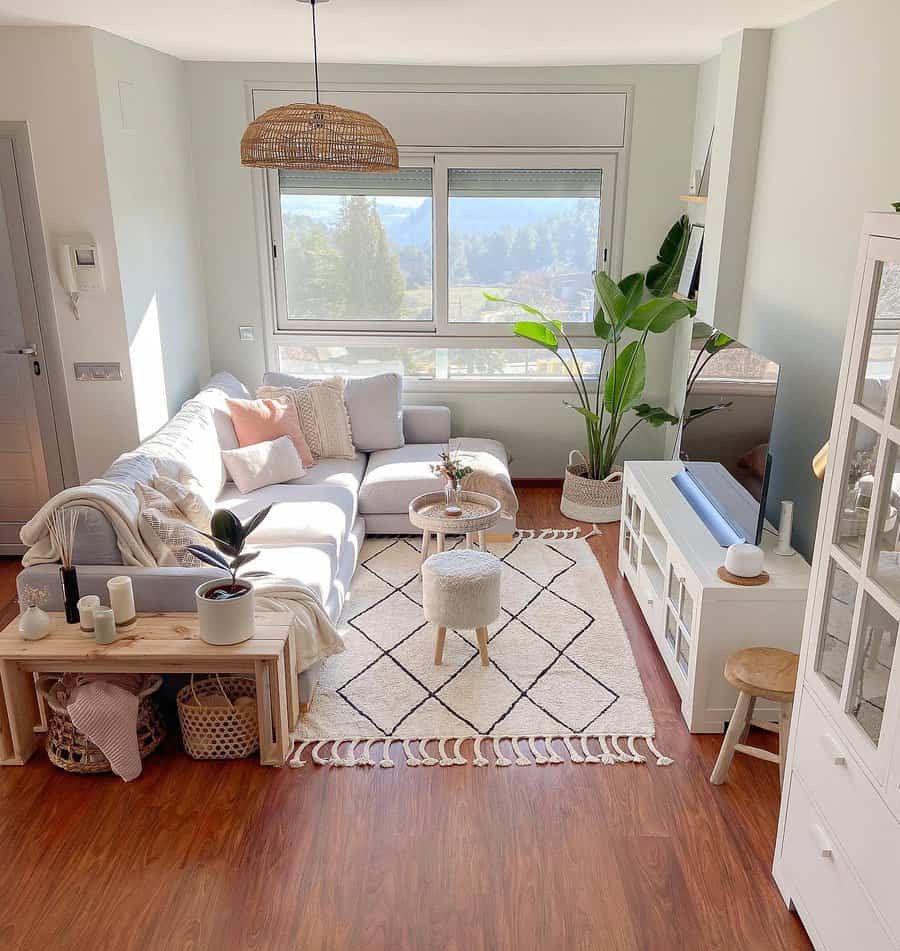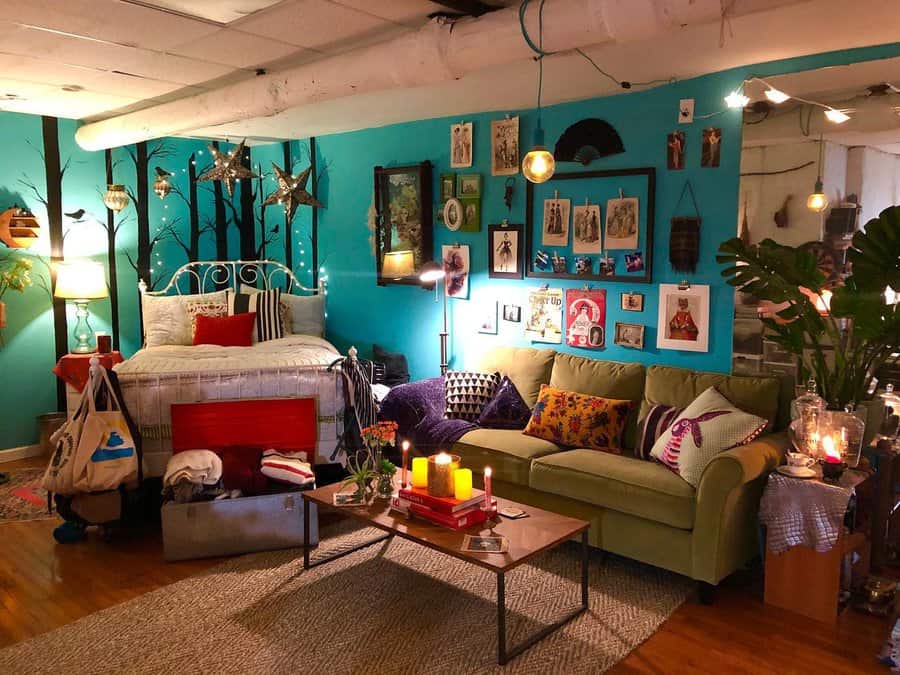 12. L-Shaped Sofa
An L-shaped structure allows the sofa to hug the corners, making efficient use of the available area while still offering plenty of room to stretch out and relax. Whether you choose a sleek and modern design or a plush and inviting one, an L-shaped sofa adds both functionality and visual appeal to your small apartment.
It serves as a focal point, creating a cozy atmosphere where you can unwind after a long day. With the right combination of cushions, throws, and accent pillows, you can infuse your personal style and create a comfortable seating arrangement that reflects your taste and personality.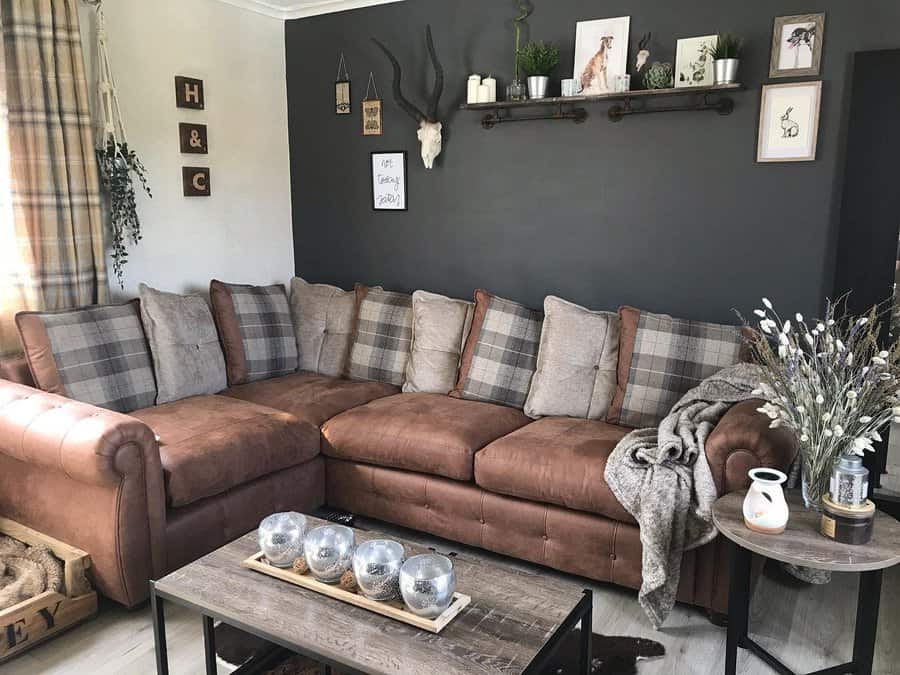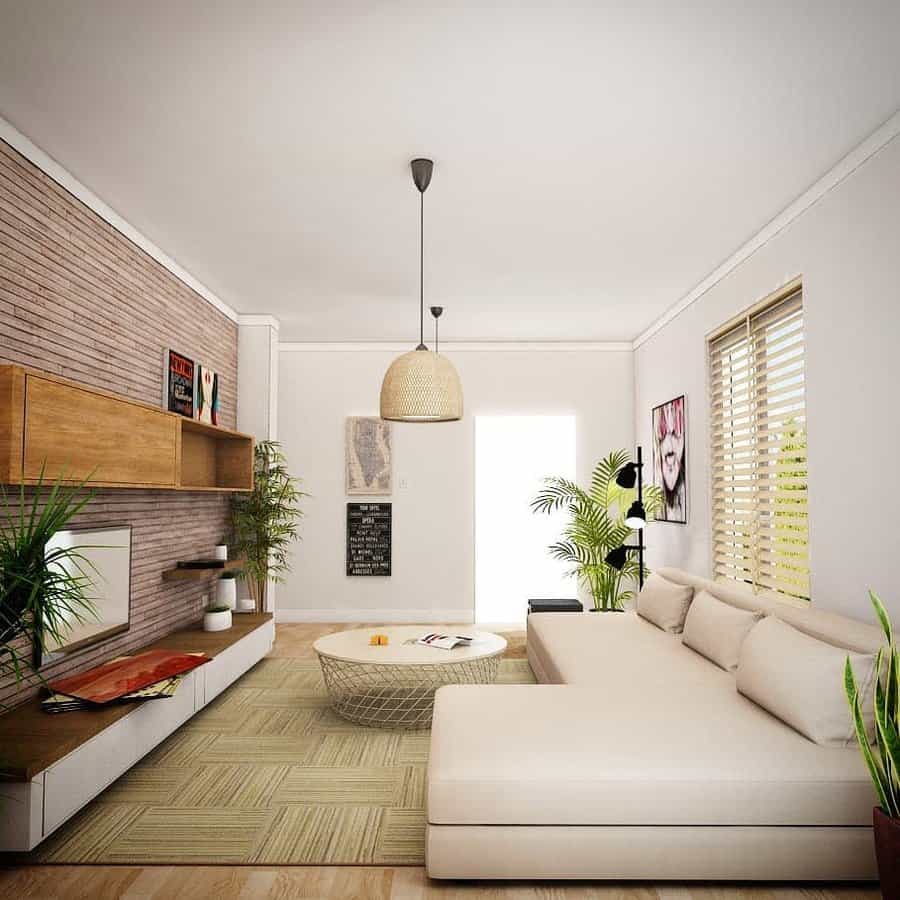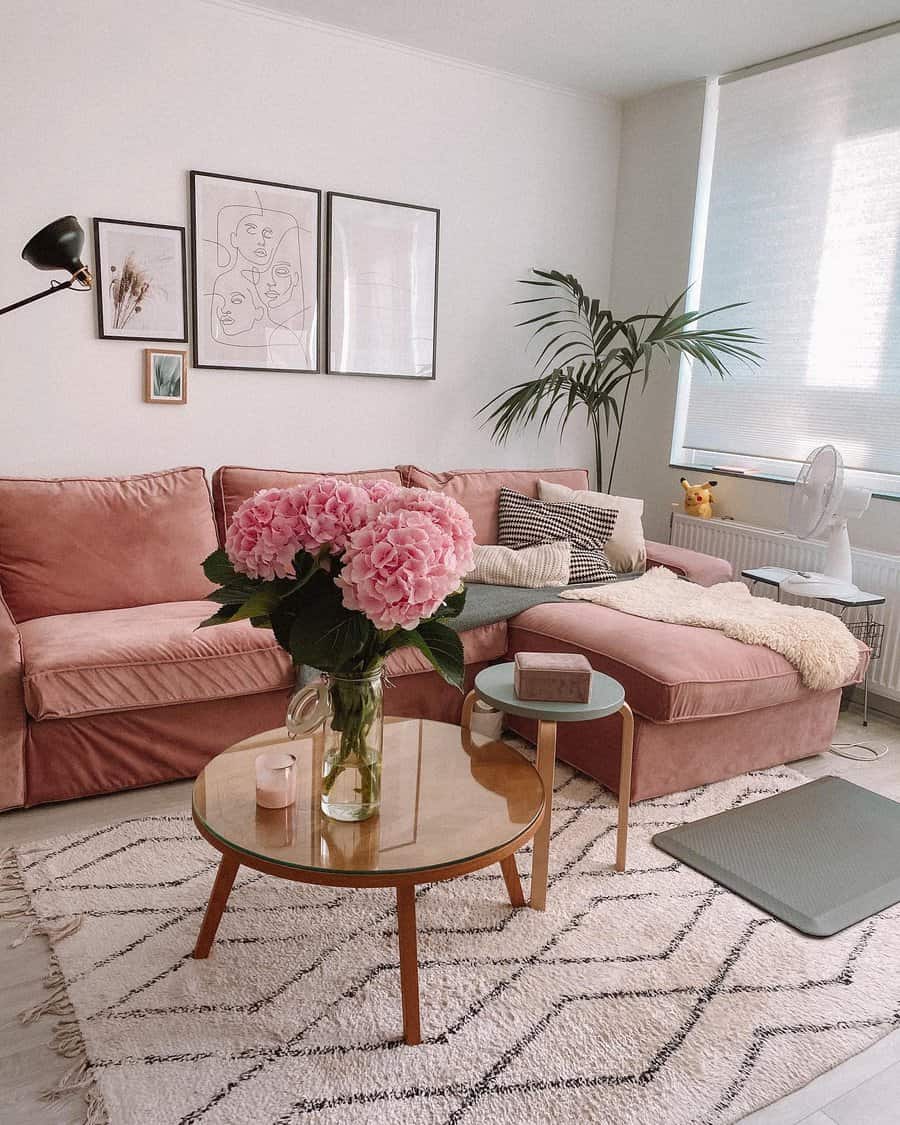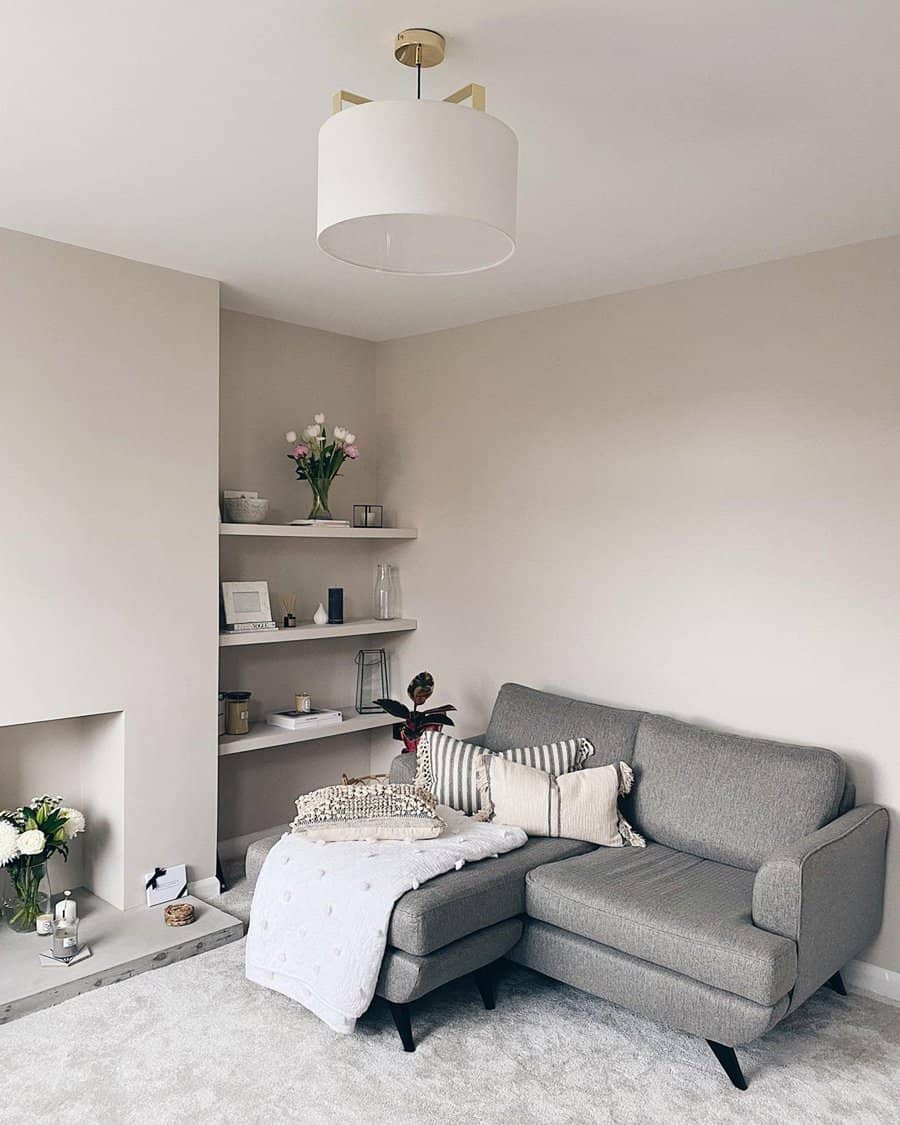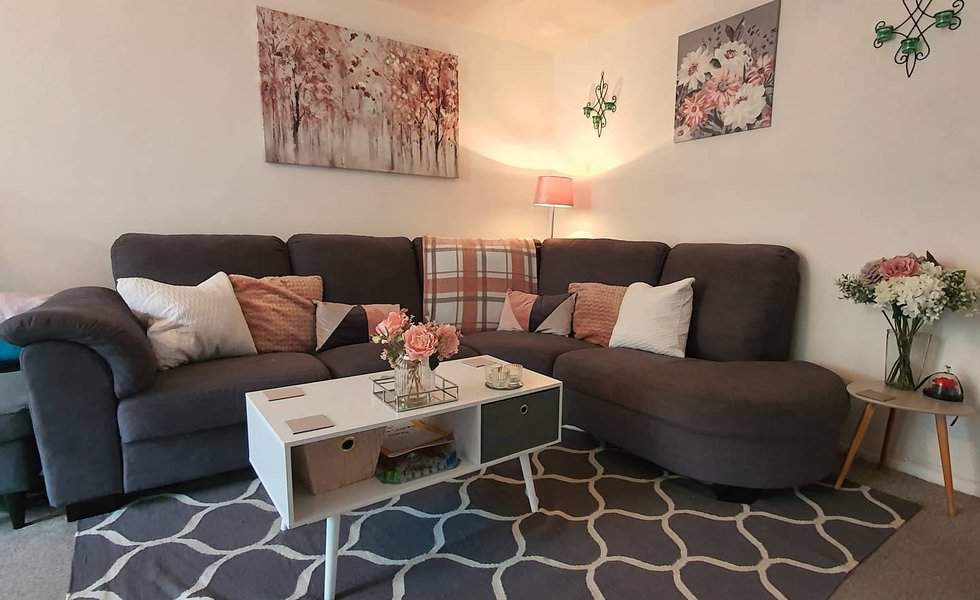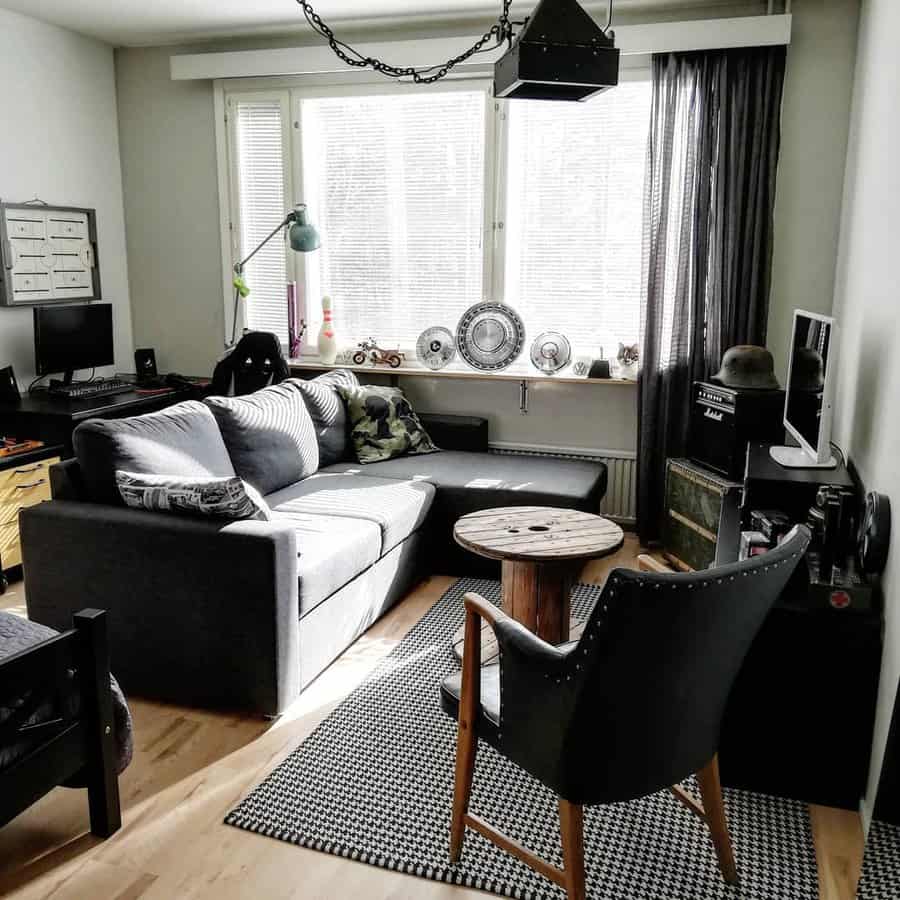 13. Accent Wall
Whether you opt for a solid color or decorative tiles, an accent wall can instantly elevate the look and feel of your living room, bedroom, or kitchen. Choose a bold hue that complements your existing decor or go for eye-catching patterned tiles to add visual interest.
The beauty of an accent wall lies in its ability to create a focal point and draw attention, diverting the eye away from the limited space. It adds depth and character to the room, giving the illusion of a larger and more dynamic environment.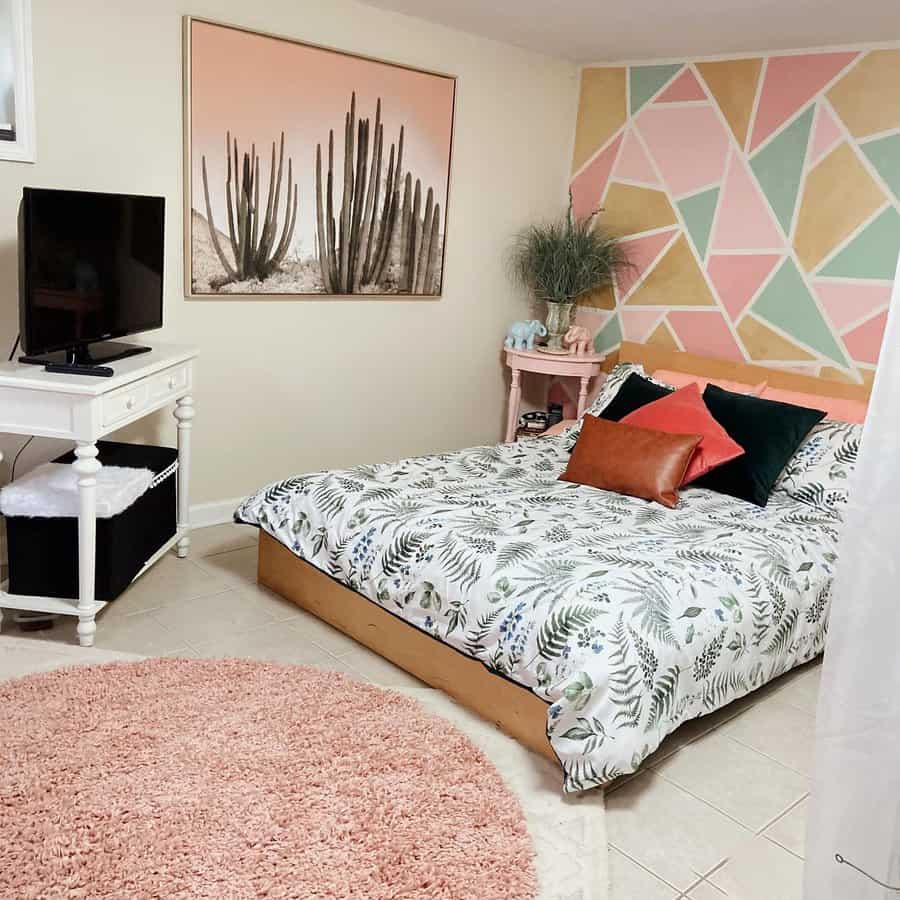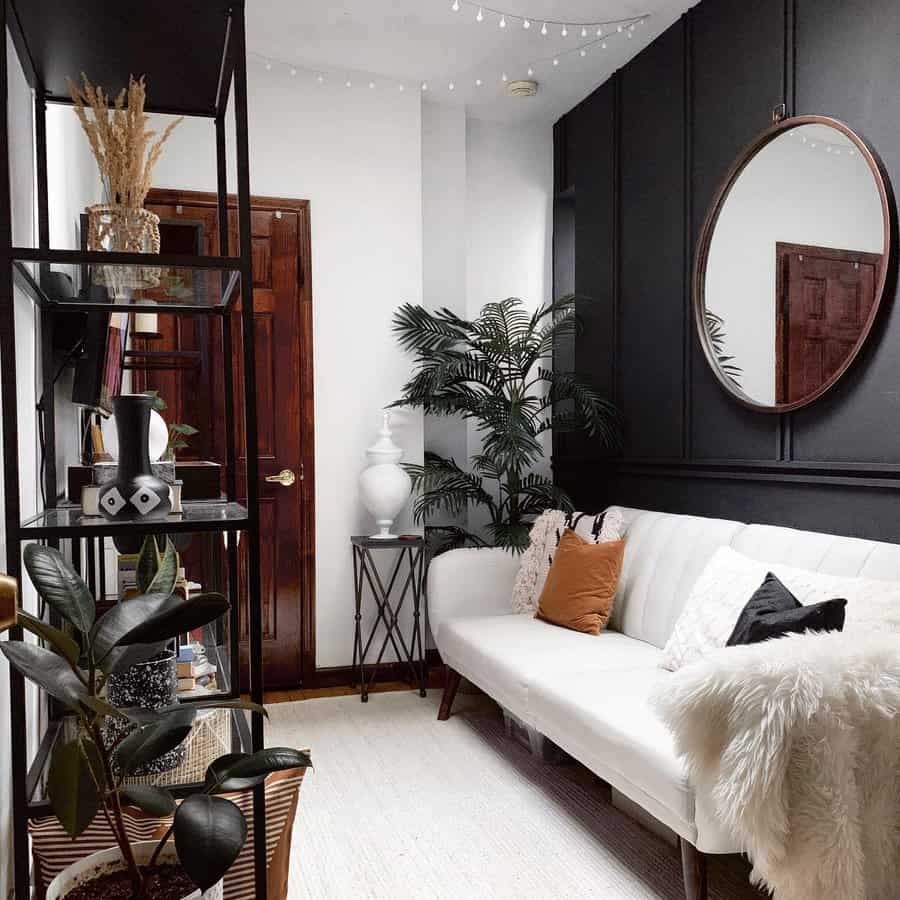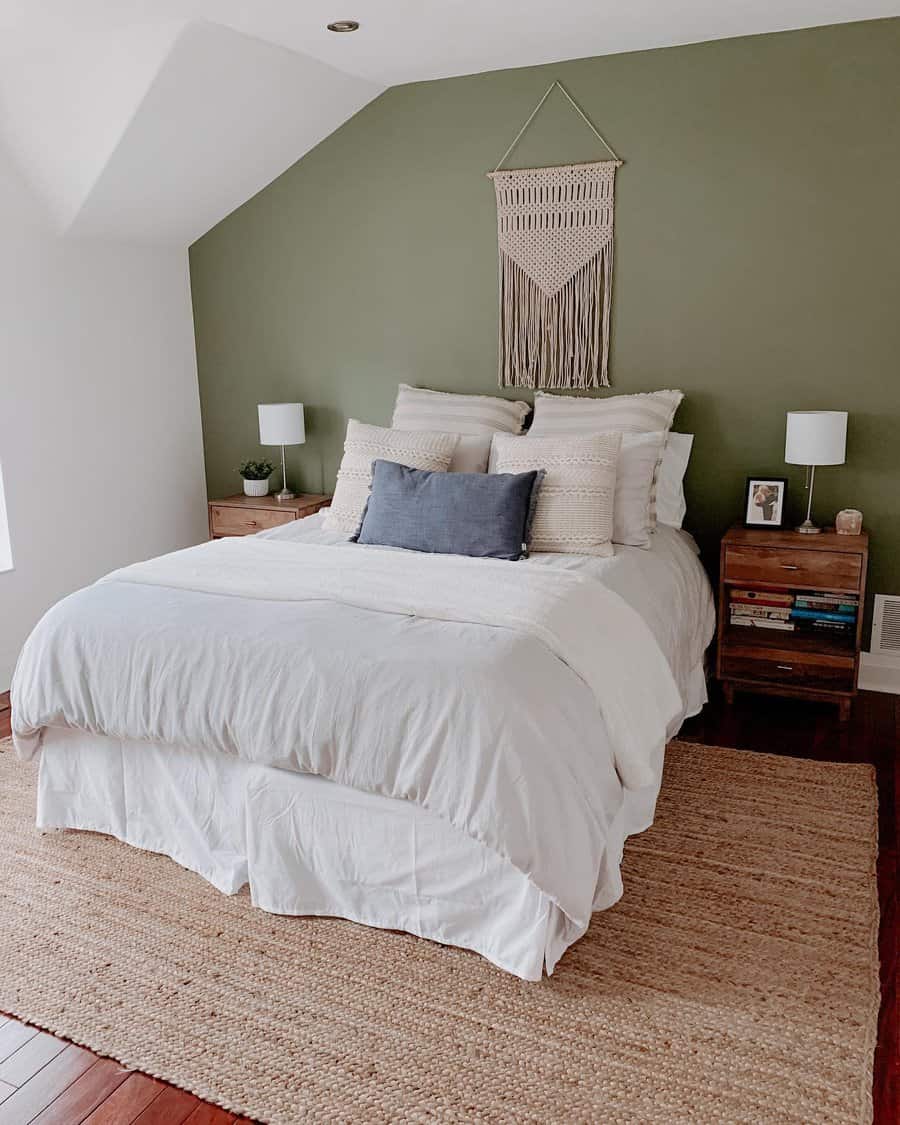 14. Wall-Mounted Cupboards
Transforming a small apartment into a stylish and functional space requires innovative design ideas that make the most of every inch. Enter wall-mounted cupboards, the secret weapon for maximizing storage and creating a sleek aesthetic. These floating kitchen cabinets not only provide ample storage for your cookware and utensils but also free up valuable floor space, making your small apartment feel more open and spacious.
To further optimize your kitchen's layout, consider incorporating a mounted microwave, which eliminates the need for countertop space and seamlessly integrates with the wall-mounted cupboards. The combination of these two elements not only adds functionality but also adds a modern and streamlined look to your kitchen.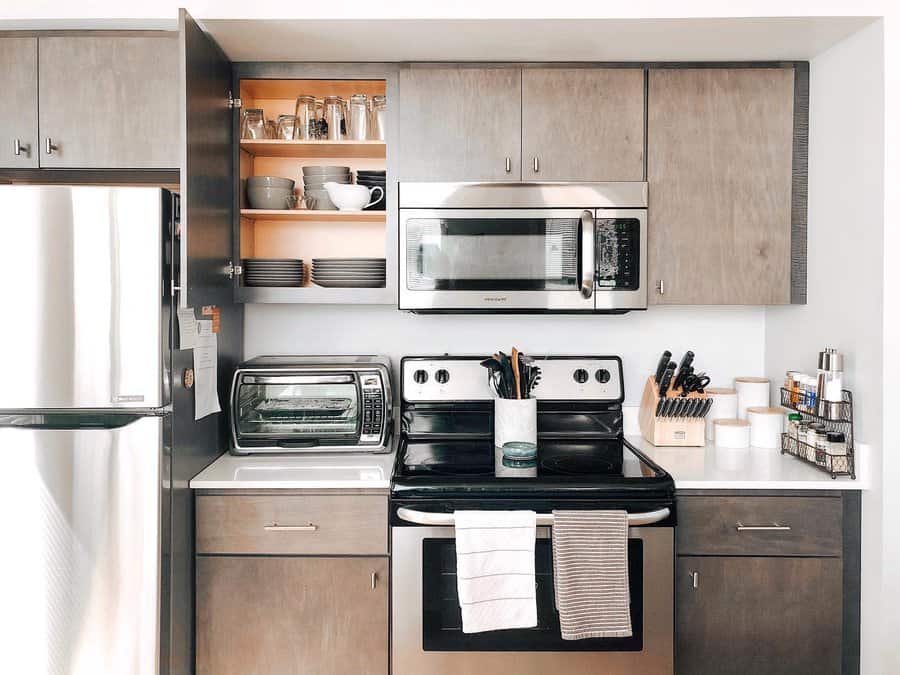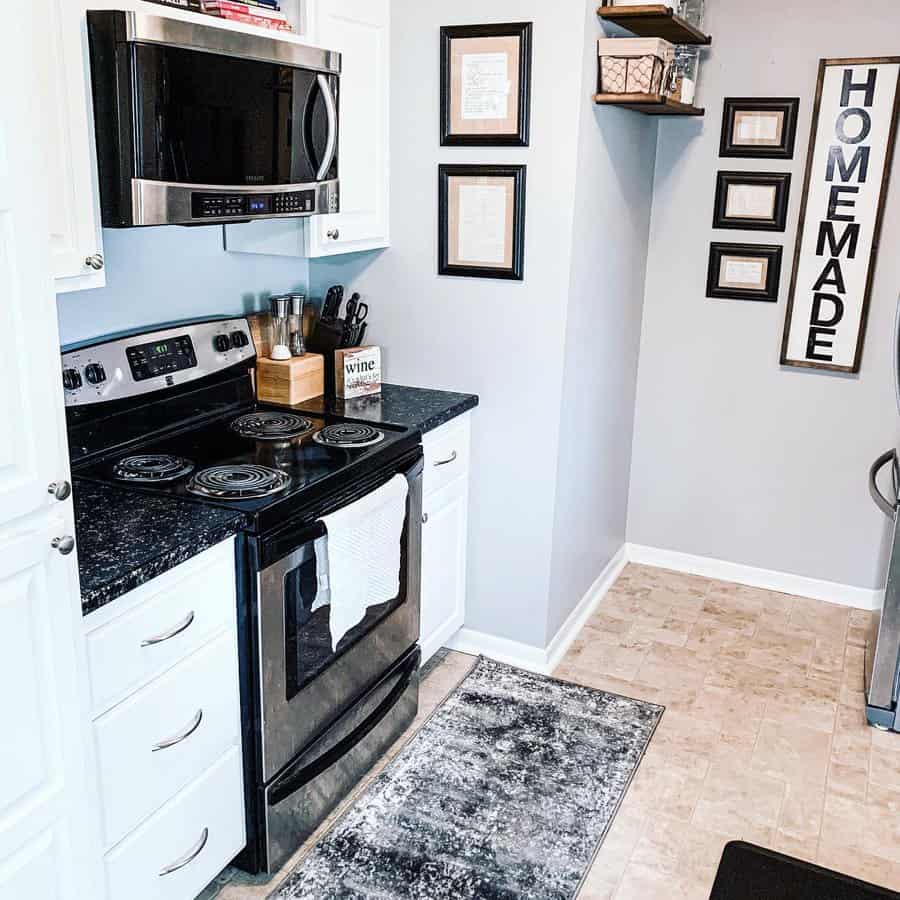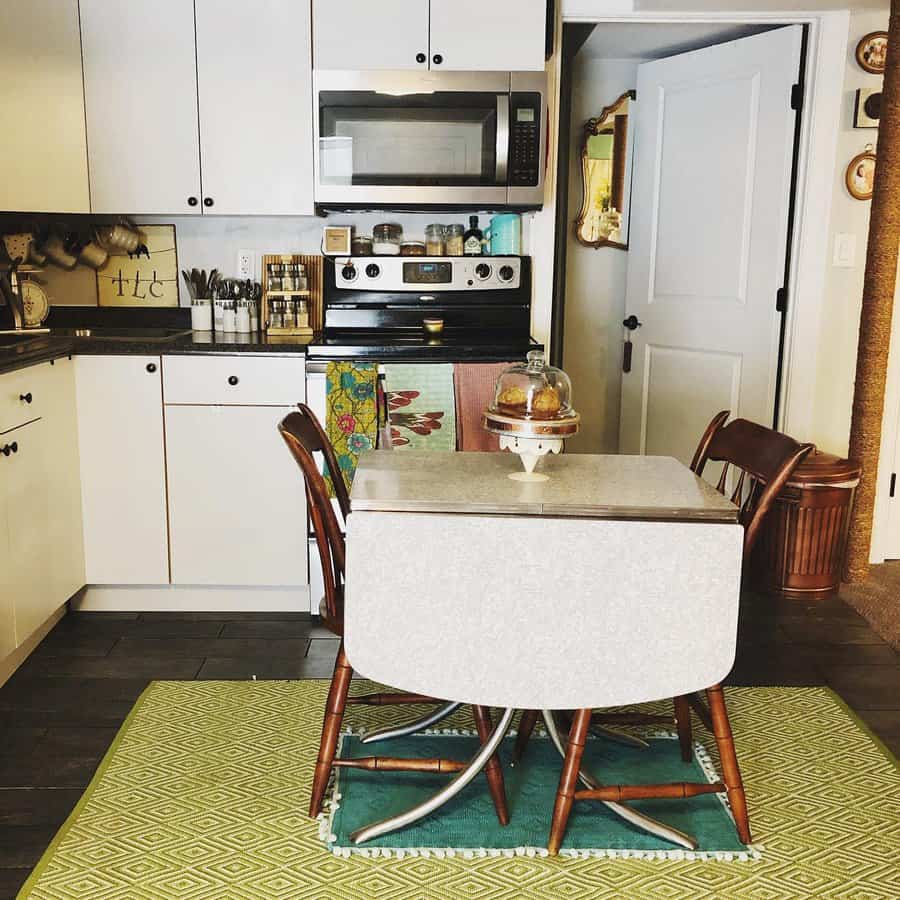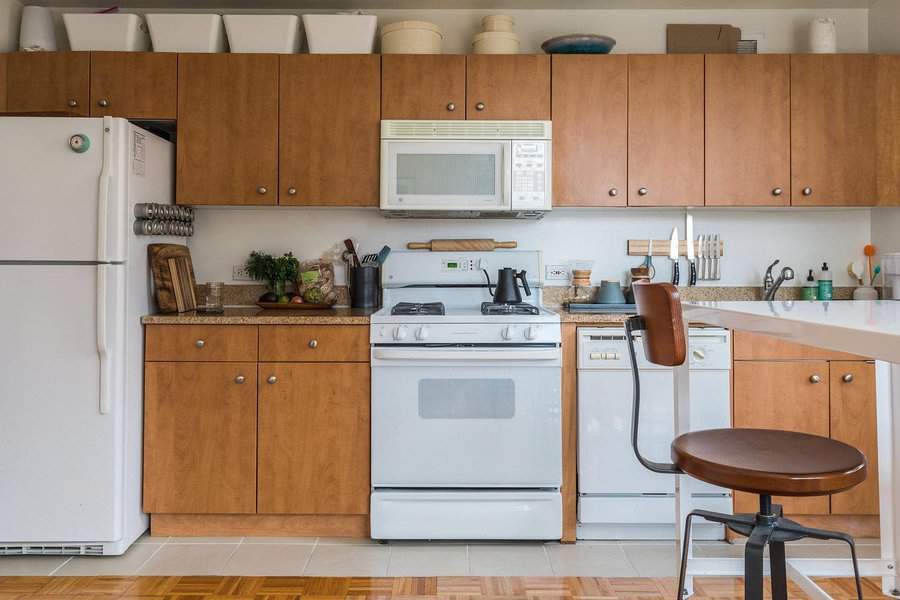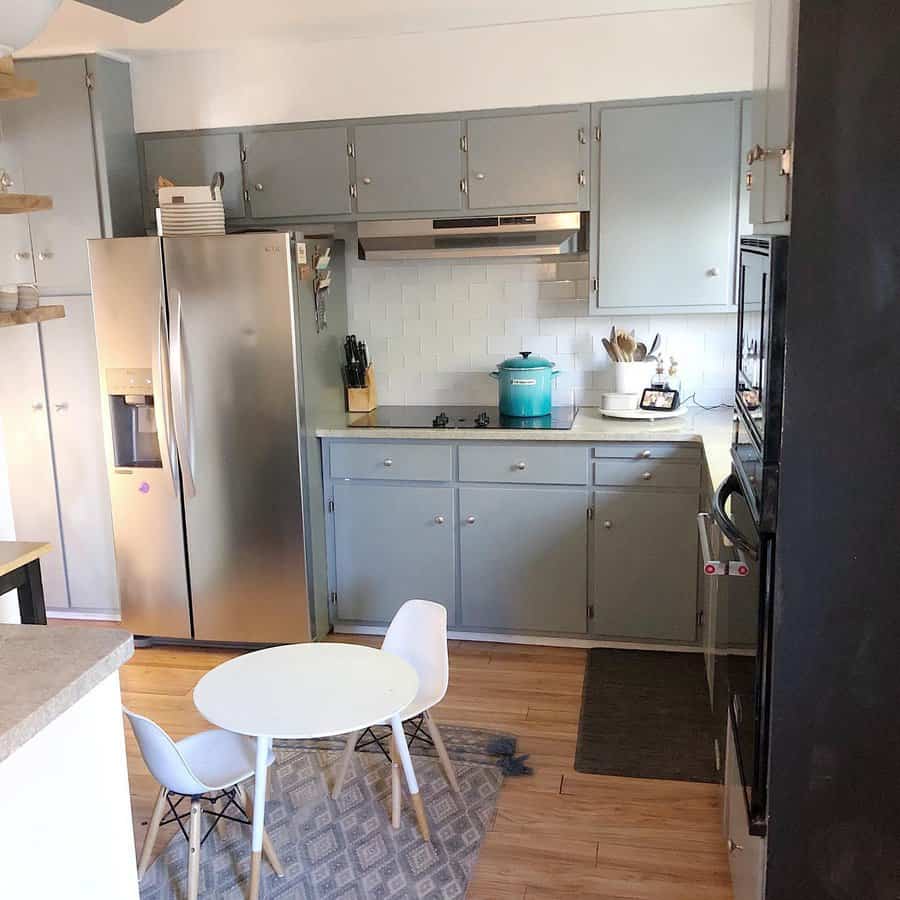 15. Recessed Kitchen Space
Custom cabinetry and clever storage solutions make the most of the available space, allowing you to store all your kitchen essentials without sacrificing style. Incorporate space-saving appliances and multifunctional furniture to further enhance the functionality of your recessed kitchen.
By integrating your cooking and dining area into a recessed space, you create a cozy and intimate atmosphere, perfect for entertaining friends or enjoying a quiet meal. So, embrace the possibilities of small apartment living and make the most of your space with a stylish and practical recessed kitchen design.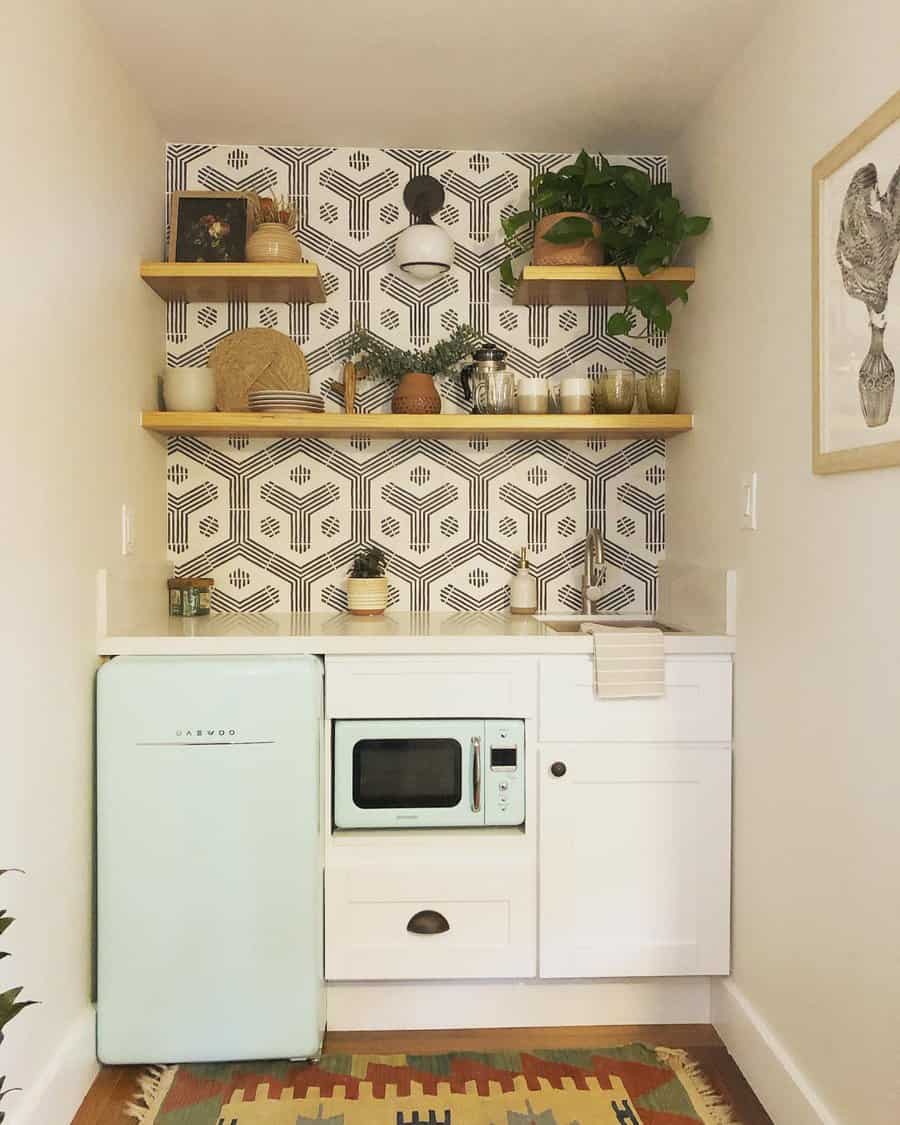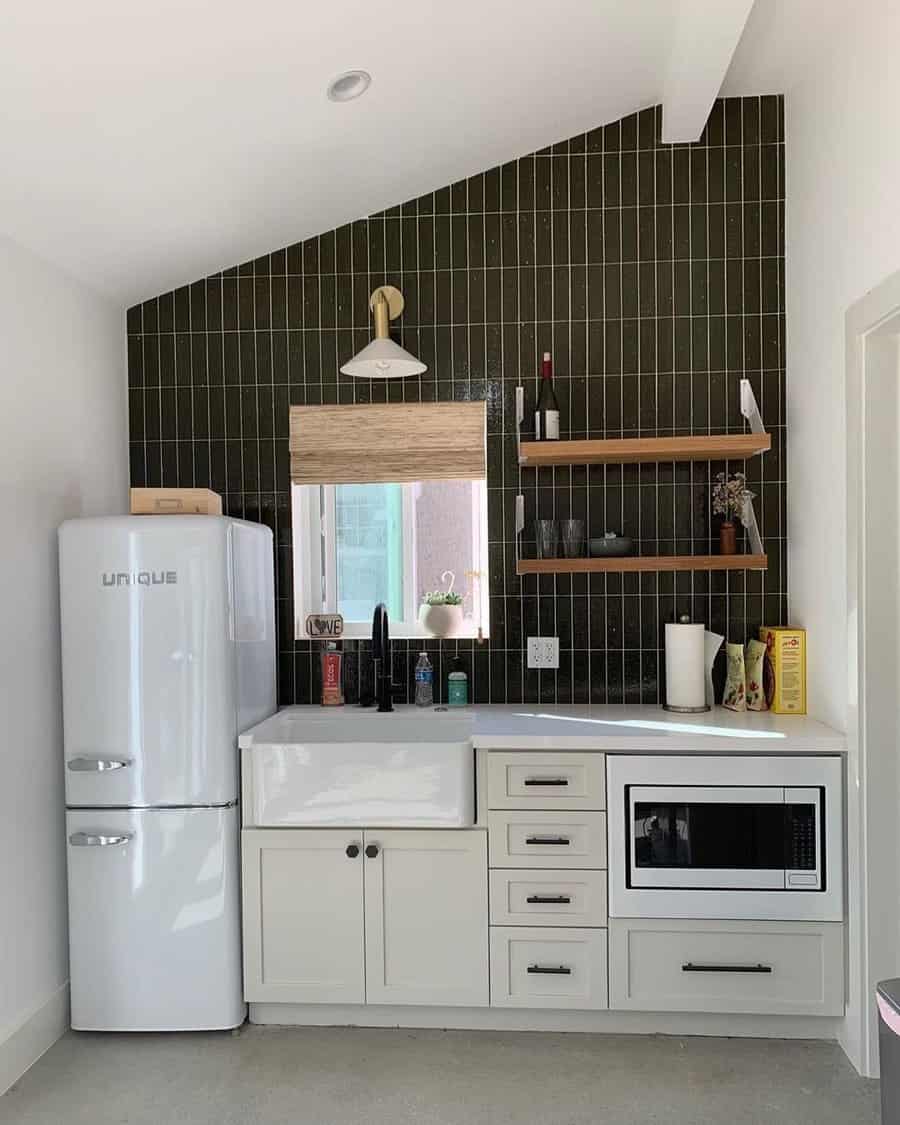 16. L-Shaped Kitchen Countertop
Unlock the full potential of your small apartment with a creative and functional L-shaped counter. This clever design idea allows you to make the most of limited space while adding a stylish touch to your kitchen area. By utilizing an L-shaped kitchen counter, you create a versatile and efficient workspace that maximizes both storage and functionality.
The extended countertop provides ample room for meal preparation, cooking, and even dining, saving you valuable square footage. With strategically placed cabinets and shelves, you can keep your kitchen essentials neatly organized and easily accessible.
The L-shaped counter not only enhances the flow and functionality of your kitchen but also adds a modern and sleek aesthetic to your living space.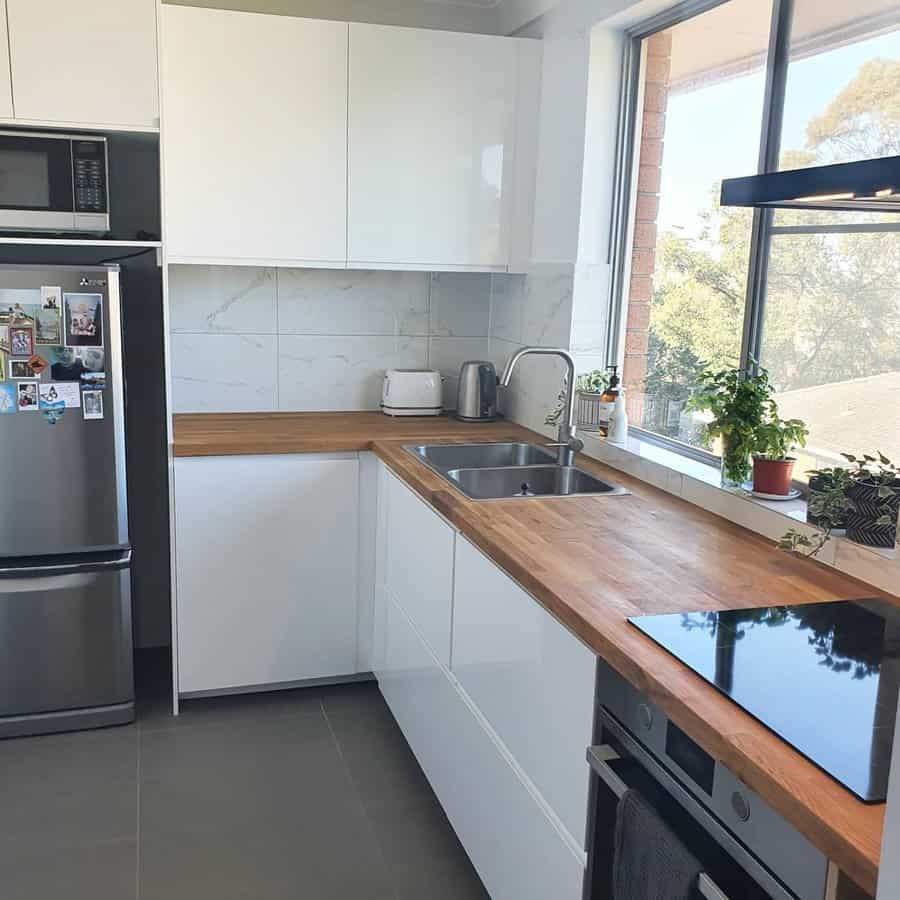 17. Kitchen Floating Shelves
These versatile shelves not only add a touch of modern elegance but also maximize storage and display options in a limited space. By installing floating shelves, you can showcase your beautiful dinnerware collection and create an open pantry concept. This allows you to easily access your favorite dishes and ingredients while adding a decorative element to your kitchen.
The key is to arrange your items in an organized and visually pleasing way, combining form and function. Whether it's displaying colorful plates and bowls or arranging glass jars filled with grains and spices, these floating shelves instantly elevate the aesthetic appeal of your small apartment. Plus, they create the illusion of a more open and spacious kitchen, making your entire living area feel larger and more inviting.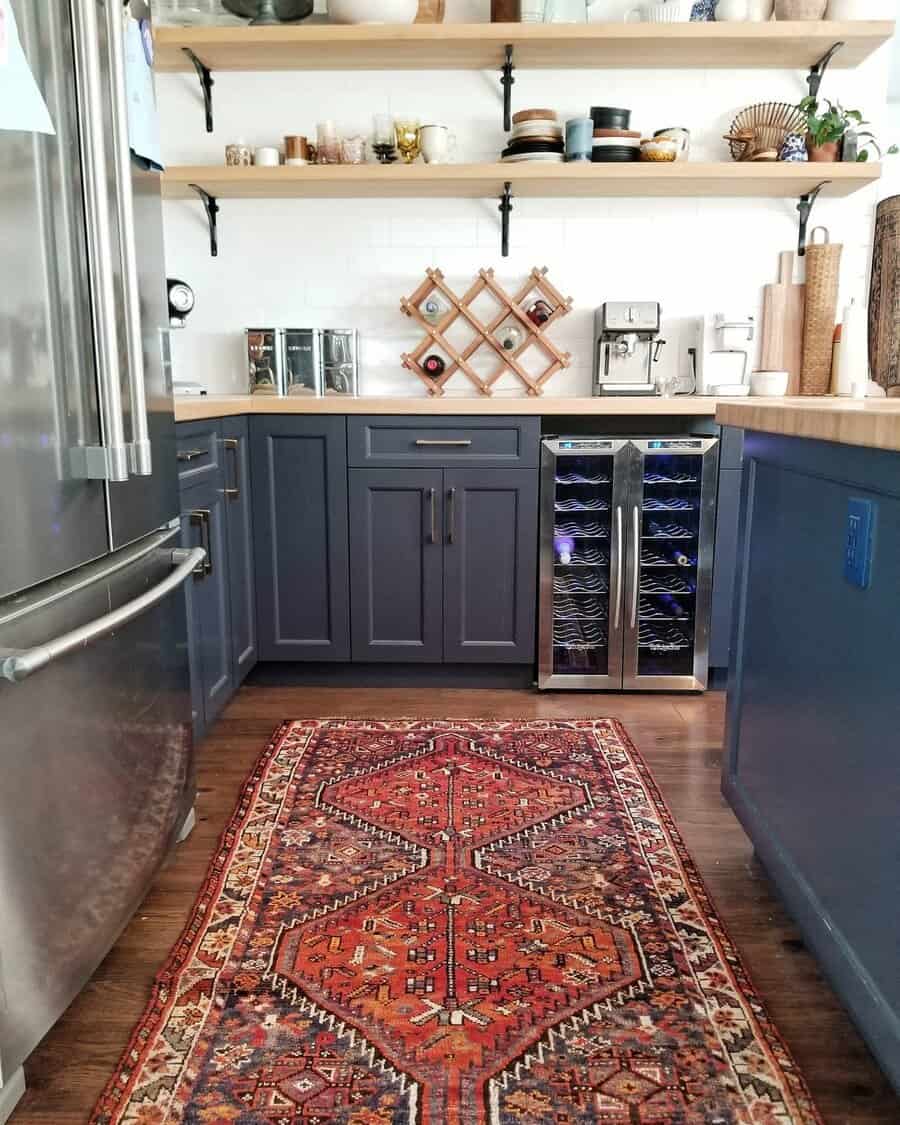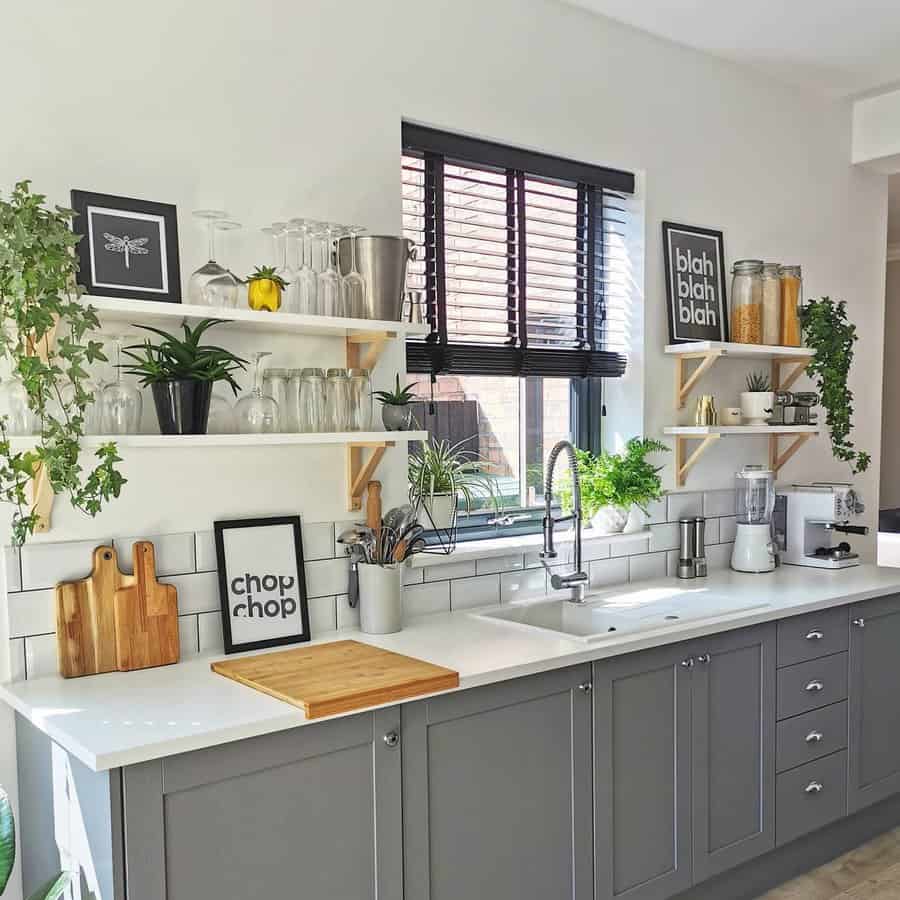 18. Throw Pillows
These versatile decor pieces can instantly elevate the style and comfort of any living space. Choose a mix of patterns, colors, and textures to create a curated and inviting atmosphere. Layering different sizes and shapes of throw pillows on your sofa or bed adds depth and visual intrigue. Experiment with bold prints, luxurious fabrics, and playful textures to inject personality into your space.
Not only do throw pillows serve as eye-catching accents, but they also provide extra comfort and support. Whether you prefer a bohemian vibe, a modern aesthetic, or a cozy farmhouse feel, the possibilities are endless when it comes to incorporating throw pillows into your small apartment design.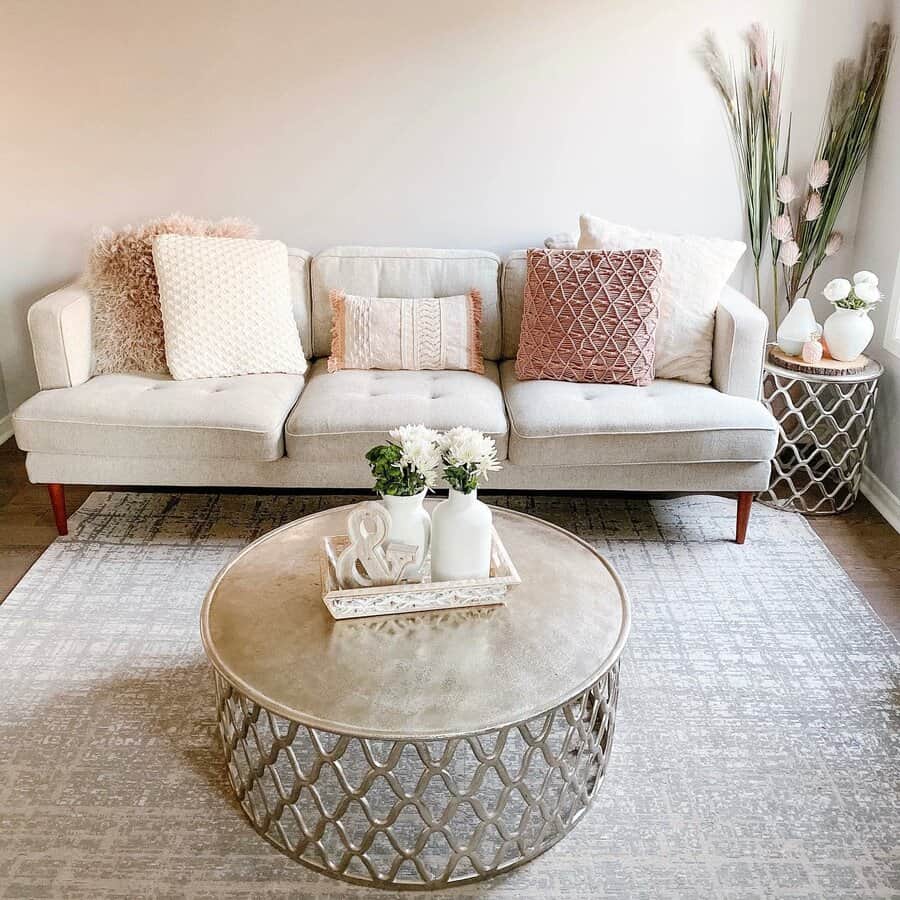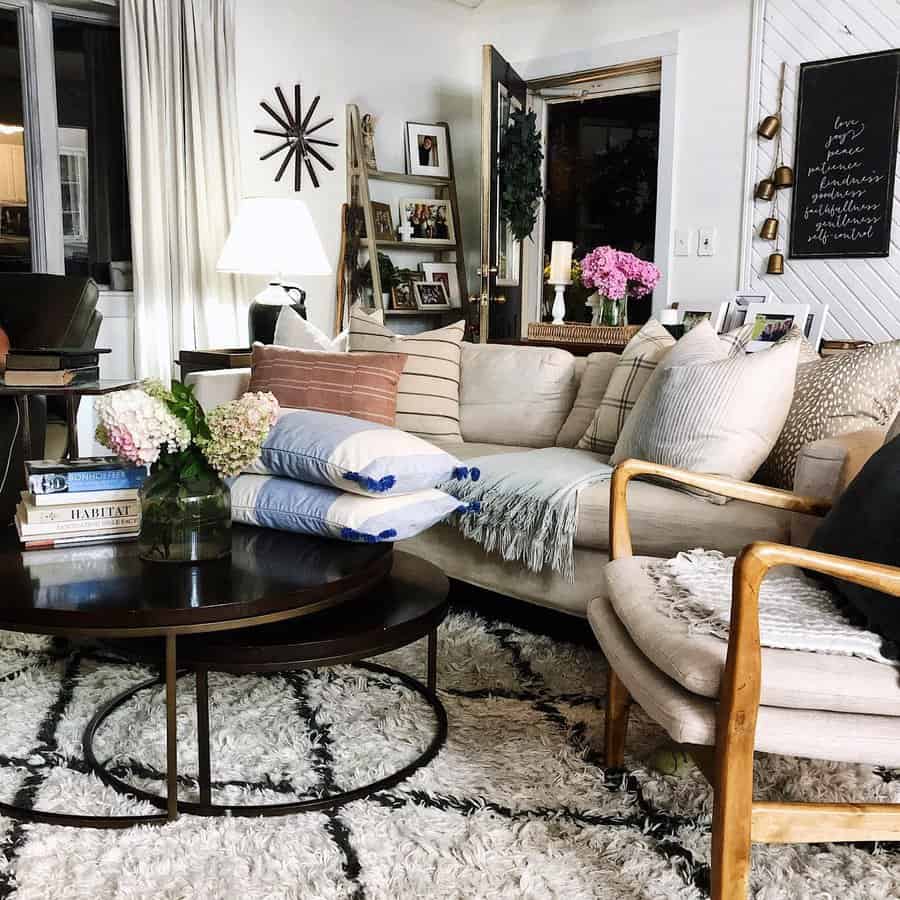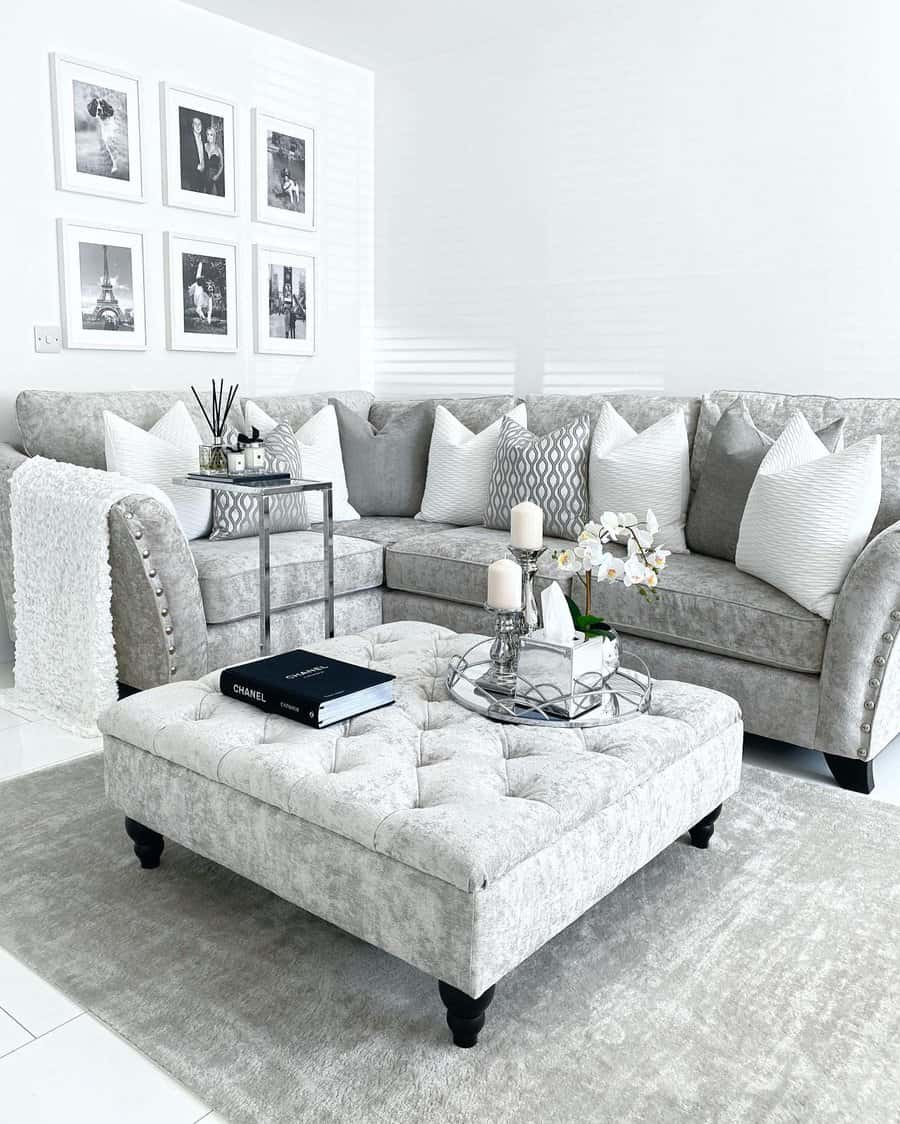 19. Dark Color Palette
Dark colors have a unique ability to make a space feel more intimate and expansive at the same time. The dark grey upholstery adds a luxurious touch to your furniture, while the black accent wall becomes a striking focal point that anchors the room. To tie the look together, place a navy rug on the floor, providing a rich and velvety texture underfoot.
The dark color palette adds depth and dimension, making your small apartment feel larger and more inviting. It's a perfect choice for those who seek to make a statement and create a captivating ambiance in their living space.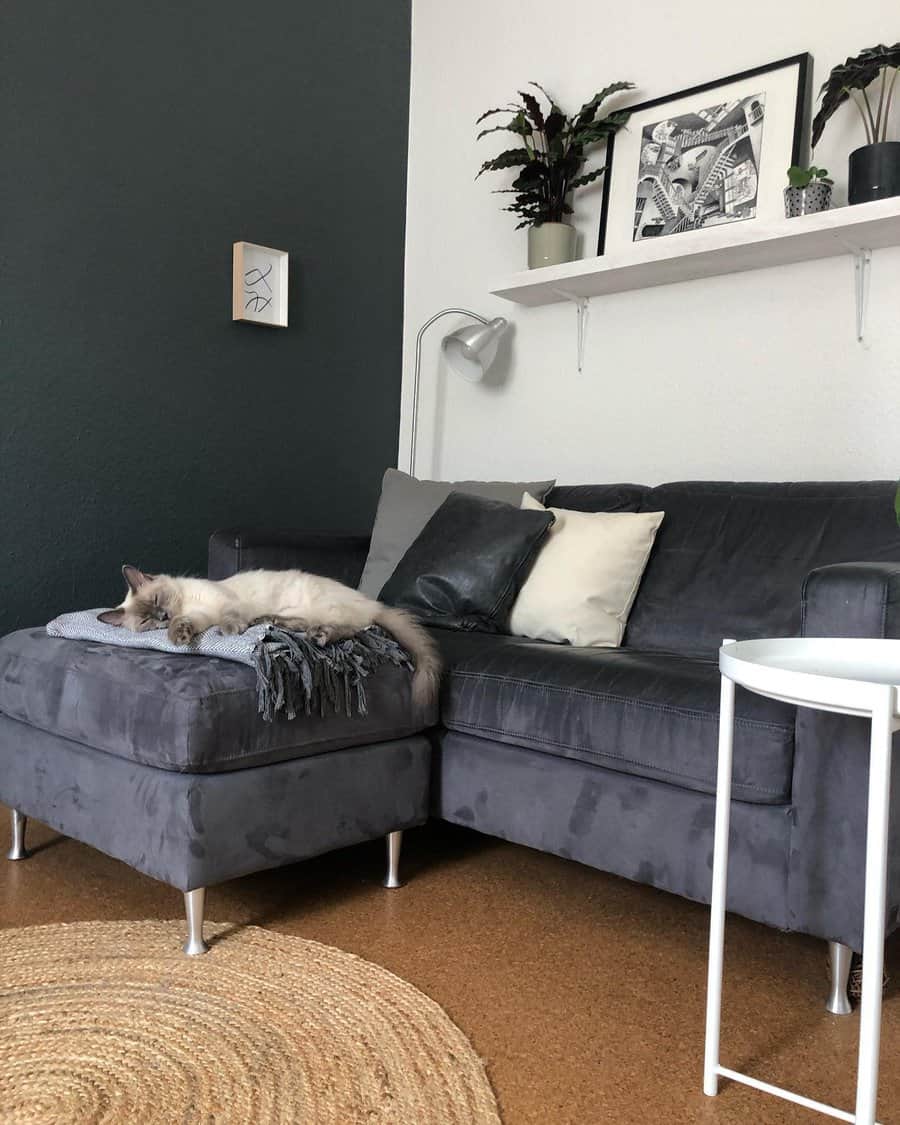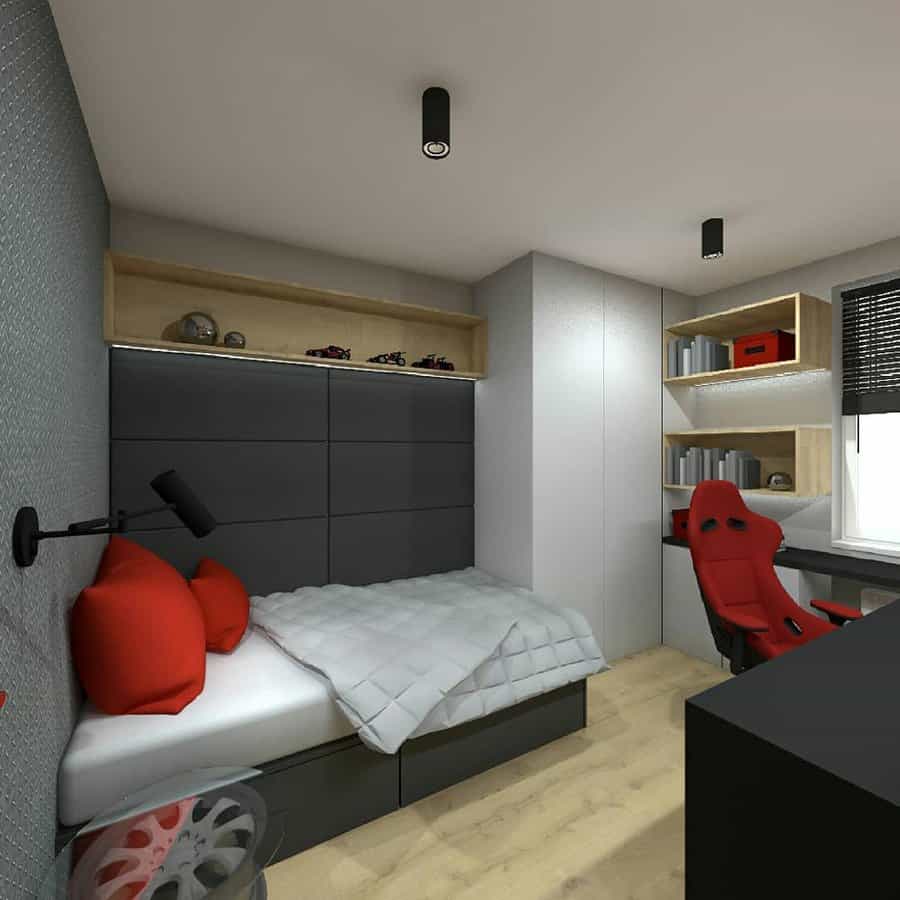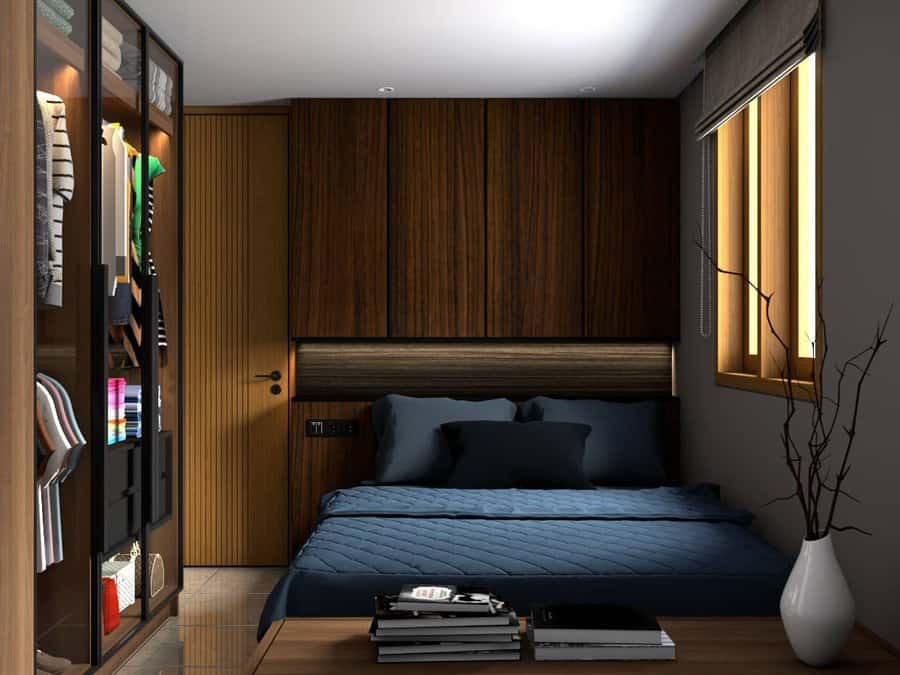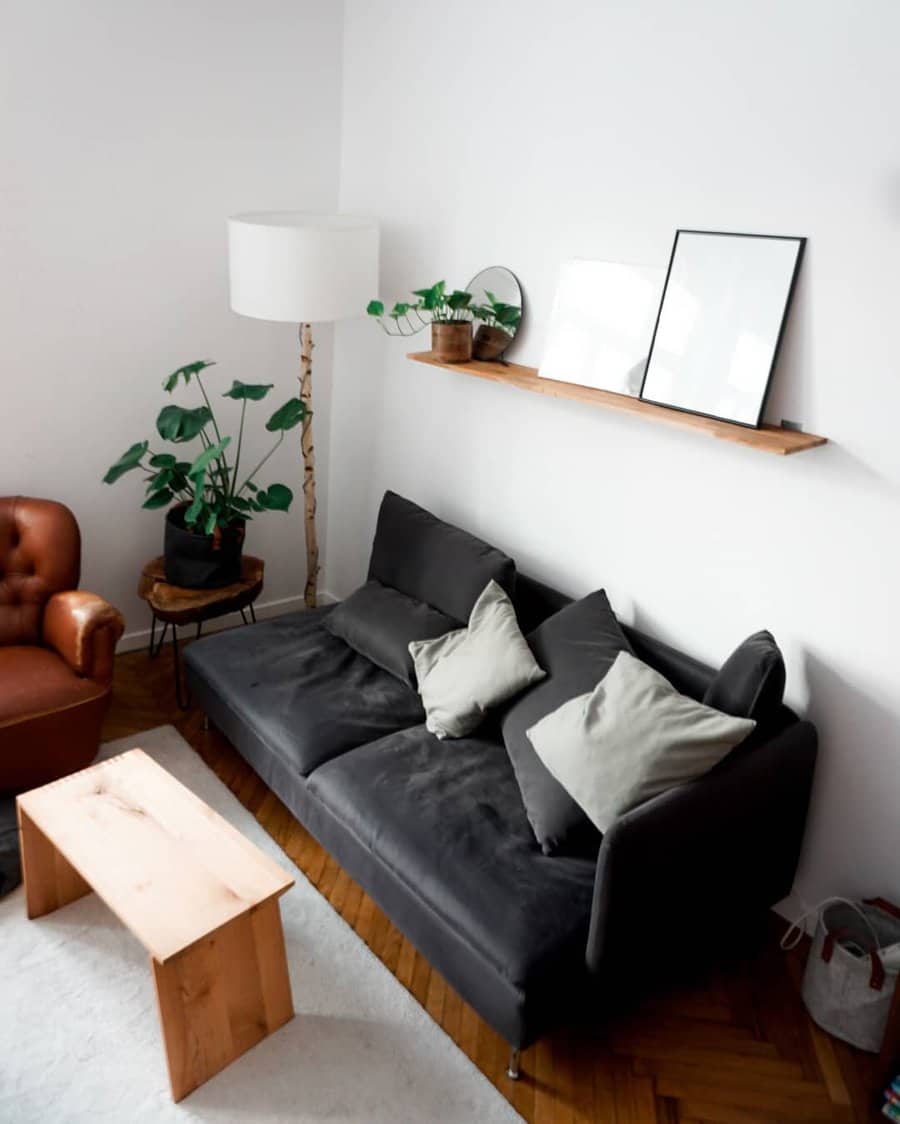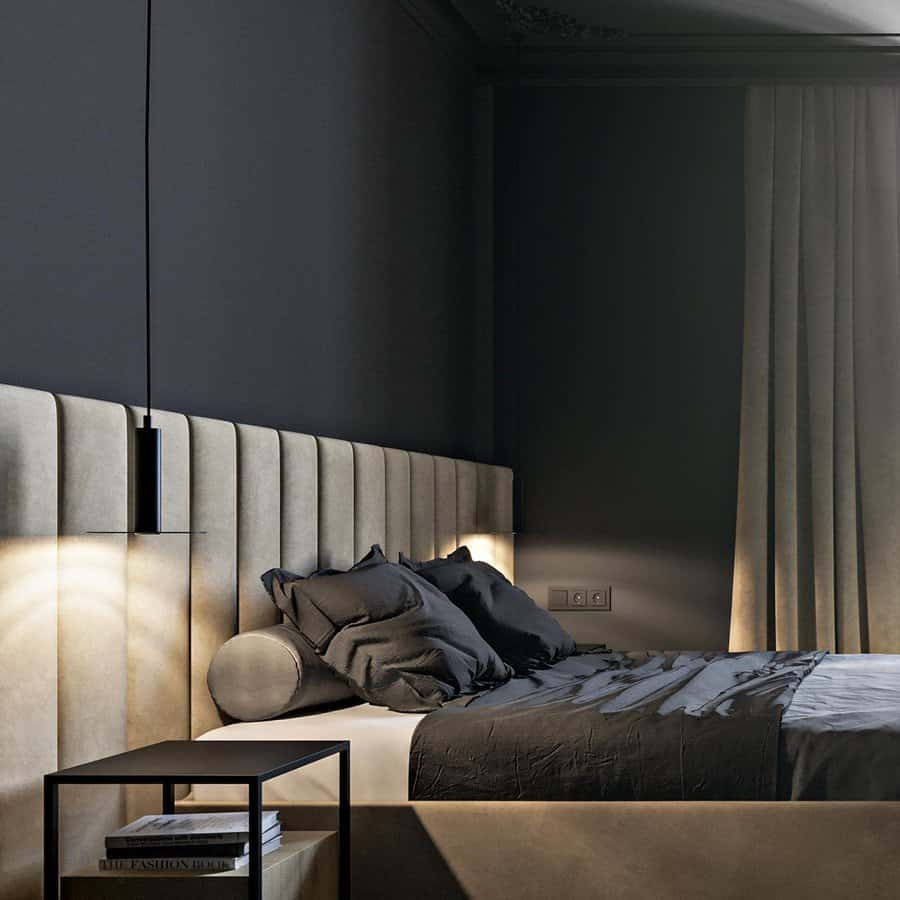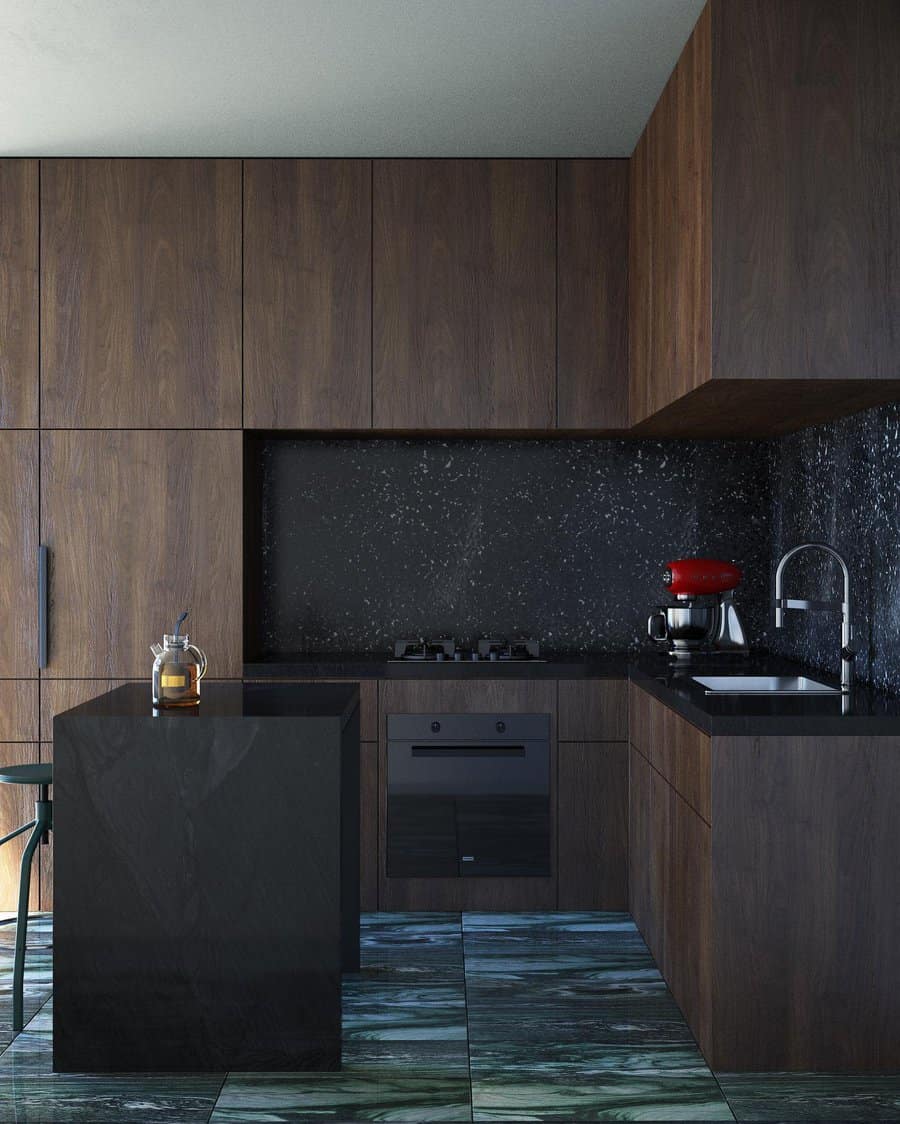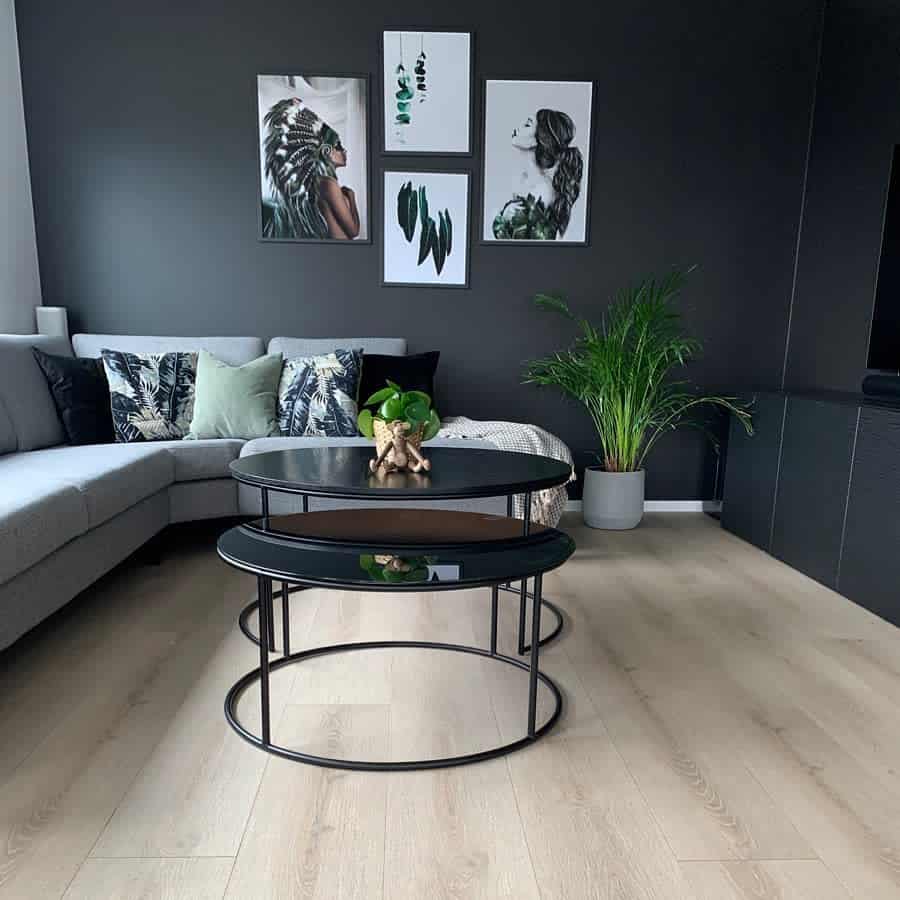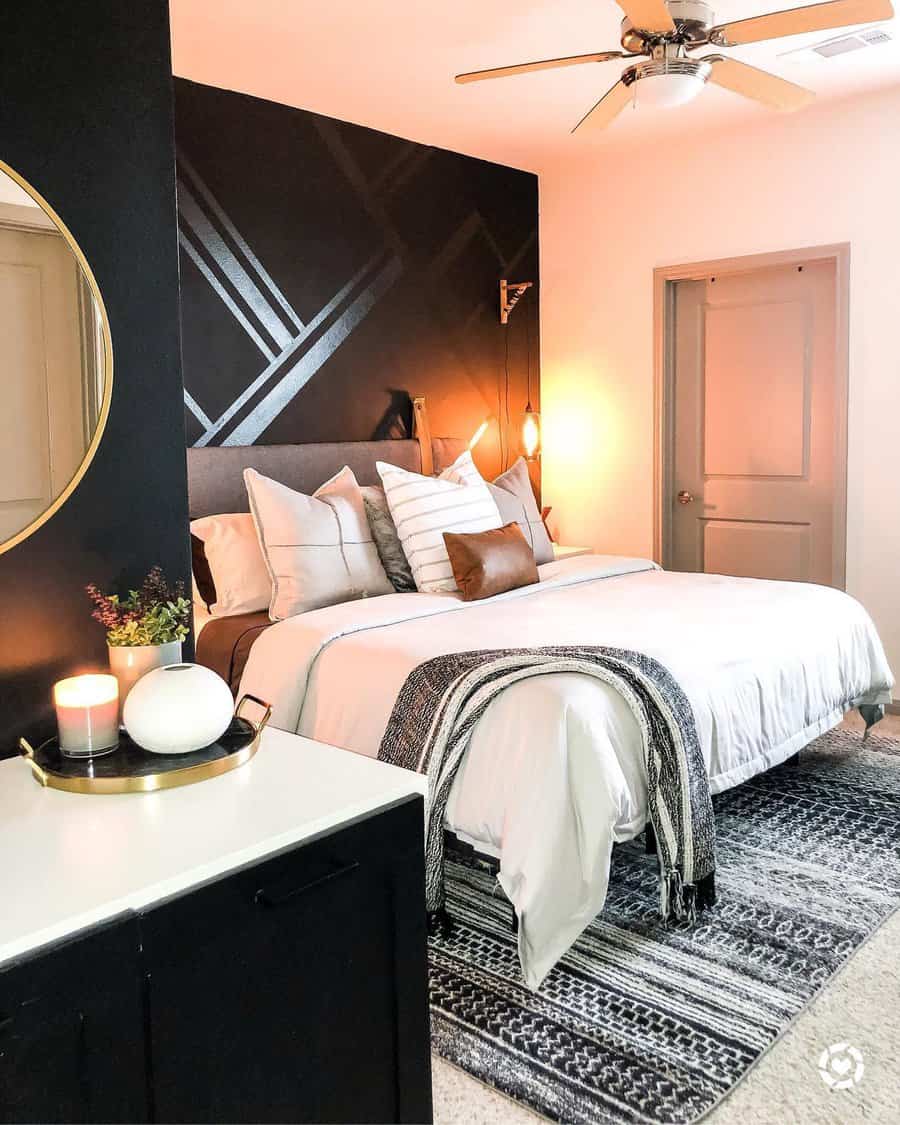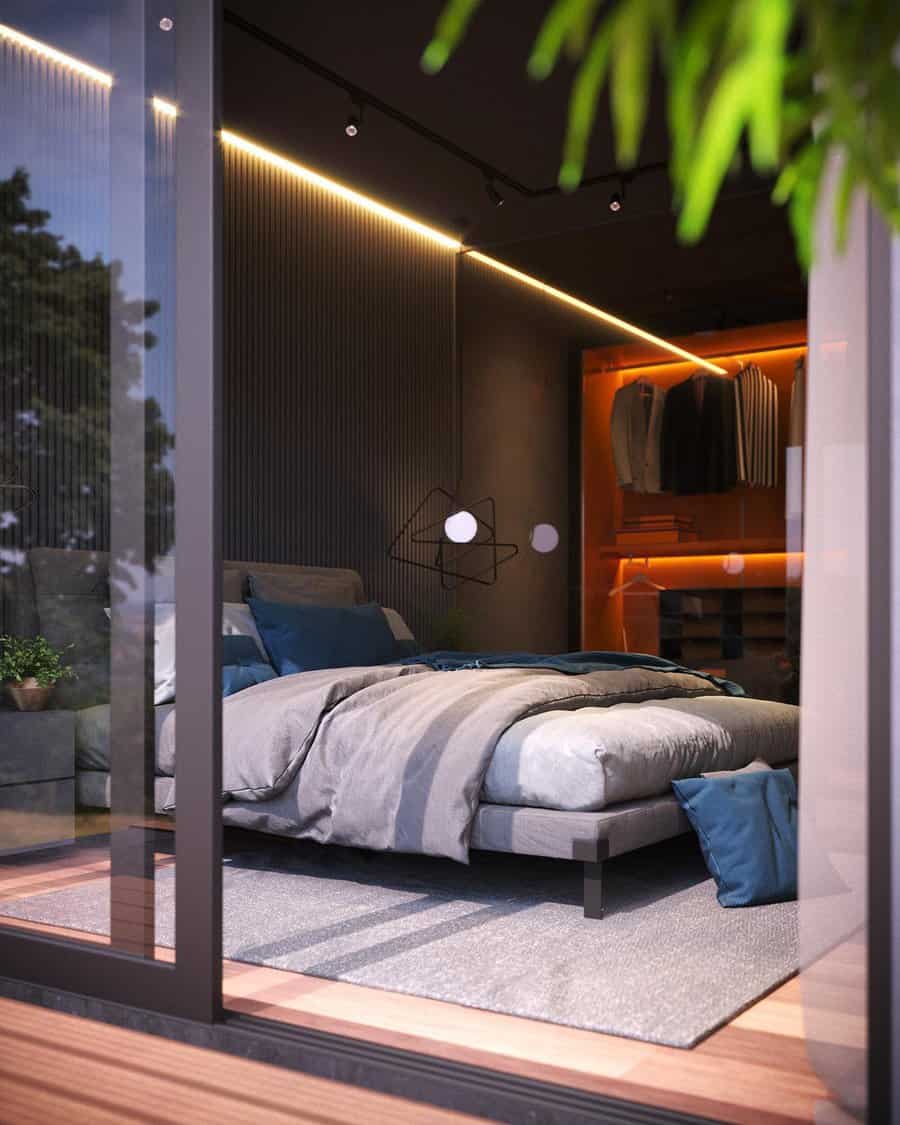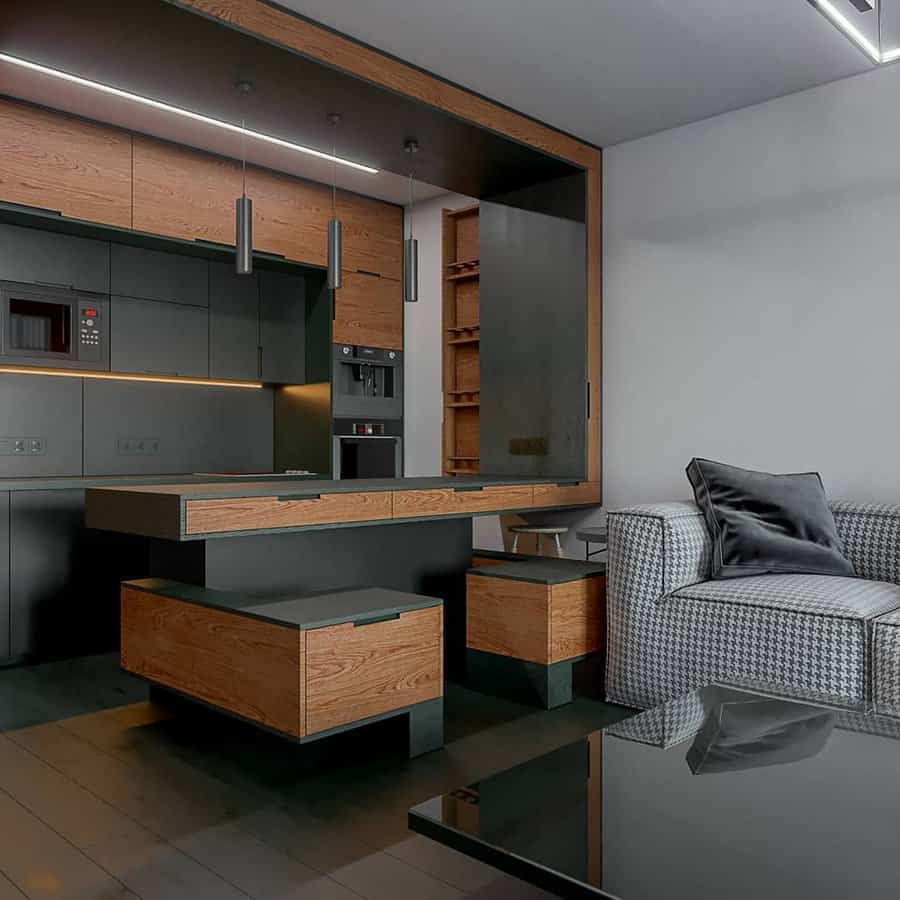 20. Pastel Soft Furnishings
Soft and soothing pastel tones instantly add a touch of serenity and elegance to any room. Imagine plush pastel-colored cushions, cozy throws, and delicate curtains that create a sense of calm and comfort. Whether you choose pastel blues, pinks, or greens, these gentle hues have the power to visually open up a space, making it feel larger and more airy.
By layering different textures and shades within the pastel color palette, you can add depth and dimension to your small apartment. Opt for pastel-colored rugs, poufs, and wall art to complete the look. The beauty of pastel soft furnishings is their versatility – they work well with a variety of design styles, from modern to Scandinavian to bohemian.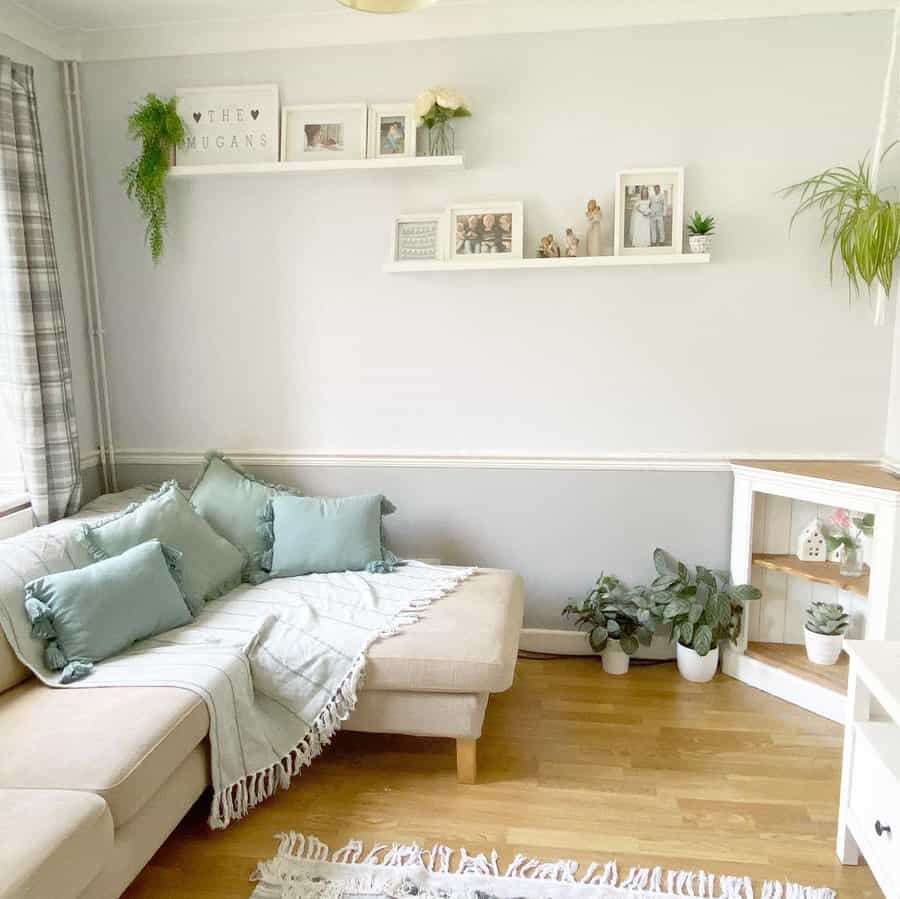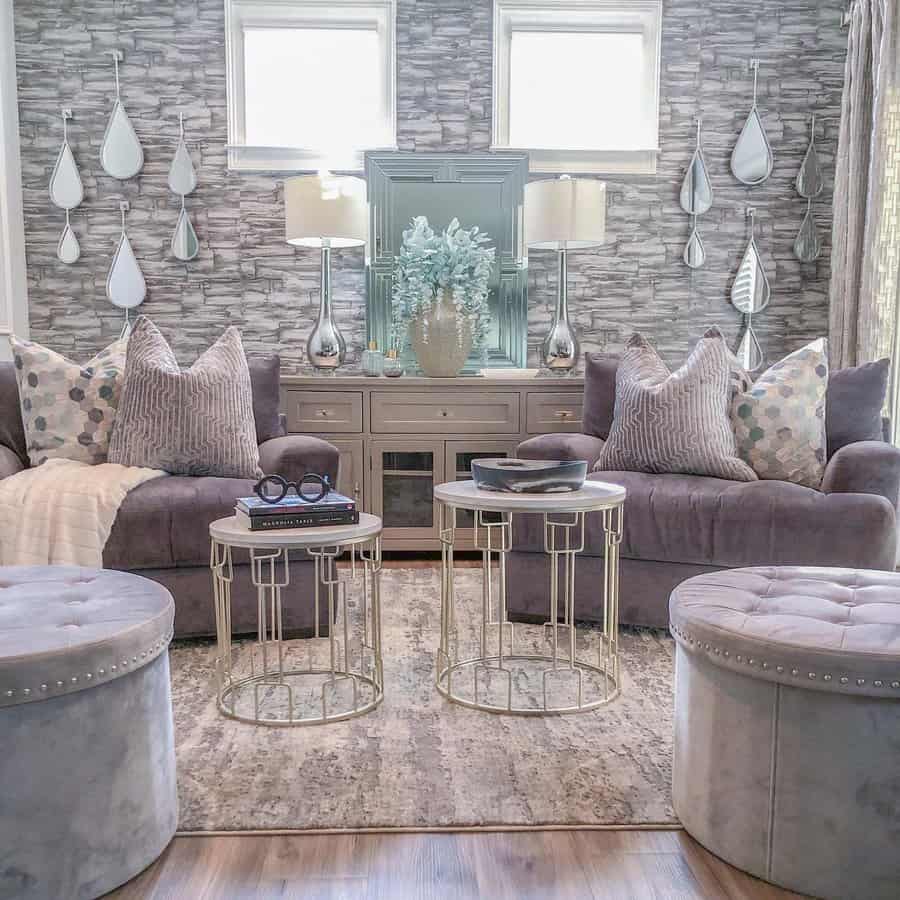 21. Industrial Small Living Room
The raw and textured nature of exposed brick brings a unique character and warmth to any space. By incorporating this element into your small apartment, you can create a visually captivating focal point that sets the tone for the entire room. Pair the industrial aesthetic of the brick wall with neutral beige furnishings for a cohesive and contemporary look.
The combination of the rustic brick and the soft beige hues creates a harmonious balance between urban chic and cozy comfort. This design approach not only maximizes the limited space but also adds a touch of sophistication to your small apartment.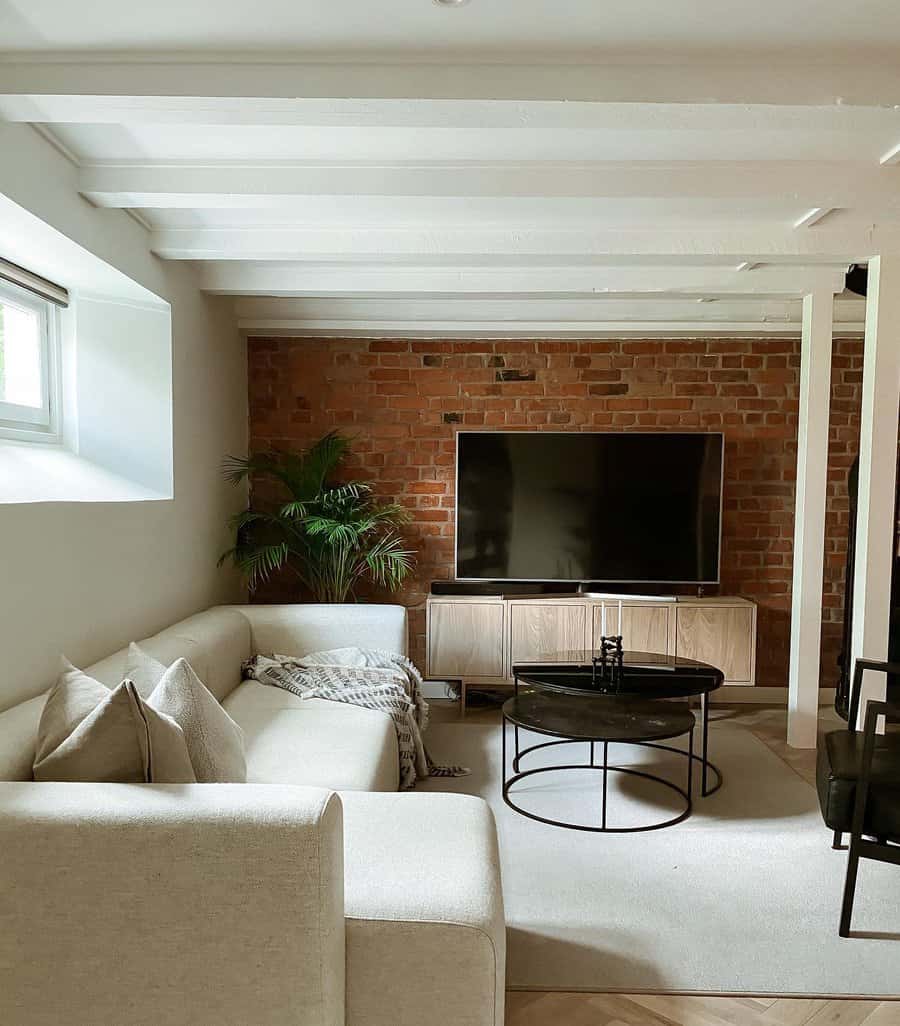 22. Cabin-Style Small Living Room
Consider adding a fireplace, whether it's a traditional wood-burning one or a modern electric alternative. A fireplace not only adds a focal point to your space but also creates a cozy atmosphere, perfect for curling up with a book or enjoying a hot beverage on a chilly evening.
To maximize space, opt for multifunctional furniture that provides both comfort and storage. Look for pieces with built-in storage compartments or utilize decorative baskets and crates to keep belongings organized and out of sight. Choose a color palette inspired by nature, with warm earth tones and hints of green to bring the outdoors inside.
Add soft and plush textures through rugs, throw pillows, and blankets to enhance the cozy cabin ambiance. With the right mix of shiplap walls, a fireplace, and wood accents, you can transform your small apartment into a charming and inviting cabin-style haven.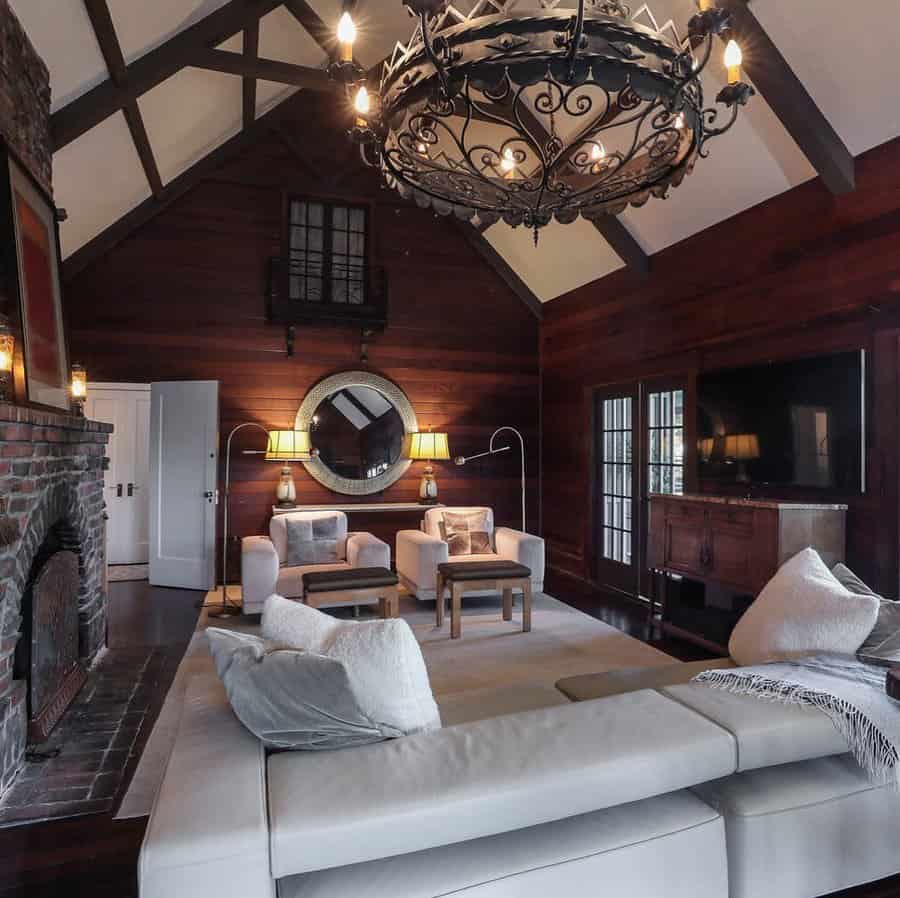 23. Open Plan Small Apartment
Embrace the beauty of an open-plan small apartment, where every inch is thoughtfully designed to maximize space and create a seamless flow. By removing unnecessary walls and barriers, you can create a sense of openness and freedom that is essential in smaller living spaces.
Utilize smart storage solutions that blend seamlessly into the overall design, such as built-in shelving, under-bed storage, and multi-functional furniture pieces. Opt for light and airy color palettes that visually expand the space, and strategically place mirrors to create an illusion of depth. Don't be afraid to experiment with different textures and patterns to add personality and interest to your small apartment.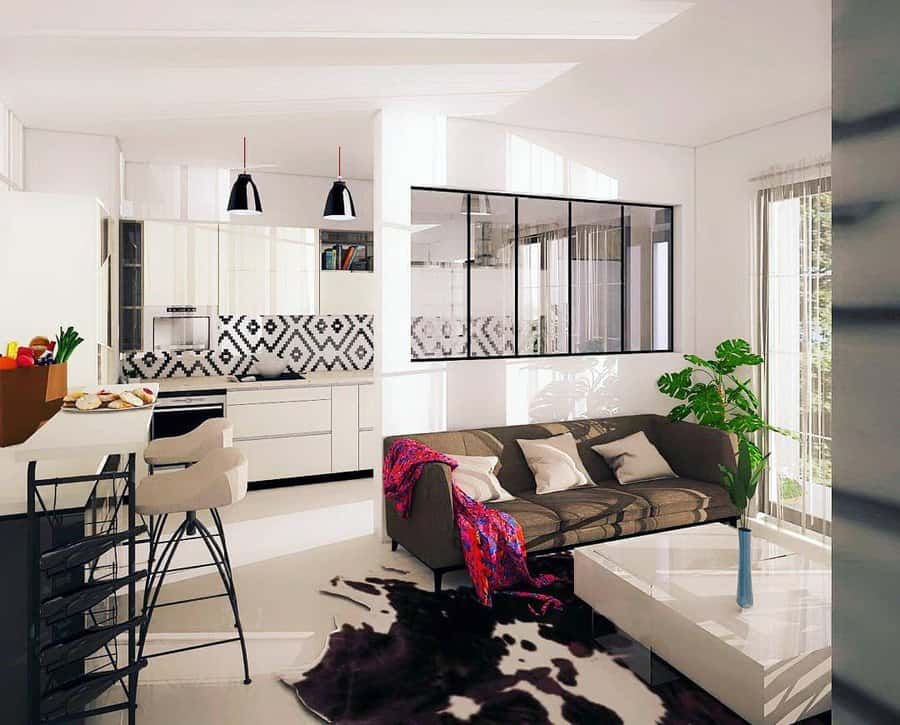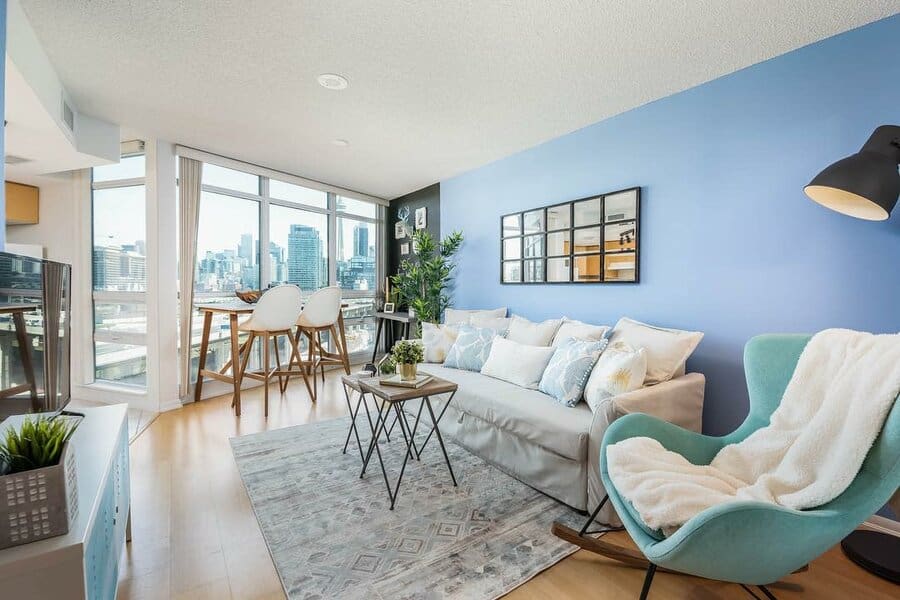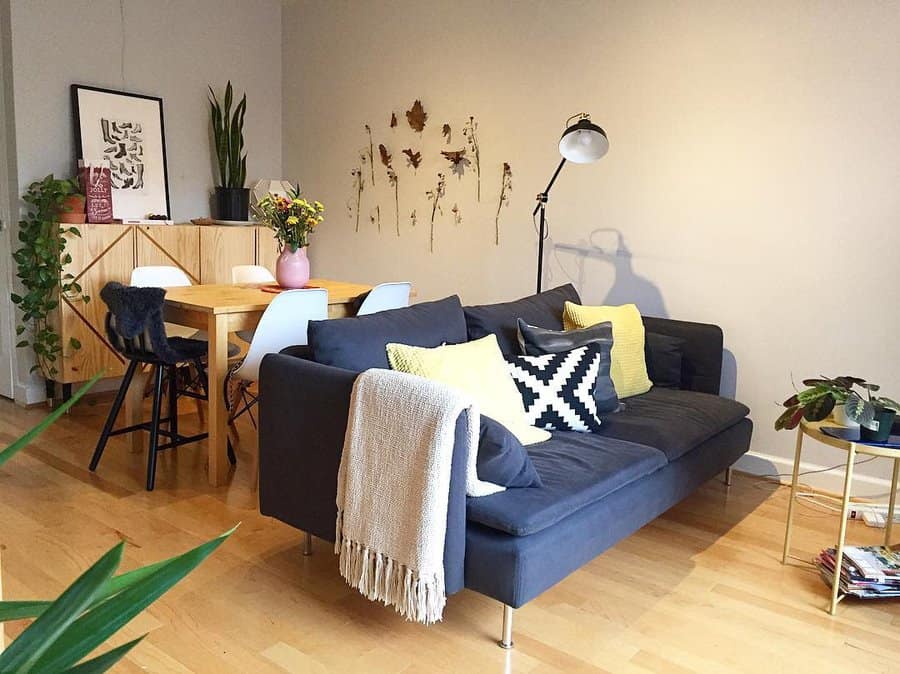 24. Bedroom Area Rug
One of the key elements that can instantly elevate the ambiance of a compact living area is a well-chosen bedroom area rug. By carefully selecting the perfect rug, you can define and anchor the bedroom area, adding a touch of coziness and luxury to your space.
Choose a rug that complements your overall design aesthetic, whether it's a plush shag rug for a cozy and inviting feel or a sleek and modern geometric rug for a contemporary touch. The right rug not only adds visual interest but also helps to absorb sound, making your small apartment feel more peaceful and serene.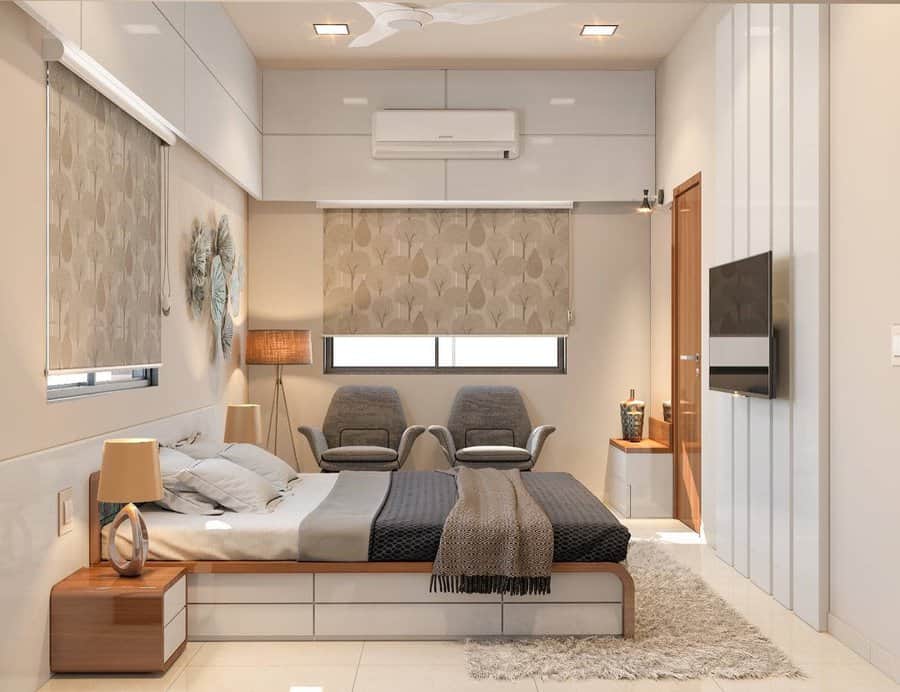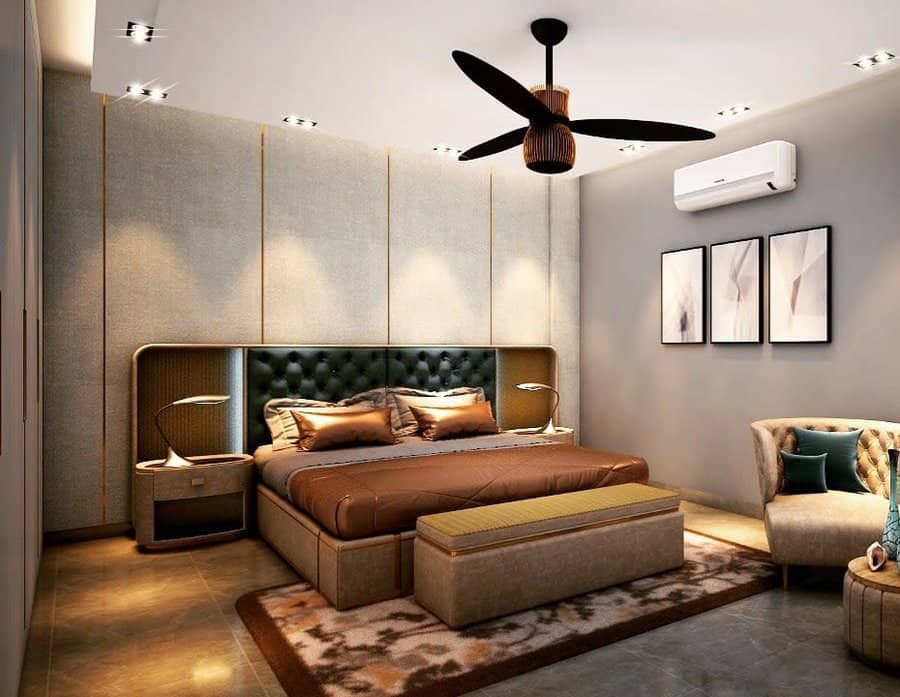 25. Skylight Windows
When square footage is limited, it's essential to think vertically and make the most of every inch. With a recessed shelf, you can create a functional and visually appealing storage solution right in your bedroom. This innovative idea utilizes the often-overlooked wall space and transforms it into a practical and chic display area. The recessed shelf seamlessly blends into the wall, creating a sleek and streamlined look.
It's the perfect spot to showcase your favorite books, and decorative items, or even store essentials like alarm clocks or bedside lamps. With its minimal footprint, the bedroom recessed shelf adds storage without sacrificing valuable floor space. Whether you have a cozy studio or a compact bedroom, this clever design element allows you to optimize your storage options while adding a touch of sophistication to your living space.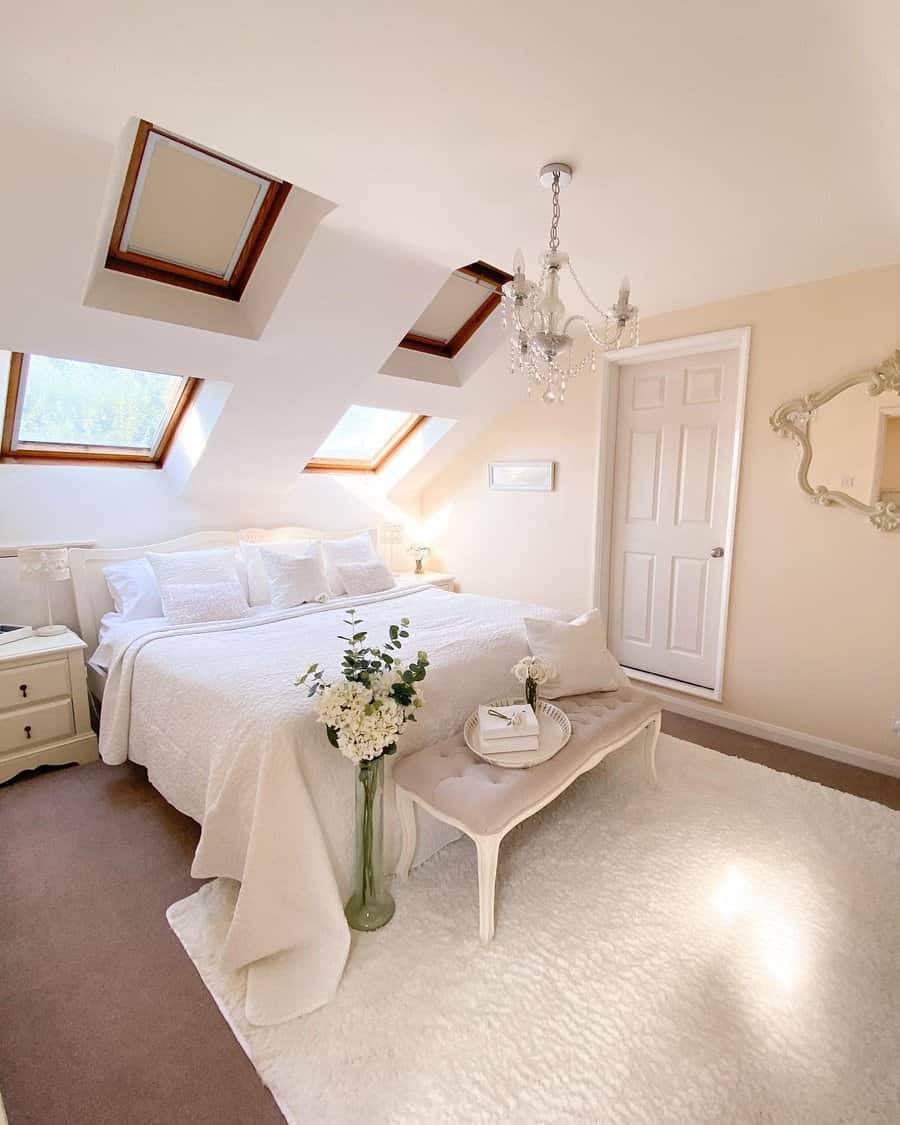 26. Recessed Shelves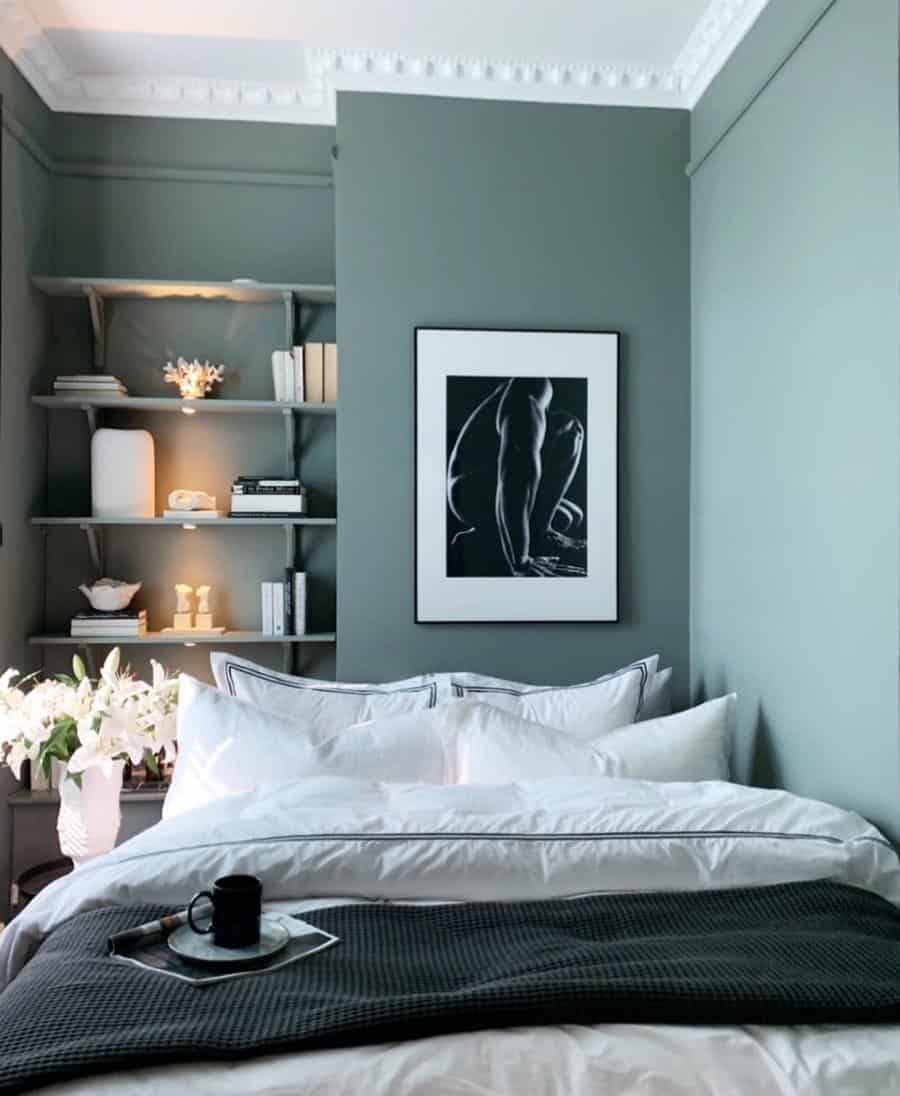 27. Floor-Length Curtains
By opting for floor-length curtains, you create an illusion of height, making your ceilings appear taller and your living area more spacious. Choose curtains in light and airy fabrics to enhance the feeling of openness and allow natural light to filter through. To add a stylish touch, consider selecting curtains with interesting patterns or textures that complement your overall aesthetic.
Don't be afraid to play with colors and patterns to infuse your personal style into the design. By incorporating floor-length curtains into your small apartment, you can elevate your space and create a cozy and inviting atmosphere.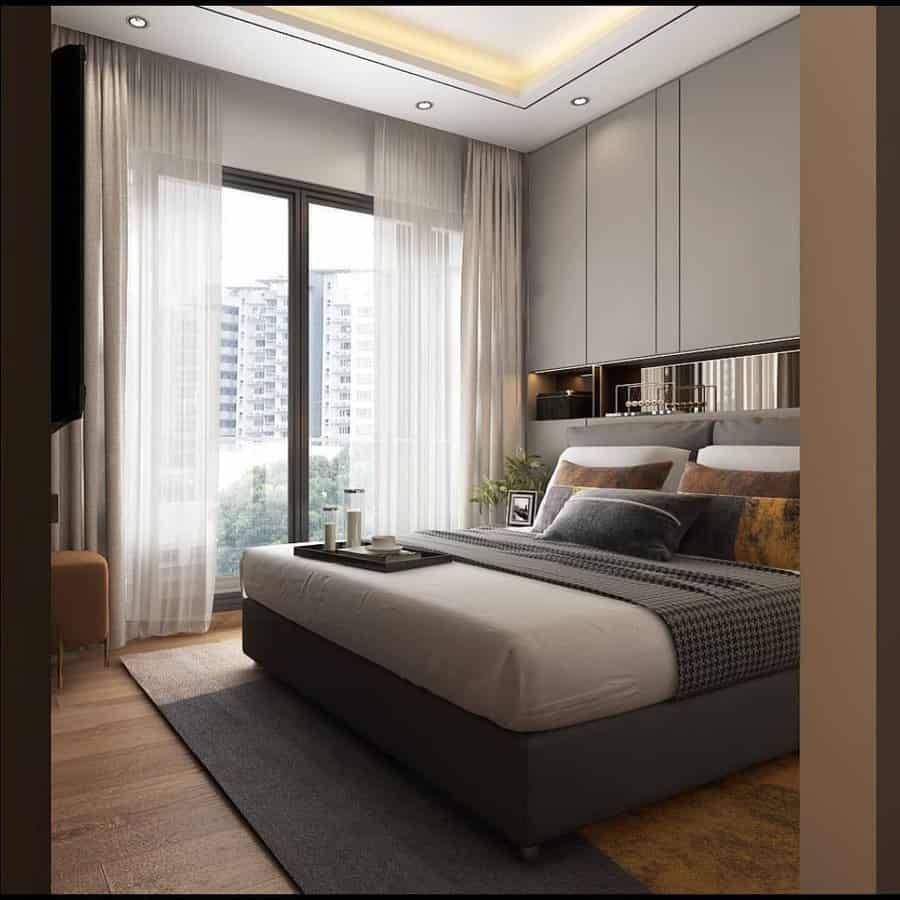 28. Clean White Color Palette
Embracing a white color scheme is not only a stylish choice but also a smart one for maximizing the space in your compact living area. By opting for white walls, you create an illusion of openness and brightness, making your apartment feel larger and more airy. To complement the white backdrop, choose white furnishings that seamlessly blend into the space, creating a harmonious and cohesive look.
The beauty of a white color palette lies in its versatility—it acts as a blank canvas that allows you to introduce pops of color in the form of minimalistic details. Add a splash of vibrancy through accent pillows, artwork, or a statement rug to inject personality into your space without overwhelming it.
By embracing the simplicity and purity of a white color palette, you create a serene and tranquil atmosphere that serves as a soothing oasis in the midst of city living.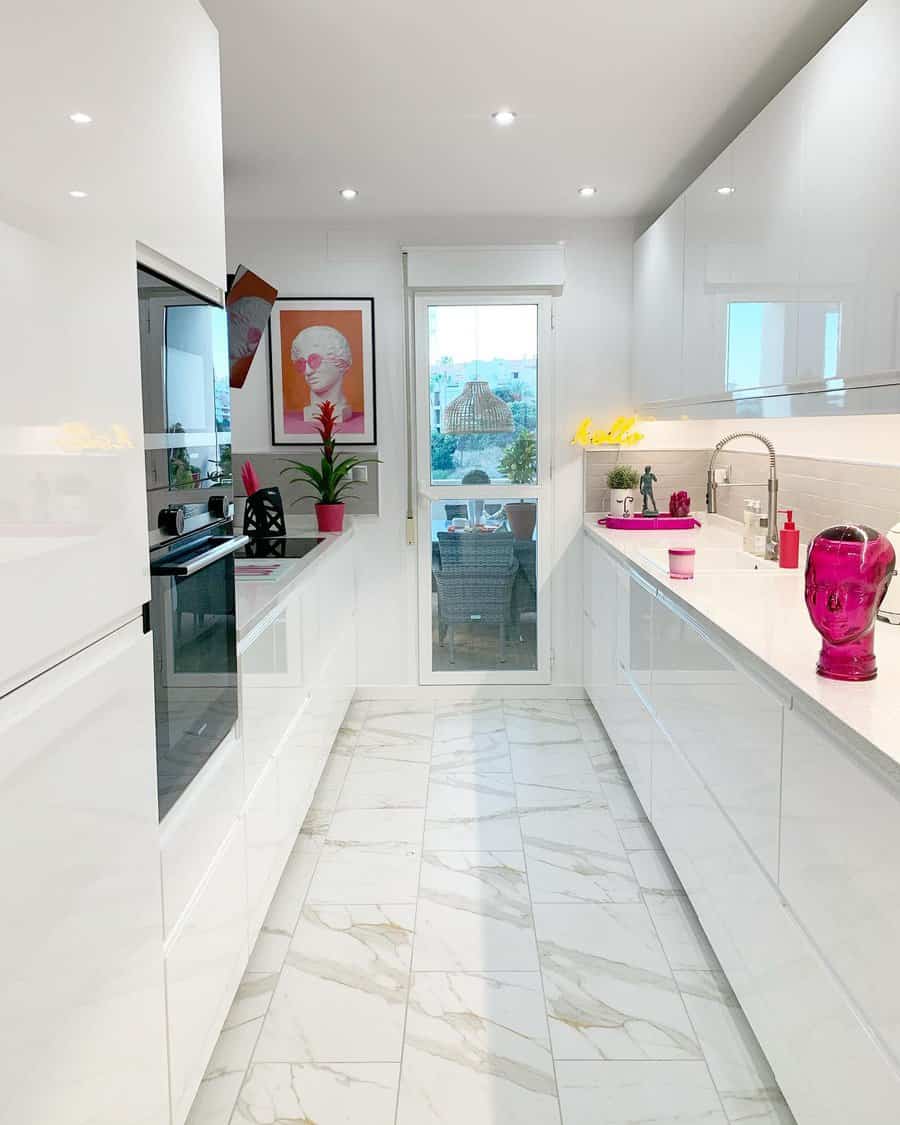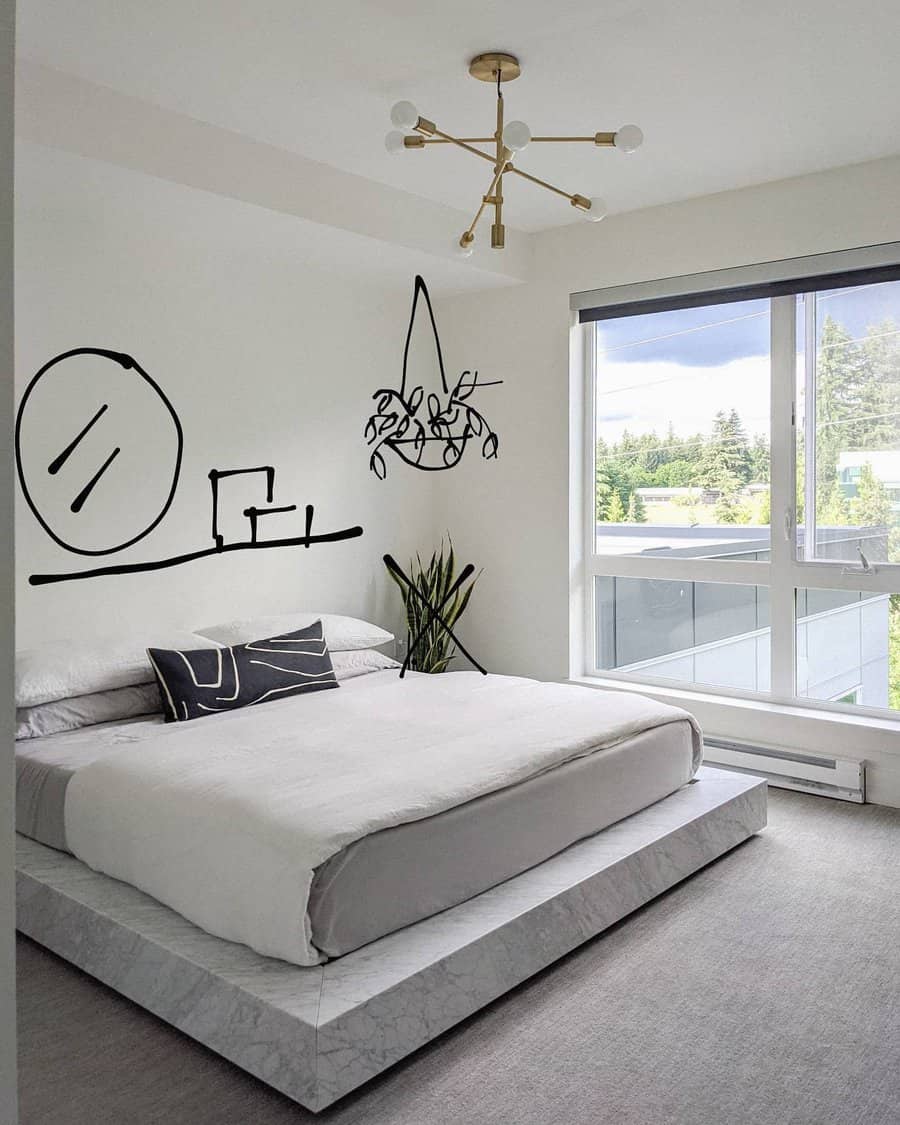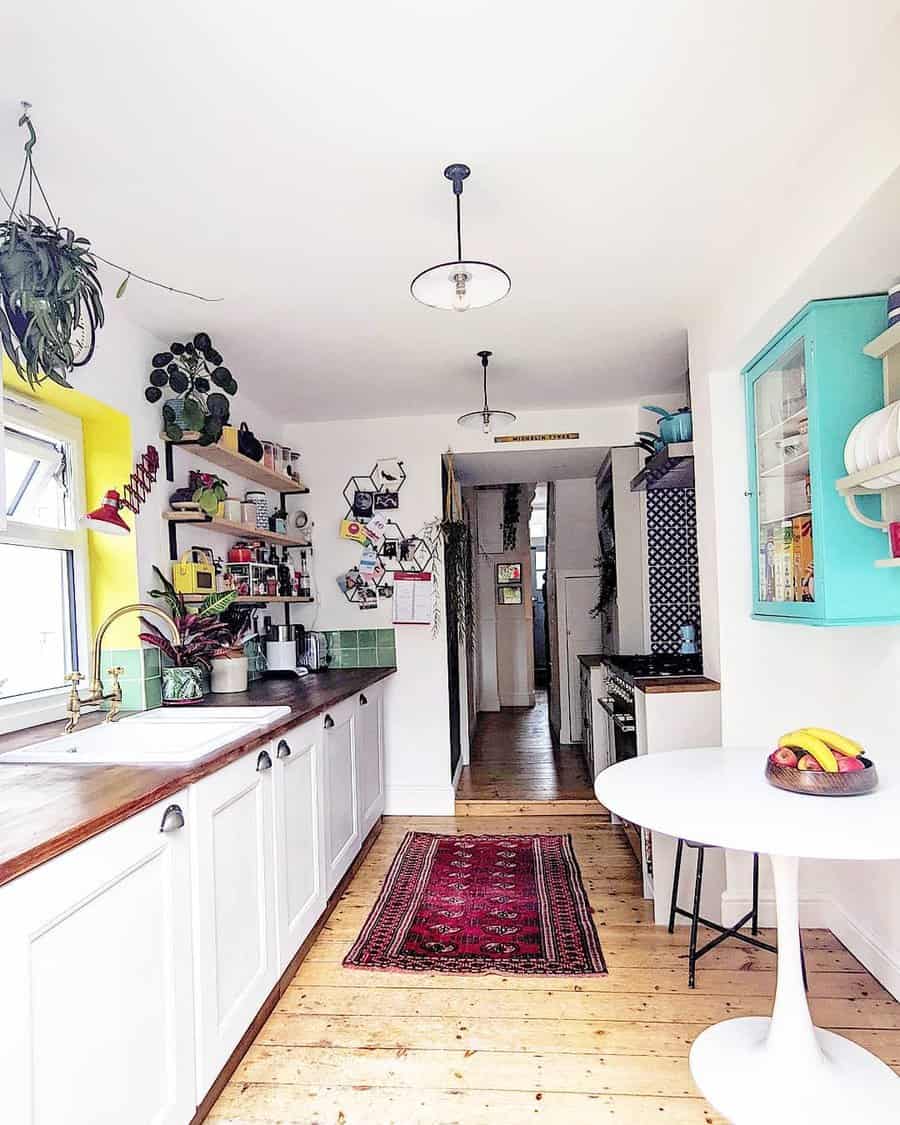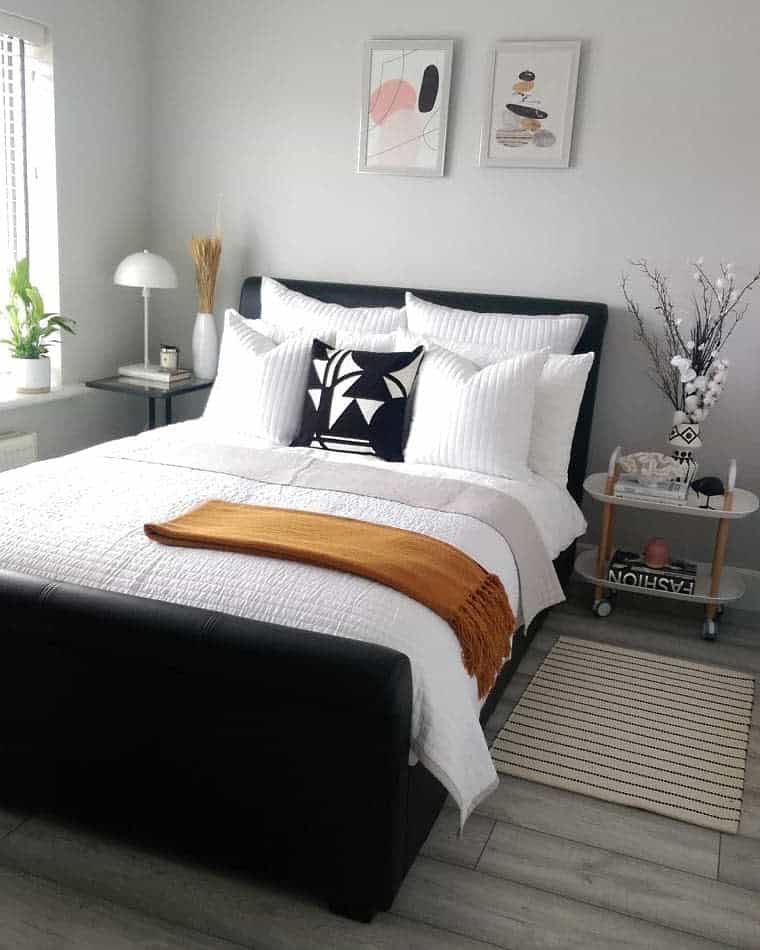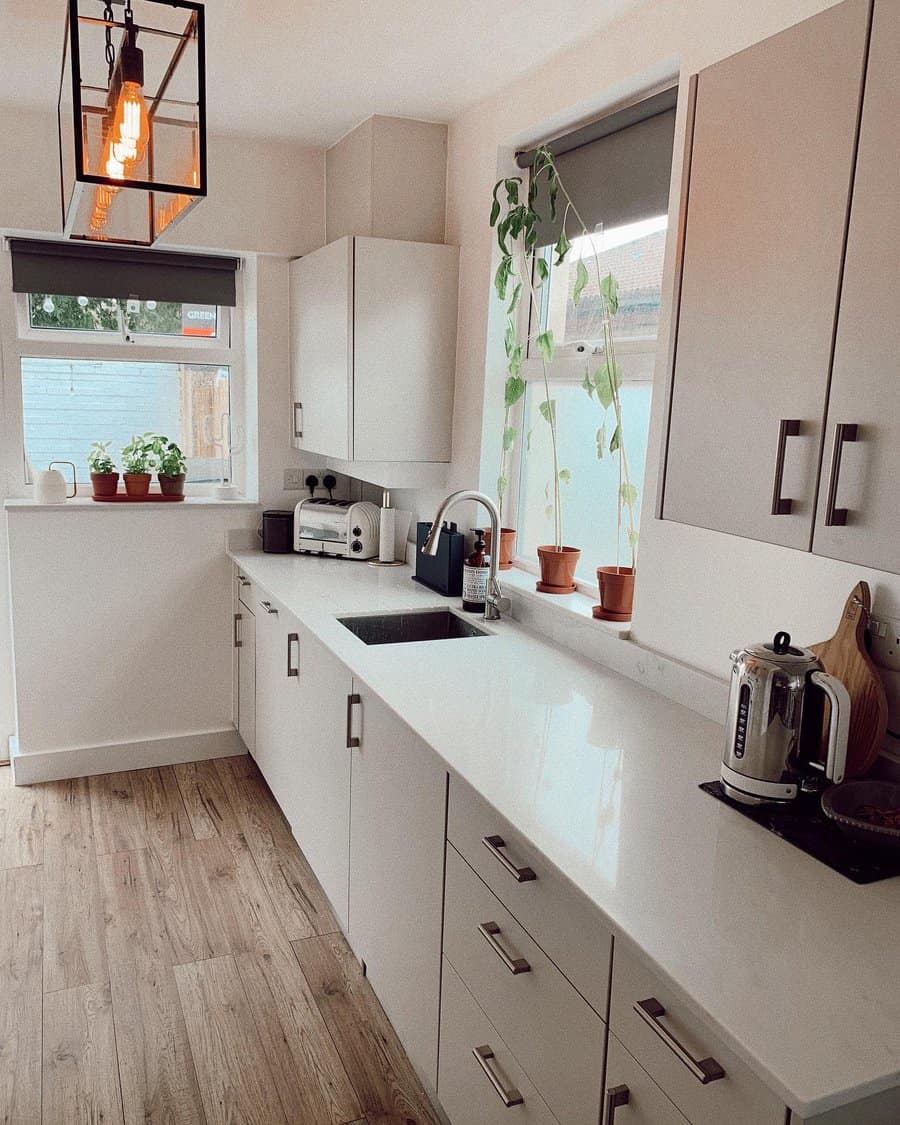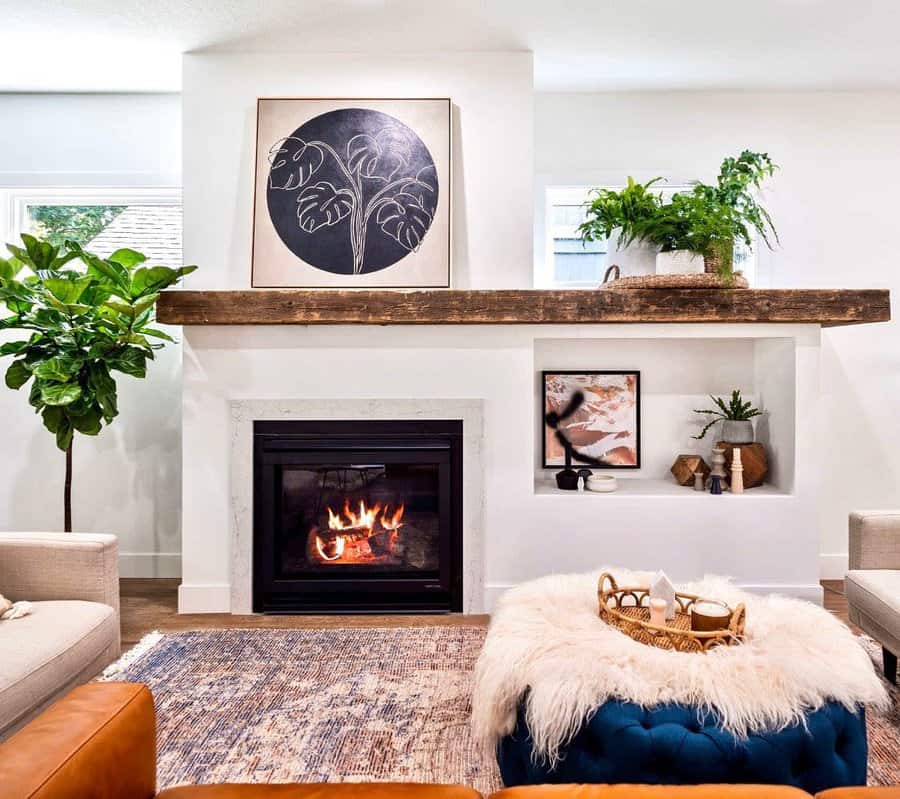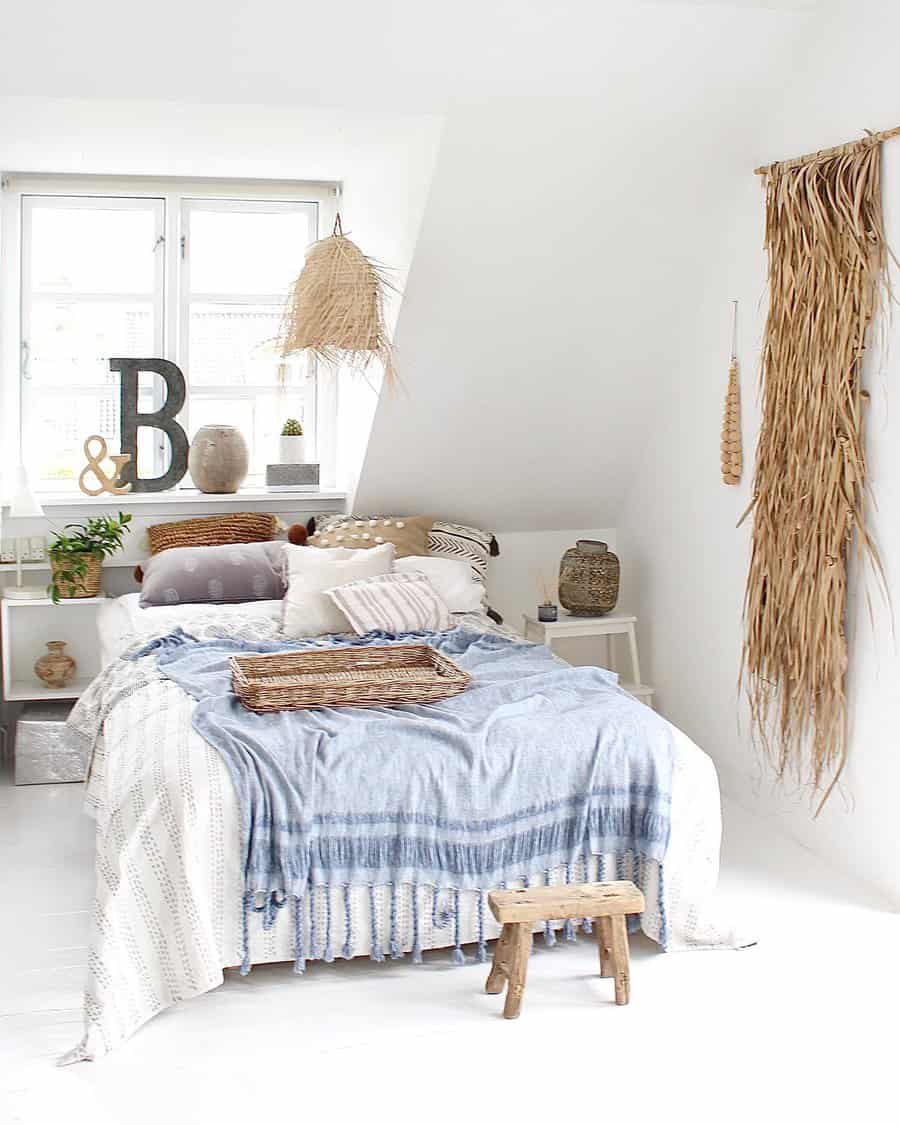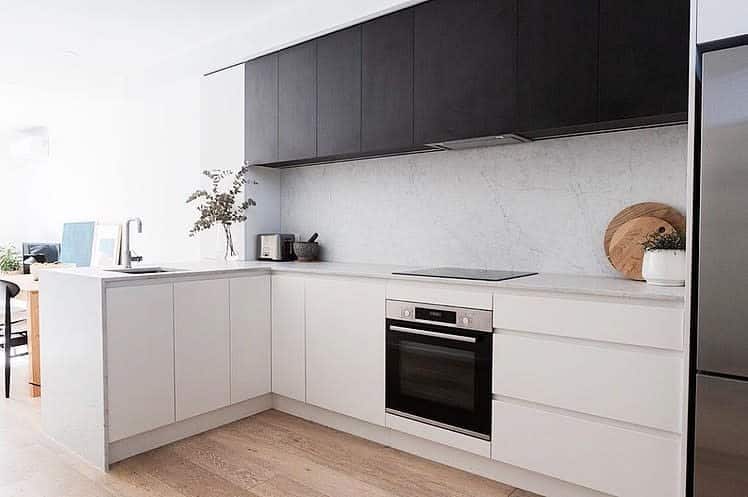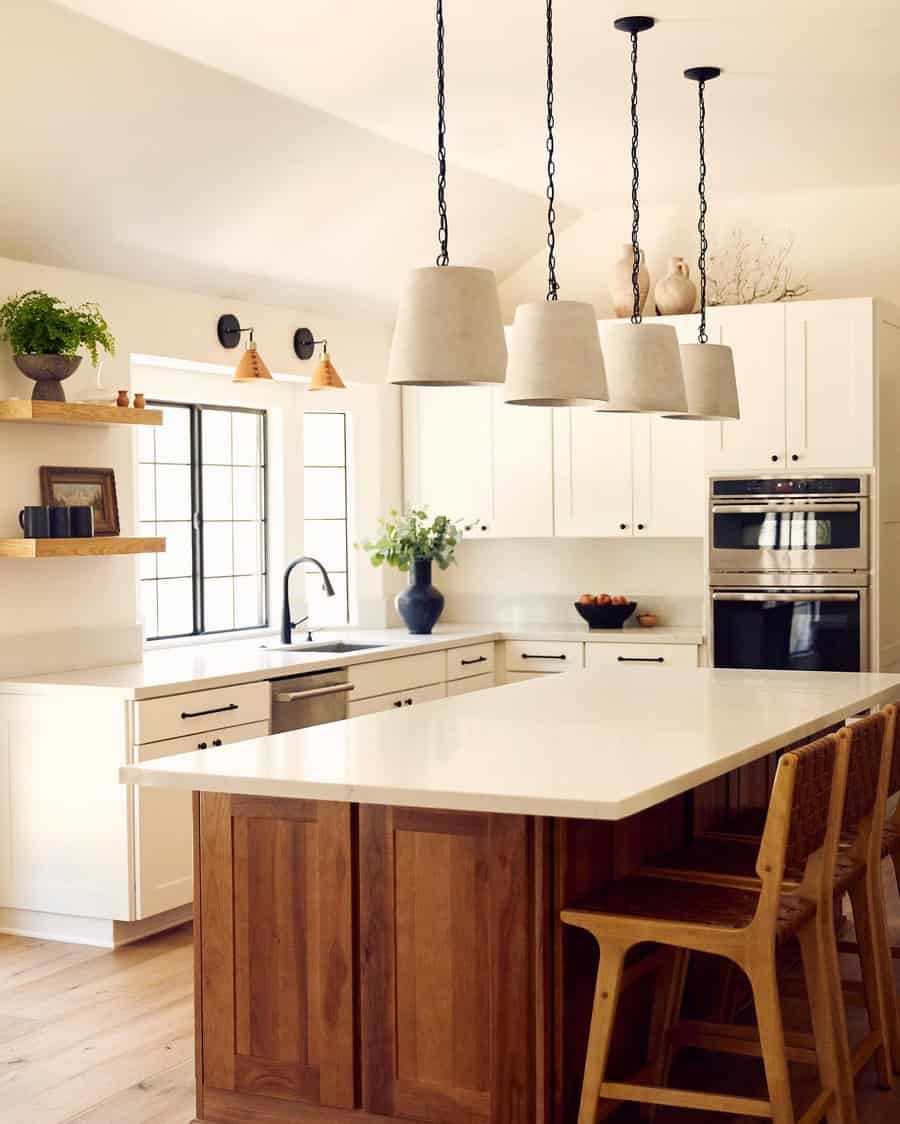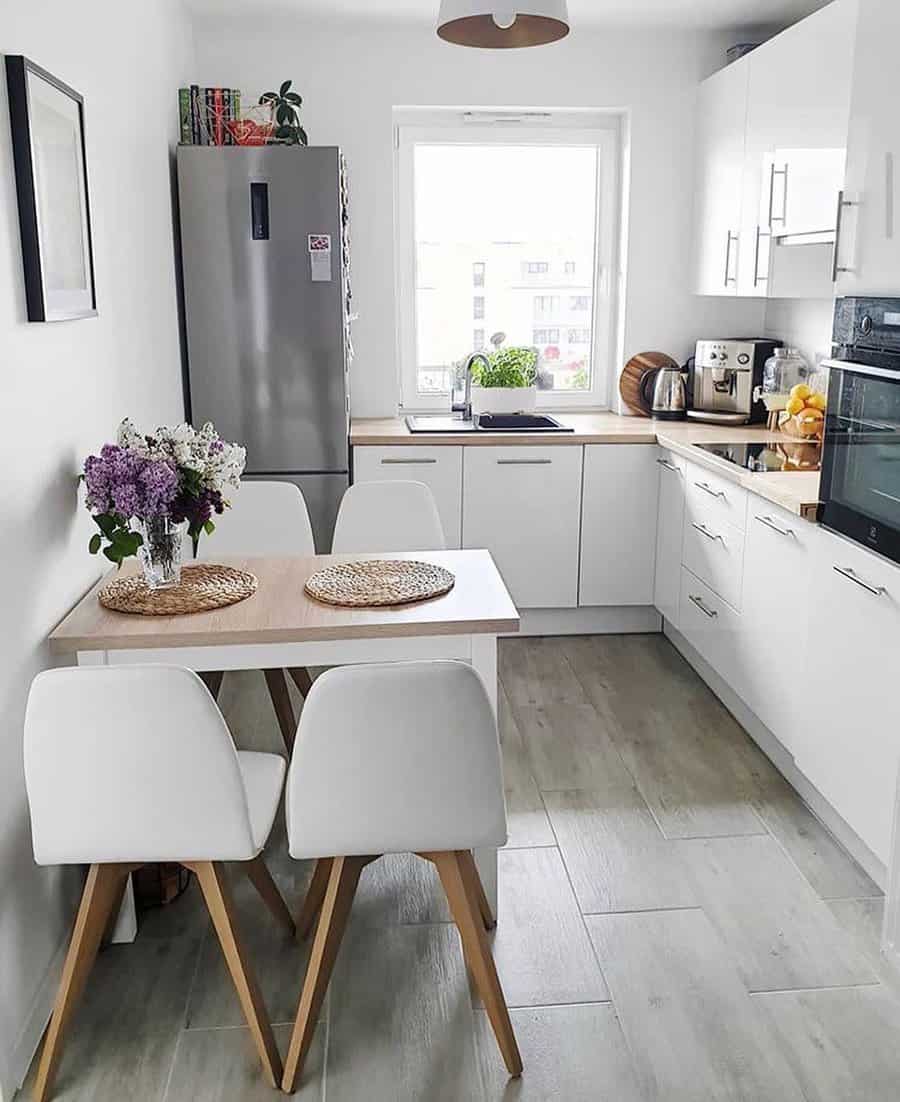 Small Apartment FAQs
How can I decorate my small apartment on the cheap?
Thrift stores are your friend when you're trying to decorate a small apartment on a budget. Affordable small apartment decorating ideas include buying used furniture that has hidden storage space. For example, use an old chest for a coffee table and buy a bed that includes built-in drawers beneath.
Habitat for Humanity stores often have paint, curtain rods, wall shelves, and other decor necessities at ridiculously low prices. Wall decals are inexpensive, removable alternatives to pricey framed paintings. Mirrors are a cheap way to visually expand a smaller space.
Cooking a full meal in a tiny space can be a challenge, especially if you're used to a lot of counter space. But with a little ingenuity, you can incorporate everything your inner chef needs. A small rolling cart adds an extra prep surface along with extra storage space beneath. White walls and cabinets are a simple way to make the kitchen look bigger.