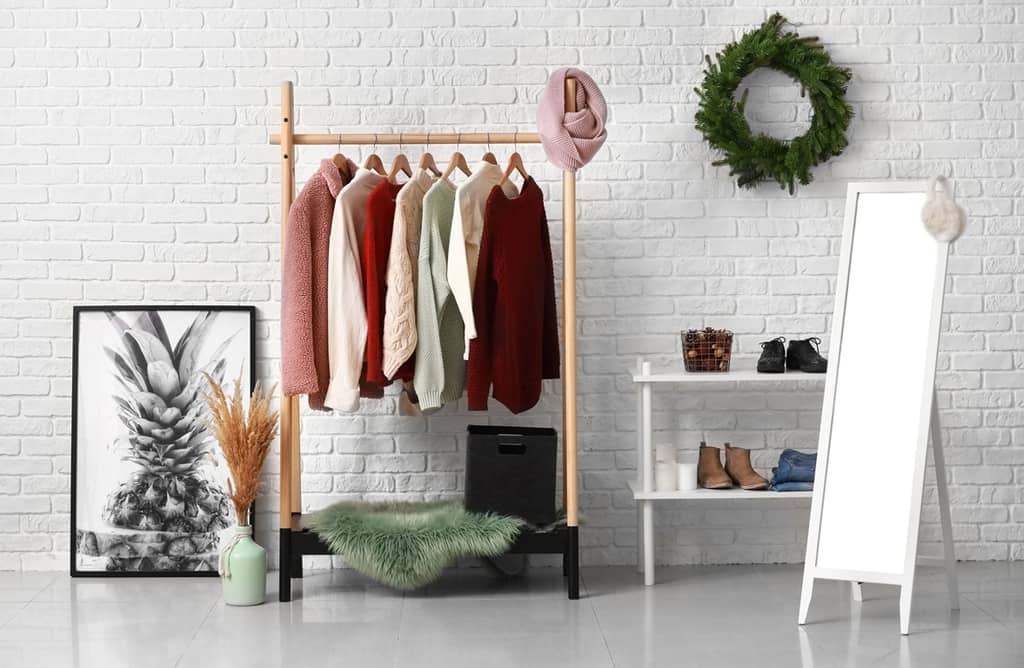 How to Store Clothes Without a Closet
Wouldn't it be nice if all homes come with bedrooms that had sizeable closets? Then, you'd have plenty of space for storing your clothes, shoes, hats, accessories, and bags. Unfortunately, this isn't always possible. Perhaps you live in a small apartment with limited space. Or maybe you've moved into a beautiful historical home with sizable bedrooms that all lack a closet.
It's time to pick those piles of clothes up off the floor and use one of these ideas to store your clothes without a closet.
1.
Clothing Rack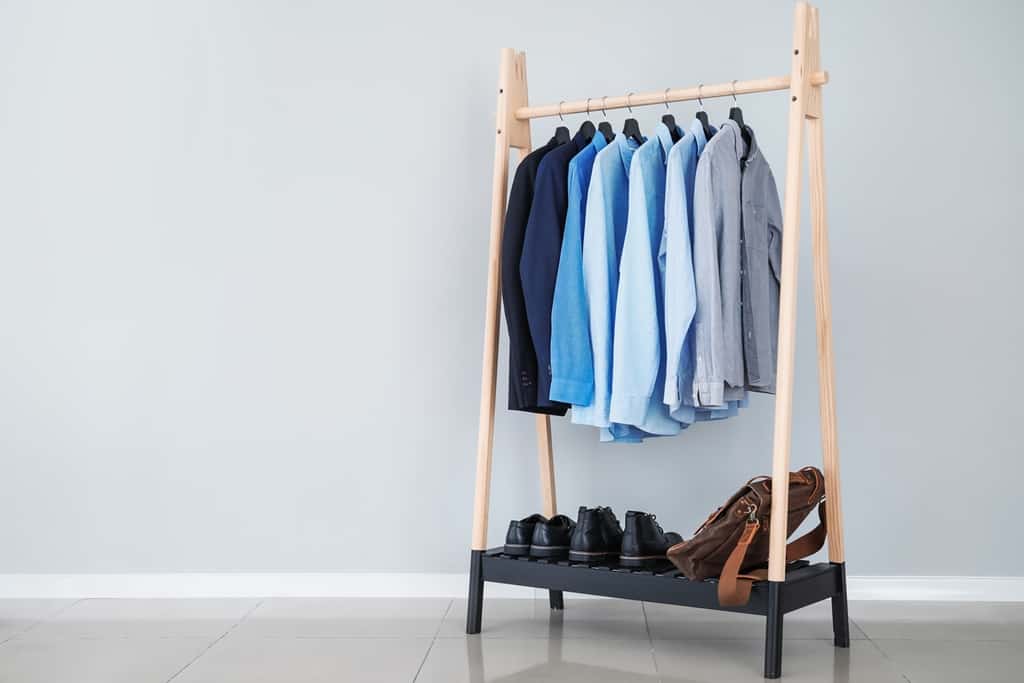 A freestanding rack gives you the convenience of a closet but the mobility that you can't have with a closet. It's perfect for creating an upscale boutique design with your makeshift closet setup. You'll find kits that are easy to assemble and set up. Some even come on wheels, making it easy to move them about. You can also DIY your own rack. This option is ideal for creating a rack that perfectly fits your space and the number of clothes you need to put on it. You can make one out of metal pipes and connectors. Another option is to build the support frame out of wood and mount a metal bar between the two wood supports. If you need more storage space than a single bar, you could create an entire storage solution with multiple hanging bars and shelves.
2.
Dresser, Armoire, or Wardrobe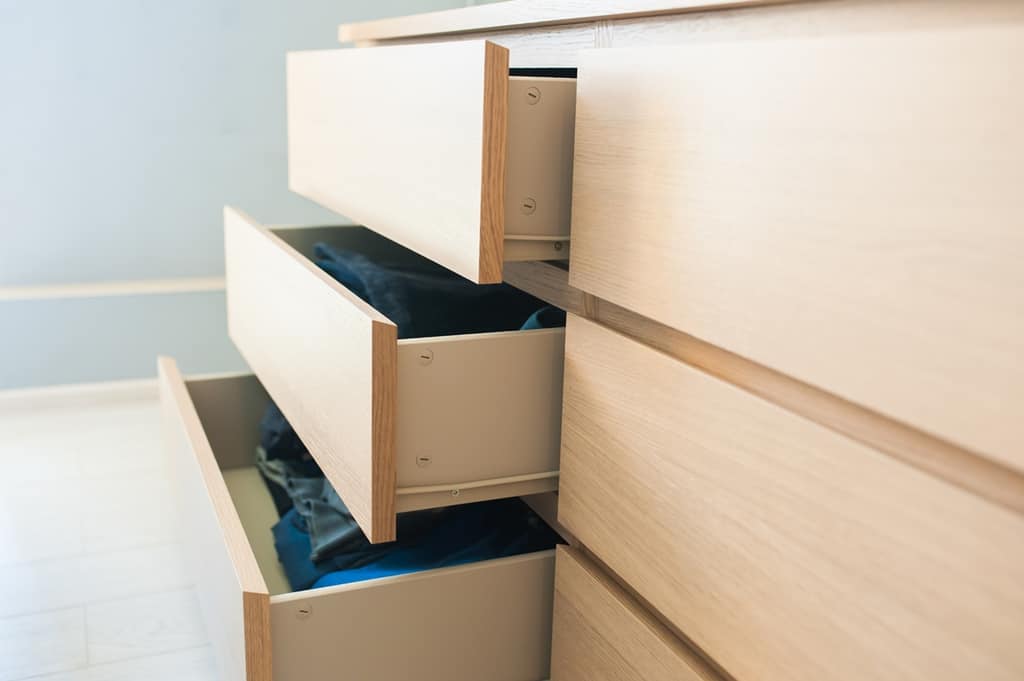 If you have floor space, then one of the simplest solutions is to buy a furniture piece that will hold your clothes. Traditionally, homes weren't built with closets, so freestanding wardrobes, armoires, or dressers were normal. This means there are plenty of vintage and modern options for use in your bedroom. Wardrobes and armoires are great for utilizing vertical space because these pieces are tall. However, you need space in front of them to open the doors. Dressers take up more floor space but typically have drawers that take up less space when open. Match the style of your new furniture piece with the decor style you've chosen for your room.
3.
Floating Shelf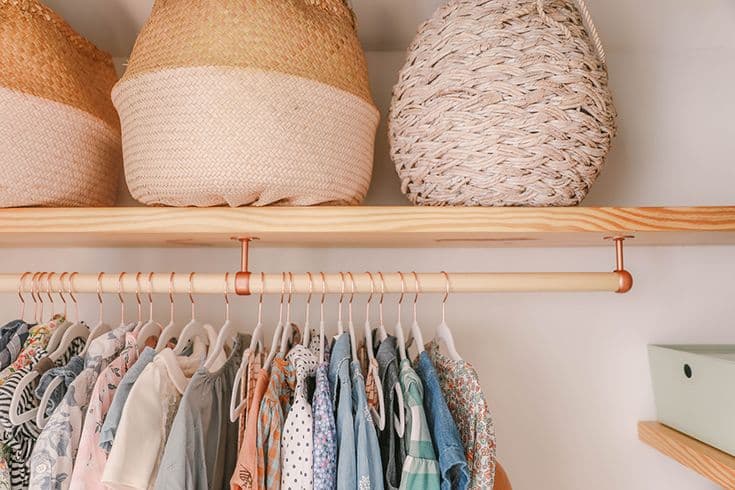 Adding floating shelves to your wall gives you storage space without closing in your bedroom. These shelves are not the same as the decorative shelves in your living room or kitchen. The floating shelves in your bedroom should be substantial and long to give you plenty of space for storage. Ideally, place them higher on the wall so that they are above eye level. These keep them from closing in your bedroom. Mount multiple shelves above each other to maximize the available wall space. For even more clothing storage, mount a hanging bar on the underside of the floating shelf that you can hang clothes on. You'll need a deeper shelf for this, at least 12 inches. If you plan to put folded clothes on the shelf, add acrylic ends that will help to hold the clothing stacks in neat piles. Once the clothes are on the shelf, you won't see the clear end, and your clothes will stay looking neatly organized.
4.
Shelving Unit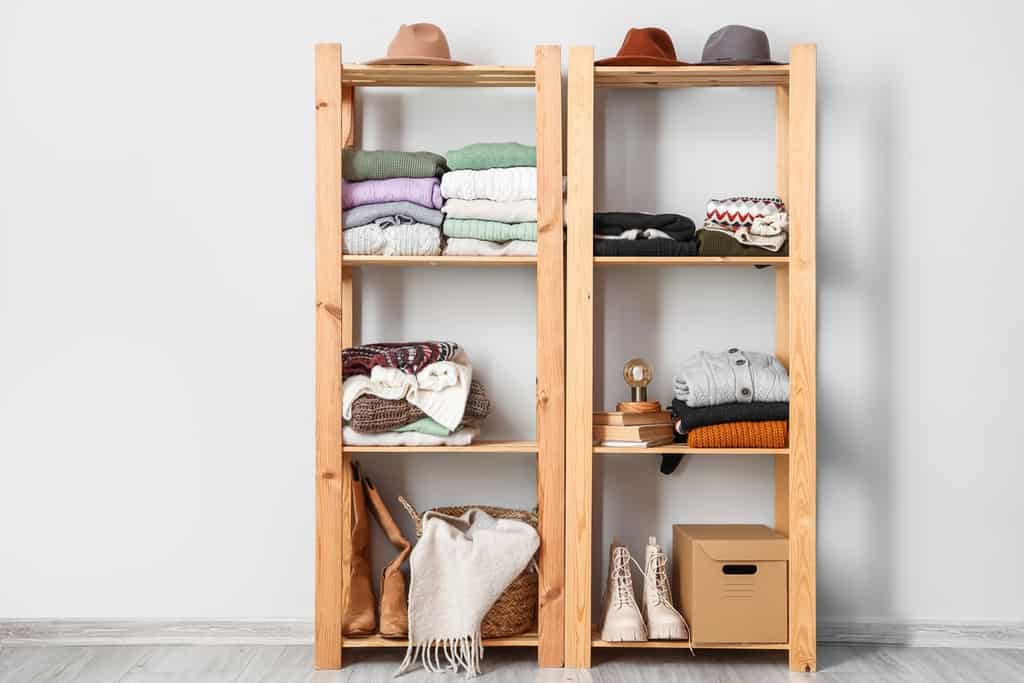 Create the look of a built-in with a shelving unit. This gives you plenty of vertical storage and makes it easy to stay organized. Look for a unit that you can customize to work with your needs. For example, it could have several open shelves that you place baskets on. It could also have drawers of varying depths to give you storage for everything from clothes to accessories. Creating the look of a built-in will elevate the look of your bedroom. Add trim or molding to the top and bottom to give it an elegant, more traditional feel. Opt for a light wood option to keep your bedroom feeling fresh. You could also paint the shelving unit to blend into the wall behind it, helping your room feel larger.
5.
Wall Hooks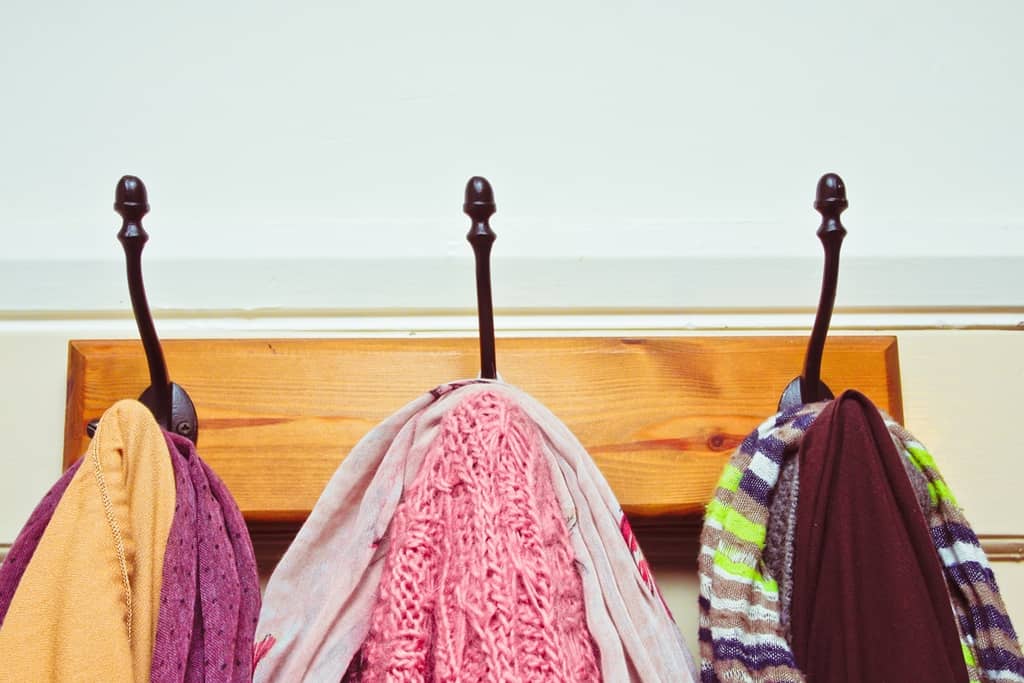 Mount hooks on your wall and use them to hang clothes or accessories. Choose larger hooks that can hold larger or more items. Decorative hooks are also a good option because they add a touch of style to your bedroom. You could mount individual hooks or choose a rack unit that has multiple hooks on a single piece. Hooks are perfect for displaying a collection, such as hats, bags, or scarves.
6.
Woven Baskets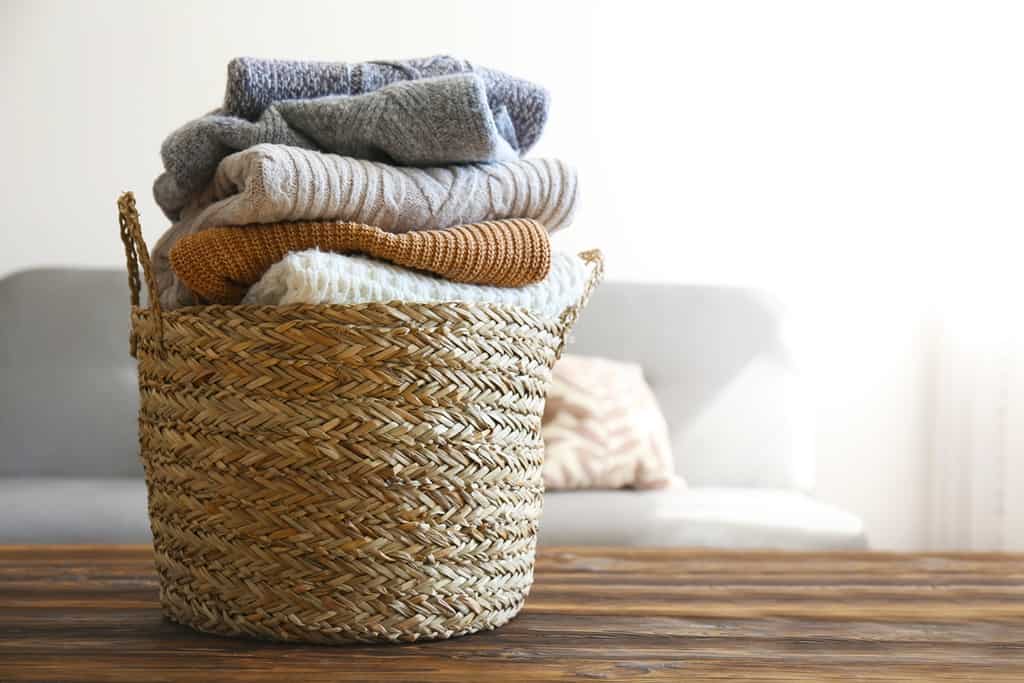 If you prefer a bohemian or country look, purchase several large woven baskets. You can place them under your bed, on the floor along a wall, or on shelves. Buy baskets that suit the size of the items you want to keep in them. Try to buy several of the same type of basket to create a coordinated look. Woven or mesh baskets are best because they allow air to flow. This prevents moisture buildup, which would promote mildew, bacteria, and decay. In addition, the woven baskets add a touch of texture and nature to your home, making your bedroom feel more comfortable and welcoming.
7.
Under the Bed Boxes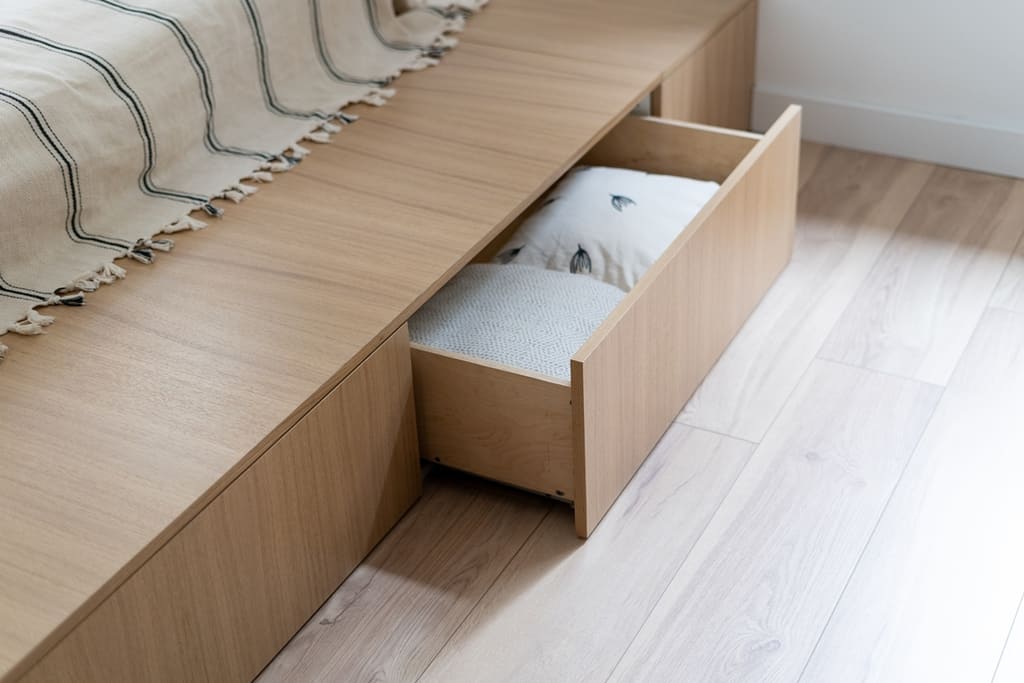 If you need just a little more storage space, try lifting your bed a few extra inches. You don't need to buy a new bed frame. Instead, place risers under each of the support feet to raise your bed six to twelve inches. You now have plenty of space under the bed to store boxes. For greater usability, opt for boxes that have wheels on them. This makes moving the boxes out and back under easier. Label the front of the boxes to stay organized.
The alternative is to replace your bed frame with one that has built-in storage. This creates a uniform and polished look. For maximum storage, look for one with drawers underneath the mattress. It could also have shelving or cabinetry as the headboard. Now you turn your bed into the closet. You'll also see bed options that lift up the entire bed to have access to the entire space underneath. While this sounds useful, in practice, it isn't great. It's hard to reach the center storage under the bed, and you'll have to fix the bed every time you lift it up.
8.
Loft Your Bed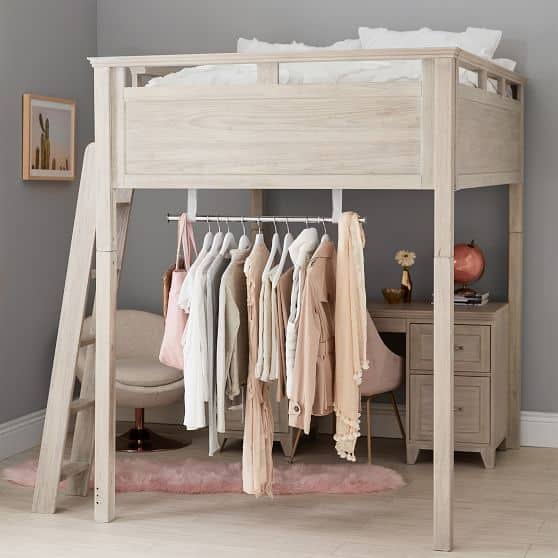 If you have more clothes and shoes than what will fit under your bed in boxes, then it's time to consider lofting your bed. Raise it high enough that you have a usable space underneath. While some people turn this into a sitting area or mini office, you could turn it into a closet. Add one or more rods for hanging clothes. Then add several shelves for your accessories and shoes. You could even add lights and a curtain door to make it feel like a real closet. If you want a polished look, measure the space you have available, then buy a shelving unit or closet organizer unit. Look for a unit that mounts on the wall instead of standing on the floor. Then you can affix them to the wall or lofted bed frame at the height you need. Finish the unit with French doors, and you have built a mini room below your lofted bed.
9.
Decorative Ladder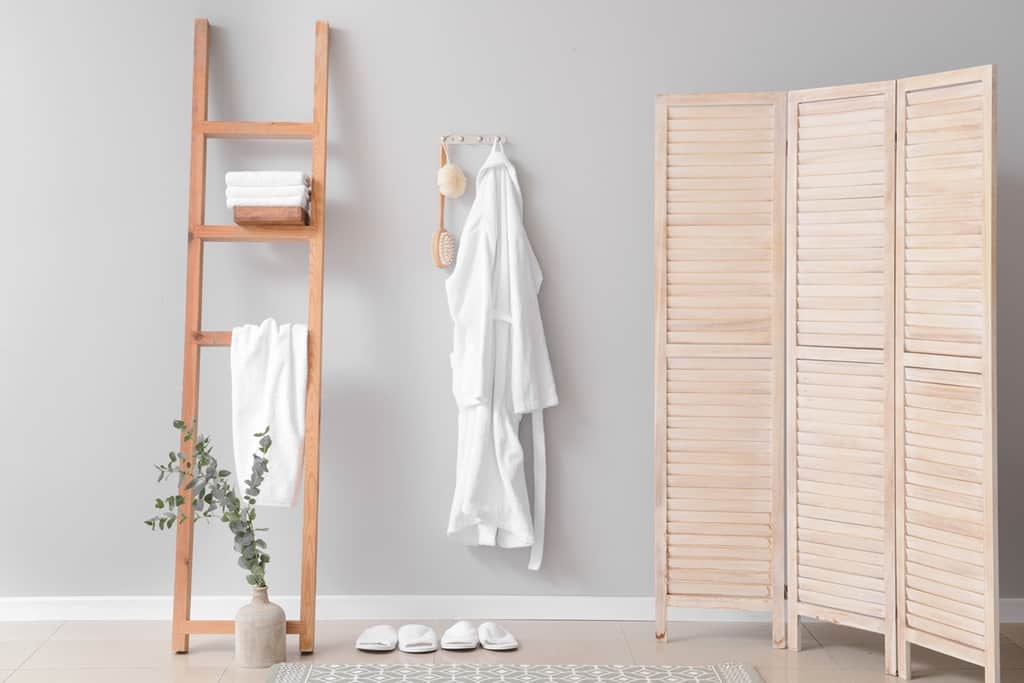 If you only have a few items that you want to be ready within reach, try using a decorative lean-to ladder. Place the ladder against a wall and then drape or hang items from it. Choose a large enough ladder to comfortably hold everything without looking overstuffed or cluttered. You don't want it to add to the clutter in your room, and you should still be able to see the ladder underneath the items. This option is perfect for a rustic or country design style. Choose a ladder made of wood with a hand-hewn look. It can also work well to add a natural accent to a Scandinavian design. For this look, skip the handmade-looking ladders and stick with one that has clean, straight lines.
10.
Back of the Door Organizer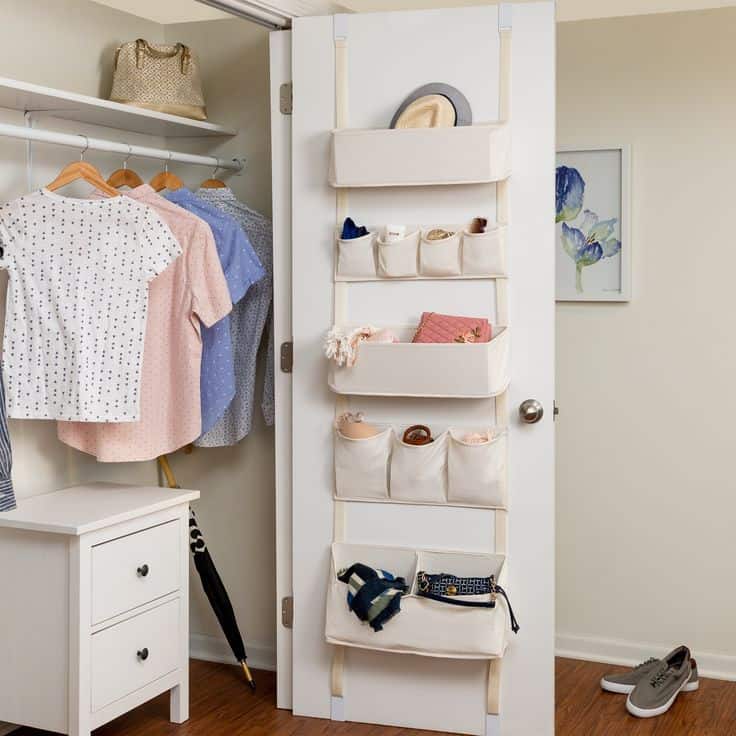 If you have a small bedroom, then floor space is limited, and you need to look for solutions that utilize the existing dead space. One of the most often neglected dead spaces is behind the bedroom door. Hang an organizer on the back of the bedroom door. There are organizers that can hold shoes, hats, or accessories. Look for an organizer that has several pockets and extends the length of the door. This maximizes your ability to hold several items. High-quality organizers have reinforced hanging hardware to support a large amount of weight. For the most durability, avoid the vinyl organizers and look for one that's made of metal or PVC.
11.
Ceiling Suspended Rack
Make a bold statement with your clothing storage solution by suspending it from the ceiling. Use a metal pipe or rope to suspend a bar from the ceiling. Rope and wood would create a rustic feel. All metal pipe creates an industrial feel, and depending on the type of metal you use; they can also create a touch of glam. For example, a black metal pipe will feel slightly vintage or industrial. Gold or copper pipe will add a touch of shine and warmth to your bedroom. Get creative with your suspended metal pipe by building multiple hanging bars at different heights.