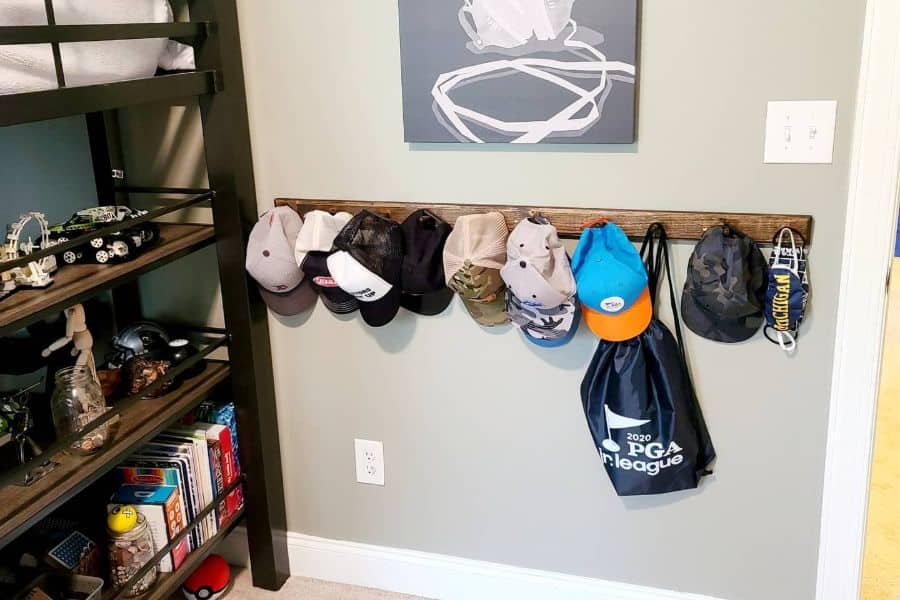 The Top 60 Hat Storage Ideas
"Cock your hat – angles are attitudes." – Frank Sinatra
Hats are a classic fashion accessory that is making a comeback. It doesn't matter if you have fancy fedoras, rugged cowboy hats, delicate fasteners, or casual baseball caps; you need a place to store your favorite hats. You should have an organizational system that makes it easy to find the perfect hat for each outfit. The storage solution also needs to keep your hats safe and protected, prolonging their useful life.
These hat storage ideas will help you find the perfect method for protecting, storing, and displaying your hat collection.
1. Closet
You already keep everything else in your closet, so why not use it for your hat storage also? If you have a small hat collection, you can buy a hat organizer or rack that fits into your current closet organizational system. Several small shelves are nice because you can place a single hat on each shelf. A behind-the-door rack is convenient for small closets and bedrooms that have limited space.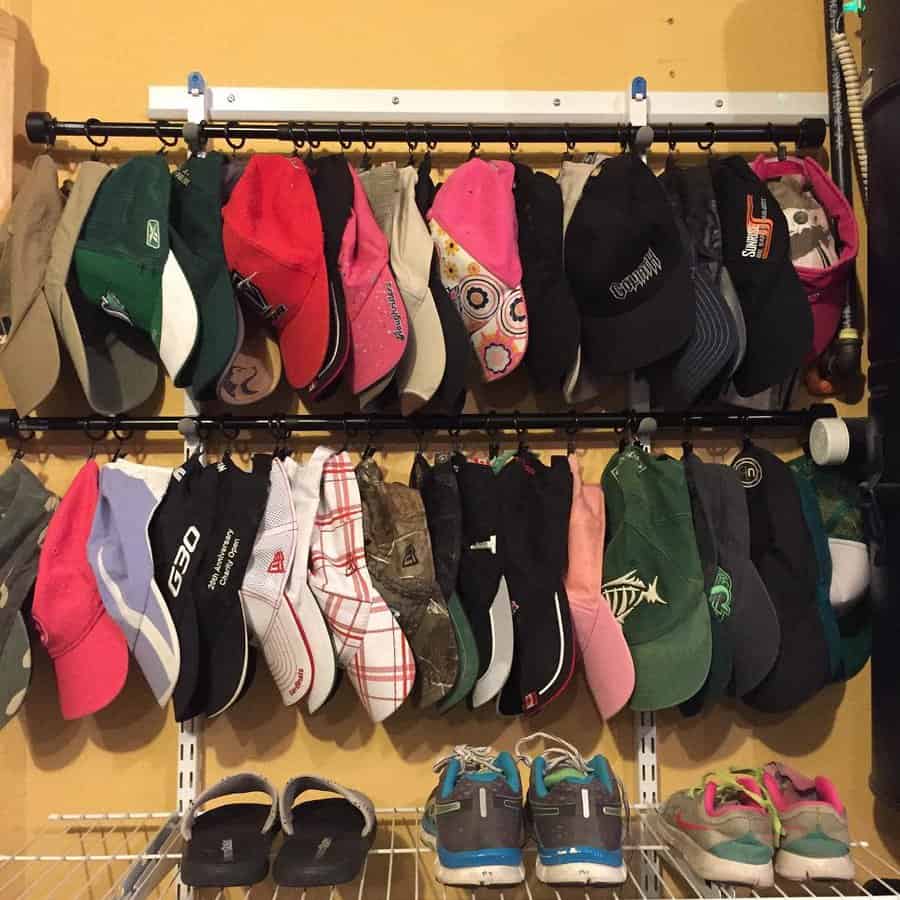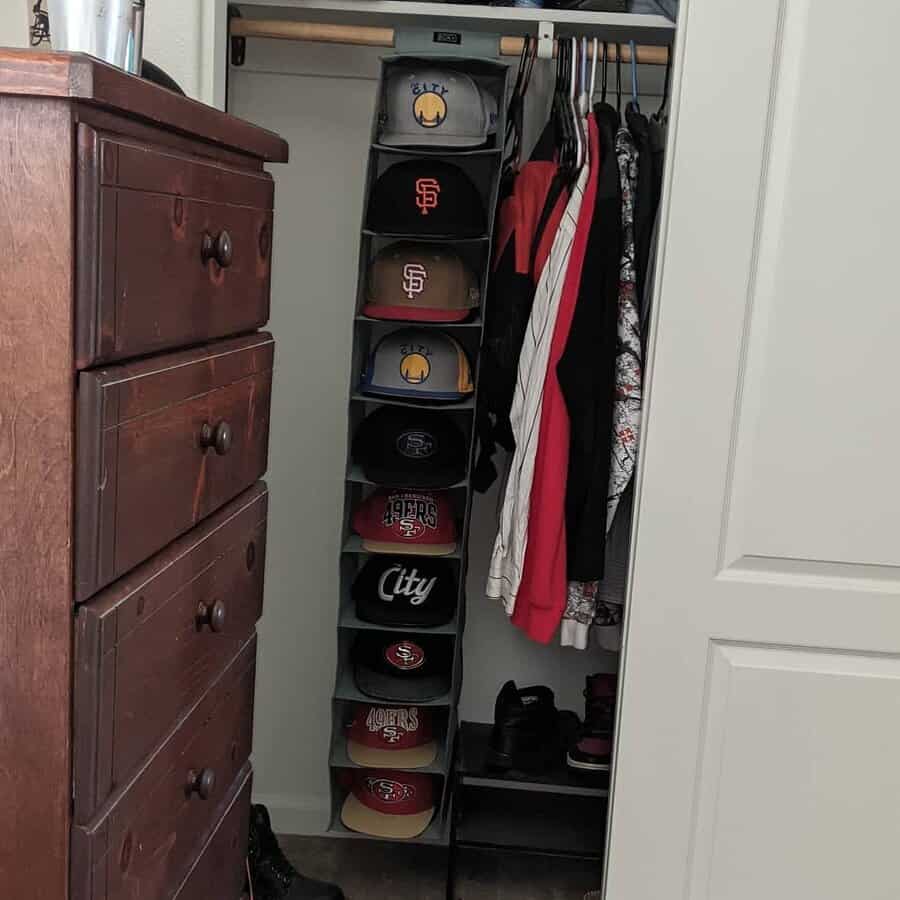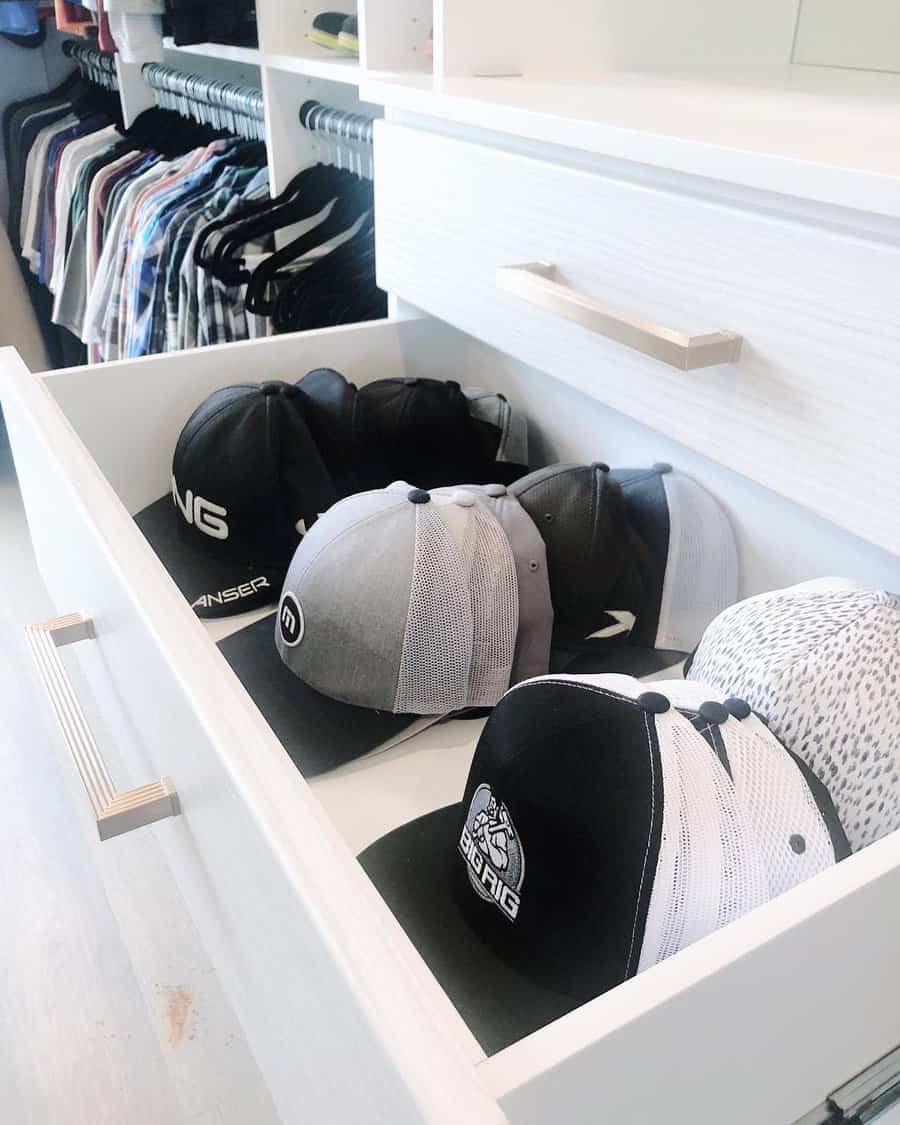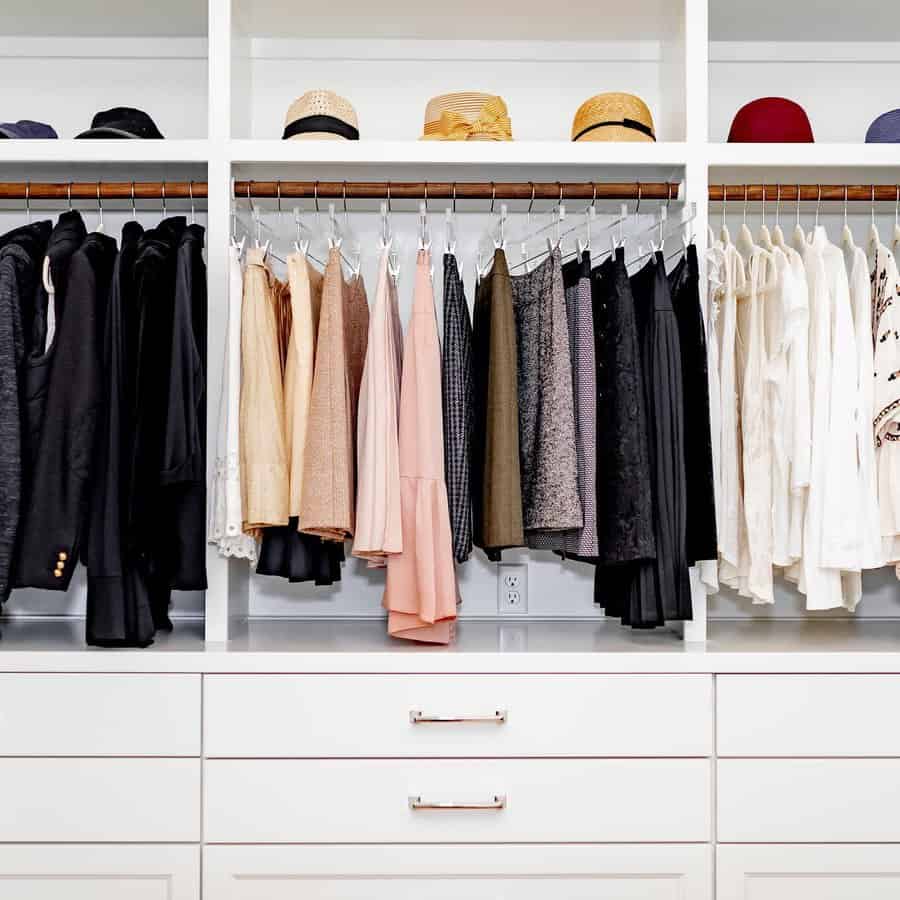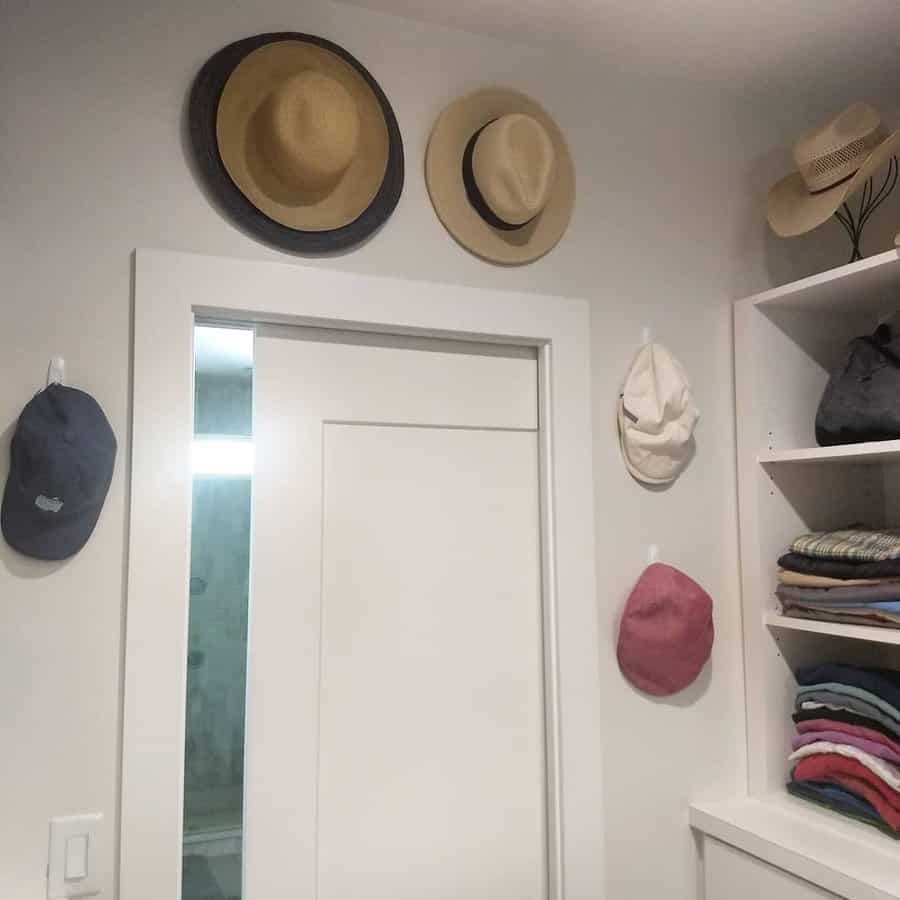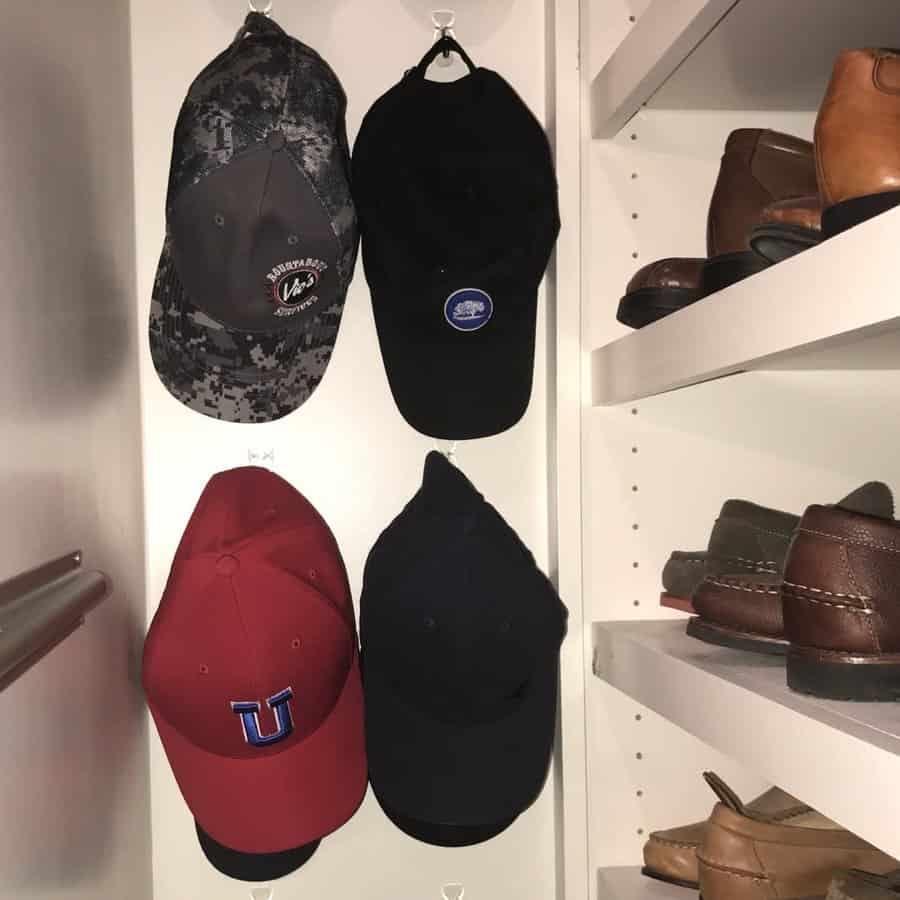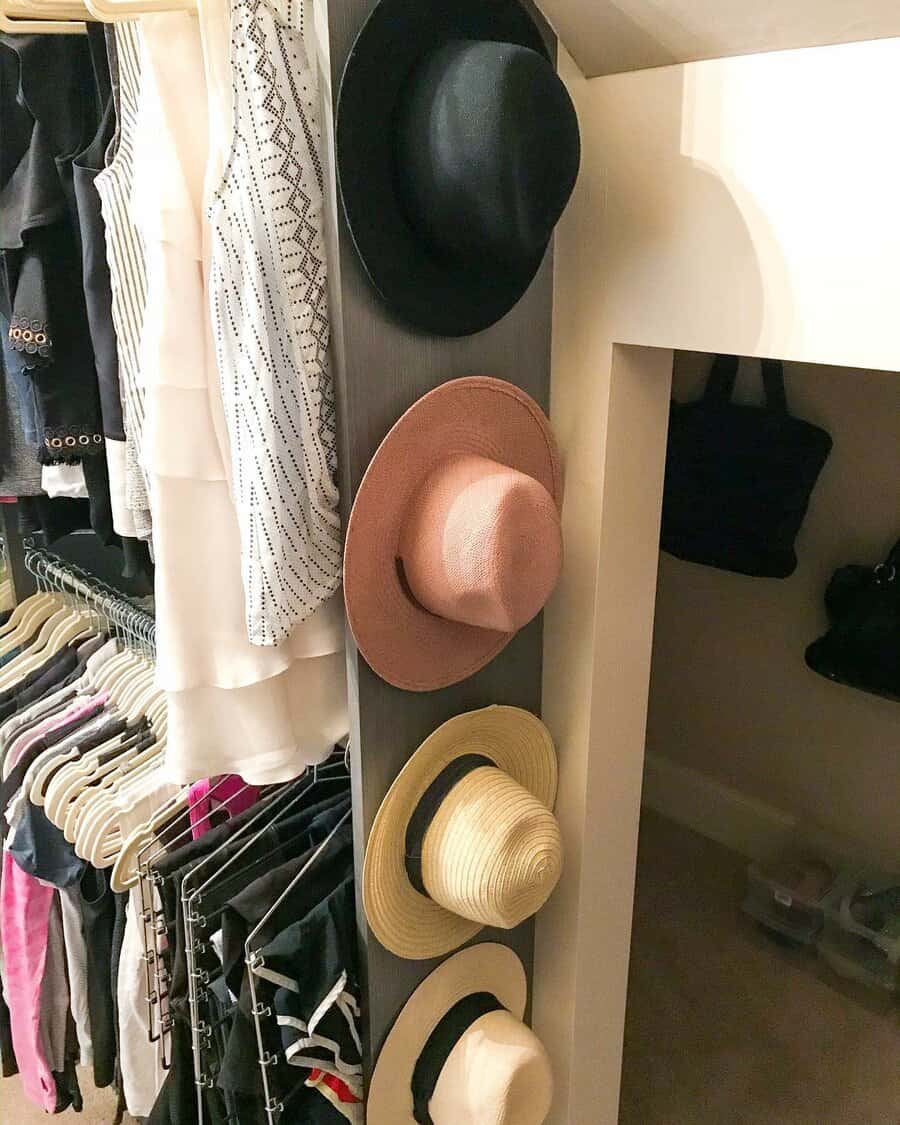 Try using the vertical space in your closet. This uses more of the space that is often neglected and minimizes the space utilized at eye level. Attach a fabric hanging rack that hangs from the tension rod in your closet. If you have a large hat collection, you can hang two racks next to each other.
2. Container
If you want to ensure your hats are protected, then you should keep them in hat boxes. This is best for expensive, large, and elaborate hats. You don't typically need boxes for a baseball hat collection. Look for a round or square box in shape with solid sides and a top that secures shut. There are some hat containers with soft sides, but you can't stack these. This limits how you store them.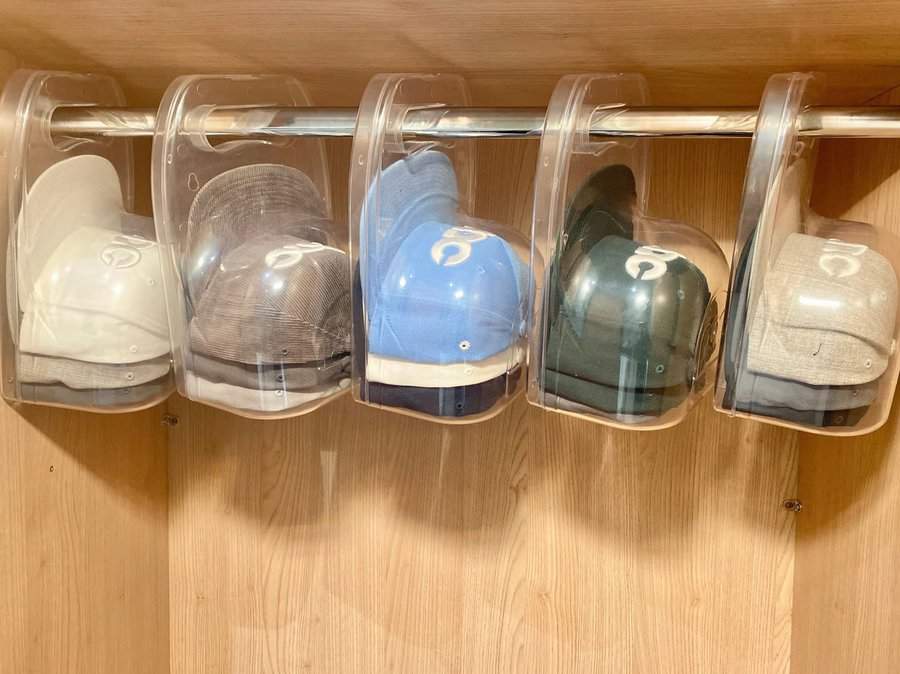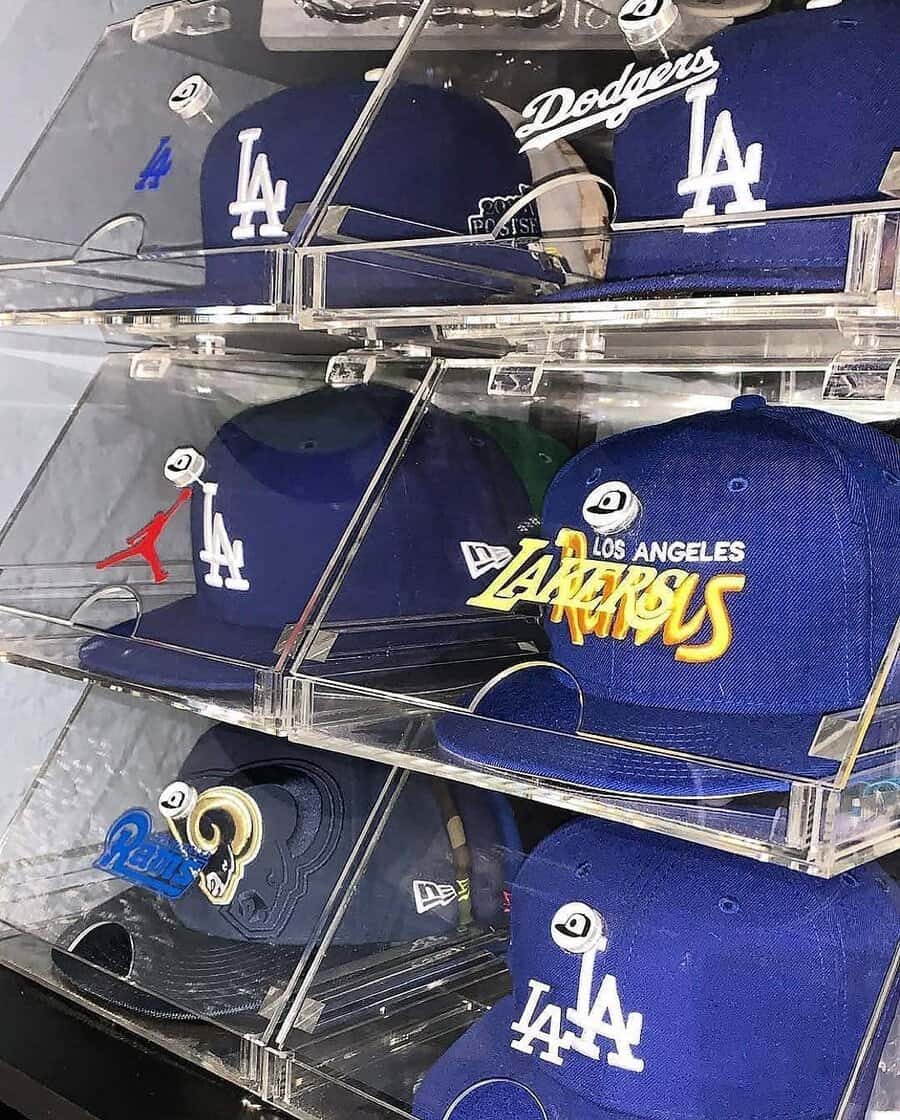 Modern hat holders tend to be a bit plain. Make a statement and turn your hat boxes into decor by using vintage or antique hat boxes. They will have elaborate designs, ornate fabric patterns, and bold metal hardware.
3. DIY
You can easily build your own hat rack. For a DIY baseball hat rack, use a metal bar with window curtain rings that have a clip. Place the rings on the bar and mount the bar on the wall. Then use the clips to attach your hats. For another DIY hat rack option, you can add hooks or pegs to a long piece of wood. Mount the wood on the wall and hang your hats on the hooks.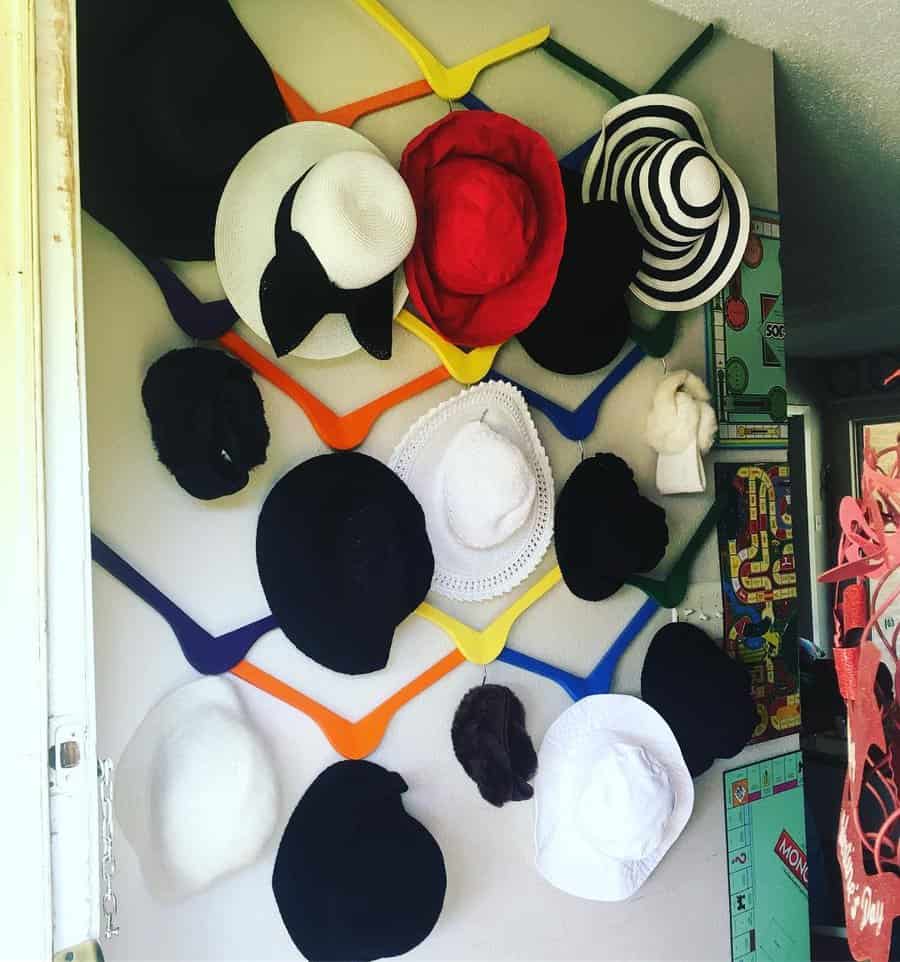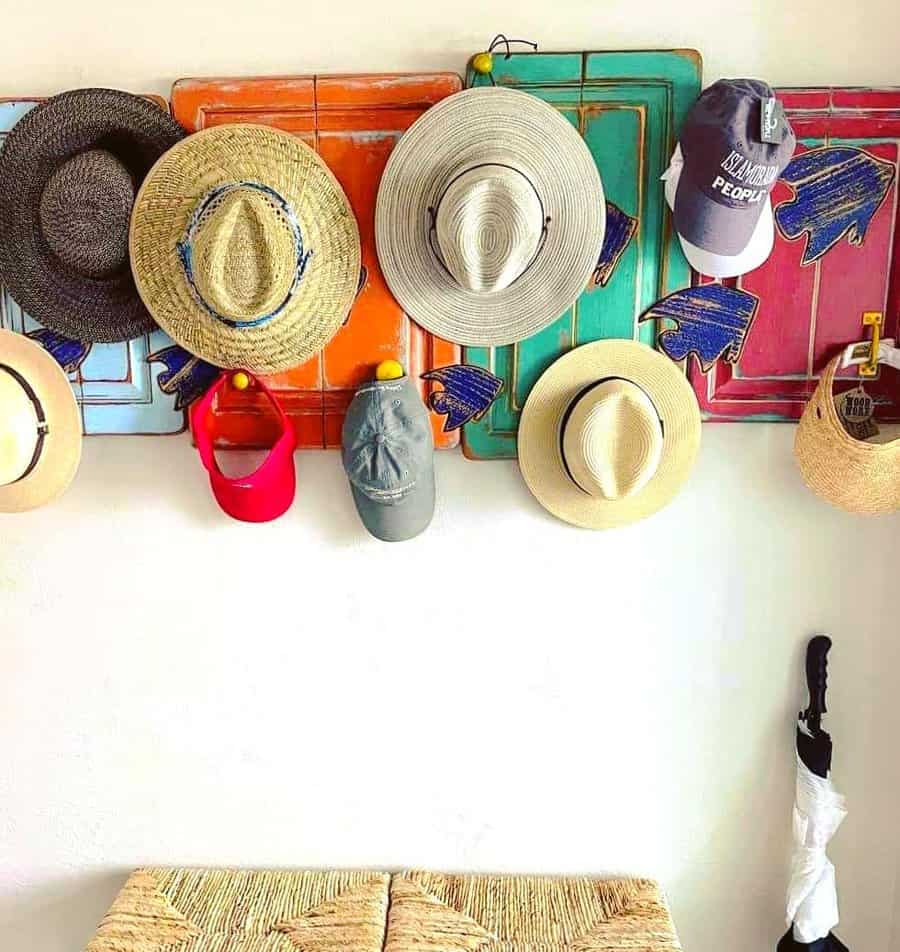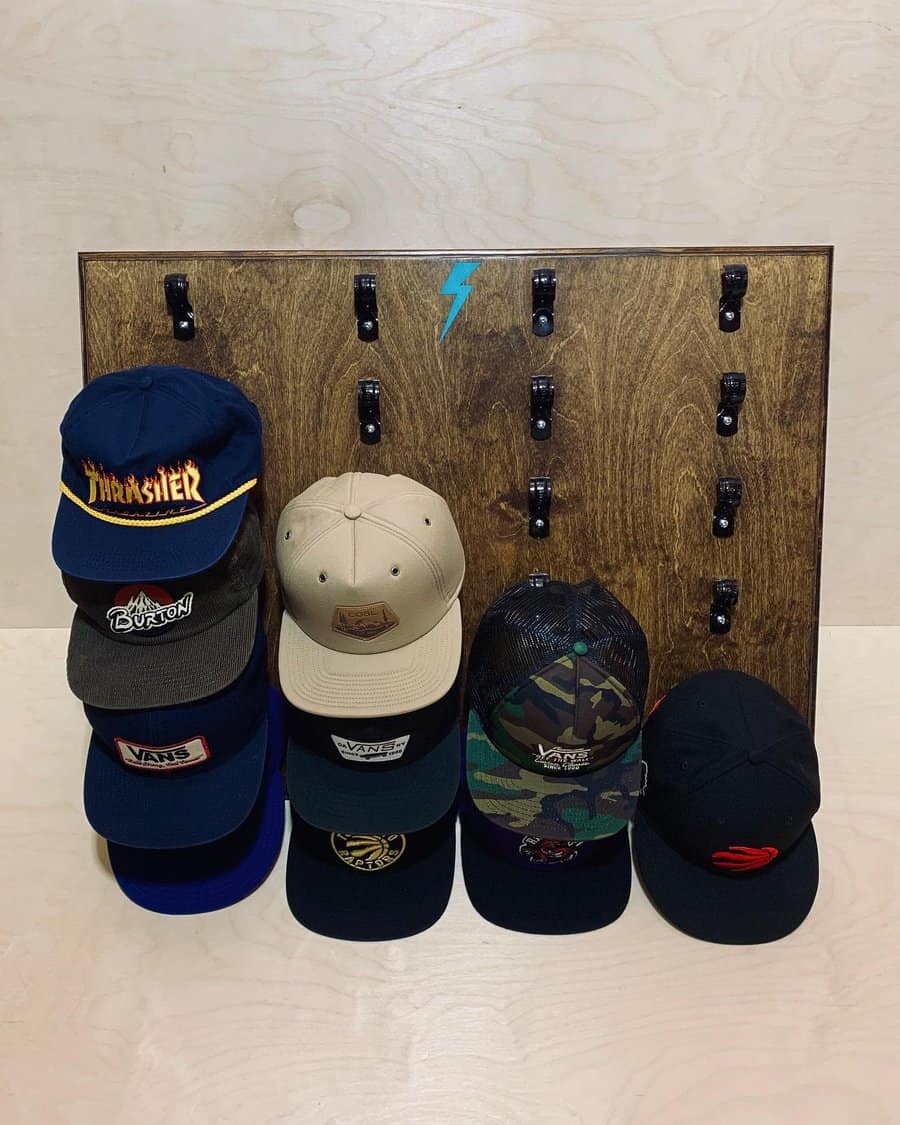 Instead of building your own hat rack, you can use racks or hangers that are traditionally meant for other items. An accordion wall hanger is typically meant for hanging coats or bags. However, you can also use it to hang larger hats on the wall. A metal cable picture hanger can also work. Look for one with several metal wires that have clips throughout the wires. The hats will hang from the clips on the wires. A towel rack can also work well because they tend to have larger hooks that won't dig into your hats.
Read more: 56 DIY Storage Ideas
4. Decor
If you are a hat lover, turn your hats into wall decor by hanging your hat collection. For example, you could hang a wood pallet on the wall and then use metal hooks to organize the hats. This is nice if you have large hats or hats that are different sizes. When hanging hats on the wall, use specialty hooks that are specifically designed for hats. They are larger and rounded to follow the shape of the hat. This prevents it from warping over time.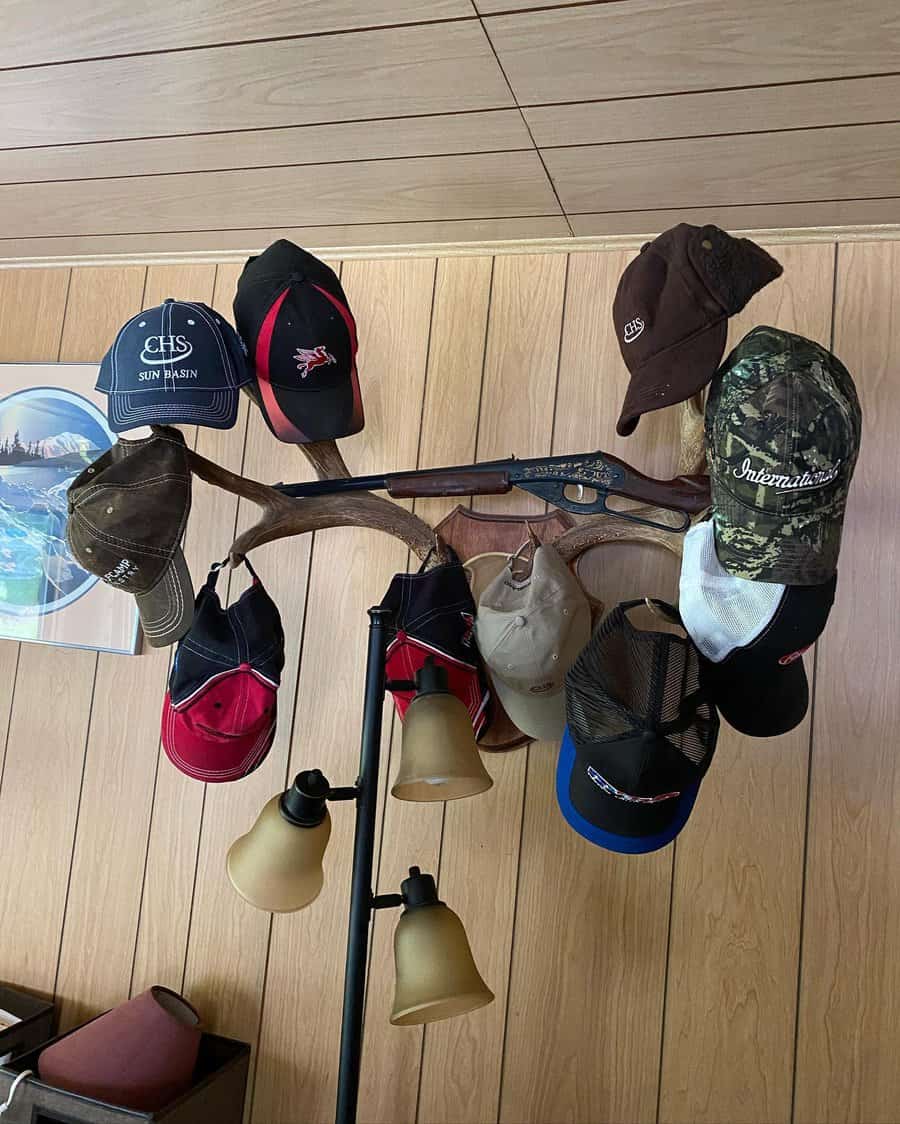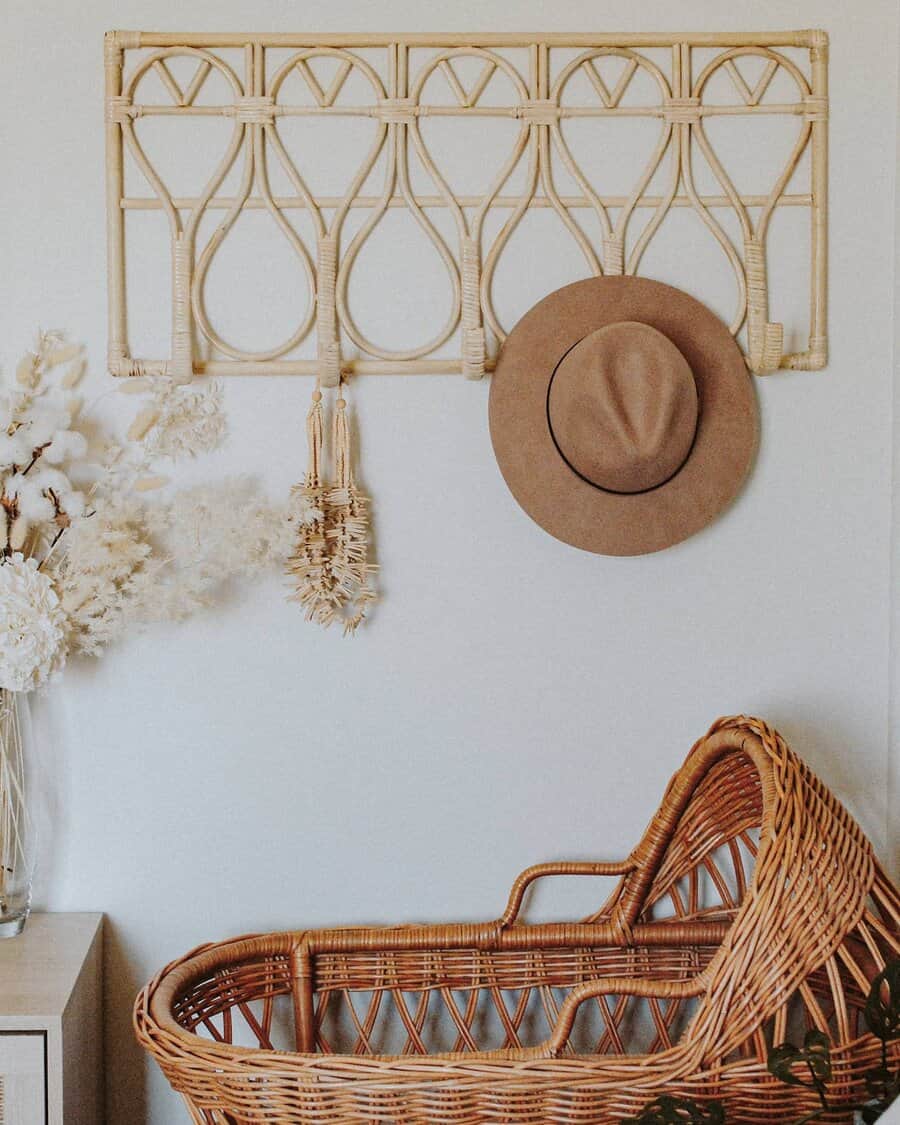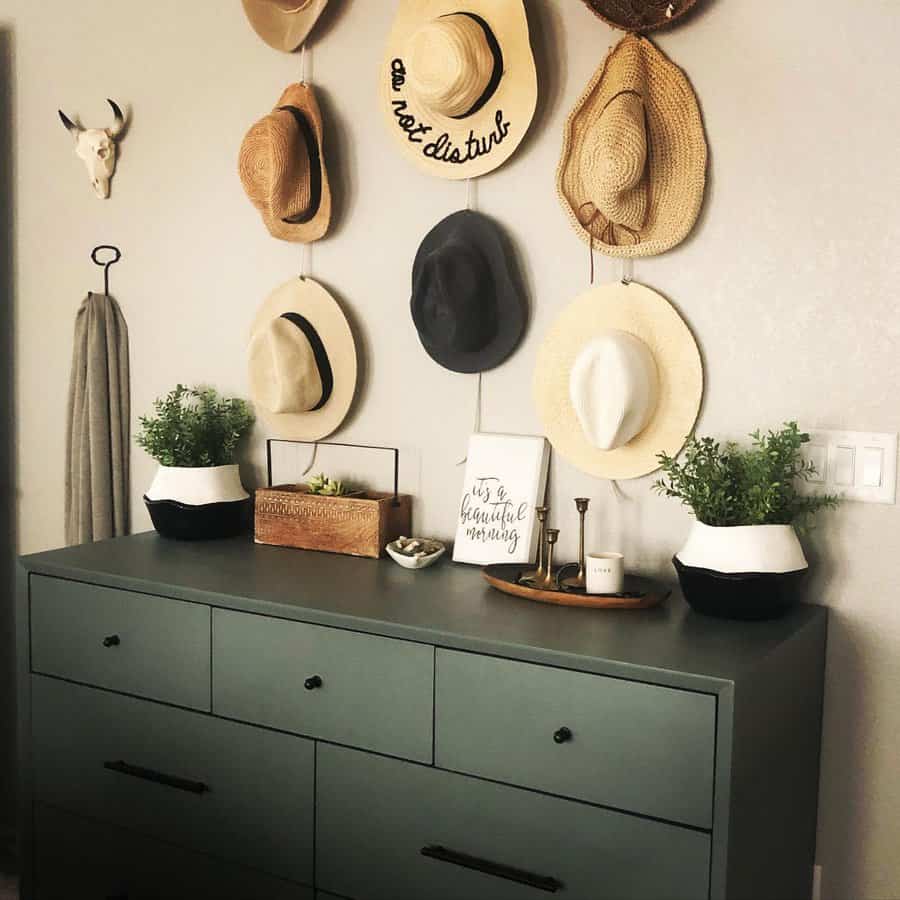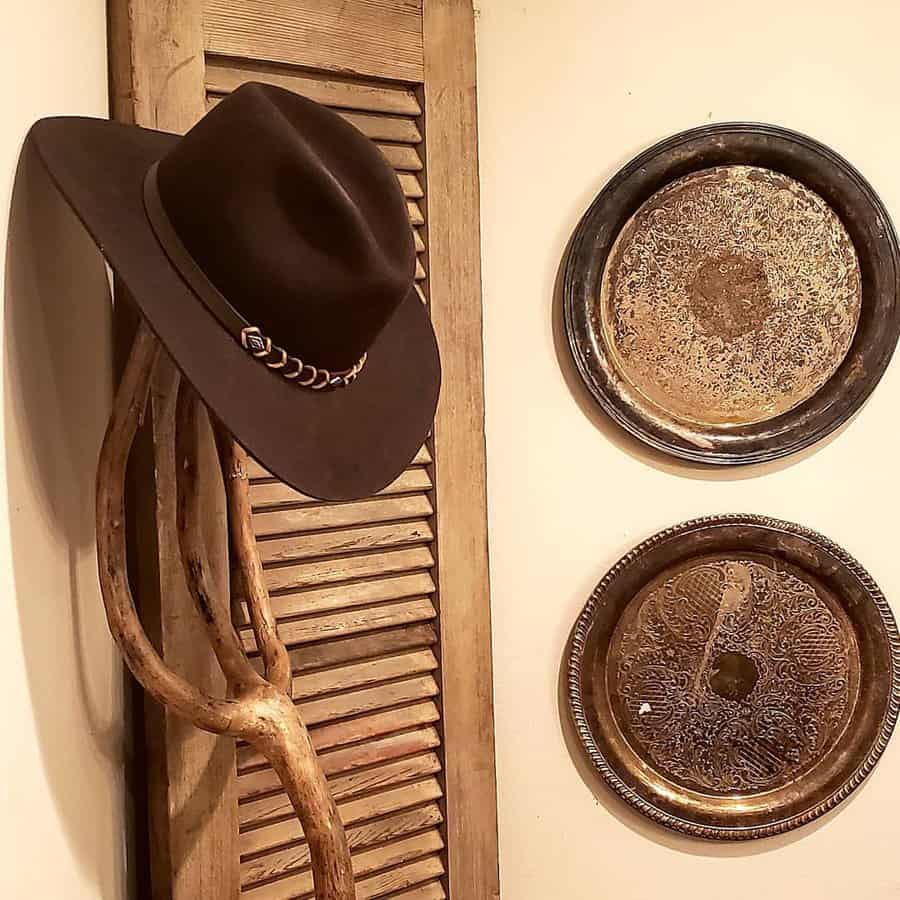 A collection of similar hats could easily be arranged in groups by size, style, or color. This adds a visual design element to your display. If you're looking for something unique, consider a wood beam that you hang cables from. Attach hooks to the cables and then hang vertical columns of hats.
5. Hanger
If you have several hats of a similar style, they can probably nest inside of each other. This is nice because it means they will take up less space in storage. There are hat hangers that create a compact storage solution. There are wall-mounted and behind the door hanging hat racks. They are best for holding baseball caps. Each hat will hook into a specific holder and nest into the hat before and after it.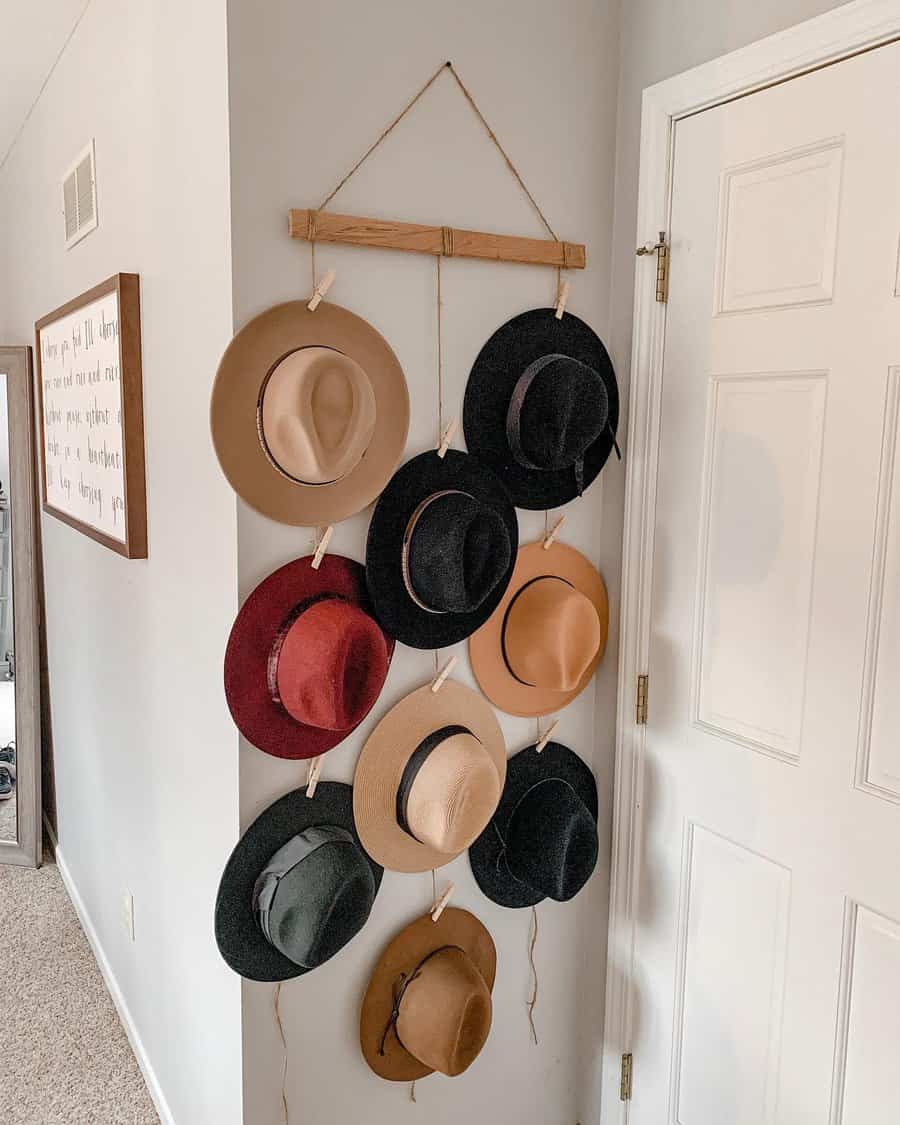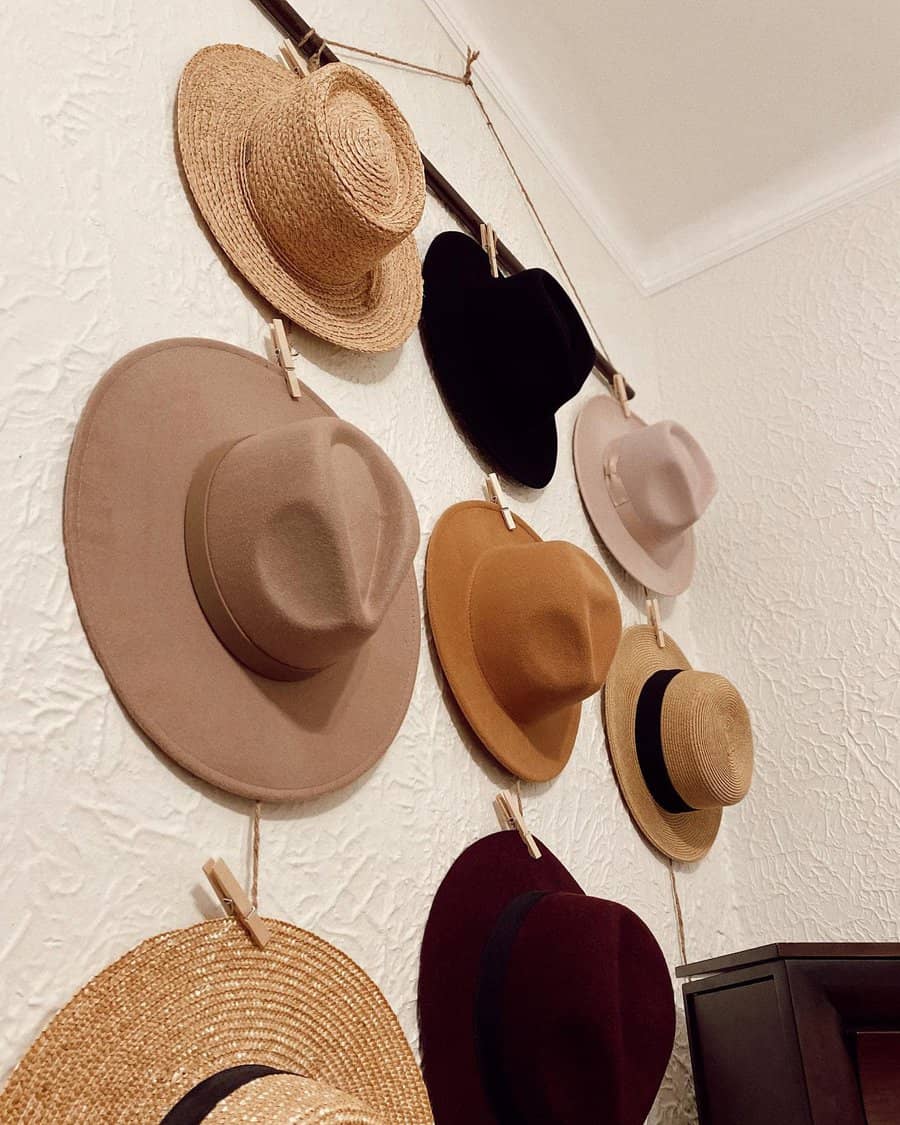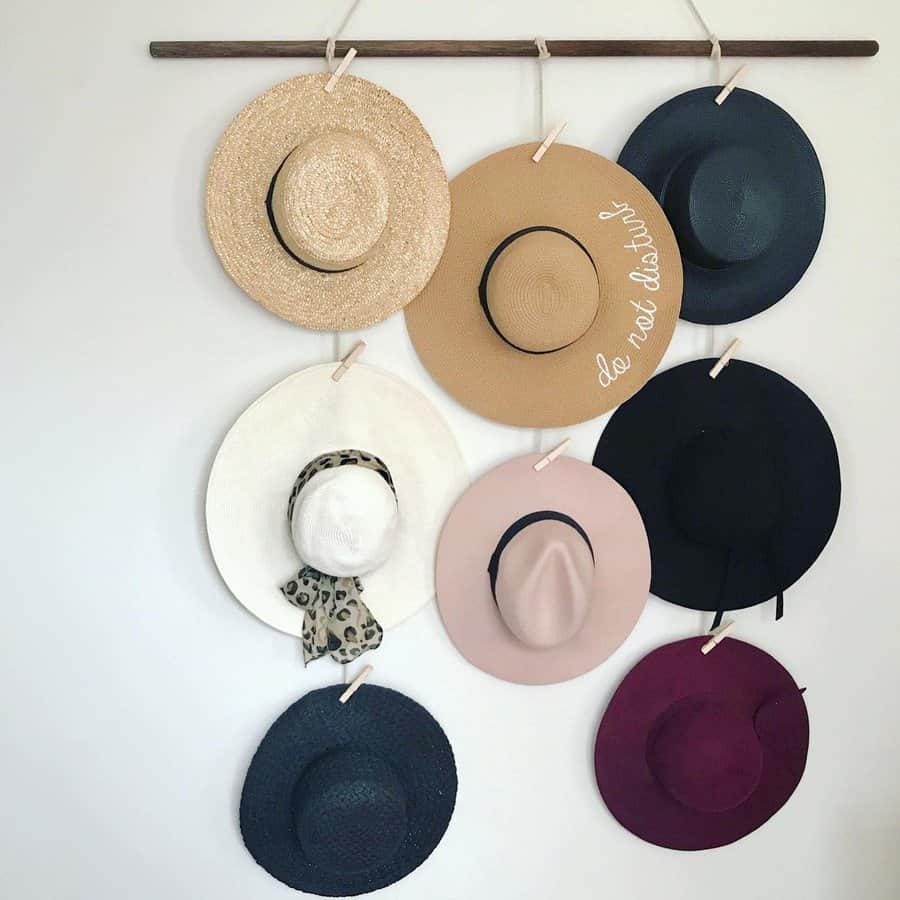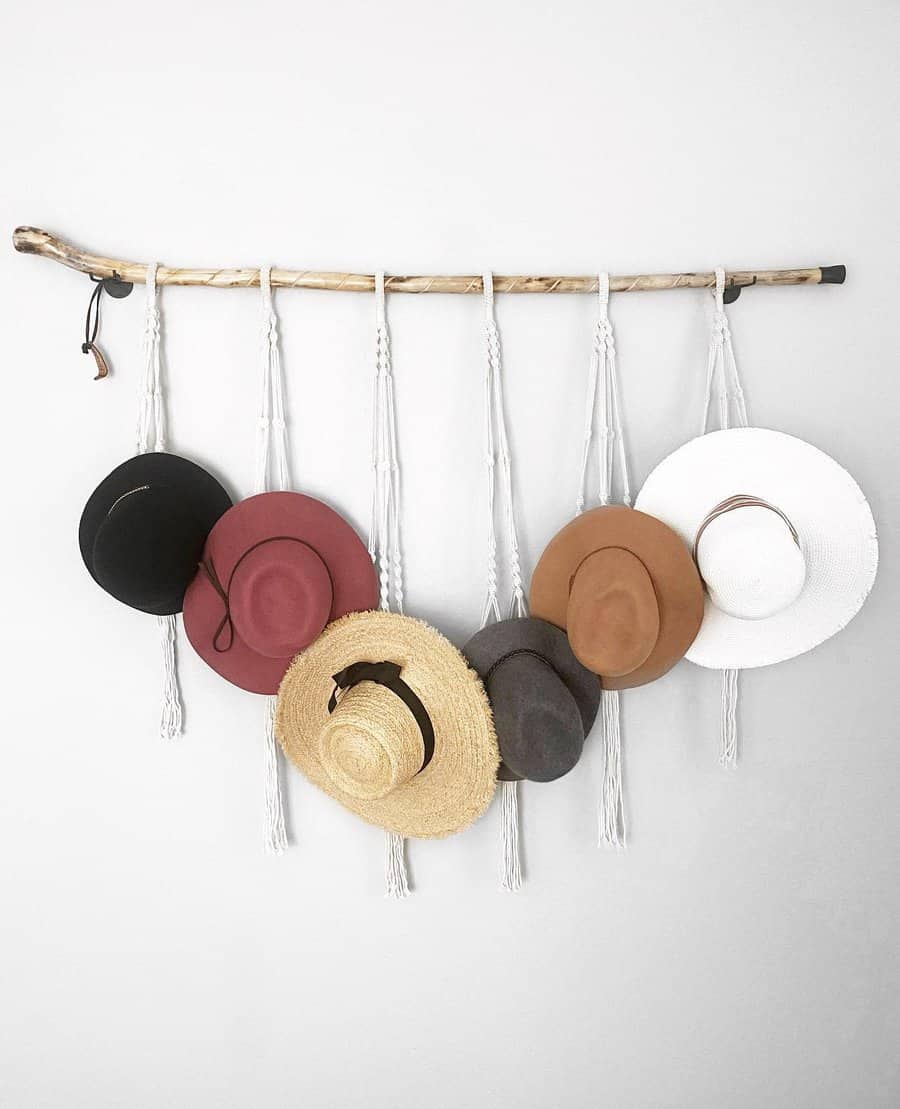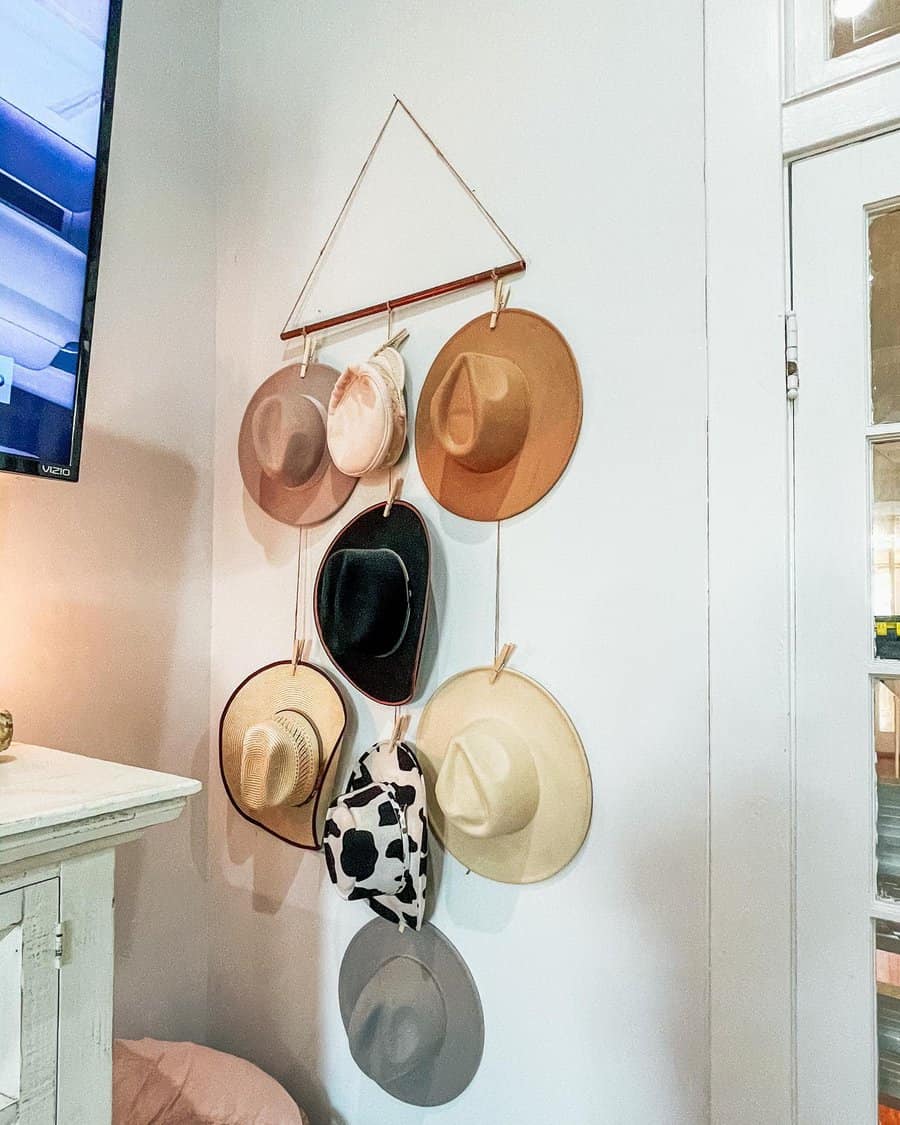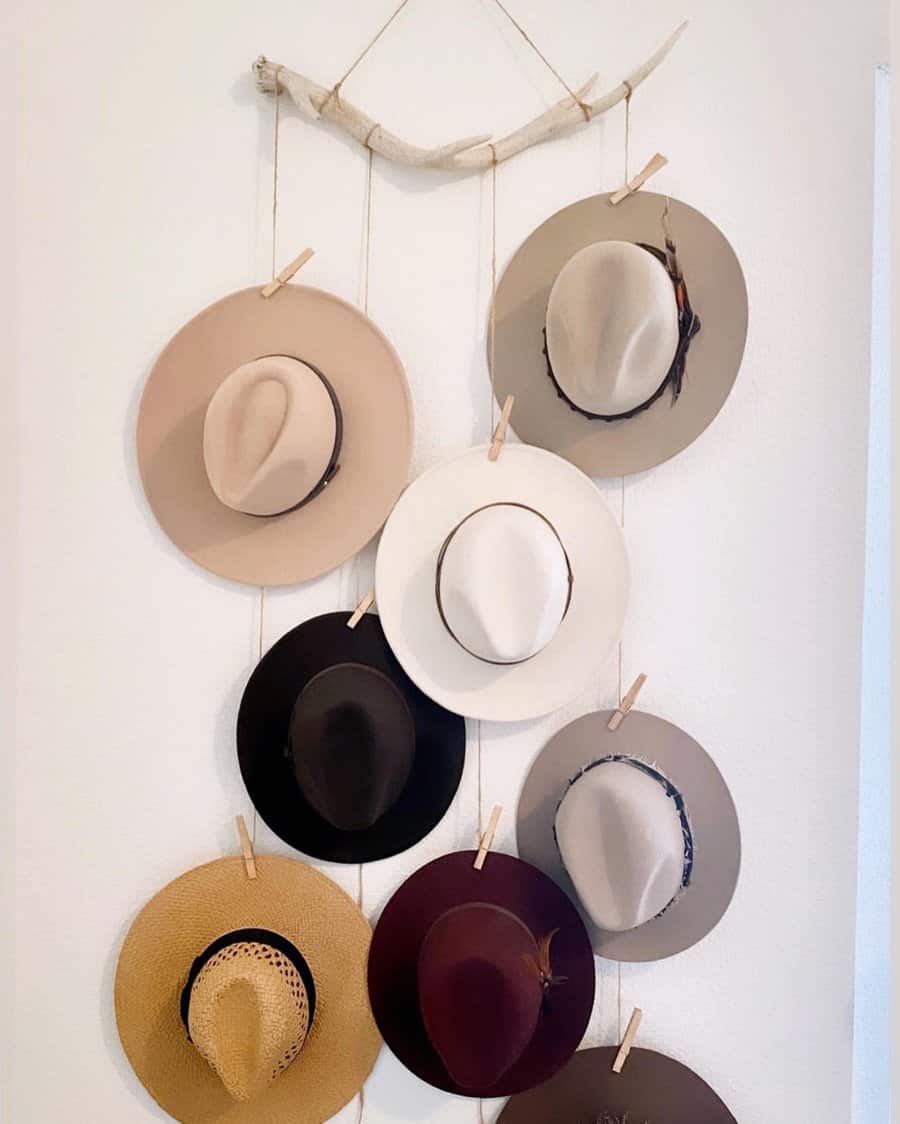 For hats that are not a baseball design, you'll need to get a bit more creative when hanging them. It should have a gentle clip or clasp on the brim but also be large enough to hold the hat secure. It shouldn't have ridges, or it can create dents when left on your hat's brim for too long.
6. Hook
Hat hooks are not like the standard hooks you hang on the wall. Using a generic hook will damage your hats. There are hooks that fit flush against the wall so that the hat's brim sits flat against the wall. You'll see the top and entire brim of the hat when looking at the wall.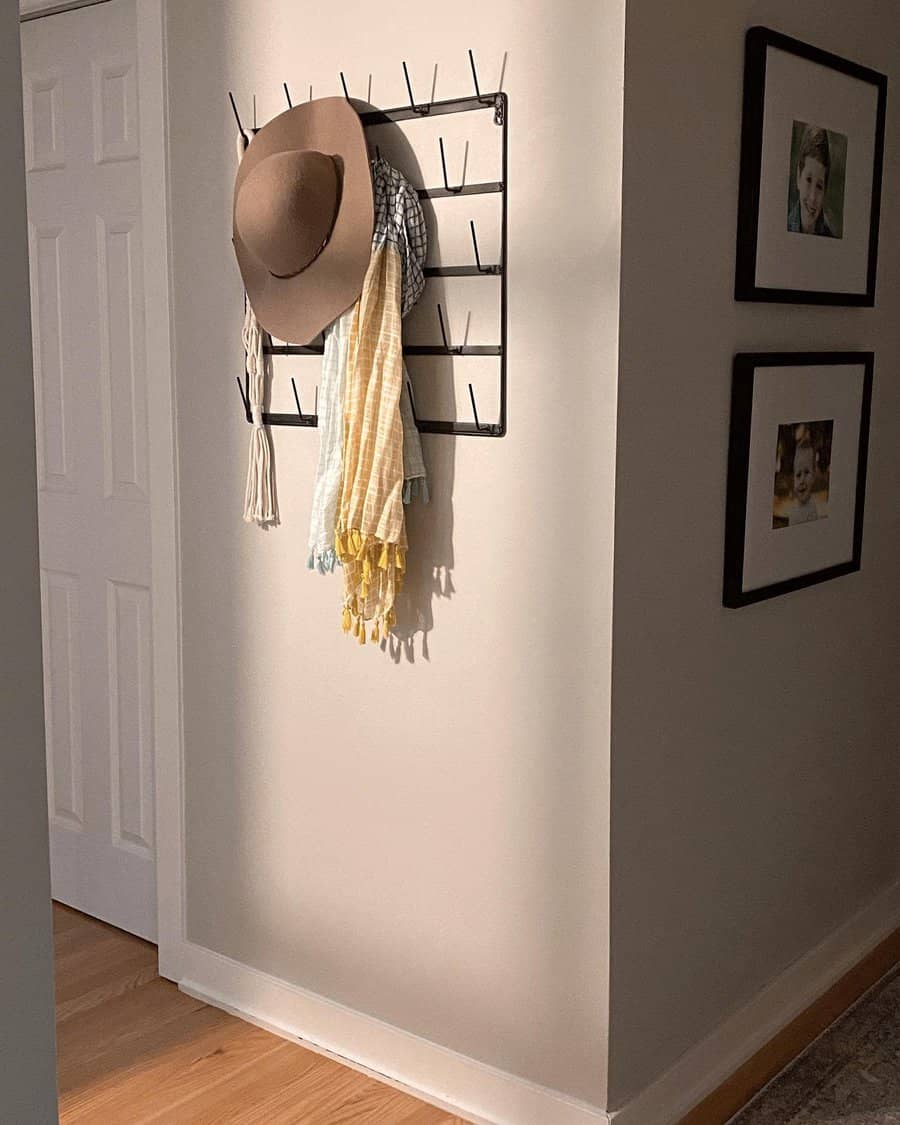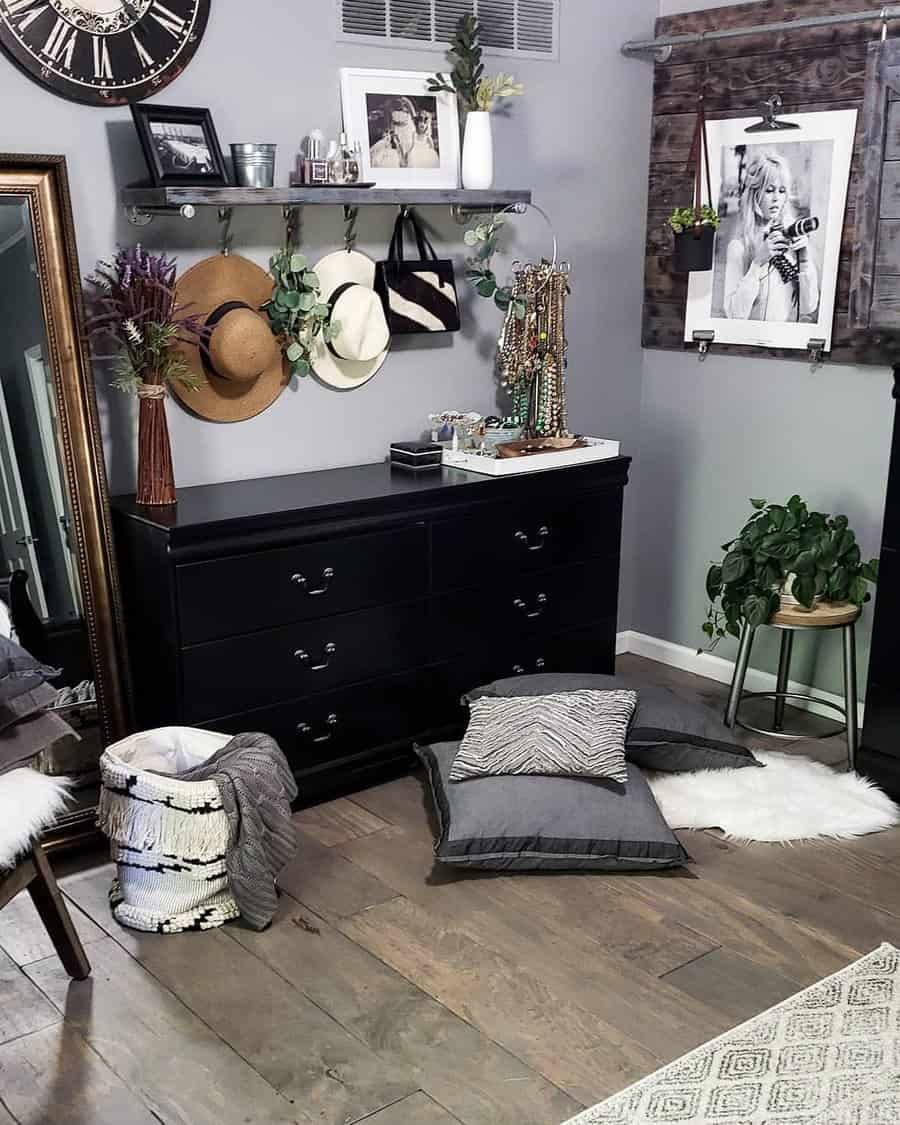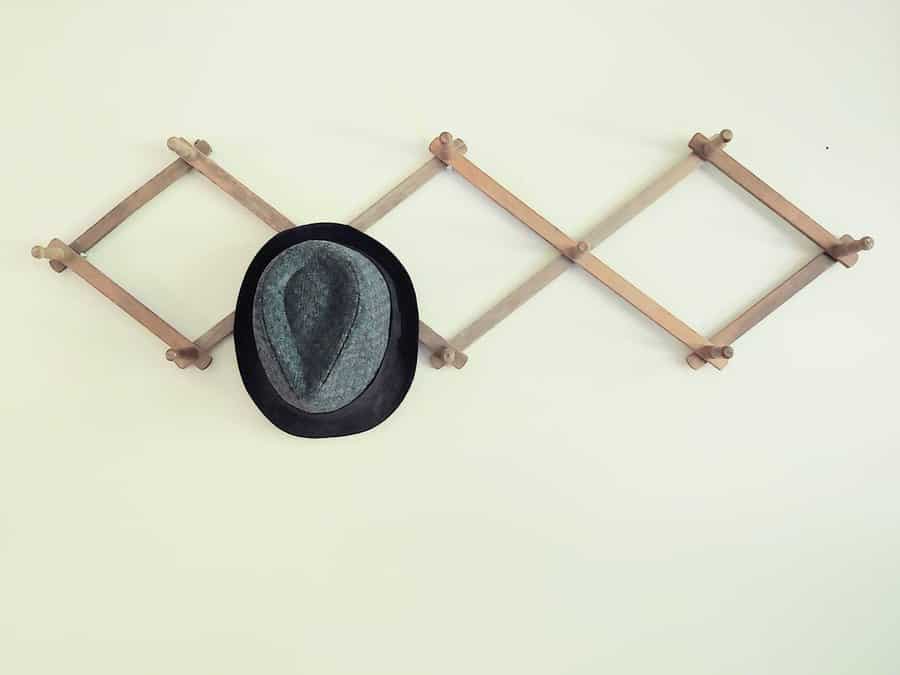 Other hooks sit on a support that's positioned out from the wall. There is an L or S shaped bar that mounts on the wall and then holds the hat in an upright position. When looking at the wall, the hat is seated in the same position as if someone were wearing it. Smaller hats need smaller supports, so baseball cap storage will have smaller support rounds while larger hats like a cowboy, floppy, or cartwheel will have larger support rounds.
7. Mudroom
Your mudroom is a perfect place for adding a coat rack that also has hat storage. Since most people put their hats on right before they leave, this is a perfect place for keeping your hats. You can also easily take it off and put it away when coming home. Try the vintage look with a freestanding hat stand.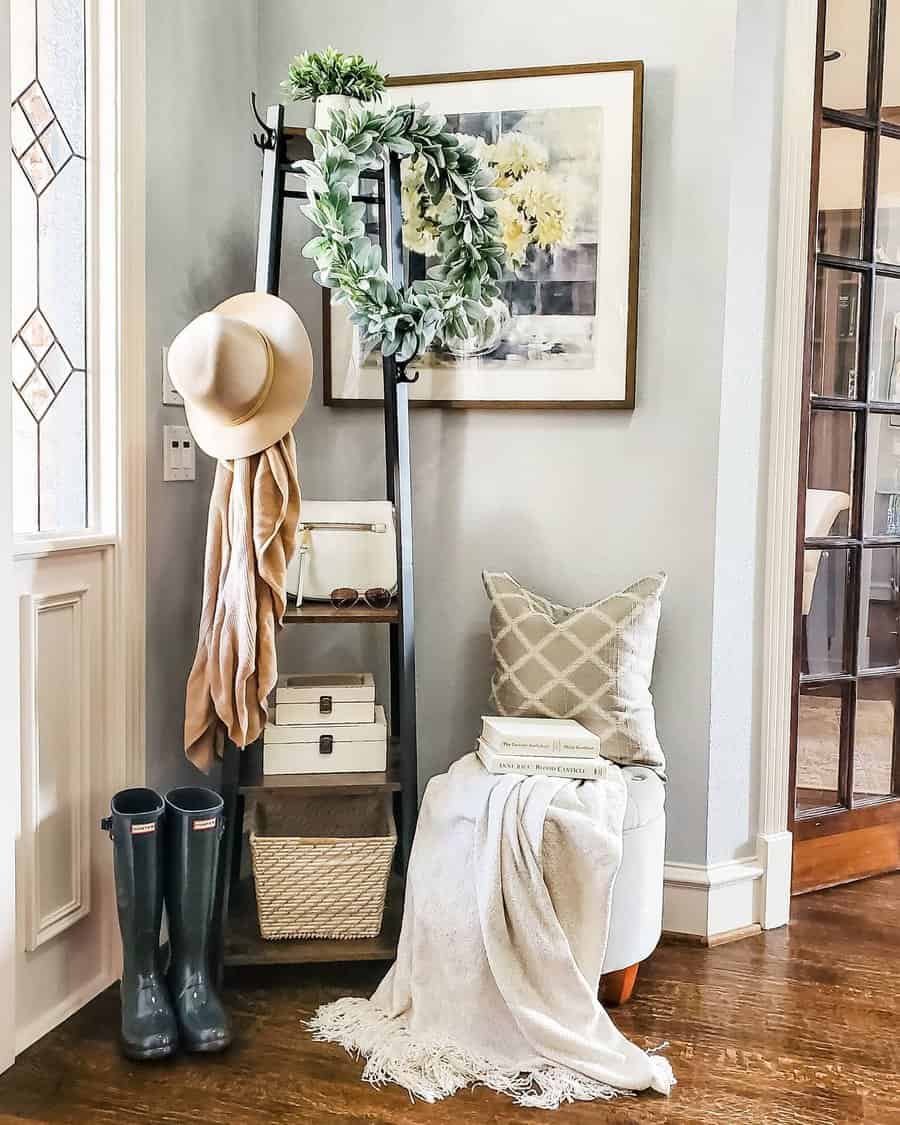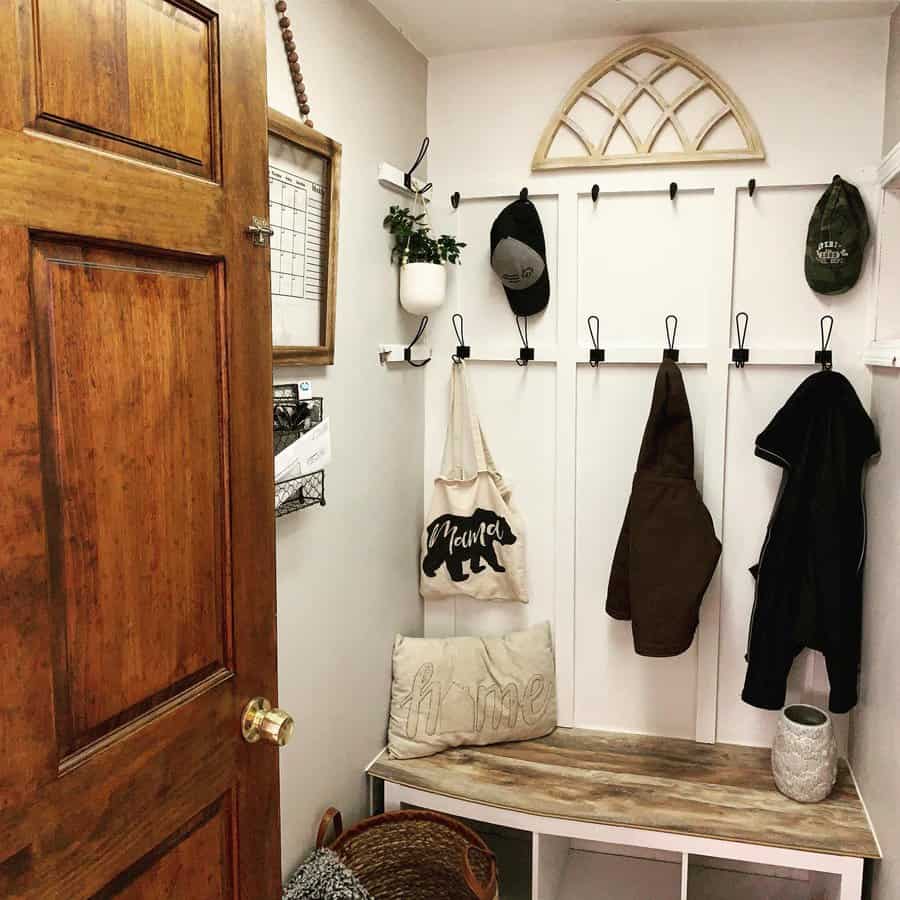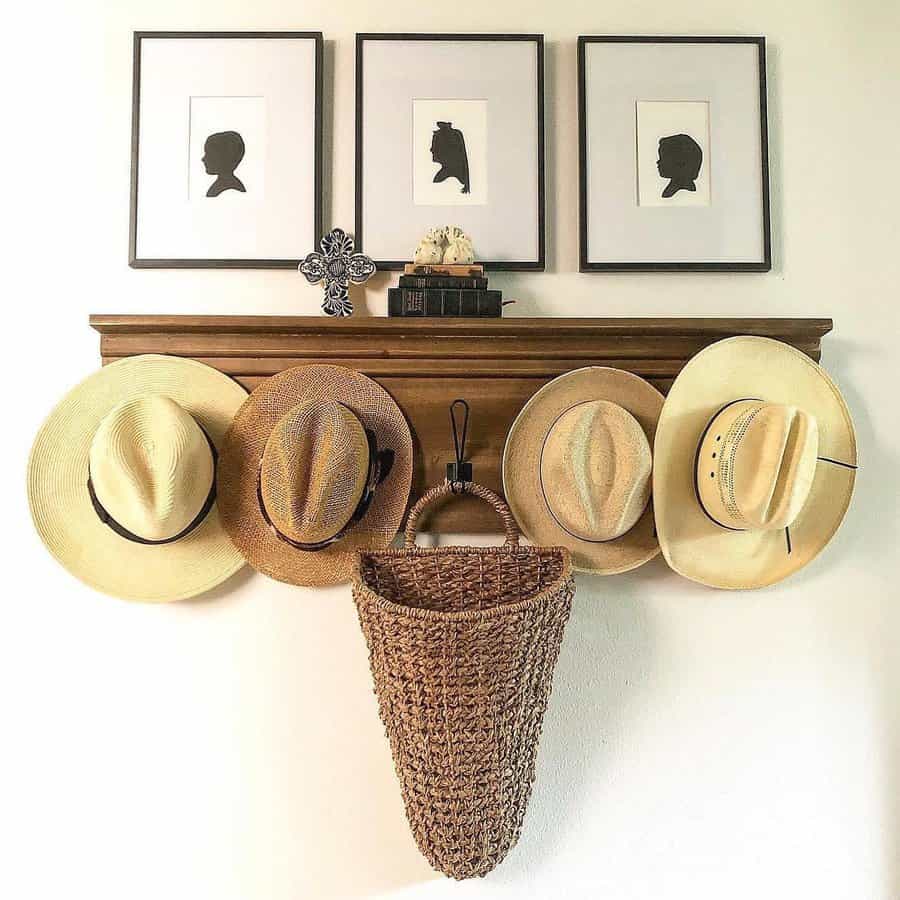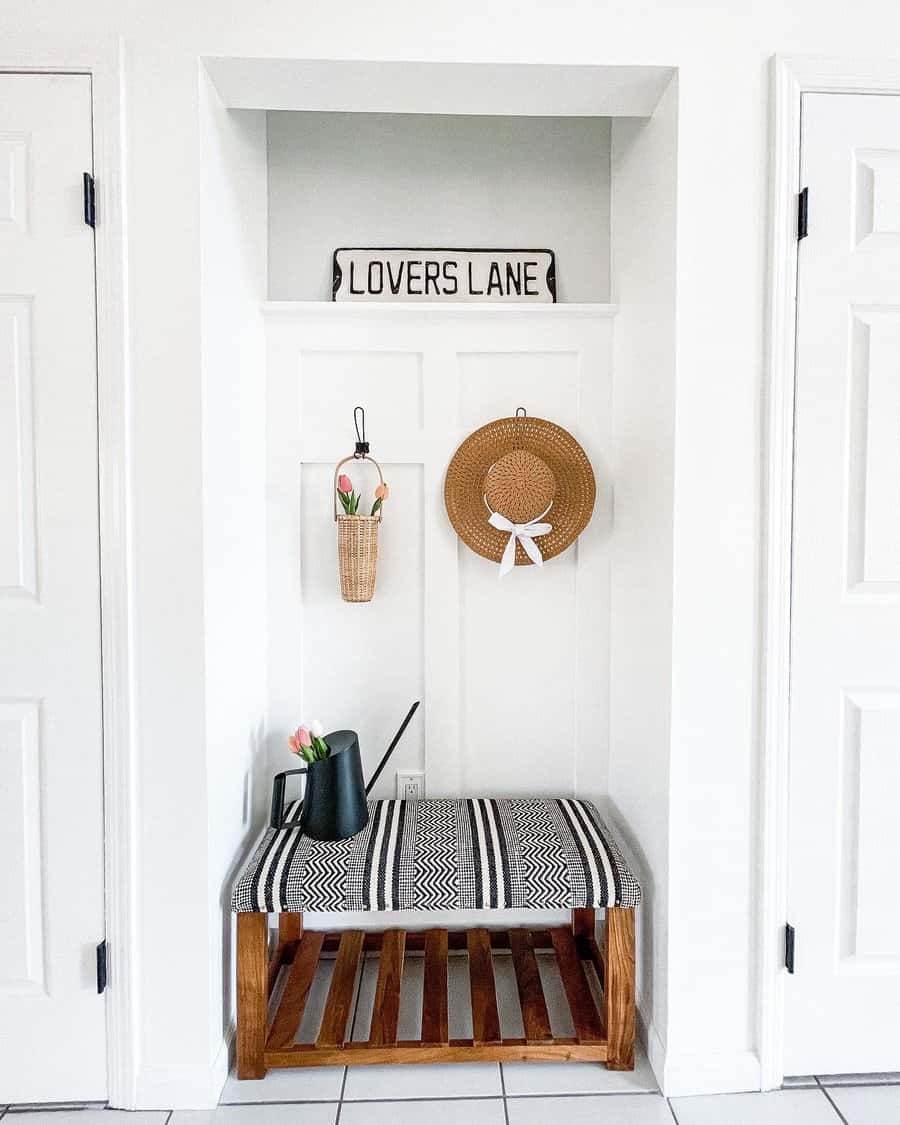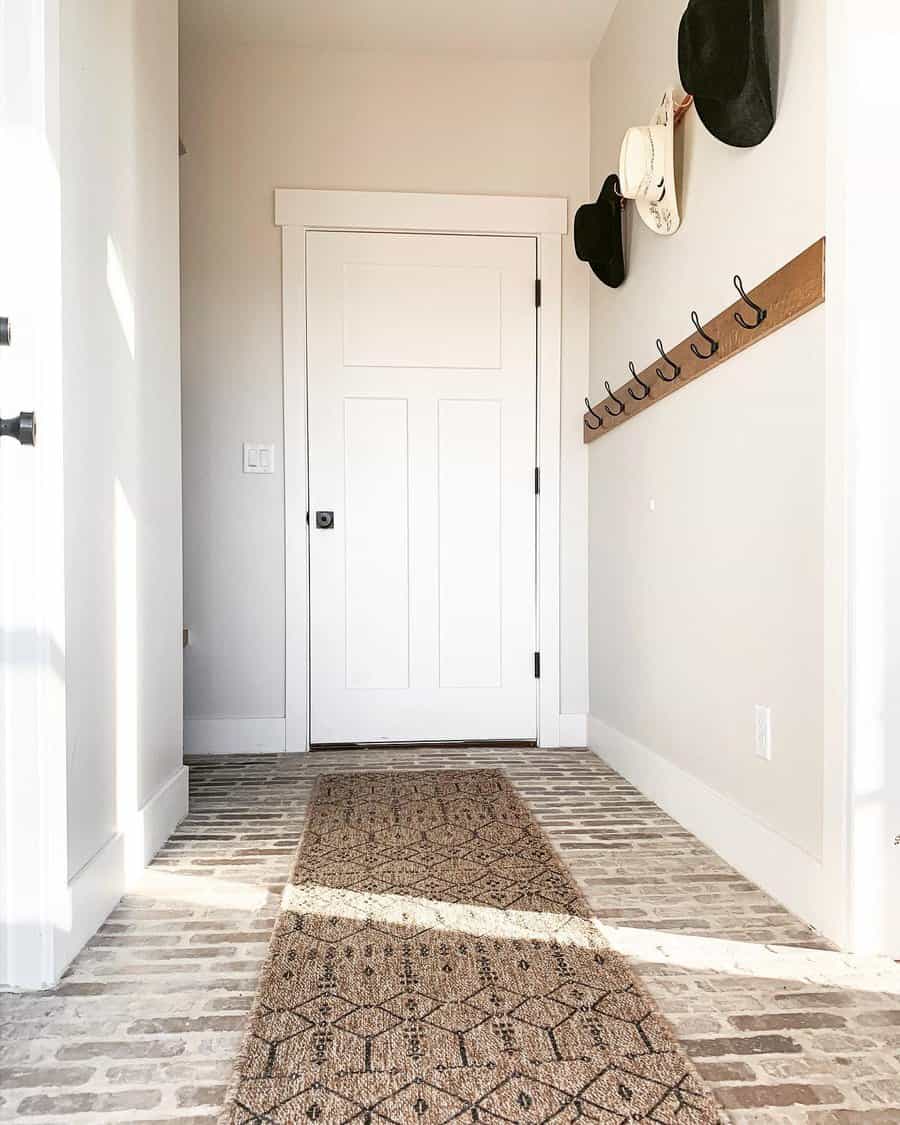 Or you could hang a pegboard on the wall with hooks or posts. Then you can hang your hats on the board. This is a good option for someone whose hat collection is constantly growing and changing. You can easily adjust the hooks to accommodate your new hat addition.
8. Organized
How you store hats is about more than just deciding between a shelf, rack, or hooks. Think about the type, style, color, and size of the hats in your collection. If all of your hats are the same, then it's easier to decide on an organizational system. For example, when organizing your baseball hat storage, you could do it by color, team, front design, or rarity.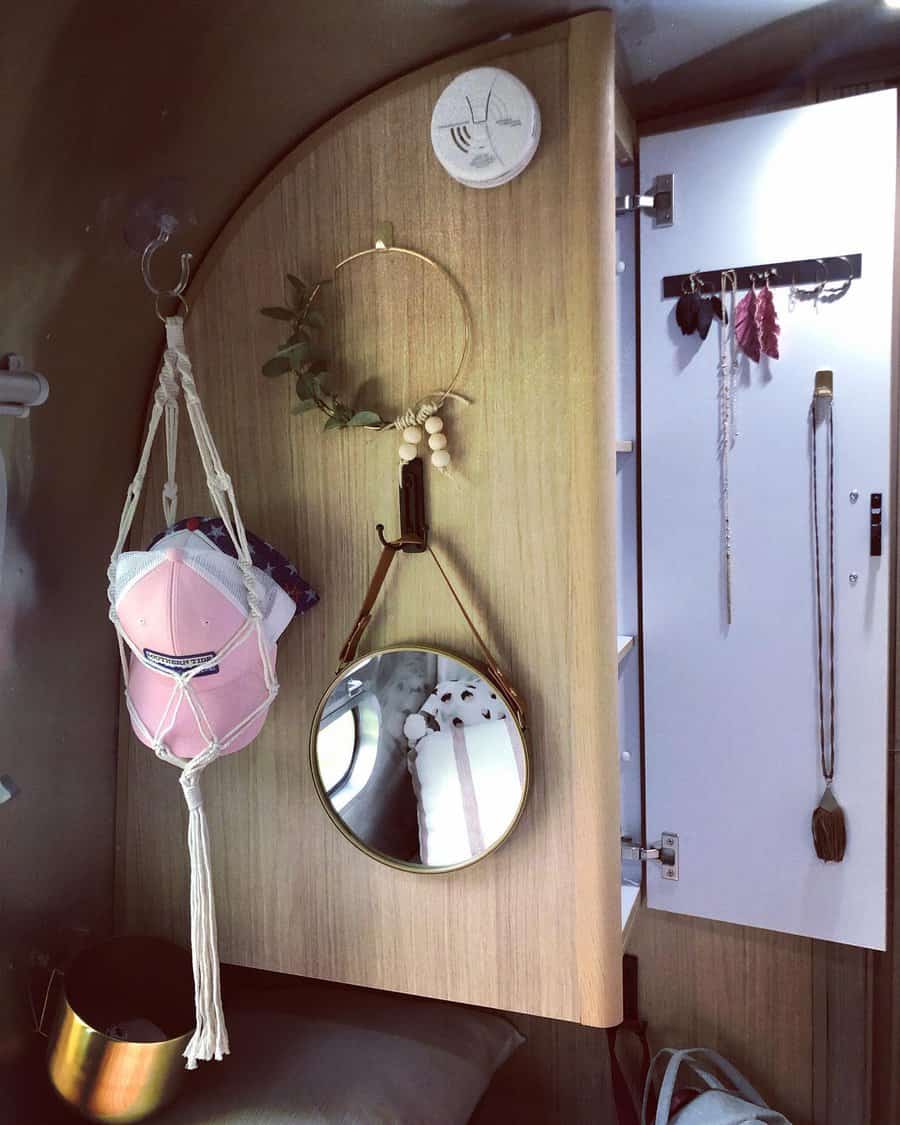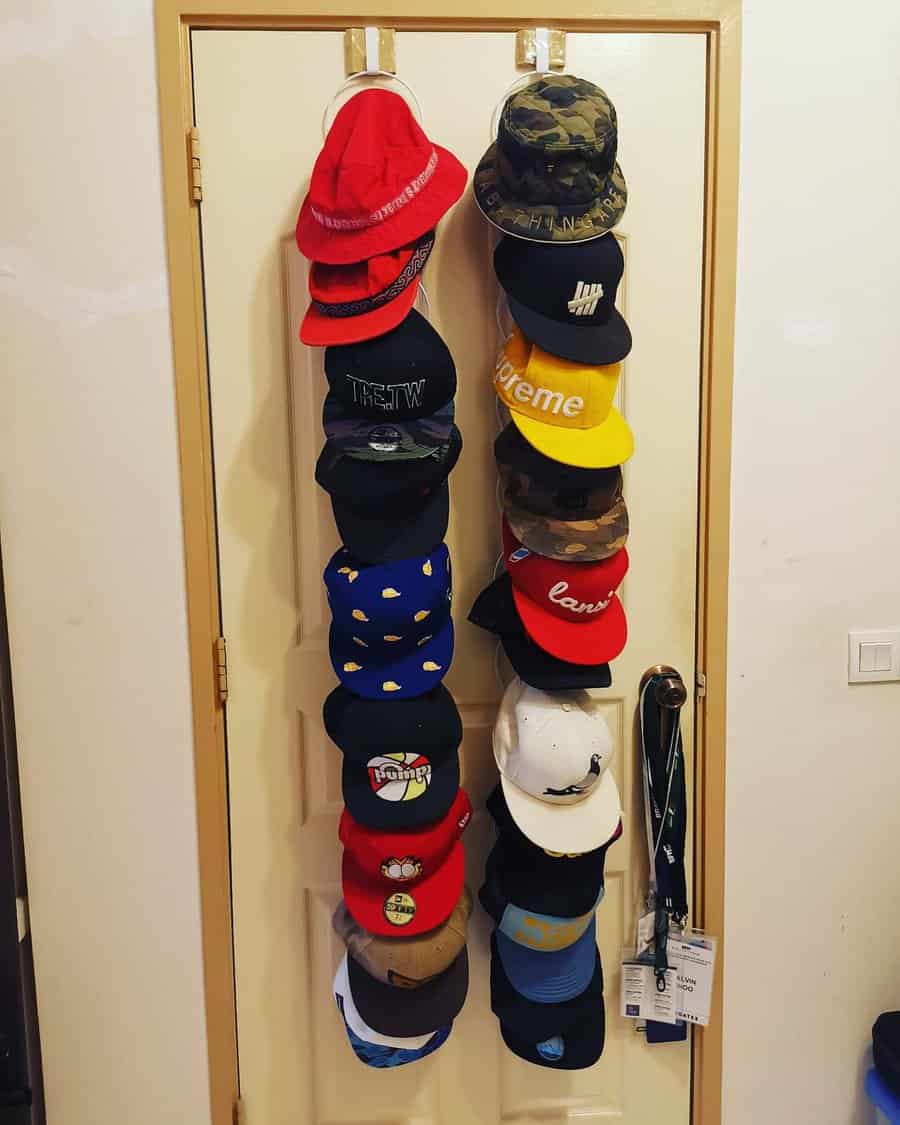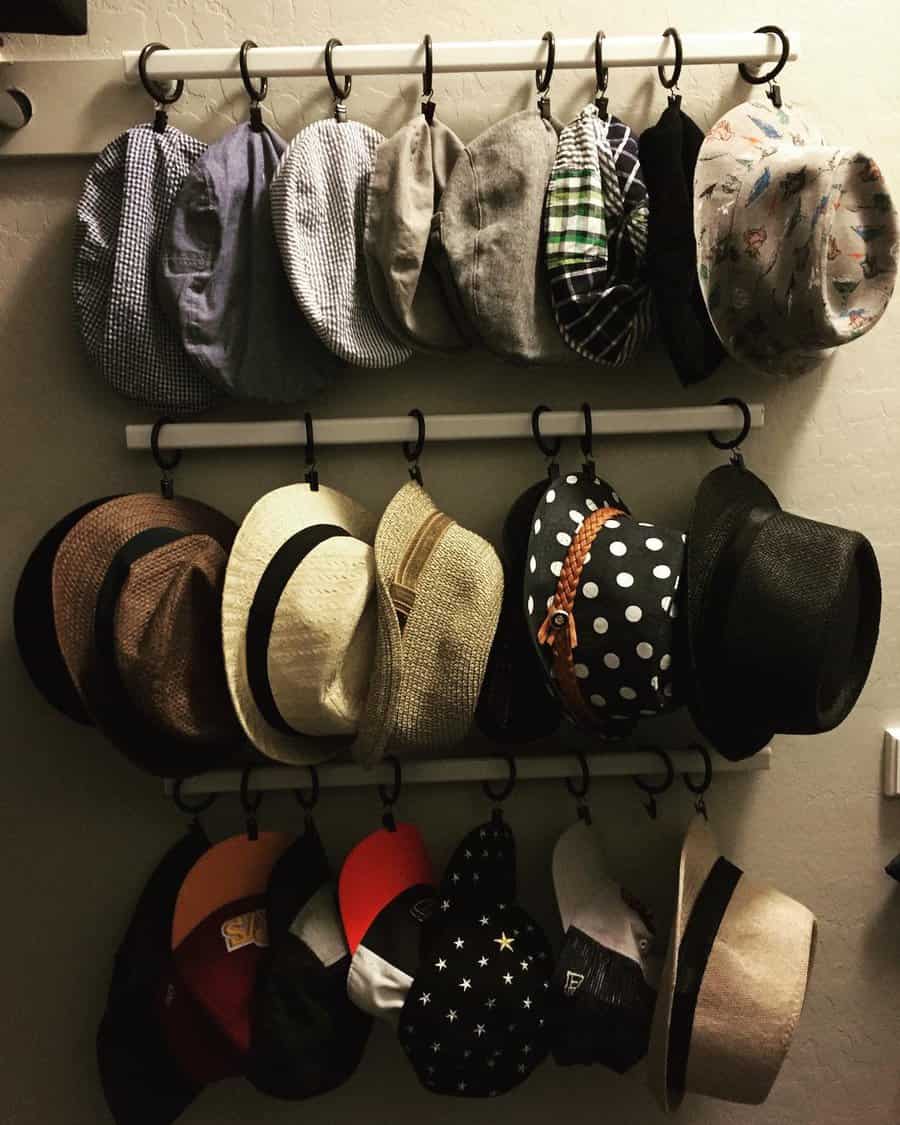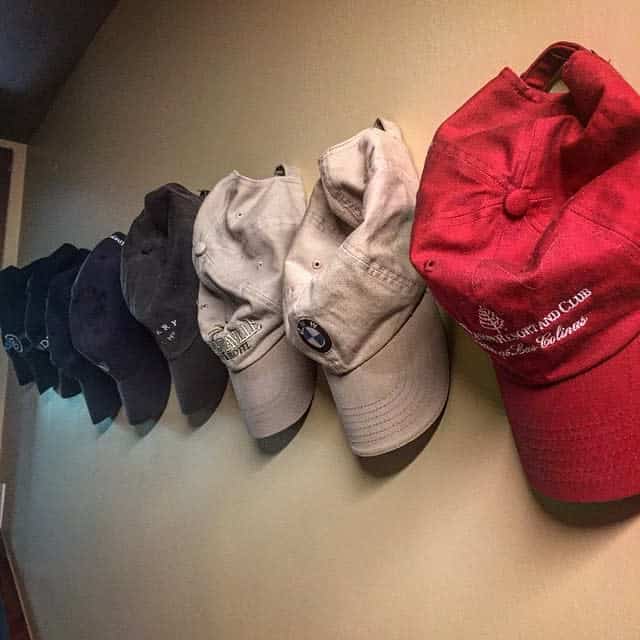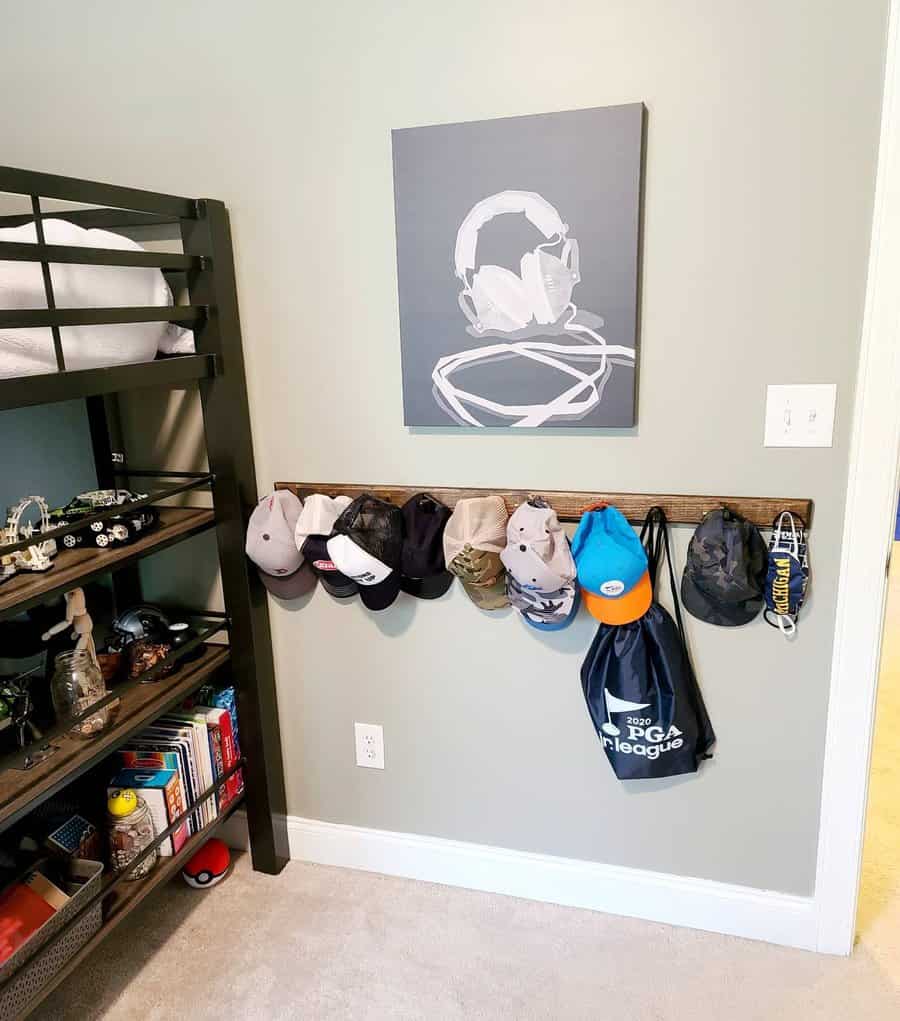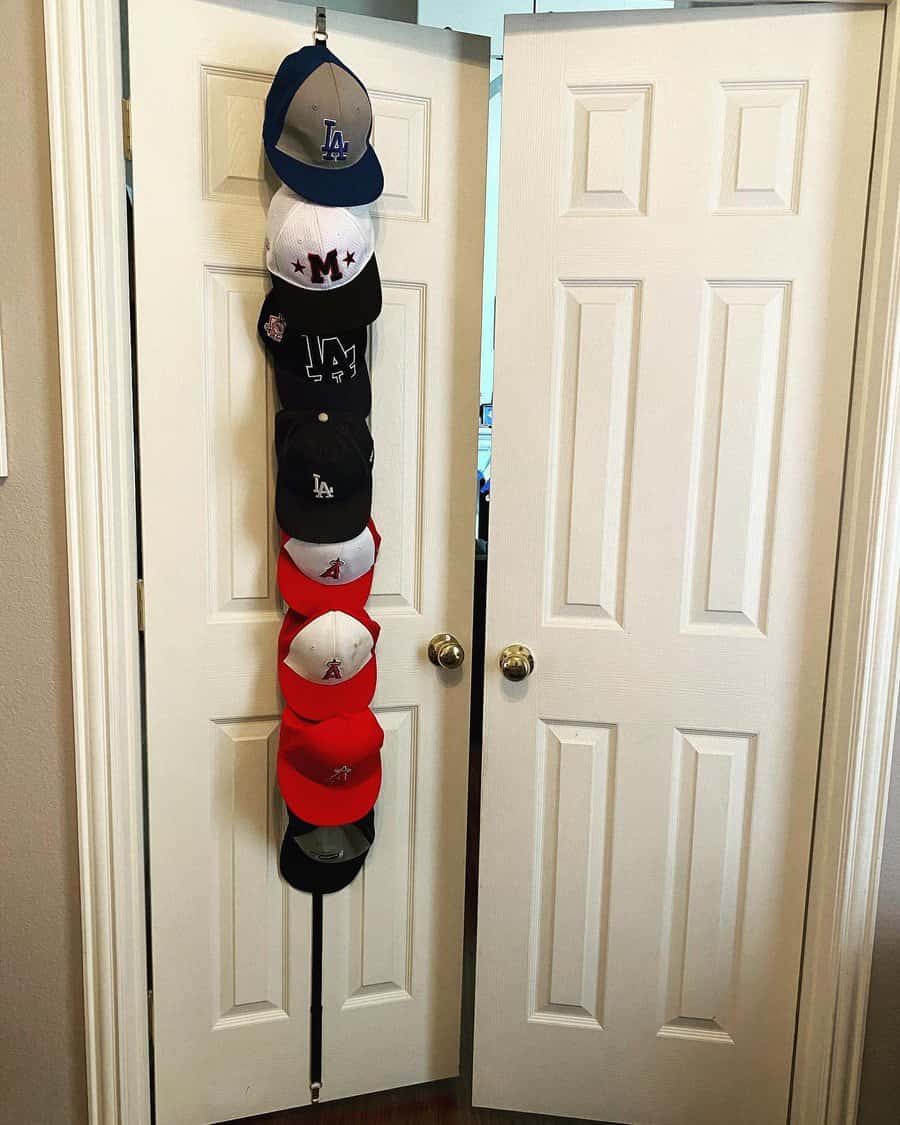 If you need to store hats of varied designs, start by grouping them by type. From there, you can organize them by color, formality, or size. Keeping similar hats together will take up less room and make it easier to find the hat you want. It also helps to organize them by season. You won't need easy access to your beanie, or trapper hat in the summer or your Panama, cartwheel, or boater in the winter.
9. Rack
If you have the available space, you can add a wooden hat rack. There are racks that sit on the ground and are freestanding. There are also wall-mounted hat rack ideas. If you choose to have a freestanding hat rack, look for one that holds other items. Then you can create an accessory station, making it easier to get ready. Perhaps it has shelve or drawers below for bags, scarves, handkerchiefs, or watches. Then there are shelves or hooks up high for the hats.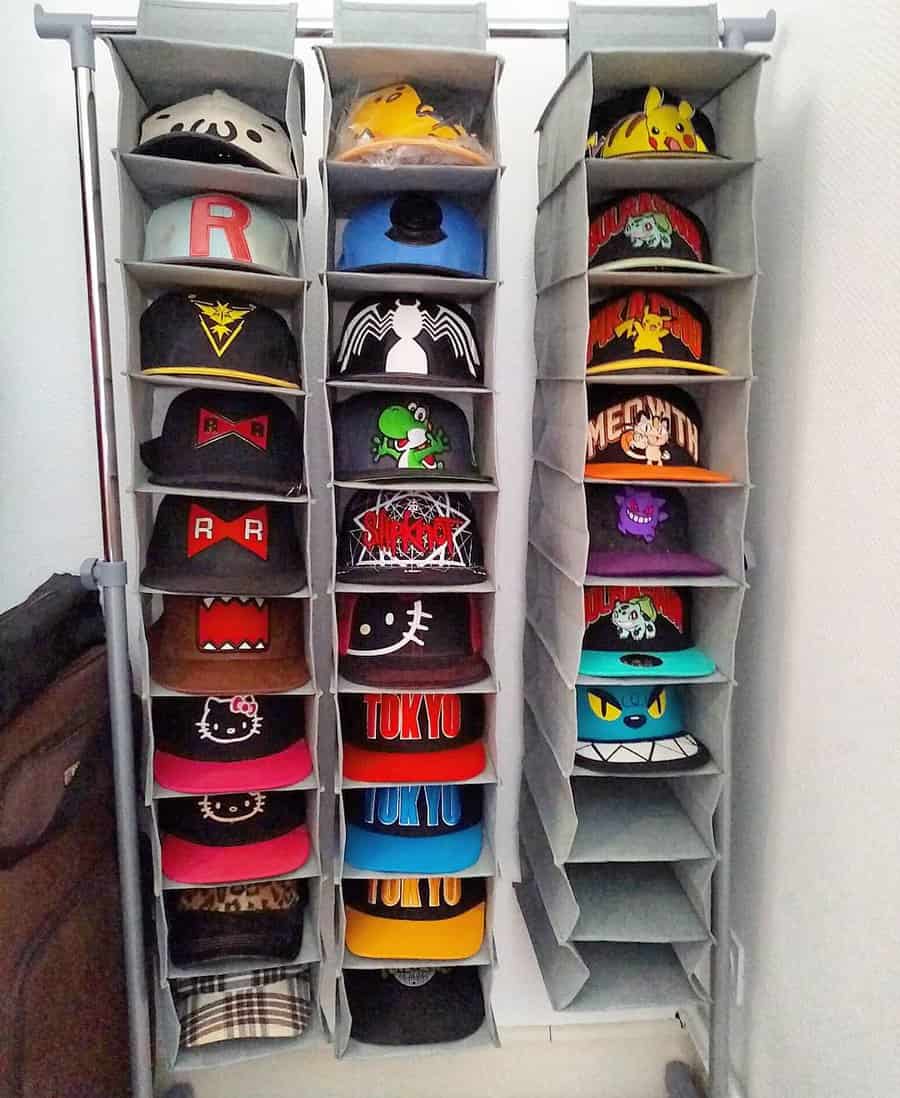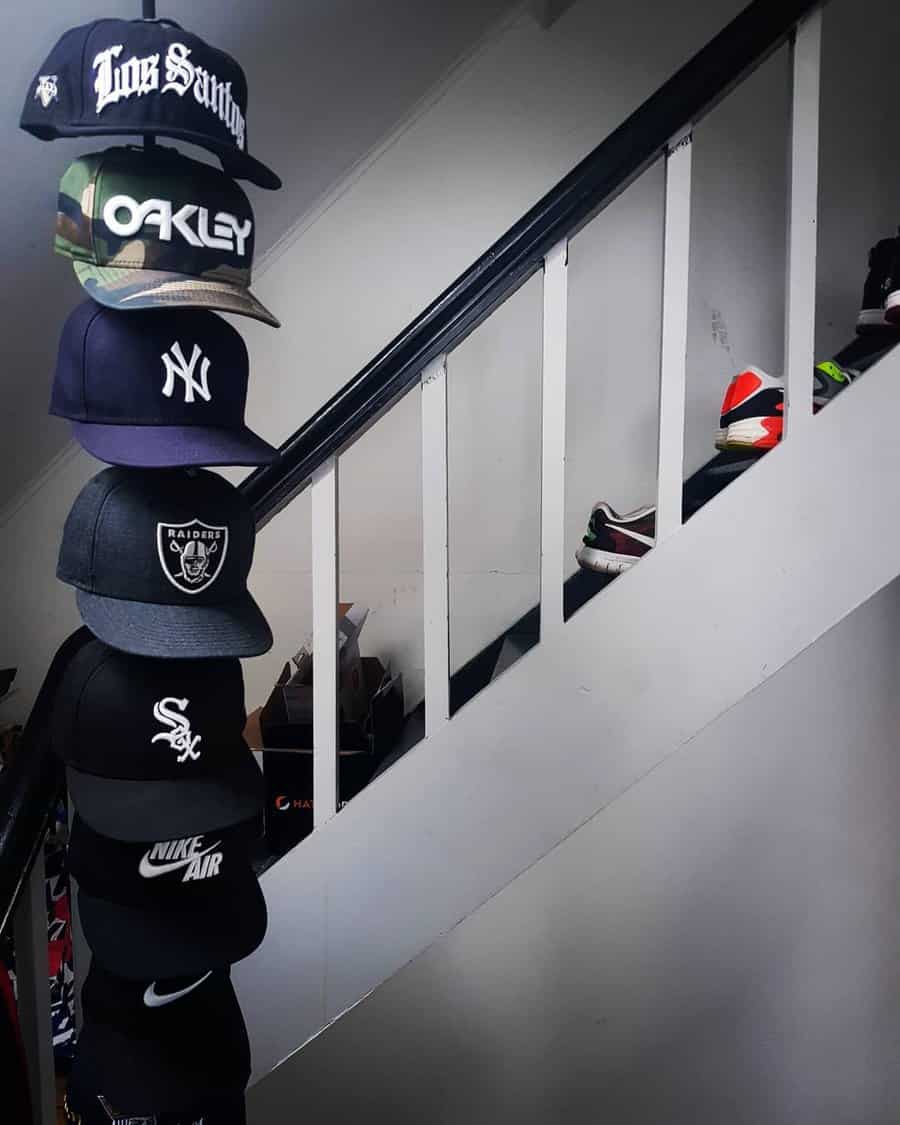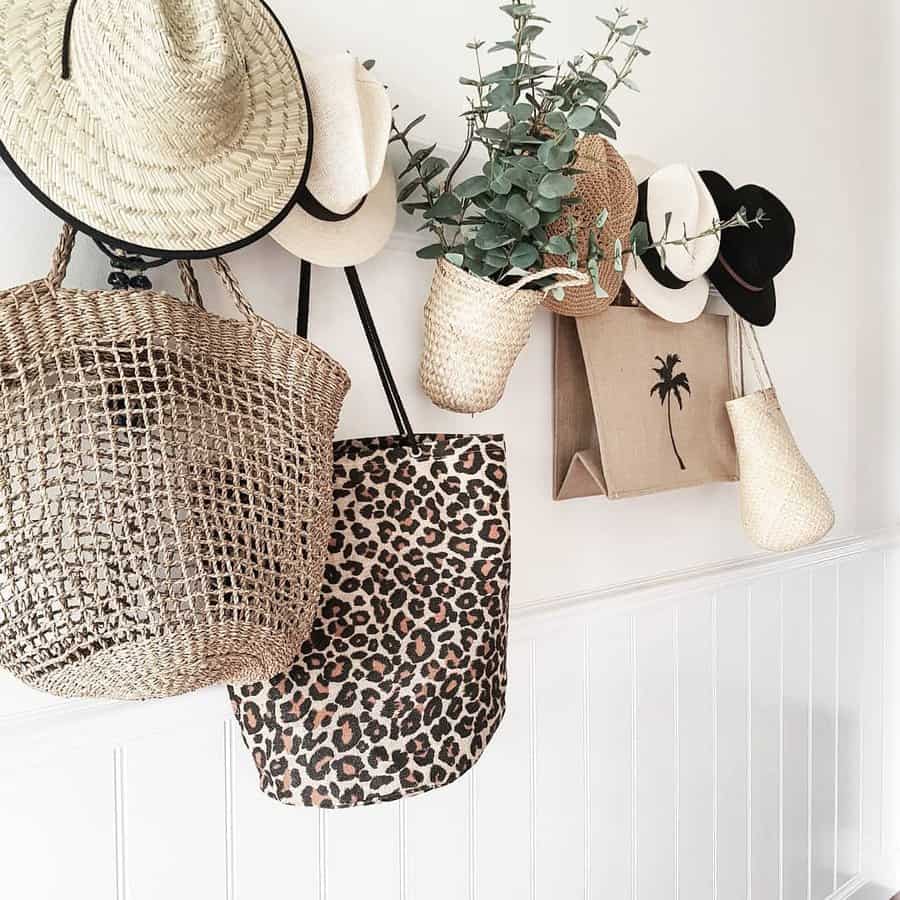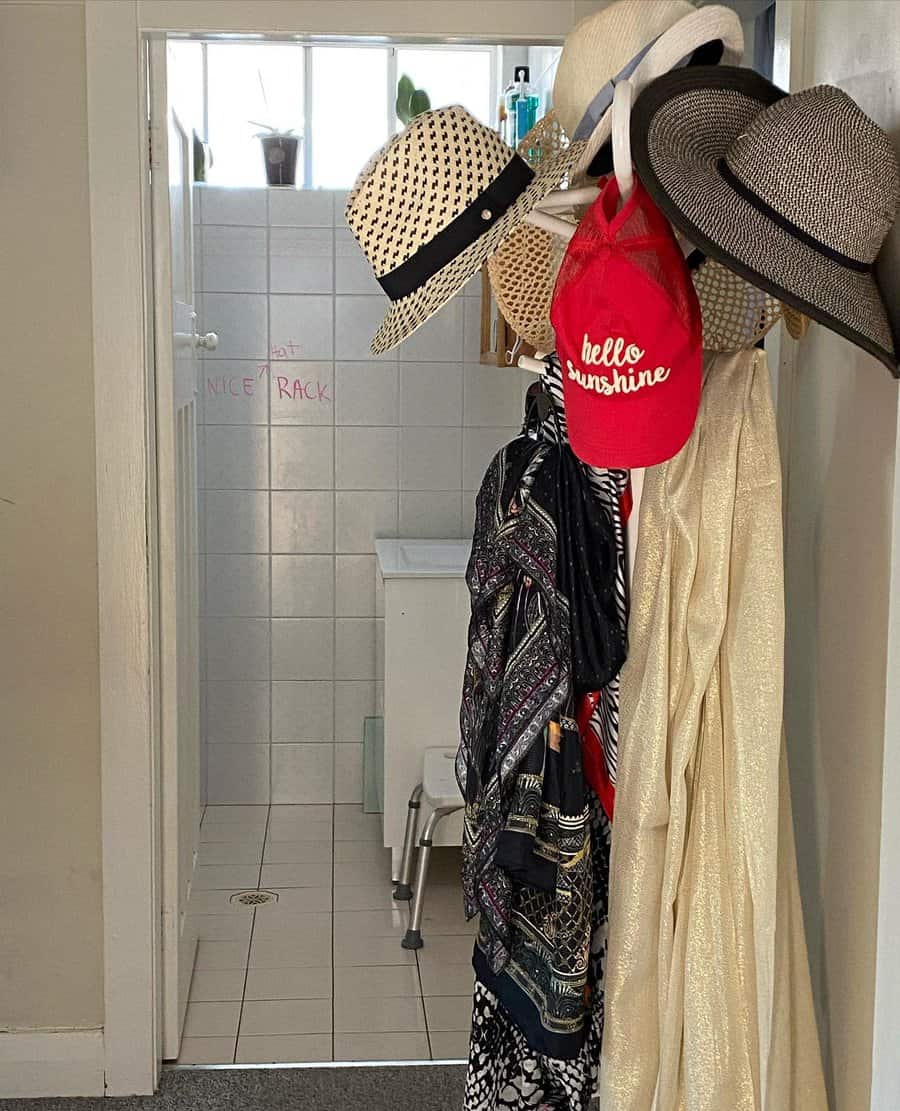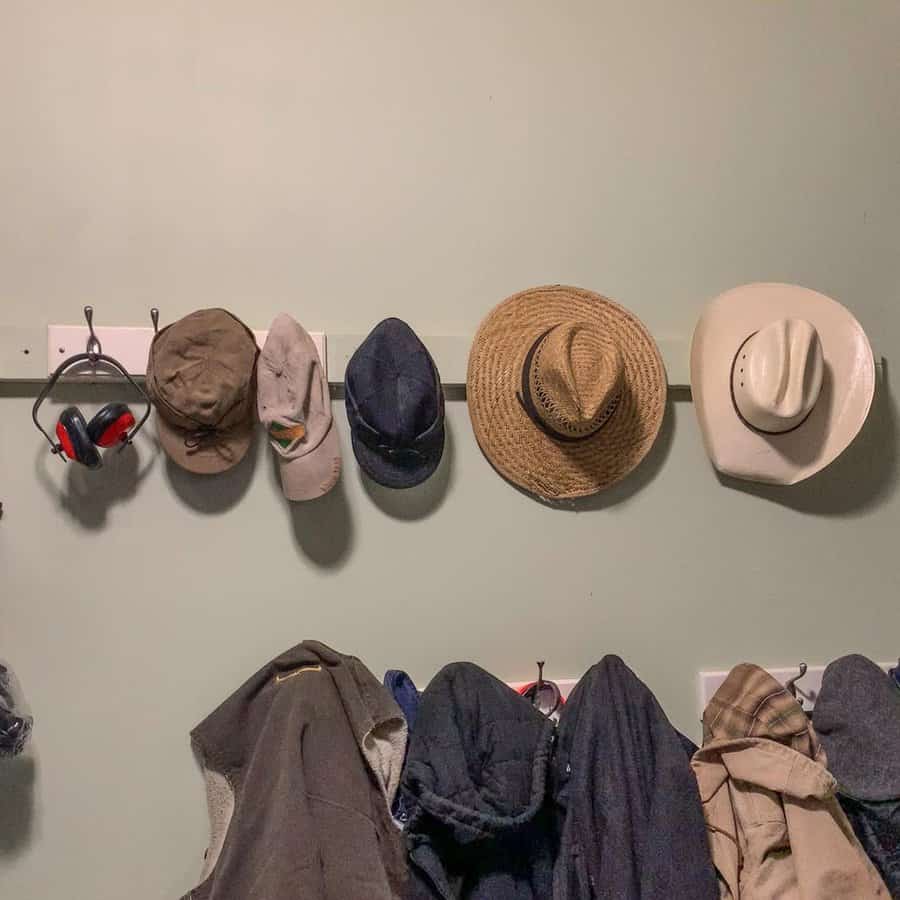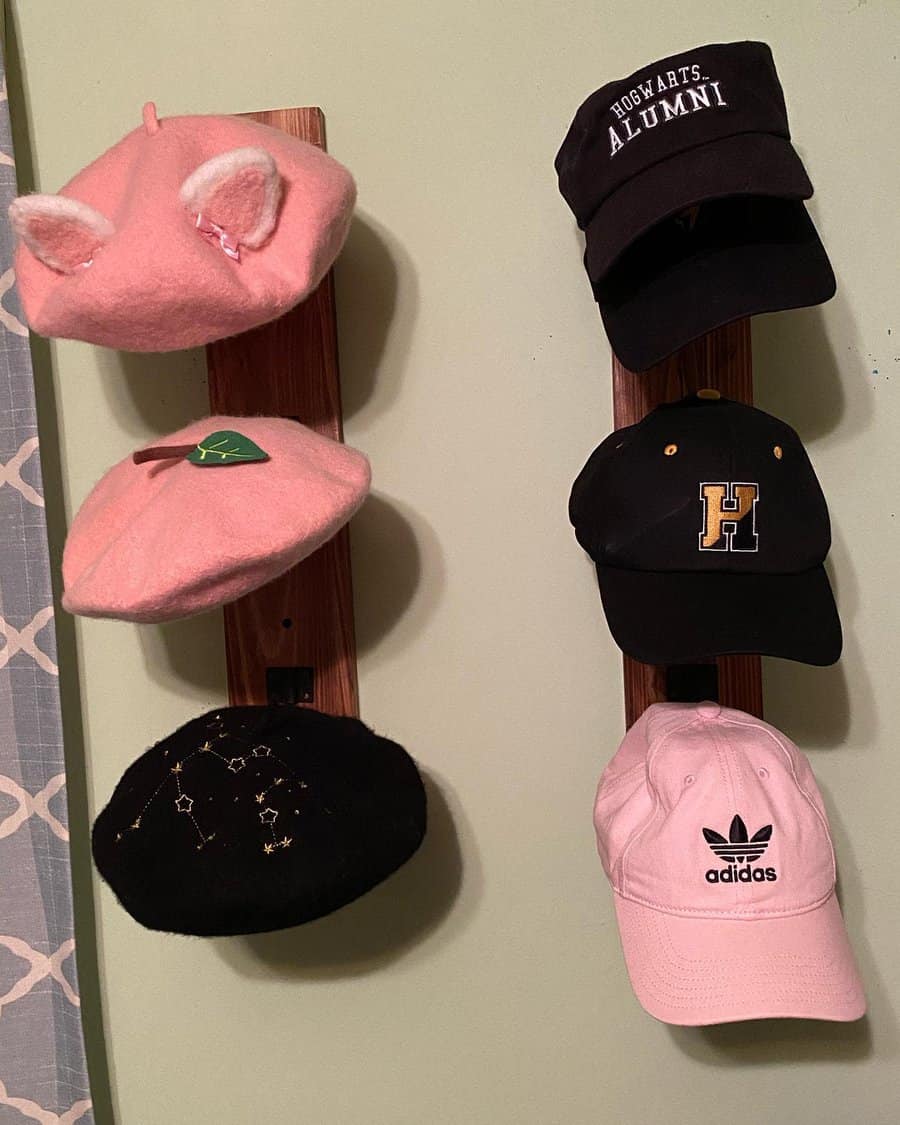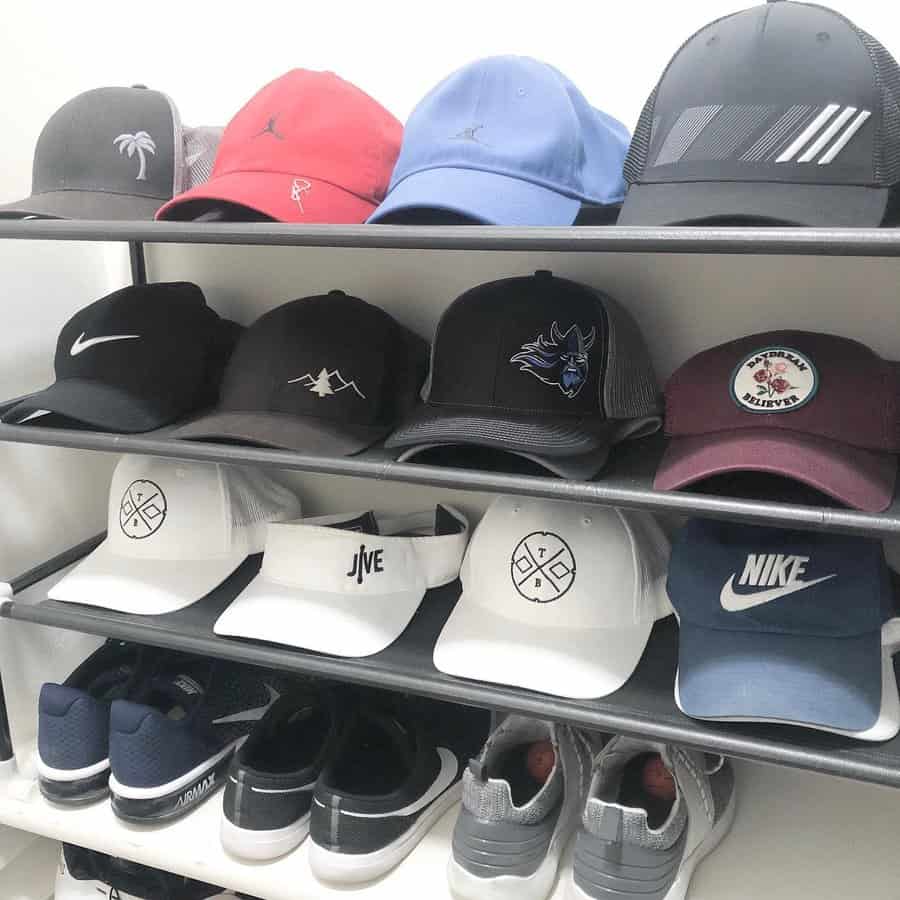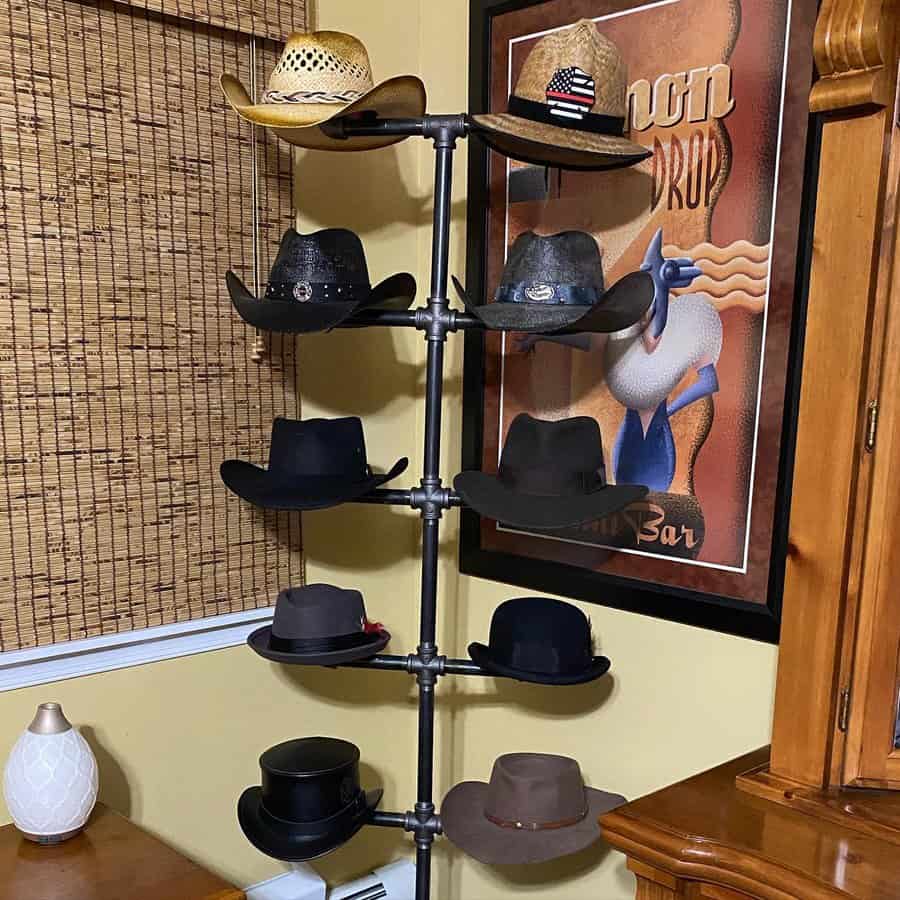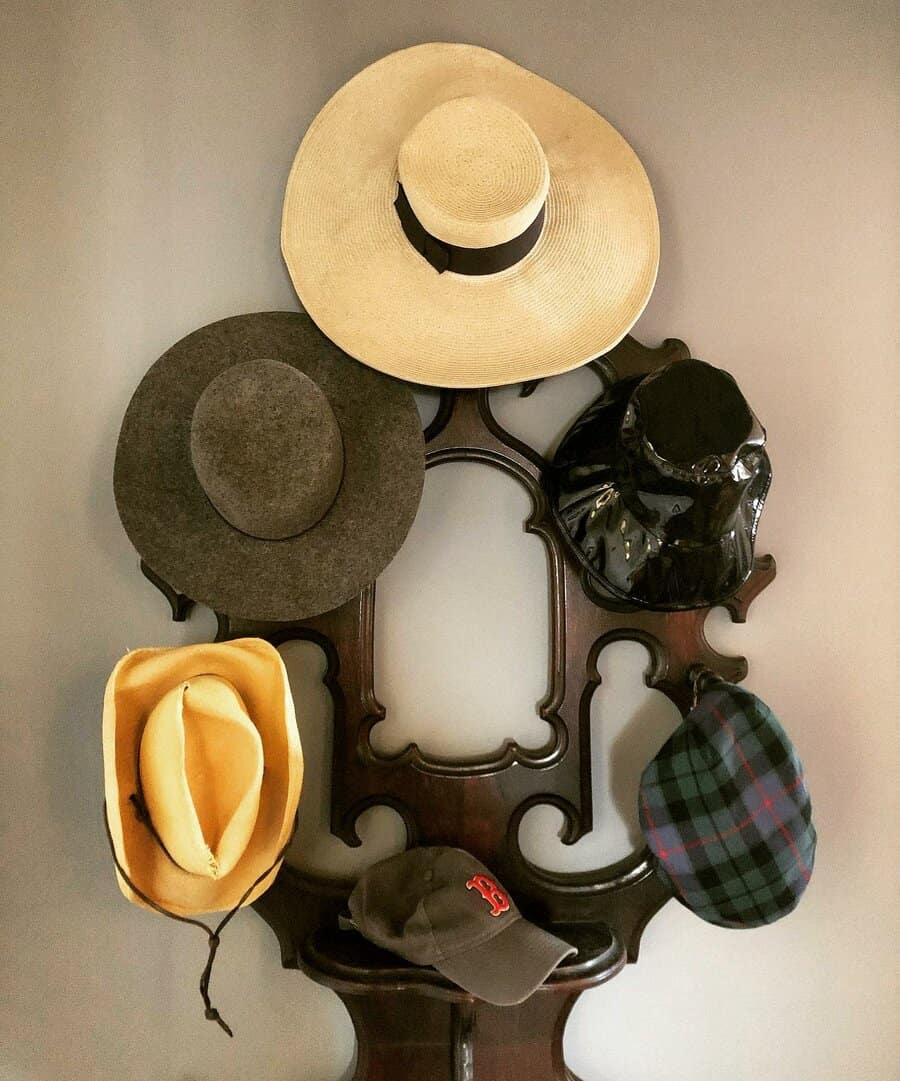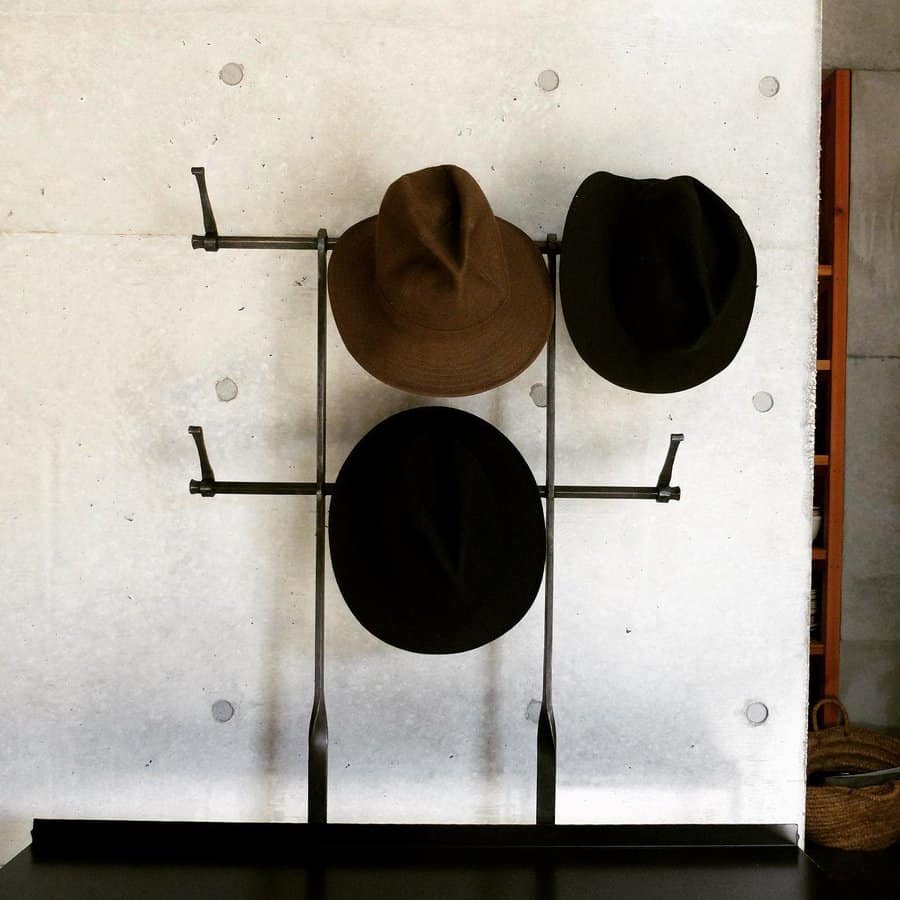 For a vintage-inspired design, look for a freestanding hat rack. It will look like a single-pole that sits on a stand. Then it has several arms that extend out on all sides to hold the hats. These racks can hold many hats and put them all on display, making them a showpiece.
10. Shelves
A single shelf is all you need if you only own a couple of hats. It needs to be deep enough to hold the hat completely. Otherwise, you risk the edge of the hat warping as it hangs over the edge of the shelf. Shelves are perfect for larger hats that need more support, which is why you'll commonly see them used for cowboy hat rack ideas.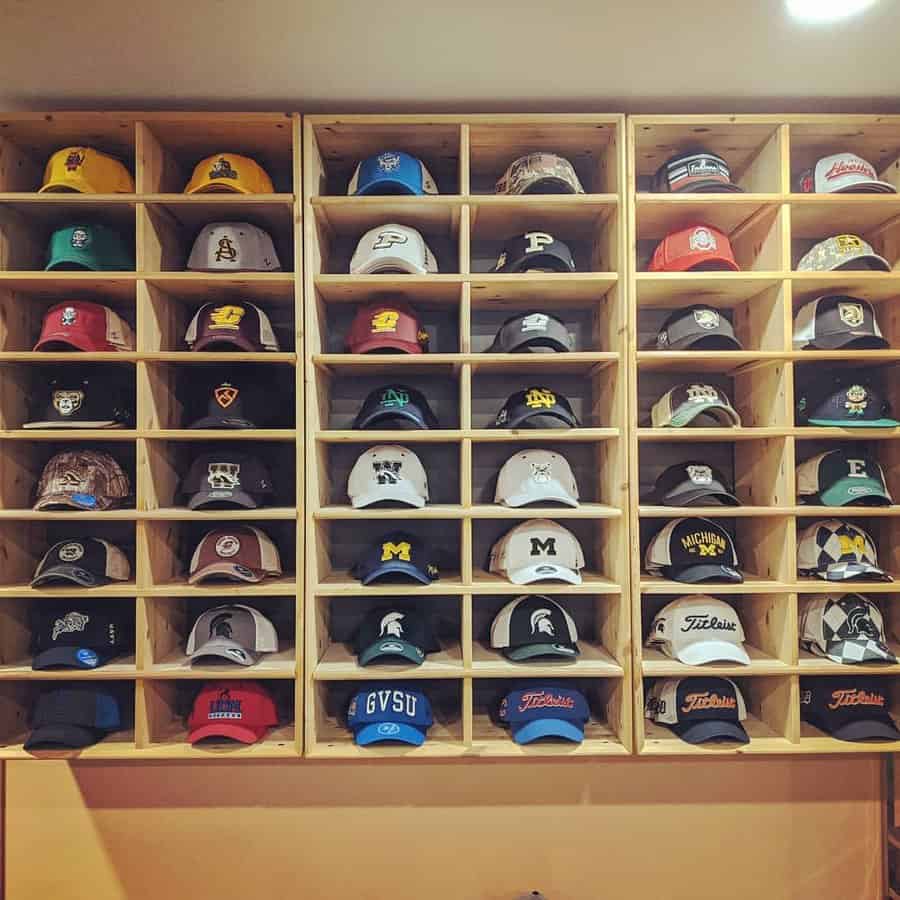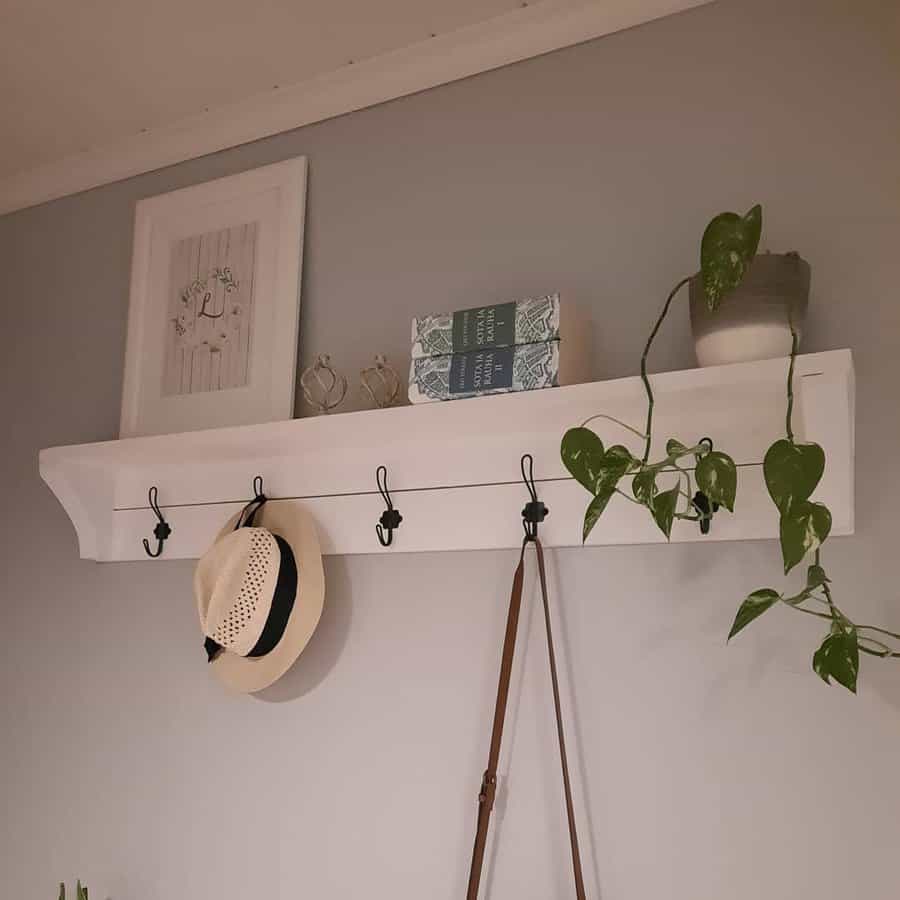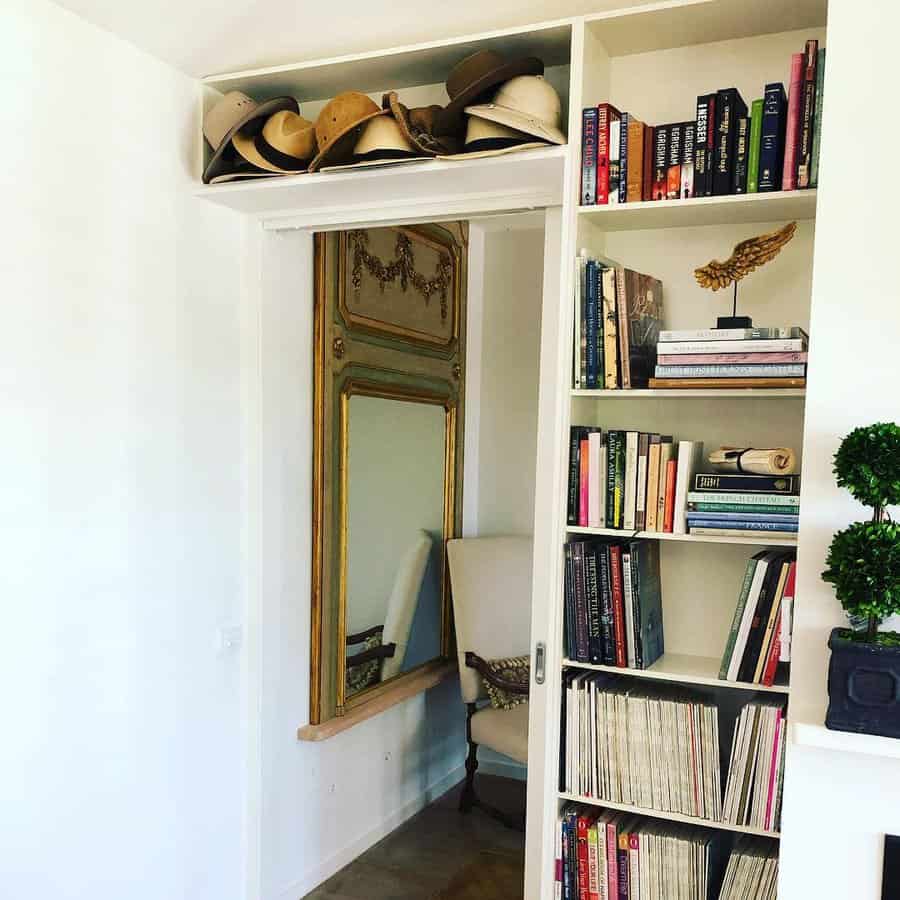 Similar to shoe shelves, if you have a large hat collection, you can mount several floating shelves on your wall. Space them far enough apart to easily place your hat on the shelf. If you have an empty wall, you can have the hat shelf run the length of the wall. If you have a hat and show collection, you can have one shelf for each.
11. Wall
You may have limited floor space but have plenty of wall space. Mount a rack or open shelves on the wall so that you can have as much or as little storage as you need. Wood planks are nice because you can adapt them to the interior decor style, that you have in the room. A light wood plank made out of pine will look beautiful in a modern or Scandinavian-styled room. Dark wood looks beautiful in an elegant or luxurious home.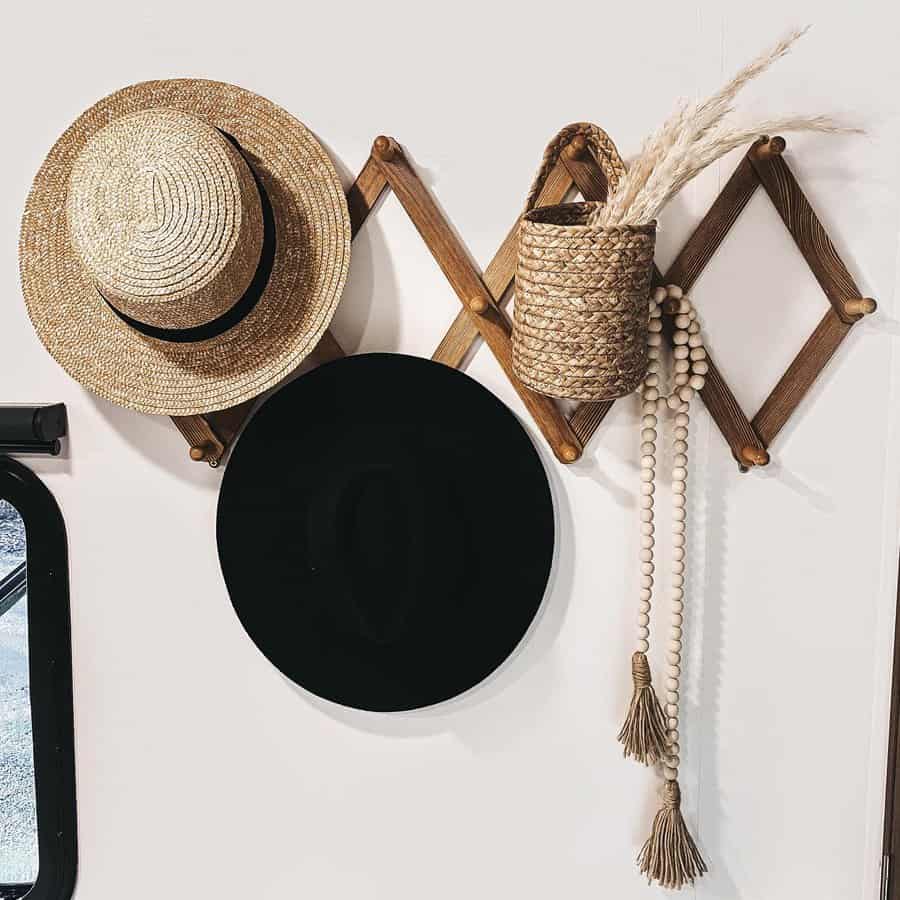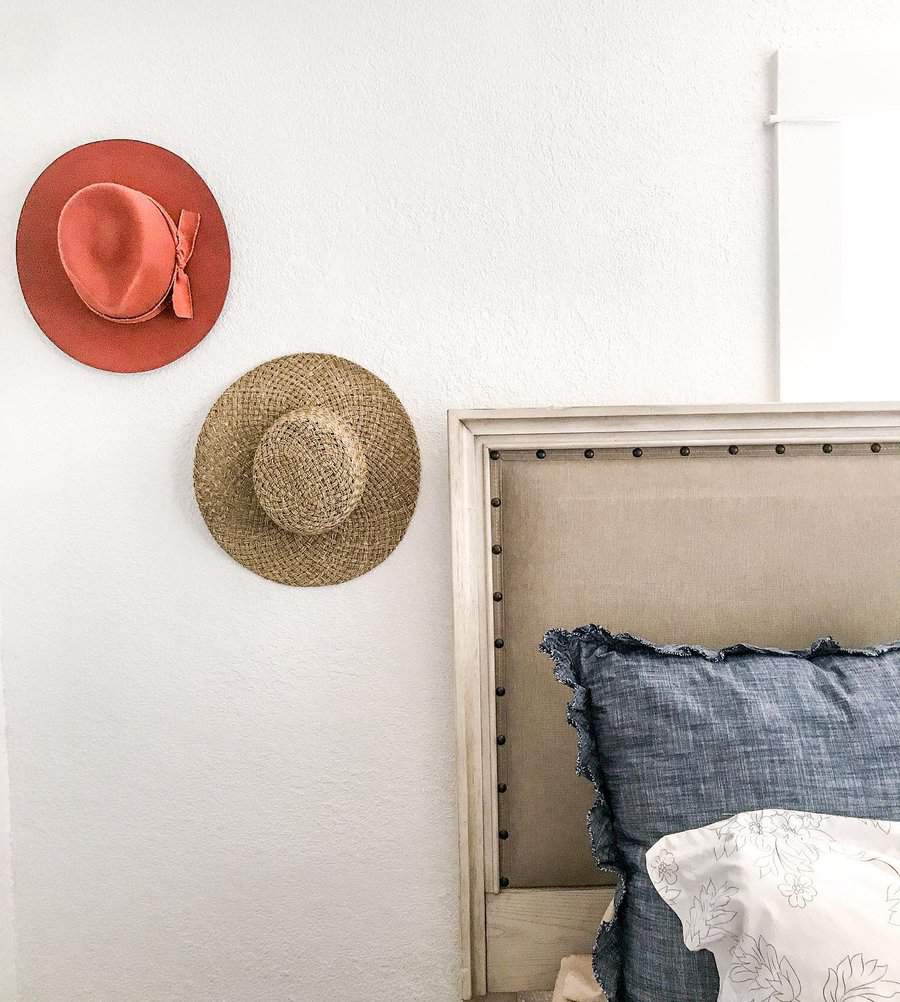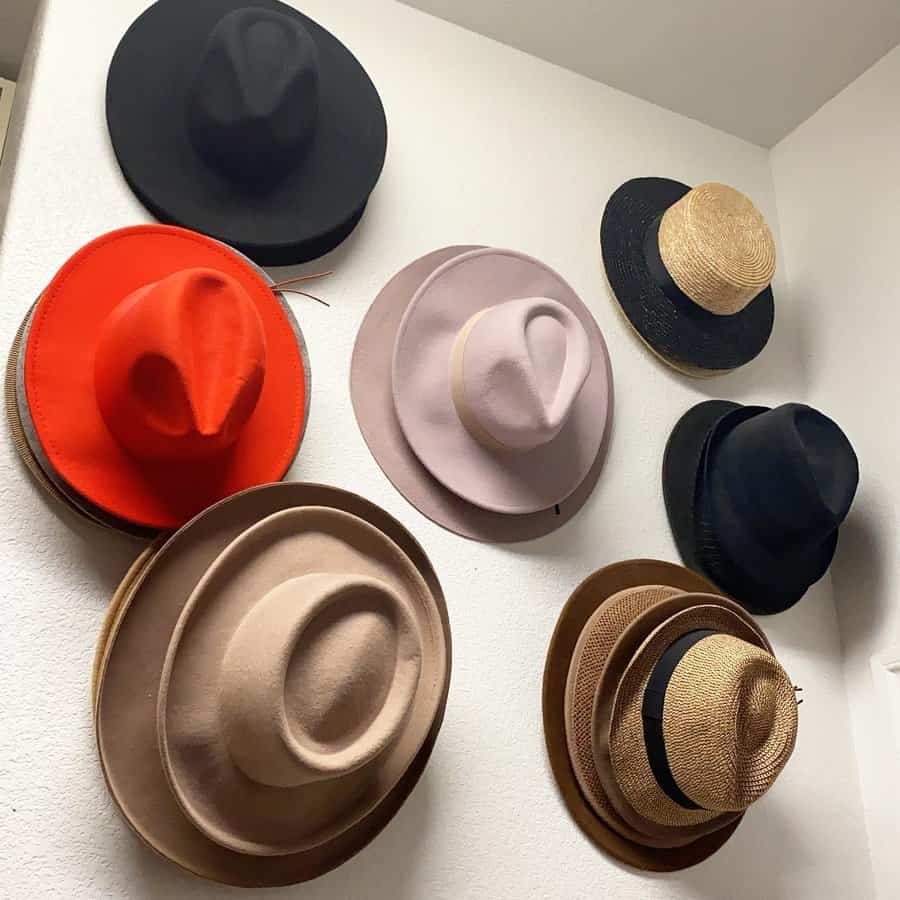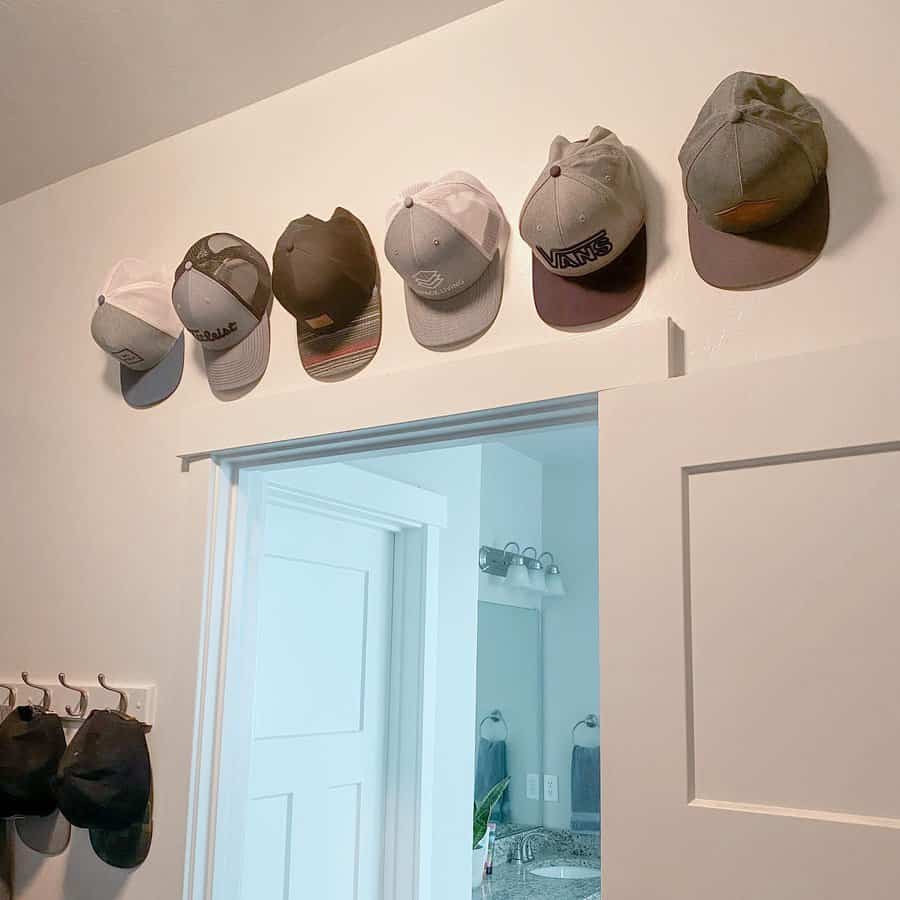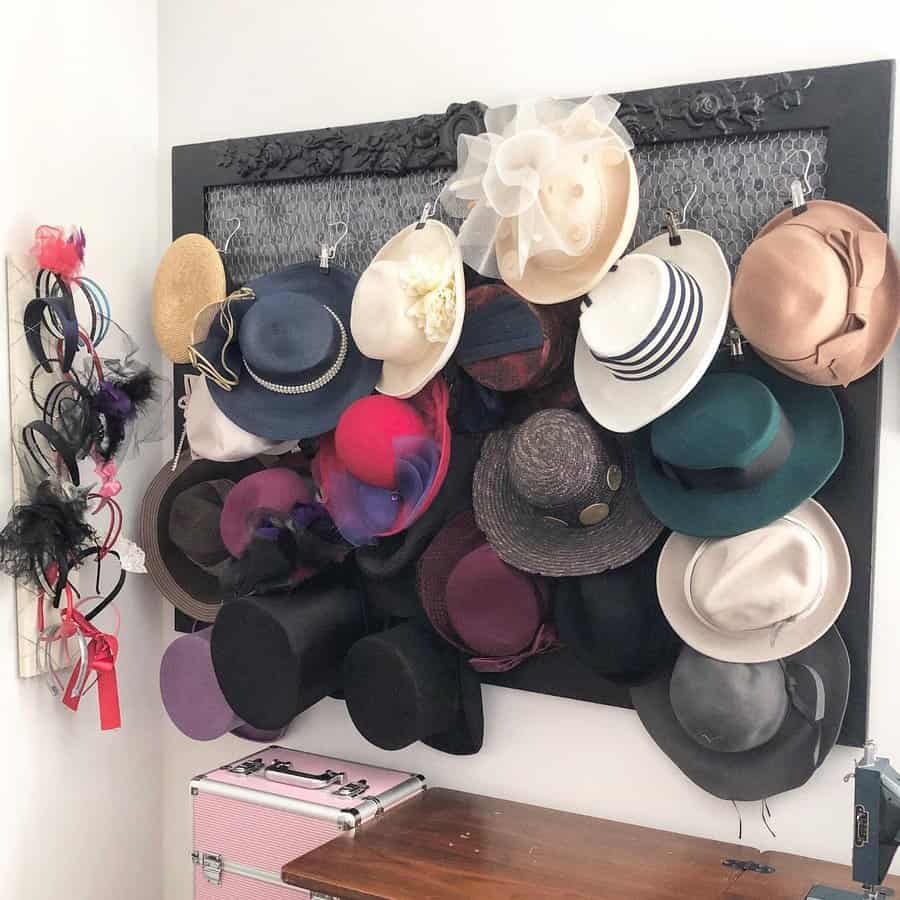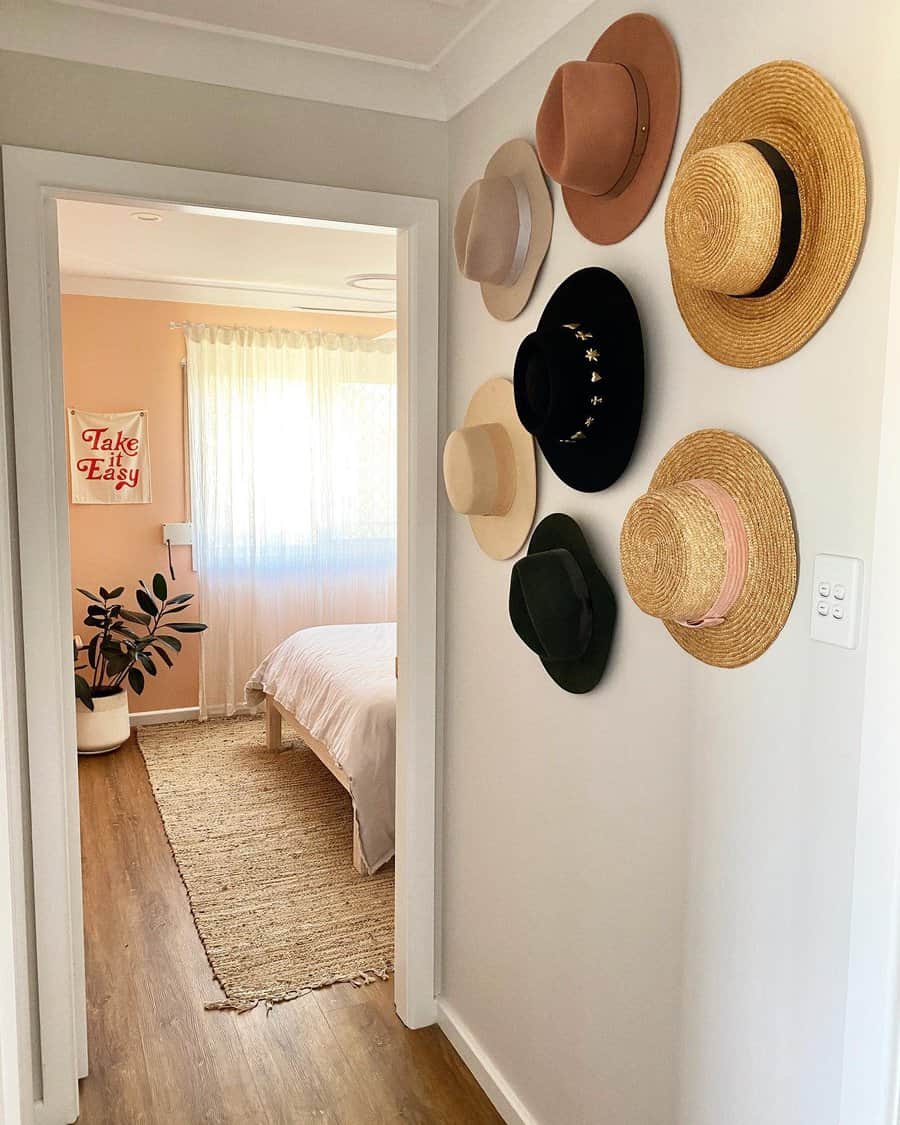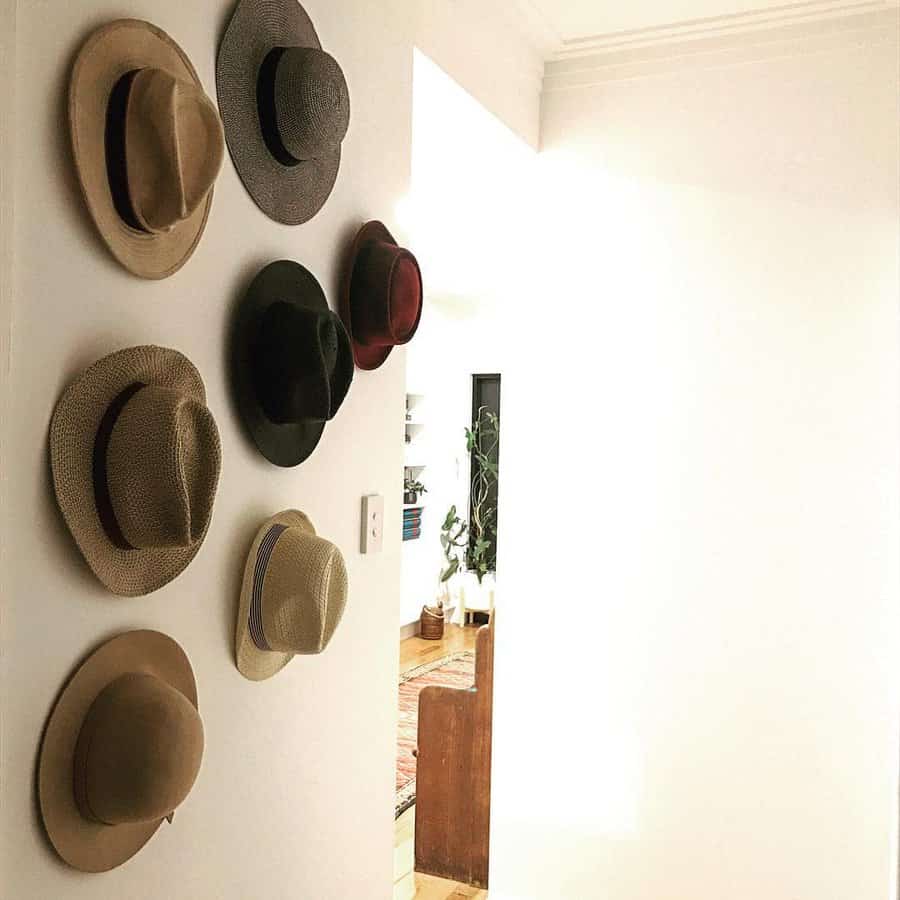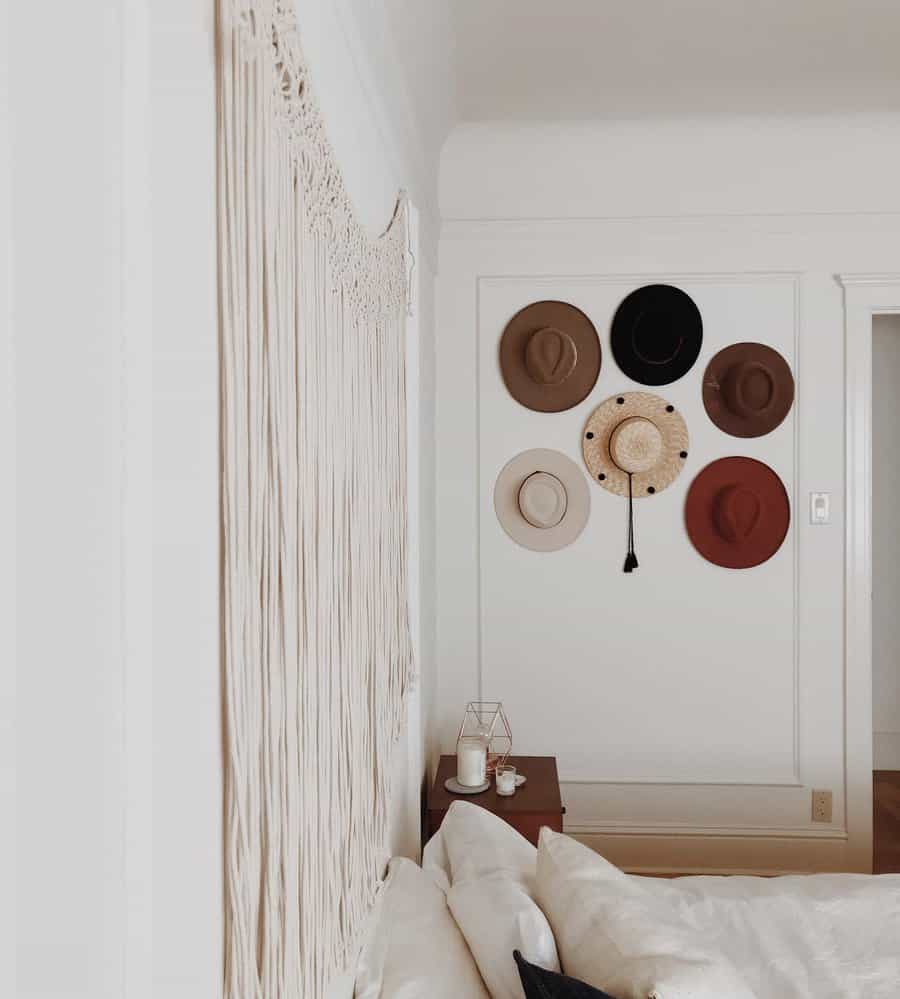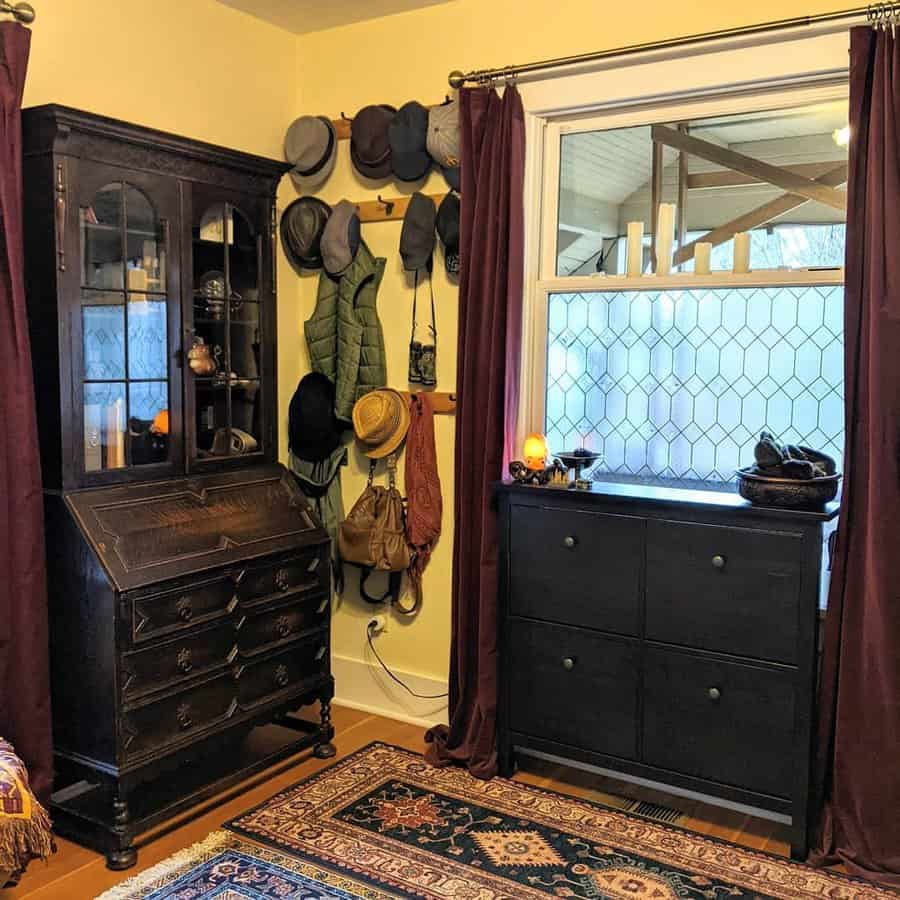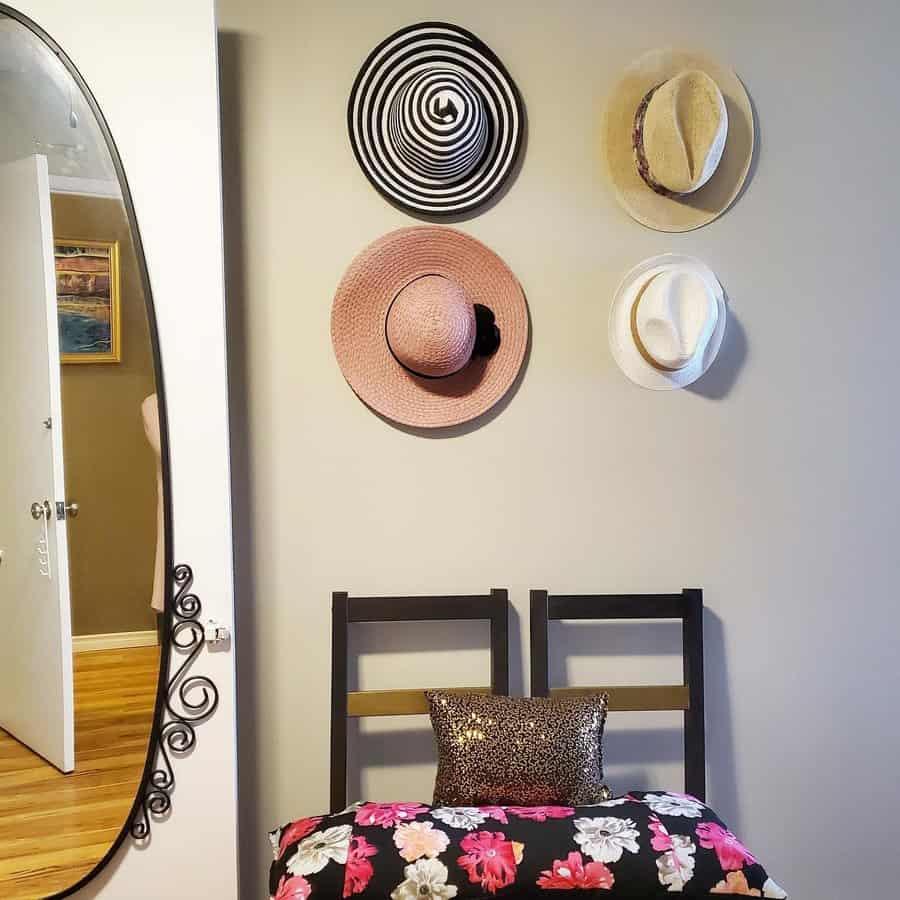 When mounting your hat rack or shelving on the wall, be sure to mount it into the wall studs. This gives the rack and shelves the proper support. Hats are surprisingly heavy, and if not mounted in the studs, your rack can pull out of the drywall and come crashing down.
Hat Storage FAQs
How do you store hats neatly?
Look for an organizational system that matches the type of hats you need to store. Baseball hats can easily be hung or placed in a hanging shoe rack that has a line of vertical cubbies. There are behind-the-door racks that reduce the required space to store the hats. Shelving is also suitable because you can line the hats upon the shelf.
How do you organize hats on a shelf?
The best place to store your hats is on the top shelf of your closet. This keeps them safely out of the way to prevent damage. Most closet organizational systems are 84 inches tall. They are designed for the standard eight-foot-tall ceiling. This leaves you space above the organizational system to store large hat boxes.
Is it bad to hang hats?
Hanging your hats is an acceptable solution for temporary storage. However, it isn't ideal as a long-term storage solution. When you hang hats on a hook for a long time, the weight of the hat starts to pull on the hook. This will distort the hat and make it not fit correctly when you try to wear it.