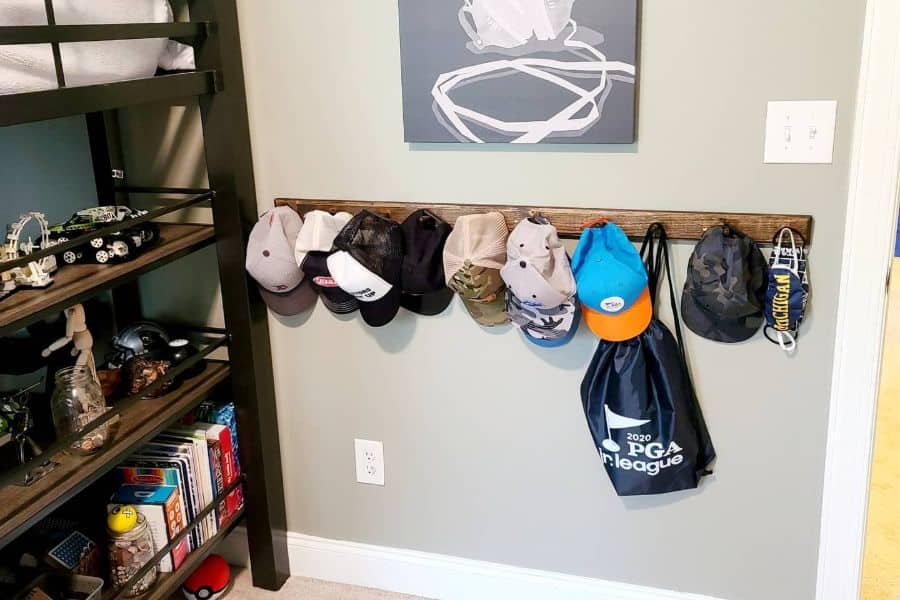 The Top 60 Hat Storage Ideas
by — Andra DelMonico

Published on November 1, 2021

Updated on October 19, 2023
"Cock your hat – angles are attitudes." – Frank Sinatra
Hats are a classic fashion accessory that is making a comeback. It doesn't matter if you have fancy fedoras, rugged cowboy hats, delicate fasteners, or casual baseball caps; you need a place to store your favorite hats. You should have an organizational system that makes it easy to find the perfect hat for each outfit. The storage solution also needs to keep your hats safe and protected, prolonging their useful life.
These hat storage ideas will help you find the perfect method for protecting, storing, and displaying your hat collection.
1. Tension Rod Hooks for Hat Organization
For avid hat collectors, tension rods fitted with hat hooks offer a flexible storage solution. Adjust the rod's height to cater to varied hat sizes. Pair with transparent holders or specialized hangers to ensure easy access and a cohesive design element in your space.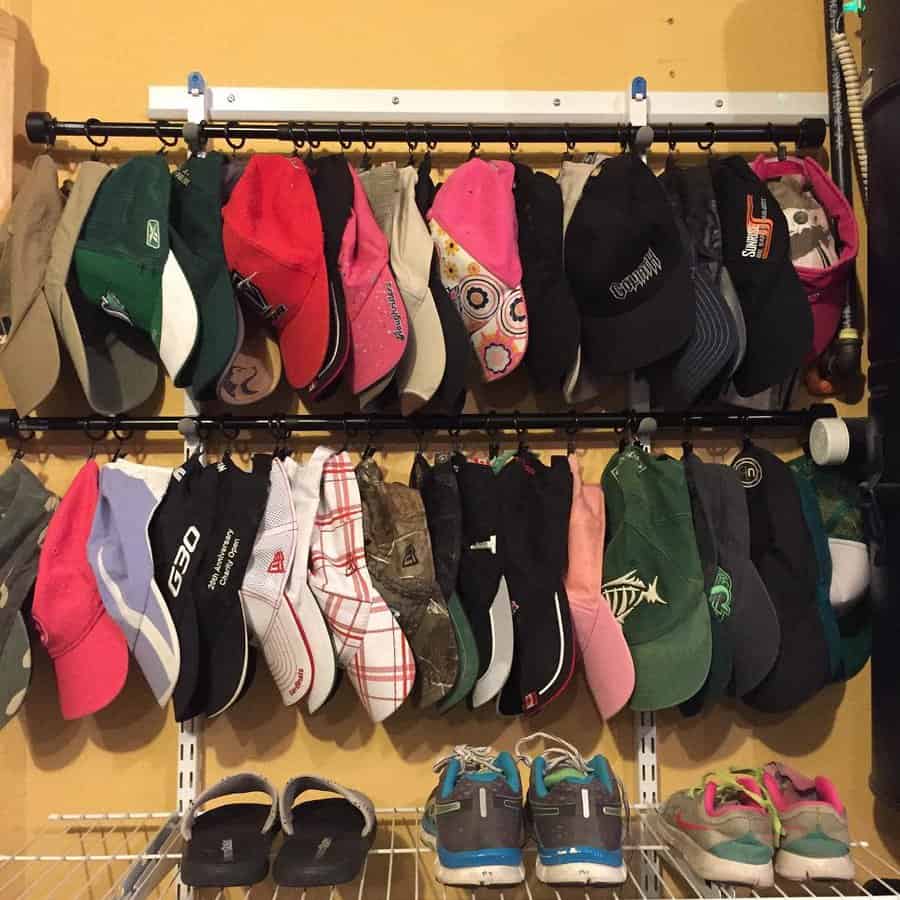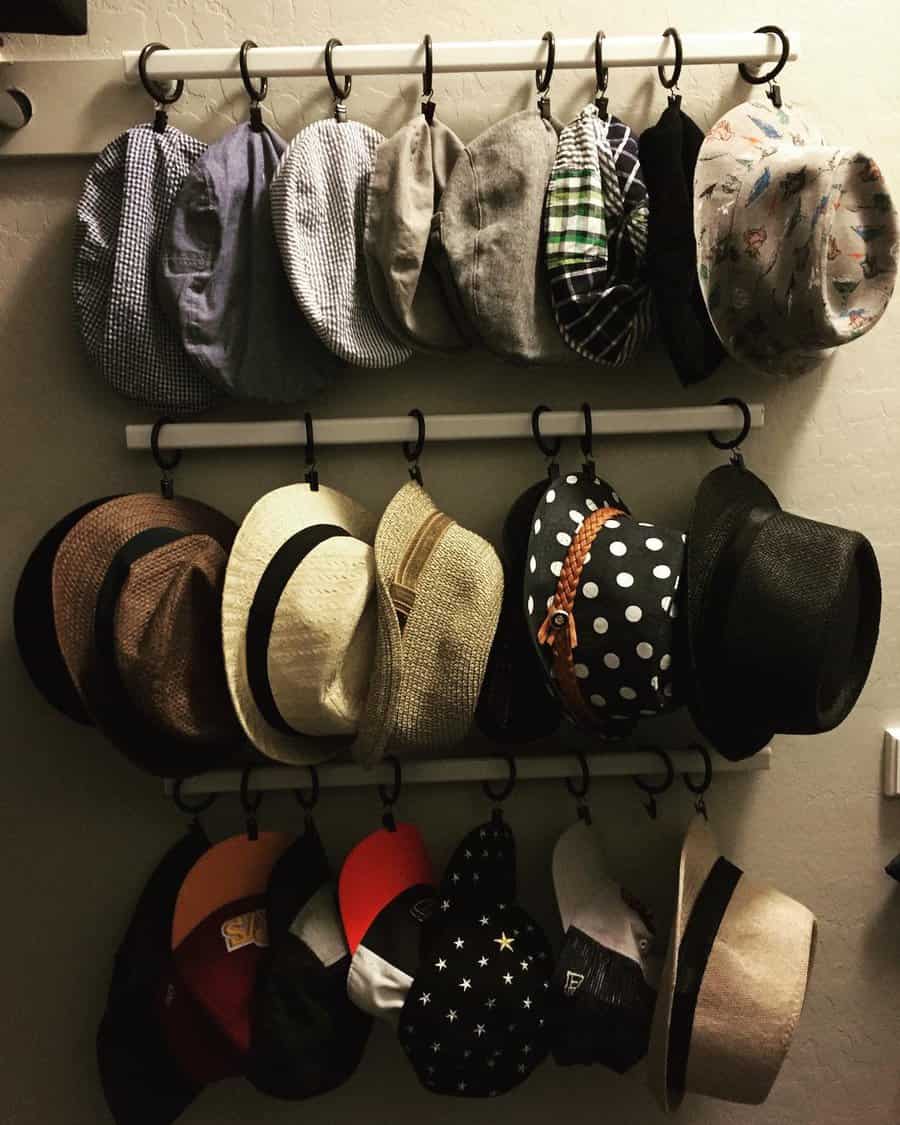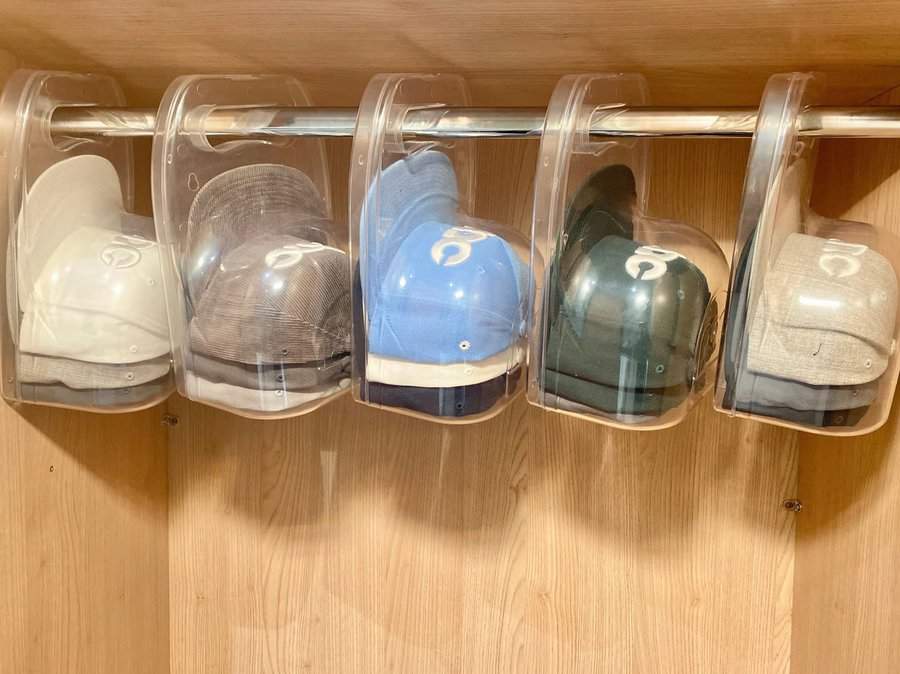 2. Space-Saving Tiered Closet Hat Storage
Maximize vertical space with a tiered closet hat organizer, ensuring each hat remains visible and in prime condition. Simply attach it to your closet rod. To complement the organizer's design, consider matching it with similarly styled storage solutions for a harmonious closet appearance. This accessory not only keeps hats tidy but also enhances your closet's aesthetic.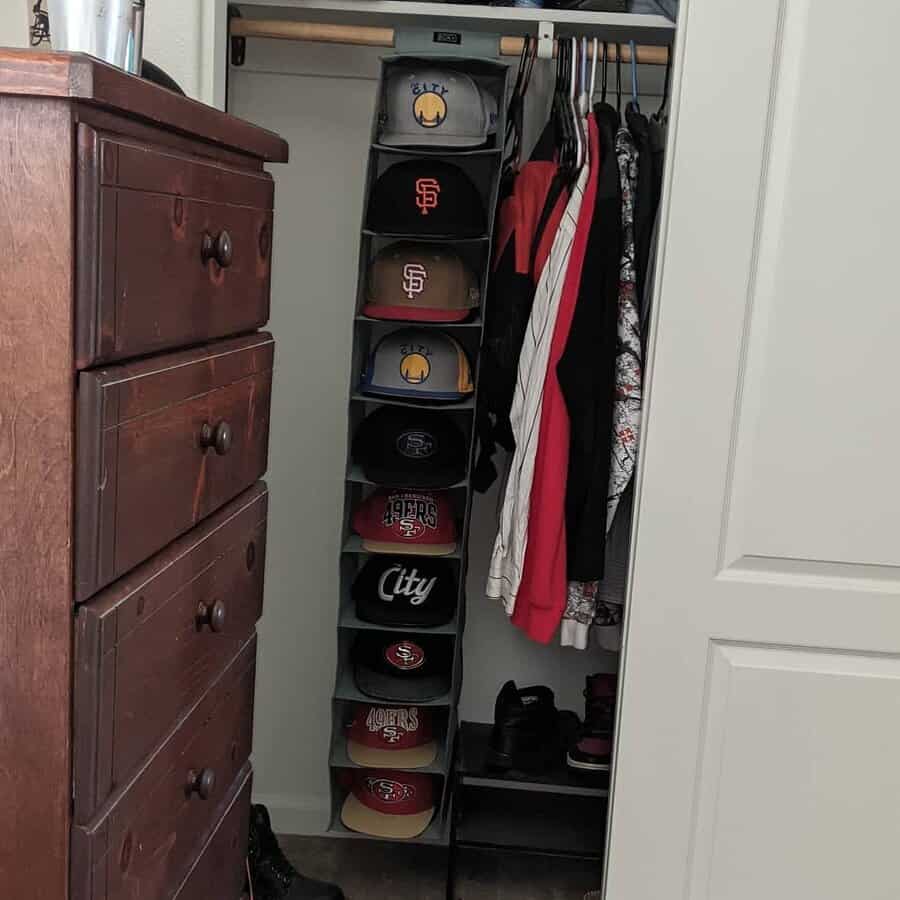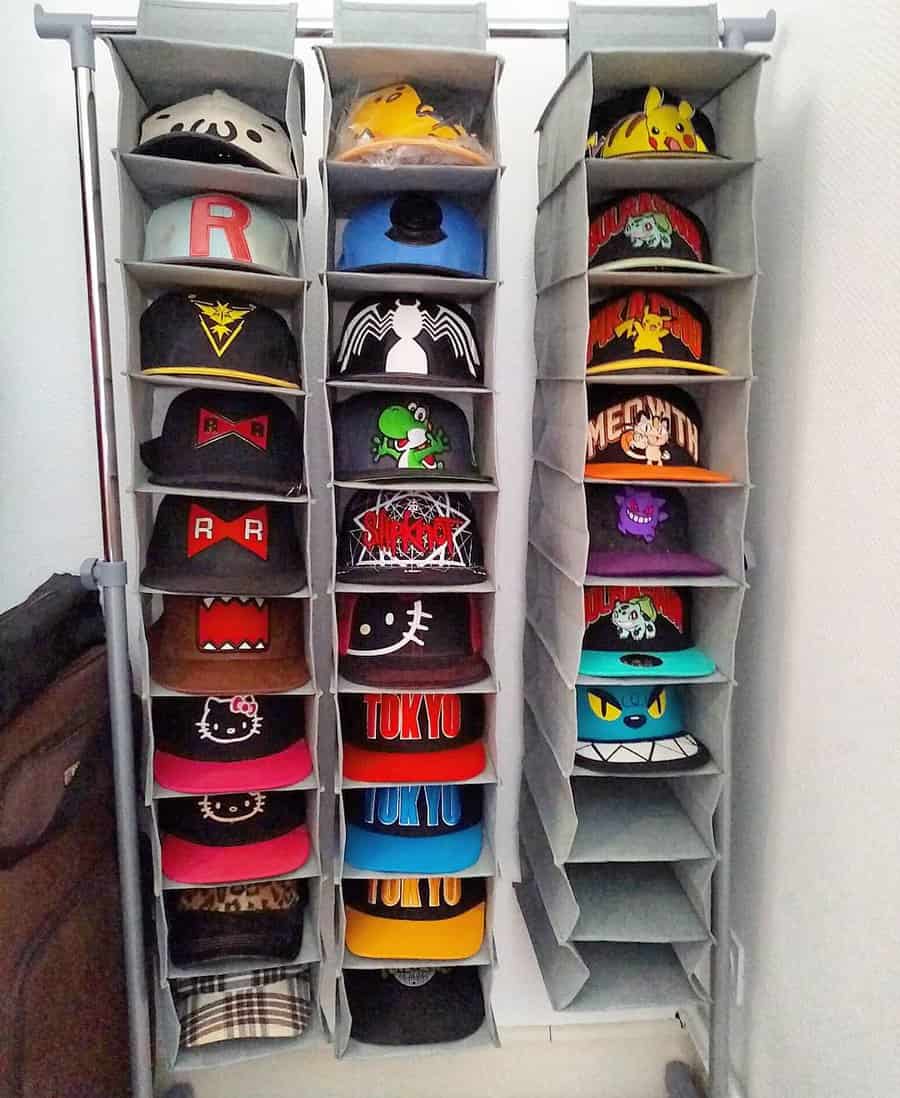 3. Neatly Store Hats in a Drawer
Designate a drawer exclusively for hats to keep them in prime condition and easily accessible. Enhance the drawer's interior with soft fabric or hat racks for an elegant display. To elevate the drawer's look, consider personalized labels or decorative touches that mirror your personal flair, making storage both functional and artistic.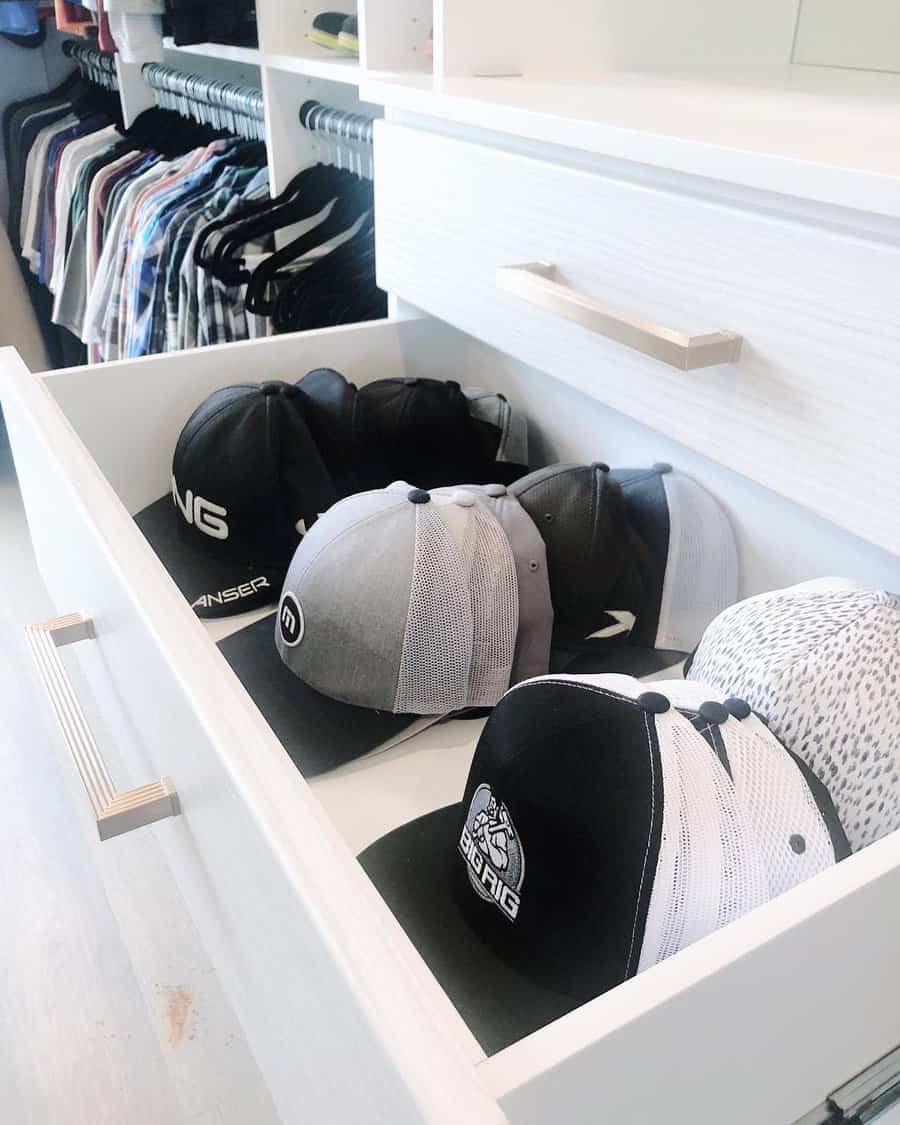 4. Stylish Hat Display Shelf
Elevate your decor with a hat display shelf, providing both character and easy hat accessibility. Choose from diverse styles like rustic wood or sleek metal to match your space's ambiance. Besides being functional, these shelves become a visual focal point when hats of varying designs are arrayed. For a tailored fit, opt for customizable size and shape options to suit your collection.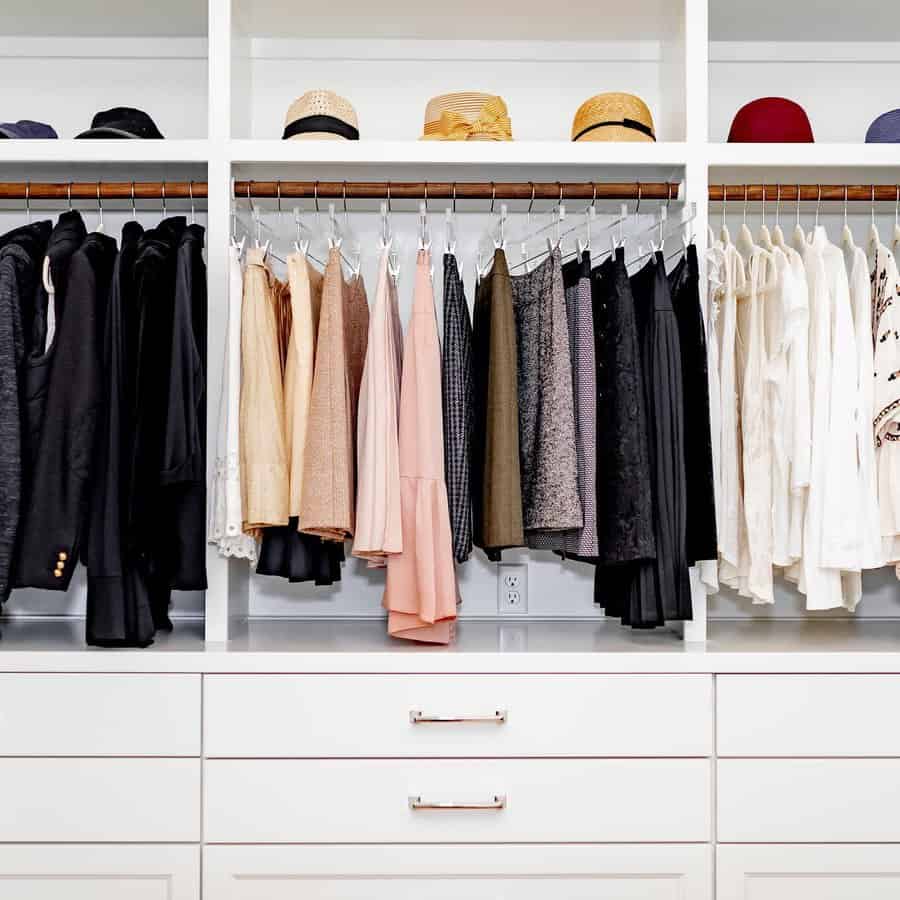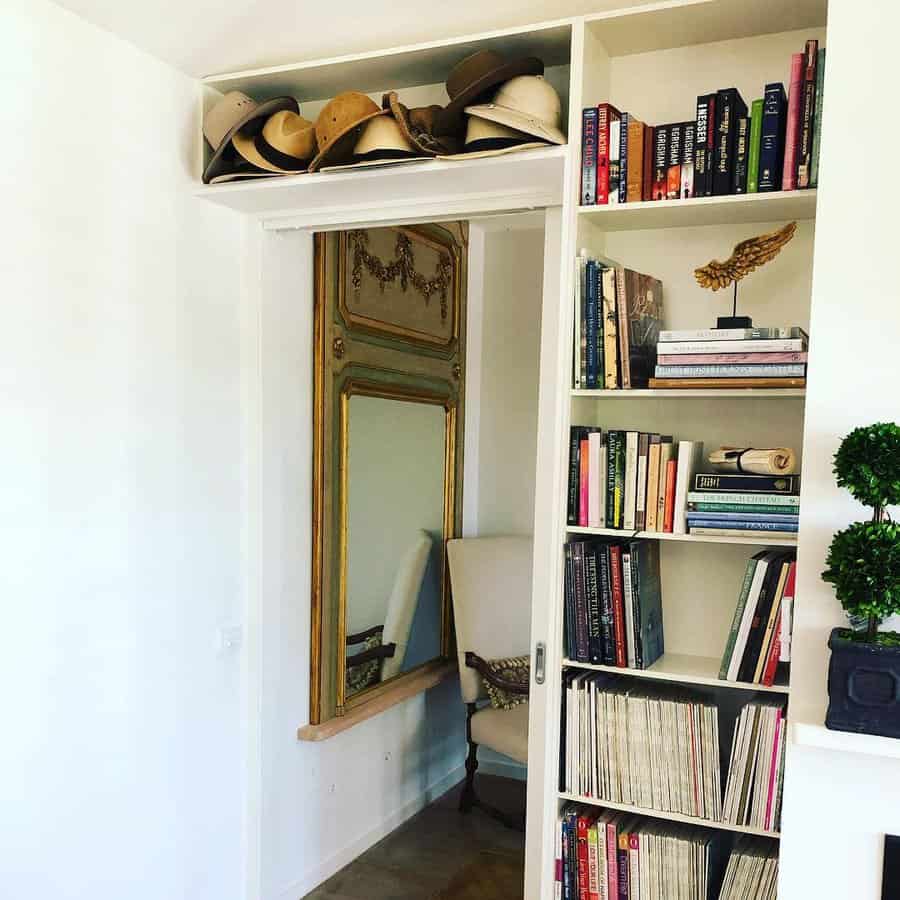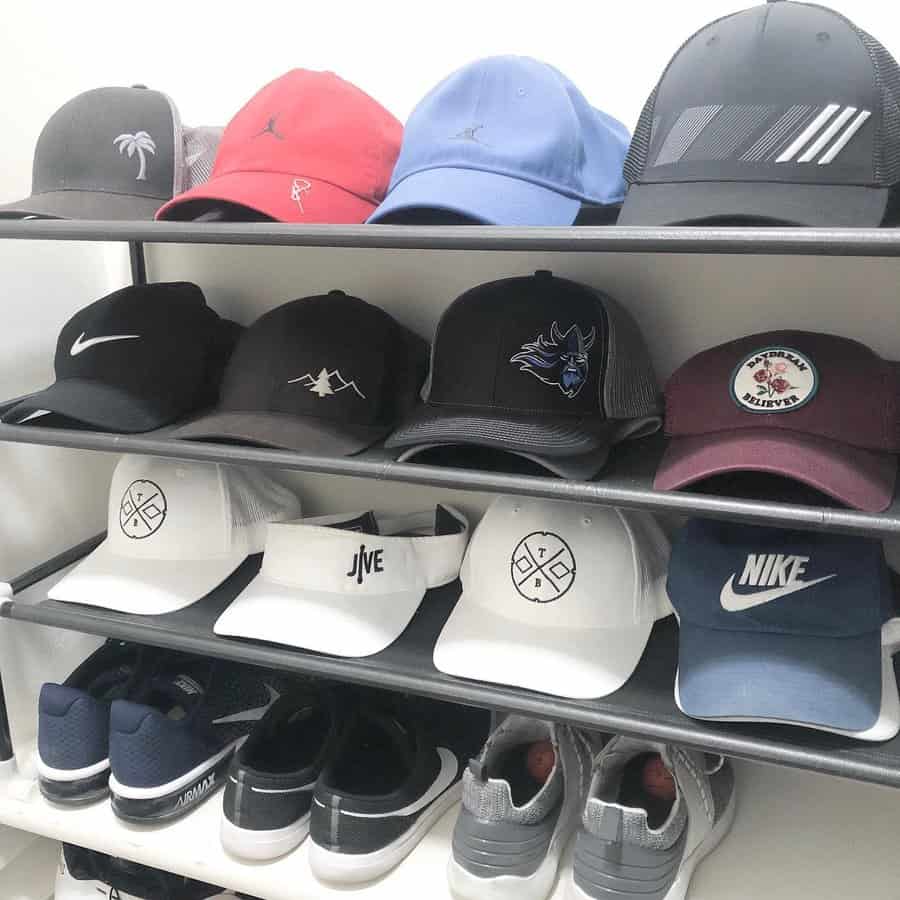 5. Hang Hats on Wall-Mounted Hooks
Wall-mounted hooks transform hat storage into decorative art pieces. Easily accessible and adding character, position these hooks on a blank wall or behind a door for an instant hat gallery. For a captivating look, blend various hook styles and colors or, for a minimalist approach, opt for hidden hooks that disappear behind the displayed hats.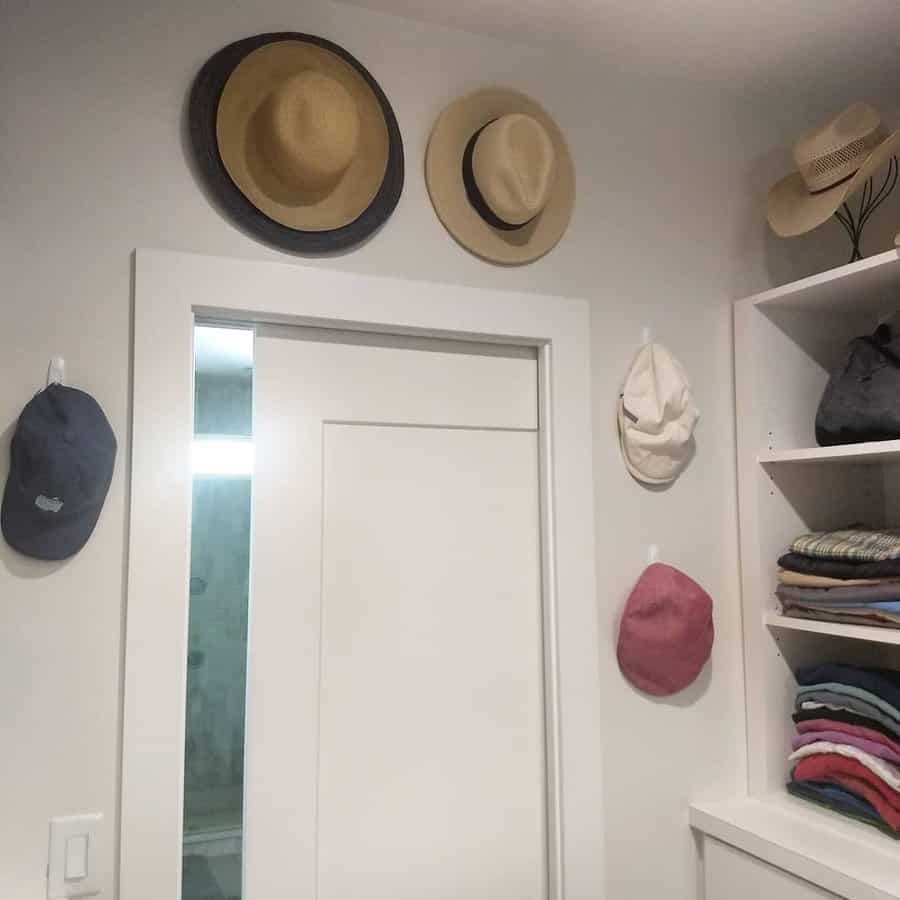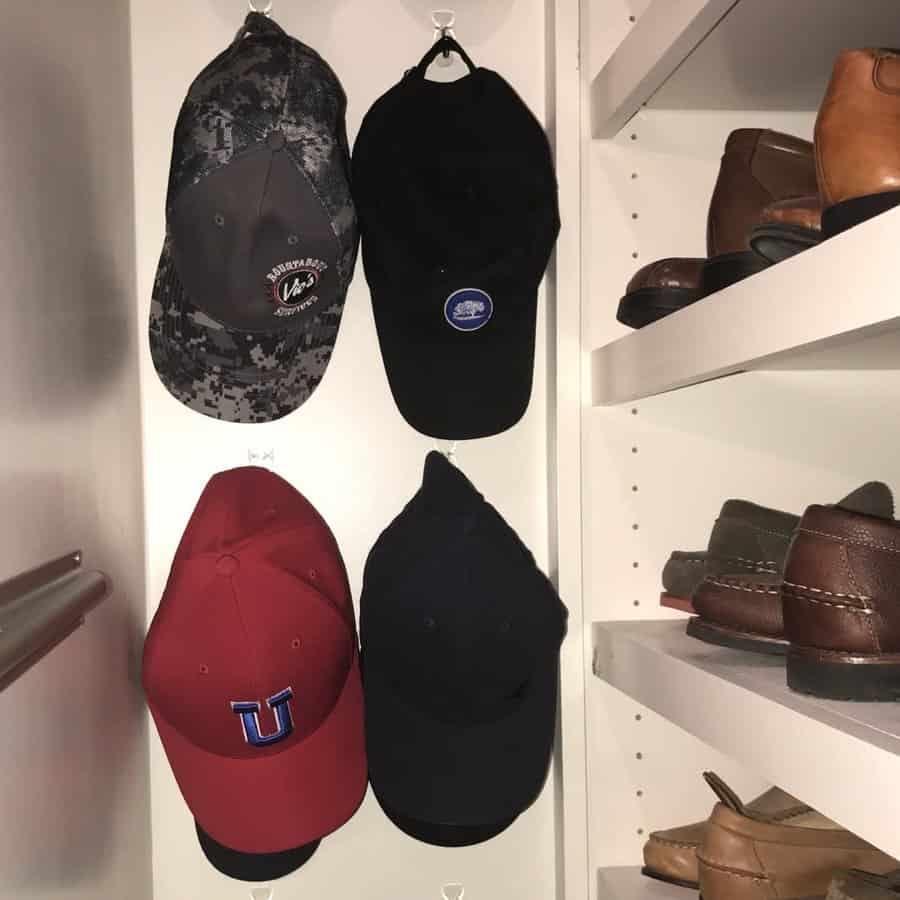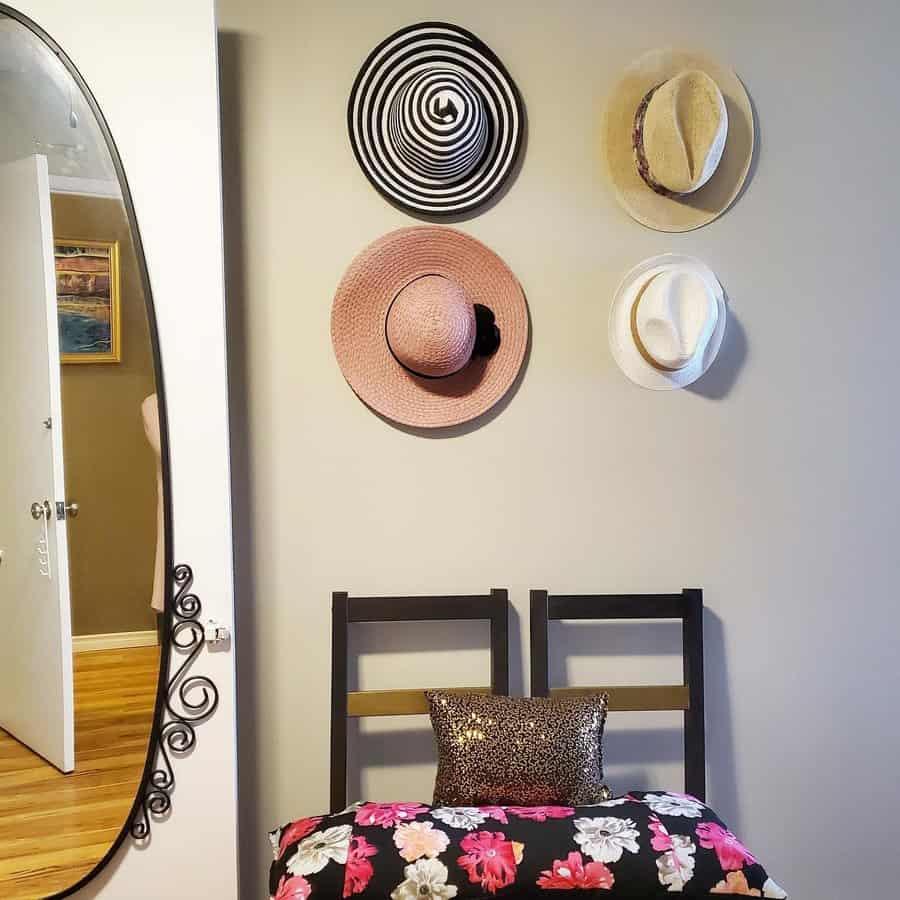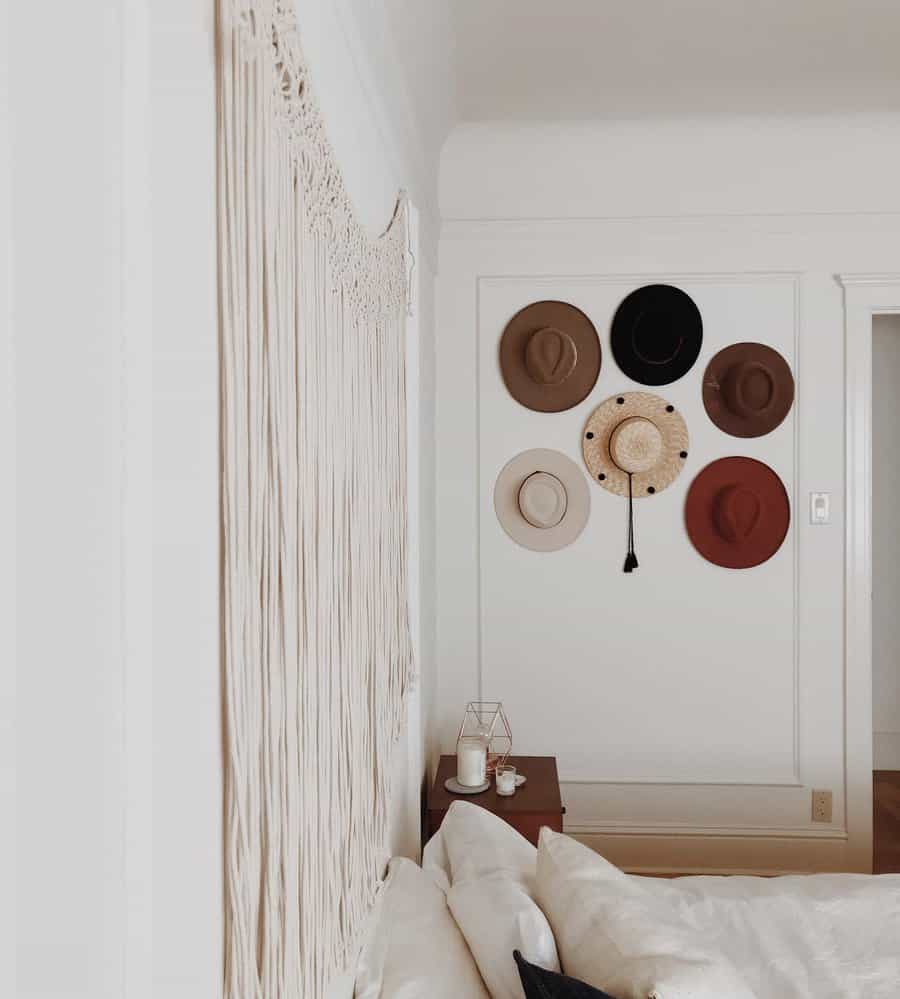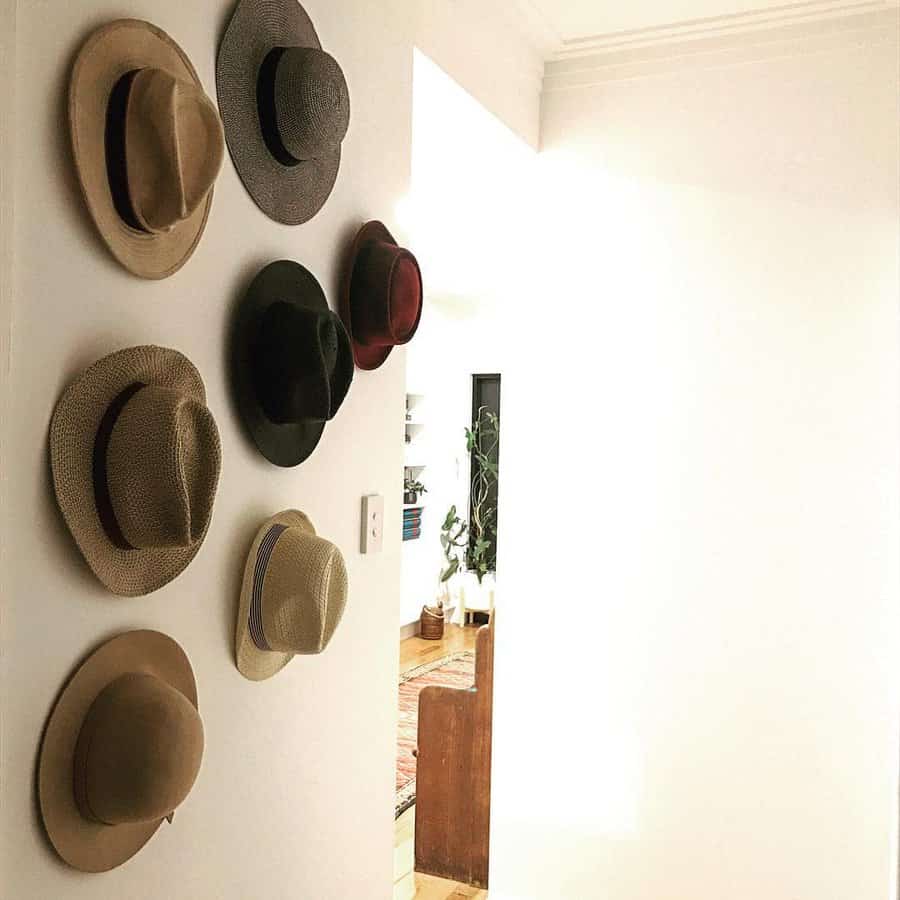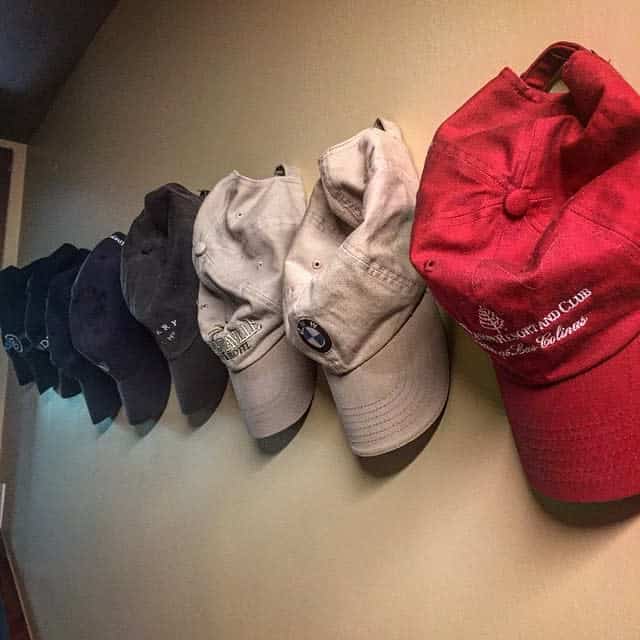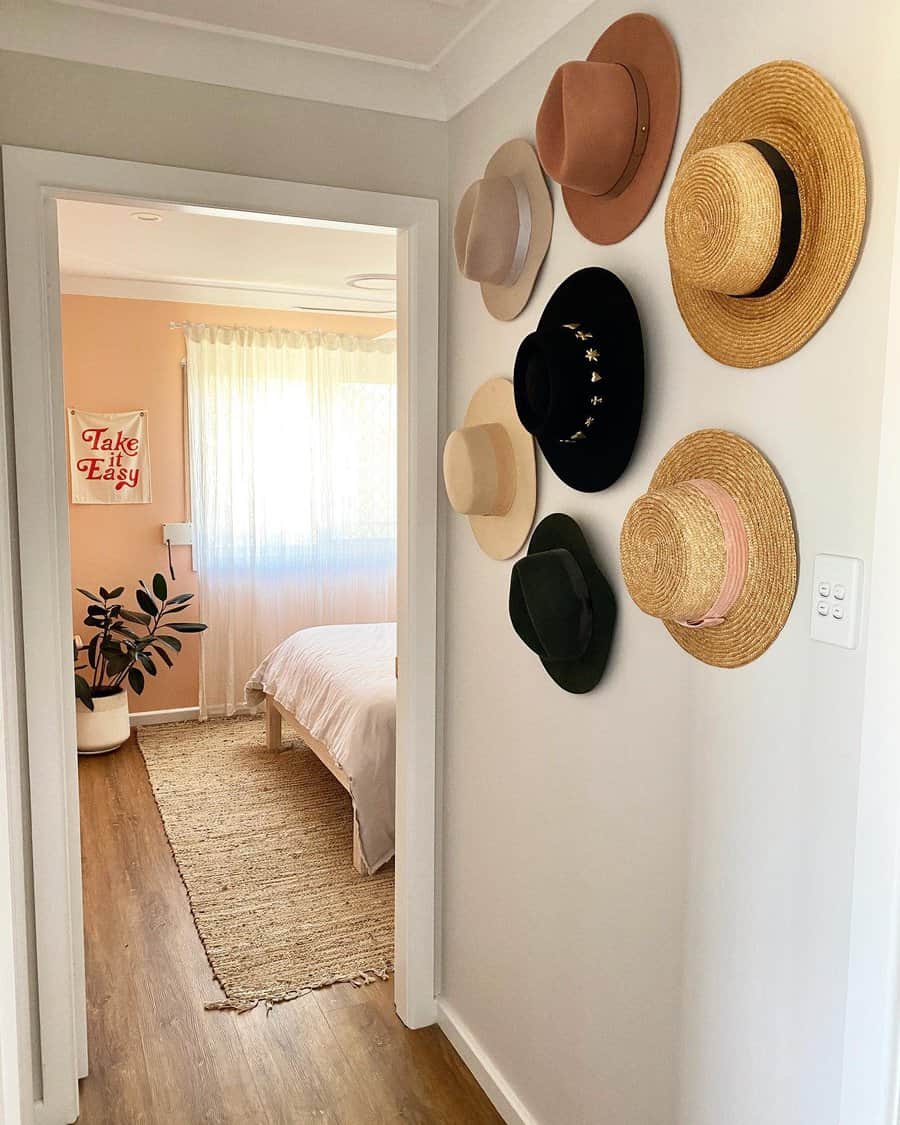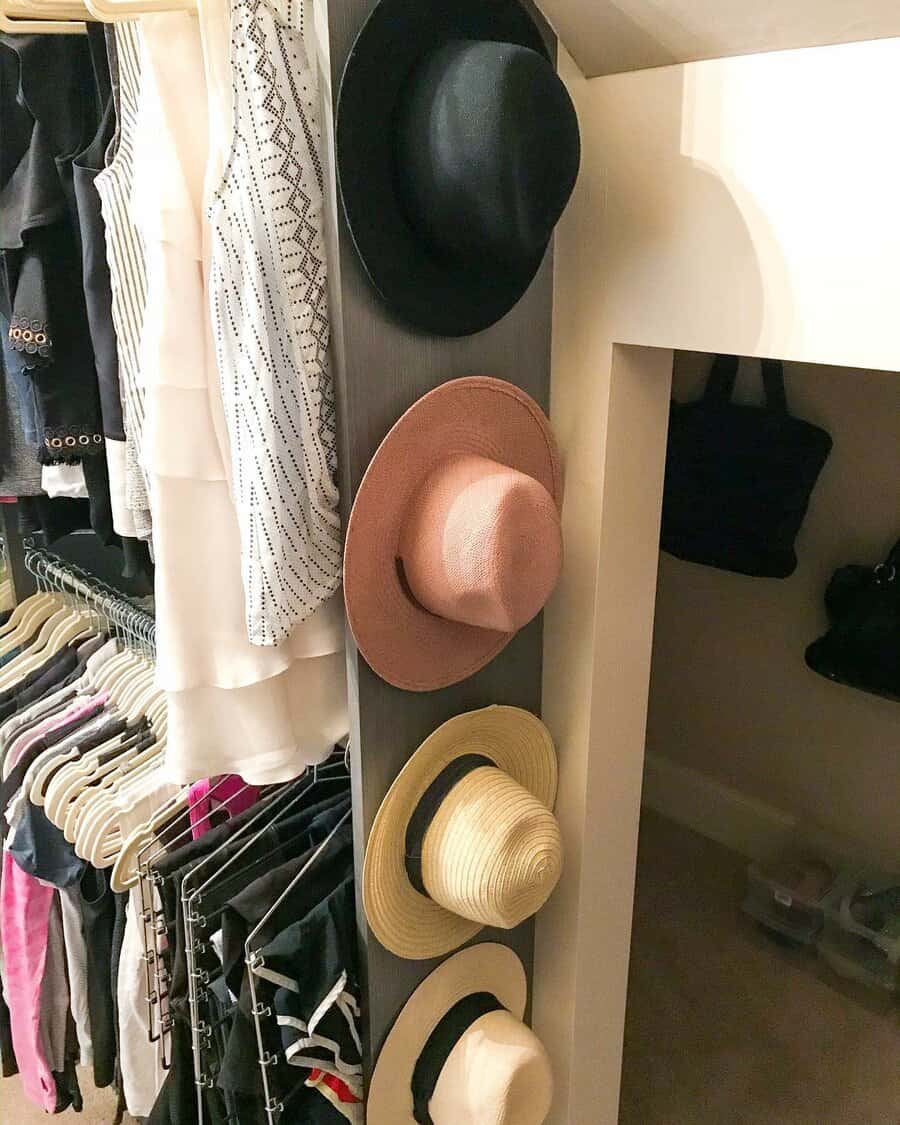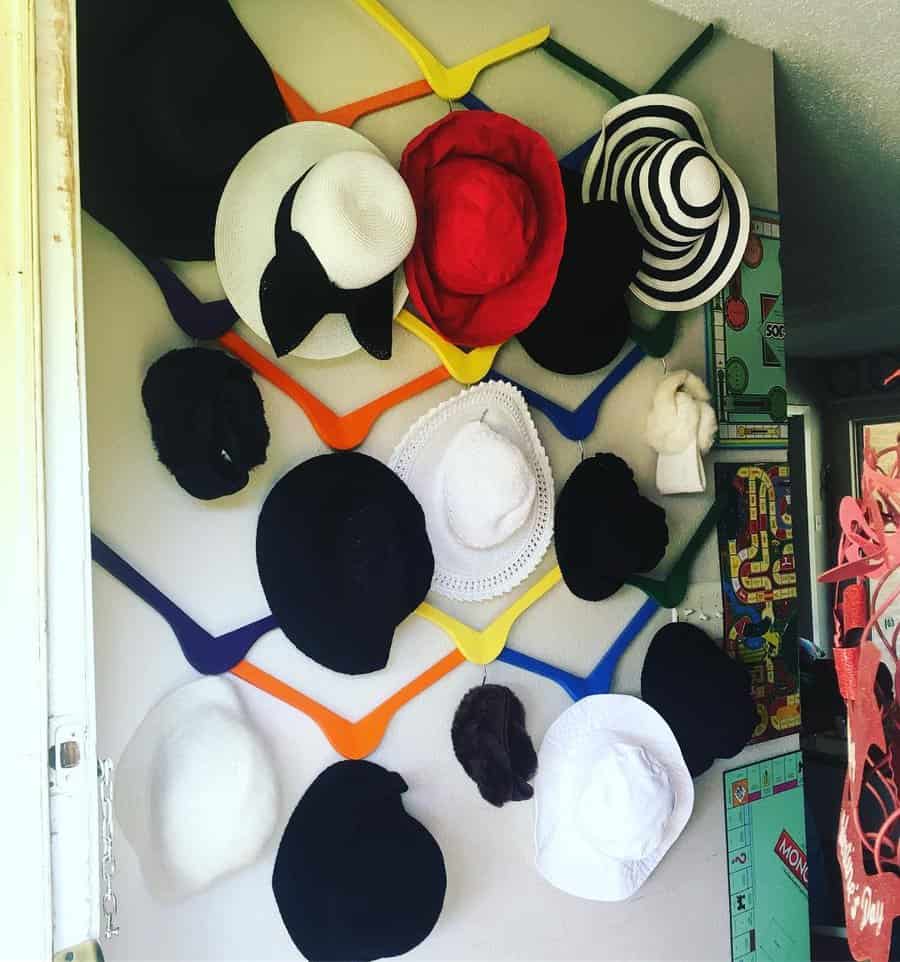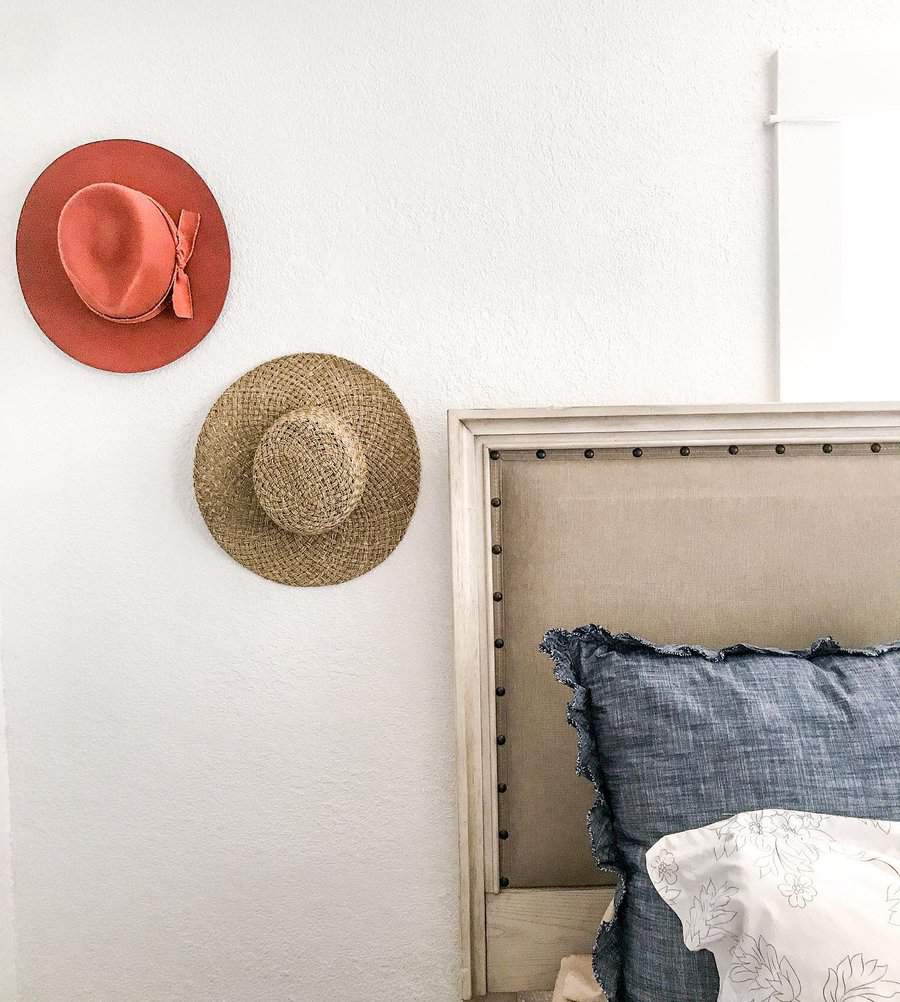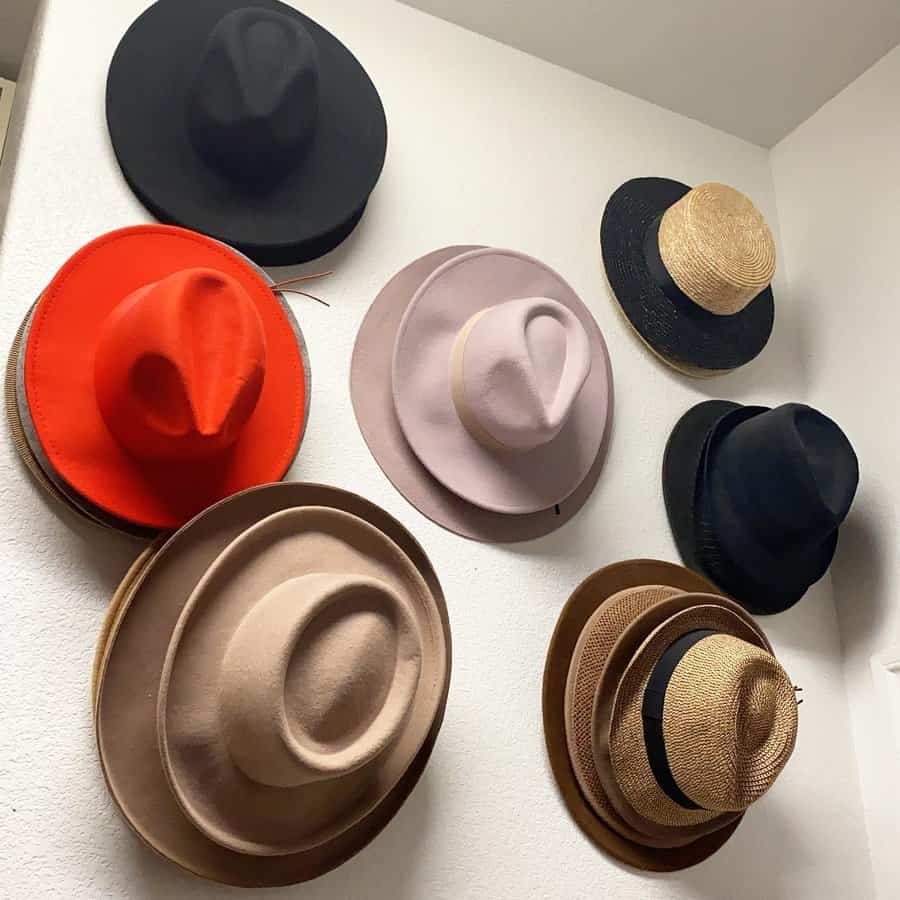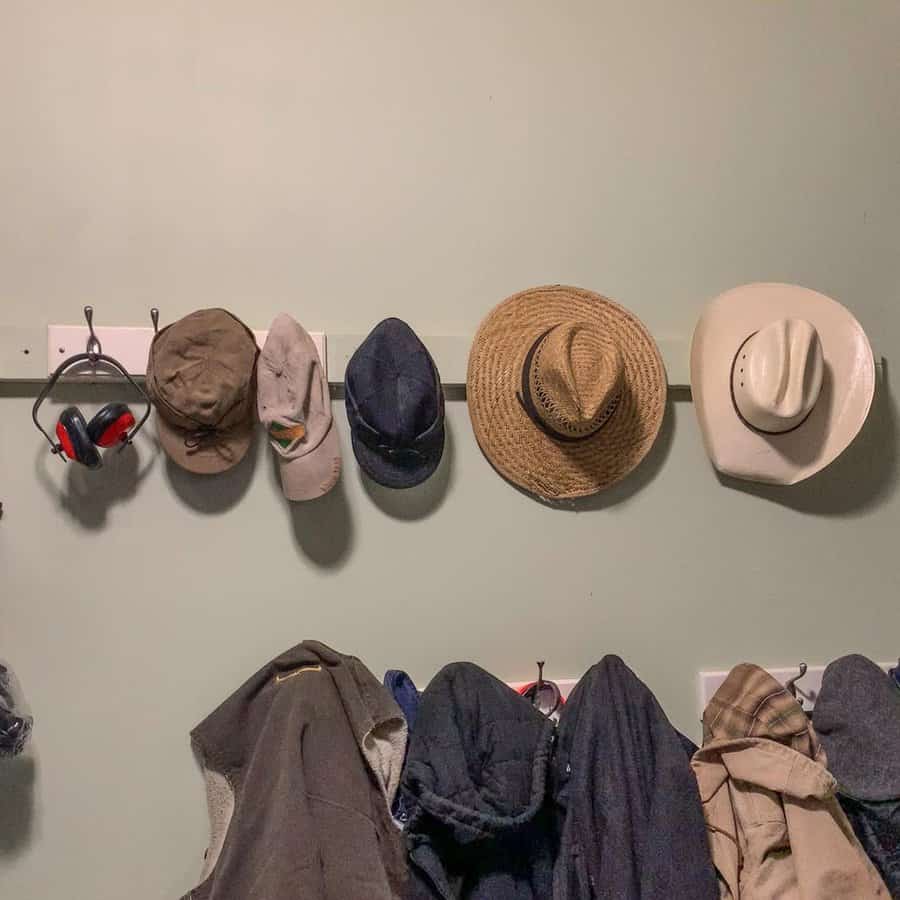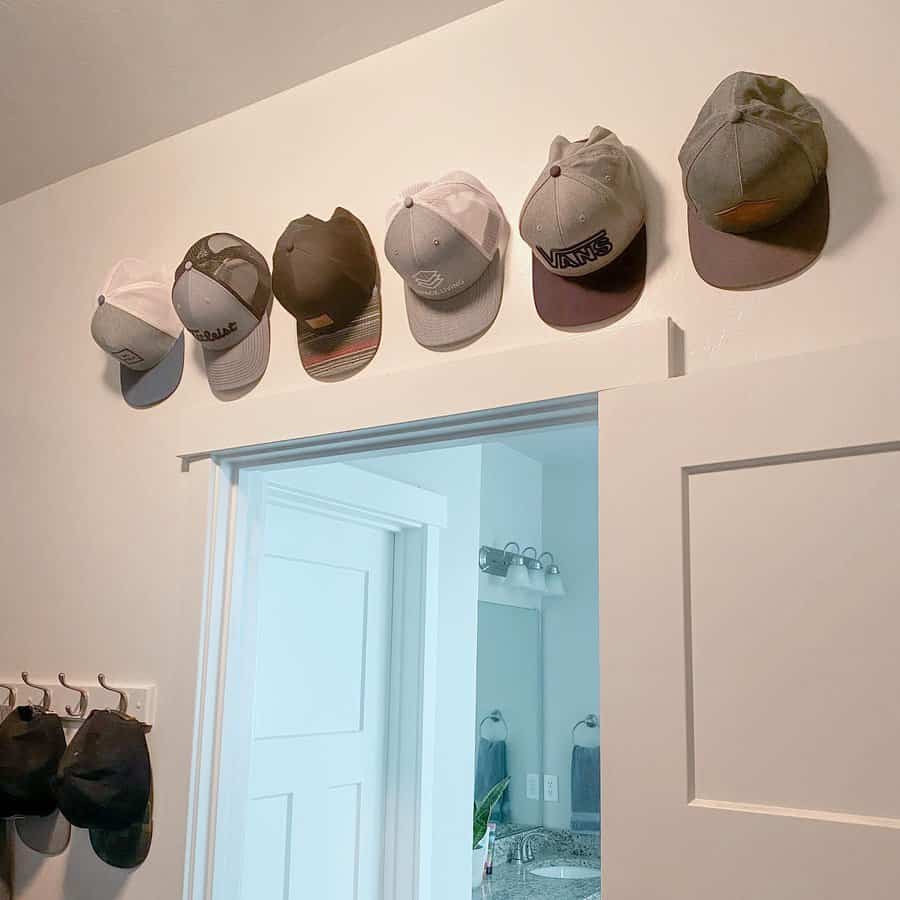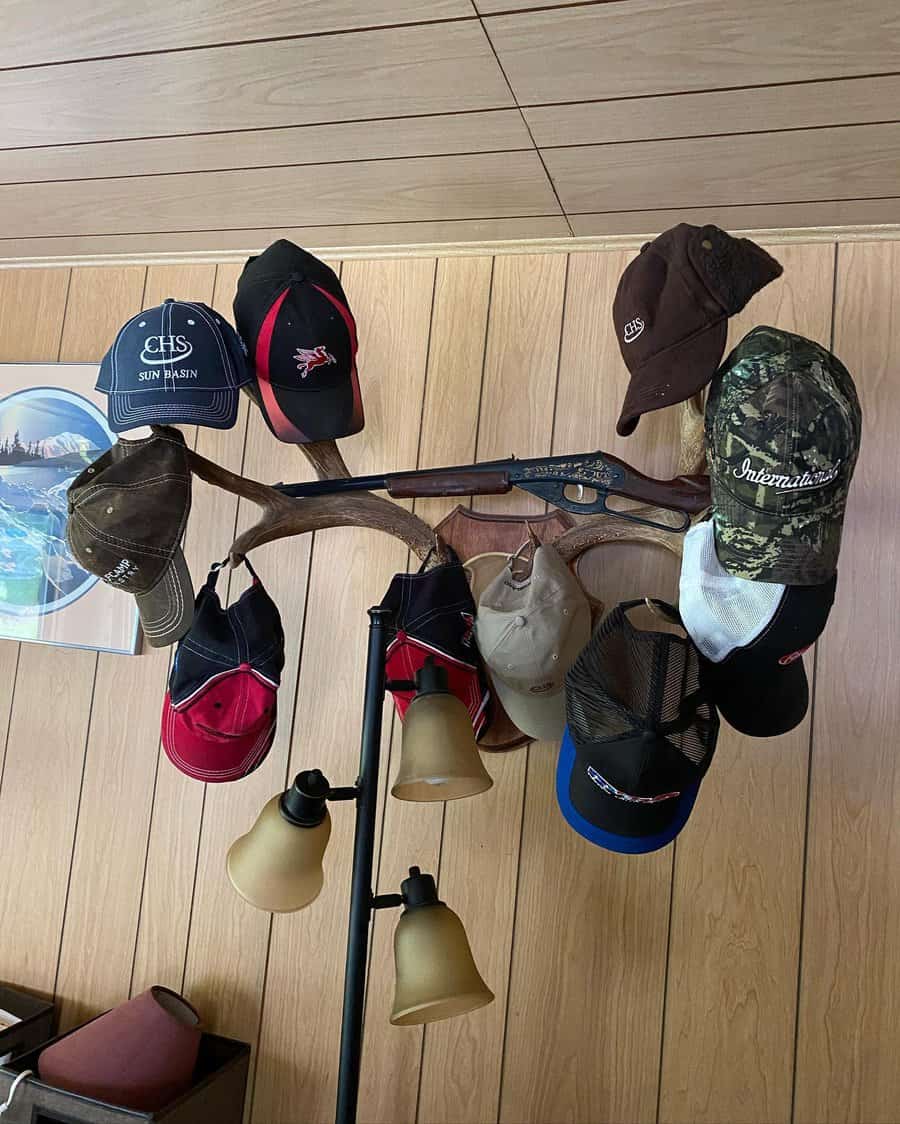 6. Rustic Wooden Hat Rack Ideas
A wooden wall-mounted hat rack effortlessly marries organization with rustic aesthetics. It offers a dual purpose: safekeeping your hats and crafting a unique room centerpiece. For easy access without compromising their condition, this rack is your stylish solution. Beyond storage, it's a testament to your personal style and room's character.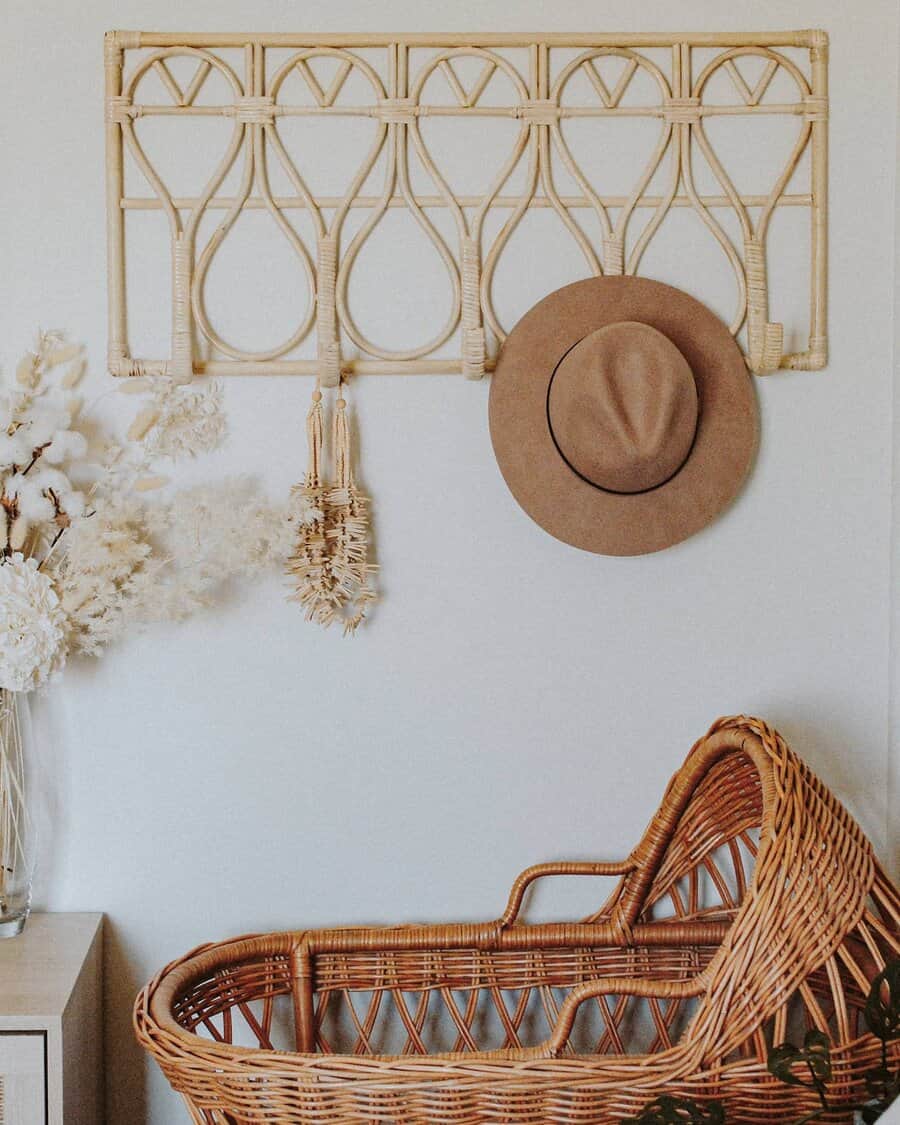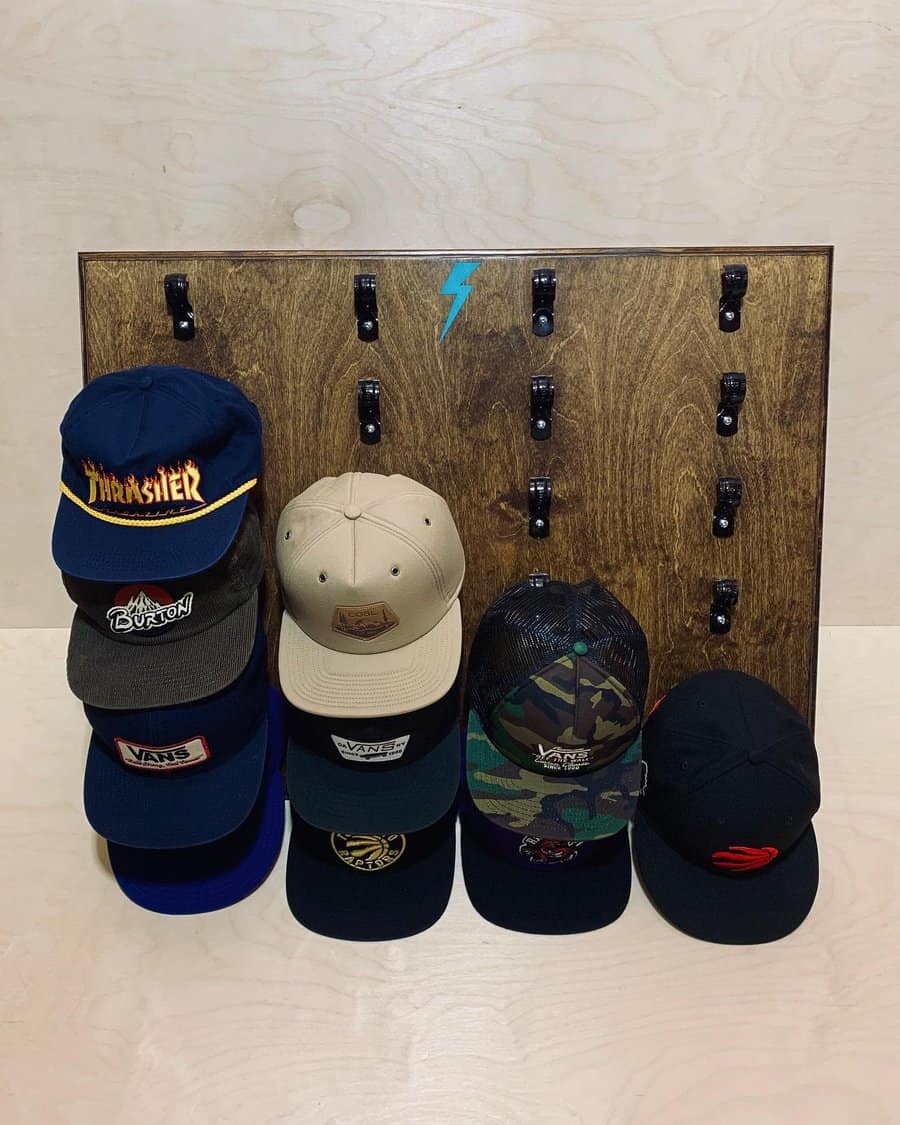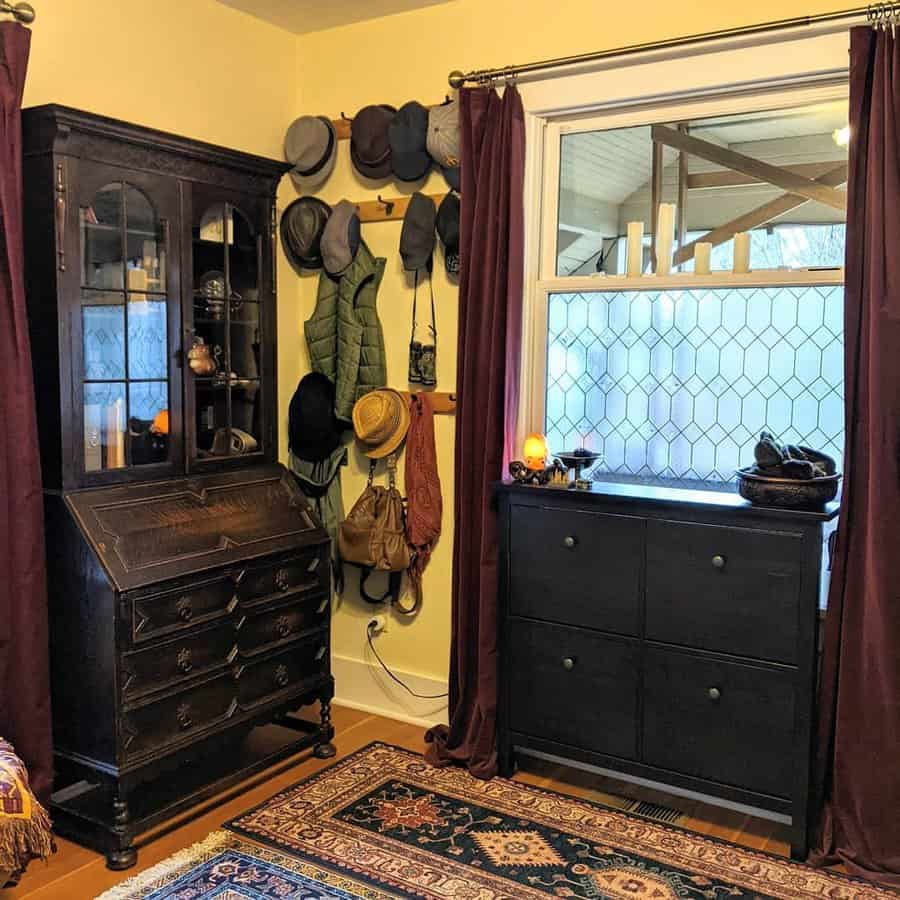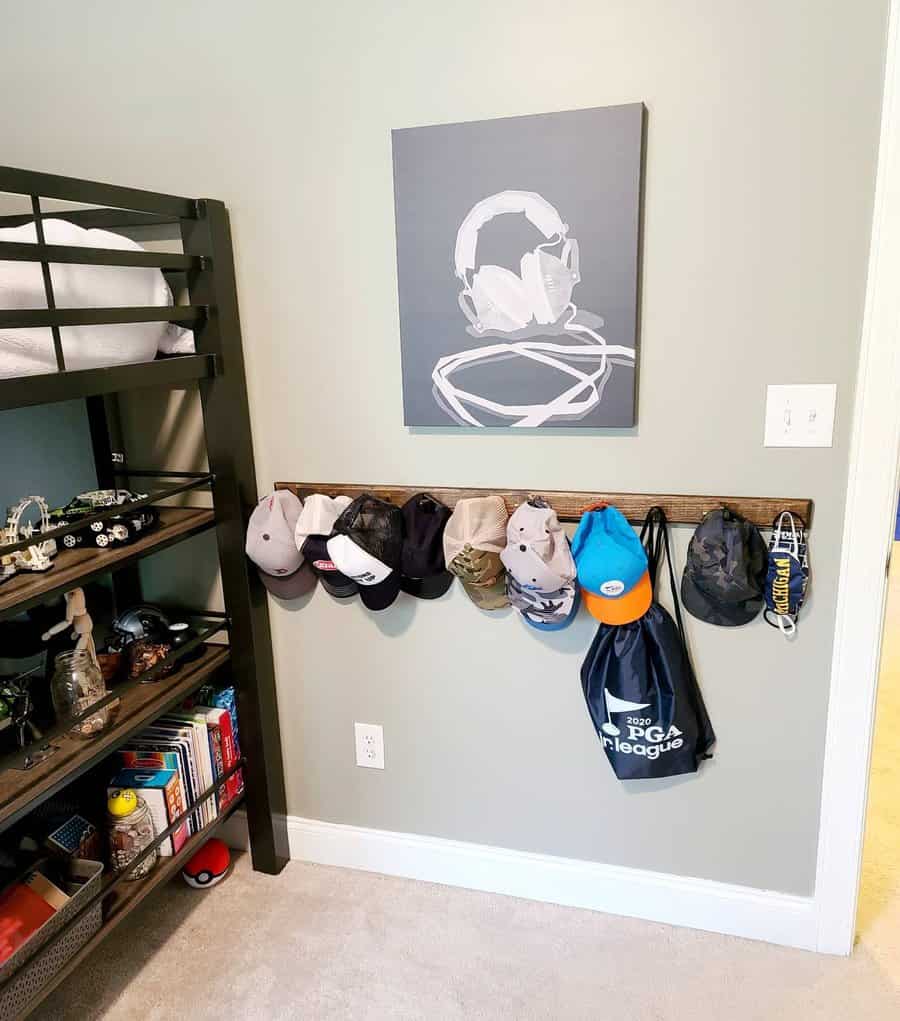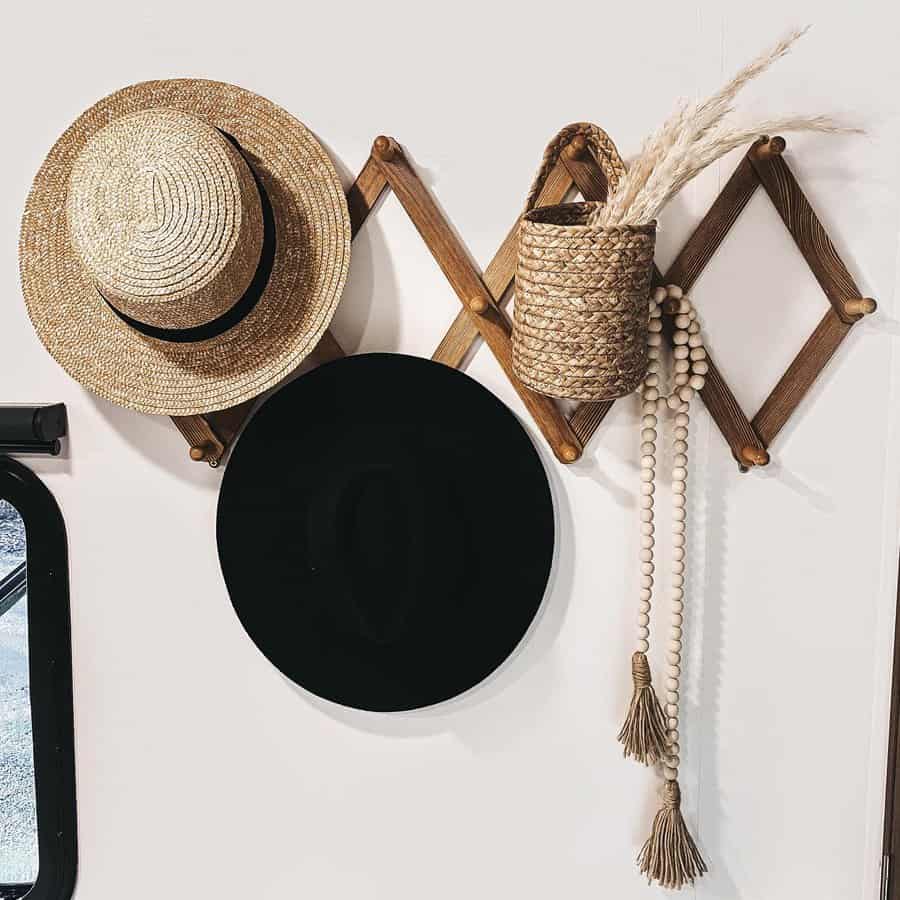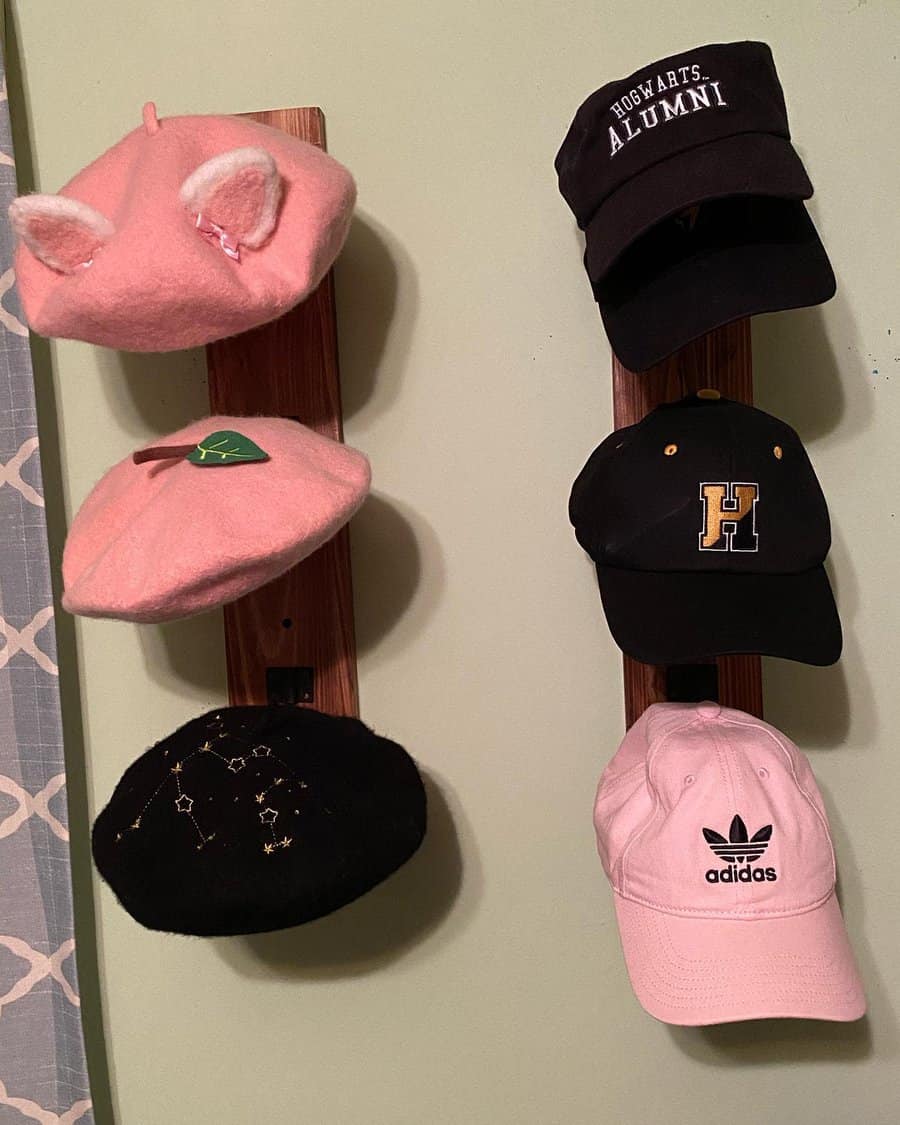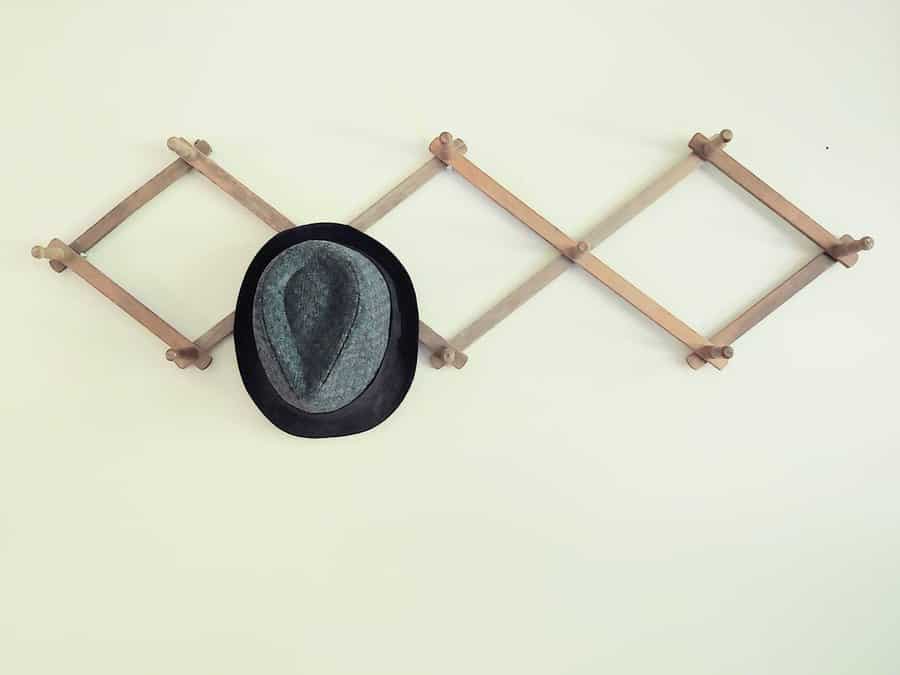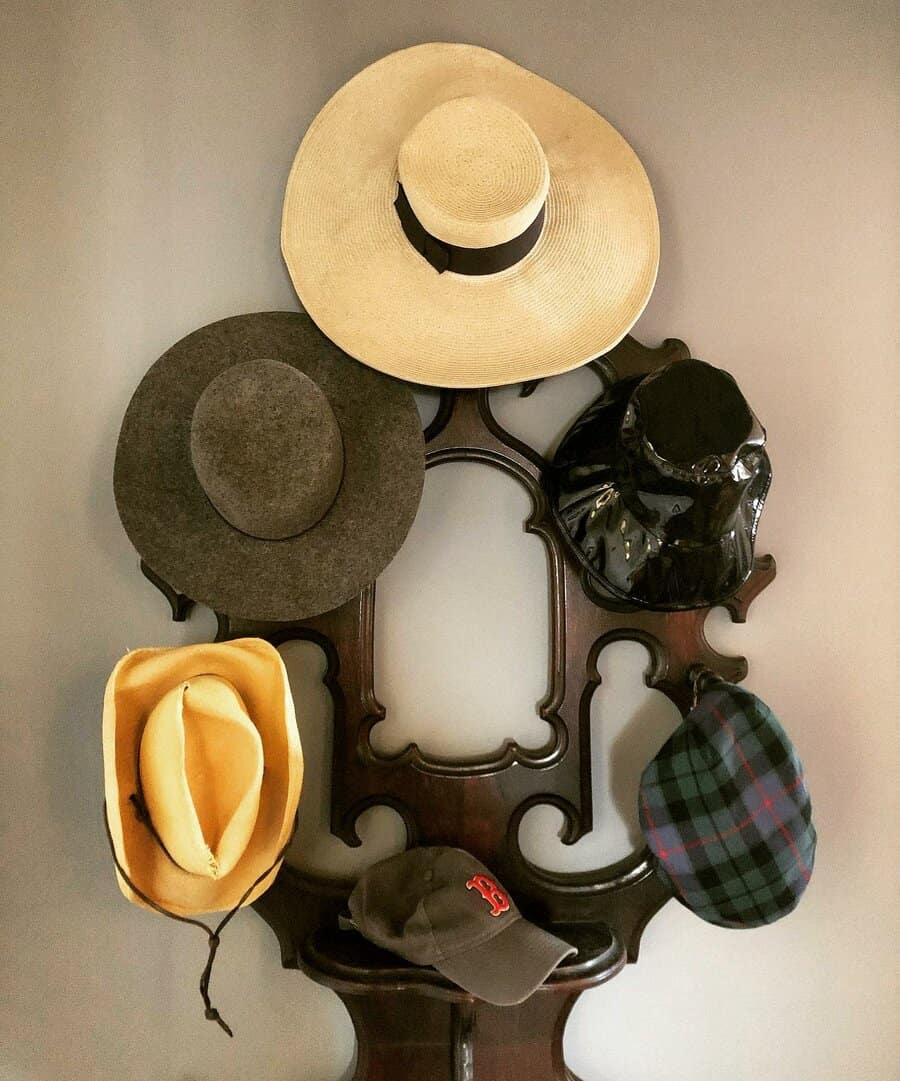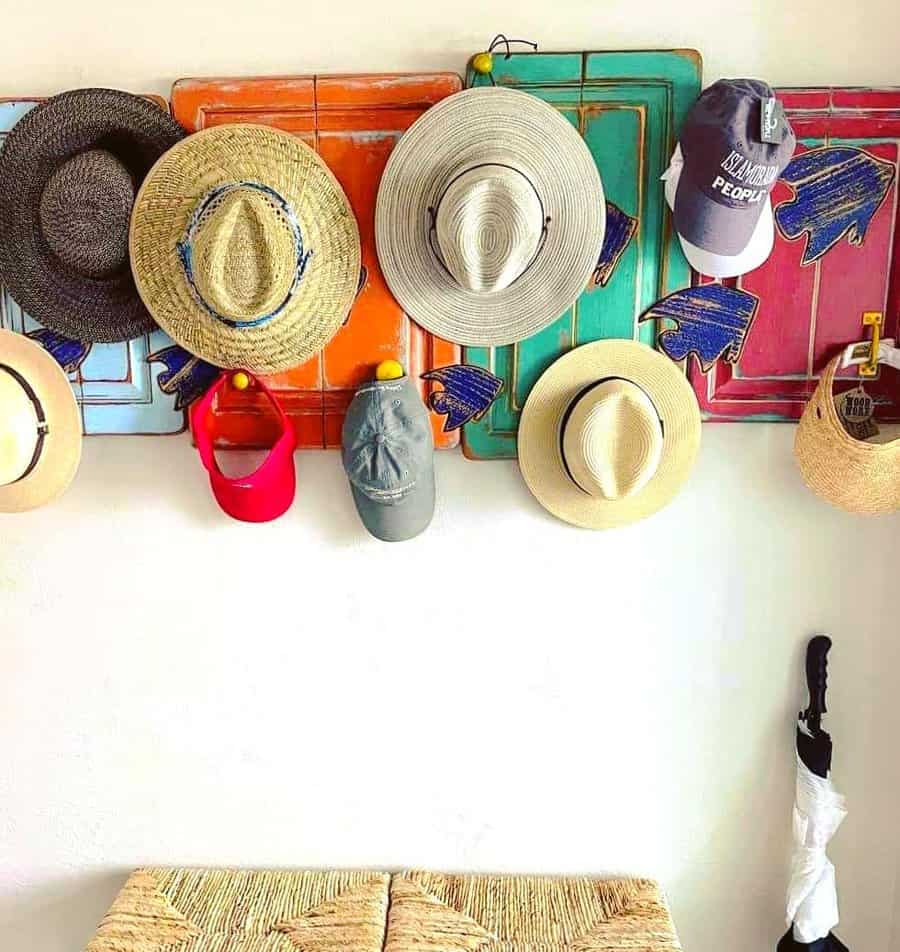 7. Transform Shoe Storage for Hats
Repurpose door-hanging shoe organizers for your hats; each pocket provides a neat display and quick access. Tailor the organizer's design to your taste, be it vibrant or minimalist. This space-saving, DIY approach offers both functionality and a hint of artistic flair to your decor.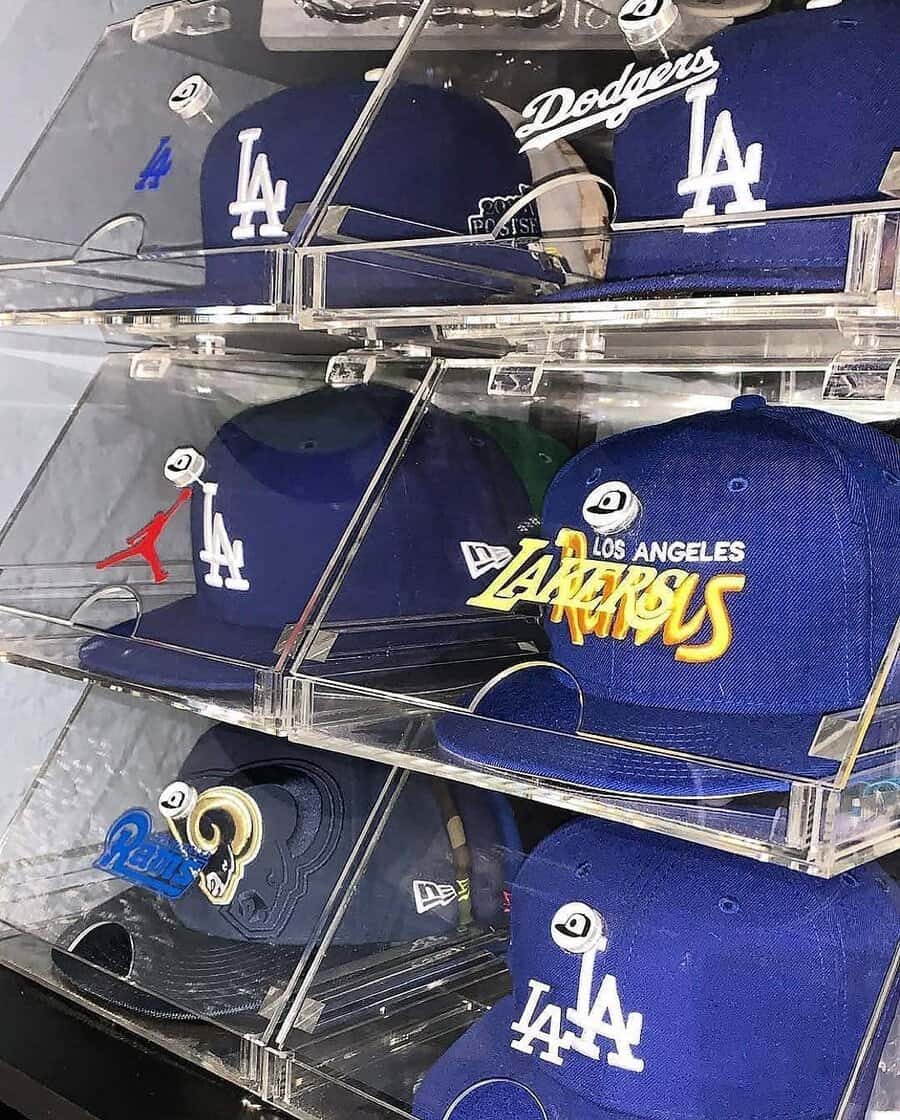 8. Beachy Charm: Driftwood Hat Holder
Infuse a coastal vibe with a driftwood hat holder. Securely mount horizontal driftwood pieces, using branches and knots as natural hooks. Beyond just storage, this DIY approach offers a rustic artistic touch, turning your hat display into a compelling conversation piece. Embrace this unique blend of functionality and art, celebrating both your hat collection and the tales each driftwood piece holds.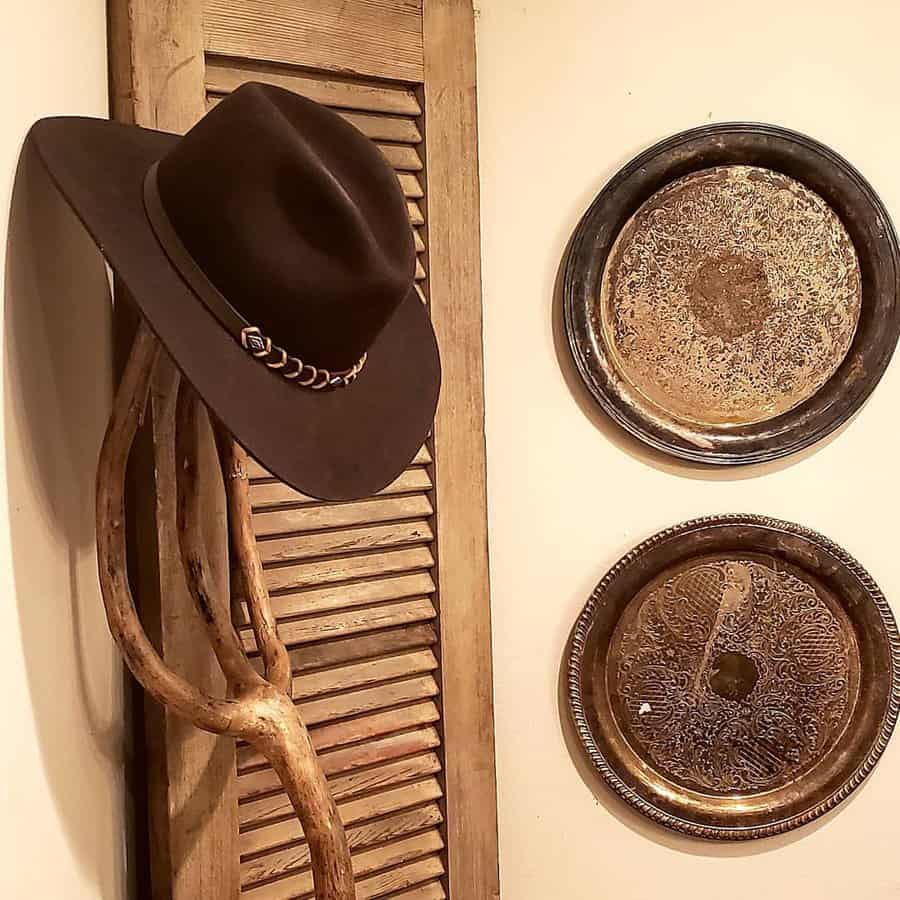 9. Boho-Chic: Macrame Hat Holder
The macrame hat holder, with its intricate knots, marries storage with bohemian artistry. When hung, it ensures hats retain shape and breathability. Beyond just holding hats, its versatile design can double as wall tapestry, adding organic beauty to any space. Its natural fibers and texture infuse rooms with a charming boho flair.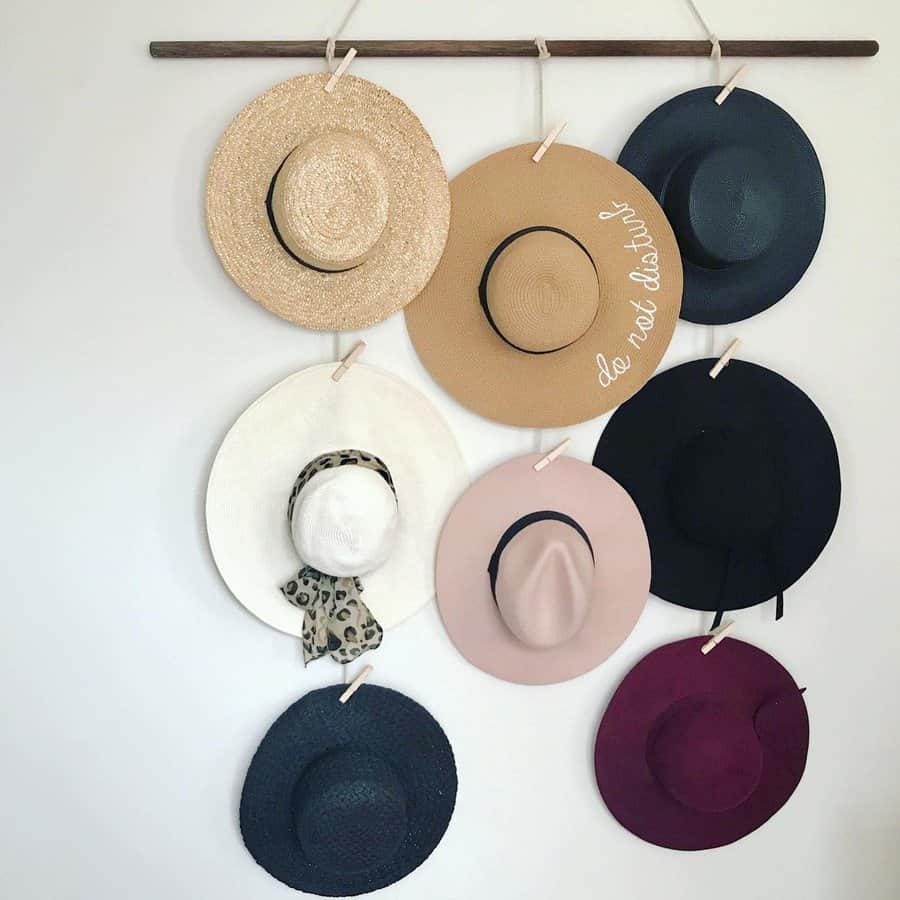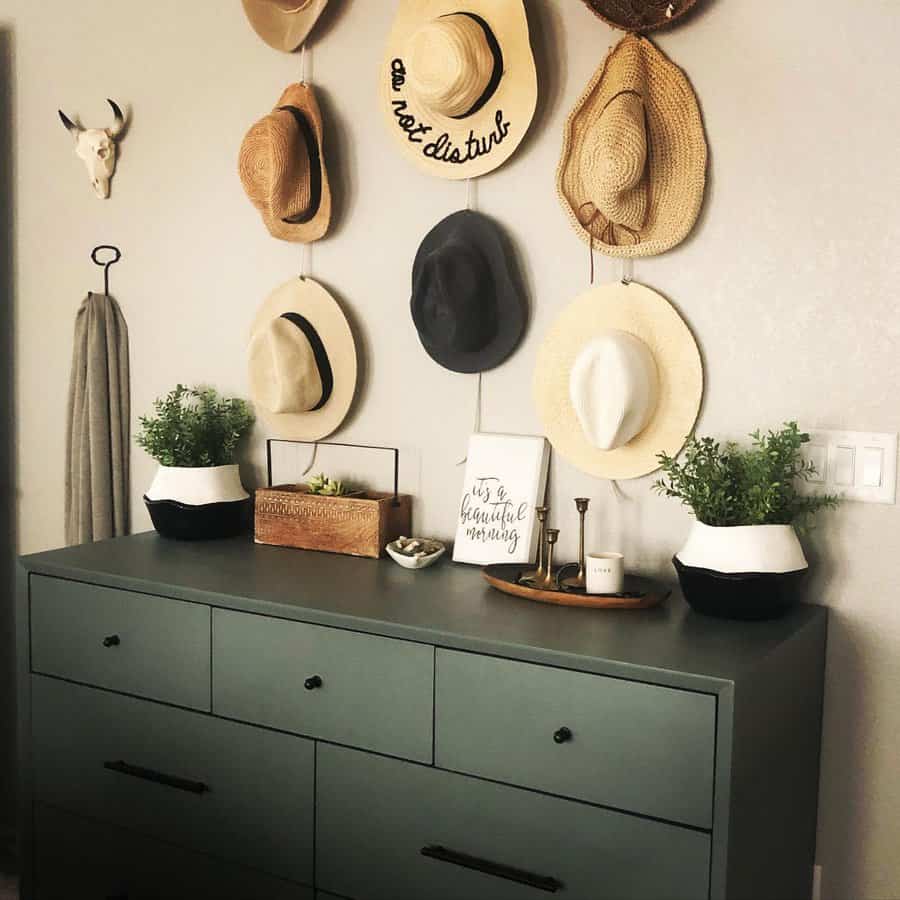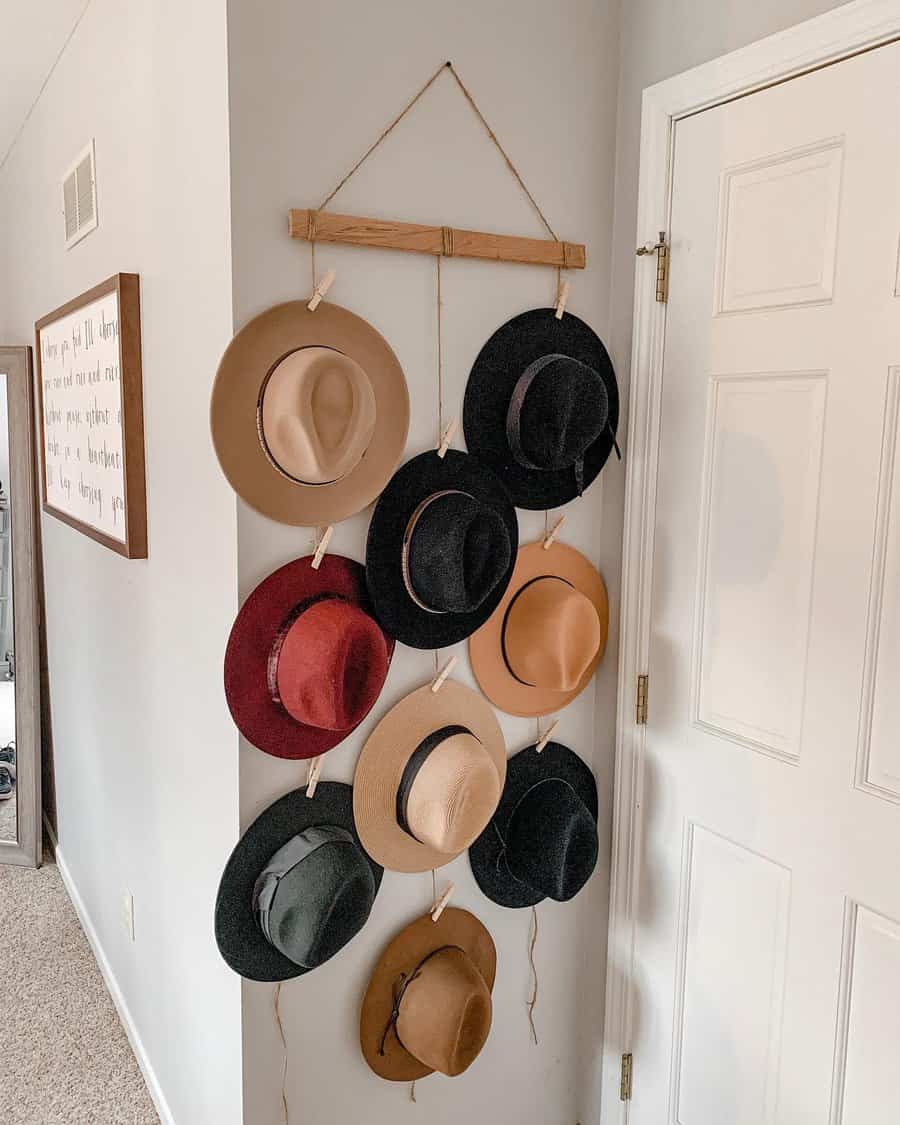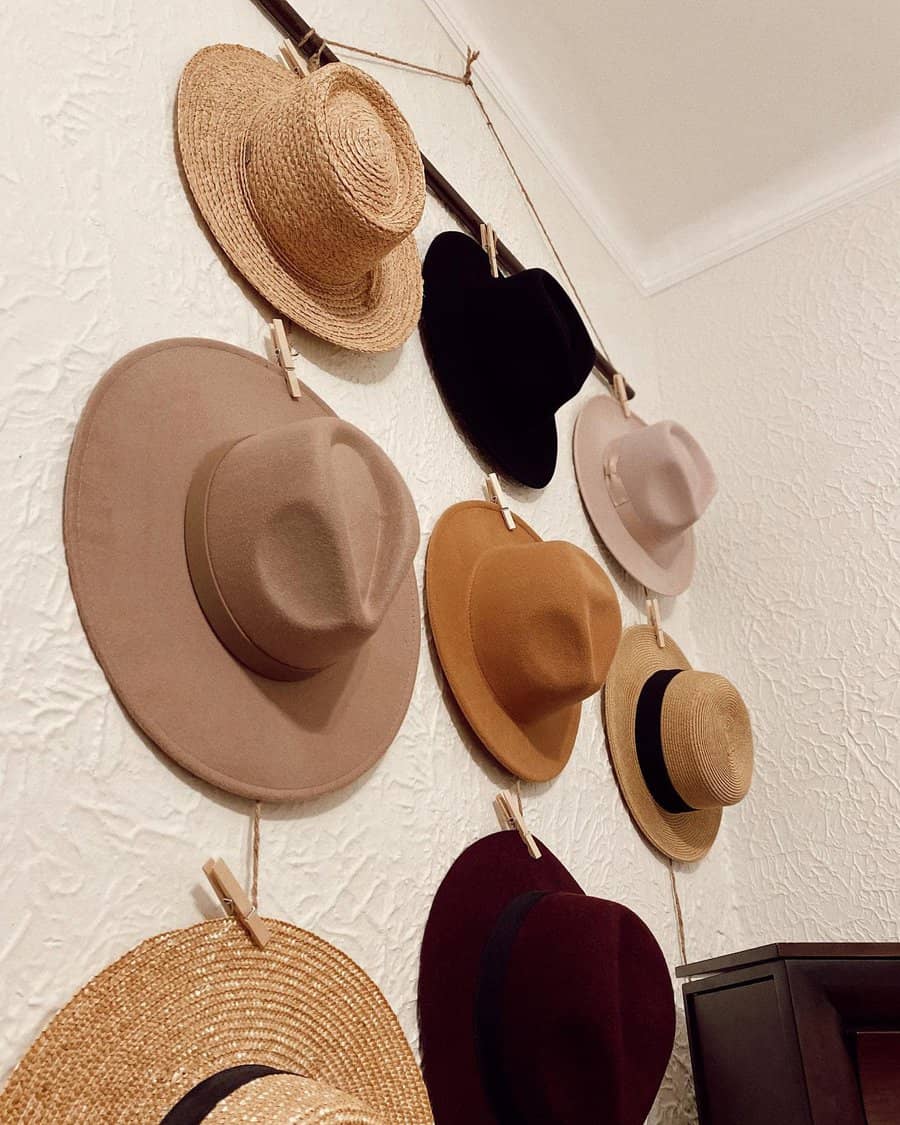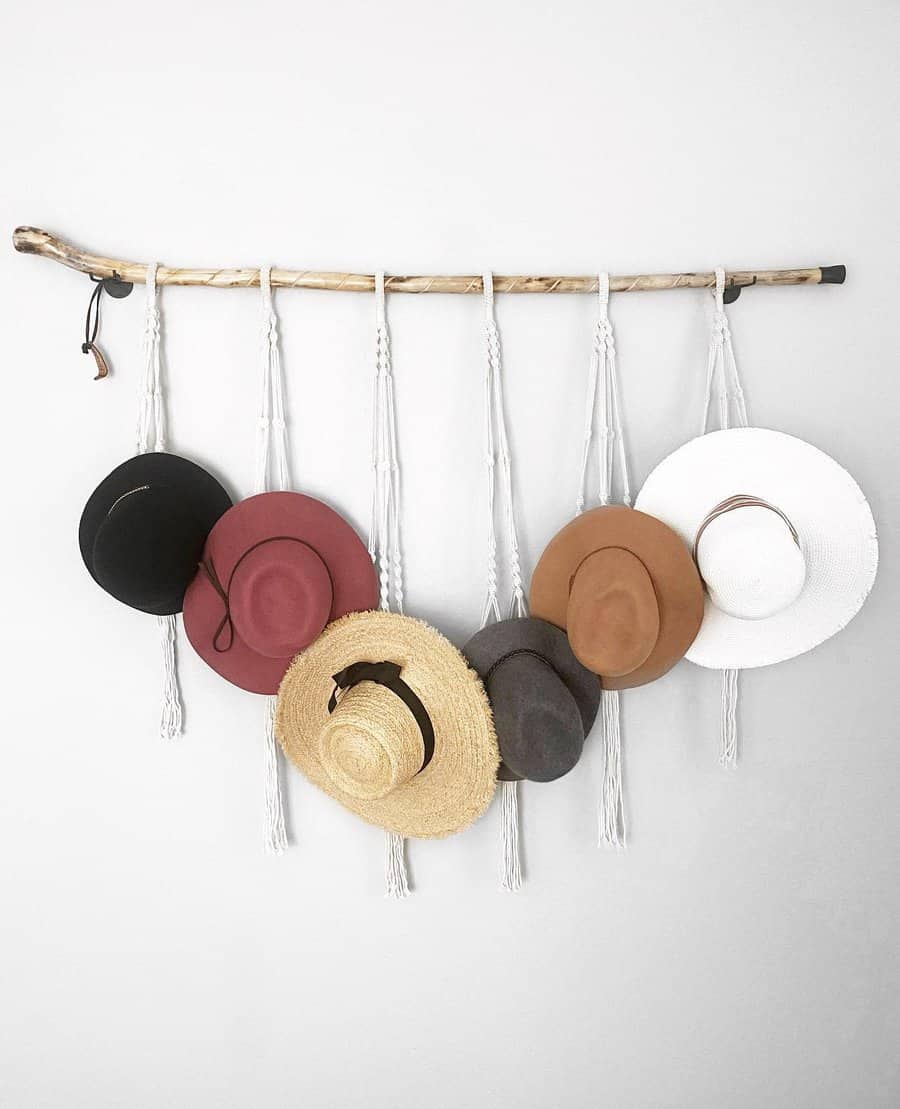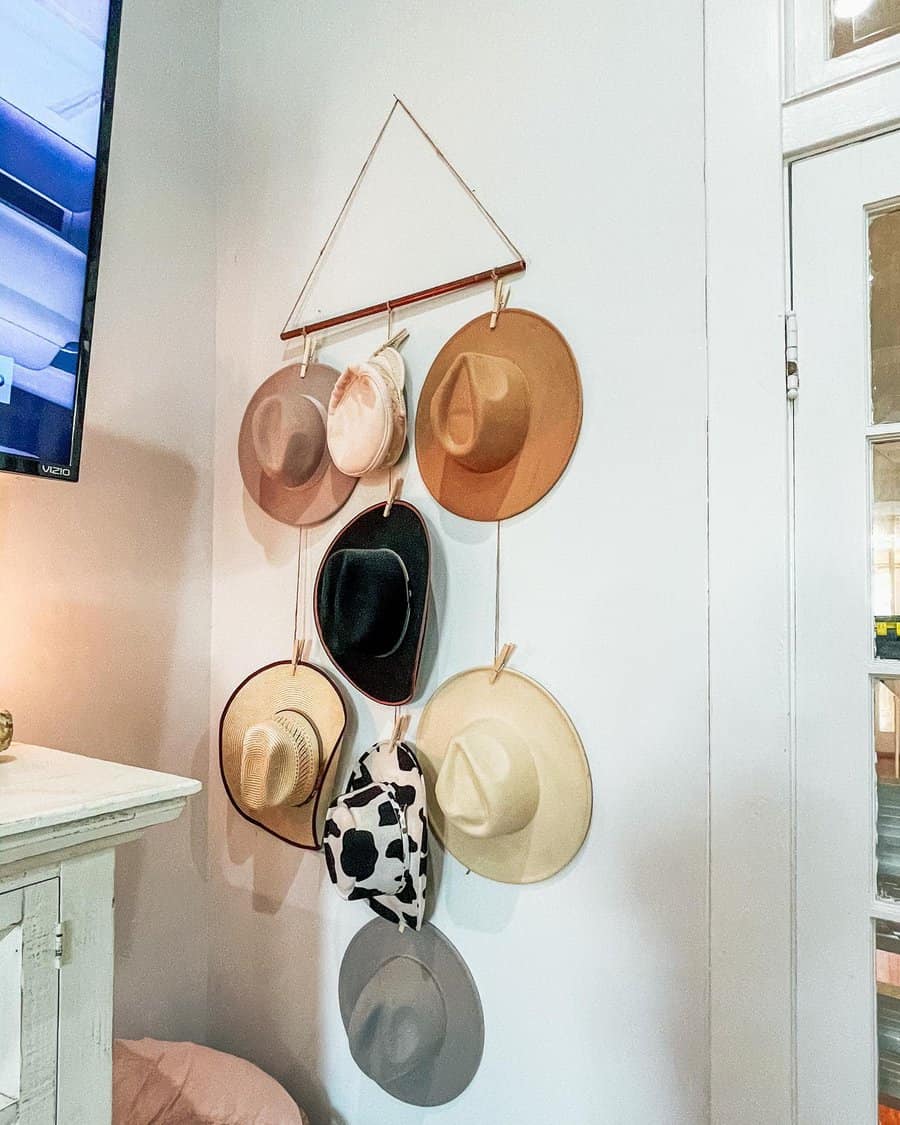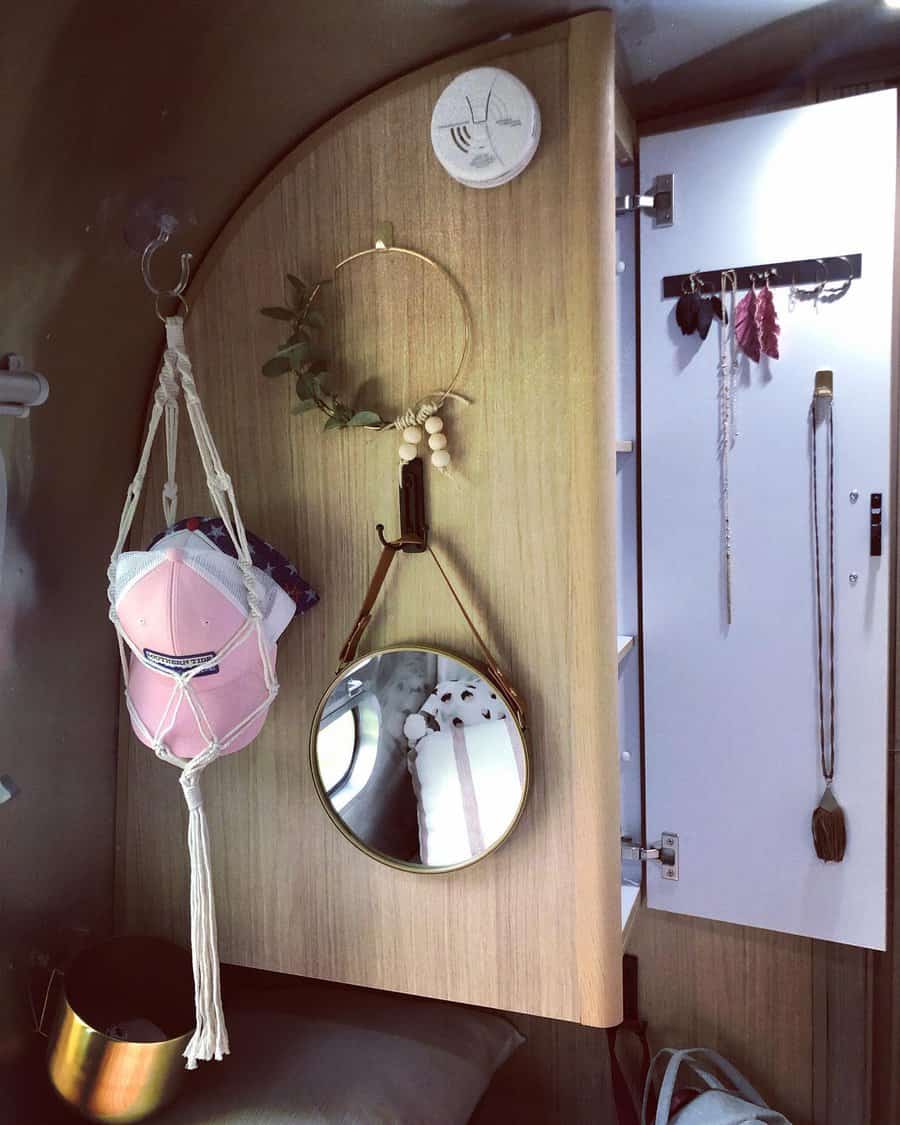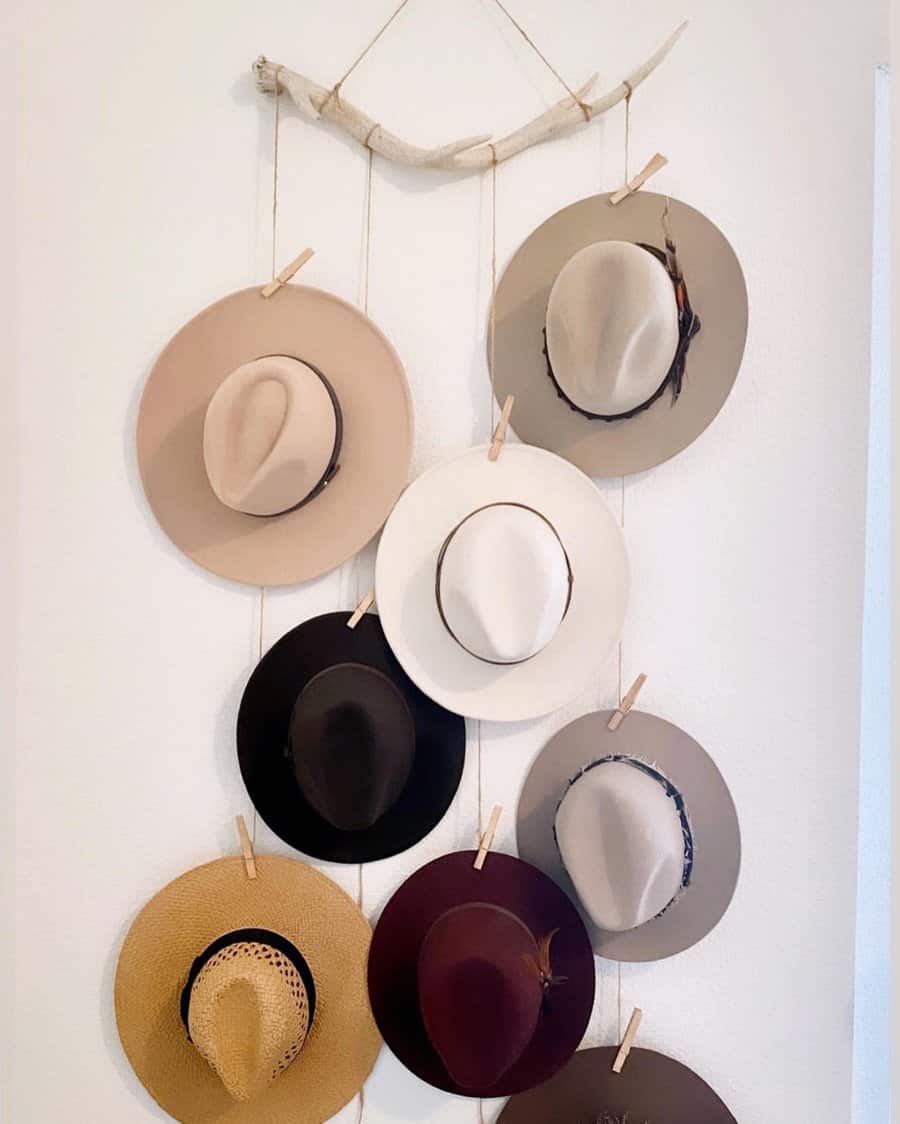 10. Sleek Metal Wall Hat Rack
A metal hat rack combines contemporary charm with functionality, offering clean lines and a minimalist aesthetic. Its sturdy design keeps hats, from wide-brimmed to classic fedoras, in perfect shape and within easy reach. Beyond its practicality, this sleek rack complements modern decor, ensuring your hats become a subtle yet stylish focal point.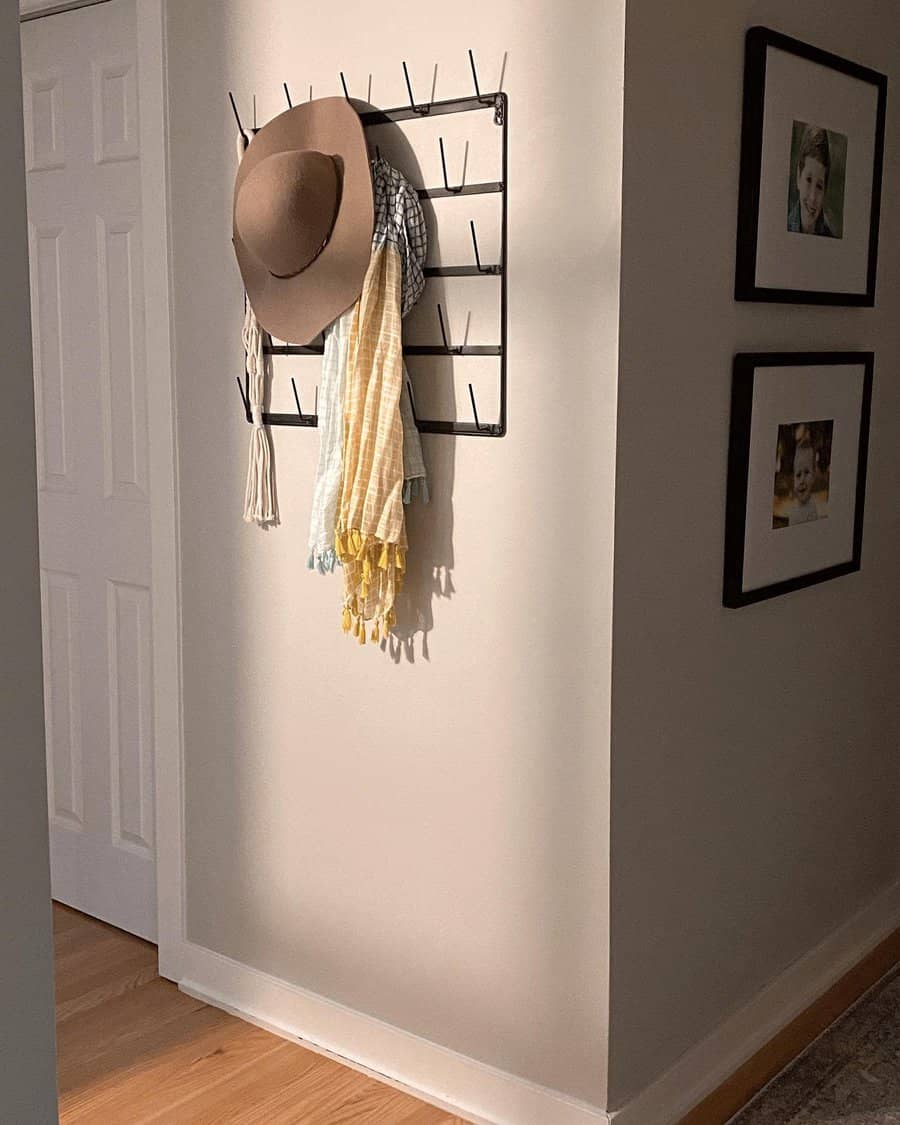 11. Combine Shelves and Hooks
A floating shelf equipped with hat hooks offers both an elegant display for your hats and a handy spot for keys or daily essentials. Ensure it's mounted at an optimal height for seamless hat hanging. These hooks, while ideal for showcasing your hat collection, can also serve everyday items, merging aesthetics with functionality. This combo not only organizes but also elevates your wall's appeal.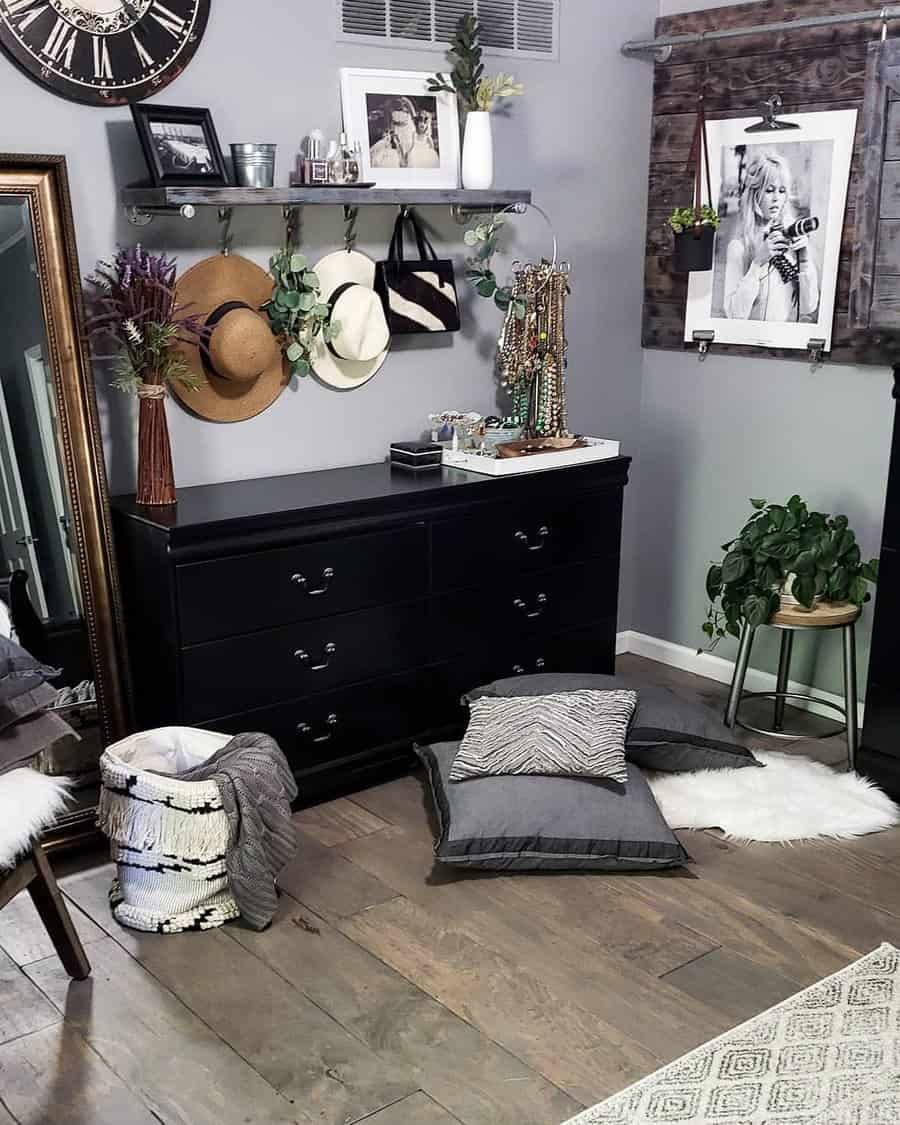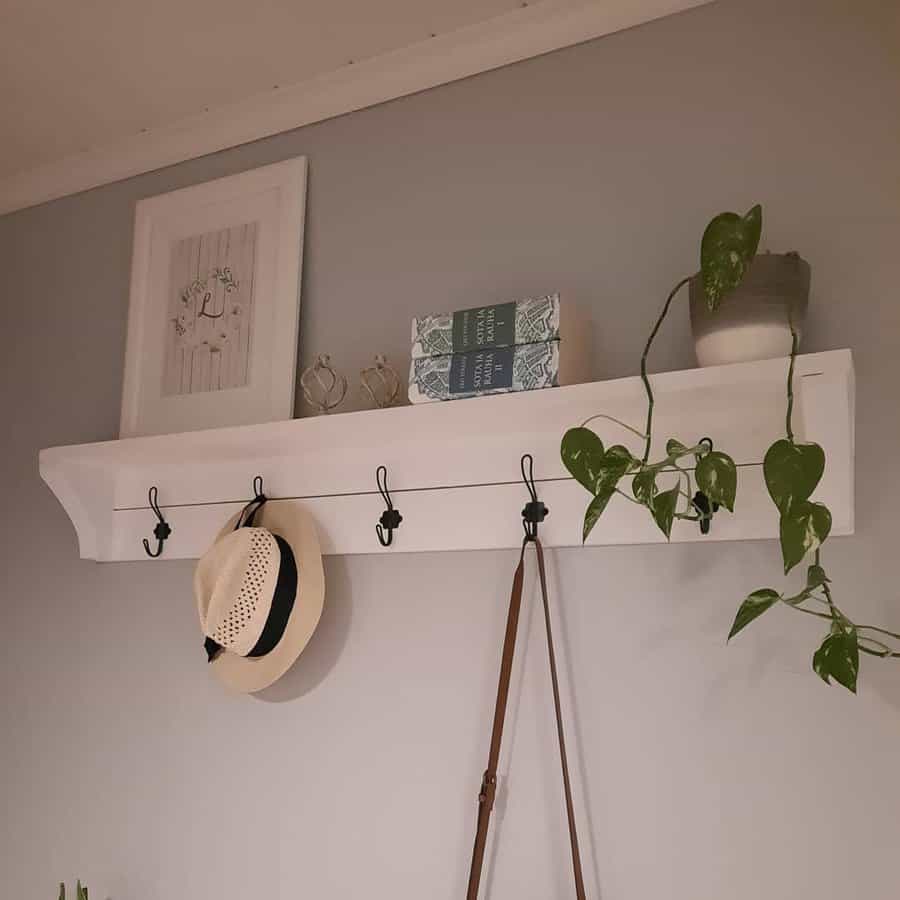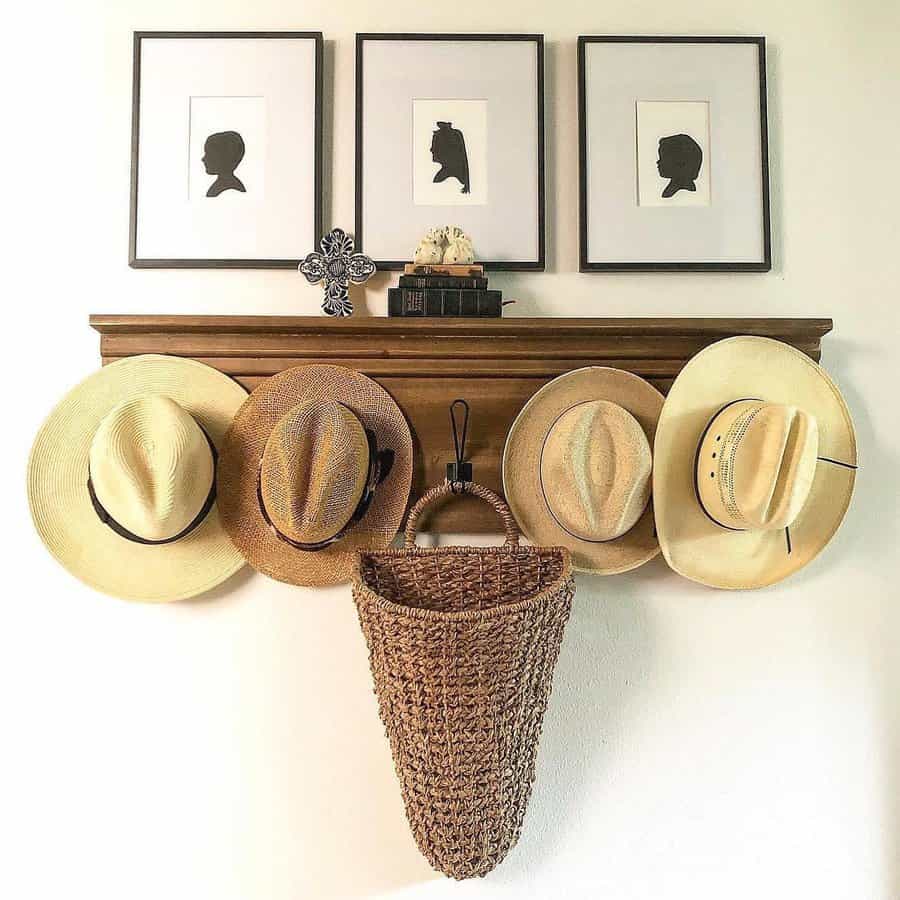 12. Versatile Standalone Multi-Purpose Rack
A standalone rack, with its movable design, offers a dynamic way to display hats as art pieces while preserving their shape. Its adaptability allows for effortless repositioning to highlight your hat collection best. Suited for various styles, from wide-brimmed hats to chic fedoras, this rack ensures each piece finds its spot. Its multipurpose nature also extends to holding coats and bags, making it a functional and aesthetic addition to any room.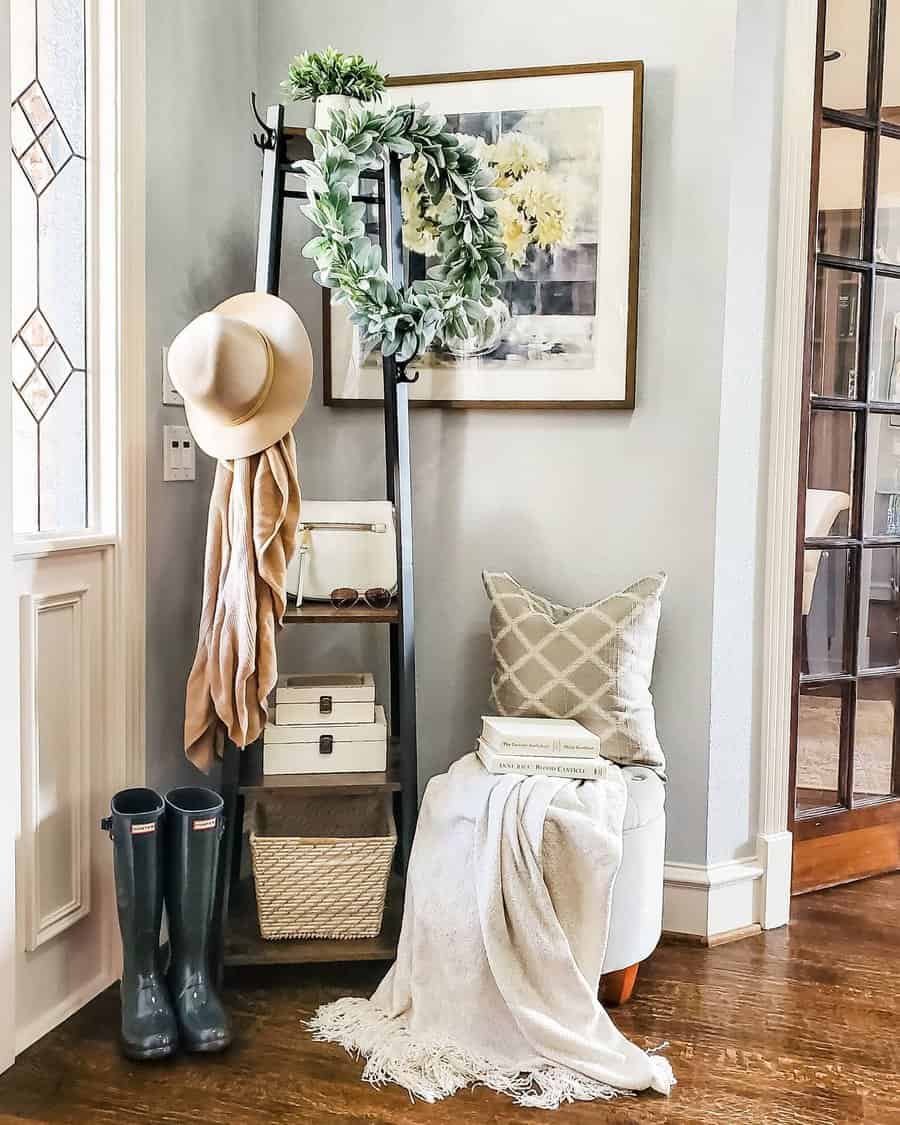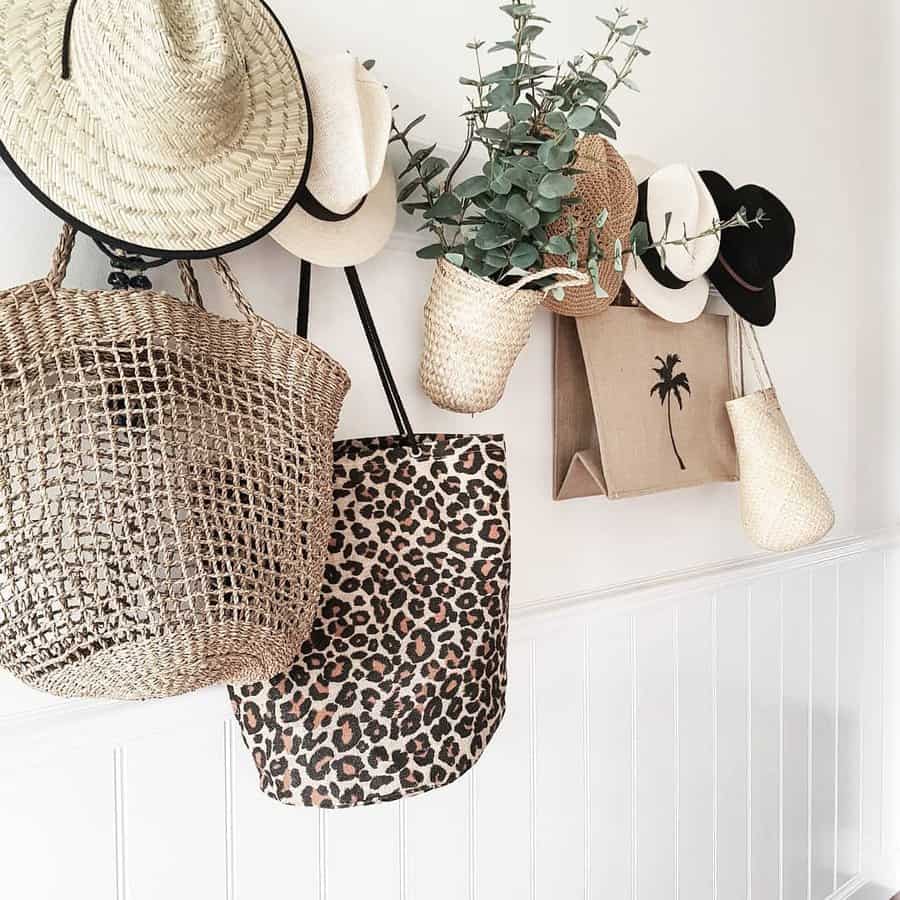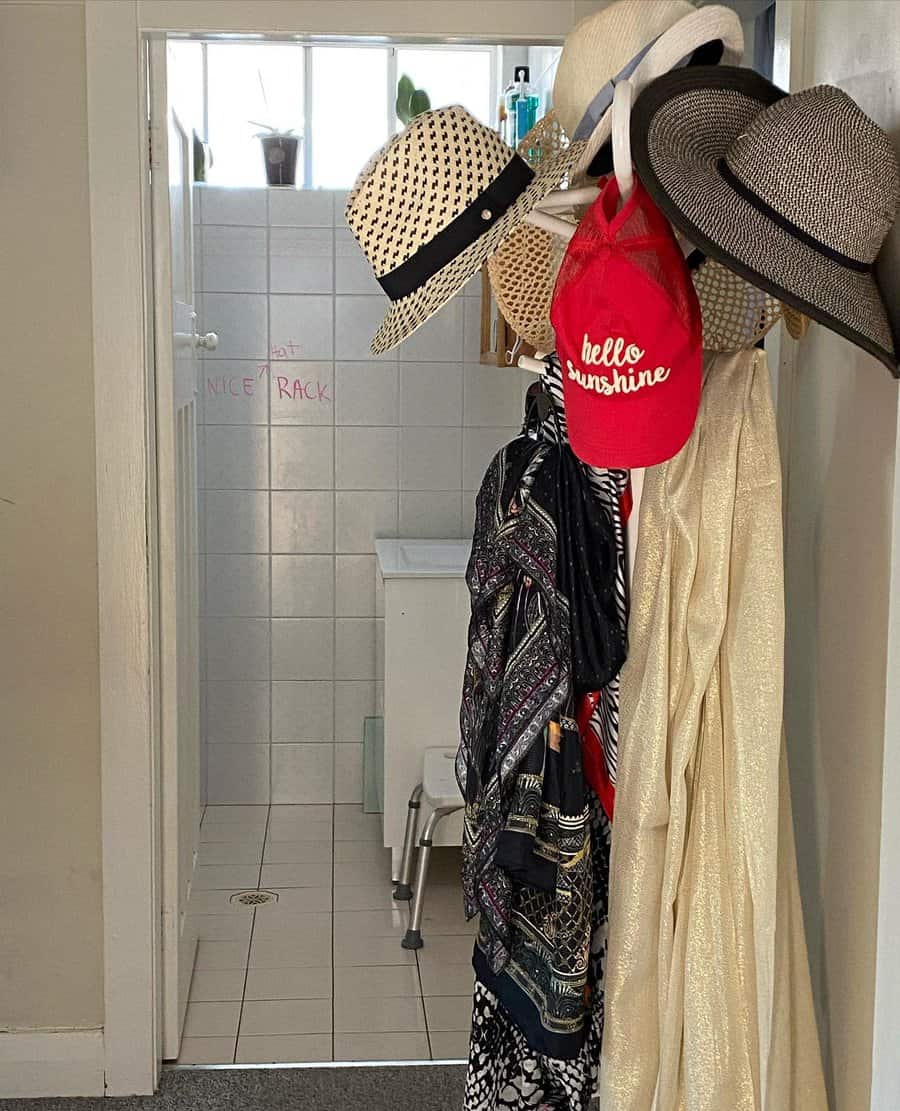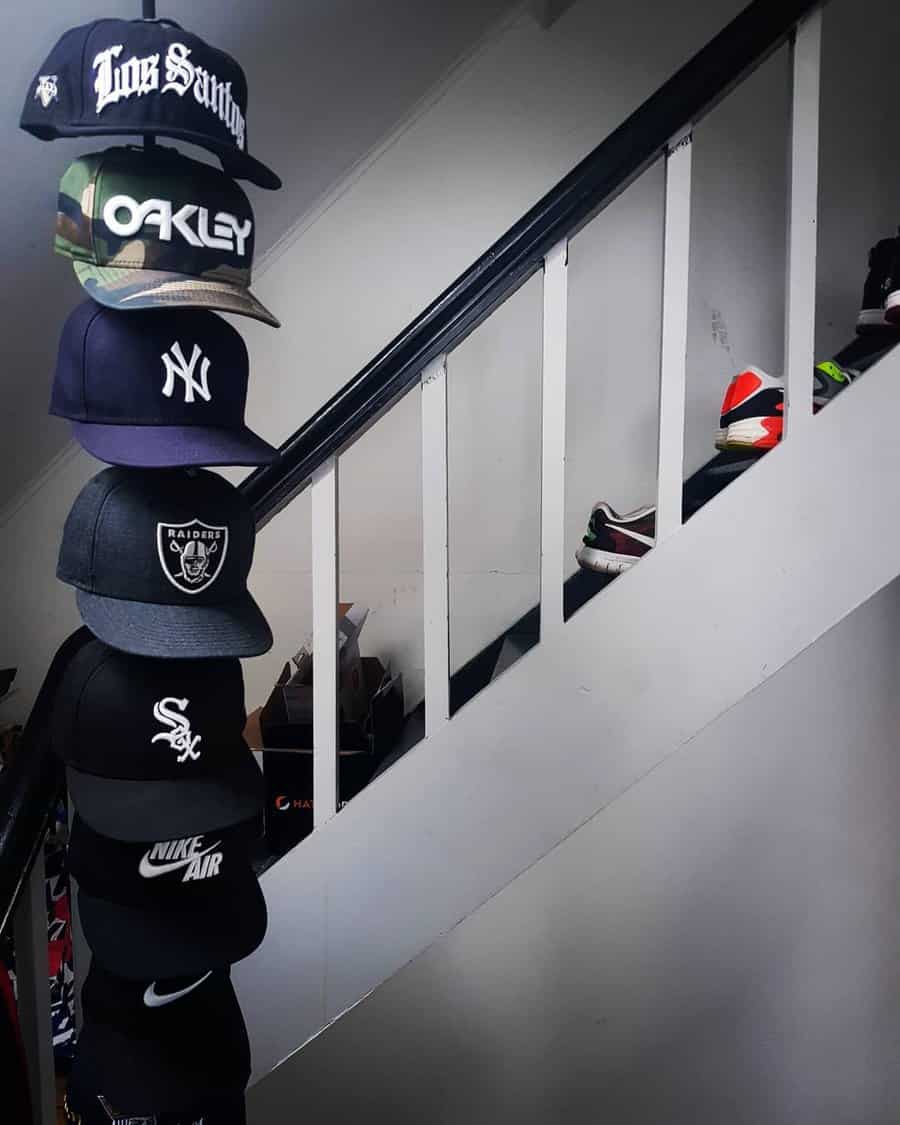 13. Organize Hats in Your Mudroom
A mudroom hat rack marries practicality with fashion, presenting hats in pristine shape while reflecting your style sensibilities. Whether you lean towards a rustic wooden design or a contemporary metal look, the choices are vast. This rack ensures hats are both organized and displayed with flair, introducing a playful yet functional charm to your entryway.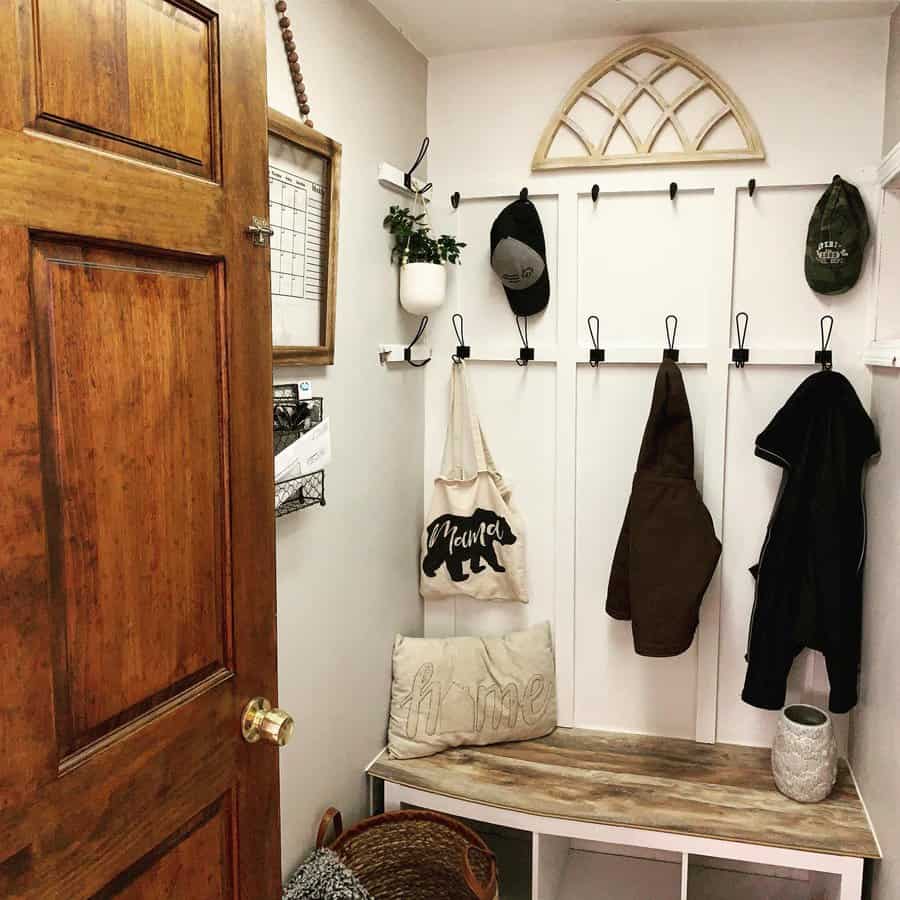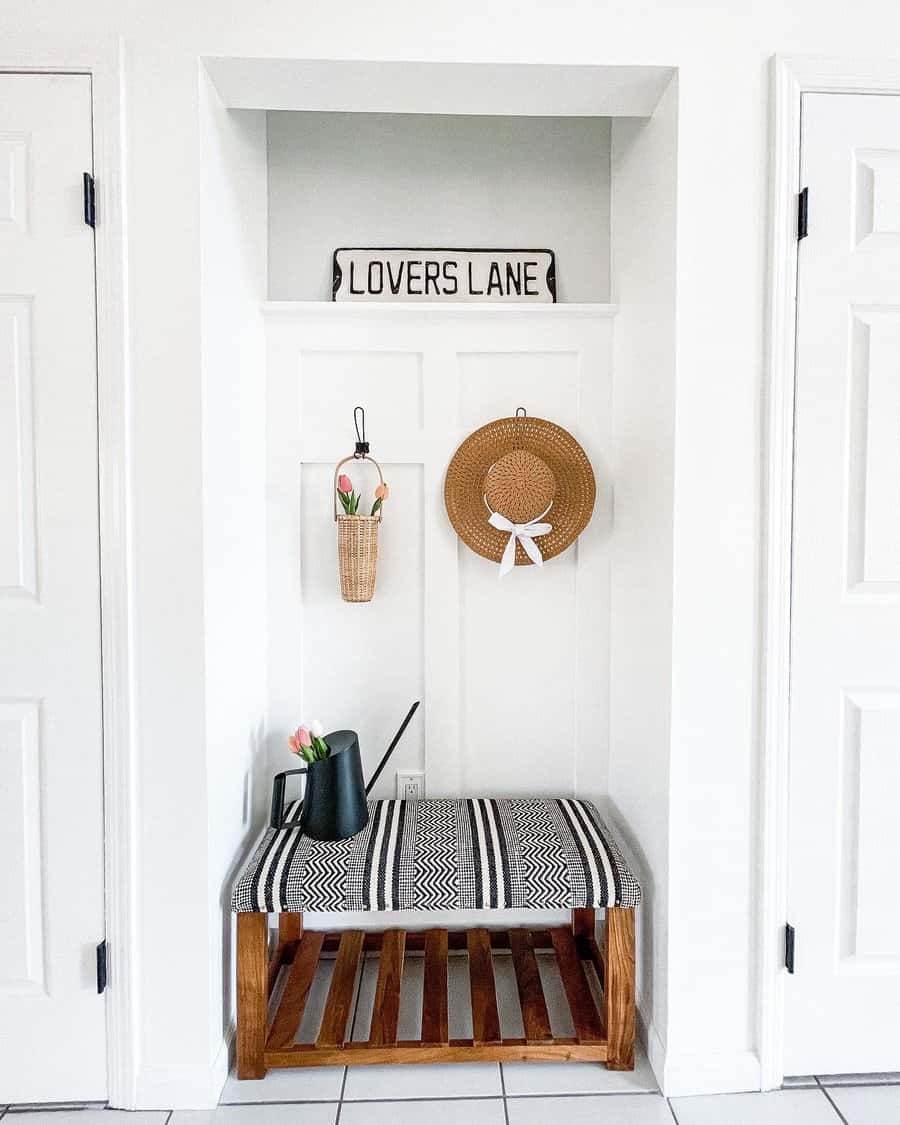 14. Foyer Elegance: Wall-Mounted Hat Rack
A wall-mounted hat rack in the foyer marries convenience with chic style. This space-saving solution offers not just organization but also a welcoming visual allure as you step into your home. Designed with varying hooks and levels, it accommodates everything from sun hats to snug beanies, ensuring each piece is showcased and maintained in top-notch condition. Transform your entryway into a blend of function and elegance.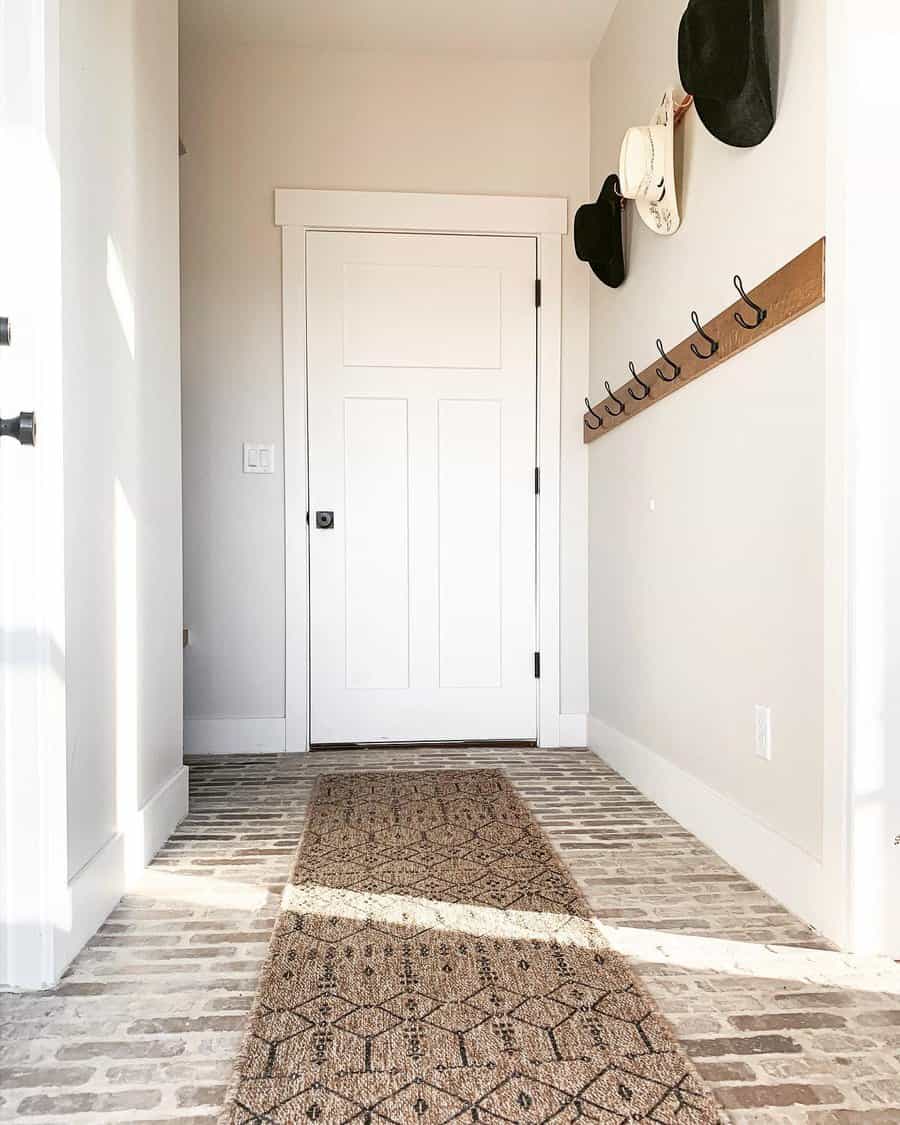 15. Save Space with Door-Mounted Racks
Utilize the often-overlooked space behind doors with a door-mounted hat rack, ensuring your hats remain dust-free and in form. This innovative storage system, easily attached to your door's back, offers both organization and visibility. Not only does it maximize unused areas, but it also simplifies the task of selecting the right hat for the day. Add style and efficiency to your space effortlessly.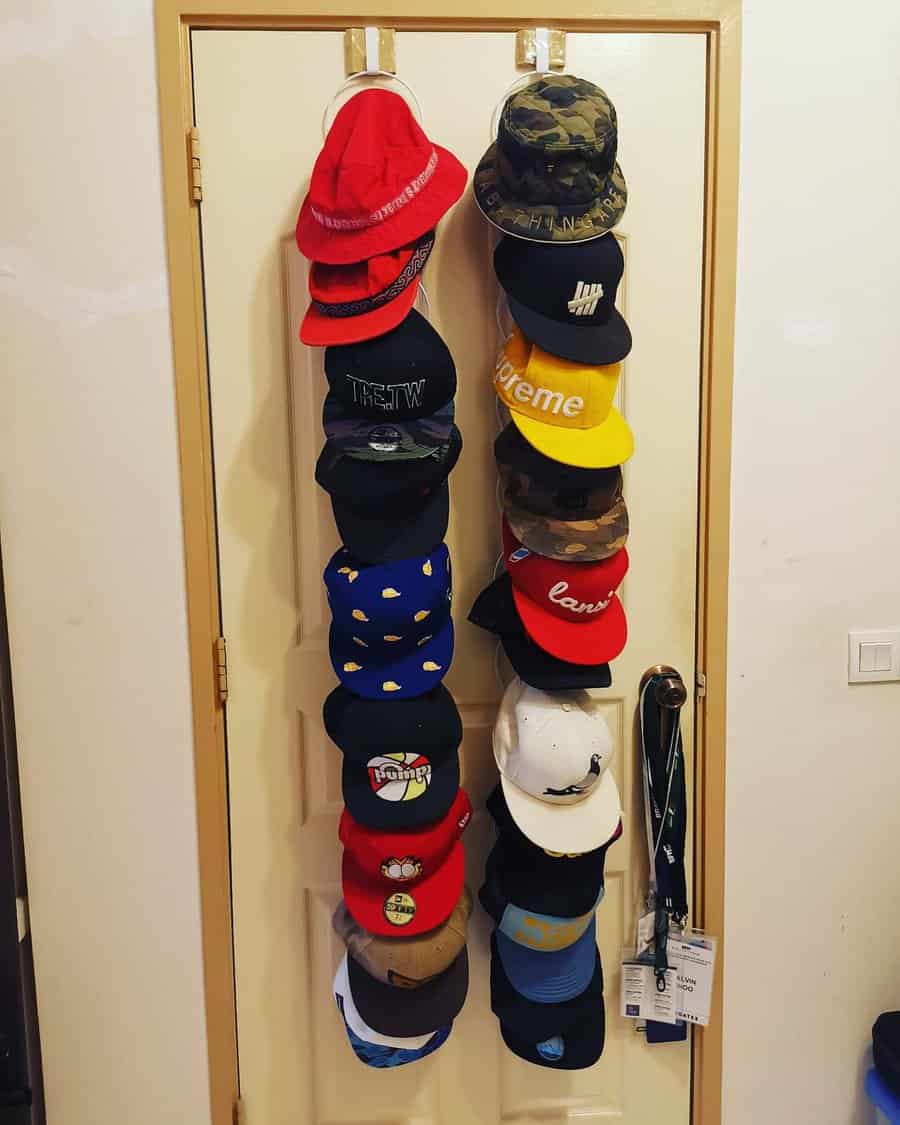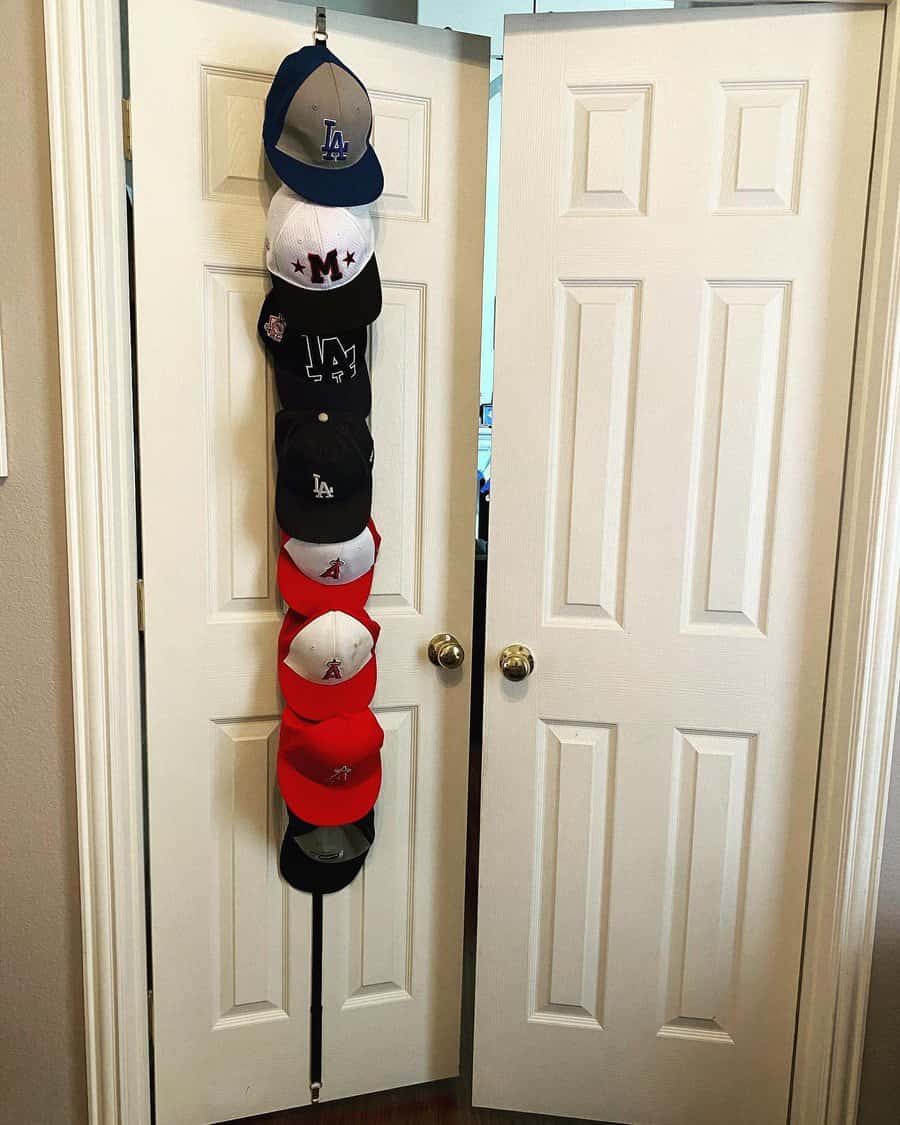 16. Craft Your Own Industrial Hat Racks
Infuse an industrial vibe into your decor by crafting a bespoke metal hat rack. Using metal pipes or reclaimed materials, design a rack tailored to your taste and room dynamics. This project doesn't just store and showcase your hats but transforms them into a focal decor element. Marrying function with a raw, edgy aesthetic, this DIY venture ensures your hats are organized, accessible, and integral to your room's character.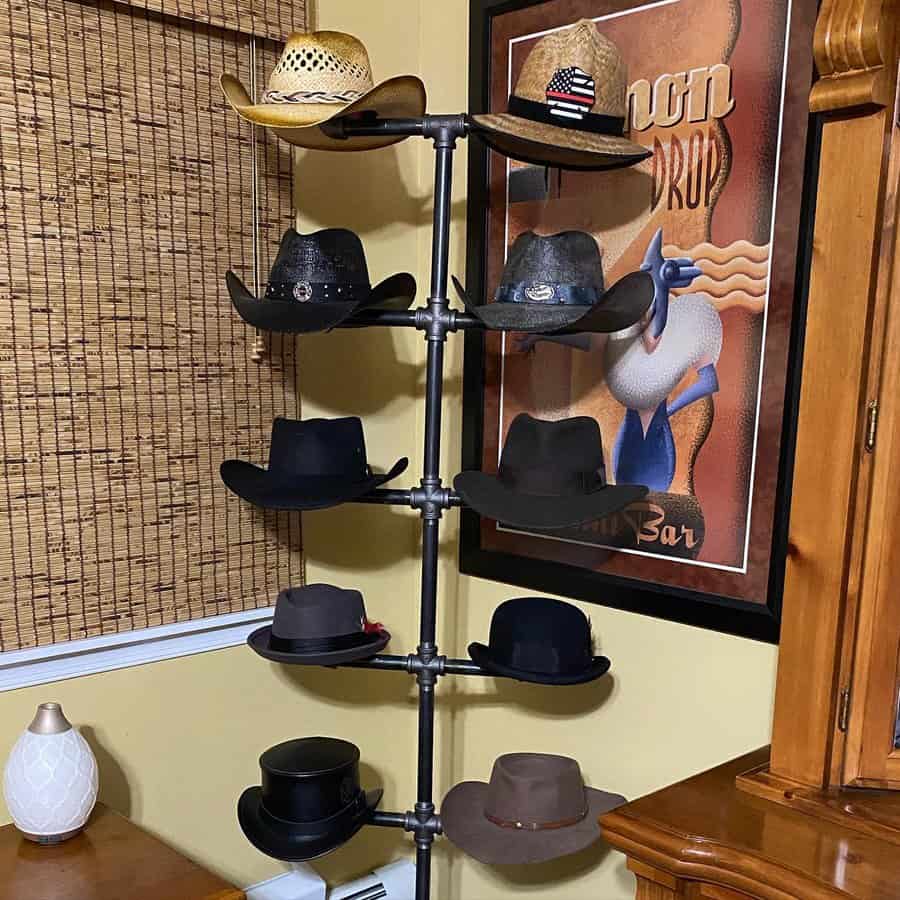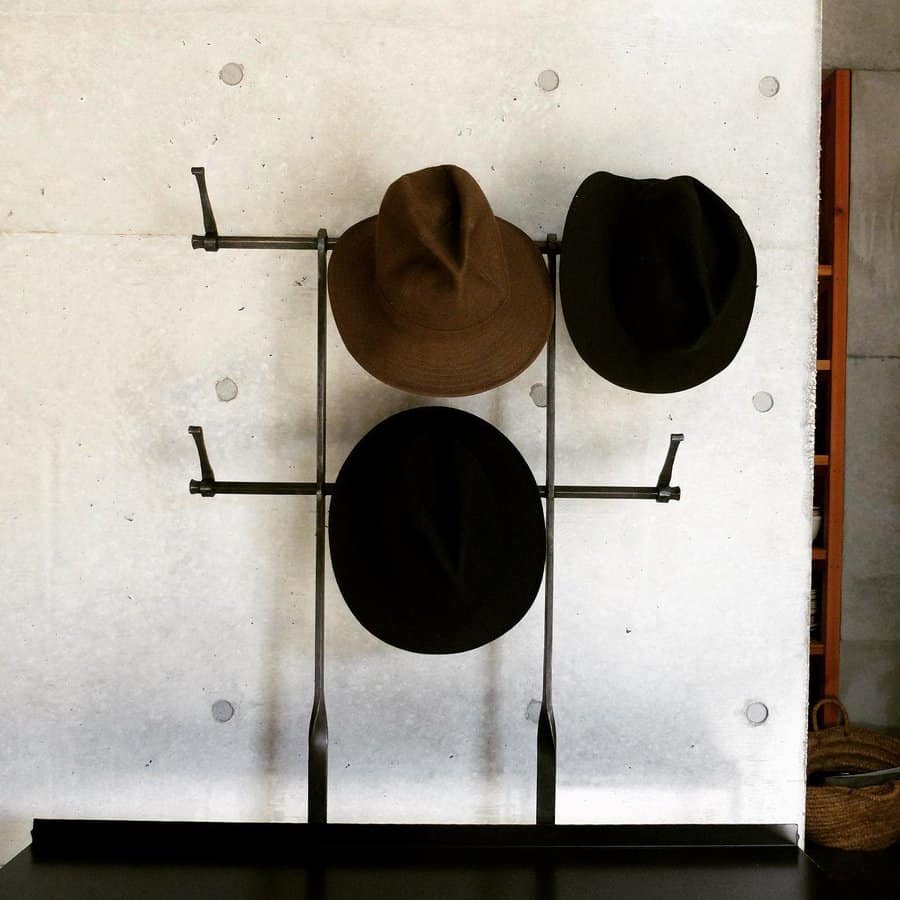 17. Cube Shelving for Hat Display
Elevate your hat display with cube shelving, ensuring each hat remains in pristine condition. These individual compartments highlight each piece, transforming your collection into an artistic focal point. Depending on your room's decor, choose between minimalist neutral tones or bold hues. This organizational method ensures your hats aren't just stored but showcased, becoming an integral component of your room's ambiance.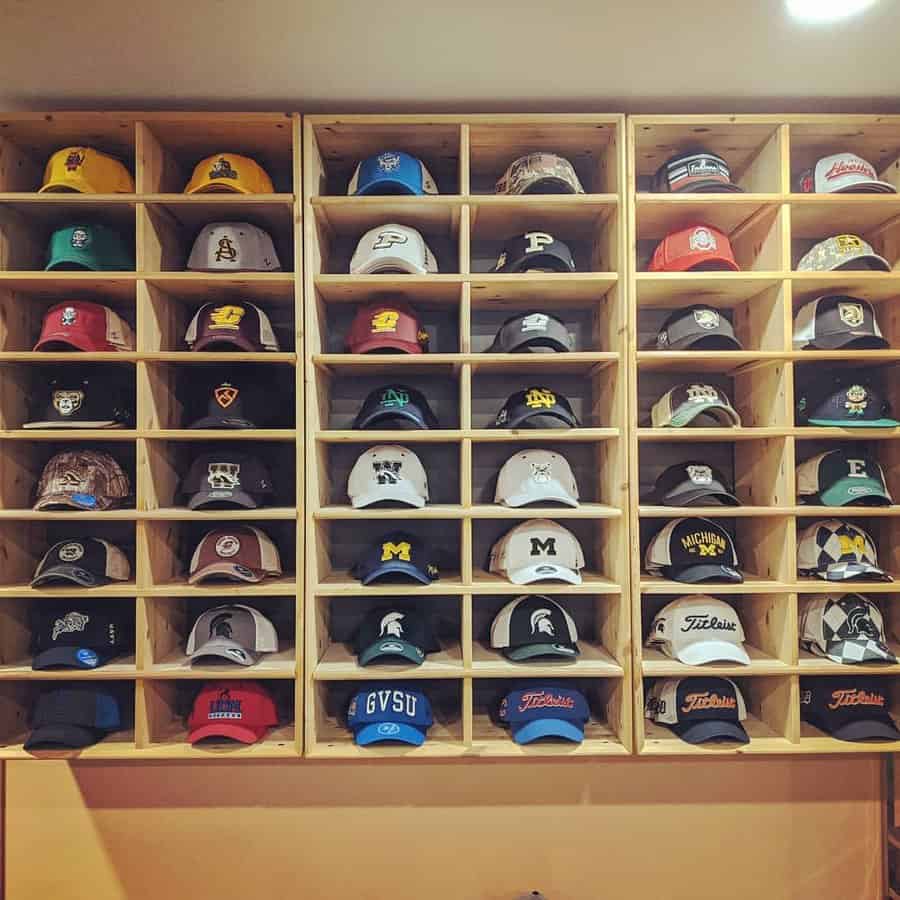 18. Wire Mesh Board for Wall-Mounted Hats
Elevate your hat display with a wall-mounted metal mesh board. This industrial chic solution provides a unique backdrop, letting each hat stand out. Attach hooks to the mesh, and allow your hats to hang, forming an organized yet artistic arrangement. This approach not only ensures easy access but also integrates your hat collection seamlessly into your decor. Whether you're showcasing vintage finds or modern caps, the metal mesh board acts as a stylish canvas for your fashion statement.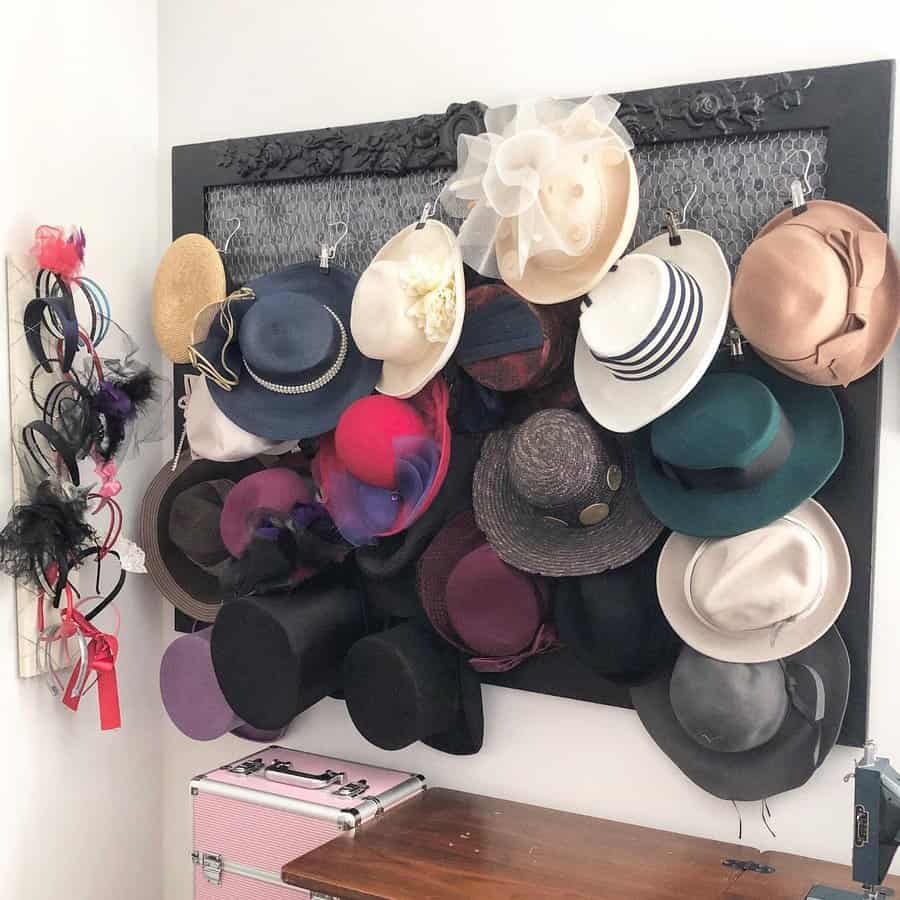 Hat Storage FAQs
How do you store hats neatly?
Look for an organizational system that matches the type of hats you need to store. Baseball hats can easily be hung or placed in a hanging shoe rack that has a line of vertical cubbies. There are behind-the-door racks that reduce the required space to store the hats. Shelving is also suitable because you can line the hats upon the shelf.
How do you organize hats on a shelf?
The best place to store your hats is on the top shelf of your closet. This keeps them safely out of the way to prevent damage. Most closet organizational systems are 84 inches tall. They are designed for the standard eight-foot-tall ceiling. This leaves you space above the organizational system to store large hat boxes.
Is it bad to hang hats?
Hanging your hats is an acceptable solution for temporary storage. However, it isn't ideal as a long-term storage solution. When you hang hats on a hook for a long time, the weight of the hat starts to pull on the hook. This will distort the hat and make it not fit correctly when you try to wear it.