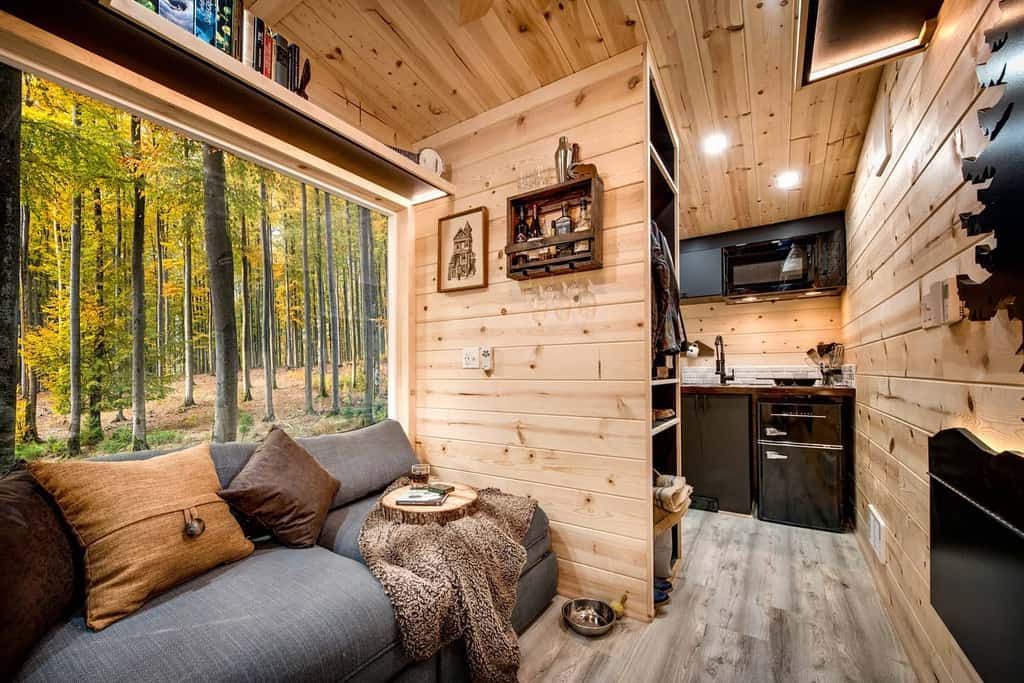 34 Tiny House Storage & Organization Ideas
Storage is essential in any home, especially if you live in a small house, where any items lying around give the space a cluttered look.
But there are some very practical and creative storage ideas even for the smallest spaces. In this post, we will give you some useful tips, maybe even a few solutions you had never thought of!
1. Under-the-Bed Storage and Wall Shelves
Do you ever feel like space is tight, but you don't want to sacrifice style? With a tiny house, under-the-bed storage can be a good way to make your home cozy while preserving the living area. You can shove extra bedding, luggage, and even other belongings under there so they're out of sight.
Additionally, wall shelves with books and a lamp can create a relaxing reading corner or turn into an art studio if needed! You'll soon find that there's much more space than it appears when you learn how to best maximize every square inch.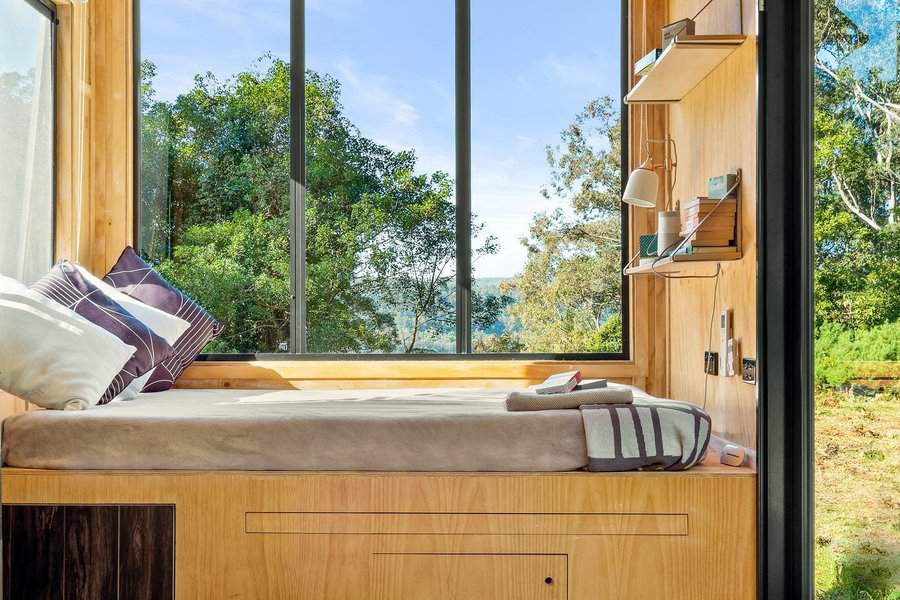 2. Multi-Purpose Seating Corner With Shelves
With limited floor space, storage solutions for tiny houses can be quite tricky. But multi-purpose seating corners with shelves have become popular among those who live in such small dwellings, as they provide an ample home for both storage and a spot to relax.
Throw pillows also help maximize the use of any space by not having them strewn across furniture, but rather kept tucked away in specialized compartments while not in use.
If you're living with kids, the kid's area can quickly become the messiest room of your tiny house – so having additional built-in storage space will help keep everything tucked away when playtime is over!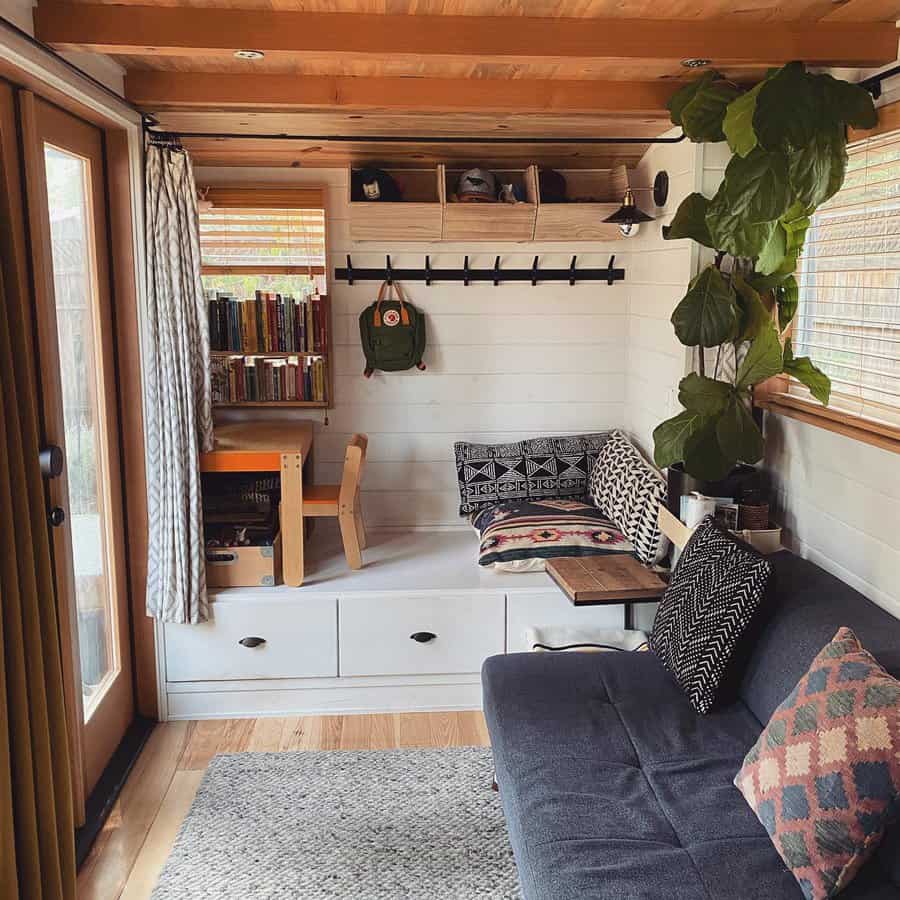 3. Shelves With Curtain
Living in a tiny house doesn't have to mean giving up the creature comforts of home! Clever storage solutions, such as shelves with curtains, can help create a cozy and inviting space that looks adorable and serves practical functions. Looking for the right shelves with curtains for your tiny house?
The possibilities are seemingly endless; you can choose shelves made from natural materials like unfinished pine for an organic feel or shelves with colorful canvas curtains for a unique pop of color.
No matter which option you choose, shelves with curtains have the perfect blend of style and functionality that's perfect for tight spaces!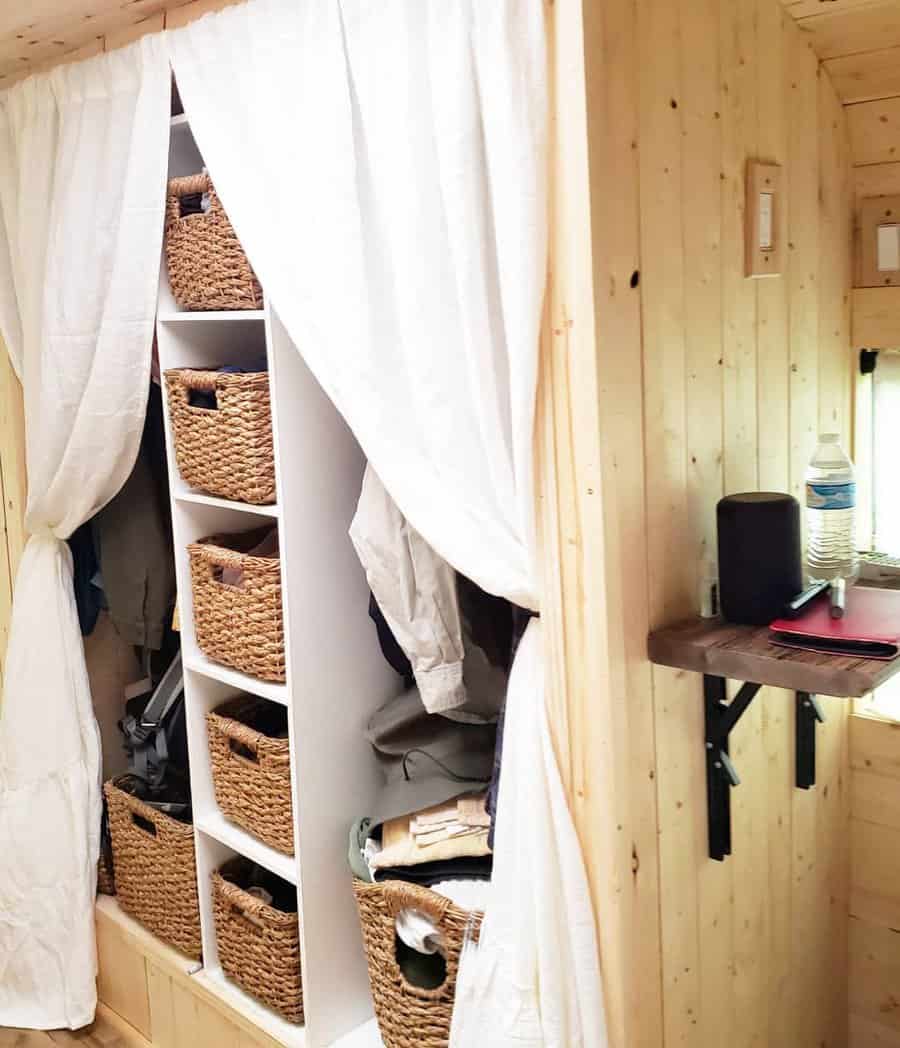 4. Dresser Without Handles
Living in a tiny house doesn't have to mean forgoing style or comfort. IKEA is home to a wide range of furniture, including a slim and sleek dresser with subtle round holes crafted into the drawers. These holes have been designed as handles, making it effortless to match minimalism with seamless and stylish storage.
This IKEA dresser is ideal for living in small spaces – perfect for maximizing space while adding an extra fashionable element to any room.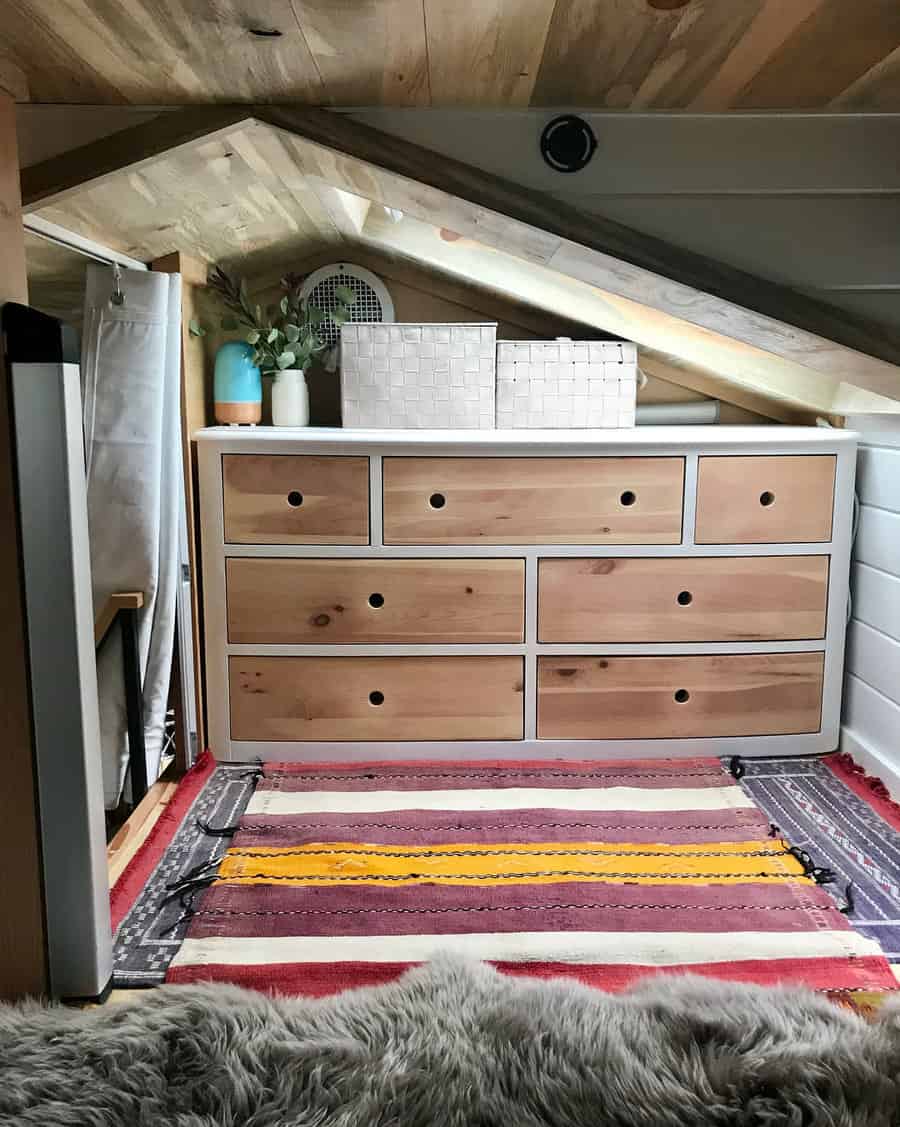 5. Overhead Wall Shelves
Imagine overhead wall shelves adorned with books, plants, and memorabilia, helping create an energizing ambiance. Furthermore, furniture creates double-duty storage solutions with integrated cabinets and drawers.
Think of a modular lounge area featuring your choice of sofa or armchairs that conceal ample storage – now you have a comfortable space that is also practical and aesthetically pleasing!
With the smart use of overhead shelving and integrated cabinets, your tiny house can have extra storage without sacrificing style!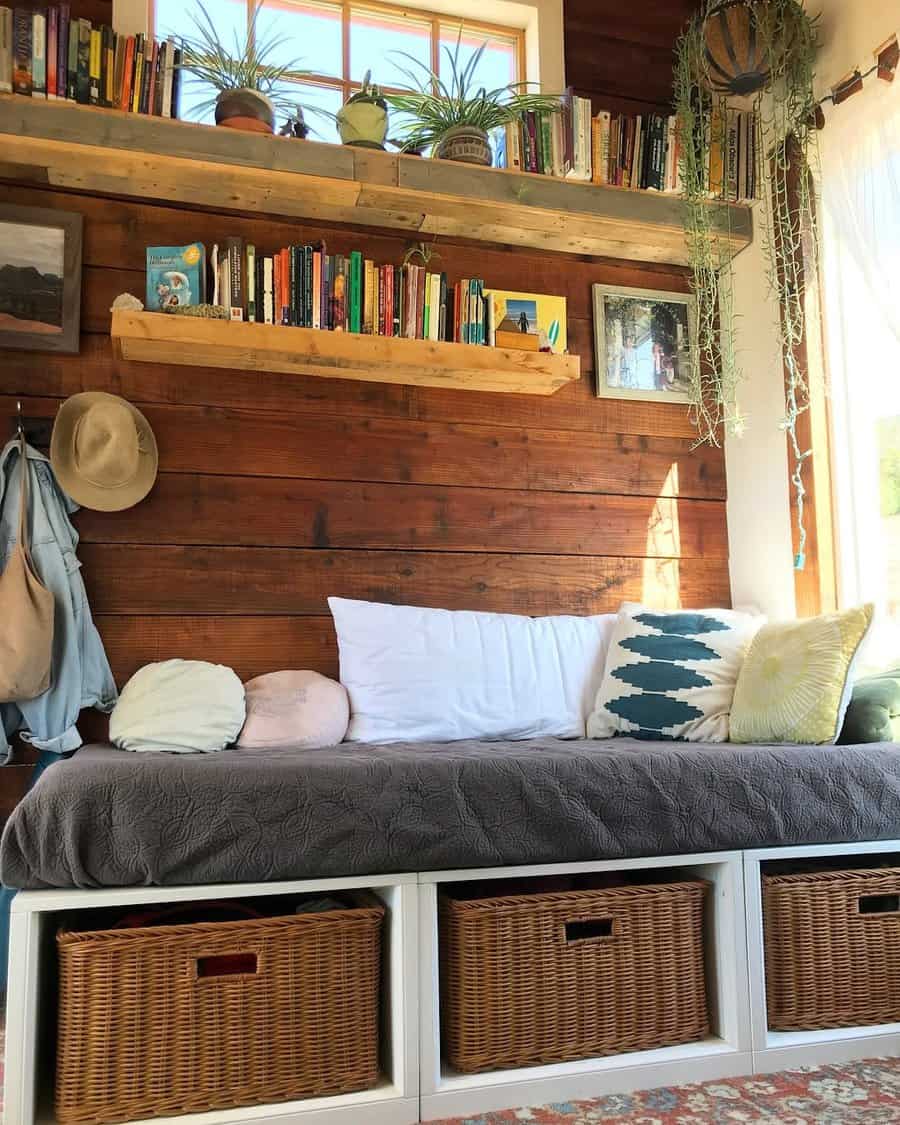 6. Ladder Shelf
An inventive storage solution for tiny house living is ladder shelf units with basket organizers. These ladder shelves are vertical, and their ladder-like frames give you more ways to pack items away on shelves, drawers, and even small baskets.
This type of storage unit can hold books and other large items without eating up precious floor space. By providing the ladder shelf with basket organizers, the tiniest of homes can be transformed into much larger dwellings with an abundance of stylish and functional storage!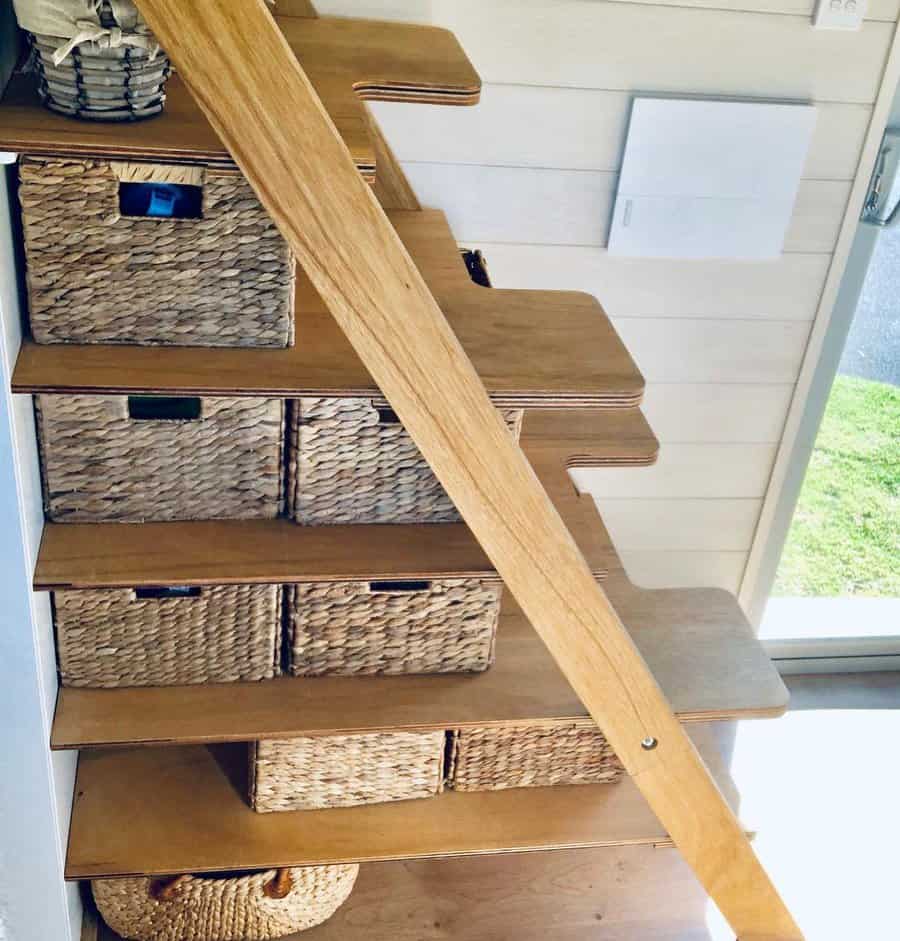 7. Ceiling Shelf
Creating room for storage can be a real challenge when living in a small space. But, with the right ingenuity, you can make the most of what you have and turn your tiny house into a haven of hidden storage solutions and personal touches.
Let ceiling shelves with baskets be your hero to maximize storage while adding an element of kinship with nature – hang them up and complete the look with a potted hanging plant!
Utilize wall space with a trellis screen; have lounging chairs nearby so your family and friends can hang out, watch films, and enjoy spending time together in comfort.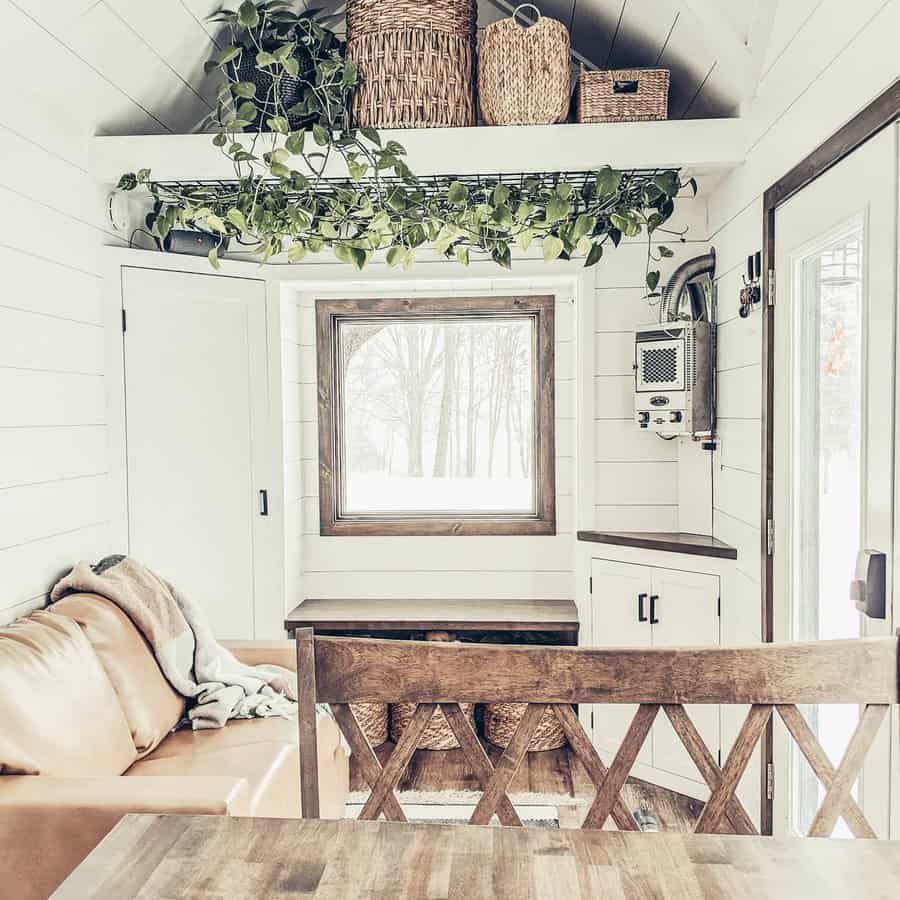 8. Recessed Laundry Area With Storage
With space limited in tiny houses, storage solutions must be creative yet efficient. A recessed laundry area with cabinet storage can provide the perfect solution to a common tiny house challenge.
This recessed area can be tucked away in the corner of any room to remain out of sight while also providing ample space for clothing, linens, and other necessities.
Compartments built into the upper cabinets and shelves installed over recessed washers/dryers make this solution cleverly versatile and highly functional for even the tiniest of homes.
9. Seamless Washing Machine Storage
To optimize your limited space, consider seamless washing machine storage as an organized addition to your all-wood storage options. Choose a wide range of streamlined wooden designs that fit perfectly; from door handles and linens to stylish closets and shelves, you'll be able to get creative while staying within your space.
Additionally, choose adjustable knobs and hooks that free up additional wall space and customizations for a polished finish. T
iny house living requires more strategic planning with large-scale solutions, so make sure you take advantage of seamless washing machine storage as part of your concise design scheme.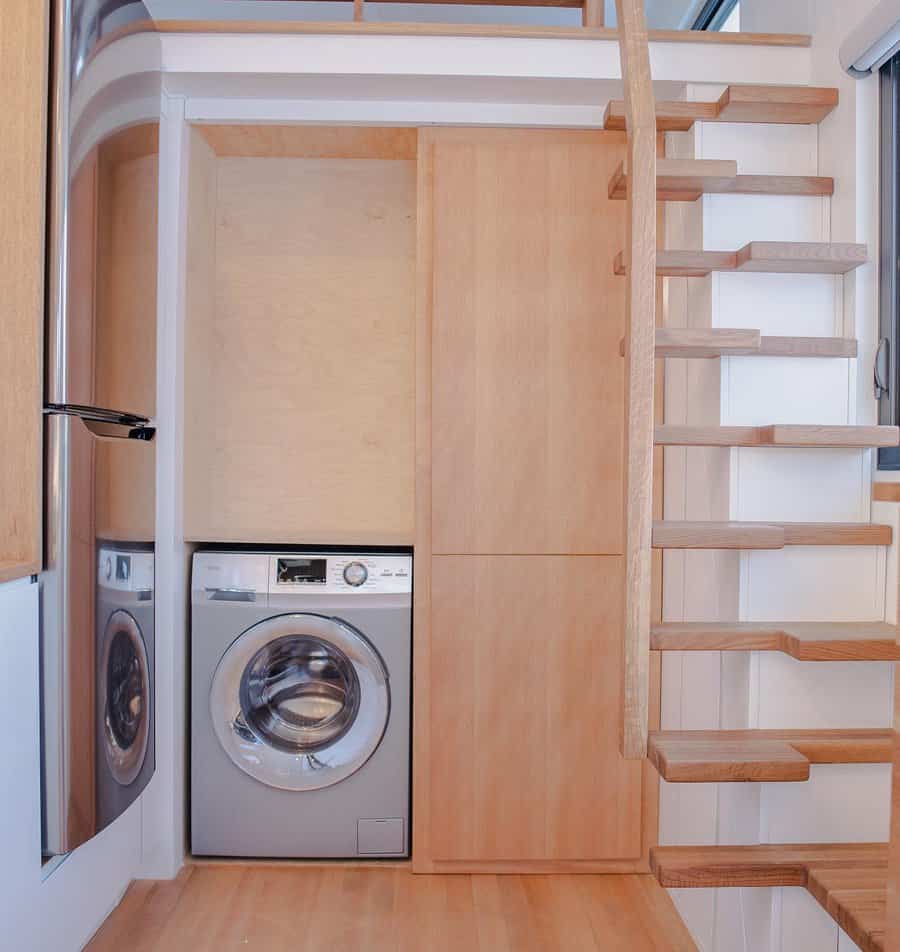 10. Built-in Bathroom Shelves
The storage possibilities of tiny homes are often overlooked, but it's possible to get surprisingly creative about maximizing available space.
Take for example a blue built-in bathroom shelf, with subway tiles adorning the small interior. It adds some much-needed extra storage and a stylish modern touch, making it an instant favorite of anyone using the room!
Beyond the option of adding shelving, there are other clever tricks to consider such as leaving out a small section of the walls unfinished and installing floating shelves with hooks underneath, perfect for keeping the toiletries organized!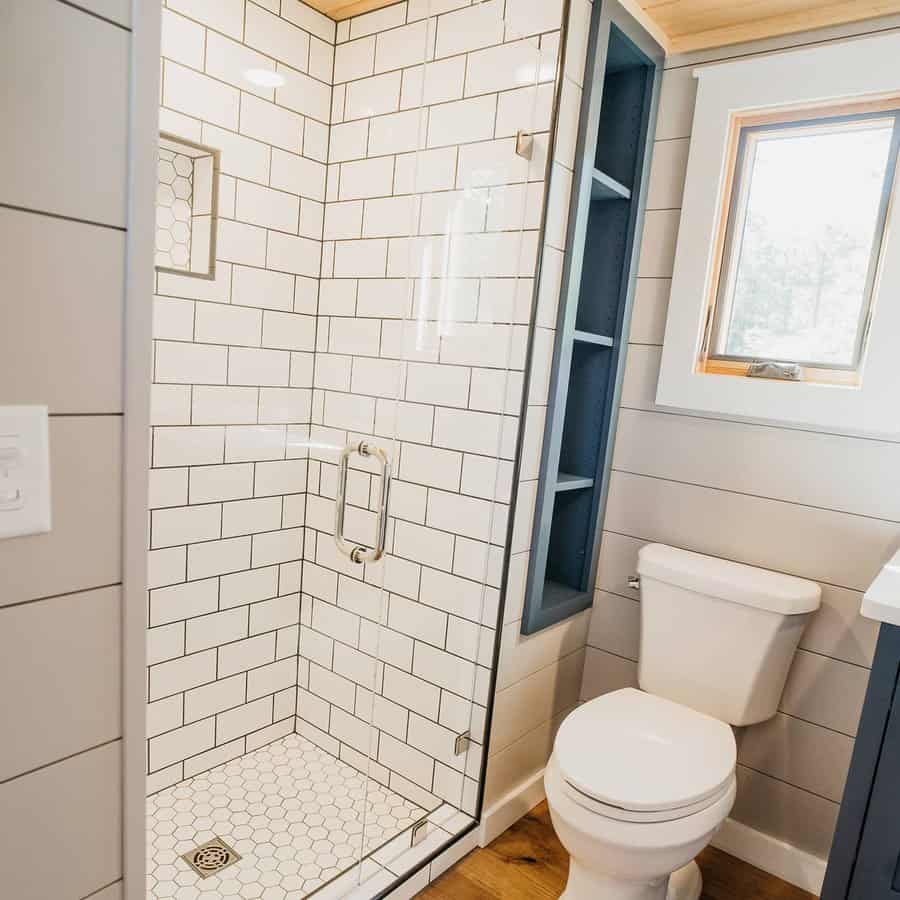 11. Condiment Wall Shelves
When it comes to tiny house storage, condiment wall shelves and magnetic knife holders are must-haves for the creative tinier! Taking up next to no space, condiment wall shelves provide a convenient place for condiments and dry ingredients separately.
Further optimizing tiny house storage is the magnetic knife holder, which can be attached securely to any metal kitchen surface or backsplash.
Whether you're a minimalistic chef or simply looking for more efficient ways to maximize your square footage, condiment wall shelves and magnetic knife holders are surefire ways to upgrade your tiny home.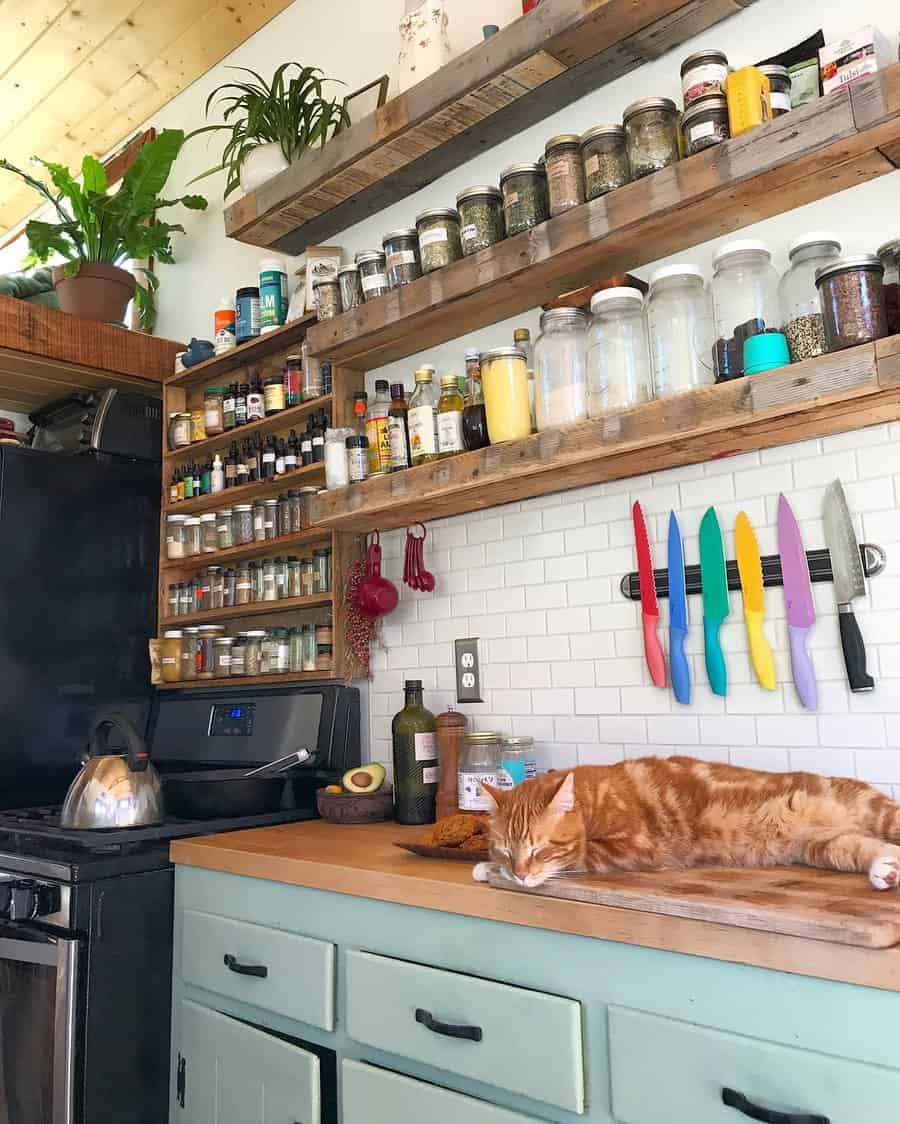 12. Wooden Crate Box Shelves
The tiny house trend has created a surge of interest in innovative storage solutions, especially in small kitchens. Wooden crate box shelves are an increasingly popular option that adds both visual interest and functional space to any home.
Mounted onto walls or laid flat, wooden crates can be used to store spices and canned goods hung sets of pots and pans and even stackable shelving for books and other items.
Box shelves look polished and stylish while providing unique storage solutions that make better use of limited space—without sacrificing that comfy 'homey' feel you want for your tiny living area.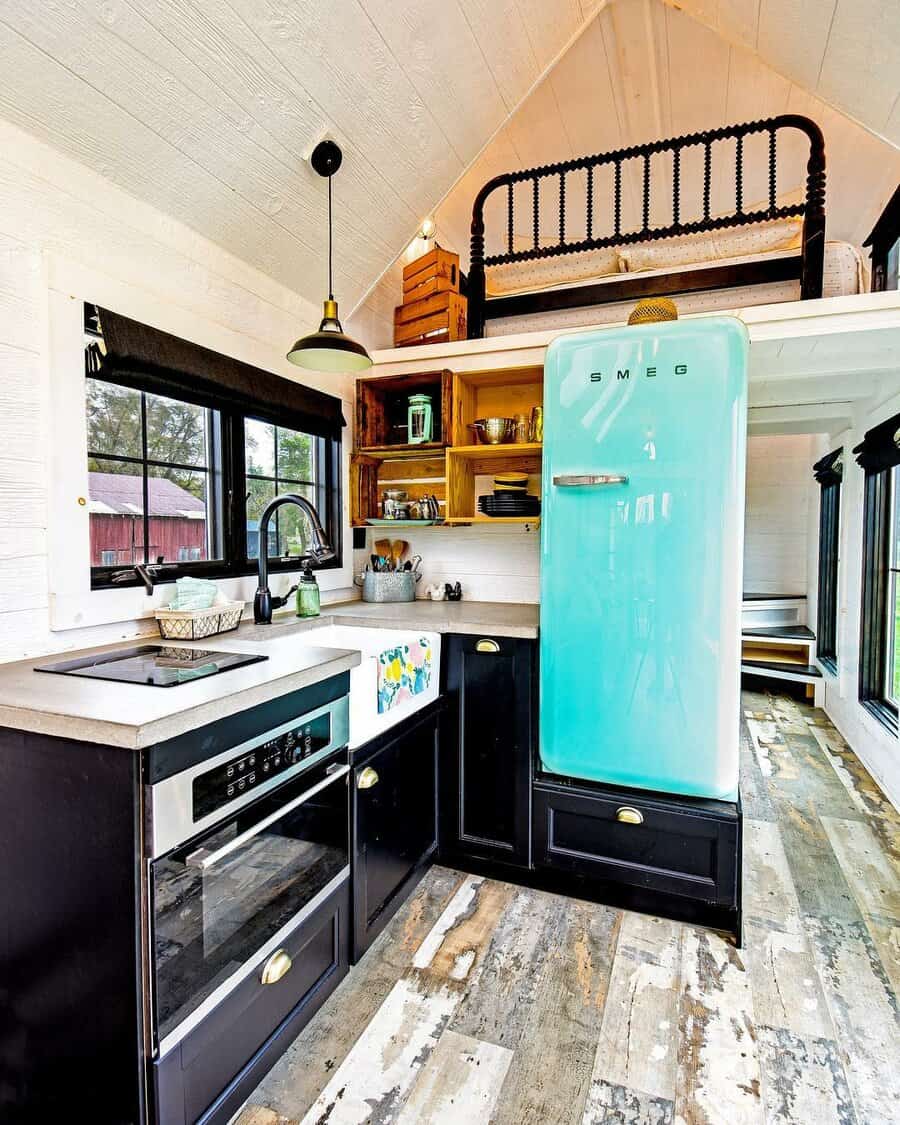 13. Built-in Microwave Storage
Living in a tiny house can induce plenty of creative solutions, especially when it comes to storage. Built-in overhead microwave storage is the perfect way to keep countertop space open and take advantage of unused wall space.
By taking advantage of built-in shelves, kitchen items can be easily stored while still accessing them with ease. Beyond microwaves, maximize space even further by integrating an underneath stovetop.
With these two built-in elements, you can balance workspace and storage all while living minimally in your tiny house!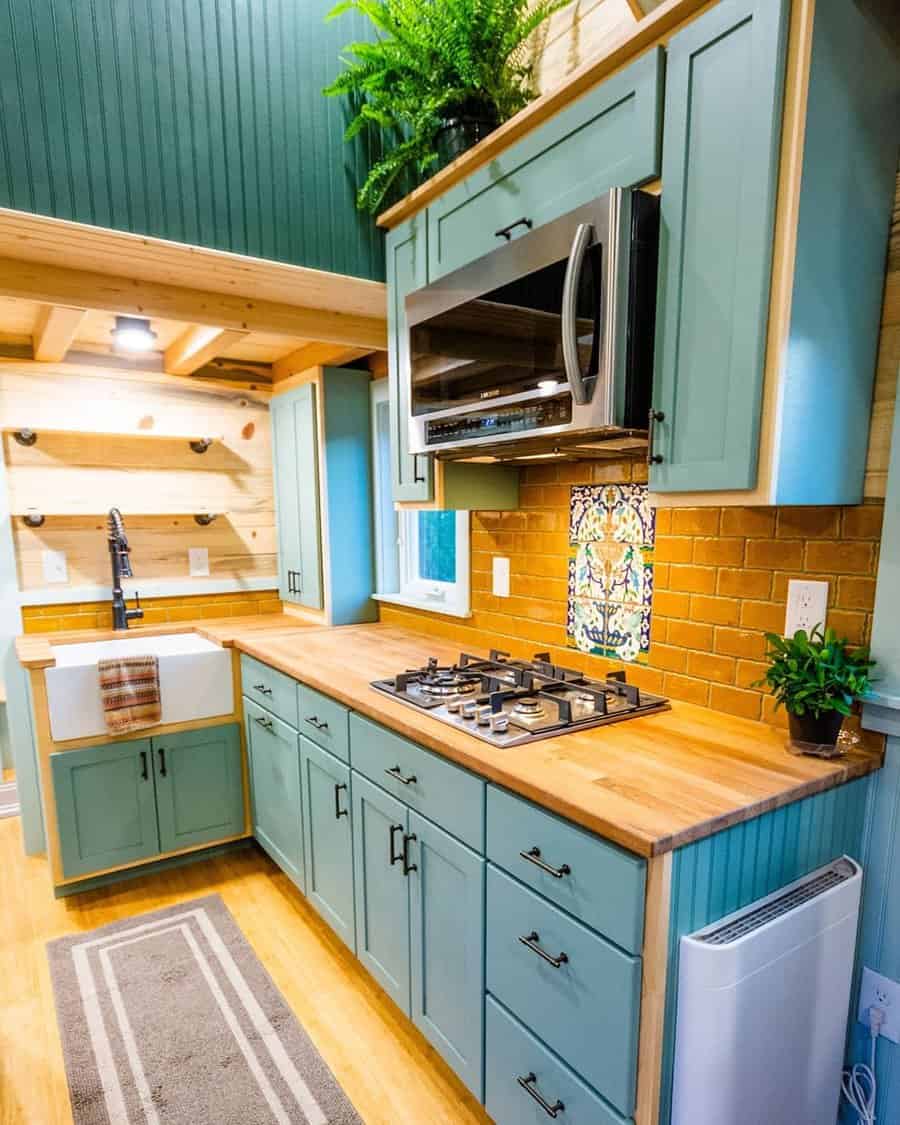 14. Metal Condiment Shelves
Tiny house living is all about efficiency and maximizing the space you have. When it comes to storage solutions, look no further than vertical metal condiment shelves! These shelves are a great way to make the most of the limited vertical space you have in a small kitchen.
Place these vertical shelves above countertops, underneath cabinets, or even as wall art. They can be used to organize your spices, condiments, herbs, or whatever else needs storing!
Plus if you get bored of seeing them one day just rearrange the jars and bottles to give them an entirely new look – it's fun and functional all at once.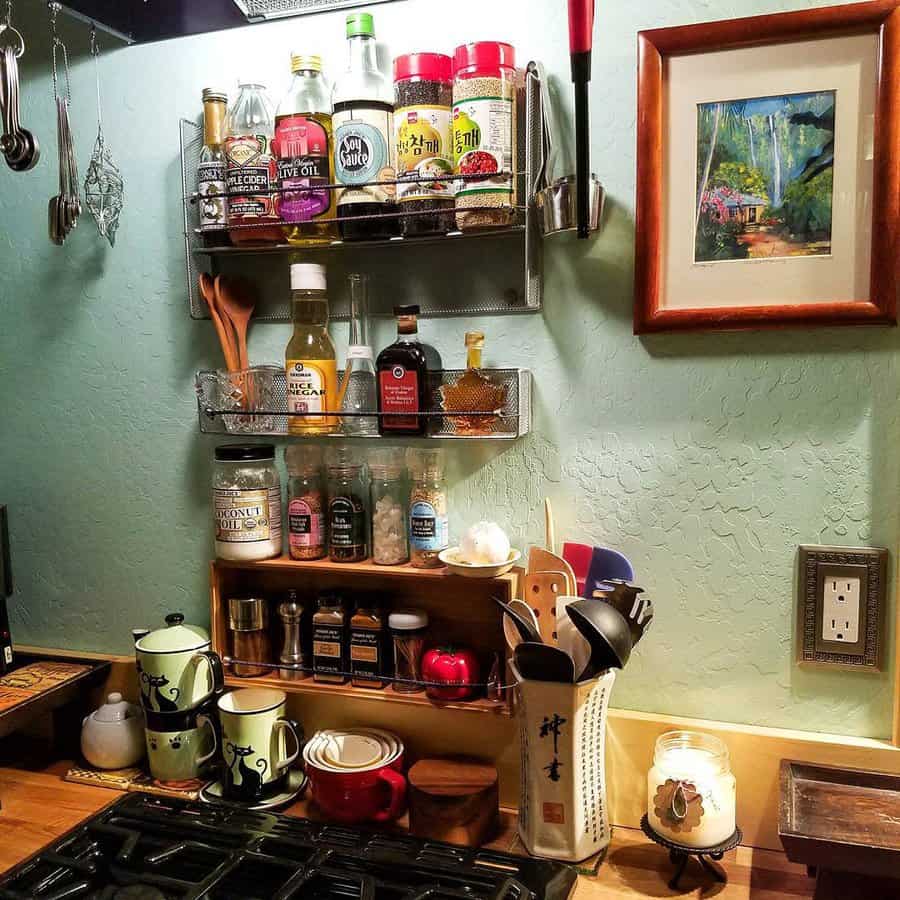 15. Hanging Glass & Mug Holder
When living in a tiny house, storage can be a major challenge. One great way to make the most of your space is hanging glass and mug holders above your kitchen countertop – it can easily free up cupboard and drawer space for larger items. Hanging glasses will create an eye-catching effect, all while giving you more room to cook and prepare food.
Whether one or many glasses, hanging these from hooks or hanging racks is sure to add an element of creativity to any tiny abode. Not only will it save you valuable interior space, but you'll also be surprised how many compliments you get on your modern display!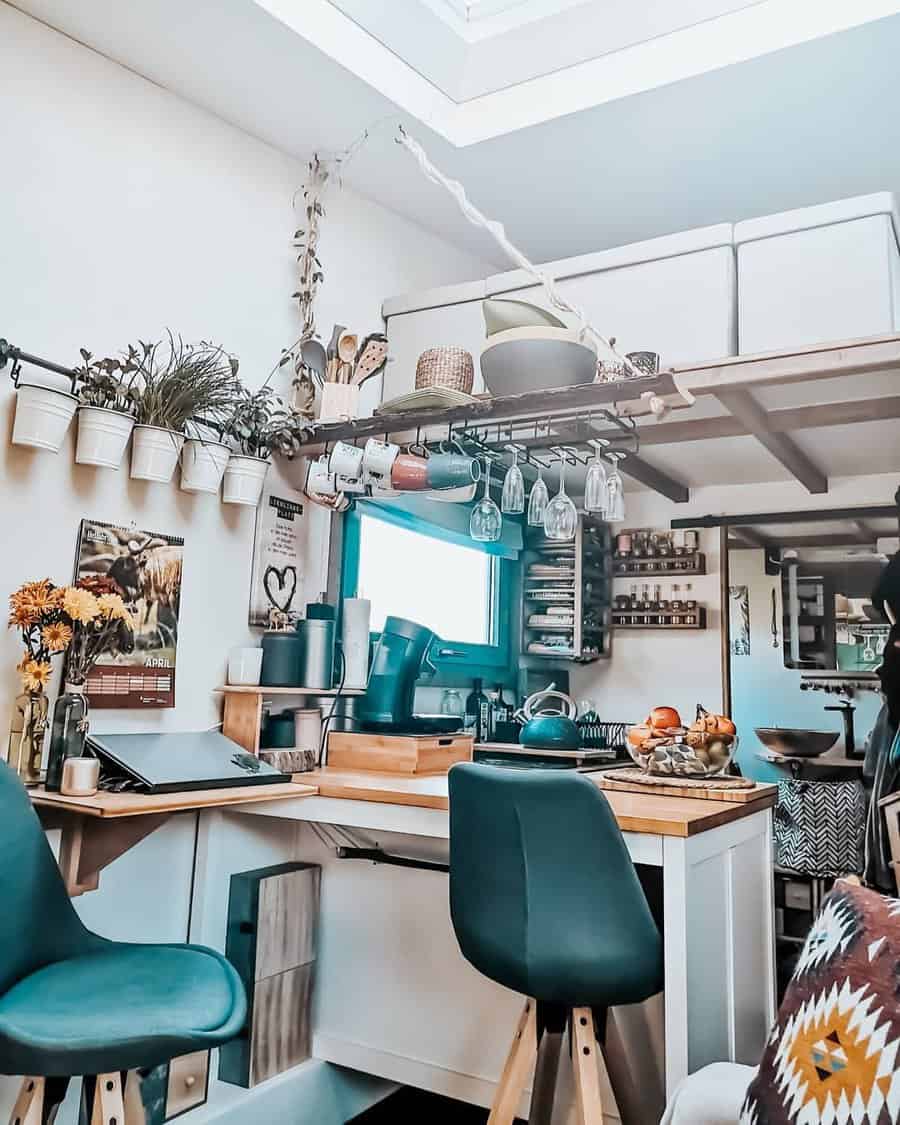 16. Overhead Jar Mount
Finding space to store items can be difficult while living in such a confined area. For overhead jar mounts, you can store your spices handy overhead and free up lower cabinet space.
Another great trick is to hang shelves on the walls for storing things like cooking utensils right at arm's reach.
You could also make use of shelf hooks so everything can be easily accessed while saving valuable floor space. With some smart storage ideas, even a tiny house can feel spacious!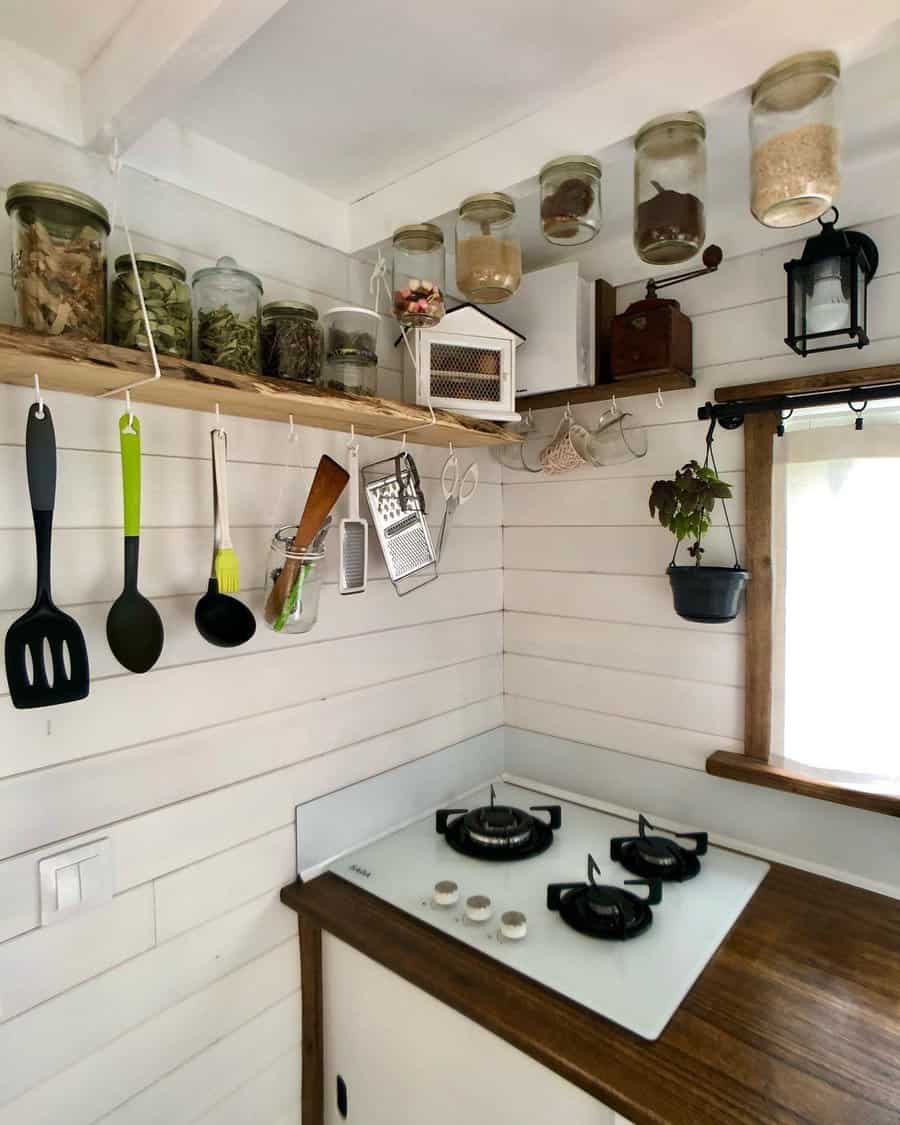 17. Kitchen Island With Drawers
Although the kitchen may be small, with clever furnishings such as kitchen islands with multiple drawers and cabinets, luxury doesn't need to be sacrificed. Creating a tranquil all-white kitchen is an understated way to provide opulence, while also allowing for plenty of kitchen storage space that never gets overcrowded.
With the use of kitchen islands and bright white colors, tiny useful storage solutions can make all the difference in complementing any tiny house lifestyle.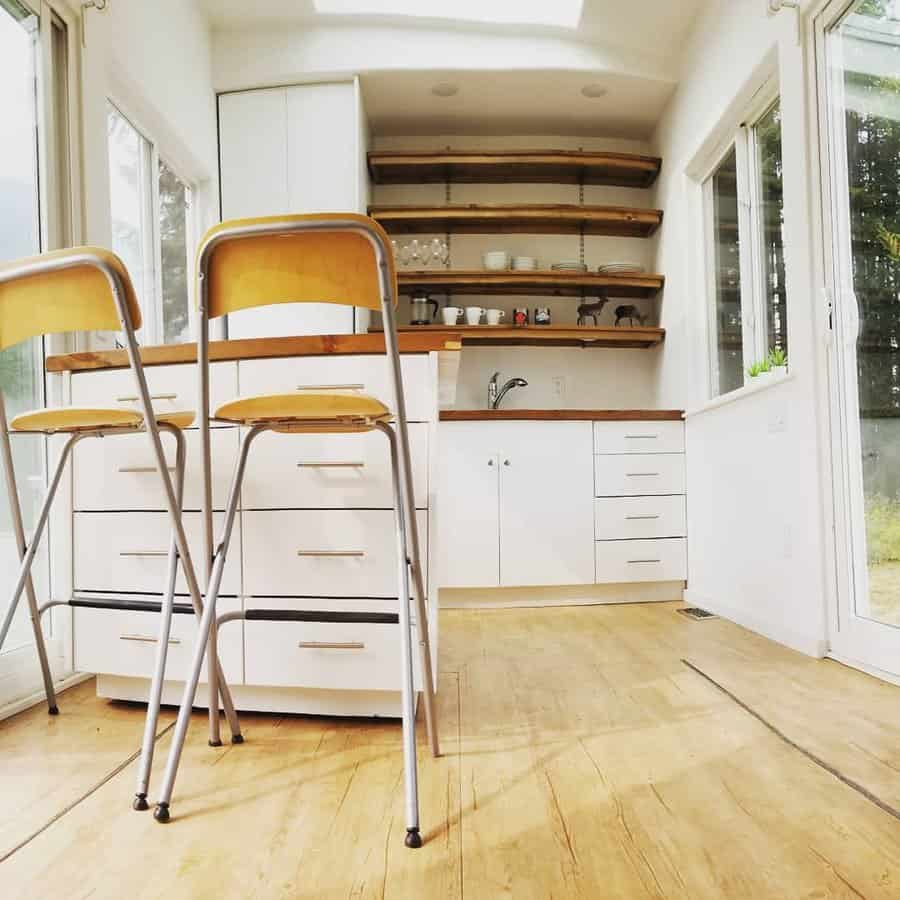 18. Wall Hanging Shelves
For those confined to a tiny house, storage solutions might seem limited. But wooden wall hanging shelves likely provide relief. These wooden wall-hanging shelves are the perfect spot to store dinnerware, allowing you to have all your dishes within reach without sacrificing floor space.
Such wooden wall-hanging shelves could really make entertaining in a tiny house more enjoyable and stress-free. Simply use magnets or hooks as a support system if mounting onto drywall isn't possible due to weight capacity restrictions.
Relying on wooden wall-hanging shelves for dinnerware keeps the kitchen clean and organized, leaving more room for you and your guests!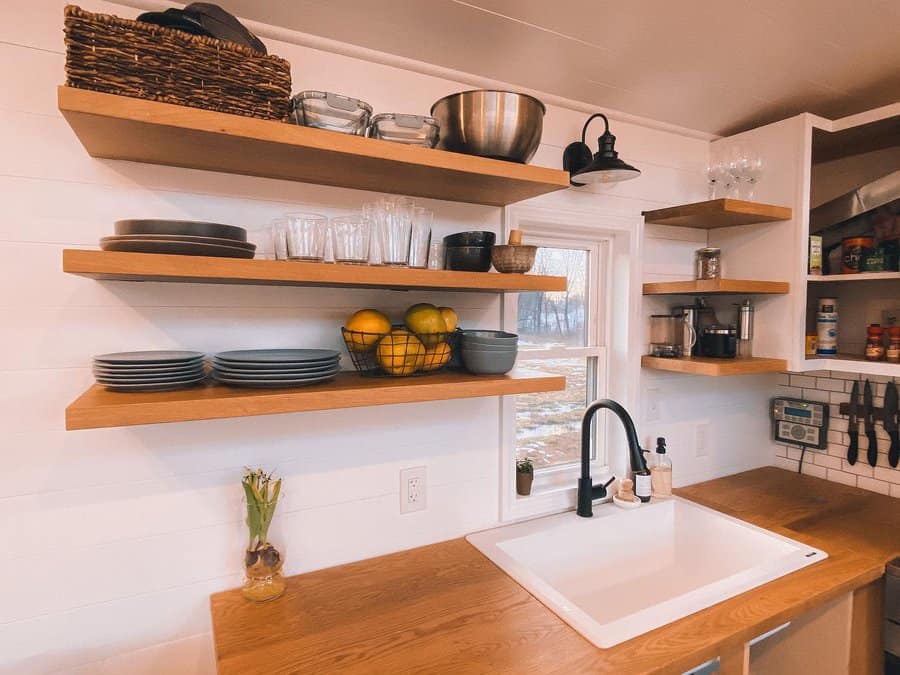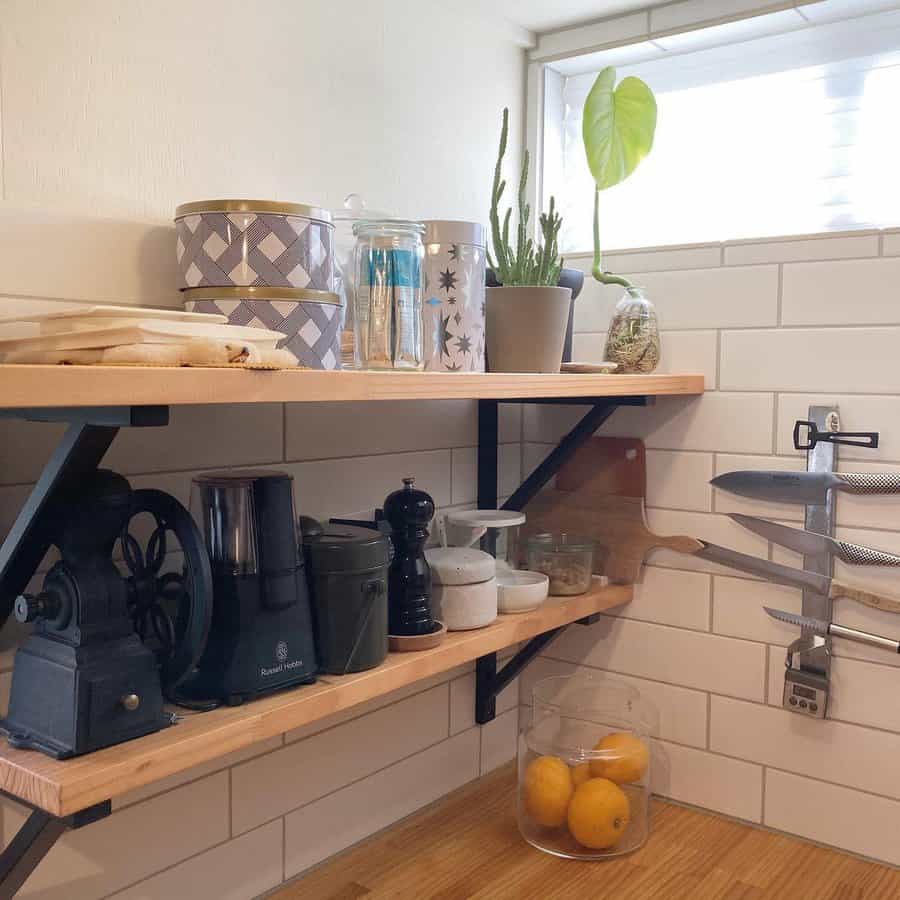 19. L-shaped Countertop Storage With Seating
Living in a tiny home can be liberating, but it's important to know how to maximize storage space. Lucky for you, an L-shaped countertop with seating integration is the latest and greatest trend for tiny house storage.
Not only does it provide the much-needed kitchen counter space, but L-shaped countertops also eliminate the need for additional seating as they come with seating already built-in at one of the ends.
For an even sleeker look, opt for all-white kitchens. White increases the sense of spaciousness and makes your kitchen look modernly stylish! With L-shape countertops and chic white kitchens, a tiny house becomes so much more than just storage.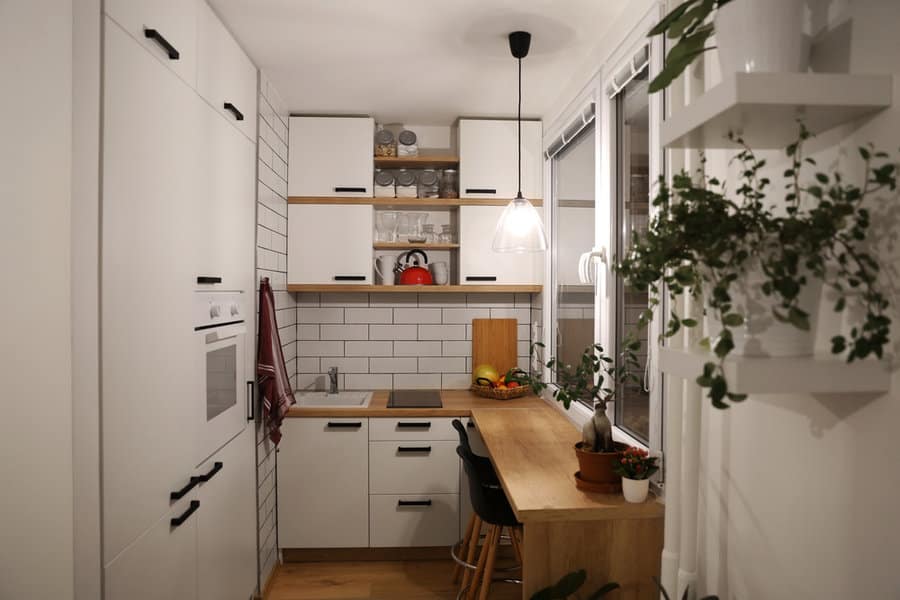 20. Overlapping Shelves
By being creative with overlapping condiment shelves and other easy-access solutions, there are plenty of clever ways to make the most out of a small space. The overlapping shelves keep items within easy reach while providing ample storage in tight quarters.
Stacking objects on top of one another can create more space and increase accessibility. With a little bit of crafty planning, living small does not have to mean sacrificing style or ease of access when it comes to tiny house storage.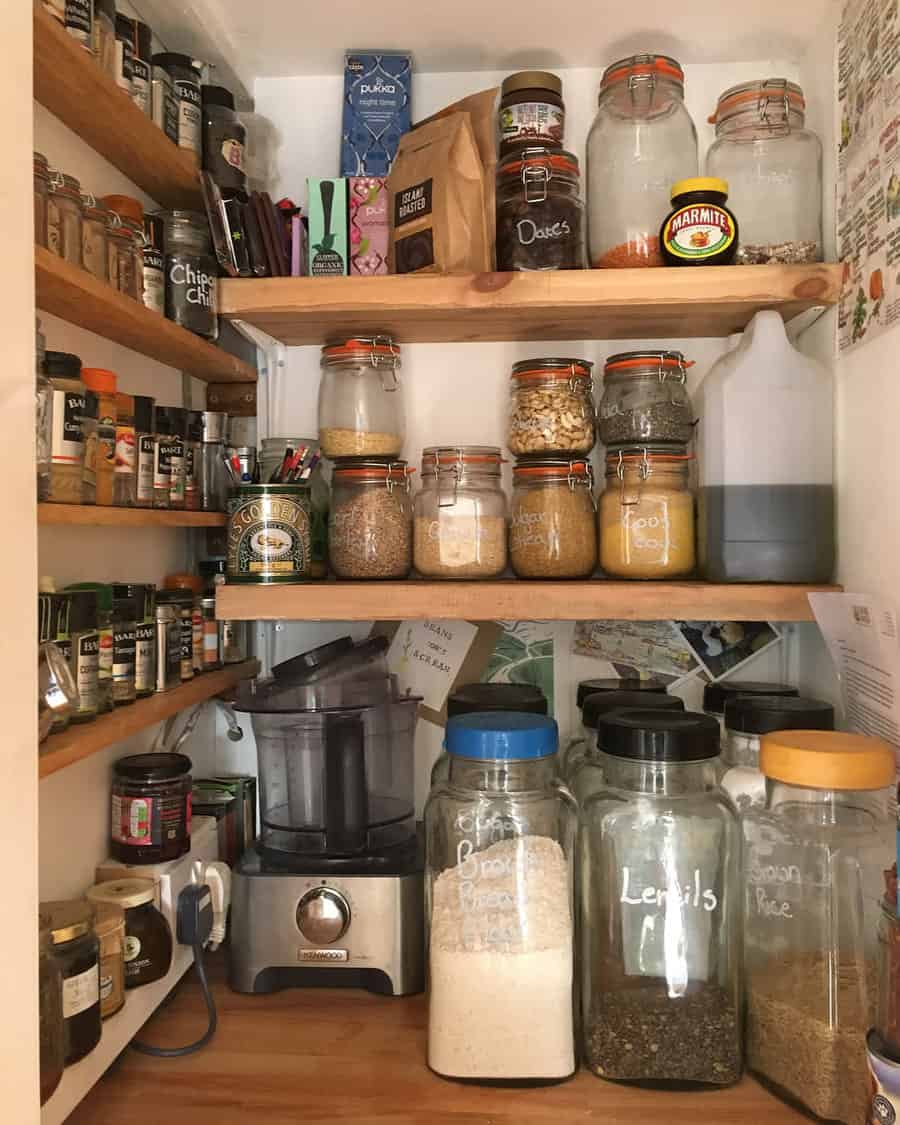 21. U-Shaped Kitchen Countertop With Storage
For those who love to live with maximum efficiency and minimalism, a U-shaped kitchen countertop is an ultimate solution for tiny house storage. The U-shape allows for more cupboard space on either side, as well as a more ergonomic worktop area in the middle for food prep and utensil use.
Plus, the U-shape counter gives you a nice open U-space in the center where you can store items like butcher blocks or wrapped groceries. With this clever storage design, all your kitchen essentials will be just an arm's length away!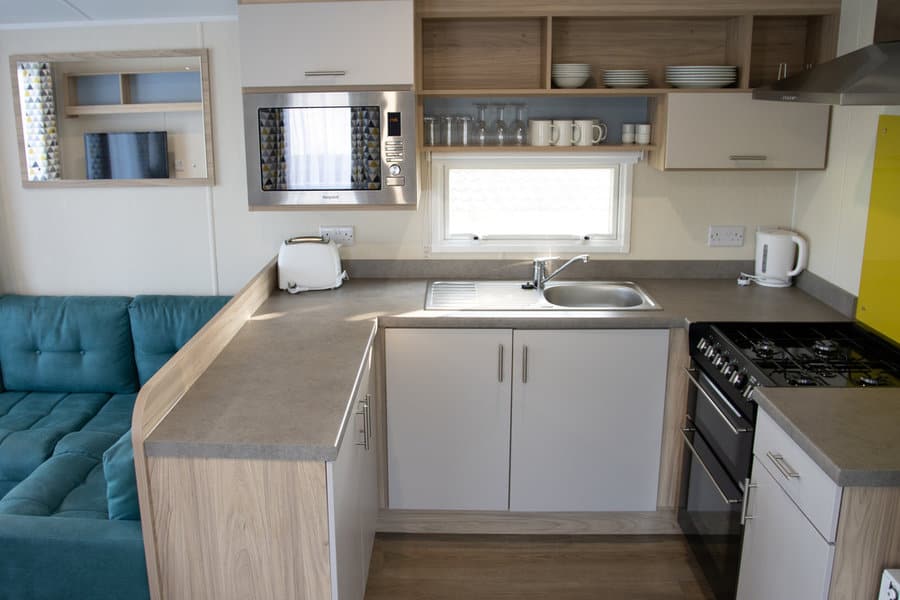 10. Under the Stairs Storage
There are many ways to use the space under the stairs for storage! Think of custom-made cabinets, deep drawers, sliding racks, and open shelves.
The pictures below will give you plenty of ideas, for you to maximize your home storage capacity.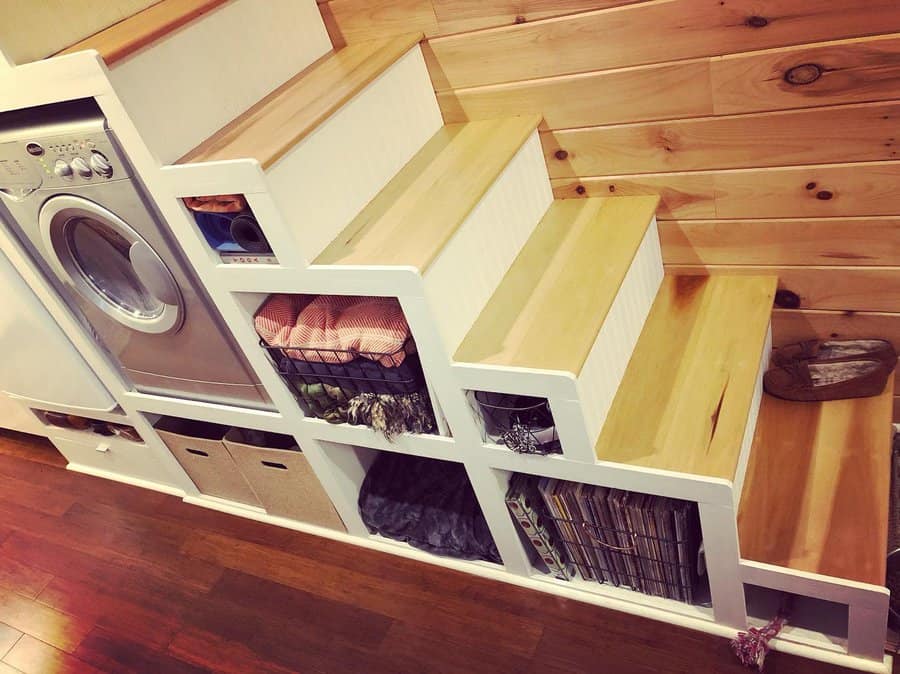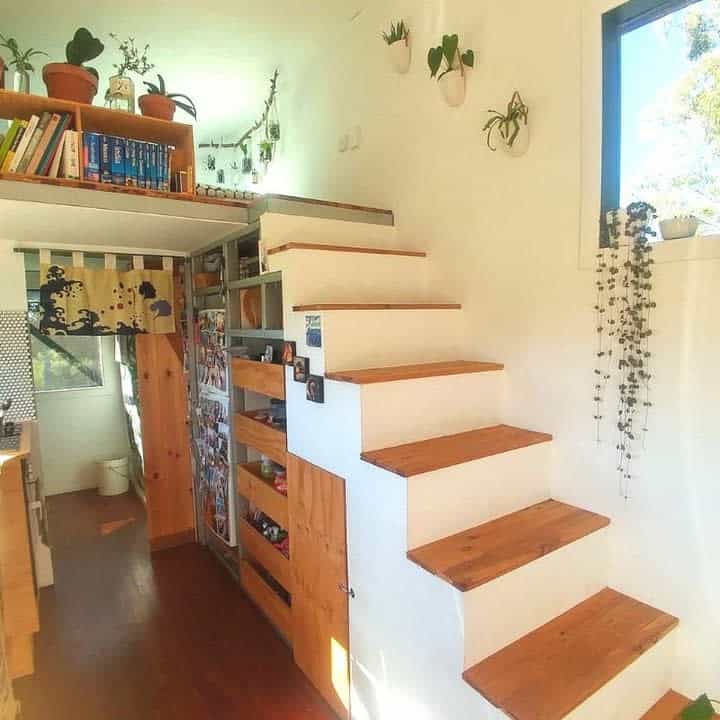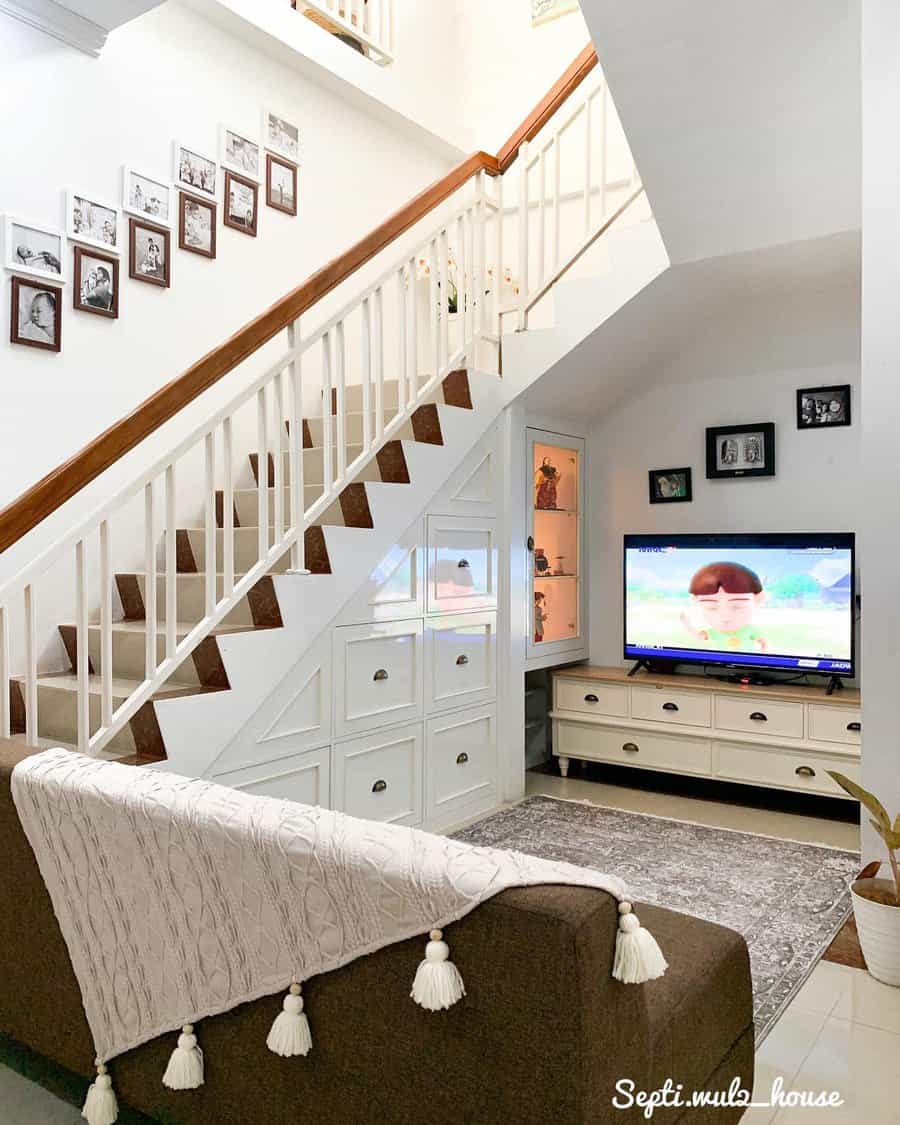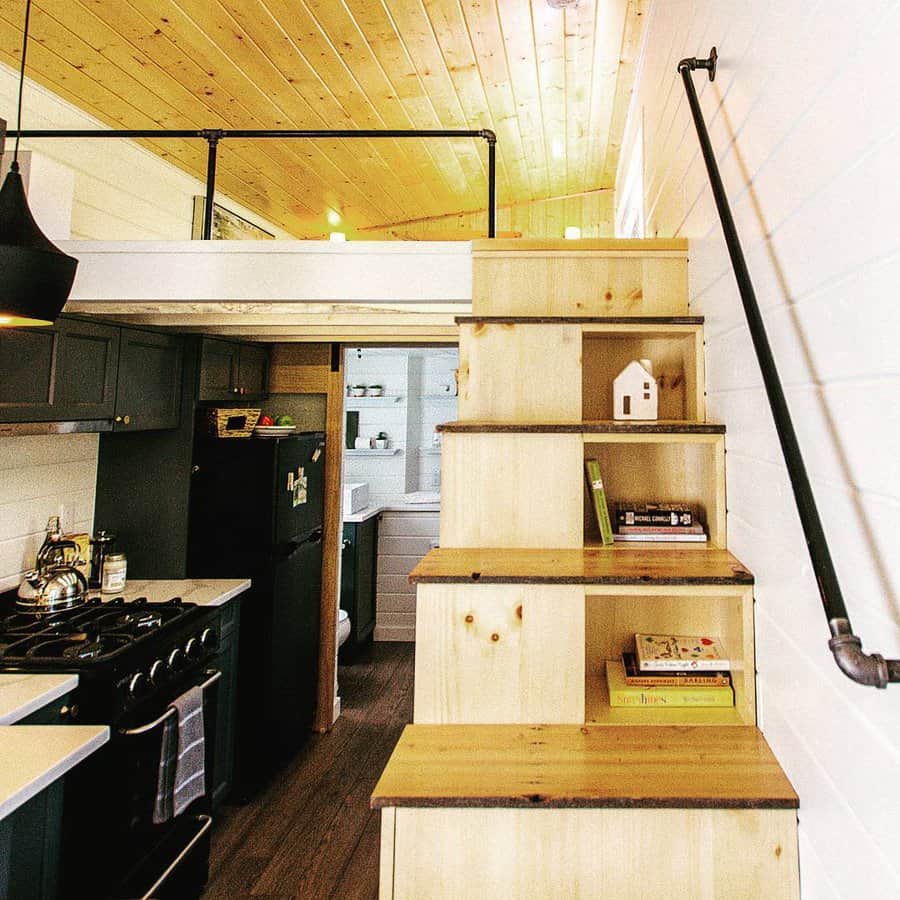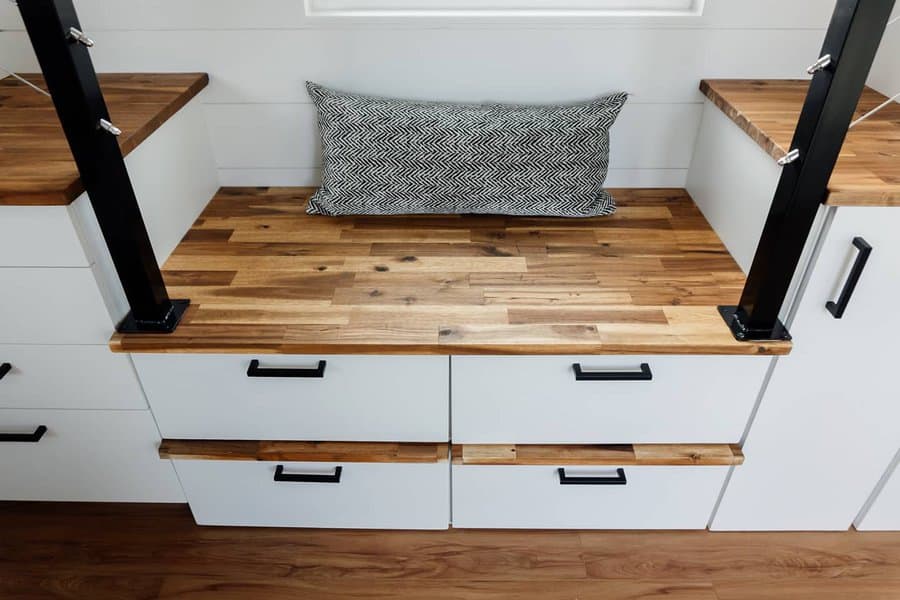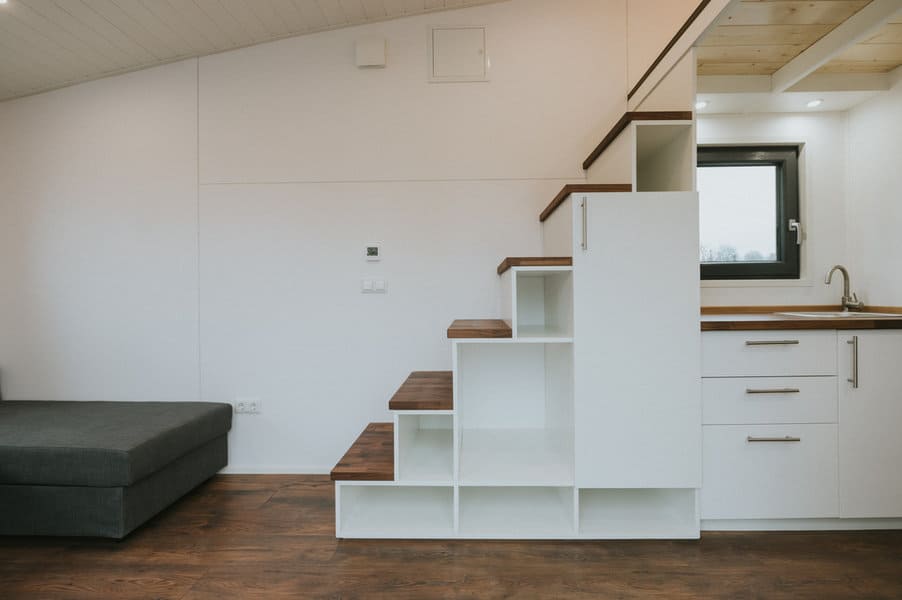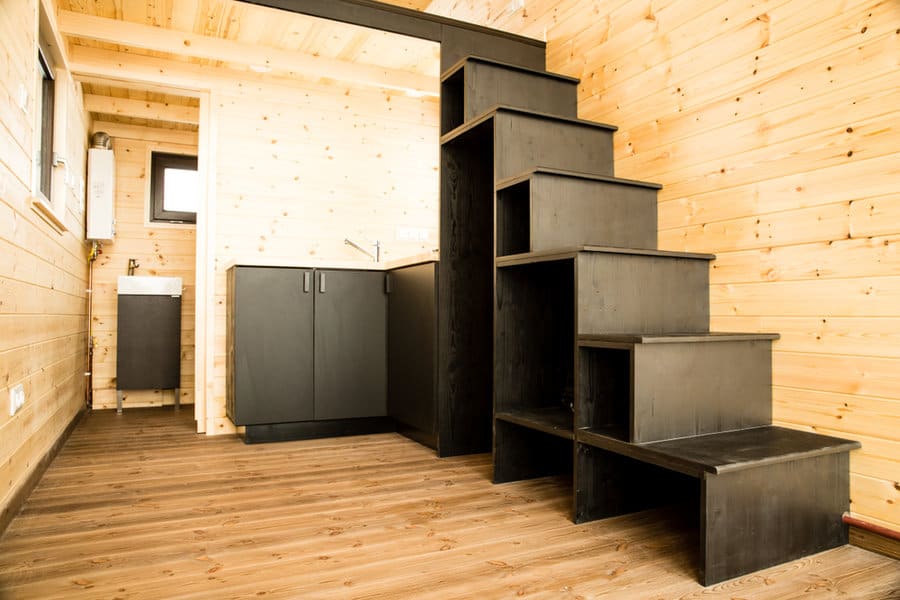 FREQUENTLY ASKED QUESTIONS
What is a modern solution to accommodate 2 children, instead of bunk beds?
There is more than one option. You can choose a ceiling bed or arrange the furniture in an L shape, so that the bed on the floor is against the wall, with a perpendicular loft bed above.
Another possibility is to have a trundle bed so that you leave clear floor space during the day and pull out the bed for sleeping.
How can I maximize floor space in a very tiny bedroom?
Murphy beds or retractable ceiling beds are excellent options for you to have precious floor space for multiple purposes during the day.
What is the best way to turn my bedroom into a home office during the day?
You can use a Murphy Desk Bed, that keeps the desk level to the floor when you pull down the bed. It is a very practical solution because you do not have to clear your desk every time you pull down the bed.