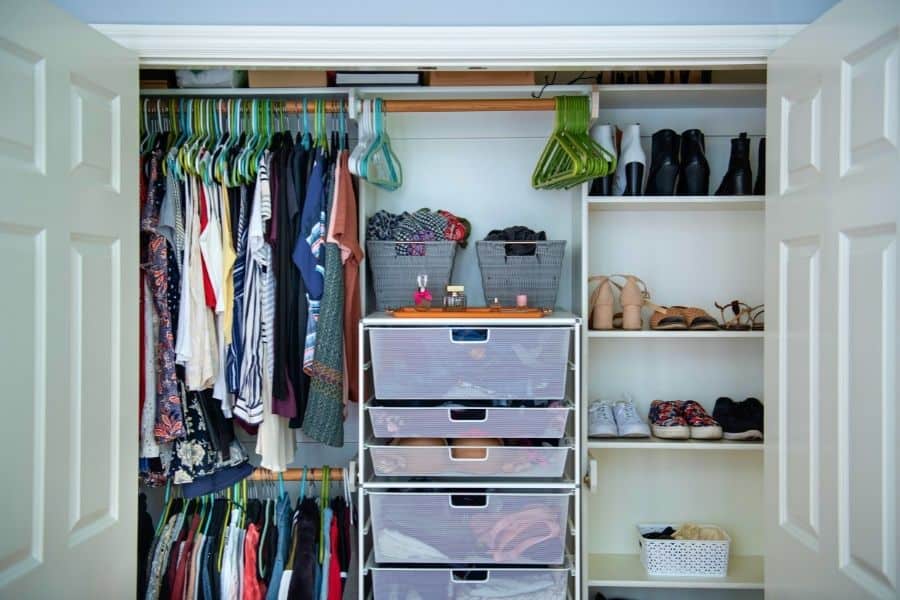 The Top 52 Small Closet Ideas
Adequate storage has never been more important to the prospective homebuyer than it is right now. Even those who have no intention of leaving their current home are looking for ways to boost organization without losing functional living space.
The more closets in a home, the better. But, as every homeowner knows, not all closets are created equal.
A few simple strategies could help you make the most of limited closet space. Keep reading for the best small closet organization ideas for every room in your home!
1. Bathroom
A small bathroom closet shouldn't be a dealbreaker for any home. It's not a matter of size. It's a matter of how you utilize the storage space available.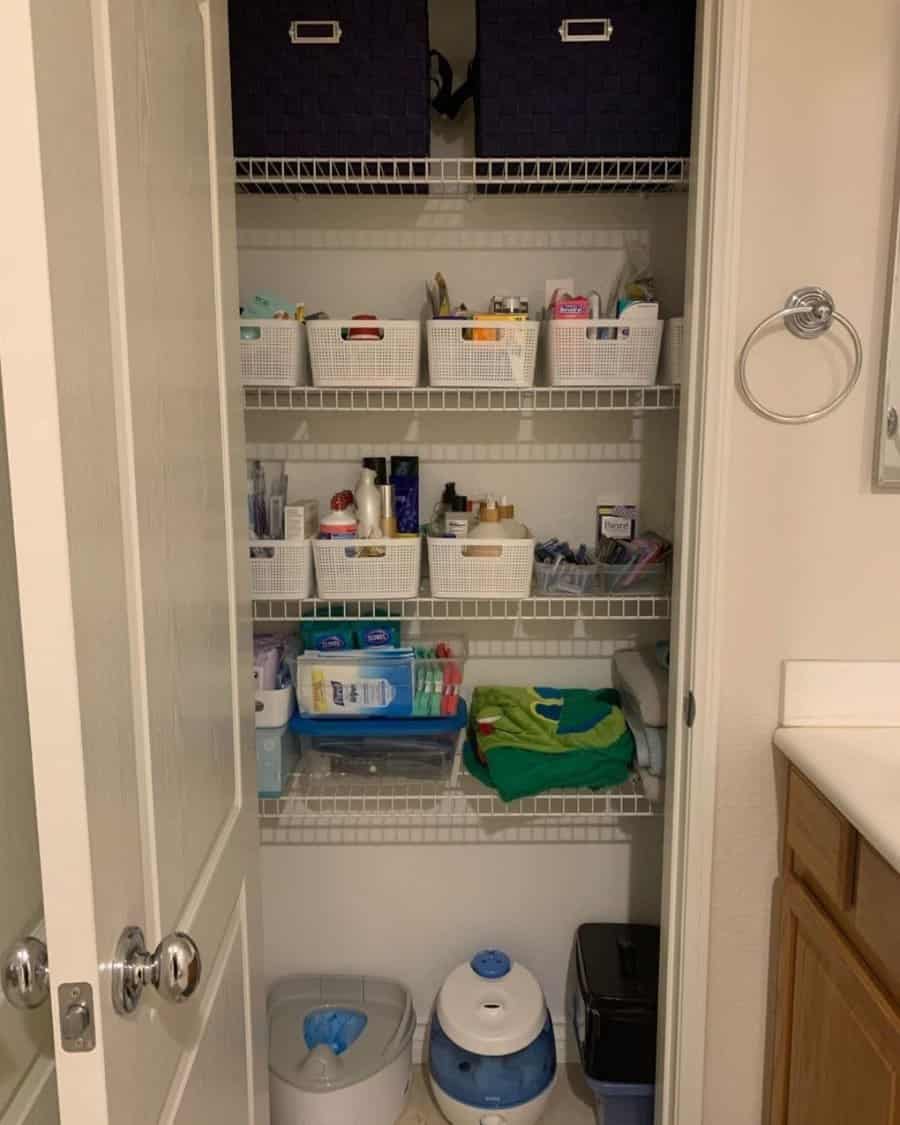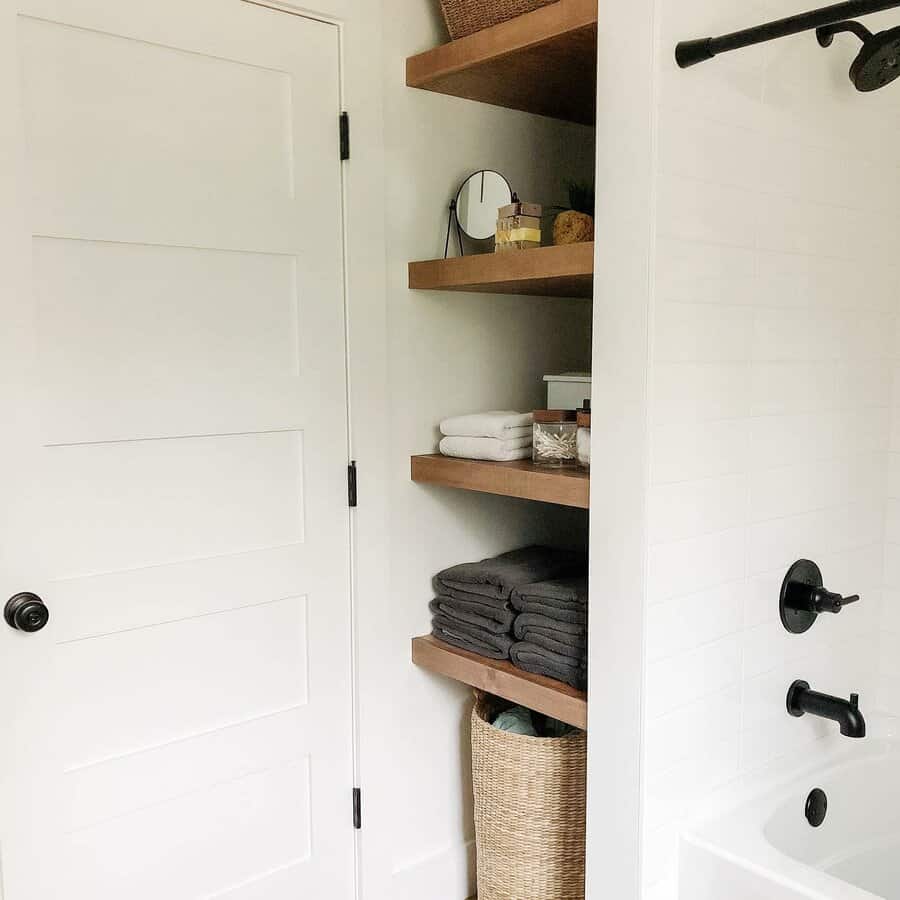 The vast majority of bathroom essentials are compact and easy to store. So instead of looking for ways to expand your bathroom closet space, you should be prioritizing organization.
Individual totes (with clear labels, of course) are a must for toiletries. Towels can be stored directly on a closet shelf or rolled up into a basket for even better space efficiency. Be sure to take advantage of the closet floor as well — use a tote to keep items from touching the floor directly.
2. DIY
Custom closet makeovers have been a hit in the home design world for several years. While these transformations are far outside of the average homeowner's budget, there are plenty of DIY solutions you can try instead.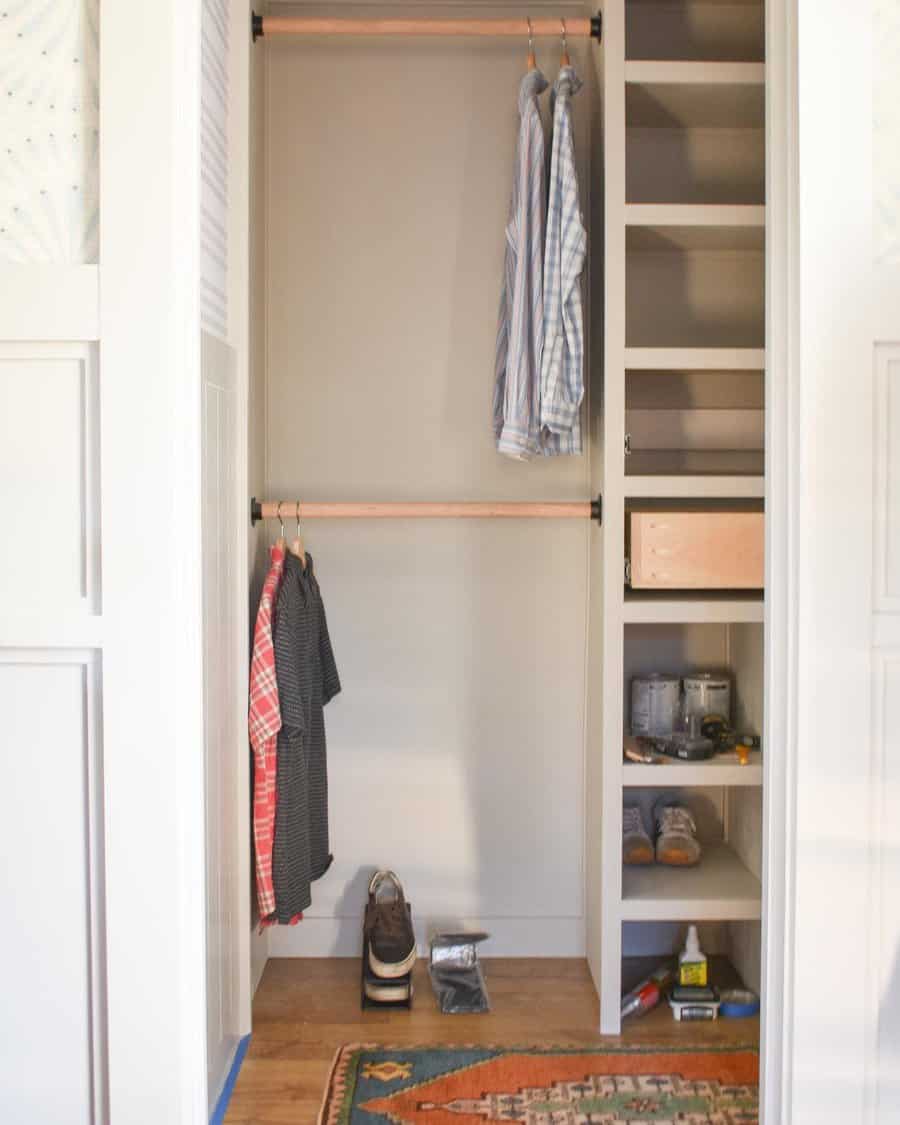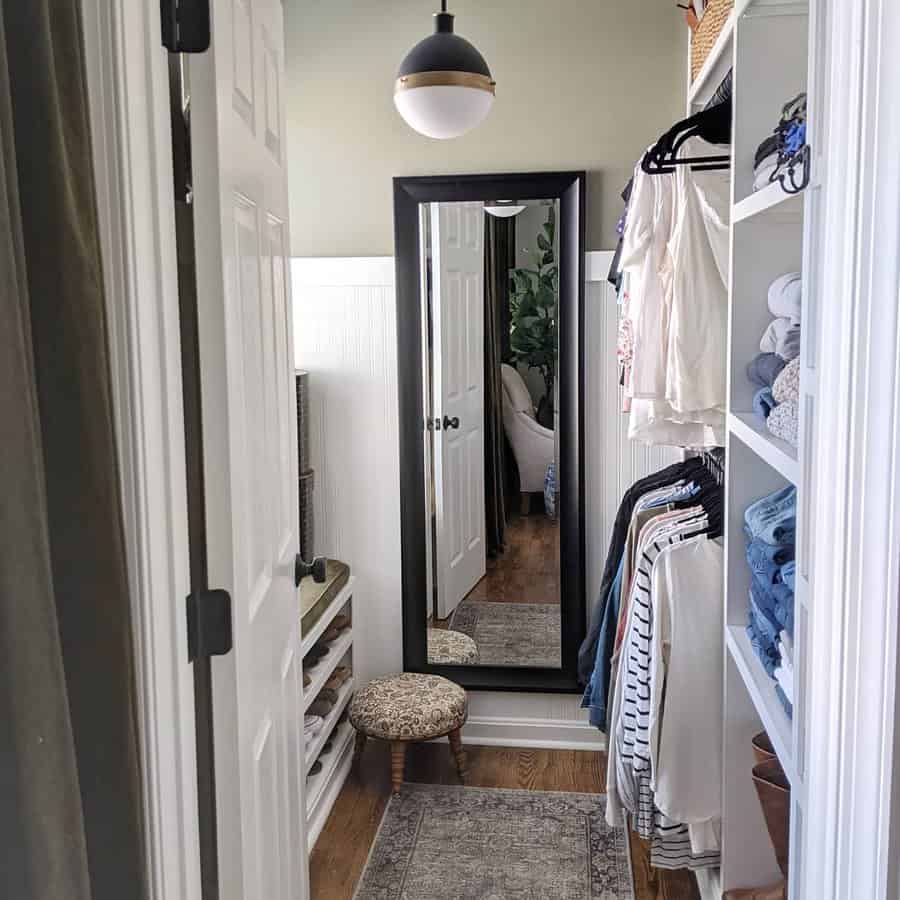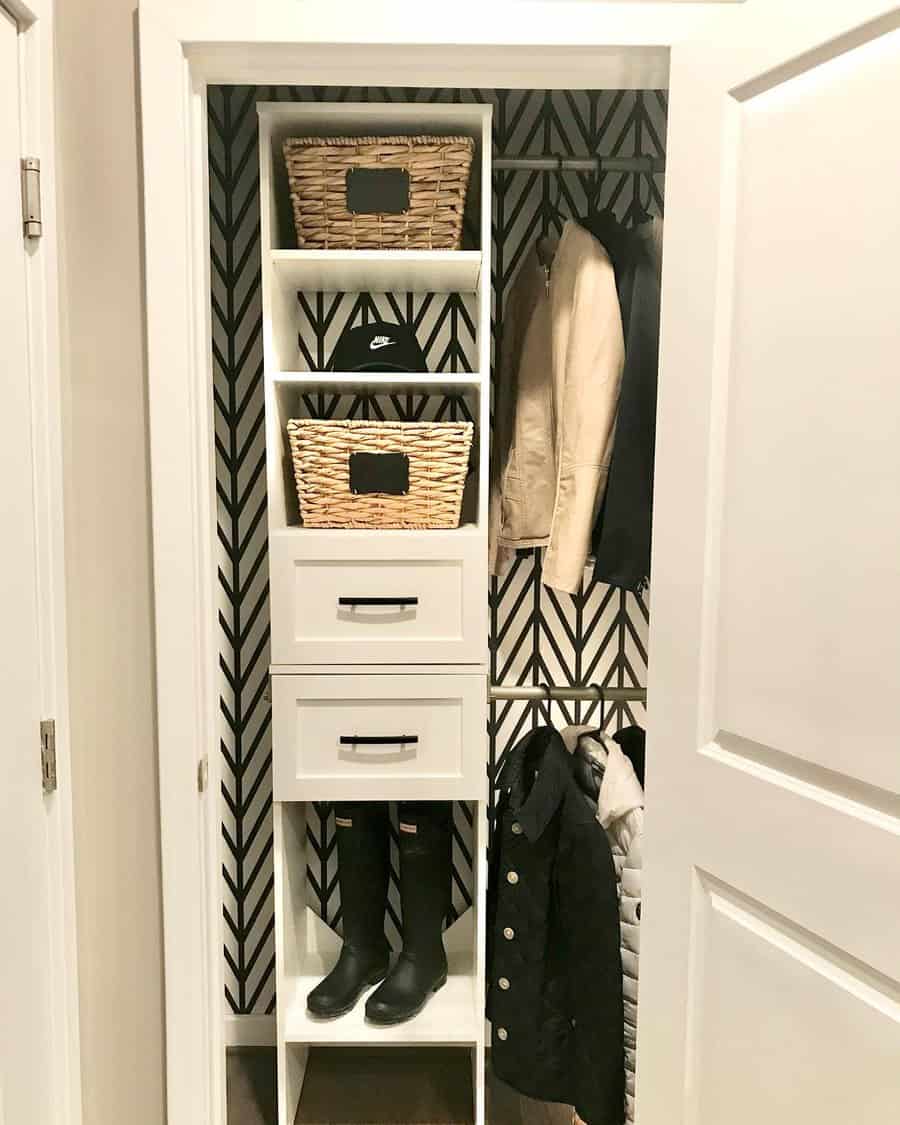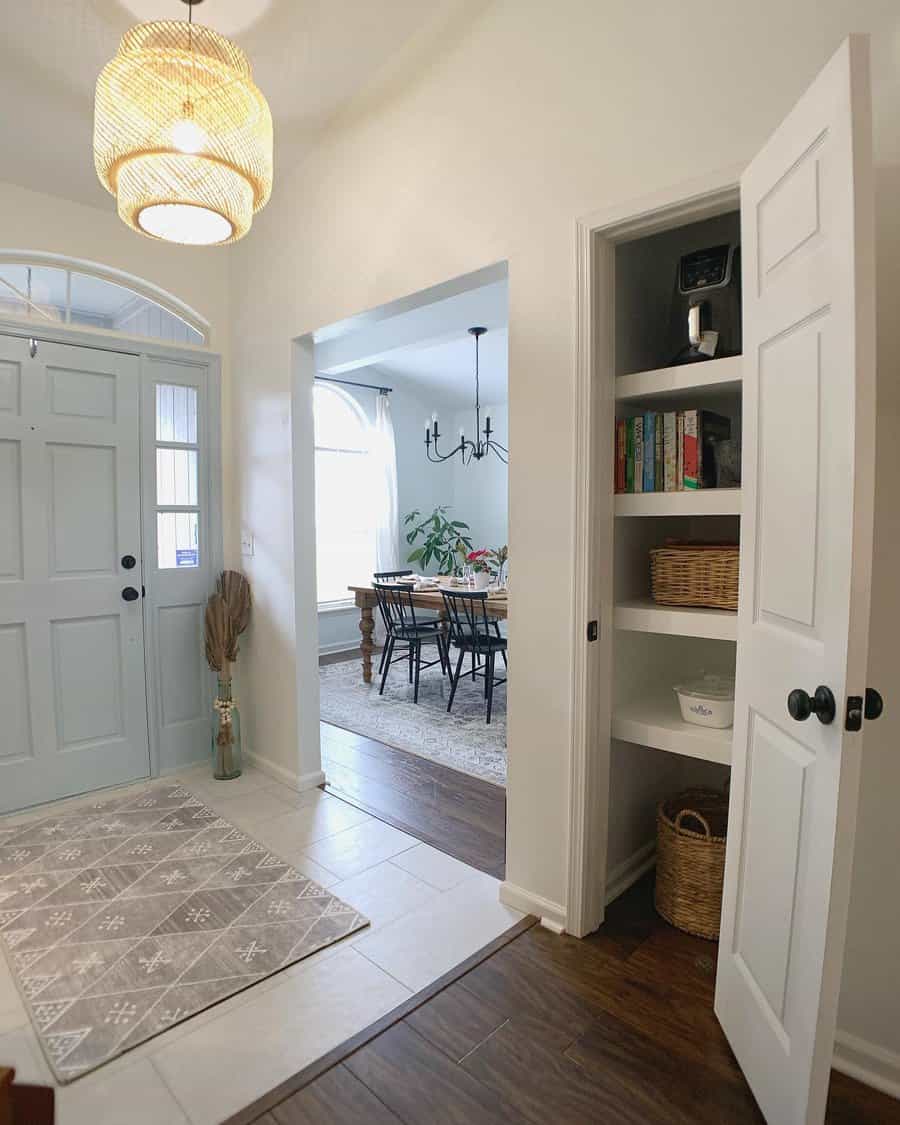 Anyone with a bit of woodworking experience can build closet shelving from scratch. An eye for detail and a few high-end finishes will make any DIY closet organizer look like a slice of luxury.
Creating a DIY closet can involve more than pure function. Take the opportunity to update your small closet with a fresh paint color, decorative wallpaper, or a new door.
3. Design
It can be hard to see a closet's true potential. Especially if the closet is already filled with clothes, boxes, and other odds and ends.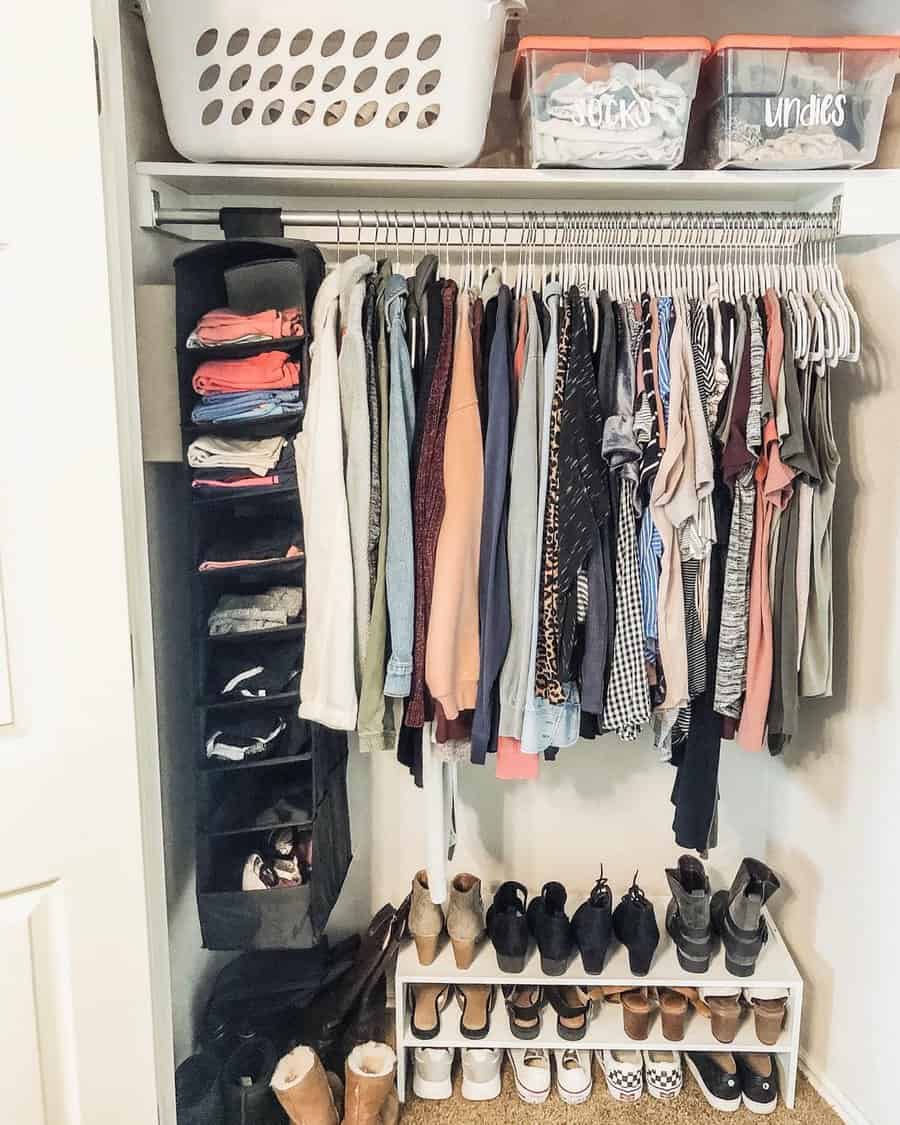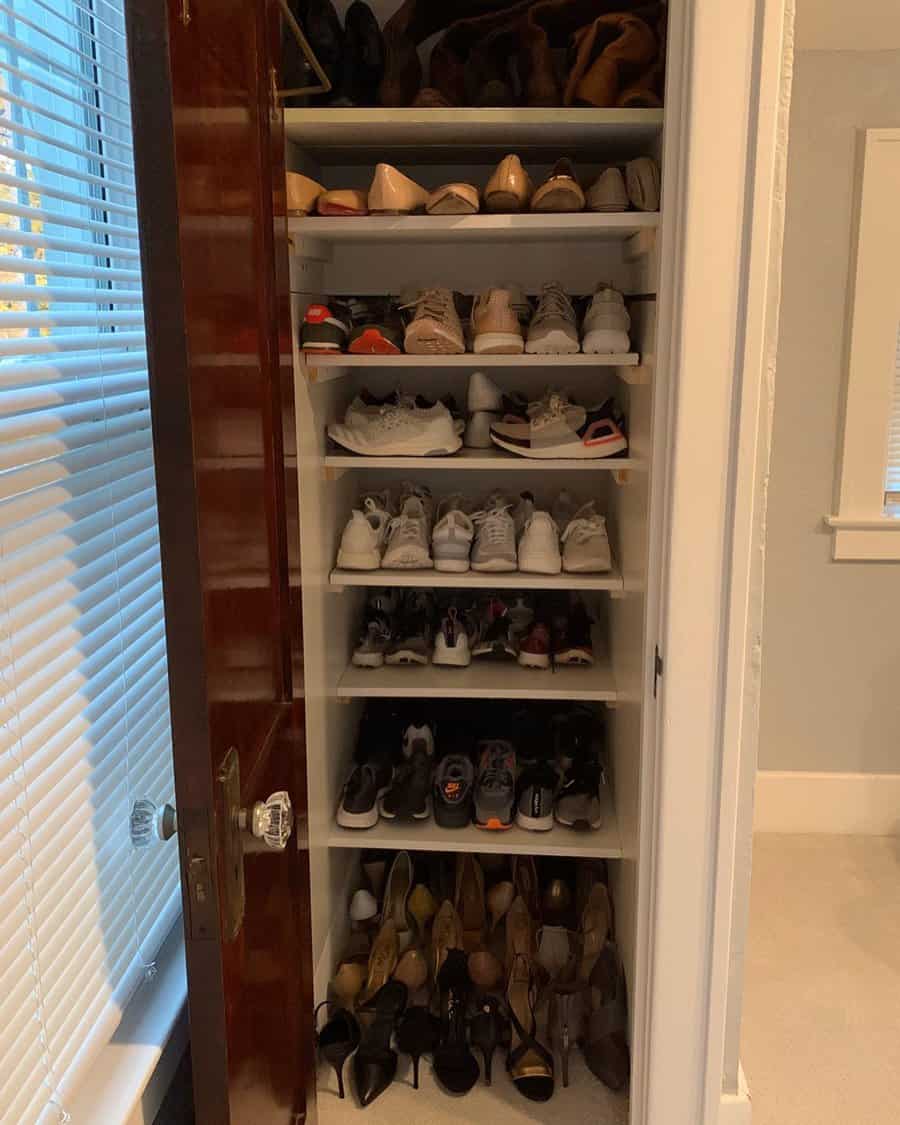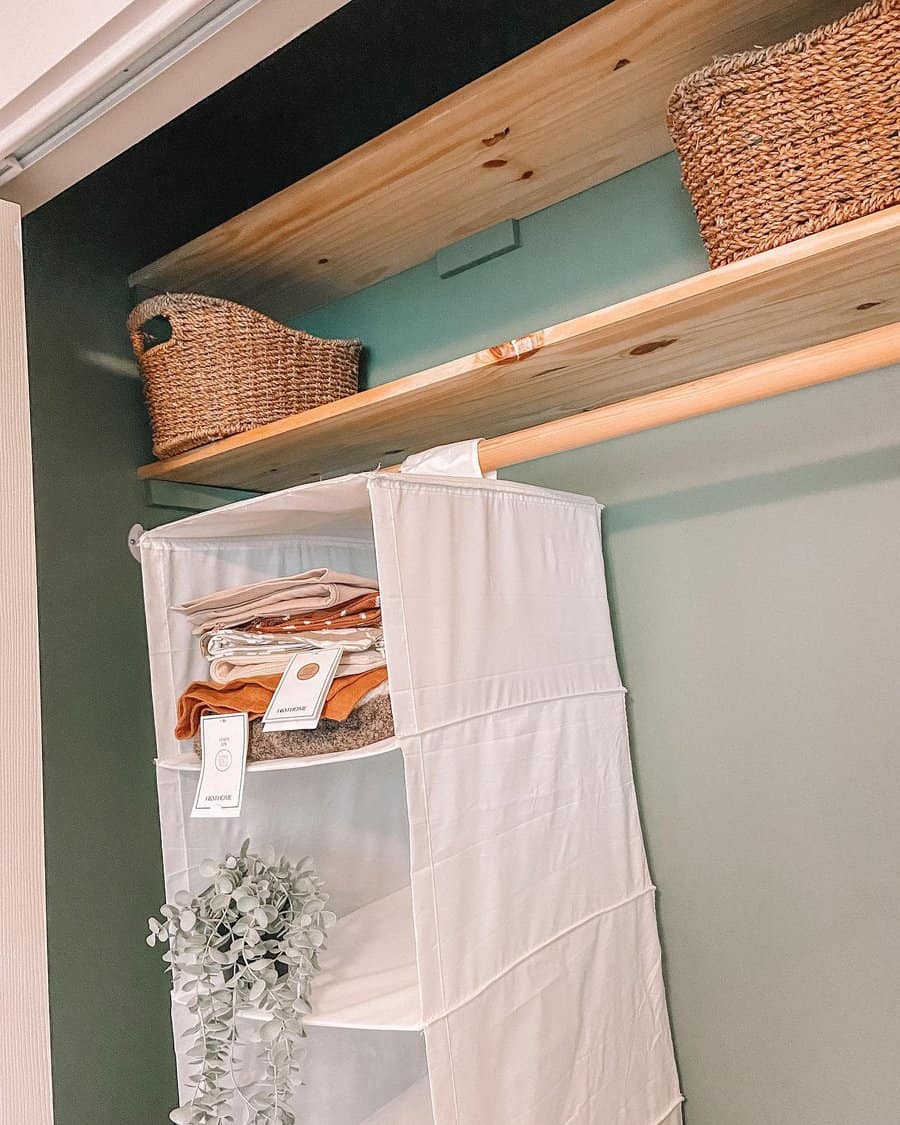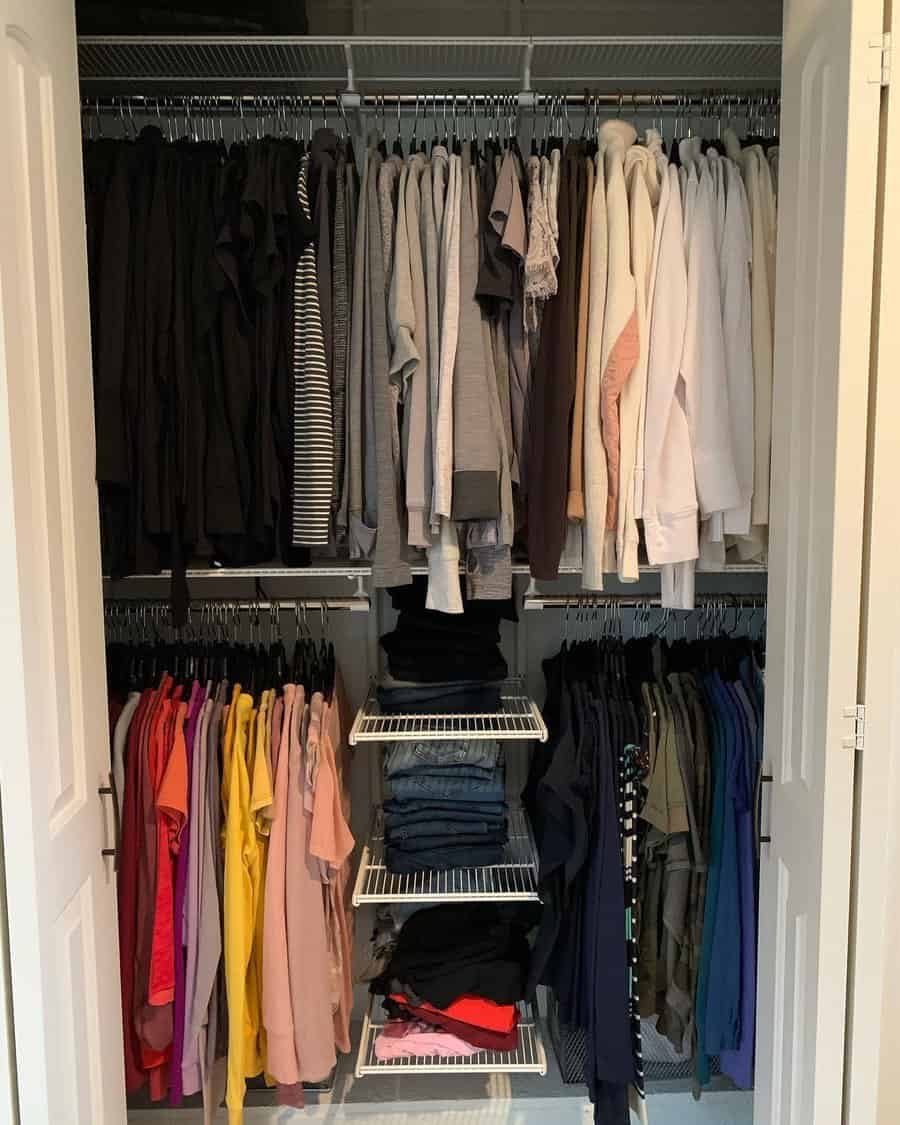 Built-in organizers won't just mean being able to fit more stuff into your closets. They can also make it much, much easier to find the things you need without searching or digging!
Starting from the ground up is often the best way to transform a small closet into a practical storage space. The right combination of rods, drawers, shelves, and other storage solutions can completely change the way a closet looks and functions.
4. Organization
Many people blame small closets for a lack of home organization overall. With the right system in place, however, available space is one of the least important factors in maintaining an organized home.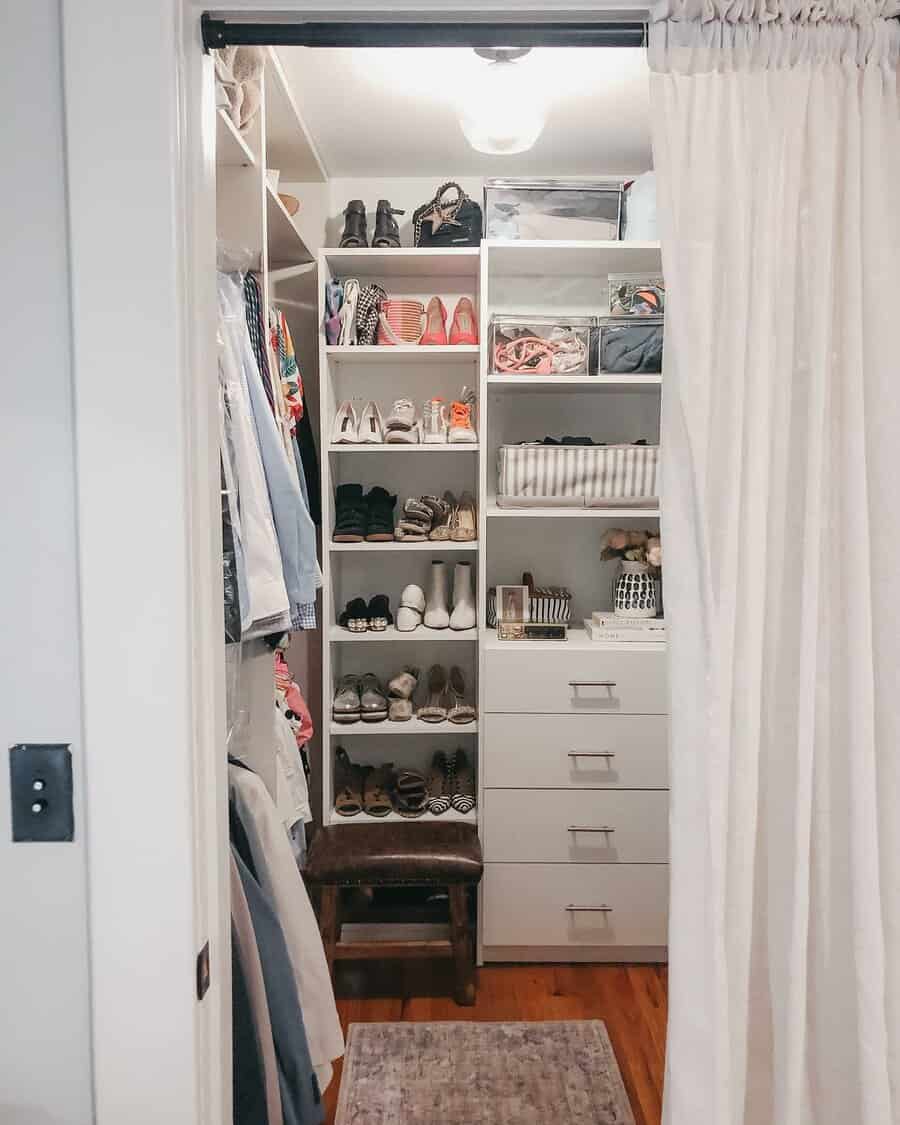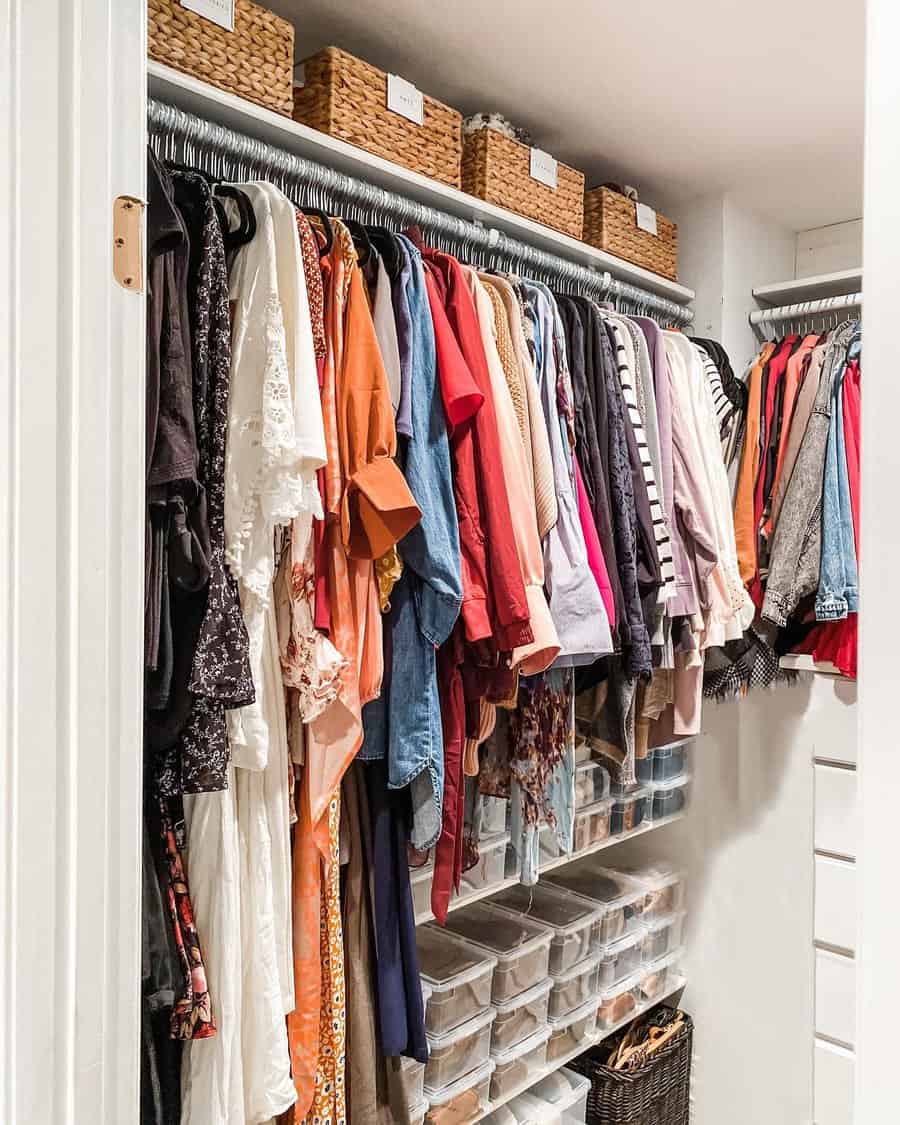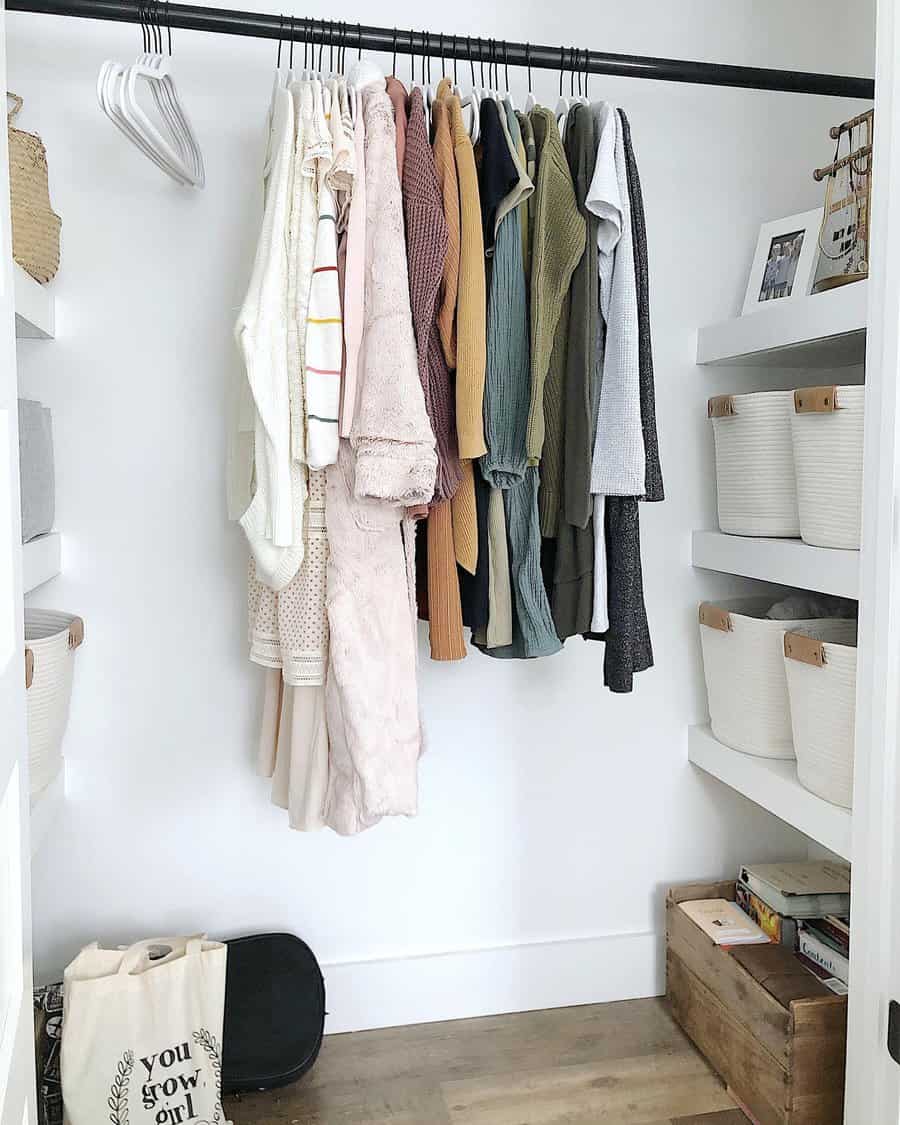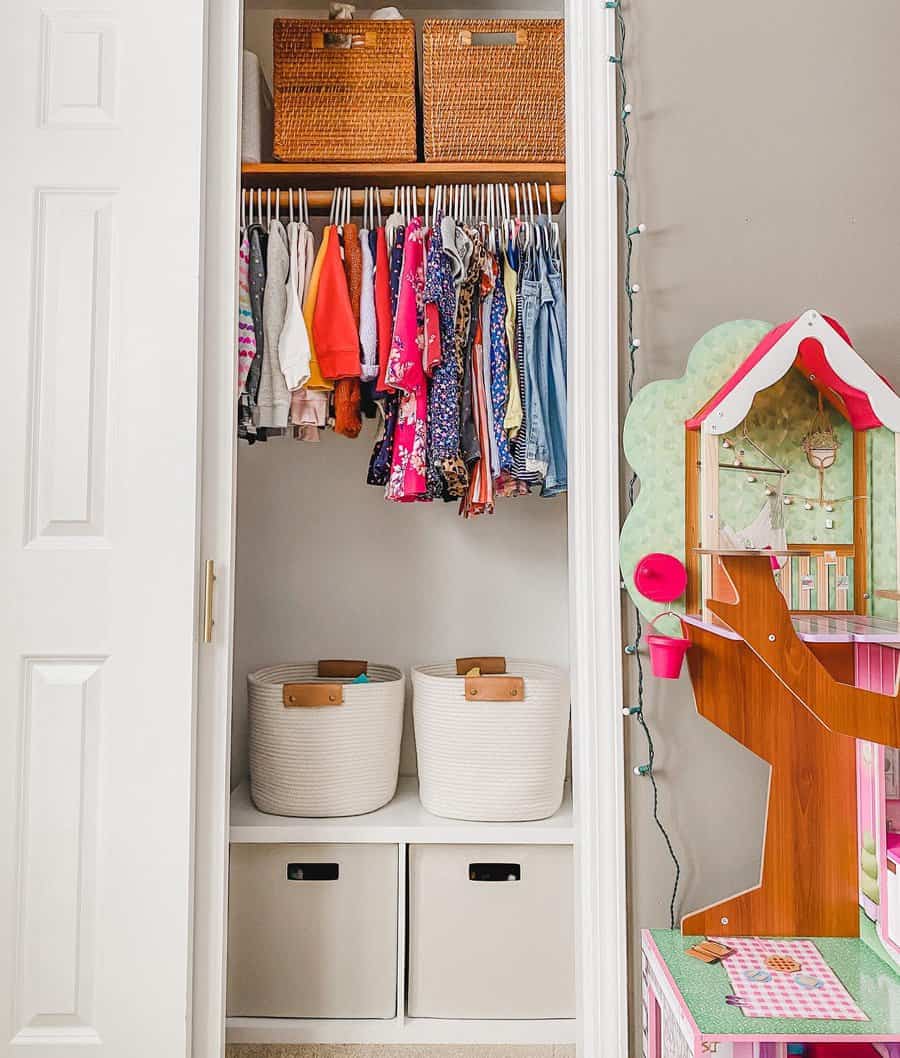 There's nothing wrong with having a disorganized living space. It just means you haven't found the resources you need to create and stick to an effective system. Once you find a system that works for you, organization will become second nature.
Don't let aesthetics distract from practicality. Pretty storage totes are lovely but should be labeled as clearly as possible. At the end of the day, simple is always best!
5. Pantry
It's easy to forget that a pantry is a type of closet. And, while there are some differences, the basic principles of organizing any small closet still apply.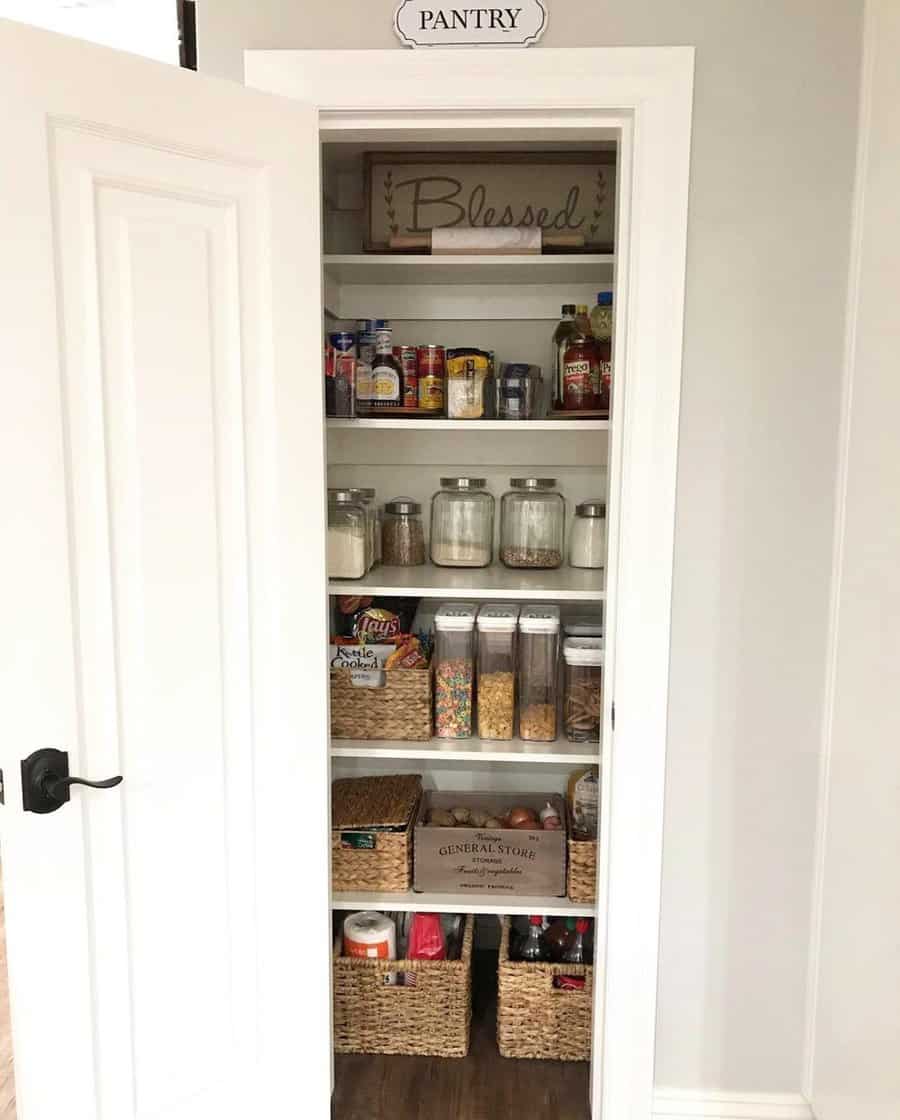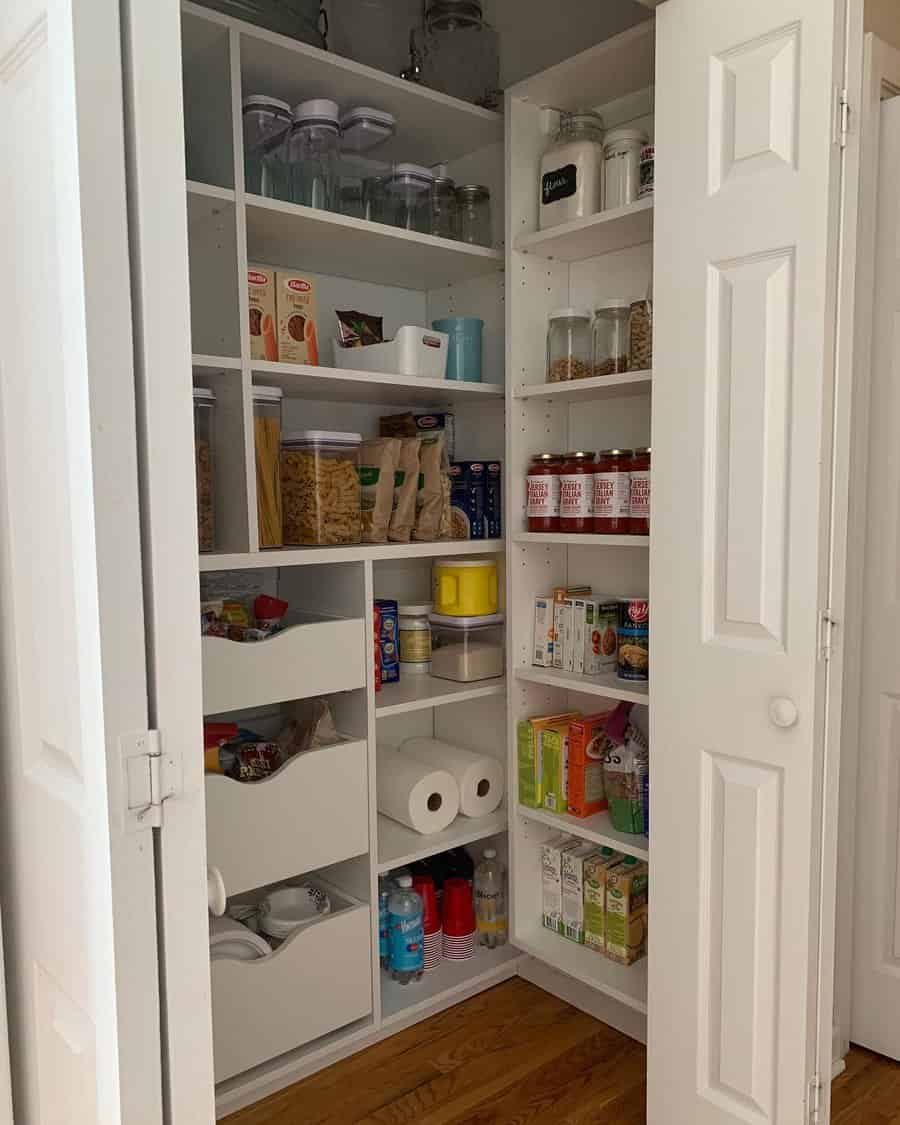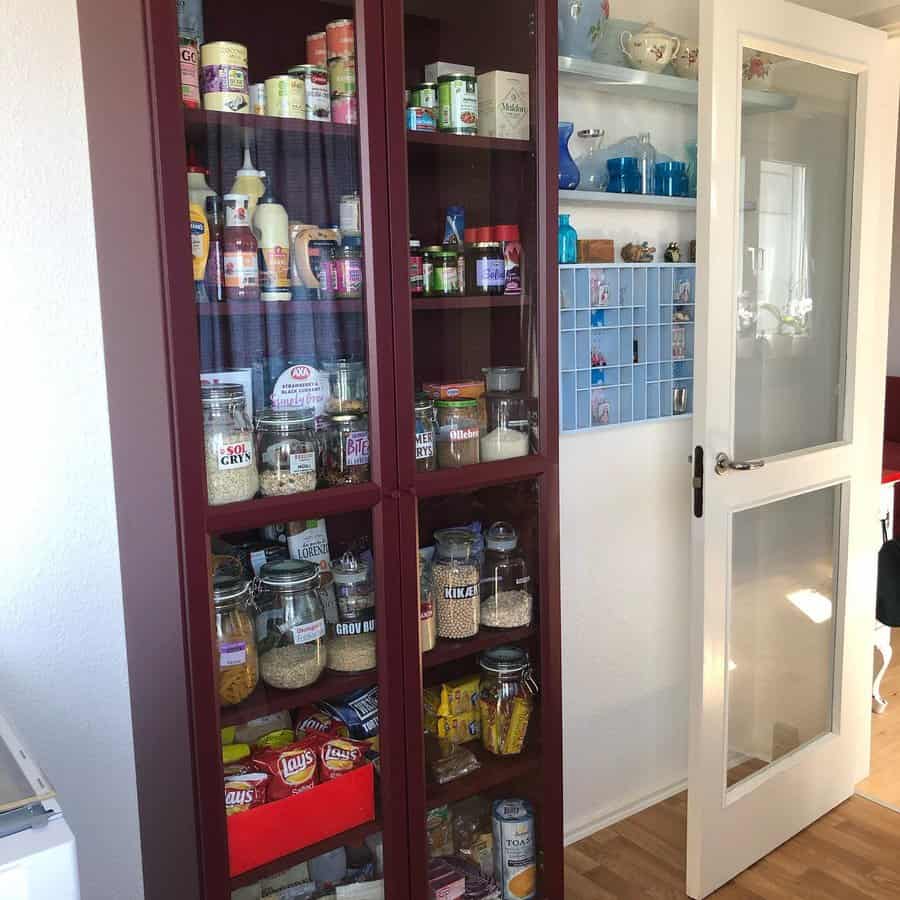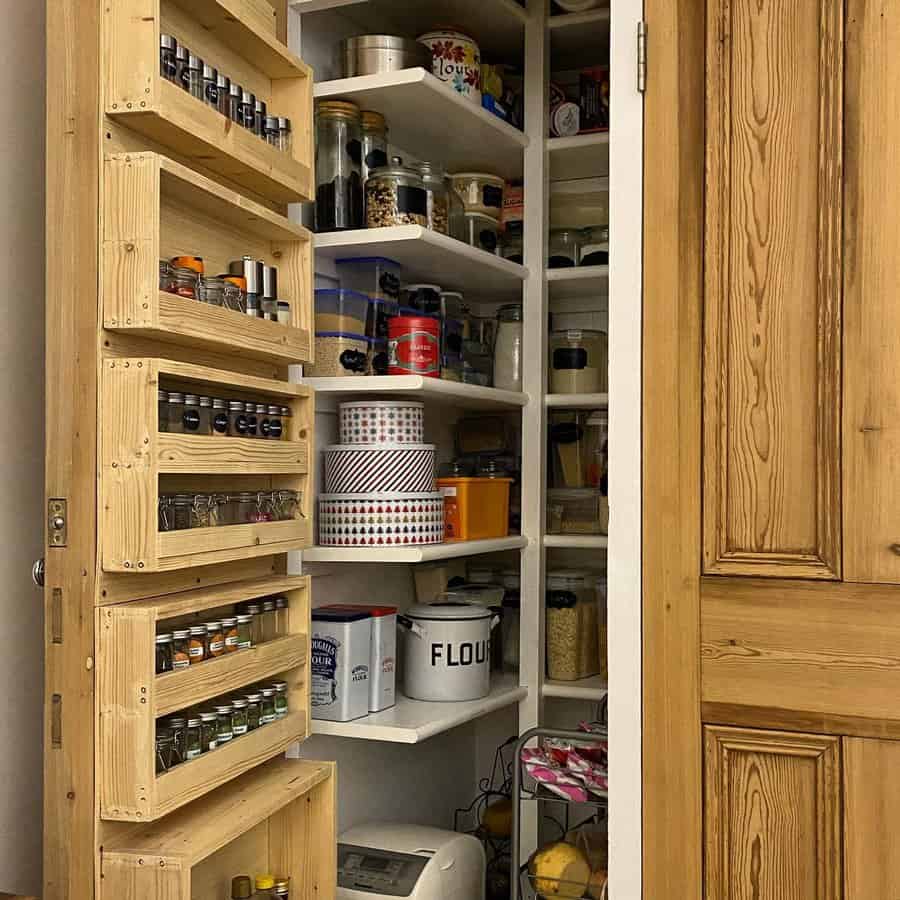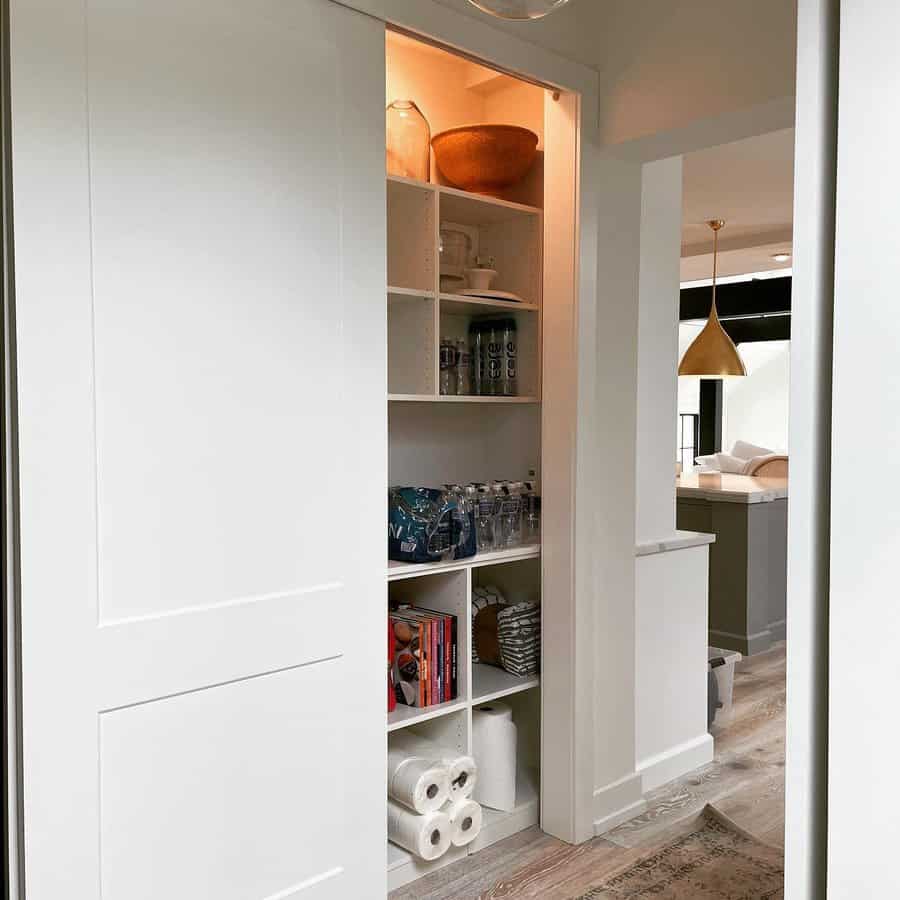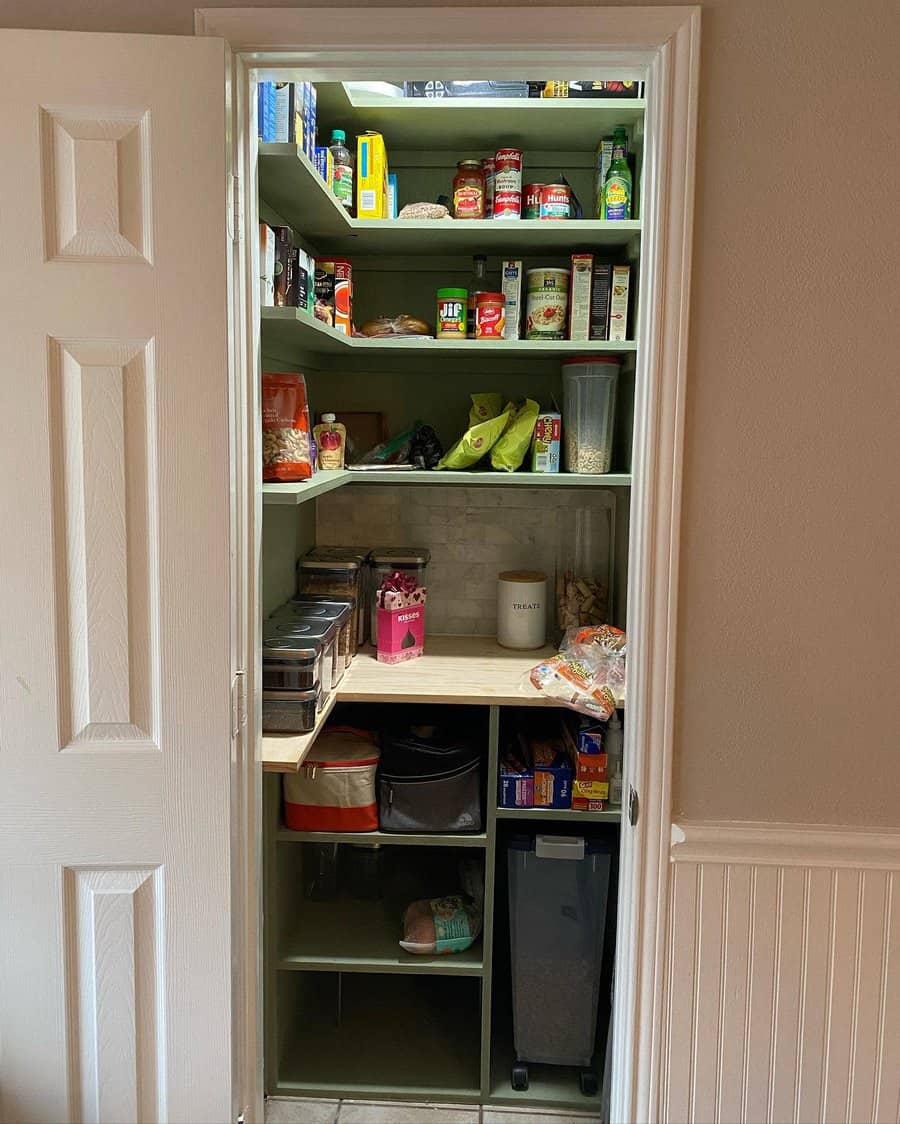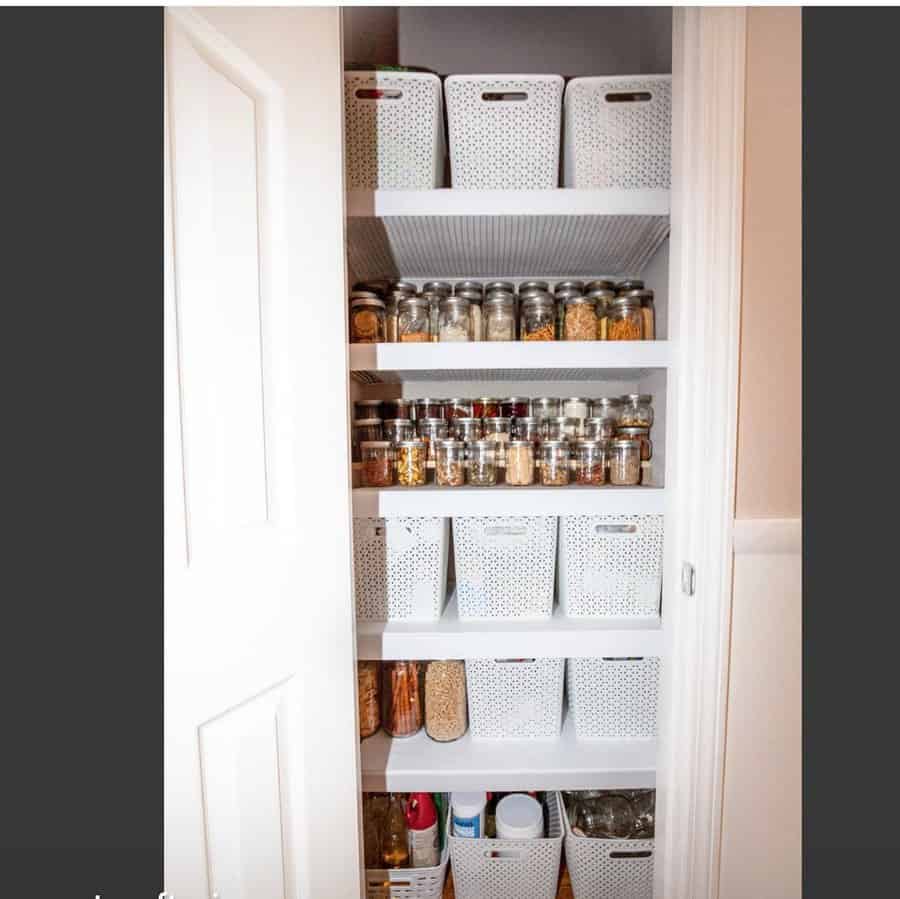 The last thing you want is for items to get lost in the back of your pantry. Invest in removable totes or pull-out shelves to gain access to every square inch of the space inside. An over-the-door spice rack will ensure small cans and bottles are always within reach.
There's no shortage of pantry closet organization ideas featuring decanted flour, pasta, and cereal. While these setups look great, they aren't practical for everyone. If you do use reusable containers in your pantry, don't skimp on the labels.
6. Remodel
Just because your home came with lackluster closets doesn't mean you have to give up on efficient storage. It might just take a bit of time and elbow grease to get the closet space you desire.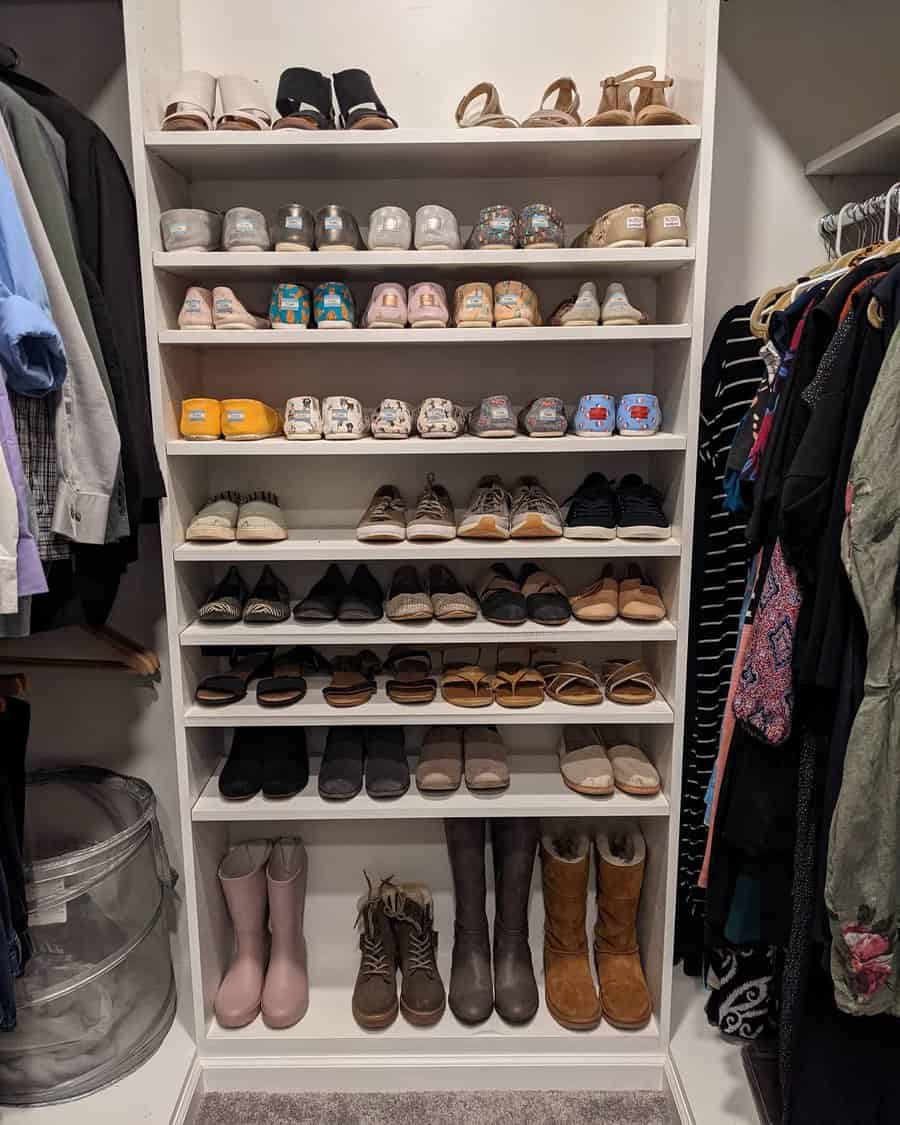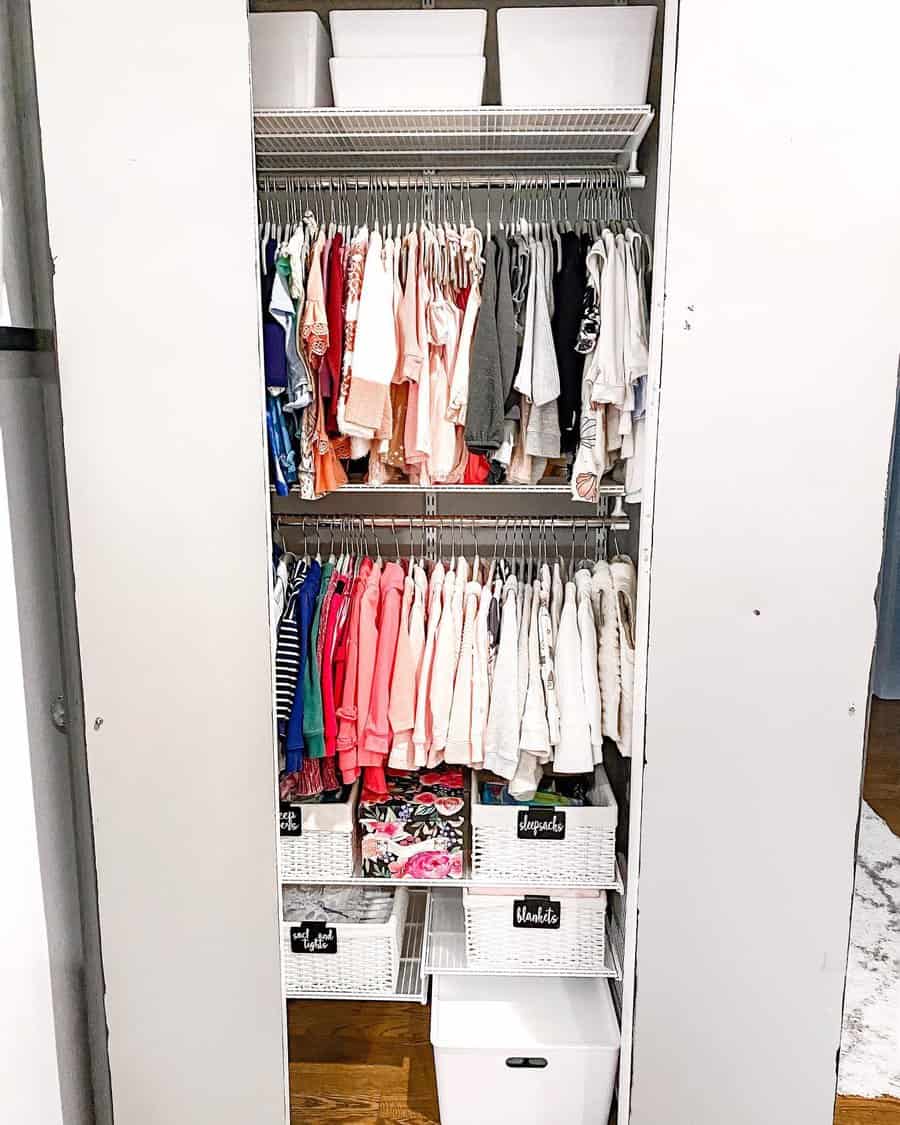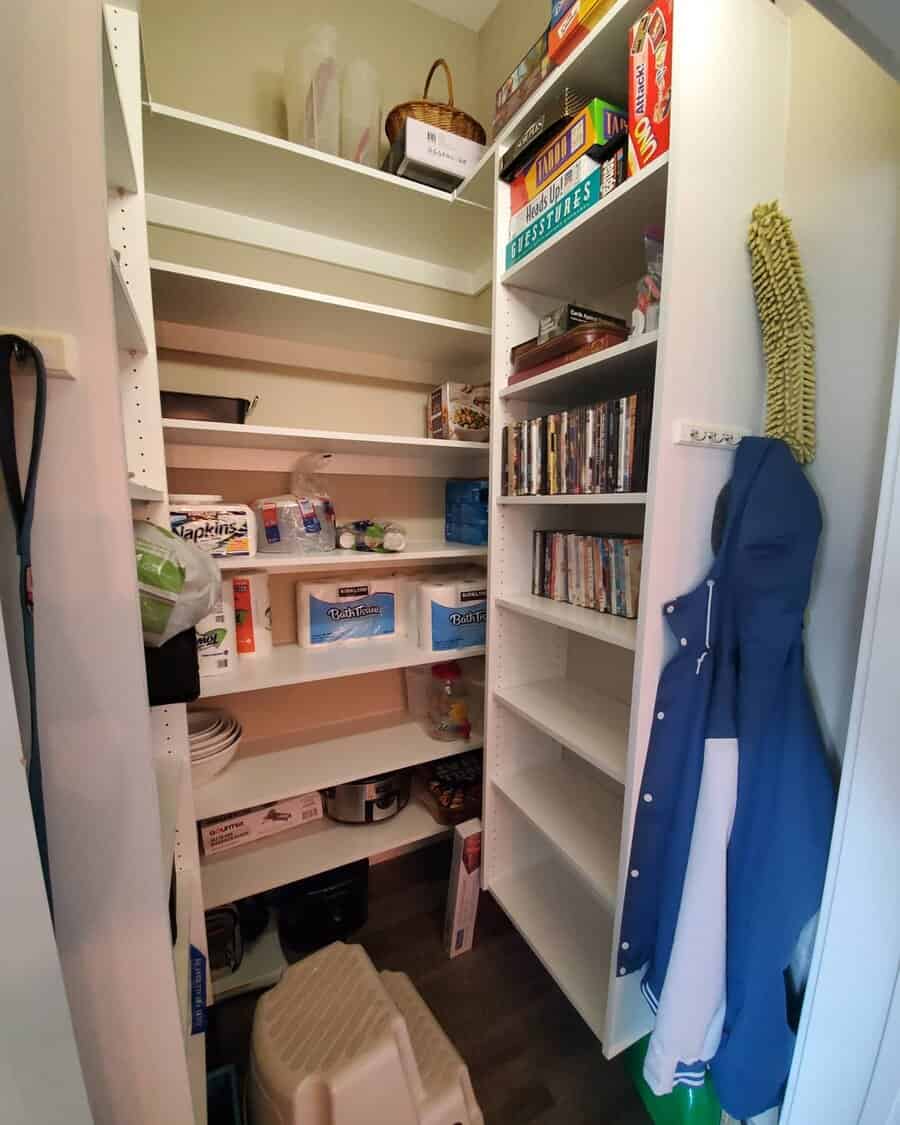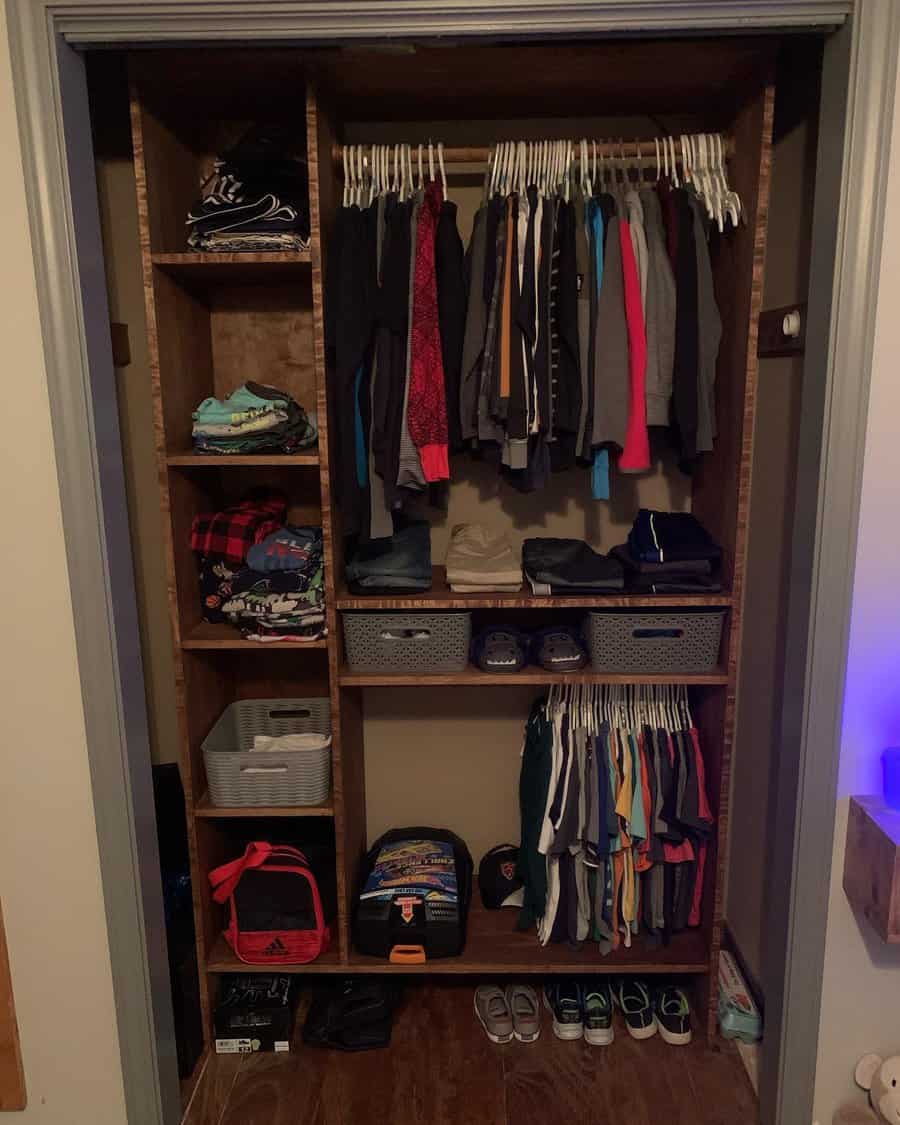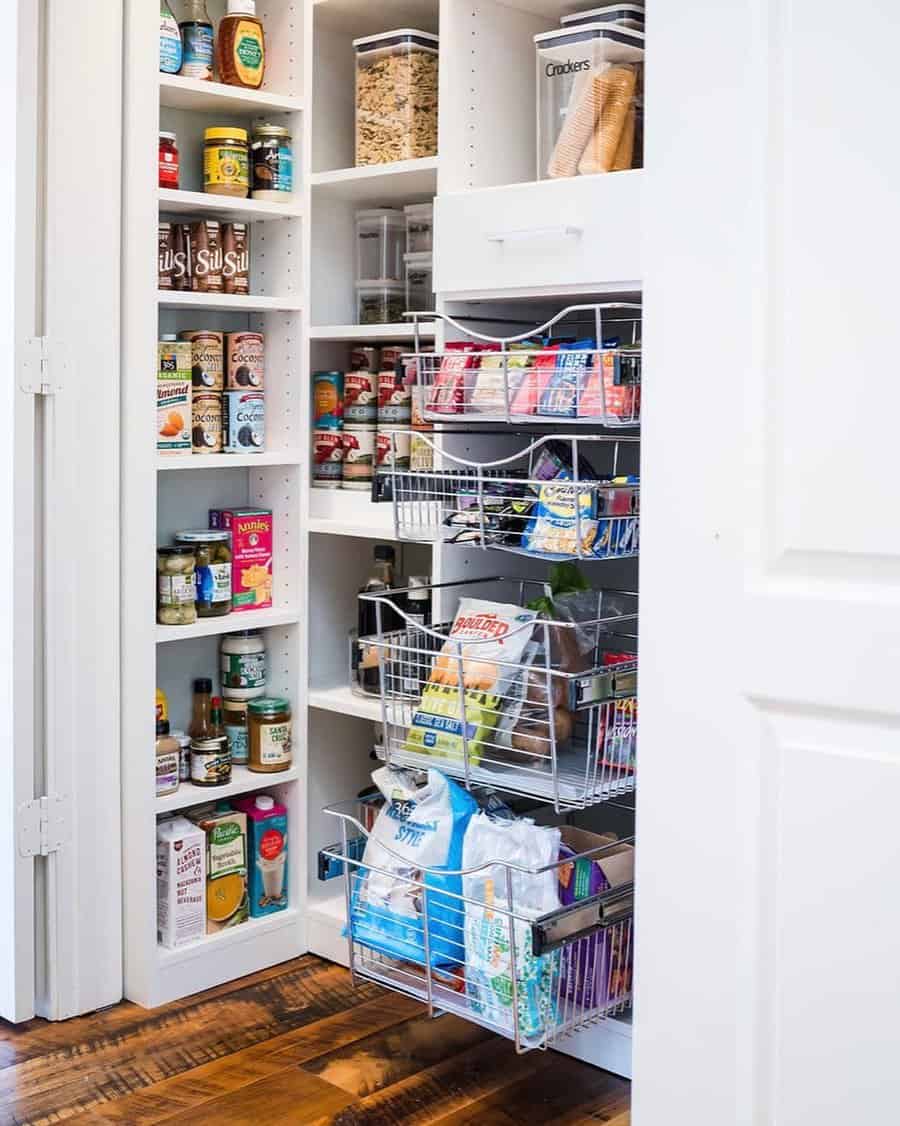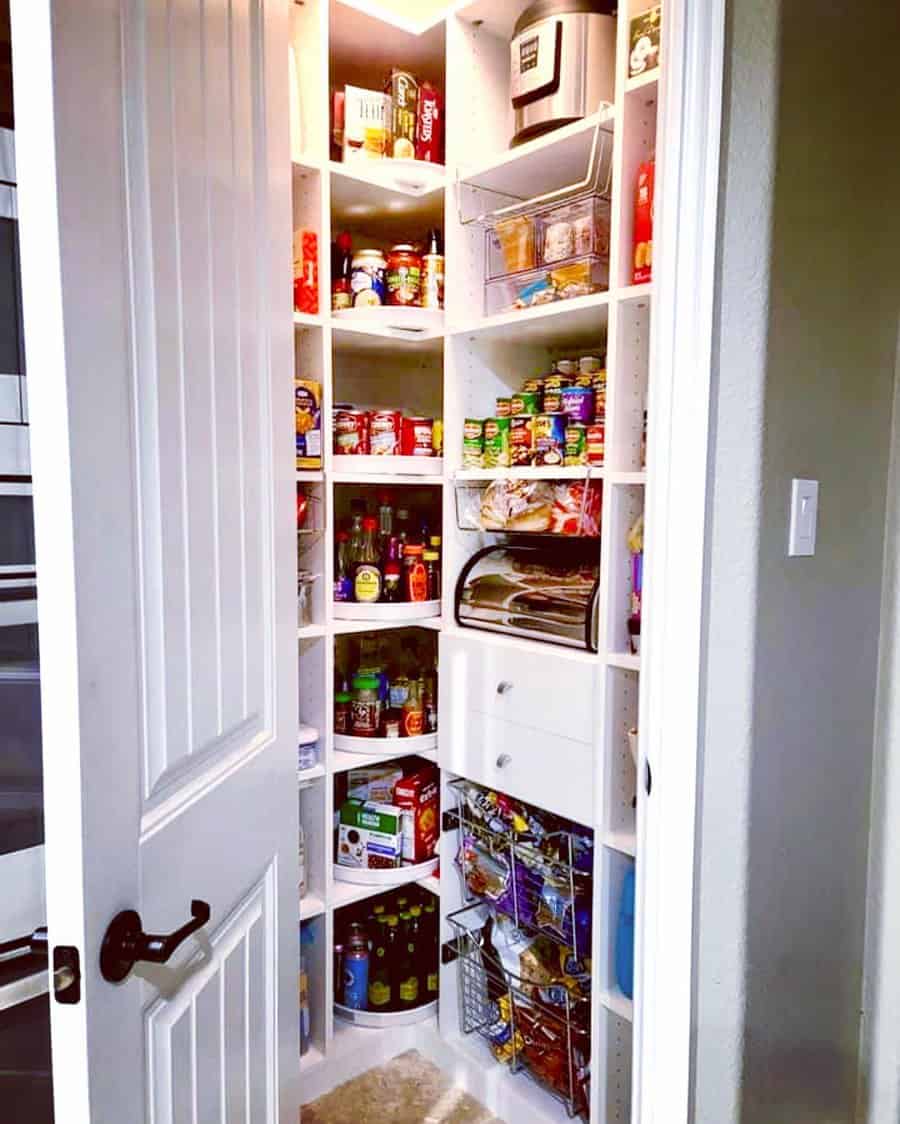 Expanding a small closet is rarely feasible. And it's almost never worth the cost or effort to do so. Instead, focus on how you can make the space inside feel larger.
Built-in shelving can double or even triple the available storage space in a small closet. There should not be any unused space — every inch counts.
7. Shoe
Whether you're a self-proclaimed shoe fanatic or just a member of a large family, footwear is one of the hardest things to store. If you have an unused closet somewhere in your home, however, converting it into shoe storage could be a worthwhile investment.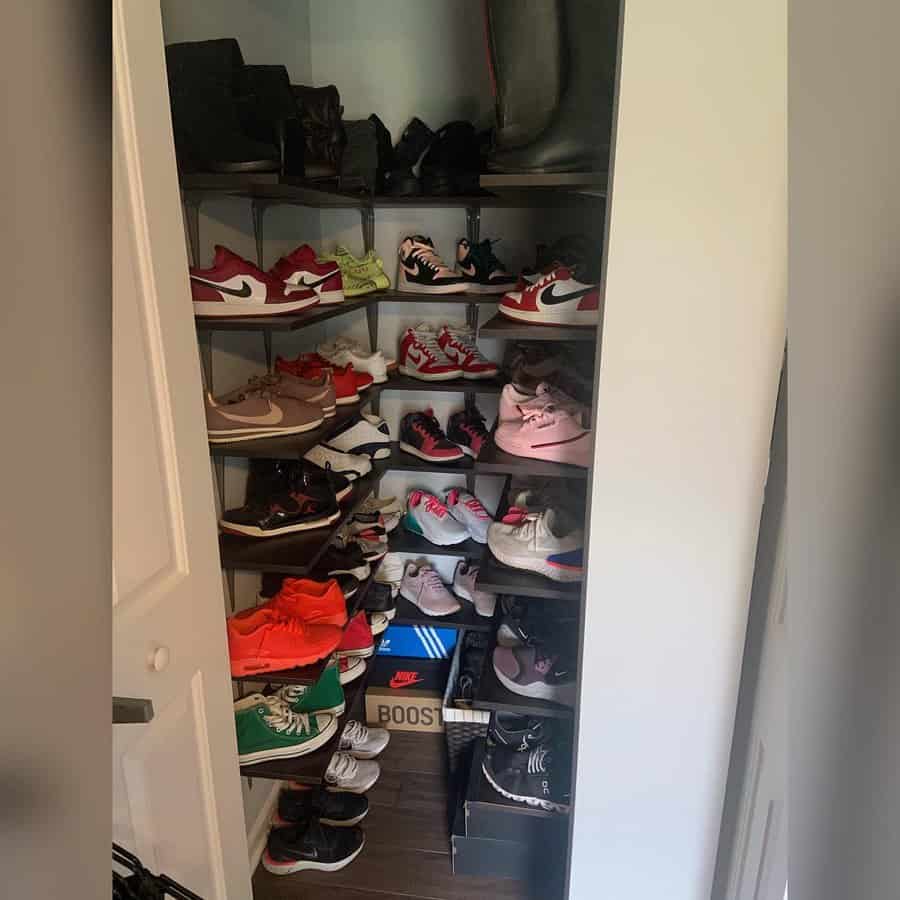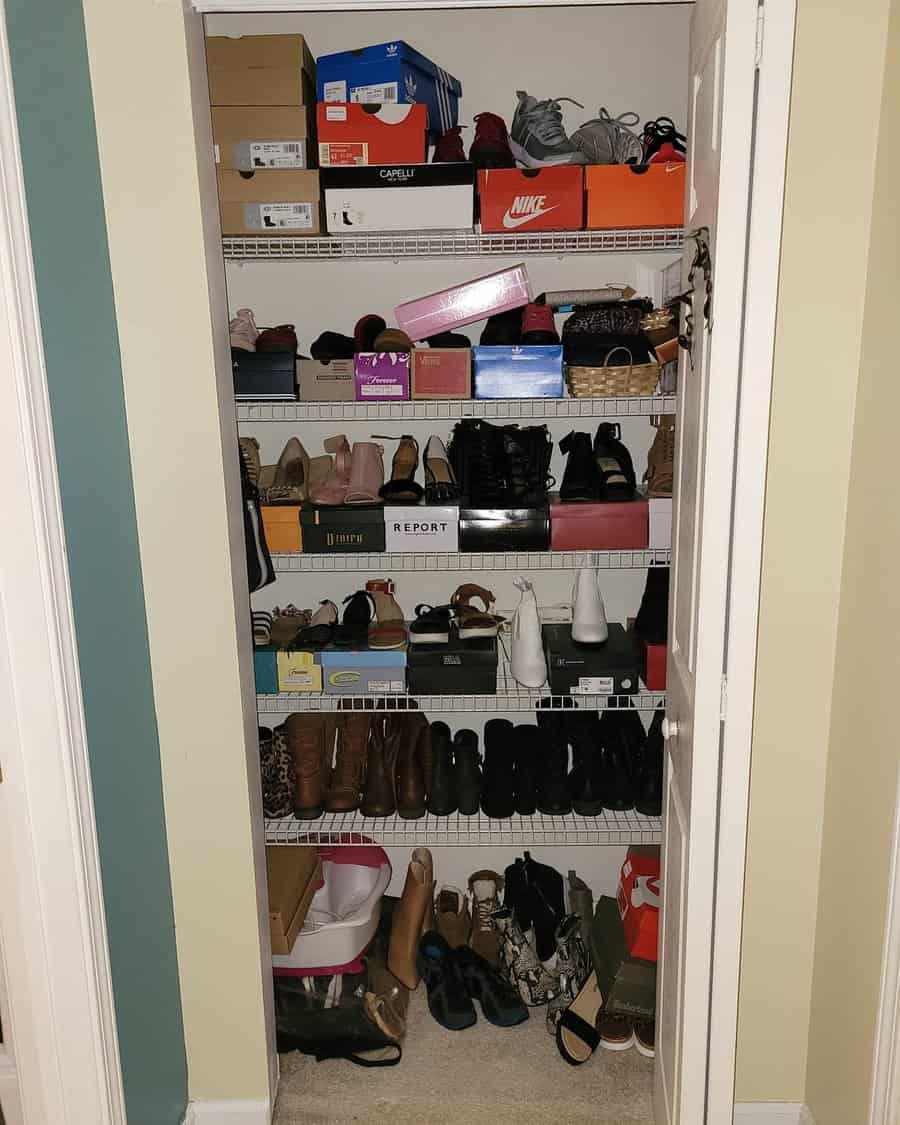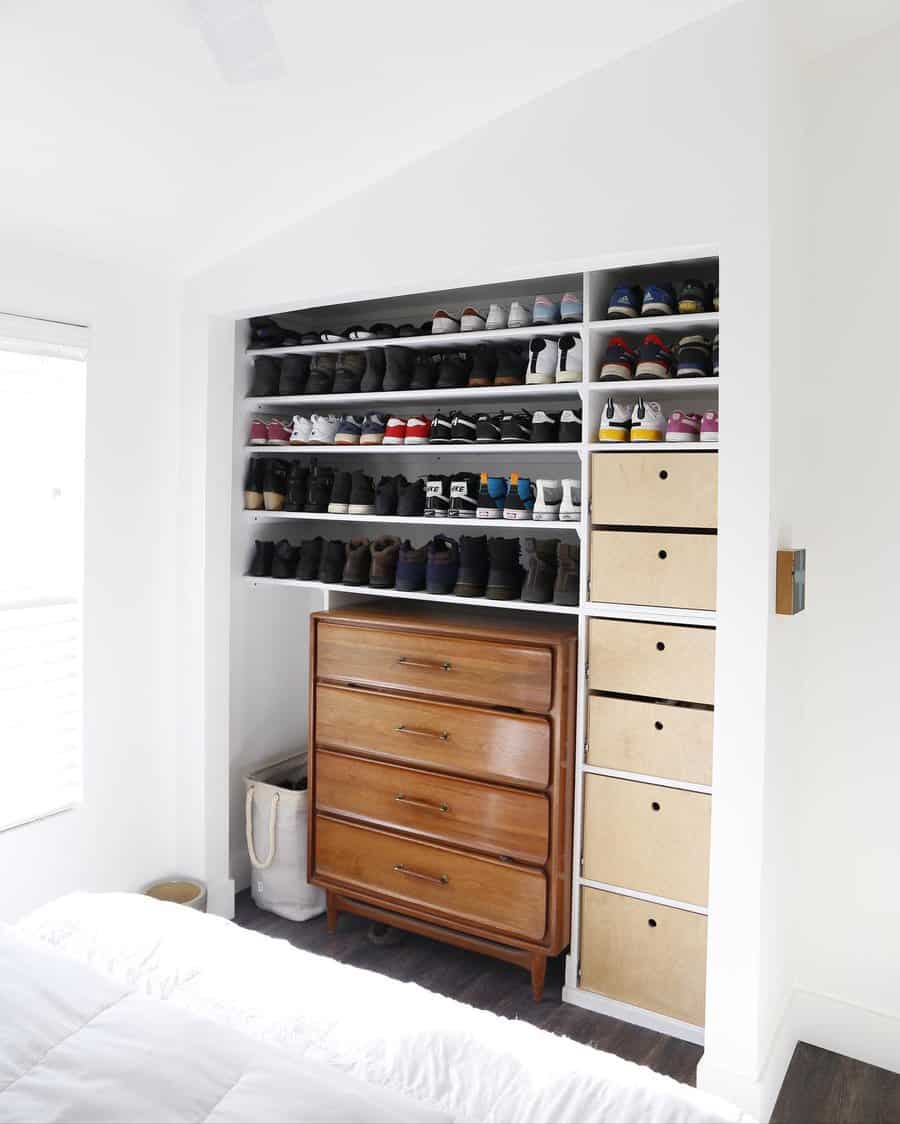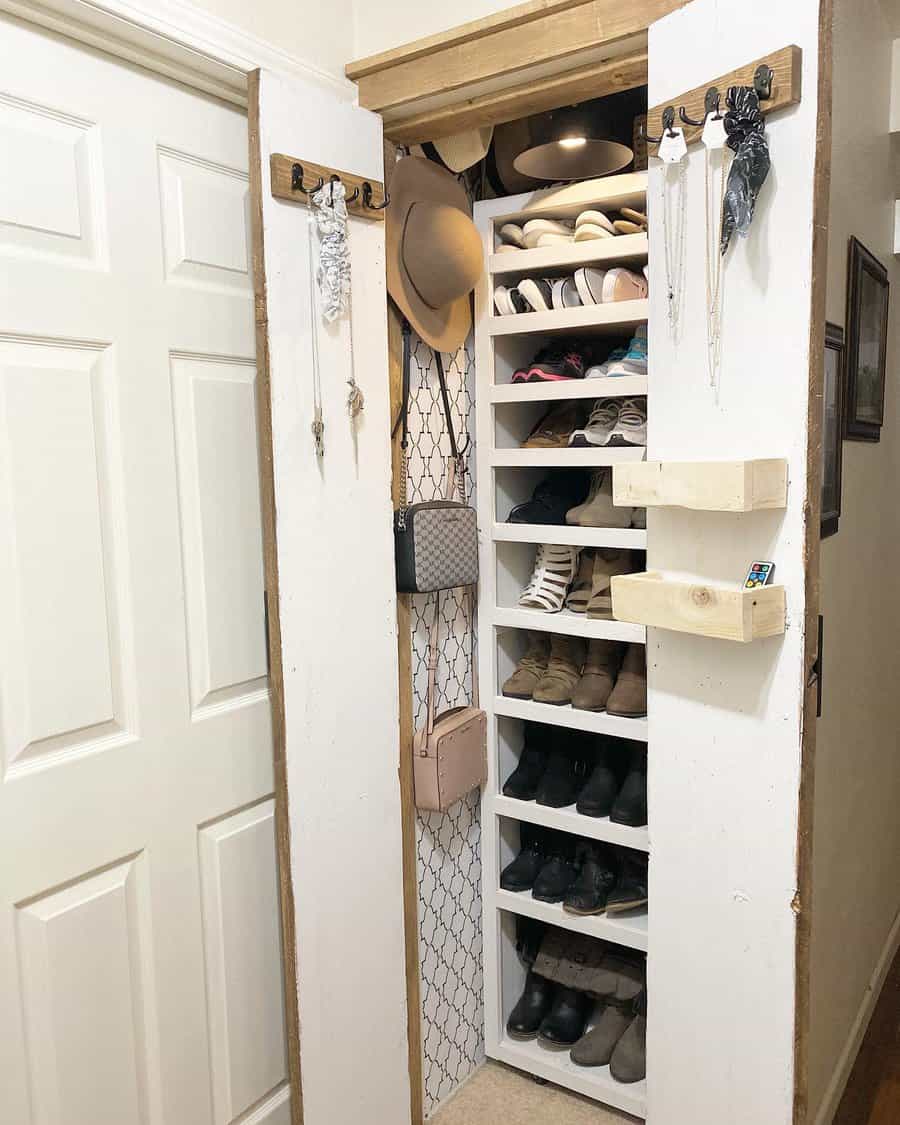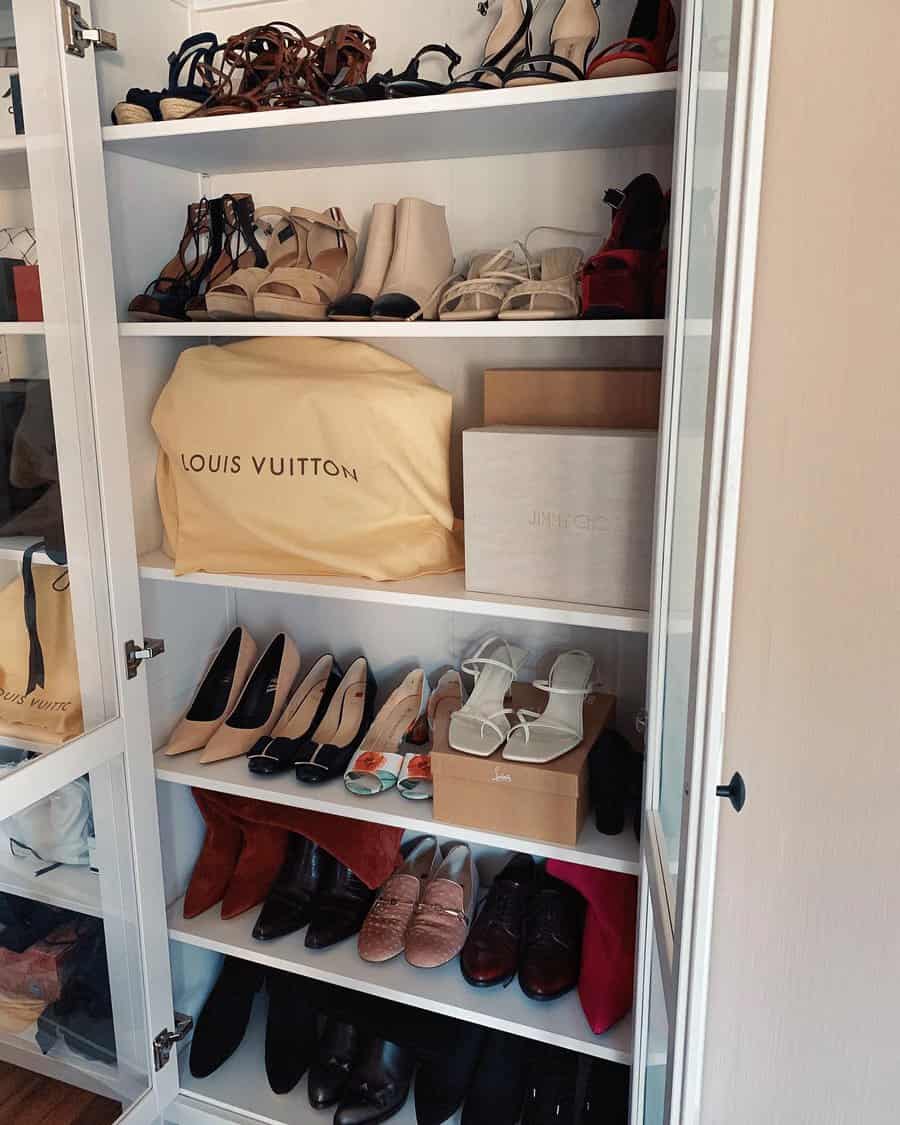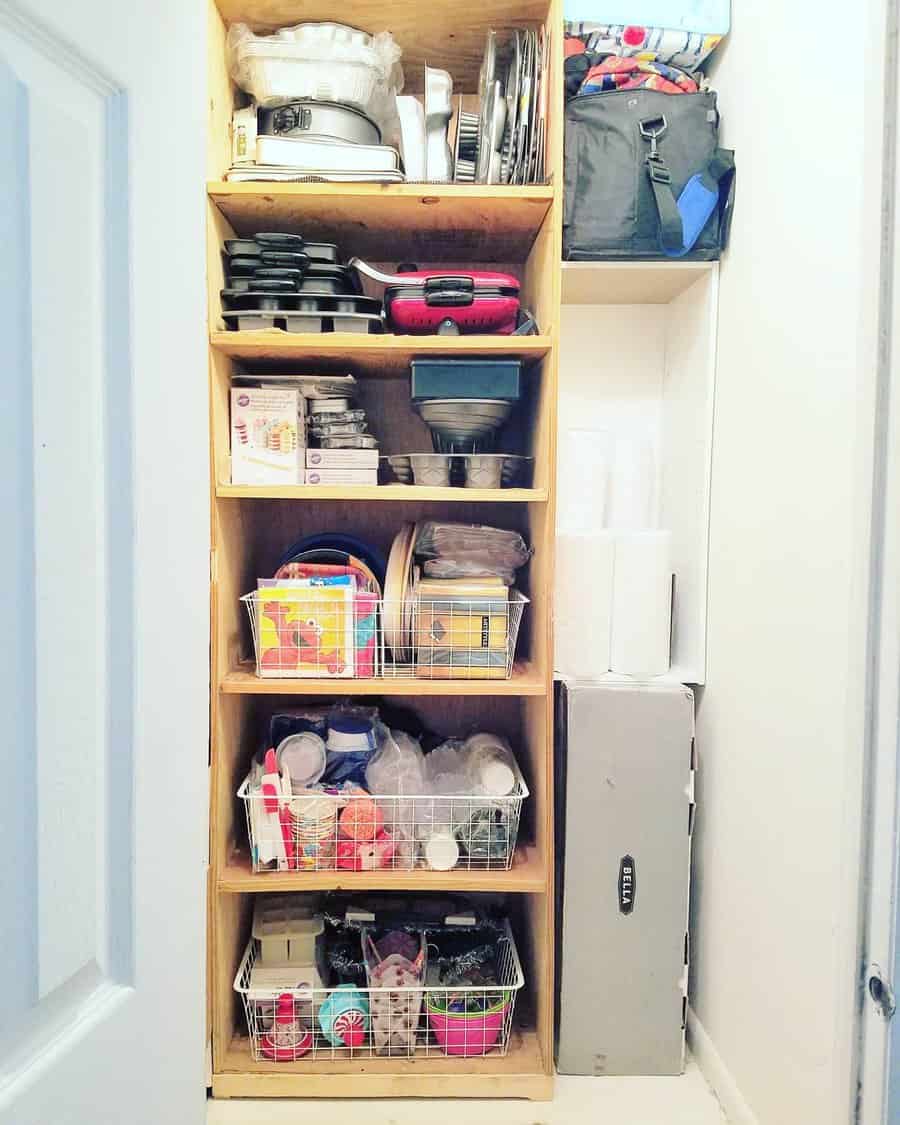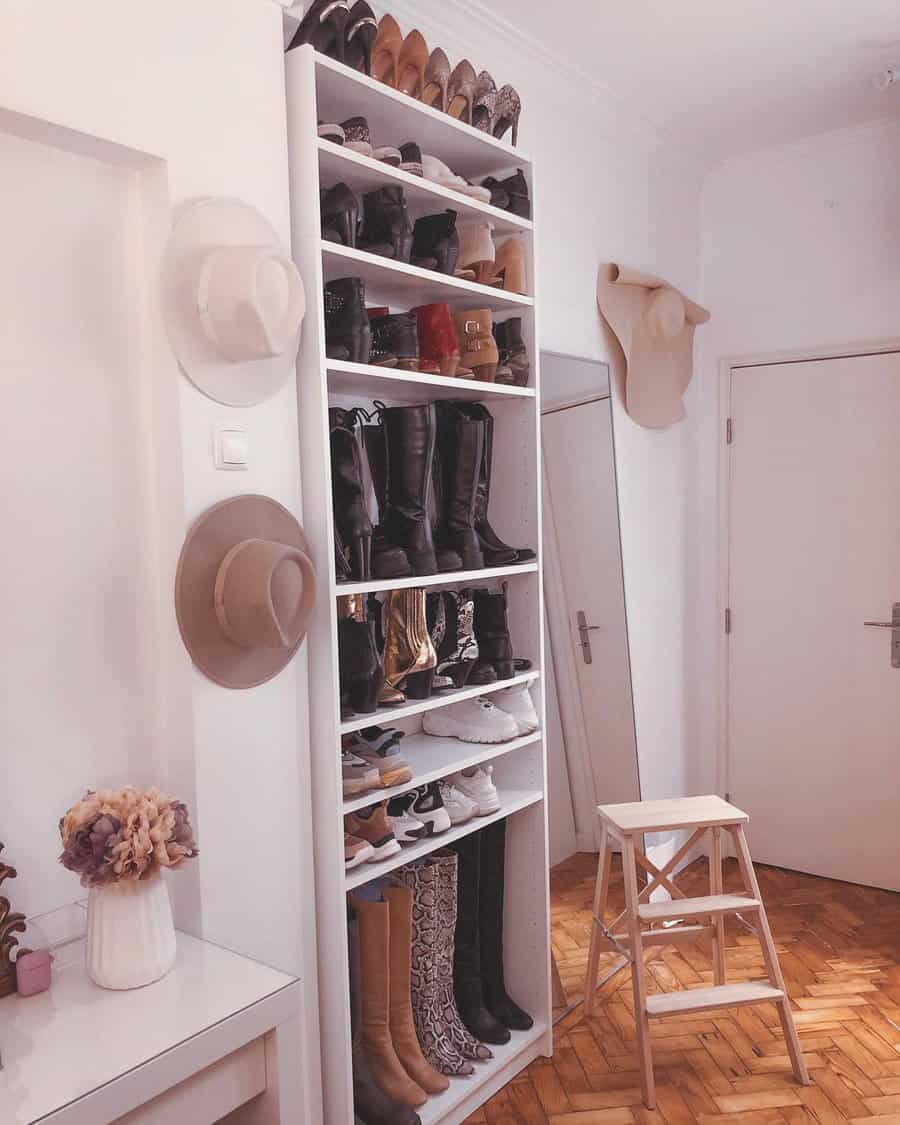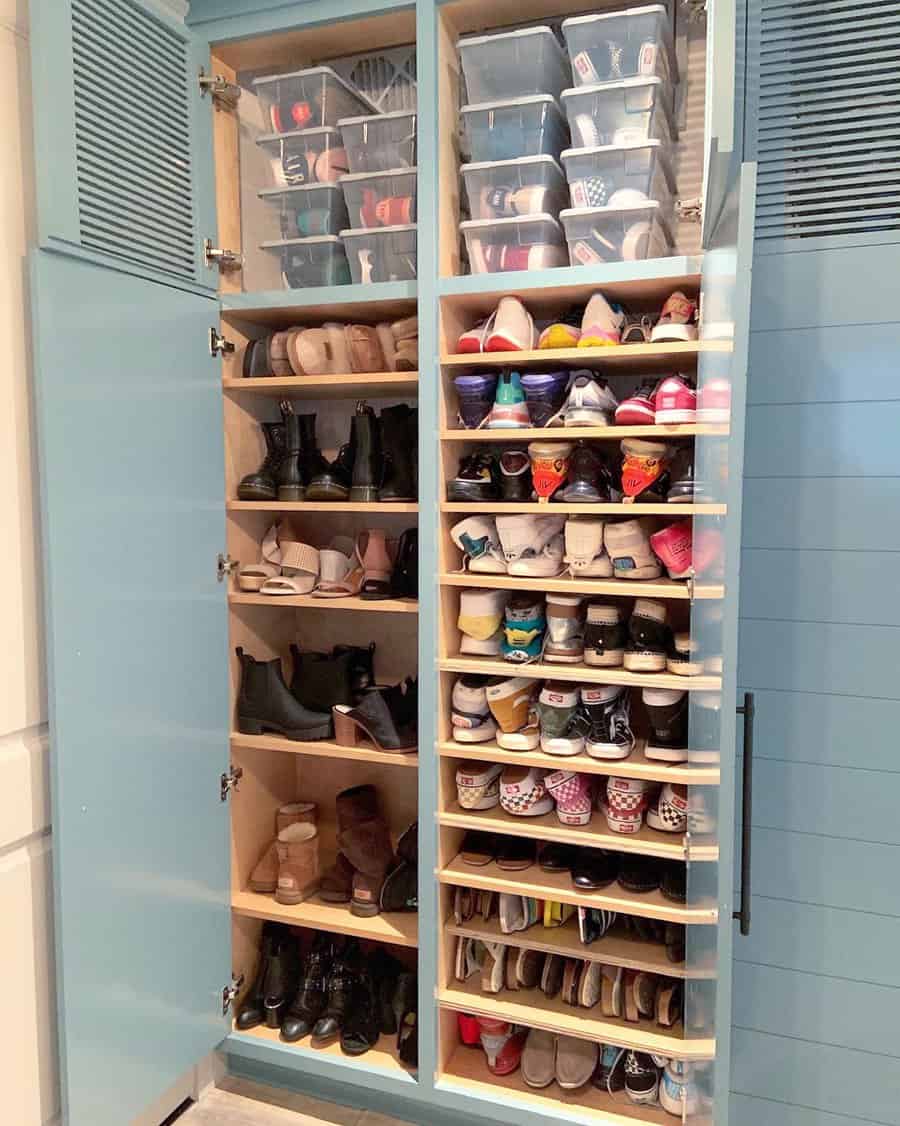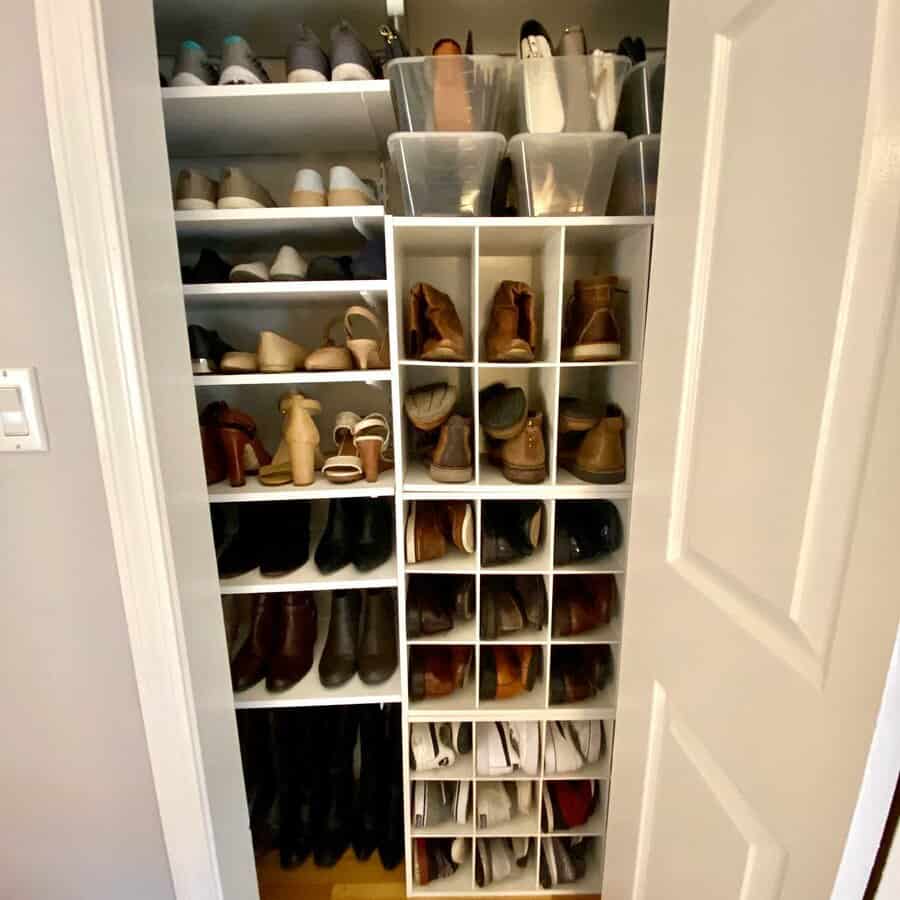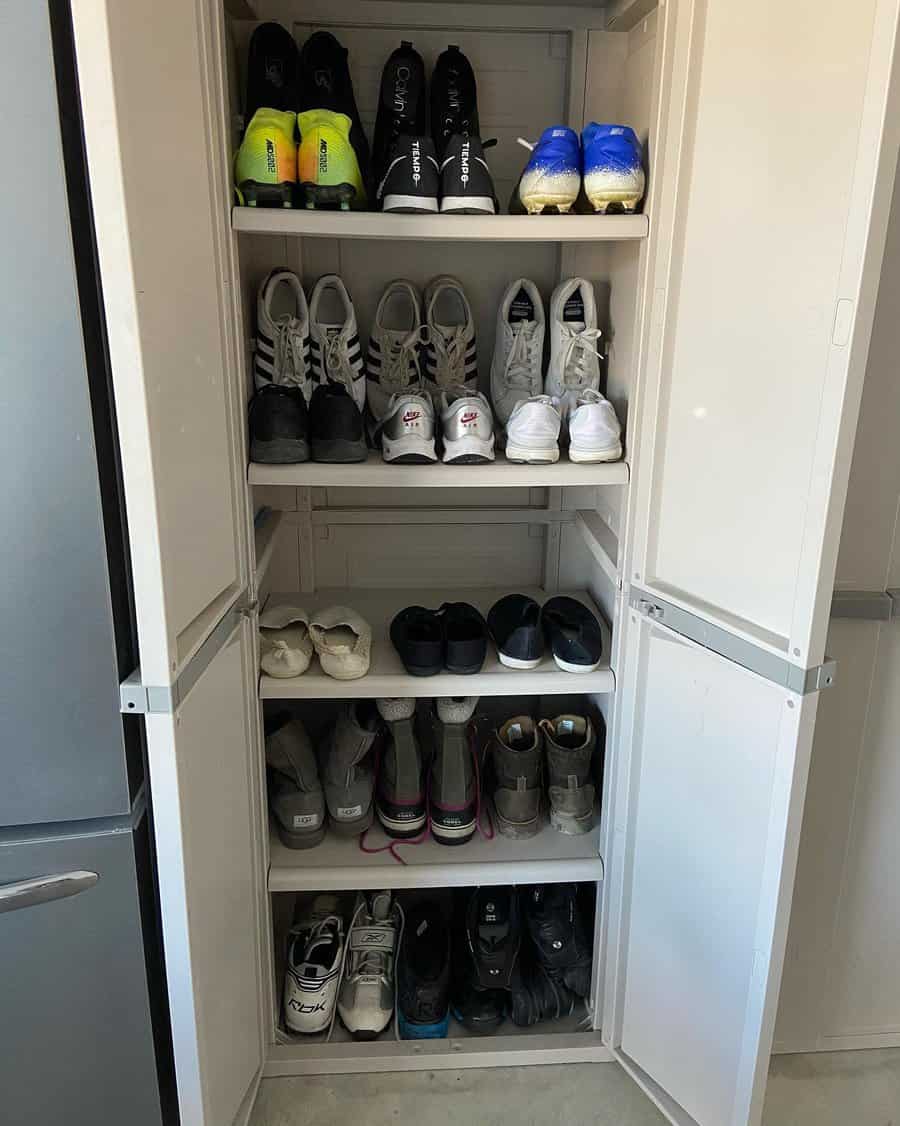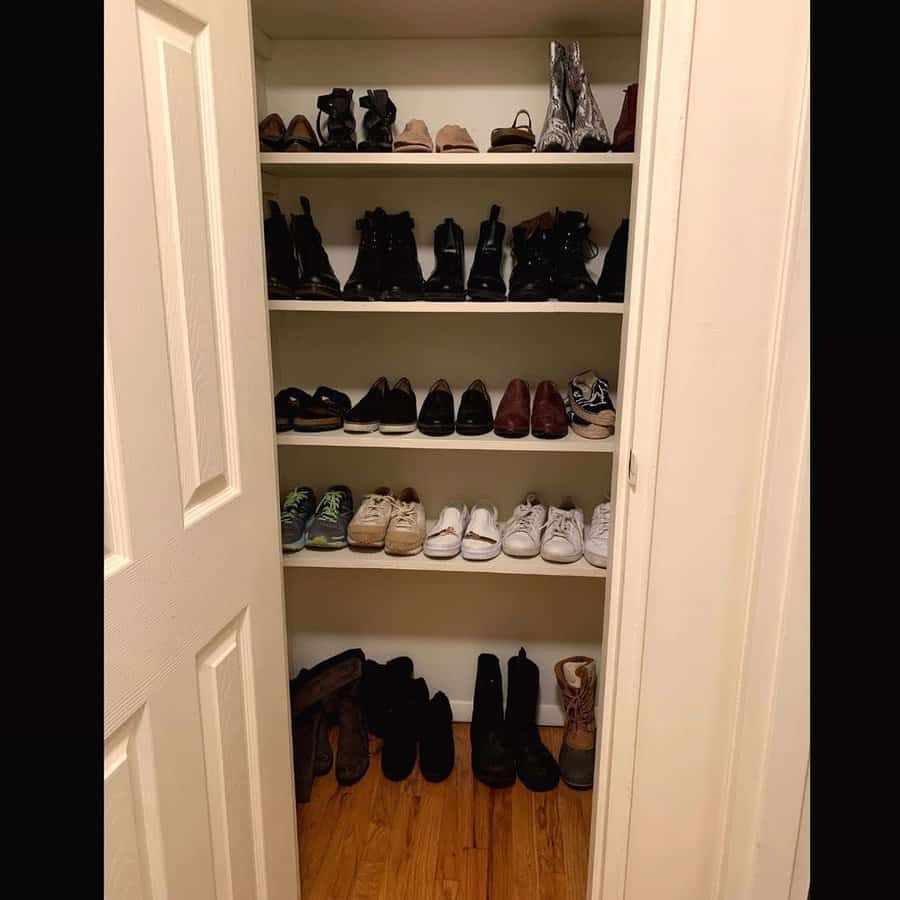 Angled shelves are some of the best solutions for floor-to-ceiling shoe storage. Add a lip to the front of each shelf to prevent shoes from sliding off.
You don't need much room to store your favorite shoes. So this is the perfect project for that awkwardly small closet you haven't found a use for. You can also add a shoe organizer to a larger closet without sacrificing form or function.
See more closet shoe storage ideas here.
8. Storage
Some closets have obvious functions — it's easy to decide what to store inside when a closet is located in a bedroom, bathroom, or kitchen. But not all closets are located in a specific room.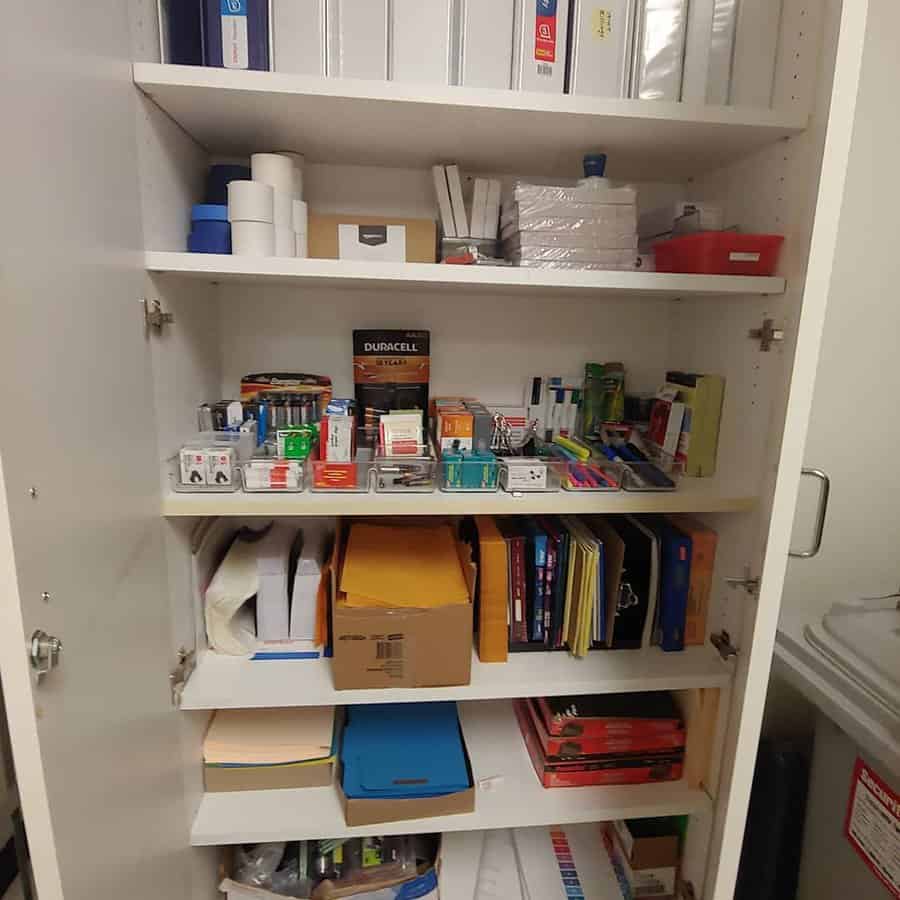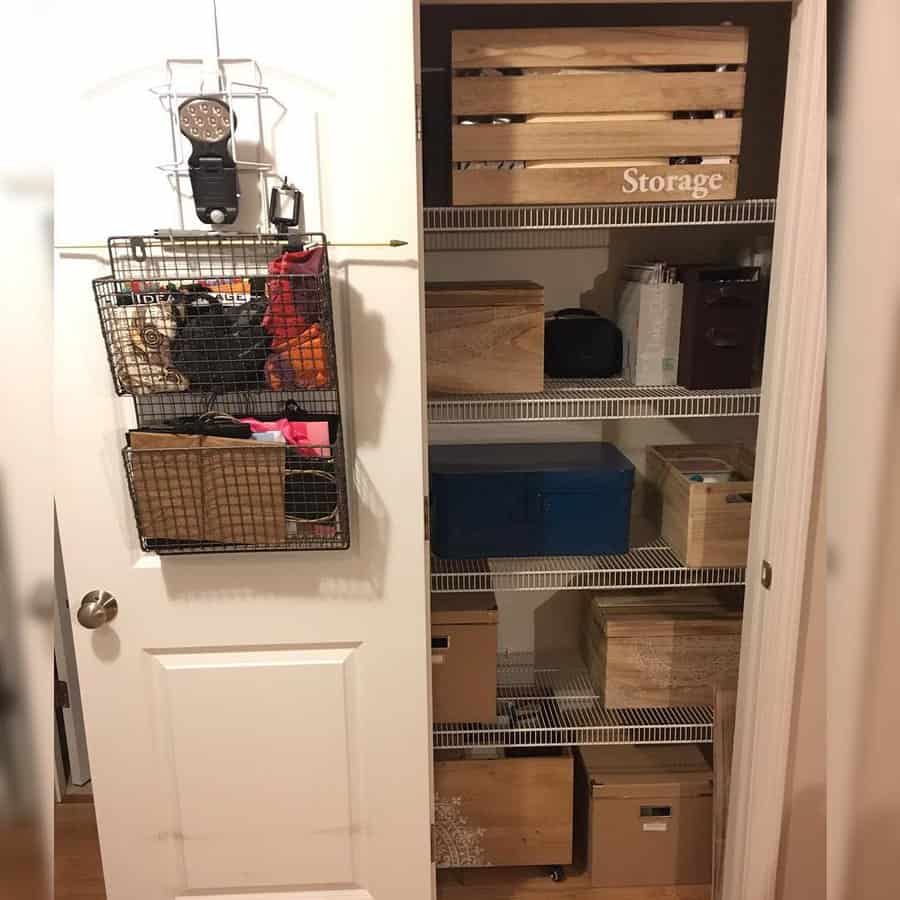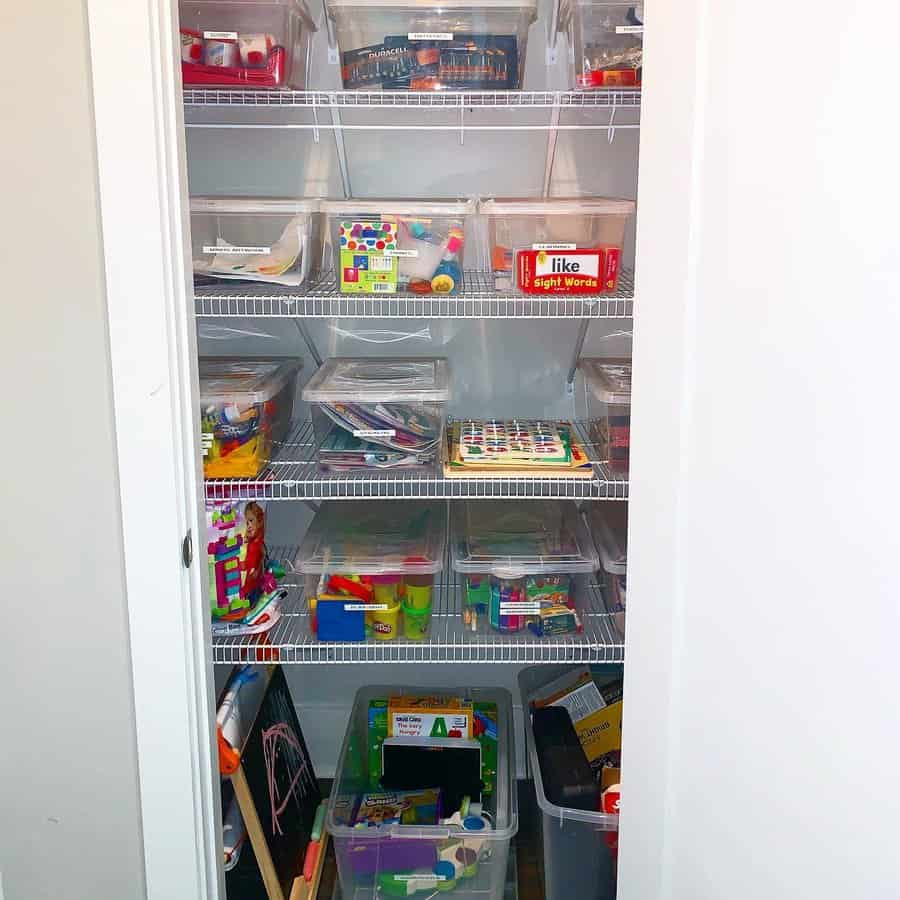 To prevent your hallway, entryway, or spare room closet from turning into a catch-all for clutter, it's best to set up an organization system from the start. Decide what belongs inside (and what does not) and invest in small closet organization ideas that support those guidelines.
A small closet can be easily overwhelmed by household belongings, especially if it contains a wide variety of items. Throwing everything on a shelf won't cut it! Instead, use well-labeled containers to keep like items together and organized.
9. Walk in
Small walk-in closets still offer quite a bit of space. But an inefficient use of this space can mean wasted potential in more ways than one.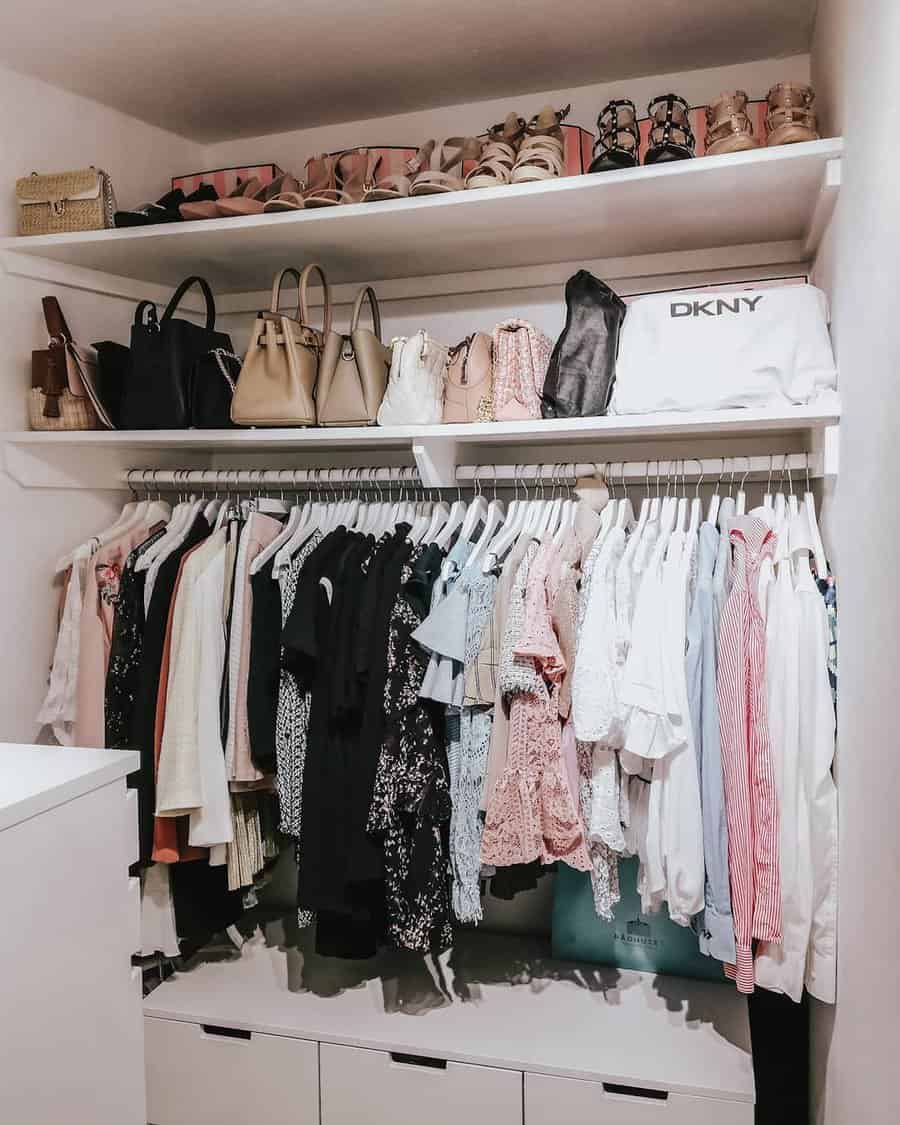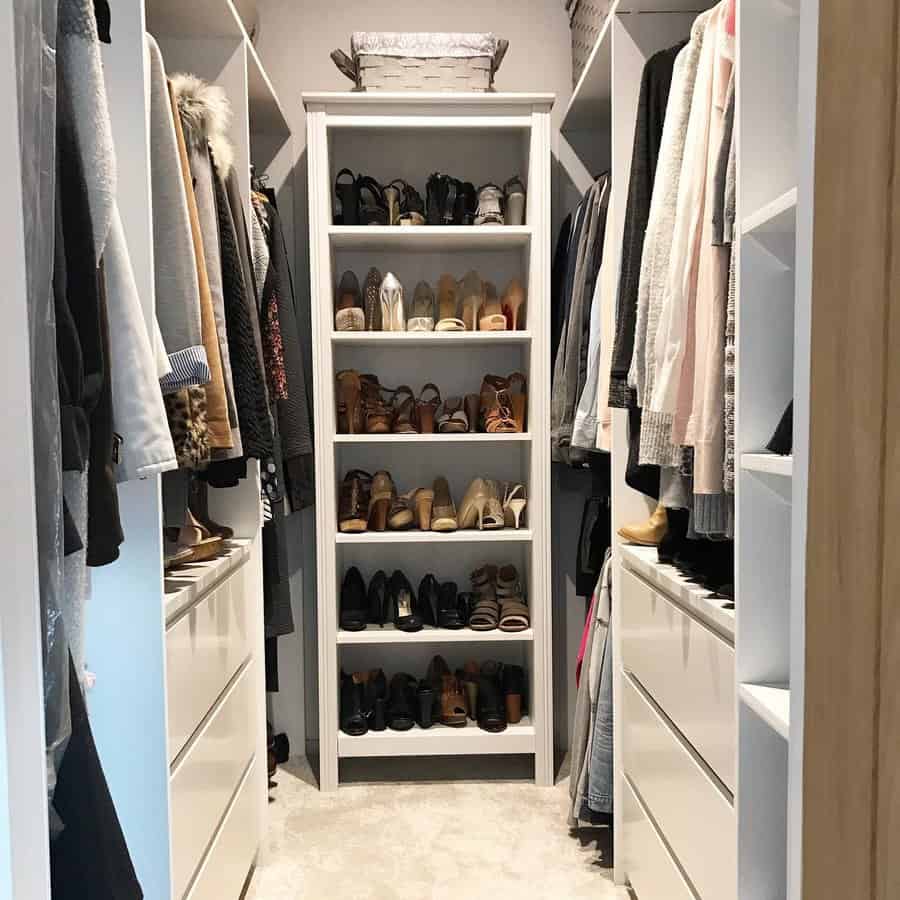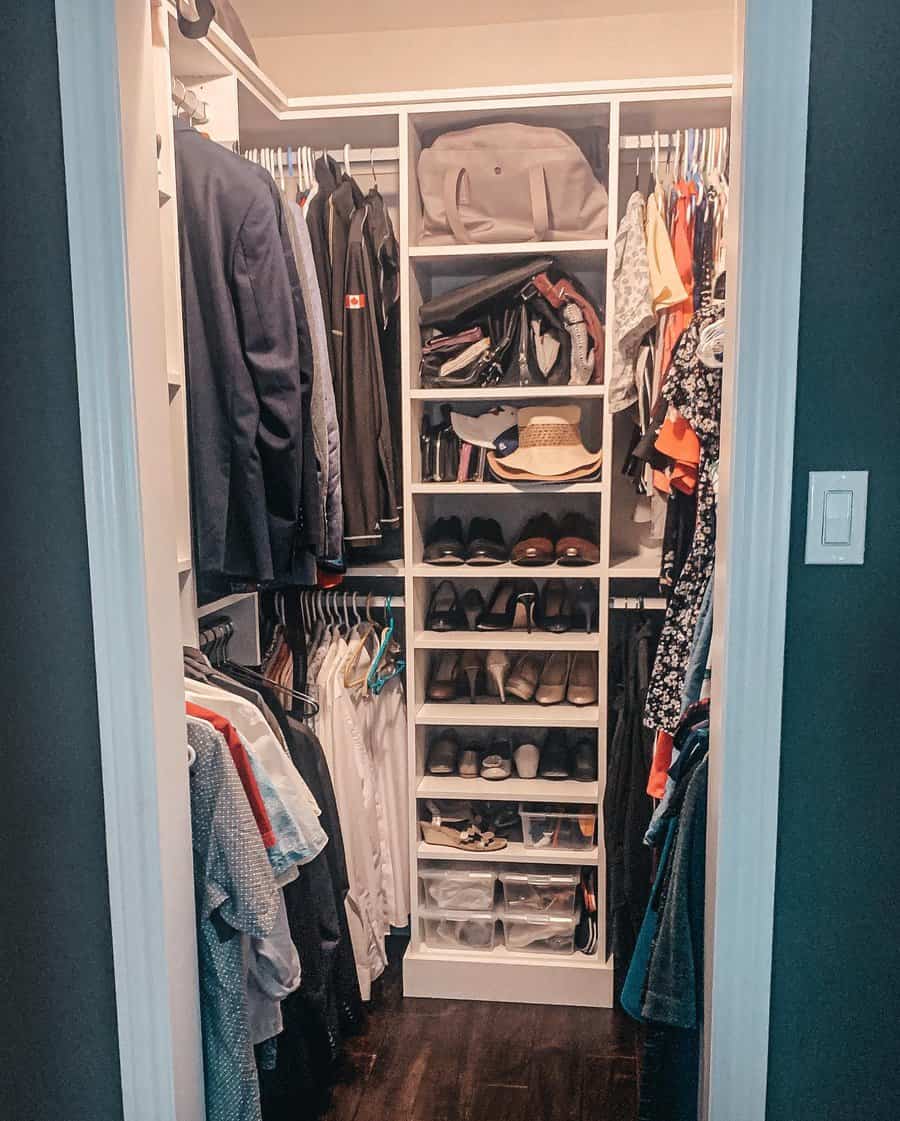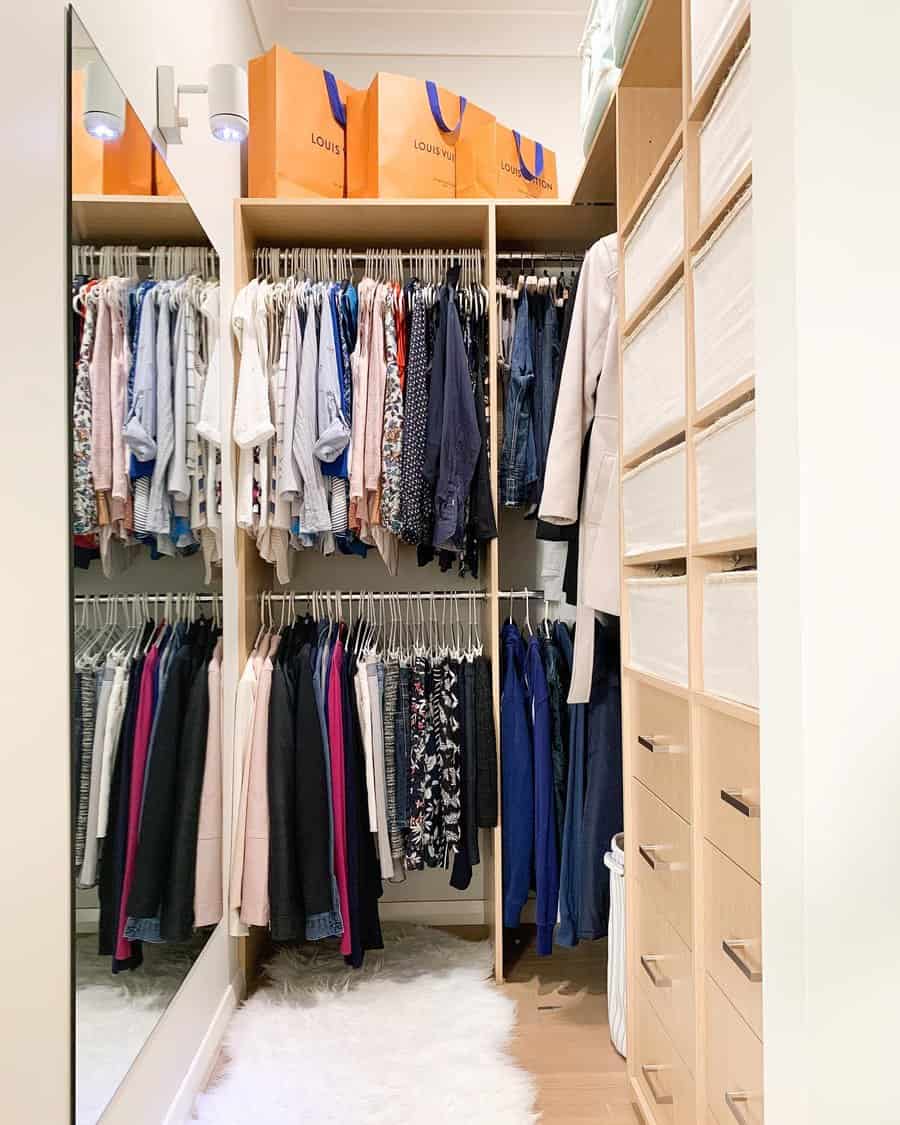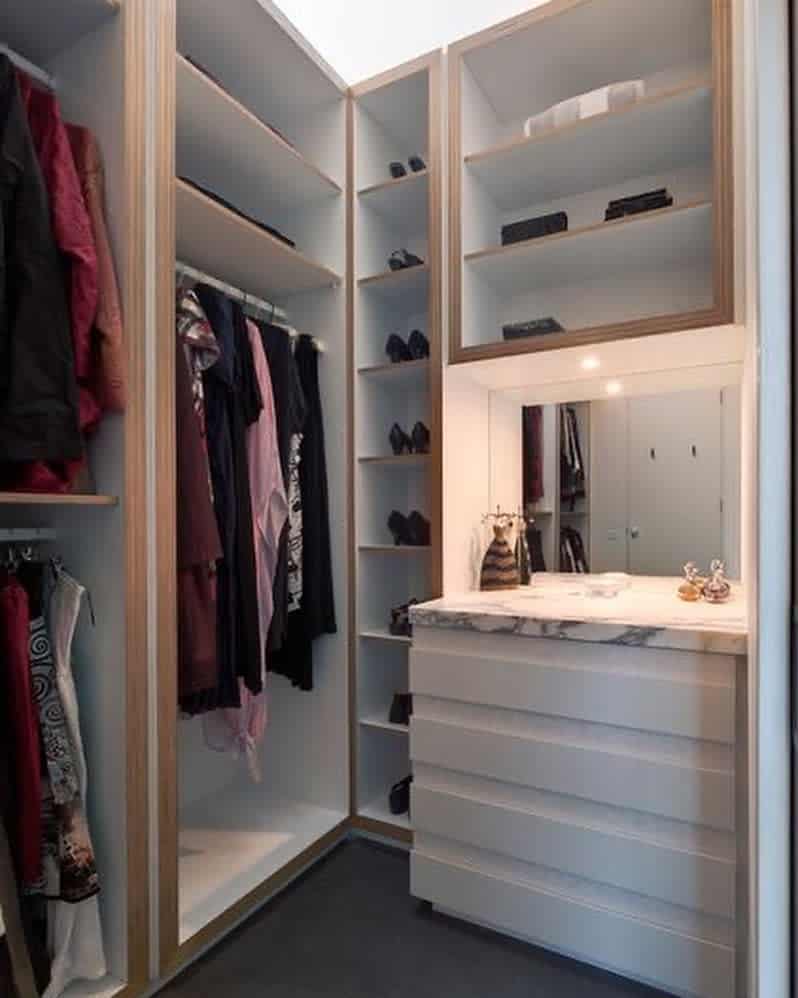 Countless people believe that a walk-in closet will solve all of their storage problems. Invest in a small closet organization system to ensure this is actually the case.
Take advantage of your bedroom's walk-in closet to free up valuable square feet. Installing a built-in closet drawer system can remove the need for a separate dresser or armoire. Maximizing your walk-in closet storage could mean a less crowded bedroom overall!
10. Wardrobe
Creating a thoughtful, well-organized wardrobe is a great investment in both your home and your clothes collection. Proper storage will ensure you always know what to wear and that your favorite clothes last for as long as possible.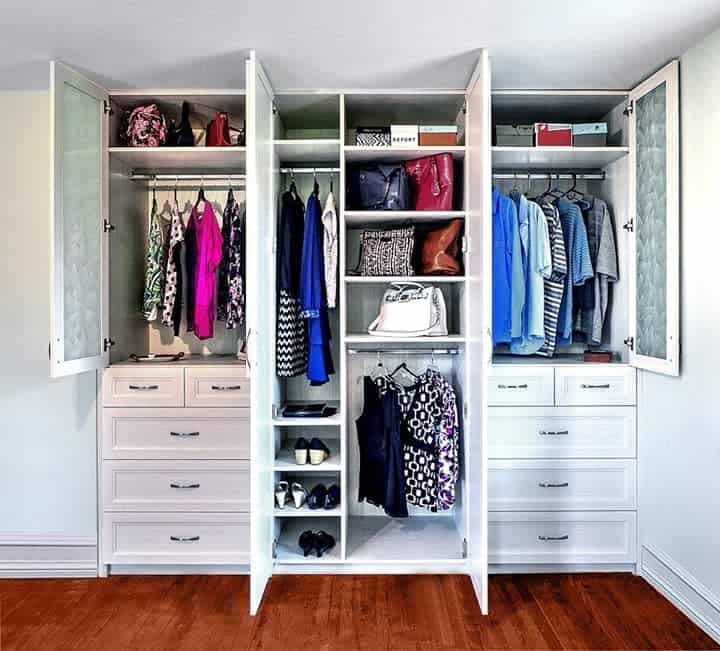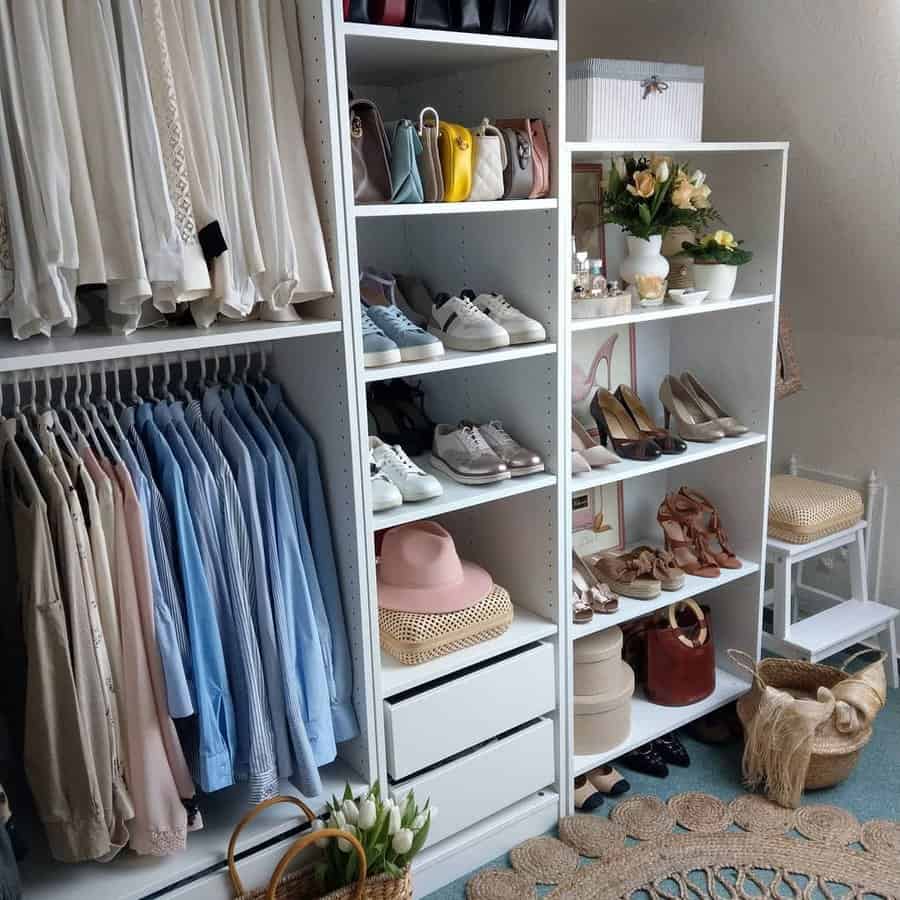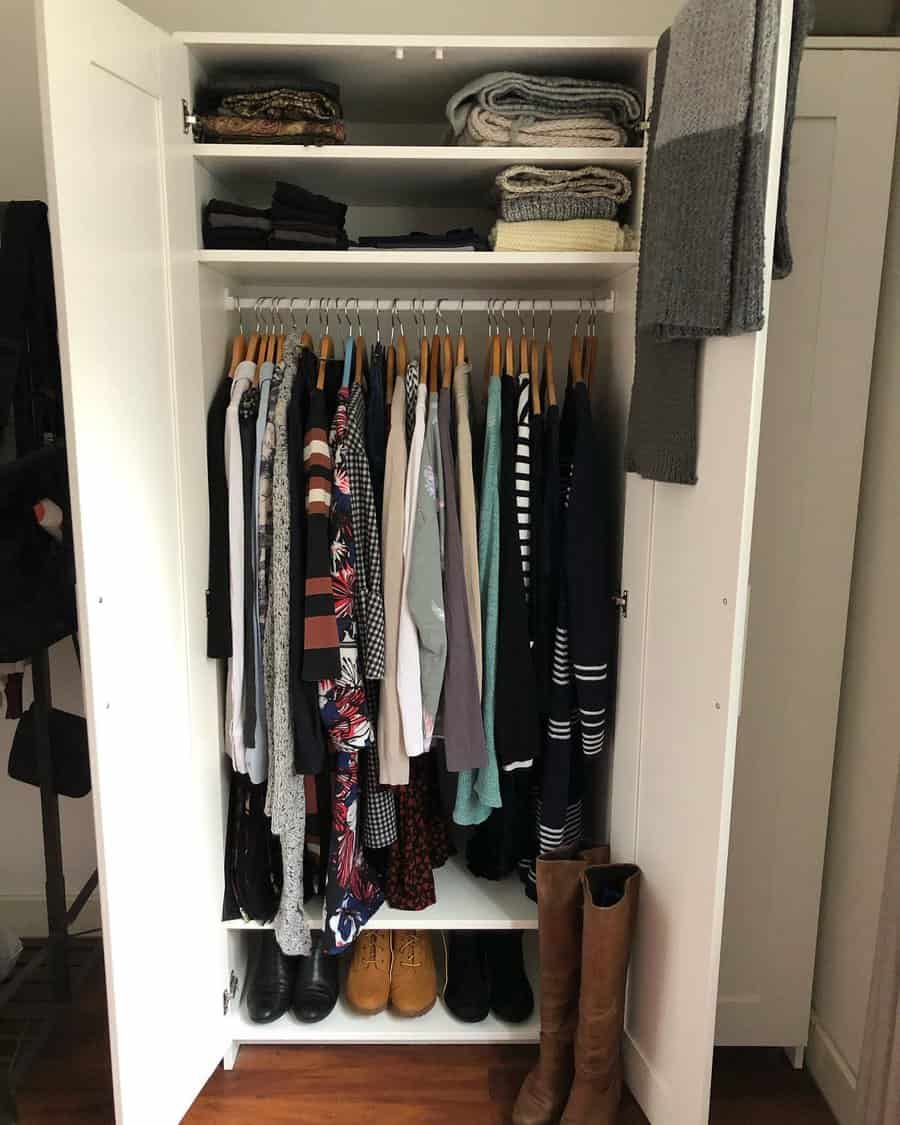 Different clothing styles will call for slightly different organization systems. For example, a nursery closet will look much different than the wardrobe of someone in a formal work environment.
Remember that your wardrobe consists of more than just clothes. When planning out your new closet system, be sure to account for footwear, headwear, and other must-have accessories.
Small Closet FAQs
What is the minimum closet size?
Technically, closets can be any size. But there's no guarantee a tiny closet will be useful for storage of any kind.
Reach-in closets can be any width. They tend to be at least 24 inches deep (the depth required to store day-to-day clothing). Any shallower and hanging clothes may not fit inside.
Meanwhile, most walk-in closets are at least 4 feet wide and deep. This provides enough space to hang clothes and other items while still being able to stand inside the closet.
What goes in a linen closet?
Linen closets generally hold any and all fabric items — except for clothes — used throughout the home. This can include bedding, towels, tablecloths, cloth napkins, and more. Some people also use the linen closet to store extra paper products (toilet paper, paper towels, etc.) or cleaning supplies.
Ideally, a linen closet should be large enough to accommodate bulky blankets and sheet sets. However, you can turn any size closet into a linen closet with the use of storage totes and other organization tools.