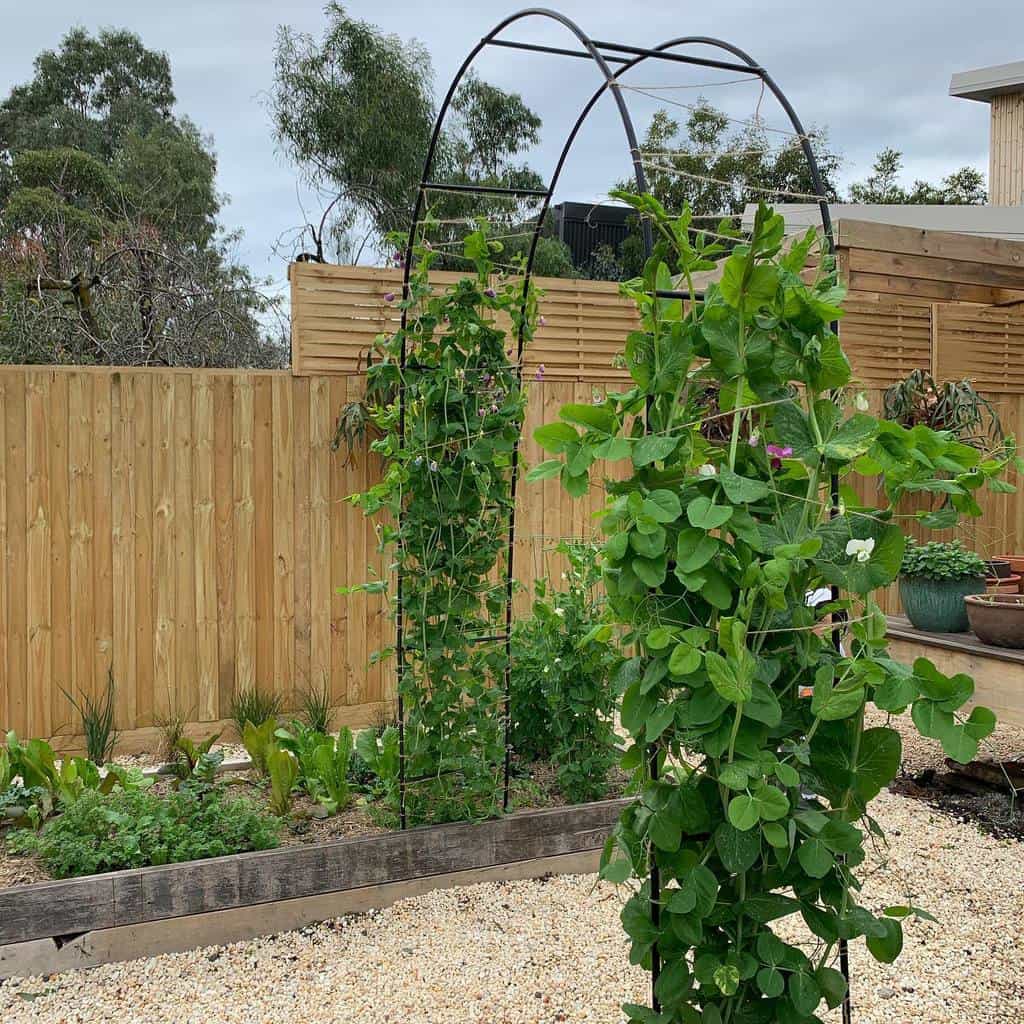 55 DIY Trellis Ideas for Your Garden
Some plants simply cannot support themselves. They love to prolifically grow but need a structure to support them. While many of these plants are vines, they aren't always. So, whether you're looking to grow ivy or tomatoes, you need a trellis. These decorative structures provide a supportive structure for your plant to grow to its full potential. These DIY garden trellis ideas will give you nicer solutions than the basic metal frame options.
1. Arbor
If you have a walkway in outdoor space, you could build an arbor trellis. This is a freestanding trellis that arches over the walkway so that you can walk underneath it. They are large structures but perfect for giving you plenty of growing space for a flowering vine.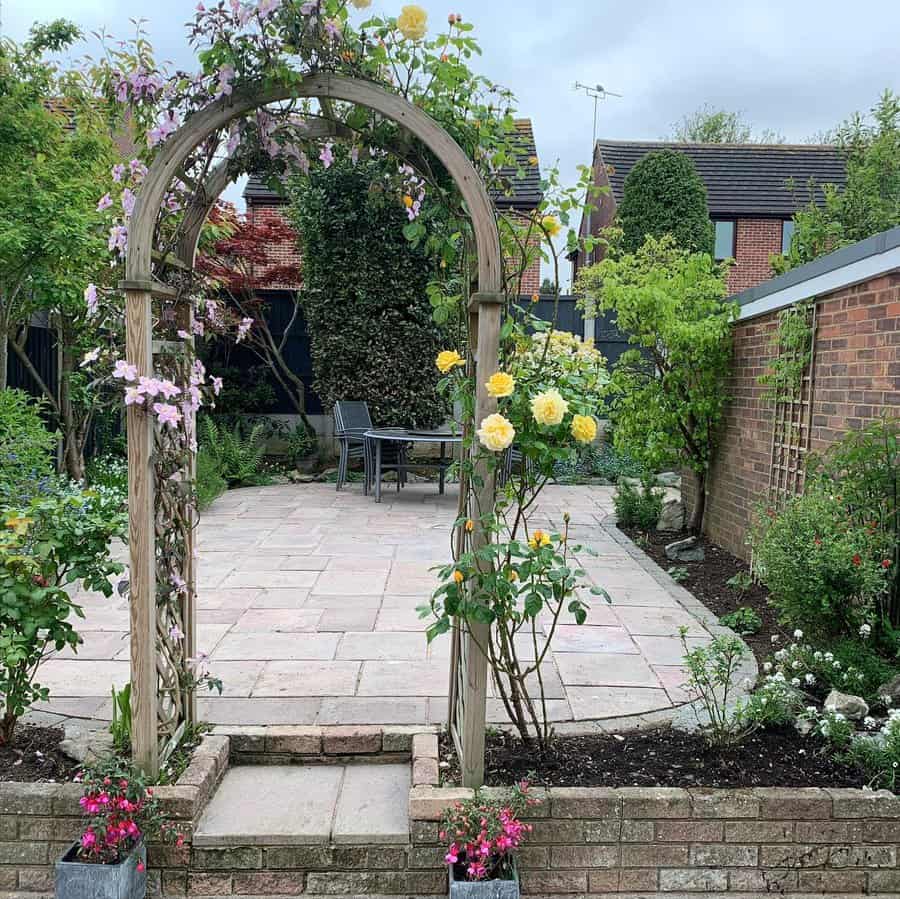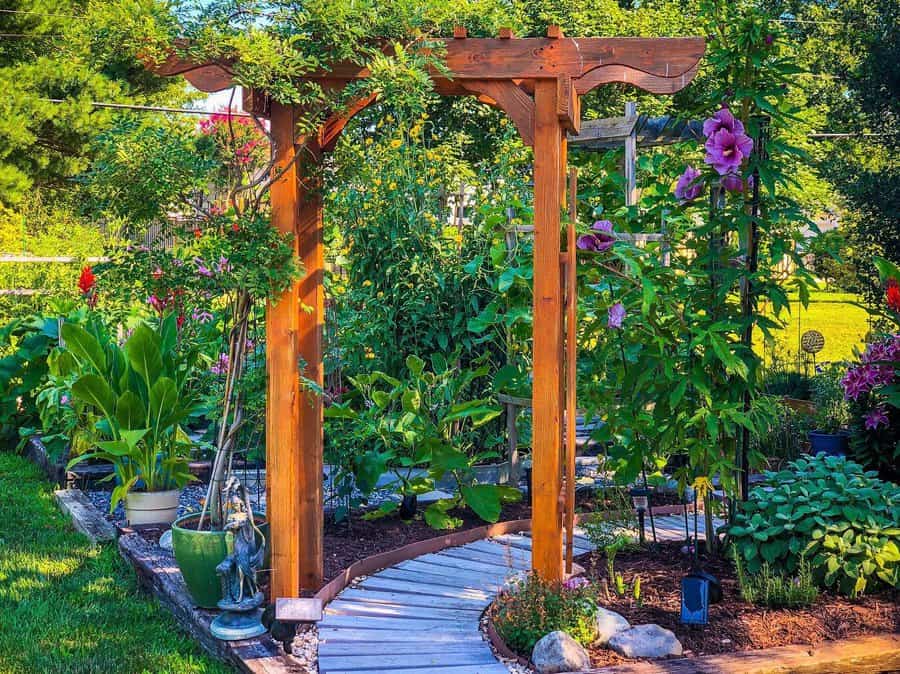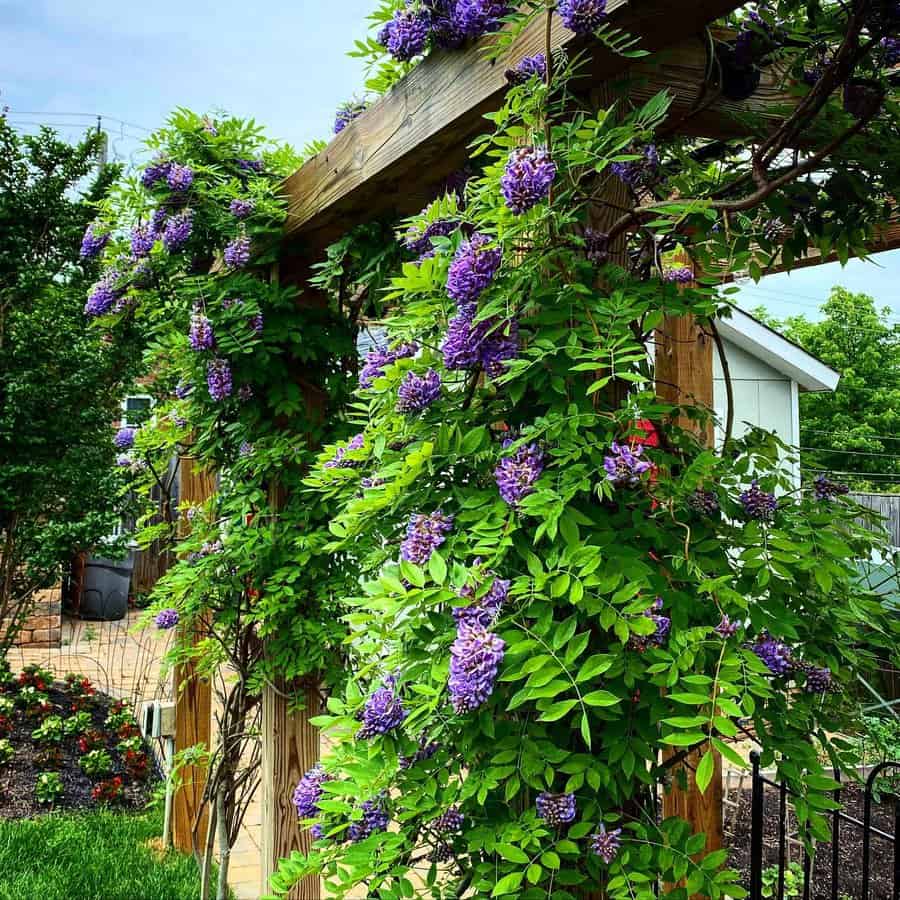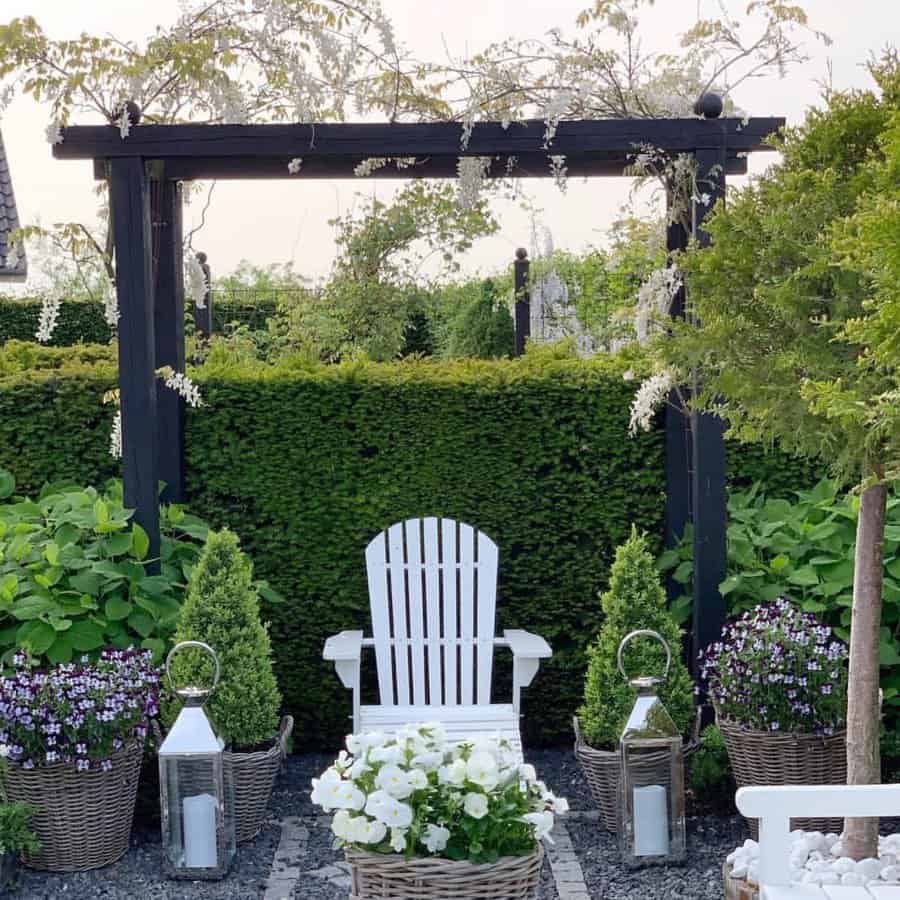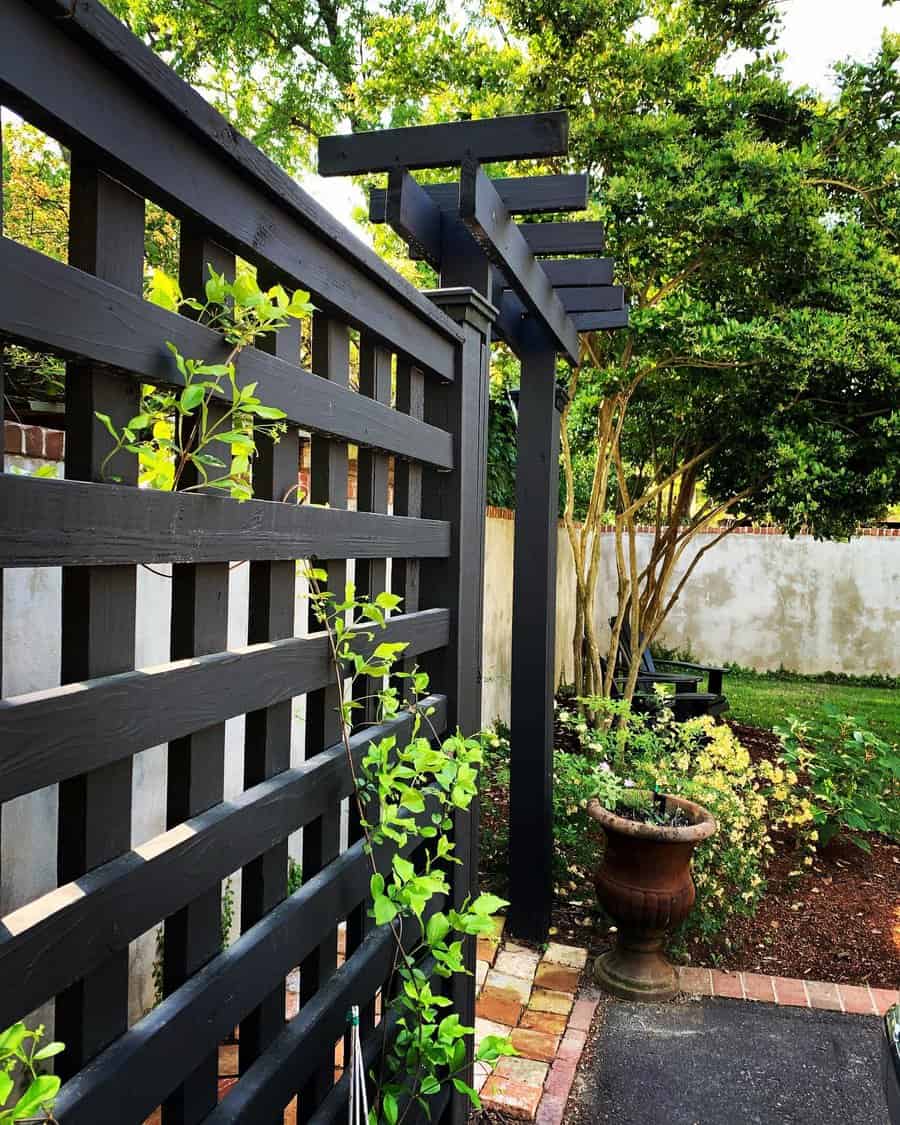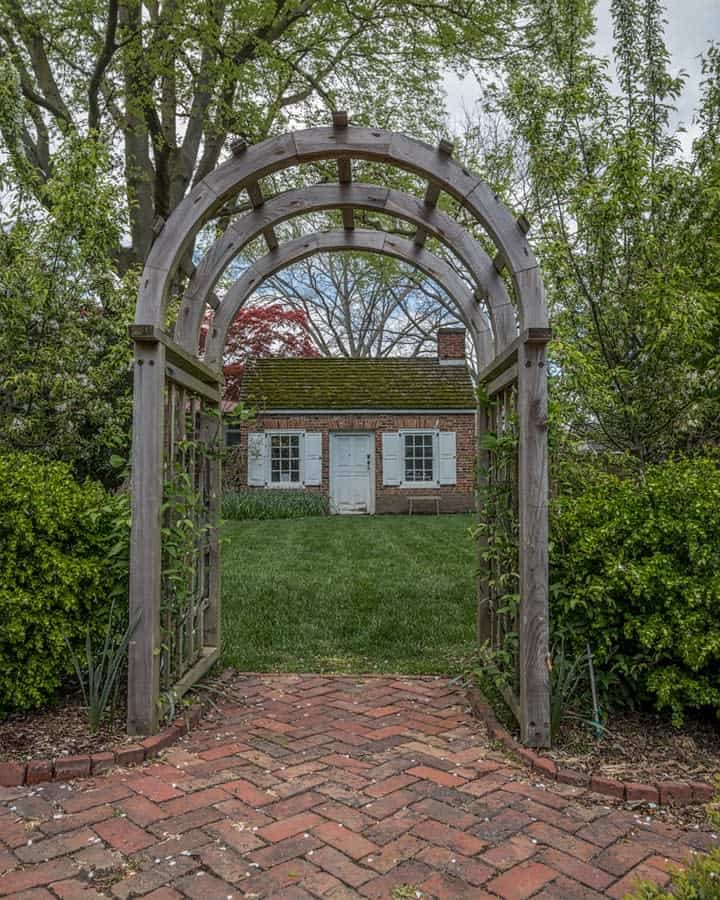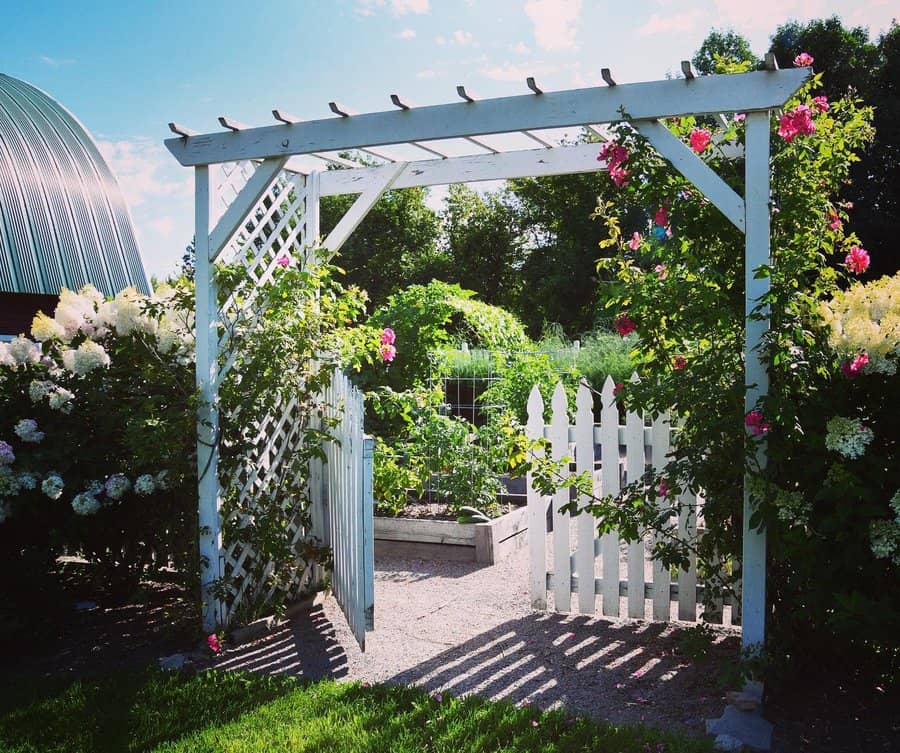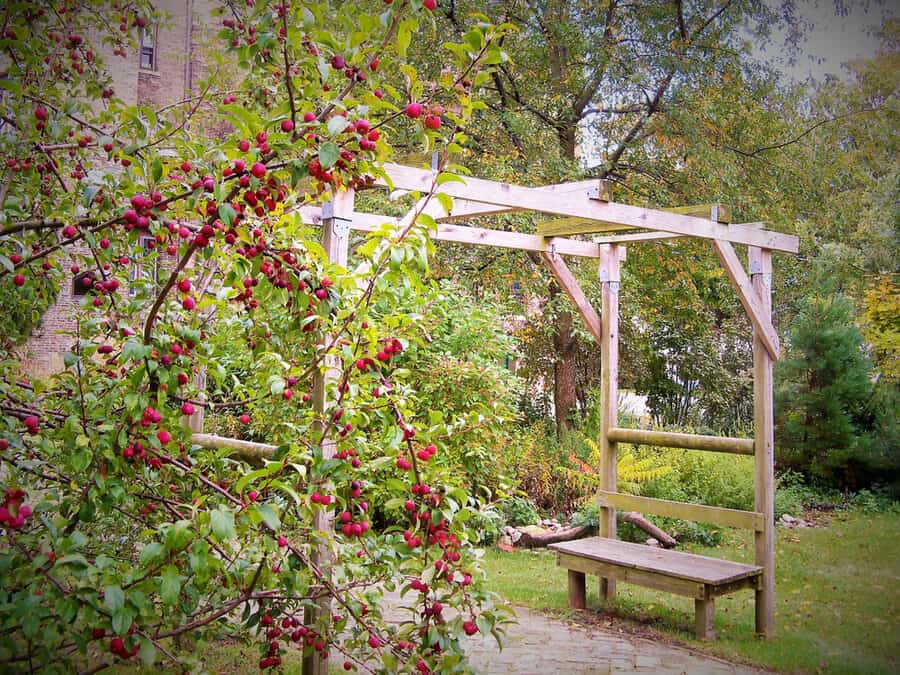 Your arbor trellis could be made of wood or metal. It could be simplistic with a simple mesh arch or elaborate with a pergola style top and ornate trellis design. You'll need two of your chosen plants, such as climbing roses, at the base of your arch. They will then grow up on either side and meet in the middle at the top of the arch.
2. Arch
An arched trellis can be used in more places than just over a walkway. Add an arch just outside of an exterior door on your home and have a more elegant entrance space. An arch trellis could be large and act as a covering for your entire deck or patio.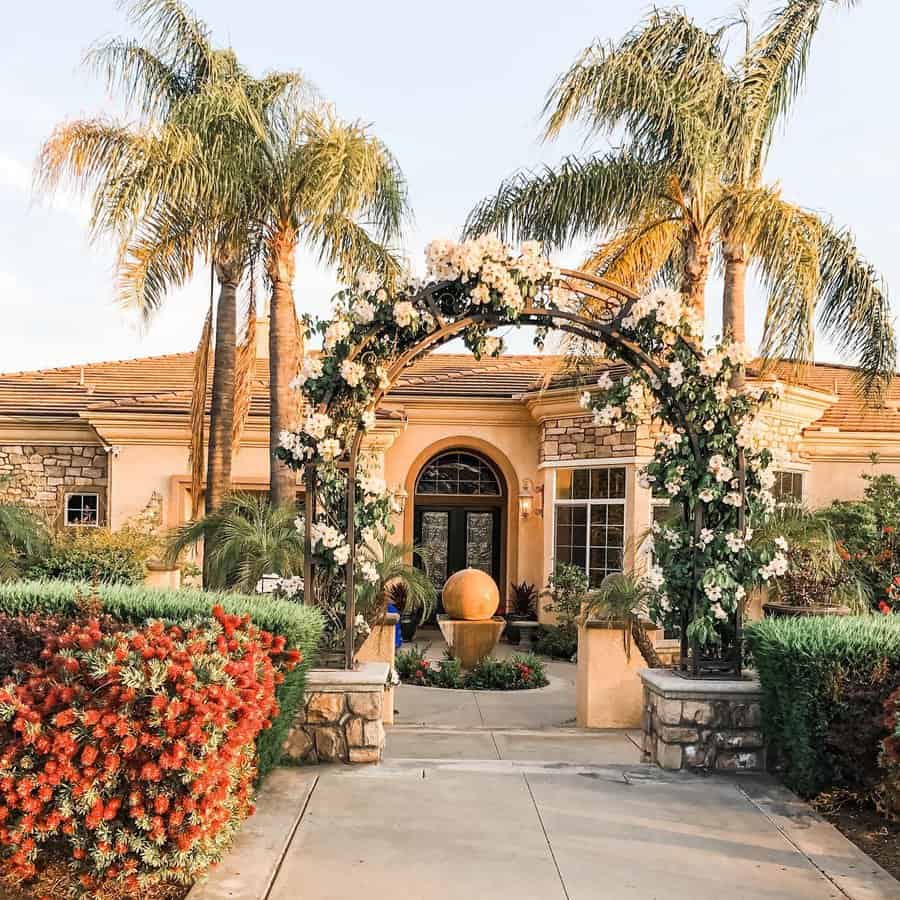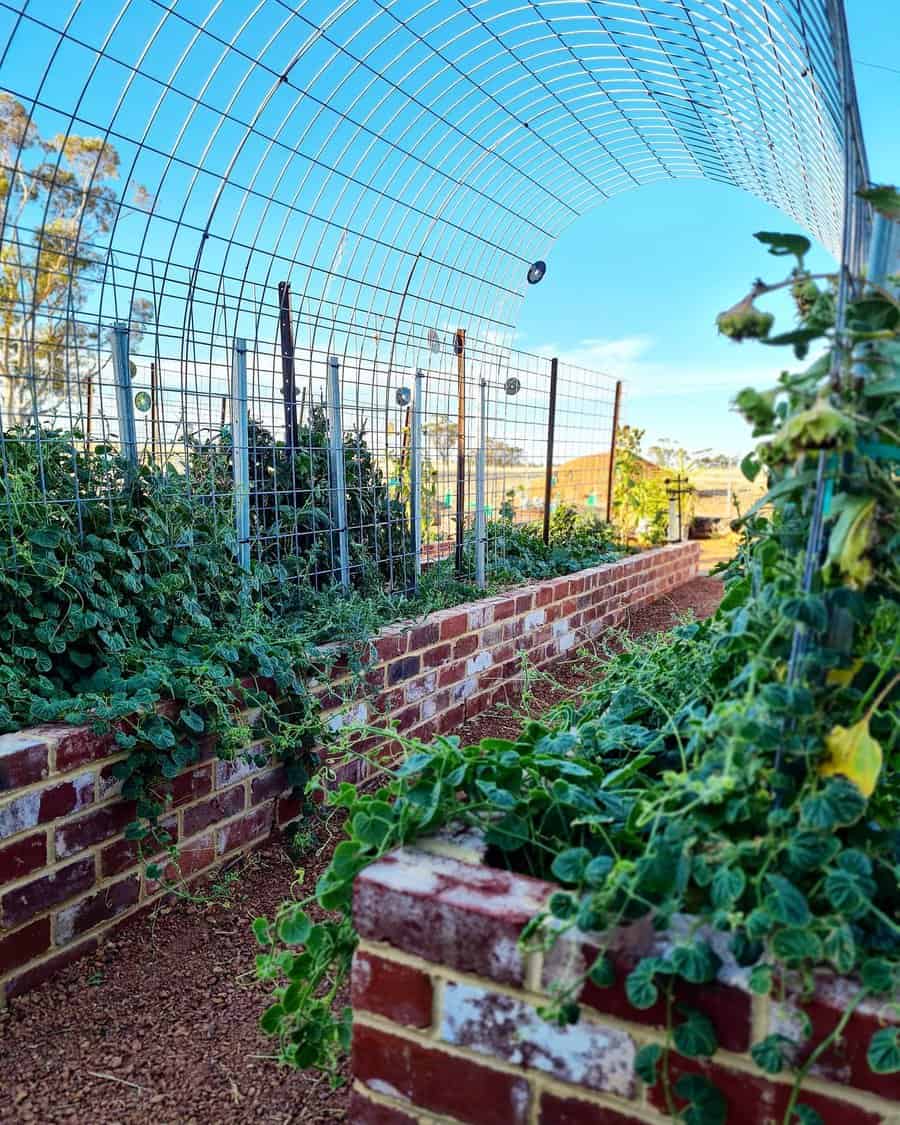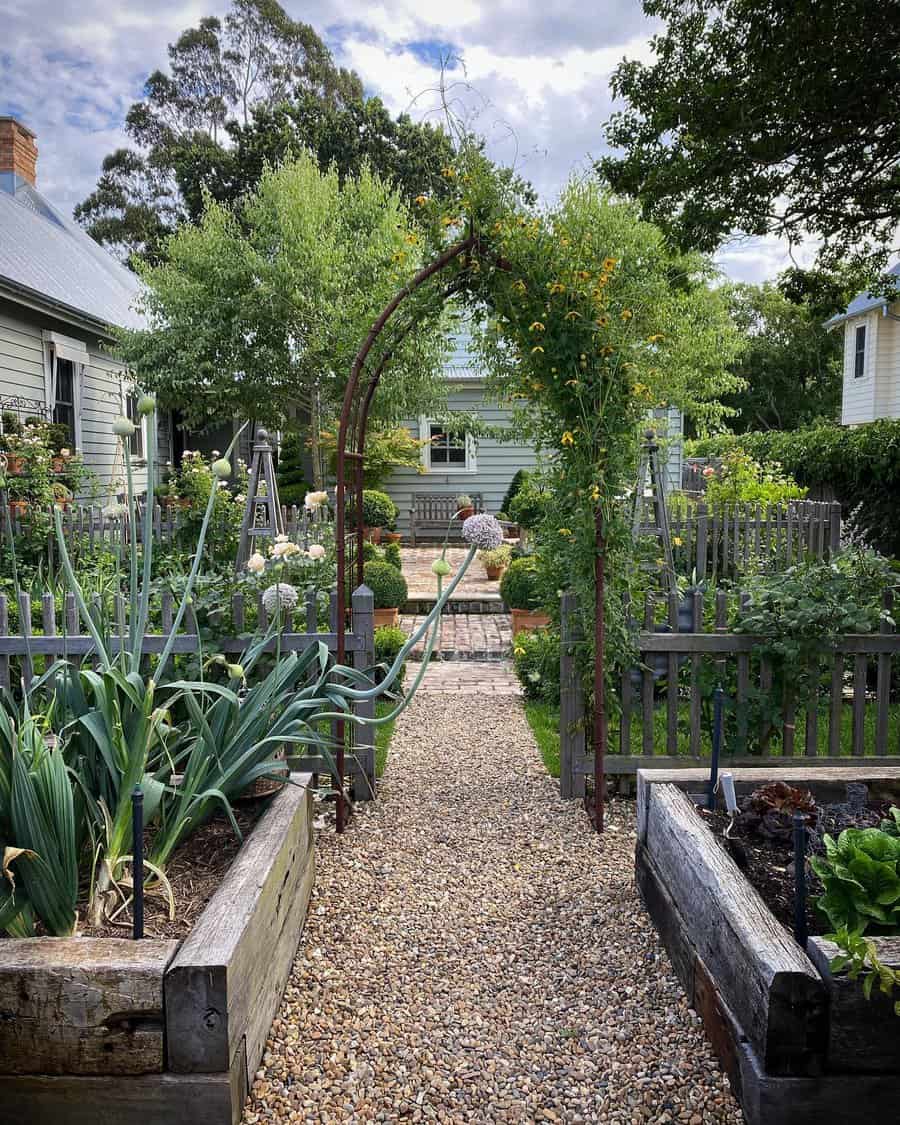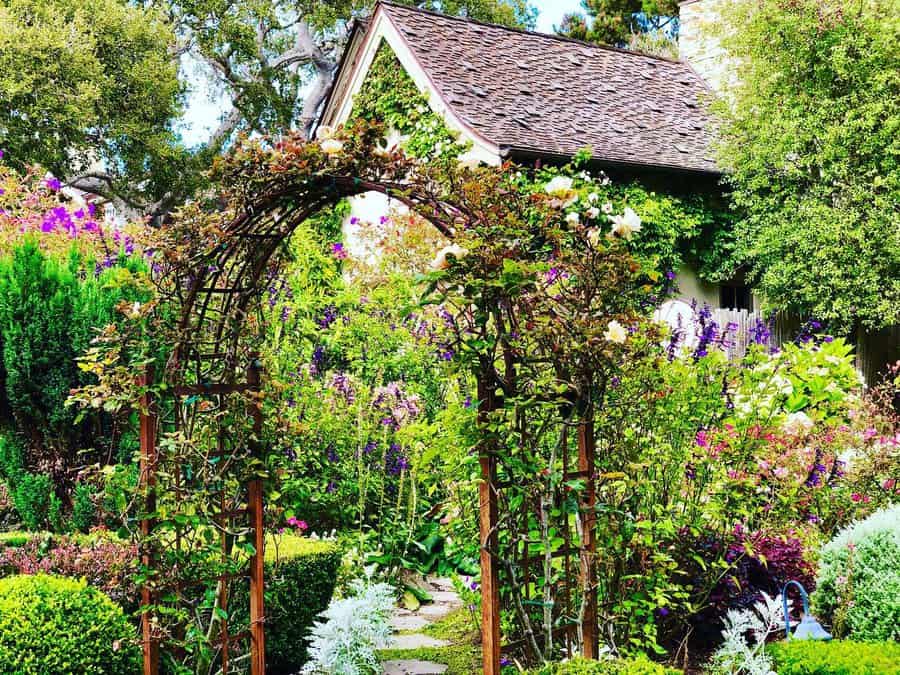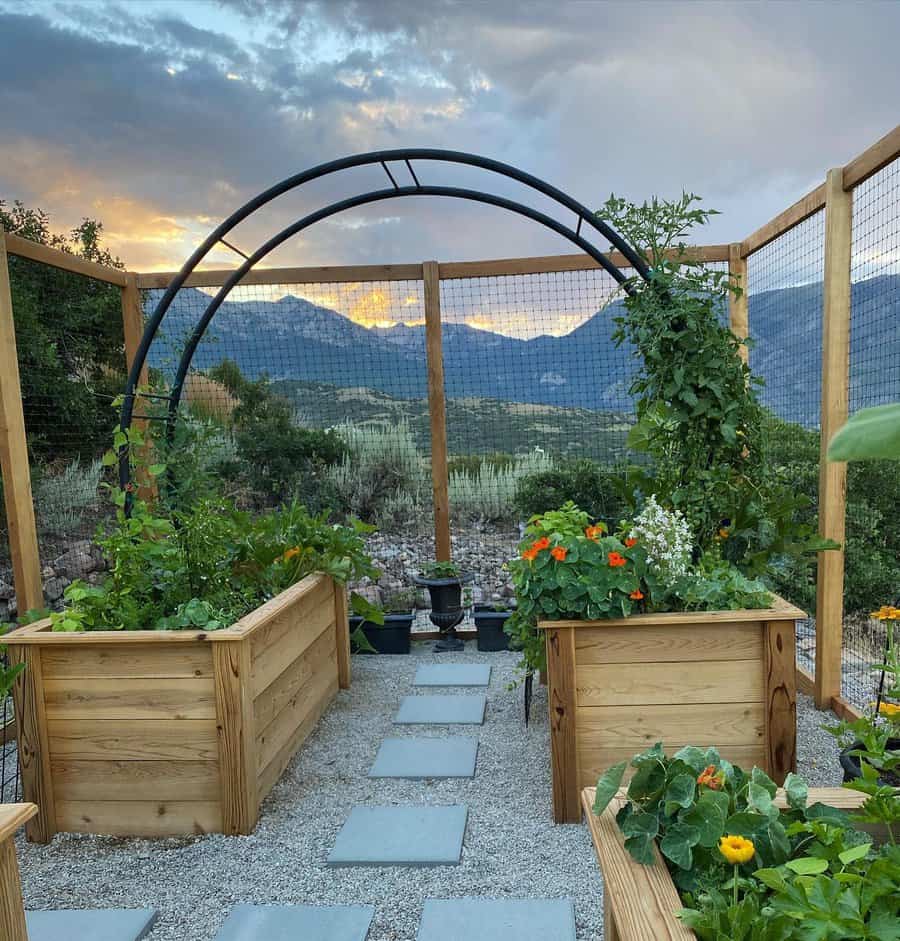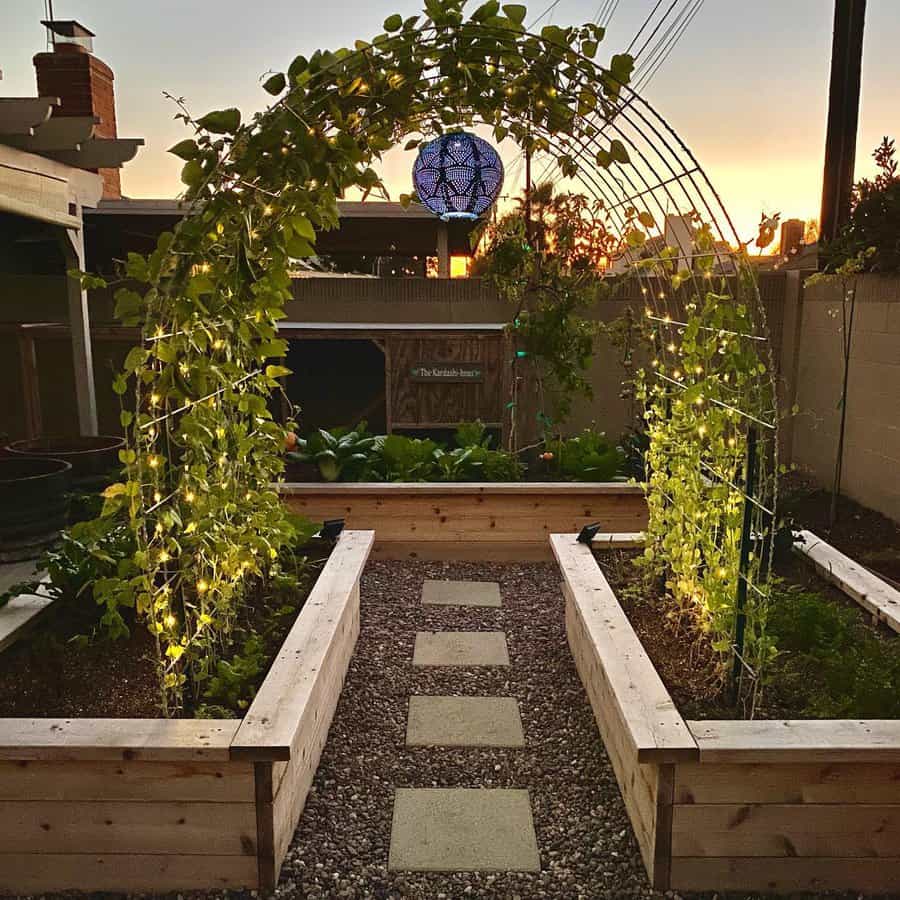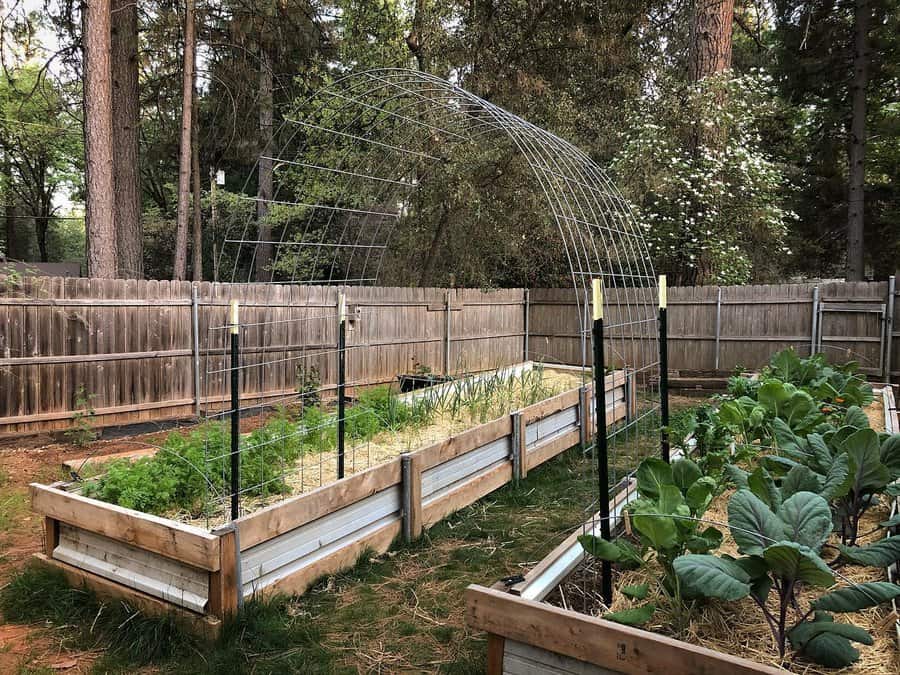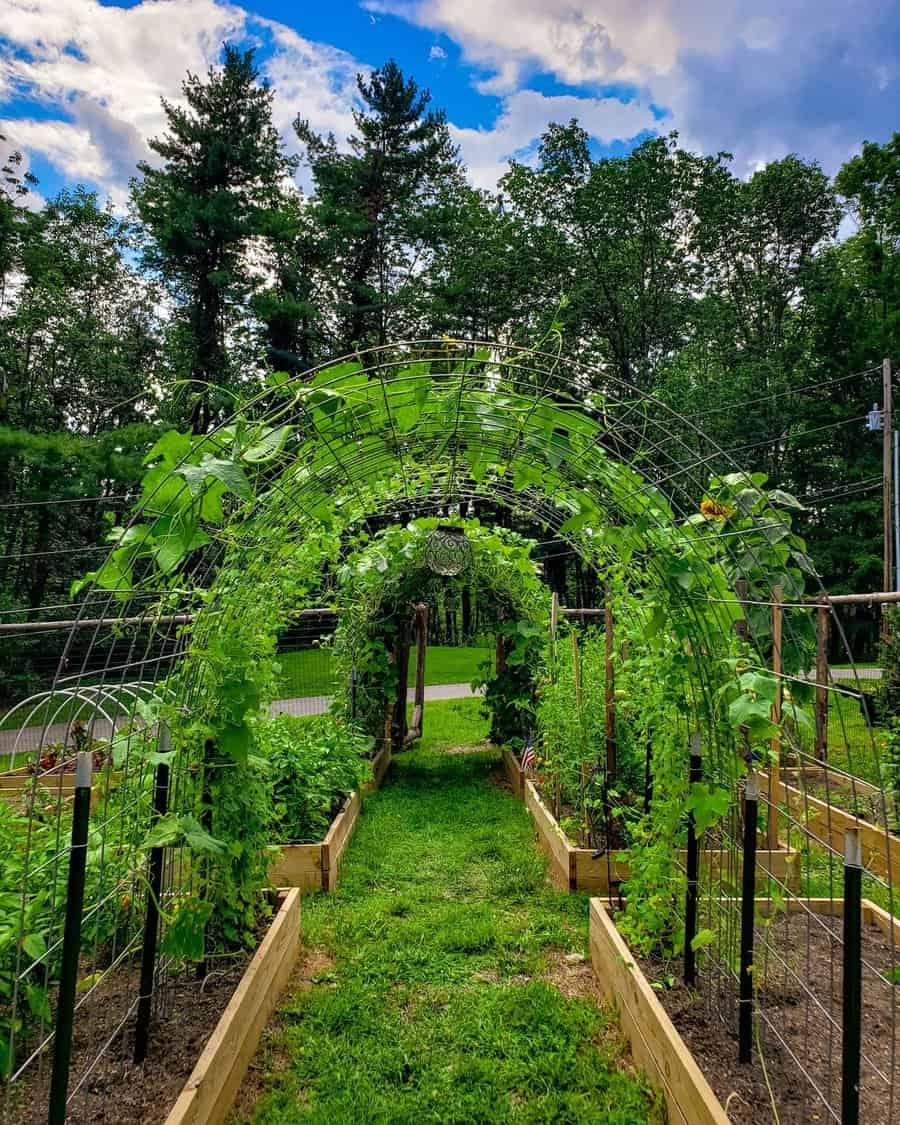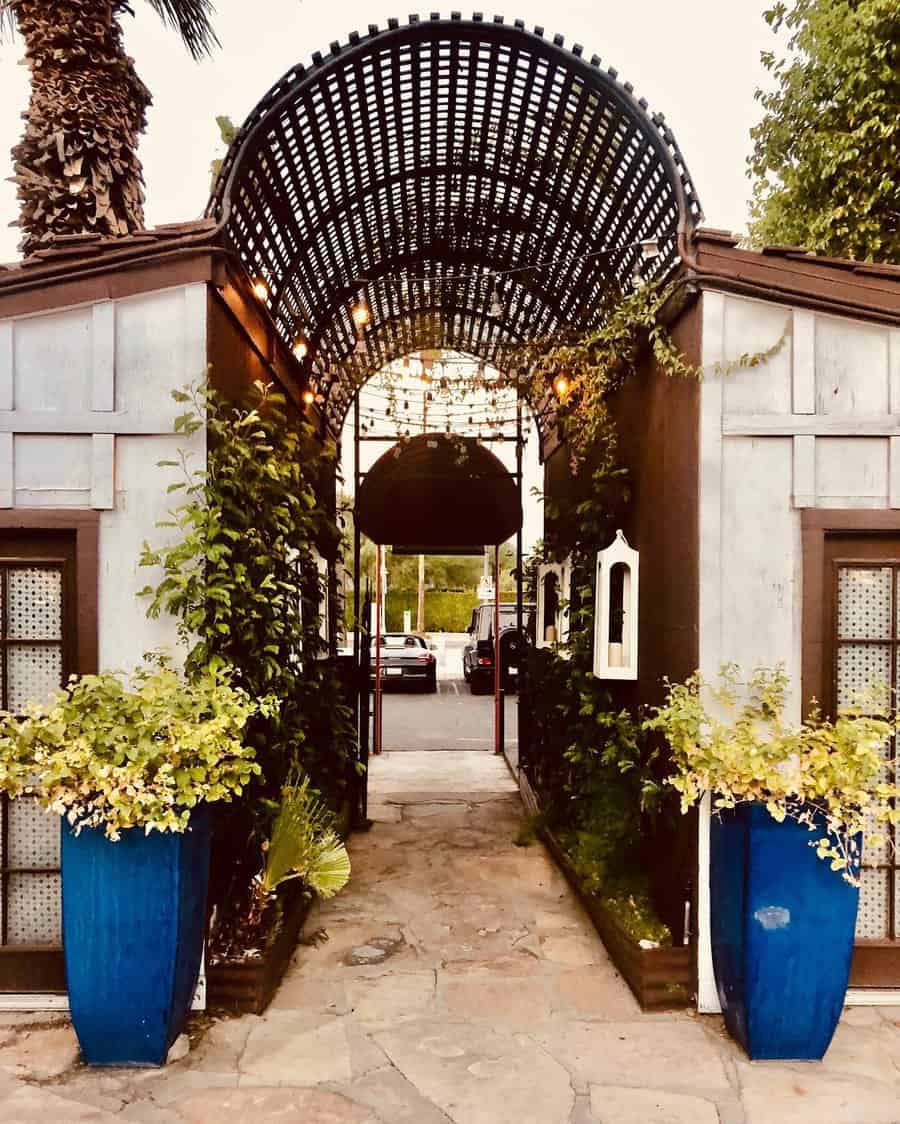 Instead of having a flower garden off to the side, you could spend your time surrounded by blooms. The leafy vines will provide plenty of shade as they filter the sun's rays.
3. Decorative
The trellis you use for your plants will be visible until your plant grows enough to cover it completely. Because of this, you'll want to choose an attractive trellis. The trellis adds just as much decor and style to your outdoor space as the flowering vine. This could be a metal trellis that looks similar to a privacy screen with an intricate design.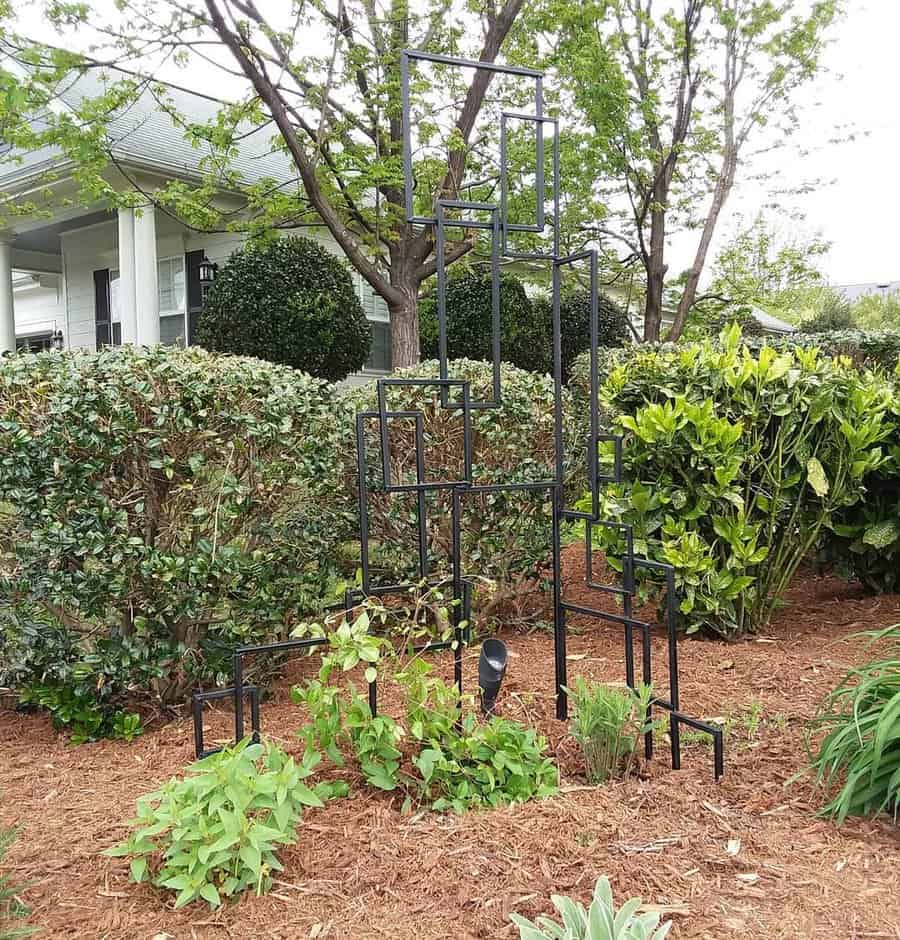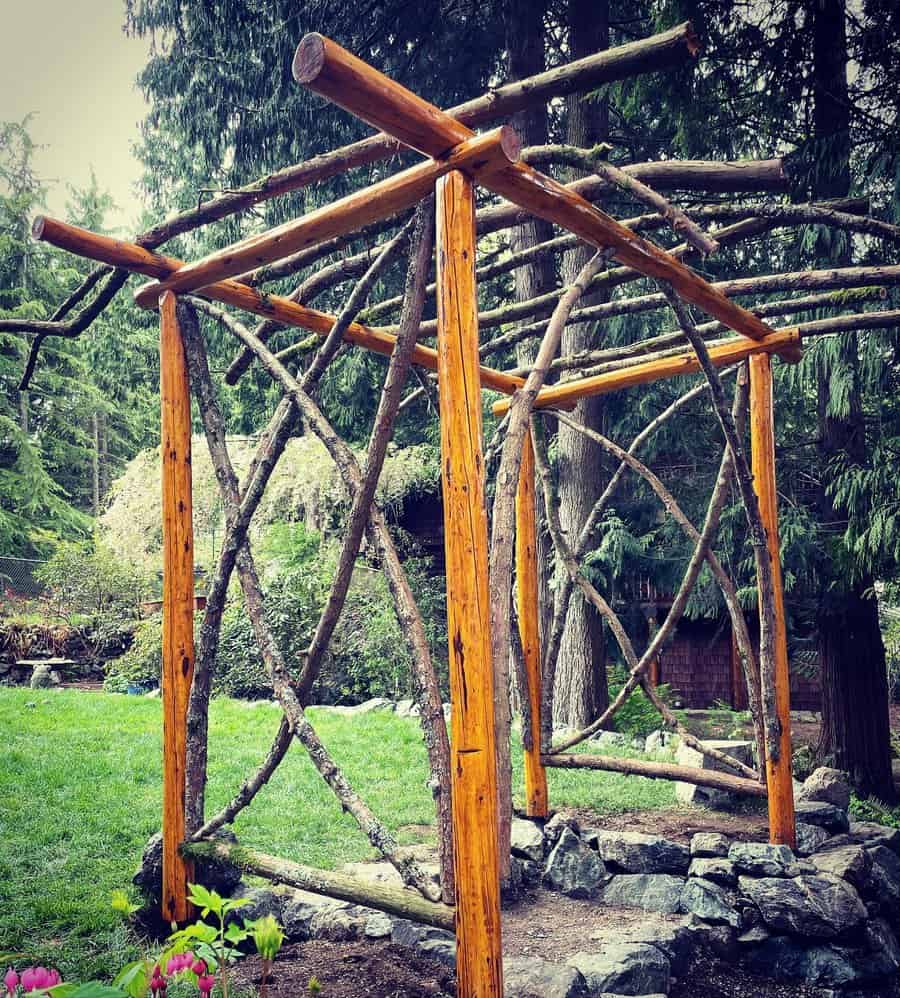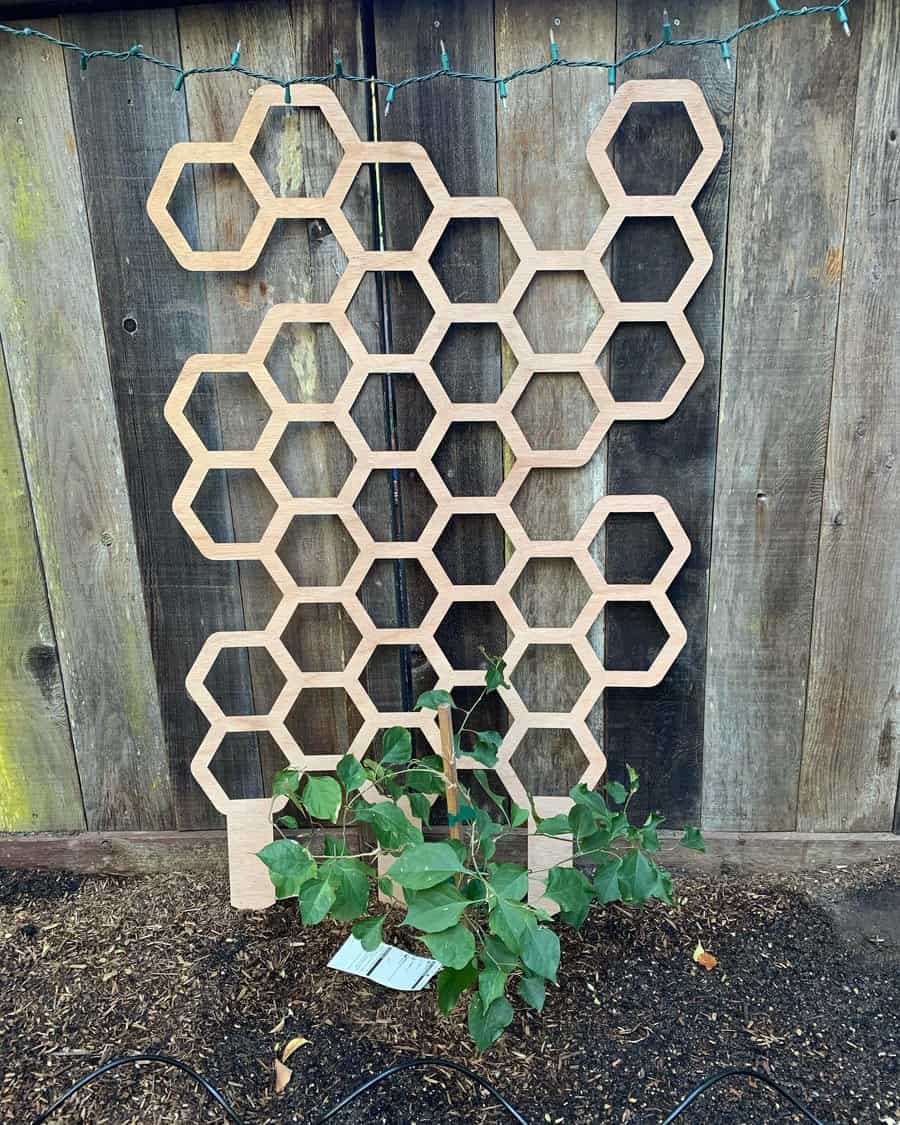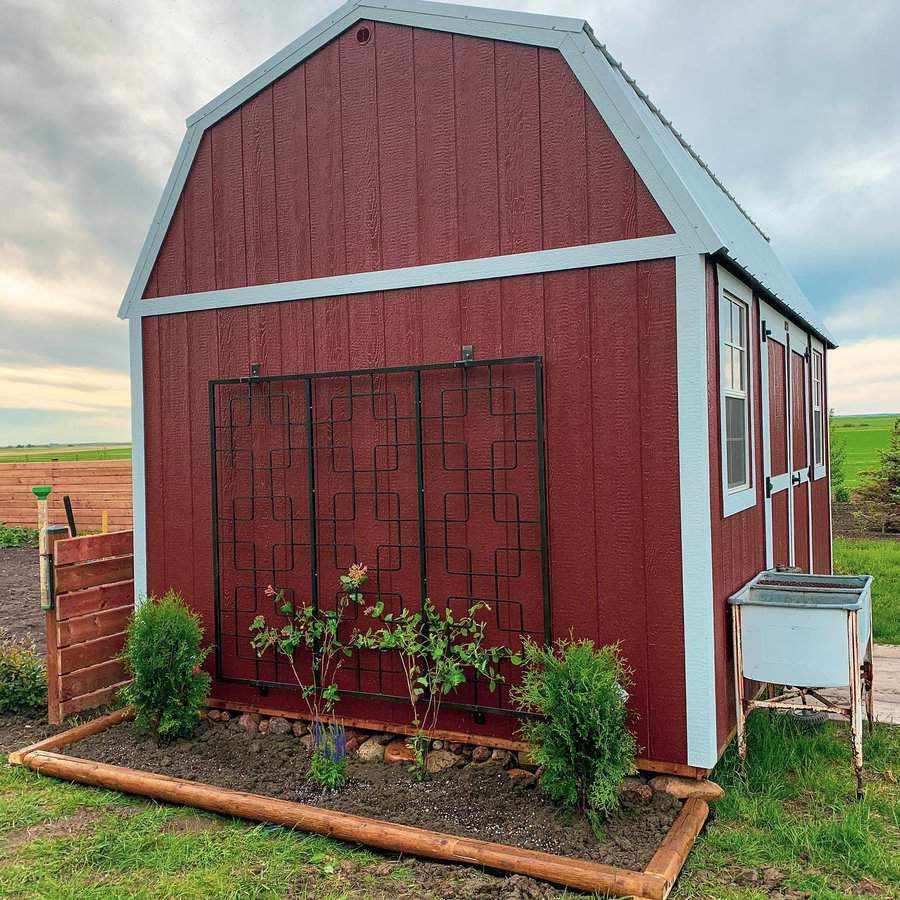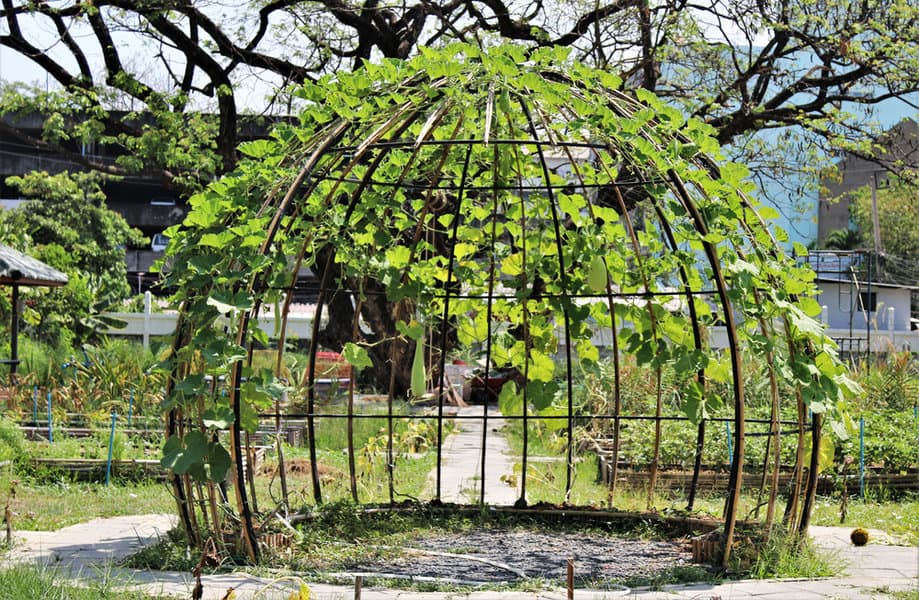 There could be colored glass accents in the trellis design. You could build your trellis out of wood to create geometric shapes. Incorporate the trellis as a part of your outdoor space to turn it and your growing plant into a living wall.
See more garden decor ideas here.
4. DIY
You don't have to spend a lot of money buying your new trellis. Instead, you could build your own custom trellis that fits perfectly into your available space and the architectural design of your home.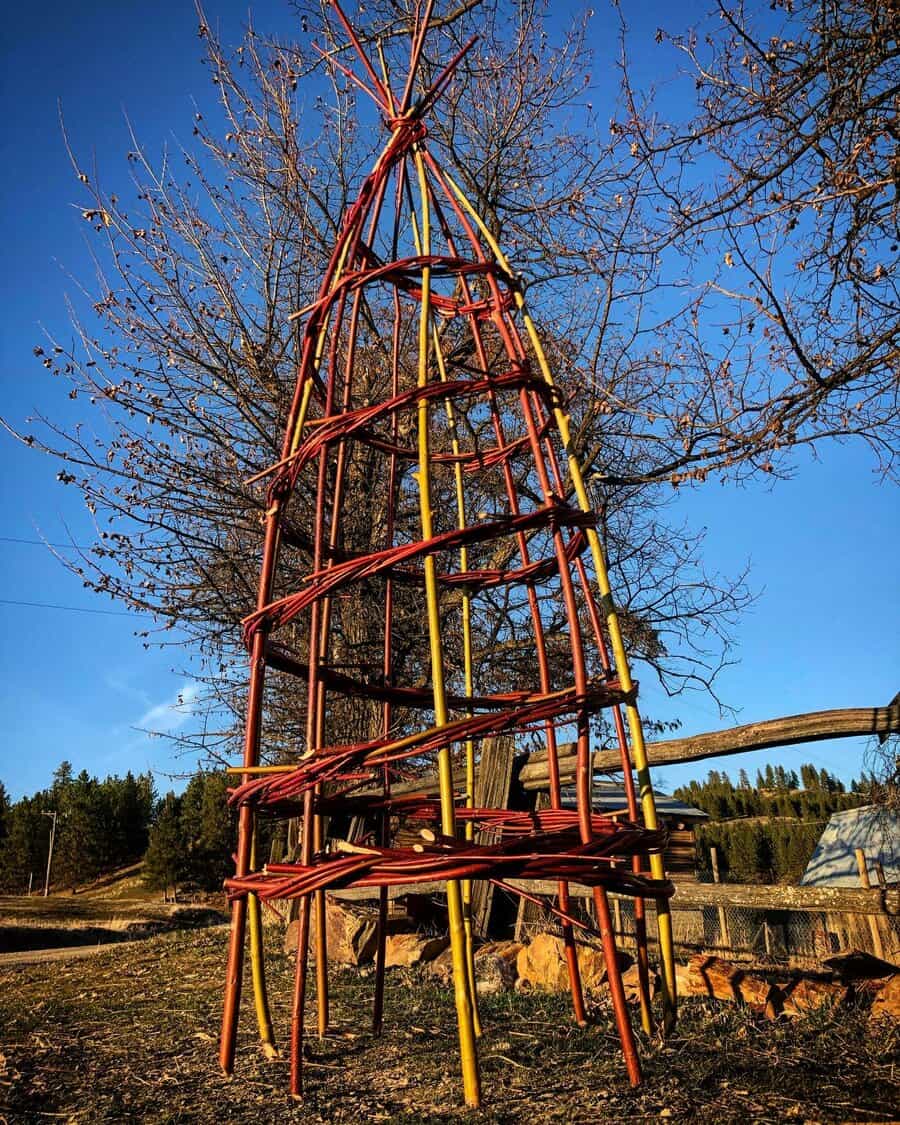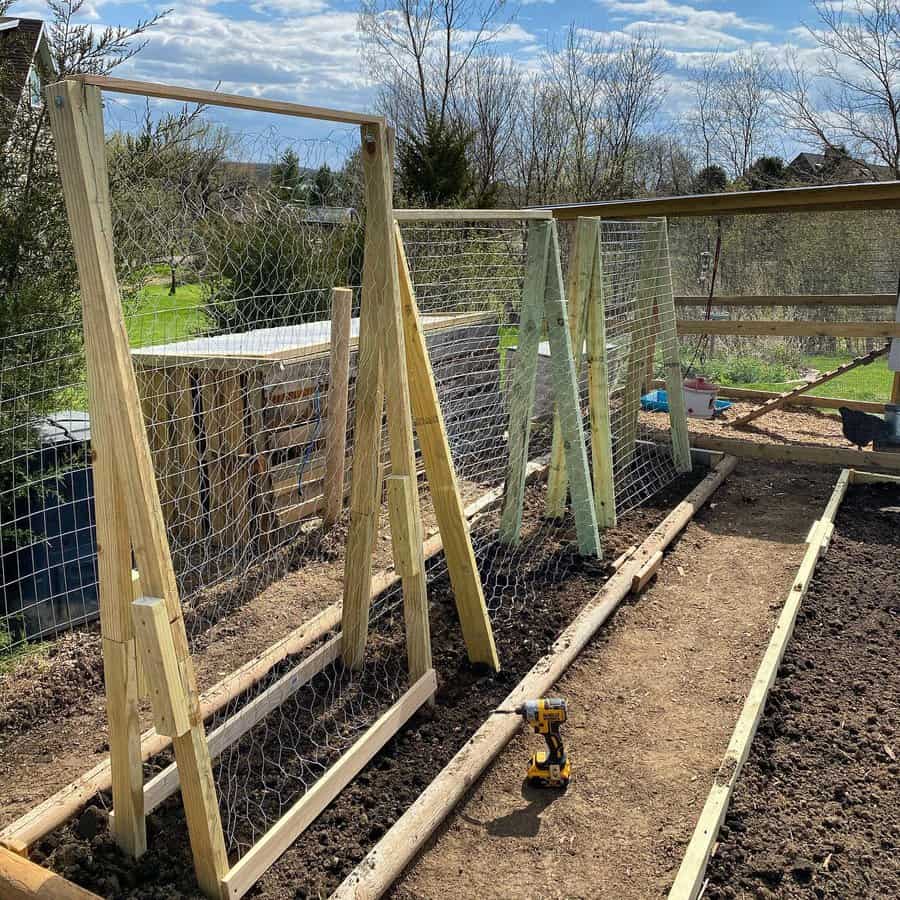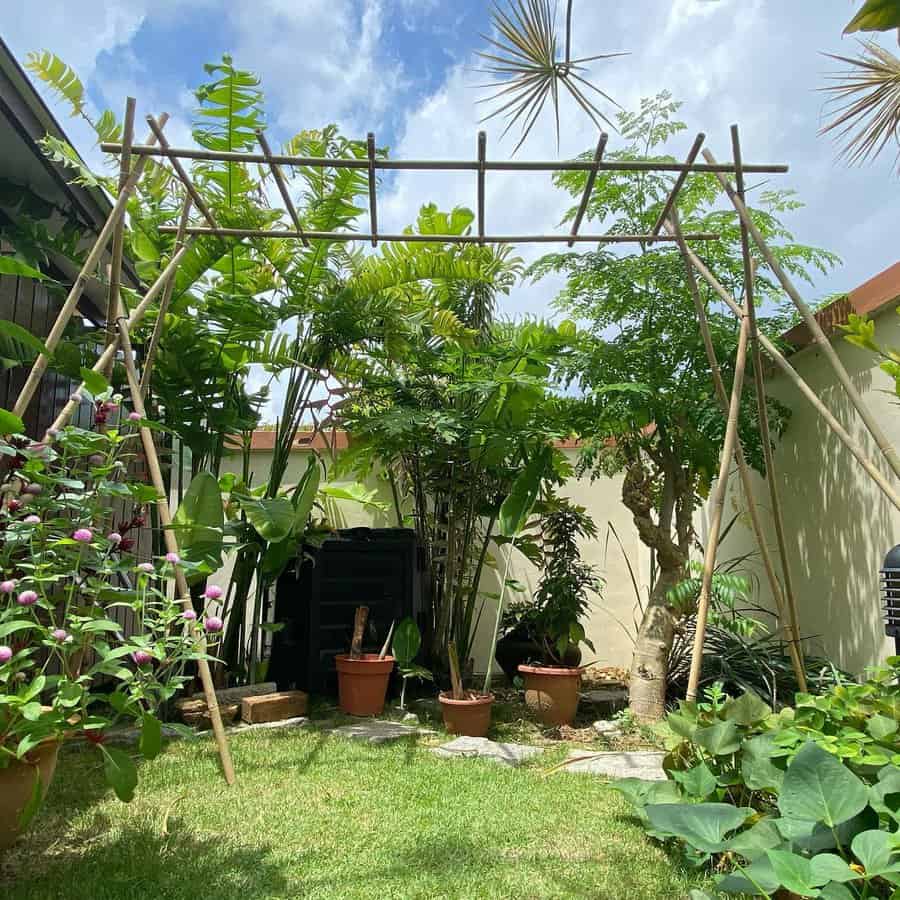 Check out DIY trellis ideas to get inspired and use them as a guide for your project. The easiest building material to work with is wood. It's readily available and easy to work with. Your next step is to decide on a design. There are flat trellis designs that need support to stand up. There are also freestanding designs, such as an arch or teepee trellis design.
See more DIY garden ideas here.
5. Espalier
An espalier is not the same as a trellis. This ancient horticultural practice could be the perfect solution if you have limited garden space. The practice takes traditional plants and trains the branches to turn them into a vertical garden. You'll use a wireframe to train tree branches to grow similarly to a vining plant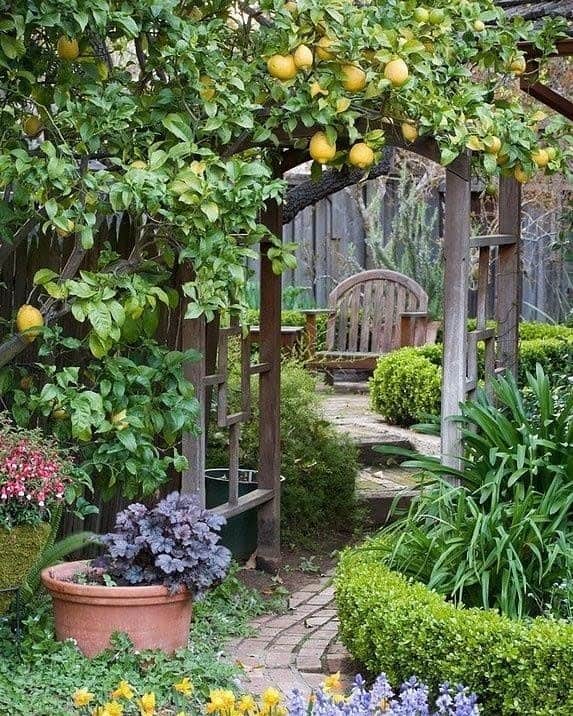 You'll direct the branches to grow in horizontal lines on a flat plane against the wire as the tree grows. Trim any branches that try to grow outward and away from the wall. This practice is perfect for growing fruit trees in limited space while maximizing your fruit production.
6. Fence
Instead of building a traditional fence around your property, you could build a fence that also acts as a trellis. There are two methods for accomplishing this. The first is to build a trellis fence that your vines will grow directly on.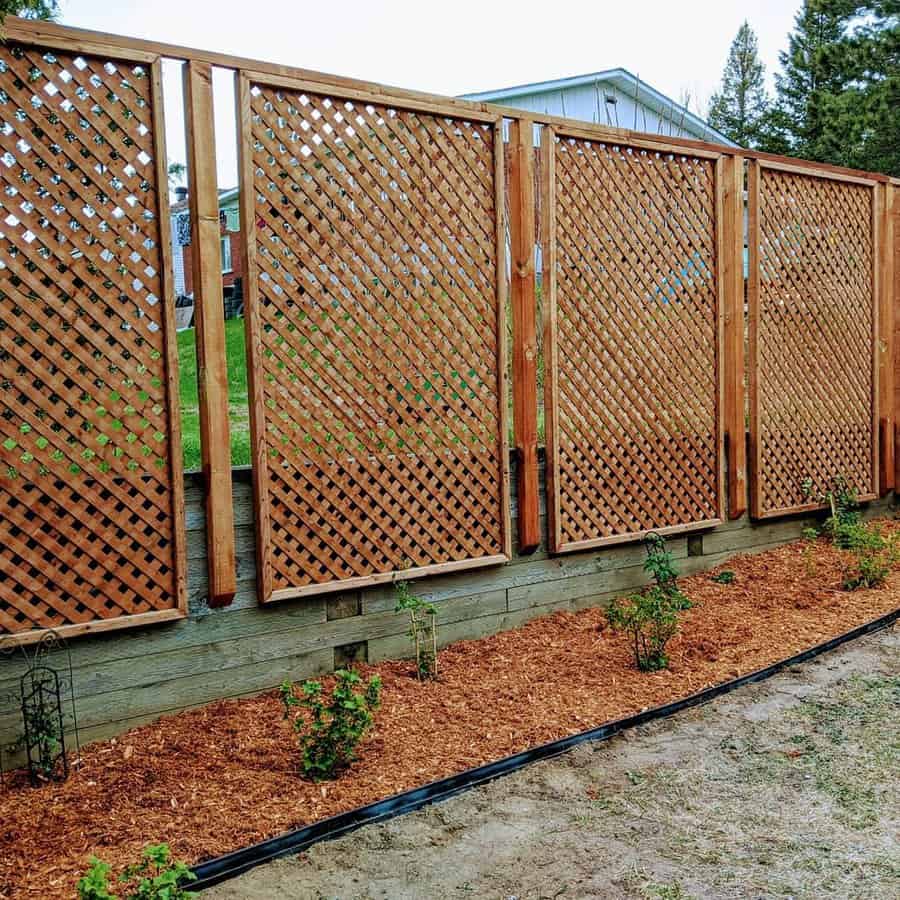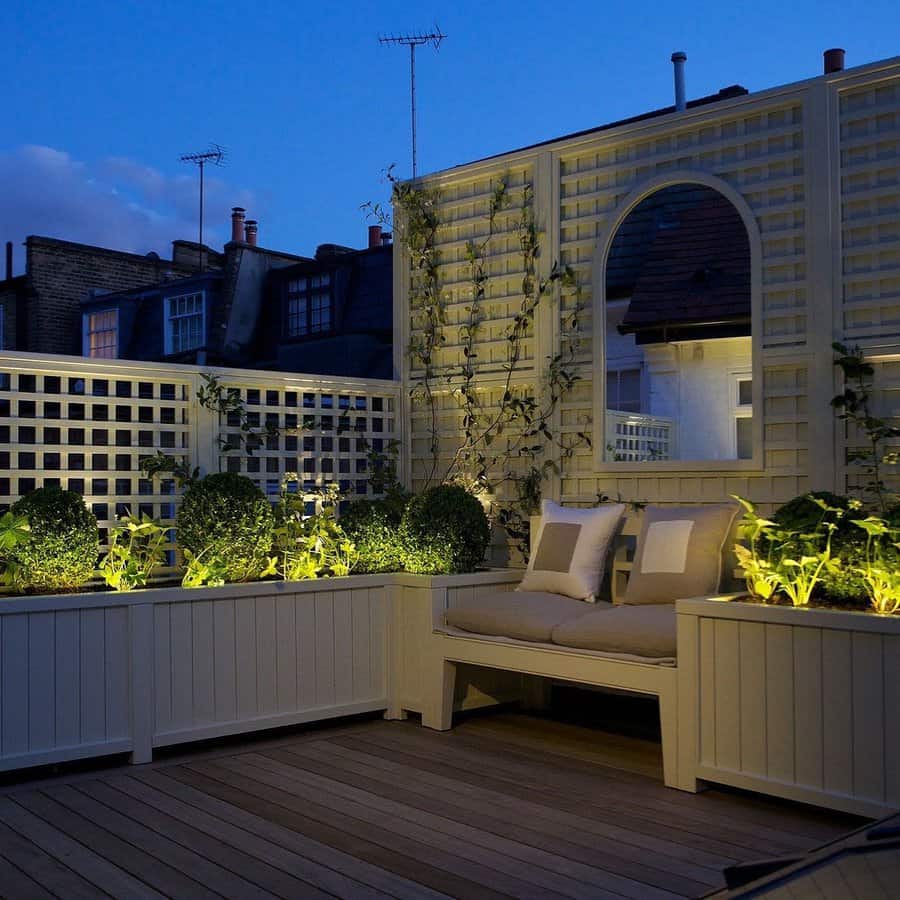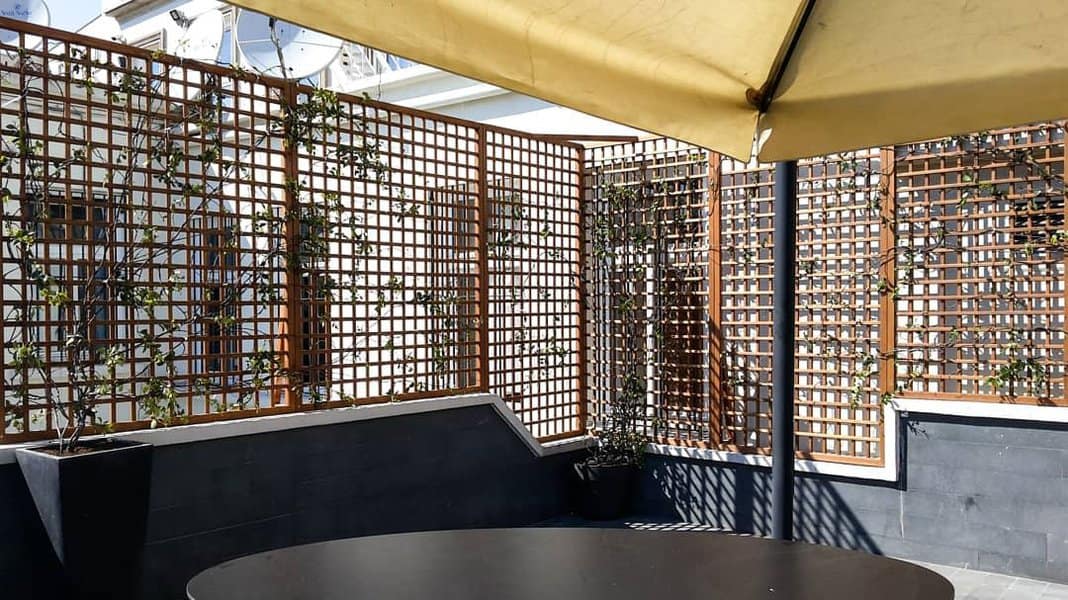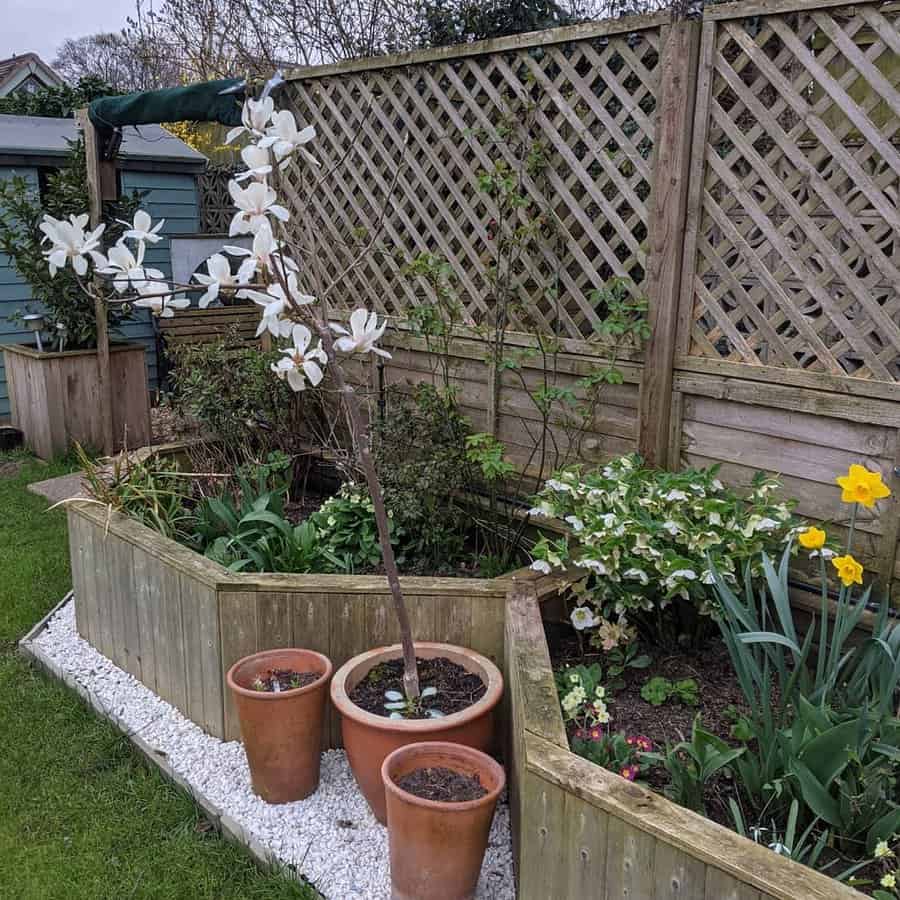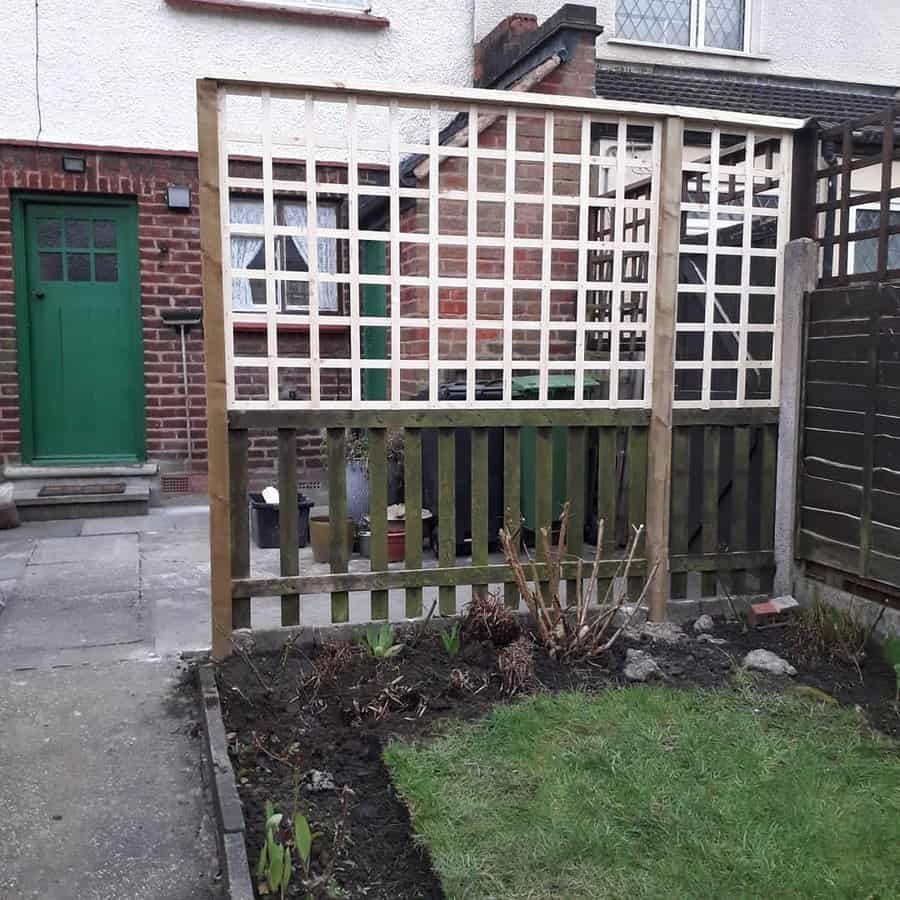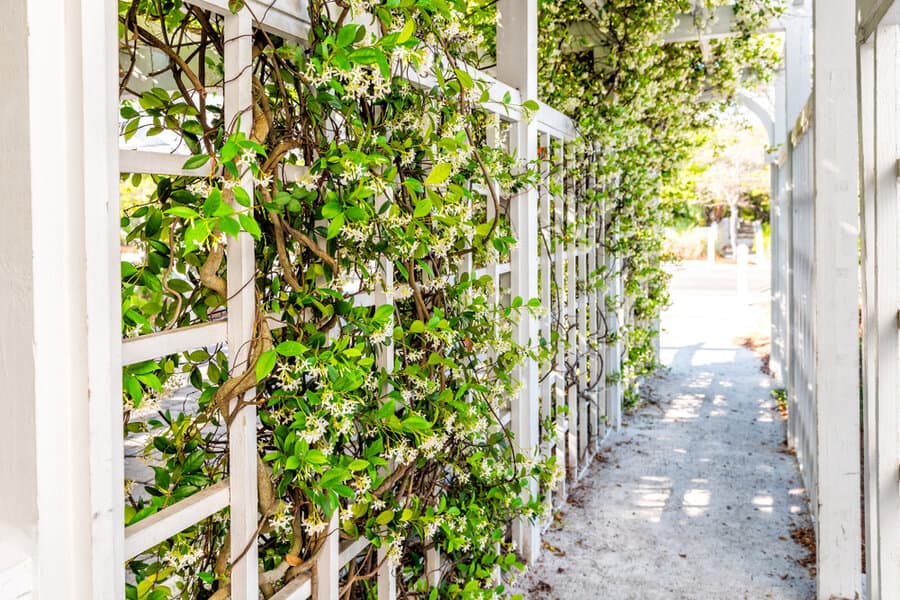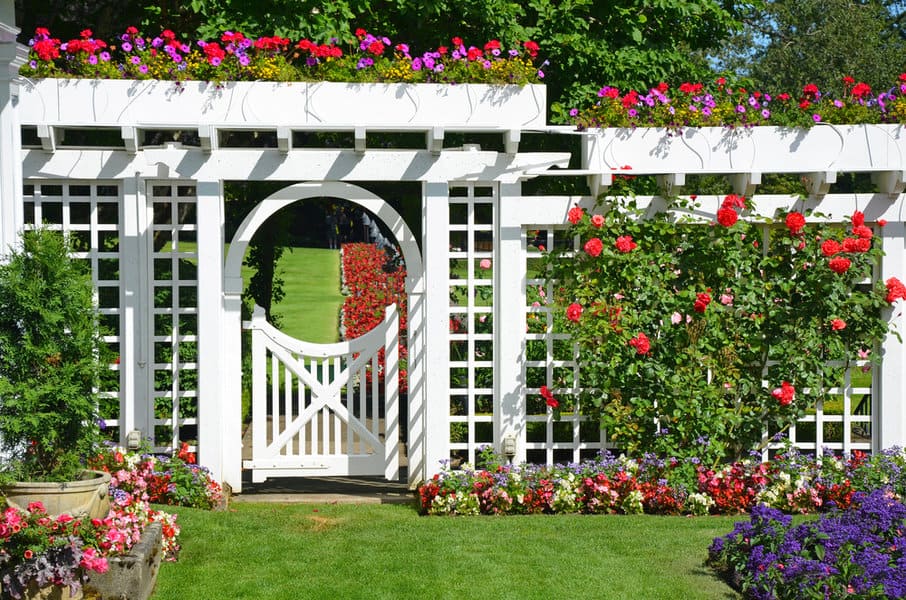 The other option is to build a fence and then mount your trellis to the inside of the fence. Both options require you to add additional support to the fence to ensure it can withstand the additional weight of the vines growing on the fence.
7. Lattice
Lattice is a popular accent on the top of privacy fences. You can use this material to build a matching trellis. It comes in large sheets at your local home improvement store. Buy a sheet in natural wood and then paint it to match the color of your home. Or you can buy lattice made from PVC for a bright white accent that's low maintenance.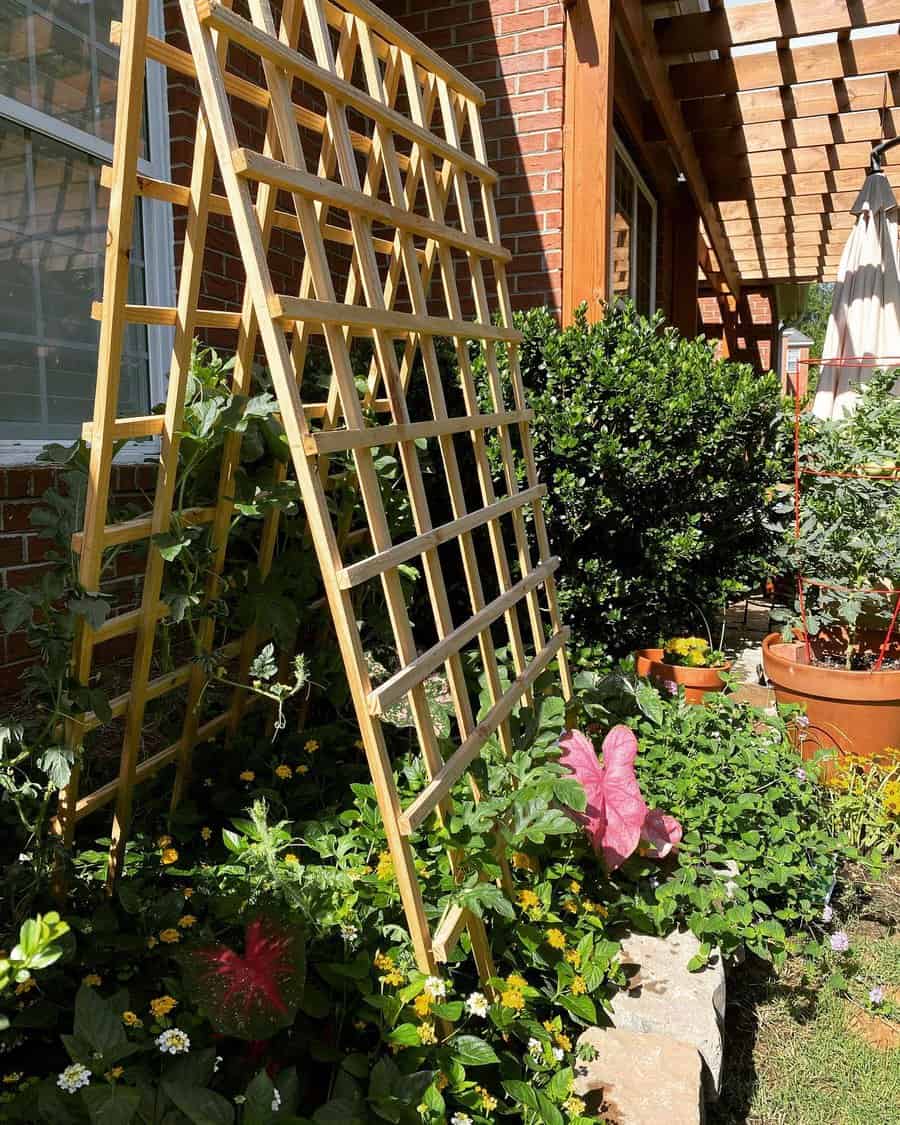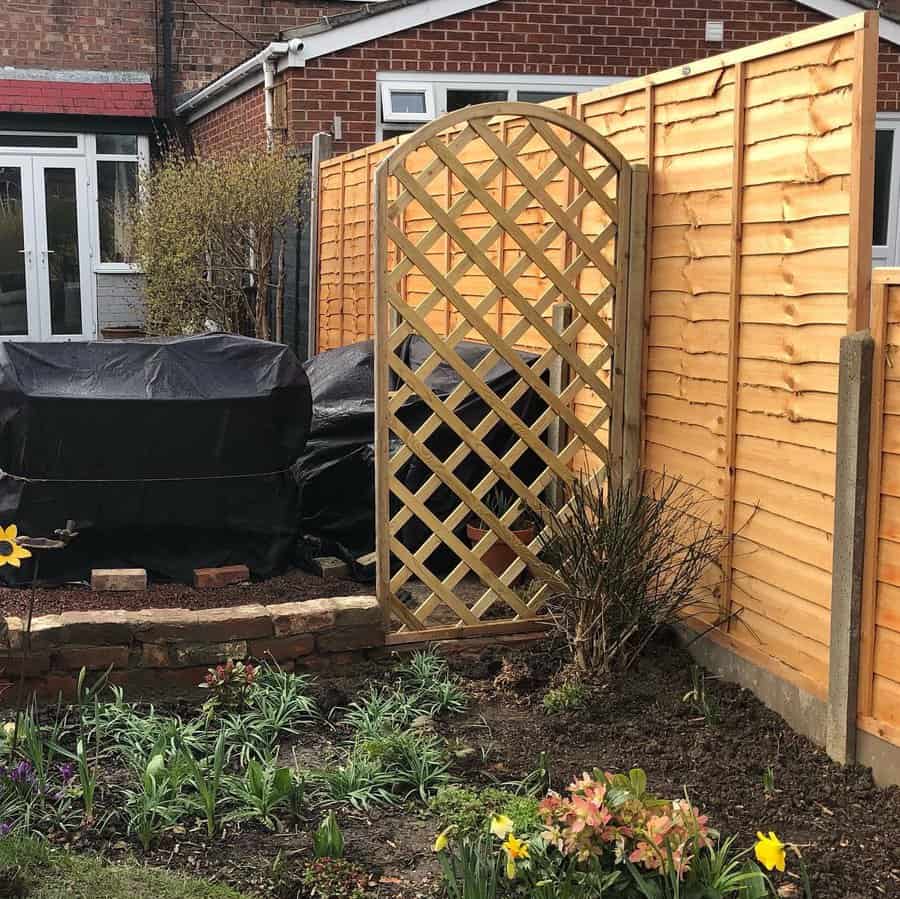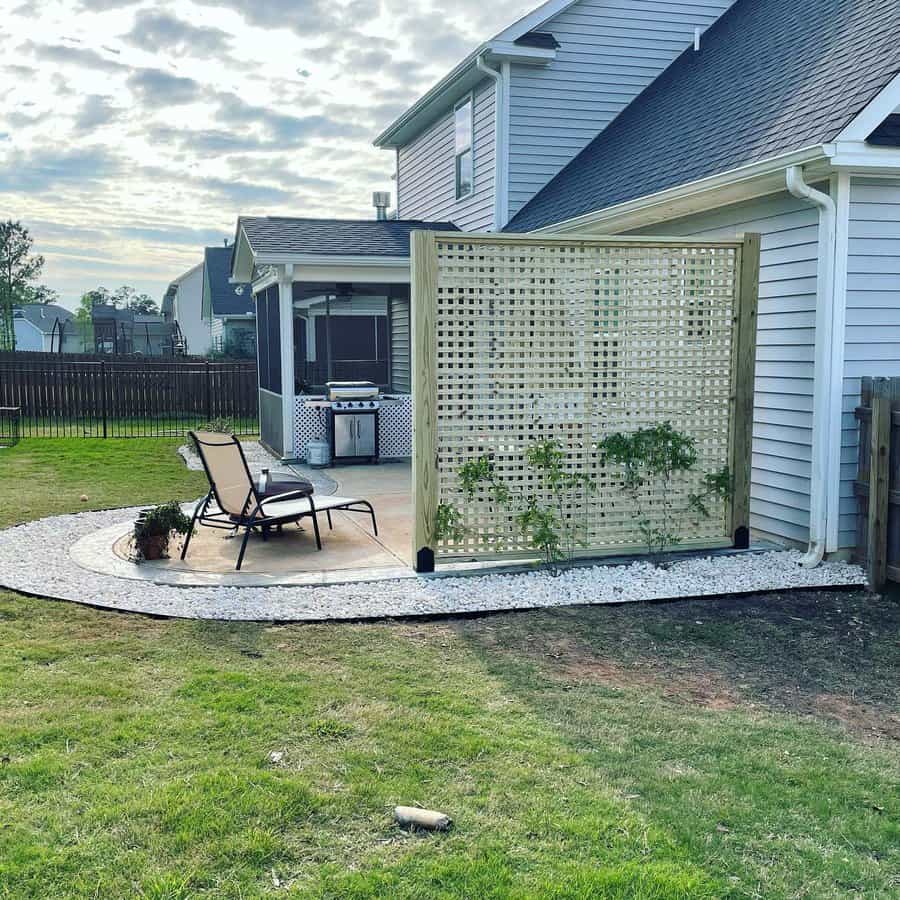 To keep your lattice from looking cheap, add a decorative frame to the lattice to give the edges a finished look. You can mount your lattice frame to the exterior wall of your home, mount it on a freestanding frame, or sink the bottom into the ground.
8. Mesh Wire
Scale the size of your trellis to the size of the plant that you grow on it. For example, a large plant with thick vines will need a larger trellis with bigger openings. A smaller plant with more delicate vines will need a scaled-down trellis.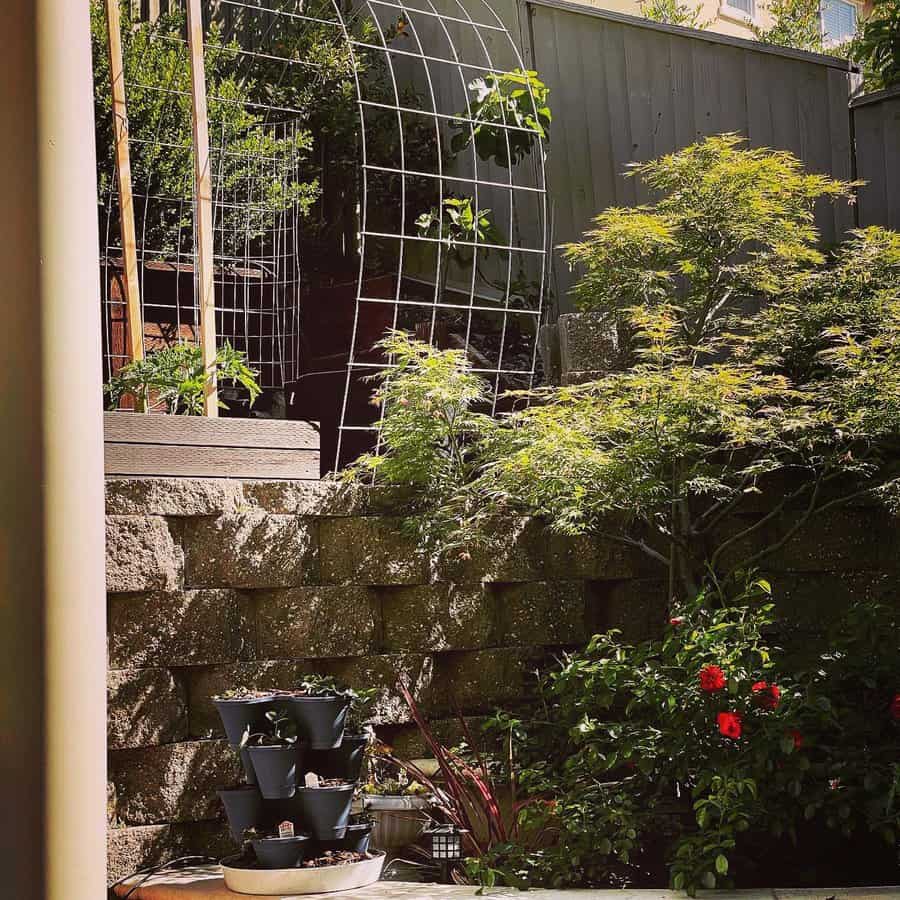 Look at both the overall size of the trellis and the size of the gaps in the supports. For example, there is fine chicken wire with small holes or wire with large square or rectangle holes. Mesh wire is a more delicate support system, perfect for smaller plants or those with many offshoots that need close together support. Choose a design that has mesh supported by a strong fame.
9. Metal
If you prefer to have a trellis made of something other than wood, then a natural choice would be to consider metal. However, not all metal is a good option. The metal you choose needs to be strong enough to withstand harsh weather and be corrosion-resistant.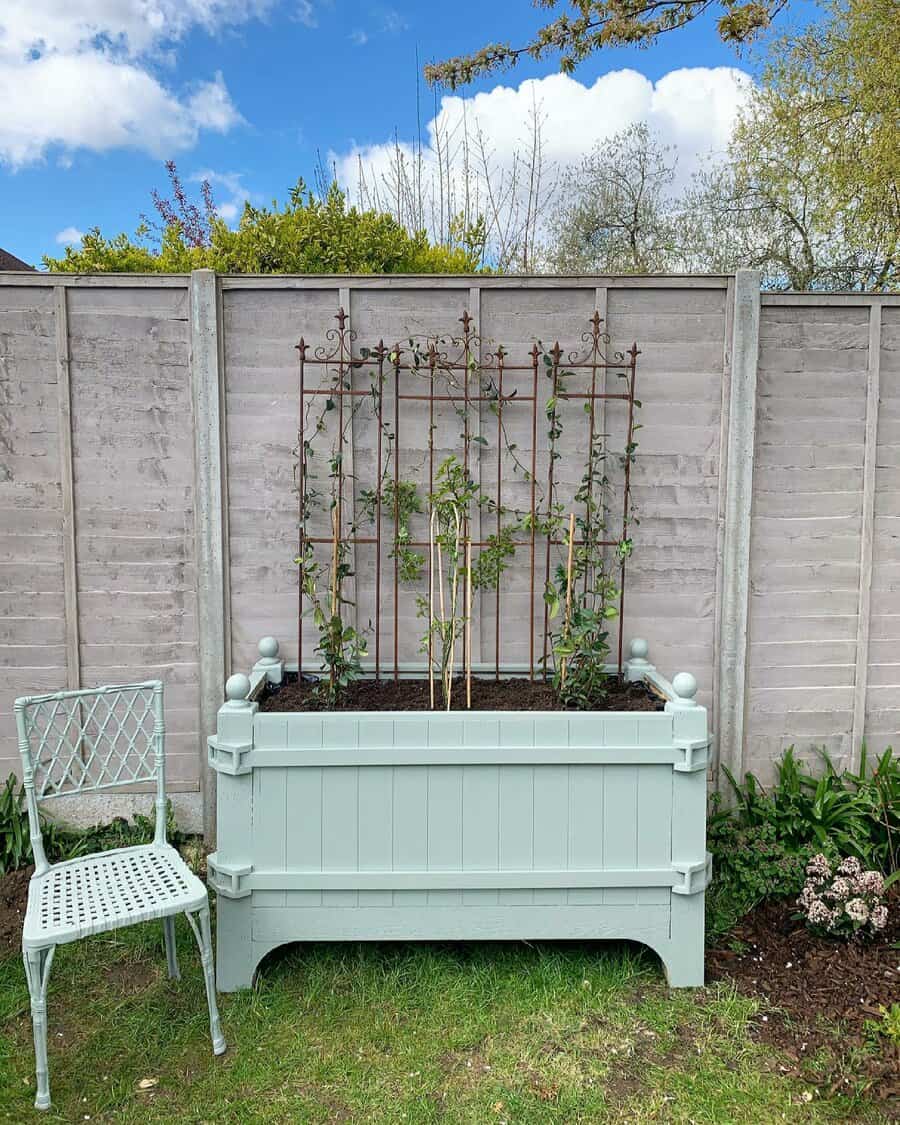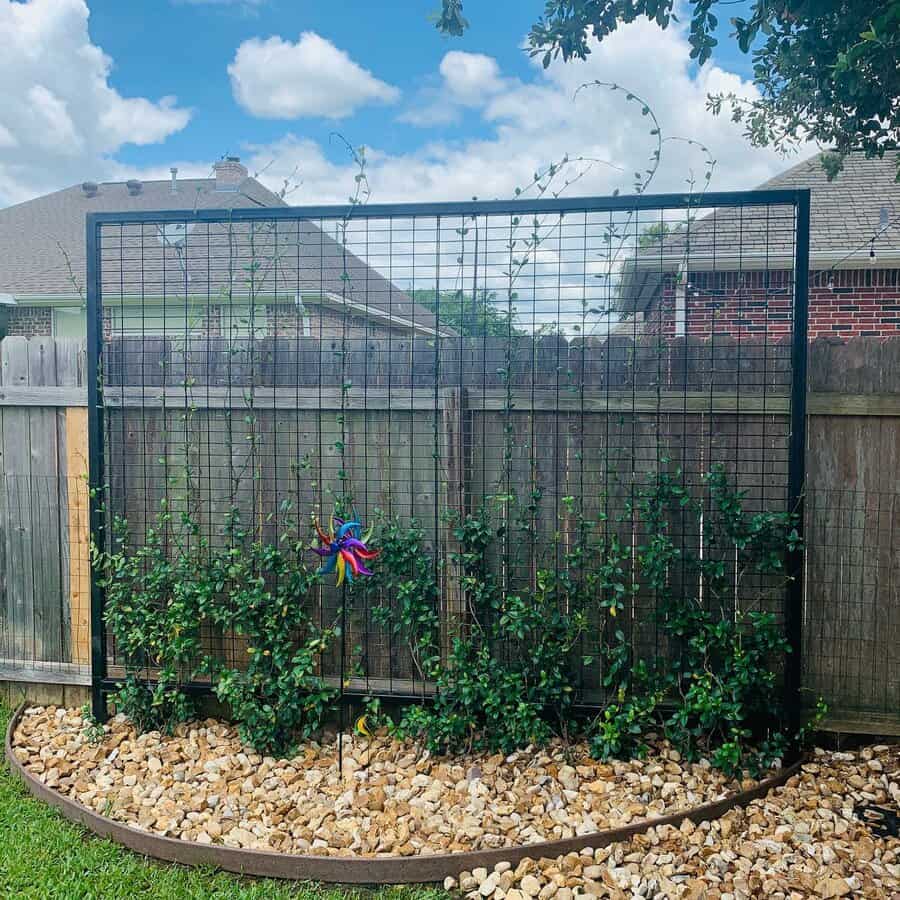 You don't want the trellis to rust from underneath the plant or get blown away in the wind. You could build a steel or copper trellis. Aluminum is also a good option, but you'll want to securely anchor it so that it doesn't blow away.
10. Planter Box
If you have a vegetable garden, you may need to add a small trellis to support the plants growing in your garden bed. You would add a single trellis for peas, pole beans, and cucumber plants.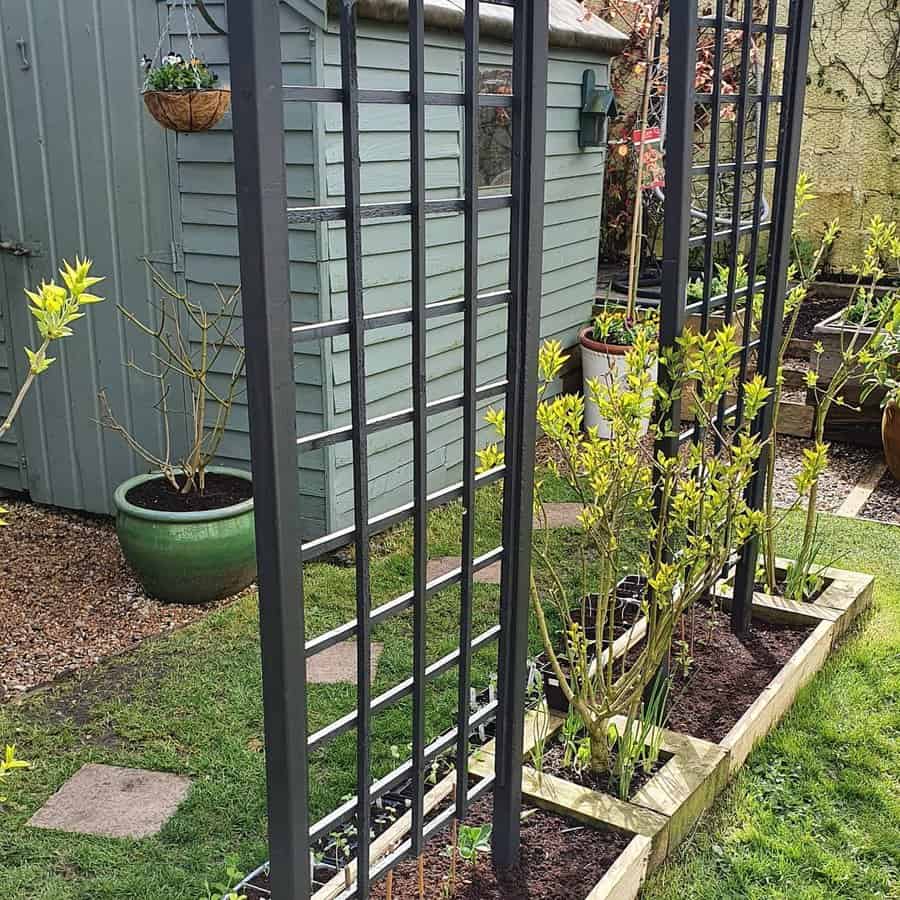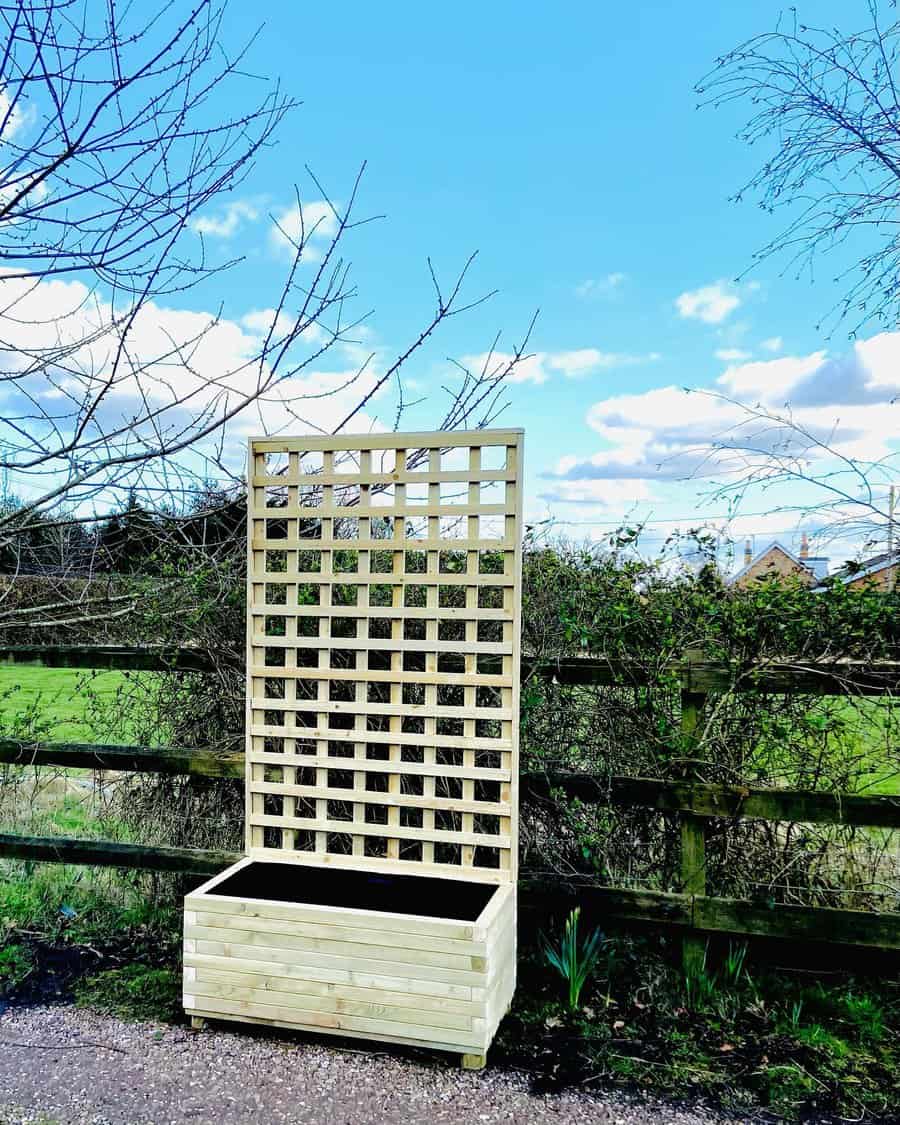 You could use a tomato trellis for all of them. These small supports are flat and rectangular in shape or round and shaped like a cone. Don't buy a trellis for the size of the plant you currently have. Instead, size up to give the plant plenty of room to grow on the trellis.
11. String
Some climbing plants will naturally cling to a trellis without your help. For example, you have a cucumber trellis on which you train your plant to grow. The plant won't naturally hold onto the trellis, so you'll need to tie the plant to the trellis. This becomes even more crucial once the plant starts producing cucumbers because the produce is heavy and will pull on the vine.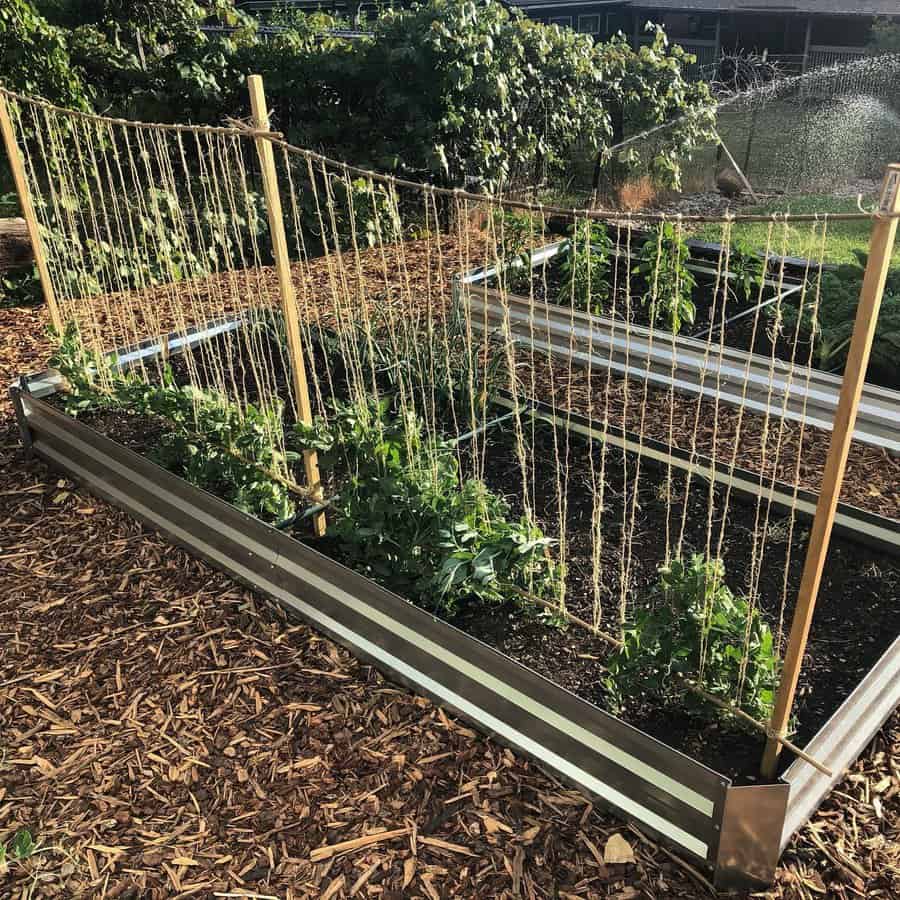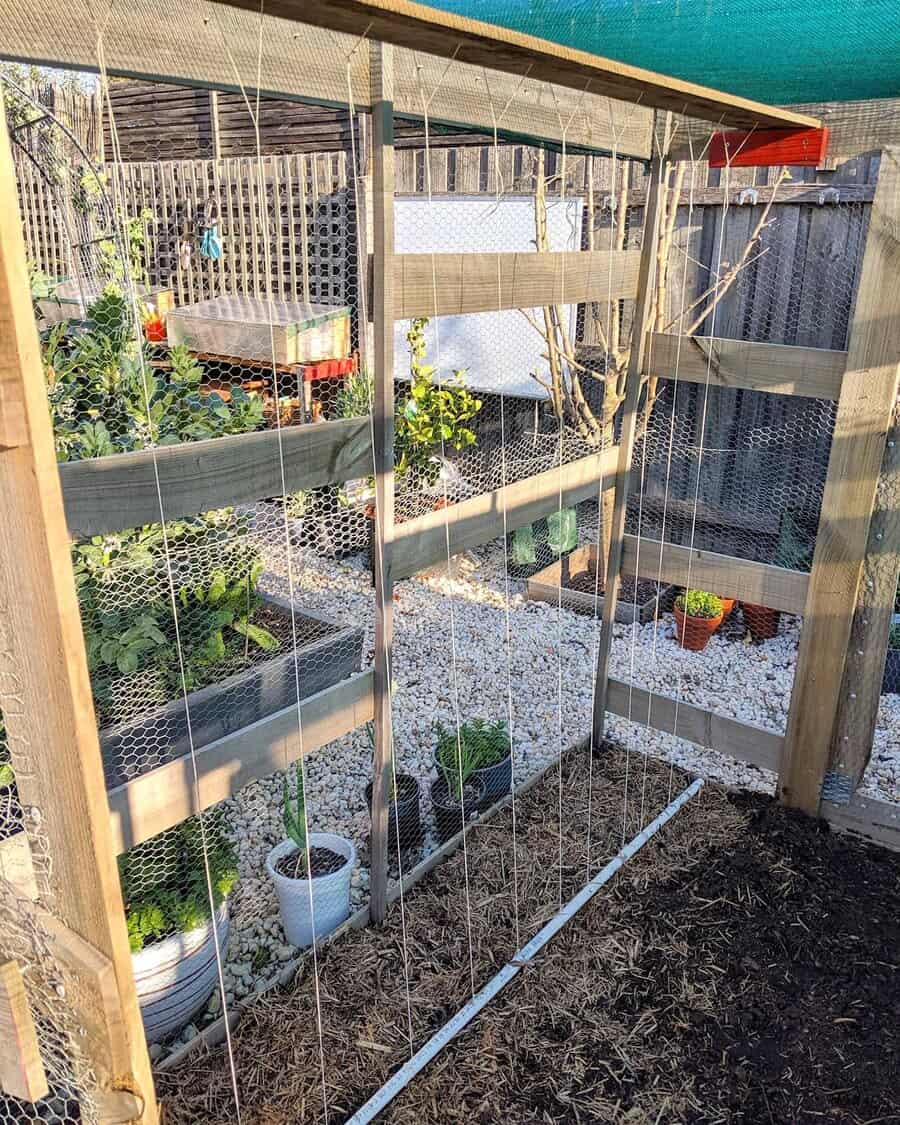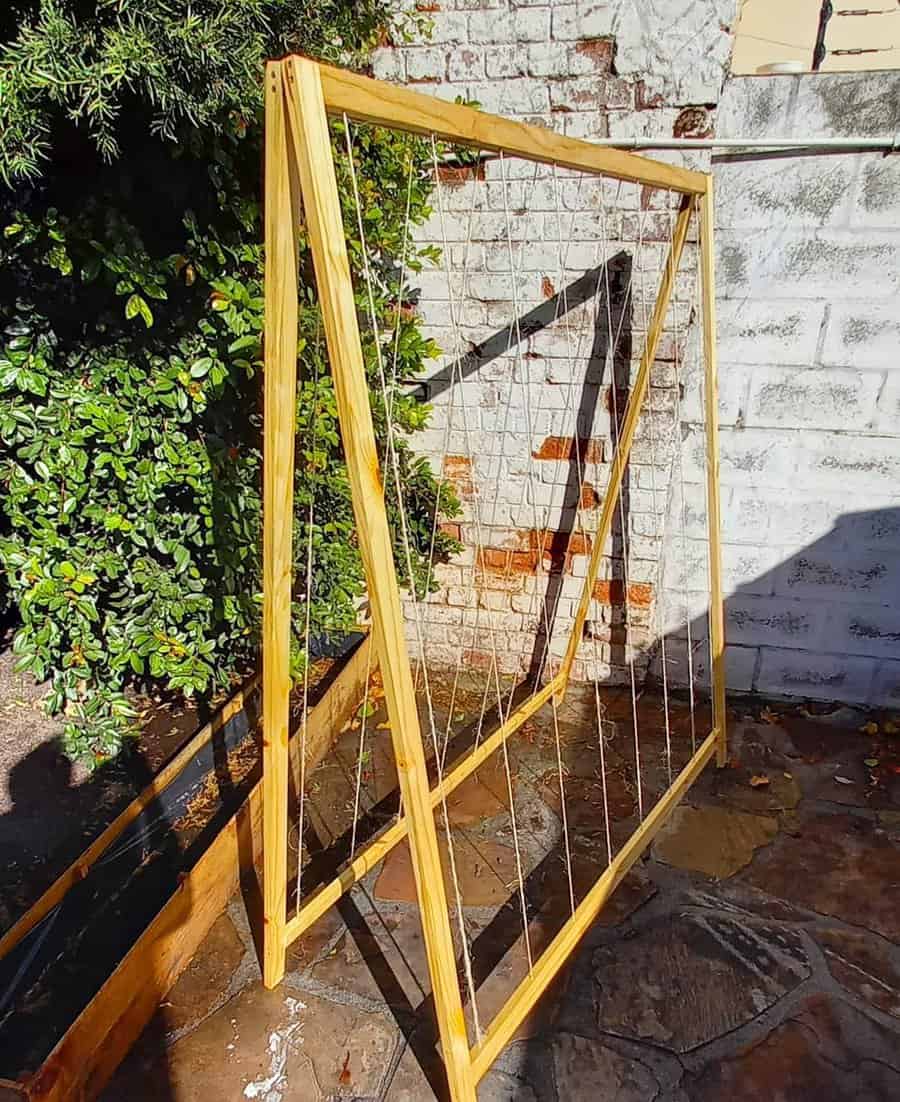 Garden twine is a popular option for securing climbing vines, but it isn't always the best option. The twine can cut into the plant, inuring it. Instead, you can use specialty plant ties to secure your vines to the garden trellises.
12. Wall
Living walls are a popular trend in turning an outdoor living space into a green and comfortable space. However, this can be challenging because you may not have the property to plant around your patio or deck. If you only have space for potted plants, you'll want to build a trellis wall.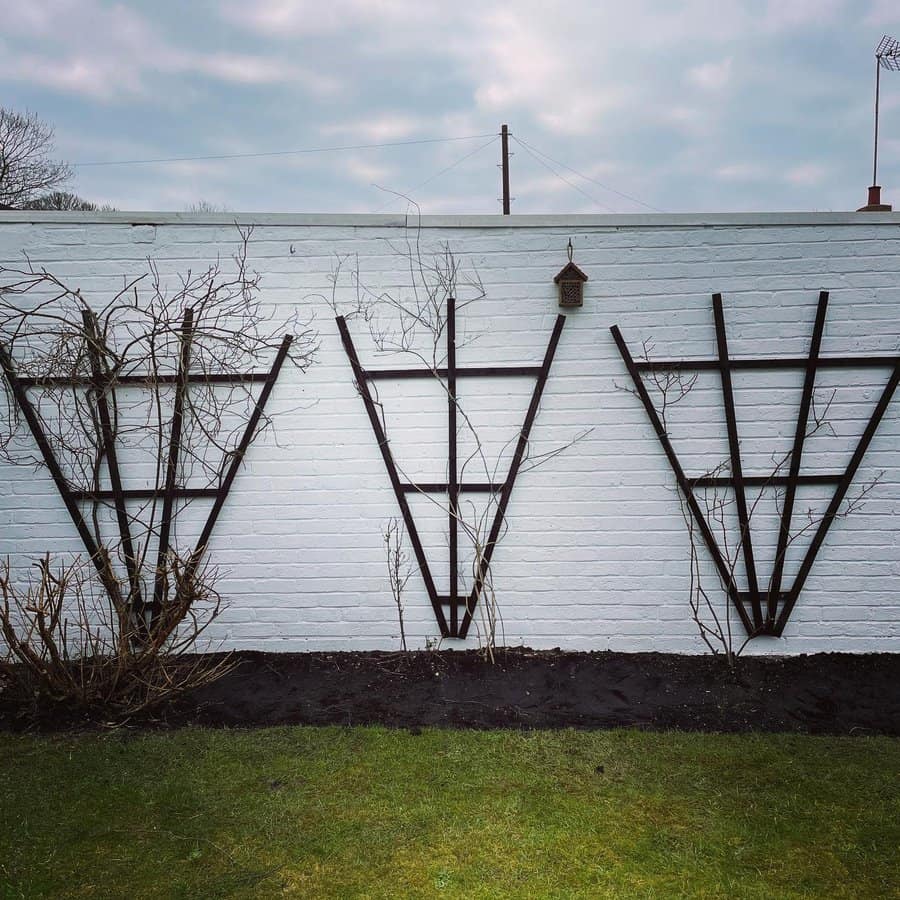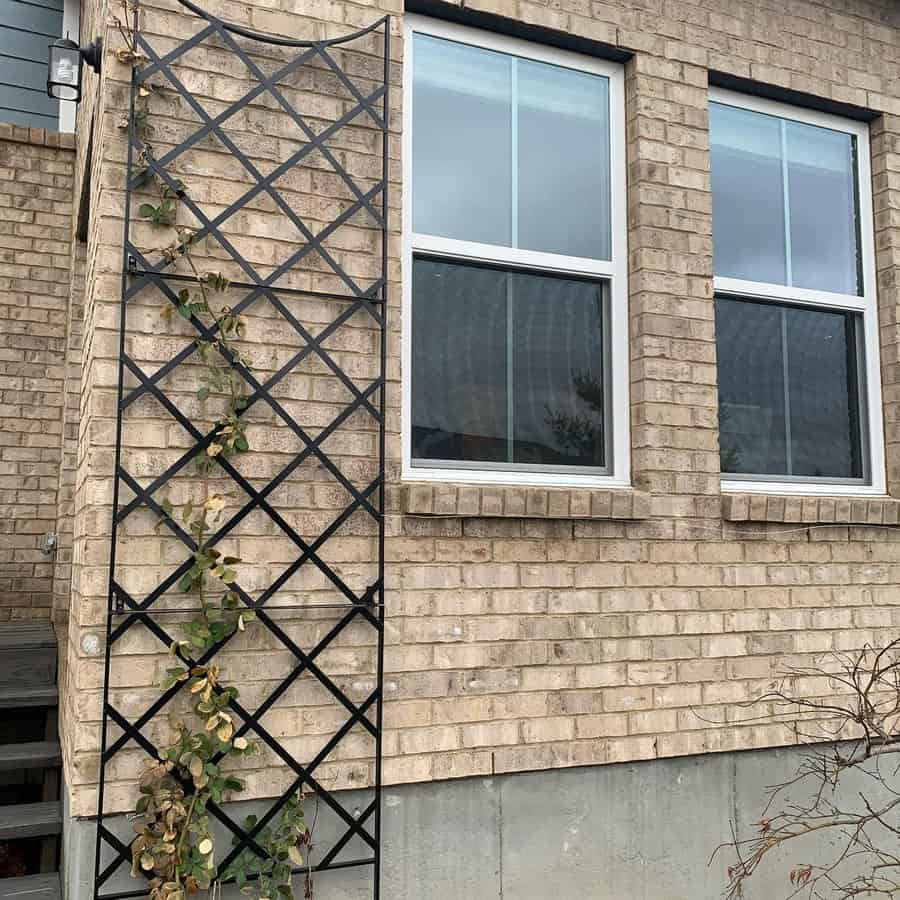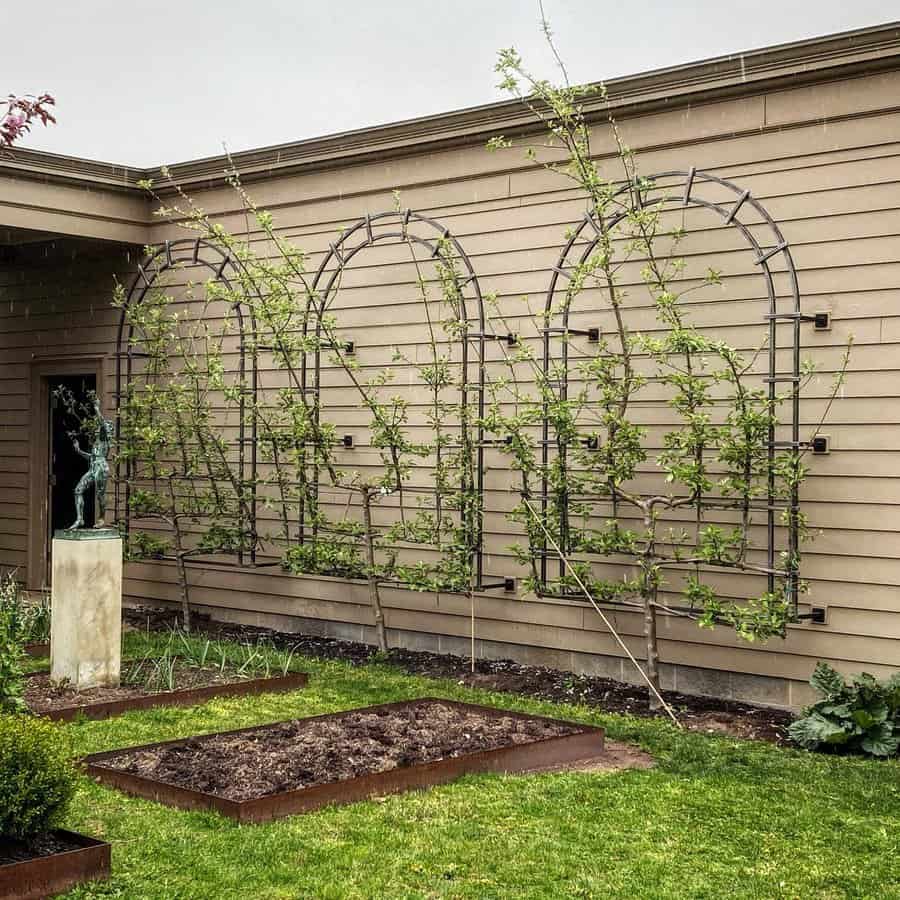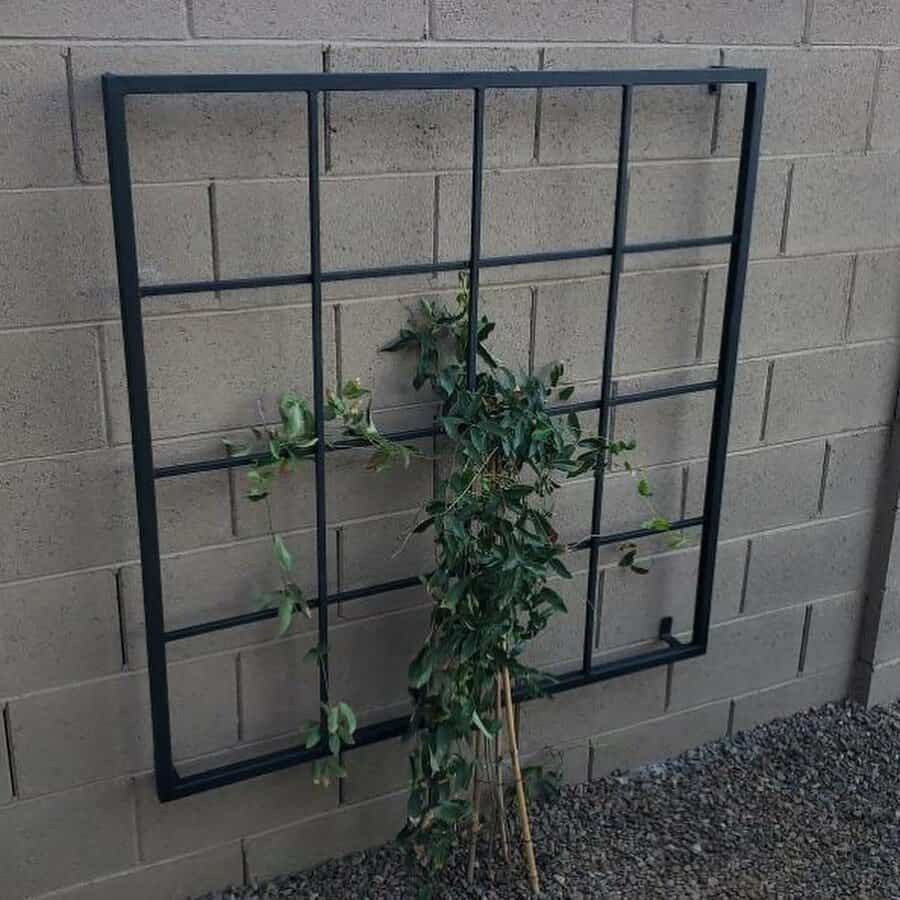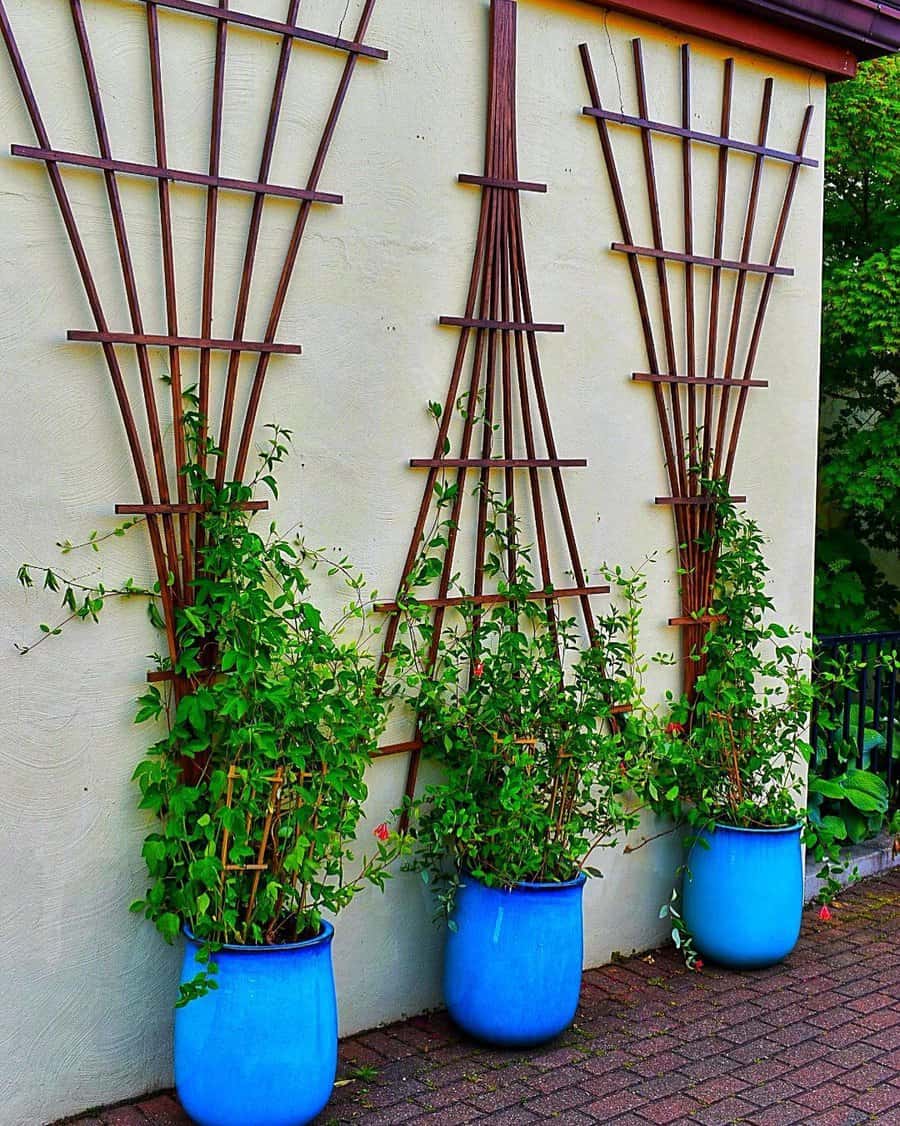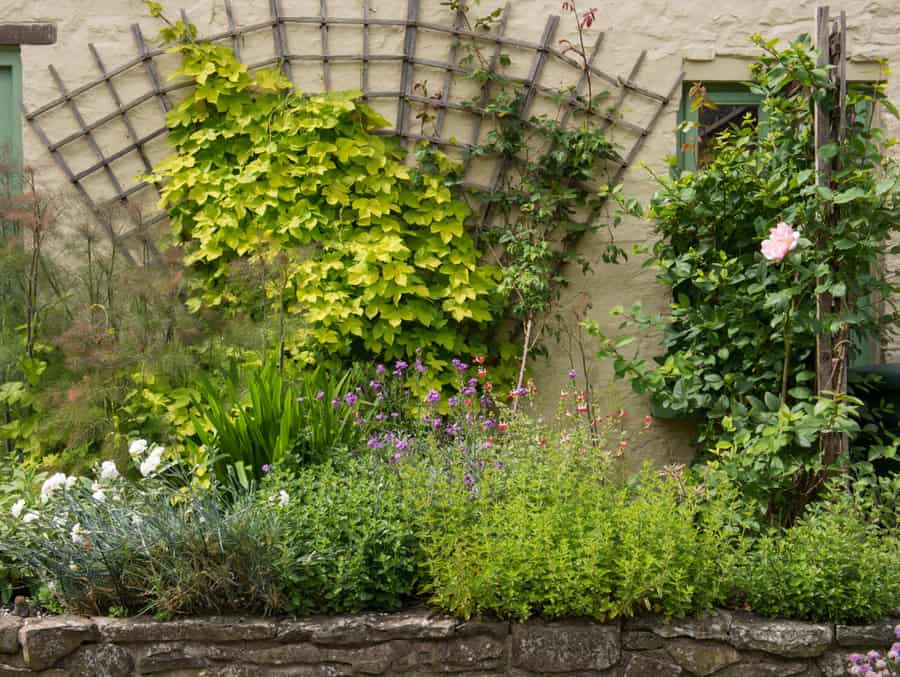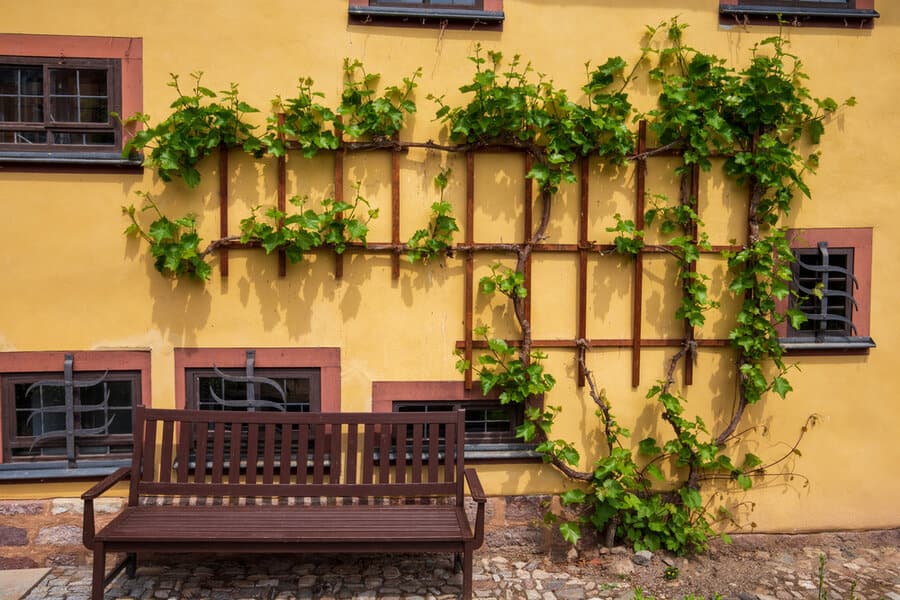 You can follow DIY trellis ideas to build a lattice wall that perfectly fits your available space. You'll then encourage your potted plants to grow throughout the trellis to fill in gaps and become a living wall. Unlike succulent walls, this design is lighter weight and easier to maintain.
See more garden wall ideas here.
13. Wood
While you could build a simple trellis out of treated 2×4 beams, this isn't your only wood option. Teak and acacia wood are durable options that hold up well in high moisture environments. This makes the wood durable enough to be left in moist soil without rotting.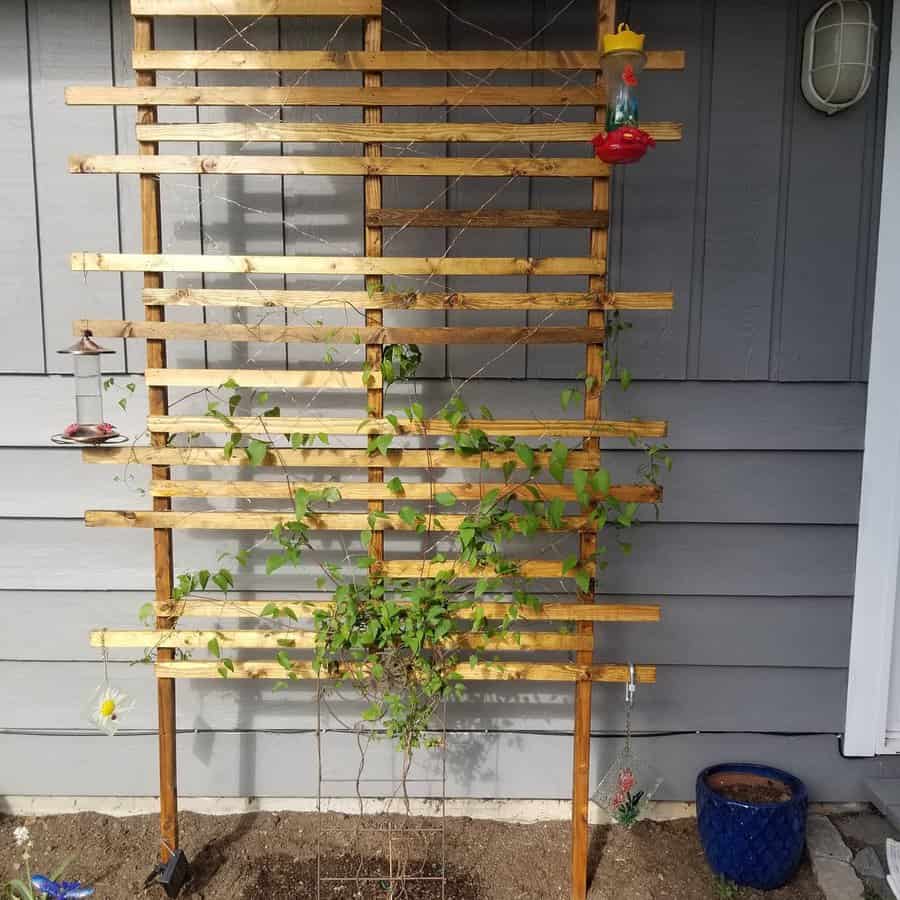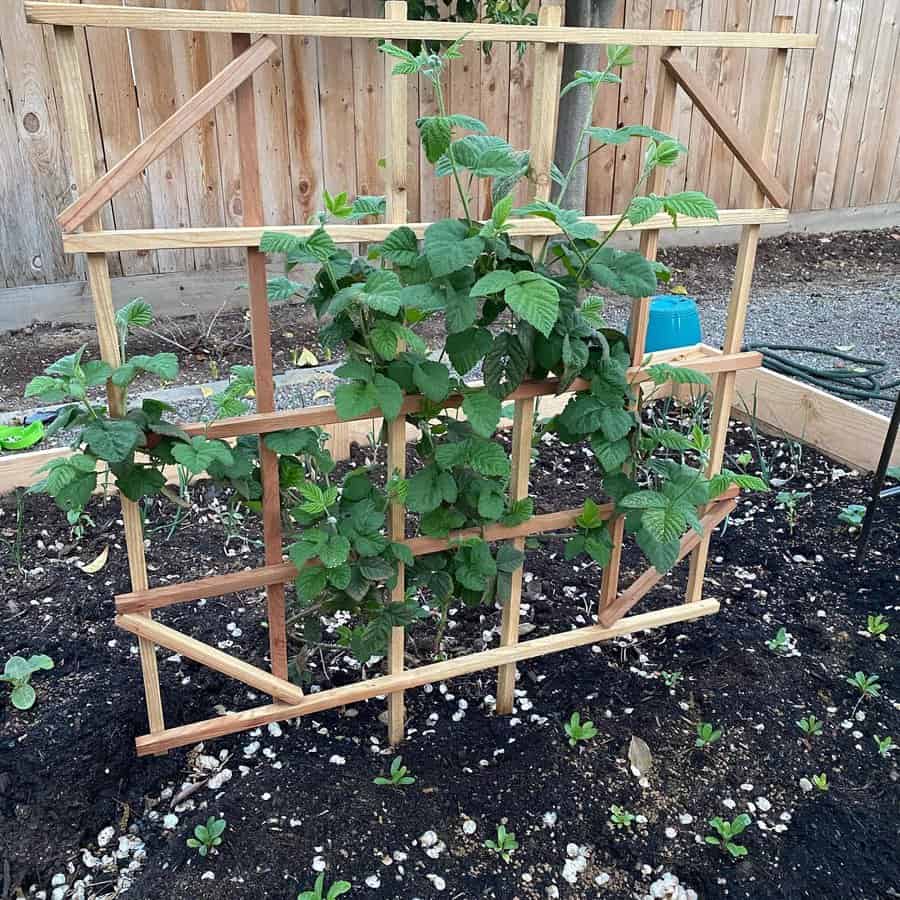 An environmentally sustainable option is to use bamboo poles. You could use the bamboo for just the stakes or make an entire bamboo trellis. Bamboo is a sustainable plant, but it is also durable and strong, helping your trellis to last a long time.
FAQs
What material is best for a trellis?
The best materials to use for your trellis are durable, strong, and safe for use outside. Bamboo, aluminum, and PVC plastics are all good options. They won't rust, corrode, or be susceptible to UV rays.
How do you secure a trellis in the ground?
To ensure your trellis stays in place, you'll want to anchor it to the ground. You can do that with long spikes made from wood or metal. Drive the stakes into the ground, leaving a portion above ground. Tie the trellis to the stake.
How do I attach a plant to a trellis?
You'll need to train the plant as it grows to make it easier to secure the plant to the trellis. It helps to follow the natural curve and structure of the plant. Some plants will naturally cling to the trellis, and you won't need to secure them. For others, use plant ties to hold the vines in place.