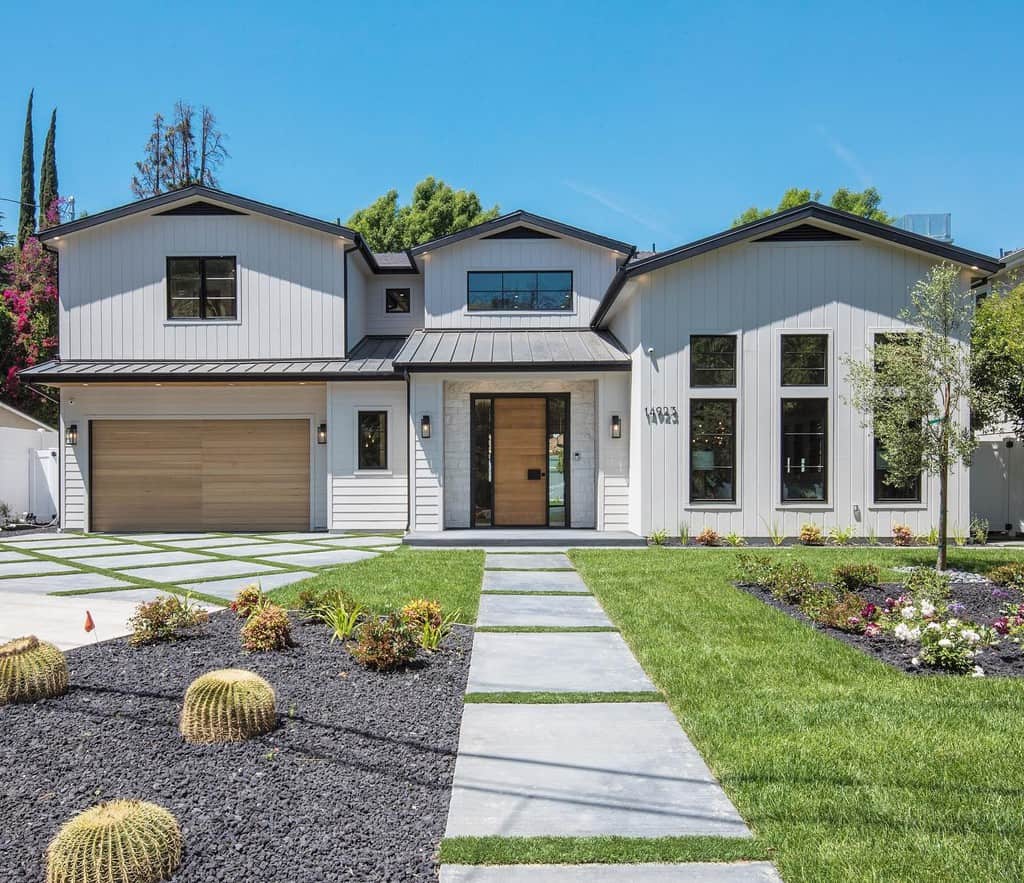 81 Inspiring Walkway Ideas for Your Home
Adding a walkway to your property increases its curb appeal, functionality, safety, and usability. For example, you could build a sidewalk in front of your home, making it easier for people to walk up to your front door. Add another sidewalk around the side of your house to create a path around to the backside of your home. Then build one or more sidewalks on the backside of your house. Having one or more concrete walkways keeps people off your grass and out of your garden. Check out these sidewalk ideas and start building sidewalks on your property.
1. Rustic Red Brick Paver Elegance
When crafting your home walkway, red brick pavers offer timeless charm. Despite their need for careful installation and maintenance, the elegance they bring is unmatched.
Prioritize identifying weak points during installation and choose premium sealants and cleaners tailored for brick surfaces. This will ensure lasting beauty for your outdoor space. Complement this design with vintage-style outdoor lighting and potted plants for a truly inviting atmosphere.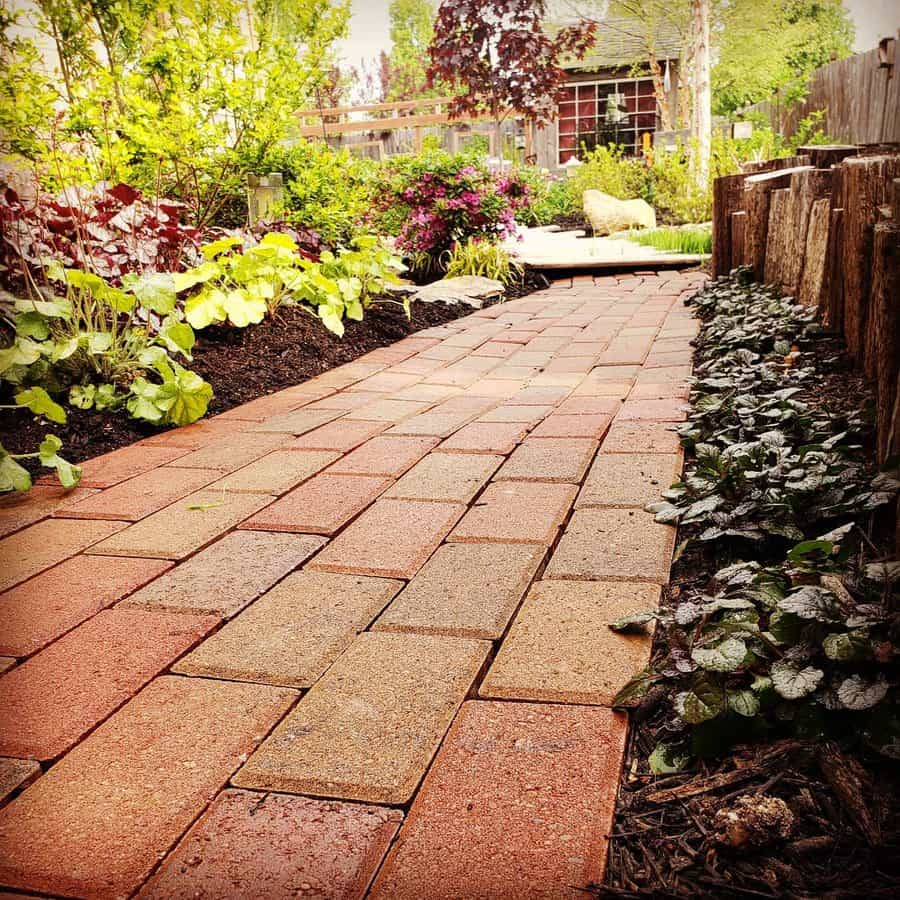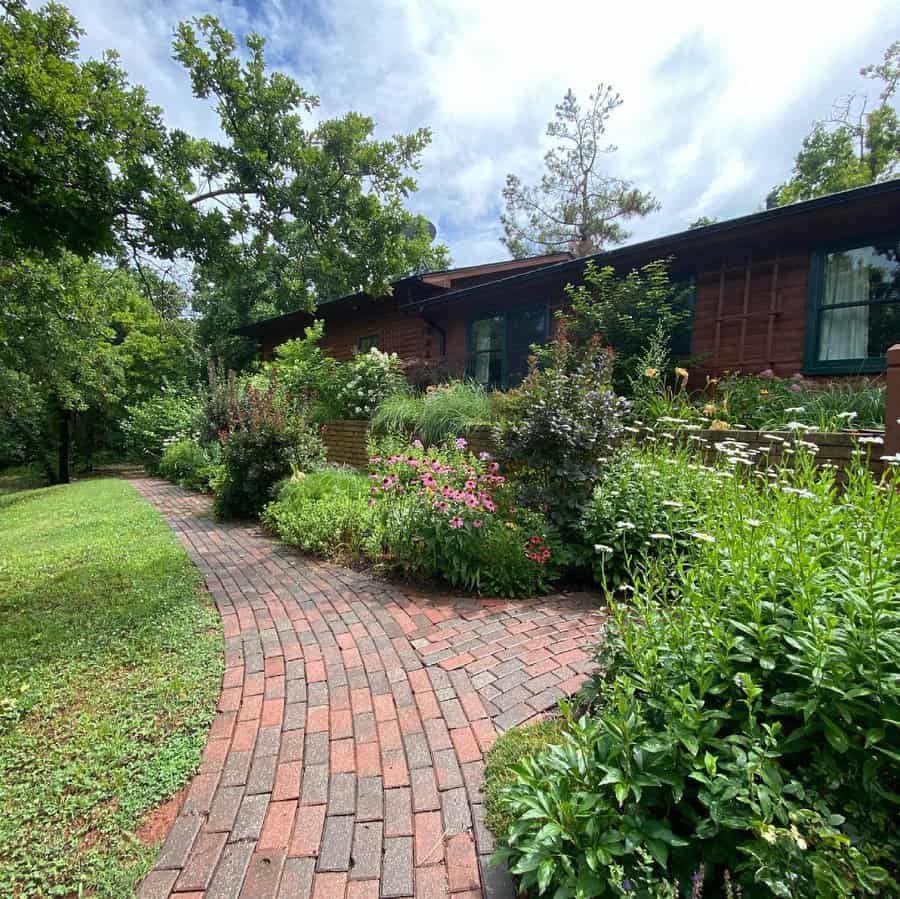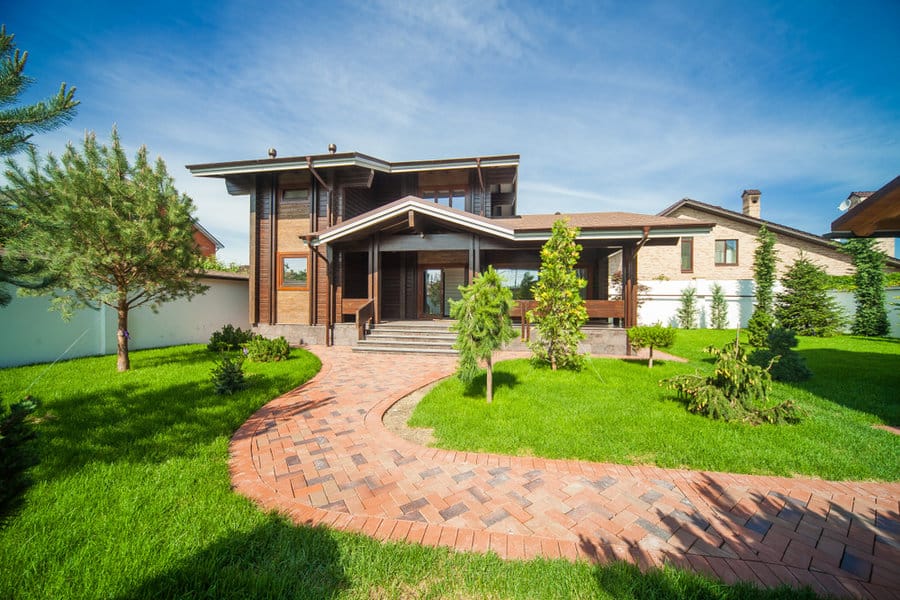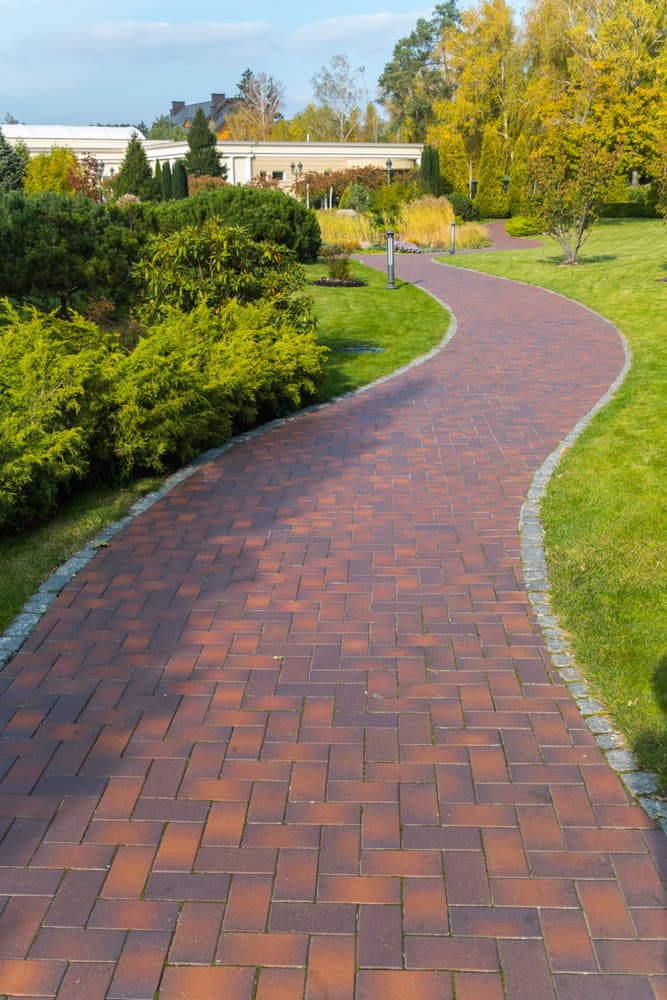 2. Charming Cobblestone Pathways
Enhance your home's walkway with the timeless allure of cobblestone. This classic choice exudes historical charm and durability.
Ensure safety and year-round accessibility with its excellent traction in all weather conditions. To elevate the aesthetic, adorn your cobblestone path with vintage-inspired lanterns and decorative plant containers. This creates an inviting atmosphere that leaves a lasting impression on your visitors.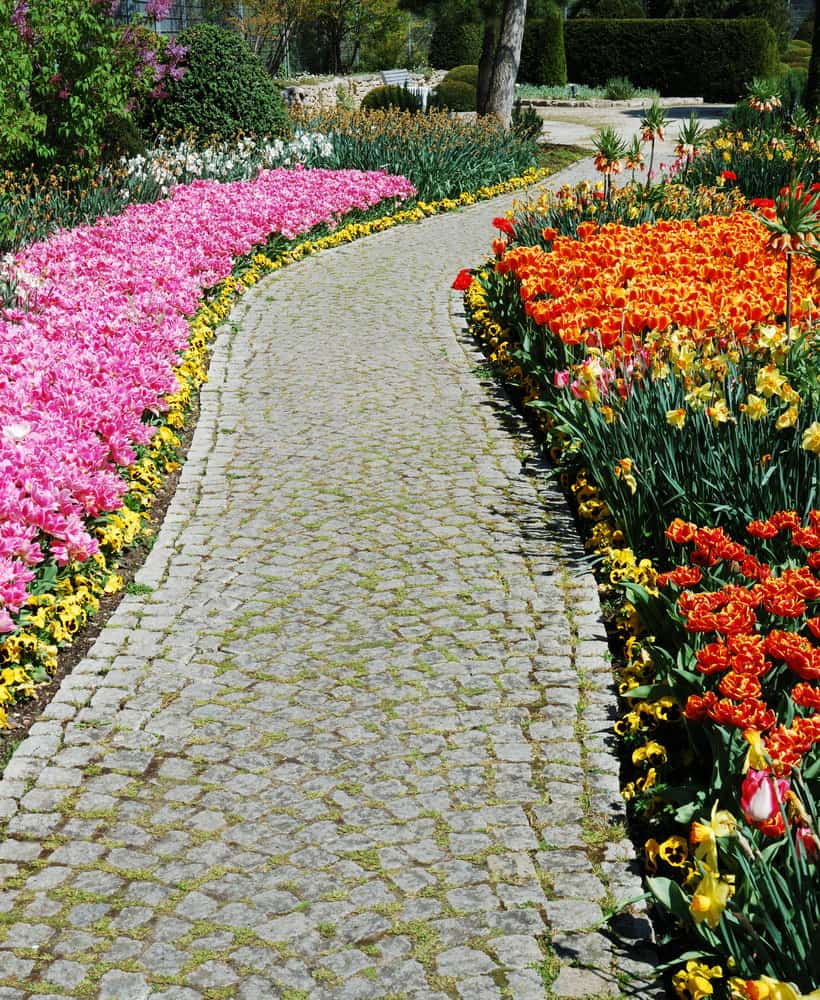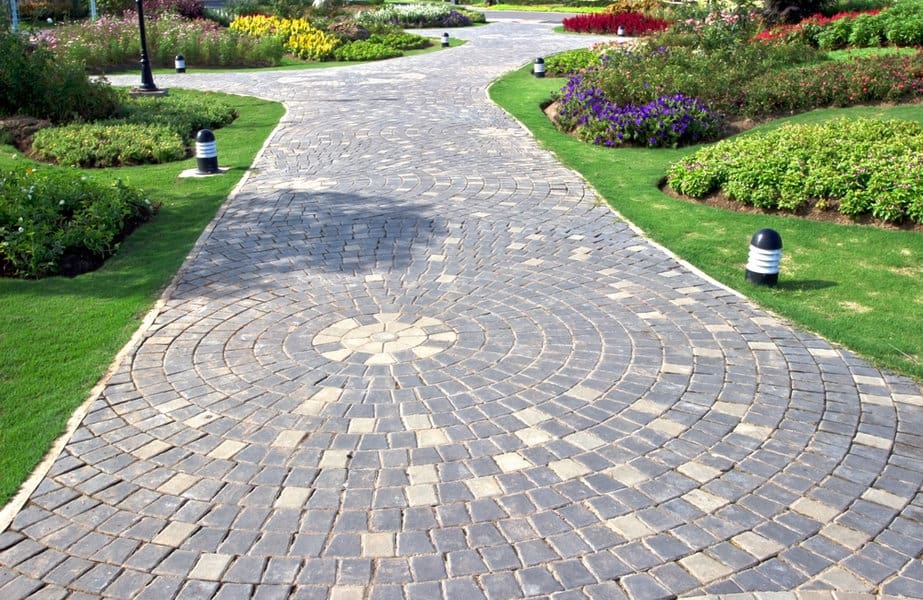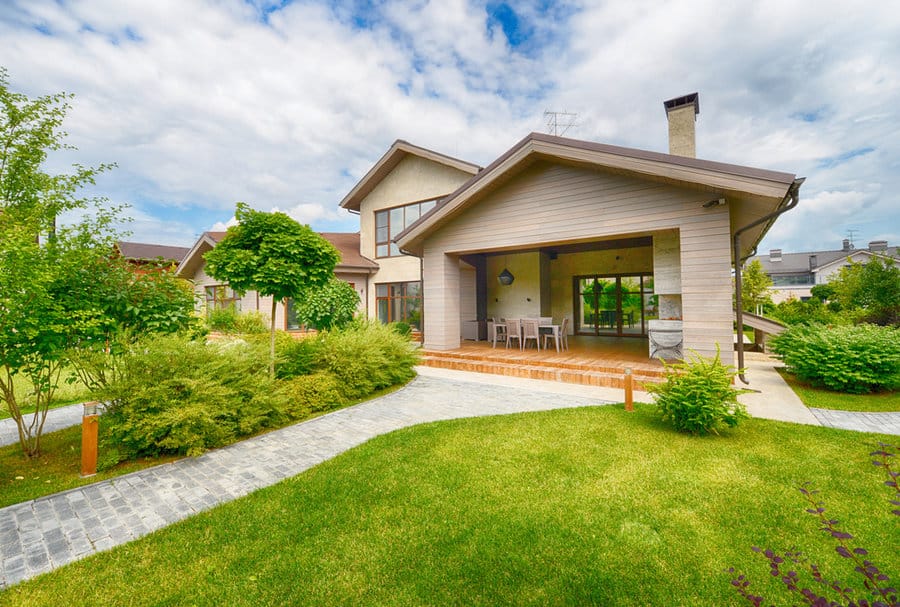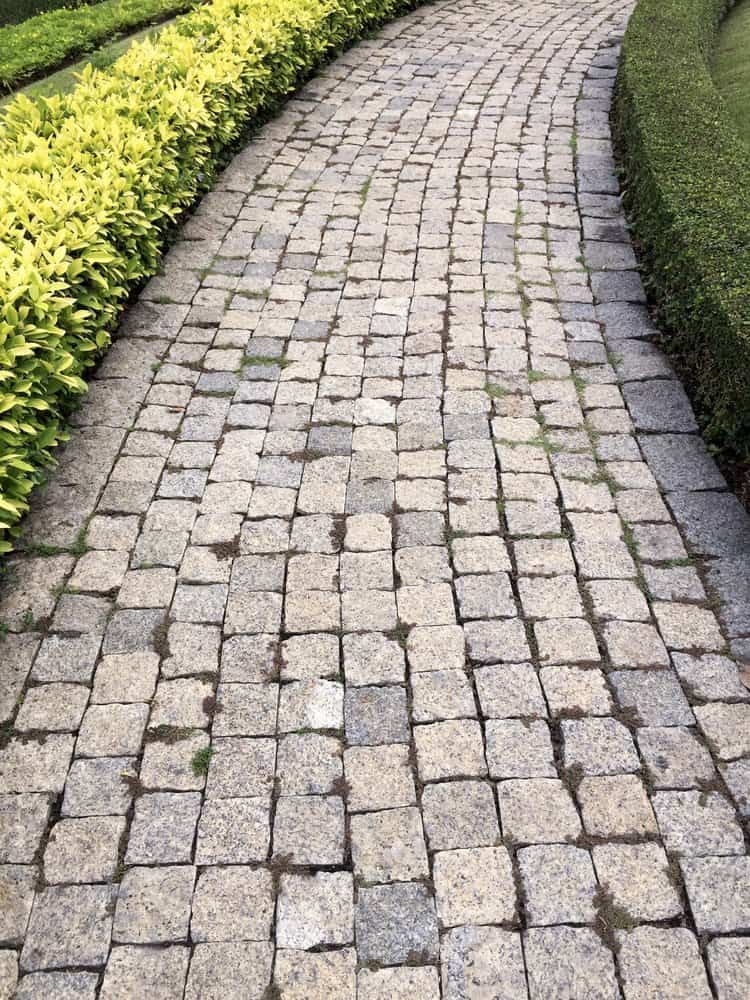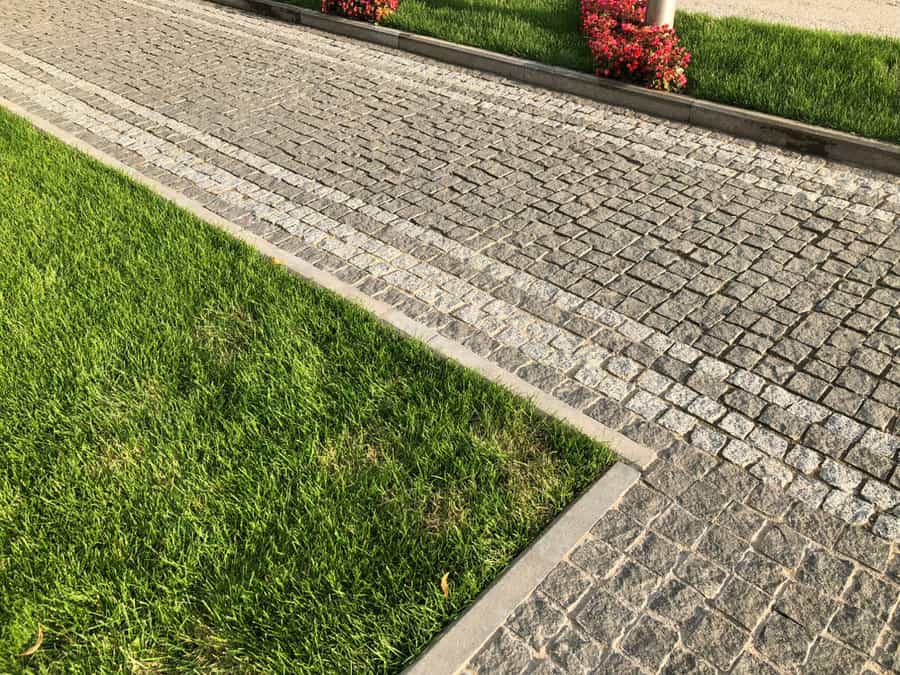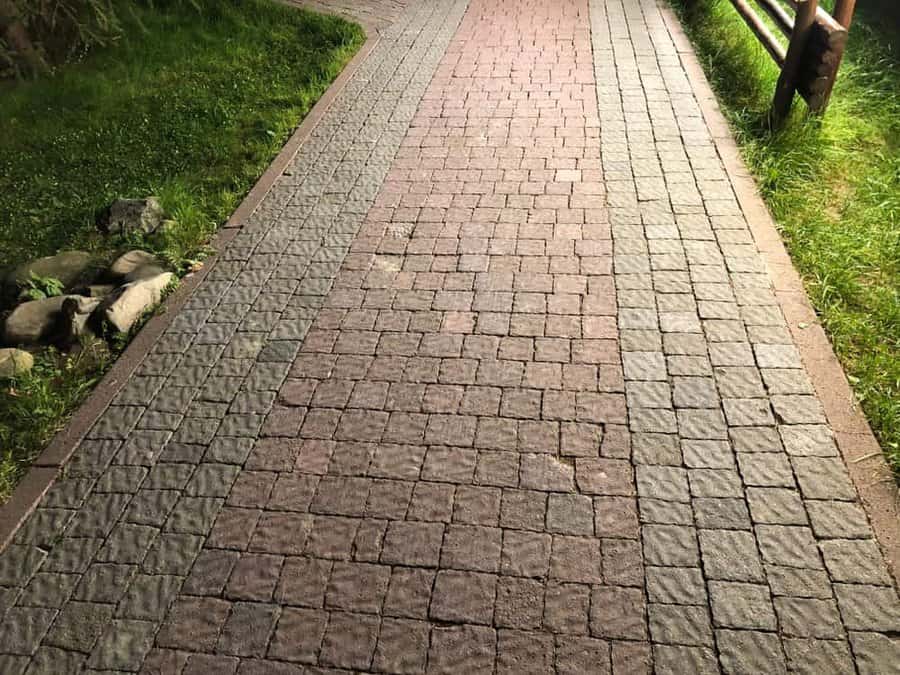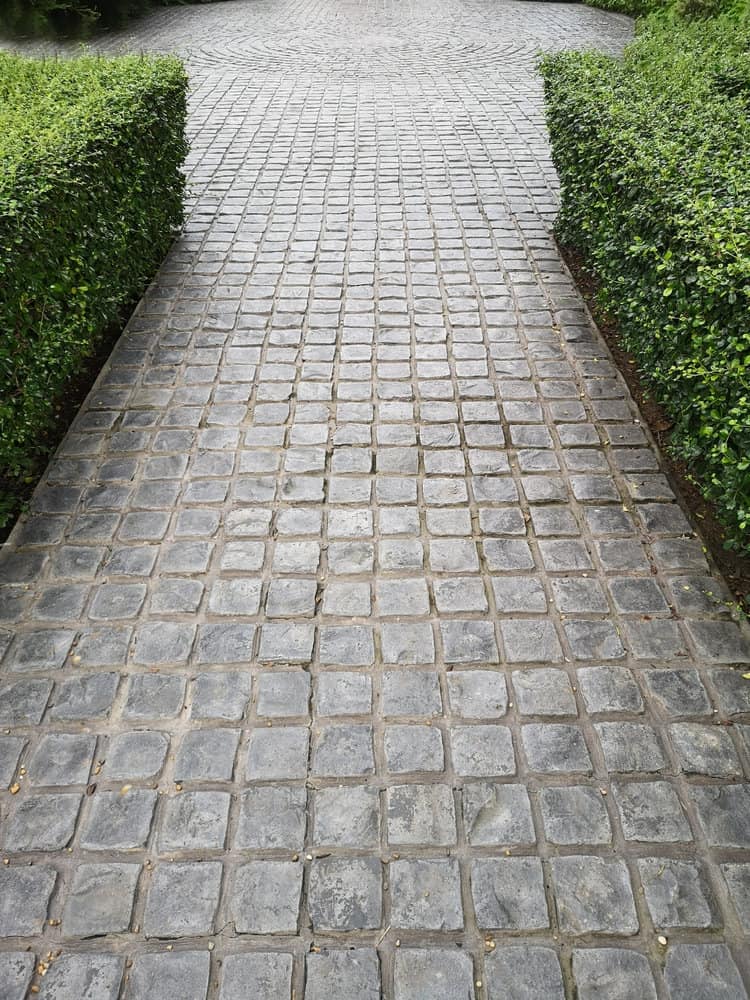 3. Contemporary Wide Concrete Pavers
Revamp your home's curb appeal effortlessly with a modern twist. Wide concrete pavers offer both sophistication and practicality for your walkway.
Choose from a wide array of colors and styles to harmonize with your home's overall design and landscaping. Installation options cater to both DIY enthusiasts and those opting for professional precision. Add character by incorporating insert stones or greenery, creating a distinctive entryway.
Executing this transformation is easier than you'd imagine, making it a feasible DIY project. To enhance the contemporary paver look, consider integrating sleek outdoor furniture and minimalist lighting for a cohesive, modern ambiance.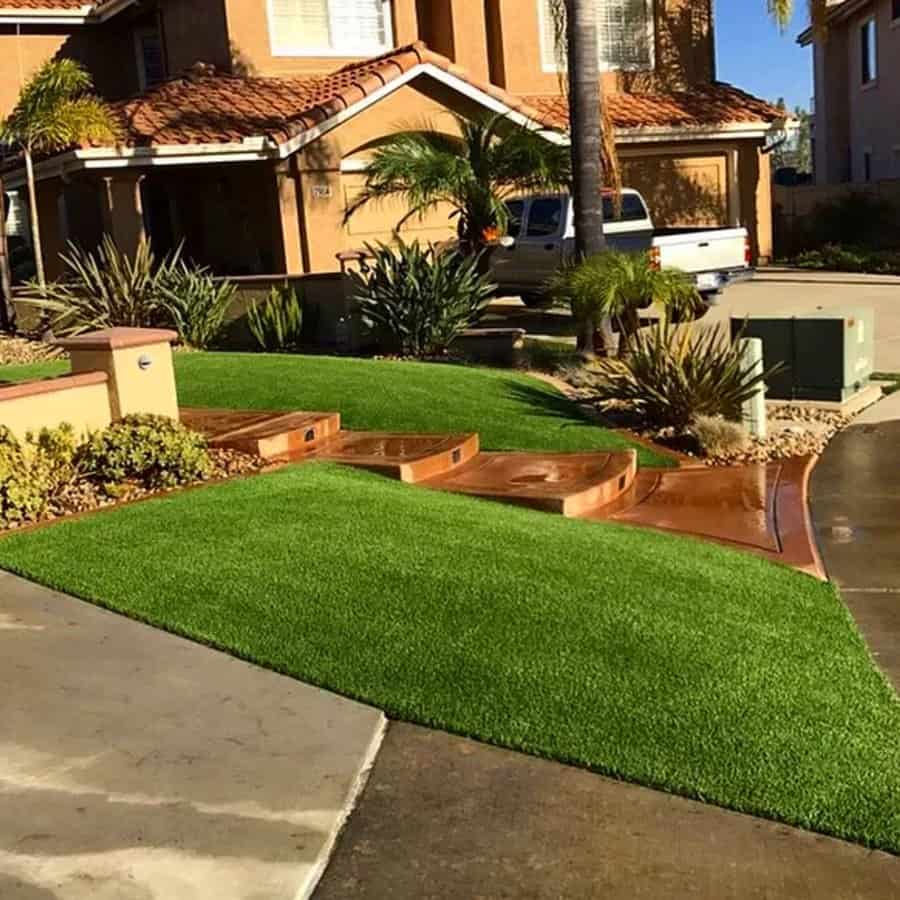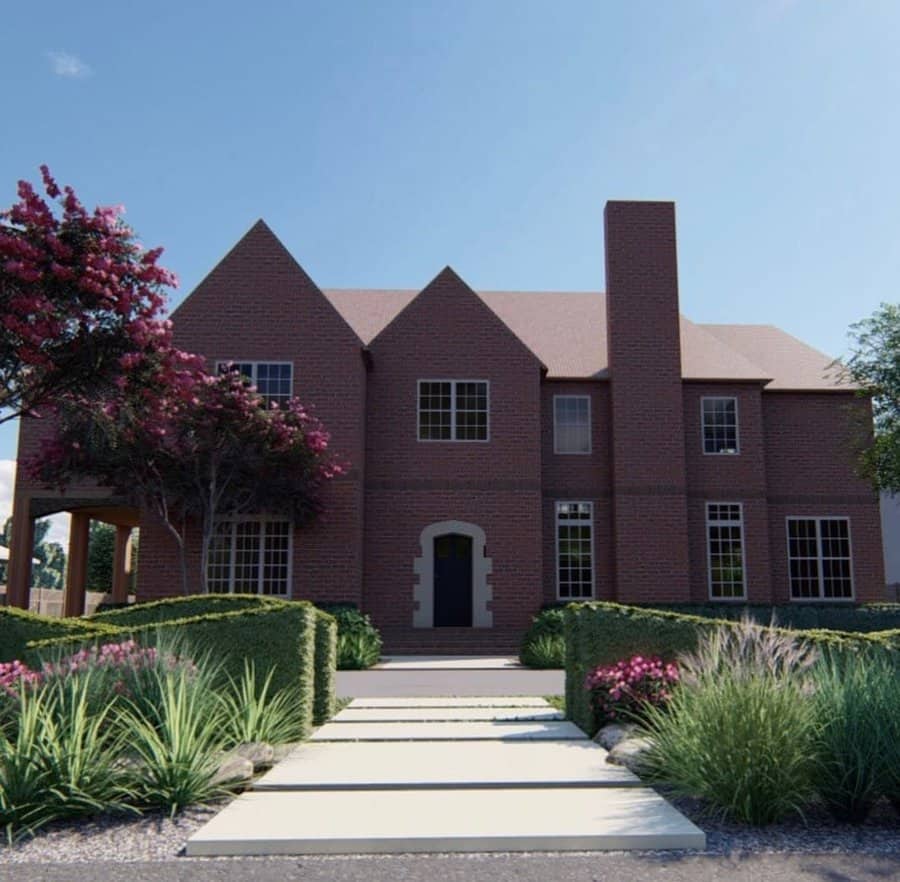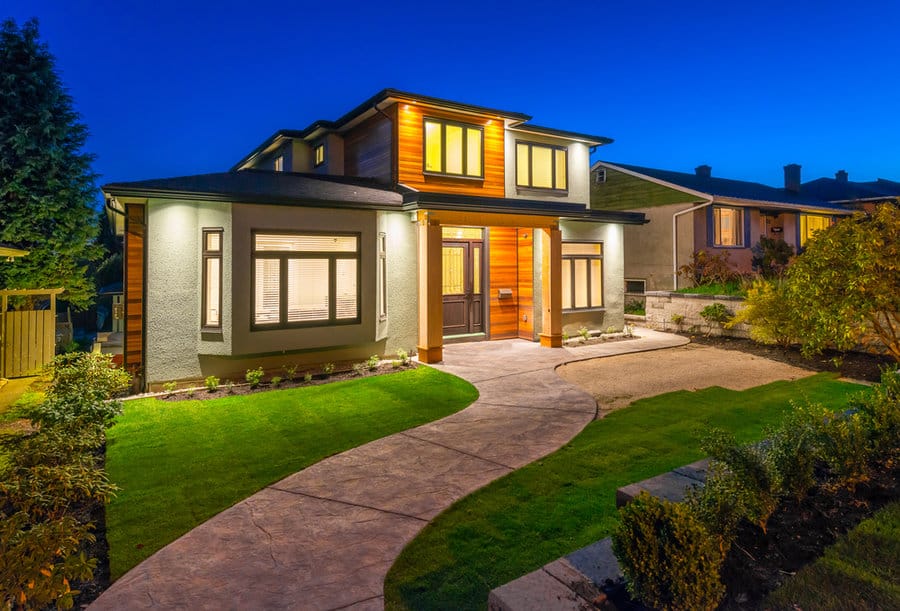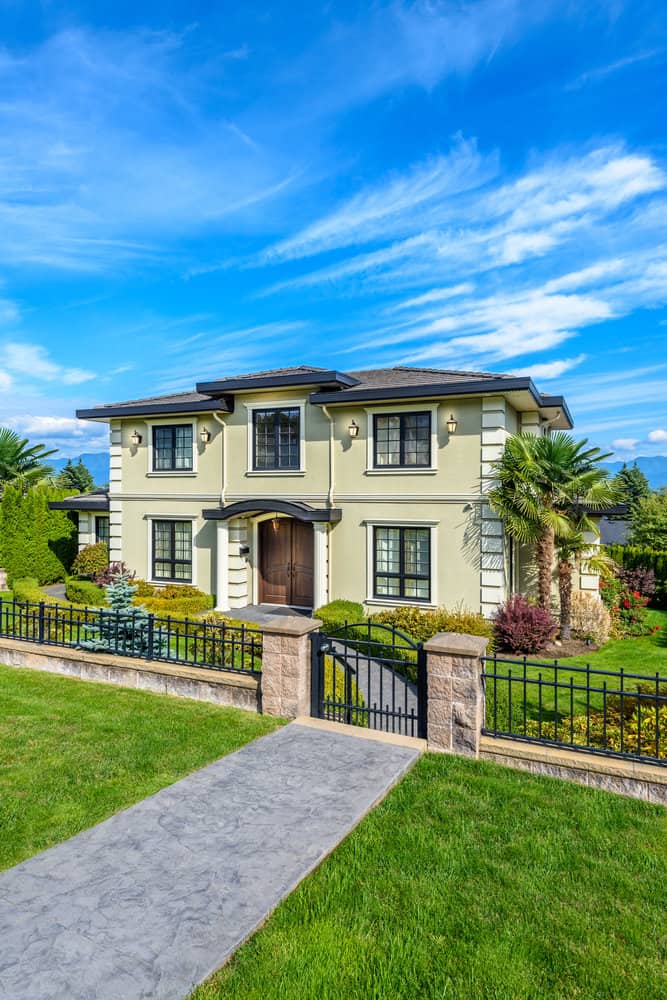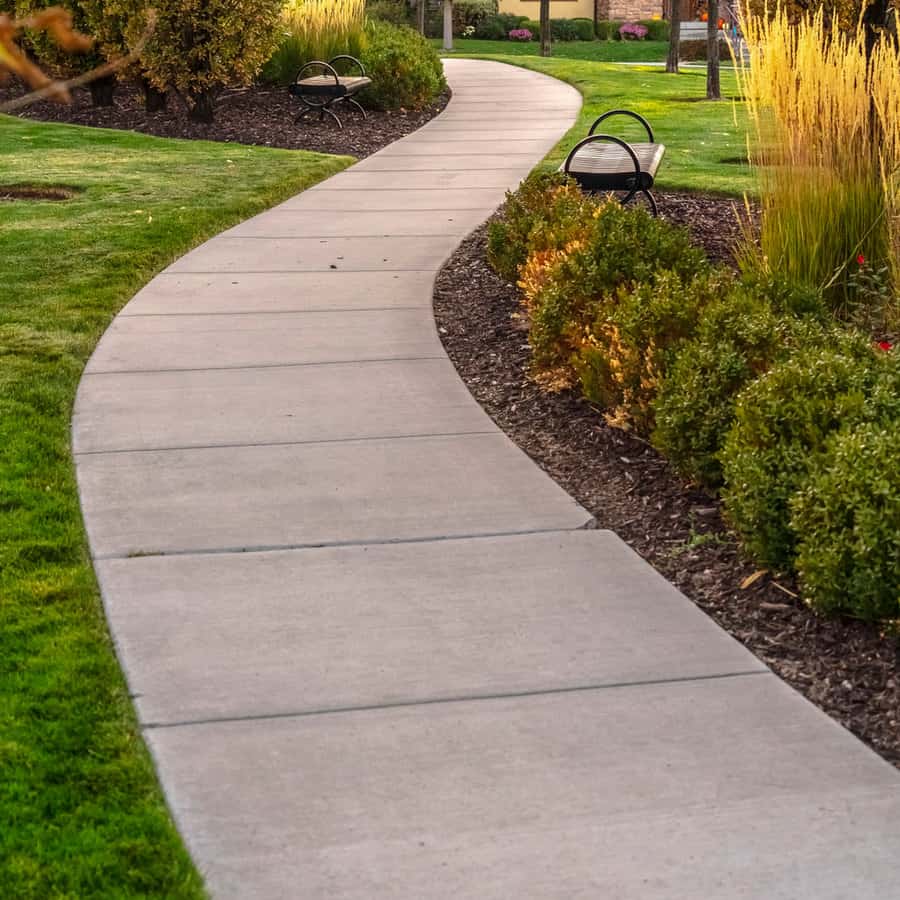 4. Sustainable Composite Path Design
Crafting an inviting and impressive walkway for your home demands thoughtful material selection. Consider composite walkways for a low-maintenance yet stunning option that complements your home's facade seamlessly.
For a creative touch, experiment with unique combinations like wood logs in eye-catching patterns or intermingling bricks with smooth river stones. Classic choices such as wood and concrete remain timeless. To achieve an entirely distinctive look, explore large, flat slices of tree trunks paired with cascading pebbles.
The variety of options ensures there's a perfect solution for every home. To enhance the sustainable appeal, integrate eco-friendly lighting along the path and choose native plants for landscaping to create a harmonious and environmentally-conscious walkway.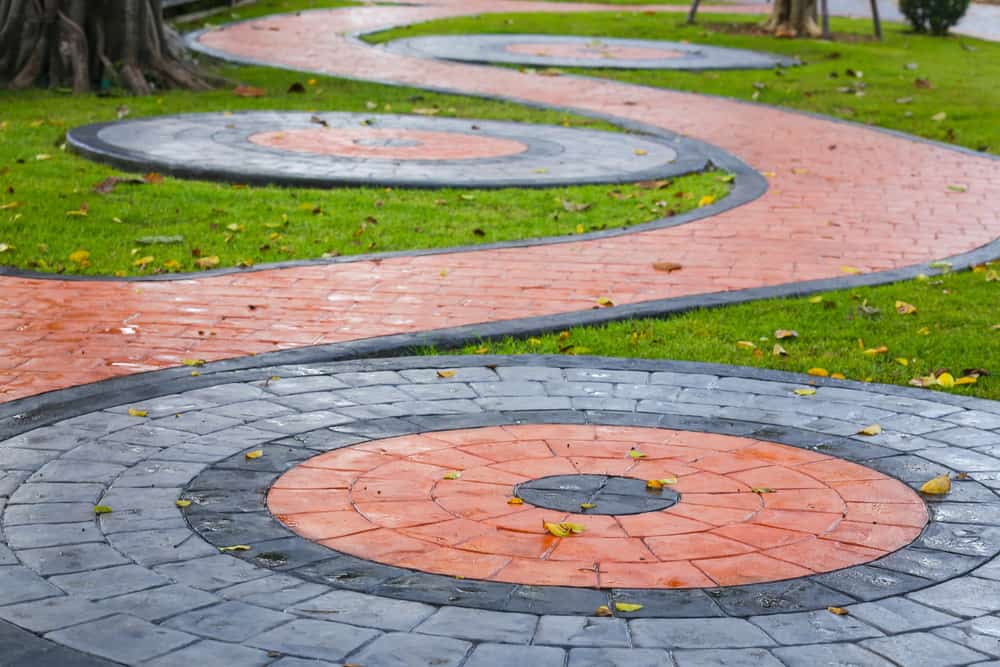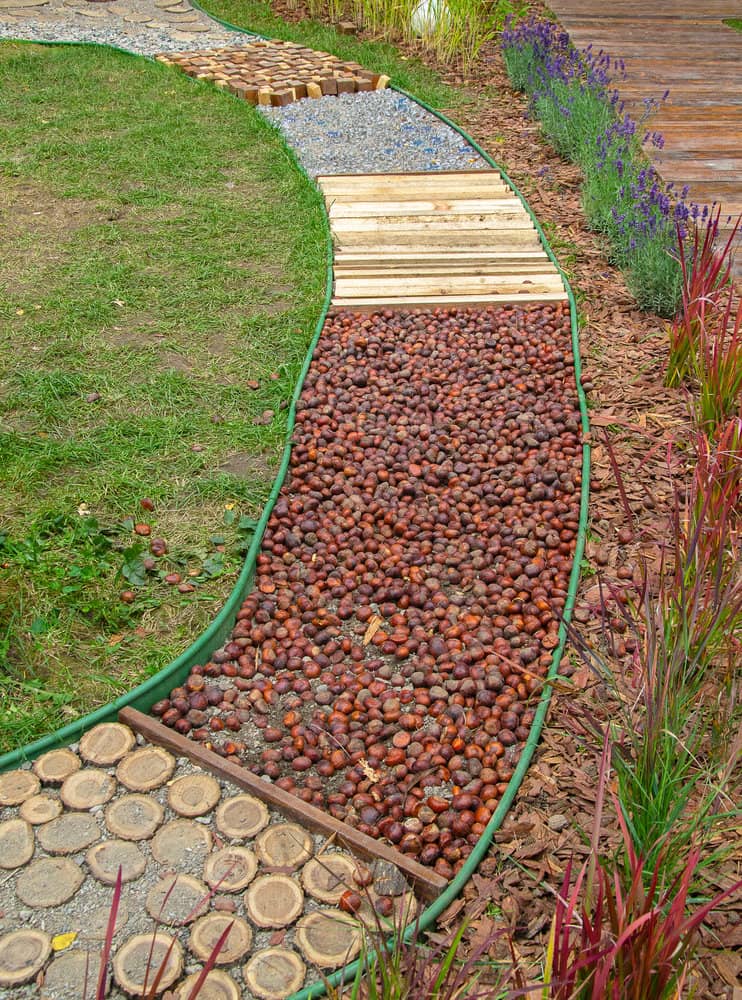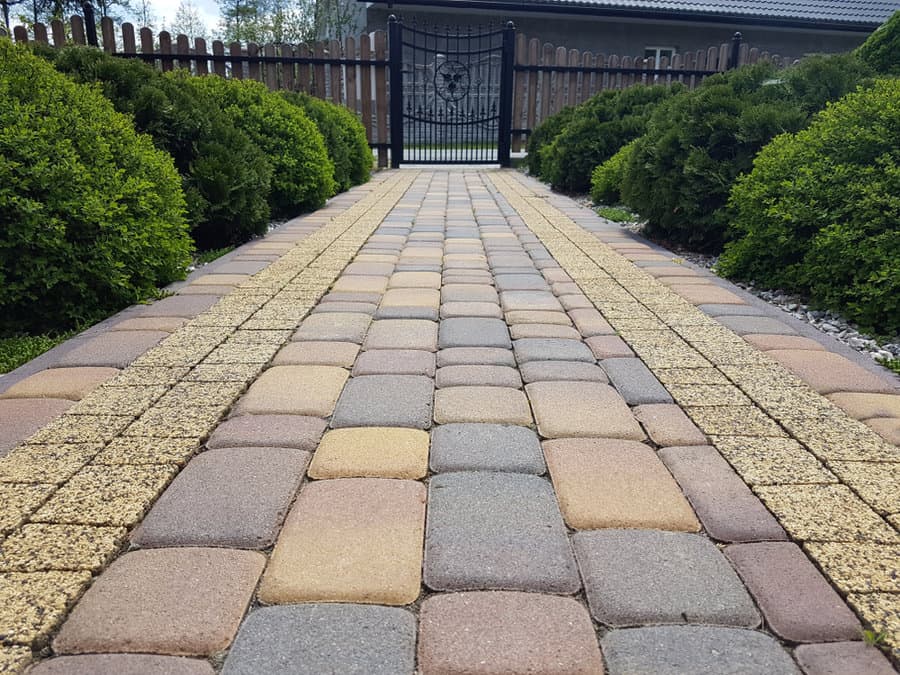 5. Ascending Path of Beauty
Achieving a visually captivating walkway that balances aesthetics and functionality is within reach. Elevate your outdoor walkway's appeal by incorporating ascending stairs with varying heights, offering opportunities to introduce diverse textures and colors.
An ascending walk path featuring steps of varying heights serves as an enticing focal point leading to your home's entrance or main exterior feature. It's a surefire way to leave a lasting impression on guests. When embarking on your walkway project, start by carefully selecting materials that align with your desired aesthetics and durability requirements.
Opt for solid brick or stone, which maintains its color with minimal upkeep, making it an ideal choice for a hassle-free landscape feature. To further enhance the allure, consider integrating well-placed garden beds or potted plants along the ascending path, adding a touch of nature's beauty to the journey. This harmonious blend of structure and greenery creates a captivating entryway.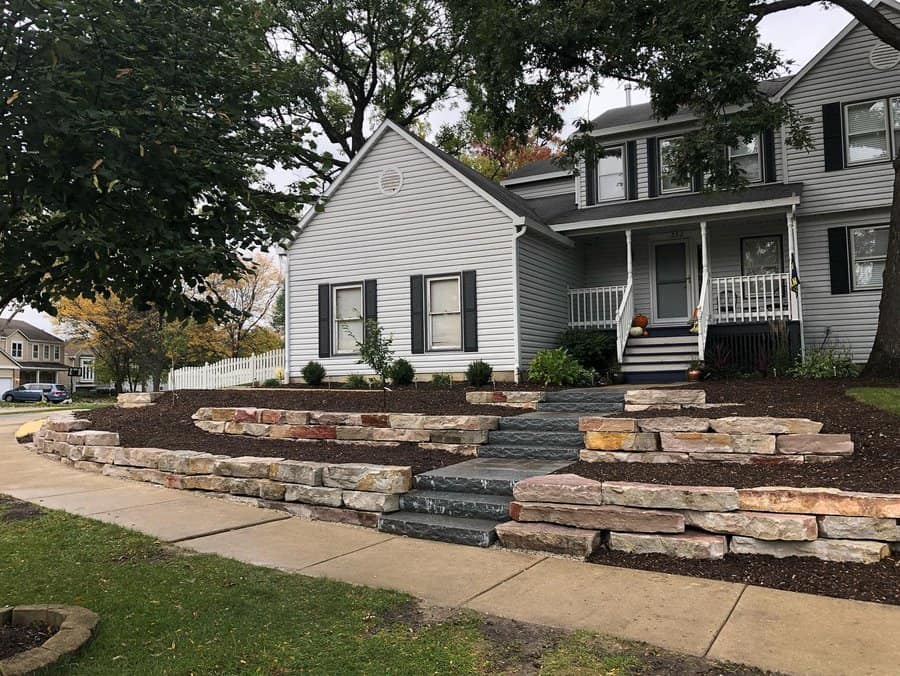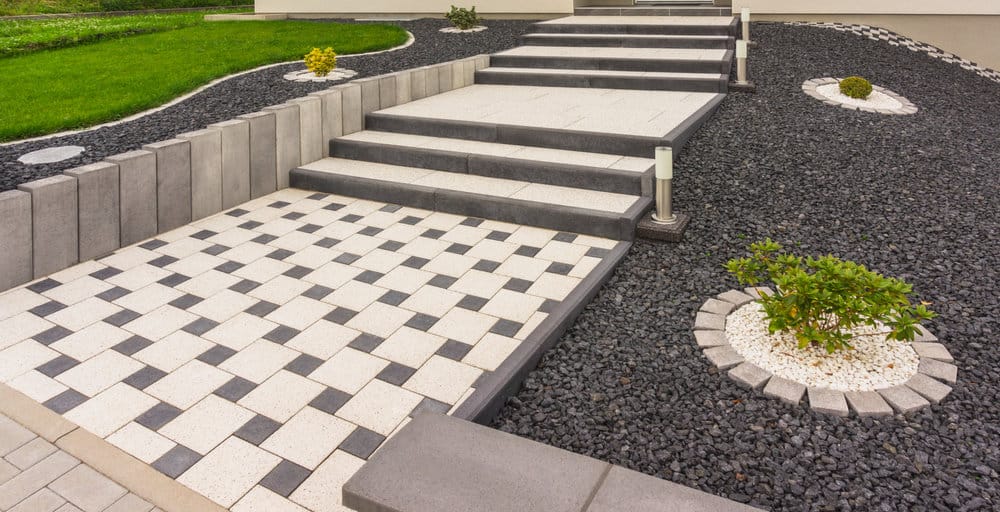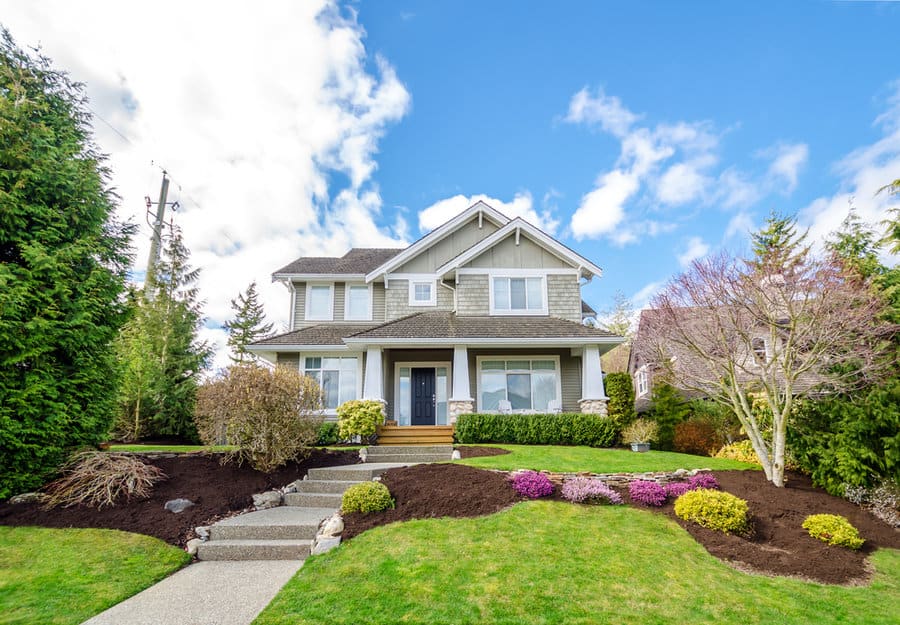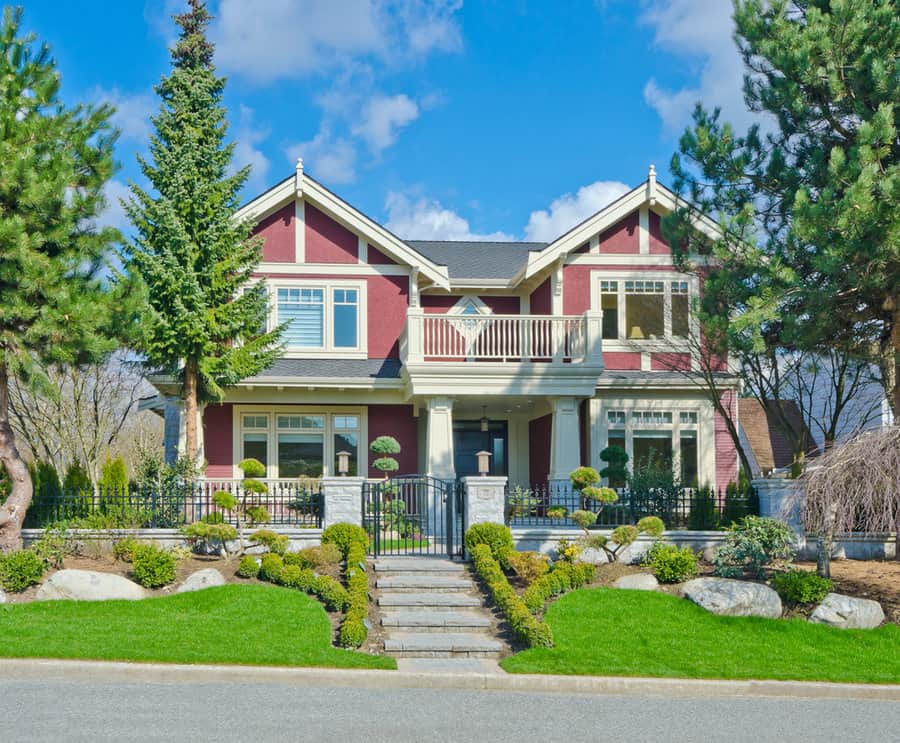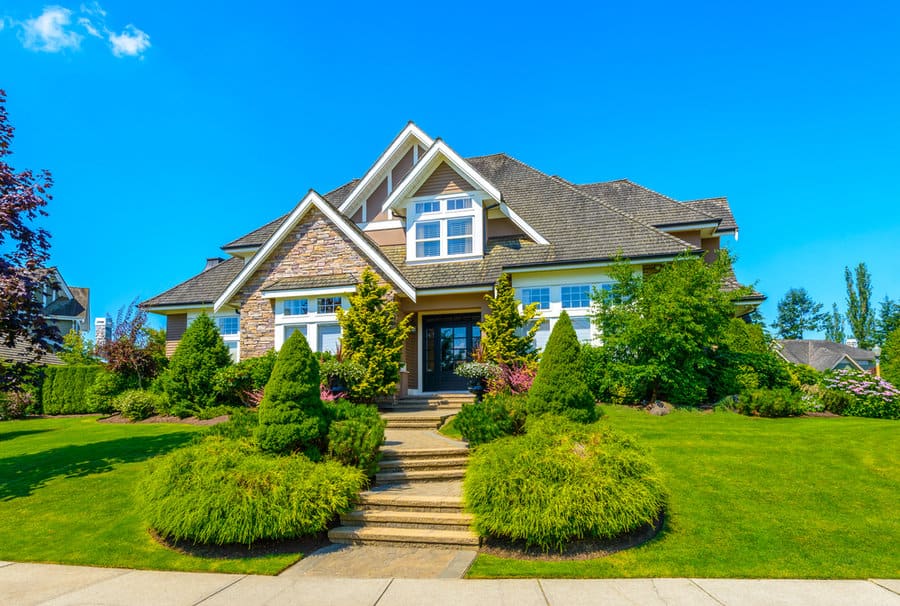 6. Serene Narrow Garden Walkways
Crafting a picturesque garden walkway within your home's exterior is an inspiring endeavor. Embrace the allure of a narrow path enveloped by vibrant flowers and potted plants, fostering an inviting ambiance.
Opt for a harmonious blend of colors like oranges and yellows or purples and blues to infuse life into your outdoor space. Elevate the charm with strategically placed lighting fixtures, guiding you through a beautifully illuminated nature walk. Don't overlook the enchantment of birdhouses, adding a distinctive twist to the scenery.
These thoughtful details impart a unique and pride-worthy character to your outdoor area. To further enhance the serenity, consider selecting fragrant plants and aromatic herbs that engage the senses as you stroll along this tranquil garden path.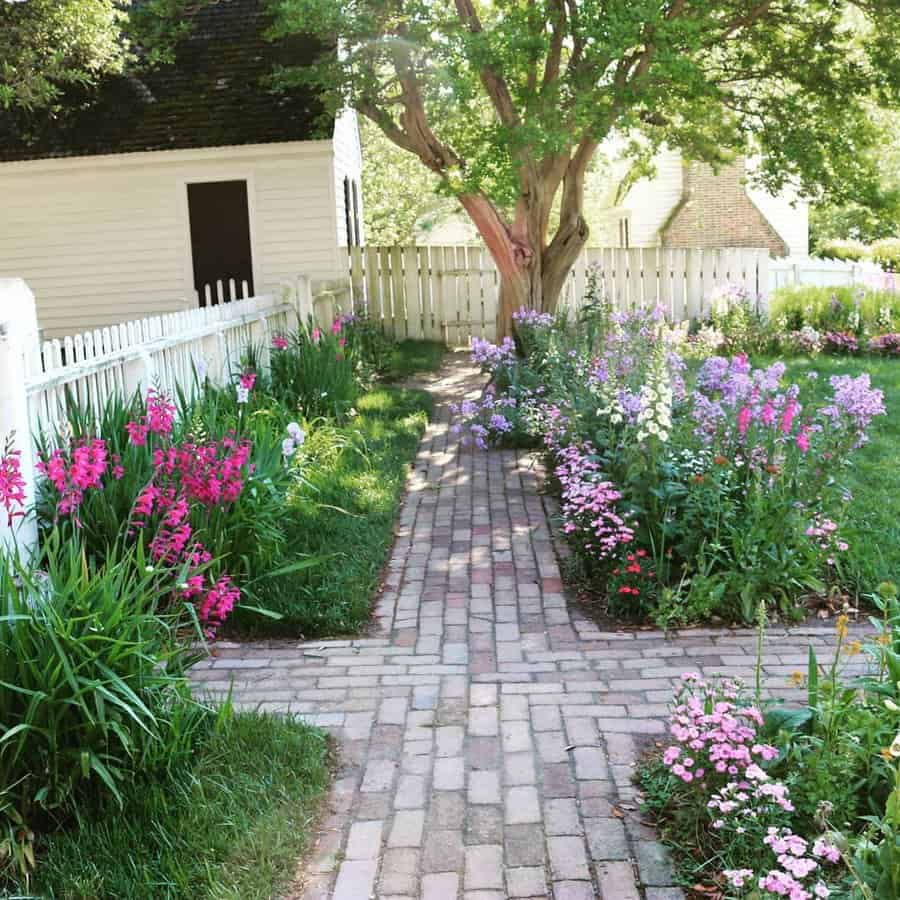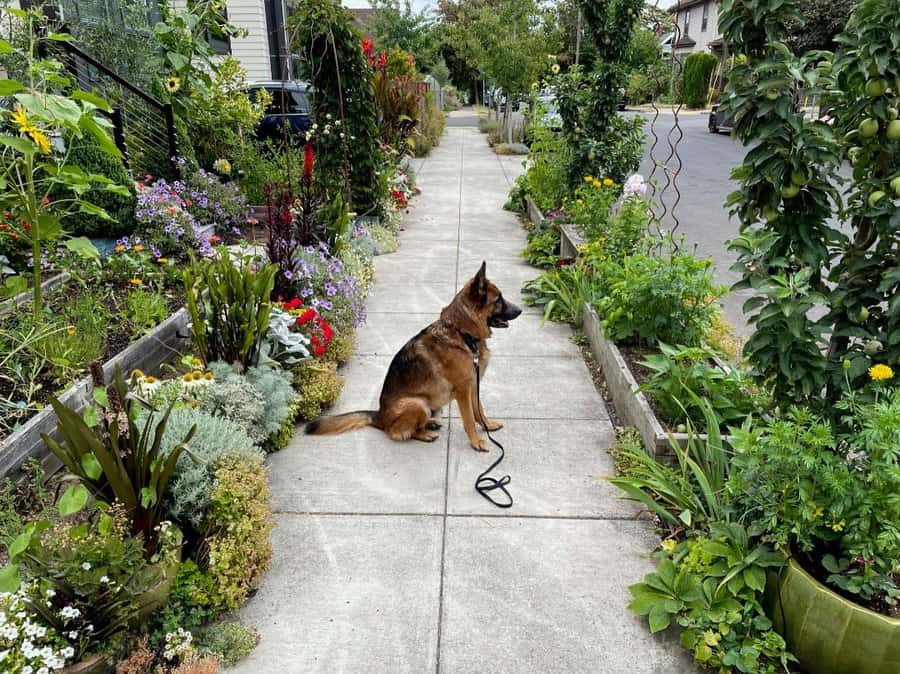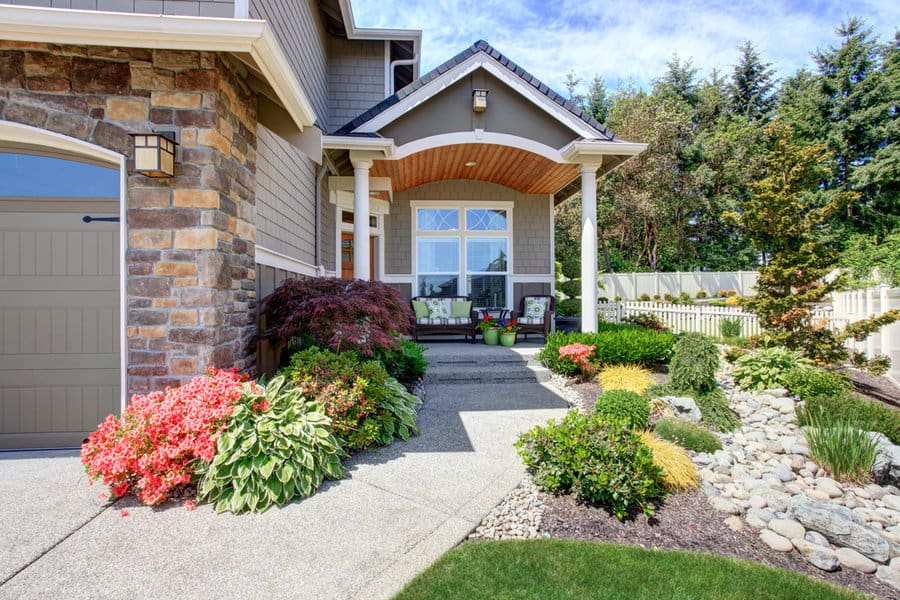 7. Green Hedge-Framed Paths
Transforming your home's entrance need not be daunting or costly. One of the most delightful walkway ideas involves framing it with lush hedges, evoking the timeless charm of traditional English gardens. This creates an elegant border that gracefully guides visitors from the street to your front door along a captivating path.
Selecting the ideal hedge species hinges on your garden's sun and shade conditions, with many evergreen varieties flourishing as decorative walkway accents. Elevate the allure by incorporating unique landscaping elements like stepping stones, flagstone pavers, or ornate lighting fixtures.
These straightforward walkway enhancements ensure a warm and inviting home entrance that exudes sophistication. Consider adding fragrant flowers near the path to engage the senses and complete the welcoming atmosphere.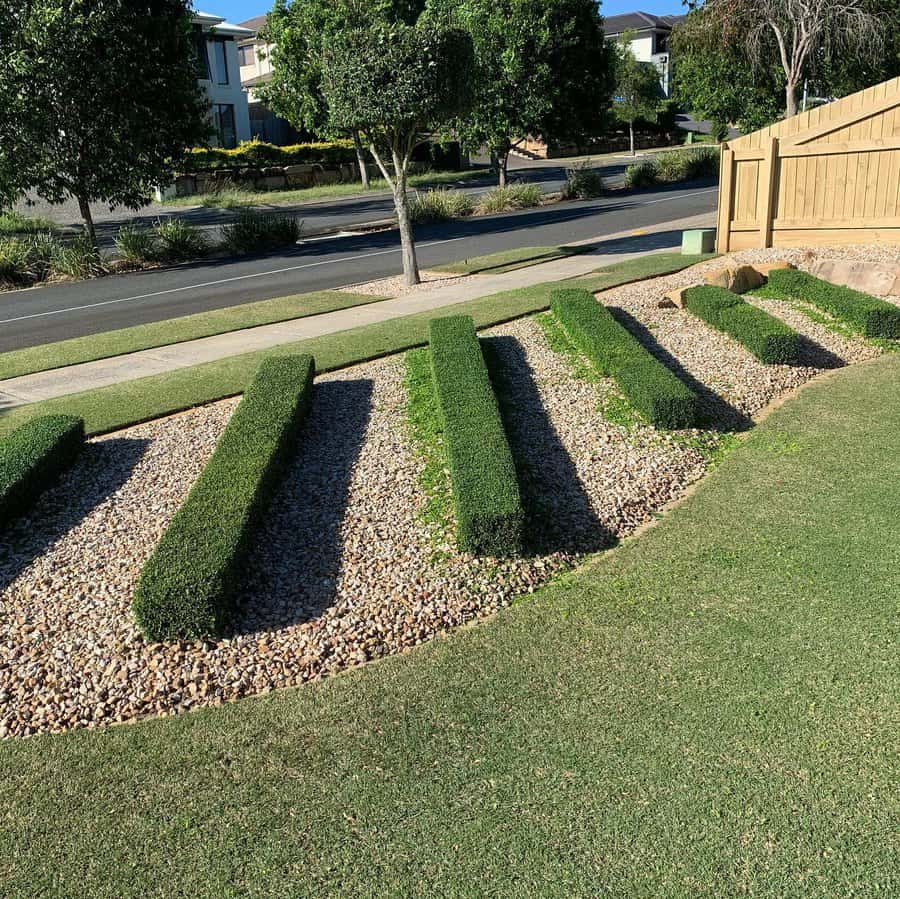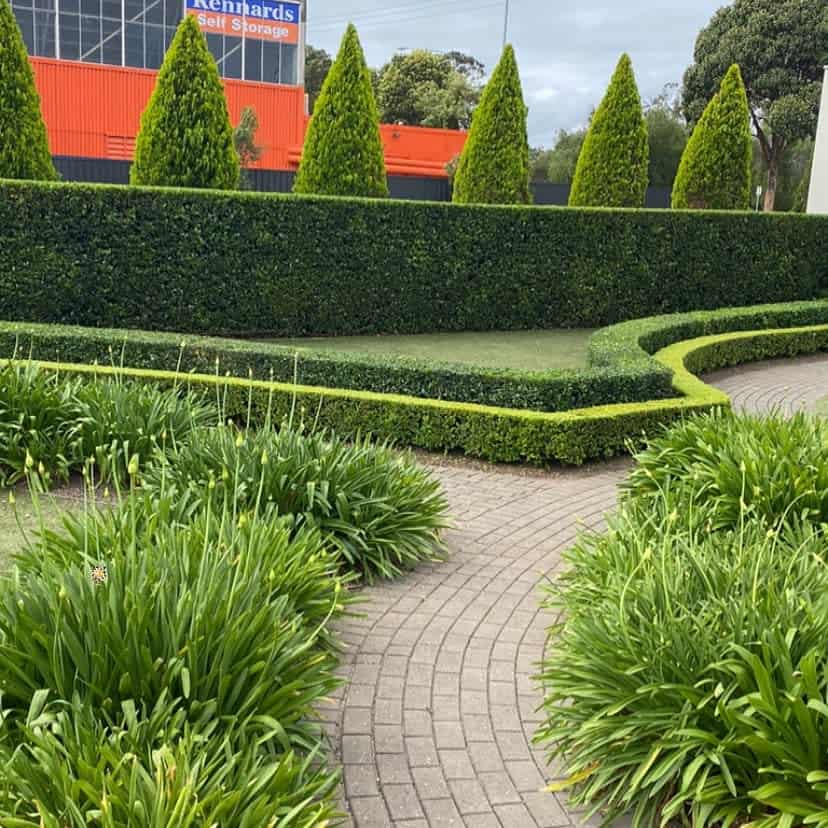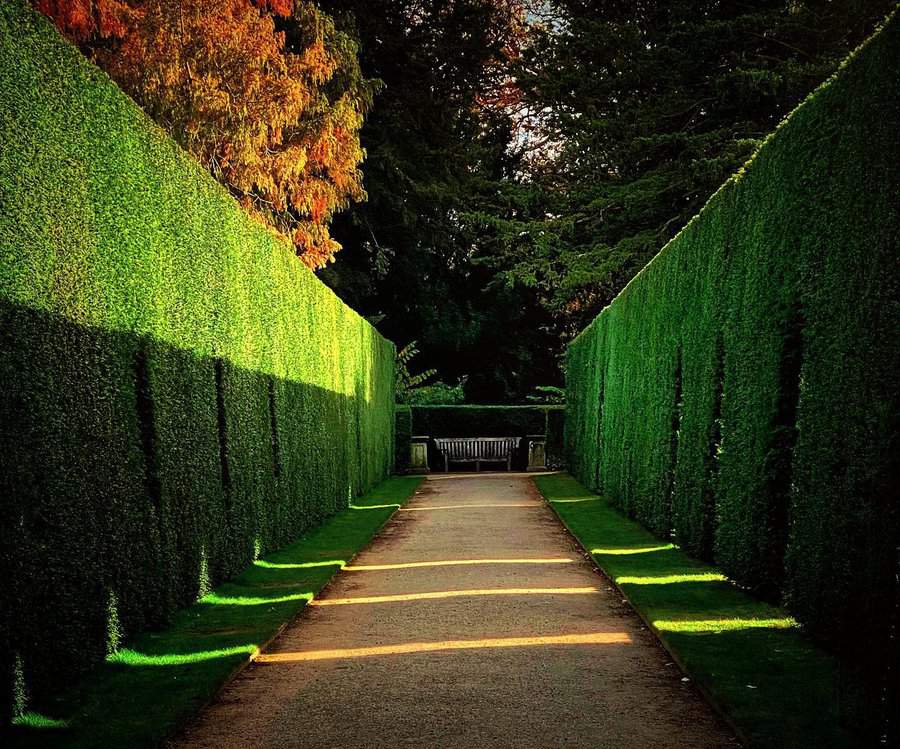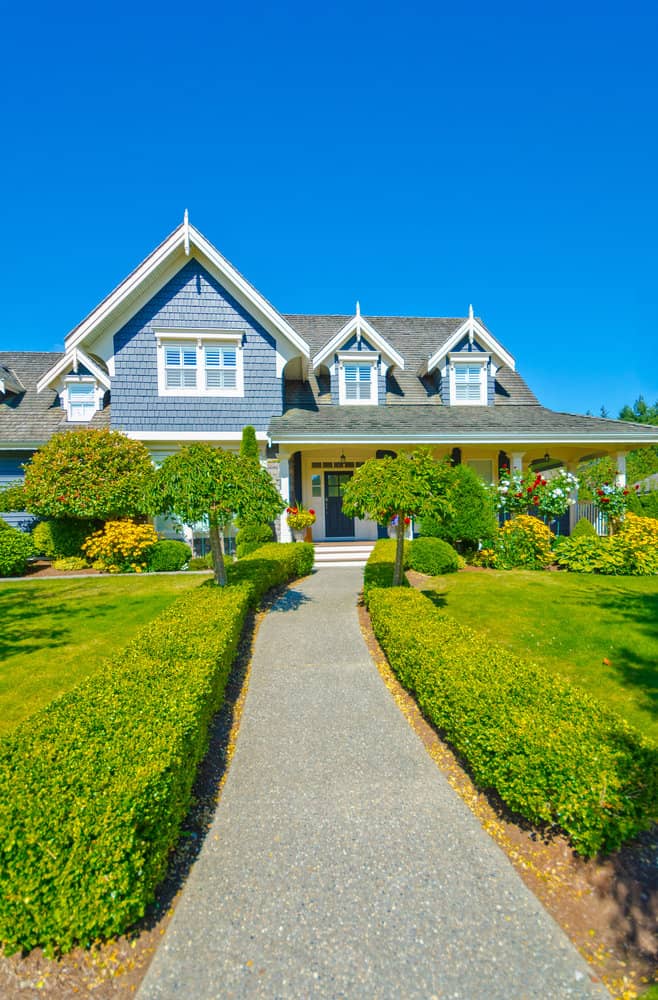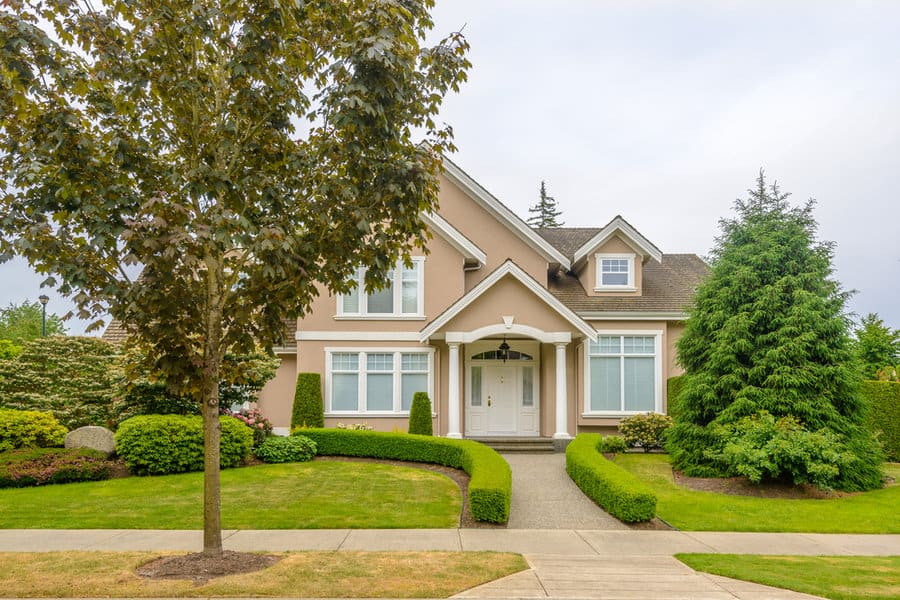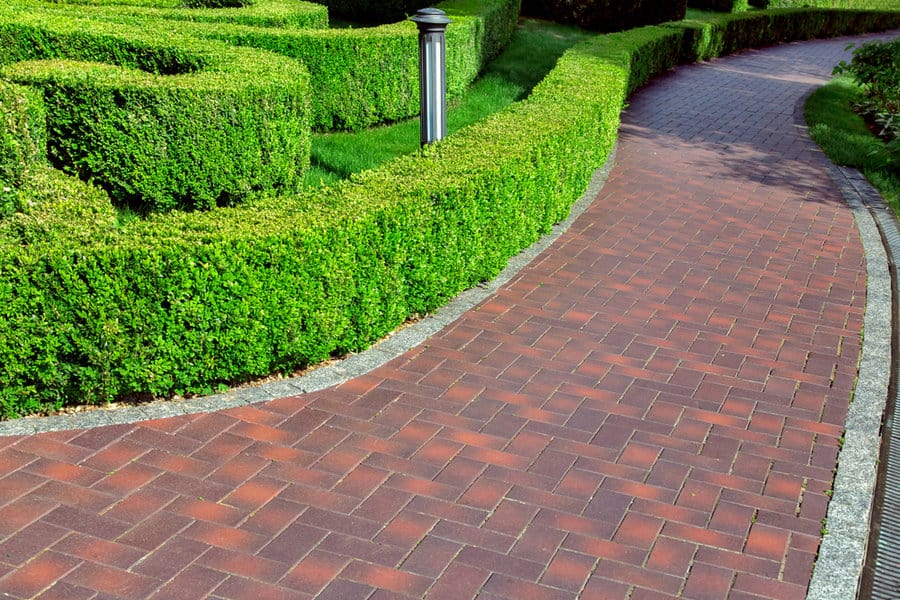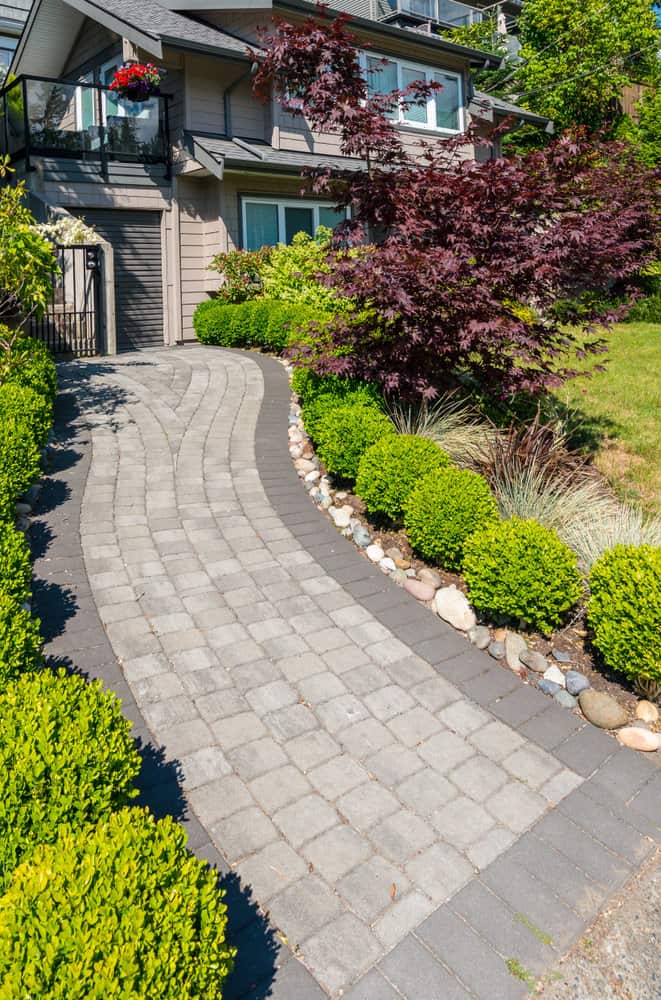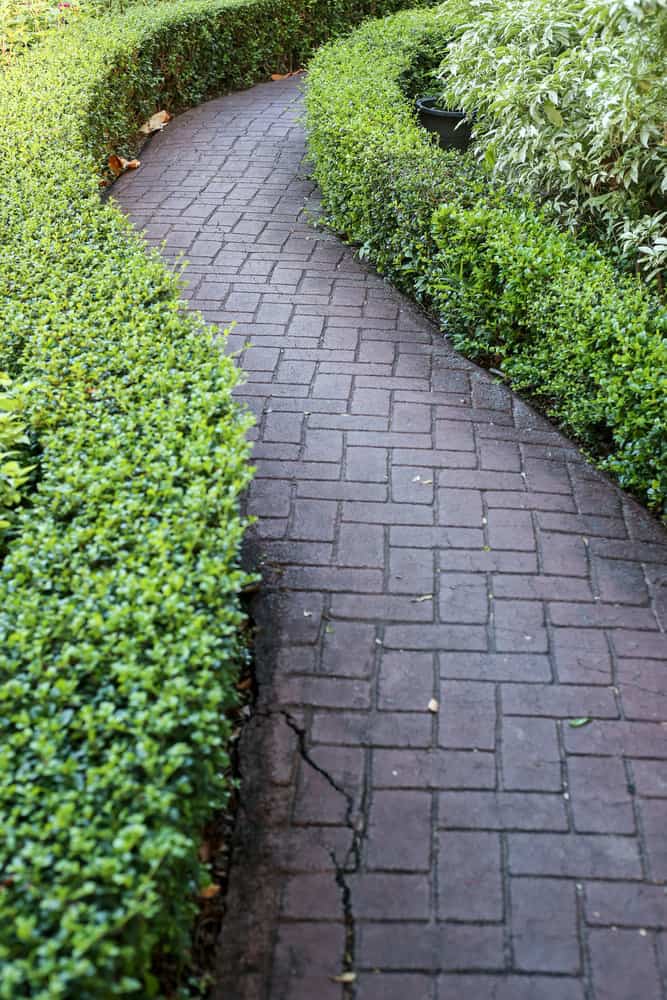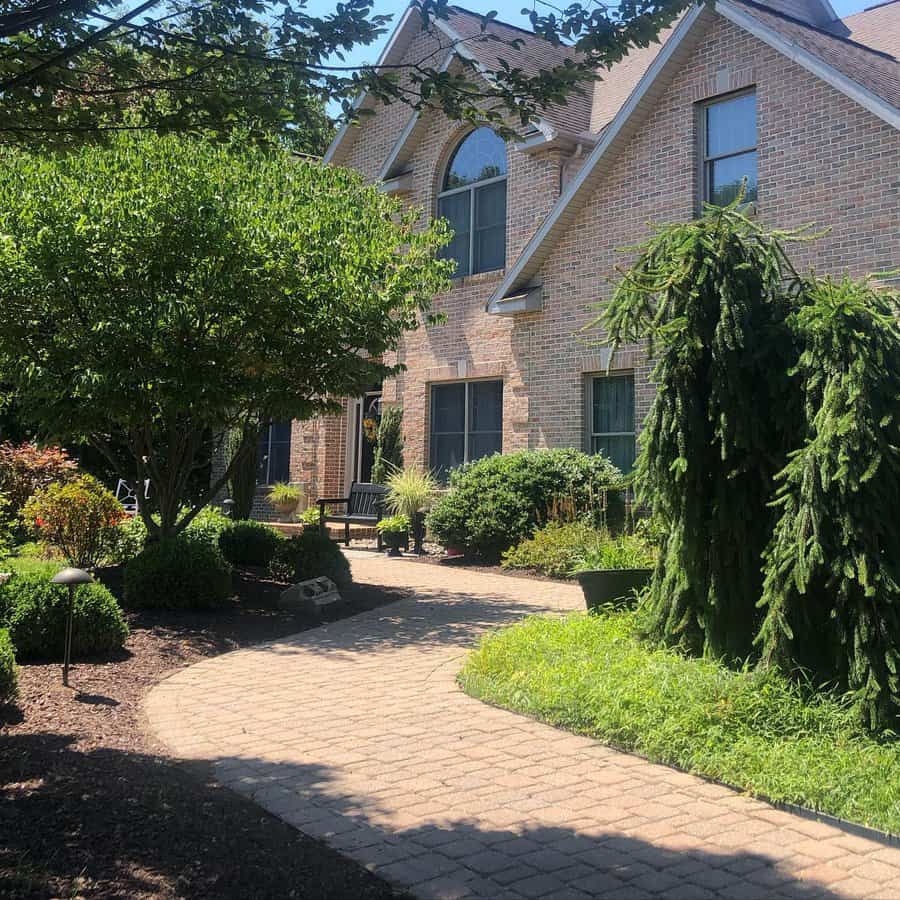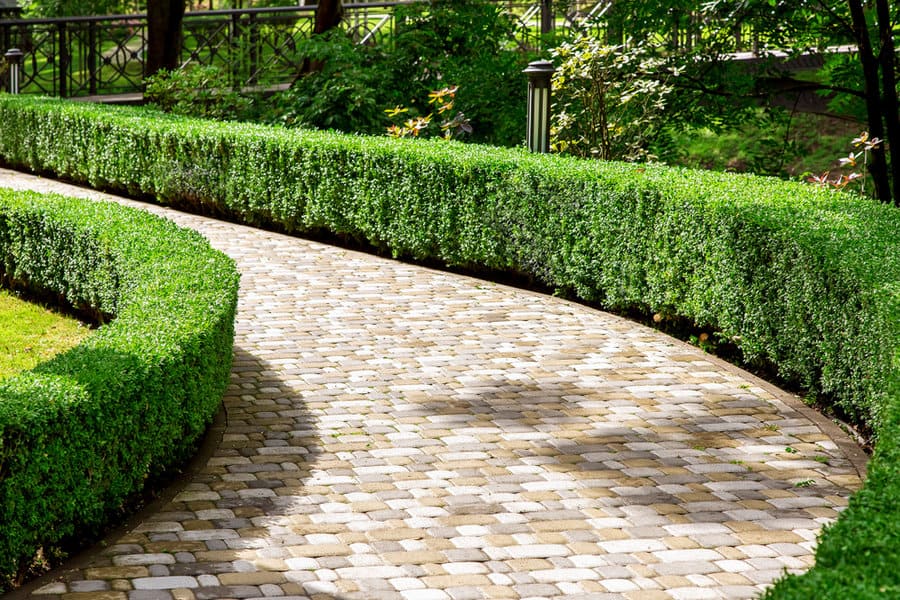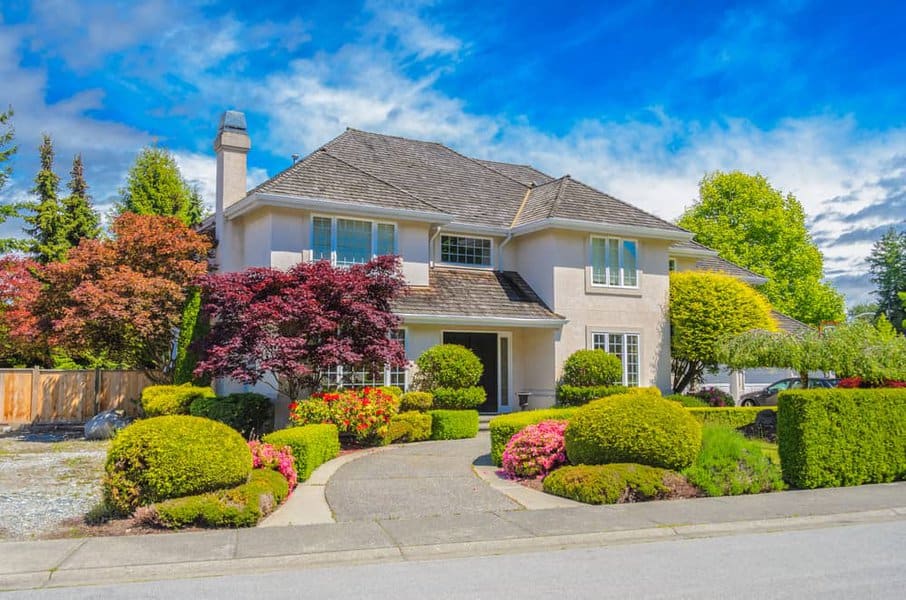 8. Enhance with Landscaping Magic
Unleash the potential of your home walkway with a touch of landscaping magic. The array of materials and styles at your disposal allows you to craft an appealing path to your doorstep.
To elevate the experience, consider integrating landscaping elements that introduce bursts of vibrant color, delighting the eye at every step. Experiment with planters in various sizes and shapes, or incorporate graceful grass and rock landscape features to infuse a unique and personalized welcome to your home.
Revamping or creating a new walkway not only adds character but also enhances aesthetic appeal. It serves as a statement piece that leaves a lasting impression on visitors. Complement this with fragrant flowers along the path and strategically placed outdoor seating for a tranquil oasis of relaxation.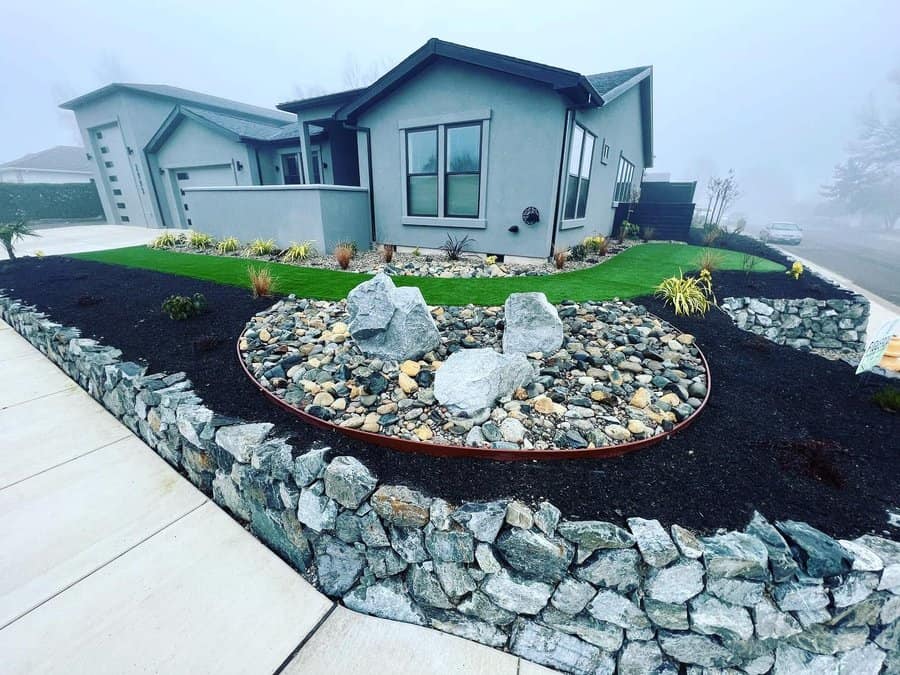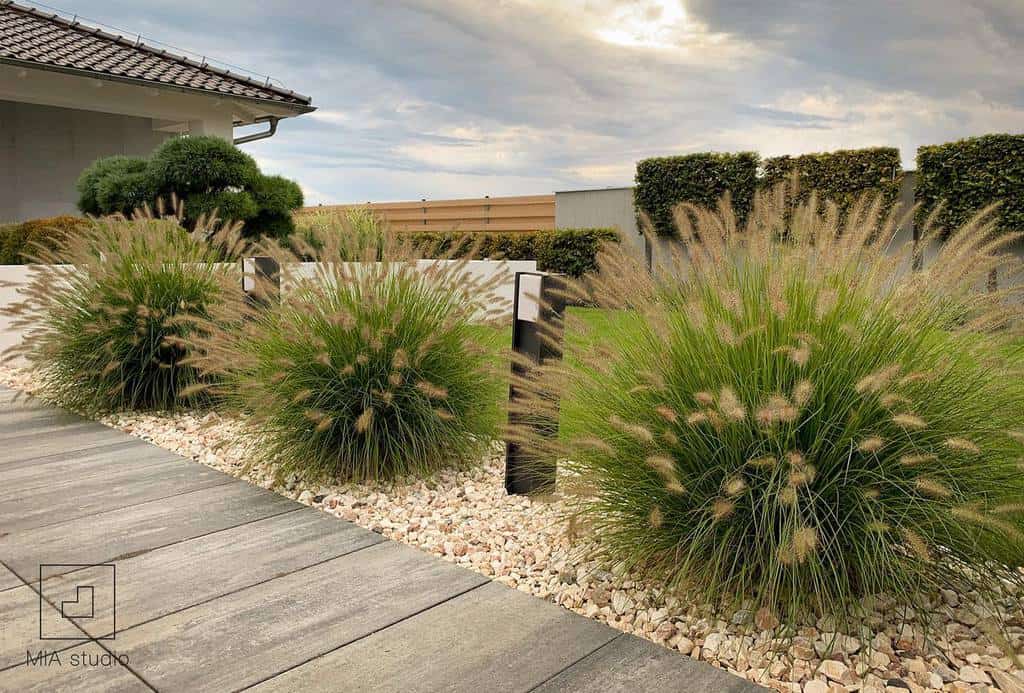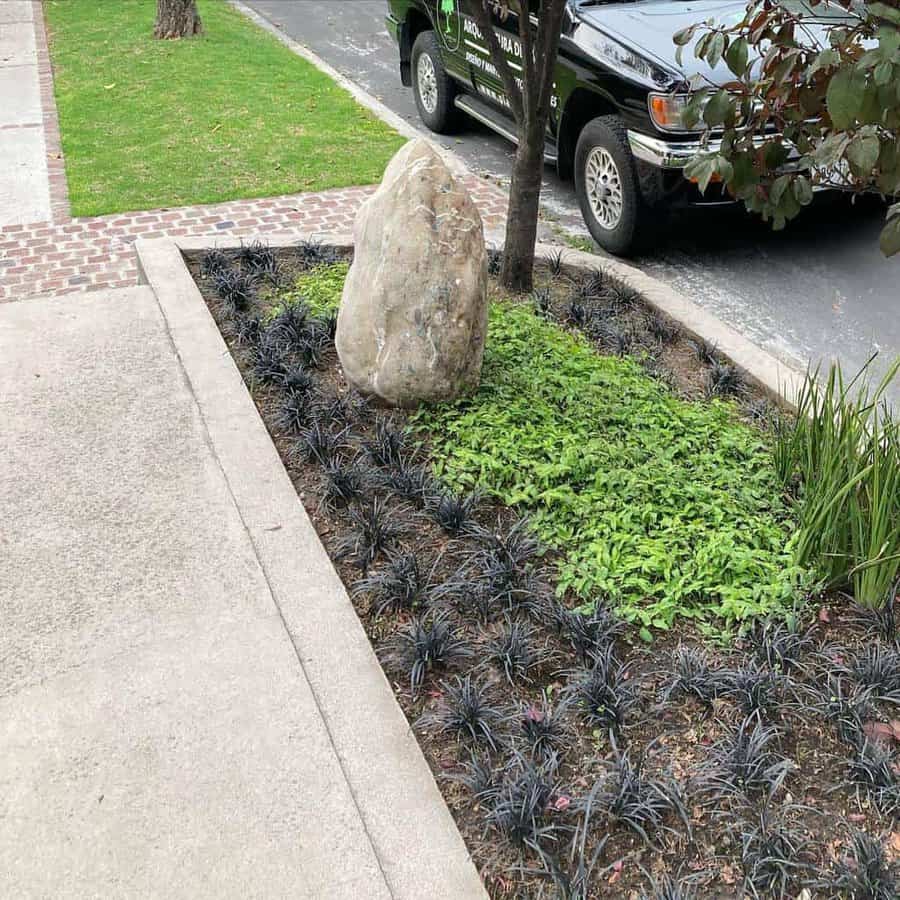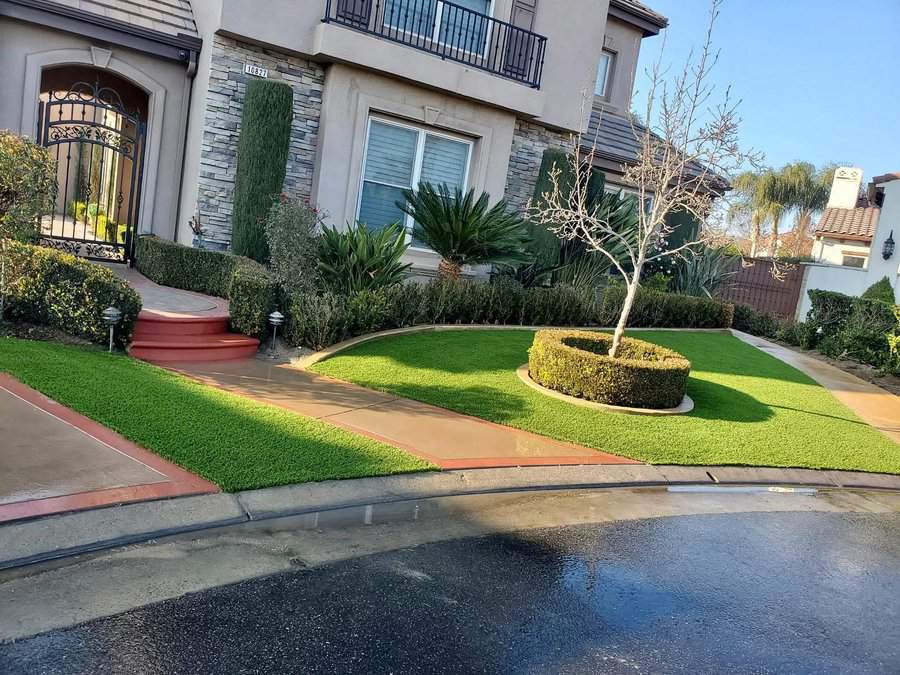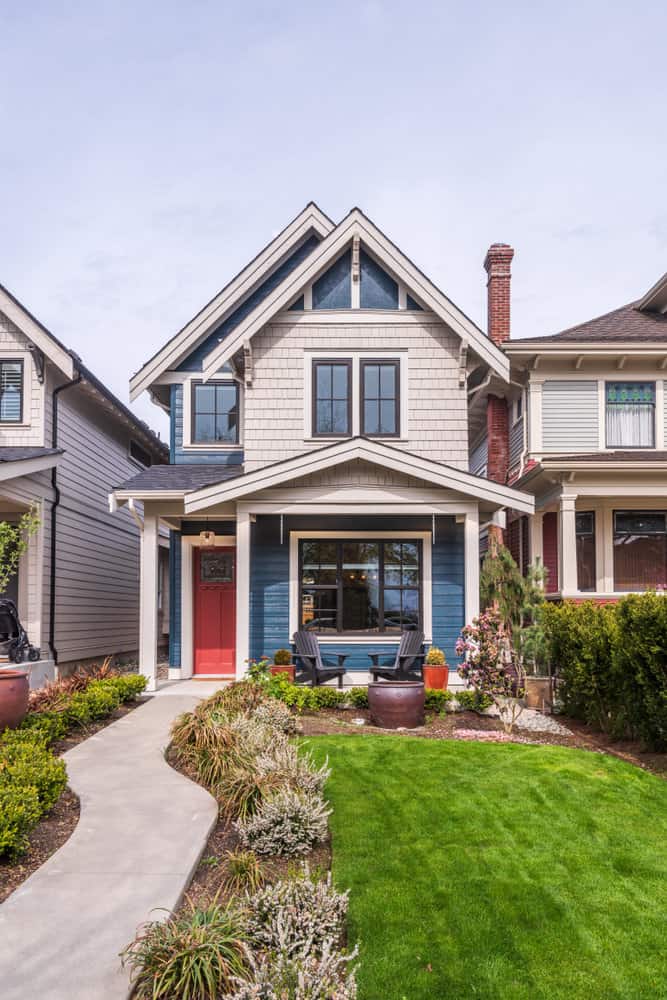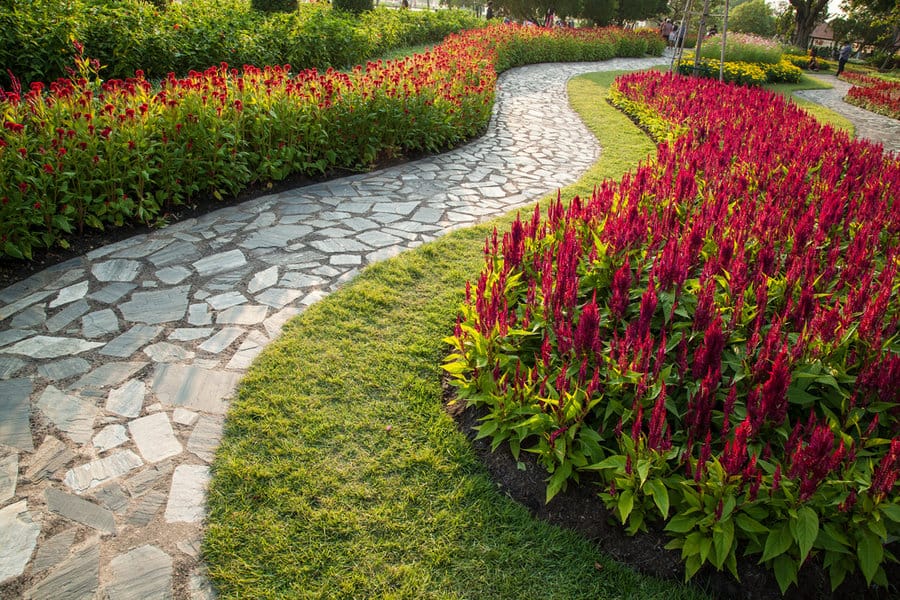 9. Natural Harmony: Grass & Stone Pavers
Elevating your home's entrance and making a striking statement involves exploring imaginative walkway ideas. Pavers with intentional gaps and spaces evoke an elegant and naturally beautiful atmosphere, especially when seamlessly blending grass and stone elements.
For a sleek and contemporary appearance, consider opting for modern concrete with its clean lines and graceful curves. Whichever design path you choose, a unique walkway is bound to leave a lasting impression on your visitors.
Prior to embarking on your project, undertake thorough online research or seek expert guidance to ensure a seamless execution. Additionally, enhance the natural charm by selecting native grass varieties that require minimal maintenance and thrive in your region's climate. This eco-conscious choice not only adds allure but also supports the environment.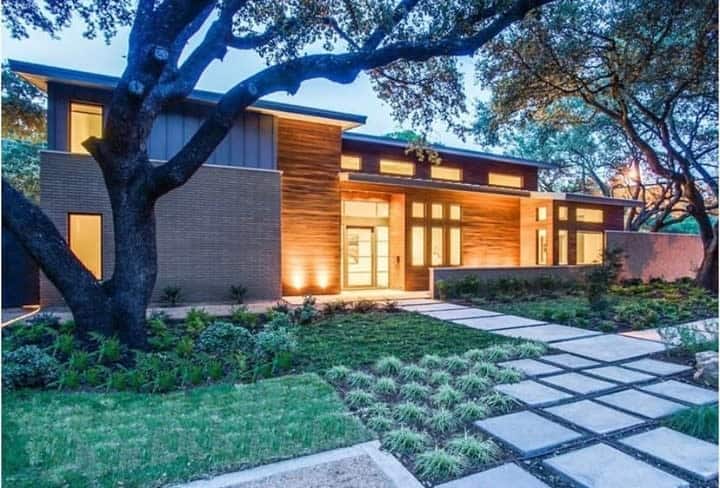 10. Illuminated Pathways: Floor Lights
If you're seeking imaginative ways to illuminate your home walkway, consider the magic of floor path lighting. These pavers with embedded lights not only enhance your garden's aesthetics but also offer a perfect balance of illumination to safely guide your family, friends, and guests to your front door.
For a touch of personalization, explore floor light strips, available in a plethora of colors and shapes, allowing you to craft a bespoke walkway design. For eco-conscious homeowners, solar path lights present a sustainable option, creating a captivating illuminated effect without relying on traditional power sources.
With this array of lighting choices, you can effortlessly find the ideal solution that best complements your home walkway. To further enhance the effect, strategically position these lights along the path to accentuate the walkway's contours and create a mesmerizing nighttime ambiance.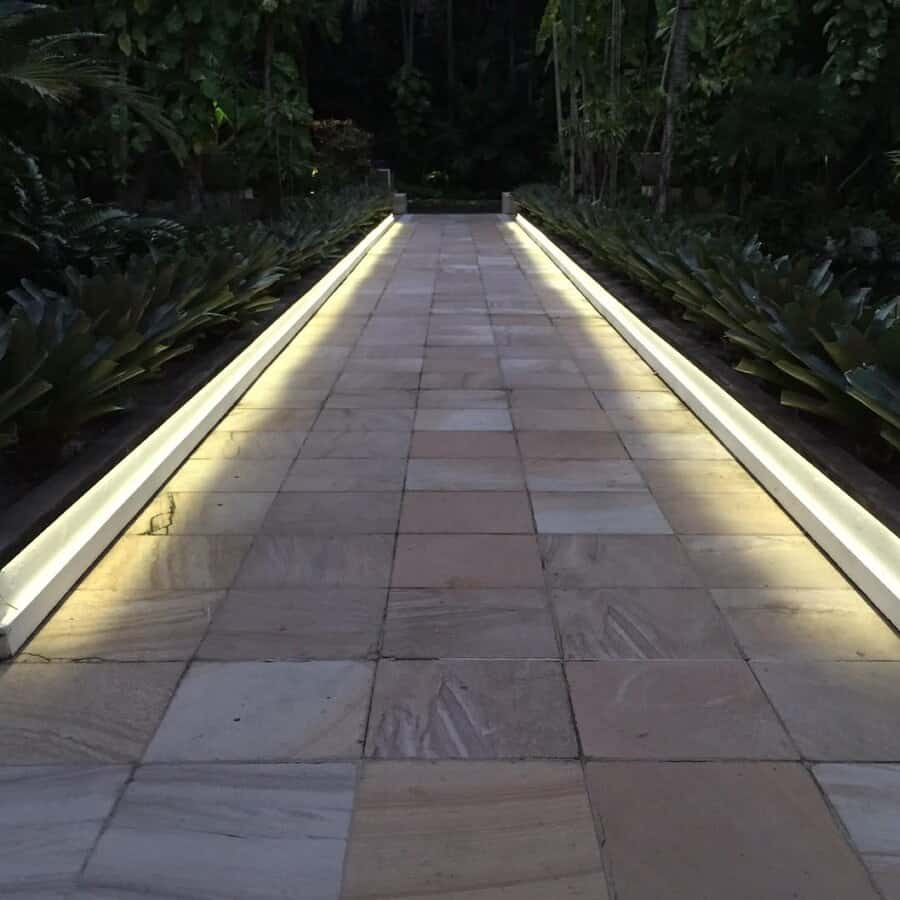 11. Artistic Flair with Patterned Concrete
When seeking imaginative home walkway ideas, consider incorporating patterned concrete pavers to elevate your outdoor space. These paver styles not only enhance the aesthetic appeal but also seamlessly integrate with various outdoor and garden themes. To infuse character and depth into your yard, experiment with a mix of patterns and colors, creating a captivating and personalized mosaic.
Moreover, patterned pavers provide better comfort during hot summer days, offering cushioning for a more enjoyable stroll. To enhance this design, complement your walkway with strategically placed landscaping elements, such as lush greenery or decorative lighting, to make your outdoor space truly shine.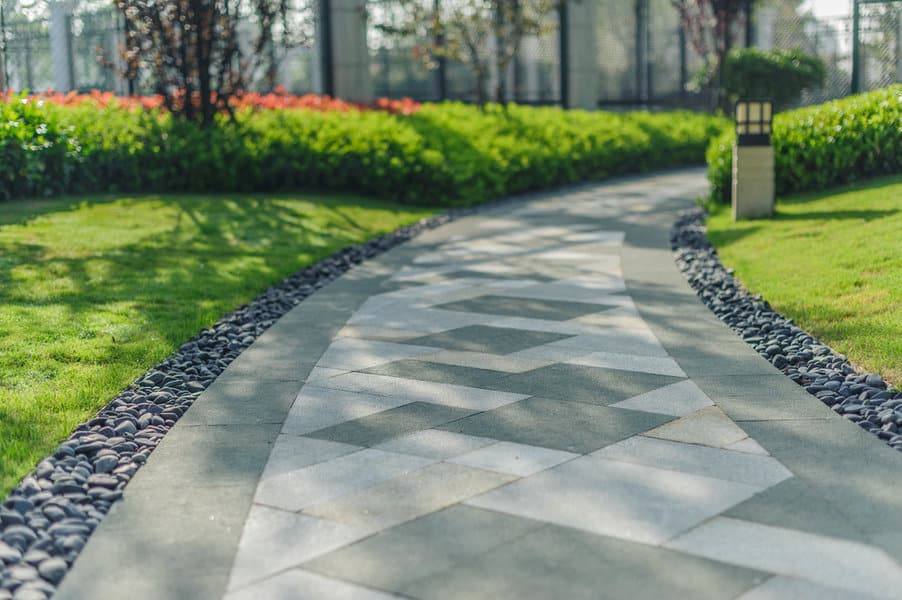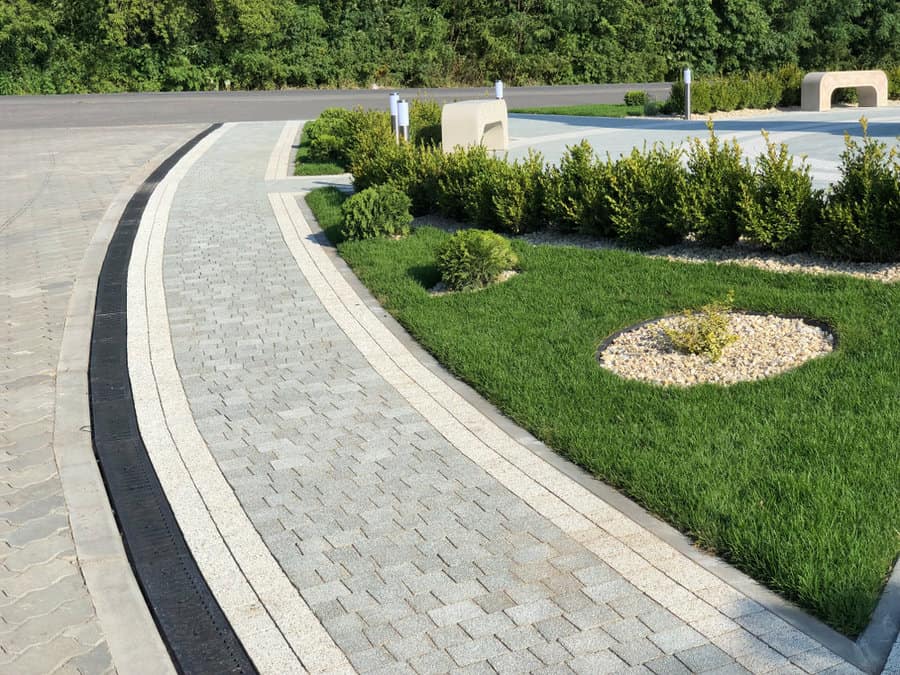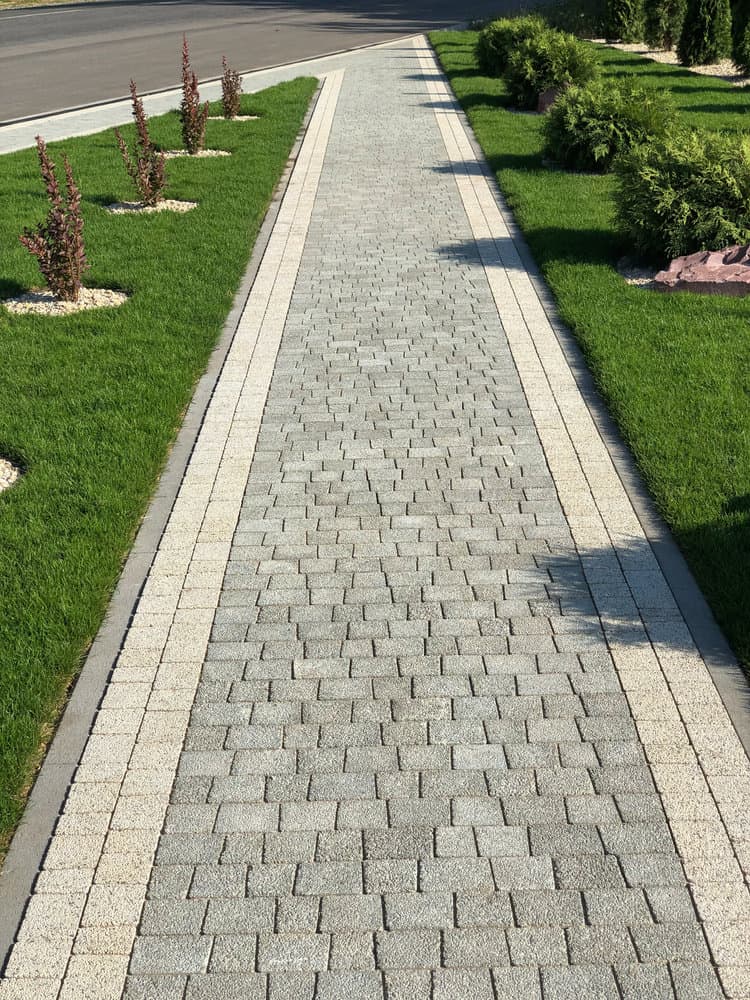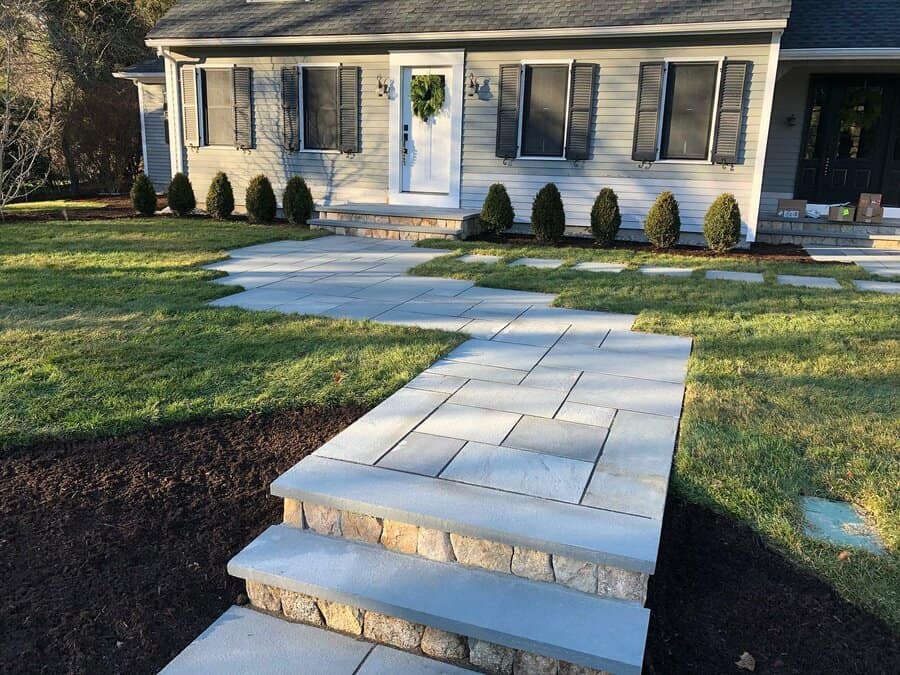 12. Timeless Herringbone Brick Patterns
Elevate your home's current walkway into a captivating outdoor masterpiece with inventive design concepts. The herringbone brick paver pattern, with its centuries-old zigzag charm, offers a fabulous choice that harmonizes beautifully with other patterned bricks.
Before embarking on this project, conduct thorough research and select bricks that impeccably match in color and size to achieve a visually striking aesthetic. Opting to seal the pavers not only enhances their glossiness but also ensures they are waterproof, adding longevity to your walkway.
Think creatively beyond traditional designs, exploring unique combinations of brick patterns and complementary landscaping elements like lush greenery or decorative lighting fixtures. This transforms your walkway into a truly special and enduring feature that leaves a lasting impression on visitors.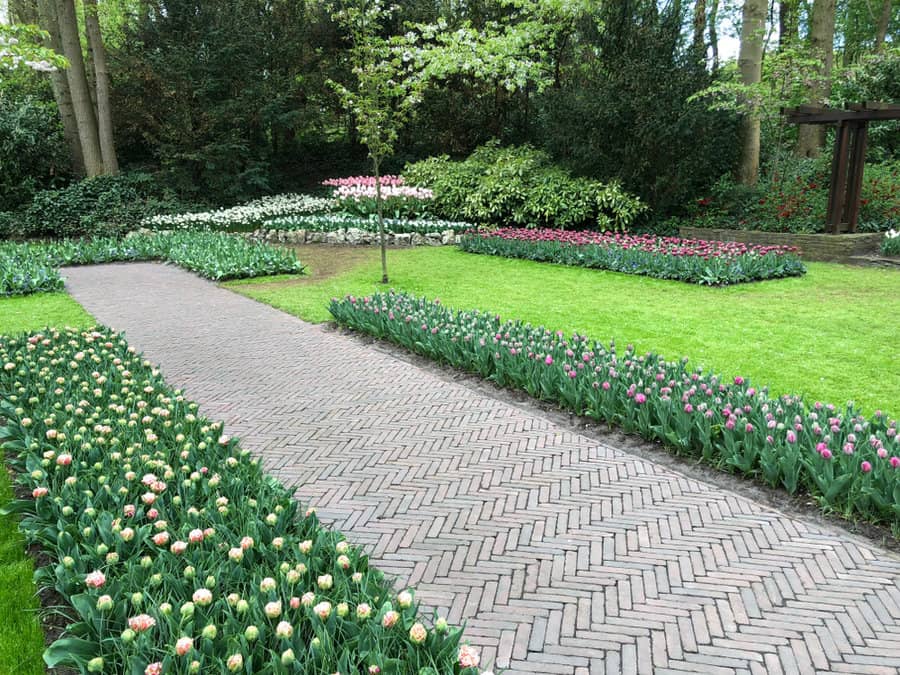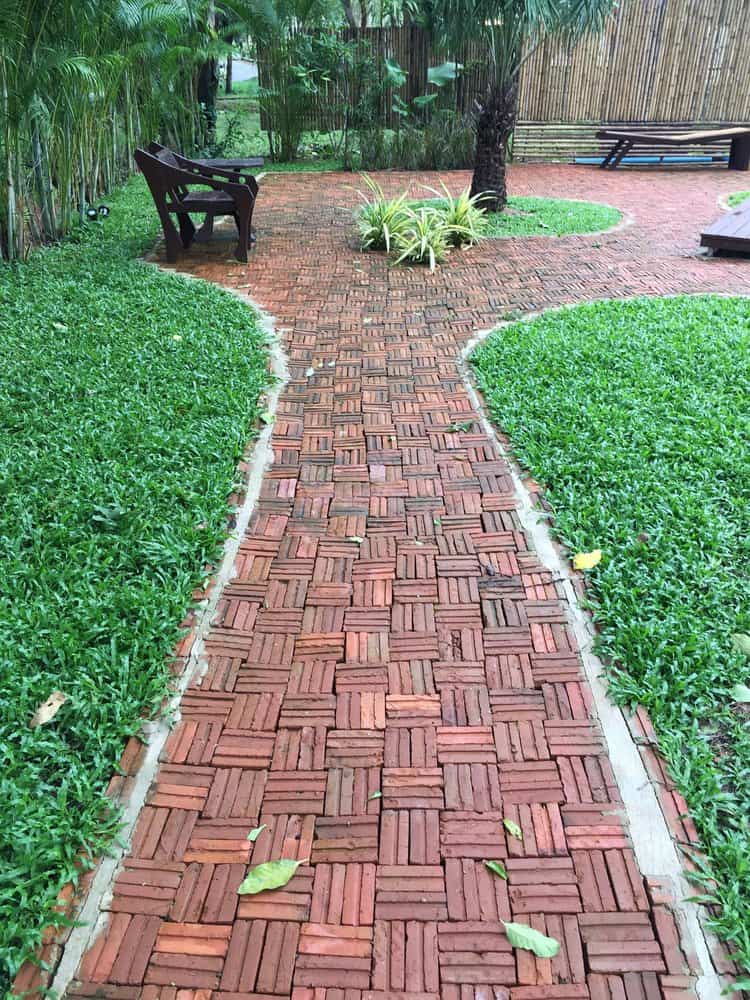 13. Rugged Rocky Path Adventure
Inject creativity into your walkway with a rugged rocky path. Craft a distinctive and captivating entrance to your home by arranging pebbles and stones in an engaging pattern.
Source stones from your local landscaping store and consider using colored quartz or small rocks to fill gaps, introducing delightful texture to the path. To achieve an even more vibrant and artistic look, experiment with mixing various types of stones for a stunning mosaic effect.
This personalized approach allows you to showcase your design prowess and create a one-of-a-kind home walkway that reflects your unique style and appreciation for nature. To further enhance the rugged beauty, consider incorporating native plants and subtle lighting to infuse warmth and charm into the space.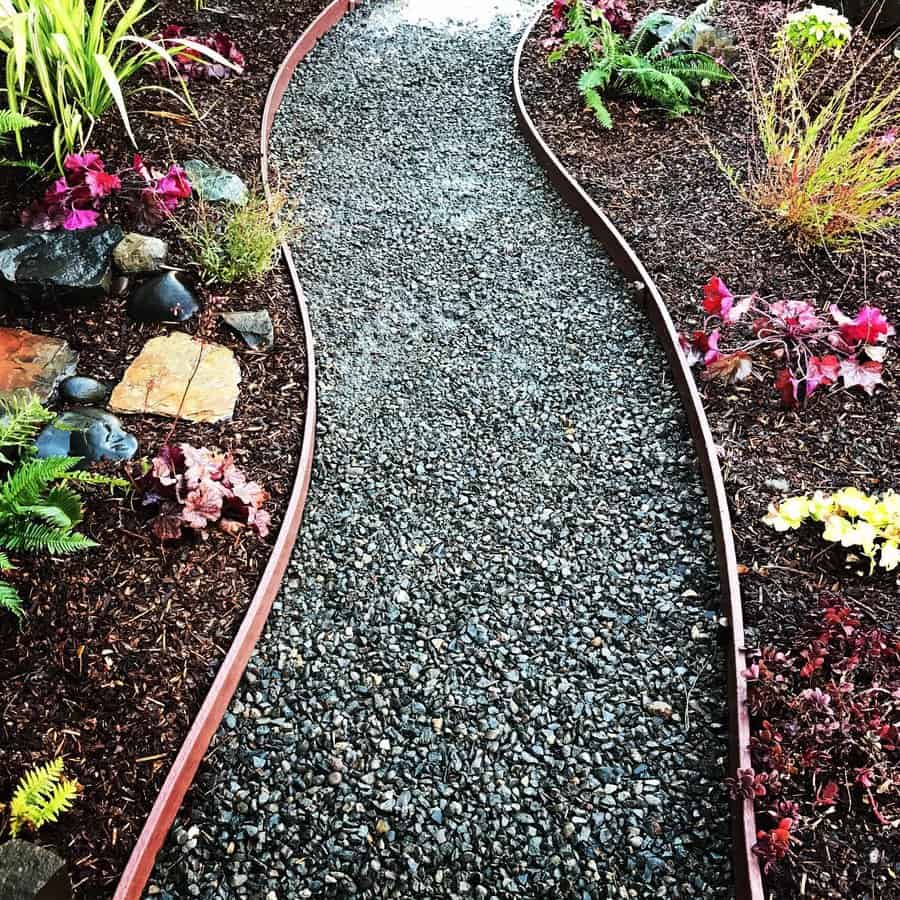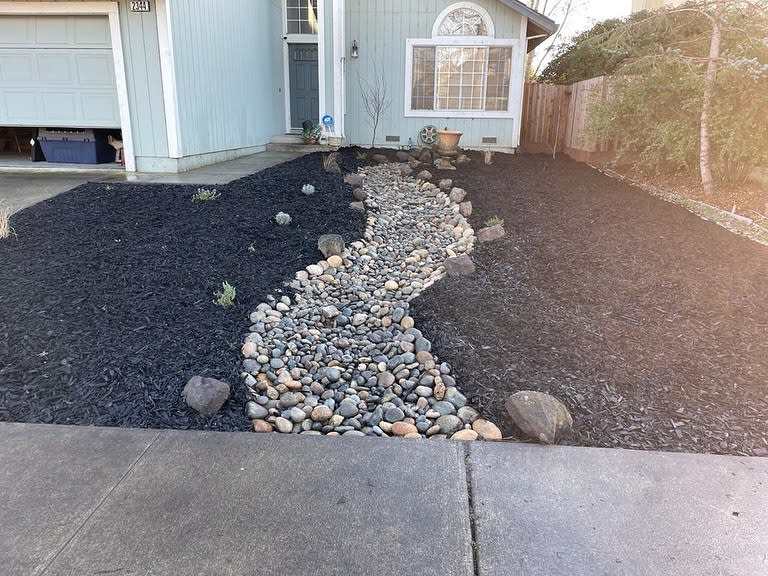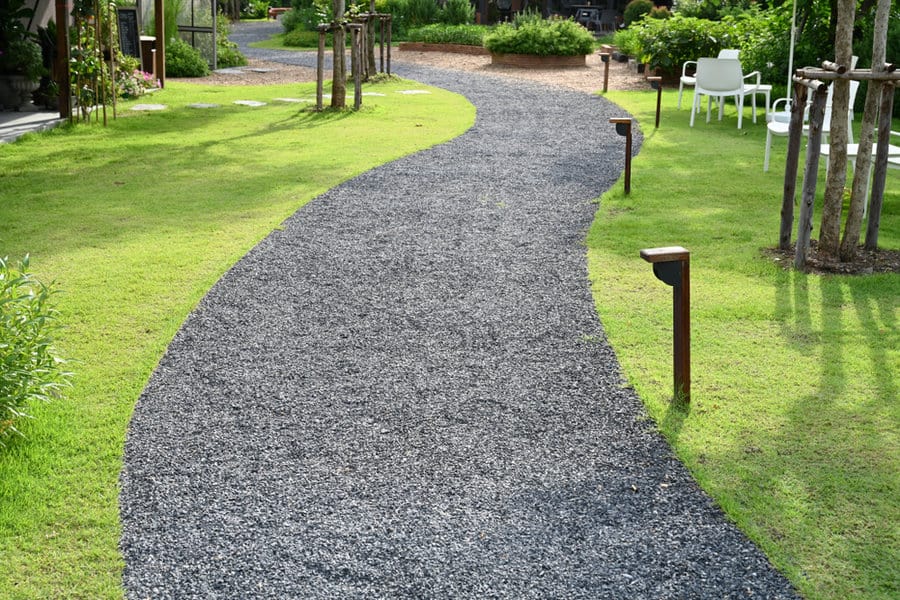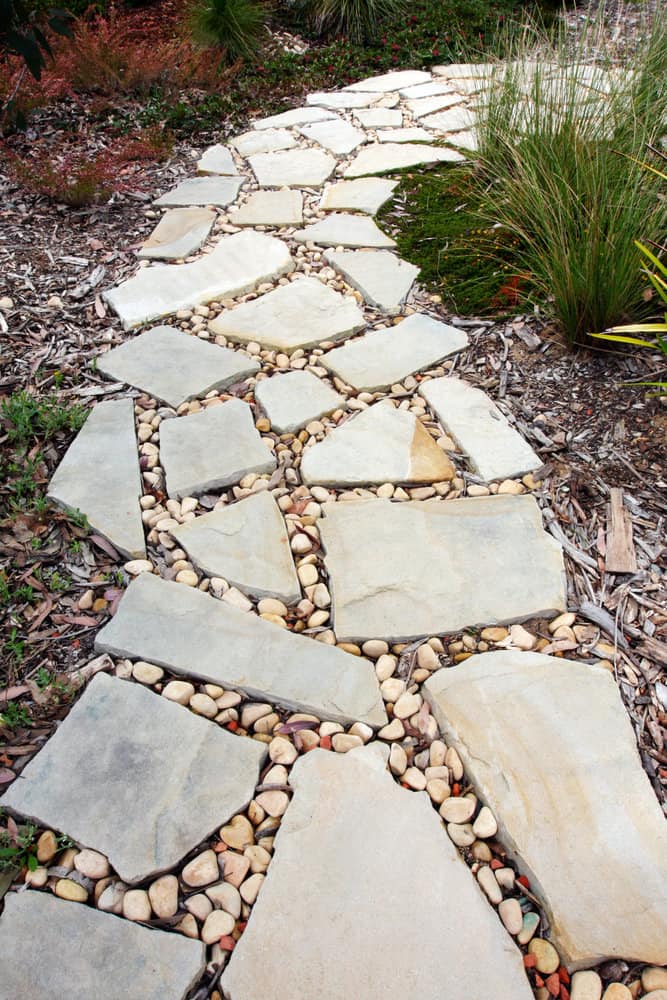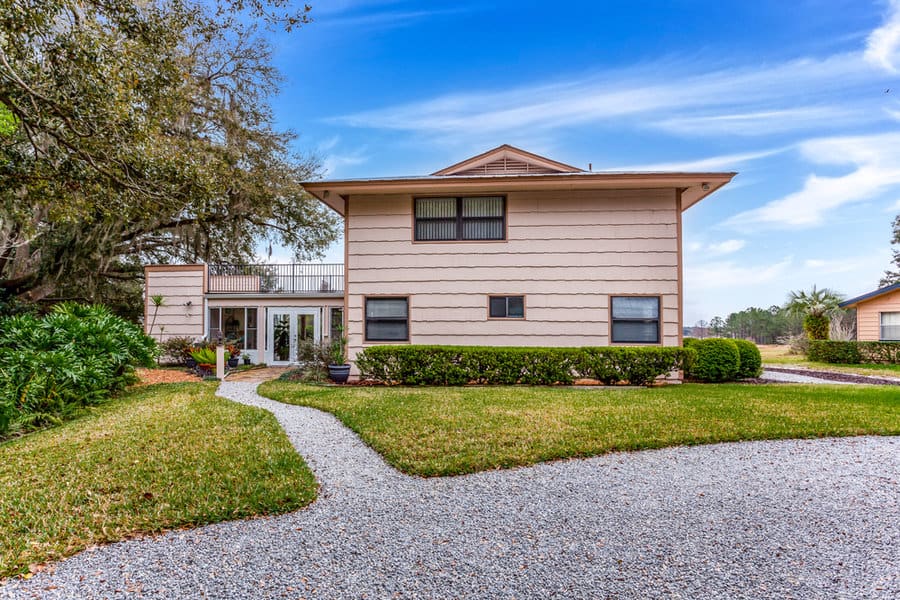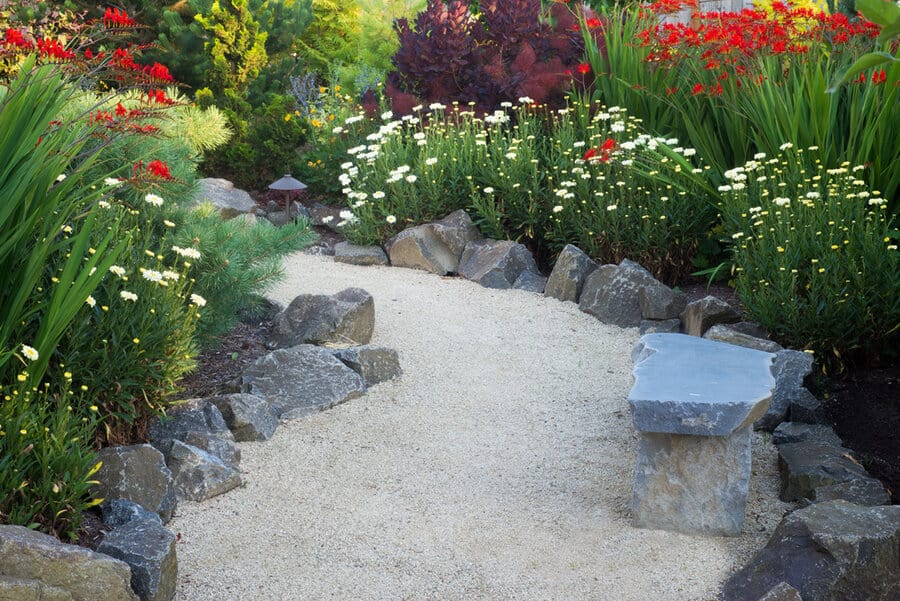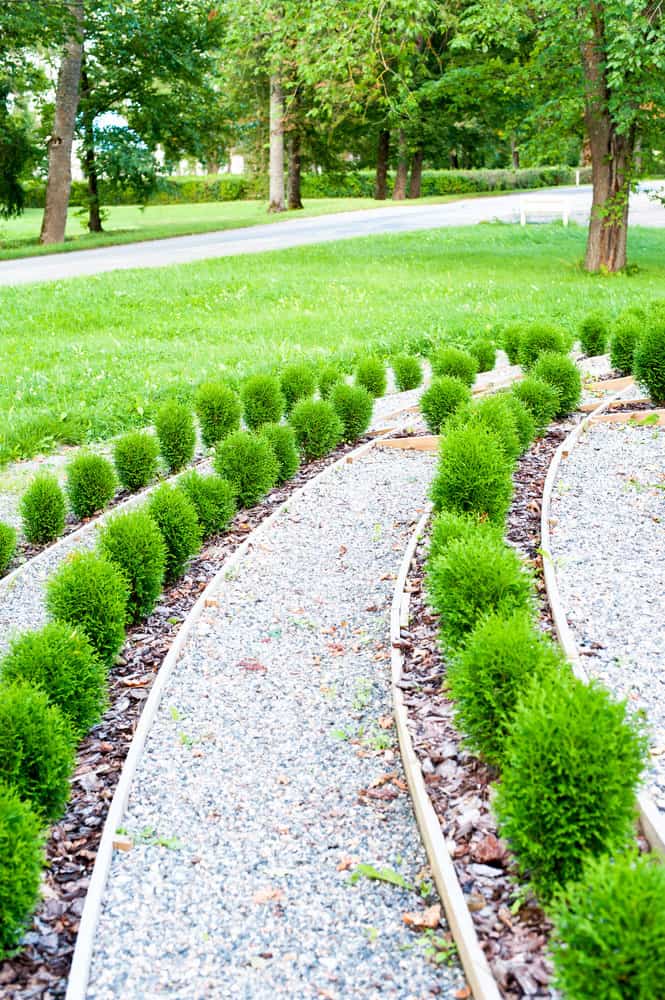 14. Texture-Enriched Concrete Tiles
For homeowners seeking a striking walkway, consider the allure of stamped concrete or textured tiles. These versatile options offer a plethora of patterns and styles to seamlessly integrate into your outdoor design.
Stamped concrete excels in areas with varying inclines, providing added safety against slips and falls due to its robust construction. On the other hand, textured tiles boast benefits like low maintenance and enhanced slip resistance, ideal for homes with children or elderly residents.
To ensure the longevity and durability of your chosen material, proper sealing is crucial. This step preserves its strength and aesthetic appeal for many years, guaranteeing a stunning and safe walkway that enhances your home's overall charm. Complement the texture-enriched path with tastefully chosen outdoor furniture, accent lighting, and vibrant landscaping to create a welcoming and cohesive outdoor space.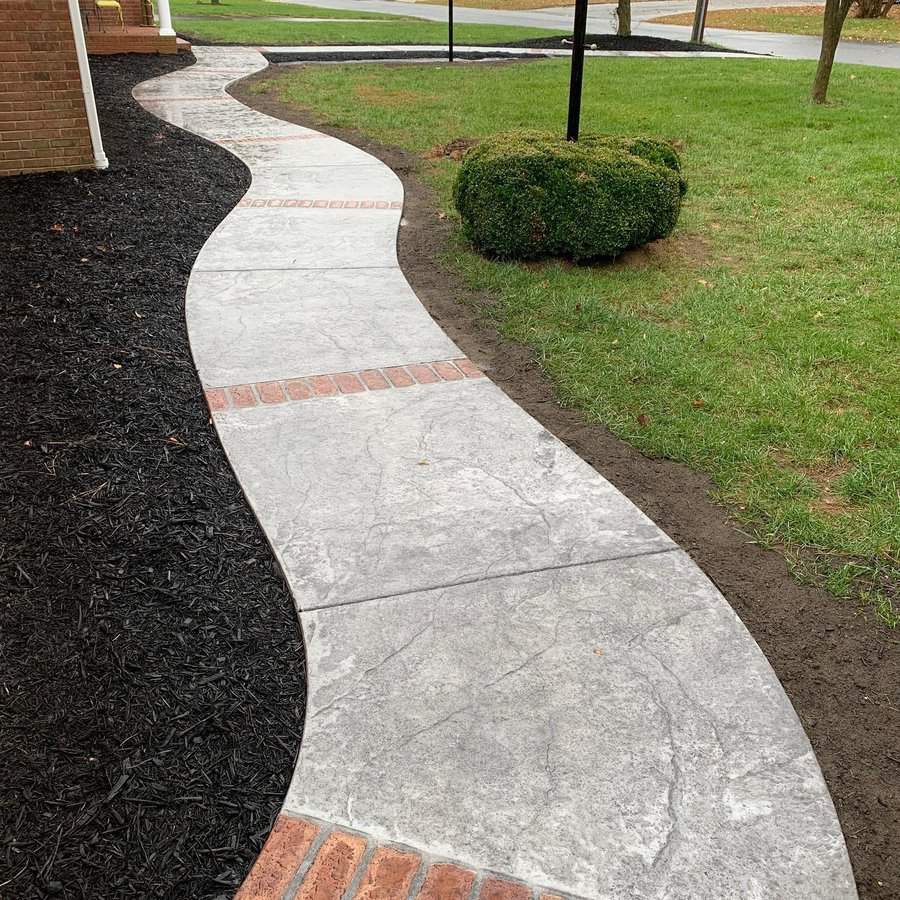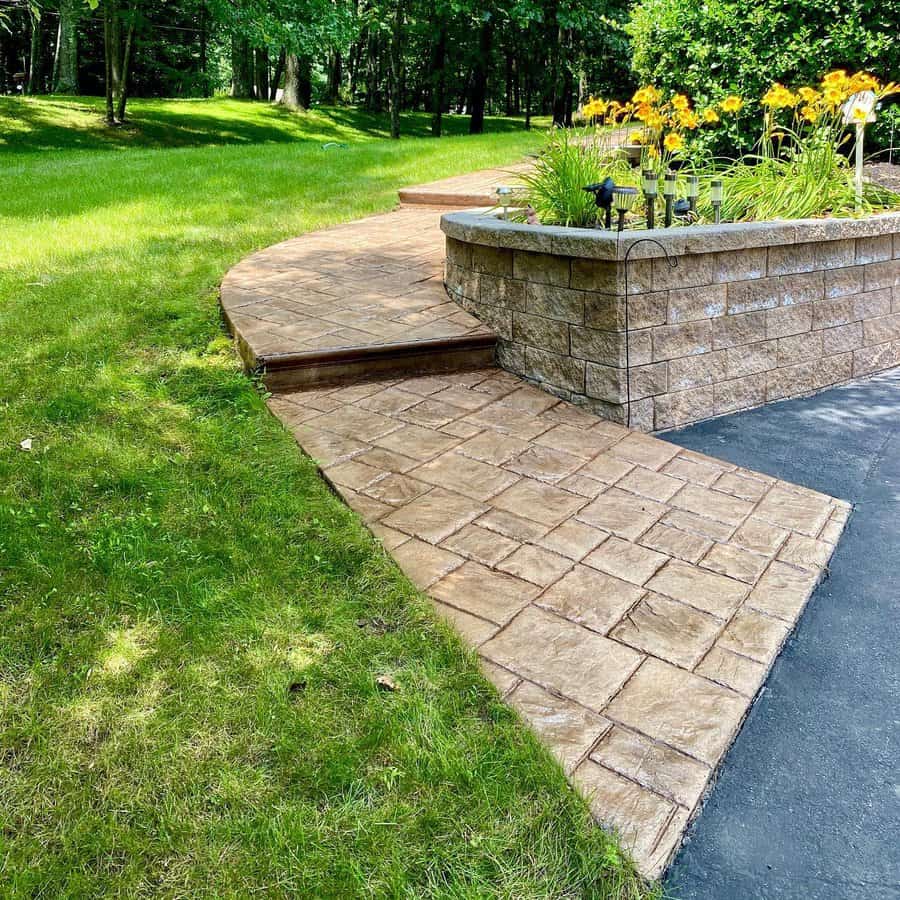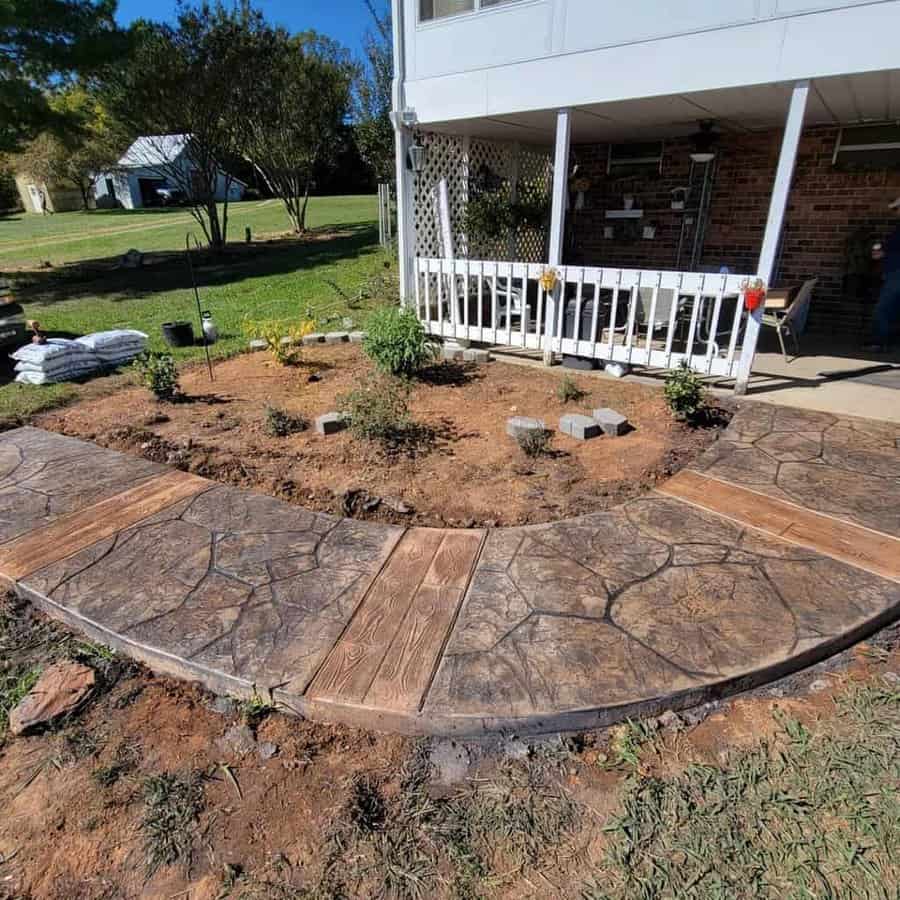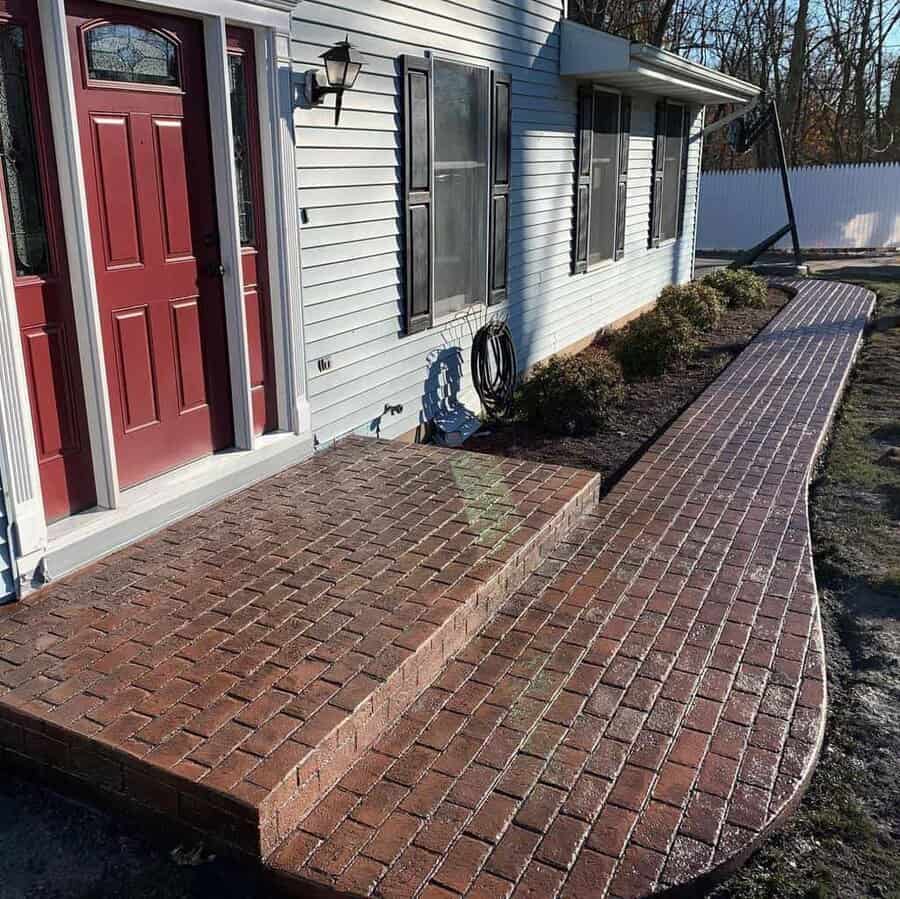 15. Time-Tested Classic Stepping Stones
For an enduring and creative home walkway, consider the timeless appeal of stepping stones arranged amidst pebbles or grass. This design imbues your walkway with natural charm and texture while preserving a classic and enduring aesthetic.
Stepping stones offer an affordable means to craft custom pathways within your landscape. Select the size, shape, and material that aligns with your style, facilitating a straightforward DIY project that elevates your outdoor space without straining your budget.
To enhance the classic allure, plant colorful flowers or ornamental grasses around the stepping stones, infusing vibrancy and life into the path. Additionally, consider installing subtle solar-powered garden lights to illuminate the way at night, creating a safe and inviting atmosphere.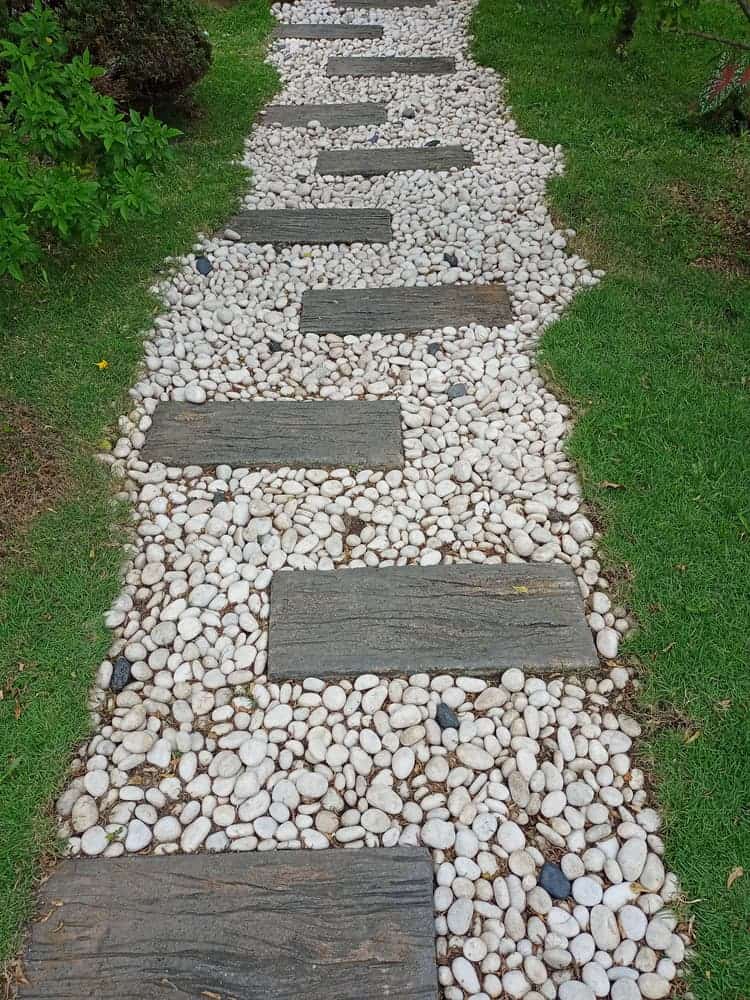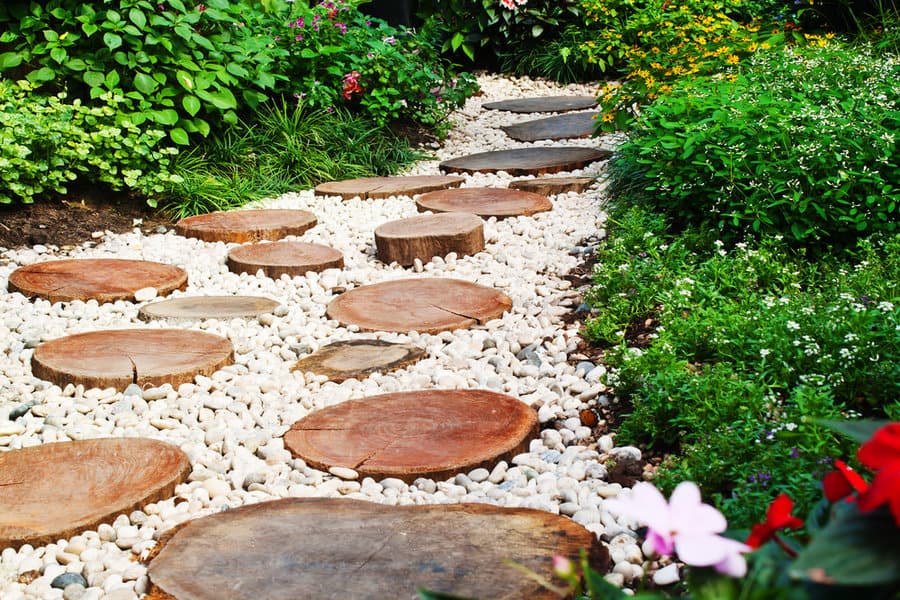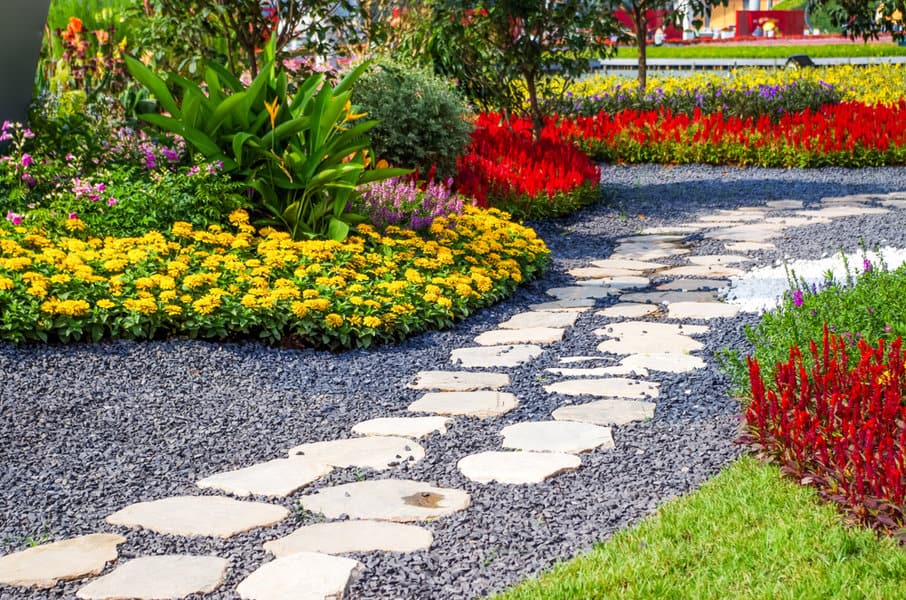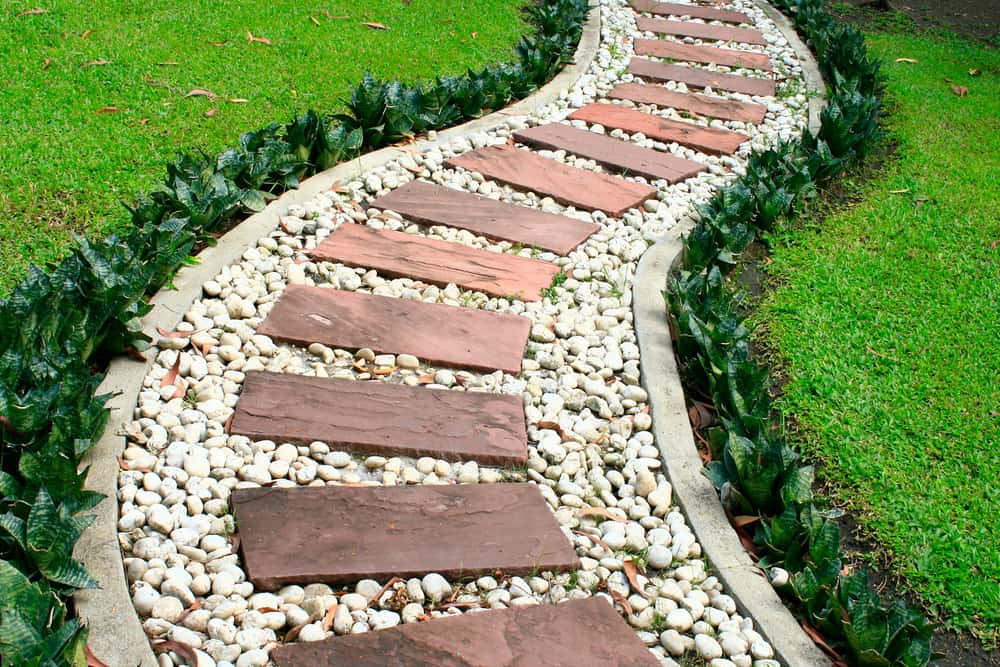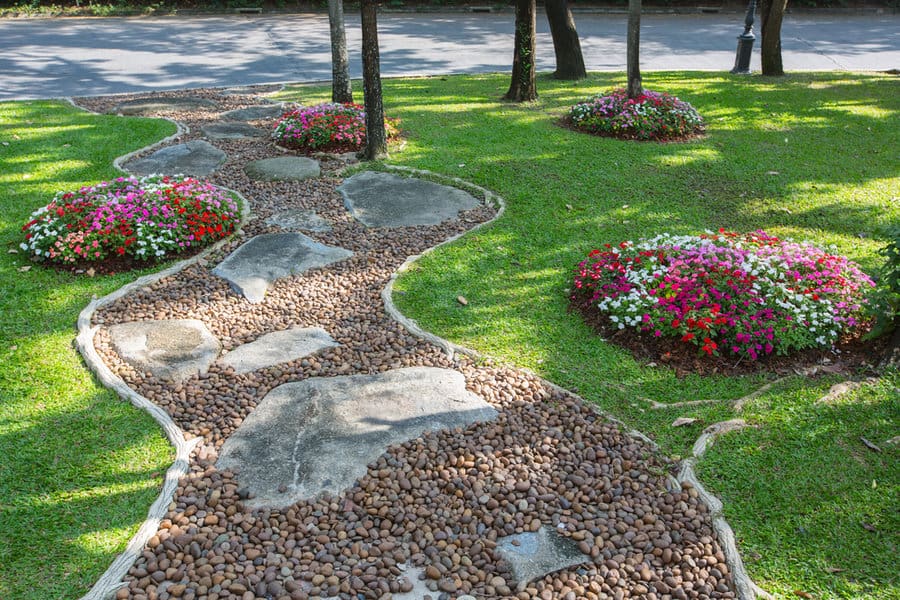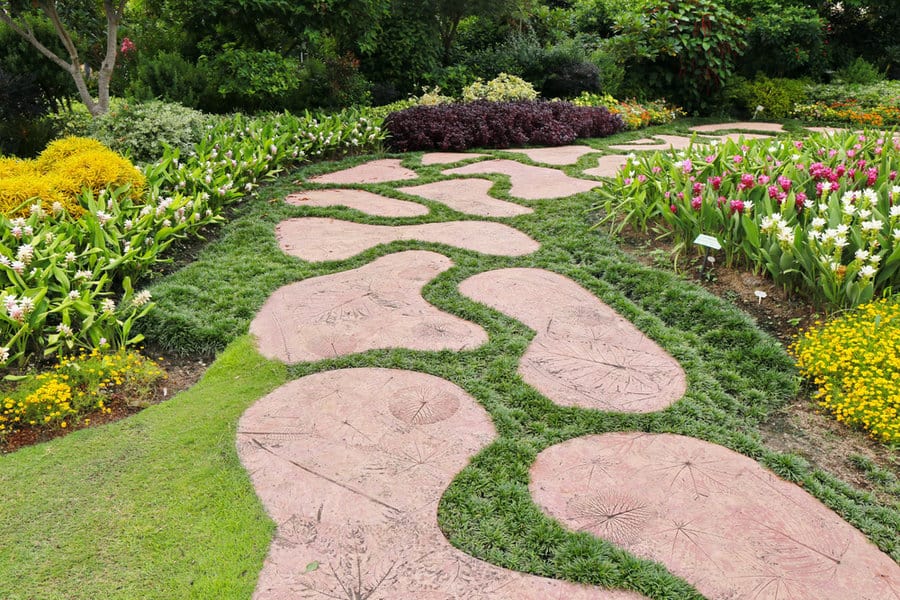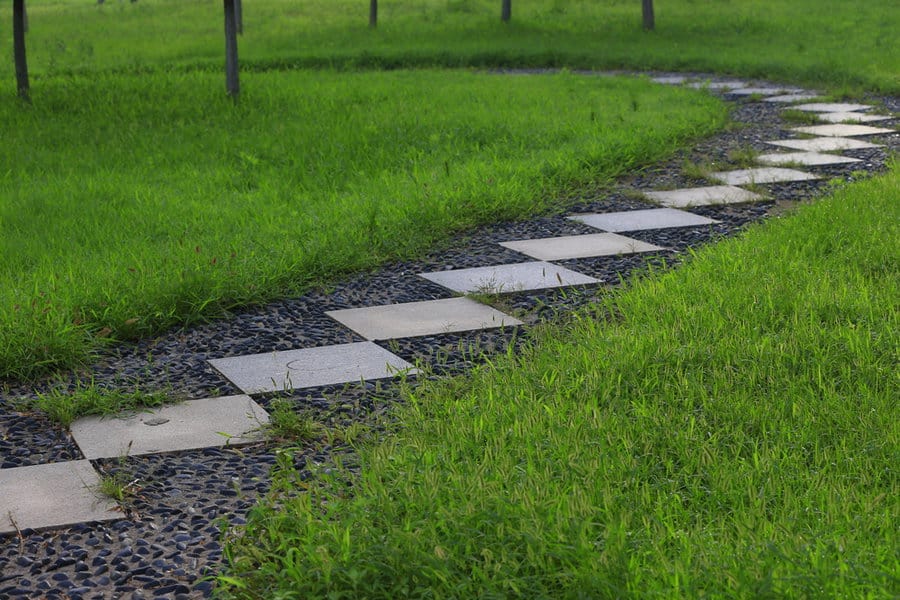 16. Tranquil Stone Pathways
Revitalize your home's outdoor walkways with a freeform stone path, where natural stones in diverse shapes and hues infuse creativity and whimsy into your garden. This pathway radiates uniqueness, creativity, and sheer beauty.
Interspersing stepping stones within the landscape not only accentuates various levels but also highlights the scattered greenery, seamlessly connecting different garden areas in an organic manner. Moreover, it serves as a protective barrier for grass against heavy foot traffic.
To achieve an attention-grabbing aesthetic, opt for stone sizes and colors distinct from those used elsewhere in your yard. Unleash your imagination to craft a captivating walkway that captivates your guests and adds an enchanting touch to your outdoor space. Complement this stone path with fragrant plants and subtle lighting fixtures to create a tranquil and inviting atmosphere.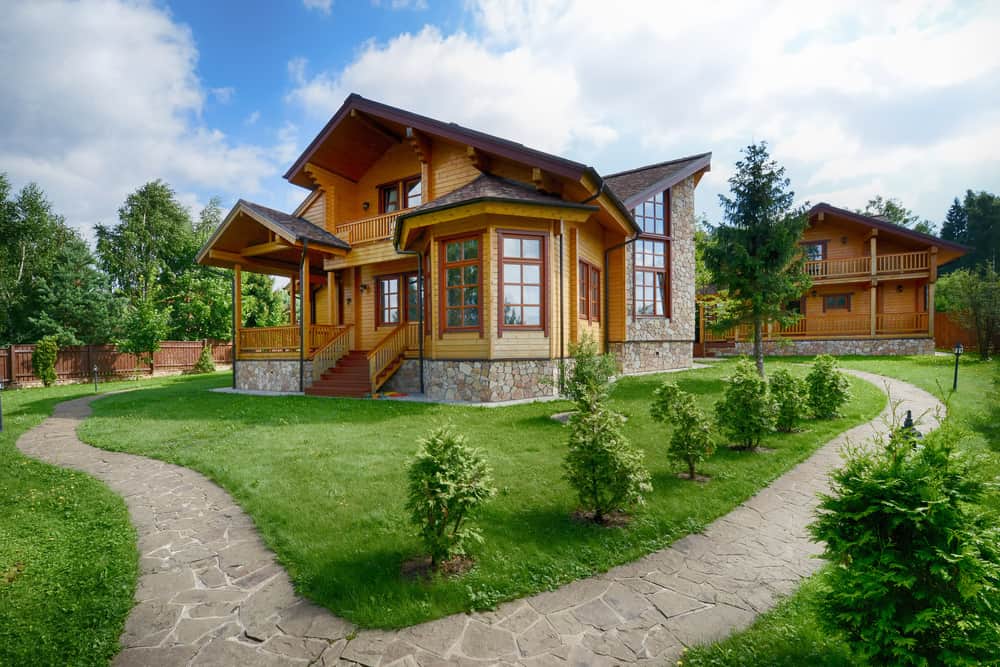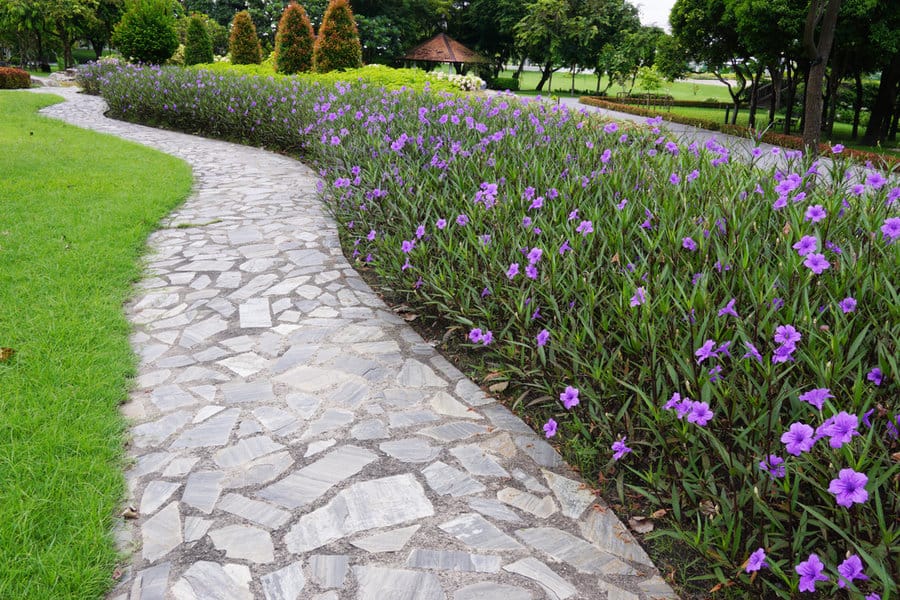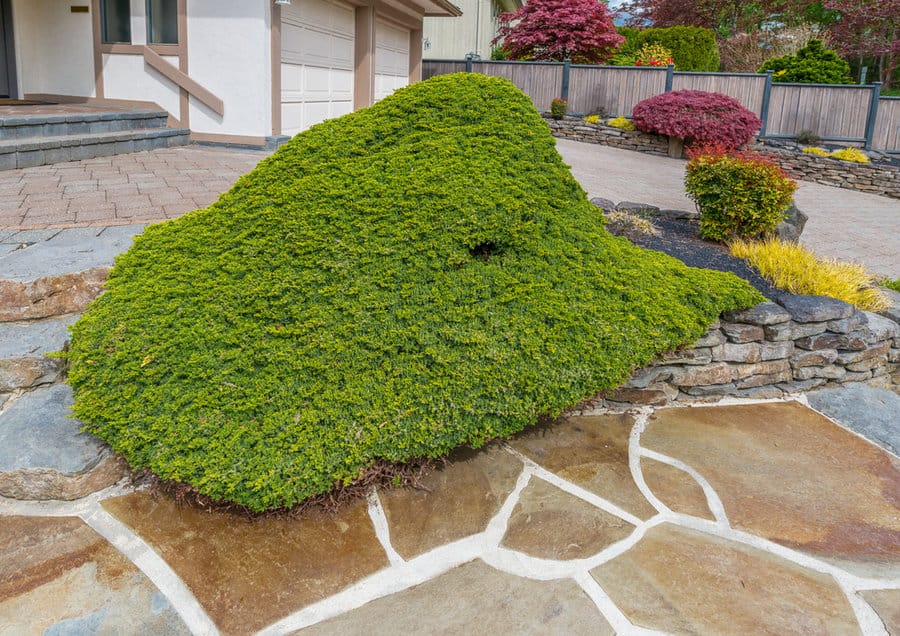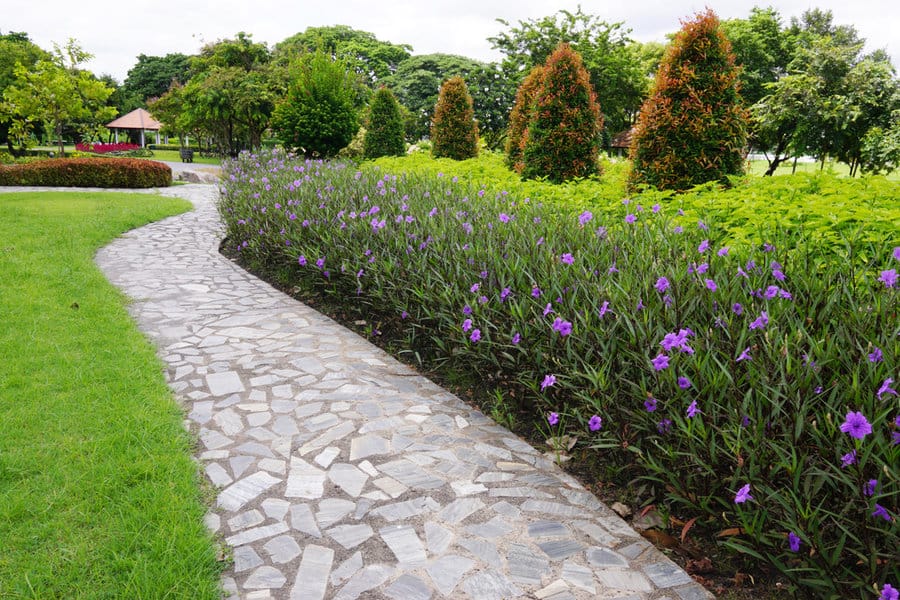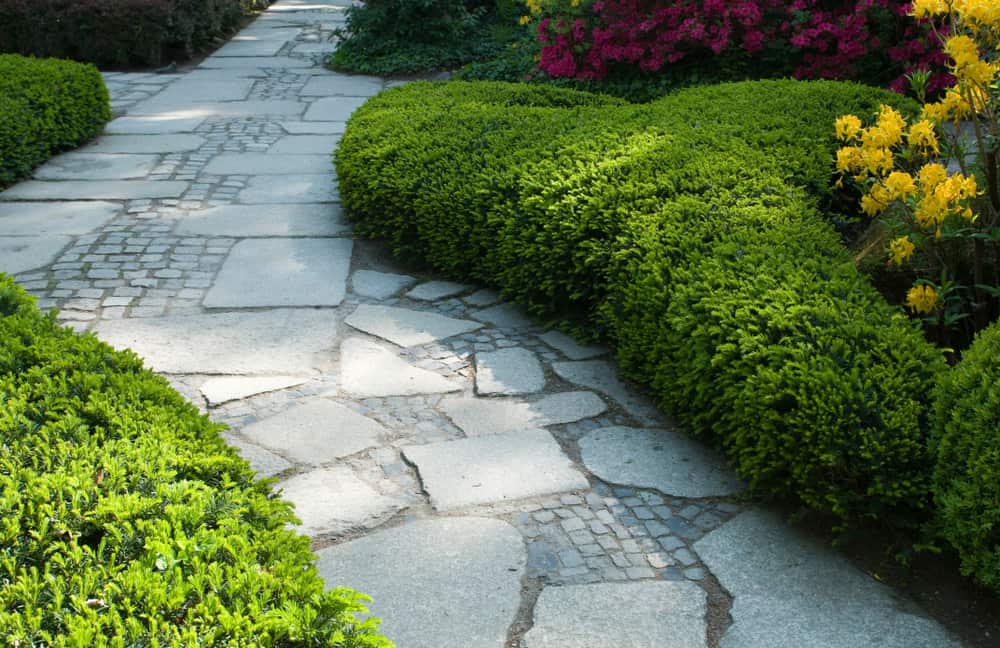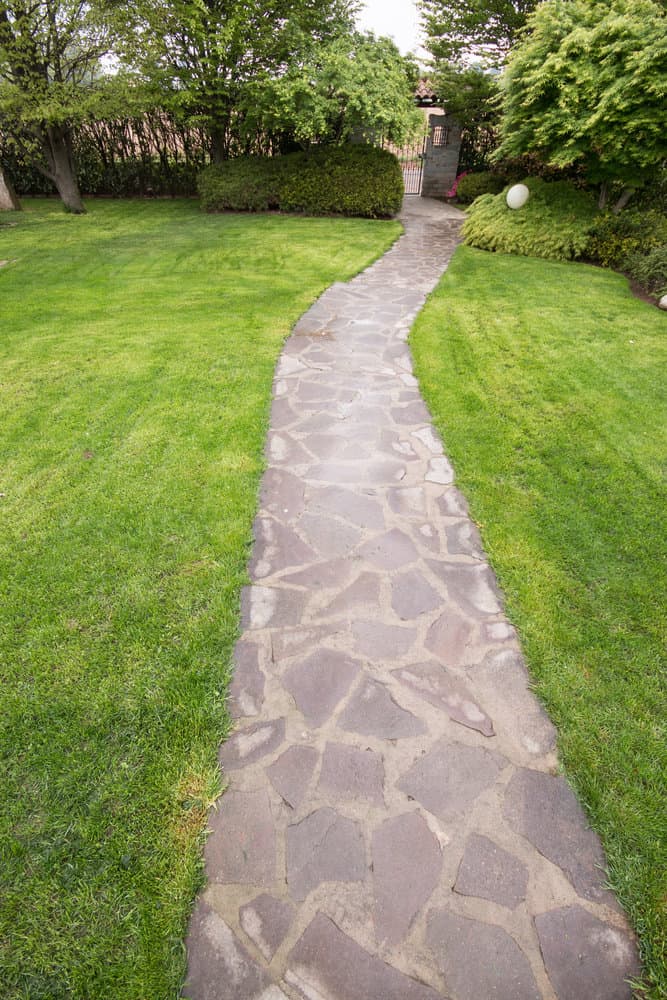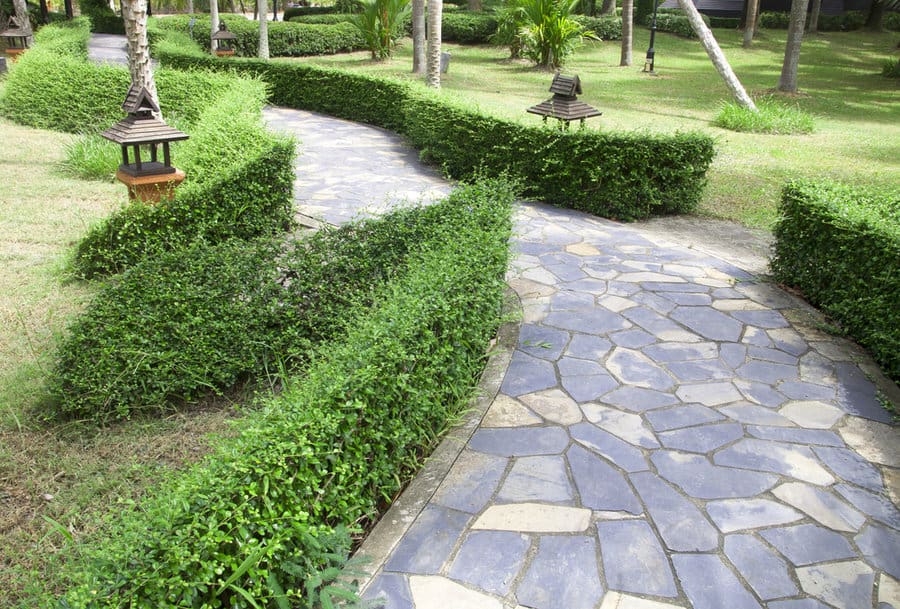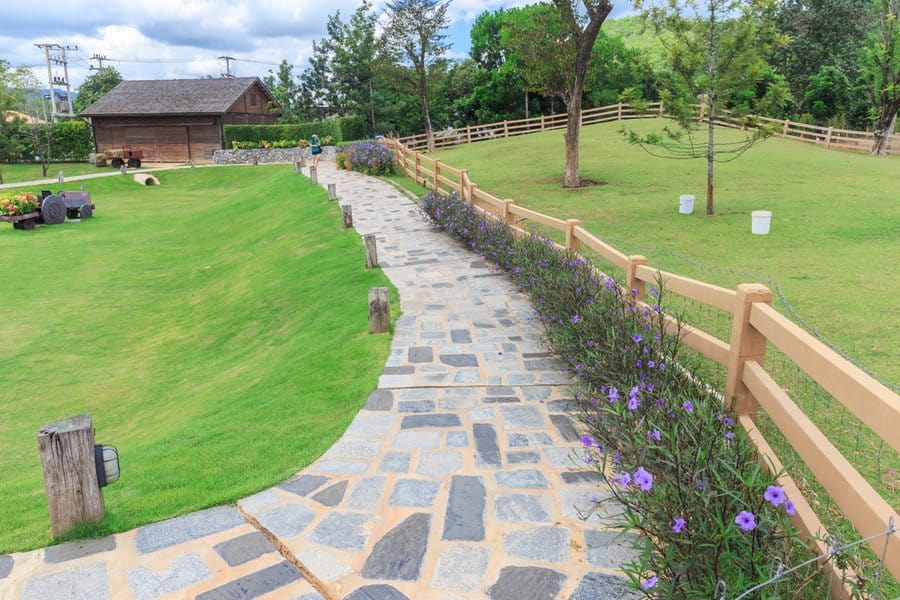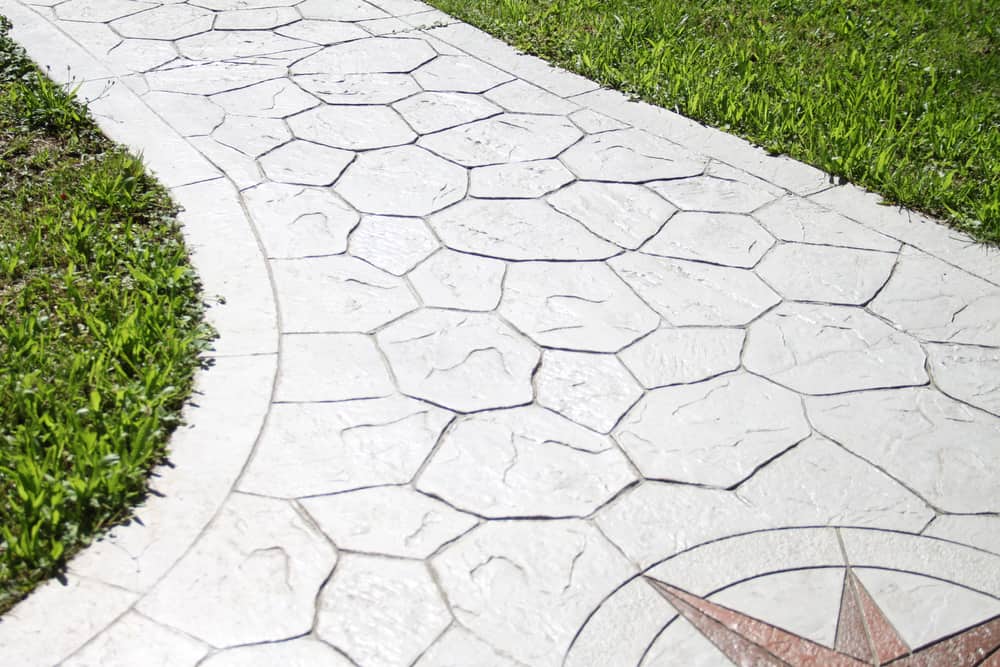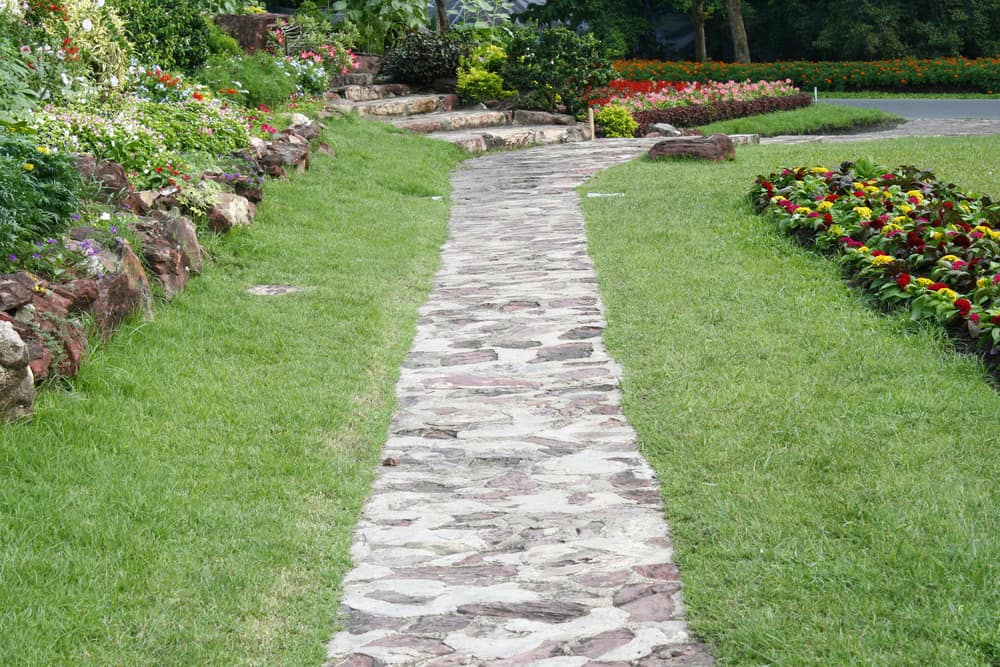 FAQs
What is the cheapest walkway material?
Mulch and gravel are the cheapest paving materials for creating your walkways. You can save money on labor costs by doing the work yourself. The materials themselves are also the most affordable. You also need a minimal amount of additional materials. Simply clear away the grass, lay down landscaping fabric, and spread the mulch or gravel.
What is the difference between a sidewalk and a walkway?
A sidewalk is a paved footpath that is meant for pedestrians walking along a roadway. They are typically paved with concrete but may also be paved with asphalt. A walkway is clearly defined path that may not be next to a road or paved. It's a path that people are meant to walk on.
What is pea gravel?
Peace gravel gets its name from its size and shape. This type of gravel is about the size and shape of the vegetable it's named after. The individual pieces of gravel have a smooth texture, making them uniform in size and shape. Typically, you find pea gravel in running water or on riverbeds. The running water is what smooths and shapes the rocks.