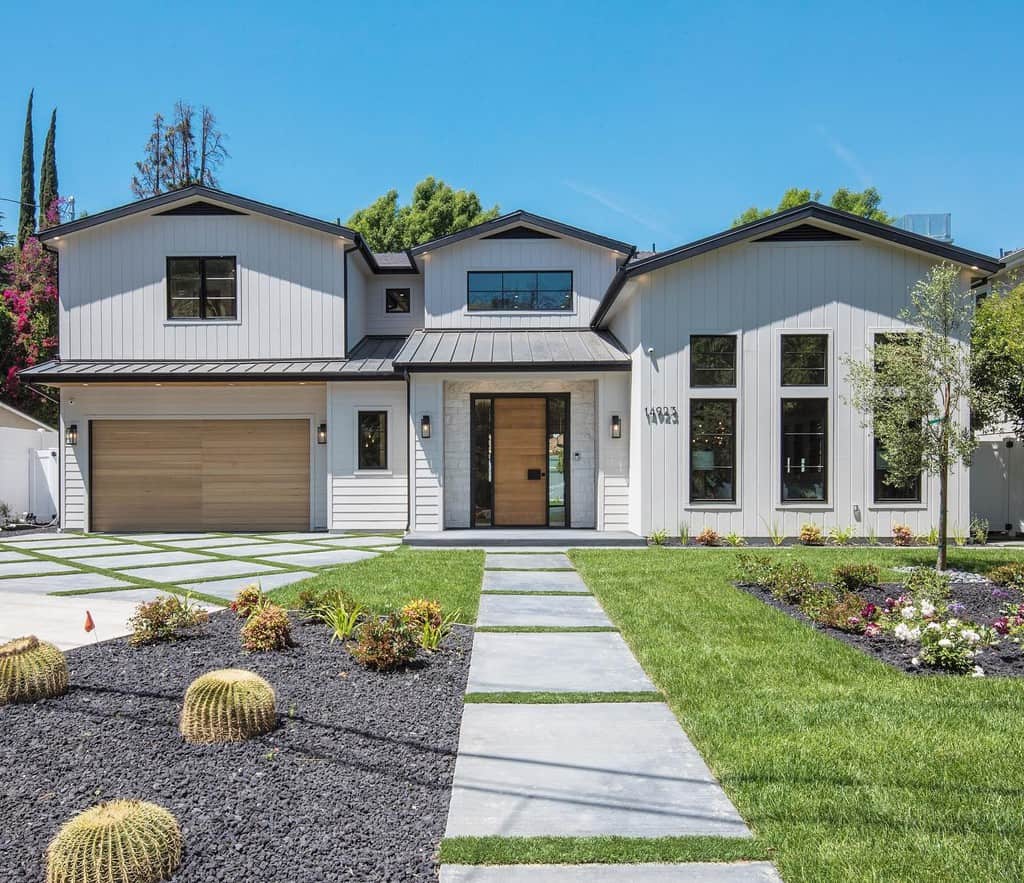 81 Inspiring Walkway Ideas for Your Home
Adding a walkway to your property increases its curb appeal, functionality, safety, and usability. For example, you could build a sidewalk in front of your home, making it easier for people to walk up to your front door. Add another sidewalk around the side of your house to create a path around to the backside of your home. Then build one or more sidewalks on the backside of your house. Having one or more concrete walkways keeps people off your grass and out of your garden. Check out these sidewalk ideas and start building sidewalks on your property.
1. Brick
A brick pathway gives your property a traditional feel with the rich red coloring of the brick pavers. When planning your sidewalks, try to keep the paths as straight as possible with sharp, 90-degree corners. This will make laying your bricks easier with fewer cuts.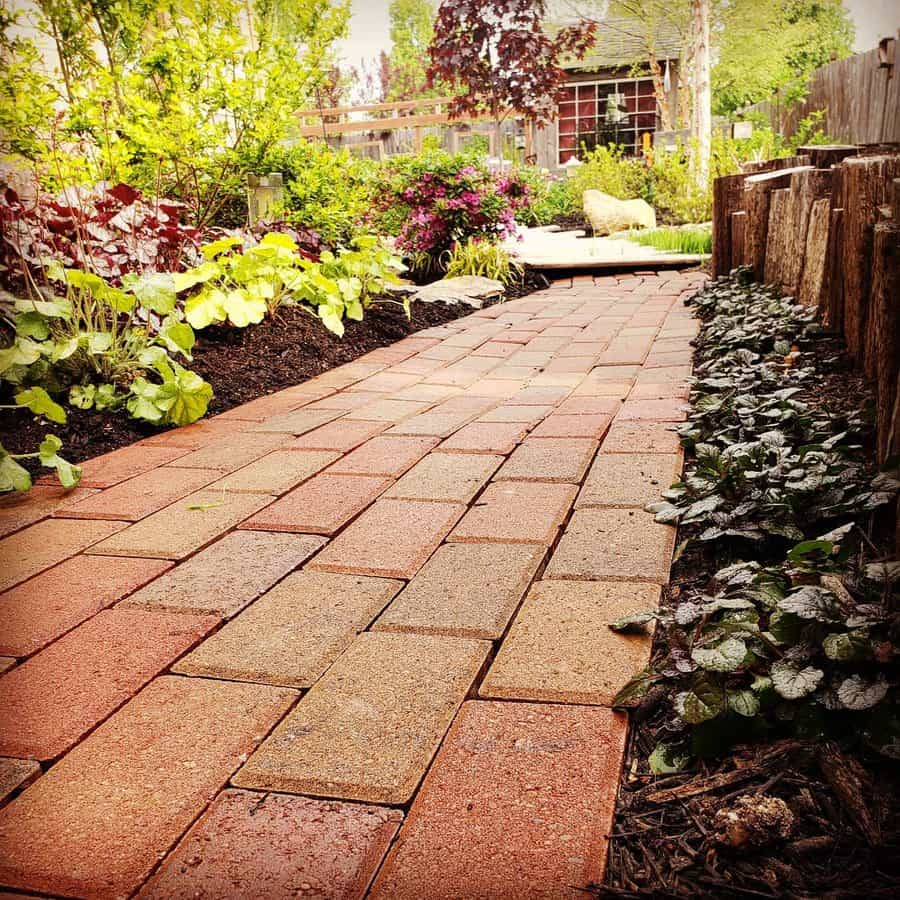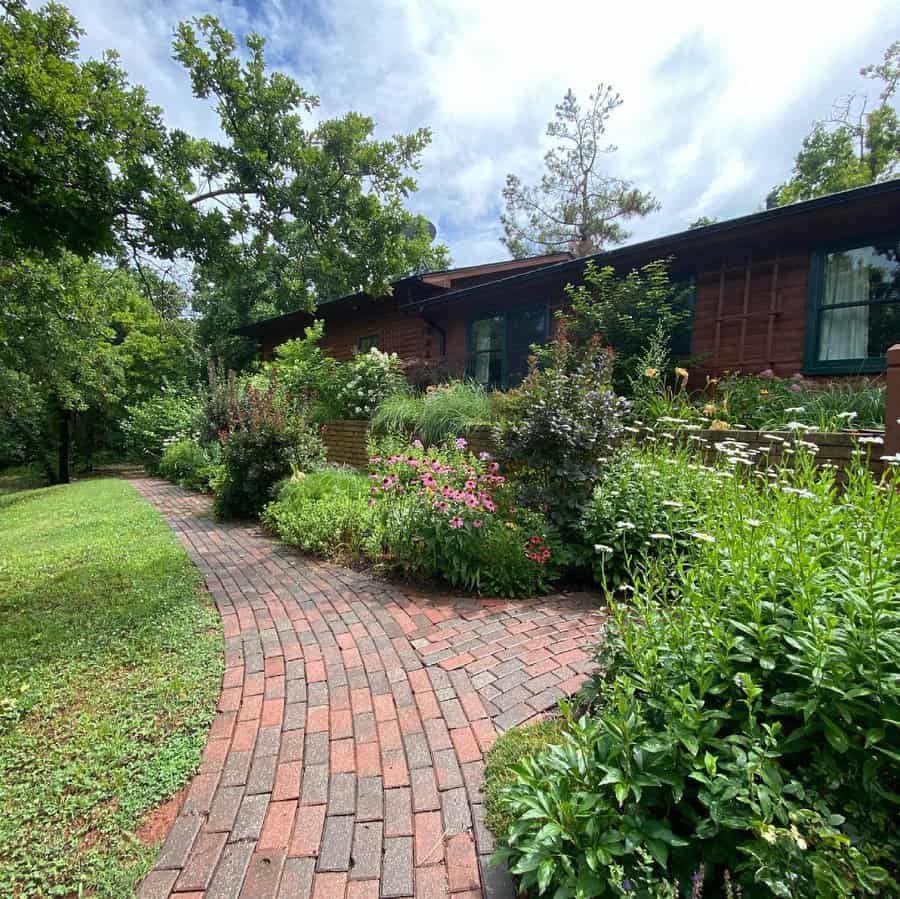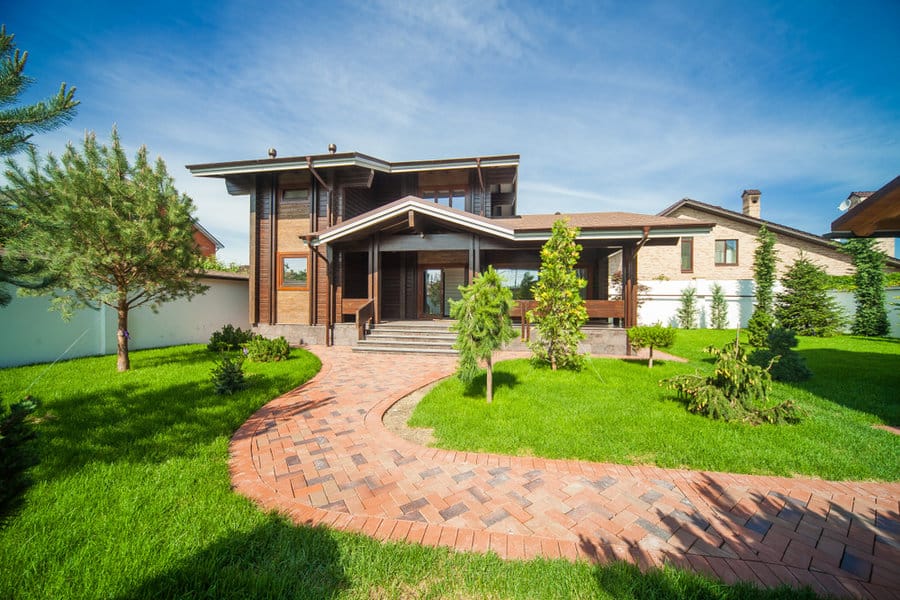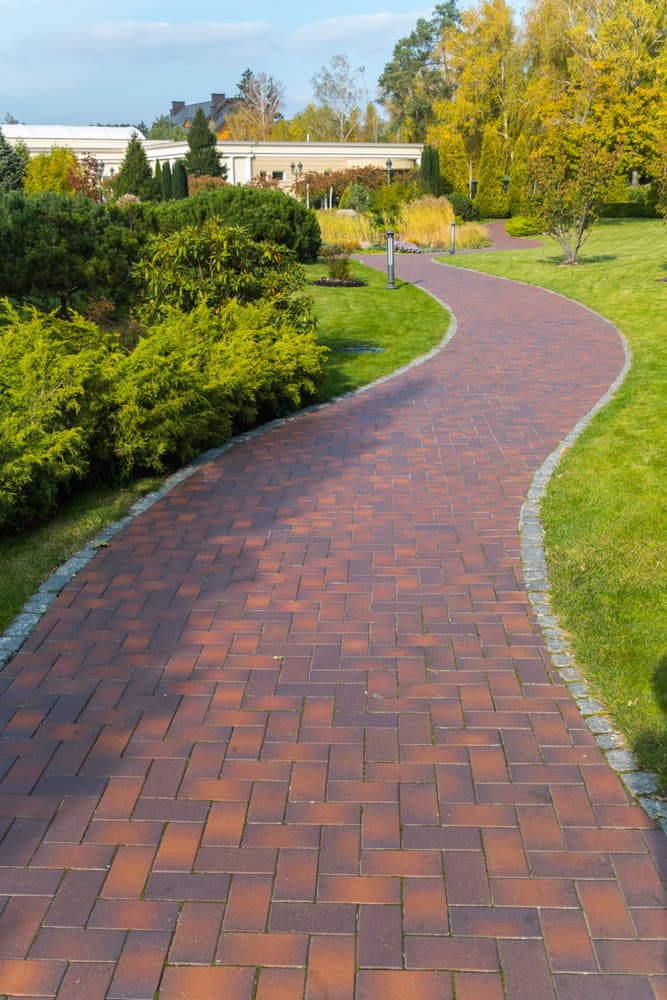 When looking at brick walkway ideas, pay attention to the brick pattern and edging. How you lay the bricks will affect the look of the sidewalk. Laying them lengthwise can make your sidewalk look longer. A horizontal design looks more traditional. A chevron or herringbone pattern will give it a fresh look. For the border, you can use the same brick in a different pattern or a different complimentary brick.
2. Cobblestone
Give your sidewalks a historical feel with natural stones called cobblestones. They are most often associated with the oldest roads in England and other European countries. They are round stones that are uniform in size and shape. Because they are rounded in shape, your stone pathway is bumpy and uneven.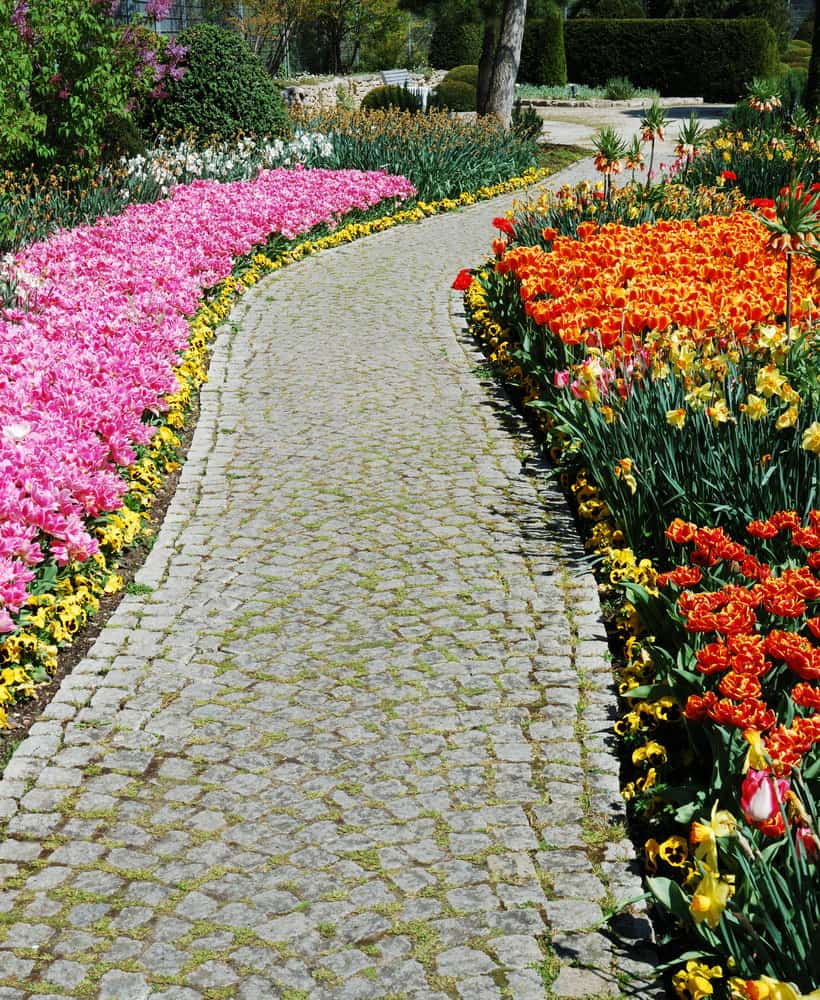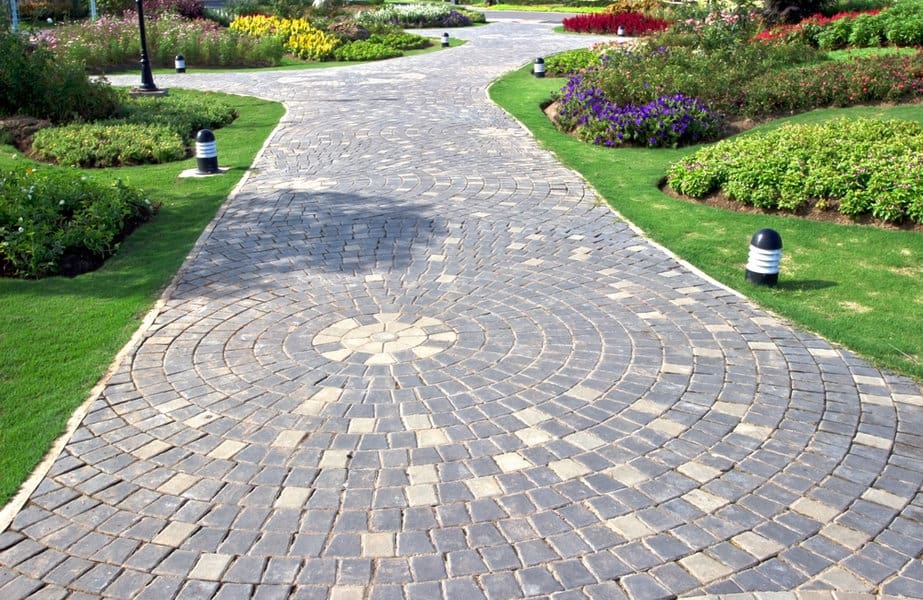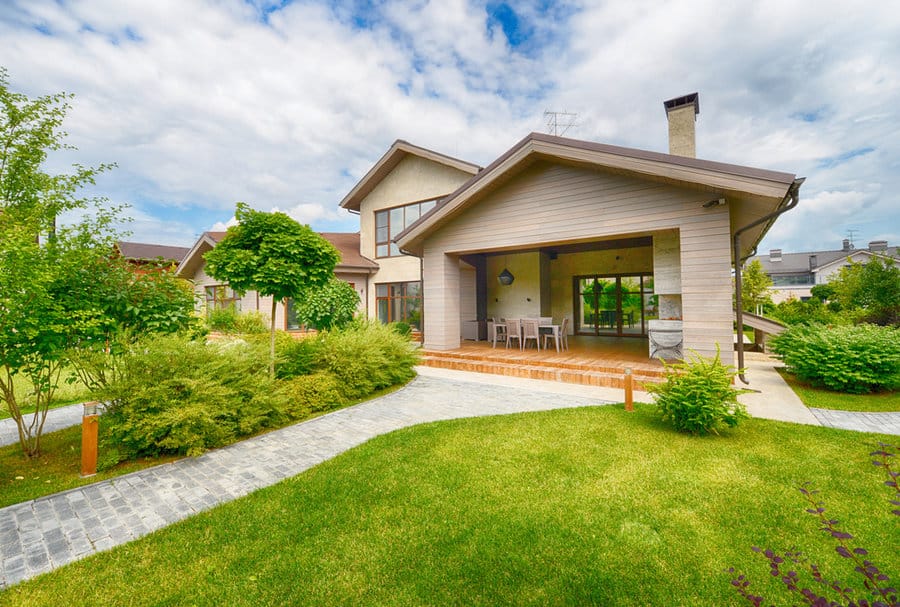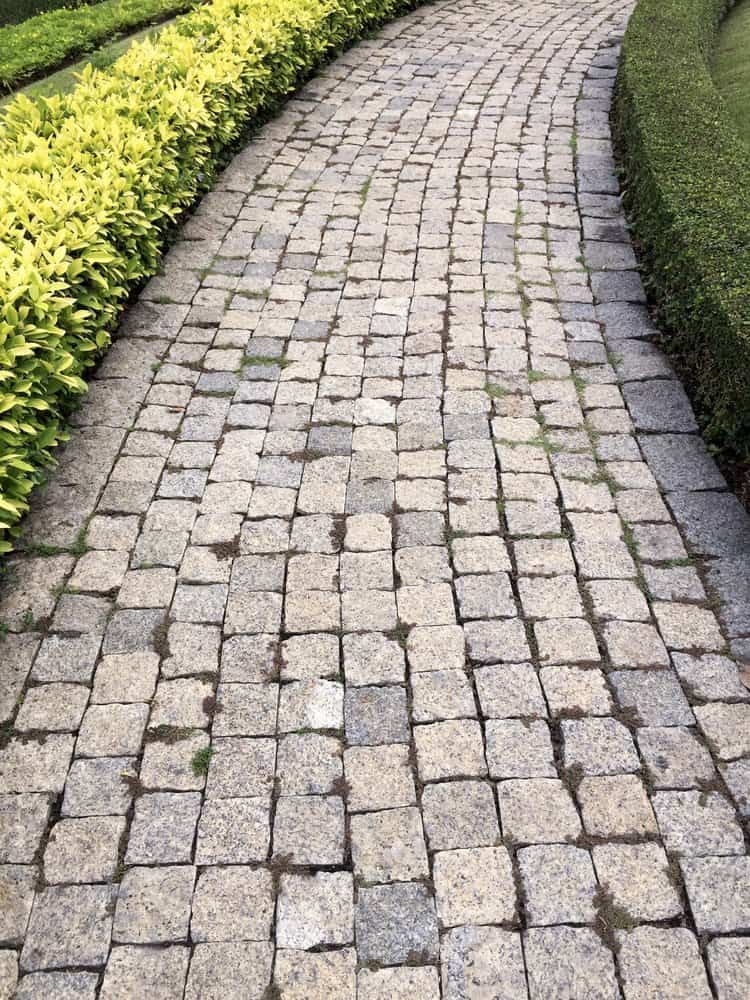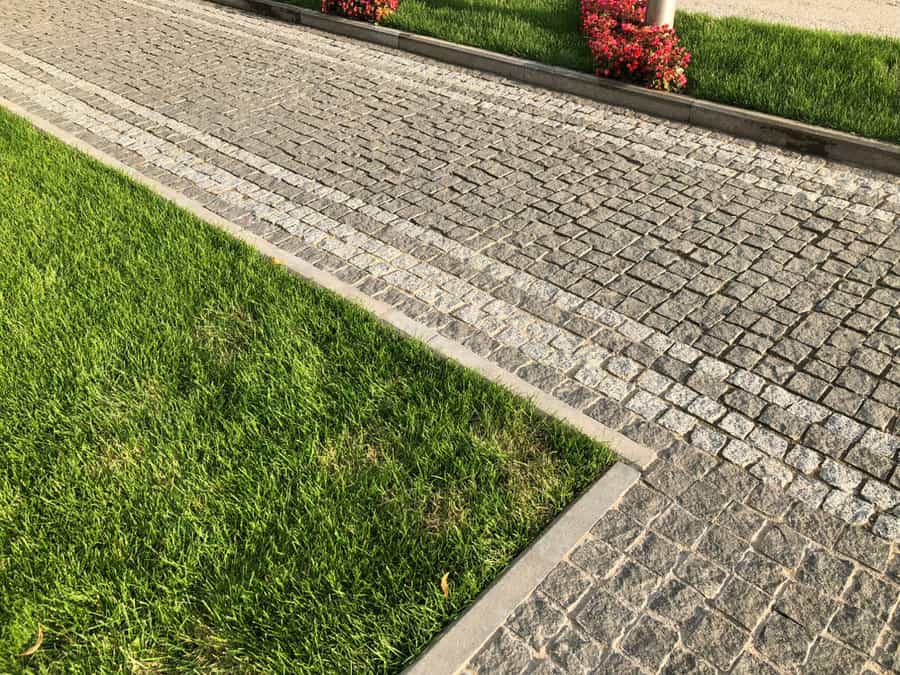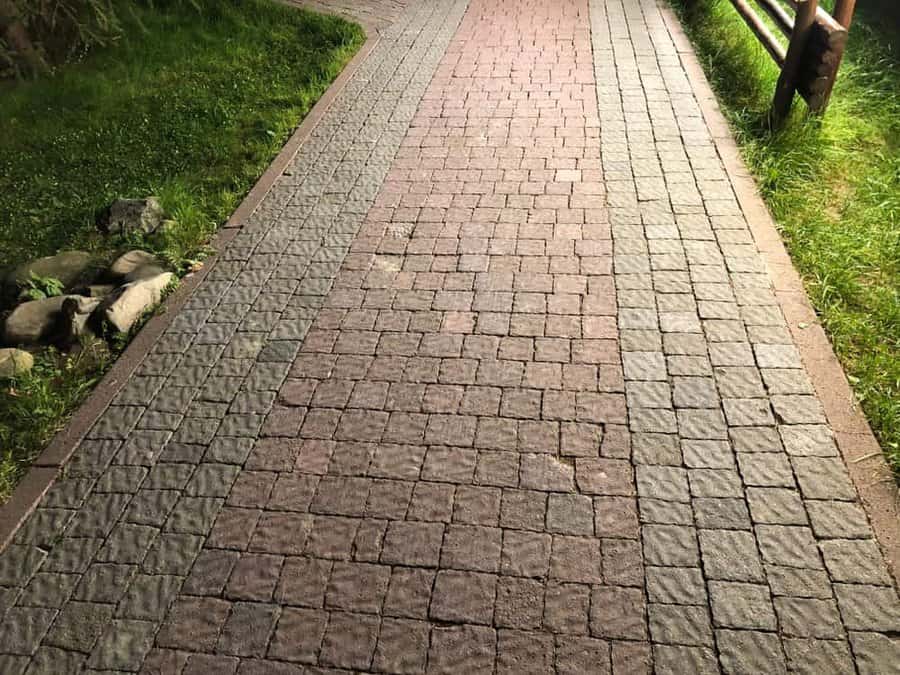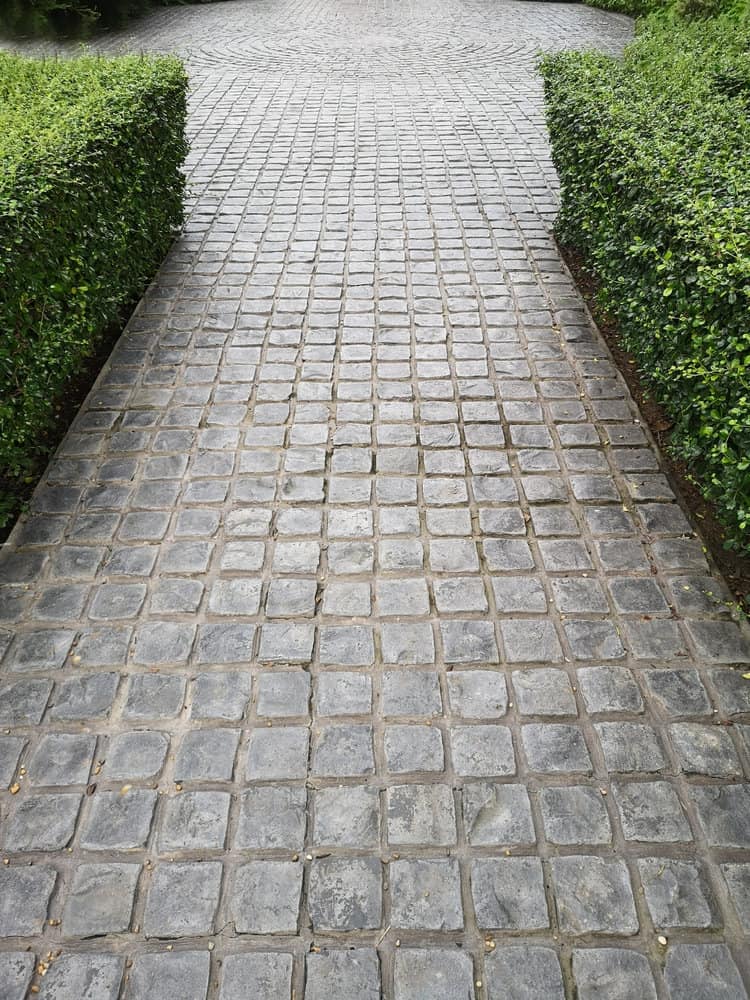 If you are worried about stability and safety, then it's better to stick with smooth stone pavers. Cobblestones are best for your garden sidewalk where you're trying to create a cottage aesthetic.
3. Concrete
Concrete is affordable and durable, making it a popular option for many homeowners. There are two options for building your sidewalk. The first is to use concrete pavers that are premade and work like any other brick or paver option to build your sidewalk.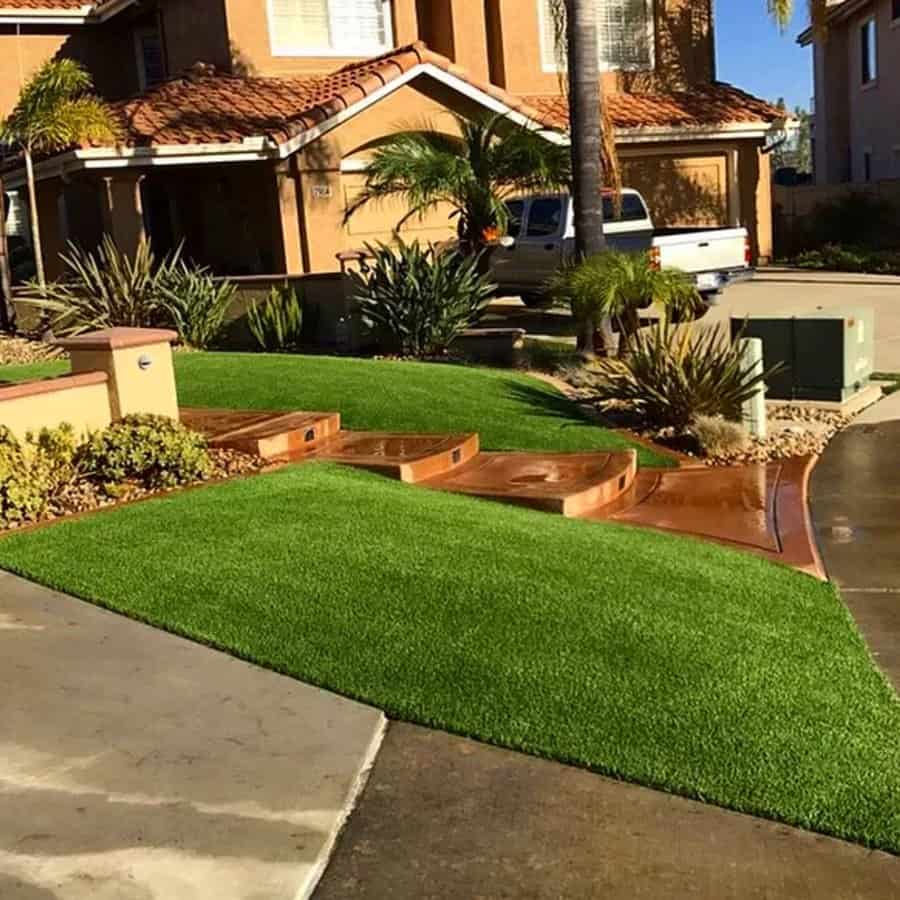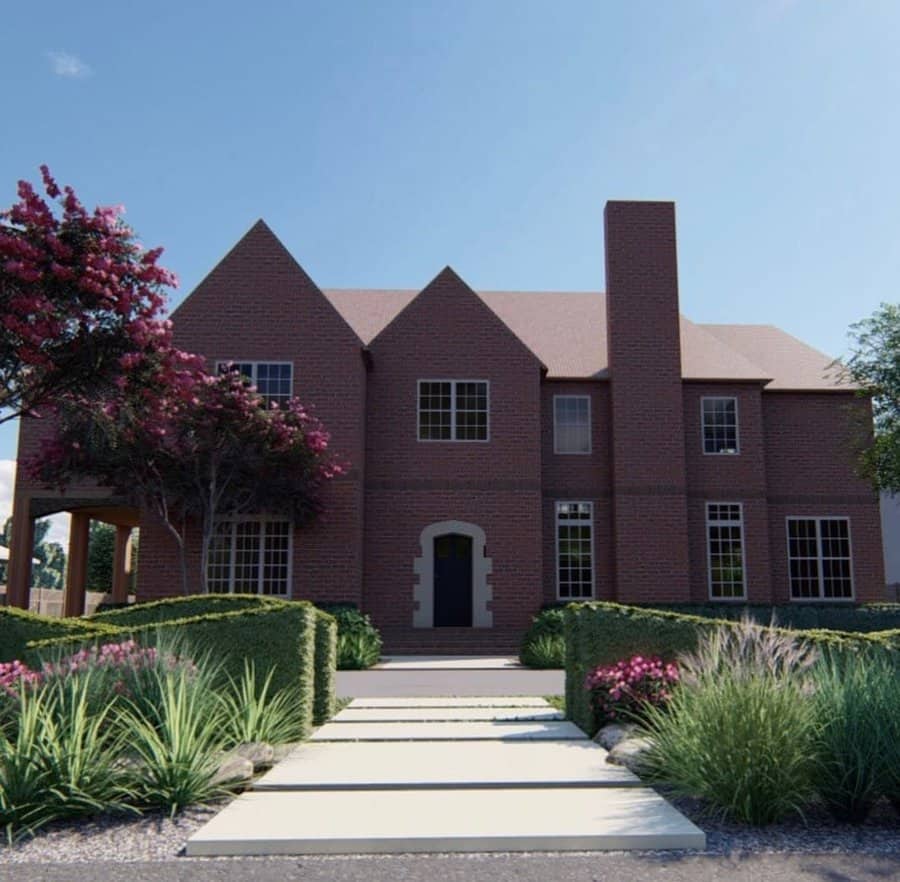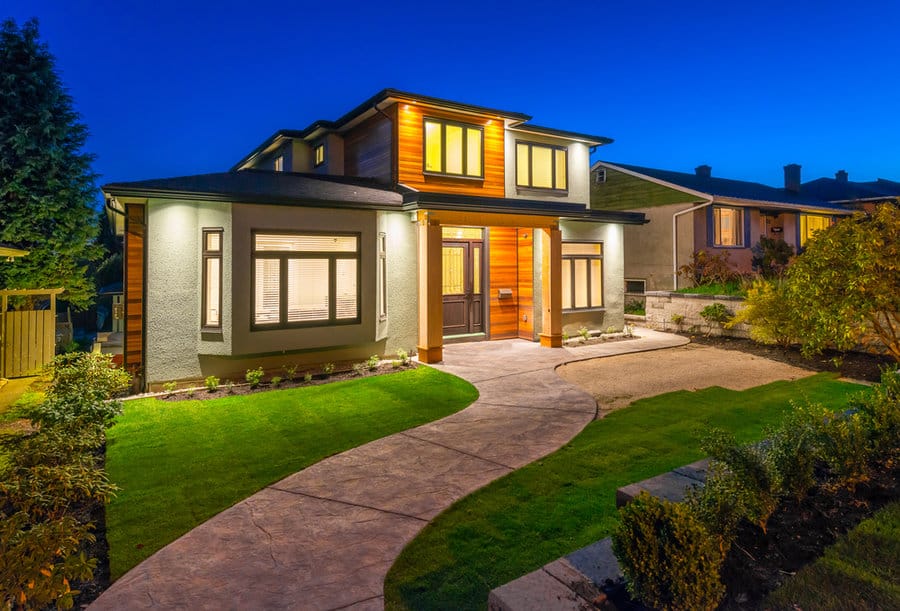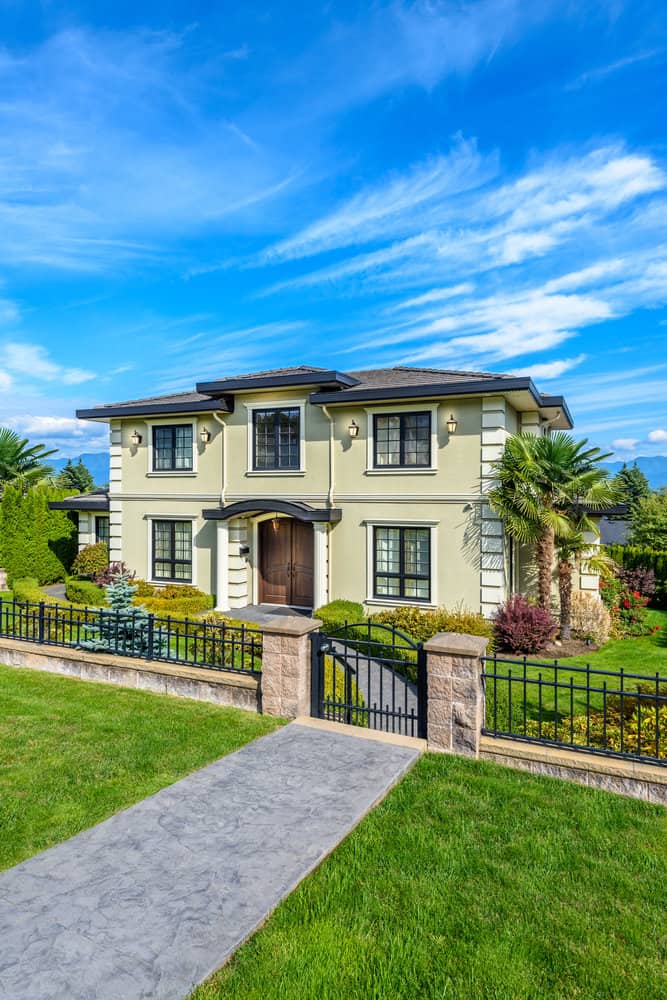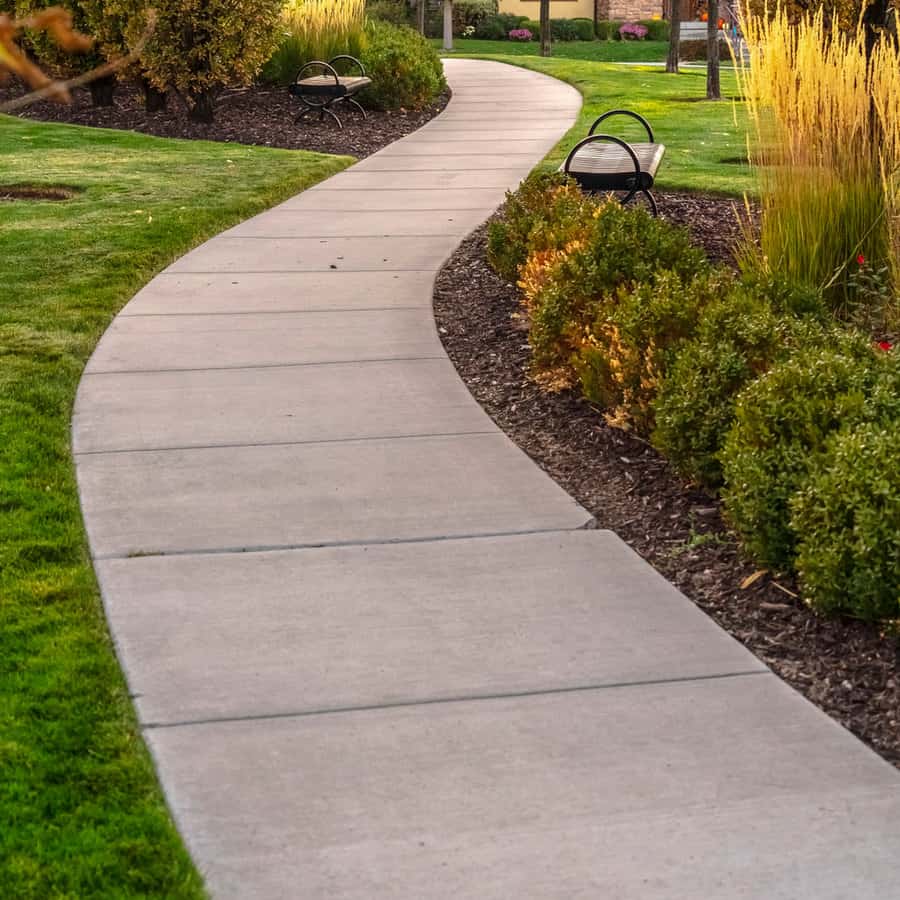 Another option is to have your sidewalk poured. The result is a sidewalk that looks like the majority of public sidewalks in America. The large concrete slabs will have cuts to account for expansion. This method works best when you have a large amount of sidewalk to pour. Otherwise, it may not be cost effective.
4. Design
Designing your sidewalk is about more than choosing the paving material. You need to think about the shape, length, edge, and path. Your finished sidewalk should add to the overall appeal of your property.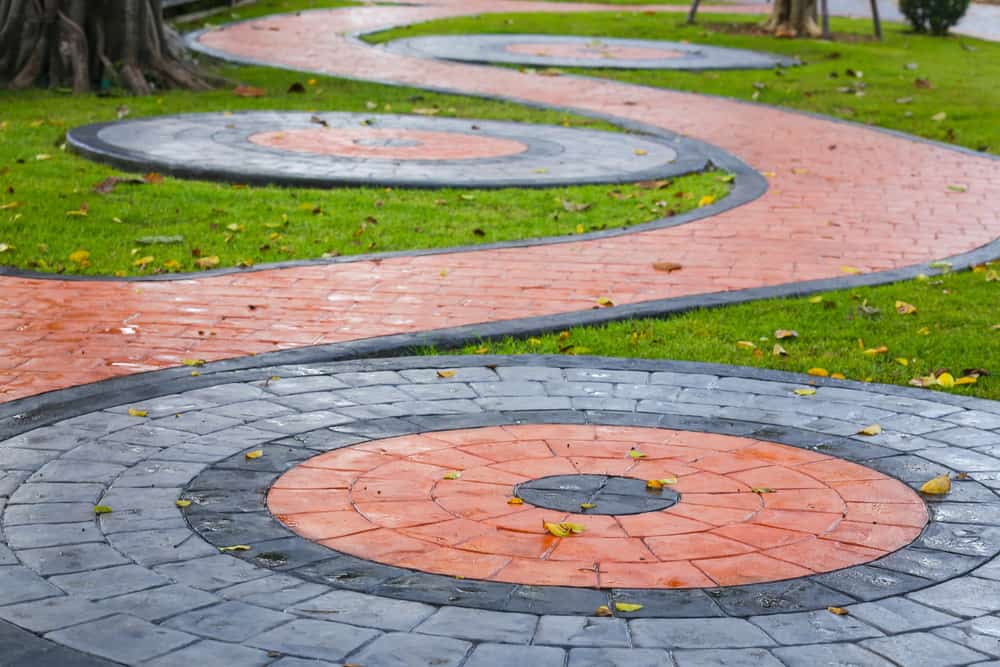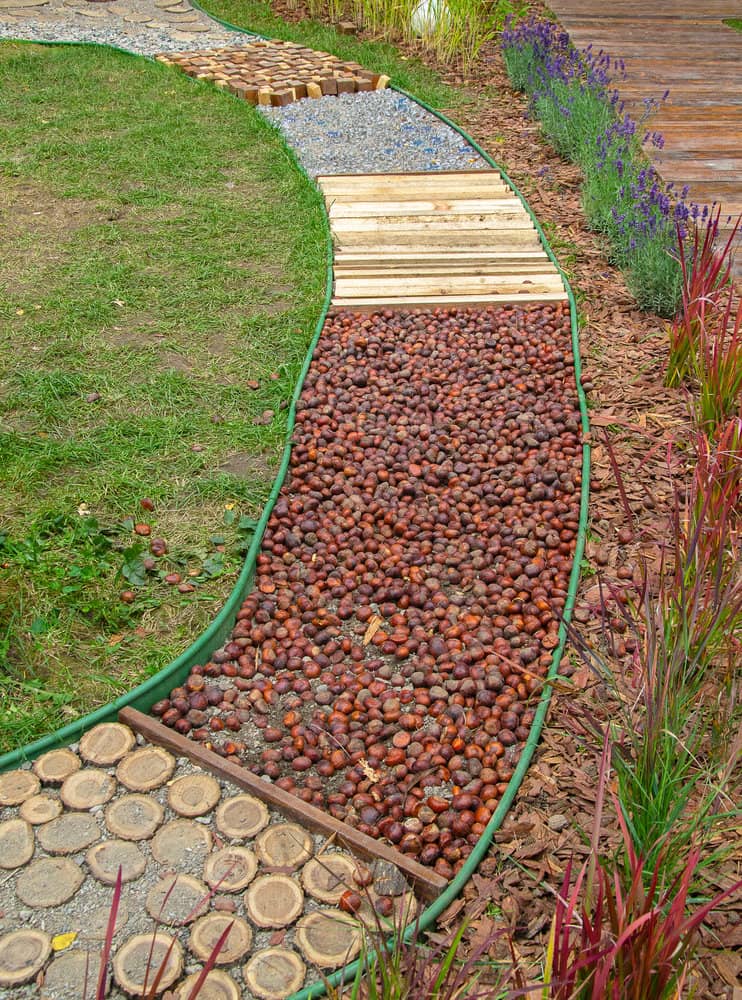 It also needs to be functional, helping you get around your property easier and safer. You could design your sidewalk to wrap around the exterior of your home. Or it could extend out to the far corner of your property. Perhaps it connects multiple patios, decks, or living spaces.
5. Elevated
Property that has a drainage or flooding problem can present a unique challenge. You'll need to be careful about building up your property. This can cause the water to flow somewhere else unexpected, creating a bigger problem. Instead, consider building an elevated sidewalk.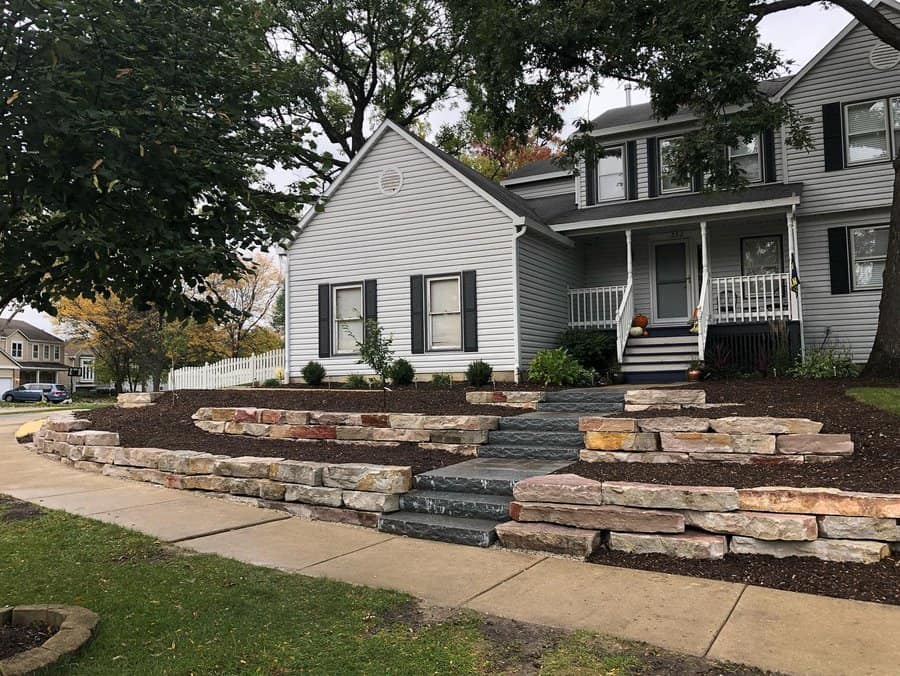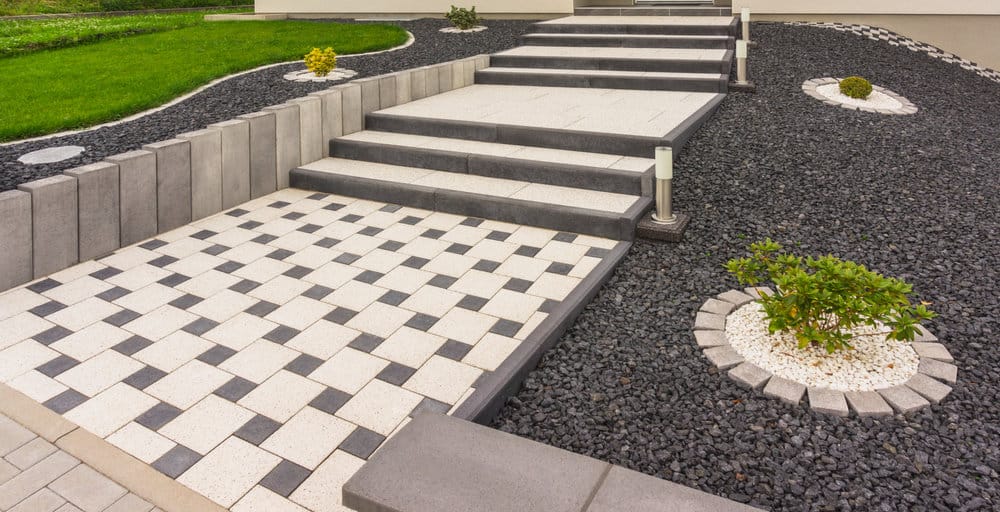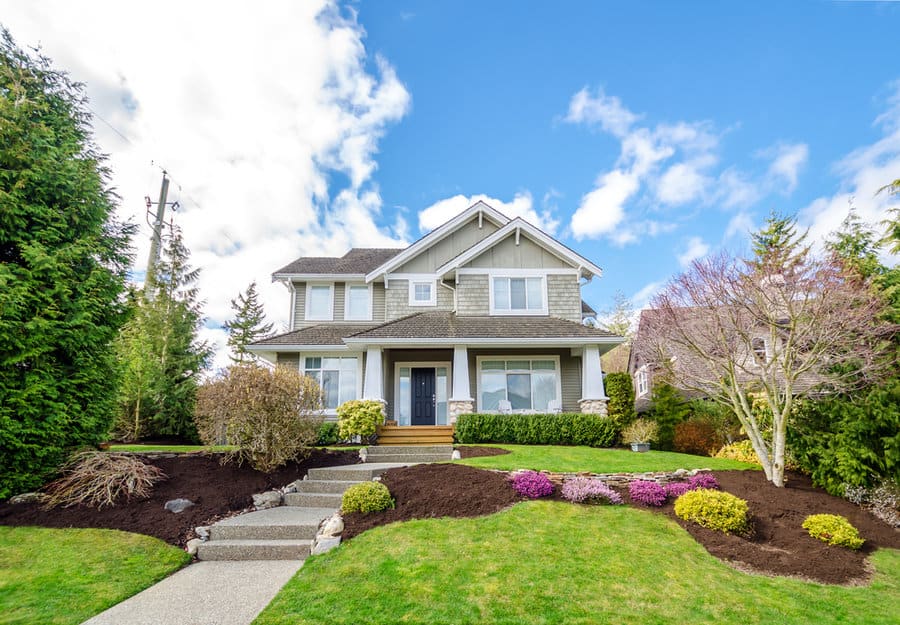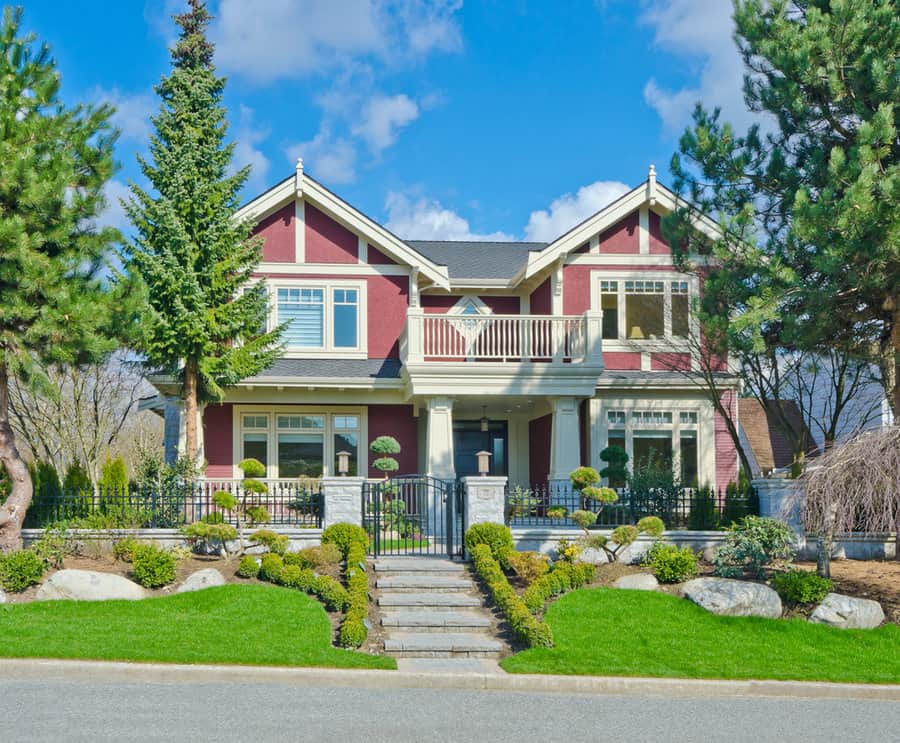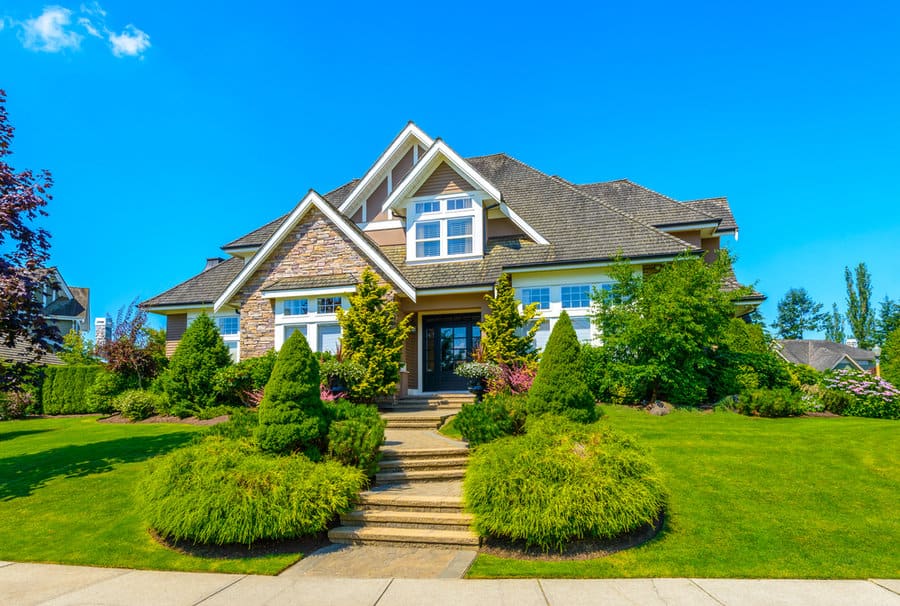 Construct a wooden walkway that floats above your property. This allows for the water to flow underneath while keeping you clean and dry while walking on the sidewalk. This type of sidewalk is perfect for allowing you to make the most of your property while creating the smallest impact on the environment.
6. Garden
While having a sidewalk around your house is helpful, you can also have decorative walkways. Garden path ideas can show you how to build a walkway around your plant beds. This makes it easier to care for and admire your hard work.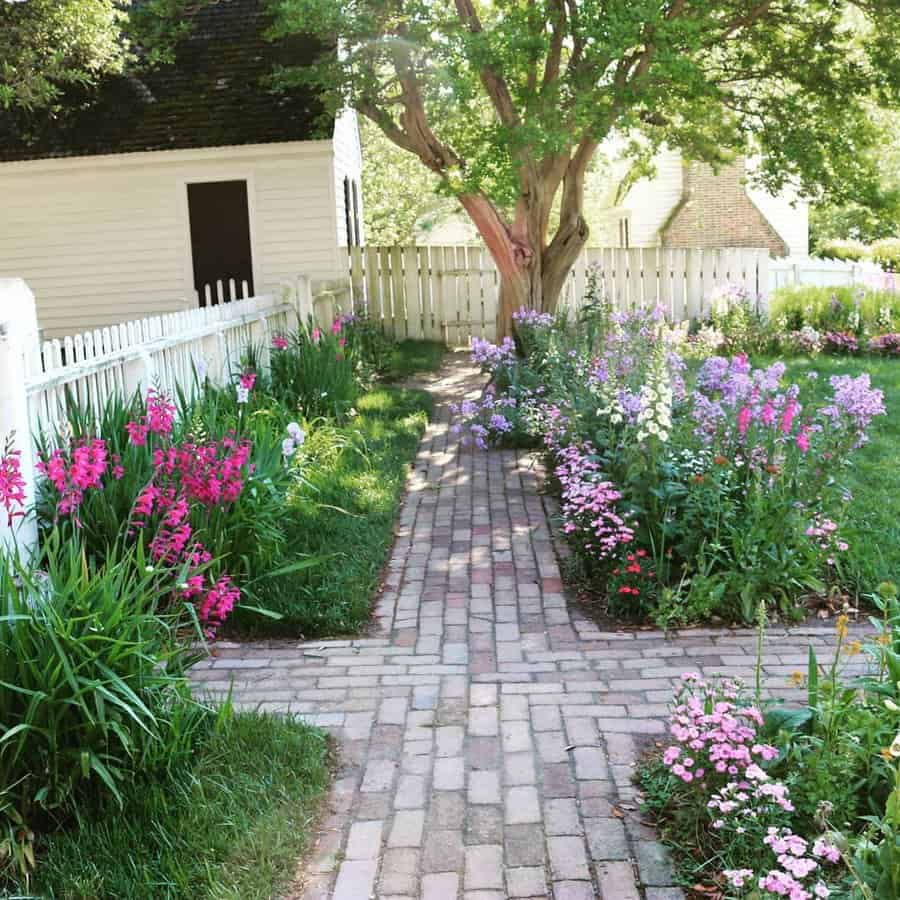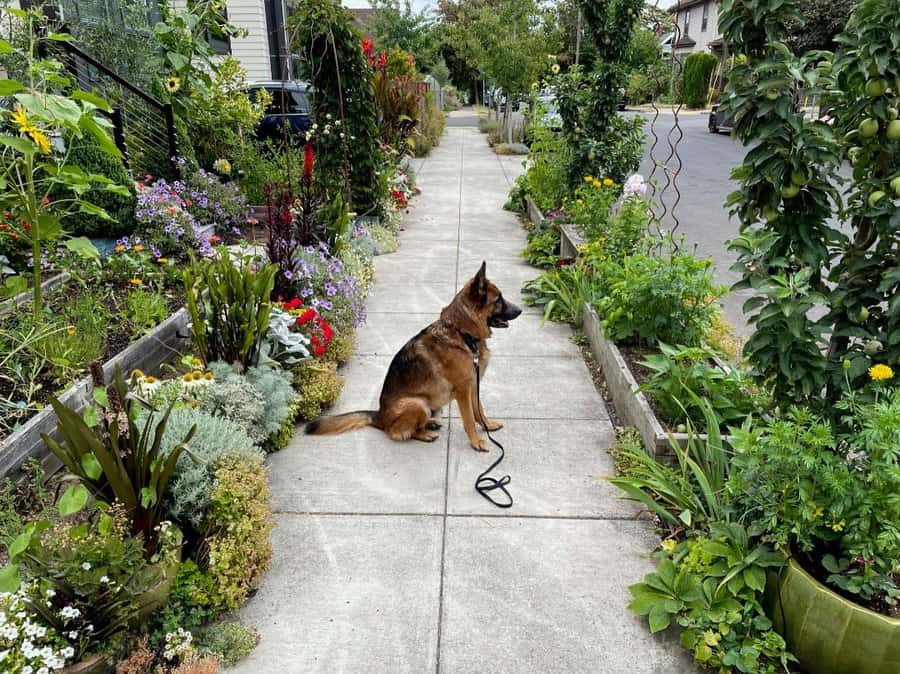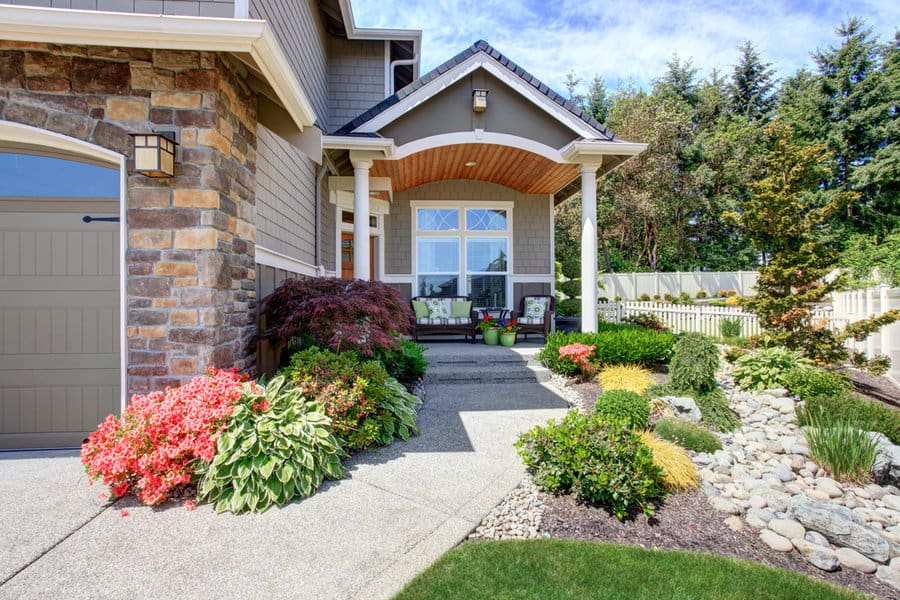 Garden walkways can be smaller, more like a path than a large commuter sidewalk. Depending on the type of garden you have, your path could be curvy and winding or structured straight lines. When building your garden path, think about the overall design of your garden. The path should work with the plants, not against them. Work around the well-established plants that you already have.
7. Hedge
If you have a sidewalk on your property, people will be tempted to walk on it. This is especially true if your sidewalk creates a shortcut for others. While you could build a fence, there are other options. Instead, walkway landscaping ideas show you how to grow a hedge along the length of your sidewalk.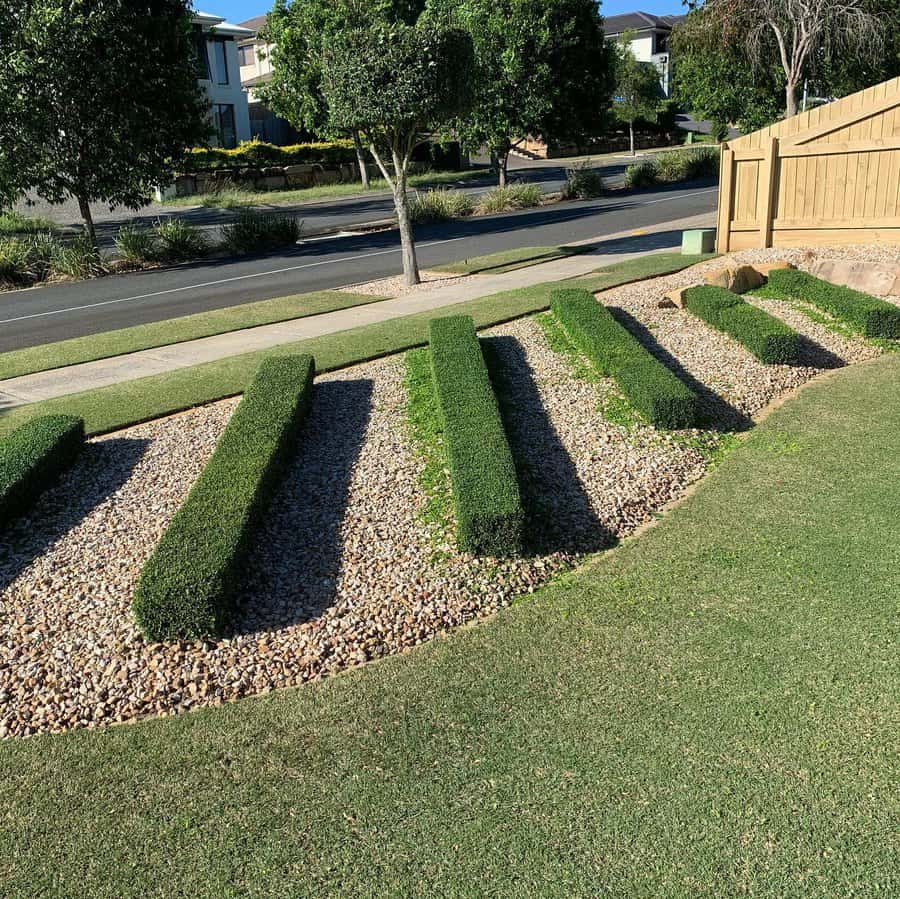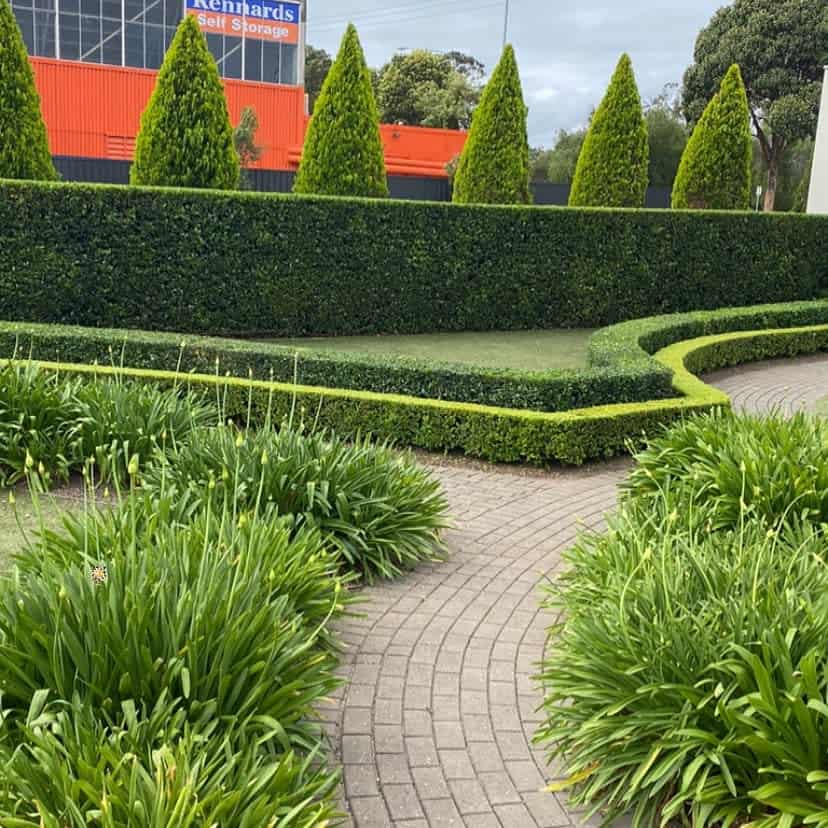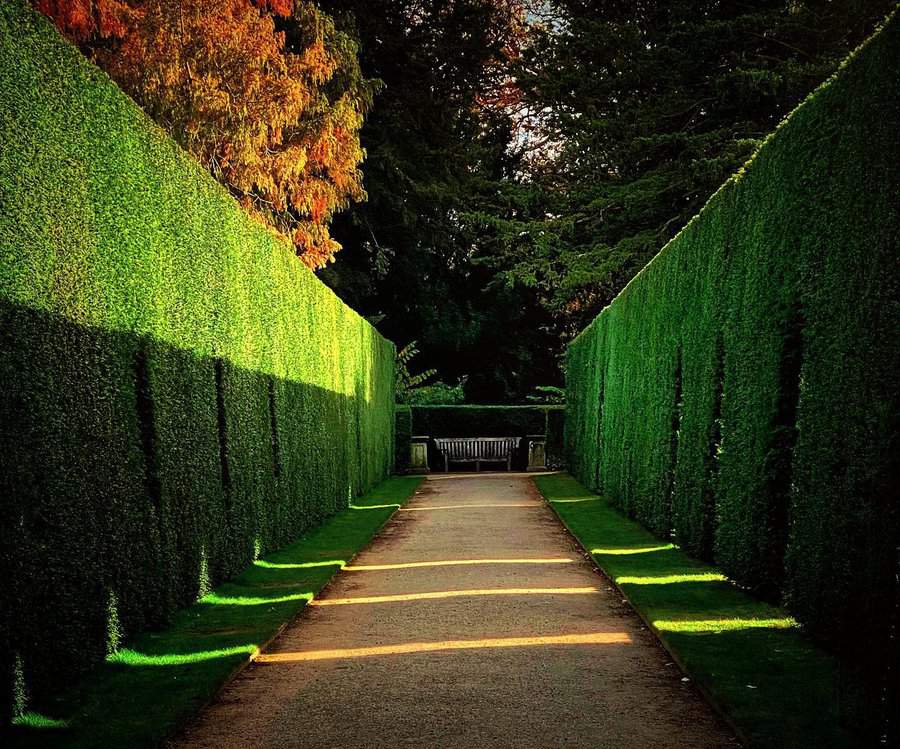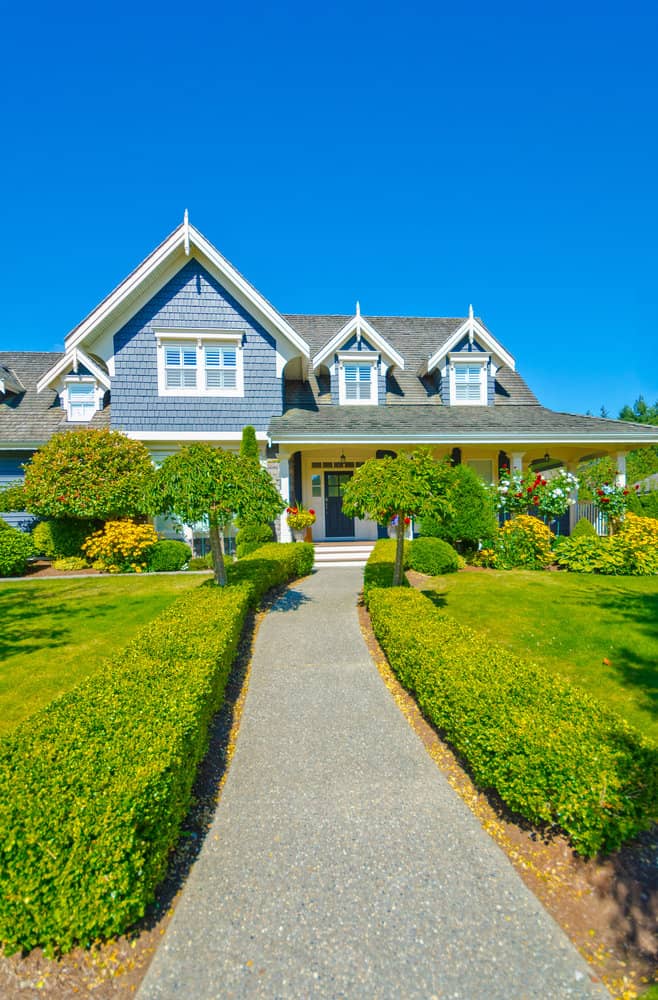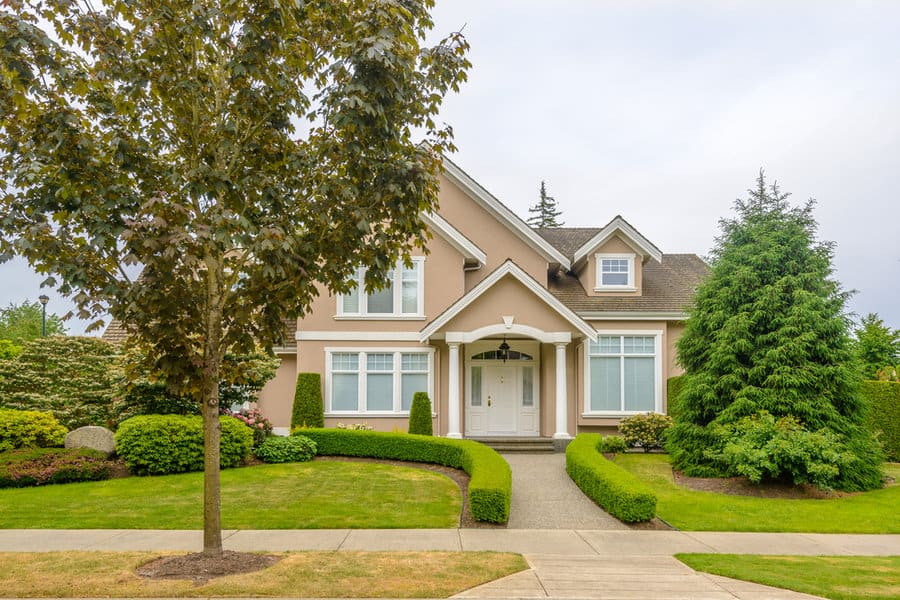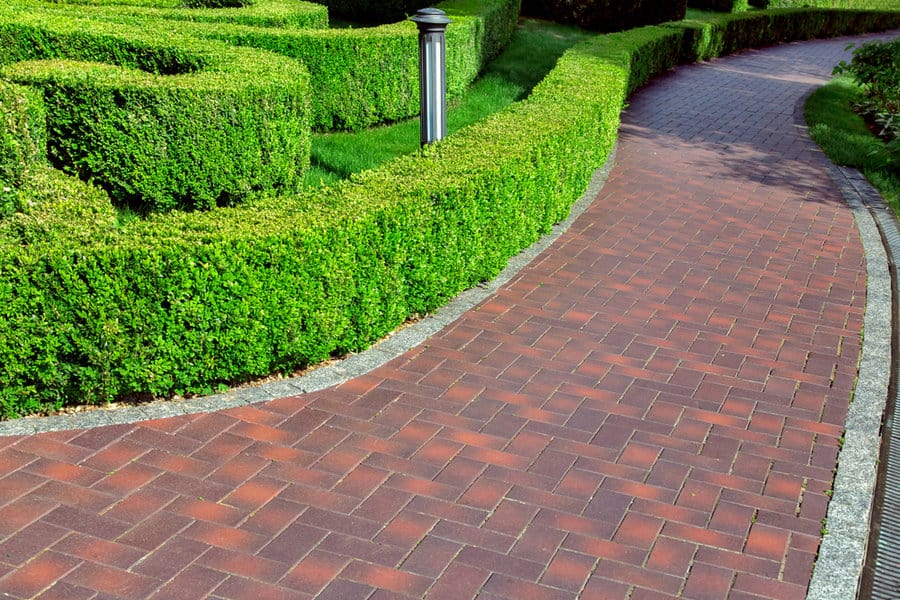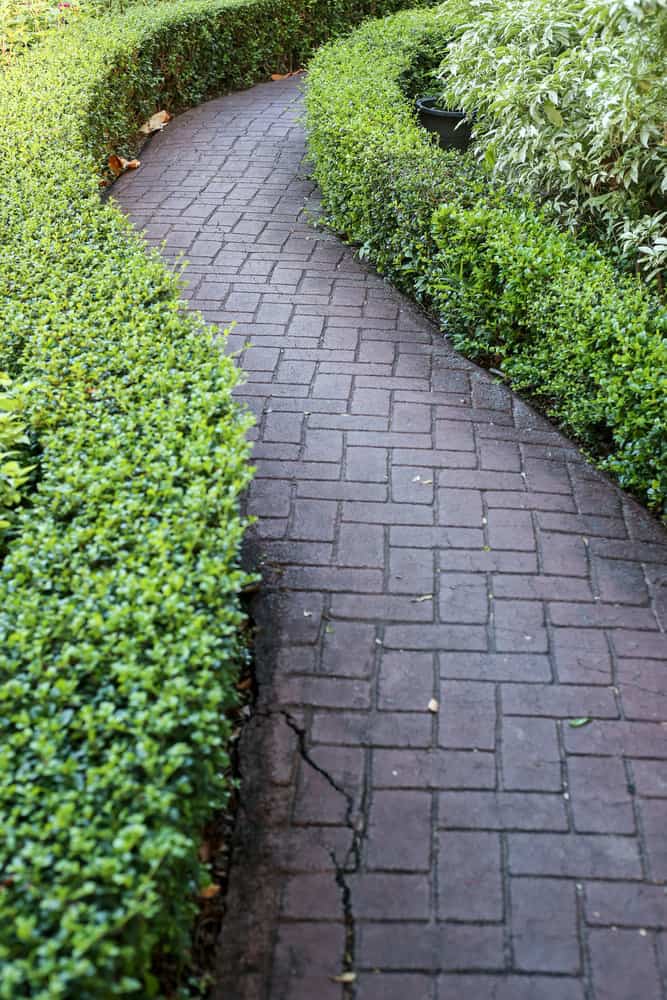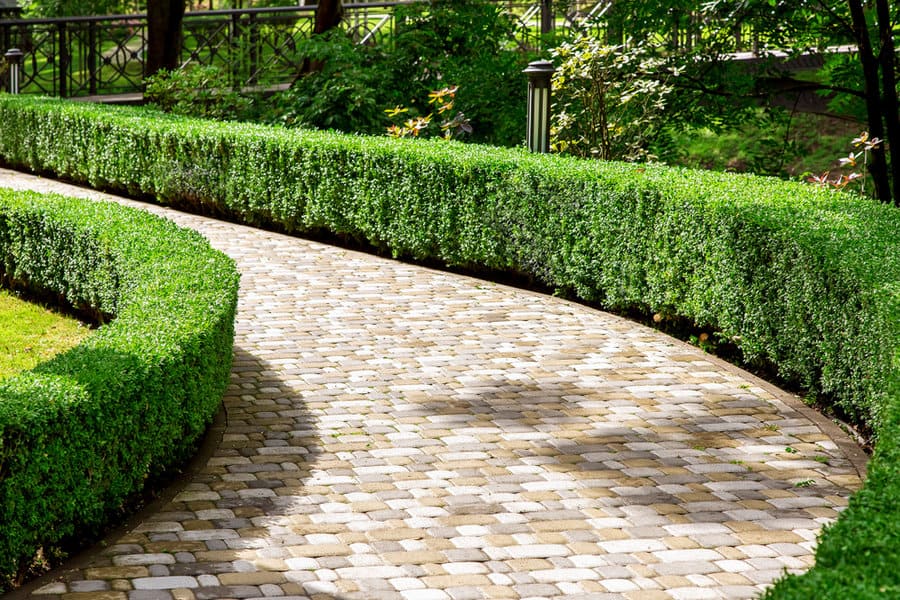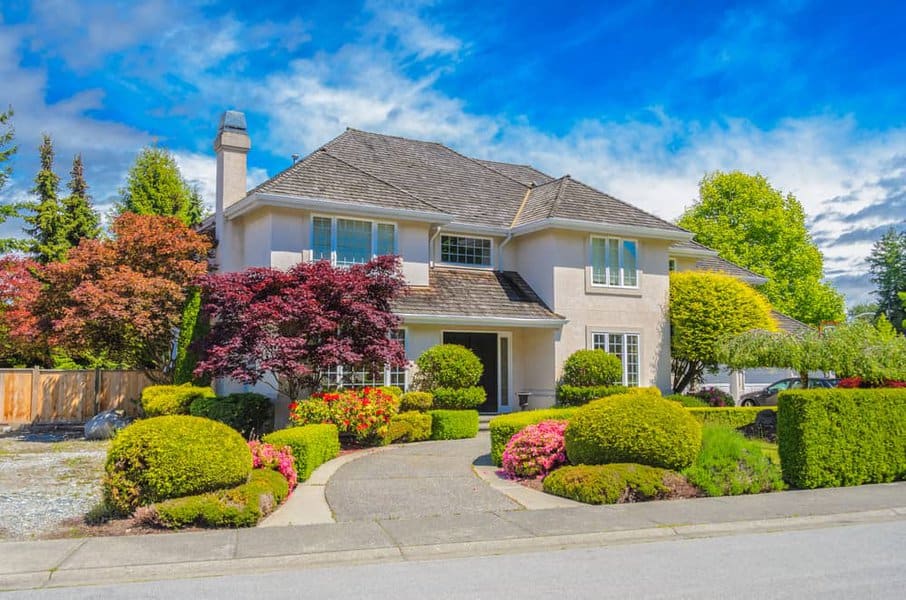 Choose a plant that will grow dense and require minimal maintenance. That way, you can enhance the look of your property while also preventing people from trespassing onto your property.
8. Landscape
Once you have your sidewalk built, you aren't done. Look at walkway landscaping ideas to get an idea of what you can do on either side of your sidewalk. This adds visual interest and detail to your property.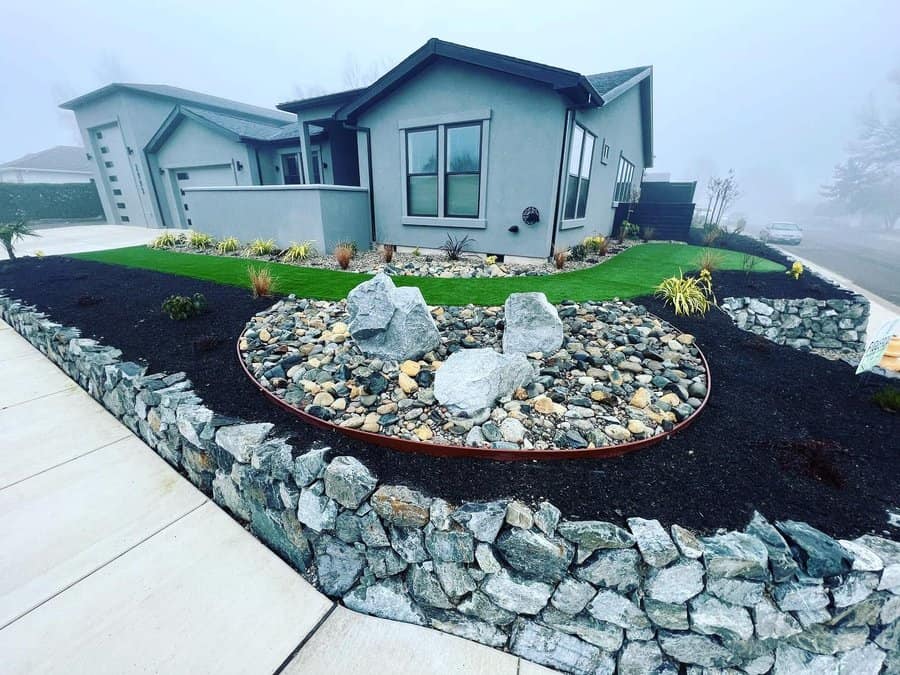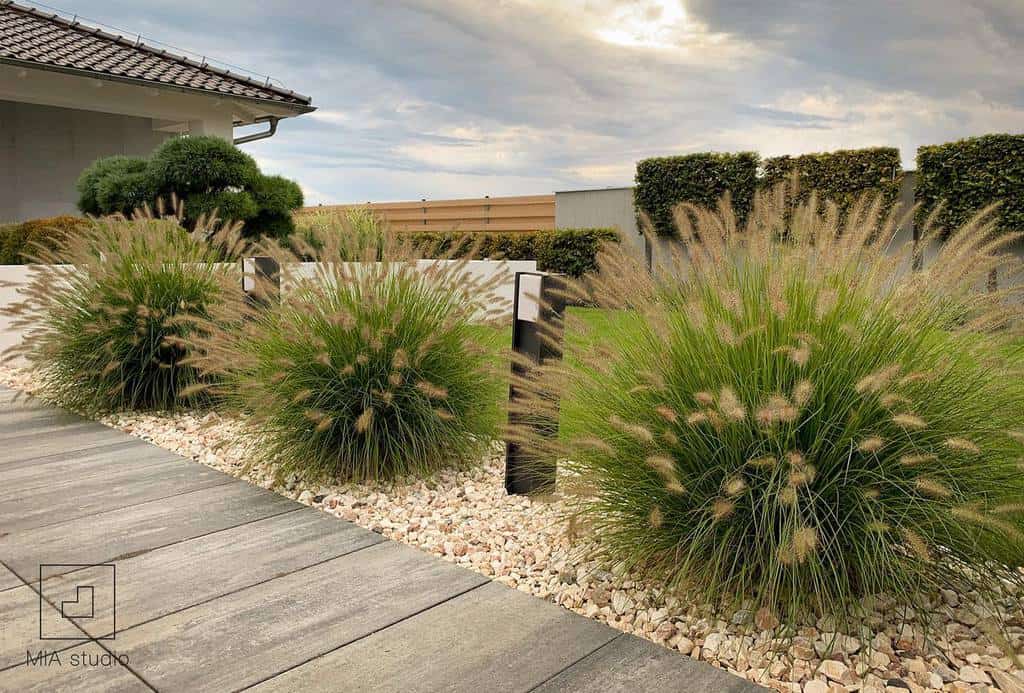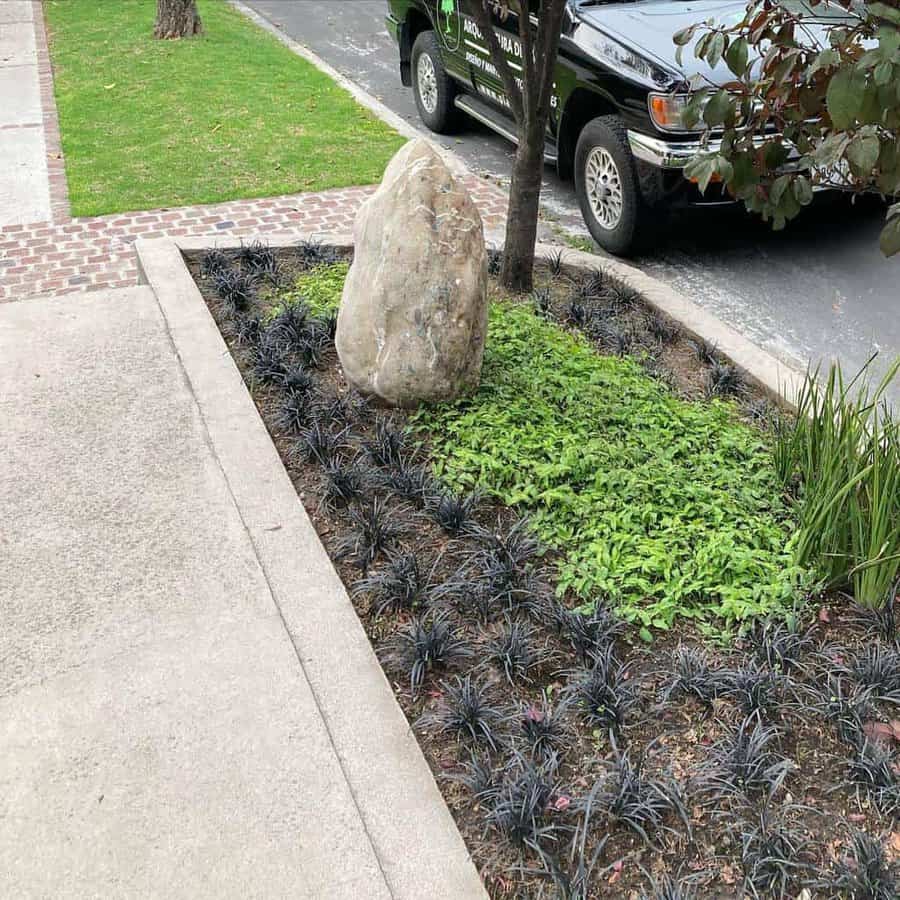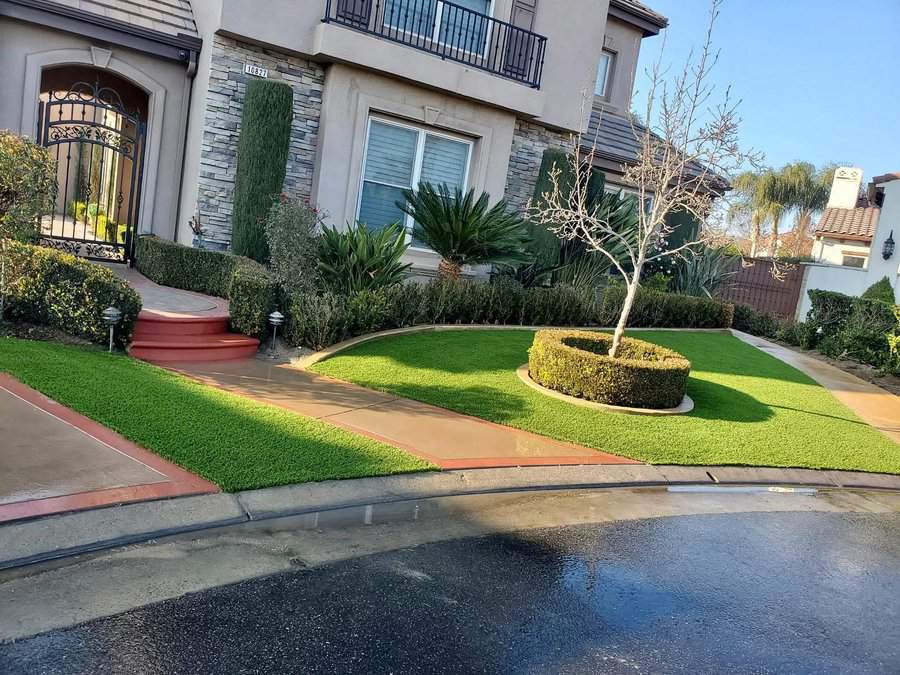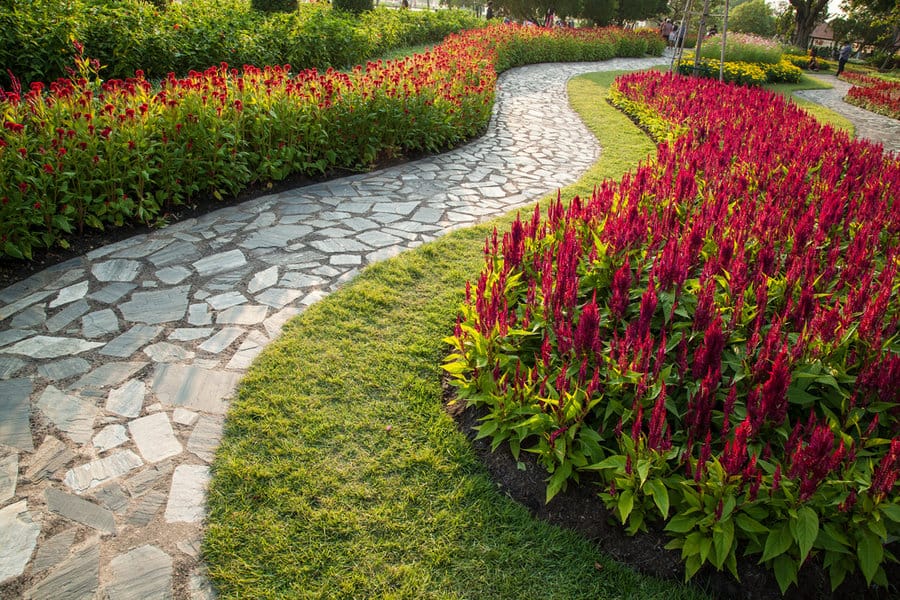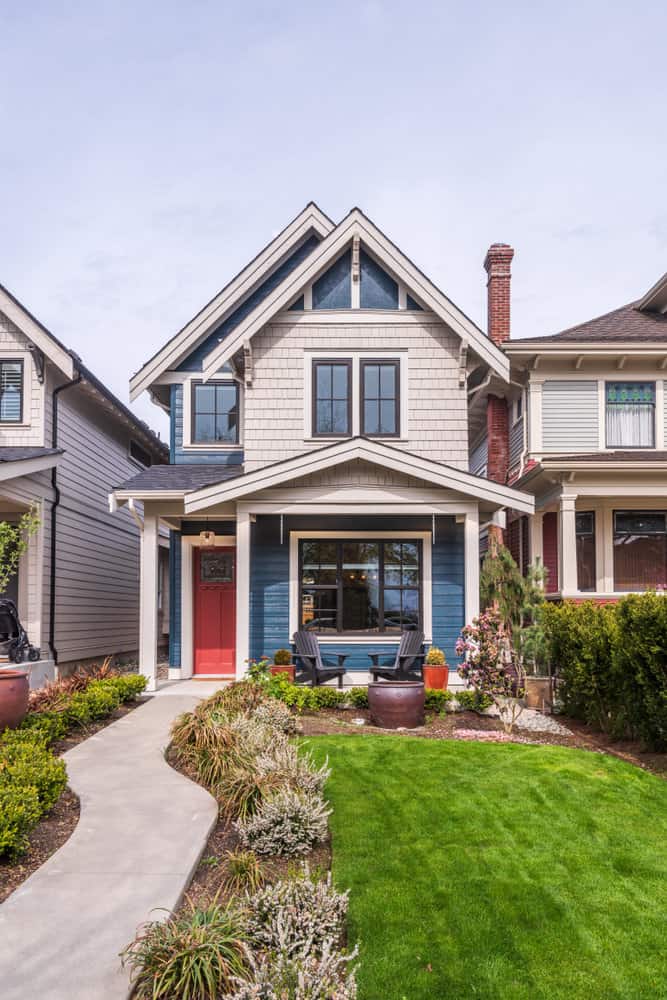 Perhaps you add small bordering plants like bushes or flowers. Or you could add tall trees that have branches that drape over the sidewalk to provide plenty of shade. Add a ground cover around the plants to help retain moisture and protect the roots. You could use lava rocks, mulch, pea gravel, or even a ground covering plant.
See more landscaping ideas here.
9. Modern
Building a modern sidewalk should look clean and styled. A bluestone walkway is a perfect option. You can buy the stones already cut in crisp squares or rectangles. Then place them into your walkway to create a uniform walkway.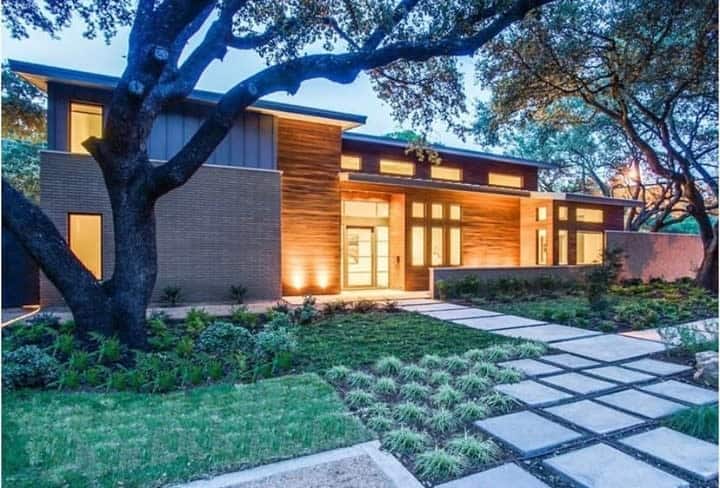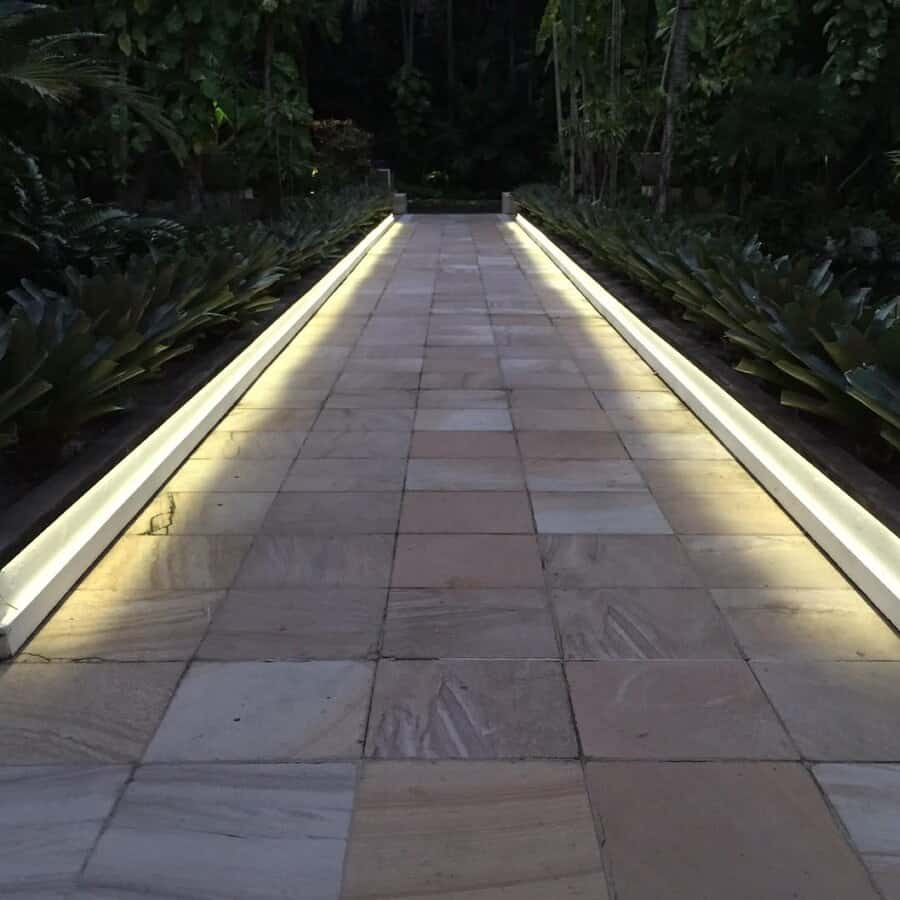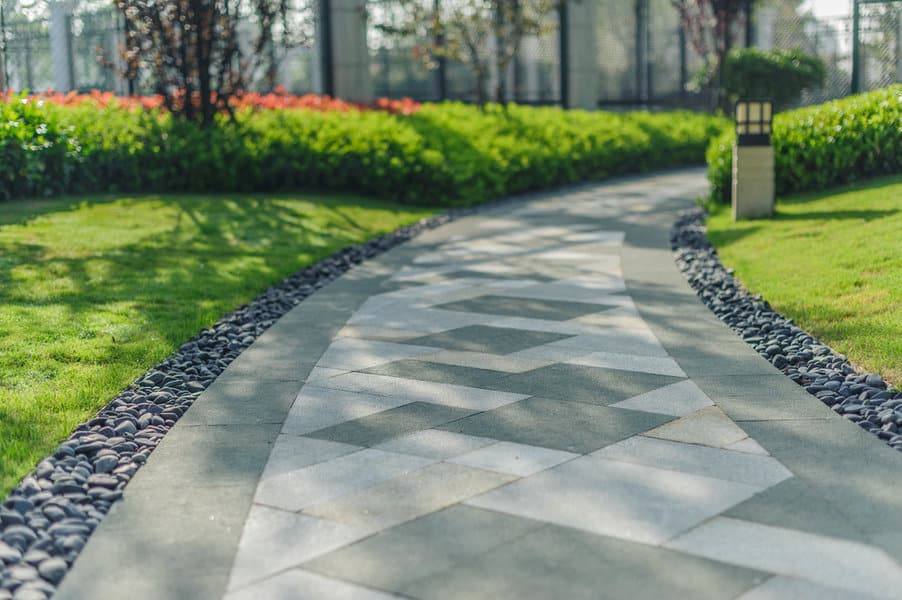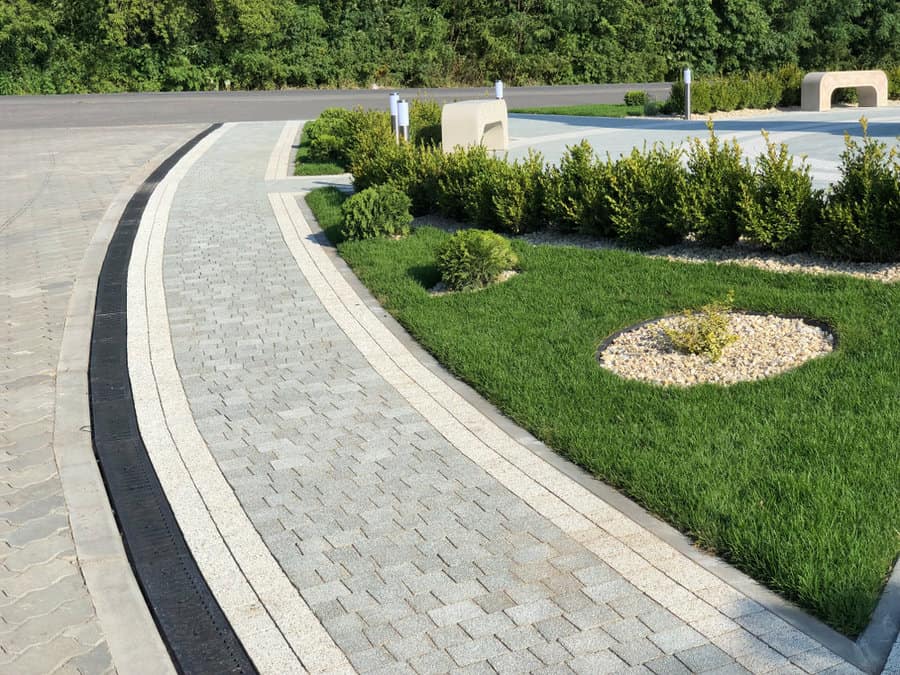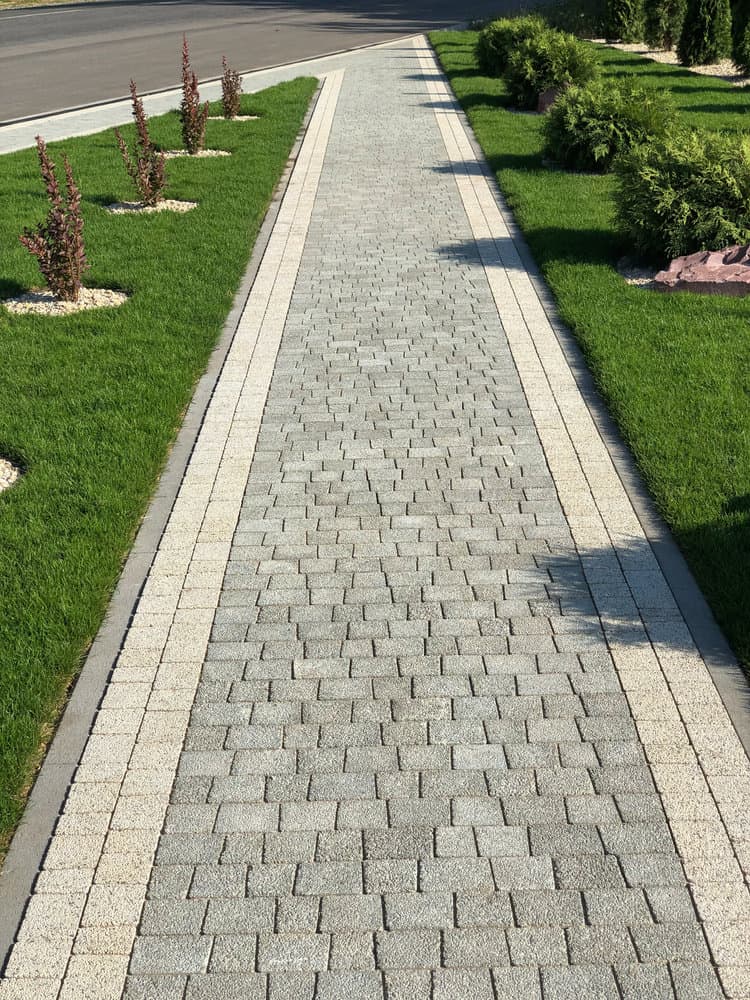 For a modern touch, consider using more than one material in the construction of your walkway. For example, space the stones out and grow a low pile grass between the stones. Plan out your walkway and place the stones as stepping stones with small stones round them as fill. Use metal as the edging to hold everything in place.
10. Pavers
A paver walkway idea is a smart option if you already have a paver patio, driveway, or other area on your property. This creates a uniform look throughout the property, making it more visually appealing.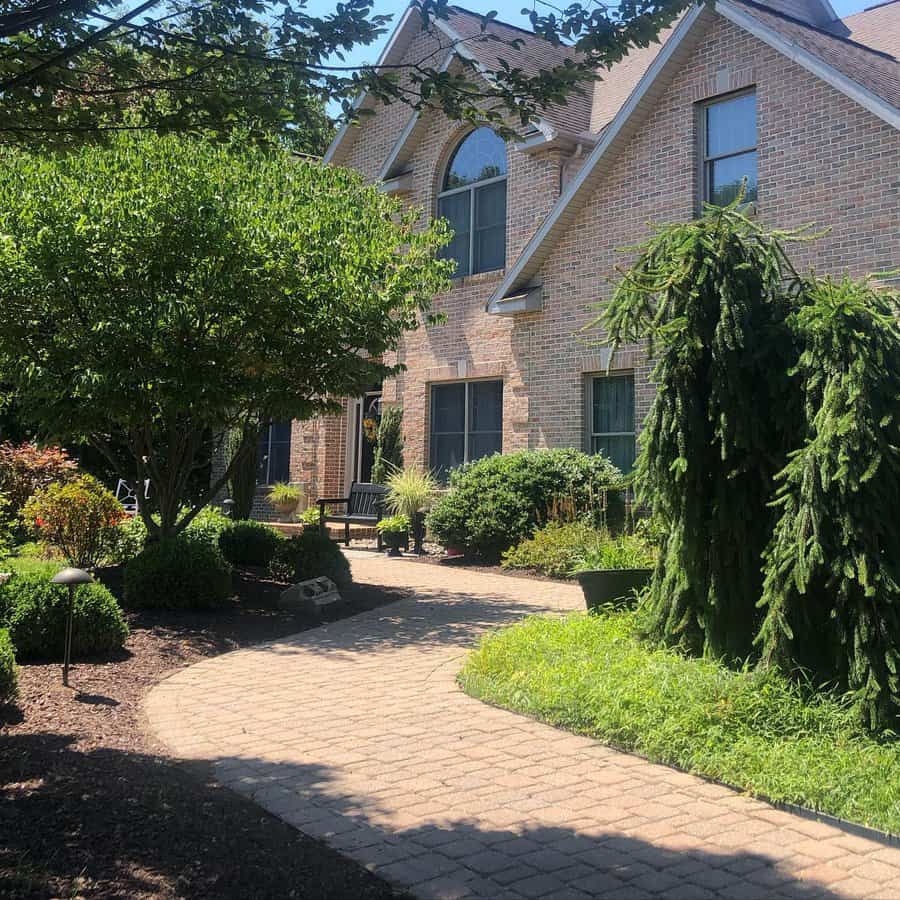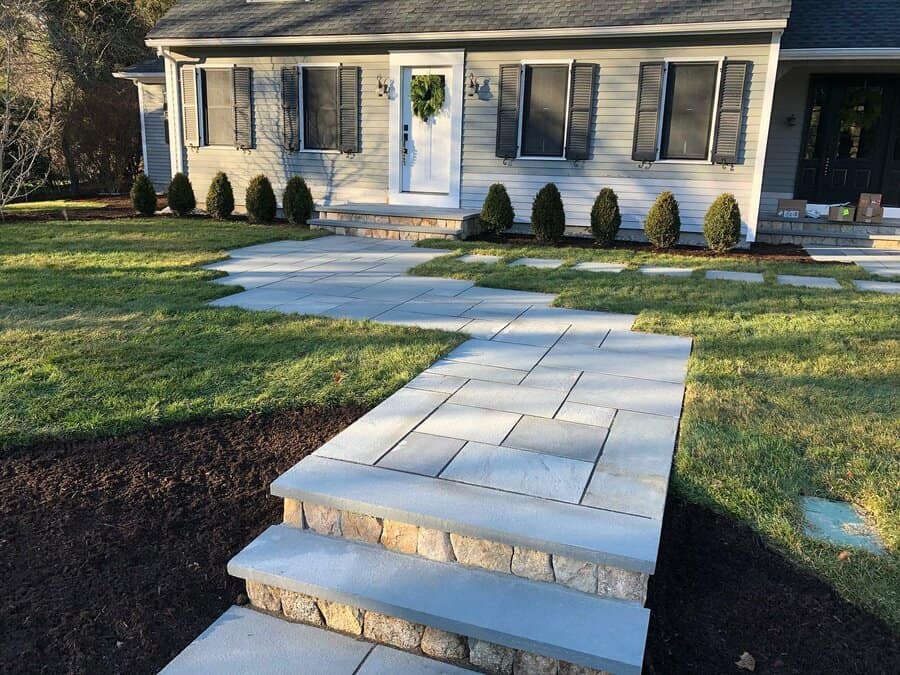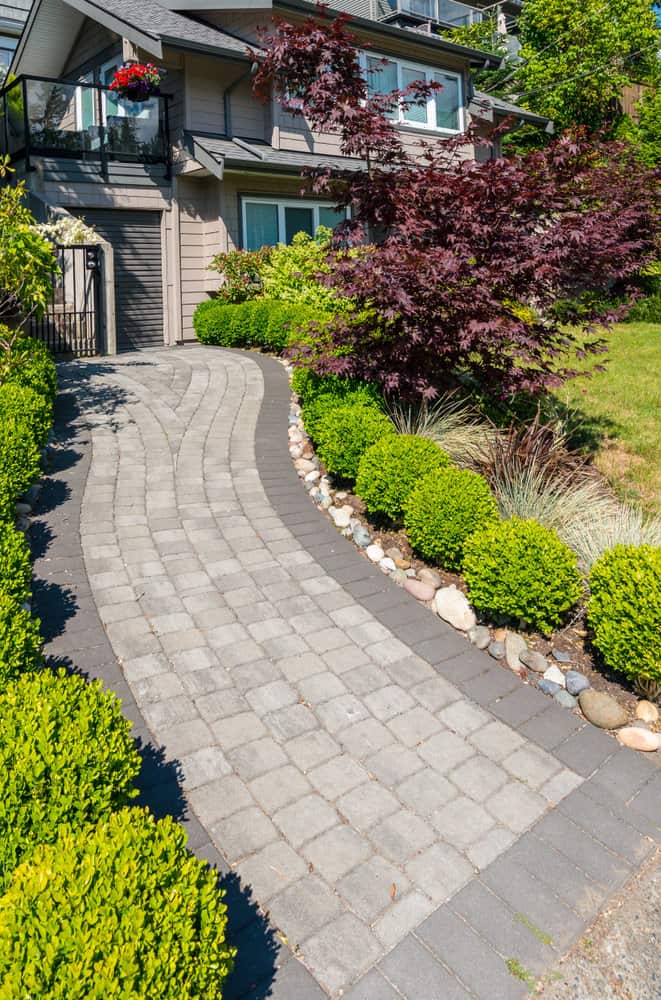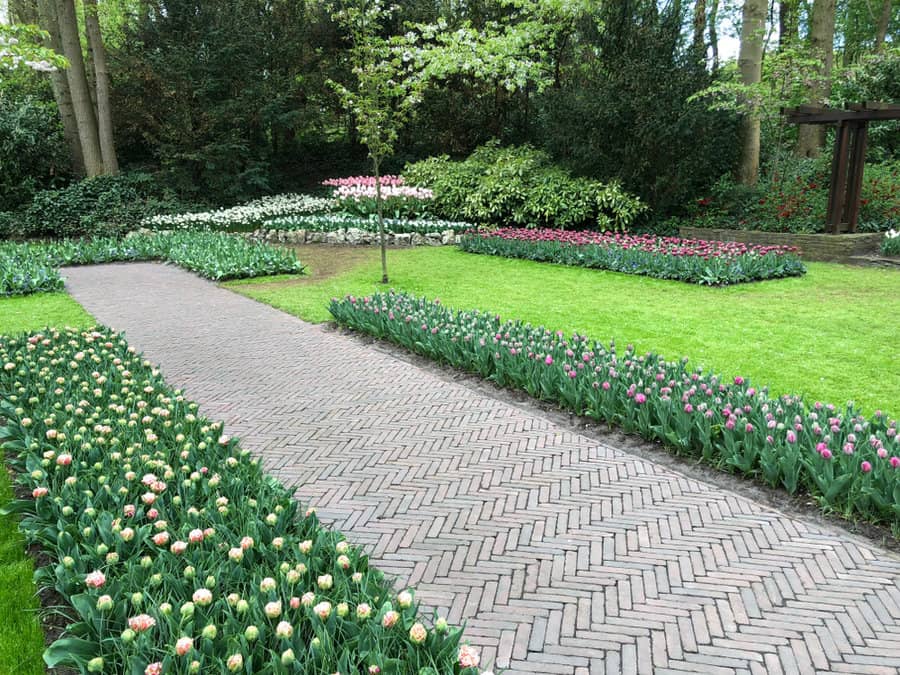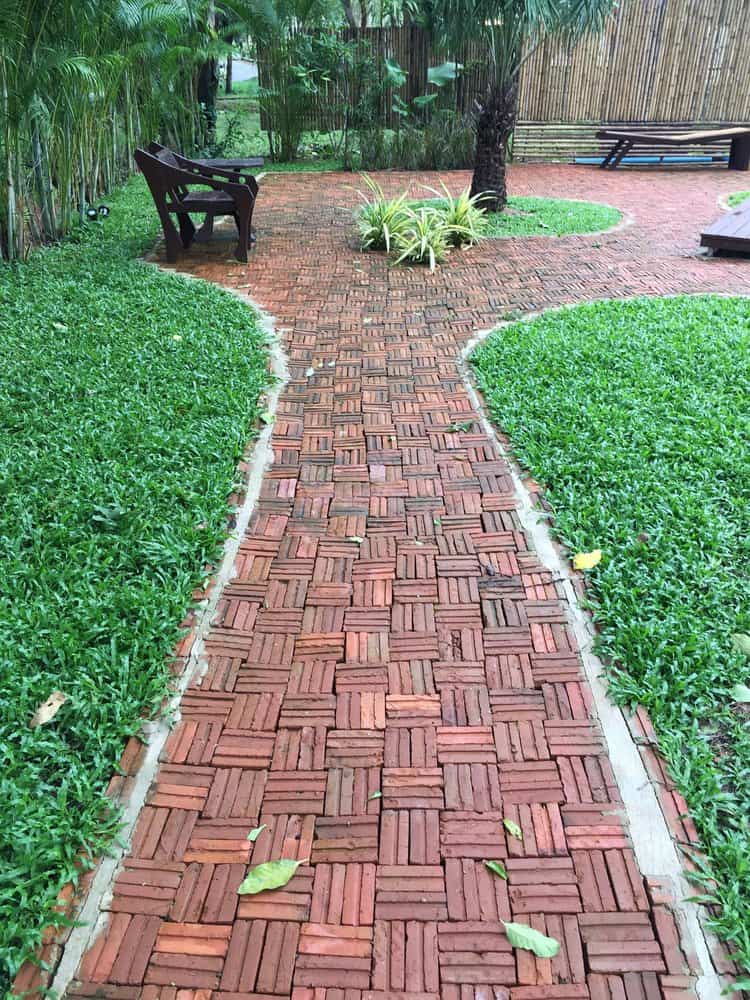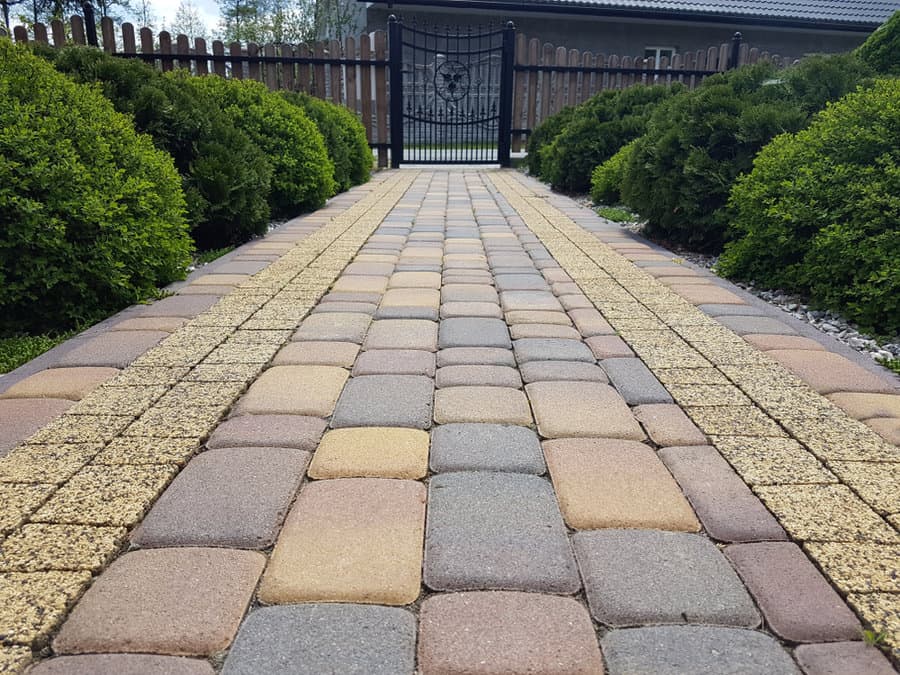 The best option is to stick with the pavers you already have. However, sometimes this isn't possible if you've had your pavers for a while. If this is the case, look for pavers that are complementary. If you can't match them exactly, don't accept close enough, as they will always look slightly off. Instead, purposefully choose different pavers that complement your existing pavers. Adding a decorative border to your existing pavers and your new sidewalk can help tie everything together.
11. Rocks and Pebbles
If you want to build your own sidewalk, consider adding a rock or pebble sidewalk to your property. A gravel walkway is one that anyone can do themselves and is easy to maintain. To build your DIY garden path, clear out the area where you plan to build your garden path. Spread landscape fabric down to prevent weeds and grass from popping up through your stones. Add a decorative edge to help contain the stones. Skip the edging to allow the stones to spread for a more organic feel. When choosing your rocks, stick with something smaller to make it easier to walk on.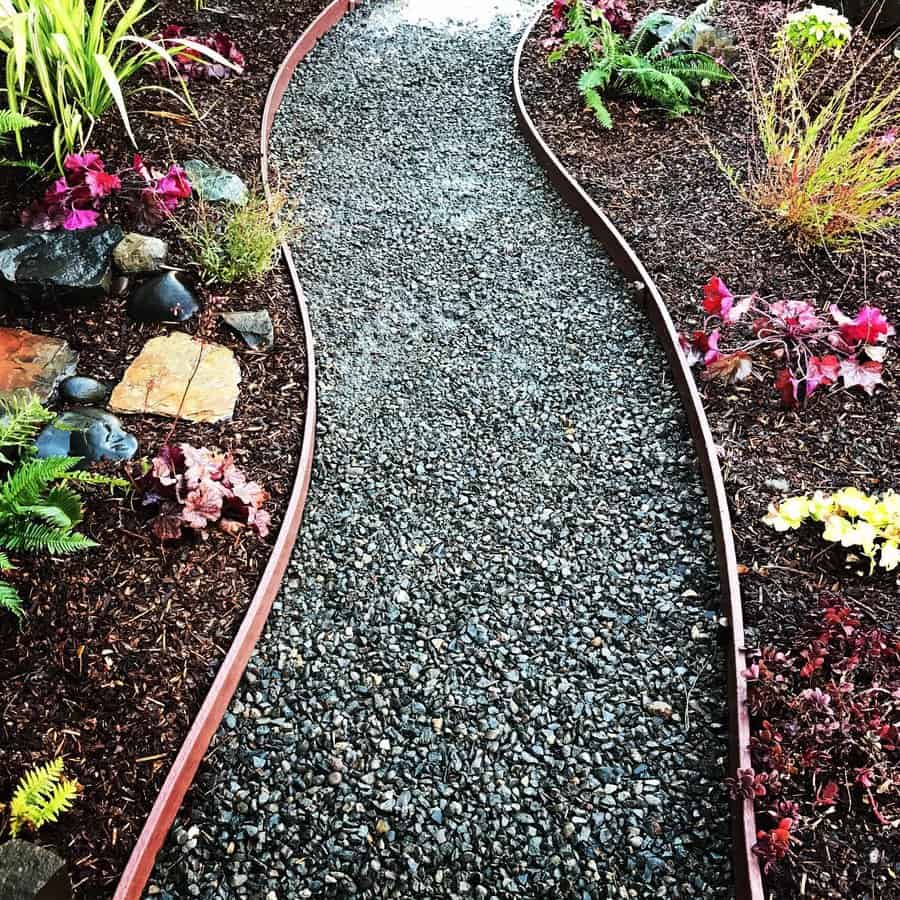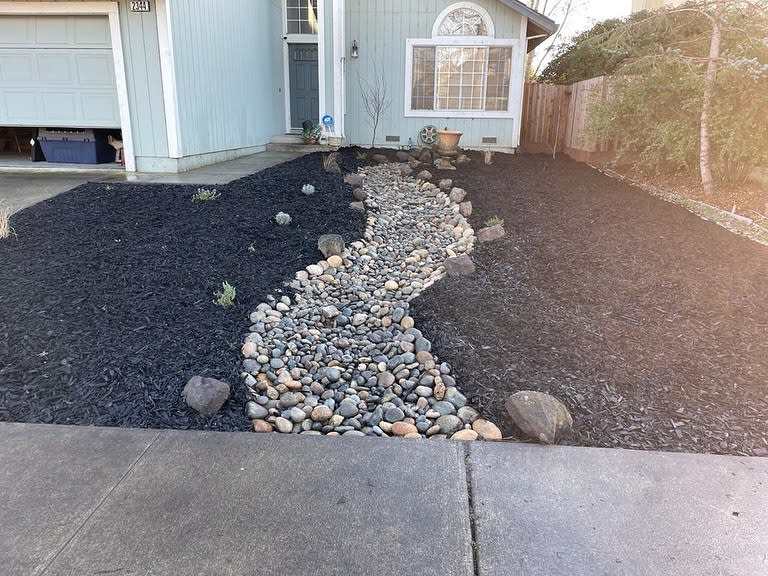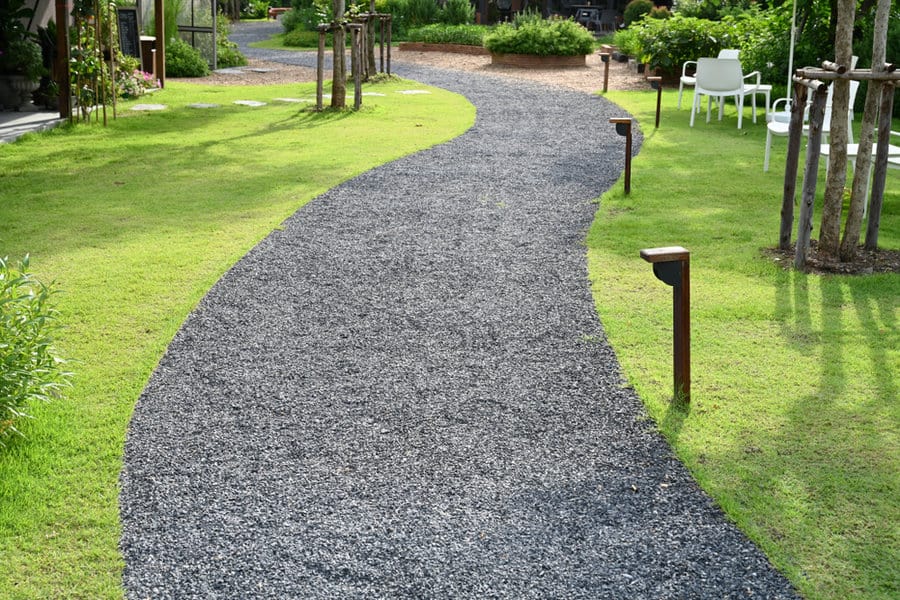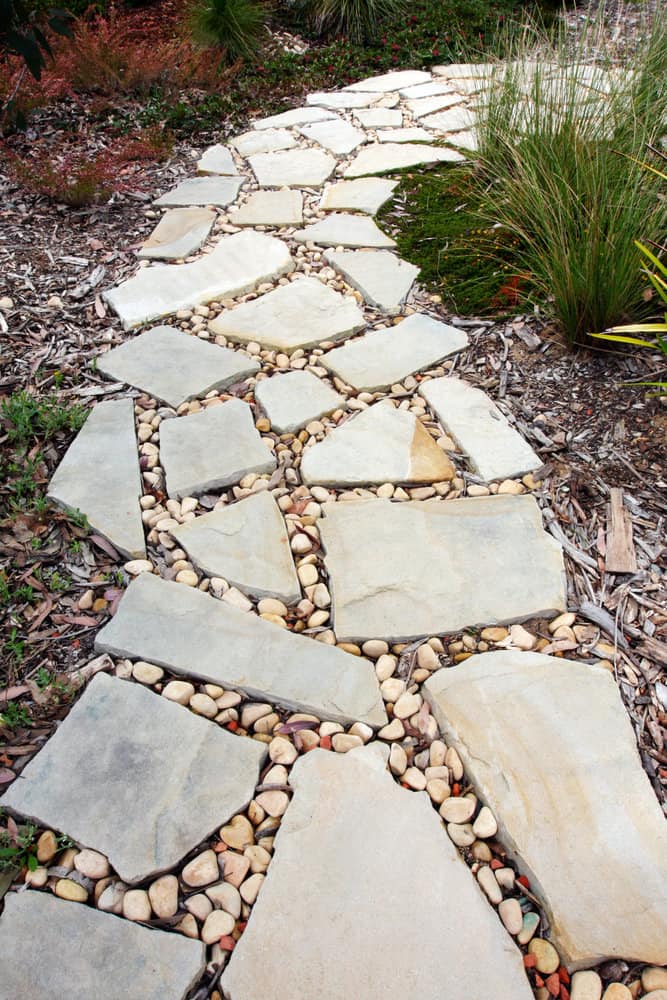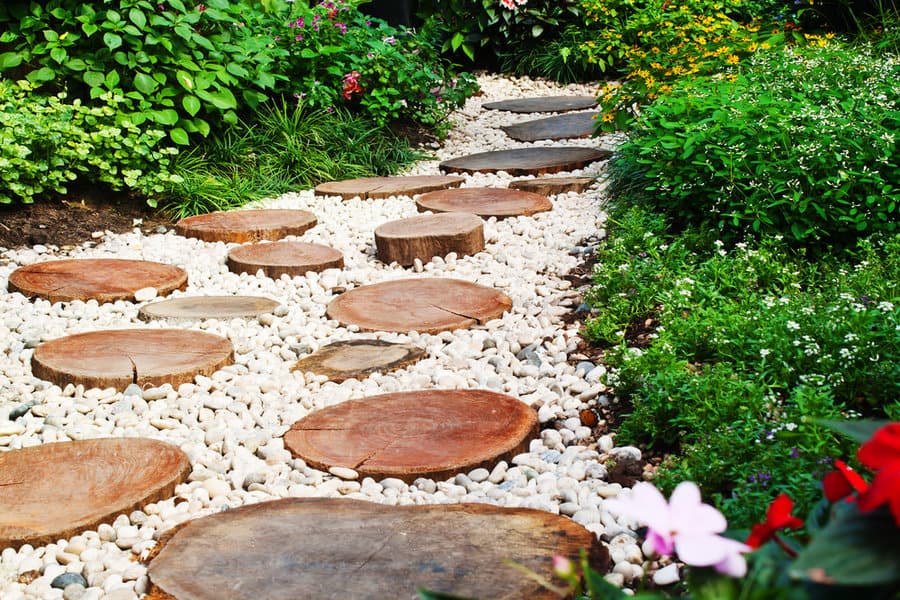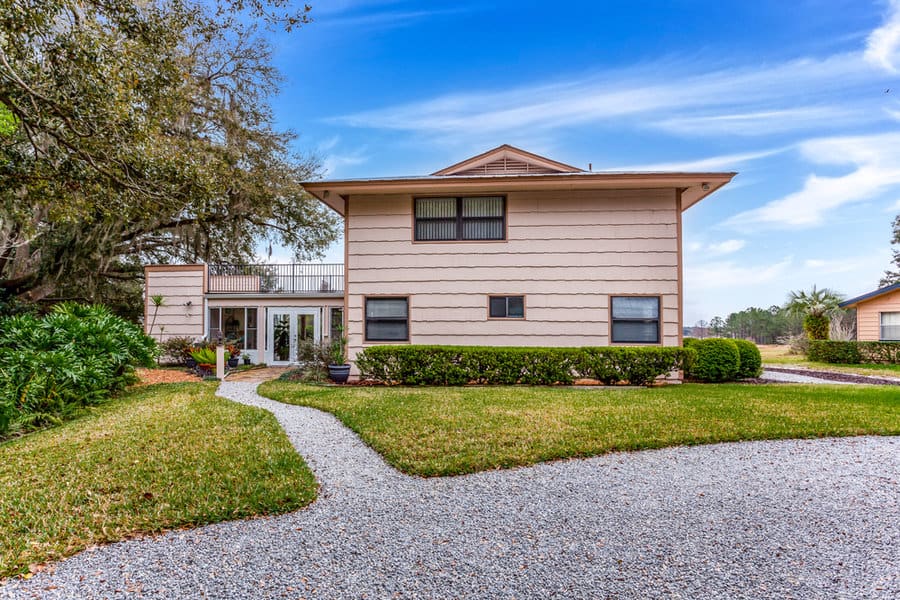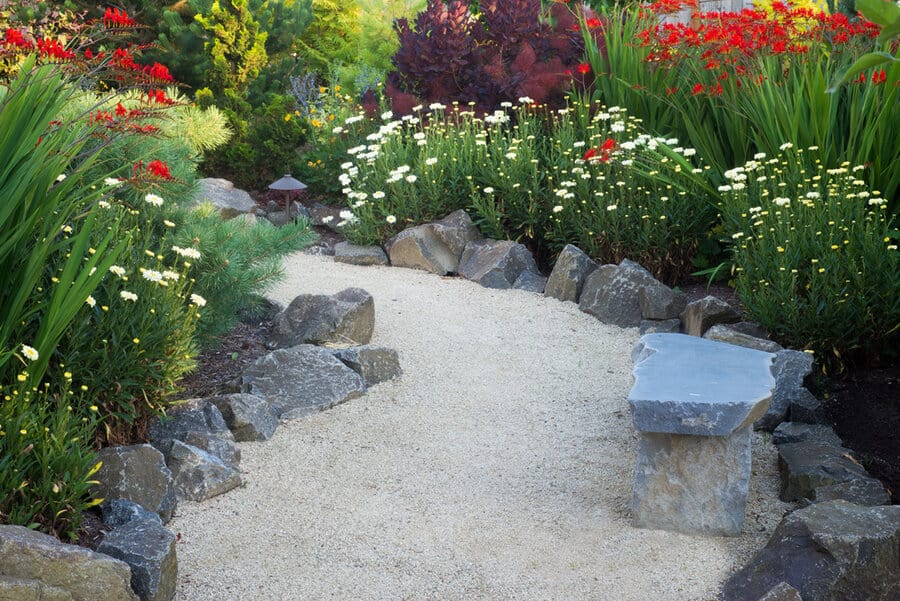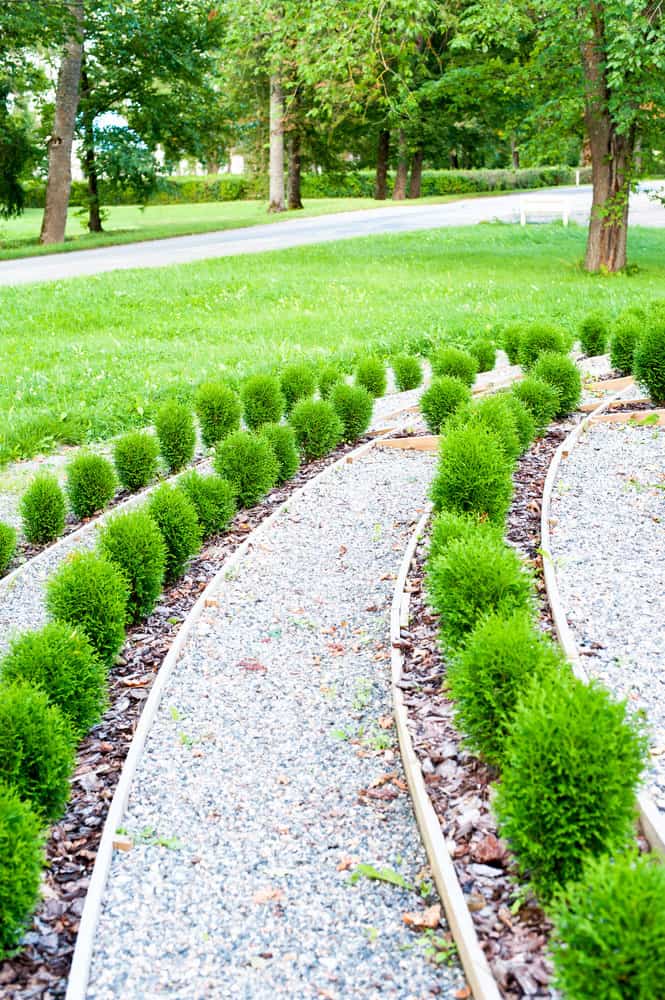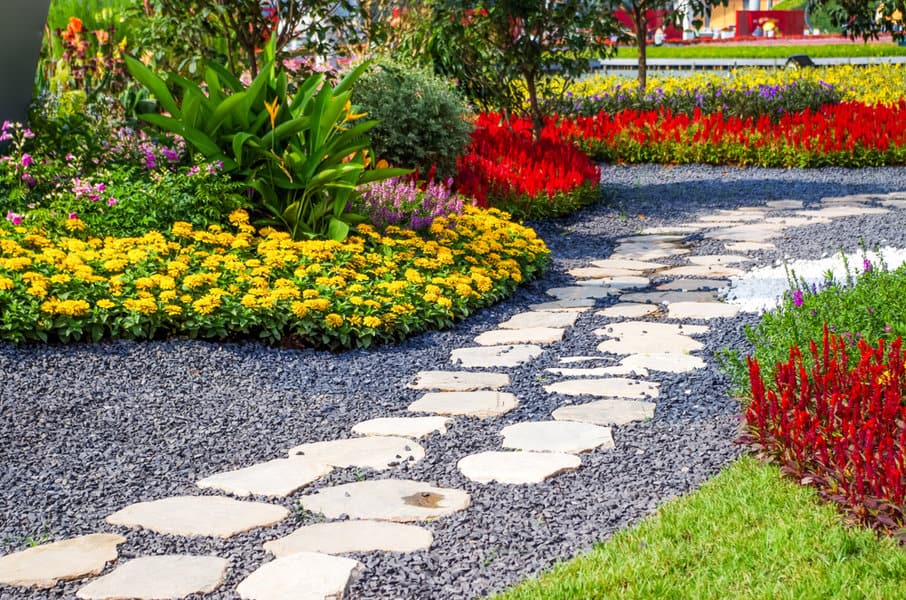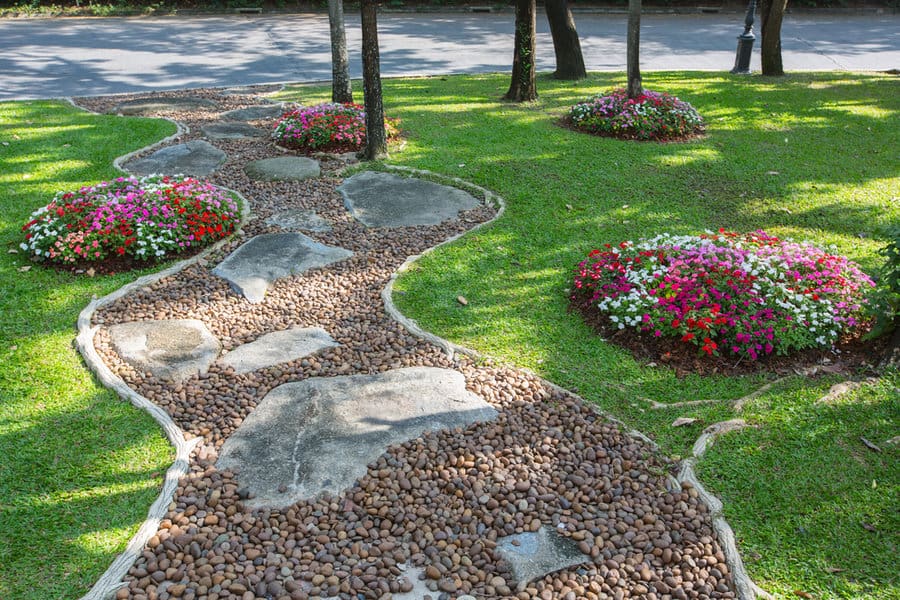 Pea gravel is good because it is small and easy to walk on. Crushed stone can also be ok if the individual stones aren't too large. Be sure to buy enough pebbles or rocks to create a path that's a few inches thick. Measure the square footage of your sidewalk and then you can calculate how much stone to buy.
Read also: 37 Easy DIY Garden Ideas on a Budget
12. Stamped Concrete
A concrete walkway is affordable but isn't the most attractive or stylish. This makes concrete one of the less desirable cheap walkway ideas for those that are concerned about looks and design.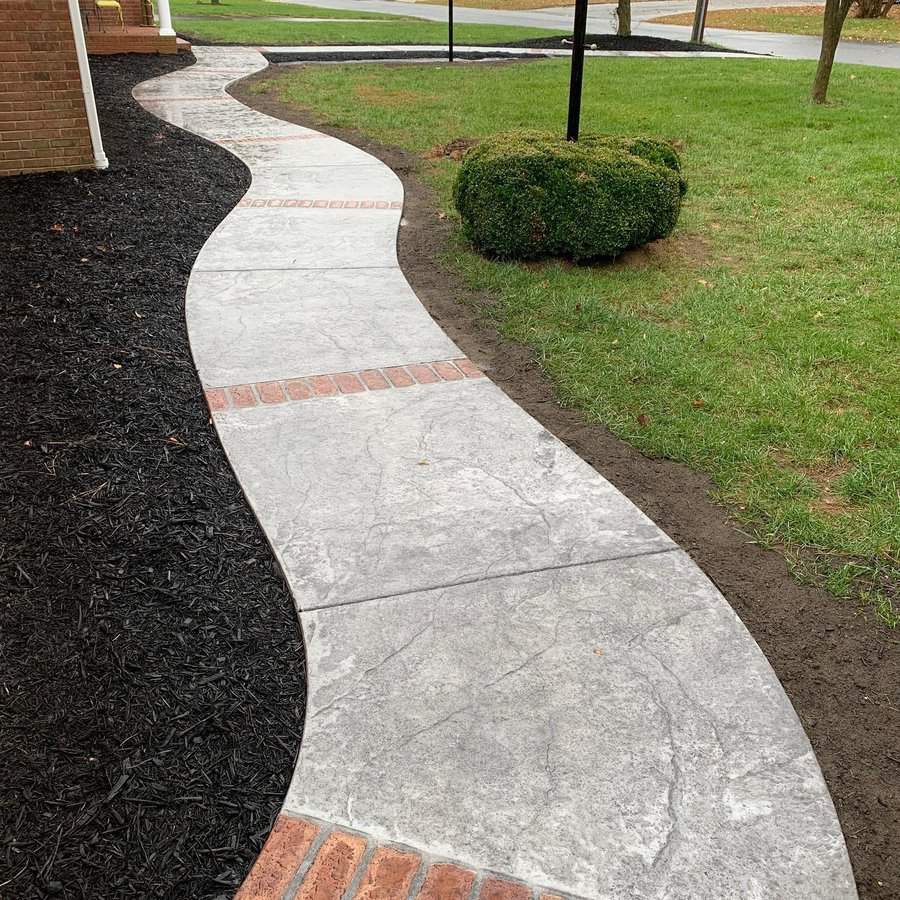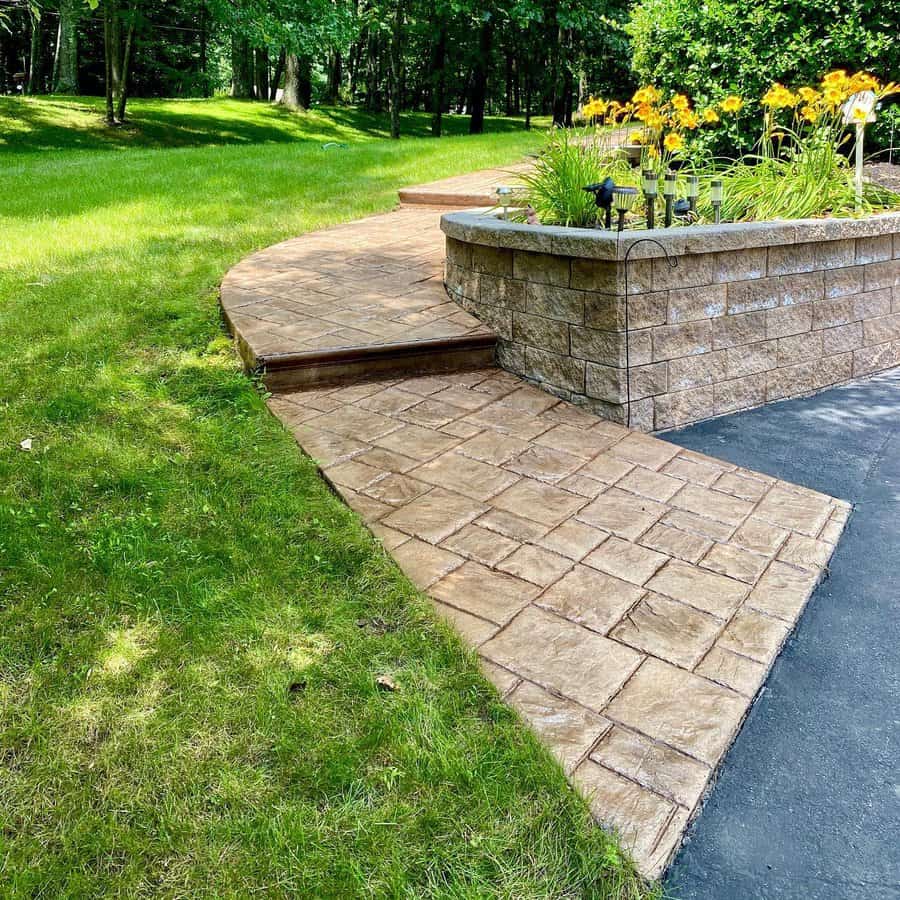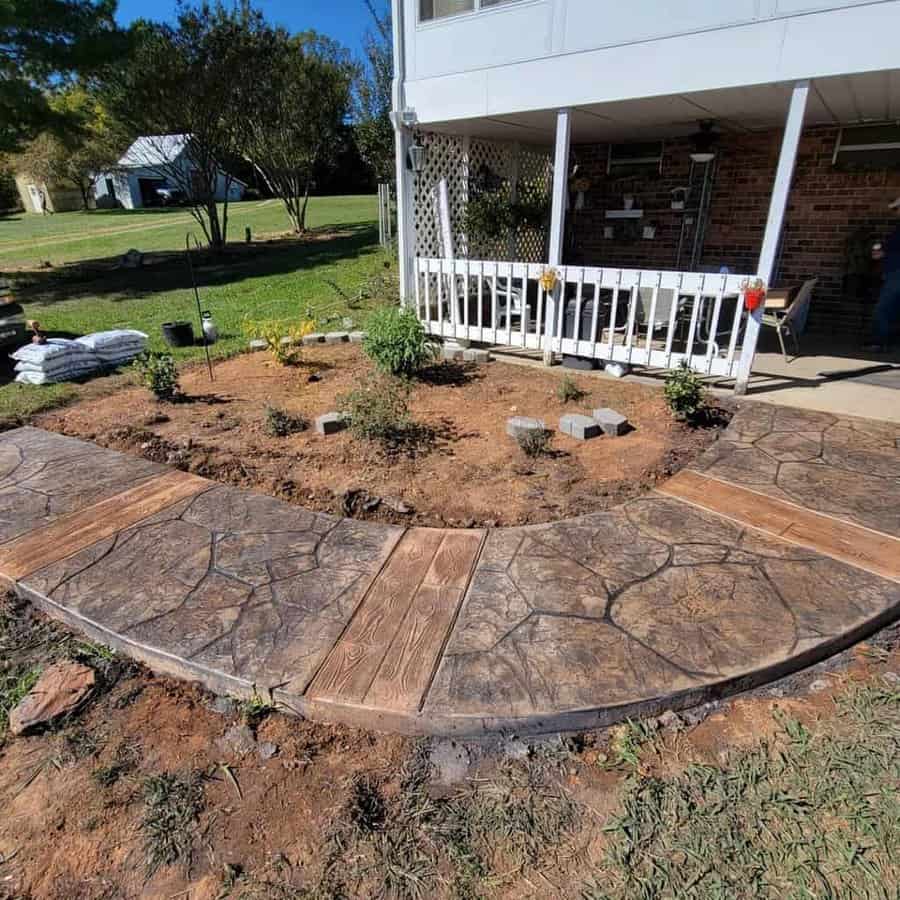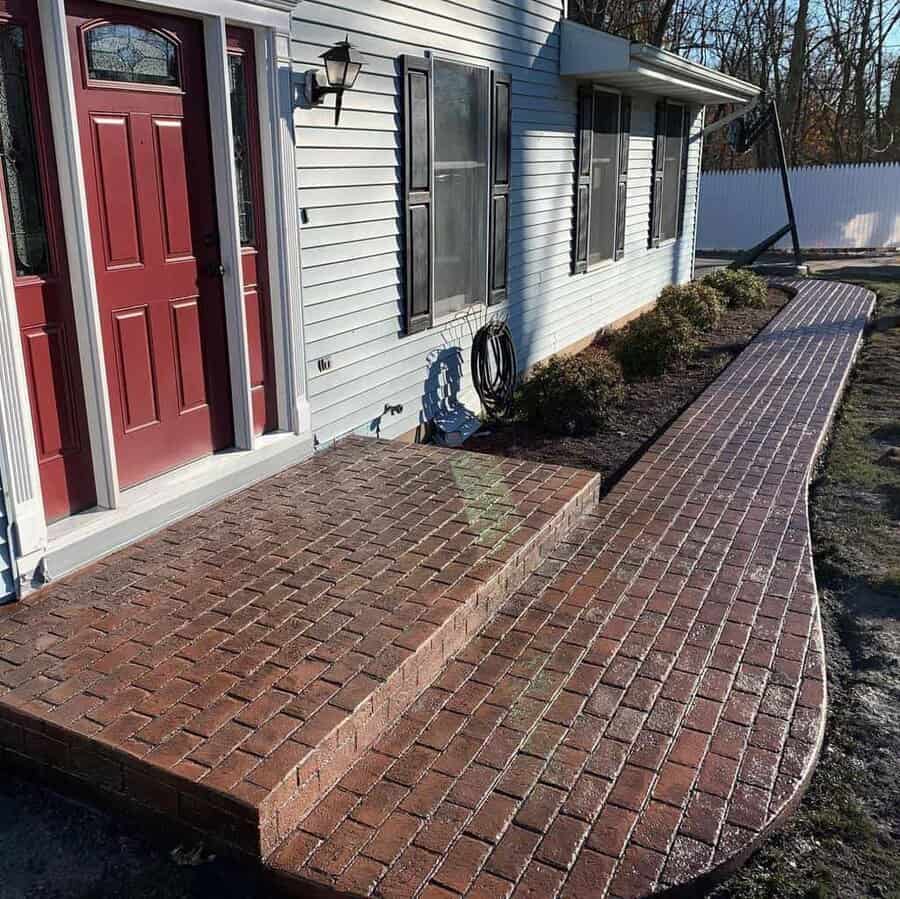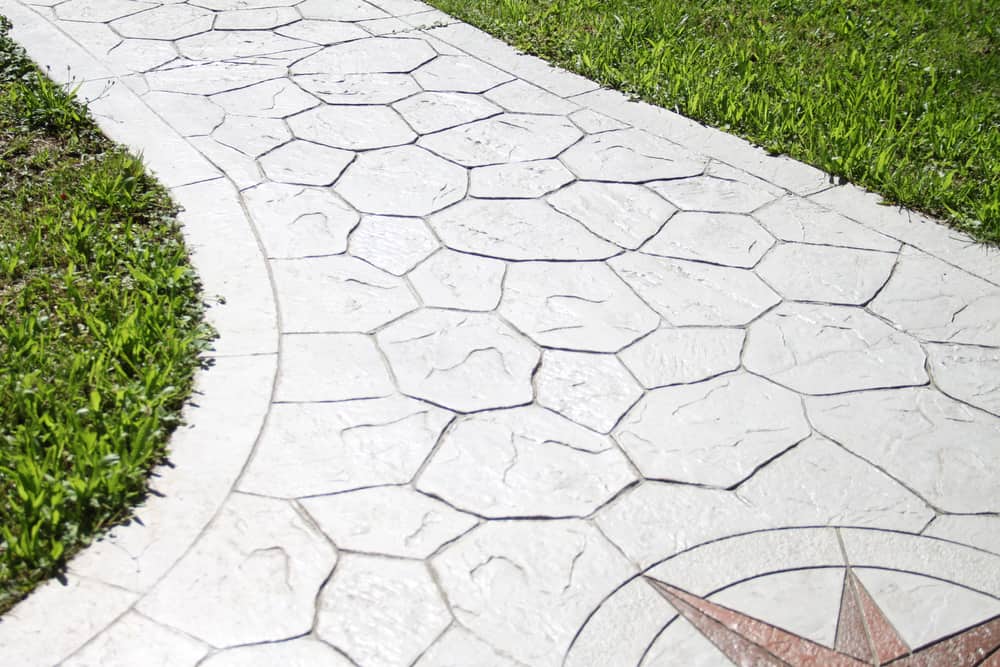 One method for dressing up your concrete sidewalk is to stamp it. To do this, you'll use a template form that you press into the fresh and semi-cured concrete. The form will then create a design in concrete to give it a more decorative design. Popular ones add texture or create a faux stone effect.
13. Stepping Stone
Instead of building a solid sidewalk path, you can reduce the construction cost by opting for a stepping stone path. Instead of placing pavers or stones next to each other to create a smooth and continuous path, space them out.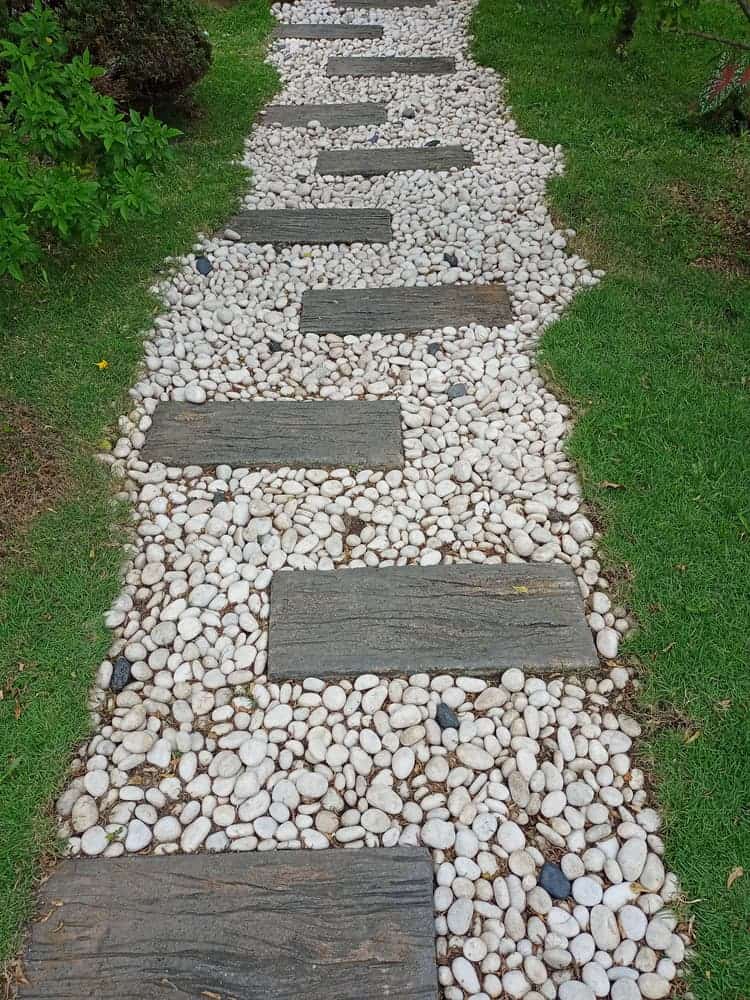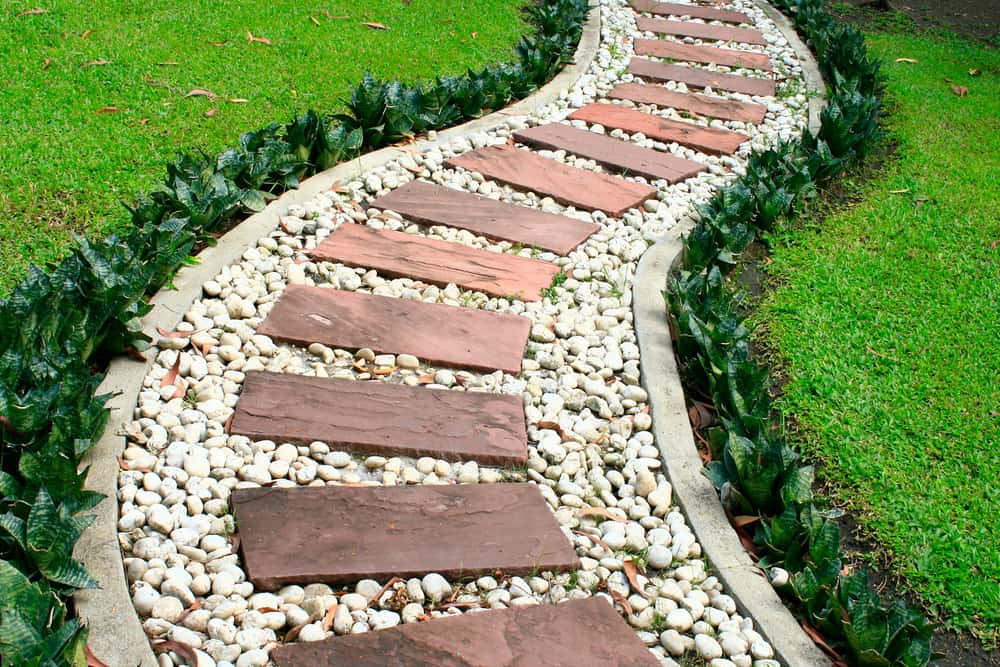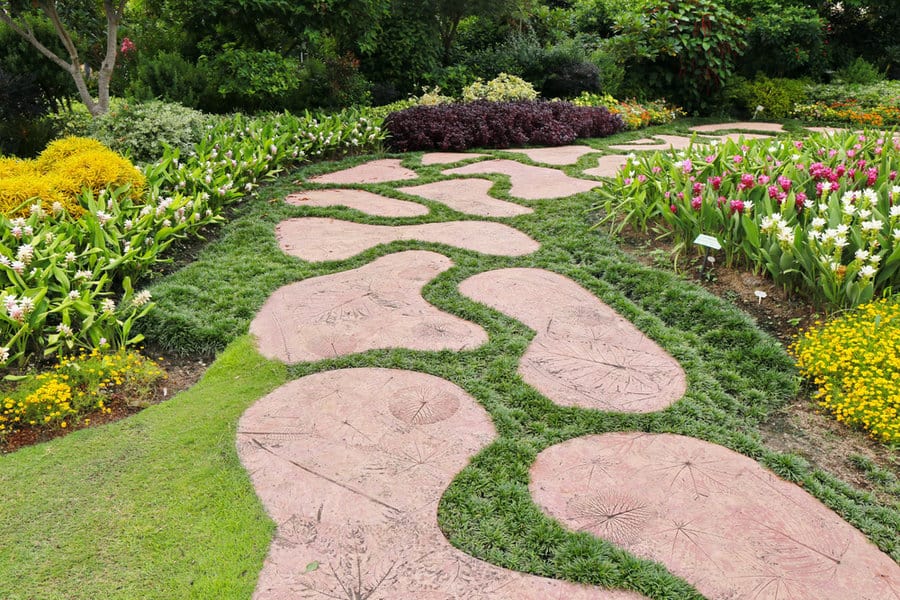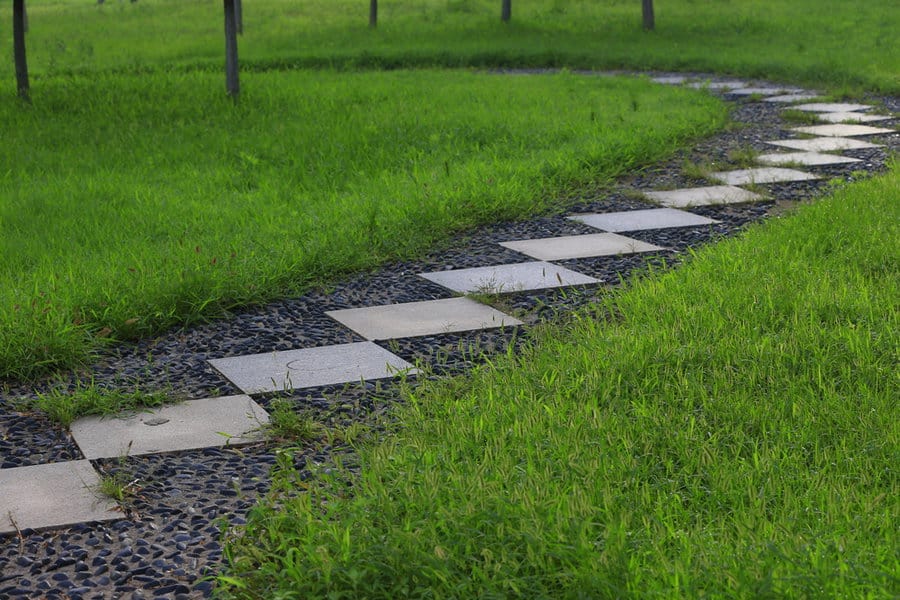 You'll want to use larger stones so that someone could place their entire foot on each stone. Once you have the stepping stones placed, you'll surround them with a filler material. Looking at stepping stone walkway ideas can give you an idea of how to design your walkway.
14. Stone
Depending on the type of stone you choose, you can give your sidewalk an elegant or rustic feel. A flagstone walkway will look rustic with smooth, flat stones that vary greatly in size and shape.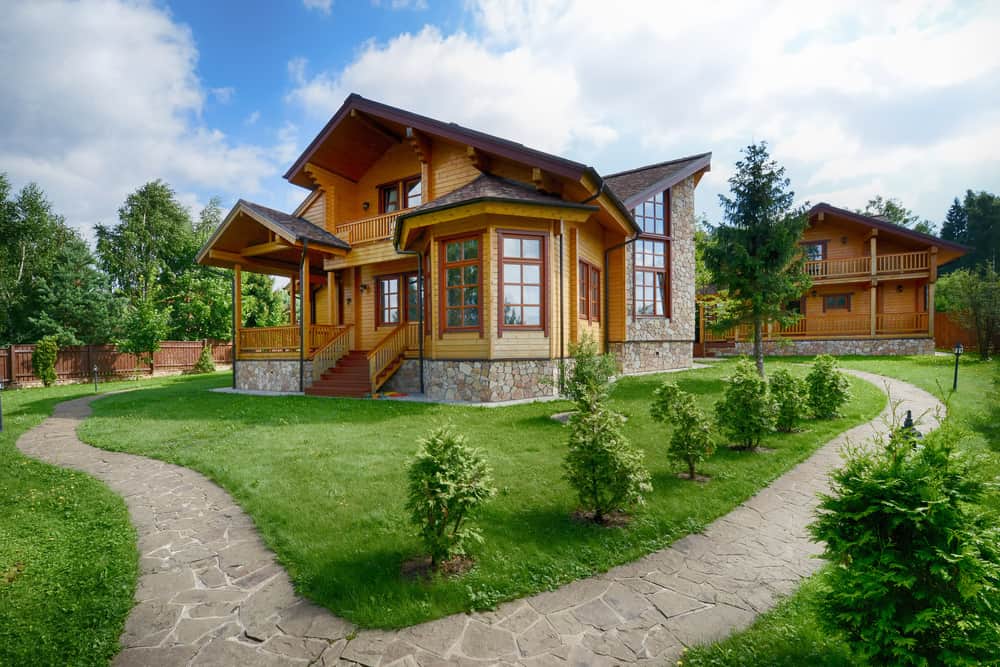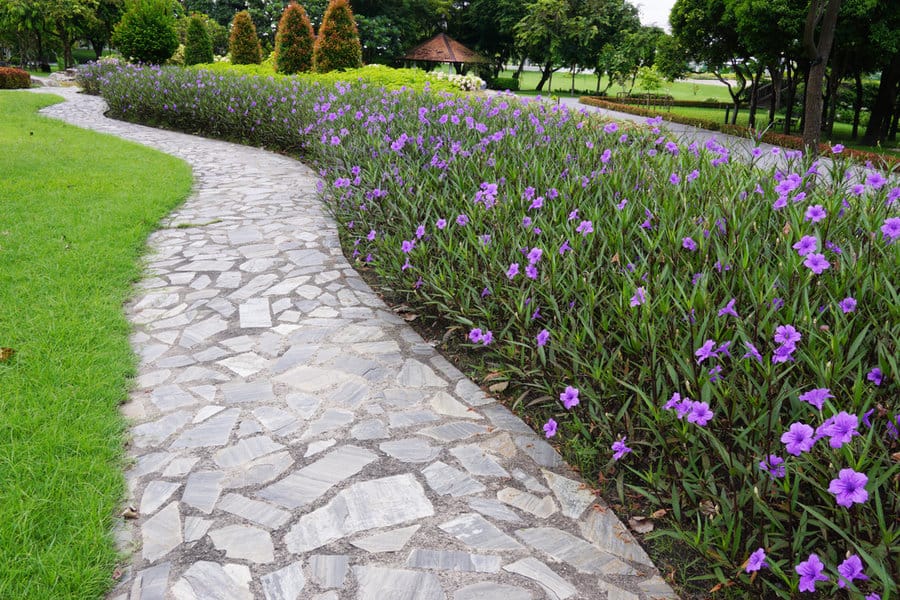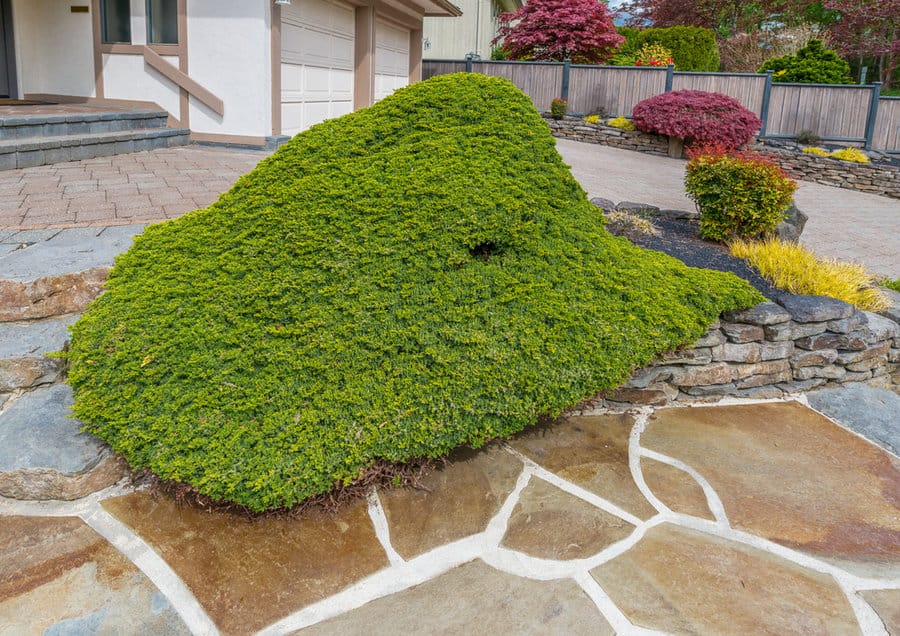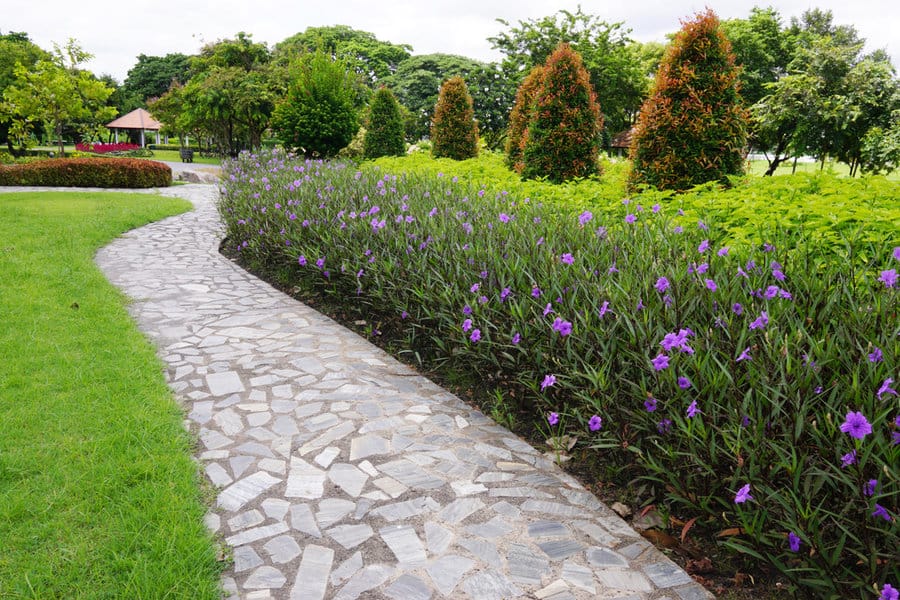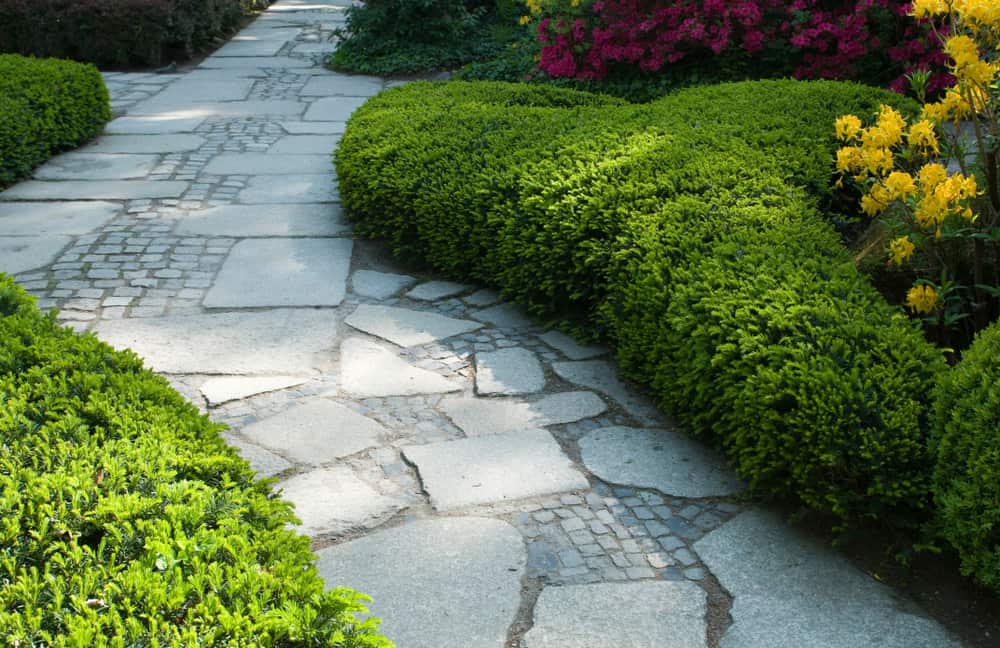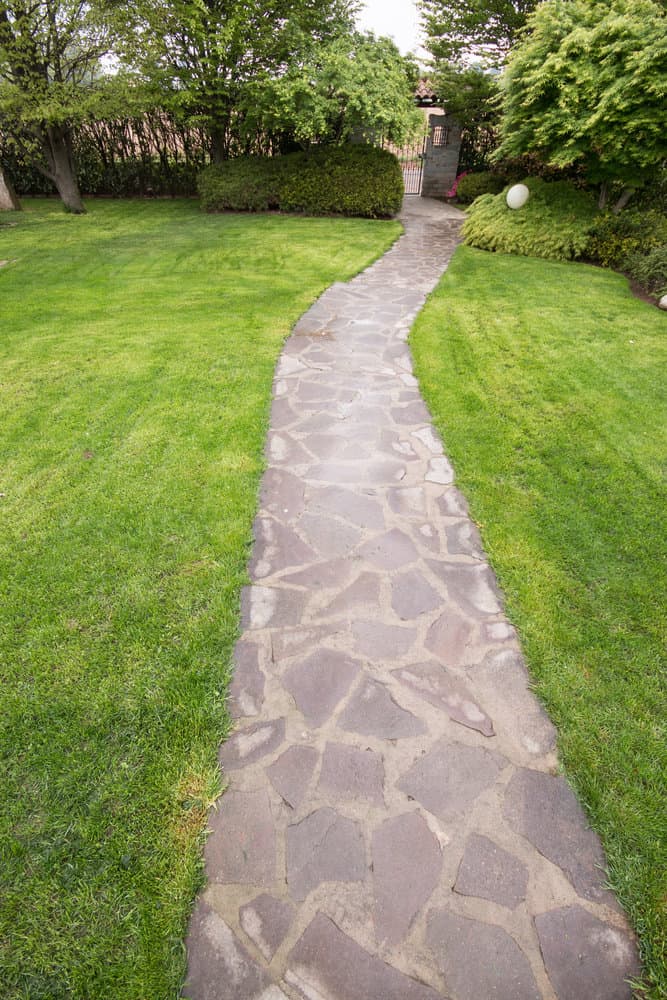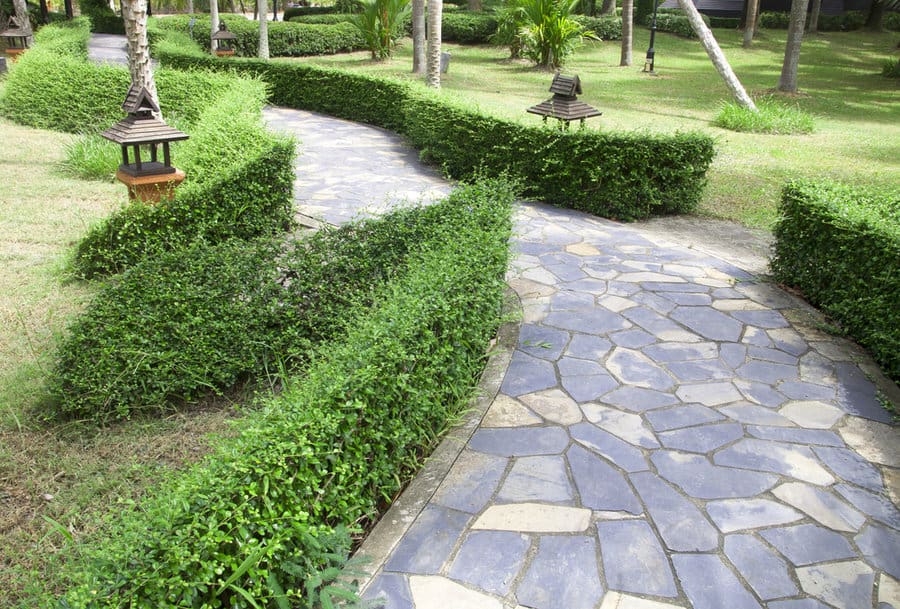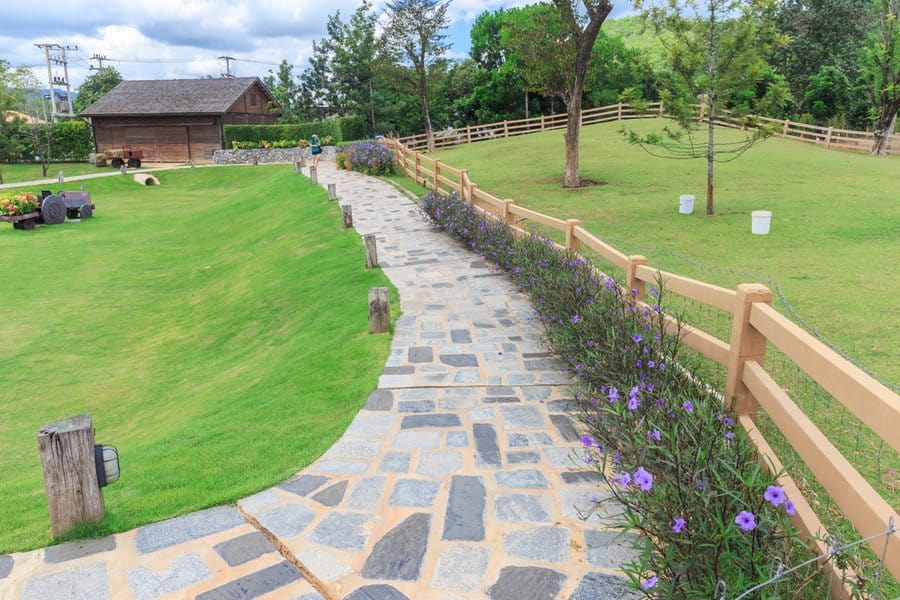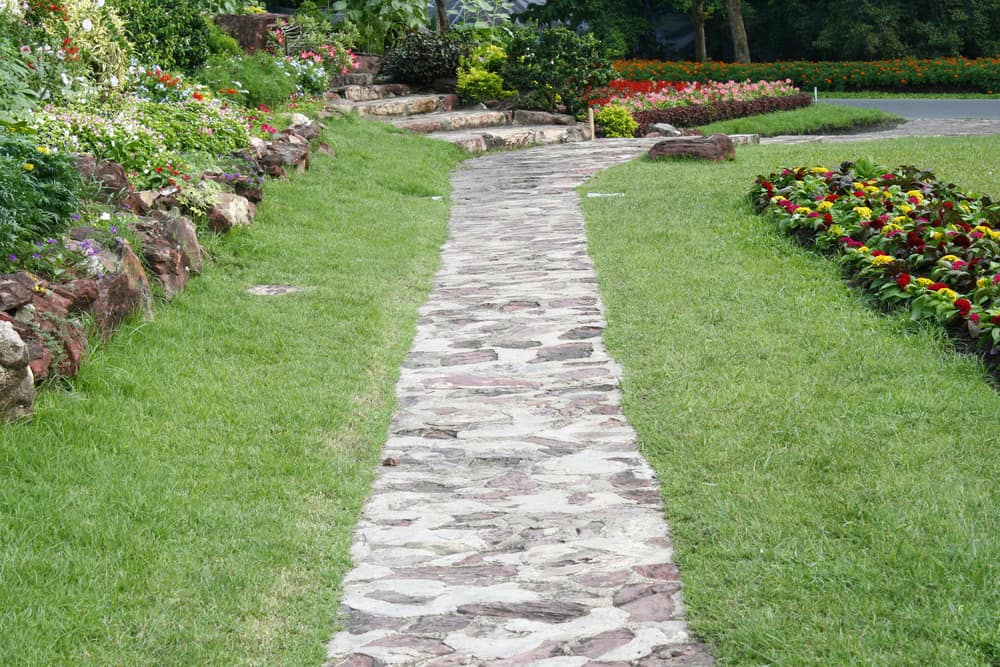 The stones should have a random shape, helping them to feel more rustic and organic. For a more sophisticated and elegant feel, stick with stones that are more uniform in color, size, and shape. Darker shades of gray or even black will give the stones a modern feel. Sticking with earthy neutrals that are shades of rust to brown will look more natural and rustic.
FAQs
What is the cheapest walkway material?
Mulch and gravel are the cheapest paving materials for creating your walkways. You can save money on labor costs by doing the work yourself. The materials themselves are also the most affordable. You also need a minimal amount of additional materials. Simply clear away the grass, lay down landscaping fabric, and spread the mulch or gravel.
What is the difference between a sidewalk and a walkway?
A sidewalk is a paved footpath that is meant for pedestrians walking along a roadway. They are typically paved with concrete but may also be paved with asphalt. A walkway is clearly defined path that may not be next to a road or paved. It's a path that people are meant to walk on.
What is pea gravel?
Peace gravel gets its name from its size and shape. This type of gravel is about the size and shape of the vegetable it's named after. The individual pieces of gravel have a smooth texture, making them uniform in size and shape. Typically, you find pea gravel in running water or on riverbeds. The running water is what smooths and shapes the rocks.