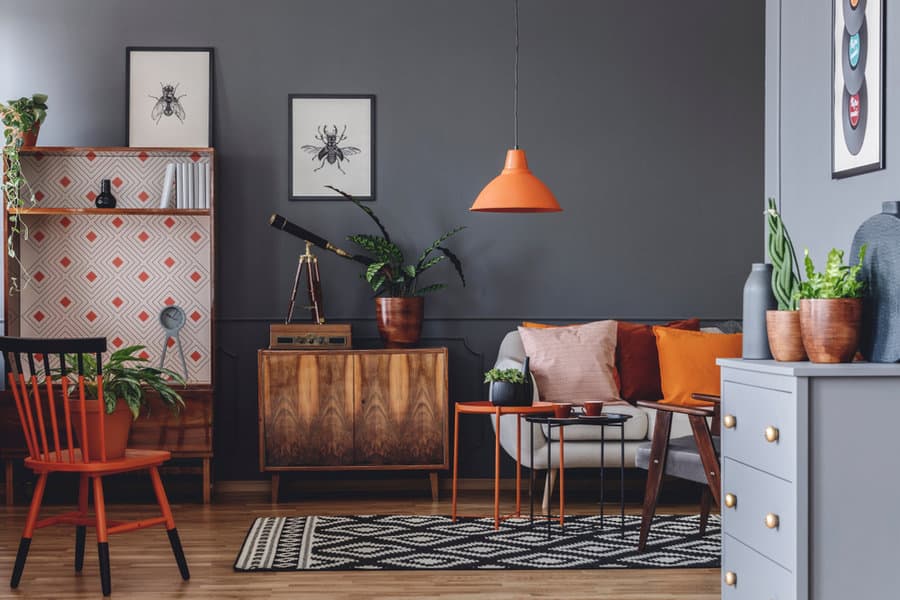 How to Use Vintage Pieces for Contemporary Home Design
by — Kari Apted

Published on June 21, 2023

Updated on August 22, 2023
Welcome to the beautiful intersection of past and present, where old-world charm meets modern aesthetics. It's a place where vintage pieces do not just survive, but thrive in contemporary design settings.
Whether it's a rustic mirror frame from the 1930s or a mid-century modern lamp, these pieces hold the power to imbue your living space with a unique charisma that's hard to replicate.
This article will guide you on the art of seamlessly blending vintage items with your modern home design, creating a timeless aesthetic that exudes warmth, personality, and style.
So, let's step into the beautiful labyrinth of vintage and contemporary design fusion, and discover how you can bring this magic into your own home.
1. Balance with Modern Elements
Integrating vintage pieces into your contemporary design is all about achieving a balance. Too many antiques can overpower your space and make it feel outdated.
Instead, aim for a stylishly eclectic look by blending vintage pieces with modern elements. This creates a harmonious contrast that keeps your space feeling fresh and visually interesting.
Pair a sleek, modern sofa with a vintage coffee table or place a retro armchair alongside a contemporary bookshelf.
The key is to strike the right balance between old and new, creating a cohesive and dynamic design aesthetic.
2. Restore Thoughtfully
Vintage pieces often come with signs of wear and tear, but a thoughtful restoration can breathe new life into them while preserving their charm.
When restoring vintage items, strive to maintain their original elements and unique character whenever possible. Refinish wood surfaces to bring out their natural beauty or repair minor damages while preserving the patina that tells the piece's story.
However, don't hesitate to update upholstery or finishes if it aligns with your overall aesthetic vision. Reupholstering a vintage chair with a contemporary fabric or refinishing metal hardware can modernize the piece while still honoring its vintage roots.
By restoring vintage pieces thoughtfully, you can enhance their charm and seamlessly integrate them into your contemporary home design.
3. Incorporate Vintage Lighting
Illuminate your contemporary space with the timeless charm of vintage lighting fixtures. Vintage sconces, chandeliers, or pendant lights can bring an elegant and warm glow to your home, creating a cozy and inviting atmosphere.
Opt for fixtures with unique details, such as intricate metalwork or delicate glass shades, to add visual interest and a touch of nostalgia.
Whether you place a vintage chandelier as a statement piece in your dining area or adorn your hallway with vintage sconces, these lighting elements can become focal points that blend seamlessly with your modern decor.
The warm ambiance they create adds depth and character to your space, making it feel even more welcoming and enchanting.
4. Use Vintage Textiles
Elevate your modern space with the rich textures and vibrant colors of vintage textiles. Incorporating vintage rugs, curtains, or throw pillows can add a layer of depth and visual interest to your decor.
Look for rugs with intricate patterns or unique weaving techniques that tell a story of craftsmanship and tradition. Vintage curtains can bring a touch of elegance and personality to your windows, whether it's delicate lace panels or bold, retro prints.
Additionally, vintage throw pillows with embroidered details or unique fabric textures can serve as eye-catching accents on your sofas or chairs.
These vintage textiles not only add warmth and coziness but also infuse your contemporary space with a sense of history and character.
5. Use the 80/20 Rule of Decorating
Embrace the 80/20 rule of decorating: let approximately 80% of your design consist of contemporary elements, while reserving around 20% for vintage pieces.
This approach ensures a balanced and cohesive look, where the modern backdrop allows your carefully selected vintage treasures to shine as focal points without overwhelming the overall aesthetic. By predominantly featuring contemporary furnishings, colors, and finishes, you create a fresh canvas for your space.
The remaining 20% of vintage items add depth, character, and a touch of history. Strive for high-quality vintage pieces that complement your design and provide contrast and visual interest, resulting in a curated, stylish, and timeless space.
6. Mix and Match
Embrace the art of mixing styles and eras in your contemporary home design. Don't be afraid to pair a modern couch with a vintage coffee table or mix different furniture styles to create a dynamic visual interest.
Combining elements from different time periods adds a layer of uniqueness and personality to your space. Look for opportunities to juxtapose sleek contemporary pieces with the character and charm of vintage items. This blending of styles creates a captivating contrast that sparks intrigue and creates a visually engaging environment.
Be adventurous with your choices, and let the mix and match approach unleash your creativity in designing a truly one-of-a-kind living room or any other space in your home.
7. Accessorize Smartly
Add a touch of vintage charm to your contemporary space through smart accessorizing. Vintage accessories such as mirrors, clocks, or vases can act as statement pieces that infuse your home with character without overwhelming the overall design.
Opt for unique and eye-catching vintage items that reflect your personal style and complement your contemporary decor. A beautifully ornate vintage mirror can serve as a captivating focal point on a feature wall, while a vintage clock adds a nostalgic touch and functionality to your space.
Vintage vases with intricate details or retro designs can bring a pop of color and artistic flair to your shelves or tabletops.
The key is to choose accessories that strike a balance between vintage charm and contemporary aesthetics, enhancing the visual appeal and personality of your home.
8. Play with Color
Harness the power of color to harmonize vintage and modern elements seamlessly. Whether you decide to preserve the original color of your vintage piece or give it a modern makeover, it's essential to ensure that it complements the overall color scheme of your space.
Consider the existing palette and select colors that create a cohesive and balanced look. If your vintage piece boasts a vibrant or unique hue, let it take center stage by keeping the surrounding elements more neutral.
On the other hand, if you choose to update the color of a vintage item, opt for shades that align with your contemporary design while still honoring its timeless appeal.
By playing with color, you can create a visual connection between vintage and modern elements, establishing a harmonious and captivating aesthetic throughout your home.
9. Respect the Originality
In the pursuit of blending vintage and contemporary elements, it's crucial to honor and respect the originality of vintage pieces. Each vintage item carries its own history, character, and unique story.
Allow these pieces to shine in their inherent uniqueness. Avoid altering or modifying them excessively to fit a particular aesthetic. Instead, embrace the authenticity and charm they bring to your space.
Highlight the original features and craftsmanship that make them special, whether it's the intricate woodwork of a vintage cabinet or the patina of an antique brass fixture.
By appreciating and preserving the originality of vintage pieces, you not only maintain their value but also celebrate their timeless appeal in a contemporary context.
10. Experiment
When it comes to incorporating vintage pieces into your contemporary home design, don't be afraid to experiment. Design has no set rules, and if a vintage piece feels right in your space, even if it's unconventional, go for it. Your home should be a reflection of your personal taste and style.
Trust your instincts and explore creative possibilities. Mix unexpected combinations, embrace eclectic pairings, and let your imagination run wild. Incorporating a unique vintage find can bring a sense of individuality and personal expression to your space. Whether it's an unconventional piece of furniture, an intriguing vintage artwork, or a whimsical accessory, let your intuition guide you.
Ultimately, it's about creating a home that resonates with you, tells your story, and sparks joy every time you walk through the door. So, dare to be different, take risks, and let your creativity flourish as you experiment with vintage pieces in your contemporary home design.