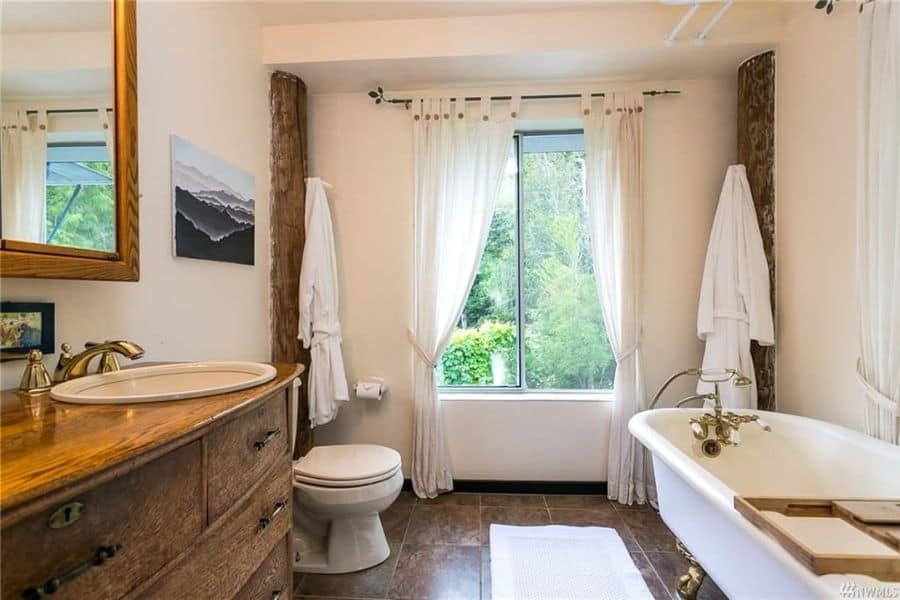 The Top 31 Bathroom Curtain Ideas
Window treatments can be one of the most intimidating investments for any room design. So throwing another set of curtains into the mix — in this case, your bathroom shower curtain — can make an already challenging decision feel impossible!
The most obvious solution is to forgo one set of curtains by opting for a shower partition or window blinds. But you don't need to go this route if you don't want to.
Check out these bathroom curtain ideas to learn how to create a simple, cohesive design with a shower curtain, window drapes, or both!
1. Elegant
In the world of contemporary home design, shower curtains have fallen to the wayside in favor of glass partitions. But you can still give your bathroom an elegant aesthetic using drapery.
Avoid using a variety of textiles in your bathroom design. Use the same fabrics for your bathroom drapery and shower curtain if possible — at the very least the fabrics should coordinate.
When selecting a fabric for your shower curtain or bathroom window treatments, opt for a material with a soft sheen. These fabrics offer a metallic finish that can make any space feel bright and elegant.
2. Guest
It's certainly tempting to design every square inch of your home to suit your personal style. But if there's one area that should stay fairly neutral, it's the guest room!
You know your guest bathroom is sparkling clean. Yet it doesn't hurt to reassure your cherished guests by investing in a bright white curtain set that will make your bathroom look as clean as it truly is.
Add character to your bathroom window treatment or shower curtain with a textured fabric. This is a great way to bring dimension to the space without relying on overly loud patterns. Use accent towels to add a few pops of color.
3. Long
Every inch counts when it comes to selecting the right curtains for a space. This is true for both your window treatments and your bathroom shower curtain!
Choosing a set of curtains that just grazes the floor is a wonderful way to give your bathroom a sleek, high-end appearance. Use solid curtains for a modern bathroom aesthetic. Or semi-sheer, ruffled curtains for a romantic Victorian look.
An extra-long shower curtain or bathroom window curtain is also a great way to create the illusion of higher ceilings. Mounting your curtain rod close to the ceiling will make the space feel larger and brighter.
4. Modern
There's a common misconception that creating a modern bathroom design means ditching unnecessary colors and patterns. But this doesn't have to be the case!
As long as you balance more vibrant elements — such as a loud and proud shower curtain design — with more subtle details, your modern aesthetic will be preserved. The simpler your bathroom as a whole, the more dramatic you can be with your drapery panels.
Whether you're adorning a shower stall or bathroom window, opt for a sleek and simple curtain rod. Stay away from overly ornate hangers or grommets. These will just distract from the curtain itself.
5. Small
Light colors are always ideal for any small space. White walls can really open up a room. Adding white curtains will make this illusion even more effective.
If you're lucky enough to have a window in your small bathroom, don't cover it up with heavy blinds! Instead, opt for a light and airy curtain made from a sheer fabric. You can enjoy much-needed privacy without sacrificing the natural light source.
Pay close attention to the length of your bathroom curtain ideas. A set of curtains that is even an inch too short will draw attention to the lack of space within your bathroom.
6. Unique
Today's home designers have more colors, patterns, and textures of fabric to choose from than ever before. In other words, it's never been easier to cultivate a unique bathroom aesthetic.
Reach for interesting fabrics like lace or macrame for your bathroom curtains. You can always install an opaque pull-down shade or shower curtain liner for those times when utmost privacy is desired.
One-of-a-kind patterns can be used sparsely as accents. Or you can invest in matching towels, rugs, and more to incorporate your chosen bathroom curtain design throughout the whole space.
7. White
Installing a white shower curtain is one of the best ways to make your bathroom look bright and airy. But with so many unique fabrics to choose from, it can also feel like a missed opportunity.
White curtains don't need to be boring! There are countless ways to add texture and dimension to an all-white bathroom window treatment or shower curtain. Choosing the right fabric is the first step.
Pair your white bathroom curtain ideas with accessories that match the space's existing accents. Metal fixtures can offer a dose of luxury to an otherwise simple design.
8. Window
A bathroom window is a luxury in and of itself. Who doesn't want to soak in the tub while basking in the warm sunlight or gazing up at the stars?
Of course, a bathroom window also creates an issue of privacy. So choosing a bathroom window treatment is just as much about practicality as it is about style!
Opt for bathroom curtain ideas that provide the best of both worlds, such as a sheer curtain draped over opaque blinds. A Roman shade is another great option for any bathroom window that requires an extra layer of privacy every now and again.
Bathroom Curtain FAQs
What type of curtain panel is best for a bathroom window?
When it comes to selecting decor for the bathroom, it's important to take into consideration things like moisture. Materials that would hold up just fine in a living room or bedroom may show earlier signs of wear and tear in a wet environment.
The best fabrics for a bathroom curtain are lightweight and washable. Be cautious of dyes that may run or stain when exposed to water (it's a good idea to pre-wash any curtain you plan to install in the bathroom).
Is a curved shower rod worth it?
Curved shower curtain rods have been popular for many years now. The main purpose of this rod style is to create more space within the shower without impeding on the surrounding bathroom.
Unless you are 100% content with your shower stall space, installing a curved rod is a great investment. Just be sure to mount the shower curtain rod high enough that the outer curve won't be in anyone's way!