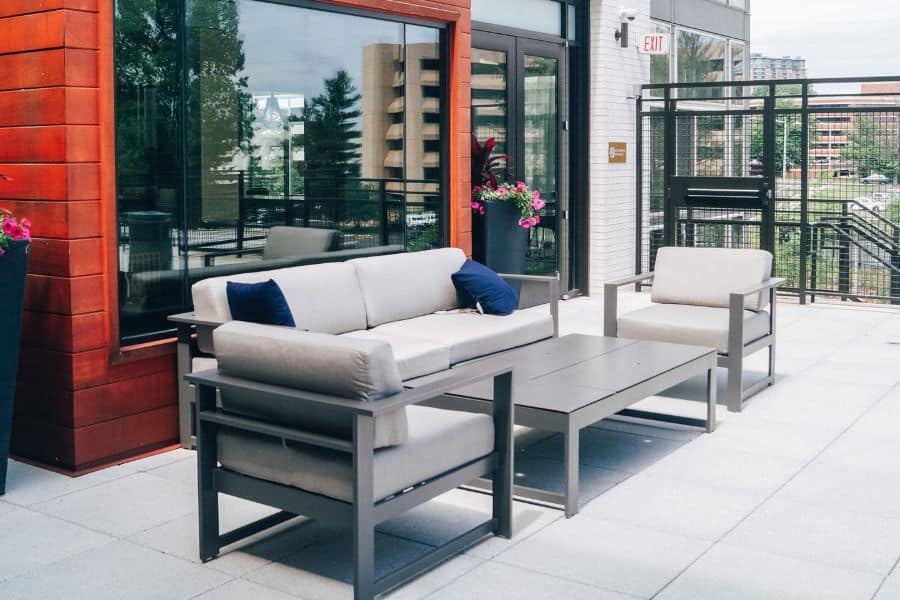 The Top 61 Apartment Patio Ideas
by — Kari Apted

Published on October 5, 2021

Updated on October 20, 2023
An apartment patio can be many things. It can be a private escape from roommates or family. It can be a breath of fresh air. It can even be a makeshift home office.
When you live in the city, every inch of outdoor living space is worth its area in gold. So how do you make the most of your apartment patio and make it feel like an extension of your main living area?
Keep reading for our favorite apartment patio ideas and how to adapt them to your lifestyle and outdoor space!
1. Create a Relaxing Outdoor Lounge
Transform your apartment patio into a serene oasis with these design tips. Start by adorning your space with cozy throw pillows and blankets for ultimate comfort. Add personality with vibrant cushion colors and patterns. For a refreshing touch, include various plants, like potted greenery or hanging baskets. Elevate your seating with upholstered options like a sofa or lounge chairs and place a stylish coffee table at the center. Illuminate evenings with soft outdoor lighting like string lights or lanterns. This cozy retreat will seamlessly merge indoor comfort with outdoor charm for your daily enjoyment.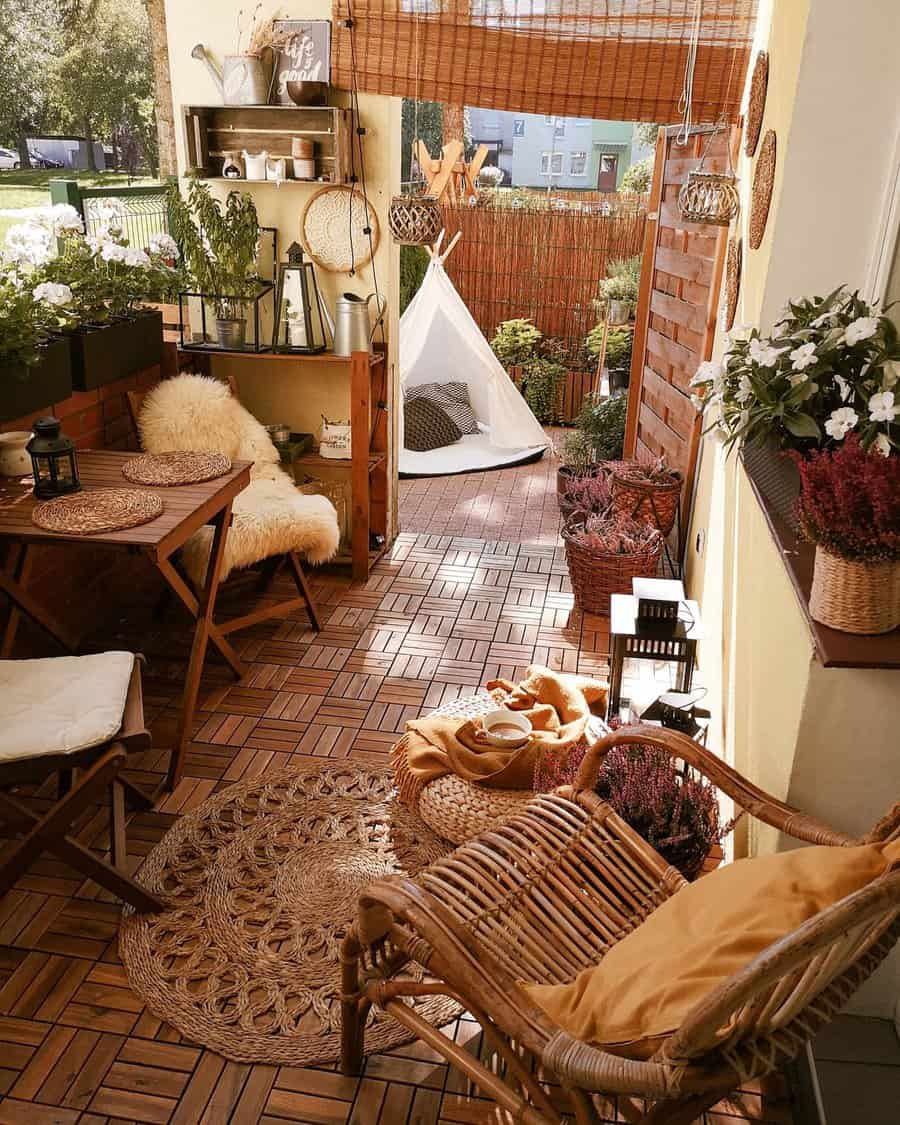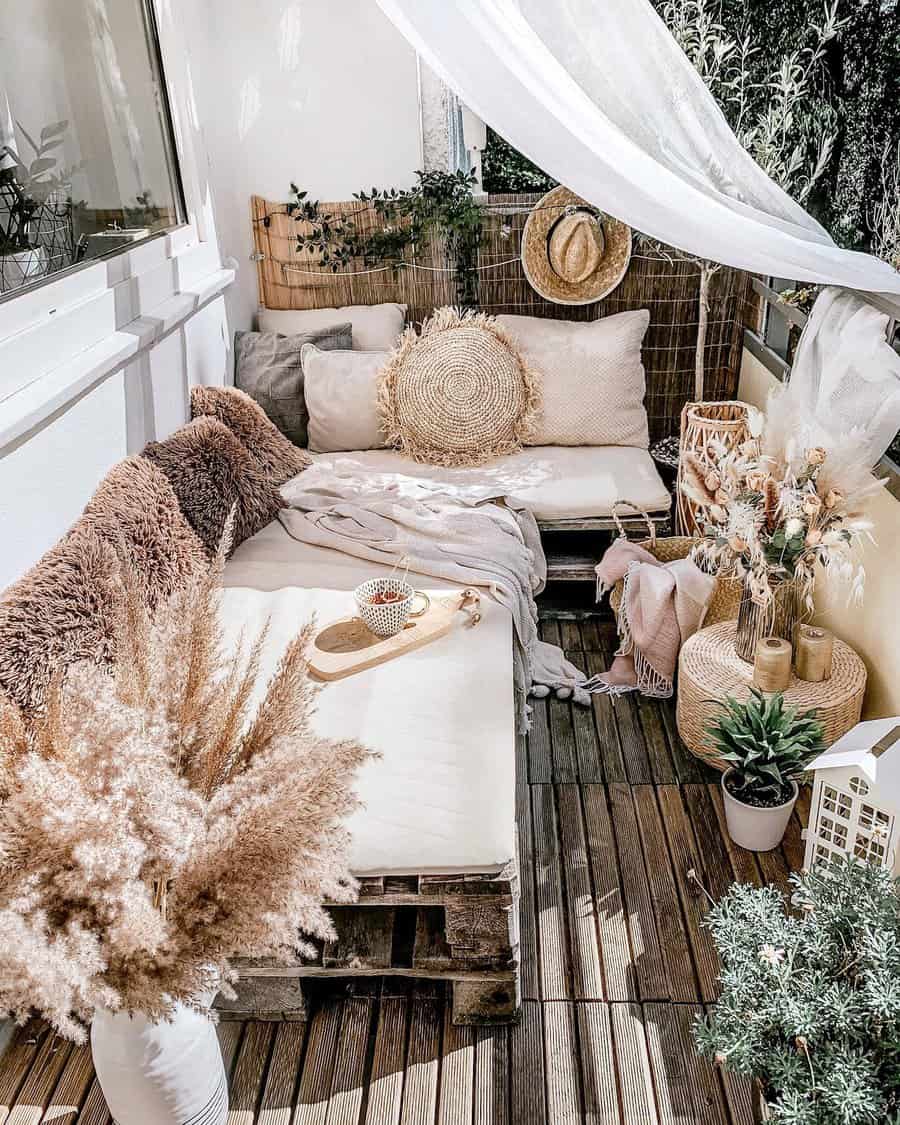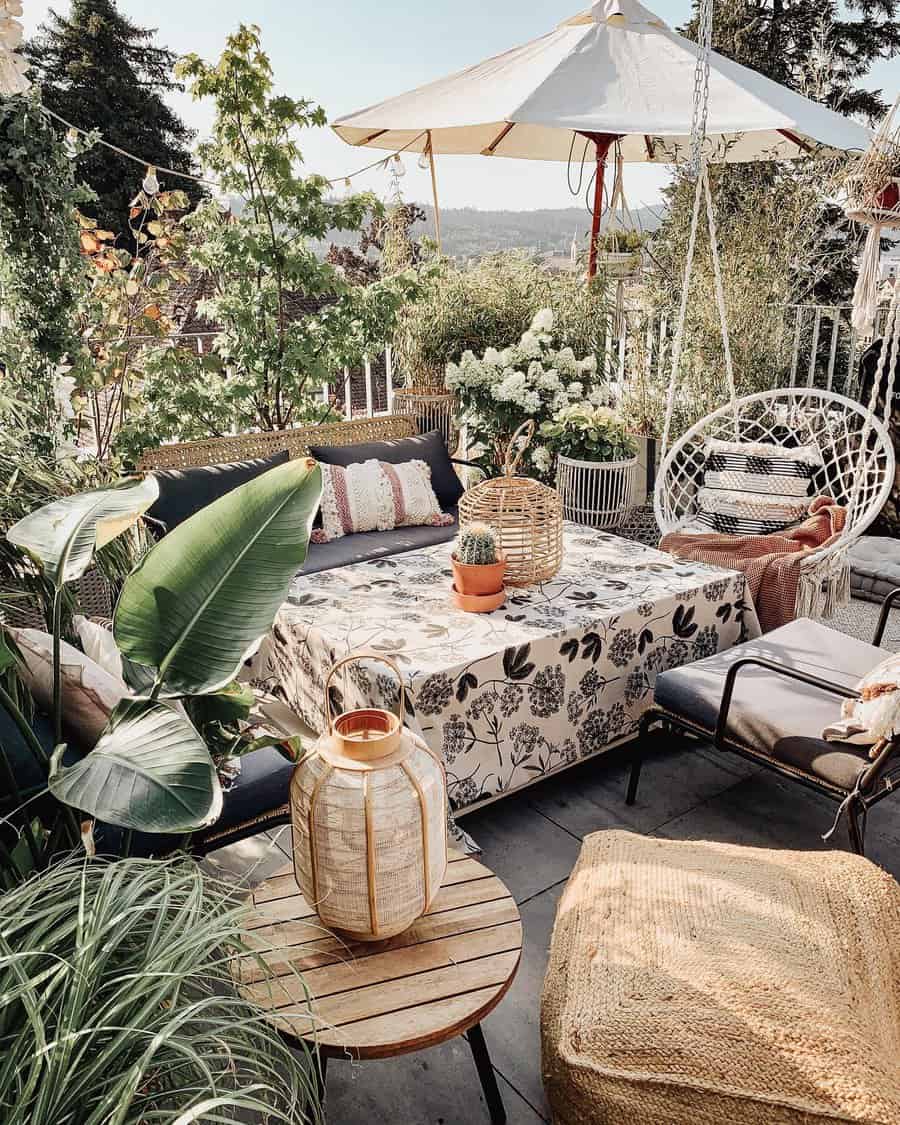 2. Enhance with Greenery
Transform your apartment patio into a green paradise by embracing the beauty of plants. Even in limited space, you can create a captivating natural haven right at your doorstep. Start by selecting two or three plant pots that match your style and the available sunlight.
Choose plants that thrive in your patio's lighting conditions, whether they're vibrant flowers, lush greens, or trailing vines. Arrange them strategically to create layers of height and texture for an engaging design. Don't forget to consider hanging baskets or wall-mounted planters to maximize vertical space, adding charm while freeing up valuable floor area. With these tips, your patio will be a flourishing green retreat.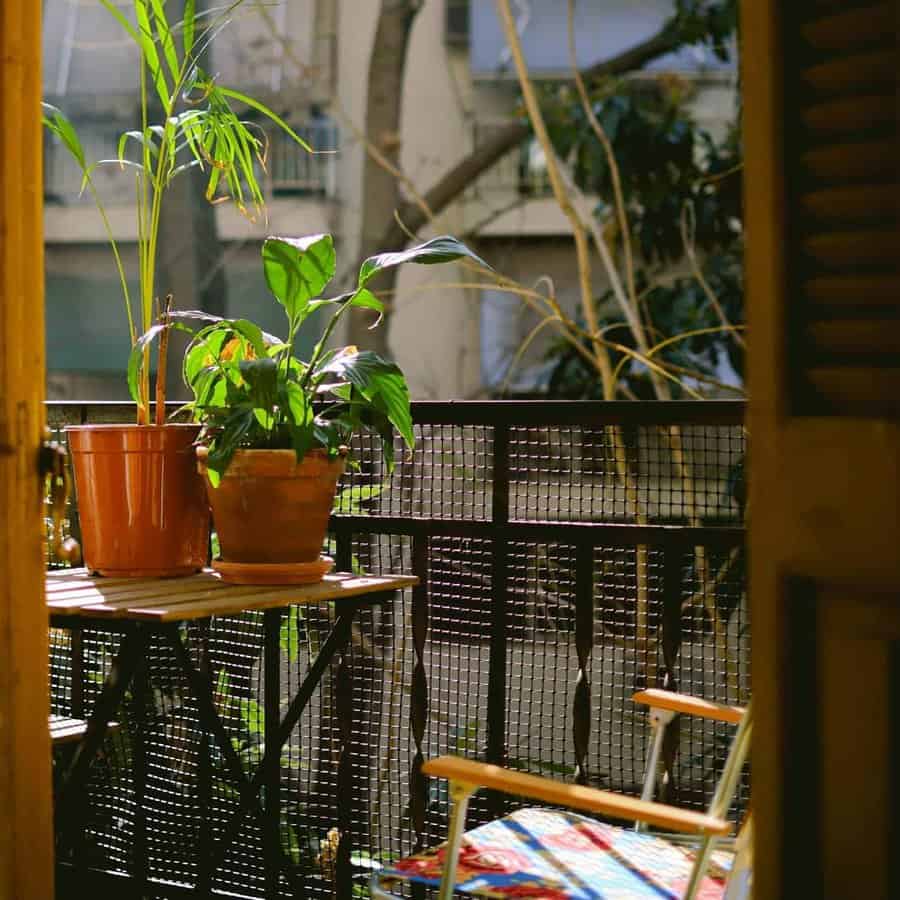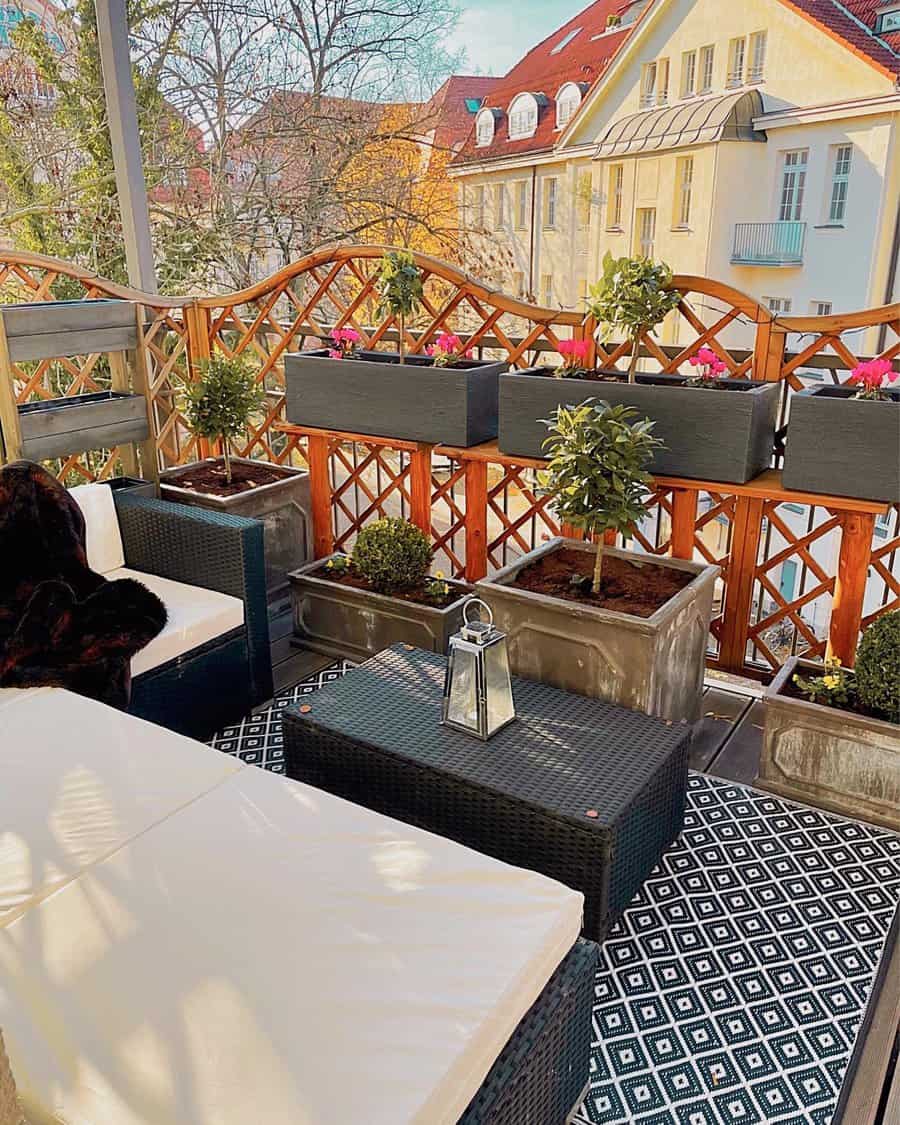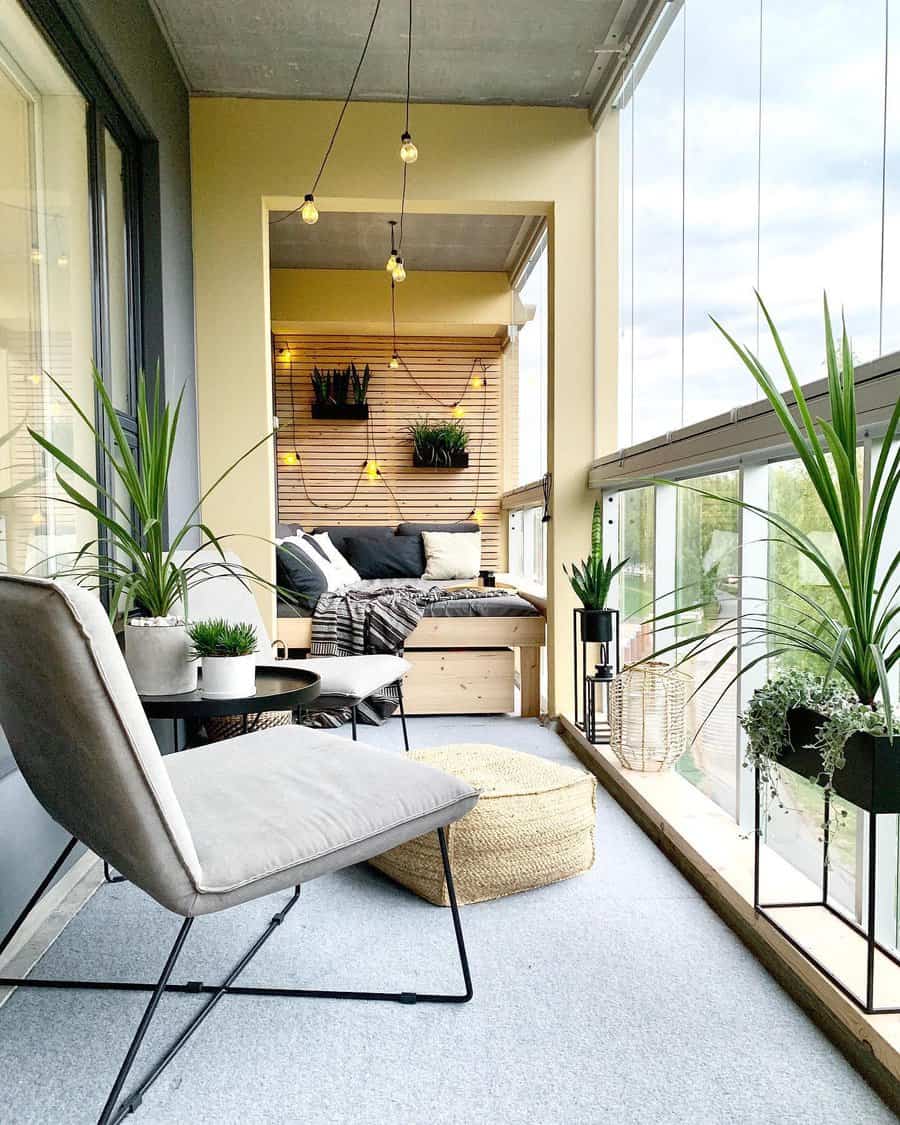 3. Embrace Wicker Furniture Style
Elevate your apartment patio's charm with the timeless elegance of wicker furniture. This versatile material adds natural beauty, comfort, and durability to your outdoor space.
Select wicker chairs, a loveseat, or a cozy sectional to craft a welcoming seating area for relaxation. Enhance comfort with plush cushions, available in vibrant colors or soothing neutrals, to reflect your unique style and preferences. Complement your wicker furniture with other design elements to create a cohesive and inviting patio retreat.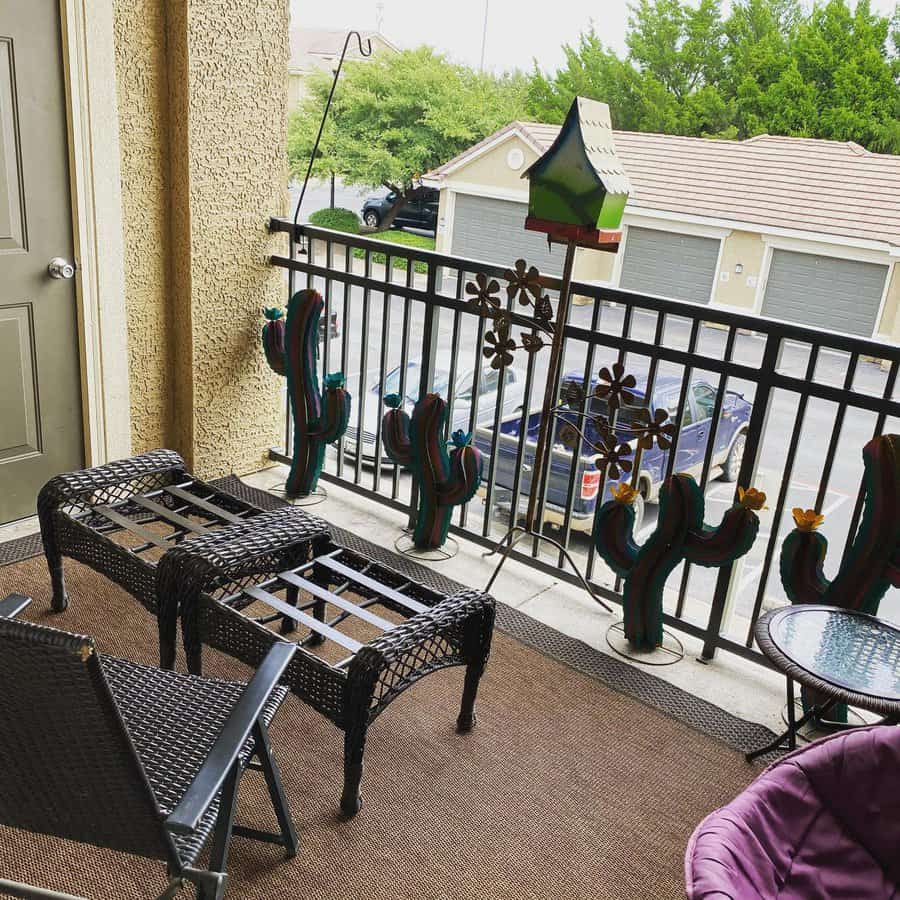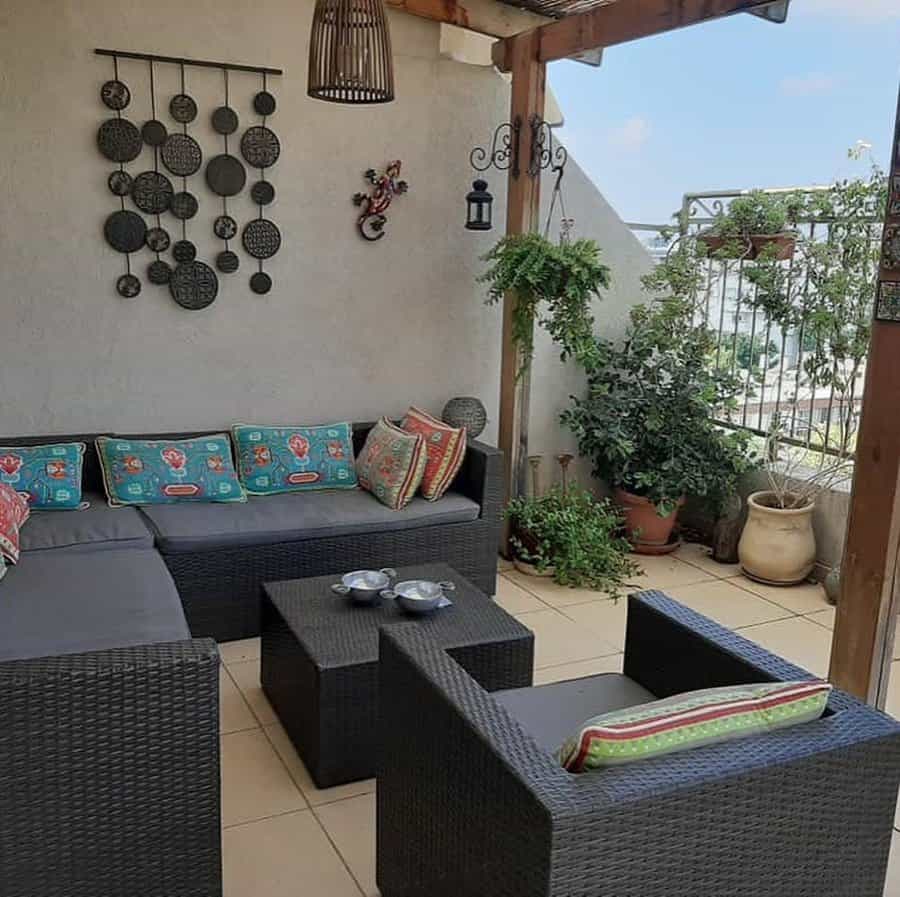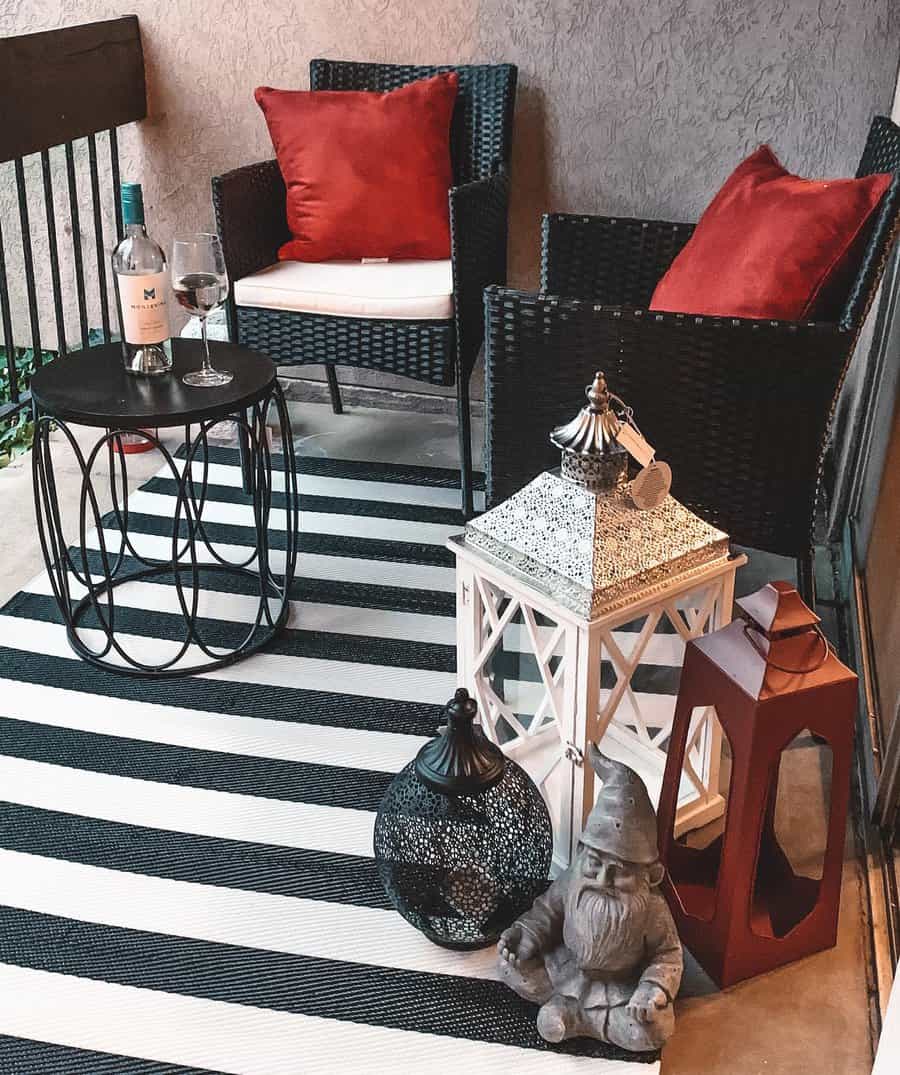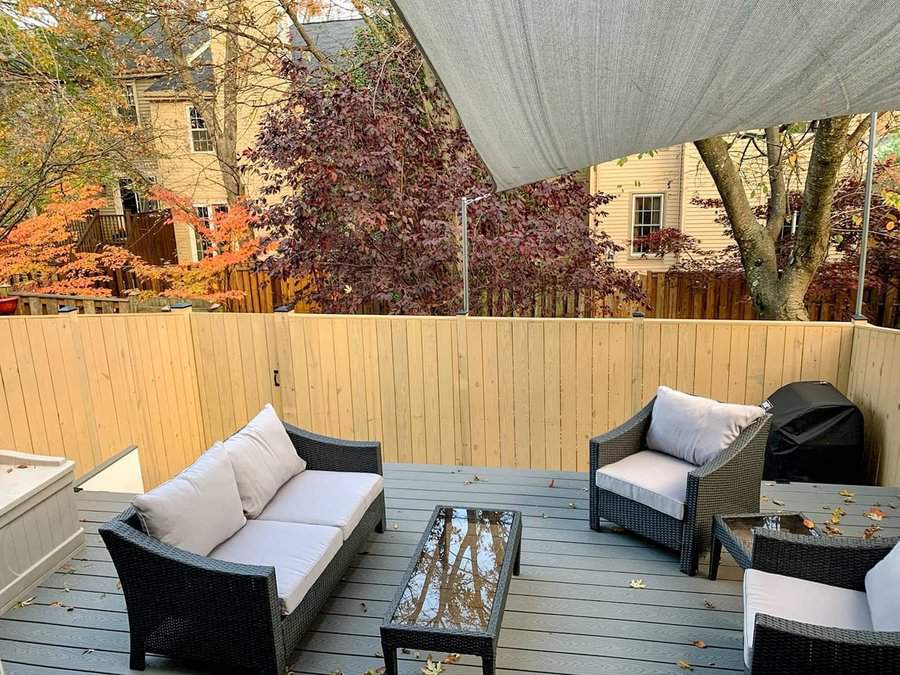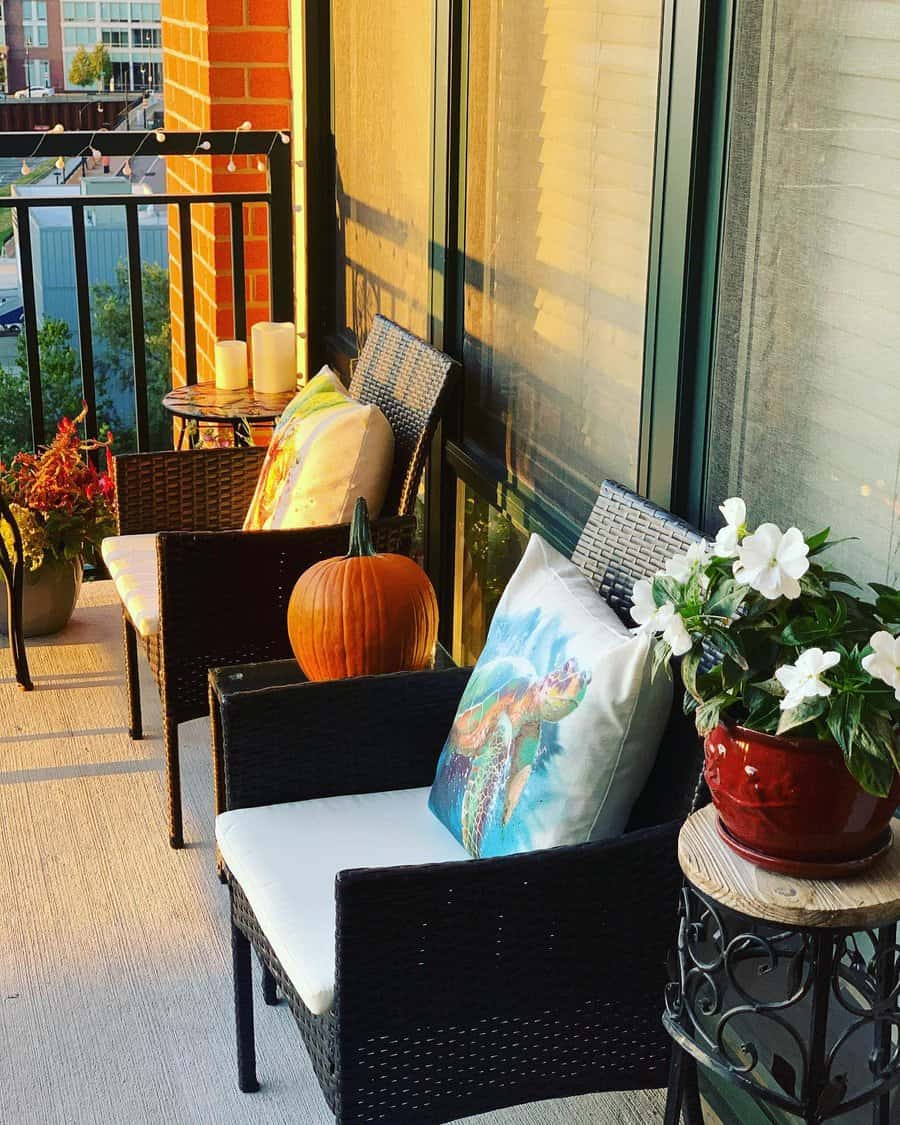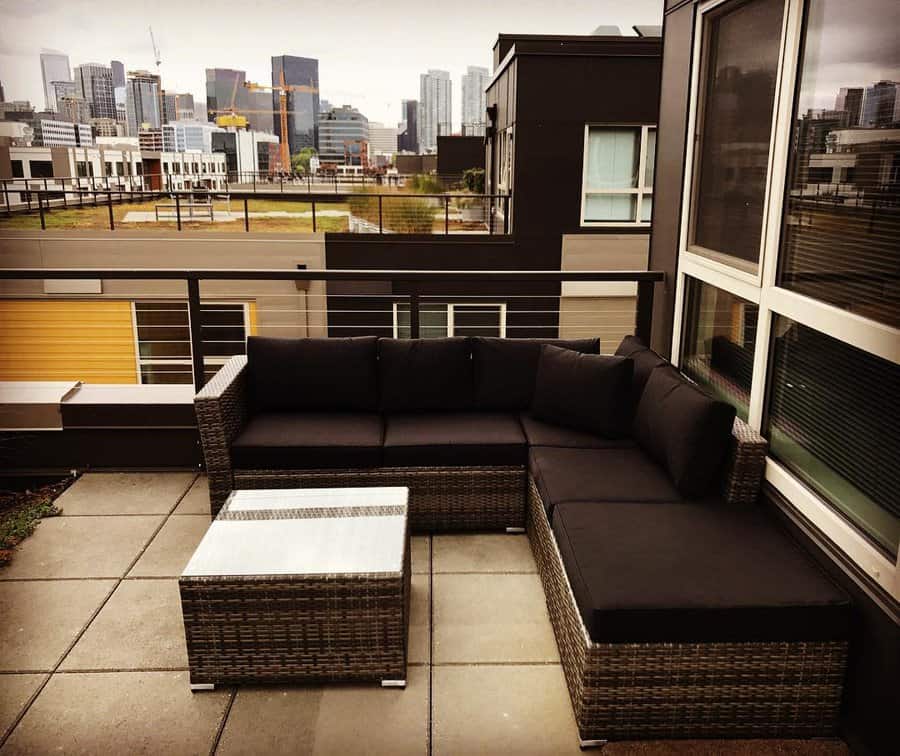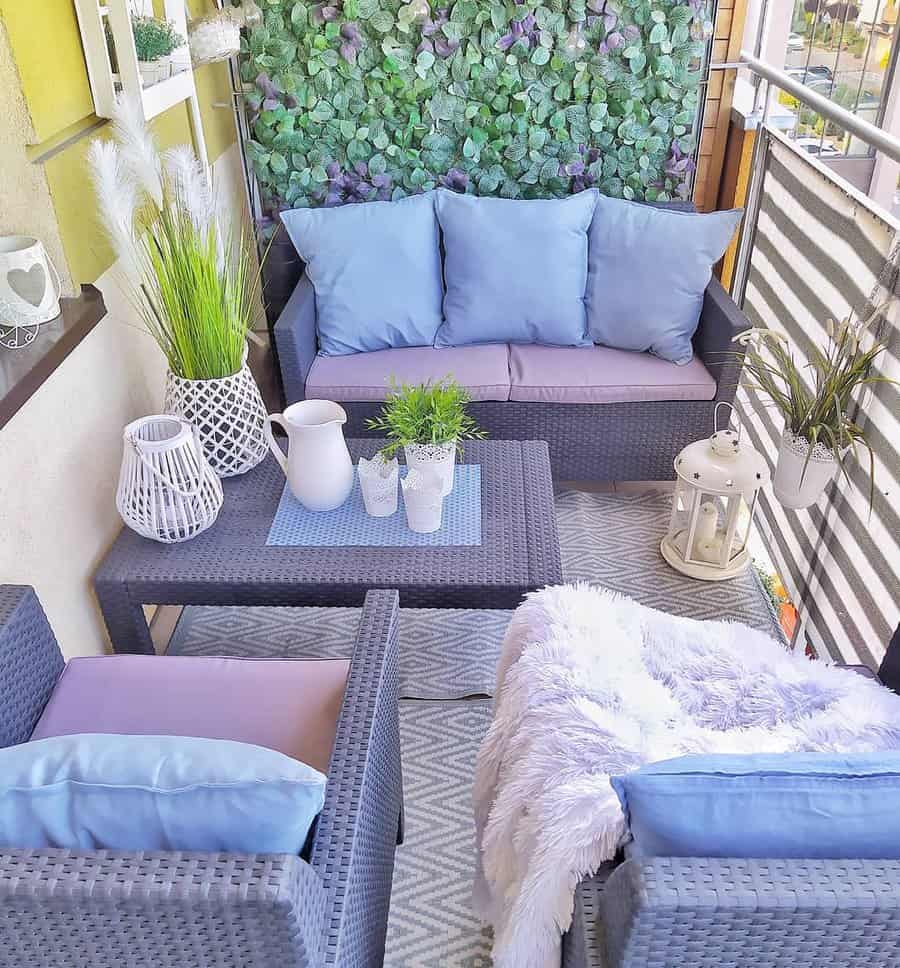 4. Illuminate with Lanterns
Transform your apartment patio into an enchanting retreat with the mesmerizing glow of lanterns. Hang lanterns of various sizes and styles along the walls or suspend them from the ceiling to cast a soft and inviting illumination.
Choose lanterns with intricate patterns or ornate designs to infuse elegance into your outdoor space. Experiment with different materials like metal, glass, or rattan for an eclectic and visually captivating arrangement. Strategically place lanterns to highlight seating areas, dining spots, or potted plants, adding depth and charm to your patio.
As the sun sets, these lanterns will work their magic, creating an inviting ambiance that beckons you to relax, unwind, and immerse yourself in the serene beauty of your outdoor sanctuary.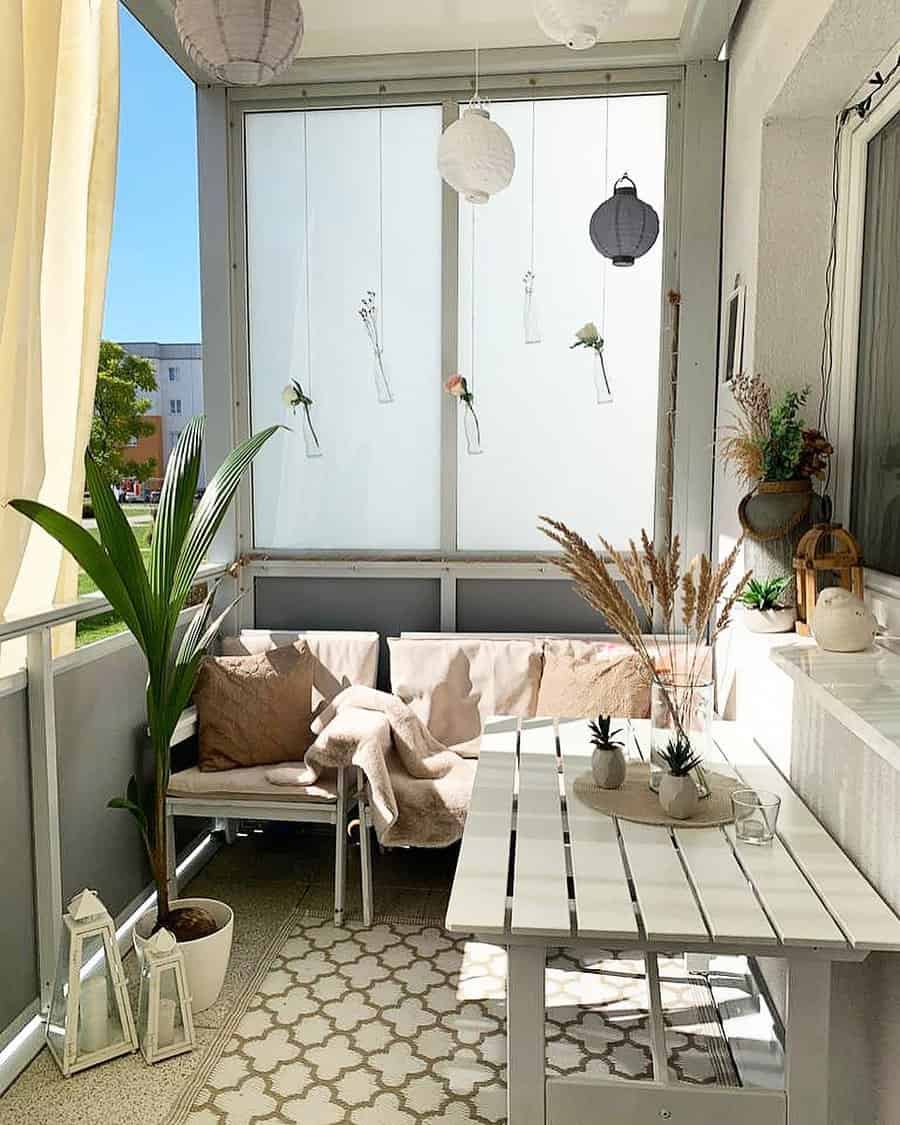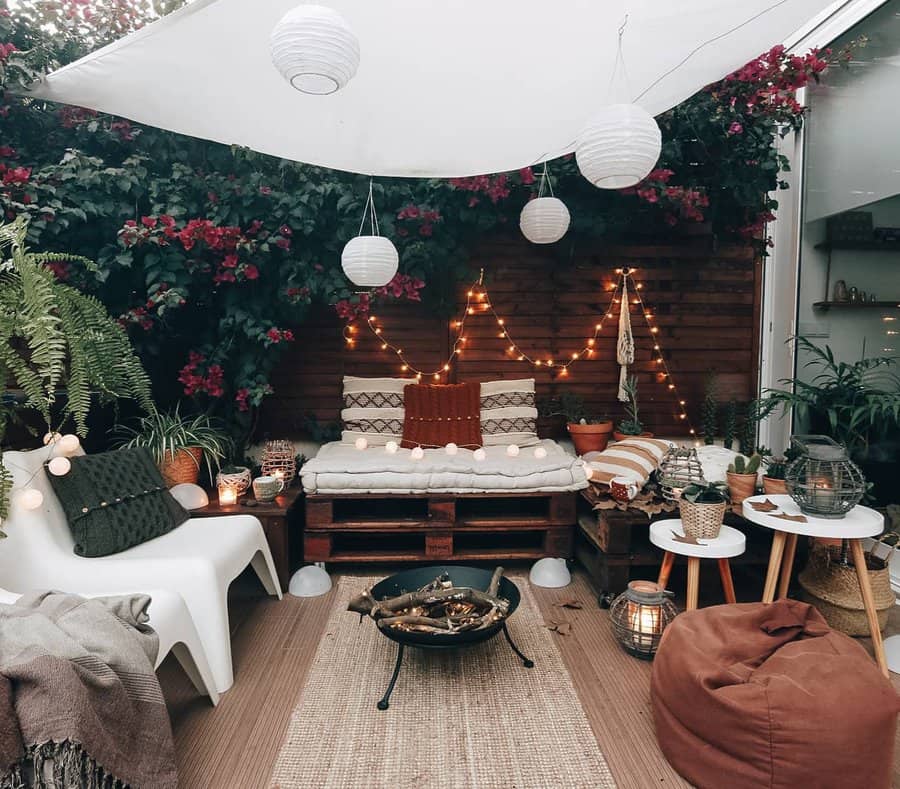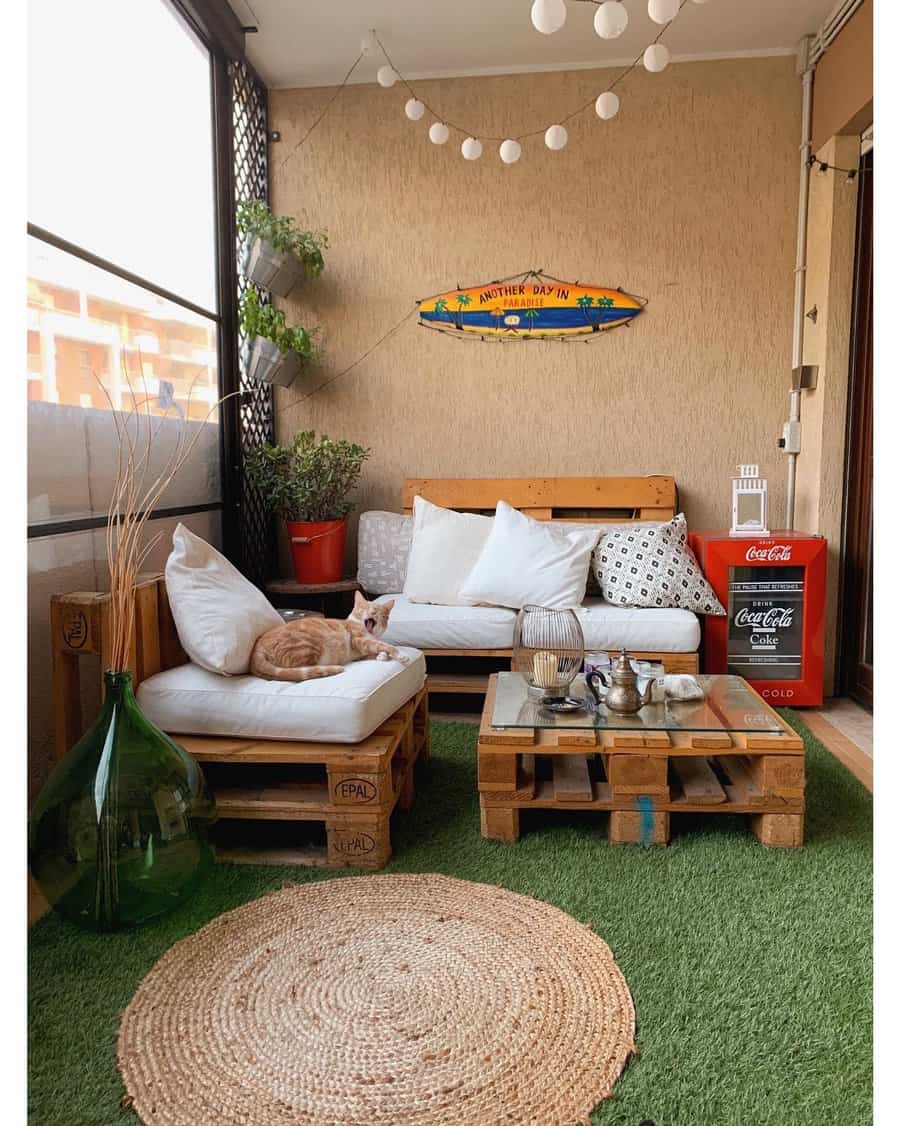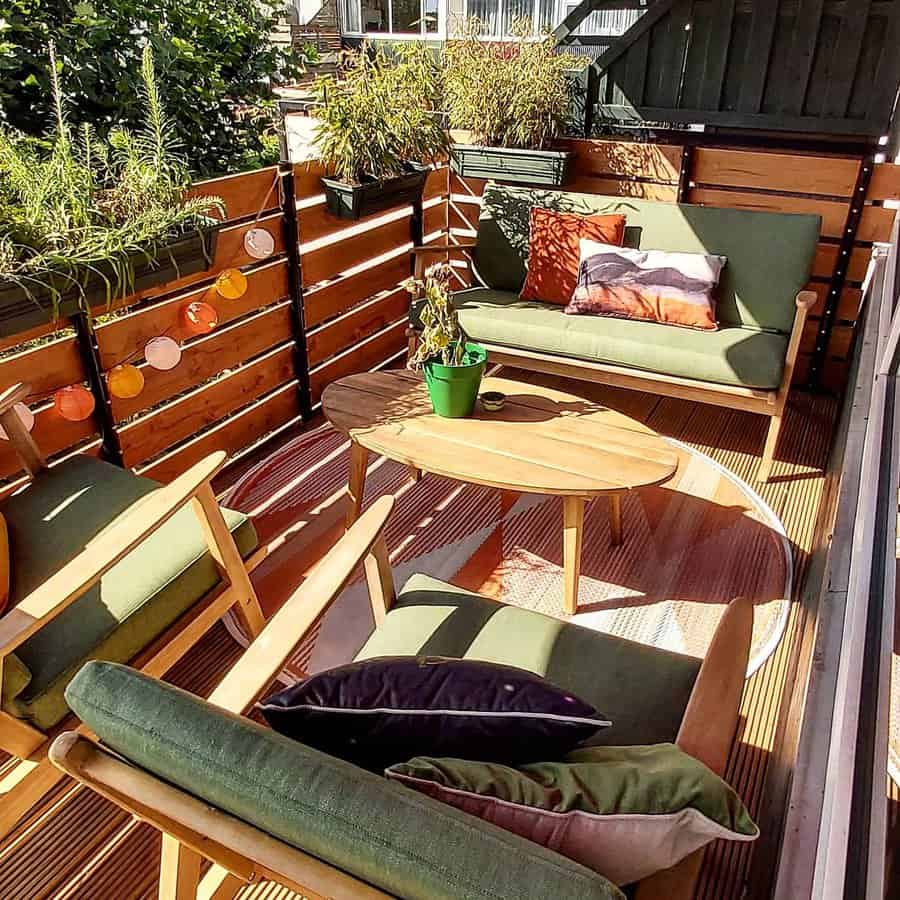 5. Add Cozy Throw Pillows
Elevate your apartment patio's atmosphere with the transformative power of throw pillows. Choose an array of pillows in various shapes, sizes, and patterns to introduce texture and visual intrigue. Opt for weather-resistant materials that can endure the elements while retaining their vibrant colors.
Arrange these pillows on your patio furniture to craft a comfortable and stylish seating area ideal for relaxation. Play with colors that either harmonize with your existing decor or make a bold statement. Experiment by mixing and matching patterns for an eclectic and dynamic appearance. Whether you prefer bohemian prints, geometric designs, or floral motifs, the options are limitless.
By incorporating throw pillows, you infuse instant coziness and personality into your apartment patio, creating the perfect haven for morning coffee, afternoon reading, or evening gatherings with friends.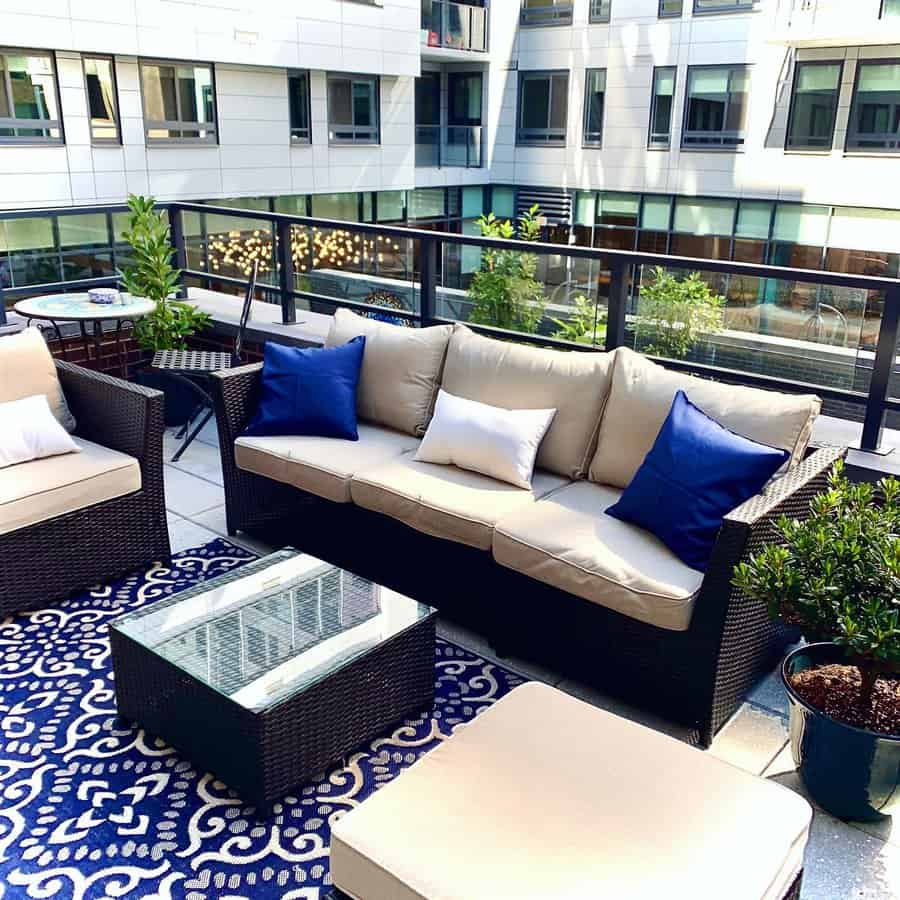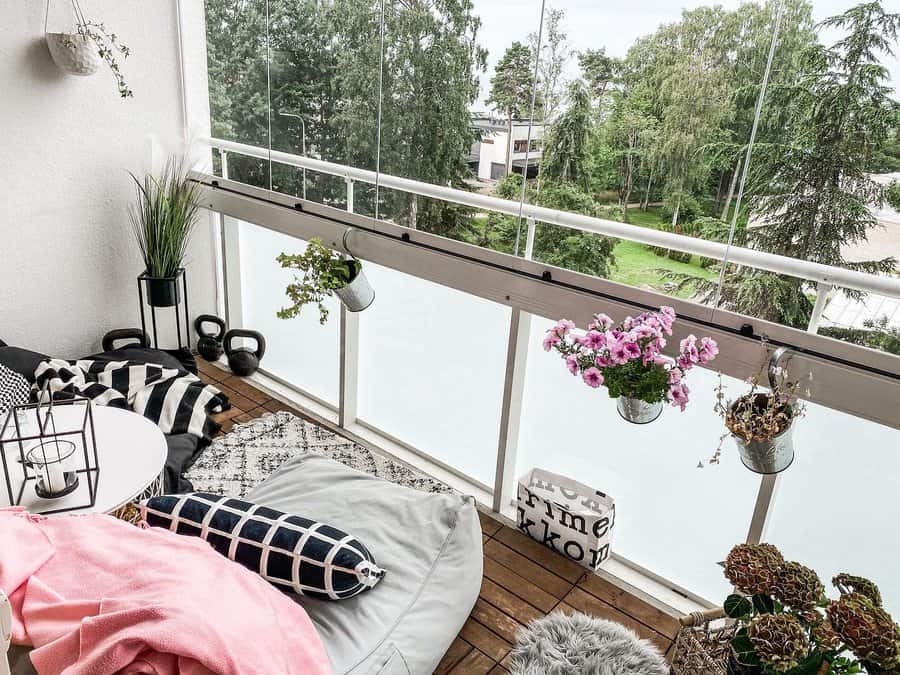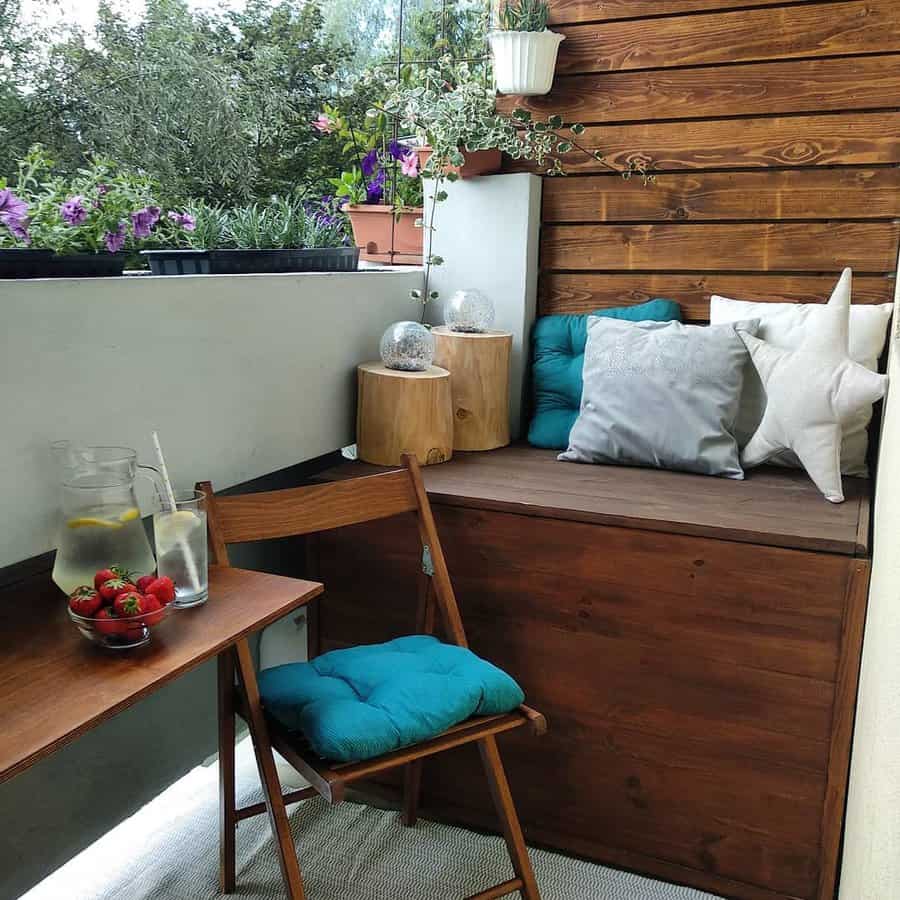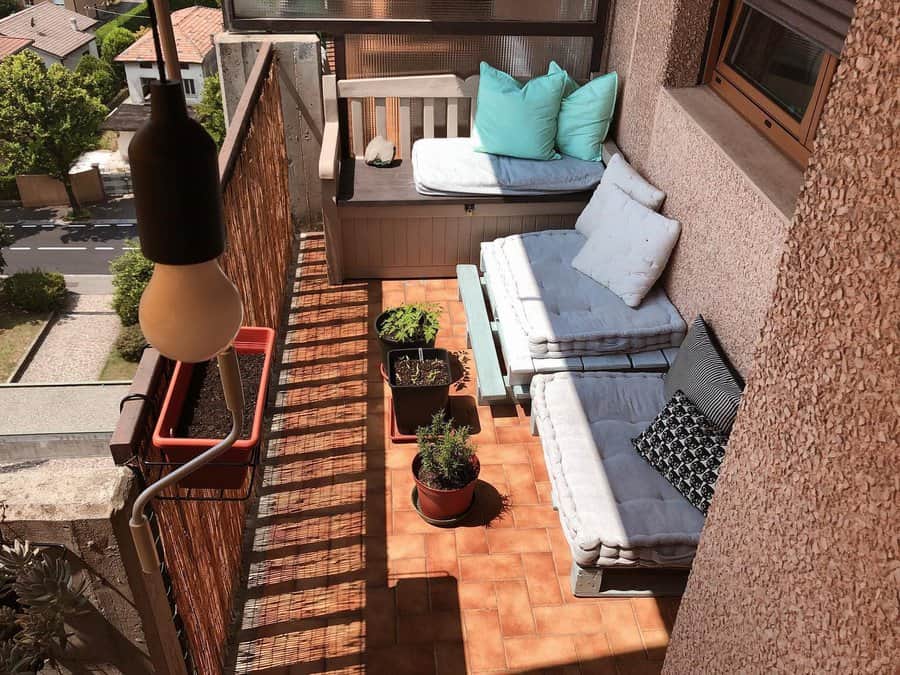 6. Introduce a Coffee Table
Select a coffee table that suits your patio's size and serves as a focal point for relaxation and socializing. Prioritize a design that combines functionality and aesthetics, such as a compact table with storage compartments or a foldable option for versatility.
Elevate the ambiance by decorating the coffee table with potted plants, candles, or a small vase of fresh flowers. This not only brings a touch of nature but also adds charm and serenity to your patio. Pair the coffee table with comfortable seating choices like lounge chairs or a cozy loveseat to create an intimate setting for savoring a cup of coffee or hosting close-knit gatherings.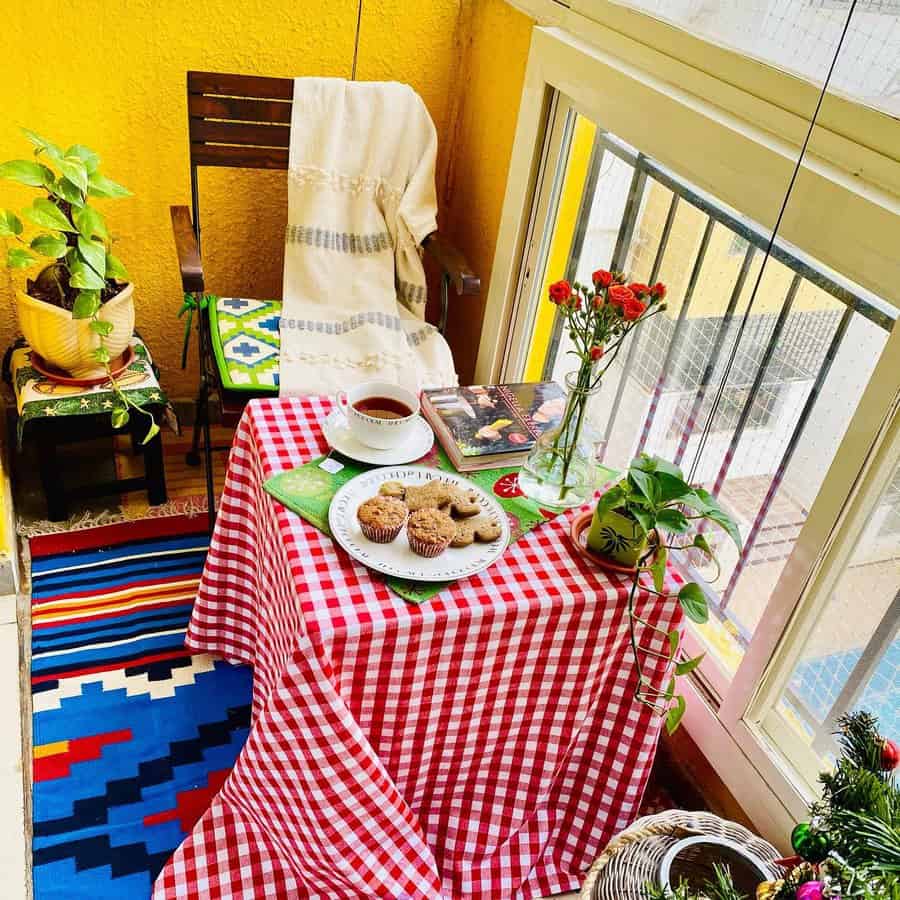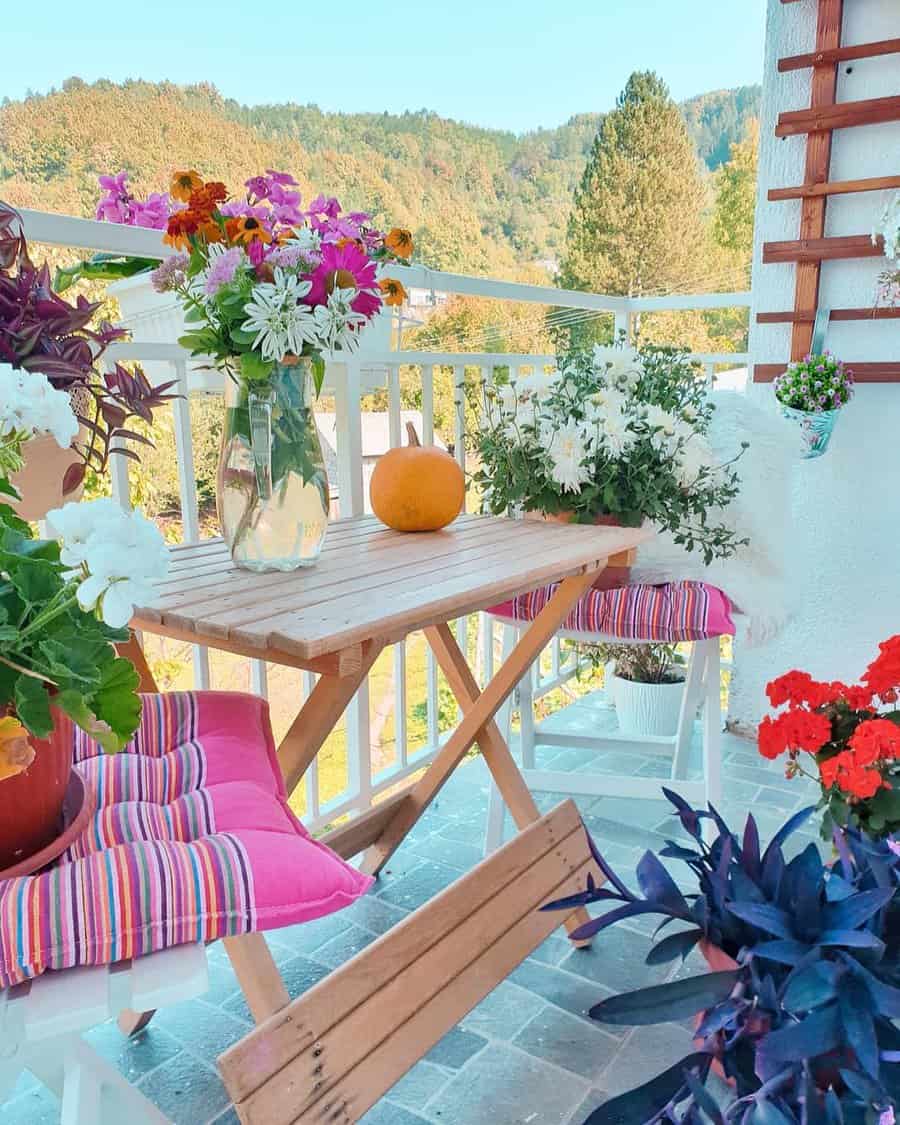 7. Recycle with Wood Pallet Seating
Embrace the rustic charm and versatility of upcycled wood pallets to craft a cozy and stylish atmosphere. Begin by selecting sturdy pallets and repurpose them into functional seating. Configure them into a comfortable sofa or a trendy pallet coffee table for outdoor gatherings.
Enhance comfort with soft cushions and plush throw pillows featuring vibrant patterns and textures. Infuse greenery by using vertical pallet planters that hang on the walls, showcasing your favorite plants and herbs. For a warm and enchanting evening atmosphere, illuminate the space with fairy lights or lanterns. These simple steps transform your apartment patio into a charming haven for relaxation and gatherings.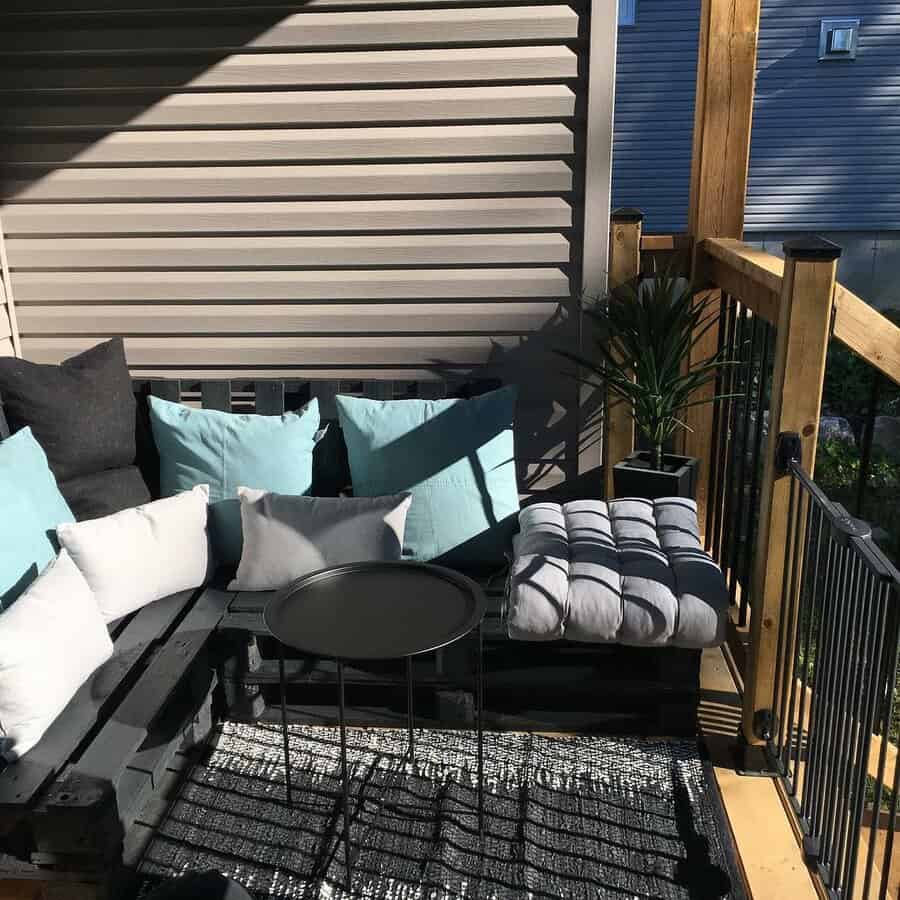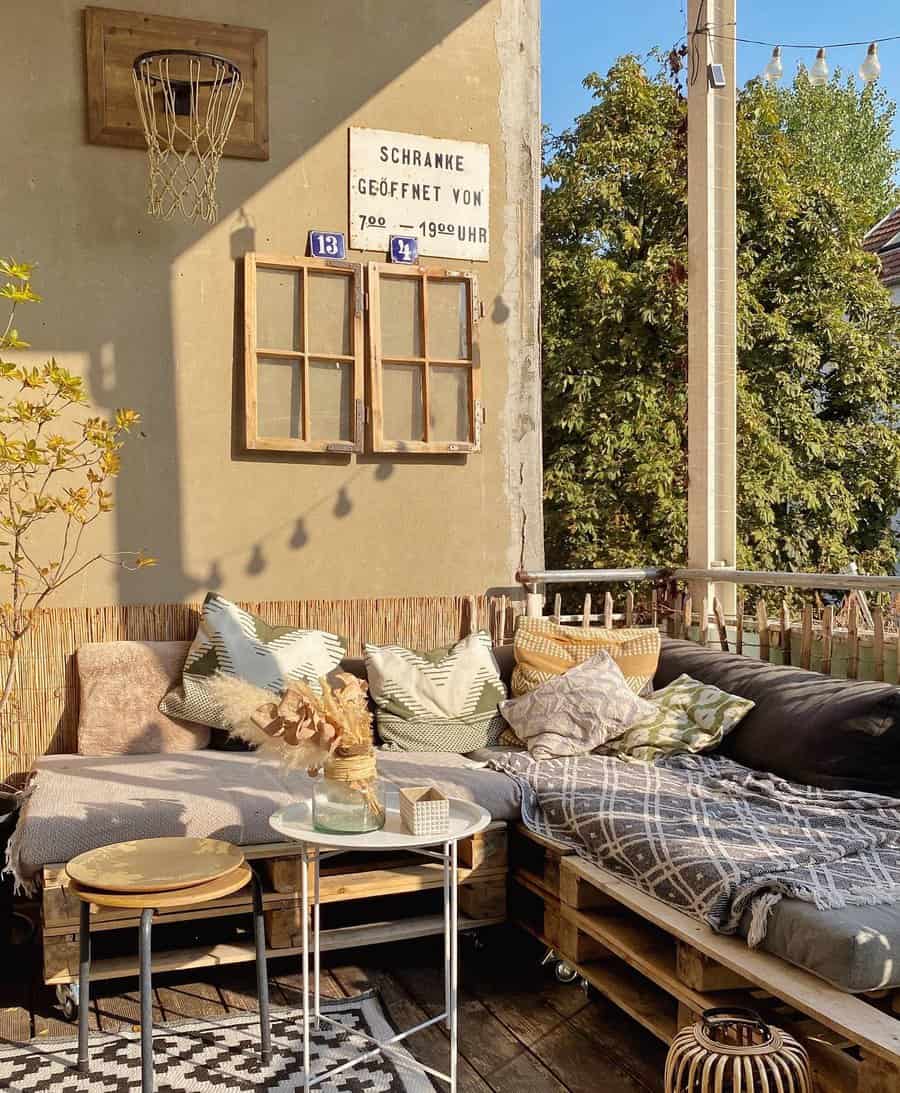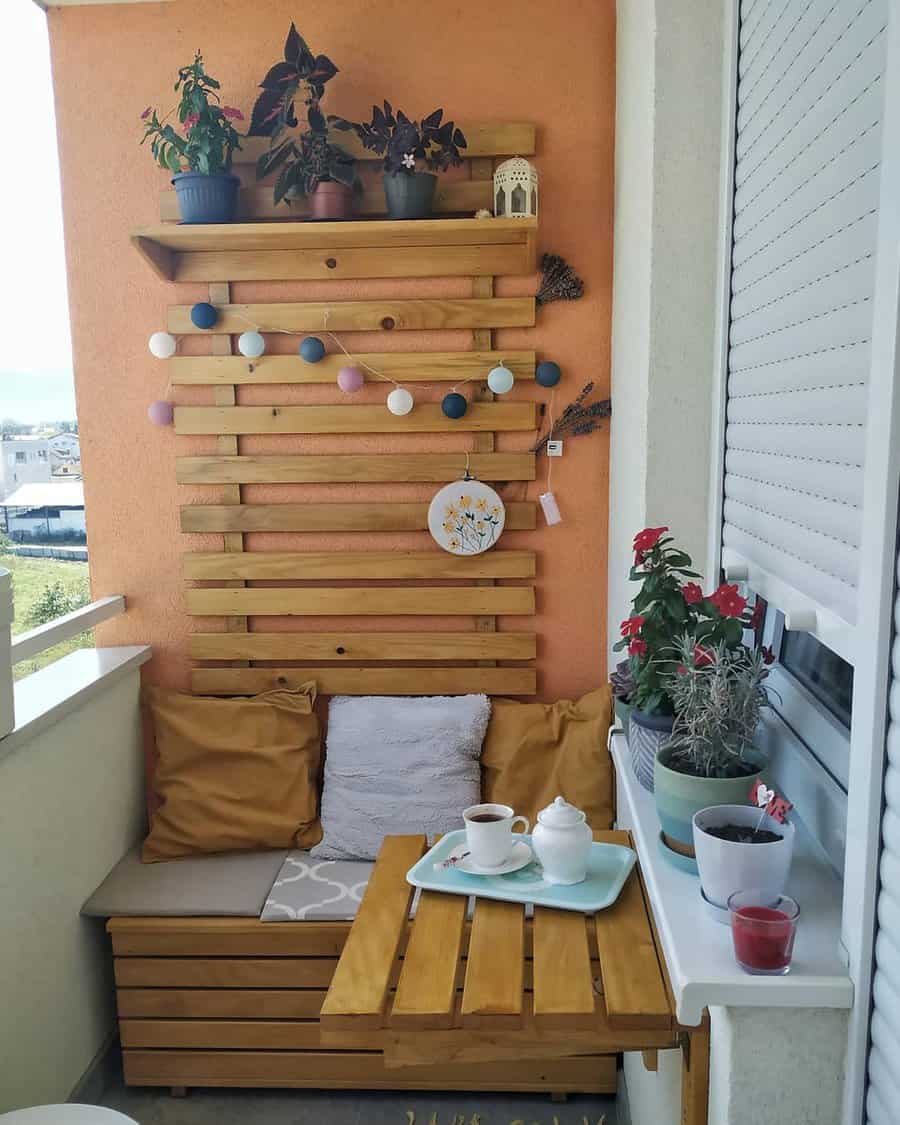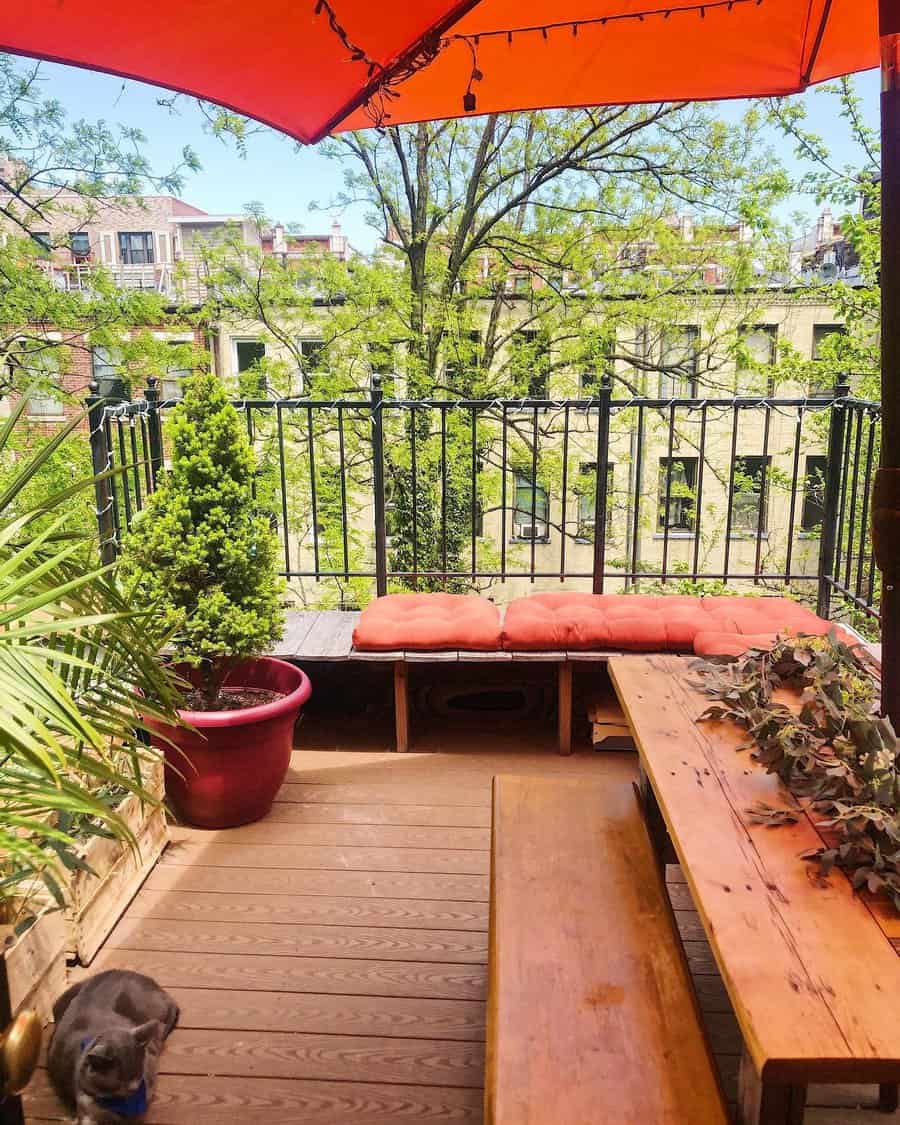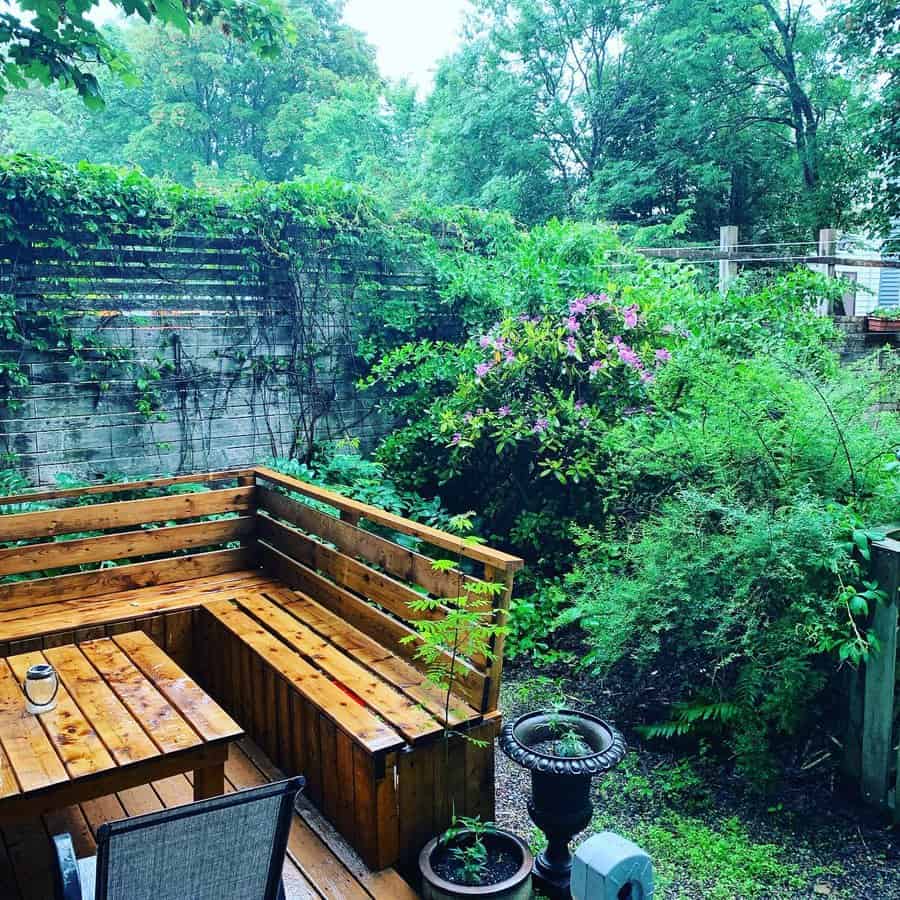 8. Extend with an Attached Pergola
This architectural feature not only brings charm but also offers shade and shelter for comfortable outdoor enjoyment. The pergola forms an ideal framework for a cozy seating area or al fresco dining space.
Enhance the experience with comfortable outdoor furniture, plush cushions, and decorative pillows for relaxation. Inject bursts of color and greenery with vibrant outdoor plants and potted flowers. To create a warm and inviting evening ambiance, hang string lights or lanterns from the pergola.
Whether you seek a peaceful retreat or an entertainment hub, an attached pergola elevates your apartment patio with elegance, forging a seamless indoor-outdoor connection.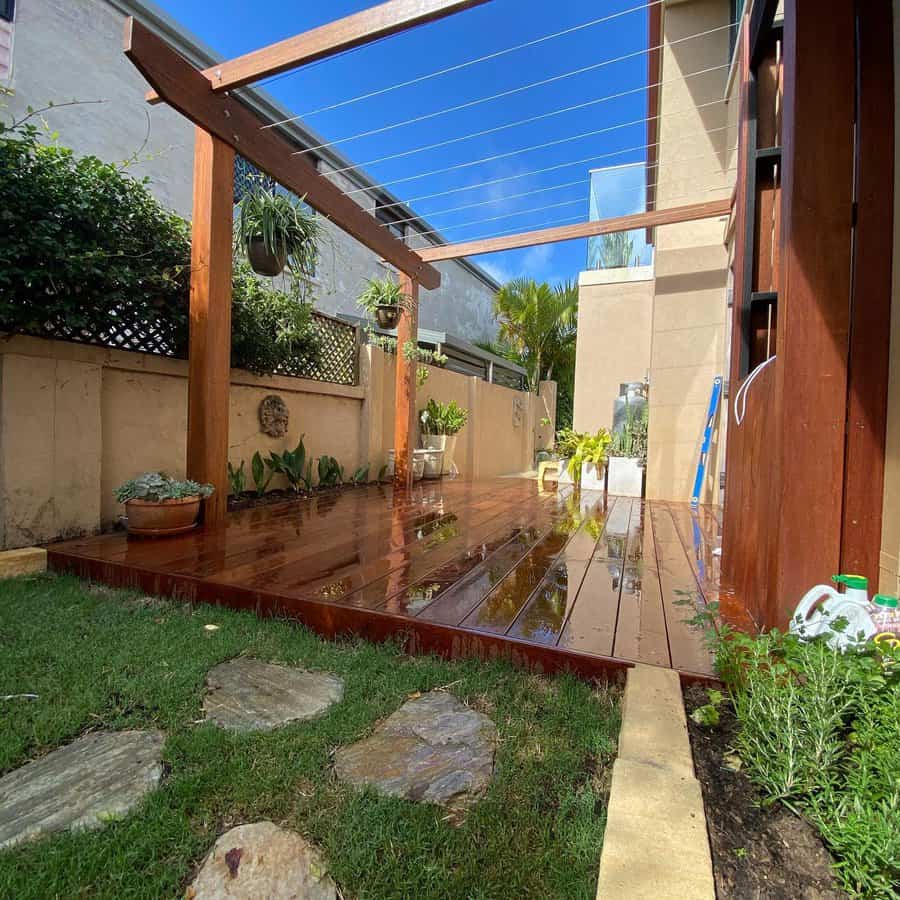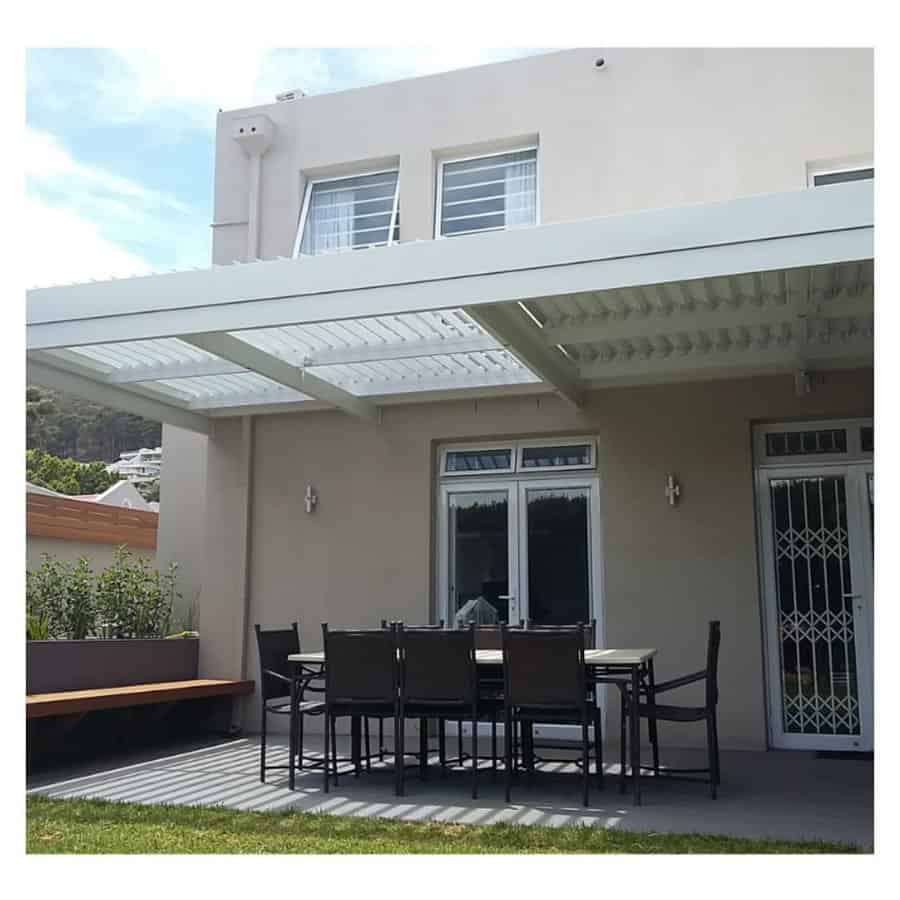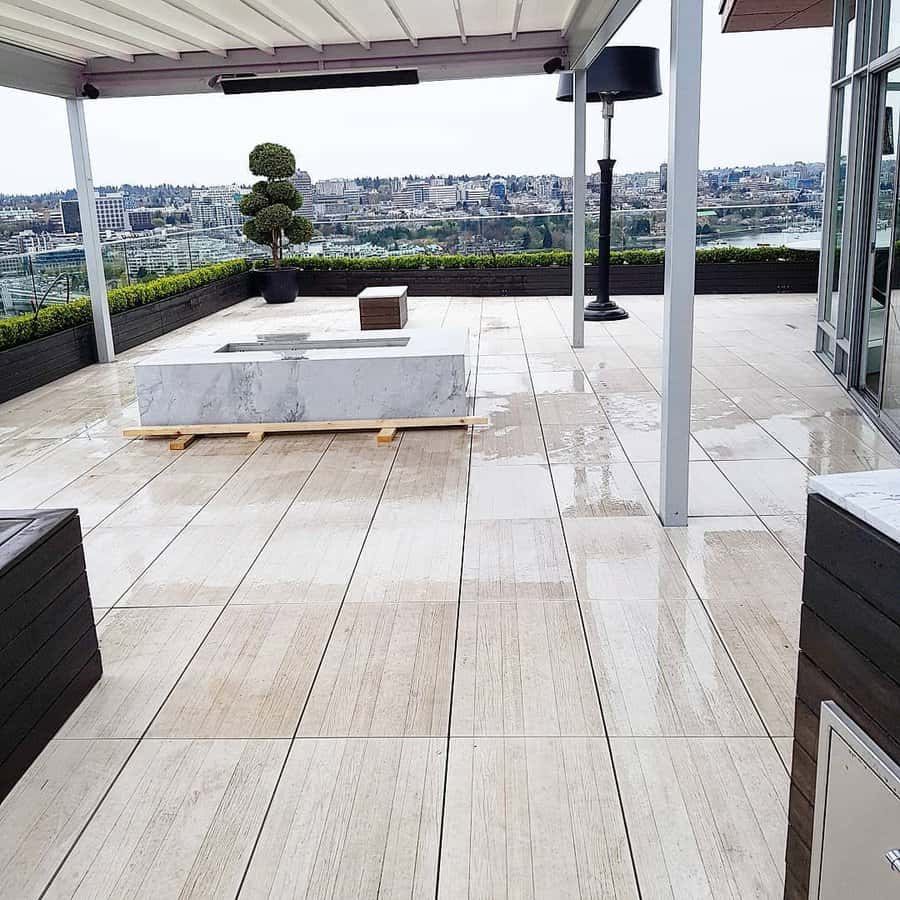 9. Grow a Vertical Garden Oasis
Elevate your apartment patio into a lush oasis with smart and stylish design concepts. Consider a wood pallet vertical garden, optimizing your vertical space while infusing rustic charm. Secure wooden pallets to your patio wall, forming a grid-like structure.
Fill each compartment with a variety of plants like trailing vines, colorful flowers, and fragrant herbs. This vertical garden brings a vibrant, refreshing touch to your outdoor space and becomes a captivating focal point.
Enhance the botanical beauty by adding a plant shelf for displaying potted plants of different sizes and heights. This not only adds depth and dimension but also designates a gardening area within your patio oasis. Your apartment patio will flourish as a serene vertical garden oasis with these thoughtful touches.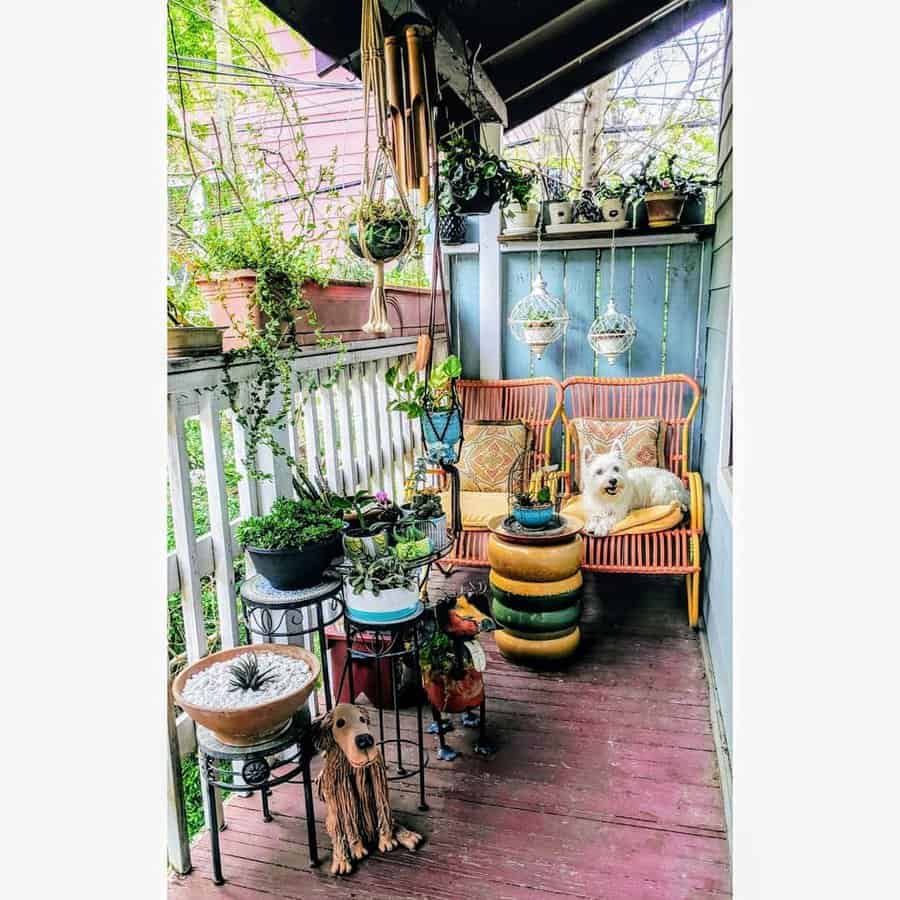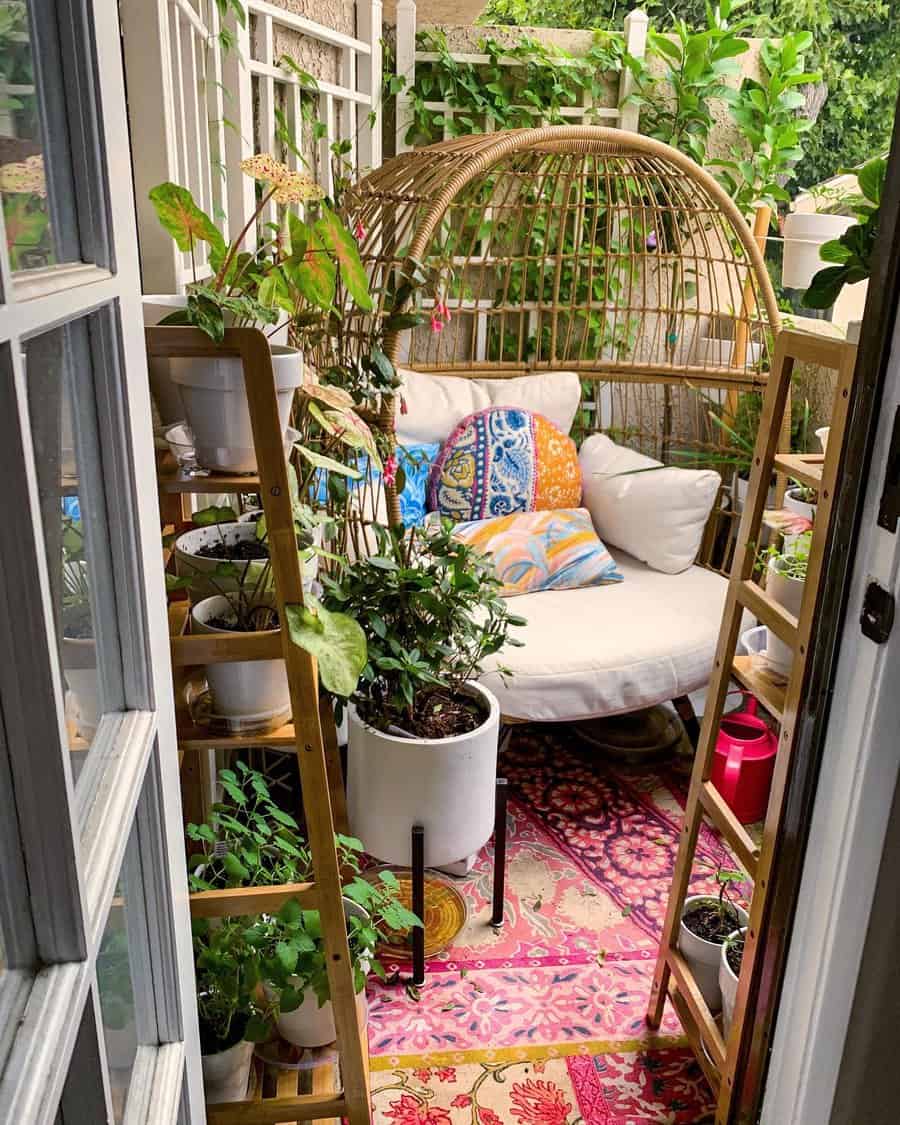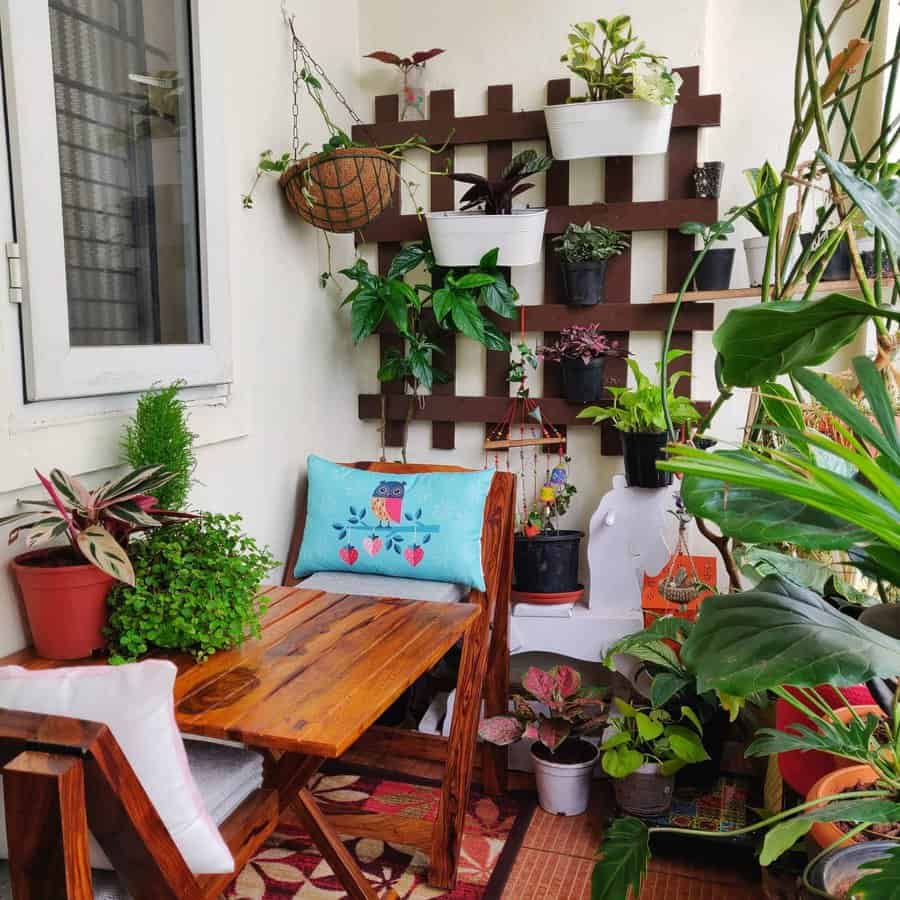 10. Elevate with Stylish Wall Art
Turn your apartment patio into a captivating oasis with the introduction of eye-catching wall art. Infuse your outdoor space with creativity and personal style that truly represents you. Select wall art that speaks to your taste, whether it's a vibrant painting, an enchanting tapestry, or an artful arrangement of decorative plates.
Evaluate your patio's size and layout to decide on the perfect spot for your chosen artwork. It could serve as a focal point above a seating area or create an enchanting backdrop for your dining space. With the right wall art, your apartment patio will become a stunning outdoor haven that reflects your unique aesthetic.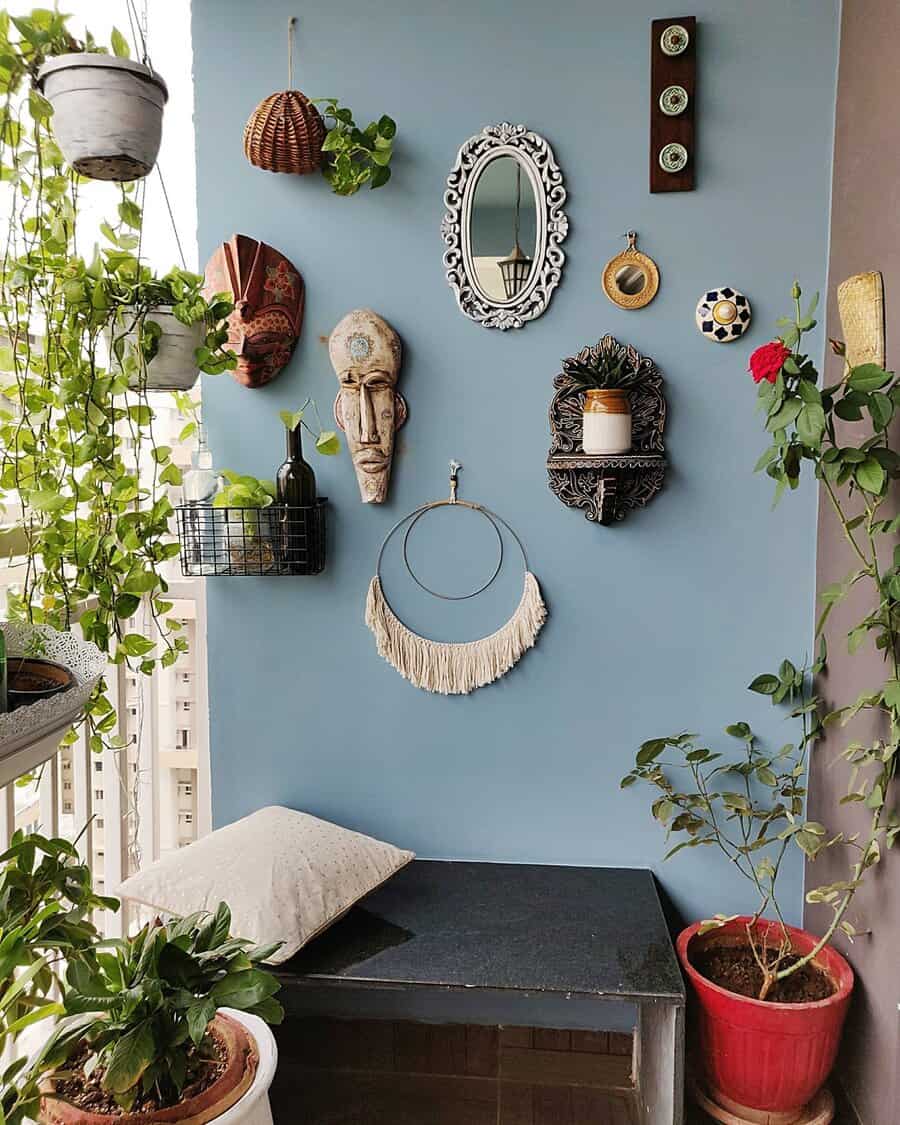 11. Find Serenity in a Meditation Corner
Turn your apartment patio into a tranquil haven with these chic ideas. Craft a dedicated meditation corner for finding peace amidst city life. Begin with a comfy futon or floor cushion, beckoning relaxation.
Surround yourself with greenery by introducing plants of varying sizes and textures, fostering a soothing atmosphere. Amplify the zen ambiance with a calming water feature like a small fountain or wall-mounted waterfall. For added luxury and relaxation, contemplate a daybed where you can lounge and bask in the sun's warmth. Your apartment patio will become your serene meditation sanctuary with these thoughtful touches.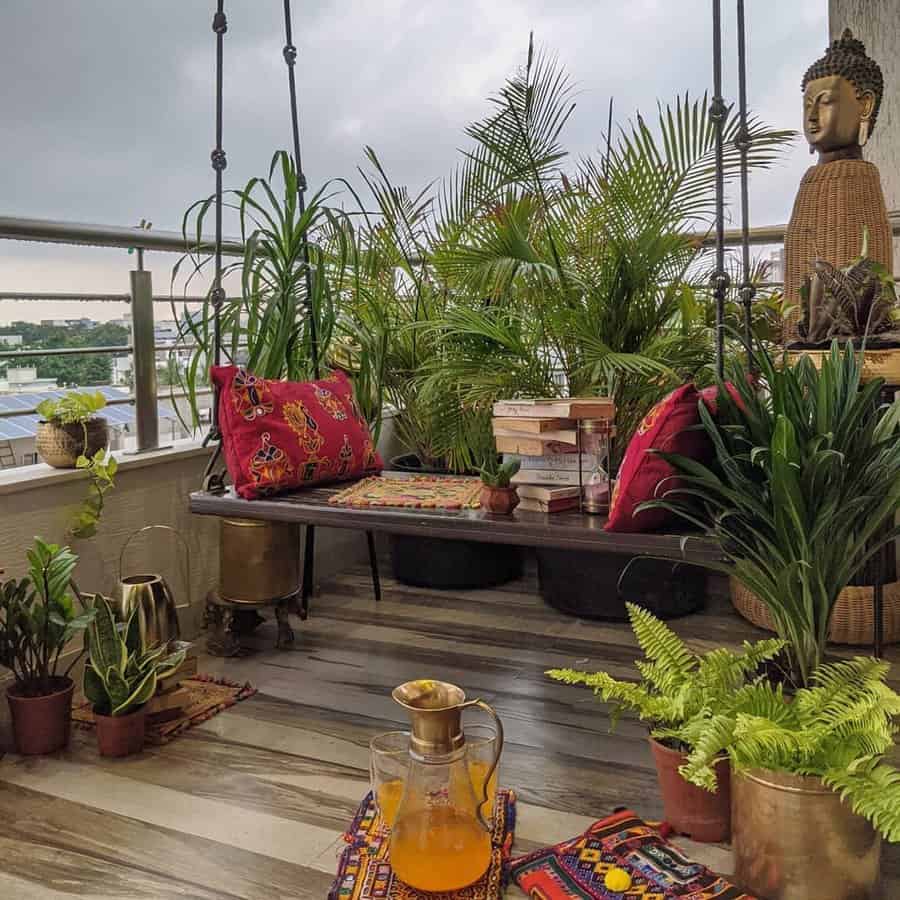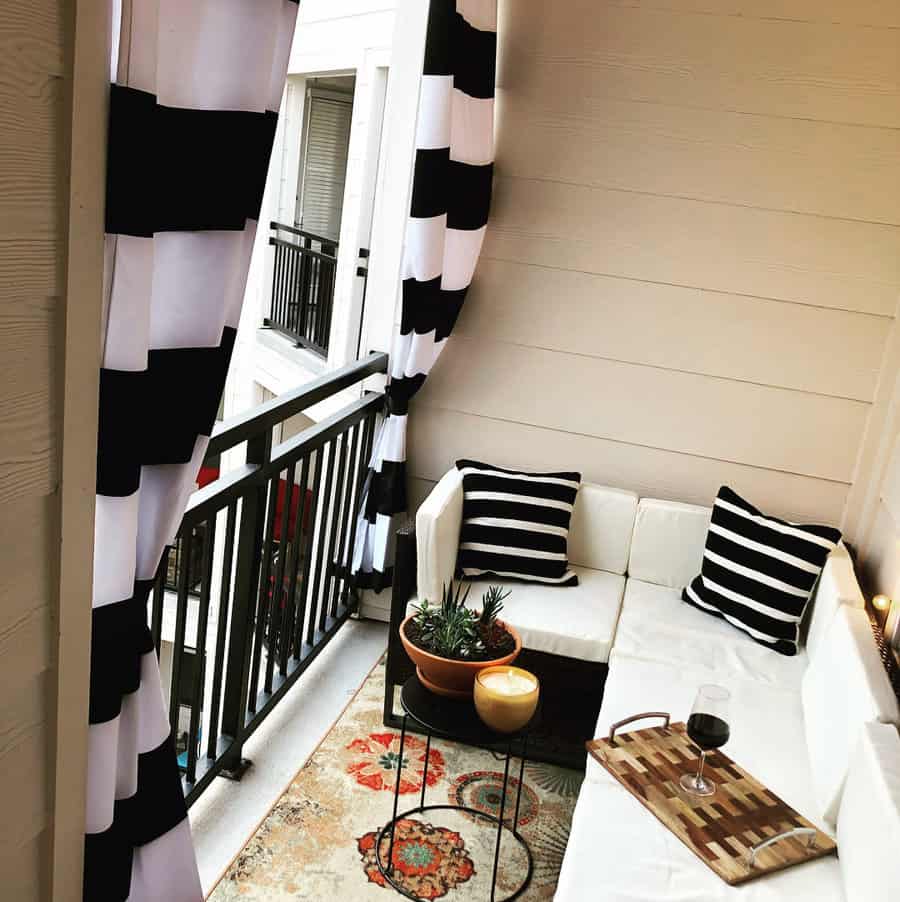 12. Achieve Privacy with Retractable Screens
Elevate your patio's comfort and flexibility with innovative retractable screens. Gain privacy or divide open spaces effortlessly. Whether you seek seclusion or versatility, retractable screens are the answer.
Select materials and finishes to match your interior style, from sleek and modern to natural and rustic. With adjustable and retractable features, you have control over your privacy needs. Craft a cozy reading nook or a private workspace on your apartment patio with a straightforward pull of a screen. These screens offer the perfect blend of practicality and style for your outdoor oasis.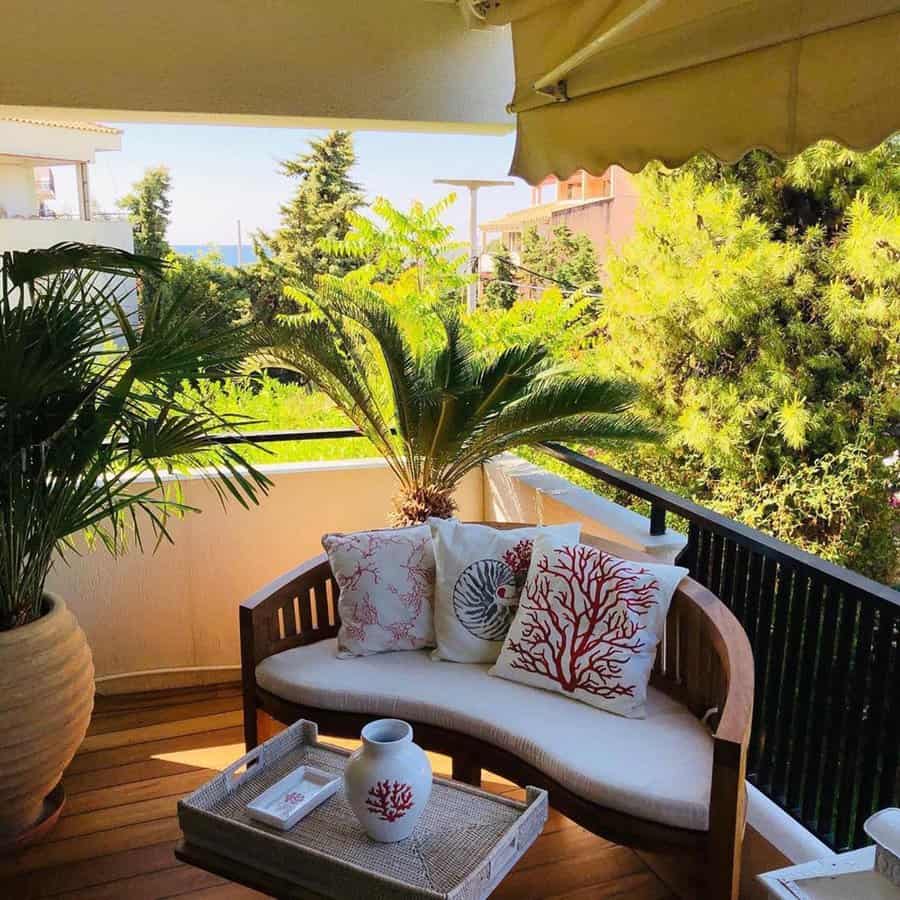 13. Enjoy Greenery with Artificial Grass
Transform your apartment patio into a lush and inviting oasis with the addition of artificial grass. This clever design idea brings a touch of nature to your outdoor space, even if you don't have access to a traditional lawn. The soft and realistic texture of artificial grass creates a cozy and comfortable area where you can relax, unwind, and enjoy the outdoors.
It provides a vibrant and green backdrop that instantly elevates the aesthetic of your patio. Whether you have a small balcony or a spacious terrace, artificial grass can be tailored to fit any size and shape. Pair it with stylish and comfortable outdoor furniture, such as a cozy lounge chair or a bistro set, to create an intimate seating area for enjoying morning coffee or evening cocktails.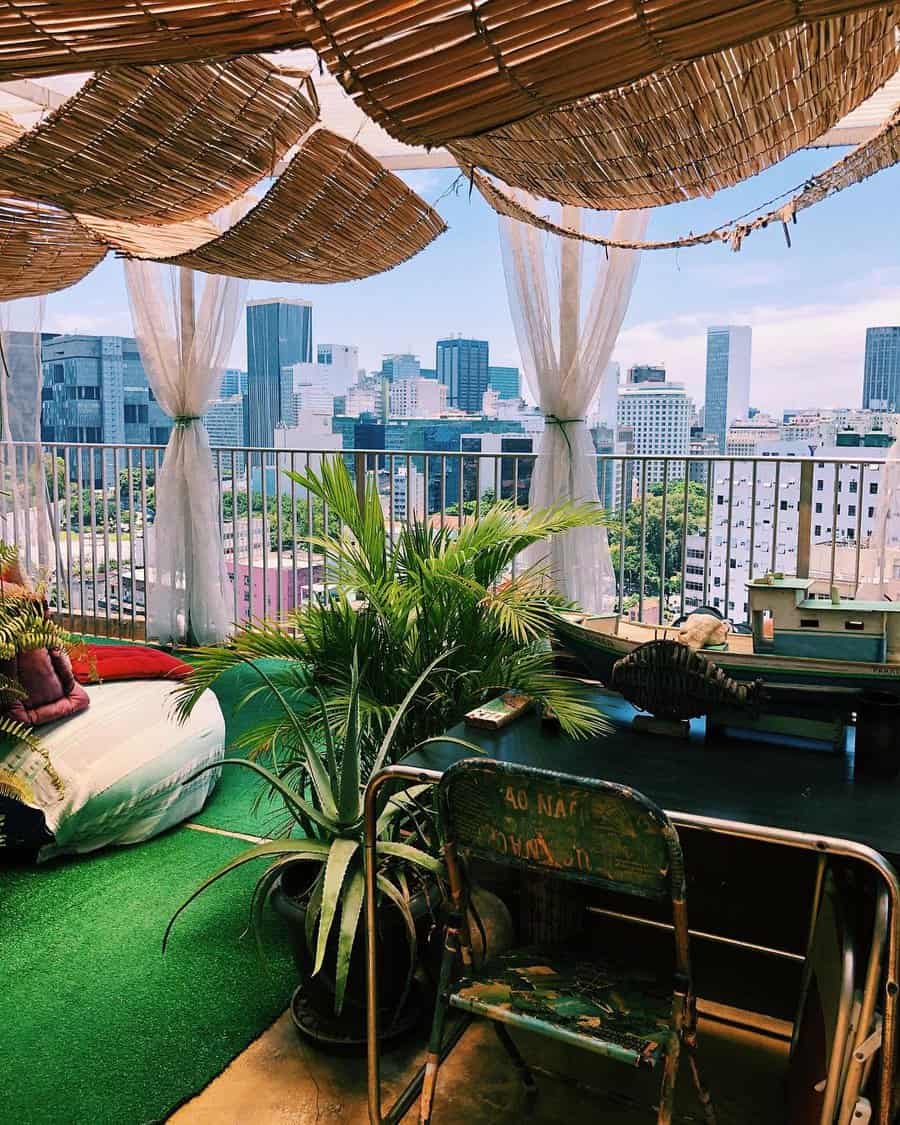 14. Secure Privacy with Screen Panels
Today's privacy fences offer charm and style for your patio. Choose from a range of designs, from modern and sleek to rustic and natural. Explore options like horizontal slat fences for a contemporary look or classic picket fences with a twist.
Get creative with materials such as wood, bamboo, or metal for a unique aesthetic. Enhance your privacy fence with climbing plants or cascading flowers for added natural beauty. Consider functional elements like gates or panels for easy access while maintaining privacy.
Your privacy fence not only provides seclusion but also serves as a stunning backdrop for outdoor gatherings or peaceful moments of solitude. It's the perfect blend of practicality and style for your patio.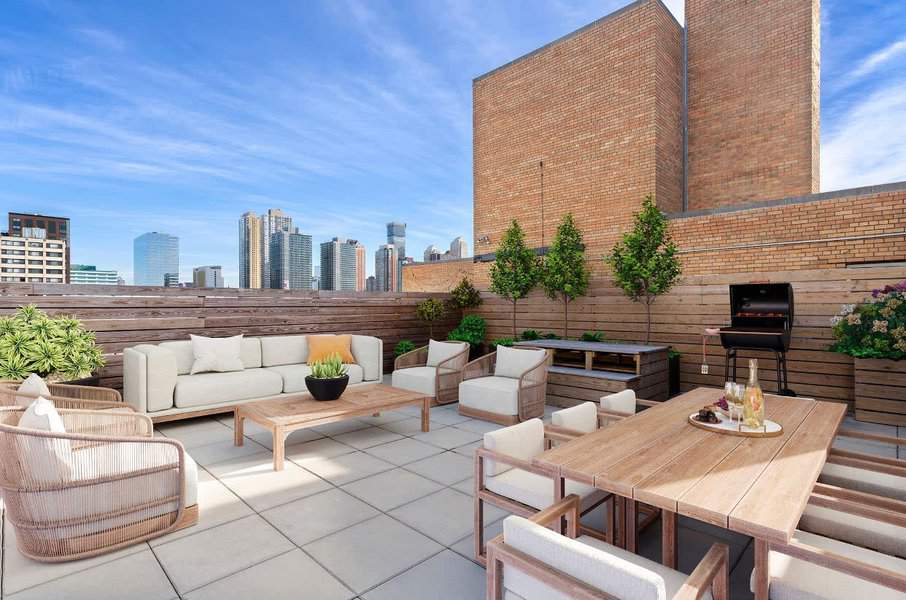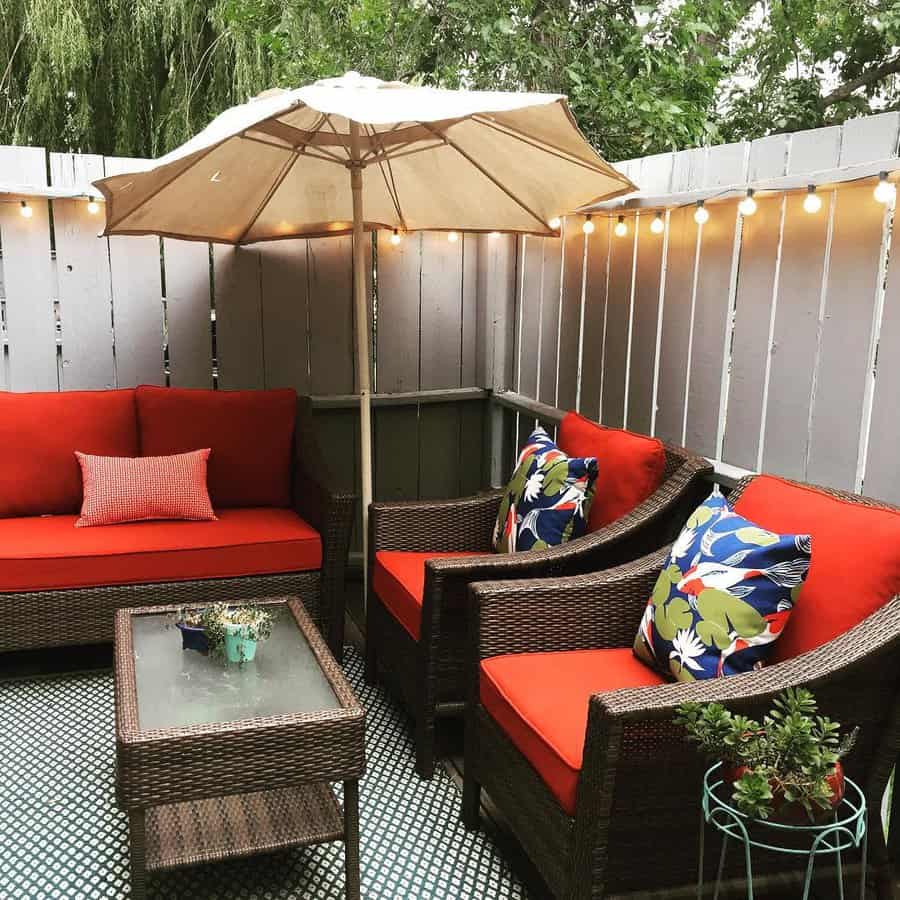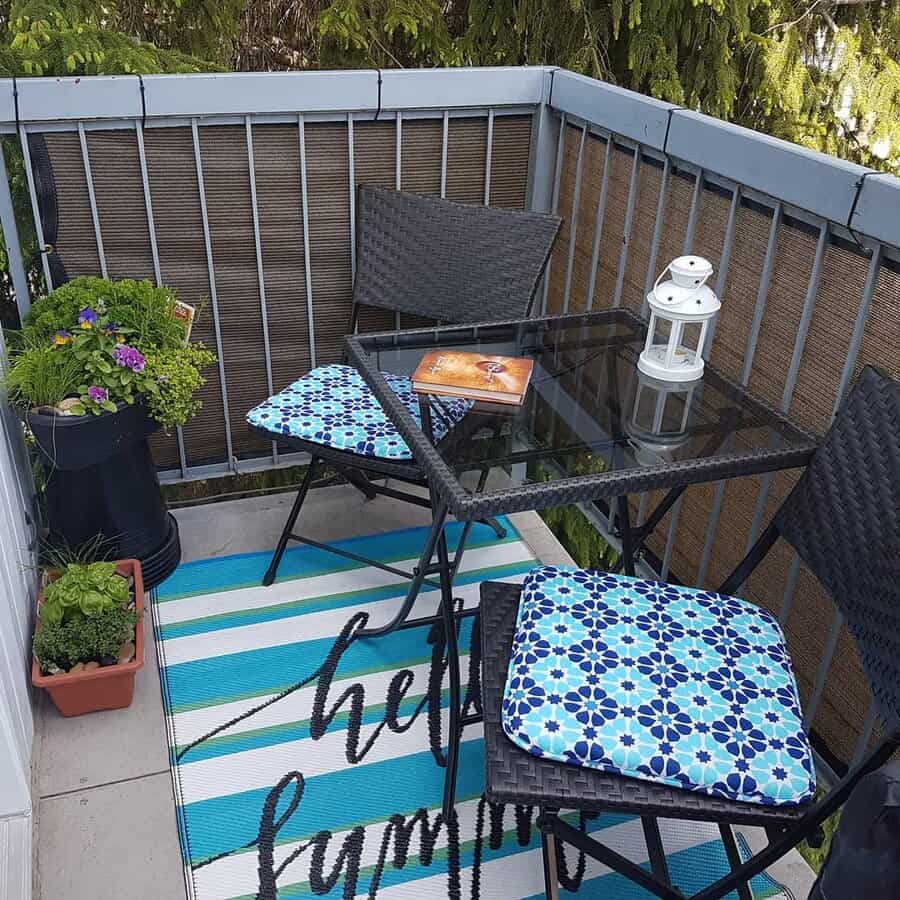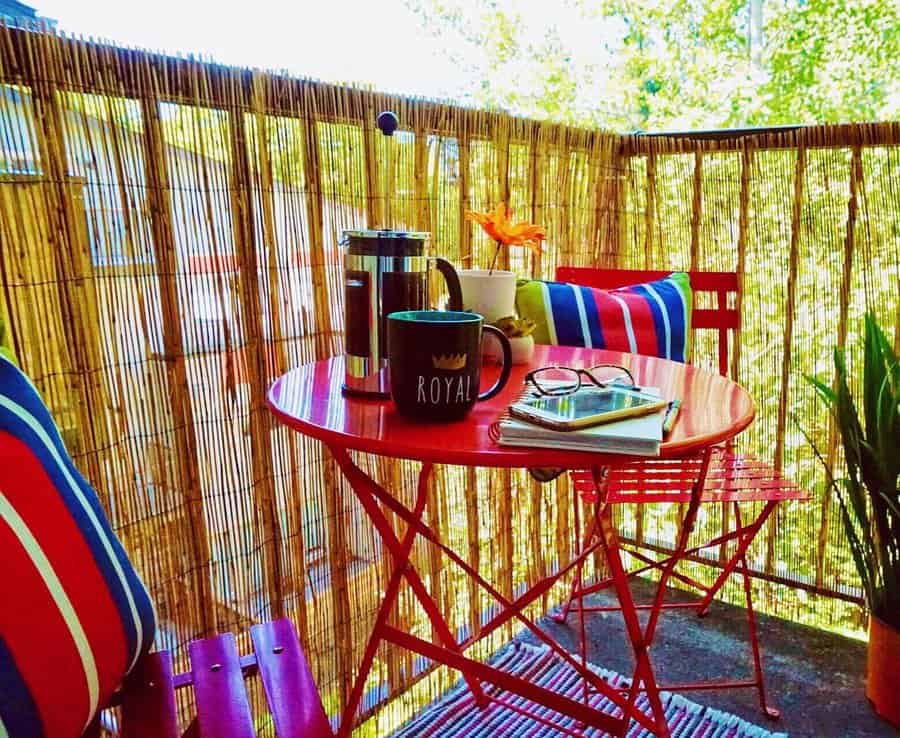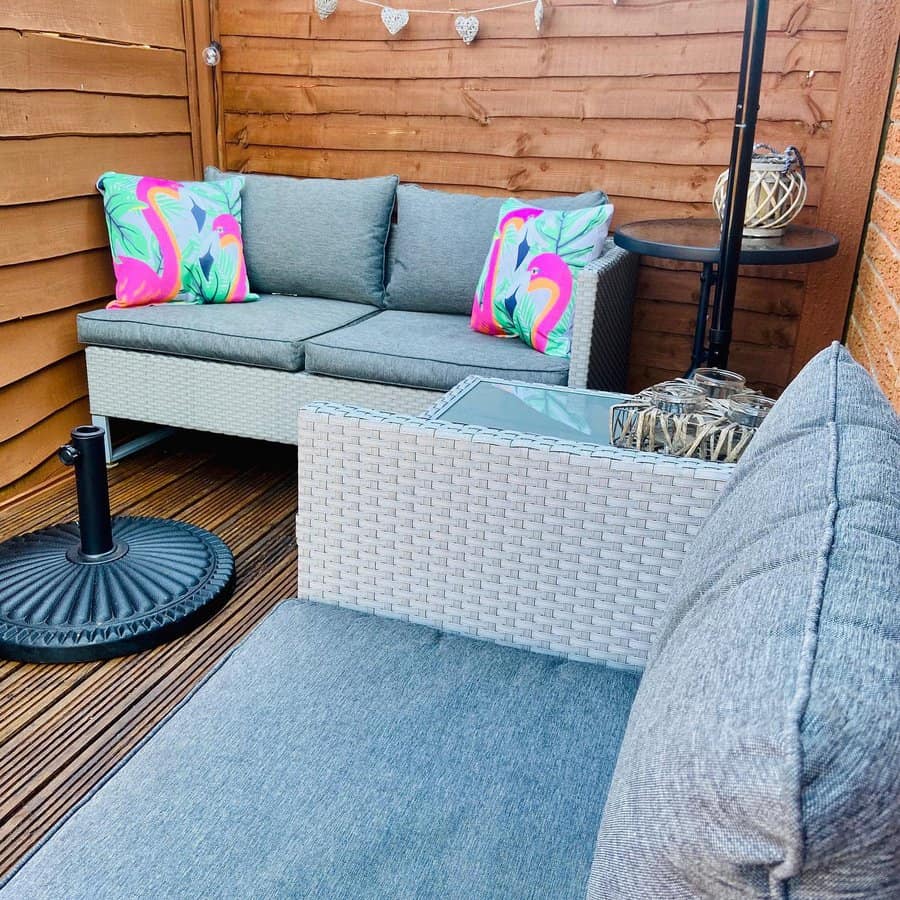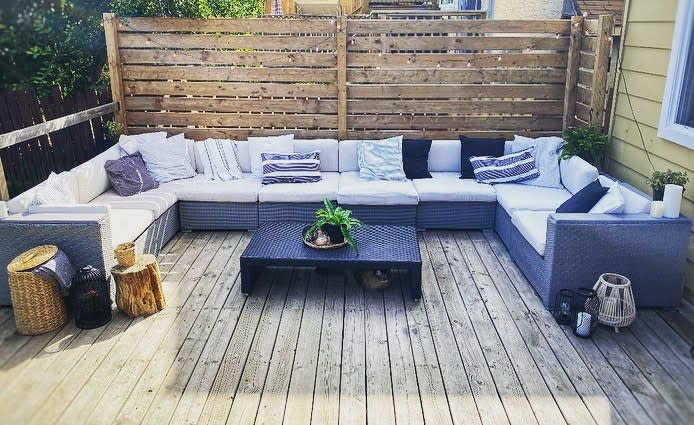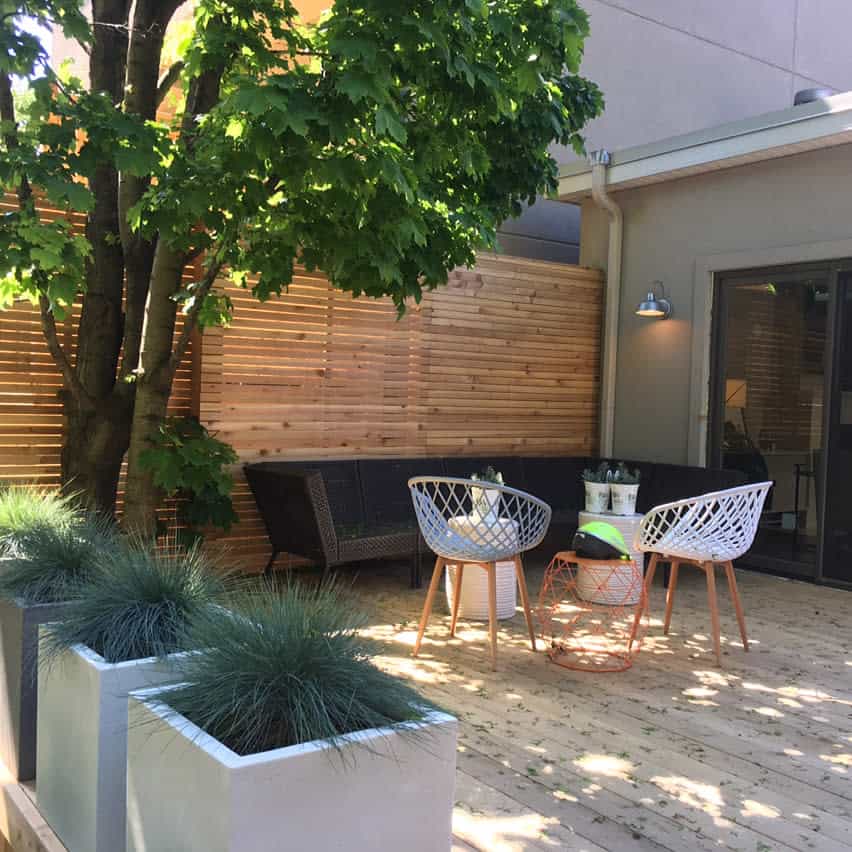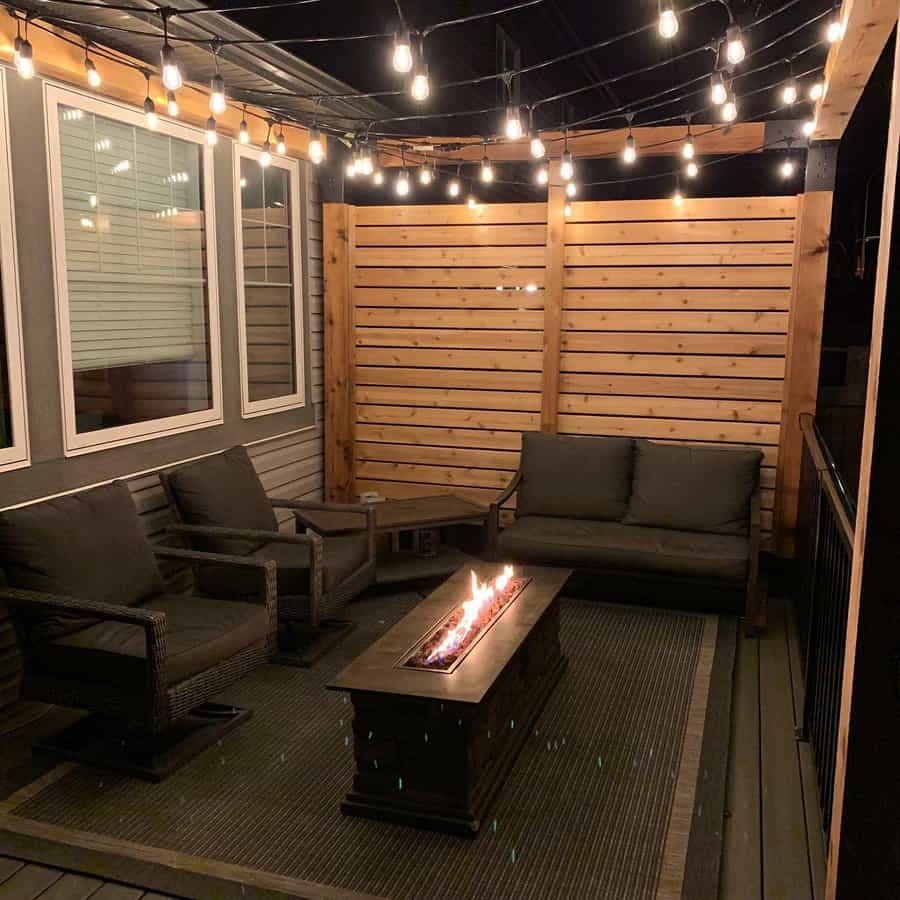 15. Bask in Sunroom Comfort
Utilize the abundant natural light in your indoor patio to craft a bright and welcoming retreat. Opt for light and comfortable furnishings, including plush cushions in soft pastels, complemented by cozy throw blankets for cooler evenings.
Infuse vitality and serenity by incorporating potted plants and fresh flowers, bringing a touch of nature indoors. Add sheer curtains to the windows to allow filtered sunlight, creating a dreamy atmosphere. Elevate the ambiance during the evening with stylish accessories like lanterns or string lights, casting a magical glow. Your sunroom will become the ultimate oasis for relaxation and rejuvenation.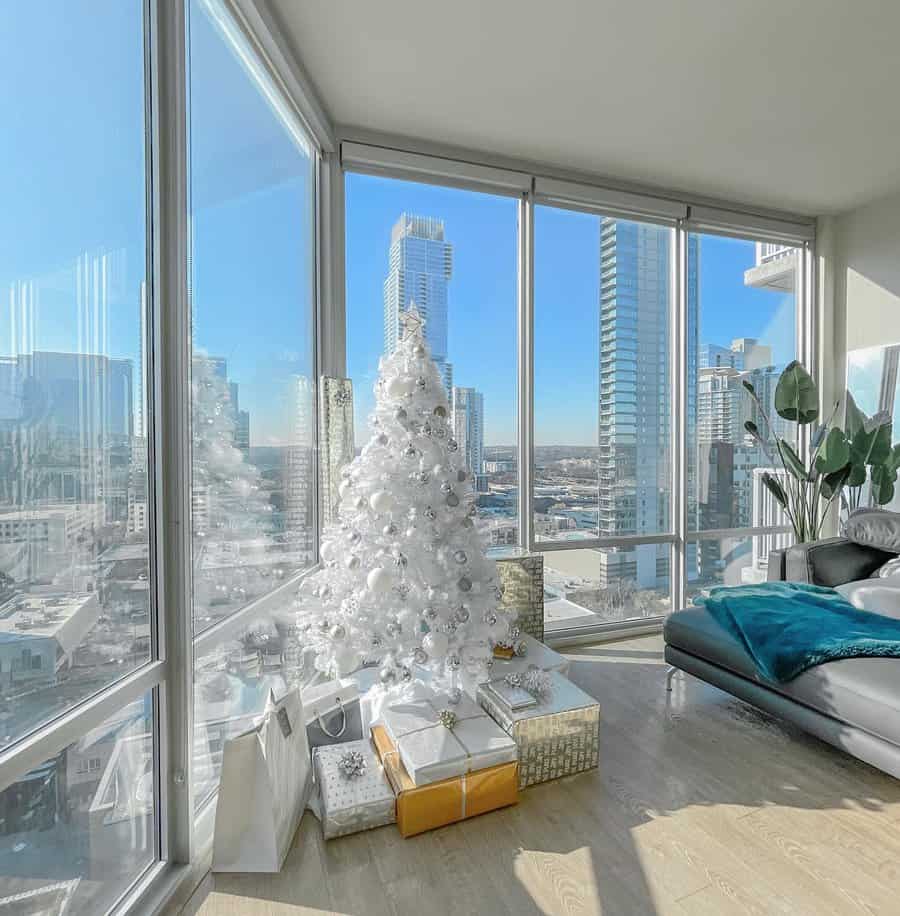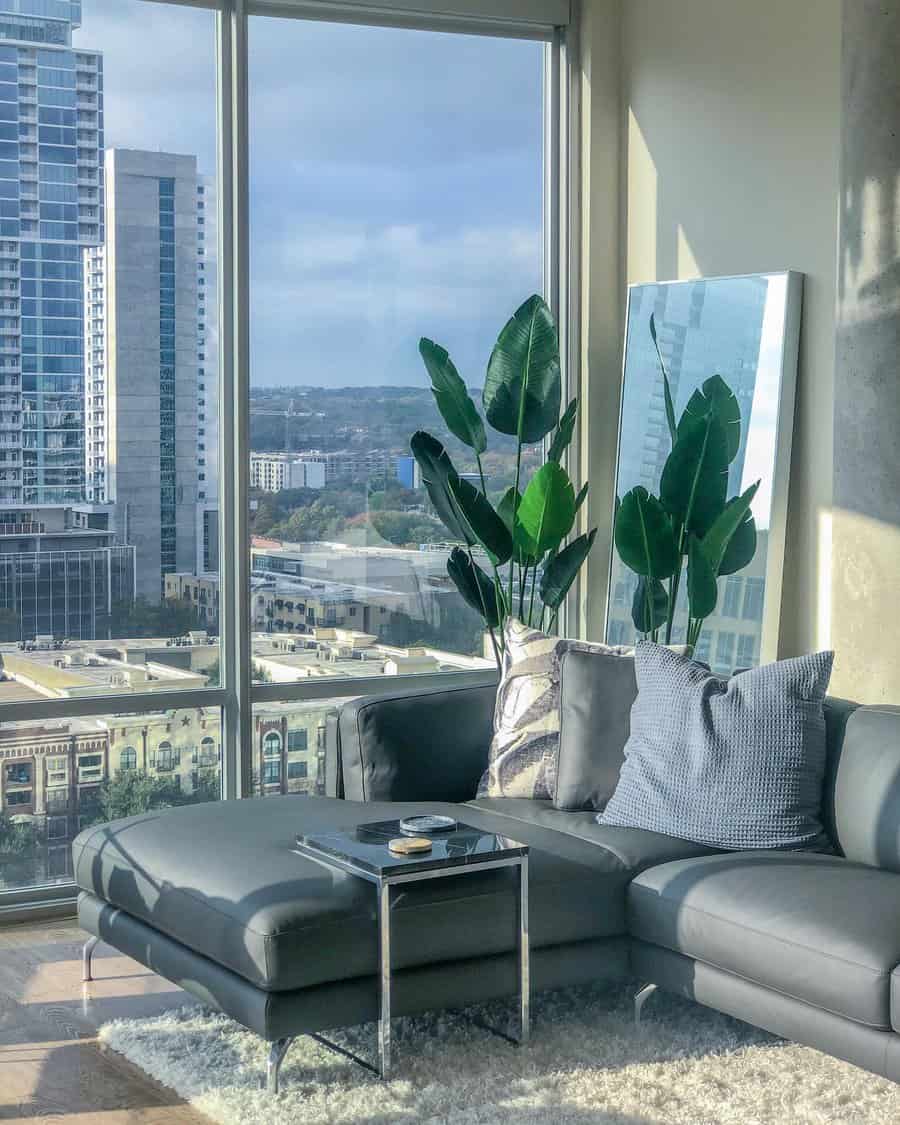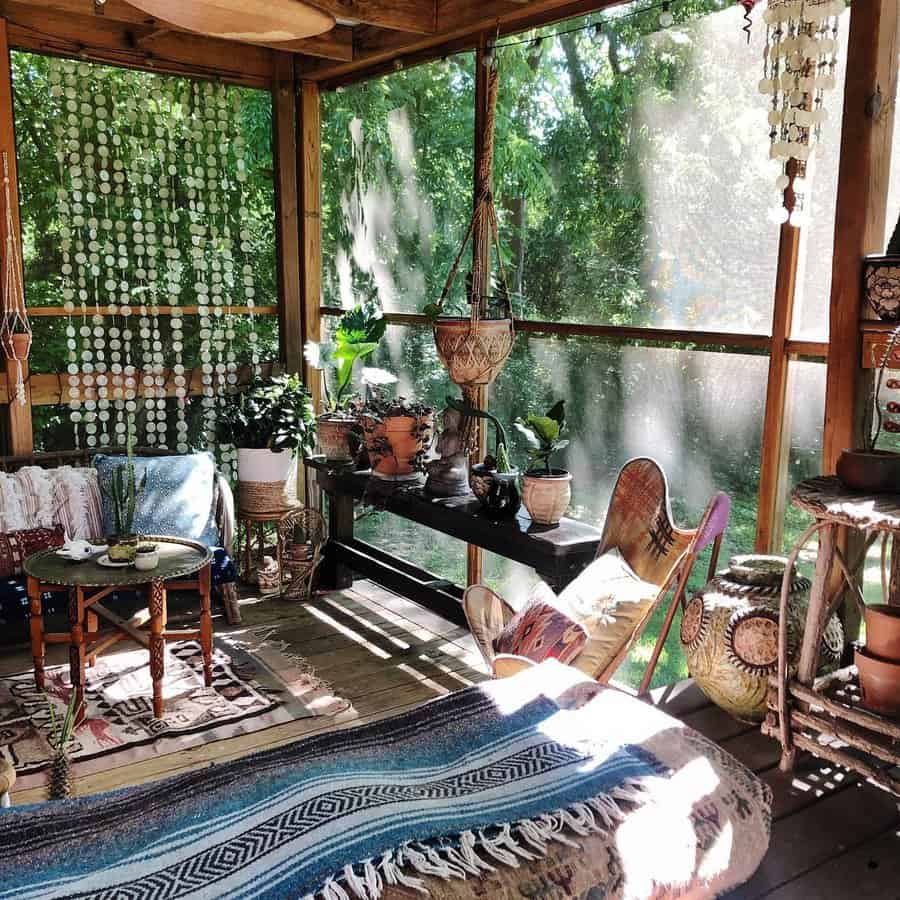 16. Define Spaces with an Area Rug
Enhance your outdoor space's warmth and style with an area rug, instantly elevating its appeal. Select a weather-resistant rug designed for outdoor use, ensuring durability against the elements.
Choose a pattern or color that harmonizes with your patio furniture, adding personality to the area. Whether you prefer bold geometric designs or a subtler, natural look, the area rug establishes the foundation for a chic and comfortable outdoor retreat. Complement it with cozy outdoor seating, potted plants, and soft lighting to create a welcoming ambiance for relaxation and gatherings.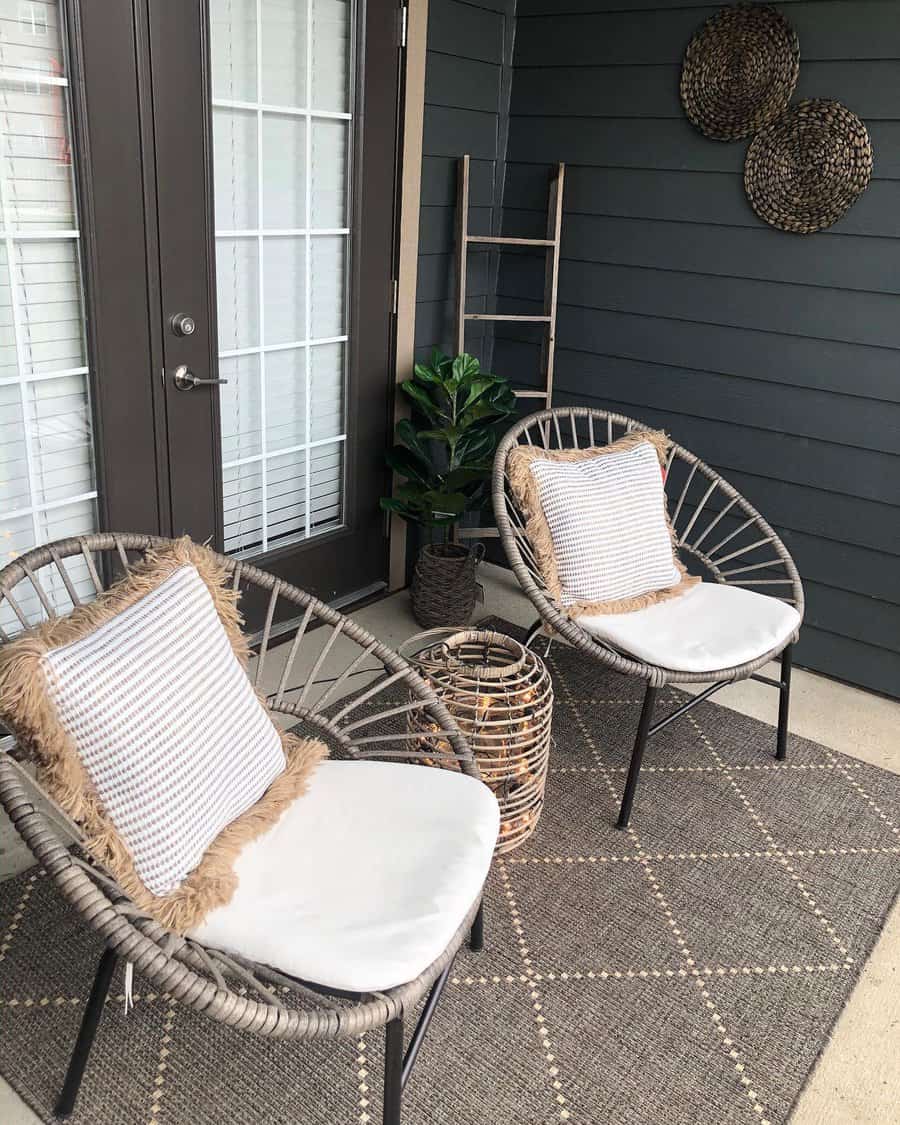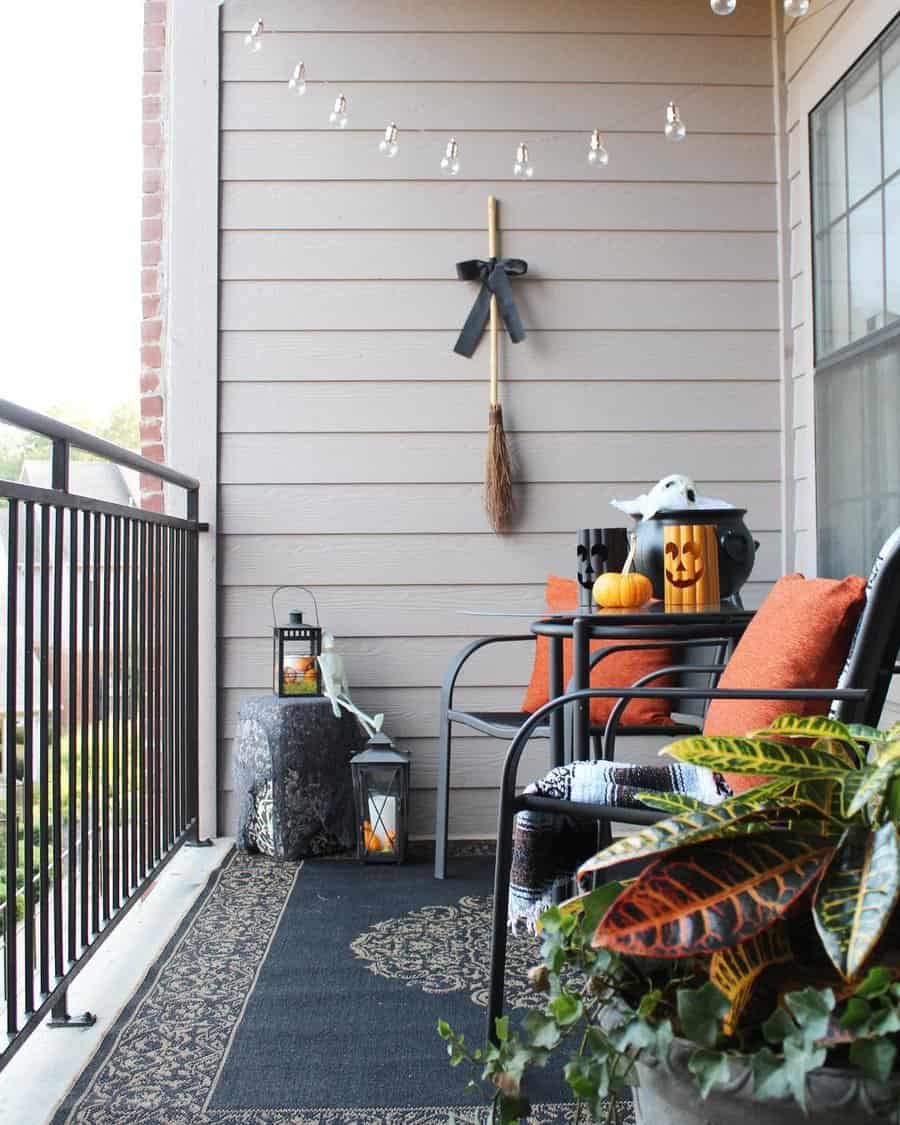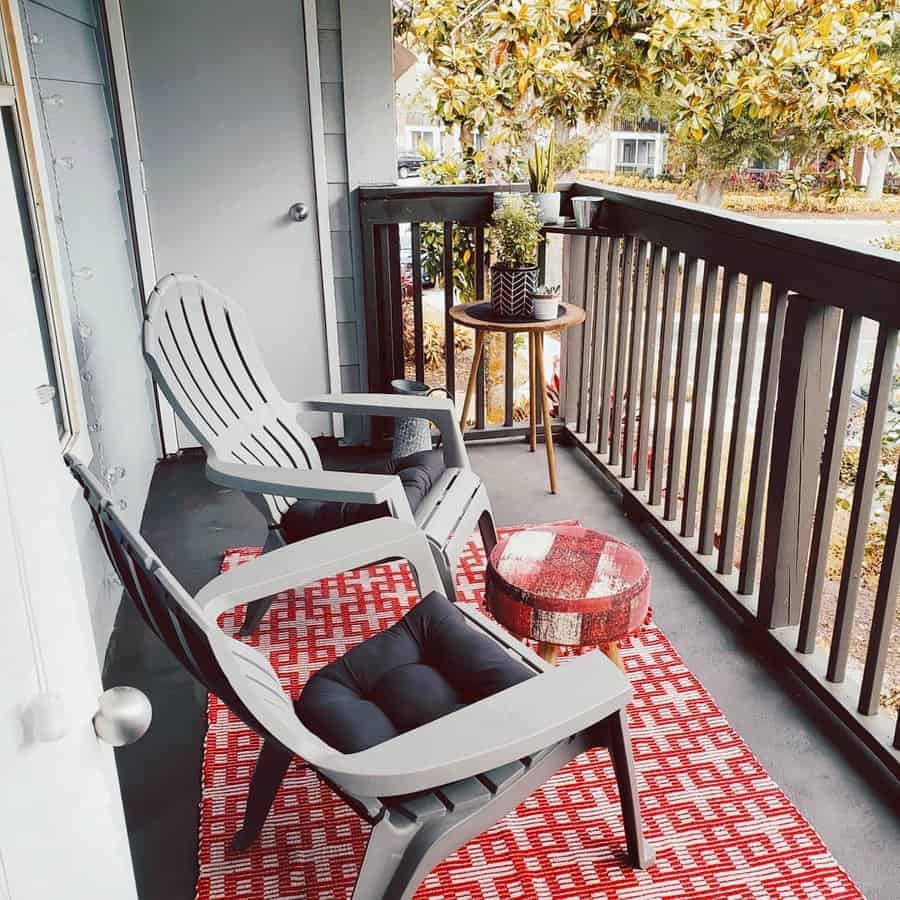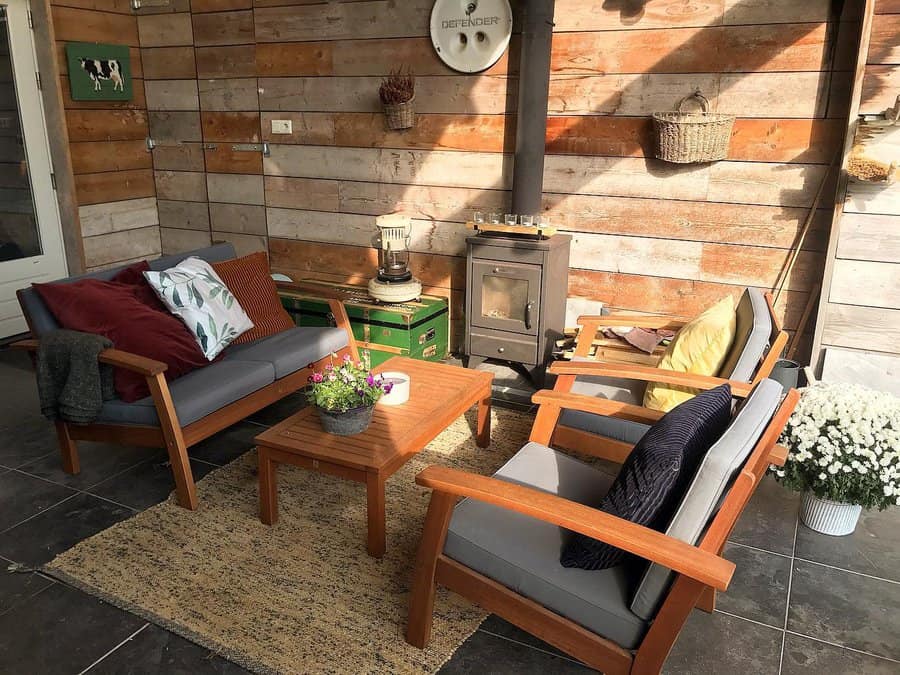 17. Create a Mini Patio Garden
In limited space, craft a lush retreat just outside your door. Choose container-friendly plants like herbs, succulents, and vibrant flowers. Arrange them in attractive pots, varying heights, textures, and colors for visual appeal.
Maximize greenery with vertical gardens or wall trellises. Introduce comfortable seating, like a bistro set or cushioned chairs, for a cozy spot to enjoy morning coffee or evening wine. With these elements, your mini patio garden becomes a tranquil escape within your apartment.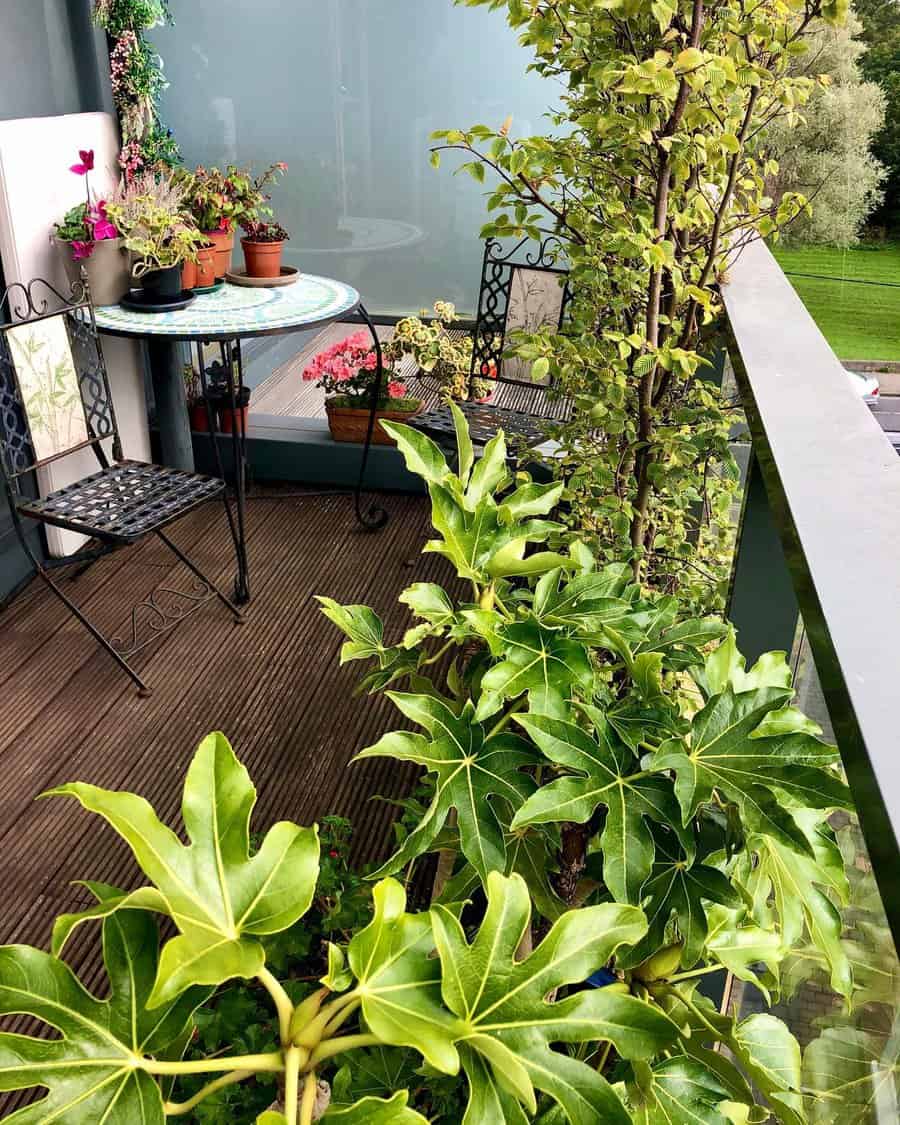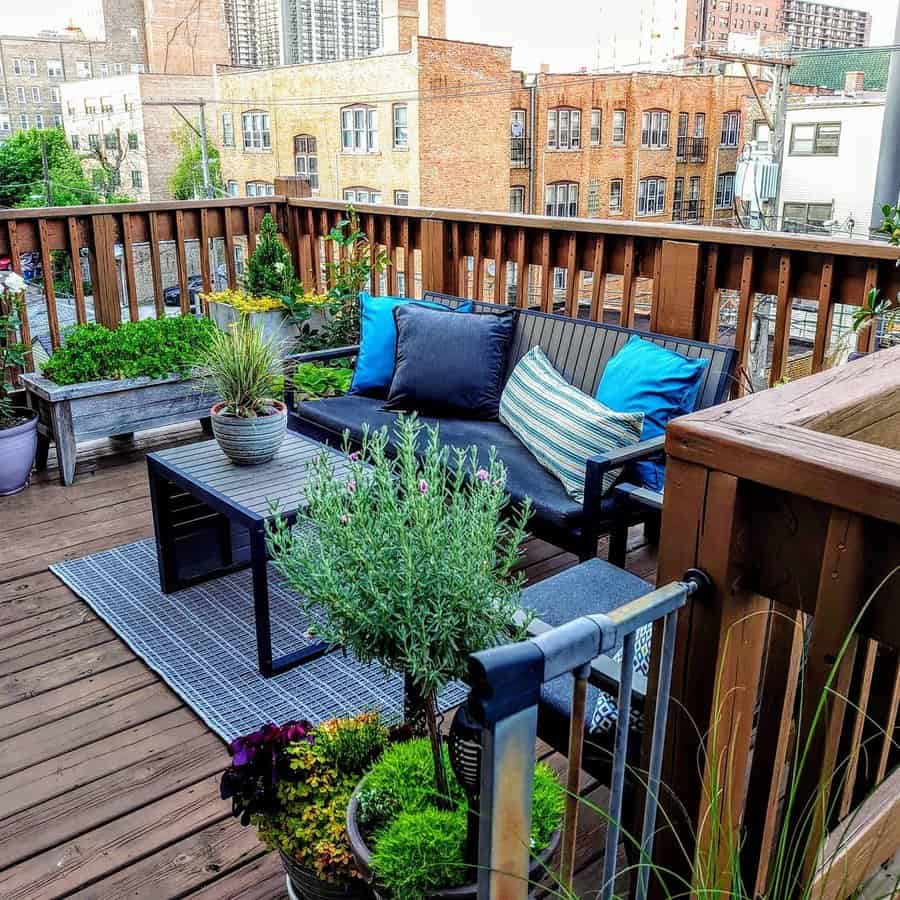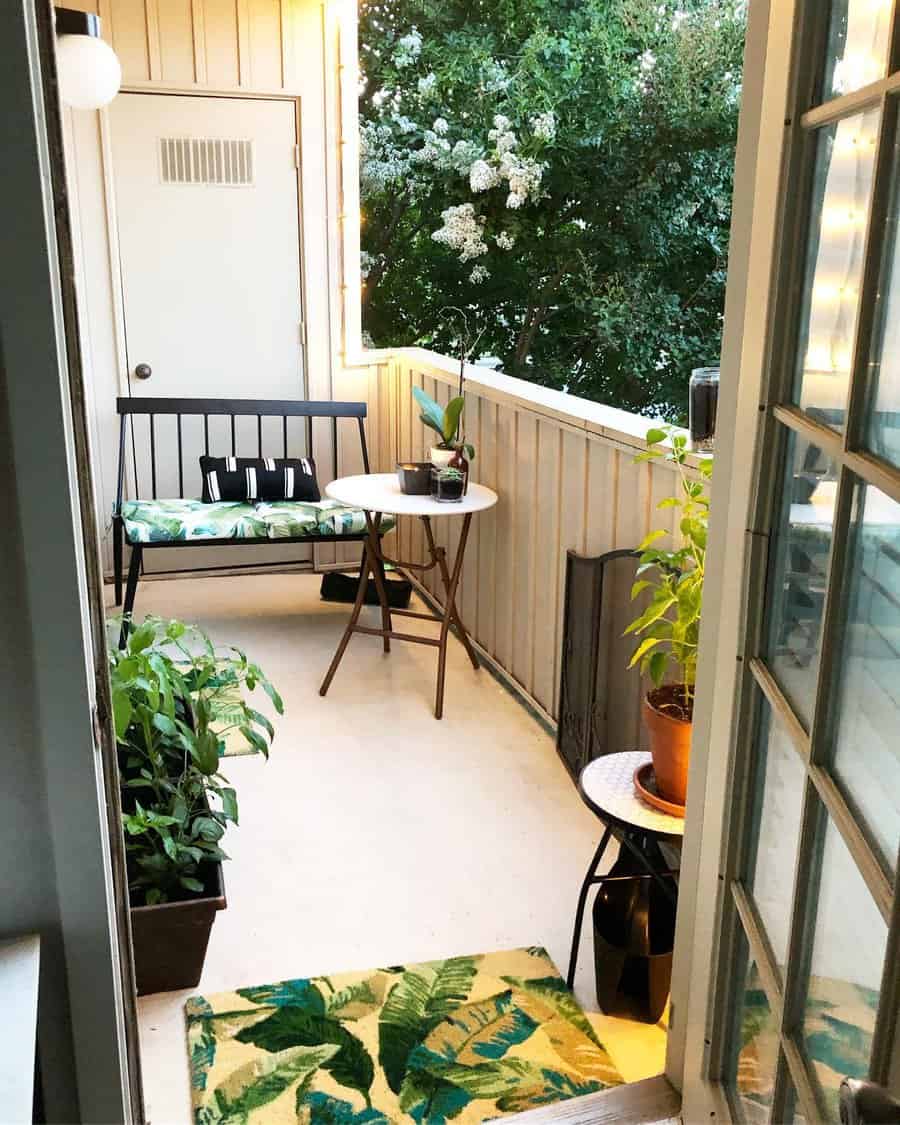 18. Lay the Foundation with Concrete Pavers
In limited space, craft a lush retreat just outside your door. Choose container-friendly plants like herbs, succulents, and vibrant flowers. Arrange them in attractive pots, varying heights, textures, and colors for visual appeal.
Maximize greenery with vertical gardens or wall trellises. Introduce comfortable seating, like a bistro set or cushioned chairs, for a cozy spot to enjoy morning coffee or evening wine. With these elements, your mini patio garden becomes a tranquil escape within your apartment.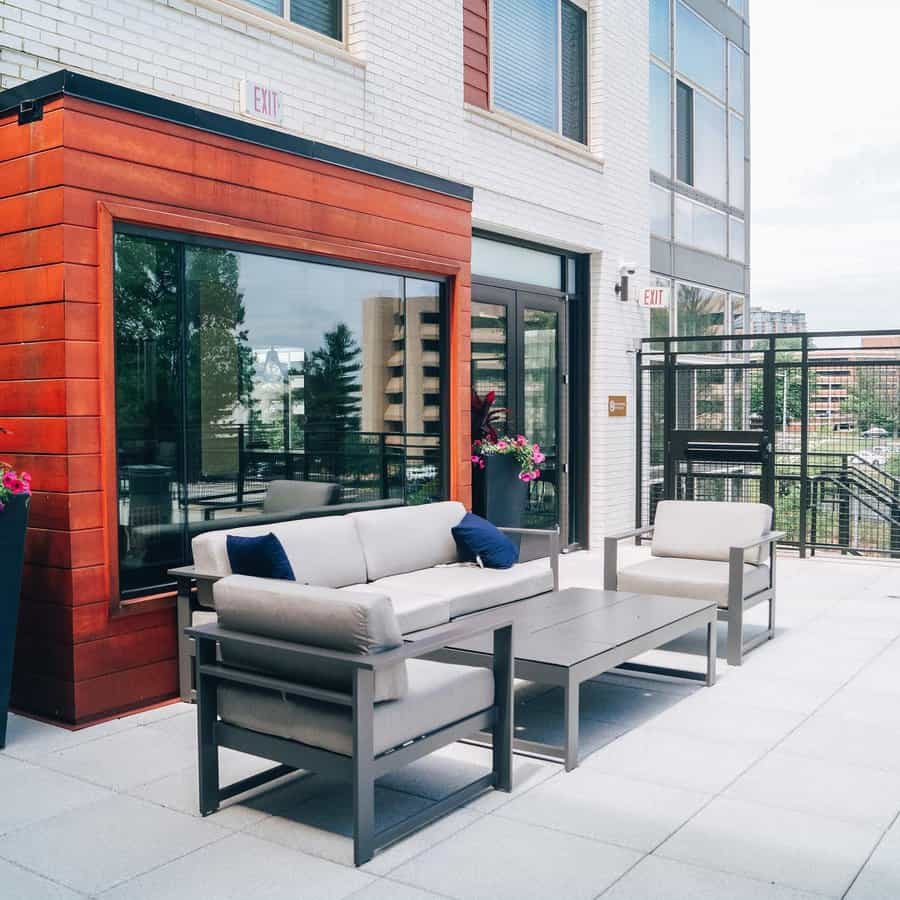 19. Opt for a Sleek Glass Railing
Selecting a glass railing for your apartment patio adds an open, airy feel by allowing light to flow freely. Choose from clear, frosted, or tinted glass to match your desired aesthetic. Enhance the modern and polished look by pairing it with stainless steel or wooden accents.
The versatility of a glass railing effortlessly complements various design styles, from minimalistic to industrial chic. Beyond aesthetics, it also provides safety and durability for your outdoor space.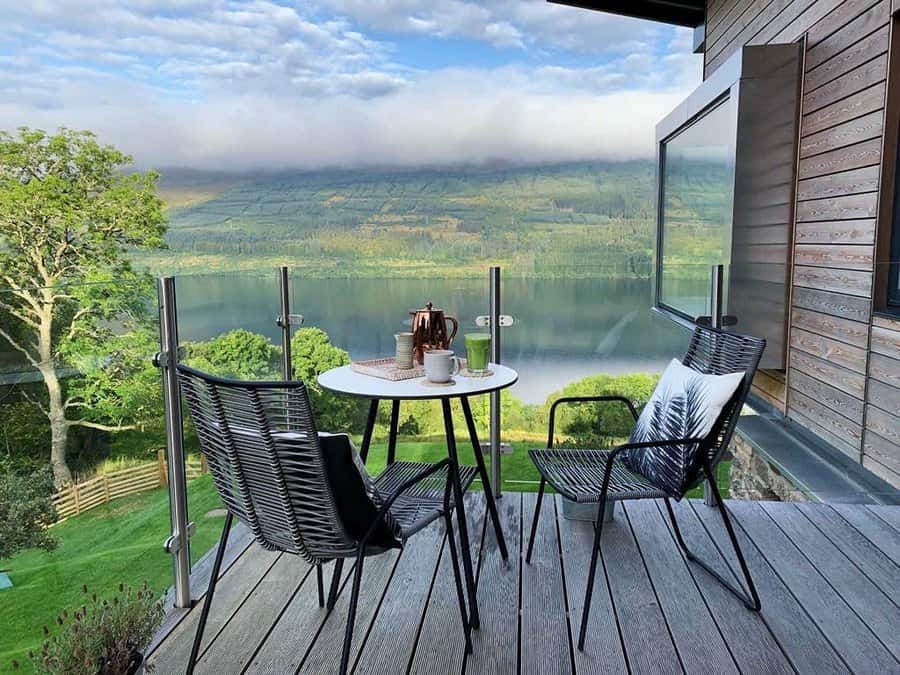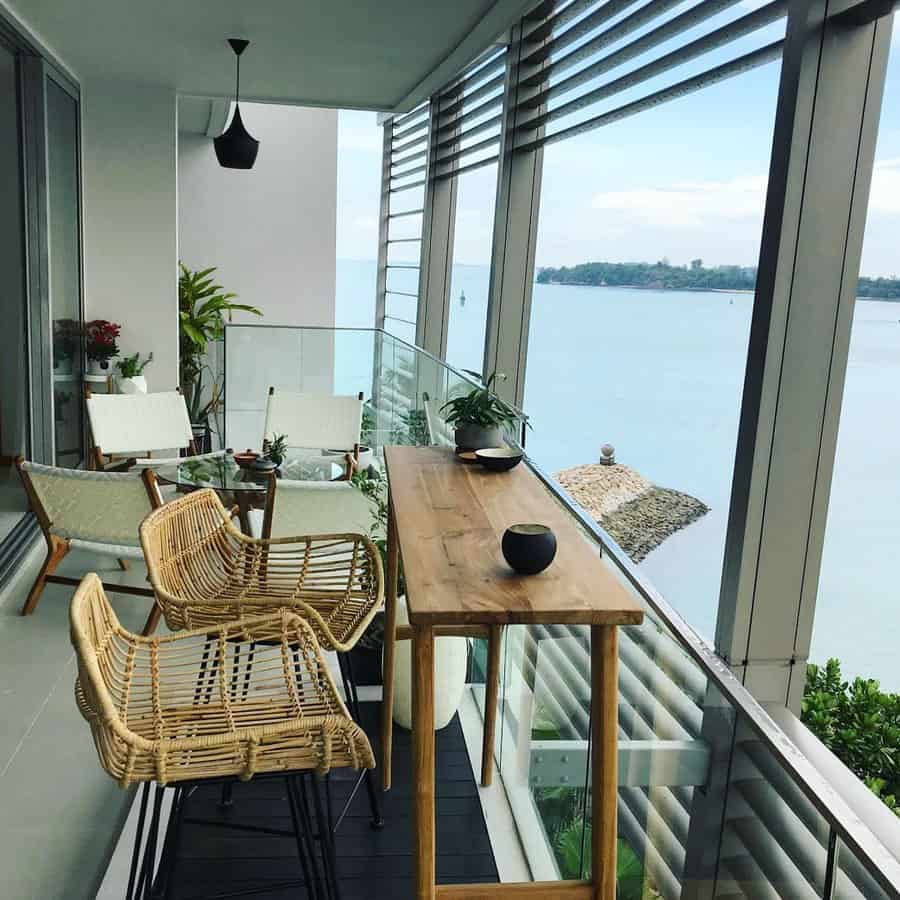 20. Set the Mood with String Lights
Easily infuse warmth and charm into your living spaces with the magic of string lights. Whether it's your living room, bedroom, or outdoor area, these lights add a touch of whimsy and allure.
Experiment with captivating patterns along walls, draping them across ceilings, or winding them around furniture to create an enchanting ambiance. The soft, twinkling glow elevates the mood and imparts a cozy, ethereal atmosphere. Harness the versatility of string lights to accentuate architectural features or highlight specific areas.
Craft a snug reading nook by draping them around a bookshelf or canopy bed. Or evoke romance on a patio or balcony by lining them along the railing. With string lights, your creativity knows no bounds. Revel in the gentle, ambient lighting that transforms your space into a captivating sanctuary.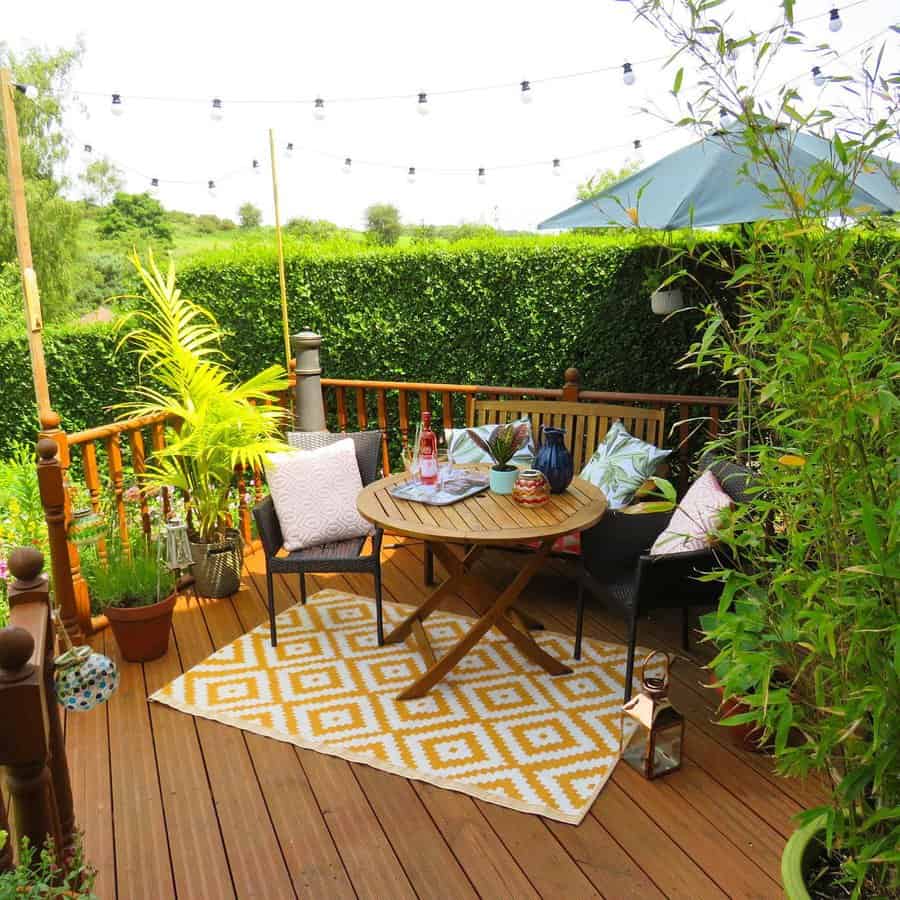 Apartment Patio FAQs
Is there a difference between a patio and a balcony?
Yes, there is a technical difference between a patio and a balcony. Patios are located on the ground floor. Balconies are located on any floor above the ground.
In practice, however, most people use the two terms interchangeably. And there's no reason why your favorite apartment patio ideas won't work on a balcony, as well!
What is the weight limit of an apartment patio?
If your apartment patio is located on the ground floor, then weight limit shouldn't be a huge concern. But it's a different story for those living on higher floors.
There is no set weight limit for an apartment patio. There may be information about weight limits located in your lease or condo guidelines.
As a general rule, most patios can support at least 50 pounds per square foot. However, you should always err on the side of caution. Avoid placing heavy furniture or oversized planters on your apartment balcony. And be sure to take into account the number of people who will be standing on your patio at one time when estimating the weight capacity.