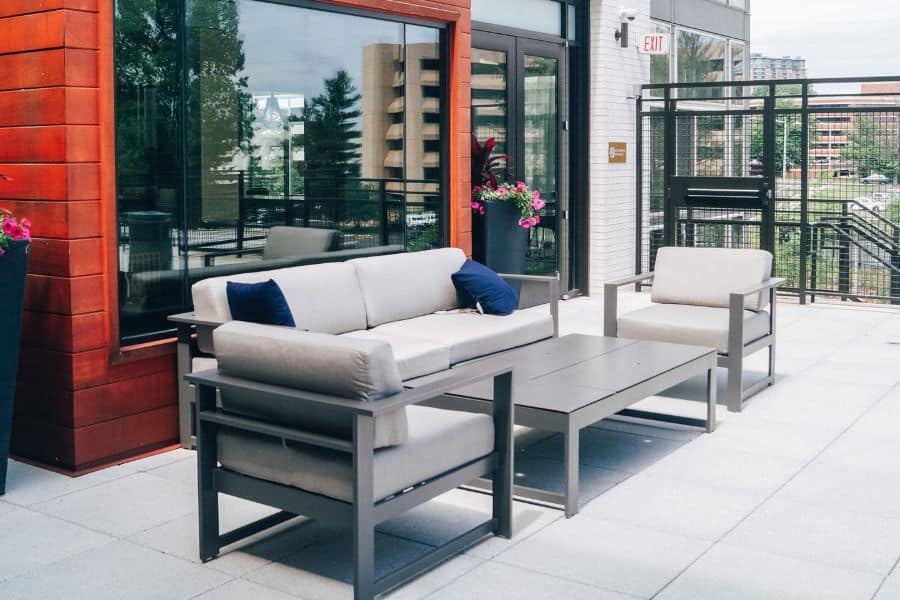 The Top 61 Apartment Patio Ideas
An apartment patio can be many things. It can be a private escape from roommates or family. It can be a breath of fresh air. It can even be a makeshift home office.
When you live in the city, every inch of outdoor living space is worth its area in gold. So how do you make the most of your apartment patio and make it feel like an extension of your main living area?
Keep reading for our favorite apartment patio ideas and how to adapt them to your lifestyle and outdoor space!
1. Balcony
Whether you rent an apartment or own a high-rise condo, a small balcony may be the only private outdoor space at your disposal.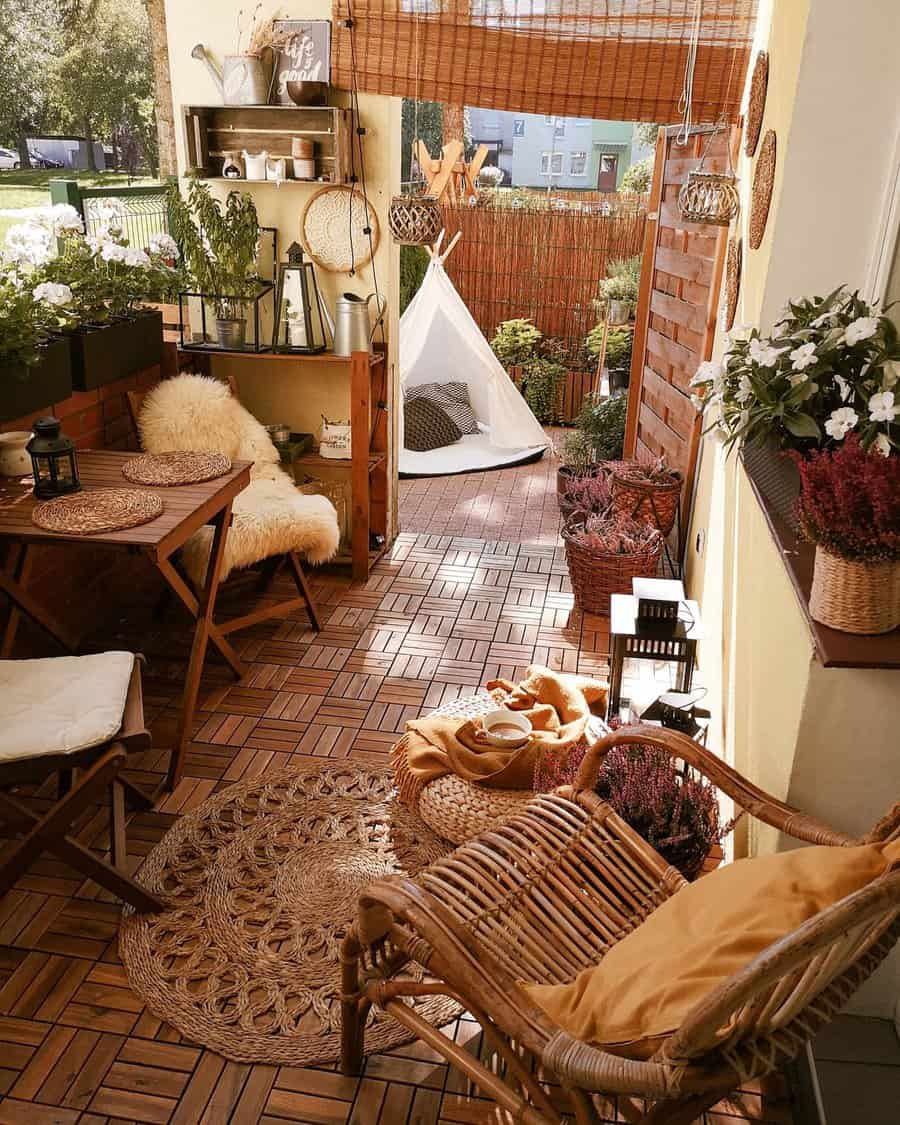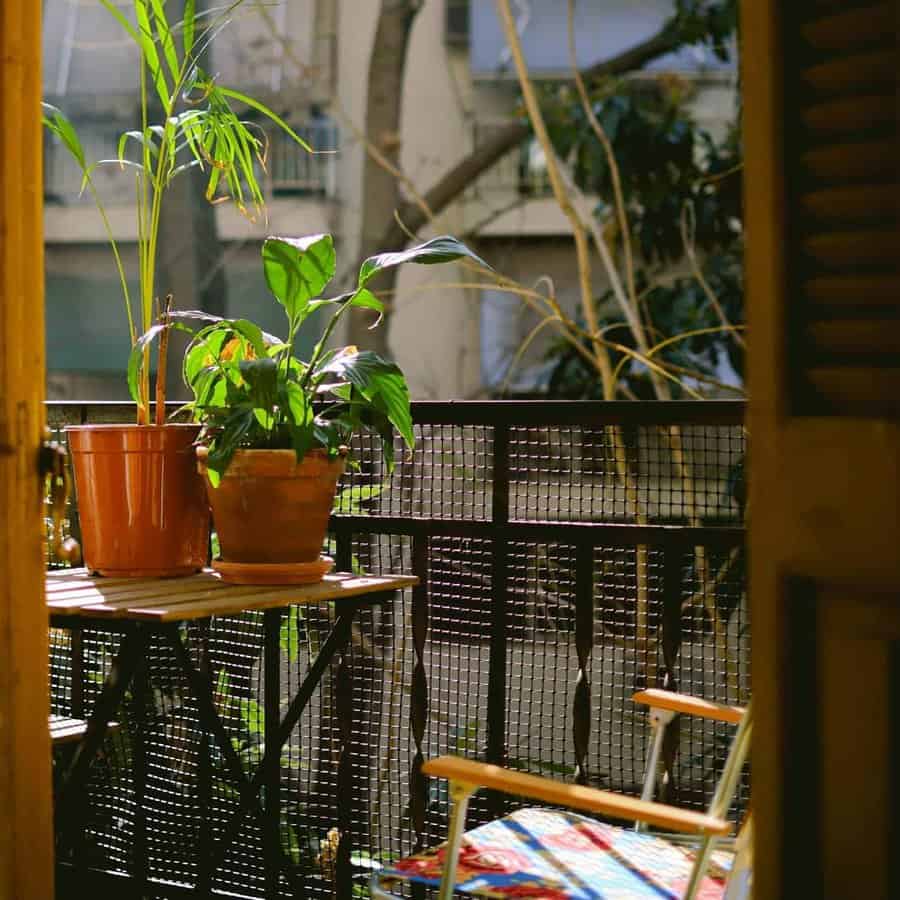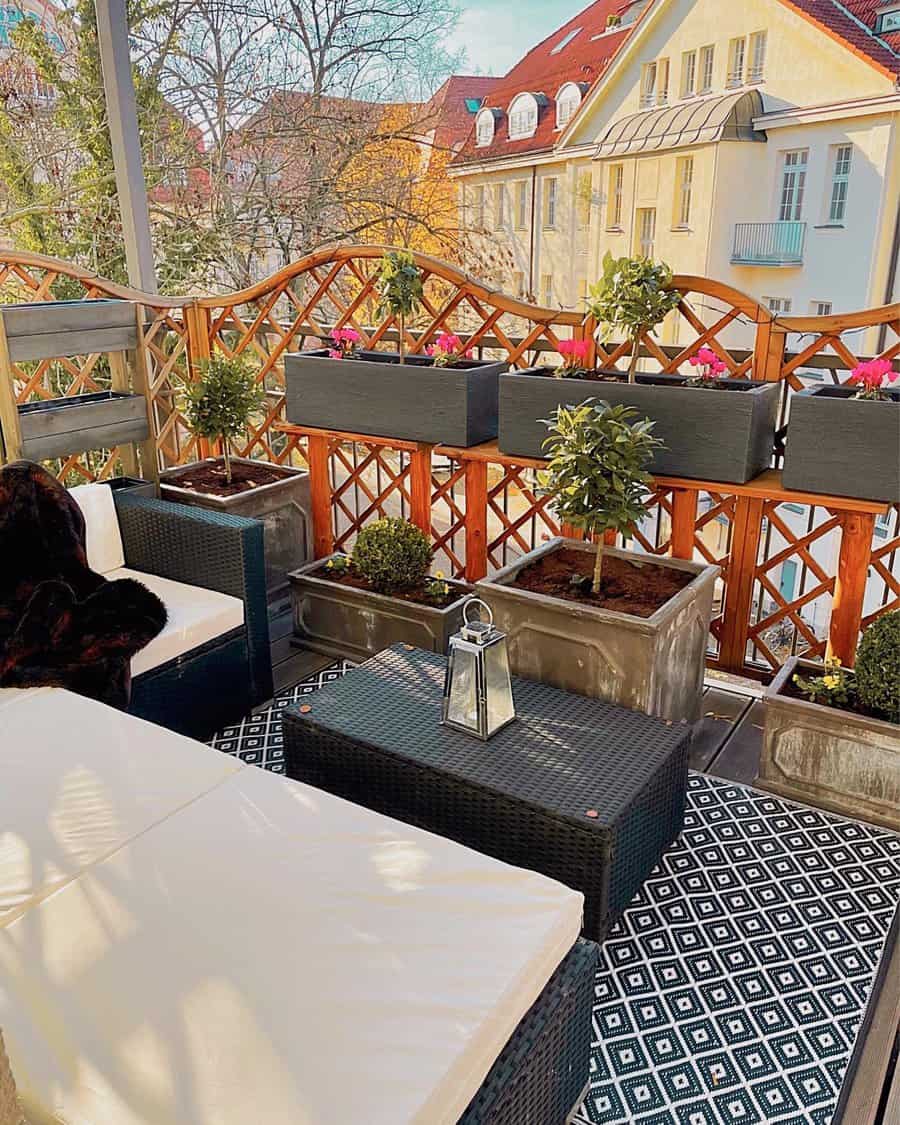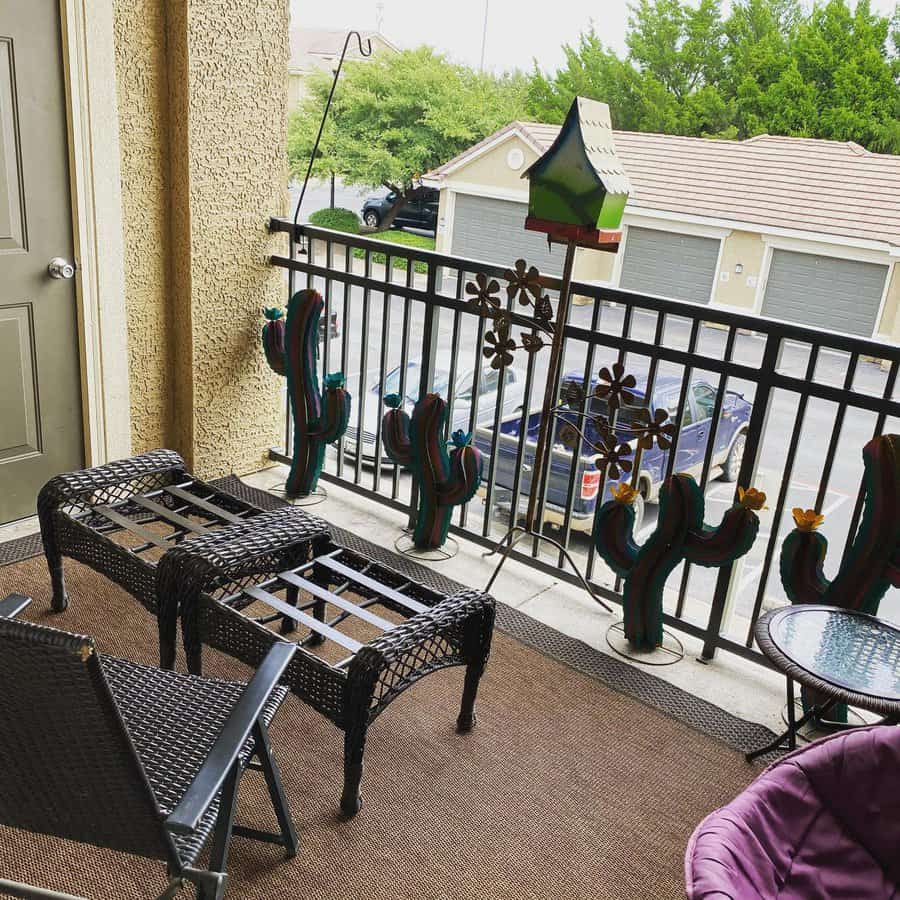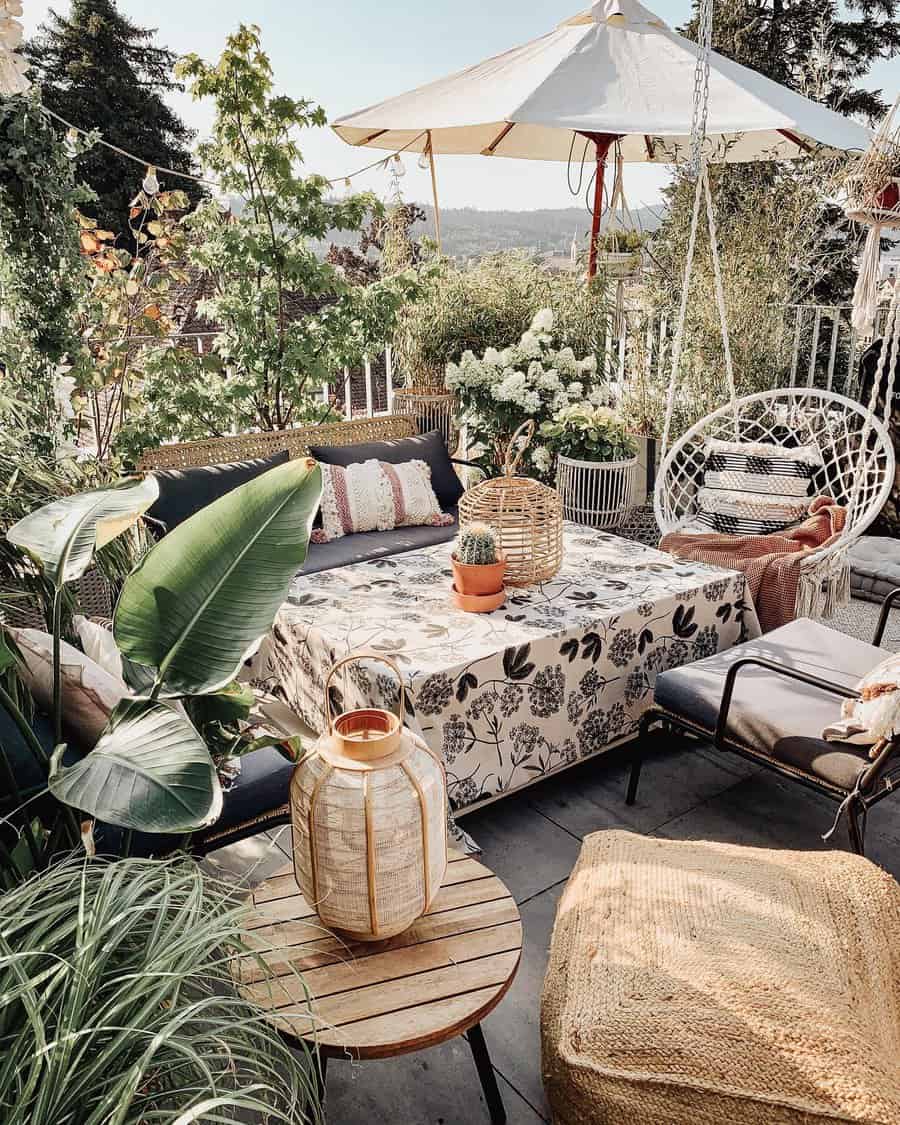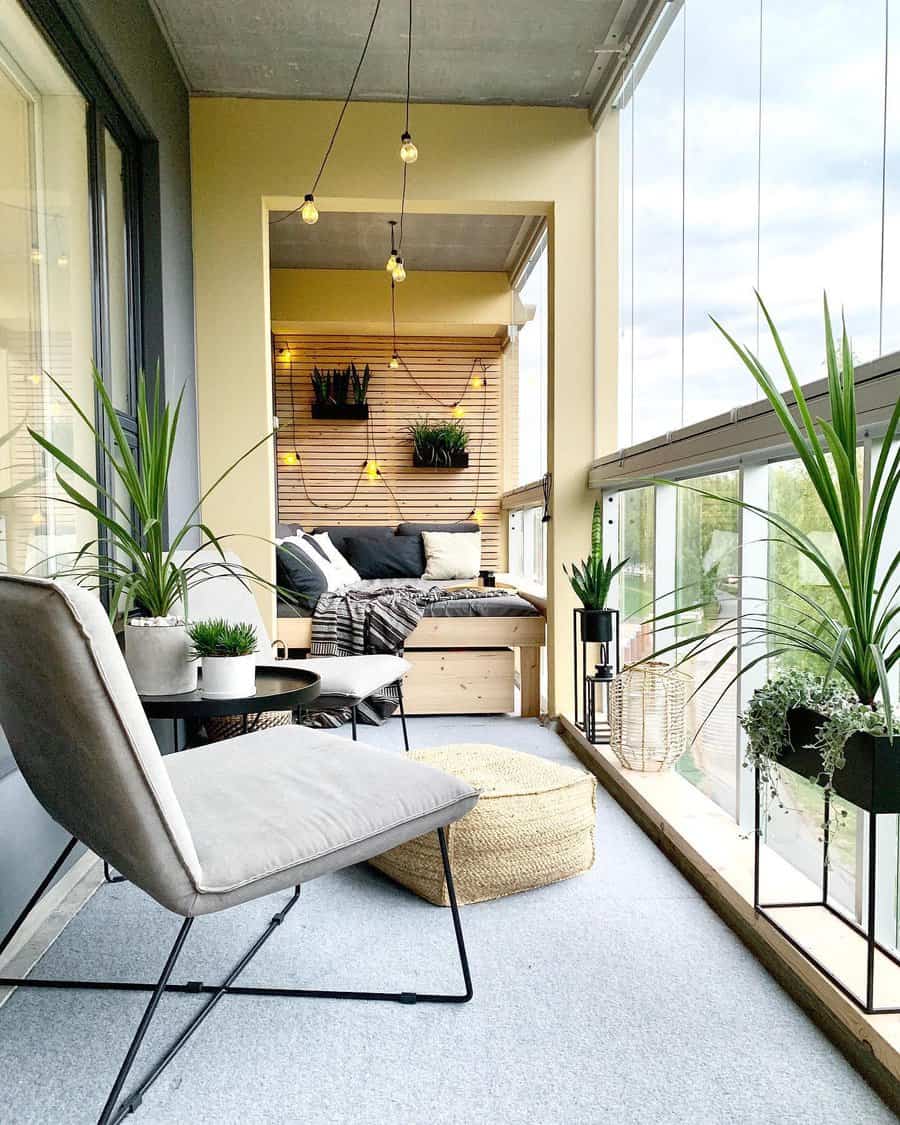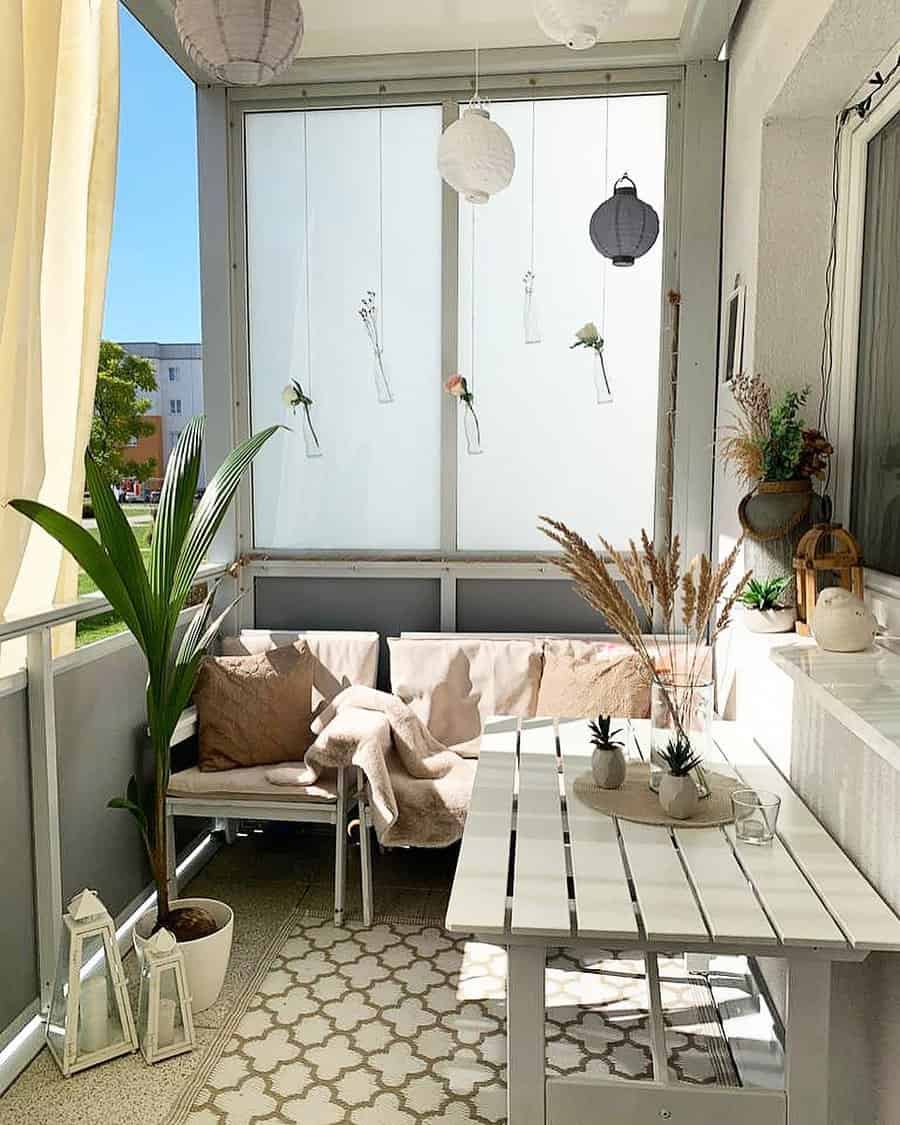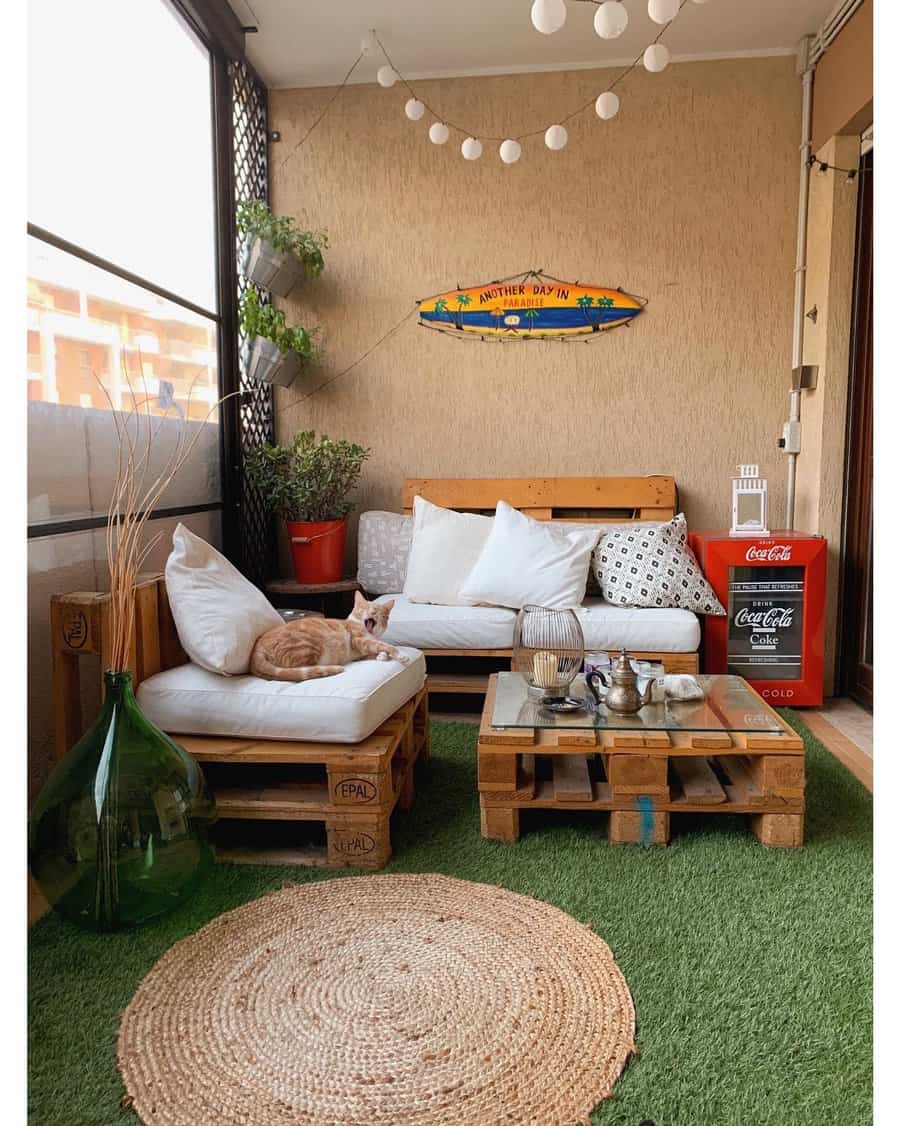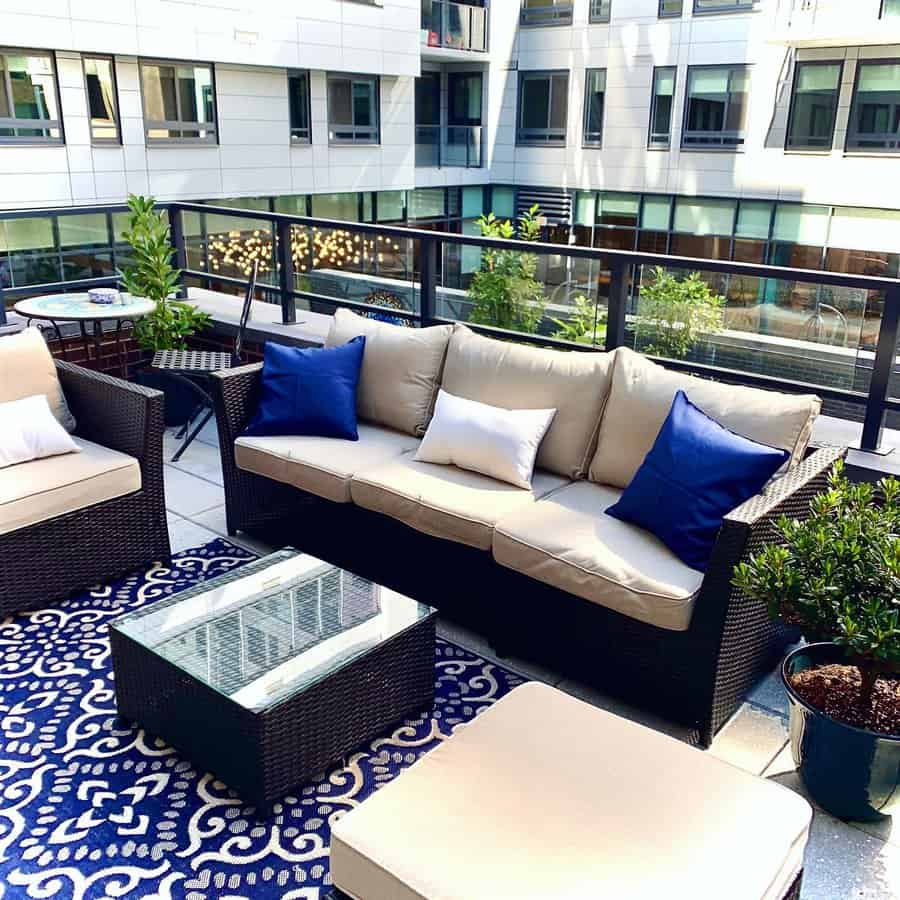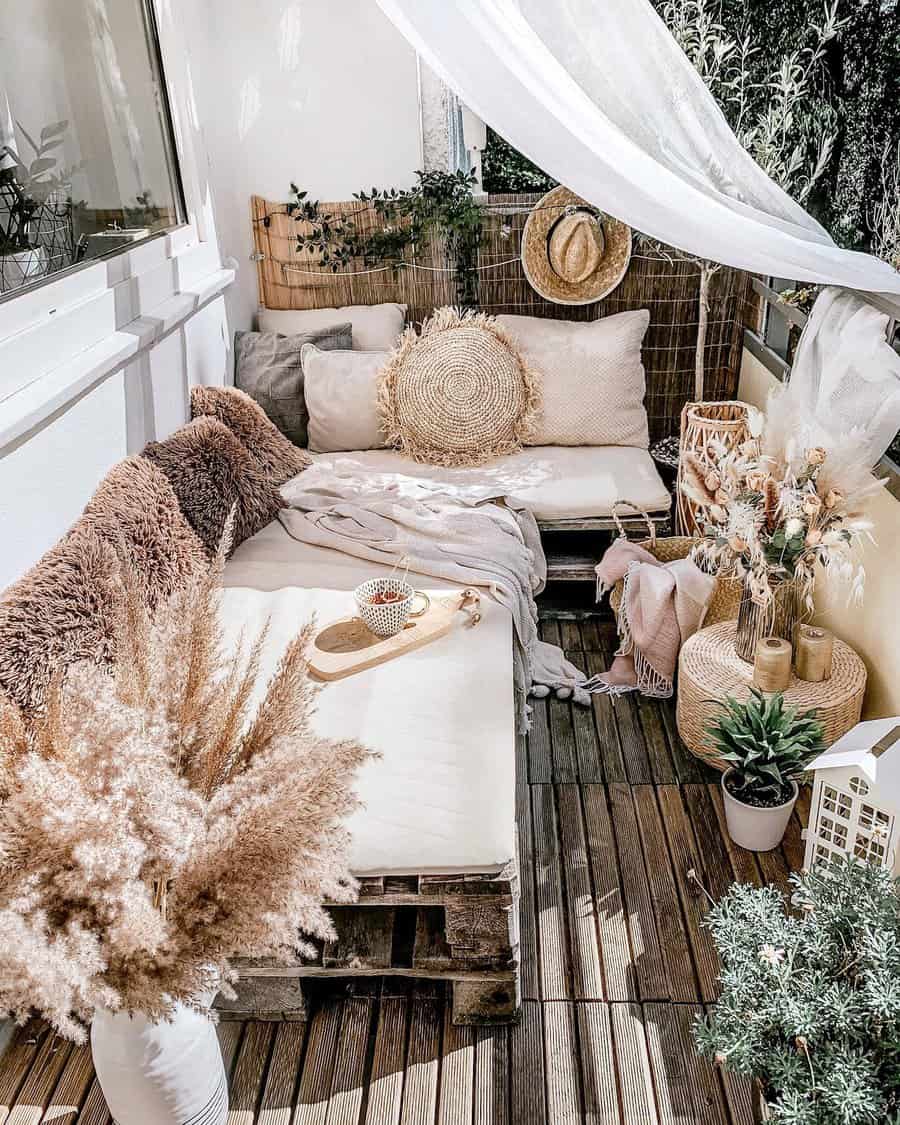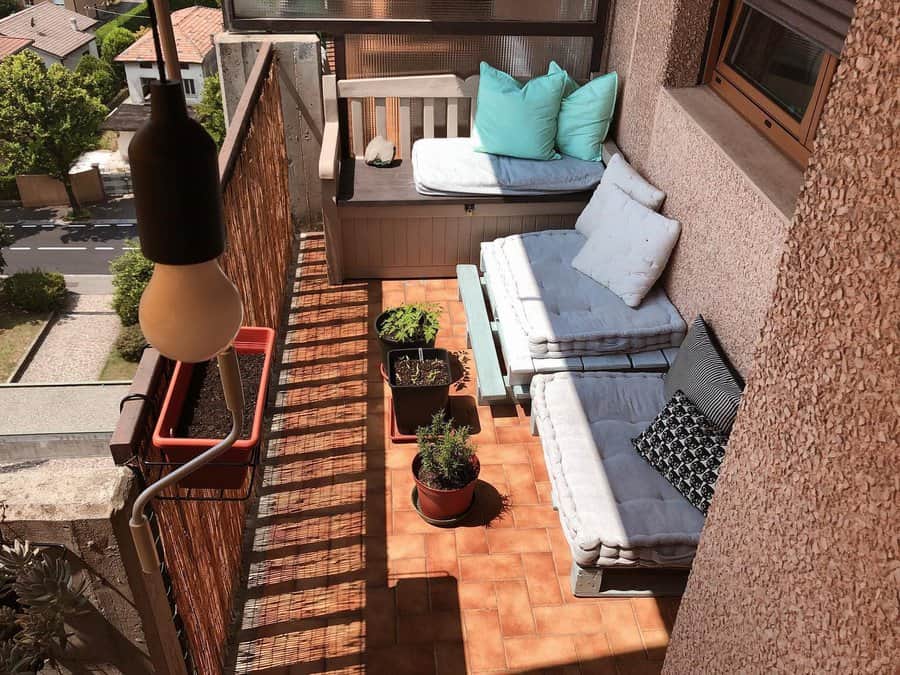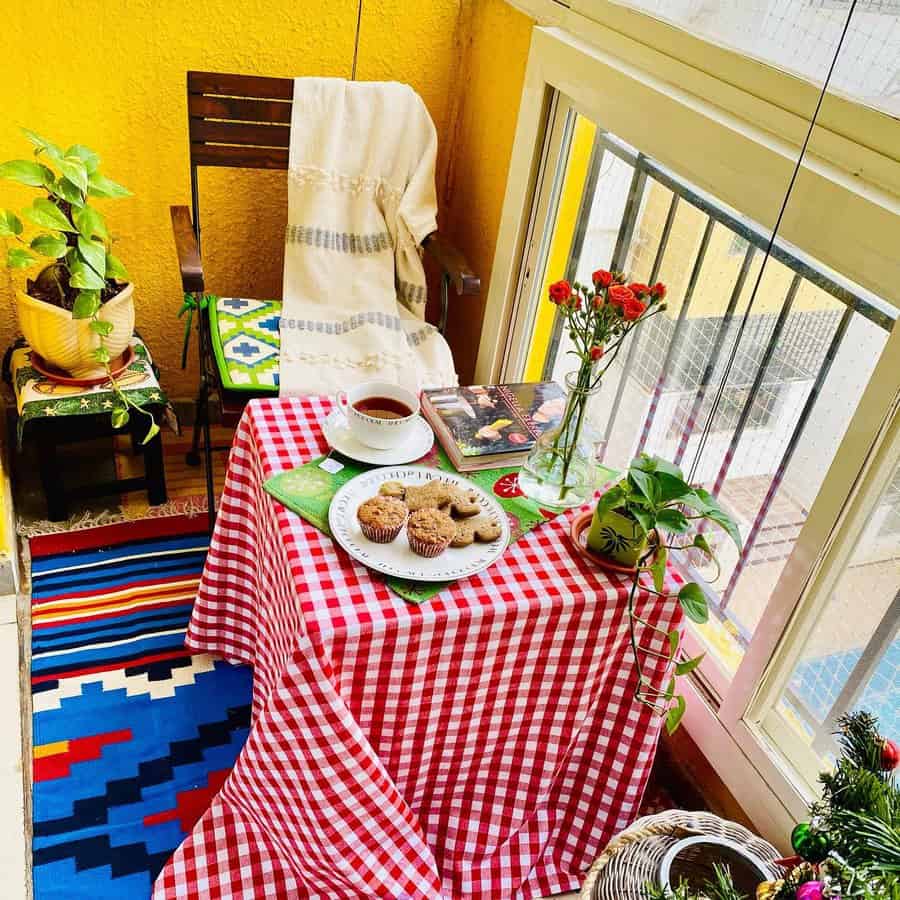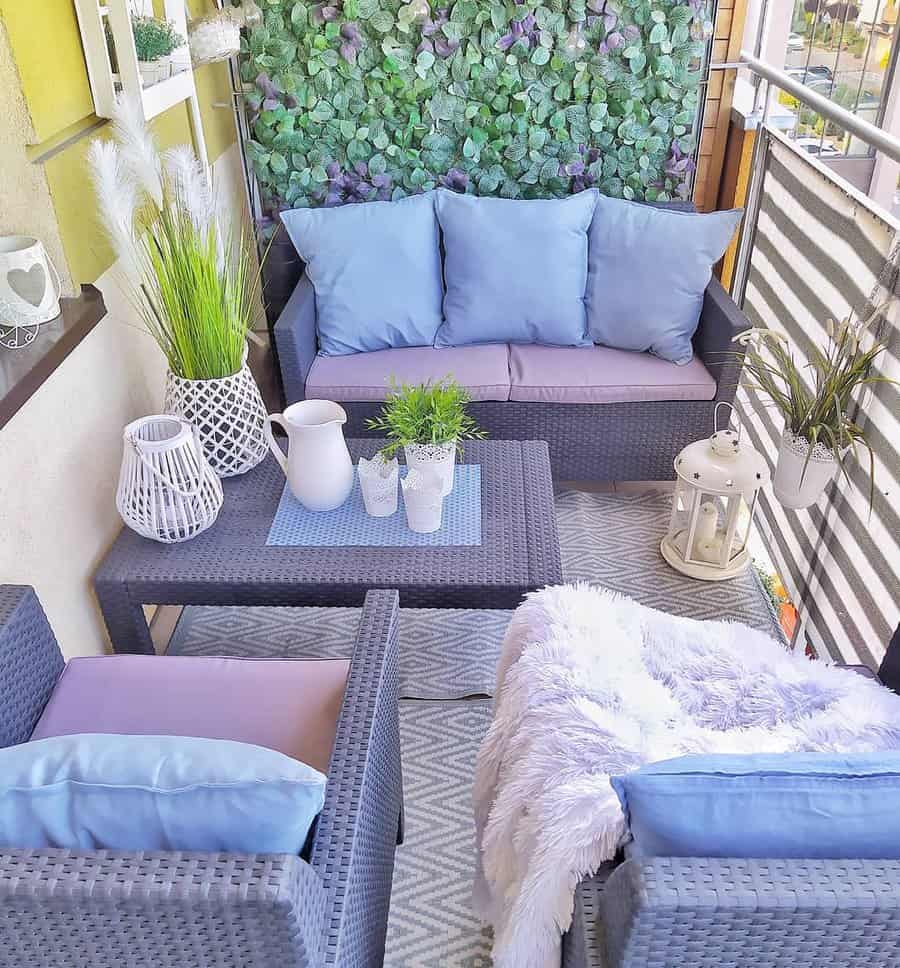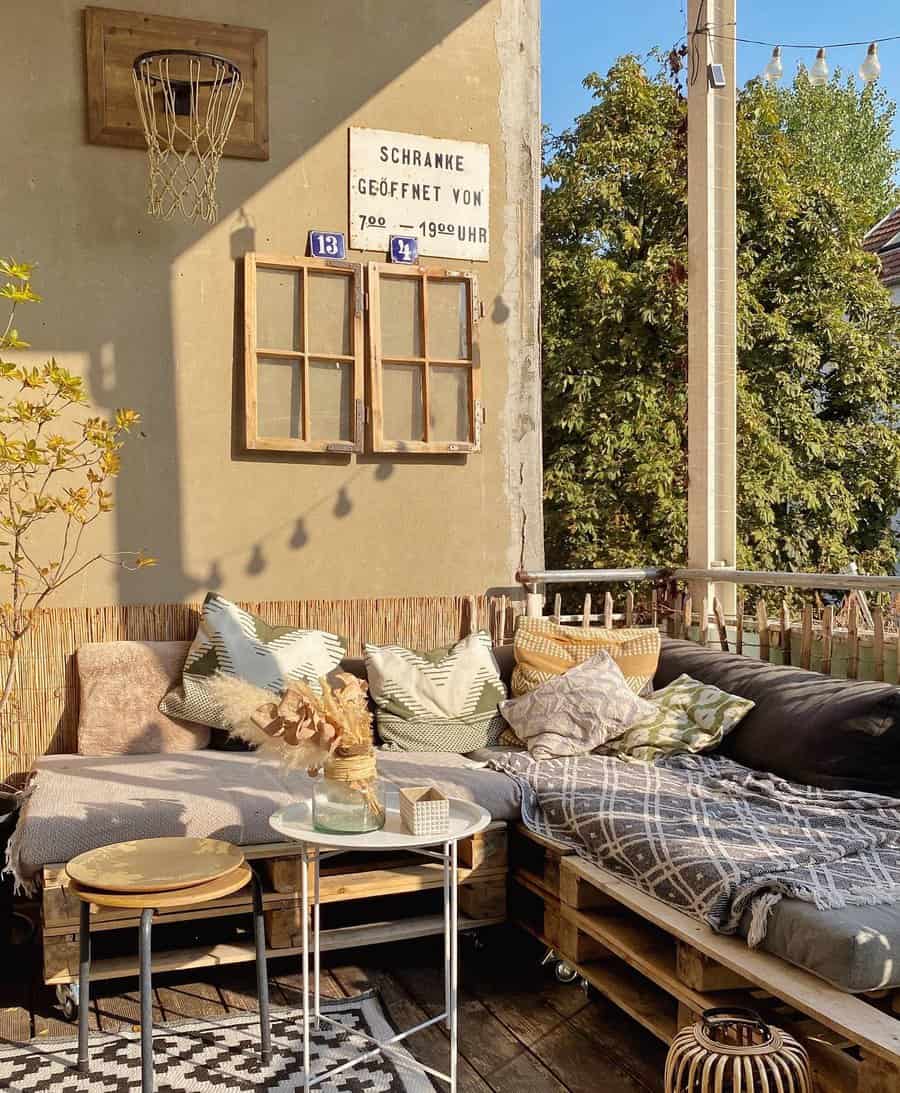 You may be surprised by just how much you can do with a small apartment balcony. Invest in weatherproof furniture and decor to make the space feel like an extension of your home.
Many balconies are constructed side by side of each other. Installing a trellis or privacy screen can deter the prying eyes of neighbors so you can truly enjoy the outdoor space.
2. Deck
Most apartments feature small patios or balconies. If you're lucky, though, you may be able to find a rental or condo unit equipped with a larger-than-life deck.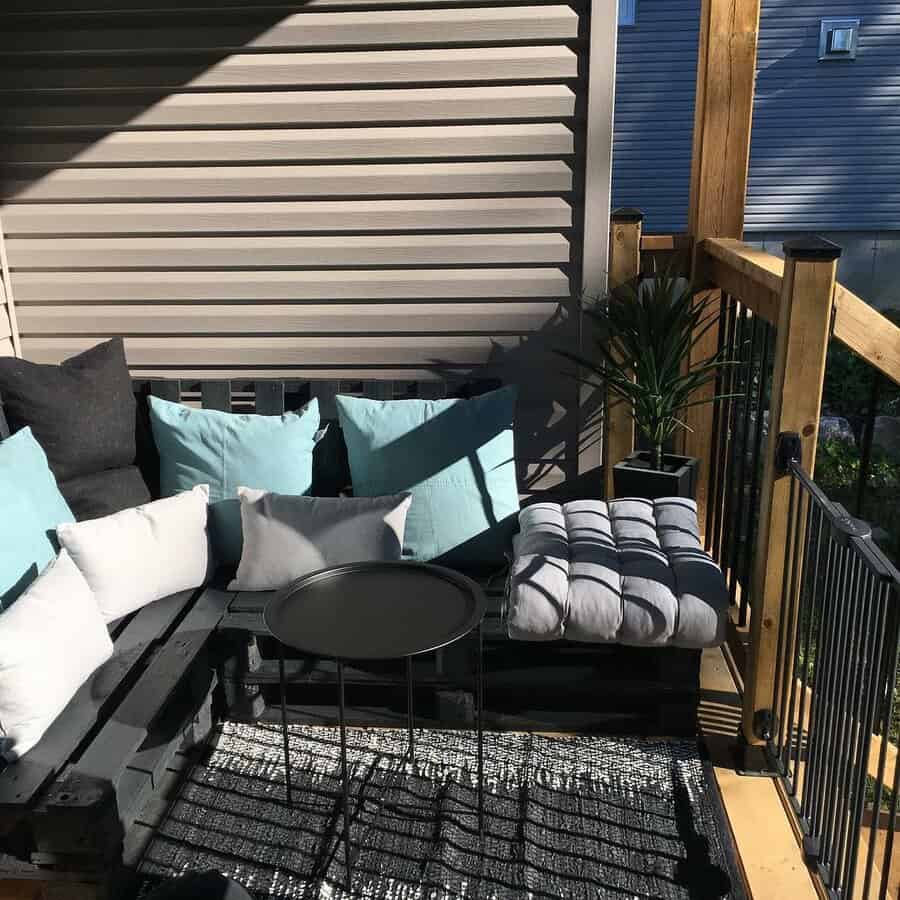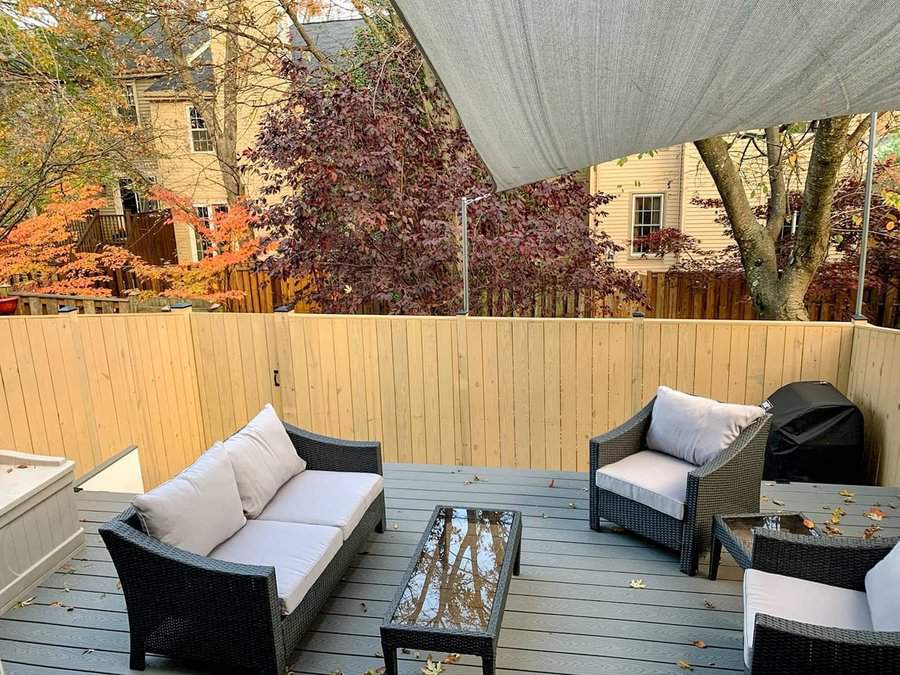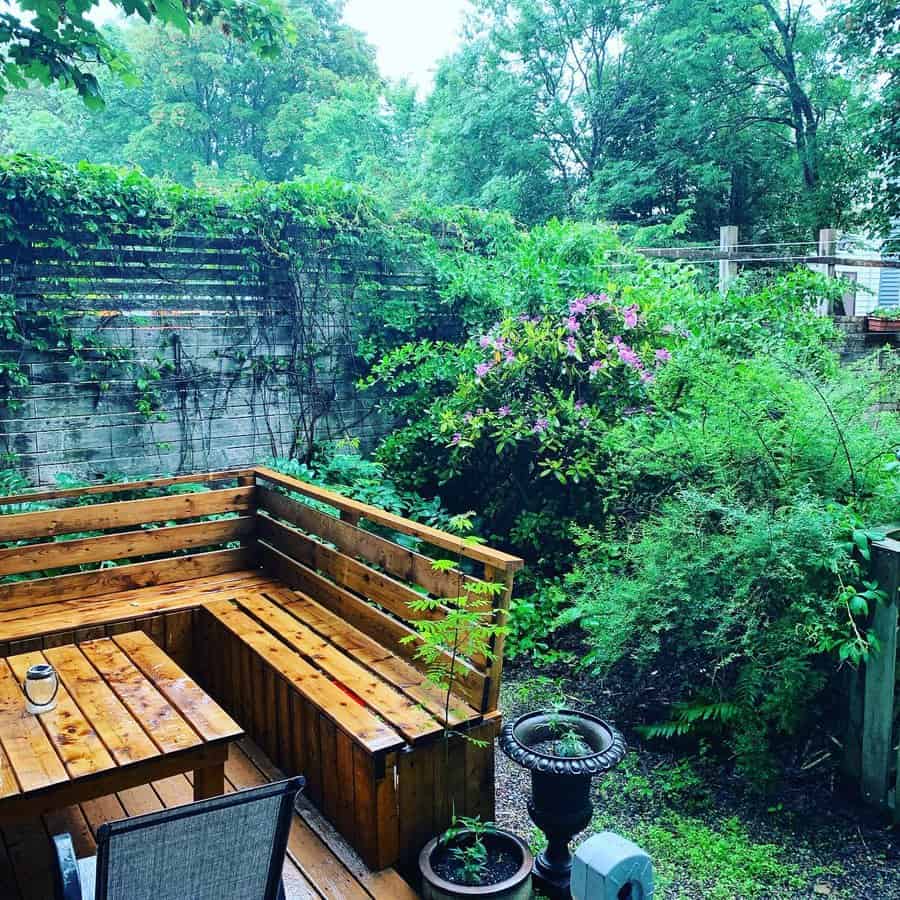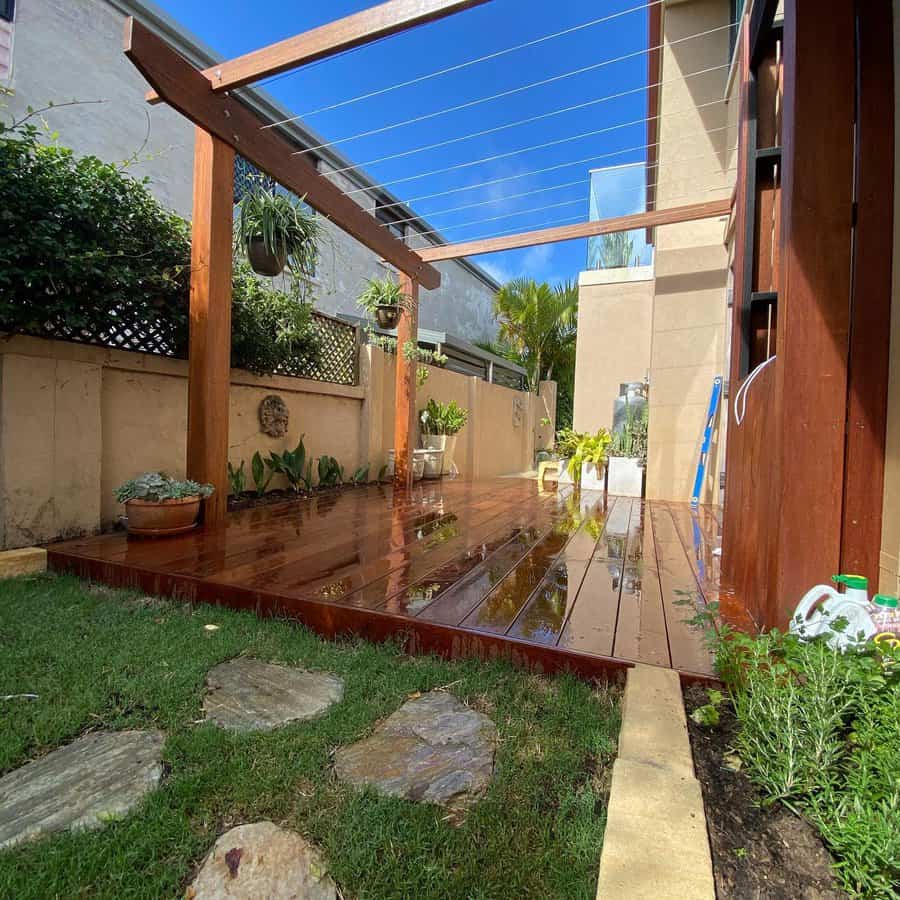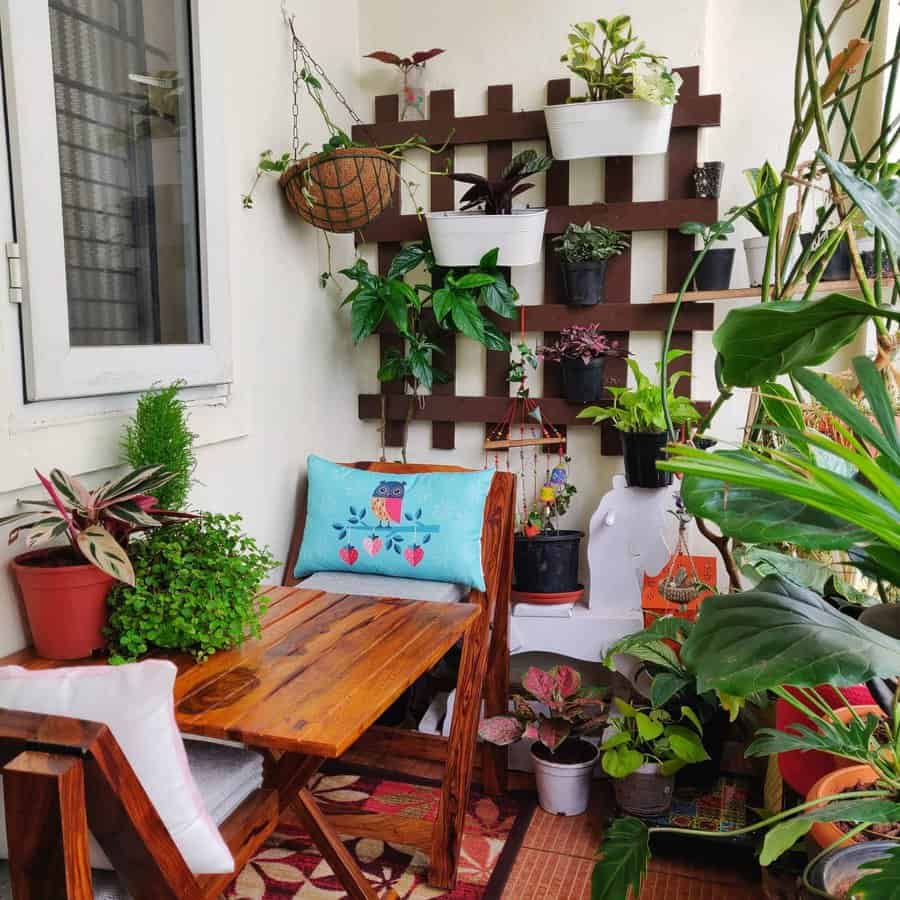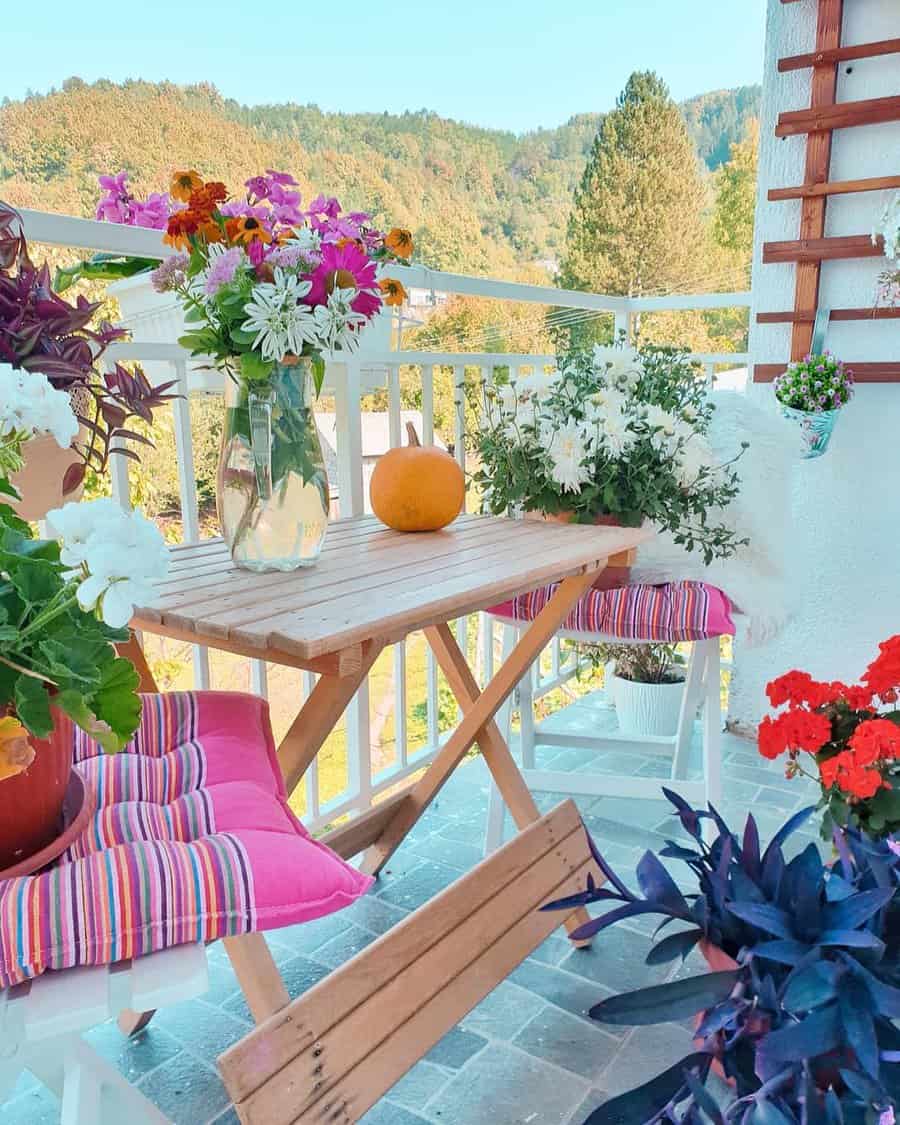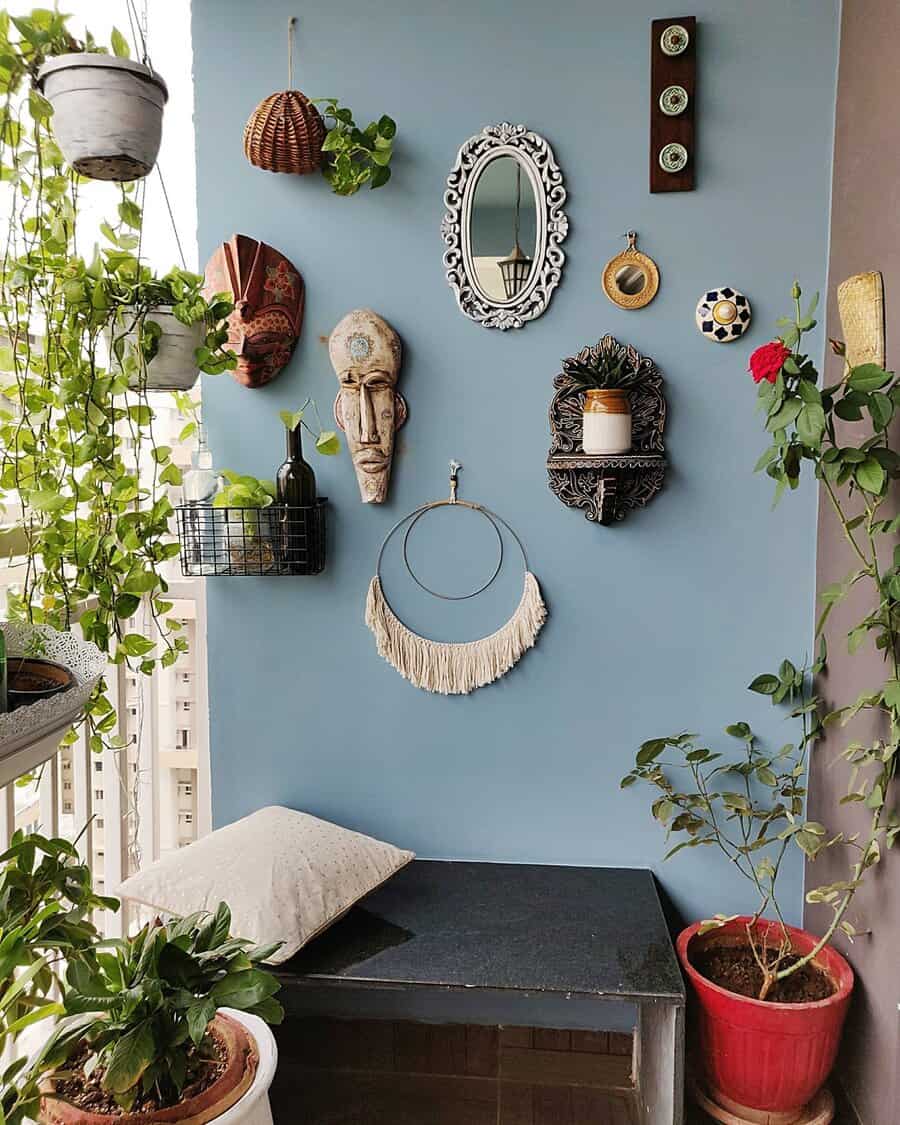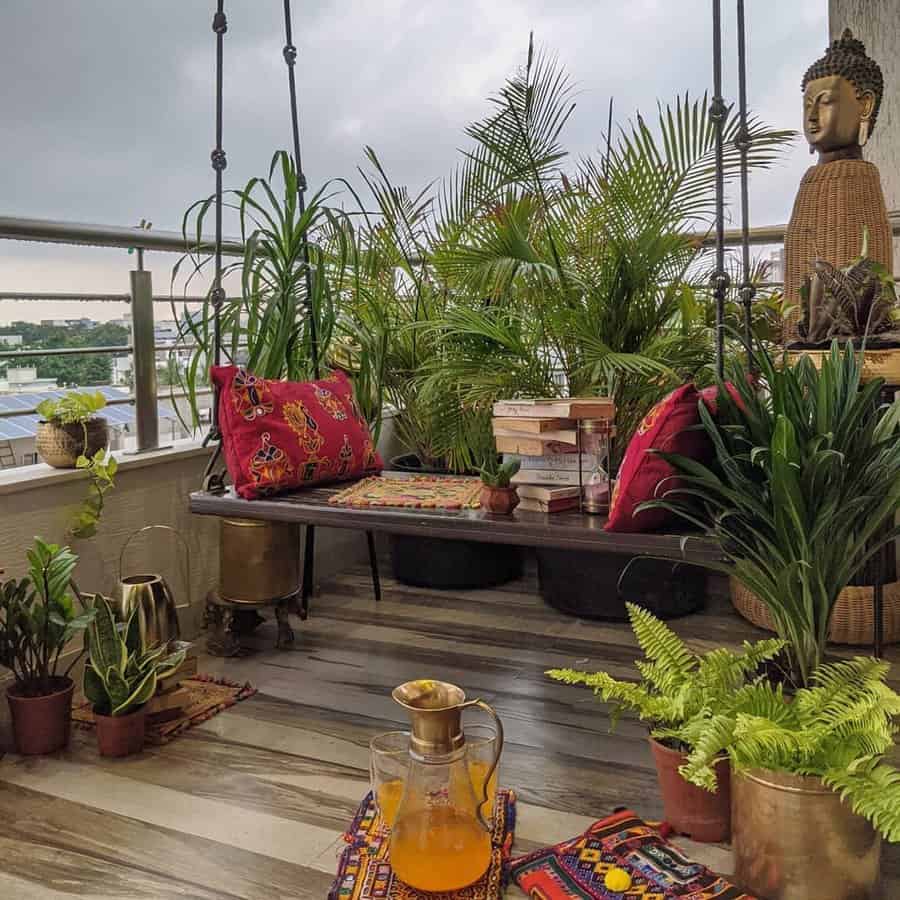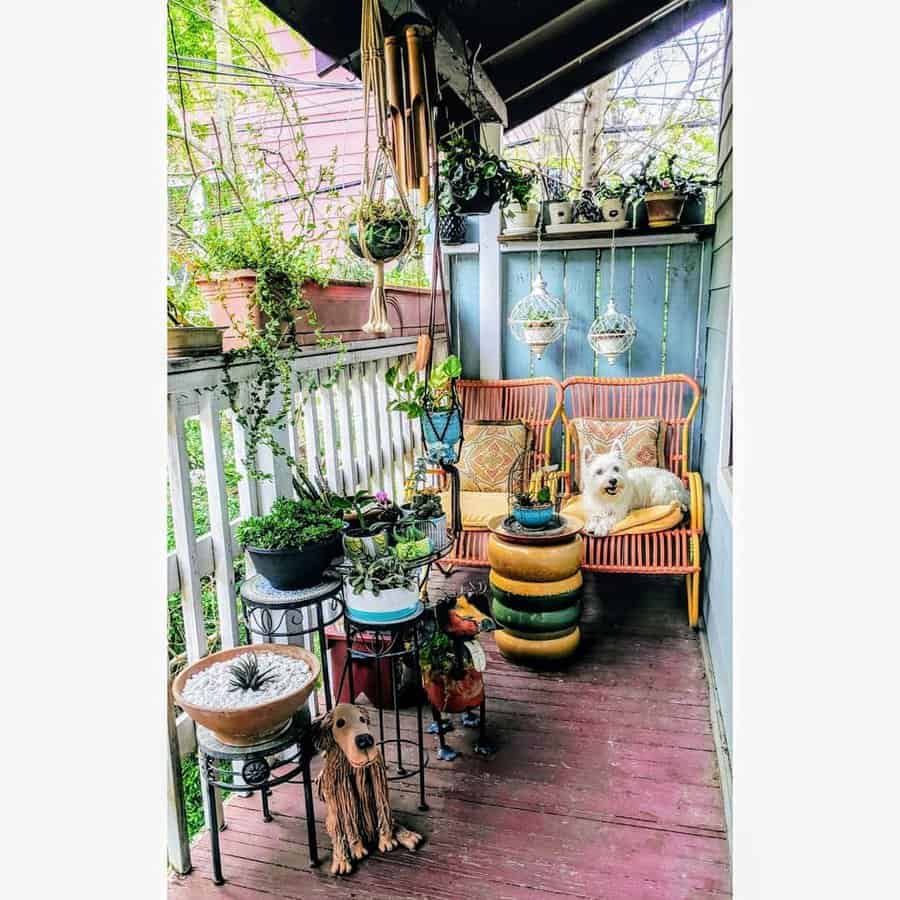 Decks tend to be elevated but there is no minimum or maximum height requirement. A deck built just a few inches above the ground can help separate the outdoor space without cutting down on versatility.
The great thing about decks is that even the smallest offer plenty of room for outdoor activities. Plan out your deck to accommodate must-have elements like a seating area, grill, or pet play zone.
3. Furniture
Yes, decorating an apartment patio is much like decorating any other space in your home. But you can't use just any old furniture in your design.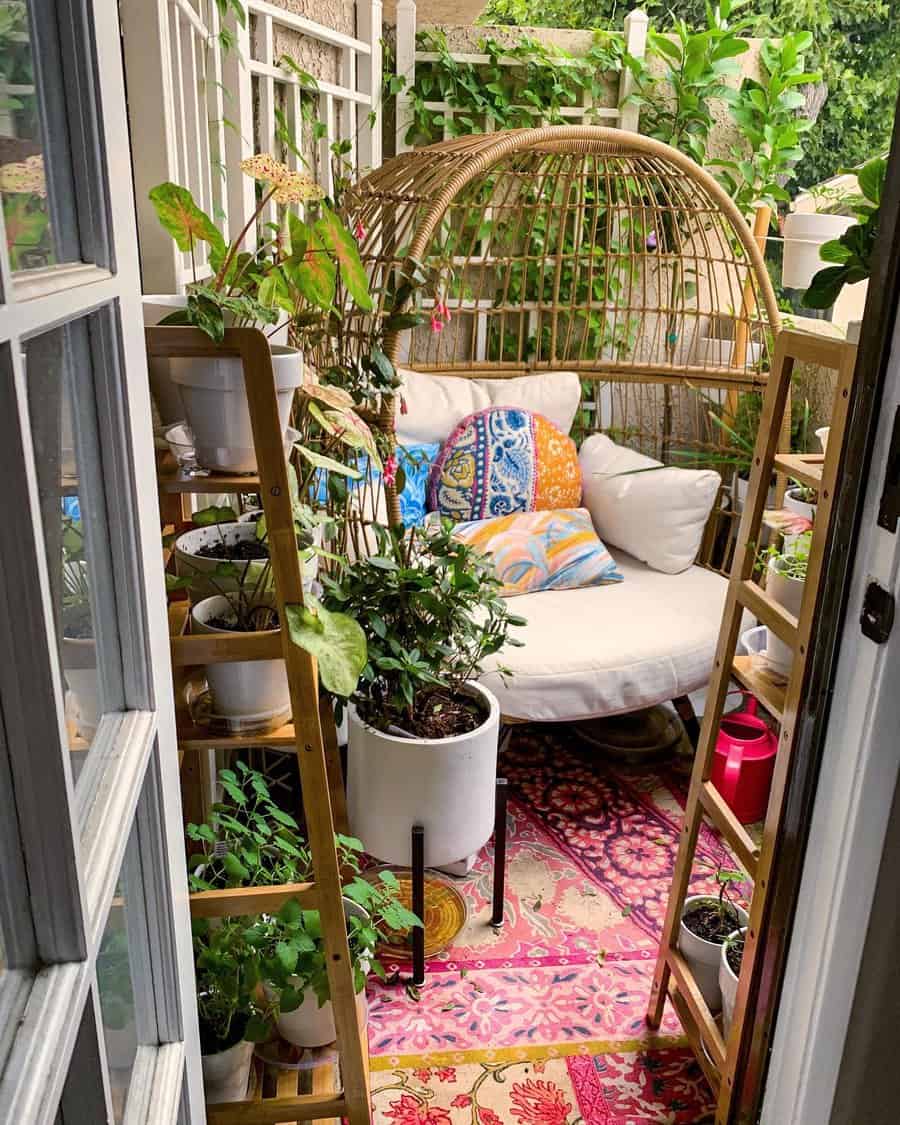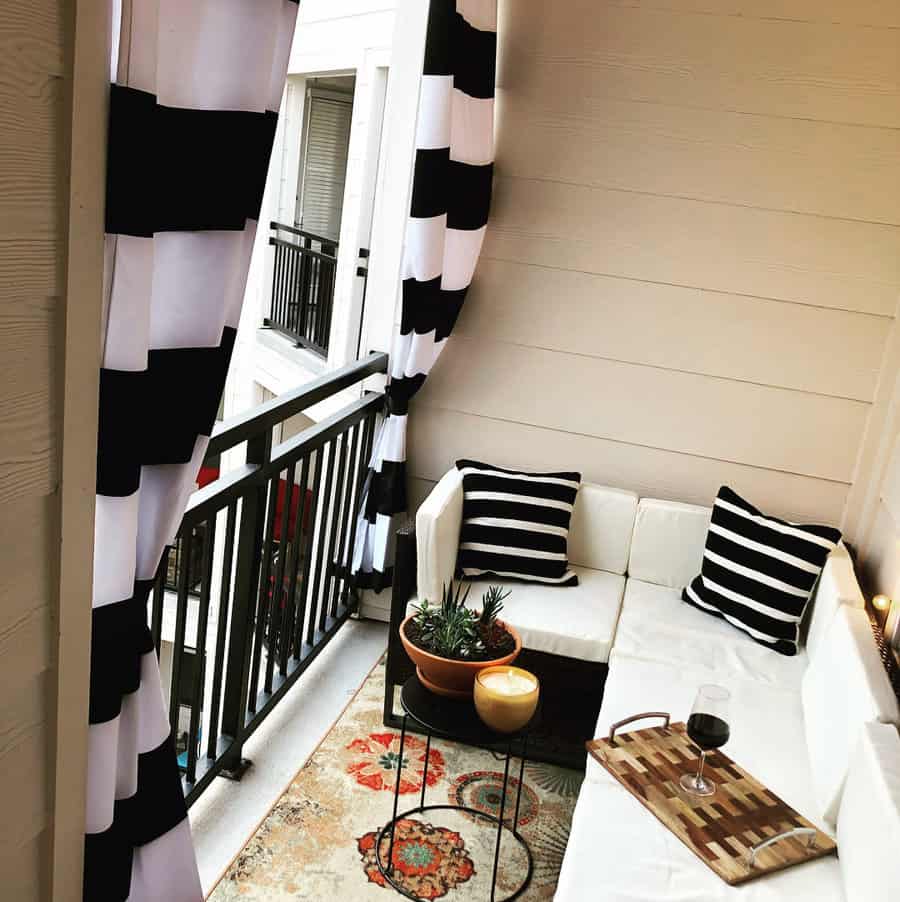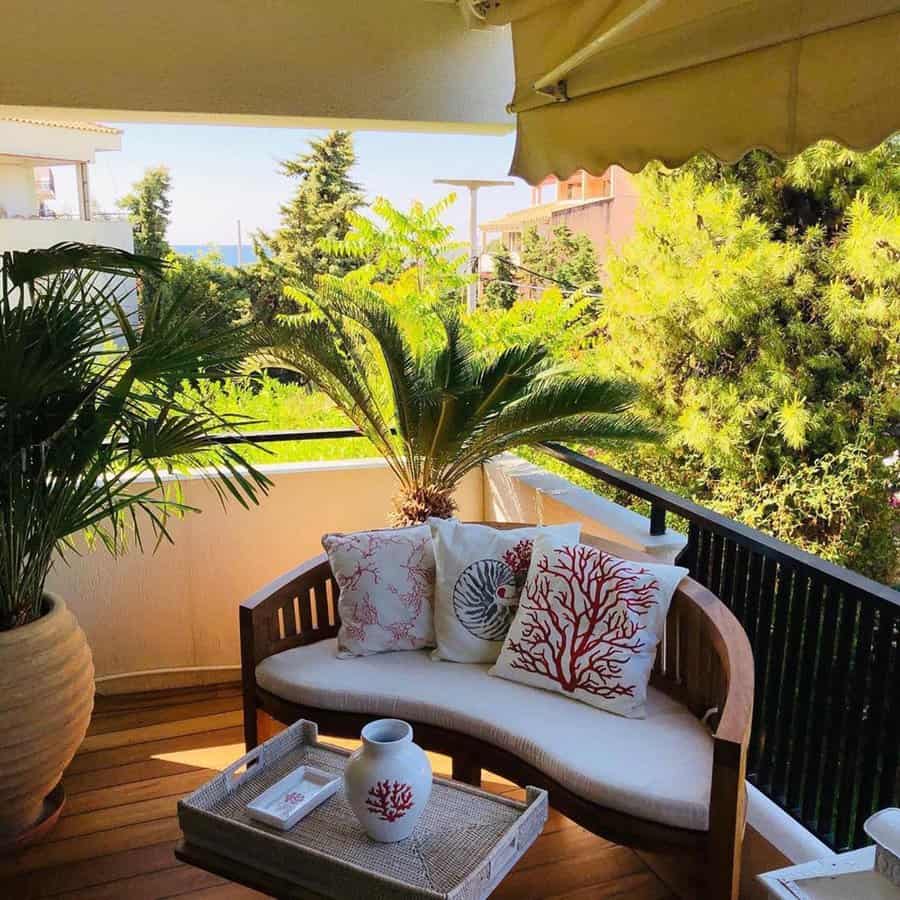 Outdoor furniture doesn't just boast a unique aesthetic. It's also built to withstand nearly anything Mother Nature throws at it. This includes everything from the wood of your patio table to the upholstery of your outdoor throw cushions.
Comfortable seating should be your top priority when furnishing your patio space. If you plan to dine or work on your patio, be sure to include a flexible tabletop as well.
4. Modern
A modern apartment balcony is the perfect complement to a modern interior. And this aesthetic is a great option for any small space — indoors or out.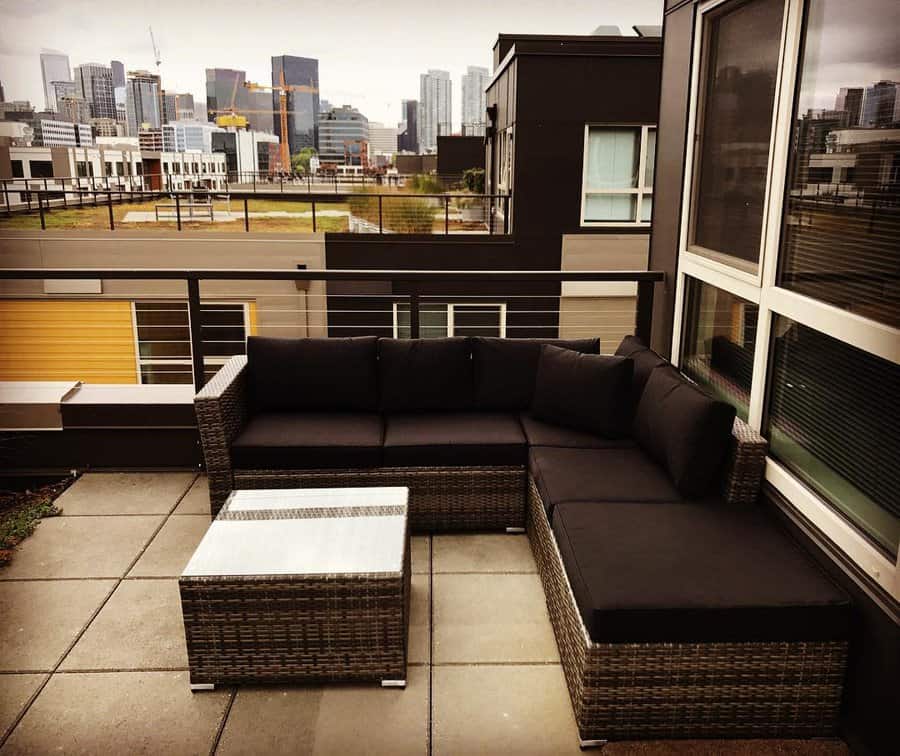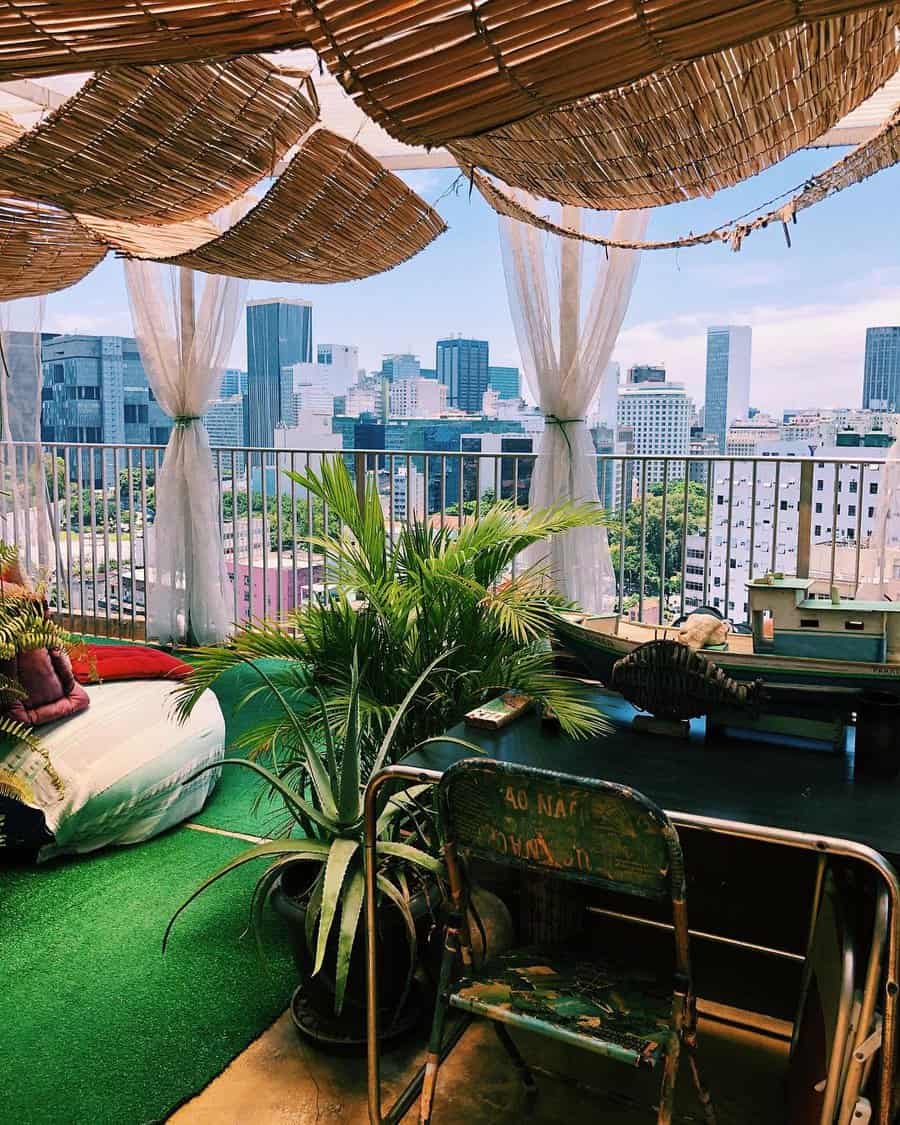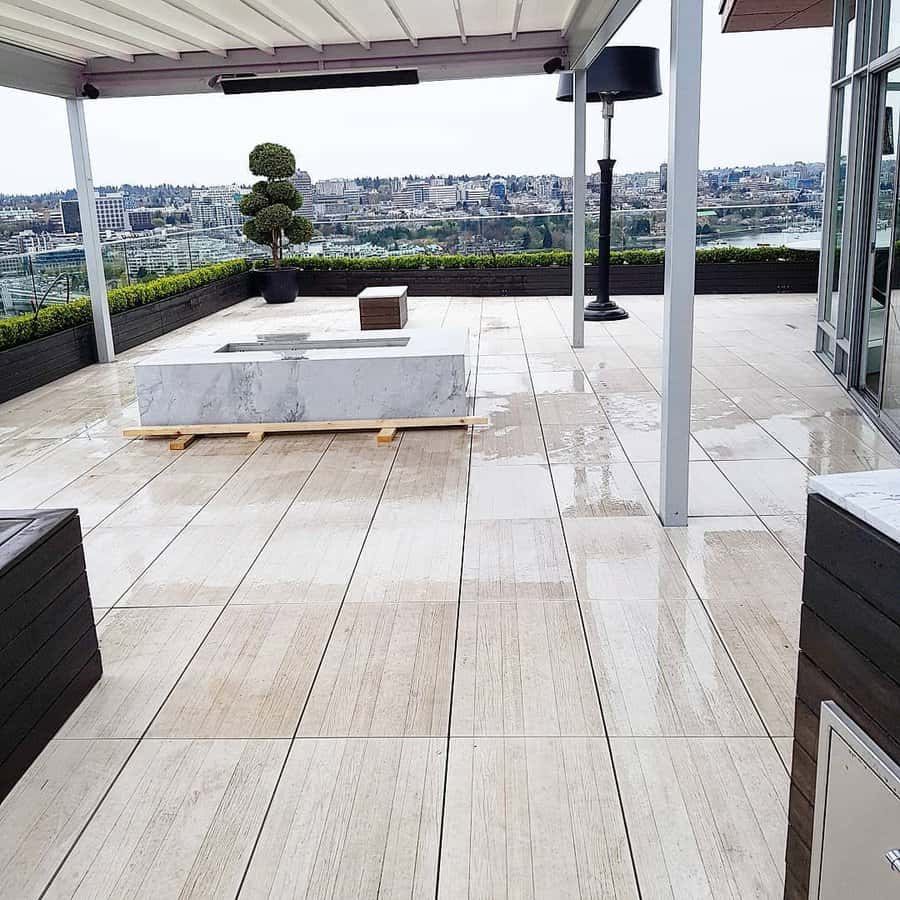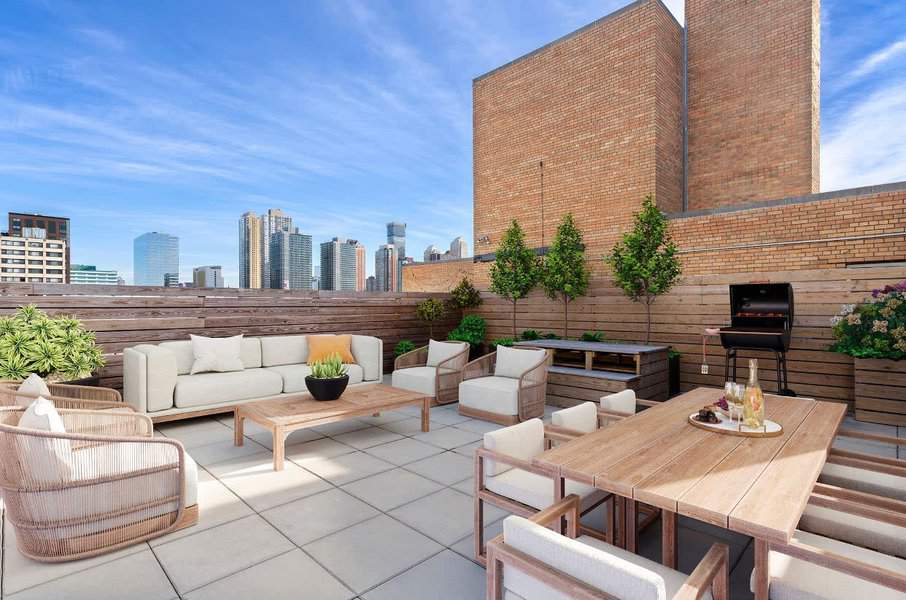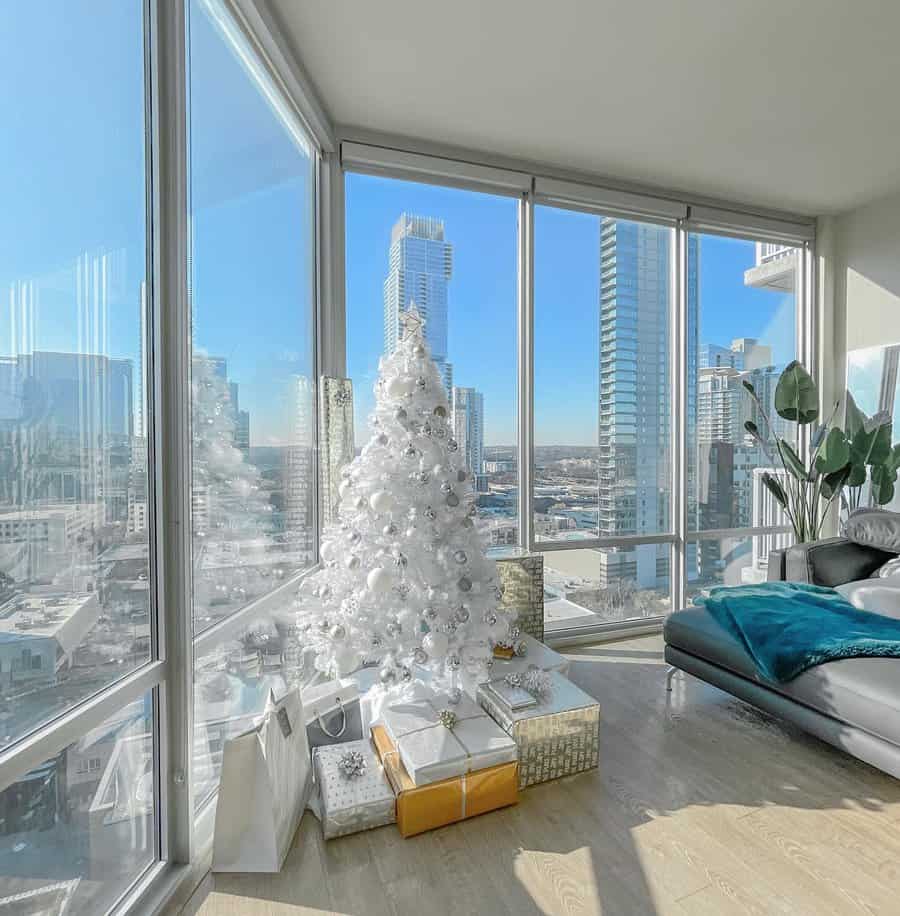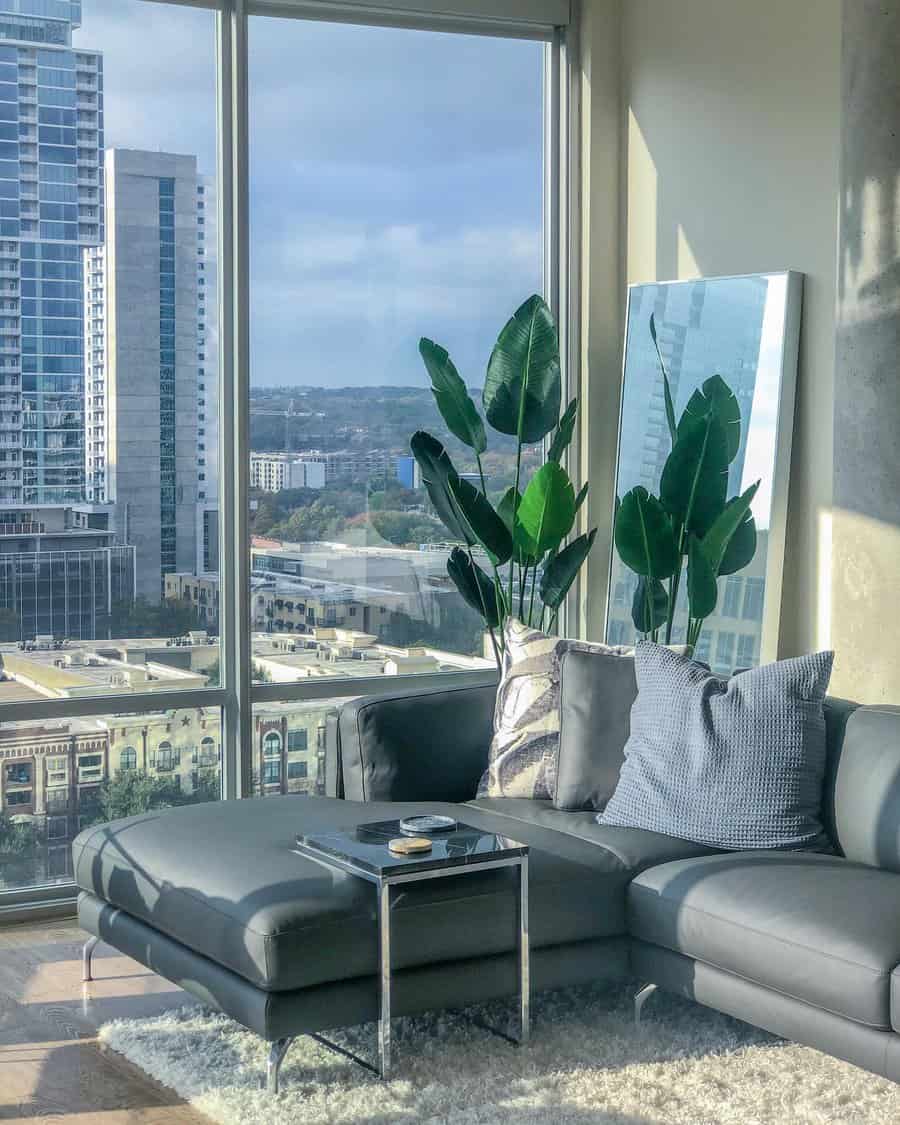 Don't go overboard with furniture and decor. Pinpoint the must-haves of your patio design and eliminate the excess. Whenever possible, invest in items that can be folded up for storage or used for a variety of purposes.
Greenery is a wonderful way to add color to the space. Create a balcony garden using pots and hanging baskets filled with your favorite potted plants.
5. Porch
Most people associate the word "porch" with outdoor living spaces located on the front of a house. But a porch is really little more than a covered patio.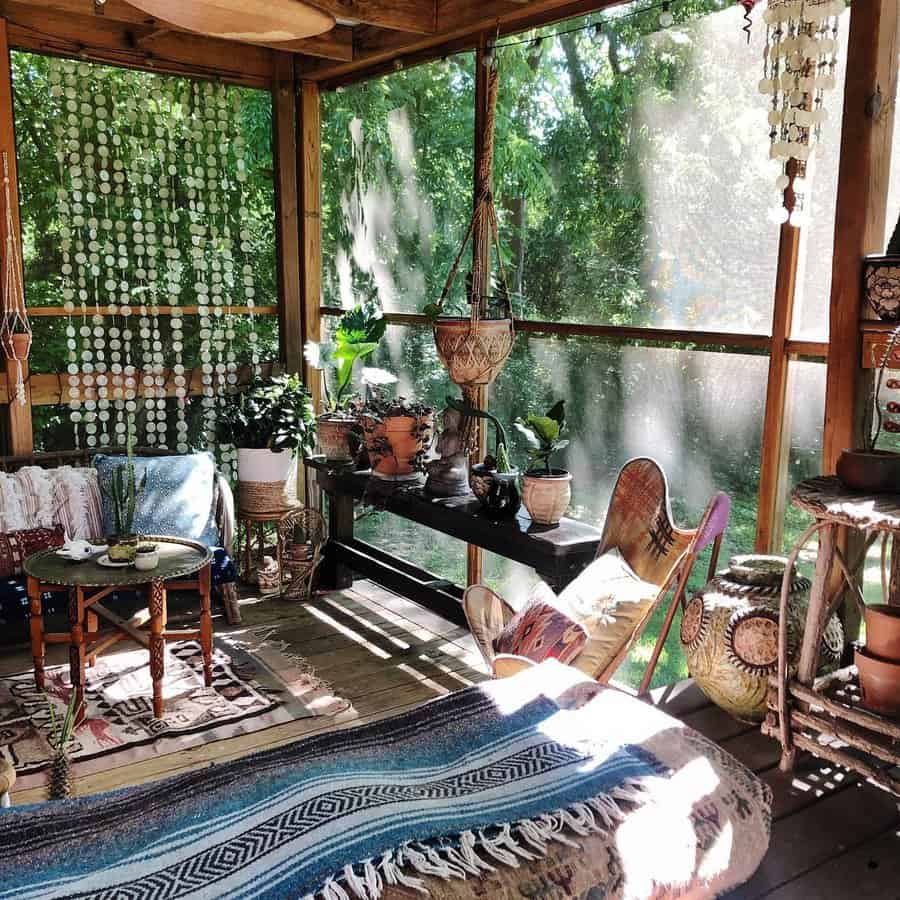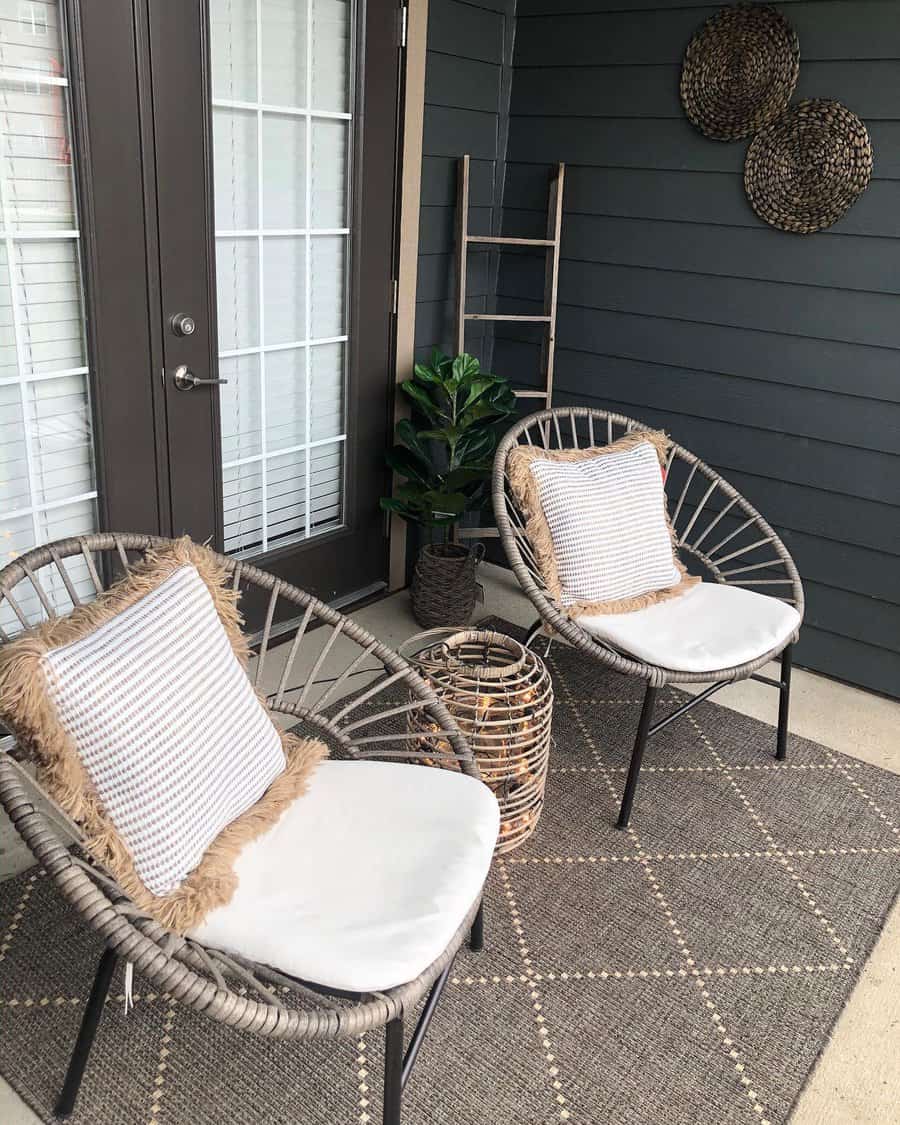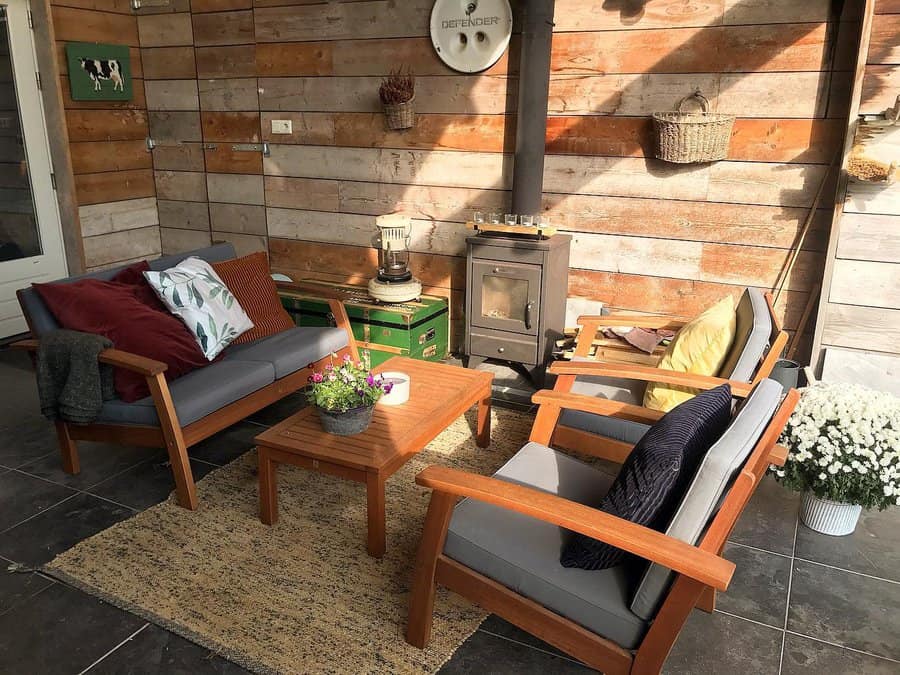 There are obvious benefits to having a covered patio attached to your apartment. This patio style offers greater protection from the elements than a traditional patio. However, you should still ensure all of your patio furniture is outdoor-safe.
Depending on your apartment building, you may even be able to add privacy to your covered patio. Removable screens or curtains are great options for keeping prying eyes, rain, and insects out of your patio area.
6. Privacy
Few people would say no to an apartment patio all their own. Unfortunately, a lack of privacy will make even the nicest patio feel the exact opposite of warm and inviting.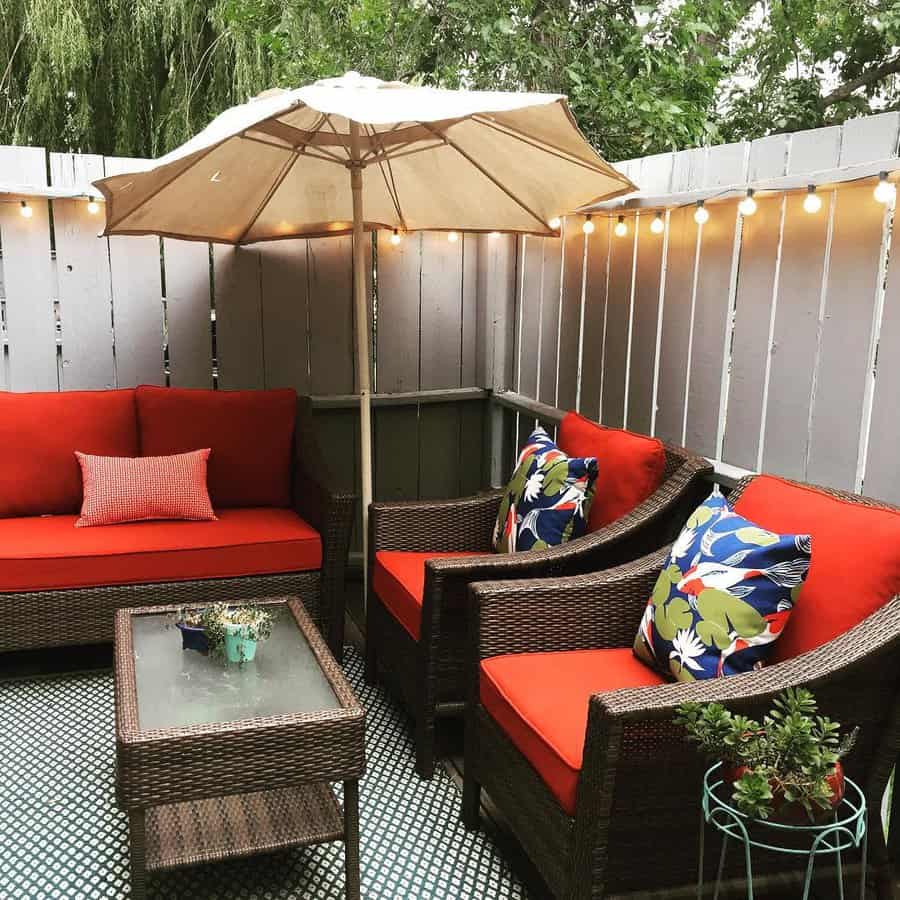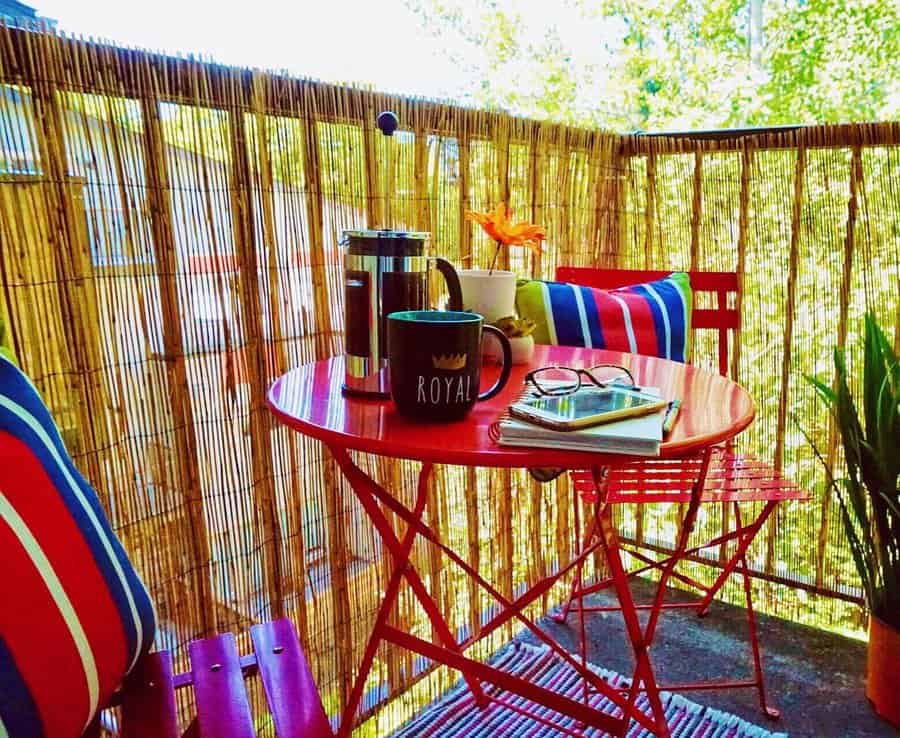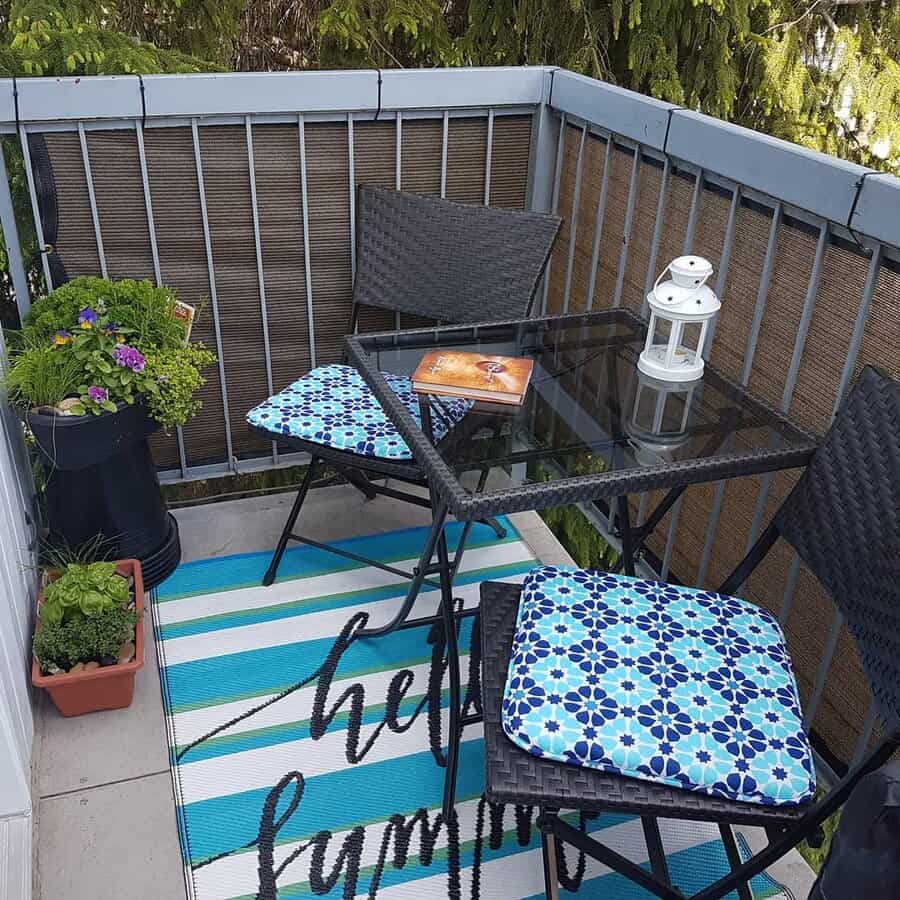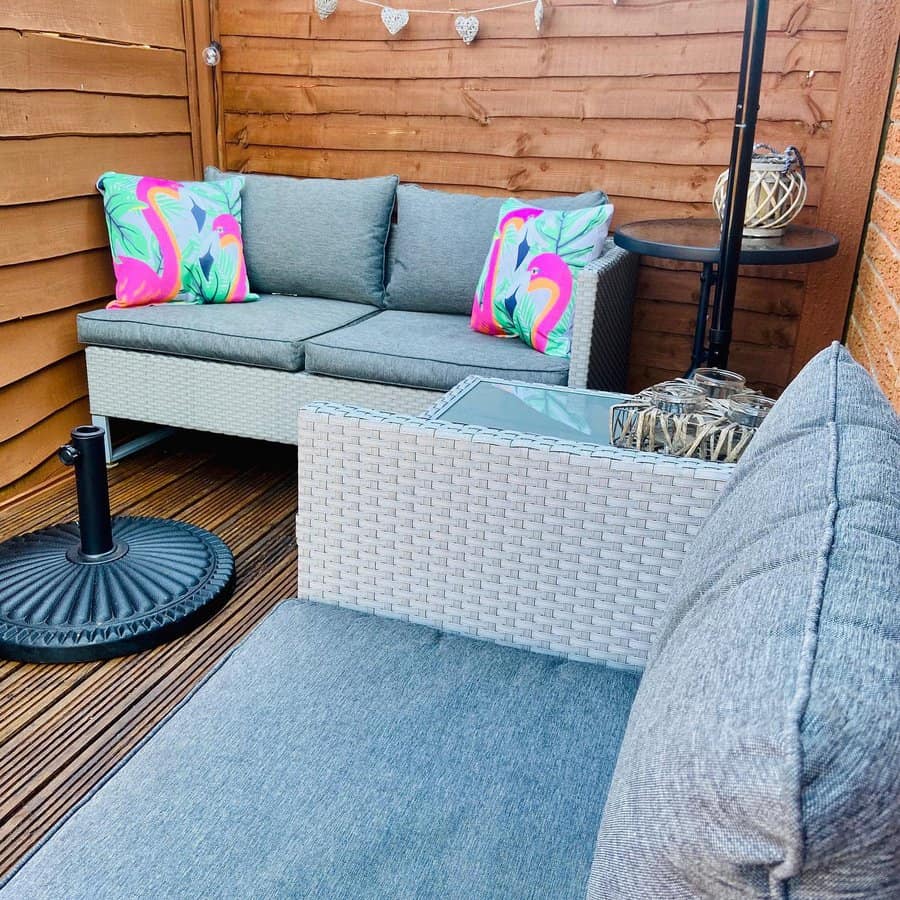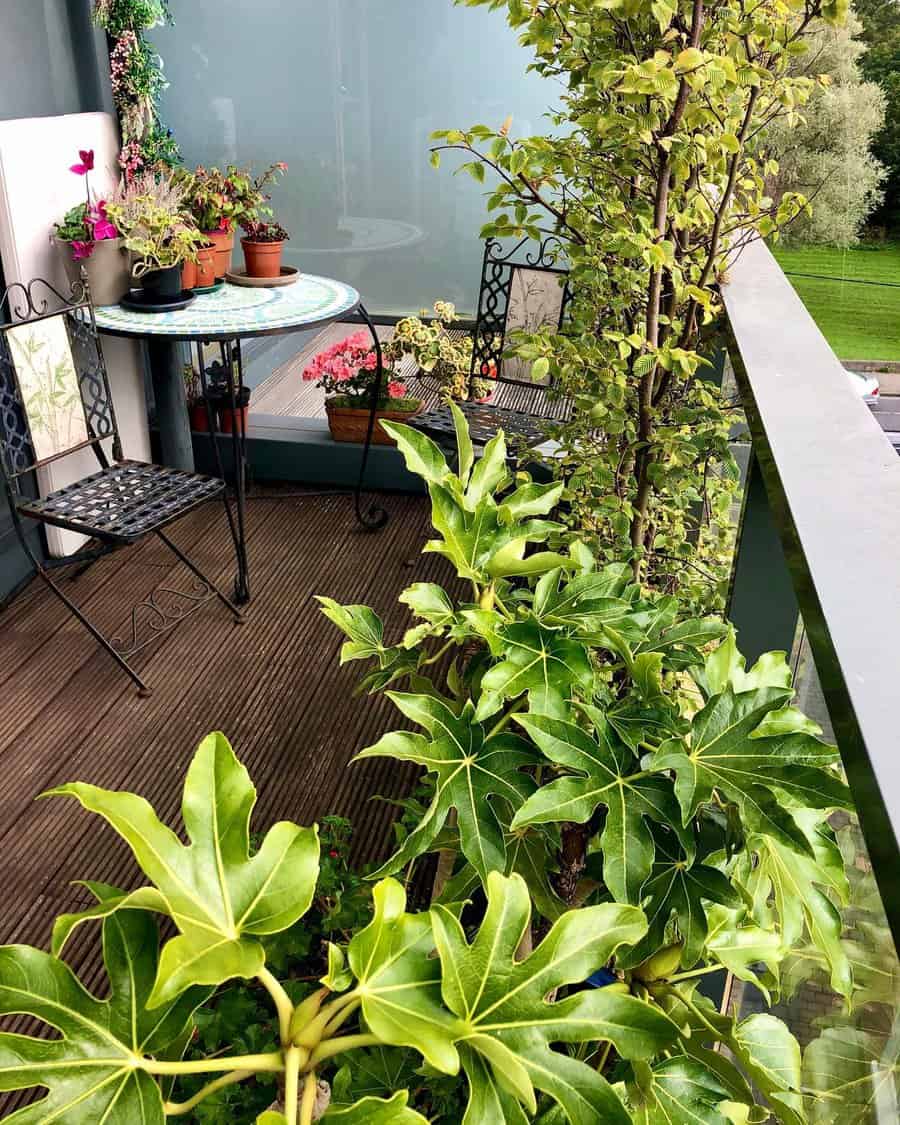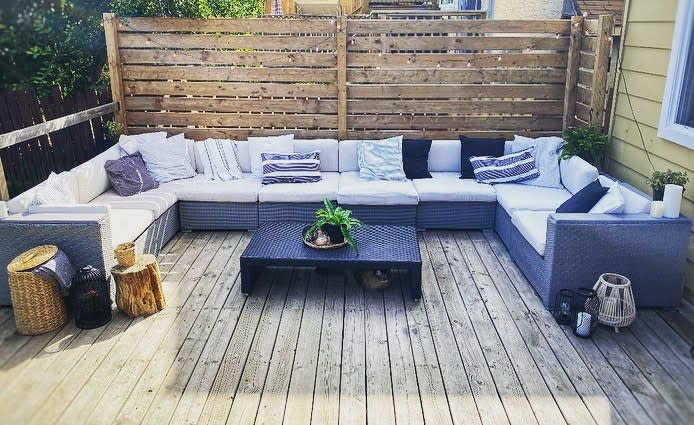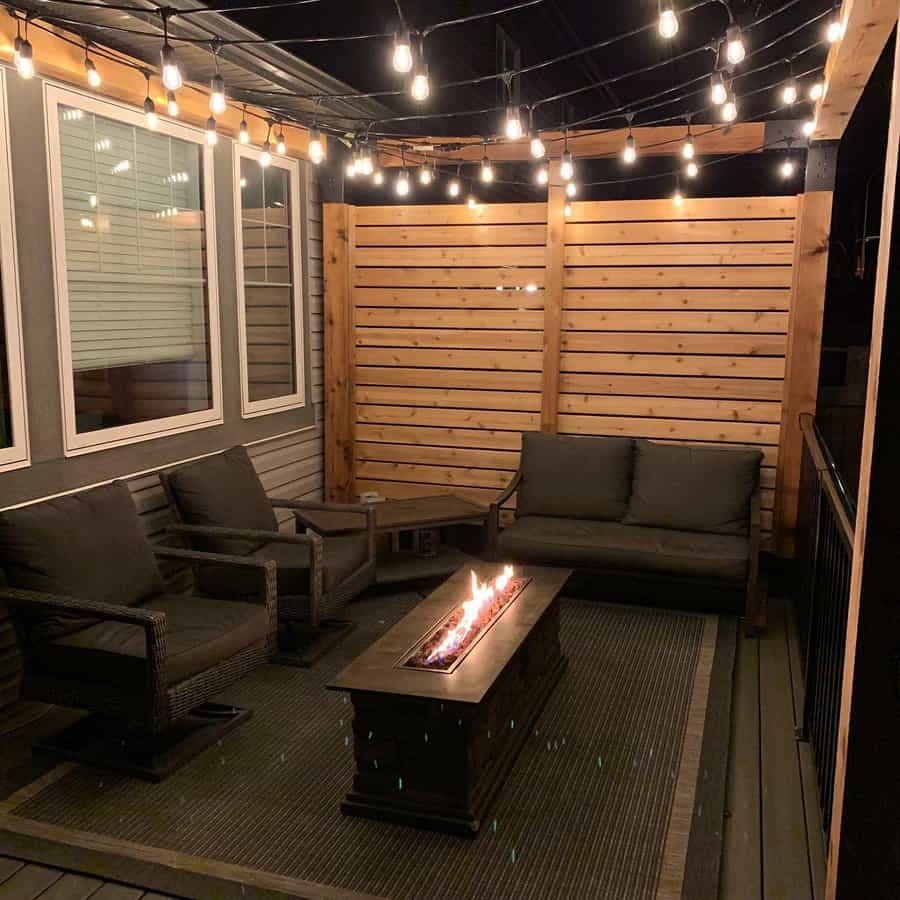 The good news is that it's relatively easy to boost the privacy of your outdoor living space. Both temporary and permanent solutions are available, so even renters can enjoy a bit of privacy when sitting out on their balconies.
A simple privacy screen can be installed on either side of your patio. For something a little more decorative, opt for a trellis covered in vines. Use bamboo panels to fill the gaps between your patio railings.
7. Rooftop
Given the choice between a regular balcony and a rooftop terrace, you'd probably choose the terrace! Not only does the average rooftop patio offer tons of usable space but it's also much more private than a standard balcony.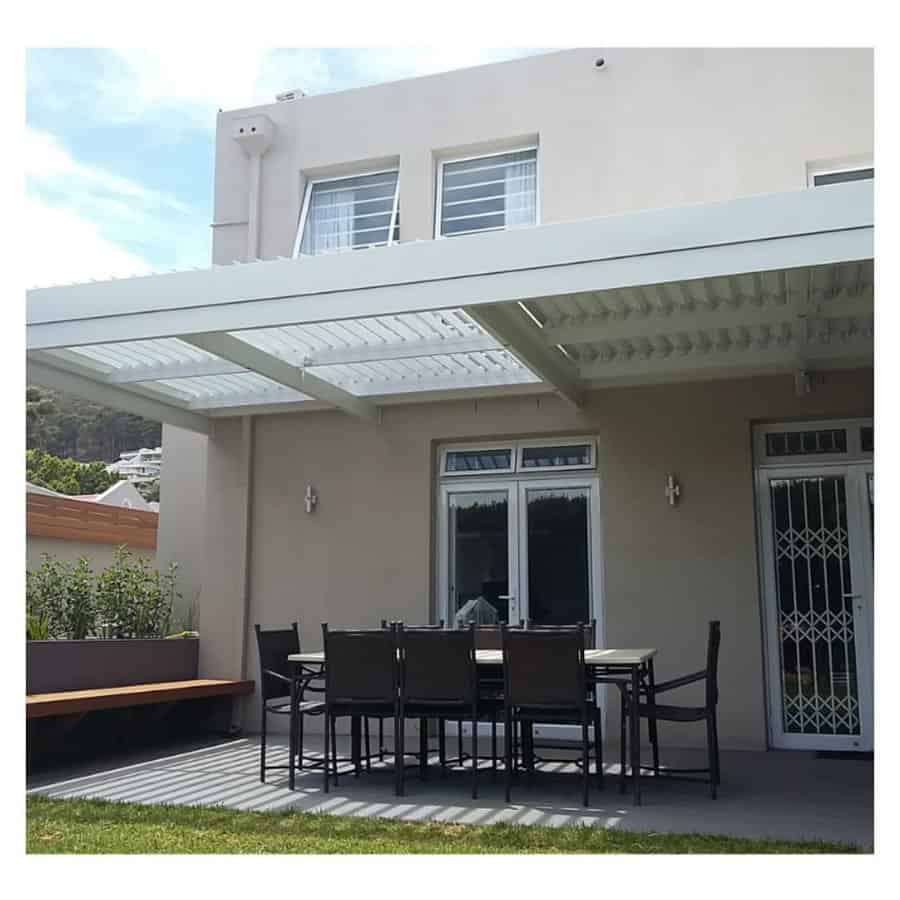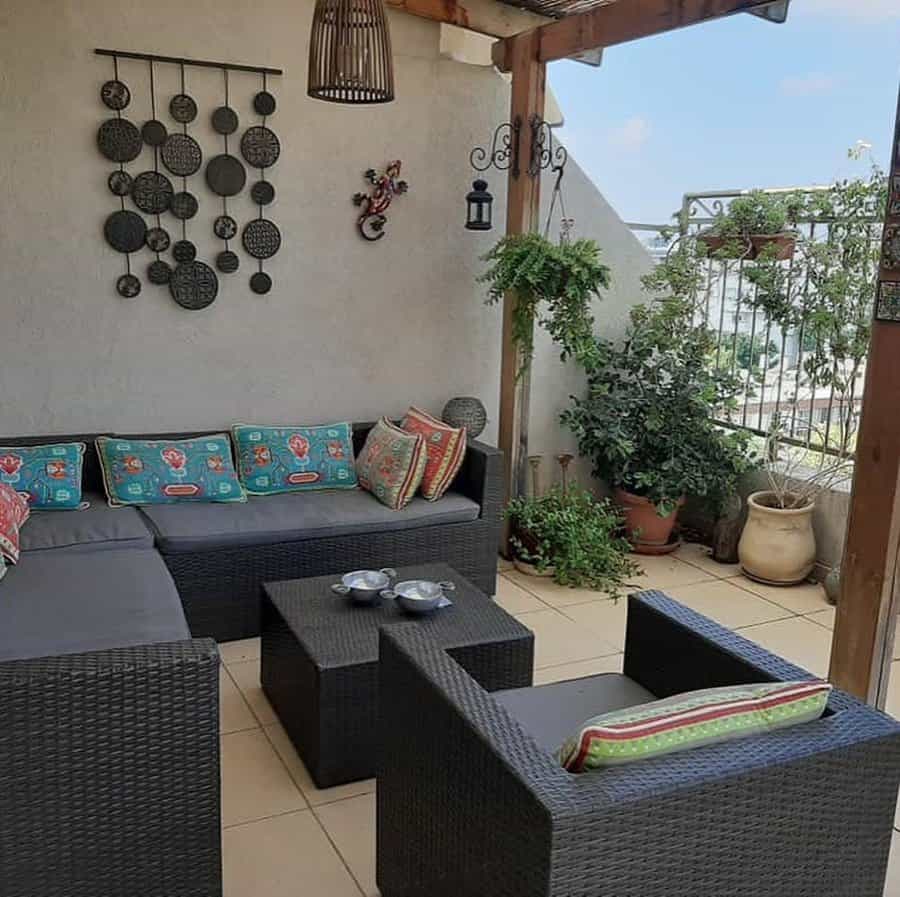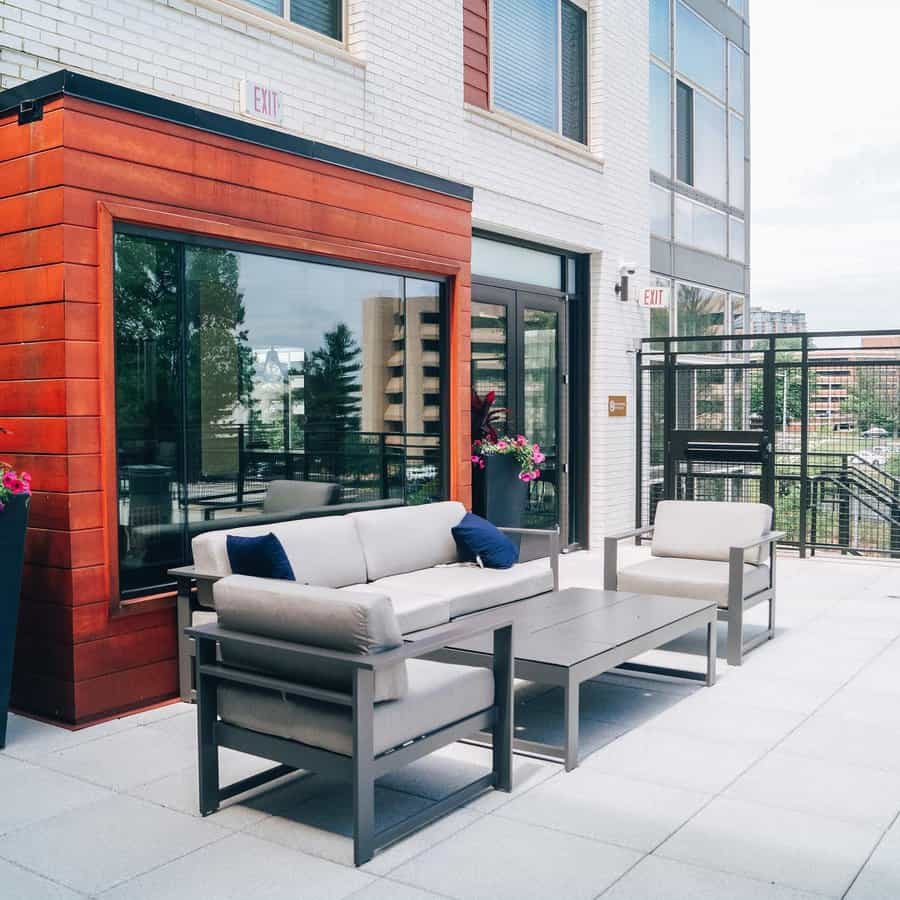 It's easy for a rooftop patio to feel disconnected from the outdoors. Bring some life to the space with potted plants.
While a rooftop patio offers many advantages over a traditional balcony, exposure is not one of them! Protect yourself from the sun and rain by installing an umbrella or shade sail over your main seating area.
8. Small
An incredible number of home design ideas are focused on maximizing a small space. This isn't a foreign concept to apartment dwellers. And it definitely shouldn't stop at your patio doorway!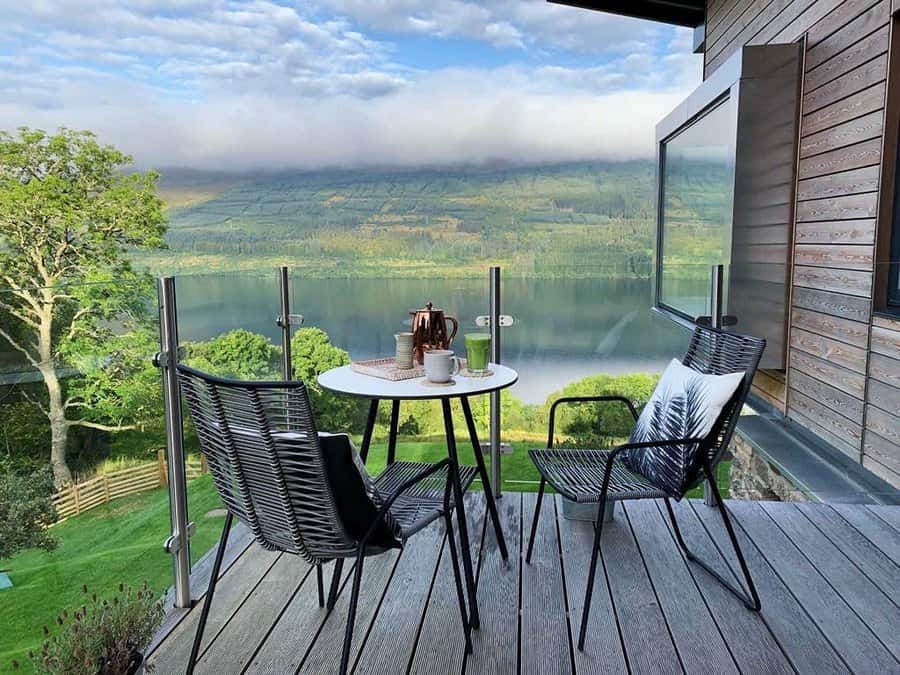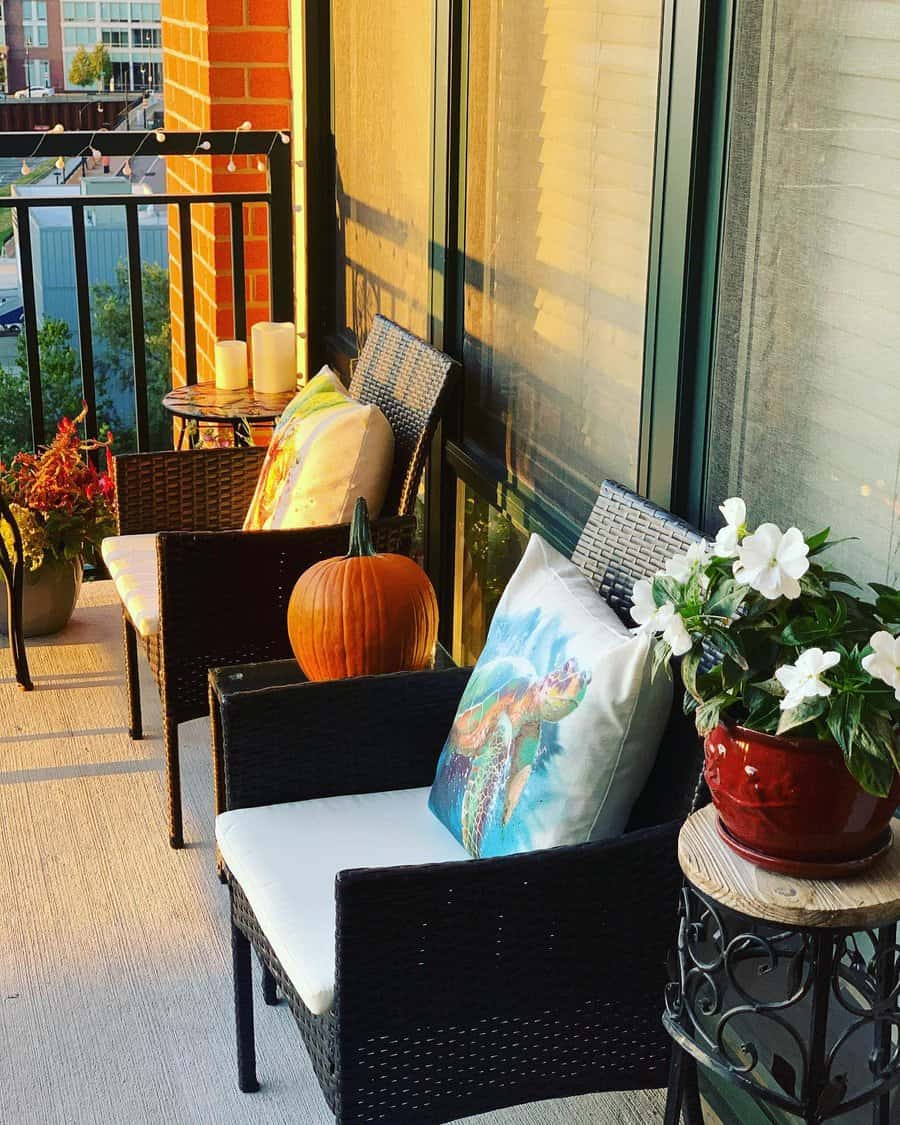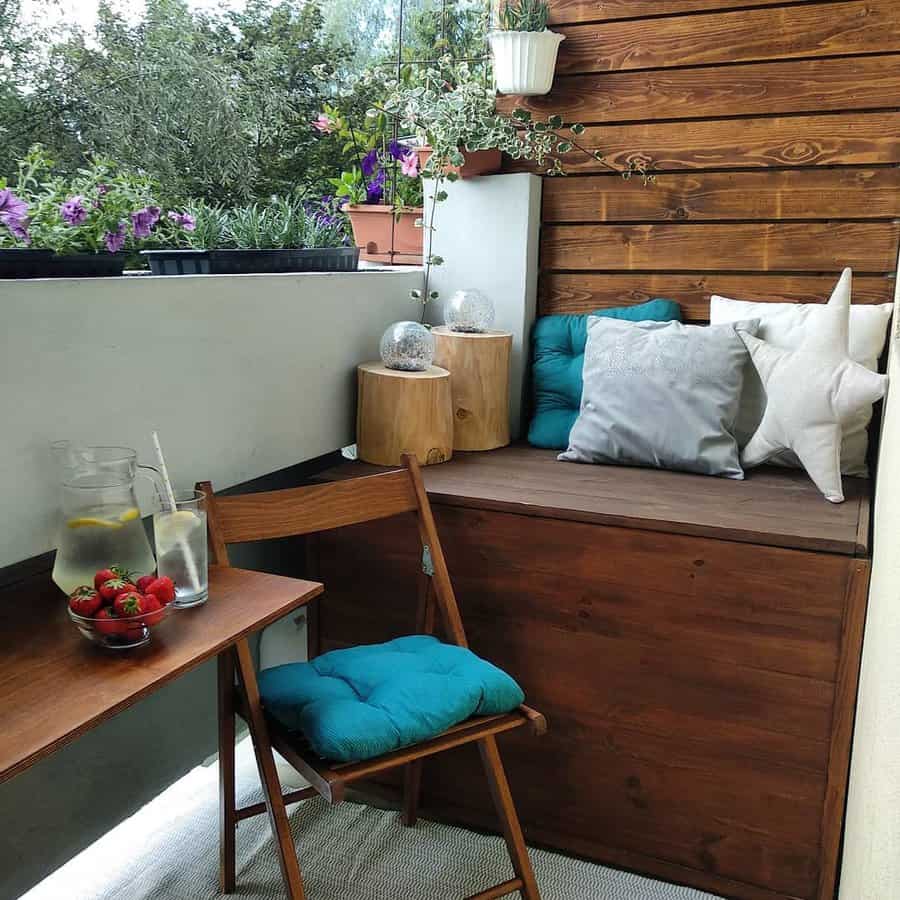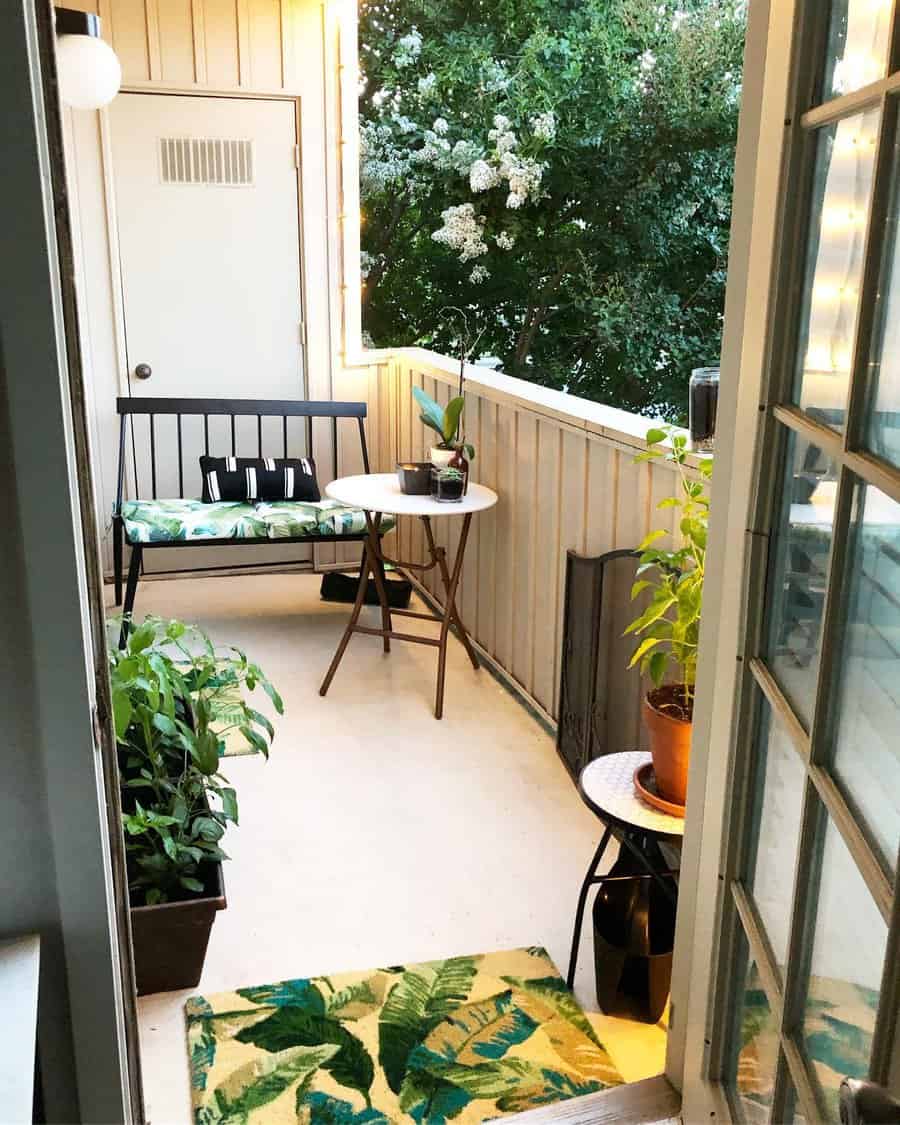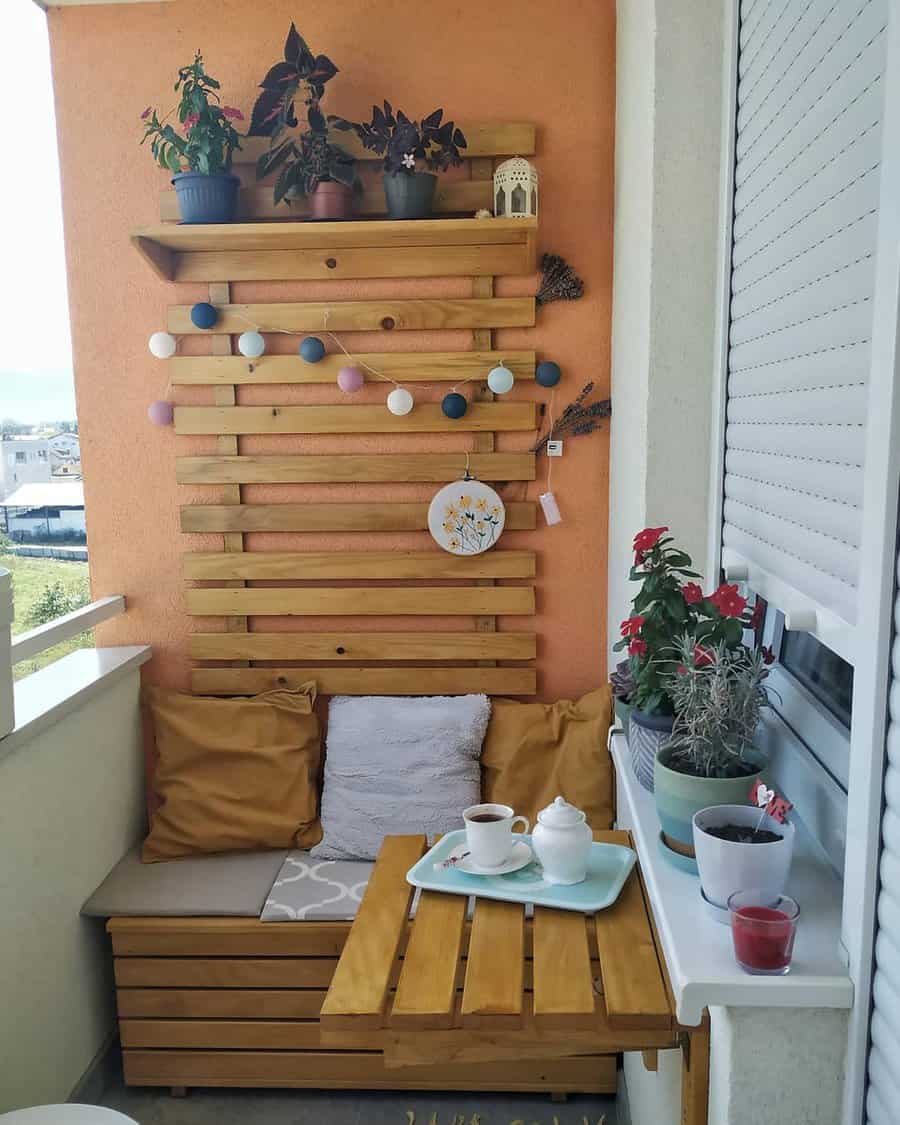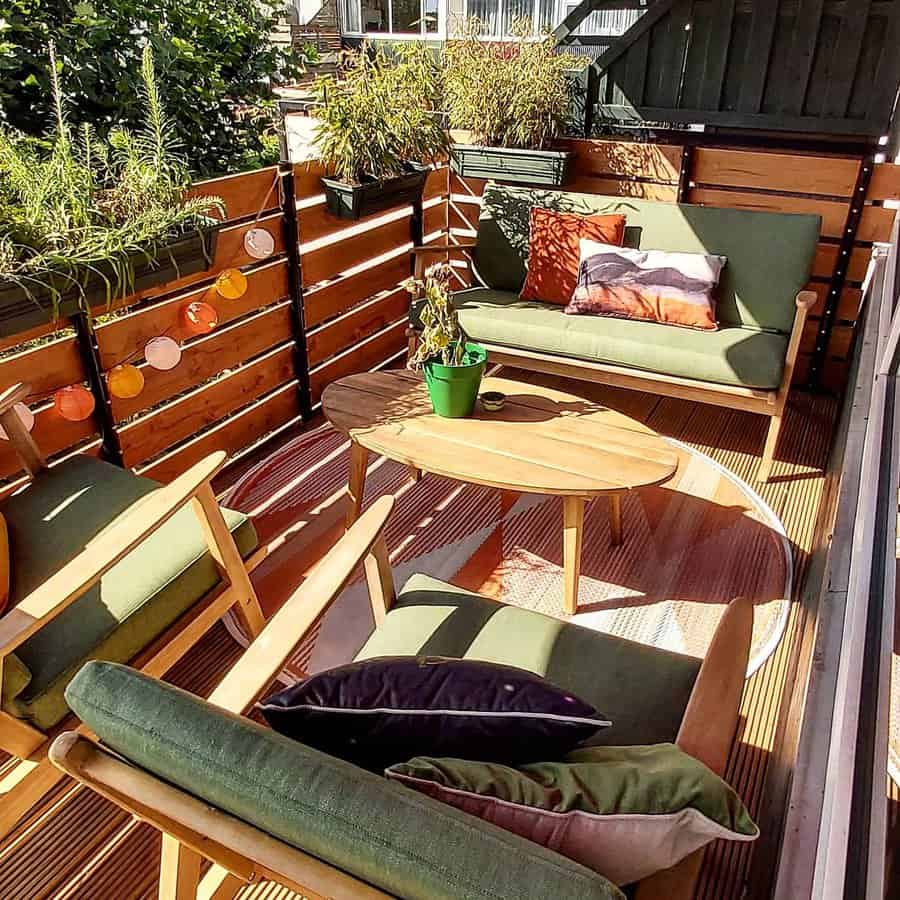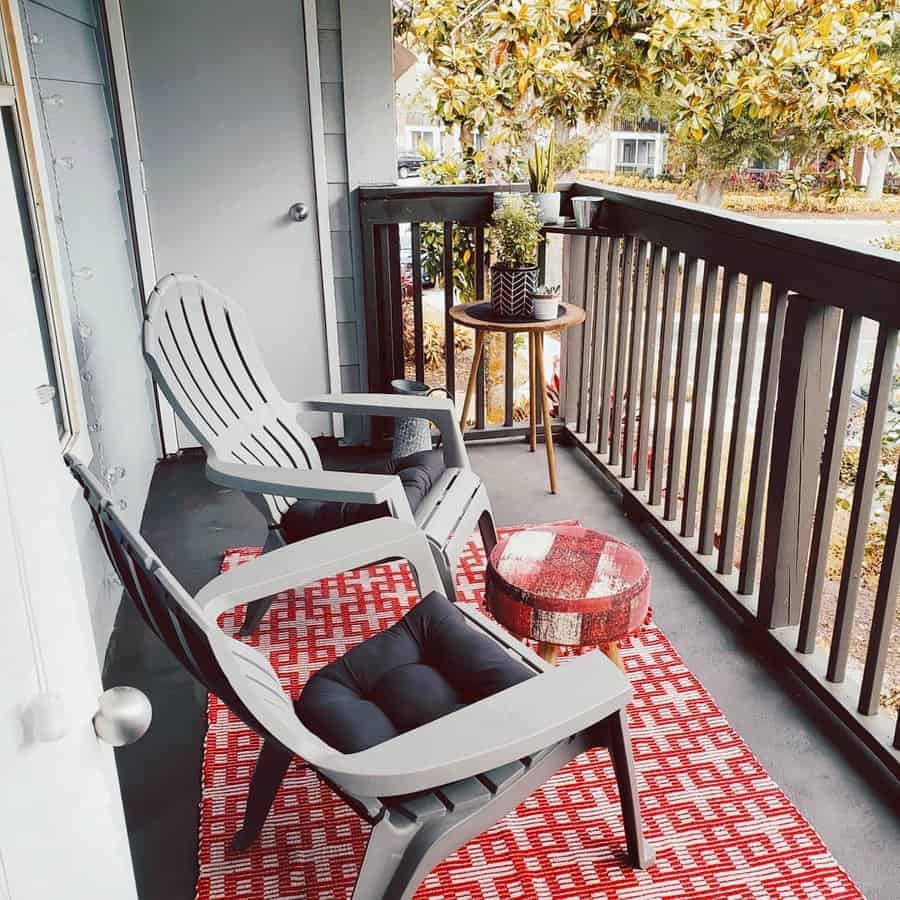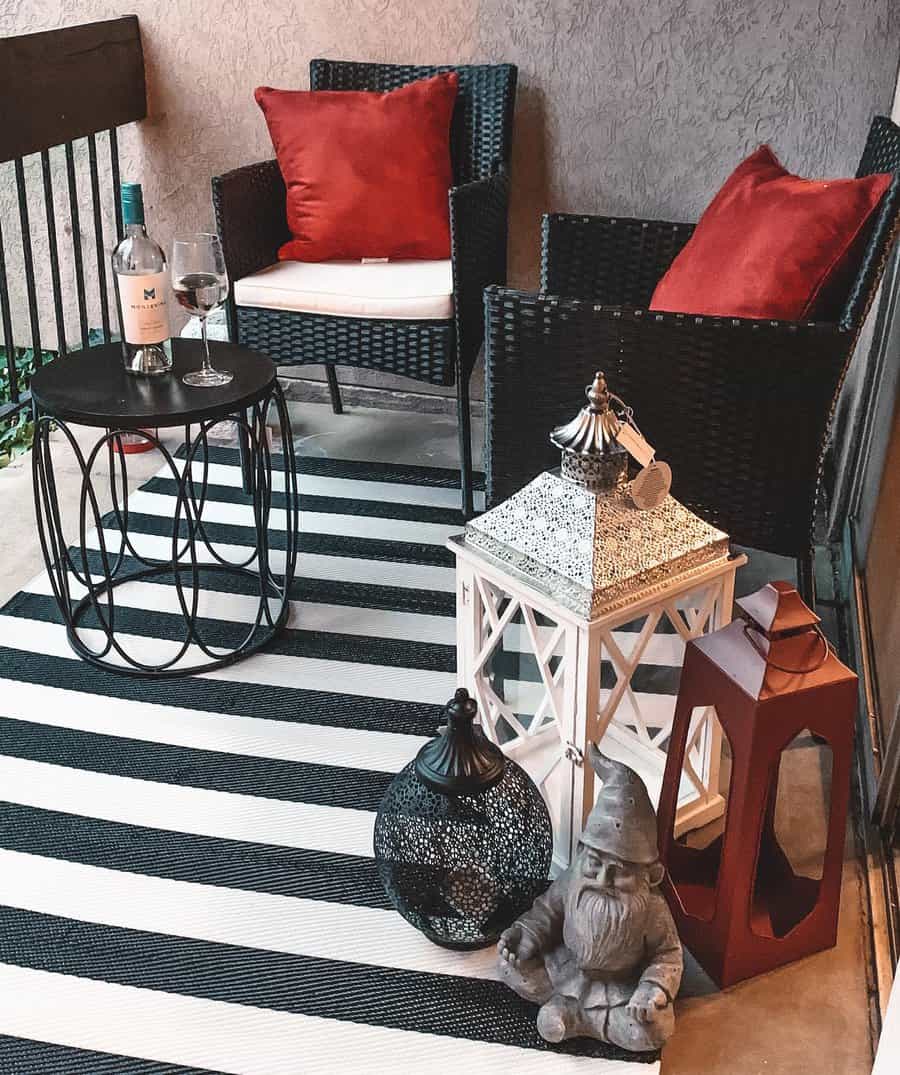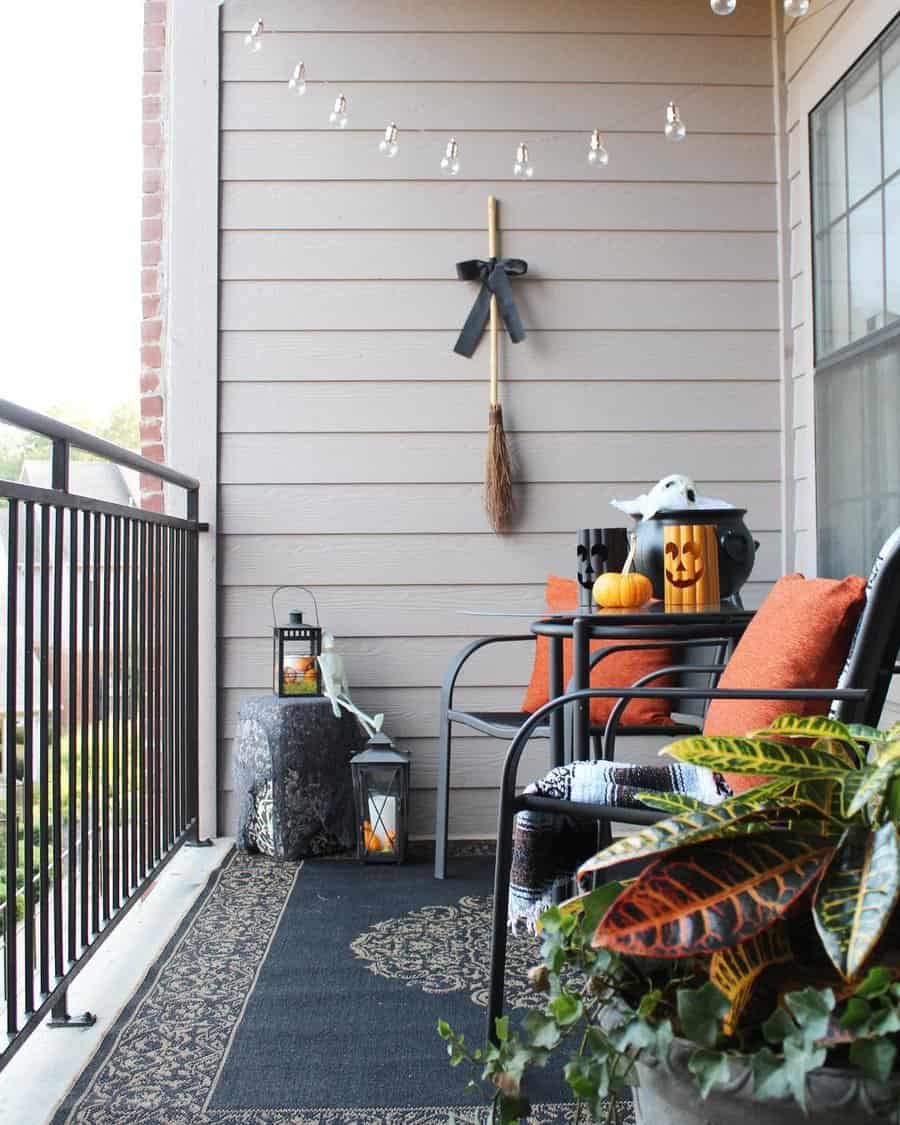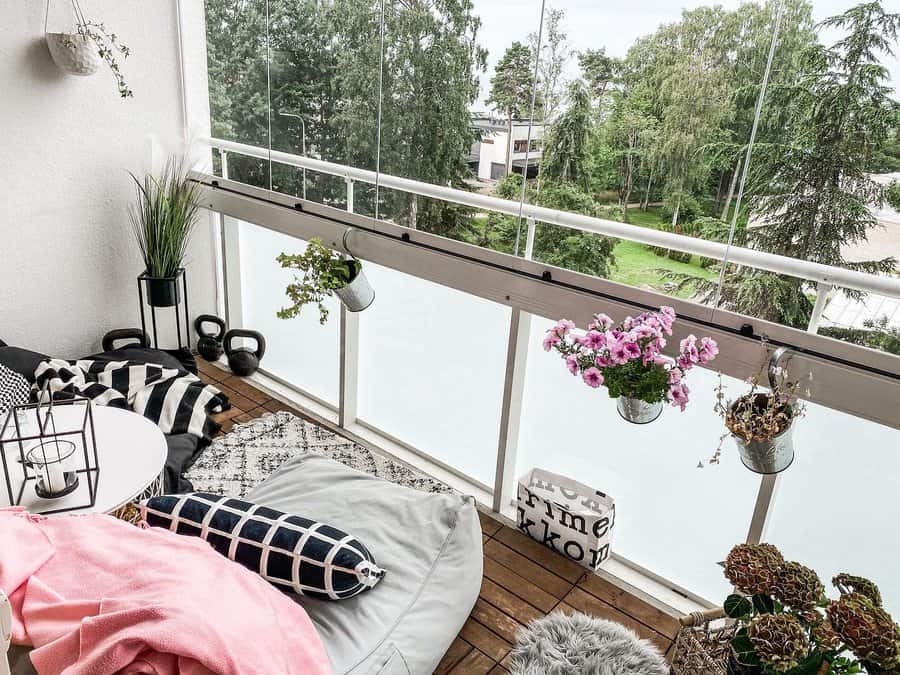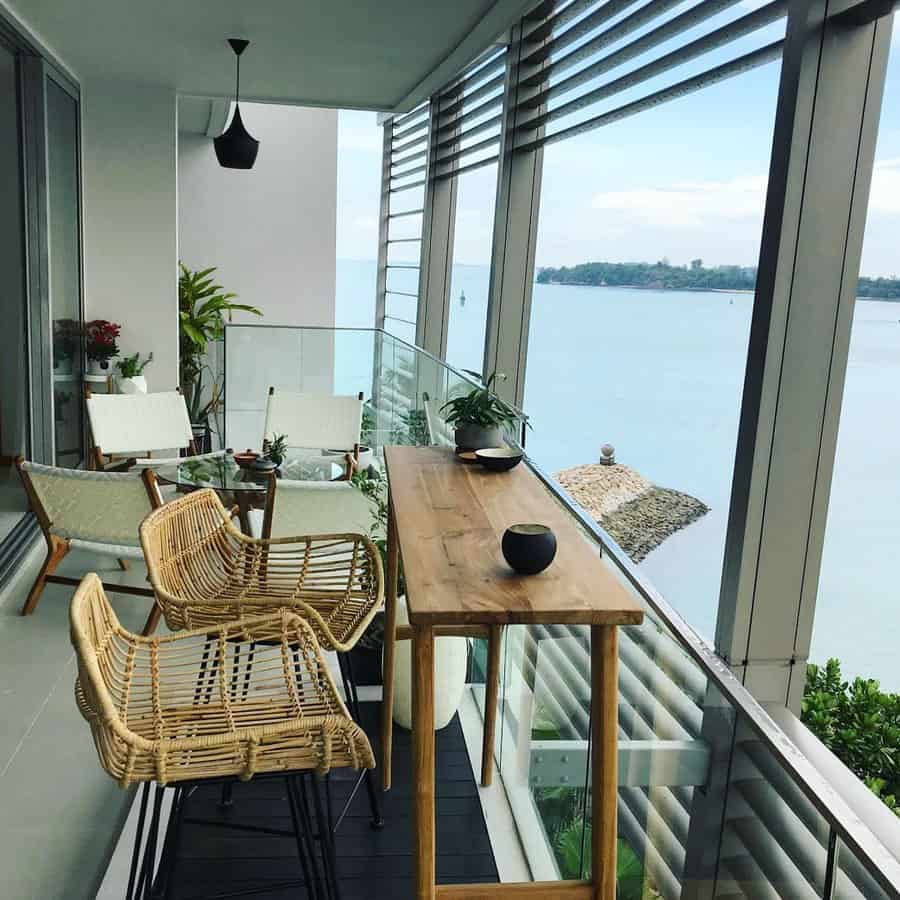 Whether or not your apartment features a small balcony is largely a matter of opinion. But choosing the right furniture and decor can make a small space feel remarkably large.
Invest in furniture pieces that can serve dual purposes — look for seating that works for relaxing, conversing, dining, and working. Skip decor that sits on the floor (unless it also serves a purpose). Instead, hang potted plants and other decorative items on your patio walls or railing.
9. Wooden
Are you looking for ways to infuse your outdoor living space with organic charm? Then opting for apartment patios ideas filled with wooden elements and greenery is your best option.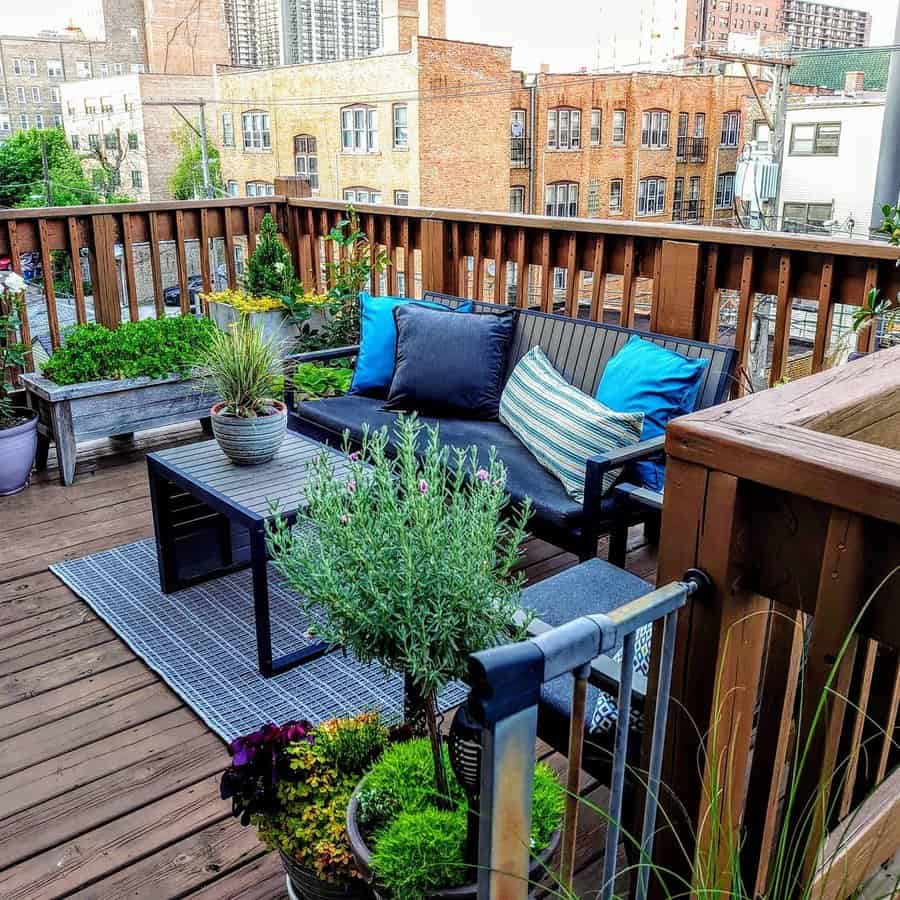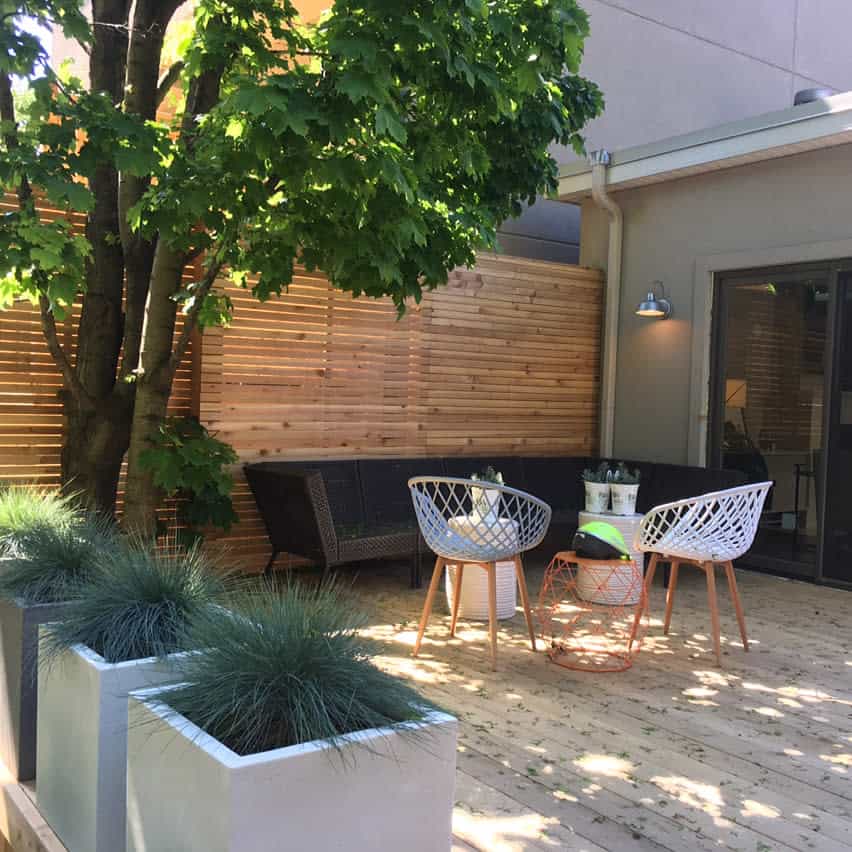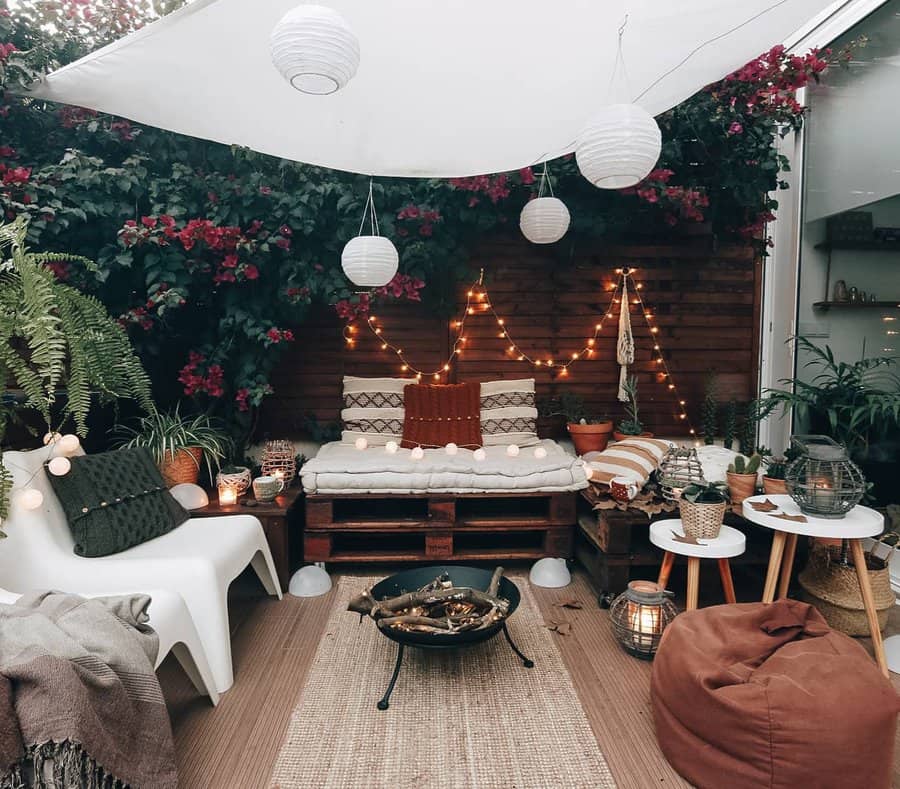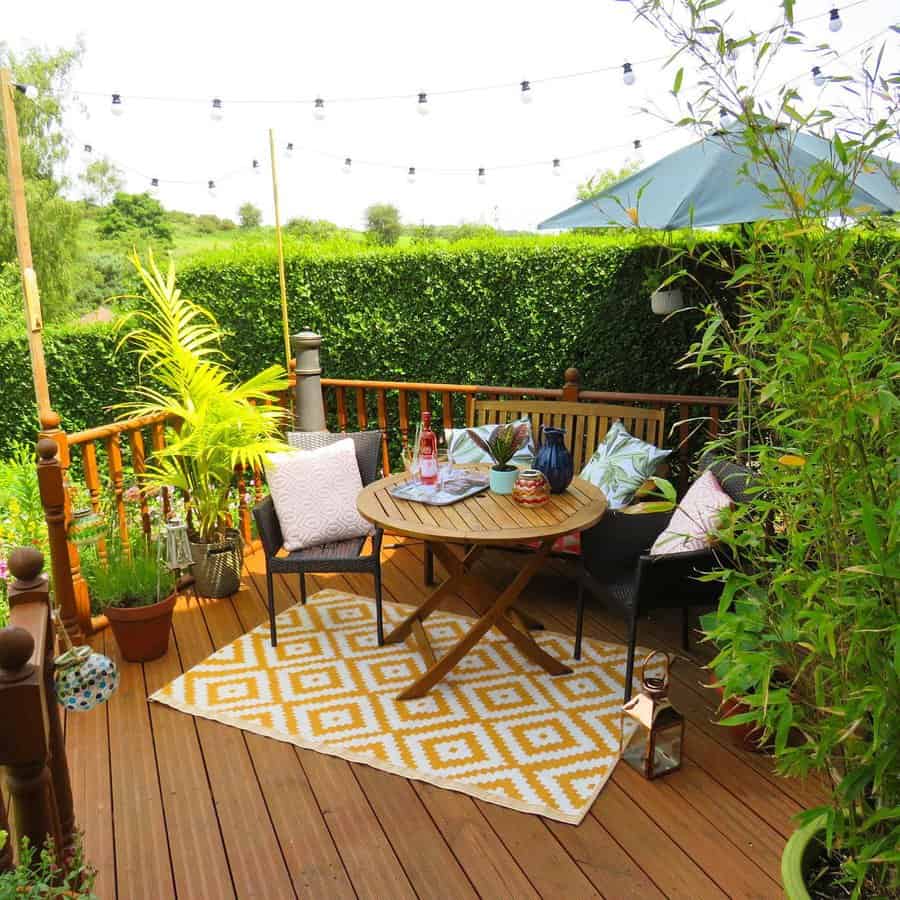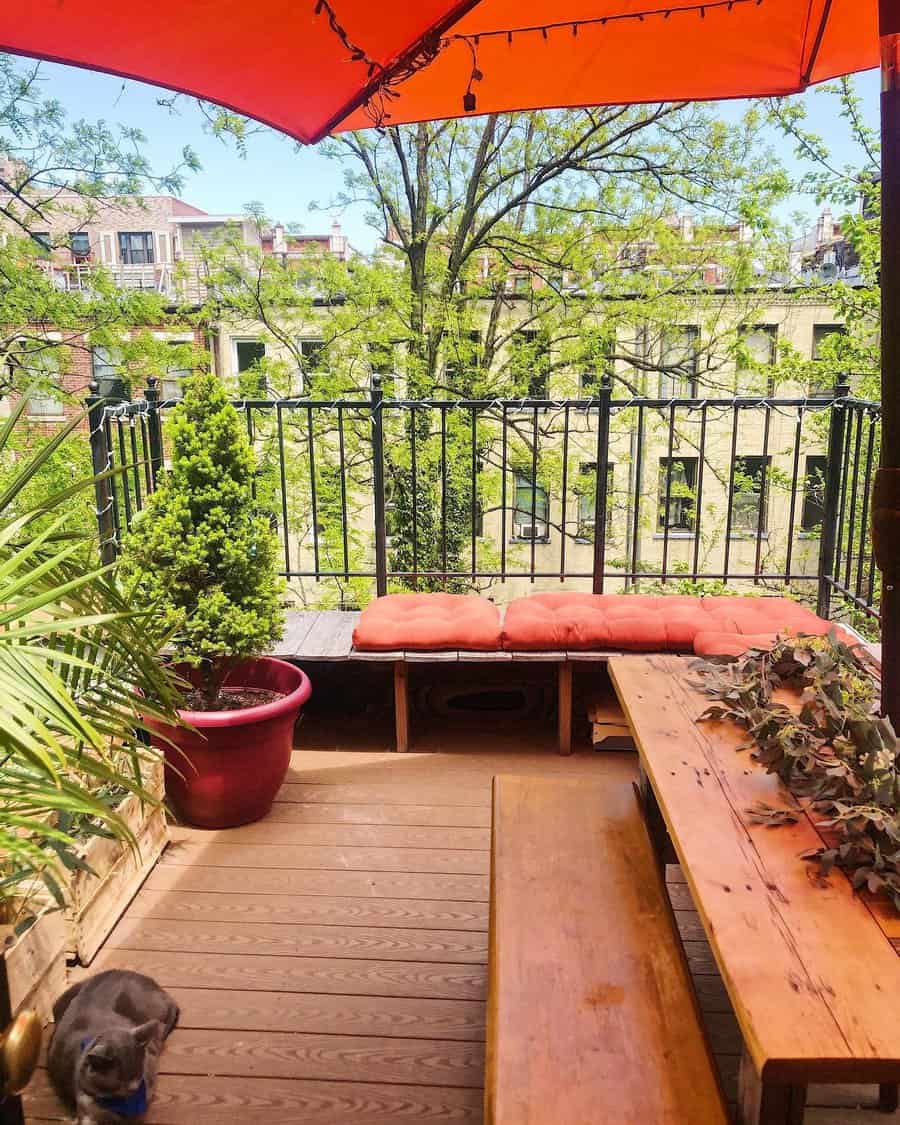 Wooden furniture is a wonderful choice for any outdoor space. It looks equally great on a wood deck or a concrete floor.
If you have a small balcony or patio, explore options to increase the greenery around the perimeter of the space. Hanging planters can be secured to the exterior of a balcony railing. You may also be able to place tall plants around your patio slab for a little extra privacy.
Apartment Patio FAQs
Is there a difference between a patio and a balcony?
Yes, there is a technical difference between a patio and a balcony. Patios are located on the ground floor. Balconies are located on any floor above the ground.
In practice, however, most people use the two terms interchangeably. And there's no reason why your favorite apartment patio ideas won't work on a balcony, as well!
What is the weight limit of an apartment patio?
If your apartment patio is located on the ground floor, then weight limit shouldn't be a huge concern. But it's a different story for those living on higher floors.
There is no set weight limit for an apartment patio. There may be information about weight limits located in your lease or condo guidelines.
As a general rule, most patios can support at least 50 pounds per square foot. However, you should always err on the side of caution. Avoid placing heavy furniture or oversized planters on your apartment balcony. And be sure to take into account the number of people who will be standing on your patio at one time when estimating the weight capacity.