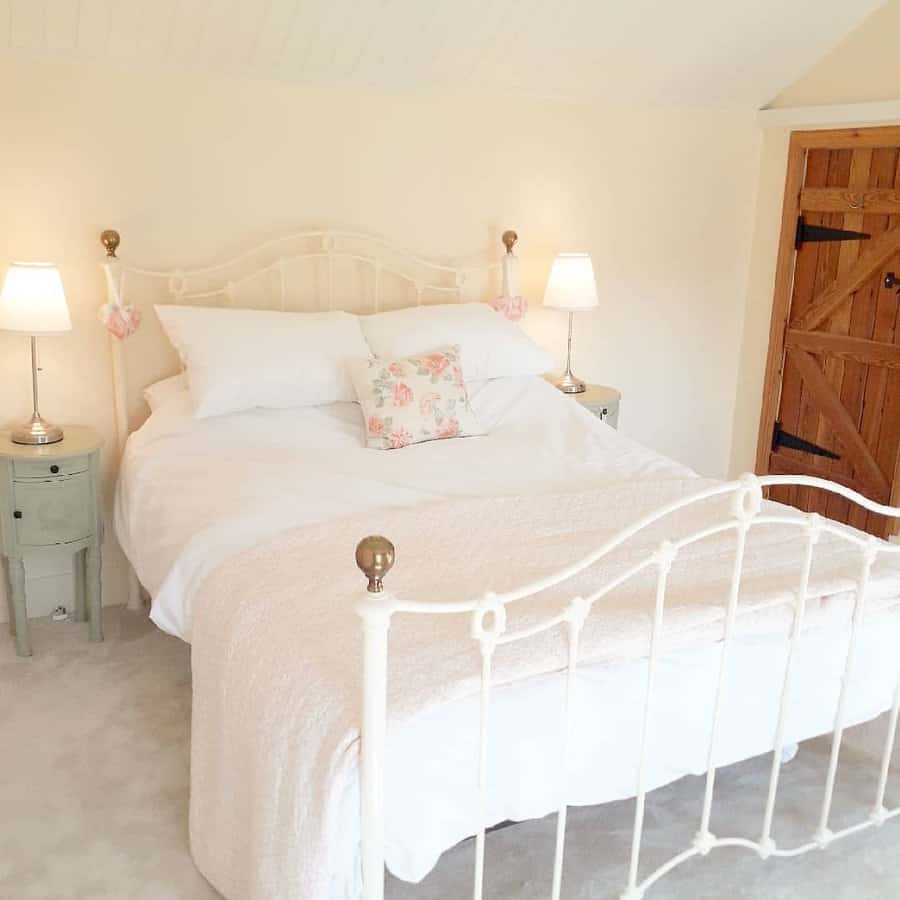 40 Bedroom Decor Ideas For Women
Creating the perfect women's bedroom is far from being a cookie-cutter solution where you simply fill the space with lots of pink and lace. Because each woman is unique, each woman's bedroom decorating ideas will also be highly distinctive.
Bedroom ideas for women can be dark, dramatic, modern, or Scandinavian. They can also be frilly, floral, delicate tributes to classic femininity. Whichever interior design style you prefer, here are some of our best bedroom ideas for women to get you started.
1. Aesthetic
A woman's bedroom decor should reflect the most genuine aspects of her personality. An aesthetic woman bedroom is one where her personality plays a major role in her home decor choices.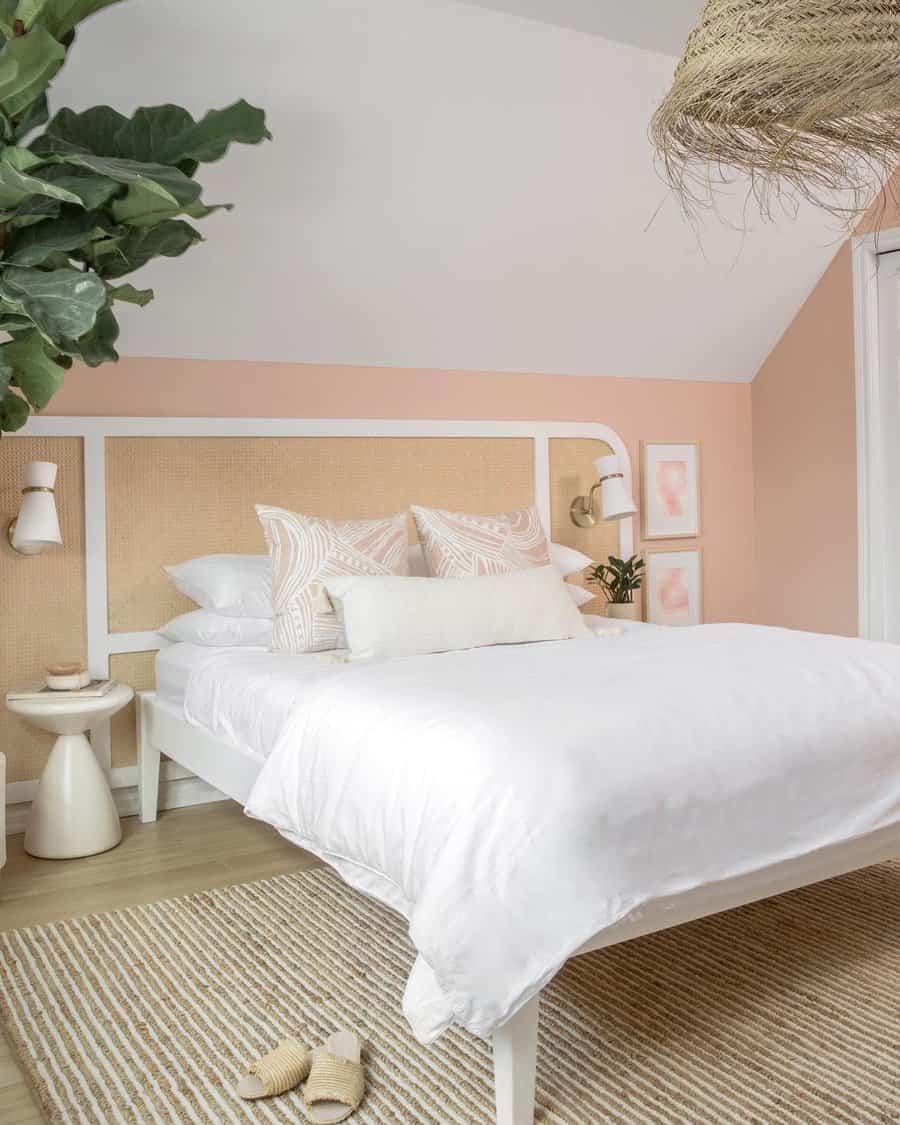 Modern aesthetic woman bedroom ideas include muted neutral colors and pinks, fairy lights and other fun light fixtures, and touches of greenery—real or faux. Wall decor may include photo collages, art prints, and simple motivational piece of word art. Moon phase garlands are popular in aesthetic bedrooms, often hung over the headboard.
See more aesthetic bedroom ideas here.
2. Attic
An attic bedroom may be a small room or quite spacious. Regardless of its size, an attic bedroom space often has unusual architectural features to work around, such as deeply angled ceilings, half walls, and irregularly shaped rooms. While this may be challenging, these features also help elevate your bedroom design.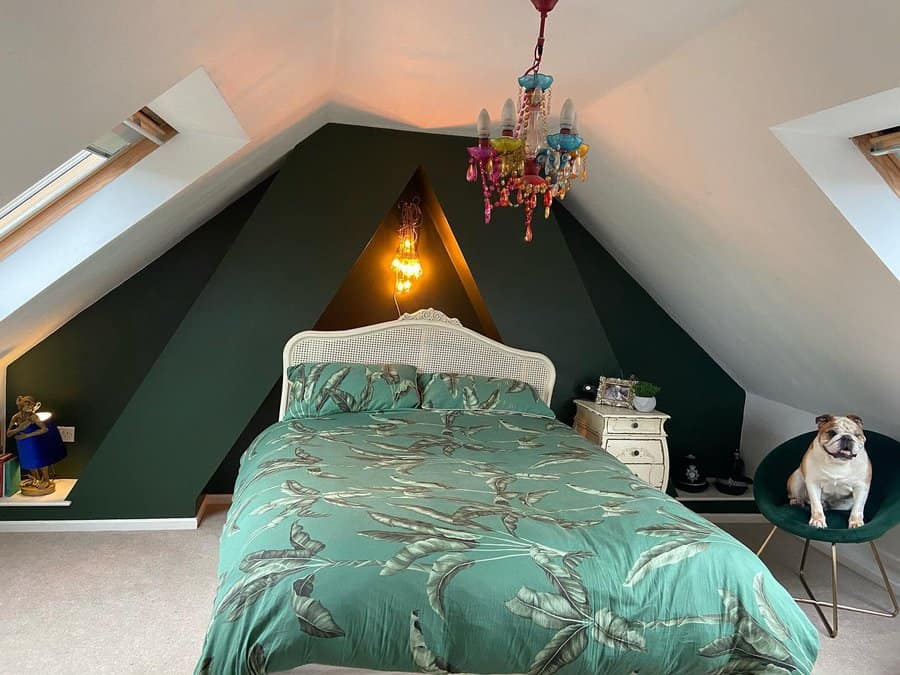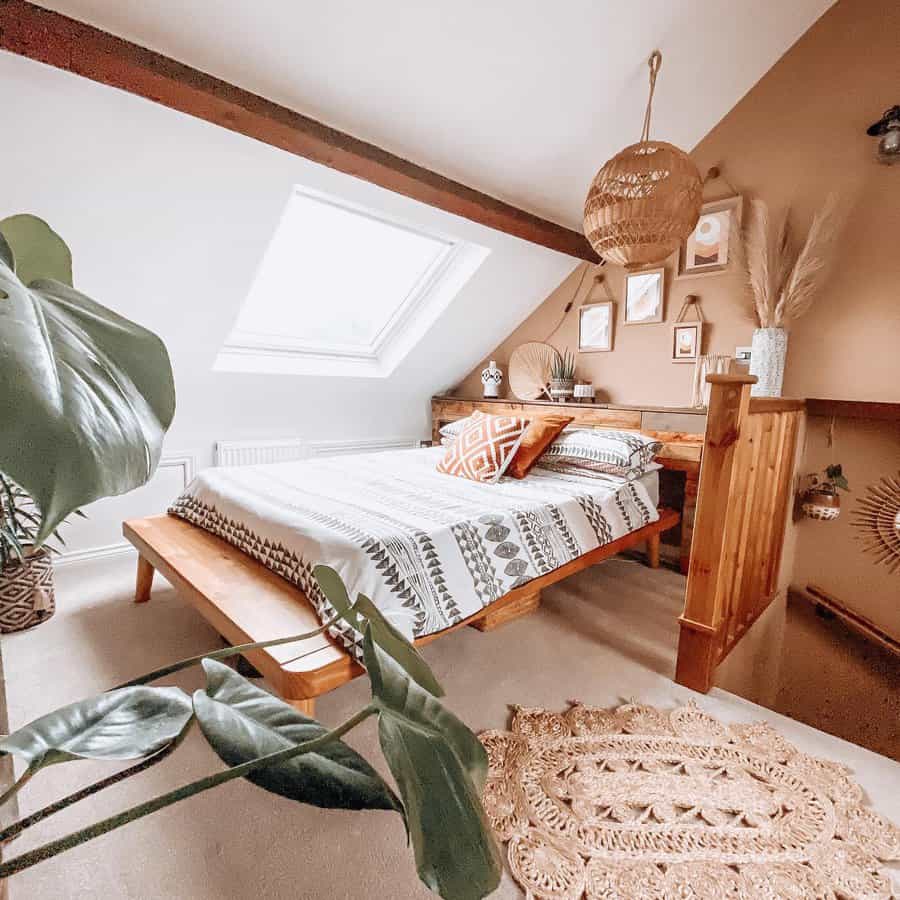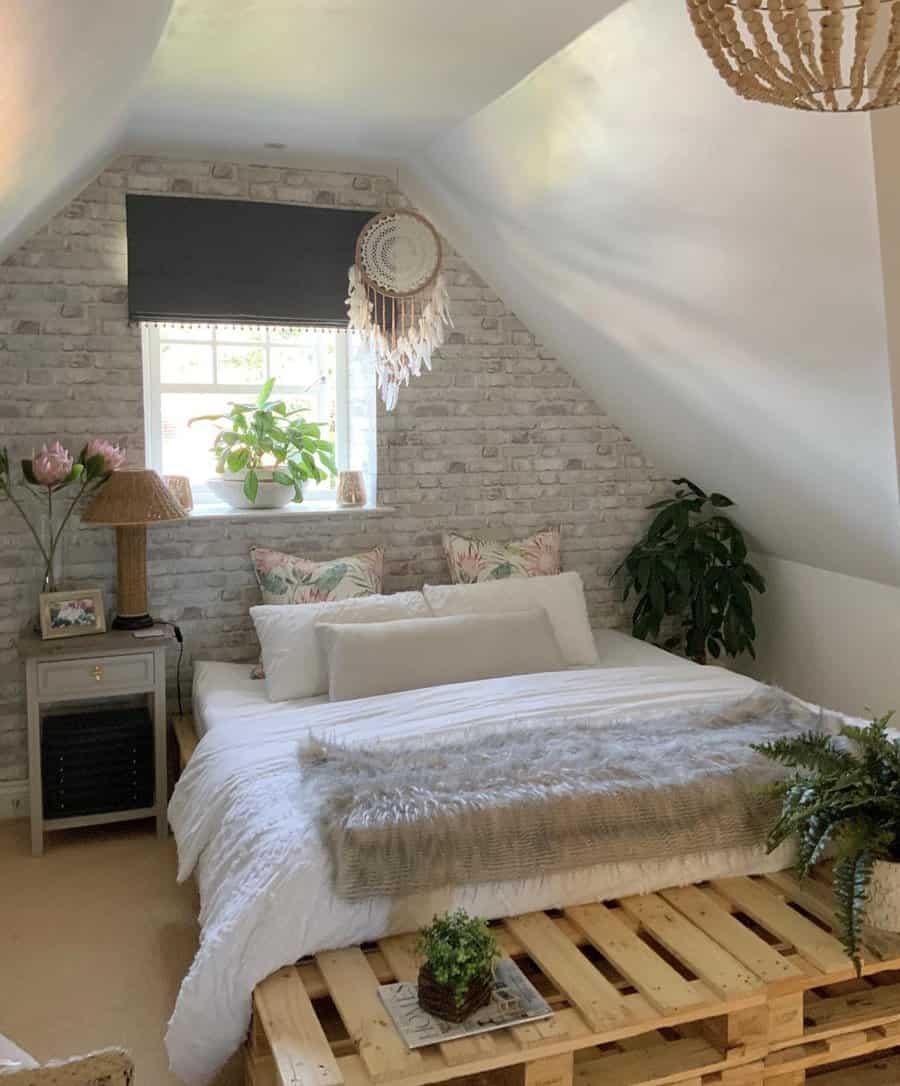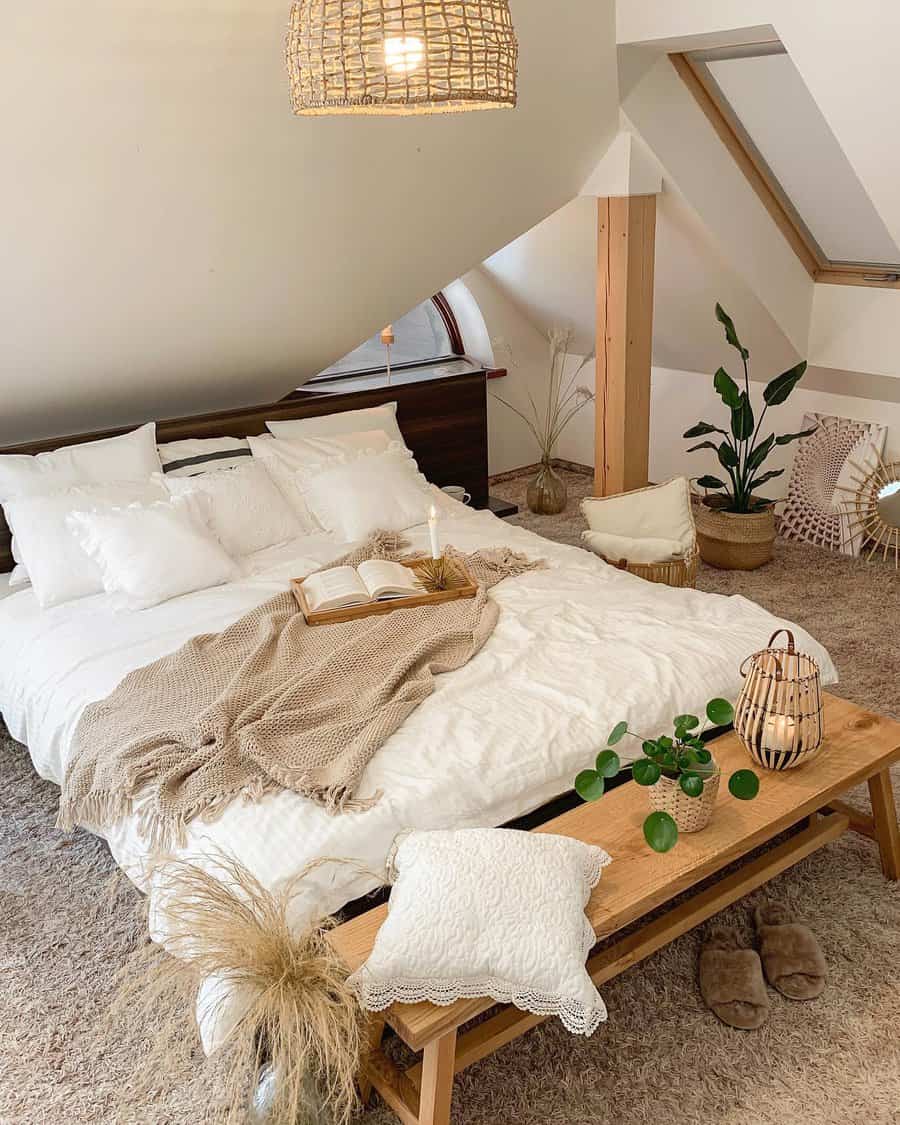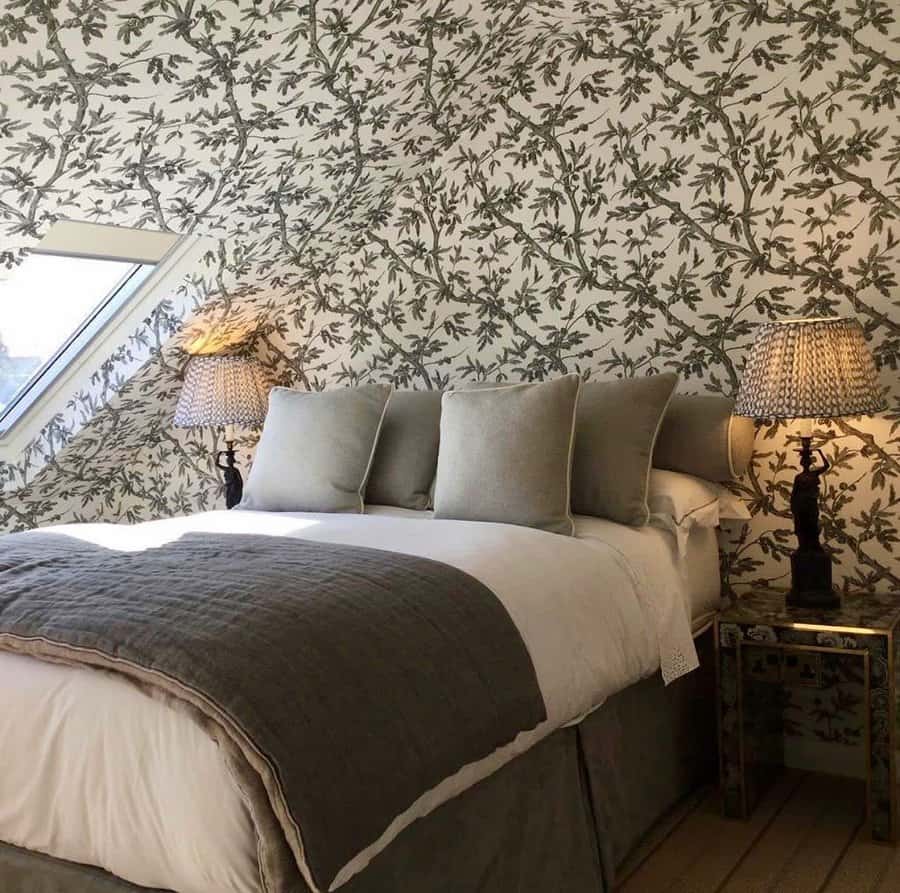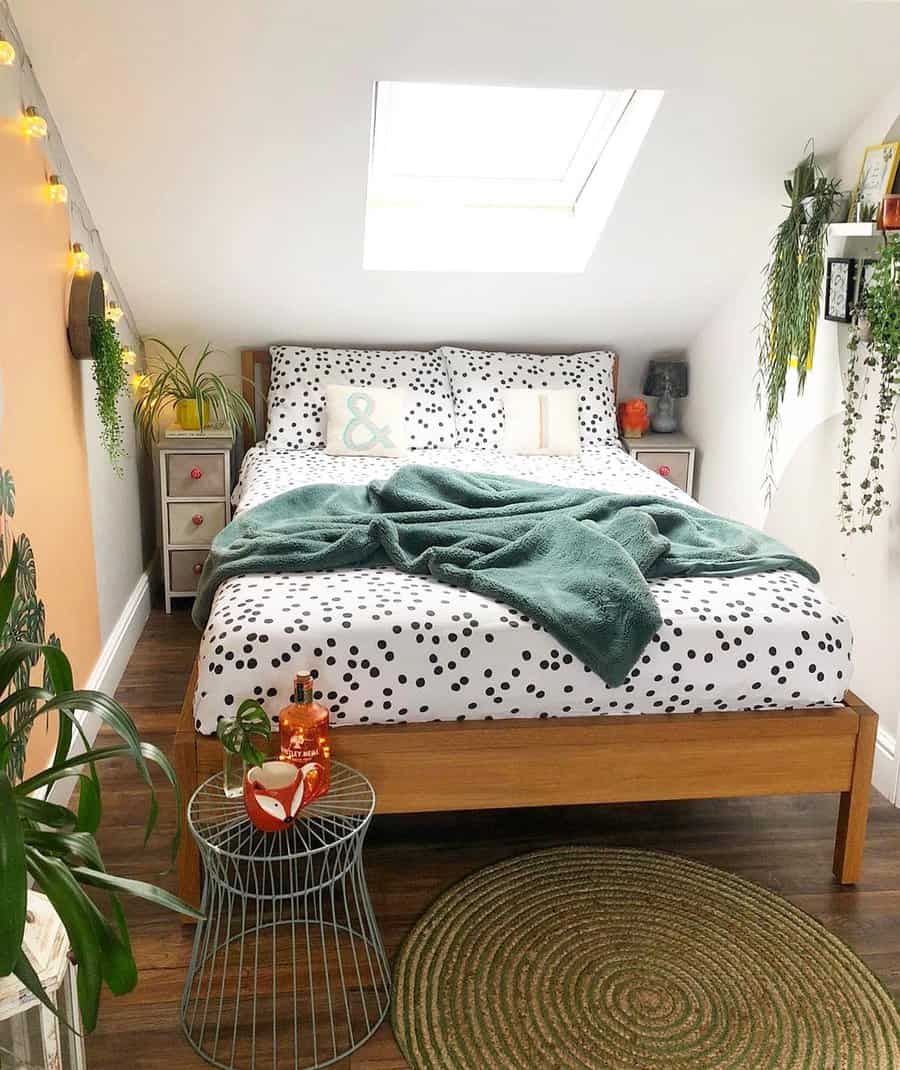 Sharply angled ceilings offer some creative bedroom decor options. For example, hang strings of white fairy lights behind a dark blue sheet tacked to the slanted ceilings. At night time, you will feel like you've been magically transported to a cozy valley, to sleep beneath a starry sky.
See more attic bedroom ideas here.
3. Boho
A boho bedroom features bright colors on a neutral background, international decoration accents, and plenty of natural textures and materials. Shag carpeting and macrame wall hangings bring forth that 1970s boho vibe, further accentuated with vintage wicker headboard and rattan fans used as bedroom wall art.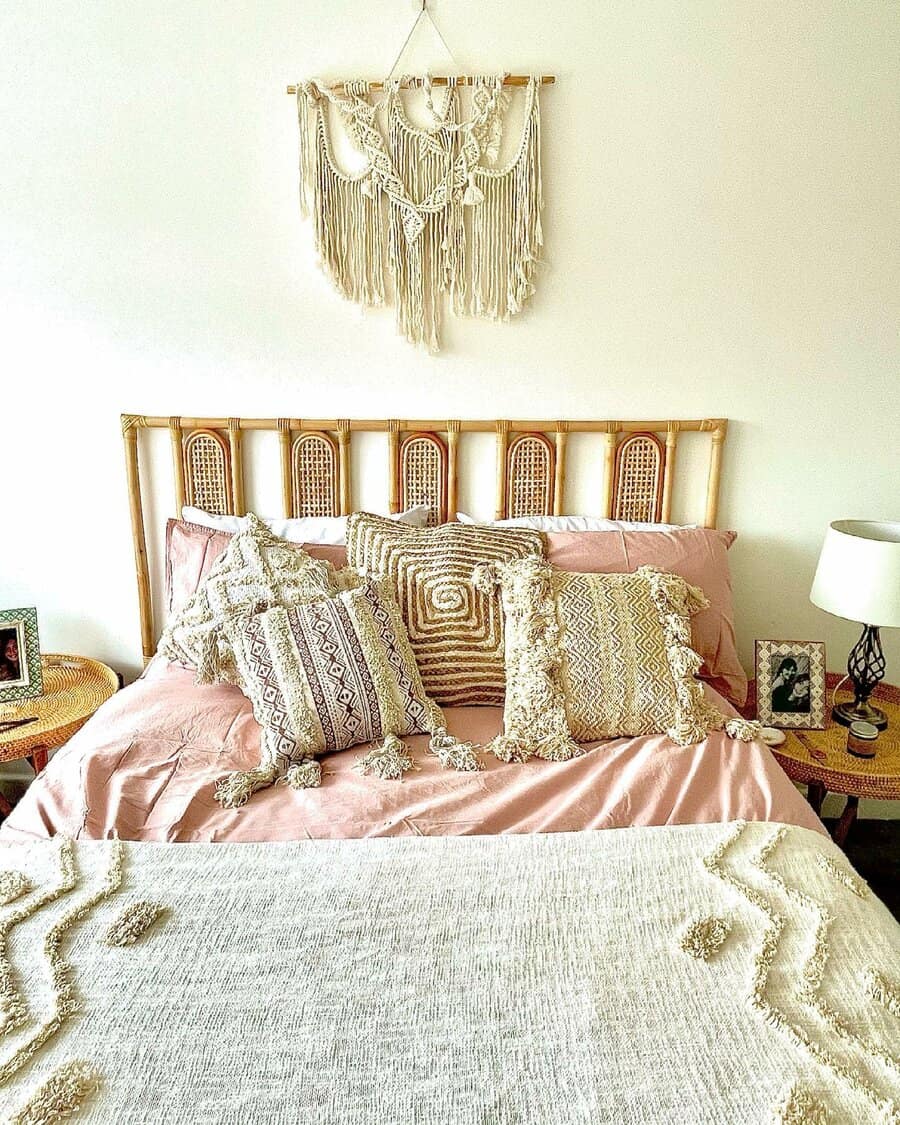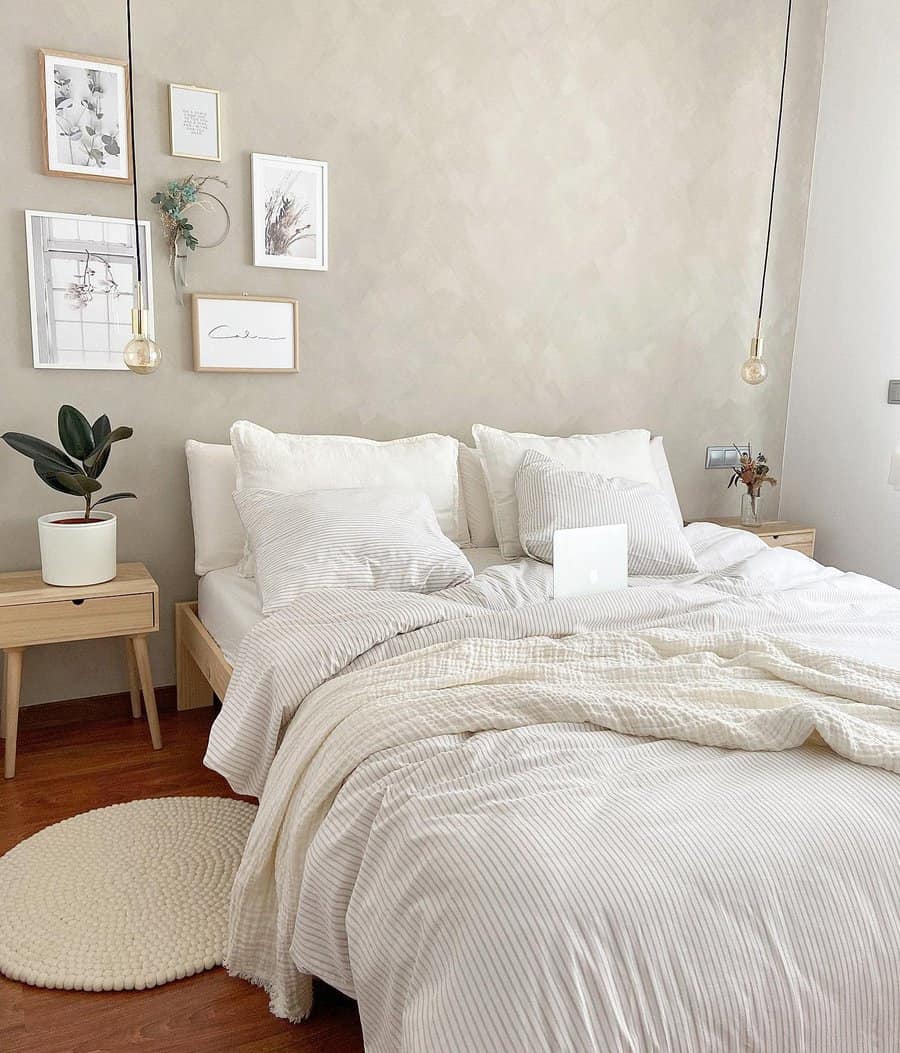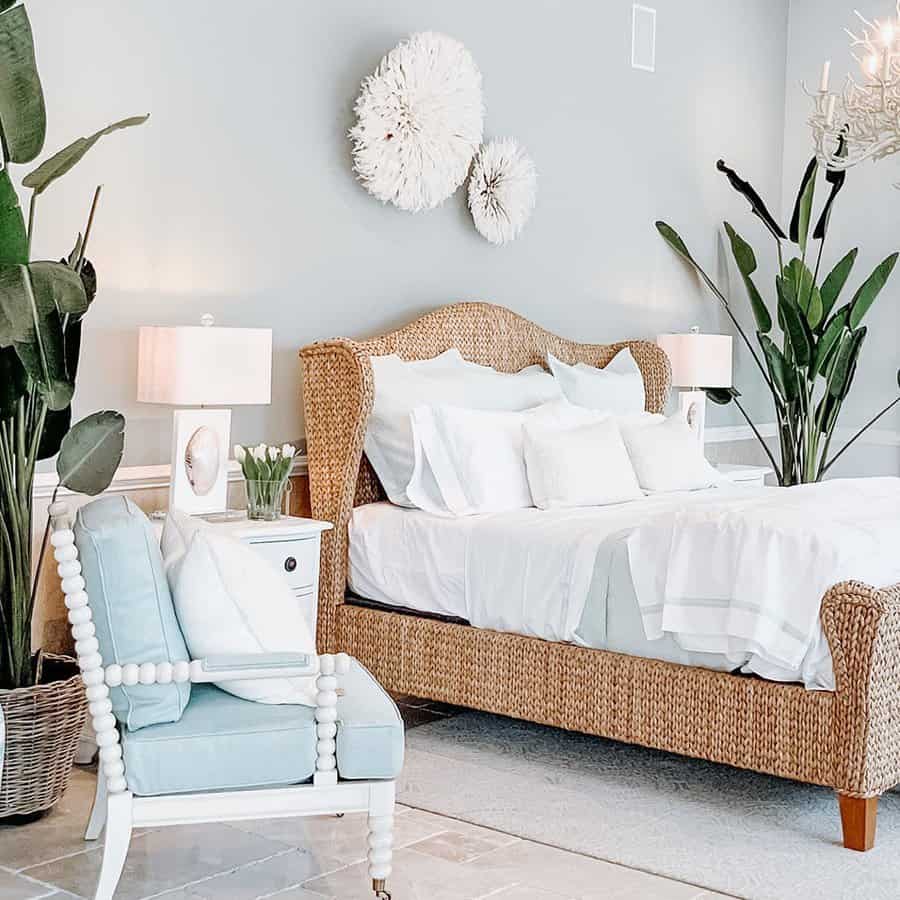 Whimsical boho touches may include an assorted floor cushion and throw pillow collection with fun embellishments like pompoms and fringe. If you have a small bedroom, make sure your furniture is to scale—not oversized. Scatter colorful rugs in different sizes between your bedroom furniture for a fun bohemian touch.
4. Chic
Create a chic master bedroom by focusing on a neutral color palette—but fill it with inviting, natural textures and prints. For example, pair a velvet upholstered bed with white faux fur pillows and a leopard print throw. Add affordable texture with a DIY faux brick accent wall and whitewash it, as shown in this video: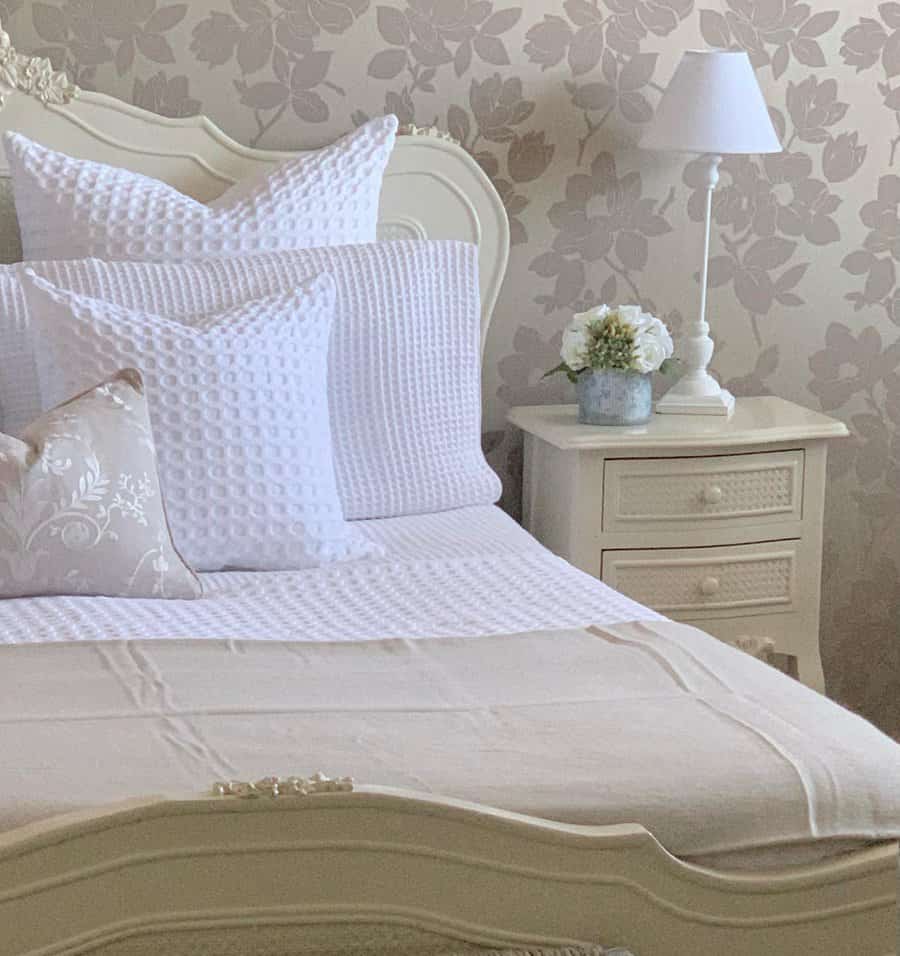 Mirrored furniture or an oversized framed floor mirror propped against the wall are chic ways to help a small bedroom look bigger. Add a designer overhead light fixture and complementary table lamps to round out your chic, feminine bedroom design.
5. Contemporary
Contemporary bedroom ideas for women embrace today's trends, with a clean, sophisticated ambience. Contrasting colors are a common contemporary bedroom idea. Pair black and white with a bold shot of orange, or decorate your space with colors opposite each other on the color wheel.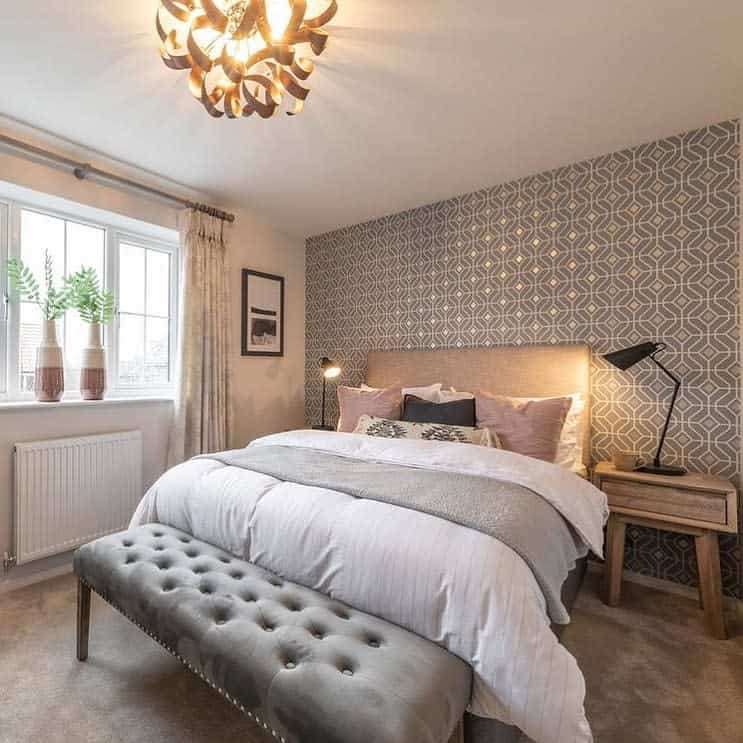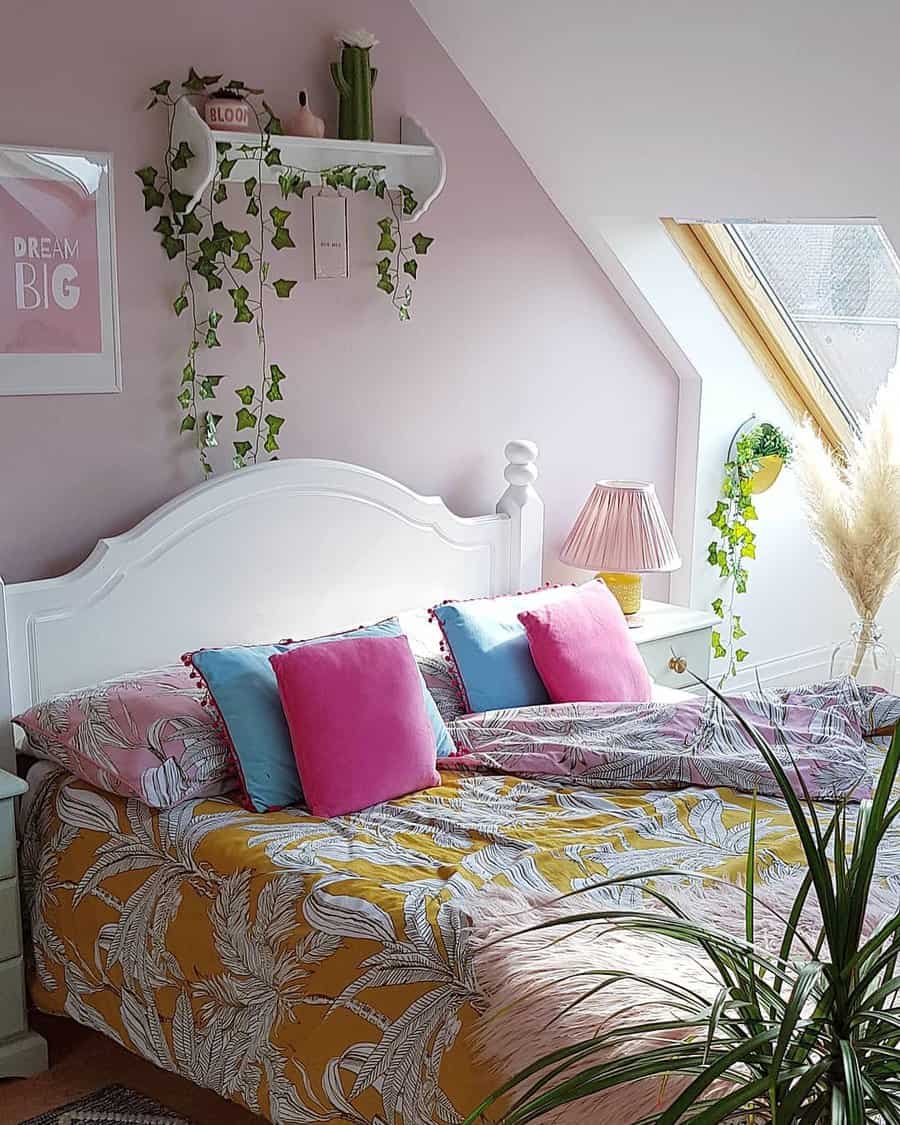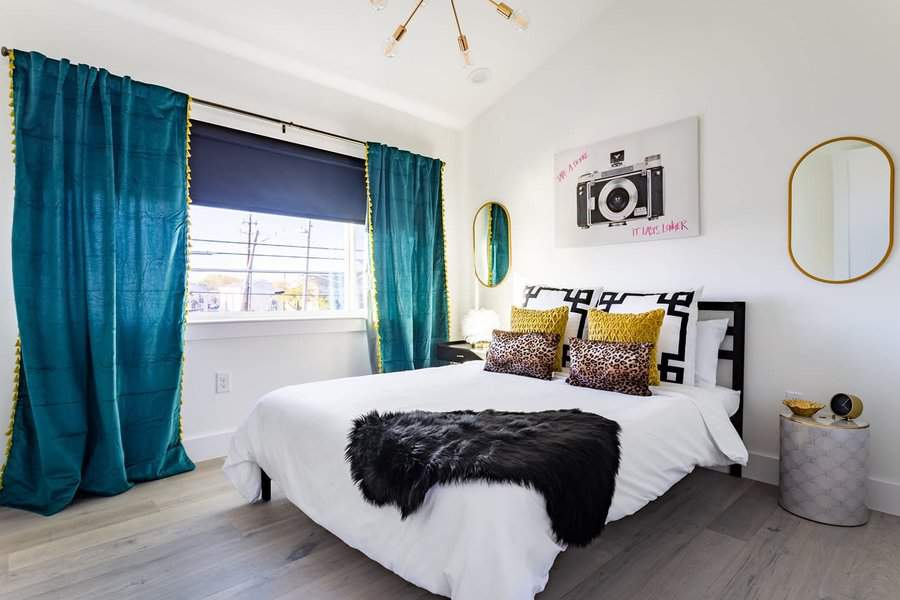 Even if you love contemporary bedroom decor, it's not an all-or-nothing situation. Add a few softer, vintage decoration embellishments if it suits your personality. For example, sleek metal lamps with Edison bulbs are a fantastic marriage between contemporary and traditional decor ideas.
6. Cottage
If you have an idea for a cottage style bedroom, there are several directions you choose from to style your space. Go rustic English Tudor if you already have vintage touches in your living room and kitchen. Or go beach cottage with a sand and water color scheme atop a white bedroom foundation.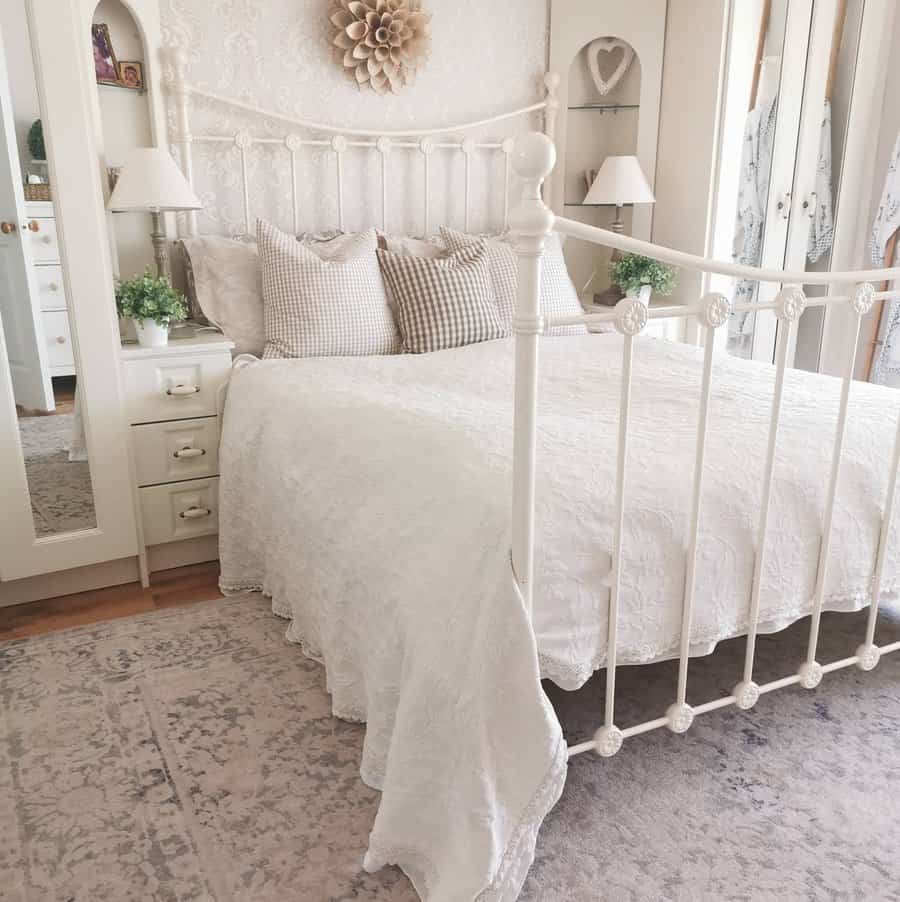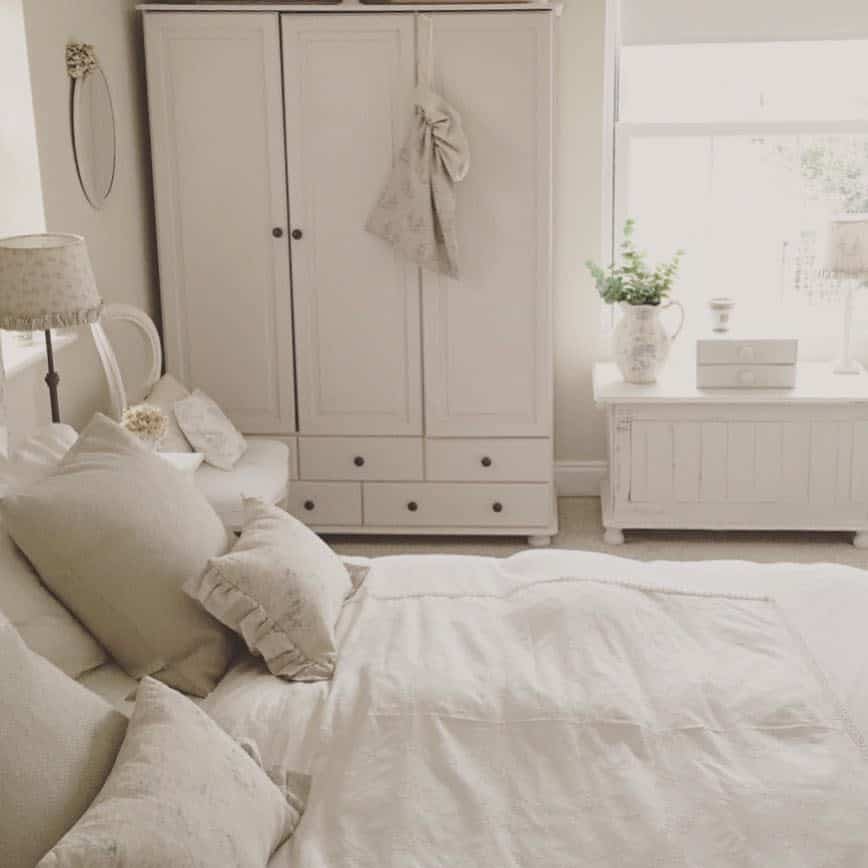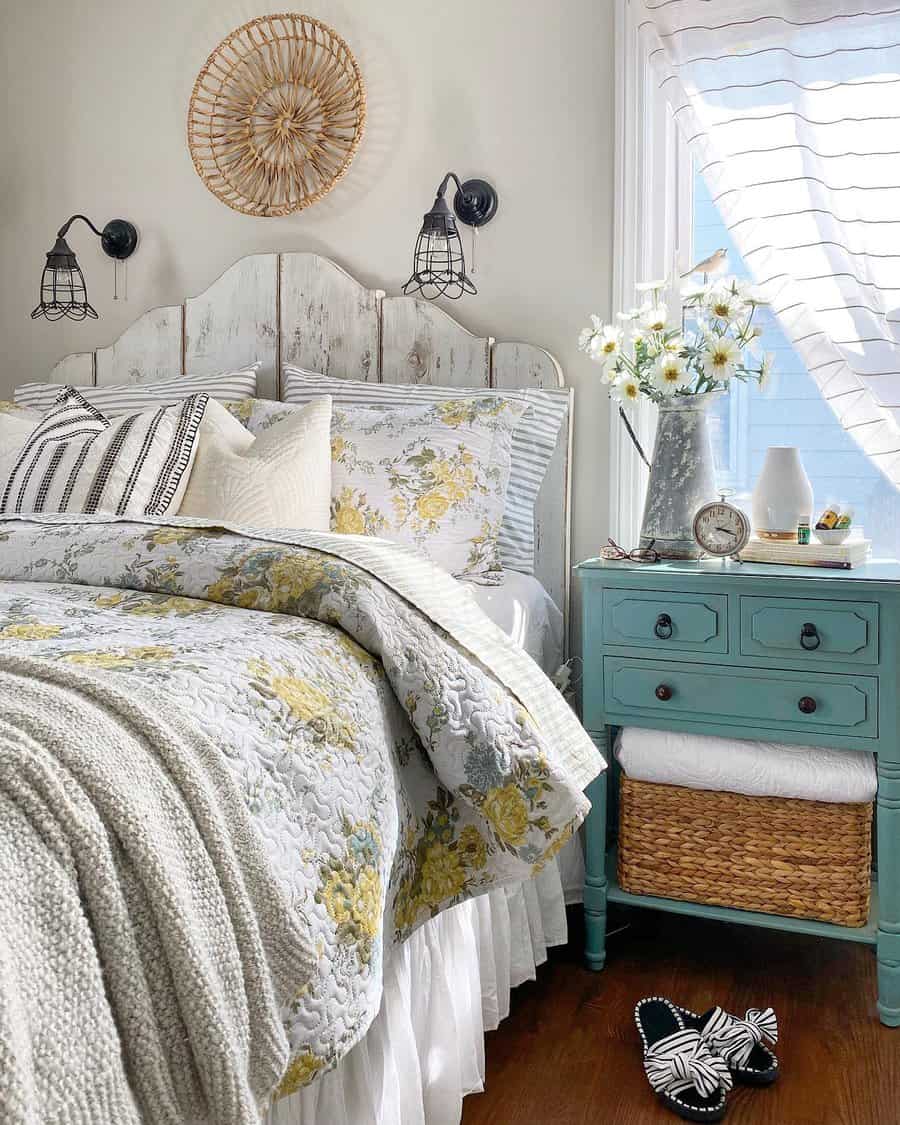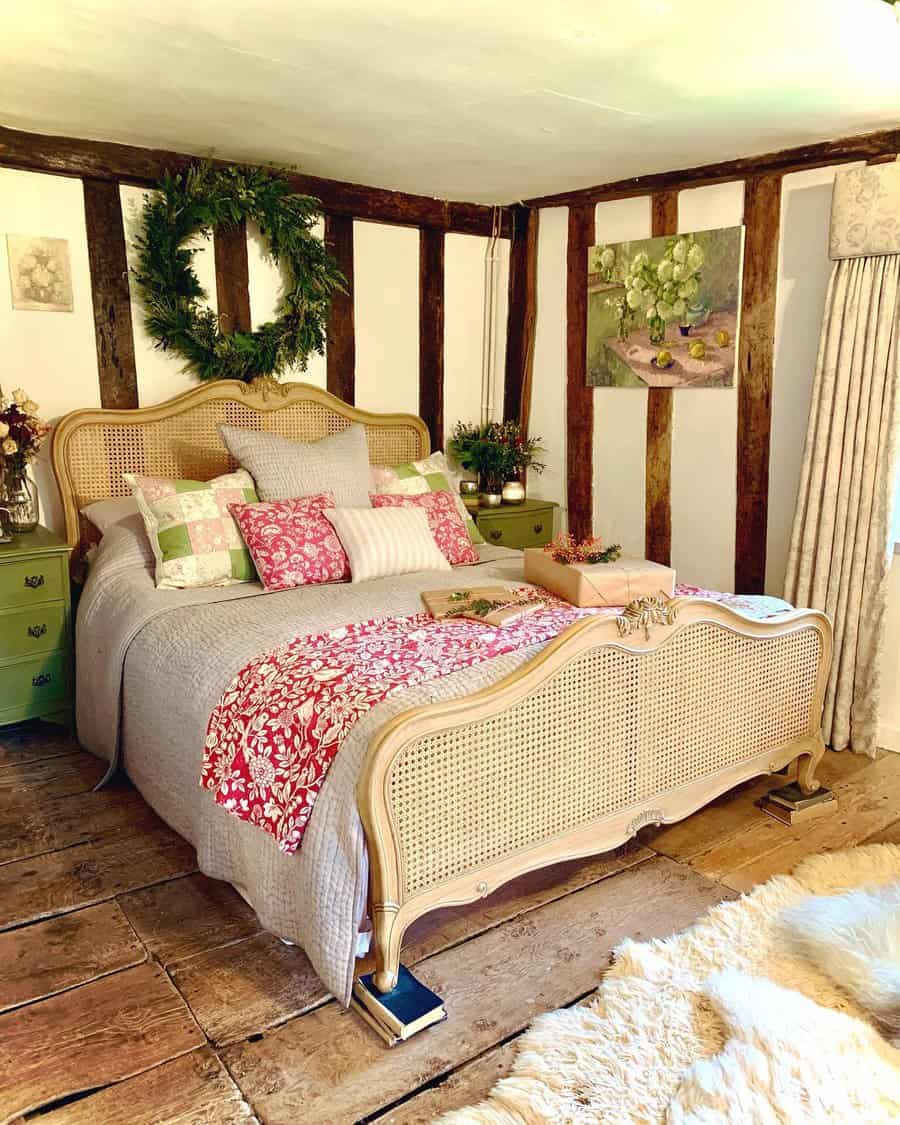 Shabby chic is another cottage-inspired idea if you love floral fabrics, lace, crystal lamps, and other distinctly feminine touches. Cottage style—no matter which idea you choose—should always feel comfortably worn and welcoming. A crocheted bed cover is a homespun bedroom idea that works great with cottage style.
7. Dark
Dark colors might not initially come to mind when you think of women's bedroom ideas. But dark hues of grey, brown, green, and burgundy can all be delightfully feminine when used in the right ways. For example, charcoal or black wall paint may be too much if used on all four walls. But a single dark color bedroom wall can add just the right amount of drama to a large or small bedroom.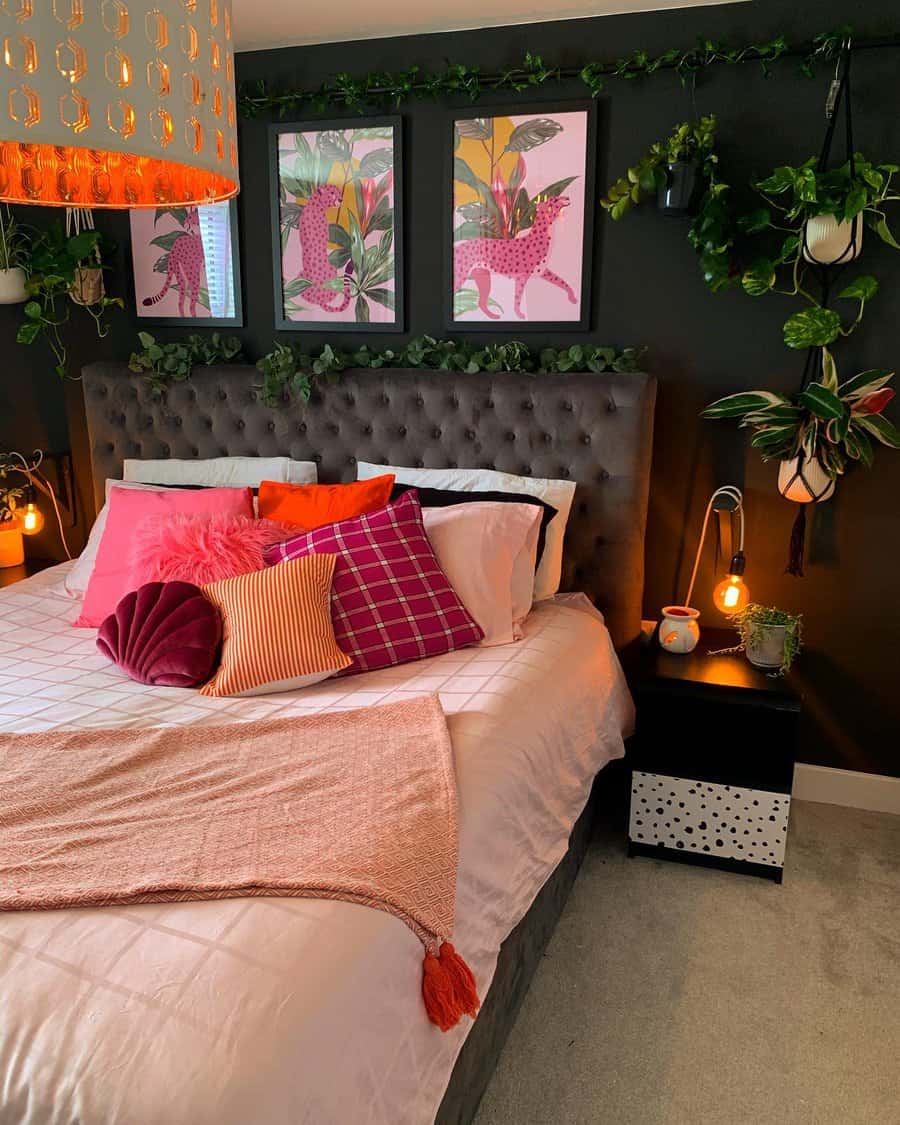 Dark furniture is a great accent in an otherwise light color feminine space. Pair dark walnut or even black furniture with pale walls and soft textiles as it will help ground the space. Place a fluffy pink pillow on a deep navy chair and park it next to a delicately designed lamp.
8. Decor Ideas
An accent wall is a great bedroom decor idea when you want to introduce a new color without it taking over the space. Be sure to include that color in other elements, such as on decorative pillows or wall art. Consider painting one piece of furniture in your chosen accent color, such as a chair or dresser.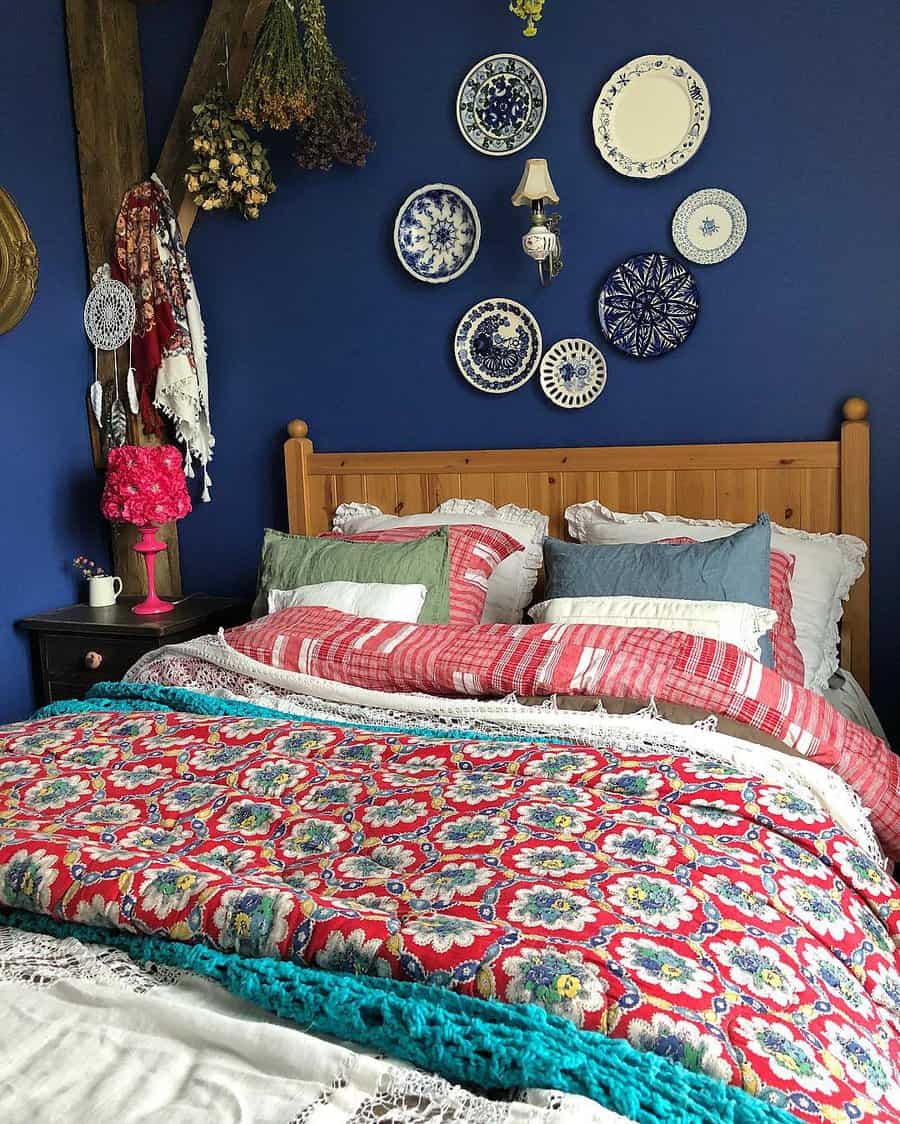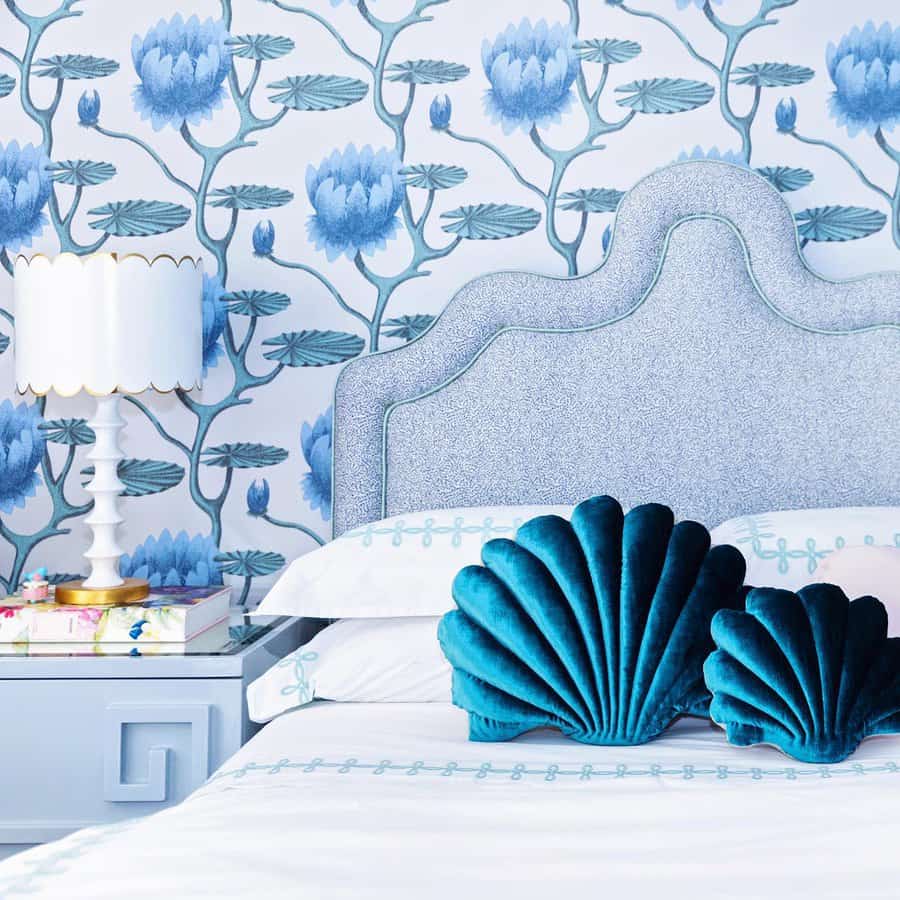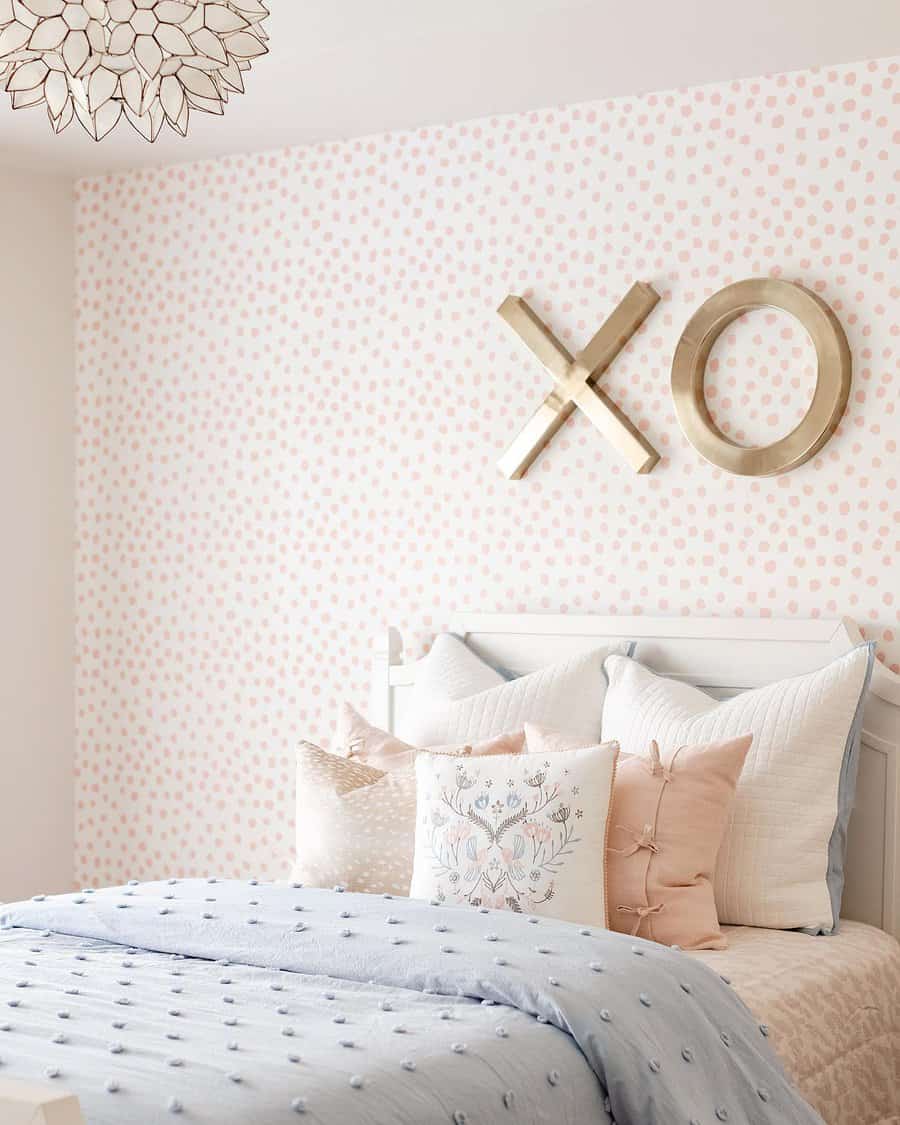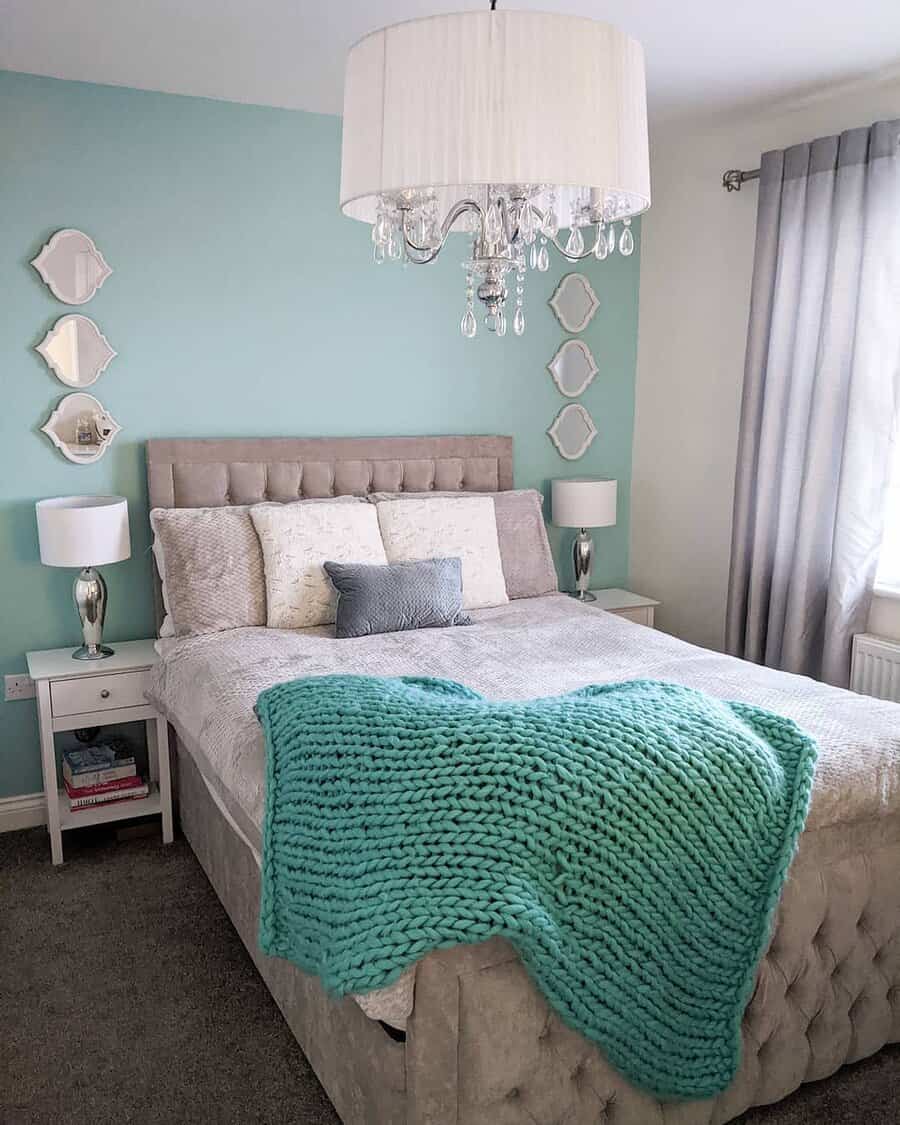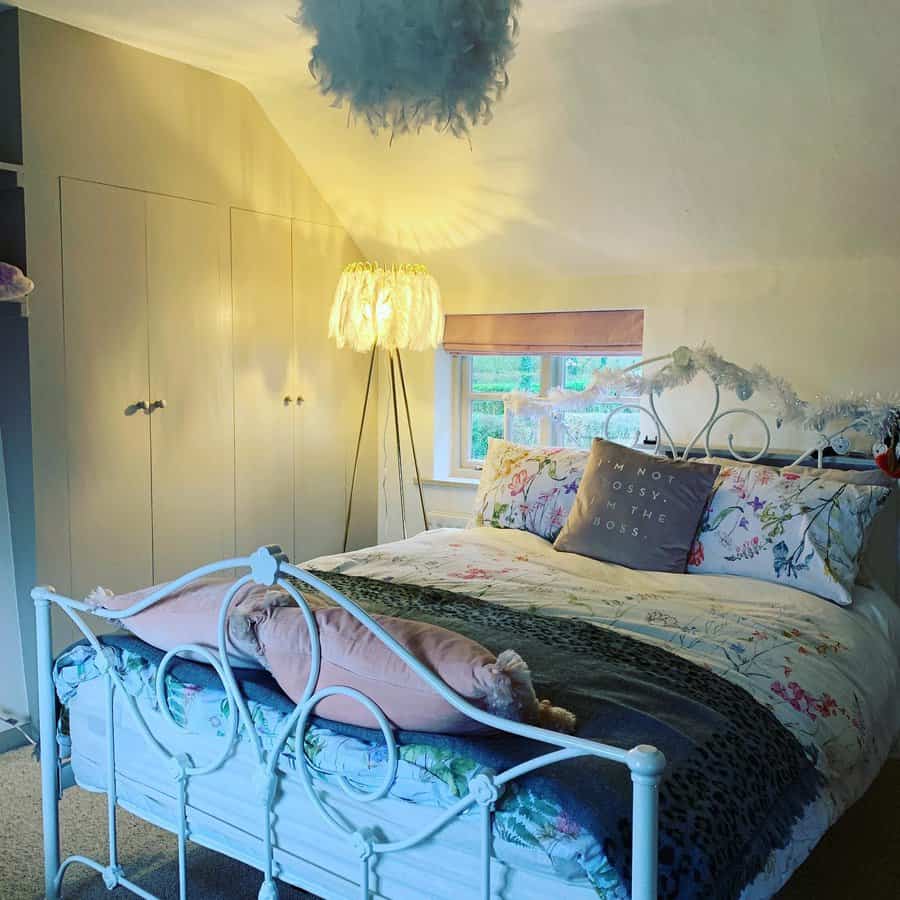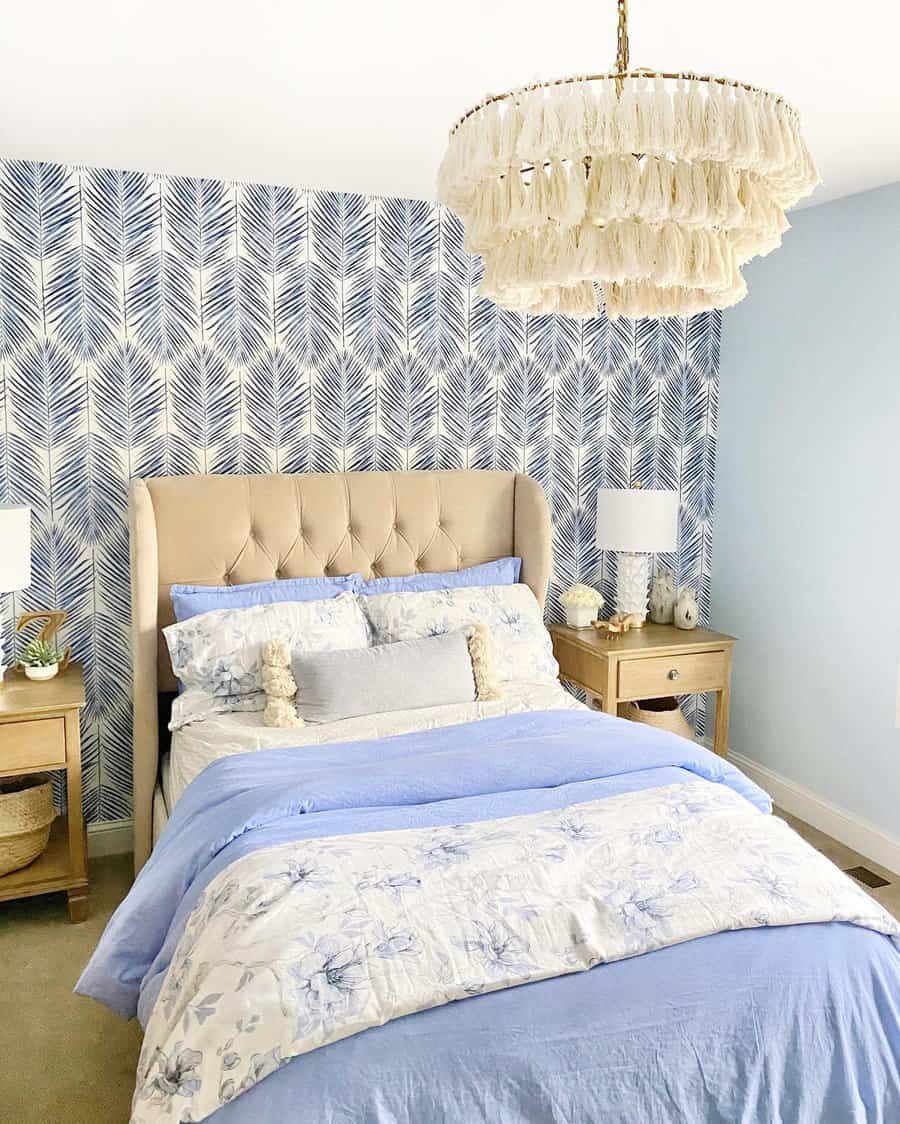 Stacks of books are an excellent bedroom decoration for a bibliophile. Shop antique stores and thrift shops for old books with covers that coordinate with your bedroom design, then stack them on windowsills, shelves, or as a base beneath your nightstand lamp.
9. Floral
Flowers are nature's feminine touch, whether they appear in the living room, home office, bedroom, or garden. It's almost always a good idea to include flowers in a woman's bedroom, whether it's living flowers, faux flowers, or a simple floral idea replicated on furniture upholstery.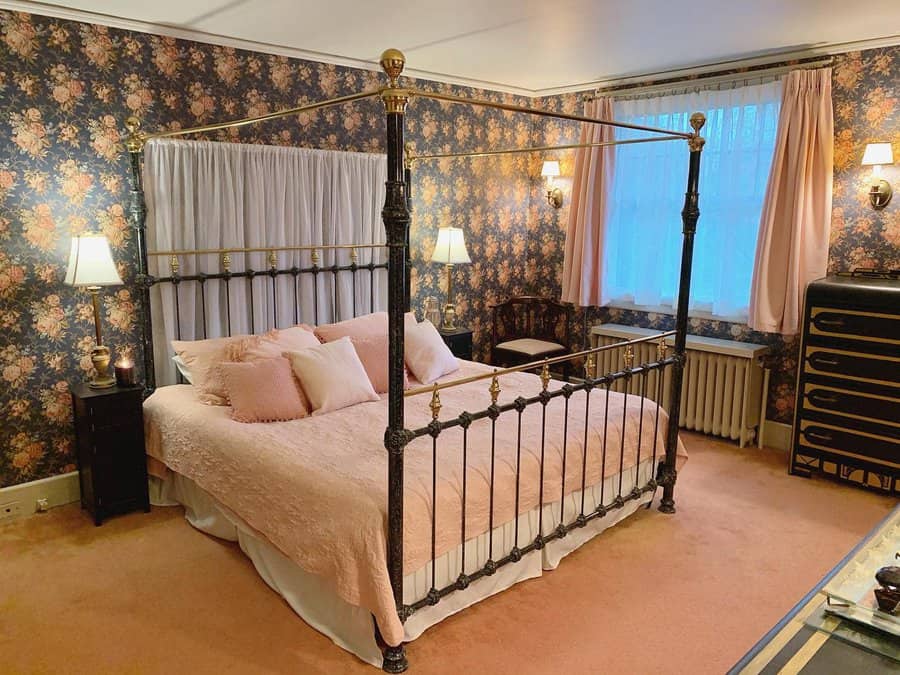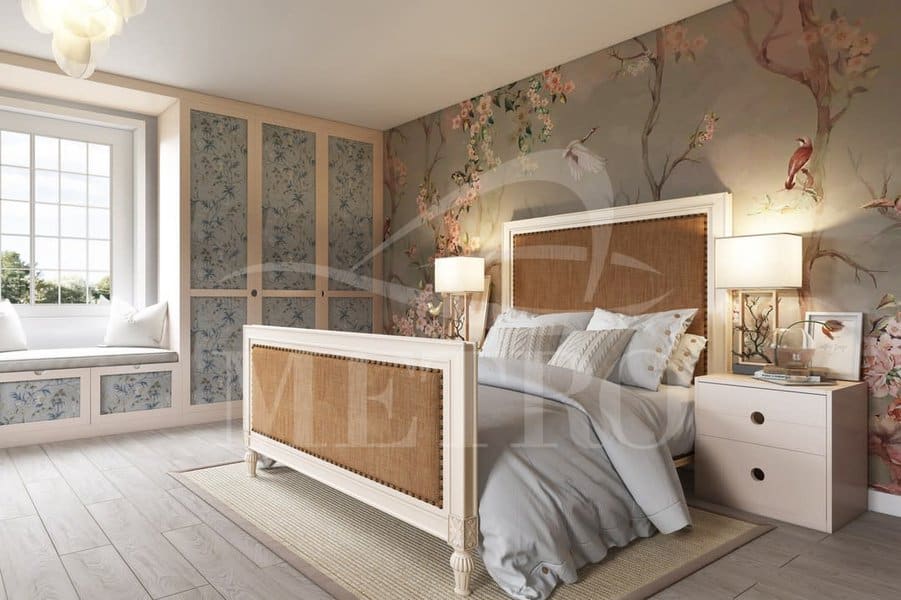 If a vase of real flowers feels over-the-top feminine for you, get the same soft natural aesthetic with potted plants. Line a windowsill with succulents in beautiful pots, or hang a trailing vine in the corner beside your bed.
10. Glam
Glamorous decor is ideal for women who live life loud. Metallic finishes, elegant details, and luxe fabrics are all part of putting together the perfect glam space. Faux fur, velvet, satin—anything that feels lush and fabulous should be included in a glam bedroom.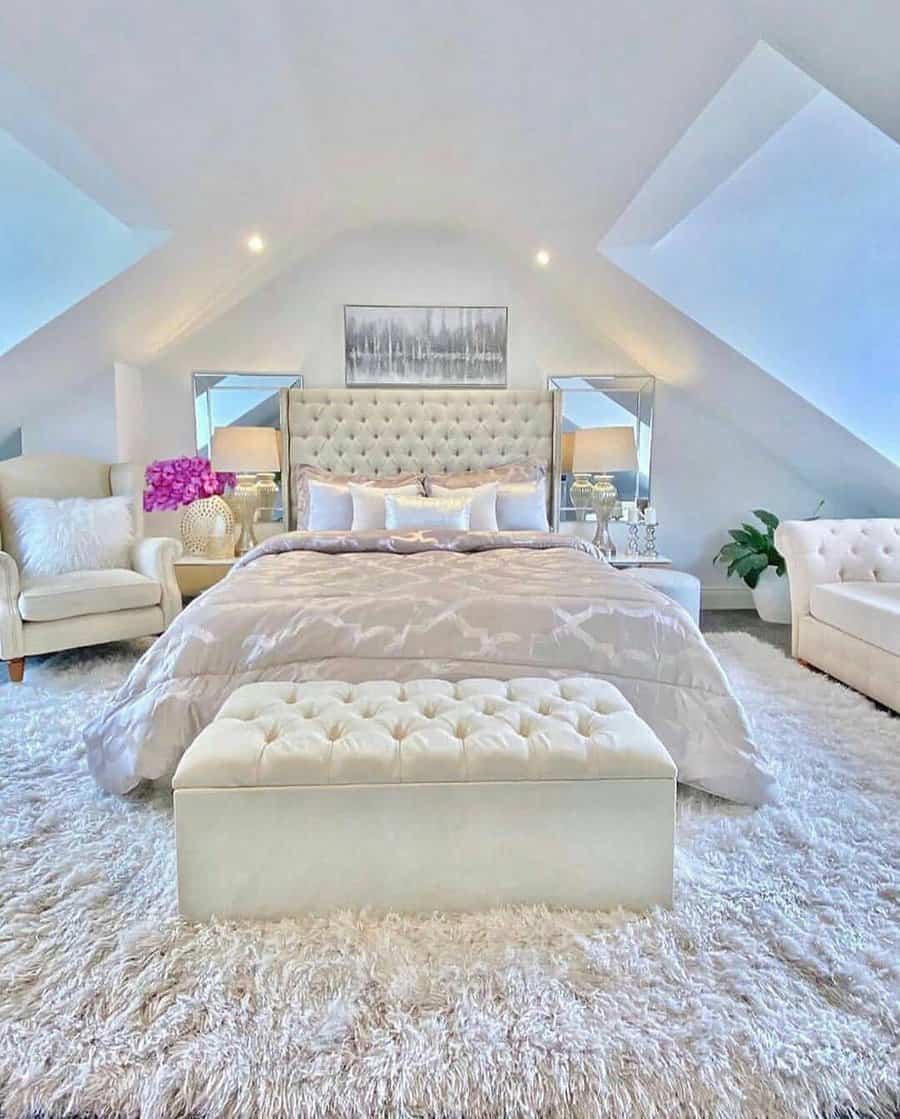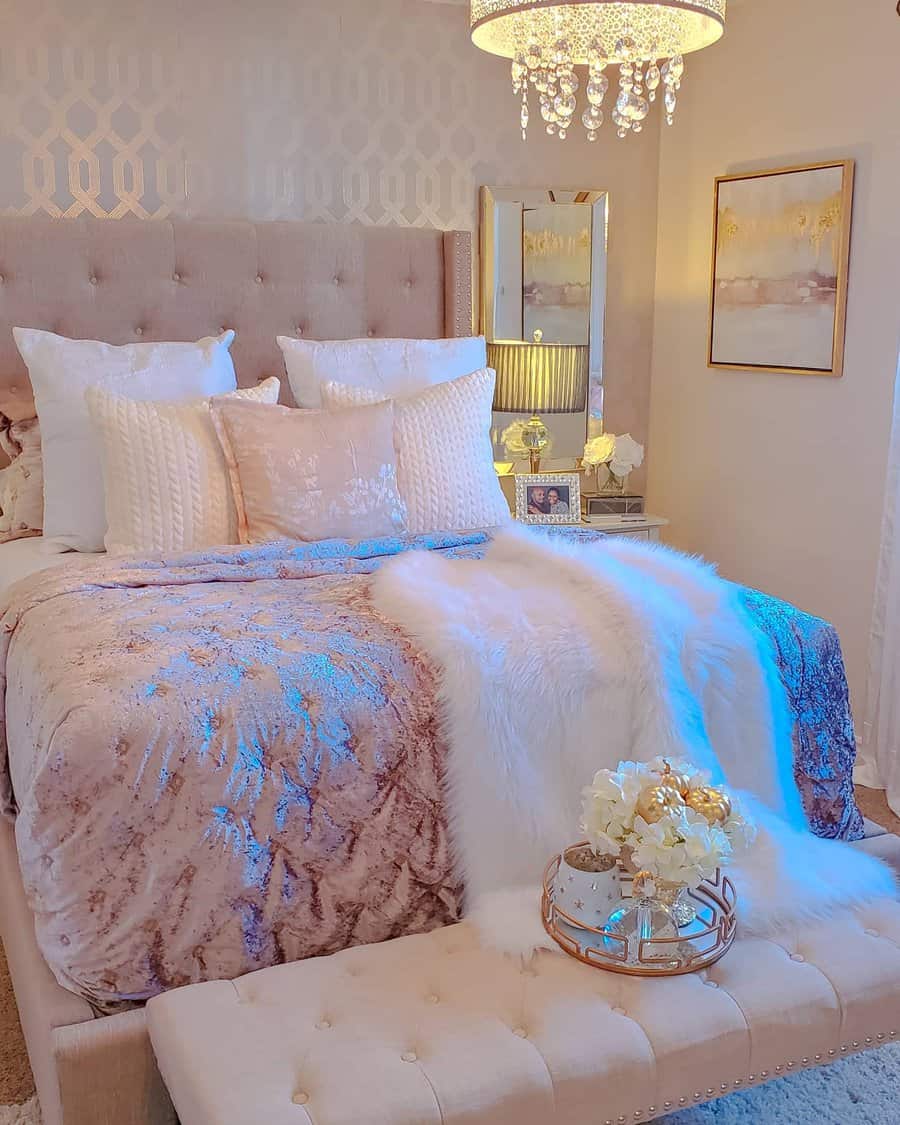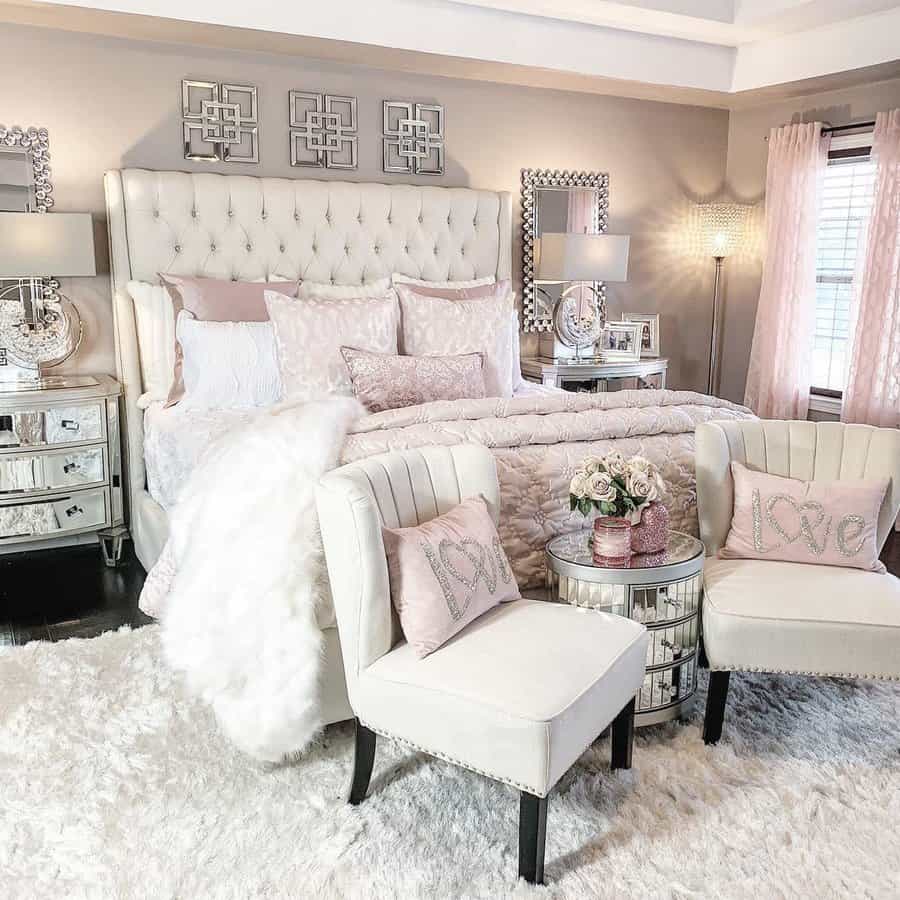 Glam small bedroom ideas can make a tiny bedroom have a huge impact. A tall tufted headboard can be the room's focal point regardless of its color. While any color is appropriate with glamorous decor, white, silver, and barely-there pink appear often.
11. Luxury
A luxurious women's bedroom is all about the textures—which is an interior design element that novice decorators often forget. Silk, velvet, high-thread-count cotton sheets, flokati, and chenille—all of these textile options add so much luxury to the best woman bedroom ideas.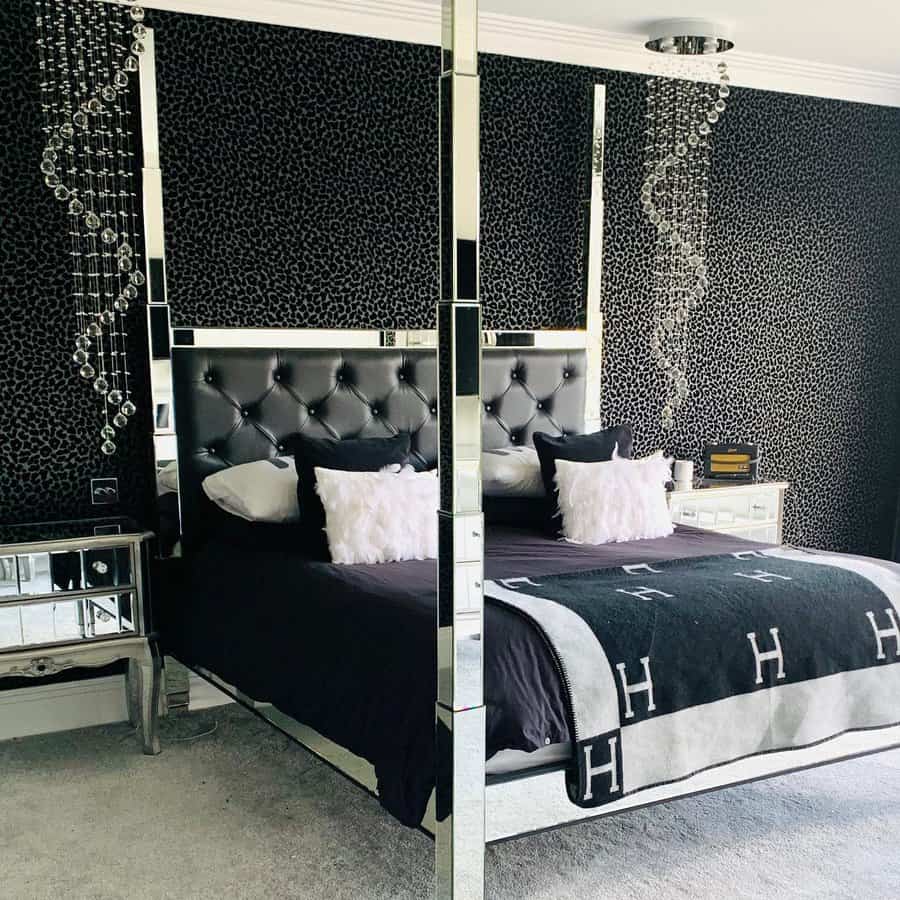 If you're drawing a blank on what a luxury bedroom means, think of your favorite high-end hotel's interior design choices. Whether it's a suite living room or bedroom, you'll see fine art, overstuffed throw pillows, heavy drapes, and lots of open space.
12. Pink
Pink is often thought of as a color for little girls, but there are plenty of adults that are drawn to this soothing hue. Whether it's a pale blush or a deeper dusty rose, pink is perhaps the most feminine color of them all.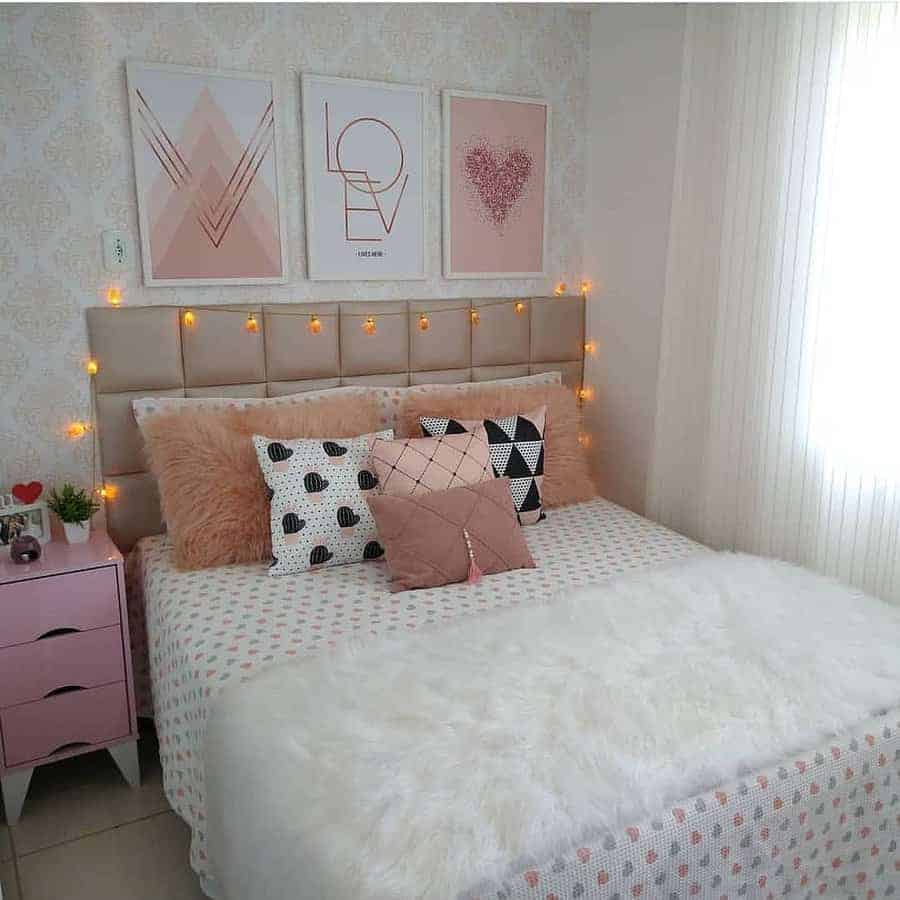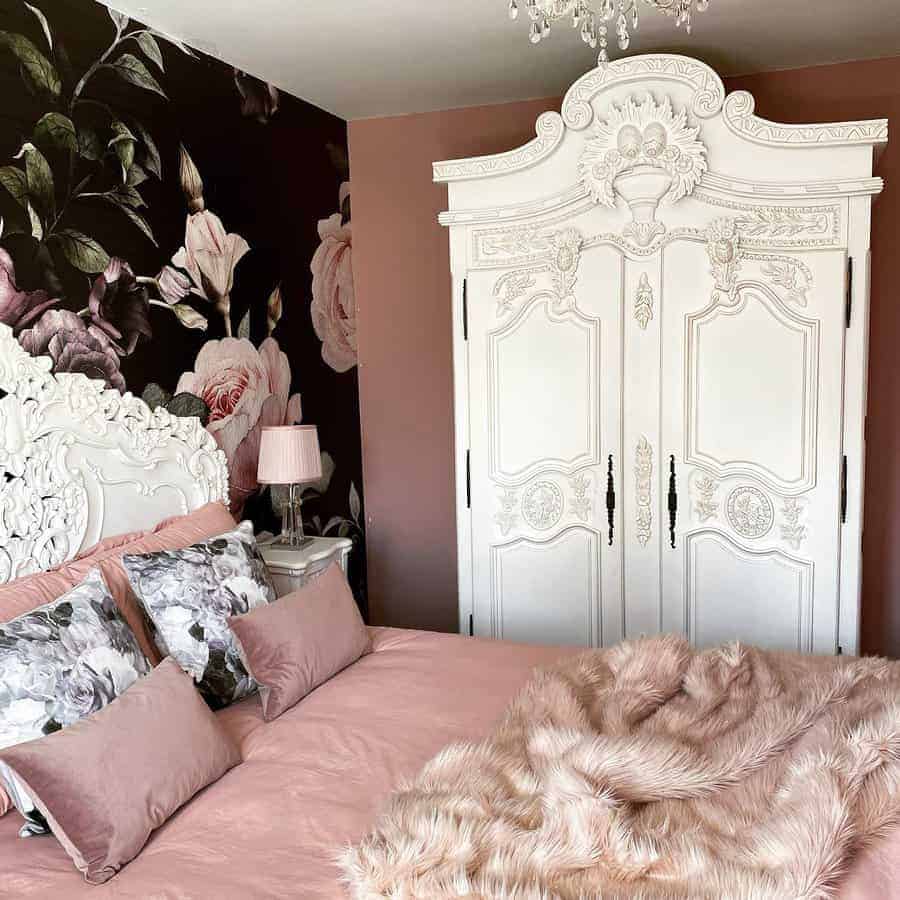 Brighter pinks also work well in feminine bedrooms. Hot pink paired with black and white pops like few other color combinations. Lighter shades of pink also look amazing on a black and white background, especially when accented with touches of gold.
13. Romantic
Warm, welcoming, cozy—these are all concepts to incorporate if your goal is to create a romantic bedroom. A neutral color scheme is fine, but there should be darker elements as well.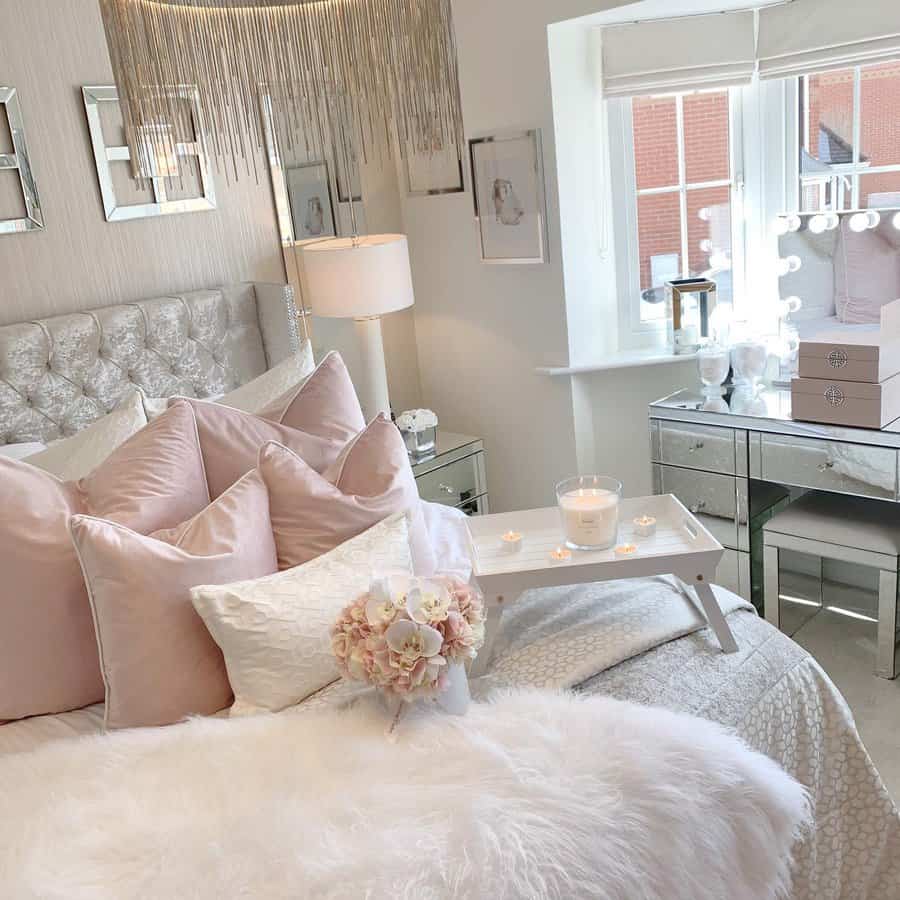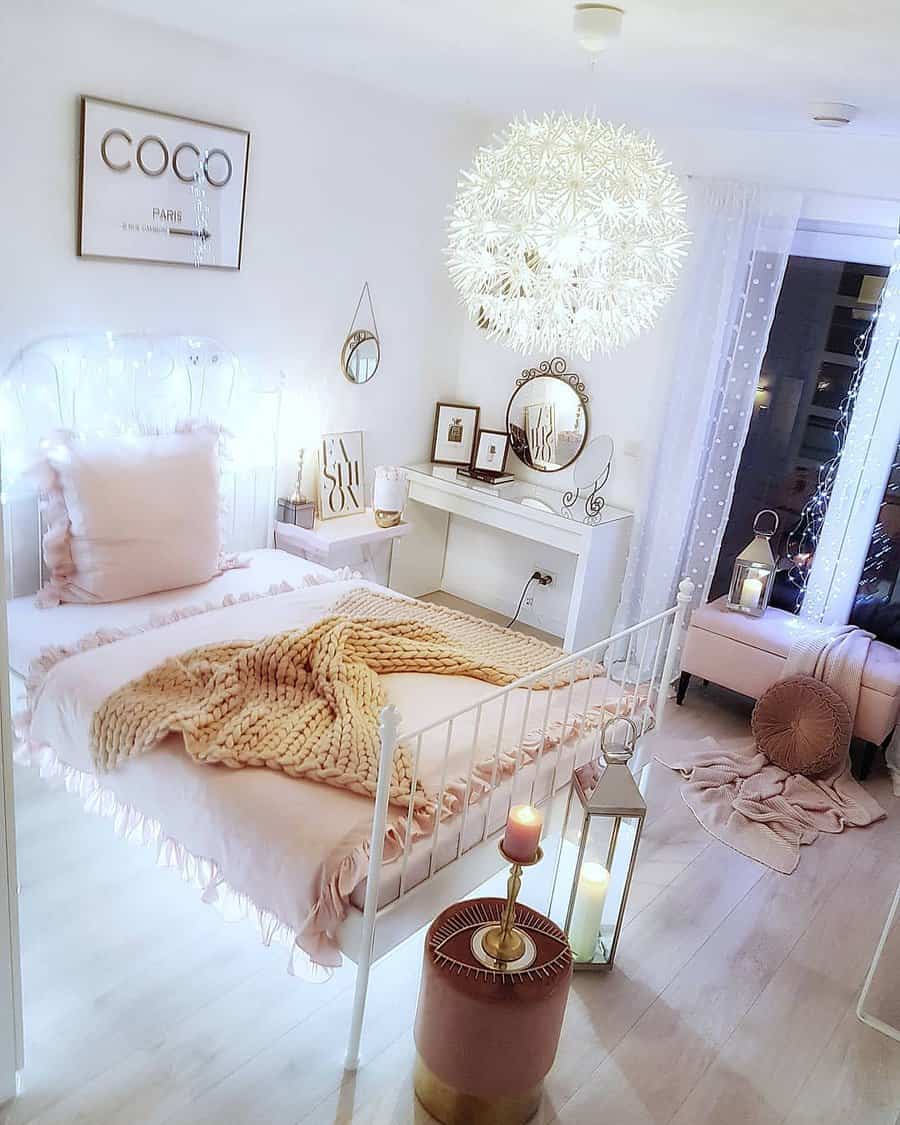 A romantic bedroom should look as beautiful by candlelight as it does in daylight. Candles play a huge part in creating a romantic vibe, not only for the warm flickering light they emit, but the fragrances that add to the atmosphere. If you prefer not to have live flames inside your home, choose electronic candles and add an essential oil diffuser to fill the air with lovely scents.
14. Scandinavian
Scandinavian style is a great feminine bedroom idea if a clean, light, and airy space best reflects your personality. This style bedroom must be uncluttered and uncomplicated to accurately capture the Scandinavian aesthetic.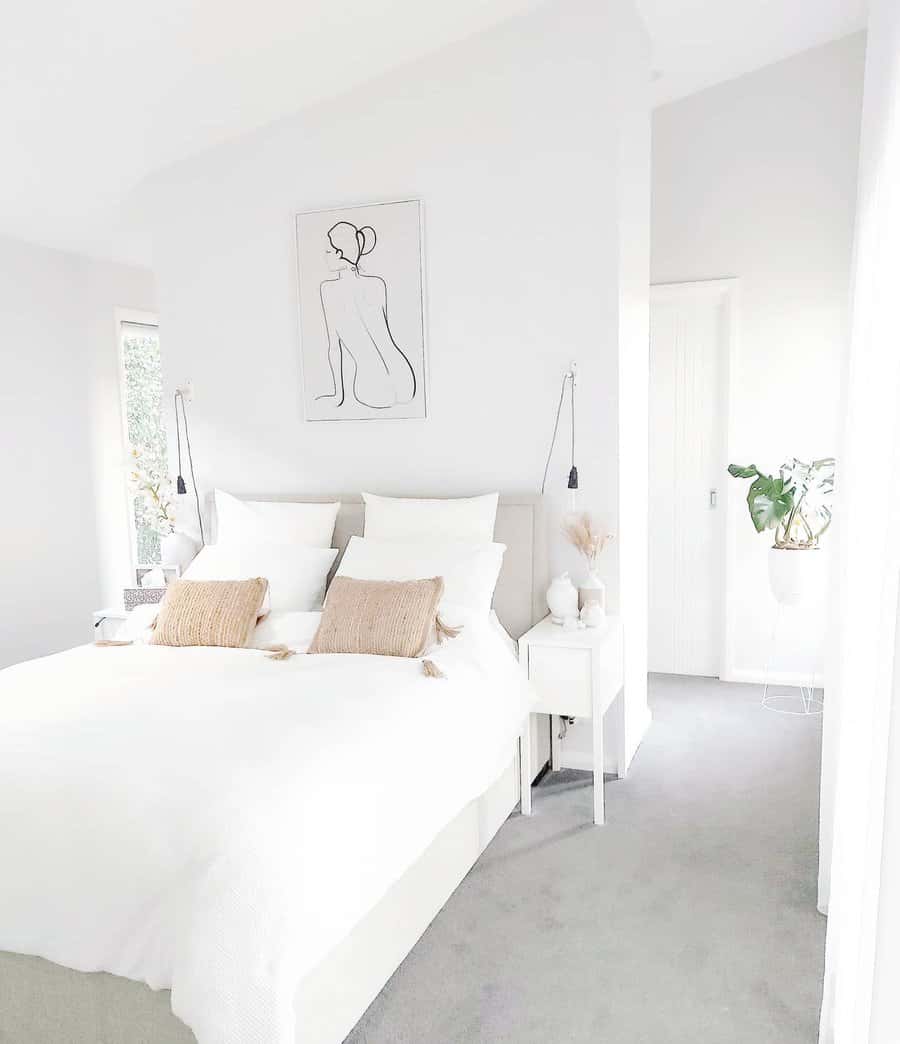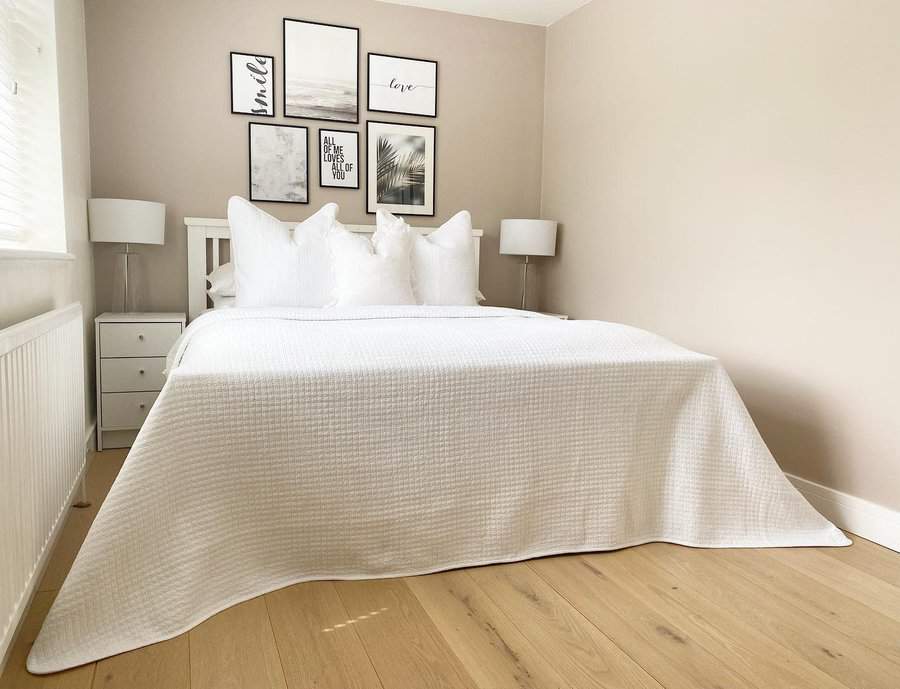 A simple, light colored hardwood bed frame is an example of furniture that looks great with Scandinavian decor. Soften the often austere lines of Scandinavian interior design with woven rattan lamps or baskets.
15. Teen's Bedroom
A young woman who wants a feminine bedroom can follow all the advice for older women's bedroom decor—but perhaps with a more casual touch of whimsy. Fairy light strands are a must, as well as fun touches like a fur-covered lampshade or a daisy-shaped overhead light fixture.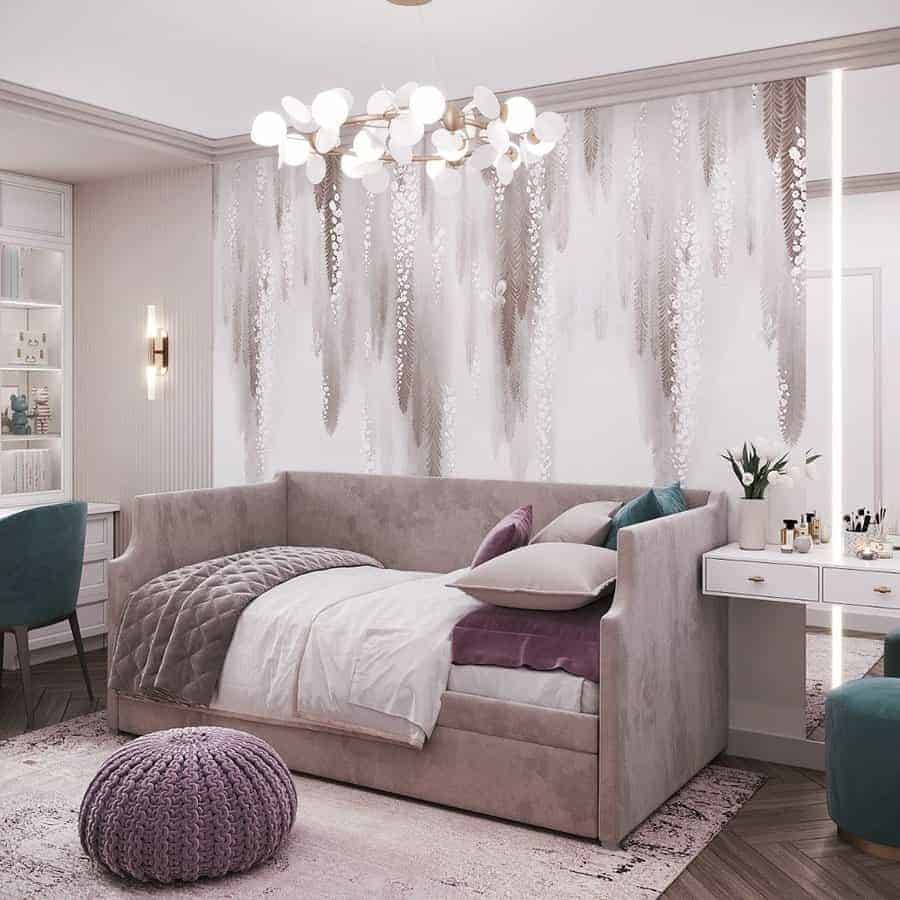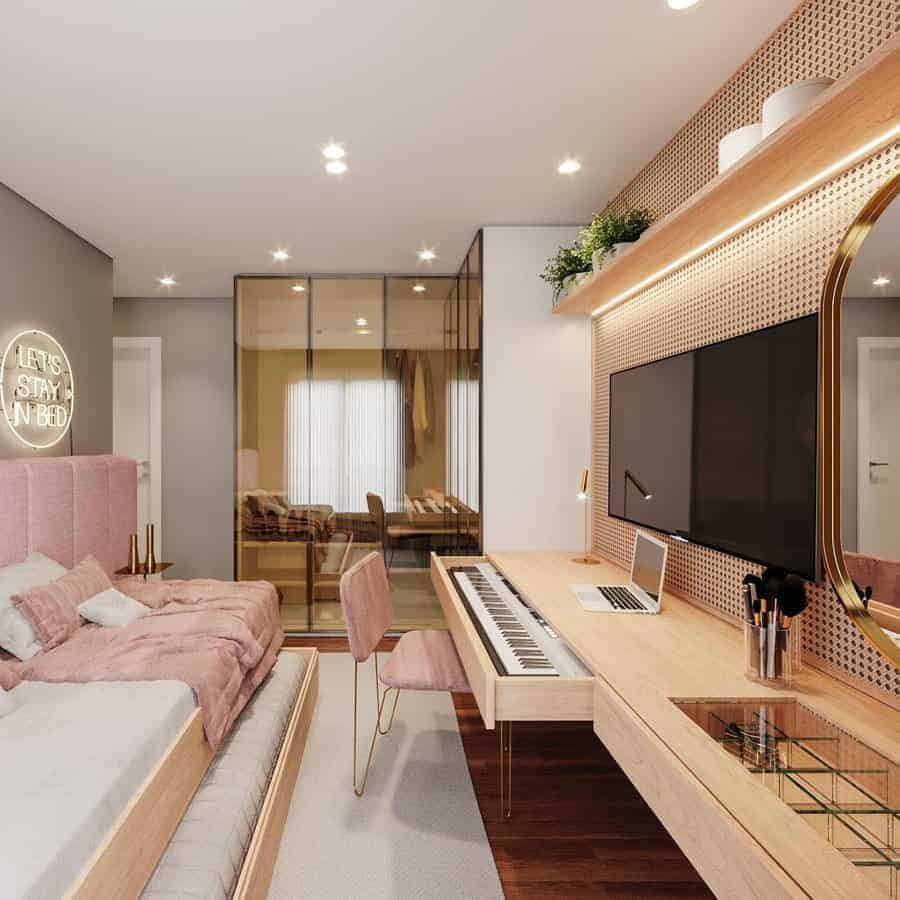 For a practically free bedroom wall decor idea, tear pages from your favorite magazines and create a wall collage. Feature your favorite fashion models or K-pop stars, or beautiful scenery shots from places you dream of visiting. If you can, keep your collage within your bedroom color scheme for a more refined appearance.
See more bedroom ideas for teens here.
16. Wallpapers
The right wallpaper can be just the key to tie your furniture and decor choices together. Look for an abstract floral or botanical design, or a simple geometric print. Echo your wallpaper colors throughout the space, choosing furniture and accessories that coordinate.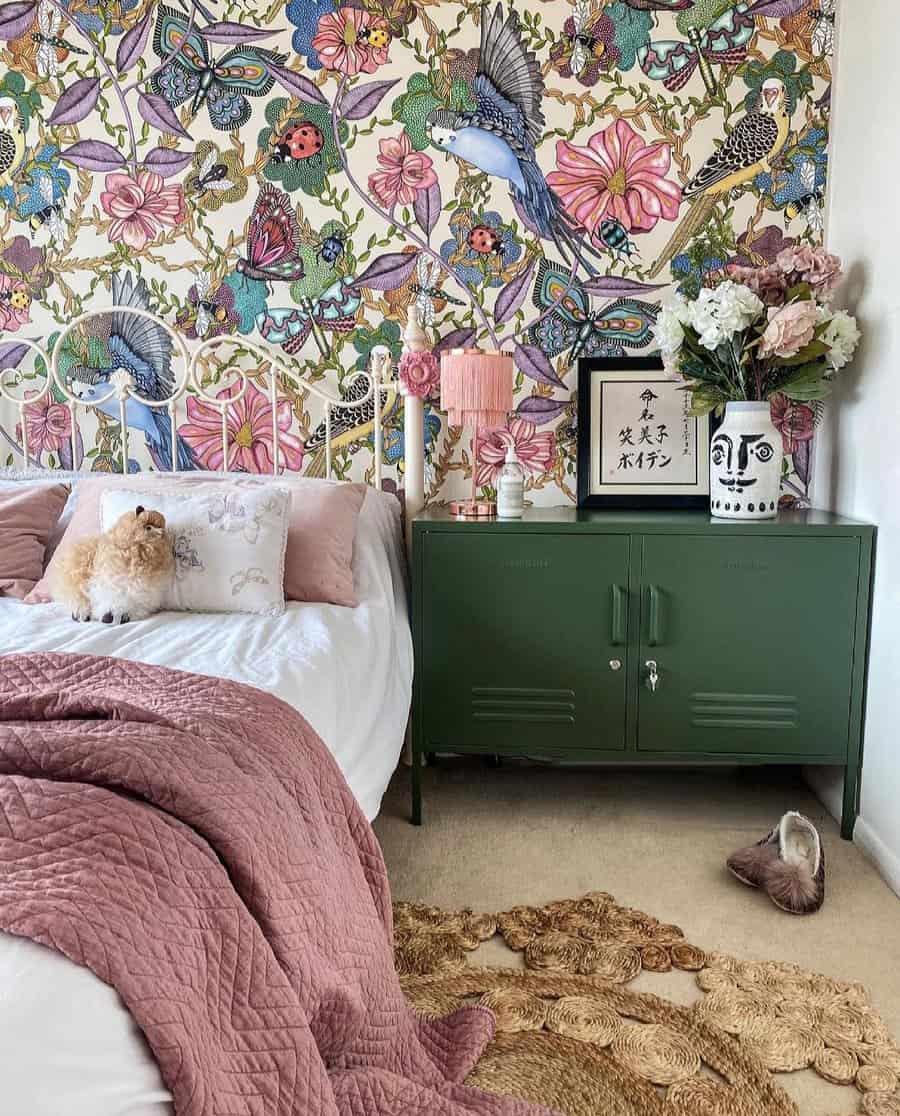 Metallic or pearlescent wallpaper adds shimmer and motion to the wall, as its appearance changes as the bedroom light shifts. It's a great dramatic idea in a small space, where you may not have room for as many creative accents.
See more bedroom wallpaper ideas here.
Women's Bedroom FAQs
How do I make my bedroom feminine?
A classic feminine bedroom includes certain elements, such as soft pastel colors, curvy lines, detailed embellishments, and luxurious fabrics. A crystal chandelier is the epitome of feminine light fixtures, and any table lamp that replicates that style also fits the bill.
How can I make my bedroom more romantic?
While many feminine bedroom ideas are inherently romantic, there are ways you can increase the seduction value of your sleeping space. First, remove the TV—it's a huge distraction. And charge your cell phone in another room, if possible, for the same reason. 
If your bedroom gets a lot of natural light, get room darkening window treatments to help create a romantic vibe. Further enhance it with sweetly-fragranced candles and soft, silky sheets. A sheer canopy over the bed also amps up the romantic aesthetic.