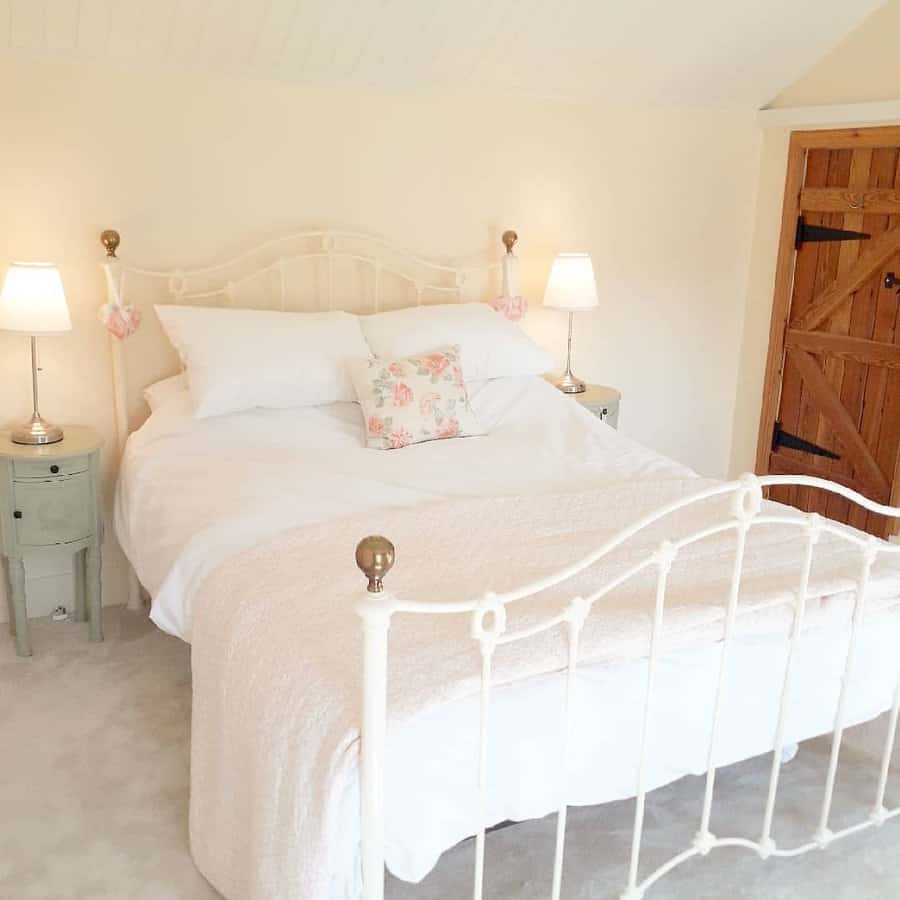 40 Bedroom Decor Ideas For Women
Creating the perfect women's bedroom is far from being a cookie-cutter solution where you simply fill the space with lots of pink and lace. Because each woman is unique, each woman's bedroom decorating ideas will also be highly distinctive.
Bedroom ideas for women can be dark, dramatic, modern, or Scandinavian. They can also be frilly, floral, delicate tributes to classic femininity. Whichever interior design style you prefer, here are some of our best bedroom ideas for women to get you started.
1. Customize Your Headboard
Taking your bedroom decor to the next level is easy with a customized headboard. Create an eye-catching piece that's uniquely you – create a beautiful pattern from rattan, layer warm woods, or choose the perfect shade of paint.
Let yourself be creative and design something that resonates with your needs and personality. Be proud to step into your bedroom at night and not just relax from the day but also appreciate how it makes you feel.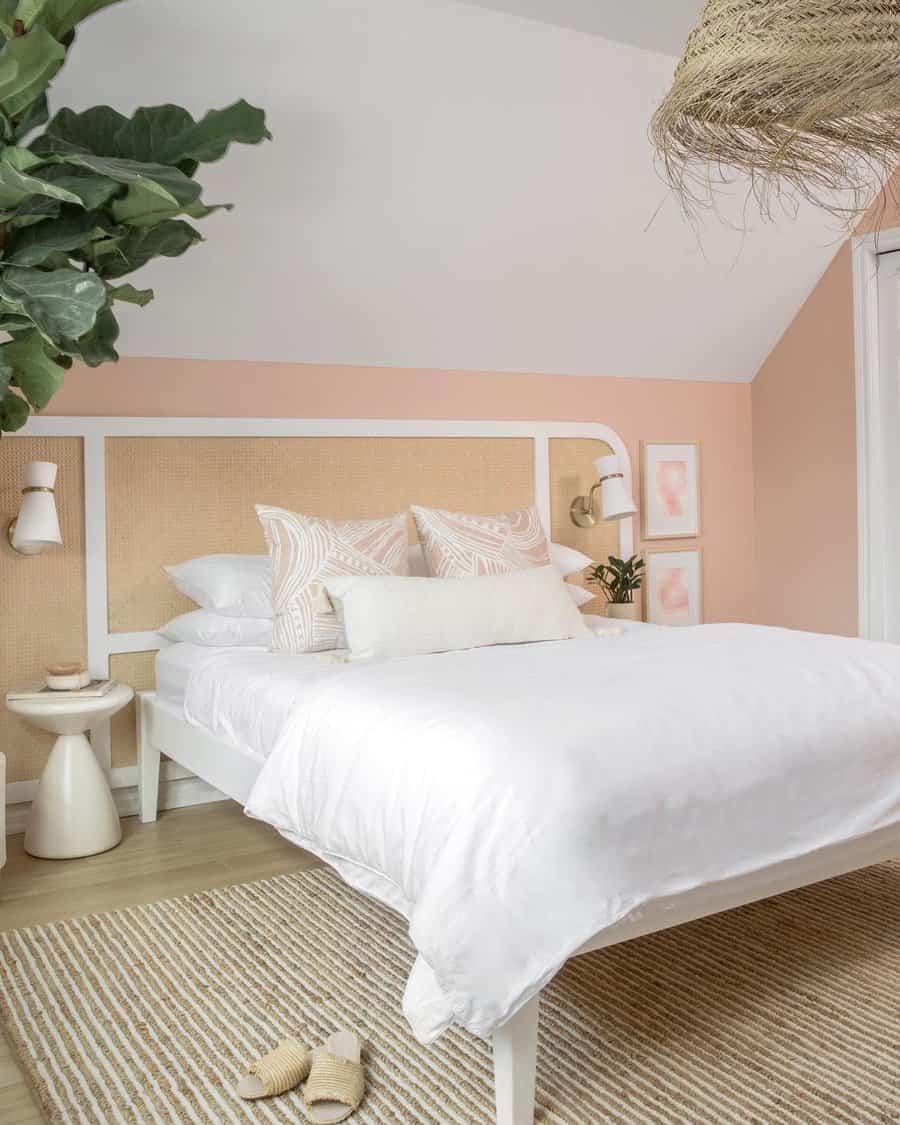 2. Let The Light In With A Skylight Window
A woman's bedroom with a skylight window is the perfect choice for anyone seeking to make their bedrooms cozy and cheerful. The sky-high windows fill the room with natural light, omitting the need to flip on a switch in the morning.
Not only does this saves electricity, but it also ensures that during nighttime our bedrooms remain peaceful and serene – no buzzing of electric bulbs in sight!
And when the sunsets, take a moment to gaze at its warm colors shimmering through your skylight window as you drift off into a restful sleep.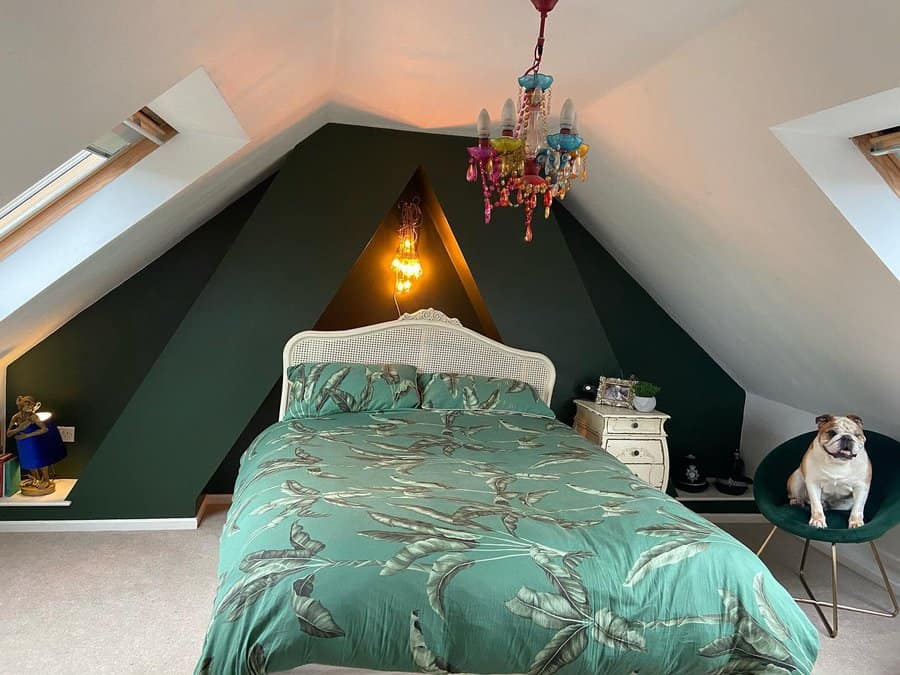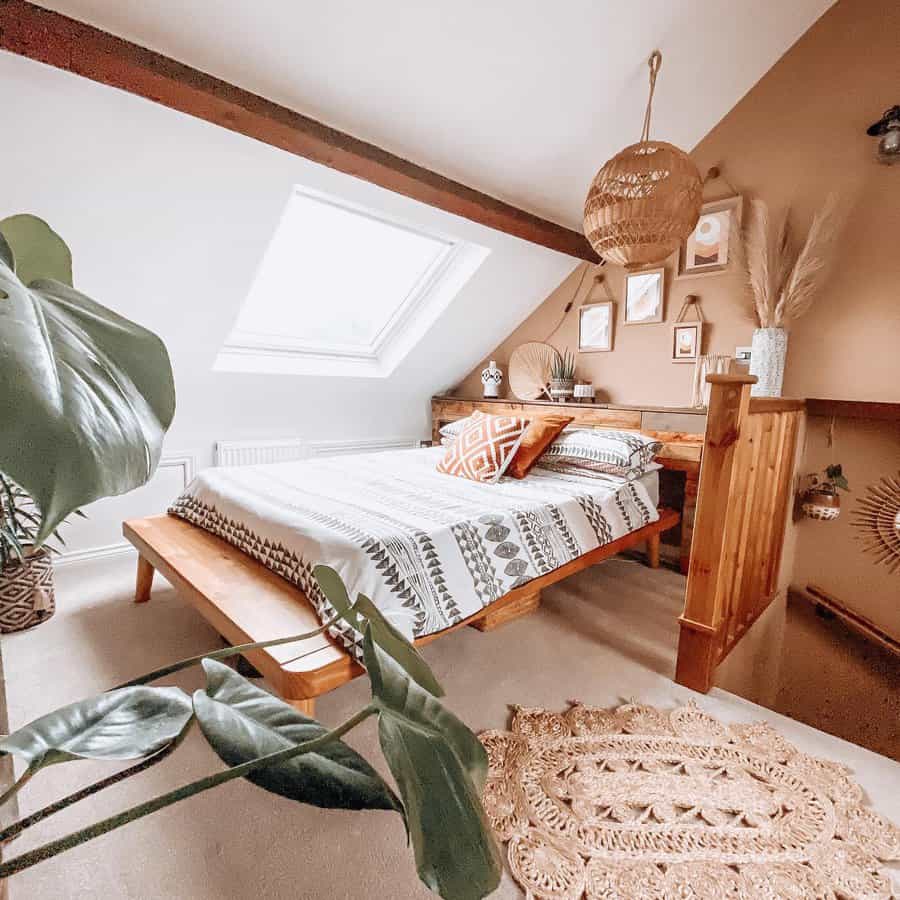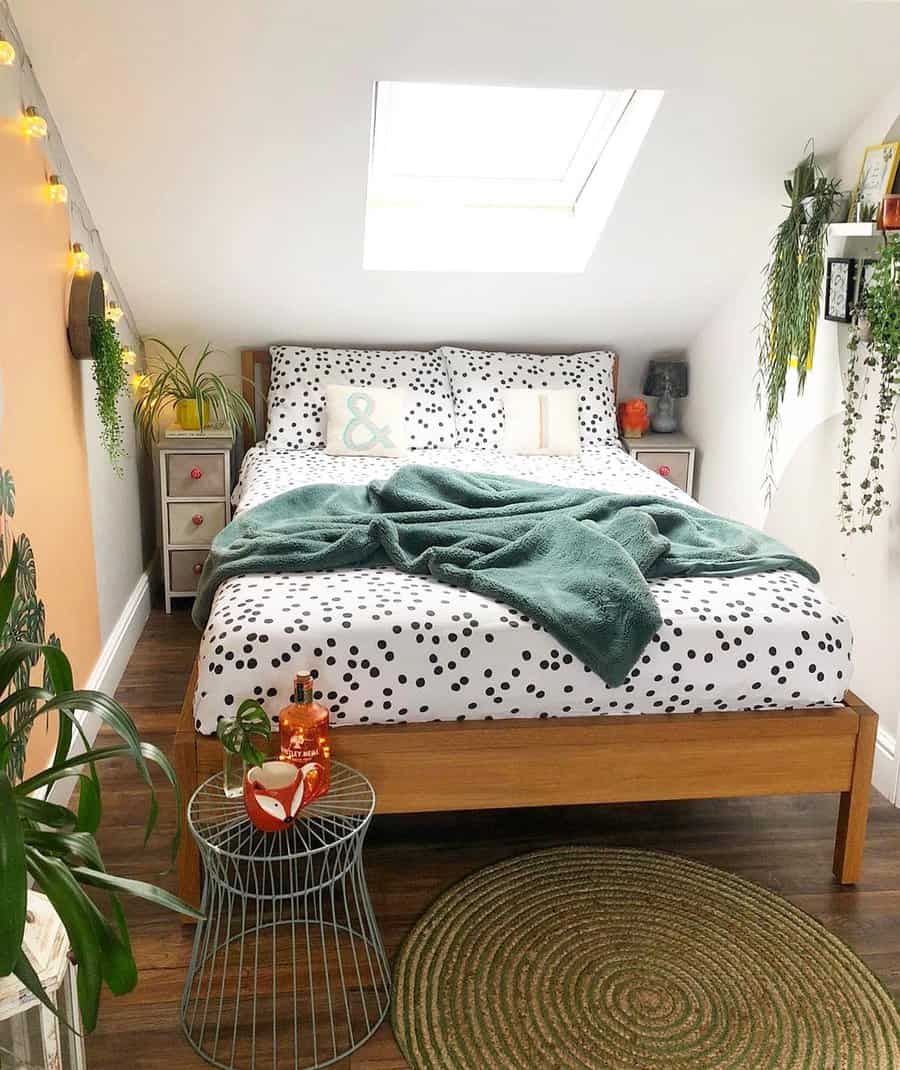 3. Utilize A Pallet Board
There's something undeniably stylish and boho-chic about a mattress on a pallet board, like the bed of a princess living in a countryside cottage. Women across the world are now adopting this trend for its effortless minimalism and affordability, creating cozy bedrooms designed around their signature mattress-on-pallet look.
With this style of furnishings making a comeback, it's easier than ever to upgrade your bedroom with a mattress that's close to the ground giving you an atmosphere fit for royalty.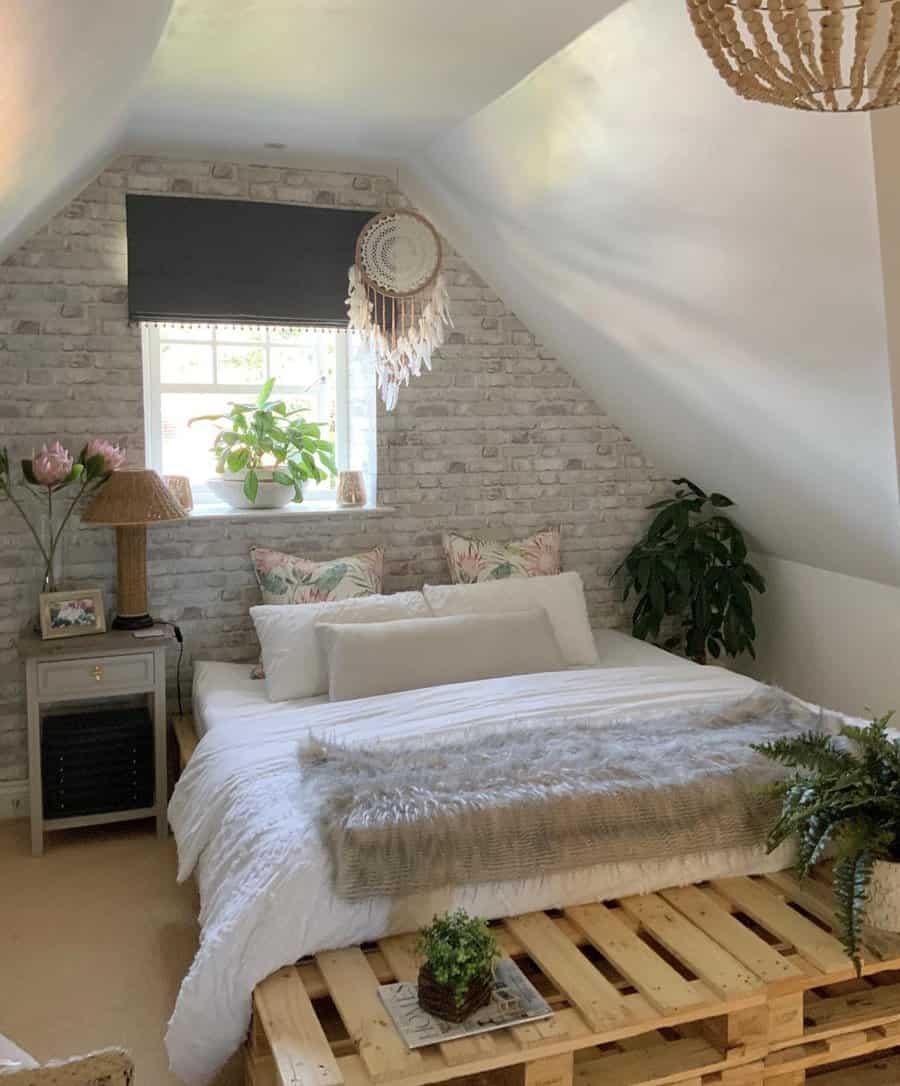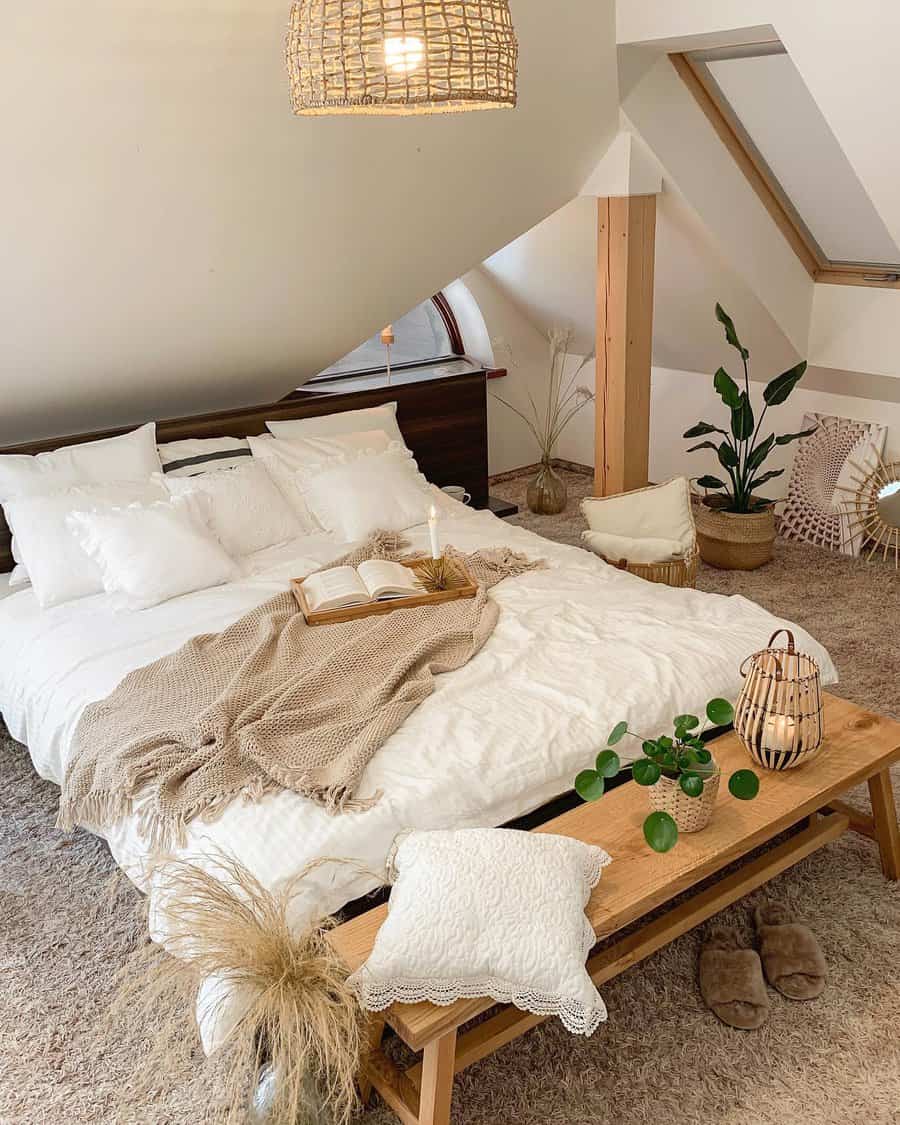 4. Go Crazy With Prints
Women's bedrooms can be a place of inspiration, and printed wallpaper can help bring in that spark of creativity.
For shabby chic lovers, adding a big, bold floral print to the walls of a bedroom creates an inviting atmosphere while geometrical prints can create an ultra-modern vibe. Printed wallpaper is an easy way to infuse personality into a woman's sanctuary and create an inviting environment that inspires relaxation. From accent walls to total coverage, printed wallpaper is the perfect way to spruce up any bedroom with style.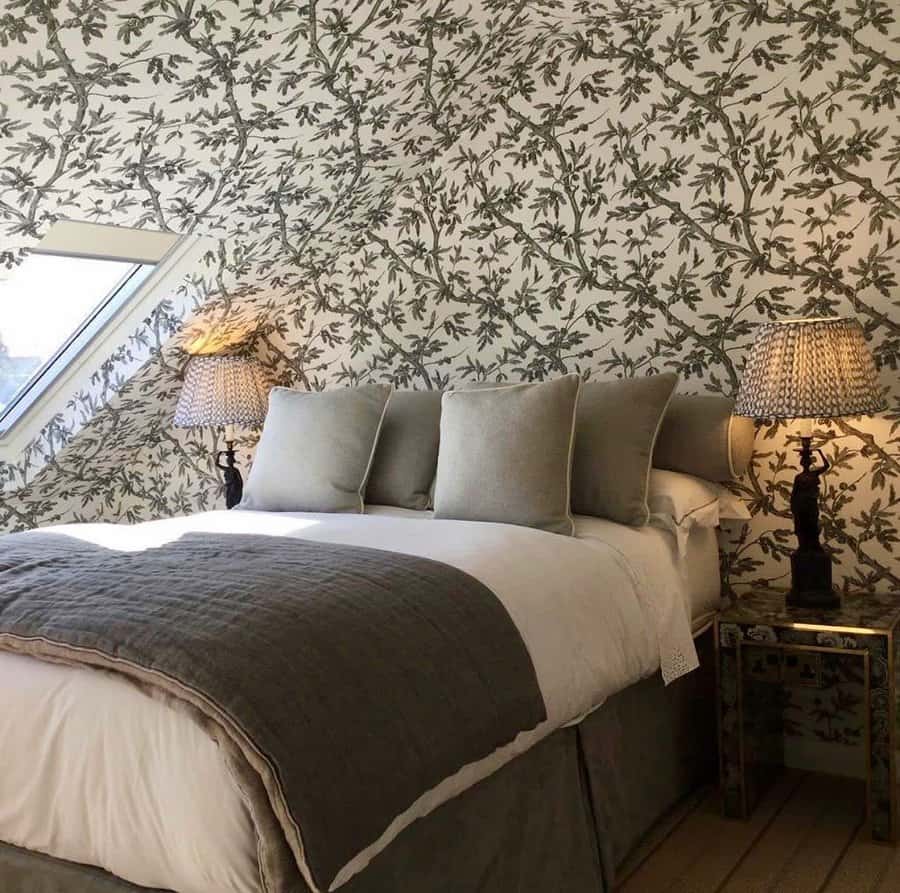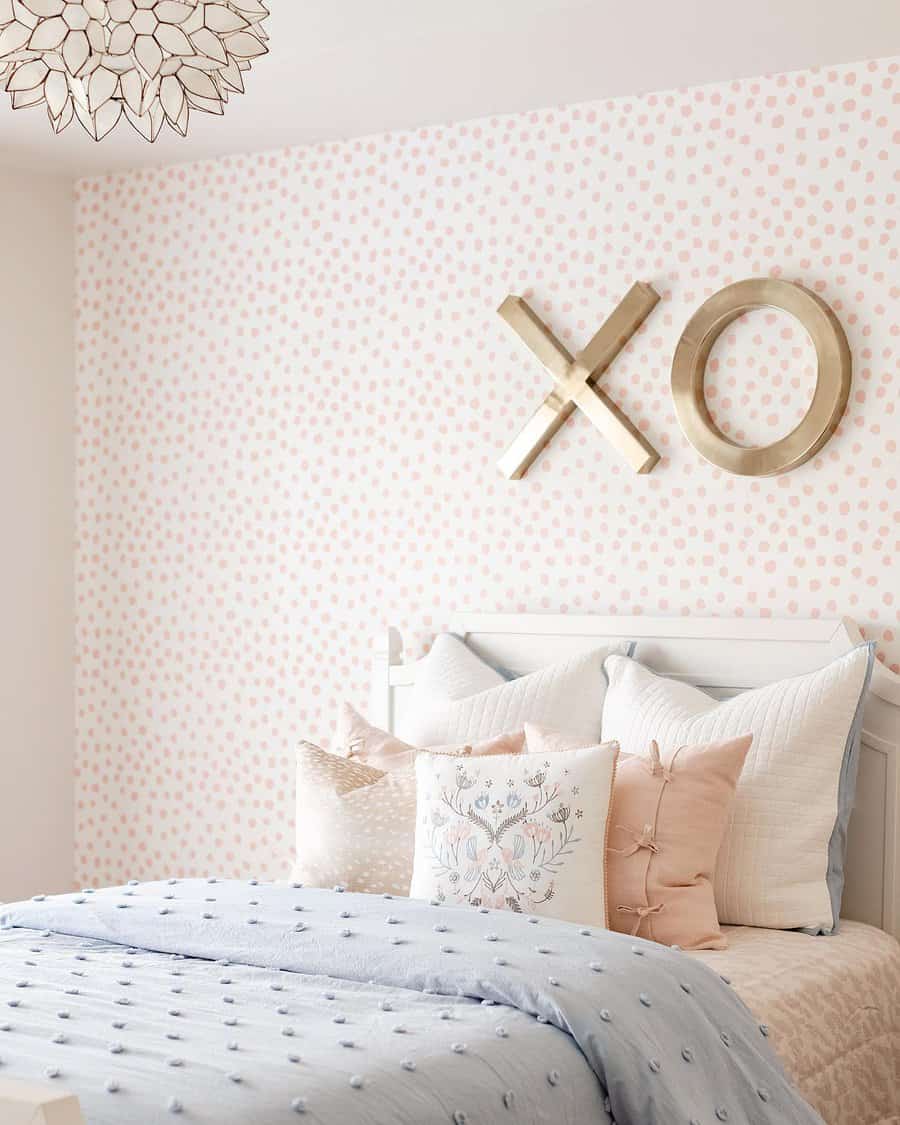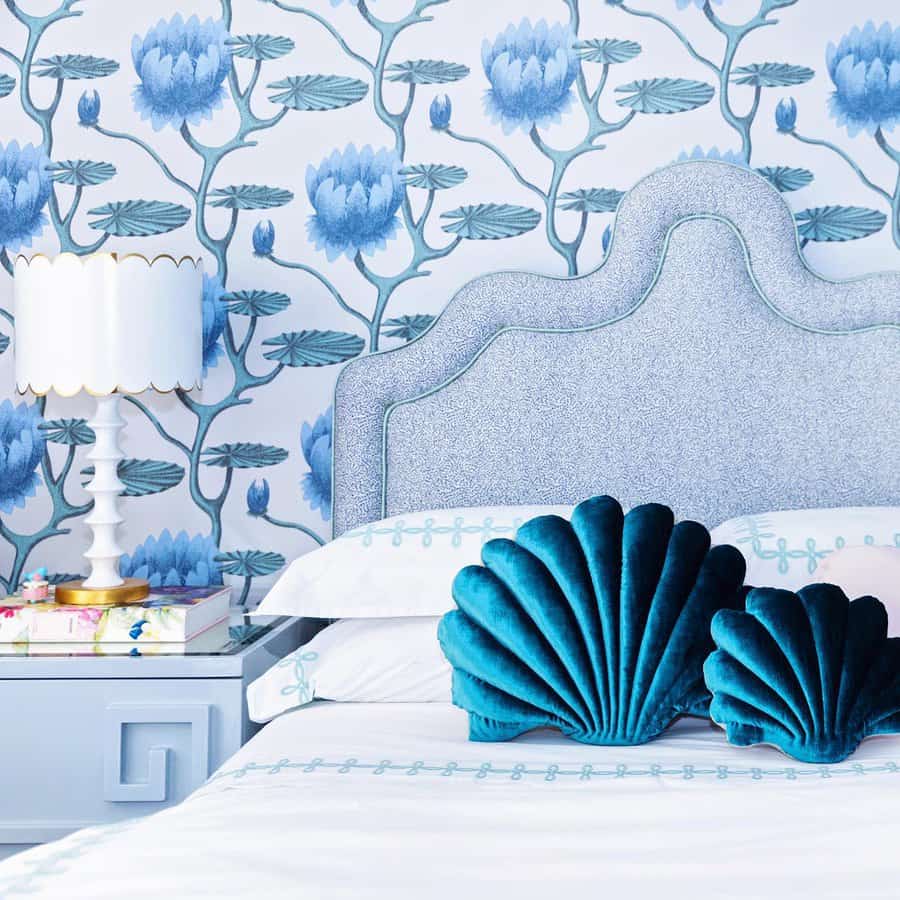 5. DIY A Boho Macrame Wall Art
Macrame hangings offer more than just decoration – they provide an opportunity for self-expression without much effort.
The boho vibe it adds to the area instantly brings warmth and texture. Macrame wall hangings are incredibly versatile, as they can be used both on their own or alongside other boho decor pieces for bigger visual interest with little effort.
With its stylish yet cozy design, this accent is sure to make any woman's bedroom stand out from the rest.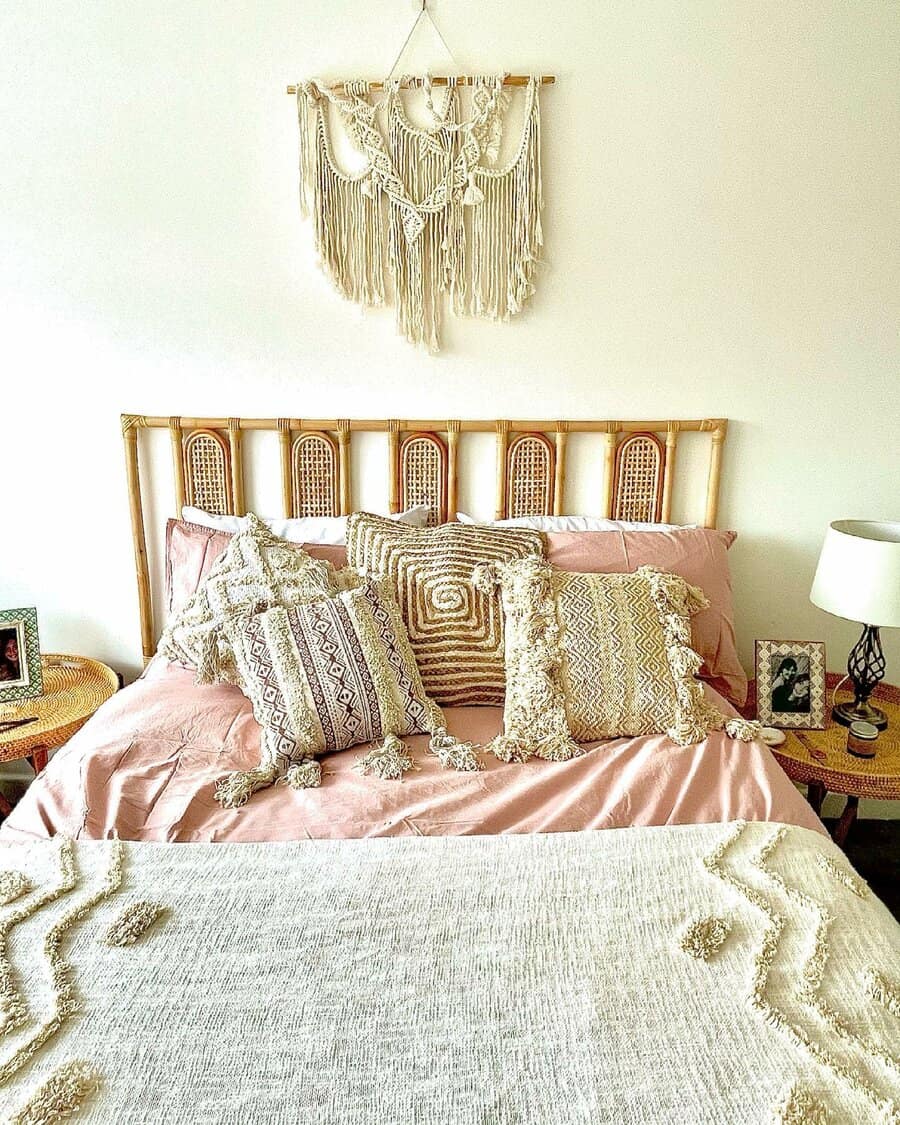 6. Paint The Walls With Limewash
When entering a woman's bedroom with limewash walls, you can feel the freshness and light emanating from within. The paint imbues the space with both cleanliness and femininity, tastefully uniting the two in a subtle but powerful way.
Setting it apart from other paint colors and textures, limewash concrete paint is able to bring out the beauty of any space, making it possible for just about any room to become a luxurious escape.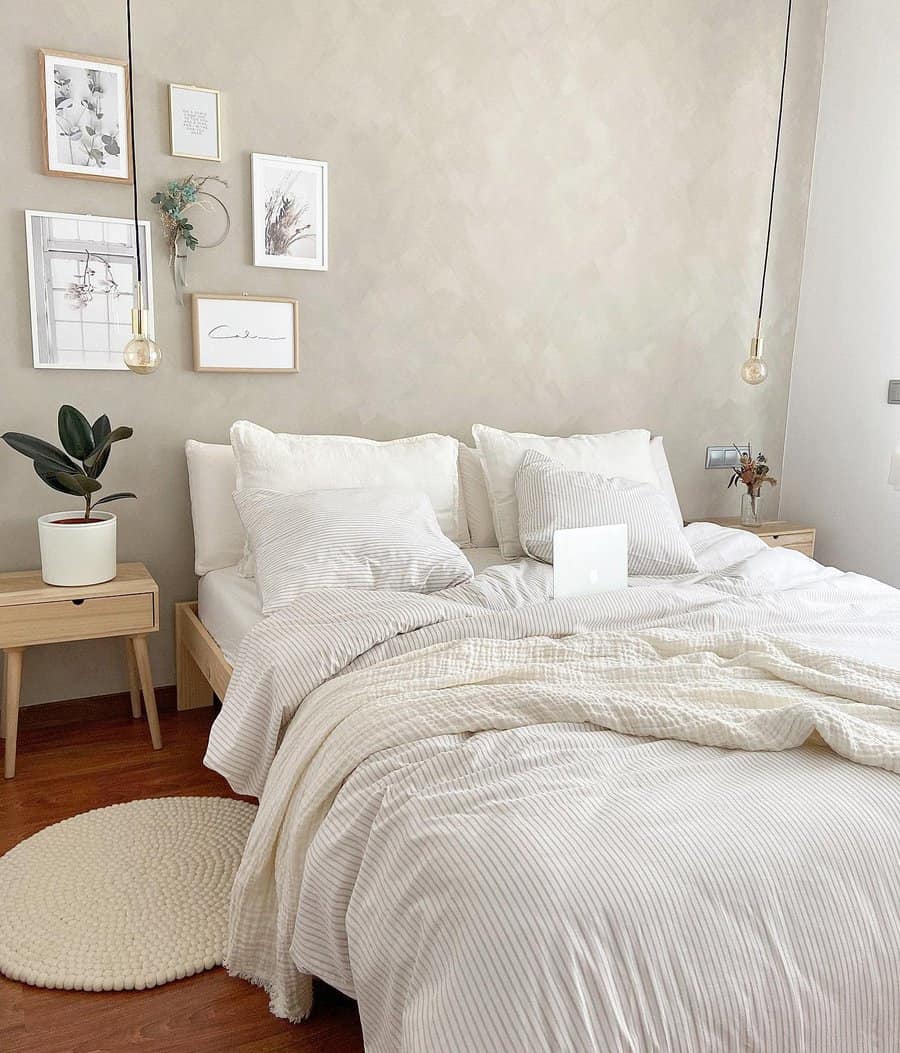 7. Make The Bed A Statement
A woman's bedroom should be the epitome of beauty and majestic allure. What better way to bring that to the forefront than with a bold, statement bed? With the right furniture design, the bed doesn't just offer the owner a comfortable place to sleep; the larger-than-life frame and fabric choice give the room a delicate touch of luxuriousness.
Anyone in this bedroom can instantly feel like a princess in their own palace, surrounded by the visual interest of the grand centerpiece: the majestic bed.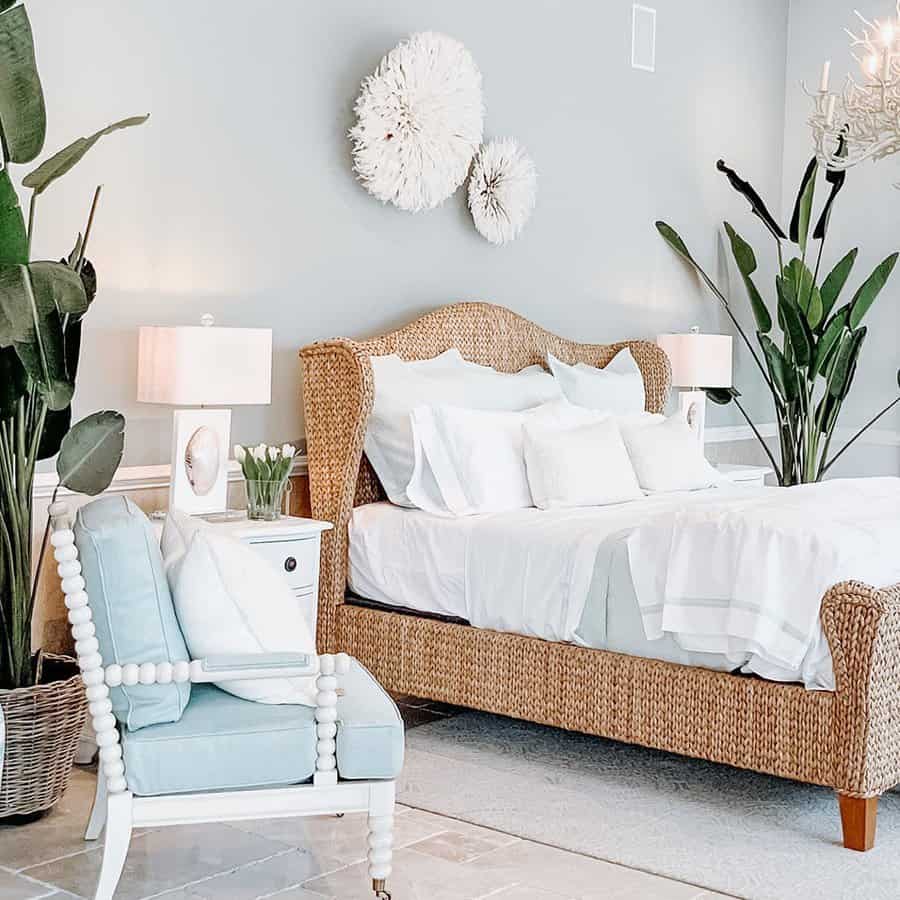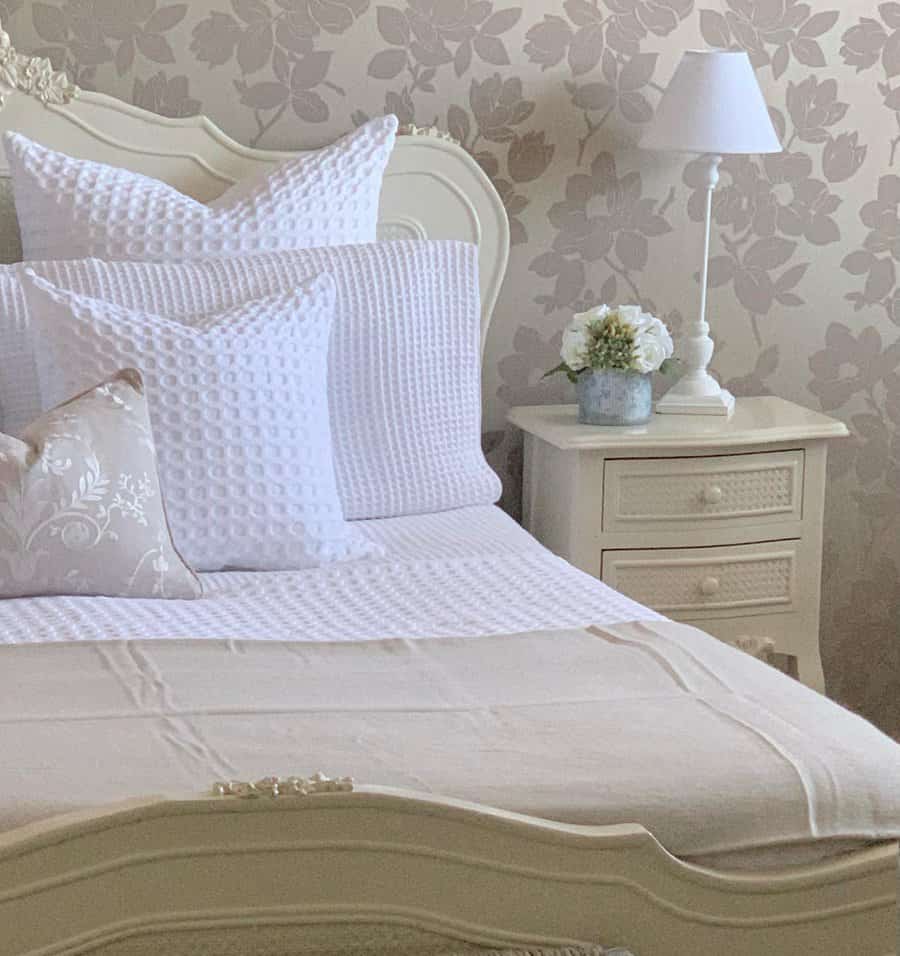 8. Opt For Bedside Reading Lamps
If you're looking to add a functional and stylish touch to your bedroom, opt for a bedside reading lamp instead of a traditional lamp. A reading lamp is an essential item in any bedroom as it offers perfect lighting and comfort while you curl up in bed with your favorite book.
With its adjustable height, it's easy to control the amount of light shed on any space, creating the ideal ambiance for relaxing in the evening or completing tasks during the day.
So opt for a modern reading lamp that meets your needs along with aesthetically pleasing design and color options to fit with your room's décor.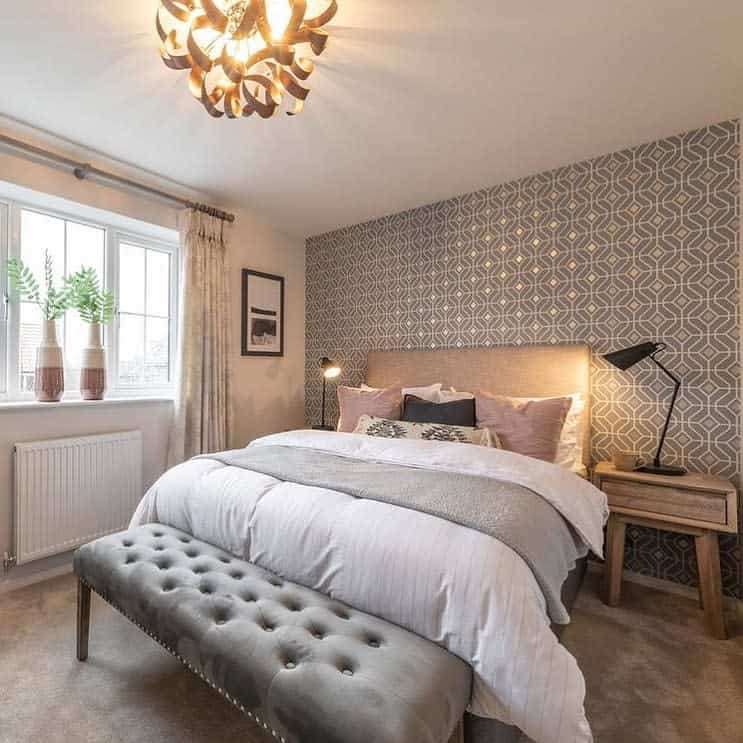 9. Hang Faux Plants
Adding a touch of green to your bedroom doesn't have to be painstakingly difficult. Faux hanging plants are perfect for those who want the benefits of having houseplants without high maintenance.
These artificial beauties look so realistic you wouldn't be able to tell the difference and by simply fluffing up the petals or leaves, you can make them look extra vibrant without having to worry about watering or any kind of upkeep.
Plus, these faux hanging plants come in all shapes, sizes, and colors; offering endless possibilities for personal customization.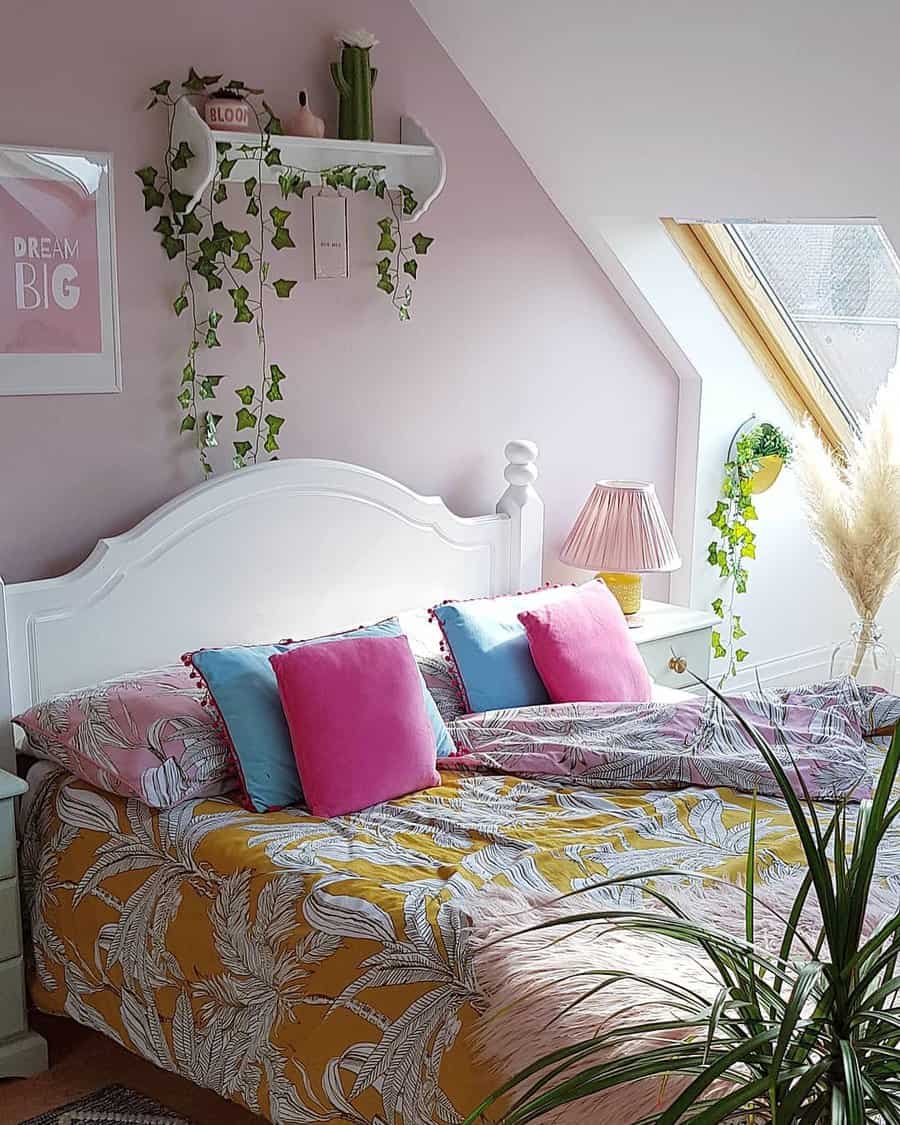 10. Decorate With Mirrors
Decorating a bedroom with mirrors can be an incredibly effective decorating tool, adding impact and light to any room. Mirrors create the illusion of a bigger space, making them perfect for small bedrooms.
And for those who love to get ready for their day on camera, decorating with mirrors will create the perfect lighting and can be flattering to any figure.
Whatever style you may choose– modern and sleek or classic and timeless– decorating with mirrors can always make a statement in any woman's bedroom.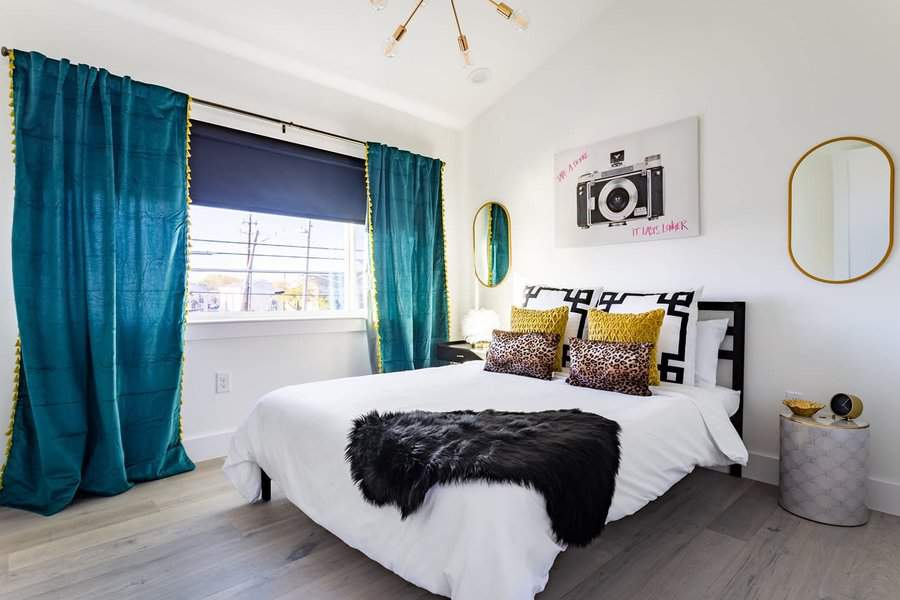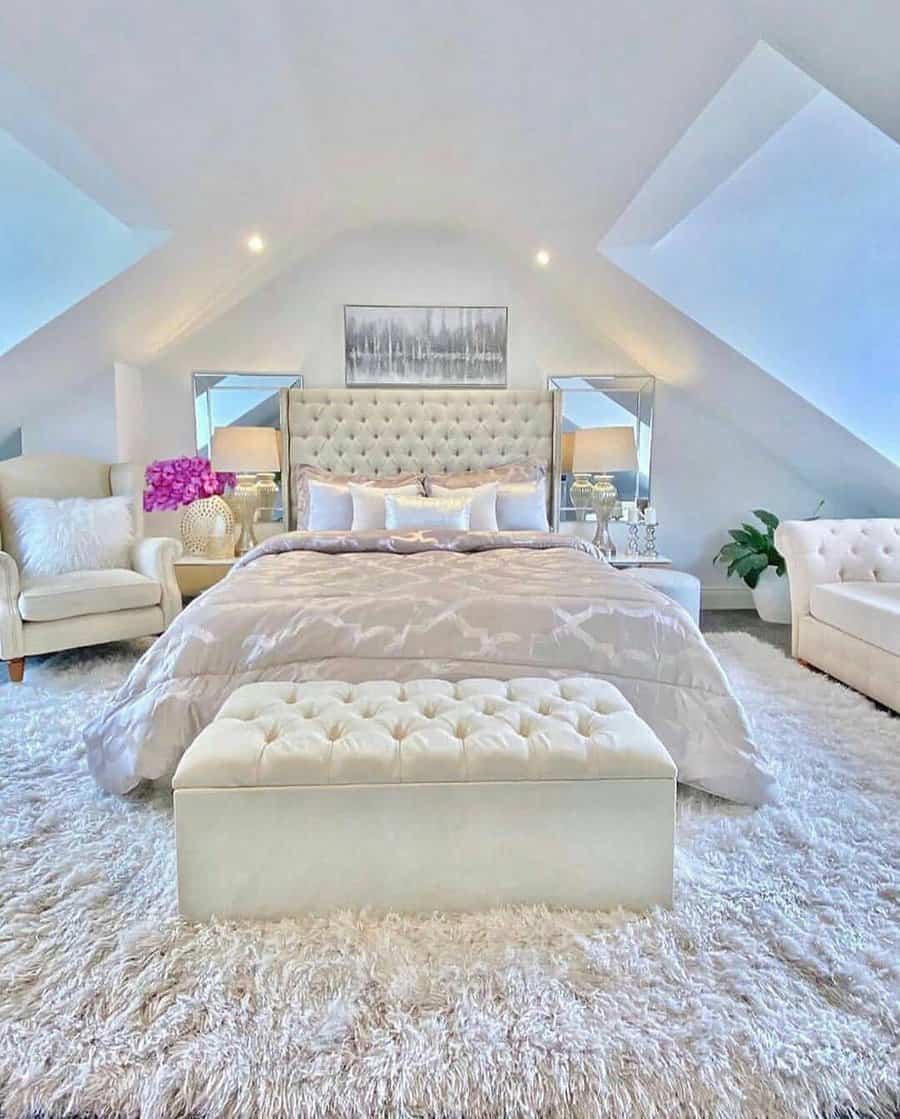 11. Add A Rustic Rug
Transform the aura of your bedroom with a distressed Persian rug that adds warmth, charm, and texture to any shabby-chic interior.
From muted tones to bold colors, the distressed design makes for a timeless piece that practically absorbs everything it touches. Make every moment feel special when you decorate your bedroom with this rustic rug – your personal sanctuary awaits!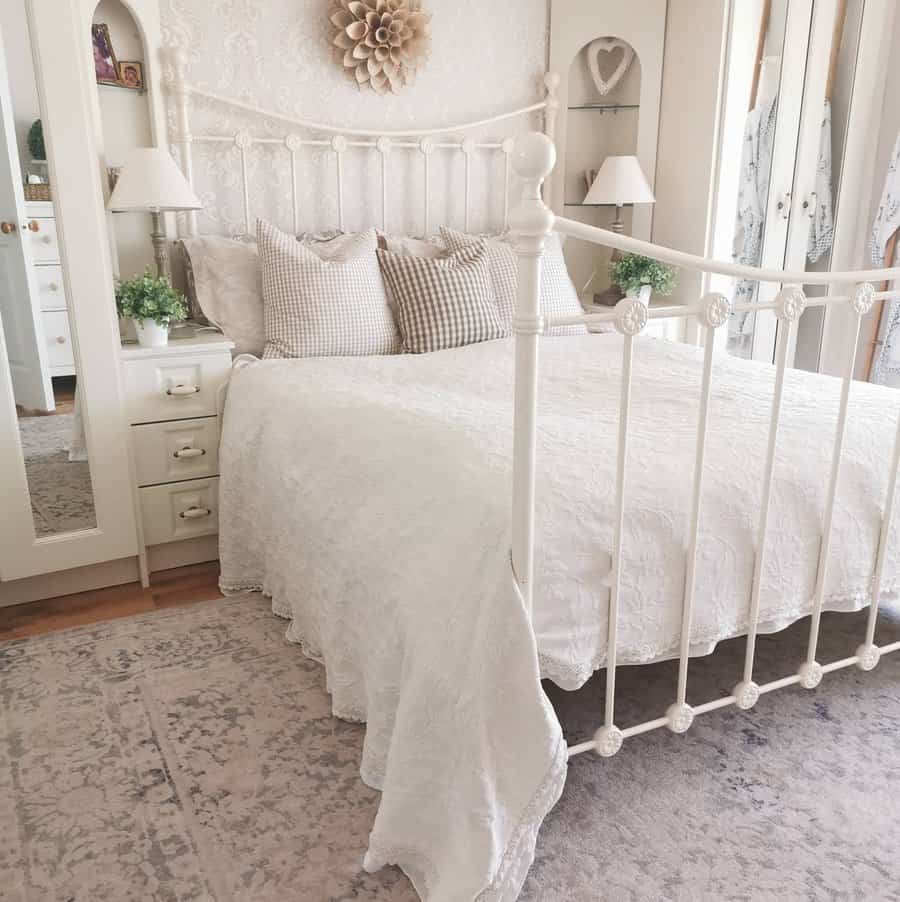 12. Add Soft Green Elements To A White Room
A white woman's bedroom adorned with plants is a tranquil escape from the hustle and bustle of everyday life. Not only do living plants add color and life to the white-walled room, but they also act as sources of oxygen to purify the air.
A white woman's bedroom surrounded by potted plants offers her an oasis of peace, with soft colors that soothe her mind and body. Whether she chooses big leafy plants, cactus varieties, or something in between, she will feel the calming effects of nature at home in her white bedroom haven.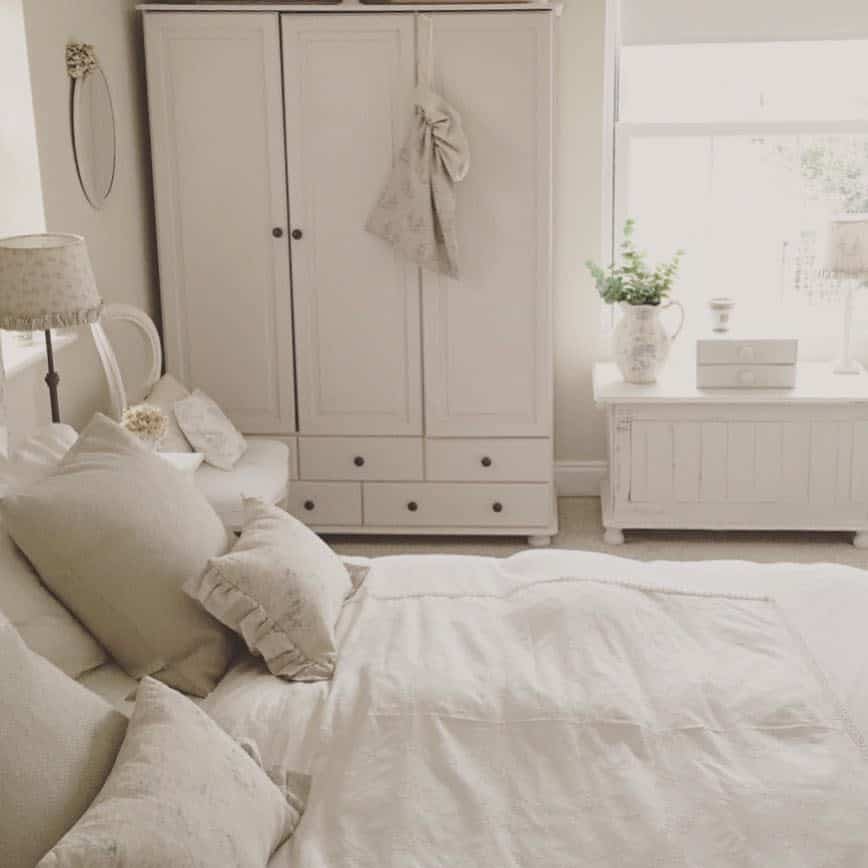 13. Make it Farmhouse Style
Create a rustic yet stylish retreat with a farmhouse-style bedroom. Start by anchoring the room with a rustic wooden headboard as the focal point. With vintage bedside tables and twinkling string lights, your rustic escape will feel like a dreamy summer night.
Accentuate the rustic vibe with feminine pieces such as a thrifted vanity and rustic wall art. Bring in more texture with quilts, blankets, cozy throw pillows, and weathered furniture to bring your favorite farmhouse style right into your own bedroom.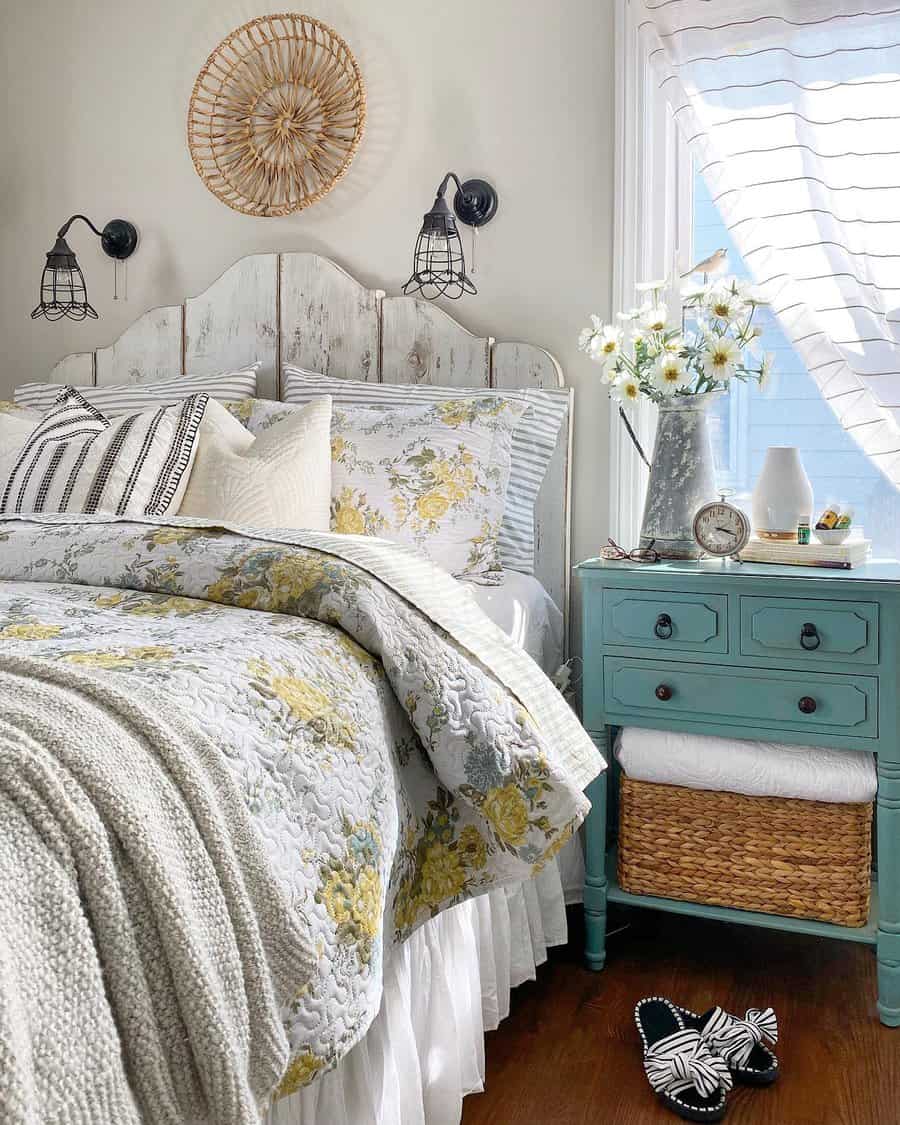 14. Play With Throw Pillows
An eclectic mix of decorative prints and vibrant colors adorn the women's bedroom, creating a unique-yet-cohesive aesthetic. Throw pillows reveal a layering of diverse shapes, sizes, and patterns, adding a pop to any setting.
From playful polka dots to textured solids, mixing throw pillows together can create an eye-catching print-on-print look that tantalizes the senses. Nothing is off limits when bringing personality to this decorative collection—pair bold blues with subtle pastels or combine intricate florals for added dimension.
A few mismatched decorative throw pillows lend richness and flavor to any otherwise commonplace design.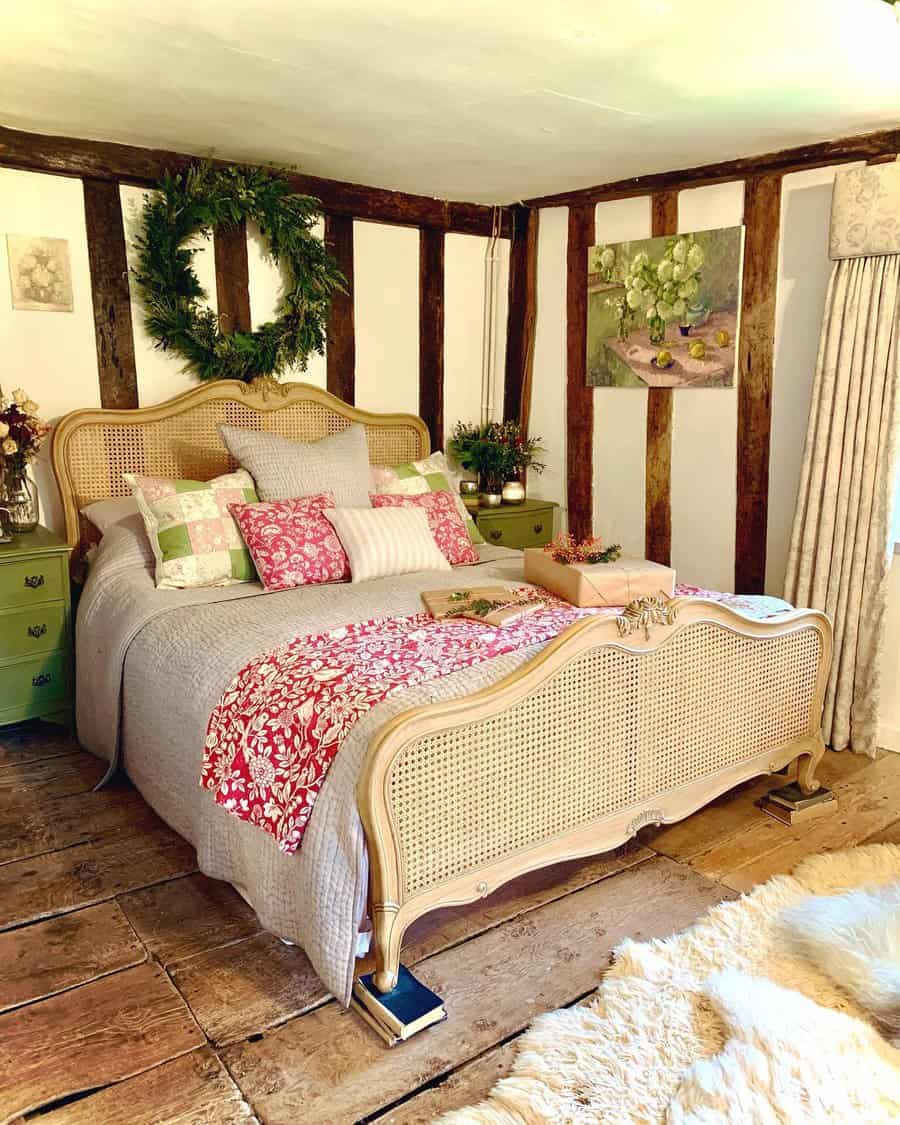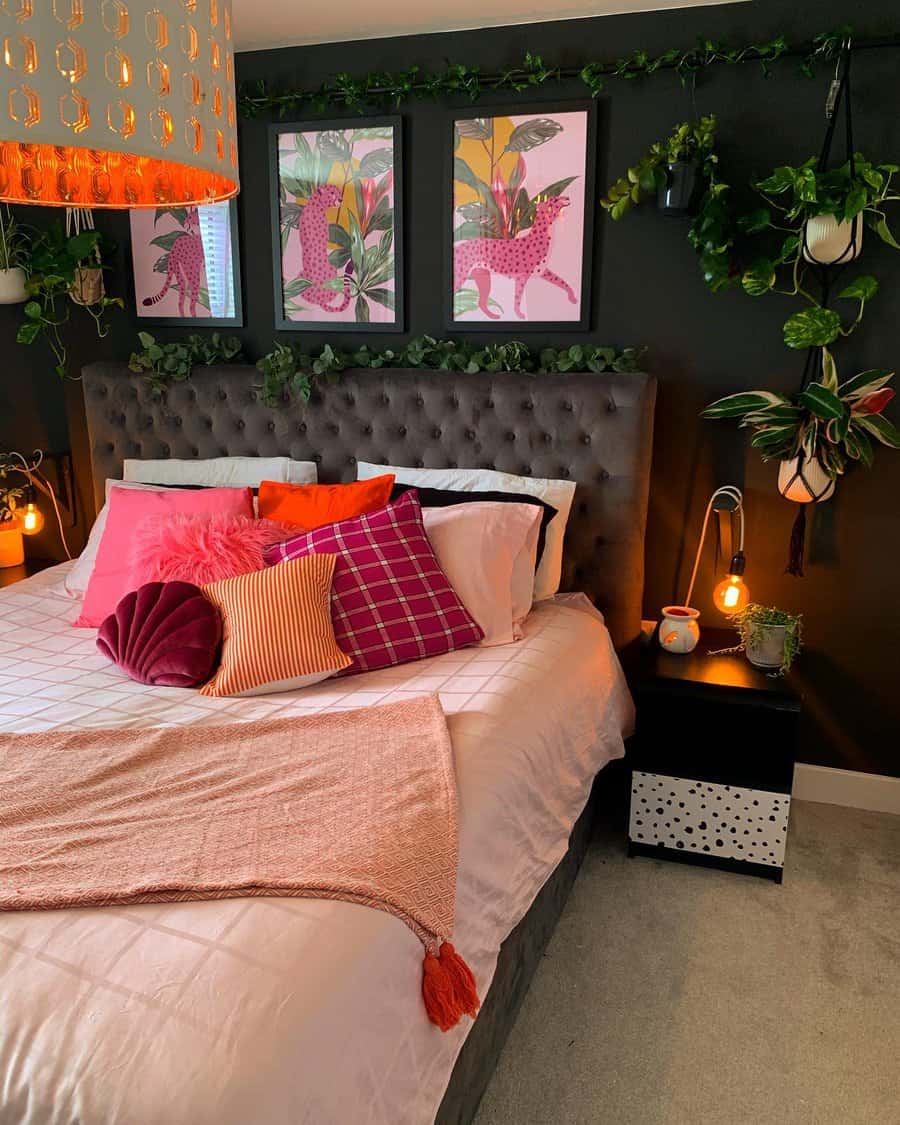 15. Hang Dried Flowers
Entering a bedroom with hanging dried flowers is a calming experience. The soft pastel petals add an extra scent of fragility to the room, creating a sense of charm and mysticism.
Each hanging flower is like poetry, showing how the woman takes great care in decorating her space to reflect her personality and elegance. Dried flowers are timeless decorations that will never go out of style, making them a great addition to any woman's bedroom.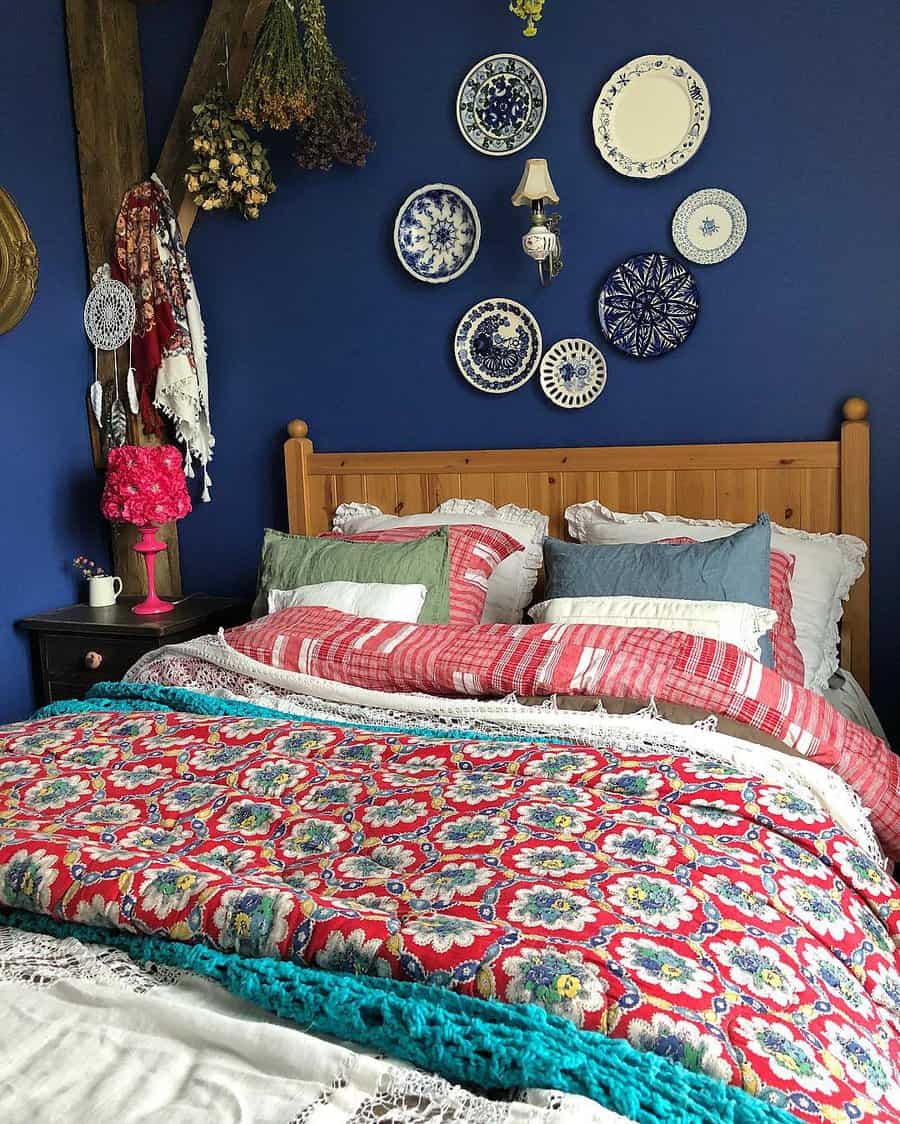 16. Add A Statement Chandelier
A bedroom can be transformed from a cluttered space to one of sophistication with the addition of a statement chandelier or lampshade. Whether you choose an ornate crystal chandelier or a sleek painted fixture, these can become the centerpiece of your room for visual appeal.
Lighting can add an accent to a bare white wall or can take attention away from other pieces in the room. A woman's bedroom can become her retreat with calming colors, soft layers of bedding, and textured pillows, and can be made even more dramatic by adding that one special light fixture to your ceiling.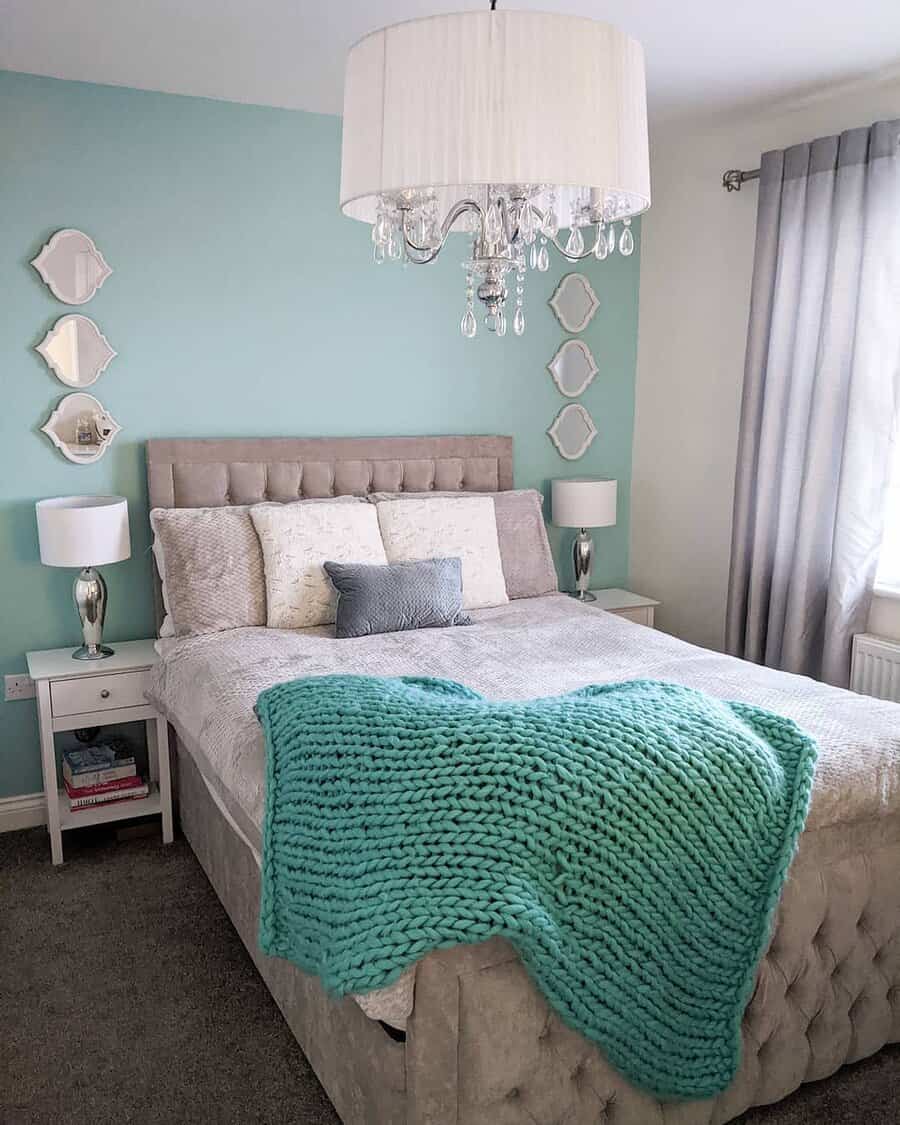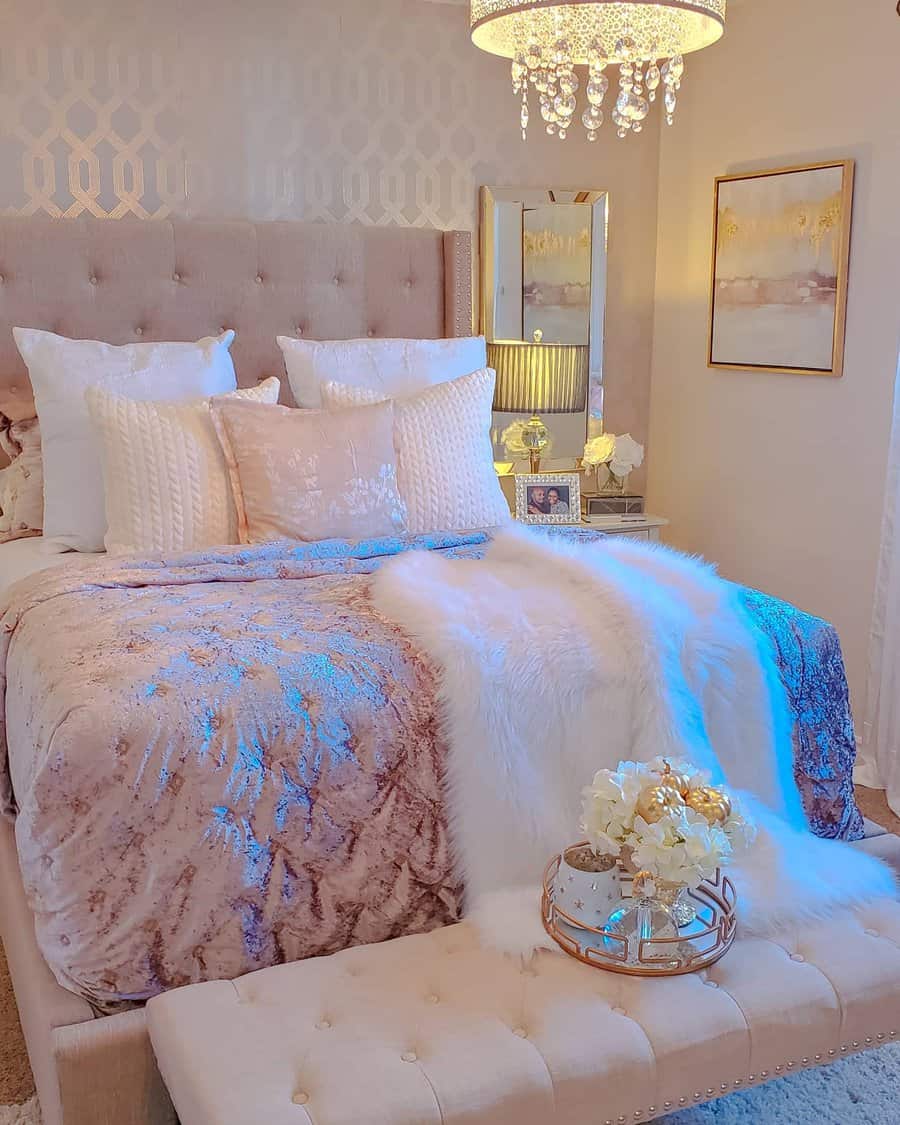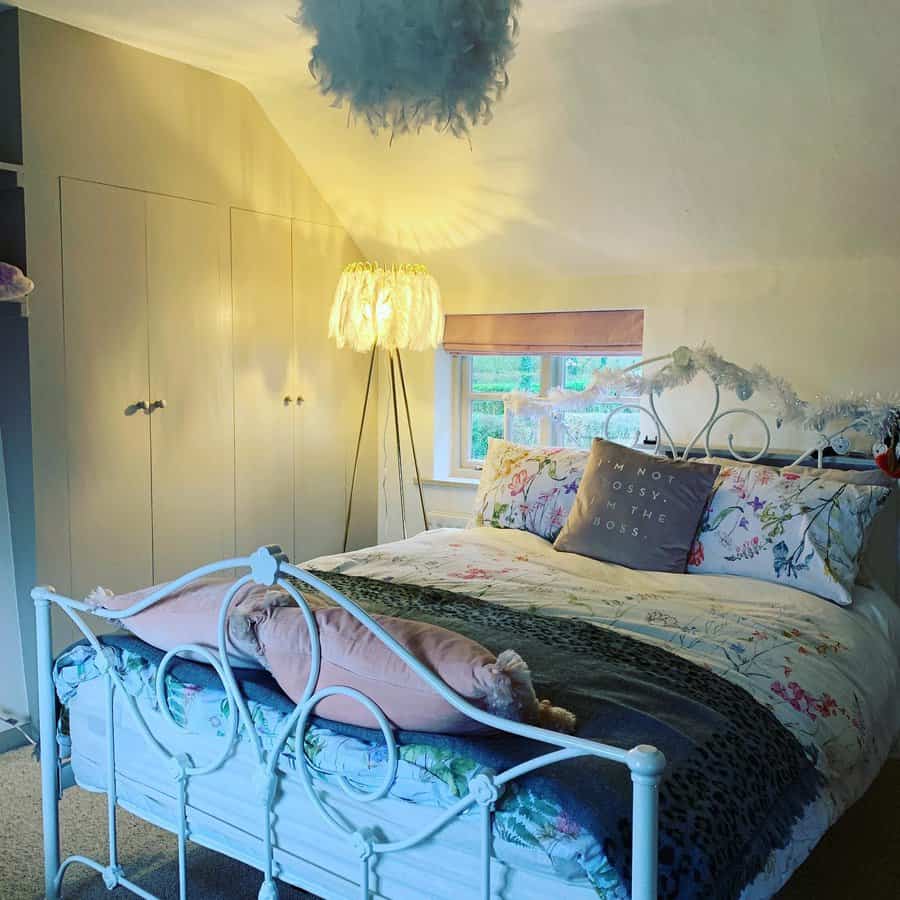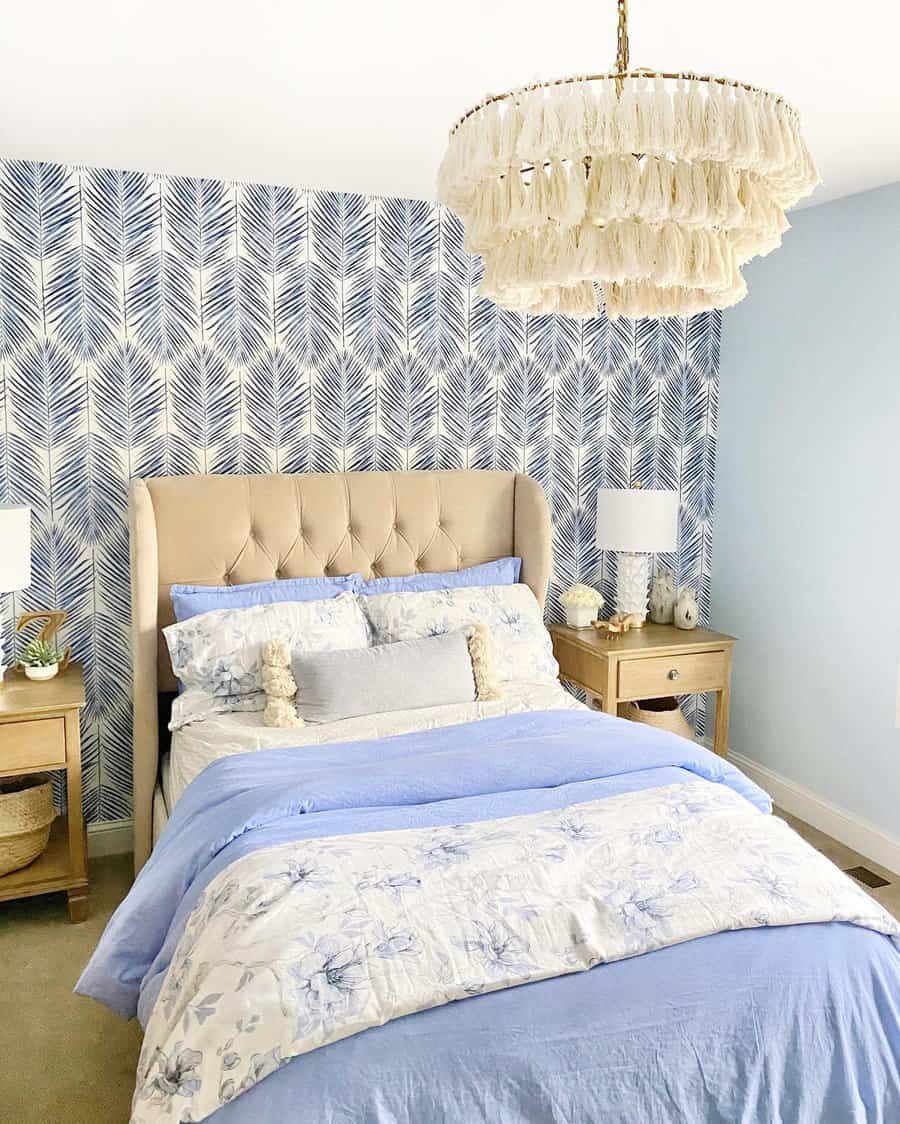 17. Turn Back In Time With A Canopy Bed
Sleeping in a bedroom with a nostalgic yet vintage canopy bed transports you to a half-forgotten realm of enchanted fairy tales. Its four pillars reach up to the ceiling and make the room feel more spacious and airy as if granting your living space a little bit of extra magic.
Whether you choose to hang some dreamy drapes from each corner or let it stand as is, you are sure to enjoy your new bedroom for many nights of sweet nostalgic dreams.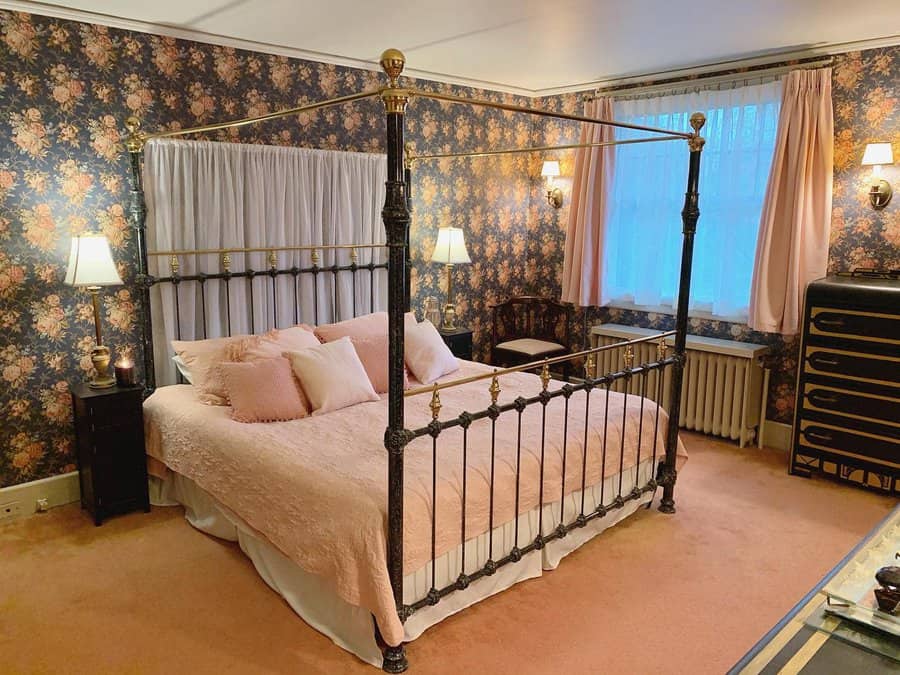 18. Mix Wallpaper Prints
If you're looking for a great way to spruce up your bedroom decor without spending too much, wallpaper prints are an excellent option. Instead of using a single wallpaper, consider layering multiple prints with different designs and textures in order to add more dimension and pizzazz.
You can also use varying sizes of wallpaper or even mix wallpaper prints with fabric wallpaper or wallpaper trim. Whatever pattern combination you choose, you'll be sure to create a unique look that will turn any bedroom into a stylish and cozy space.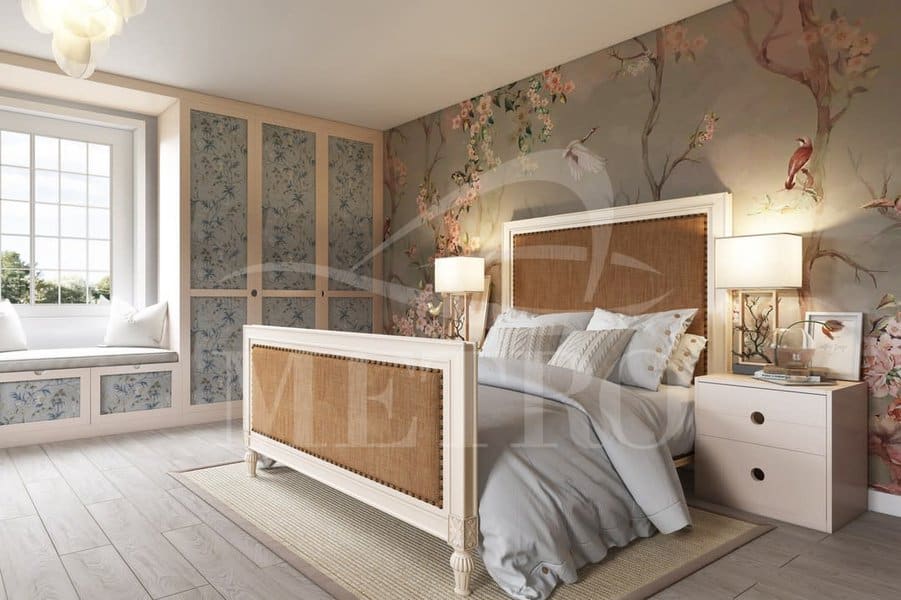 19. Go Maximalist With Big & Intricate Furniture
Bringing maximalism into your bedroom decor is a great way to bring personality and life into the room. Choose oversized and intricate furniture to bring attention and texture that will enliven the space. Add texture with carpets, rugs, beddings, and curtains with interesting prints or colors to reflect your unique aesthetic.
Make sure your maximalist bedroom is stylishly cluttered with accessories such as wall hangings, dreamcatchers, candles, photos, plants, and any other items you feel drawn to. Transform your bedroom into a boho-chic masterpiece that reflects your creativity.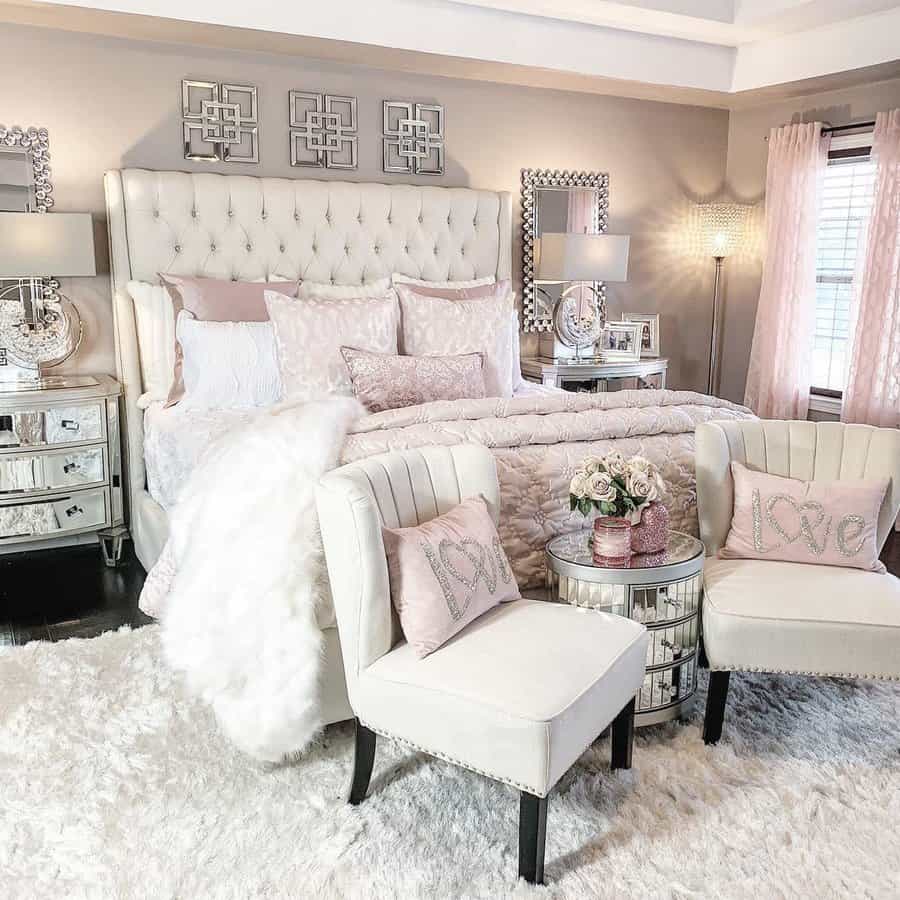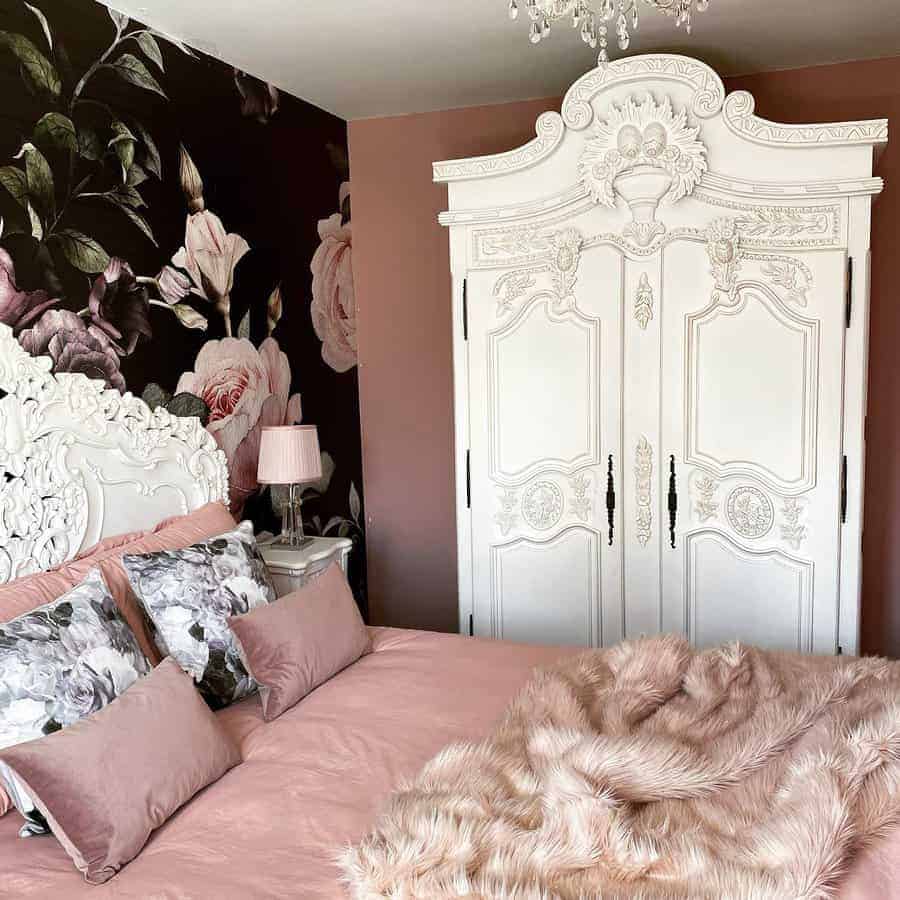 20. Design A Monochrome Bedroom
Monochrome is the perfect way to update your bedroom decor for a sophisticated look. Not only does this versatile color scheme goes with any interior style, but it's also quite easy to work with!
The wonderful thing about monochrome tones is that nobody can deny their minimalist beauty; they simply exude elegance and sophistication no matter how you decide to incorporate them in your room.
Be it all-white walls or black accents on bedding, pillows, and furniture, you'll keep those around you in awe of the lovely, modern atmosphere provided by the almost effortless use of monochrome elements.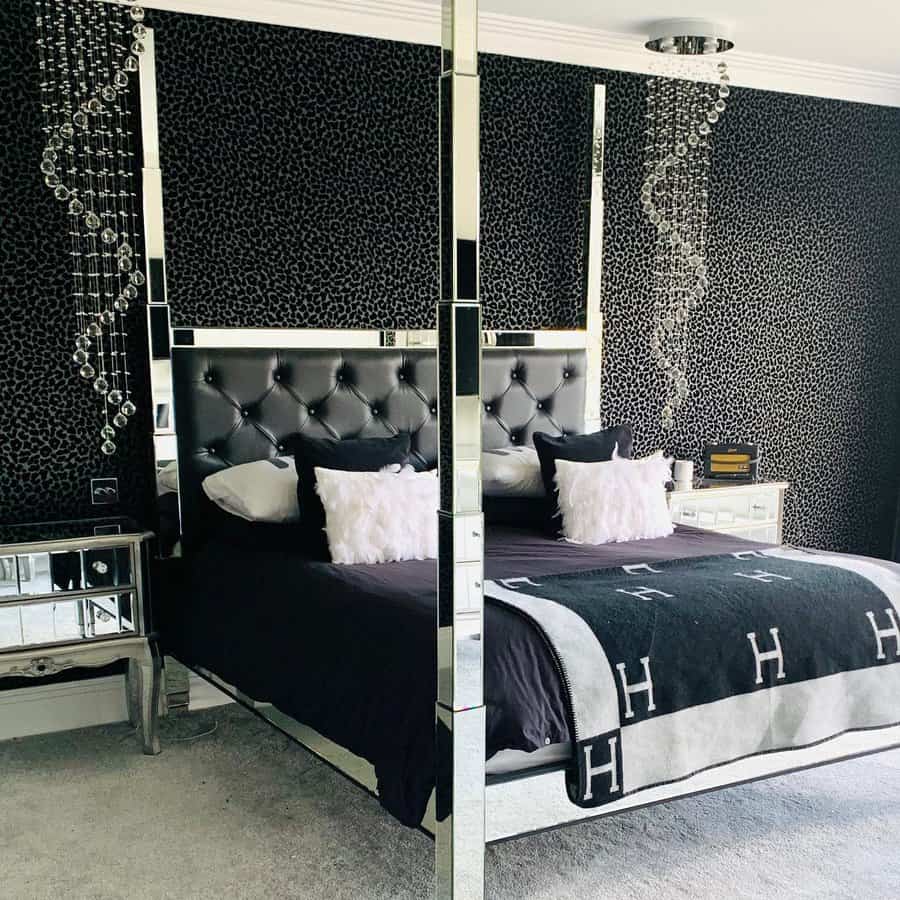 21. Hang String Lights To The Headboard
Decorating with string lights on the headboard adds a mystical vibe that you won't find in most bedrooms. Have fun with your decor, paint the walls a daring color and add other unique accents like textured rugs or framed artwork to make it truly one-of-a-kind.
With string lights hung strategically on the wall, your room can become an inviting retreat to relax in after a hard day's work. Enjoy the transformation of your space from ordinary to extraordinary and bask in its creative ambiance.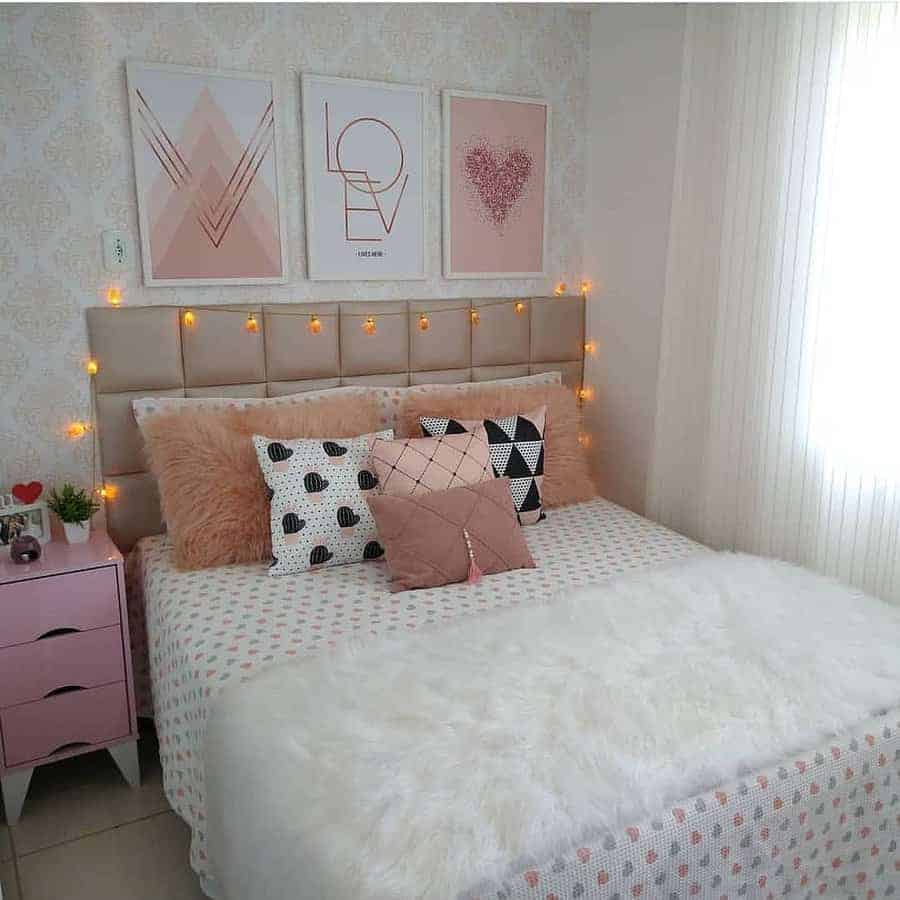 22. Opt For A Soft Pink Palette
If you're looking to create a soft and relaxing atmosphere in your bedroom, decorating with a soft pink color palette is the perfect option! Its feminine hue adds a calming touch that can truly enhance the ambiance of any room.
For an even more tranquil interior, try playing with different textures – soft velvet pillows or shag rugs can bring a sense of comfort and luxury.
With this combination of soft pinks and interesting textures, you'll transform your bedroom into a cozy and calming oasis right in the comfort of your own home.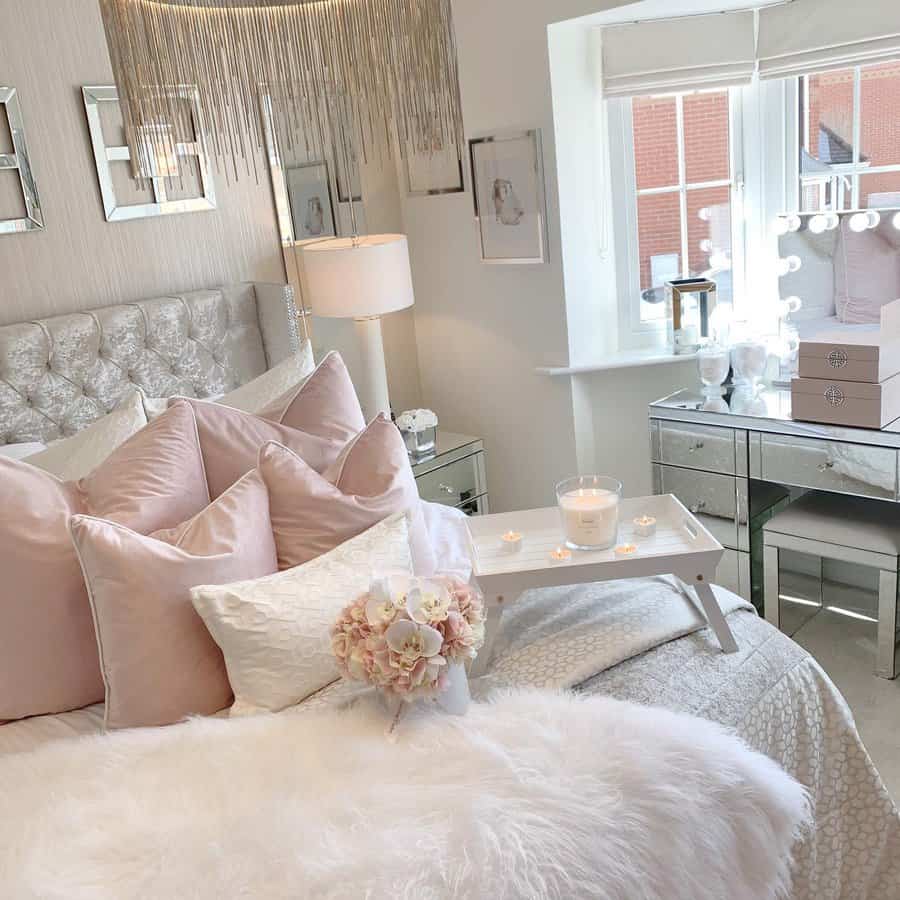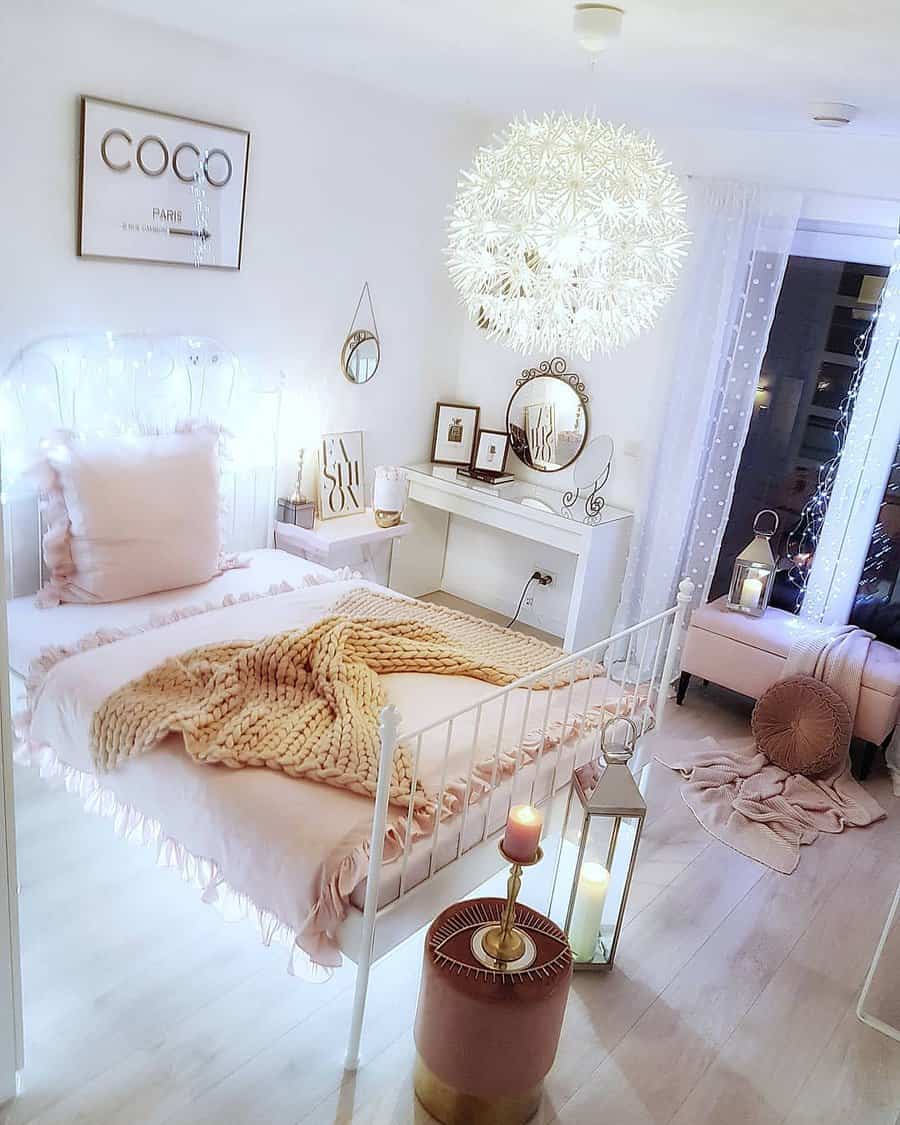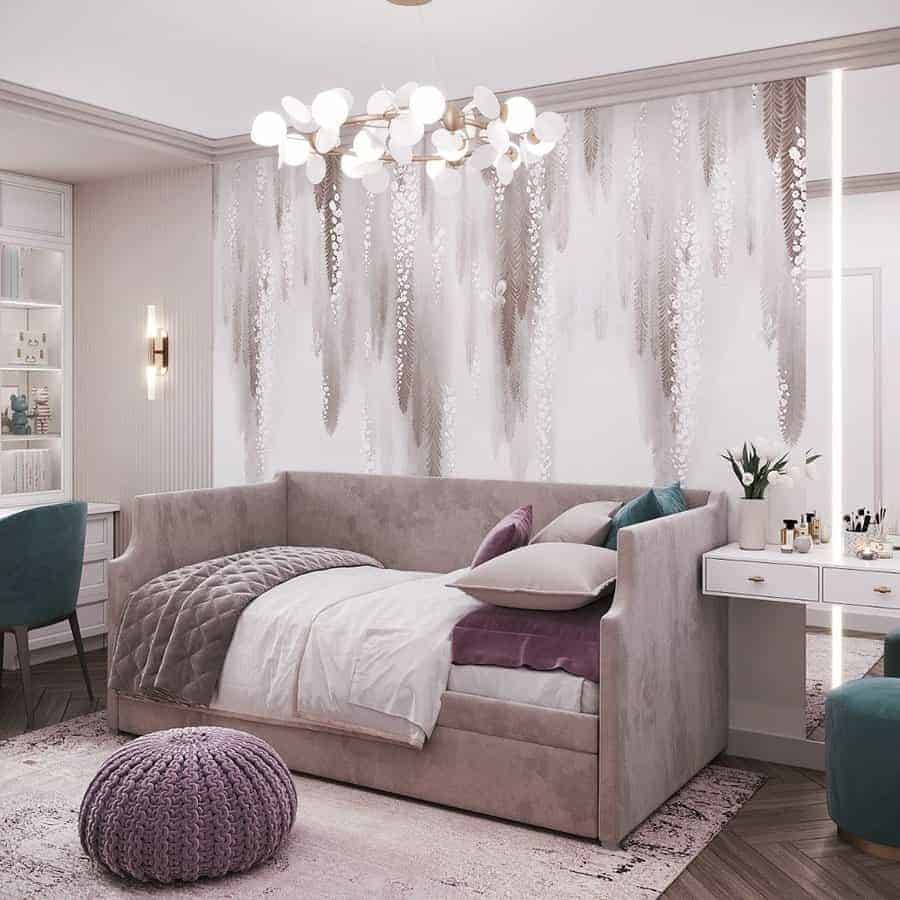 23. Add Subtle Decor
A minimal and subtle bedroom decor can be fashionably eye-catching. Instead of scattering multiple accents throughout a room, choose one that stands out while blending with other furniture and decorations.
For minimal style, pick sleek furniture, minimal or no pattern on walls, and neutral colors. To add an extra touch without breaking the minimal look, pick one bright accent like a throw pillow or a piece of art to add color to your scheme.
Keep curtains and rugs light so all attention is buddied with the one highlighted item in the room and you're good to go!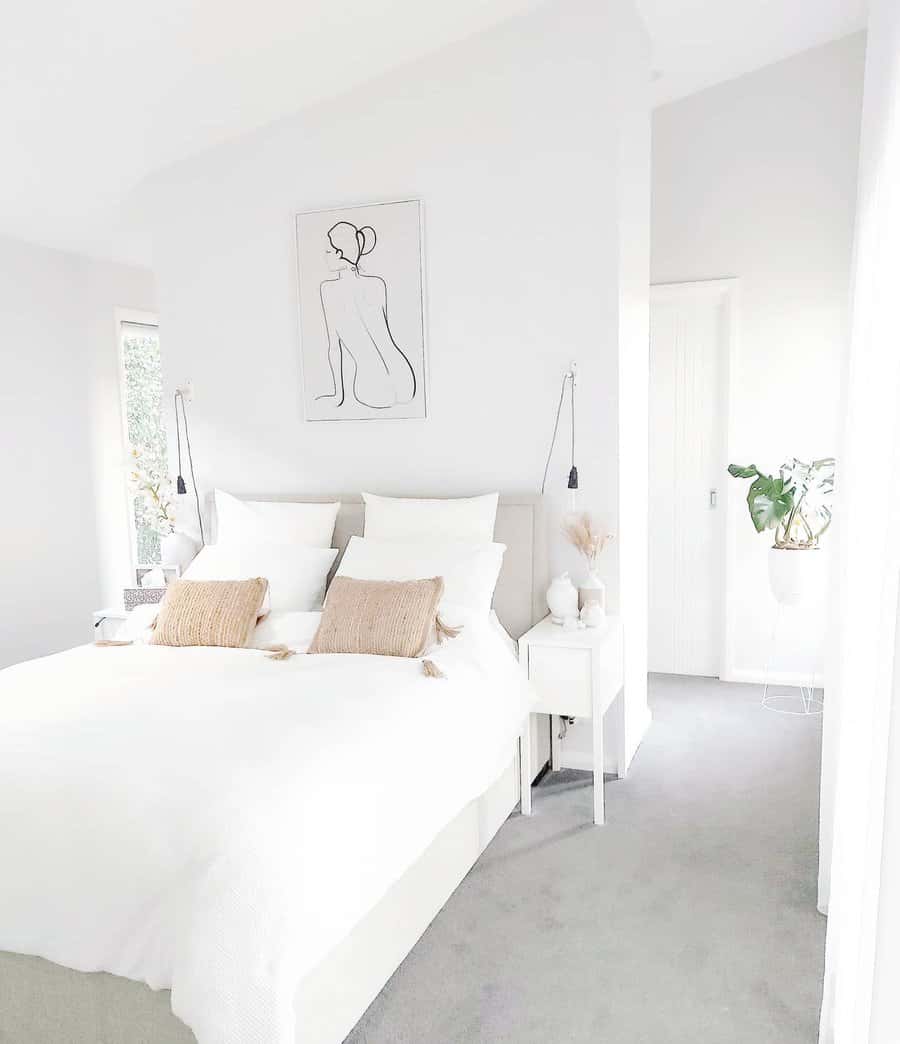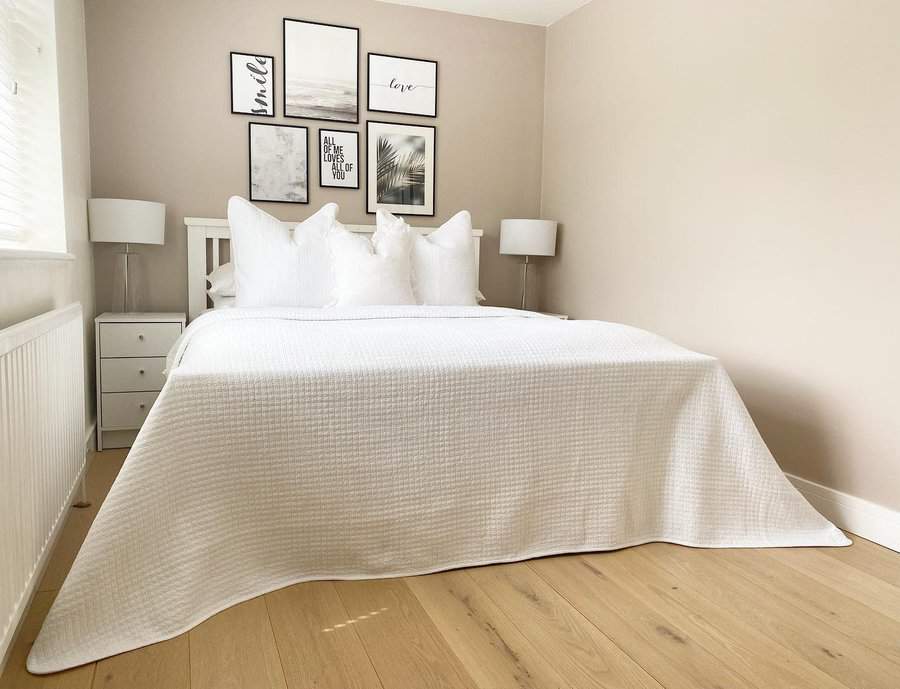 24. Make Efficient Use Of Storage
Transform your bedroom into the chic, smartly designed space you've always dreamed of with smart storage and pull-out furniture solutions. Create an efficient use of space by making smart choices with under-bed dressers, hanging wardrobe organizers, sofa beds, and more.
With these smart solutions, you can turn a cramped bedroom into a cozy, modern escape that reflects both your style and comfort. Best of all, you'll be able to sleep soundly in a bedroom where everything has its own place!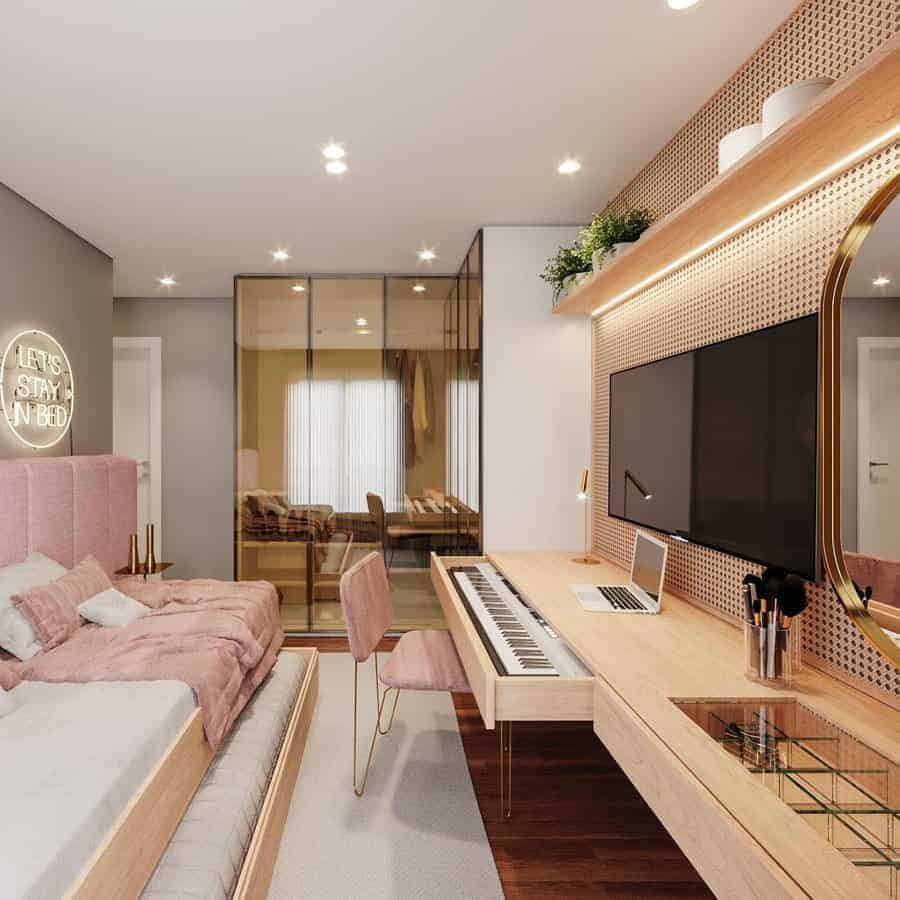 25. Repurpose Or DIY Your Own Bedside Table
When it comes to bedroom decor, repurposed furniture can be a great way to add character to your space. An old bedside table with drawers or shelves can provide both function and flair if you try repurposing it by painting it in your favorite color or adding decoupage details.
Besides repurposing existing furniture, why not take the do-it-yourself route and give an old item a new life? You could repaint that chair you've had since you were a child, sand down an old desk and repurpose it as an eye-catching stand, or shop around for vintage items—not only will these items bring unique charm to your bedroom, but they'll also add warmth and personality.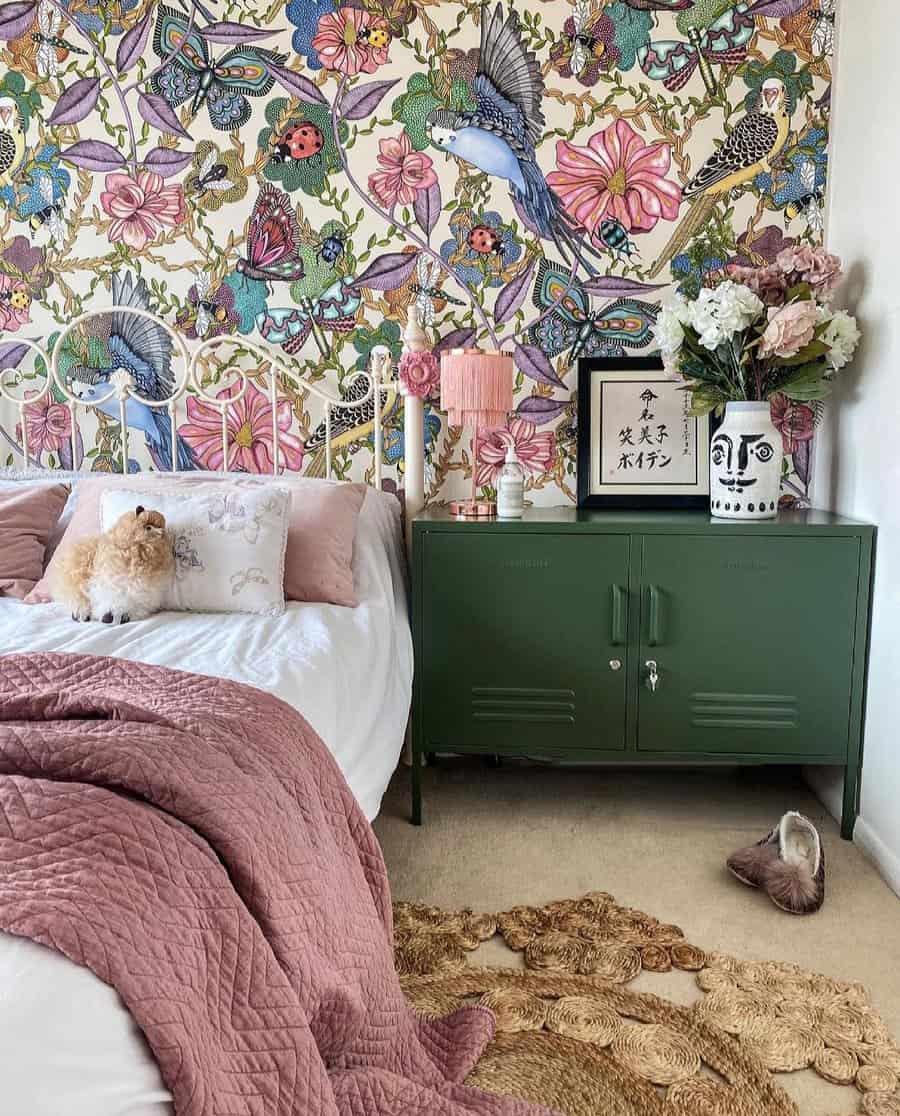 Women's Bedroom FAQs
How do I make my bedroom feminine?
A classic feminine bedroom includes certain elements, such as soft pastel colors, curvy lines, detailed embellishments, and luxurious fabrics. A crystal chandelier is the epitome of feminine light fixtures, and any table lamp that replicates that style also fits the bill.
How can I make my bedroom more romantic?
While many feminine bedroom ideas are inherently romantic, there are ways you can increase the seduction value of your sleeping space. First, remove the TV—it's a huge distraction. And charge your cell phone in another room, if possible, for the same reason. 
If your bedroom gets a lot of natural light, get room darkening window treatments to help create a romantic vibe. Further enhance it with sweetly-fragranced candles and soft, silky sheets. A sheer canopy over the bed also amps up the romantic aesthetic.