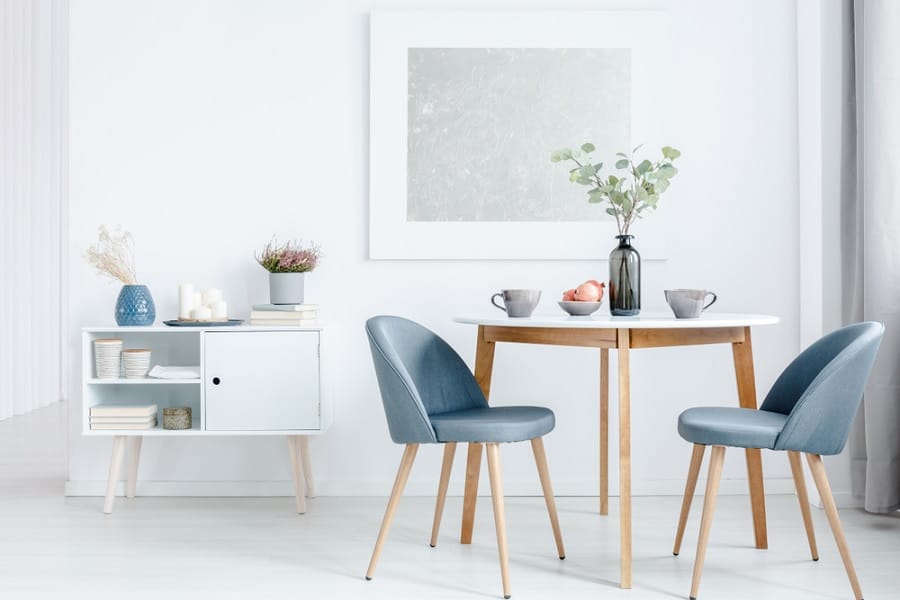 Trendey may earn a commission when you buy through links on our site.
As an Amazon Associate we earn from qualifying purchases.
7 Best Dining Tables for Small Spaces
Finding the best dining table for small spaces can be challenging, especially when "home sweet home" is a small apartment or studio.
Questions arise when every square foot of floor space is valuable real estate: What dining table shape is best? Should I choose chair or stool seating? Can I find an extendable table for my next dinner party?
Thankfully, furniture manufacturers have stepped up to answer your questions with a surprisingly diverse choice of small space dining table options. Here are seven of our favorites.
1. East West DLT-WHI-TP Round Table
A round table makes so much sense in a small space. Not only does it eliminate space-wasting, shin-dinging corners, a round table can more easily accommodate an extra chair or two than a rectangular table.
This extendable dining table is even more ideal than ordinary round tables because it features two drop leaves. Keep the leaves down to minimize the table's footprint in your dining room. Pop them up when you need extra space for guests to dine.
Made of heavy wood, this dining room table weighs 34 pounds and stands just over 29 inches tall. It's easy to assemble with a screwdriver. With a 42-inch diameter, there's plenty of room to seat four or five people comfortably. For greater durability, coat the wood with a wood conditioner or wax.
If you don't like the linen white color of this particular table, note that it comes in over a dozen other finishes. Options include solid black, oak, cherry, and many combinations of painted and stained wood finishes. It would look great in traditional, farmhouse, country, or coastal interiors.
2. HOMURY 3-Piece Dining Table Set
If a narrow dining table seems the best choice for your small space, you can't go wrong with this industrial brown dining table set. Made of heavy-duty steel and MDF with a deep woodgrain finish, it includes a rectangular table and two square stools.
Both stools store neatly under the table when not in use, making it take up less floor space than a standard dining table and chair set. It can also be used as a computer desk or craft work station. The stools can also double as a coffee table in the living room, on those nights when you want to sit on the sofa and eat in front of the TV.
Assembled, the table weighs just under 25 pounds, so it's easily moved by one person. Assembly might be a little tricky for an inexperienced DIYer, as all the screws are mixed in one bag and it can be difficult to align the holes perfectly when working alone.
3. Thane 32-in Pedestal Dining Table
This small pedestal table brings loads of midcentury style to your dining space. Its sleek, glossy white finish covers a sturdy cast iron base and solid manufactured wood tabletop. It has a slim base and a nonslip mat on the bottom for stable support.
Because it's on a pedestal instead of having regular table legs, you can fit more chairs around its 32-inch tabletop. It stands 29 inches high and the base diameter is 20 inches round. The table weighs 24 pounds and requires basic assembly.
This sleek round dining table pairs well with clear acrylic chairs or another sleek midcentury-inspired dining chair design. The shiny white paint is waterproof and merges well with contemporary, modern, or bohemian style. It would be a great addition to a small kitchen breakfast nook or to create a dining area in the corner of a studio apartment.
4. Suzanne 3-PC Set Space Saver Dining Table and Chairs
One solution to the problem of limited space is having a dining set on wheels. The core of Winsome's Suzanne Three Piece Dining Set is a convertible dining table that can easily be rolled from room to room as needed.
Use it as a prep table in the kitchen, or a console table in the living room. Pop out the leaf and it serves as a dining set wherever you'd like to eat. The two included stools tuck fully under the table, so the entire unit is easy to roll wherever you need it. Stools have rounded corners for comfort and a weight capacity of 200 pounds each.
This is a great small kitchen table set that includes two storage drawers and the push handle doubles as a convenient towel bar. It's made of solid and composite wood and stained a gorgeous dark coffee brown. If you prefer a lighter shade of wood, look for the same dining set in teak.
Expect to spend about two hours assembling the dining set, but you don't have to worry about buying special tools—everything you need is included. Avoid the temptation to use the screw plug covers, because you'll need to tighten the screws again after using the stools a few times.
5. VECELO 3-Piece Dining Room Set
This stylish little bistro set is a great option if you prefer square tables over round ones. Measuring just 27.5 inches square, this table set is perfect for a small dining room or kitchen dinette.
Two dining chairs are included. Each has a padded seat for comfort and can support a person weighing up to 200 pounds. The chairs fit well under the table, but do not slide in completely—something that could be an issue if space is particularly tight in your kitchen or dining room.
The table and chair legs are made of steel tubes with a black matte finish. A sunburst cutout embellishes the table and each chair back. The table top is constructed from a durable, MDF board topped with a waterproof, brown wood grain finish.
Assembly can be a bit difficult, particularly when trying to screw down the chair seats. However, it's possible to put this together without strong DIY skills—just follow the directions closely and allow a couple of hours to finish the task.
6. VINGLI 3-Piece Dining Set
When space is limited, it's helpful to find affordable furniture that serves more than one purpose. This small table set is unique in that it has an integrated wine rack beneath the table's surface. Not a wine drinker? Use the shelf to store placemats, books, serving trays, or whatever suits you.
This small dining table has an attractive oval top that measures 33.5 inches long and just under 24 inches wide. The base is made of metal and the top is made from MDF.
Two chairs are included for dining room seating and feature curved backs that mimic the table's rounded ends. Chairs feature padded seating for comfort during longer dining sessions.
The entire dining room or kitchen set has a matte black finish, but you can also find the same kitchen table set in white, walnut, natural wood, and white oak. The table has an overall minimalistic design, with just a simple circular accent on the lower support rails.
As with most dining room sets at this price point, assembly is required. Instructions are included and the manufacturer suggests re-tightening the screws every other month to retain structural integrity.
7. Monarch Specialties 3-Piece Dining Set
Small dining rooms do well with simply designed furniture. This small dining room set has a distinctly Scandinavian vibe with its pale natural wood finish and clean line design. You can also purchase the same kitchen set in all white or a dark cappuccino finish.
Perfect as a dining or kitchen table, it features a round table top with dual drop leaves that can be raised or lowered to suit your needs. Drop leaves are a great space-saving feature in that you can get the benefit of narrow rectangular tables when you need to tuck the table against the wall, and the benefit of a round table when you need seating for three or four people.
Although the set comes with two chairs, it would be possible to seat up to four at this small table—provided that you have additional chairs and enough room in your kitchen or dining area. The chairs have comfortable vinyl-covered cushions, but they may feel unstable when used by large or tall people.
You'll probably need a friend to help you assemble this set with the included tools. It can be difficult to get the screws to properly align without an extra set of hands to hold things in place. Screws may need to be retightened after the set has been used for a while.
How Do You Maximize Space in a Small Dining Room?
When trying to visually expand a room, it's important to keep things light and airy. Choose a light color palette, and keep any window coverings light to let in as much sunshine as possible. A big mirror—or even a mirrored wall—will multiply the visual space and make the available light seem brighter.
When shopping for small dining room furniture, keep scale in mind. Measure the area before shopping so you'll know your space constraints. If possible, buy a table with leaves. Expanding your table only when company comes allows you to keep the table's footprint small the rest of the time.
Finally, keep your small dining room free of clutter. Nothing makes a small room feel more claustrophobic than clutter. Simplicity is an often overlooked key to maximizing space.
Our Verdict
It's hard to pick just one dining table for small spaces, but we cast our vote for East West's Round Drop Leaf Table. Why do we think it's the best small dining table on our list? It has a solid, basic design that will integrate with just about anyone's small dining room ideas.
This table has a solid, sturdy feel. It's made with heavier wood products than many small space tables, and pedestal design provides more leg room than tables with multiple legs. The pedestal base has a nice, subtle scrollwork embellishment that looks equally good in formal or casual rooms. It comes in over a dozen color combinations and though it's more expensive than some of the sets we've shared, its durability makes it worth the cost.
Additionally, purchasing a table instead of a complete dining set means you can choose your own chairs—important if you're heavier or taller than the limits on most small dining table sets. Finally, the value of drop leaves cannot be understated when floor space is at a premium but you still like to entertain.
Small Space Dining Table FAQs
Which dining table takes up less space?
Round tables take up less space. Their surface area is smaller than square or rectangular tables. If you choose a pedestal table instead of a round one with four legs, you'll find it feeling even more spacious. It will also be easier to add a chair or two when you have friends over.
Is a glass dining table good for small spaces?
Although our list didn't include any tables with glass tops, they can be a good interior design option in a small home. Because the surface is clear, they don't take up any visual space. This helps a small area look less cluttered.
Glass or acrylic tabletops also add an elegant element to the room. This can make it feel more luxurious—something that can be difficult to achieve in a small apartment or condo.
Is 32 inches too tall for a dining room table?
32 inches is the top range for normal dining room table height. Most dining room tables are between 28 and 32 inches tall. If you prefer sitting on stools at a counter height table, look for one that's between 34 and 36 inches tall. Bar height tables are the tallest, measuring between 41 and 43 inches tall.
Whichever height you choose, be sure to allow about 10 inches between your stool or chair cushion and the table top. This is a comfortable distance for most people and provides enough room for a kids' booster seat when needed.