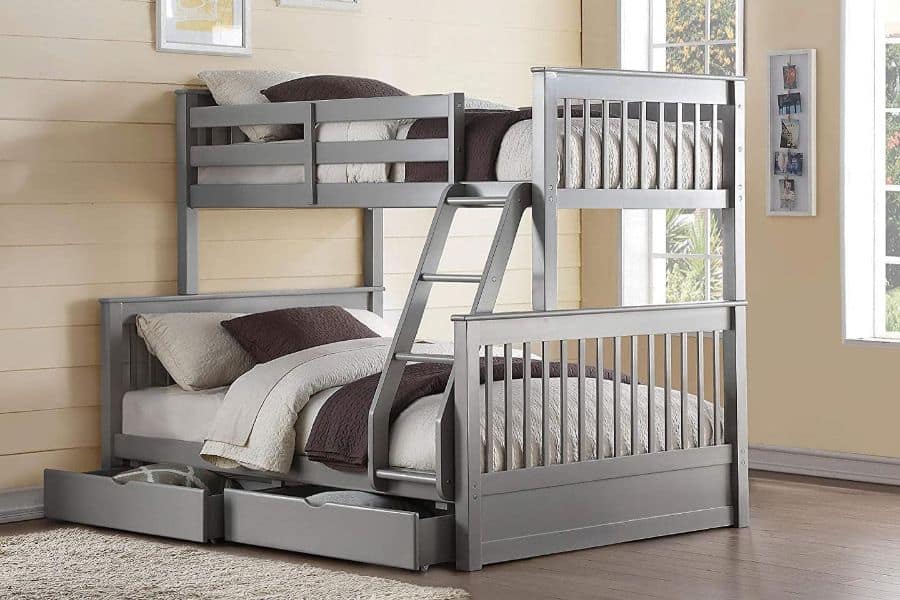 44 Bunk Bed Ideas for Small Rooms
"Two beds are better than one." – Unknown
In many bedrooms, two beds are indeed better than one. Enter the common bunk bed, interior design's best sleep space solution when living quarters are tight. You don't have to have a small bedroom to enjoy the benefits of bunk beds, though.
Most commonly seen in military barracks, youth hostels, and dormitories, bunk beds are now a common fixture in kids' rooms and vacation homes.
Scroll through our gallery of bunk bed ideas and see how kitschy cool they are. You'll surely want to add these stacking wonders to one of your bedrooms ASAP.
1. Beach
Bunk rooms are one of the best bunk bed ideas for beach cottages. This type of built-in bunk bed design not only saves floor space—it looks amazing, too.
Design the bunk room with beachy decor, including light colors and artwork featuring shells or ocean views.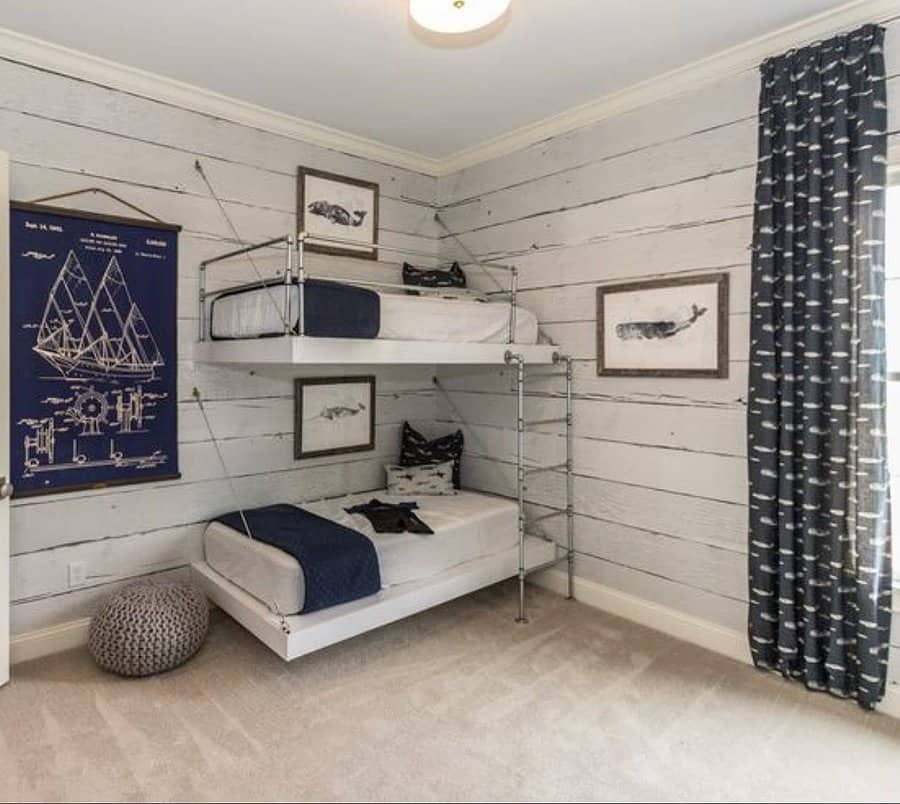 A nautical color palette is also great for a beach house bunk room, featuring navy blue, red, and touches of gold or silver. Use thick ropes instead of rails on an upper bunk or make DIY bunk bed rails from lengths of galvanized pipe.
White wood or weathered wood goes well with cottage beach decor. Maps, globes, and other ship-themed items complete the nautical look.
2. Cabin
A wooden bunk bed is the perfect addition to a lake cabin guest room. Stained wood is preferable for a cabin's bunk bed frame, especially if the walls are covered in wood paneling or logs.
Go for a bunk bed plan that features thick or rough hewn timber instead of a more subtle finish.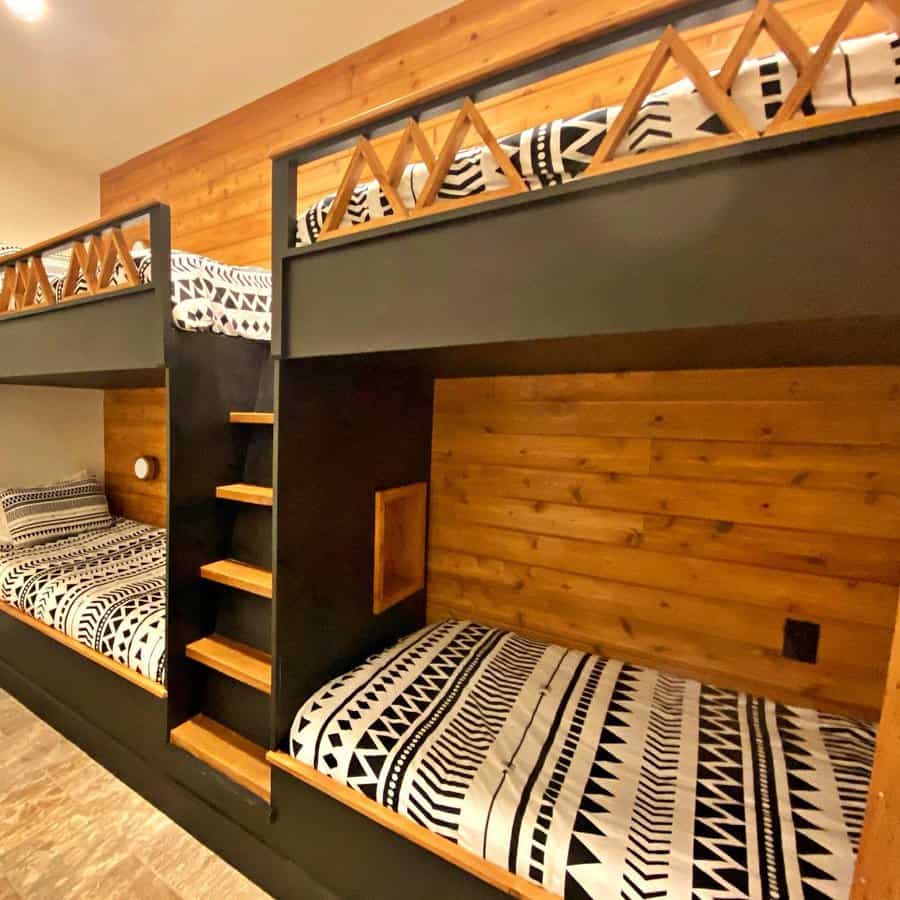 Bedding with Native American-inspired patterns, buffalo checks, plaid flannel, or other rustic textiles carry on the mountain-inspired theme. Patinated copper or burnished bronze are great metals to use for the hardware on a cabin's bunk bed storage drawers.
3. DIY
Bunk beds can be expensive, but you can save money by searching the internet for easy DIY bunk bed building plans. You'll need basic woodworking tools to build your own, but the end result will be exactly as you want it.
If you know you need a sturdy bunk bed that will support an adult, building your own can ensure that you have the bed frame strength you need.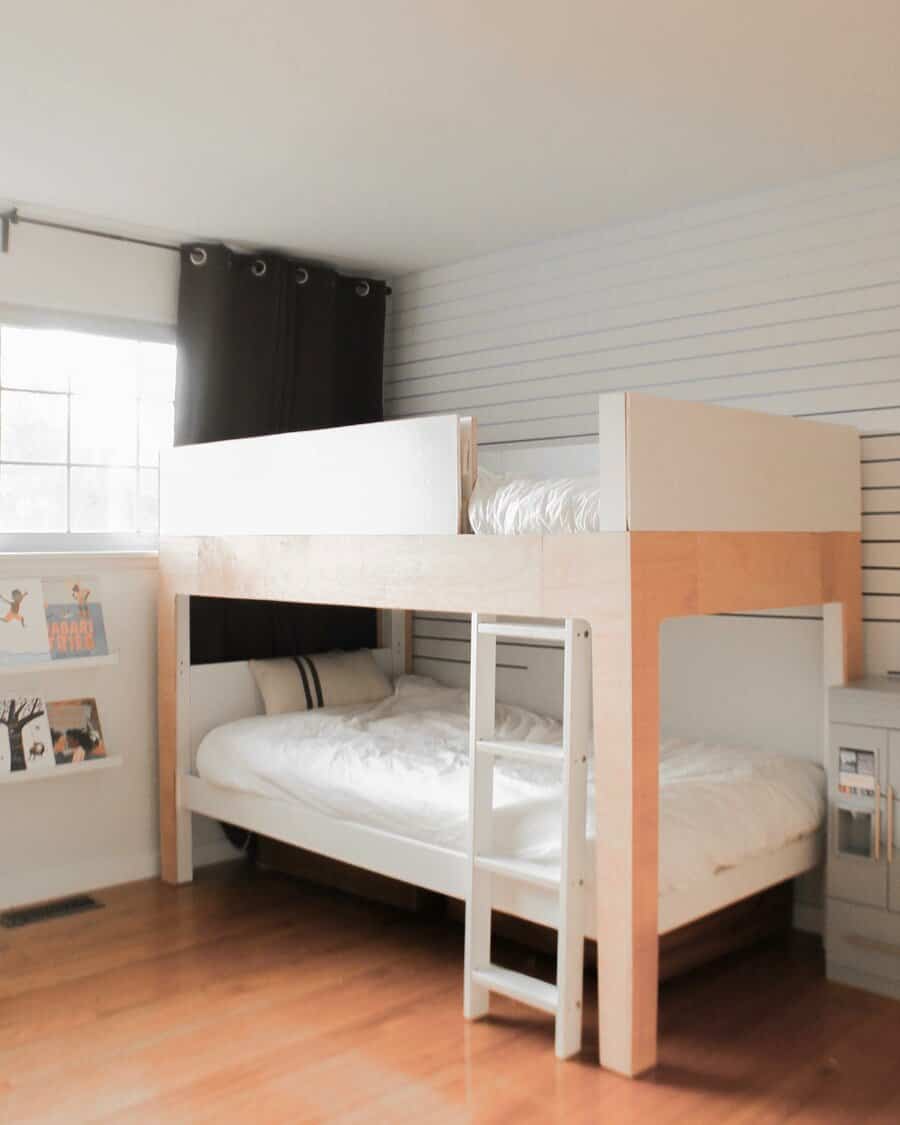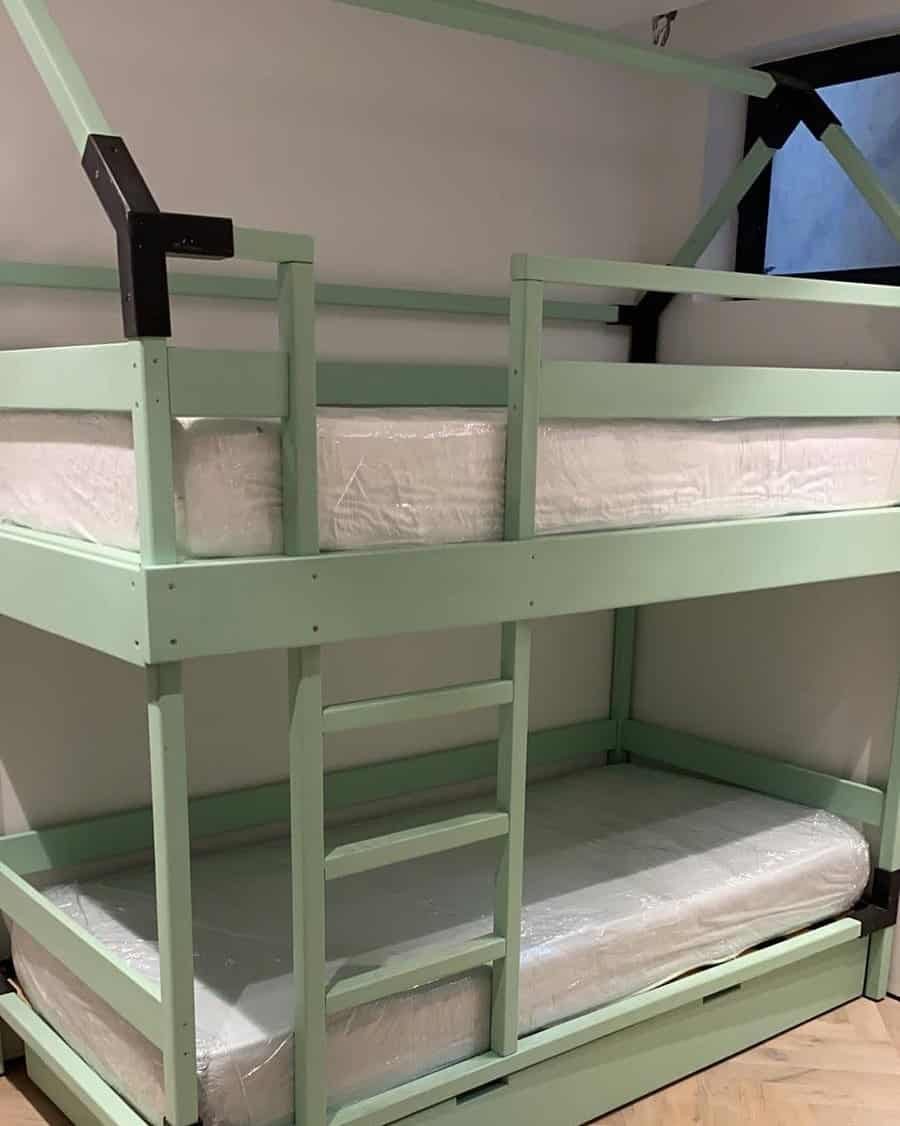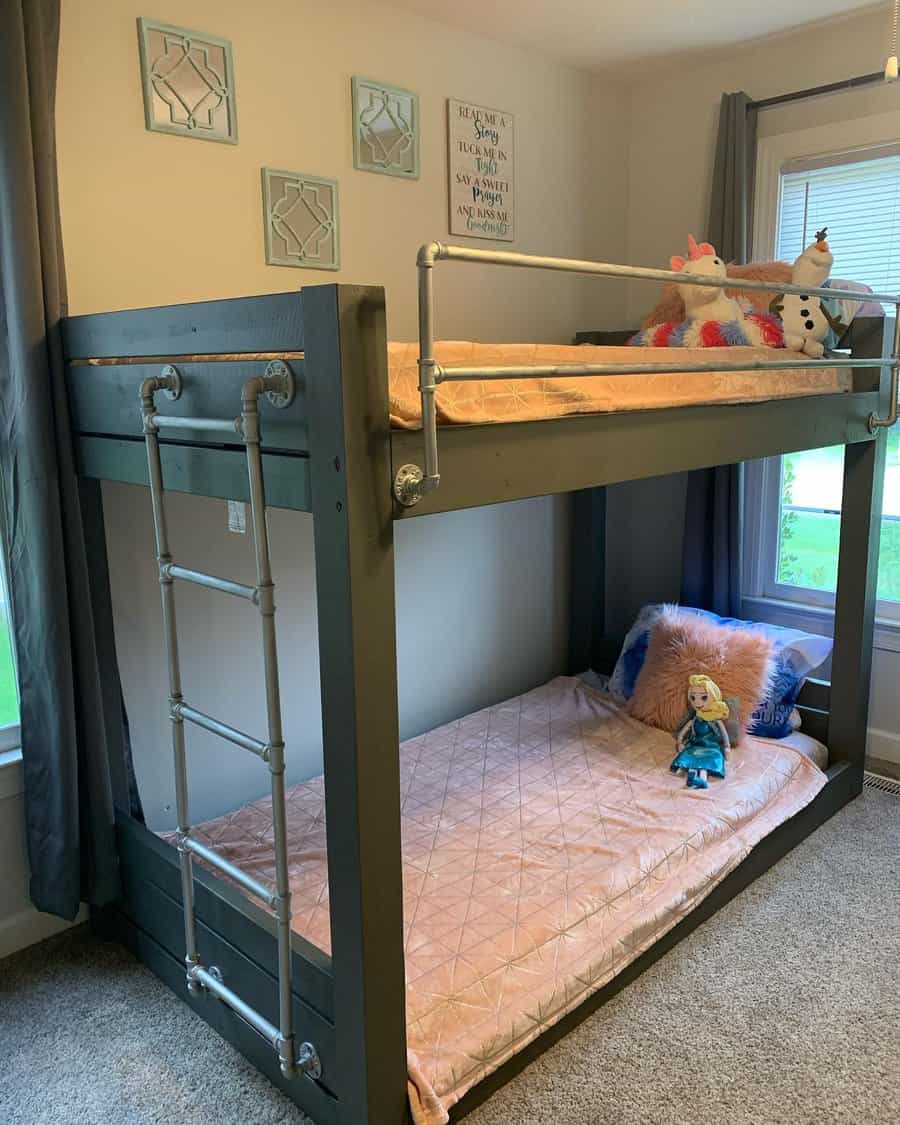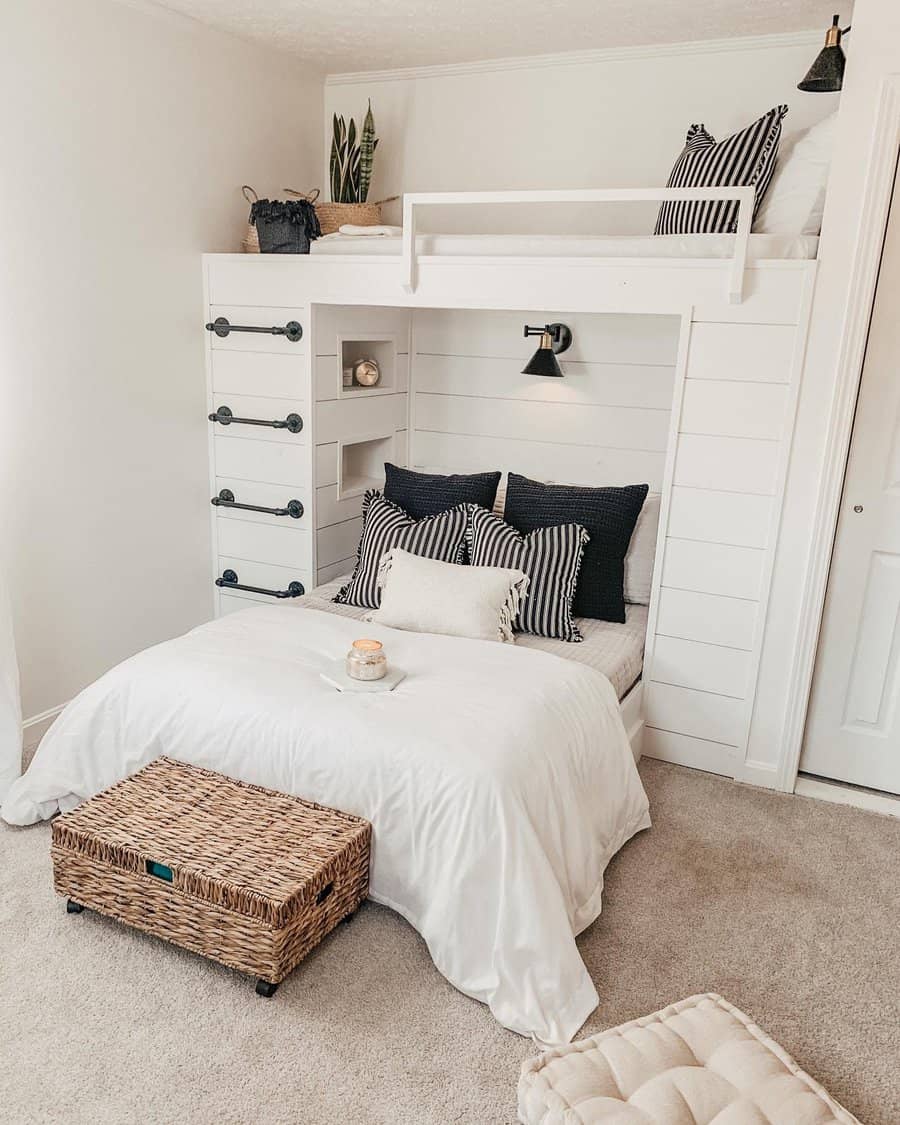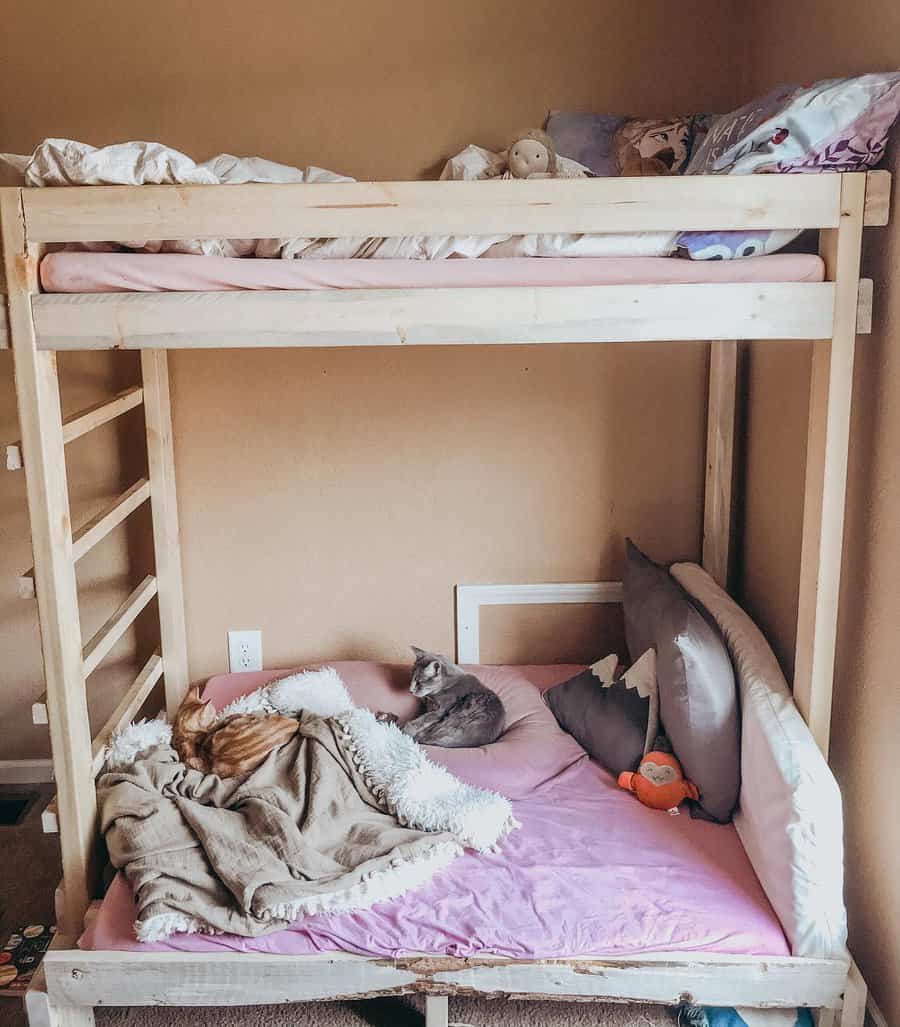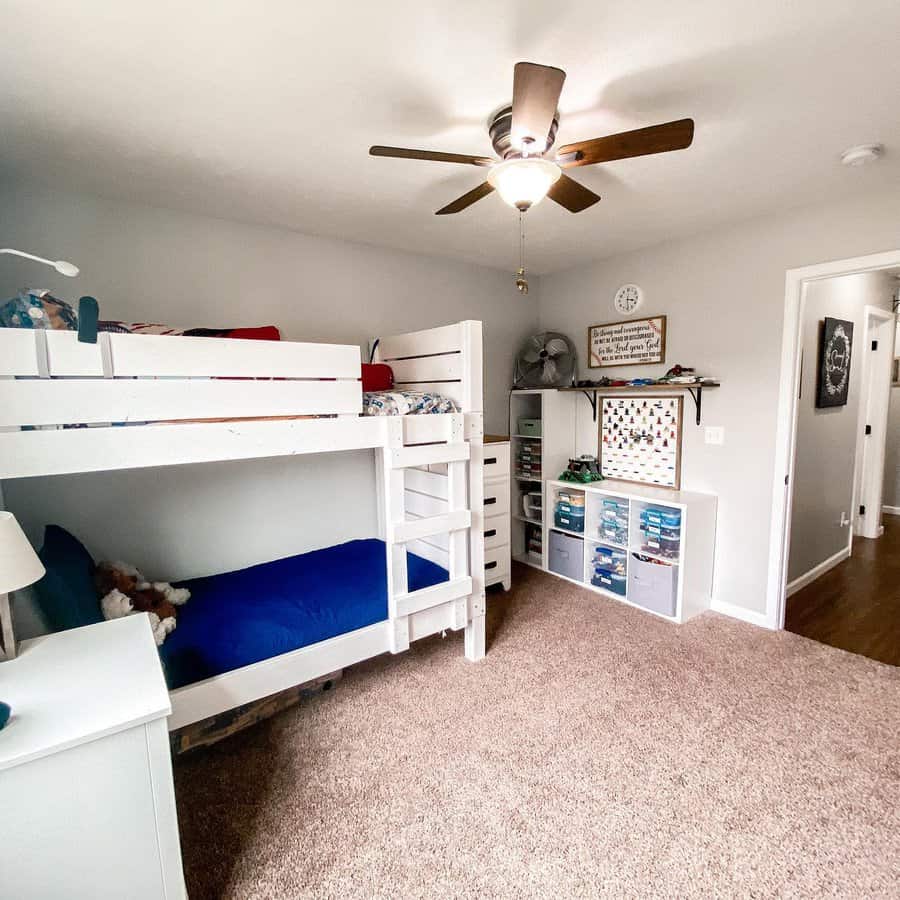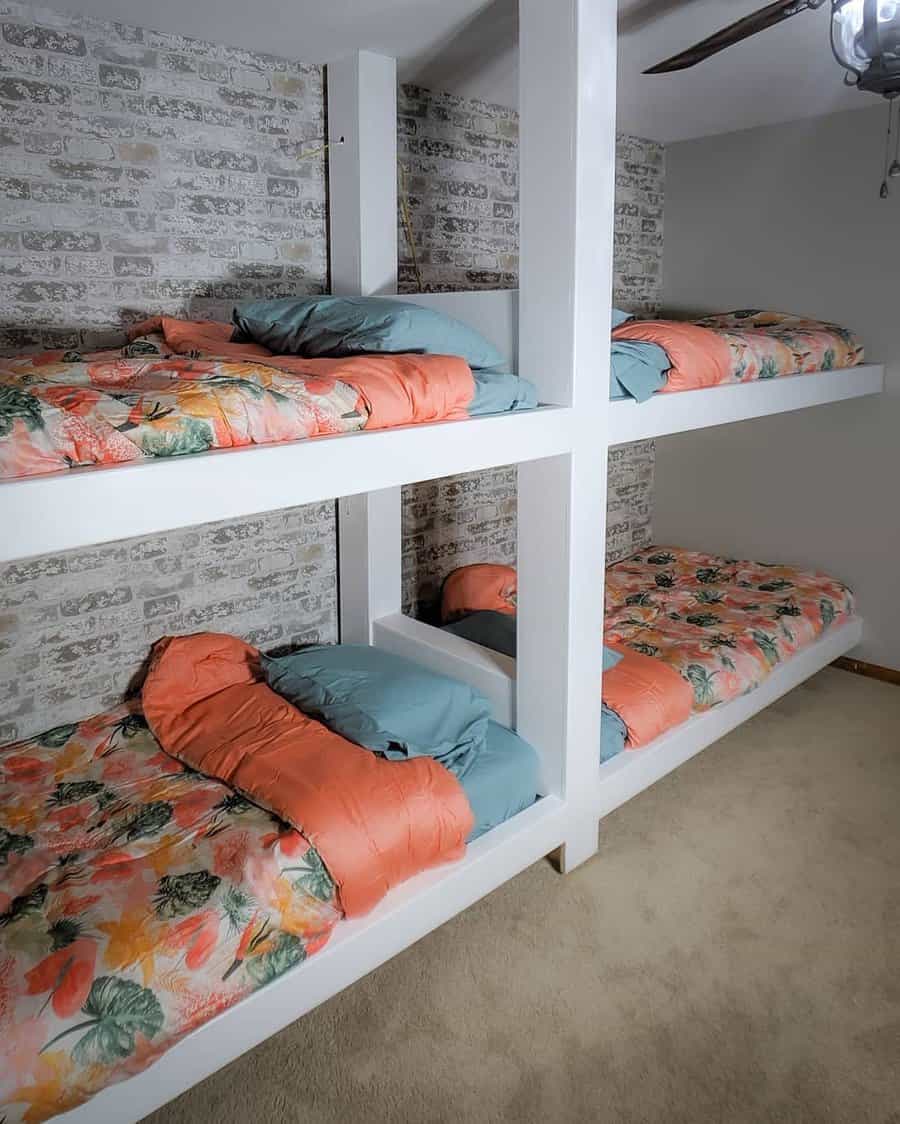 Here is one example of a basic DIY bunk bed plan:
If you need to find a loft bed idea instead, there are plenty of DIY options as well.
4. Decor
The decor choices in a room with a bunk or loft bed are basically the same as in any other bedroom. Flex your bunk bed ideas around the preferences of the person who will be spending the most time in the sleeping space.
If it's a kids' room for two or more children, each child can decorate their individual bunk bed as they wish.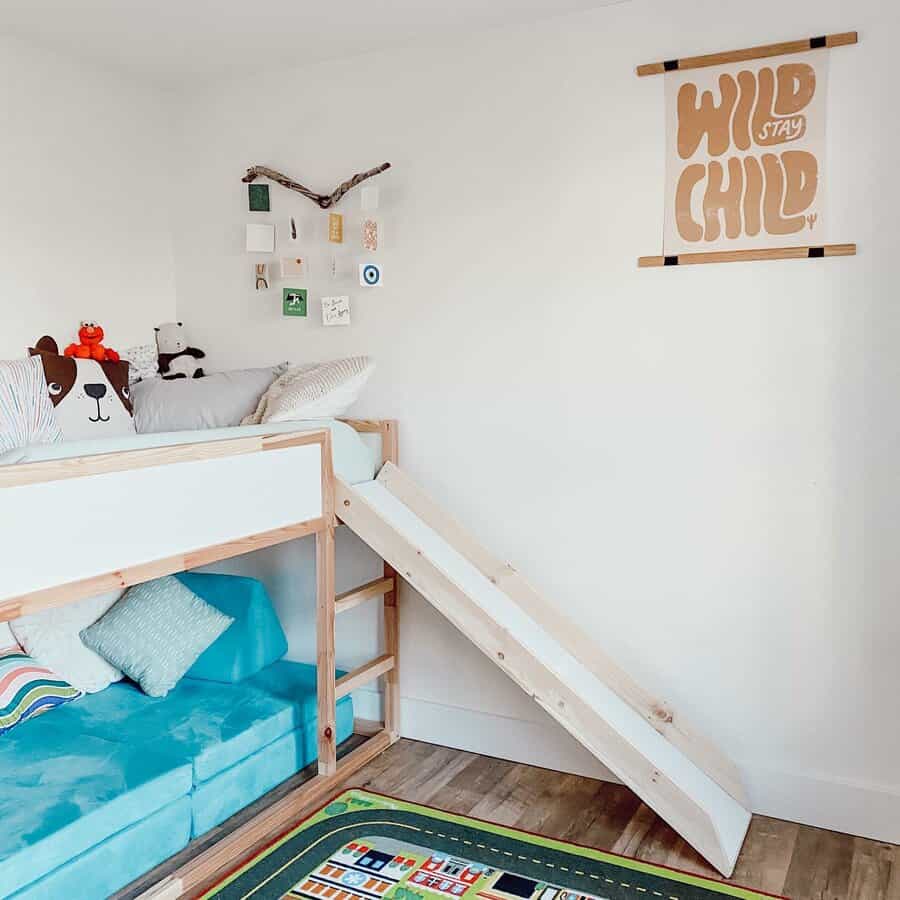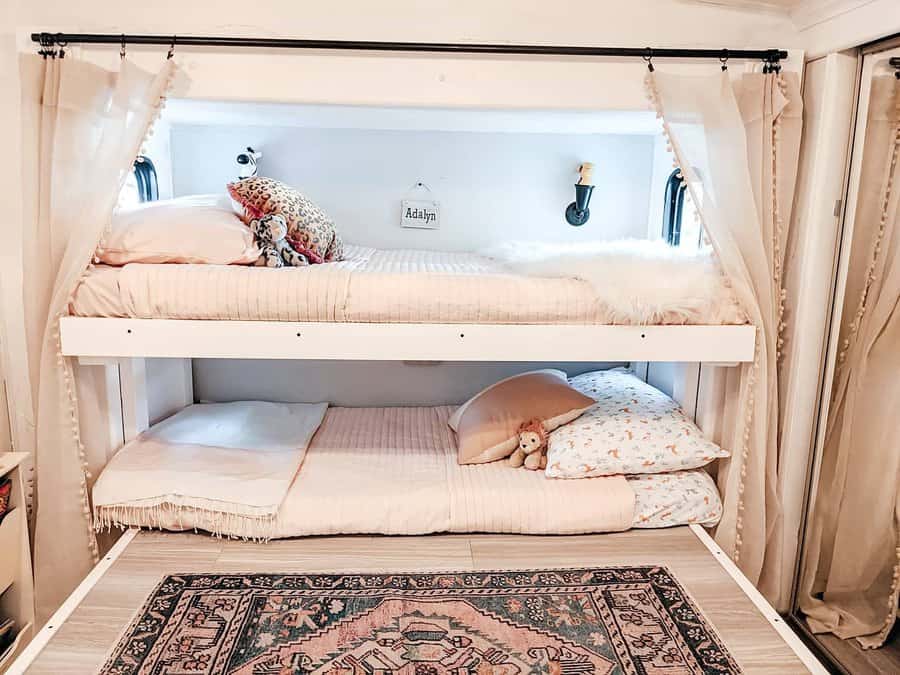 If it's a guest room, choose bunk bed ideas that please your aesthetic preferences. For a soft, feminine feeling, get a simple white bunk bed and pale blush chenille bedding. Accessorize with sheer curtains, floral sheets, and a large oriental rug.
5. Enclosed
An enclosed bunk or loft bed adds a warm, cozy feeling to the bedroom. Enclosing the area around the mattress with curtains affords some privacy to kids or teens sharing a bedroom. In a bunk bedroom for guests, curtains are another welcome enclosure idea.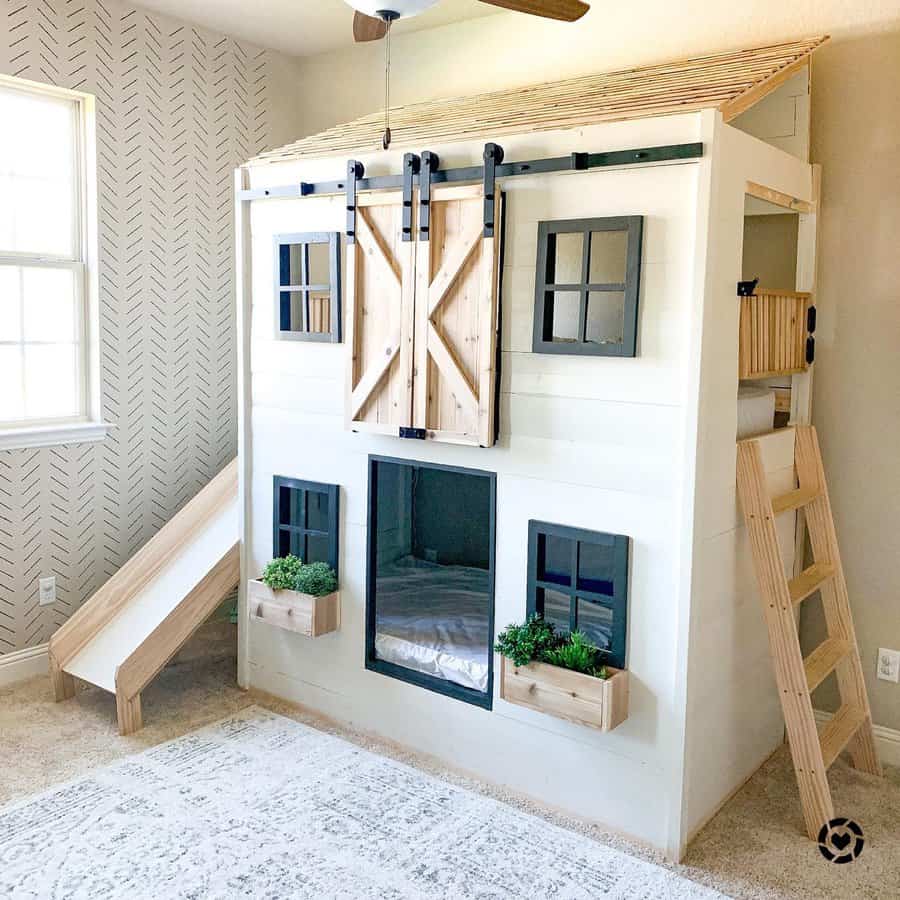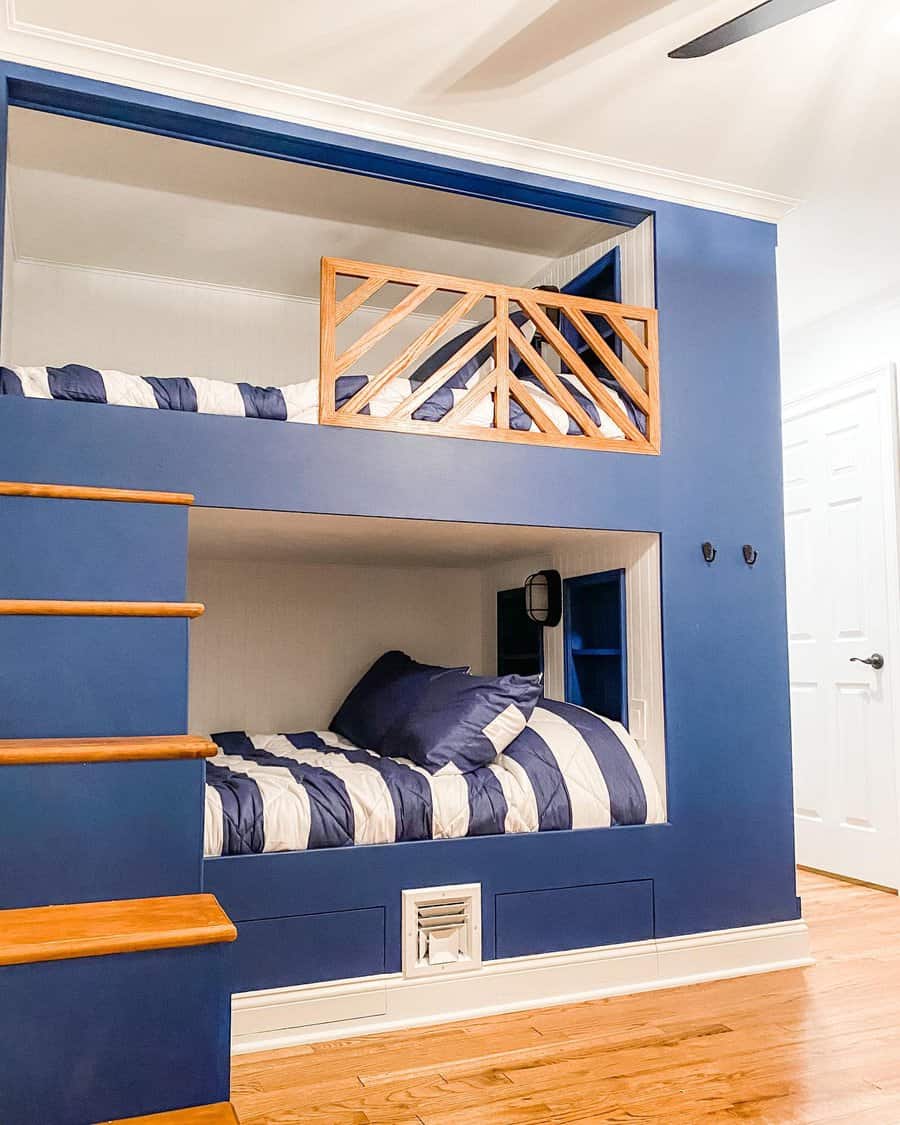 Fun enclosure options include making a loft bed look like a barn or mini cottage. These type of built-in twin bed bunks are more expensive than freestanding furniture, but their solid construction ensures they'll last for years.
6. For Kids
If you were to ask your child to describe their perfect bedroom, chances are really good that you'd hear a cool bunk bed idea or two. Bunk beds are ideal for a children's room where two or more kids share the space.
A bunk bed room allows the kids to reclaim as much floor space as possible in their shared bedroom.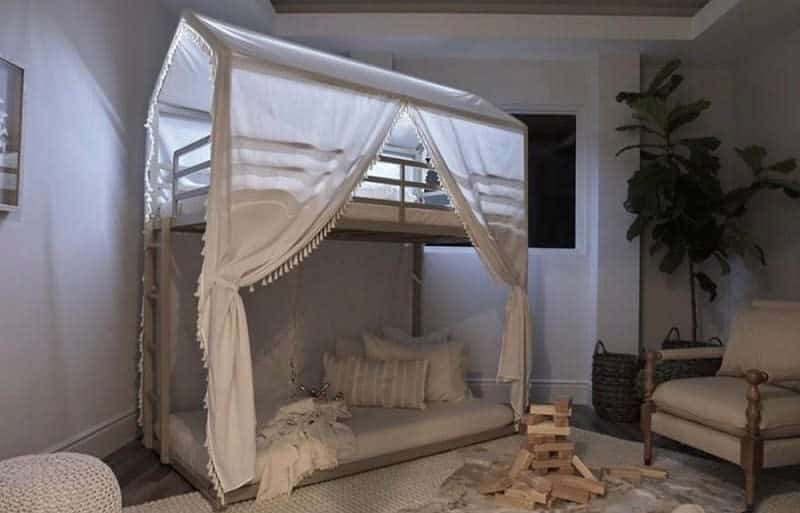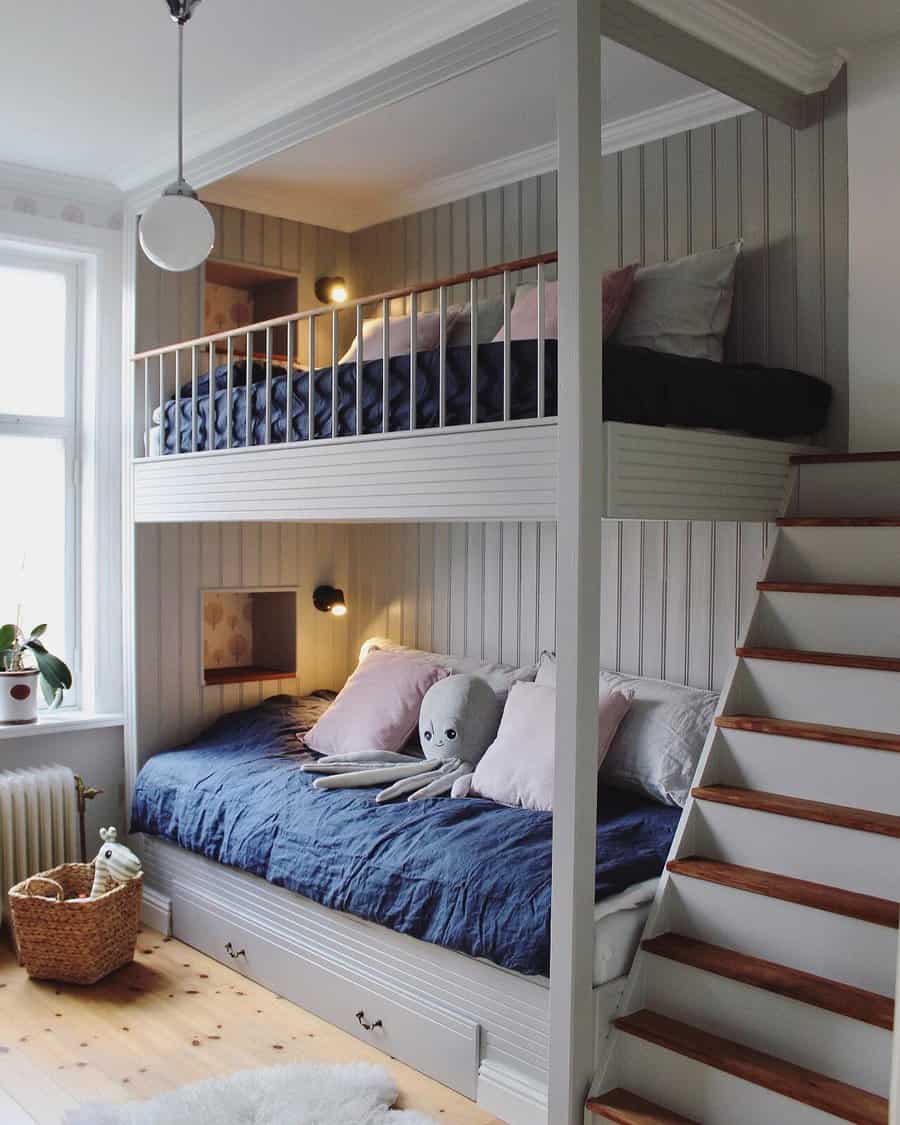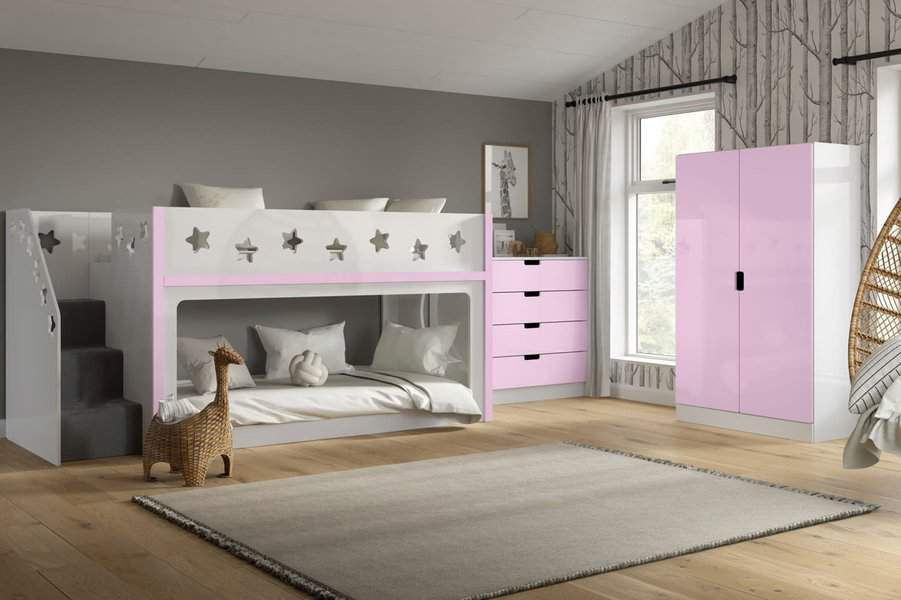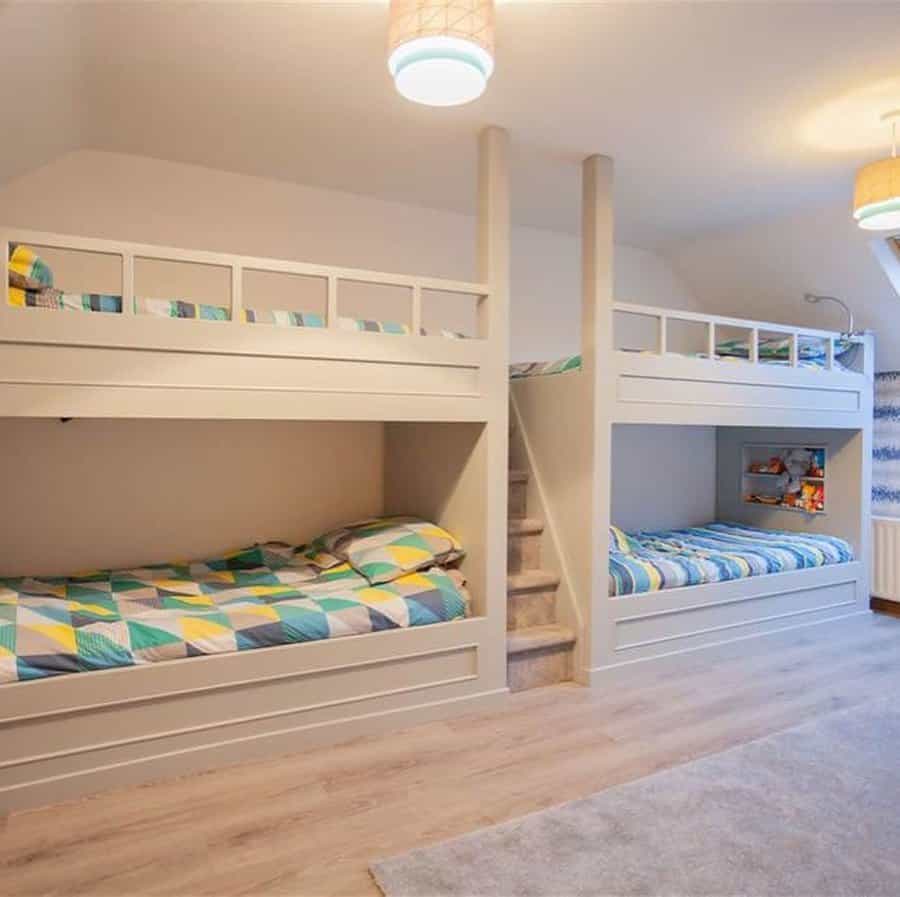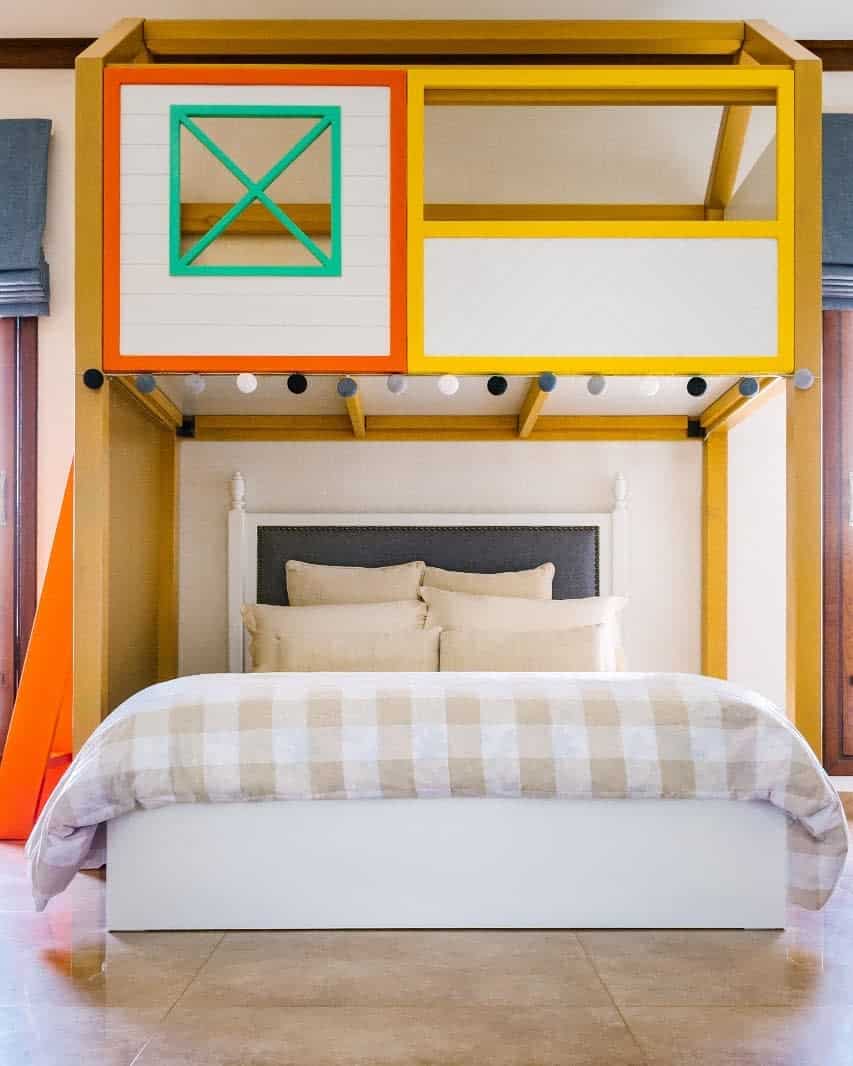 If you've looked for toddler bunk beds, you probably had trouble finding any. Bunk beds pose a safety risk for kids under age 6, so it may be best to choose a trundle bed for your little one and save the twin bunk bed idea for when they're a little older.
See some kids' room decor ideas here.
7. Loft
A loft bed suits the needs of many older kids, even those who don't have a shared sleeping space with a sibling. Ideal for a small room, a loft bunk bed elevates the mattress so that the space beneath can be used for another purpose.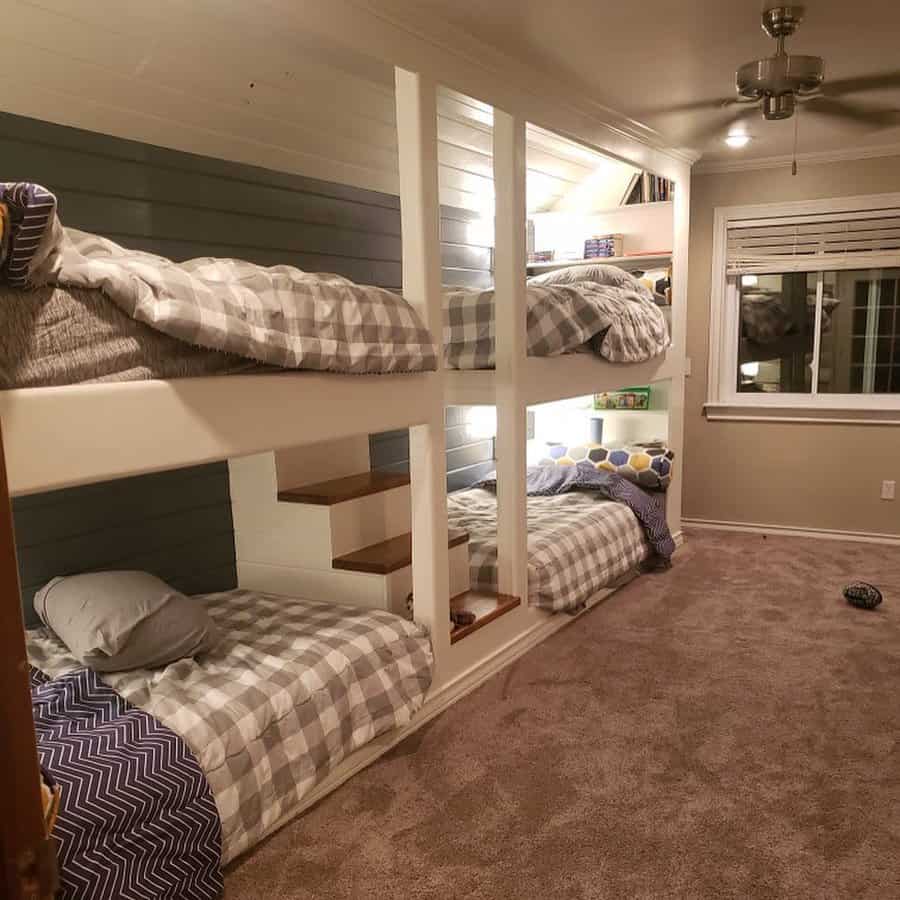 There are dozens of ways to use the space under a loft bed in a kids' bedroom. Add a desk and bookshelves for a cozy homework area, along with an extra chest of drawers for additional storage space.
The open area under a kids loft bed is also great for creating a reading nook or a hidden play fort.
See more loft bed ideas here.
8. Luxury
High-end bunk beds exist that are suitable for luxurious home interiors. Many are custom made, with a staircase leading to the top bunk instead of the usual ladder.
A luxurious kids room might have an elaborate loft bed, with an entire entertainment center beneath and a slide to glide down out of bed each morning.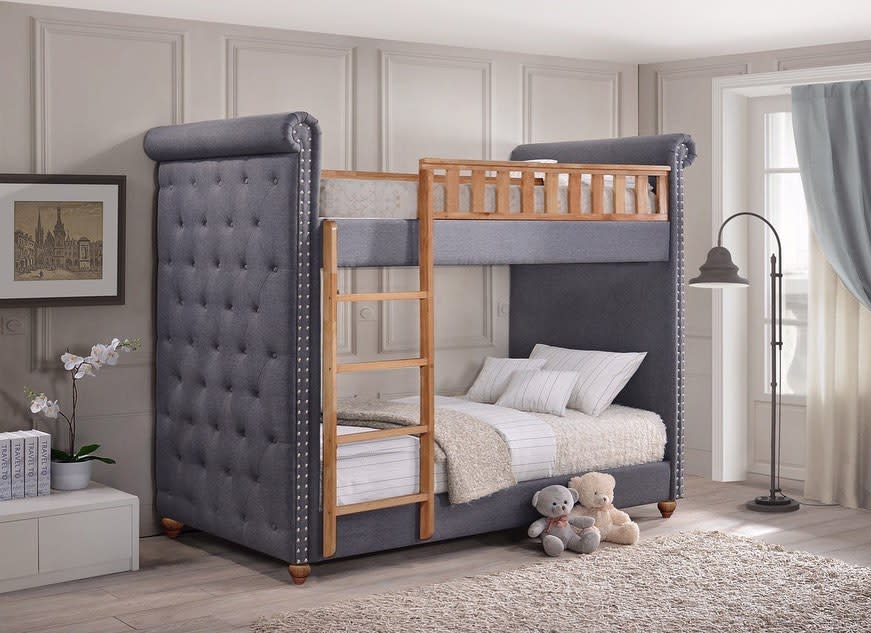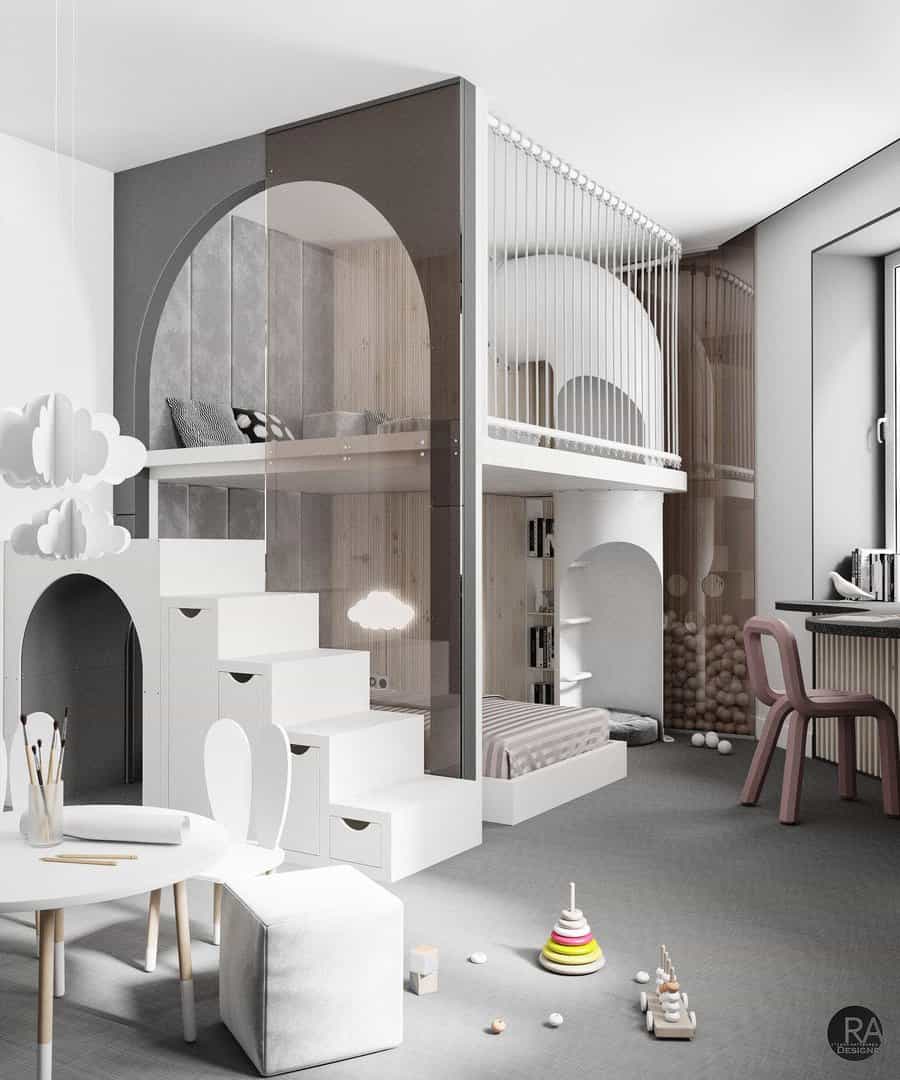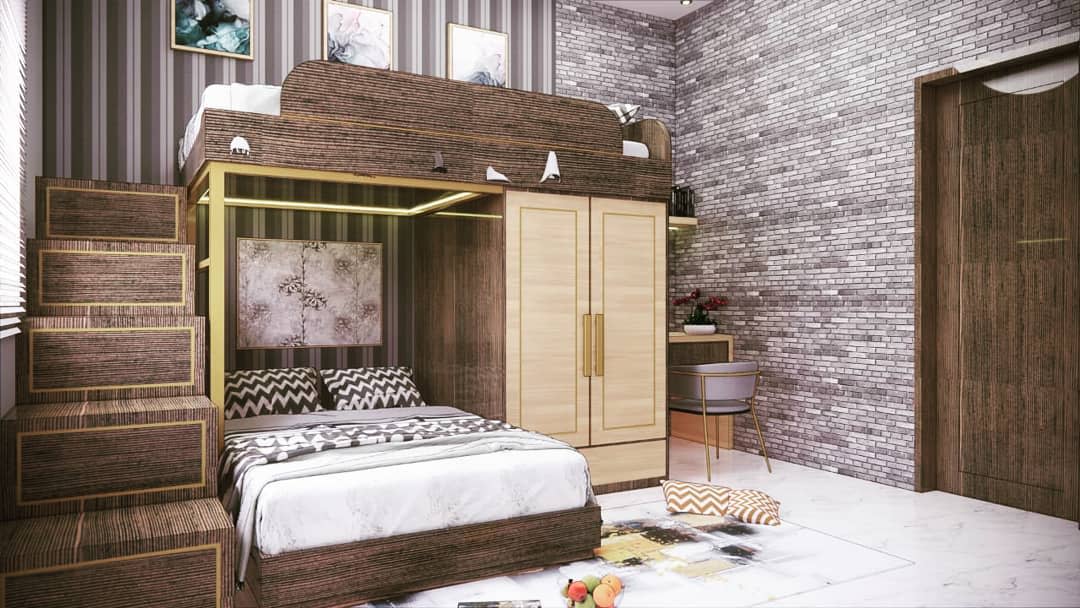 A floating bunk bed also gives off a high-end vibe. This type of twin bed is suspended from the ceiling and anchored to the wall in a corner. Use expensive tropical woods for an elegant finish, and top the bed with silky, high-count bedding.
9. Modern
It's not difficult to find a bunk or loft bed that fits well into modern decor, especially if it's made from metal or black wood. Simple lines and few adornments are best when choosing a loft bed or bunk for a modern home.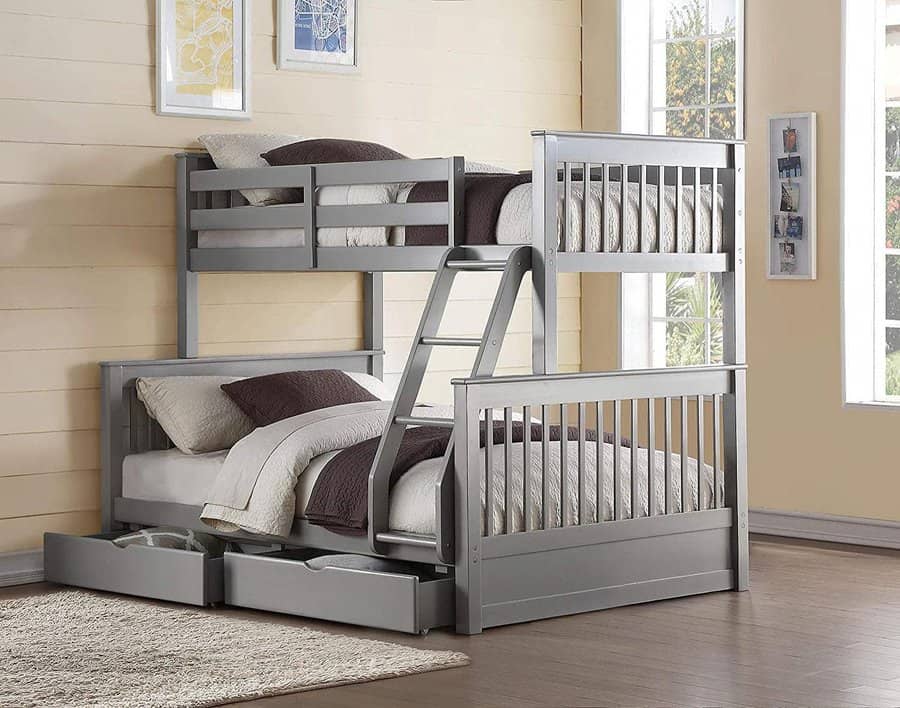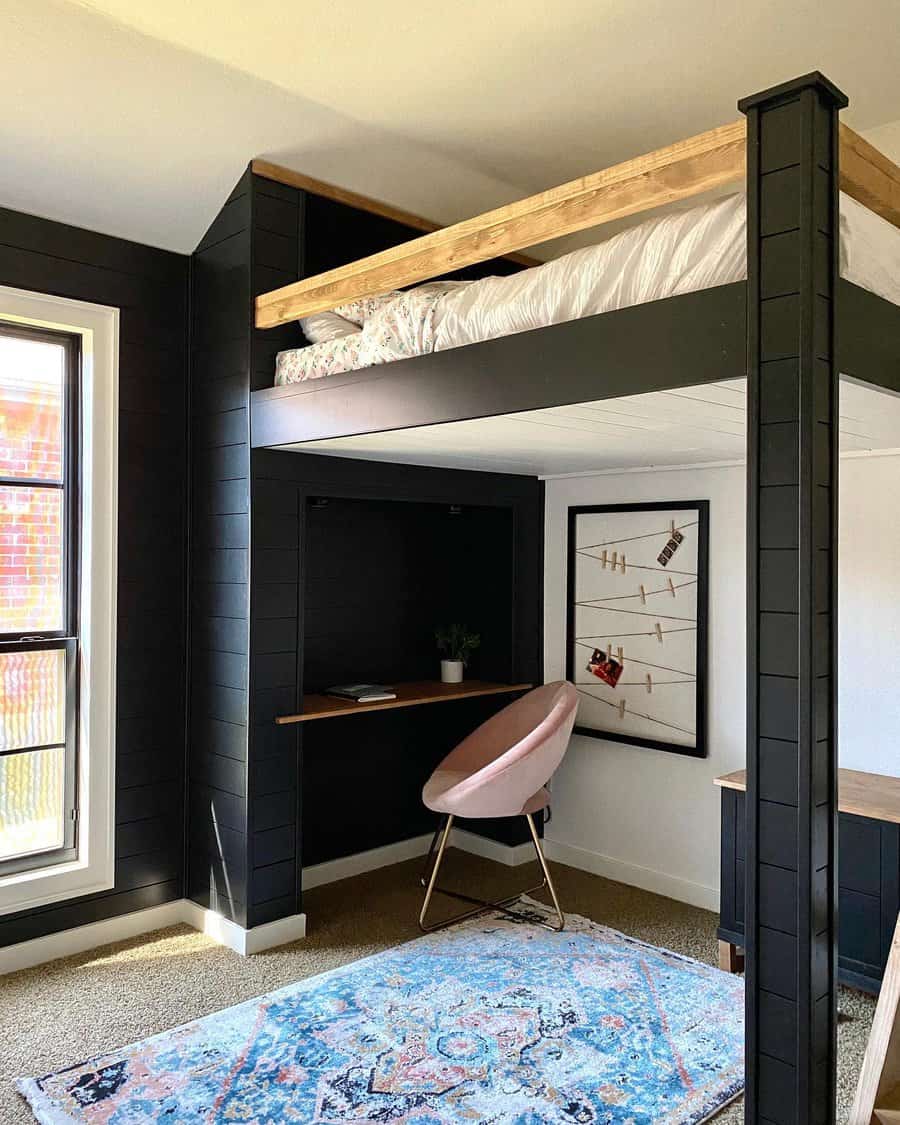 Choose pale wood for modern Scandinavian decor, or sleek silver metal for more contemporary decorating styles. Monochromatic bedding is best on a modern bunk bed. Black, white, and a pop of primary red or yellow is a great modern color scheme to follow.
10. Rustic
Rustic style feels very natural when it comes to bunk bed and loft bed style. After all, think back to bunks you've slept on away at camp or perhaps during military service. Rustic simplicity is a hallmark of classic bunk bed frames.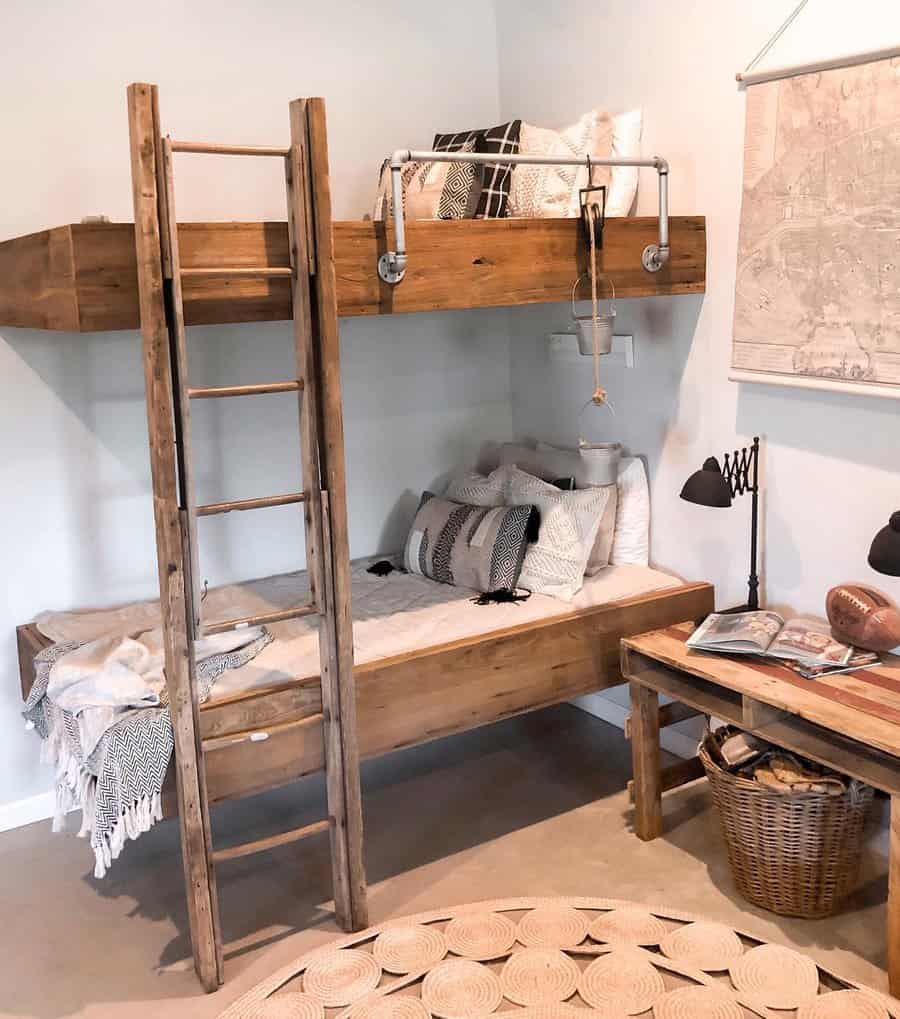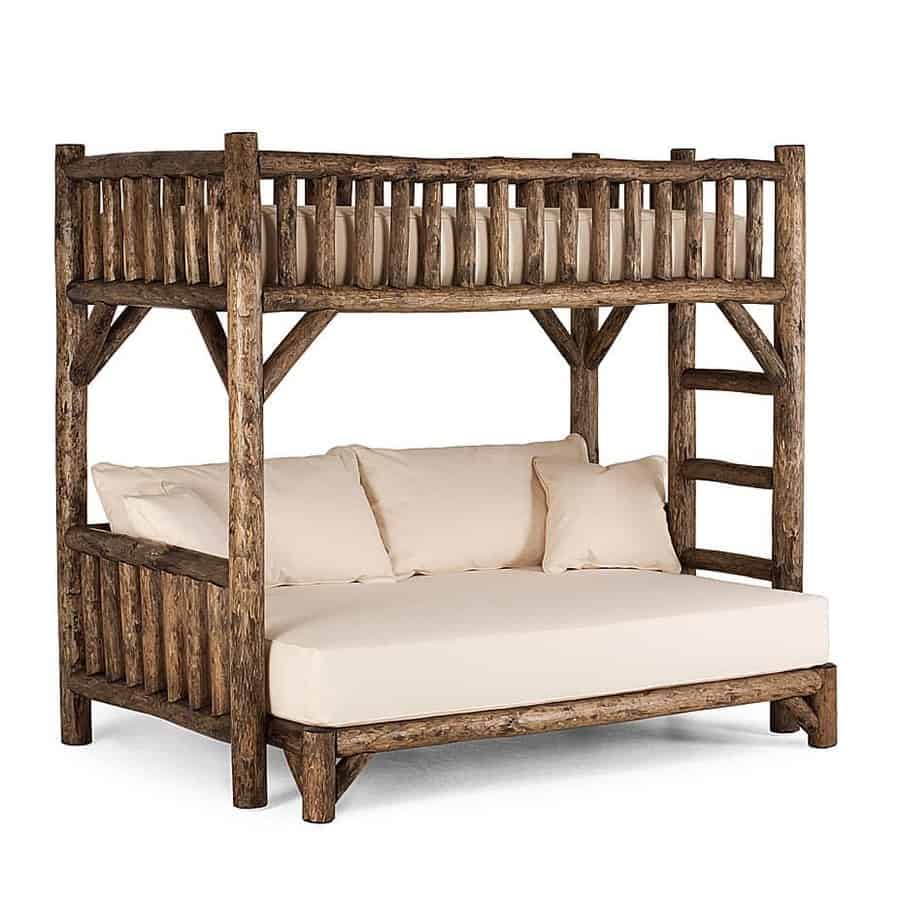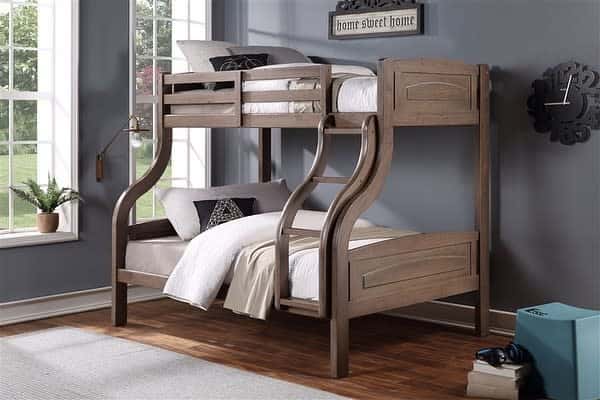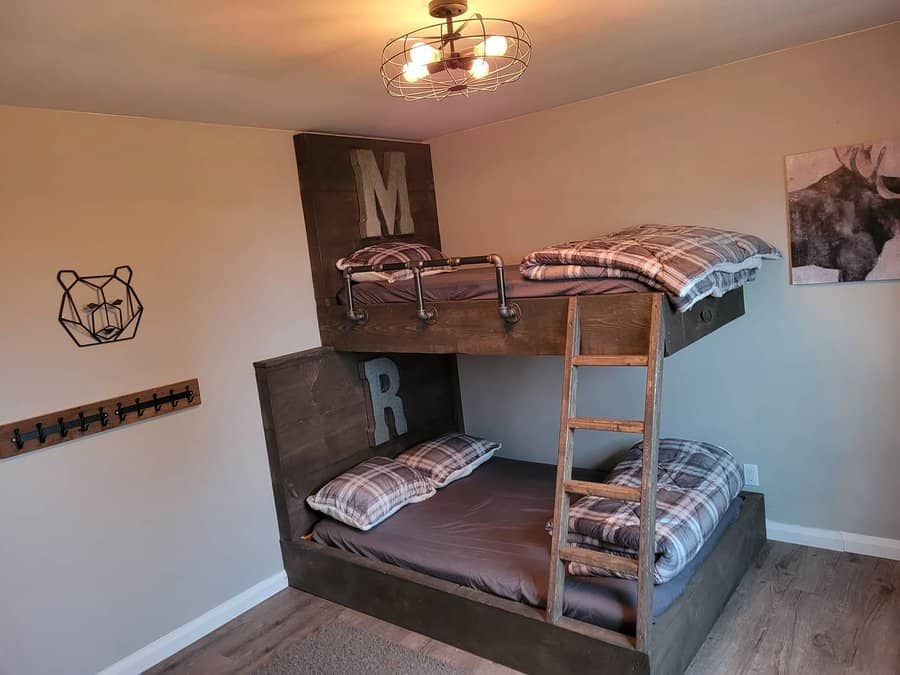 Dark stained woods bring in that rustic bedroom vibe, so use them liberally throughout the room. Merge rustic style with industrial touches such as galvanized metal light fixtures, guard rails made from plumbing pipe, and drawers with wrought iron handles.
11. Space Saving
If two beds are better than one, then a triple bunk bed could be great if you have a large family. Note that unless your ceilings are high, it may not be possible to comfortably stack three sleeping zones in the bedroom.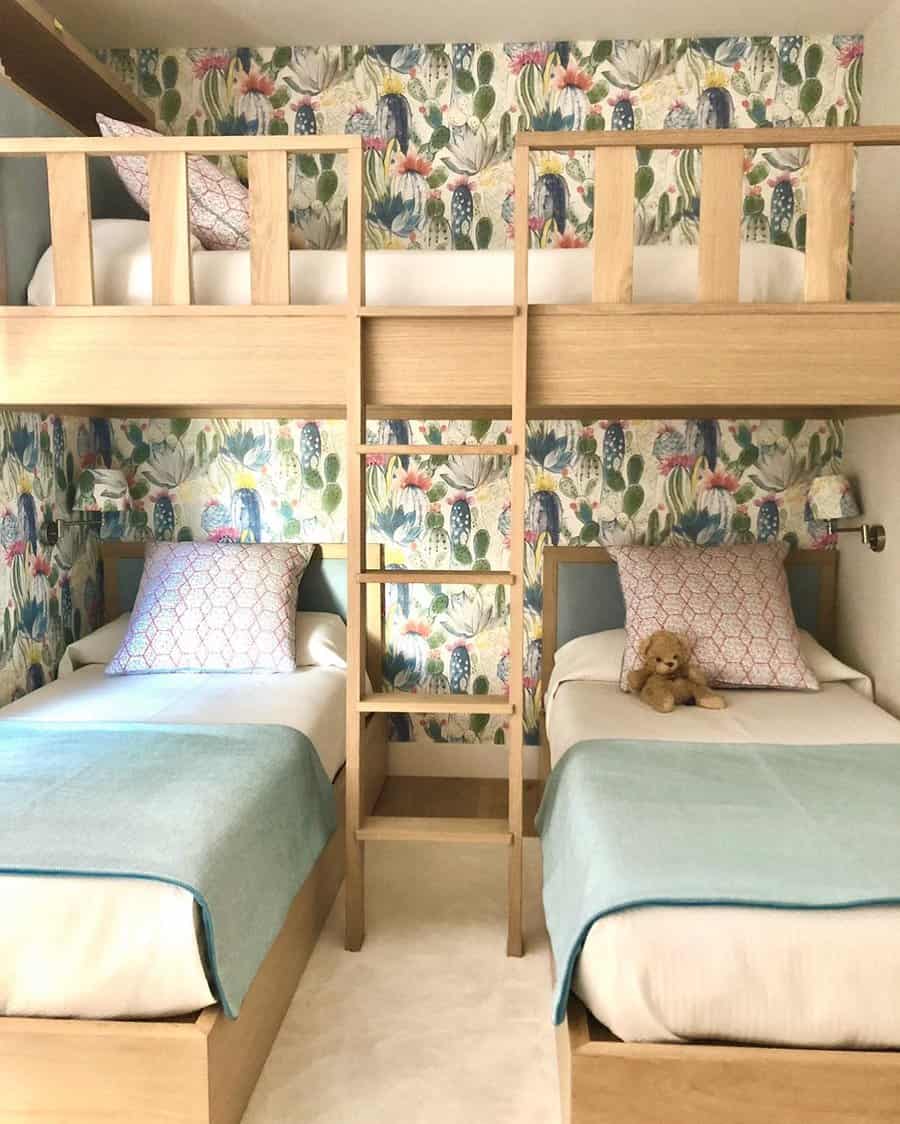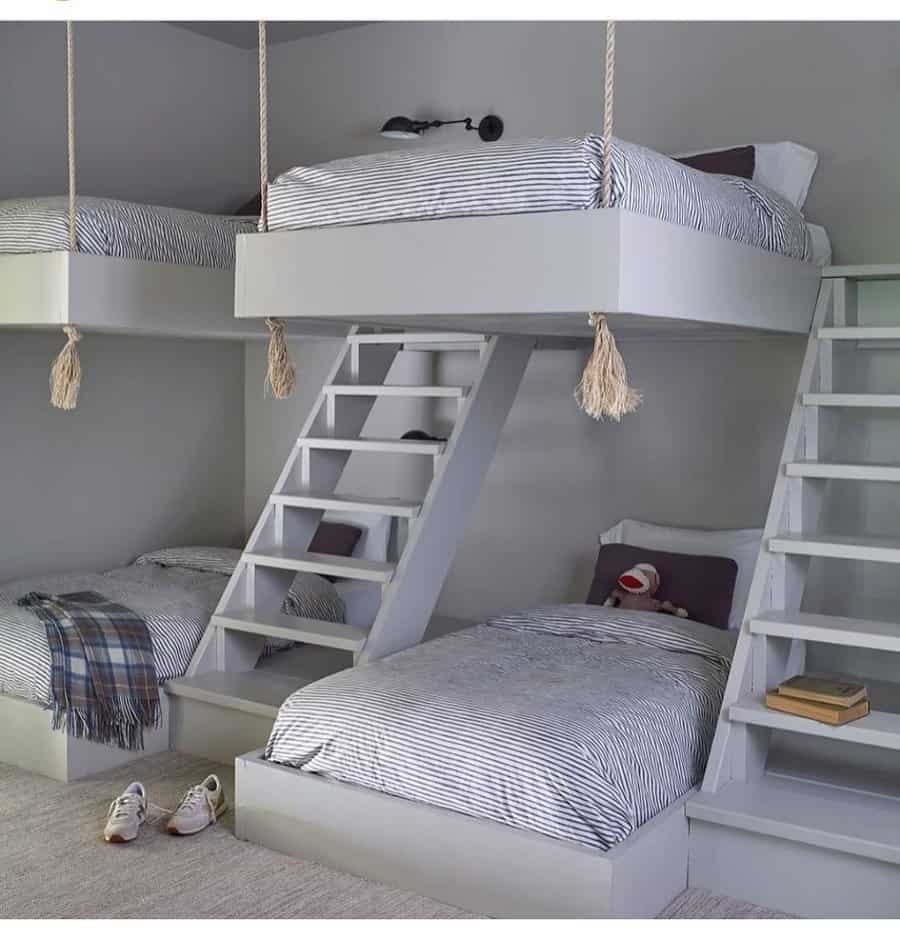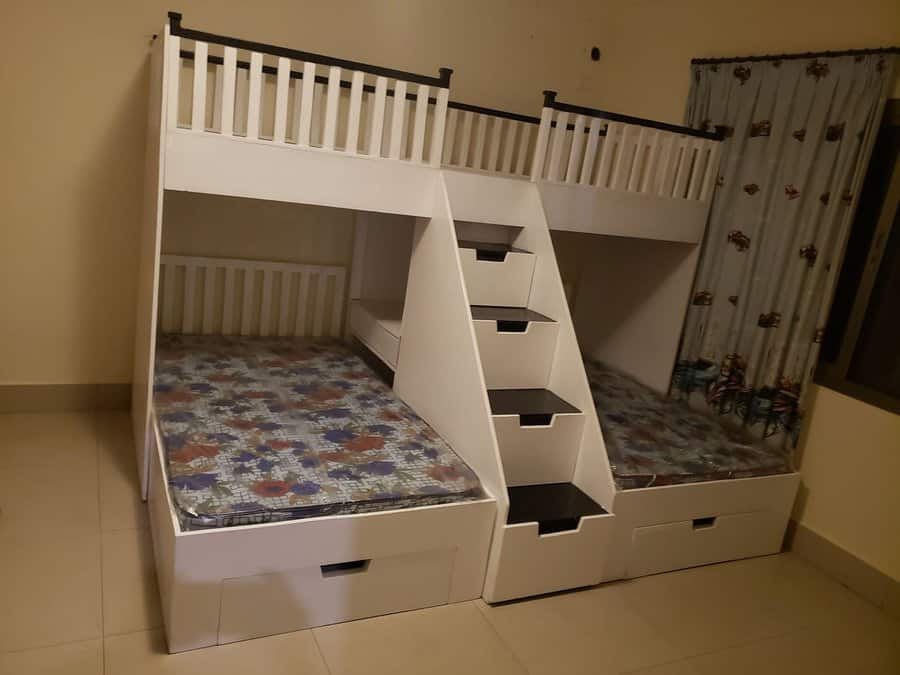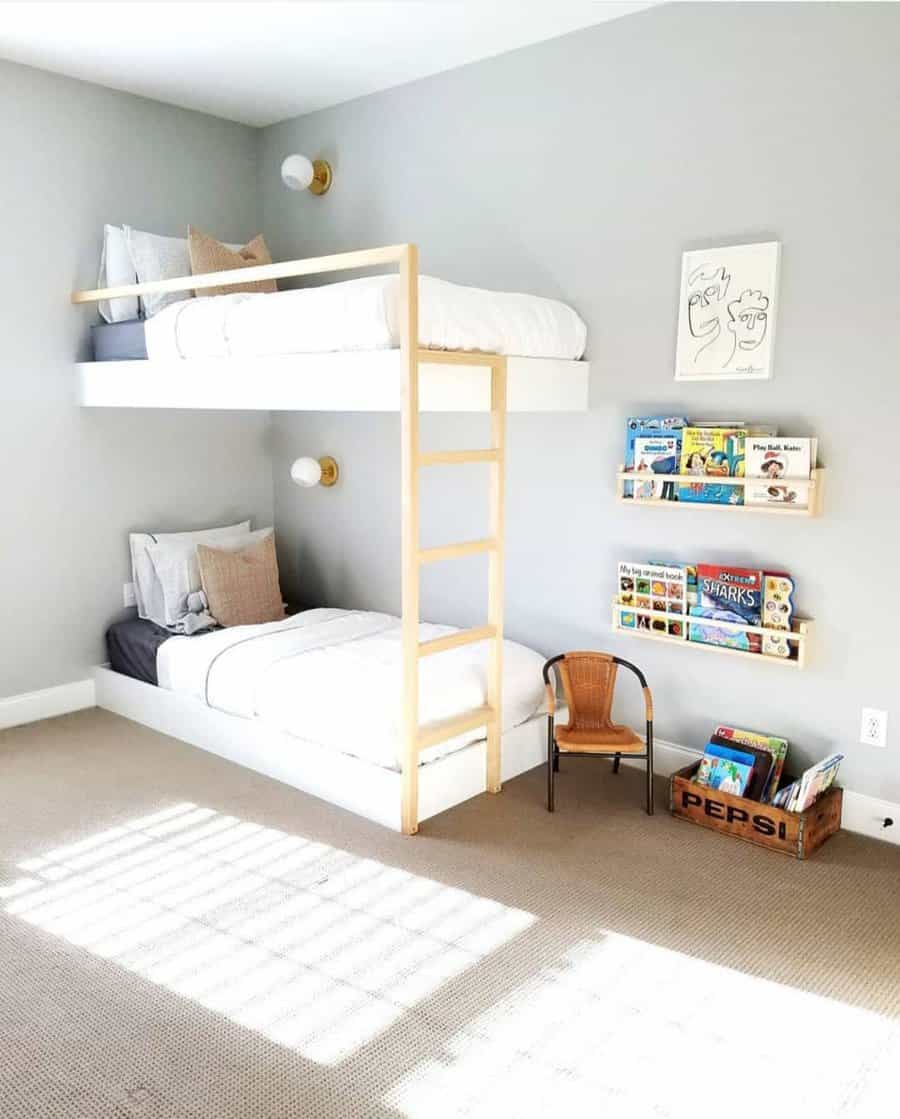 However, you can turn a double bunk bed into a triple bunk by putting a trundle under the lower bunk. It can be pulled out when three people need to occupy the bedroom and slid away when it's no longer needed.
Look for other space saving ideas, such as integrating drawers and shelves into the bunk bed frame.
12. For Teenagers
Bunk and loft beds are popular with teenagers, even if they've never slept on one before. They provide room for a friend to sleep over without taking up the room that a second bed would occupy.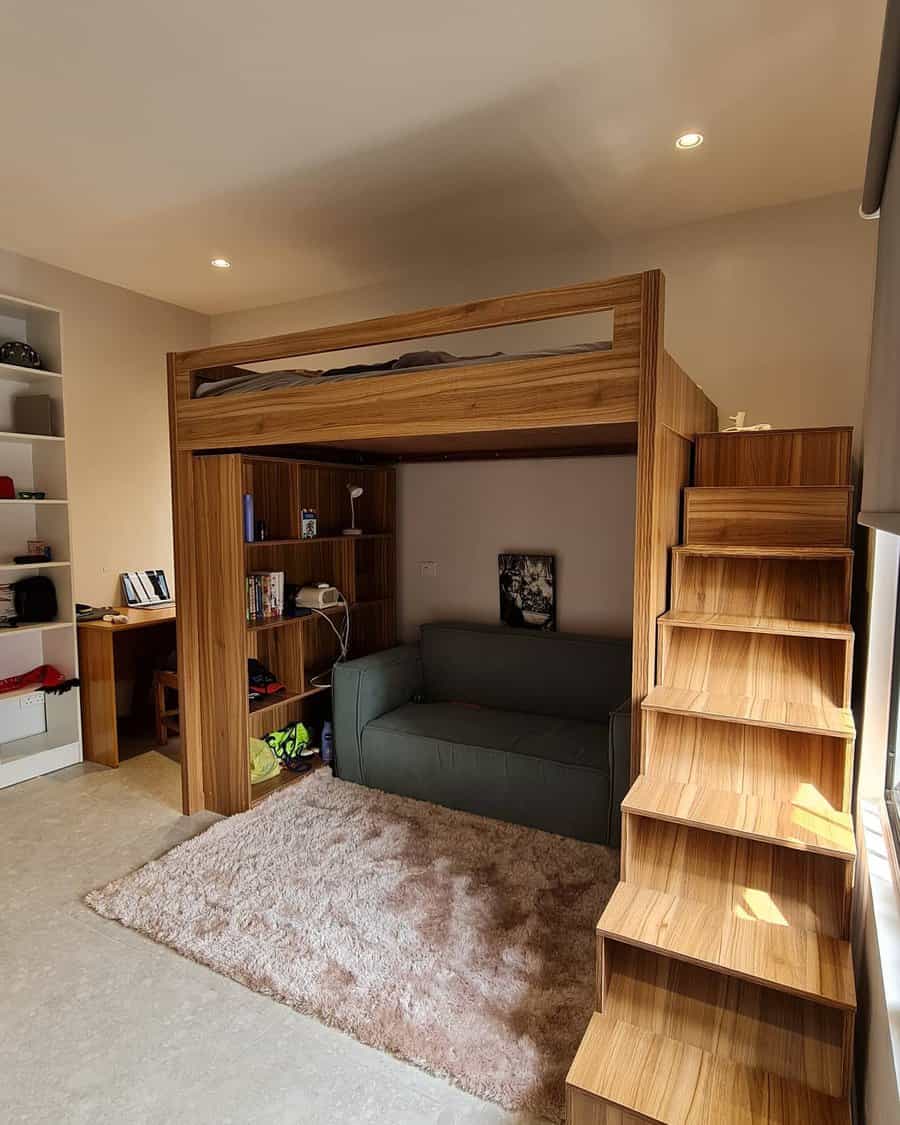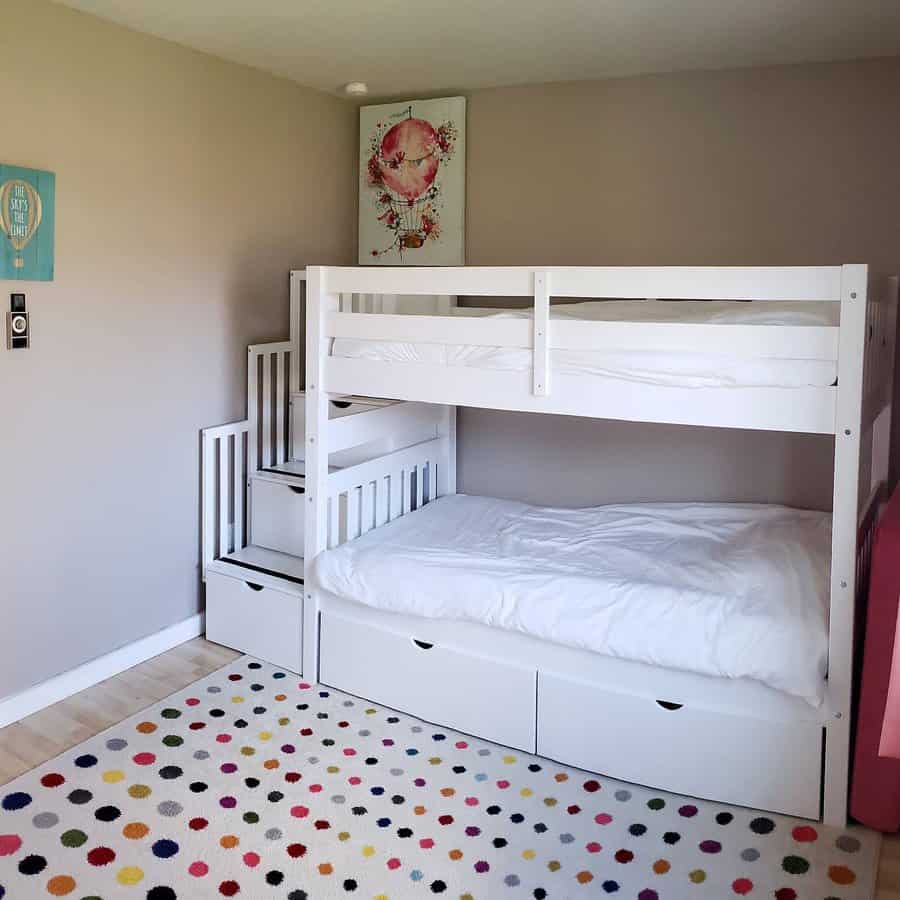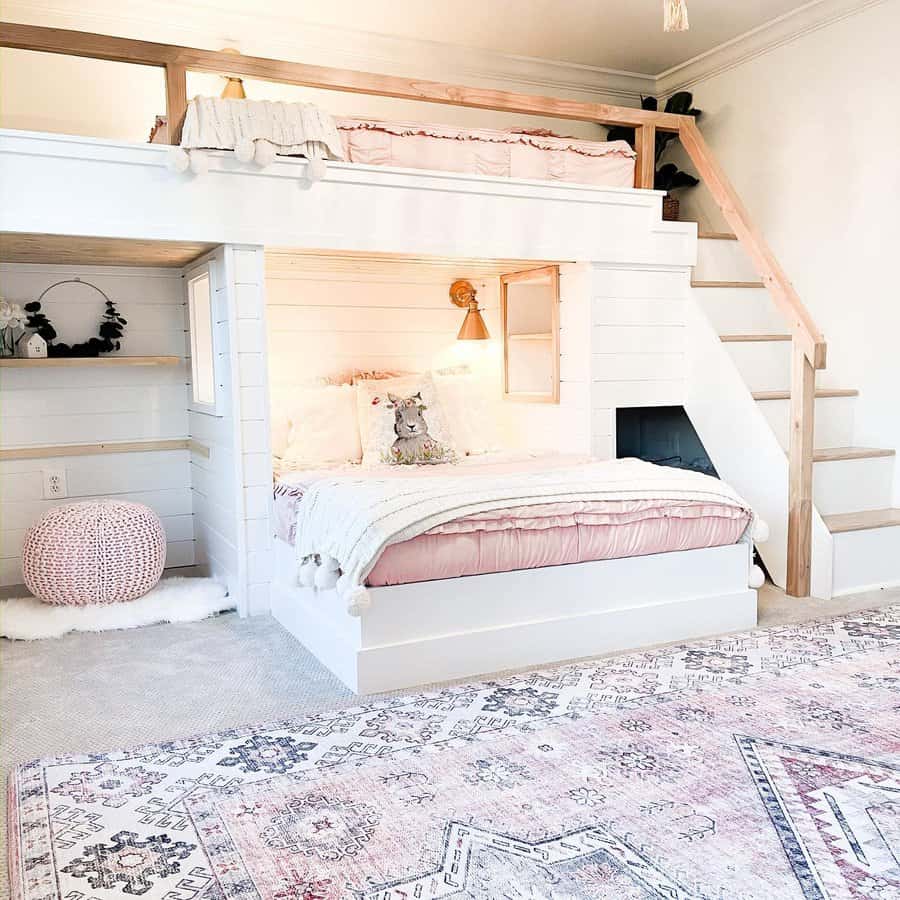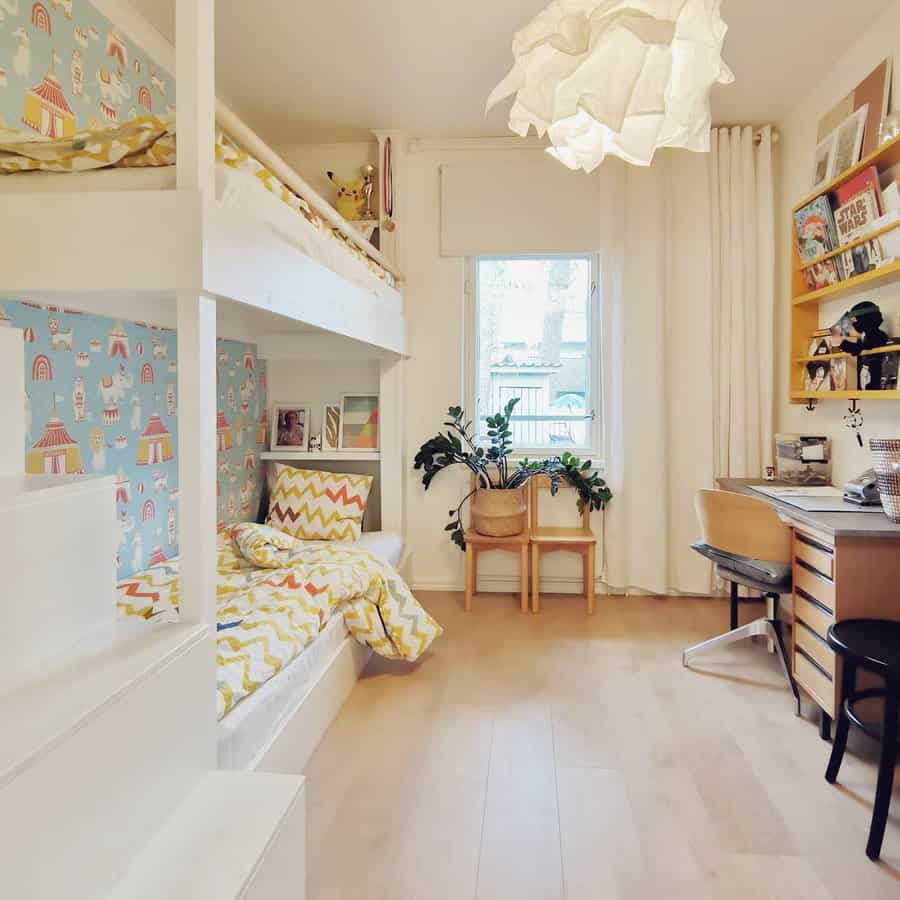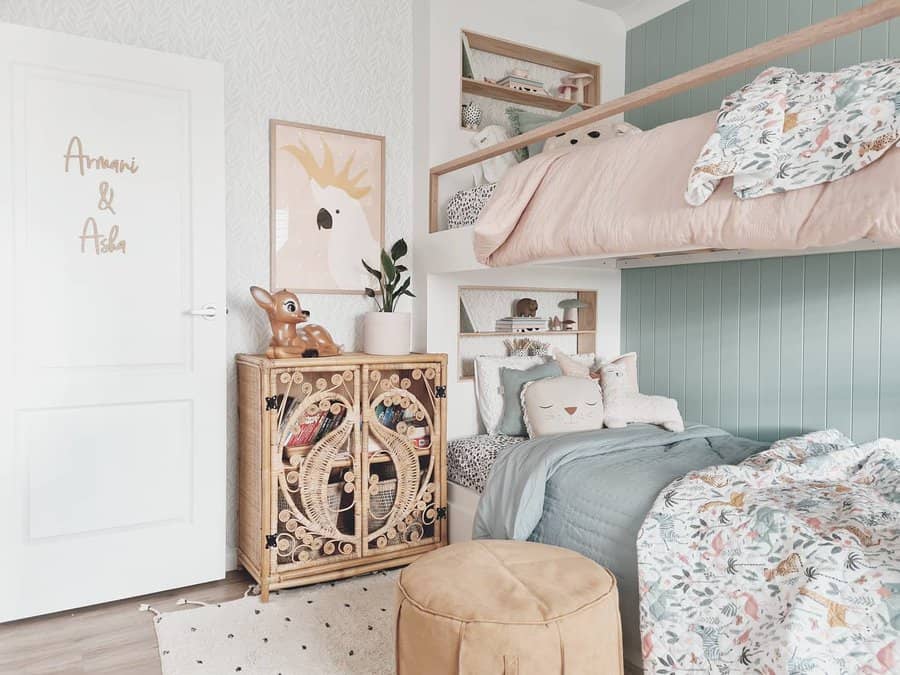 Many teenagers love a futon bunk bed, as it's sofa-like bottom provides a comfortable place to watch TV or play video games during the day. It pulls out into a larger full-size or queen-size mattress, which may be more comfortable for a growing teen than a twin bed.
13. Wall
The wall behind a bunk bed is a great place for a mural, beautiful wallpaper, or even just an accent color.
Cover it in shiplap for a warm, farmhouse feeling. Individualize the art over each bunk bed to showcase the colors and hobbies each child loves best.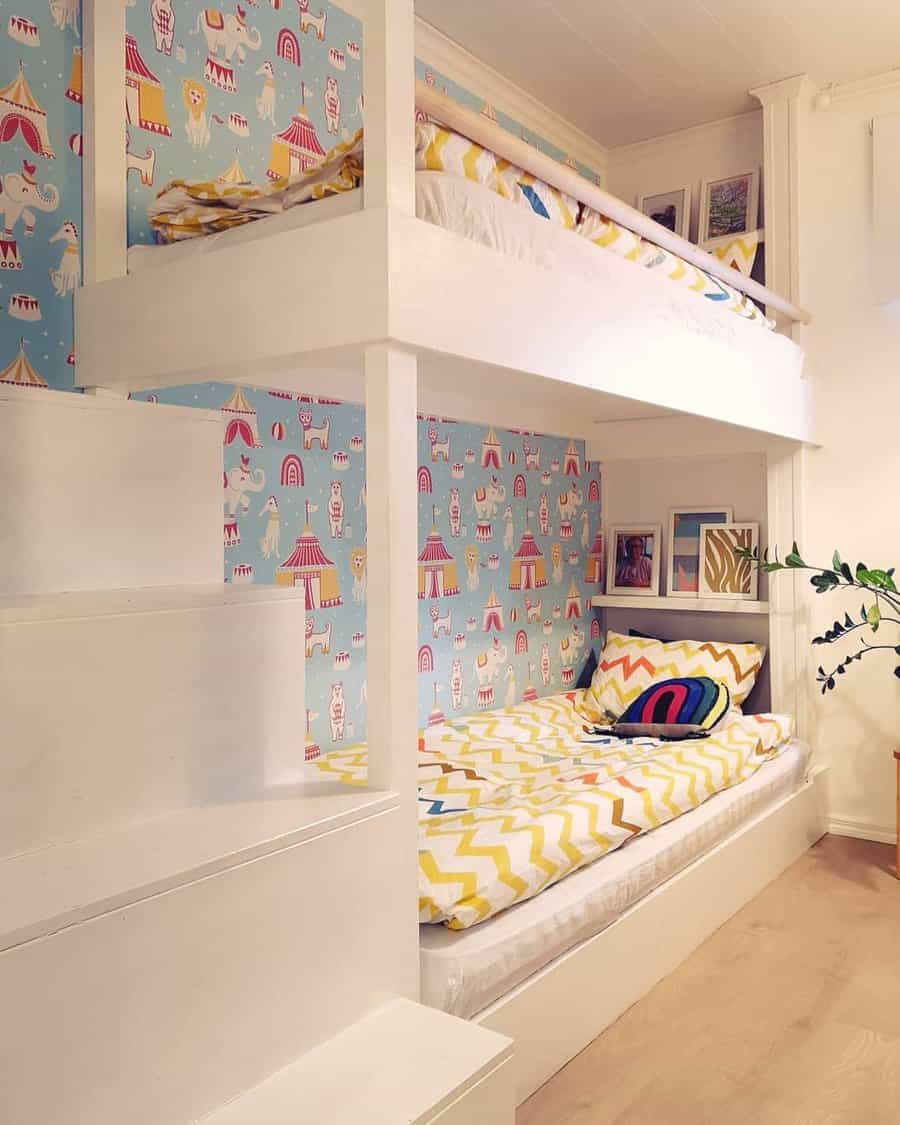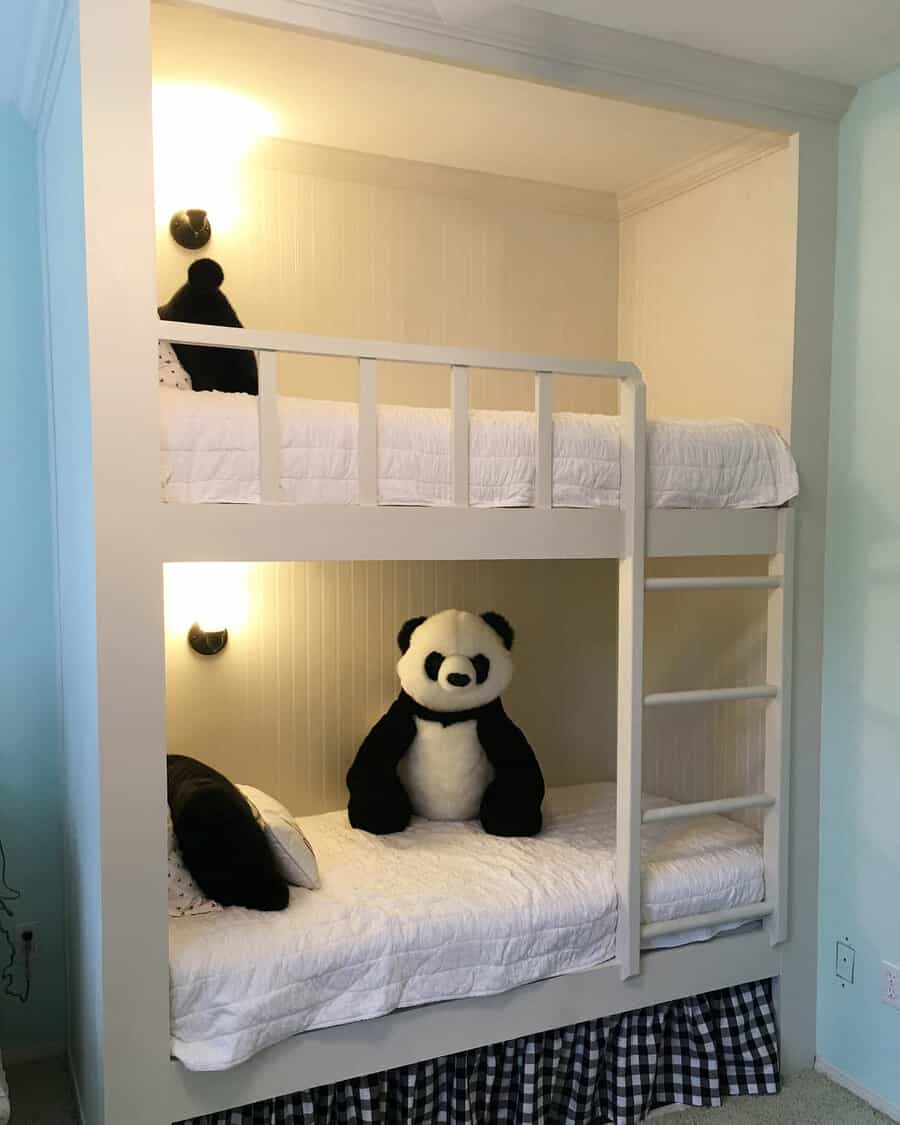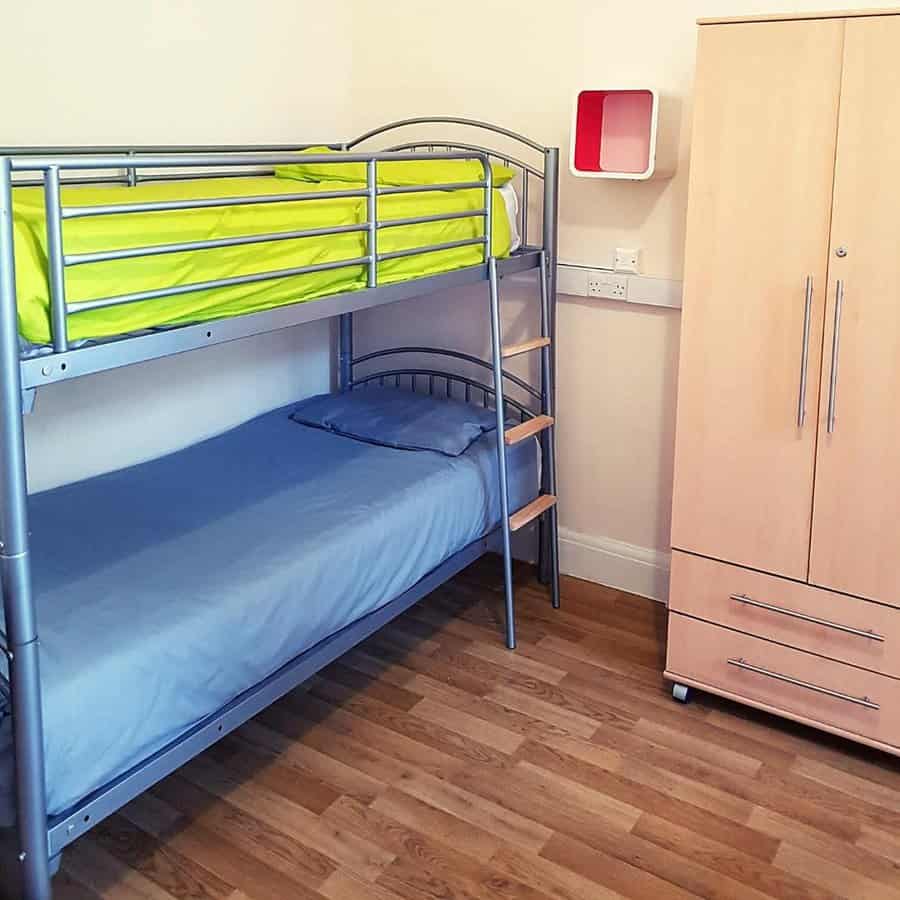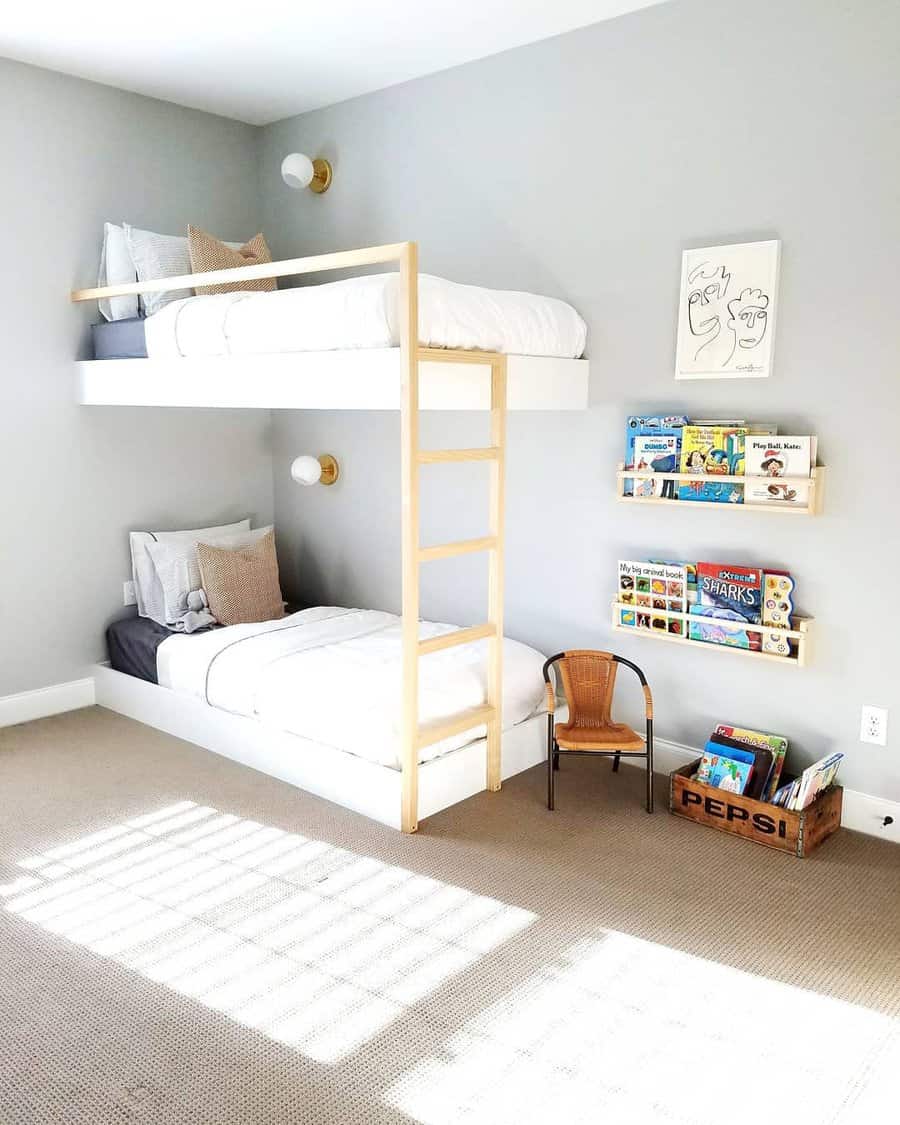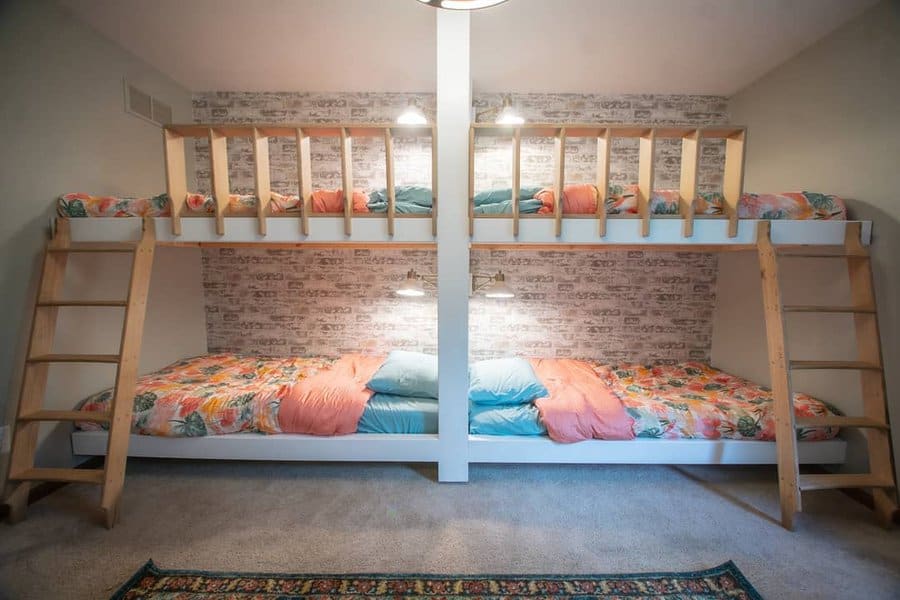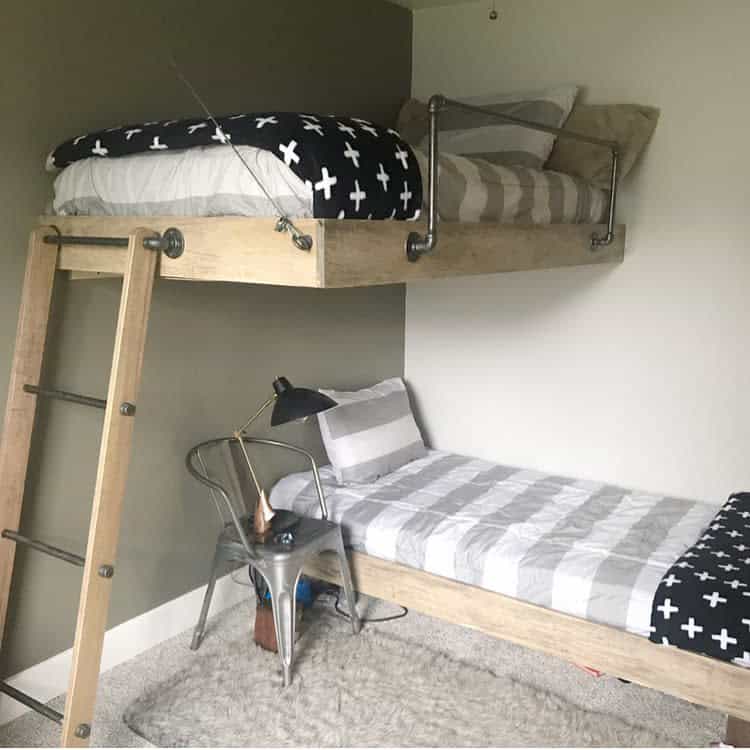 Since most bunk beds rest against one or two walls, it can be hard to reach to change the sheets. Look for special bunk bedding that has elastic or zippered edges to eliminate excessive tucking and straining.
Bunk Bed FAQs
What age is appropriate for bunk beds?
The American Academy of Pediatrics recommends 6 years old as the minimum age to sleep on a bunk bed's top level. Although a younger child could sleep safely on the lower bunk, the temptation to climb and jump from the top may prove too tempting for a preschooler. Therefore, it's best to save bunk beds for school-aged kids and older.
Can adults sleep on a bunk bed?
That depends on the adult's size and the bunk bed's weight capacity. A twin bunk bed frame may not be strong enough—or long enough—to comfortably accommodate a fully grown adult. Check with the manufacturer if you're unsure. If you need bunk beds for a guest room or vacation home, be sure to buy bunks with a generous weight capacity.