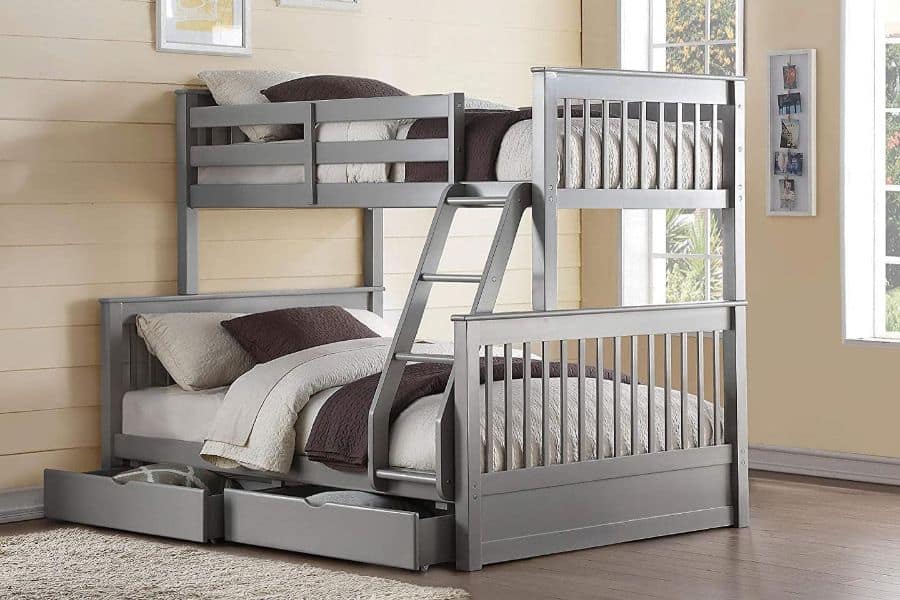 44 Bunk Bed Ideas for Small Rooms
by — Kari Apted

Published on August 4, 2021

Updated on October 10, 2023
"Two beds are better than one." – Unknown
In many bedrooms, two beds are indeed better than one. Enter the common bunk bed, interior design's best sleep space solution when living quarters are tight. You don't have to have a small bedroom to enjoy the benefits of bunk beds, though.
Most commonly seen in military barracks, youth hostels, and dormitories, bunk beds are now a common fixture in kids' rooms and vacation homes.
Scroll through our gallery of bunk bed ideas and see how kitschy cool they are. You'll surely want to add these stacking wonders to one of your bedrooms ASAP.
1. Floating Bunk Beds
Floating bunk beds offer a space-saving solution for small rooms, making them ideal for siblings or shared bedrooms. These beds are not only practical but also stylish when integrated into the wall design.
To achieve this look, consider incorporating floating stairs and personalized colors that match the room's decor. These beds create a cozy nook-like atmosphere, and you can enhance the design with decorative accents. Maximize your small room by embracing this versatile and visually appealing bunk bed option.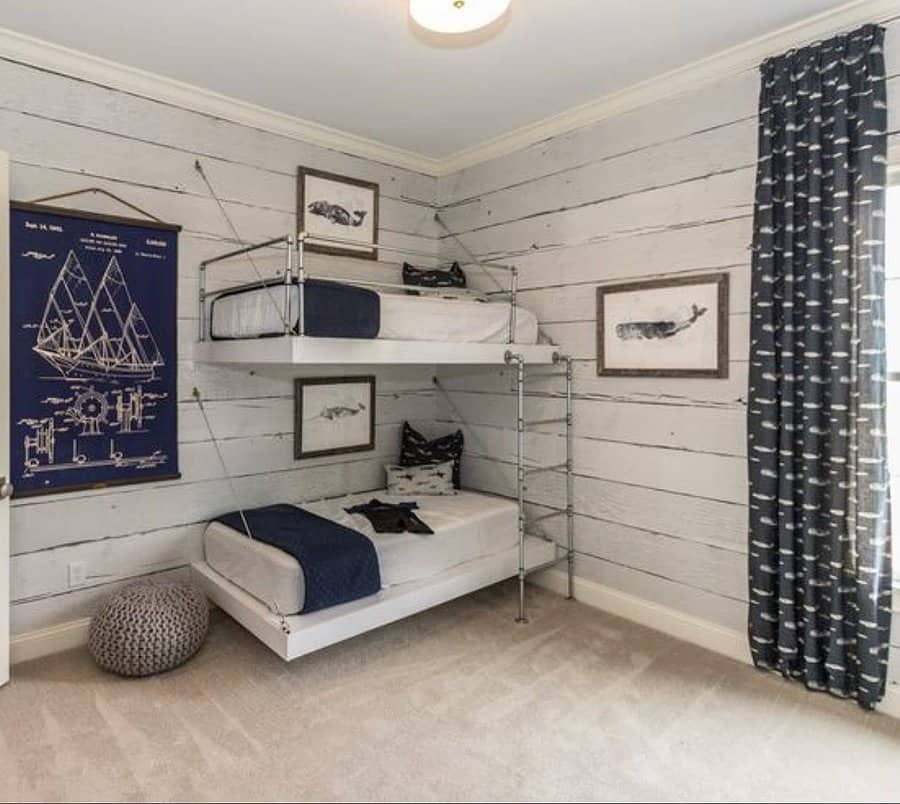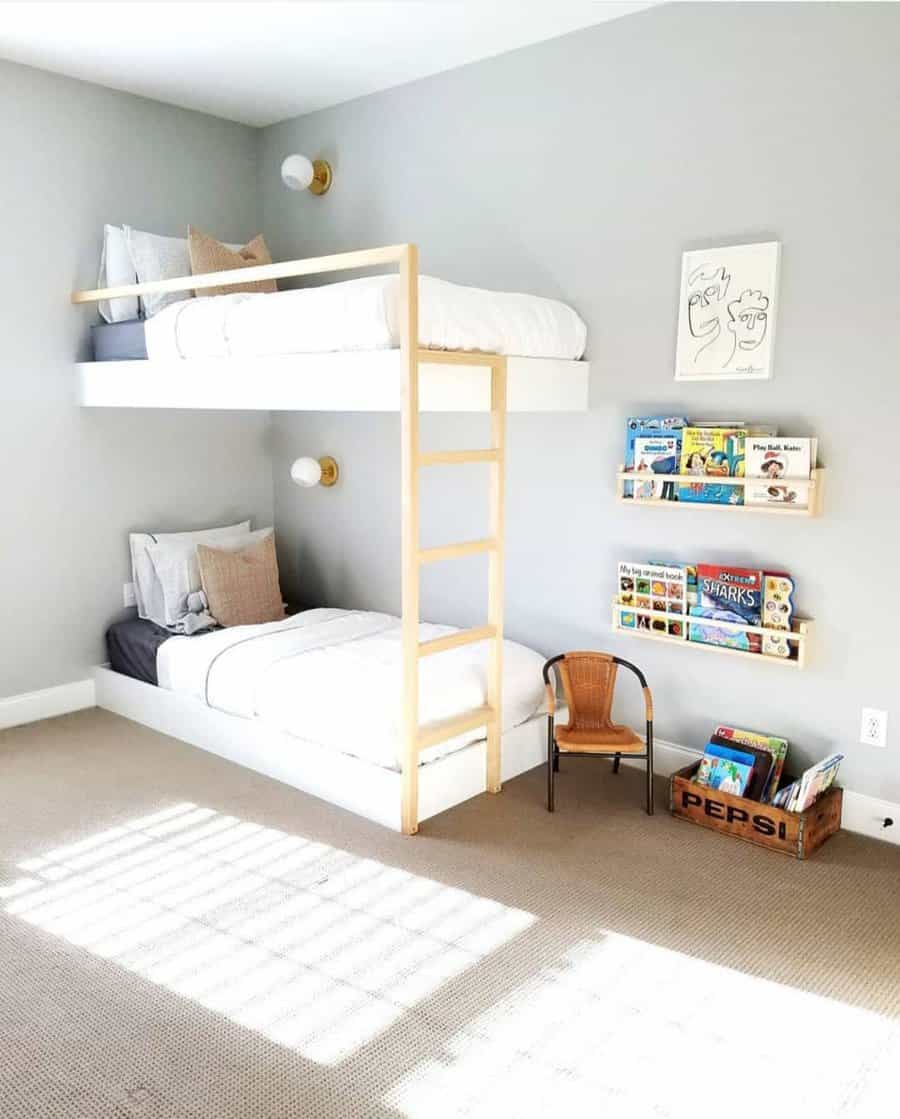 2. Four-Person Bunk Solution
For families or roommates sharing a tight space, a four-person bunk bed offers an efficient and stylish space-saving solution. These bunk beds are designed to comfortably accommodate up to four sleepers while freeing up valuable floor space. By consolidating multiple beds into one, you eliminate the clutter of separate bed frames.
To make the most of this design, coordinate bedding and decor to complement the room's aesthetic, and consider storage options beneath the bunk for added functionality. Maximize space without compromising on comfort or style with this innovative bunk bed solution.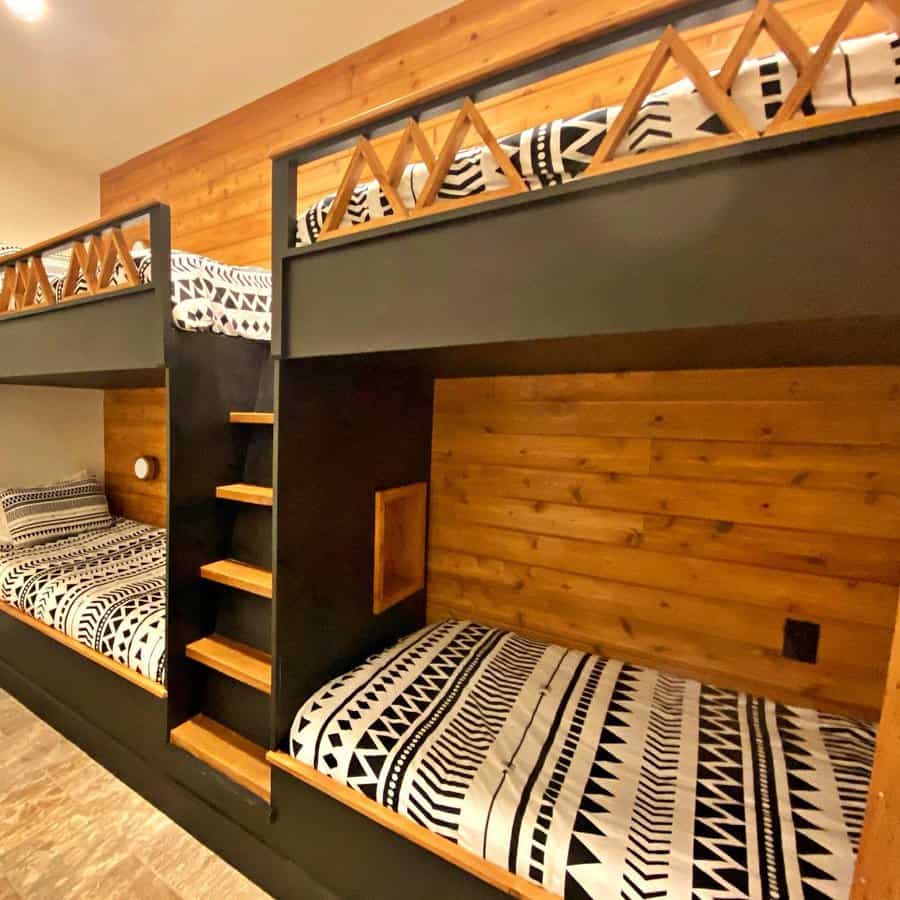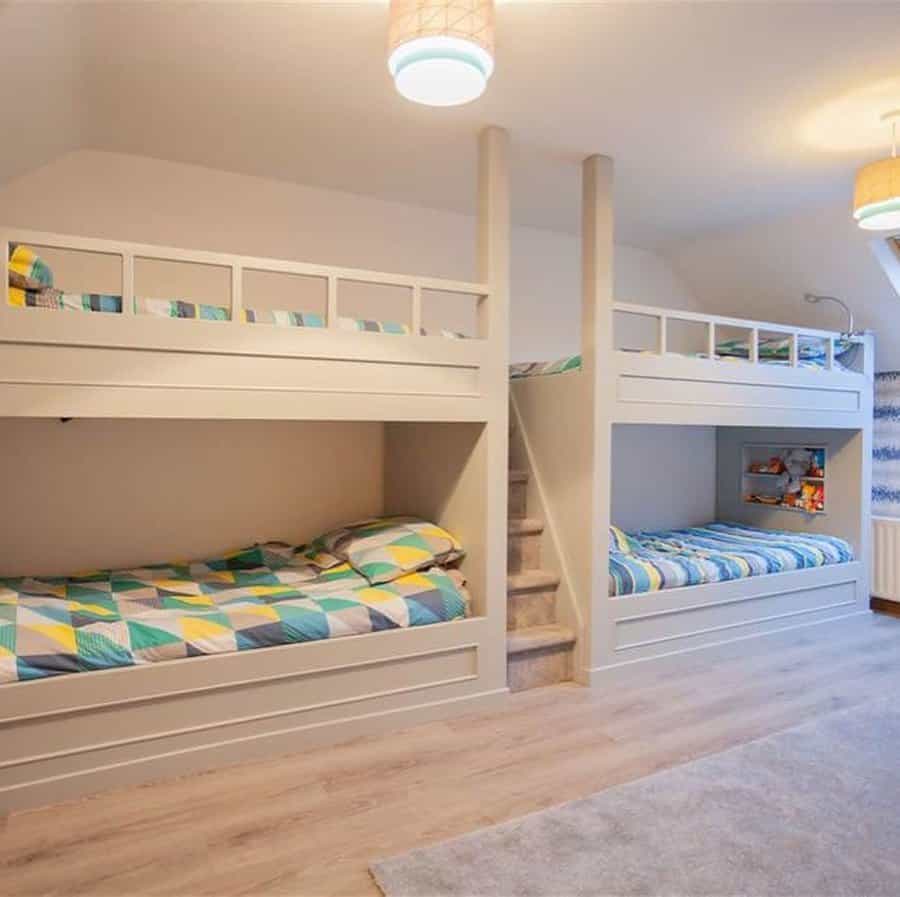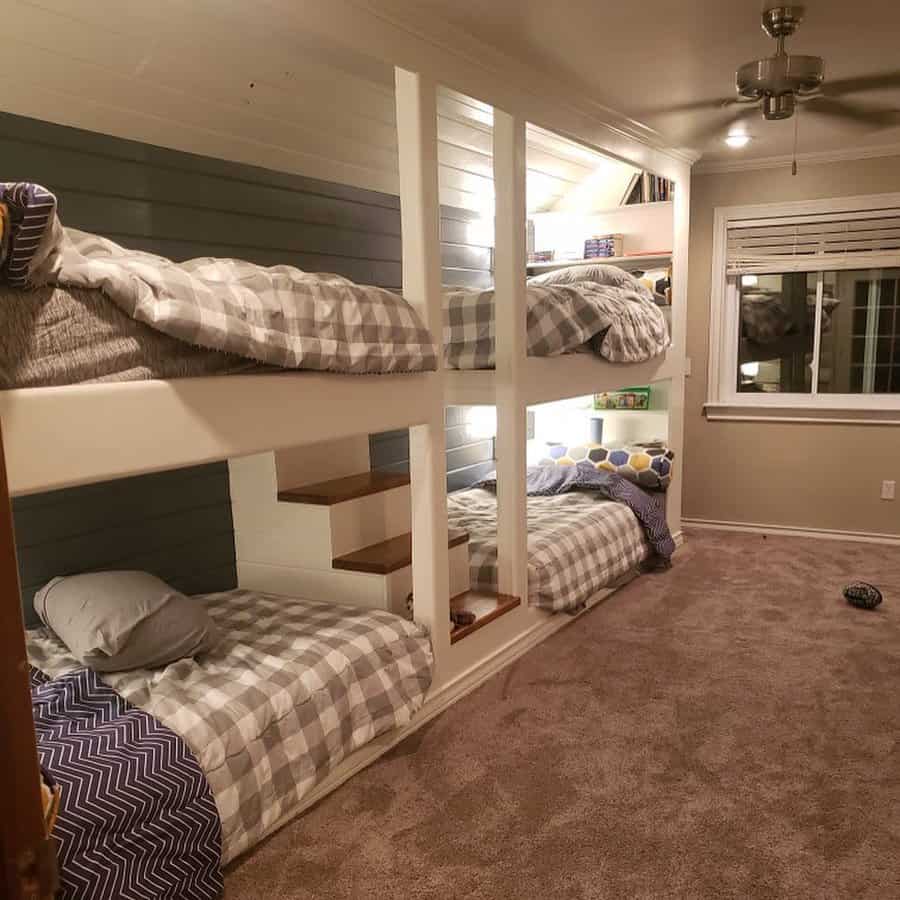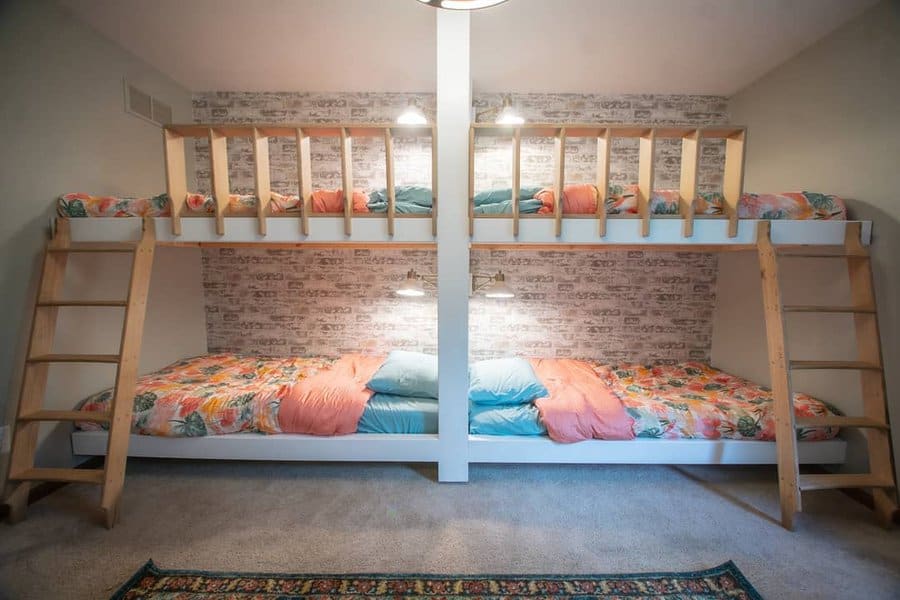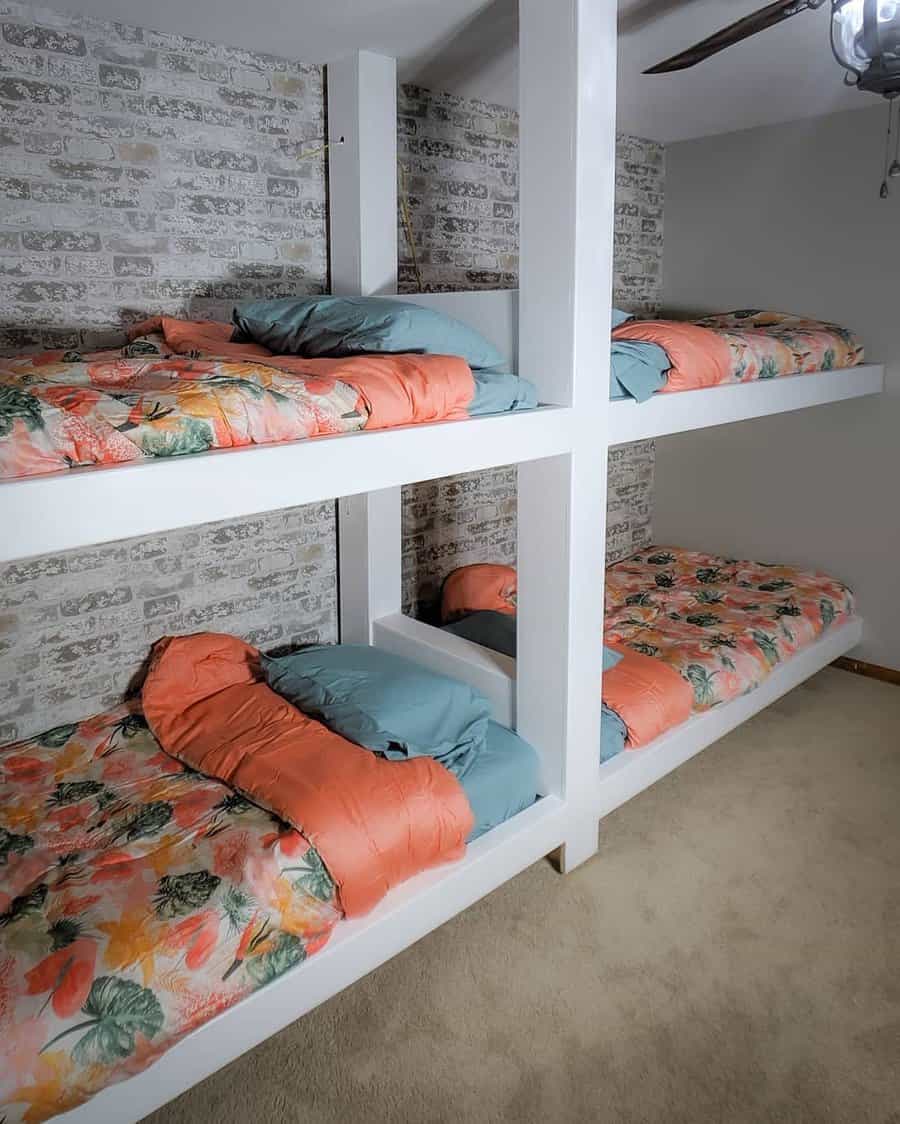 3. Zen-Inspired Bunk Design
Achieve a sense of tranquility and maximize space with a Zen-inspired bunk bed. These beds focus on minimalistic design with functional elements, making them ideal for small rooms. Opt for slimmer lines, wood finishes, and modern accents to elevate your room's aesthetic.
The flexible mounting structure allows customization of both upper and lower bunk arrangements, ensuring a tailored fit for your space. Embrace Zen styling without compromising on aesthetics or functionality, and consider incorporating soothing colors and natural textures to complete the peaceful atmosphere in your room.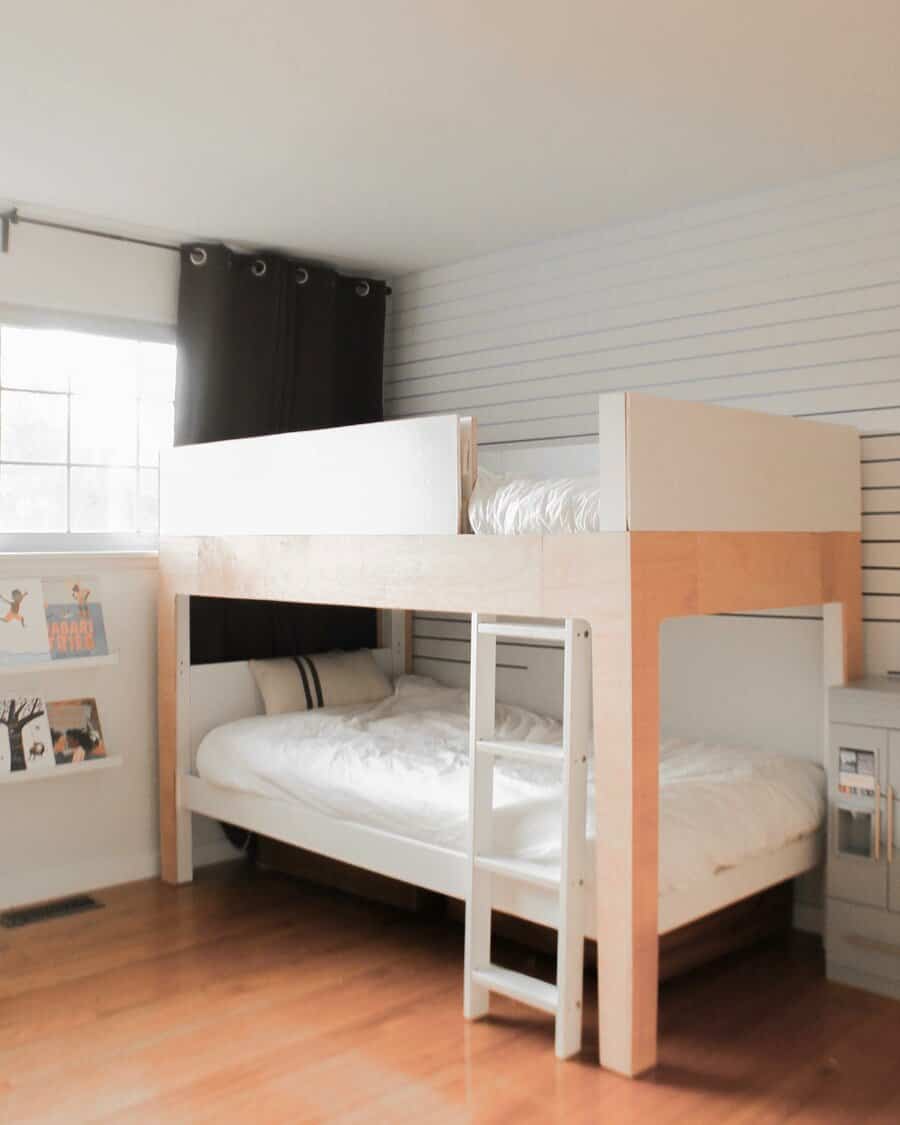 4. Coastal Bunk Retreat
Infuse your small room with a coastal charm by incorporating a coastal-style bunk bed. The bright blue hue of these beds adds a refreshing and lively touch to your space. To achieve this design, opt for beachy decor accents and soft, sandy color palettes to complement the coastal theme.
Coastal-style bunk beds not only bring a relaxed and airy ambiance but also maximize space in your home. Enhance the coastal feel with nautical decor elements and consider light, airy curtains to complete the beachside look. Enjoy the inviting and space-saving benefits of this coastal-inspired bunk bed design.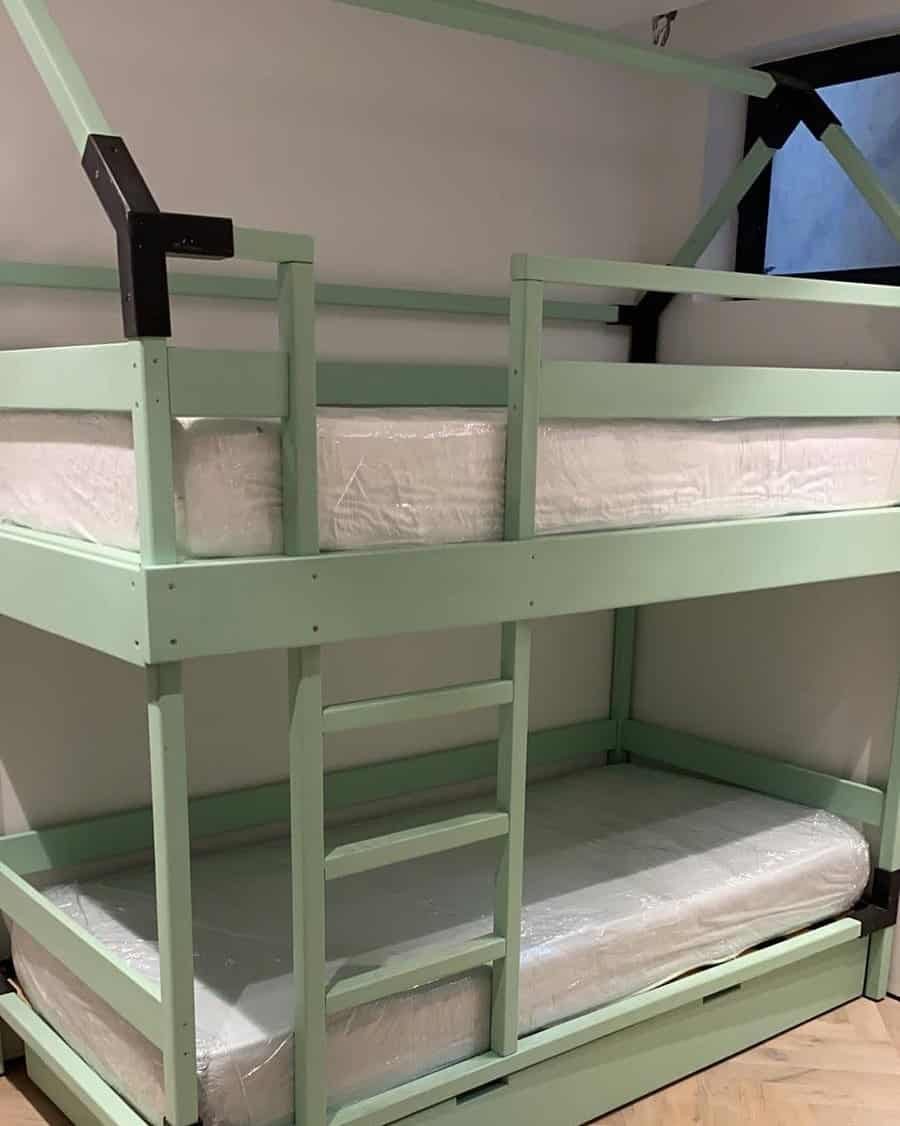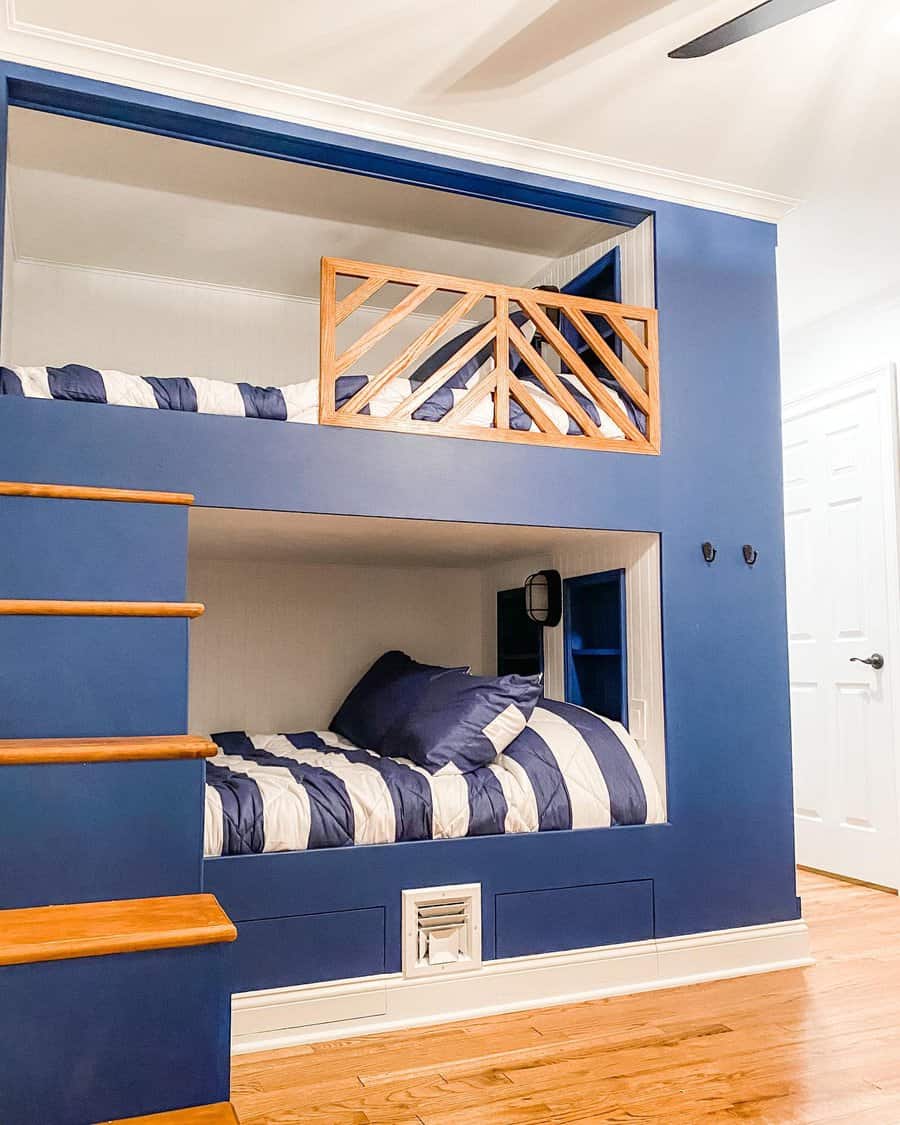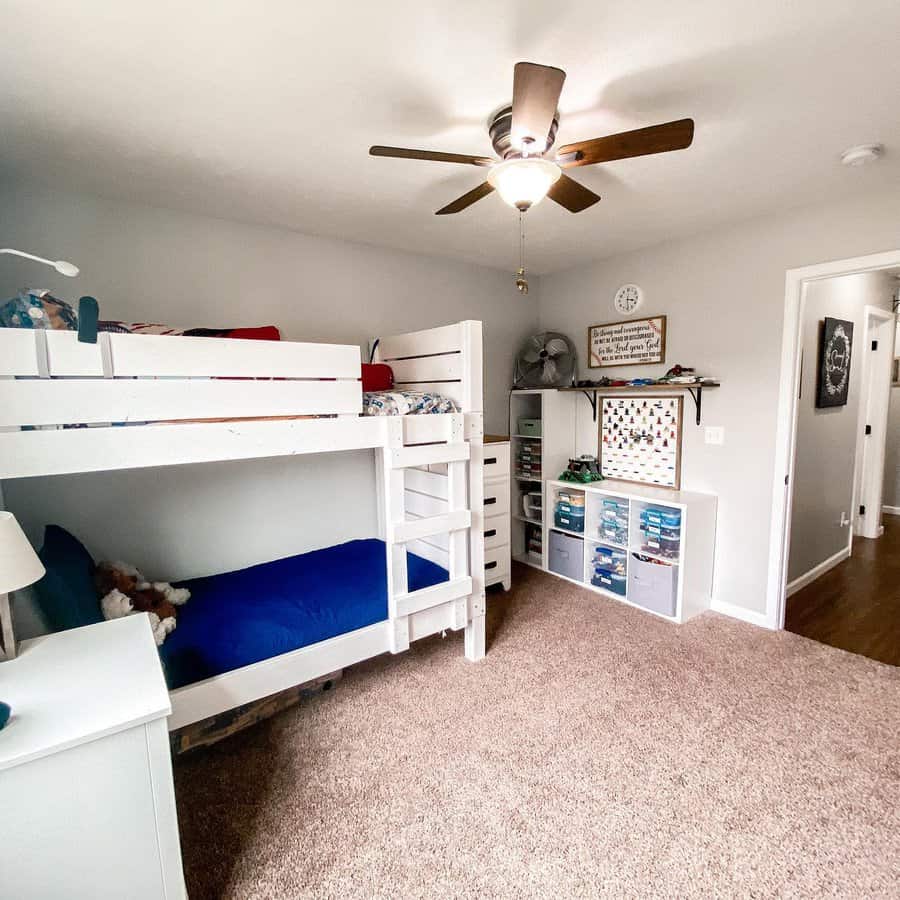 5. Industrial Loft Beds
Elevate your small room with an industrial-style bunk bed that combines style and versatility. Look for designs featuring sleek pipe ladders, spacious shelves, and a rustic distressed wood frame. To maximize the benefits of this design, consider adding a cushion for added comfort and use the underbed area for additional storage.
Complement the industrial vibe with raw materials, like metal and exposed brick, and incorporate functional decor pieces to enhance the room's urban appeal. Achieve a trendy and space-efficient bedroom with these industrial loft beds.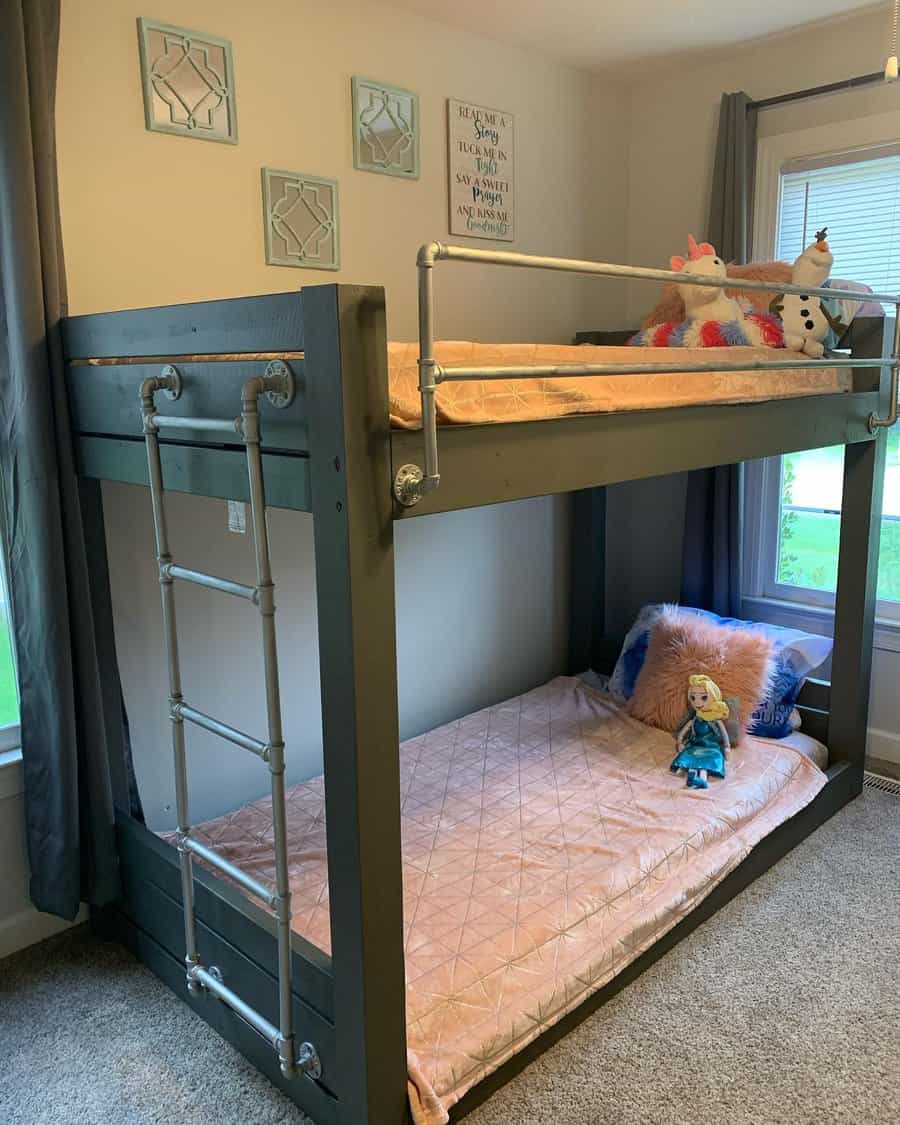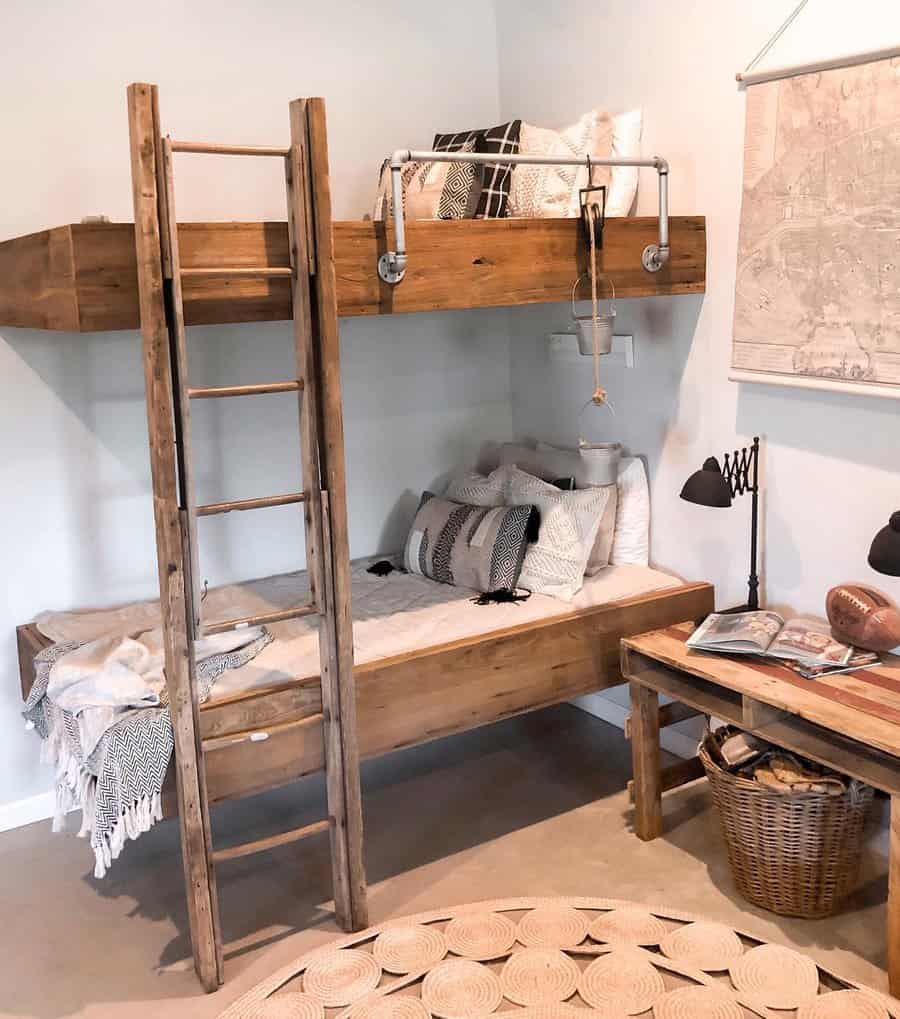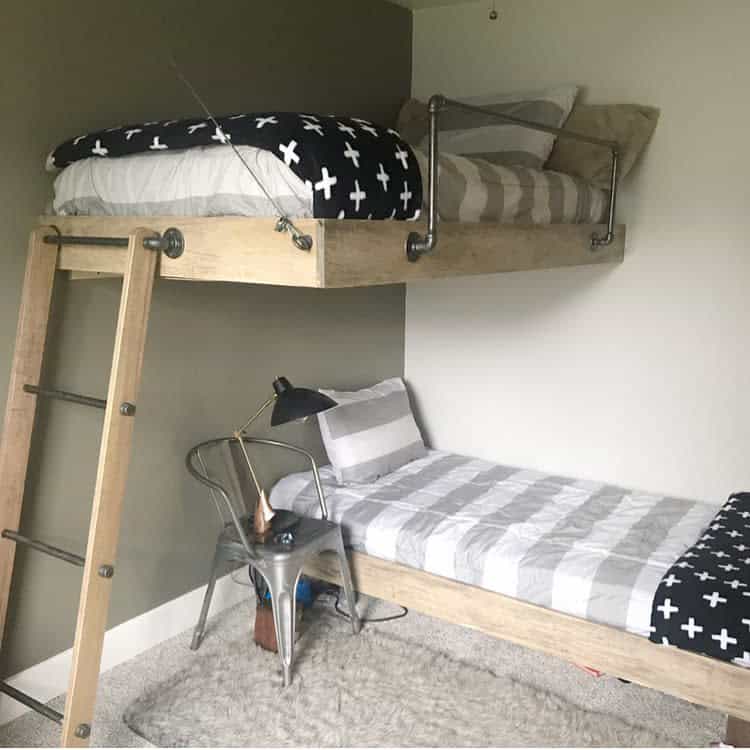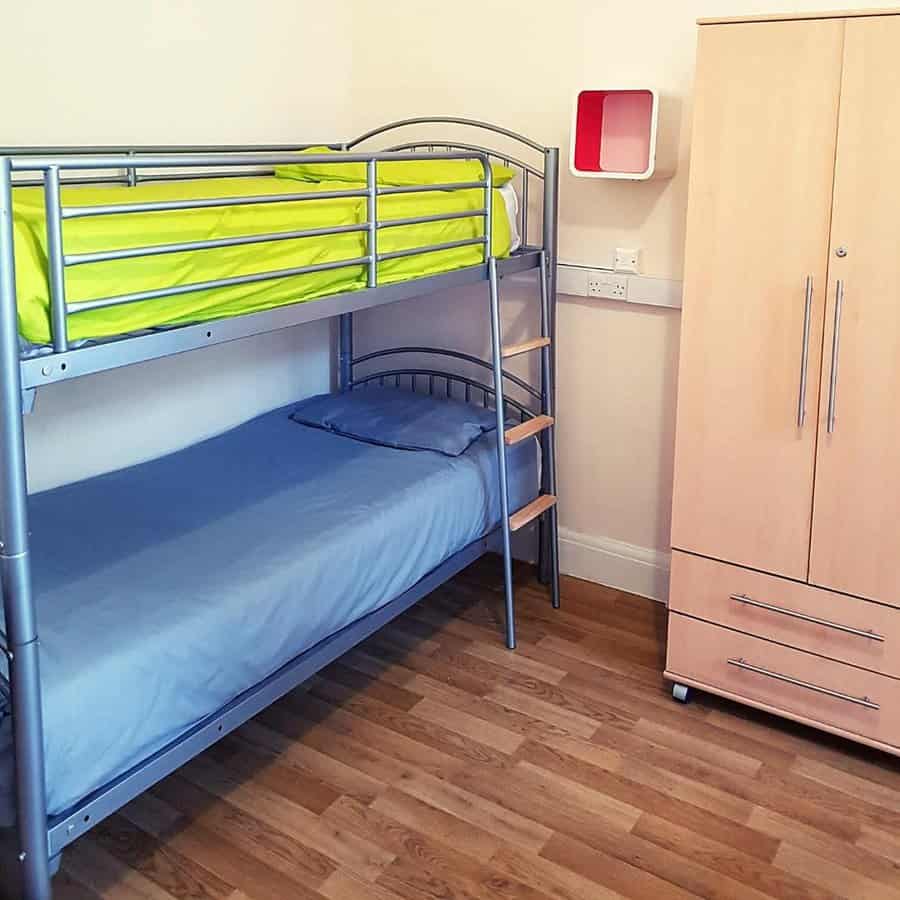 6. Shabby Chic Bunk Elegance
For a shabby chic aesthetic, consider a white wood shiplap bunk bed that exudes vintage charm. The classic white color adds a crisp and refreshing touch to your small room. To complement this design, incorporate soft, pastel hues in your decor, vintage accessories, and floral patterns.
Make the most of the bunk bed by using the space below for storage or as a cozy reading nook. Achieve a charming and elegant shabby chic look in your small space with this stylish bunk bed.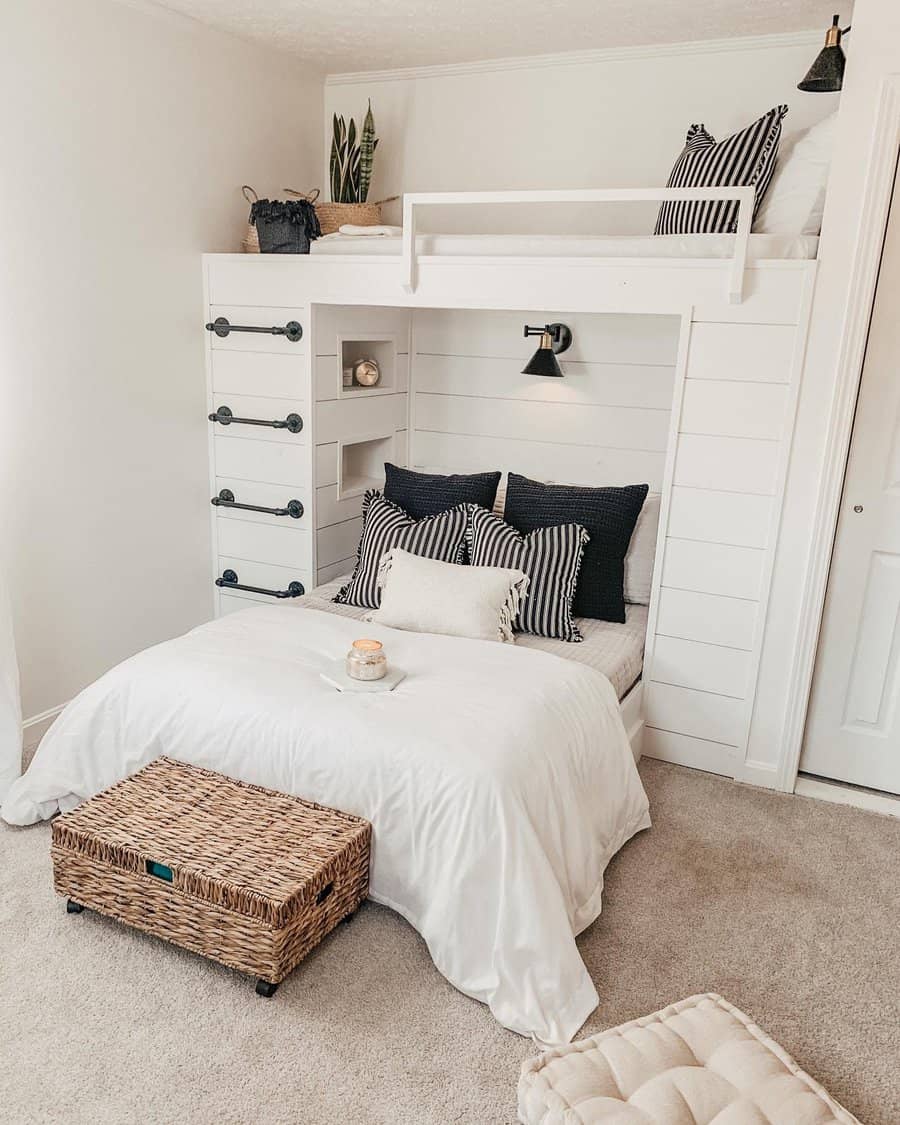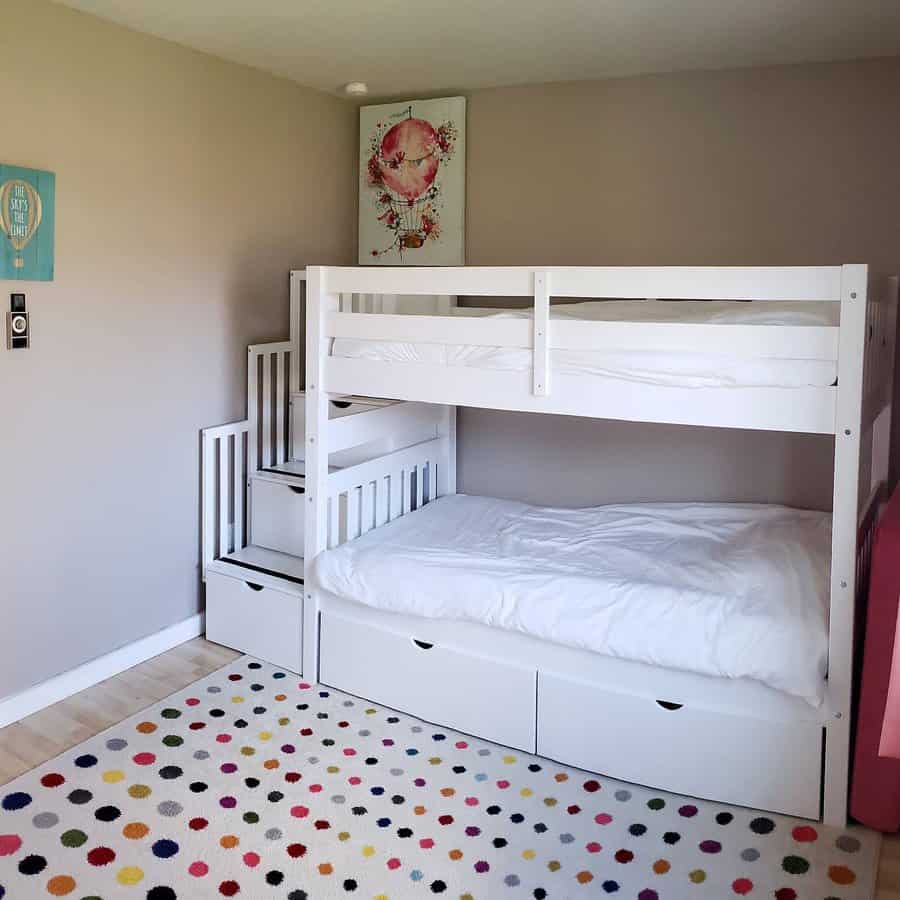 7. Kid-Friendly Bunk Styles
Enhance your child's room with a kid's bunk bed featuring a slide for added fun and functionality. This design offers an exciting sleeping space at night and a comfy spot for daytime activities, such as playdates and sleepovers, thanks to the day couch underneath.
To make the most of this style, consider coordinating the bunk bed with playful decor, like themed bedding, colorful accessories, and wall decals. Create a space that sparks your child's imagination and provides endless entertainment while maximizing the use of available room space.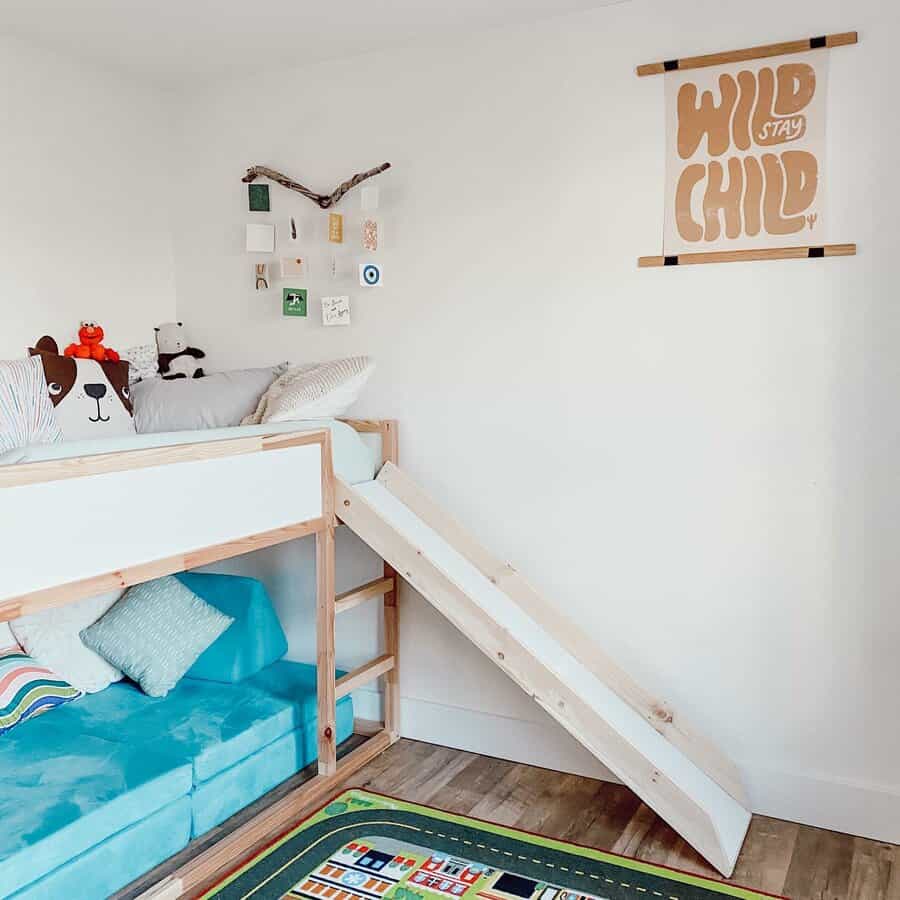 8. Sleek Modern Bunk Beds
Give your small room a modern and cozy makeover with a sleek white bunk bed featuring stylish mantel trim. Add a touch of personality by using color block pillows and bedding to contrast with the white frame.
Create an inviting atmosphere by layering different textures, colors, and patterns in your decor, ensuring both visual appeal and a restful environment. Opt for soothing, restful colors to guarantee peaceful nights in your chic and contemporary space.
9. Whimsical Dreamhouse Bunks
In your quest to make the most of a small room, consider the charm of a bunk bed that offers both privacy and enchantment. With a bunk bed featuring a privacy curtain and built-in lights, you can craft a magical haven for yourself or your child.
The gently swaying curtains and soft, warm lights combine to establish a cozy escape from the demands of the outside world, ensuring restful sleep. This sense of privacy provides a tranquil space to doze off or read in peace, fostering feelings of security and comfort. To achieve this design, choose a bunk bed with these features and coordinate it with other elements in the room to complete the dreamy atmosphere.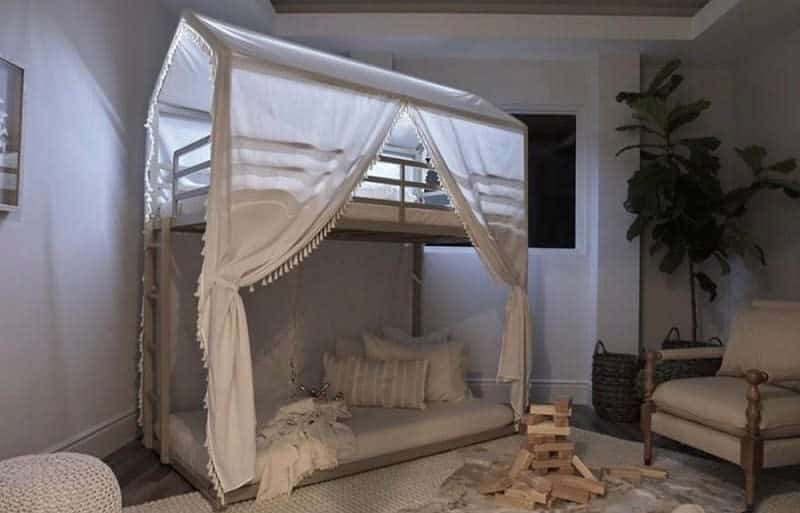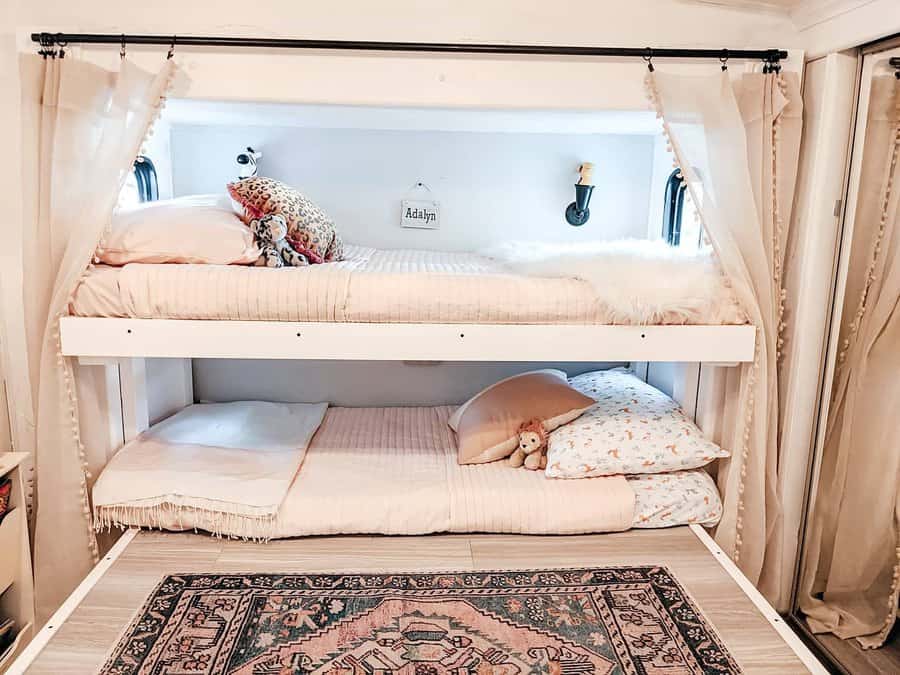 10. Loft-Style Sleeping Solutions
When dealing with a small bedroom, loft-style bunk beds offer an ideal space-saving solution. These loft bunk beds come equipped with stairs and side rails, ensuring easy access and safety. Their modern design incorporates integrated storage, making it a practical choice.
Say goodbye to the struggle of reaching the top bunk and hello to a more organized and visually spacious room. Consider investing in double loft bunk beds to enhance both the aesthetics and functionality of your bedroom. To complete the look, pair them with complementary design elements and make the most of your available wall space without crowding the floor.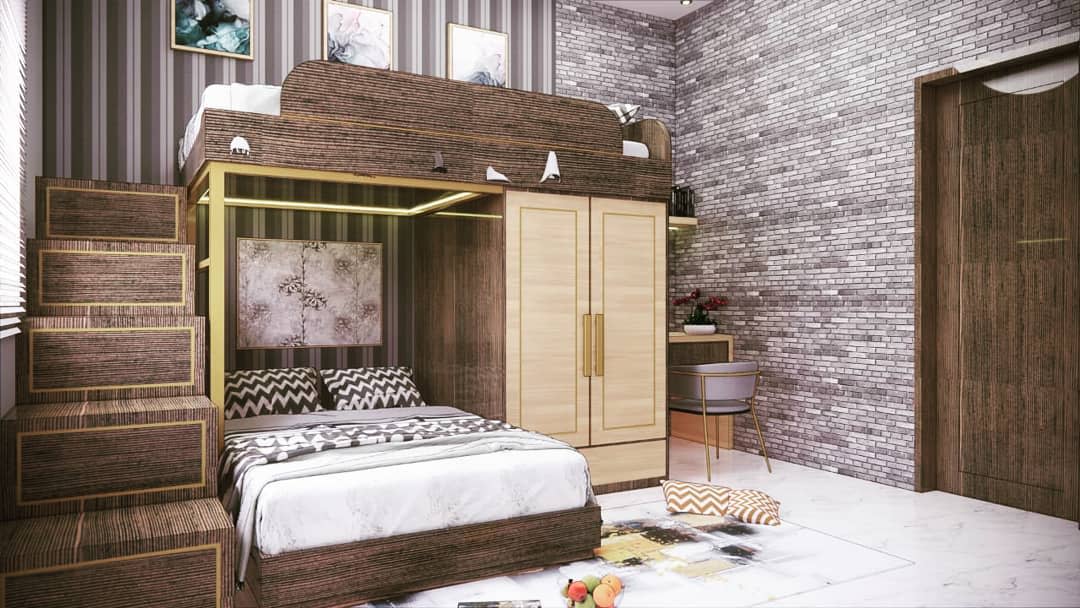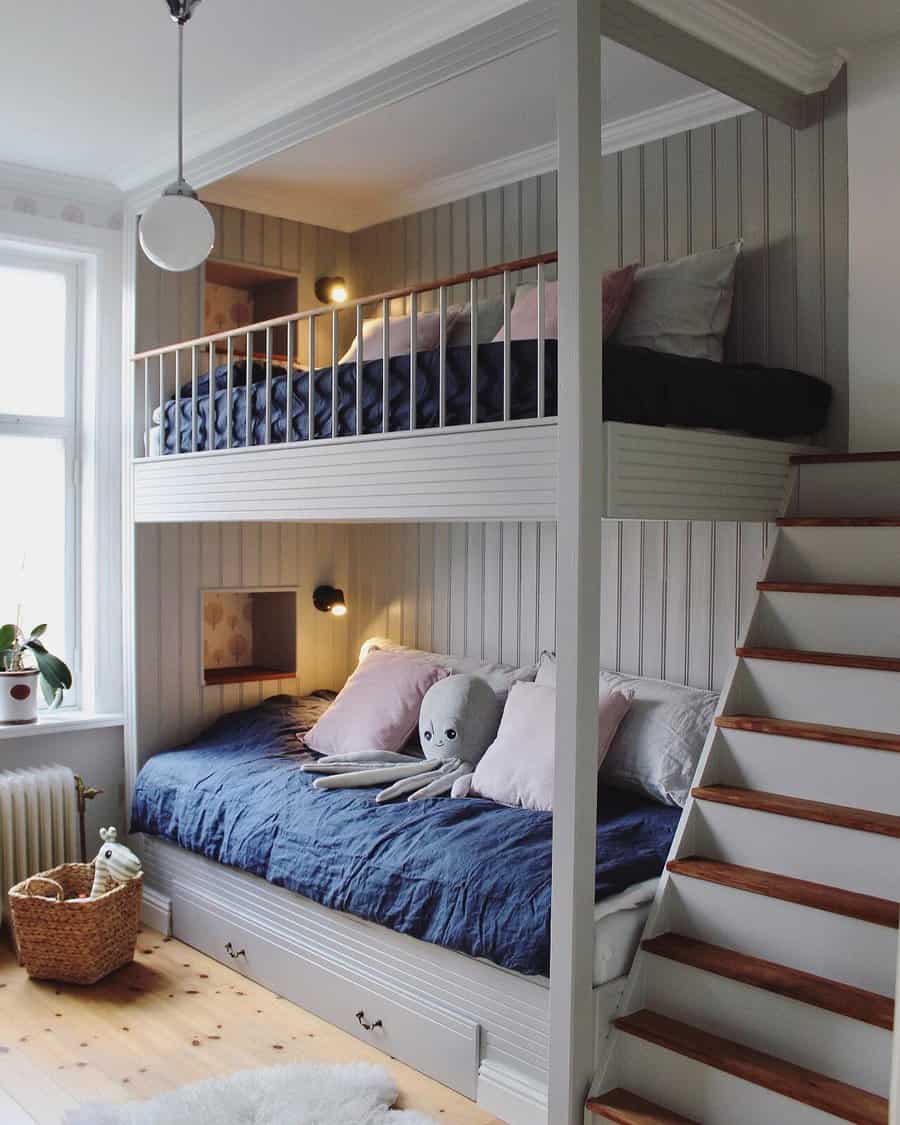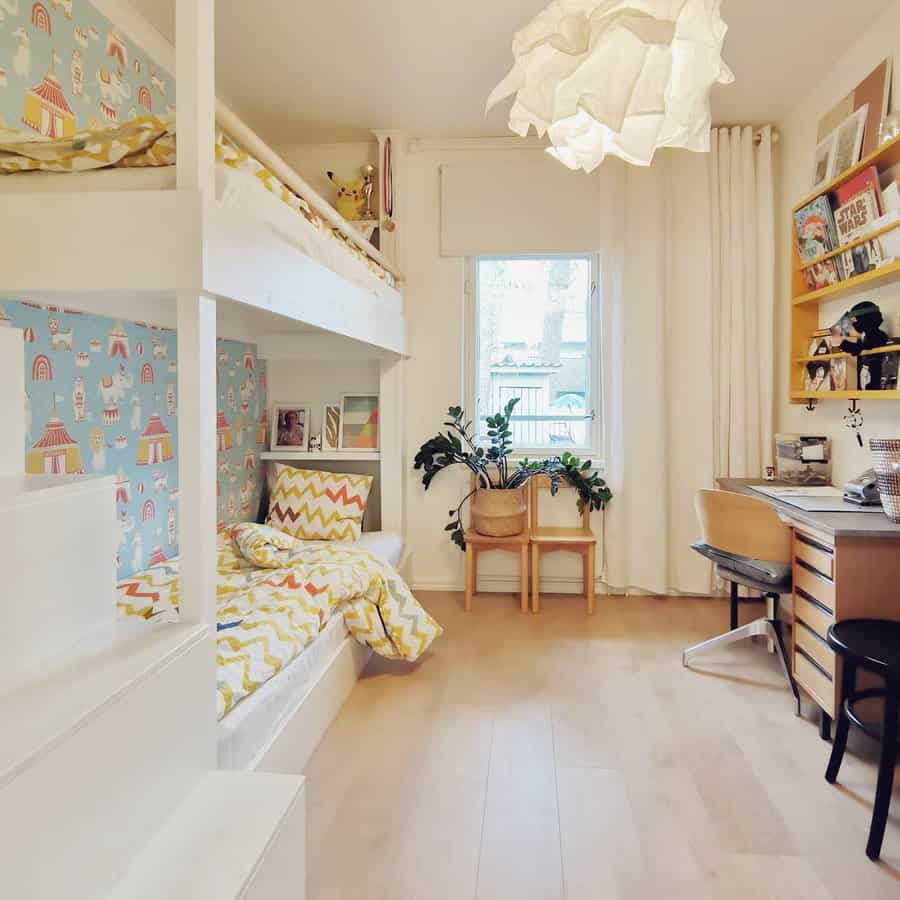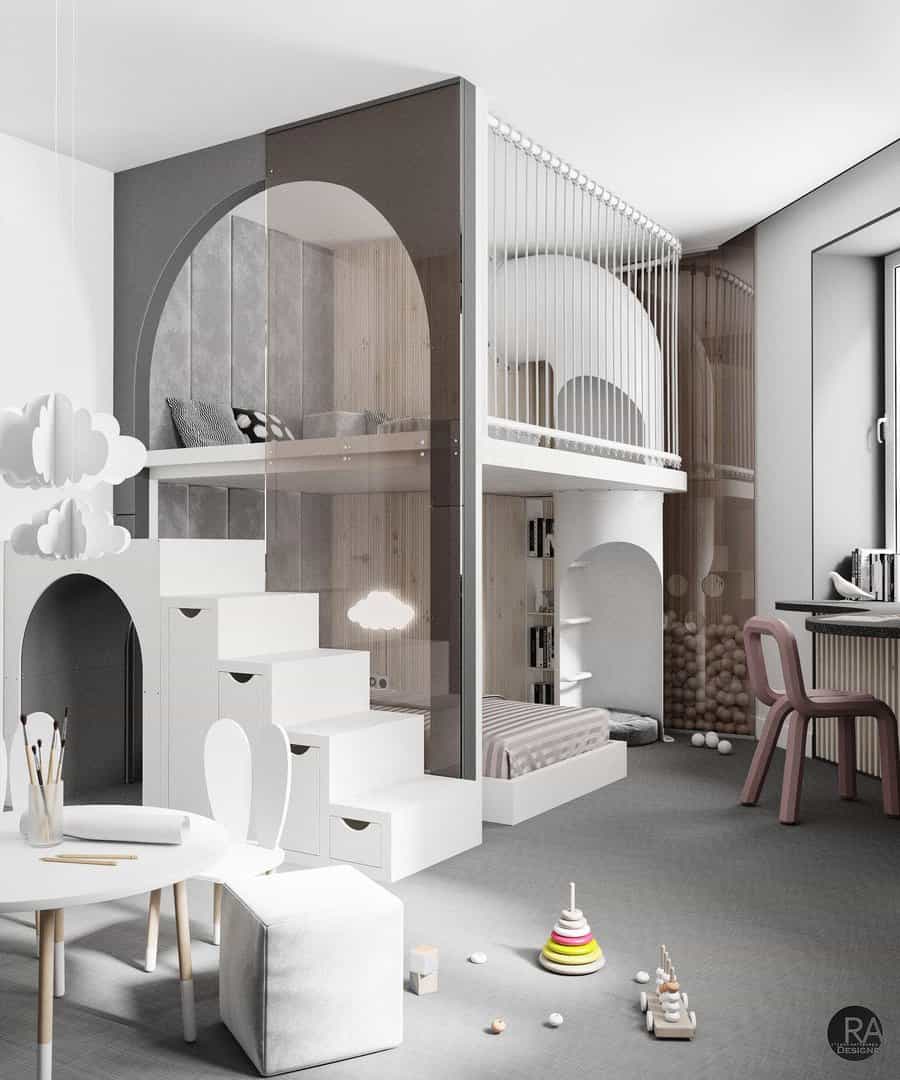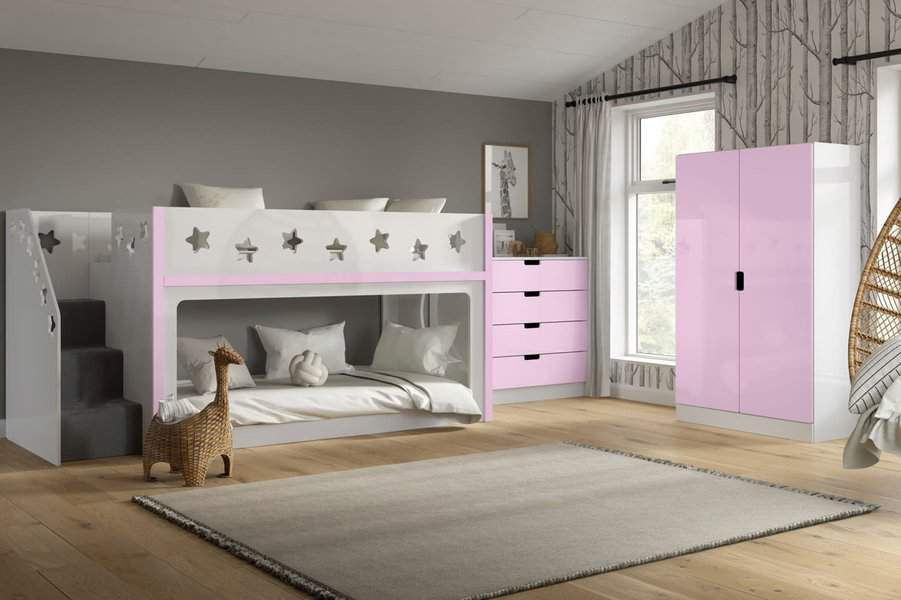 11. Loft Bed Lounge Combo
In small rooms, loft bunk beds become a dual-purpose solution, creating a delightful, space-saving retreat. Consider a loft bed equipped with an integrated desk or lounge area to optimize square footage, making it ideal for compact spaces or nurseries with limited floor area.
A loft bed with a built-in study nook beneath allows you to seamlessly blend your sleeping and workspace needs into a single, efficient structure. This is particularly valuable for growing families seeking to accommodate multiple members without compromising on comfort. To fully embrace this concept, coordinate the loft bed with other design elements to create a harmonious, multifunctional space.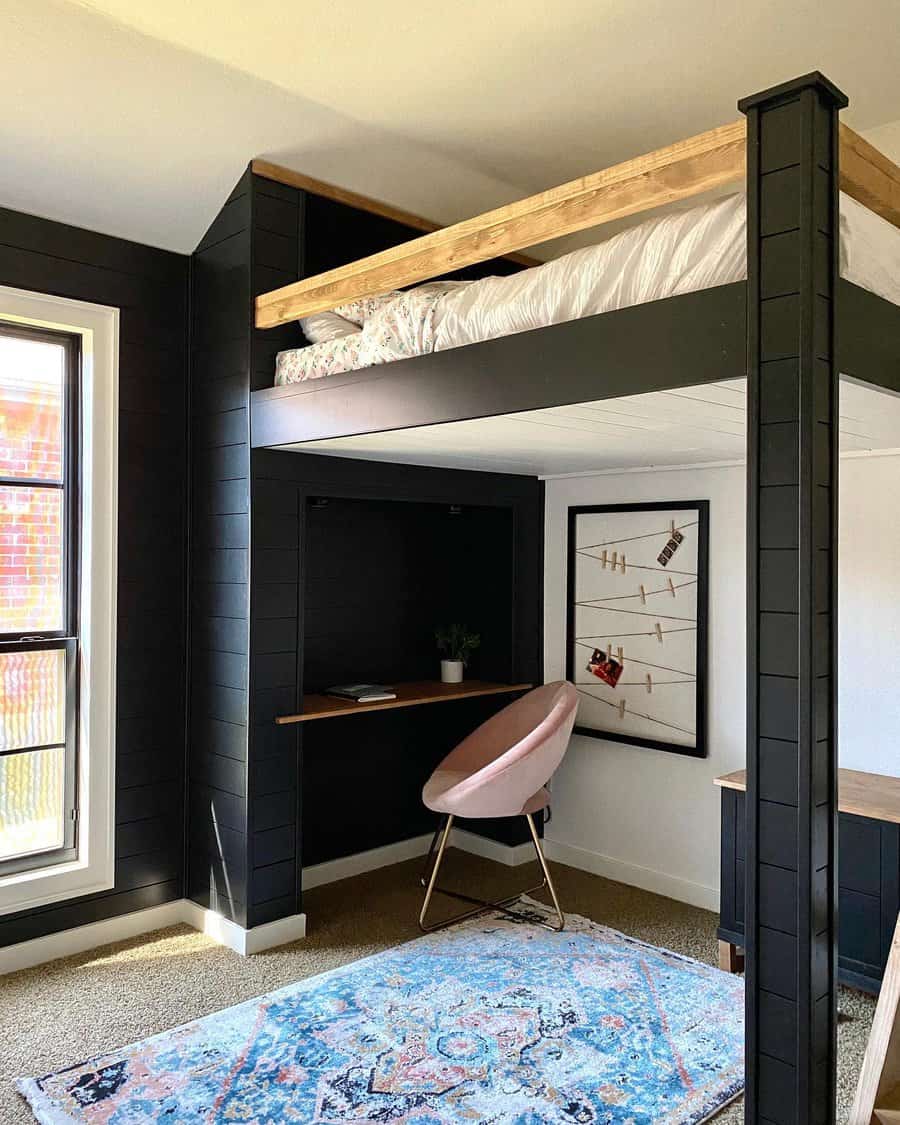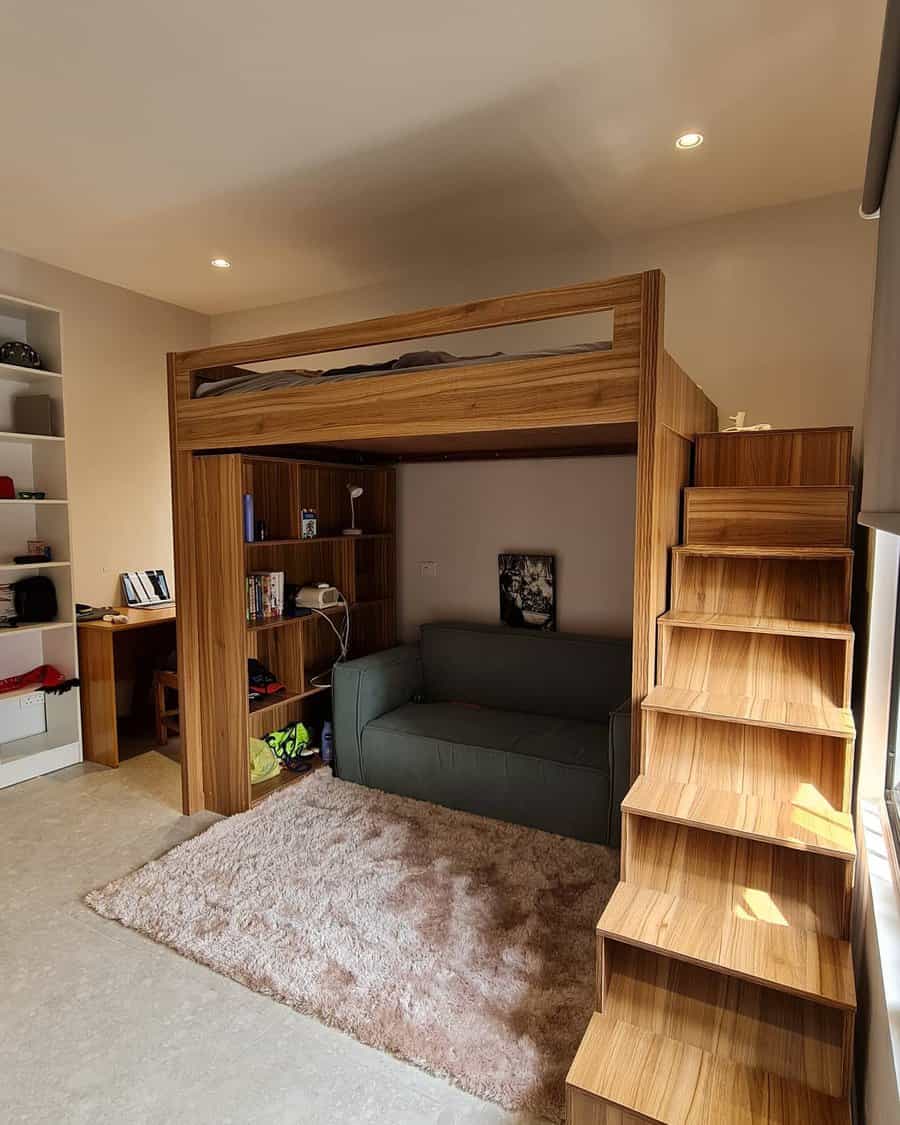 12. Cozy Upholstered Bunks
When seeking sophistication and space optimization in a small room, upholstered bunk beds are an excellent choice. These luxurious sleep solutions offer both comfort and convenient storage, making them more versatile than traditional beds or bulky furniture.
Incorporate an upholstered bunk bed as a statement piece in a maximalist room, effortlessly combining sophisticated style with practical functionality. To make the most of this design, consider coordinating it with complementary elements in your space, harmonizing aesthetics and utility.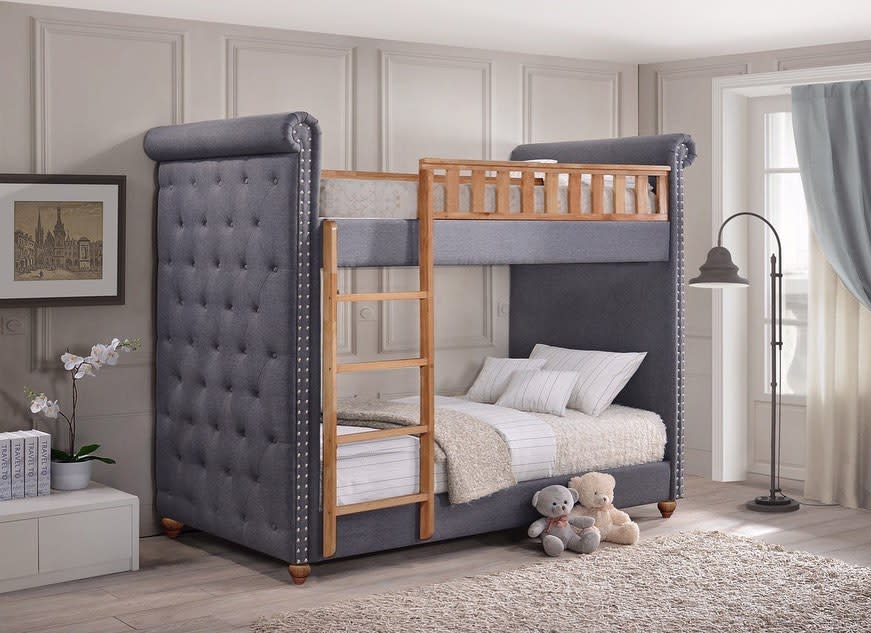 13. Safari Adventure Bunks
For kids who love a safari-themed experience, consider creating a homemade organic bunk bed. Use natural materials such as driftwood and organic cotton sheets to fashion a safari paradise that incorporates style, comfort, and fun. Embrace your creative side by painting safari-inspired designs on the bed frame or introducing statement pieces from nature.
Bring the thrill of a safari to life in your children's bedrooms, providing them with an unforgettable experience. To fully immerse them in the theme, complement the bunk bed with safari-themed decor and accessories that enhance the overall atmosphere.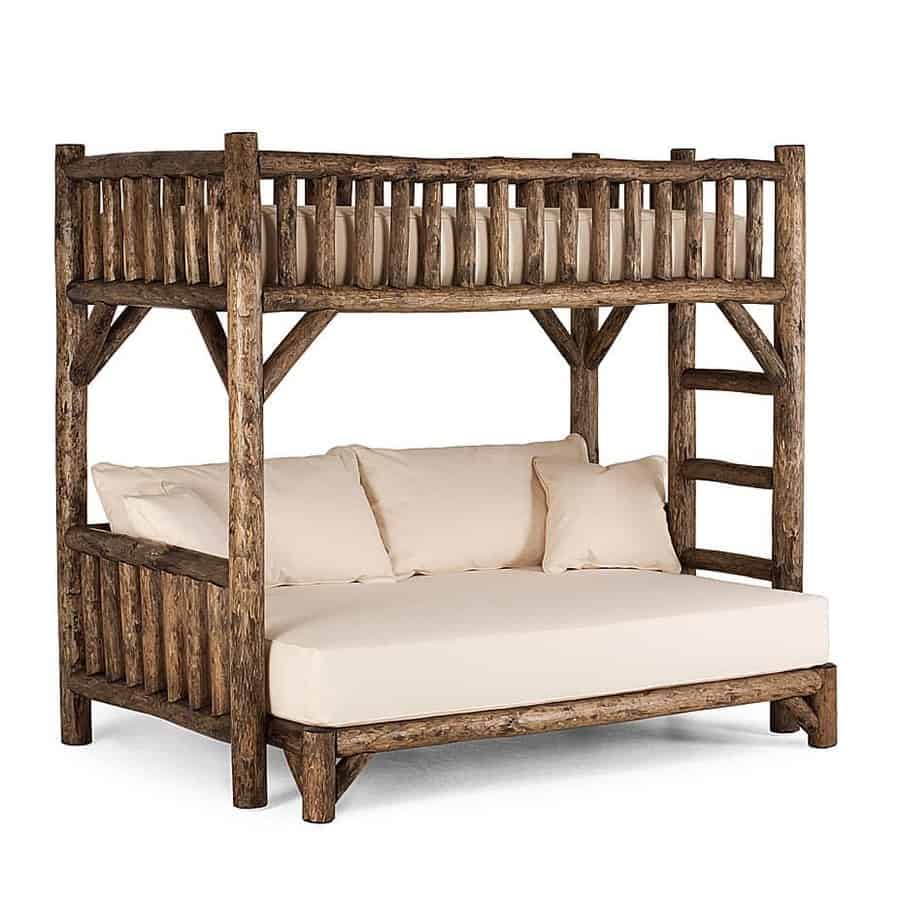 14. Twin & Full Bunk Options
Bunk beds offer versatile solutions for small rooms, maximizing space usage. You can choose between twin or full-size bunk beds to accommodate two sleepers or create a unique three-person sleeping arrangement by adding a twin mattress below.
Look for bunk beds with integrated storage and drawers to enhance organization. With various styles available, you can find the perfect bunk bed to suit your specific needs. To fully optimize space, consider complementary design elements and storage solutions to make the most of your room.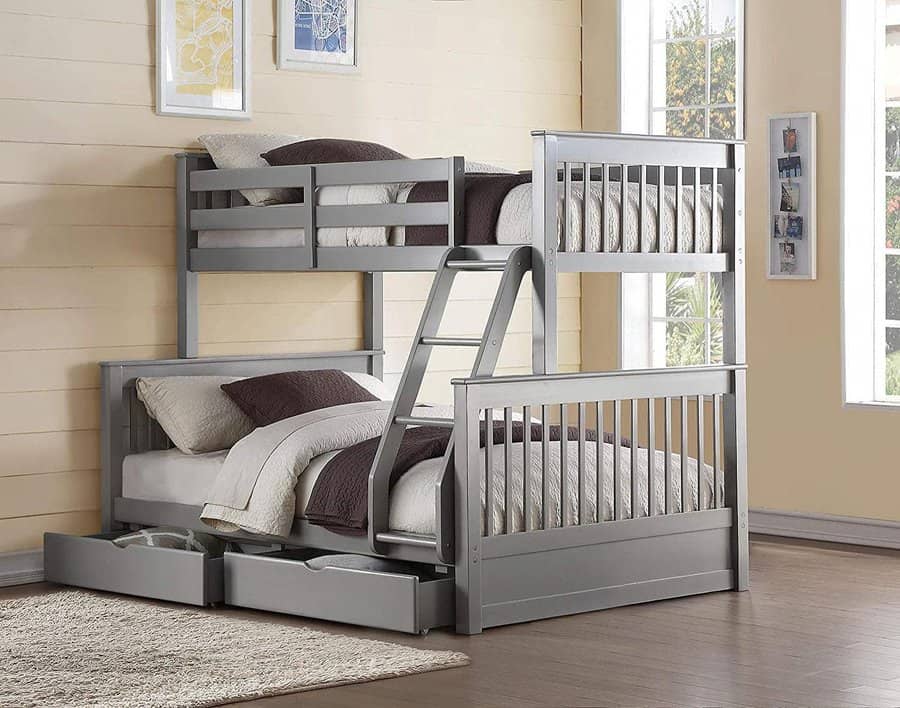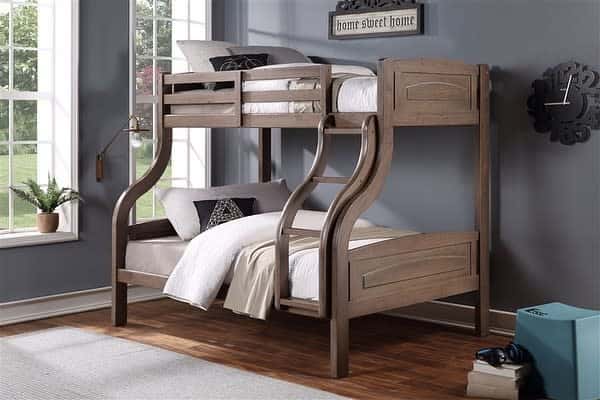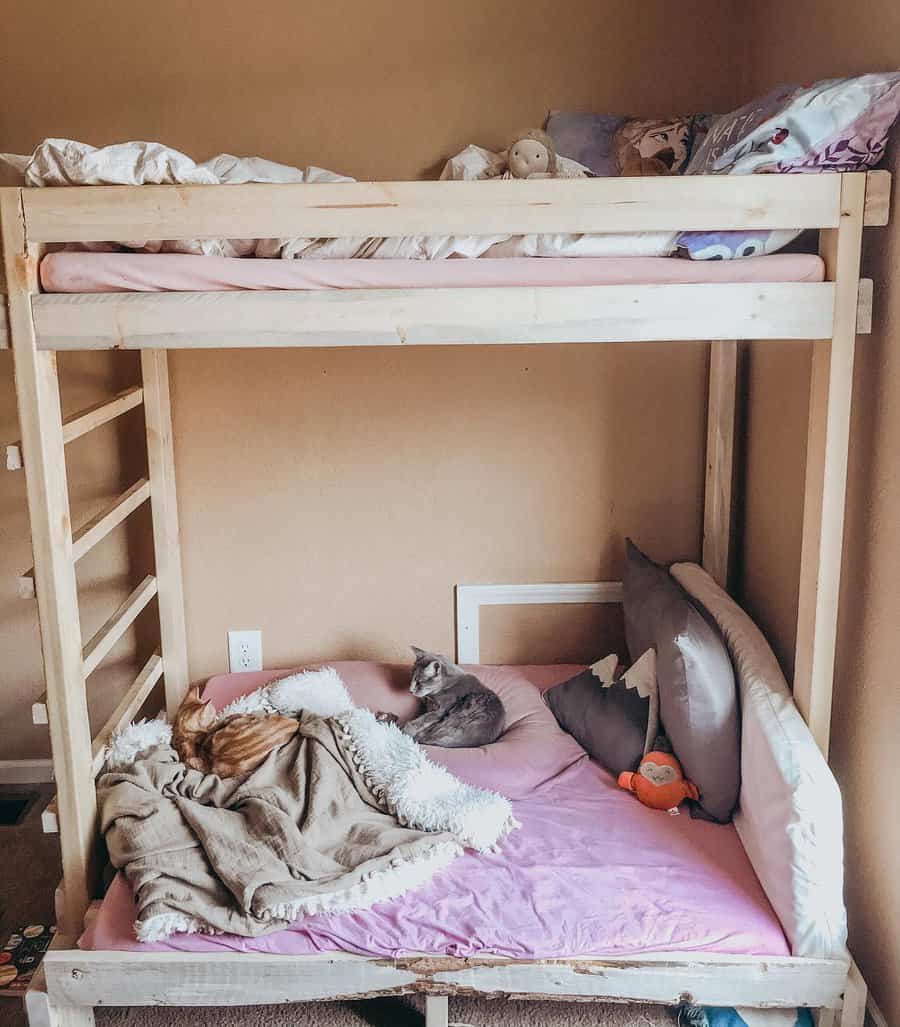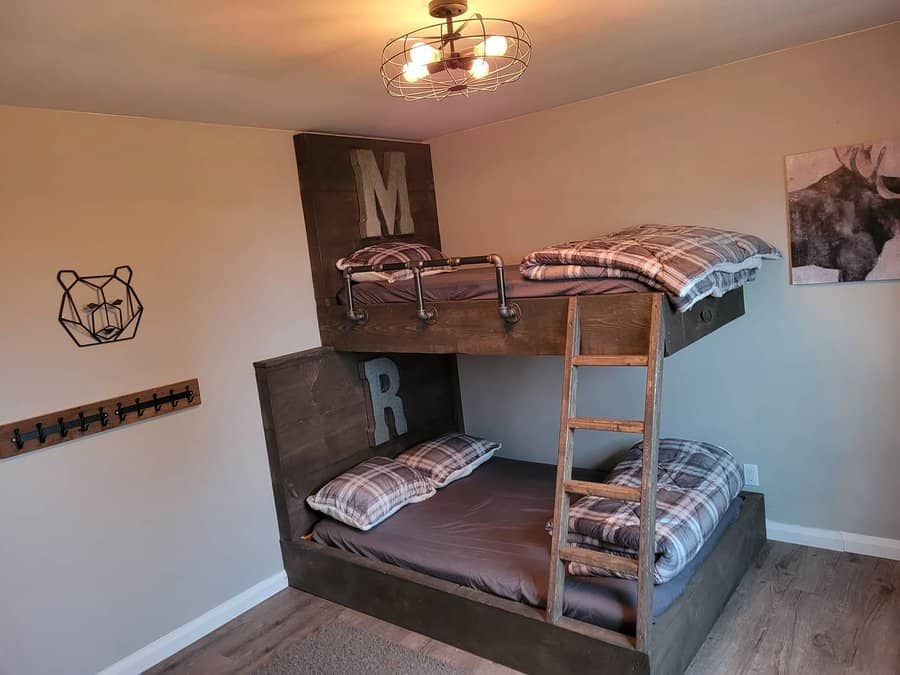 15. Playful Kids' Hideaways
Children adore bunk beds, a clever solution for maximizing bedroom space. Delve into the myriad of creative styles and designs available to captivate their imaginations. Elevate their bedroom experience by investing in a playhouse-themed bunk bed featuring windows, a door, and even a slide for endless amusement.
Converting their bed into an exciting haven facilitates a smoother transition from playtime to bedtime. Embrace vibrant colors and intricate patterns to infuse vibrancy and excitement into your kids' room. To complete the transformation, incorporate coordinating decor and efficient storage solutions for a lively and functional space.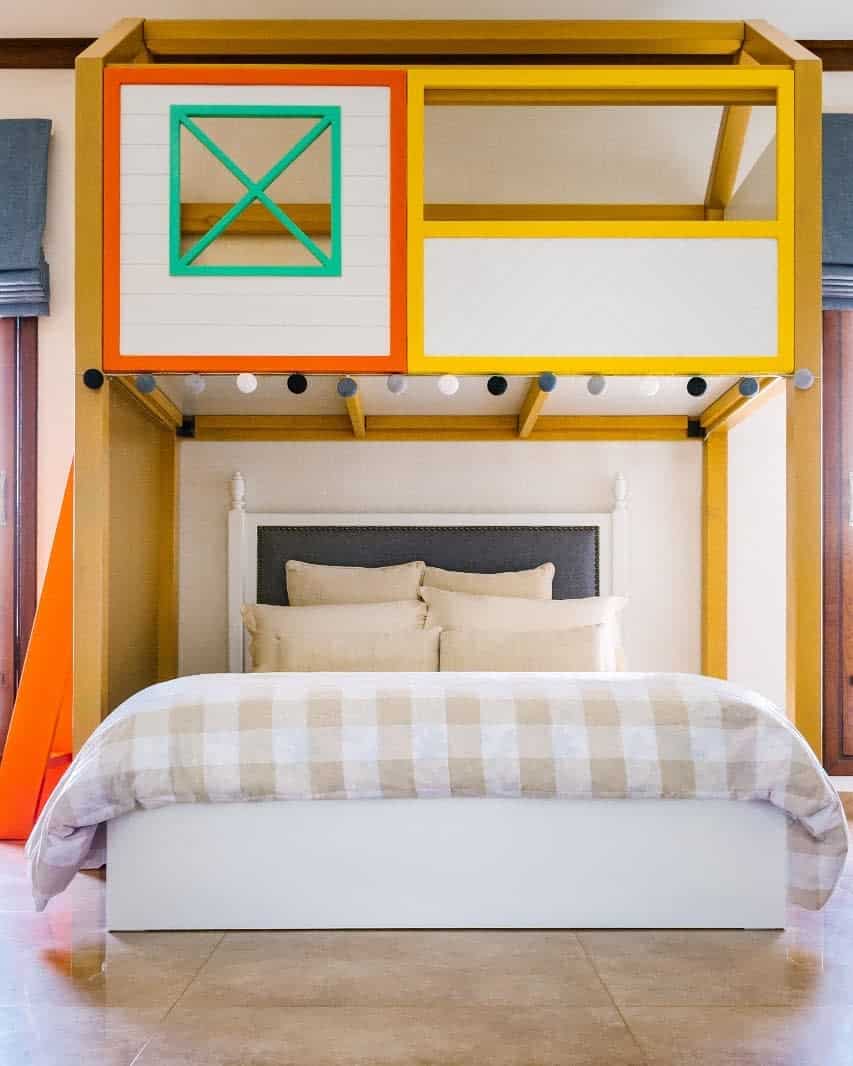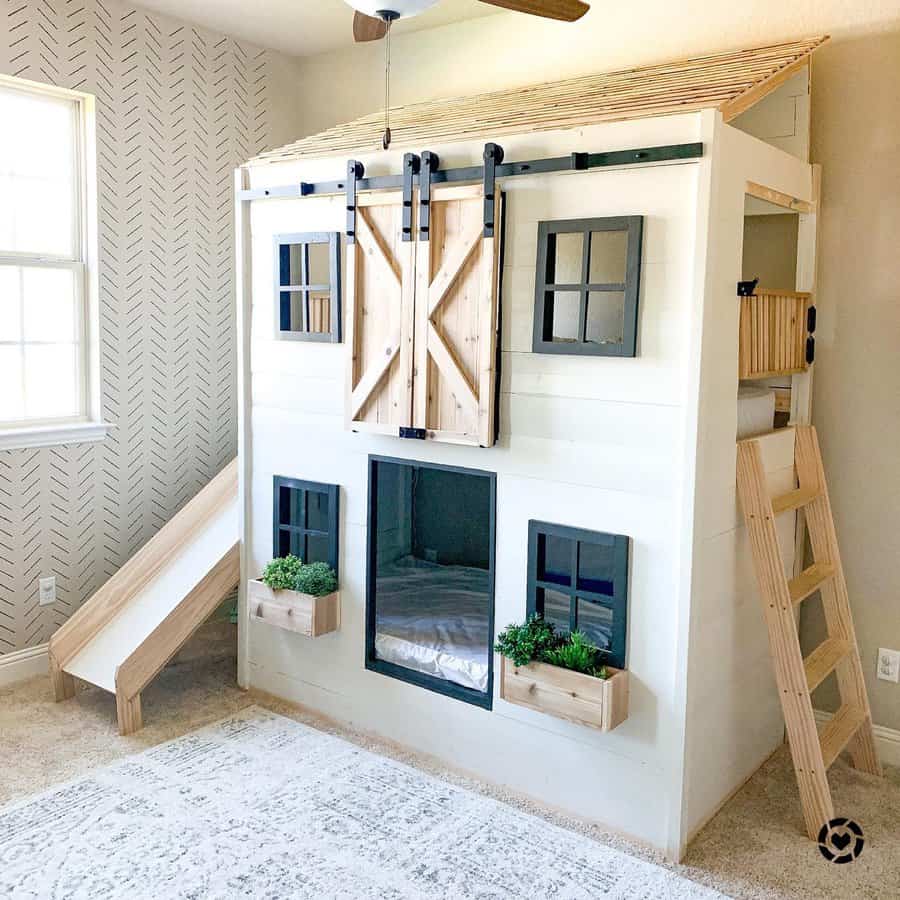 16. Bunking for Three
In the dilemma of choosing between a loft bunk bed and accommodating two sleepers in your guest bedroom, why not have both? Opt for a loft bunk bed for three sleepers, featuring a full bed on top and two twin beds below.
This innovative space-saving solution is a game-changer for small rooms. Not only does it save space, but it also ensures seamless sleepovers without compromising comfort. To complete this setup, consider complementary design elements and versatile storage solutions to make the most of your space.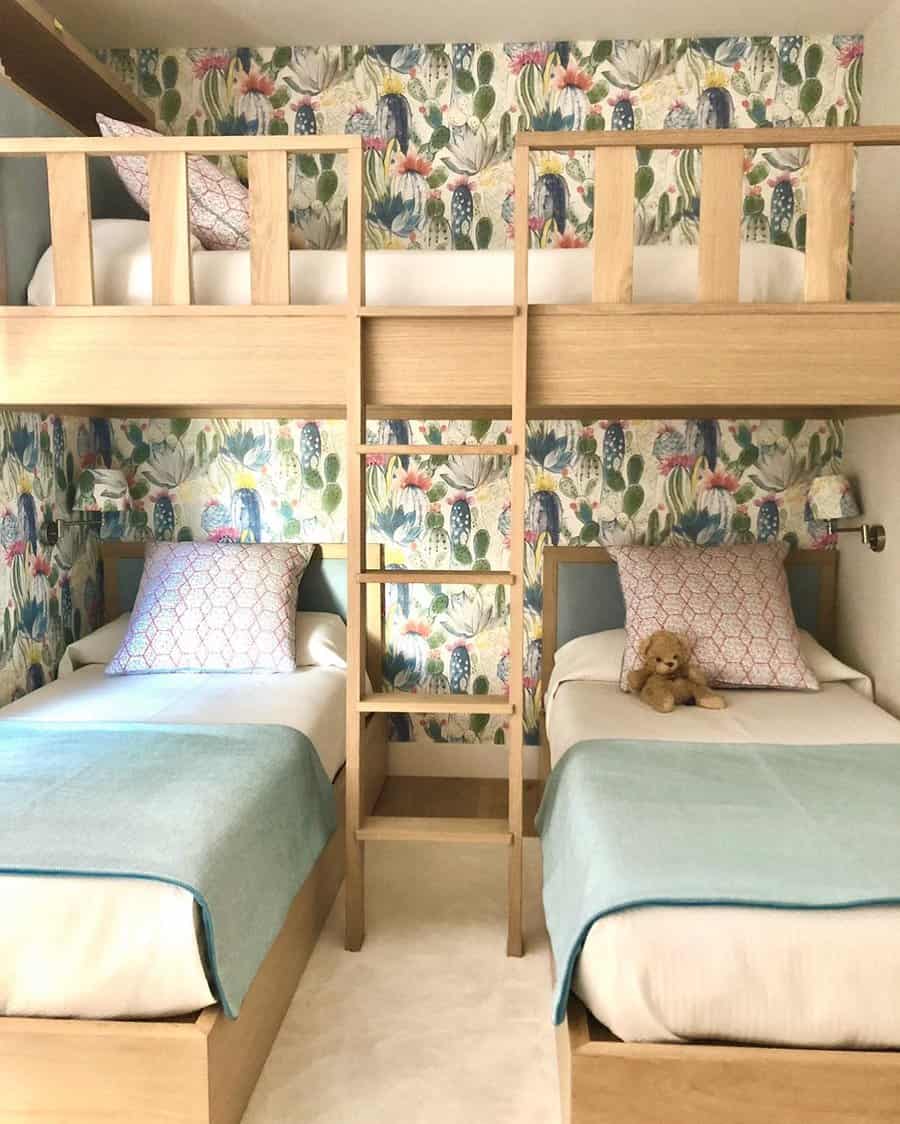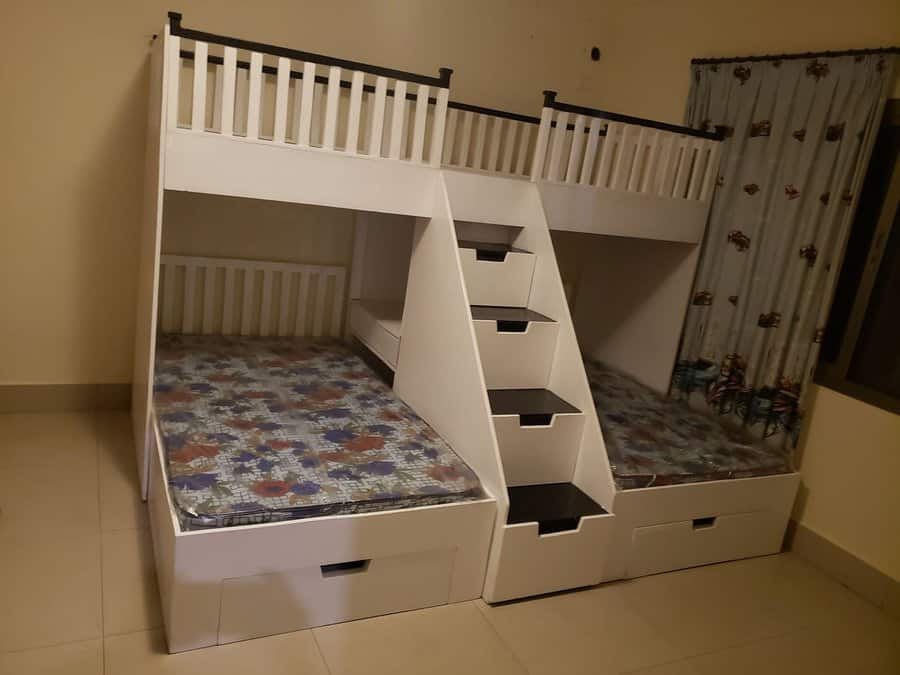 17. Hanging Rope Bed
The hanging rope bed has become a trendy choice for those seeking a rustic-style interior. This unique bunk bed option offers a novel experience for both kids and adults, providing the comfort of a rope hammock-style bed suspended in the air. It offers a sense of security, both physically and emotionally, as you sway gently in your elevated sleeping space. To achieve this design, consider incorporating other rustic elements and textiles into your room to create a cohesive and cozy atmosphere.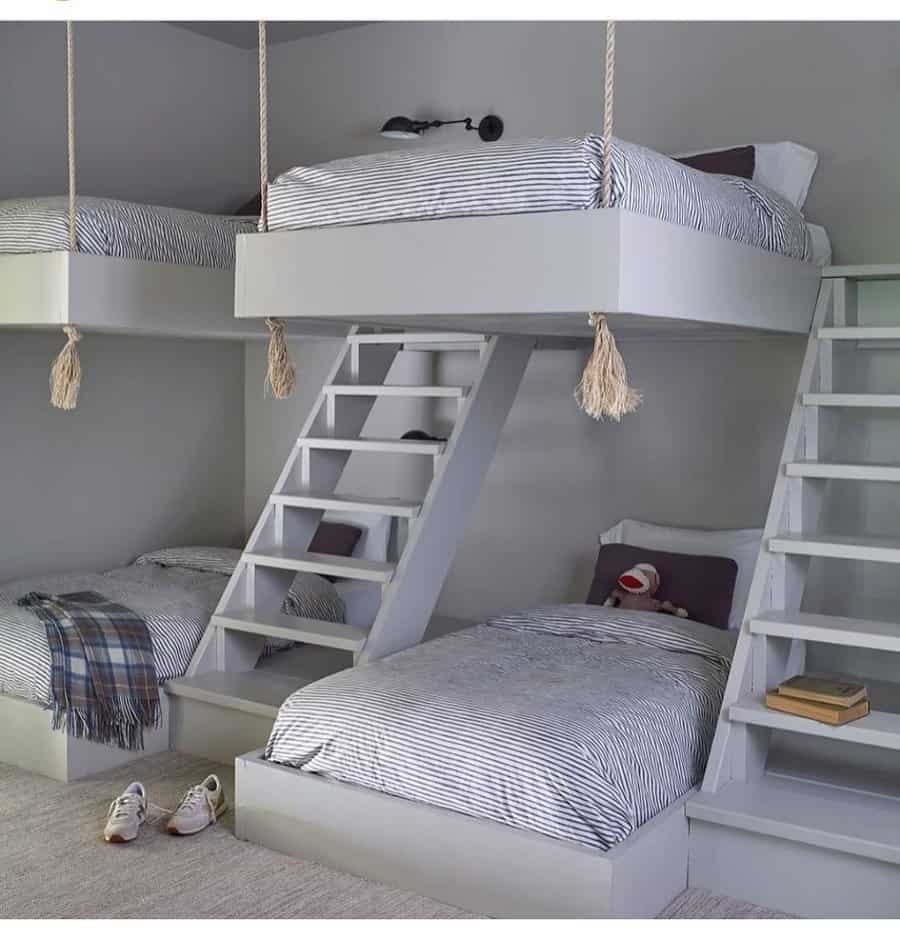 18. Pink Boho Bunk Decor
Infuse your bedroom with the lively charm of a pink boho-style bunk bed, set against a white backdrop. Elevate the ambiance with a pink color scheme, featuring pink bedding and textured blankets with fringe. This blend of modern and cozy elements will craft a multifunctional space for relaxation, reading, play, or peaceful slumber. To round off the design, adorn the room with pink-themed decor and accessories to create a distinct and enjoyable indoor haven.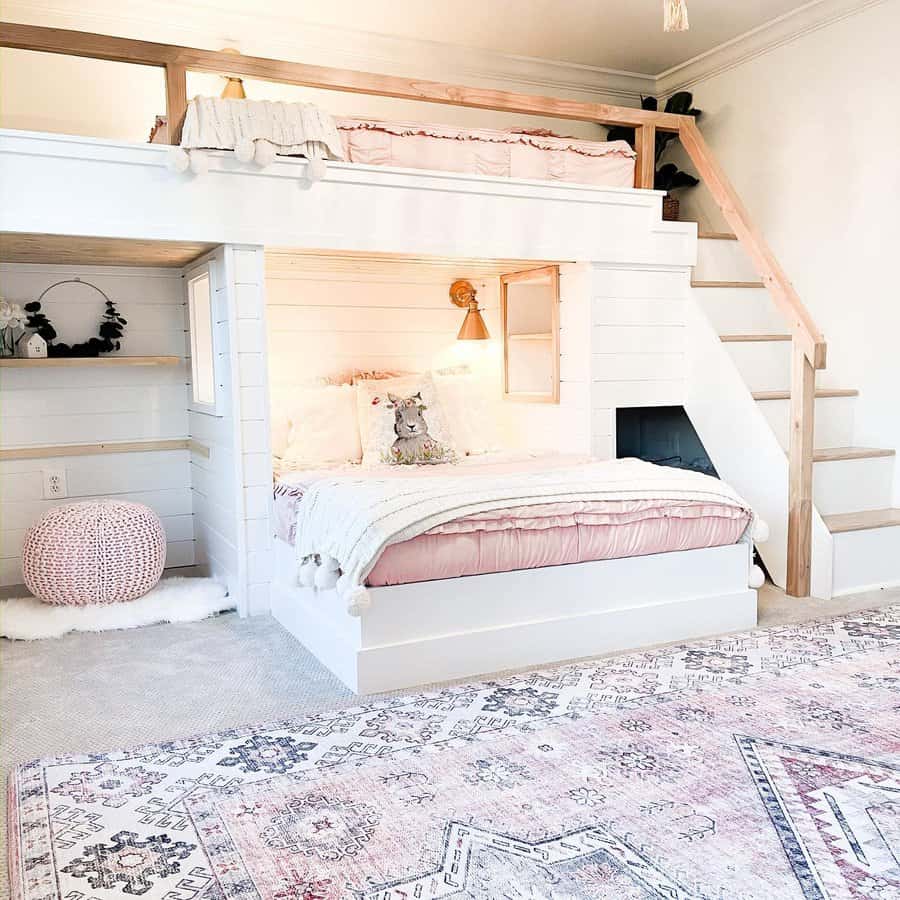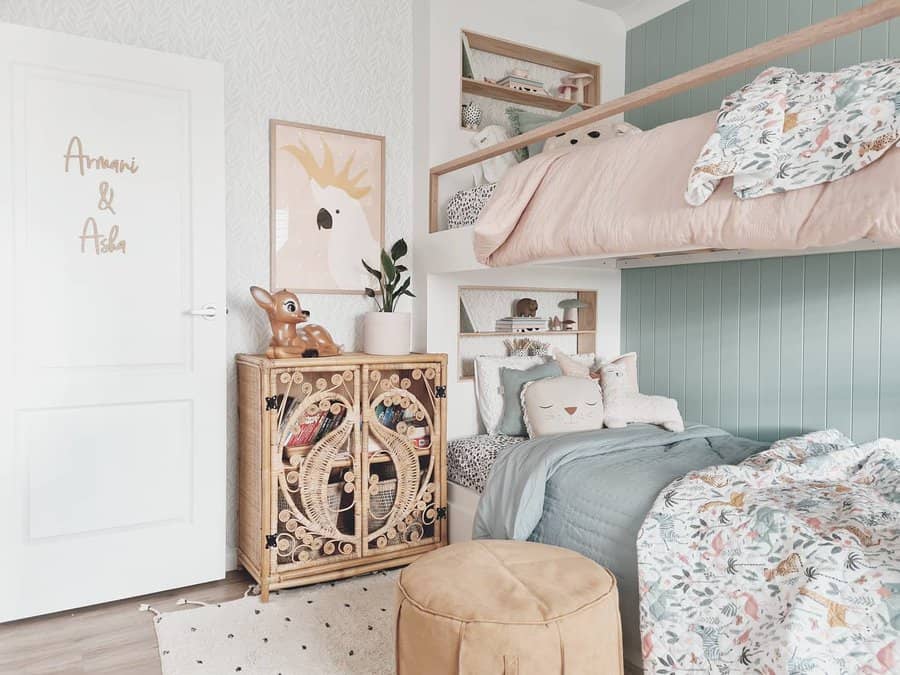 19. Recessed Bunk Nooks
When dealing with a compact bedroom, recessed bunk beds emerge as the ideal space-saving solution. These bunk beds not only optimize space but also provide enhanced privacy compared to conventional options. By choosing recessed bunk beds, you can tailor your own private sleeping area, making it cozier when tucked away from the main room.
To achieve this design, consider incorporating curtains or blinds for added privacy, and complement the space with storage solutions and decor that match your aesthetic preferences. Enjoy the benefits of a more spacious and private room while retaining a snug and inviting atmosphere.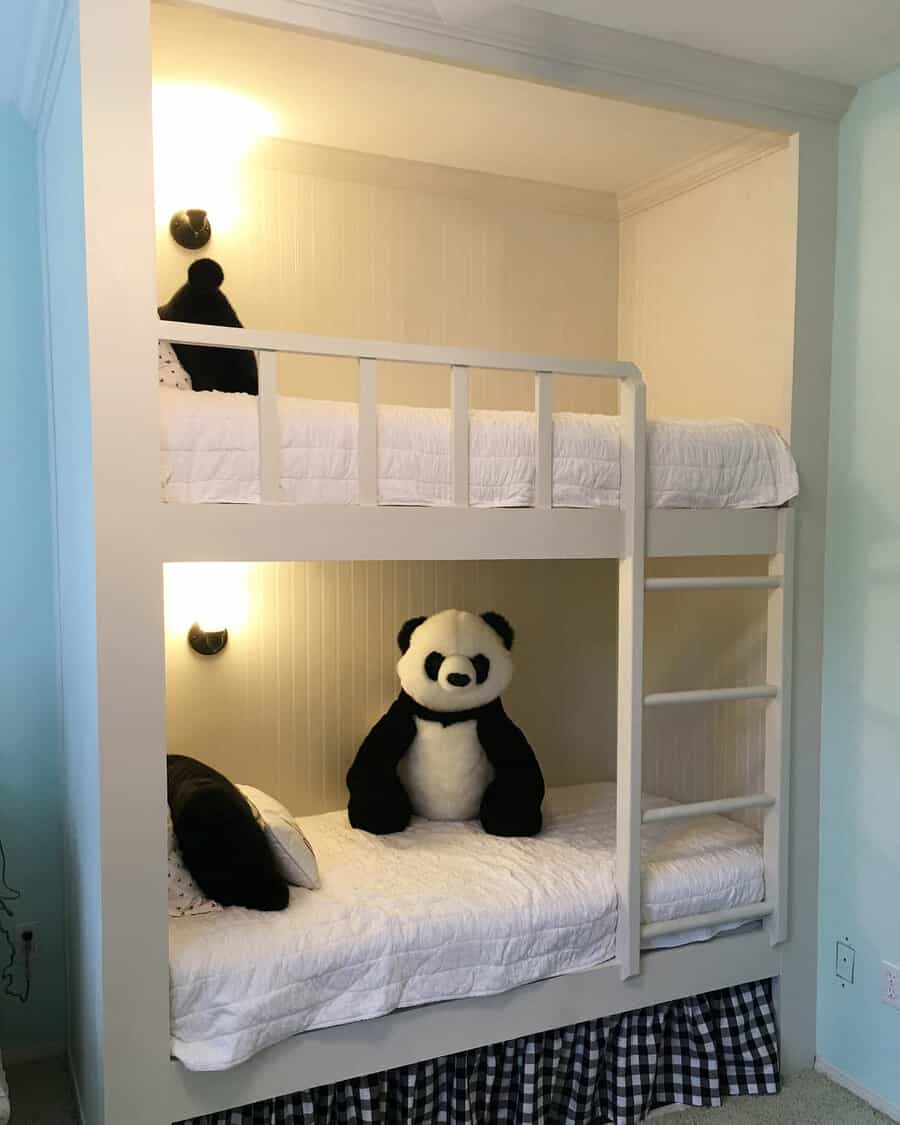 Bunk Bed FAQs
What age is appropriate for bunk beds?
The American Academy of Pediatrics recommends 6 years old as the minimum age to sleep on a bunk bed's top level. Although a younger child could sleep safely on the lower bunk, the temptation to climb and jump from the top may prove too tempting for a preschooler. Therefore, it's best to save bunk beds for school-aged kids and older.
Can adults sleep on a bunk bed?
That depends on the adult's size and the bunk bed's weight capacity. A twin bunk bed frame may not be strong enough—or long enough—to comfortably accommodate a fully grown adult. Check with the manufacturer if you're unsure. If you need bunk beds for a guest room or vacation home, be sure to buy bunks with a generous weight capacity.