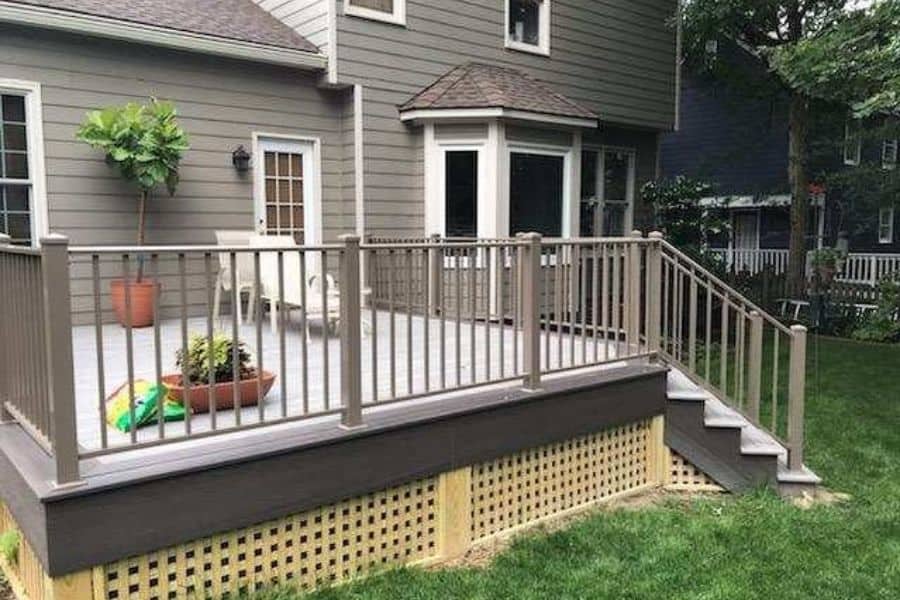 The Top 22 Deck Railing Ideas
Adding a deck to the backside of your house can increase the enjoyment of your property and add value to your home. Whether it is small or large, having a railing can give it a finished look. It can also increase its safety by reducing the risk of someone falling off of the edge.
Choosing the right railing can make or break the finished deck design, though. So you want something that is strong and durable but won't completely take away from your enjoyment of the view.
These deck railing ideas will help you figure out the perfect look for your deck that also fits within your budget.
1. Sleek Cable Railing Designs
For a striking deck railing design that blends style and safety, explore the world of sleek cable railing options. This innovative approach combines metal frames with cable infills to create a modern, open feel while ensuring the utmost security.
The durable metal frame adds extra strength and allows for versatile customization in terms of colors and patterns. To achieve this look, consult with a professional installer who can help you select the perfect cable and frame combination for your deck's aesthetics. Complement your cable railing with minimalist outdoor furniture and lighting to create a contemporary outdoor oasis that's both safe and visually stunning.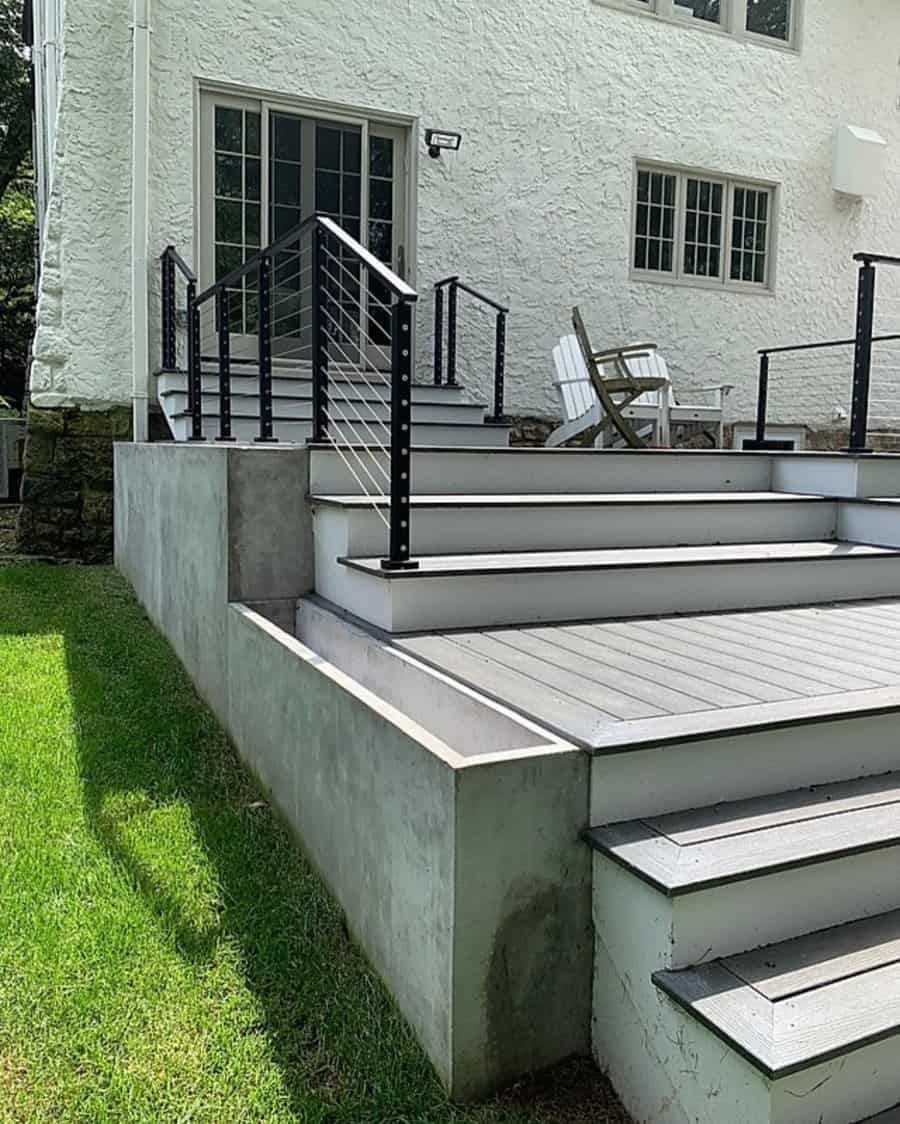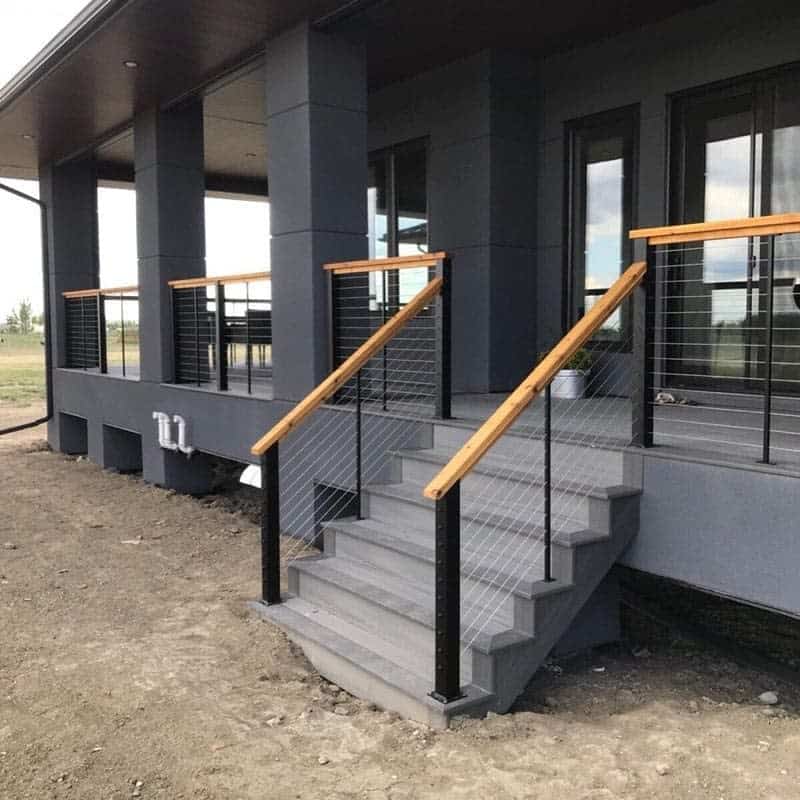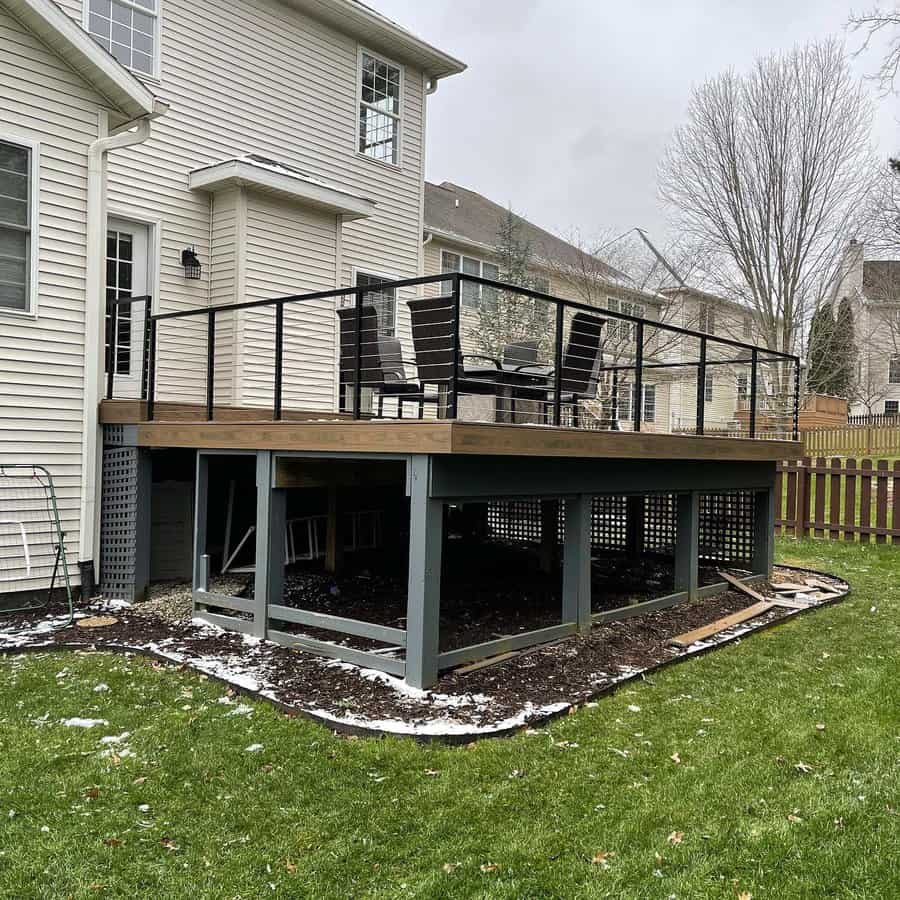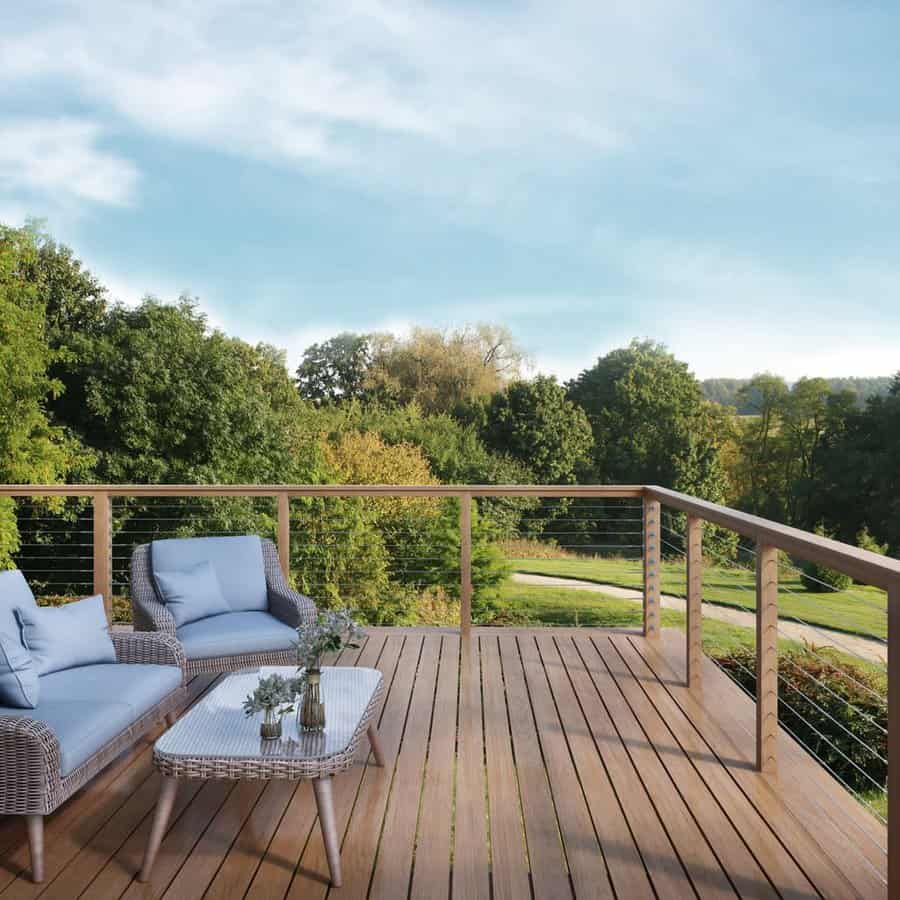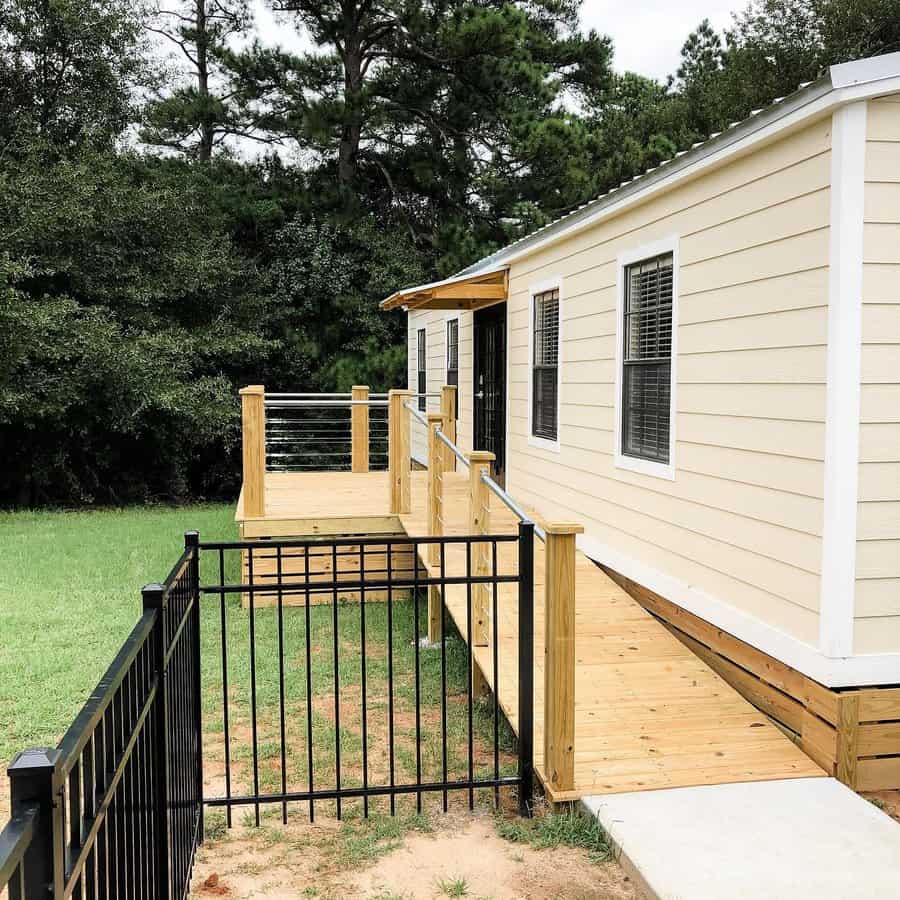 2. Modern Vertical Vinyl Options
Explore the world of modern vertical vinyl options to elevate your deck's aesthetics. Vertical vinyl railings are a lightweight, low-maintenance choice that can infuse elegance into your outdoor space.
Their easy installation makes them a DIY-friendly project, and their durability ensures long-lasting beauty. To complement this modern look, consider incorporating sleek, contemporary furniture and planters for a cohesive and stylish deck design that requires minimal maintenance over time.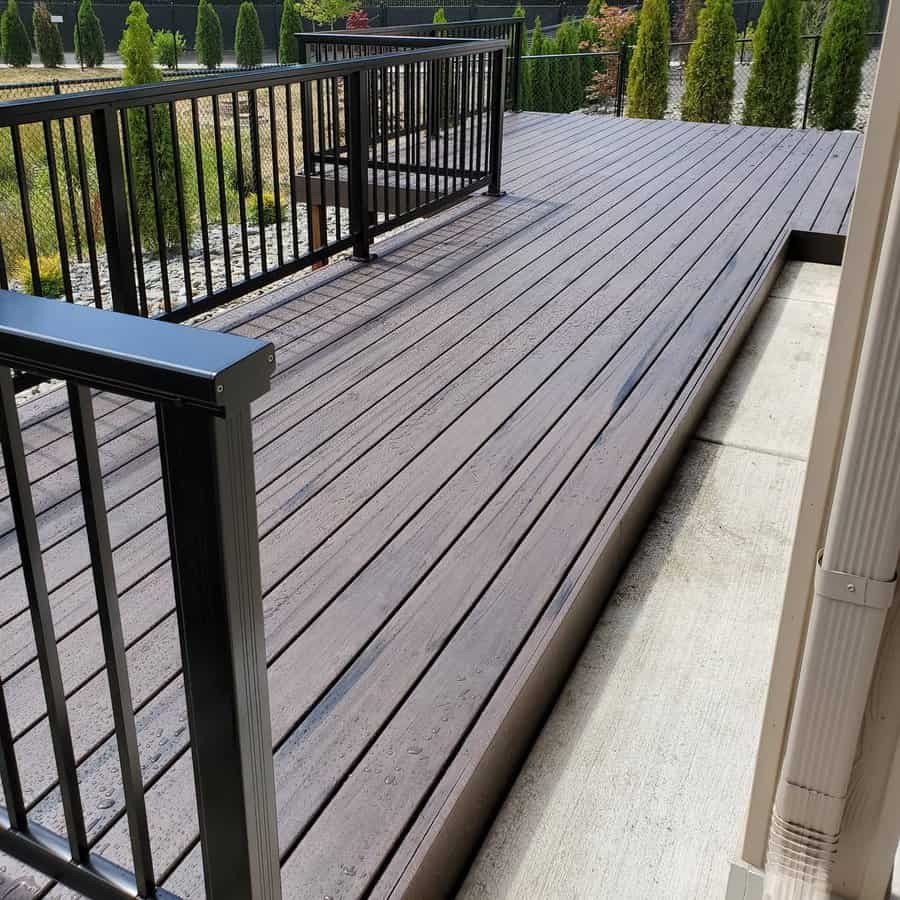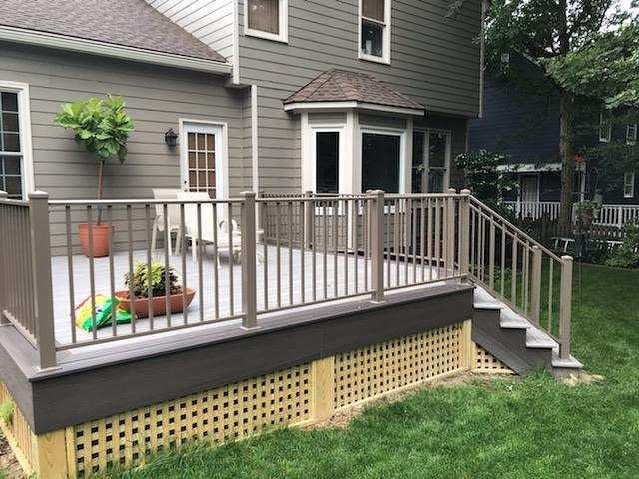 3. Classic White Wooden Rails
Evoke timeless charm and safety with classic white wooden railings for your deck. These elegant railings blend tradition with contemporary design, making your outdoor space both fashionable and secure.
The white wood's reflective properties can create a brighter and more expansive atmosphere. To achieve this look, consult with a professional for proper installation and maintenance guidance. Complement your white wooden railings with neutral-colored outdoor furniture and vibrant potted plants to achieve a balanced and inviting deck setting that stands the test of time.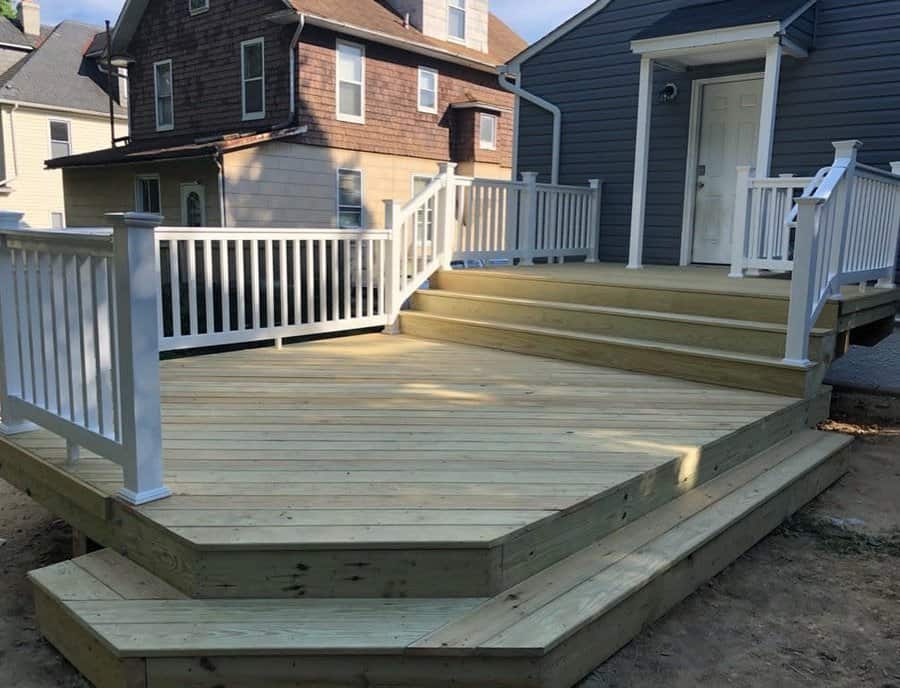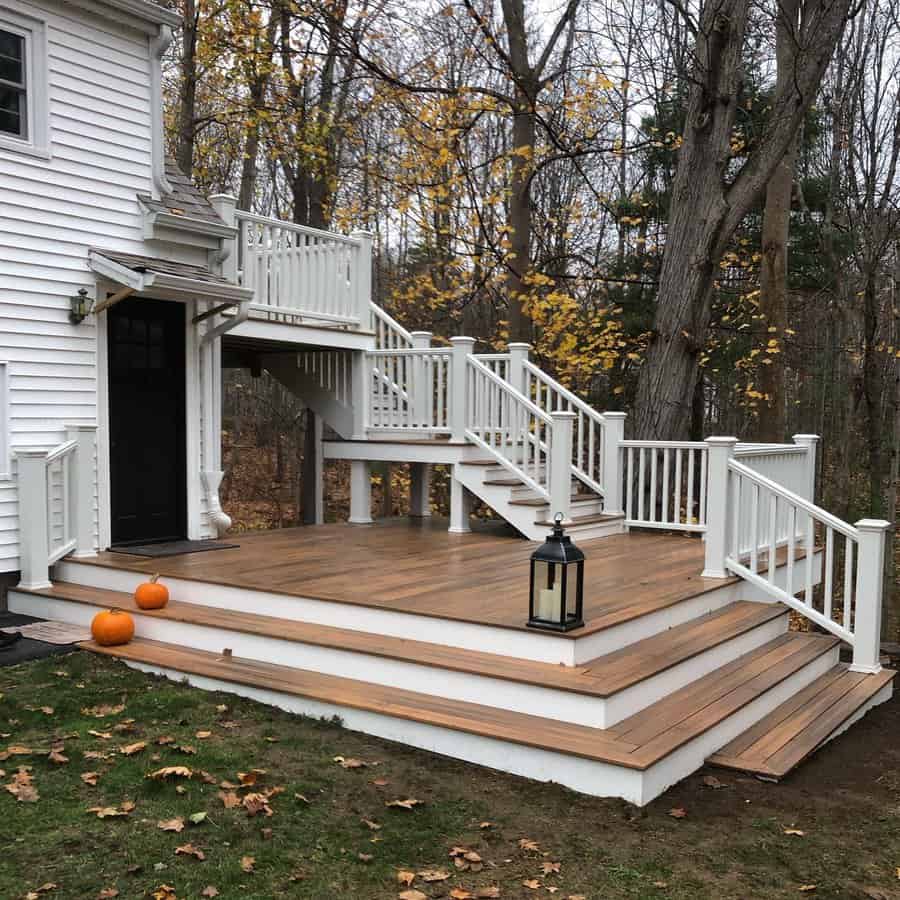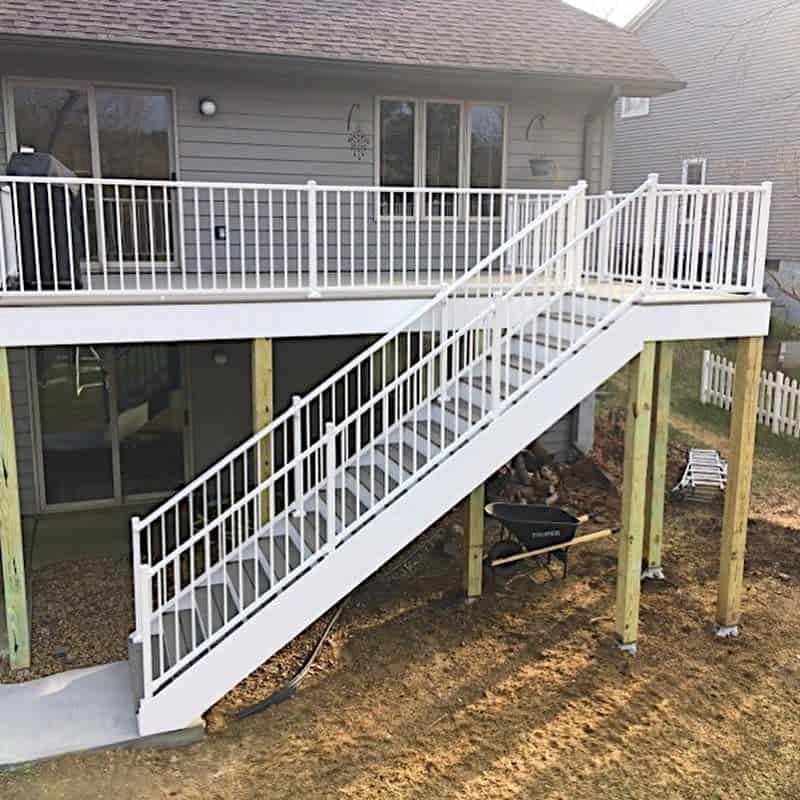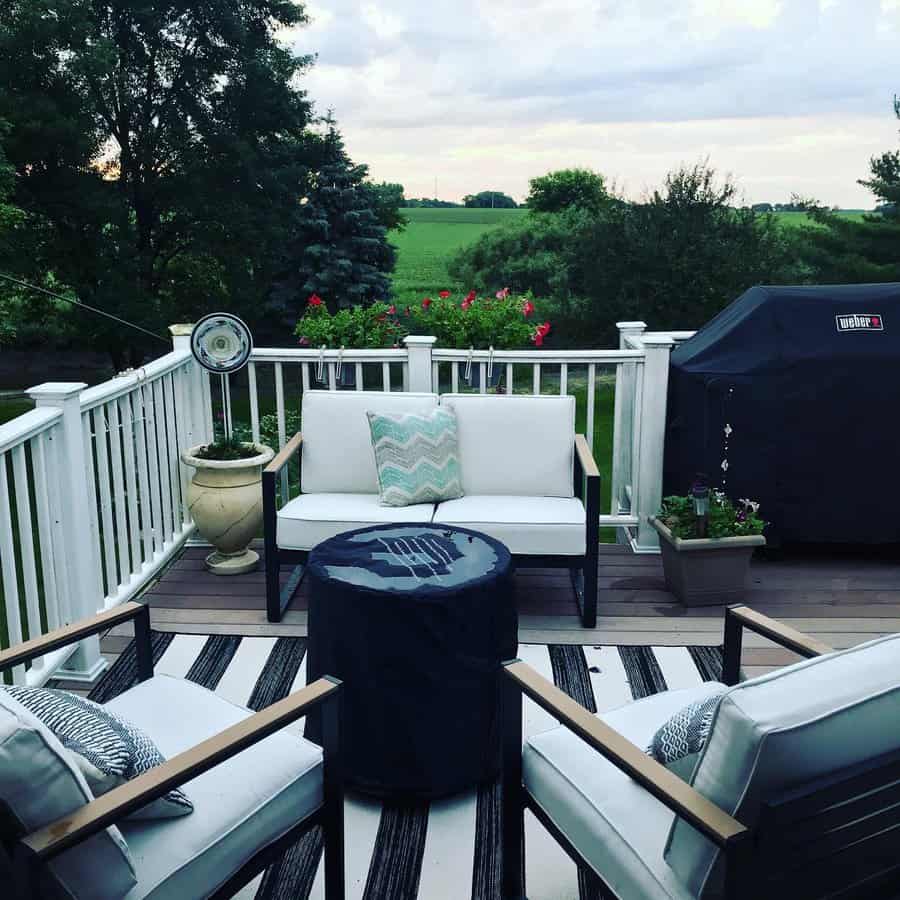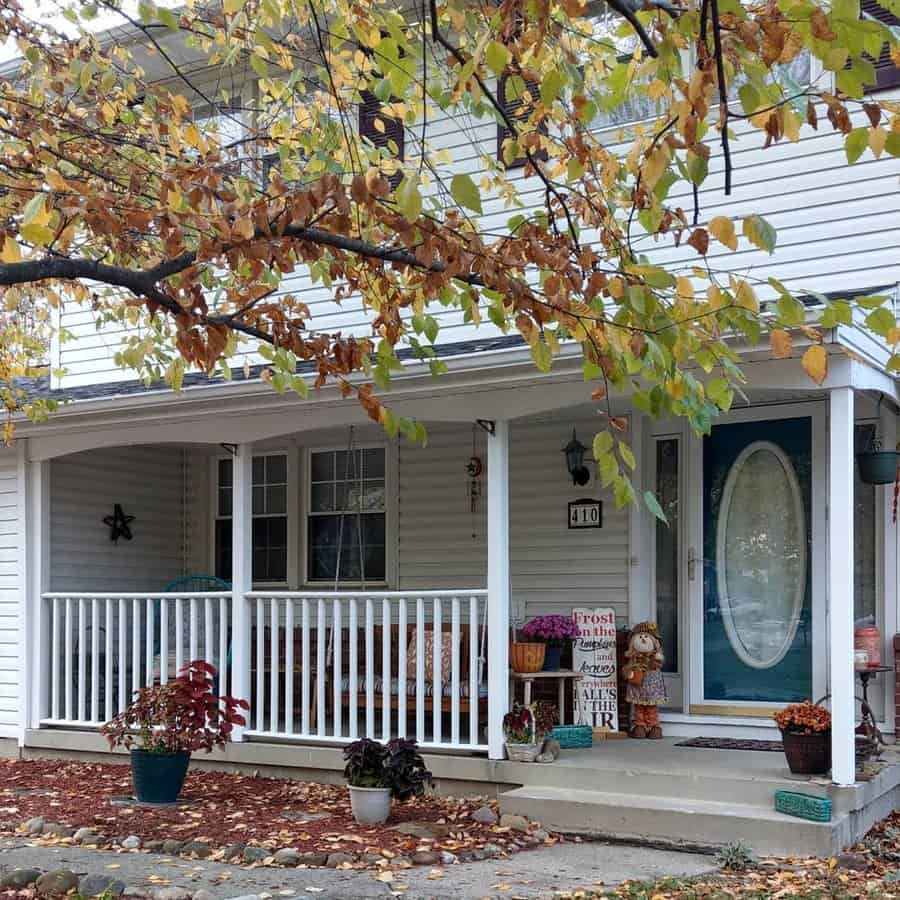 4. Creative DIY Pallet Railings
Transform your deck into a rustic masterpiece with creative DIY pallet railings. This cost-effective and customizable option allows you to infuse personality into your outdoor space without a hefty price tag.
With some basic DIY skills and careful planning, you can bring this unique look to life. Consider experimenting with different layouts, whether it's vertical or horizontal railings, to make your deck truly one-of-a-kind. To complete the aesthetic, incorporate cozy, vintage-inspired outdoor furniture and earthy color palettes for a harmonious and welcoming deck setting that showcases your creativity.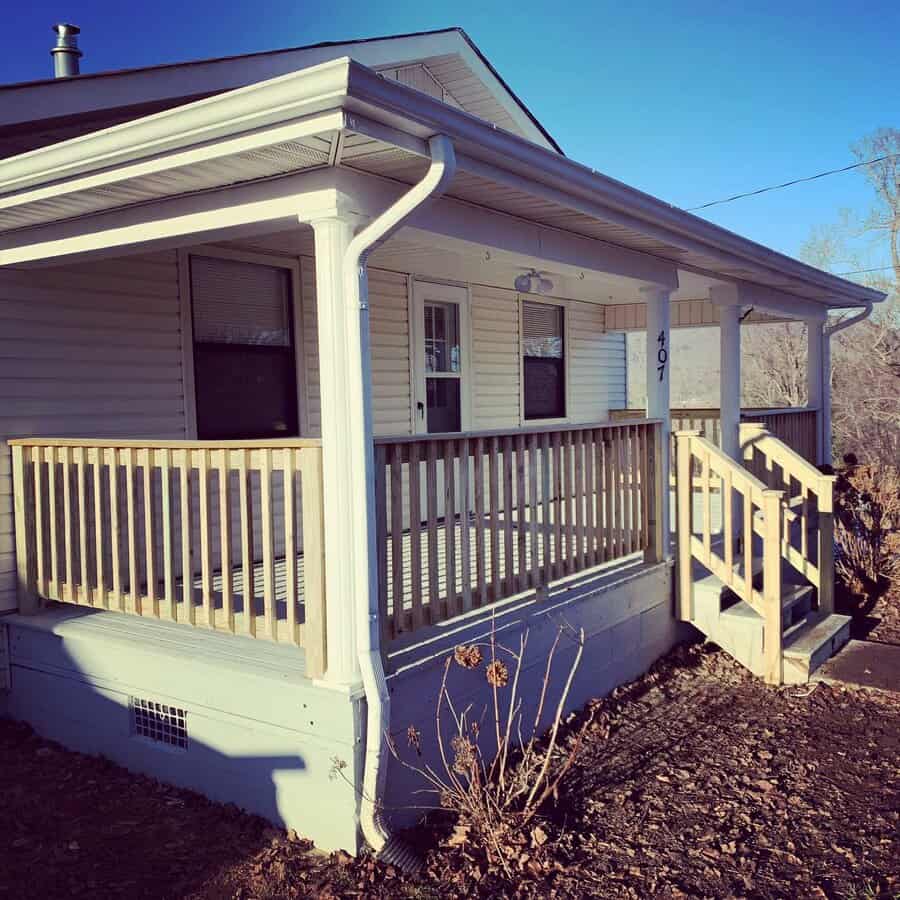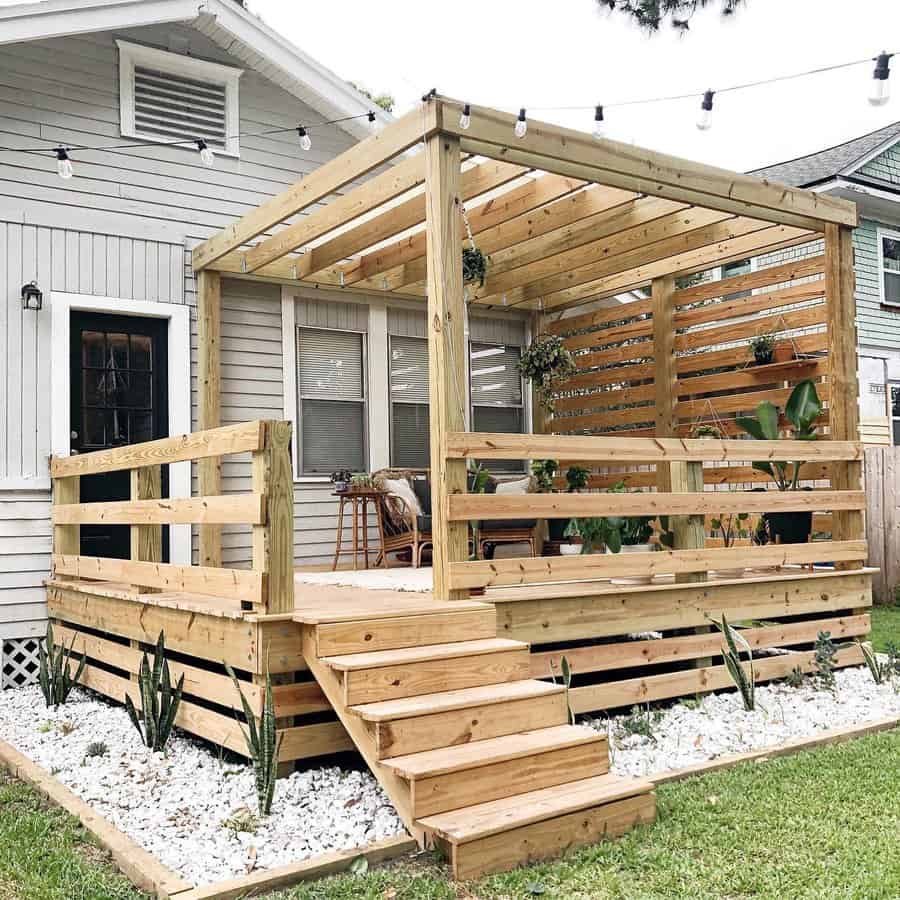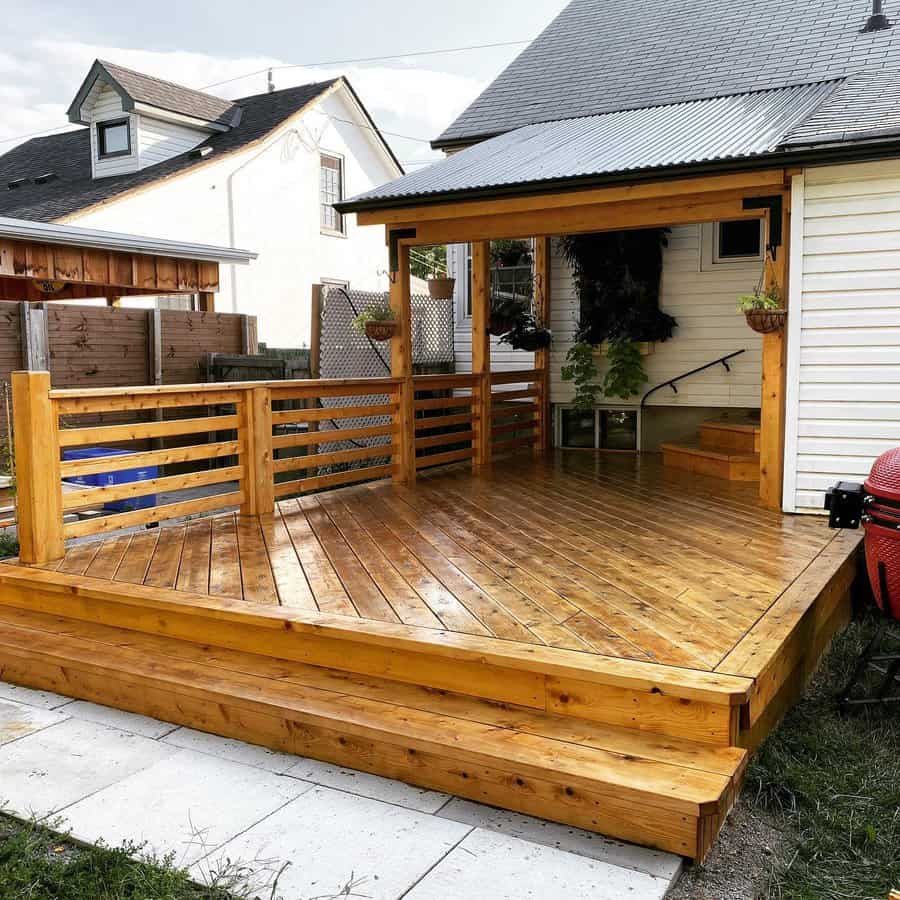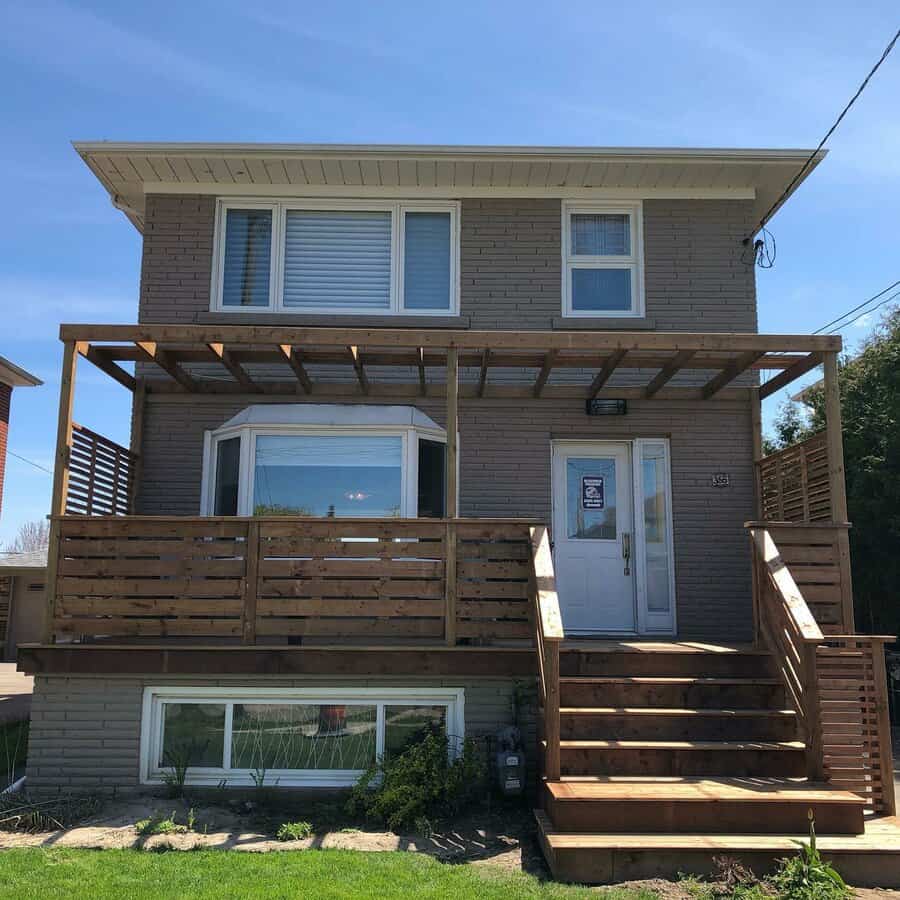 5. Stylish Metal Vertical Choices
Enhance your deck's contemporary appeal with stylish metal vertical railing choices. These sleek and secure options offer both safety and aesthetic enhancement to elevate your outdoor space.
To achieve this look, choose metal railings that complement your existing decor. Consider mixing materials like glass or wood for a striking contrast. Consult with a professional installer for a seamless integration that ensures both safety and style. Combine your metal vertical railing with minimalist outdoor furniture and well-placed lighting to create a visually captivating, modern deck that's perfect for relaxation and entertainment.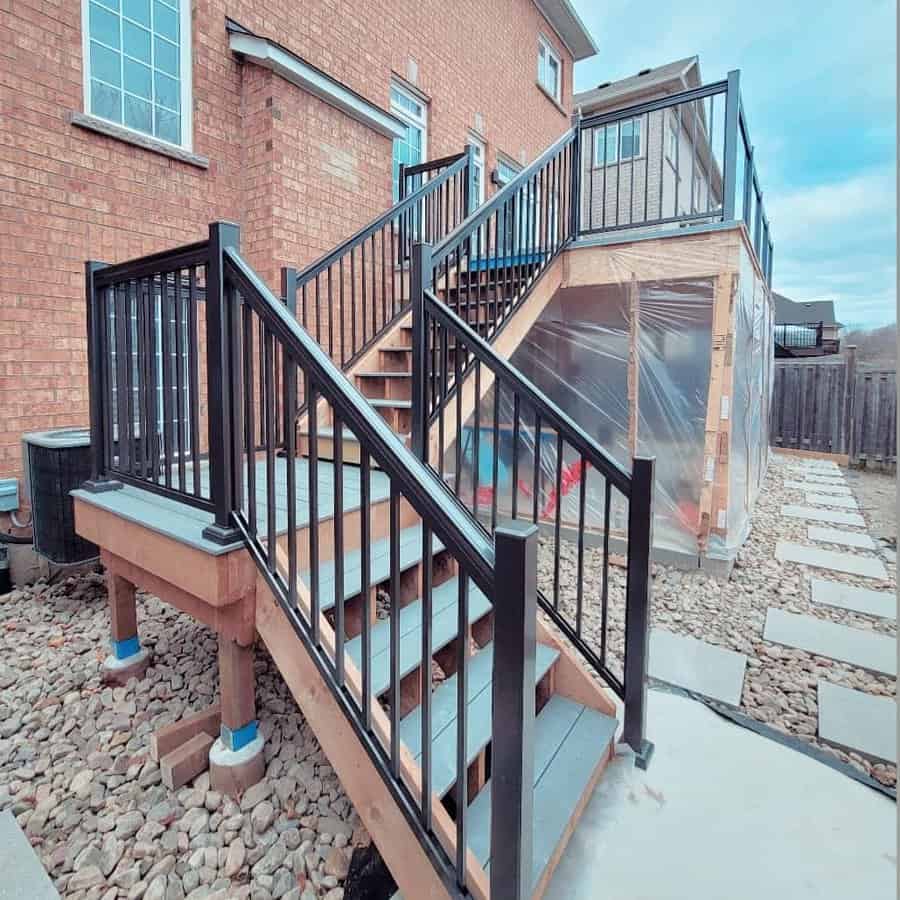 6. Contemporary Composite Metal-Wood Combinations
Achieve a captivating deck railing with contemporary composite metal-wood combinations that blend aesthetics and durability. This innovative choice melds the warmth of wood with the sleekness of metal, creating a unique, organic, and modern look suitable for both classic and contemporary home exteriors.
Opt for low-maintenance materials that resist weather-related wear and tear, ensuring your railing remains pristine over time. Consider adding glass panels or intricate designs for added flair. To bring this concept to life, consult with experts who can guide you through the selection process and installation, ensuring your vision becomes a stunning reality. Pair your composite metal-wood railing with complementary outdoor furniture and lighting to create an inviting, stylish deck space that harmonizes with your home's overall design.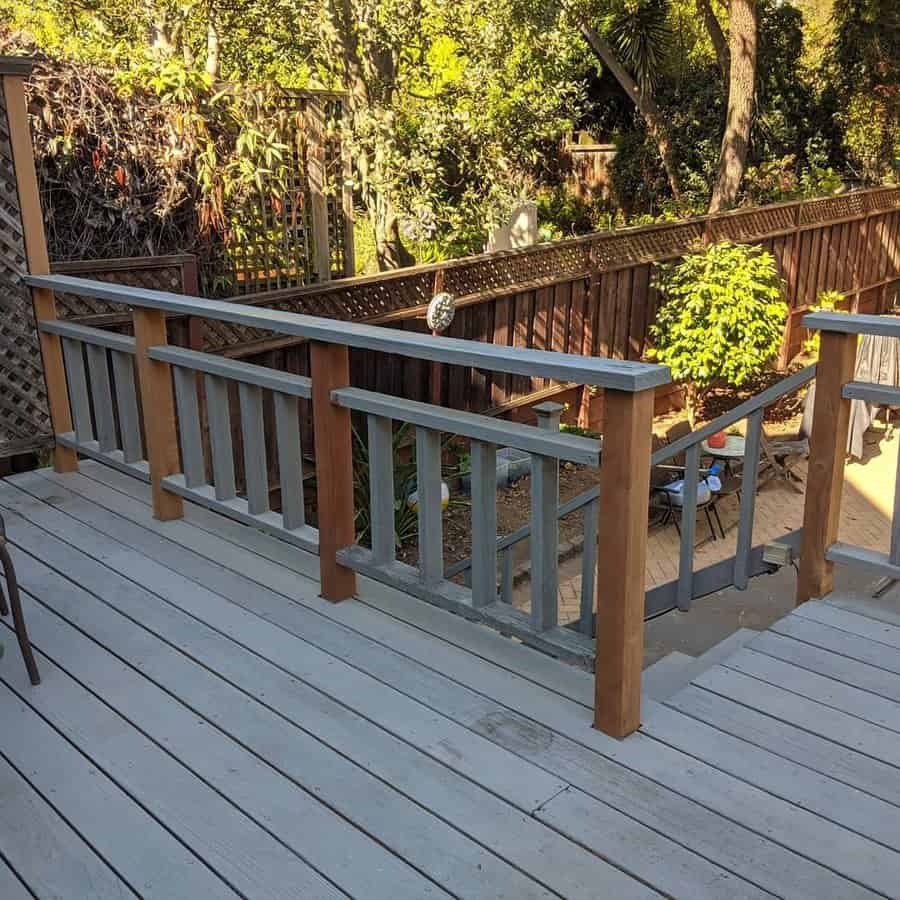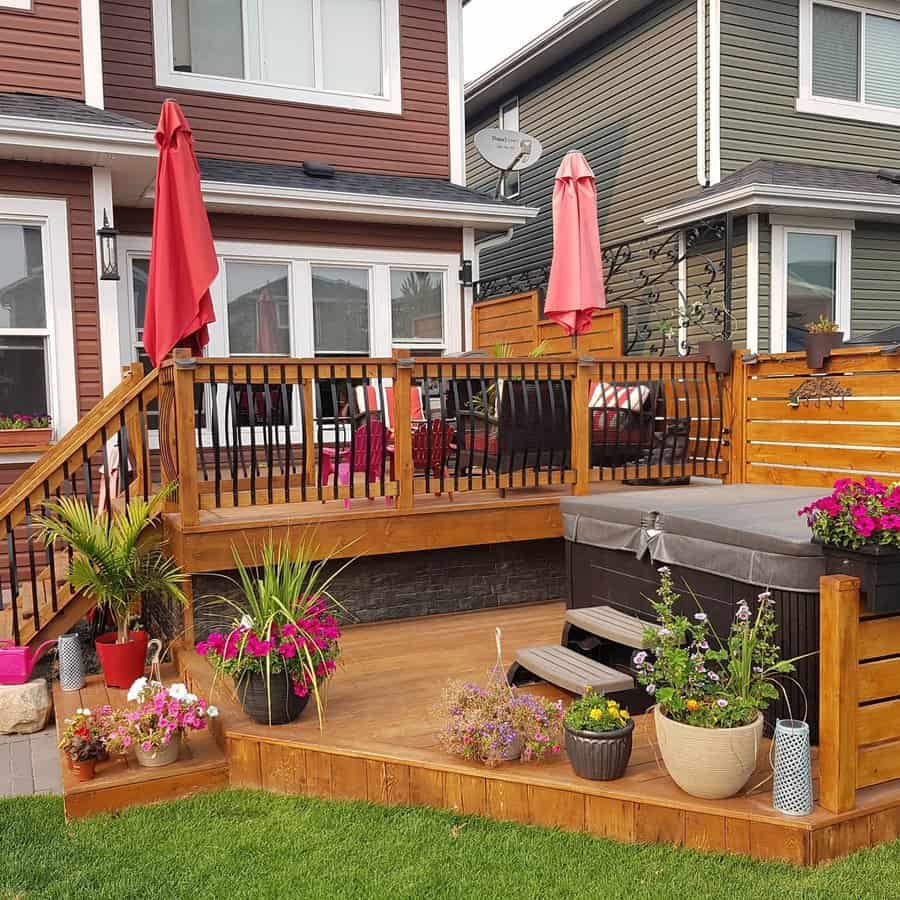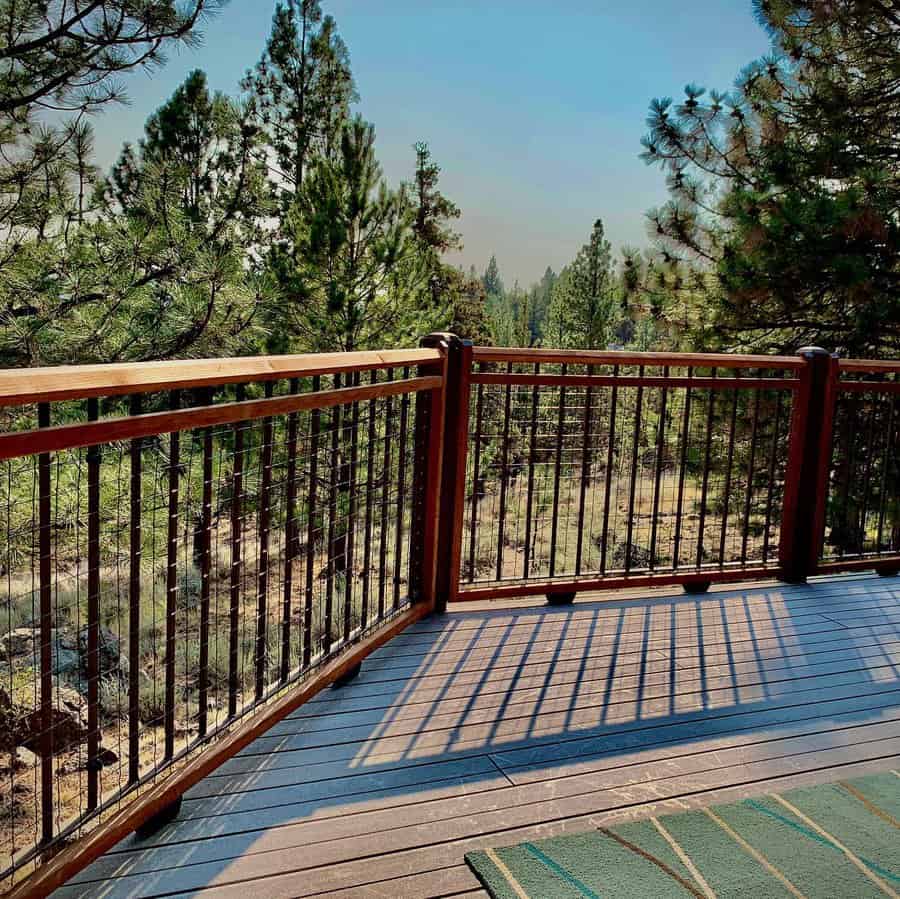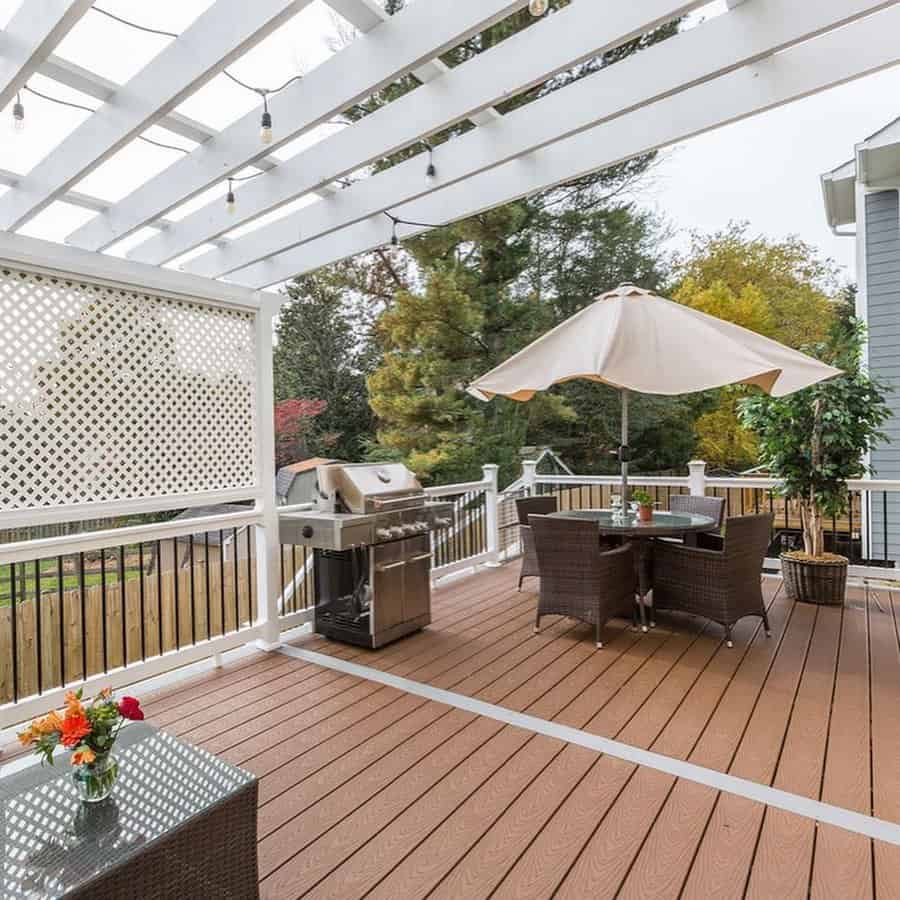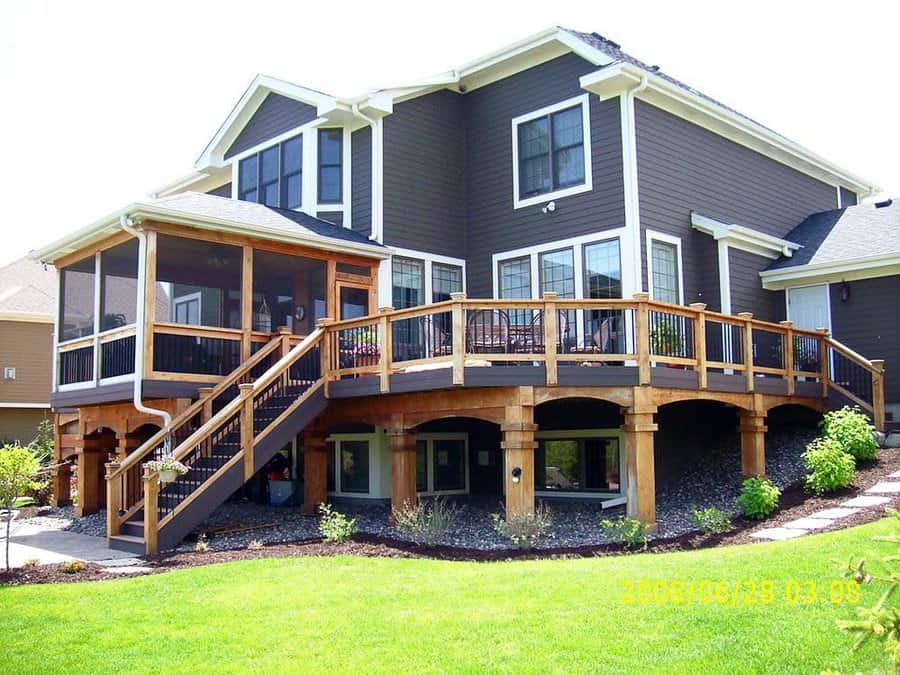 Deck Railing FAQs
What can I use instead of deck railing?
Instead of building a railing on your deck, you could have a row of thick bushes. Boxwoods, evergreen holly, and inkberry are all dense bushes that can grow in the ground or containers to create a natural barrier. If you want to add privacy with your railing, mount a lattice that a vine plant can grow on. A stamped metal privacy screen can also work.
What is the most inexpensive deck railing?
The cheapest material to use for your deck railing is pressure-treated lumber. The wood is found at any local home improvement store. You can buy it yourself and do the labor, saving you big on the labor. An affordable alternative material is vinyl. It's low cost for installation and has low maintenance costs.
How high can a deck be without railings?
Your deck can be up to 30 inches tall before you are required to have a railing. However, this is an average measurement, so be sure to check your local building codes before building your deck. A Deck that is 30 inches tall is just over two feet, anything taller, and someone could get seriously injured if they fall off the edge.