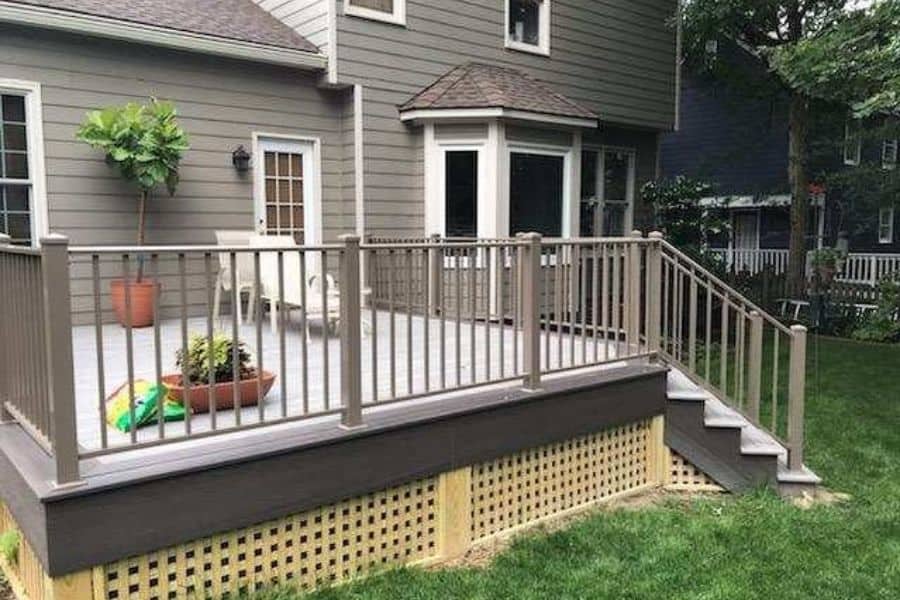 The Top 22 Deck Railing Ideas
Adding a deck to the backside of your house can increase the enjoyment of your property and add value to your home. Whether it is small or large, having a railing can give it a finished look. It can also increase its safety by reducing the risk of someone falling off of the edge.
Choosing the right railing can make or break the finished deck design, though. So you want something that is strong and durable but won't completely take away from your enjoyment of the view.
These deck railing ideas will help you figure out the perfect look for your deck that also fits within your budget.
1. Hog Wire
Using hog wire for your railing system is a great option if you have small children or pets. Instead of pickets that they could slip through, the hog wire creates a better barrier because its holes are too small.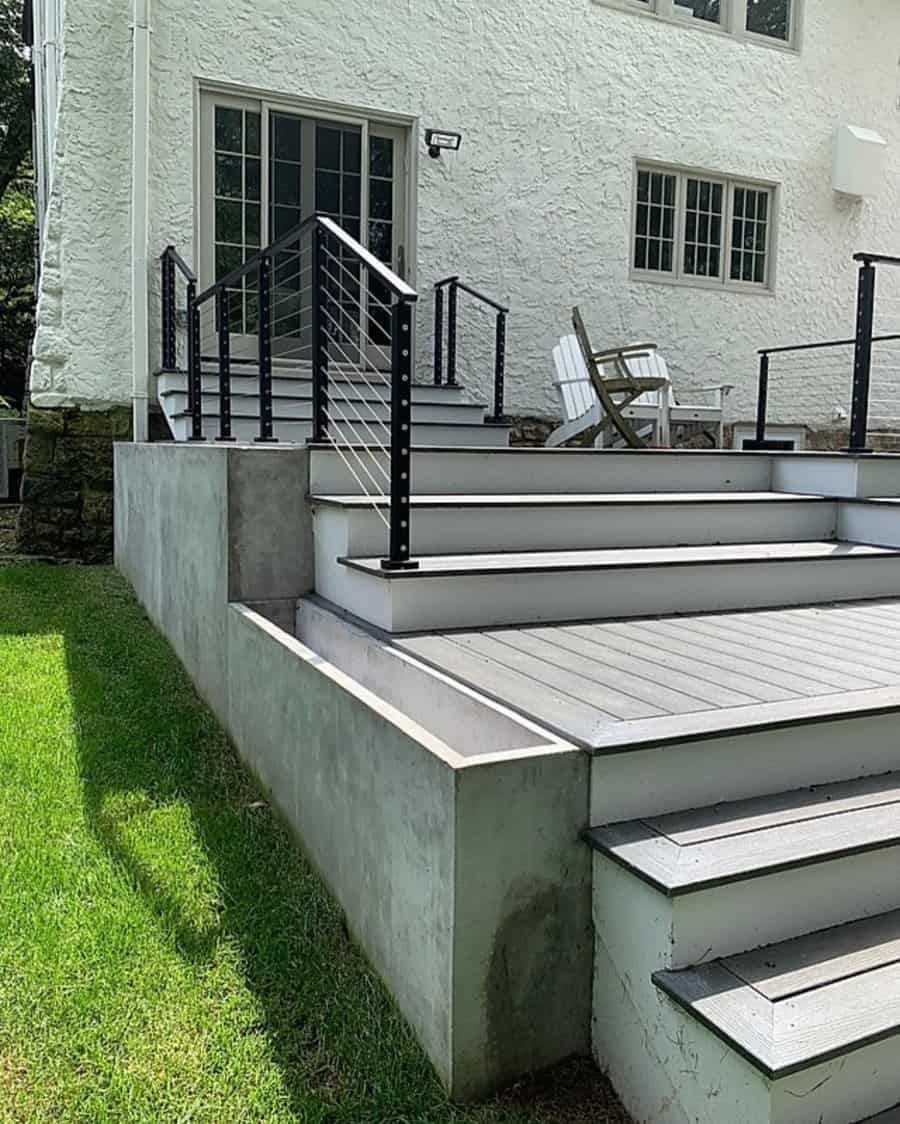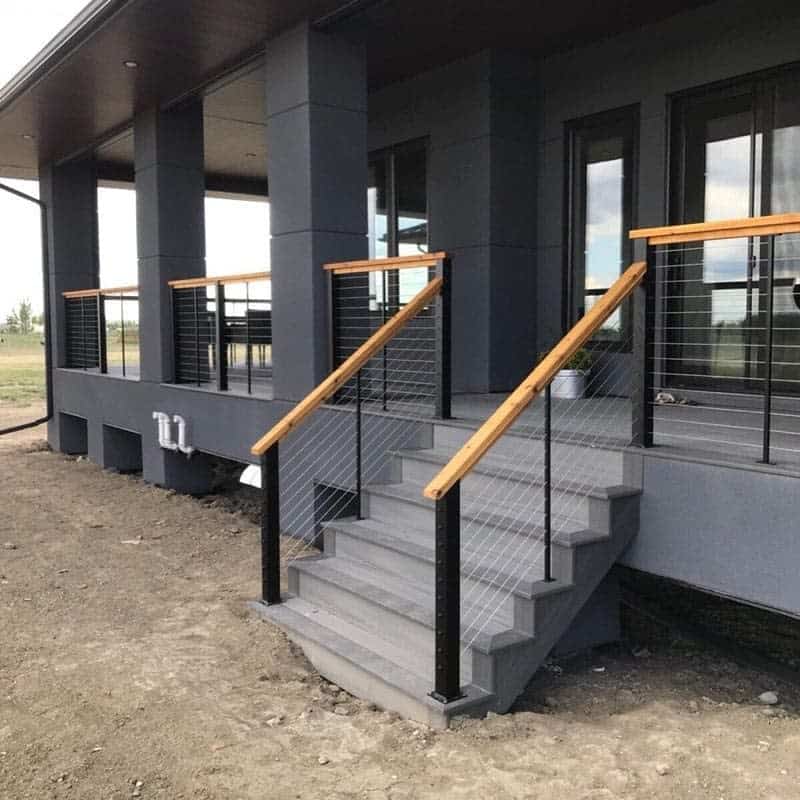 There are horizontal and vertical metal lines to create a box mesh design. The holes are larger than mesh, typically a couple of inches wide and tall. This maximizes safety while reducing visual blockage.
The key to making this type of railing look good is to mount the hog wire in a solid frame. This covers the wire's edge and gives it the necessary support to stay secure.
2. Metal
Using metal for your deck railing will give it a strong and durable feature. Wrought iron is incredibly heavy but also durable and strong. It's one of the most expensive materials to use for your railing. It also looks best when it's the only material used for your metal deck railing.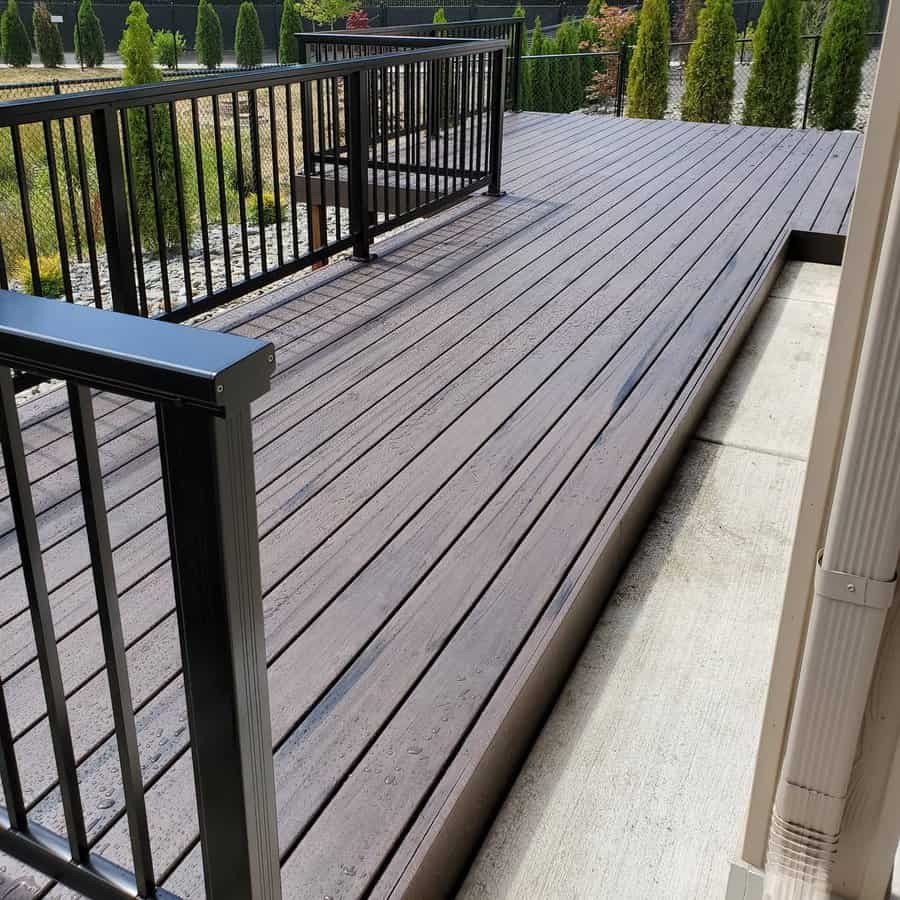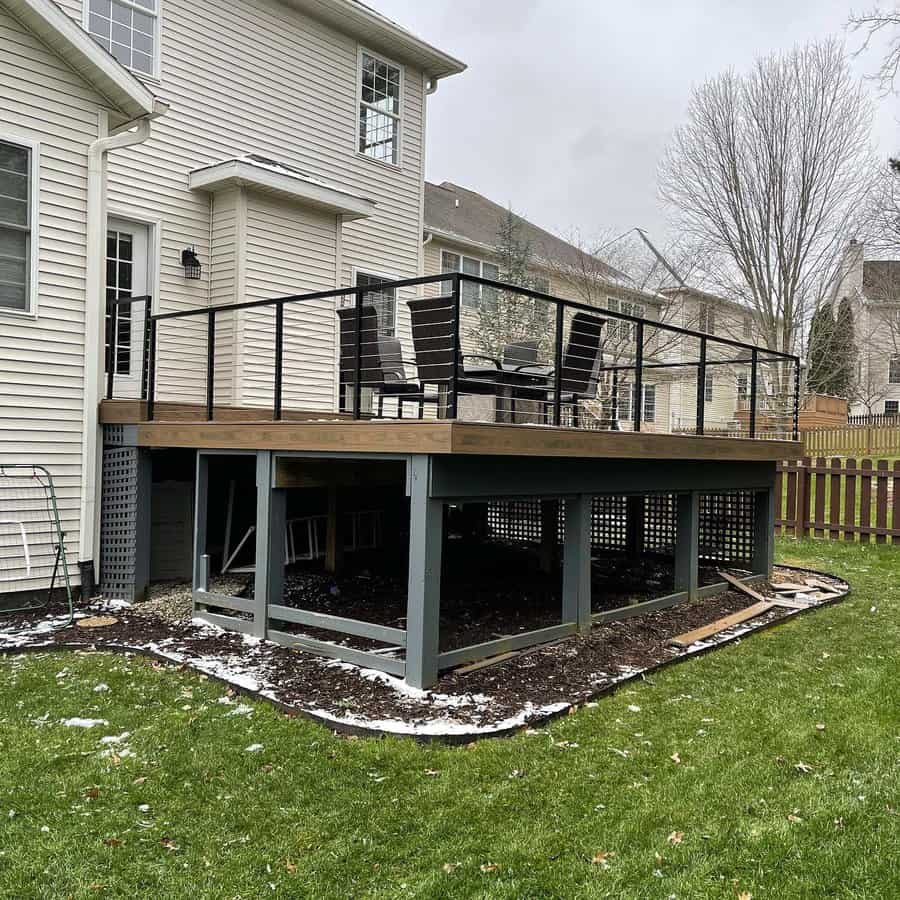 If you want to use a modern material for your metal railing, then consider a stainless steel cable deck railing. A cable rail system gives you the look of metal without being too bulky. The metal cables are strung through the posts in horizontal rows and pulled taught.
3. Modern
Modern deck railings embrace the idea of minimalism. The railing should be secure and protective but also blend in. This makes tempered glass railings popular. These are large glass panels that get secured on all sides to stand vertically next to each other.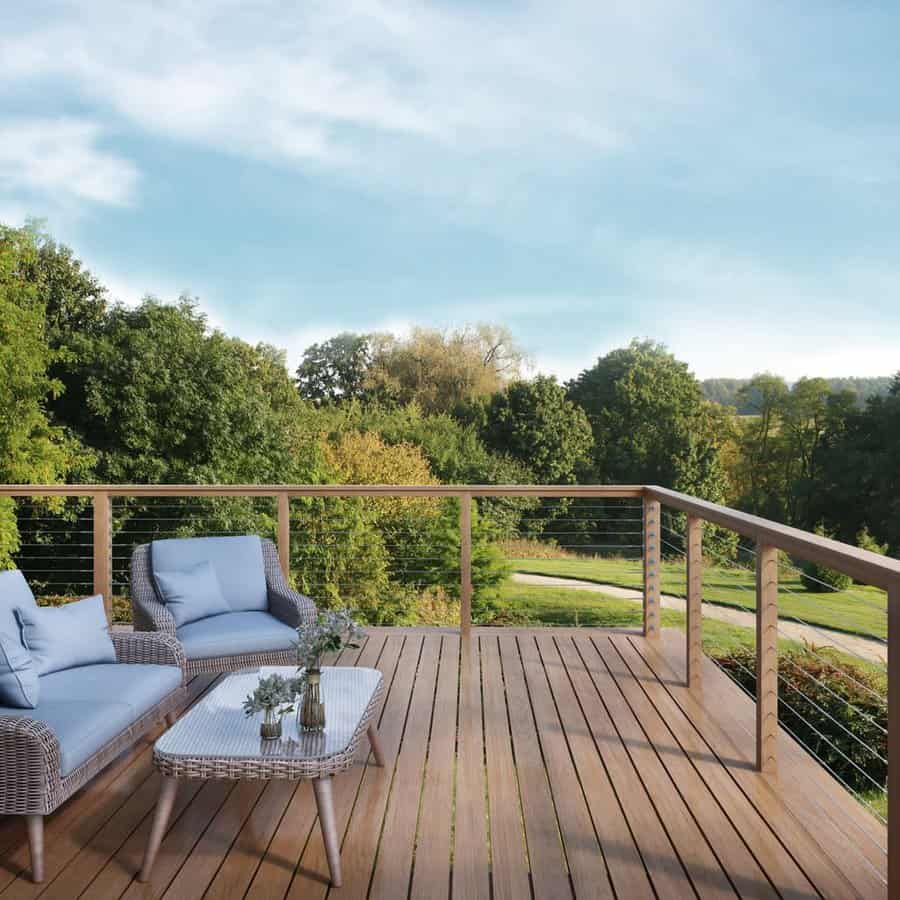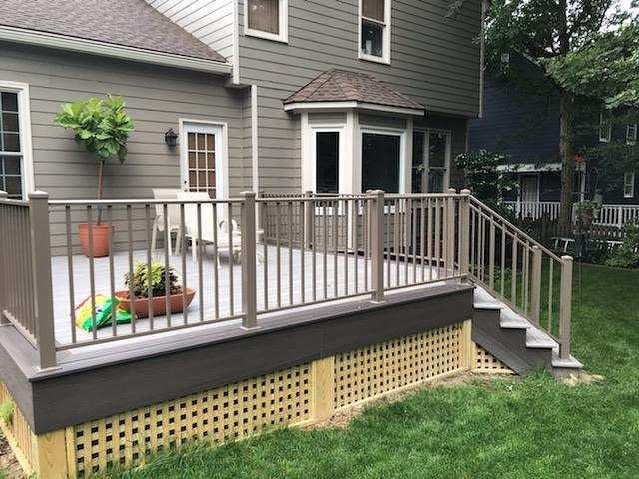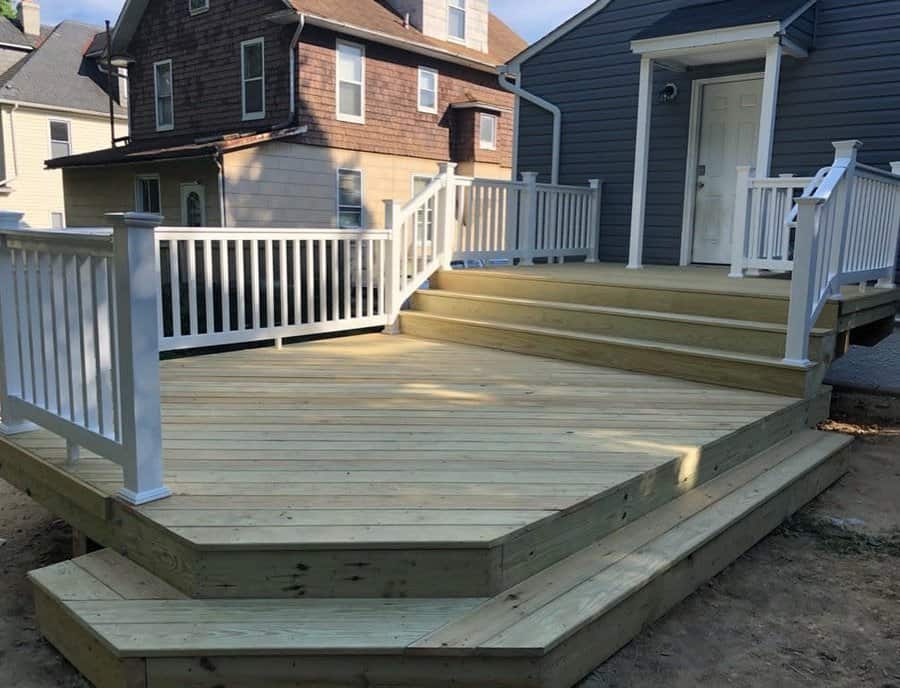 Sometimes, there will be a top rail across the top to give the glass support and a place to rest your drink or hand. Glass deck railings are expensive. They also require consistent cleaning, or your glass won't look crystal clear. A cable railing is a great alternative if the glass is out of your budget. The cables are minimalist, more affordable, and easier to maintain.
4. Porch
Railings aren't just for your decking. You may also need a porch railing. A porch is located on the front of your home.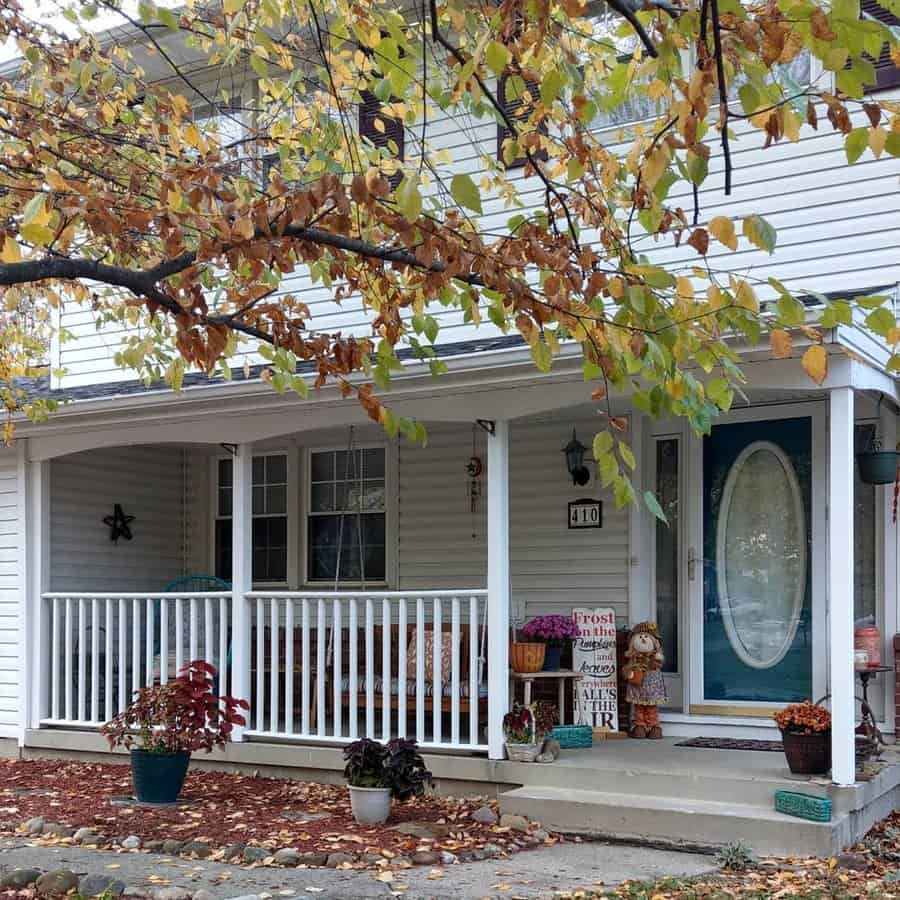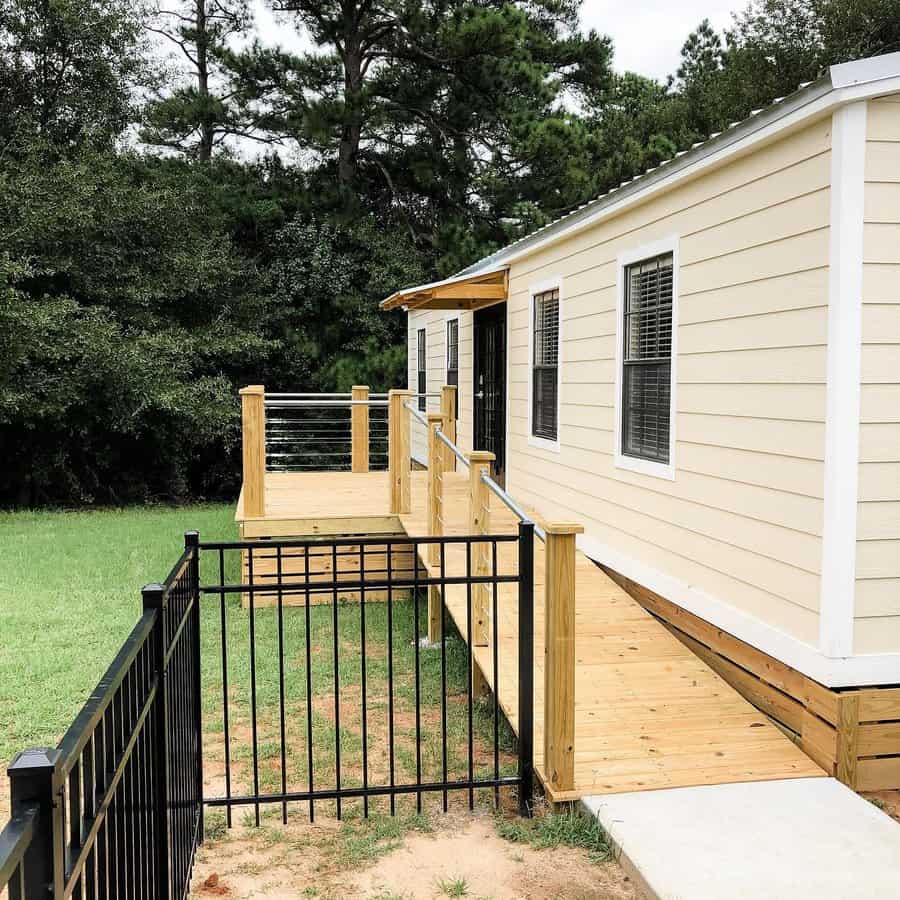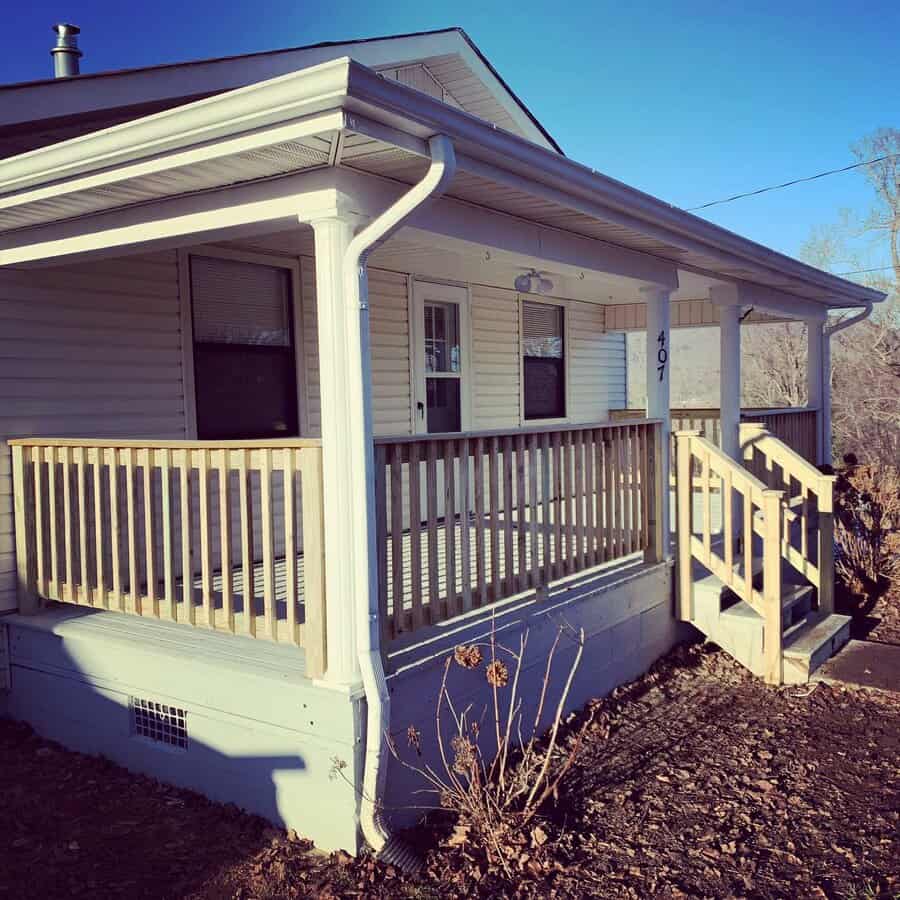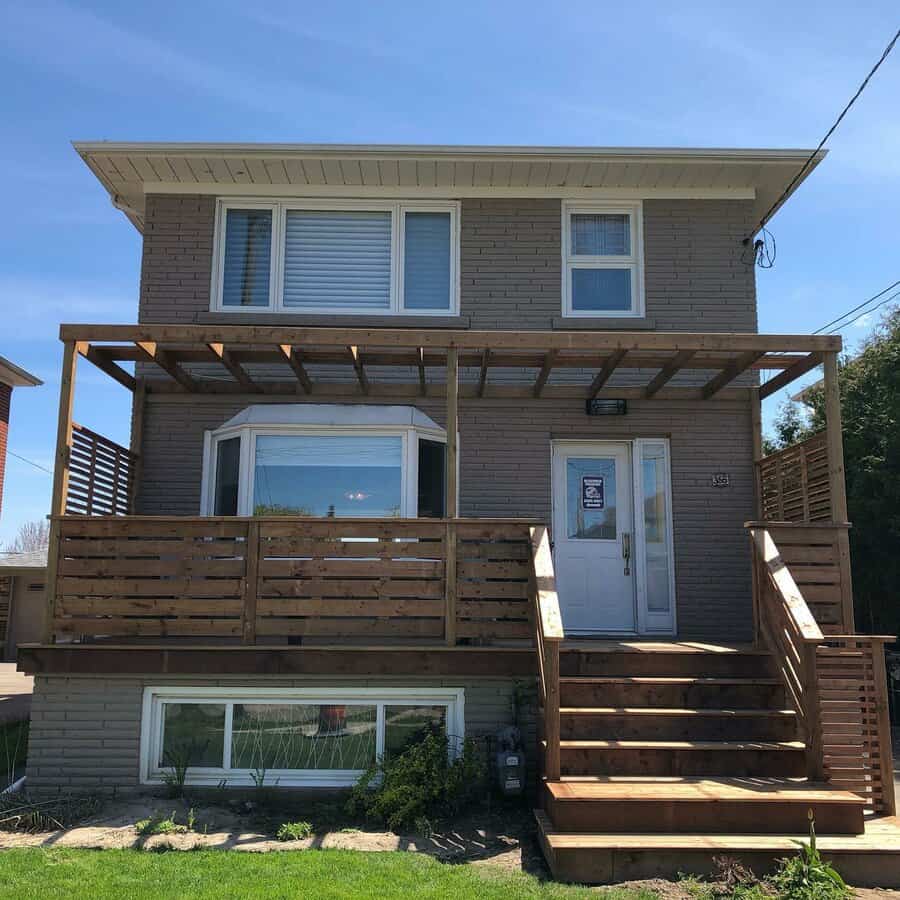 If you have both a deck and porch, having the same guard rail on both will give the exterior of your home a uniform look. This prevents one from looking like an afterthought that was added on later. It also makes your home safer because you don't have to worry about someone accidentally walking off the edge of your deck or porch.
5. Stair
If your deck has multiple steps, having a deck stair railing is necessary. This is different from a floating deck where there are only one or two steps.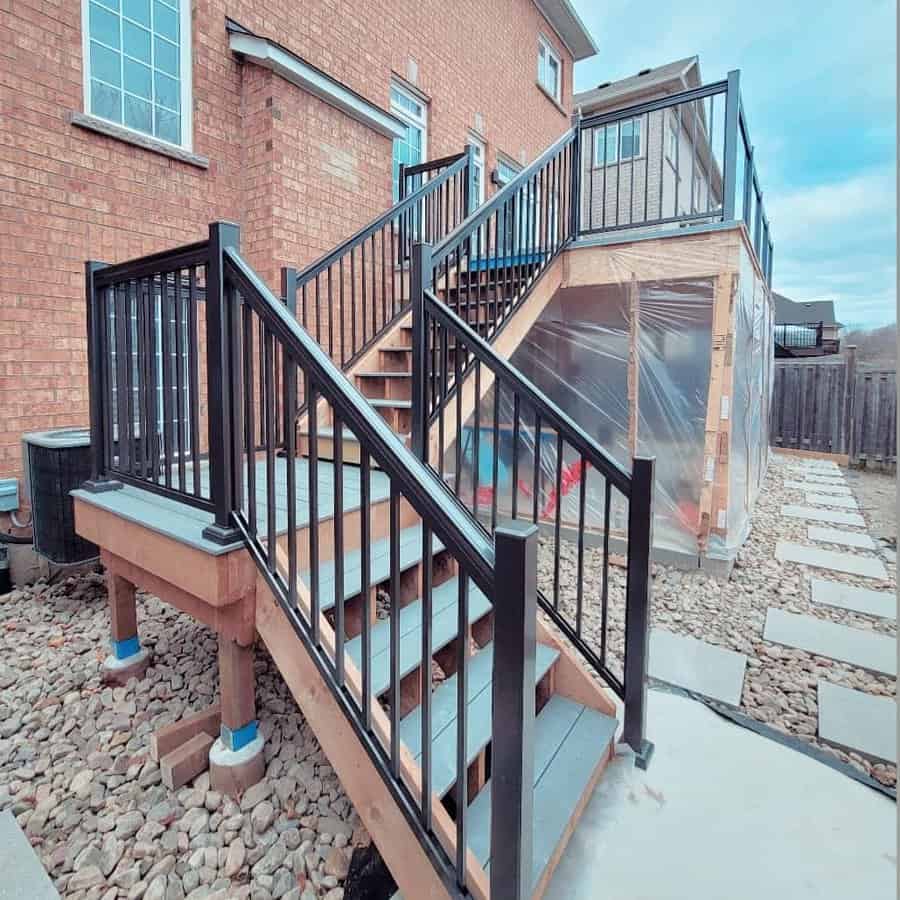 If you have multiple steps or stairs with a steep rise, then you'll want a railing that someone can hold onto for stability. Place the railing on either one or both sides of the stairs. If you have a railing on the rest of the deck, then your railing should connect with it. This will make your deck safer and give it a finished cohesive look. However, you don't have to have a railing on the rest of the deck to have a stair railing.
6. Two Tone
Elevate your deck design by making it two colors. Use wood, vinyl, or composite for the posts and top rail. Then you can have aluminum deck balusters between the posts. This railing design elevates the look of your deck because it gives it the look of a custom deck.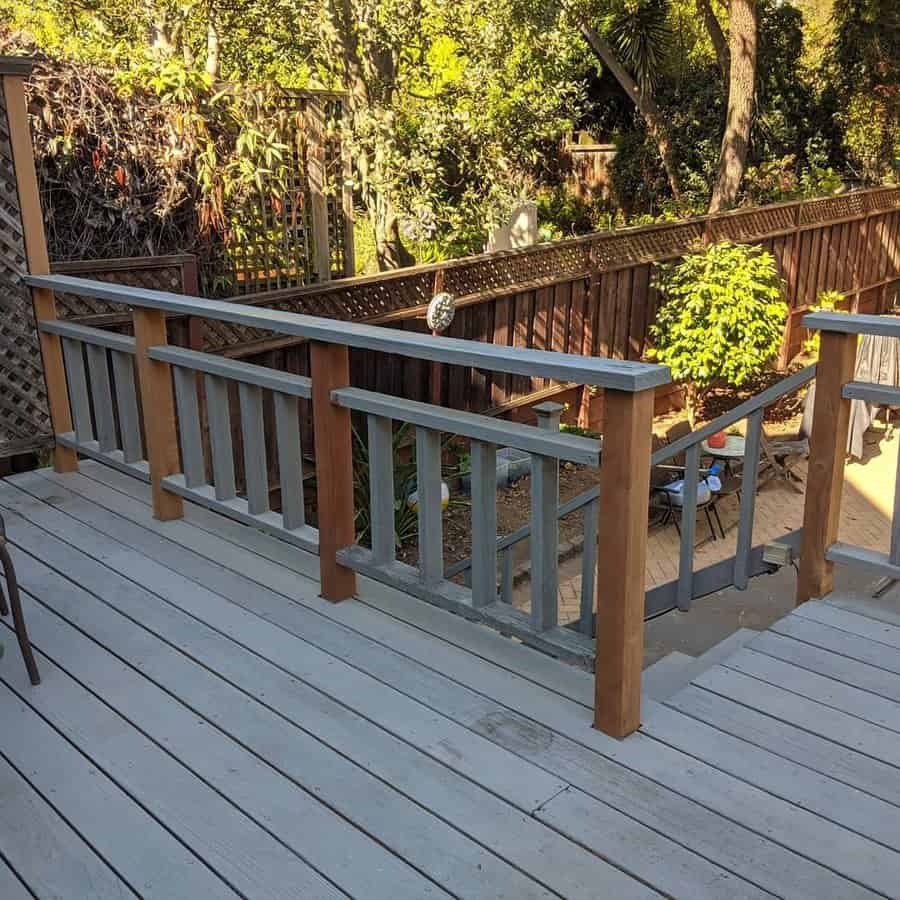 What's nice about this approach is that you could install deck lighting in a hollow vinyl top rail without committing to a full vinyl railing. The light would point downward, creating accent lighting and highlighting the edge of the deck.
7. Vertical
If you like a clean and uniform look to your railing, then consider a vertical aluminum baluster design. The aluminum is corrosion-resistant, lightweight, durable, low-maintenance, and affordable. While there are full aluminum decks, you could add an aluminum railing to your composite or wood deck.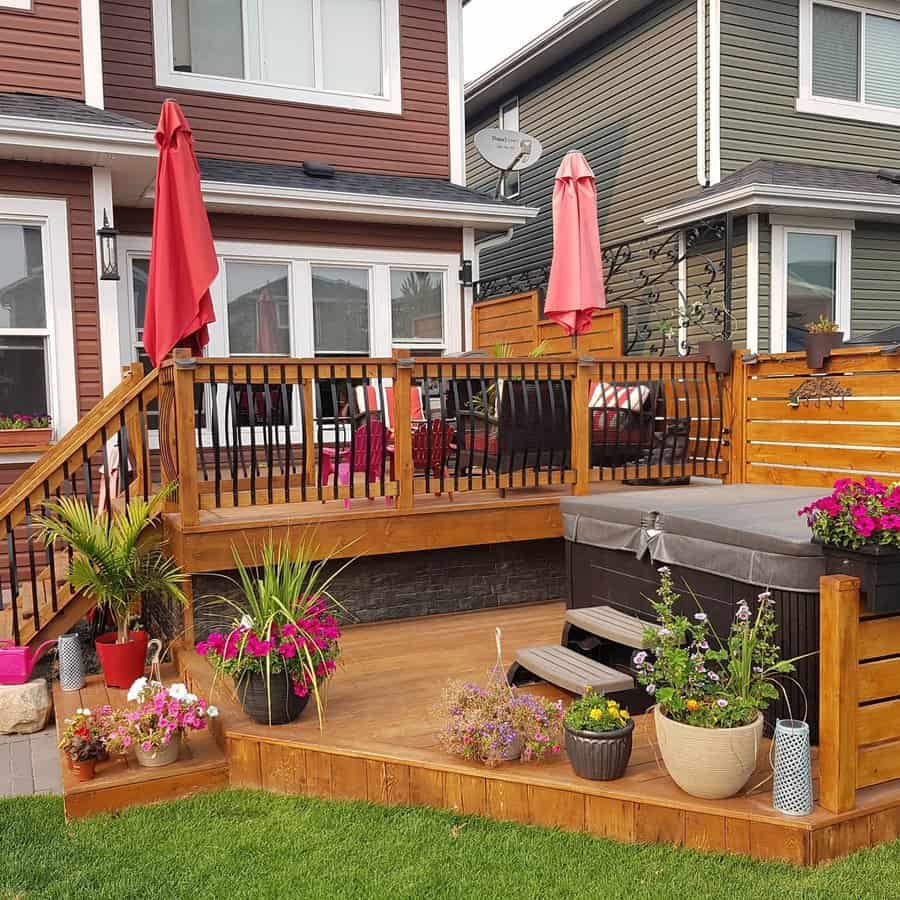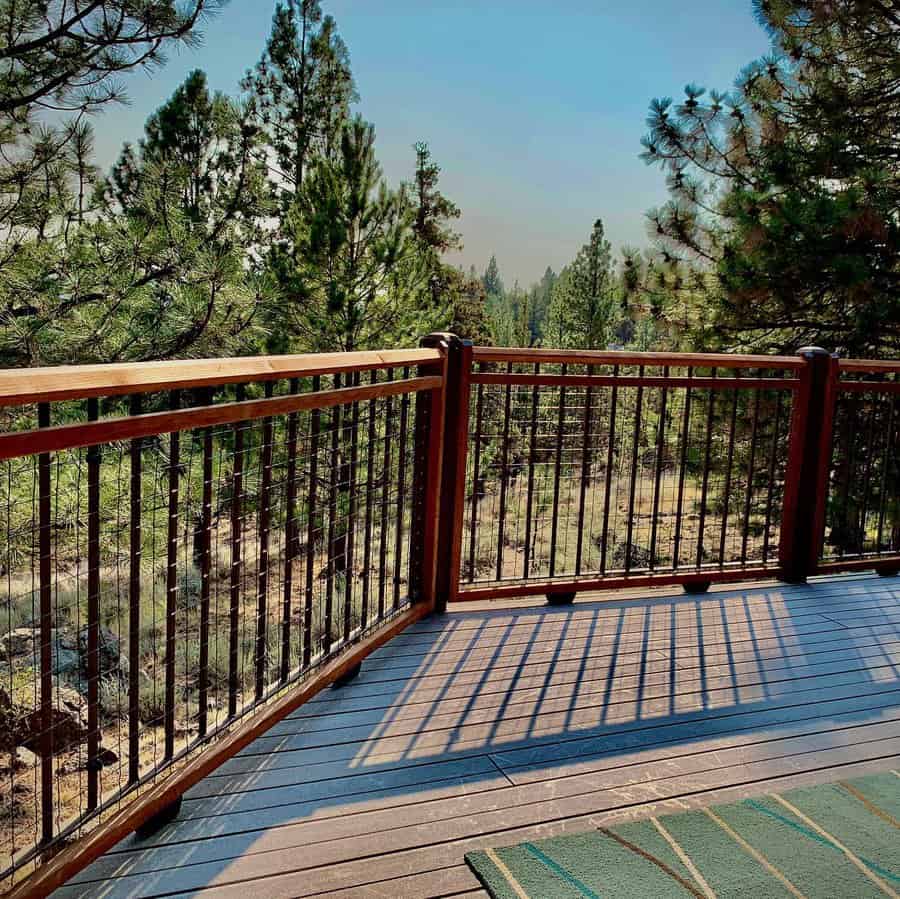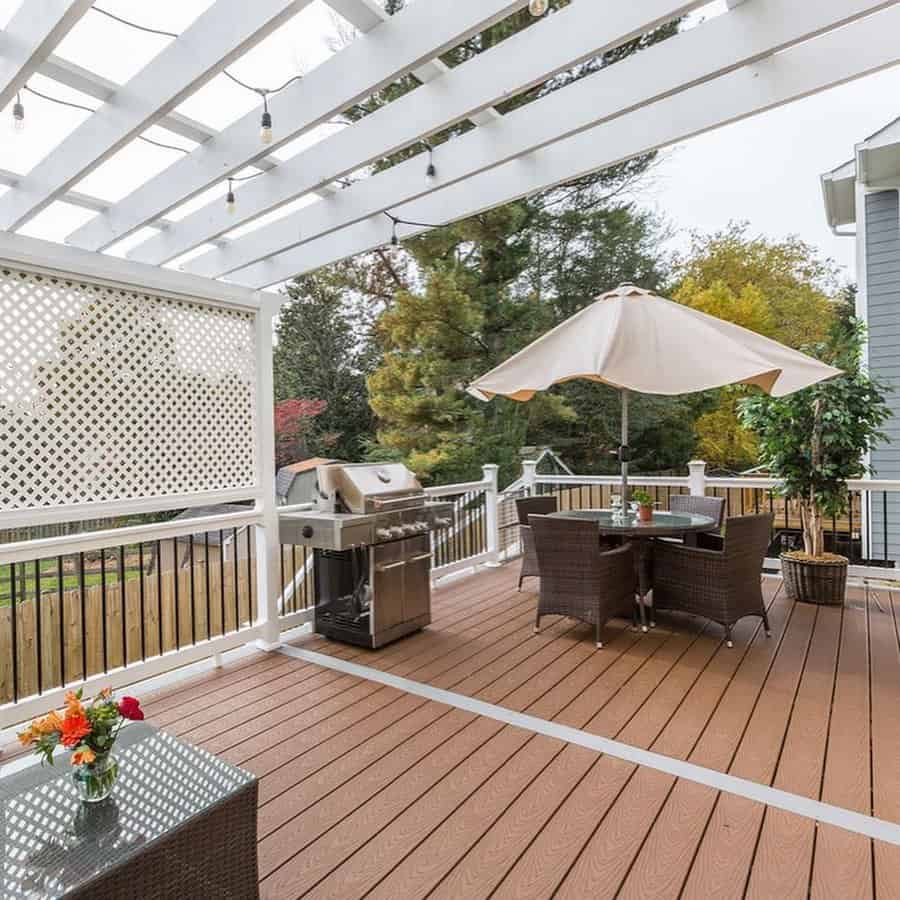 When choosing your vertical railing, consider how much of a visual barrier you want the railing to have. A full aluminum railing can be low profile with slim components to maximize your view. If you aren't concerned about the view, then consider a railing with a bit more bulk that has aluminum pickets and wood or composite railings and posts.
8. White
A crisp white deck railing will help your deck to feel light and bright. The white color will reflect the light and help your deck area to feel fresh. You could have a wood deck that you paint white for a white deck. This will require upkeep and repeated painting.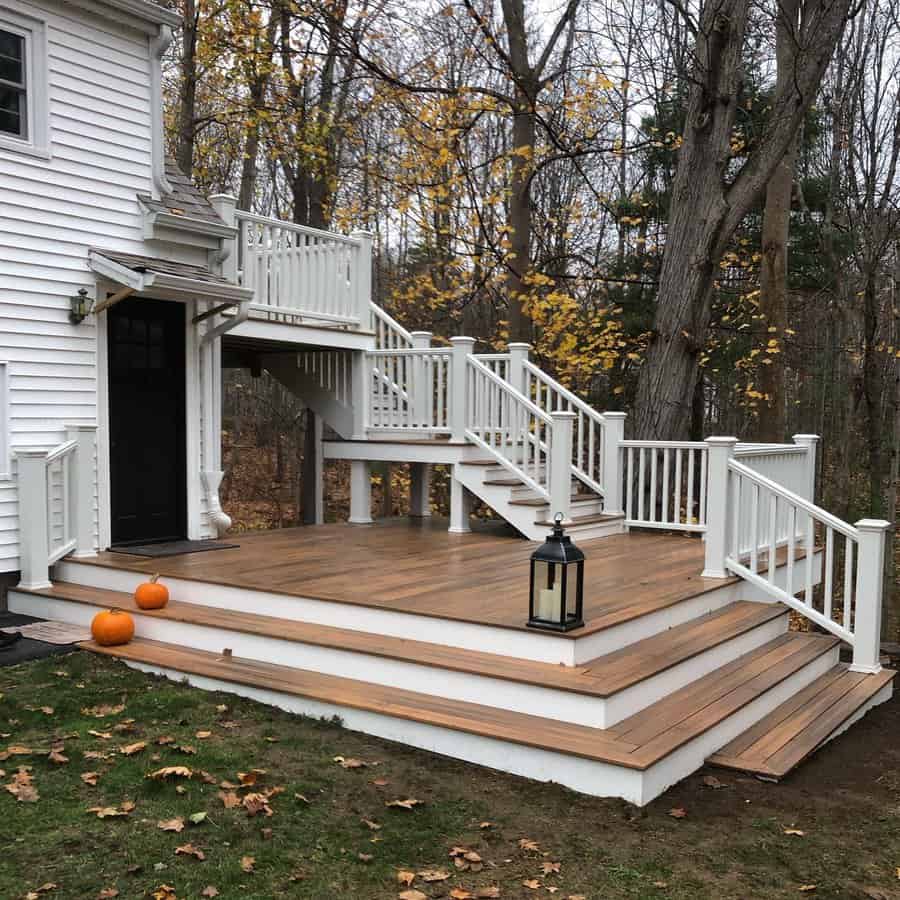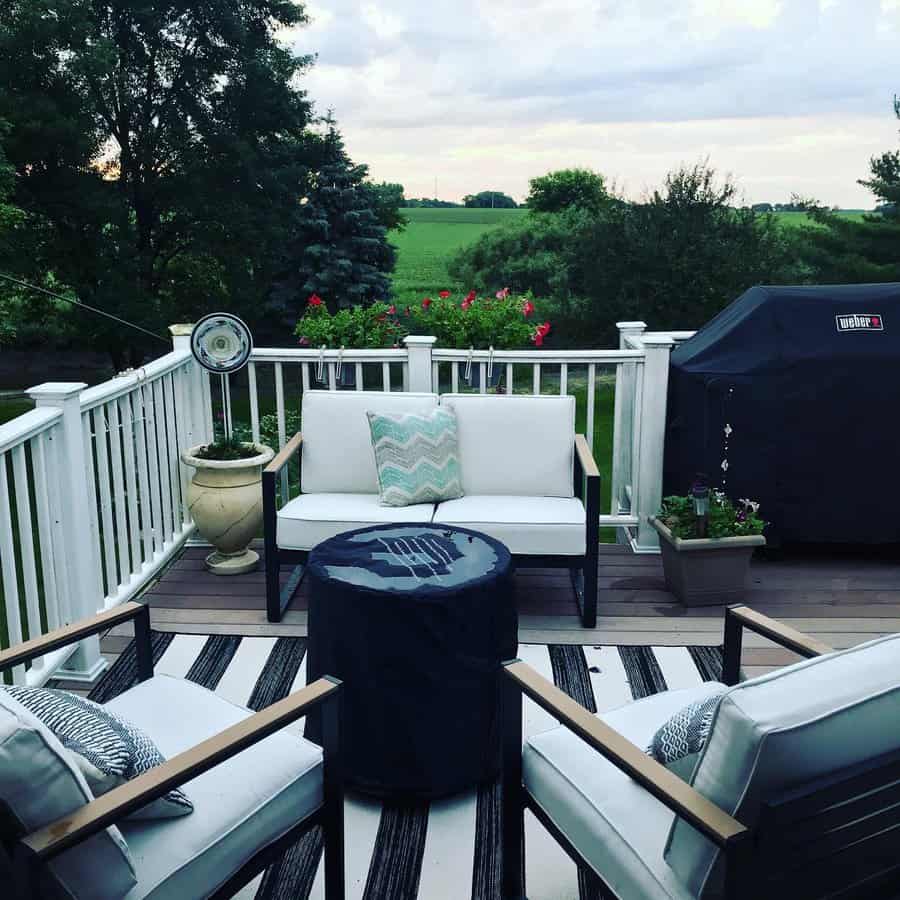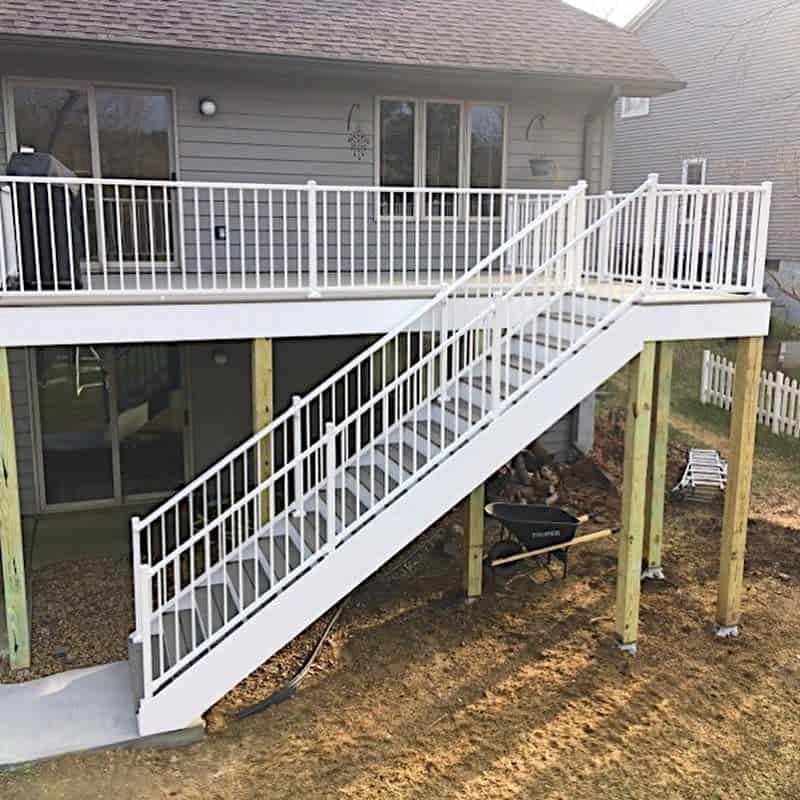 A lower maintenance option is to use a vinyl railing or a composite deck. The material's color is white, so you don't have to worry about painting it. Seasonal or yearly cleaning will remove any dirt or mildew buildup and keep it looking fresh.
9. Wood
The traditional deck material is wood. If you already have a wood deck, then it's natural to just use wood for the railing. With a wooden deck, you can have a DIY deck. The simple wood railing uses posts, balusters, and a top rail. Use thicker pieces for the posts and thinner pieces for the pickets. The top rail should be flat so that it's comfortable to lean on.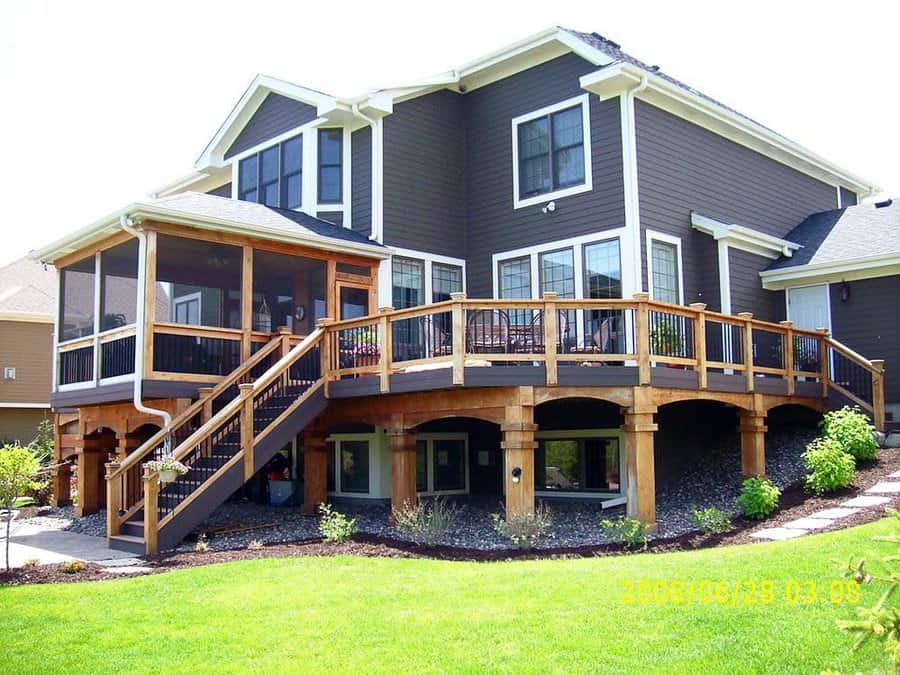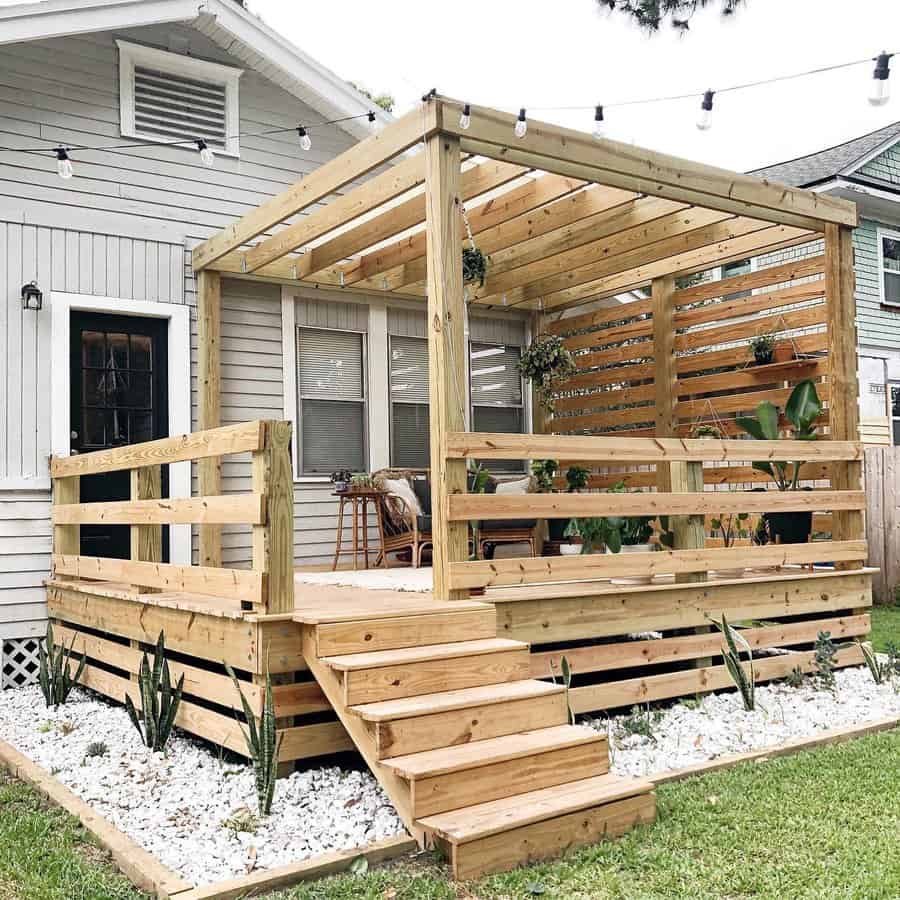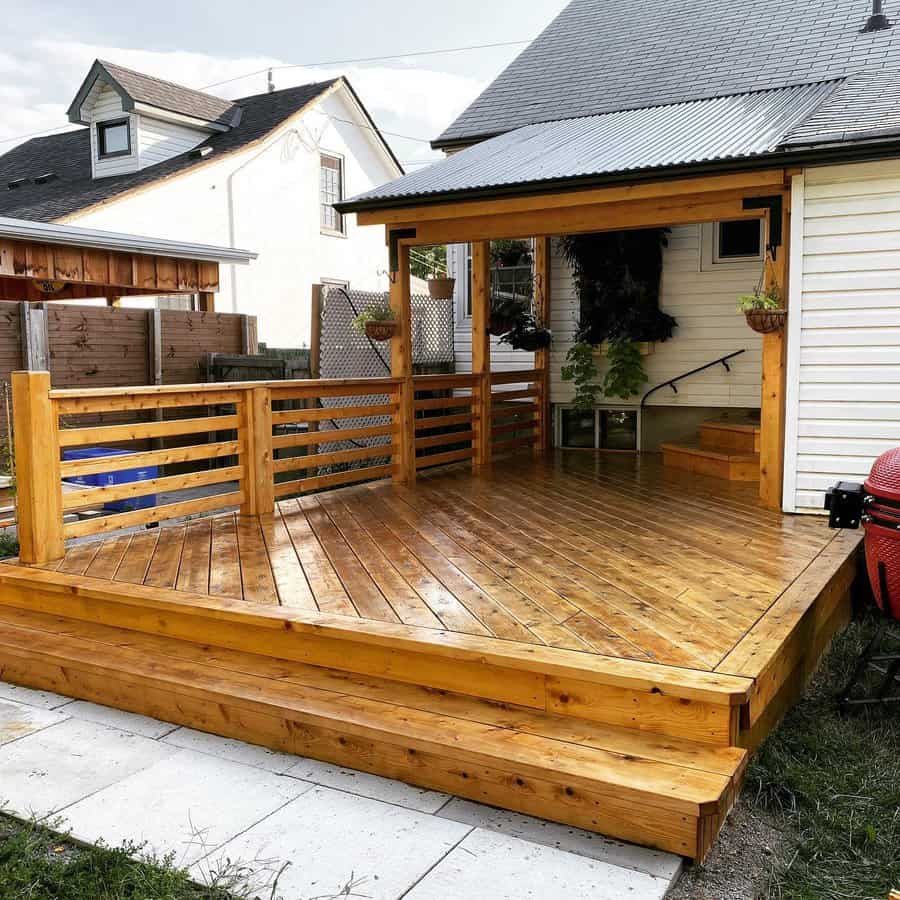 You could make the wood railing extra-wide, and then people can use it to set their drinks on. You could leave your wood deck railing natural with a simple treatment to protect the wood. Or you can dress it up by painting it. Try painting everything or doing the two-tone look with one color for the posts and rail and another for pickets.
Deck Railing FAQs
What can I use instead of deck railing?
Instead of building a railing on your deck, you could have a row of thick bushes. Boxwoods, evergreen holly, and inkberry are all dense bushes that can grow in the ground or containers to create a natural barrier. If you want to add privacy with your railing, mount a lattice that a vine plant can grow on. A stamped metal privacy screen can also work.
What is the most inexpensive deck railing?
The cheapest material to use for your deck railing is pressure-treated lumber. The wood is found at any local home improvement store. You can buy it yourself and do the labor, saving you big on the labor. An affordable alternative material is vinyl. It's low cost for installation and has low maintenance costs.
How high can a deck be without railings?
Your deck can be up to 30 inches tall before you are required to have a railing. However, this is an average measurement, so be sure to check your local building codes before building your deck. A Deck that is 30 inches tall is just over two feet, anything taller, and someone could get seriously injured if they fall off the edge.