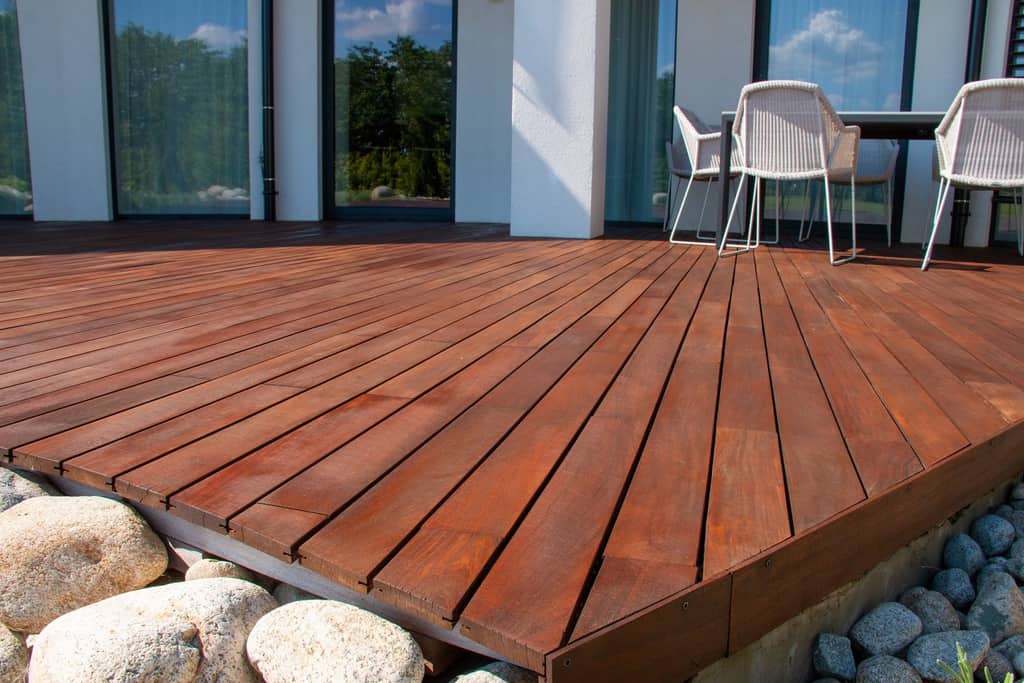 Deck vs Patio: What is the Difference?
by — Kari Apted

Published on May 5, 2022

Updated on May 15, 2022
Two words for outdoor living spaces are frequently interchanged: deck and patio. Both are homeowner favorites and add value to the home. Decks and patios provide excellent space for outdoor relaxation and entertaining.
What exactly is involved in making a deck vs patio decision? First, you need to understand the differences between the two, as your property may be better suited for one over the other. Second, you should consider the full pros and cons of each option before settling on an answer to the deck or patio debate. 
Deck Basics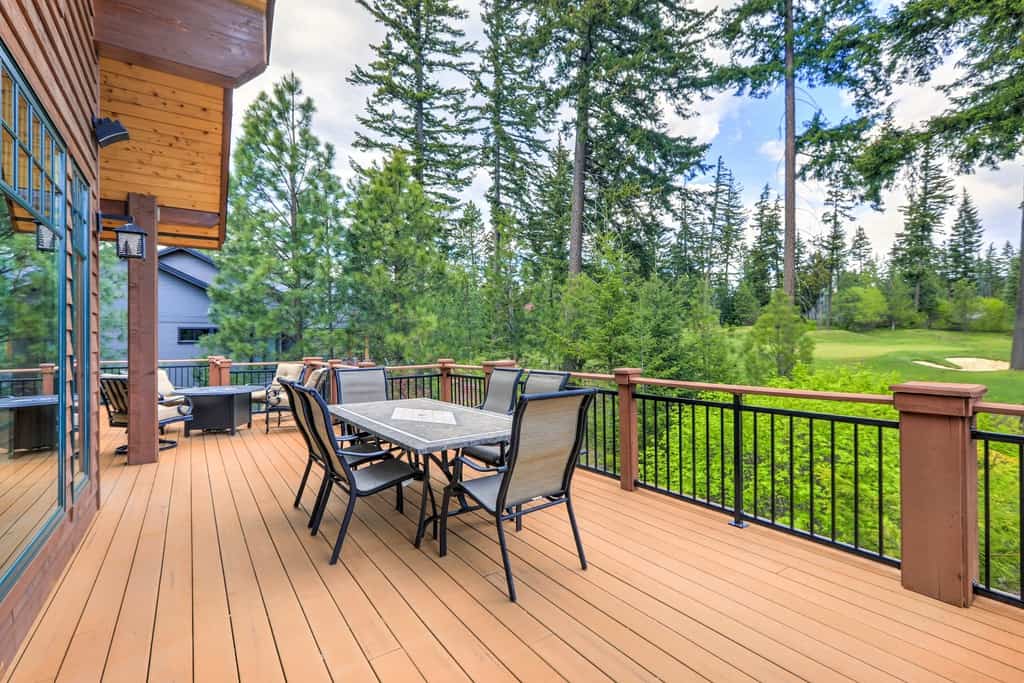 A deck is a raised platform that's supported by structural materials, such as beams, posts, and joists. They're usually made of wood or a composite material that looks like wood.
A deck may be one level or multi-leveled, with stairs between each platform. Decking is usually open to the sky above. Decks are a great choice if your backyard has sloped or uneven terrain.
Patio Basics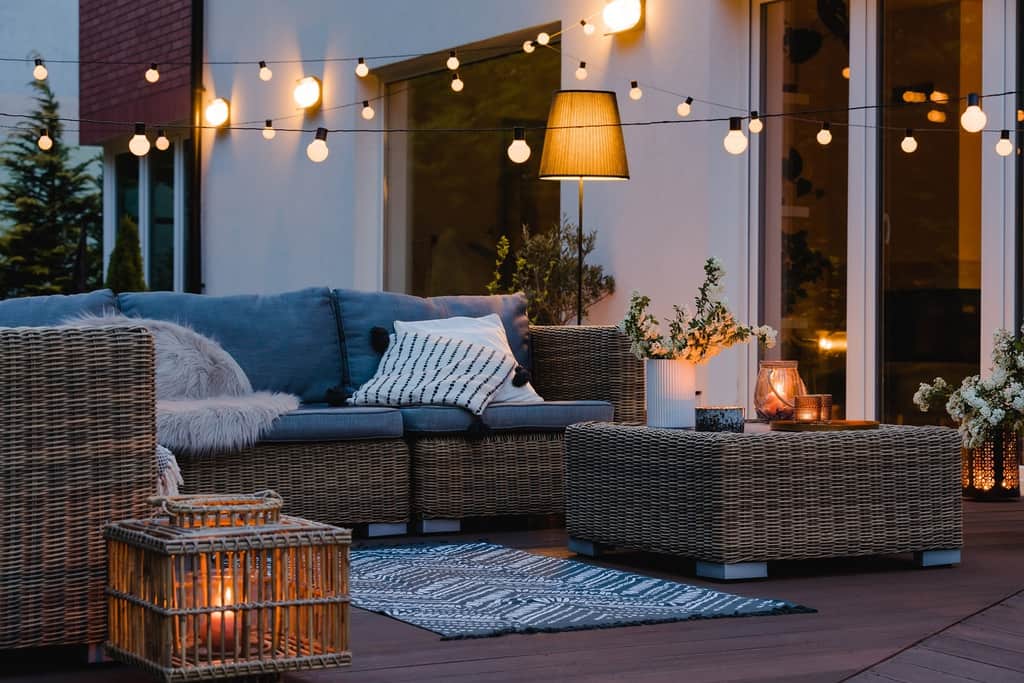 A patio is an outdoor living space that rests directly on the ground. It may be attached to the back of your house or built further out in the yard. Patios are usually made of concrete, pavers, or natural stone. Patios can have a roof or other patio cover, or may be uncovered.
Because it is a paved area on the ground, a patio is best for a homeowner with a level lot. However, it's possible to build a retaining wall and add fill dirt to create an even outdoor space for your patio.
Deck Pros and Cons
Pros
A new deck is a great choice if your yard has uneven surfaces. Because decking is supported by columns or posts, it's the best way to create a level outdoor living space over jagged terrain. However, you can also build a wooden deck on flat, even terrain. A ground level deck is just as beautiful and functional as an elevated wood deck.
Because wood or composite deck surfaces are usually elevated, their height can help you enjoy a beautiful view. Just make sure that your contractor has a valid building permit and adheres to all building codes.
An elevated deck has storage space beneath it, usually hidden by an attractive deck skirting material. It can also be a good place to store weatherproof items such as kayaks, plastic snow toys, garden hoses and sprinklers. You can also store lumber or firewood under raised decks, stacked on an elevated rack and covered with a tarp.
A composite deck can last as long as a concrete patio, but provides the similar beauty of an authentic hardwood deck. Although you will pay more per square foot at installation, it will add strong resale value to your home.
Cons
Even though wood decks are built from pressure-treated lumber, it's still an organic material prone to weathering and moisture damage. If you have a natural wood deck, it will fade over time and need to be sanded, stained, and sealed every few years.
Wood is also prone to staining from spilled liquids or accumulated leaves. It can crack, splinter, or warp from extreme weather exposure. Additionally, moisture damage can result in mold, mildew, and rot.
Because most wood decks include stairs, they can be challenging for a mobility-impaired homeowner or guest to navigate. They can also pose a fall risk for small children.
Composite decking is far more durable than natural wood, but can still be prone to damage from temperature-related expansion and contraction. Composite decks can also become unbearably hot from sun exposure, especially if they are dark-colored.
Patio Pros and Cons
Pros
A well-made paver patio or concrete patio can last for several decades with proper maintenance. It can support heavy outdoor furniture. If you want a fire pit or outdoor kitchen, concrete slab patios and paver patios are durable and fireproof foundations.
Patios offer more privacy than decks because they're at ground level. Add trees or shrubs to enhance a patio's cozy privacy.
A patio may not require a building permit because it doesn't affect the home's structure—but check with your city before you start to build one. Because it's not elevated, you don't have to worry as much about weight limits or inspections as you would with a deck.
Patios are usually much more cost effective than decks. You might even be able to DIY a simple patio and save on labor costs.
Cons
A smooth concrete or stamped concrete patio can be prone to cracking if the foundation is uneven. This is especially true if it's a raised patio and you live in a climate that experiences extreme weather conditions.
Concrete pavers and other porous materials can stain easily—although sealing the surface can help prevent stains. They are also prone to hold in moisture, resulting in mold and mildew growth.
It can be challenging to keep a backyard patio made from brick pavers or stone weed-free. You'll need to spray the spaces between pavers with weed control during the spring and summer.
Deck vs. Patio Maintenance
Generally speaking, decking material is more high maintenance than patio material. Whether you have a wood deck, composite deck, concrete or stone patio, they should be swept frequently and sprayed clean with a mild soap and a garden hose.
Deck and patio maintenance includes keeping the decking free from leaves, as they will eventually stain the surface if allowed to pile up. Always clean up spills immediately, especially if they are oily or highly pigmented.
Other Outdoor Living Space Terms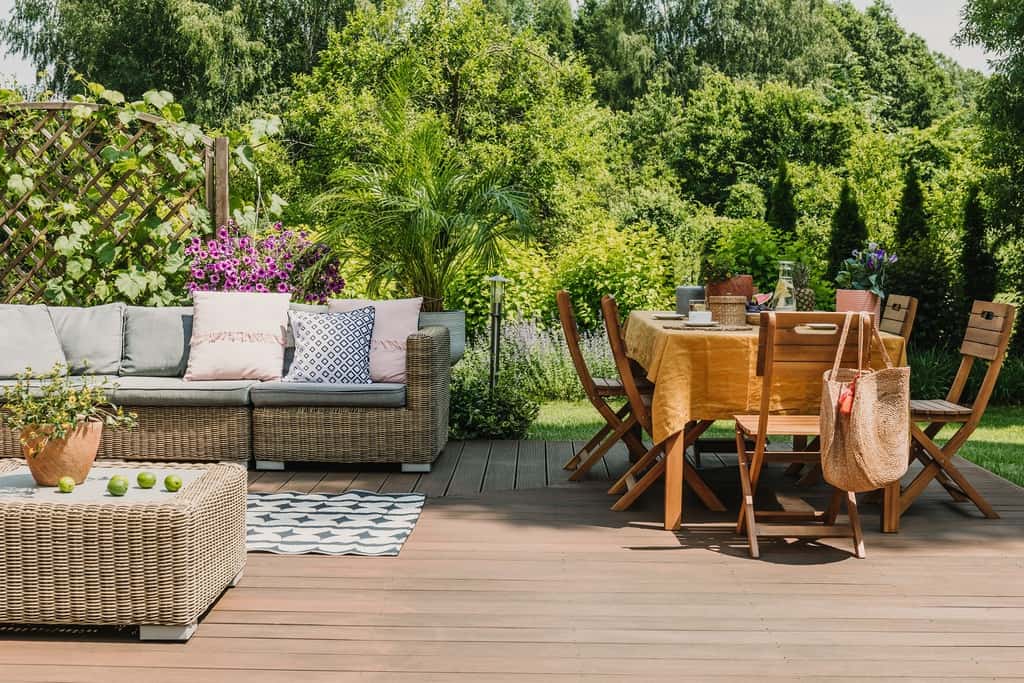 There are other names for outdoor living spaces, including "porch" and "veranda." Depending on where you live, you might find your neighbors using these terms instead of deck or patio.
A porch is defined as a covered shelter projecting from a building. It's more often used to describe an open structure along the front of the building, although back porches are also common. A wrap-around porch is one that goes around the entire perimeter of a house.
"Veranda" is a word used mostly in the south. Also spelled "verandah," it describes a roofed platform on a home's exterior that's at ground level. It often has a railing around the perimeter and may extend around more than one side of a home.