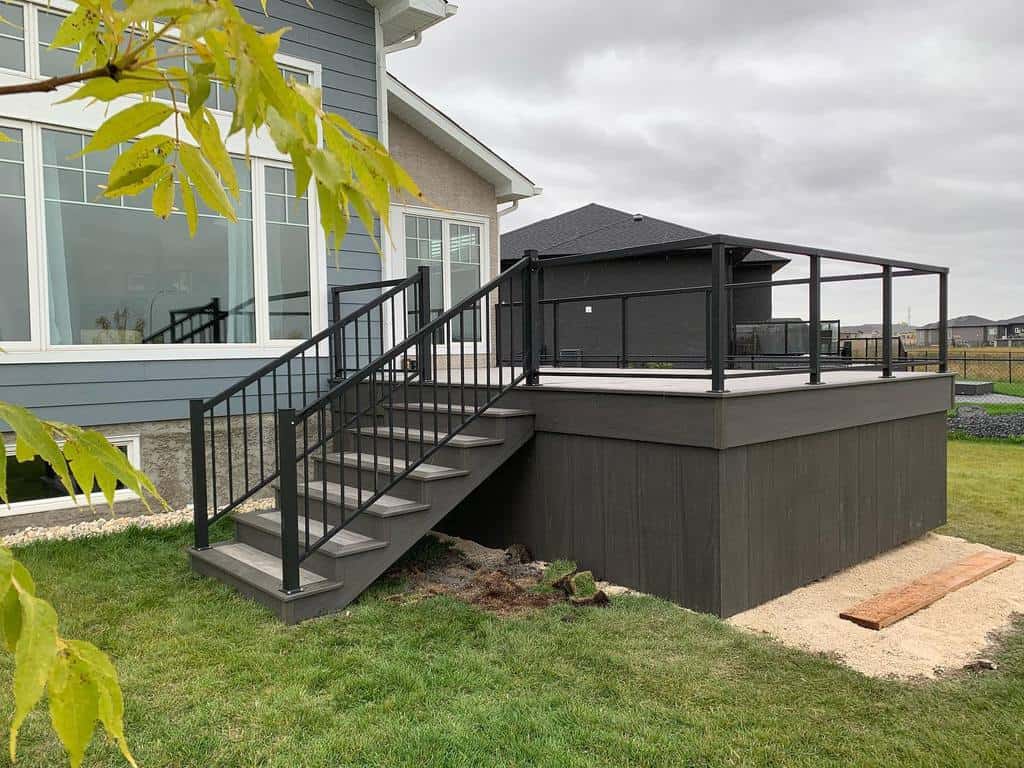 The open space under a deck can be quite an eyesore. Not only is it unpleasant to look at, but not having a deck skirting can actually lower your home's resell value.
Deck skirting ideas have evolved far beyond the typical wood lattice skirting. From faux stone to natural wood panels, there's a great deck skirting idea for every home. Check out our 30 best deck skirting ideas for inspiration on enclosing or updating your deck.
1. Merbau Decking & Bluestone Skirting
Merbau decking with bluestone skirting provides a beautiful way to maximize living spaces. Picture yourself on a wooden platform, the Merbau wood providing a luxurious feel underfoot as you take in the view of your beautifully appointed bluestone skirting.
Whether it's used for outdoor entertaining or laying back in solitude, Merbau decking with bluestone skirting adds an unparalleled level of sophistication to any outdoor space.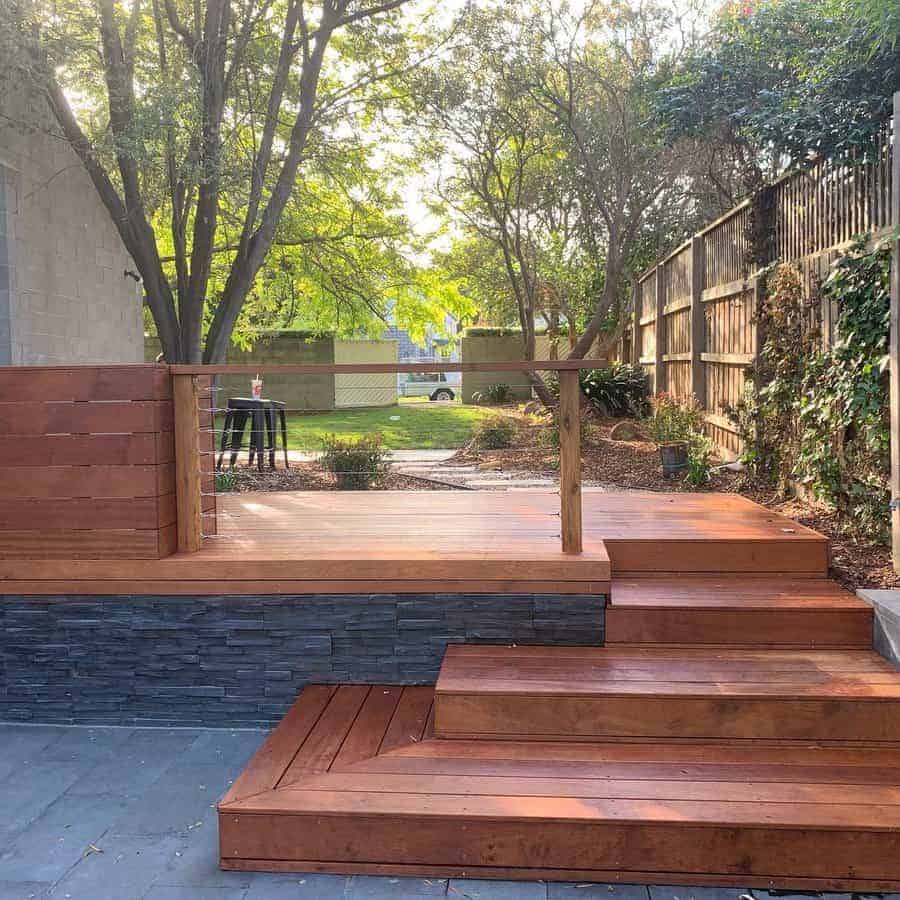 2. Deck Skirting With Lighting
If you're looking to bring something extra to your outdoor space, this deck skirting trick is just the ticket! Not only is it a great way to hide away ugly storage or utility areas under your deck, but pre-installed deck lighting brings an extra thrill through the wooden panels that truly make it special.
With a wide range of styles available, anyone can find a design that suits their specific needs and makes a statement with their guests.
Whether you opt for simplicity or flair, deck skirting can be used to turn your patio into an enchanting paradise. Let's get creative – because the possibilities are endless!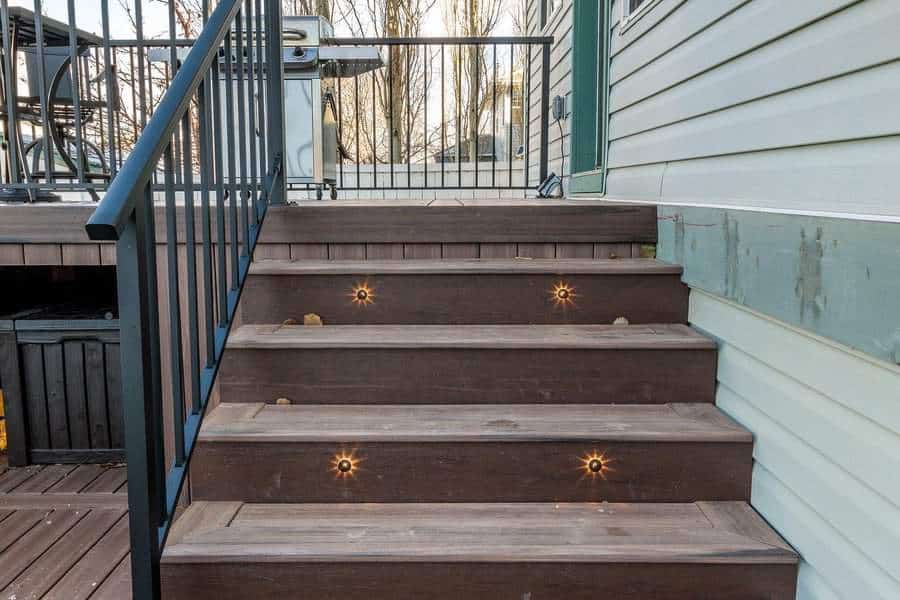 3. Platform Seating
Transform your deck skirting into a platform seating area with a few strategically placed throw pillows, fill in any gaps with low-maintenance potted plants, and you have yourself the perfect spot to host a sunny afternoon get-together or just relax and take in nature's beauty.
Deck skirting can turn your space from plain to invitingly chic with very little effort.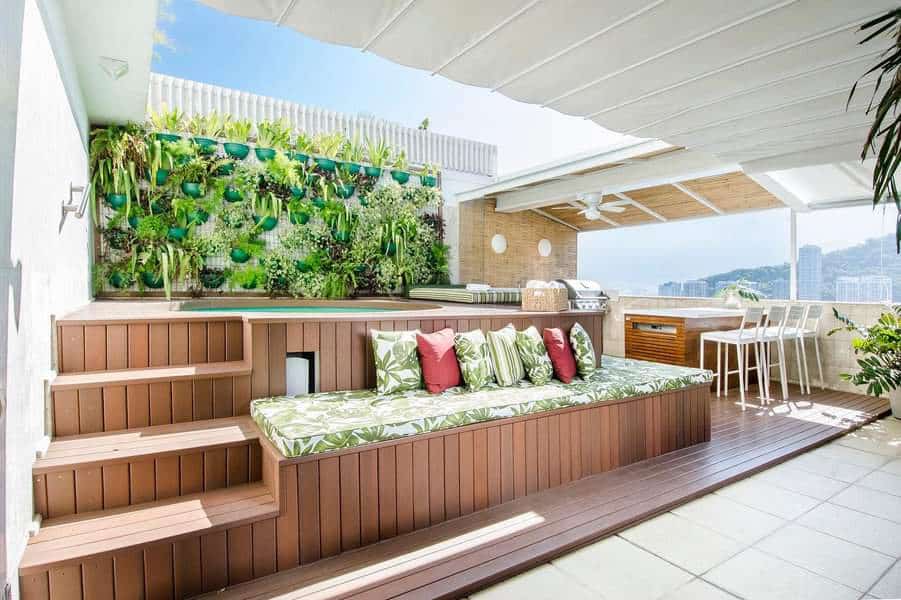 4. Deck Skirting With Landscape
Deck skirting can add life and interest to the short height of your deck space.
Surround your short deck skirting with small-sized pebbles to create a unique and creative look. Plant short flowers or shrubs around the perimeter of your skirting for an extra eye-catching touch; not only will they compliment the short deck skirting, but they'll also bring a burst of energy and color into the area.
Adding a short deck skirt with great additions like plants and pebbles can instantly turn an ordinary space into something extraordinary.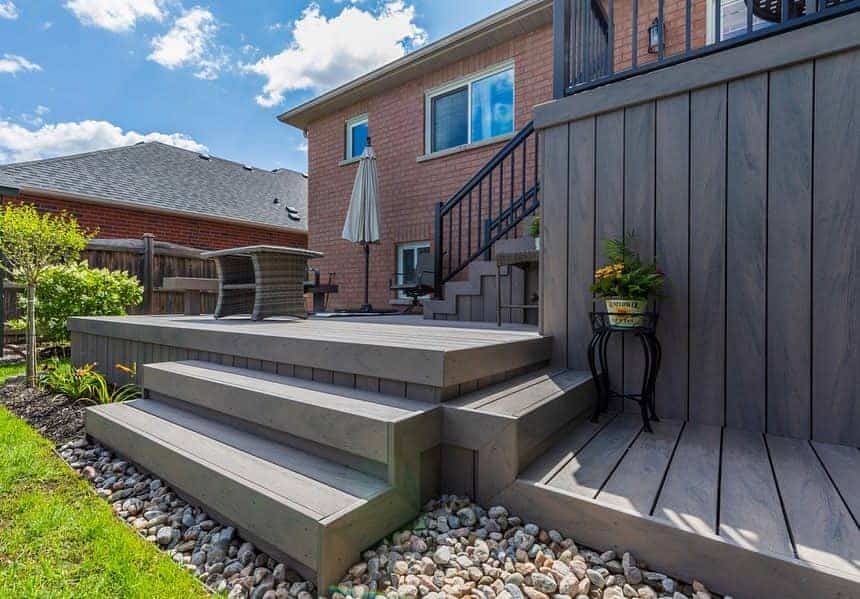 5. Shabby Chic Style Skirting With Railing
Shabby Chic style deck skirting instantly adds a charming feel to any outdoor area. Not only is it visually appealing, but this style is also easy to install and low maintenance; perfect for busy homeowners looking to spruce up their backyards.
Shabby Chic deck skirting also provides extra protection against critters and pests whilst helping to manage airflow around the structure of your home.
Best of all, this skirting style can be customized with paint, wallpaper, or personal trinkets; making it even easier to express your own unique aesthetic.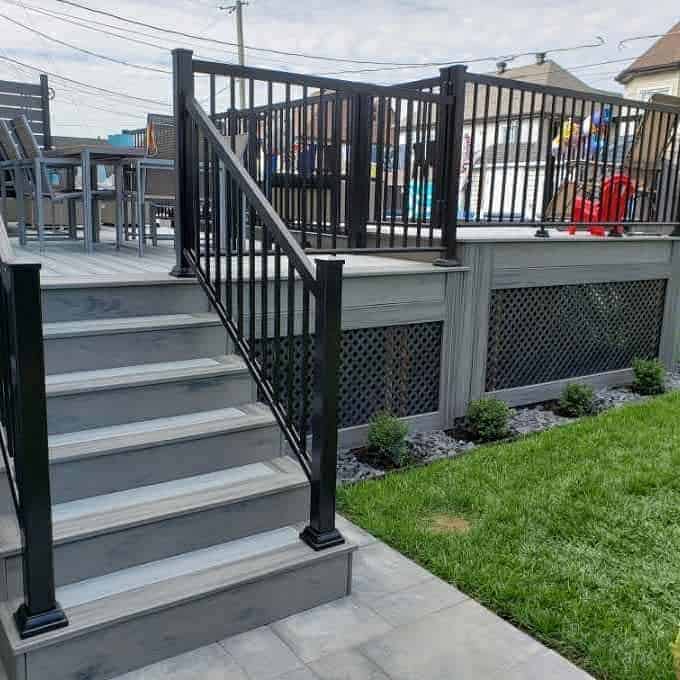 6. Wooden Skirting With Railing
A wooden panel skirting can take an ordinary area into a sophisticated gathering space with a stunning view, while a black metal railing adds to the modern vibe with an edgy look.
Whether you're looking for a subtle way to upgrade or want to impress guests, a wooden panel skirting around your deck complete with a black metal railing is sure to do the trick.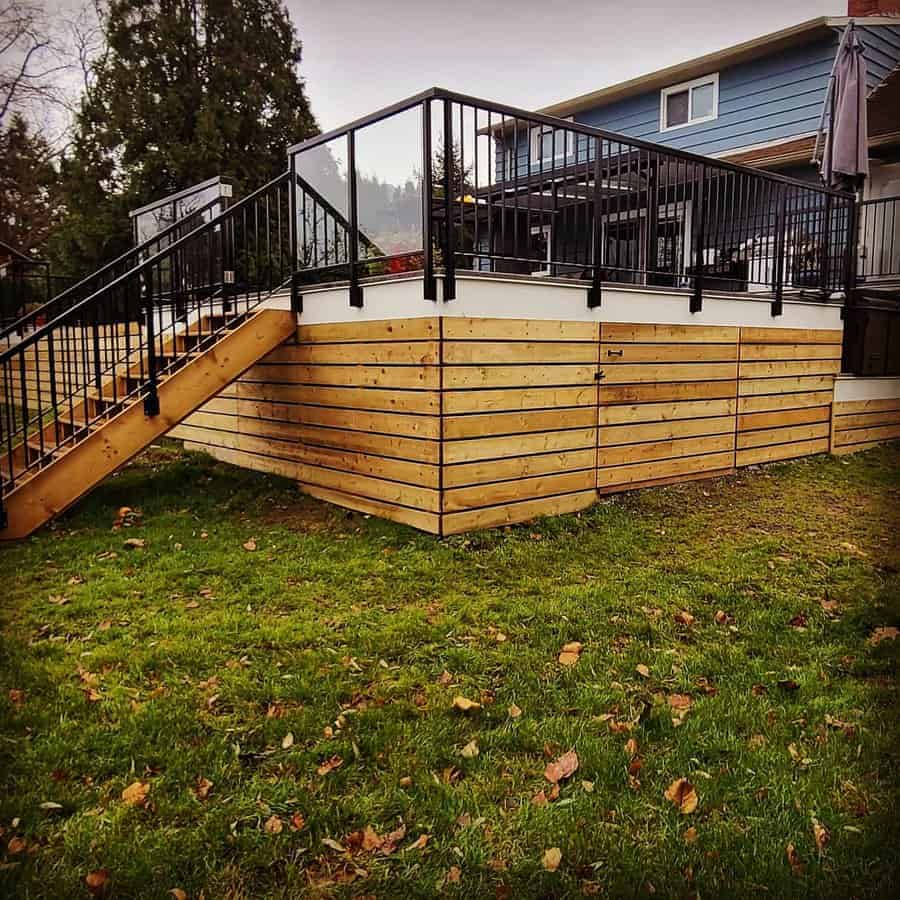 7. Hickory Wooden Deck Skirting With White Railing
With hickory wooden panels and bold white railings, deck skirting can elevate any outdoor space. Not only does it provide a decorative statement, but it also helps define the edge of your deck area and gives extra privacy along a grassy lawn below.
Don't forget the accent lighting – this powerful design element adds a dramatic look and brings the full character of your deck skirting to life at night.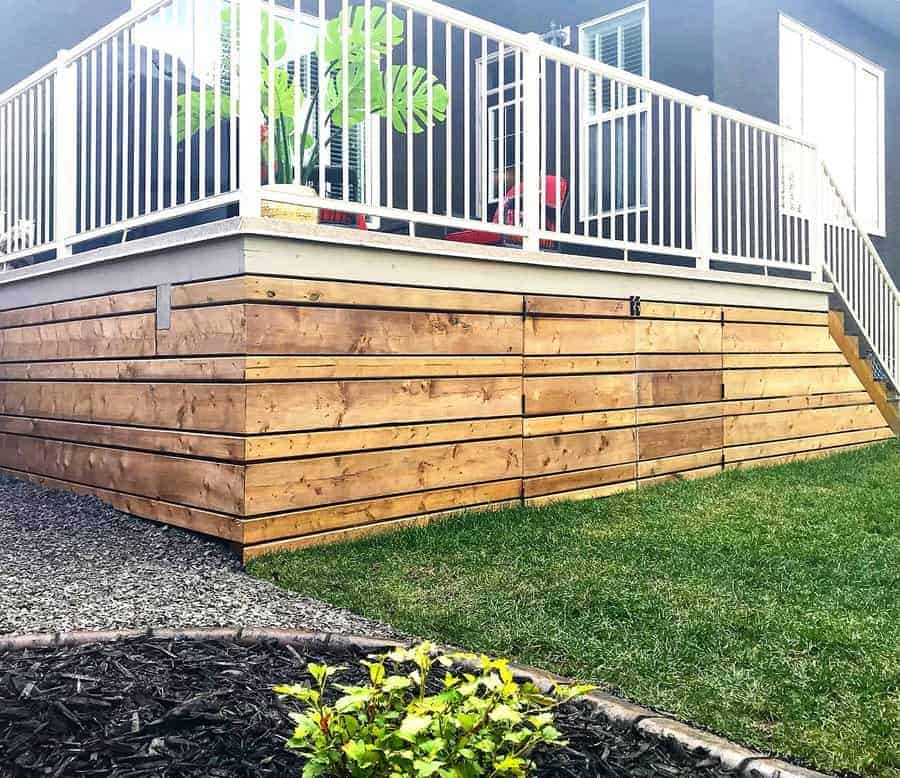 8. Wooden Screen Trellis
Do you wish to give your wooden deck a new look? Deck skirting is the perfect solution! Installing wooden screen deck skirting can take your wooden deck to the next level, while also providing additional protection and security.
Not only does it provide a visually appealing barrier, but wooden screen deck skirting can also complement deck stairs, creating a finished and polished look. You won't be disappointed with this unique touch for your wooden deck!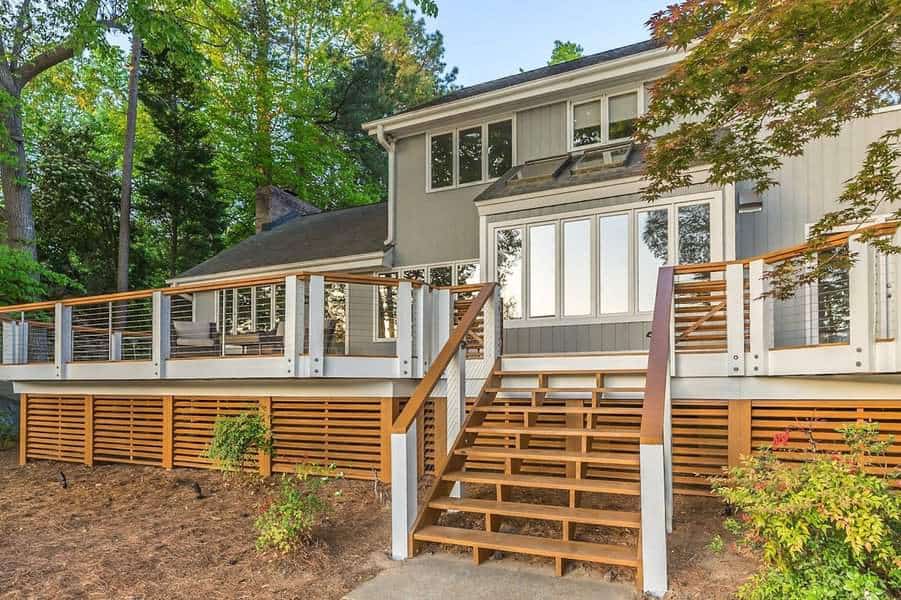 9. Cladded Skirting
Adding cladded skirting and wooden railings to a deck can create the perfect finishing touches for a mini shed. These elements can add dimension and warmth to the outdoor space, giving a more inviting look and feel.
When used together, cladded skirting and wooden railings bring an attractive feature that has become increasingly popular– one which also allows outdoor living spaces to be tailored to individual eccentricities or tastes.
With so many design possibilities, cladded skirting and wooden railings may just be the perfect addition to any mini shed!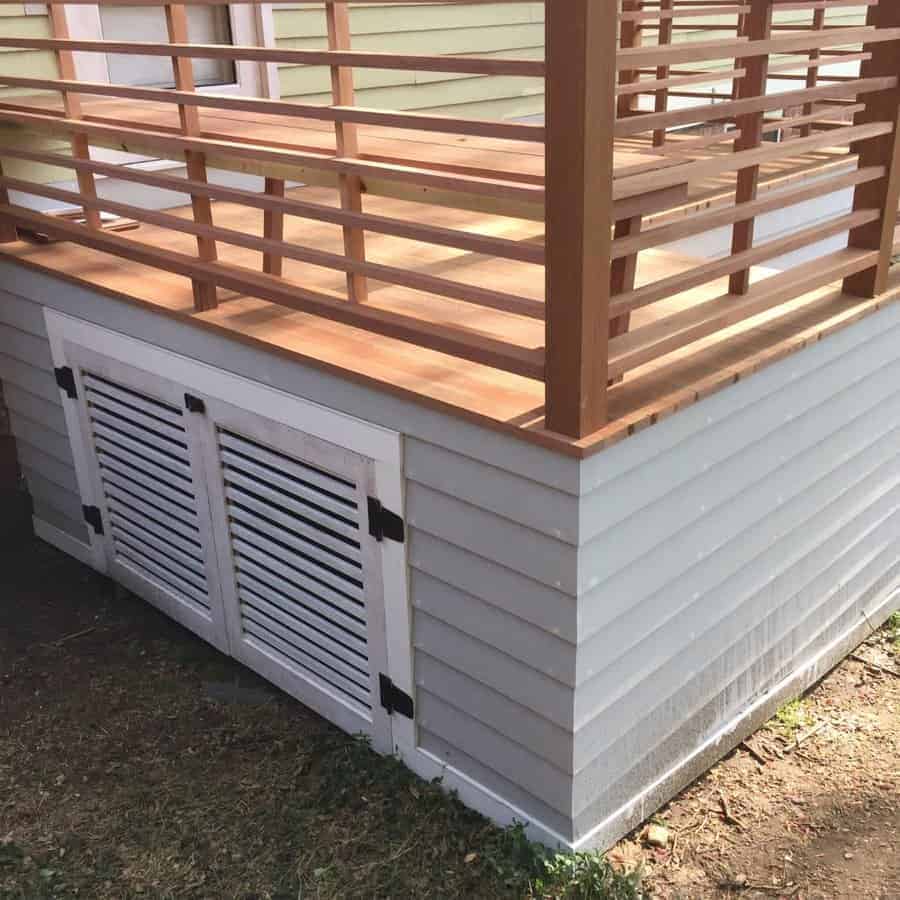 10. Matte Black Steel & Wood
A wooden deck with a platform and black skirting is the perfect way to add a touch of sophistication to any outdoor living space. Not only does the black color contrast beautifully with the wooden deck, but it also helps to create an eye-catching look.
The skirting serves as a protective seal around the space, creating a barrier that keeps harsh elements at bay while still allowing you to enjoy the beauty of nature's environment.
No matter how small or large your outdoor area may be, this type of deck skirting provides the perfect finishing touch!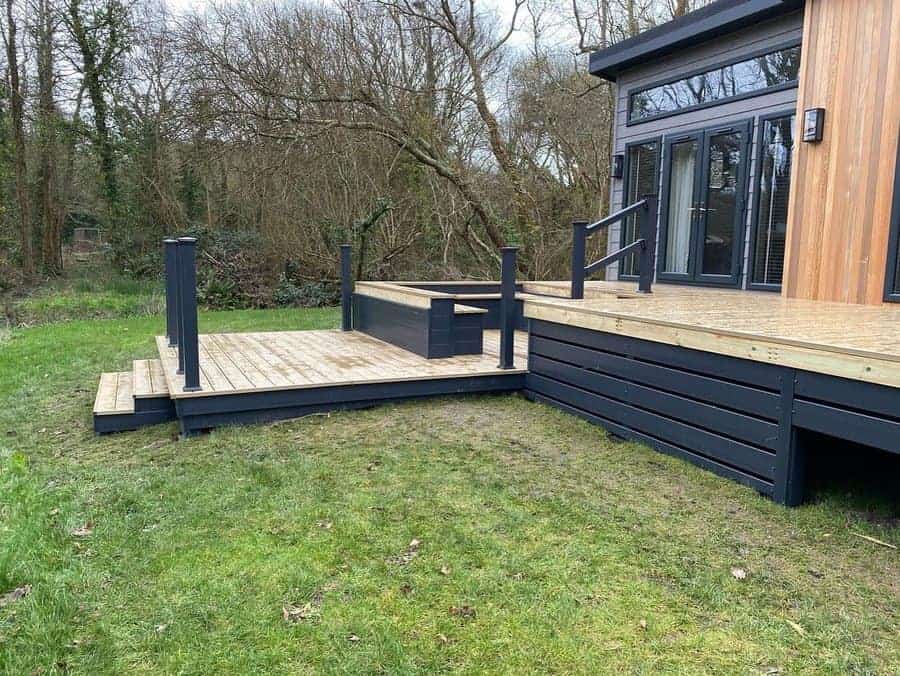 11. Box Lattice
If you're looking for a creative way to spruce up your outdoor area, lattice deck skirting is a perfect choice! It's an attractive and inexpensive way to give a backyard or porch extra character.
The lattice panels provide extra protection from insects and critters, while also creating a beautiful aesthetic.
Made with durable vinyl material, lattice panels offer a unique look that can be customized to fit any outdoor area.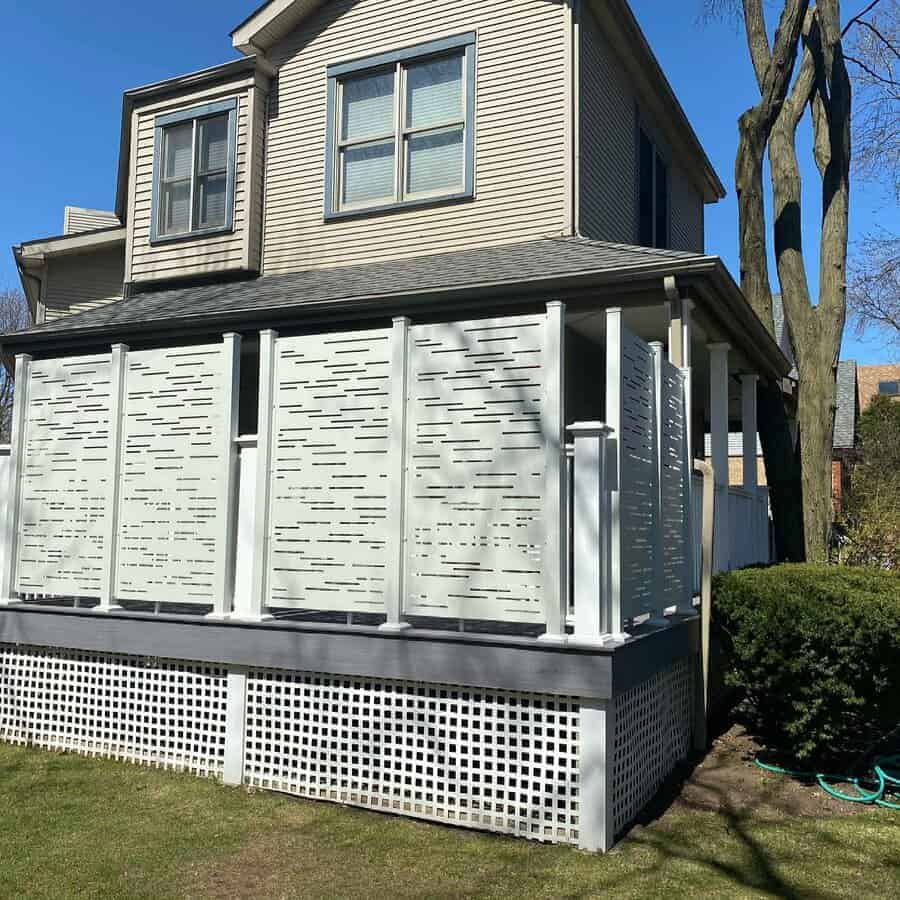 12. Plant Box
Installing deck skirting with a plant box is an easy way to create a garden feel with your outdoor deck. As the blooming flowers catch the eye, you can transport yourself away from your deck and into a tranquil, peaceful space.
ou could include a trellis or two for your climbing vines, adding an extra aesthetic touch to the deck skirting area. In just minutes, you will have transformed your deck into a picturesque oasis where you can truly enjoy the beauty of nature.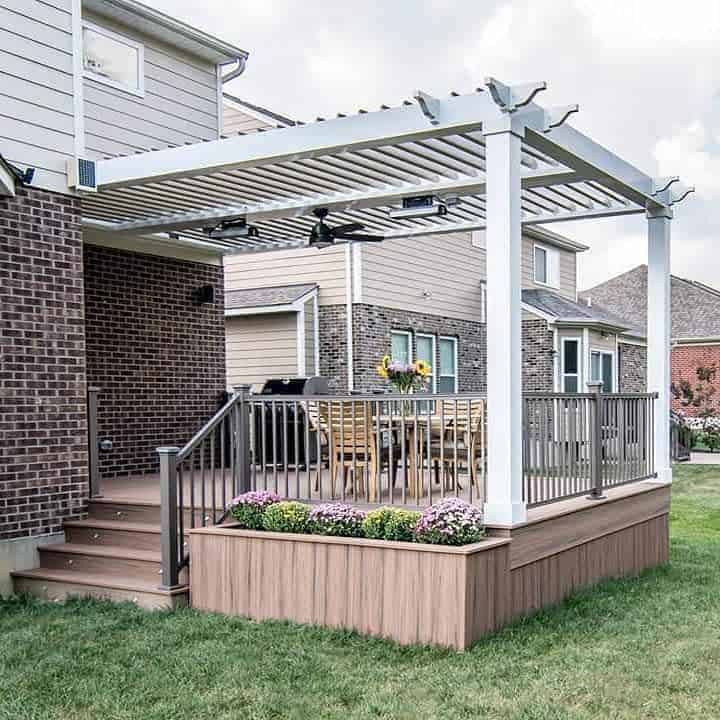 13. Diamond Lattice
Bring your deck to life with diamond lattice skirting! This deck skirting adds a classic style with an eye-catching pattern of white paint on wooden deck boards.
Perfect for creating a warm and inviting atmosphere, diamond lattice deck skirting catches your eye without overpowering the deck's aesthetic appeal.
Whether you want to add dimension and privacy or just toss in some extra visual interest, diamond lattice deck skirting is sure to impress.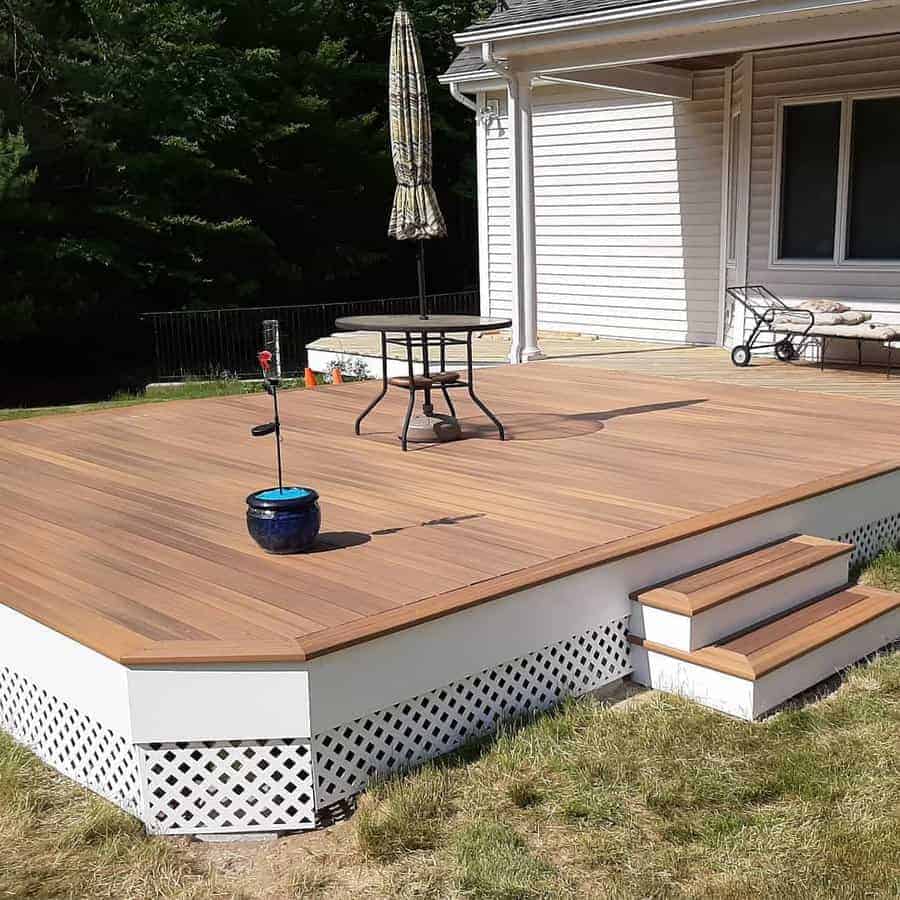 14. Panel Cladded
A panel-cladded deck skirting can be a great way to add some serious style to your outdoor space. The black paint can provide an edge of drama, contrasted with natural wood elements for an inviting ambiance.
Complete the look by adding hanging plants for a pop of color and texture! You will soon have an outdoor area ready to host the best summer parties that your guests won't forget in a hurry.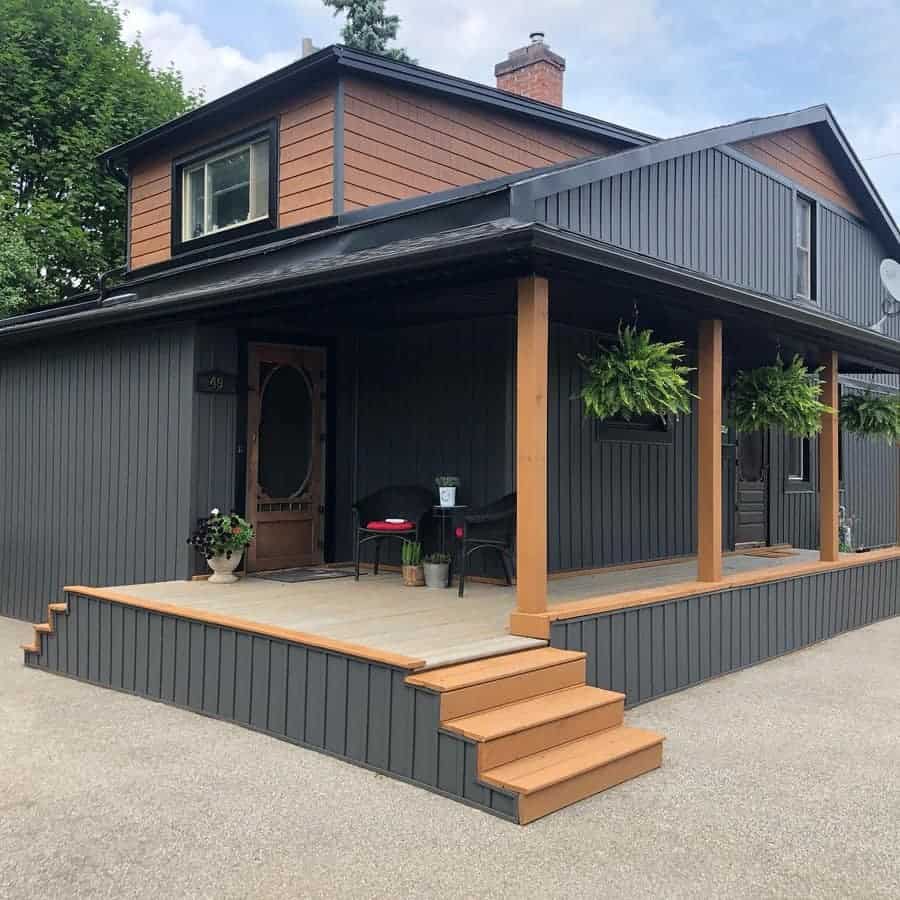 15. Extended Wooden Skirting
A deck skirting with railing extension transforms the mundane backyard deck into a deck that's fit for a king.
The wooden deck skirting runs around the entire deck and extends past the deck to make porch-like areas on either side, perfect for winding down in an outdoor space.
With its extended panels, you can rest easy that pets and children are safe inside your deck without sacrificing style or function.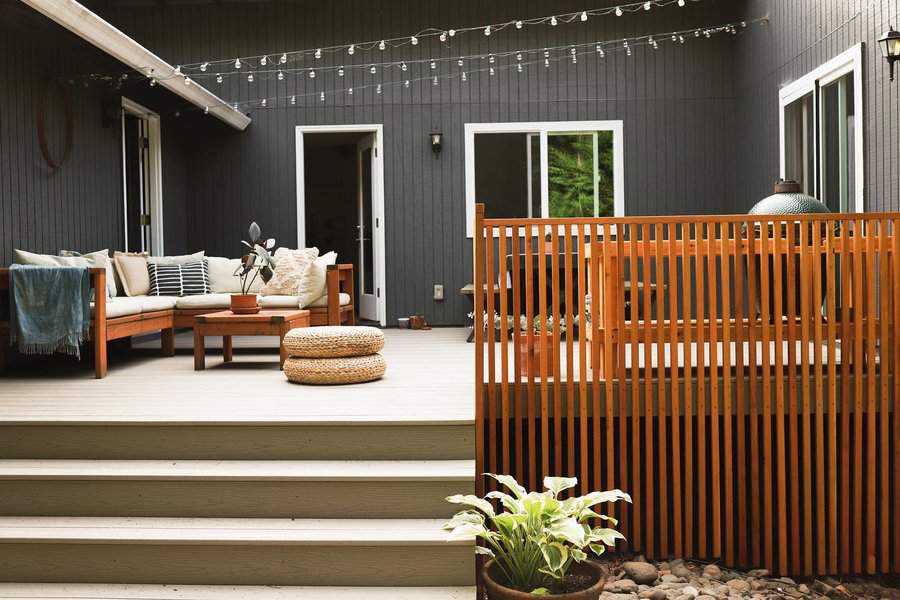 16. Wood Cabin Deck Skirting
Outfitting a deck with skirting is a perfect way to create a cozy, homey feel. Whether it's done around the entire deck or just the sides, deck skirting adds an extra bit of character and charm. And for cabins located in particularly snowy climates, deck skirting with the basement can help to protect against snow infiltration.
High stairs leading to the main entrance of your deck ensure that you can step out into the fresh air without worrying about getting cold feet!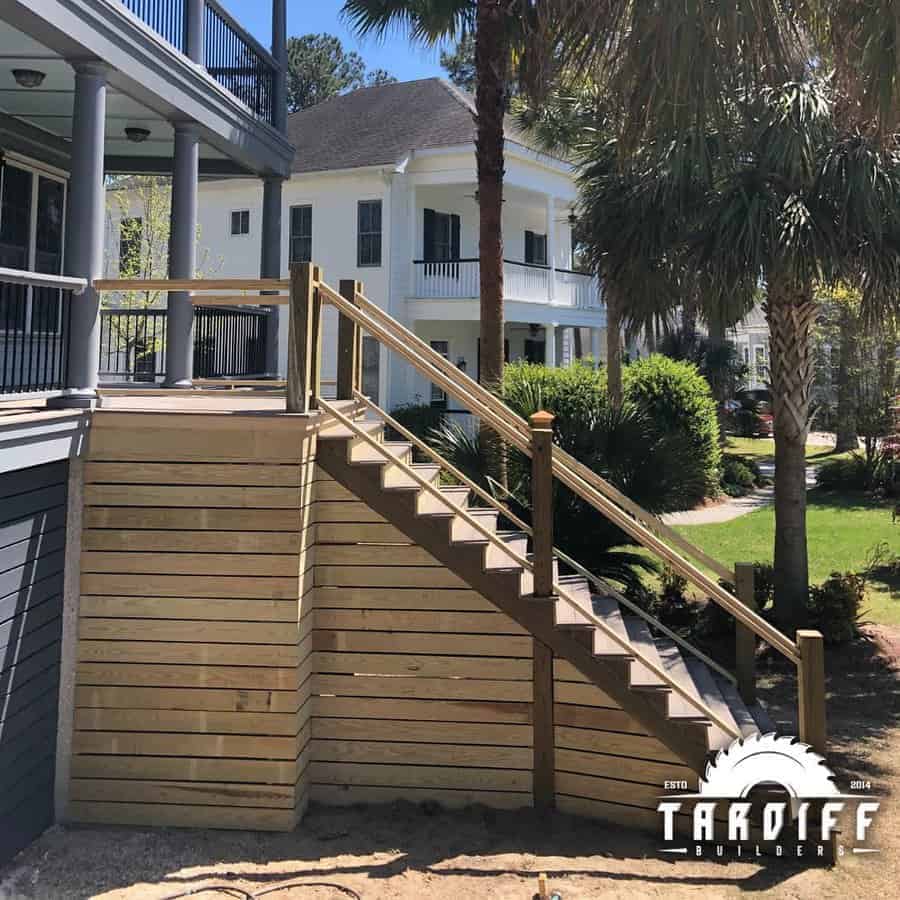 17. Brick & Wood
Dreaming of a woodsy beach house, but don't have one just yet? Composite deck skirting is the perfect way to add a woodsy charm to your outdoor space.
Imagine an outdoor deck space with wood skirting adorned with brick elements offering a subtle whimsy and rustic feel. Throw in some comfy beach chairs, and you can simply sit back and relax à la vacay mode! With composite deck skirting, you don't have to sacrifice style for functionality.
A woodsy look that won't rot or warp? Now that's definitely something worth exploring!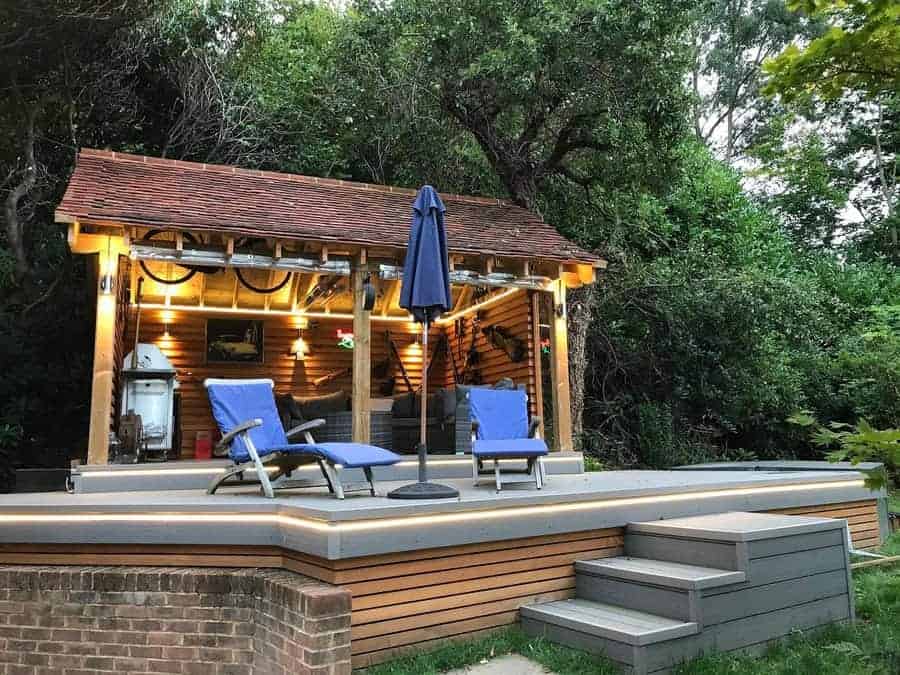 18. Black Vertical Panels
If you're looking for a creative way to make your deck stand out, vertical panel deck skirting is the perfect solution. Installing tempered glass railings that descend from the edge of the deck to the ground will create an eye-catching display and produce both style and safety.
It's an easy way to give a pop of panache to any backyard while providing complementary protection around your home.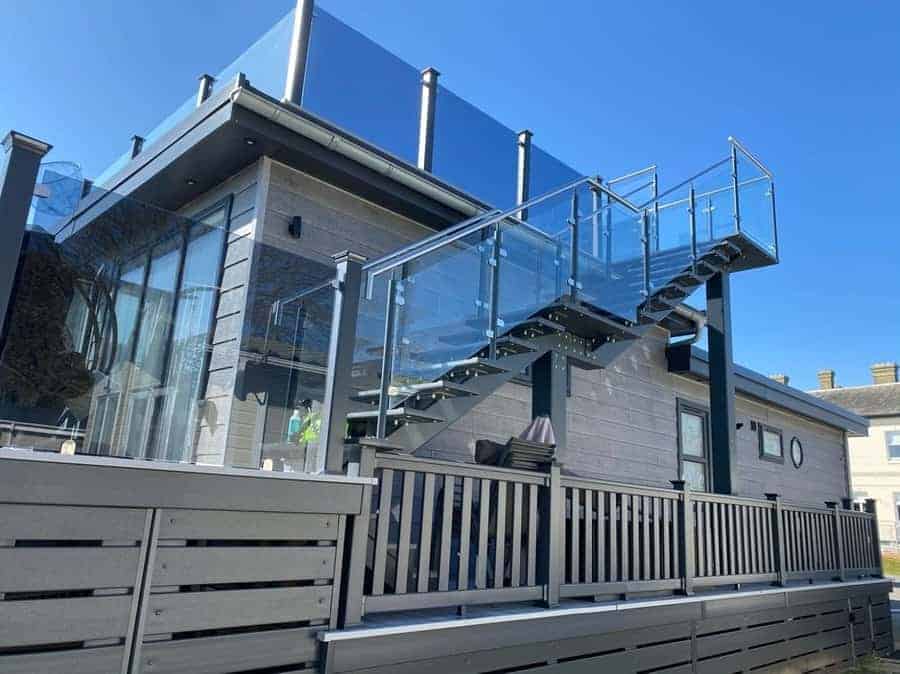 19. Seamless Black Deck Skirting
For those looking to add a sleek, modern touch to their deck, black deck skirting is a perfect choice. Its sleekness and wide range of depths make it an optimal choice for deck owners seeking a minimalist home with a strong, masculine aesthetic.
With its seamless finish, you can easily create a clean look and camouflage any unattractive elements. Best of all, deck skirting is incredibly low-maintenance and can give your deck the perfect frame with minimal effort required on your part.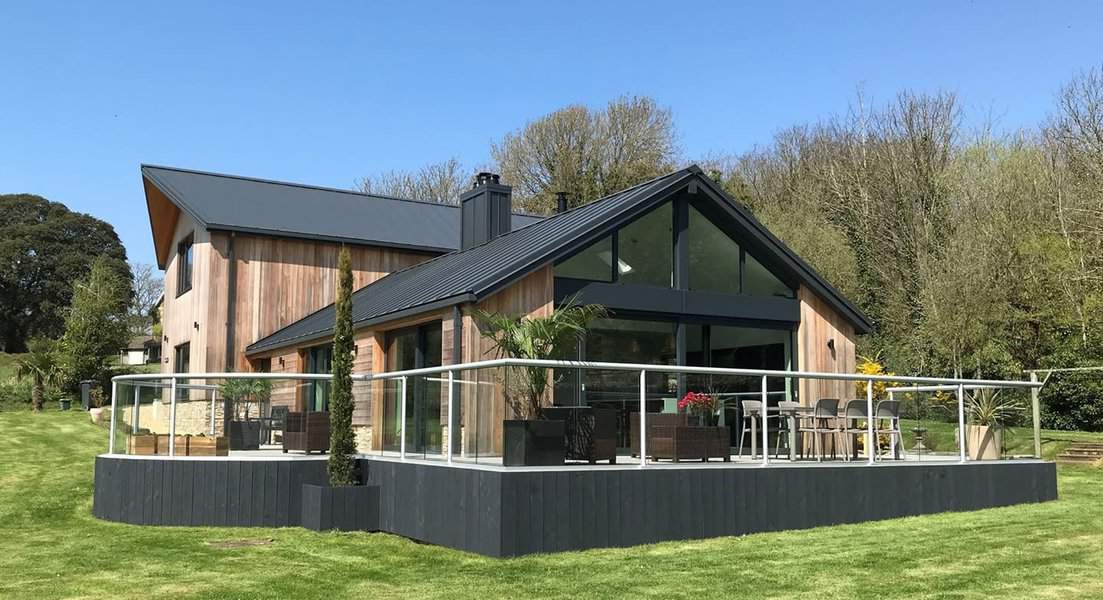 20. Mahogany & Frosted Glass
Have you ever thought about deck skirting as part of a backyard jacuzzi? Mahogany deck skirting creates a beautiful visual frame to highlight an outdoor gathering place.
Combined with a frosted glass railing, your deck would be the envy of the neighborhood. It's easy to incorporate mahogany deck skirting for added durability and style around your hot tub oasis.
Whether planning an intimate night alone or hosting friends, the warm wood tones combined with modern railings add just the right amount of rustic glamour!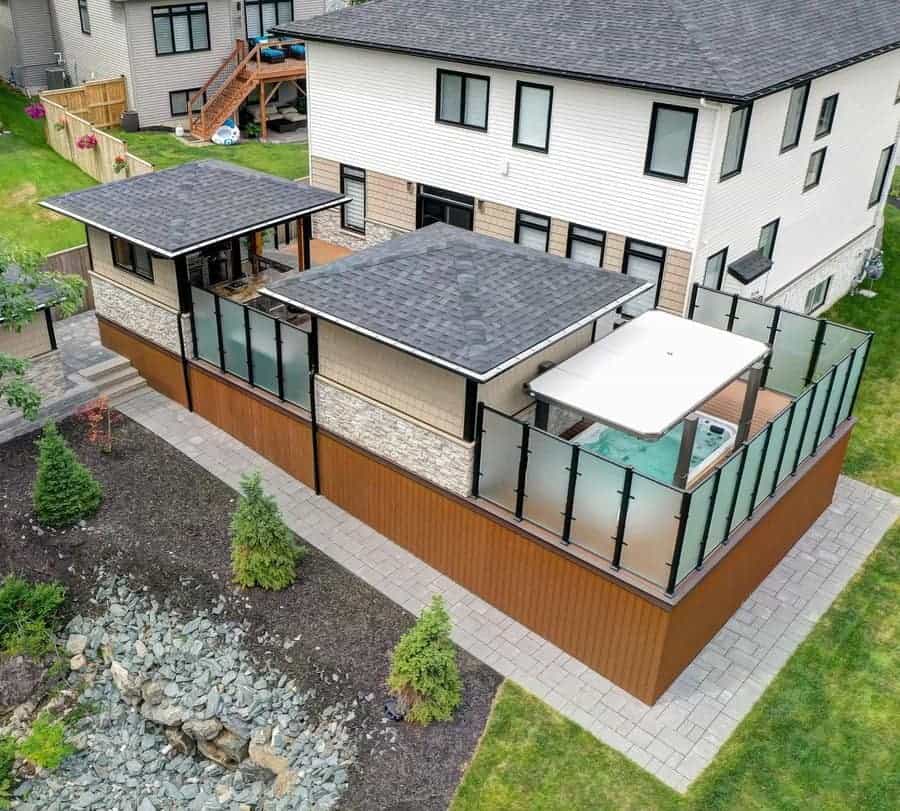 21. Deck Skirting With Shed
Make your outdoor space come alive with black deck skirting! Picture black railings lining your deck, giving it an eye-catching, modern look.
To complete the look, install a seamless shed door for access to whatever lies beneath – whether tools or a hideaway for yourself.
With black deck skirting you can transform your outdoor space into something special and make it one-of-a-kind.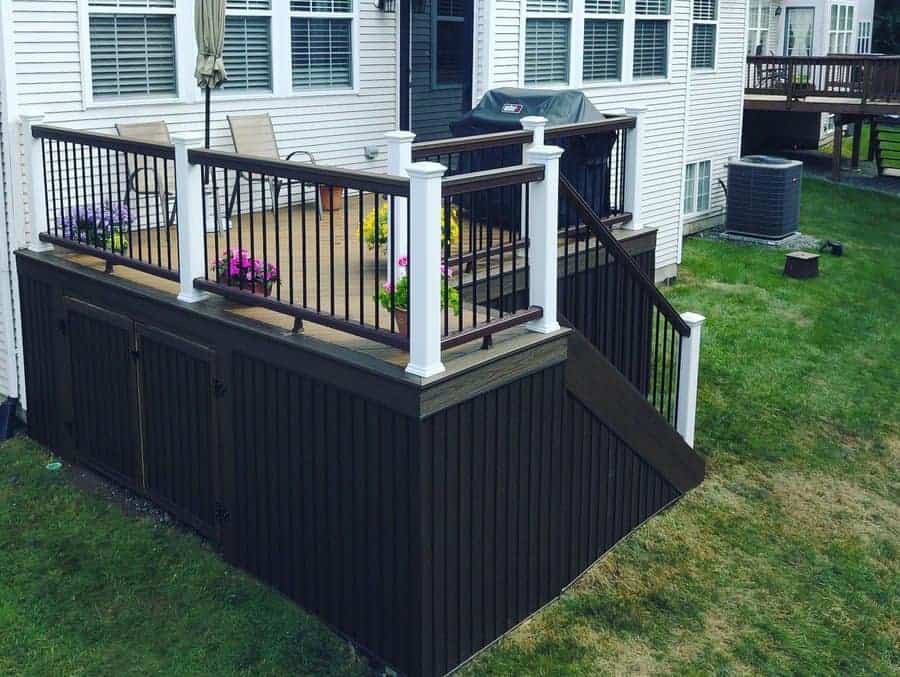 22. Cedarwood
An outdoor deck is a stunning addition to any home, allowing for stunning views, entertaining opportunities and a relaxing space to enjoy nature. With curved stairs leading to the deck, heightened skirting turns it from a simple structure into an incredible retreat.
Wooden elements such as curved balusters lining the stairs and rails provide support while still giving the enclosed space an organic feel – like an outdoor oasis specifically created for you!
Skirting doesn't have to be limited to plain lines; creative applications of designs like curved accents can provide that extra wow factor that makes your deck unique.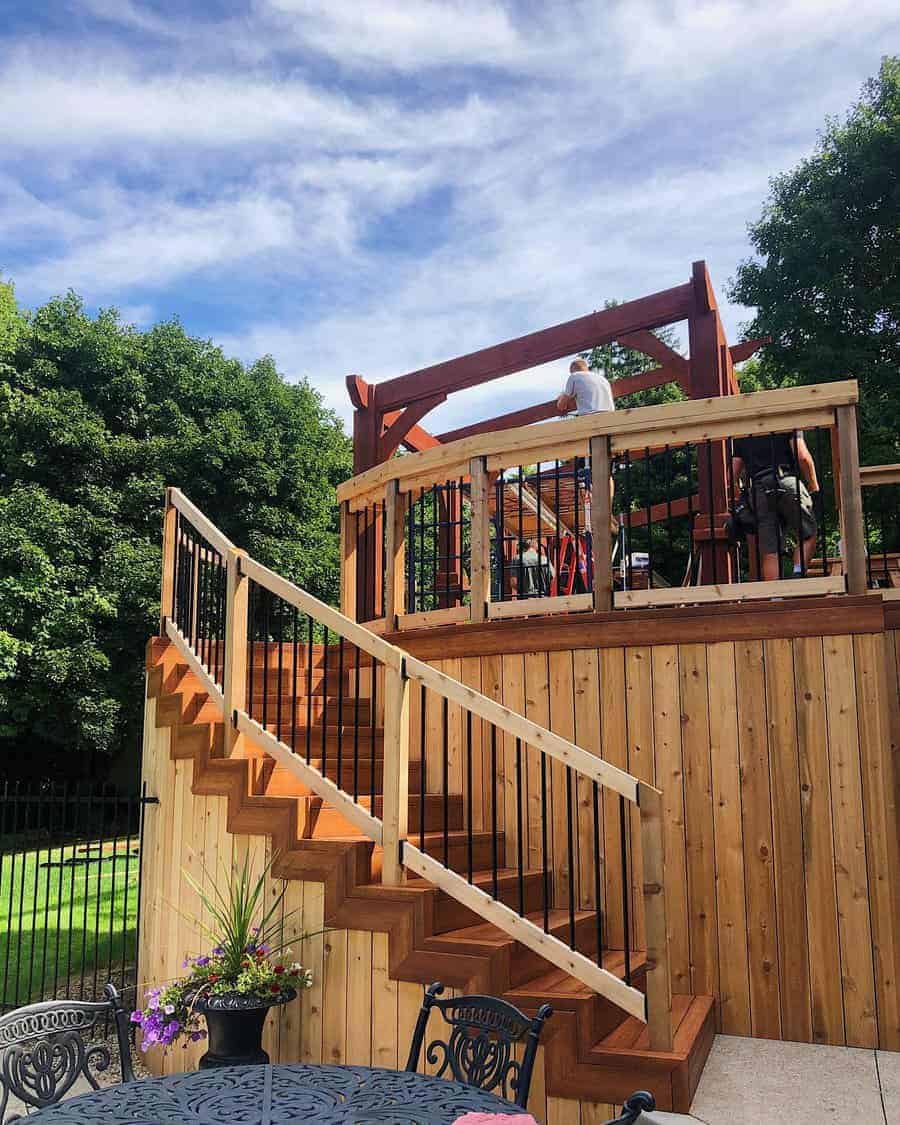 23. Composite Deck Skirting
The perfect neutral-colored composite deck skirting provides the perfect finishing touch for your outdoor living space. By combining modern materials such as glass framed railings with sleek neutral-colored skirting materials, you can give your deck a subtle but stunning facelift.
The neutral shades of the skirting allow you to customize the rest of your outdoor decor to create a look that is totally unique and eye-catching.
With the right combination of style and function, composite deck skirting will add a sophisticated flair to any outdoor space.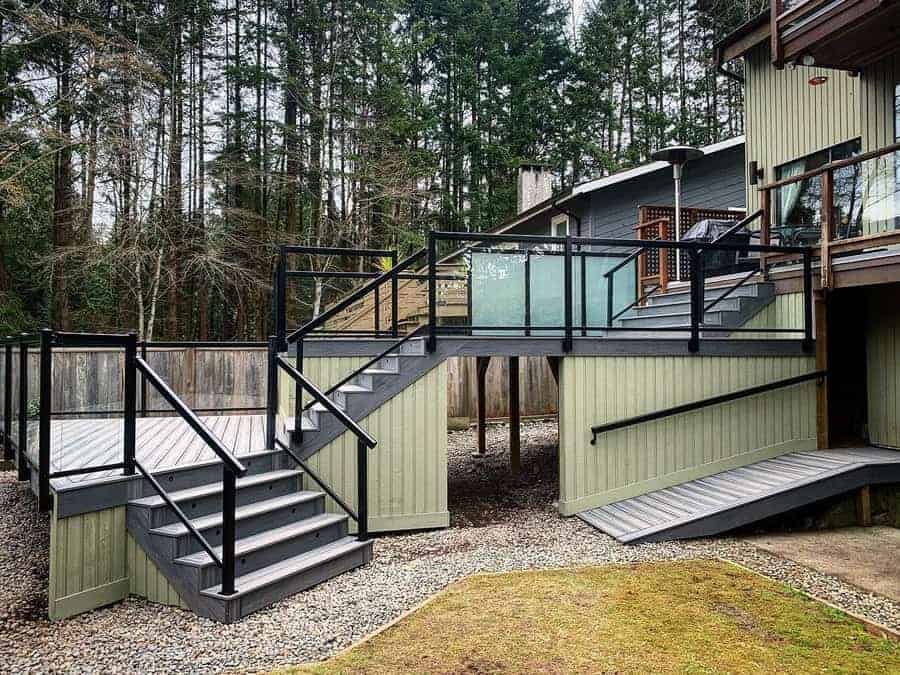 24. Vertical Wood Panels
If you're looking for a way to add flair and pizzazz to your heightened balcony deck, consider adding vertical panel deck skirting. Combining the bold black railings with horizontal panels of vibrant colors or intricate designs can take your outdoor space from drab to fab.
Consider installing a skirting that complements the brickwork of your house so all these elements look cohesive when visitors come by.
Vertical panel deck skirting is the perfect way to spruce up an exterior and show off some personality at the same time!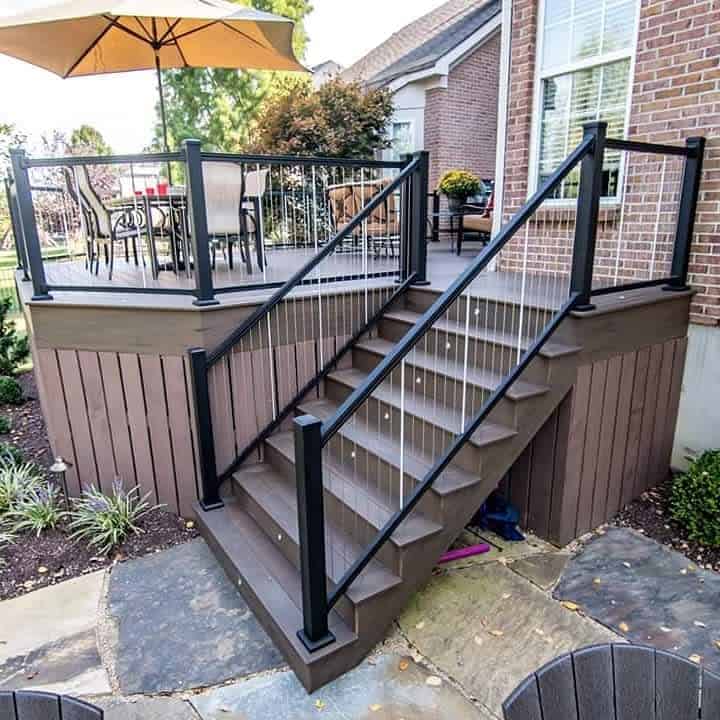 25. Wooden Pallet
Adding wooden panel deck skirting to a traditional American balcony house is an easy and cost-effective way to instantly transform any outdoor space. From a pop of classic Americana charm to a lightness of coastal elegance, wooden panel skirting offers a multitude of creative options that can be tailored to fit any style.
With its warm tones and grey and white color palette, it can add a touch of modern minimalism or playful personality.
An excellent option for providing privacy and adding character to your outdoor area, wooden panel deck skirting will leave you feeling satisfied with the final results!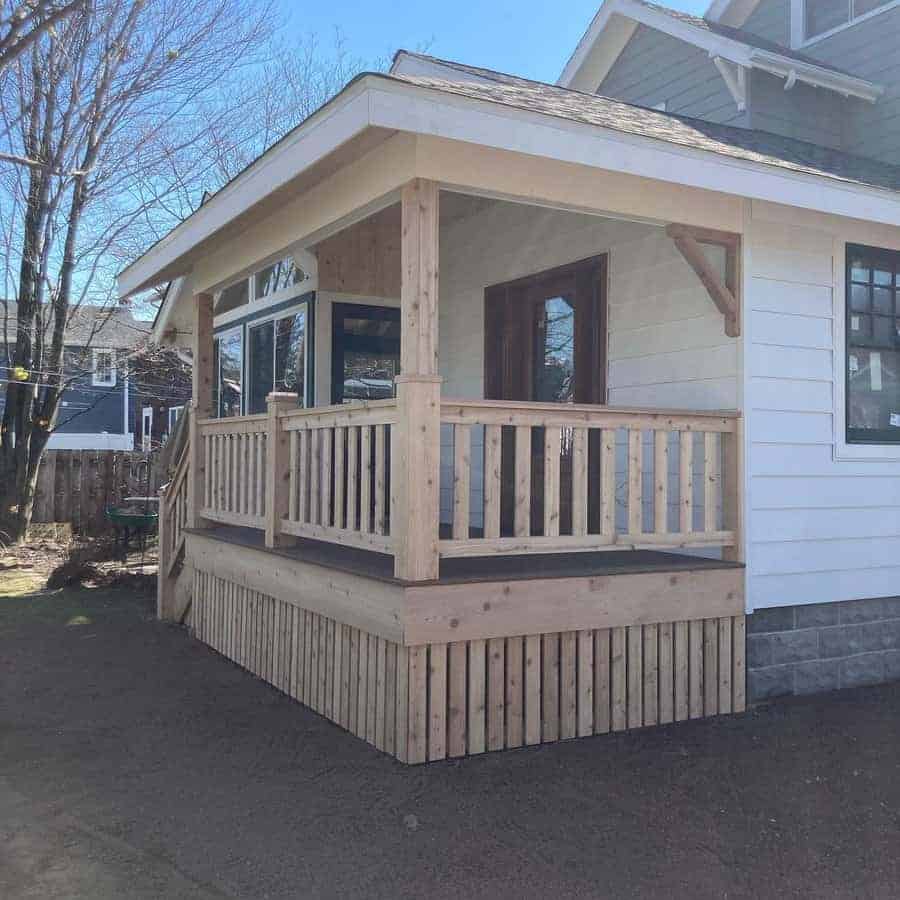 26. Oak Deck Skirting
The perfect backyard oasis is not complete without a classic oak wood deck skirting. Add brick posts to your design, and choose black railings that will make it pop.
This luxe look elevates your space with chic farmhouse vibes, providing the perfect environment to relax and enjoy your outdoor retreat.
Whether you're looking for something low-key or eye-catching, the oak wood deck skirting is sure to deliver style and coziness!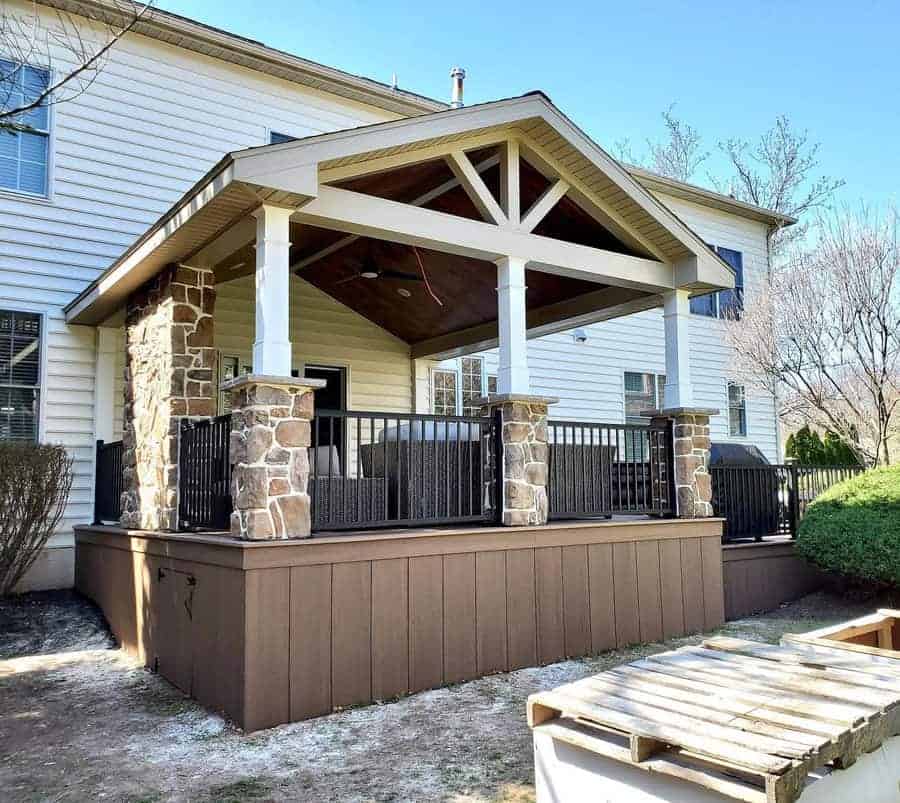 27. Red-Stained Wood
The perfect backyard oasis is not complete without a classic oak wooden deck skirting. Add brick posts to your design, and choose black railings that will make it pop.
This luxe look elevates your space with chic farmhouse vibes, providing the perfect environment to relax and enjoy your outdoor retreat.
Whether you're looking for something low-key or eye-catching, the oak wooden deck skirting is sure to deliver style and coziness!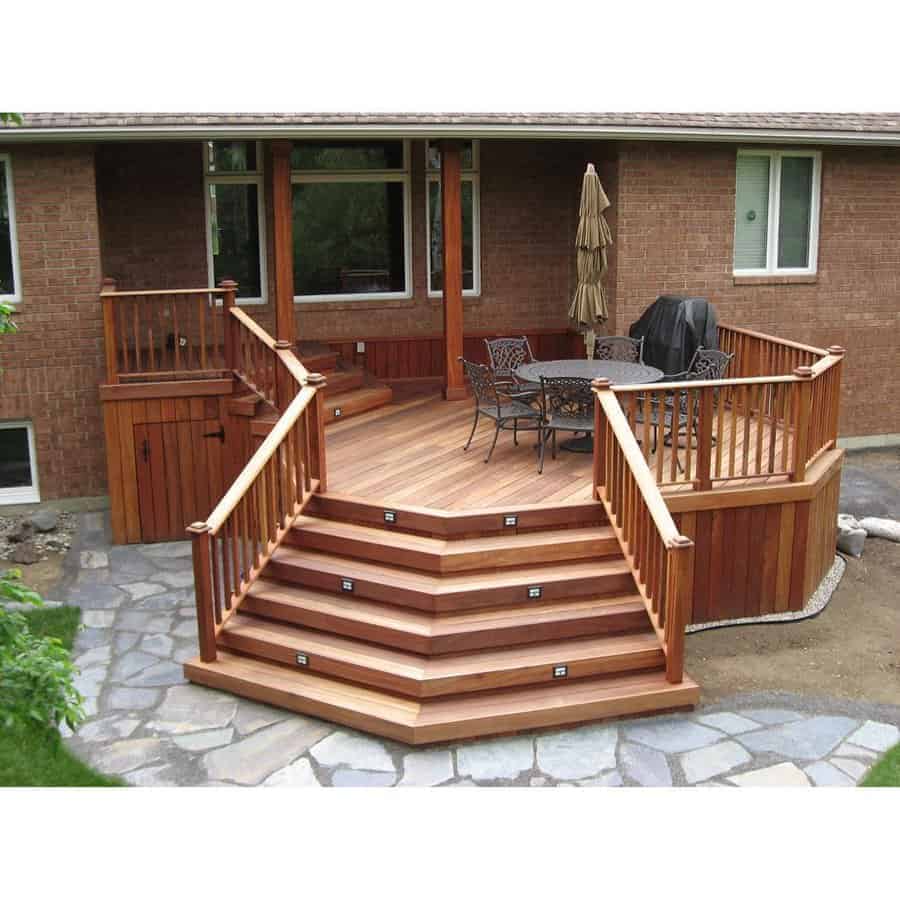 28. Repurposed Wood
Adding glass framed railings and using repurposed wood deck skirting are the perfect ways to create a modern, minimalist exterior. This look perfectly complements glass windows, metal furnishings, and unique décor pieces. Repurposed wood provides a durable and cost-effective material that captures all of the good qualities of wood without having to go through the process of harvesting new lumber.
Taking the time to incorporate repurposed wood into your home's decor will not only add character but also save you money – all while finding an eco-friendly garage space solution.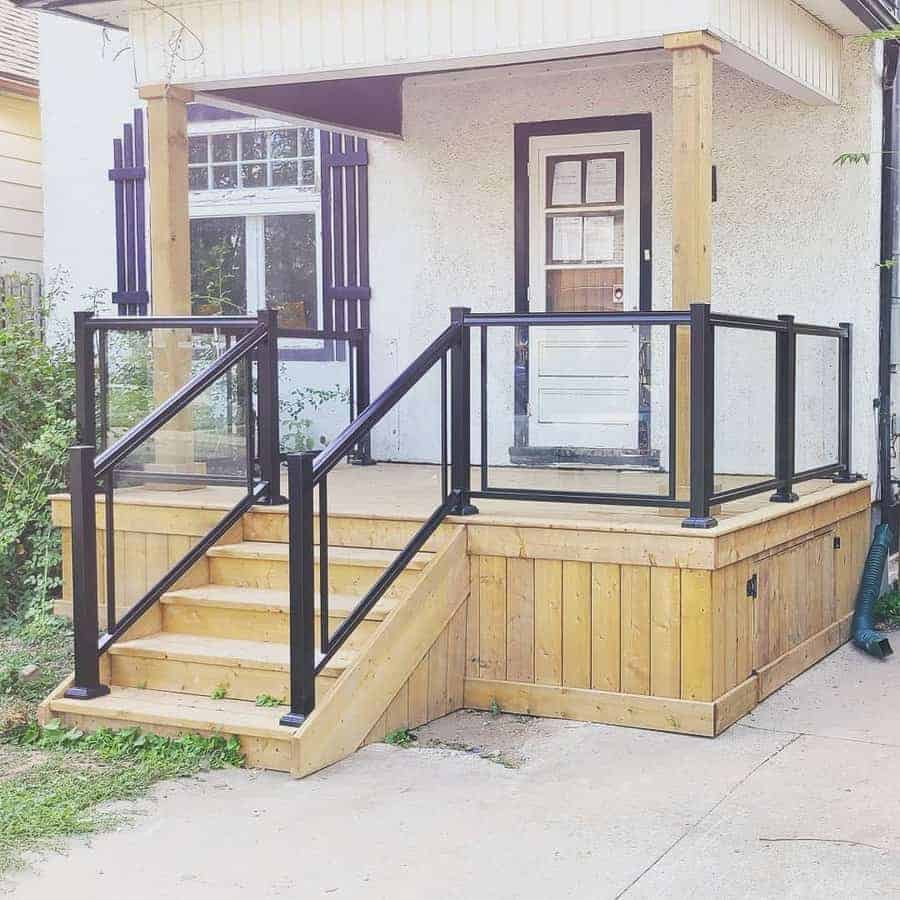 29. Siberian Larch Wood
Spice up small decks, patios, and balconies with Siberian Larch wood deck skirting! This versatile product will add a stunning architectural accent to 3-step stairs and small, outdoor living spaces.
The warm honey hue of the Siberian Larch wood deck is both versatile and beautiful and complements any small deck project with its natural elegance.
Your small area won't be small for long—Siberian Larch wood deck skirting is the perfect touch to bring your space to life!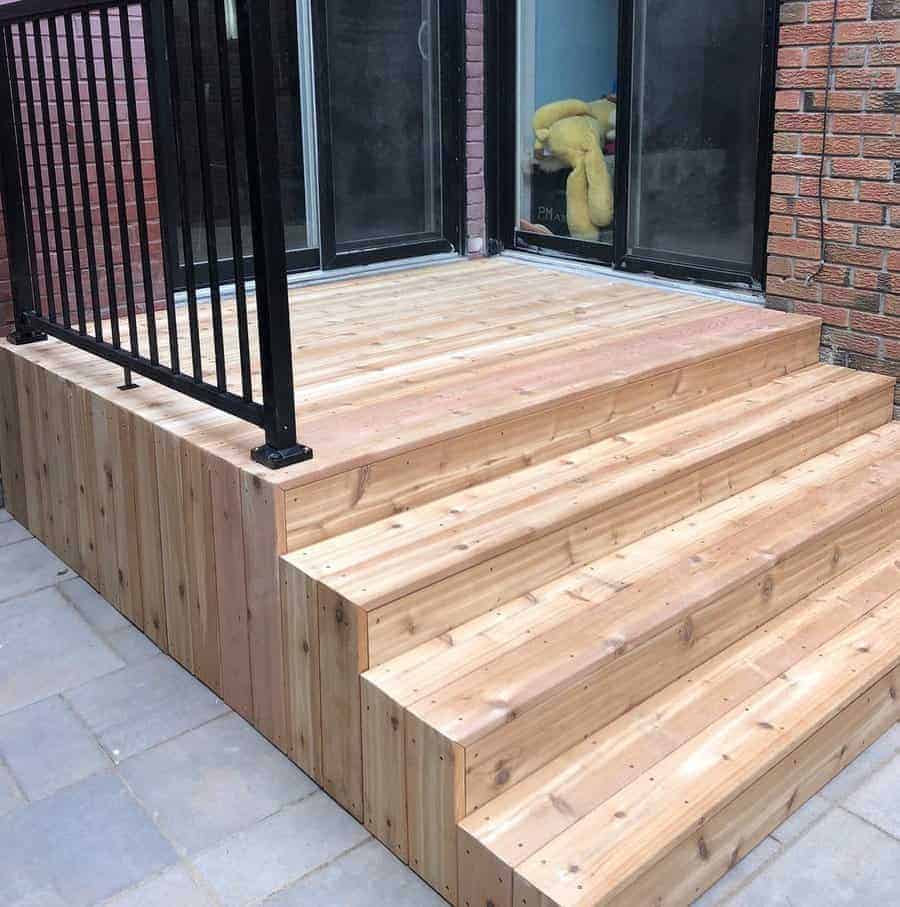 30. Distressed Wood Stain
Adding distressed wood deck skirting to small backyards is a great way to create an inviting atmosphere while giving an extra bit of charm and character. The possibilities are endless!
Accent your small porch deck with a flower box overflowing with colorful flowers, or place small lanterns around the edges for a cozy nighttime feel.
With distressed wood skirting, you provide a unique alternative to traditional spindles that not everyone has seen before; this gives your small backyard the opportunity to stand out from the rest!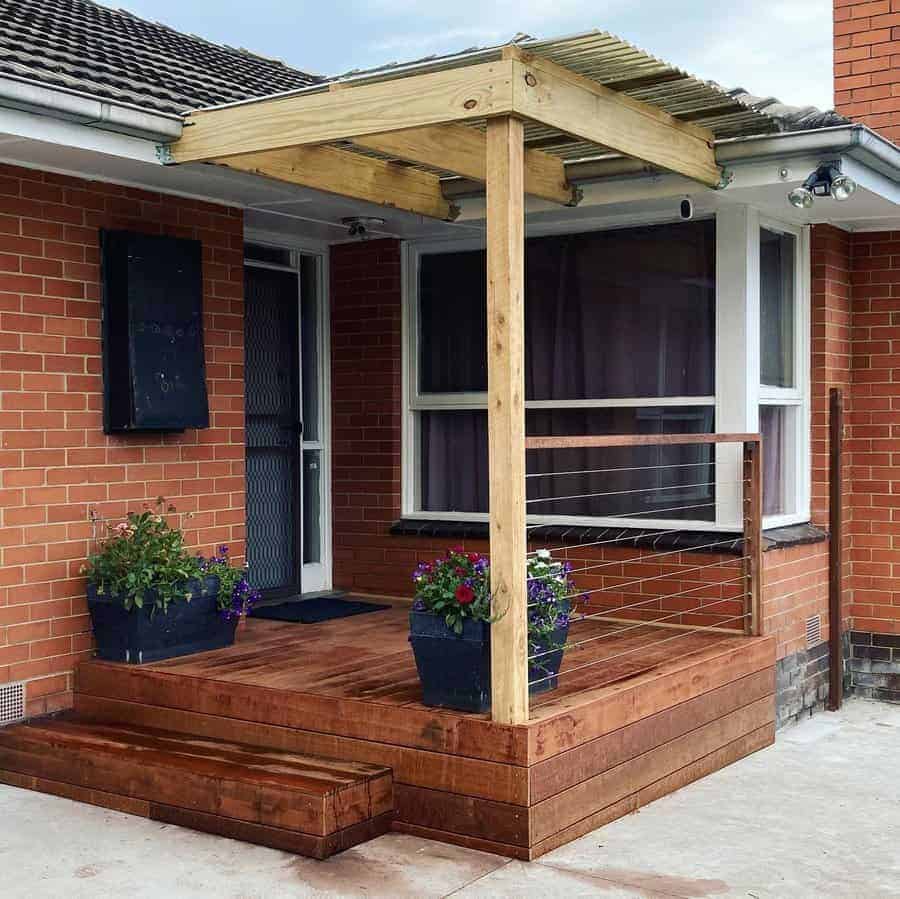 Deck Skirting FAQs
Can you use siding as deck skirting?
Yes, you can create a solid deck skirt by using the same siding that's on the rest of your home. It's a great solution if you want a seamless look between your deck and house.
Does deck skirting need ventilation?
Yes! Proper ventilation is a must to allow moisture to escape from under the deck. Allow one square foot of ventilation for every 150 square feet of decking. This will allow the deck and substructure to dry after inclement weather and prevent the mold, rot, and decay that will prematurely destroy your deck.