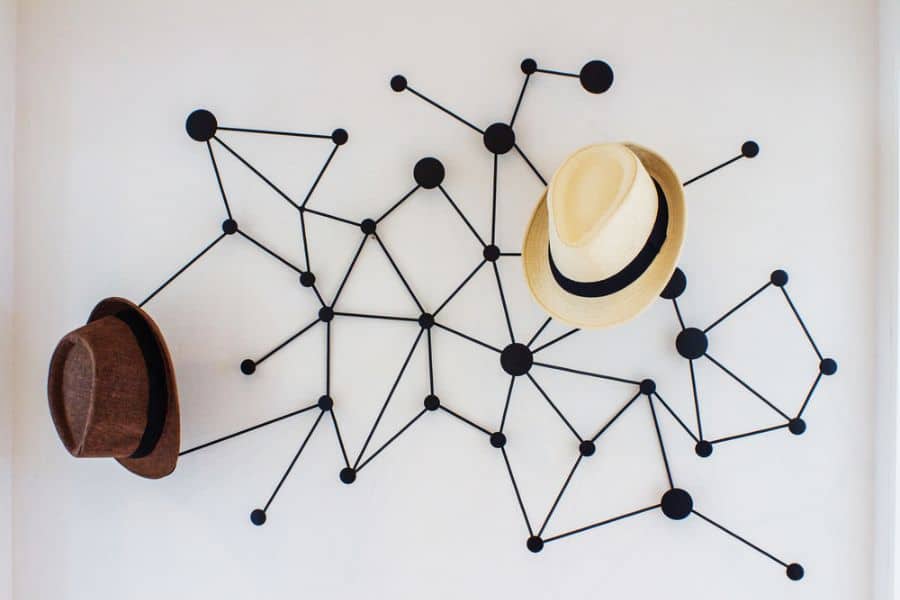 "Home is where you hang your hat." – Leon Redbone
Hats are one of the most commonly collected items of clothing. Whether you have enough baseball caps to cover the entire MLB, or a fabulous variety of fine fedoras, you need a place to store them. Many people enjoy displaying their hats for all to see, while others prefer to keep their head covers under cover.
Whether you want to showcase your cowboy hats or need a dust-free place to organize a ballcap collection, our creative hat rack idea gallery will inspire you.
1. Create A Wall Decor For Baseball Hats
A hat rack is more than just an ordinary storage tool; it can become a part of your wall decor too! You can hang it on any wall and use it to showcase each hat like an art piece, making sure there's enough white space for each hat so that it stands out prominently.
Not only does this look great, but it gives you the opportunity to organize and display all of your hat collection for everyone to see. Plus, with this handy hat rack, you won't ever have to worry about mixing up or losing hats again!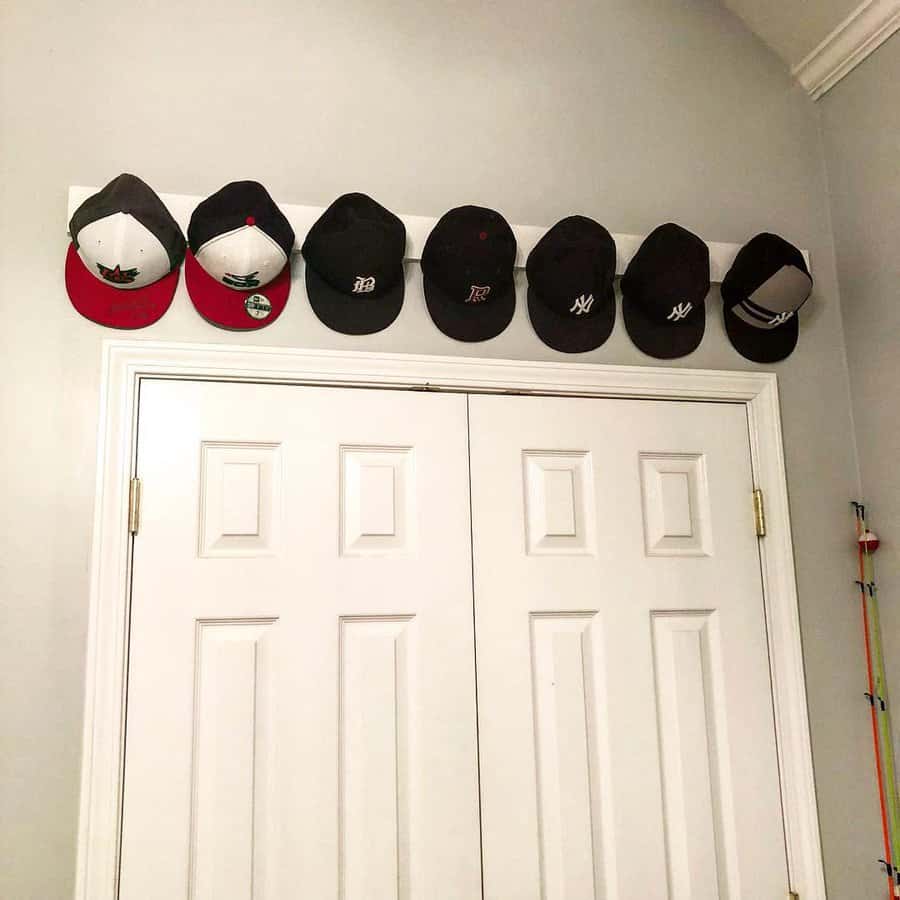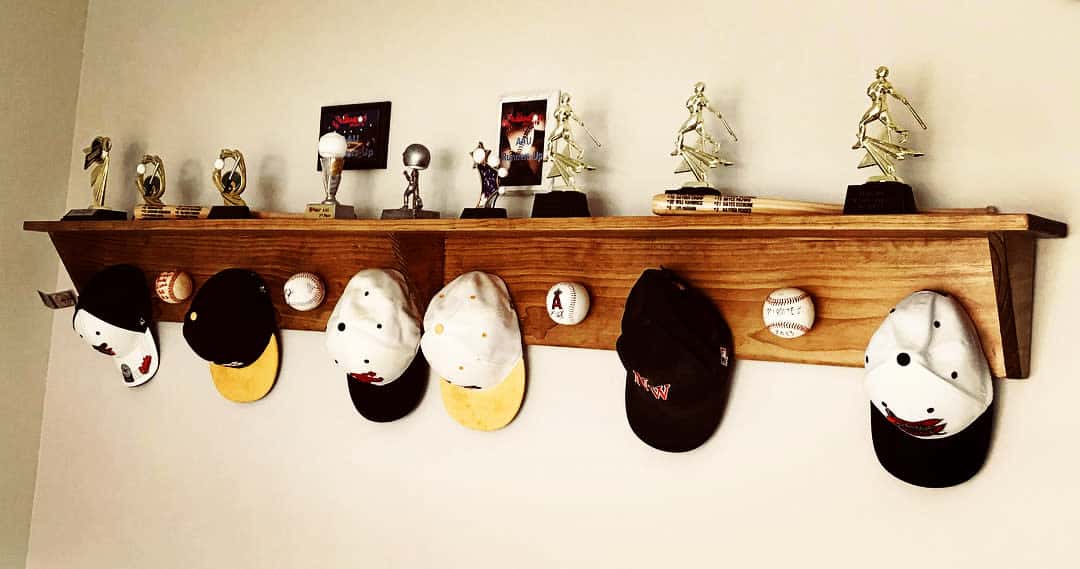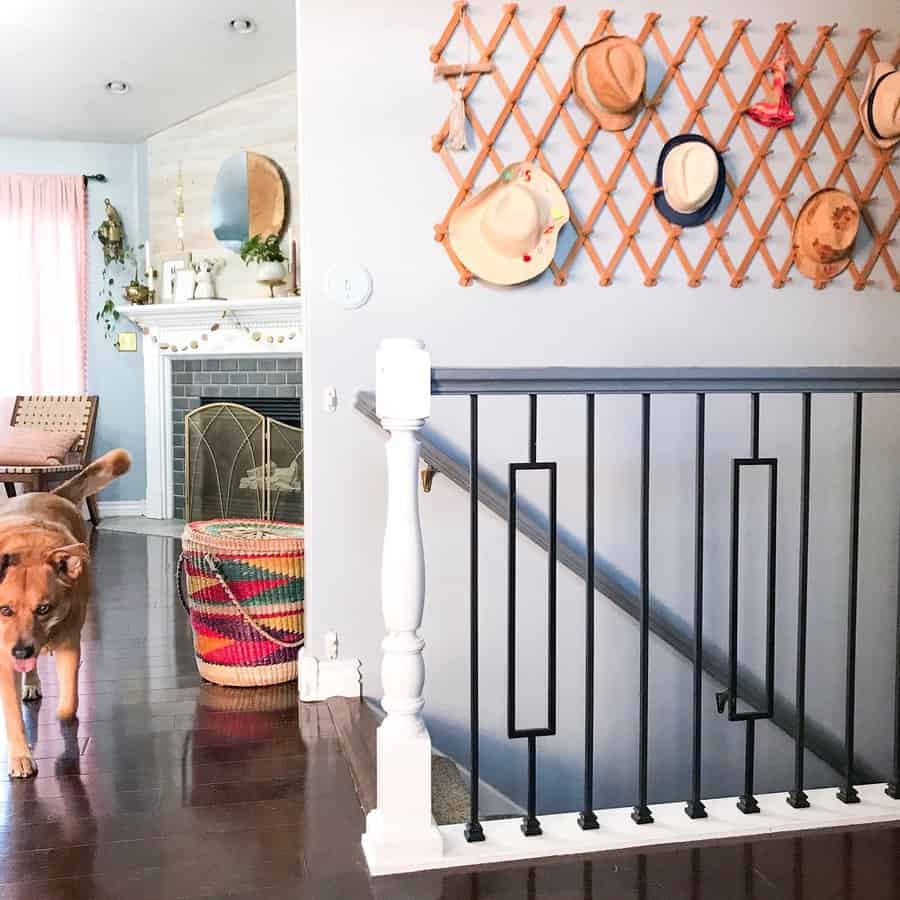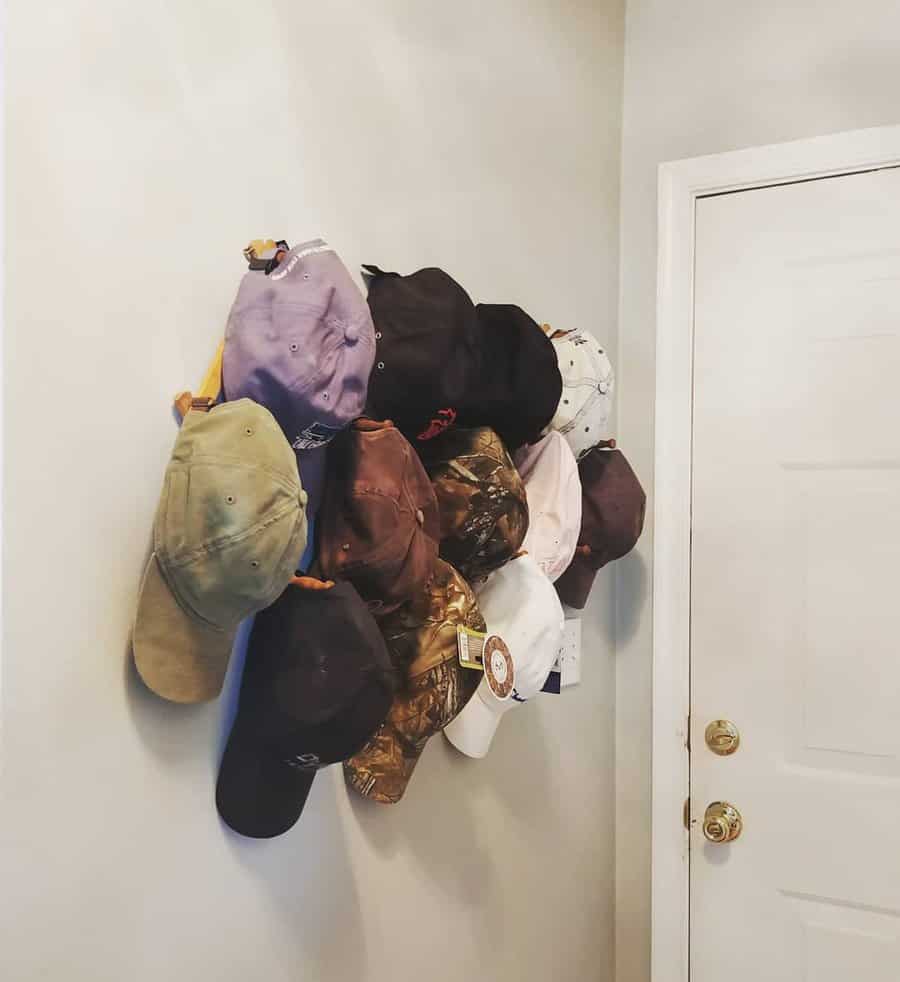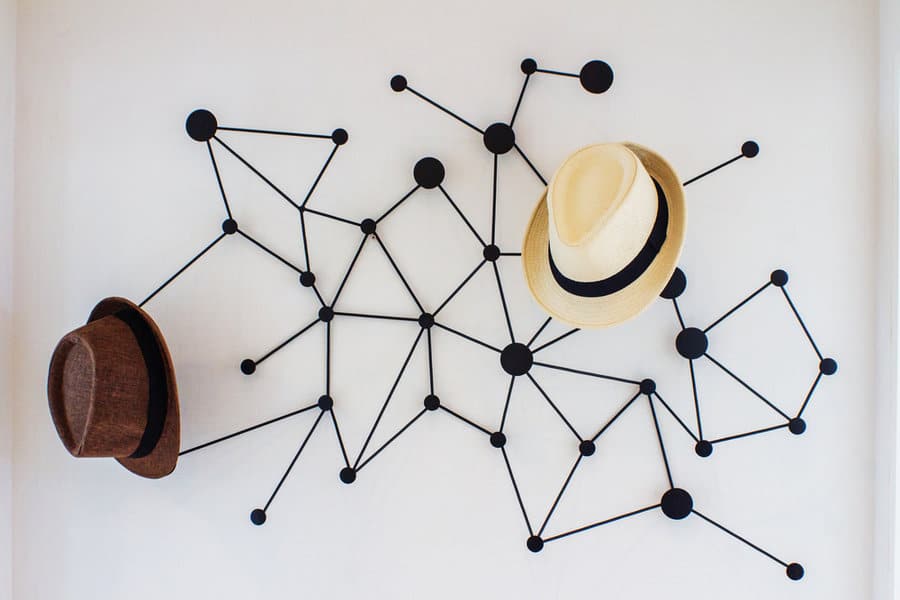 2. Store Multiple Hats Vertically
Displaying hats on wall-mounted hat racks is a stylish option that adds a creative, fashionable touch to your interior. For those of you who love collecting hats, the tiered and layered wall-mounted hat rack is perfect for storing multiple hats in one place with ease.
Not only does it help keep hats organized, but it gives your wall the delightful pop of color and texture that will bring your wall to life. With its unique design and extraordinary storage capacity, this vertical hat rack is an ideal choice for any home.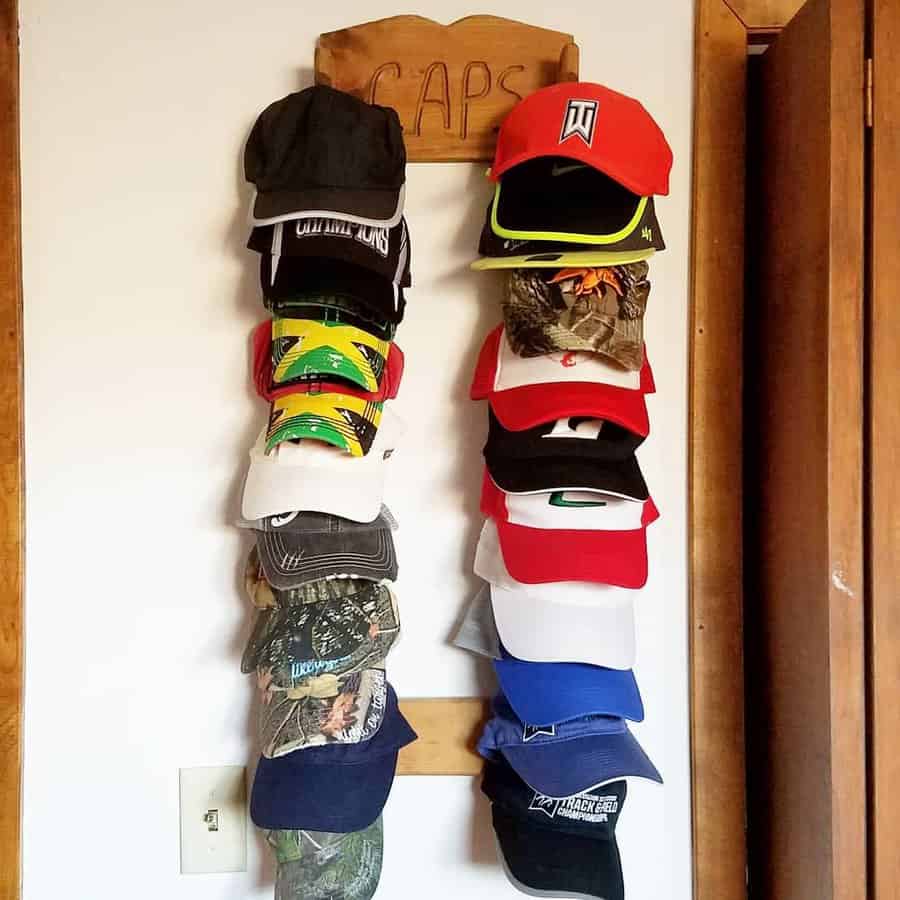 3. Keep It Simple
Looking for a place to store your hats? Why not make a wall-mounted hat rack with nail hooks? This simple and minimalist DIY project can add some spunk to any wall while creating convenient storage. With just a few nails a hook's throw away, you can install the wall-mounted hat rack in no time and give your hats the structure they deserve.
And when guests come over and show off their impressive hat collection, you'll have the perfect place for each one!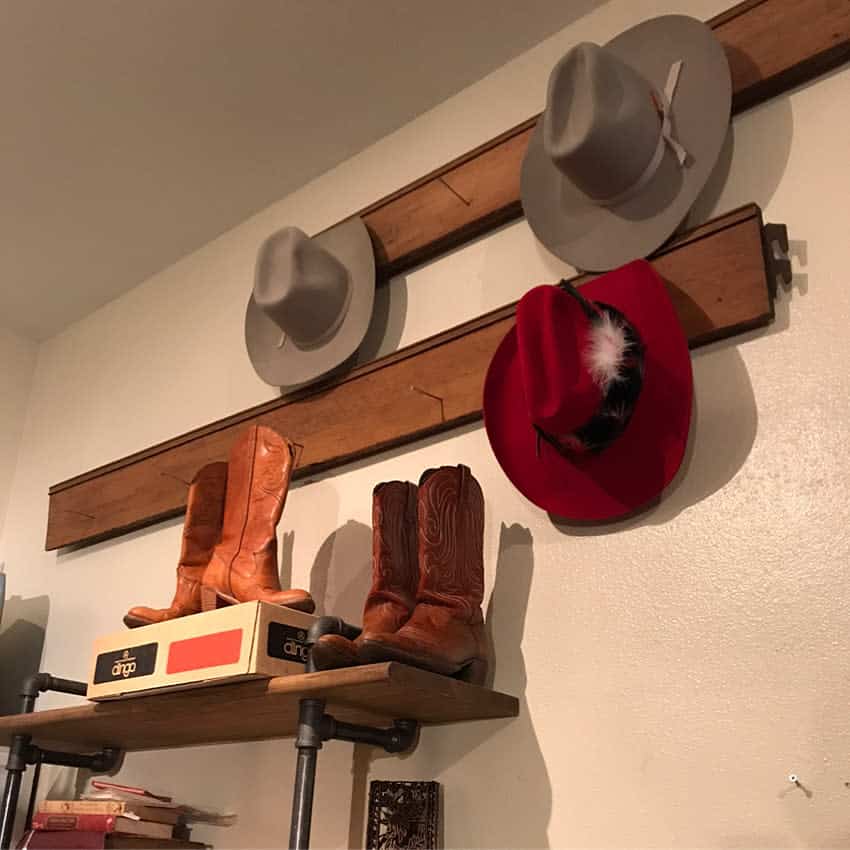 4. Create A Hat Peg Board
Adorning a metal rack with an array of stylish hats and caps can add a touch of flair to any room in the house. Not only do hat racks provide a fashionable way to organize and display headwear, but they are also surprisingly multipurpose.
An ordinary metal rack is perfect for hanging scarves, jackets, and umbrellas. A pegboard is suitable for hats of all sizes and fedoras as well. Get creative with how you use your hat rack, from storing toys to gardening tools; the possibilities are truly endless!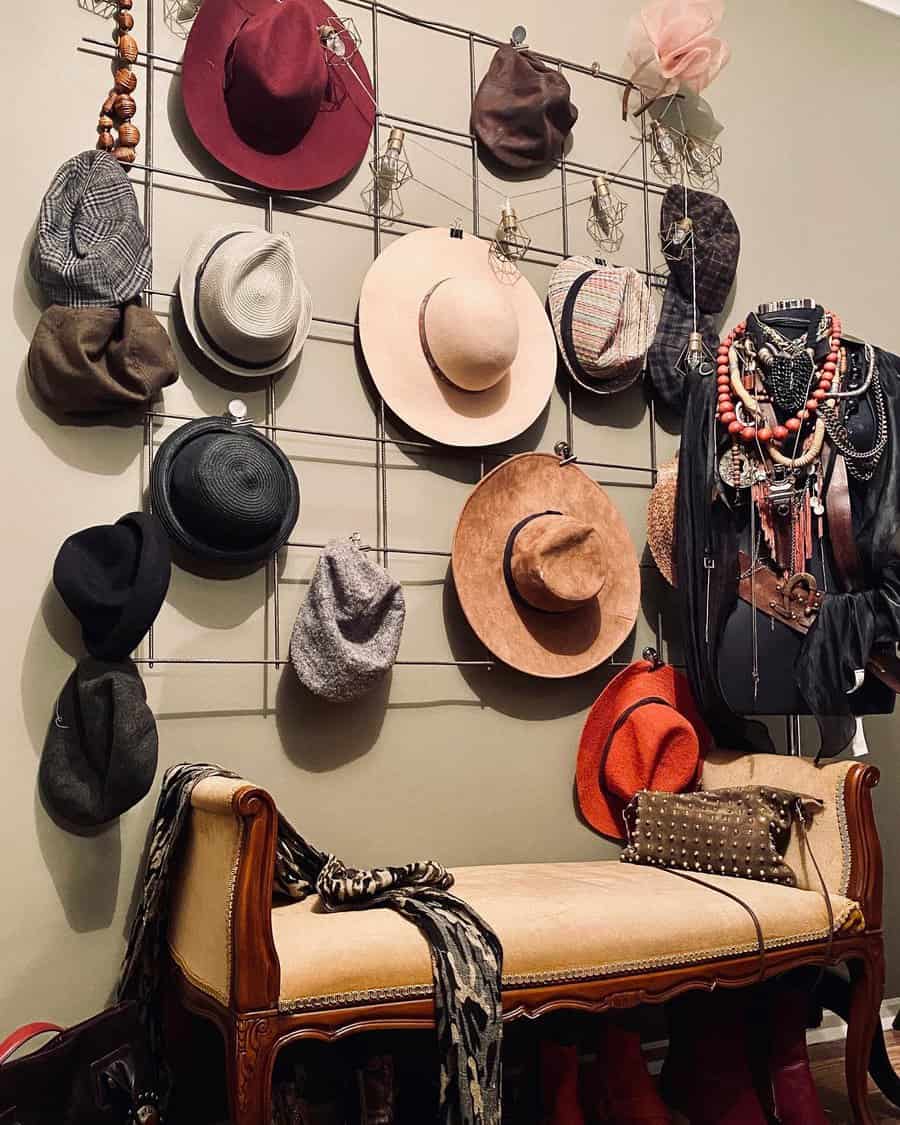 5. Attach An All-Purpose Wall Rack
A hat rack is a great all-purpose wall rack for all of your storage needs. Rather than the generic wall-mount rack that does one specialized job, a hat rack will keep all of your hats neat, tidy, and easy to find.
A great way to bring an artistic touch to your room, a beautiful hat rack can be customized with your favorite patterns and colors so you can show off both your unique style and all of the amazing headwear in your collection.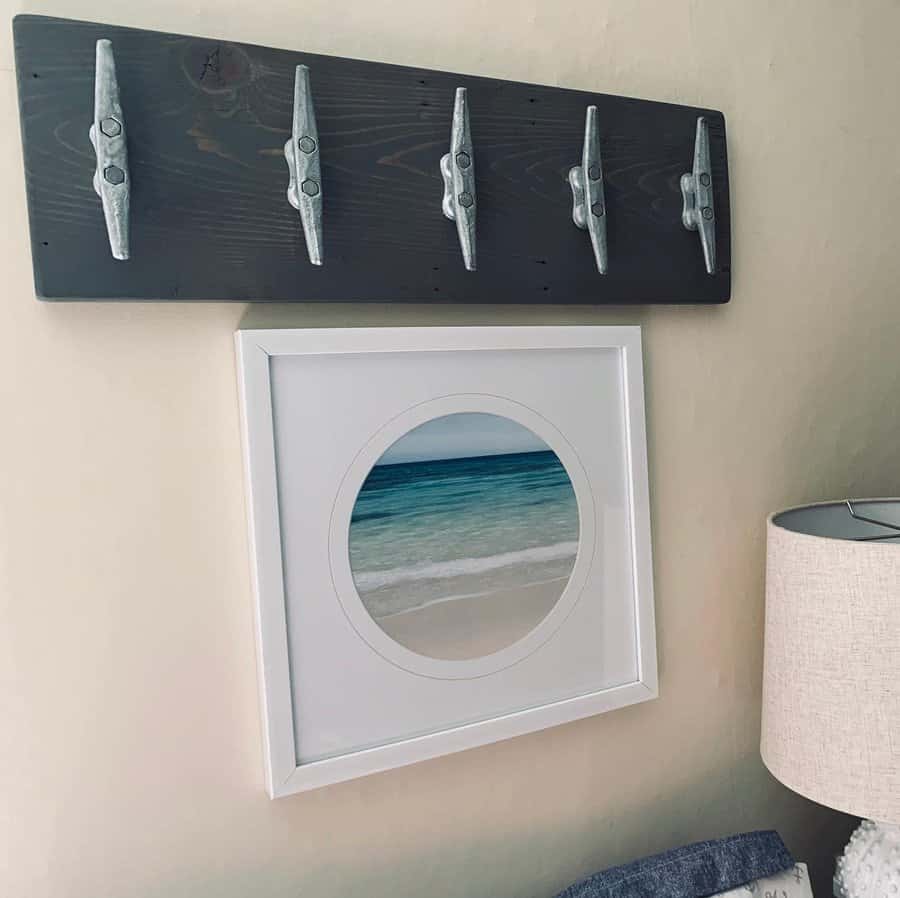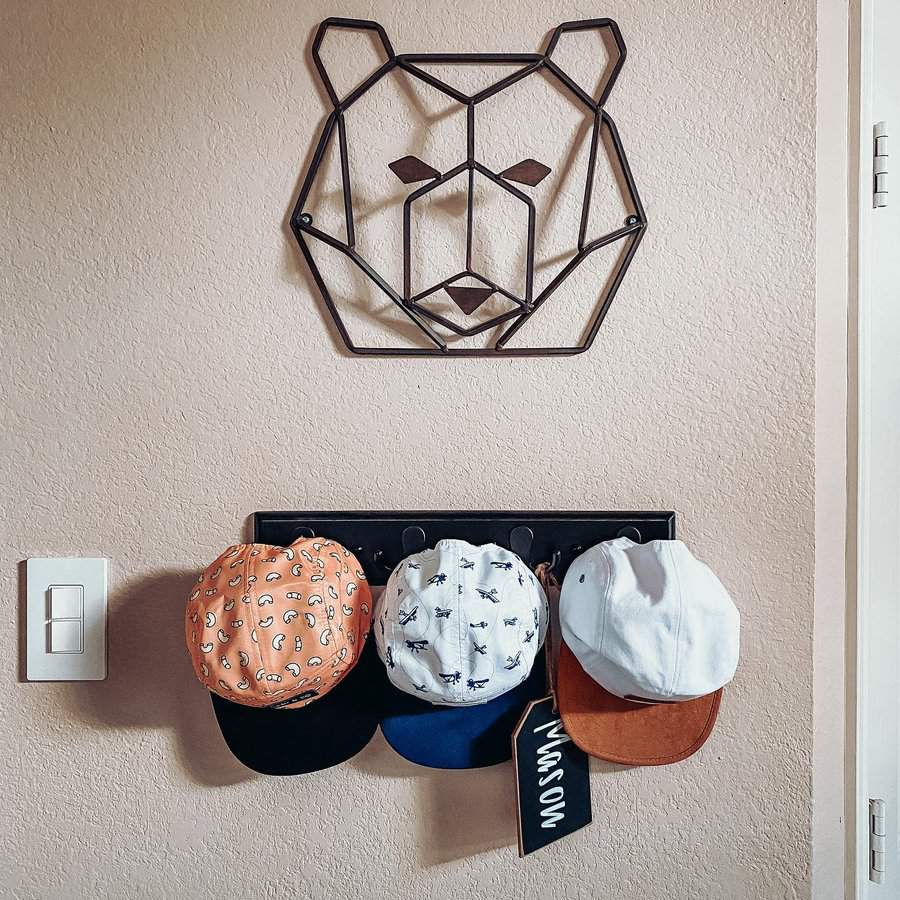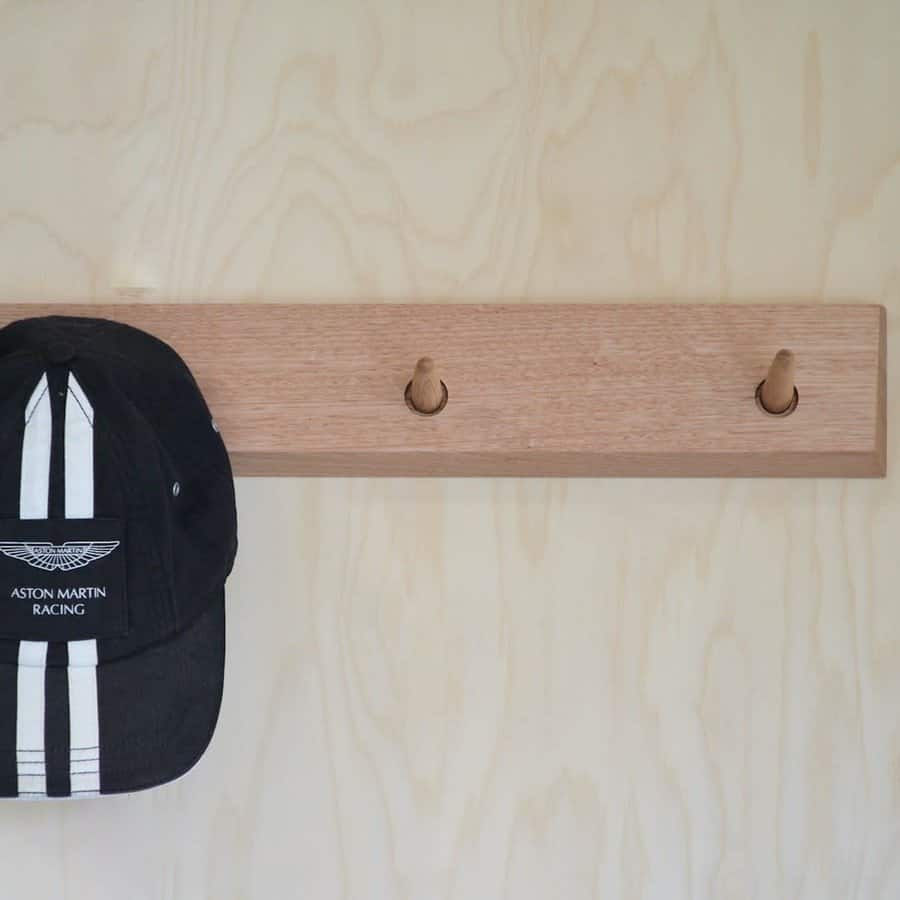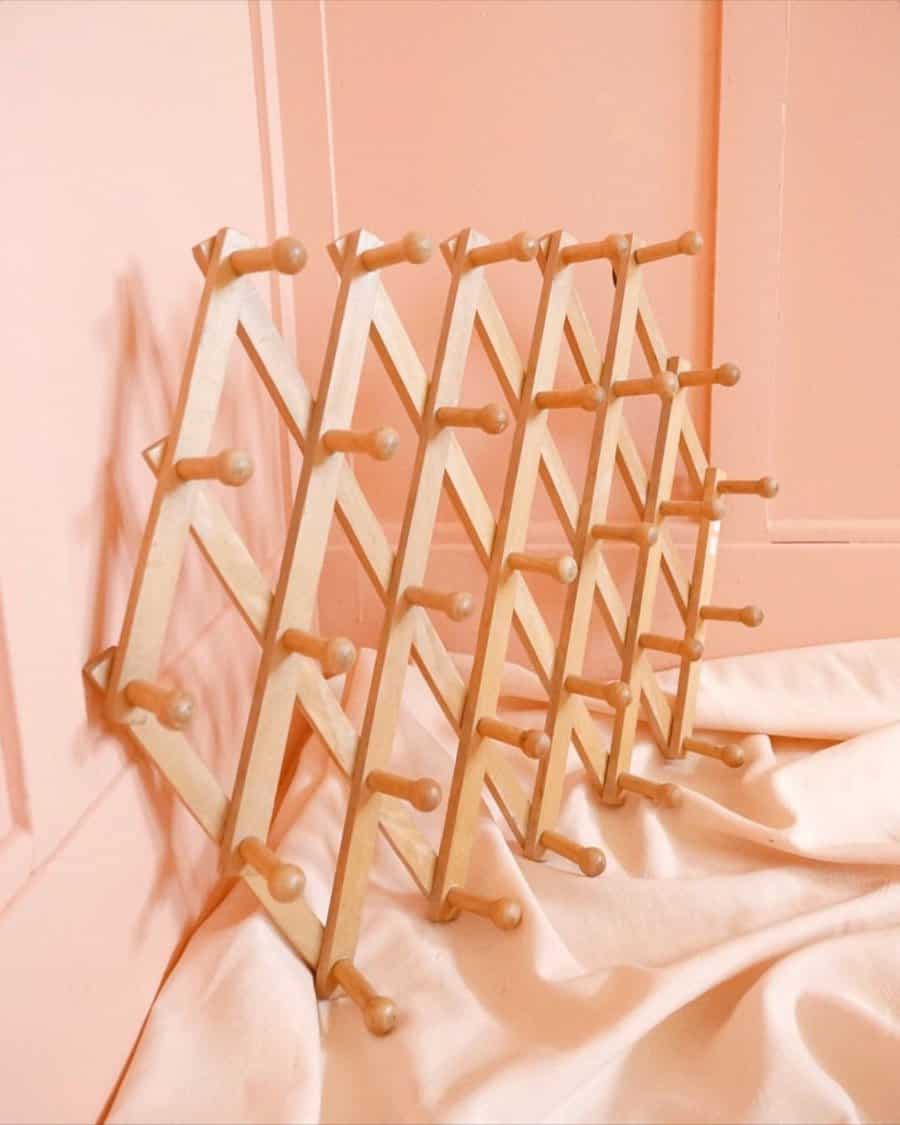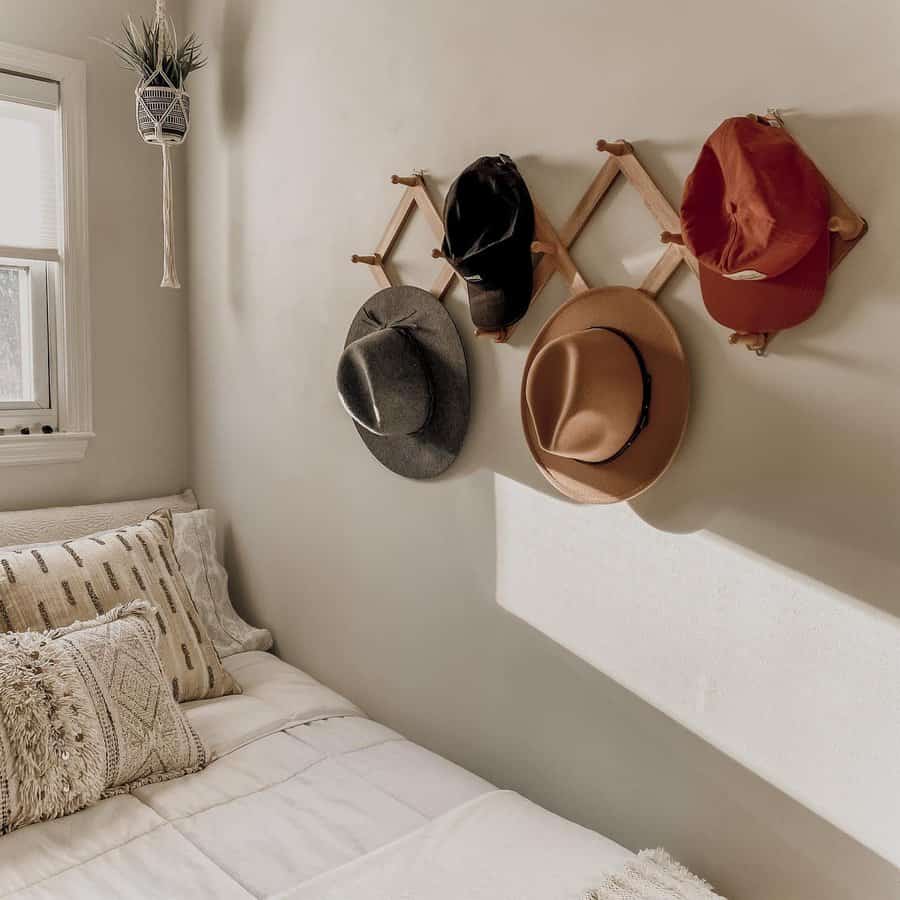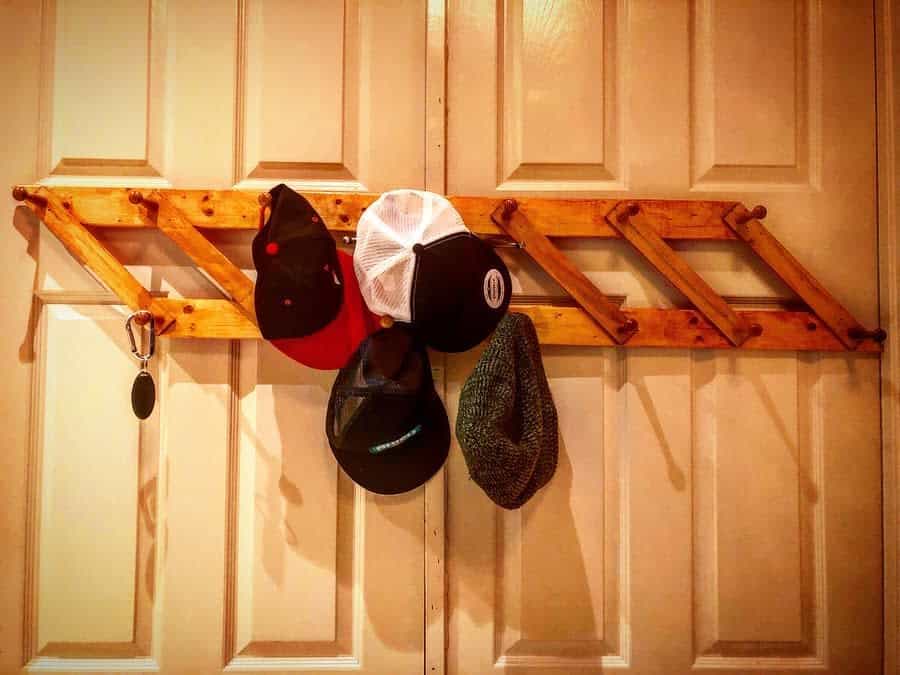 6. Be Creative With Macrame
Who said hat racks have to be boring? Macrame hat racks offer a creative and beautiful way to display hats, while adding texture to a rustic or bohemian interior.
Wood and rope blend in harmoniously together to make macrame hat racks that are sturdy and unique. Imagine seeing a macrame-style hat rack hanging in your living room or hallway, with its intricate details – an eye-catching addition that is sure to create a wonderful atmosphere.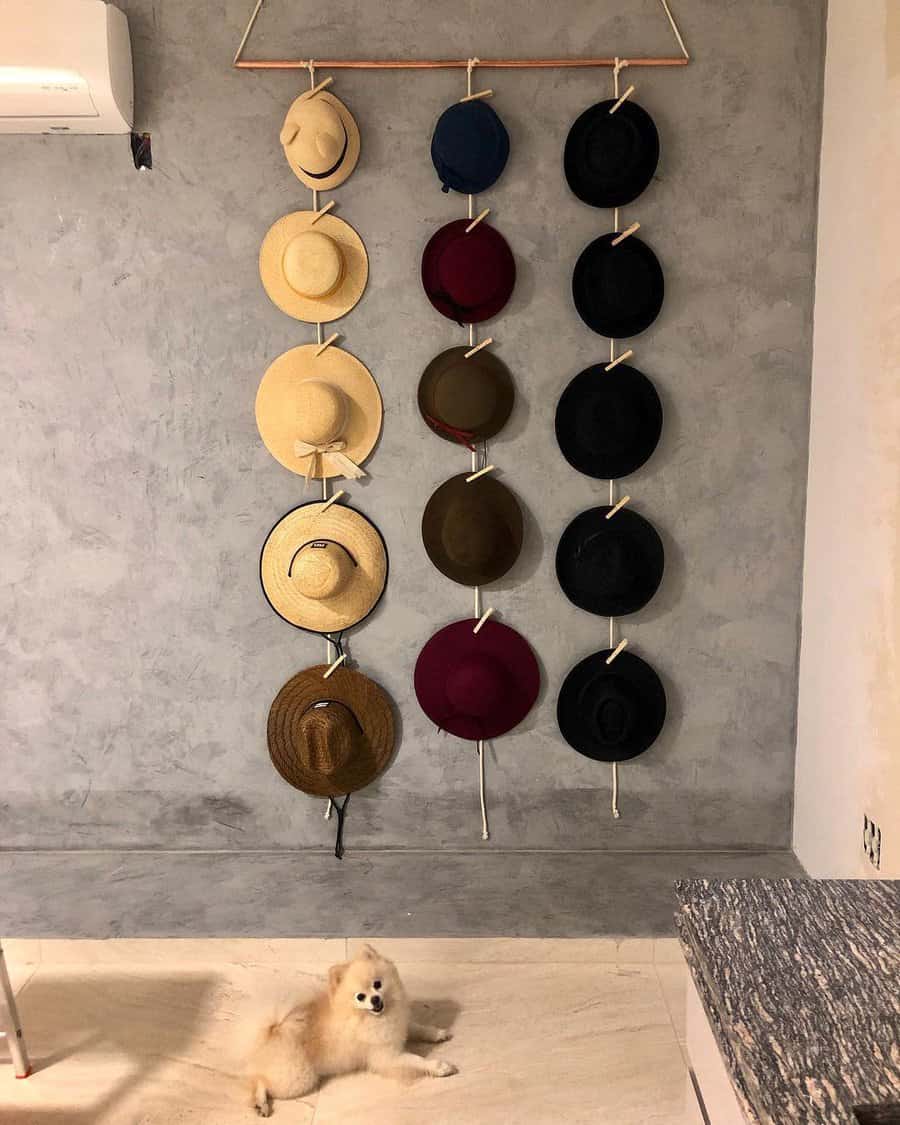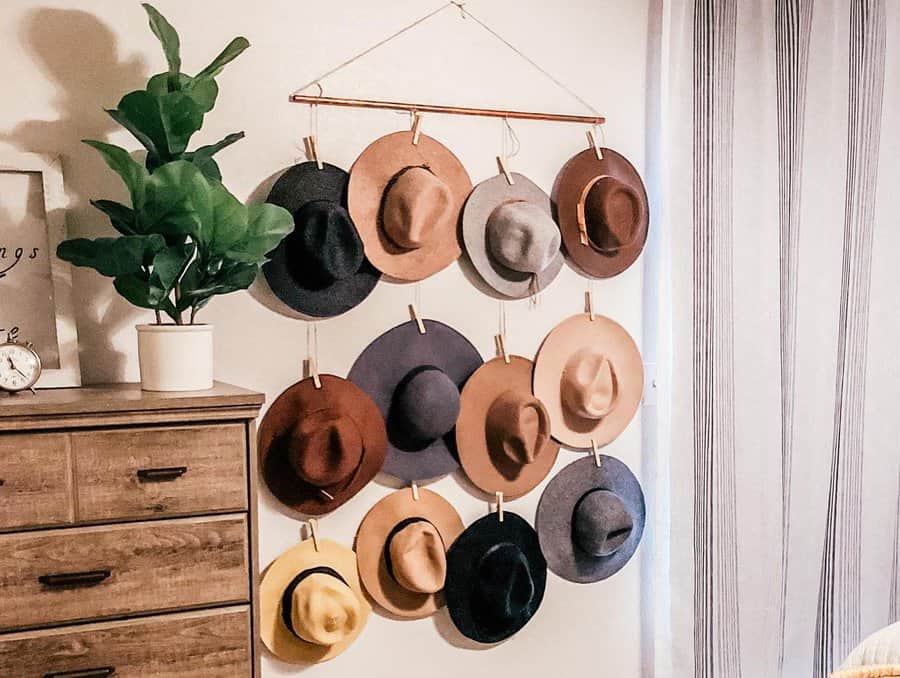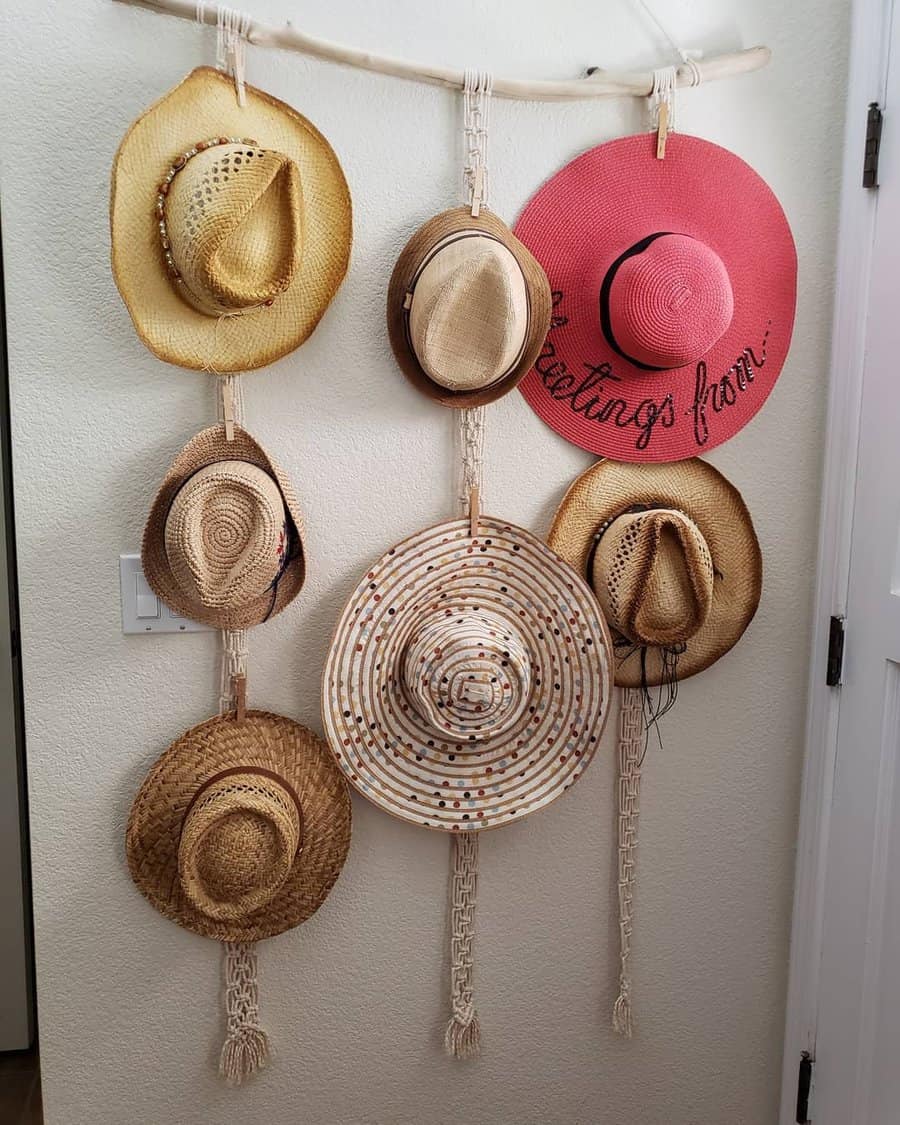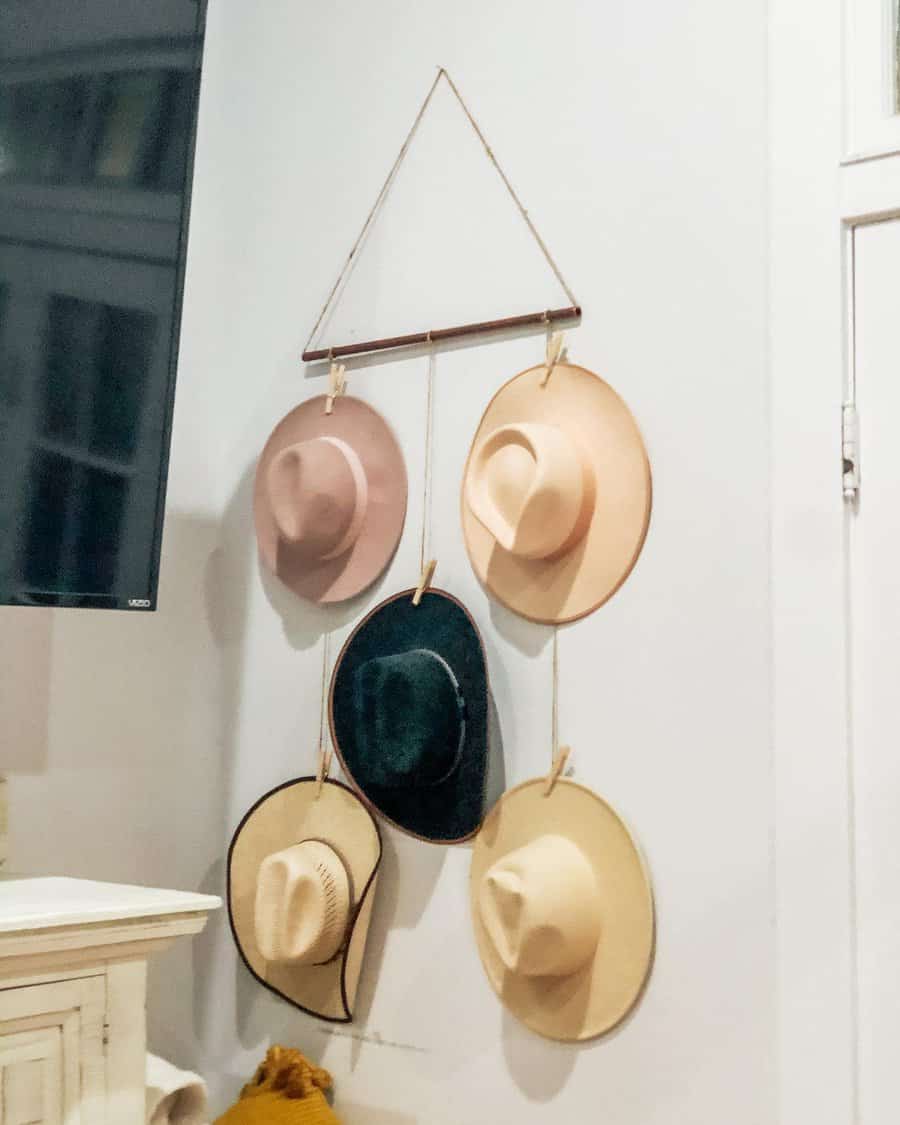 6. Add Horseshoe Elements For Cowboy Hats
If you're looking to add a rustic touch of country charm to your home, try a hat rack with horseshoe details. Perfectly designed for cowboy hats, this hat rack will bring the look and feel of the Wild West into any room in your home.
Crafted from wood and adorned with horseshoe accents, a cowboy hat rack is sure to put some twang in any space while keeping your hats safe and clean!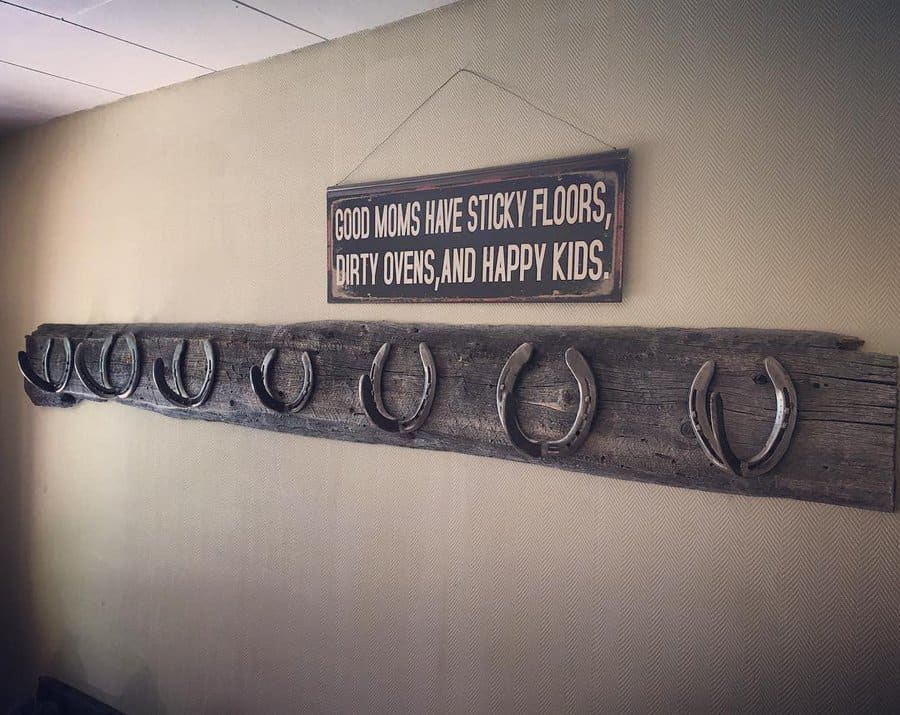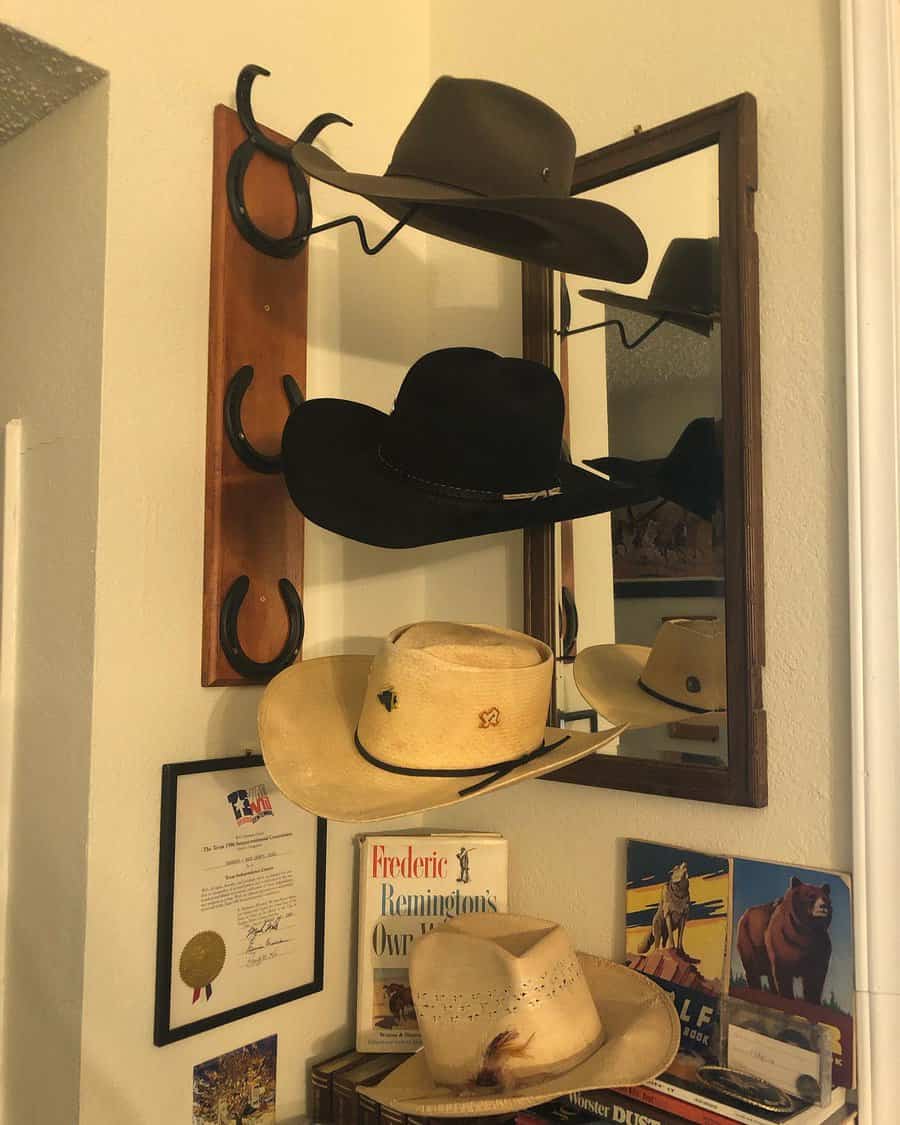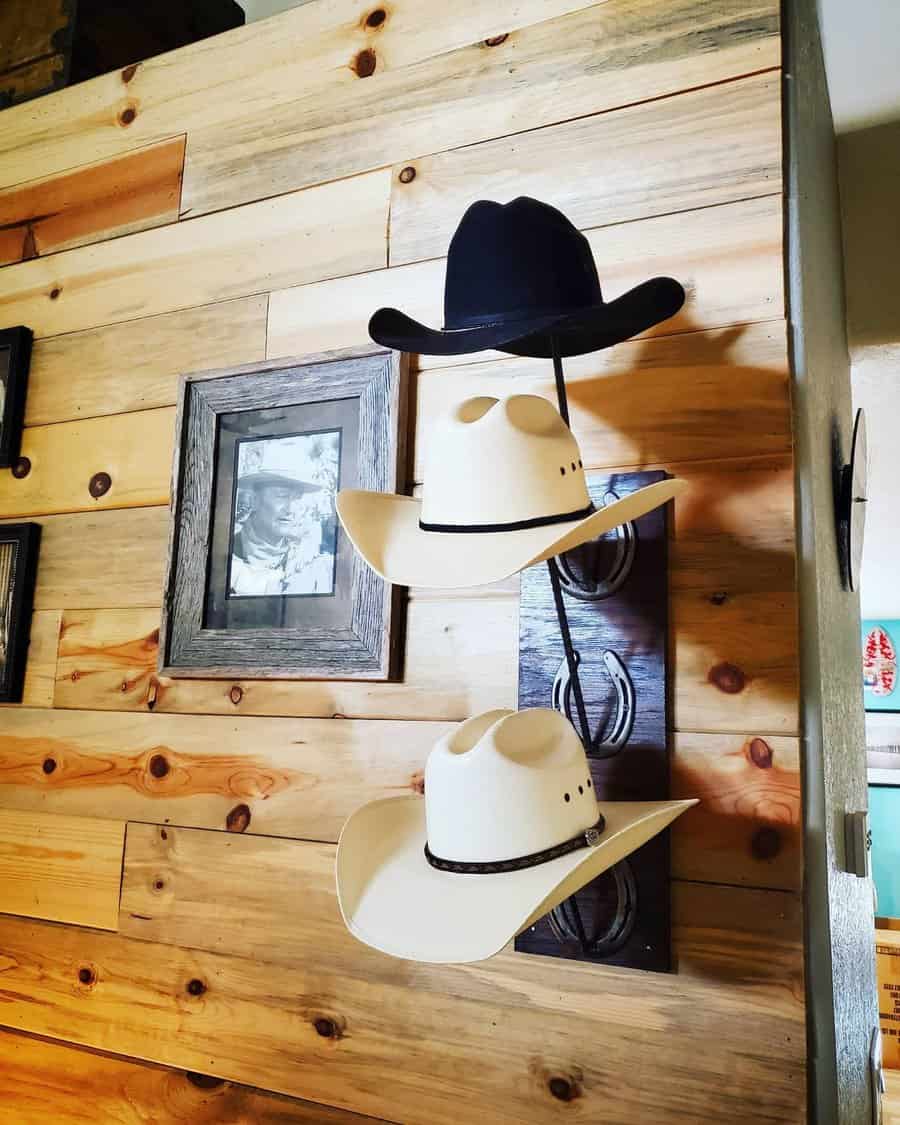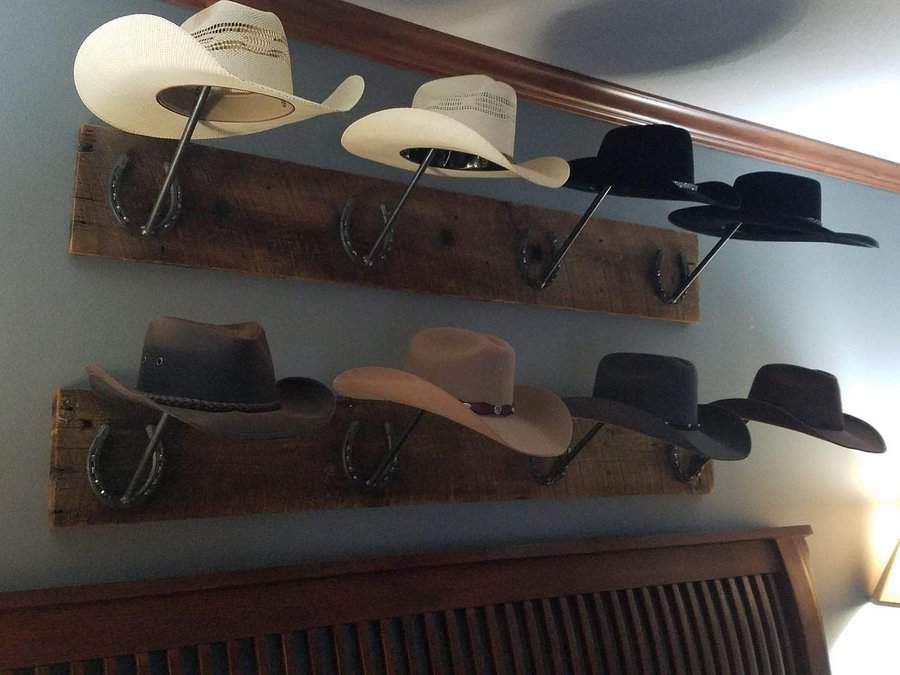 7. Utilize Your Closet
The space-saving benefits of a closet hat rack are undeniable. Instead of cluttering your shelves or room with loose hats and other accessories, you can utilize hangers and poles to provide the space you desperately need in your closet.
Not only will it provide the space for the things that are essential to keeping up with the latest trends, but it will also help keep your wardrobe organized and looking clean. The convenient design of a closet hat rack allows it to fit even in the smallest spaces, so don't let space limit your style.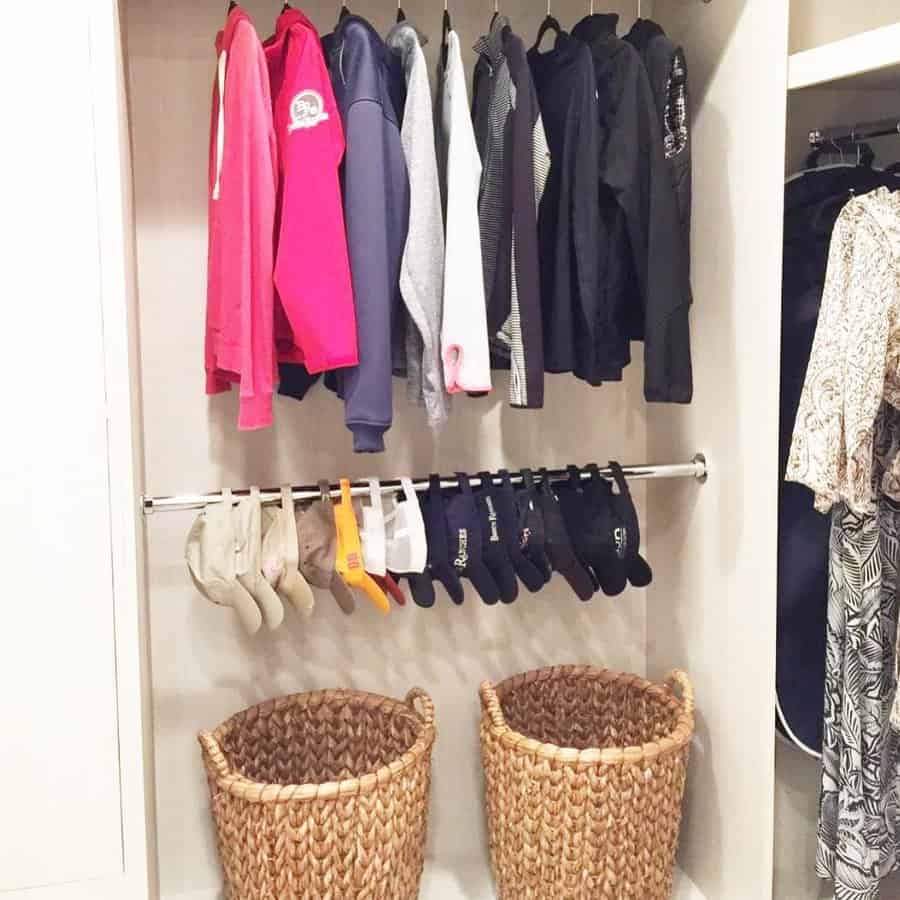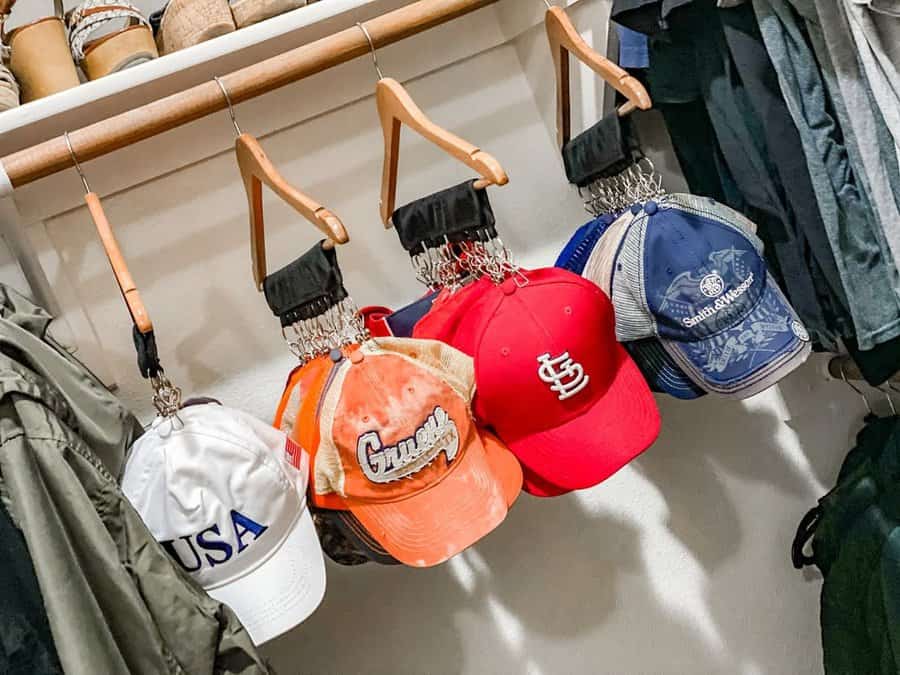 8. Repurpose Materials For An Artistic Look
If you're looking to give your home a unique, rustic touch, why not repurpose an old hat rack? Such a repurposed accessory can draw the eye from anywhere in a room and add an interesting look to your decor.
With distressed and reclaimed wood, you can create something that looks as if it comes straight out of yesteryear. Whether you use it to store hats or simply fill the empty space, repurposing a hat rack is sure to make your home feel more cohesive and inviting.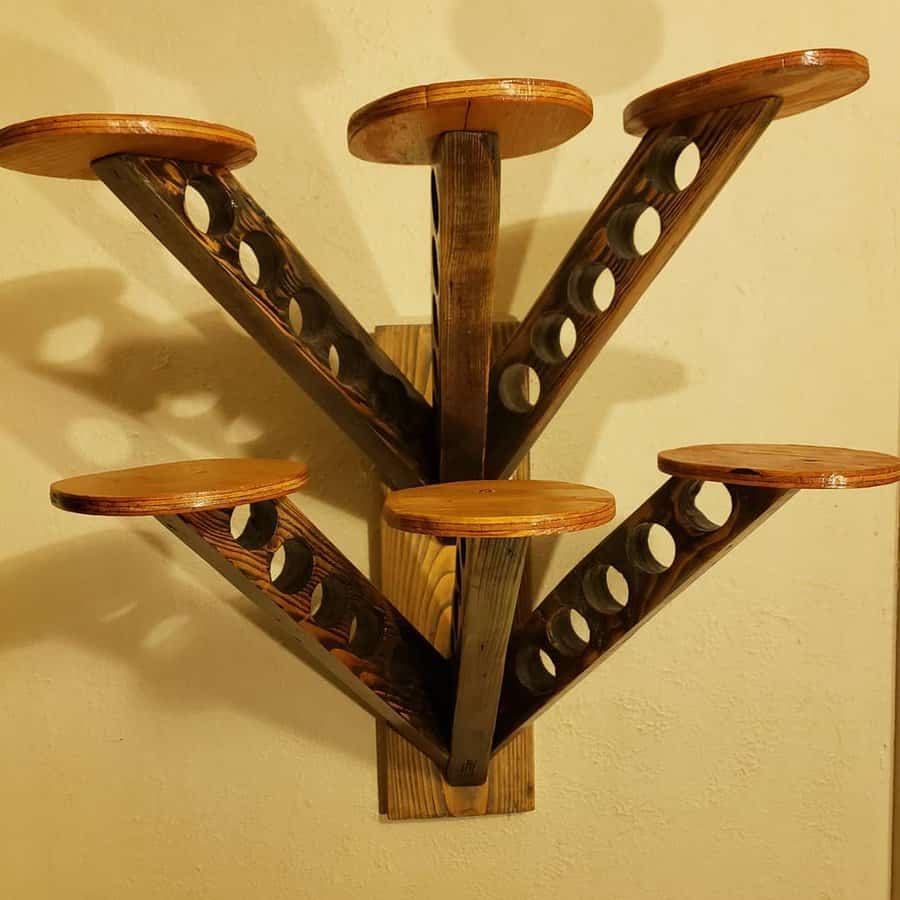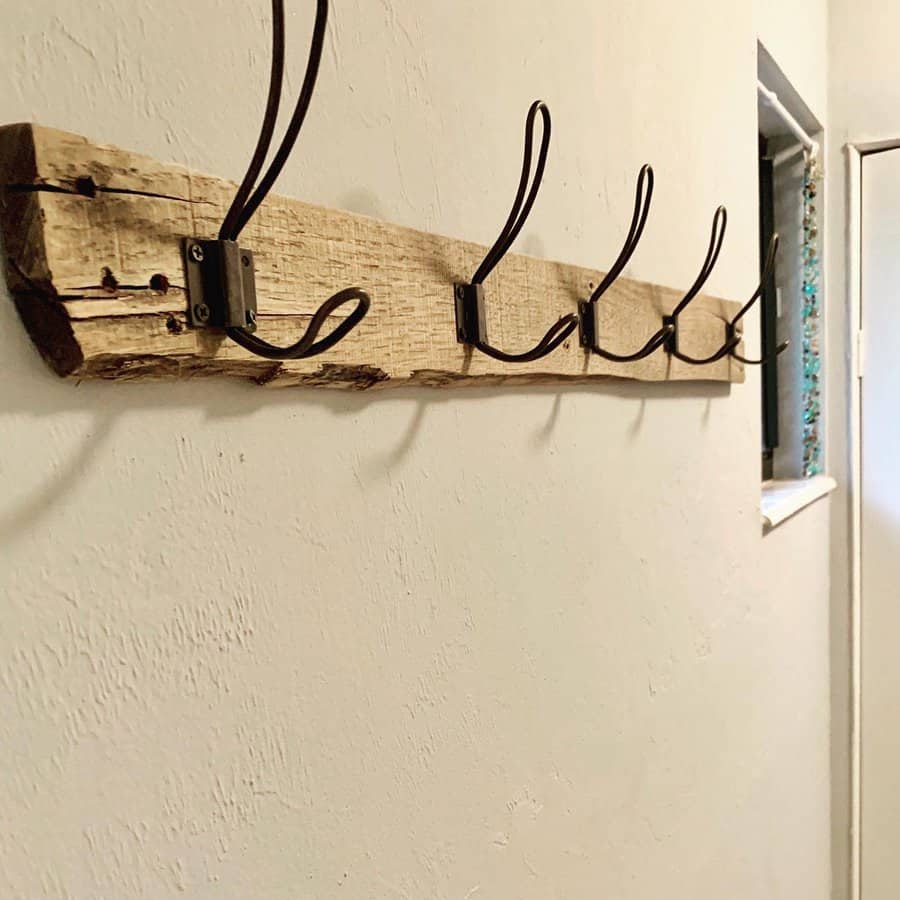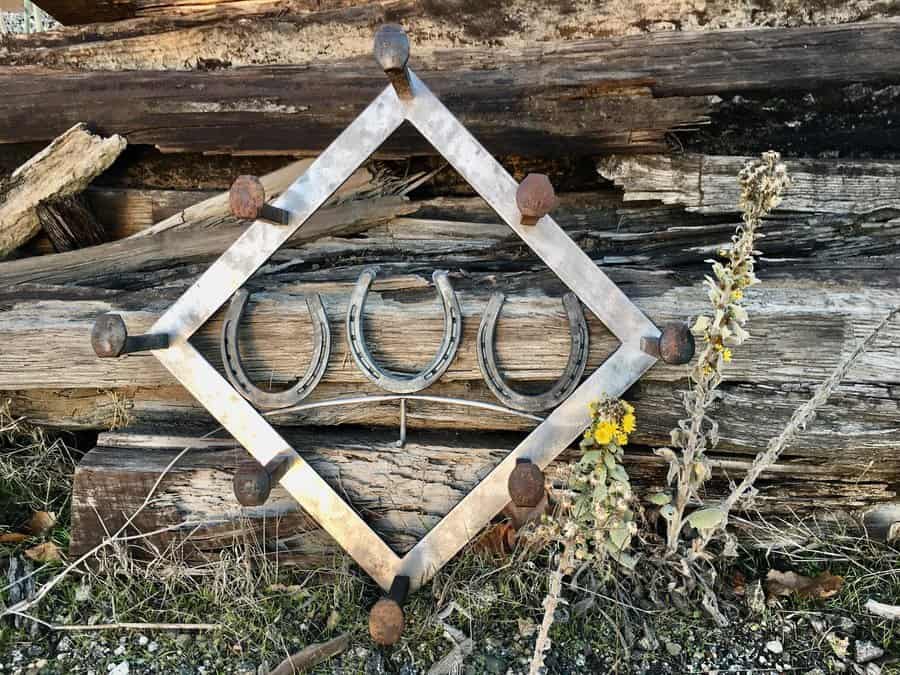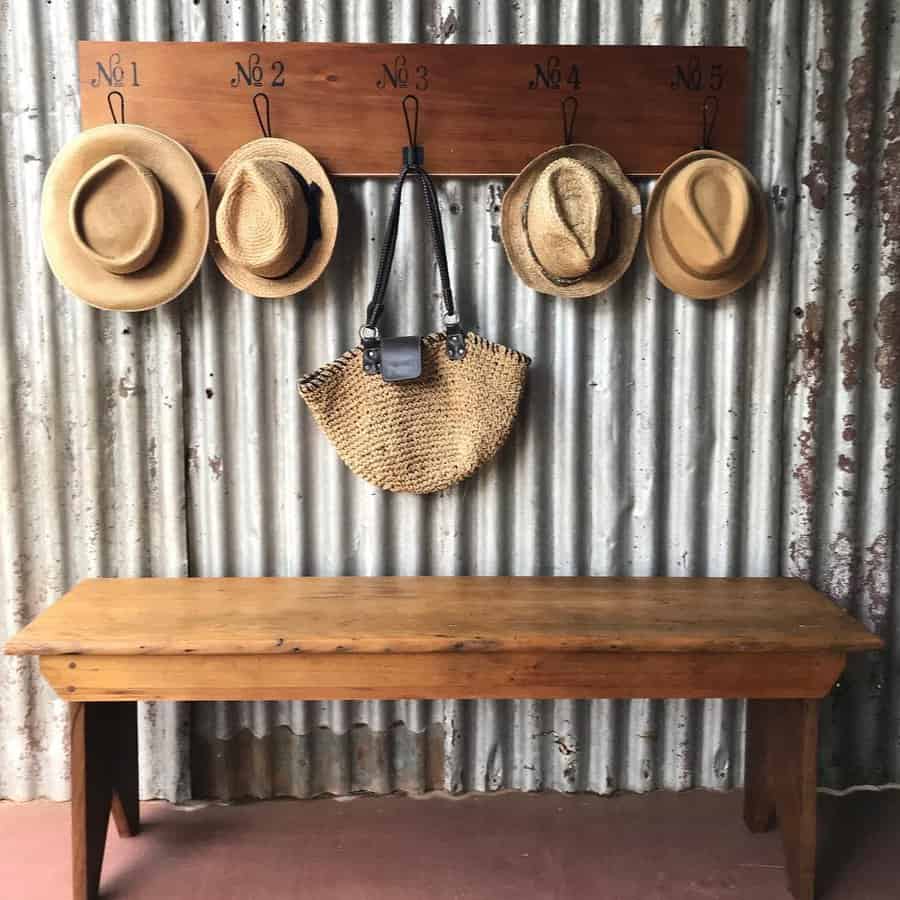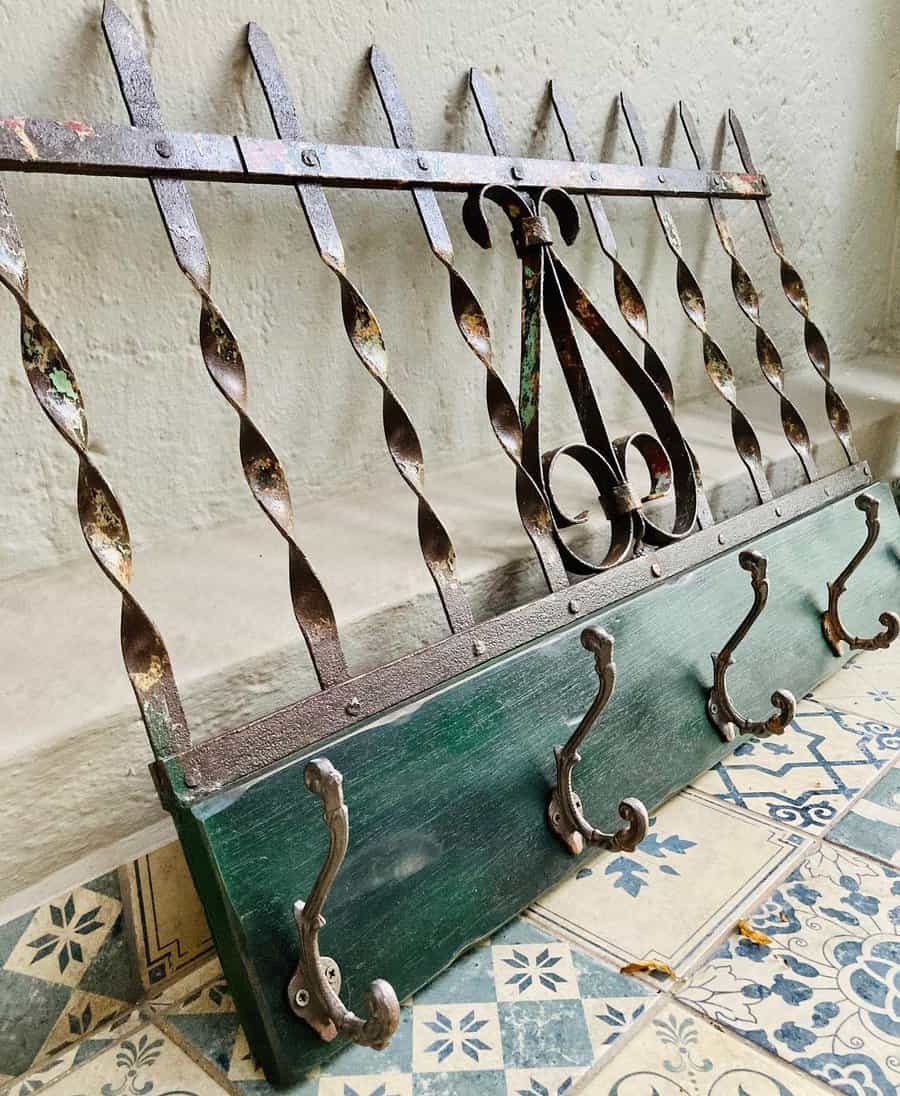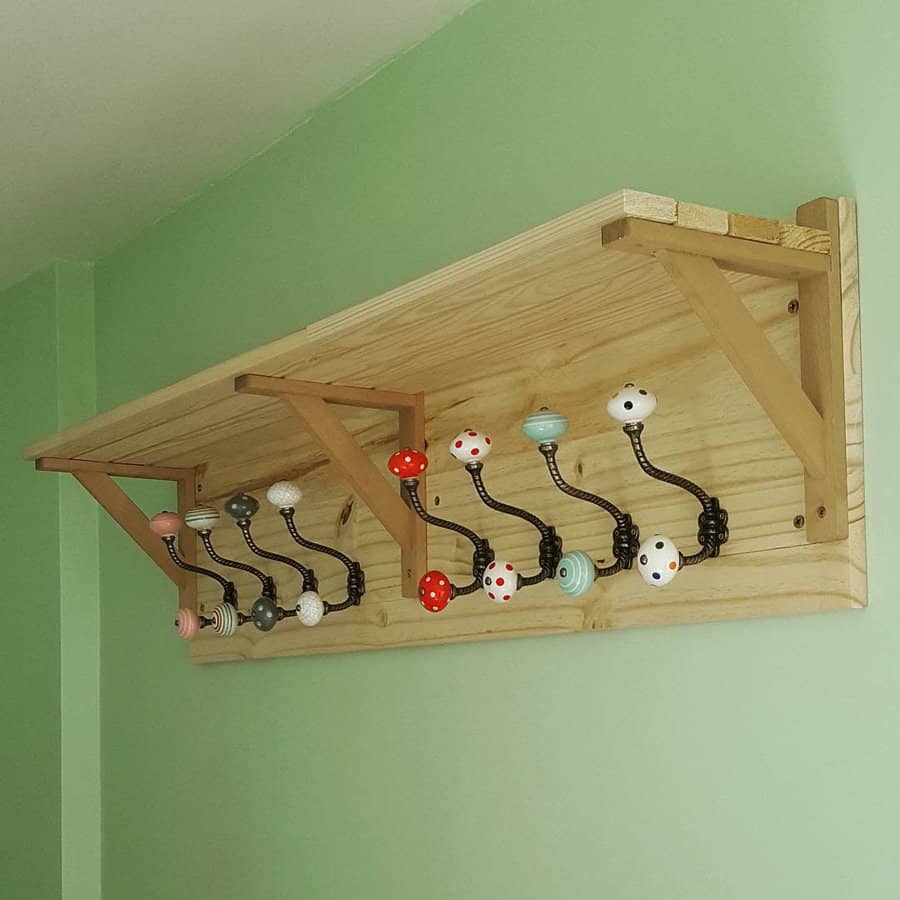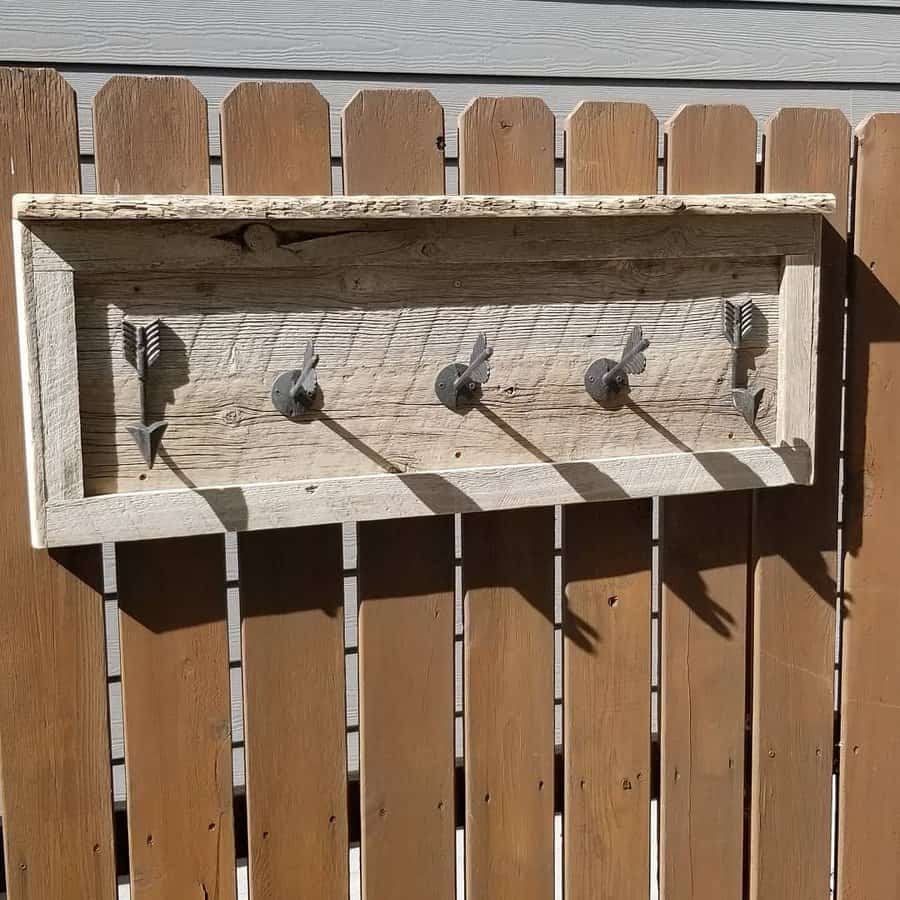 9. Go For Rustic Charm
Stepping into a living room adorned with a distressed wood rustic hat rack is like taking a step back in time. This vintage style is an ideal way to keep your hats safe and secure while adding oodles of charm to your space.
The distressed finish adds the perfect lived-in and cozy look that complements any style, modern or classic, country or suburban – you name it. Add some hooks for coats and scarves, too; it's the perfect rustic storage solution!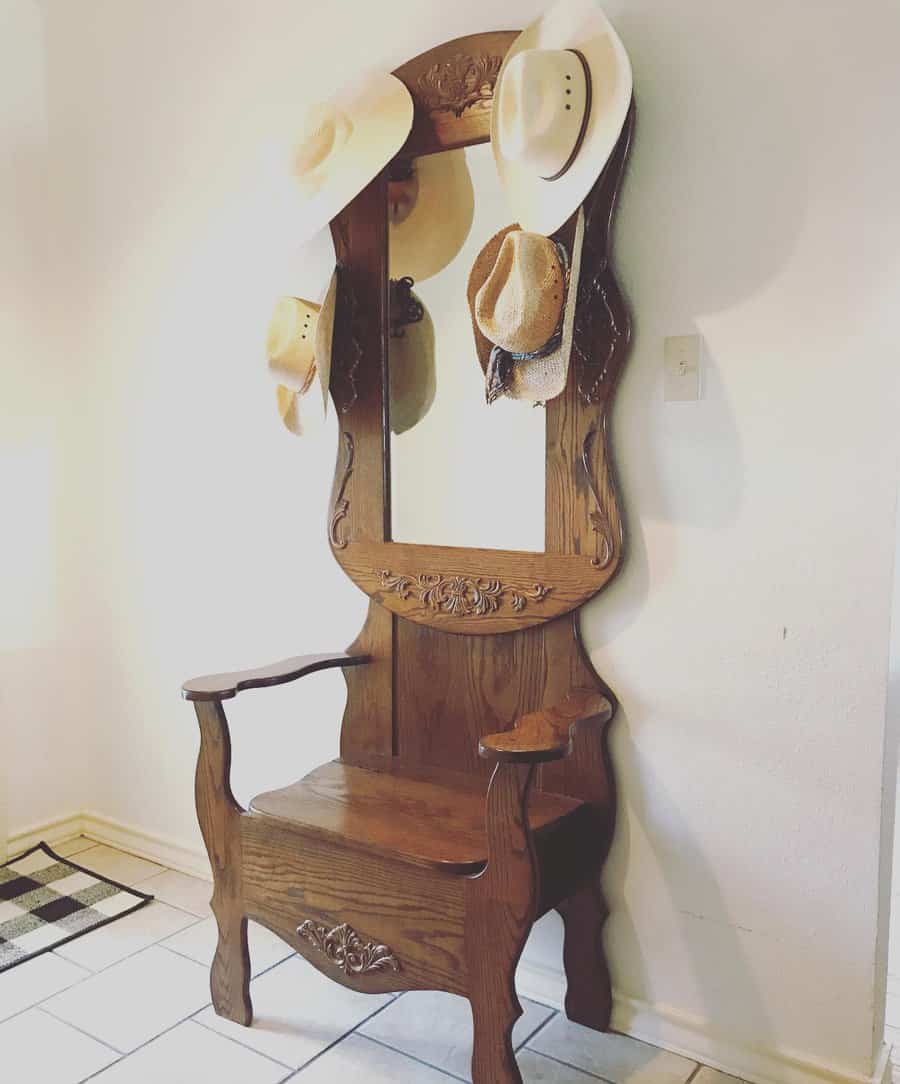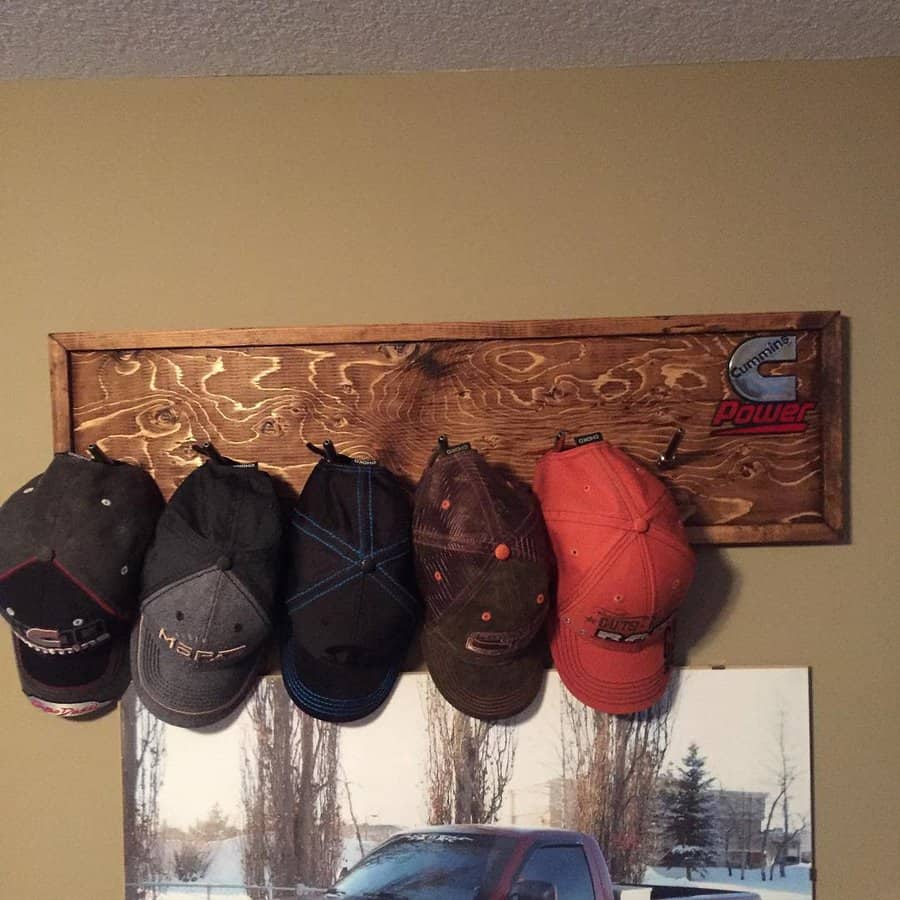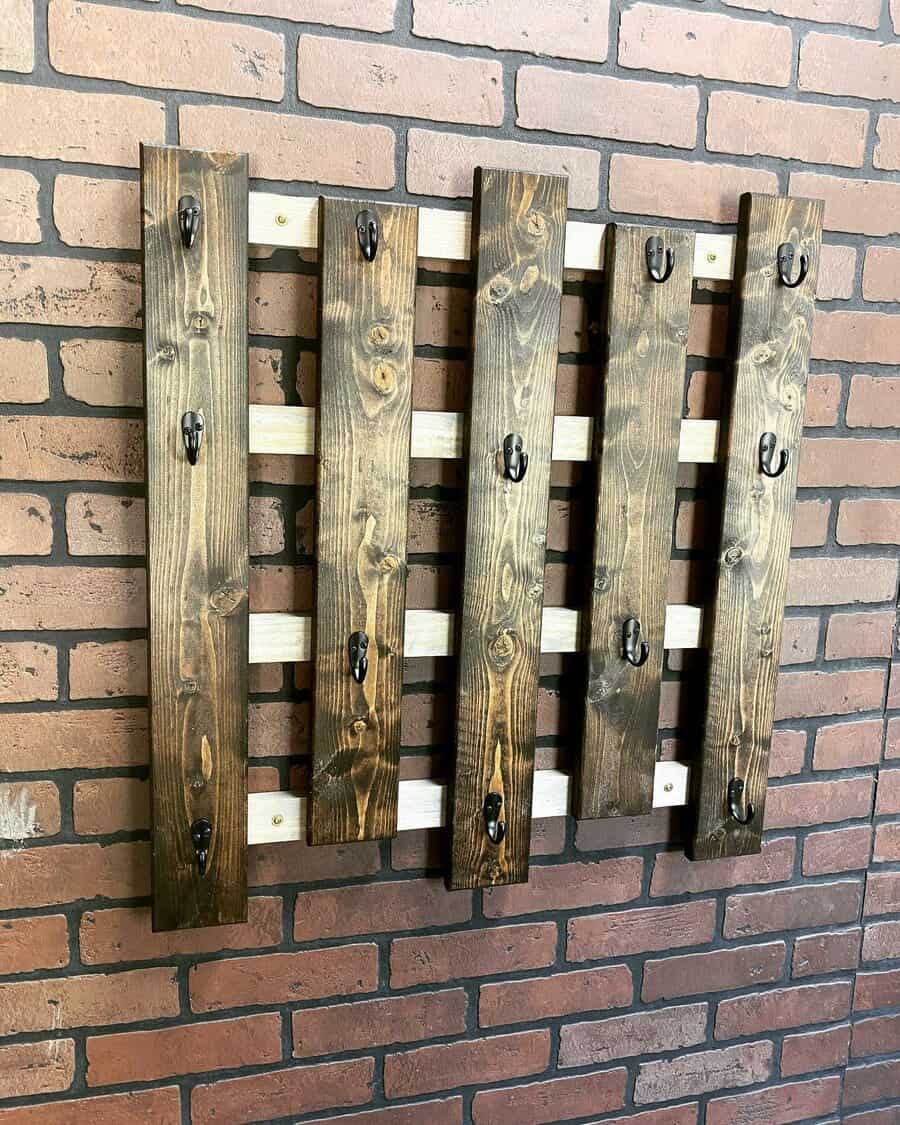 10. Set Up A Wall-Mounted Rack
A wall-mounted hat rack can be a necessity in any abode, allowing for easy storage and convenient access to your favorite hats. But why settle for basic wall-mounted options when you can get creative and opt for a wall-mounted hat rack with hooks and shelves?
These wall mounts not only look chic but also provide extra functionality to keep all your hats looking neat and tidy. Plus, the shelf comes in handy for storing jewelry or other small accessories to complete your look. Get yours now to enjoy convenient storage year-round!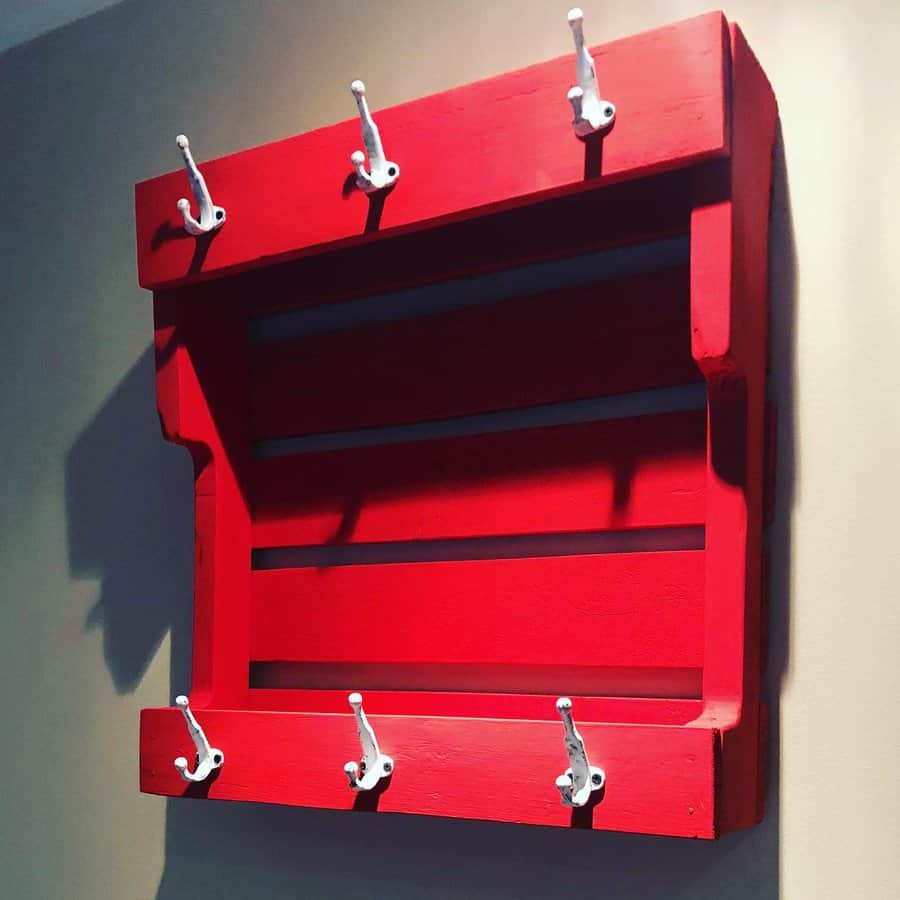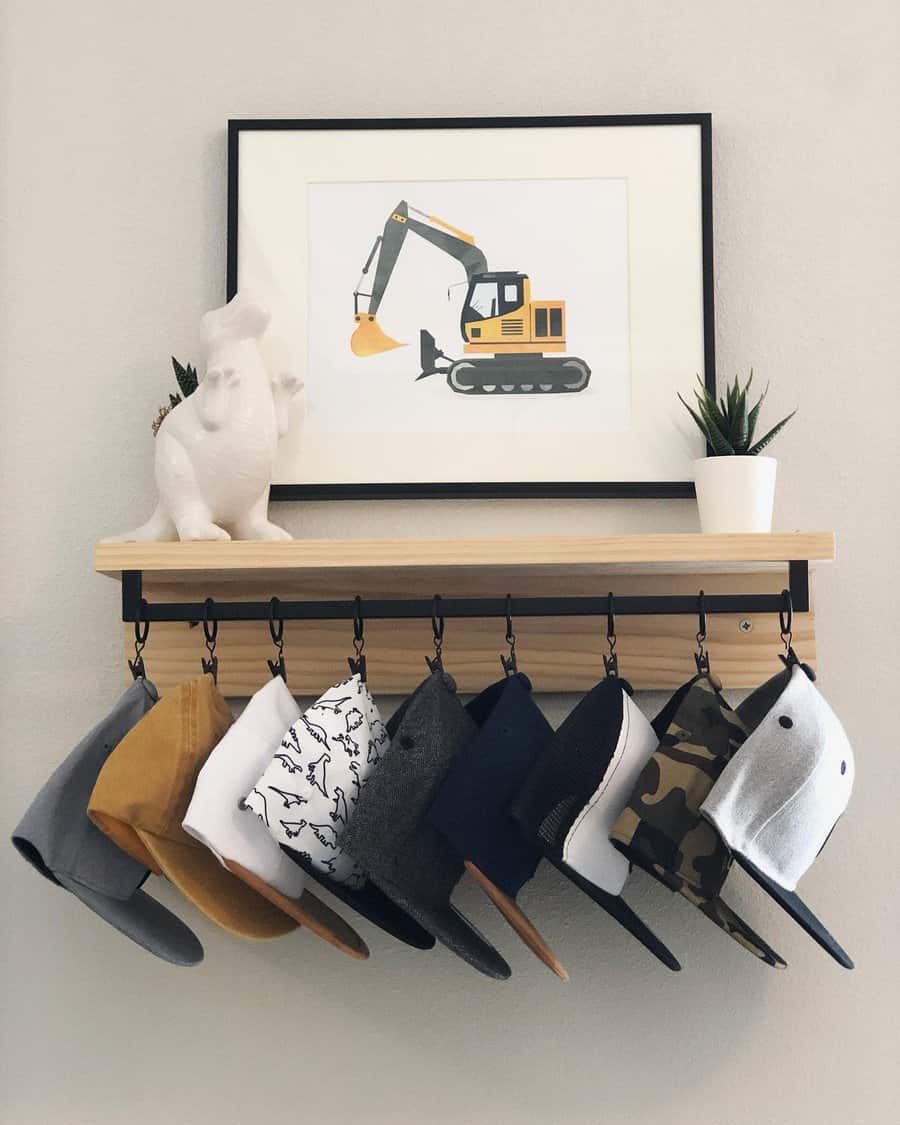 11. DIY A Hat Shelf
A hat shelf is a great way to add an element of practicality and style to any room. Not only does it provide easy organization for all your favorite hats, but because it's movable, you can easily change the look of your decor whenever needed.
Its streamlined design brings modern functionality to any space. Whether you want a hat handy by the door or just need a convenient place to store your collection, hat shelves are the perfect solution.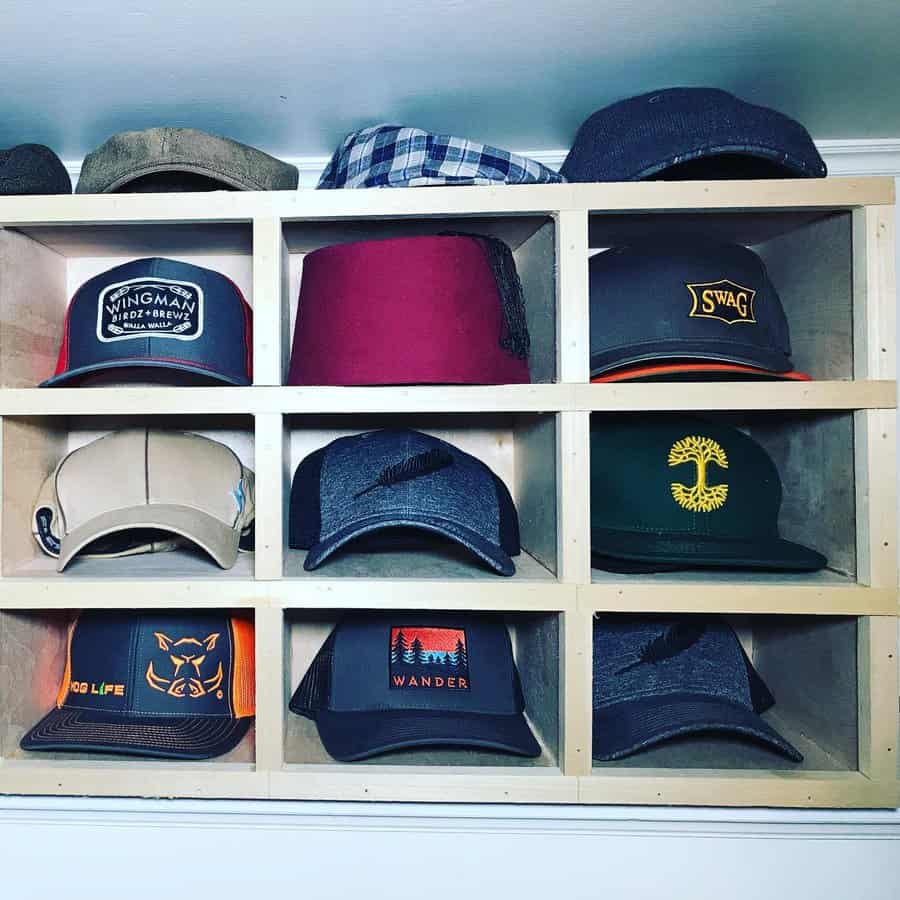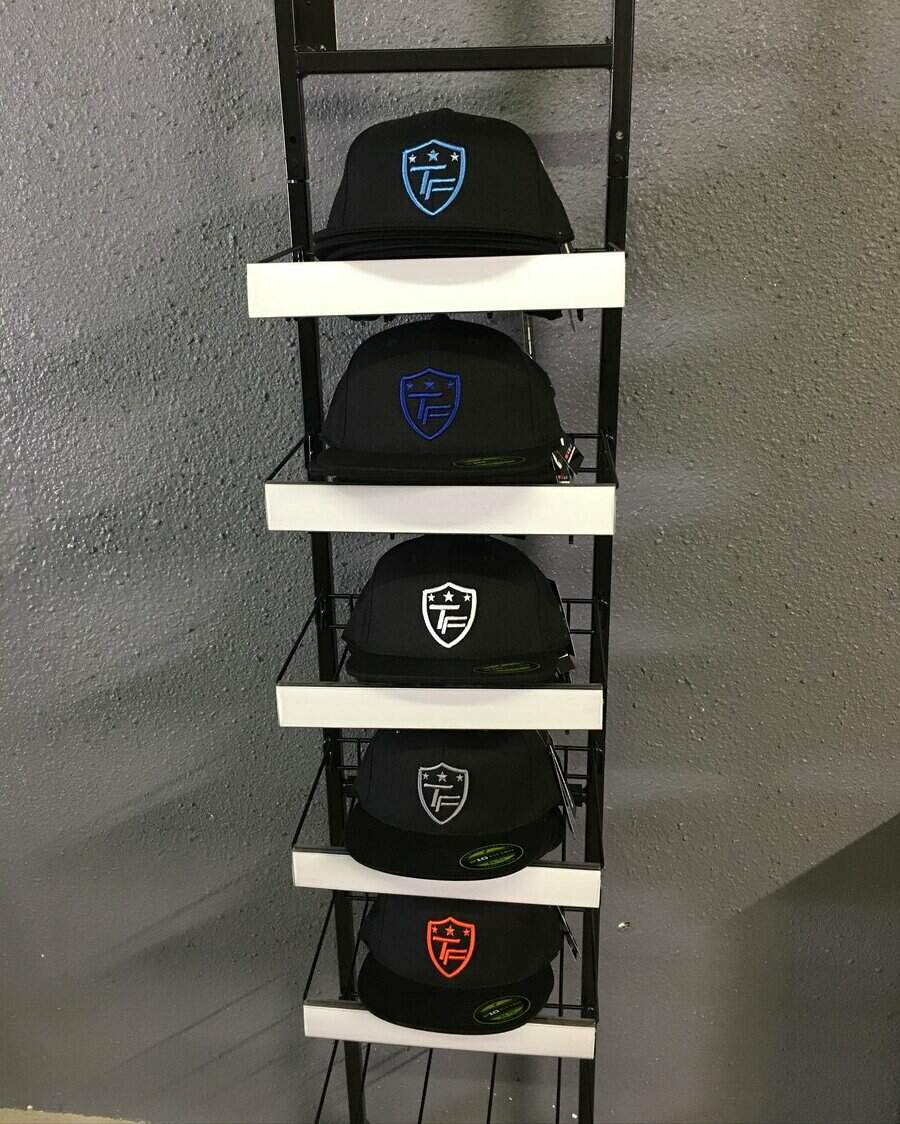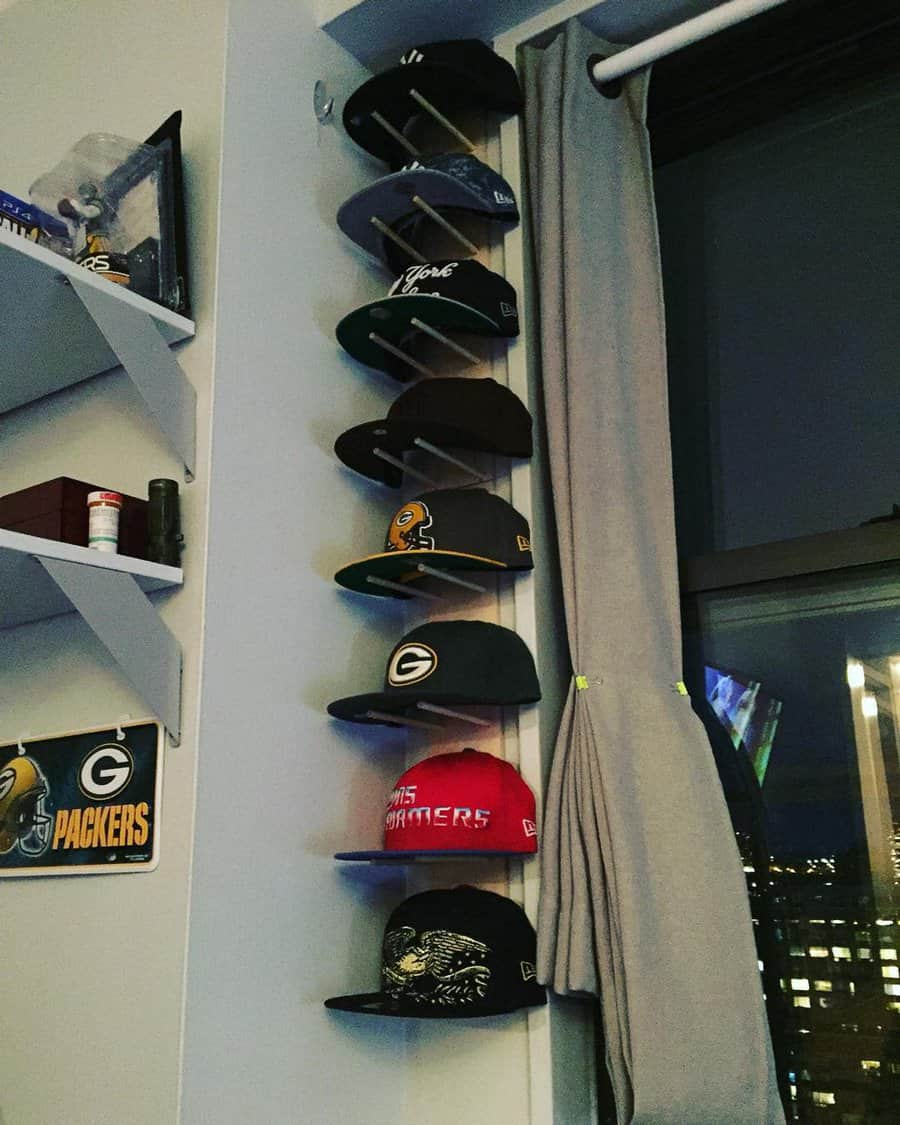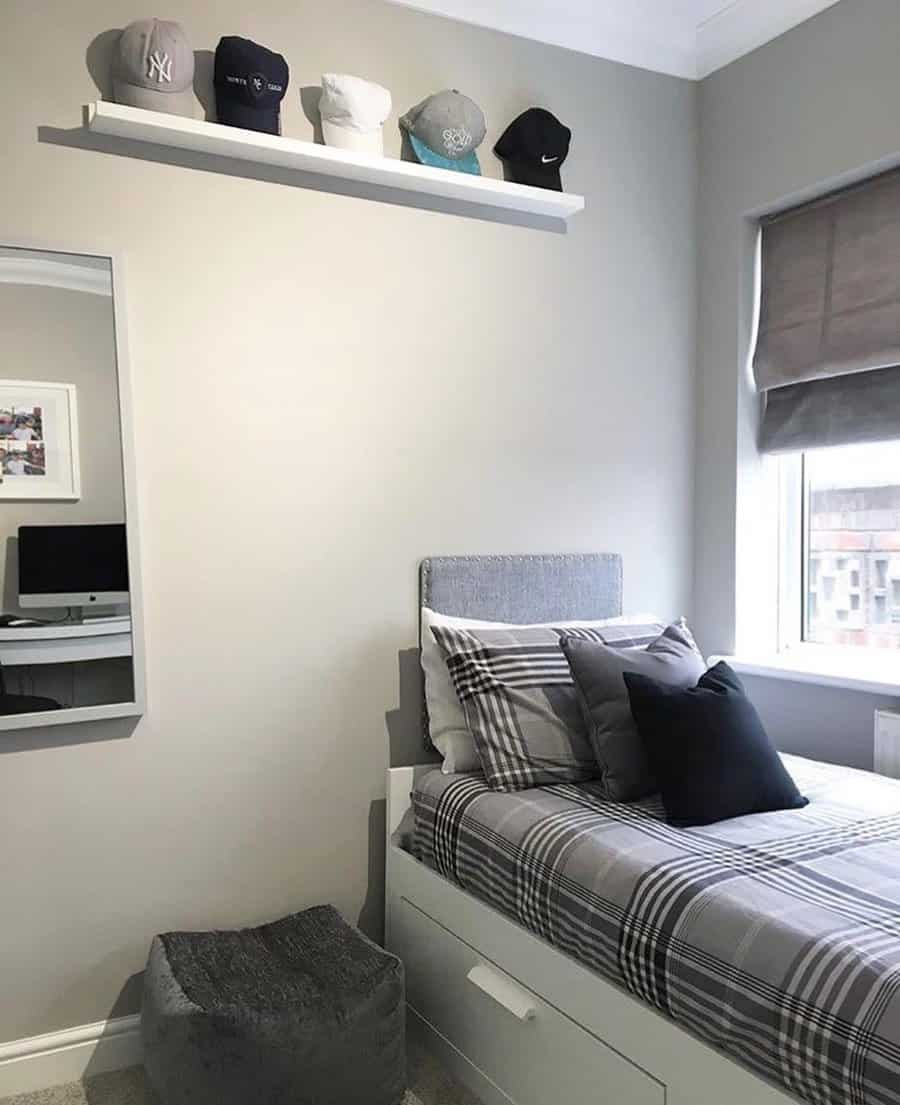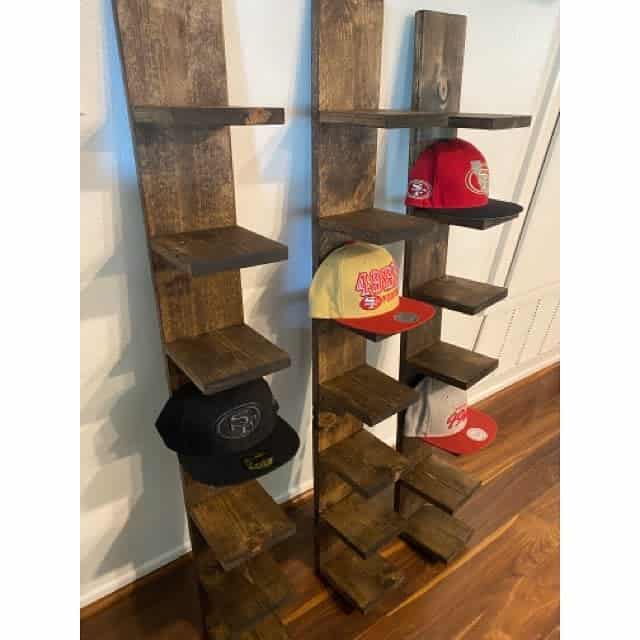 12. Opt For A Movable Stand
For those looking for an effective way to organize and stylishly display their favorite hats, a movable hat rack stand is the perfect solution. A movable hat stand can provide easy access and convenience while allowing the wearer to keep multiple types of hats well-organized with the help of its multiple hooks.
Not only that, but these stands can also be easily moved when necessary, making them ideal for storing hats away during transitioning seasons or while undertaking any changes in your home décor.
So if you want a statement piece to bring together your headwear collection, why not make it a movable hat rack stand?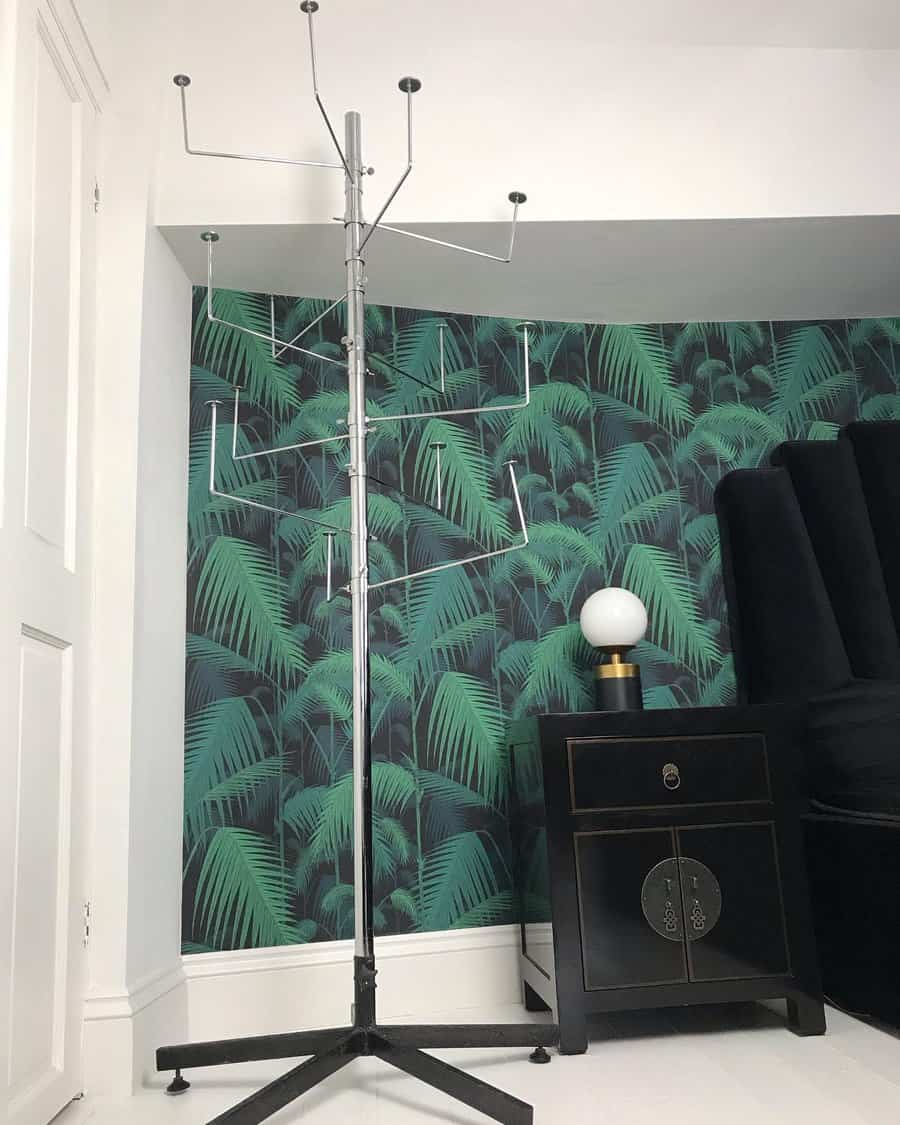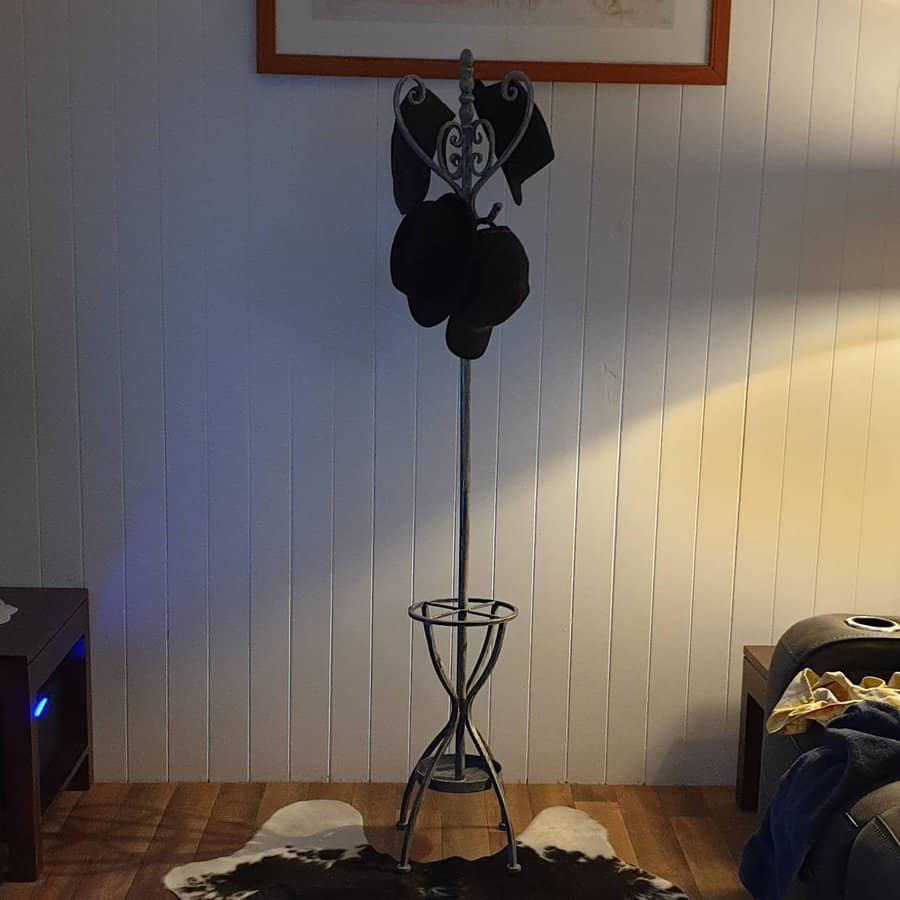 13. Turn A Deer Horn Into A Rack
Although most hat racks are mundane pieces of wall decor that fade into the background, wall-mounted deer horn hat racks add a creative and stylish touch. This type of hat rack looks attractive when hung near a door or an entryway, adding texture and complexity to your wall décor.
The deer horn design allows for hats to be hung in an artistic way far from the ordinary standard. Not only is this wall-mounted deer horn hat rack aesthetically pleasing, but it can also double as a conversation starter due to its unique shape.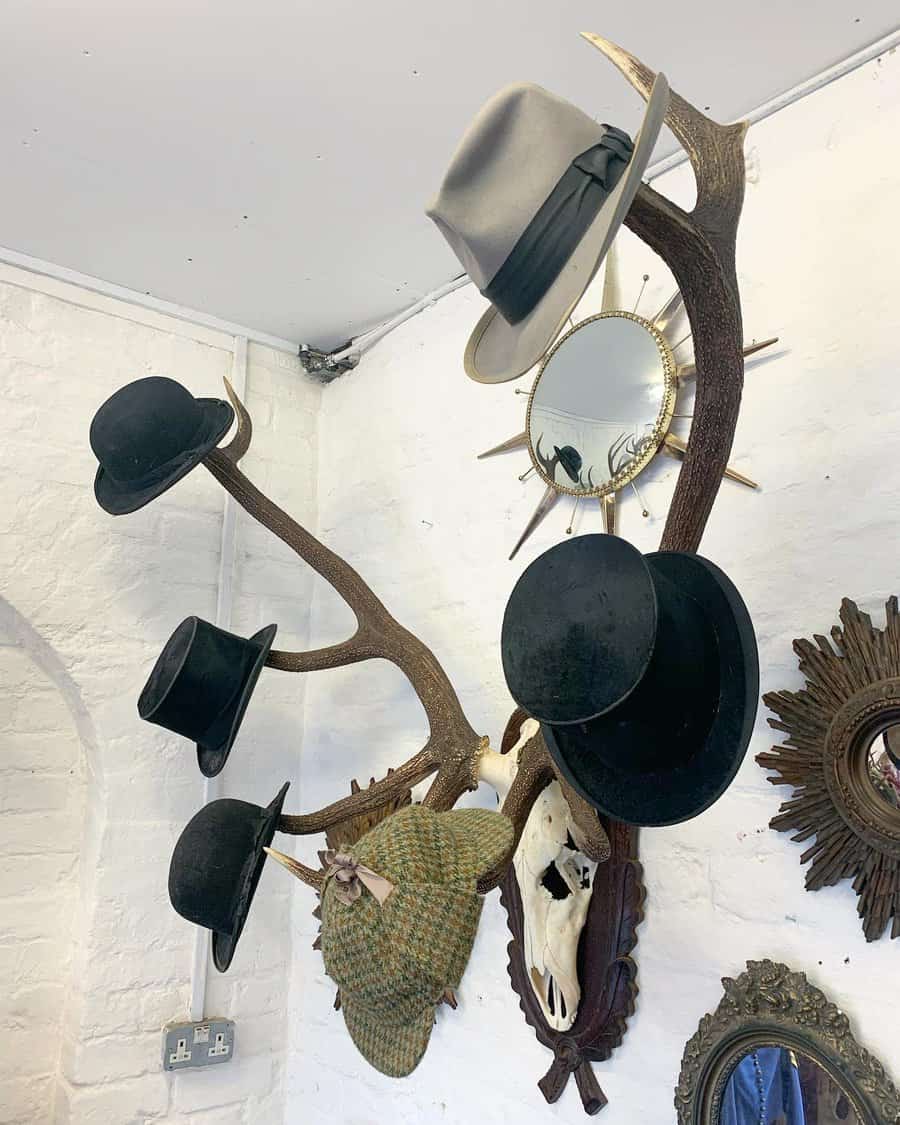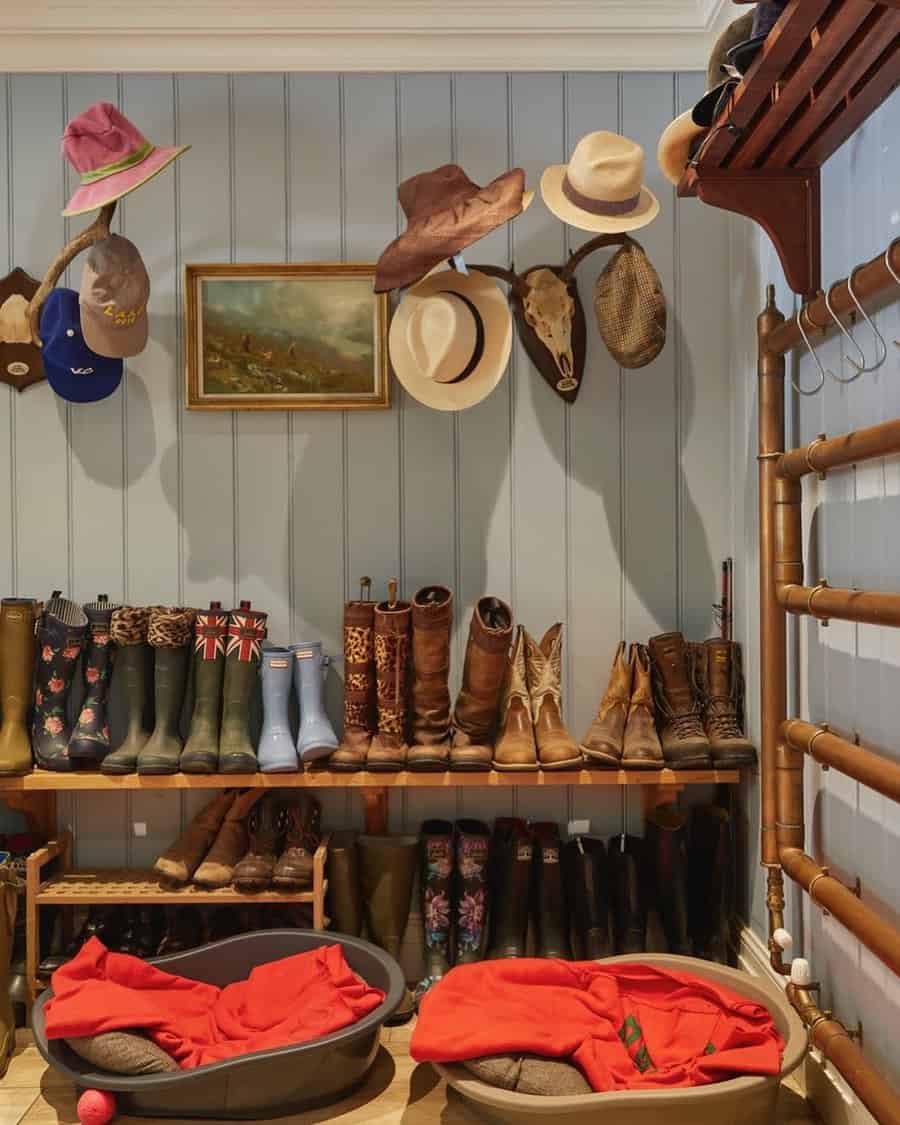 14. Paint Over It To Make A Statement
Hat racks seem like such mundane items, but with a painted hat rack, you can transform the purpose from merely utilitarian to artistic! Hat racks are an often overlooked piece of décor that can enhance your home. Use it for its original purpose or simply for display by hanging other pieces of art, such as hats, scarf, and jewelry.
For a vibrant look, opt for a painted hat rack crafted from wood finished in hundreds of paints and stains. A painted hat rack is a simple yet versatile way to add some personality to any room.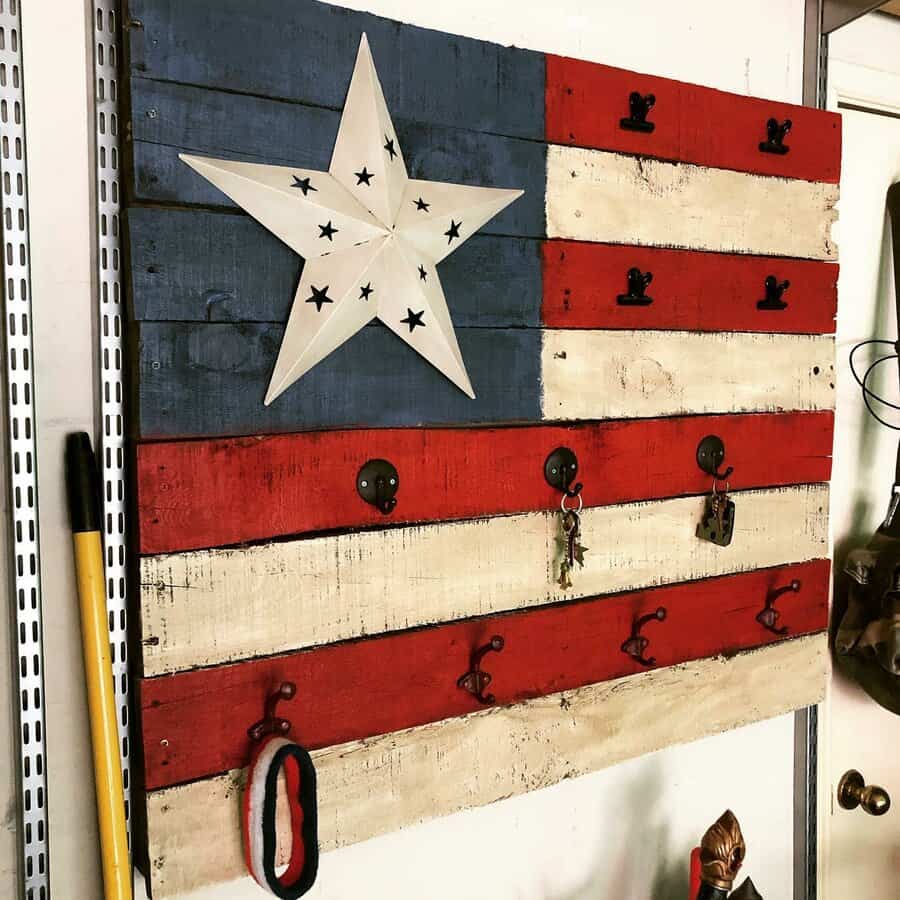 15. Add An Element Of Surprise
Give an old surfboard or wall-mounted rifle a new, creative purpose by repurposing them as a unique hat rack! Not only will these items add an unexpected element of surprise to your home decor, but they'll also provide you with some eye-catching places to hang your hats.
Choose a spot in your entryway or hallway and secure the old surfboard or wall-mounted rifle securely so that it won't shift during use, then get creative with the placement of different types of hooks and hangers to make a truly individualized display.
Not only is this a great way to show off and store your headgear, but it'll bring life to otherwise overlooked decorations in your home.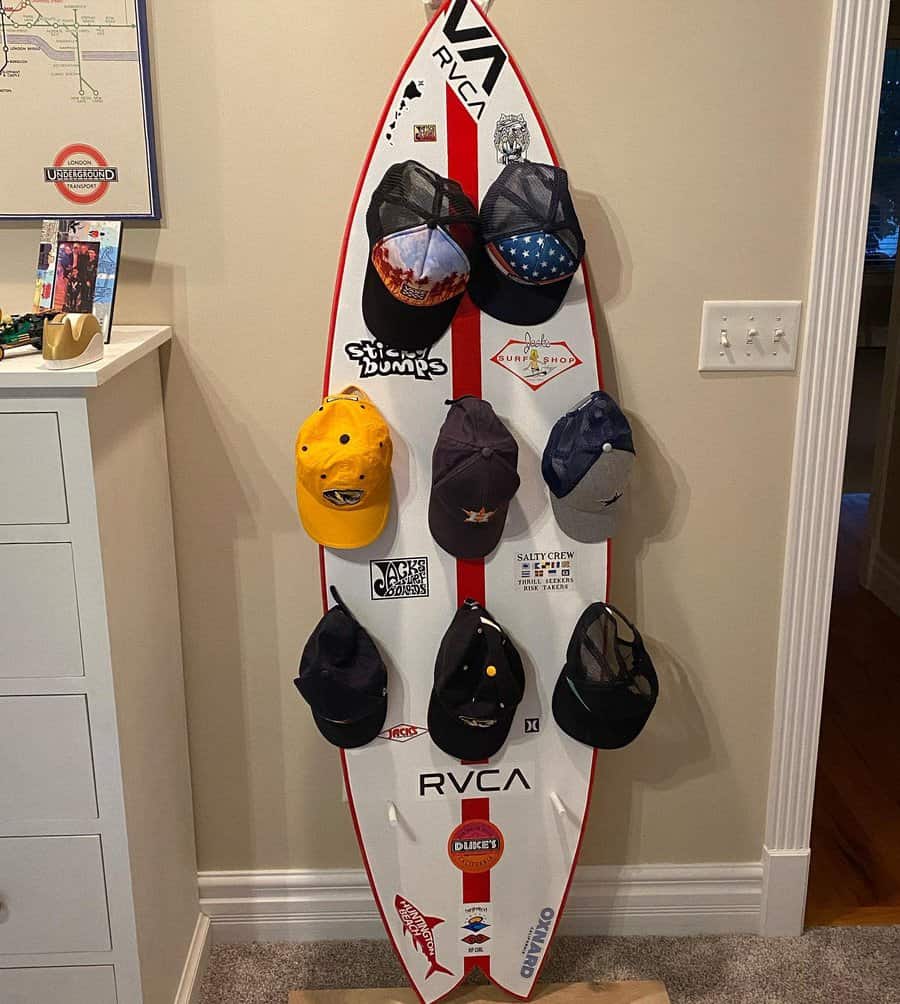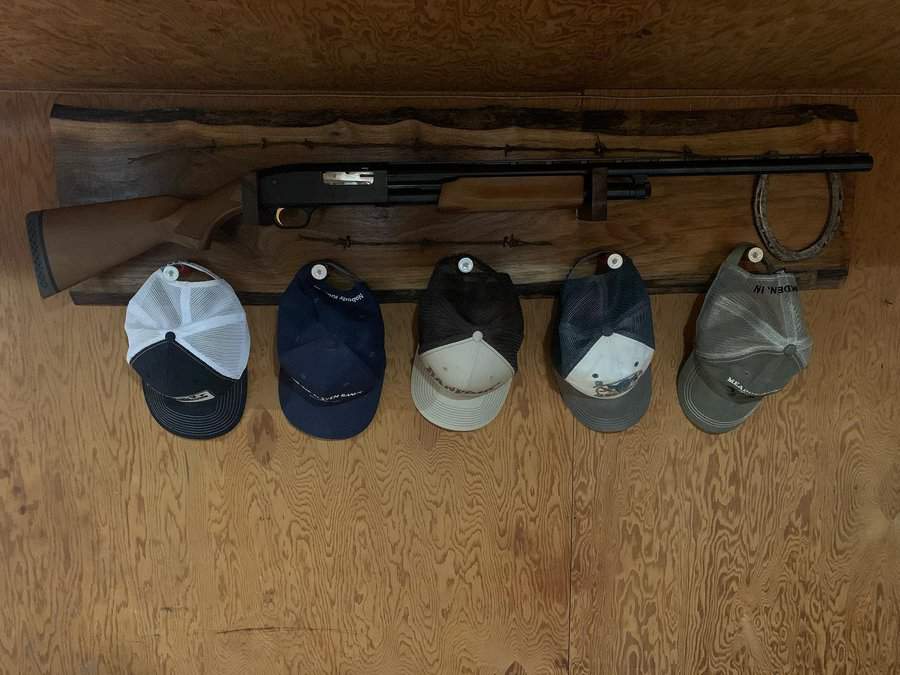 16. Go For A Seamless Look With Wall Mounted Hooks
For those looking to get creative with their wall space, a wall-mounted hat rack is a way to go. Not only does it provide seamless decoration, but it also serves as an instant storage solution for all your hats and caps. With wall hooks placed in any layout imaginable, you can now add even the most eclectic pieces to your wall without making the room look cluttered.
Plus, wall-mounted racks have the added bonus of being easily customizable – which makes them a great option if you're looking for a minimalist style. So why not turn your wall into a functional art piece that stores all your hats?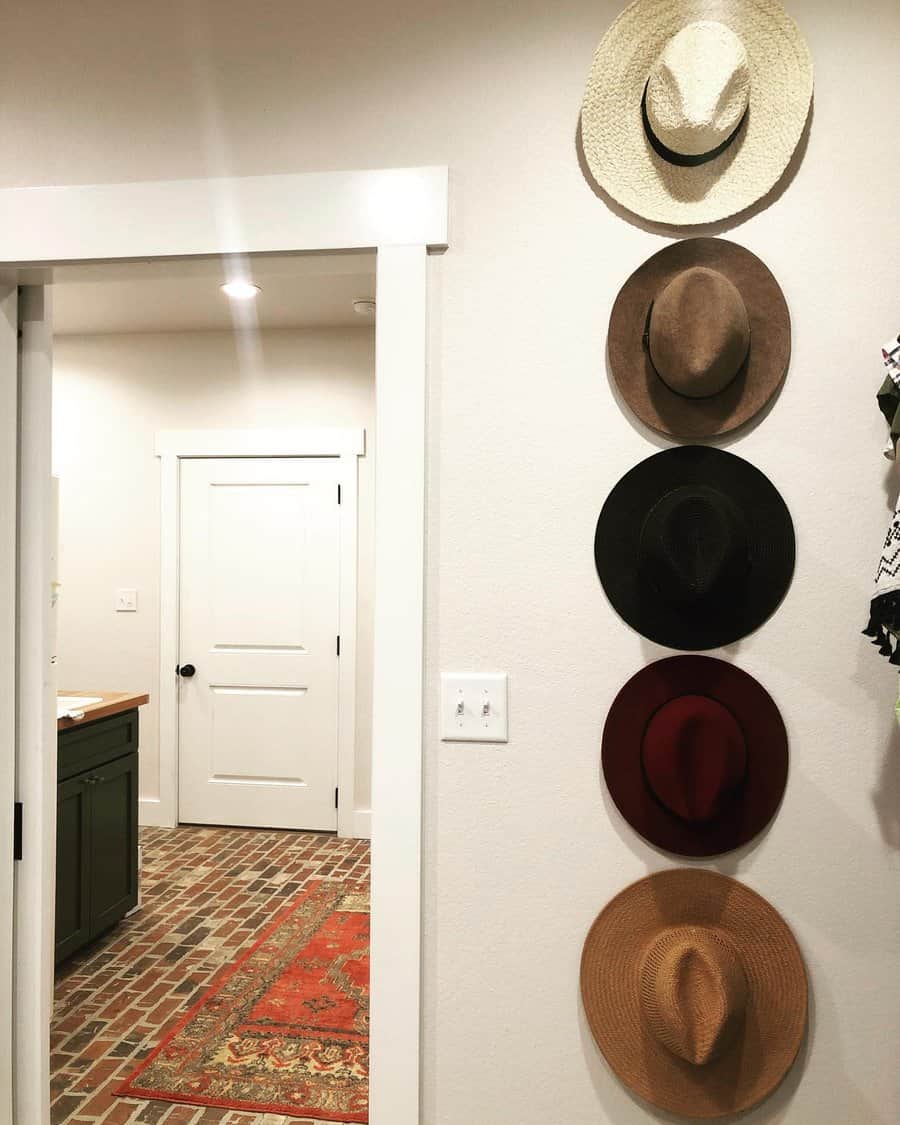 Hat Rack FAQs
How do you store hats so they don't get dusty?
Keeping your hat collection in the closet will help protect them from dust. If you don't have enough room in your closet, store them inside a storage ottoman or bench. Cap carriers are specially designed hat organizer bags; they also keep your hats dust-free.
How do I organize my beanie hats?
Beanie hat storage is as easy as storing socks, gloves, or scarves. Simply stack them in a drawer or roll them up and place them in a storage bin. No specific hat rack or hat organizer is required for knit beanies.
What is the best way to store a cowboy hat?
Putting pressure on a cowboy hat's brim will cause it to shift from its original shape. Hang it flush against the wall on a hook or a hat rack designed for cowboy hats. If you must store it on a shelf, flip it upside down so that it rests on its crown.