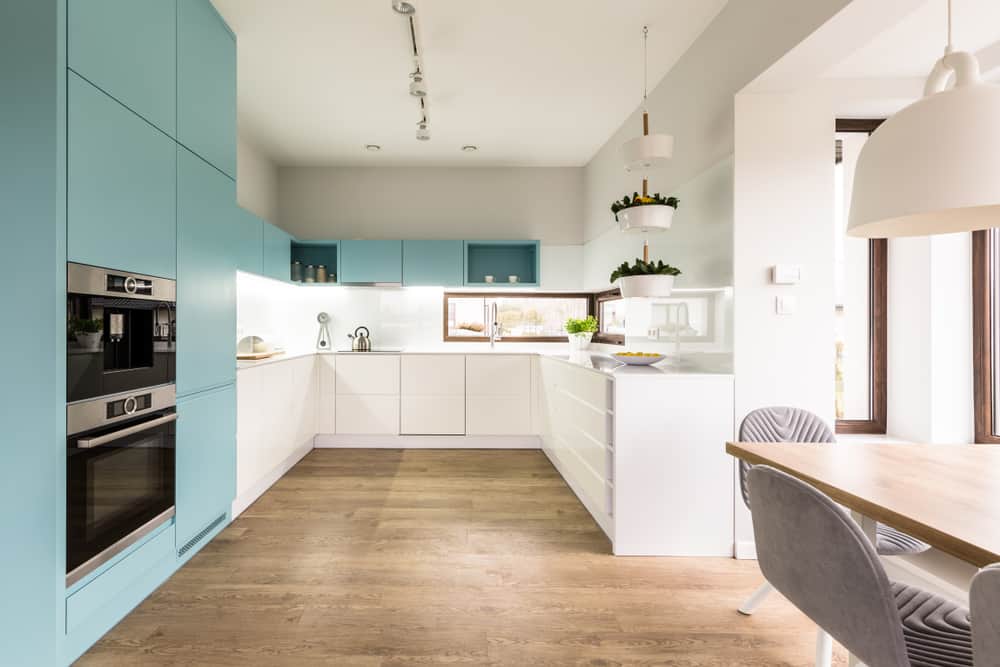 The Top 74 Kitchen Cabinet Color Ideas
A full kitchen renovation may be outside of many people's budgets. Yet you don't need to buy brand new cabinetry to give your kitchen a much-needed upgrade.
Painted cabinets are a DIY-friendly way to freshen up your home's interior without spending a fortune. Along with bringing new life to your kitchen design, paint can hide damage and imperfections seen in many older cabinets.
Of course, not all color palettes are created equal. Keep reading for the best kitchen cabinet color ideas to use in your home!
1. Black
Many amateur designers are terrified of black paint. But the world of interior decor is becoming more and more open to and appreciative of this dramatic color!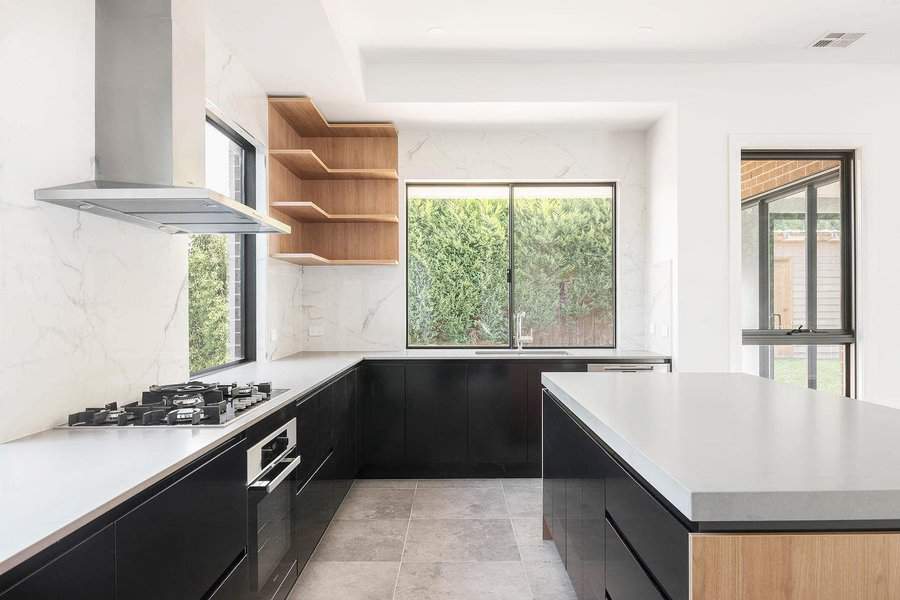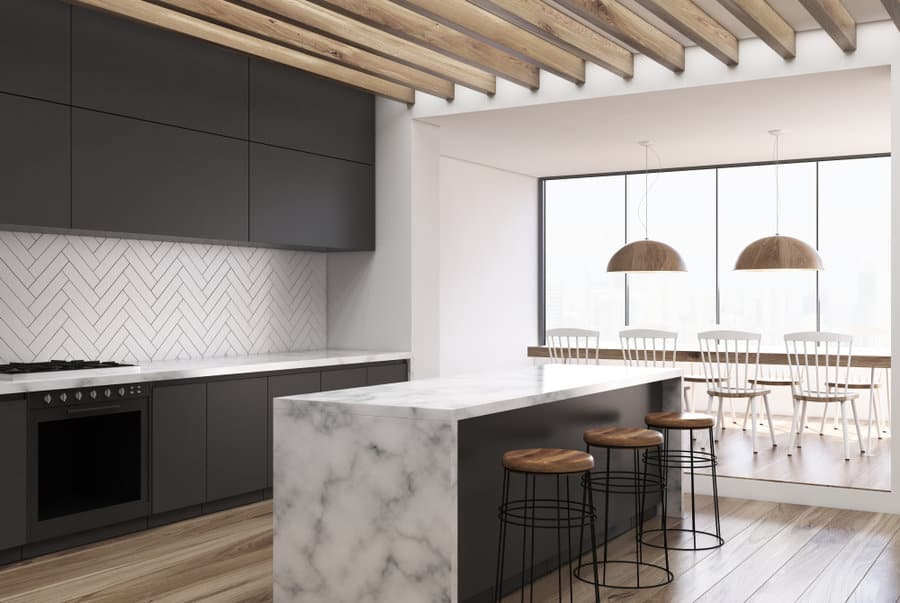 Black cabinetry contrasts beautifully against lighter walls, tile, and flooring. You can pair this kitchen cabinet color with both black and stainless steel appliances for a modern look.
For a softer take on this trend, skip the solid black paint in favor of an uber-dark wood stain. The little bit of wood grain that will peek through the color will add some much-needed warmth to your kitchen design.
2. Blue
In terms of interior design, blue is practically a neutral. This is a wonderful jumping-off point for anyone looking to add a bit of color to their kitchen cabinets.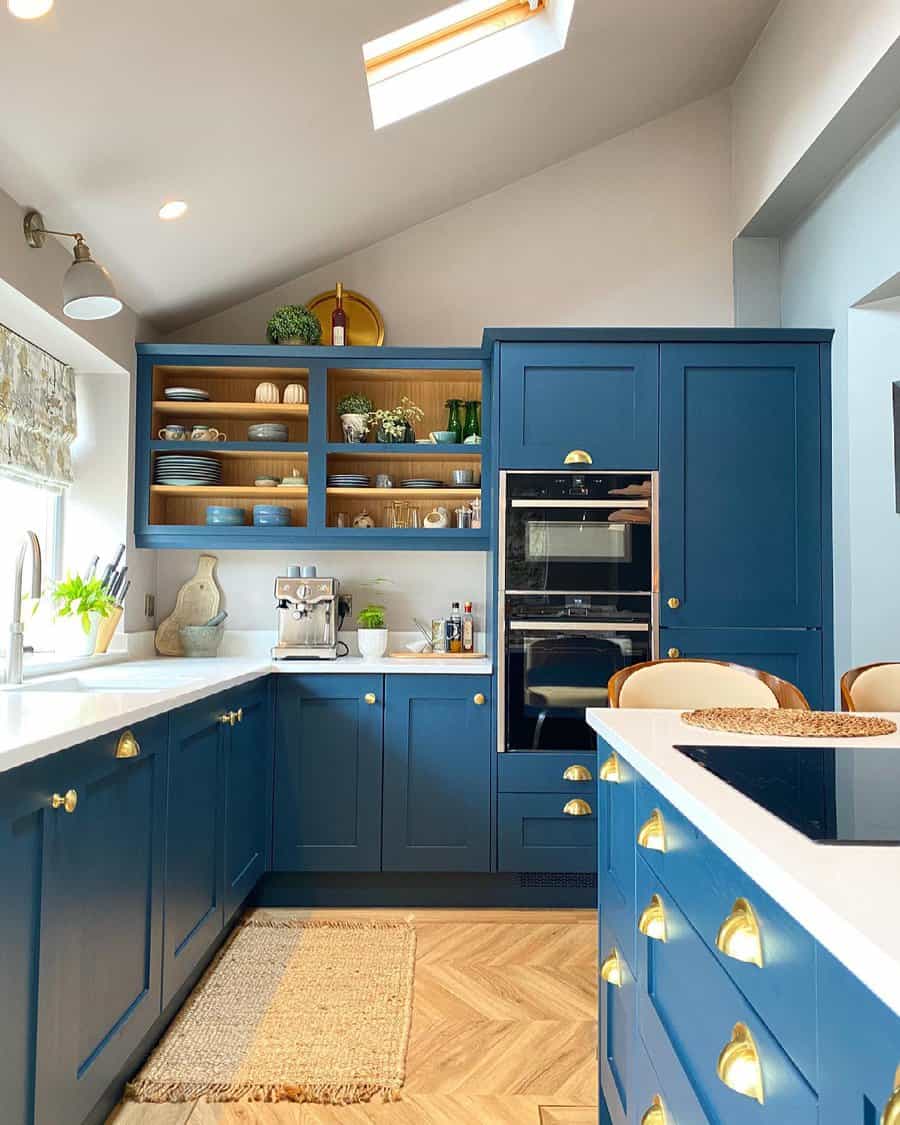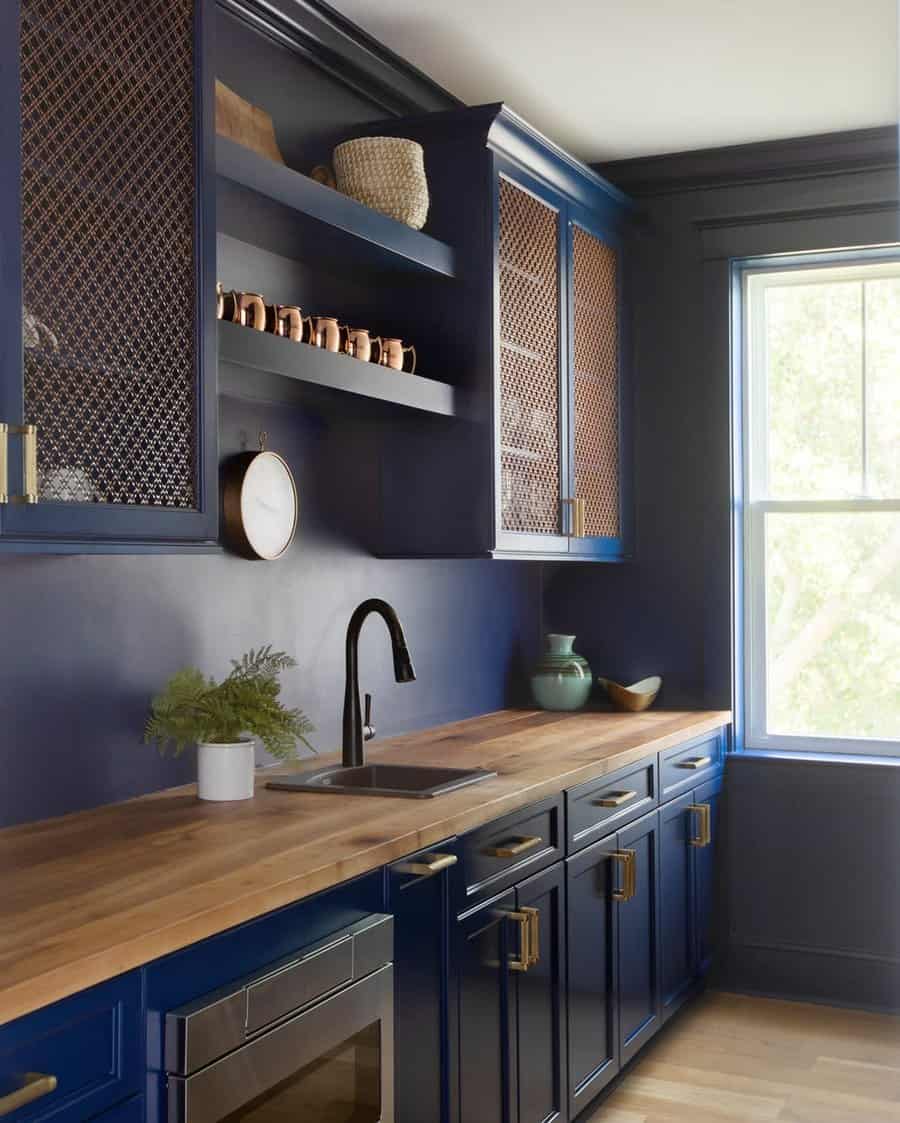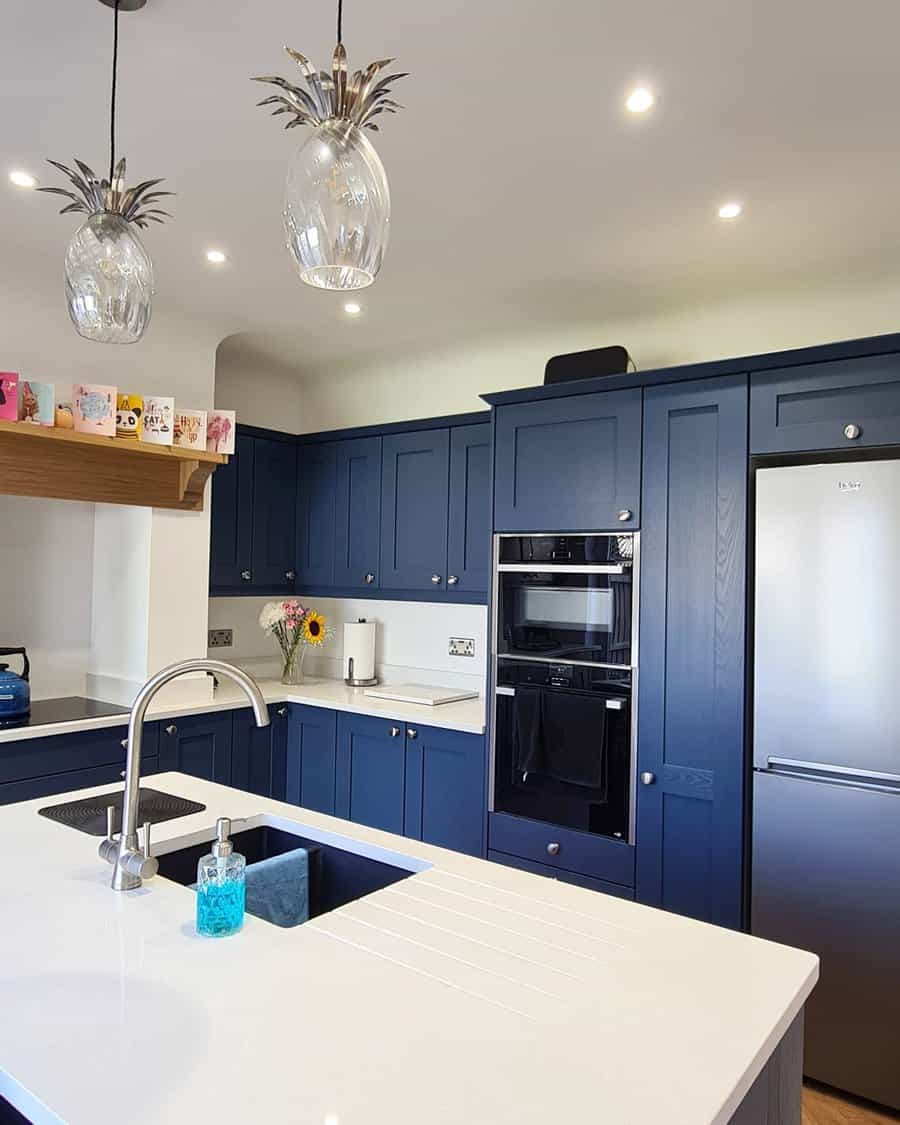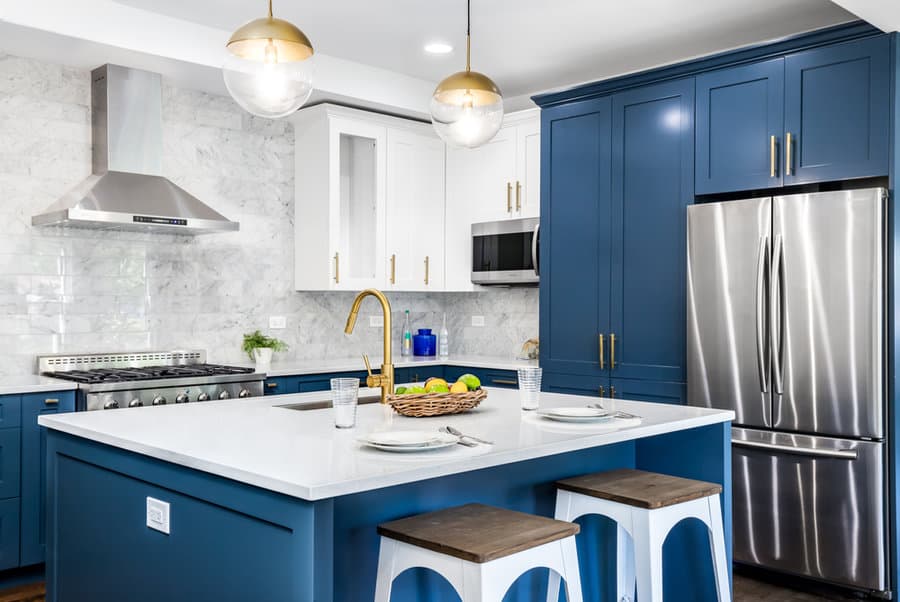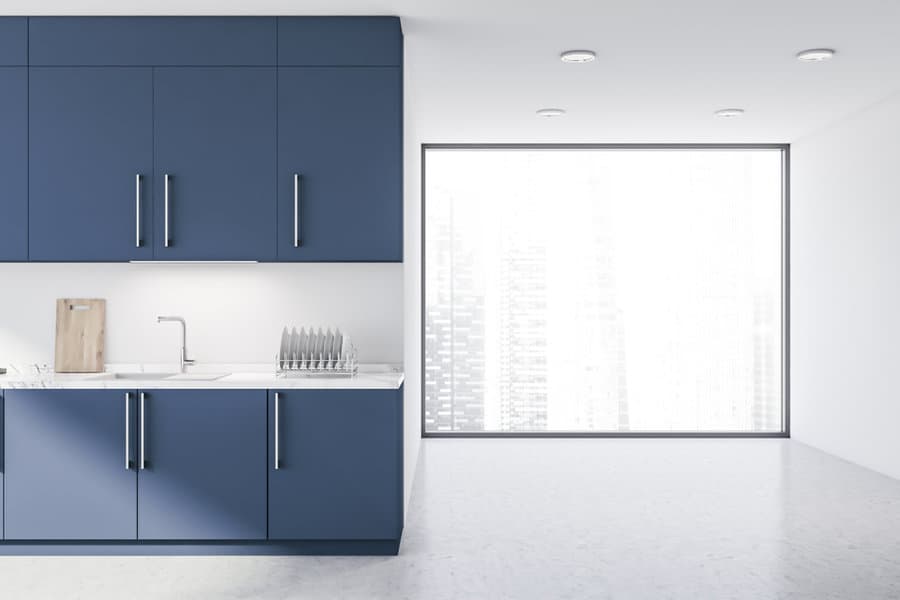 Blue looks particularly striking when paired with white kitchen subway tile and gold accents. Or with a wood countertop for a more organic aesthetic.
As with any color, selecting the exact right shade of blue is the secret to kitchen cabinets that look straight out of a design magazine or Instagram post! Experiment with different undertones and saturation levels to find the perfect shade for your home.
3. Bold Color
One of the best techniques for making bold kitchen cabinets really pop is to contrast them with another bright color elsewhere in the space.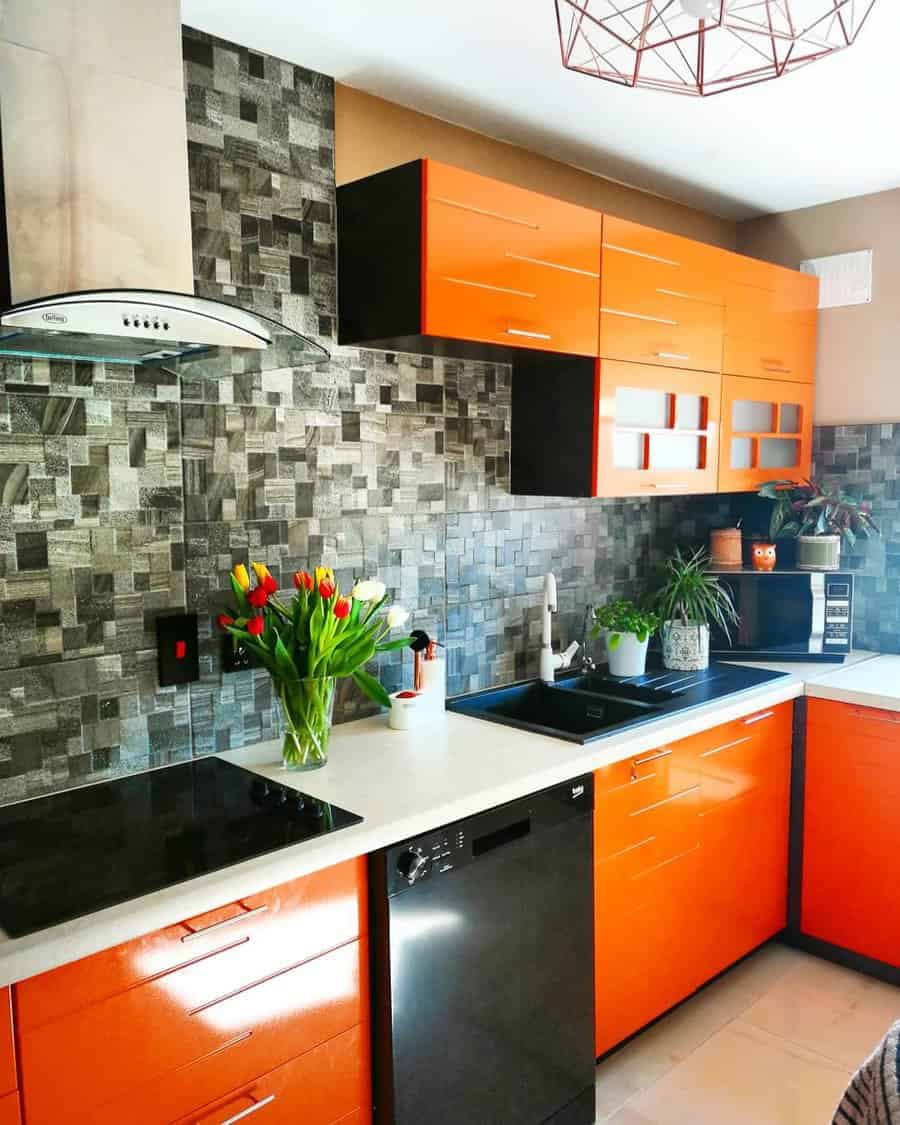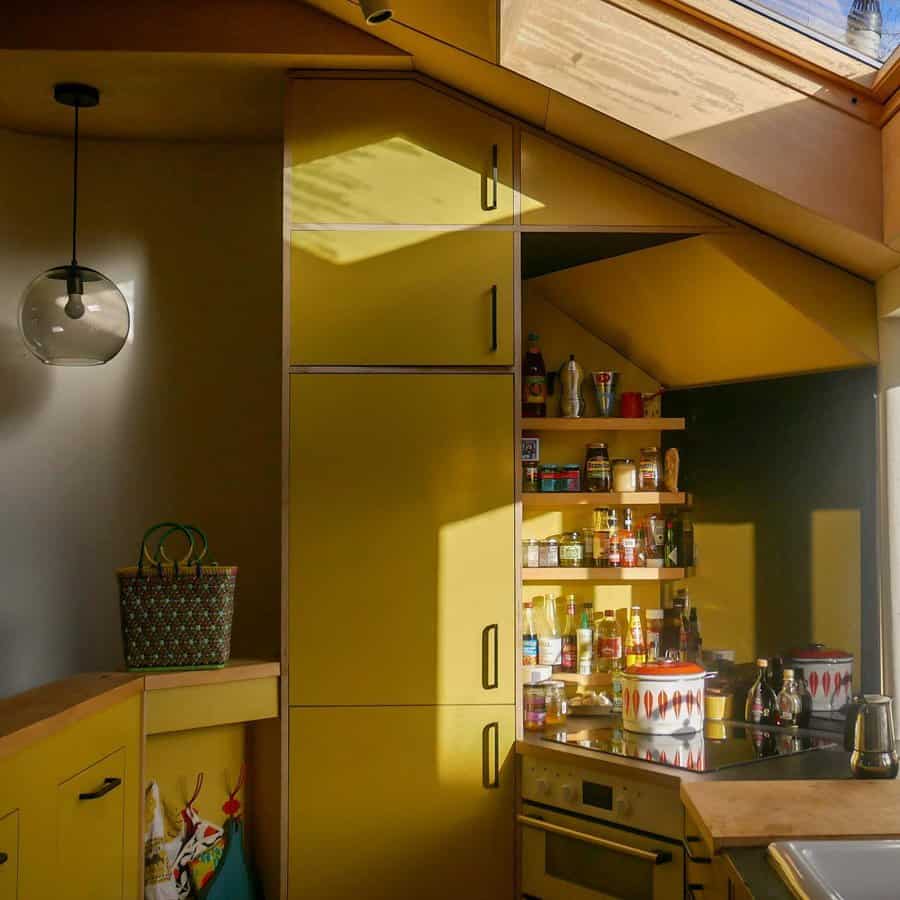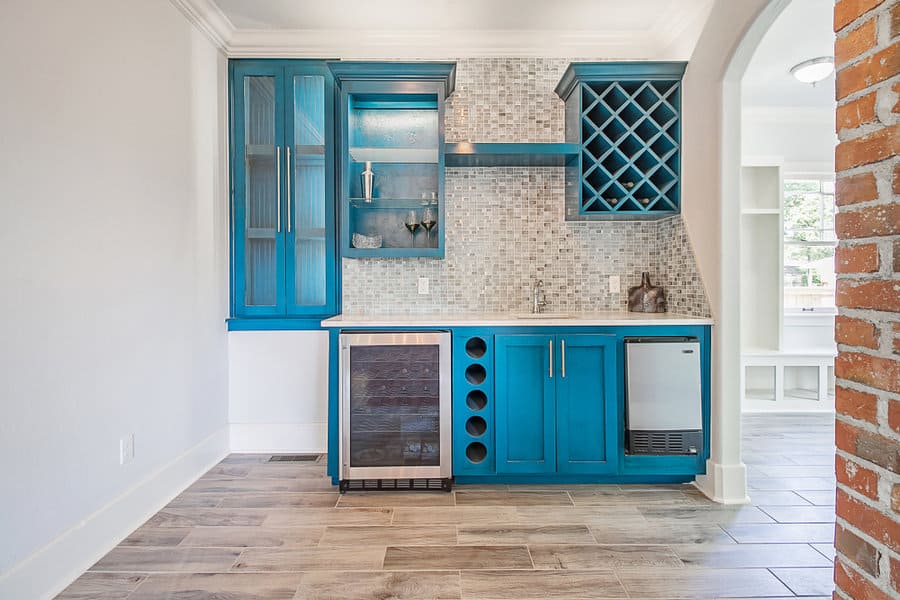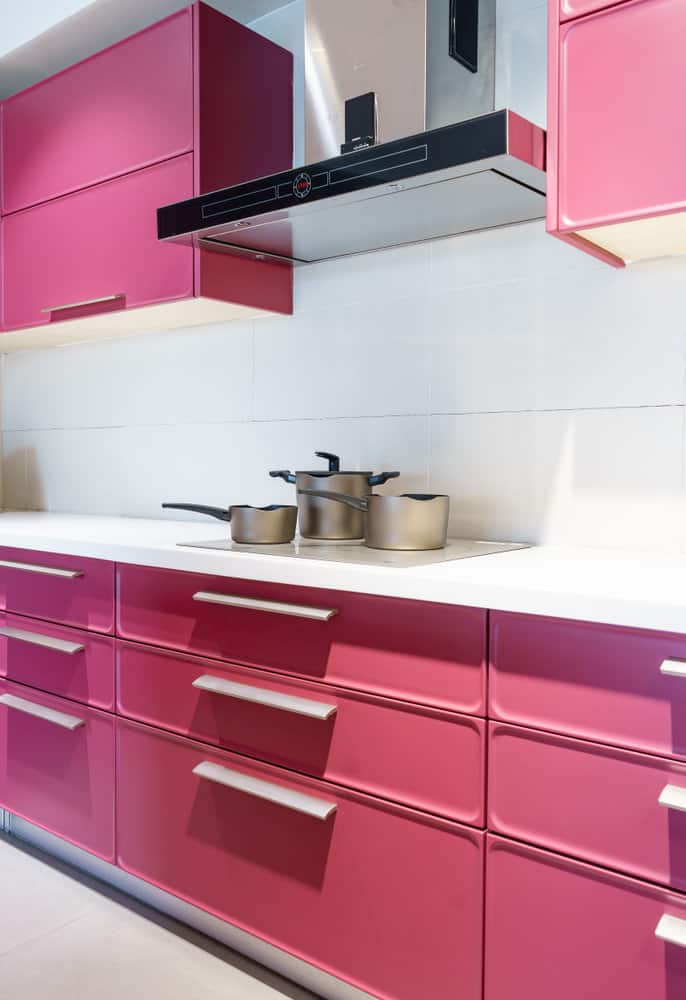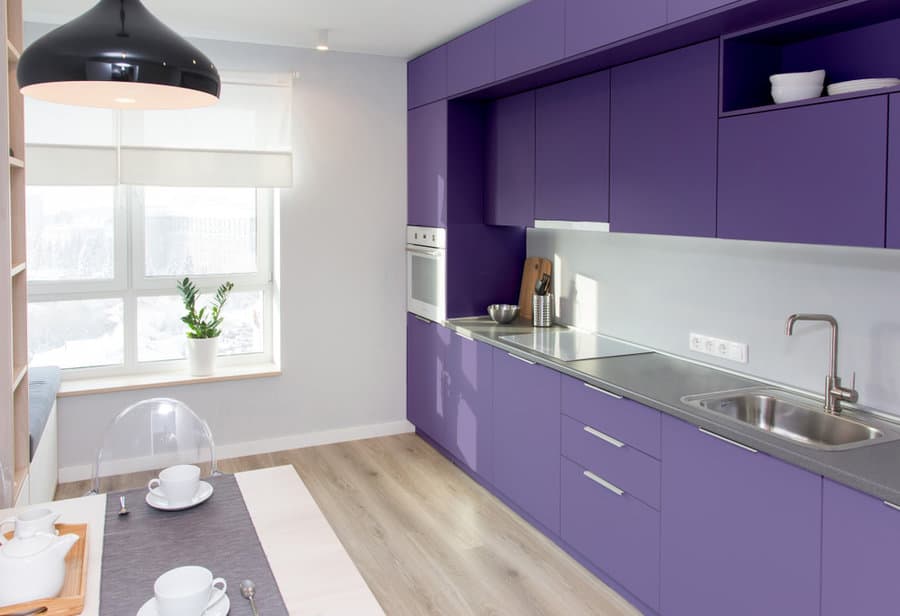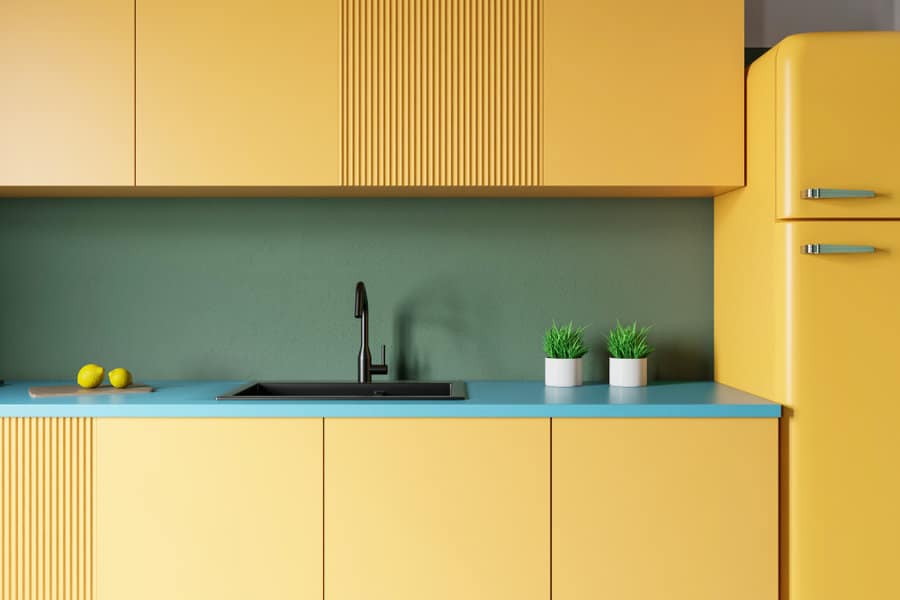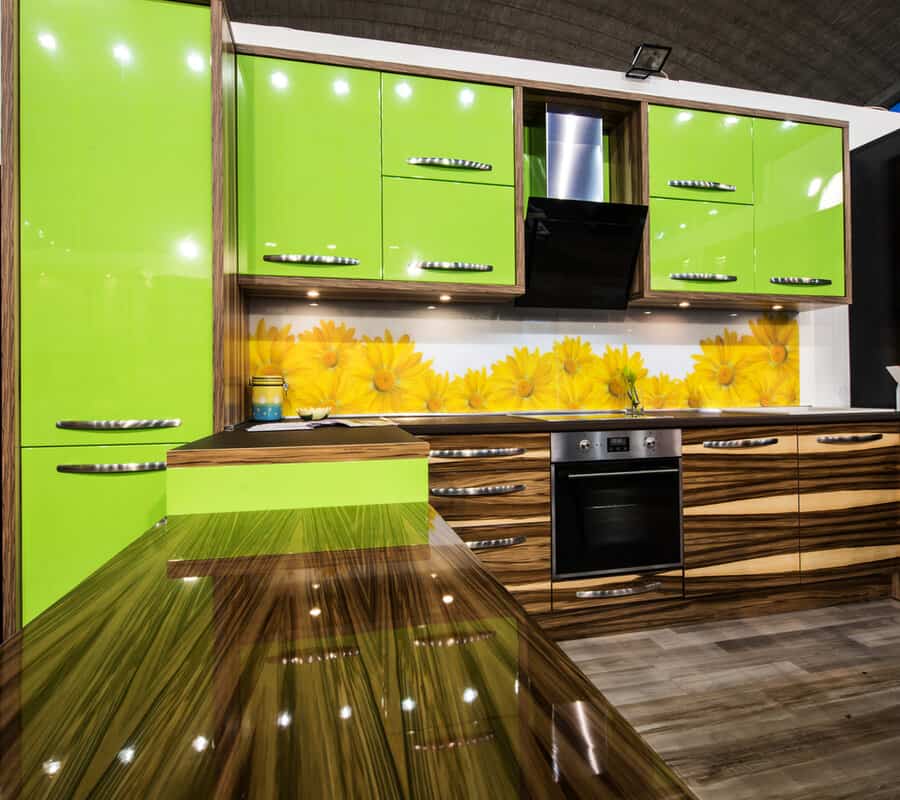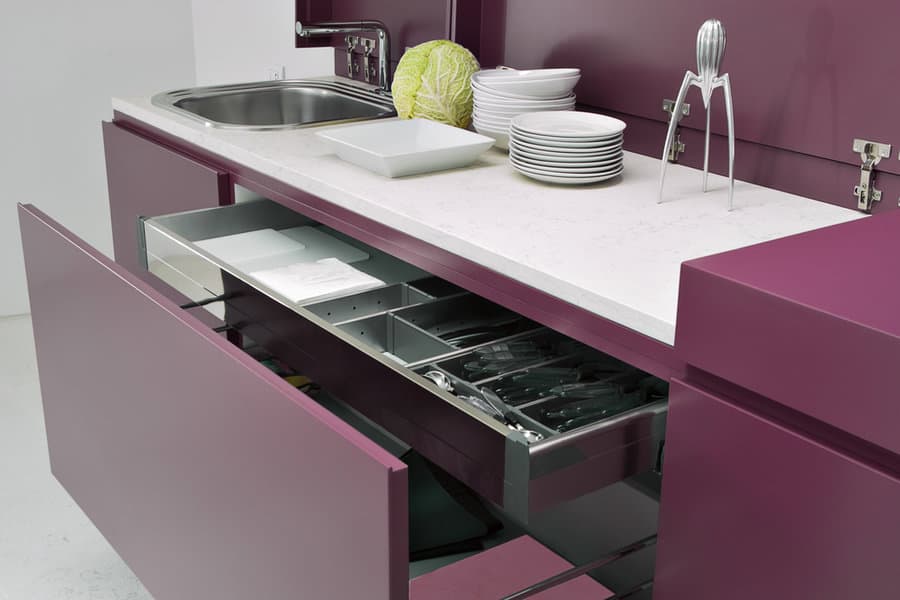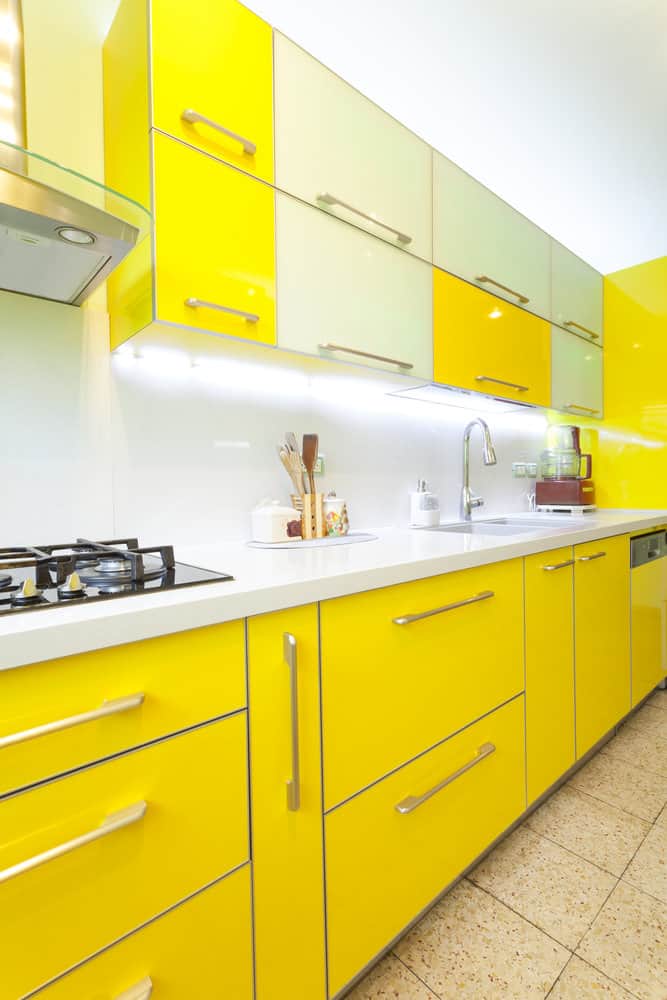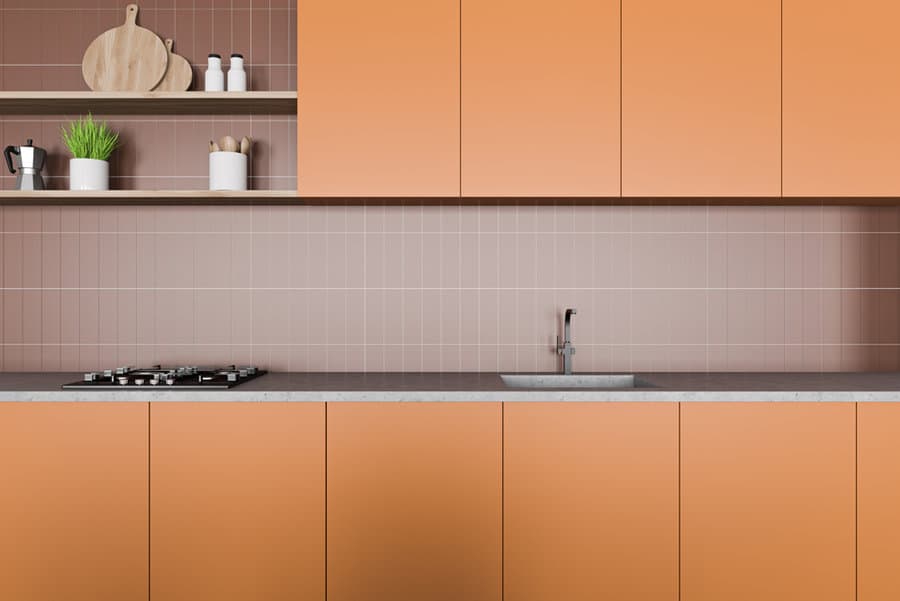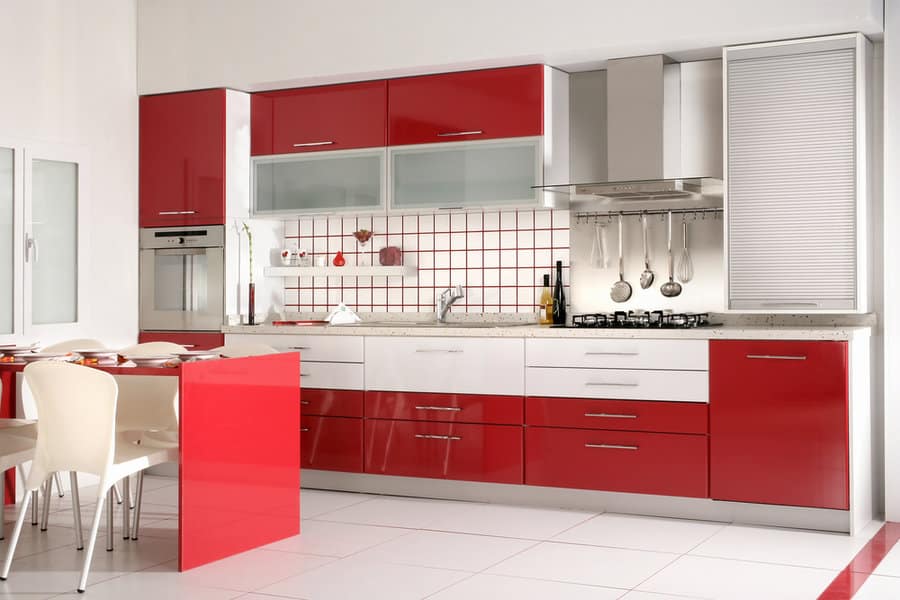 Some kitchen designers employ vibrant backsplash tiles. Others invest in colorful appliances or light fixtures. If you're feeling particularly brave, you can also use multiple kitchen cabinet colors.
We love seeing homeowners take creative risks when it comes to color ideas. But remember that you can create a bold palette using pastels and borderline neutrals, as well!
4. Dark
After years of light shades dominating the market, contemporary design has finally embraced the use of dark and moody colors in everyday decor. And one of our favorite places to see this trend is in the kitchen!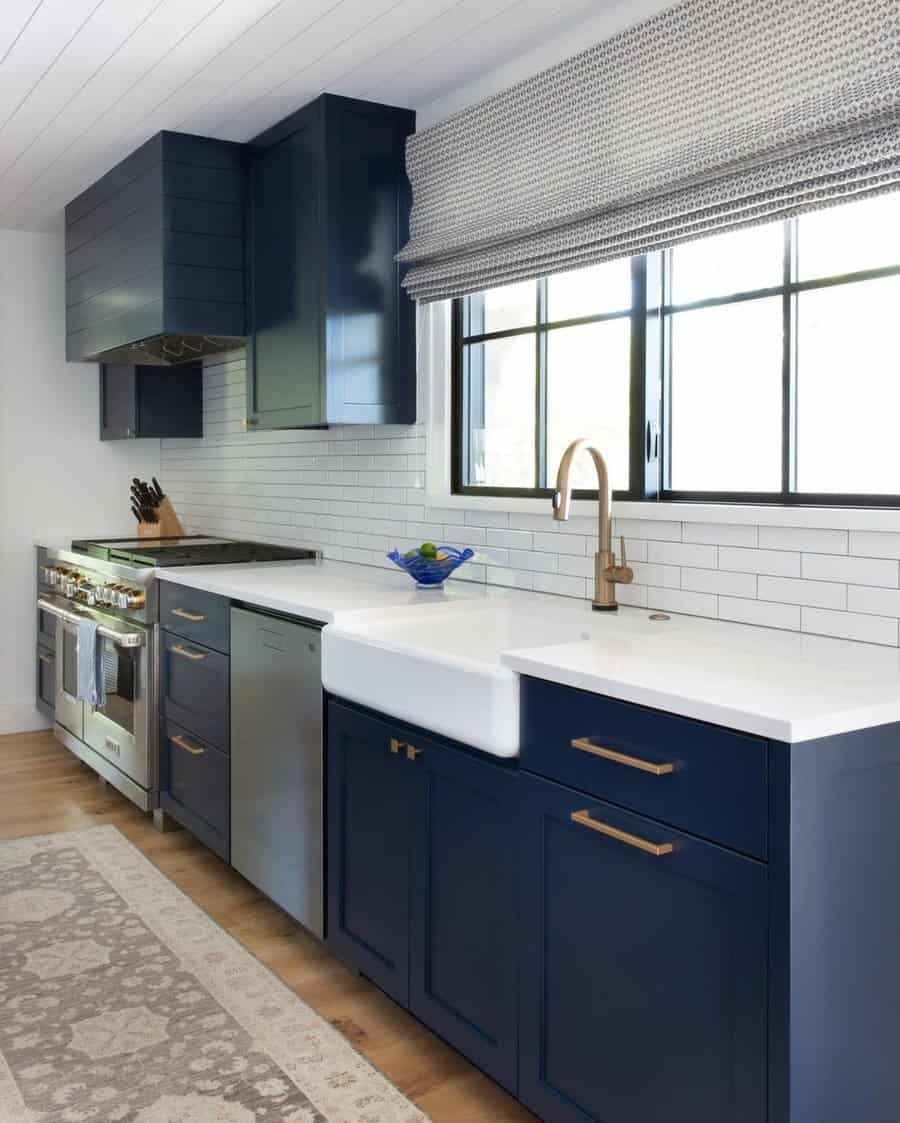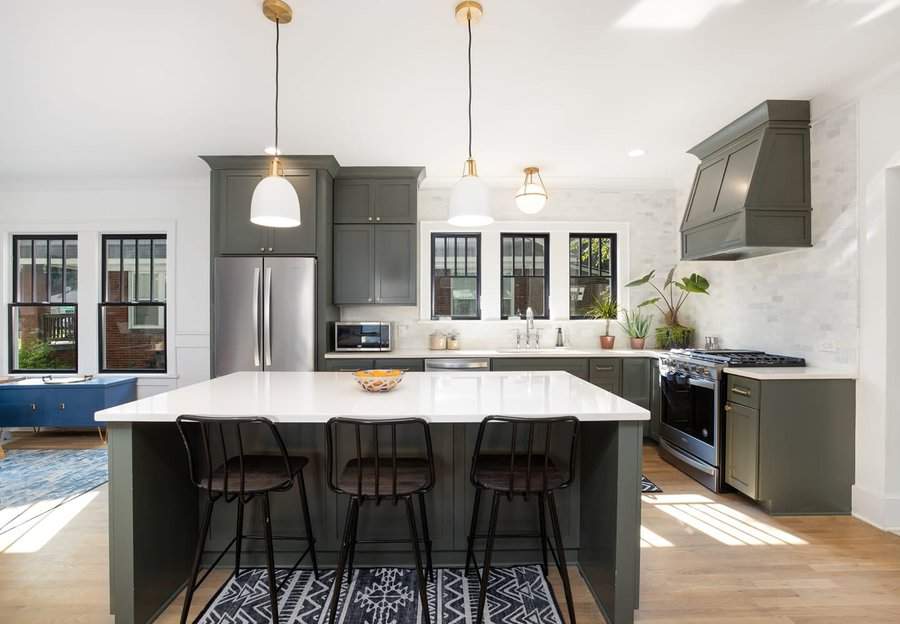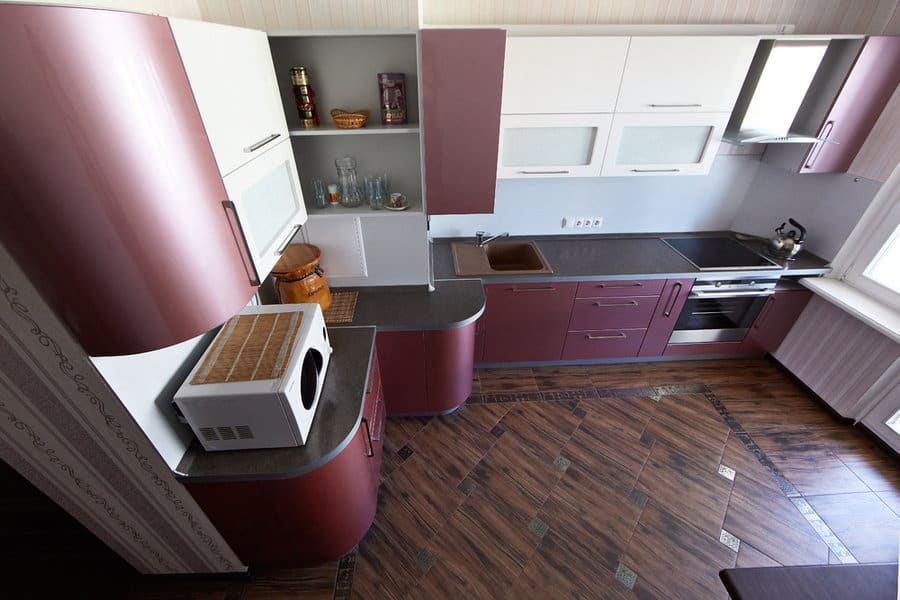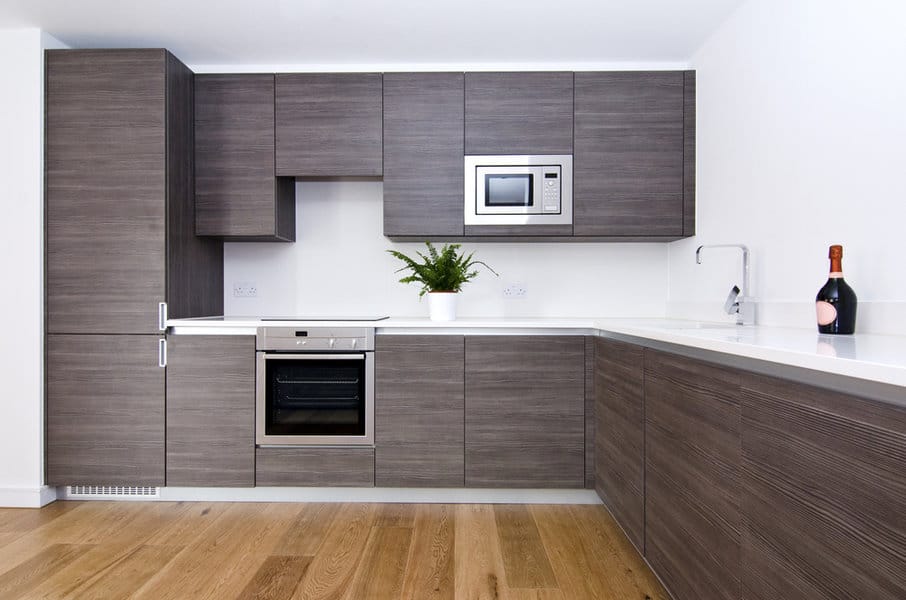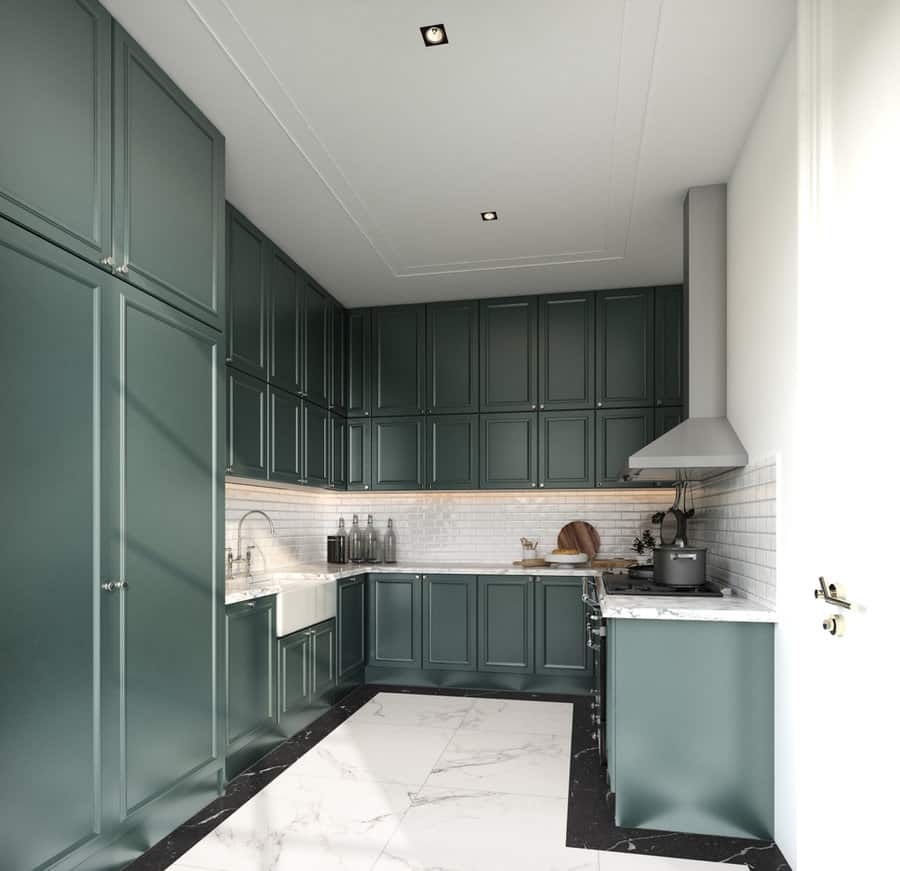 The figurative beauty of these kitchen cabinet colors is that they all share the same general aesthetic. Yet you can easily customize the exact shade to suit your personal taste and existing decor.
If you're having trouble finding the perfect cabinet color, consider playing with the saturation. Adding a bit of gray to your base color can be even more effective than adding black.
5. Gray
Despite the sheer popularity of gray in interior design, gray kitchen cabinets are a relatively rare sight.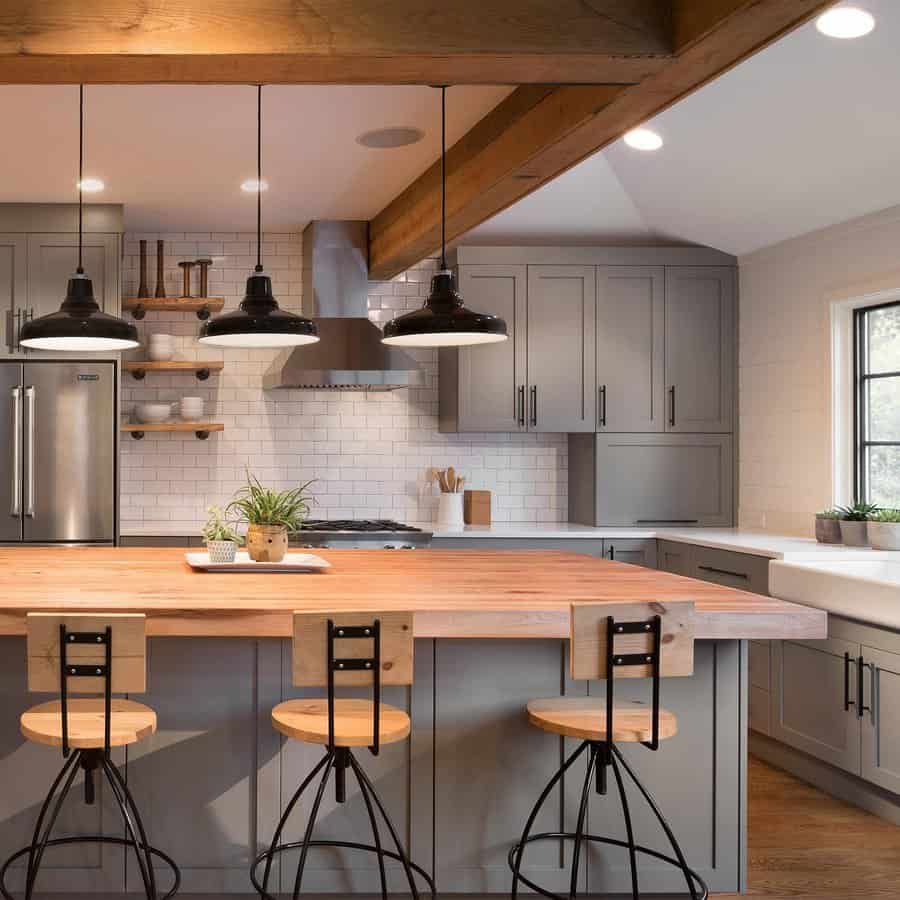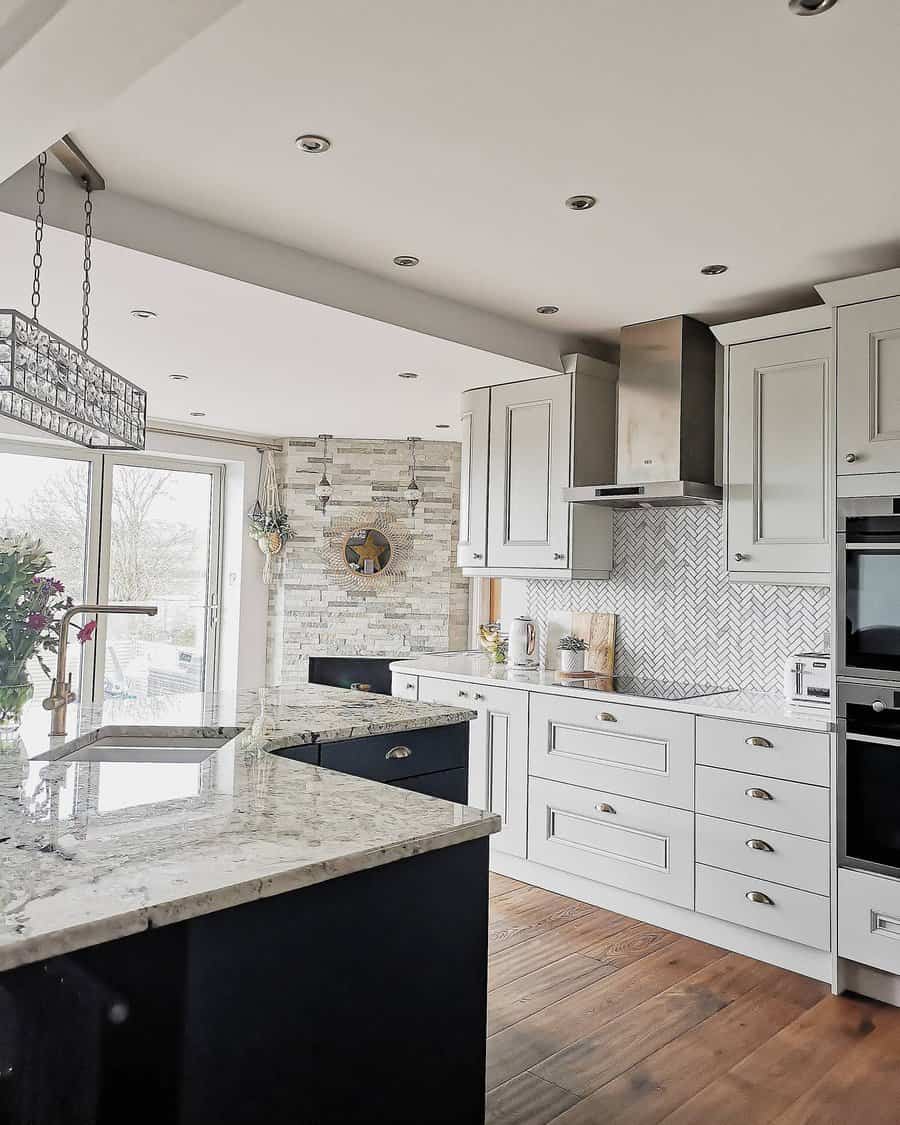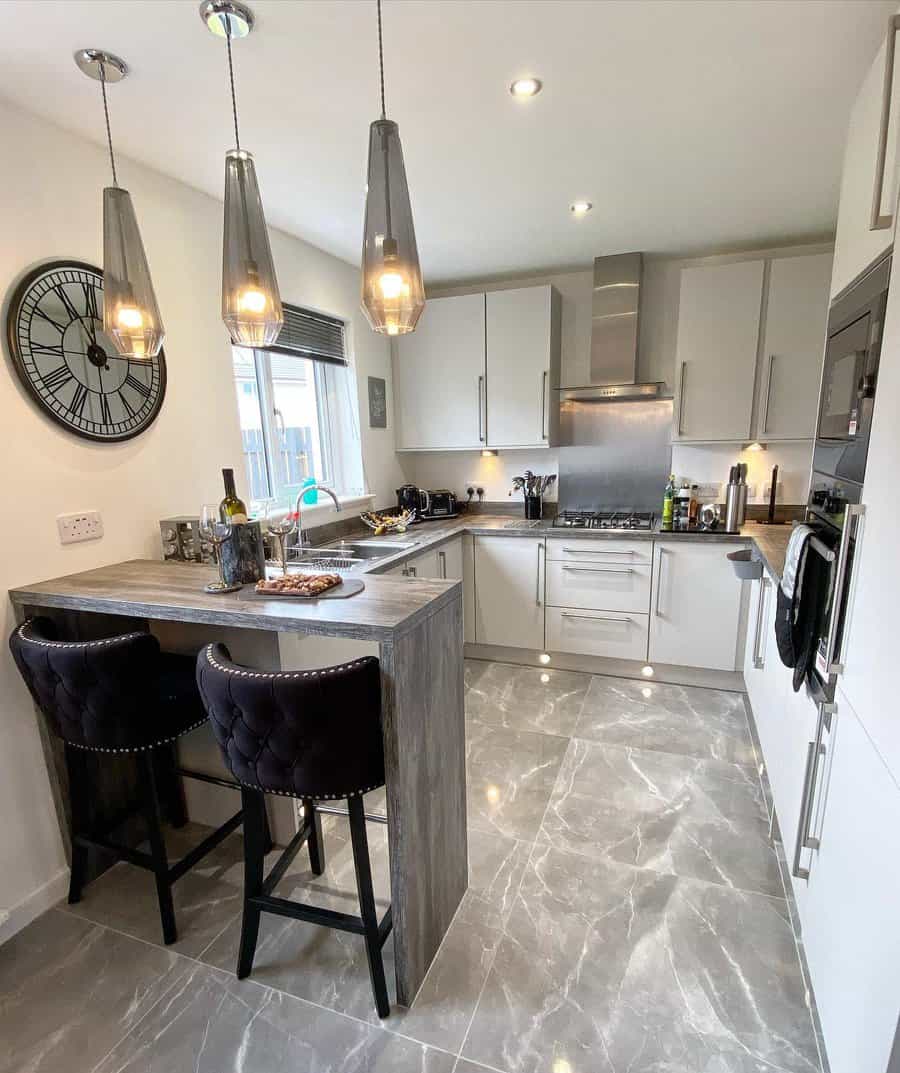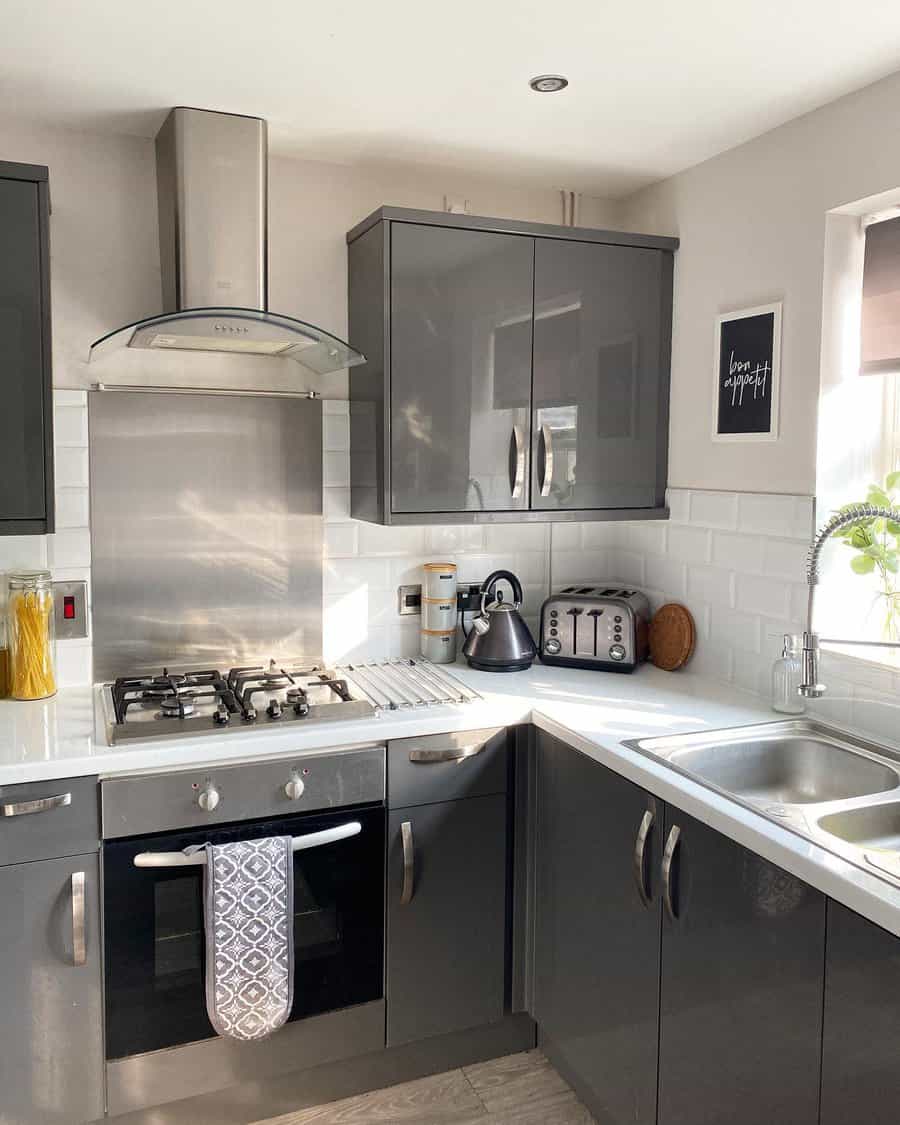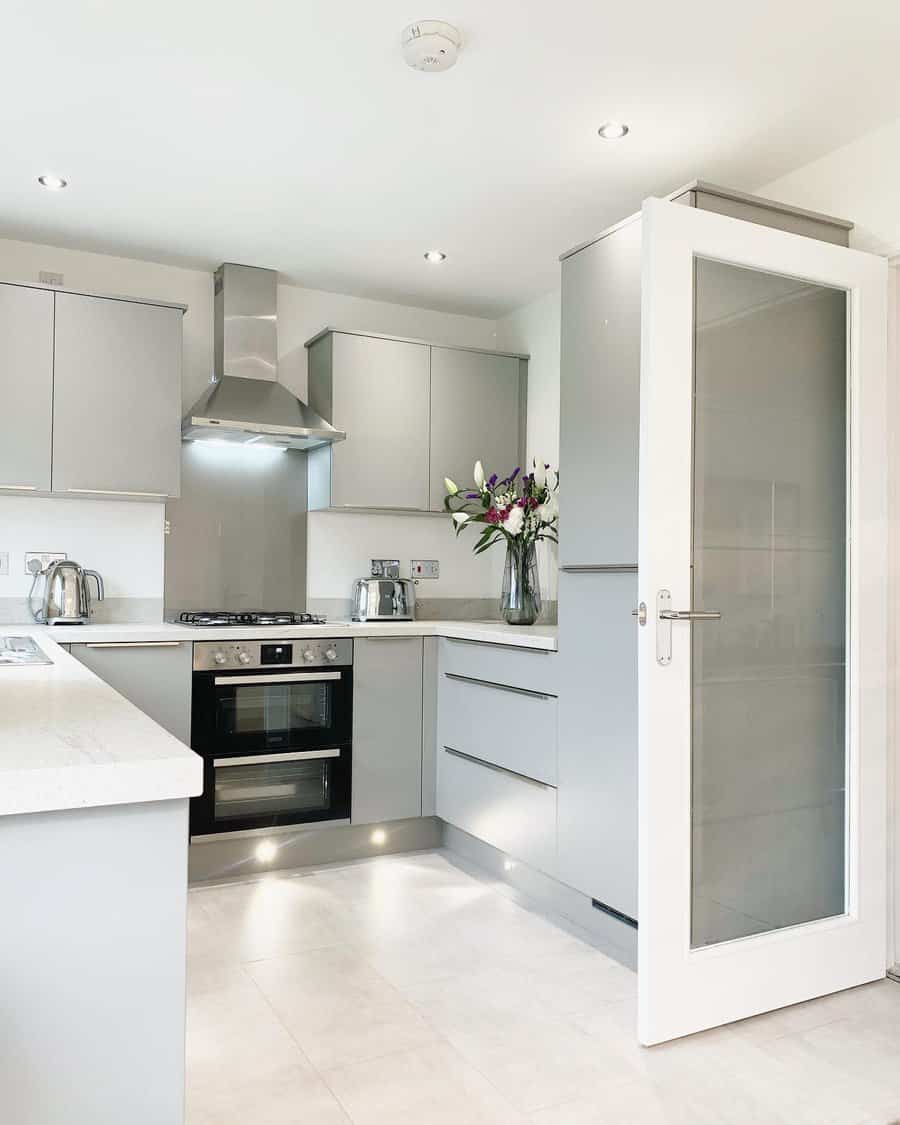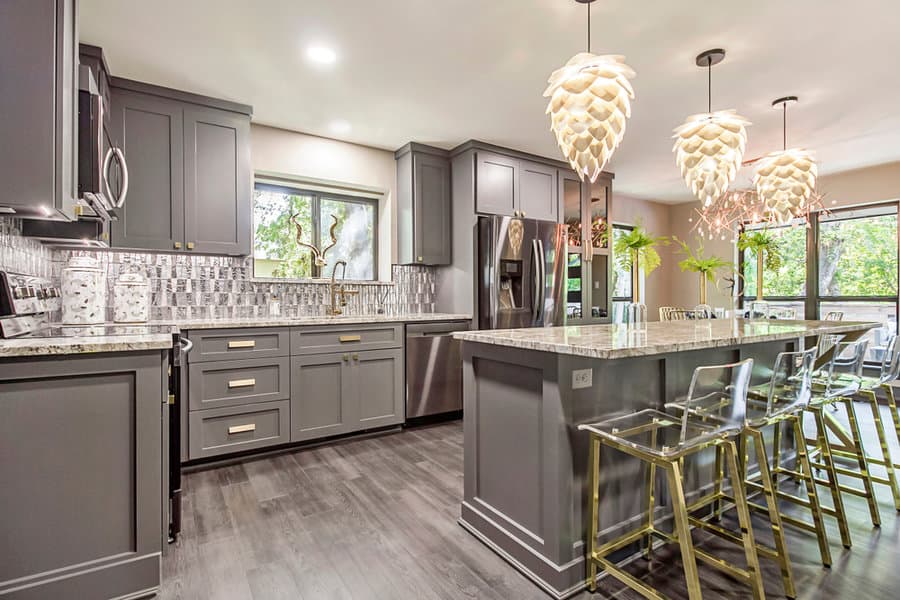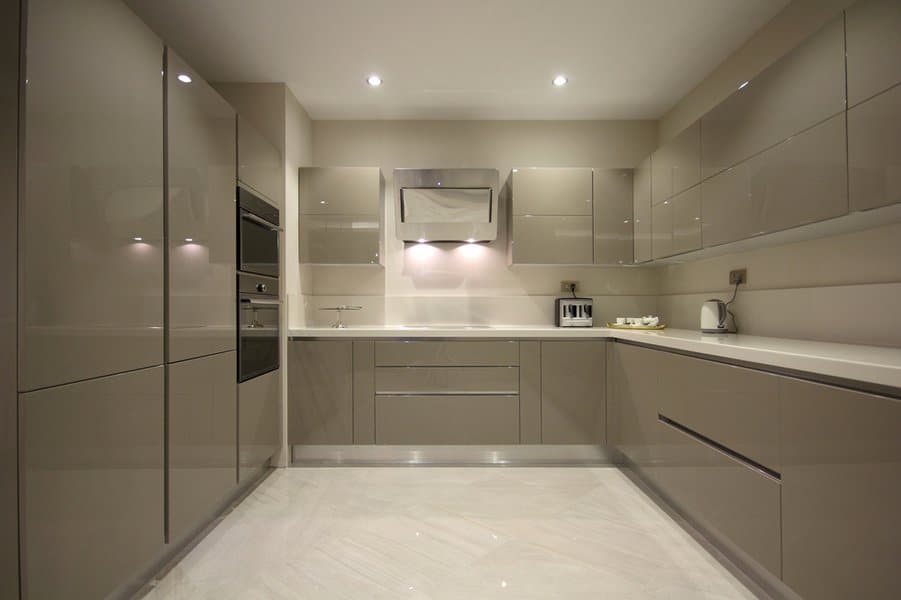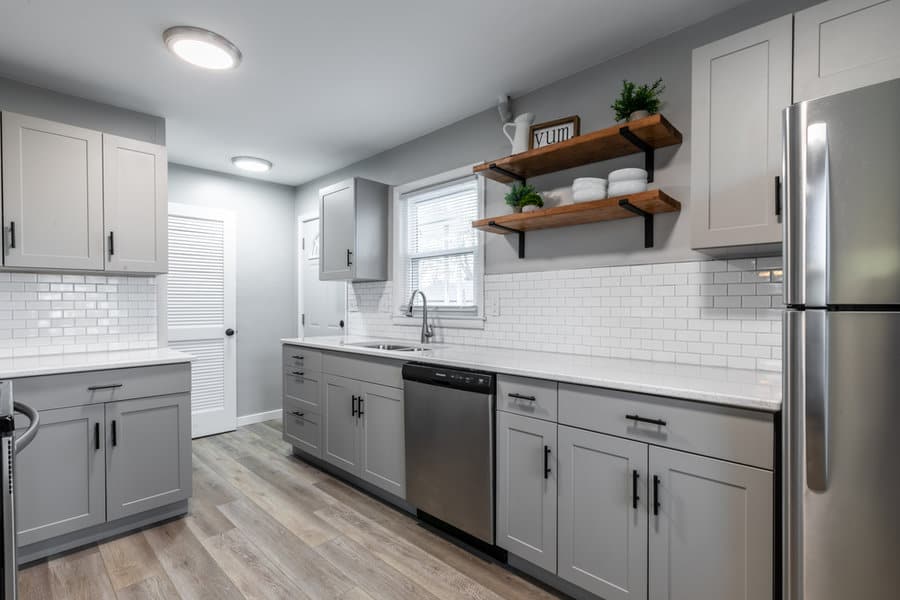 Gray kitchen cabinets are inherently warm and romantic. You can amplify these characteristics even further with gold or brass door hardware.
One thing to keep in mind is gray's tendency to lean cold — cool-toned lighting will exacerbate this. Incorporate natural wood and greenery in your kitchen design to counteract these undertones.
6. Light
Light cabinets can make a kitchen feel brighter and more spacious. Just remember that a white kitchen is far from the only option available.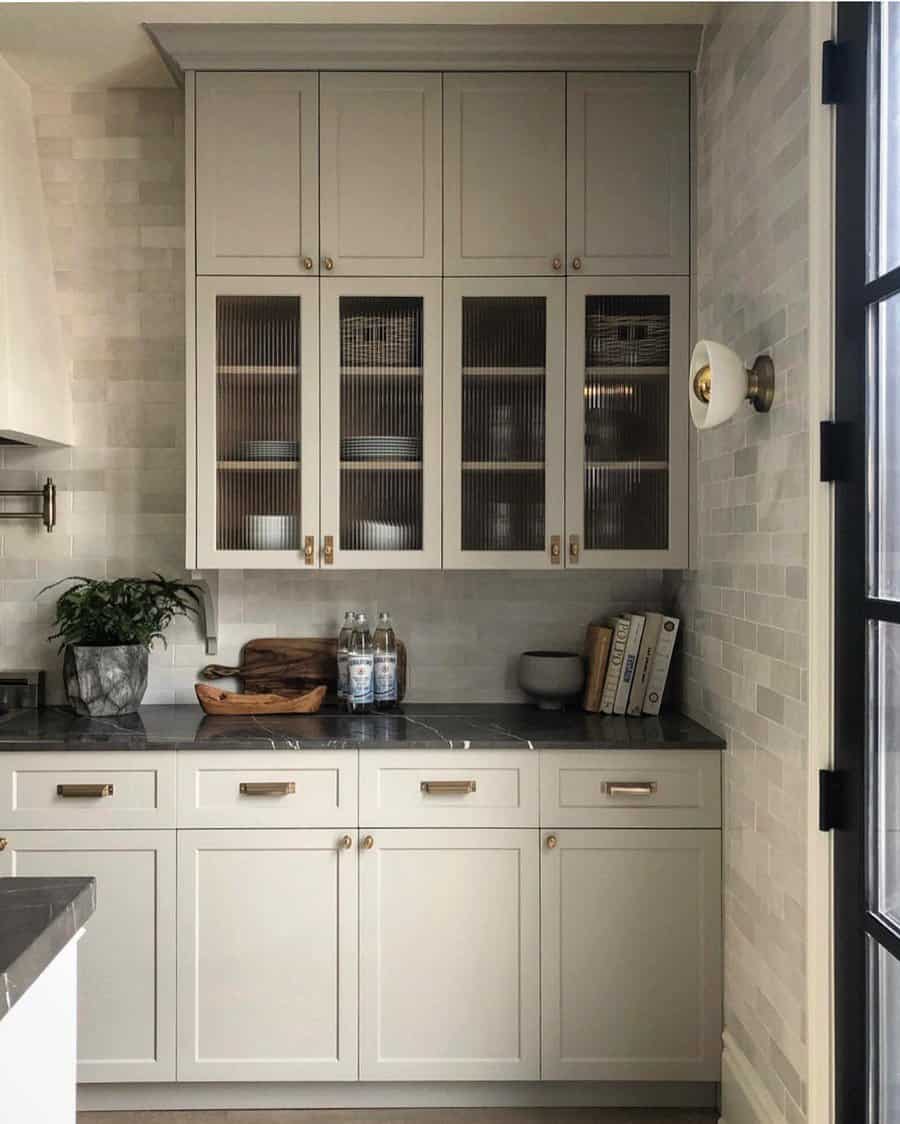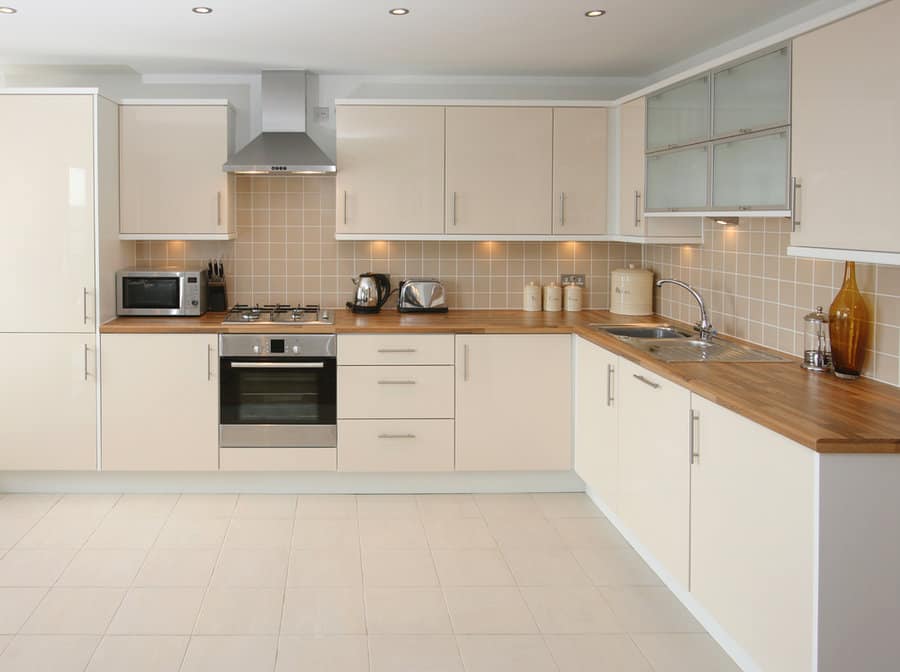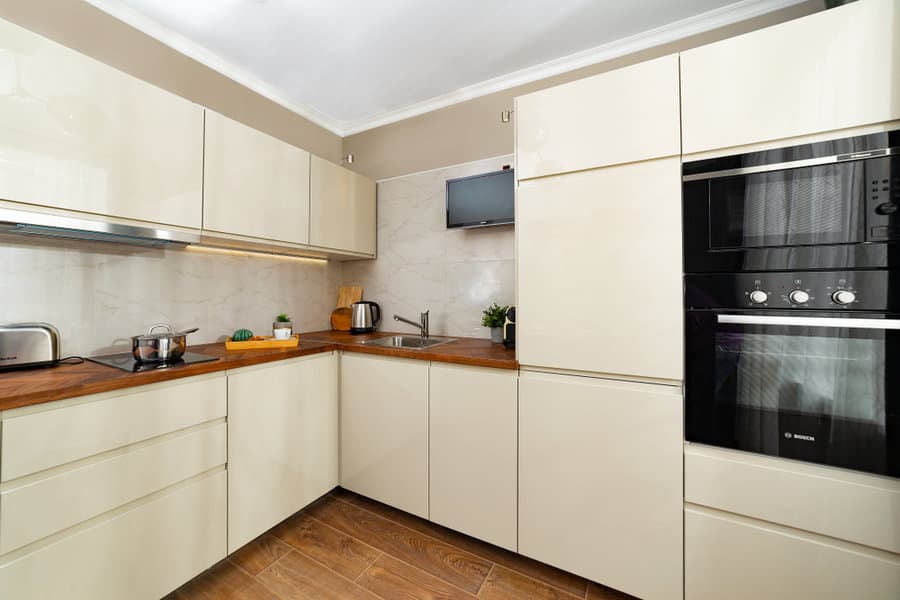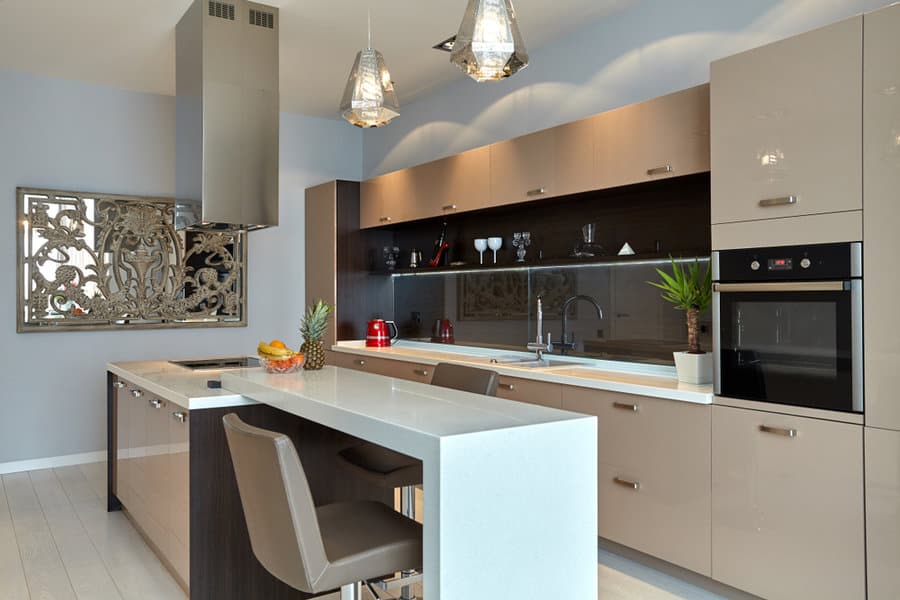 Pastels are definitely having a moment in the world of interior design. Don't let preconceptions fool you… these subdued colors are not just for nurseries and children's rooms!
Another exciting trend is the use of off-whites bearing undertones like blue, green, pink, and yellow. While these shades appear neutral from afar, they bring a much-needed hint of color to the space as a whole.
7. Metallic
The average kitchen is no stranger to metallic finishes in the forms of appliances, lighting, and fixtures. So why not take that concept a step further with a set of metallic cabinet doors?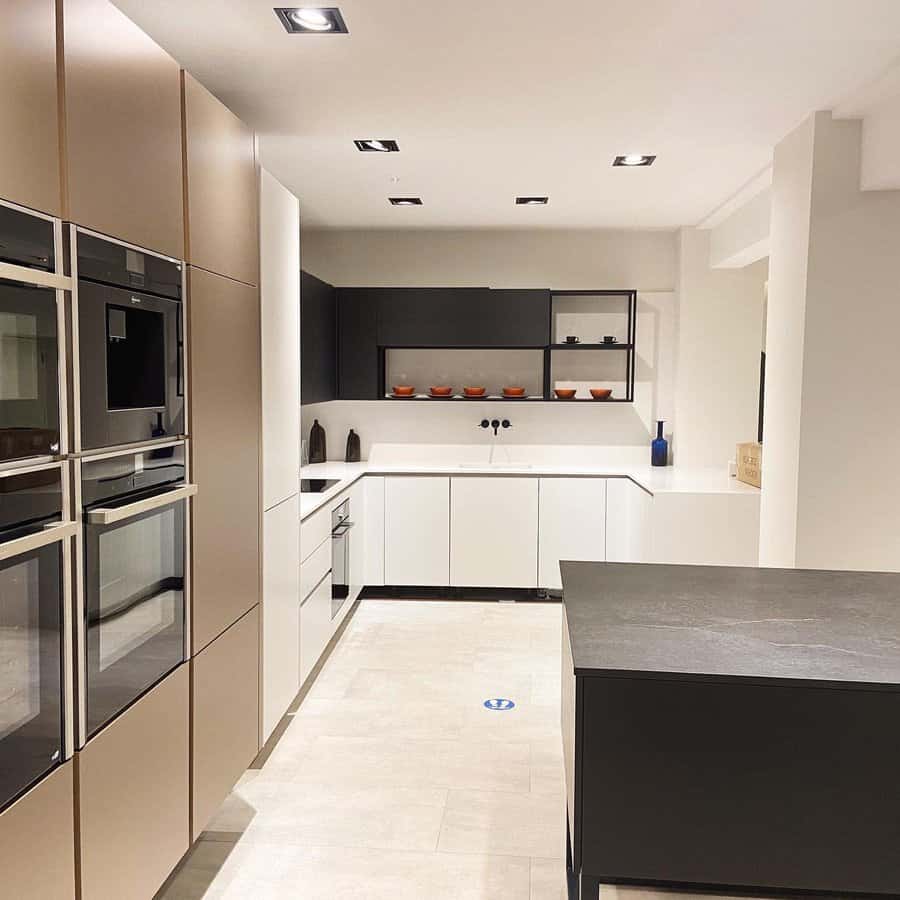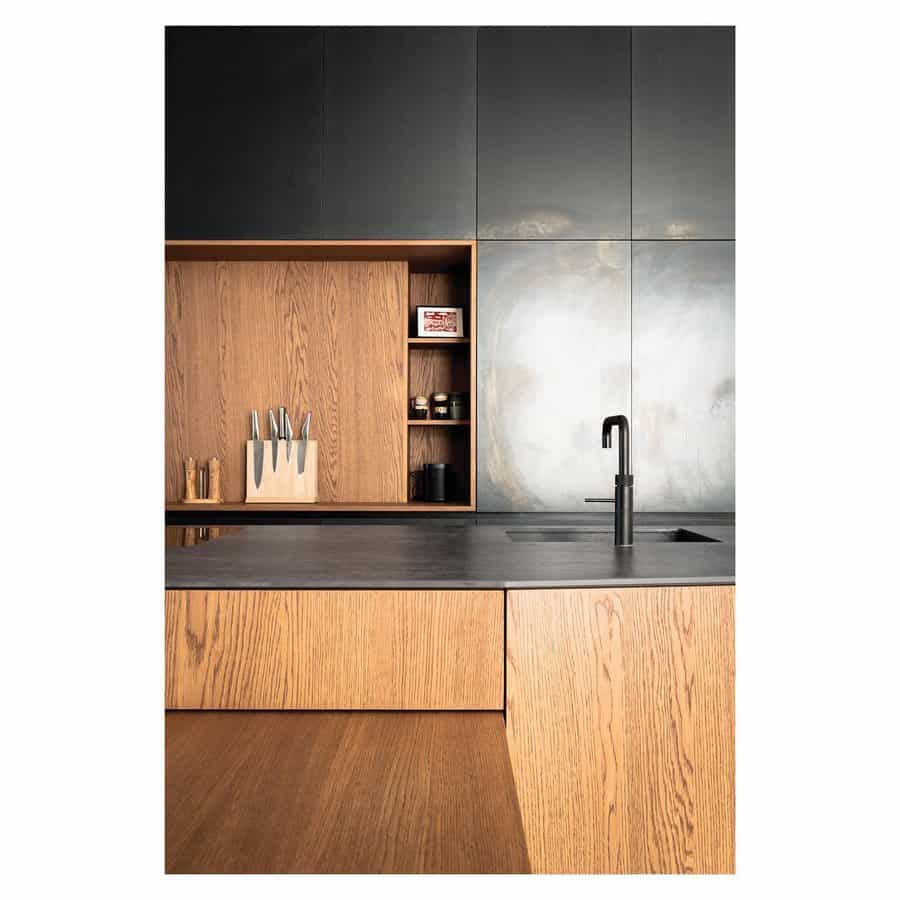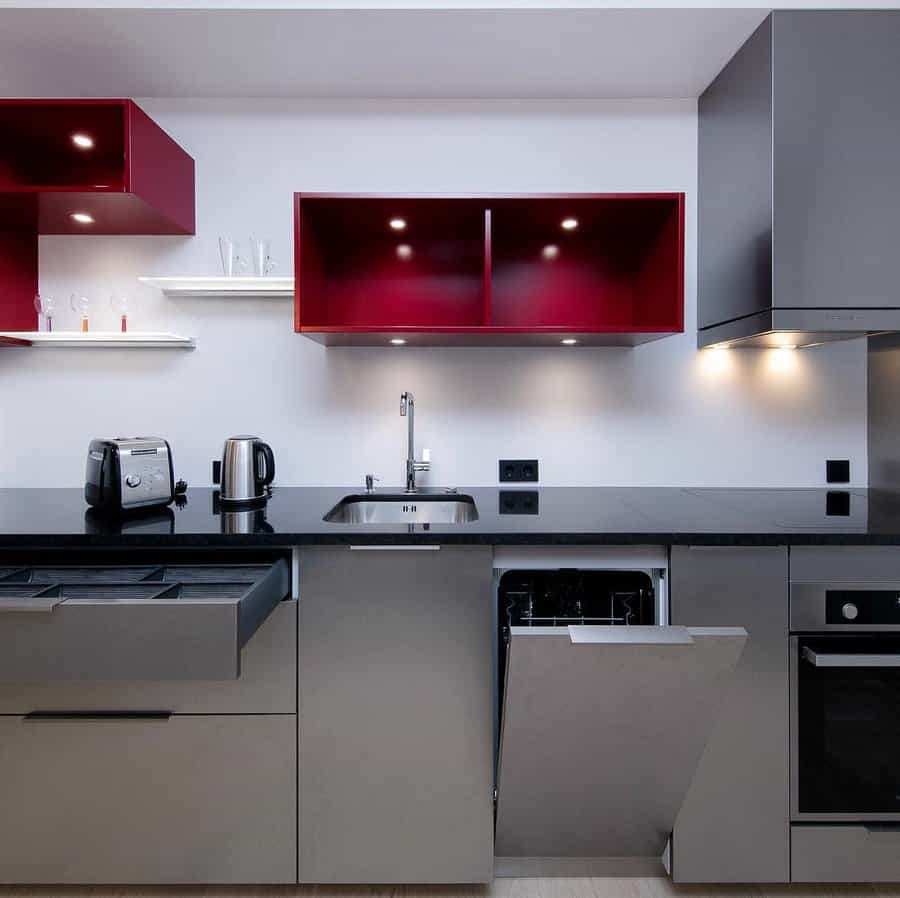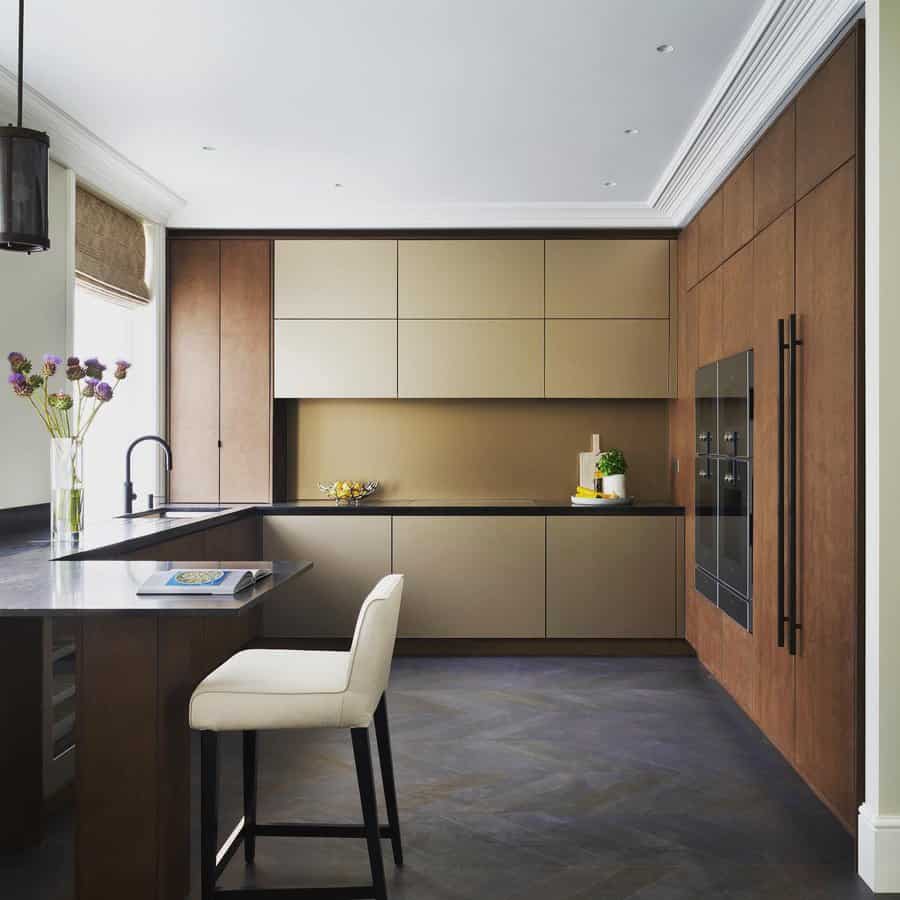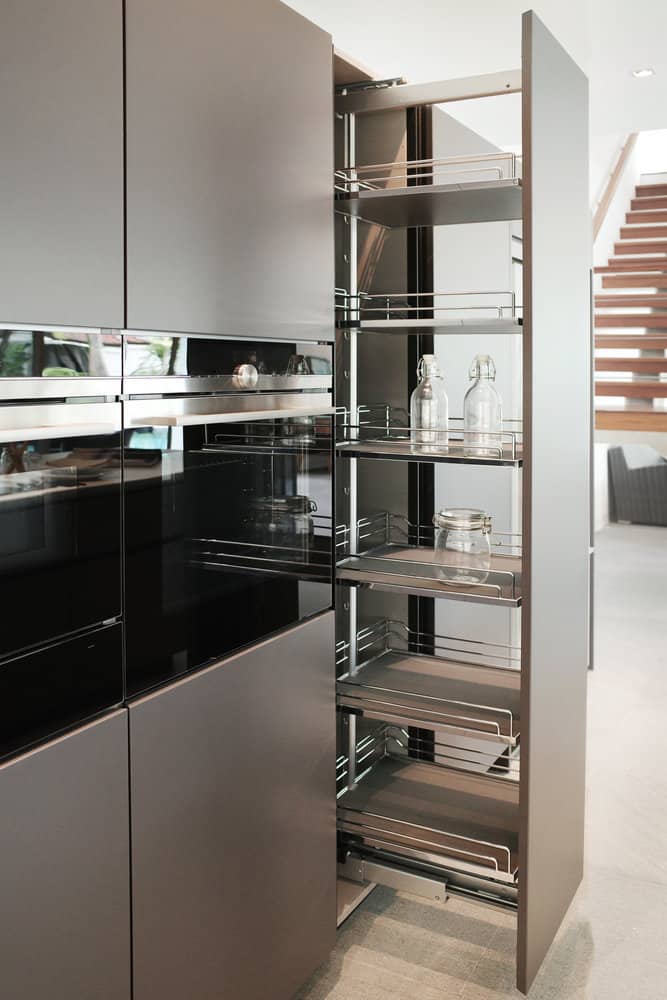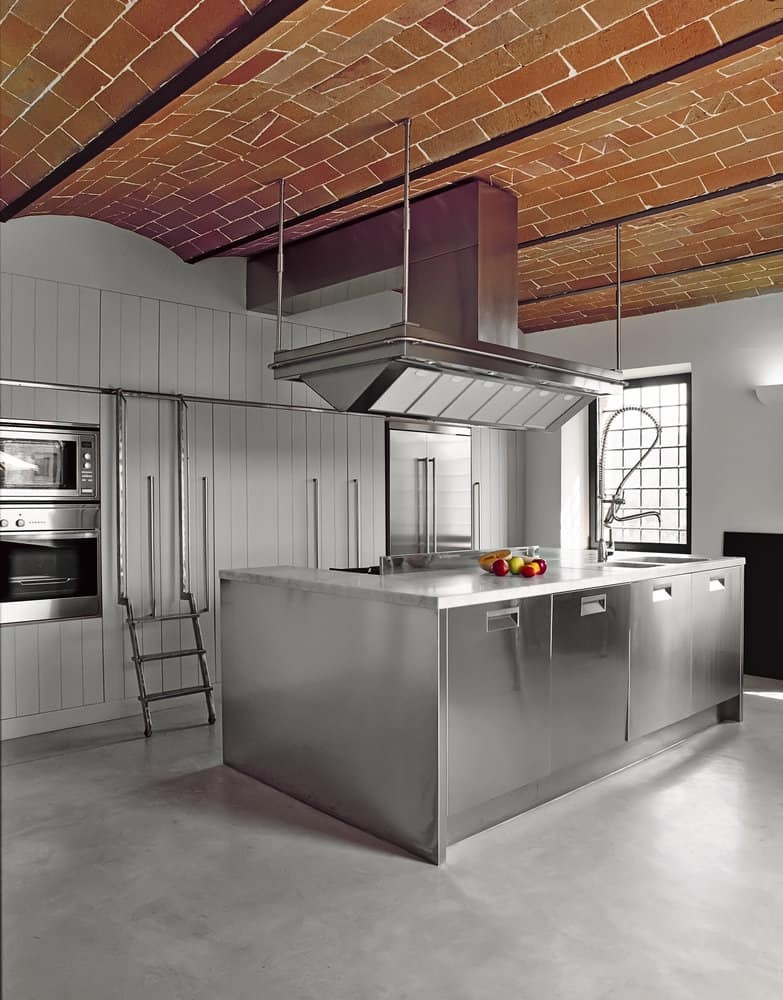 This kitchen cabinet color idea performs best in a space decorated with industrial or minimalist elements. You'll definitely want to opt for streamlined door pulls (or no cabinet hardware at all).
Since an entire kitchen outfitted with metallic cabinets can look a bit sterile, consider incorporating other finishes as well. Light wood paneling is one of our personal favorite companions for this trend.
8. Neutral
Often when we hear the term neutral the first things to come to mind are beige and gray. But neutral paint colors make up a rainbow all of their own.
A perfect example right now is muted sage green. This color is extremely popular in kitchen design almost exclusively because it goes with almost everything.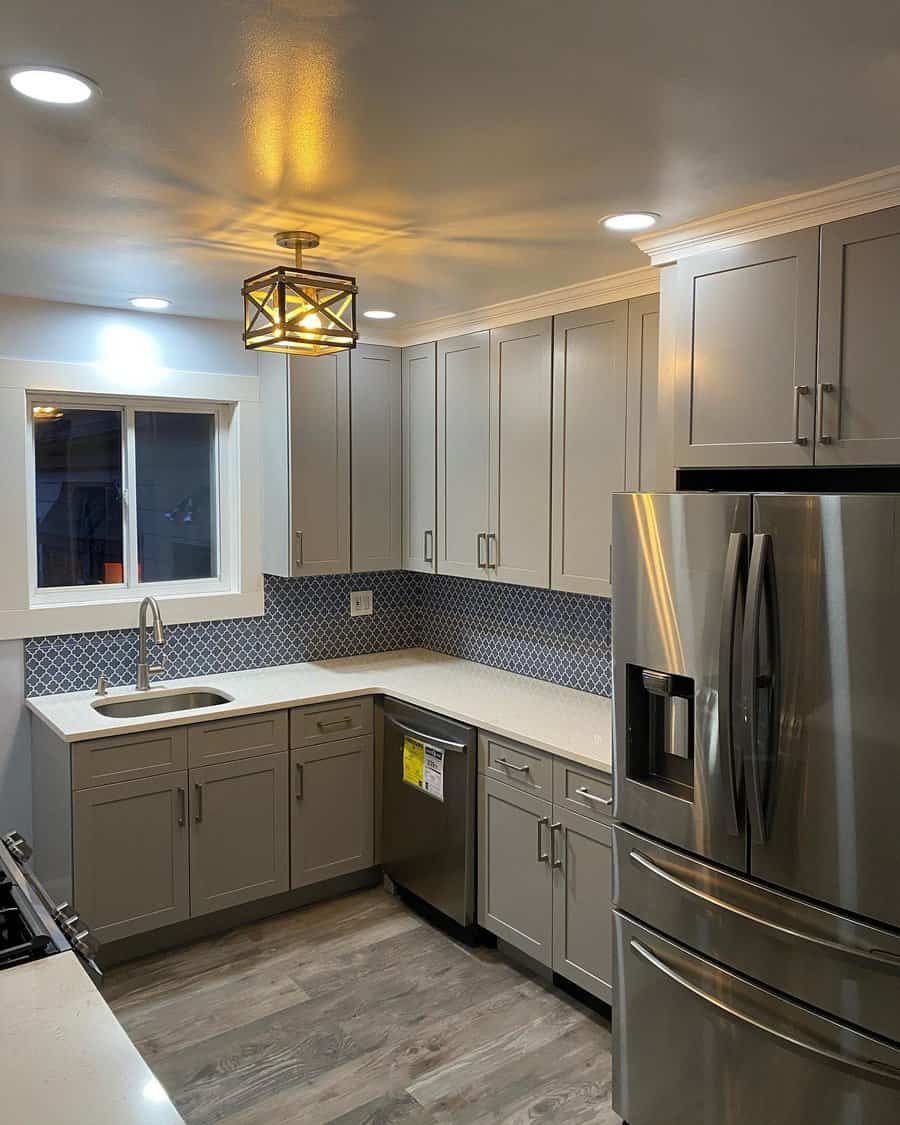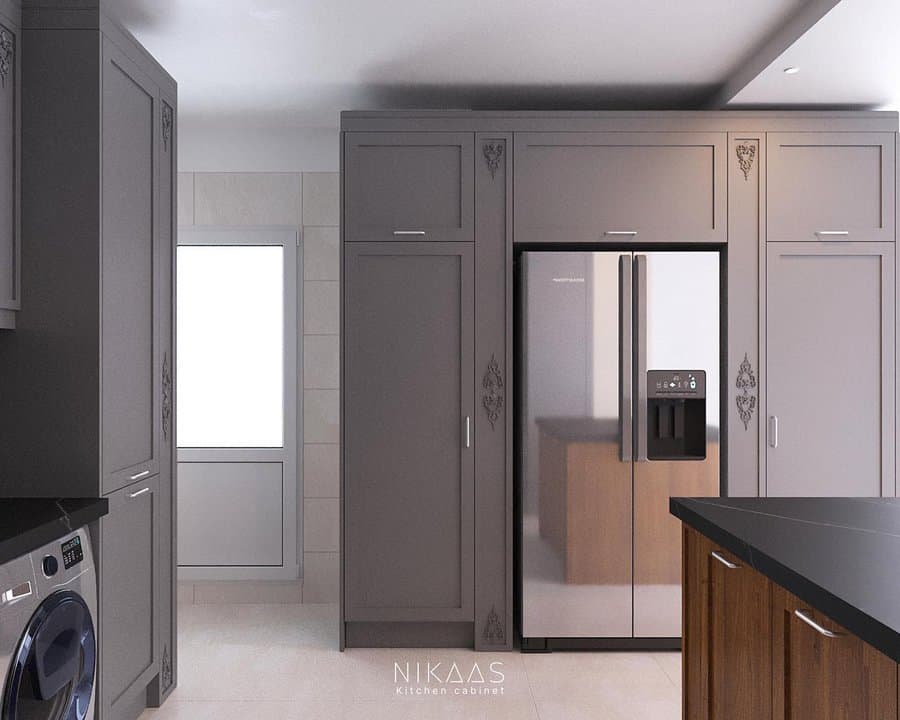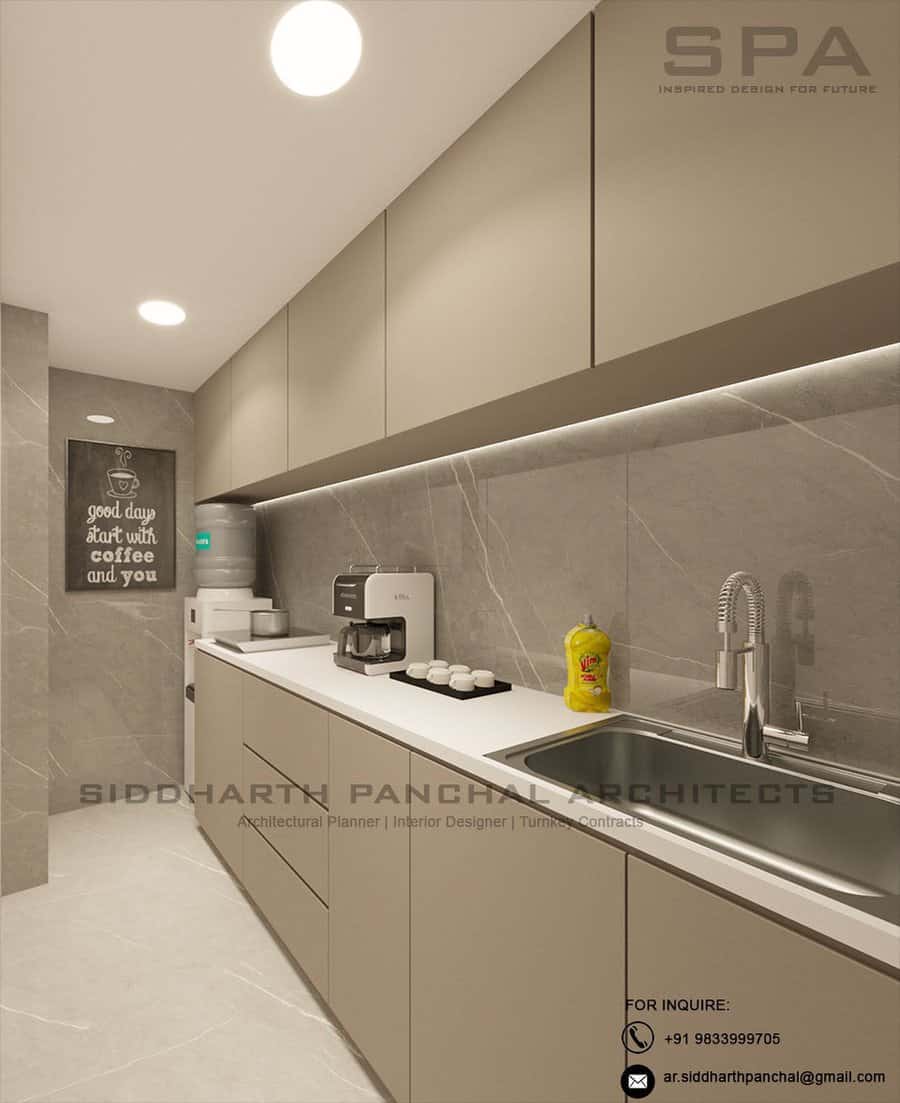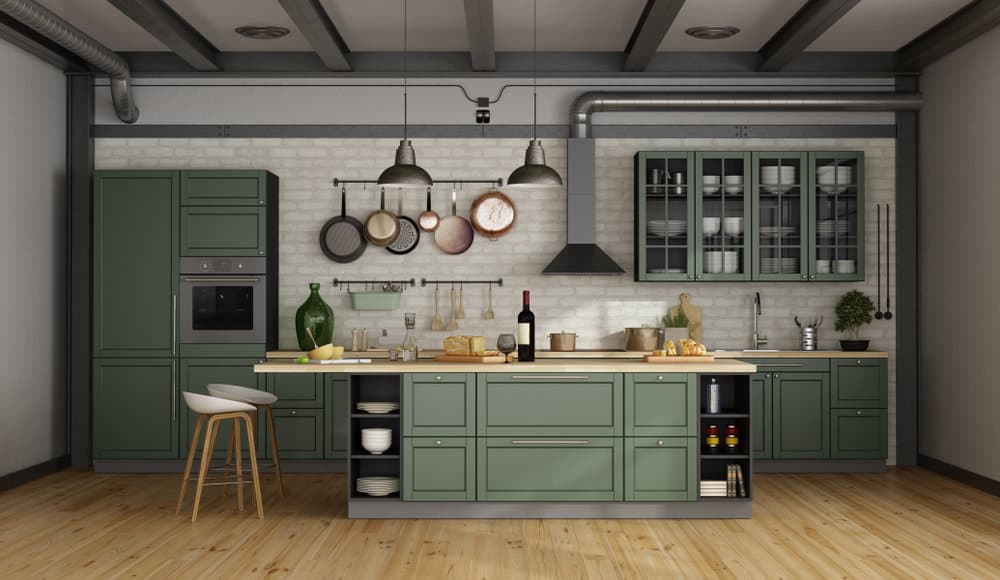 Neutral kitchen cabinets are ideal for anyone who likes to change up their home decor with the seasons. You can easily add accents of any color without worrying about your cabinet doors clashing!
9. Two Tone
Two-toned cabinets are growing increasingly common in contemporary kitchen design.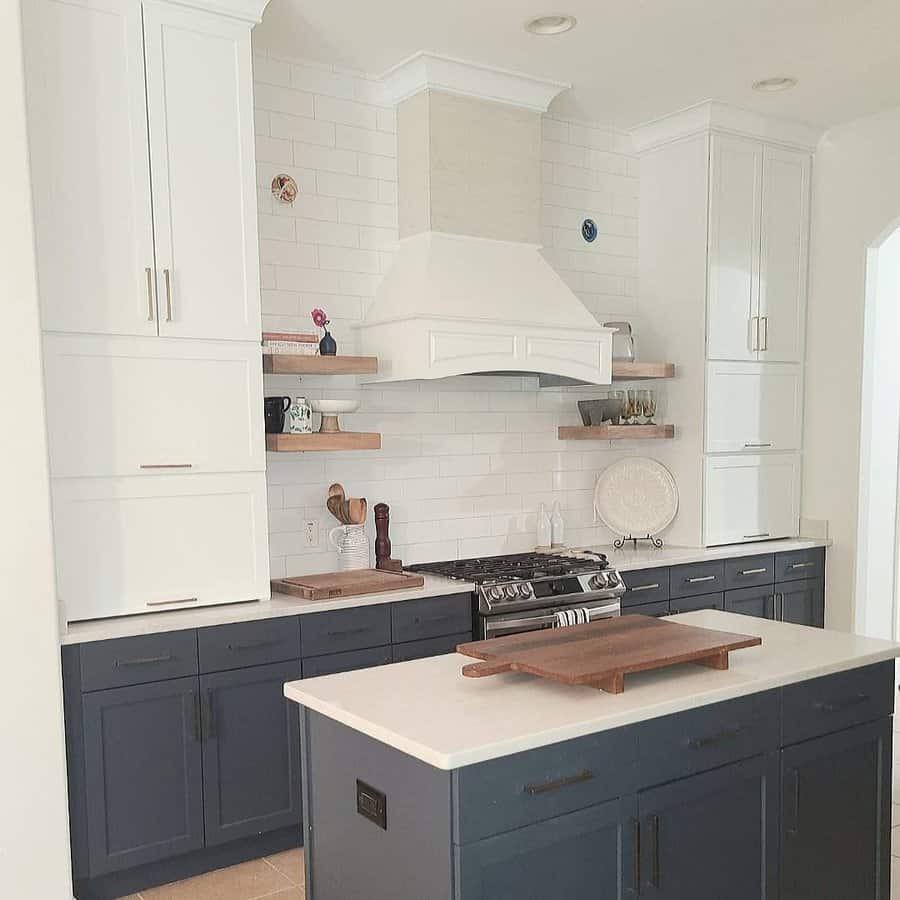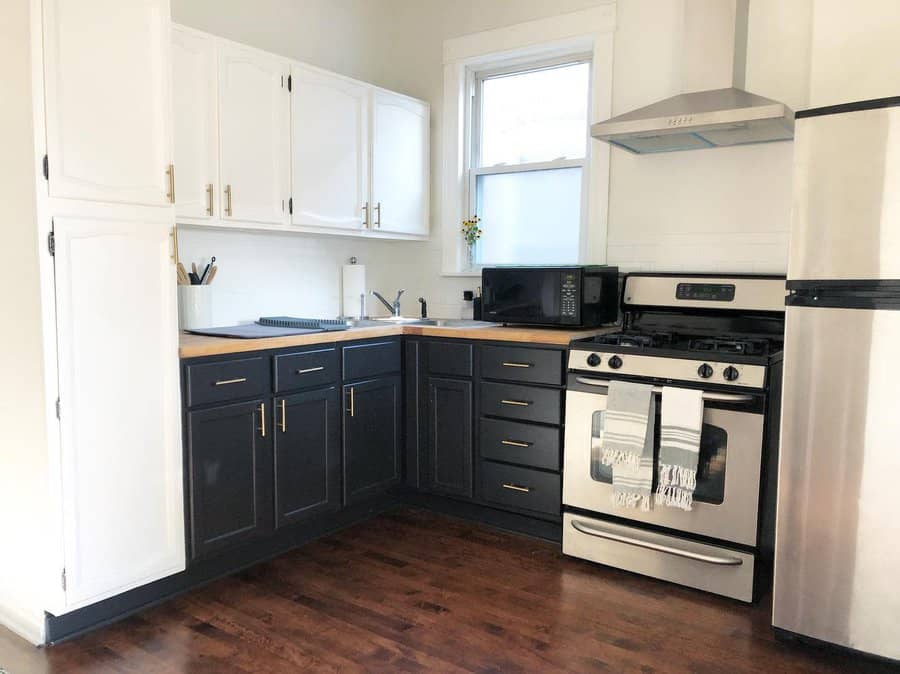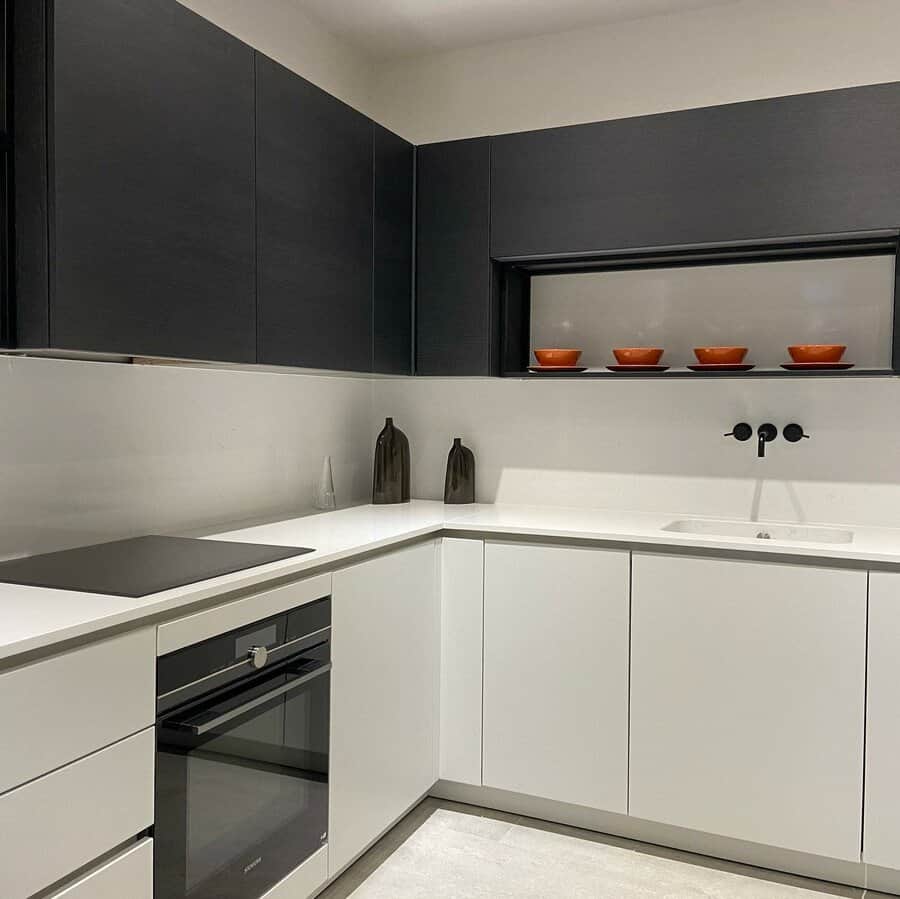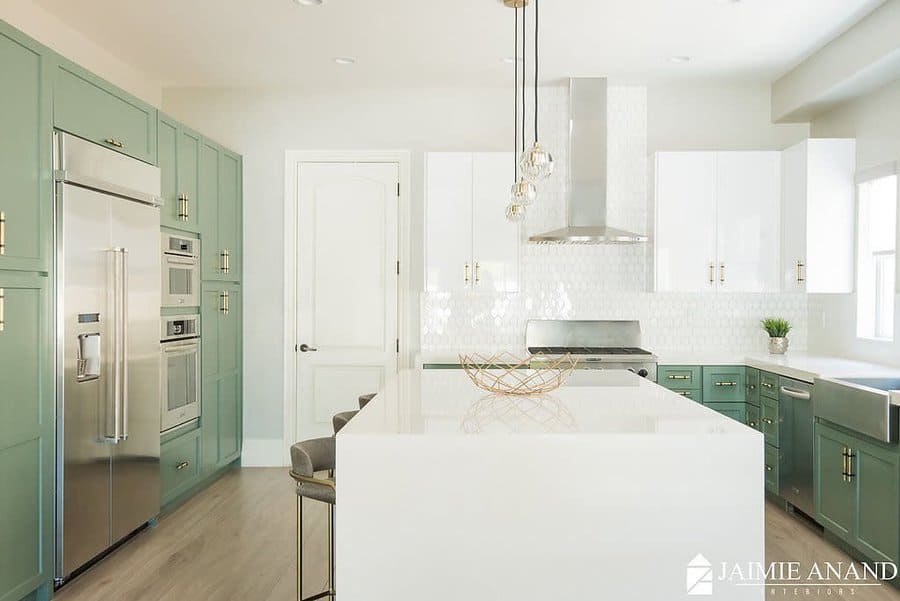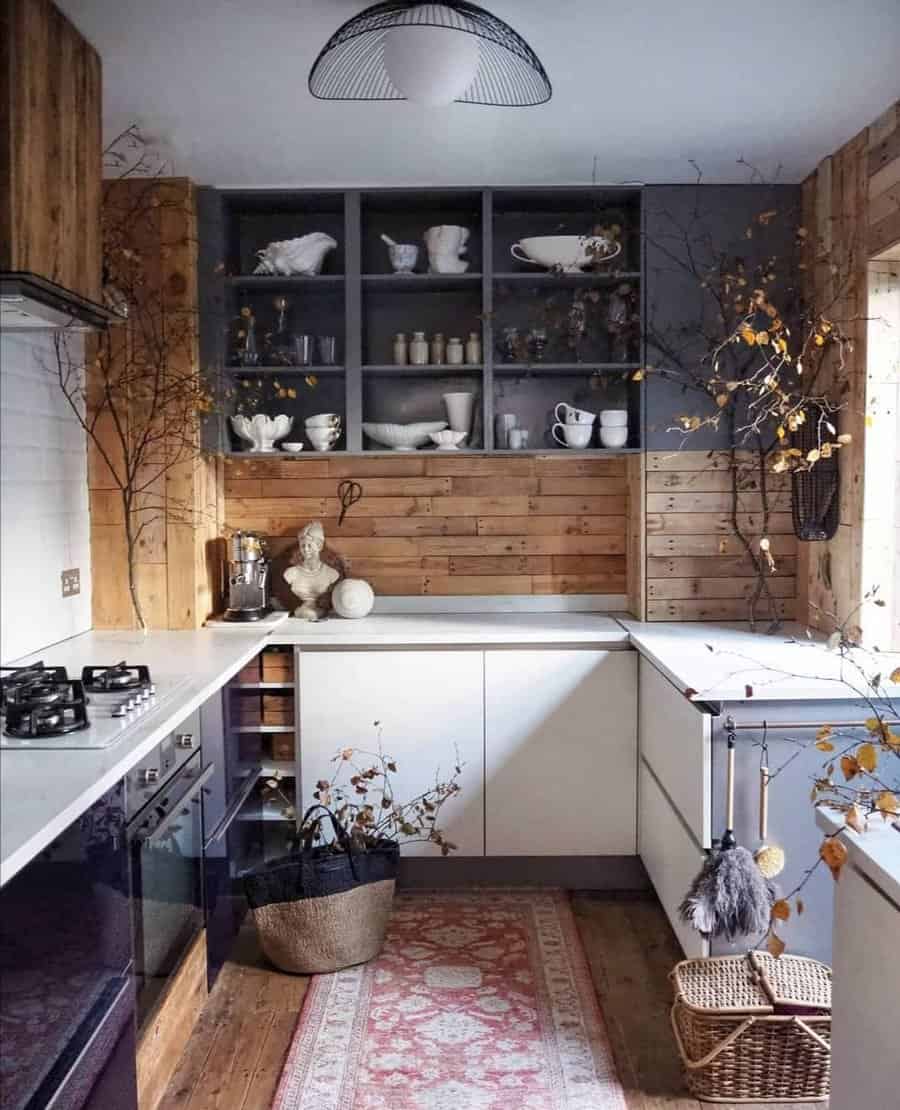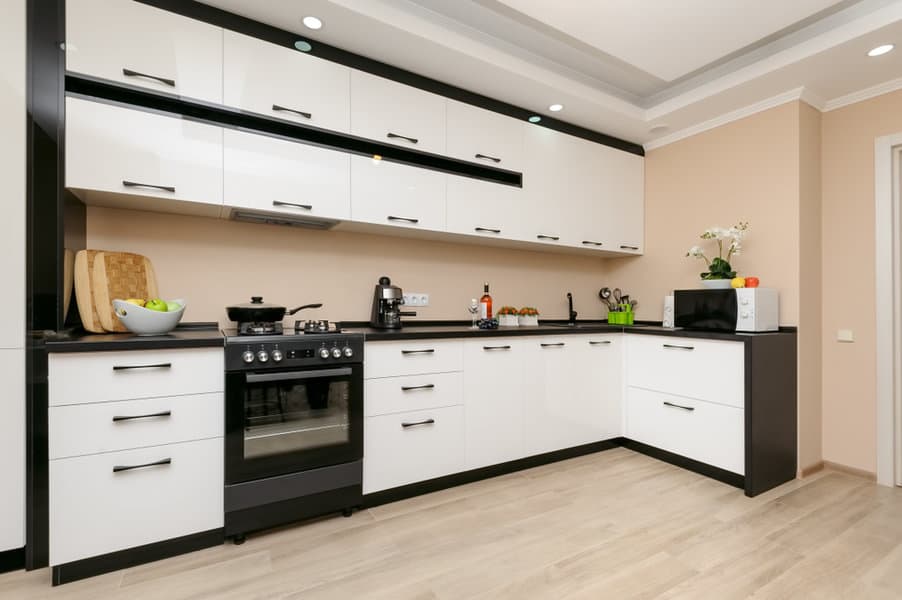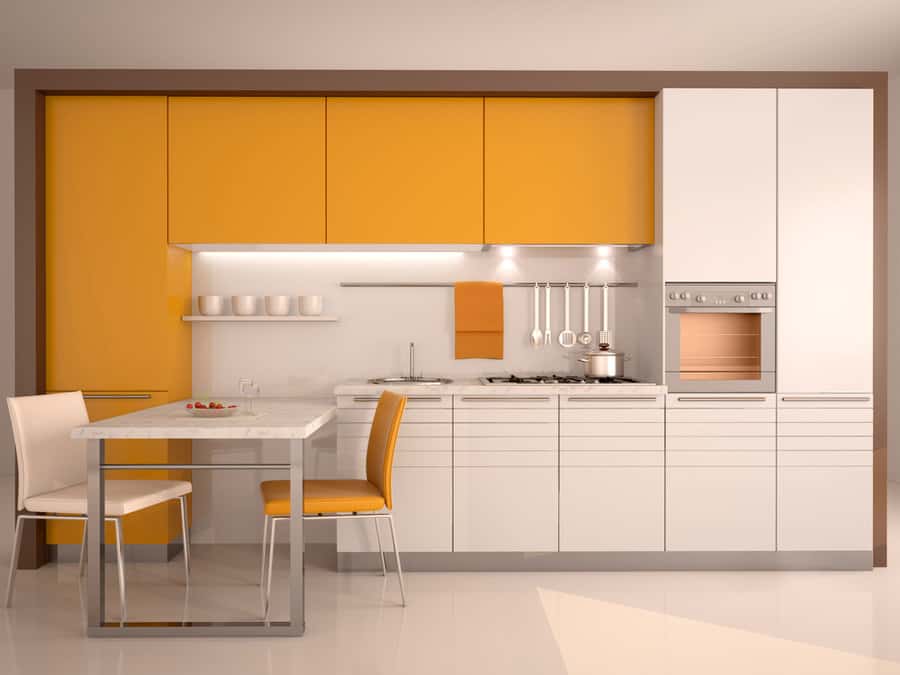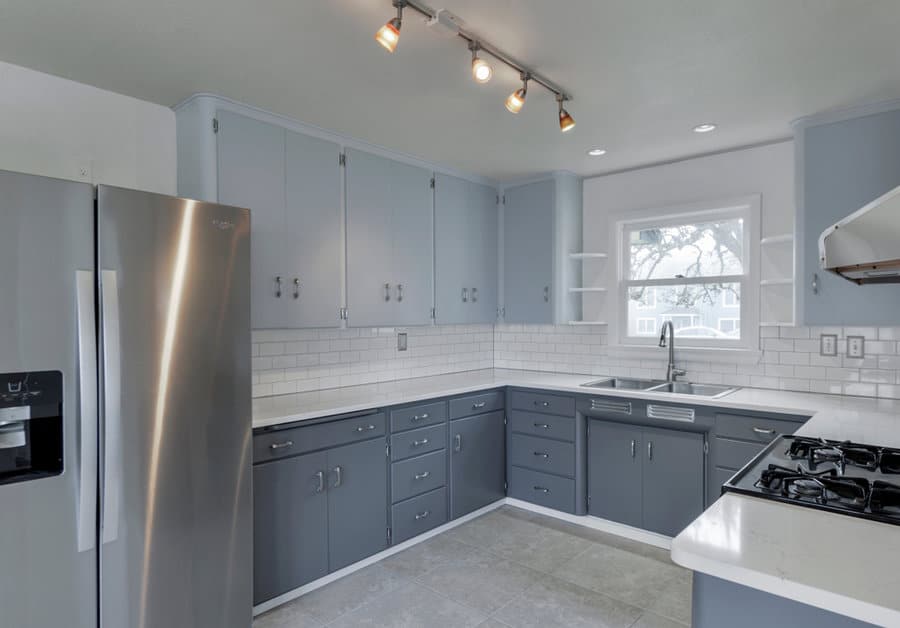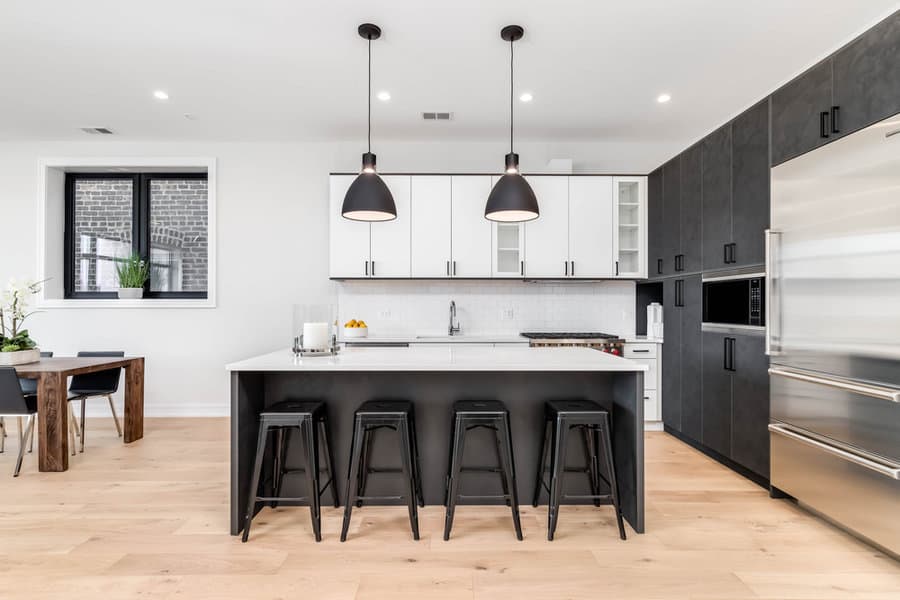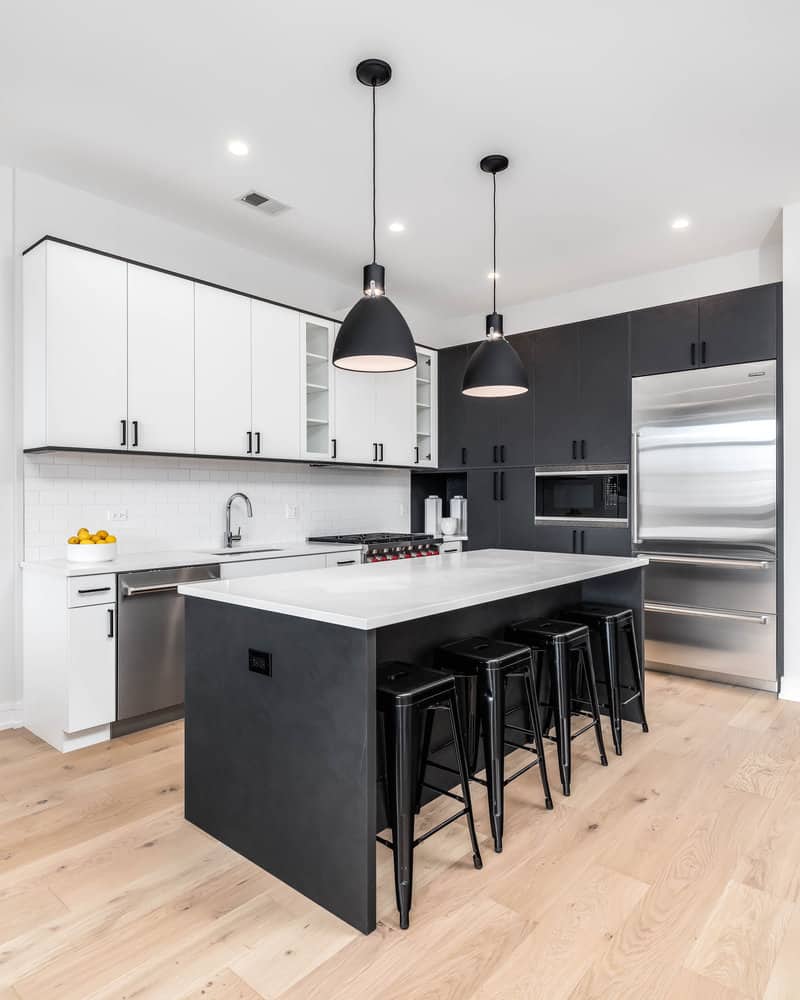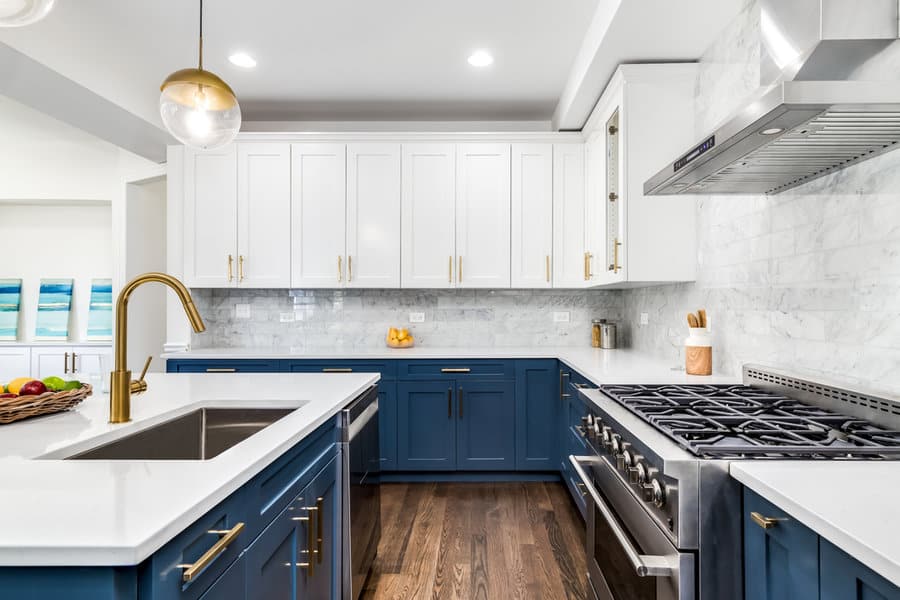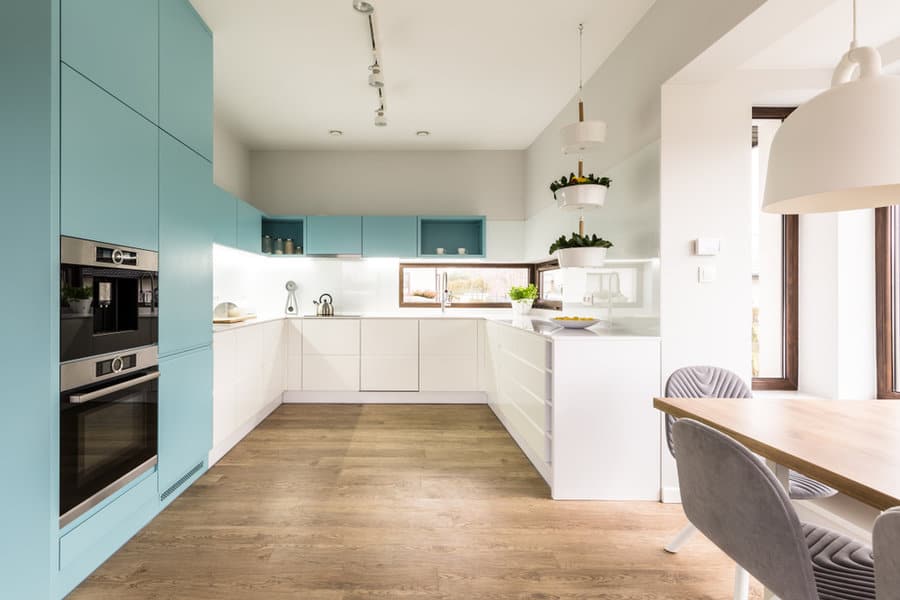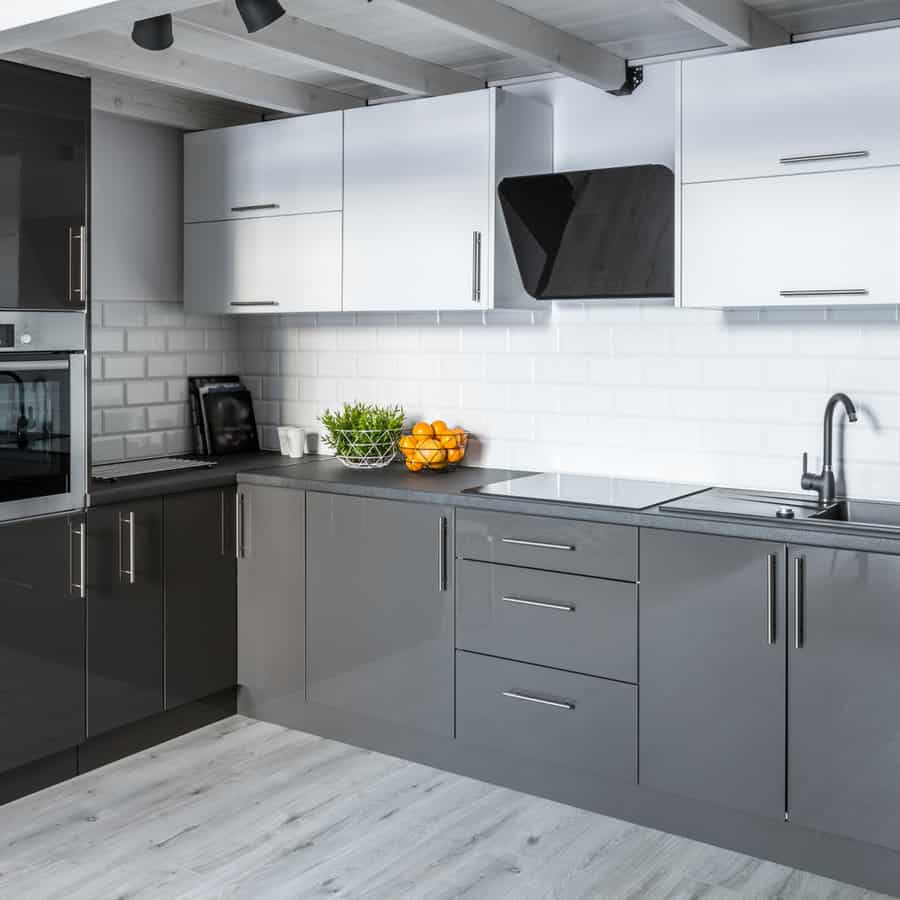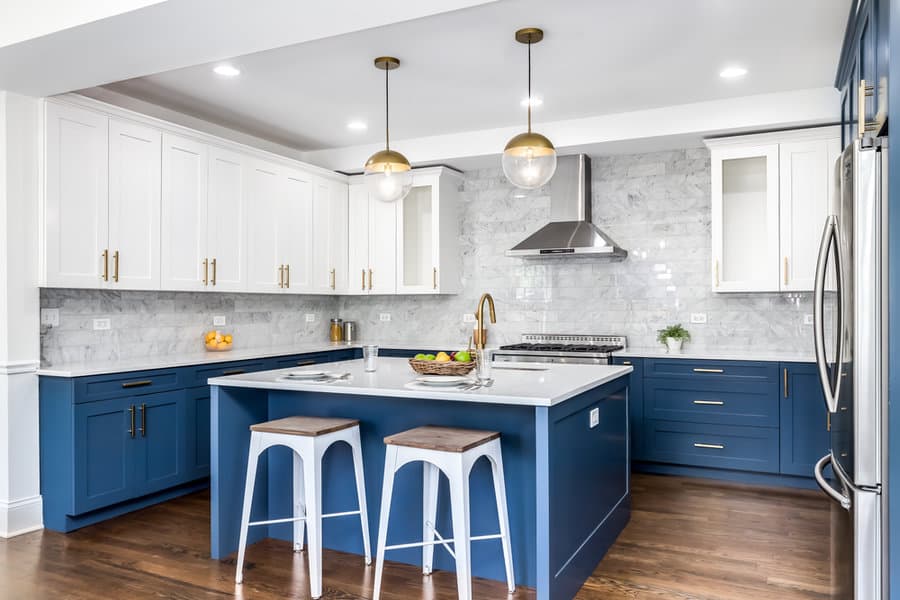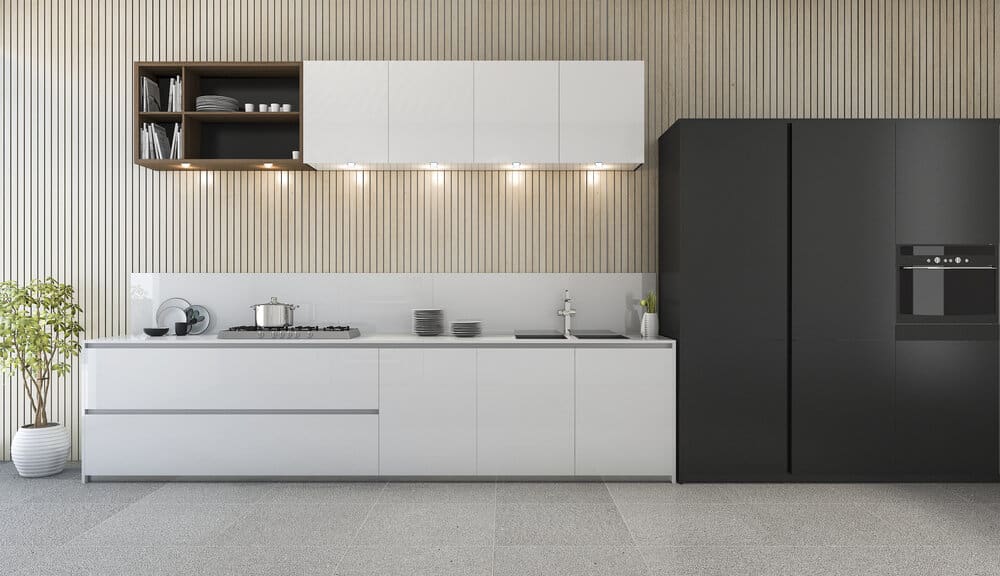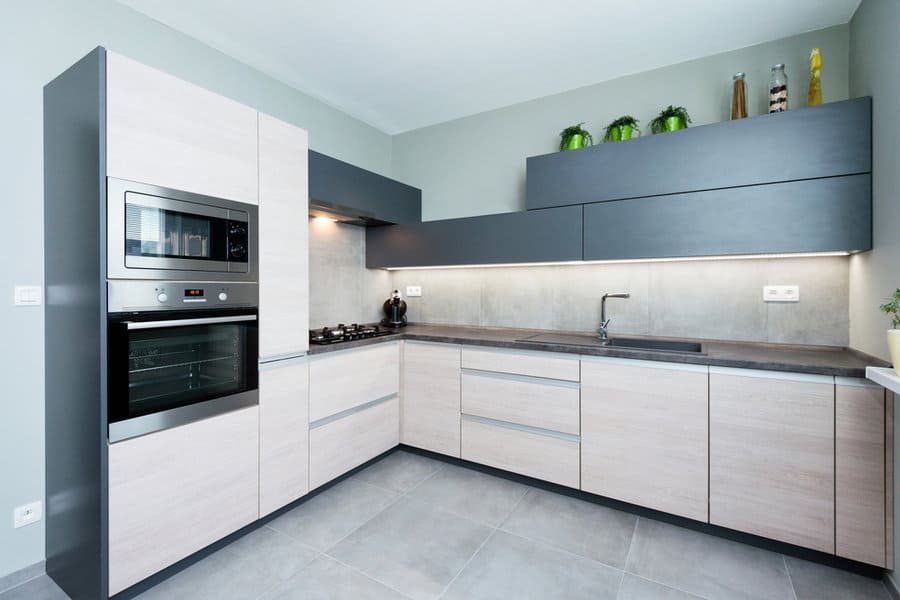 If choosing one bright color for your kitchen cabinets sounds daunting, choosing two might feel like a waking nightmare. But it shouldn't!
This technique not only lets you experiment with a broader color palette but can actually make a small kitchen feel larger. For this effect, be sure to use the lighter of the two kitchen cabinet colors on your upper cabinetry.
10. White
While interior design is all about expressing creativity via your living space, there's nothing wrong with sticking to tried and true color ideas. In this case, we're talking about white cabinetry.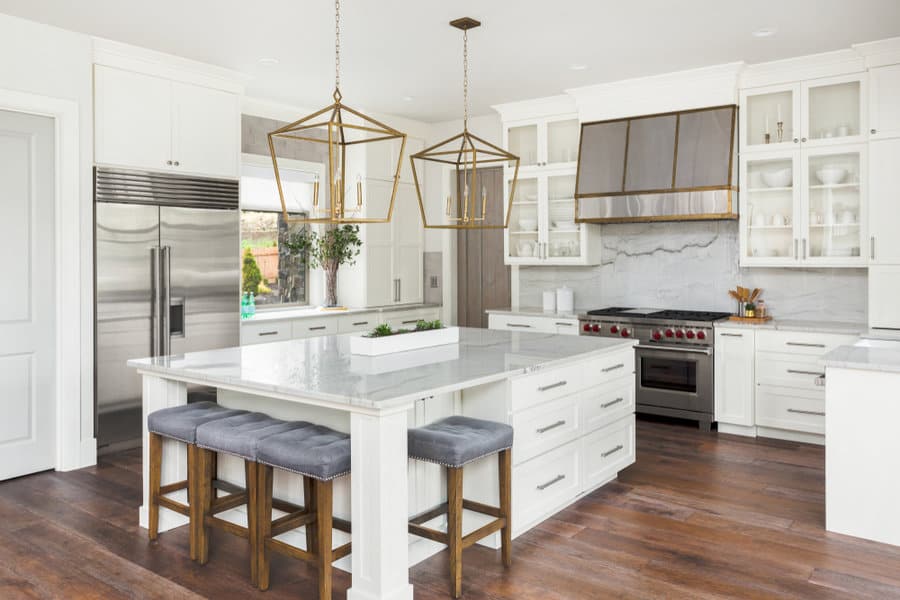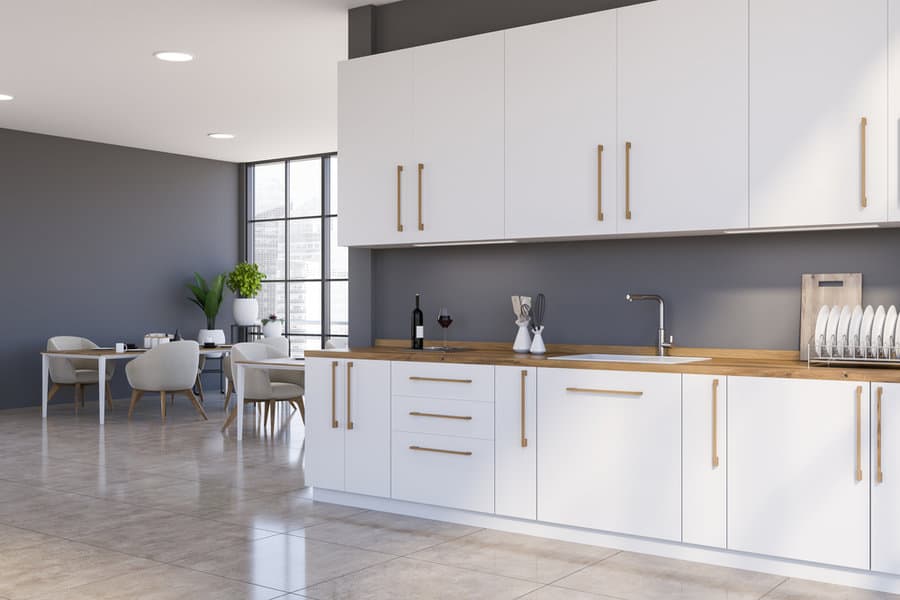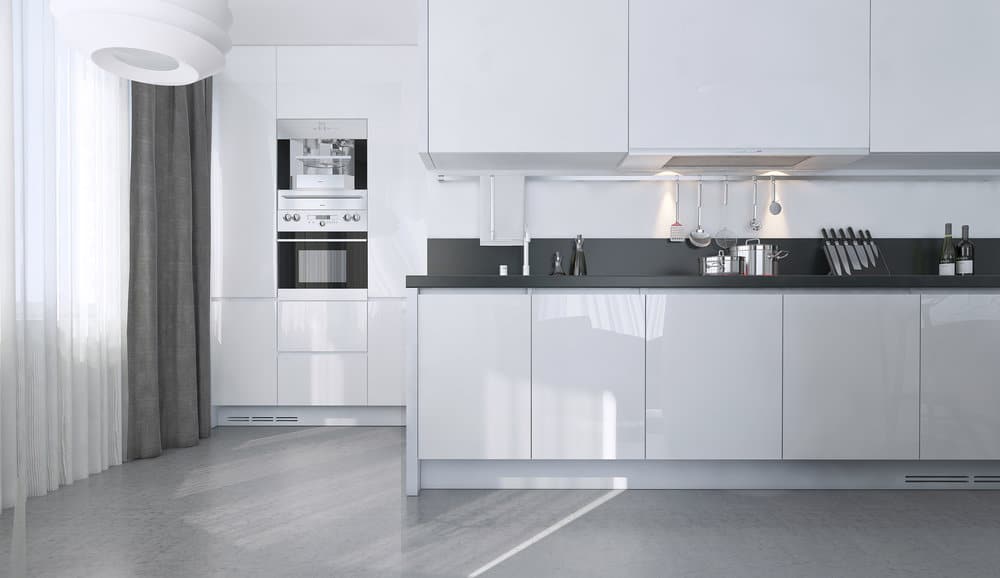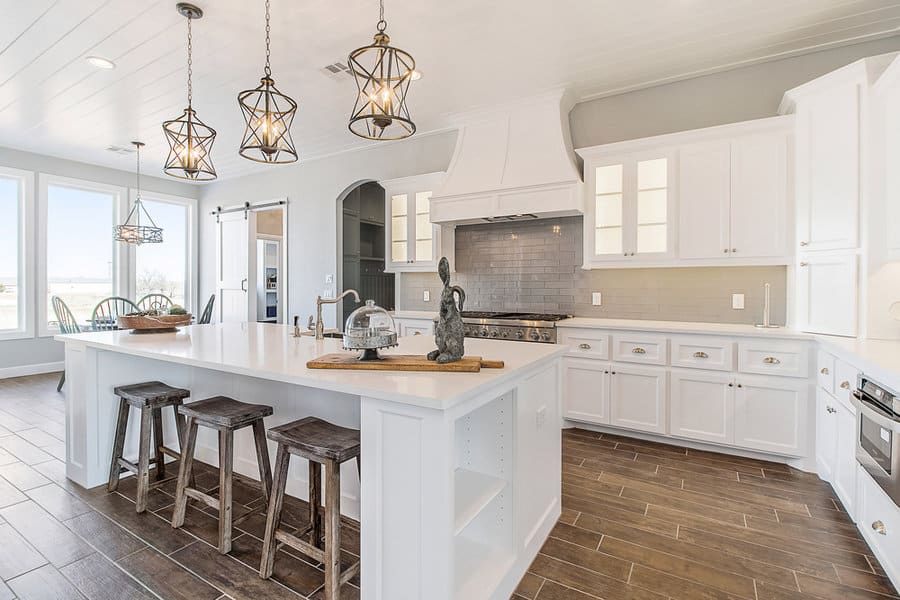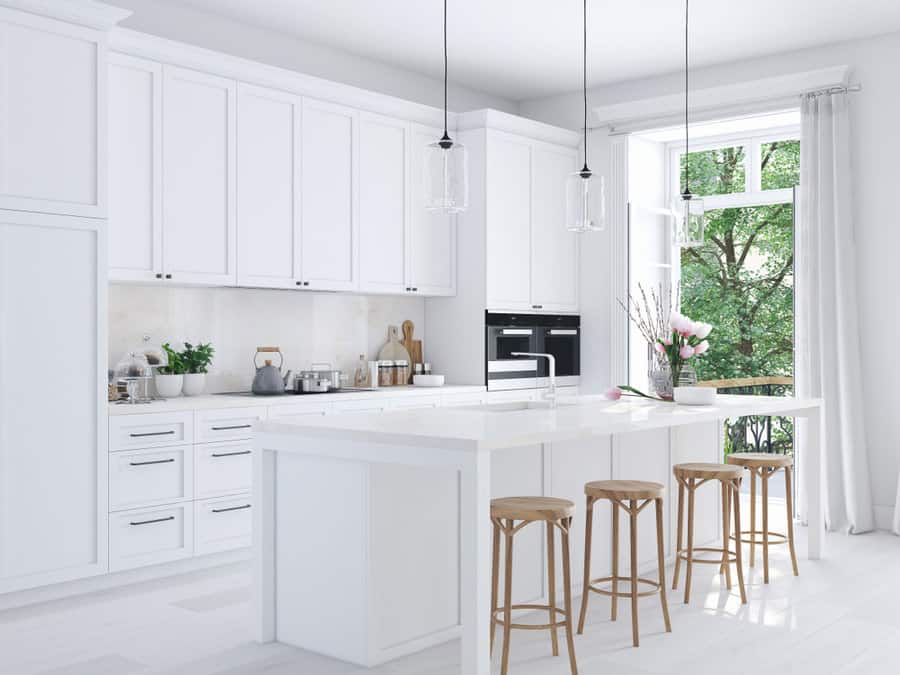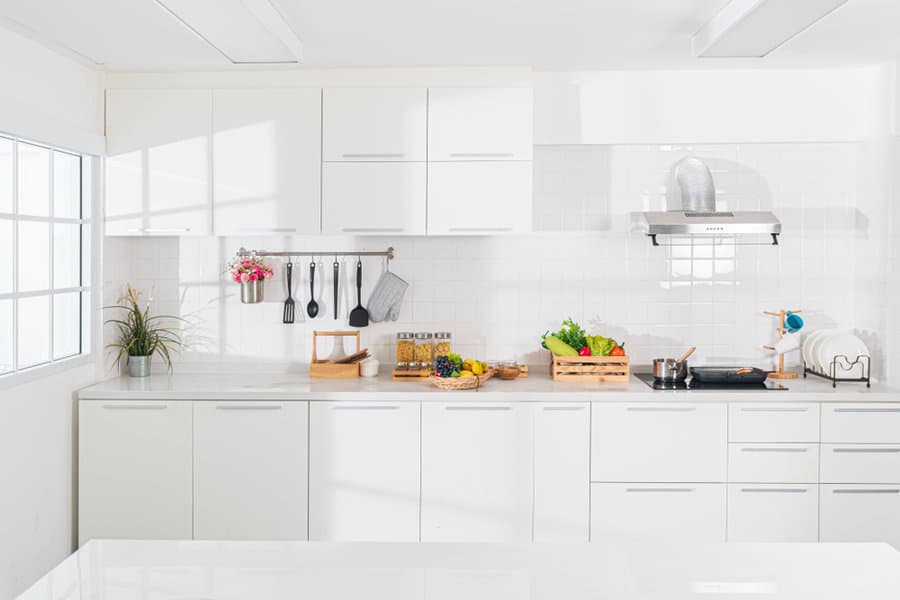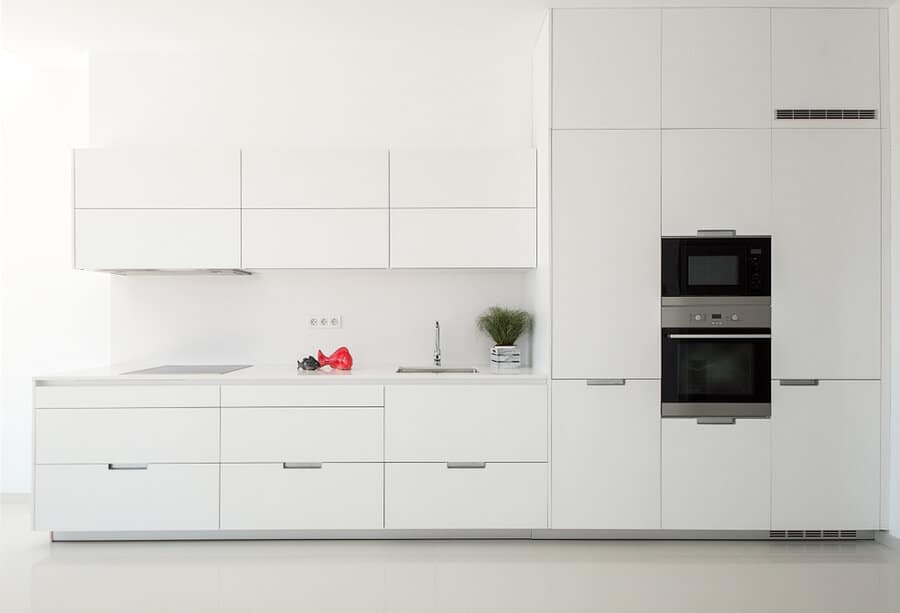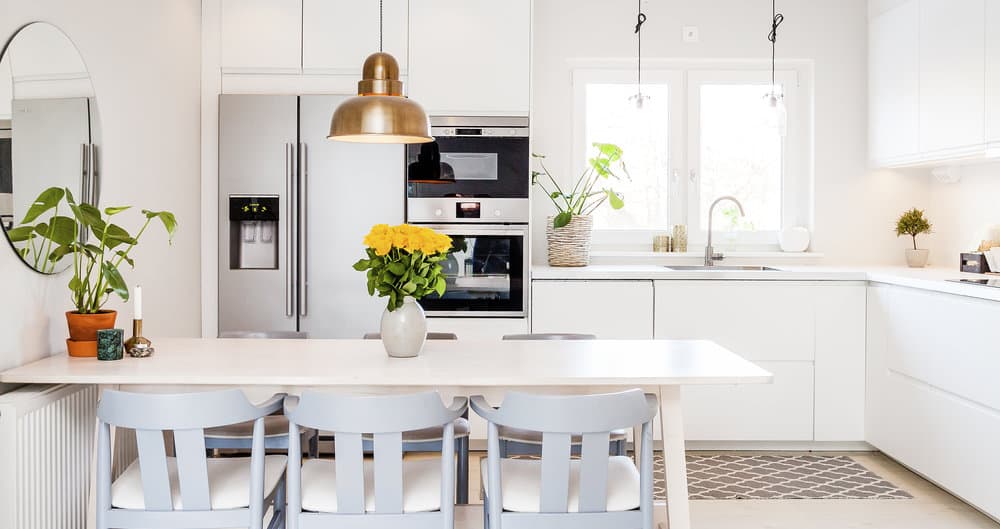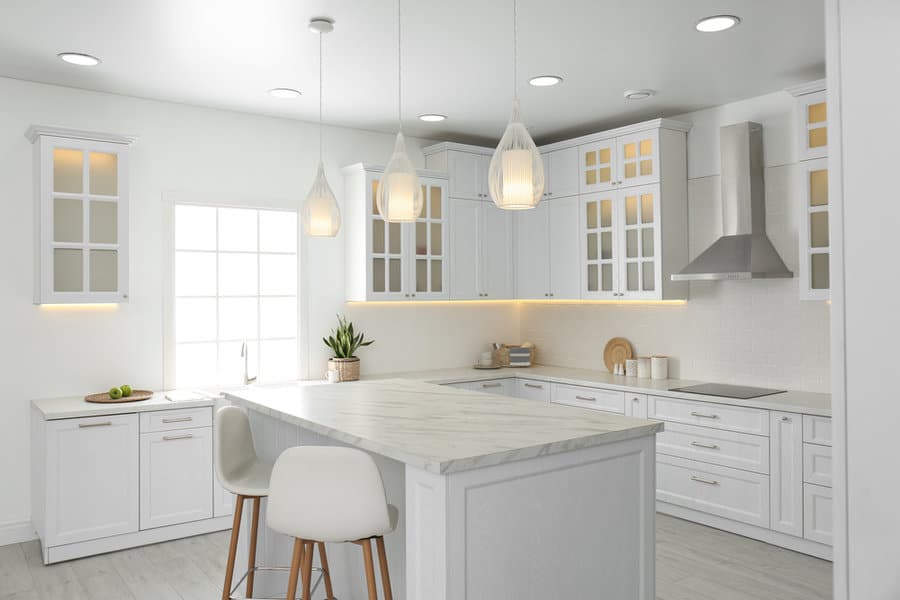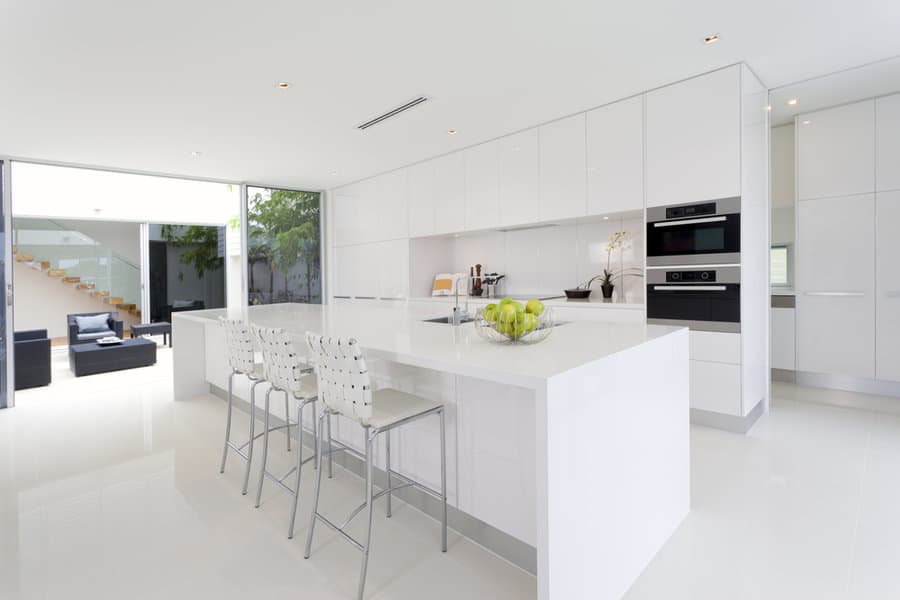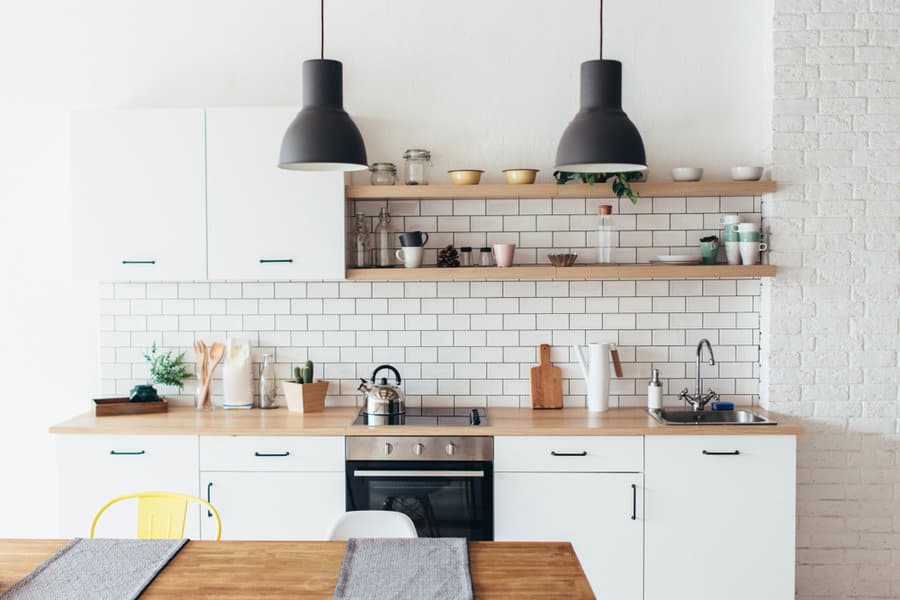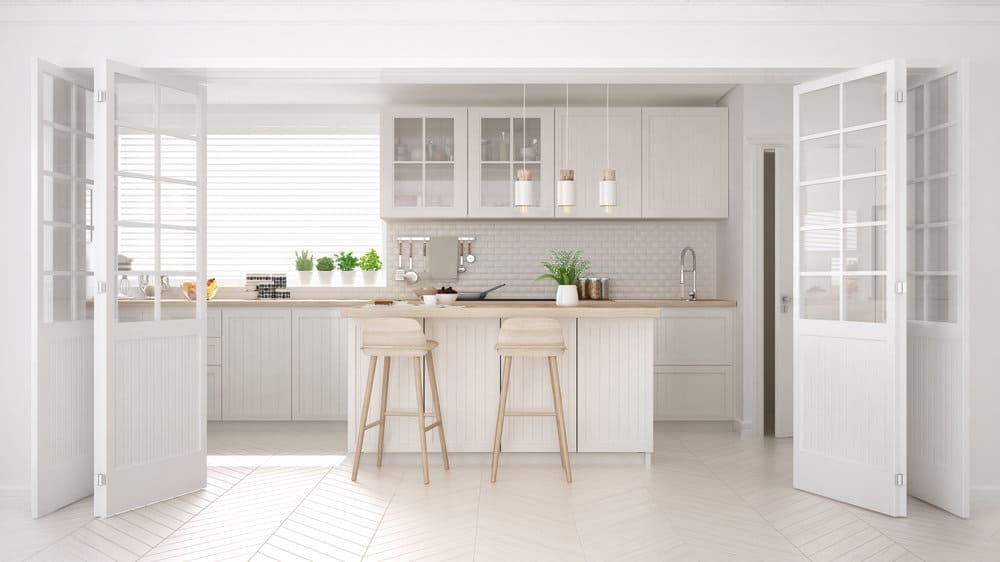 White kitchen cabinets are undeniably clean-looking and incredibly versatile. They do, however, tend to look best alongside other light colors.
Details like your cabinet hardware may eventually go out of style. But your coat of white paint certainly won't.
Kitchen Cabinet Color FAQs
How do you choose a kitchen cabinet color?
Selecting the right paint isn't just about choosing a color. After all, each color family is filled with literally endless options based on darkness, saturation, and undertones.
Pay close attention to your kitchen's natural lighting and how it affects color. We recommend testing swatches several times throughout the day — including at night under artificial lighting — and during various types of weather.
You should also look at swatches next to the other surfaces within your kitchen. For example, there are many cases where a particular cabinet color will appear completely different when installed above varying backsplashes.
Should kitchen cabinets be lighter or darker than the walls?
It doesn't matter. Either combination can be used to great effect, as long as the colors themselves go well together!