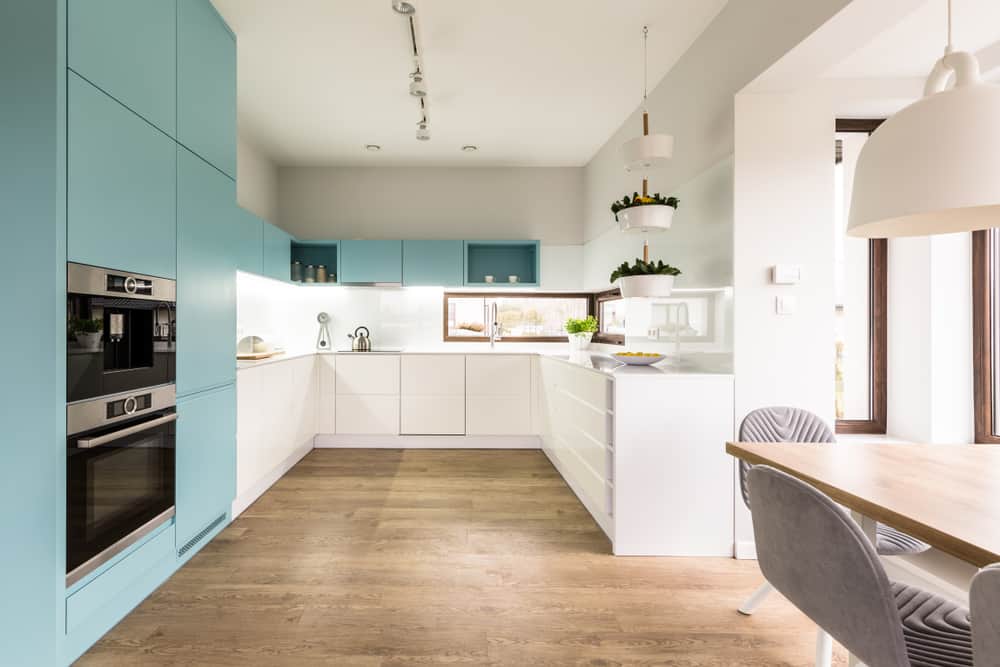 The Top 74 Kitchen Cabinet Color Ideas
by — Kendrick Hulse

Published on January 24, 2022

Updated on October 25, 2023
A full kitchen renovation may be outside of many people's budgets. Yet you don't need to buy brand-new cabinetry to give your kitchen a much-needed upgrade.
Painted cabinets are a DIY-friendly way to freshen up your home's interior without spending a fortune. Along with bringing new life to your kitchen design, paint can hide damage and imperfections seen in many older cabinets.
Of course, not all color palettes are created equal. Keep reading for the best kitchen cabinet color ideas to use in your home!
1. Elegant Slate Stone Black Cabinets
Elegant slate stone black cabinets bring sophistication and a contemporary vibe to any kitchen space. The rich, deep black, coupled with a unique slate texture, provides a luxurious feel, while the sleek surface ensures a polished and modern aesthetic. To enhance this look, incorporate metallic accents, bold lighting fixtures, or a vibrant backsplash, creating a stunning visual contrast. These cabinets work well with a variety of countertop materials, allowing you to personalize the space to your taste. Opt for marble or quartz for a chic look, or butcher block and concrete for a more grounded, rustic appeal. Slate stone black cabinets are ideal for those aiming to make a statement, whether you're drawn to a sleek, monochromatic style or a dramatic interplay of light and dark elements.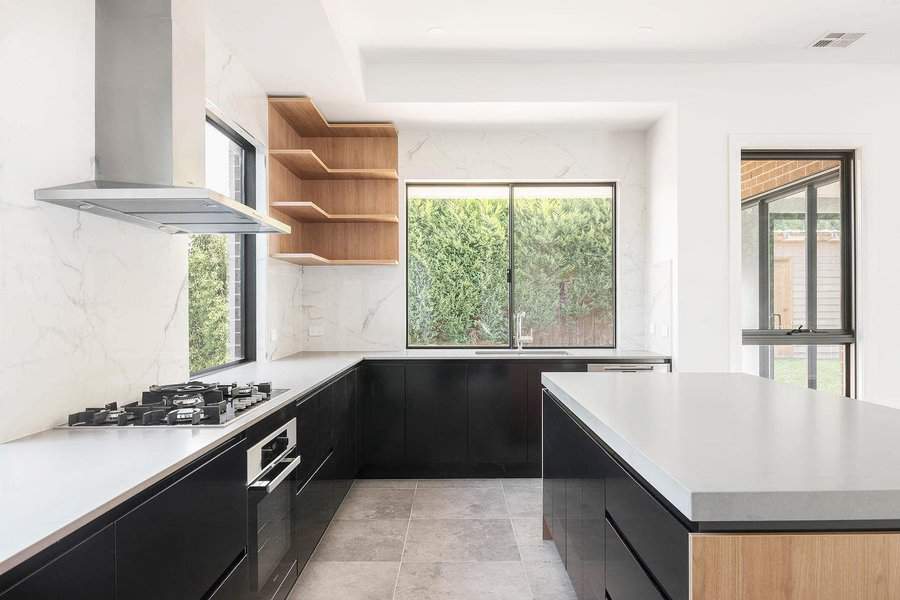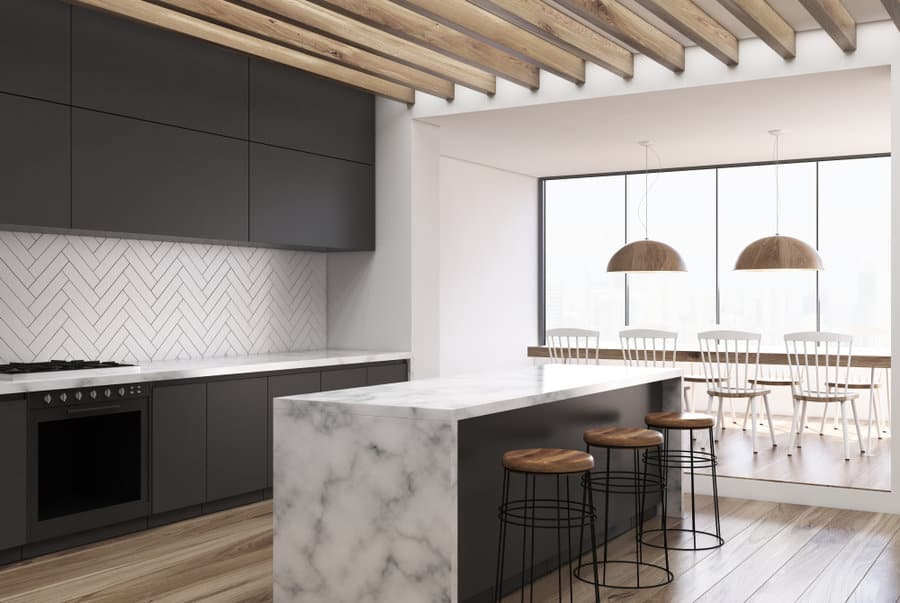 2. Serene Light Blue Cabinet Choices
Light blue cabinets instantly transform your kitchen into a serene haven, reminiscent of clear skies or gentle ocean waves. This choice infuses the space with airiness, making it feel more open and welcoming. Complement the light blue cabinetry with white or pale countertops to maintain a fresh and crisp look. Integrate natural elements like wooden features or woven textures to add warmth, and consider stainless steel appliances or brushed brass hardware for a sophisticated touch. Light blue cabinets offer a refreshing and timeless appeal, perfect for creating a tranquil kitchen space with a subtle coastal vibe.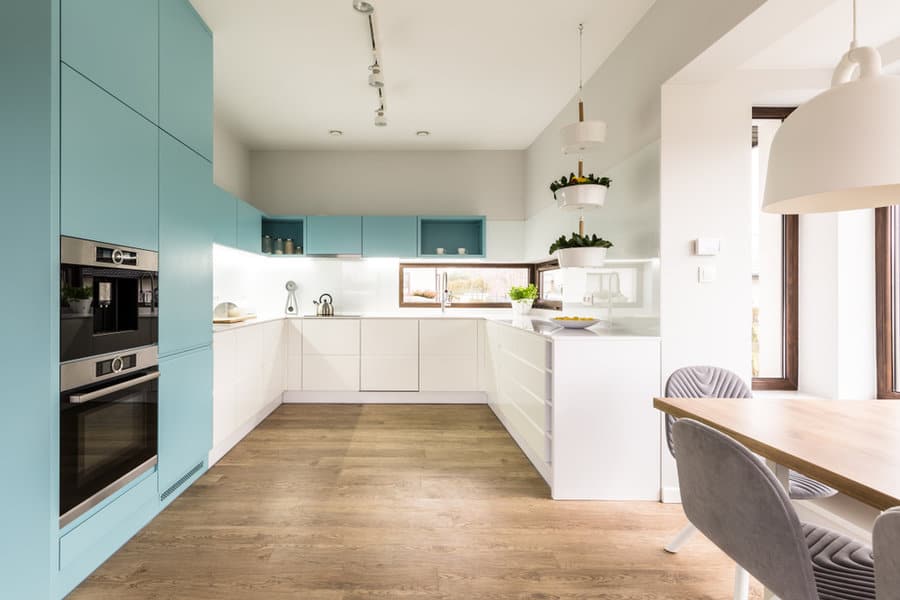 3. Vibrant Santorini Blue Cabinet Inspirations
Santorini blue cabinets bring a splash of Mediterranean charm to your kitchen, reminiscent of the Aegean Sea's stunning hues. This vibrant choice enlivens the space, making it feel more open and energetic. Pair this striking color with complementary elements to achieve a balanced and stylish look. Consider sleek stainless steel appliances and minimalist hardware for a modern touch, or enhance the coastal vibe with natural materials like light wood, woven baskets, and textured tiles. Whether aiming for a contemporary feel or a relaxed beach-inspired atmosphere, Santorini blue cabinets offer a refreshing and captivating aesthetic.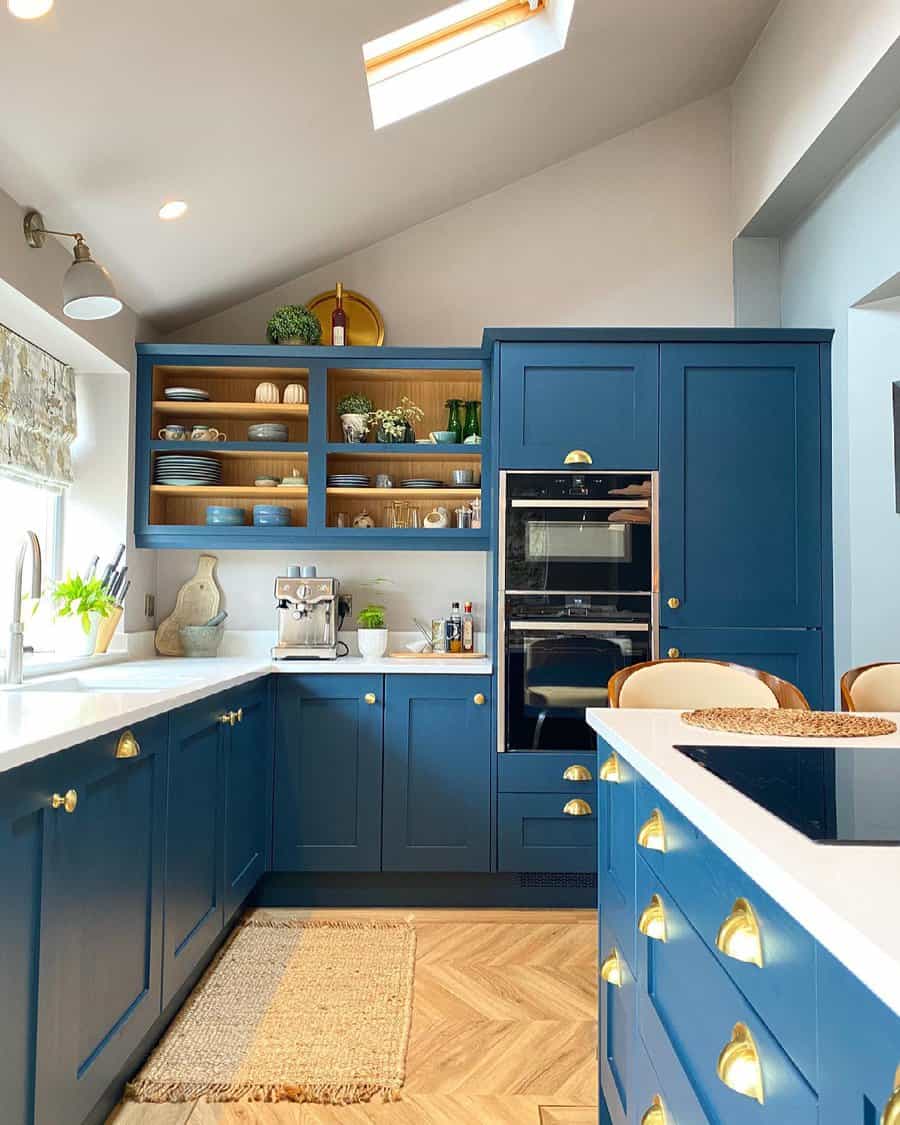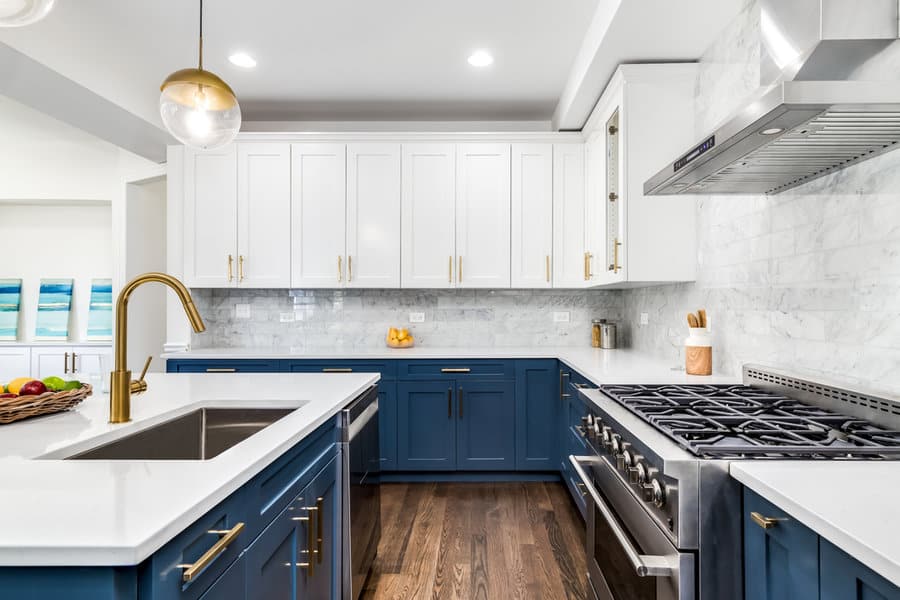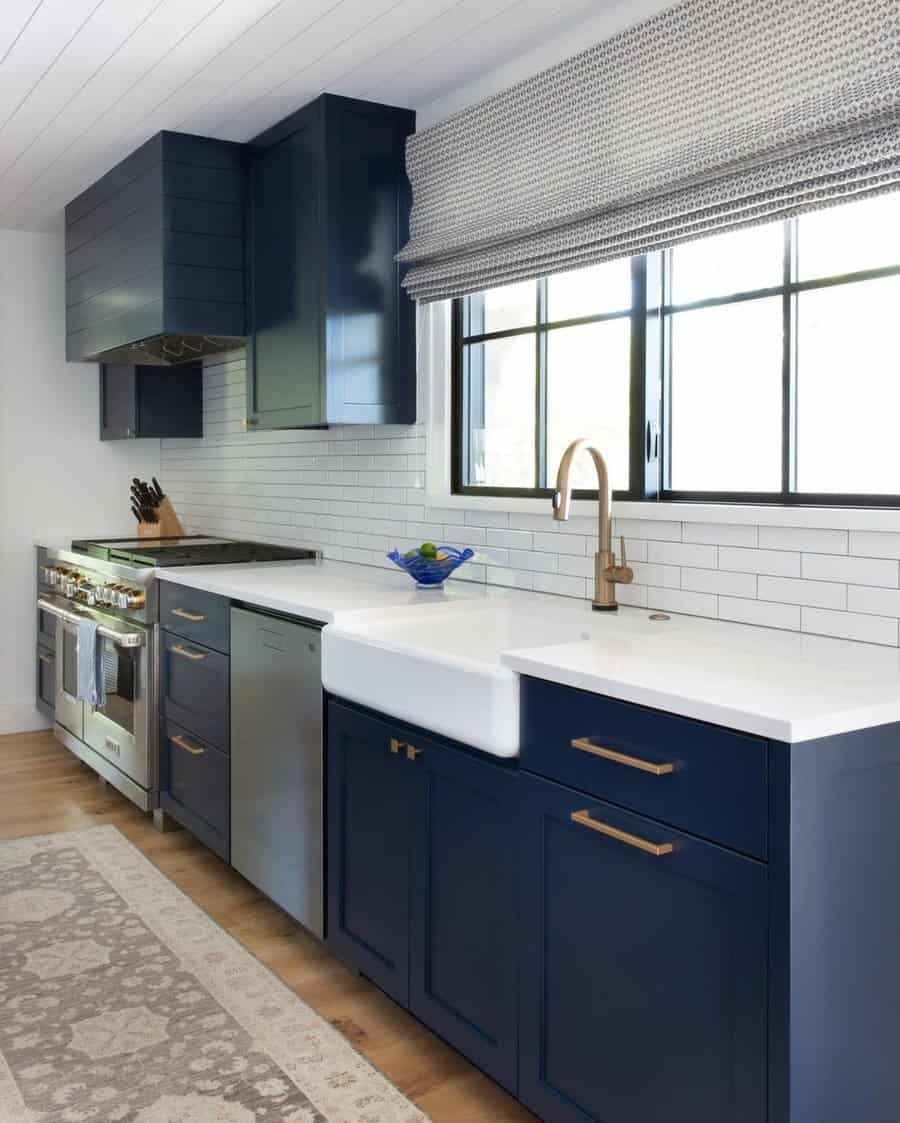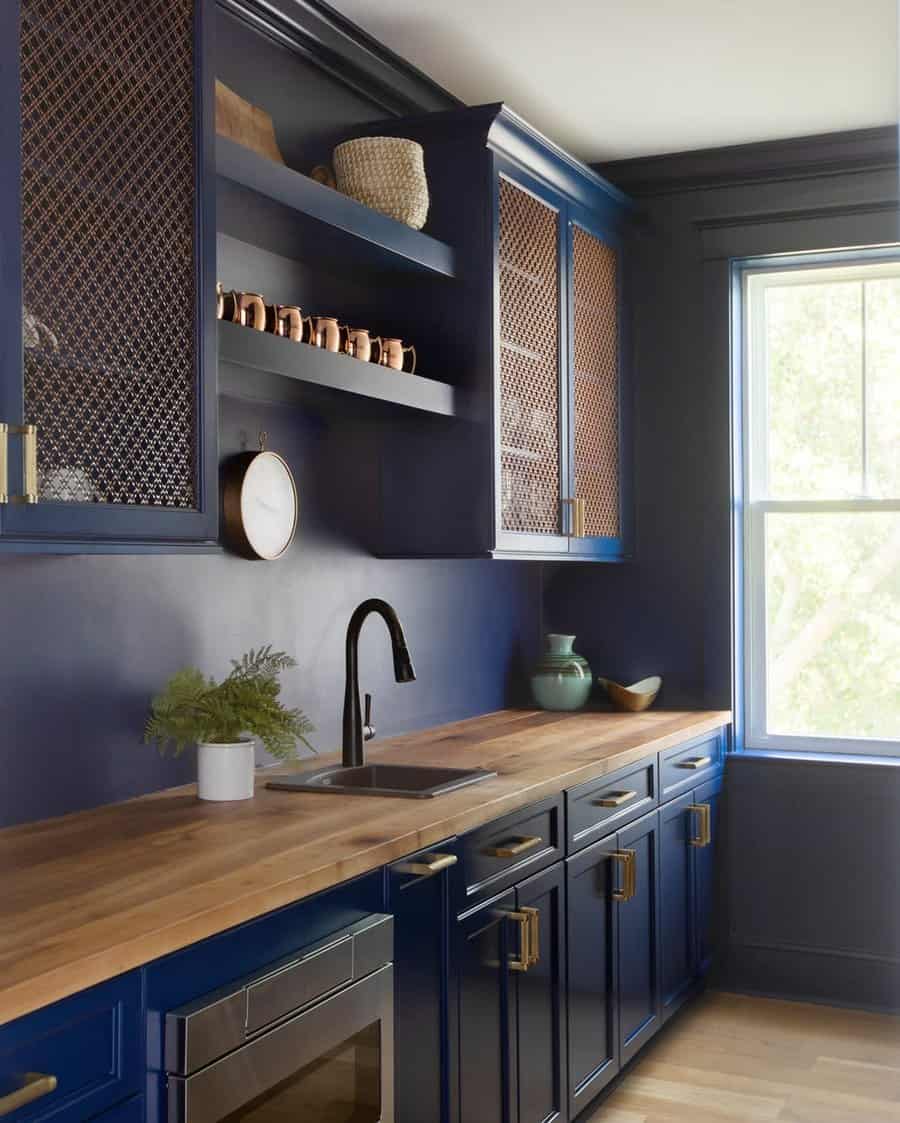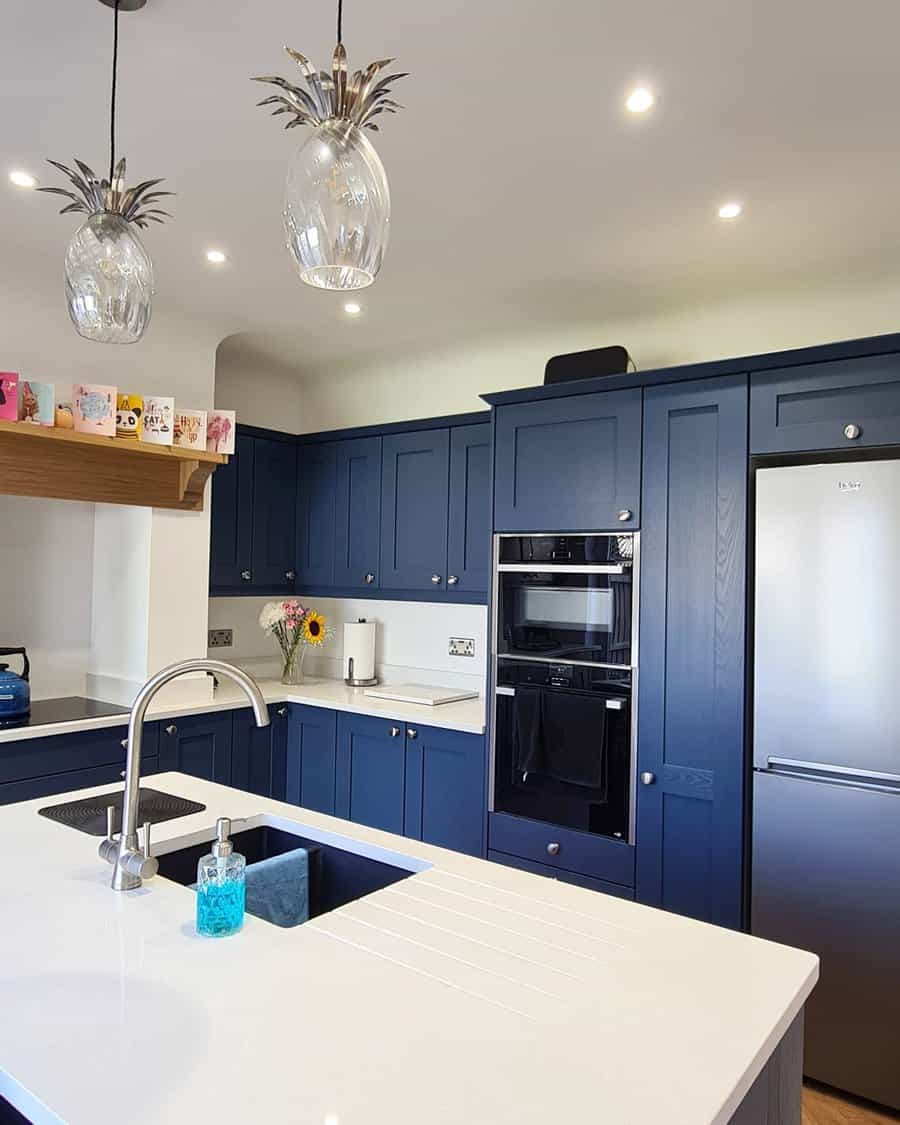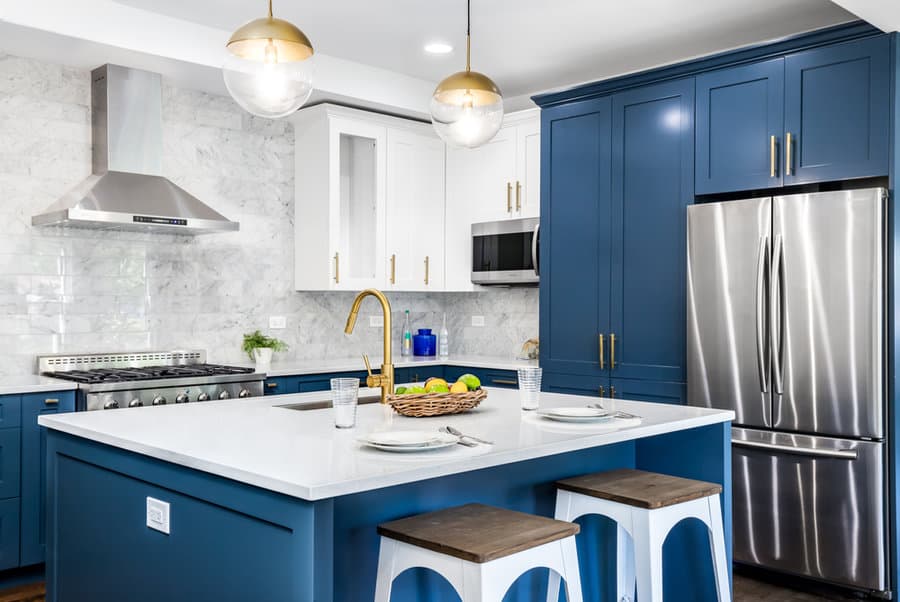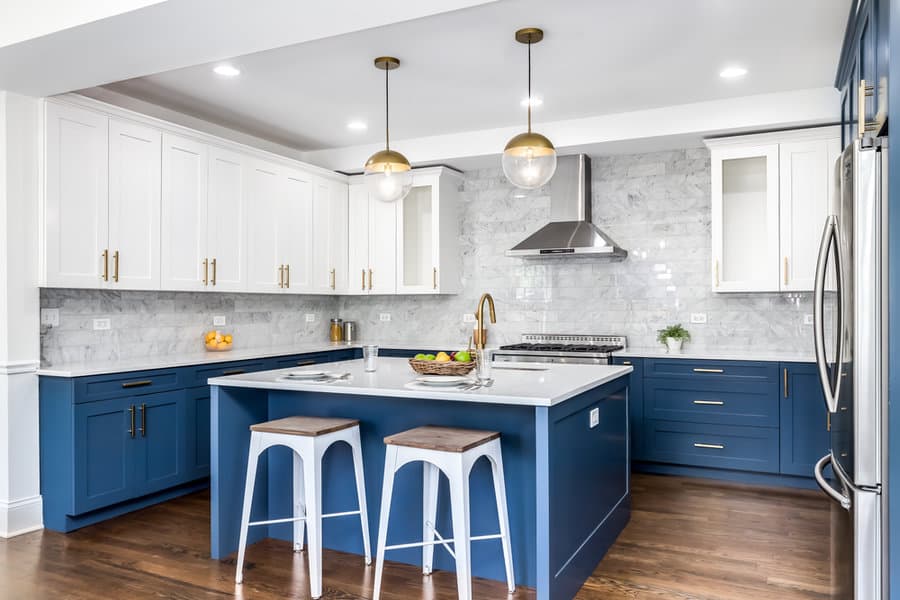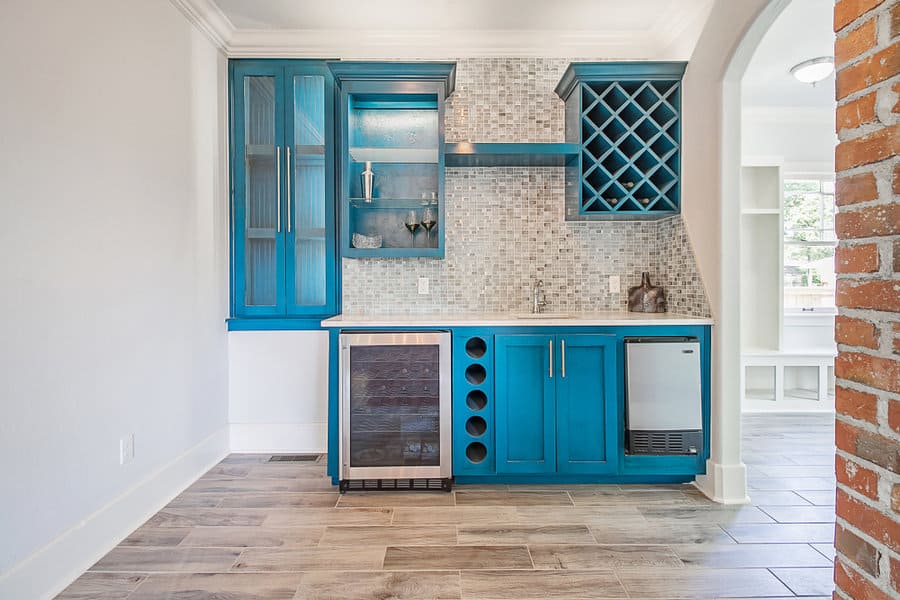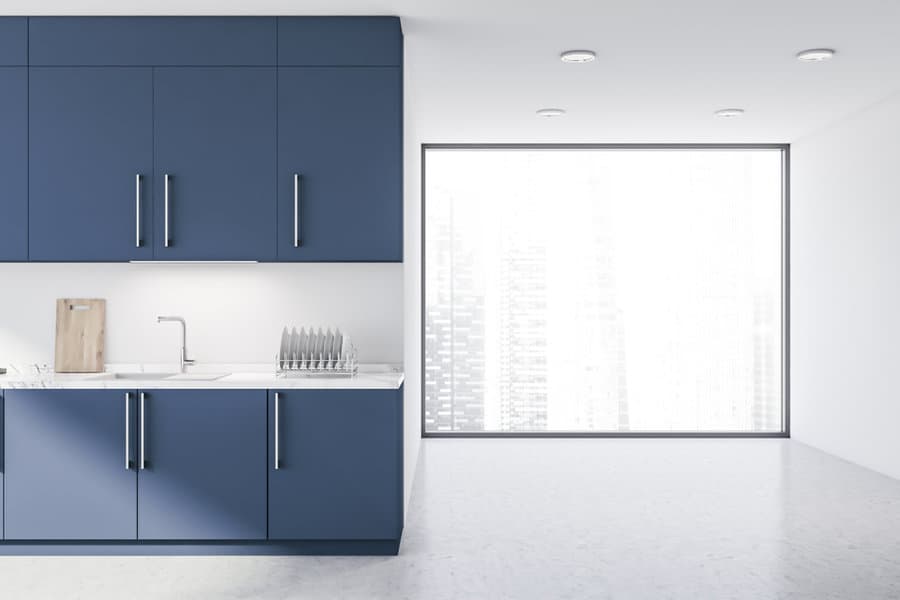 4. Bold Tangerine Tango Cabinet Designs
Tangerine Tango cabinets infuse your kitchen with a lively burst of energy, creating a space that's both warm and full of creativity. This bold choice stands out, setting a cheerful tone that's impossible to ignore. Create a focal point with these vibrant cabinets, ensuring they remain the star of the show by pairing them with neutral elements or daring contrasts. For a sleek, modern feel, opt for white countertops and stainless steel appliances, allowing the tangerine to pop. Alternatively, embrace a playful, eclectic vibe with colorful backsplashes, patterned accessories, and a mix of textures to enhance the overall aesthetic.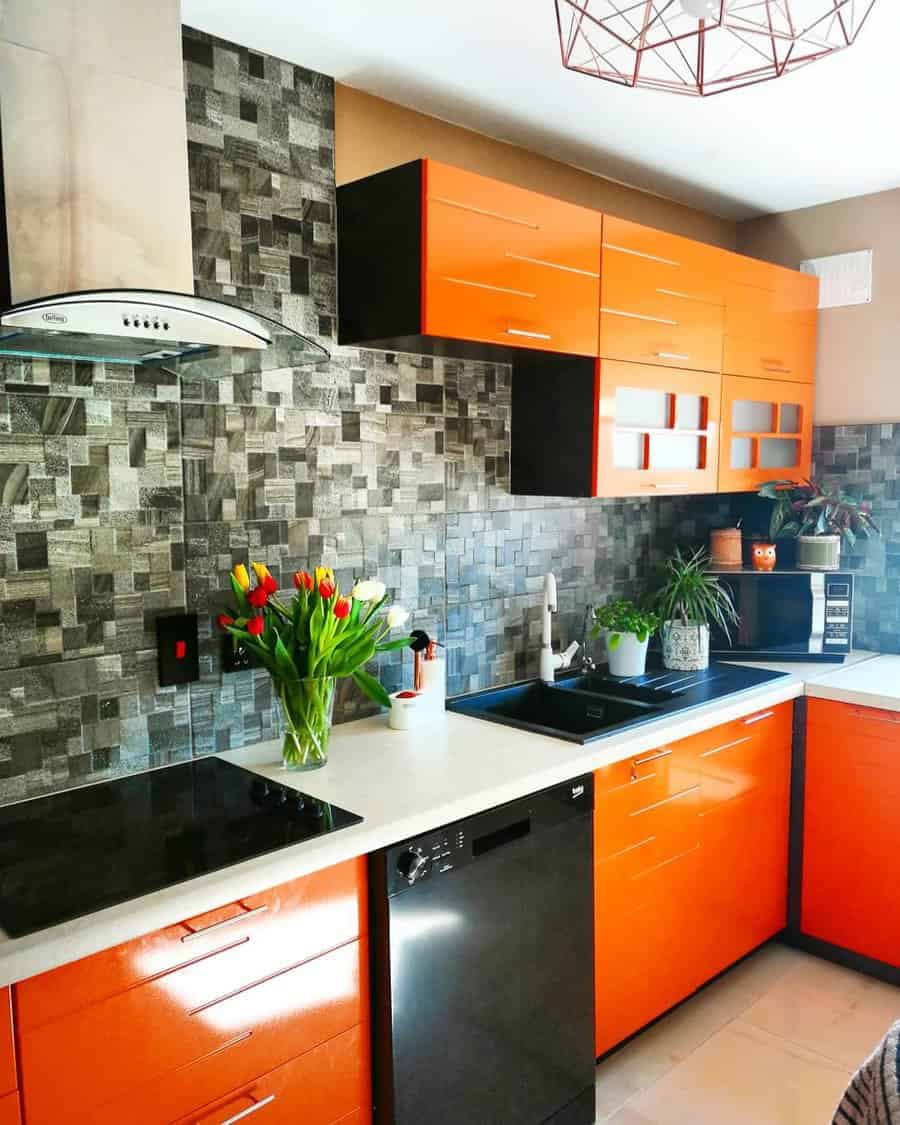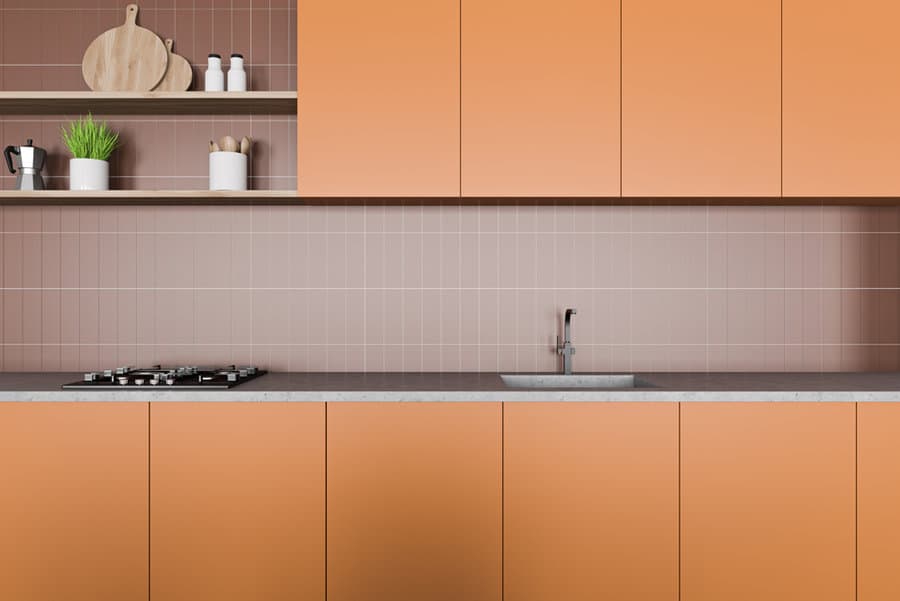 5. Cheerful Sunshine Yellow Cabinet Options
Sunshine yellow cabinets transform your kitchen into a beacon of positivity, with hues ranging from soft buttery tones to bold, vibrant shades. This delightful color choice instantly energizes the space, making it feel welcoming and full of life. Complement the brightness with white or light-colored countertops, creating a stunning visual contrast. Enhance the cheerful vibe with natural elements like wooden accents and a splash of fresh greenery, tying the space together. Regardless of the yellow shade you choose, these cabinets promise to inject personality and a sunny disposition into your kitchen, making it a truly inviting space.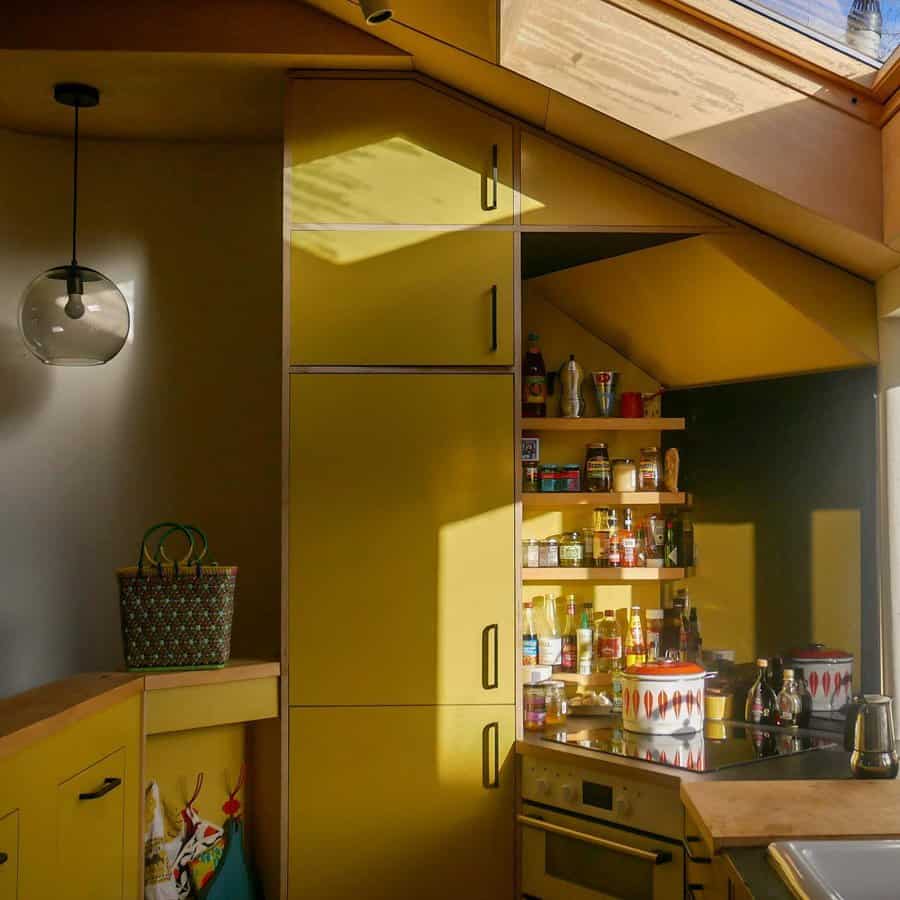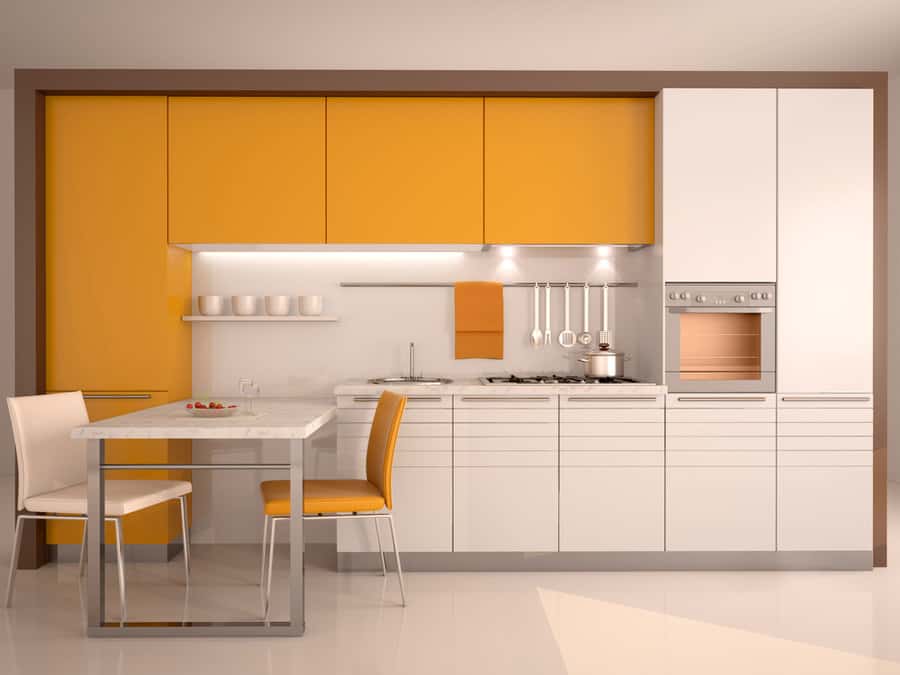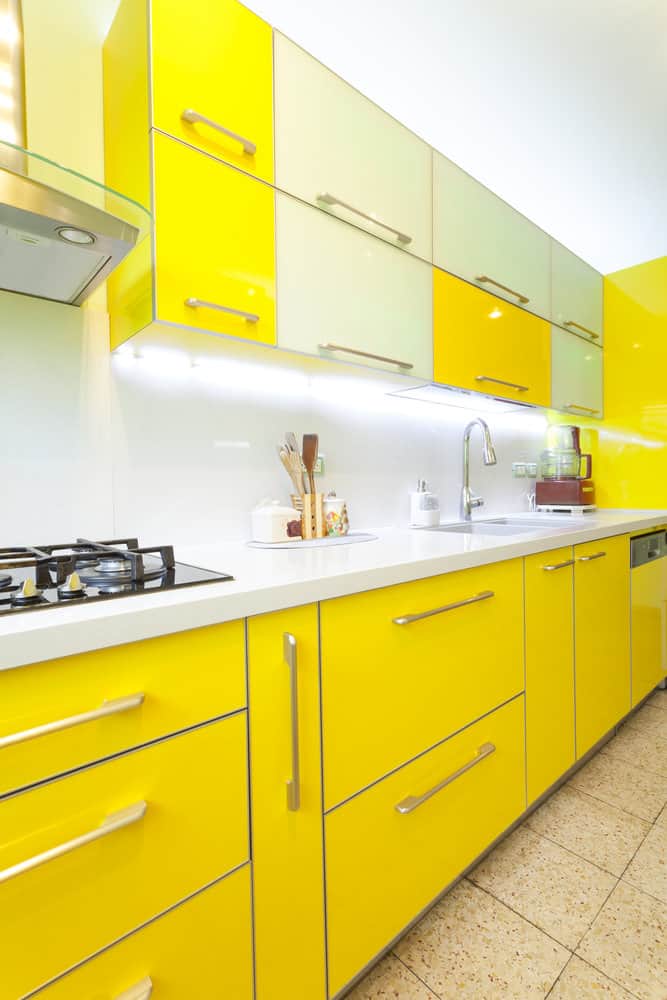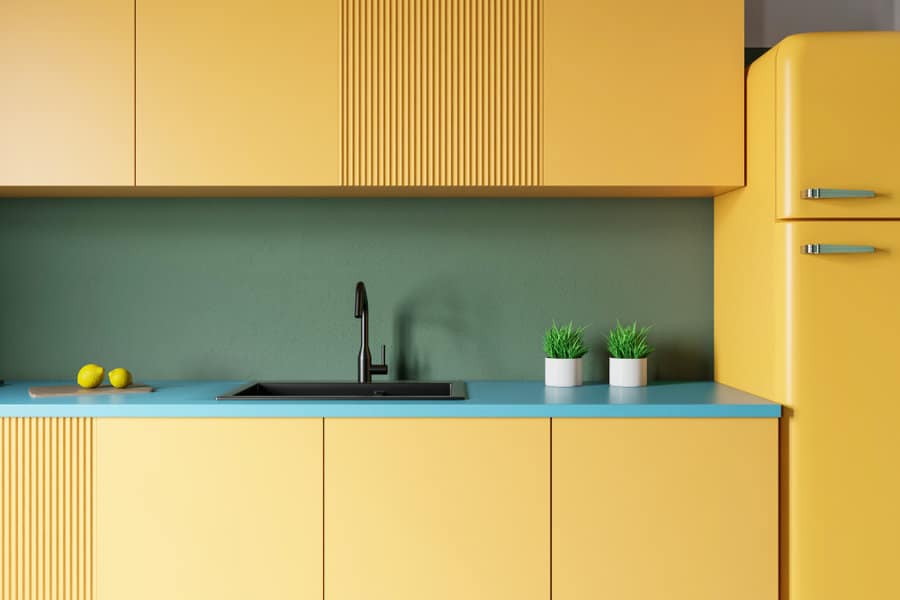 6. Playful Bubblegum Pink Cabinet Ideas
Bubblegum pink cabinets infuse your kitchen with a playful and unique personality, instantly brightening up the space. This vibrant hue forms a striking contrast with neutral countertops and backsplashes, drawing the eye and establishing itself as the kitchen's highlight. You can choose from a spectrum of pink, from subtle dusty rose to a more vibrant magenta, each bringing warmth and a welcoming charm. Balance the energy of the cabinets with natural elements, like marble countertops or wooden features, for a seamless blend of modern and organic. Accentuate the cabinets' appeal with metallic hardware in gold or brass for a sophisticated touch, and tie the space together with muted or pastel walls and accessories, ensuring a harmonious and stylish kitchen environment.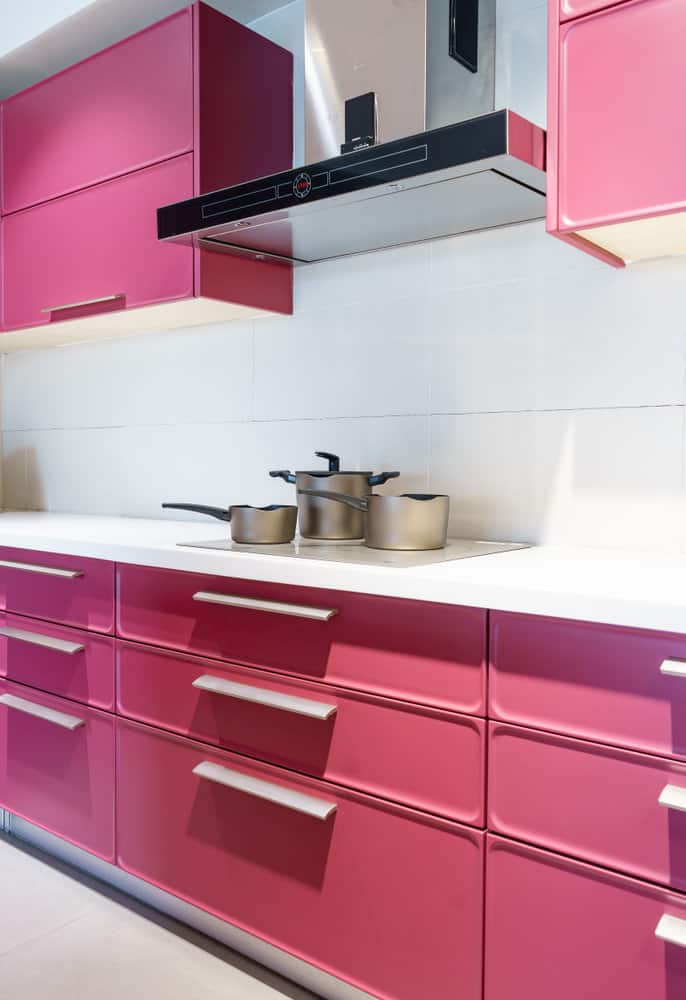 7. Royal Lavish Purple Cabinet Styles
Infuse your kitchen with a regal touch through lavender or dark purple cabinets, each shade bringing its own unique appeal. Lavender cabinets create a serene, elegant atmosphere, seamlessly fitting both contemporary and traditional kitchen styles. If you're aiming for drama and luxury, opt for dark purple cabinets; they serve as a magnificent focal point, adding depth and richness to your space. Contrast these bold hues with crisp white countertops or a light gray backsplash for visual intrigue. Balance the regality with natural wooden accents and warm metallic finishes, and complete the luxurious feel with stylish hardware options like brushed brass or sleek chrome handles.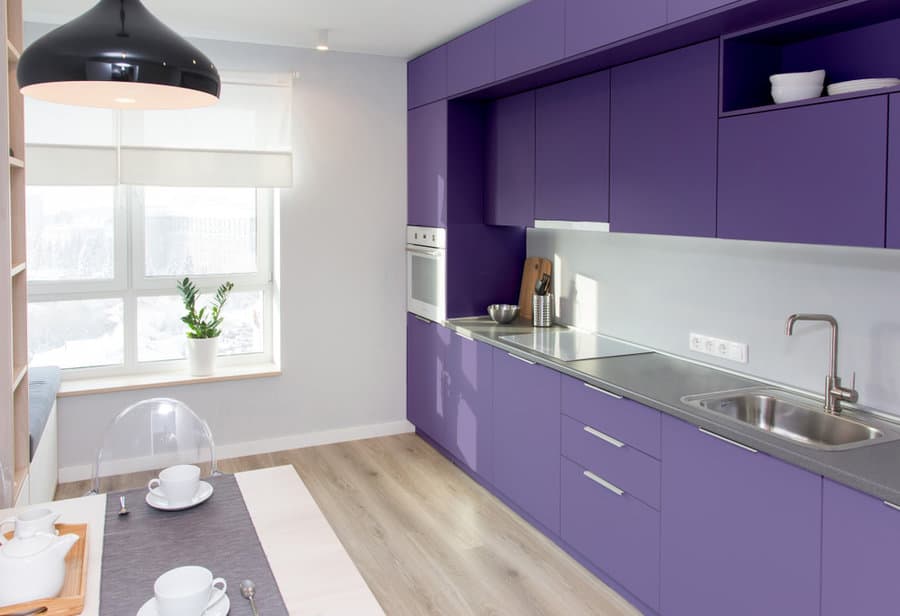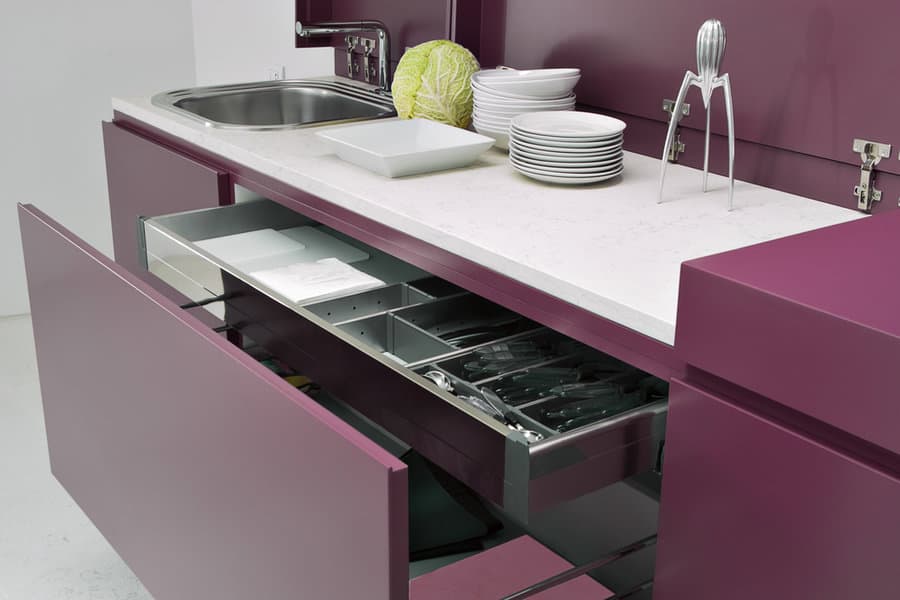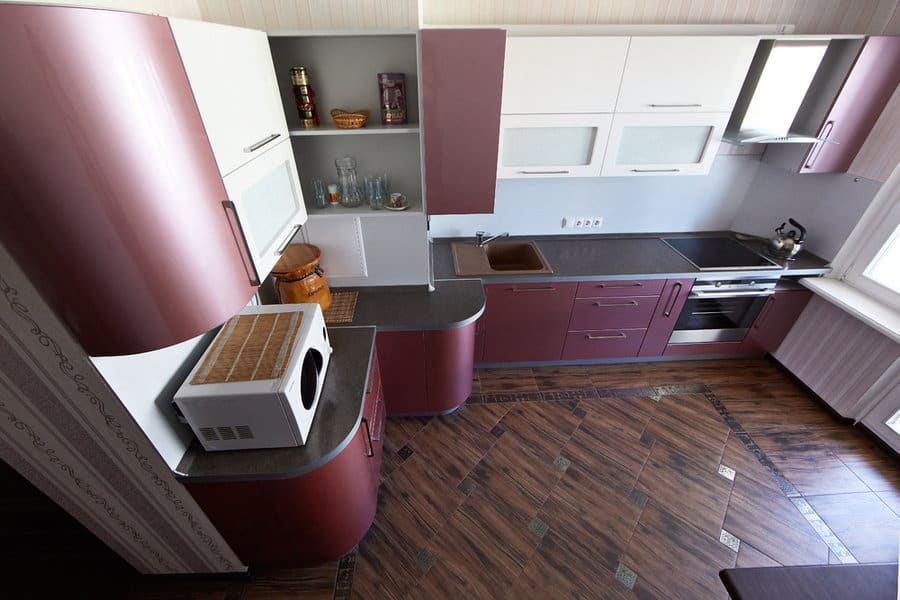 8. Trendy Luminous Neon Cabinet Selections
Revolutionize your kitchen space with the vibrant energy of neon cabinets, creating a playful and contemporary atmosphere that guarantees to spark conversations and leave a lasting impact. Neon green cabinets, when paired with minimalist white countertops and sleek stainless steel appliances, become an electrifying focal point, emanating youthful vigor. This bold color choice breaks away from convention, showcasing your unique design sensibility and flair for the dramatic. Embrace the full spectrum of neon, from lively greens to exuberant pinks, oranges, and blues, and watch as your kitchen transforms into a space brimming with creativity, excitement, and a joyous ambiance.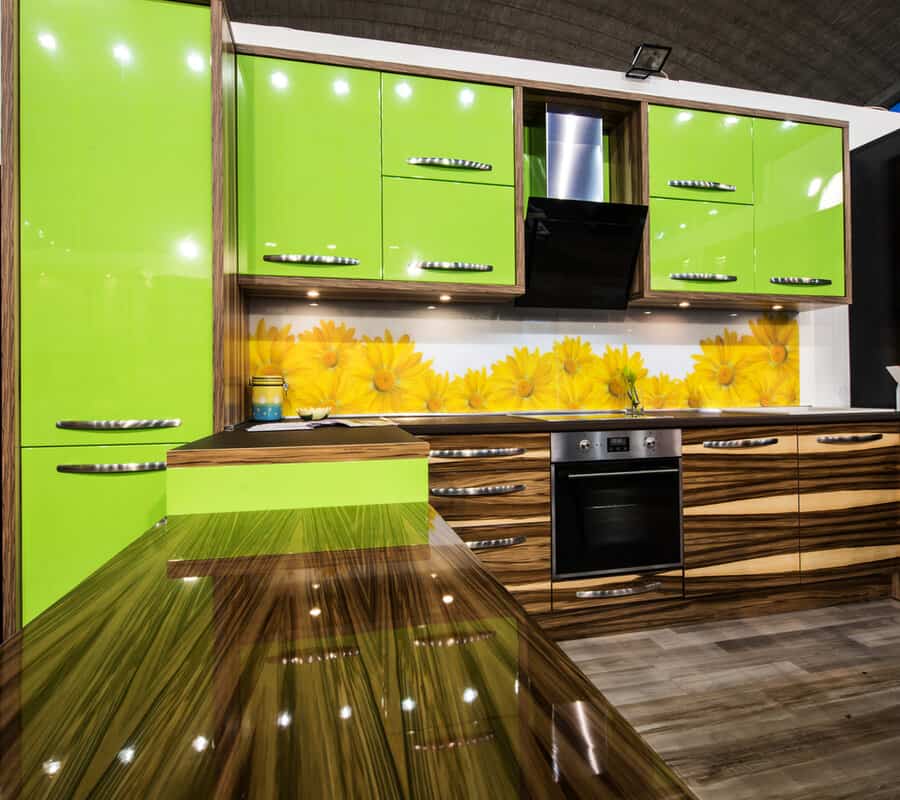 9. Warm Crimson Red Cabinet Inspirations
Sleek crimson-red cabinets lend a sense of confidence and stylish flair to your kitchen, immediately drawing the eye and warming up the space. This rich hue stimulates the senses, inviting everyone into a space that is both vibrant and cozy. The cabinets make a dramatic statement, standing out against a neutral backdrop and truly shining when paired with stainless steel appliances, glossy white countertops, and sleek hardware. This combination ensures a balanced and harmonious look, allowing the warm crimson red to take center stage and transform your kitchen into an elegant and energized space.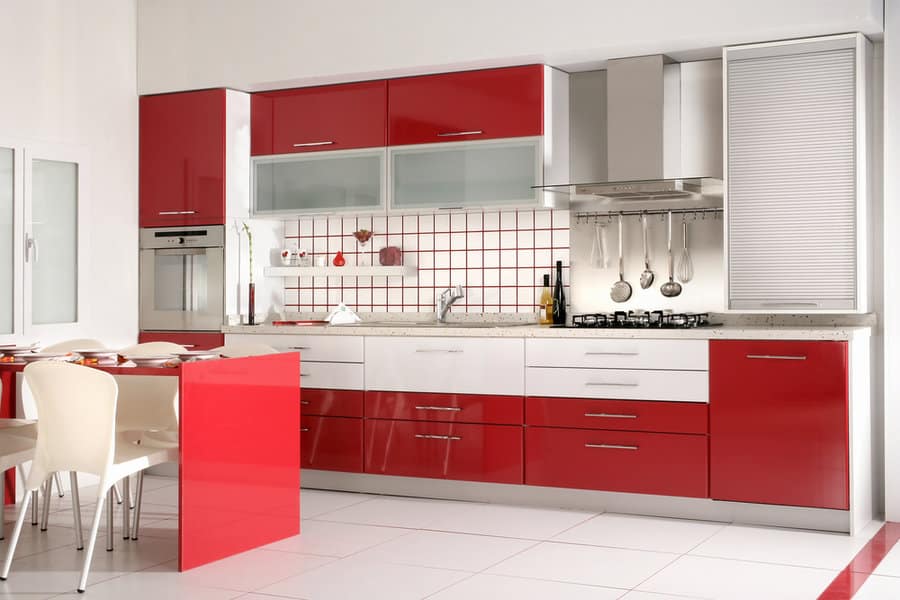 10. Chic Smoky Gray Cabinet Designs
Smoky gray cabinets offer a versatile and chic foundation, adapting seamlessly to various kitchen styles from modern to traditional. This neutral hue embodies tranquility, fostering a serene and welcoming atmosphere in your culinary space. Smoky gray pairs effortlessly with diverse countertop materials, allowing you to tailor the look to your preferences, whether that's sleek granite or opulent marble. Elevate the cabinets' sophistication by adding contrasting accents, such as crisp white subway tiles for a clean, timeless look, or metallic hardware to inject a dose of glamour into your kitchen.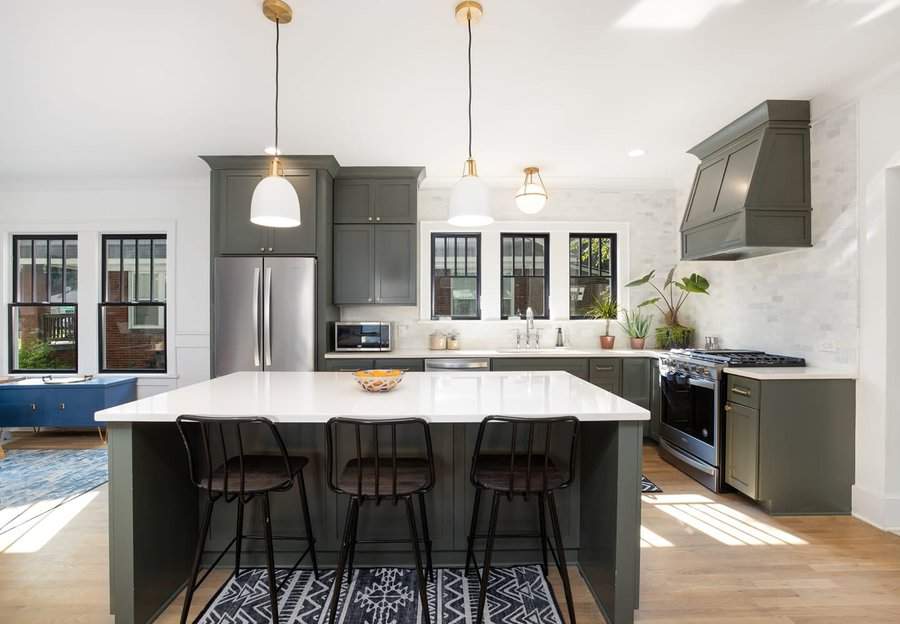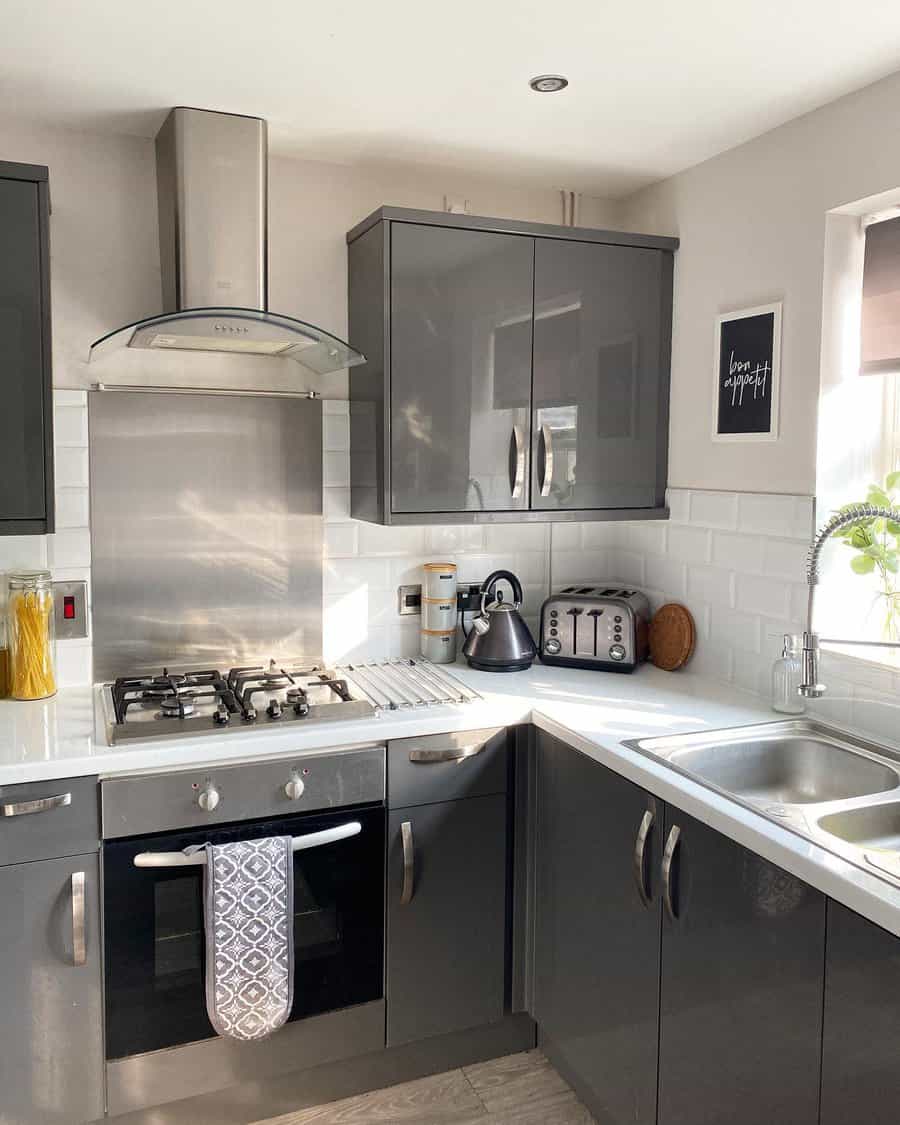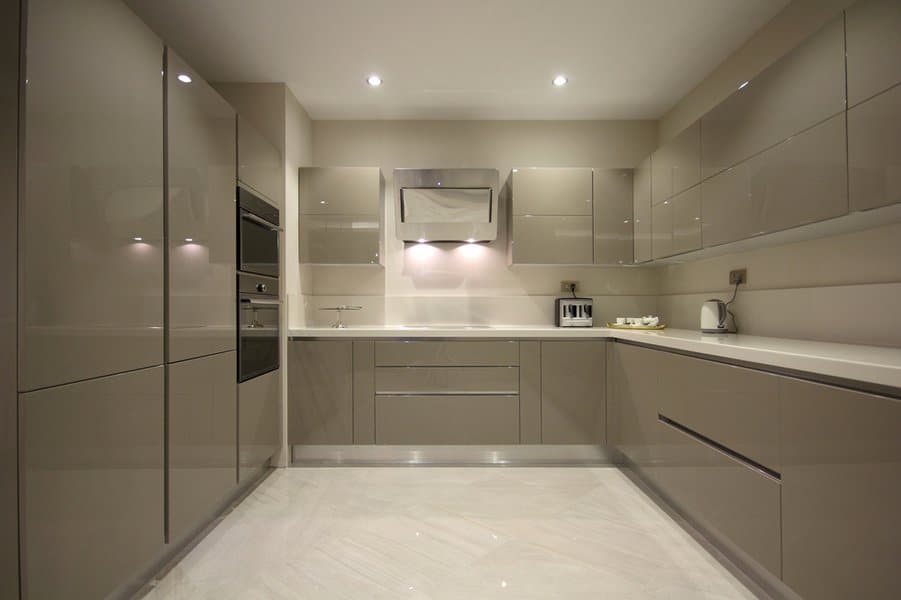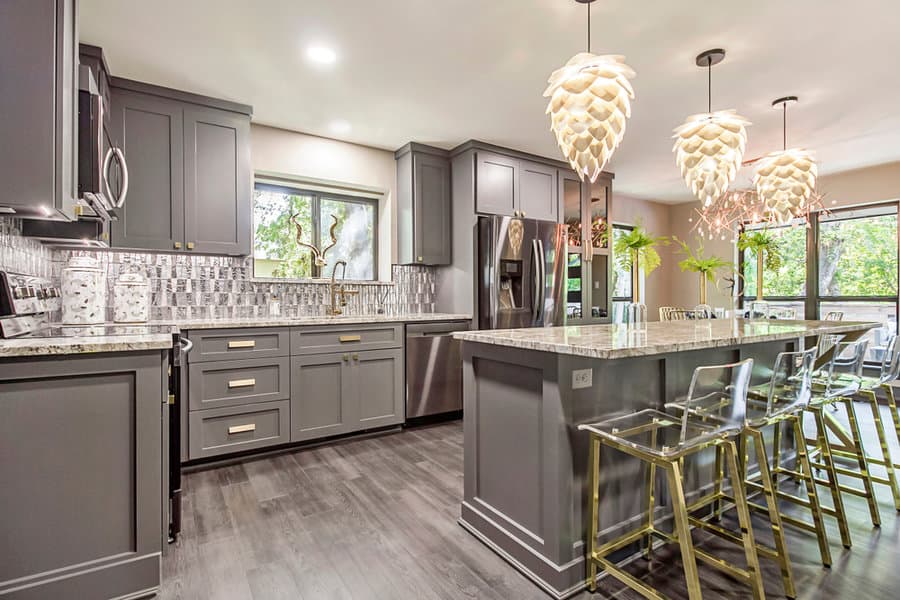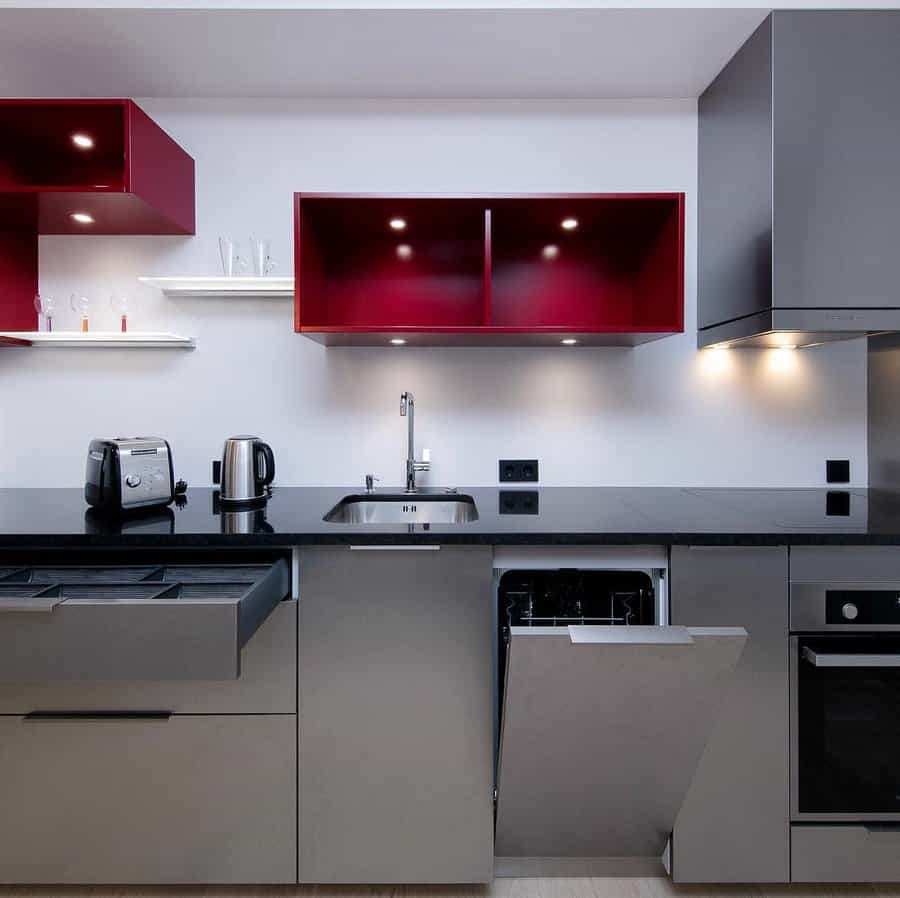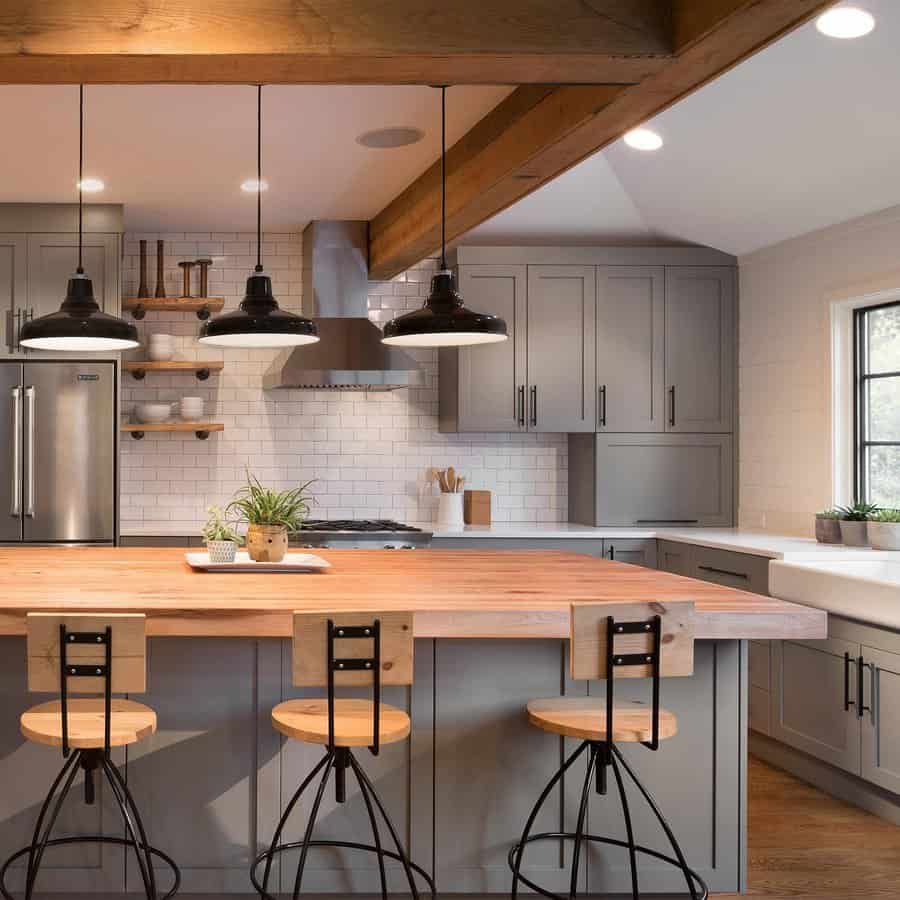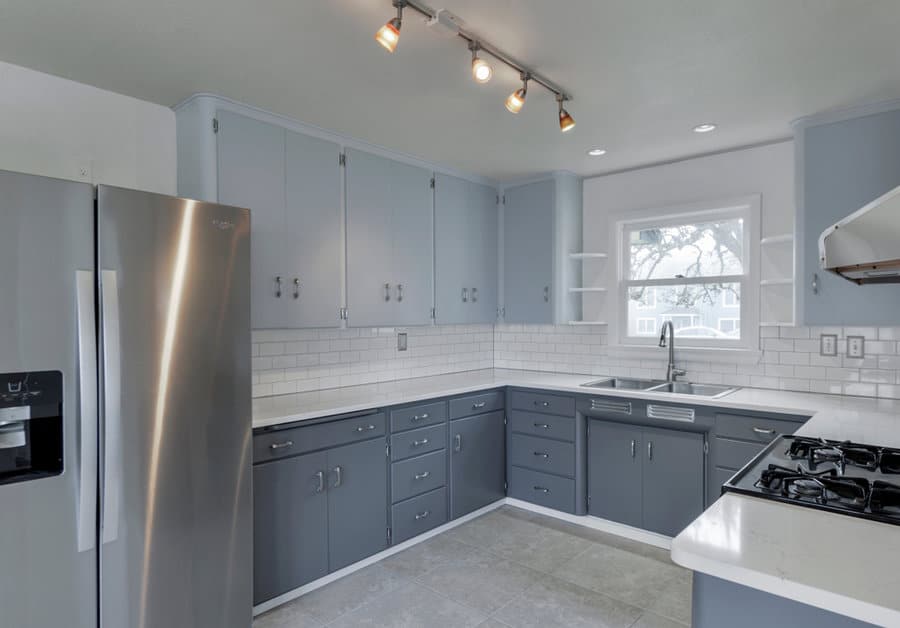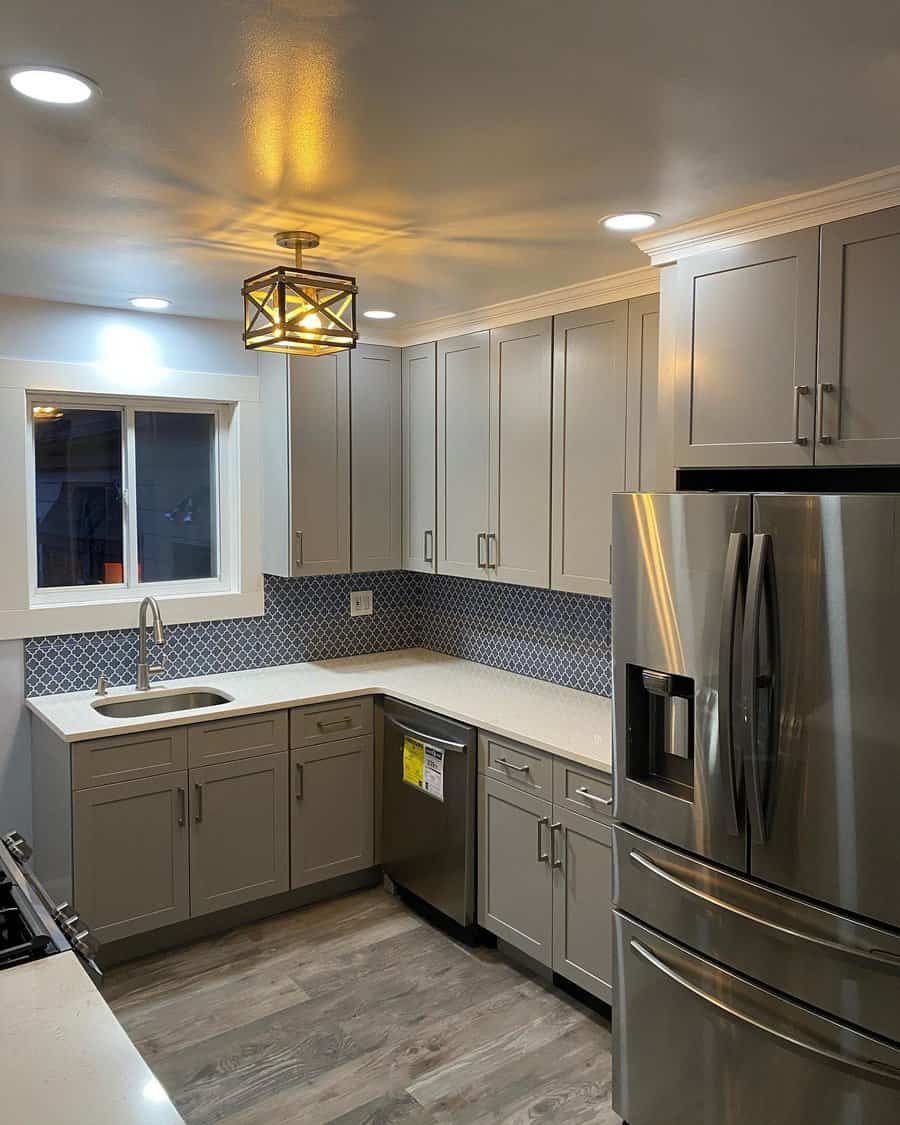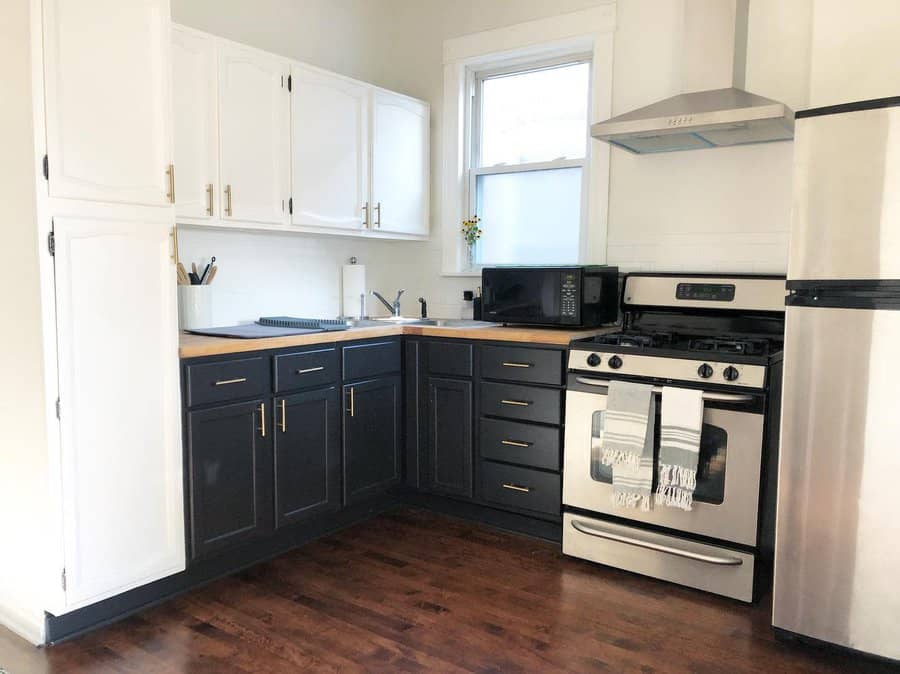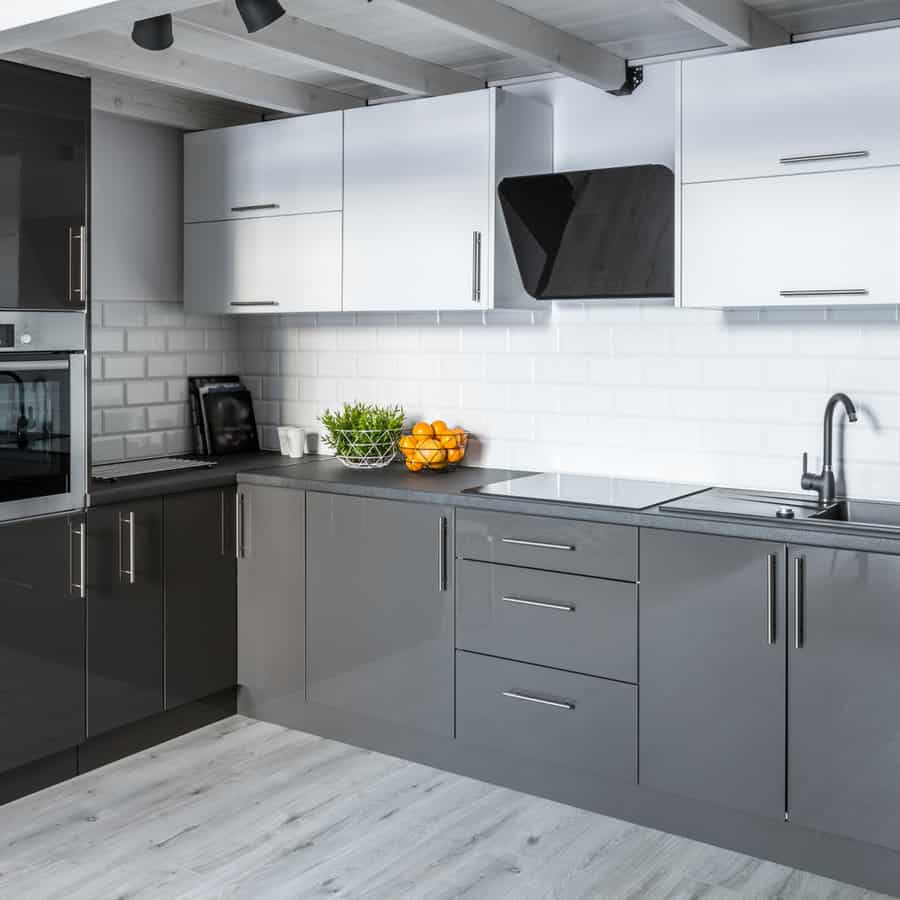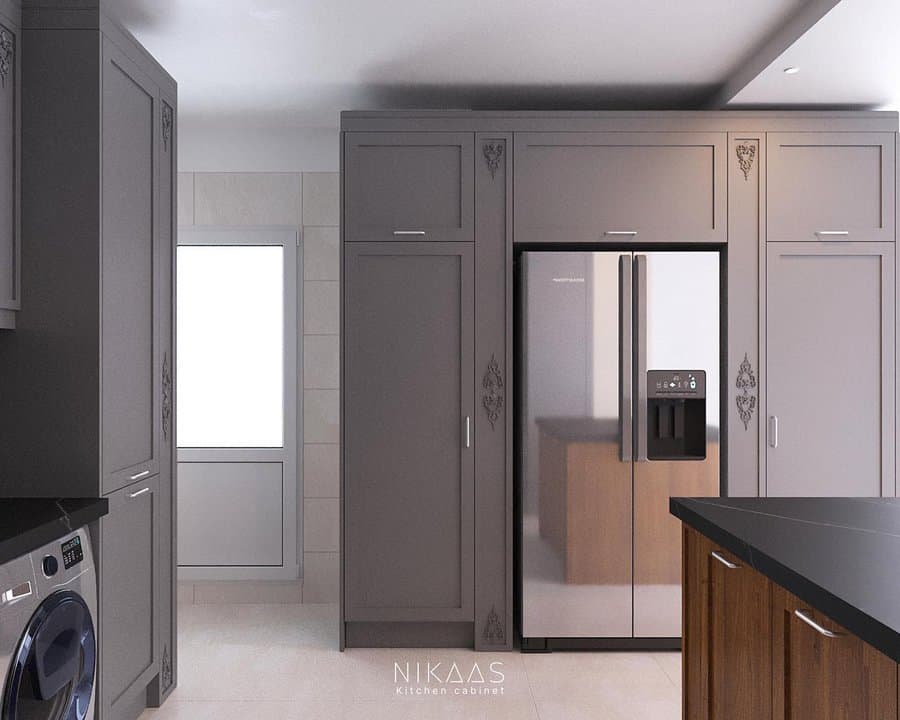 11. Timeless Wood Kitchen Cabinet Ideas
Choosing laminated wood cabinets combines lasting durability with a polished finish, creating a kitchen that's as functional as it is beautiful. For a dramatic, sophisticated kitchen, dark wood cabinets provide a rich contrast against lighter countertops and backsplashes, adding depth and a touch of luxury. Alternatively, light wood cabinets contribute to an airy, modern ambiance, instantly lifting the space and creating an open feel, while their natural grain patterns contribute texture and visual interest. Regardless of your preference, the warm tones and inherent beauty of wood cabinets ensure a welcoming, inviting atmosphere in your kitchen.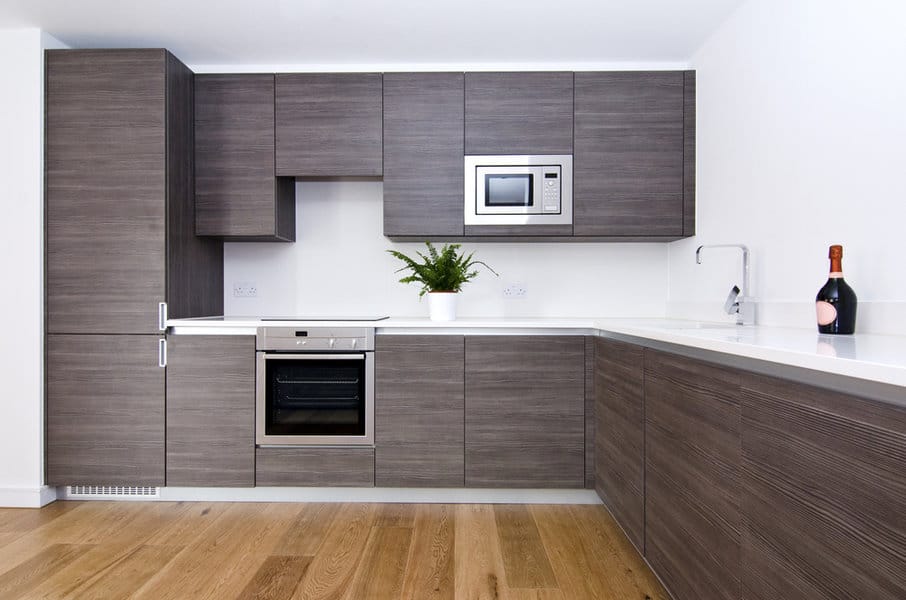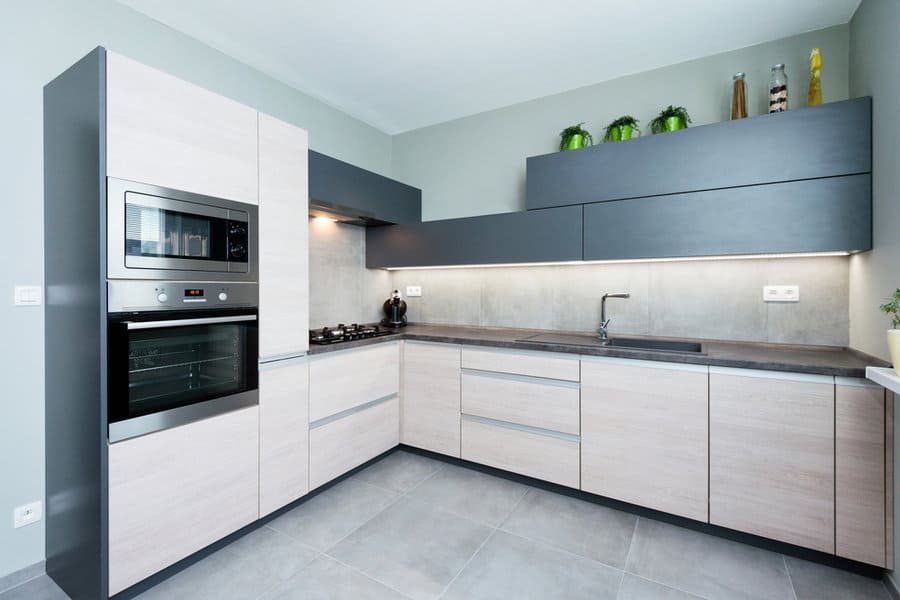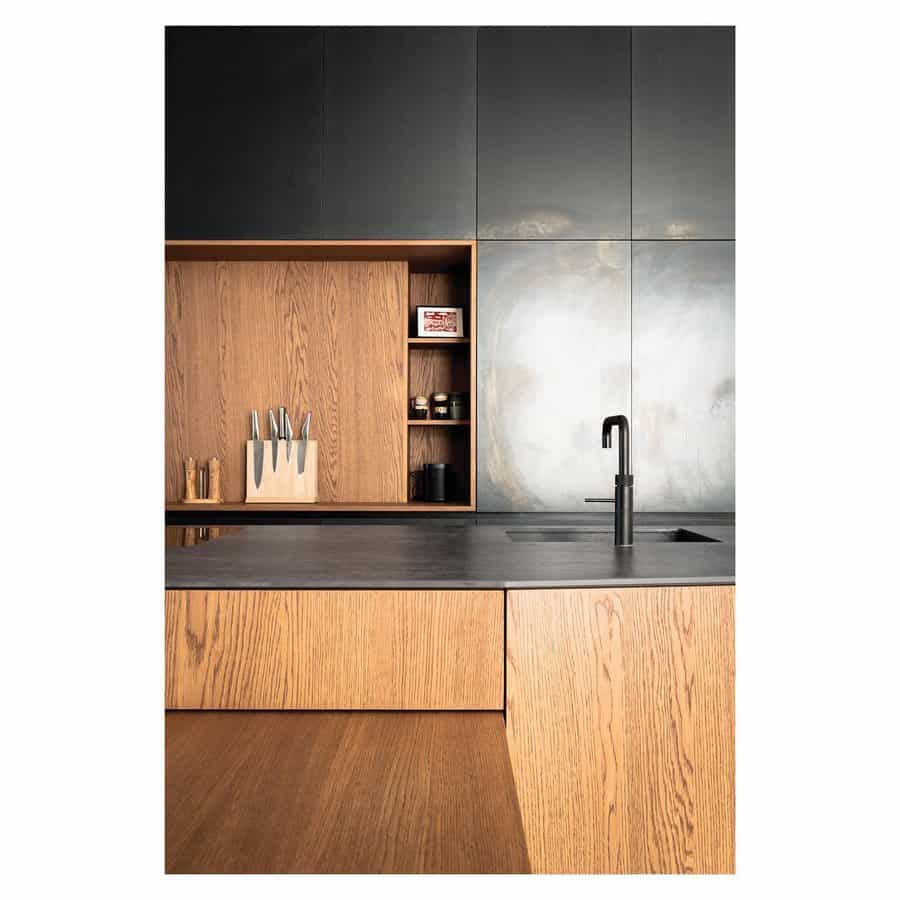 12. Calming Sage Green Cabinet Choices
Sage green cabinets introduce an element of tranquil elegance to your kitchen, creating a space that feels simultaneously refined and welcoming. This subdued, yet striking color choice draws inspiration from nature, bringing a sense of balance and calm to the heart of your home. Sage green's versatility shines in its ability to harmonize with a wide array of color palettes and decor styles, from warm, earthy hues to cool, neutral tones. Opt for sage green cabinets to establish a peaceful ambiance for cooking and gathering, ensuring your kitchen stands out with subtle sophistication and timeless appeal.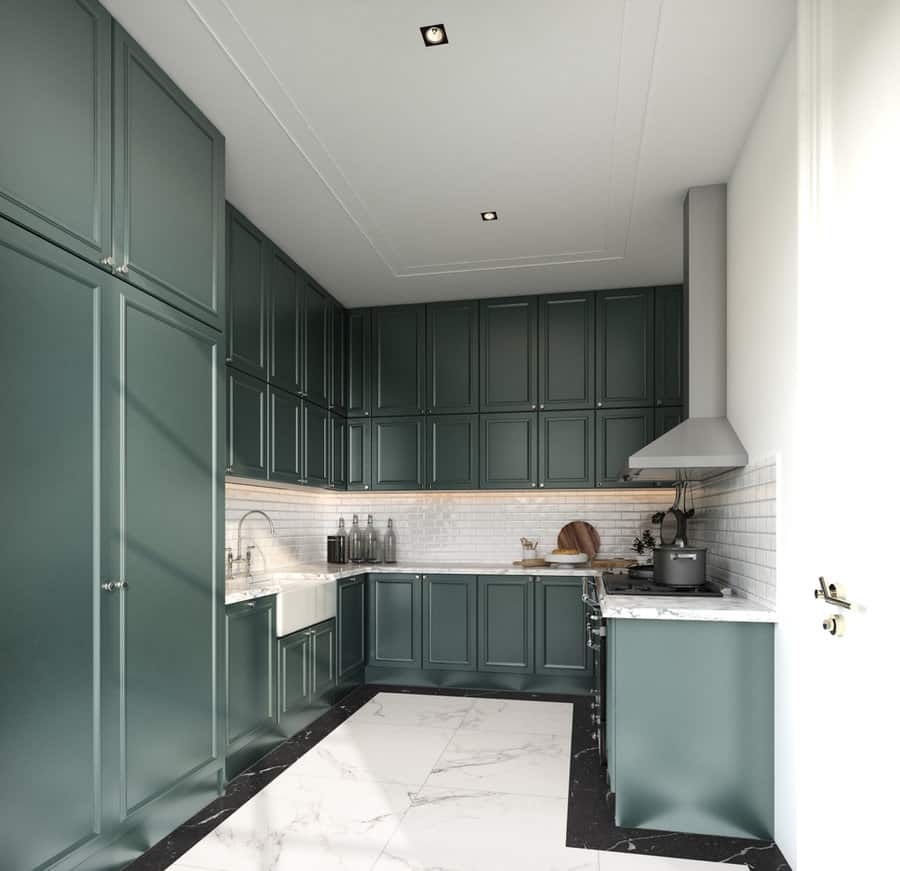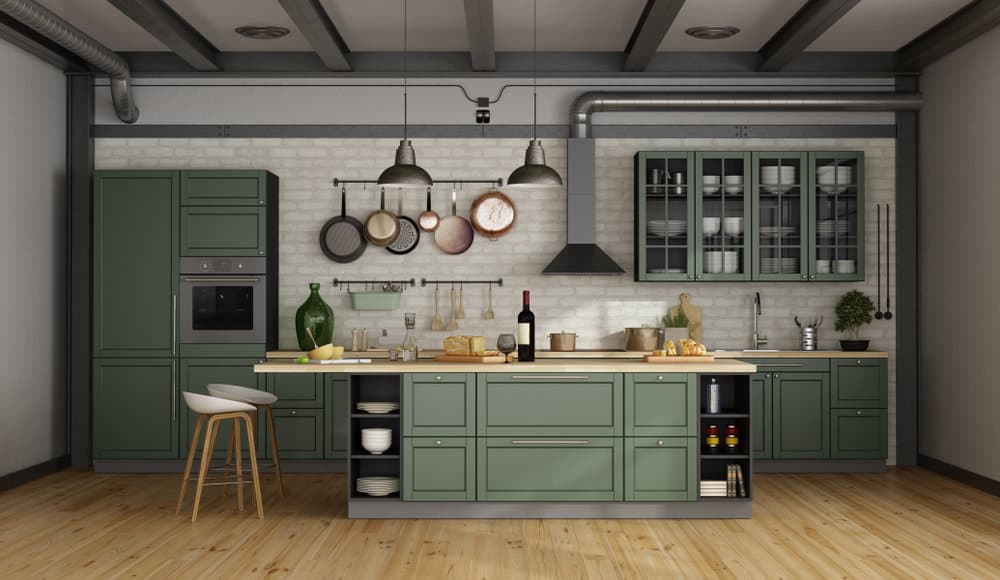 13. Classic Pearl White Cabinet Options
Pearl white cabinets, subtly enriched with a hint of grey, provide a refined and adaptable foundation for your kitchen's design. This versatile shade effortlessly complements a wide array of styles, from the sleekness of contemporary aesthetics to the warmth of traditional settings. The off-white hue introduces a light, airy feel, instantly brightening your space and creating an illusion of spaciousness. Pearl white cabinets stand as a timeless choice, whether you're aiming for a modern, luxe kitchen with polished marble and stainless steel or a cozy, rustic vibe with warm wood and vintage hardware. They offer a balanced and elegant backdrop, ready to bring your design vision to life.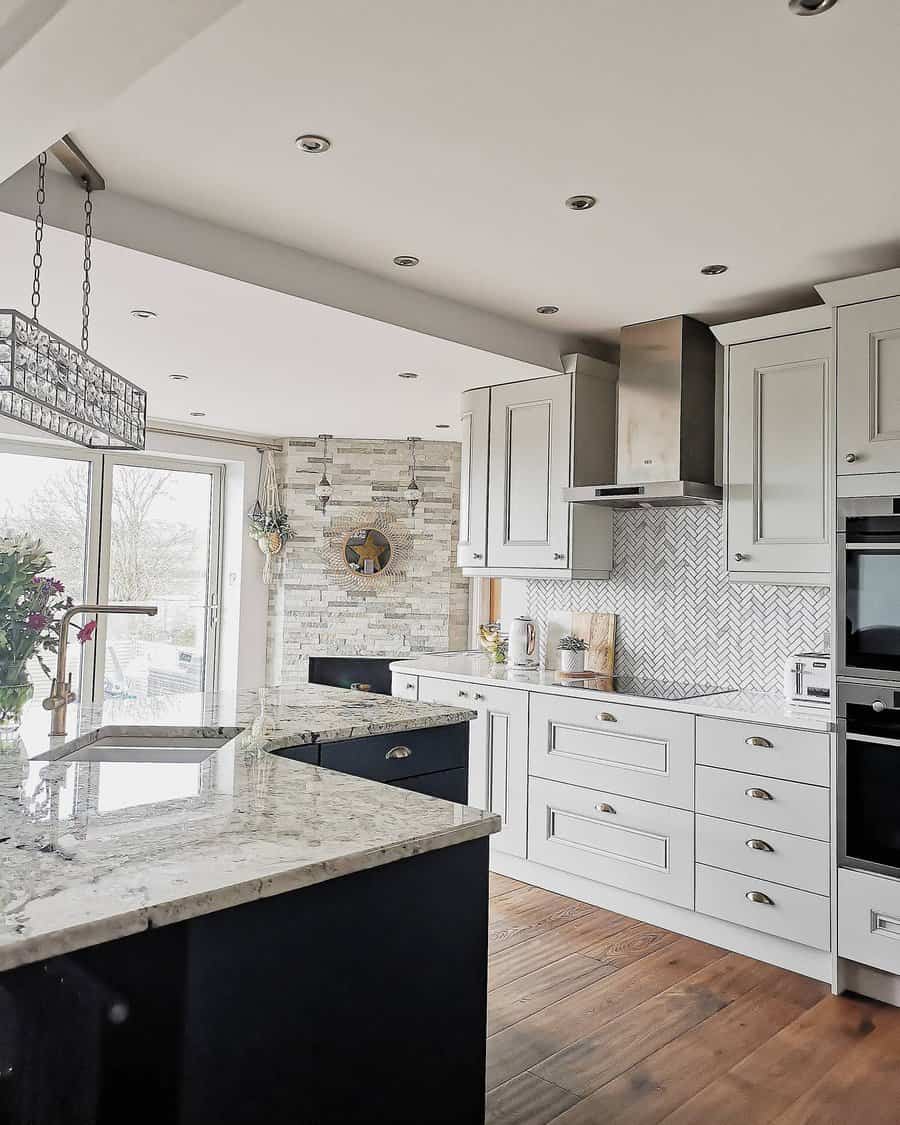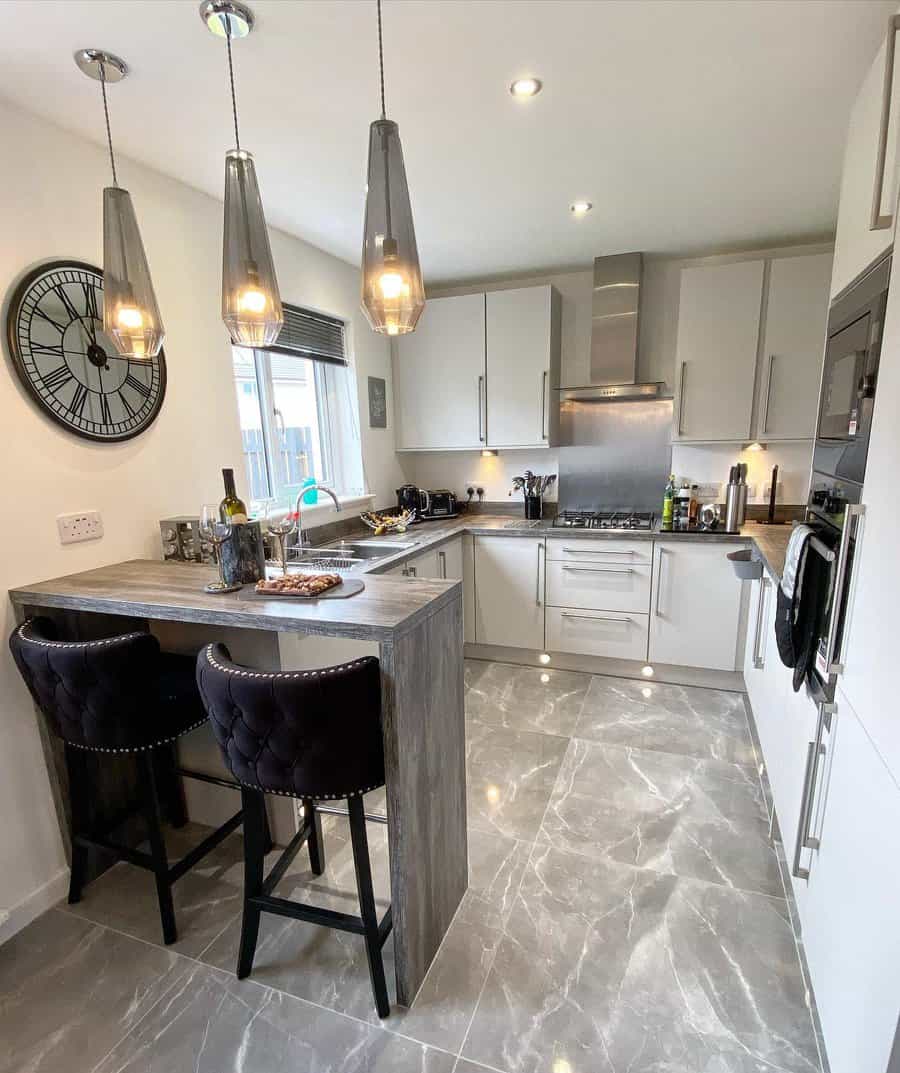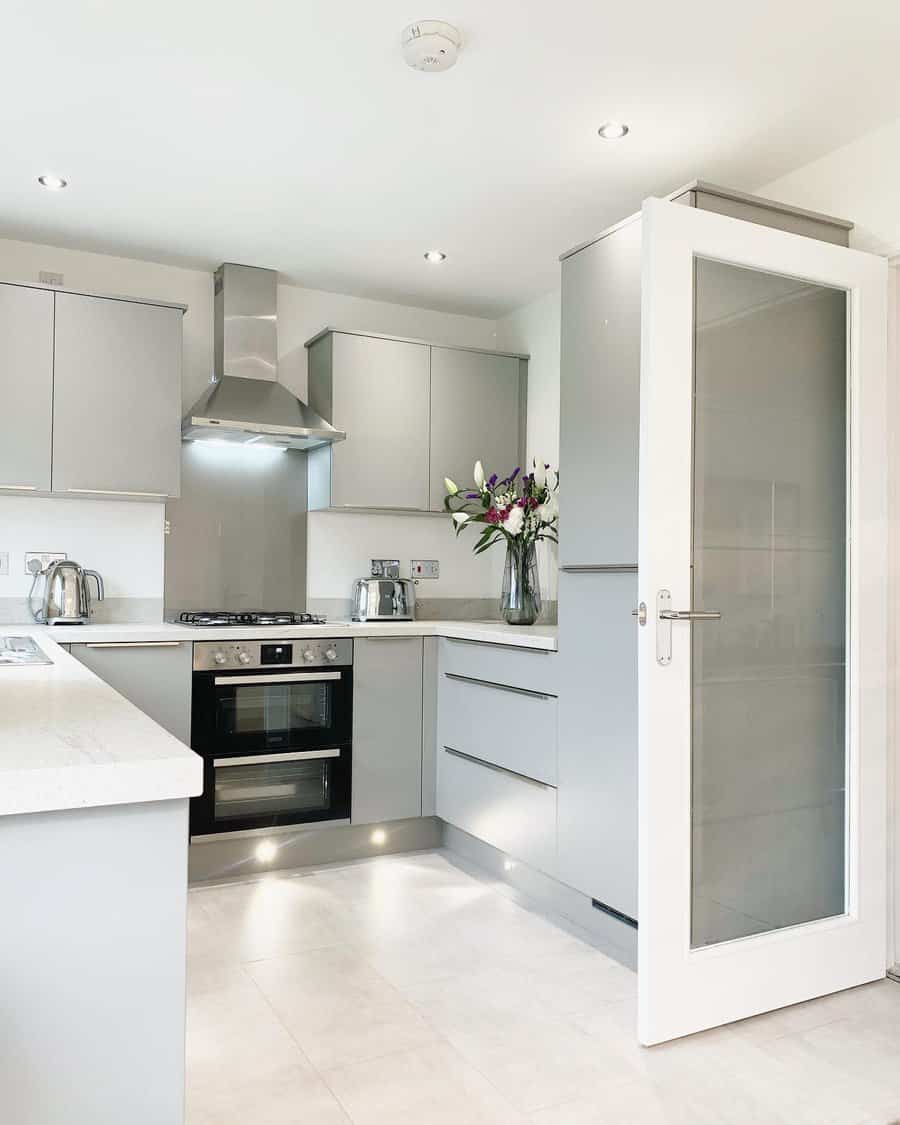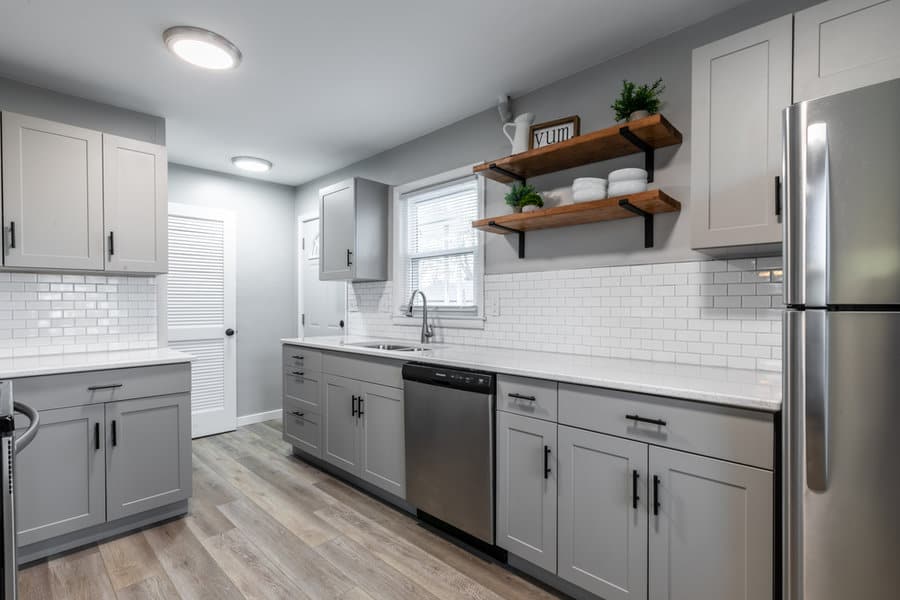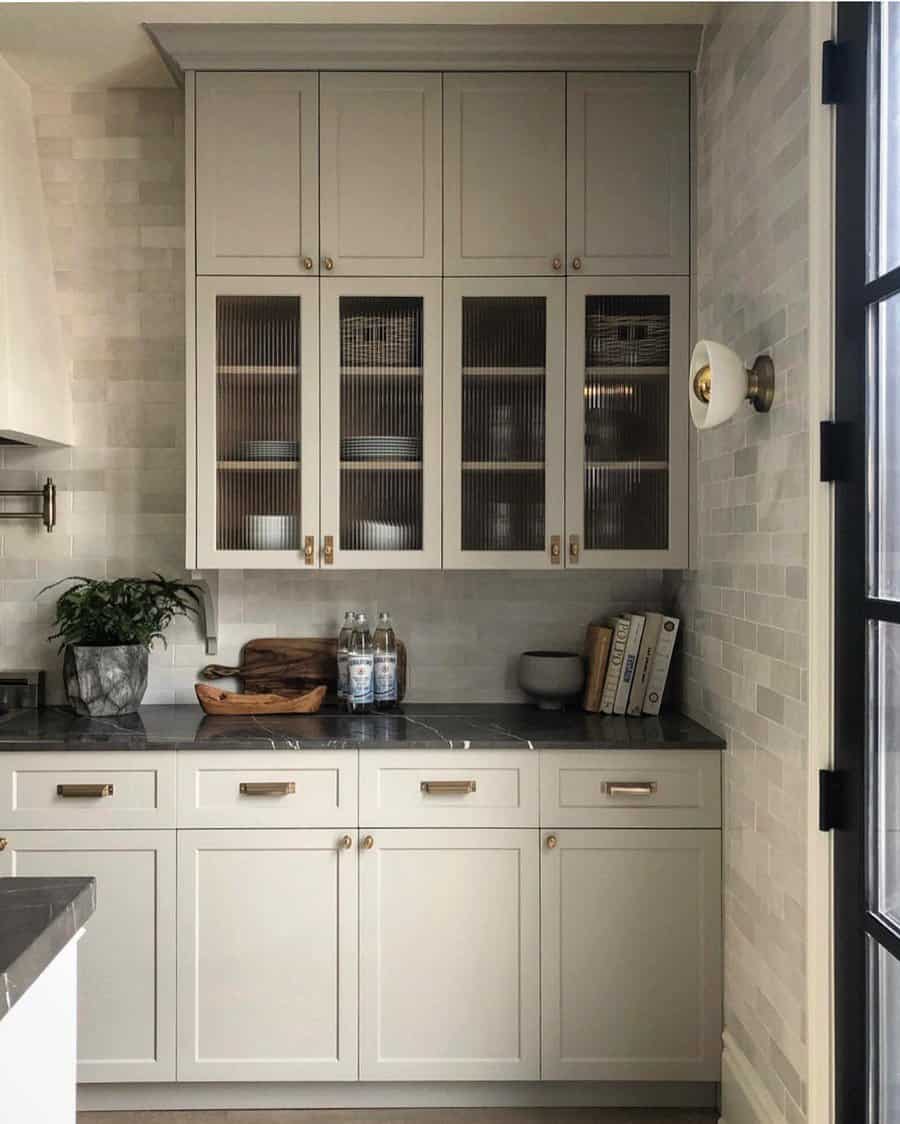 14. Soft Ivory Cream Cabinet Styles
Ivory cream cabinets exude a gentle warmth and inviting ambiance, their beige-like tones enriched with sandy undertones for a touch of natural, earthy charm. These cabinets fit seamlessly into a variety of kitchen styles, enhancing both modern and traditional designs with their elegance and adaptability. The soft, creamy hue acts as a versatile backdrop, opening up opportunities for creative accents and textures to truly personalize your space. You might pair these cabinets with sleek, stainless steel appliances for a fresh, contemporary look, or choose traditional hardware and fixtures to foster a timeless, classic aesthetic. Beyond style, ivory cream cabinets contribute to a sense of spaciousness within your kitchen, enhancing its openness and airy feel.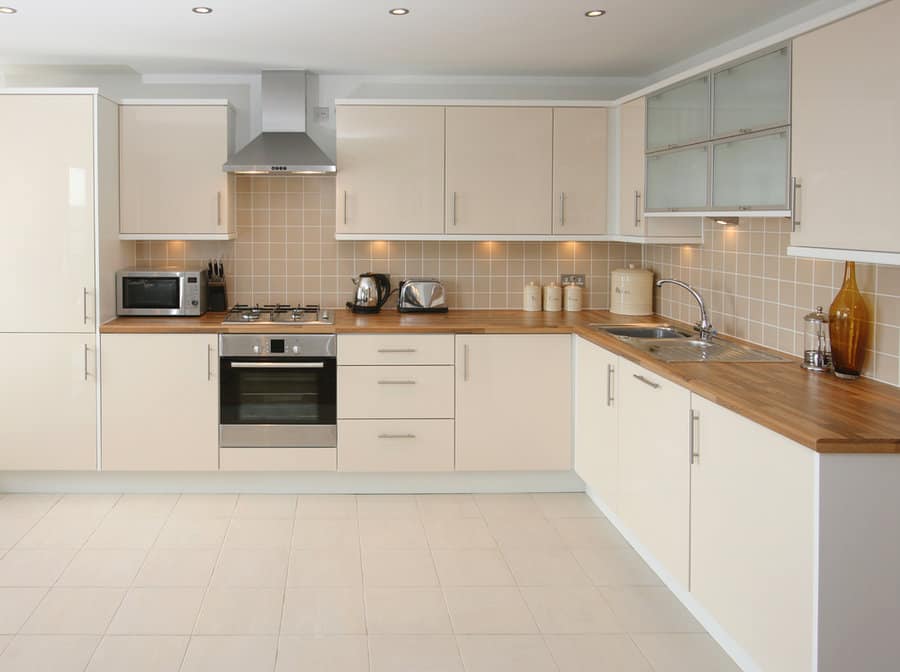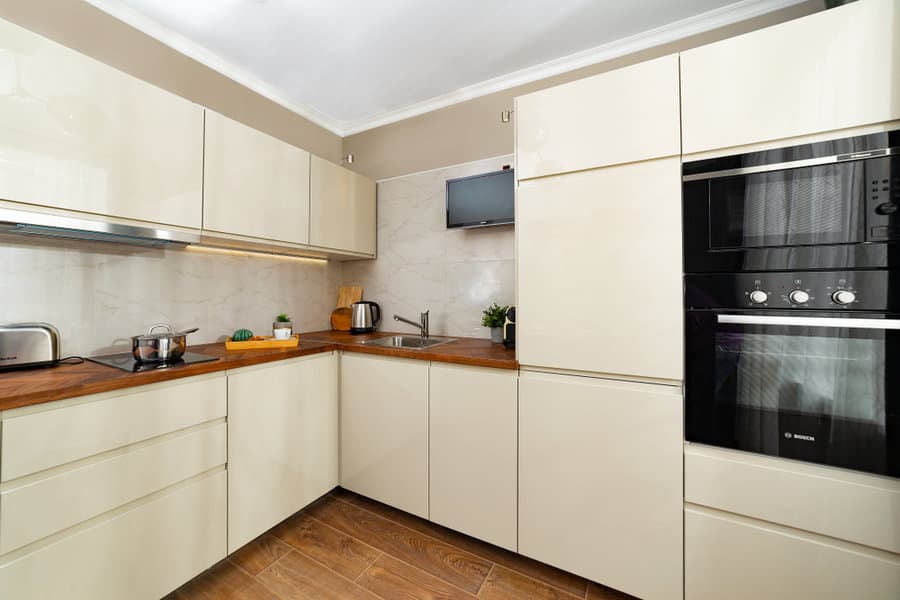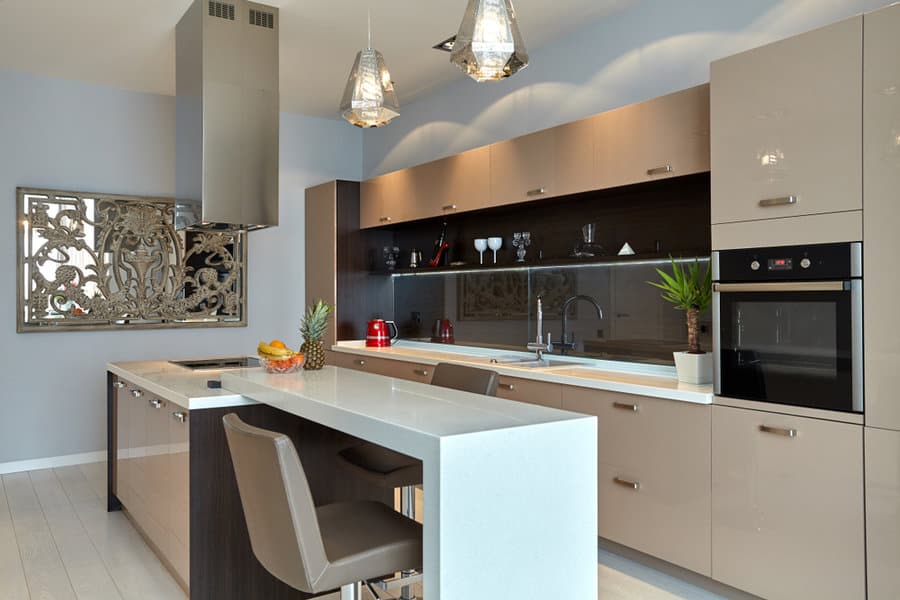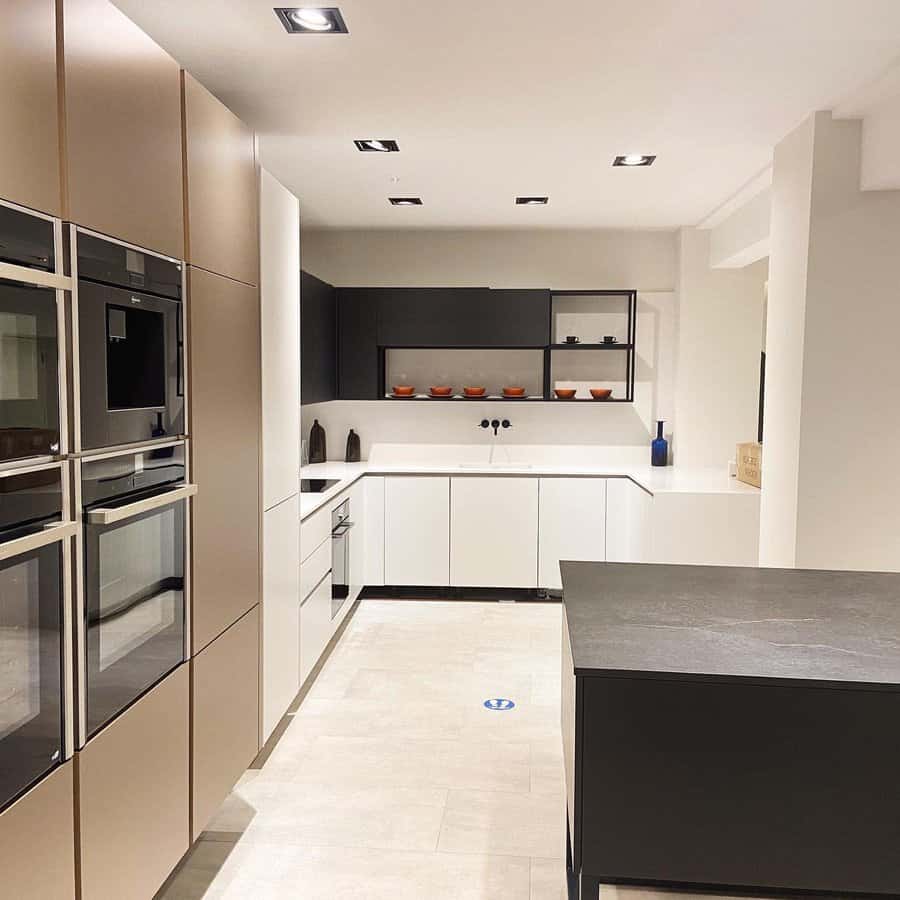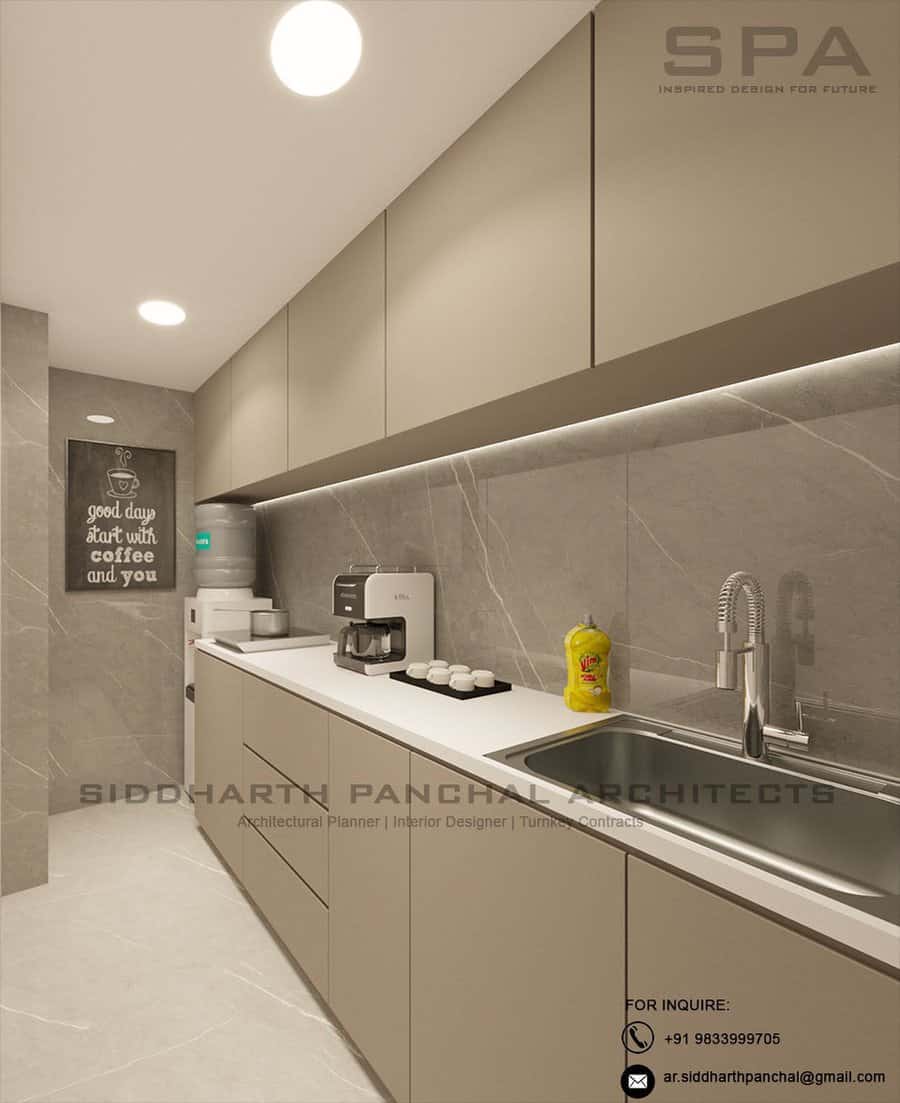 15. Luxurious Metallic Gold Cabinet Selections
Indulge in the opulence of metallic gold cabinets to create a luxurious focal point in your kitchen. Their warm hue exudes richness and sophistication, ensuring your culinary space is dressed to impress. The gleaming metallic finish not only adds a touch of glamour but also plays with light, enhancing the overall brightness of the room and creating an illusion of spaciousness. Enhance the luxurious feel by pairing your gold cabinets with complementary hardware in refined finishes like brushed brass or polished chrome. For a balanced look, offset the boldness of gold with neutral countertops and backsplash, allowing your cabinets to truly shine. Bring in elements of nature, like warm wood accents, to harmonize the extravagance of gold with the welcoming embrace of organic warmth.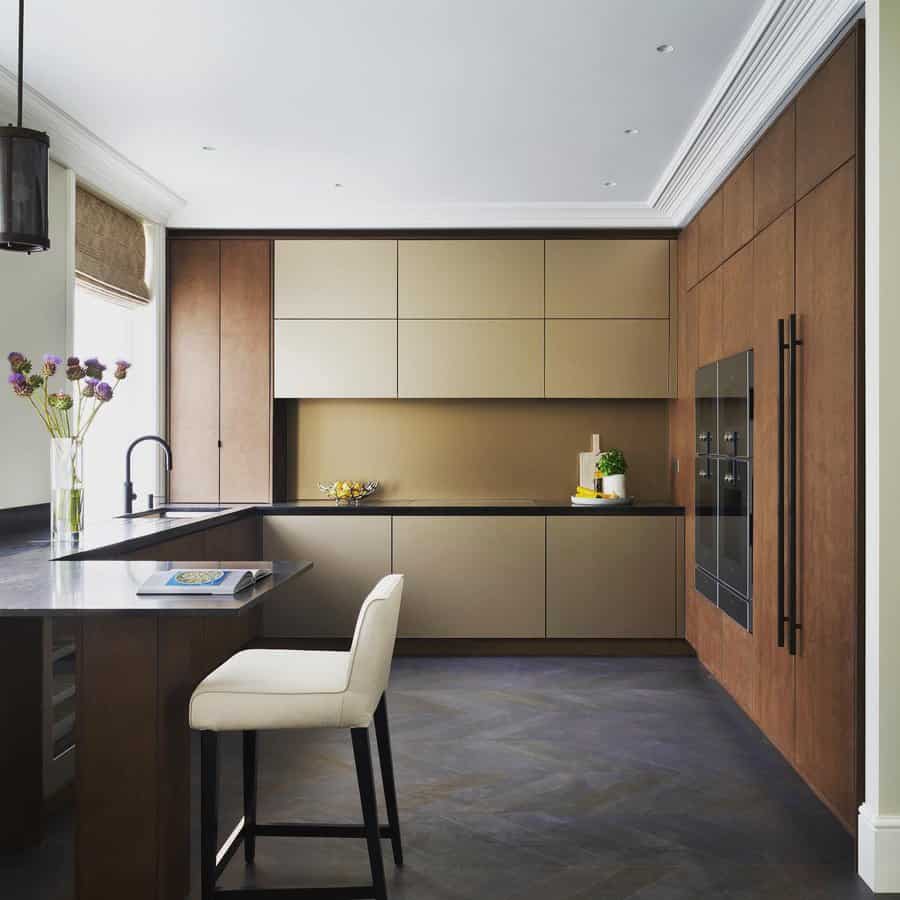 16. Sleek Polished Silver Cabinet Ideas
Transform your kitchen into a space of modern elegance with sleek, polished silver cabinets. Their reflective surface not only enhances the brightness of the room, creating a more open and airy atmosphere, but also adds a touch of contemporary luxury. These cabinets effortlessly complement a range of design styles, serving as a versatile choice for your culinary space. Harmonize the silver hue with luxurious marble countertops, high-end stainless steel appliances, and sparkling crystal pendant lights for a cohesive and polished look. Whether you choose to make a bold statement with an entire kitchen outfitted in silver cabinetry or opt for strategic accents, the refined allure of polished silver cabinets is sure to captivate and impress.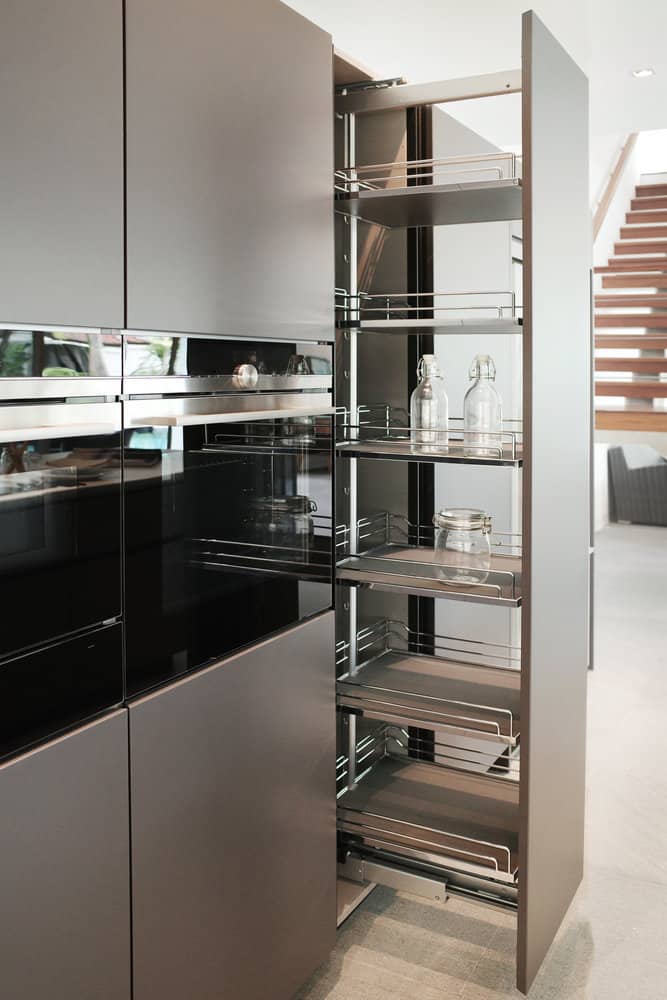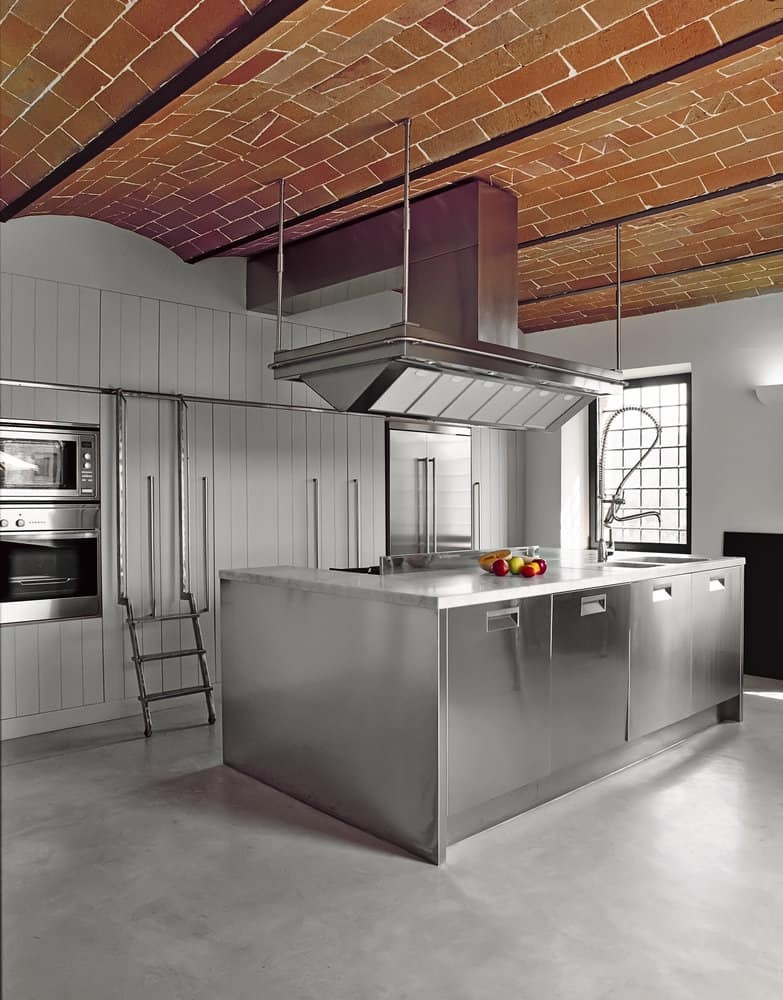 17. Refreshing Seafoam Green Cabinet Designs
Introduce a breezy, coastal charm to your kitchen with seafoam green cabinets. This serene hue not only evokes memories of tranquil beachside moments but also offers a fresh and calming backdrop for your culinary activities. Pair the seafoam green with natural materials like light wood or stone countertops to accentuate its organic essence. For added depth and contrast, incorporate metallic hardware in brushed bronze or gold. Embracing this tranquil color ensures a stylish and harmonious kitchen atmosphere, ideal for both relaxation and culinary inspiration.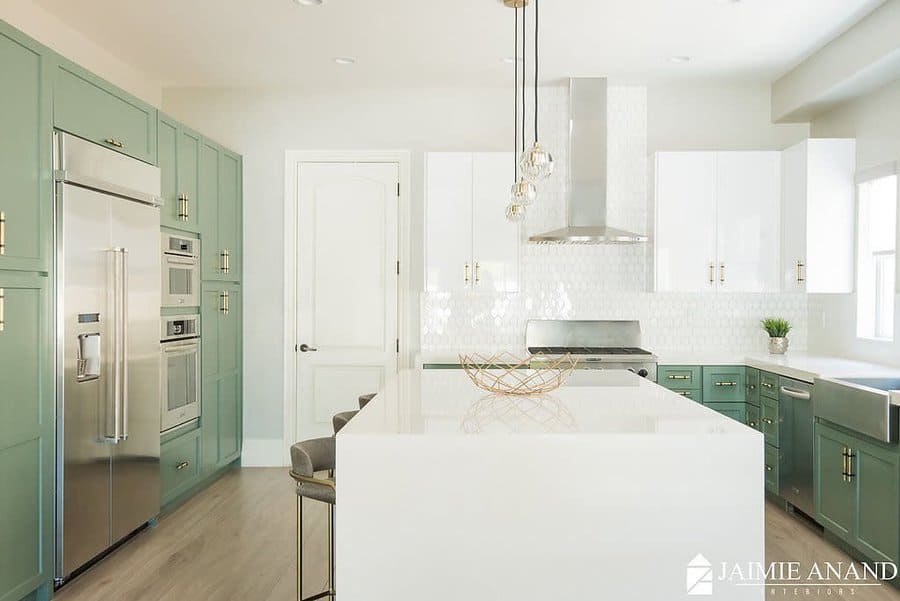 18. Crisp Arctic White Cabinet Inspirations
Absolutely, arctic white cabinets create a sense of purity and spaciousness in a kitchen. They can be styled in a multitude of ways, offering endless possibilities for customization and personalization. Whether you're aiming for a minimalist look or an eclectic mix of textures and colors, these cabinets provide the flexibility you need to let your creativity run wild. Their ability to brighten a space and evoke feelings of cleanliness and clarity make them an evergreen choice in kitchen design. So, if you're looking for a refreshing and chic starting point for your kitchen renovation, arctic white cabinets are a brilliant choice.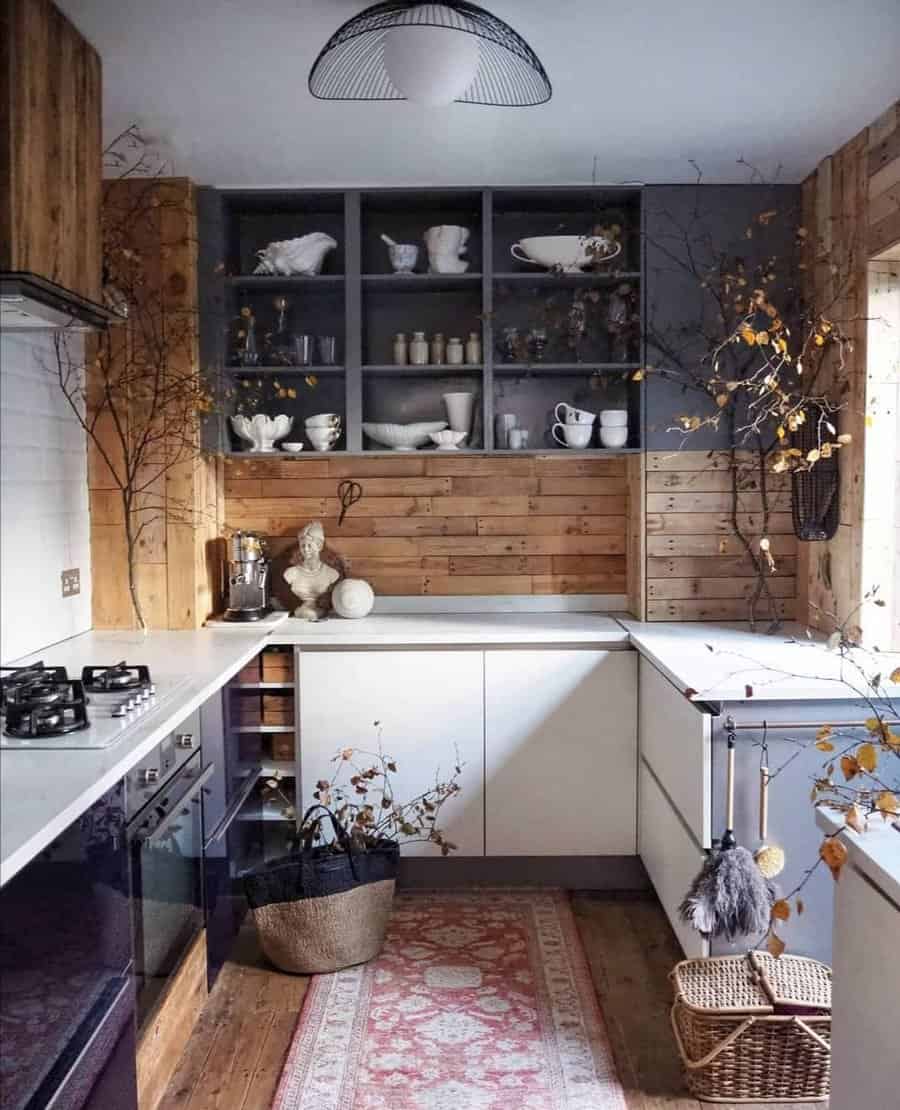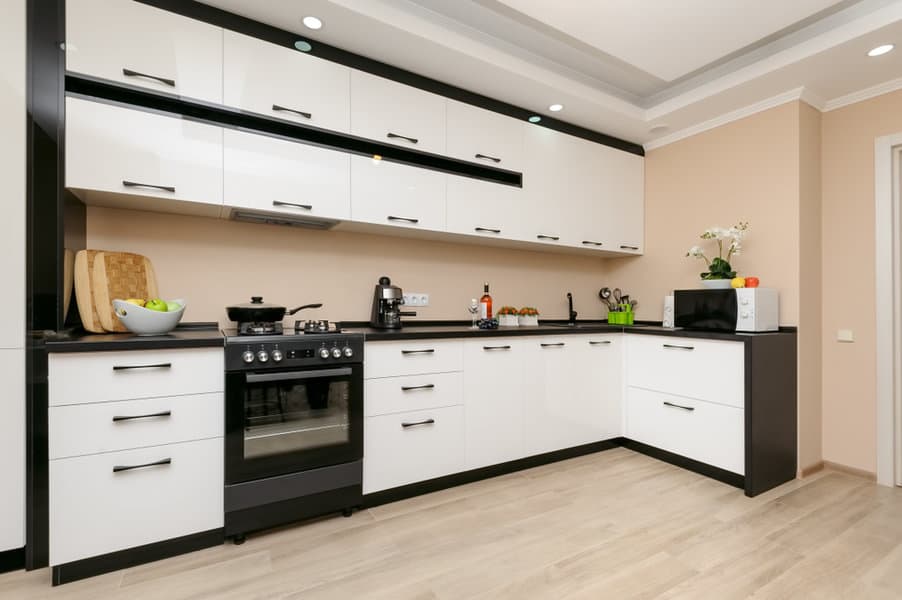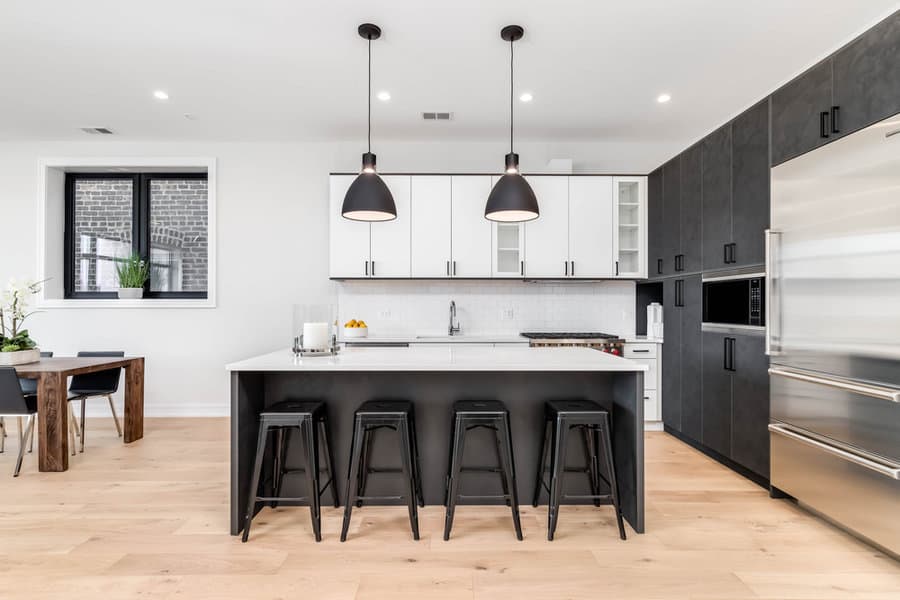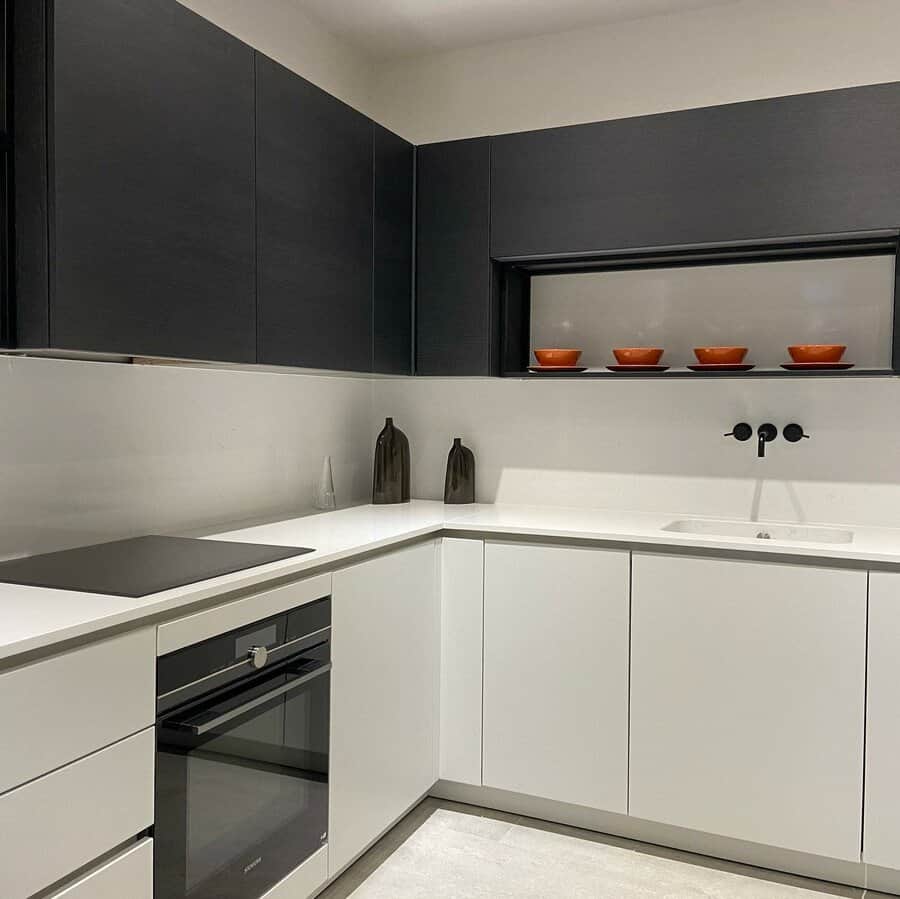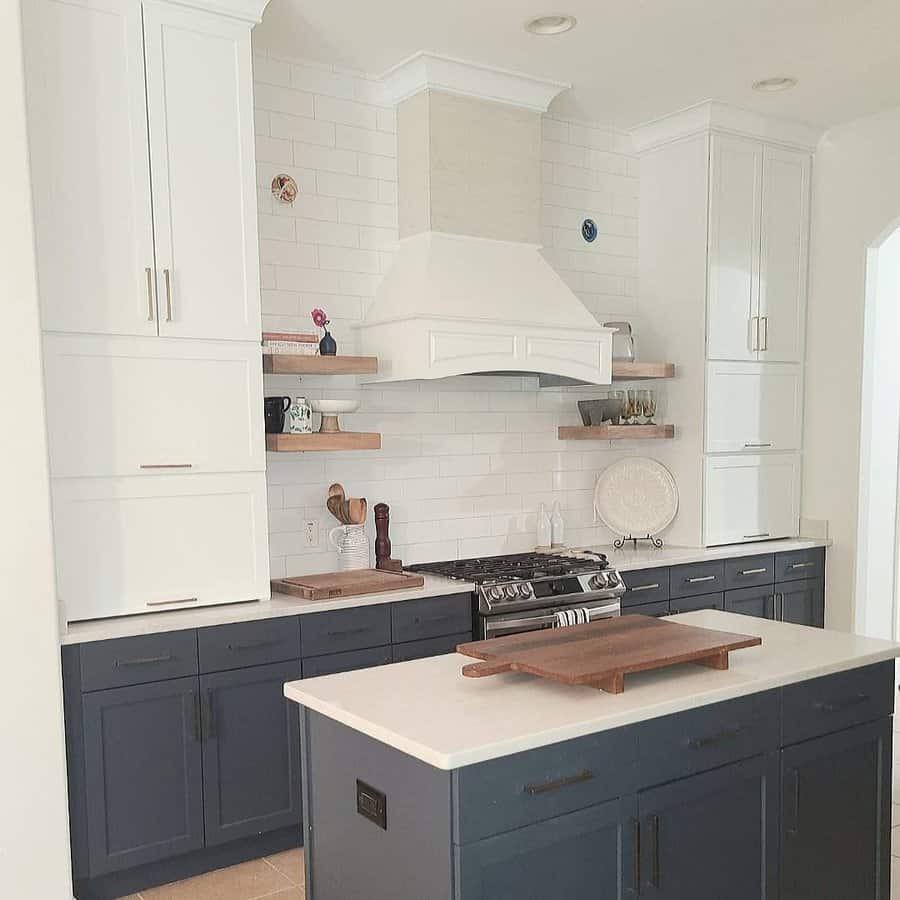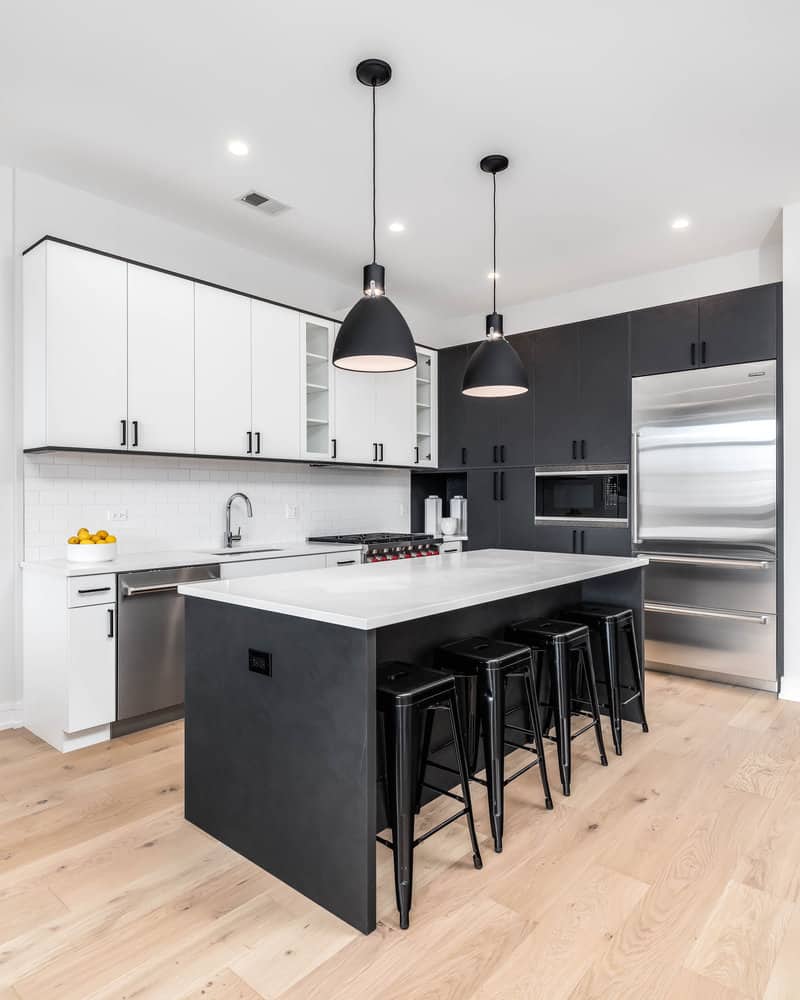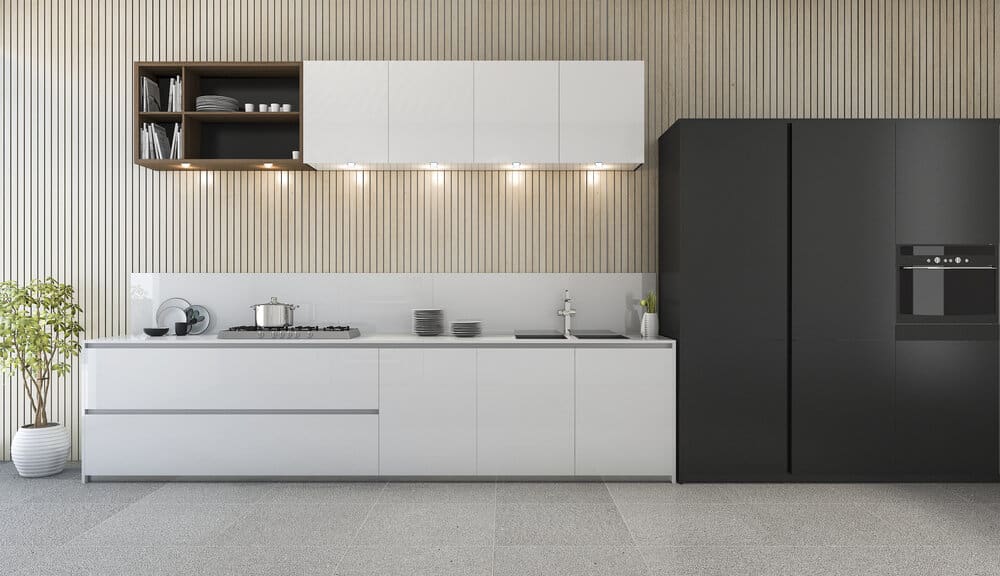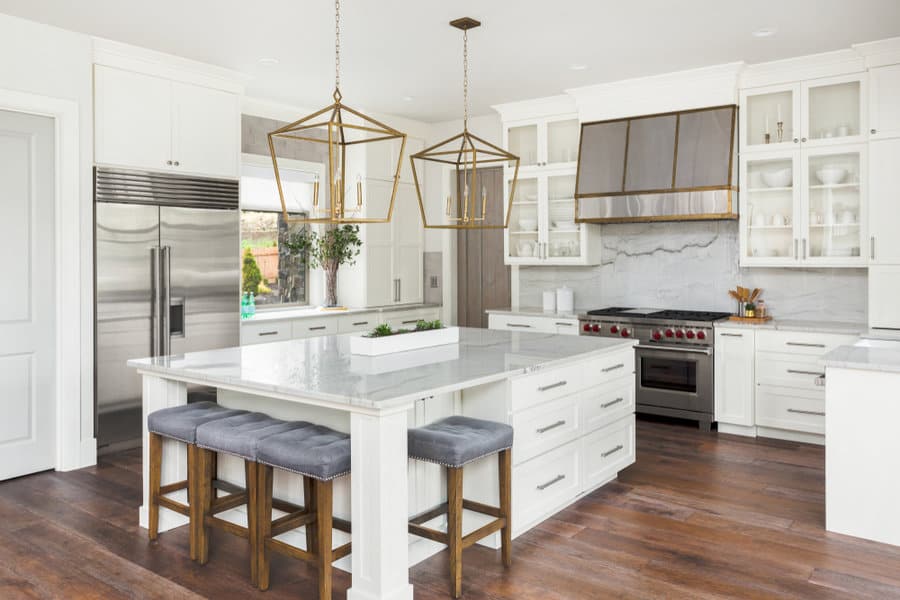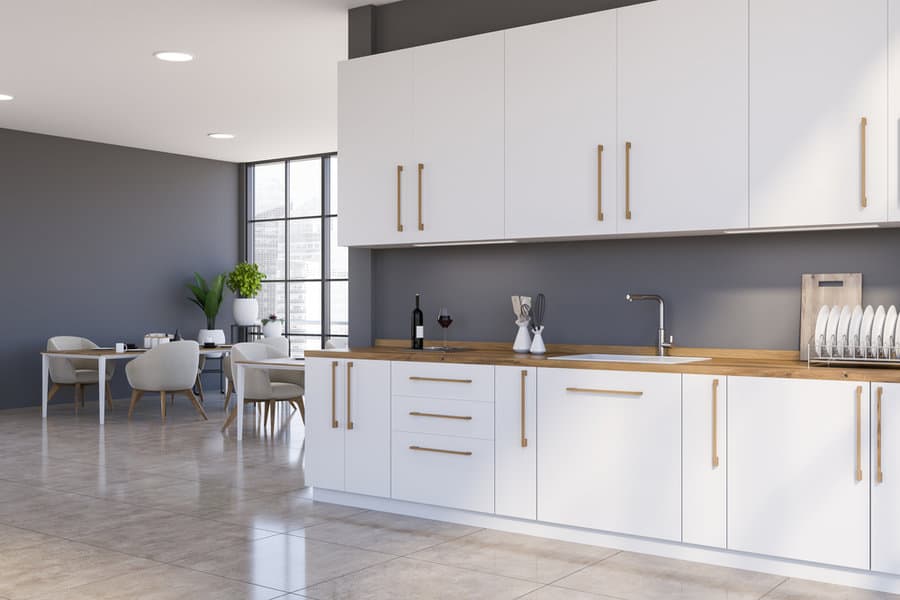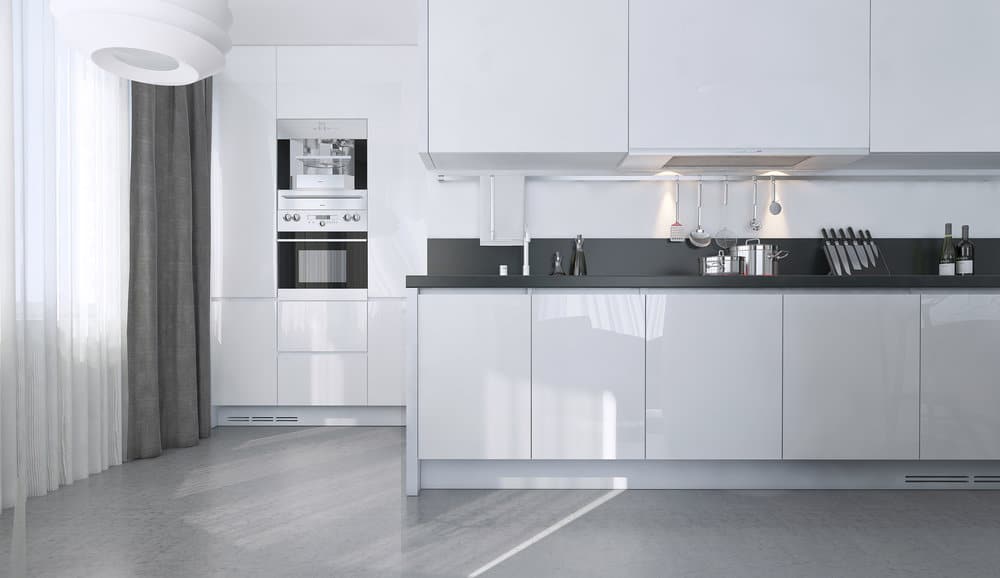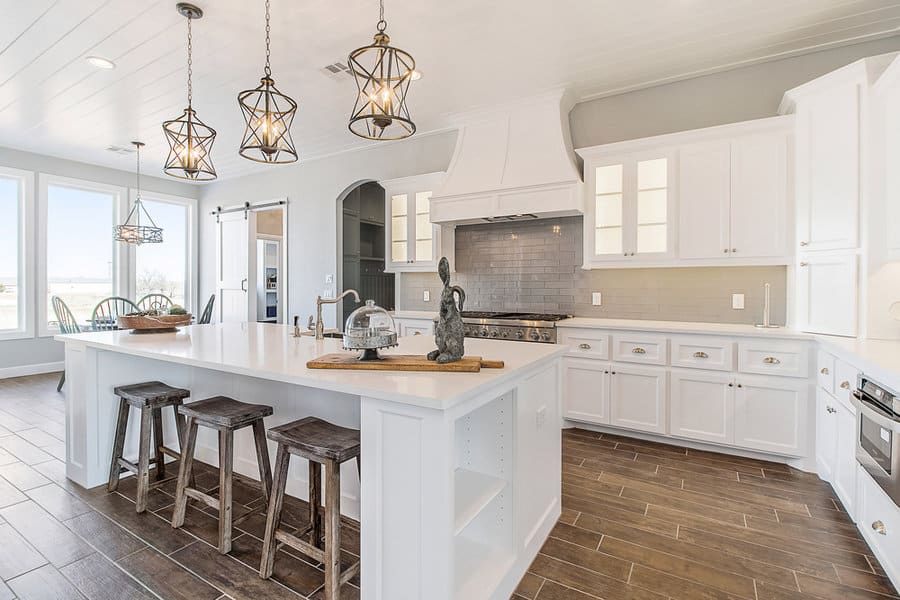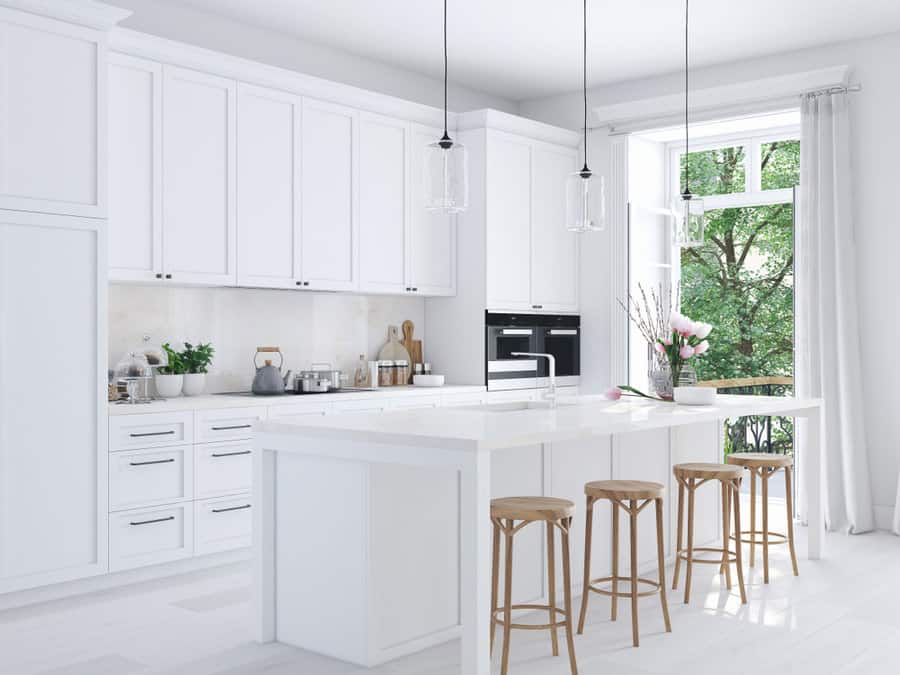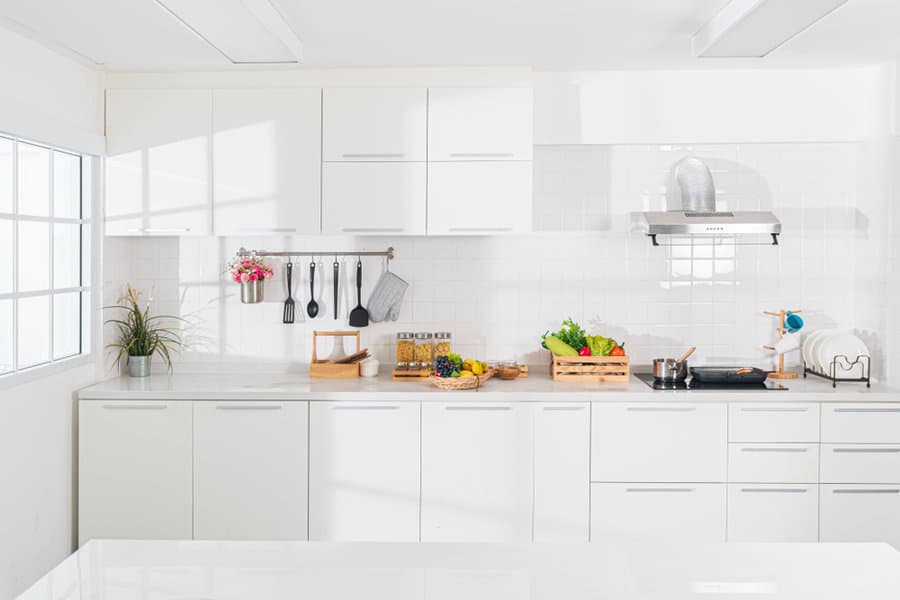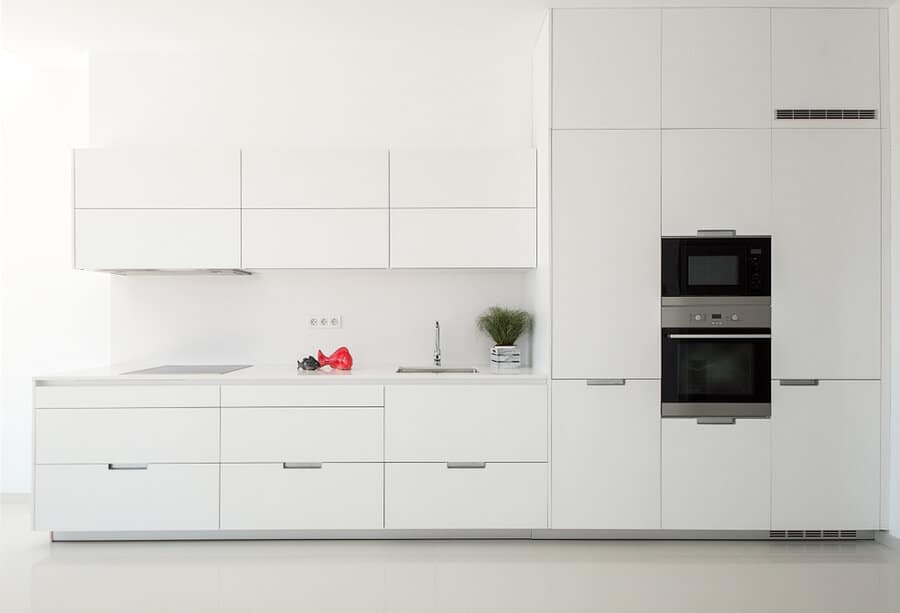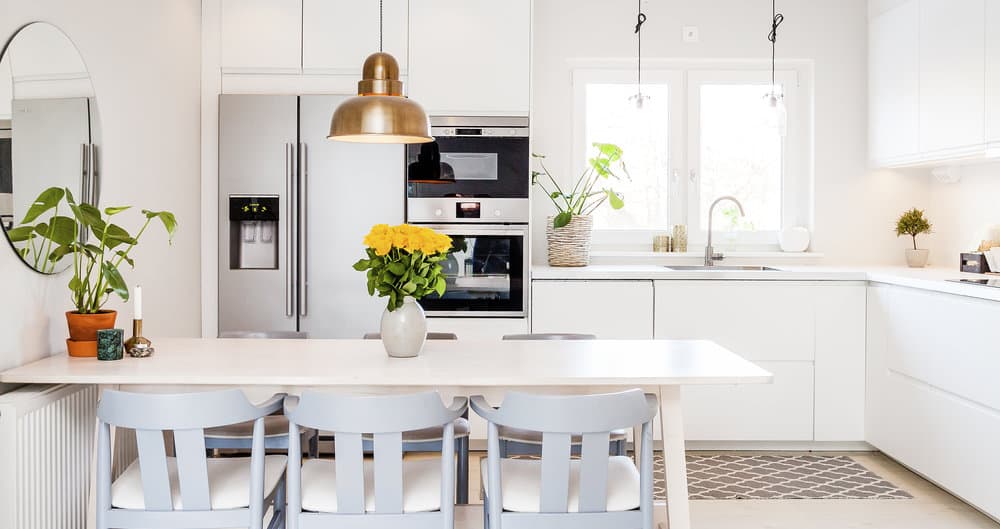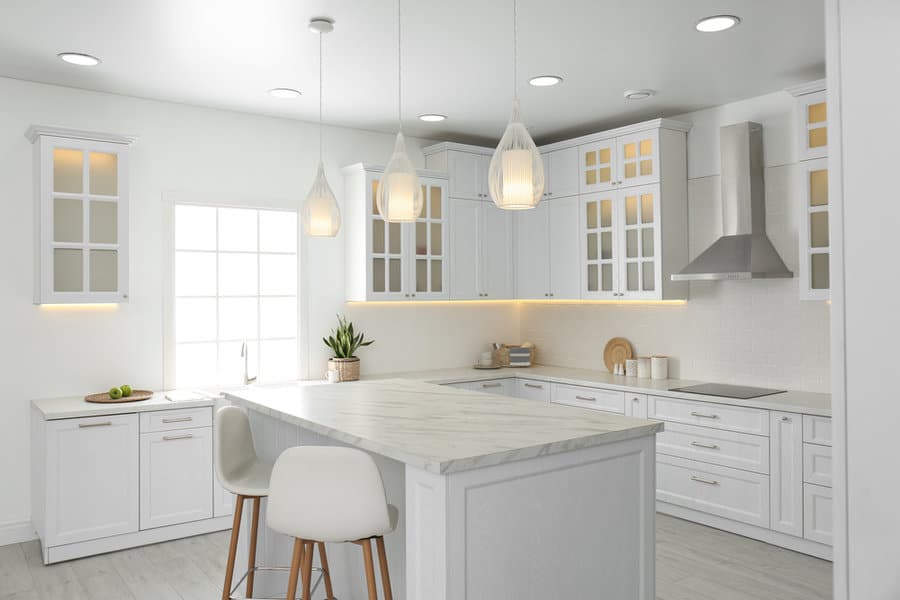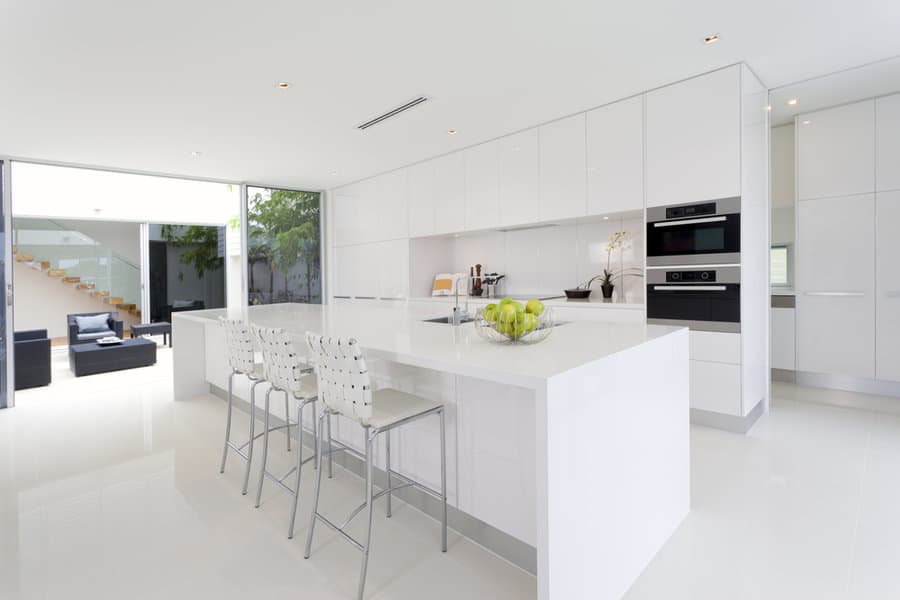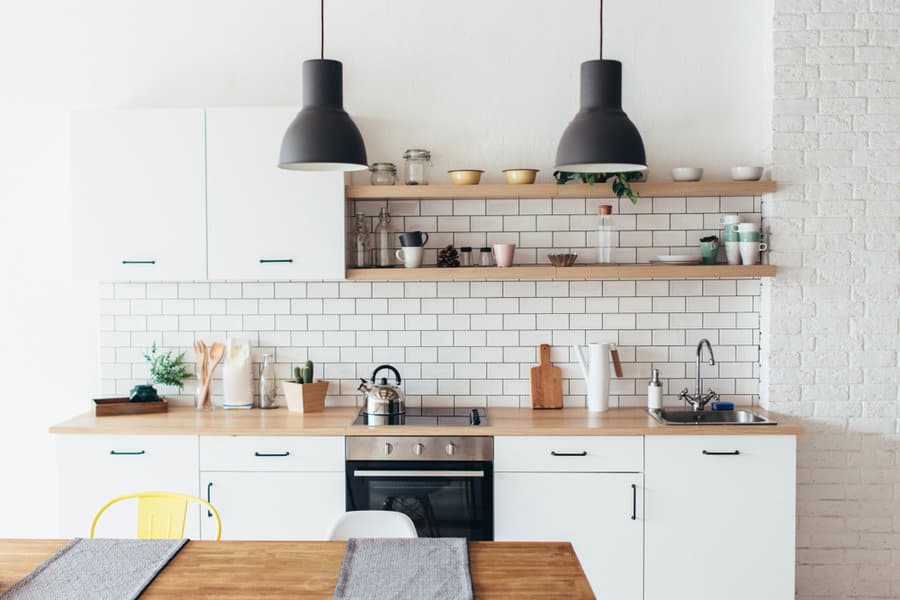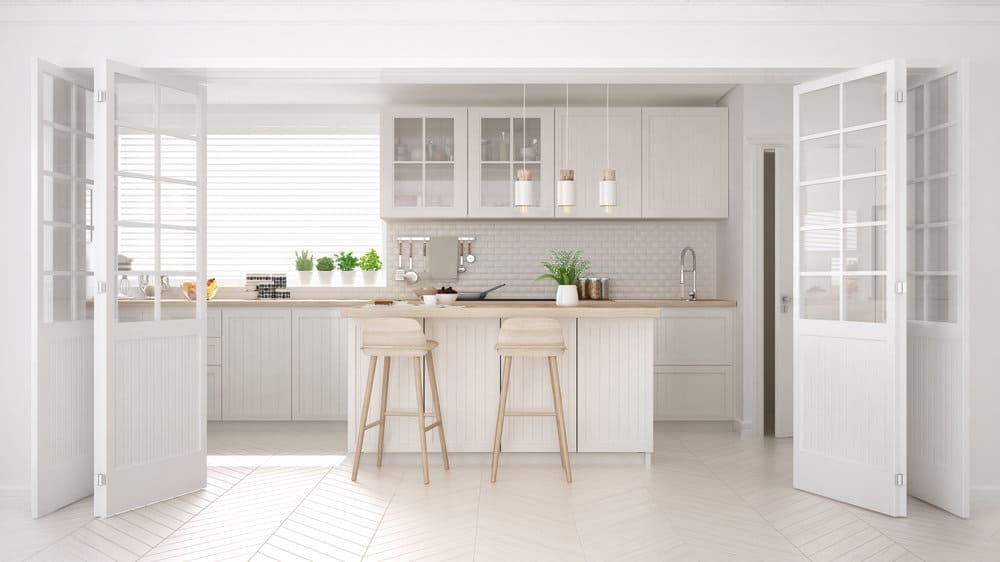 Kitchen Cabinet Color FAQs
How do you choose a kitchen cabinet color?
Selecting the right paint isn't just about choosing a color. After all, each color family is filled with literally endless options based on darkness, saturation, and undertones.
Pay close attention to your kitchen's natural lighting and how it affects color. We recommend testing swatches several times throughout the day — including at night under artificial lighting — and during various types of weather.
You should also look at swatches next to the other surfaces within your kitchen. For example, there are many cases where a particular cabinet color will appear completely different when installed above varying backsplashes.
Should kitchen cabinets be lighter or darker than the walls?
It doesn't matter. Either combination can be used to great effect, as long as the colors themselves go well together!