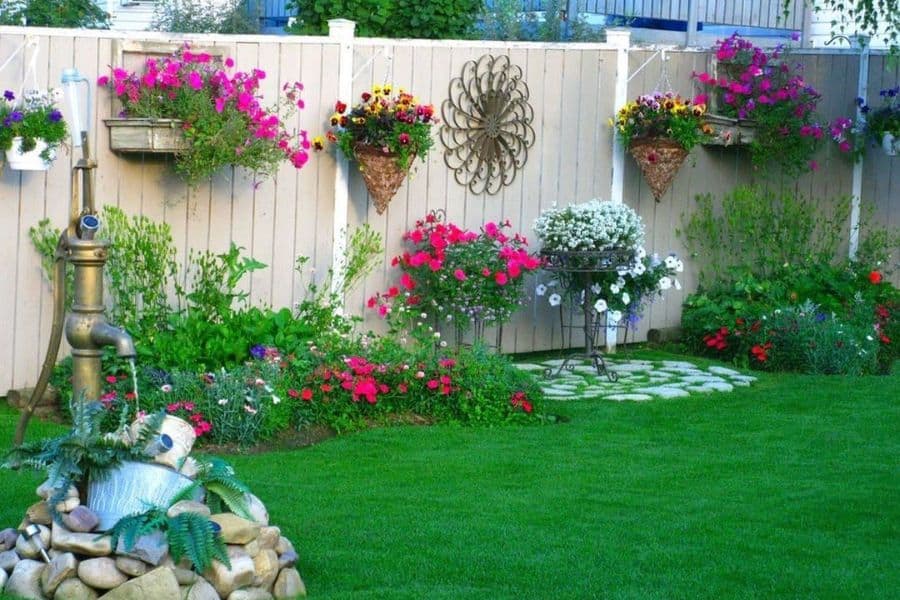 The Top 74 Outdoor Wall Decor Ideas
"Your home should tell the story of who you are—and be a collection of what you love—brought together under one roof." – Nate Berkus
Just as your home's interior reflects your personality, your home's exterior should as well. View an outdoor wall as an extended decorating opportunity and you begin to understand why outdoor rooms are a big decorating trend.
Homeowners' associations and other rules may somewhat limit your outdoor wall décor options, but that's no reason to settle for a dull home exterior. Learn ways to liven up your outdoor wall décor when you scroll through this collection of great ideas!
1. Balcony
Even the smallest apartment or condo balcony can be transformed into a magical outdoor living oasis. If your landlord doesn't allow you to permanently affix anything to the exterior walls, you still have countless decorating options that can move when you do.
String lights, artwork, and other items can be hung with removable adhesive hooks made for outdoor use.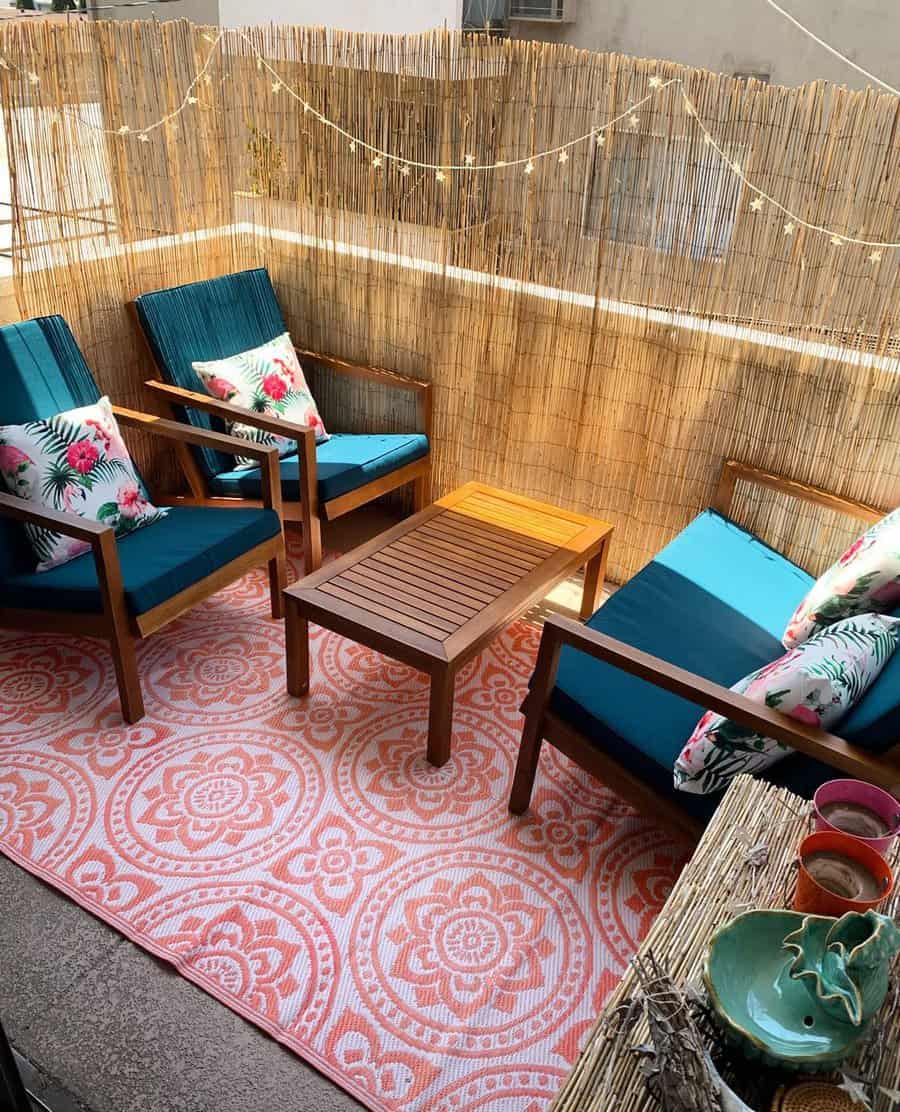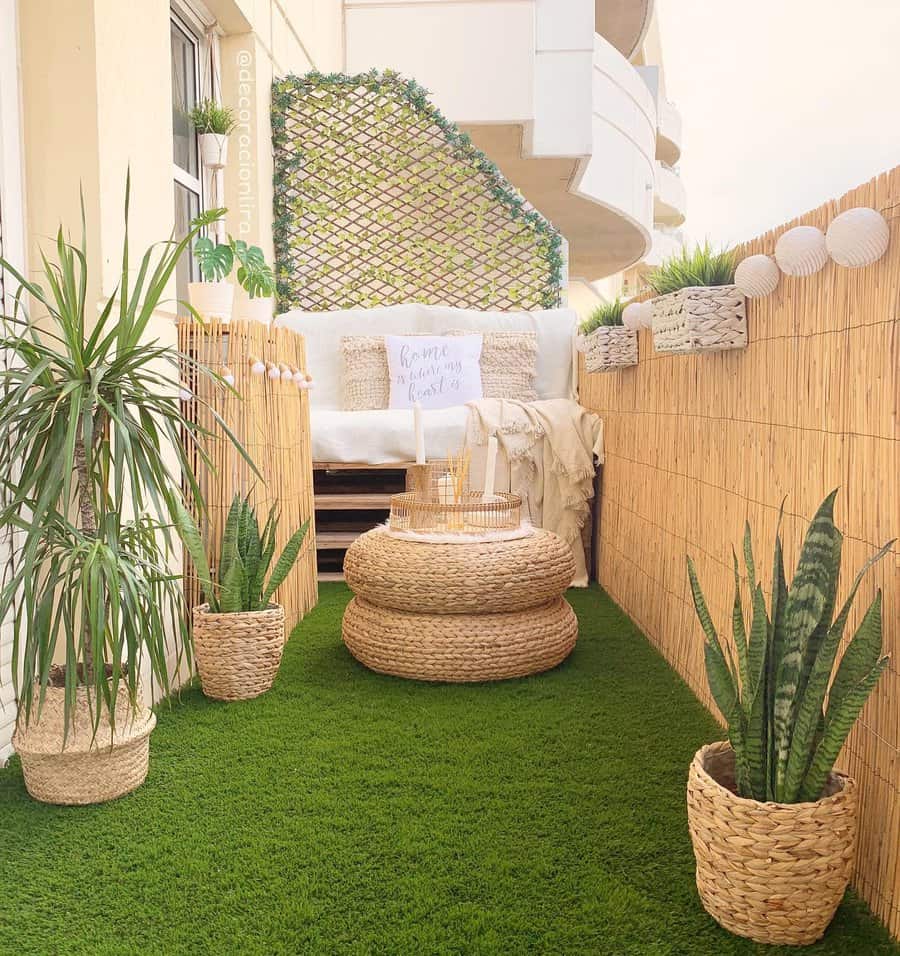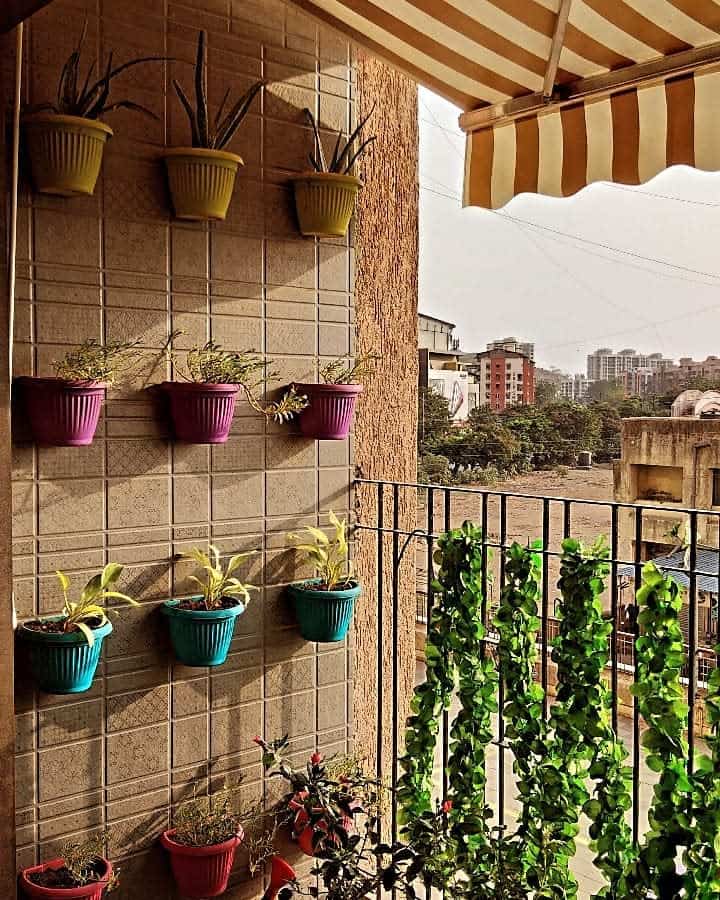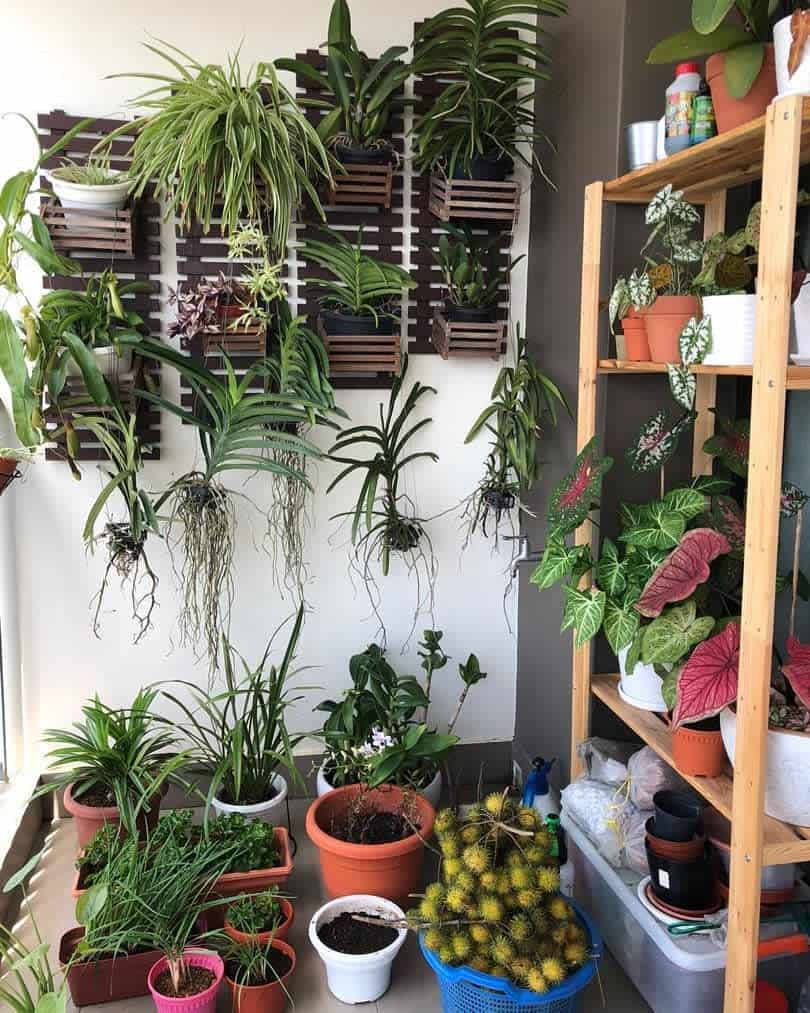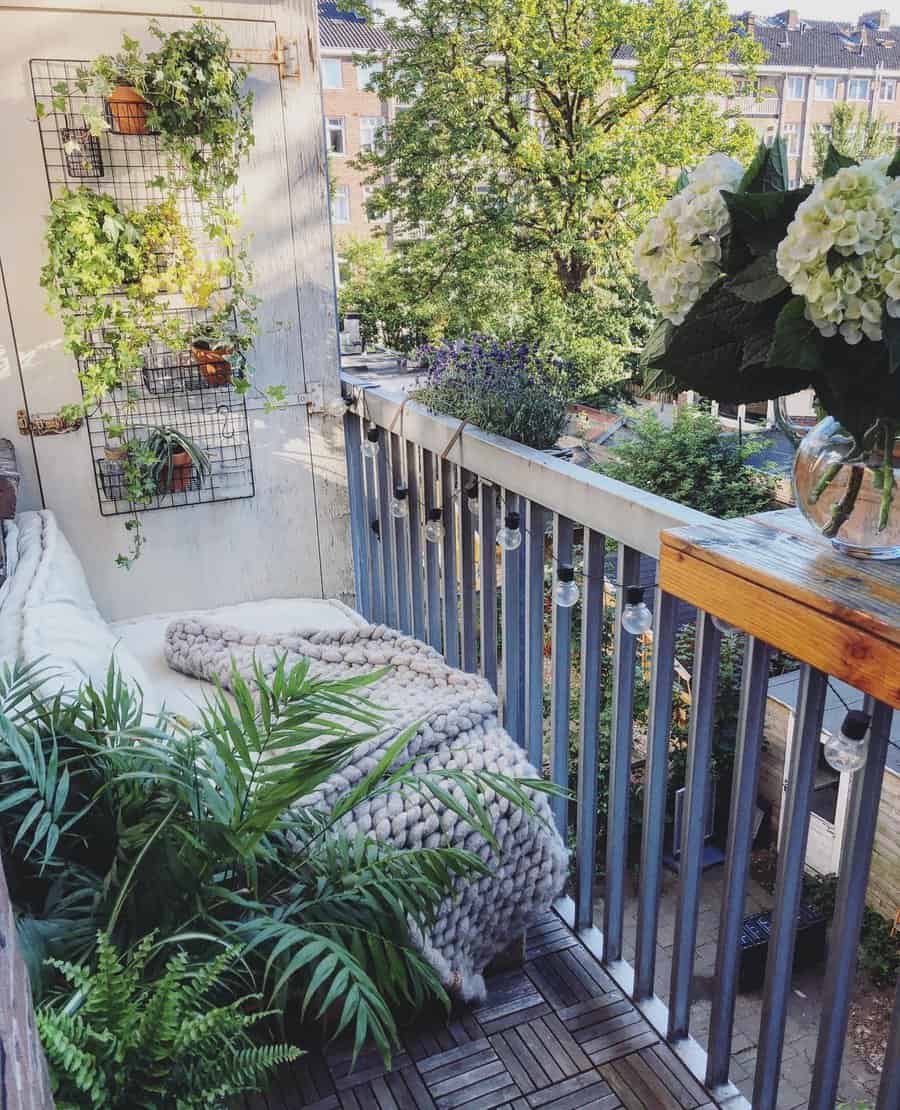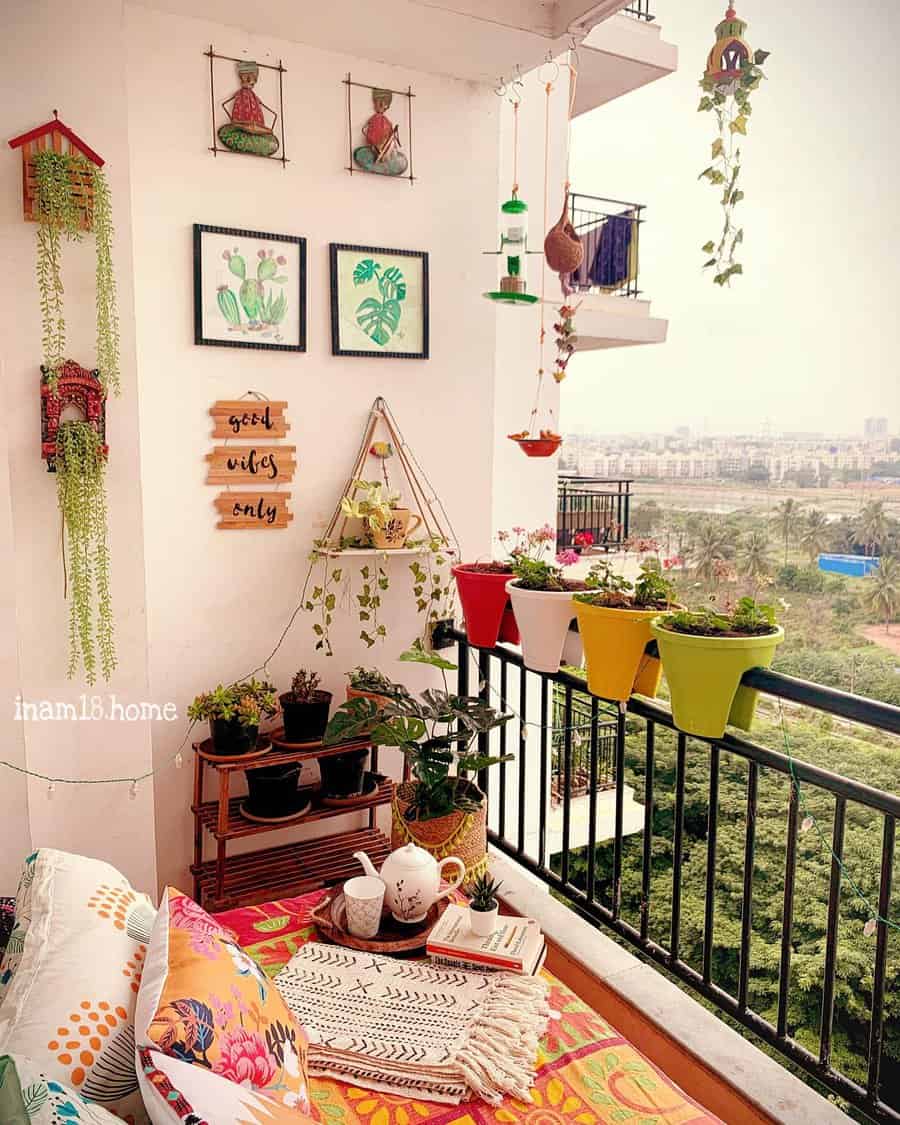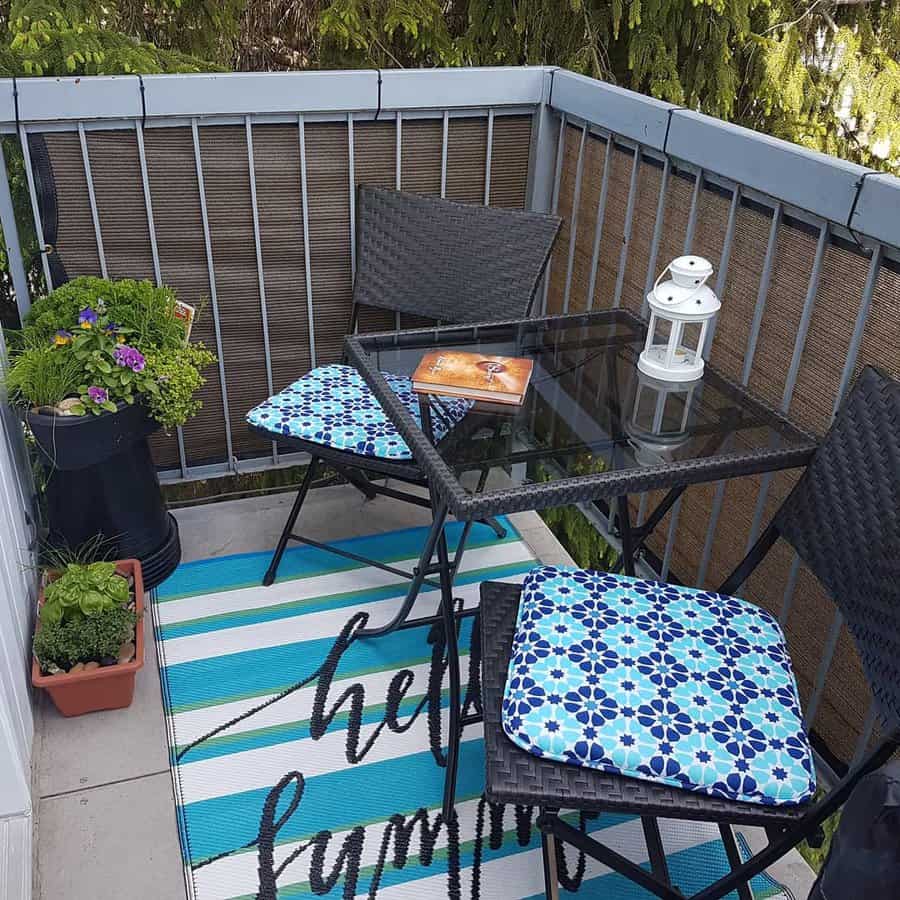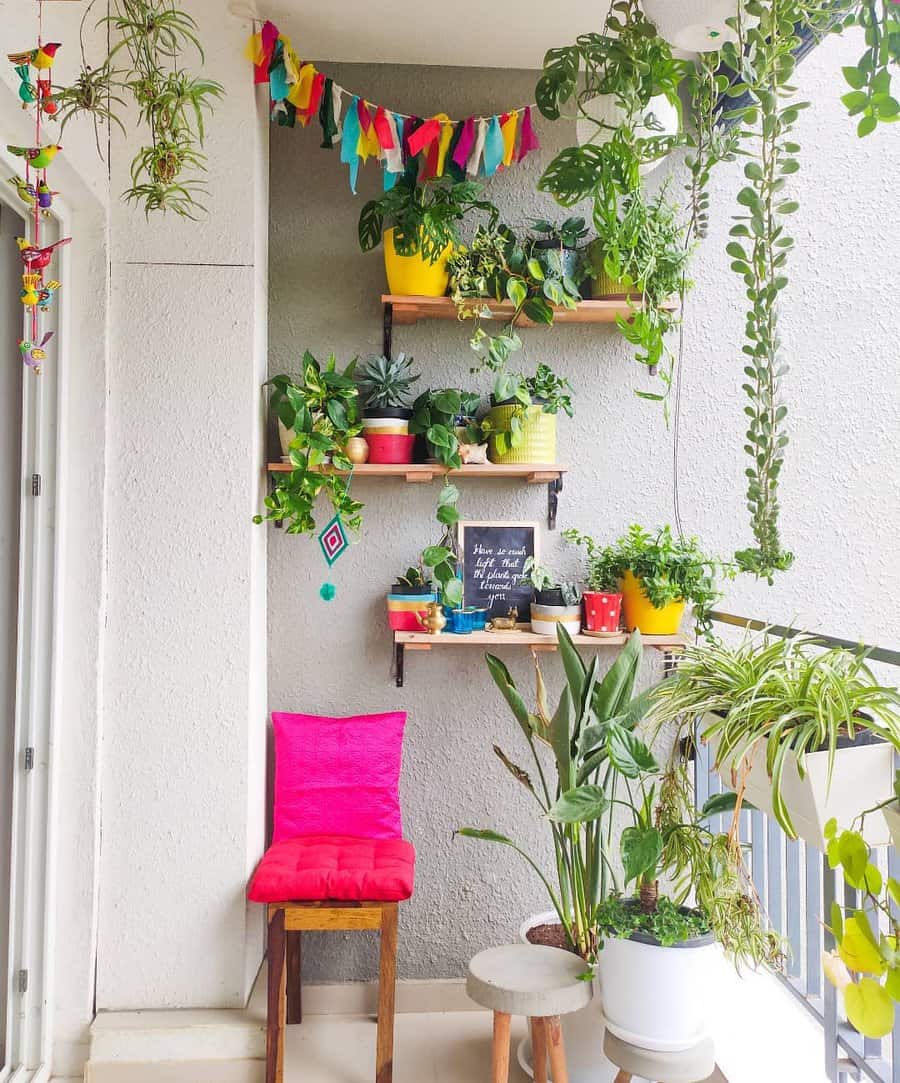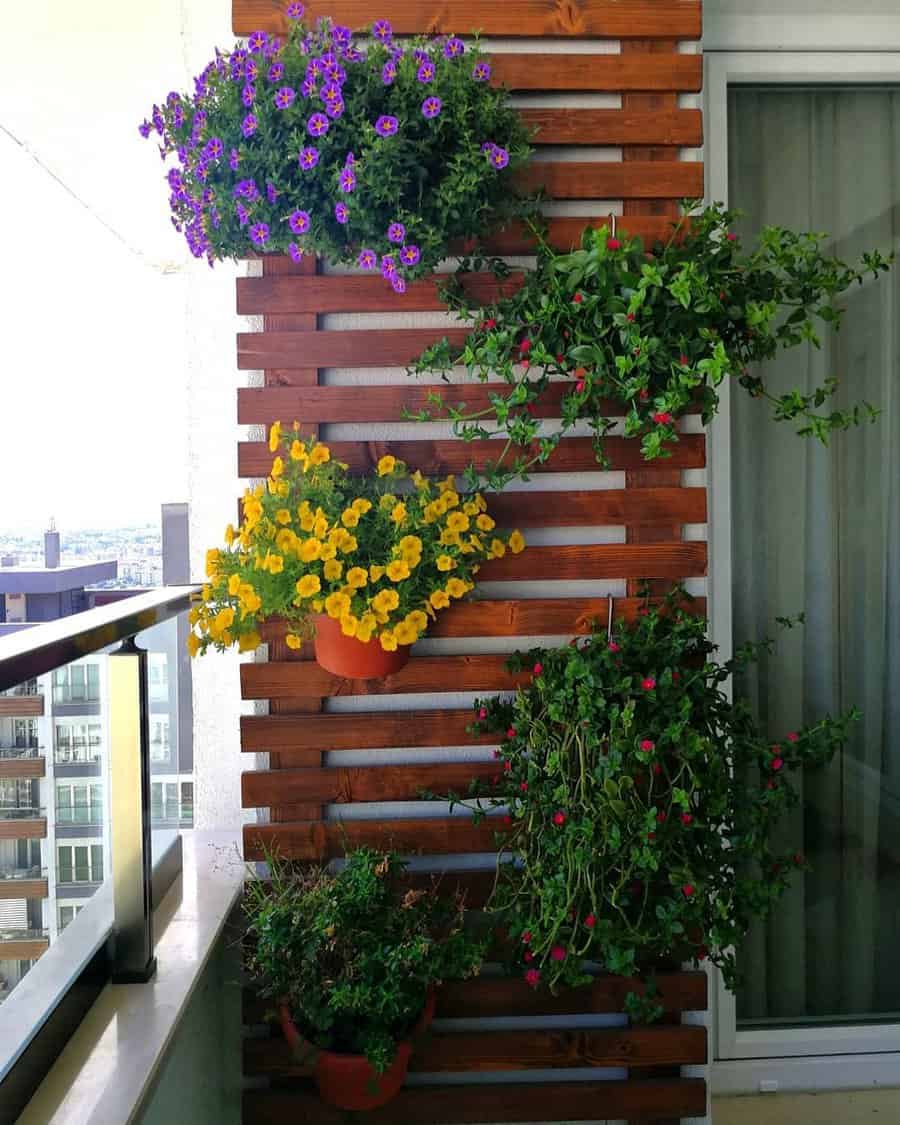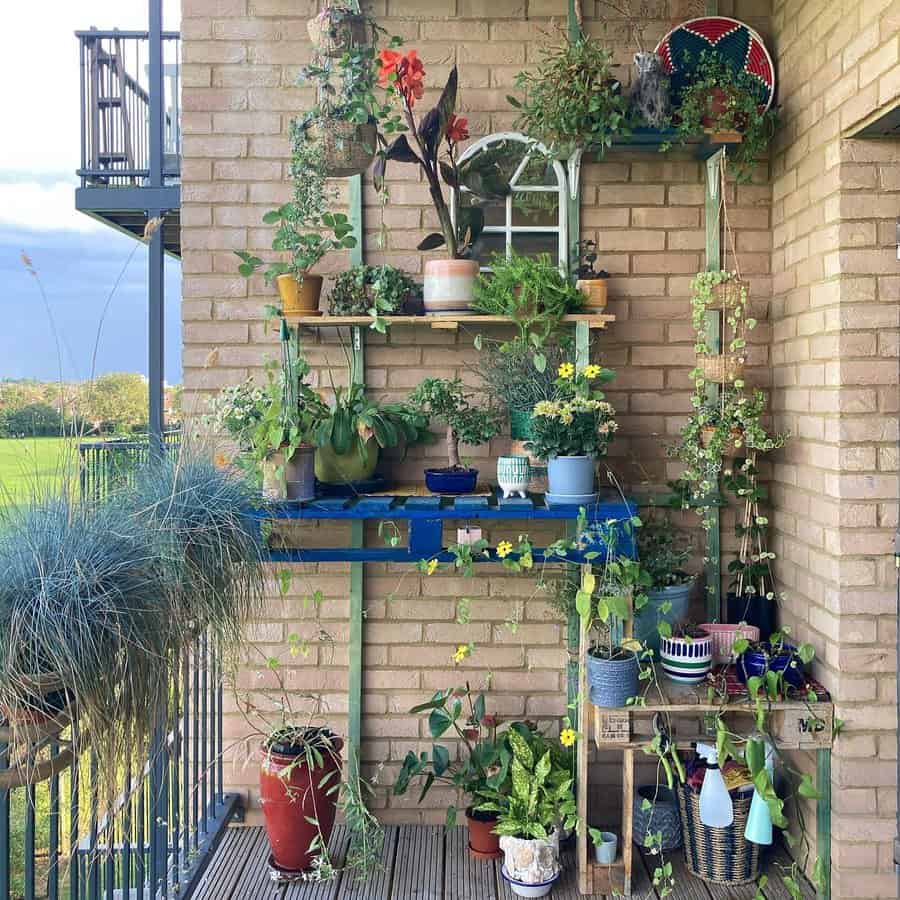 Purchase a coordinating planter collection to display plants in a variety of heights. Hanging baskets can also be hung from your balcony's roof and you can purchase baskets that fasten to your balcony railing.
Put up bamboo shades or screens if you need more privacy and they become additional outside "walls" to decorate.
2. Brick
Considering that faux brick walls have become a sought-after home décor feature, having outdoor brick walls is a decorating gift. A brick outdoor wall along your back porch or patio is a beautifully textured background for wall décor ideas.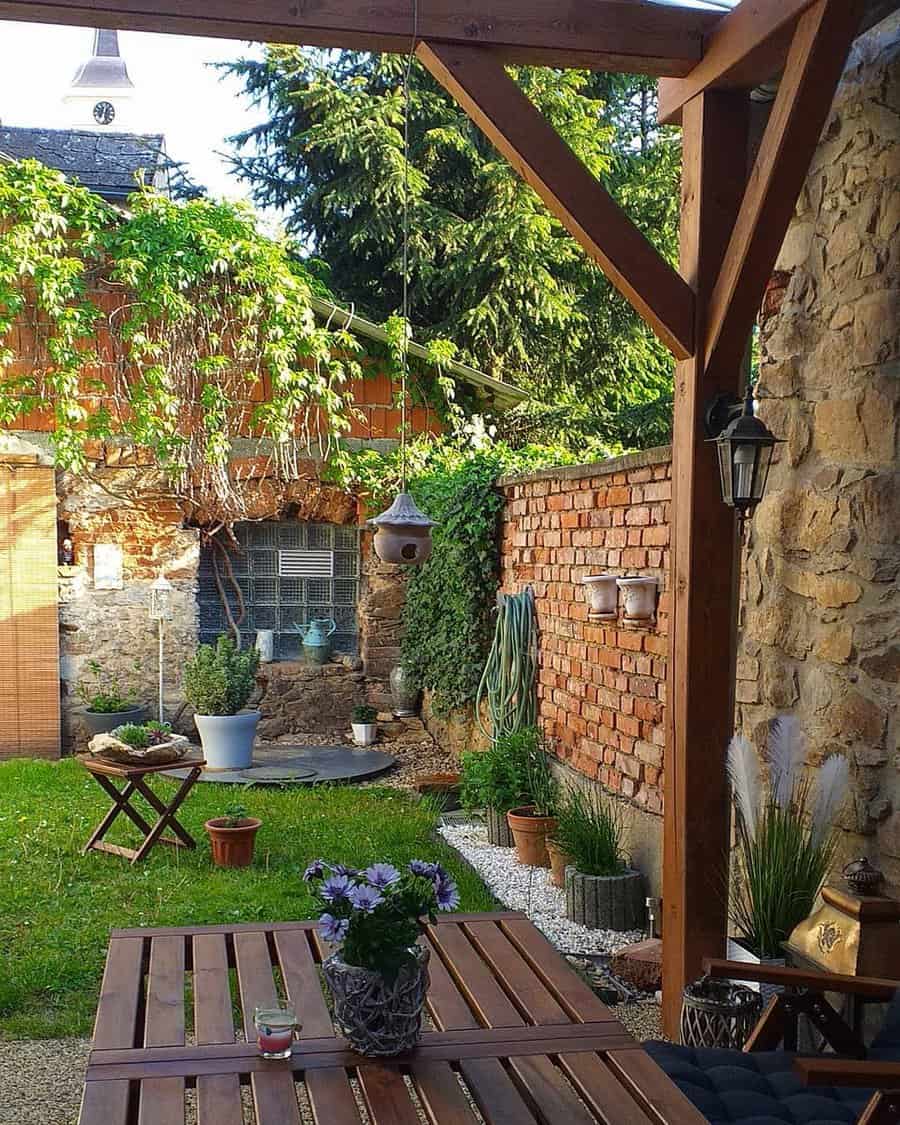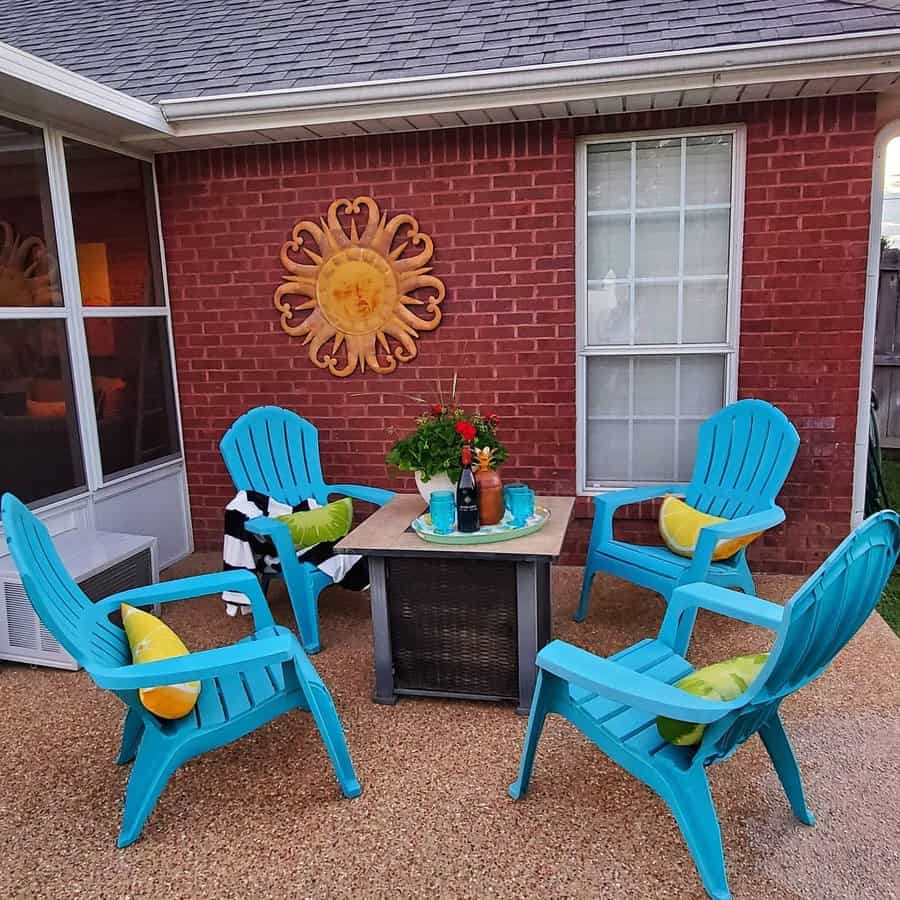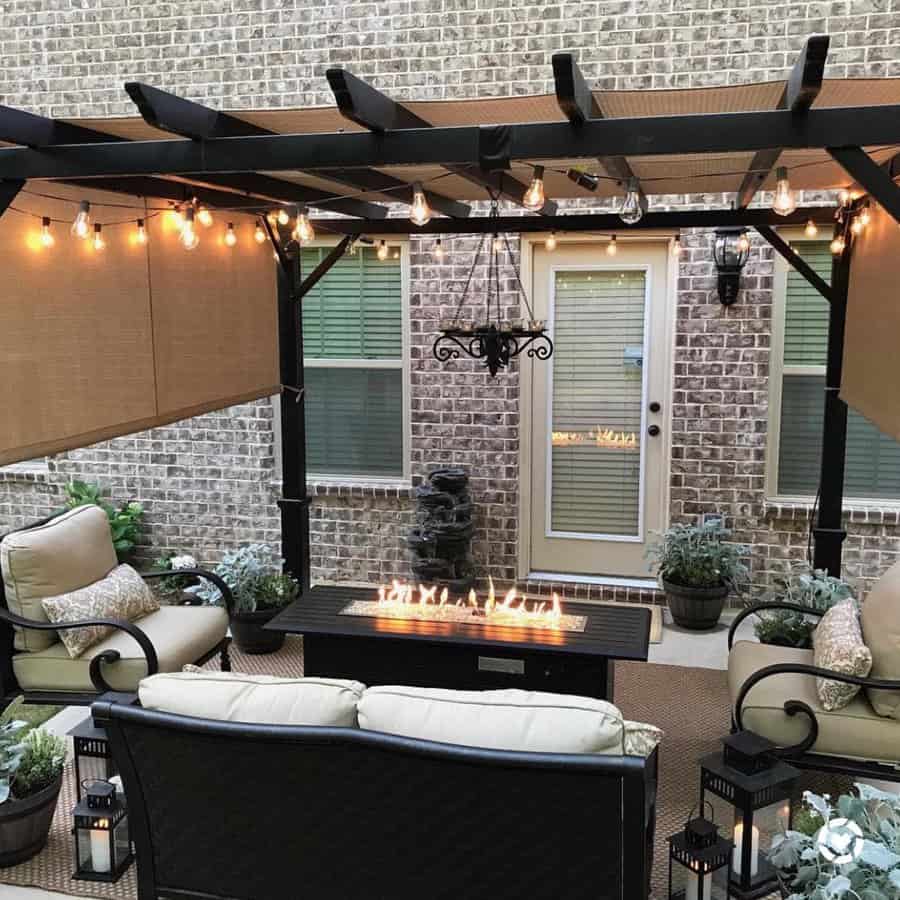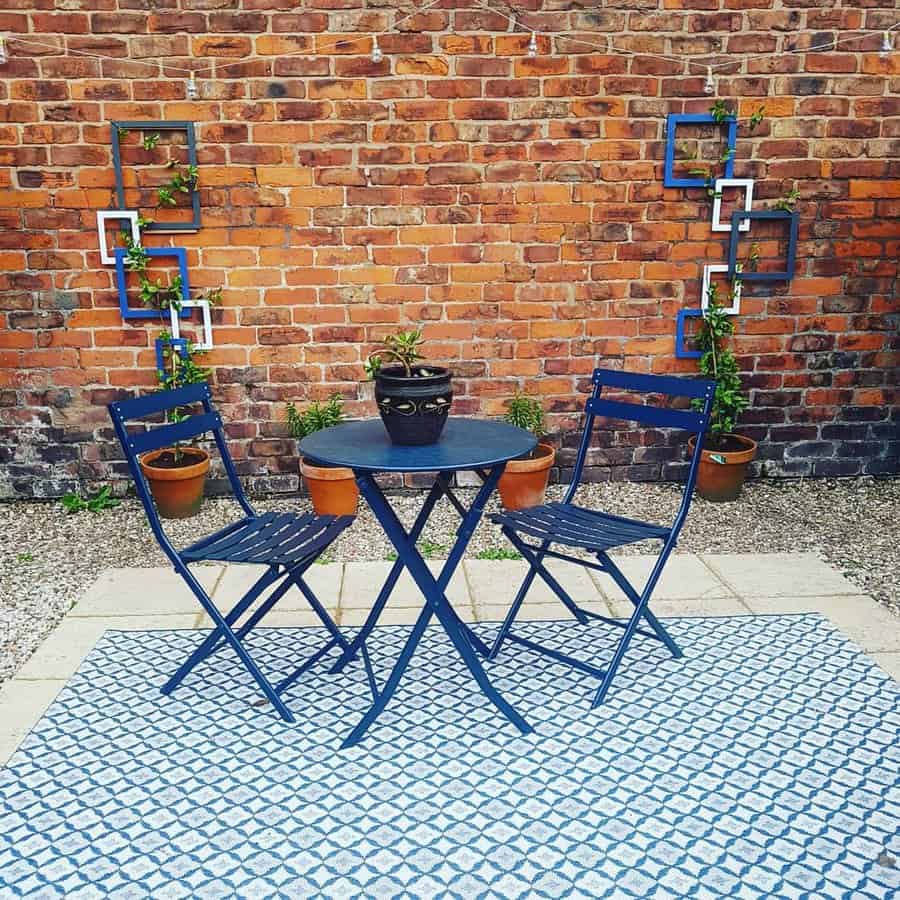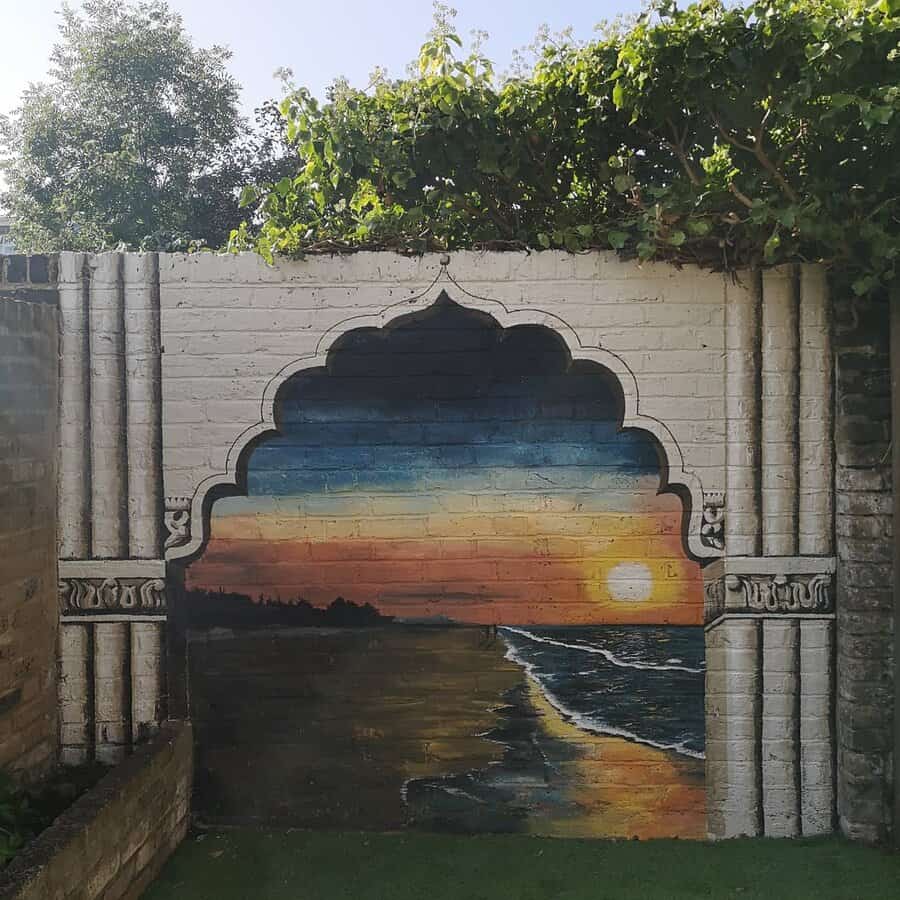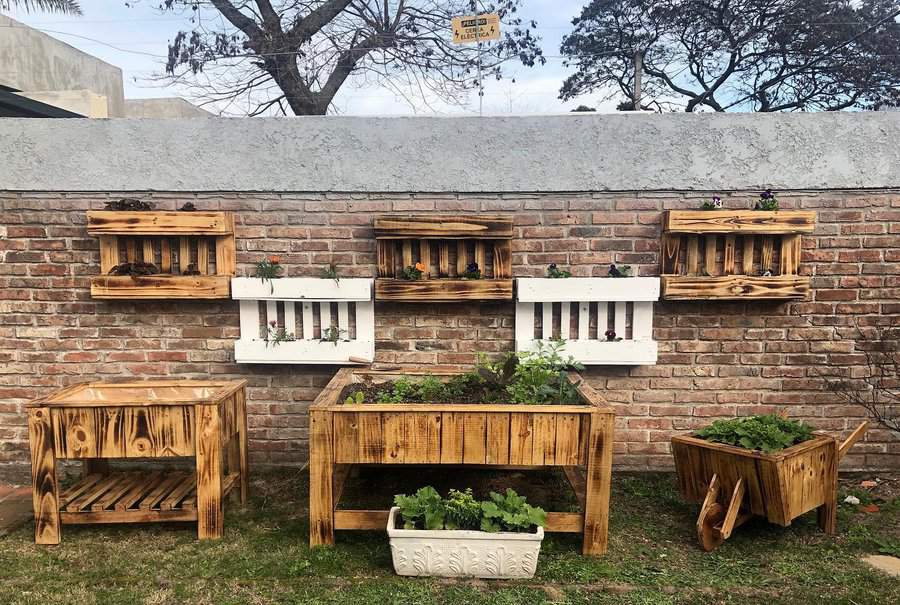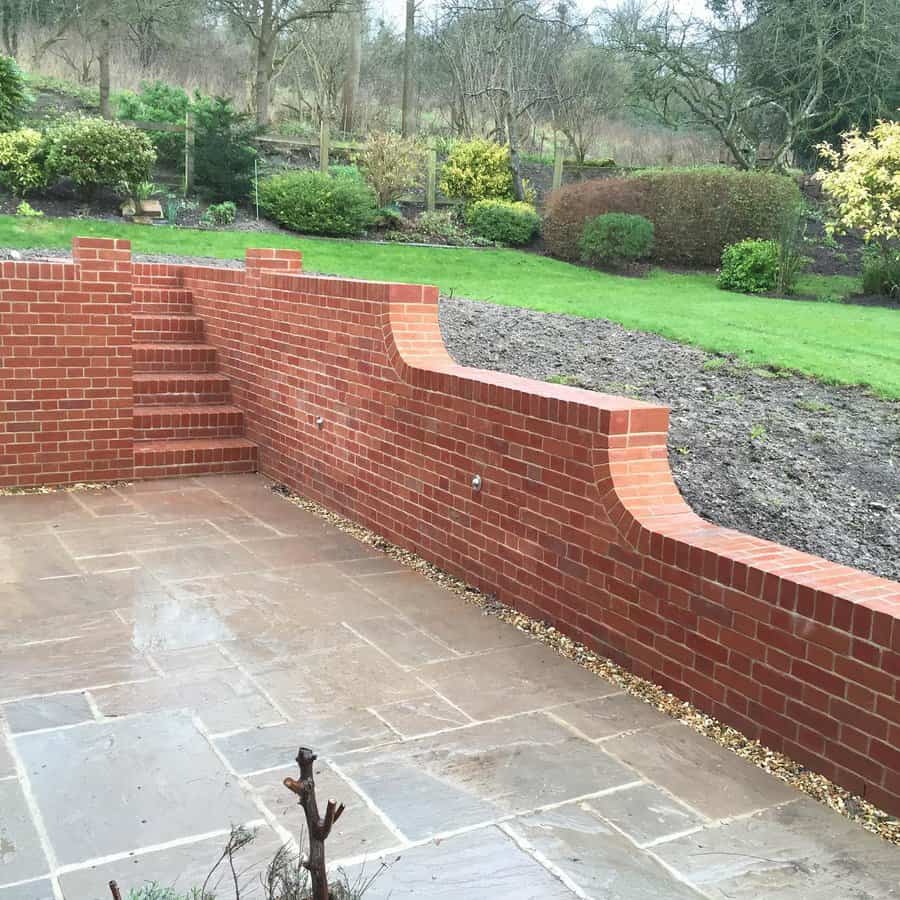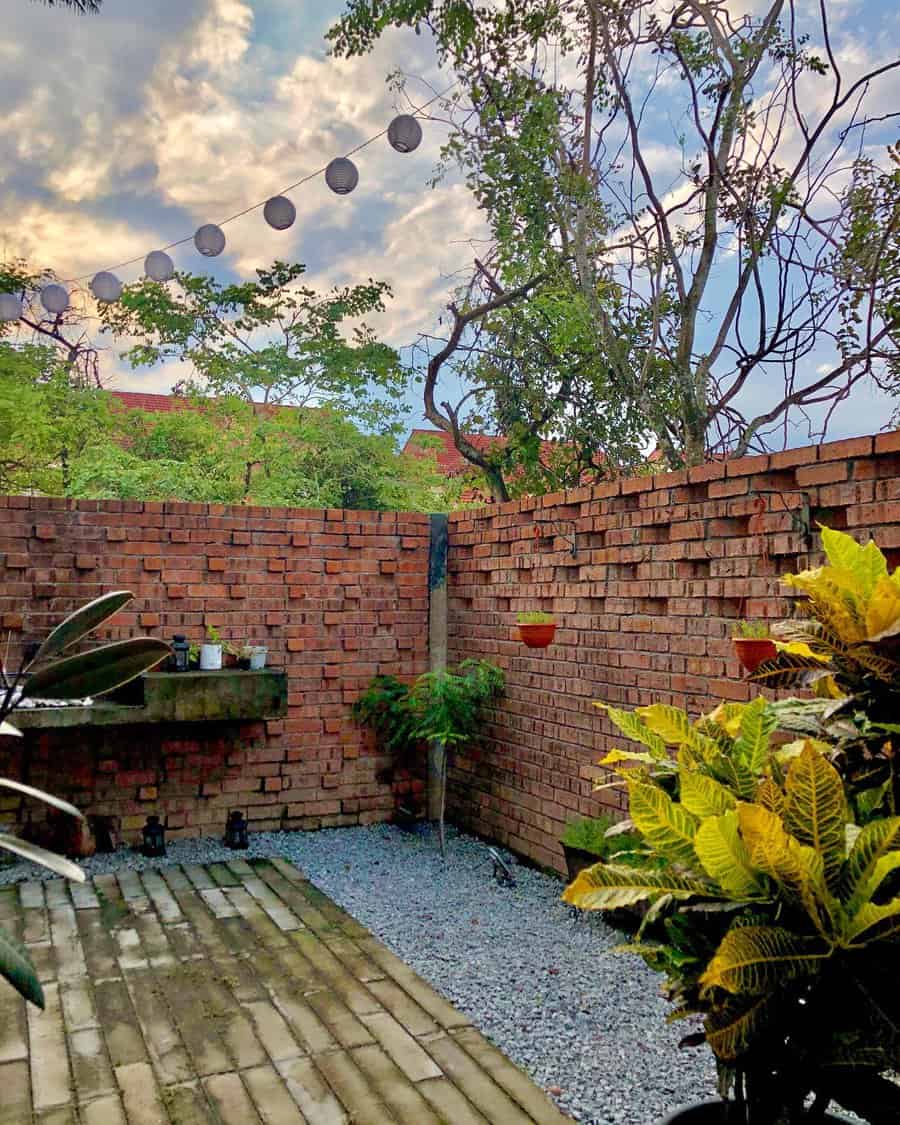 Whitewash dark brick surfaces in your backyard if you need to brighten up your outdoor living area. Murals are also great wall décor ideas when brick or stucco serves as the canvas.
The easiest way to hang wall art or a planter on a brick wall is with a brick hanger. These metal clips clamp onto a single brick and can be moved when your wall décor ideas change. Most hardware stores and home improvement centers sell brick clips; be sure to get one that's strong enough to support the decoration's weight. You can also find brick clips on Amazon here.
3. Deck
Decks are generally open spaces, freestanding or connected to just one or two exterior walls. If you want more privacy while enjoying your backyard deck, create a "wall" with tall hedges or build a living plant wall.
A pergola over the deck provides a more enclosed feeling, and you can hang wall art and other décor on its columns or from its ceiling.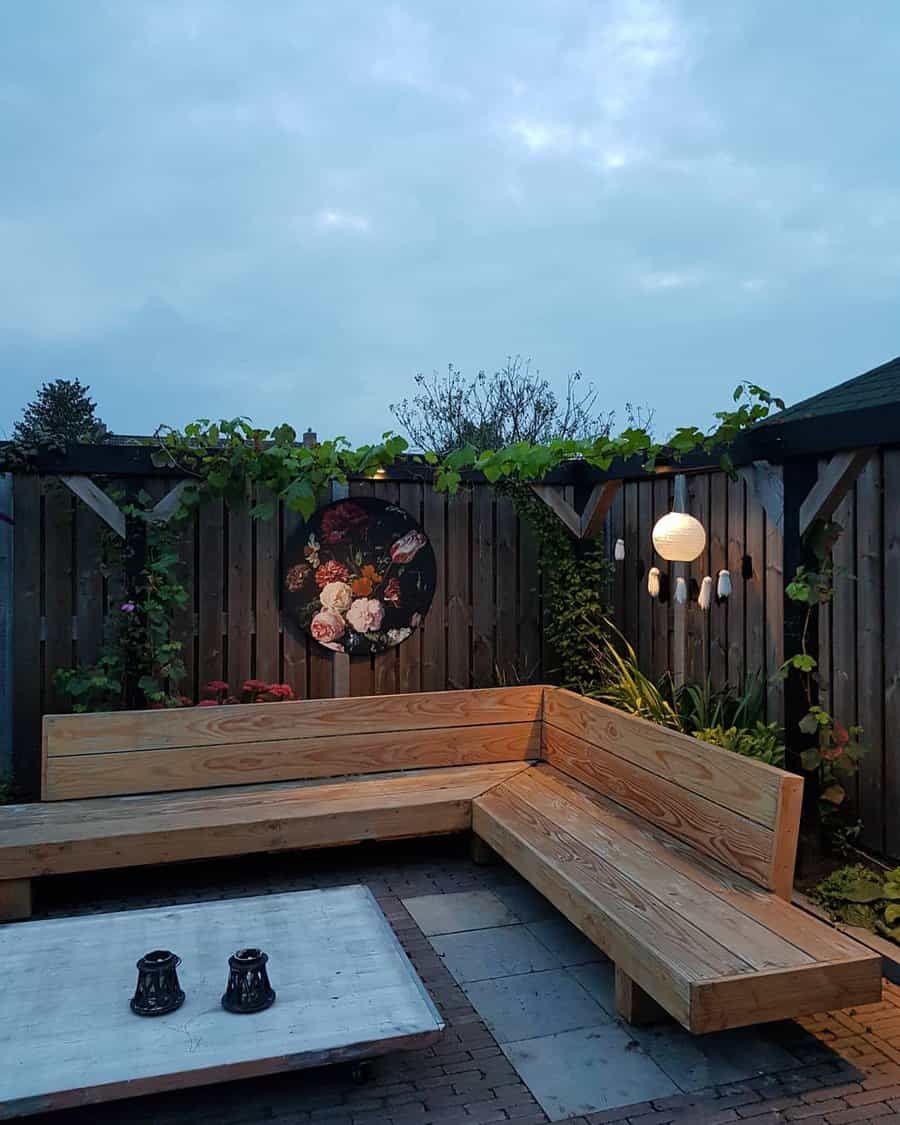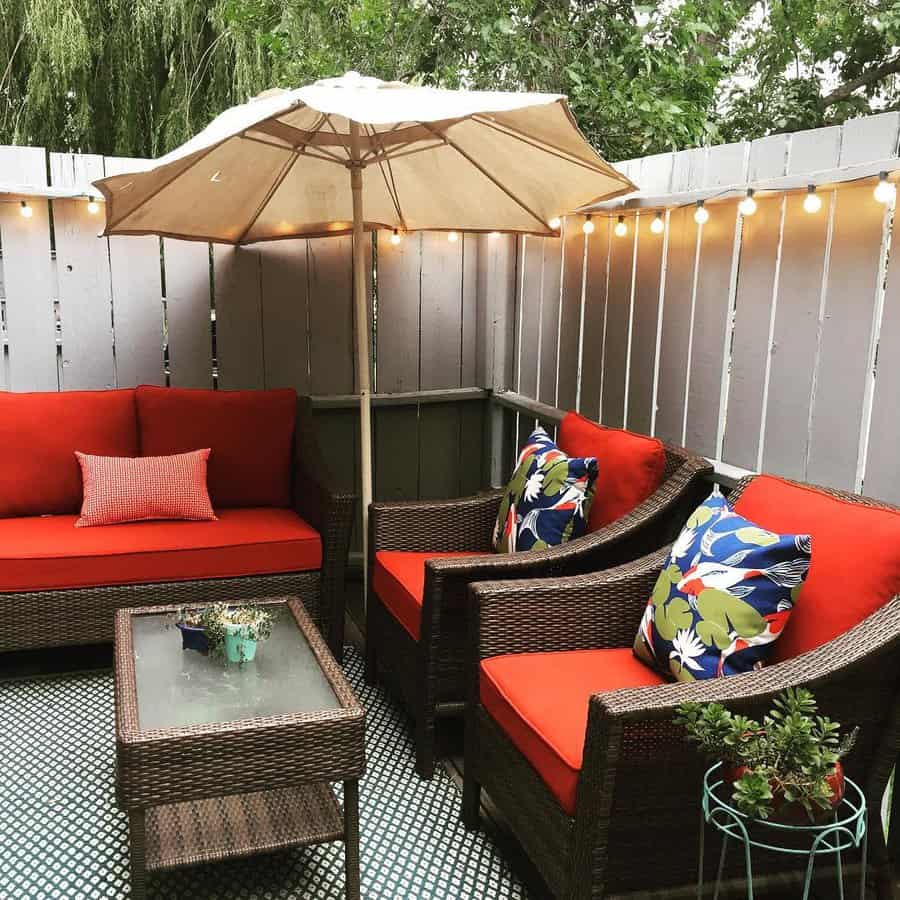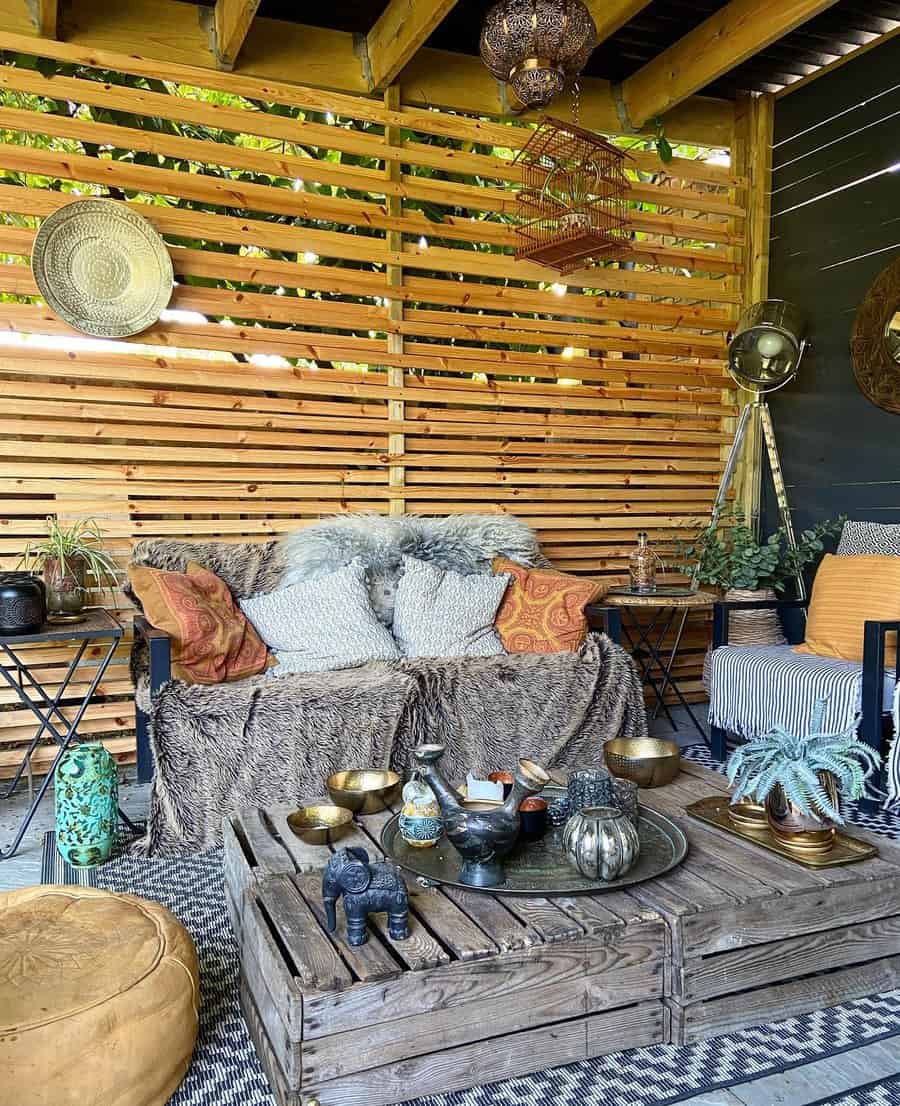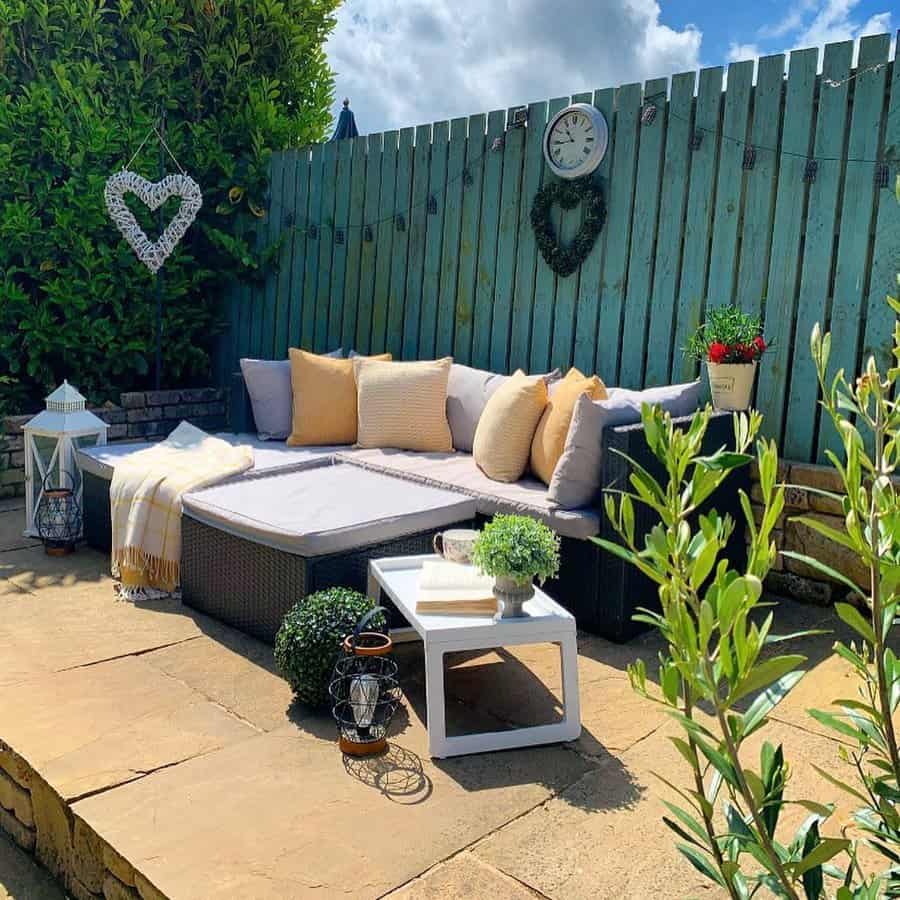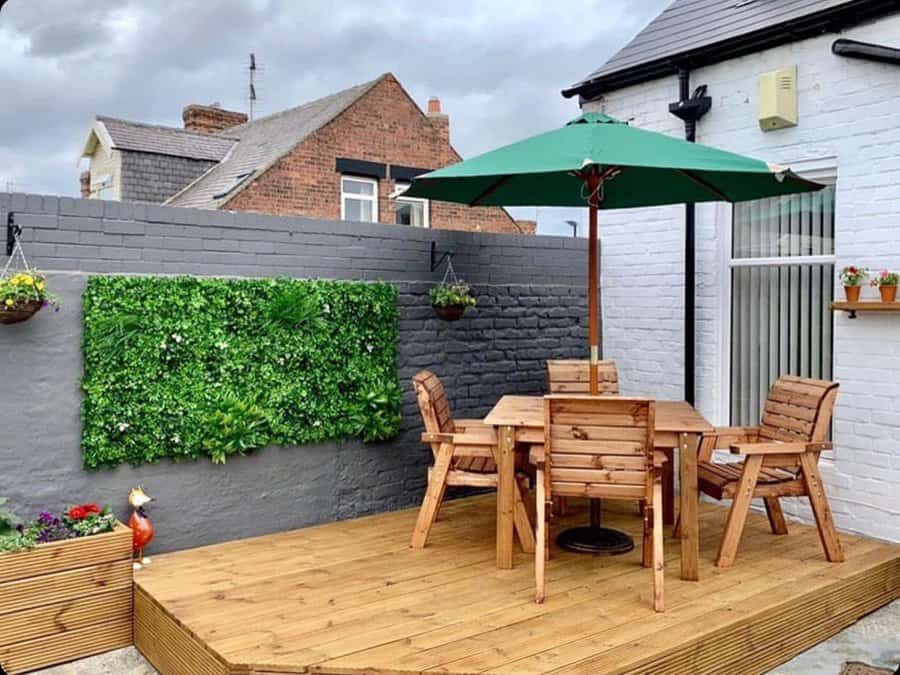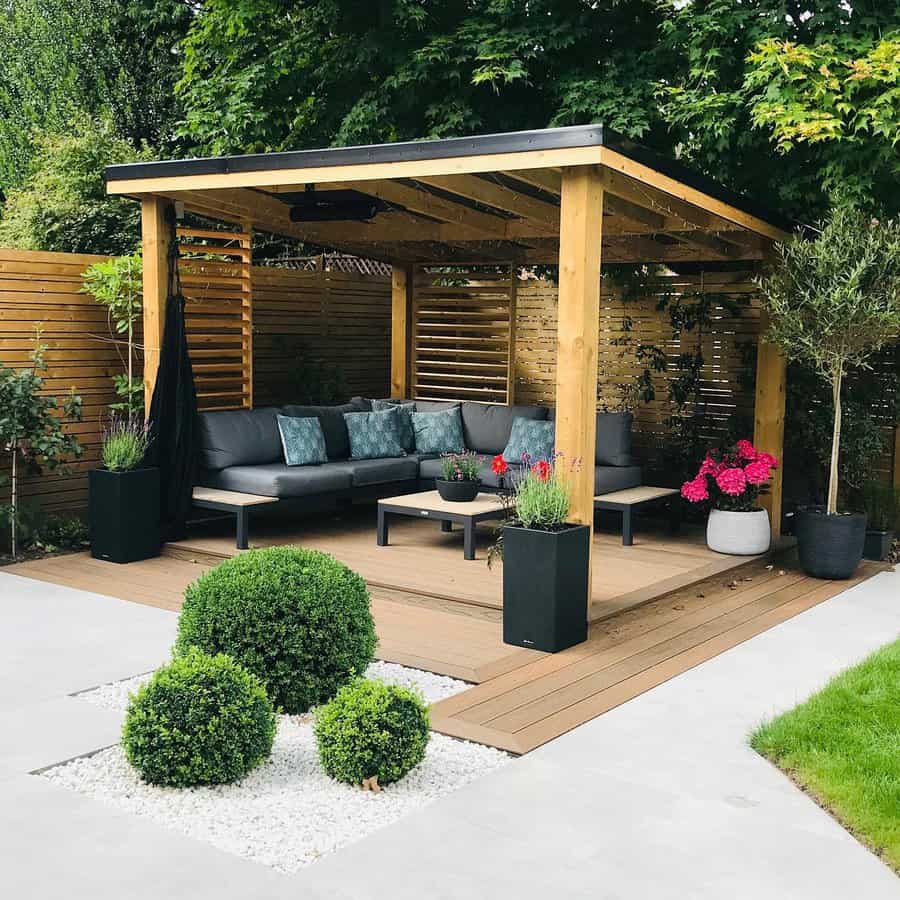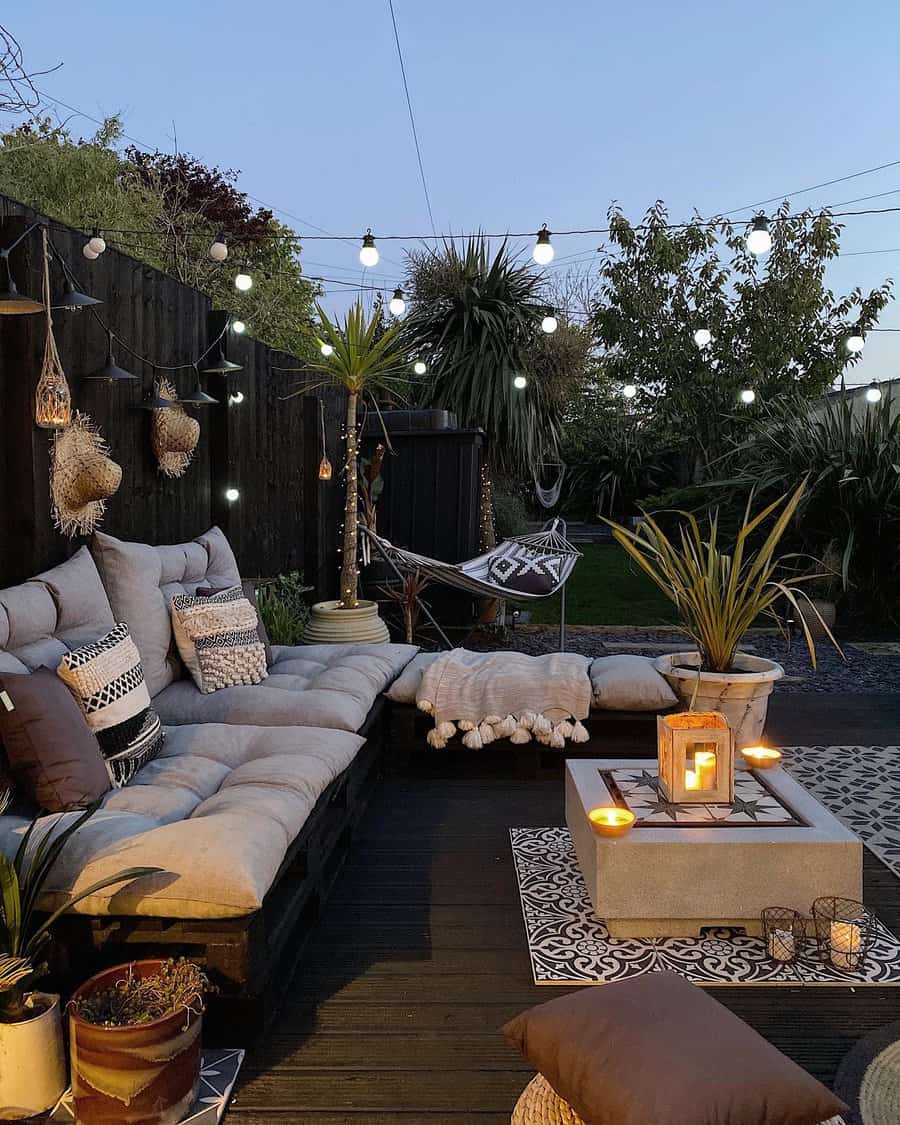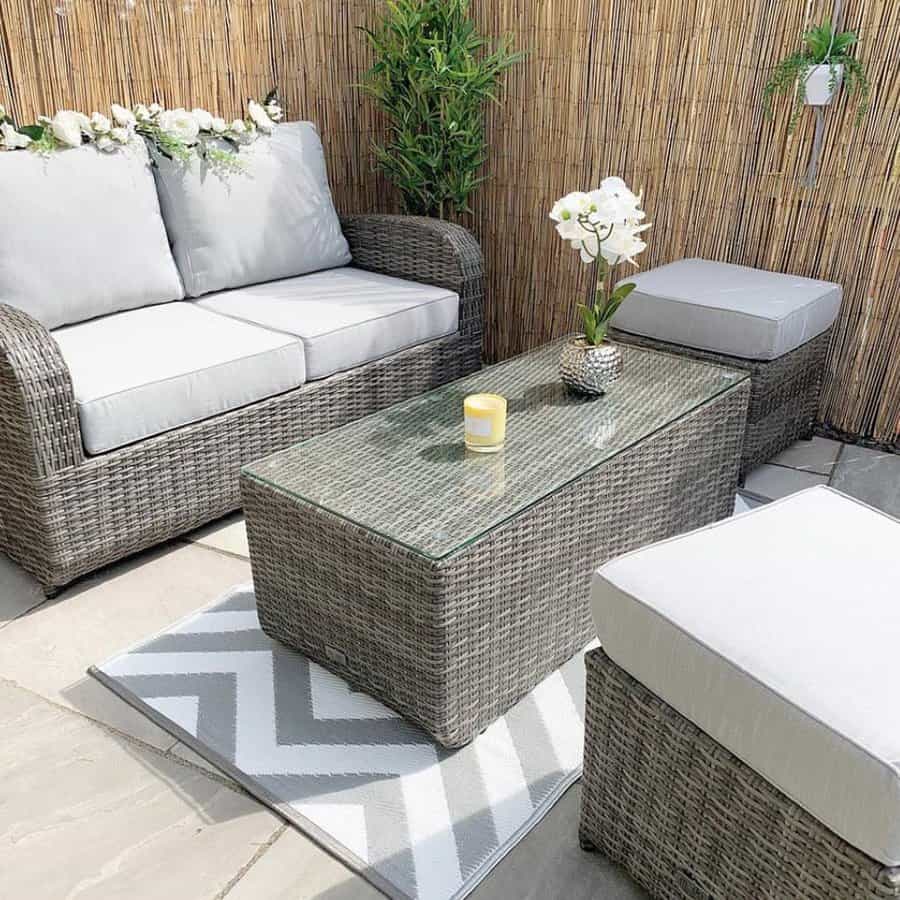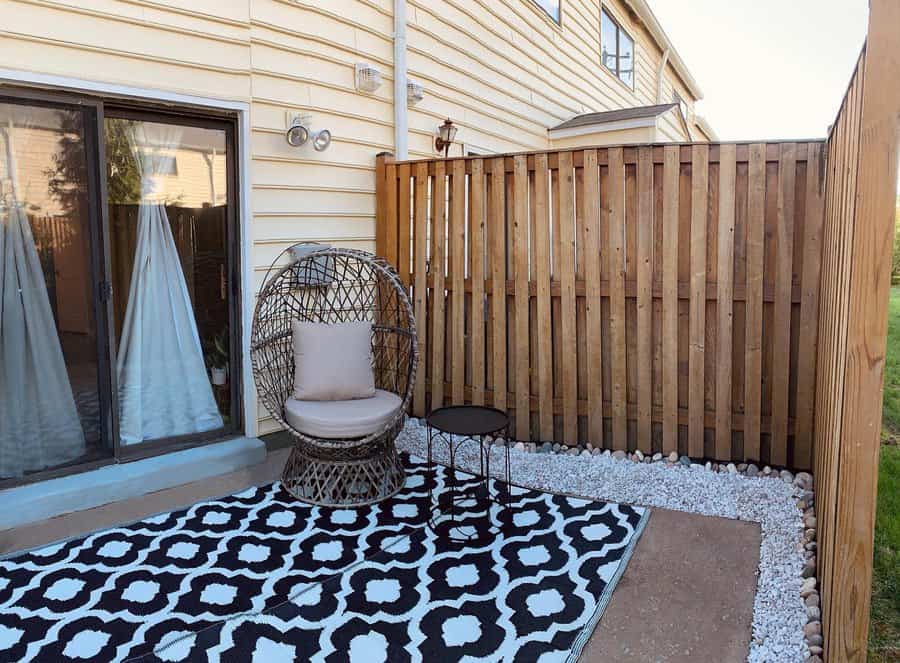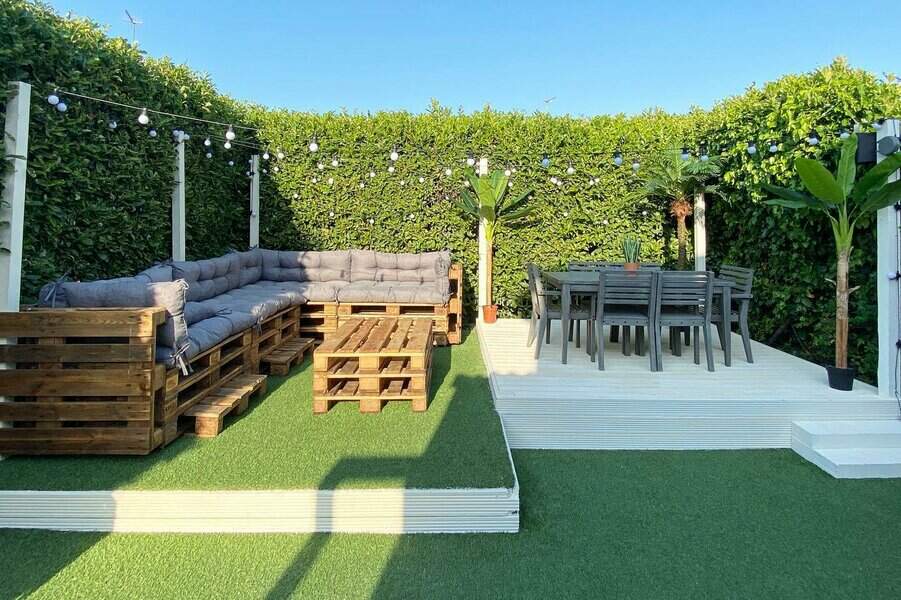 Signs are a great outdoor wall art idea for a deck, patio, or garden. Antique or new signage adds a rustic charm to your outdoor space. Swimming-themed signs are a fun touch on a pool deck. Add a clock to your sign display to help you gauge when it's time to apply more sunscreen.
4. Exterior
Position a large sculpture, bird bath, or fountain against a long exterior wall. Use it as your outdoor décor focal point and build the rest of your garden ideas around it. Add a wrought iron trellis to the wall and allow English ivy or morning glory vines to climb it.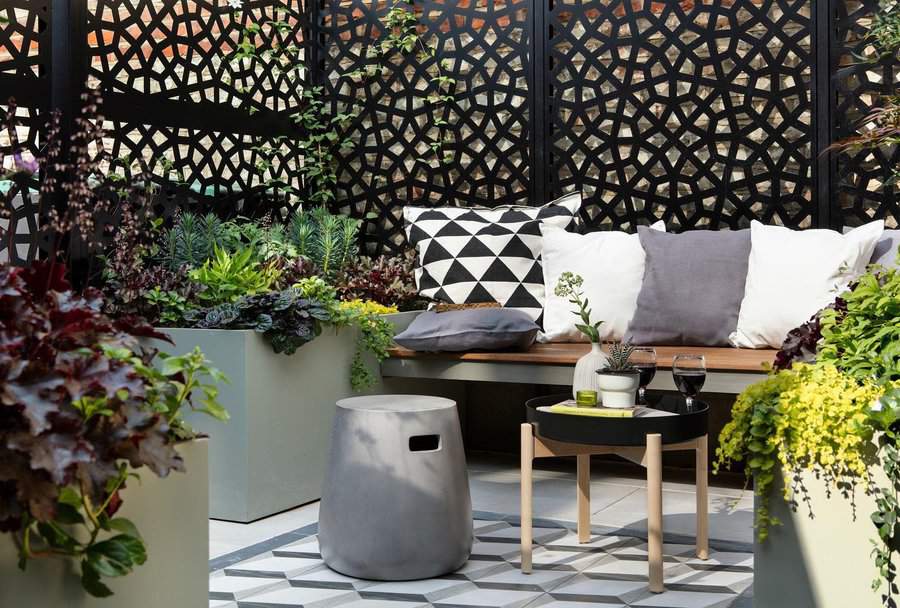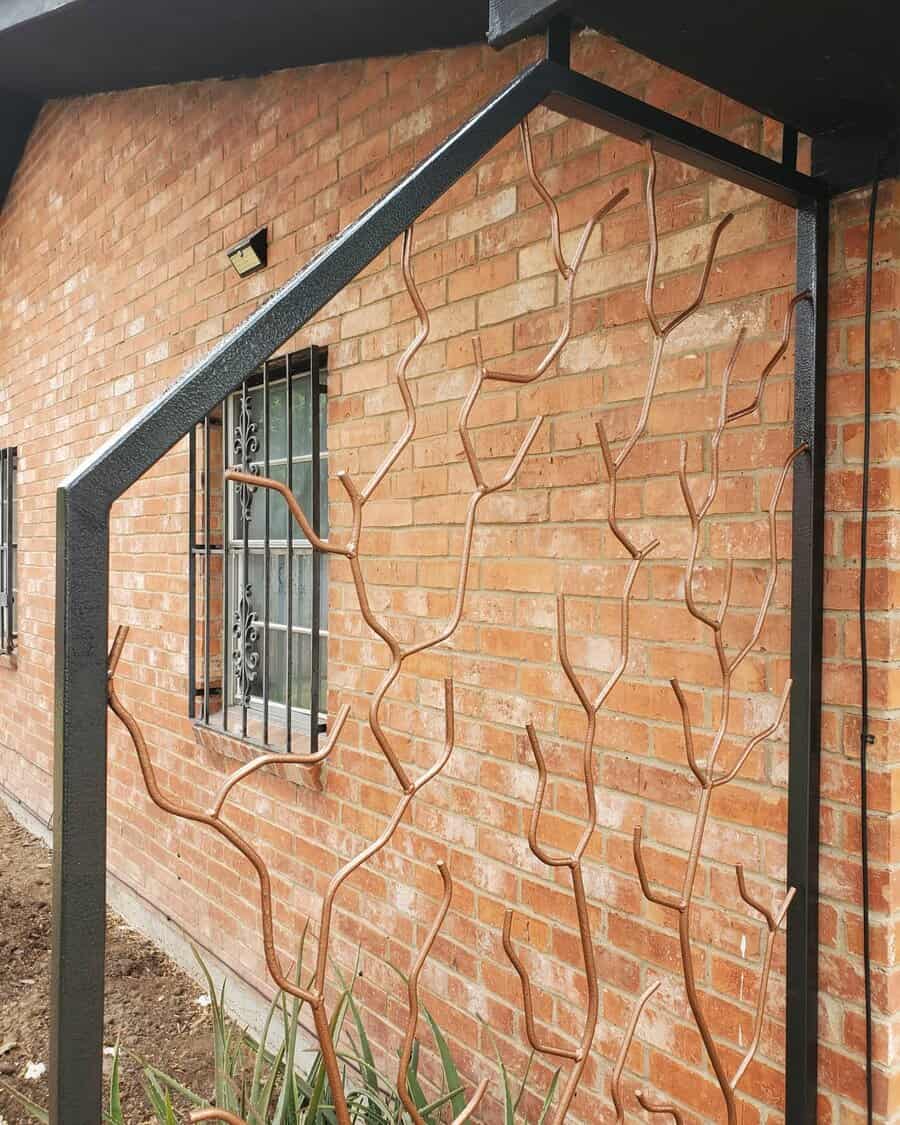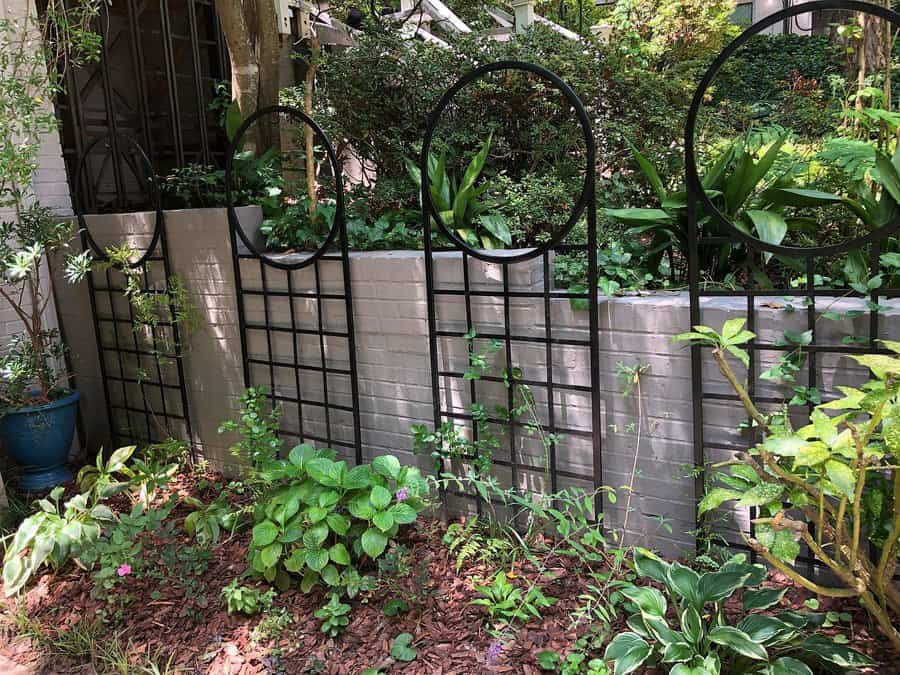 Look to global design trends to spice up your outdoor décor ideas. Colorful Moroccan or Indian textiles and pottery provide a color palette for your outdoor wall décor. These materials can also help guide your choices for outdoor furniture and garden décor.
5. Fence
A wooden backyard garden fence may be a great blank canvas to support your outdoor wall decoration ideas. Simply hammer in nails to support your outdoor canvas or metal wall art, light strands, and planters.
If you have a chain-link or other unattractive fence, cover it with inexpensive bamboo fencing and elevate the beauty of your garden.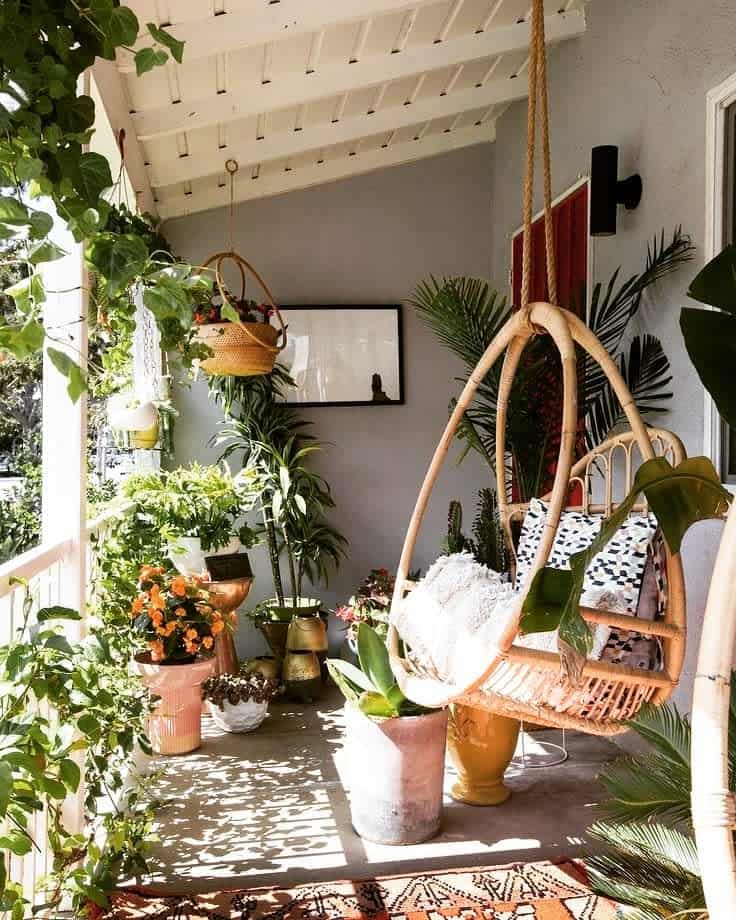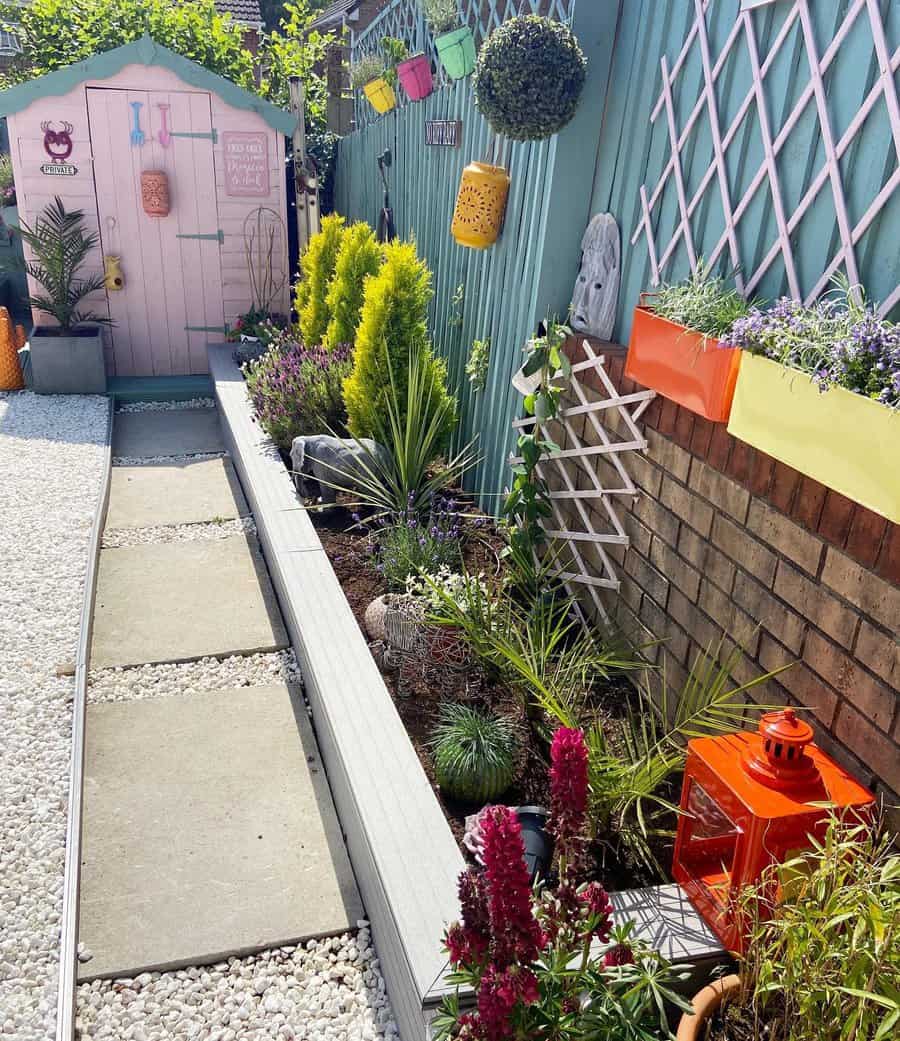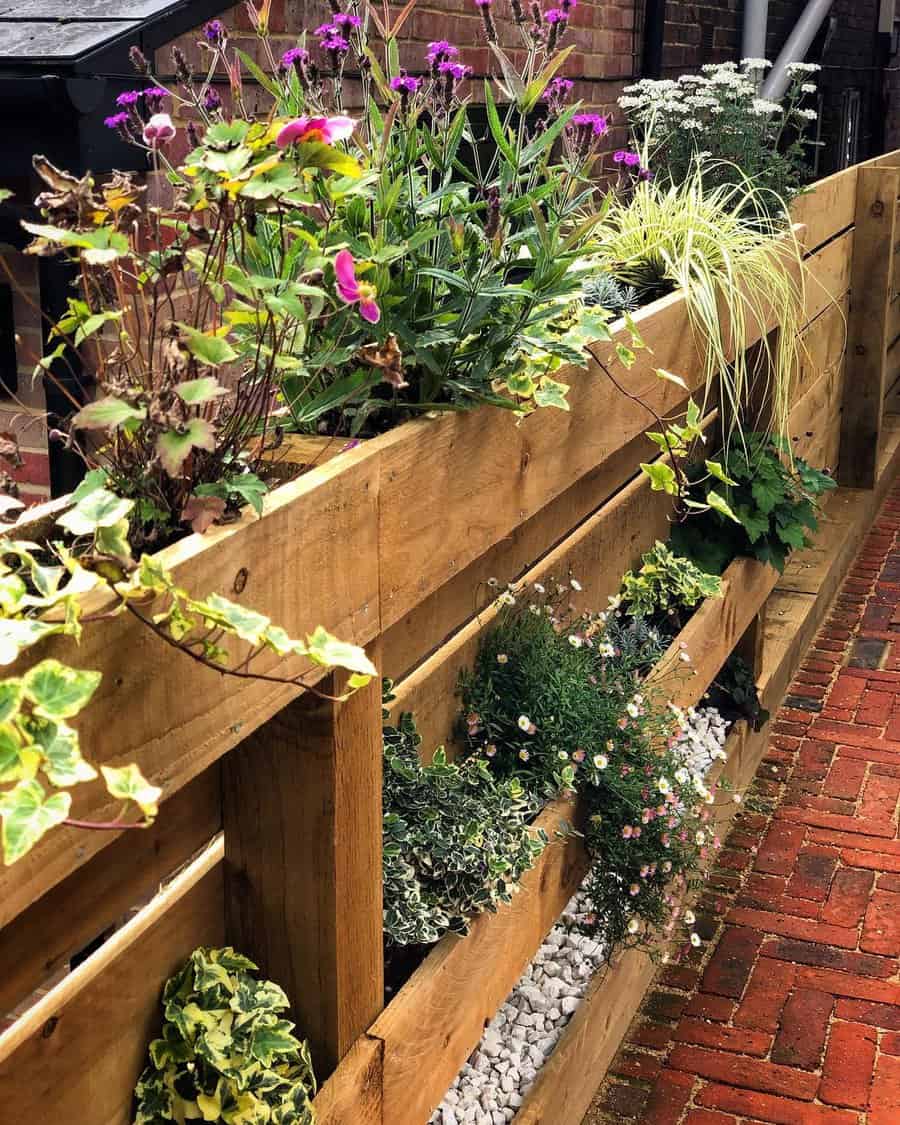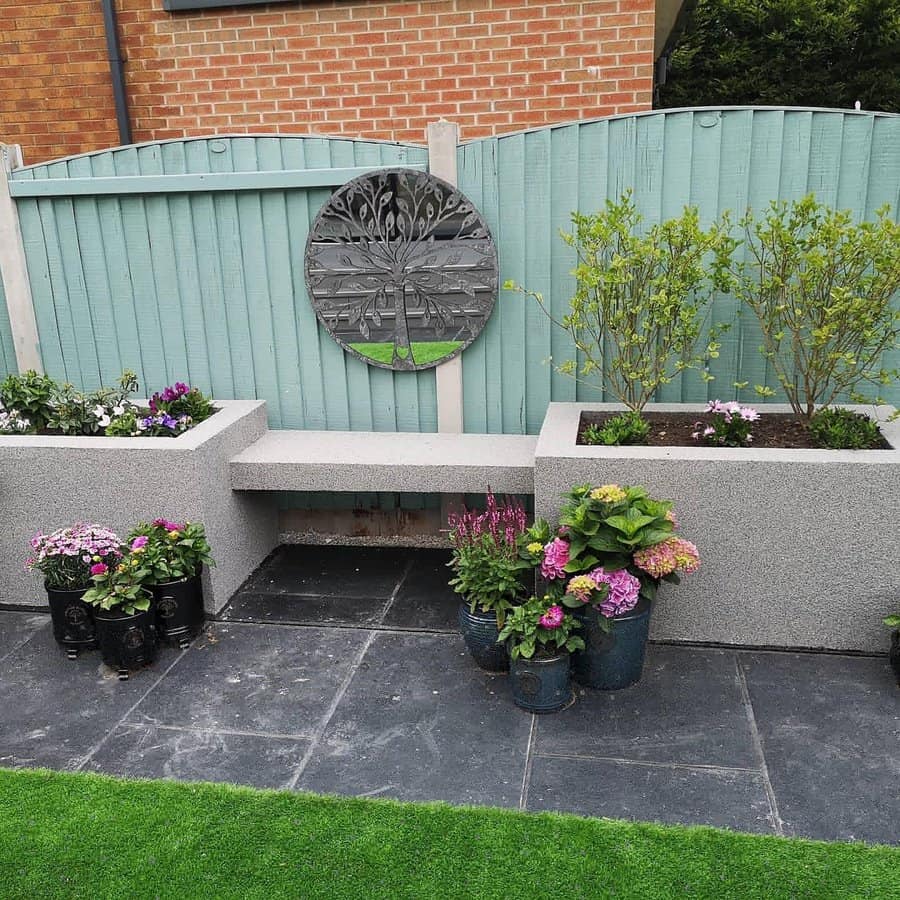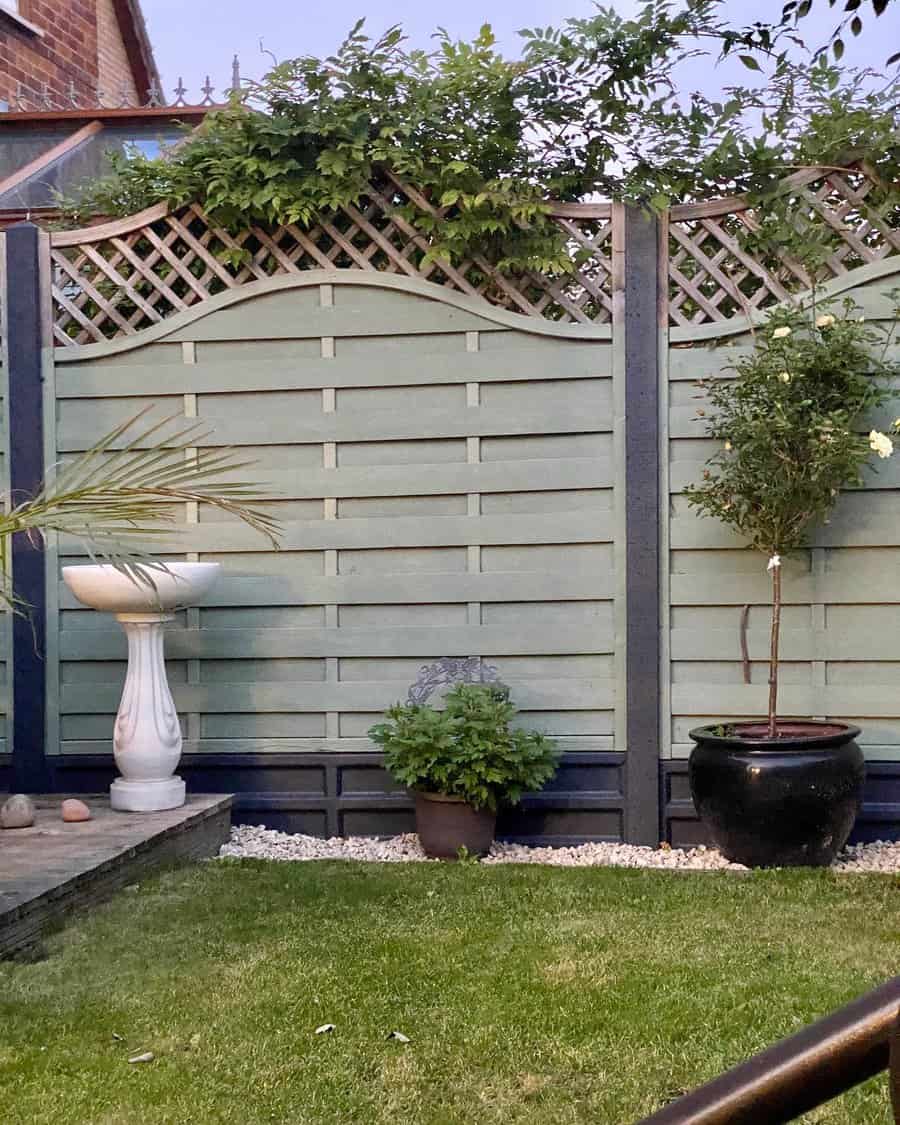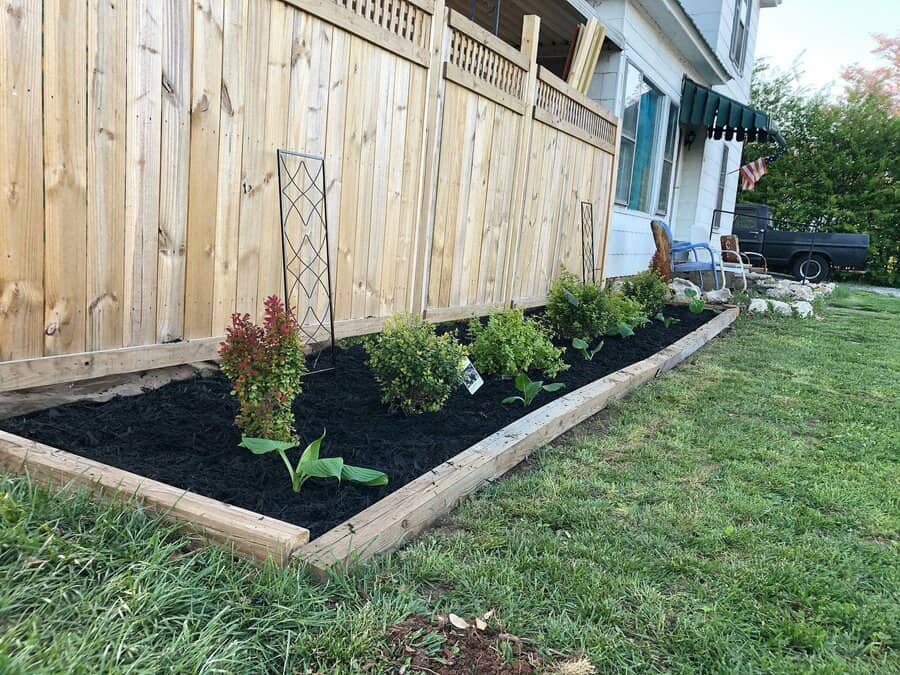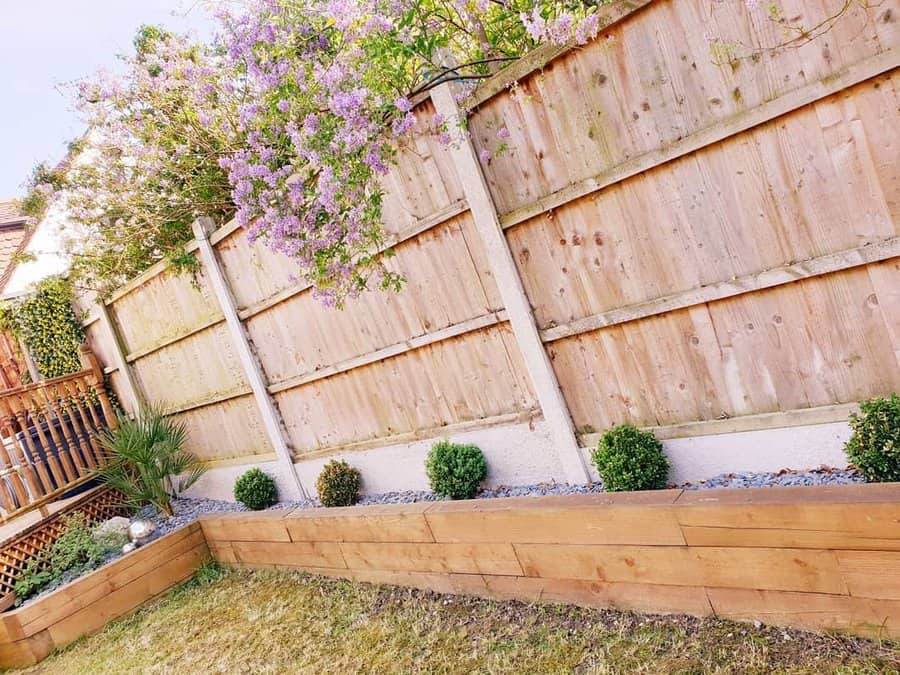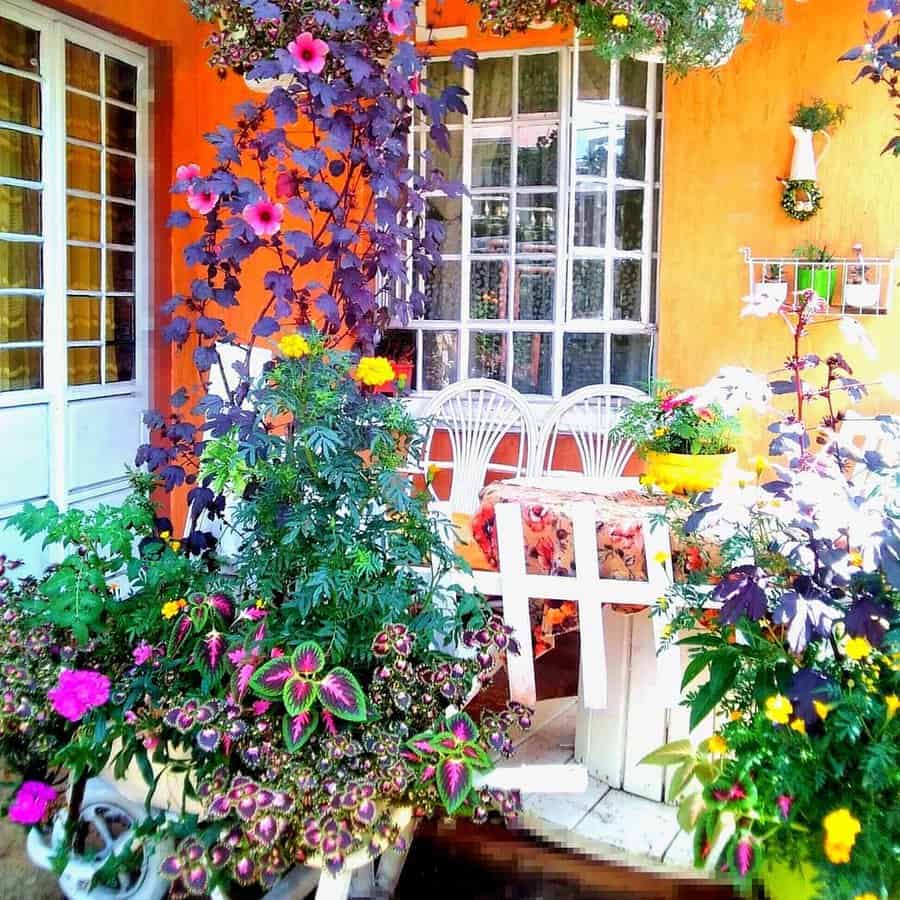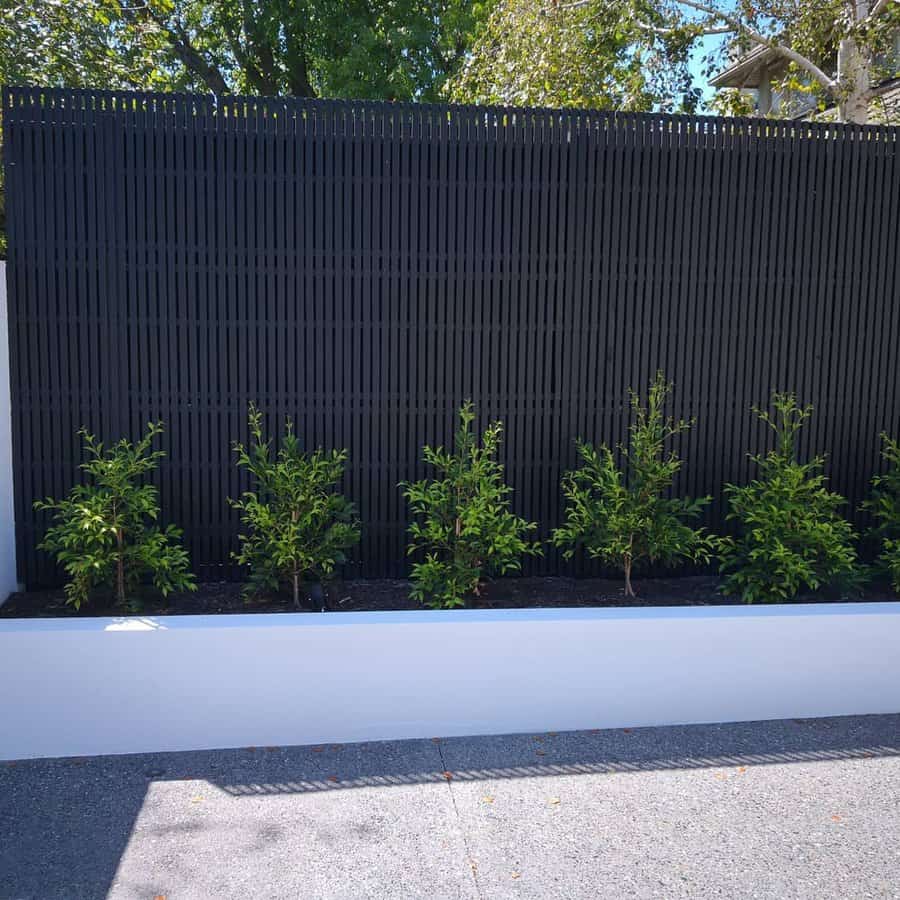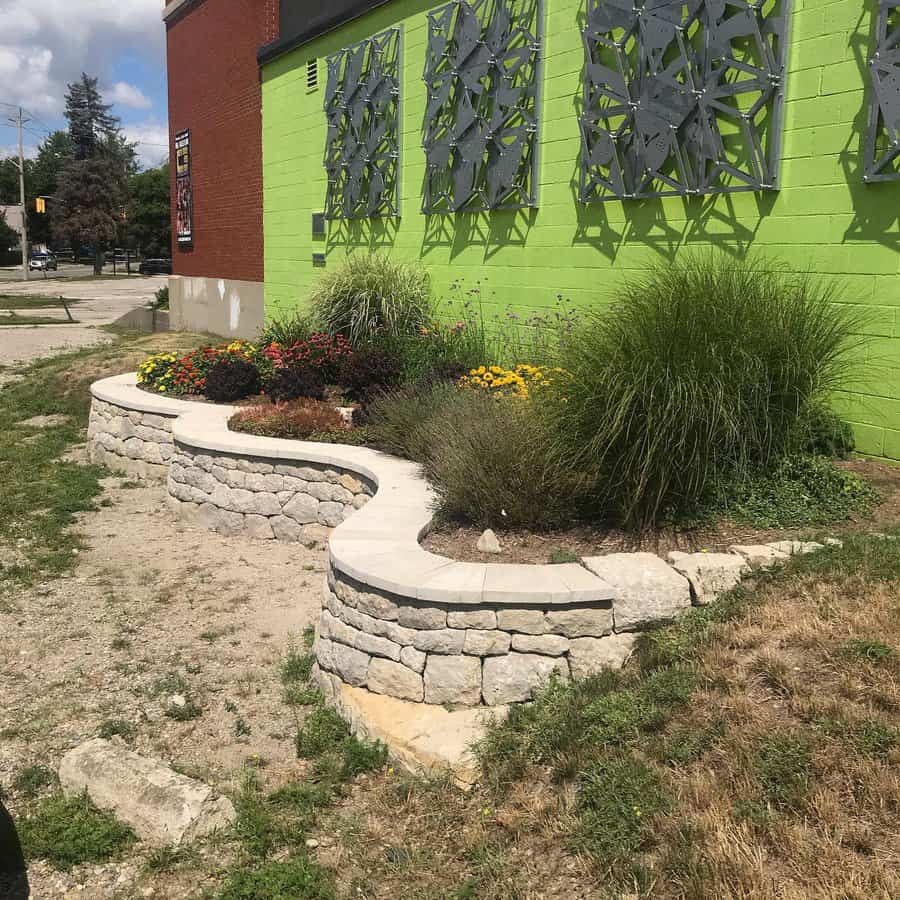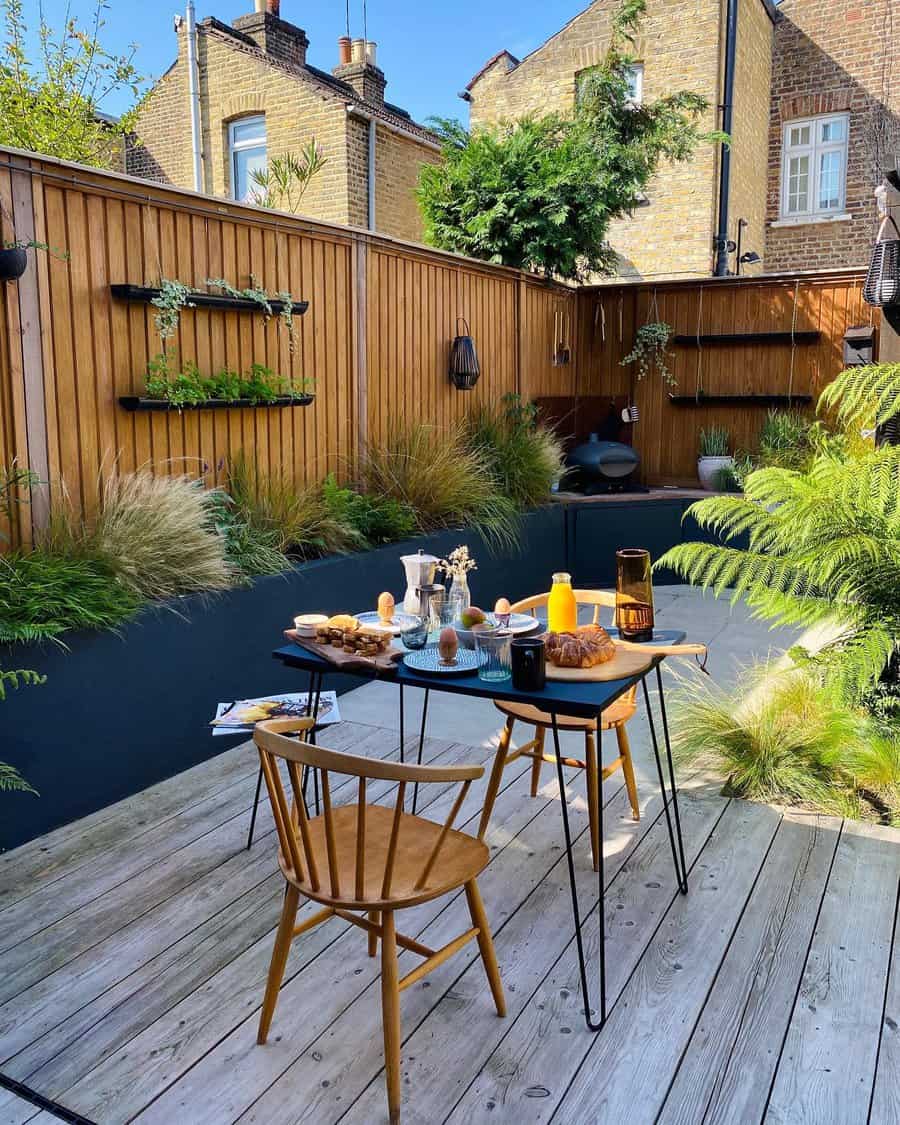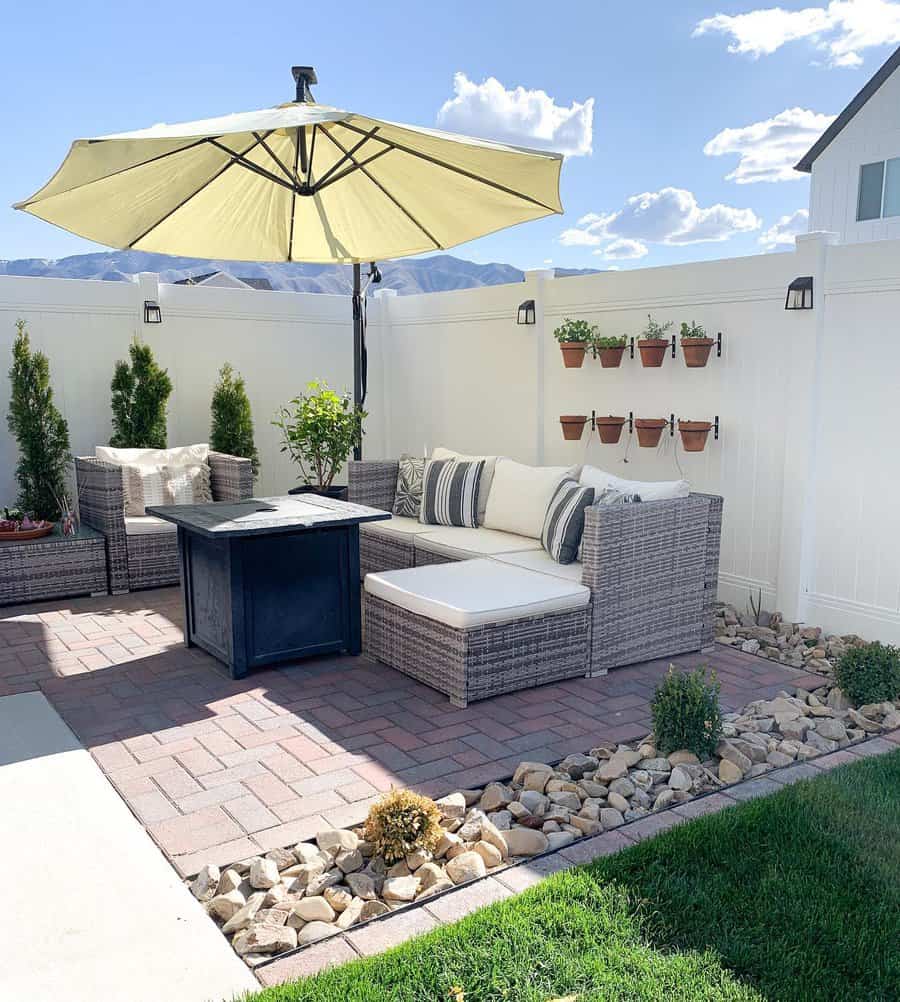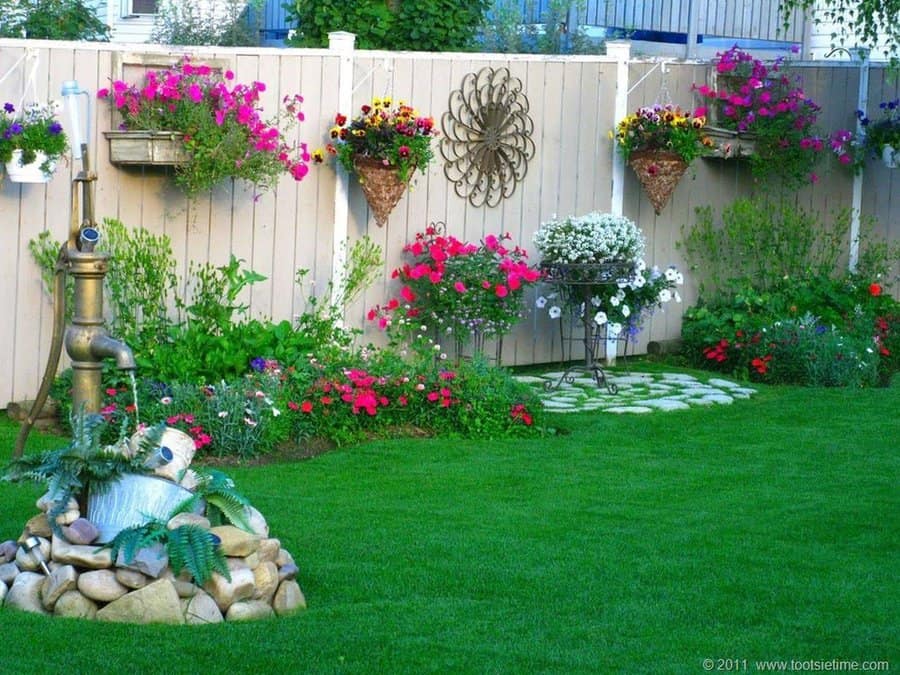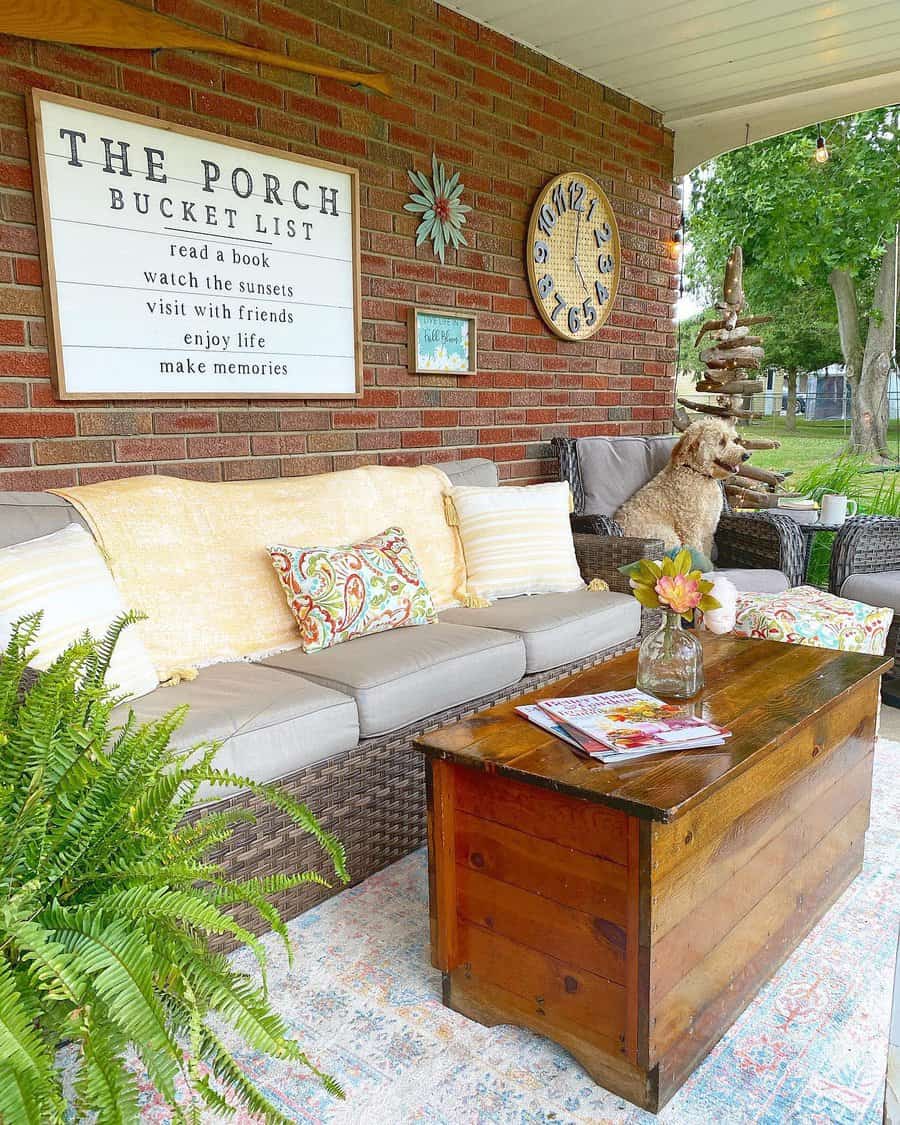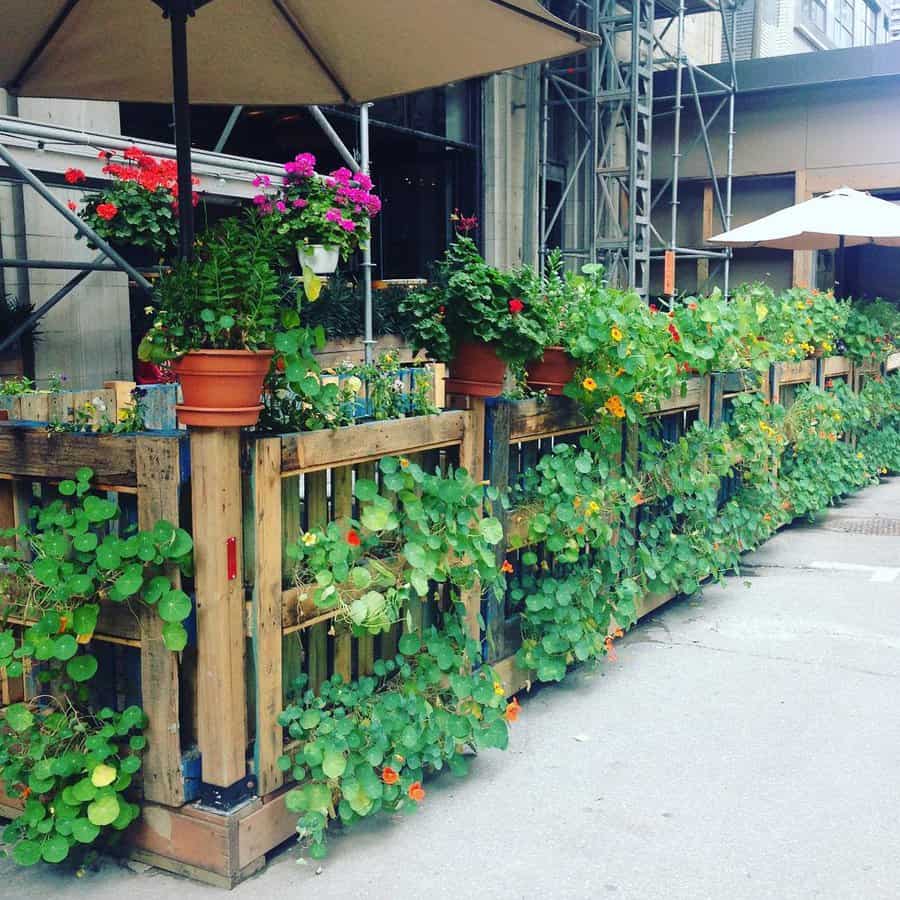 For a fun, whimsical garden touch, spray paint reclaimed windows, wooden chairs, or ladders bright colors and hang them on your fence.
Use the chair seats as plant holders and allow trailing or climbing vines to grow around the legs. You can also hang a simple trellis in a crisscross pattern on your fence and guide vines along it.
6. Patio
Make your indoor and outdoor space flow seamlessly by using the same color palette in both areas. Paint your patio walls the same color as your interior walls and hang outdoor wall art that echoes the decorating elements you've used inside.
Hang a wreath on the door leading into the house and hang a coordinating wreath or two on the wall itself.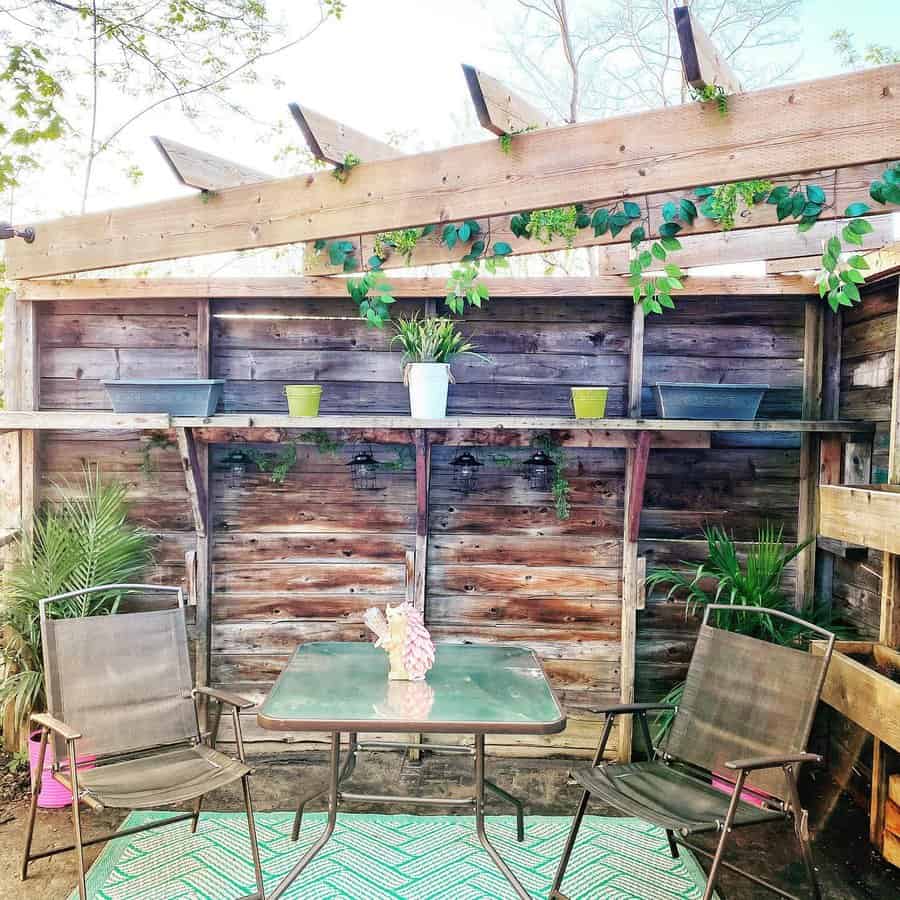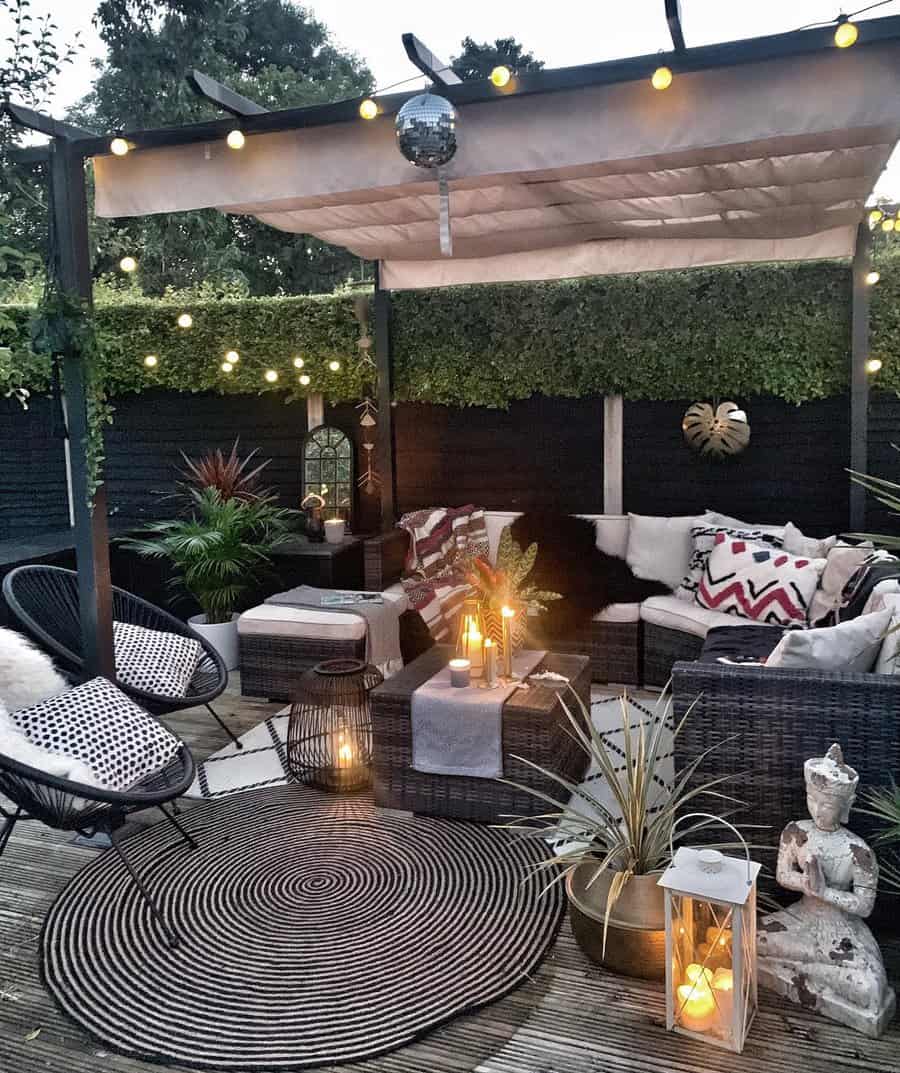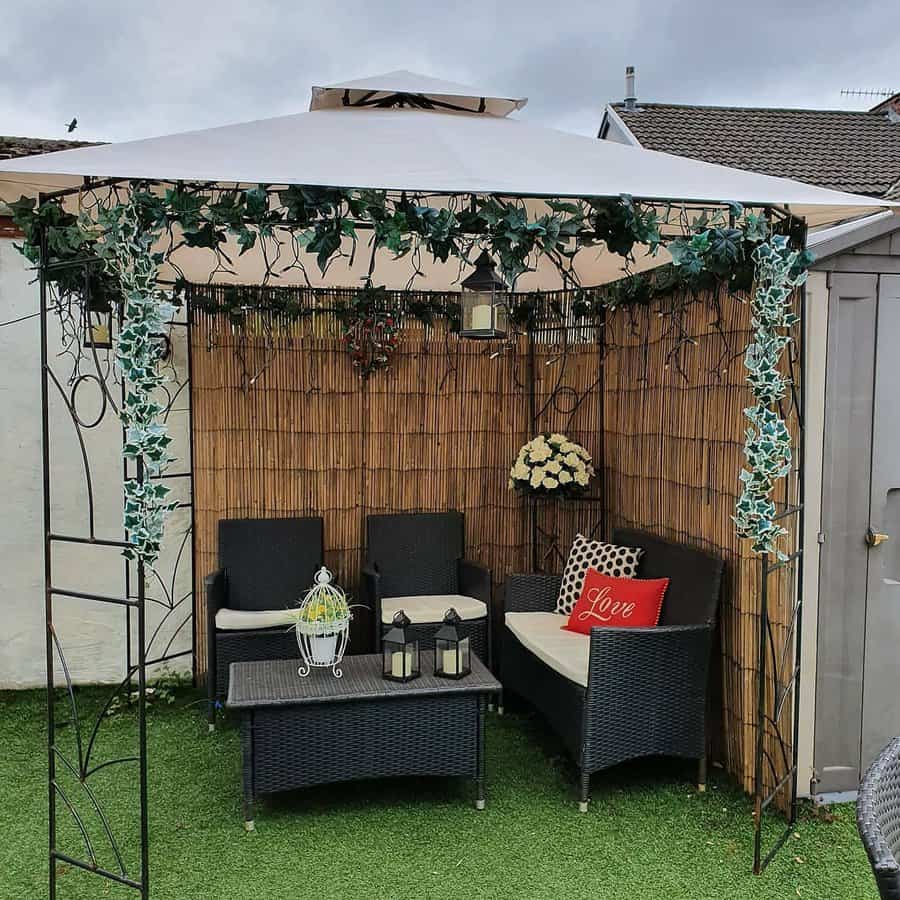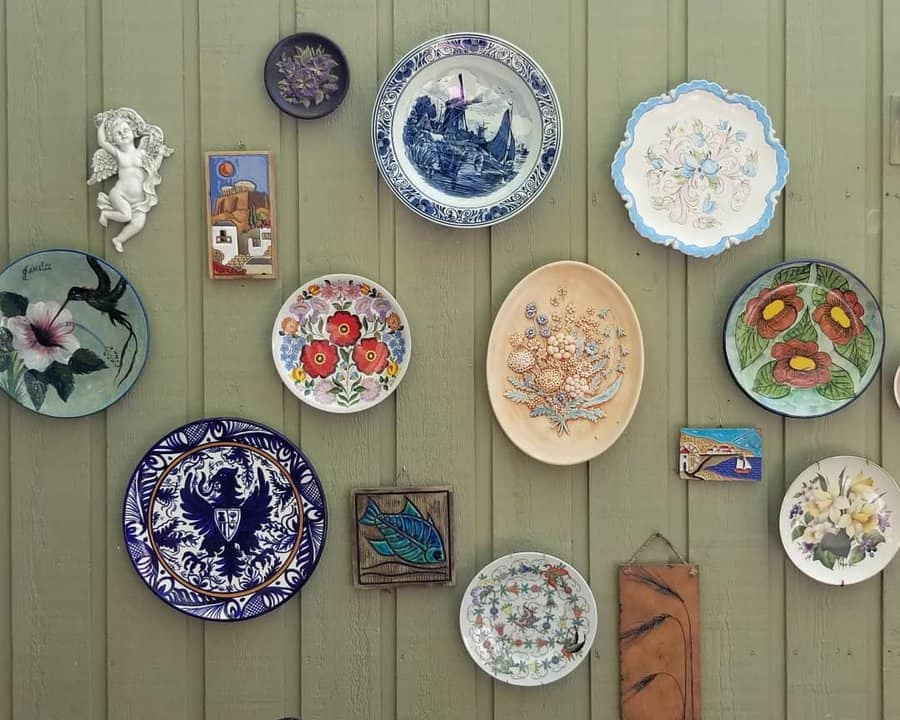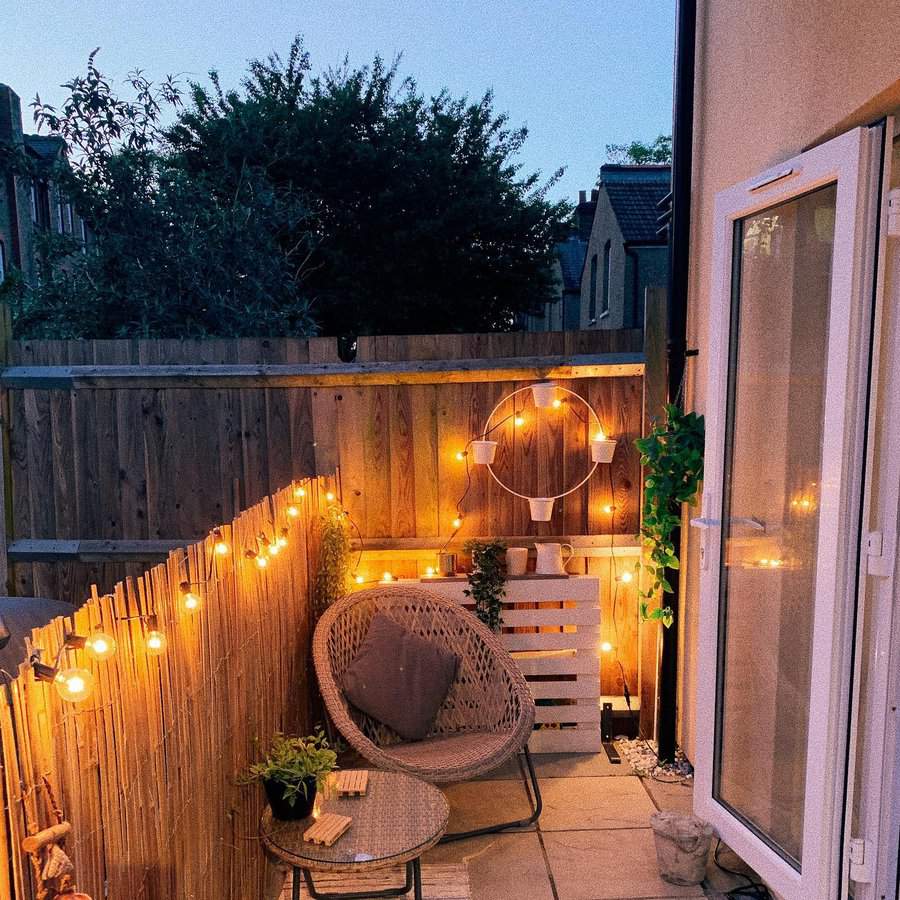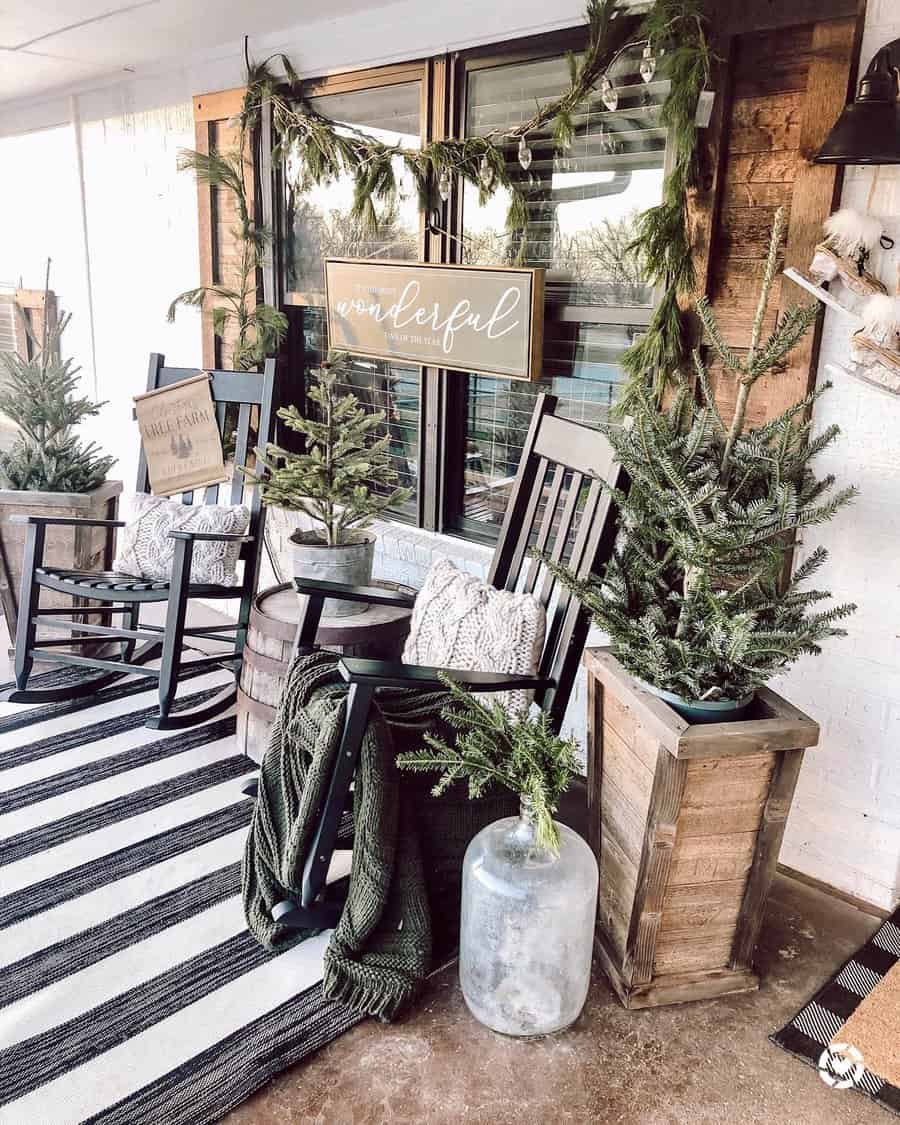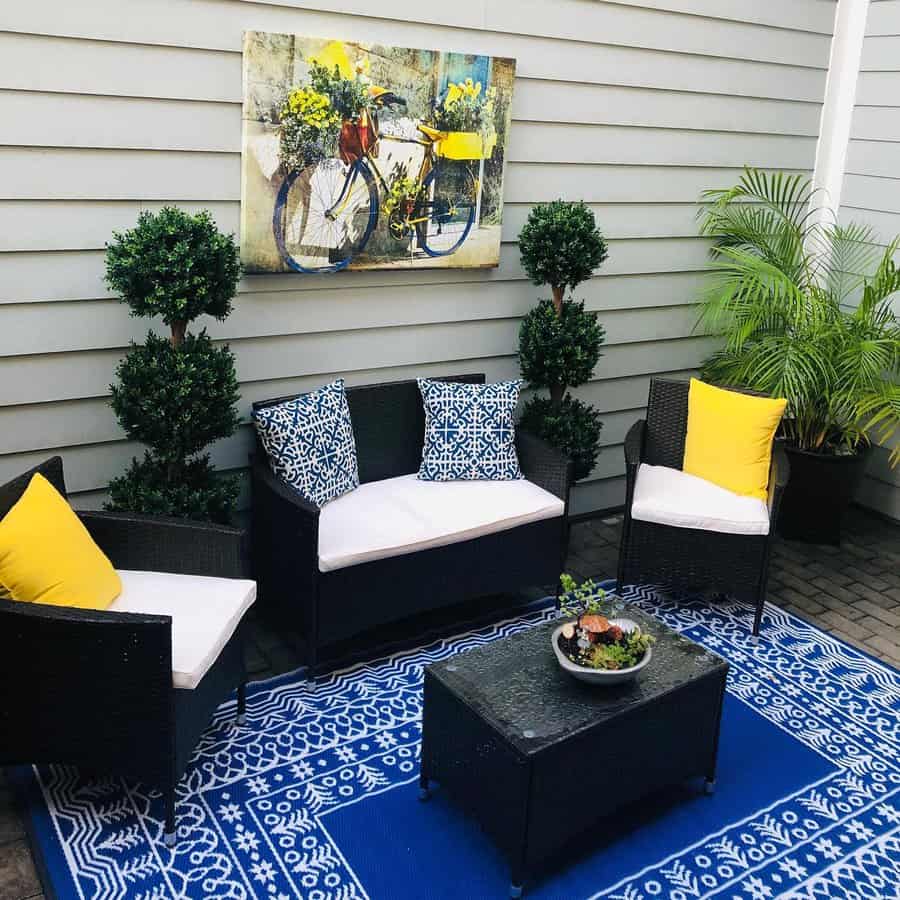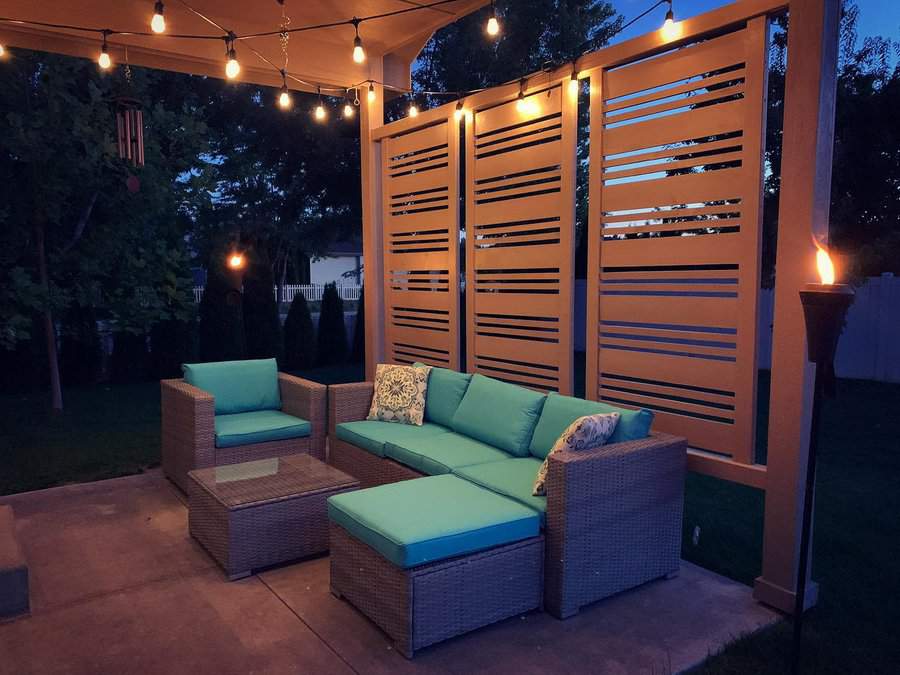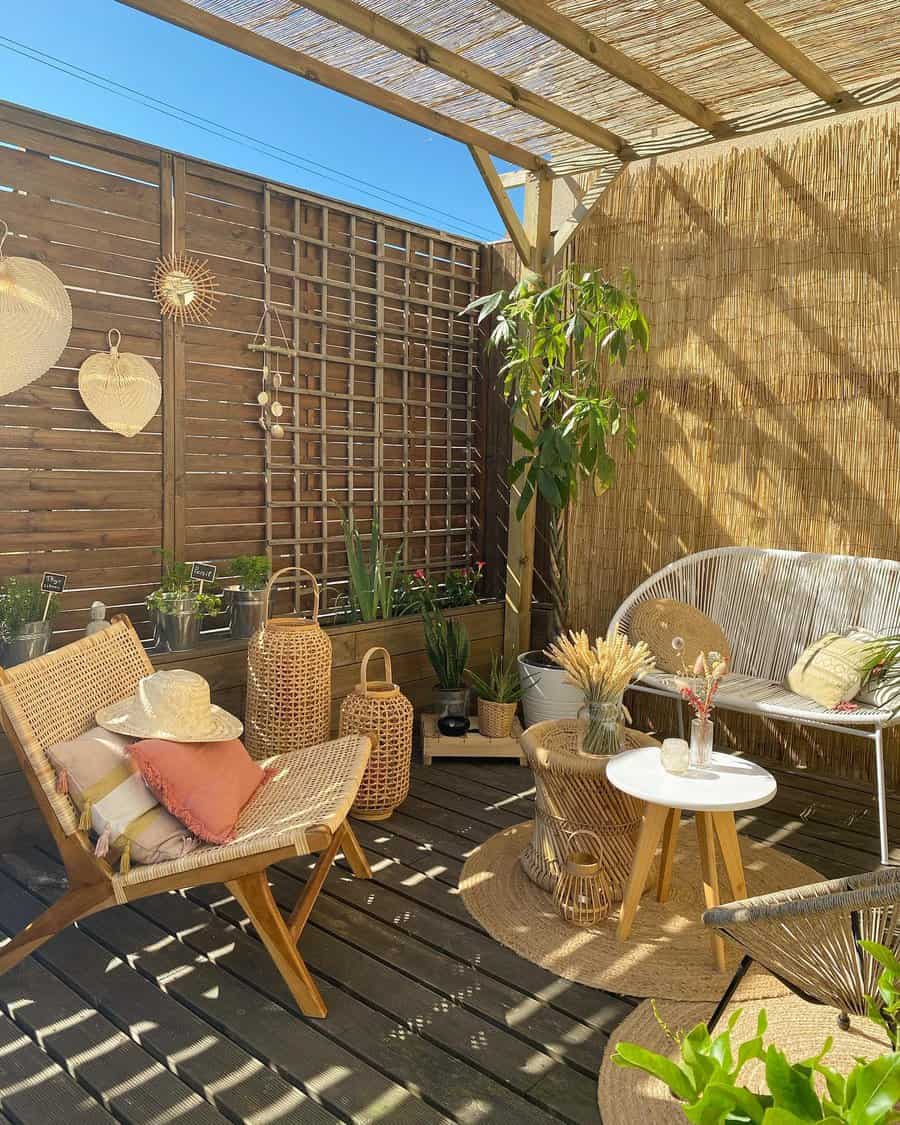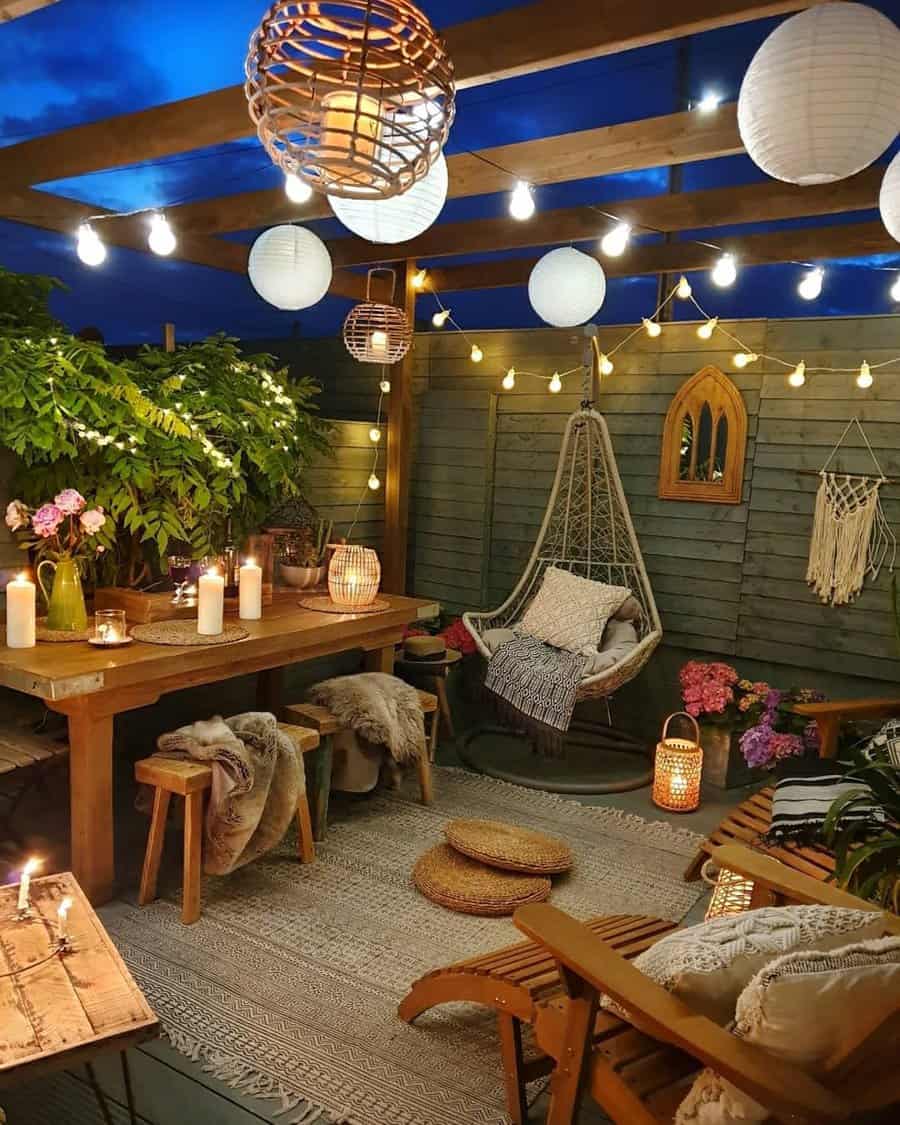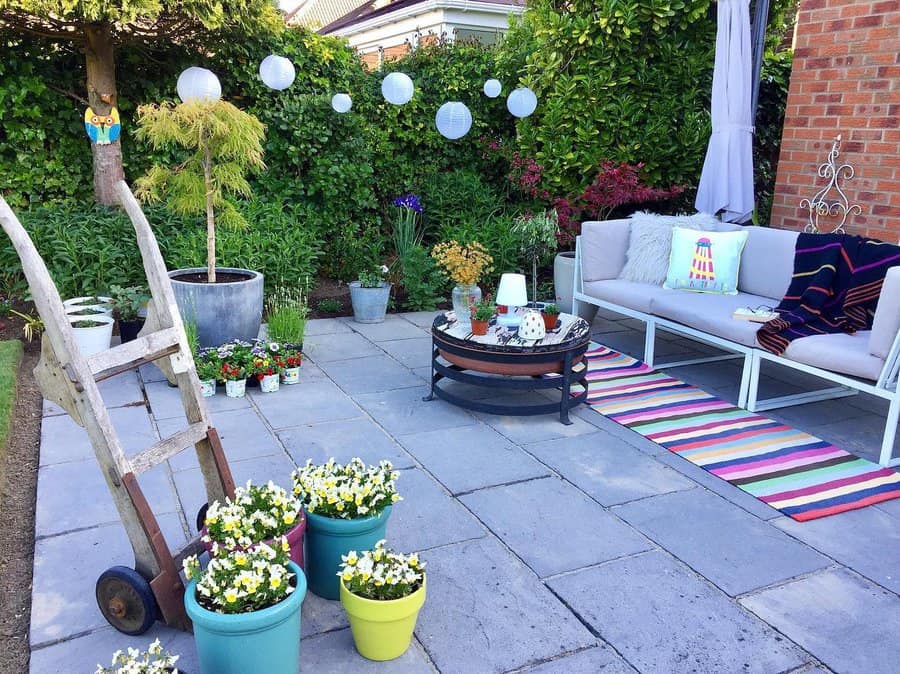 Turn an open patio into a pool cabana by hanging curtains around the open sides. You can draw them open when you want fresh air to circulate and close them for shade. Long curtains serve as fabric walls so view them as an outdoor decoration element.
7. Plant
Plants liven up any outdoor wall. From tall trees to climbing vines, plants break up the boring expanse of blank wall space and add a soft, cool element to your outdoor living area.
Position planters filled with flowers and greenery along the ground or build a wall planter to display potted plants at different heights. Hang an empty grapevine wreath on the wall and tuck cuttings into it for organic wall décor.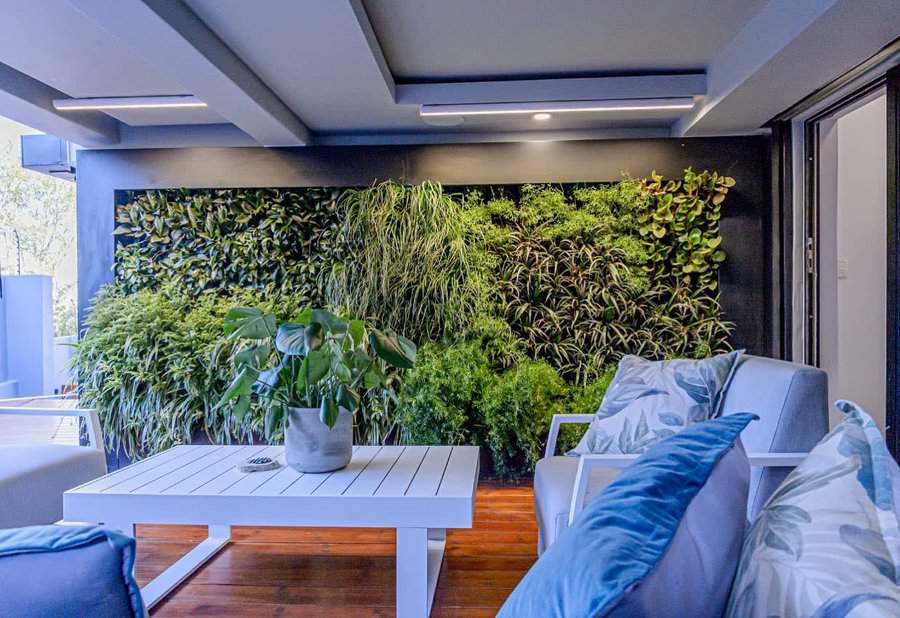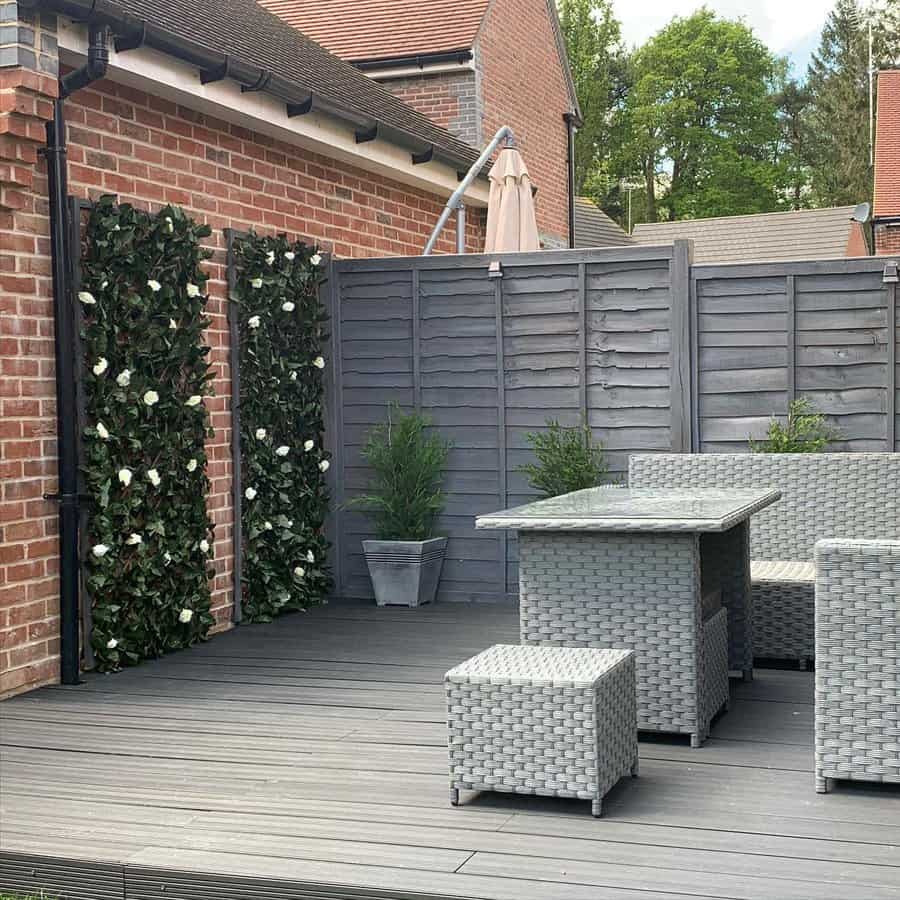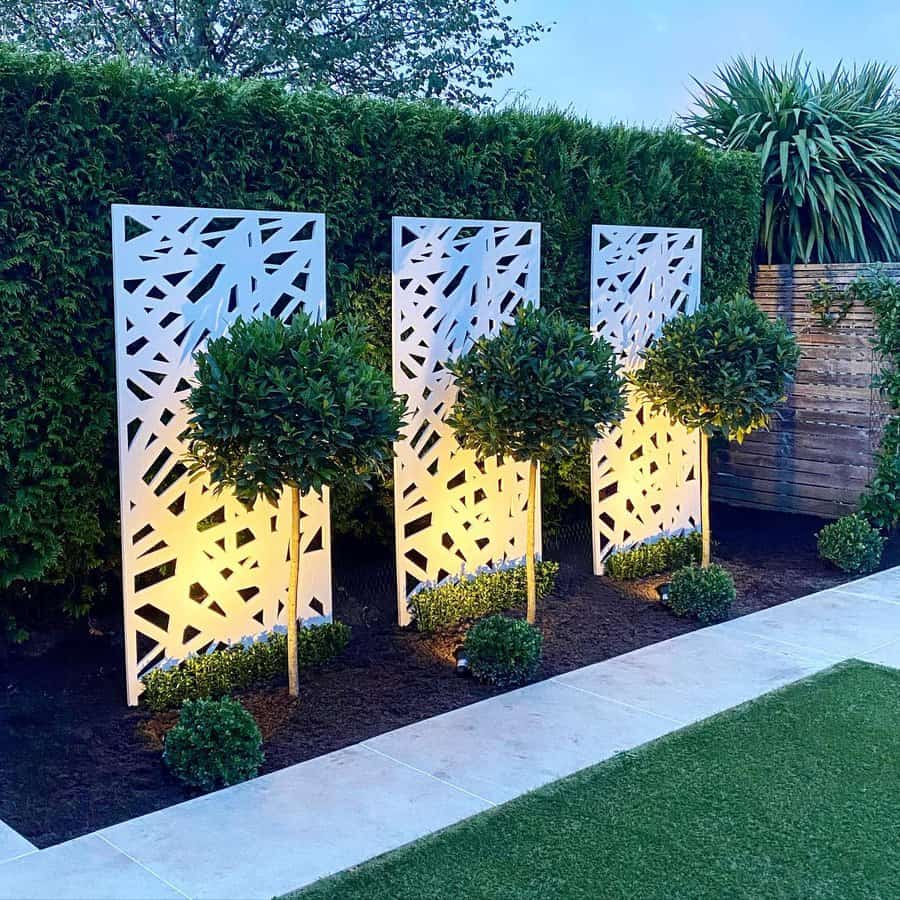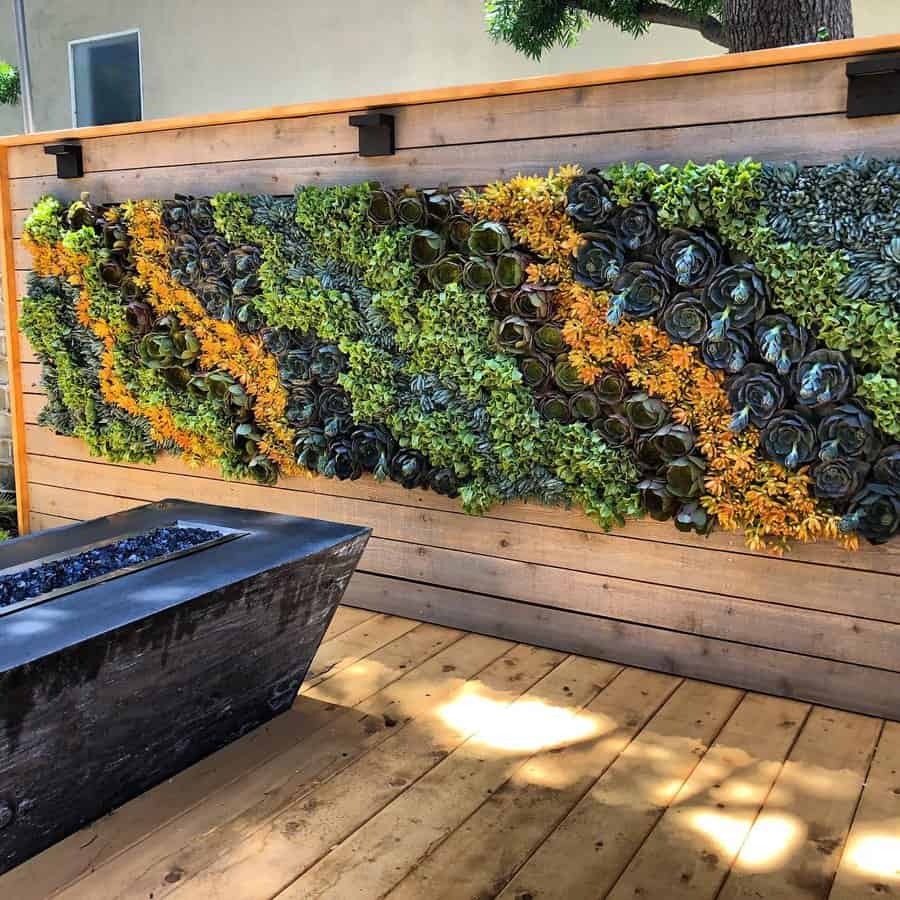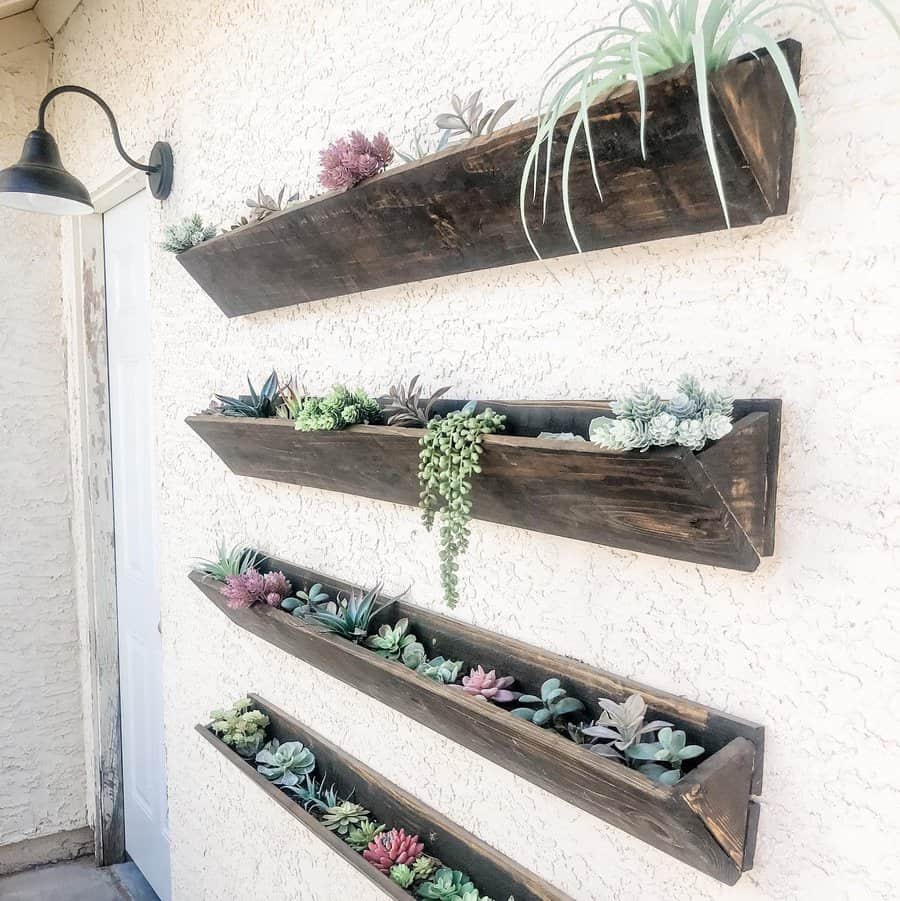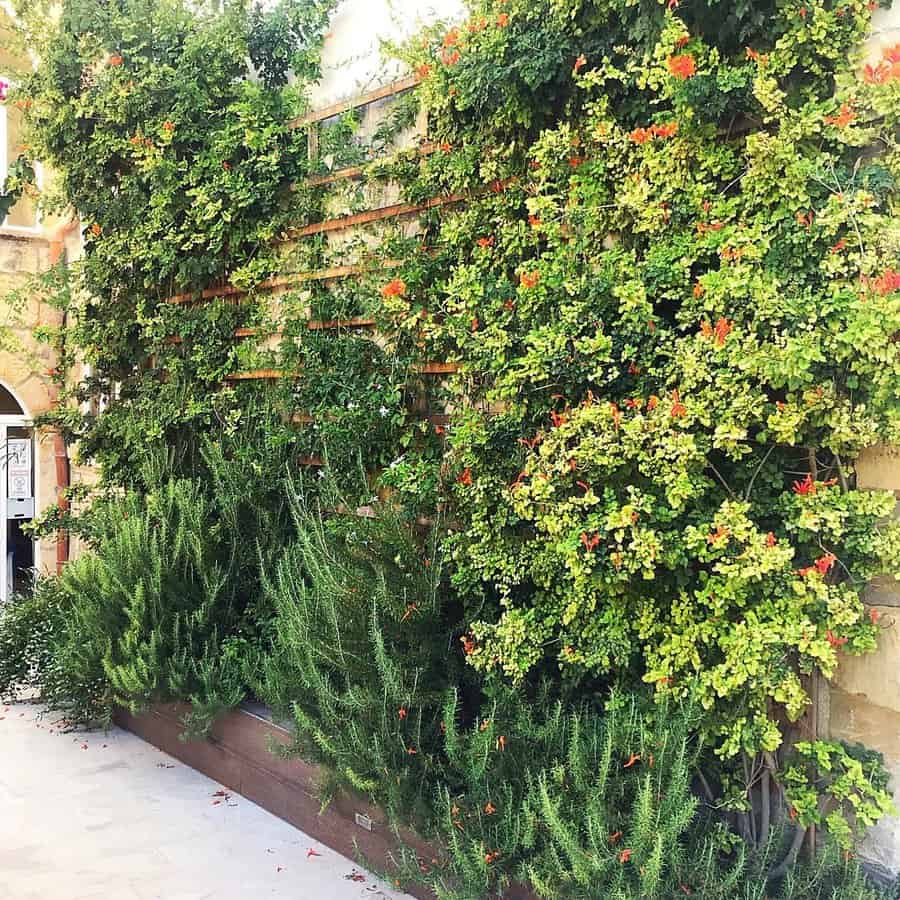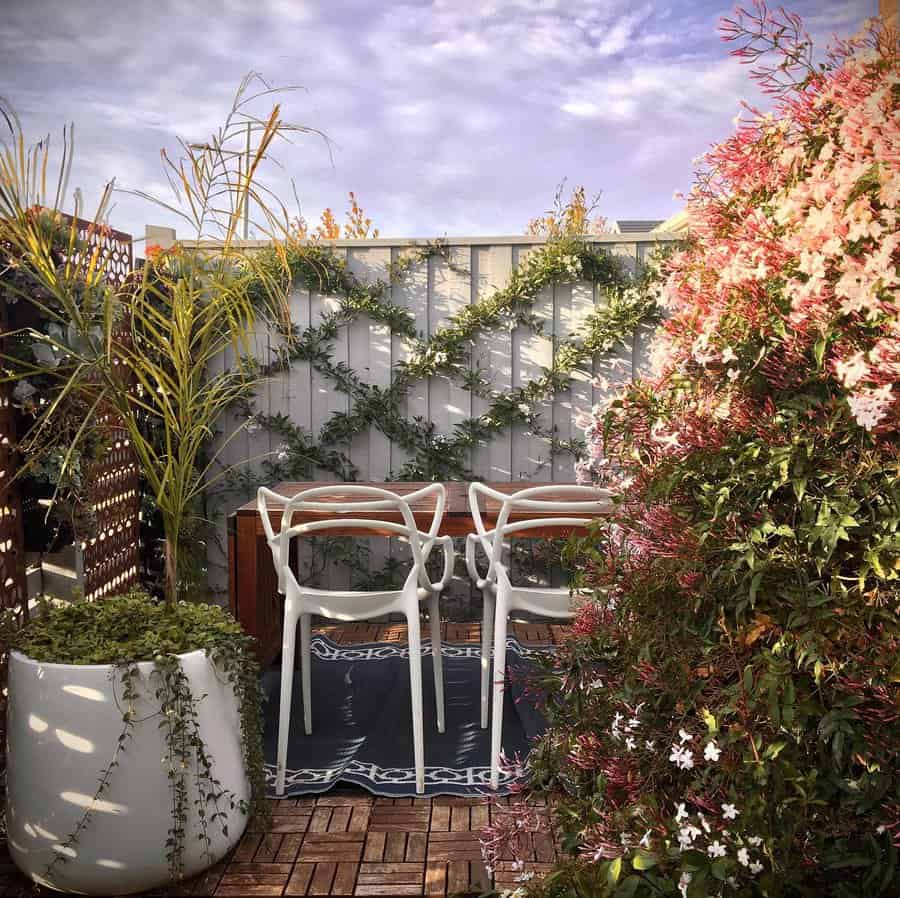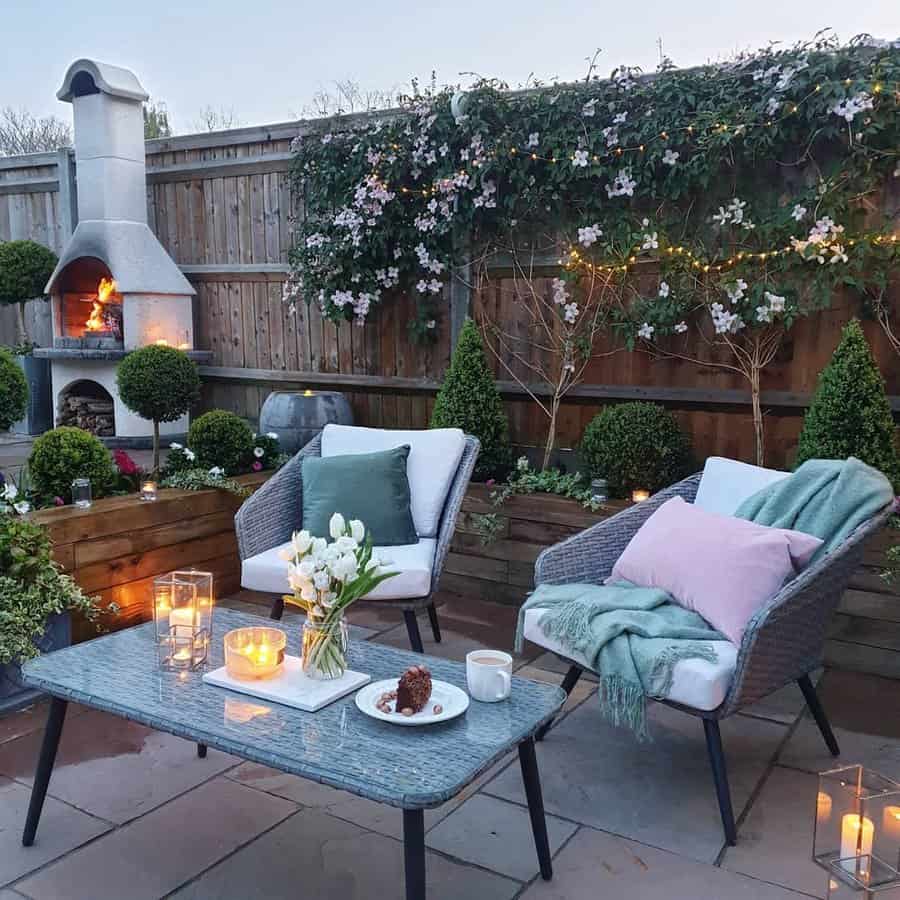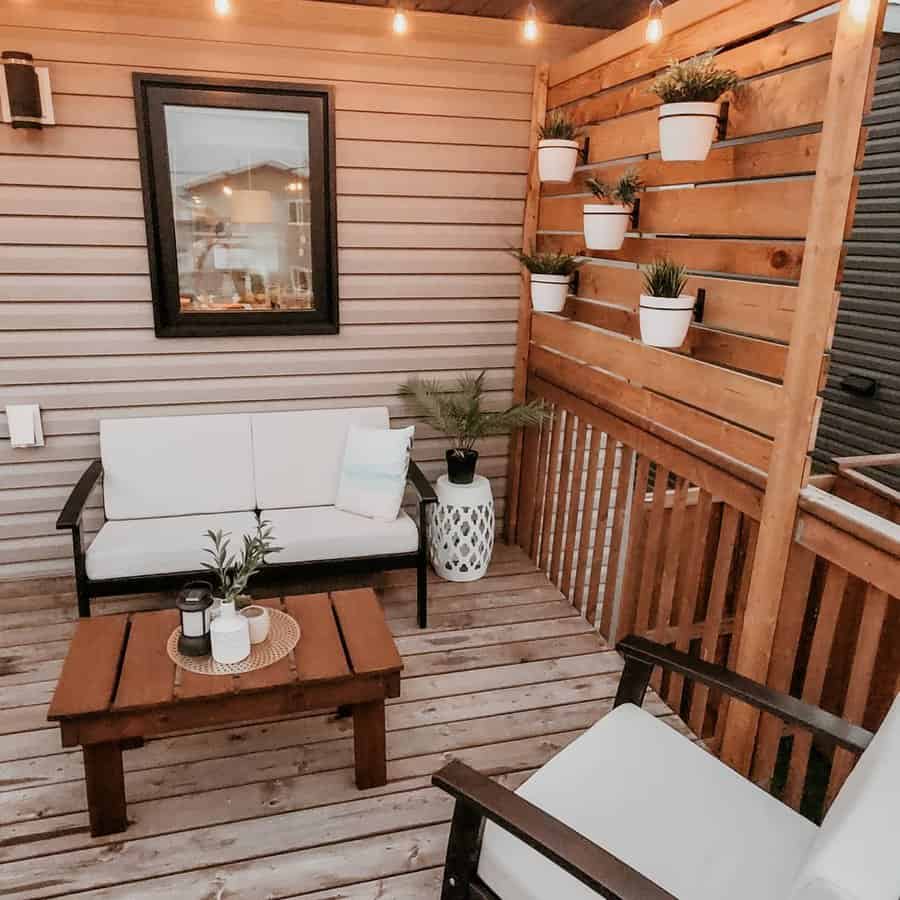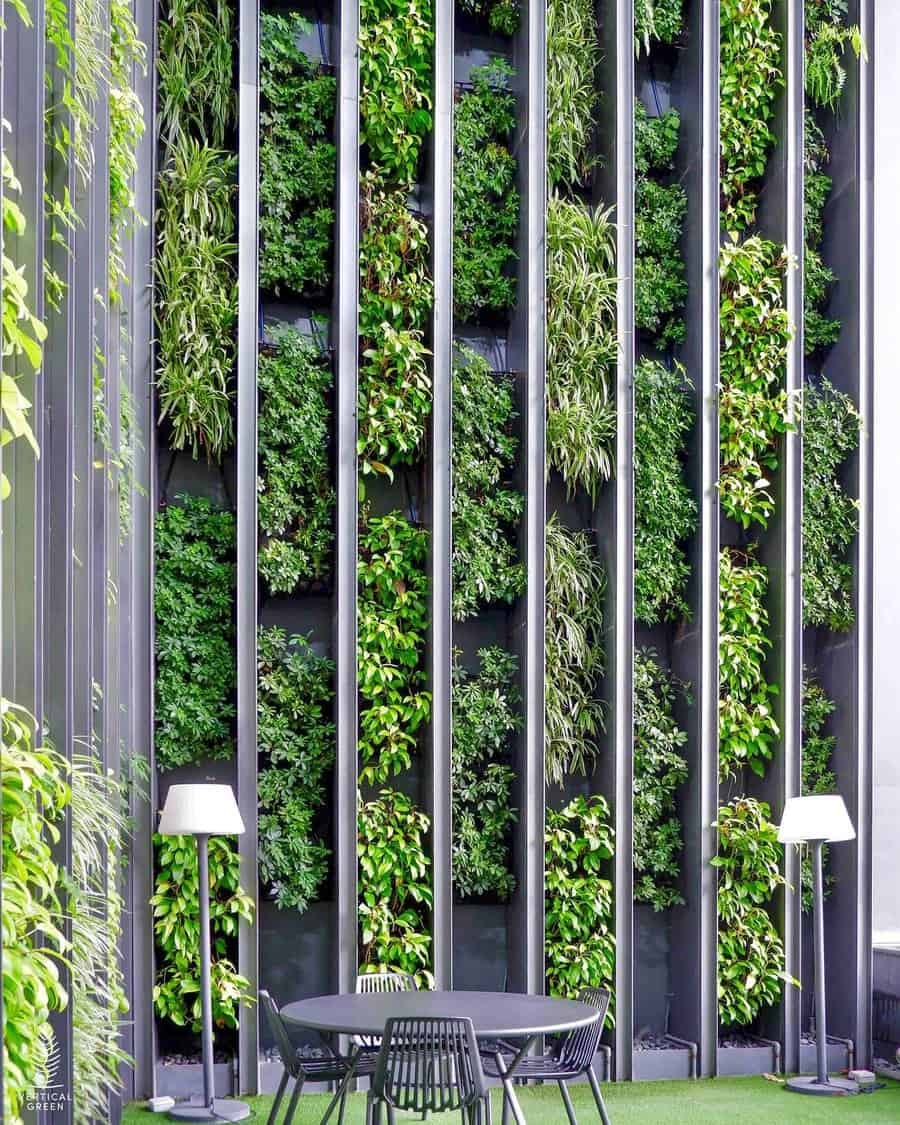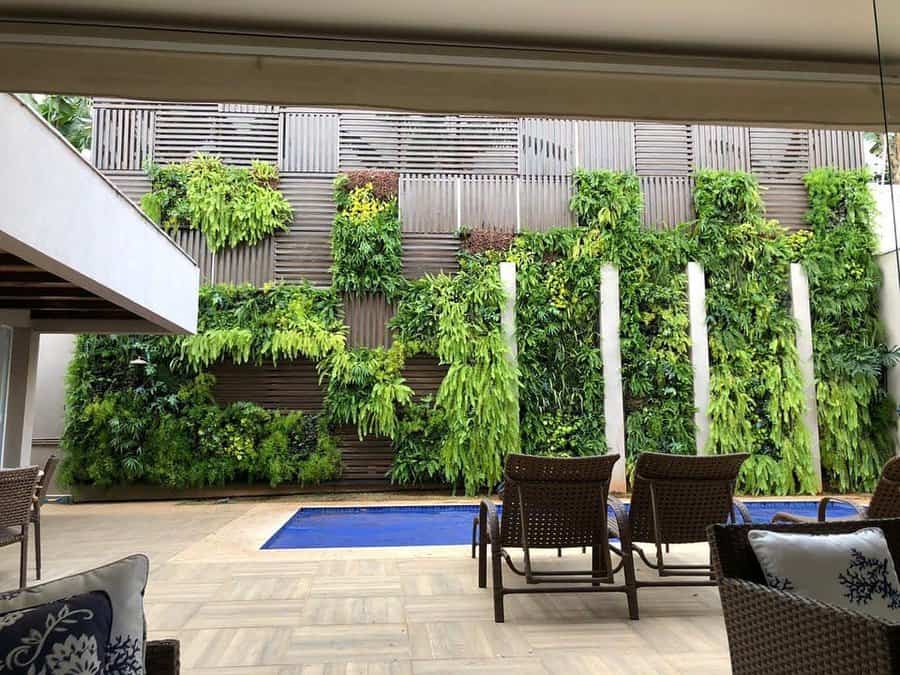 You can turn an entire wall green by creating a living wall outdoors. Choose garden plants that are native to your region to avoid any dead or wilting areas in your green wall. Because of their drought resistance, sedums and succulents are great choices for a vertical garden.
If you'd rather, group together several small hanging gardens, interspersing them with other outdoor wall art.
There are several ways to build this type of backyard garden feature, which can also be used as wall art indoors.
8. Rustic
Rustic décor is natural, casual, and perfect for your porch or other outdoor space. Rustic wall décor will utilize organic materials, such as wood, metal, and stone. Reclaimed pallet wood is a great rustic material for creating a wood frame planter box for an outdoor area wall.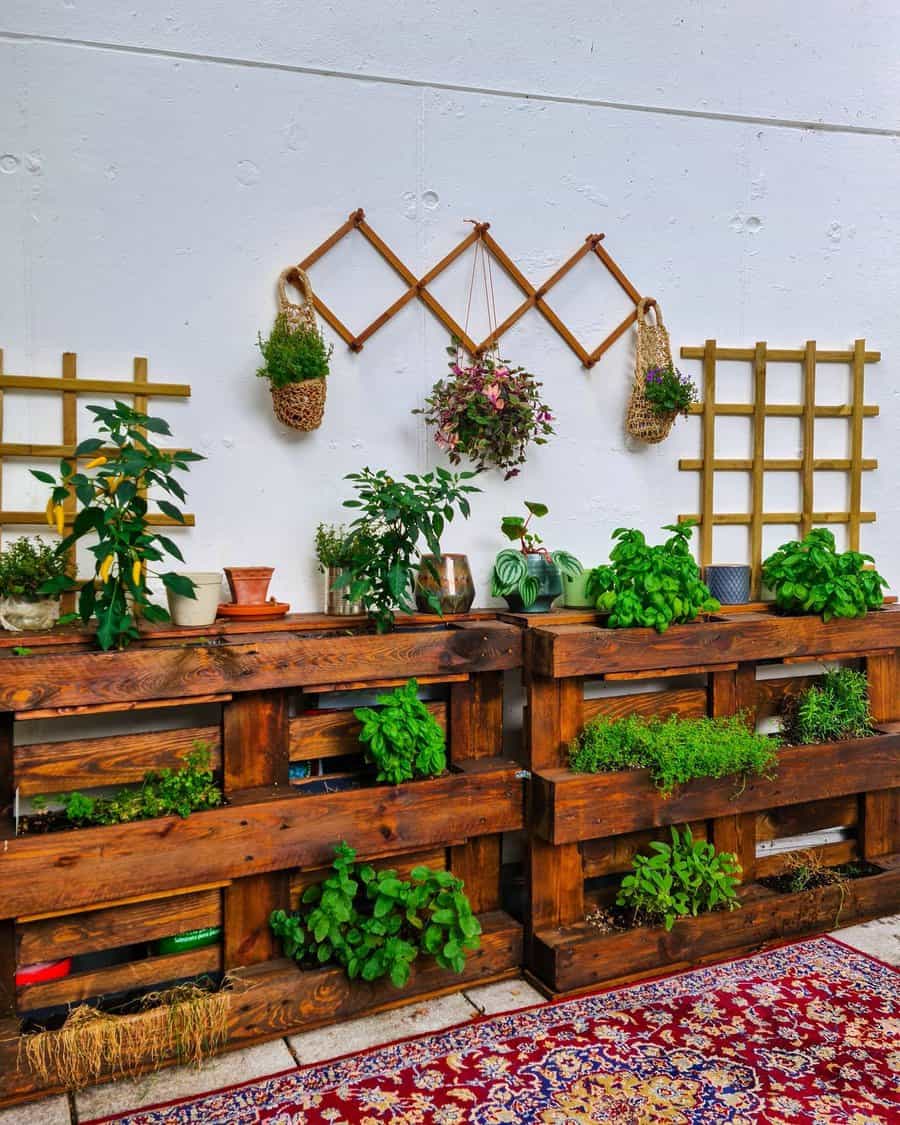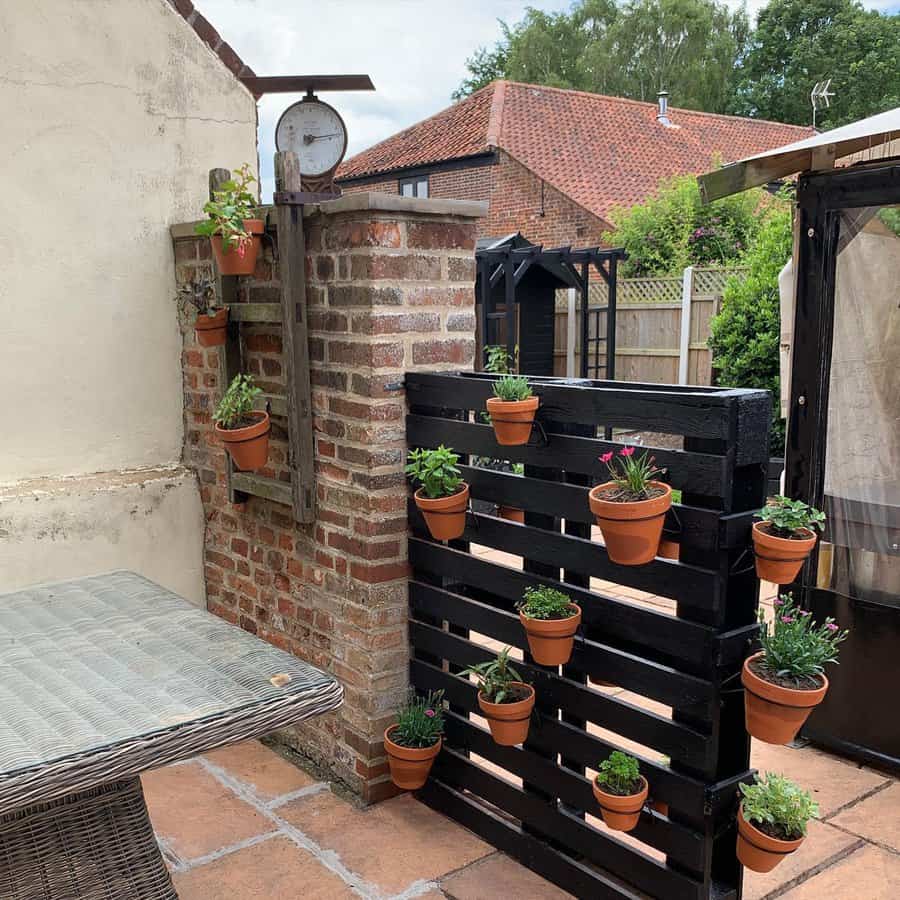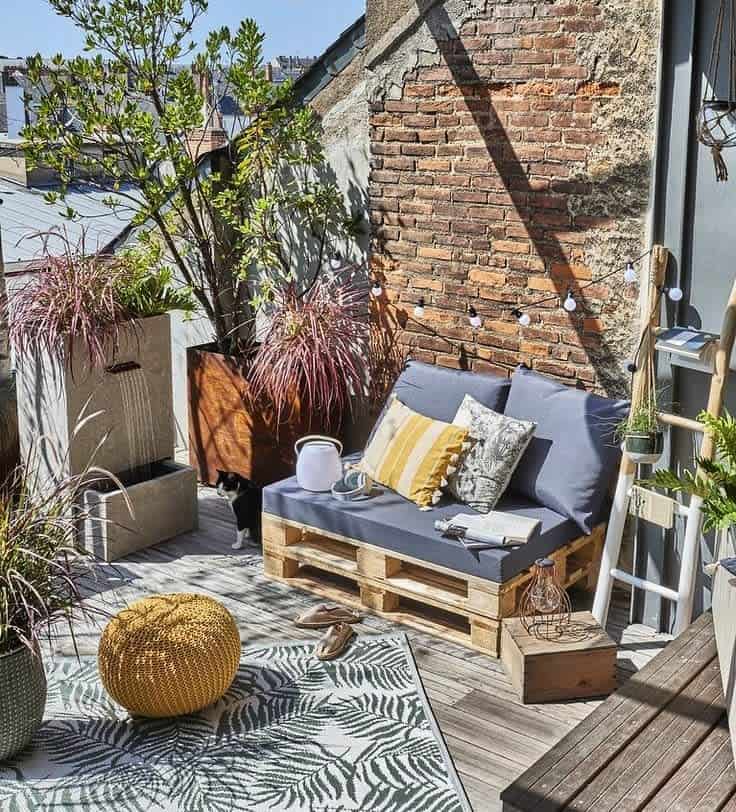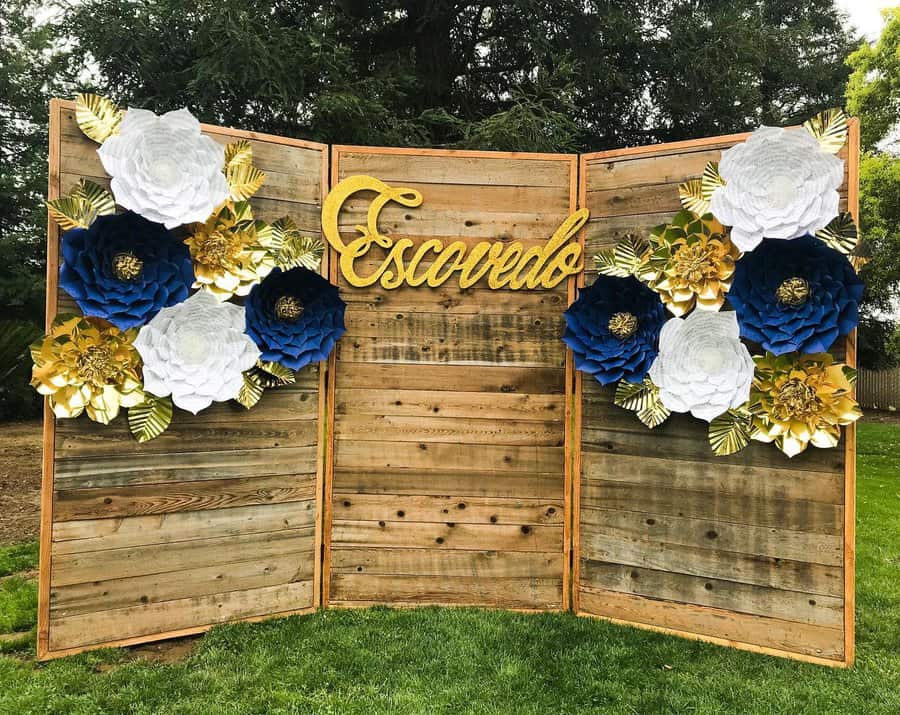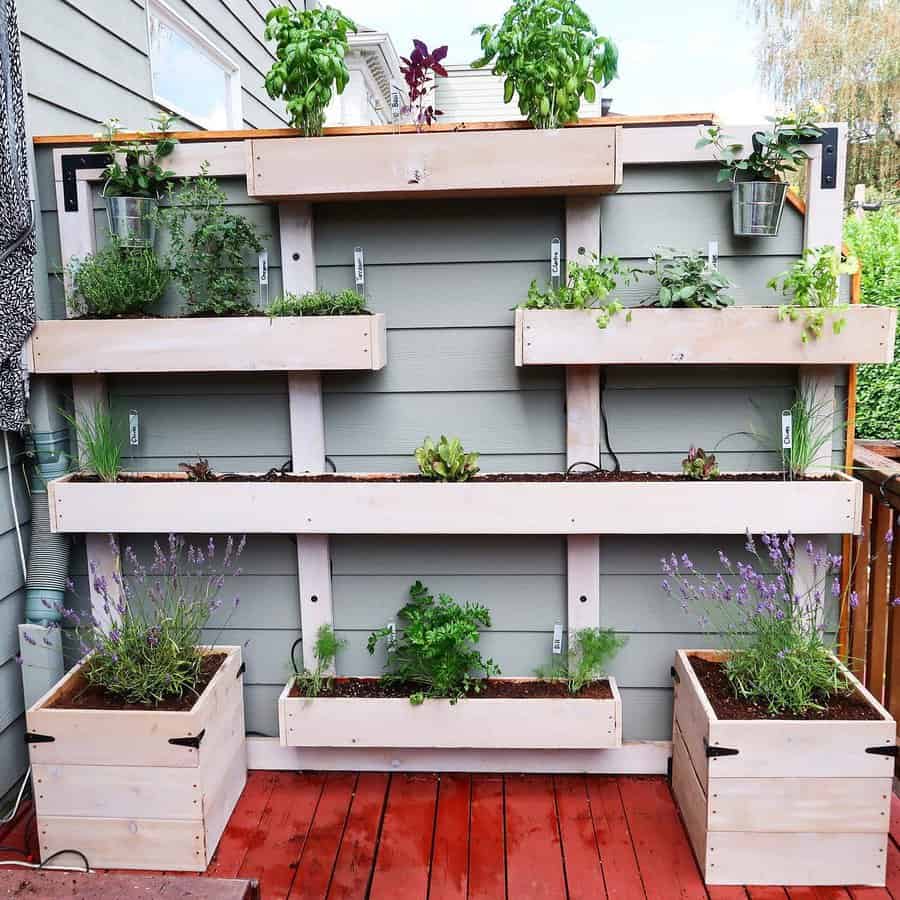 Hang vintage items on the wall above your outdoor seating area for a unique design touch. If your home is beside a lake, vintage canoe paddles make a great wall accent. Other water-themed wall art options include antique fishing floats, fishing nets, vintage lobster traps, and surfboards.
Outdoor Wall Décor FAQs
Can you hang metal wall art outside?
Yes, but make sure it has been weatherproofed. While powder coated finishes provide some protection against the elements, applying a layer of clear polyurethane will keep your metal outdoor wall art looking good as new.
How can I add light to my outdoor wall décor?
If you can't hire an electrician to install wall sconces, you can still brighten up a dark exterior wall at night. Add different kinds of lighting, such as string lights and candles, to your porch or patio. Hang a mason jar or lantern display and light them up with battery-powered candles or LED lights.