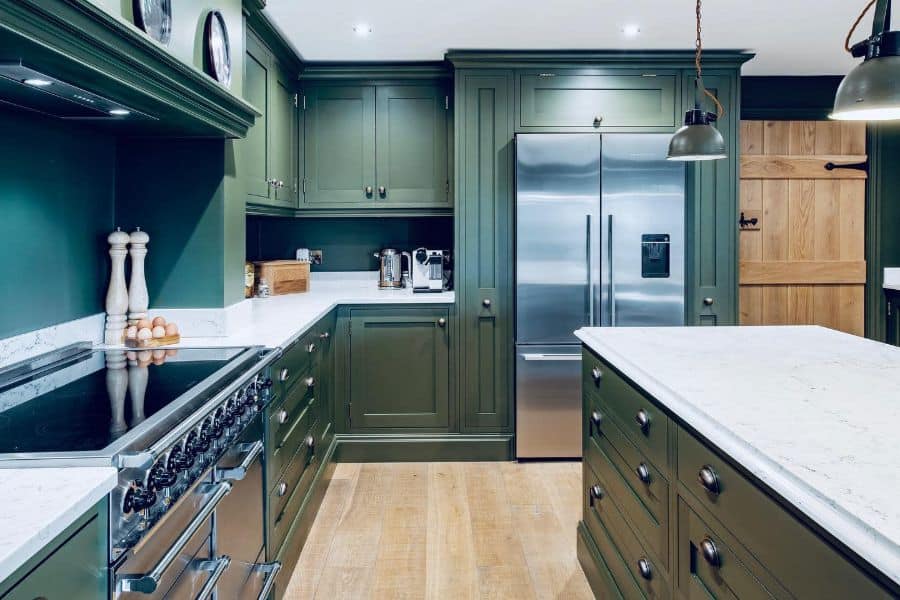 The Top 50 Painted Kitchen Cabinet Ideas
"No matter what the recipe, any baker can do wonders in the kitchen with some good ingredients and an upbeat attitude!" – Buddy Valastro
Doing a kitchen makeover is an easy way to update the look of your kitchen. It's one of the most used rooms in your home, so giving it an update can make a big impact. But before you say good riddance to those oak cabinets and replace them with open shelving, consider a better way. A simple cabinet makeover can update your kitchen without you losing valuable storage space.
Painting your kitchen cabinets is a simple home improvement project that can transform the look of your kitchen. Changing the color of your cabinets can make your kitchen feel bigger, brighter, and more welcoming. The right color can take a lifeless kitchen with no personality and turn it into something unique that's a perfect expression of you and your family.
These painted kitchen cabinet ideas will help you decide what color is best for your kitchen.
1. Blue
Using blue in the kitchen has become a trend that more homeowners are considering. It encompasses all shades of blue, from robin's egg to deep navy. One of the most popular ways of using blue in the kitchen is with blue cabinets. As a kitchen cabinet paint color, the soft hue of blue adds a calming effect to the kitchen, making it feel more welcoming.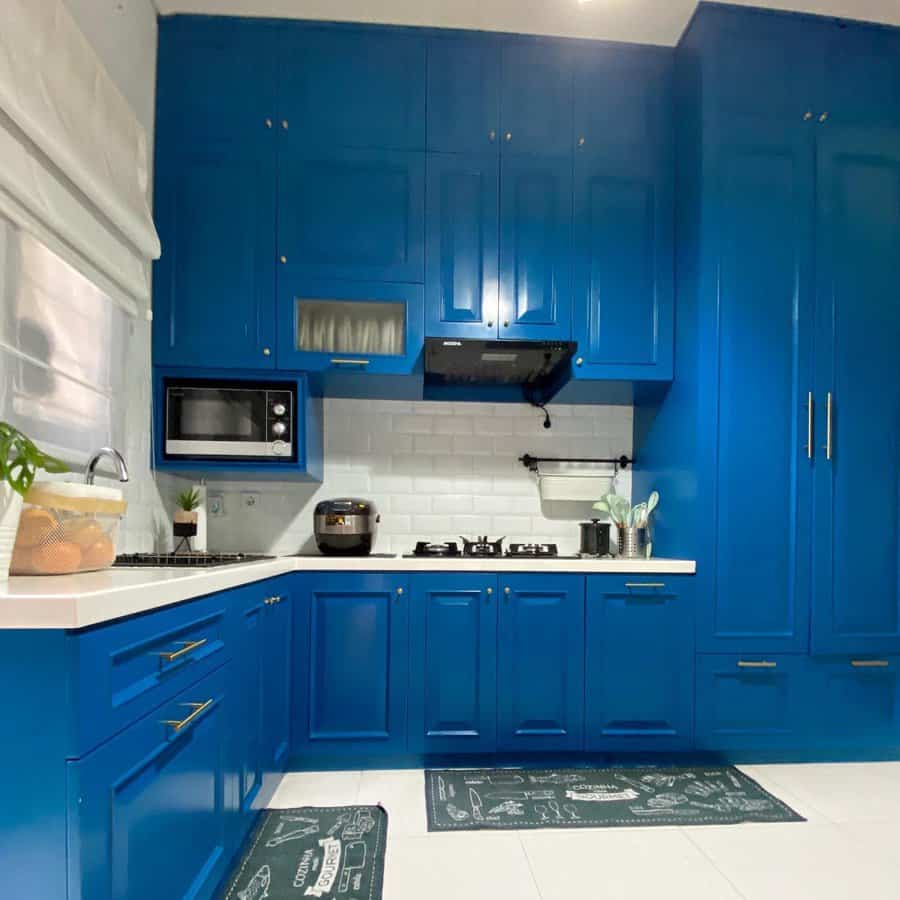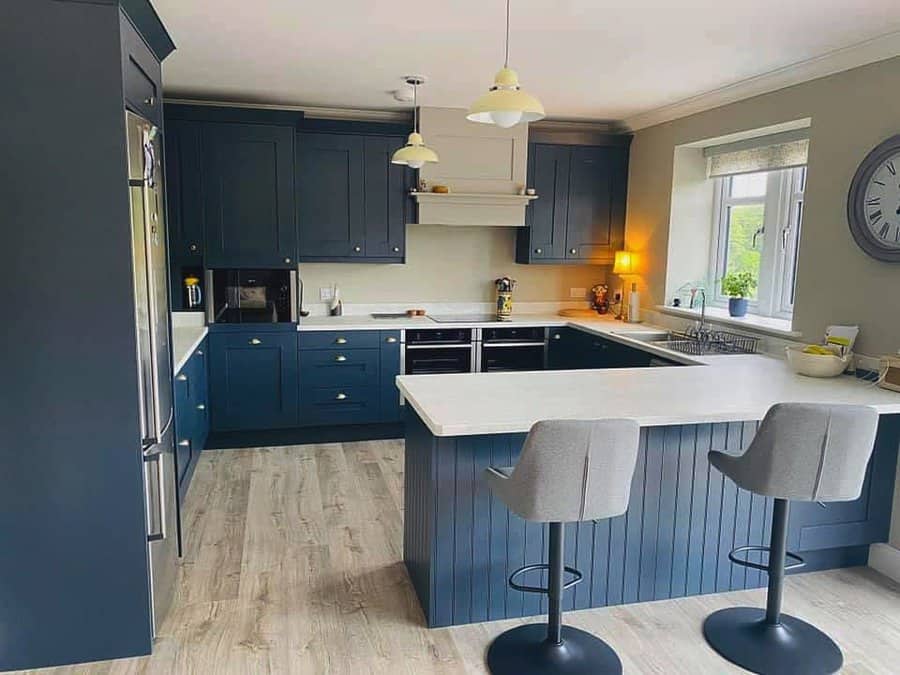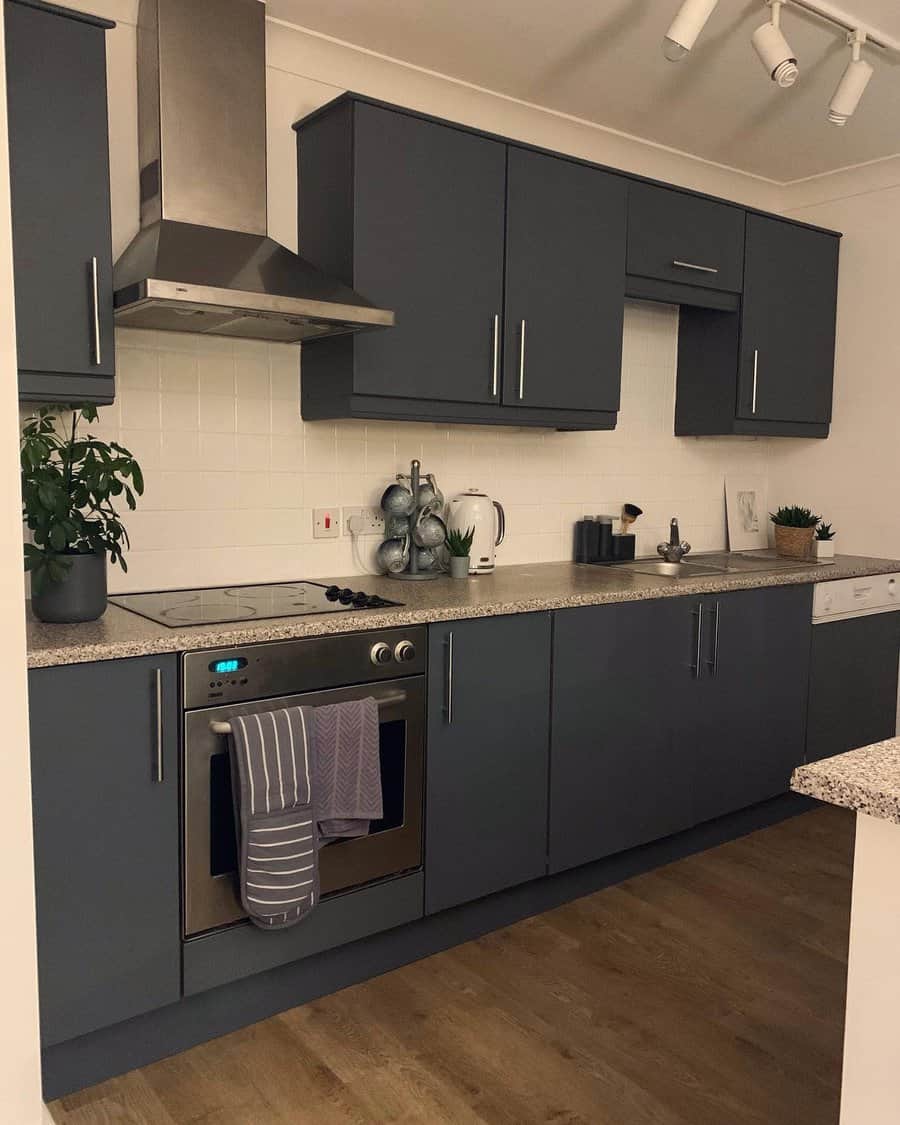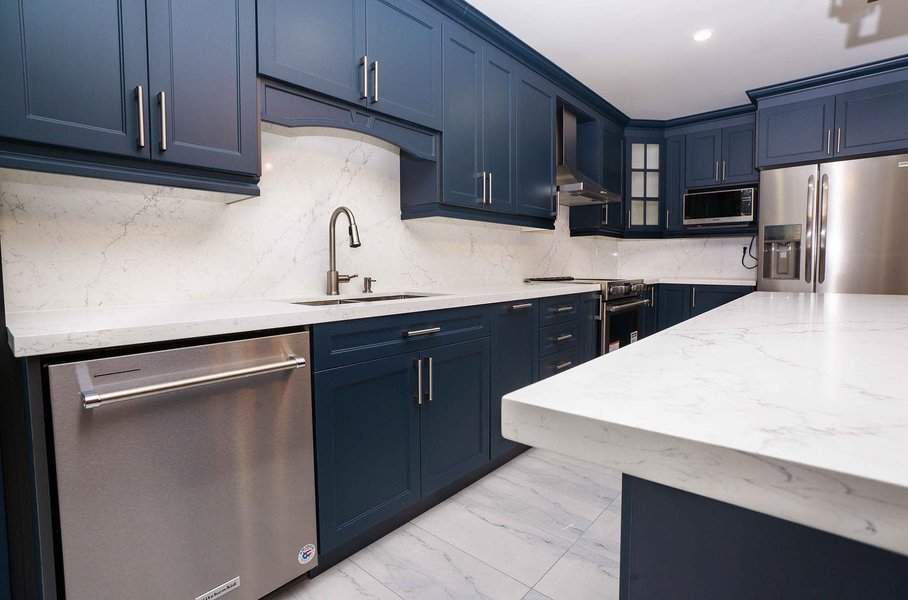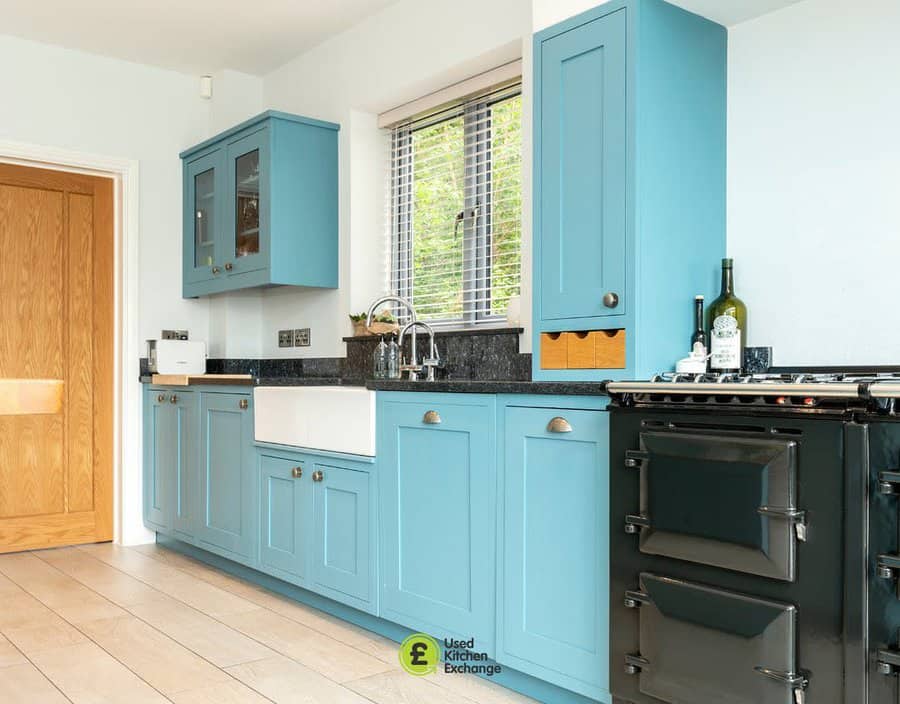 If you're ready to use blue for your cabinet color, consider the number of cabinets and the amount of light in your kitchen. A lighter shade of blue will keep your kitchen feeling light and bright. A darker shade will add a feeling of sophistication but can close in a kitchen if it lacks light.
2. Brown
Brown cabinets tend to rank low on homeowners' lists when painting kitchen cabinets. However, when done correctly, brown can look beautiful. It also works well with countertops that have beige and brown hues. This makes it a smart choice when you have a limited budget for updating and upgrading your kitchen.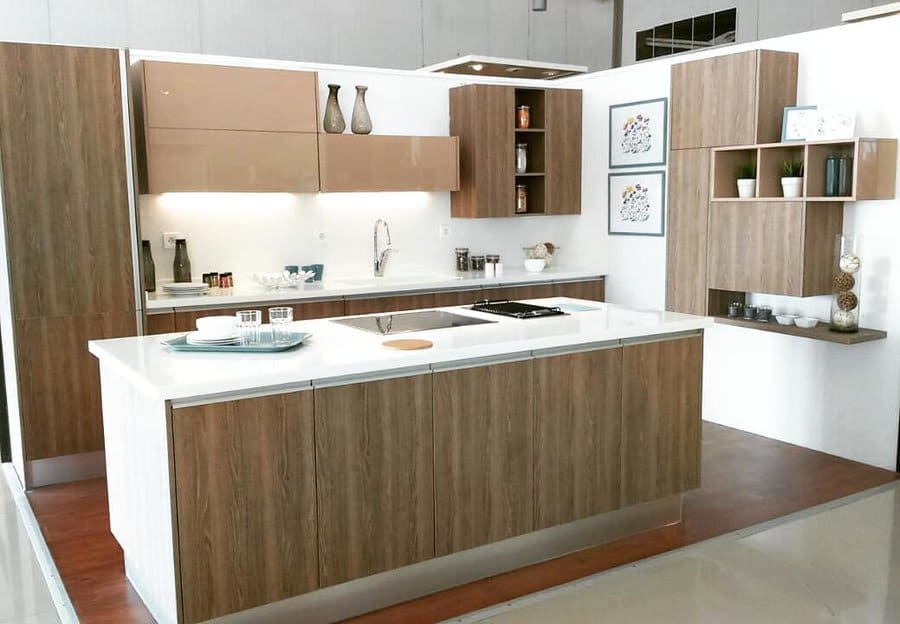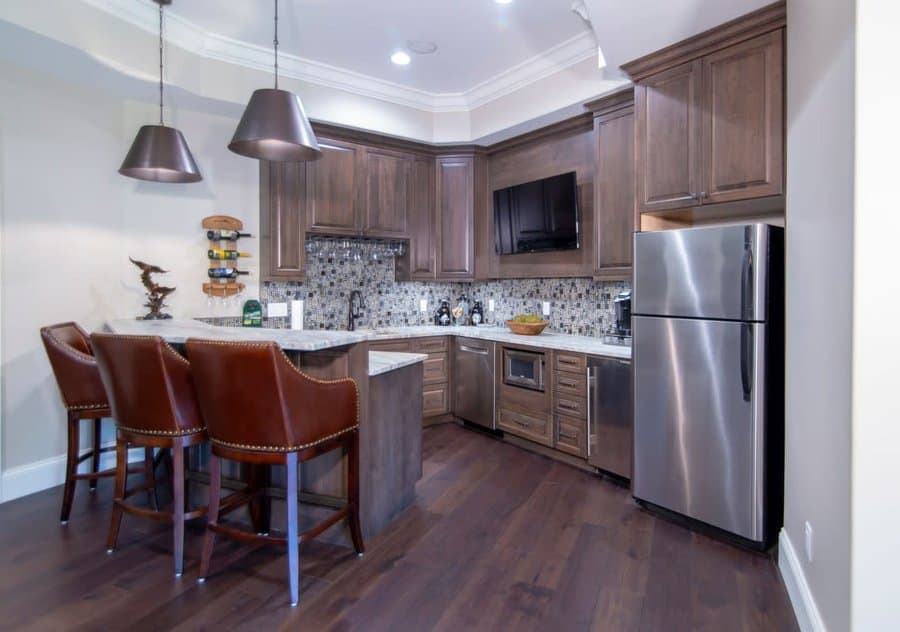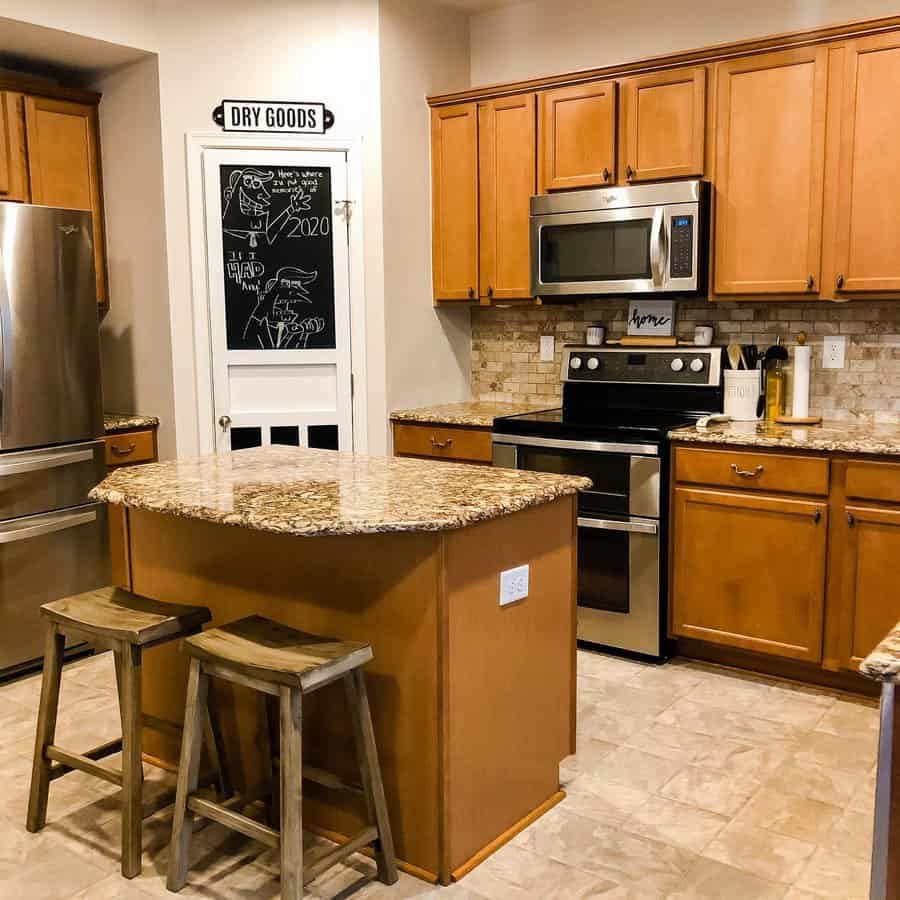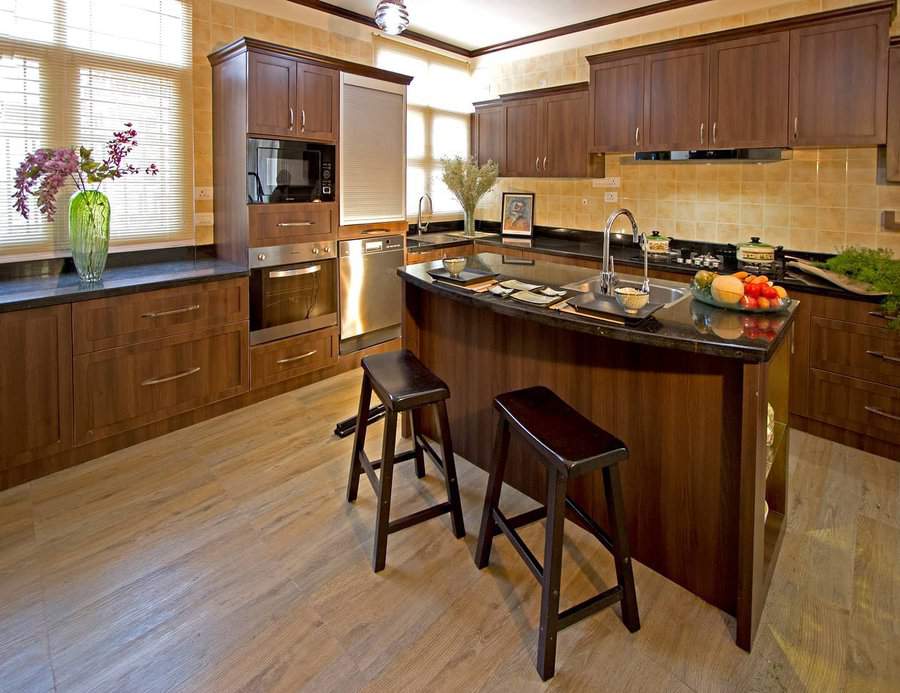 Skip the overused and boring chocolate brown. Instead, choose a brown that has grey undertones or one that's muted. Lighter brown shades are also nice because they keep your cabinets from feeling too heavy.
3. DIY
This is a home improvement project that you can successfully take on and complete on your own. It may take you several weekends, but the time and effort will be well worth it when you see your completed cabinets. Don't try to rush the process or skip steps, as this will result in a less than desirable finished product.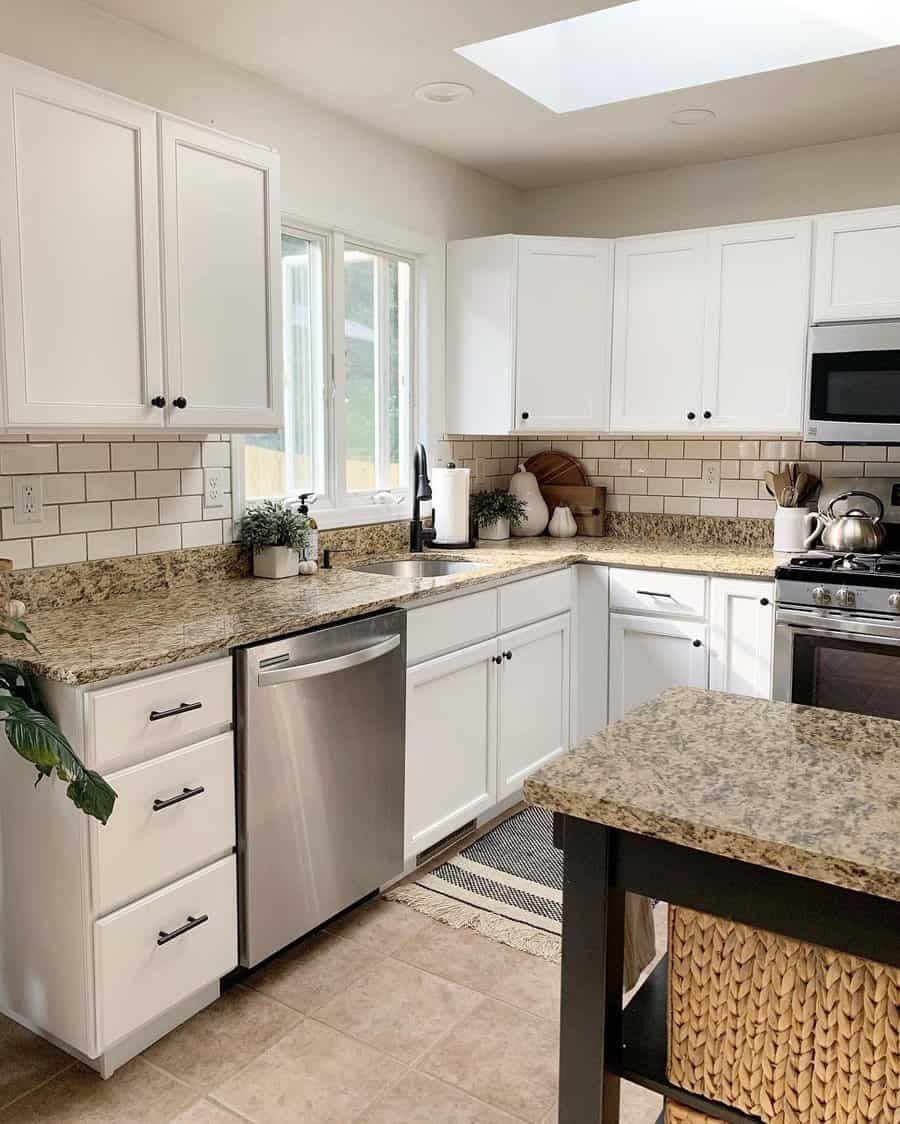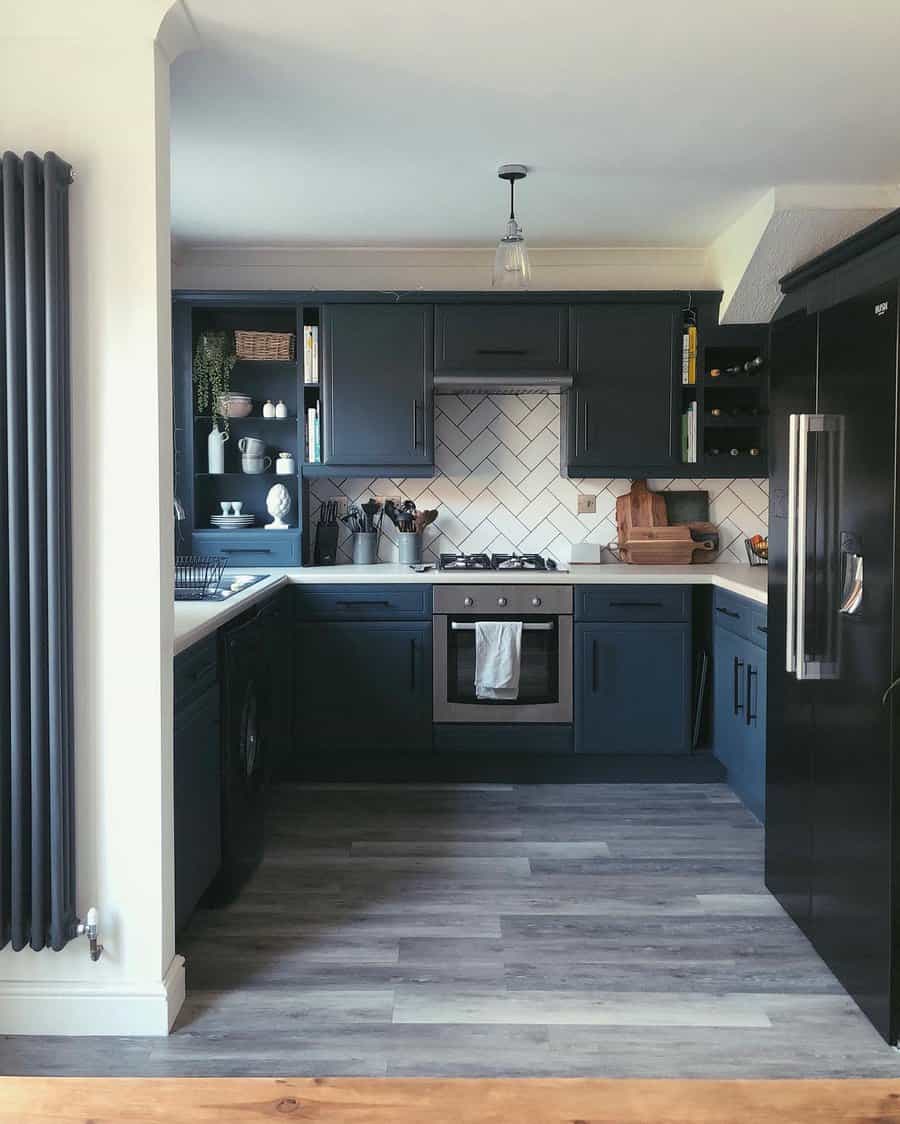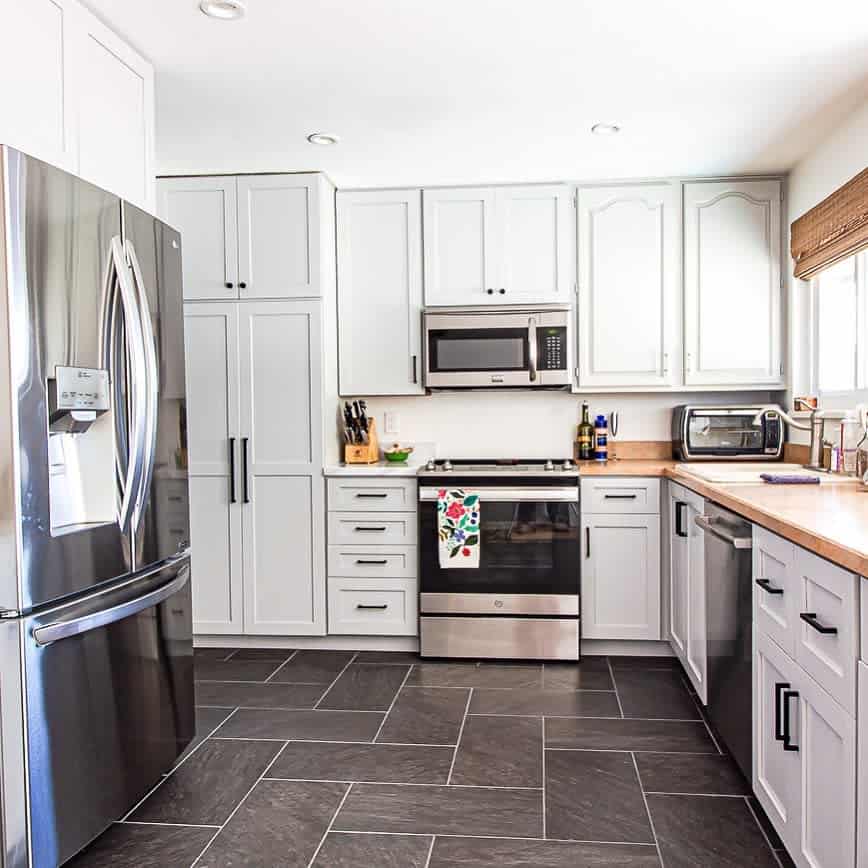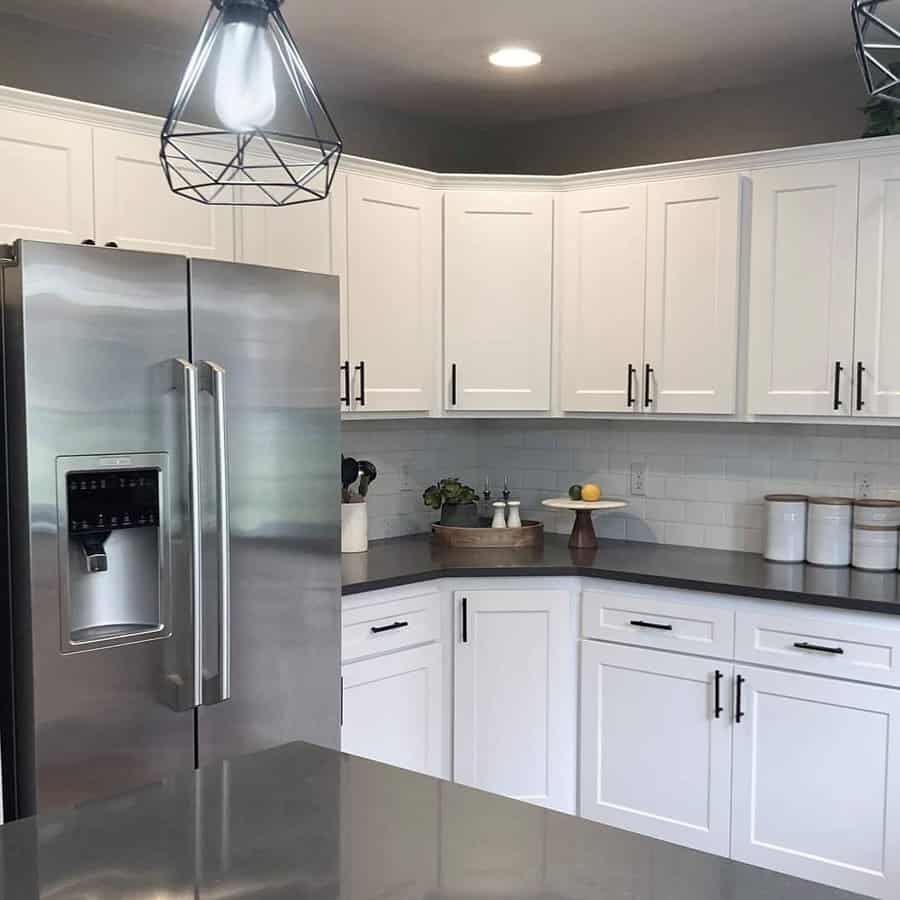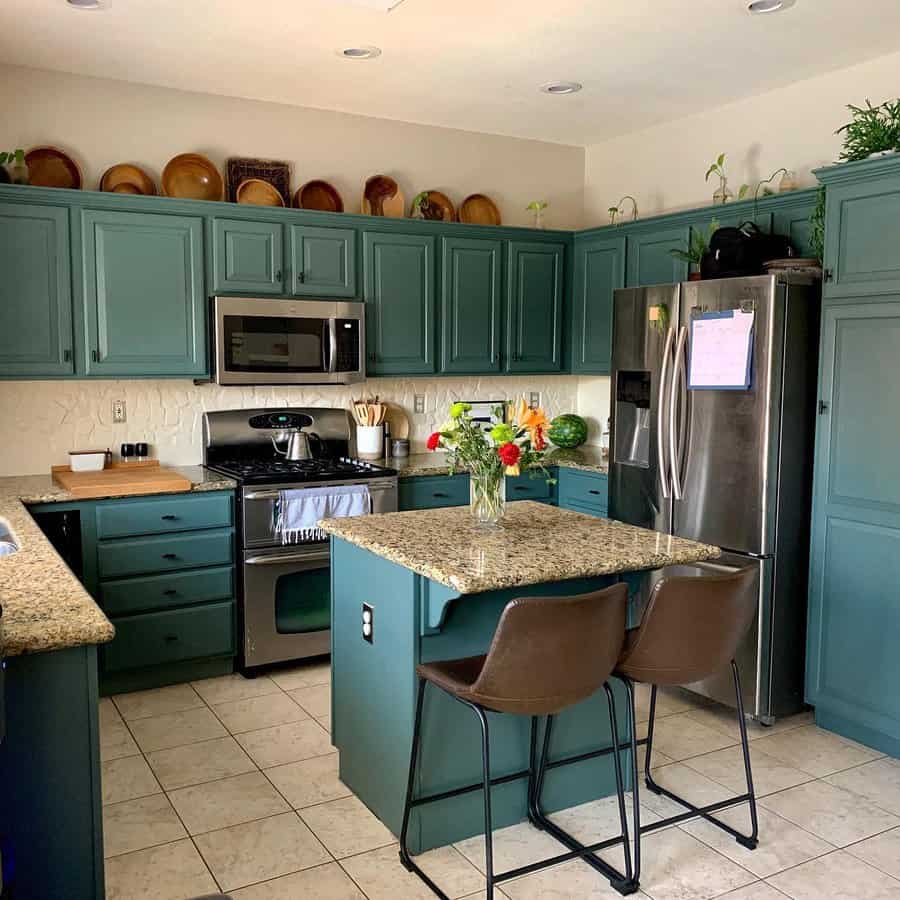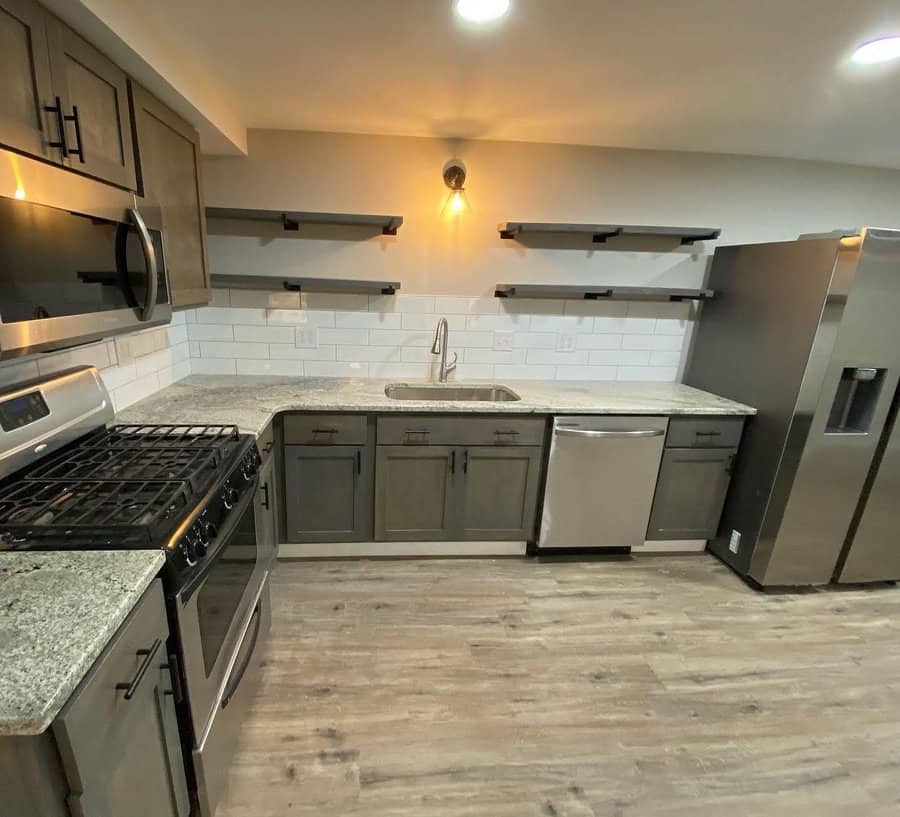 The key to having beautiful painted cabinets is in the prep work. Clean your cabinets well to remove any food residue or grease that could prevent the paint from sticking. Make any necessary repairs to ensure you have a smooth surface to paint. Then lightly sand the cabinet surface to create a slightly rough texture that the paint can easily adhere to. Finally, it's always better to do multiple thin coats than one thick layer.
4. Design
Rustic kitchen design has become one of the go-to design themes in recent years. It shows no sign of slowing down as people adapt and evolve the interior design theme to their individual tastes. Using milk paint on your cabinetry can give them a rustic and slightly worn finish without having to replace your cabinets with actual reclaimed or rustic kitchen cabinets.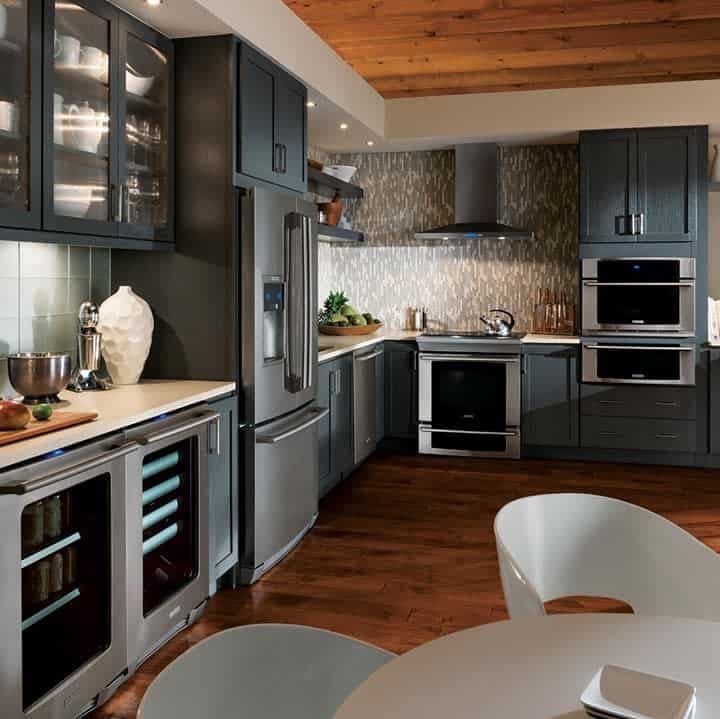 Painting your cabinets is a key part of your much larger kitchen remodel. Rustic cabinets give your kitchen a humble and unassuming aesthetic. You can enhance this look by doing faux aging and weathering to your milk-painted cabinets. Try lightly sanding away the paint on the edges that would experience natural wear and tear.
5. Farmhouse
You'll see farmhouse cabinets designs with decorative cutouts or chicken wire covering a large opening. These are a big and permanent commitment to changing the look of your cabinet doors. If you don't like it or change your mind in the future, you'll have to replace the cabinet doors. Painting is a much better option because you can easily repaint the cabinets for less money.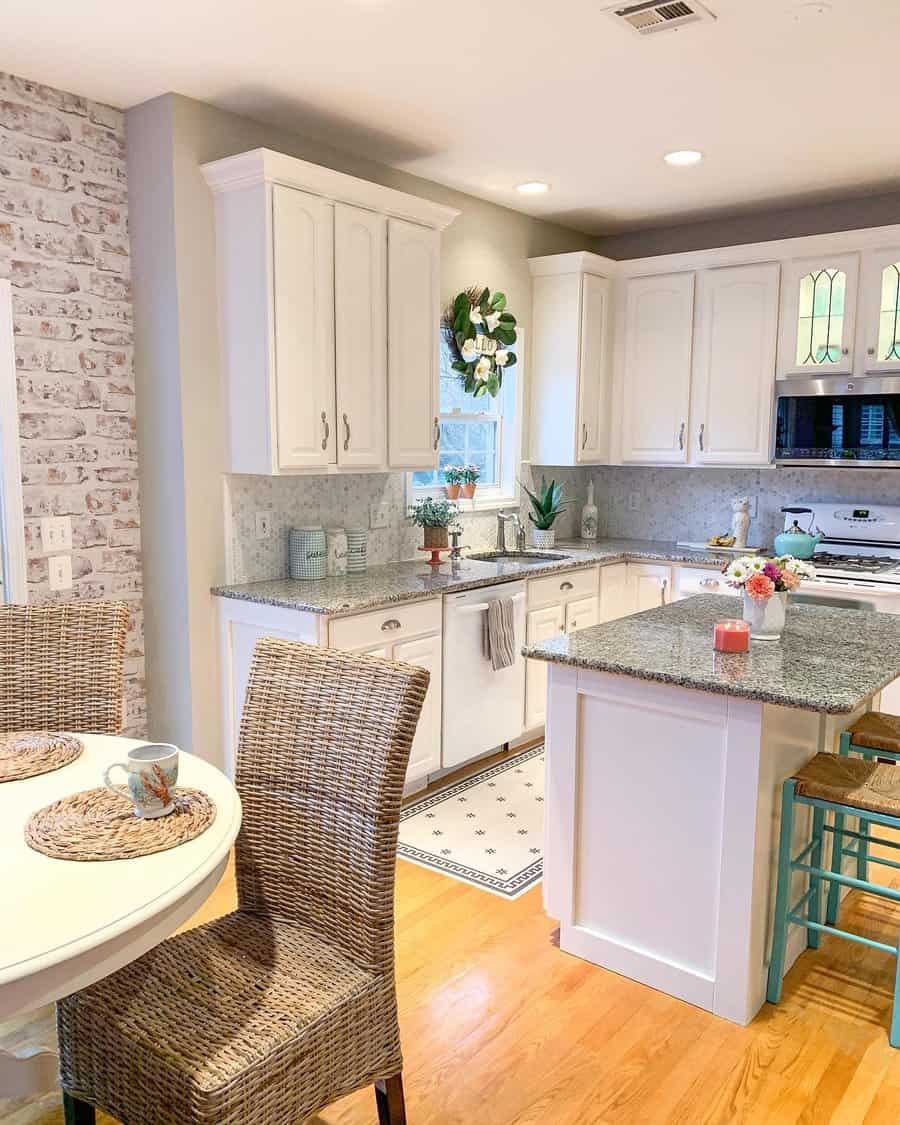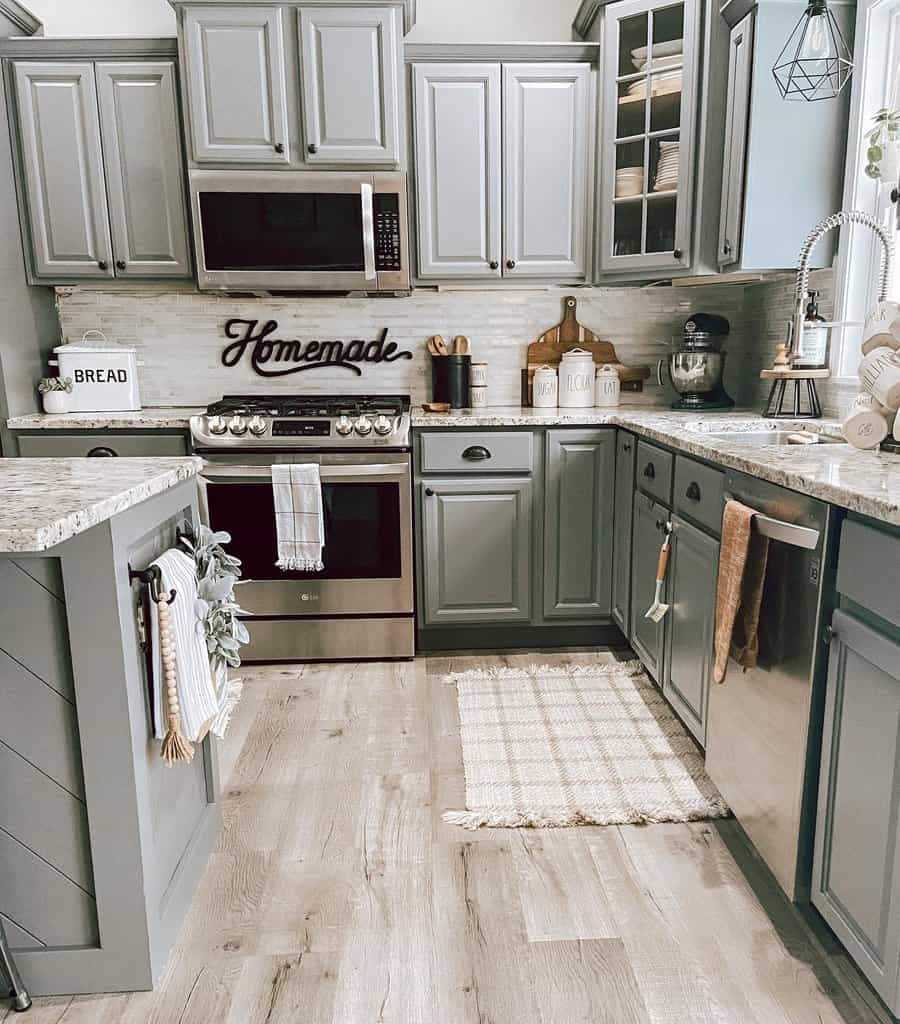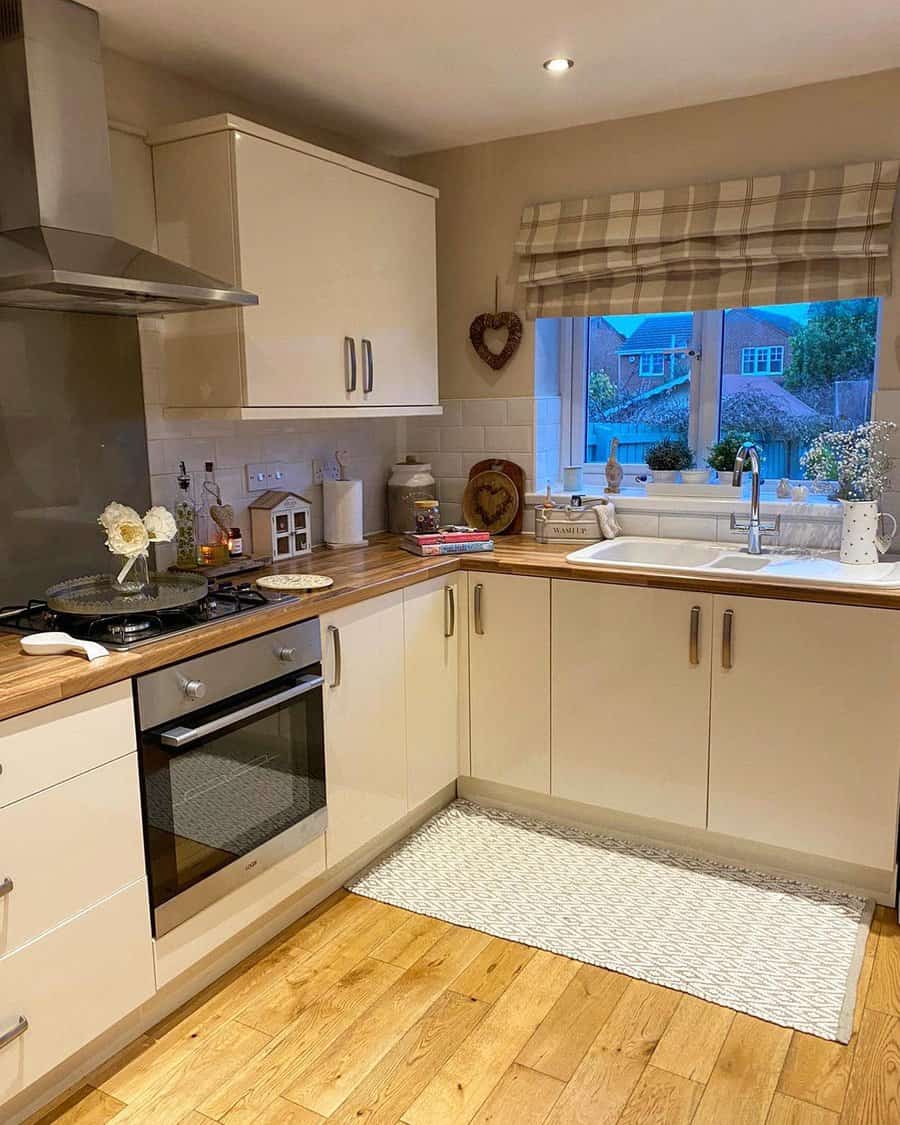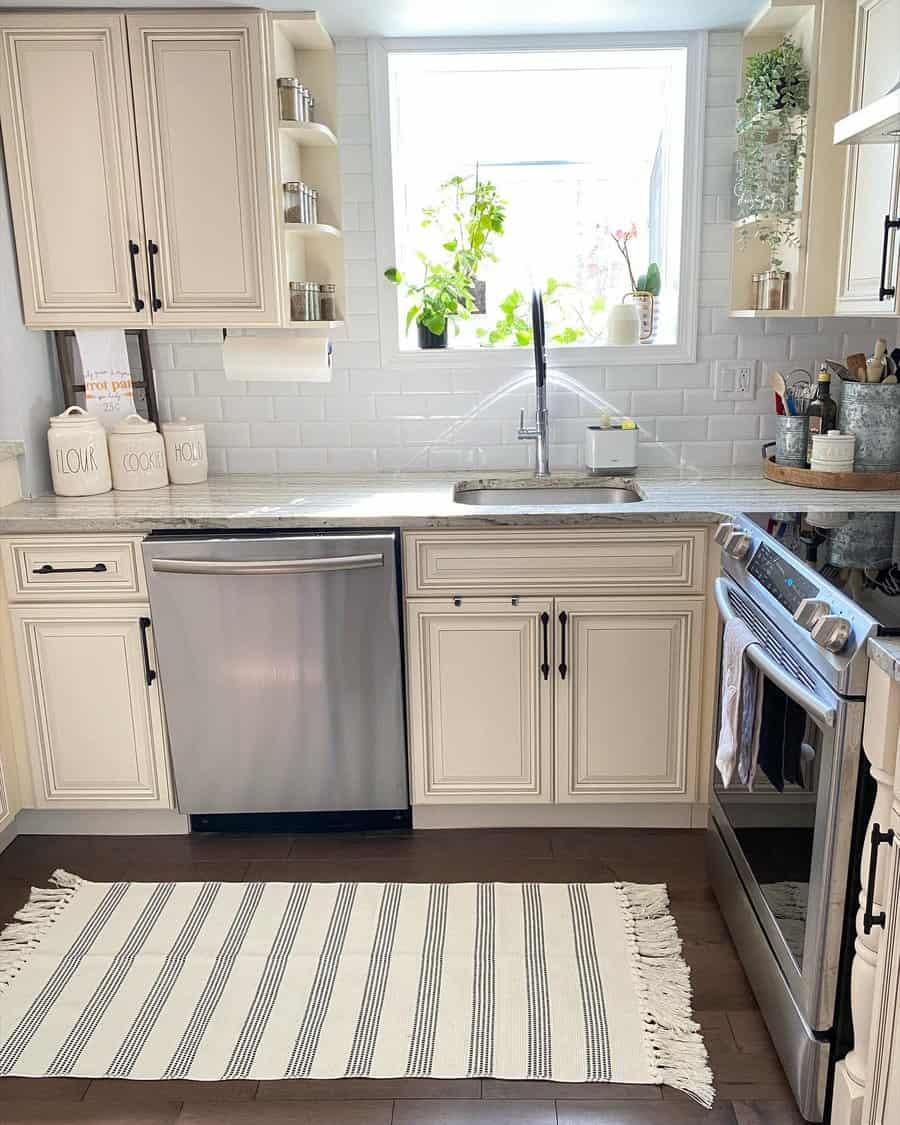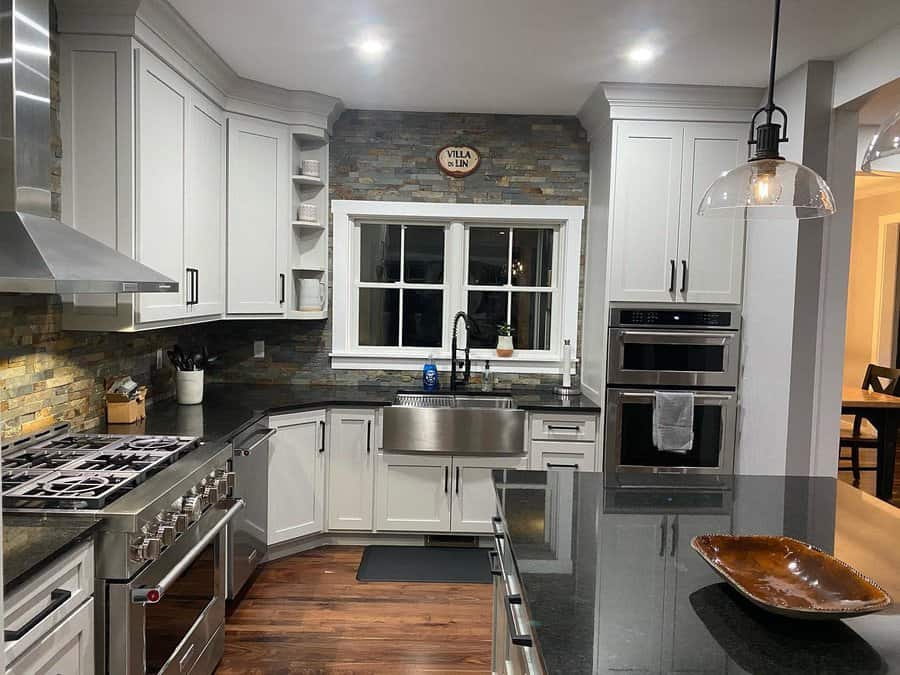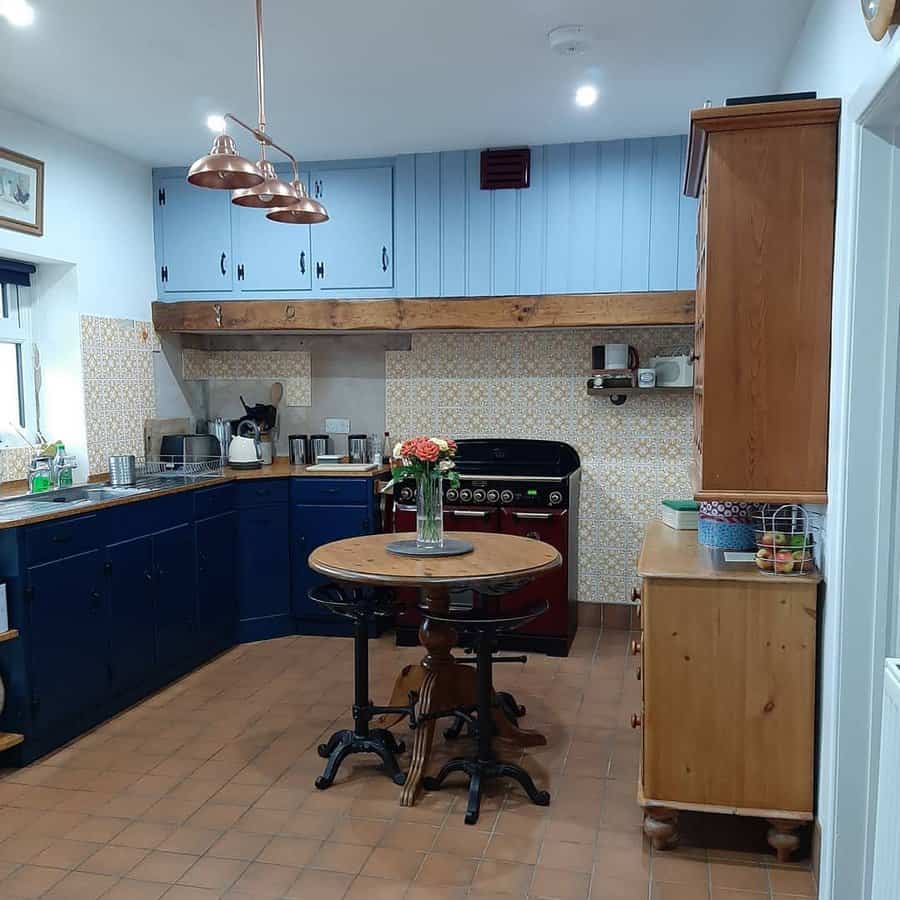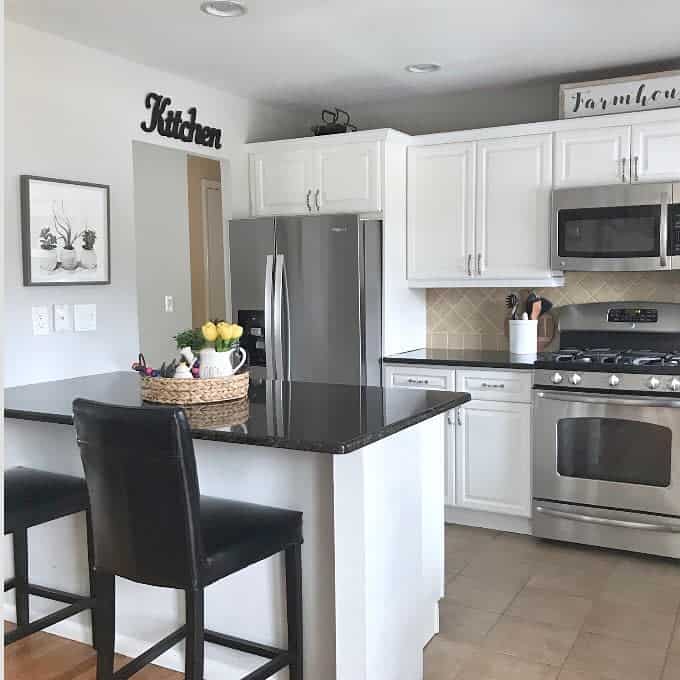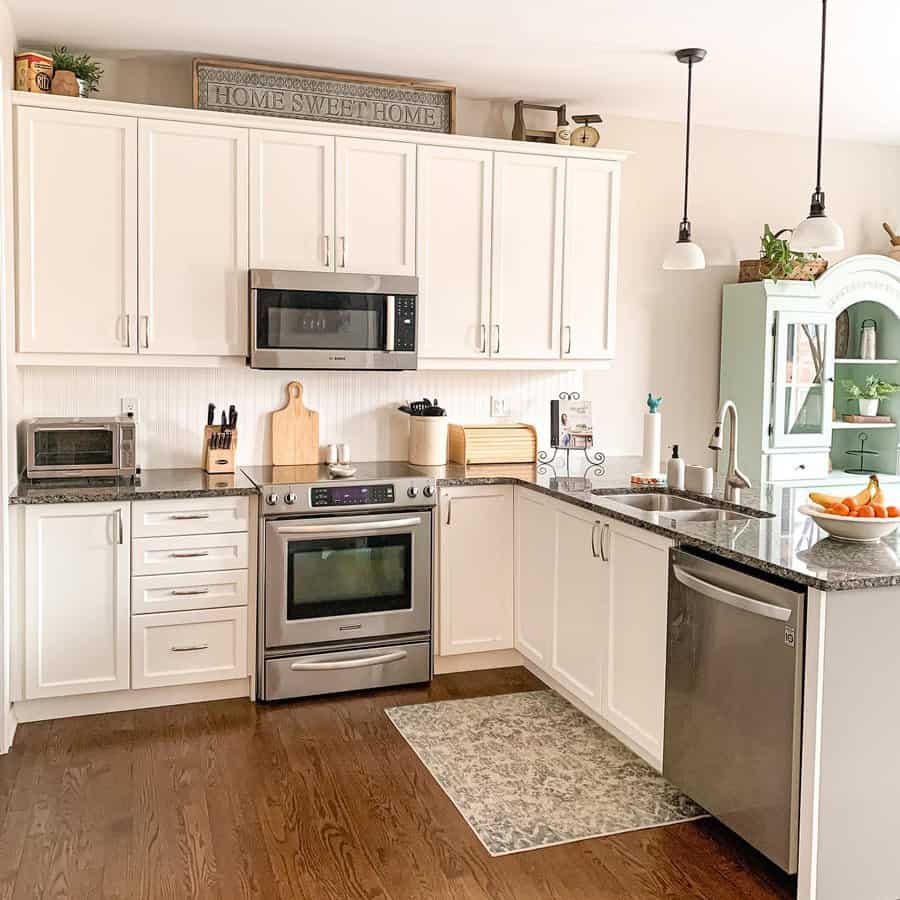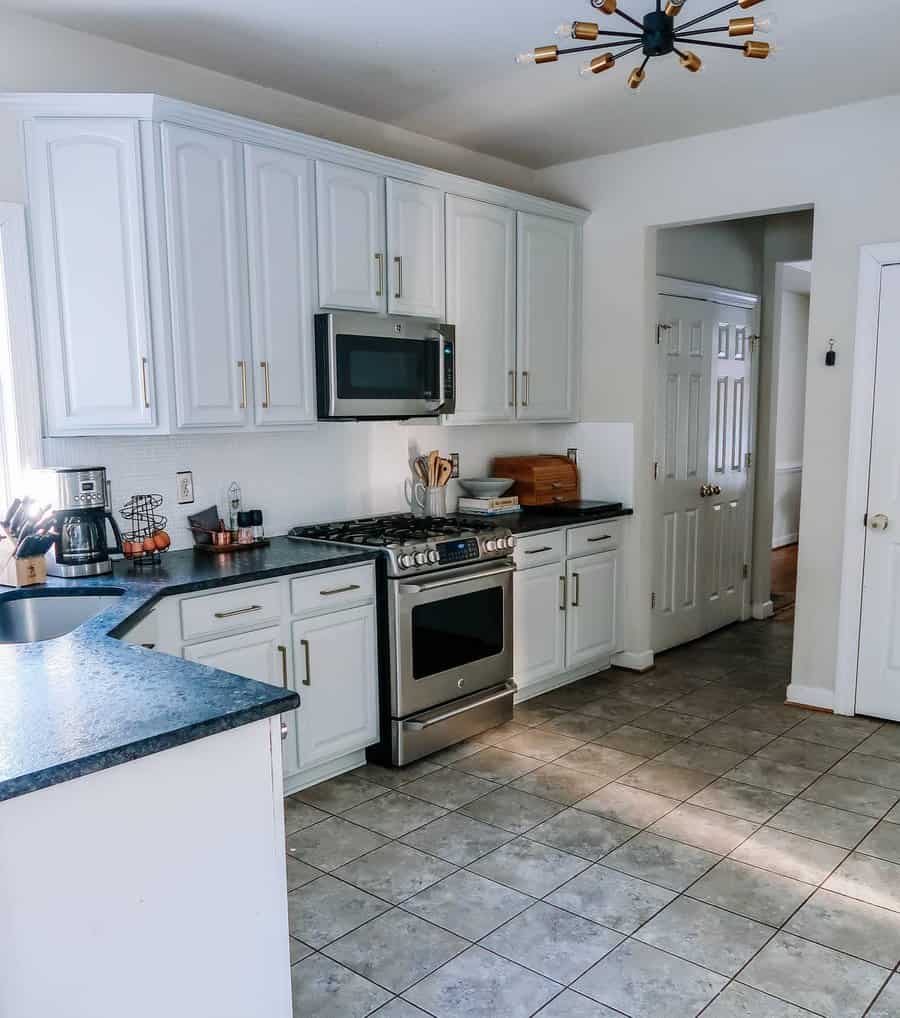 Give your kitchen cabinets a unique look by using chalk paint to finish your cabinet fronts. You don't need to use it for the entire cabinets, just the doors. Chalkboard paint comes in classic black, but if black kitchen cabinets aren't you're style, there are other colors to choose from. Have a small bin with chalk on your counter that you can use to make notes such as recipes, grocery shopping lists, or planned menus.
Read also: What Color Cabinets Go With Black Stainless Steel Appliances?
6. Gray
Grey is considered the modern neutral. Light shades have a fresh feel that works perfectly for gray kitchen cabinets. By keeping your cabinet neutral, you are free to use bolder colors with the rest of your decor. Dark charcoal gray cabinets are nice because they have a sleek modern feel without being as harsh as true black.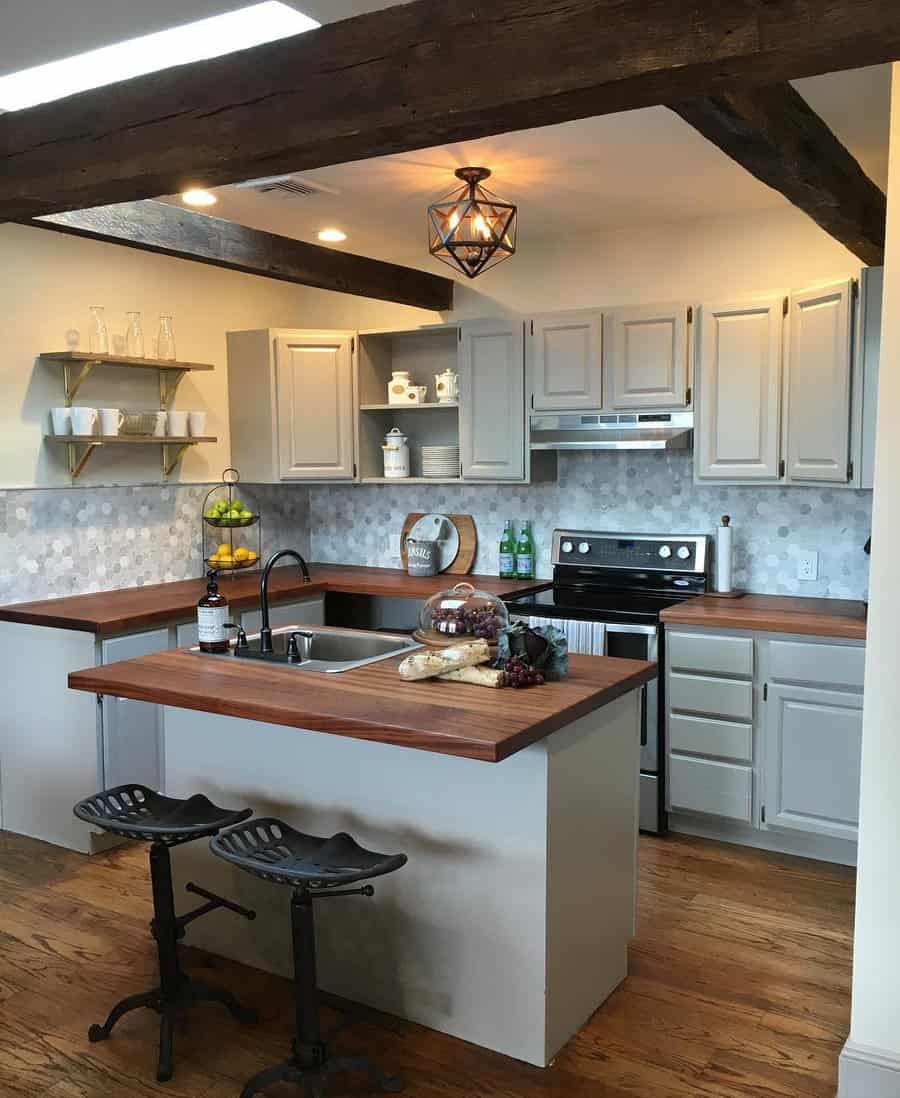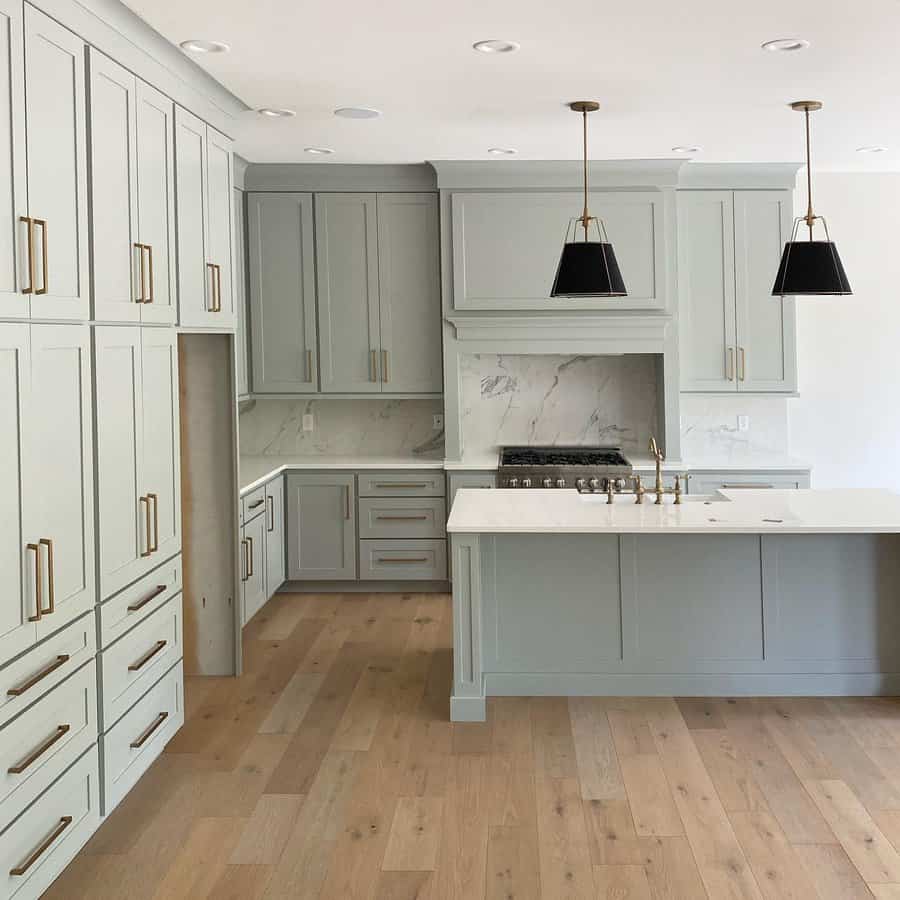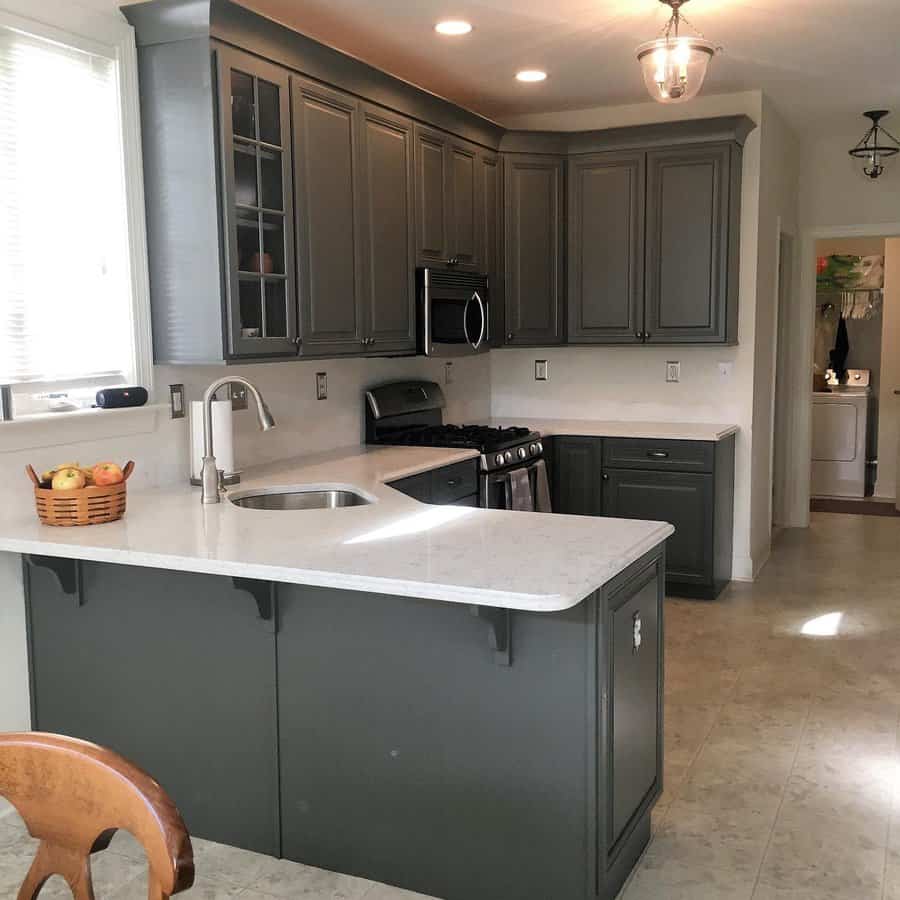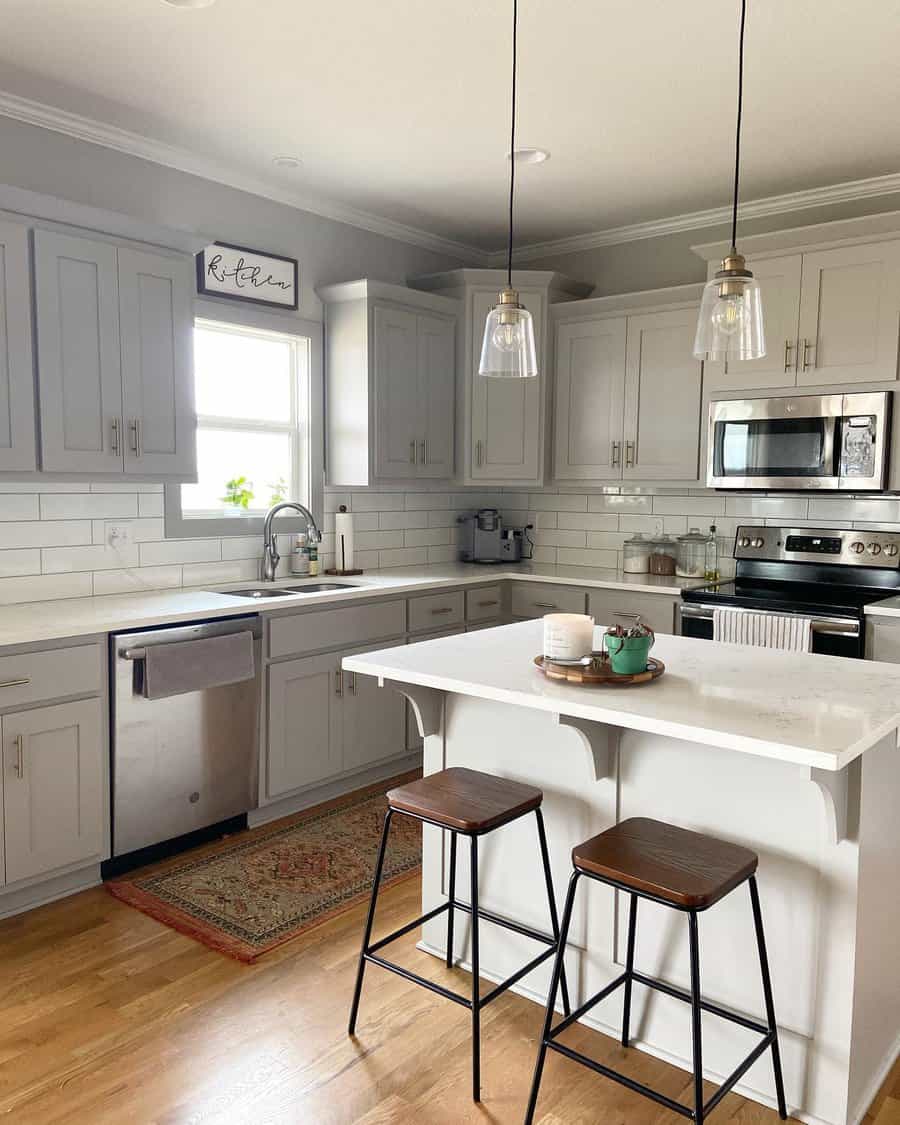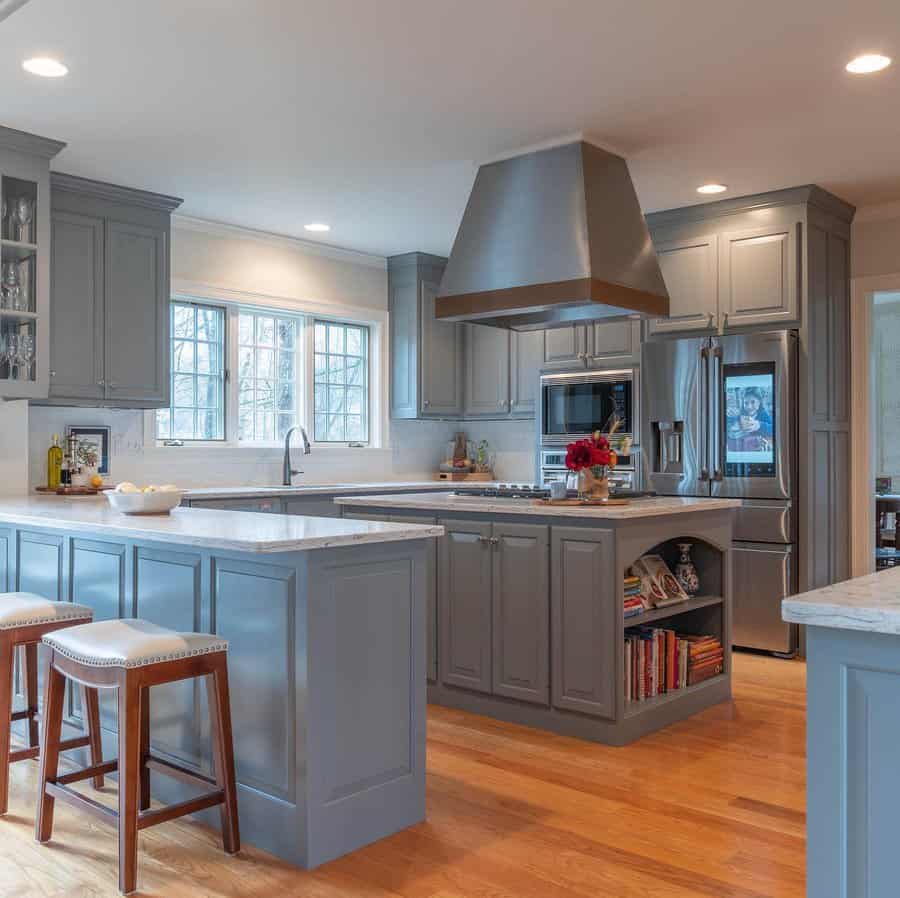 To keep your cabinets and kitchen from looking flat, use more than one shade of grey. Using a combination of light and dark creates visual interest and depth. For example, darker grey on your backsplash and a lighter shade on the cabinets makes the wall sink back, giving the illusion of the kitchen being larger.
Read more gray kitchen ideas.
7. Green
Using the color green for your kitchen cabinets is smart because it's the color of life and nature. It's perfect for adding an earthy feel to your kitchen without having to add plants. A soft mint shade can keep your kitchen feeling light and bright. It's perfect for a farmhouse-inspired kitchen. A bright kelly green can look beautiful in a high gloss finish with bright gold hardware. Darker shades of green look elegant when paired with light cream and white.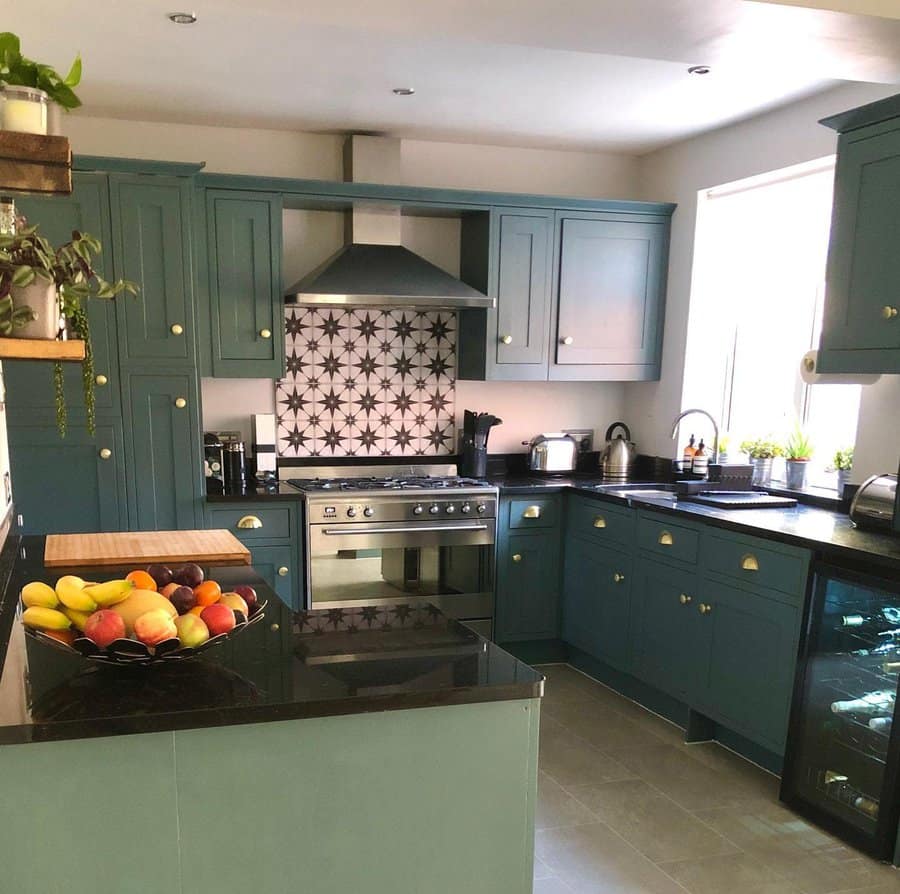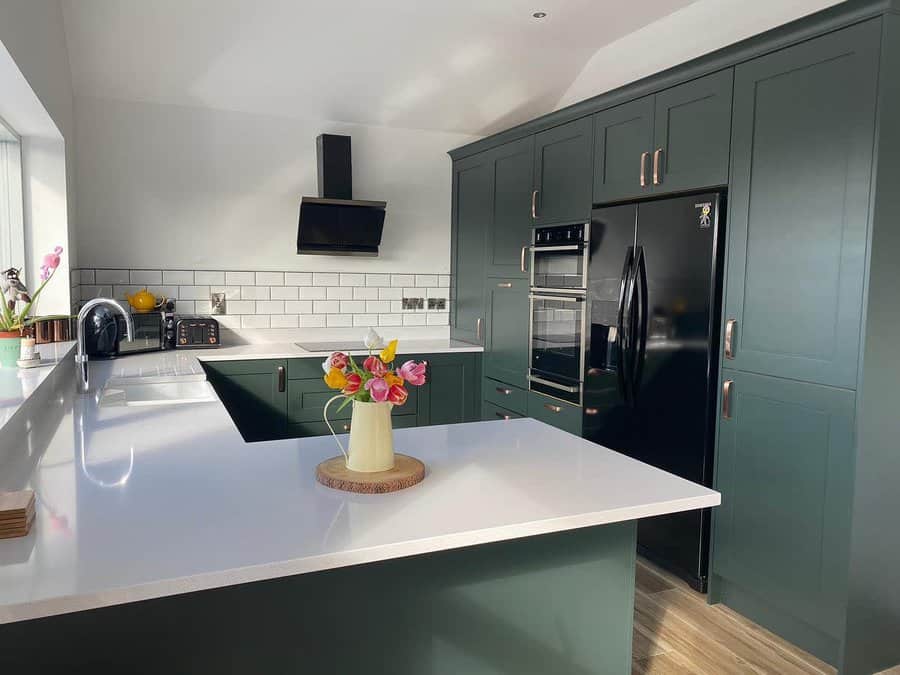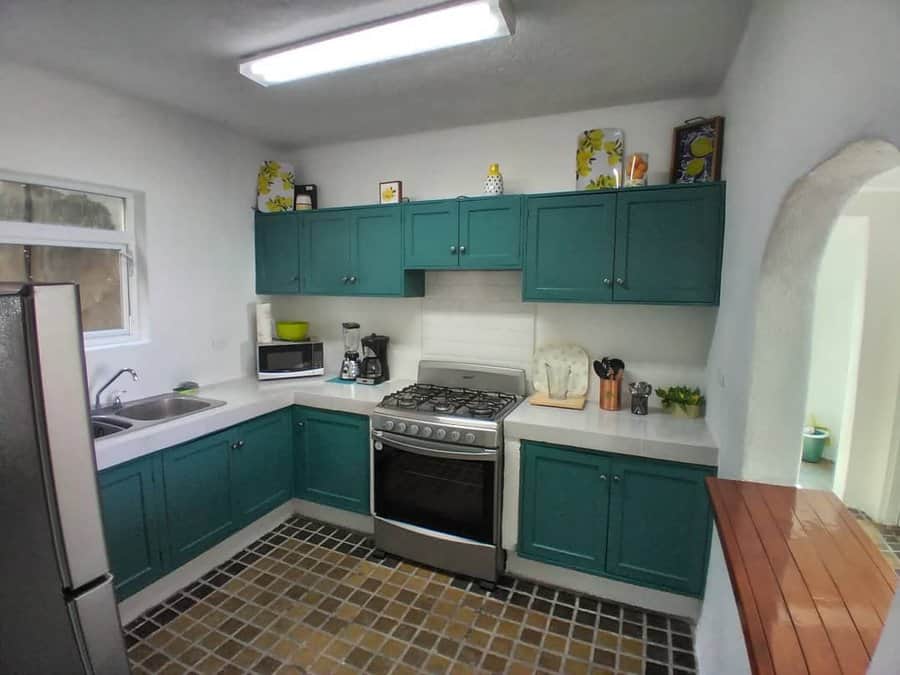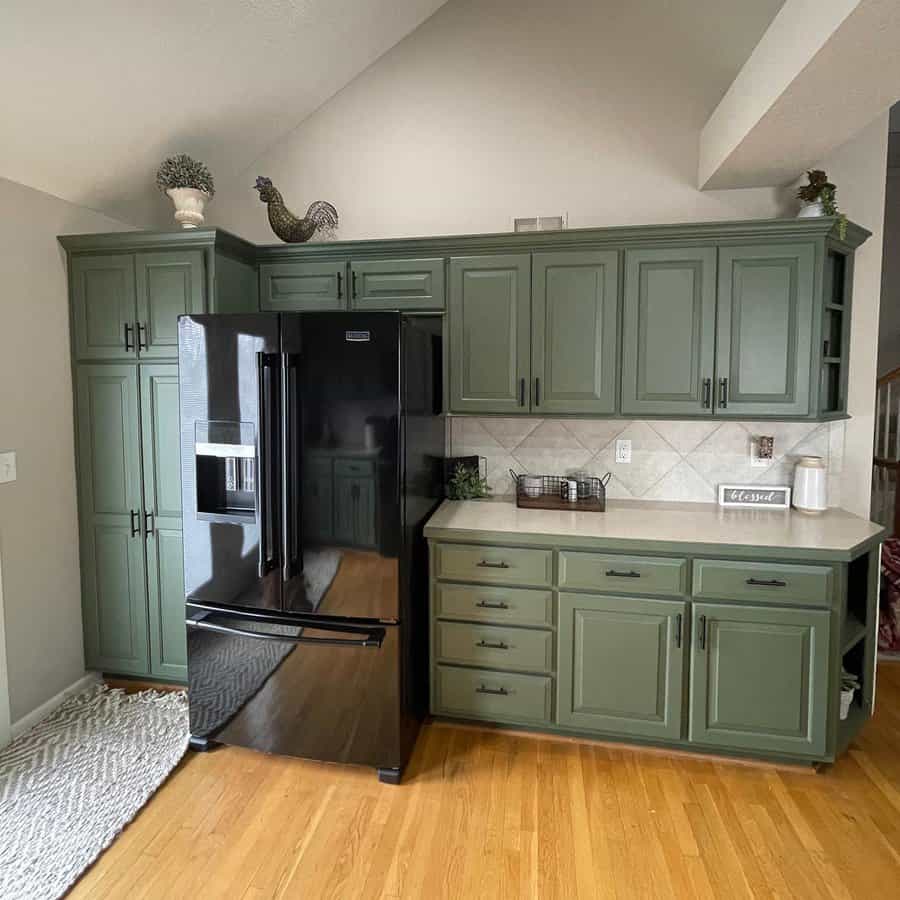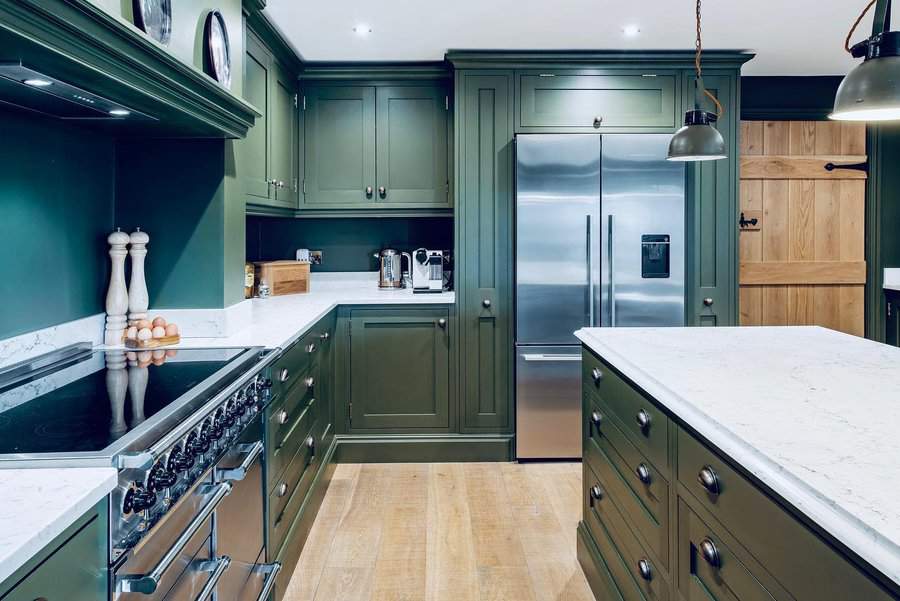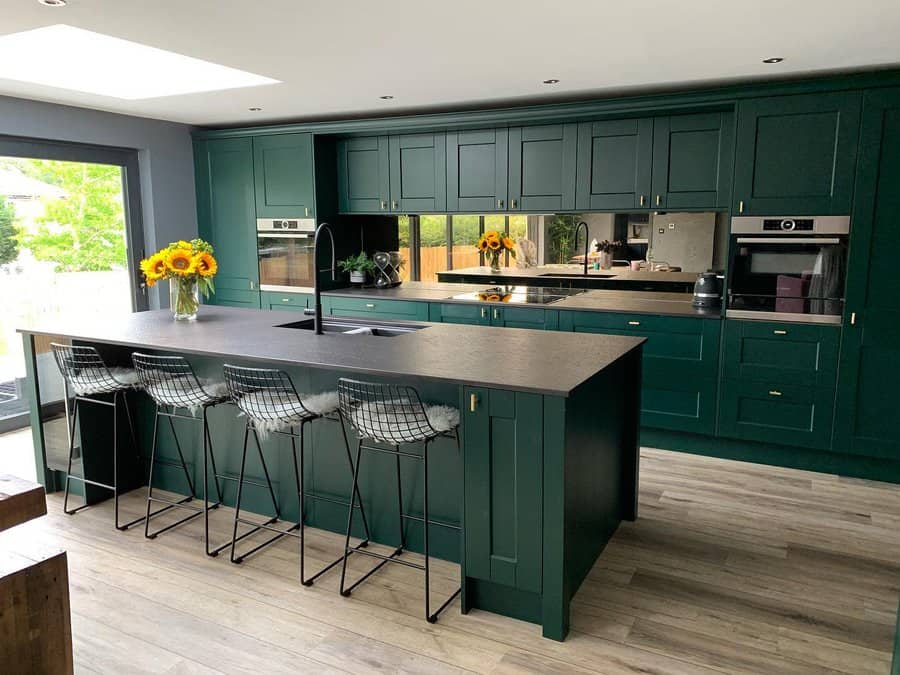 Sage green and shades of green that have grey undertones look beautiful in the kitchen. These colors are perfect for your cabinets because they pair well with a wide range of other colors. This makes it easy to decorate and change your decor without having to change your cabinets.
8. Modern
If you want modern-looking cabinets, stick with a high gloss shine that imitates the look of lacquer. If you can replace your cabinet fronts with slab-style doors, even better. Don't add the traditional style hardware back when you're done painting. Instead, look for low-profile hardware that won't break up the lines of the cabinet doors.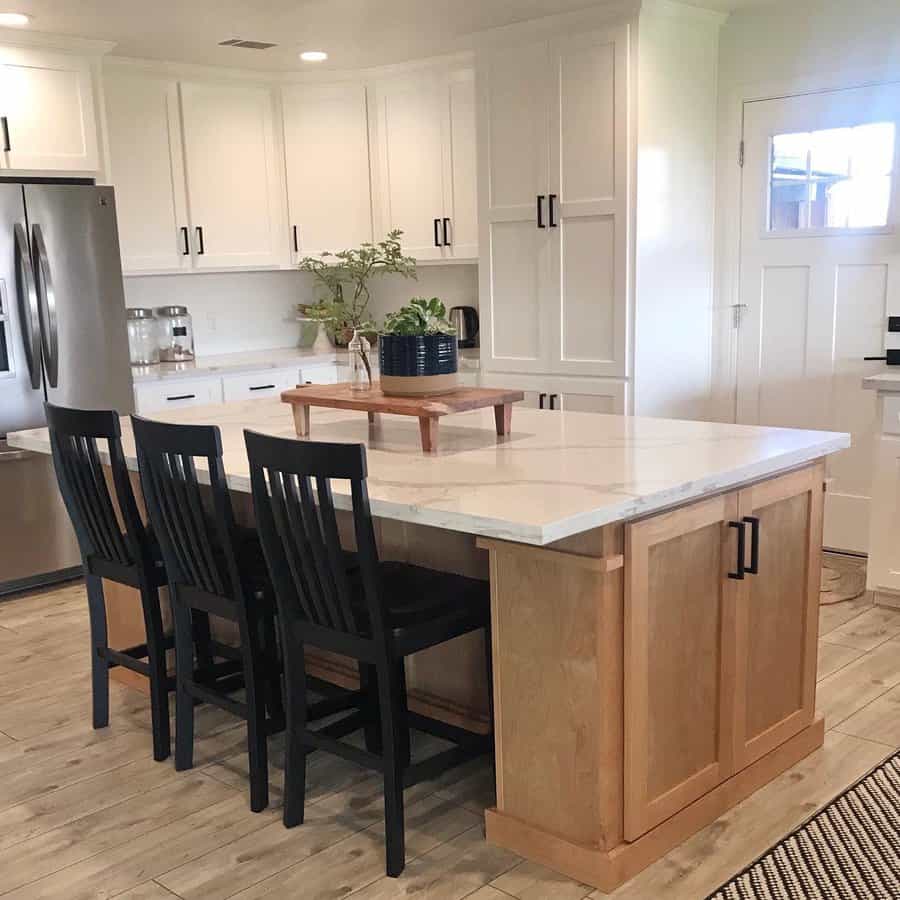 Modern kitchen cabinet colors are black, grey, and white. You'll also see colors that look like a blending of two other colors. This could be greige, which is a blending of gray and beige. Or a teal that looks like a blending of blue and green. Depending on how you decorate the rest of your kitchen, you can bring out one of these undertones more than the other.
Read more: Top Modern Kitchen Ideas
9. Two-Tone
Elevate your kitchen cabinetry by choosing more than one color for your design. A two-tone approach creates more visual interest and depth in your kitchen. You can also use the colors to your advantage to create the illusion that your kitchen is bigger or brighter than it really is.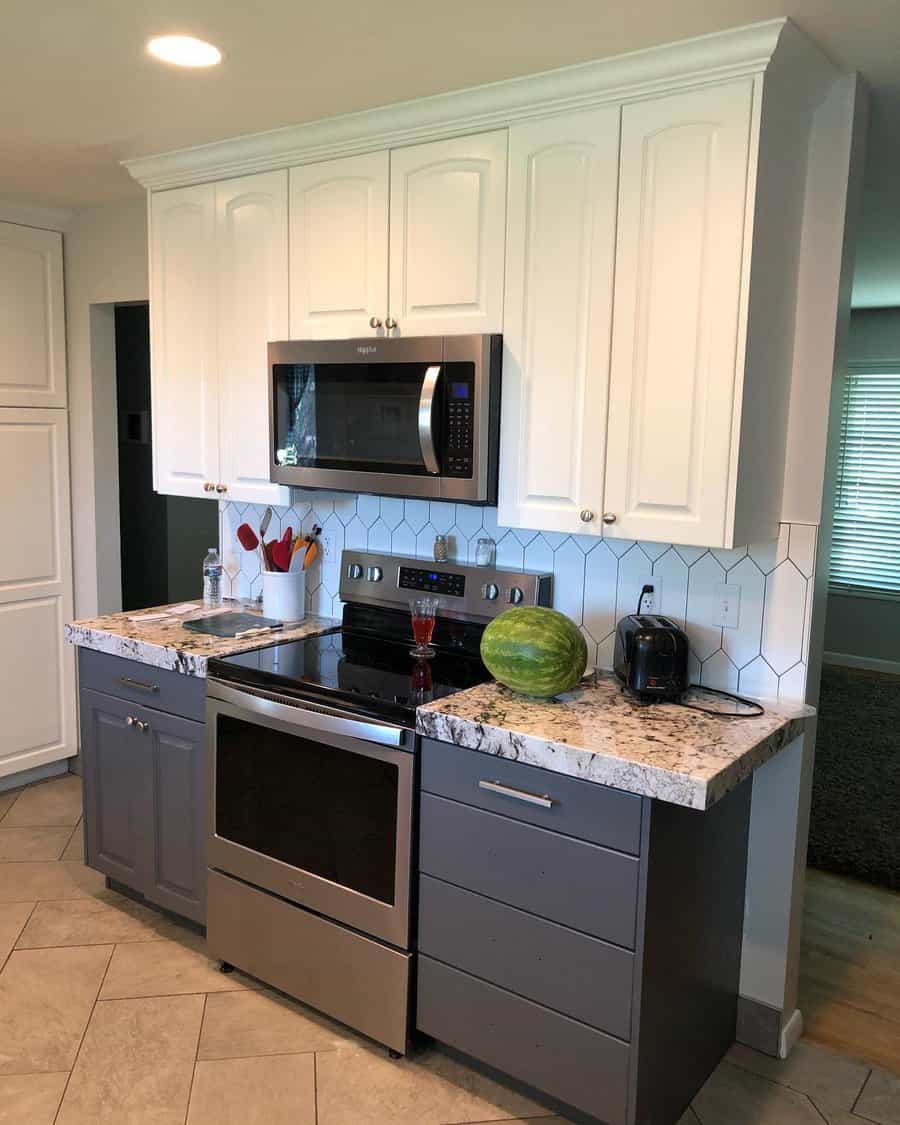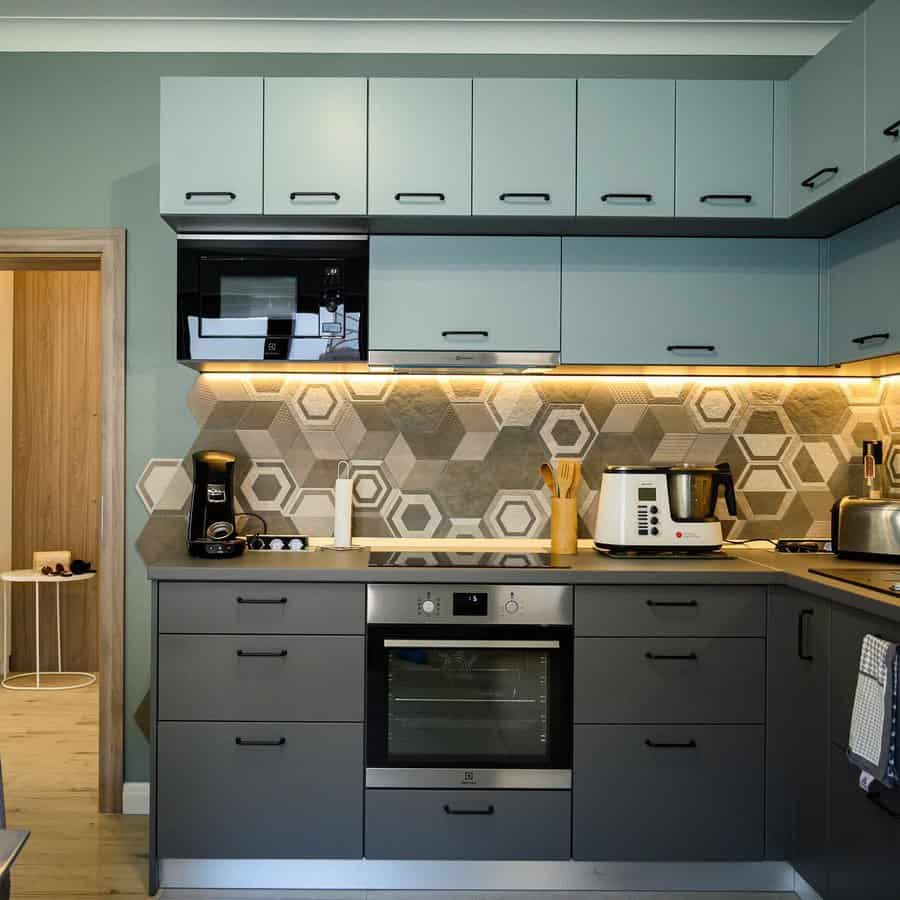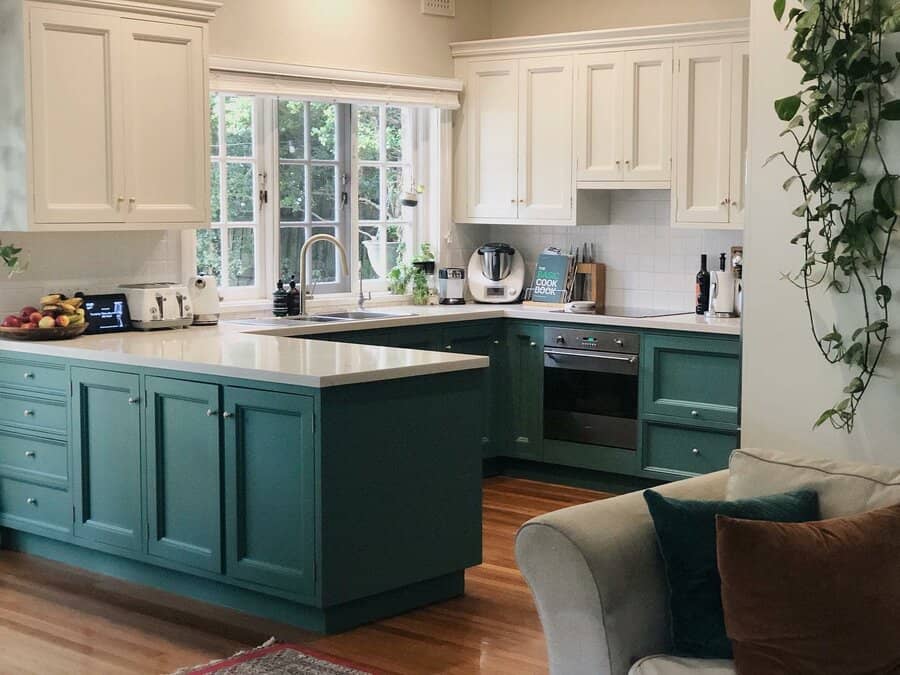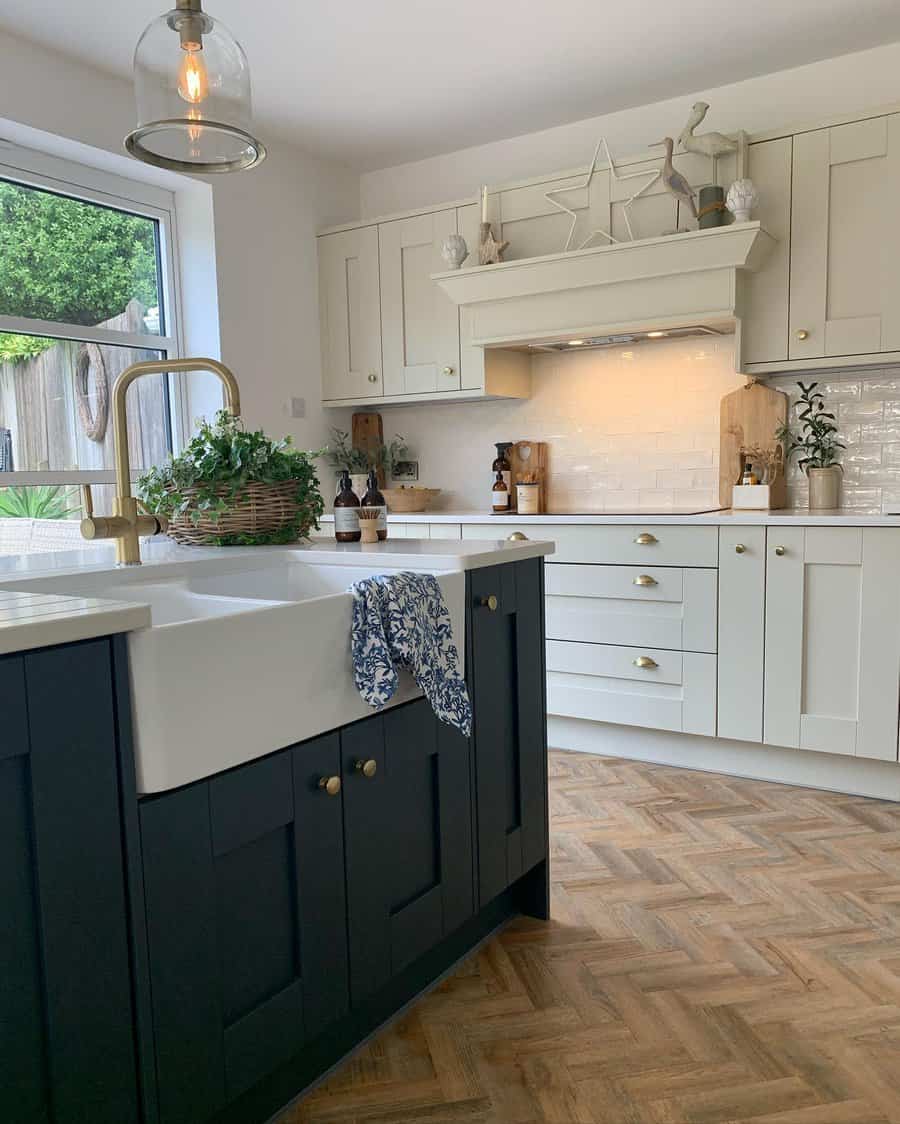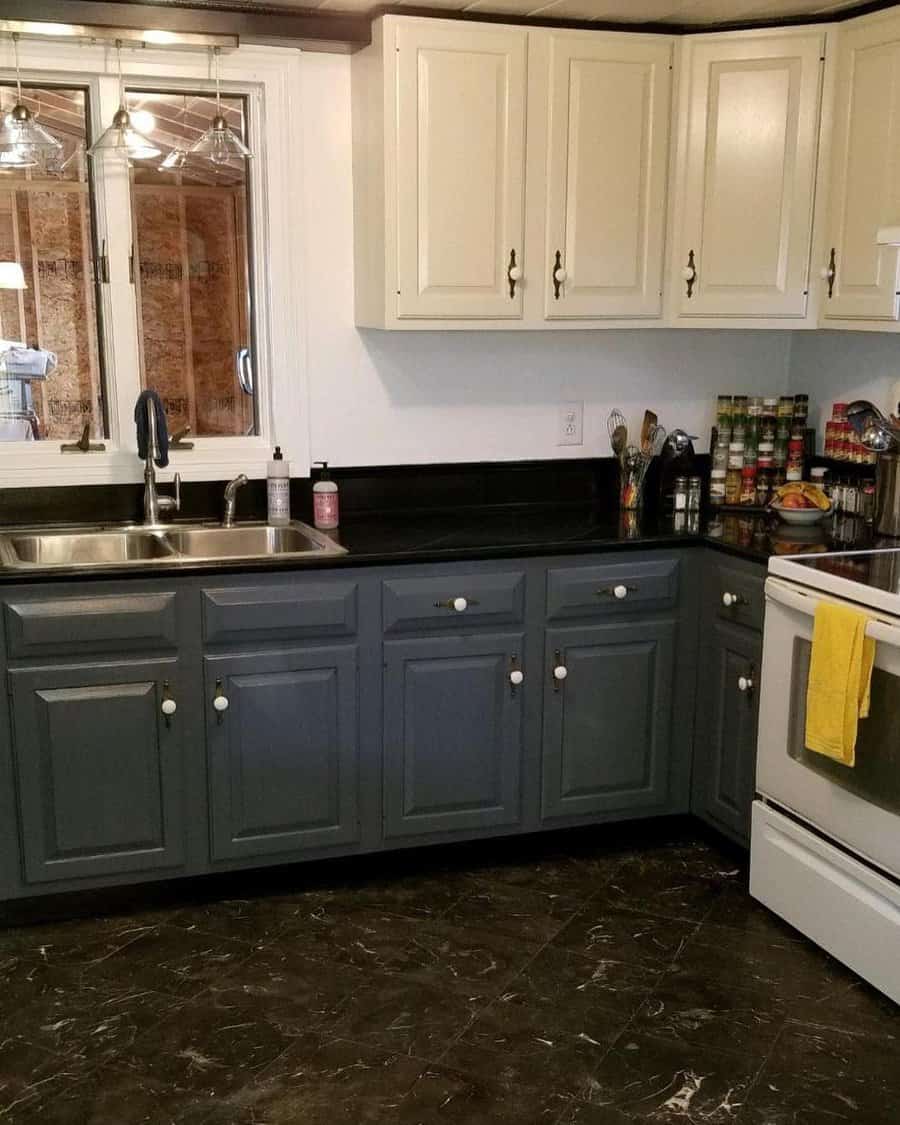 Paint your lower cabinets or kitchen island a dark color shade. For example, you could have navy blue, dark cabinets. Then paint your wall and upper cabinets a light color, such as white. This keeps the weight of the room low and the upper part of the room at eye level light and bright.
10. White
White has always been the most popular color for kitchens and likely will remain that way. This shouldn't be surprising since bright white looks clean and fresh and reflects the most light. If you currently have dark-hued cabinets, then a white paint color can transform the look of your kitchen. You don't have to commit to an all-white kitchen simply because you decide you want white kitchen cabinets.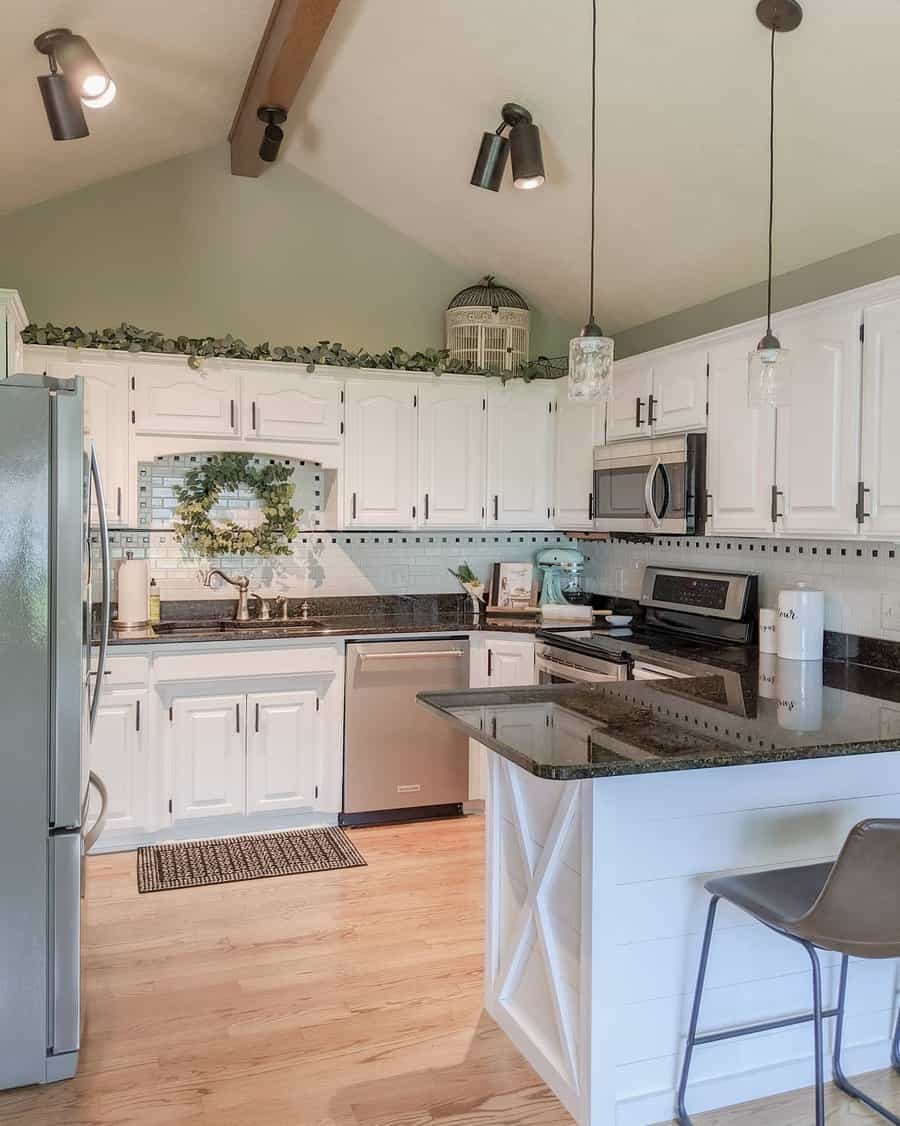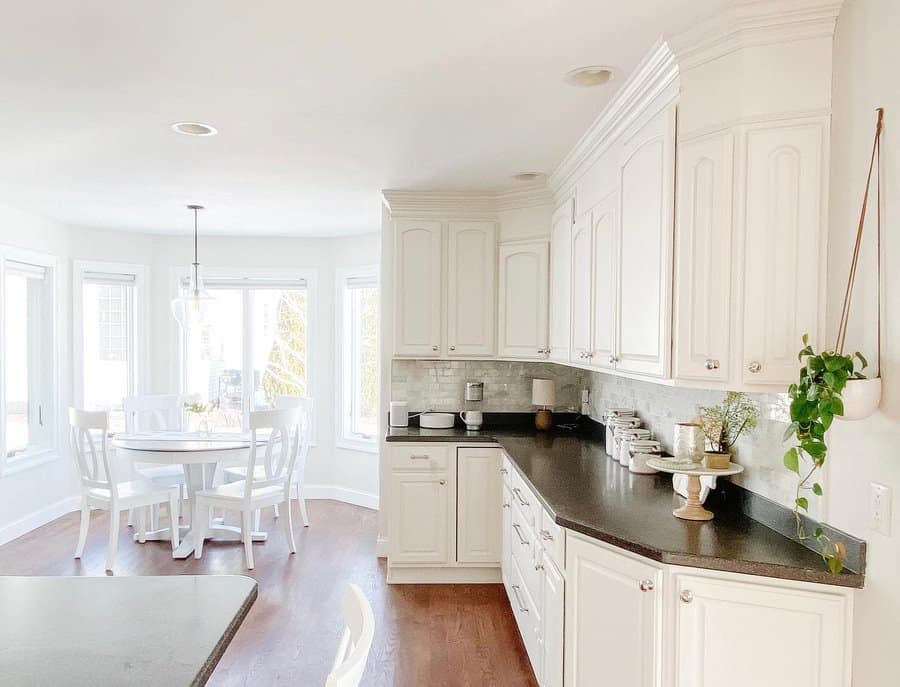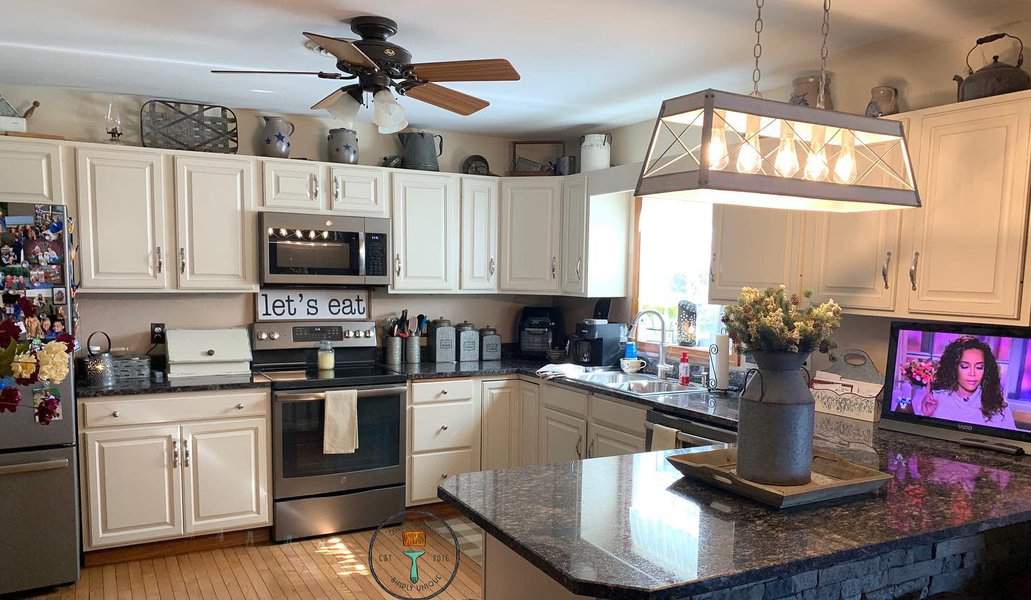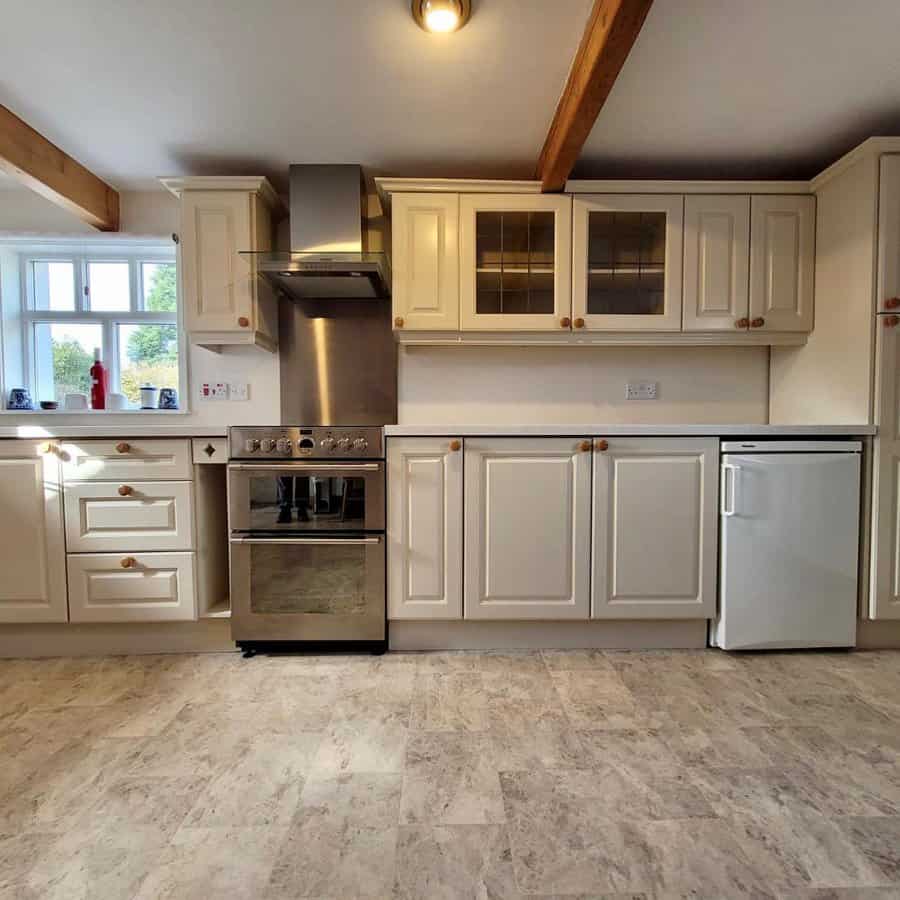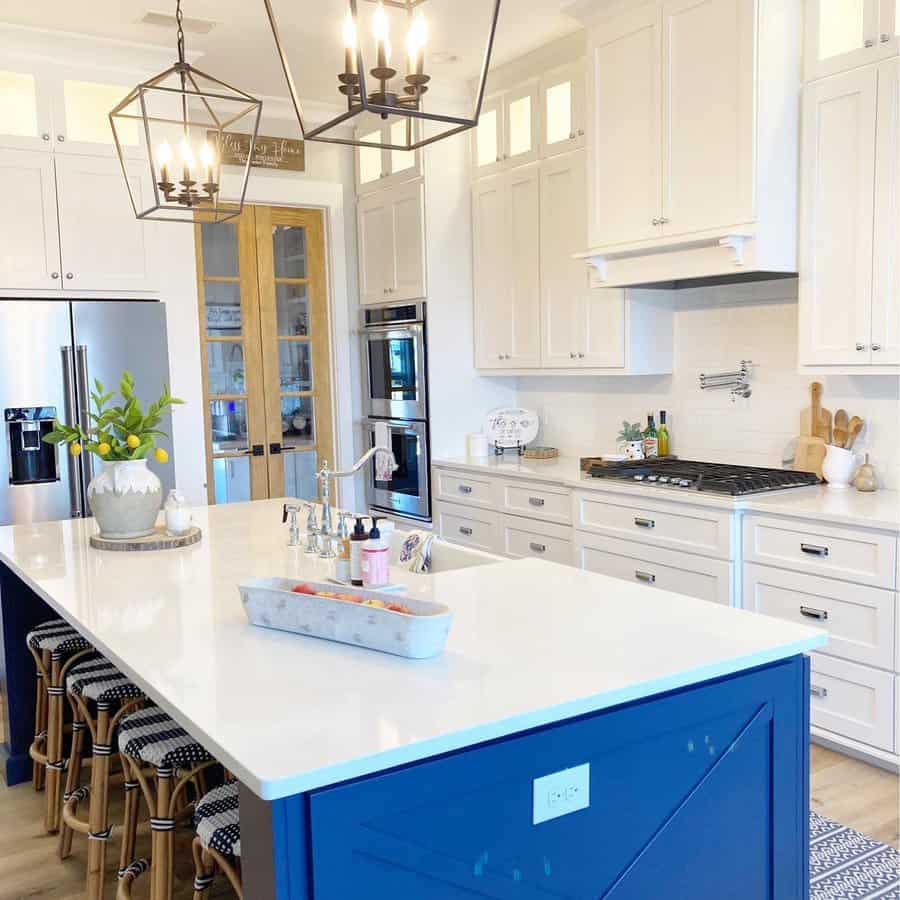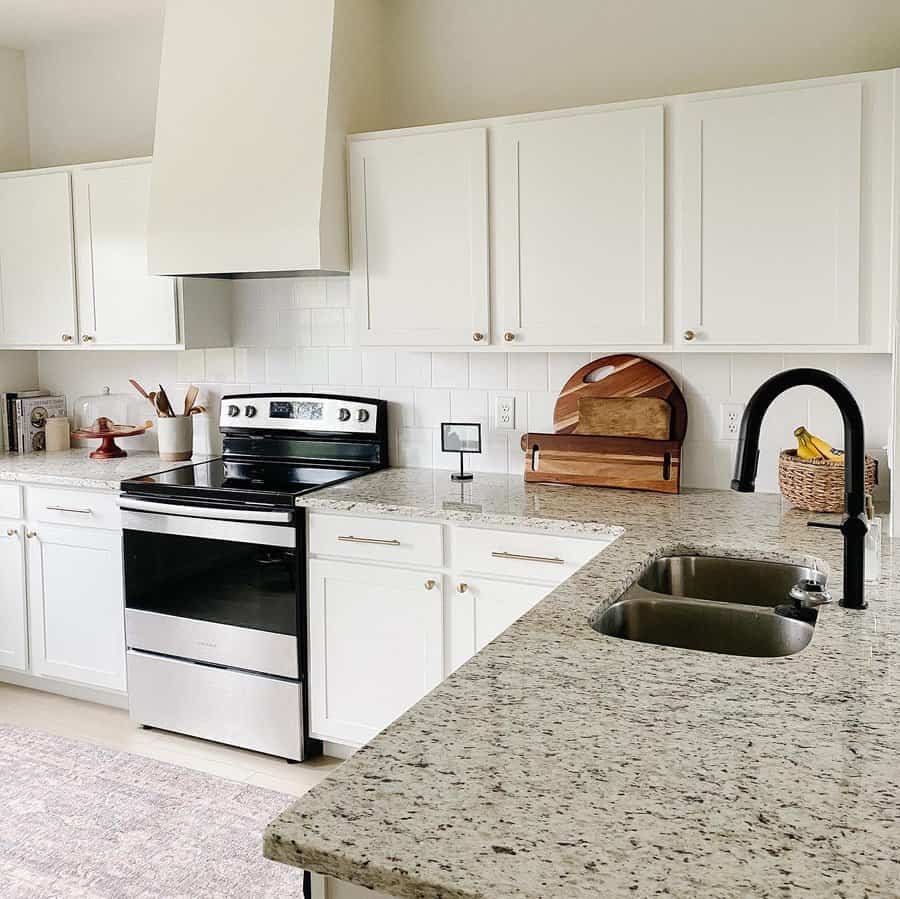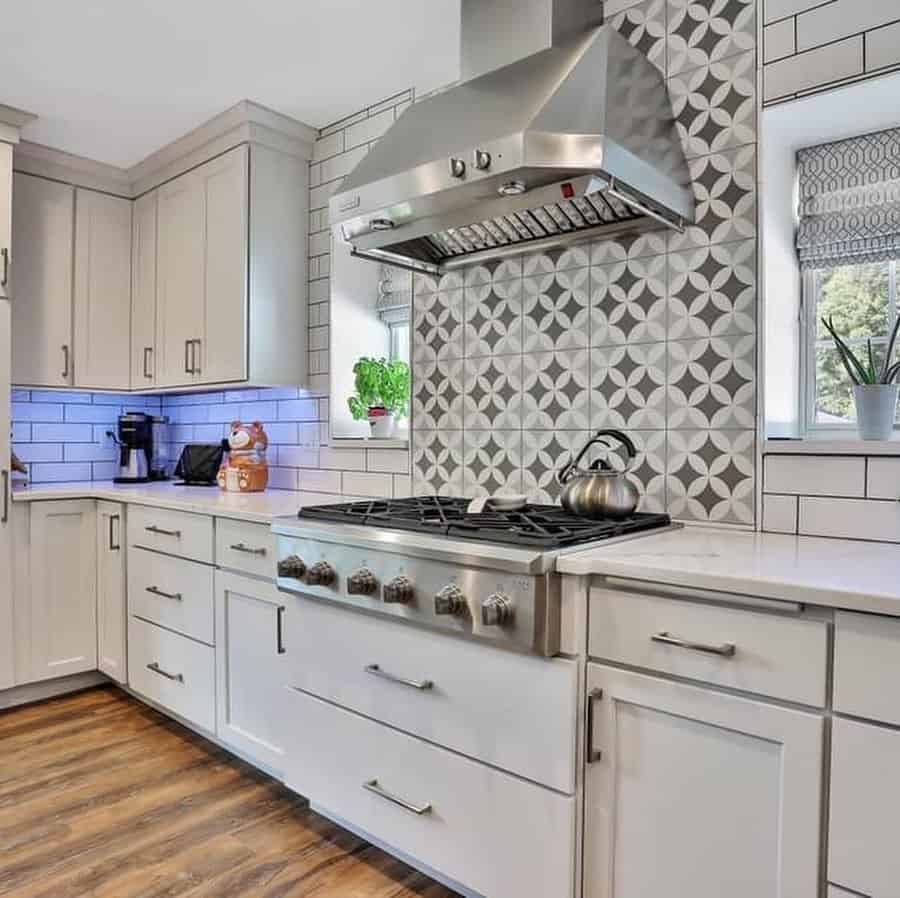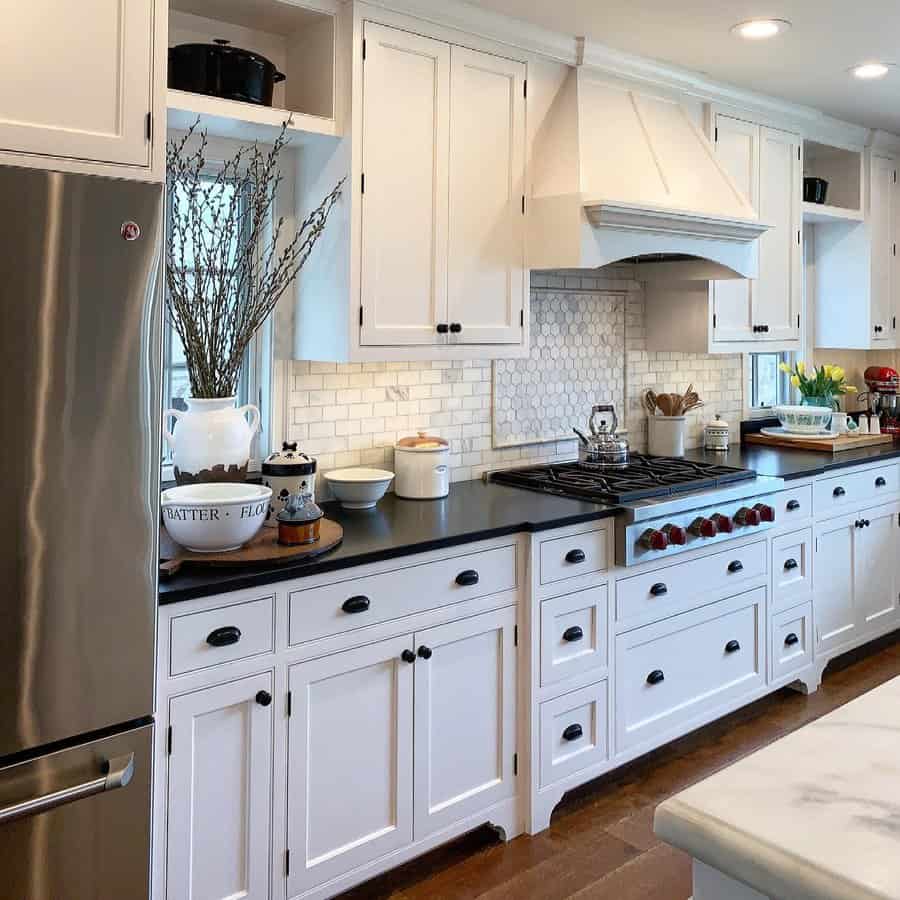 Be careful choosing an off-white color. This can make your white cabinets look dirty or dingy. No one wants that when it comes to the kitchen.
Read more: Top White Kitchen Ideas
Painted Kitchen Cabinet FAQs
What kind of paint should you use on kitchen cabinets?
An acrylic latex paint is the best option because it's durable and creates a smooth surface you can clean. It's best to choose a semi-gloss, gloss, or satin finish. These are more durable than flat finishes when scrubbing. Remember, you will need to wipe down your cabinets to remove grease and food particles.
Is it better to spray or paint kitchen cabinets?
If you want the most professional-looking finish, then use a sprayer to apply the paint to your cabinets. Keep your hand constantly moving while spraying to ensure you get an even finish. If your cabinet doors have a lot of detailing, then a sprayer will make it easier to get in all of the crevices.
Can you just paint over cabinets?
Yes and no. Wood, laminate, and metal cabinets have a straightforward repainting process. You'll need to lightly sand the surface with fine grip sandpaper to help the paint adhere to the cabinet. Some plastic or PVC-type materials may not allow the paint to adhere. You'll need a specialty paint specifically designed for the material you are painting.