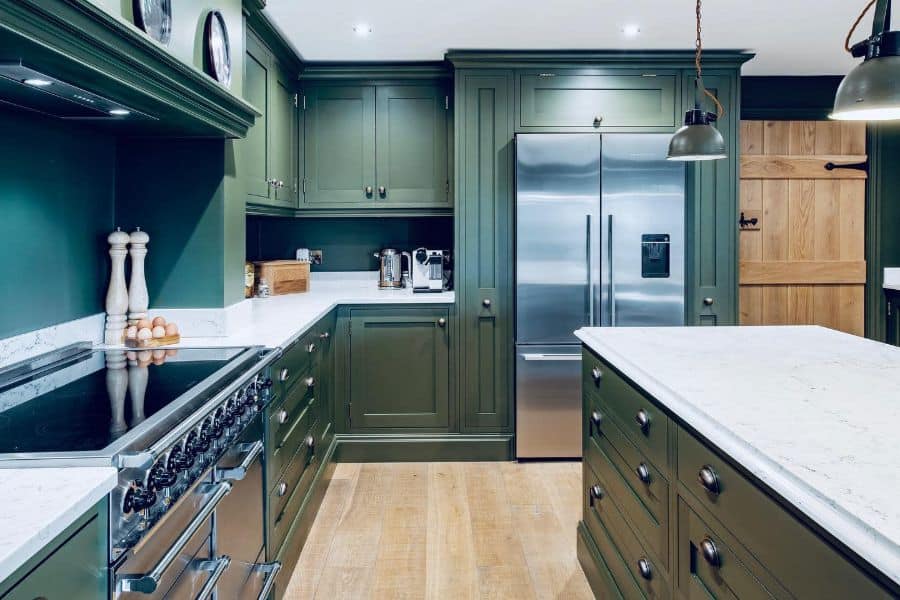 The Top 50 Painted Kitchen Cabinet Ideas
"No matter what the recipe, any baker can do wonders in the kitchen with some good ingredients and an upbeat attitude!" – Buddy Valastro
Doing a kitchen makeover is an easy way to update the look of your kitchen. It's one of the most used rooms in your home, so giving it an update can make a big impact. But before you say good riddance to those oak cabinets and replace them with open shelving, consider a better way. A simple cabinet makeover can update your kitchen without you losing valuable storage space.
Painting your kitchen cabinets is a simple home improvement project that can transform the look of your kitchen. Changing the color of your cabinets can make your kitchen feel bigger, brighter, and more welcoming. The right color can take a lifeless kitchen with no personality and turn it into something unique that's a perfect expression of you and your family.
These painted kitchen cabinet ideas will help you decide what color is best for your kitchen.
1. Santorini Blue Cabinets
Transport yourself to the picturesque island of Santorini with a stunning blue kitchen cabinet. This shade of blue is reminiscent of the sparkling Mediterranean Sea, making it the perfect choice for a calming and soothing atmosphere in your kitchen. Pairing it with white furniture and/or cabinets can create a beautiful contrast and balance, making your kitchen feel airy and bright.
Whether you're aiming for a modern or a traditional look, a Santorini blue kitchen cabinet can be a bold statement piece that will transform your space into a serene oasis.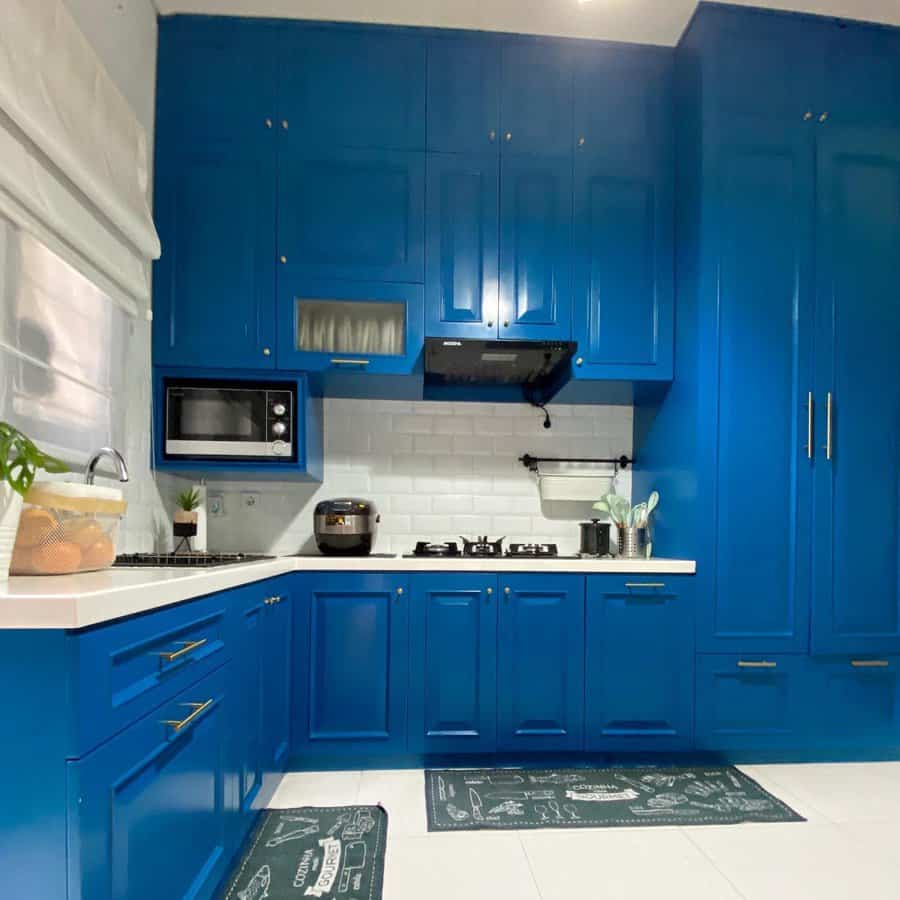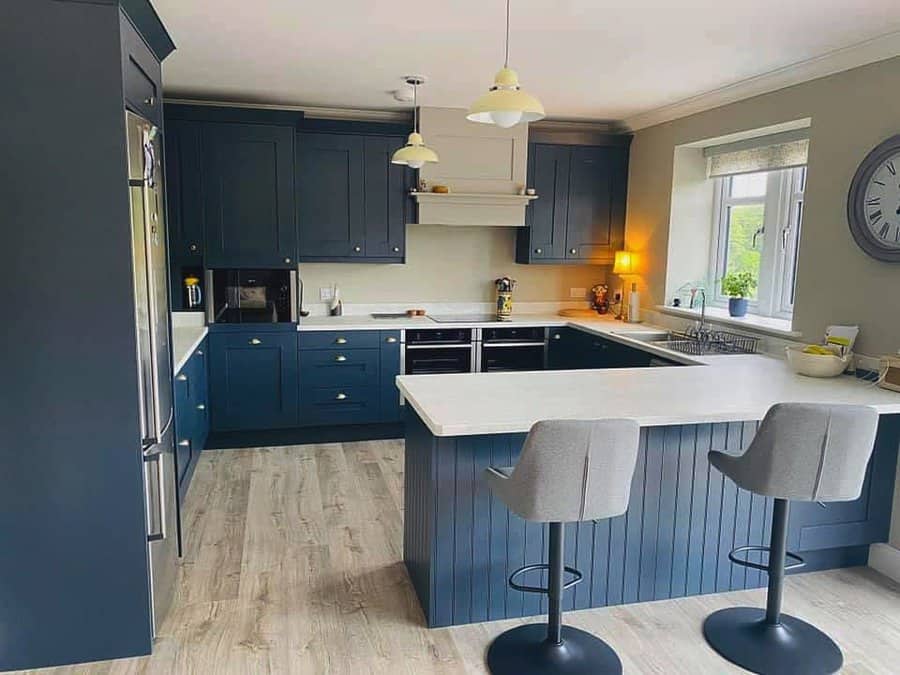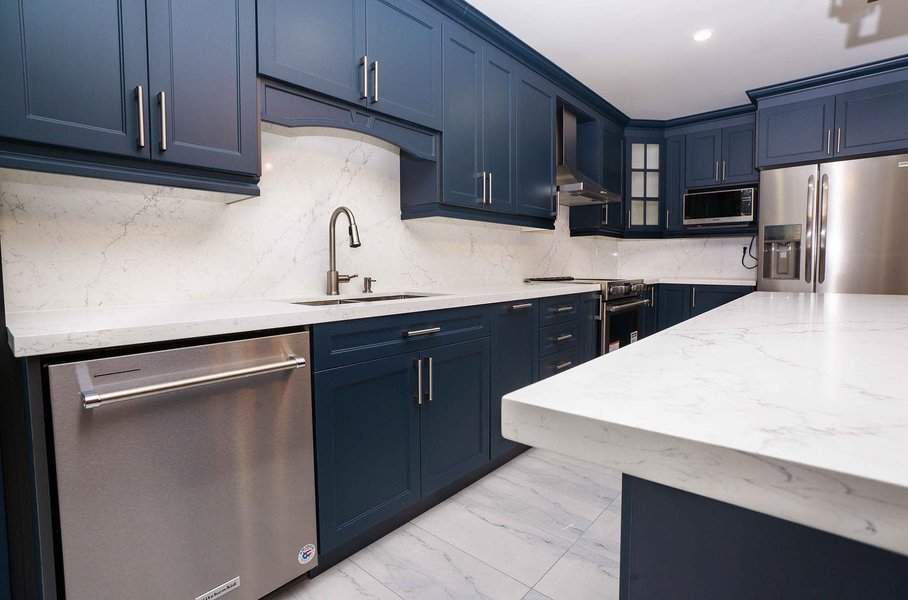 2. Beach Blue Cabinets
Looking to bring some coastal charm into your home? Look no further than a beach blue kitchen cabinet! Light blue is the perfect hue for those looking for a subtle and calming touch in their kitchen. Not only does it provide a sense of tranquility, but it also brings the serene beauty of the ocean into your home.
With a beach blue kitchen cabinet, you can create the ultimate coastal look in your kitchen. Pair it with white walls and neutral decor for a bright and airy feel, or add in some natural wood accents to create a more rustic beach vibe.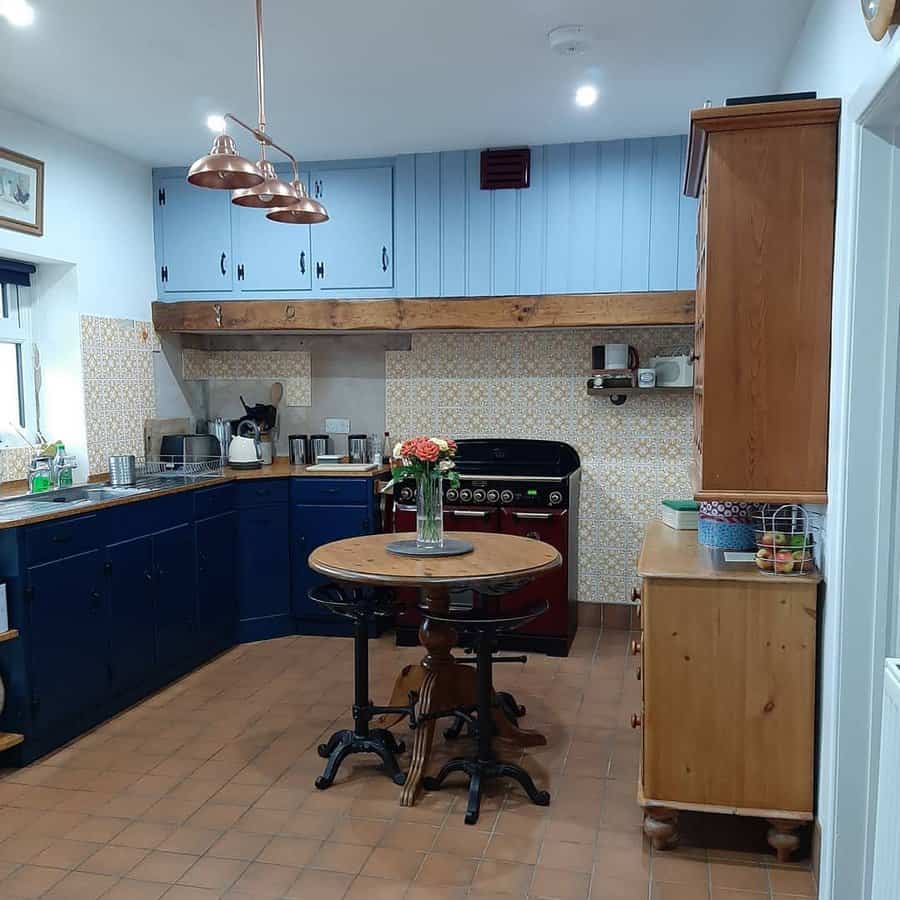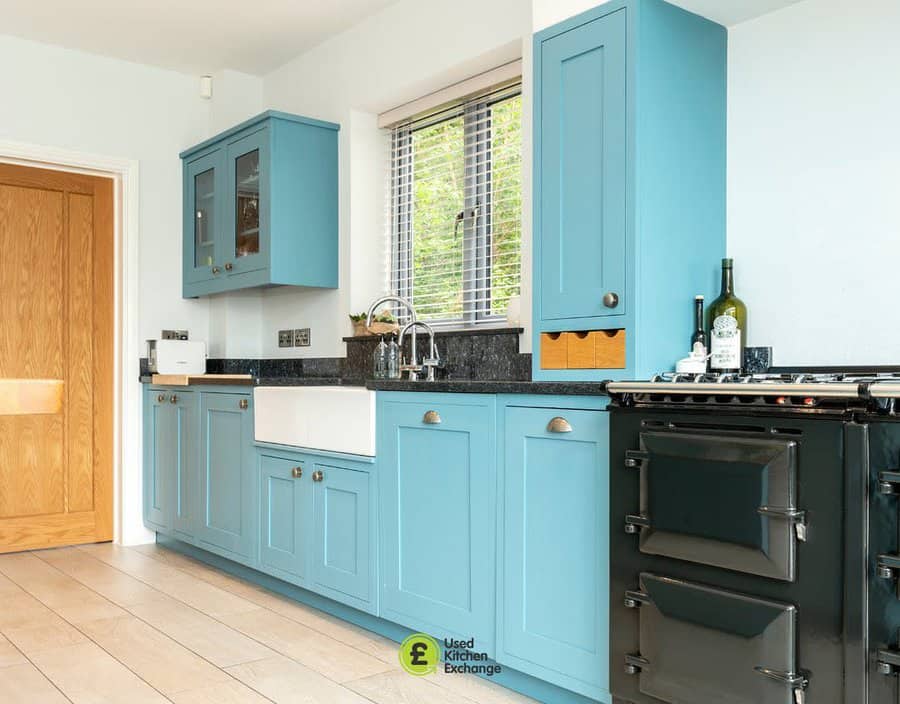 3. Modern Wood Finish
Transform your kitchen with modern wood finish cabinets that will bring warmth and sophistication to your space. These cabinets have a slightly white-washed look with a grey undertone, making them perfect for a variety of design styles.
Whether you're going for a contemporary or rustic look, these cabinets will fit right in. The wood finish adds a natural element to your kitchen, while the modern design keeps it fresh and current. They're also easy to clean and maintain, so you can enjoy their beauty for years to come. Upgrade your kitchen with these stunning cabinets and create a space that is both functional and stylish.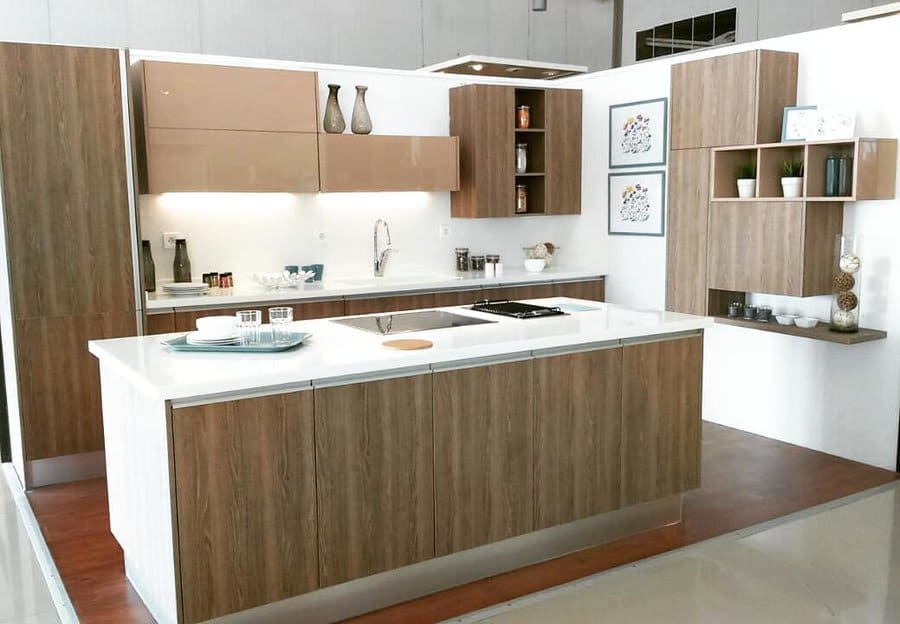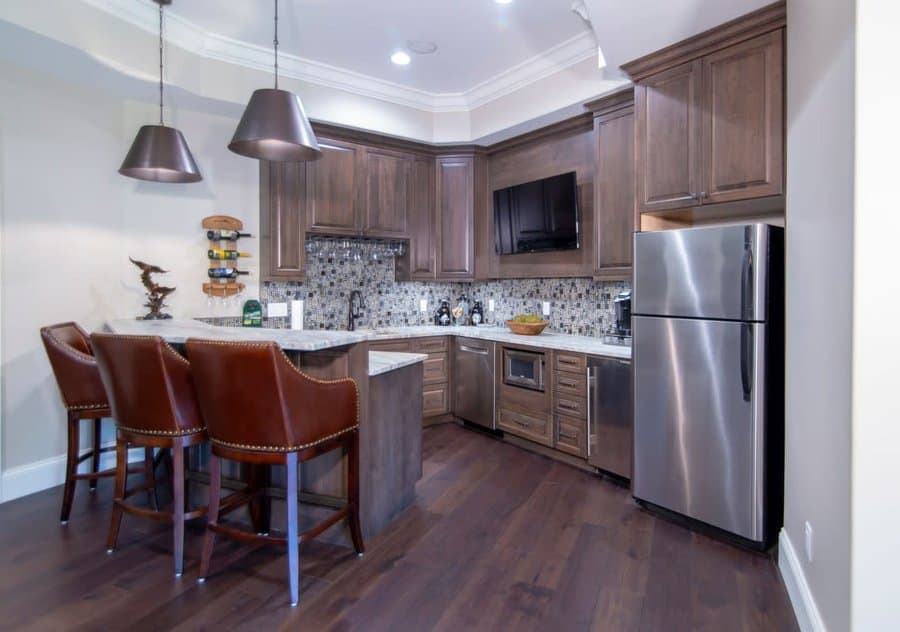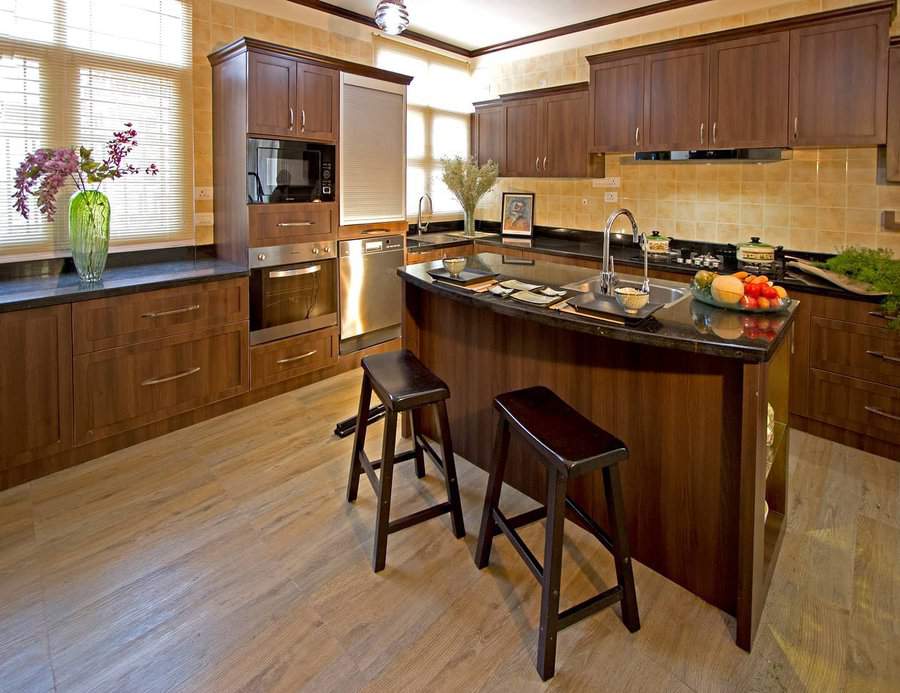 4. Warm Wood Finish
A warm wood finish is a great way to add texture and personality to any kitchen. These types of cabinets come in a variety of wood finishes, from light and airy to dark and moody. The warm wood finish pairs well with a range of design styles, from modern to rustic.
It creates a cozy atmosphere in the kitchen and helps to add depth to the overall design. Whether you choose a light or dark wood finish, a warm wood finish kitchen cabinet is a timeless choice that will never go out of style. So, why not consider this option for your next kitchen renovation project?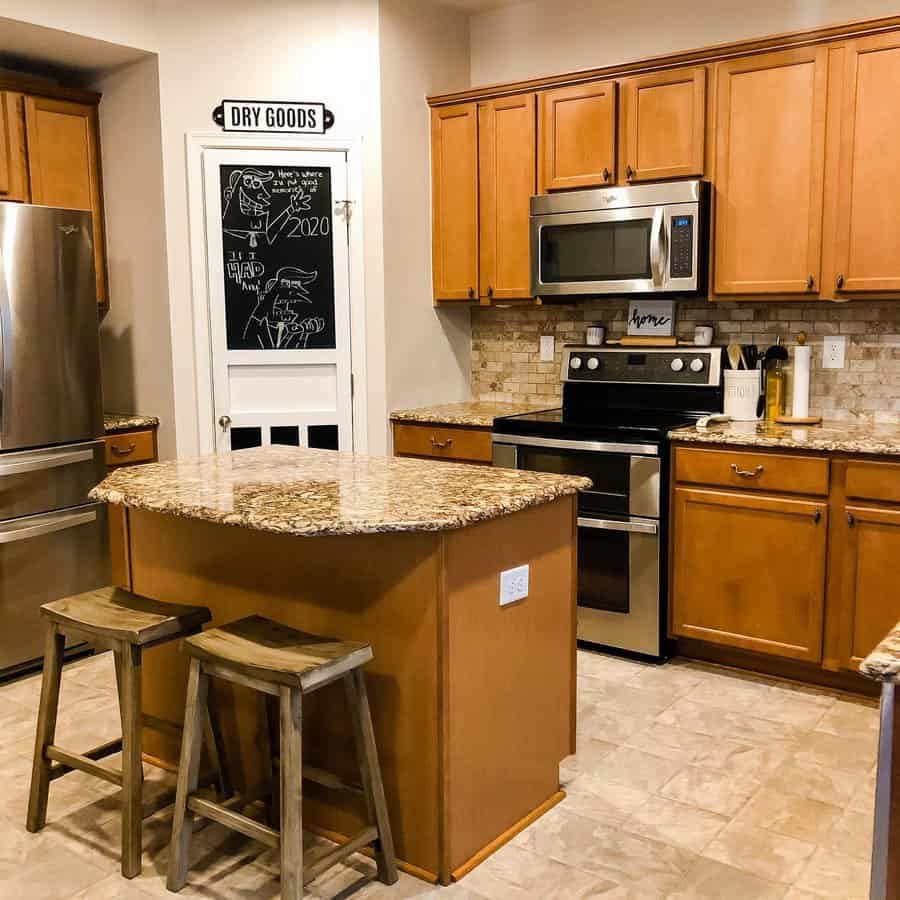 5. Bright White Cabinets
Bright white kitchen cabinets can bring an airy and spacious feel to any kitchen. They're perfect for creating a modern, minimalist look or for adding contrast to a more colorful kitchen design. The beauty of bright white cabinets lies in their versatility, as they pair well with a range of countertops and backsplash materials.
Whether you choose a sleek, high-gloss finish or a more textured matte look, these cabinets can provide a clean and fresh foundation for your kitchen decor. So if you're looking to brighten up your space and make a statement, consider incorporating bright white kitchen cabinets into your design.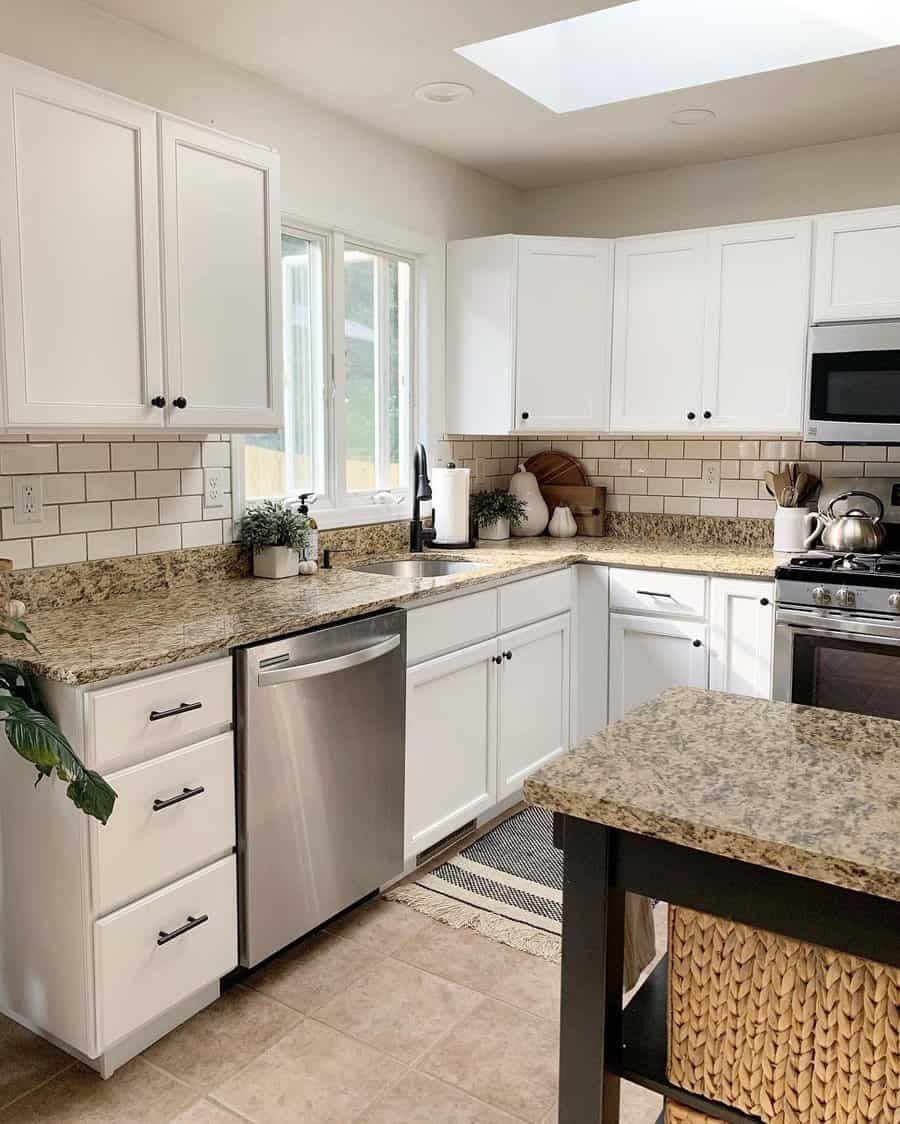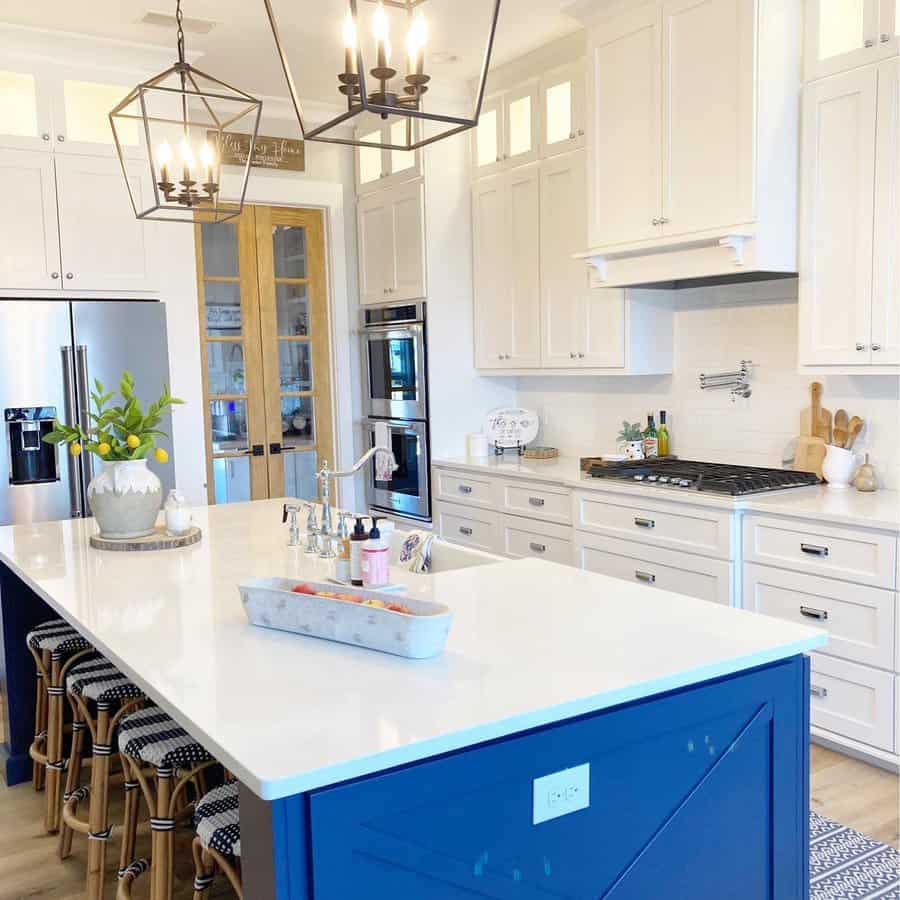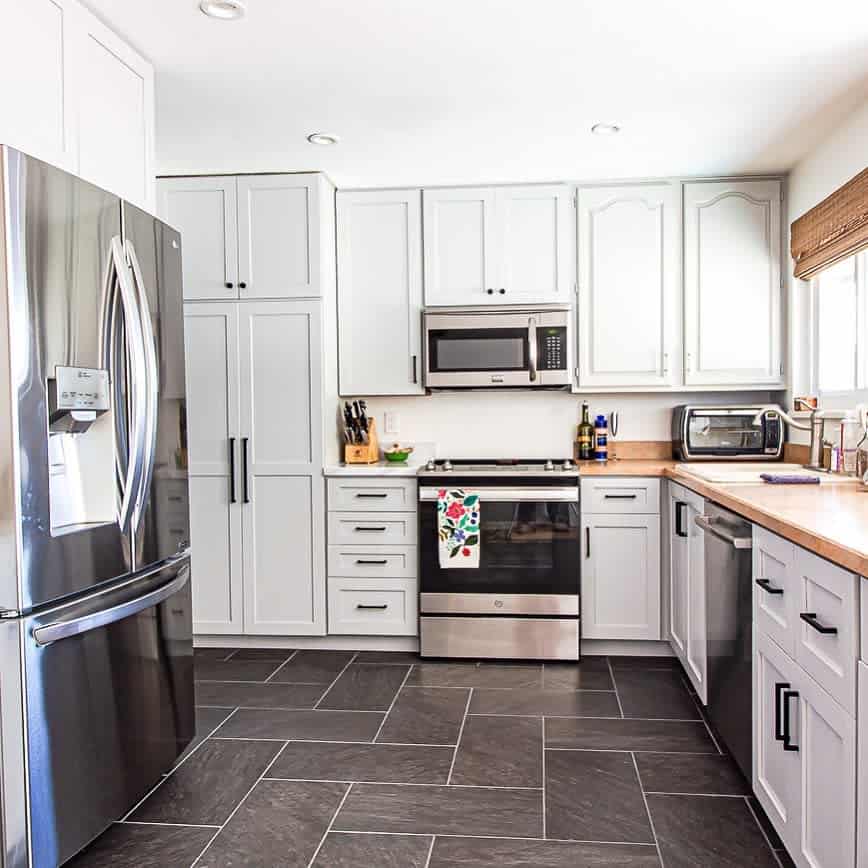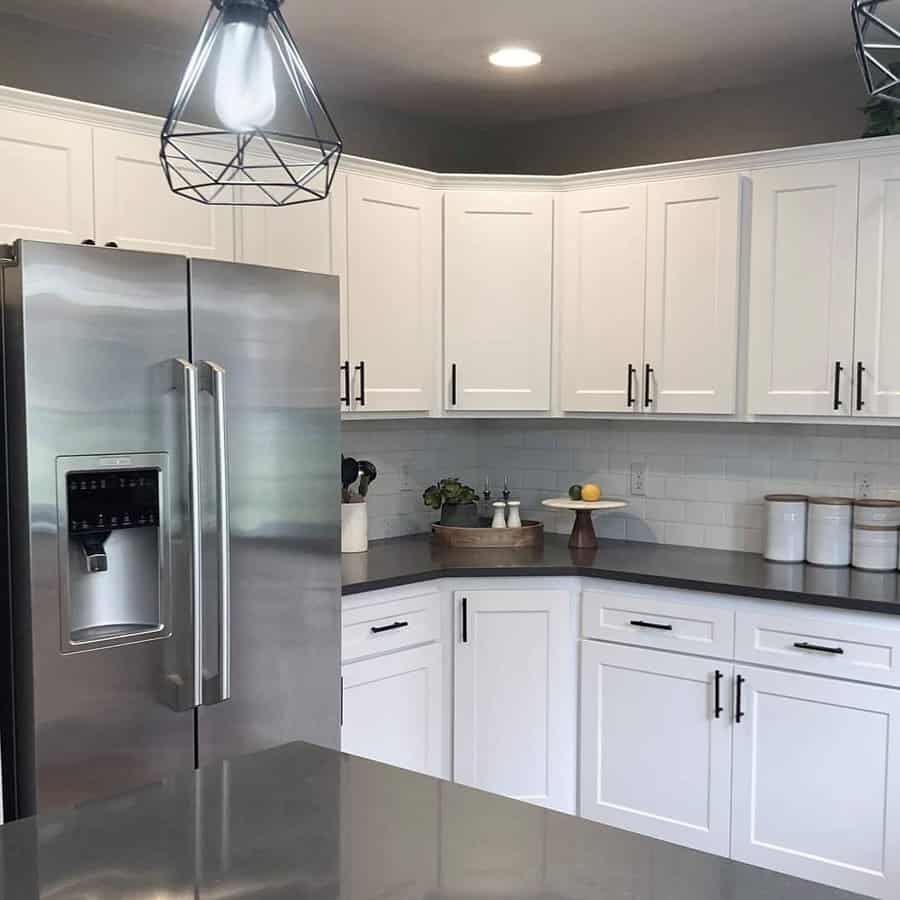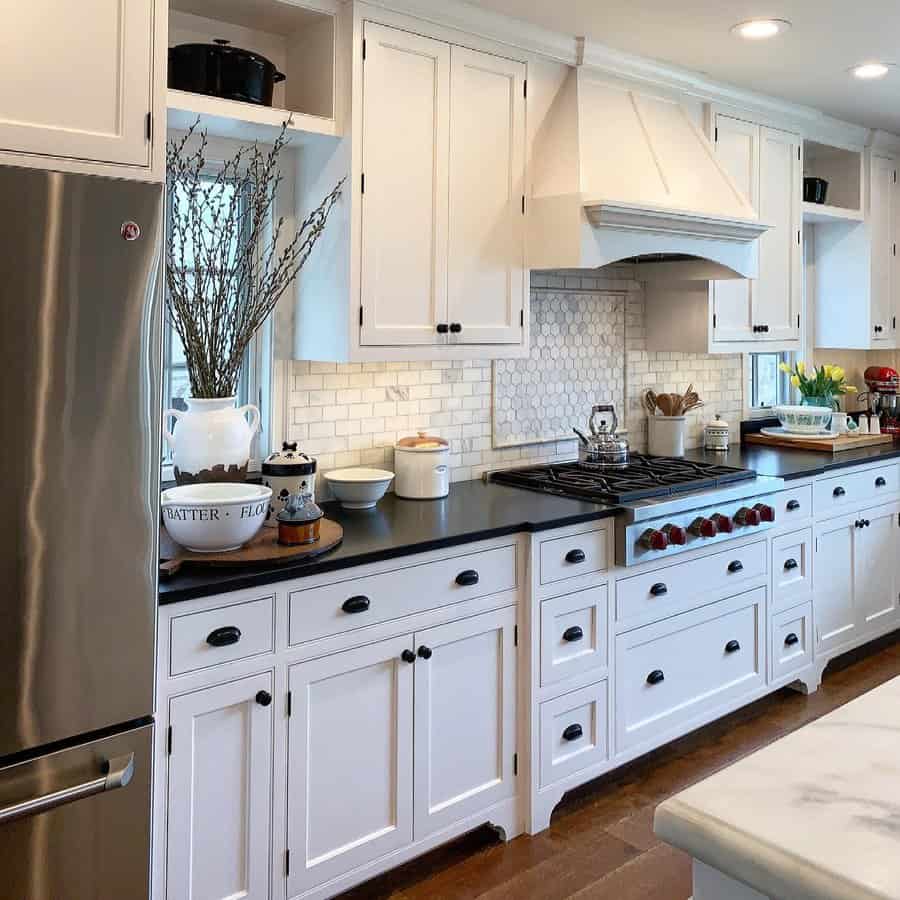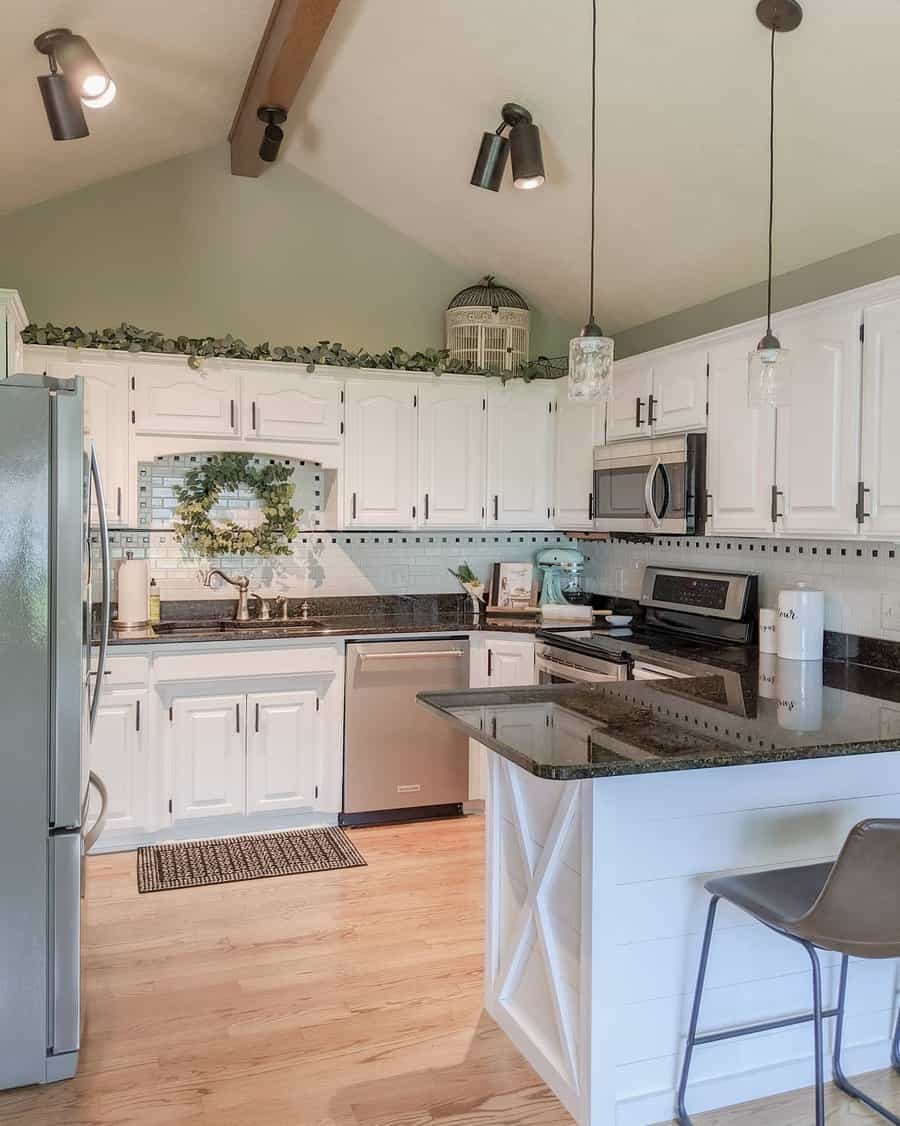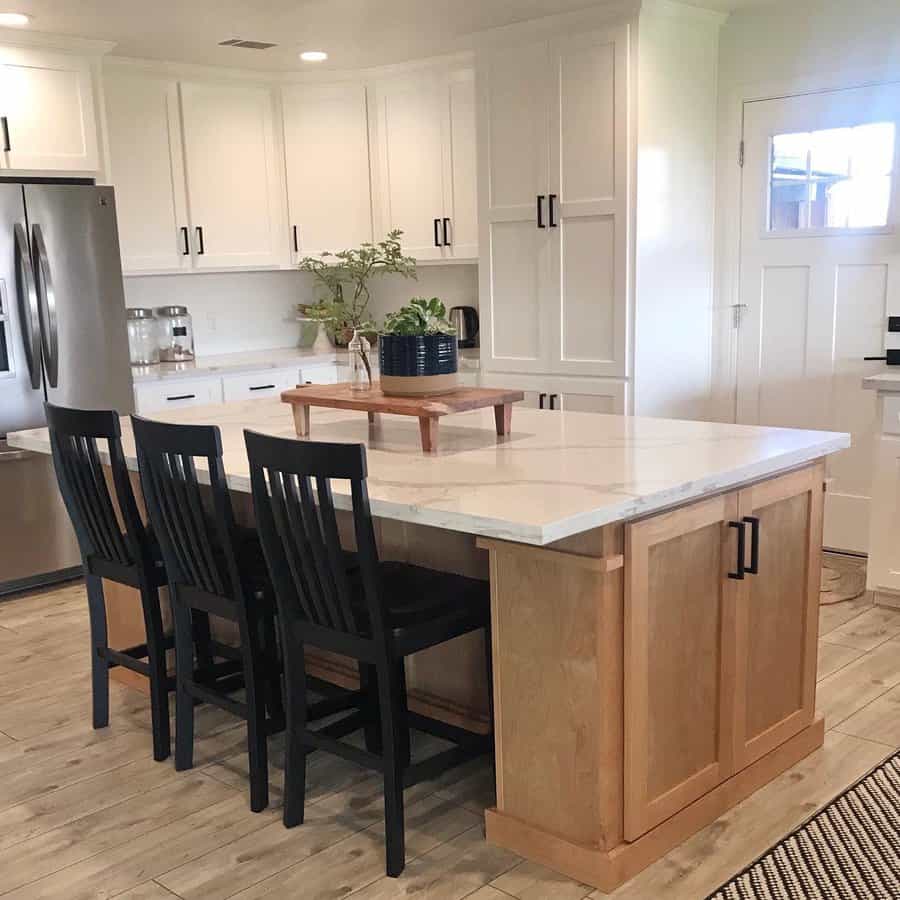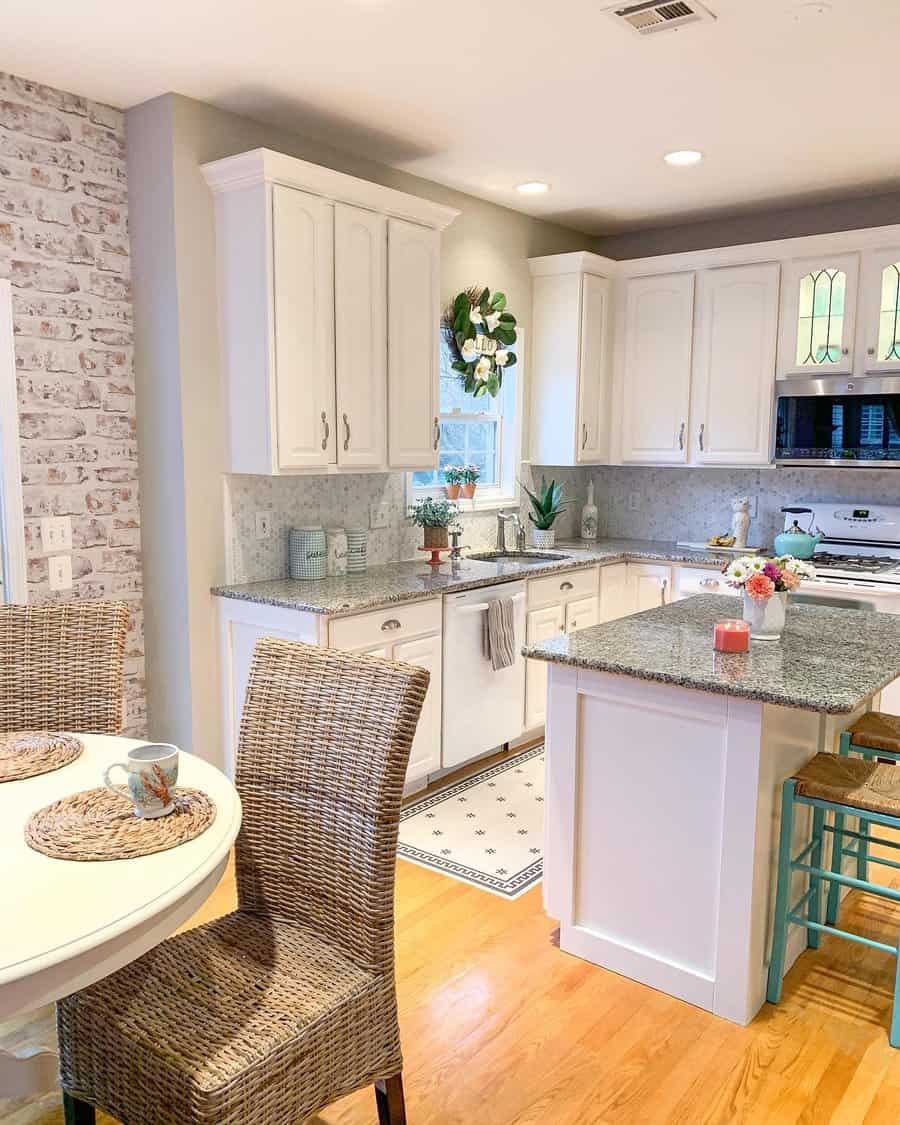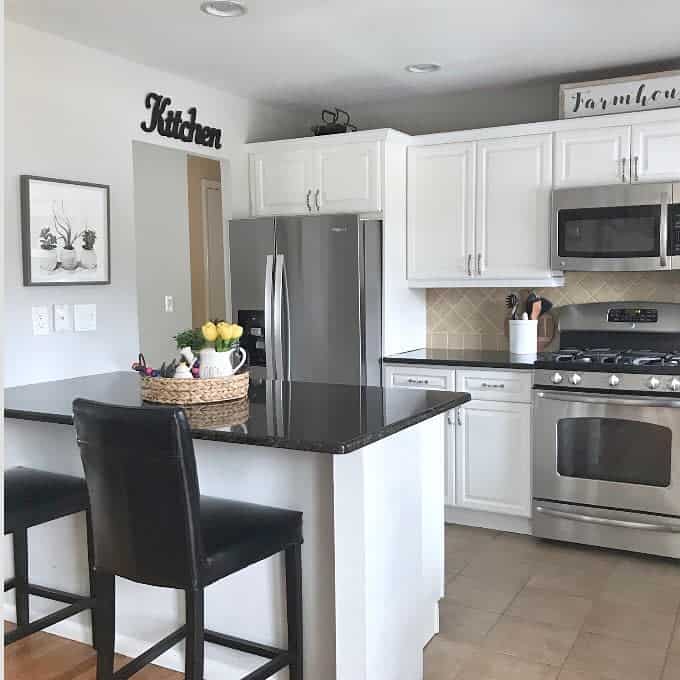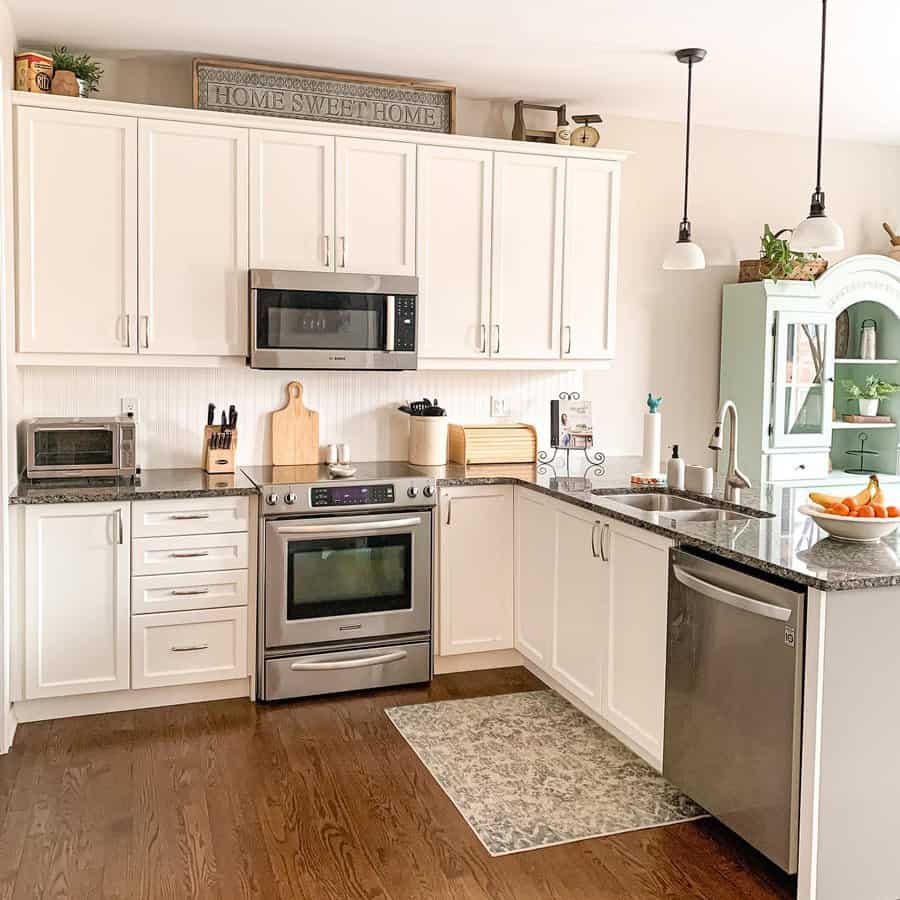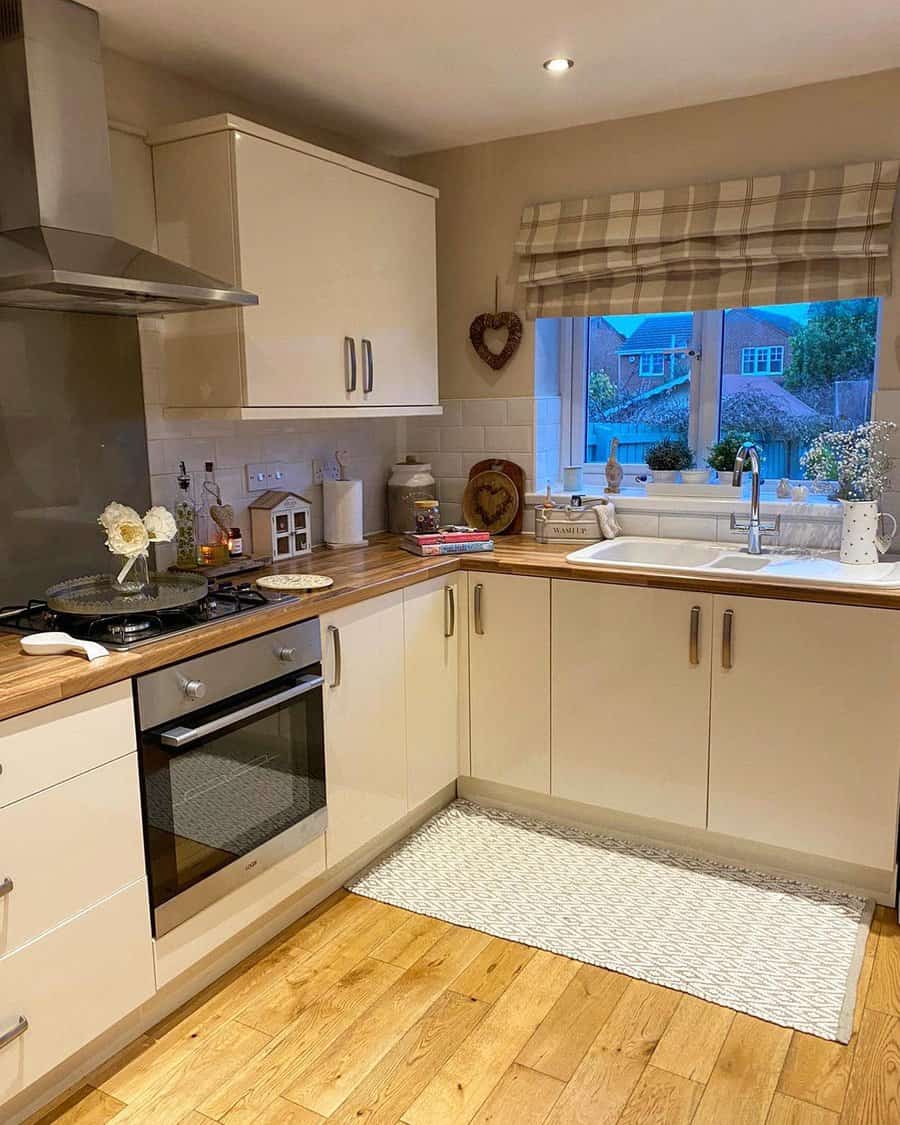 6. Cloudy Grey Cabinets
A cloudy grey kitchen cabinet can add a touch of elegance and sophistication to your kitchen decor. This muted shade of grey works well with a variety of color palettes and styles, from modern to traditional. It also creates a calming and relaxing atmosphere in the kitchen, which can make cooking and entertaining more enjoyable.
With the right hardware and accessories, cloudy grey cabinets can look sleek and chic or rustic and cozy, depending on your personal taste. Whether you prefer a minimalist look or a more eclectic style, cloudy grey cabinets are a versatile choice that can elevate the look of any kitchen.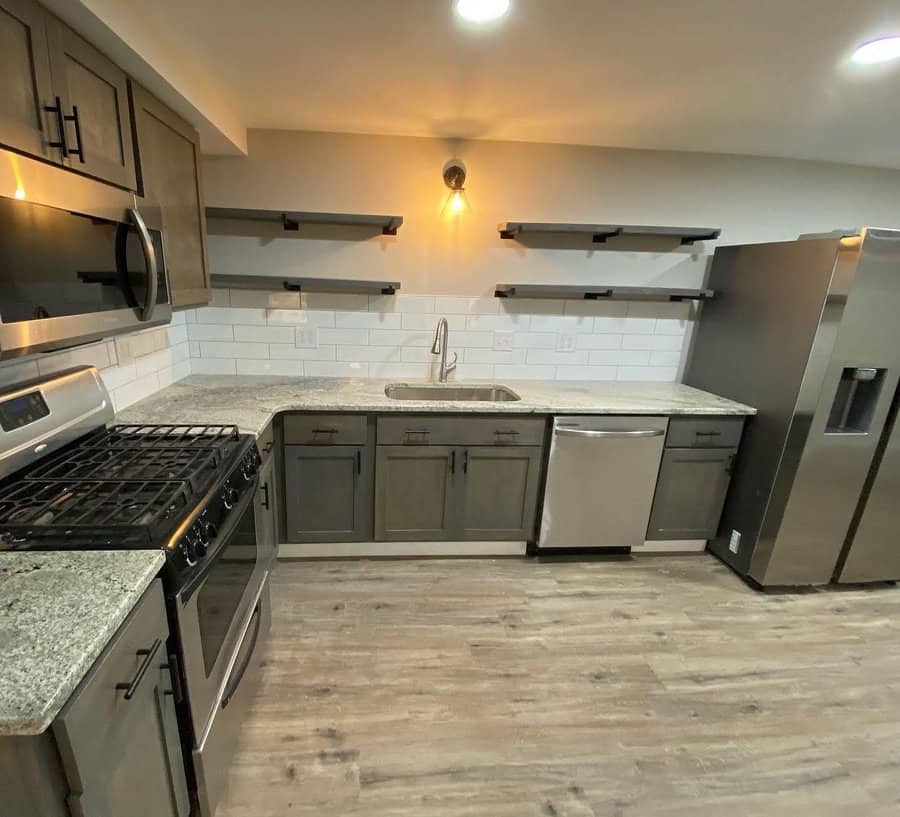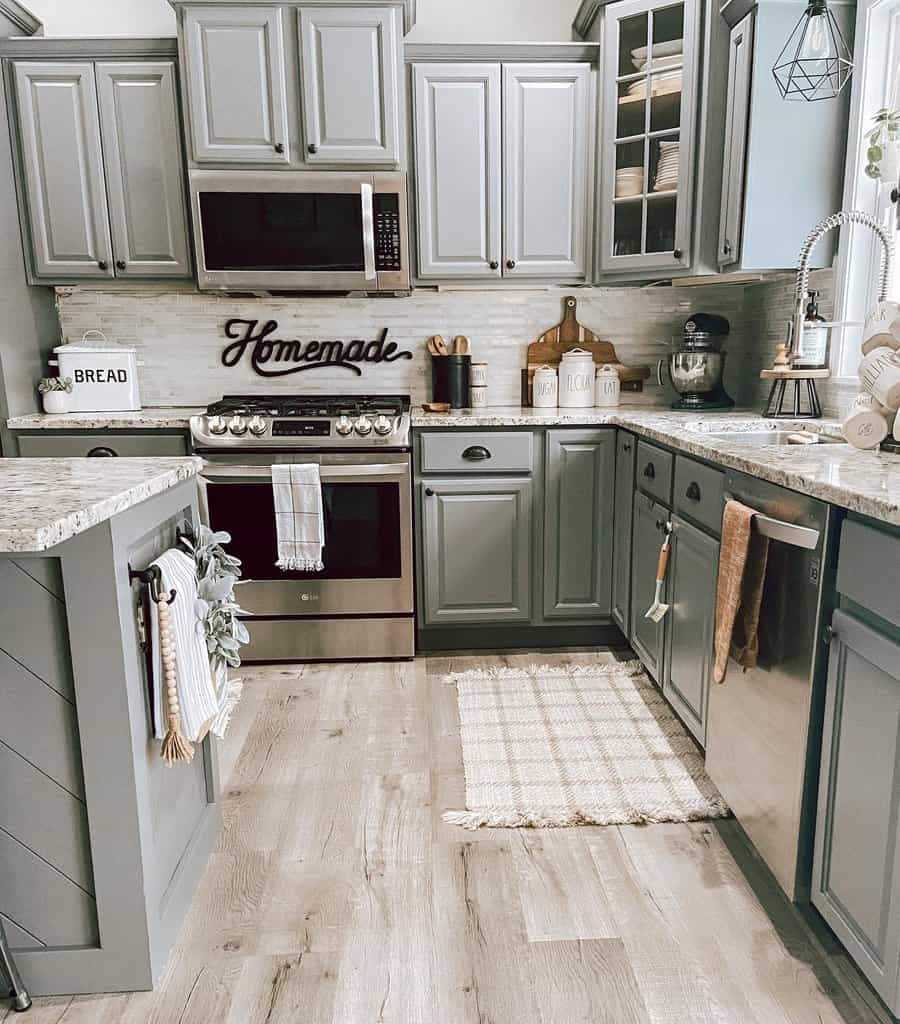 7. Off-White Cabinets
If you're looking to update your kitchen, off-white cabinets can be a stylish and timeless choice. The color off-white has a variety of undertones, some warm and some cool. Depending on the undertone, you can create a different mood in your kitchen. Warm undertones, such as yellow or pink, can create a cozy and inviting atmosphere, while cool undertones, such as blue or gray, can make your kitchen feel more modern and sleek.
It's important to choose the right undertone for your kitchen's overall style and aesthetic. With off-white cabinets, you can easily play with different color schemes and decor styles to make your kitchen truly unique.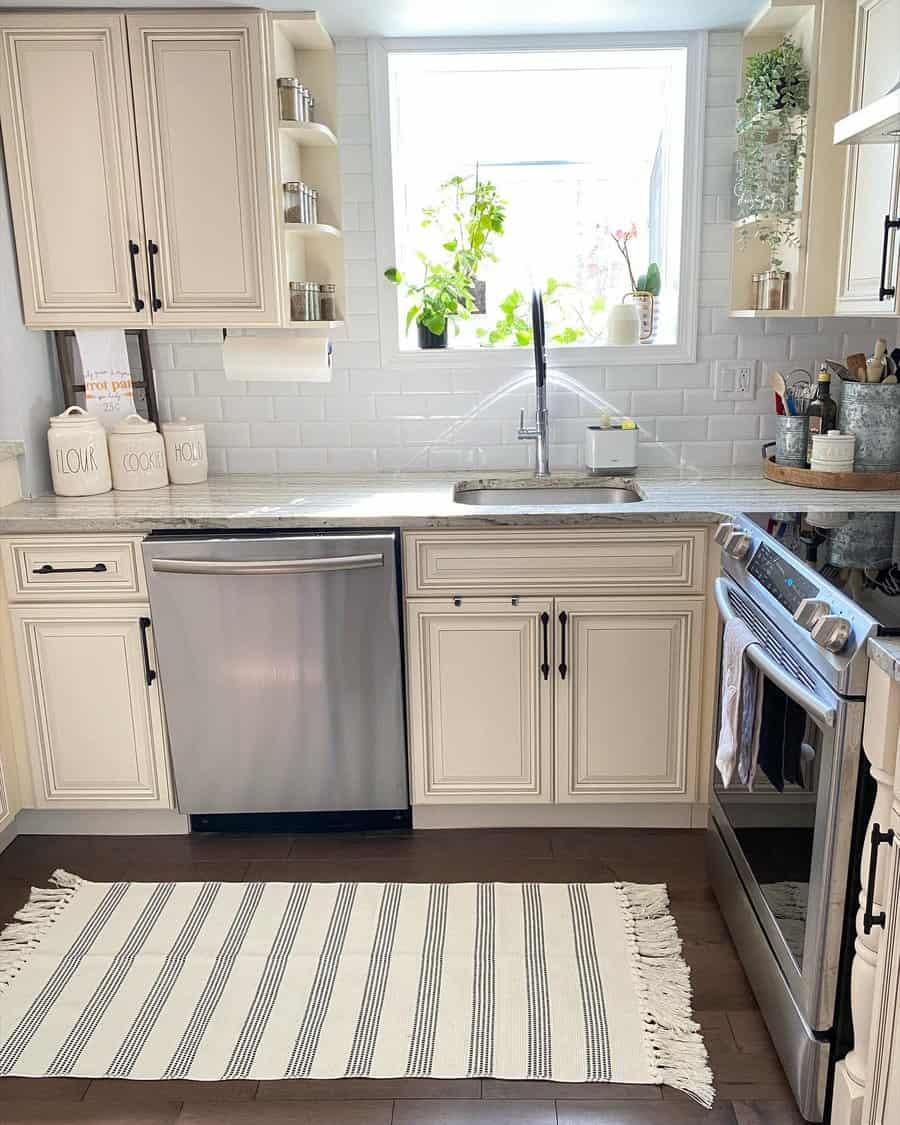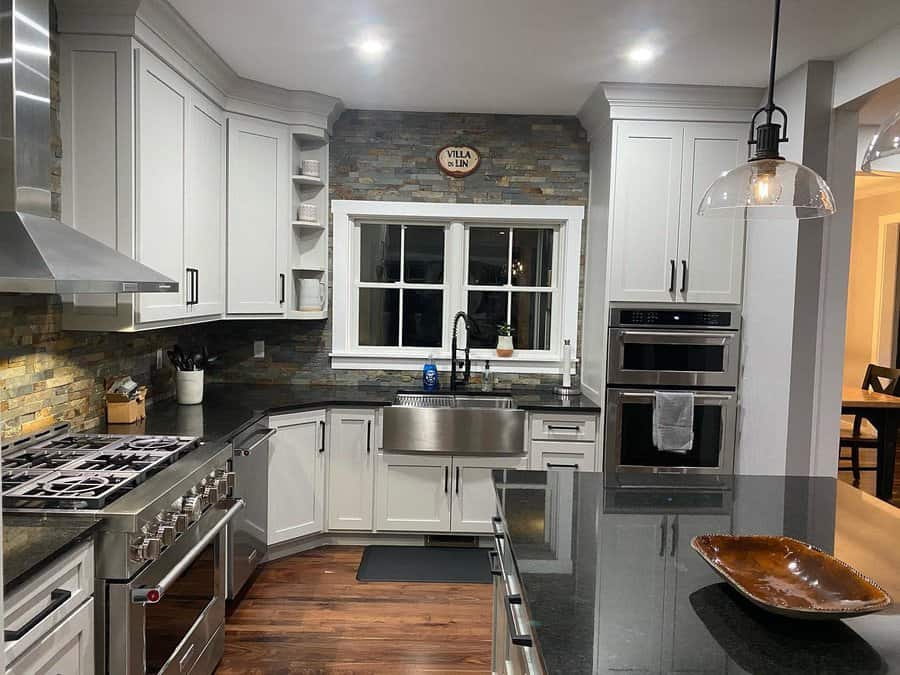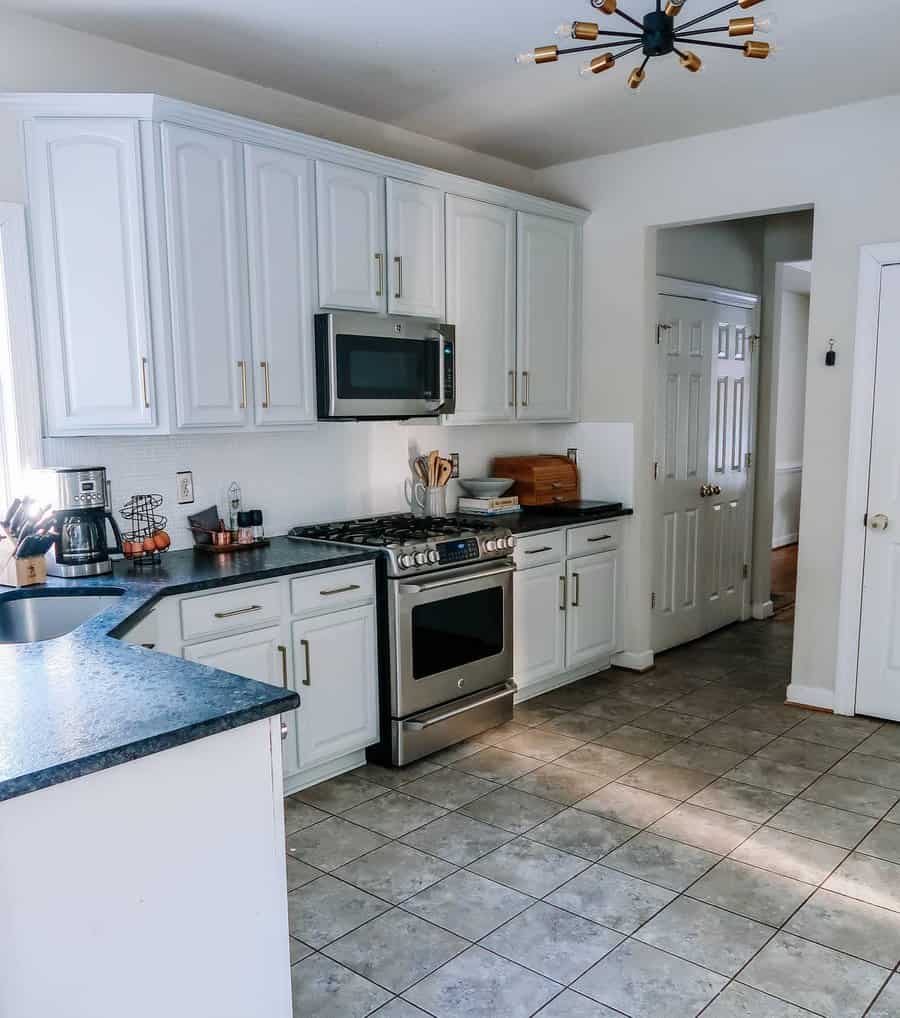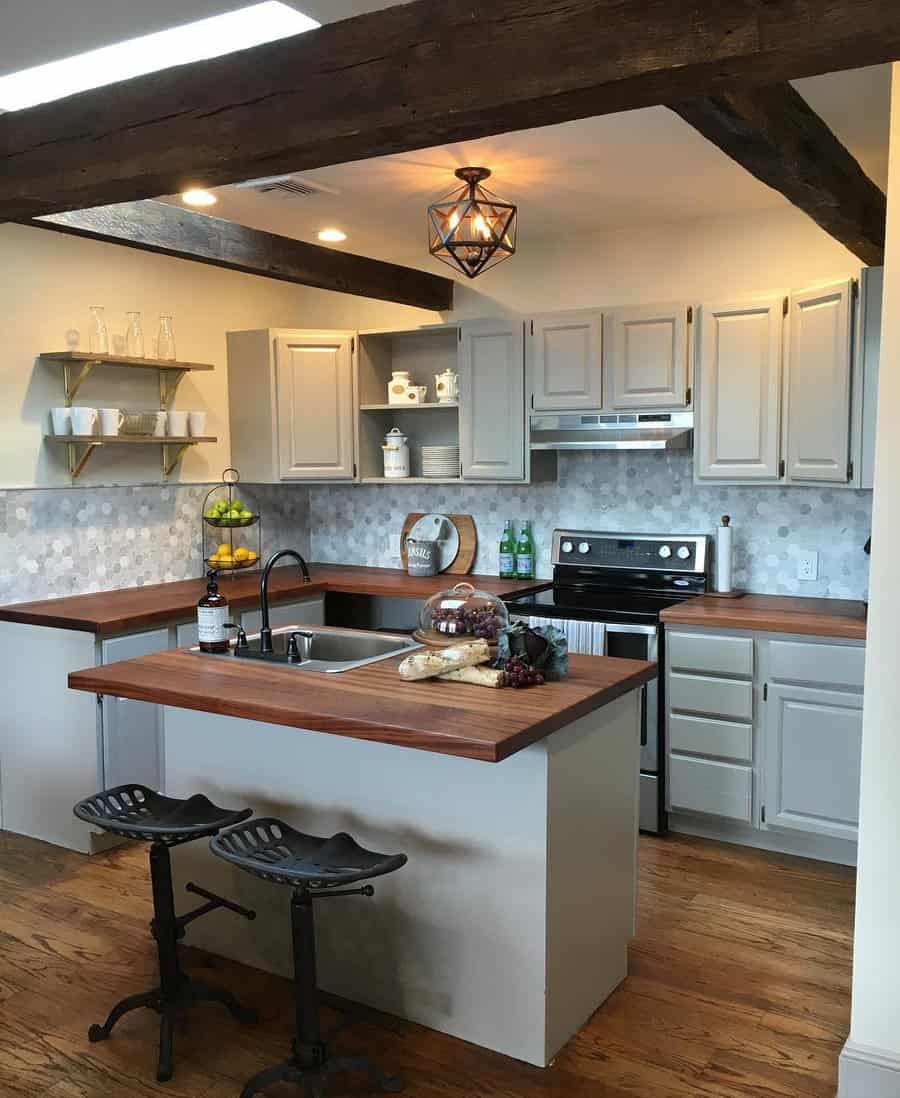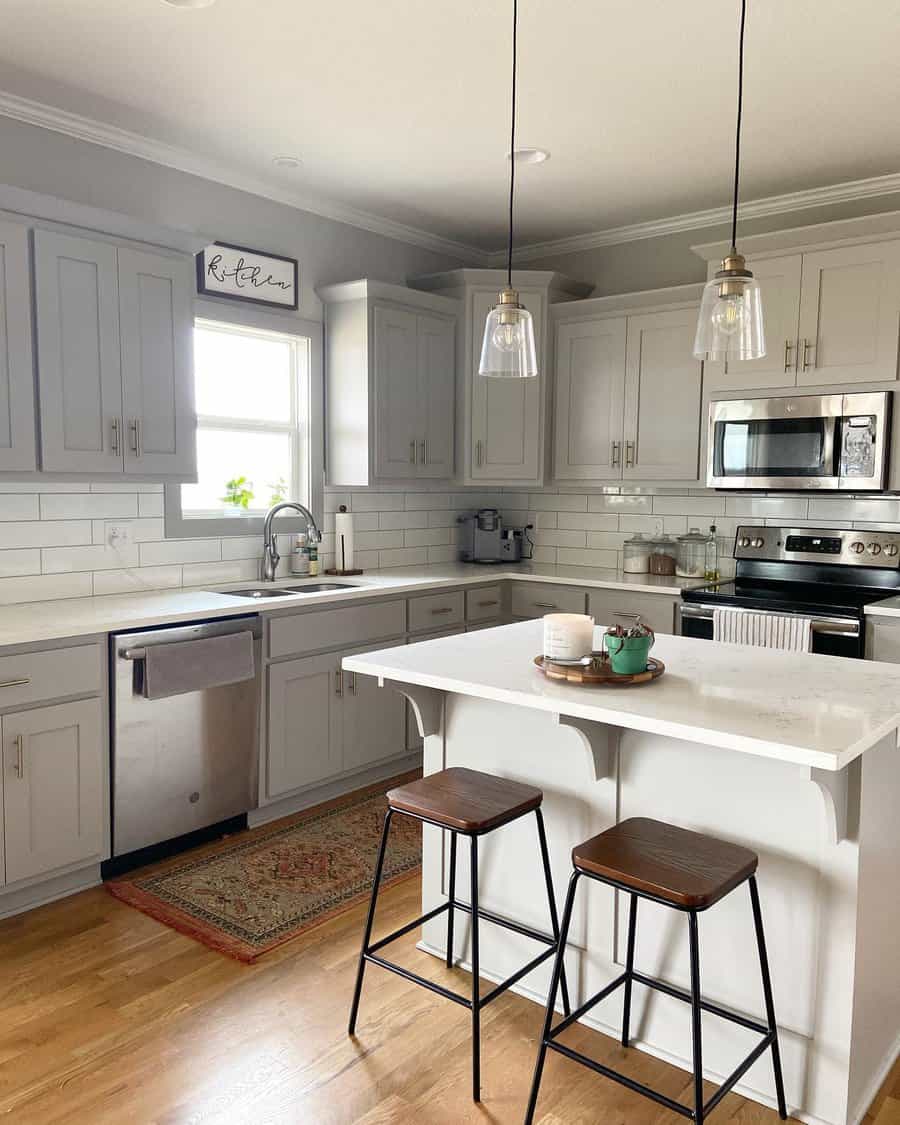 8. Muted Sage & Gold
A muted sage green kitchen cabinet with gold fixtures is a stylish and sophisticated addition to any kitchen. The soft, muted green color creates a calming atmosphere that is perfect for cooking and entertaining guests. The gold fixtures add a touch of elegance and luxury to the overall design.
The combination of these two elements creates a timeless and classic look that will never go out of style. Whether you're looking to update your existing kitchen or starting from scratch, a muted sage green cabinet with gold fixtures is sure to make a statement in your home. Get ready to cook and entertain in style with this stunning design!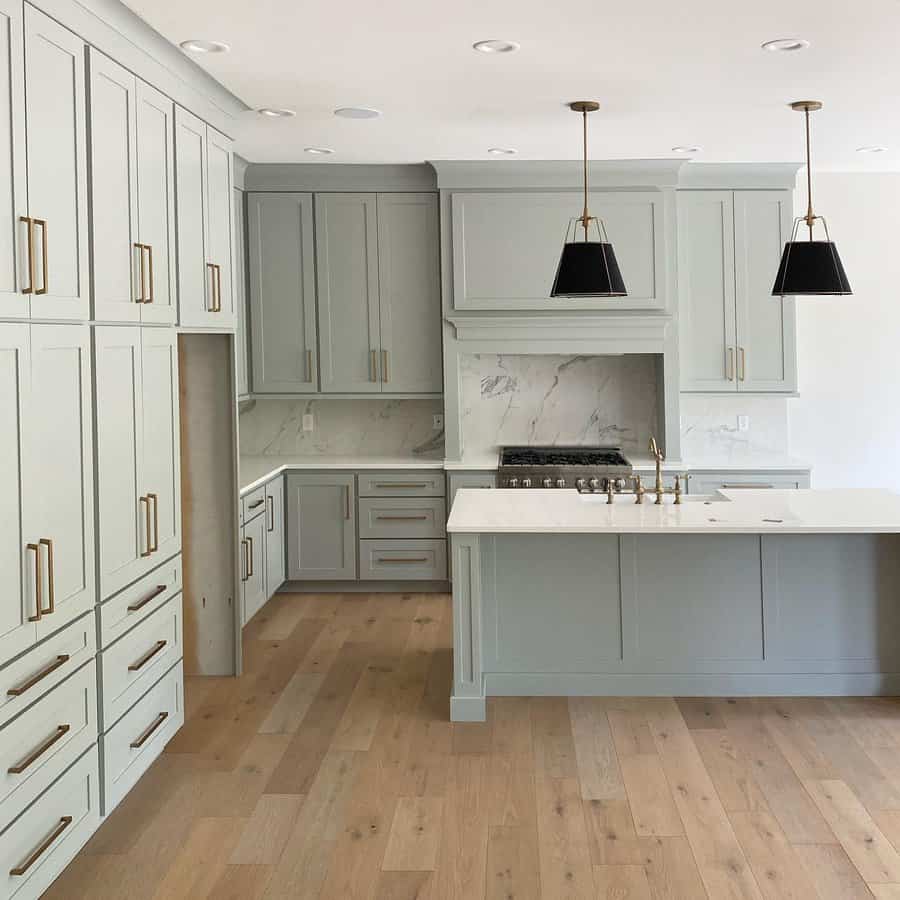 9. Dark Grey Cabinets
If you're looking for a sleek and modern kitchen design, you can't go wrong with dark grey cabinets. Not only do they make a statement, but they also create a cozy and sophisticated atmosphere. Dark grey cabinets pair well with various countertop materials, from marble to wood, and add a touch of elegance to any kitchen.
The key to making this look work is to balance it out with lighter elements such as backsplash tiles, hardware, or wall paint. Whether you prefer a traditional or contemporary style, dark grey cabinets can transform your kitchen into a chic and inviting space.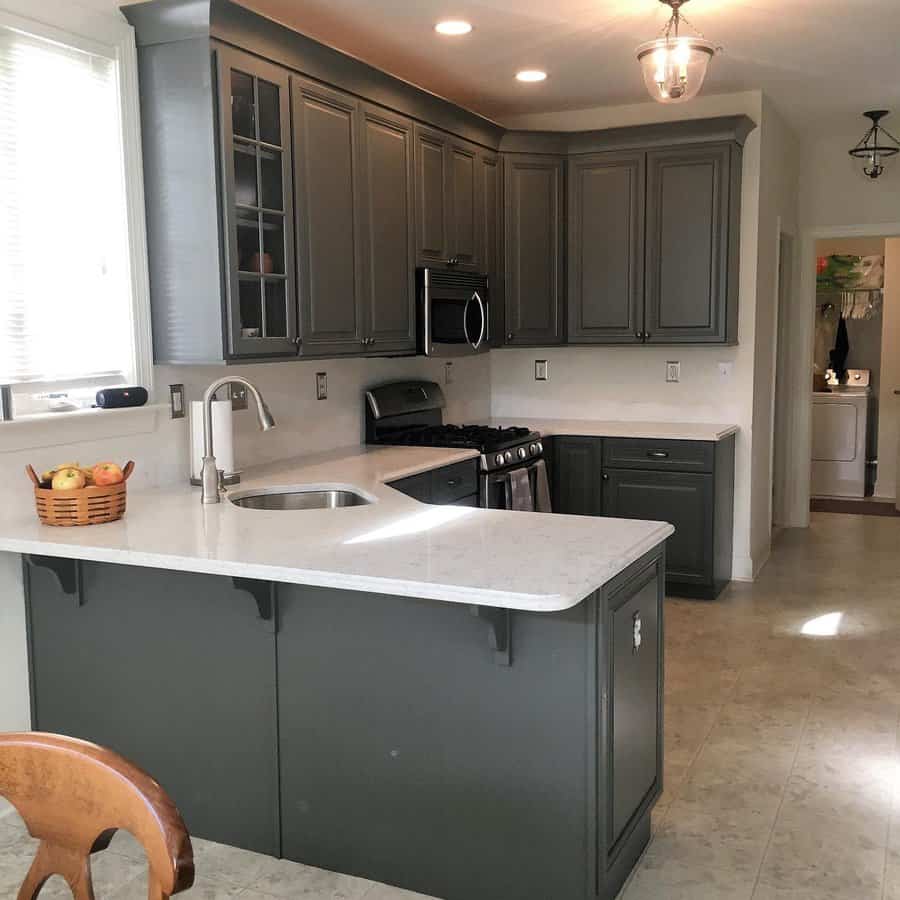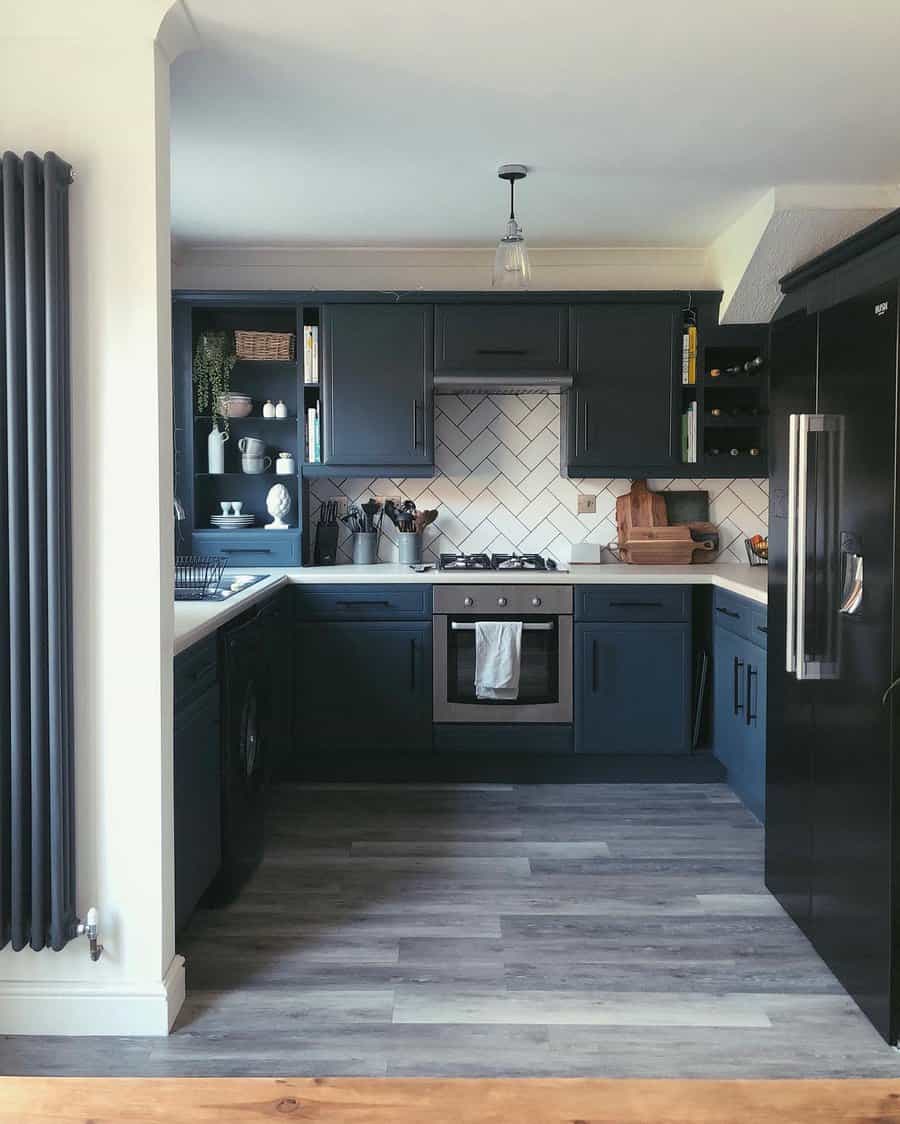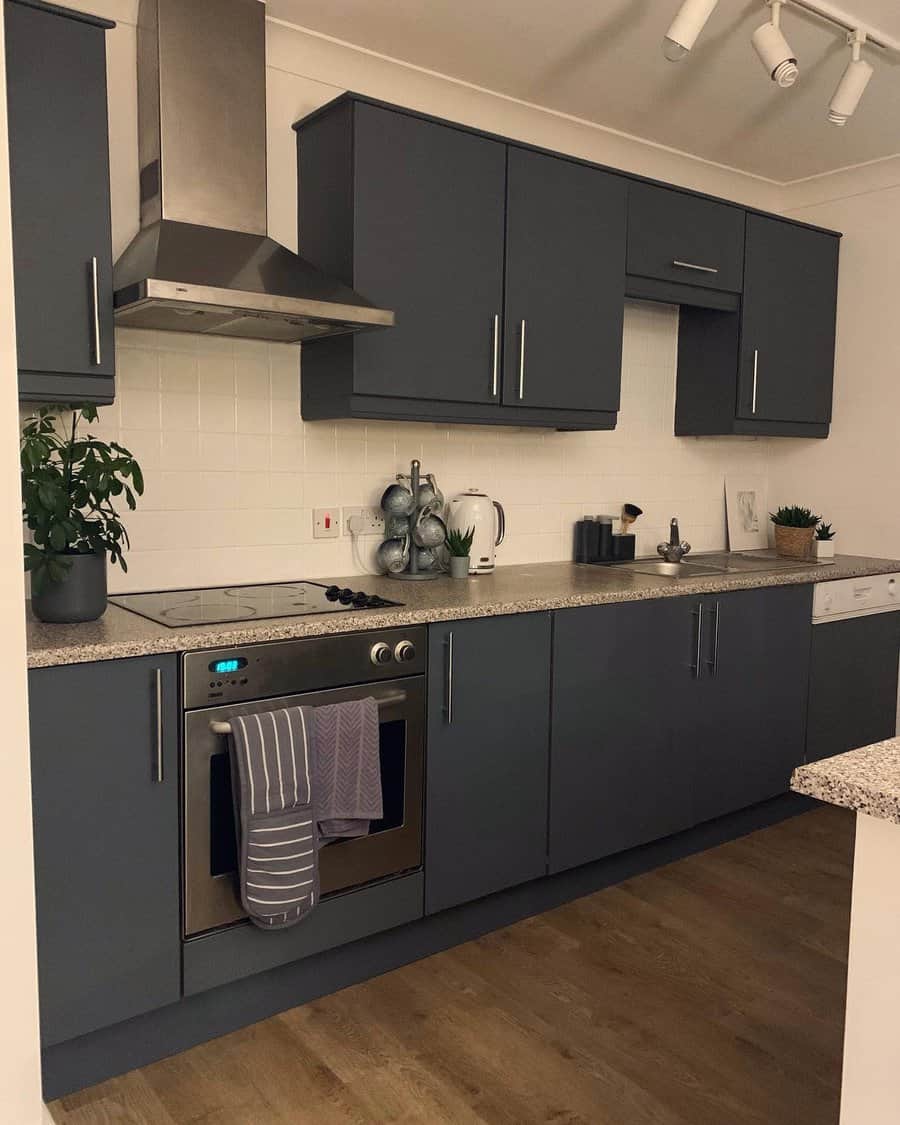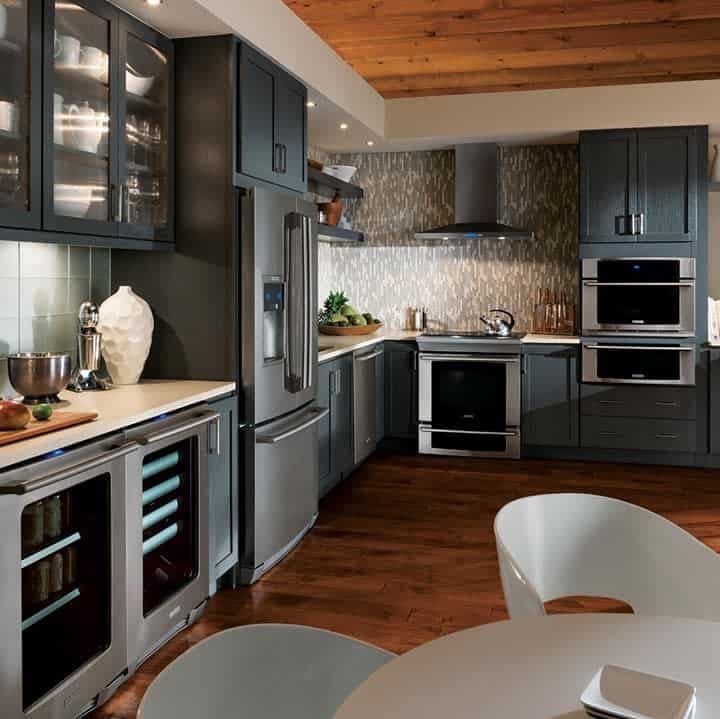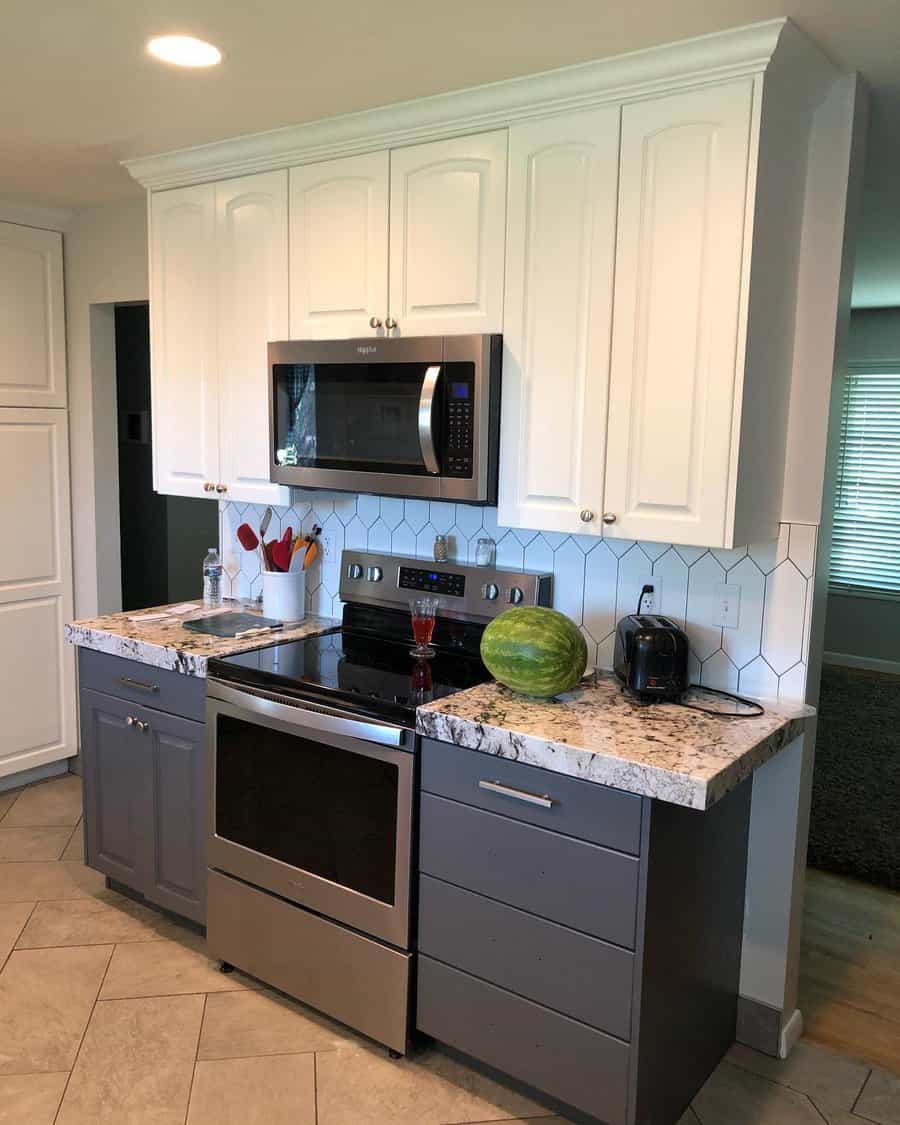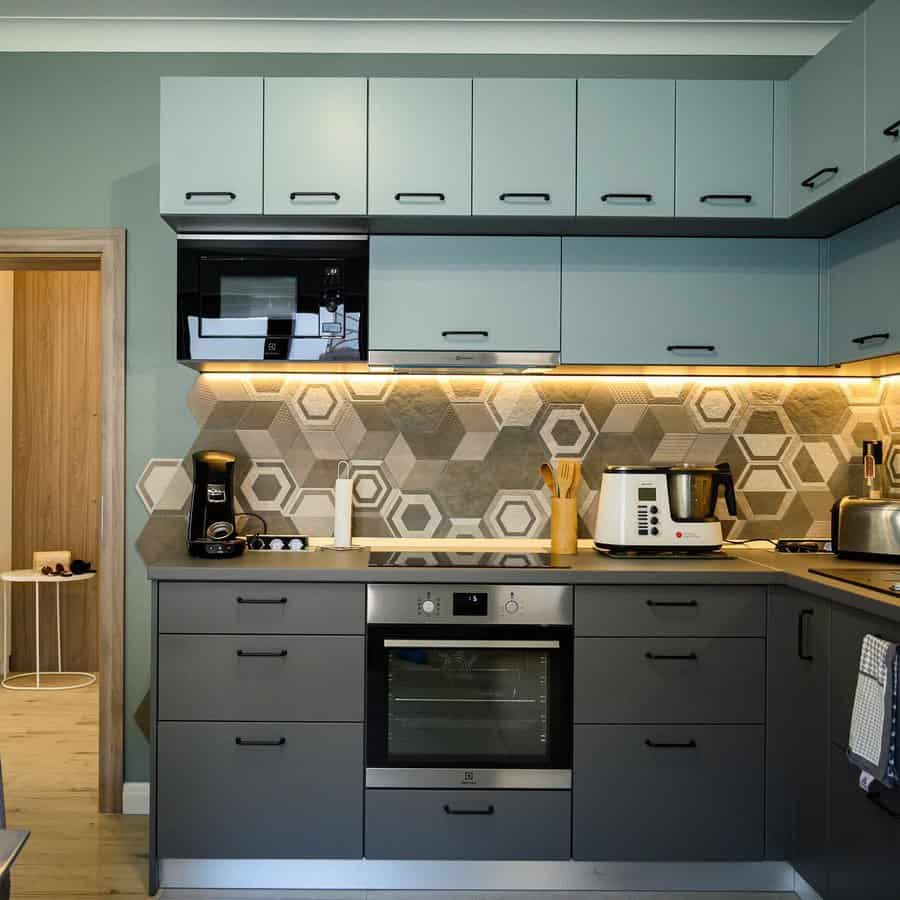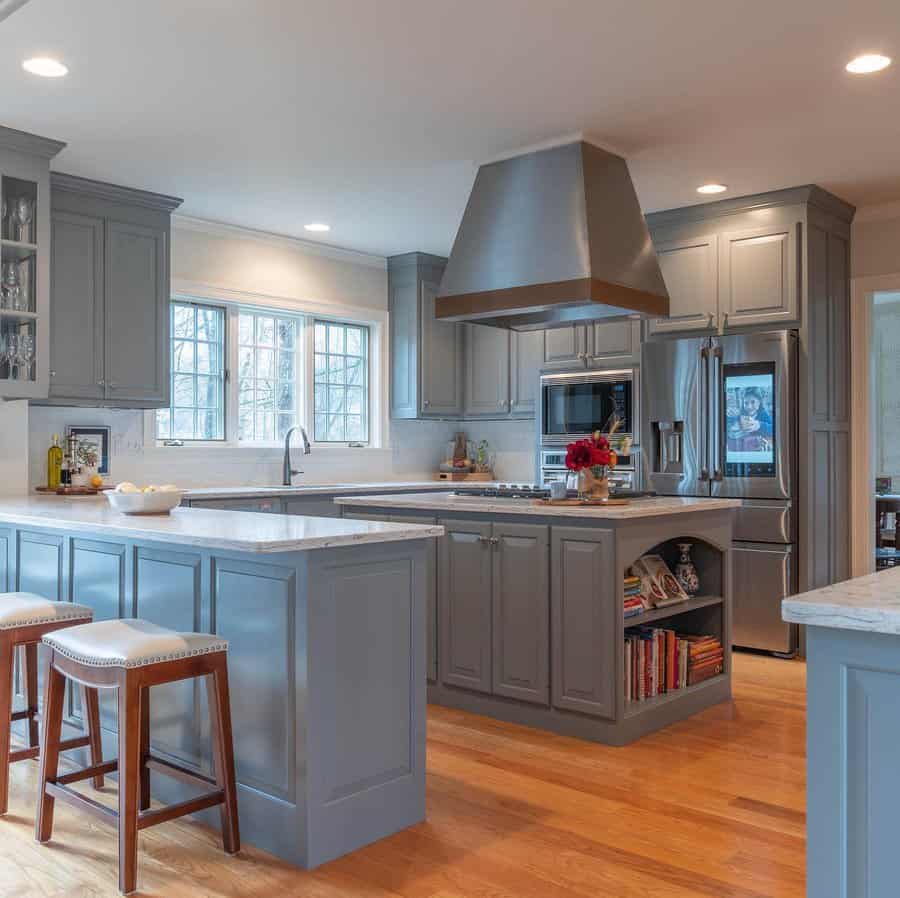 10. Emerald Green Cabinets
Emerald green kitchen cabinets can make a bold statement in any kitchen. They add a touch of drama and sophistication that is hard to match with other colors. Pairing the cabinets with natural wood accents, marble countertops, or gold fixtures can create a luxurious and elegant look.
Alternatively, adding some colorful accessories like a bright backsplash or decorative objects can create a more playful and vibrant atmosphere. Whether you prefer a classic or contemporary style, emerald green cabinets are a great way to add a unique and eye-catching element to your kitchen design.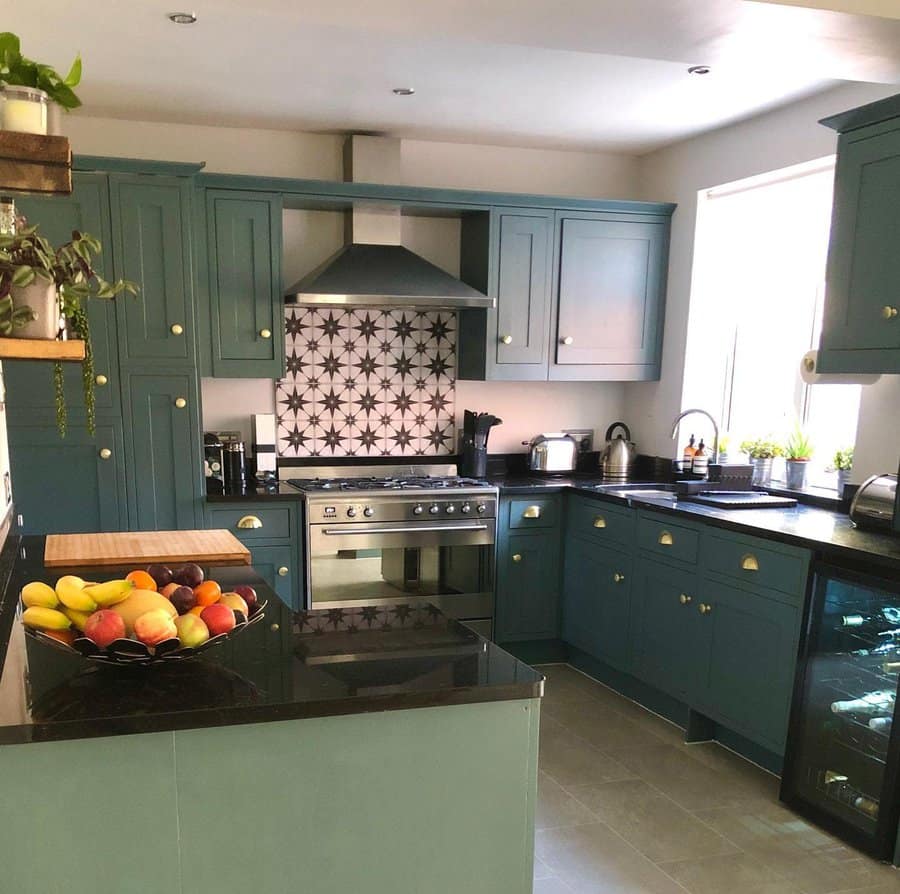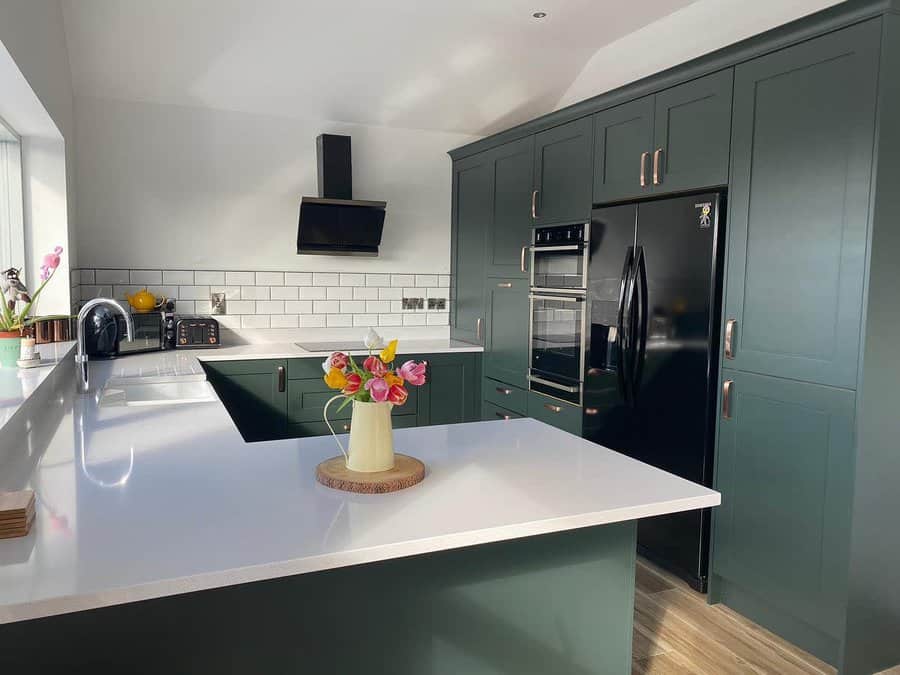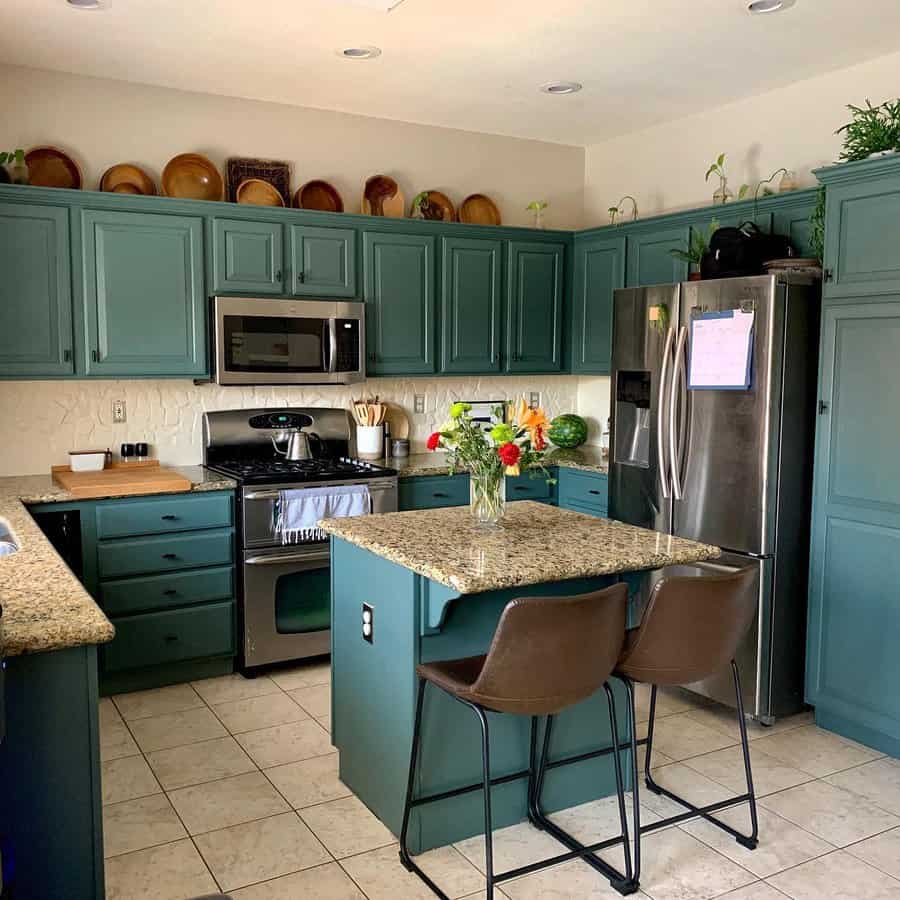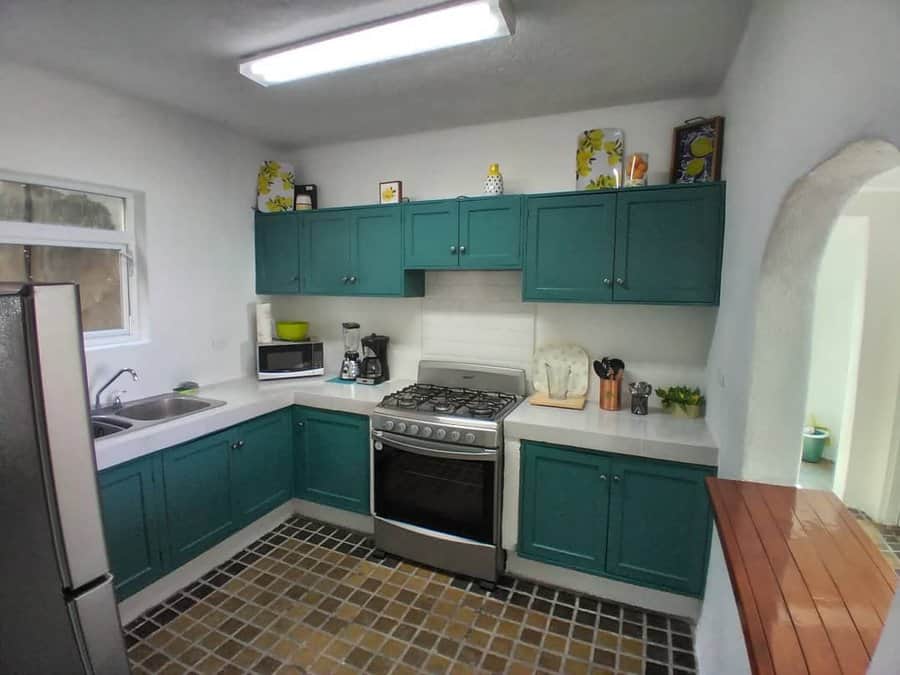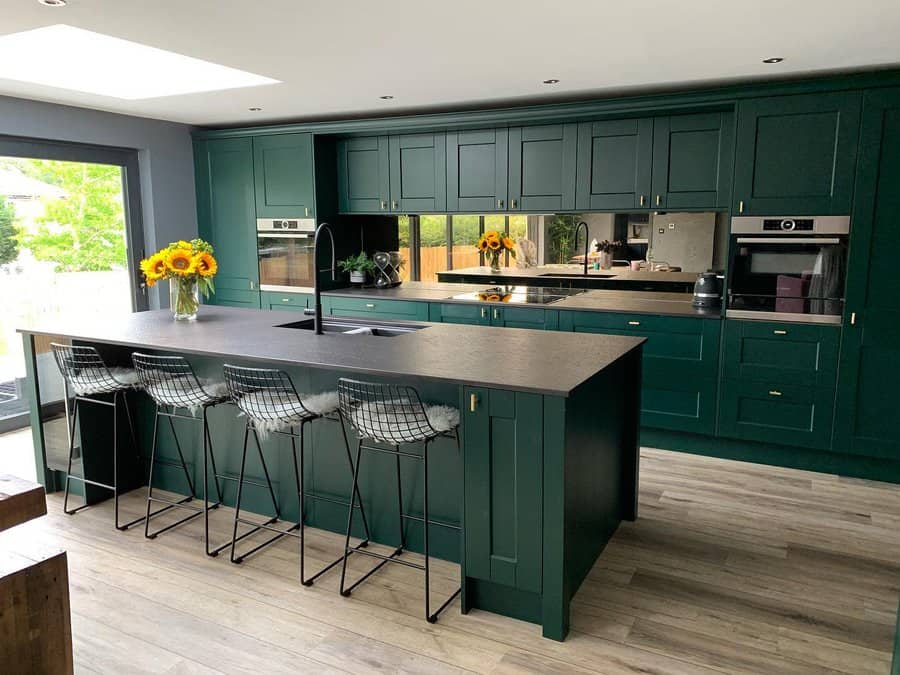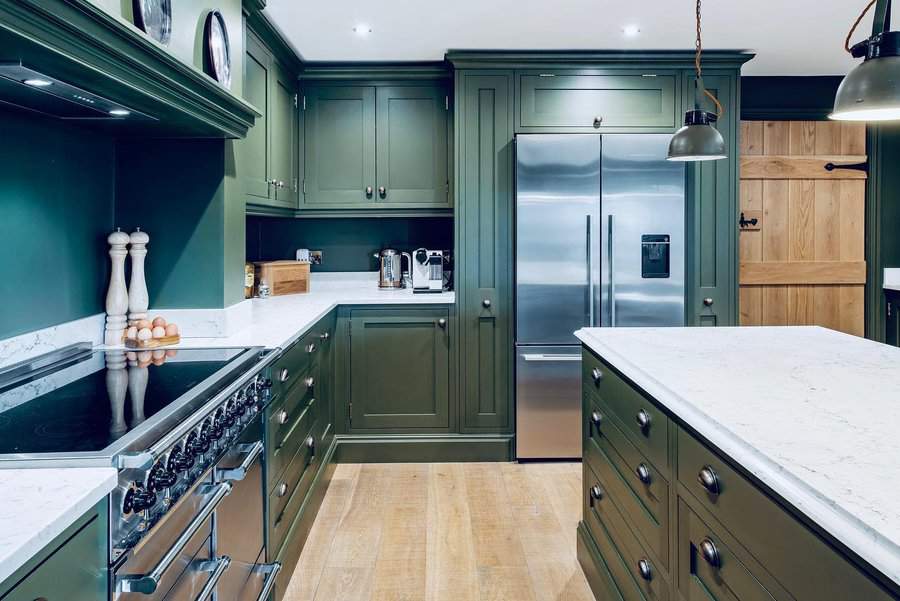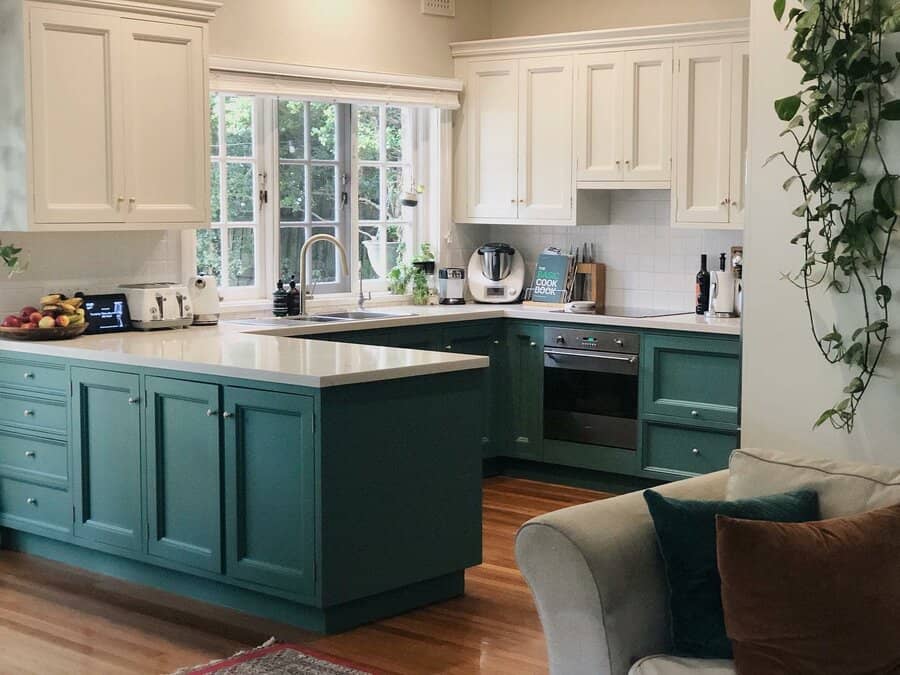 11. Earthy Sage Green Cabinets
Step aside, plain white cabinets, sage green is the new color of choice for kitchens. This earthy and subdued hue, reminiscent of army green, adds a touch of sophistication and warmth to any kitchen. It's the perfect shade for those who want to experiment with color without going too bold.
Sage green cabinets can be paired with a variety of materials, from natural wood to white marble countertops. This versatile color is the epitome of calmness and relaxation, bringing a sense of tranquility to your cooking space. So why not bring the outdoors inside with sage green cabinets in your kitchen?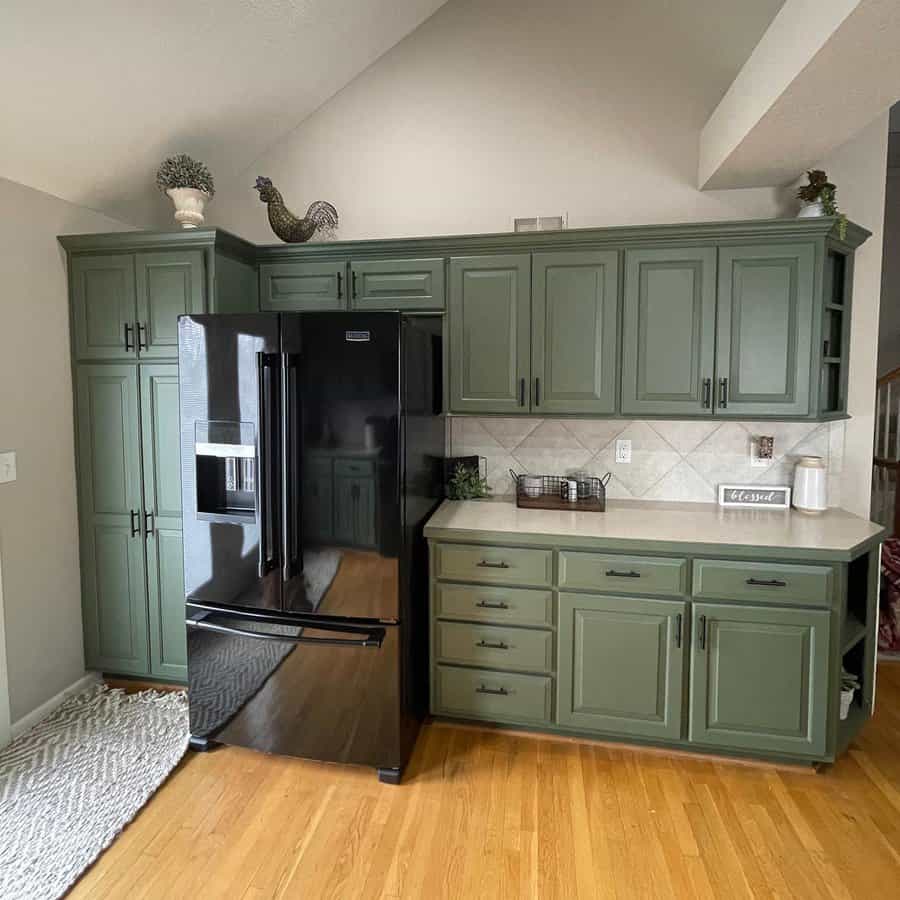 12. Cream Beige Cabinets
Cream beige kitchen cabinets are a popular choice for homeowners who want to create a warm and inviting space in their kitchen. These cabinets pair well with dark grey or other dark and cool colors, creating a sophisticated and elegant look.
Cream beige cabinets can be made from a variety of materials, including wood, laminate, or painted MDF, and can be customized to fit any kitchen style, from modern to traditional. With the right hardware and accessories, cream-beige cabinets can elevate the look of any kitchen and make it a welcoming and cozy place to gather and cook.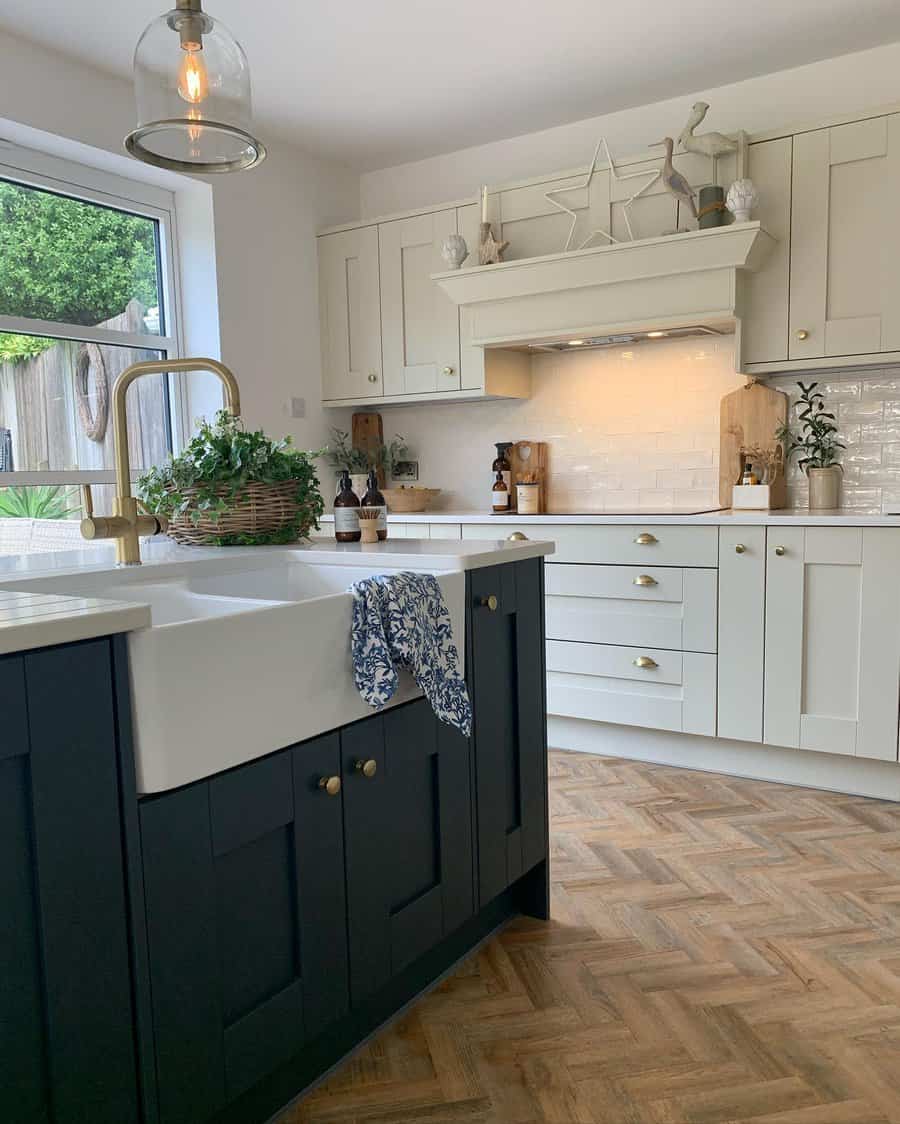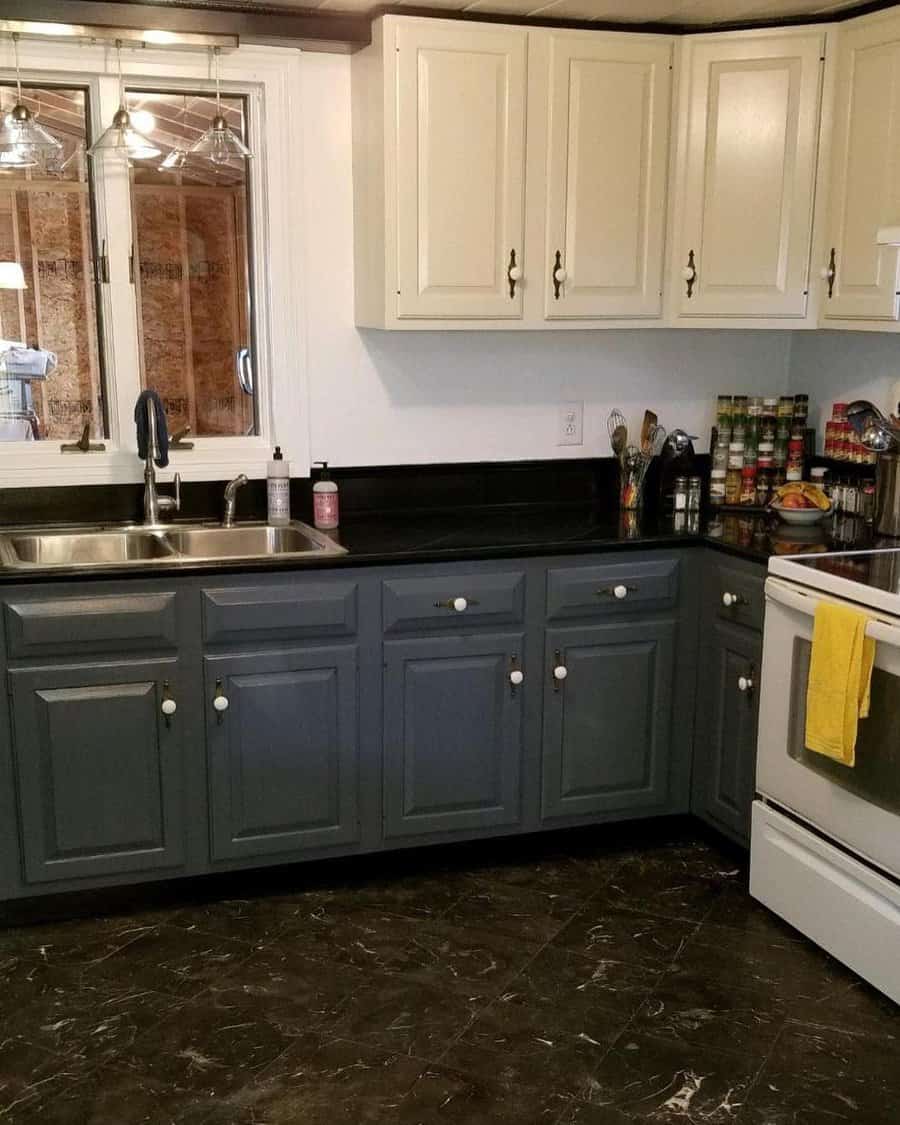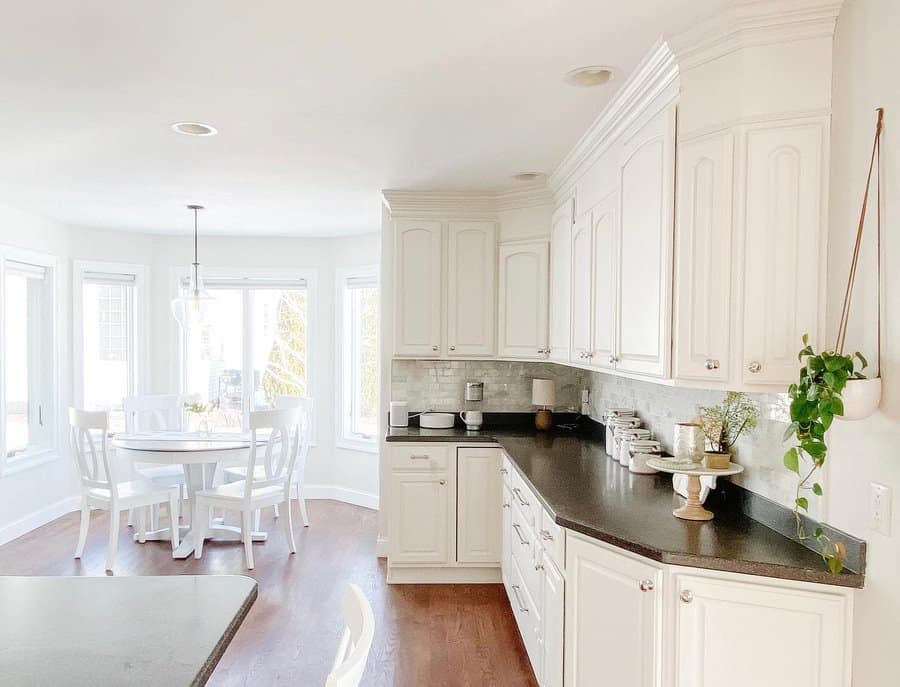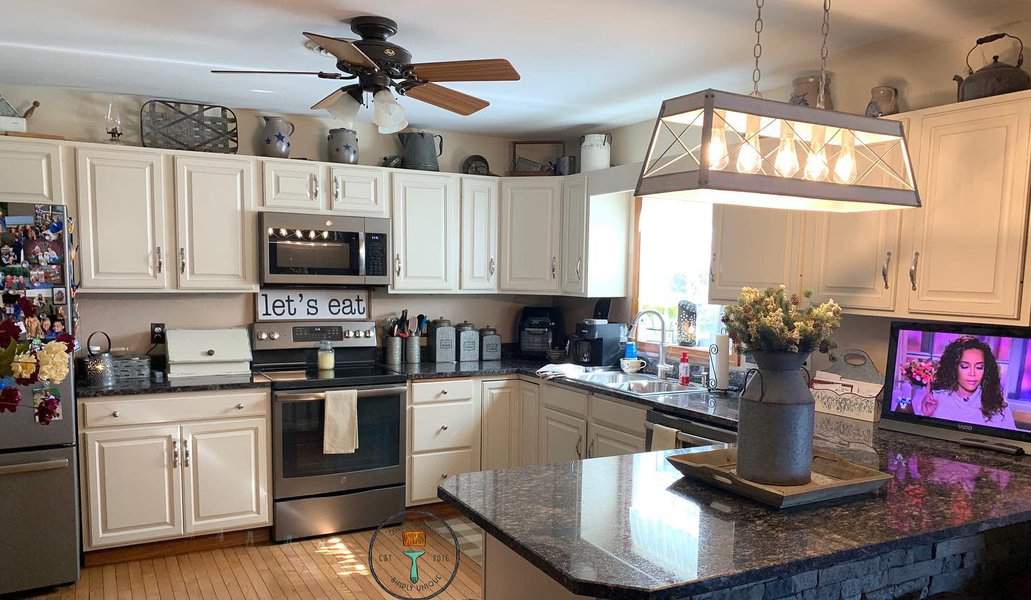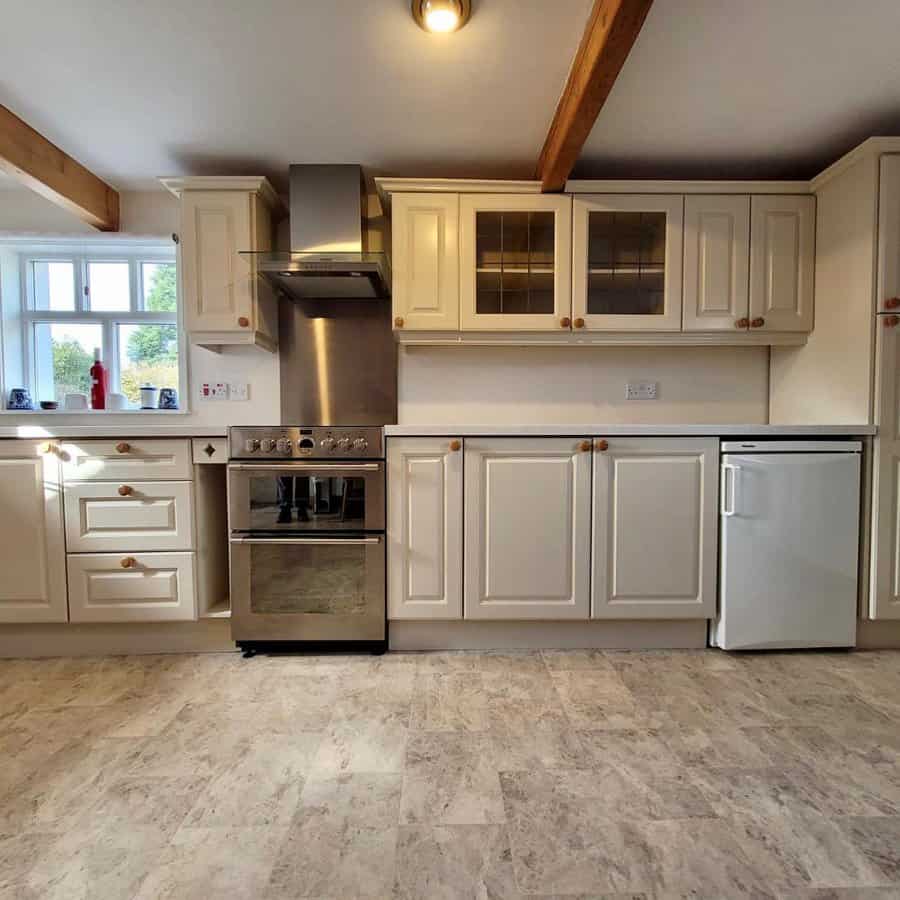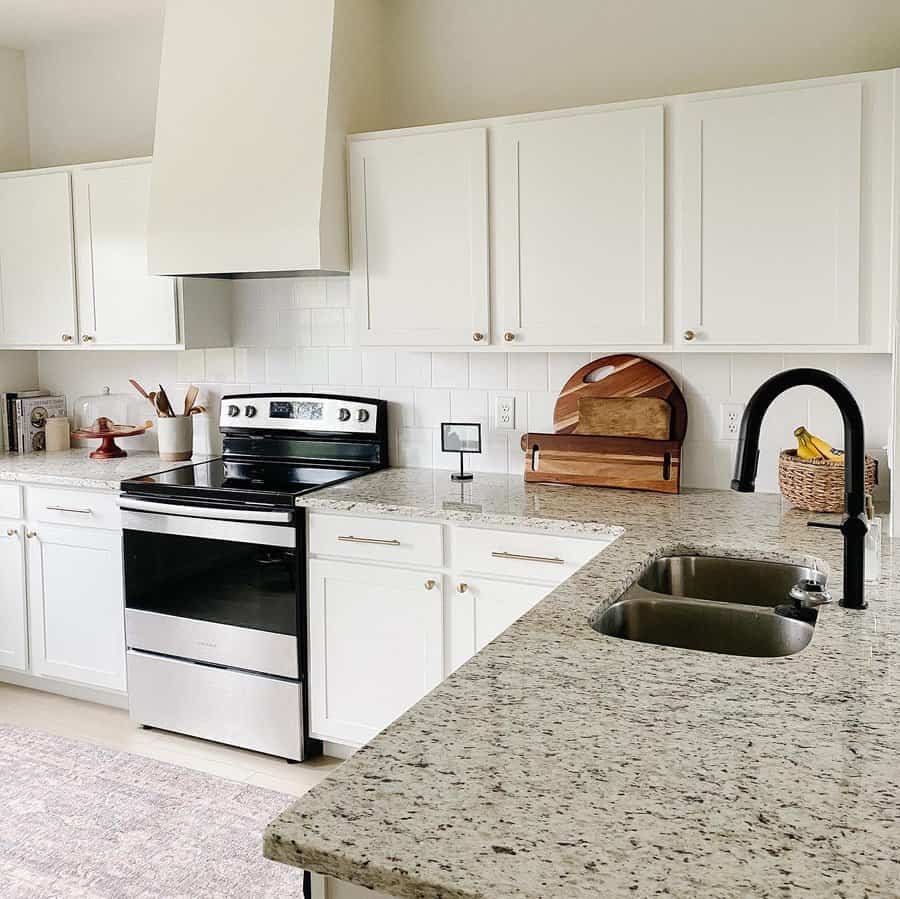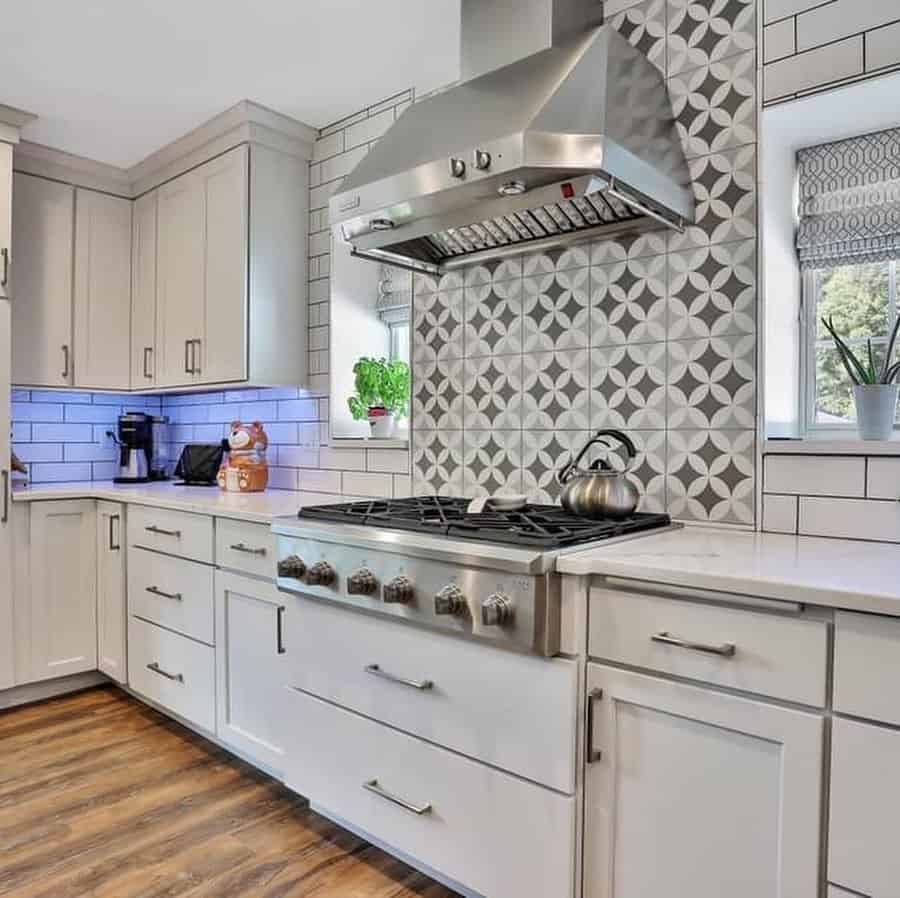 Painted Kitchen Cabinet FAQs
What kind of paint should you use on kitchen cabinets?
An acrylic latex paint is the best option because it's durable and creates a smooth surface you can clean. It's best to choose a semi-gloss, gloss, or satin finish. These are more durable than flat finishes when scrubbing. Remember, you will need to wipe down your cabinets to remove grease and food particles.
Is it better to spray or paint kitchen cabinets?
If you want the most professional-looking finish, then use a sprayer to apply the paint to your cabinets. Keep your hand constantly moving while spraying to ensure you get an even finish. If your cabinet doors have a lot of detailing, then a sprayer will make it easier to get in all of the crevices.
Can you just paint over cabinets?
Yes and no. Wood, laminate, and metal cabinets have a straightforward repainting process. You'll need to lightly sand the surface with fine grip sandpaper to help the paint adhere to the cabinet. Some plastic or PVC-type materials may not allow the paint to adhere. You'll need a specialty paint specifically designed for the material you are painting.