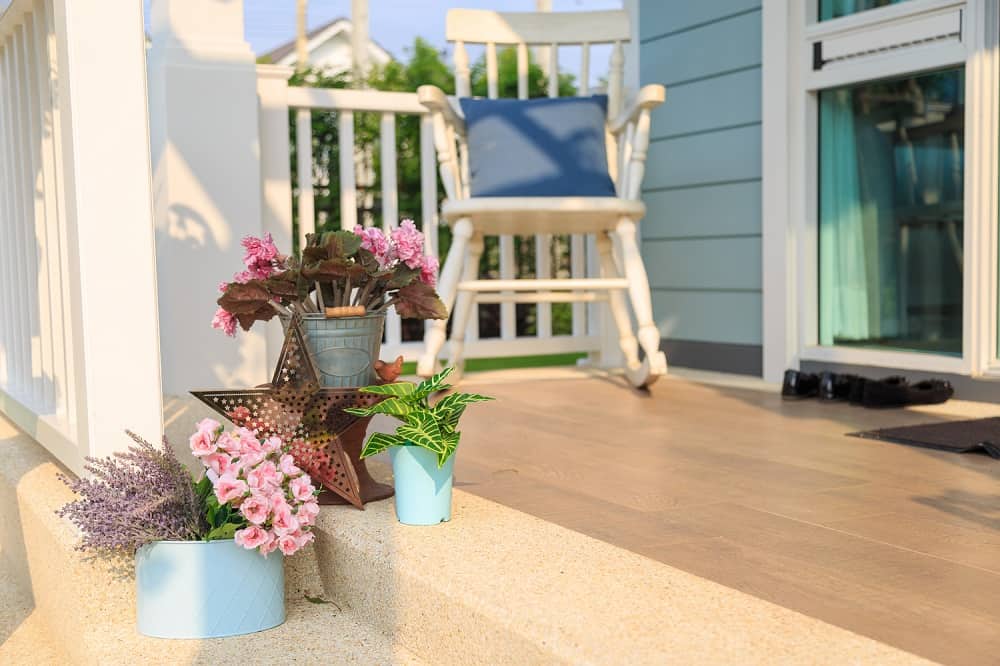 Patio vs Porch: A Detailed Comparison
by — Kari Apted

Published on May 24, 2022

Updated on June 5, 2022
What's better, a patio or a porch? Is there really any difference between the two?
When it comes to architectural definitions, patios and porches share a lot of similarities. But they also have different features. Keep reading to learn the nuances between the two types of outdoor living space and answer the question of patio vs porch.
Basic Differences Between Patios and Porches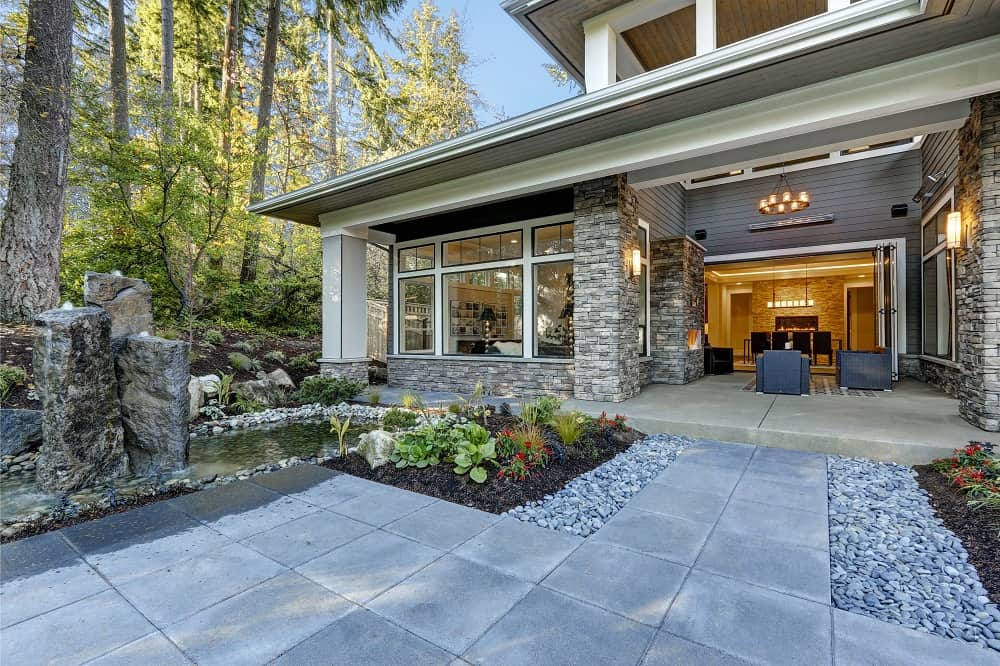 The main difference between a porch and patio is its attachment to the house. A patio is usually detached from the home itself. It's built at ground level behind the home and often is uncovered. A patio is almost always located behind the house.
A porch is attached to the home. It's level with the home's exterior doors and may be built up off the ground. It usually has a roof and railings that also connect to the home's main structure. A porch is usually along the front of the house, but it can also be located behind it. Some farmhouses have a wraparound porch that goes around the entire home.
Different Types of Patios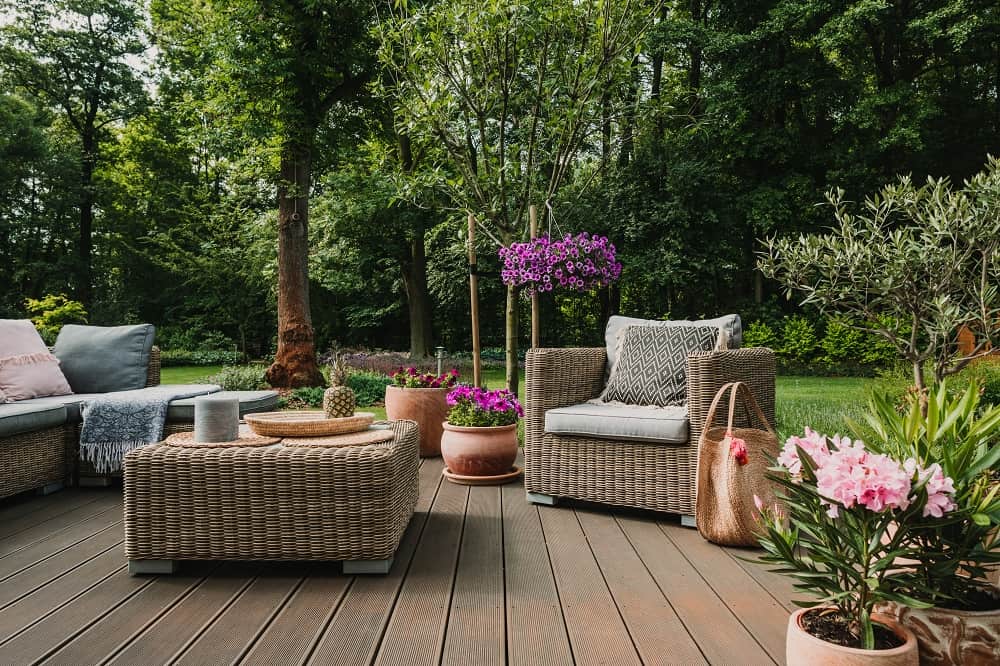 Although many patios are uncovered, plenty of people build a covered patio so that at least part of the patio deck has a roof over it. This is a helpful source of shade in the summertime and it also shields your patio furniture from the elements. Others obtain shade with a temporary patio cover, such as a pop up tent, umbrella, or shade sail.
A patio can be made of concrete, bricks, pavers, tile, or even gravel. Because patios must be built at ground level, there may be steps between the patio door and deck surface. A wood deck—even if built at ground level—is not technically a patio, though it might be used as one.
A patio may be built several yards away from the main building, with a path connecting the home and concrete deck. This is often the case with patios that surround a swimming pool.
Different Types of Porches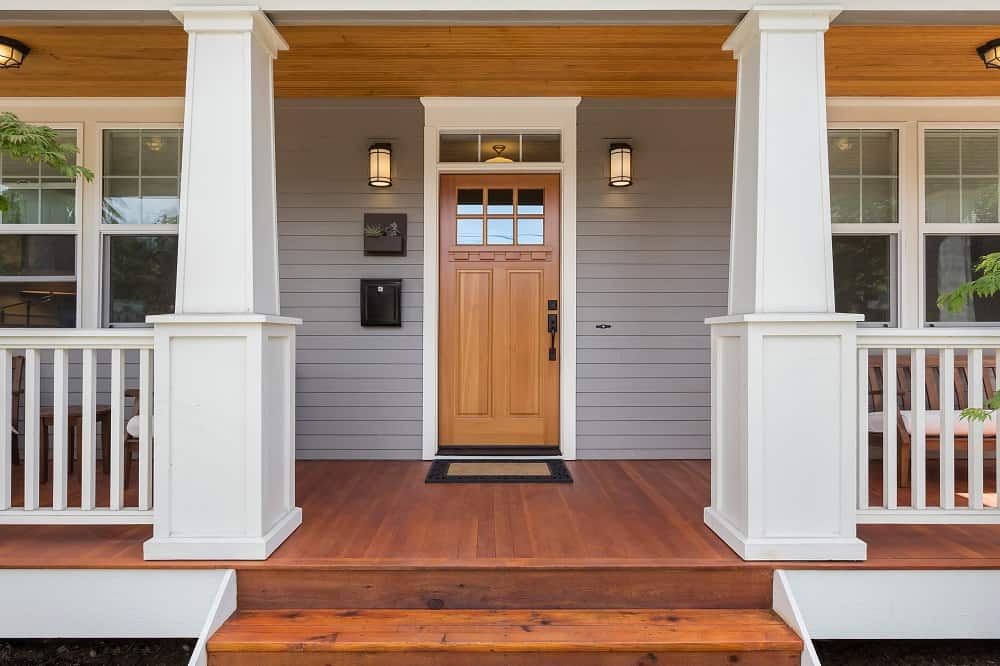 Like a patio, a porch can be covered or open to the sky above. A covered porch is the most common type, and usually reflects a continuation of the home's architectural style. The porch roof usually matches the home's roof, and the porch deck may even have the same style of wood flooring used inside the home. Porches are often thought of as an outdoor living room and used as such.
A screened porch has screen panels over any open sides. These panels extend from the porch roof to the deck and help keep insects and other pests from invading your home. Instead of a screen porch enclosure, some people install windows, turning their backyard porch into a sunroom that can be used year-round.
A patio can be turned into a backyard porch with the addition of a roof and railings. An upstairs balcony may be called a porch if it is covered and blends into the home design.
Patio vs Porch: Factors to Consider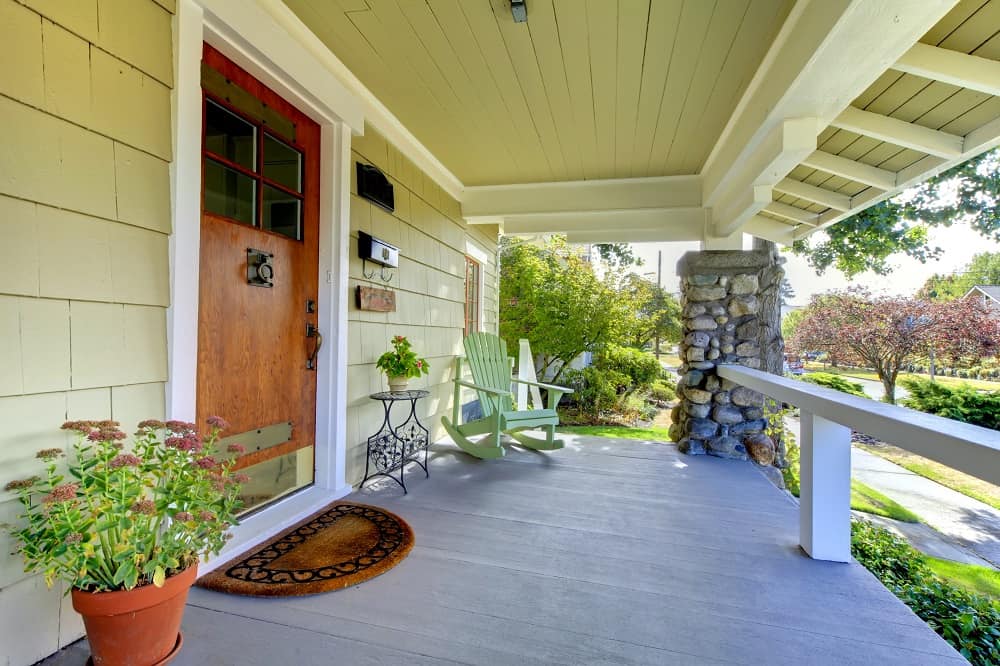 If you're building a new home, or simply looking for an outdoor home improvement project, building a patio or porch is a good idea. Not only will you gain outdoor living space, this type of home addition will increase your property value. If you like both options, here are a few factors to take into consideration before deciding which outdoor structure to build.
First, consider how much living space you have for a porch or patio. If you have a spacious lot, building a large porch or patio should not be a problem. If you have a small backyard, you'll need to keep your patio on the smaller side. If you have a small front yard, a front porch may make you feel too close to the street to enjoy relaxing there.
Second, take a realistic look at your budget. A simple concrete patio or one made from pavers costs less per square foot than a porch or veranda. This is largely due to the labor costs involved in building a wood porch, roof, deck, and railings. You will also need to pay someone to paint Many a homeowner has learned how to DIY concrete pavers to build their own simple patio.
Third, consider the type of climate you're working with. An open patio or veranda will probably get year-round use in a warm climate. However, if you live where winters are long, your patio might not get much use beyond the summer months. In that case, an enclosed porch will be more useful, especially if it is a sun room with windows to close when it's chilly.
Finally, think about how you plan to use your outdoor space. A front porch offers little privacy, but it's great if you're friends with your neighbors and enjoy socializing in your front yard. Since a patio is usually located in the backyard, it provides more privacy for intimate outdoor dinners or big parties. If your plan includes an outdoor kitchen, a concrete slab patio or veranda is an ideal foundation.
Other Names for Outdoor Living Spaces
With so many names for an outdoor living space, how do you know which one to use? Unless you're writing a real estate listing, feel free to call your outdoor space whatever you like. But if you're curious about the nuances between different names, here's a guide.
Balcony:

A platform that is built out from the side of a building, on a second floor or higher. A balcony is enclosed by a railing or half-wall.

Deck: A deck is a raised horizontal platform supported by beams or columns. It's usually made of wood or a composite decking material. A deck doesn't have a roof or walls, but must have a railing if it's more than two feet above the ground.
Lanai: The word "lanai" is commonly used in Hawaii, South Florida, and other tropical areas to describe an enclosed porch. A lanai usually has a concrete or tile floor and sits at ground level beside or behind the home. It may feature screens or windows instead of open sides.
Portico: This type of covered outdoor area predates the modern porch or veranda. Popular in ancient Greece, a portico is usually positioned directly in front of the home's entryway. Porticos are often supported by columns.
Sunroom: A sunroom or sun porch features large glass windows. It's as visually open as a traditional porch, but it's an enclosed space that can be used year-round.
Terrace: A terrace is similar to a patio in that it's a paved or tiled outdoor area. It may be located on a rooftop instead of ground level.
Veranda: Also spelled "verandah" this term for an outdoor seating area is most commonly used in the southern United States. Unlike an elevated balcony or deck, a veranda is located at ground level. Sometimes southerners will use the word veranda to describe any type of porch or patio, even if it's not at ground level. A veranda will usually be bigger than an average porch or patio. Historically in the south, the veranda was used as a gallery room or for entertaining guests.