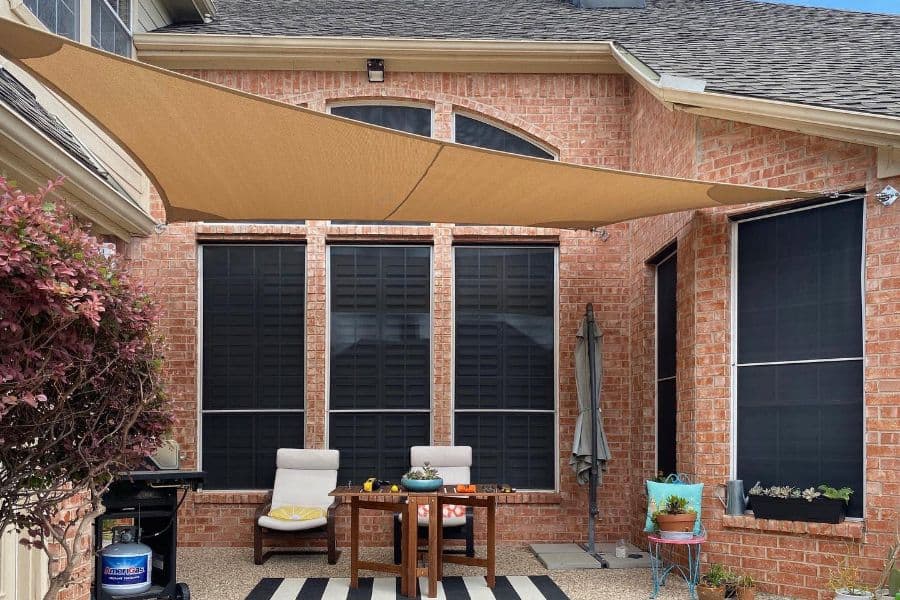 "Life is checkered shade and sunshine." – Henry Wadsworth Longfellow
Every sunny day is better with a little shade. But what do you do if your outdoor living space is uncovered, and you need a quick backyard shade solution? Start shopping for a shade sail.
Also called sail shades, these fabric canopies are an excellent way to cover a patio, deck, swimming pool, or garden. Shade sail installation is a relatively easy DIY process, and certain types of sun sail are ideal for renters who need a removable type of sun protection.
Check out these amazing shade sail ideas and see if one is the answer to your backyard shade cover needs.
1. Shade Sails for Your Backyard Area
A sun shade sail is a great way to add a shady corner to your backyard. When planning the outdoor space around a playground, include a shade sail to keep children from getting overheated.
A shade sail can also keep a trampoline, putting green, or bocce ball pit comfortable on sun drenched days.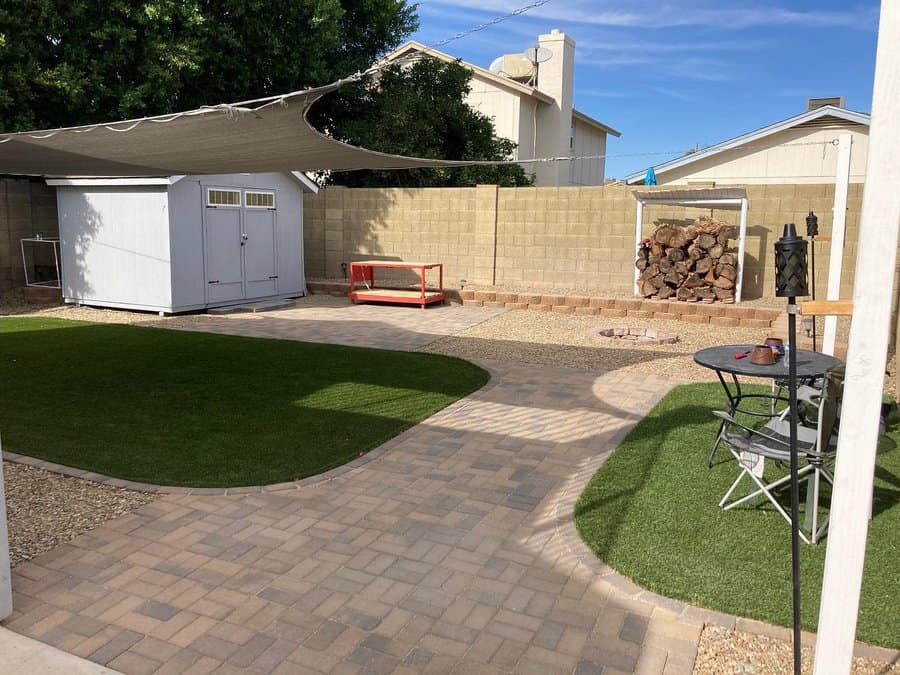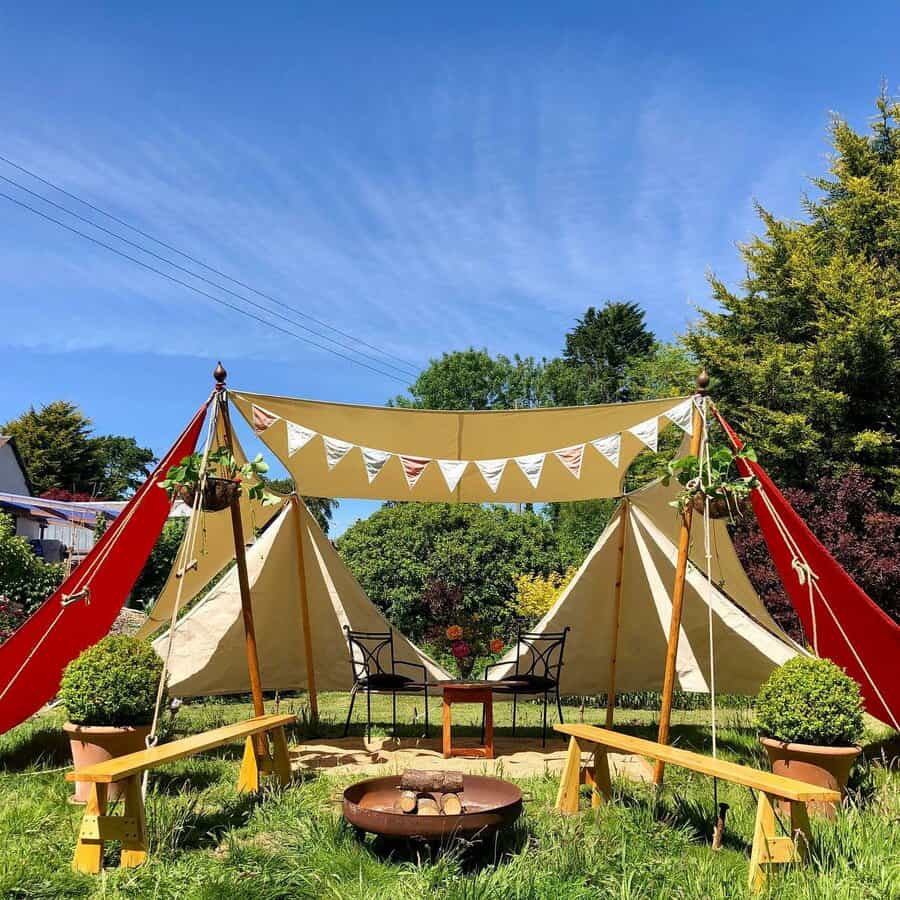 For a creative splash of backyard color, purchase three or more smaller shade sails in different colors and slightly overlap them over your deck or patio.
As the light filters through them, they will cast festive rainbow hues on you and your guests.
2. Shade Sails for Deck
Many backyard decks are uncovered, making an awning or other shade structure a great idea.
An outdoor shade sail protects your skin from harmful UV rays and helps protect your deck surface and patio furniture from sun damage.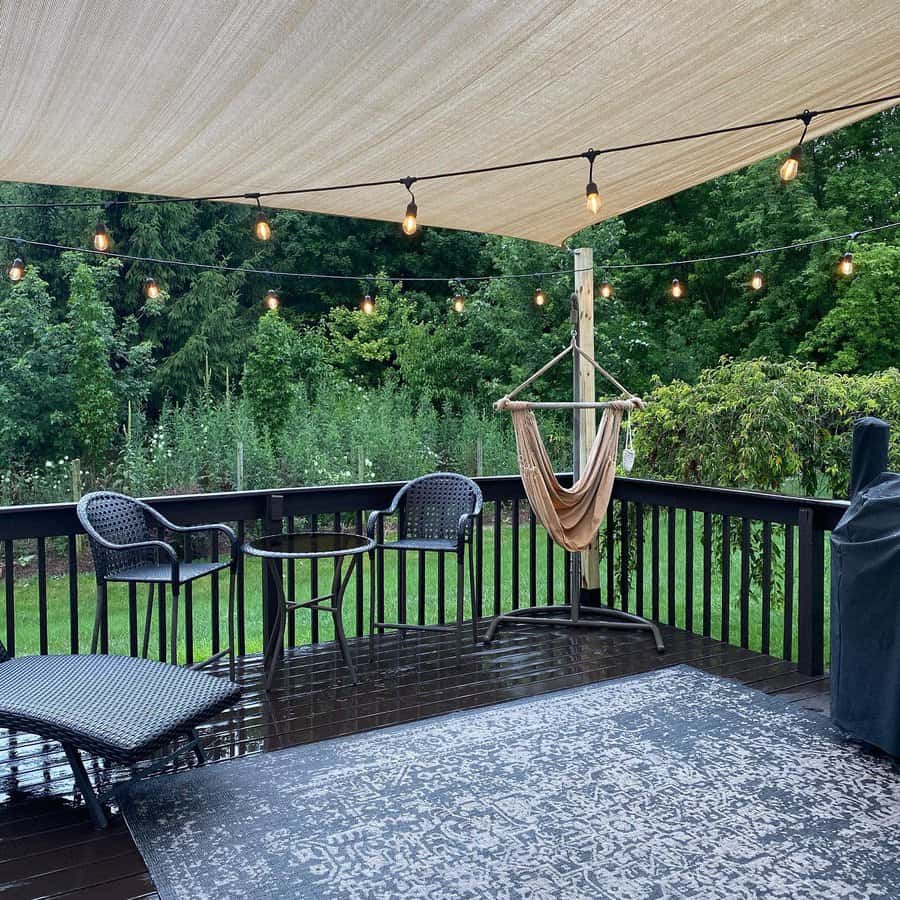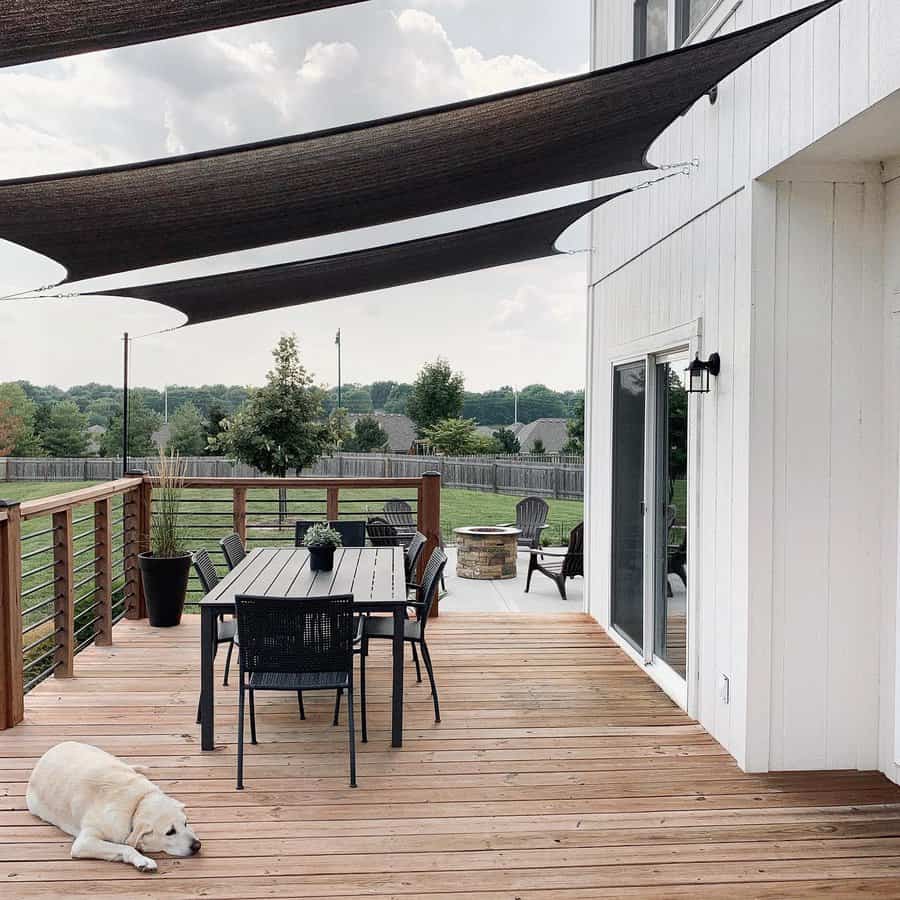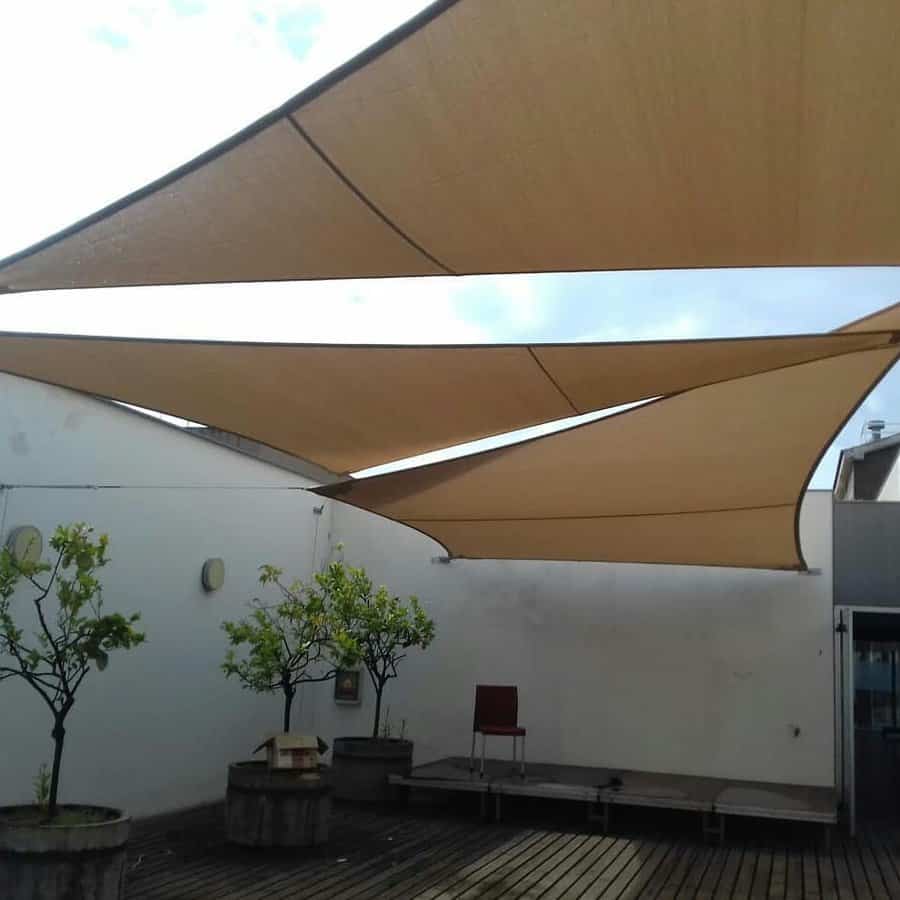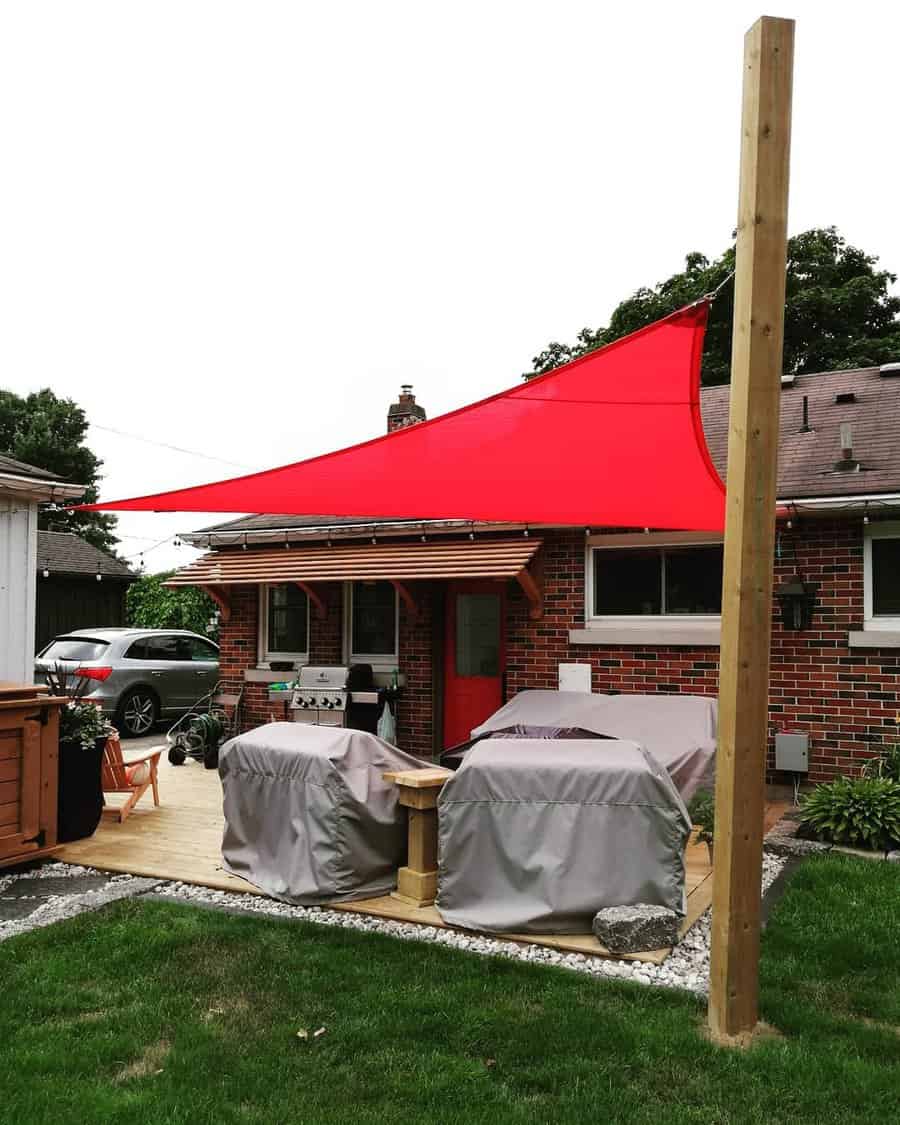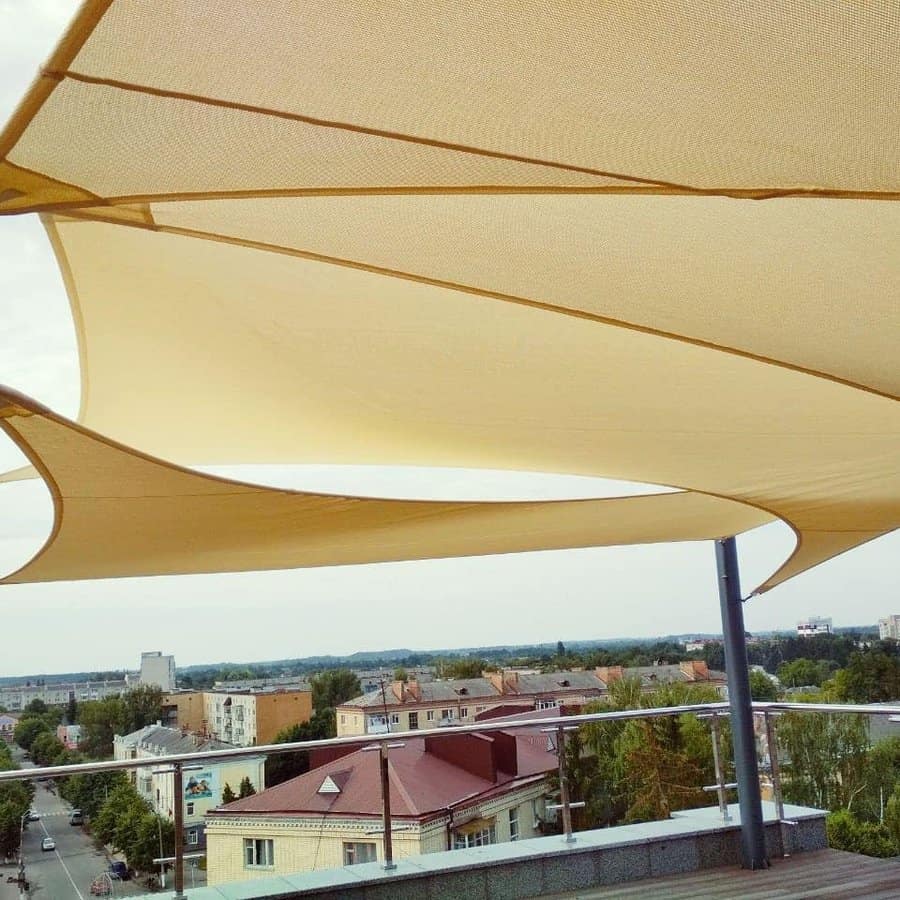 Shade sail fabric comes in a wide variety of colors to coordinate with any décor style. Keep in mind that white and light colors reflect sunlight the best and will keep you cooler than darker hues.
This might not matter so much in a cool climate, but in hot regions, maximum backyard shade is welcome.
3. Freestanding Shade Sail
A freestanding sun shade sail is basically an oversized outdoor umbrella. Its canopy opens above a tall shade sail post affixed to a heavy platform.
It's often set at an angle, so the canopy adequately covers the desired outdoor area without interfering with foot traffic.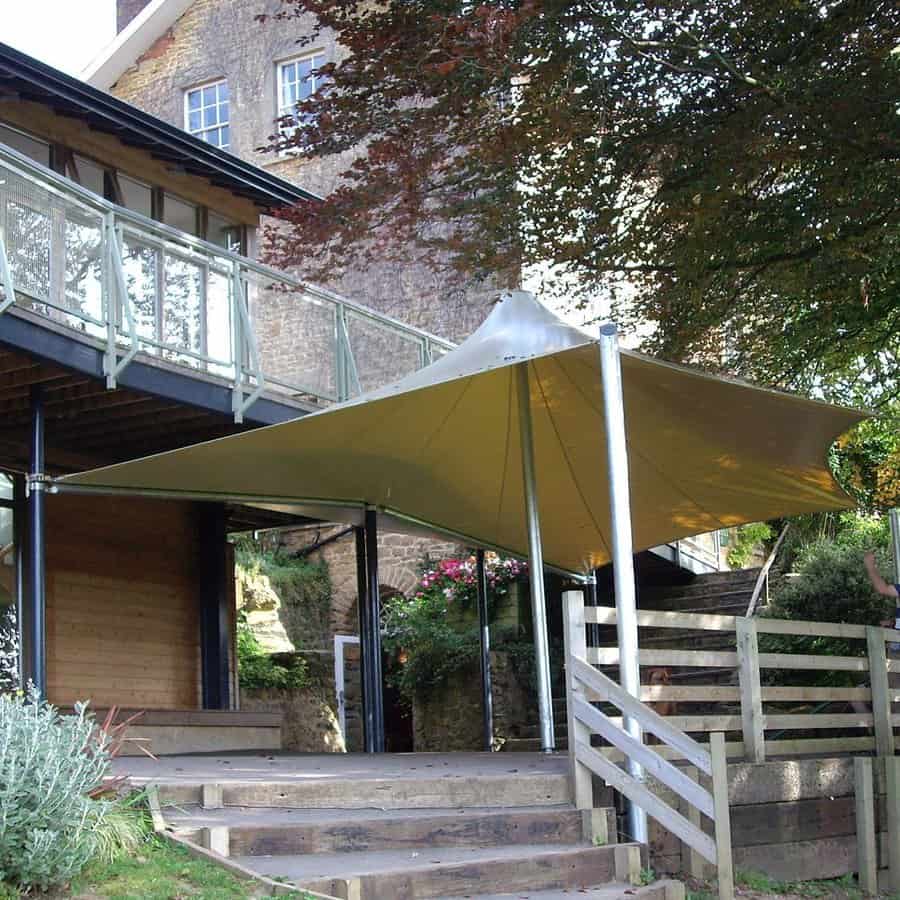 A freestanding waterproof shade sail will protect you from rain as well as UV rays. A big advantage to a freestanding patio shade sail is that it can be moved to cover different areas as needed.
For example, you may want shade over your outdoor kitchen while cooking, then move it over your outdoor table while dining.
Another benefit of this type of sun shade is that you can close it when sun protection is no longer needed and enjoy gazing at the stars.
Some freestanding sun shade sails are attached to permanent posts set in concrete. Others are mounted to the wall on movable arms that can be repositioned to follow the sun's path through the sky each day.
A freestanding sun shade sail might not cover as wide an outdoor area as a larger sail, but they're a perfect shade idea for a smaller outdoor area.
4. Shade Sail Attached to House
Some shade sail styles are meant to attach to the side of your house. It's important to find out ahead of time if your exterior wall material can handle the strong tension required to keep a shade sail canopy extended.
If you're renting your home, check with your landlord before attempting a DIY shade sail installation.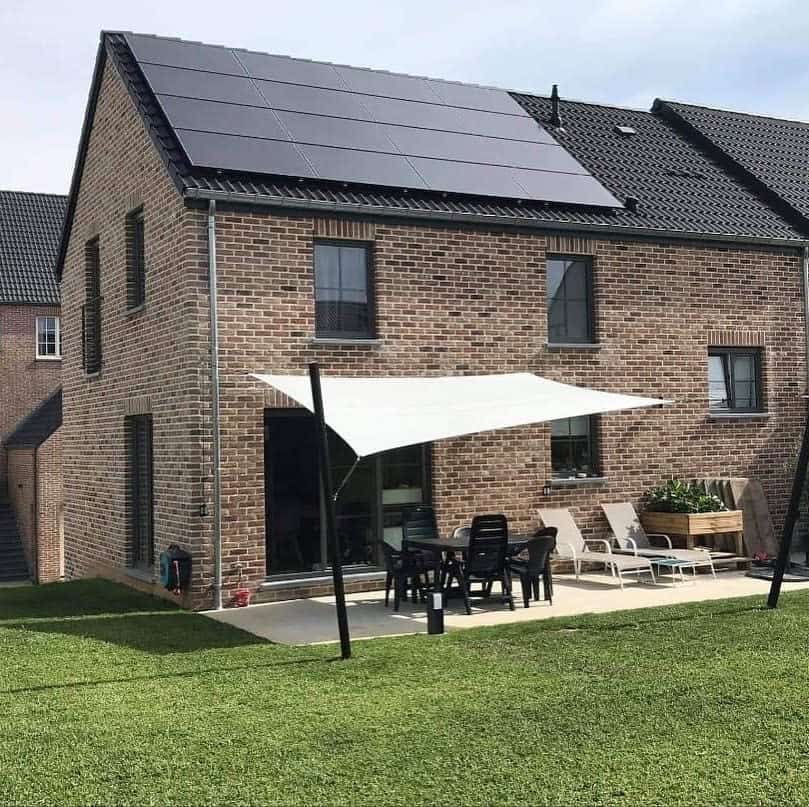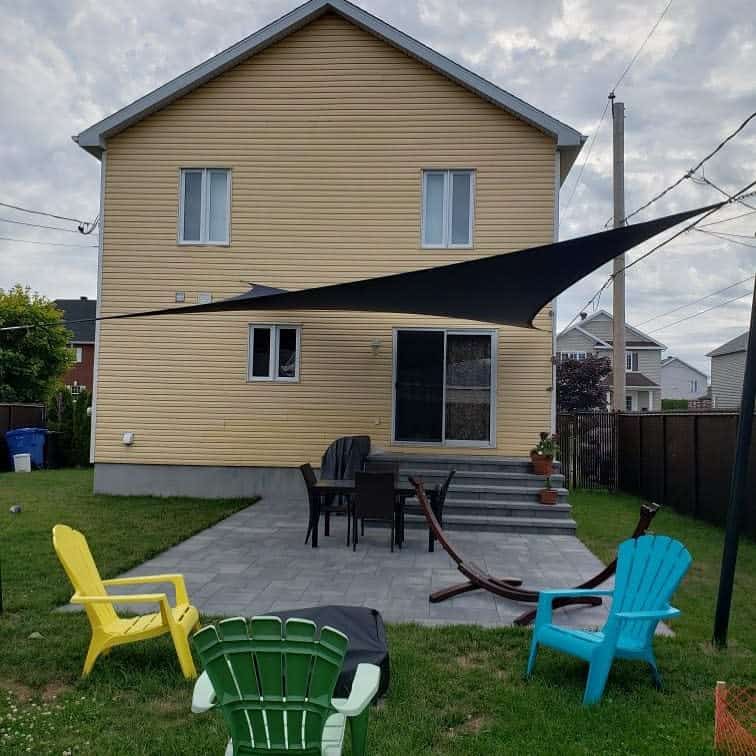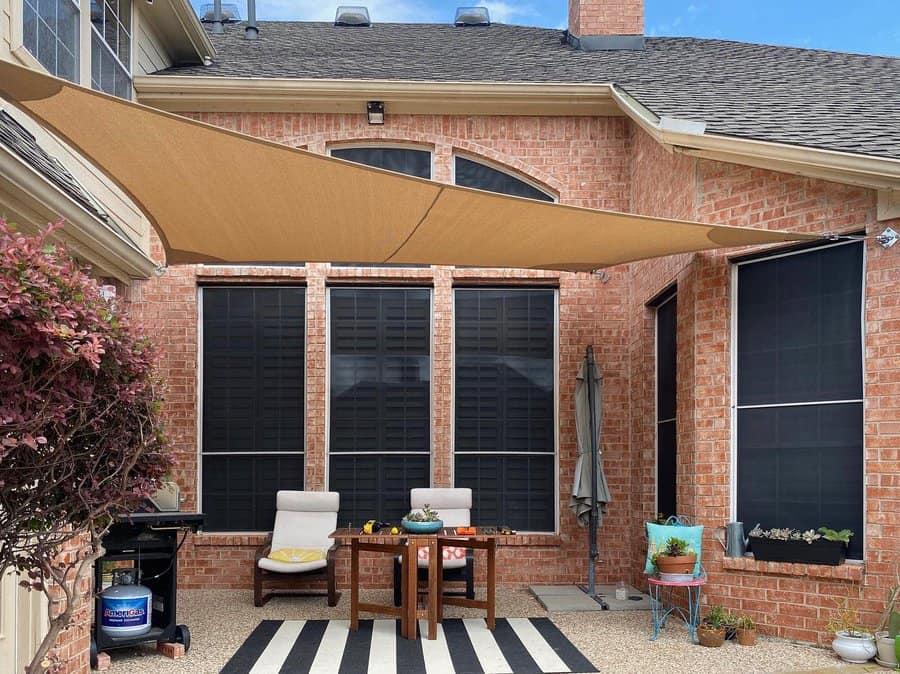 Ideally, at least two of the sail shade anchor points should be located on the house. The other anchor points (one with a triangle shade sail; two with a square shade sail) can be attached to a large tree or sturdy post instead.
5. Shade Sails for Patio Area
No matter the size of your patio, it can benefit from some form of sun shade.
Some patios are covered, perhaps by an upstairs balcony, but many backyard patios are fully exposed to the sun. Often, your best bet for UV protection is a professional or DIY shade sail installation.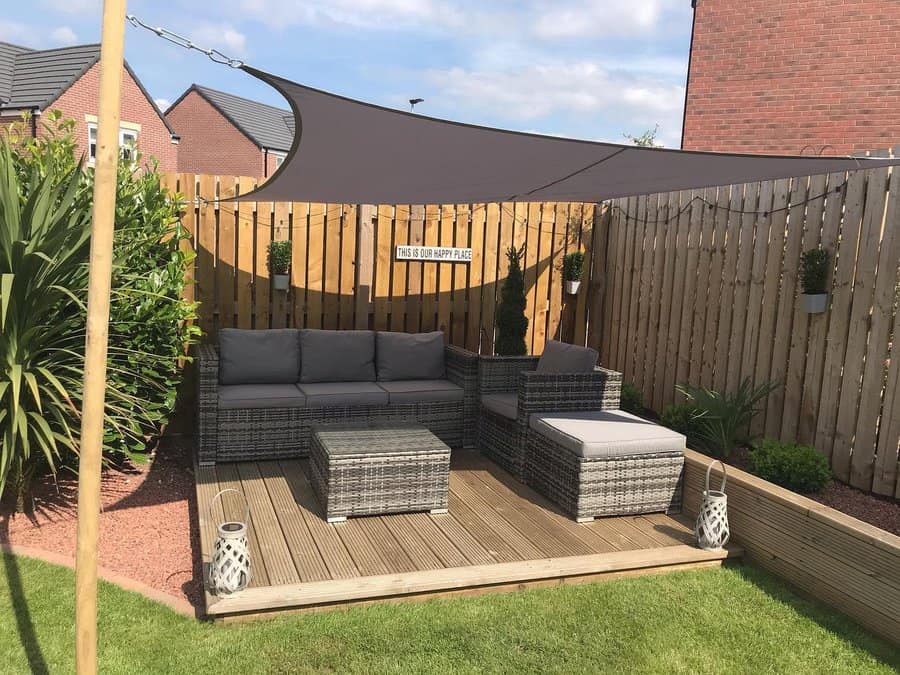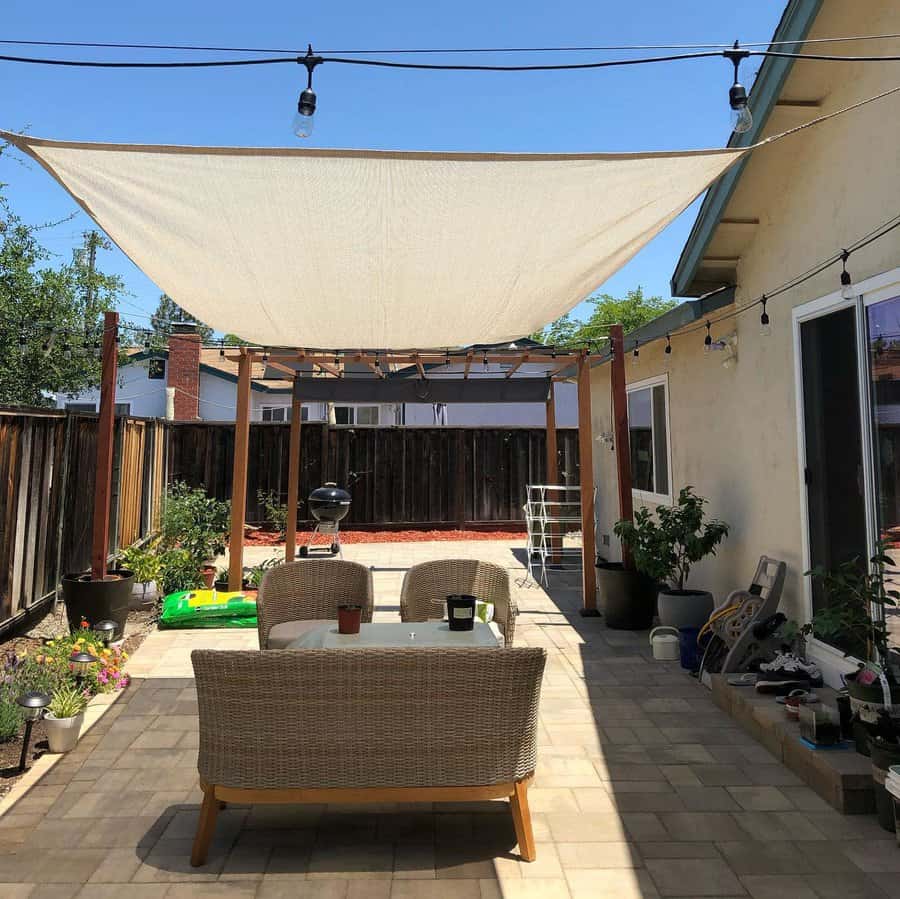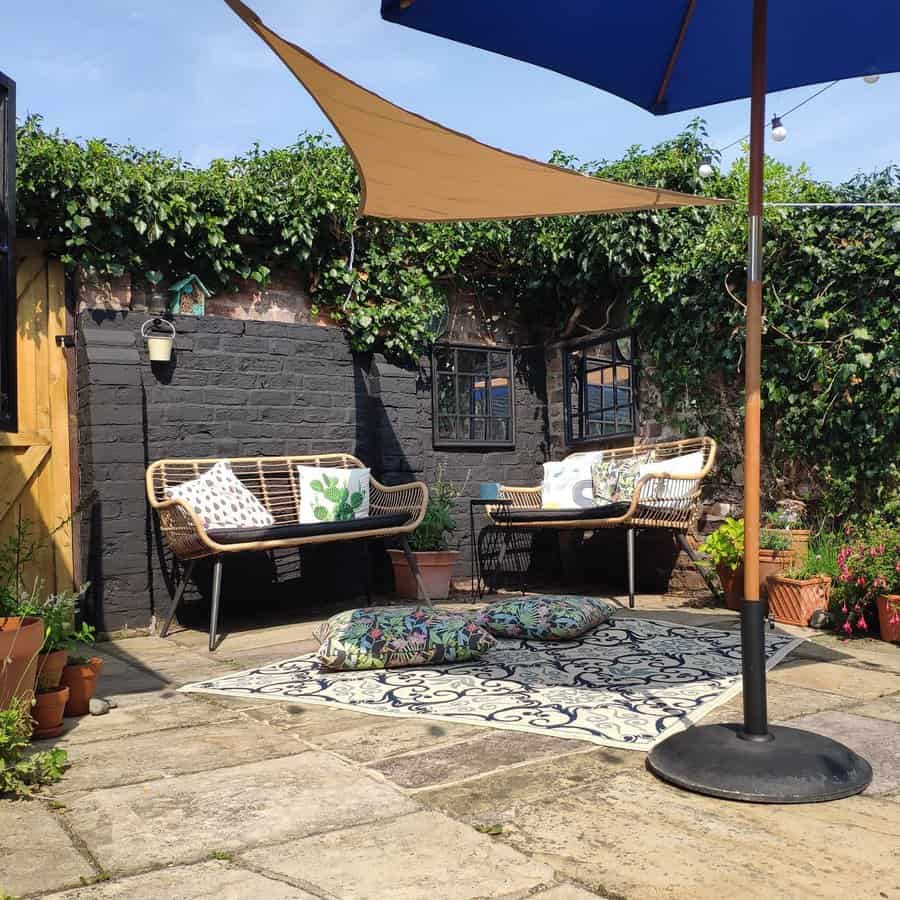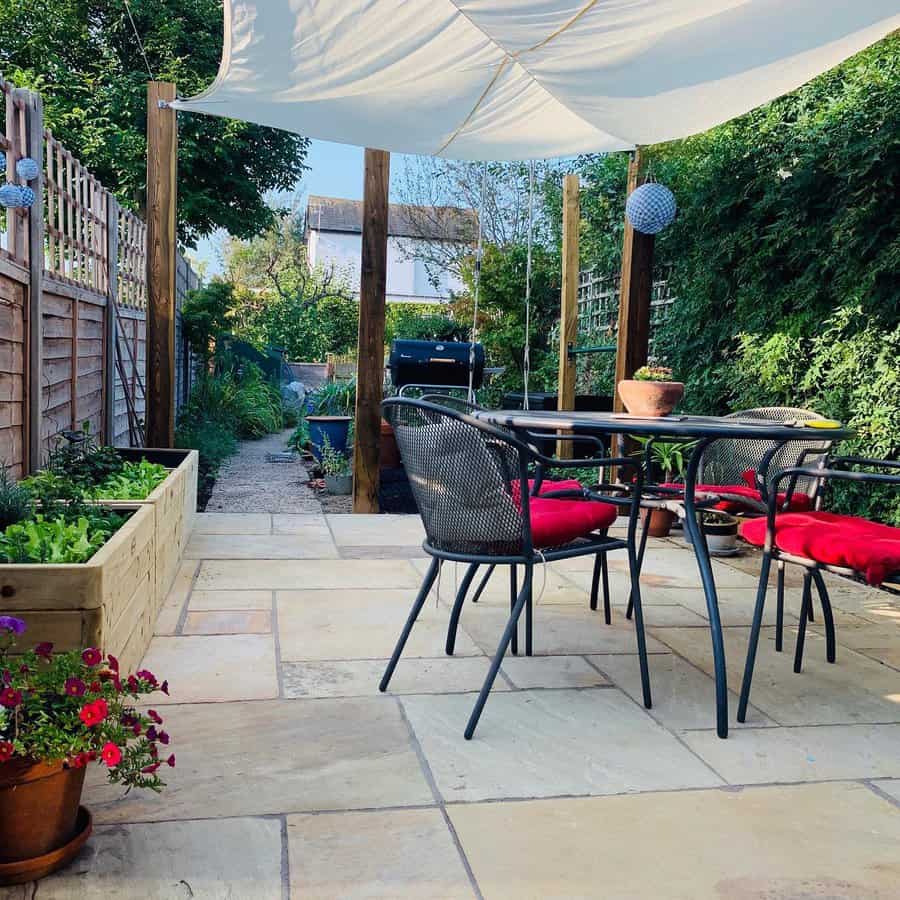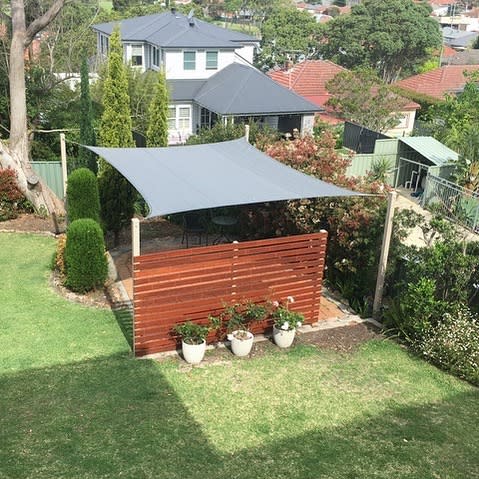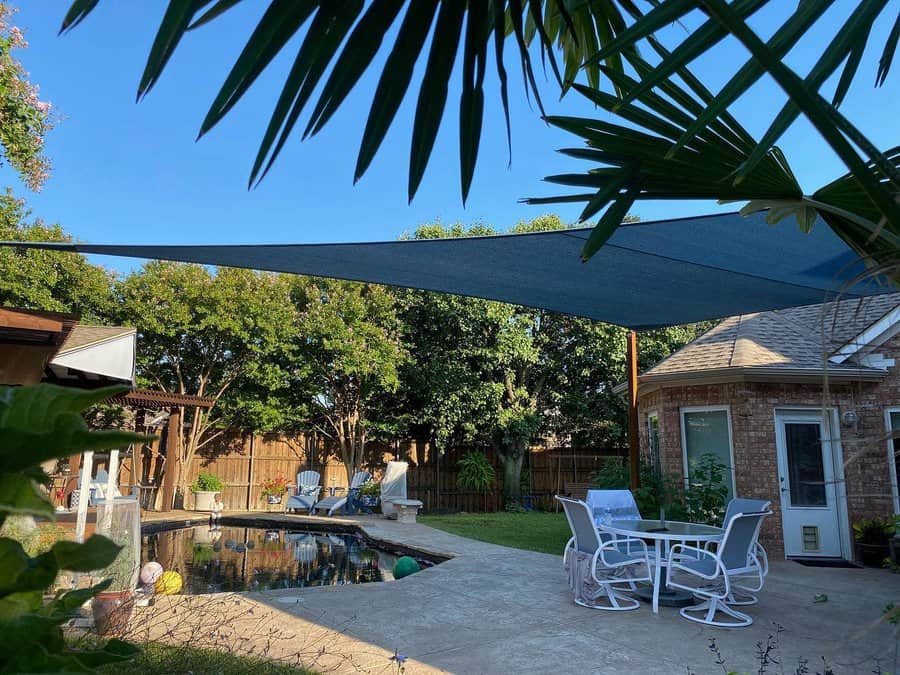 If you have a chiminea or fire pit on your patio, you can still enjoy the protection of a shade sail. Just find a custom shade sail with a hole in the middle to allow smoke to escape.
Line up your fire source under the hole and you'll be set. Hang string lights beneath your patio sun shade to add to the backyard magic at night.
6. Shade Sails for Pergola
A pergola is a backyard structure that has a lattice or beamed roof instead of a solid ceiling. It's often positioned over a deck or patio or may be used to designate a special garden area.
If you need solid sun shade while sitting under your pergola, attach a shade cloth, canopy, or awning to the pergola's roof beams.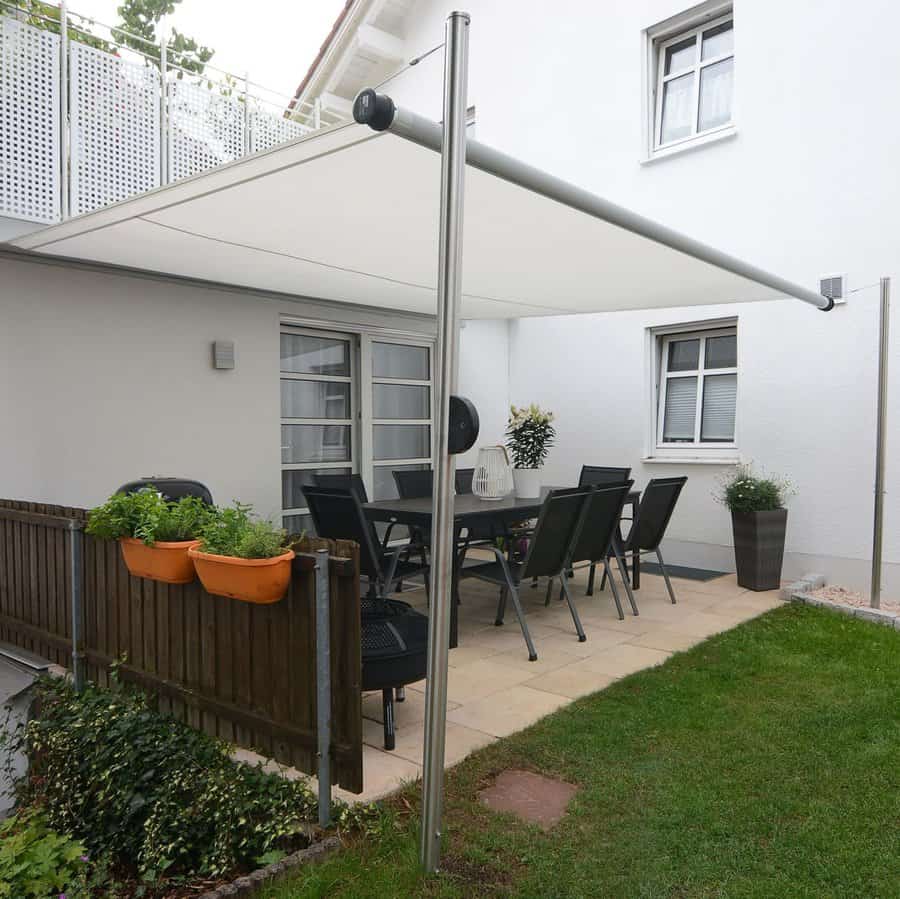 In addition to a sun shade, consider adding tie-back curtains to your pergola. Draw the curtains closed for cabana-like privacy or to create an outdoor room instead of an open outdoor living area.
7. Shade Sail Ideas for Pool Area
Enjoyment of a backyard pool is far greater when there is a good source of shade. If your pool and deck are fully exposed to the sun, installing a sun shade sail will allow you to spend more time outdoors without getting sunburned.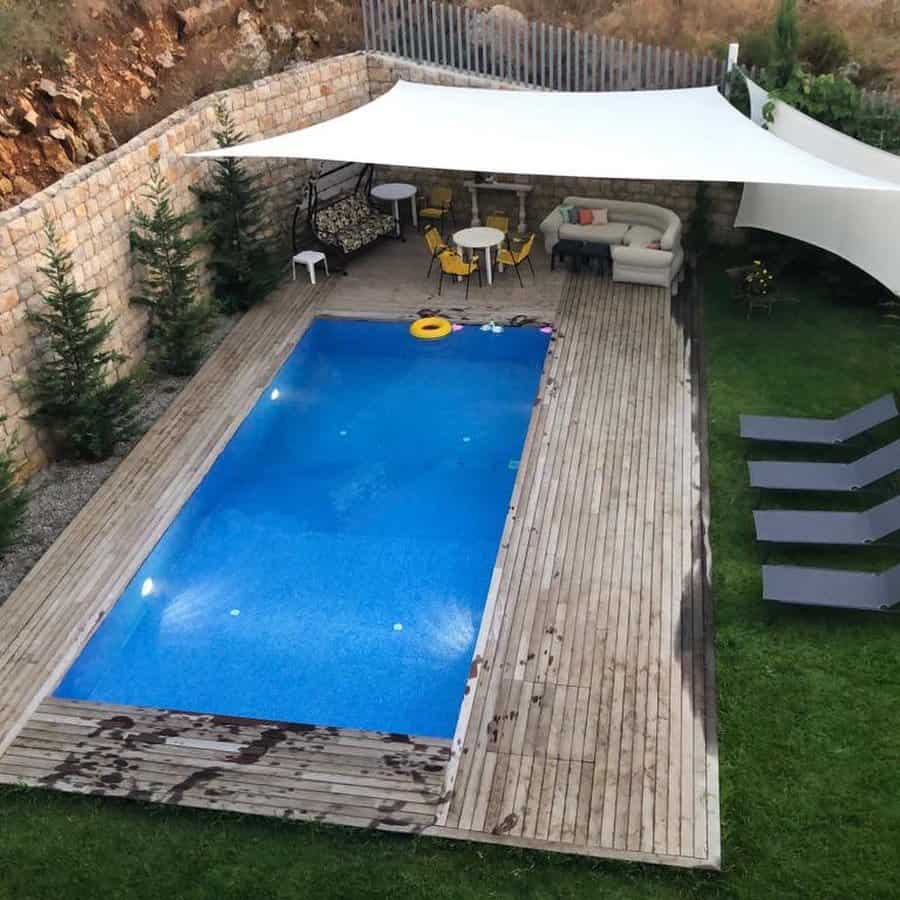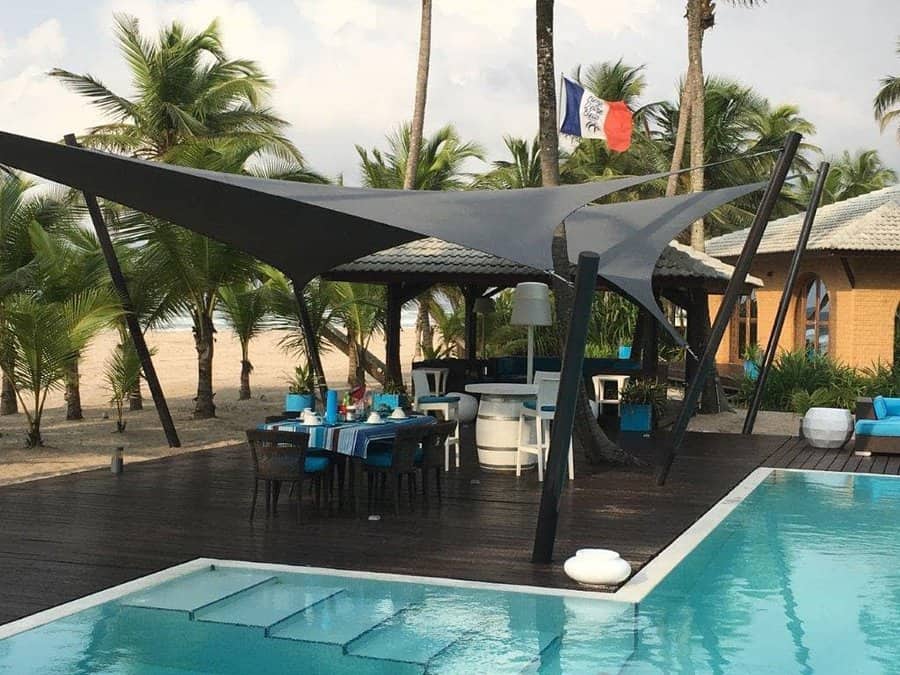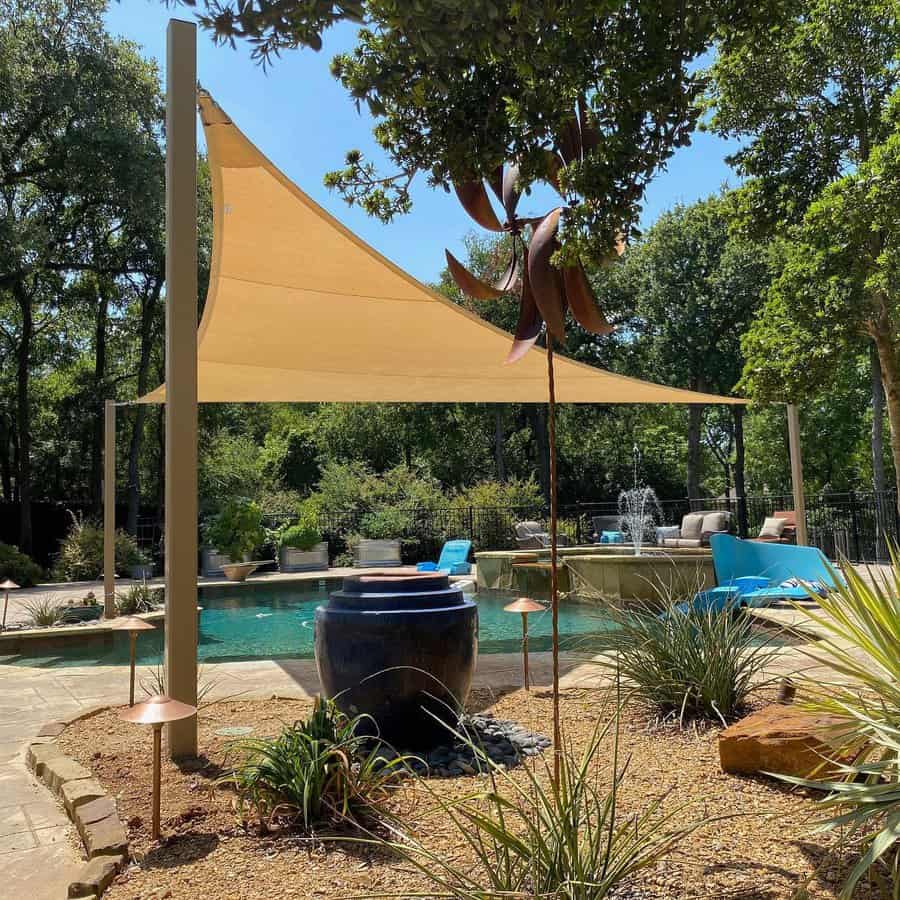 UV rays are strongest in the middle of the day, so if your family spends all day at the pool, the chance of sunburn is great. You may want to install two or more shade sails over the pool itself. It will protect you from direct sun rays and the rays reflected off the water's surface.
8. Retractable Sun Shade
A retractable sun shade may be a better choice than a permanently affixed shade sail. This is especially true if you enjoy having an uncovered patio or deck and only plan to use the awning occasionally.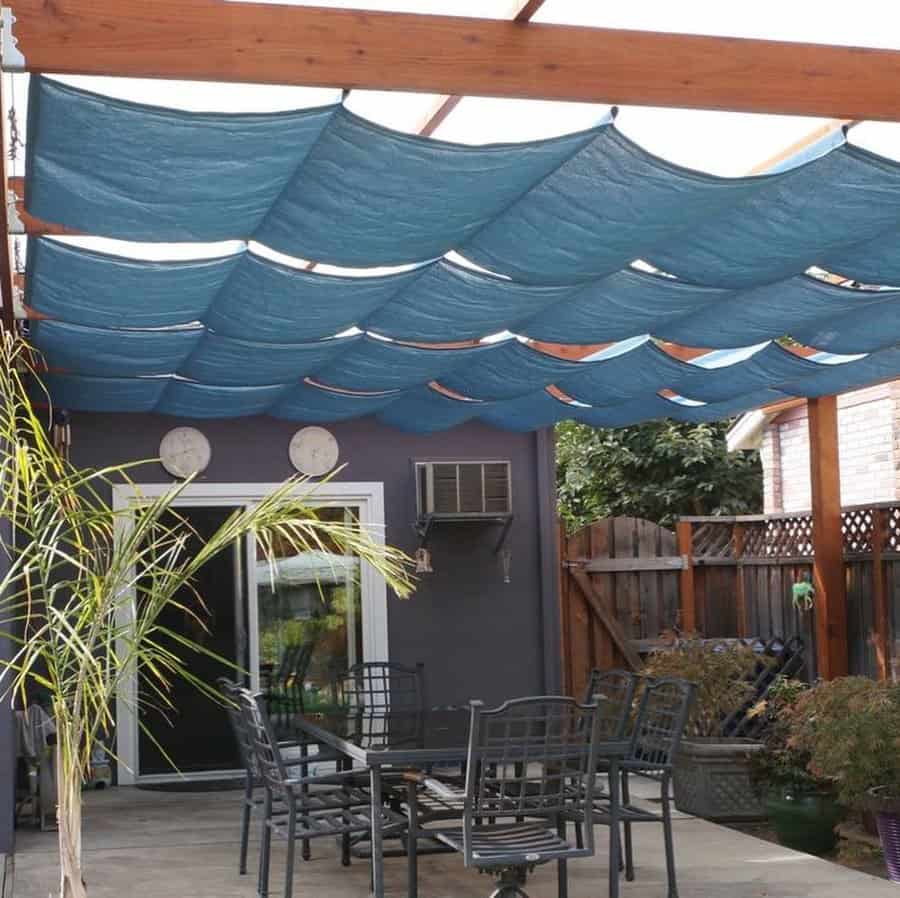 Retractable sun shades can be manually retracted, but more expensive models are electronically powered. While sun shade sails are usually made of water-resistant fabric, a retractable awning may be made of cloth, vinyl, or natural fibers.
9. Shade Sail for Driveway
A sunshade isn't just for the backyard. If your neighborhood association permits it, consider installing a shade sail over your driveway to protect your car from UV ray damage. If your front door lacks a cover, a shade sail can work there as well.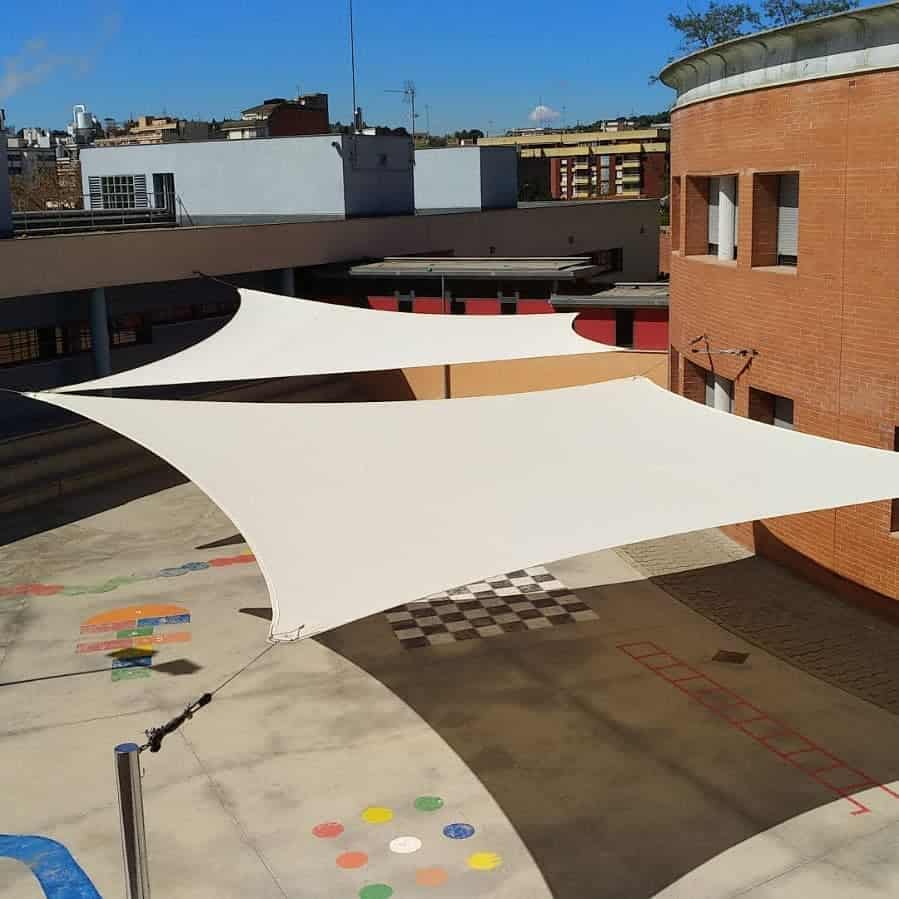 10. Roof to Fence Shade Sail
Shade sails can provide a much-needed oasis of coolness and tranquility in even the hottest gardens. Not only are they practical and aesthetically pleasing, but their versatility makes them a welcome addition to any outdoor area.
If you're looking for an alternate fence line for your garden, why not replace it with the inviting prospect of a breathable shade sail? Not only will it allow air flow between plants, but the lightweight and easy installation make it an ideal choice for landscaping projects large and small.
Let a shade sail bring all the benefits of sunshine to your green space without the often unwelcome intensity of direct UV rays.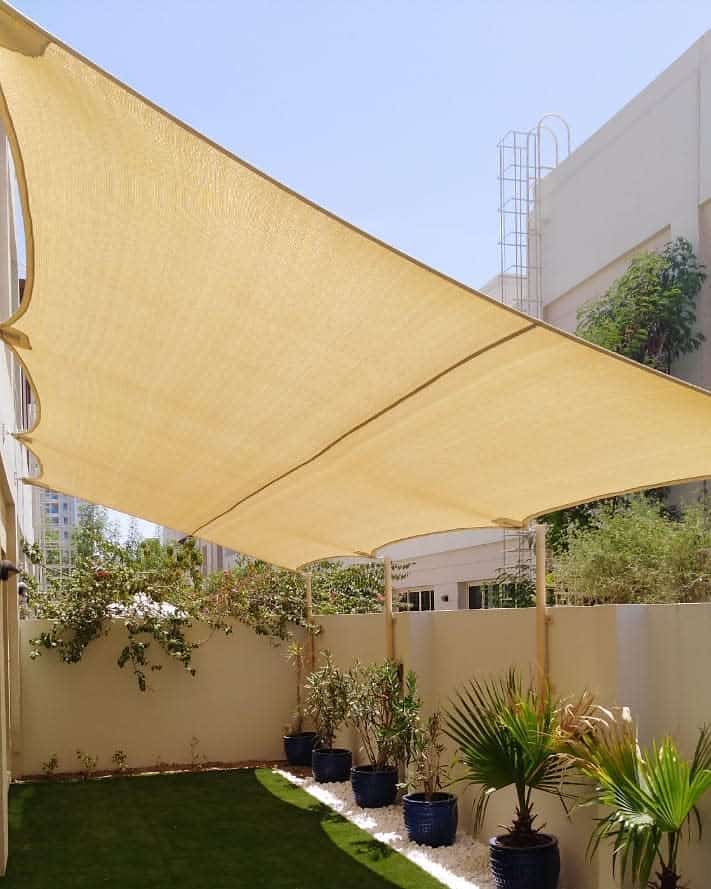 11. Playground Shade Sails
Shade sails are a great playground accessory, providing both coverage and fun! Nothing helps to turn a playground into an oasis quite like a bright and colourful sail. They're also practical—shade sails provide shade from the sun and wind-resistance while children are playing outdoors, making it safer and more pleasant for everyone.
Plus, they make playgrounds look awesome—imagine the excitement when kids arrive to see their playground decorated with something like a bright pink or yellow sail! The possibilities for positioning within playgrounds are endless too—shade sails can be used to section off areas or attached above playground equipment for extra protection.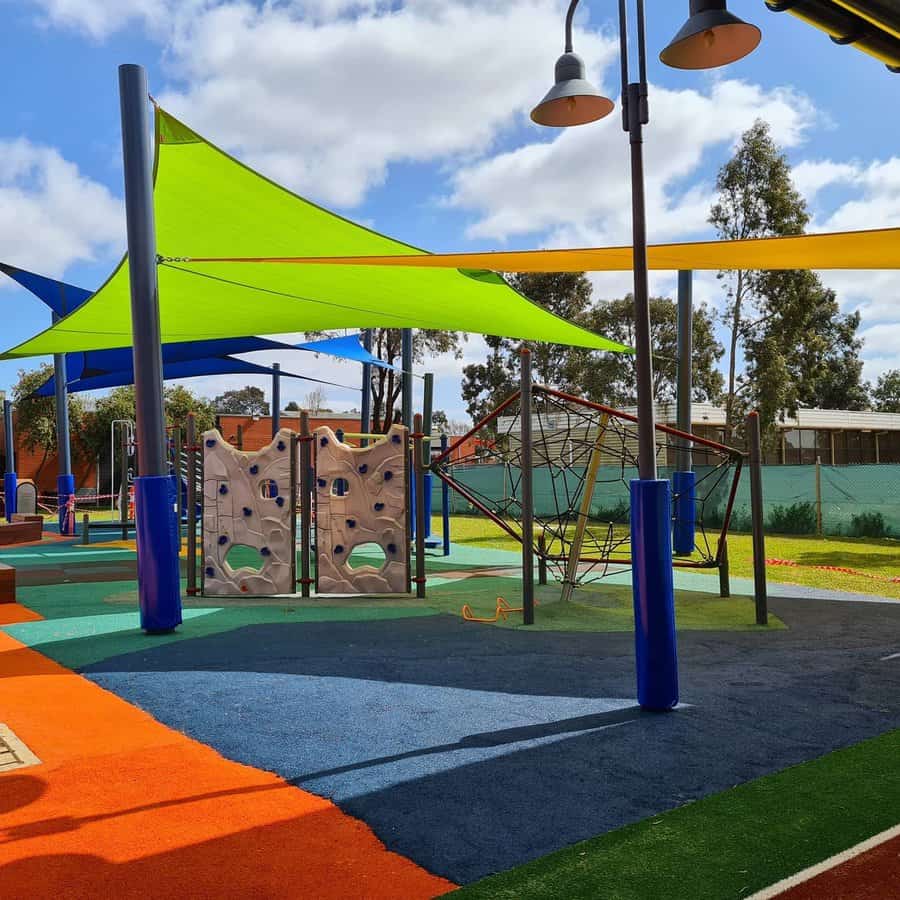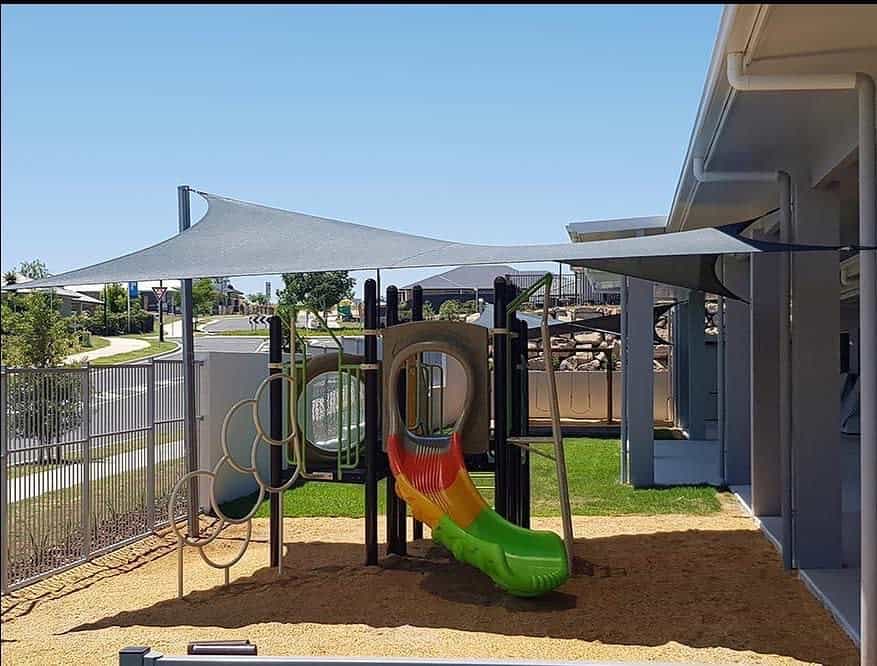 12. Shade Sail for a Public Space
Shade sails are an eye-catching public design feature that helps to create a unique atmosphere. Not only do they offer protection from the sun, they also add a classic, modern look to any public area.
Their curves and colors will brighten up any space while providing much needed respite from the sun's rays.
Whether it's to sit and relax, socialize, or just enjoy the view, shade sails can transform public spaces into inviting community hubs.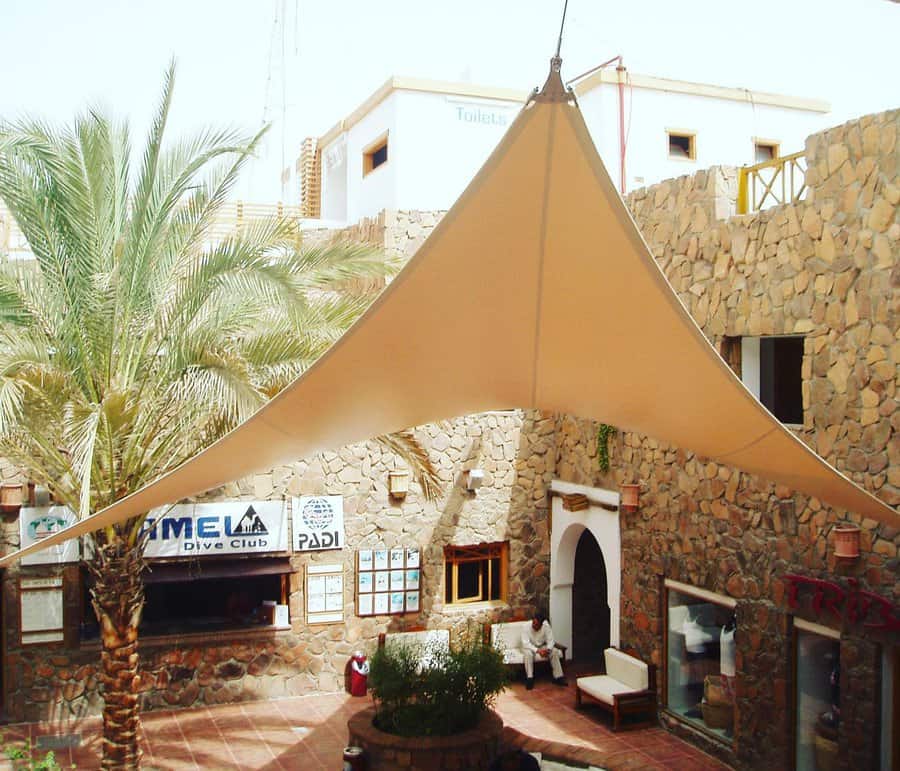 Shade Sail FAQs
How high should a sail shade be?
A shade sail should be around 7 feet above the ground on at least two sides. Keep in mind that it will need to be set at an angle, with one side lower than the other to allow rain to run off.
What do you use for shade sail posts?
A shade sail kit should come with the posts required for installation. If it doesn't, or you need additional posts, you can use 6×6 inch wood treated for outdoor use. If you prefer metal posts, buy schedule 40 steel pipe.
What's the difference between a shade sail and a retractable awning?
A retractable awning is a roll-out fabric roof that's attached to the side of your house. It can be extended and retracted as needed. Most shade sails are also attached to the house but cannot be retracted without removing the anchor bolts from the wall. 
However, there are freestanding shade sails that function like an oversized patio umbrella. These can be put up when needed and stored away between uses.