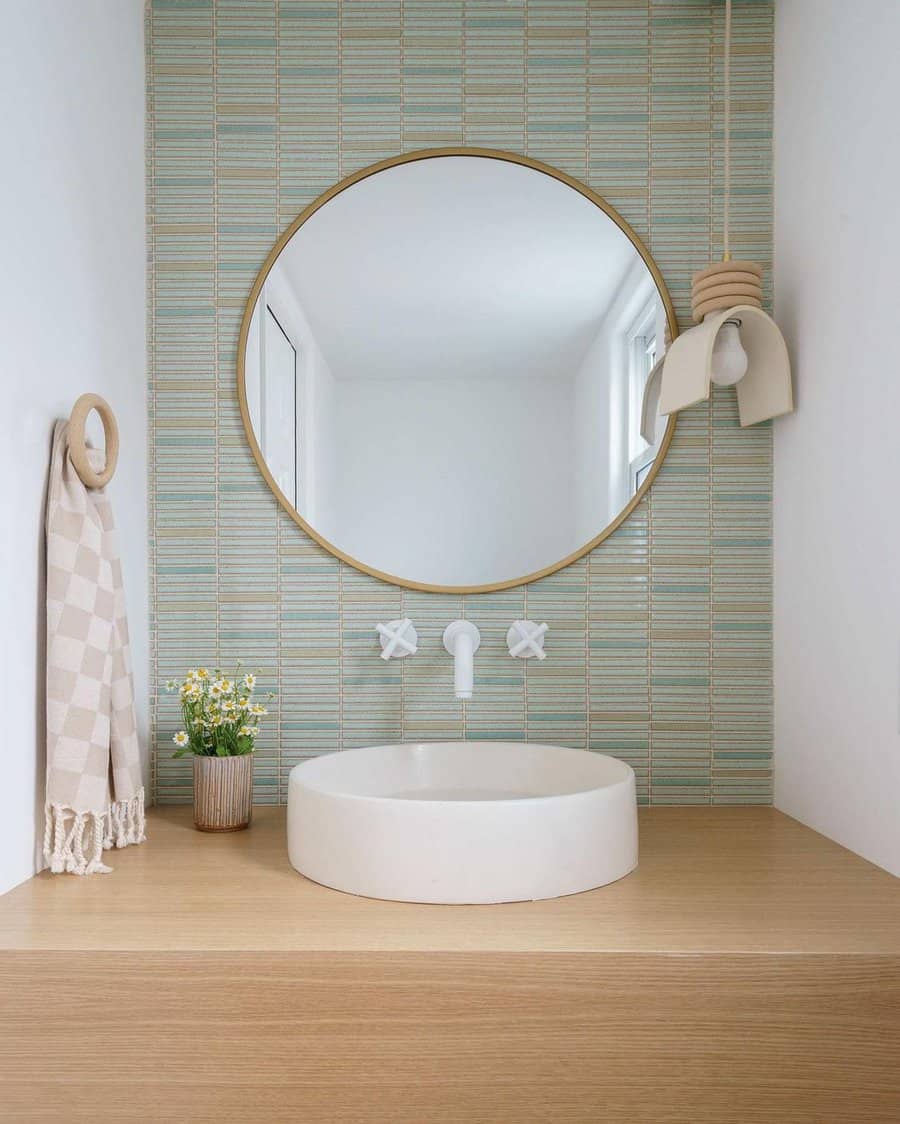 65 Powder Room Ideas for Your Half Bath
Dive into our comprehensive guide on powder room transformations, where we explore everything from minimalist to ornate designs. This small space, often overlooked, presents a chance to exhibit your distinct style.
We'll navigate choices from vanities to wall treatments, helping you craft a functional yet visually stunning area for you and your guests. Regardless of your powder room's dimensions, our tips and trends will inspire a design that amplifies your home's charm.
Join us in uncovering chic, innovative powder room ideas!
1. Elevate Your Space with a Countertop Wash Basin
Countertop wash basins are standalone fixtures that sit on top of a vanity or counter. To achieve this design, select a basin that complements the aesthetic of your powder room – whether it's modern, minimalist, vintage, or rustic. Materials range from ceramic and porcelain to stone and glass. Once you've chosen the perfect basin, pair it with a matching faucet. Consider a wall-mounted tap for a sleek look or a deck-mounted version for a more traditional appeal.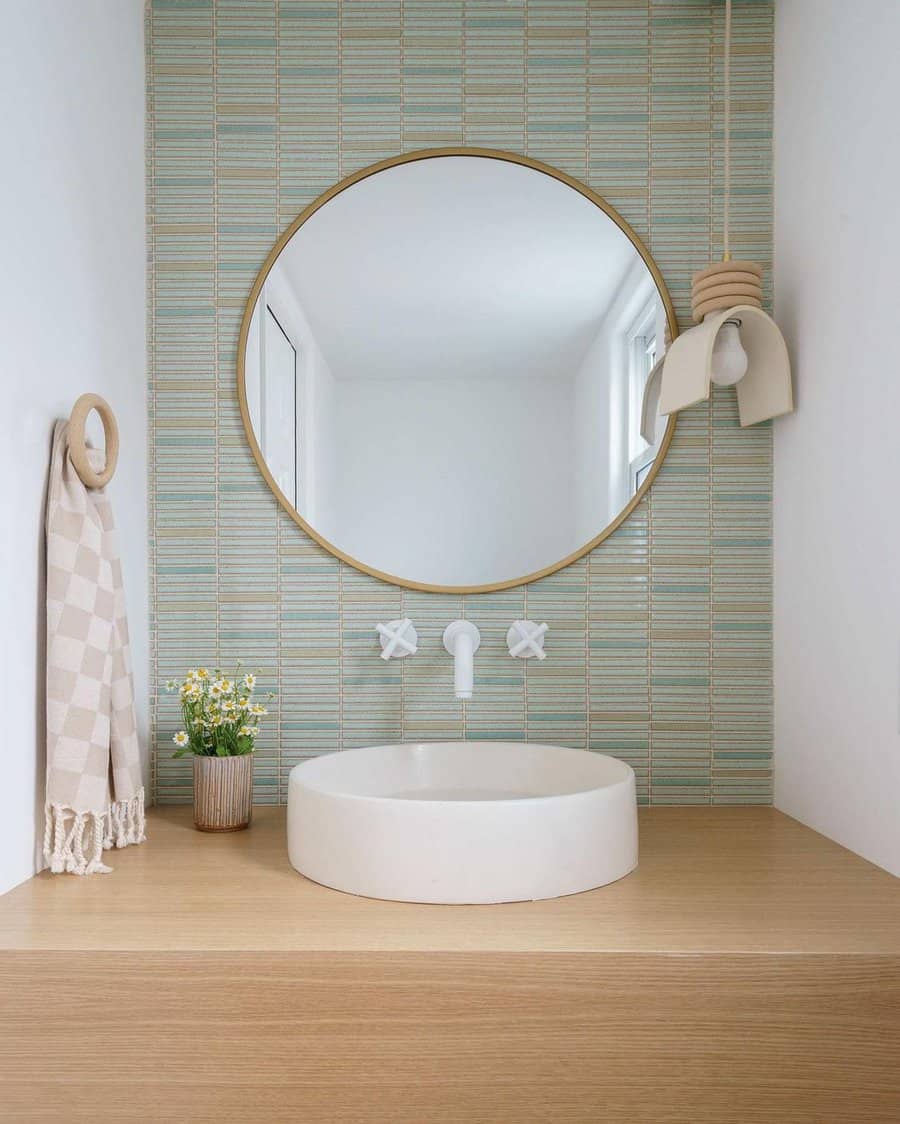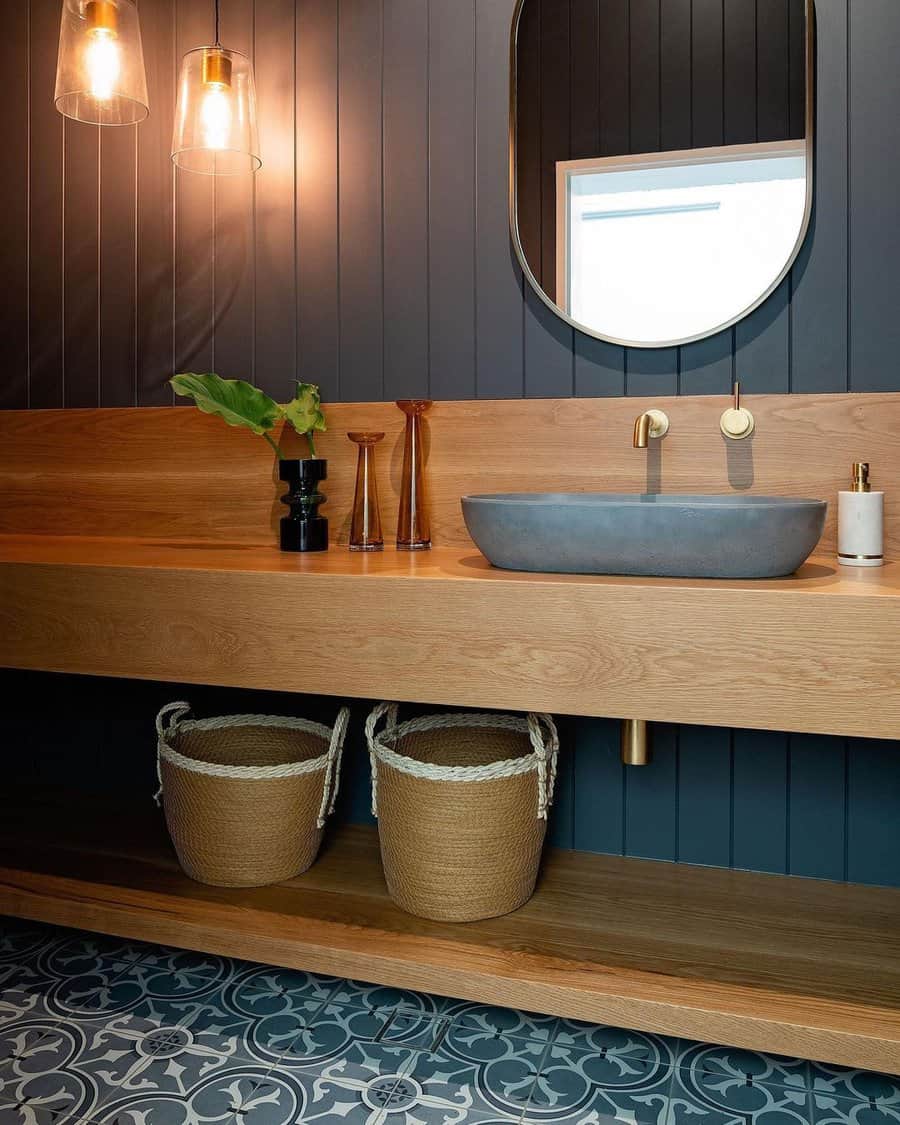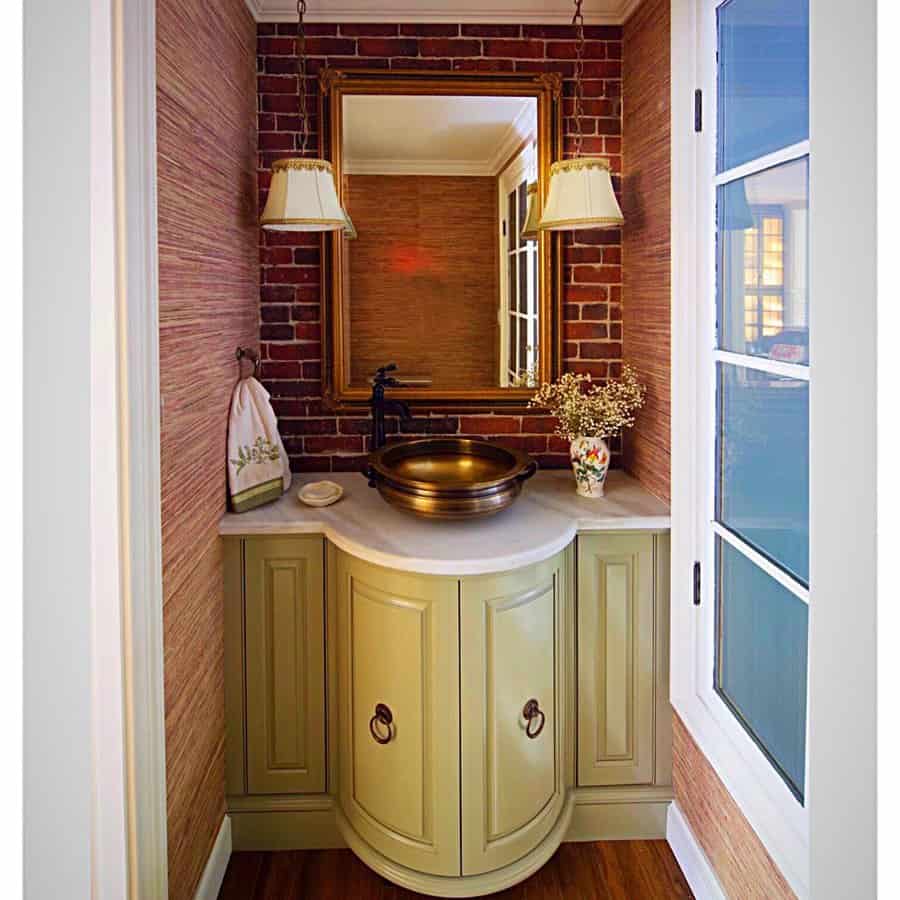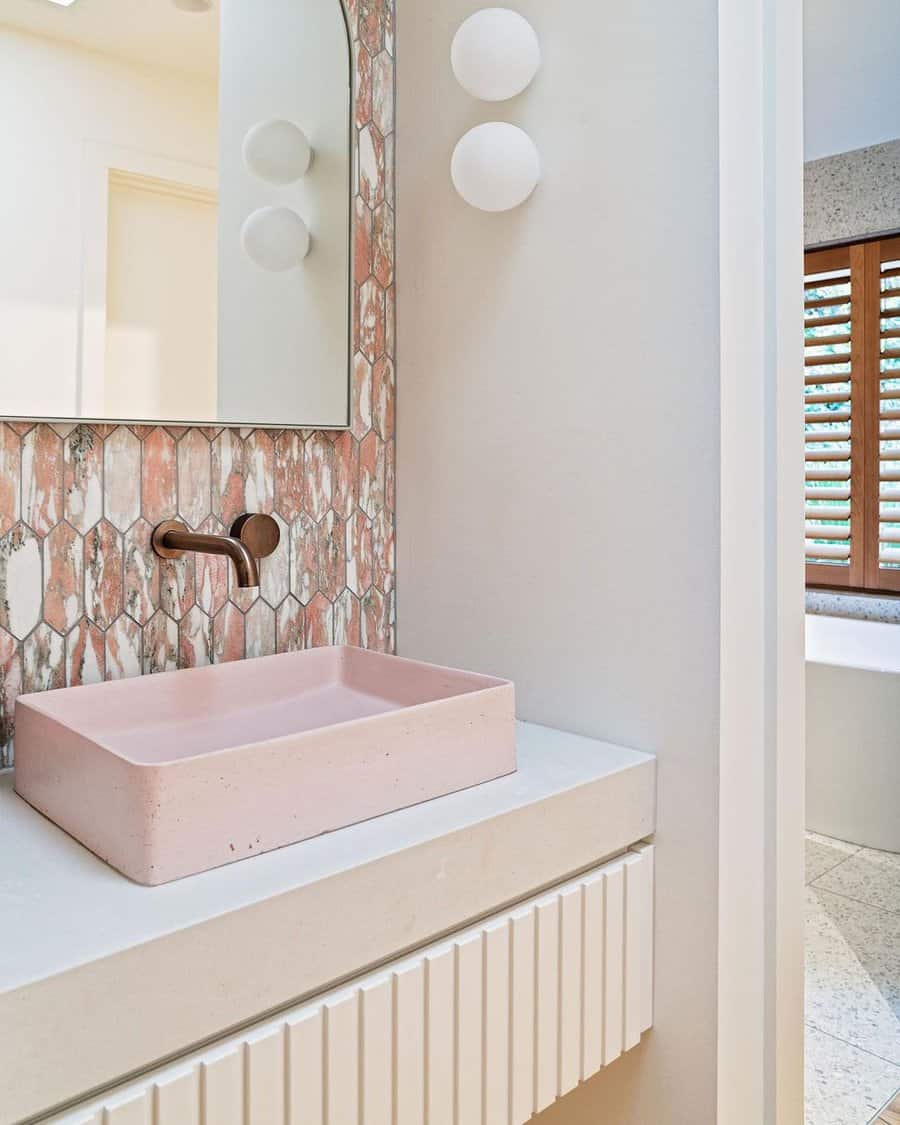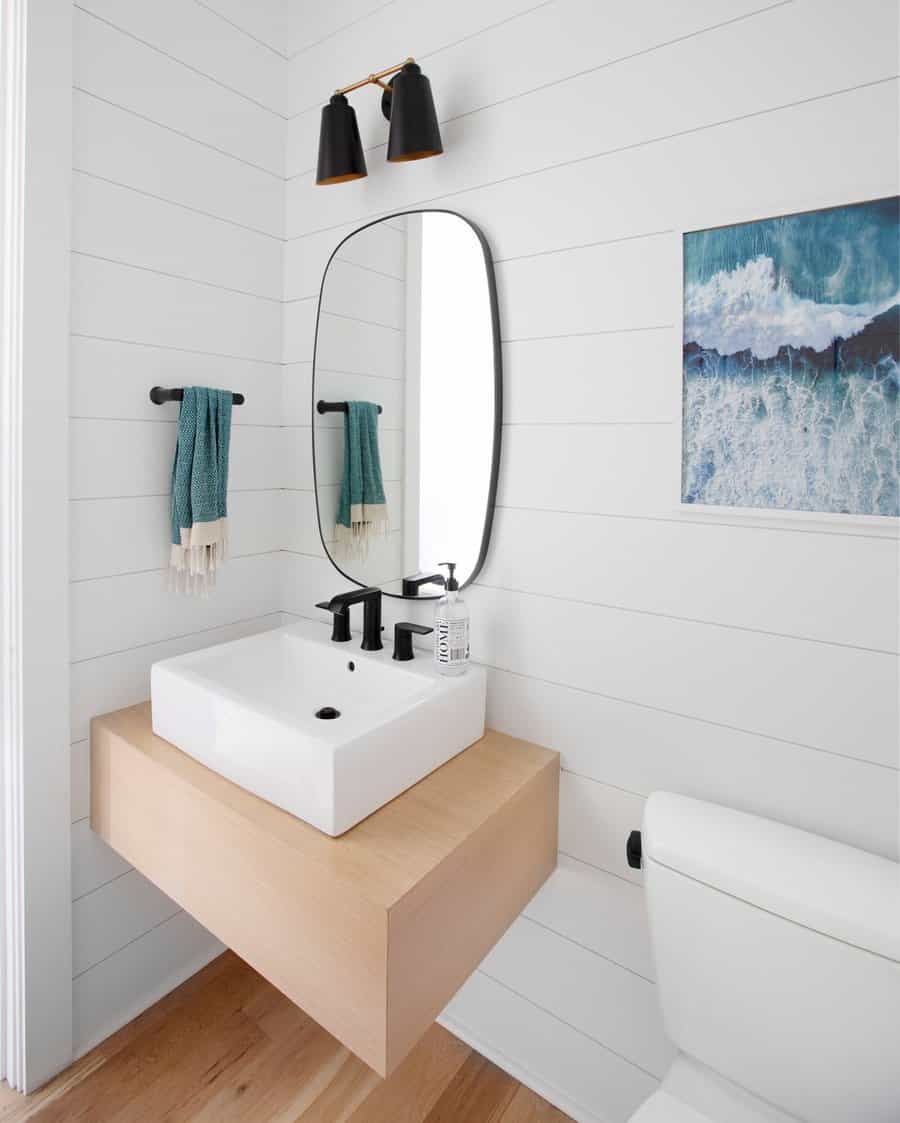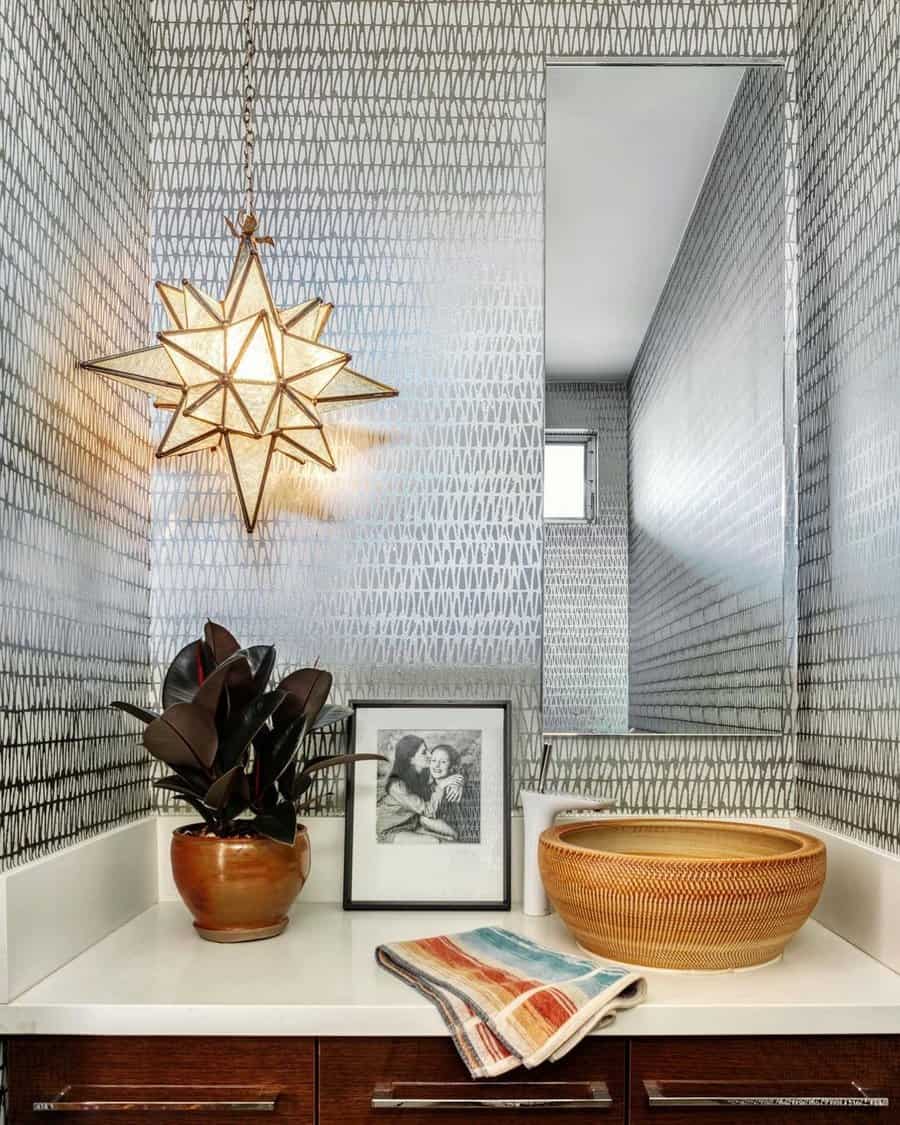 2. Reflect Elegance with a Round Statement Mirror
A round statement mirror can act as a focal point in your powder room, immediately drawing attention and giving the space a sense of sophistication. To achieve this elegant look, select a mirror size that balances with the scale of your vanity and the overall room. While frameless mirrors provide a contemporary, seamless appeal, those with ornate or metallic frames can add an additional layer of luxury.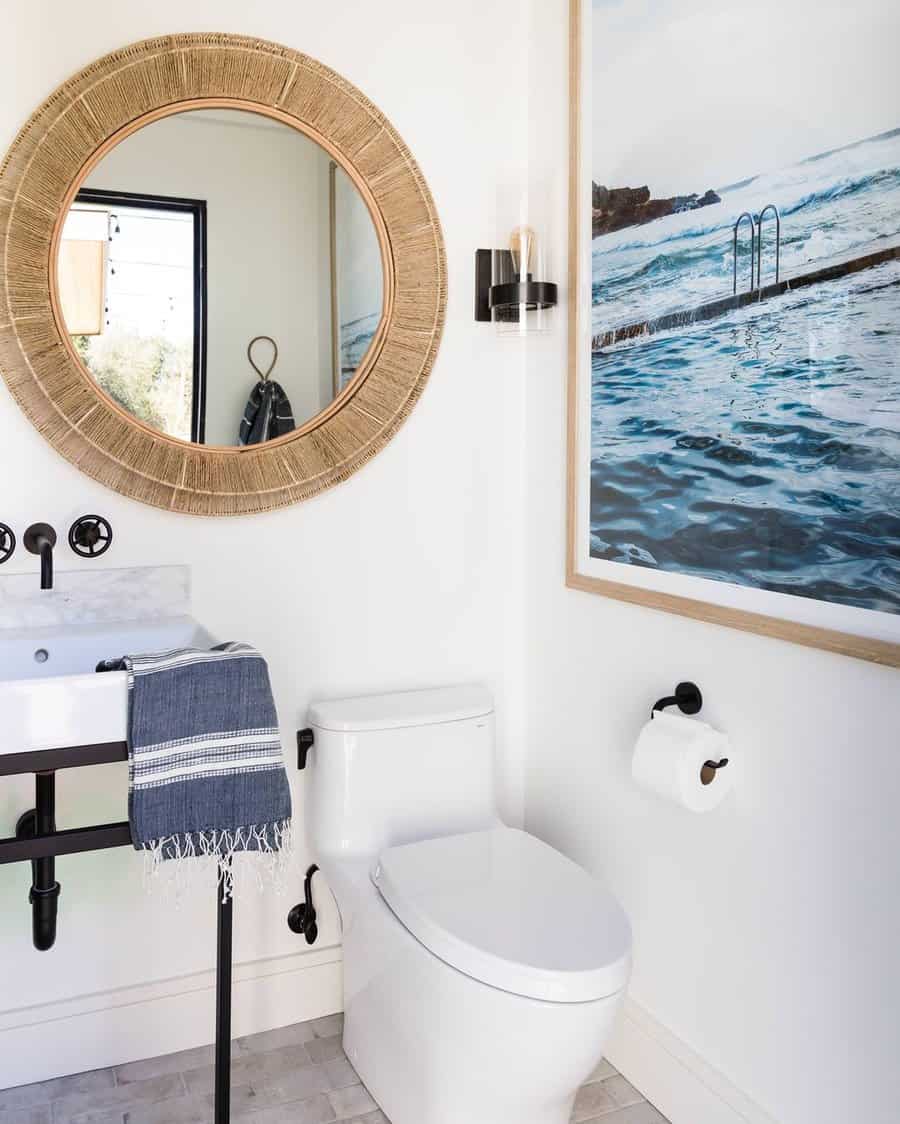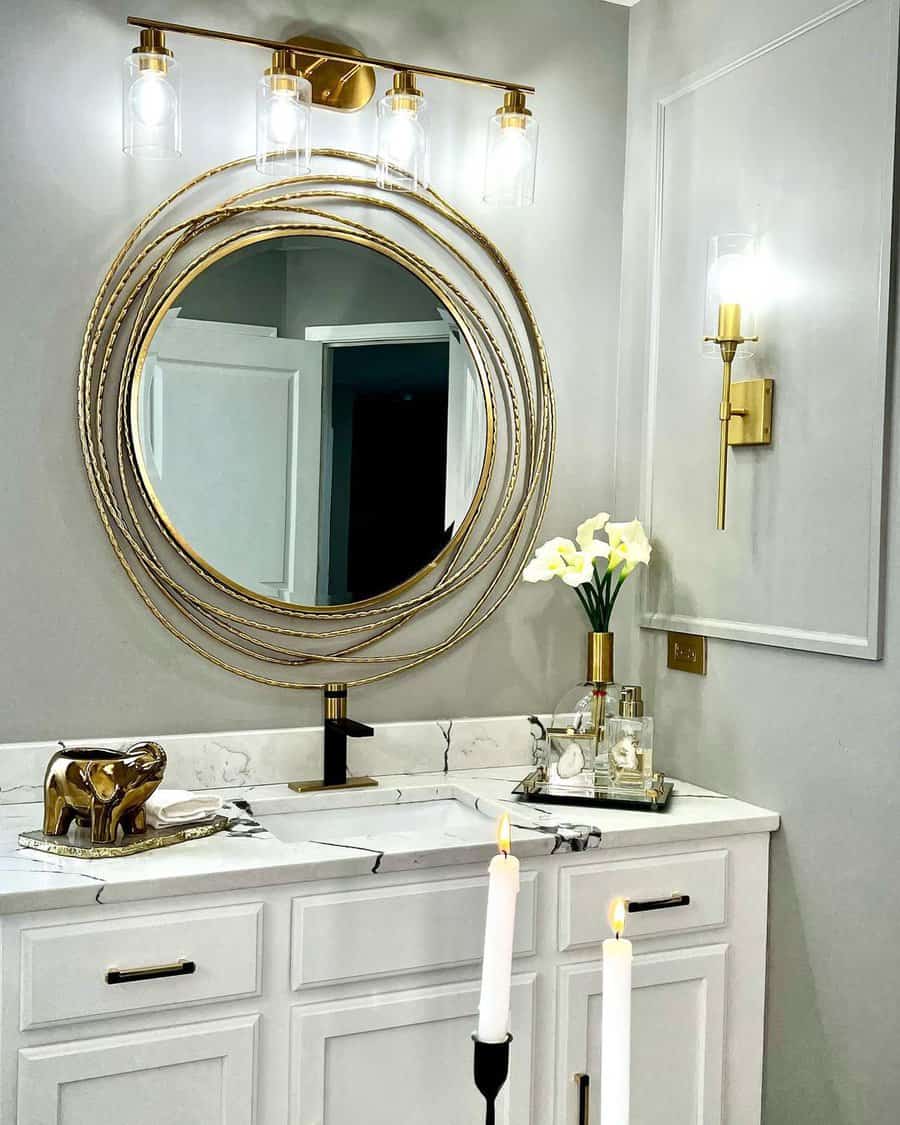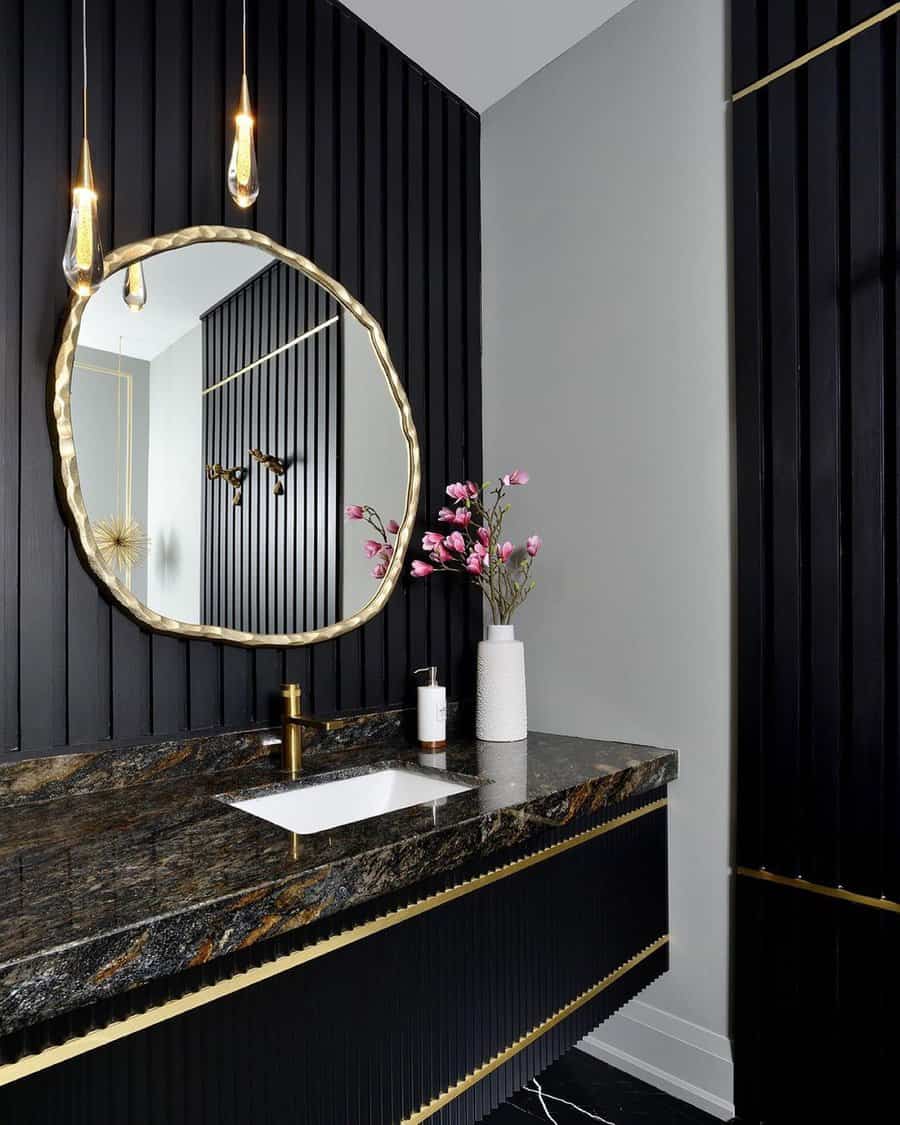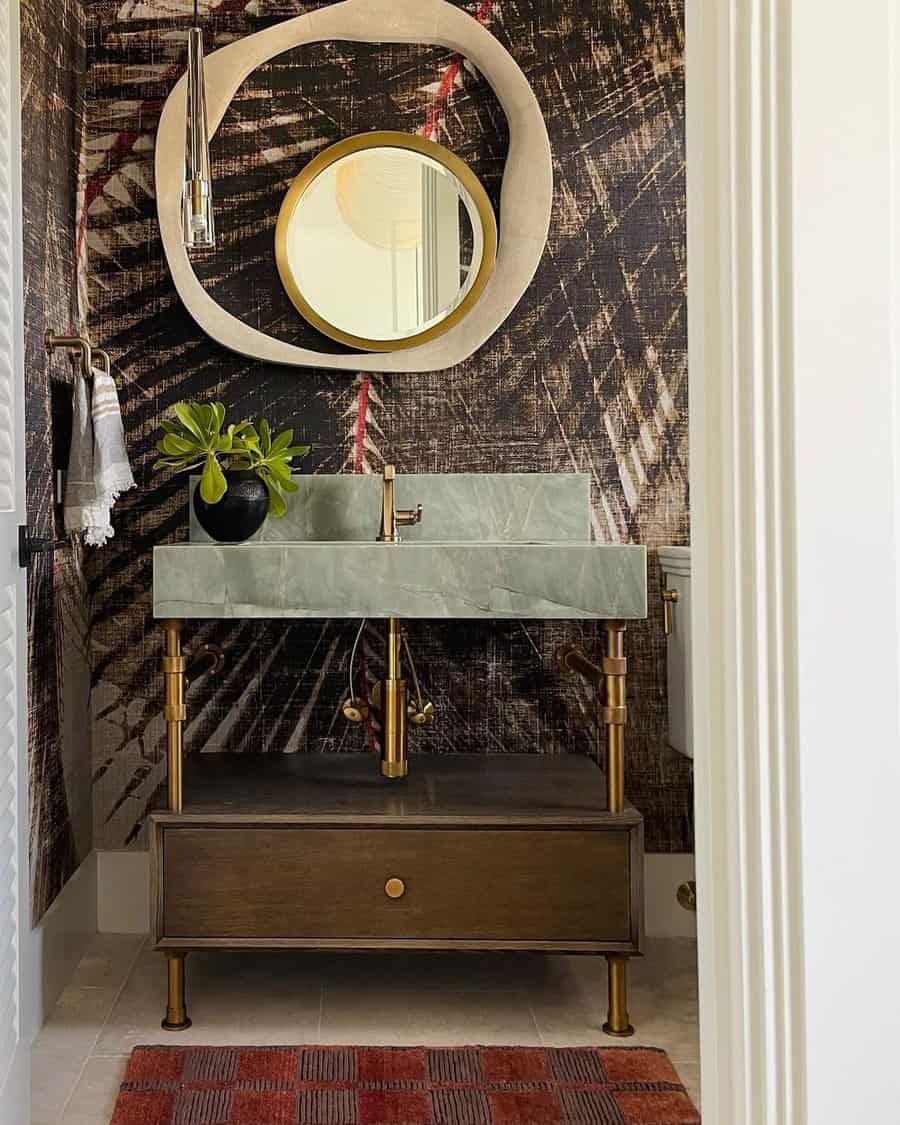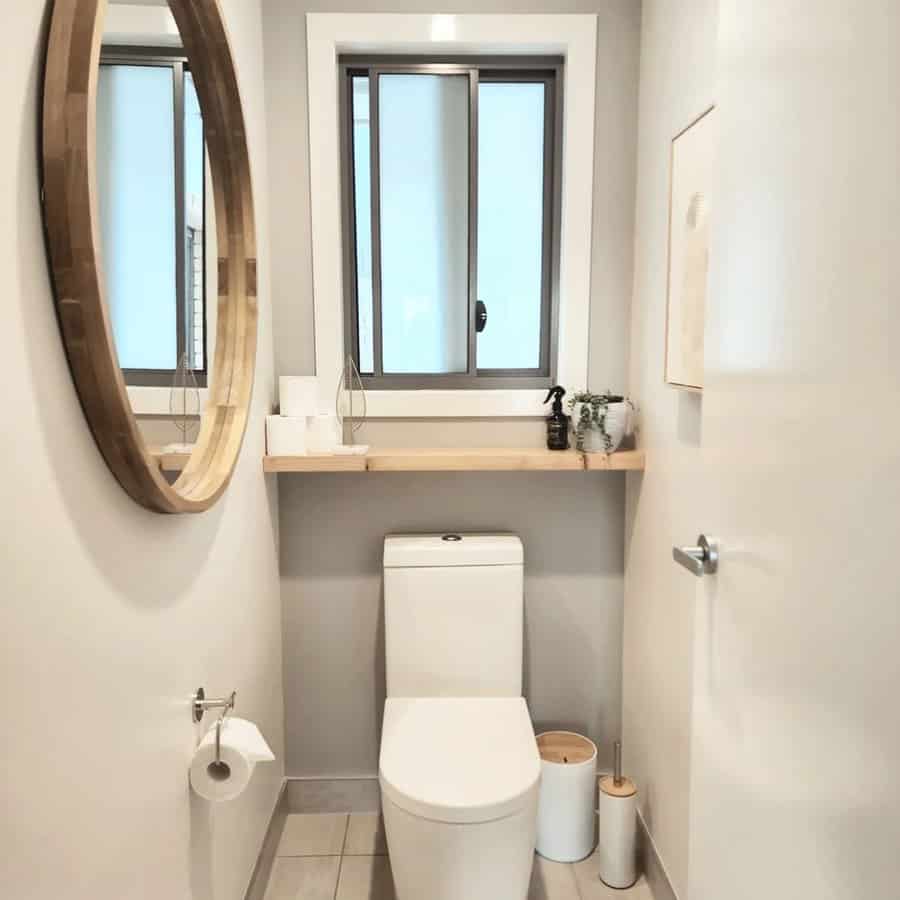 3. Simplify with a Floating Sink Countertop
Floating sink countertops, or wall-mounted vanities, offer a streamlined and minimalist aesthetic. They create an illusion of space by revealing more floor area, making them ideal for smaller powder rooms. To achieve this modern look, ensure the wall where you're mounting the countertop is reinforced, as it will bear the weight of the sink. Choose a design that aligns with your style preferences, whether that's a sleek, straight-edged counter or one with organic, flowing lines.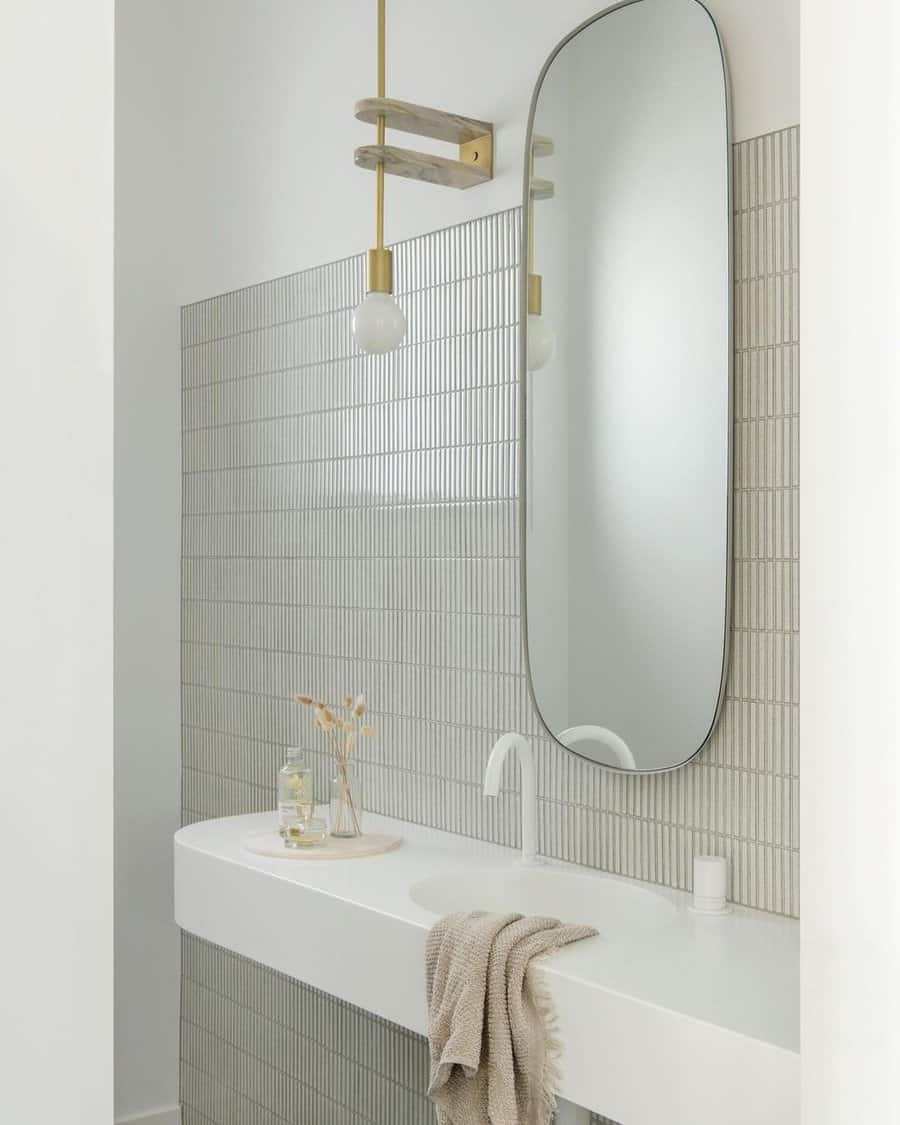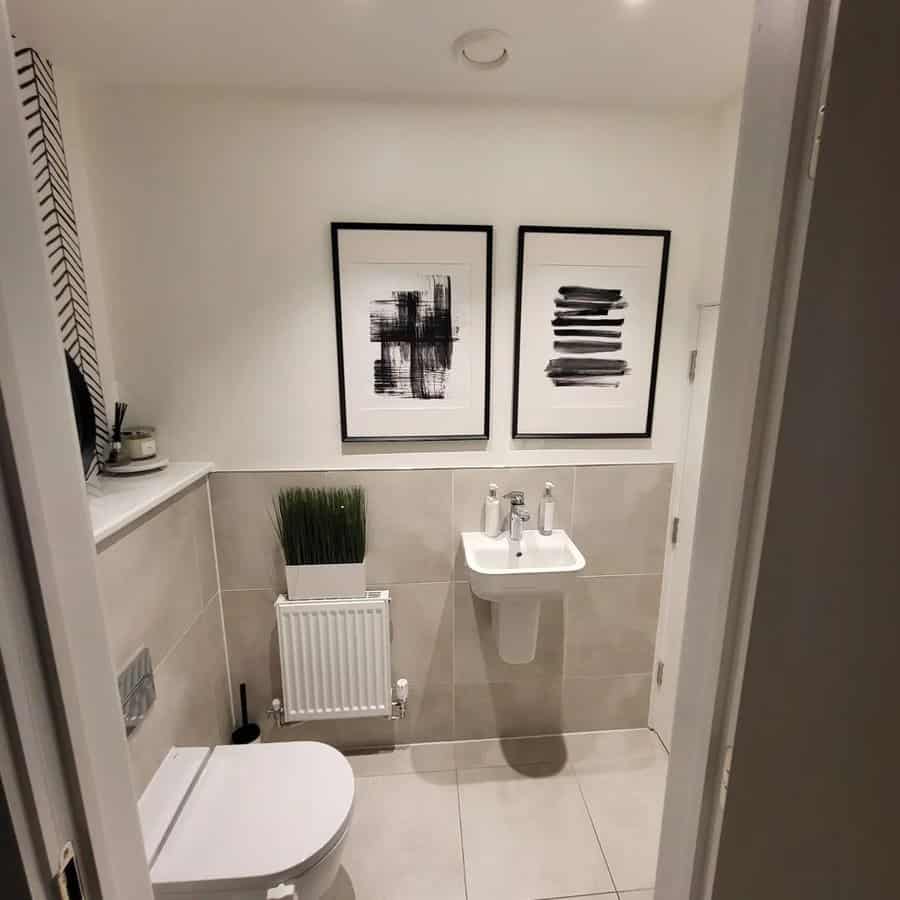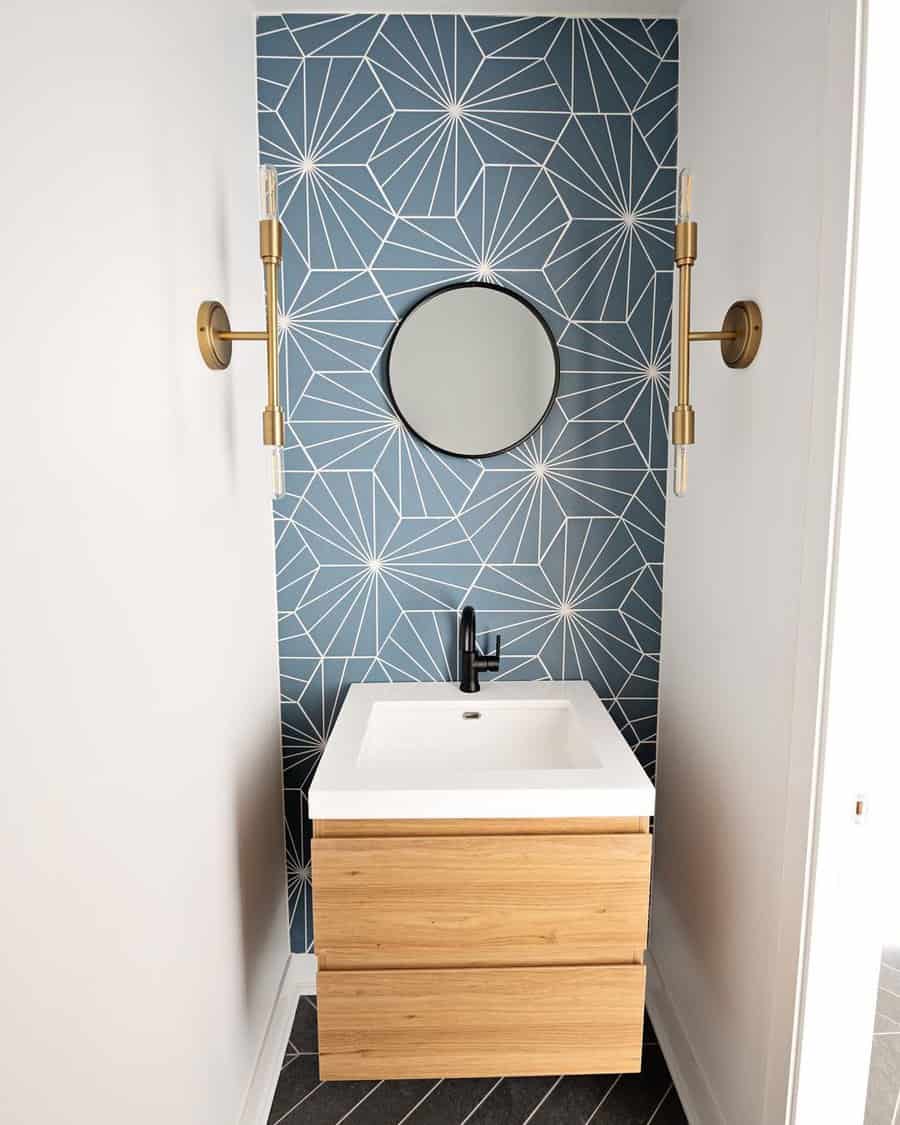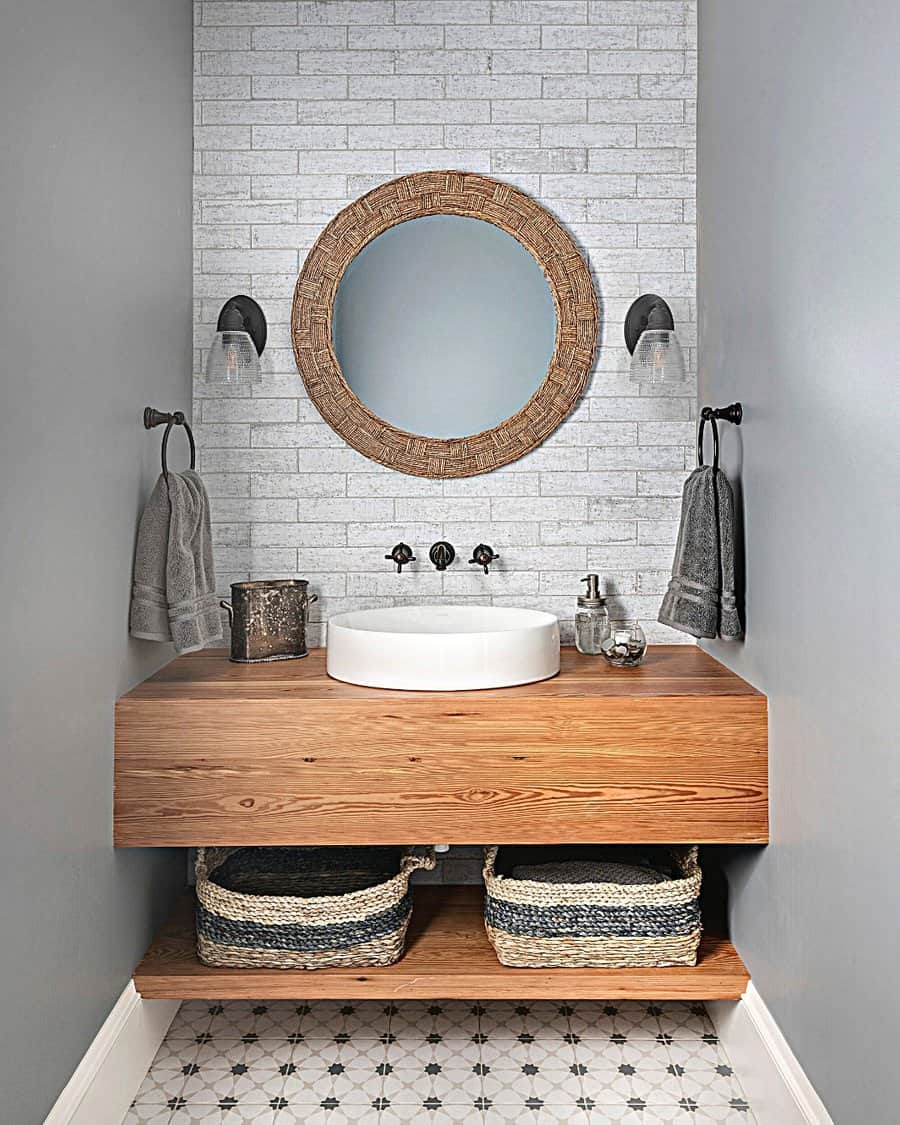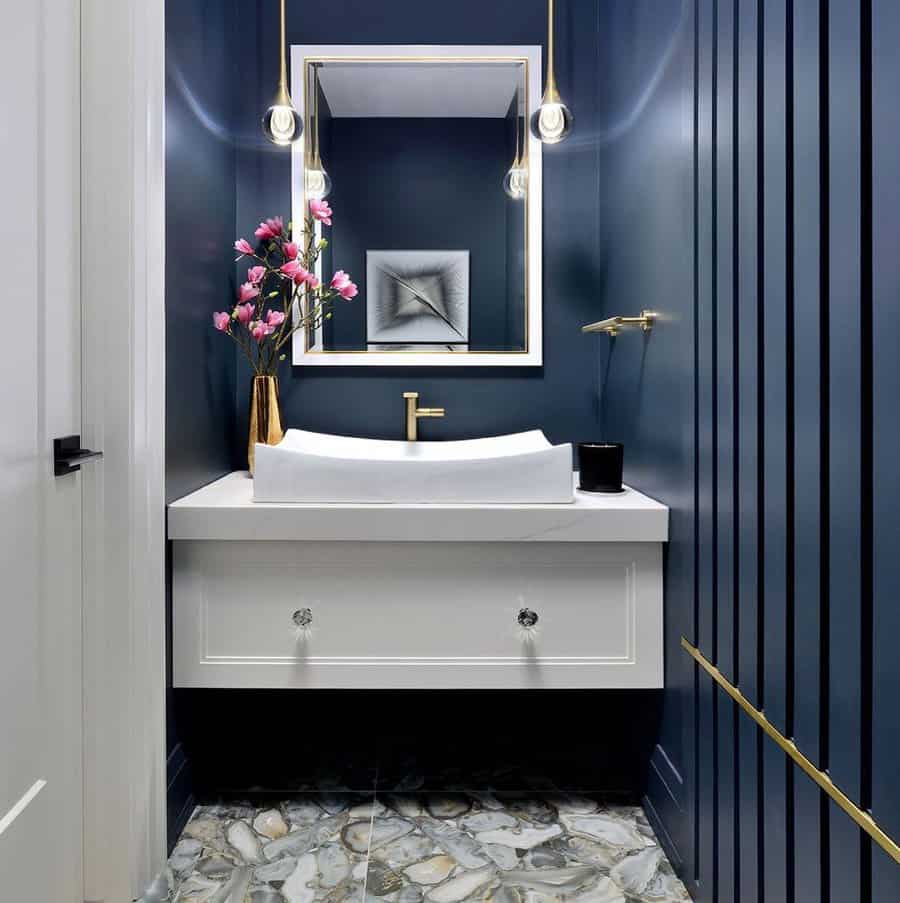 4. Turn Heads with a Striking Decorative Wall
A decorative wall can instantly transform your powder room into a captivating space. Whether you opt for patterned wallpaper, textured tiles, or a mural, your wall can narrate a story or evoke a specific mood. For a contemporary touch, geometric patterns or metallic finishes can be compelling choices. If you're leaning towards a timeless appeal, consider stone tiles or classic motifs.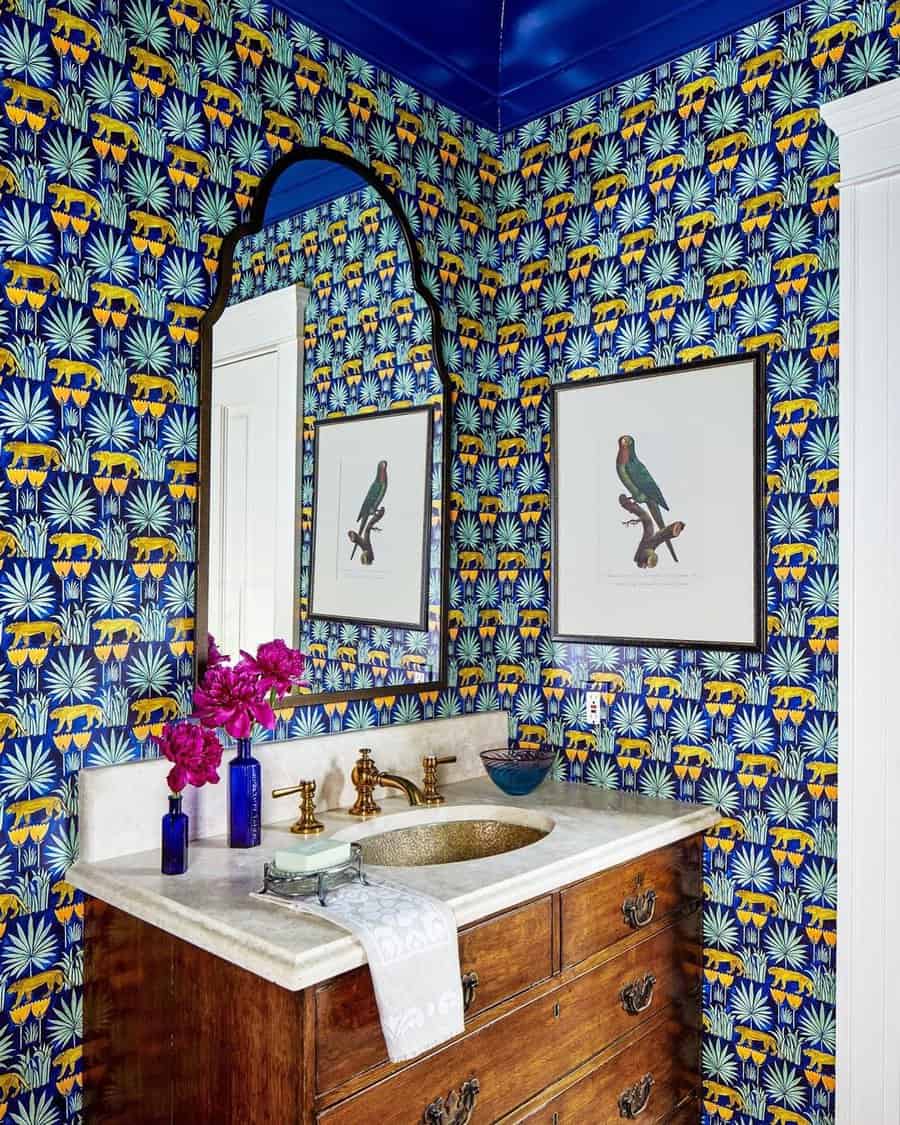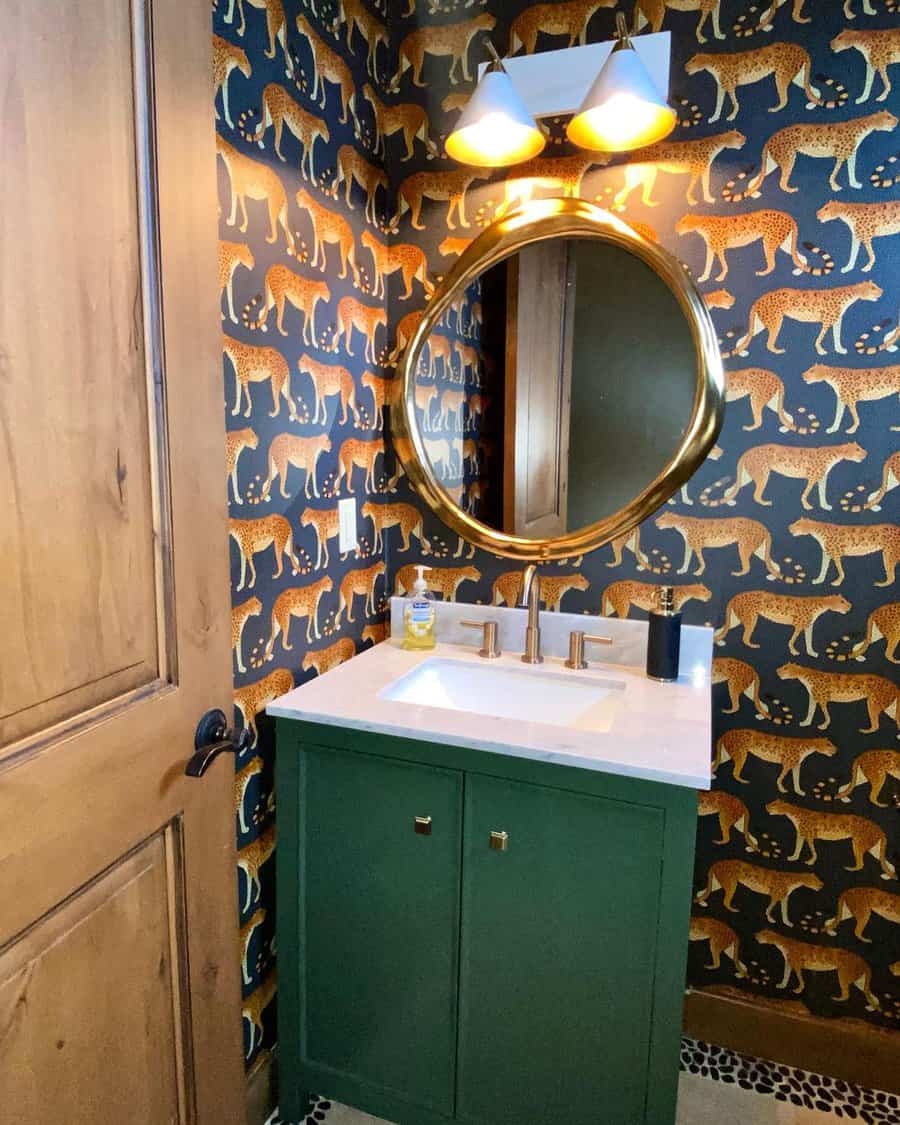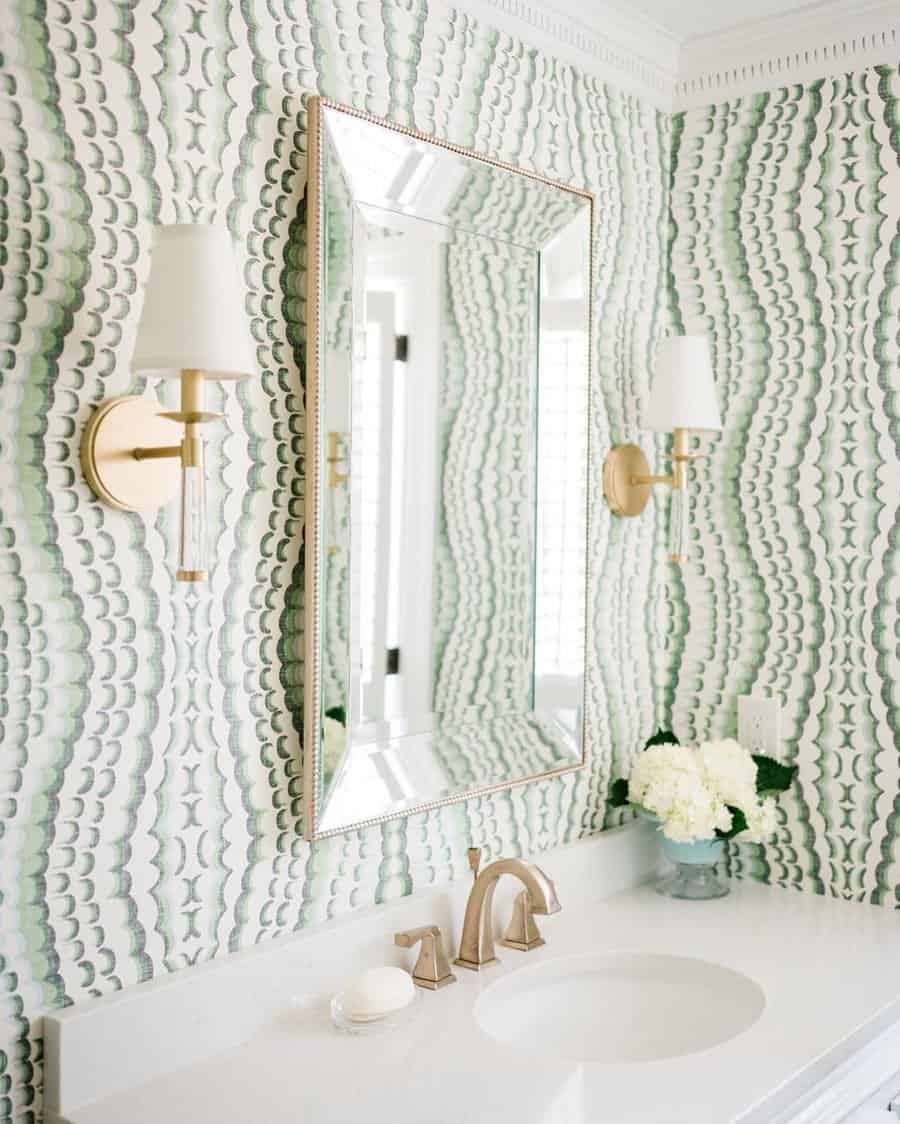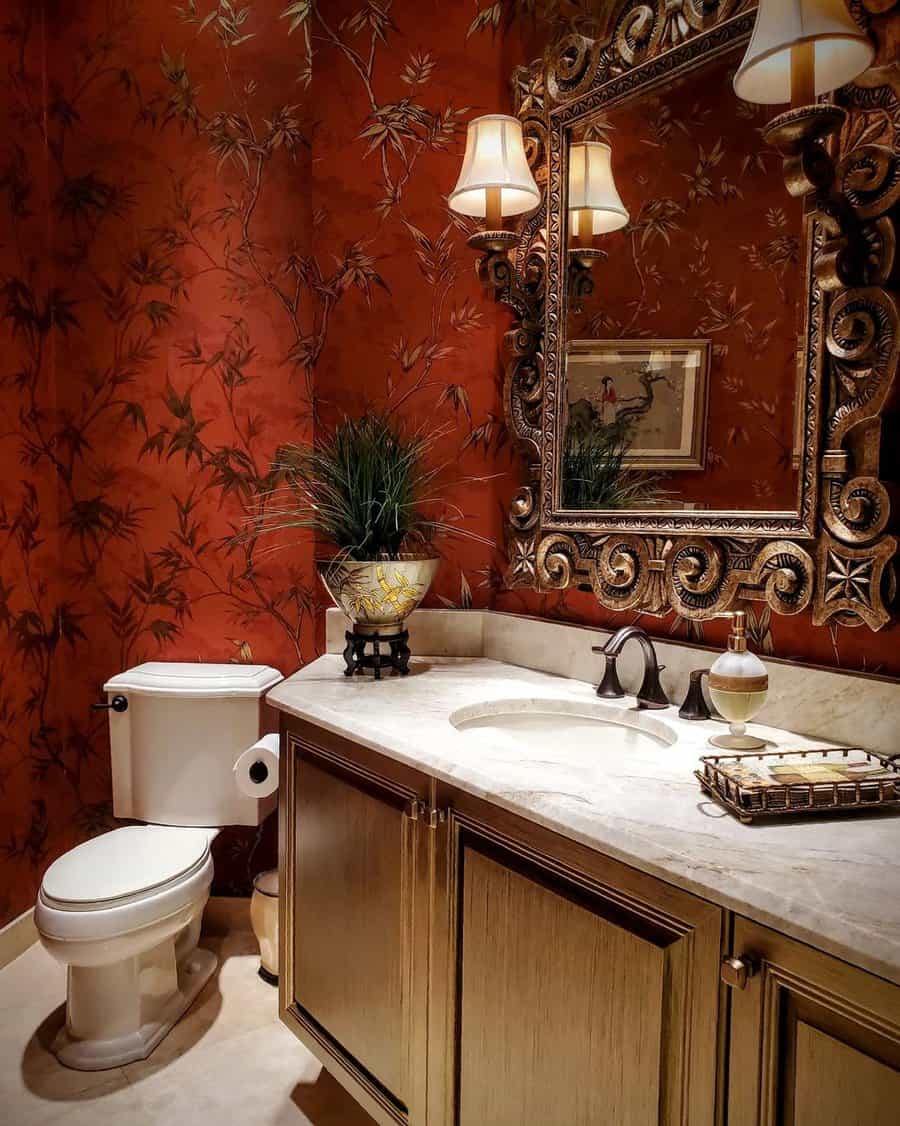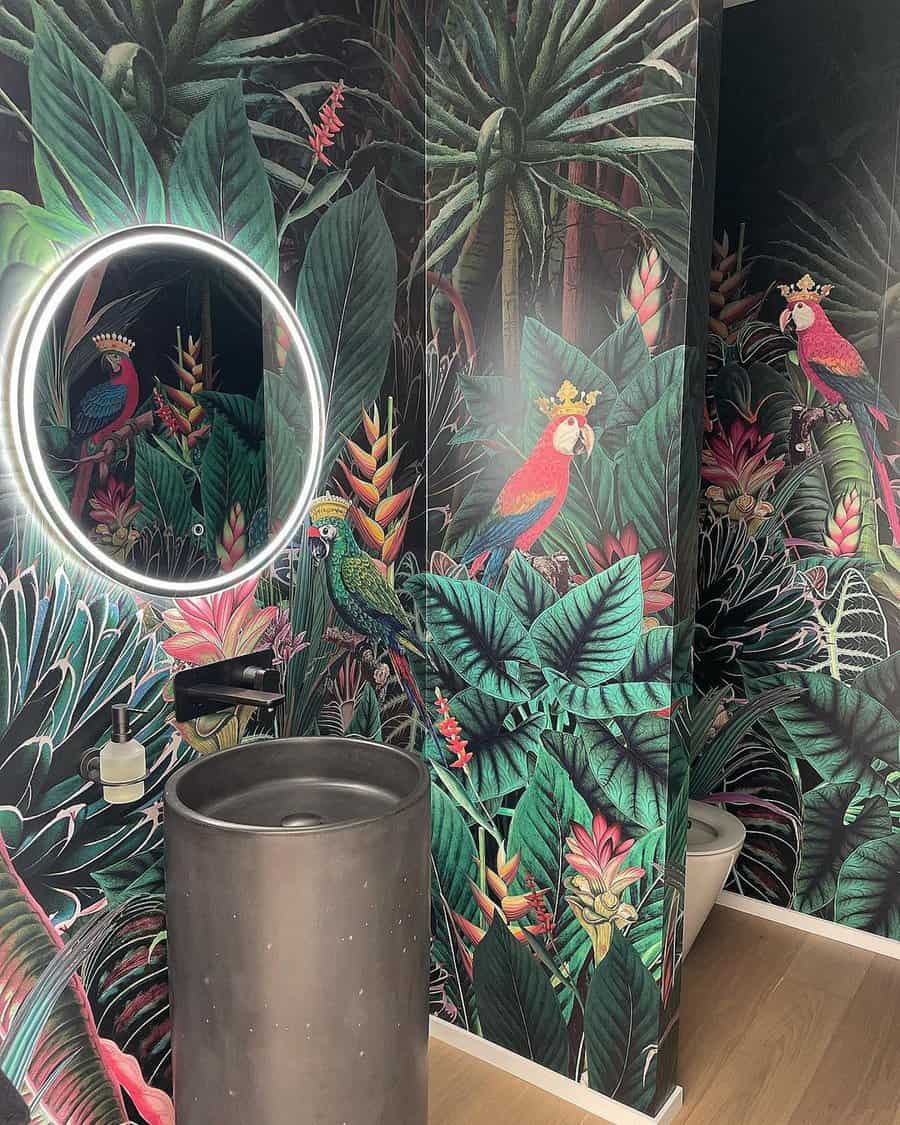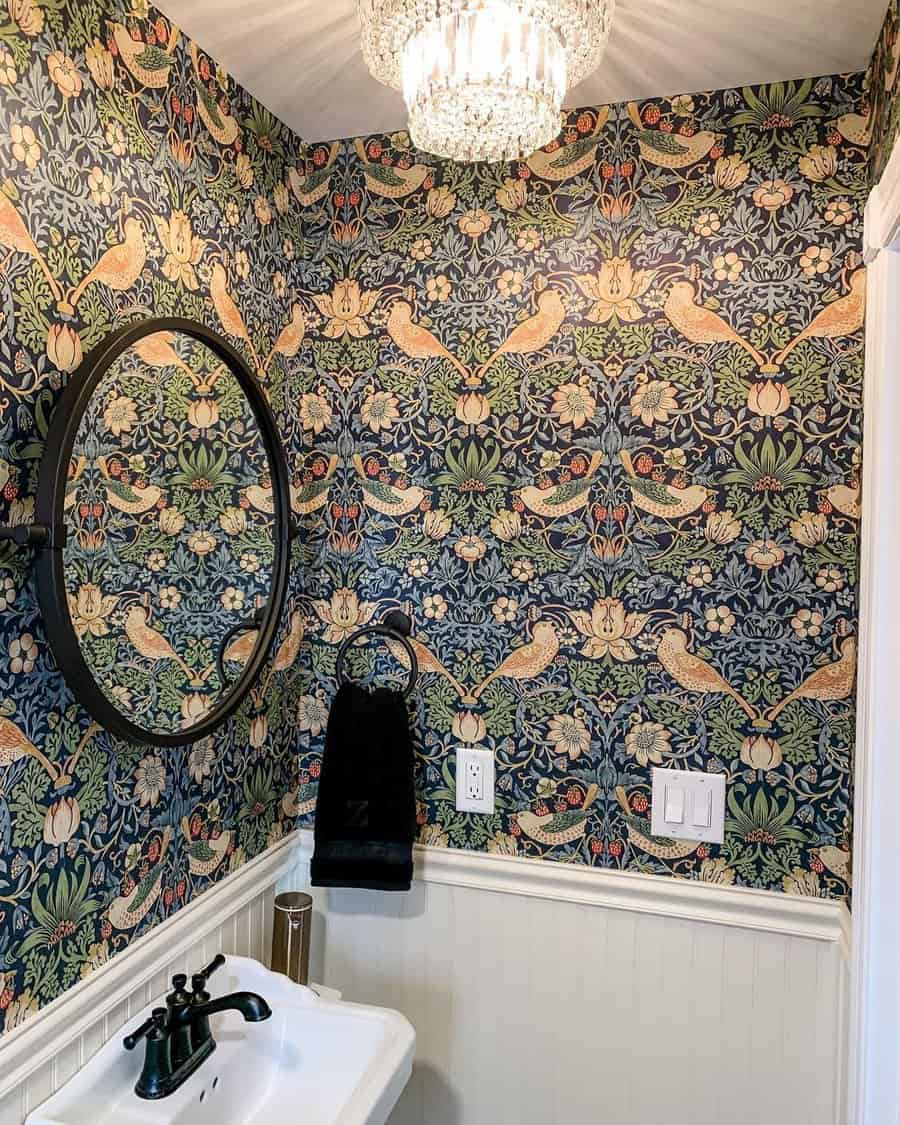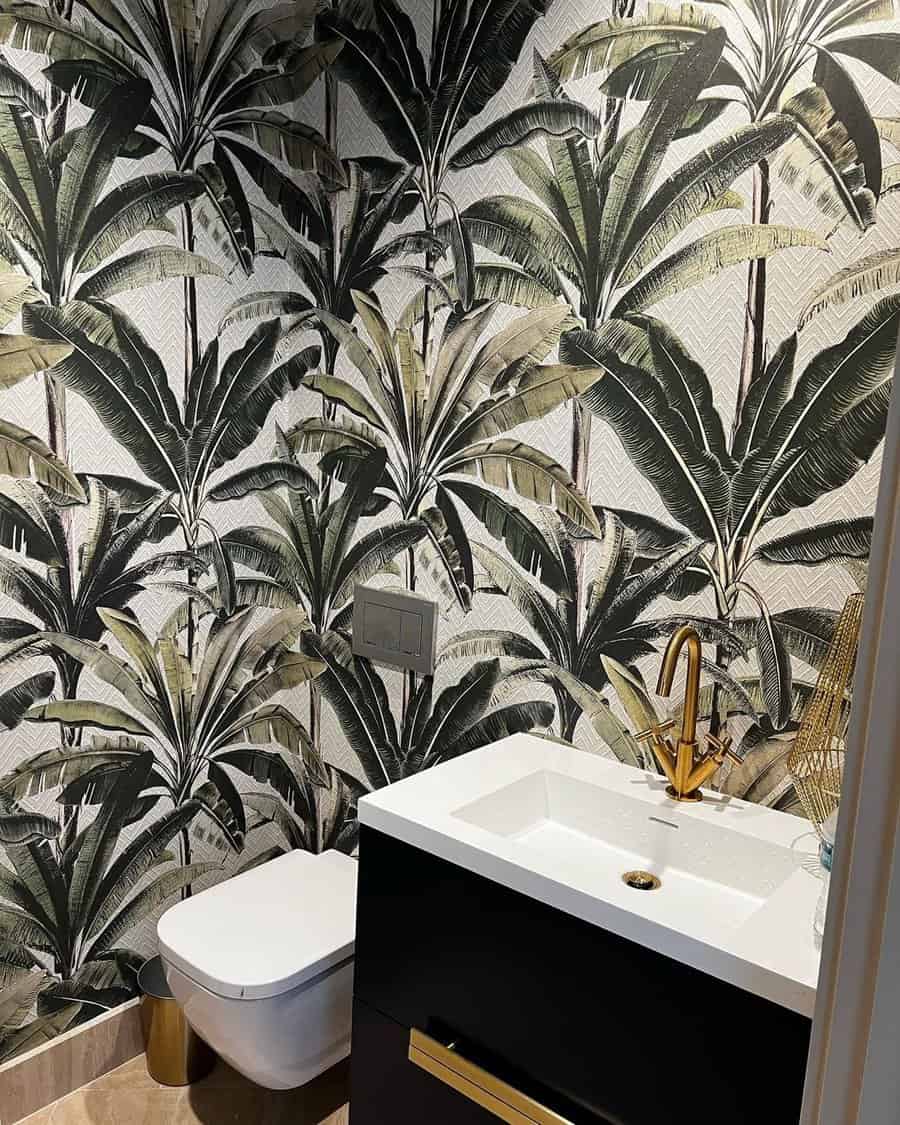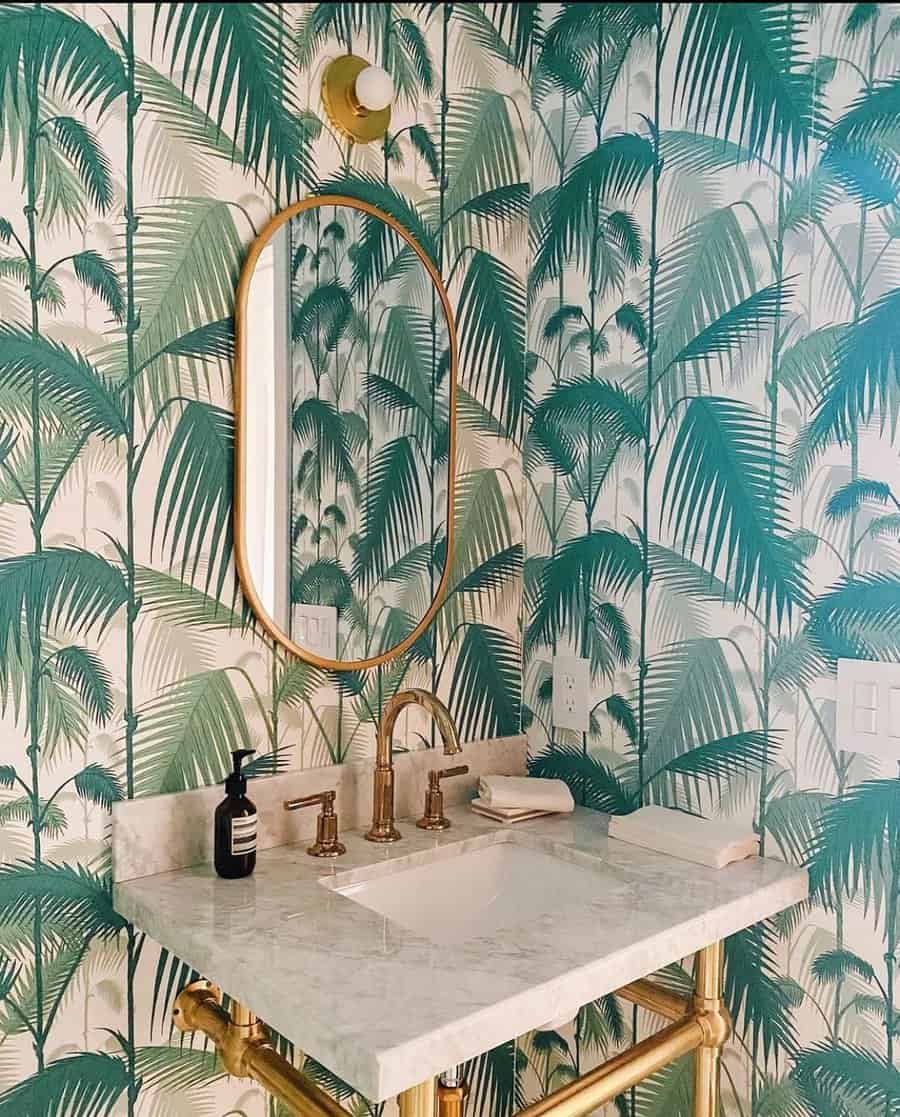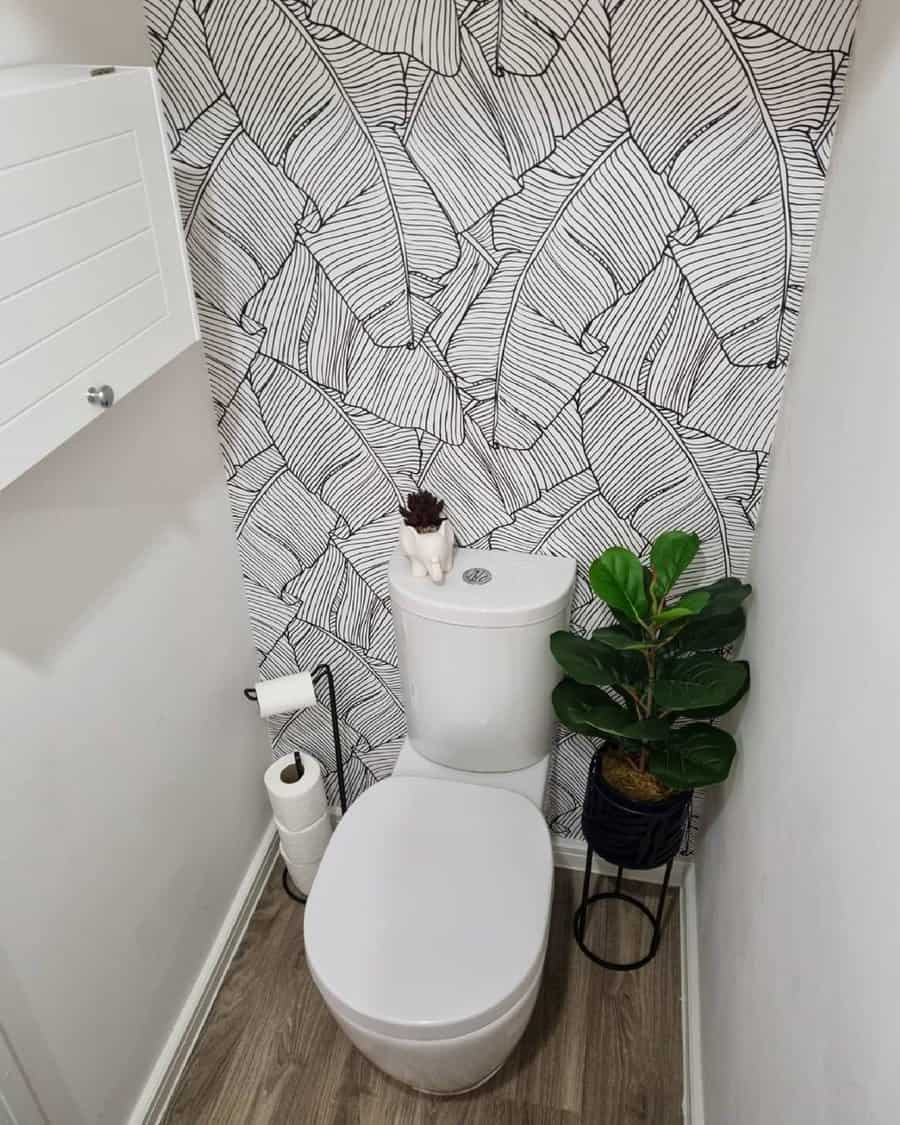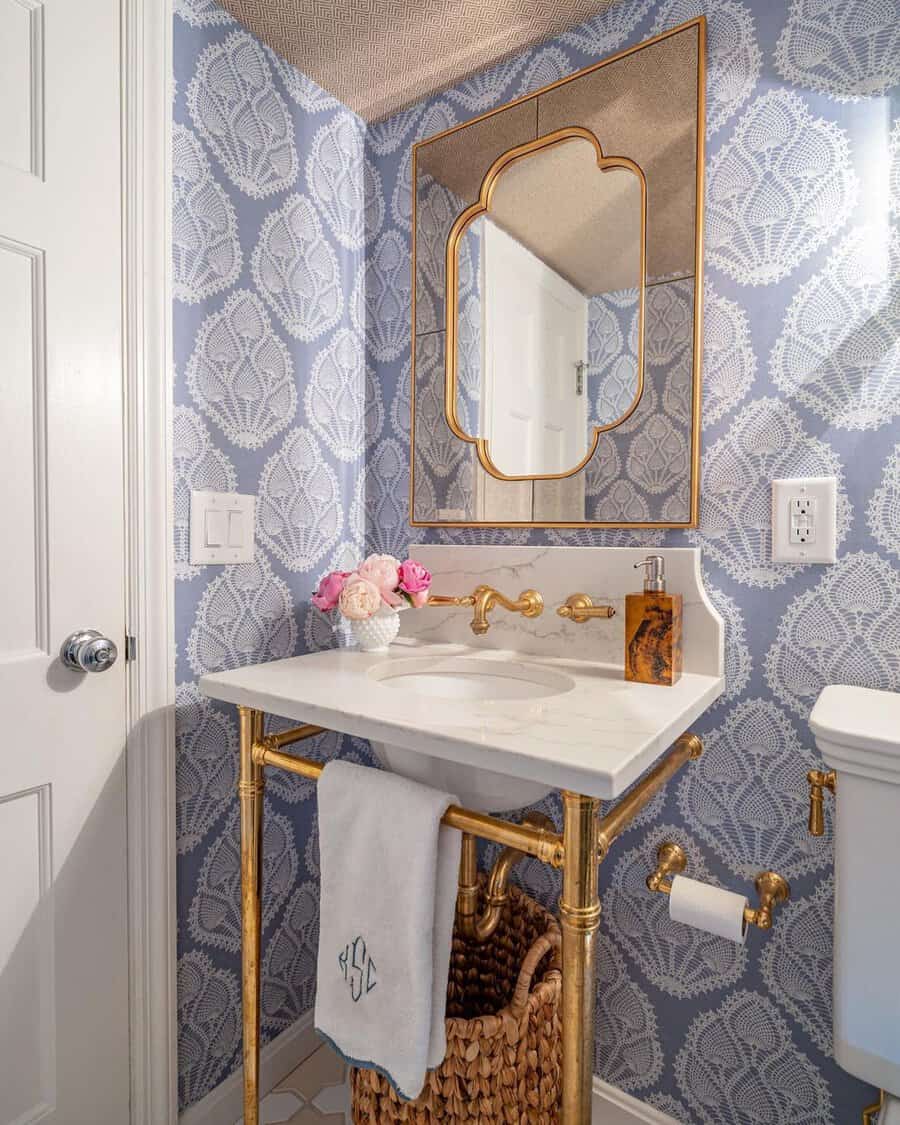 5. Add a Touch of Glamour with Metallic Detail Accents
Metallic accents, whether in the form of fixtures, frames, or accessories, infuse a touch of opulence into your powder room. Gold, brass, chrome, or brushed nickel can bring warmth, contrast, or modernity. To incorporate this luxurious detail, start by choosing metallic finishes for your faucet, door handles, or light fixtures. Additionally, small decor items like soap dispensers, trays, or waste baskets in metallic finishes can subtly elevate the space.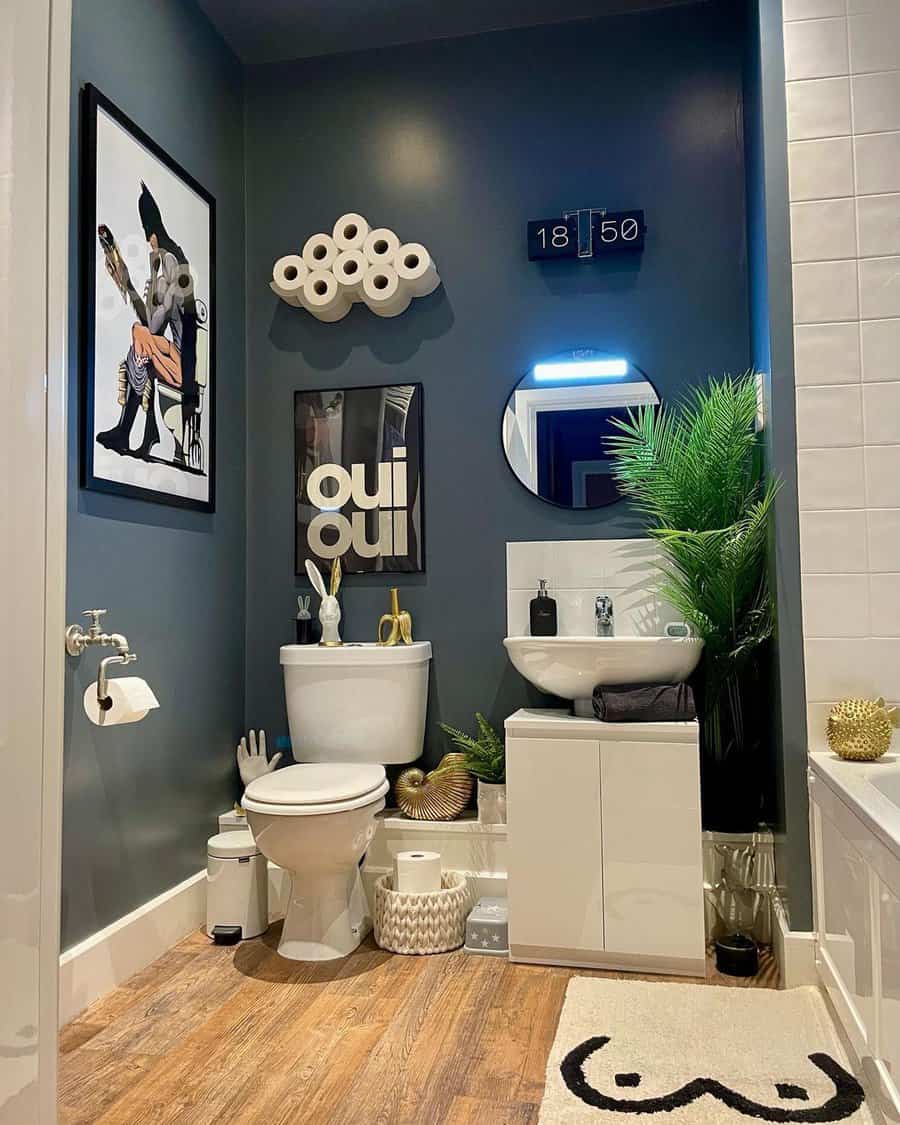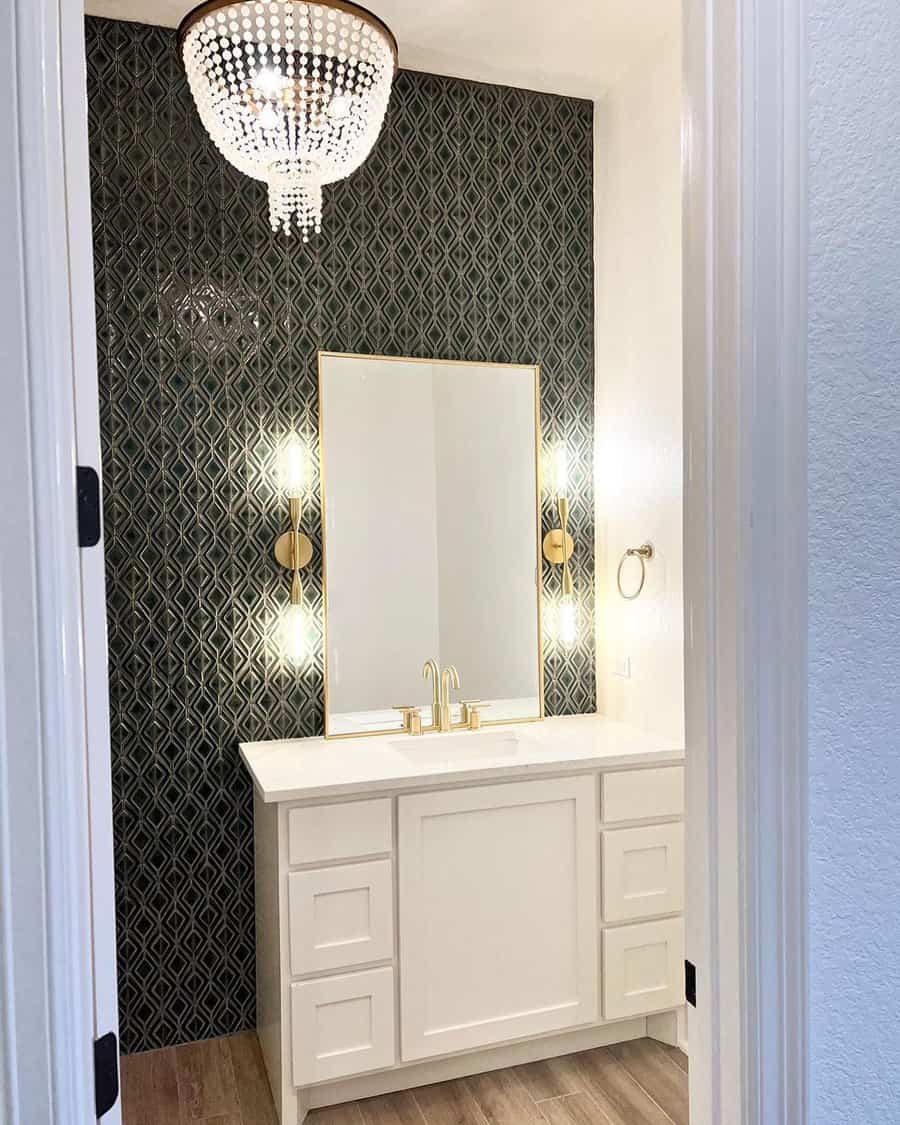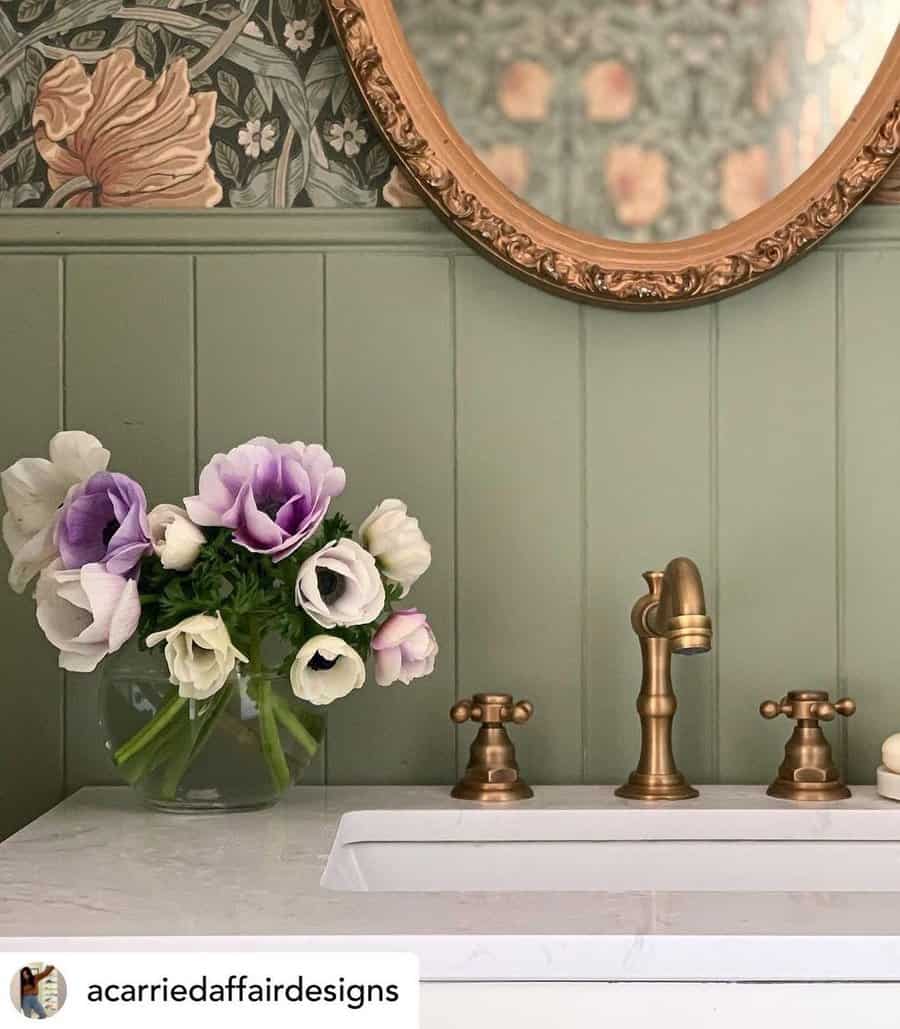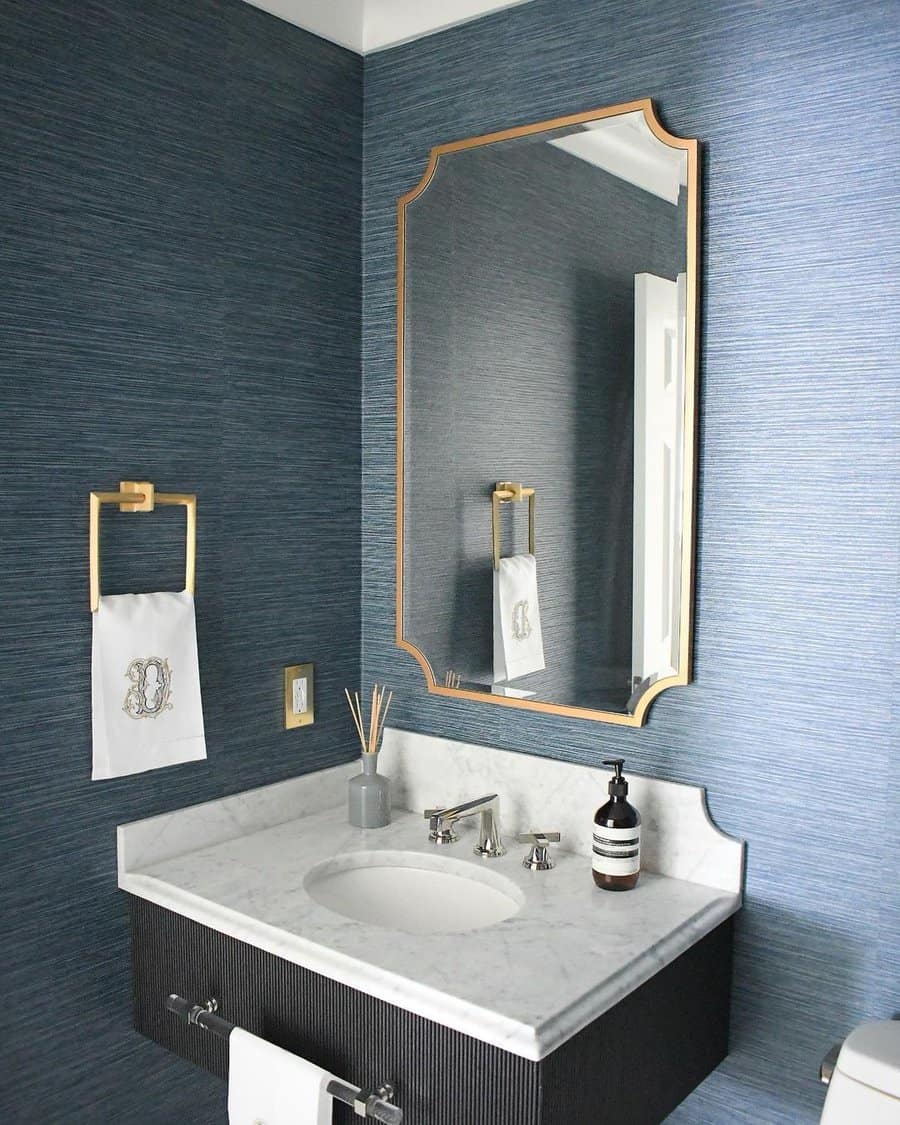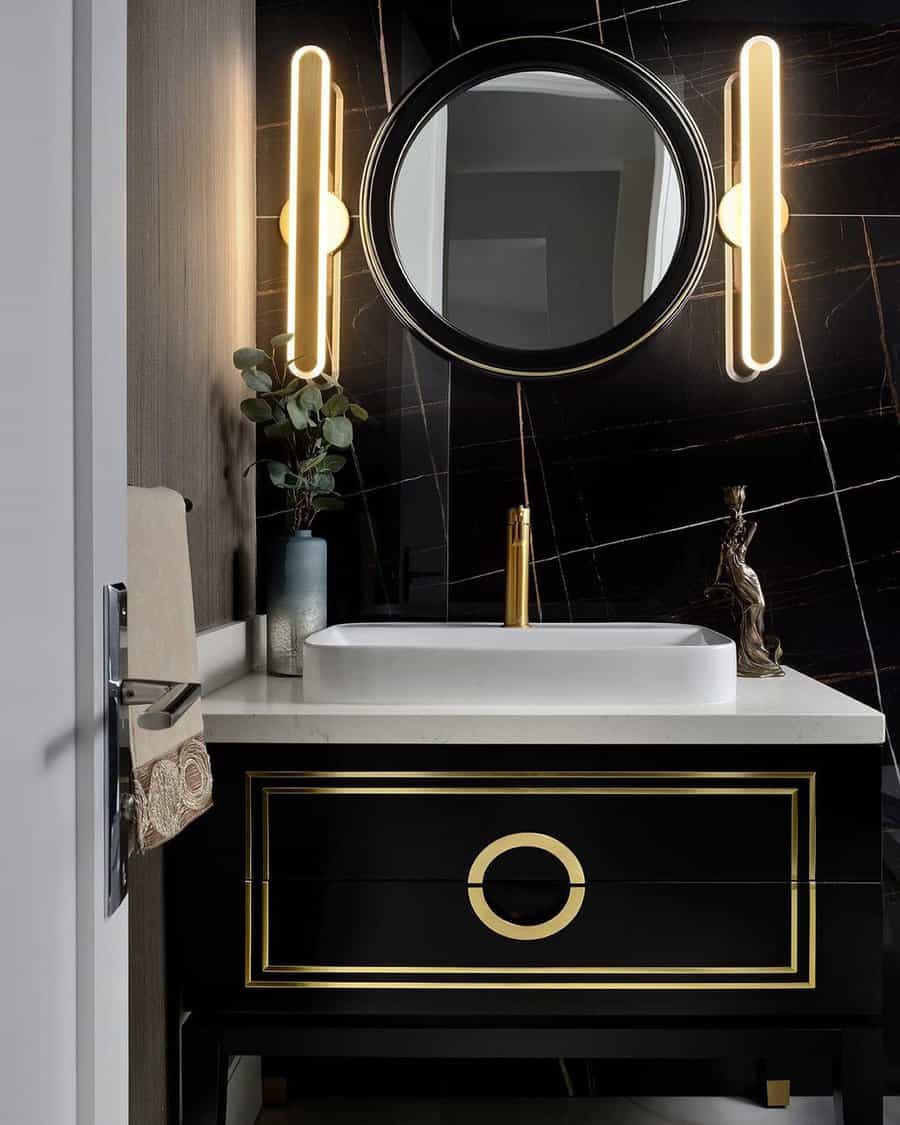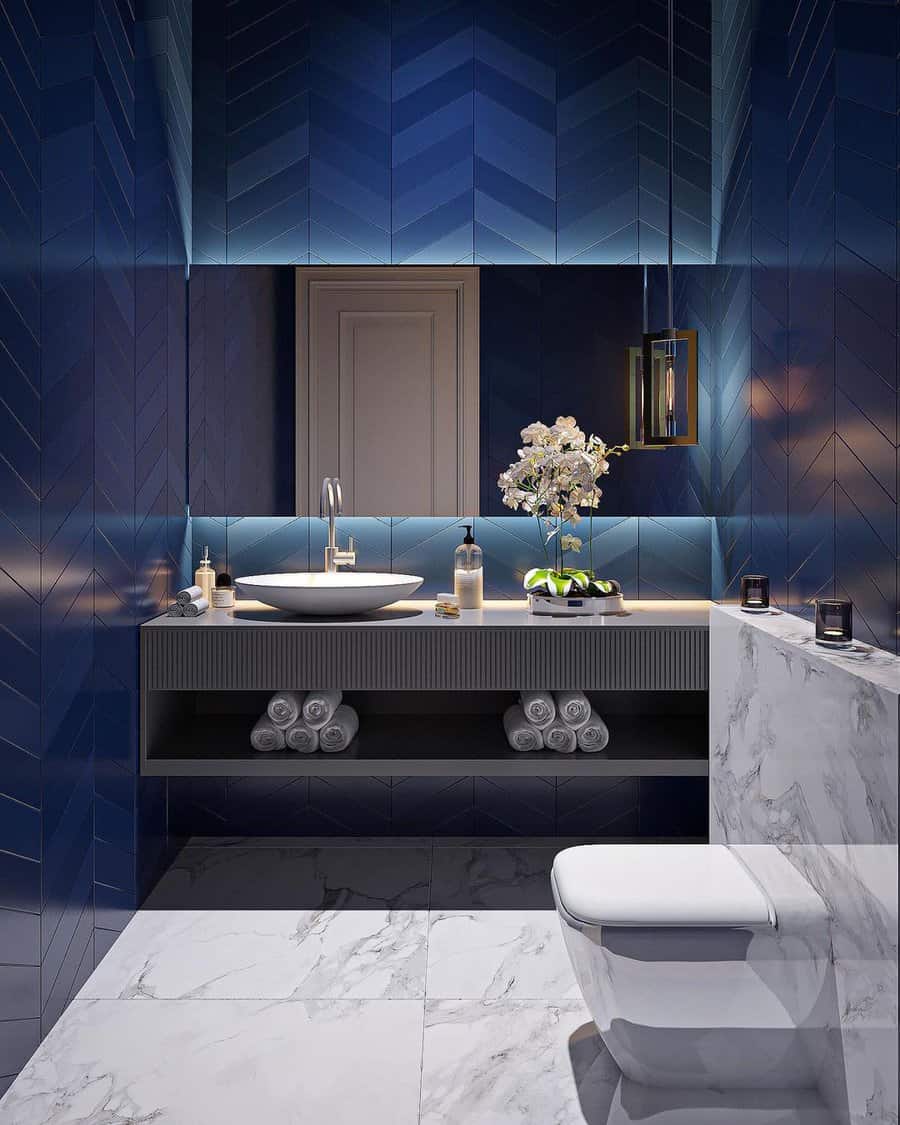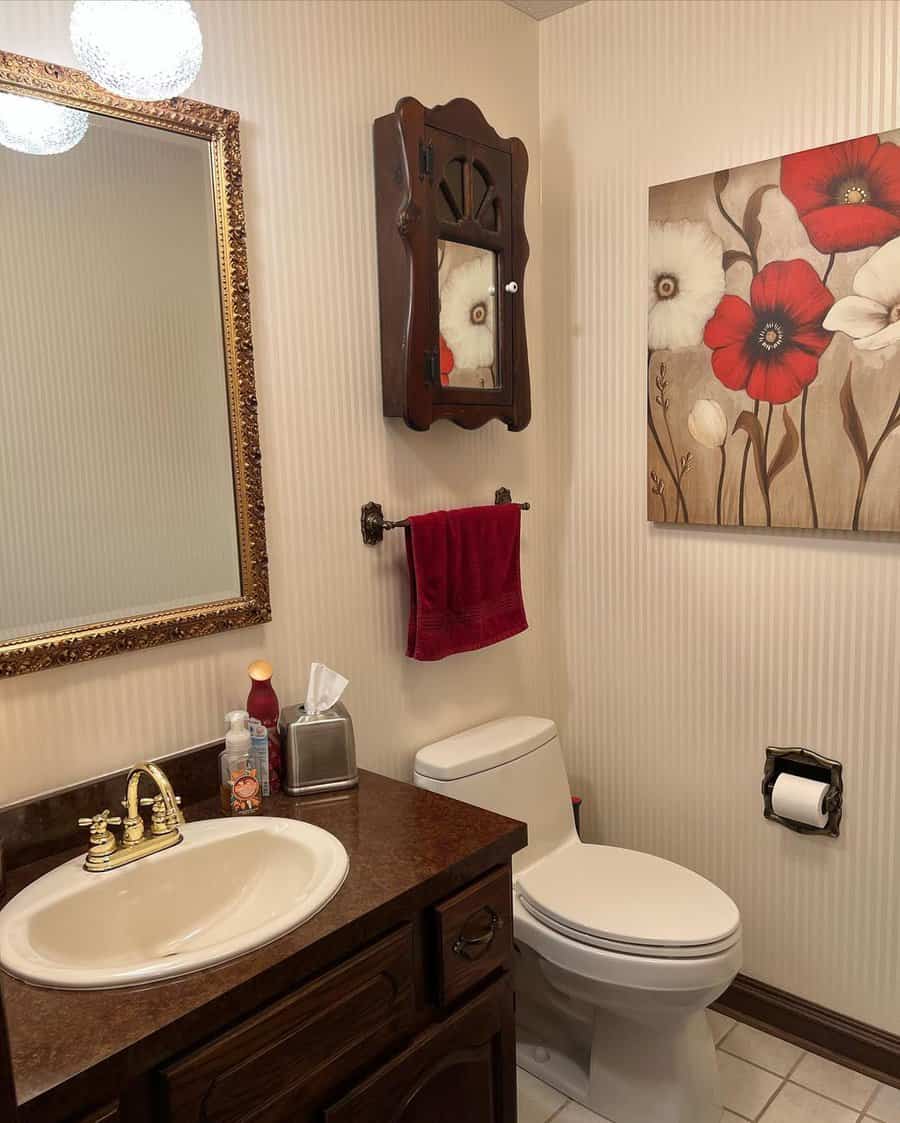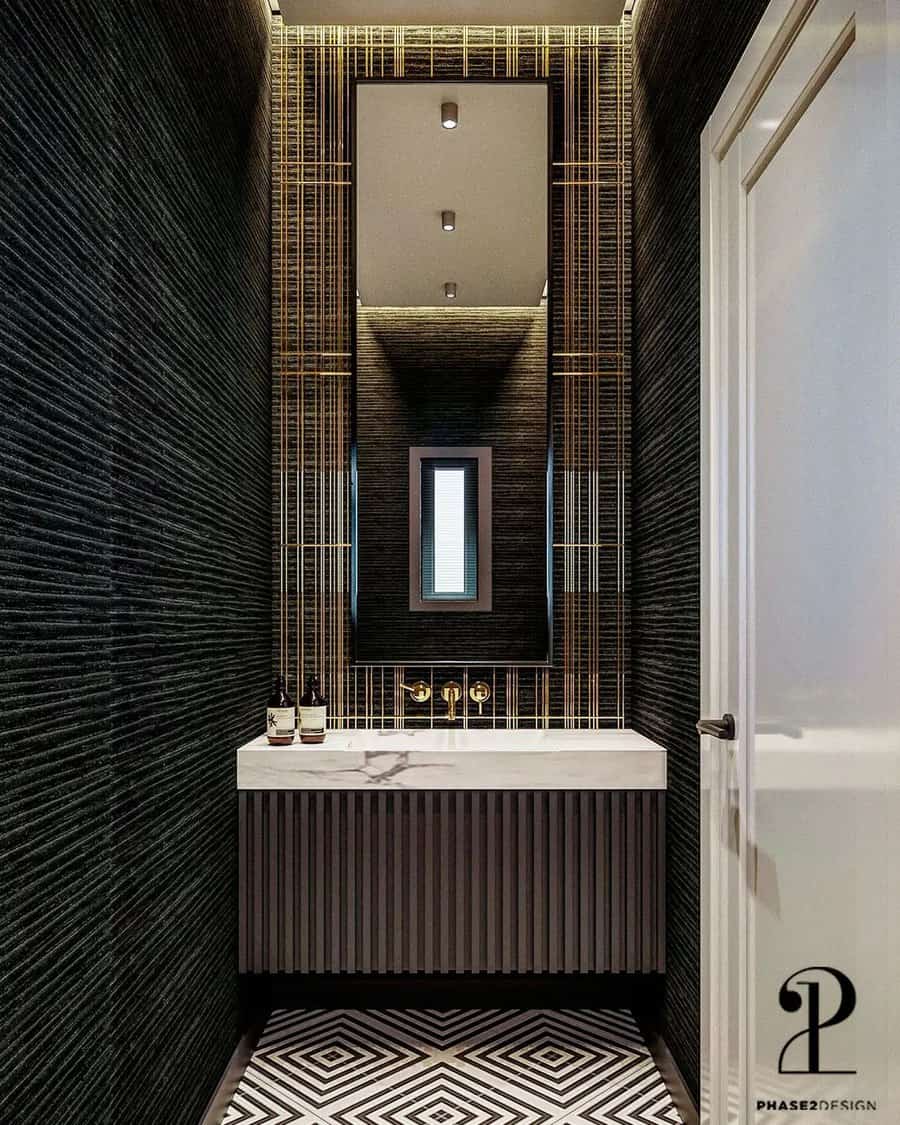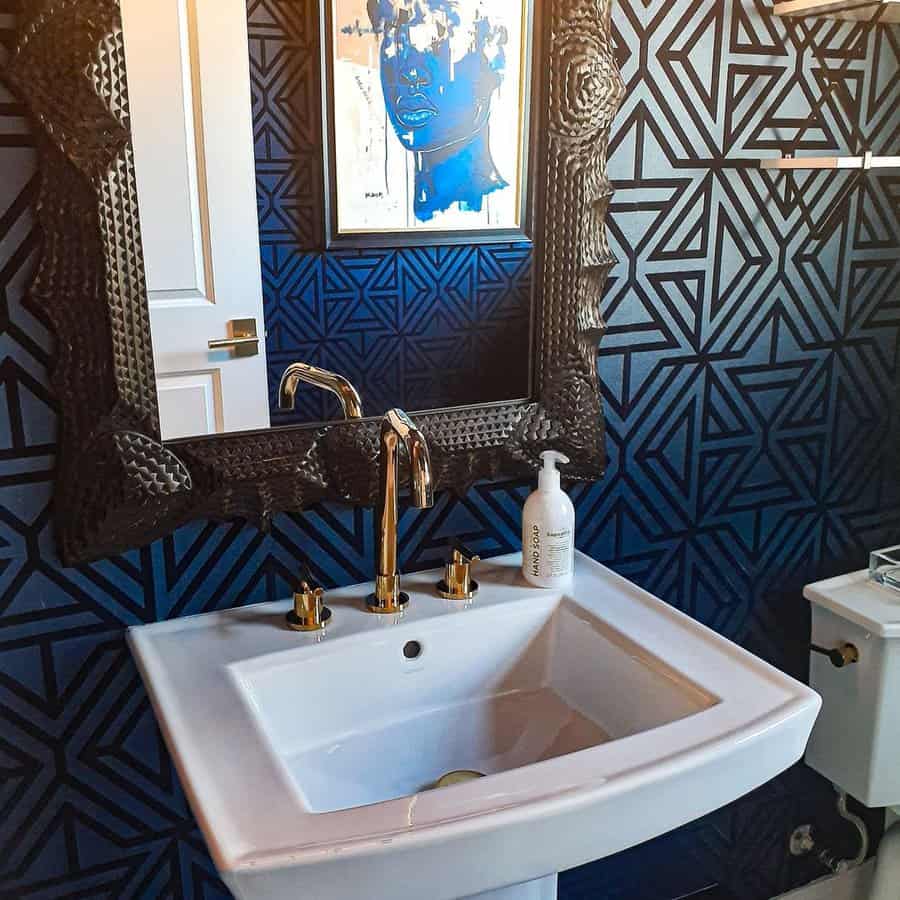 6. Illuminate in Style with Wall Sconces
Wall sconces are more than just light fixtures; they're design statements. Placed on either side of a mirror or decorative art piece, they can create a symmetrical look and provide flattering, shadow-free illumination. When selecting sconces, consider the overall design theme of your powder room. Whether it's art deco, modern, industrial, or vintage, there's a sconce style to match.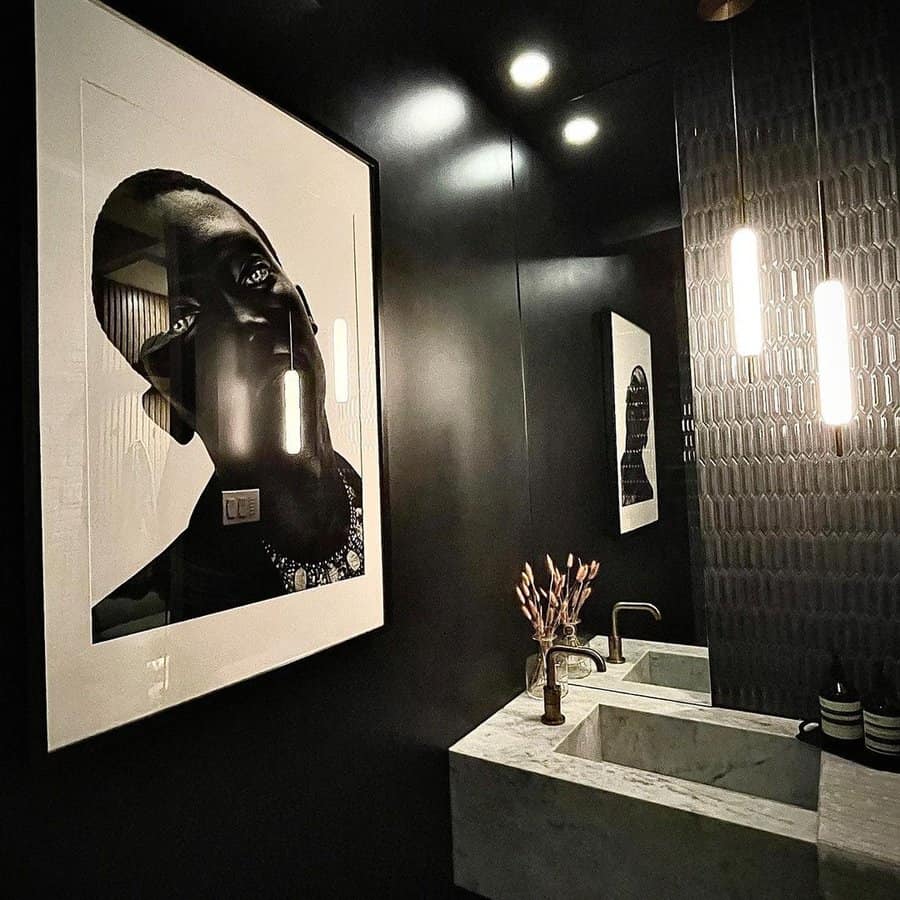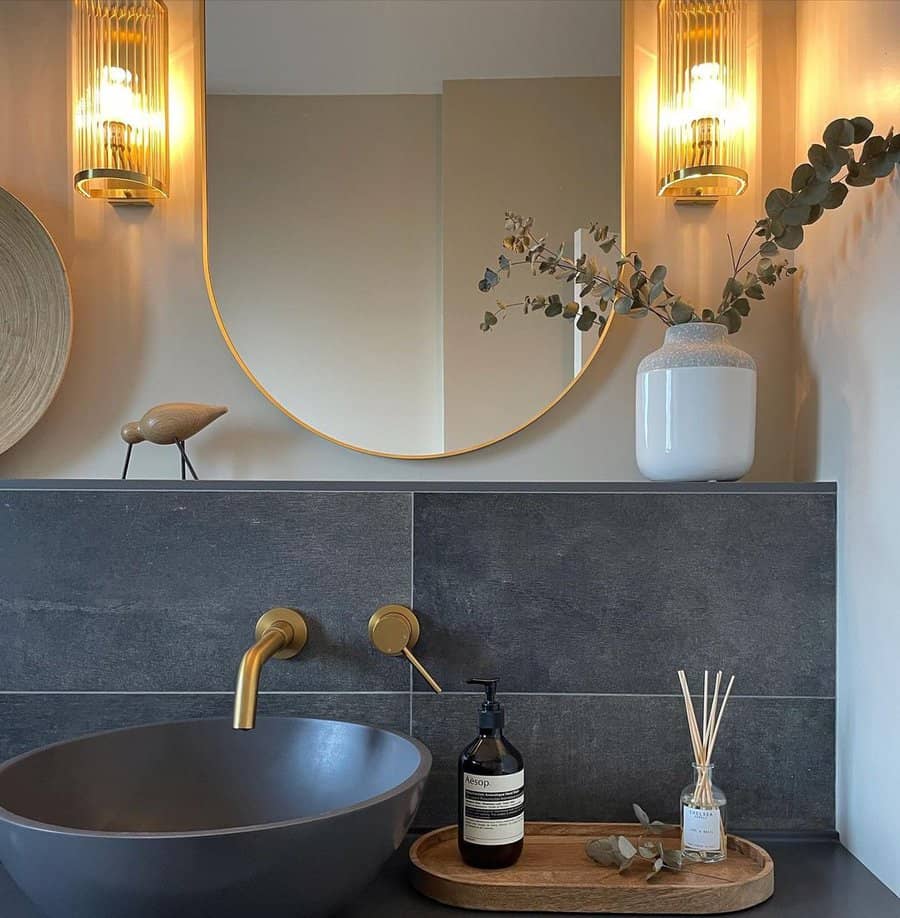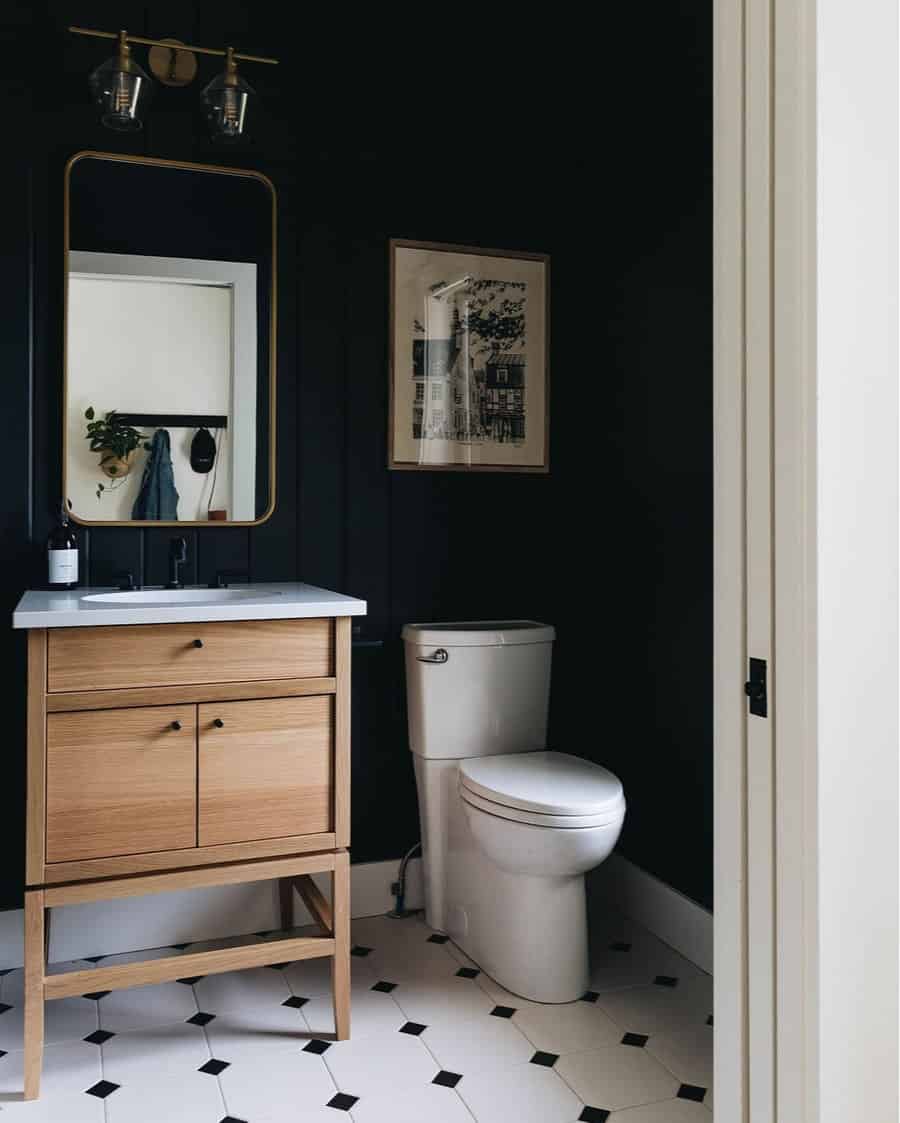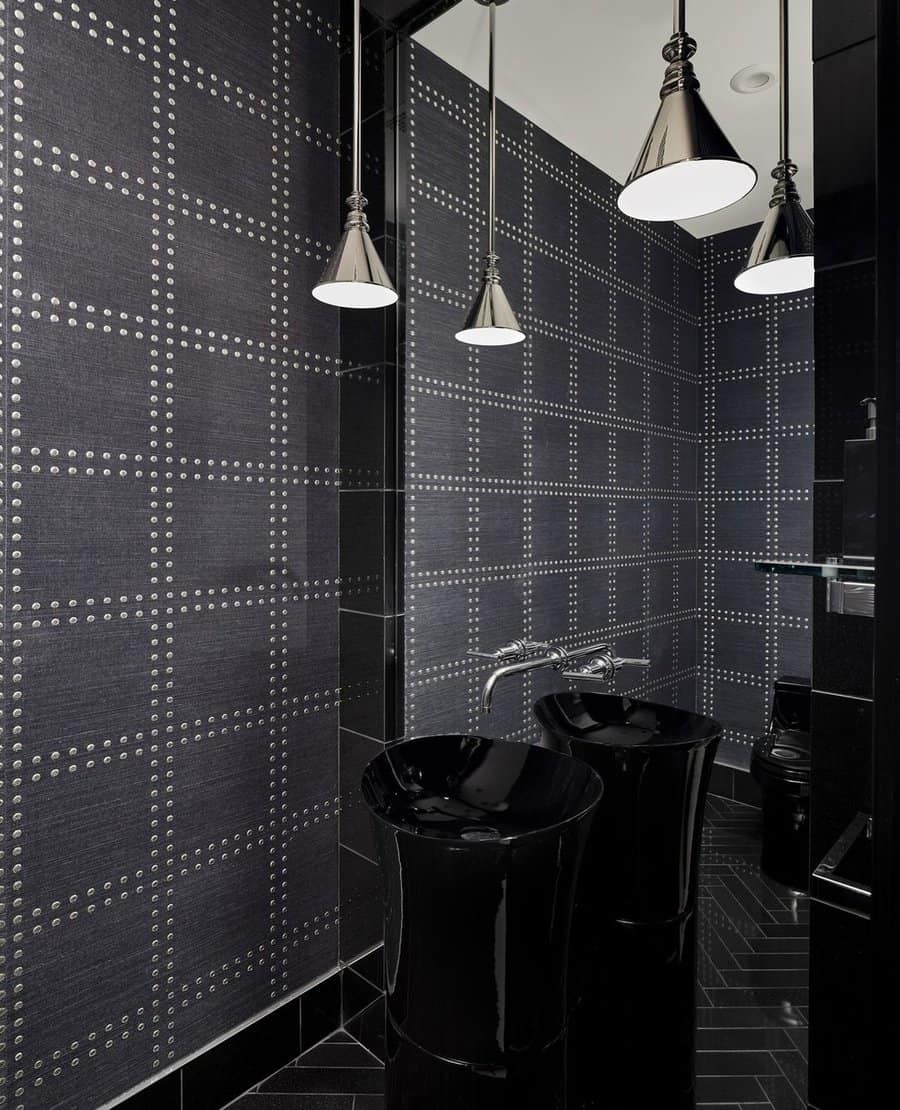 7. Enhance Privacy with a Powder Room Splash Screen
A powder room splash screen, often a decorative glass panel or divider, serves a dual purpose: it adds an aesthetic touch while offering a layer of privacy. Particularly beneficial in powder rooms with larger windows or those adjacent to high-traffic areas, splash screens shield the sink and toilet area from direct view. Opt for frosted, tinted, or patterned glass designs that align with your decor theme.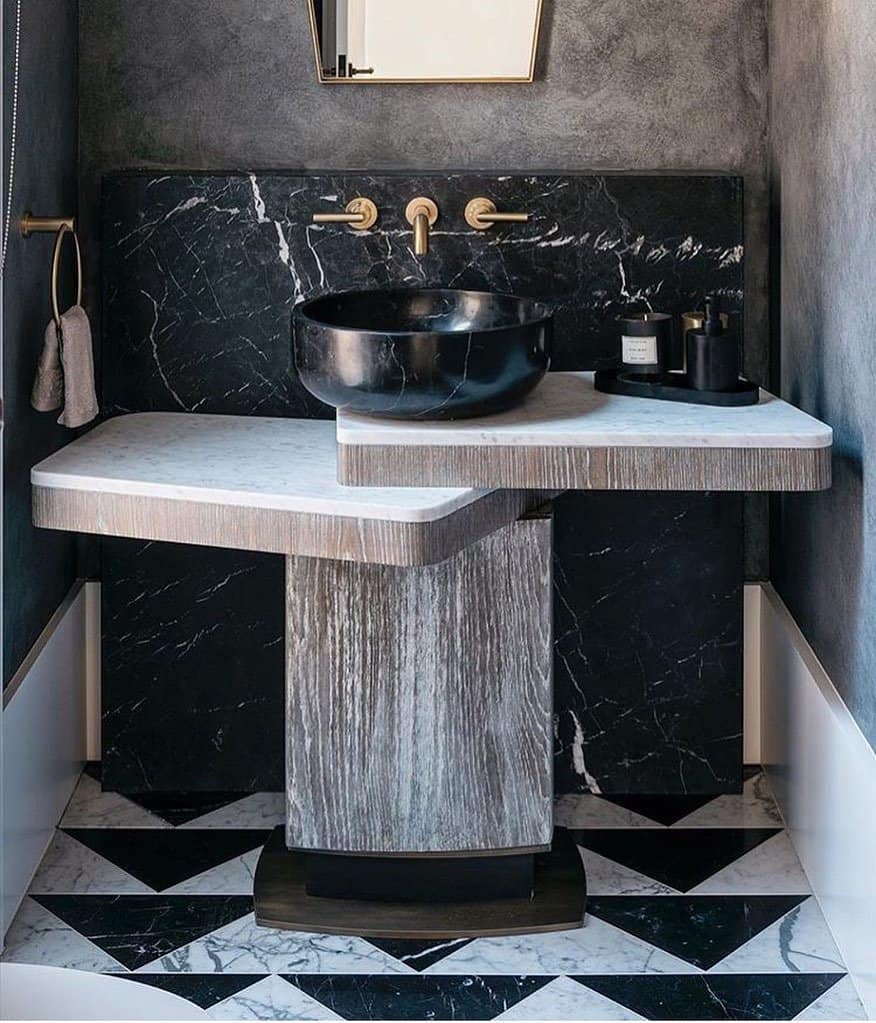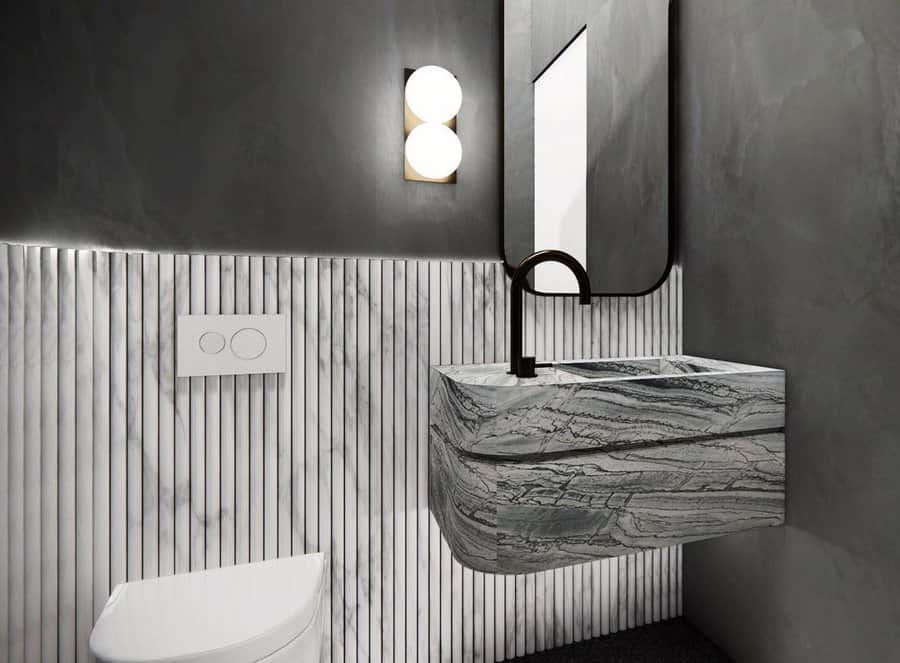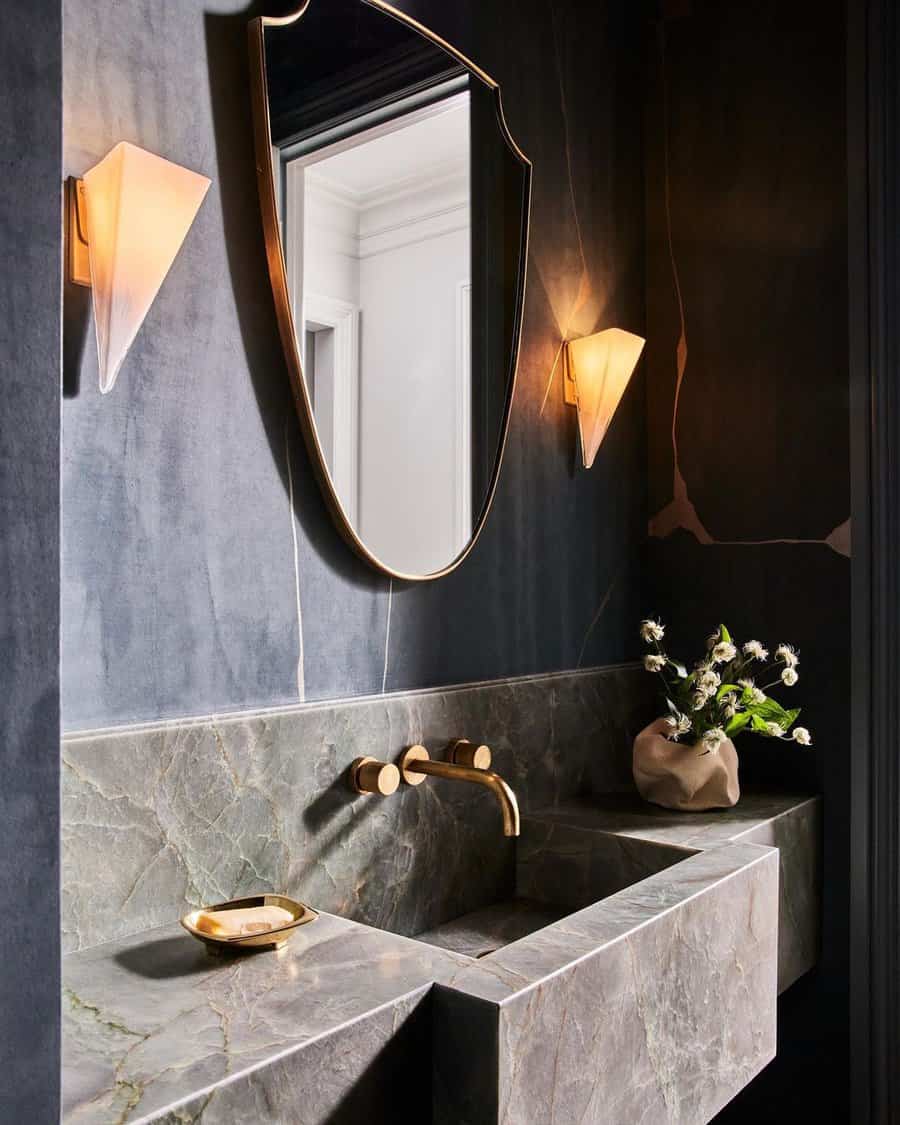 8. Unique Art Sink
Are you ready to transform your powder room into a work of art? Look no further than the captivating world of standalone wash basins. Imagine a sculpture-like sink that becomes the centerpiece of your bathroom, exuding elegance and creativity in every curve and contour.
These art-inspired wash basins are the epitome of luxury and sophistication, turning a mundane space into a gallery-worthy masterpiece. Whether you prefer a sleek, modern design or a more ornate, classical style, there is an art standalone wash basin that will perfectly complement your aesthetic vision.
Embrace the opportunity to infuse your powder room with a touch of artistic flair and elevate your bathroom design to new heights. Get ready to indulge your senses and impress your guests with this captivating focal point that seamlessly blends form and function.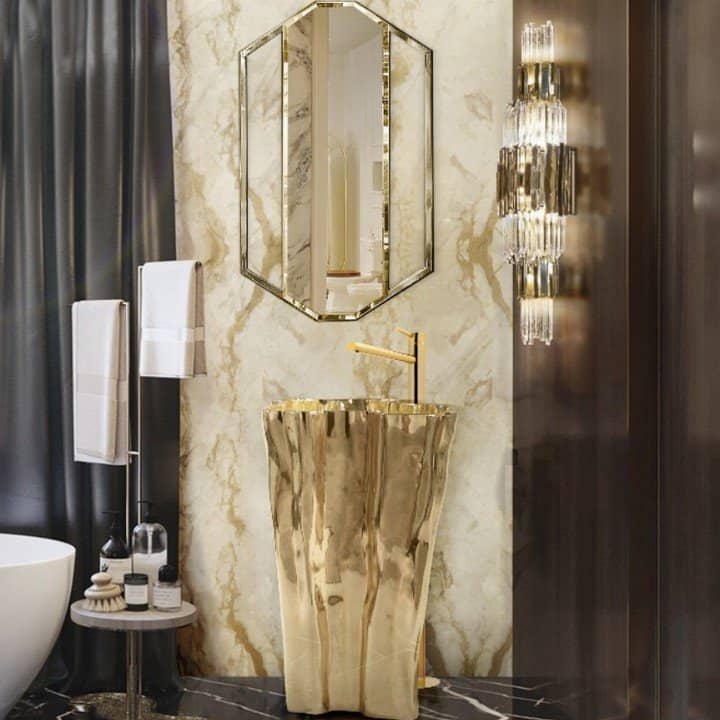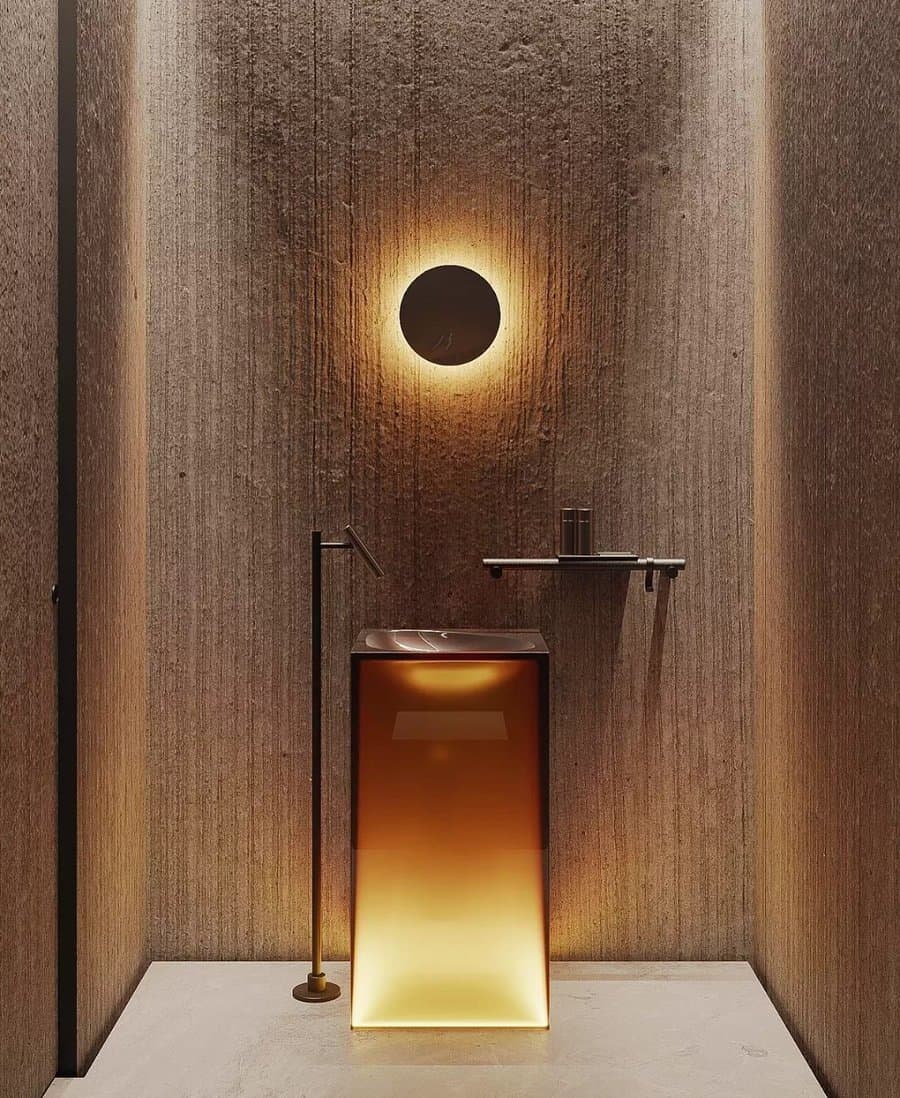 9. Express Yourself with a Unique Sink
An art sink can be the centerpiece of your powder room, showcasing your personal style and turning a functional element into a work of art. From hand-painted designs to sculptural shapes, these sinks make a statement. Start by considering the overall theme of your room. Whether it's an abstract glass basin, a ceramic bowl with intricate patterns, or a sink carved from a single piece of stone, the choice is a reflection of your aesthetic.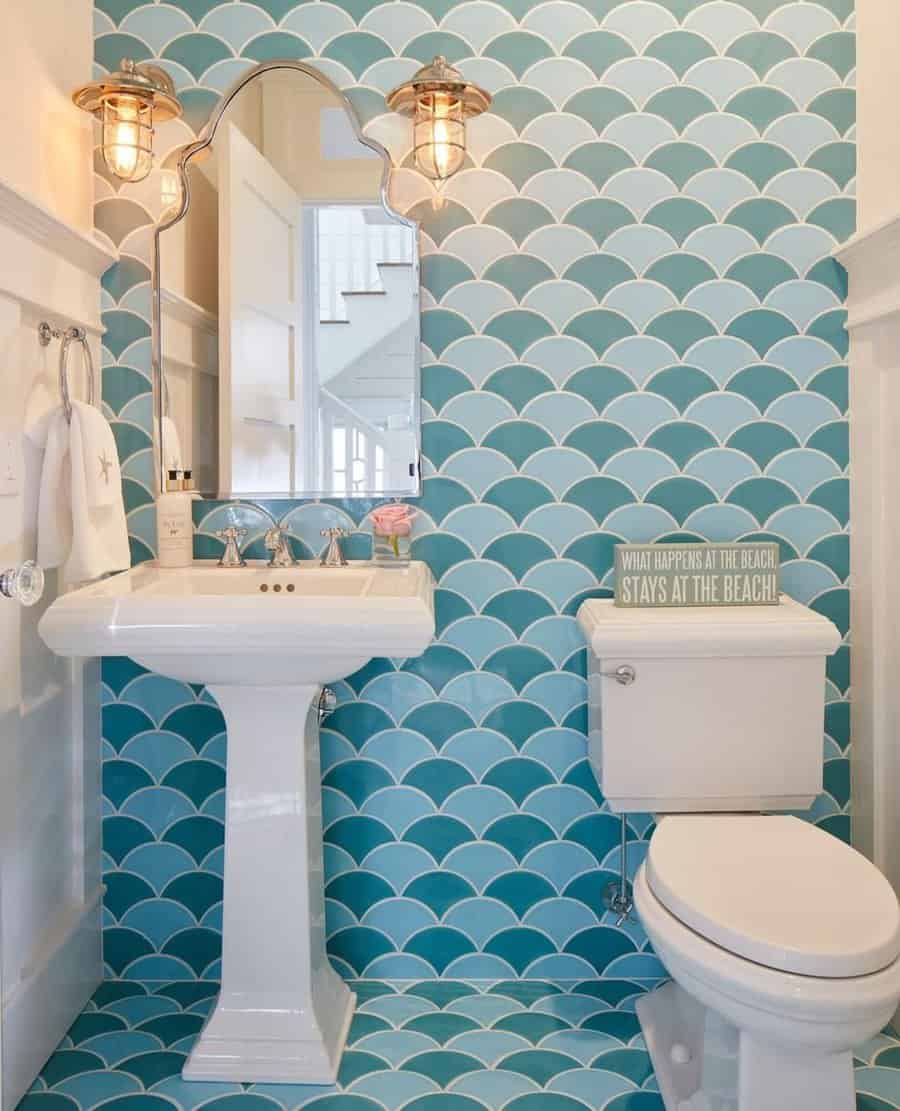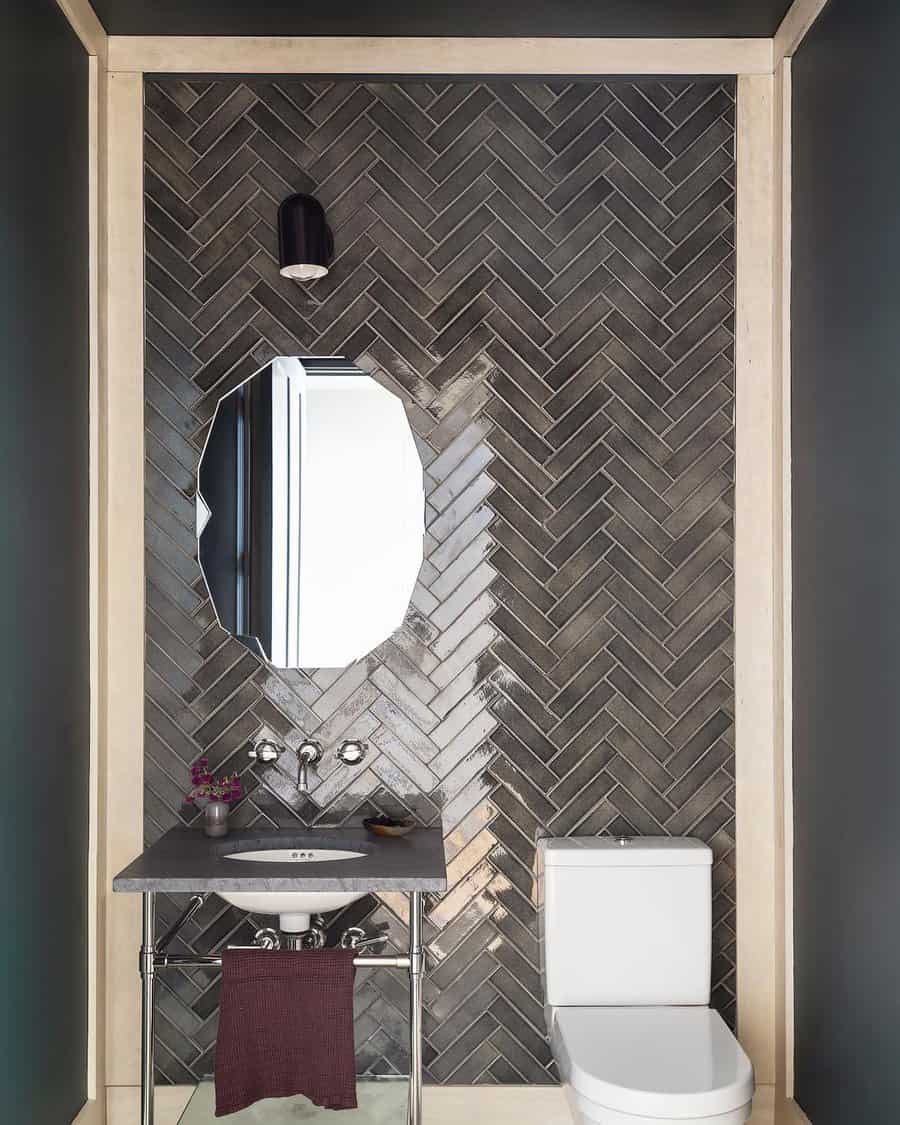 10. Indulge in Luxury with a Marble Countertop
Marble countertops exude sophistication, timelessness, and luxury. The natural veining and subtle sheen of marble can instantly elevate the ambiance of a powder room. While white marble is a classic choice, there are various hues and patterns available, from deep greens to soft pinks and striking blacks.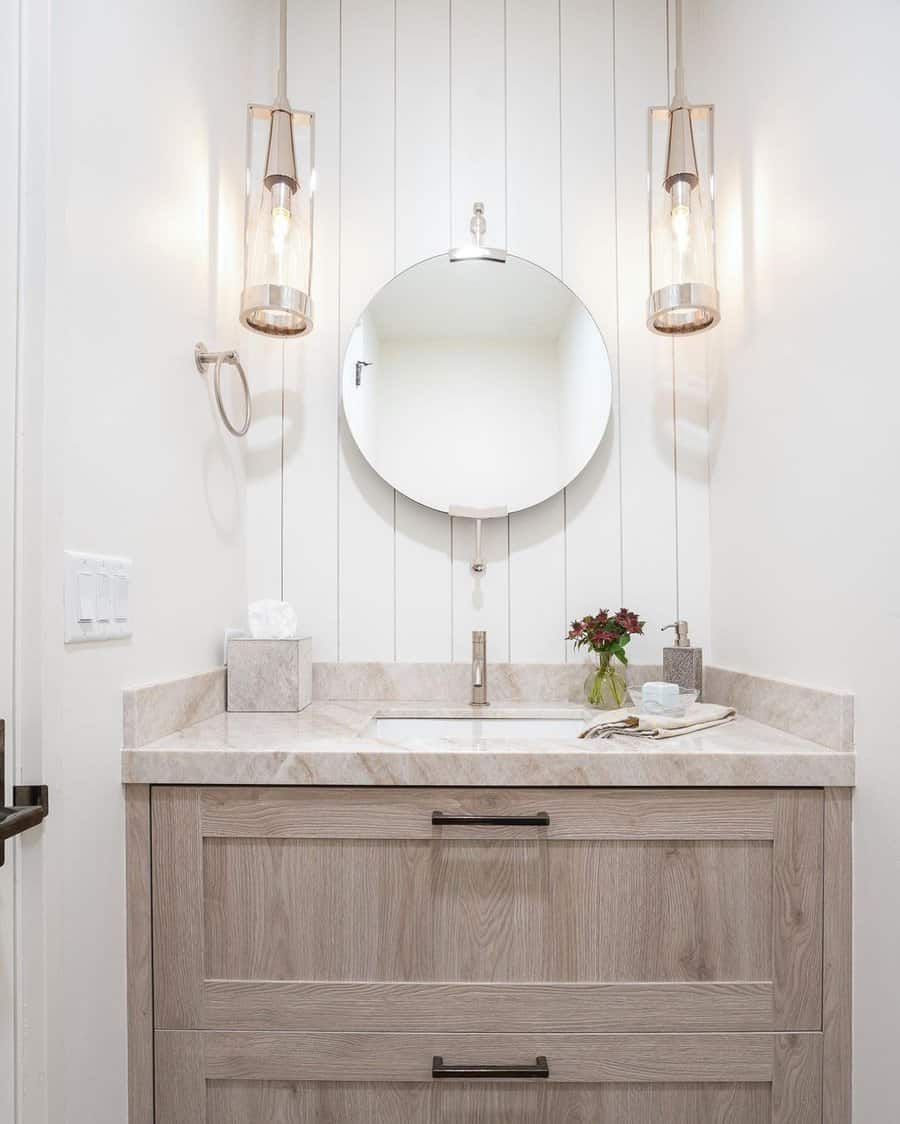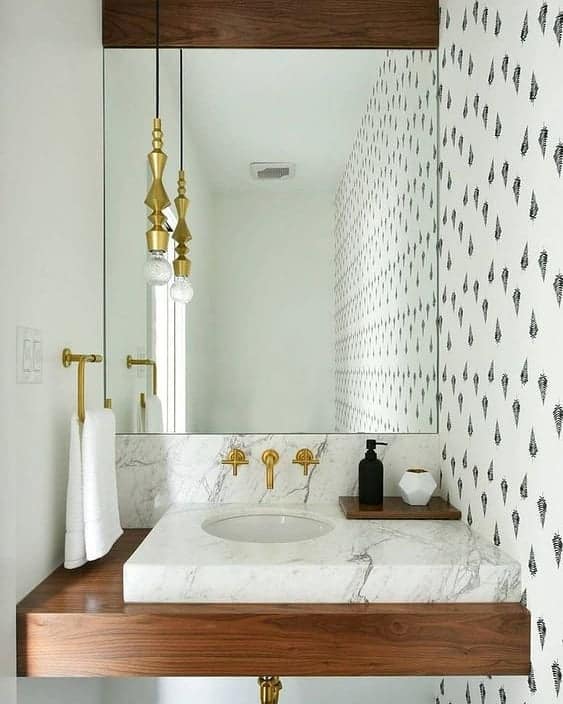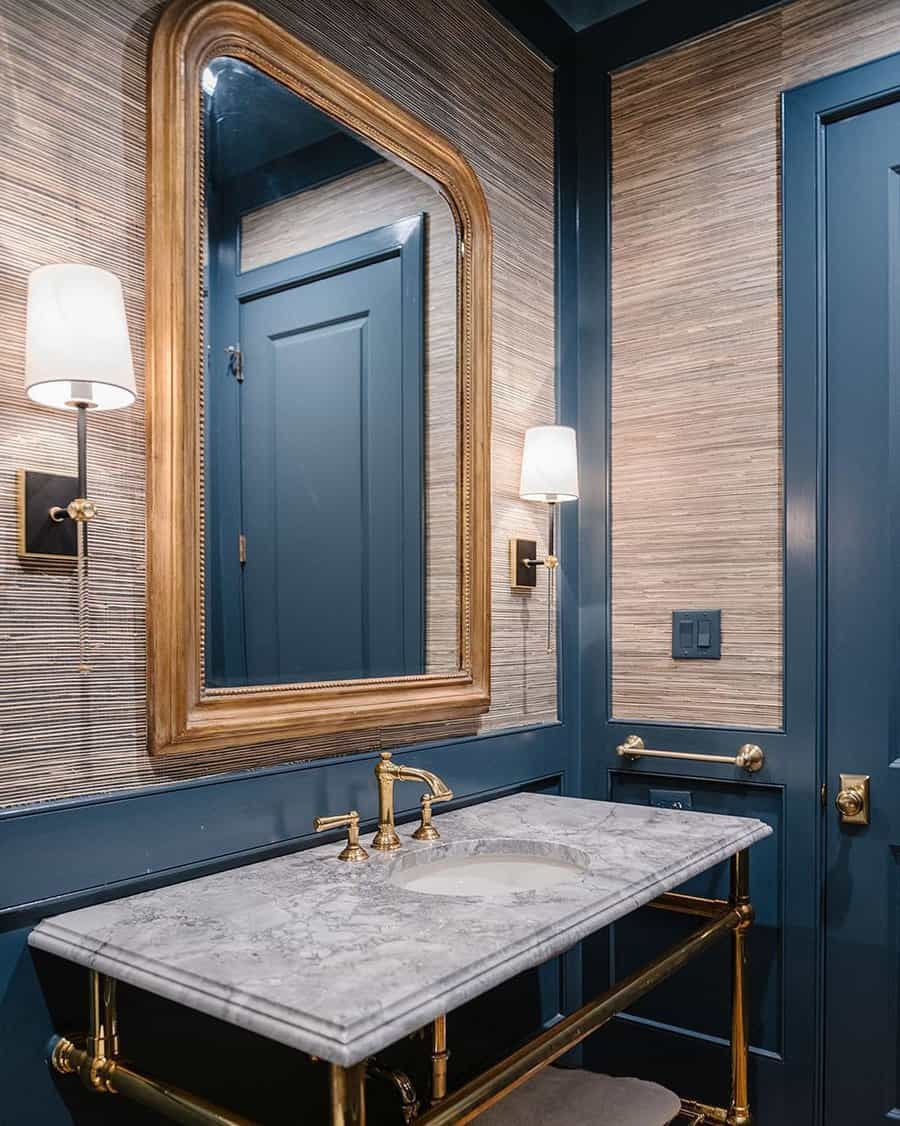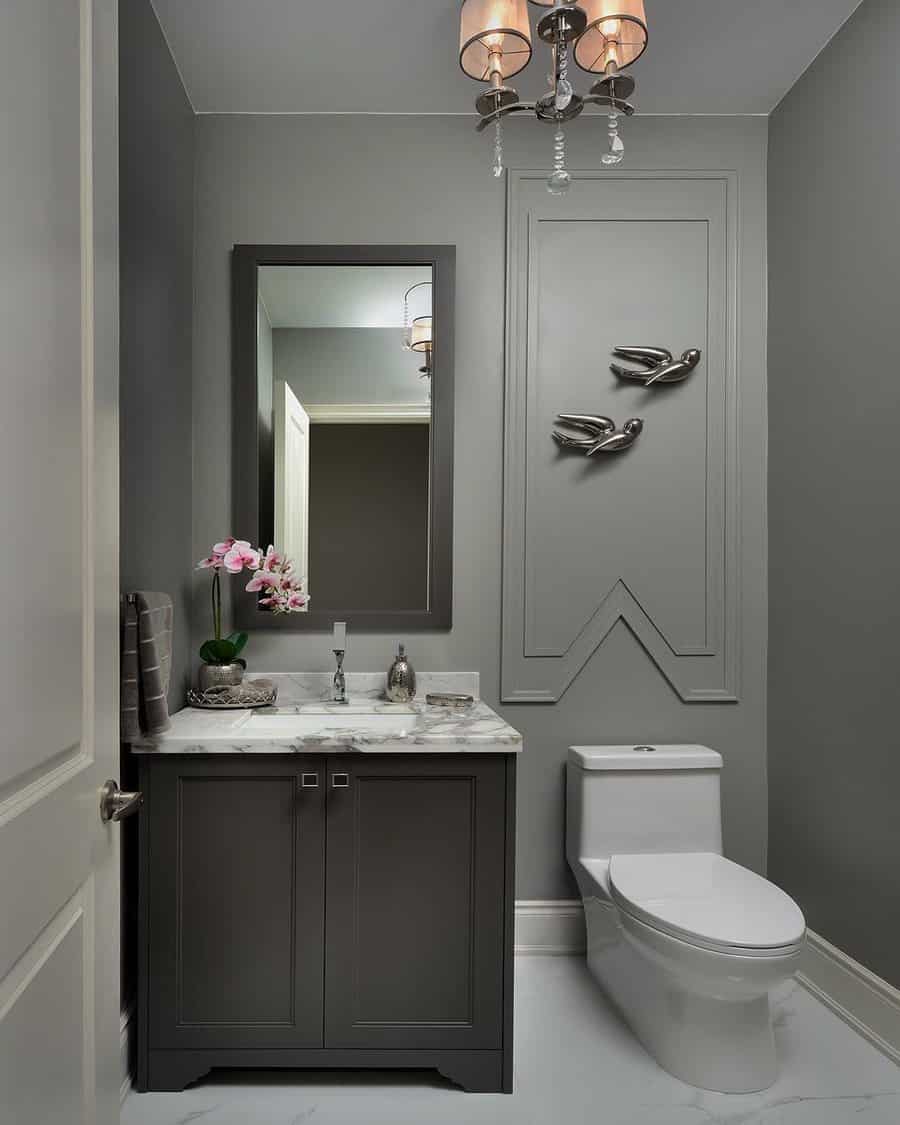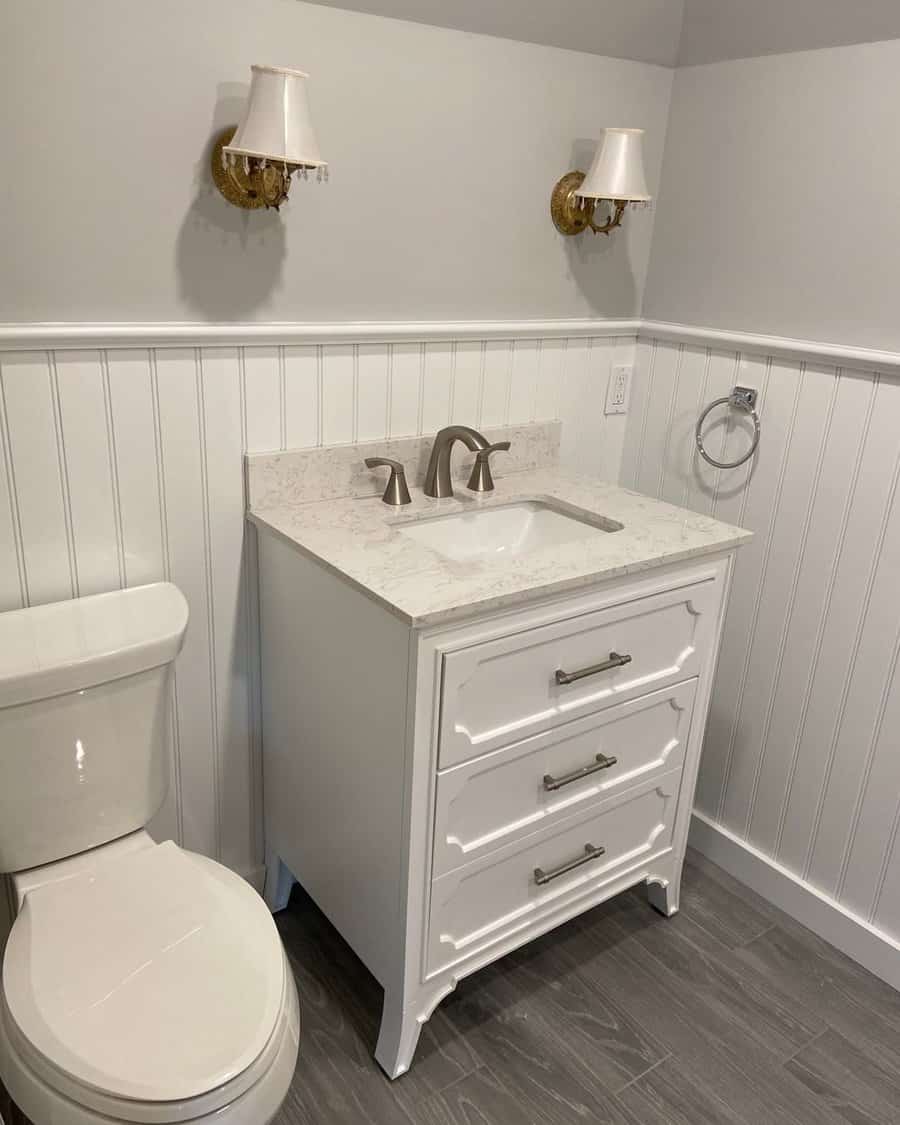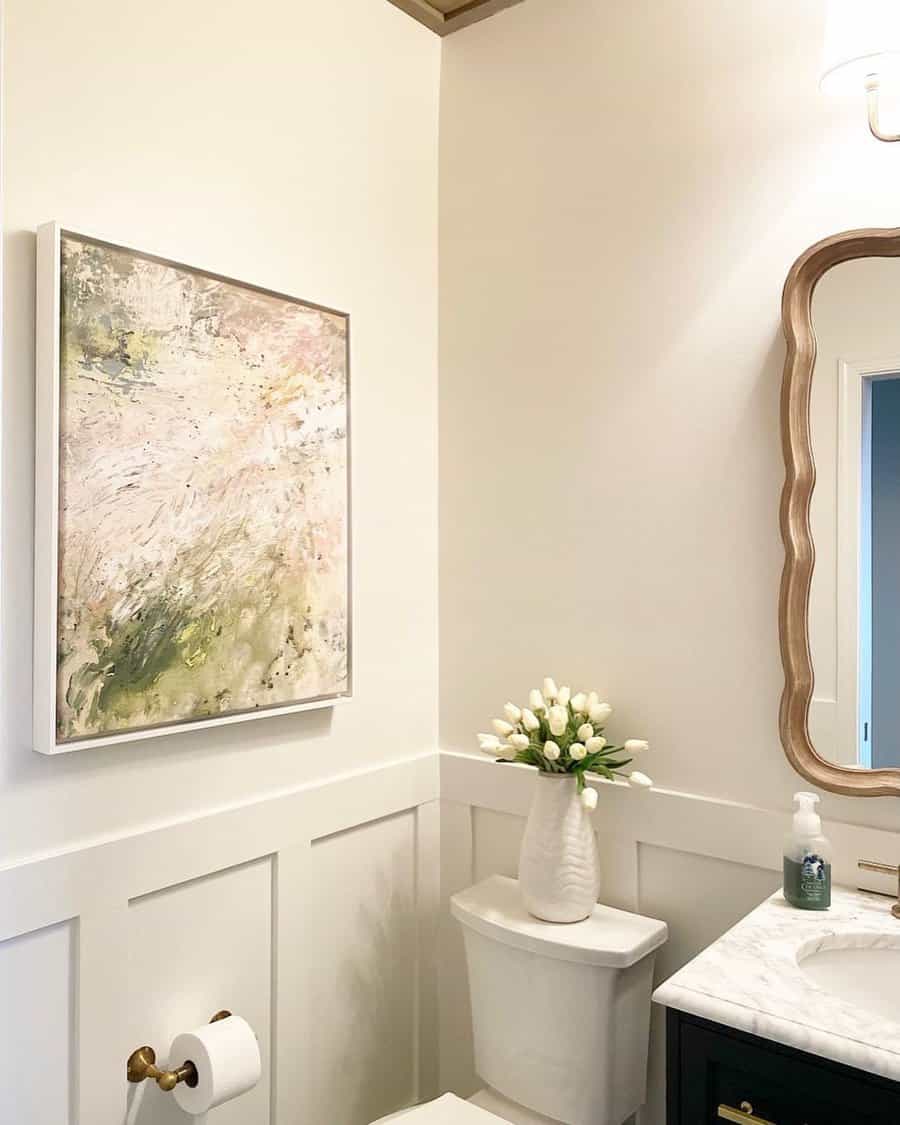 11. Modernize with a Recessed Vanity Design
Recessed vanities, set into the wall rather than protruding from it, offer a sleek and space-saving solution. By seamlessly integrating storage and sink areas, they give the room a clean, streamlined appearance. This design is especially beneficial for smaller powder rooms, making them feel larger and less cluttered.
12. Powder Room Floating Shelves
Powder rooms are often compact spaces, but that doesn't mean you have to sacrifice style or functionality. Introducing floating shelves into your powder room design not only adds a touch of elegance but also provides a fantastic solution for more storage.
These versatile shelves maximize vertical space, making them perfect for displaying your favorite décor items, storing extra towels, or showcasing those luxuriously scented candles.
With floating shelves, you can transform your powder room into a chic oasis while keeping everything organized and within easy reach.
13. Wow Guests with 3D Decorative Walls
3D decorative walls, with their tactile allure and dimensional designs, offer a visually captivating experience. They can range from sculptural panels, geometric tiles, or even custom-designed plasterwork. These walls become the star feature, immediately drawing attention and setting a distinctive tone for the powder room.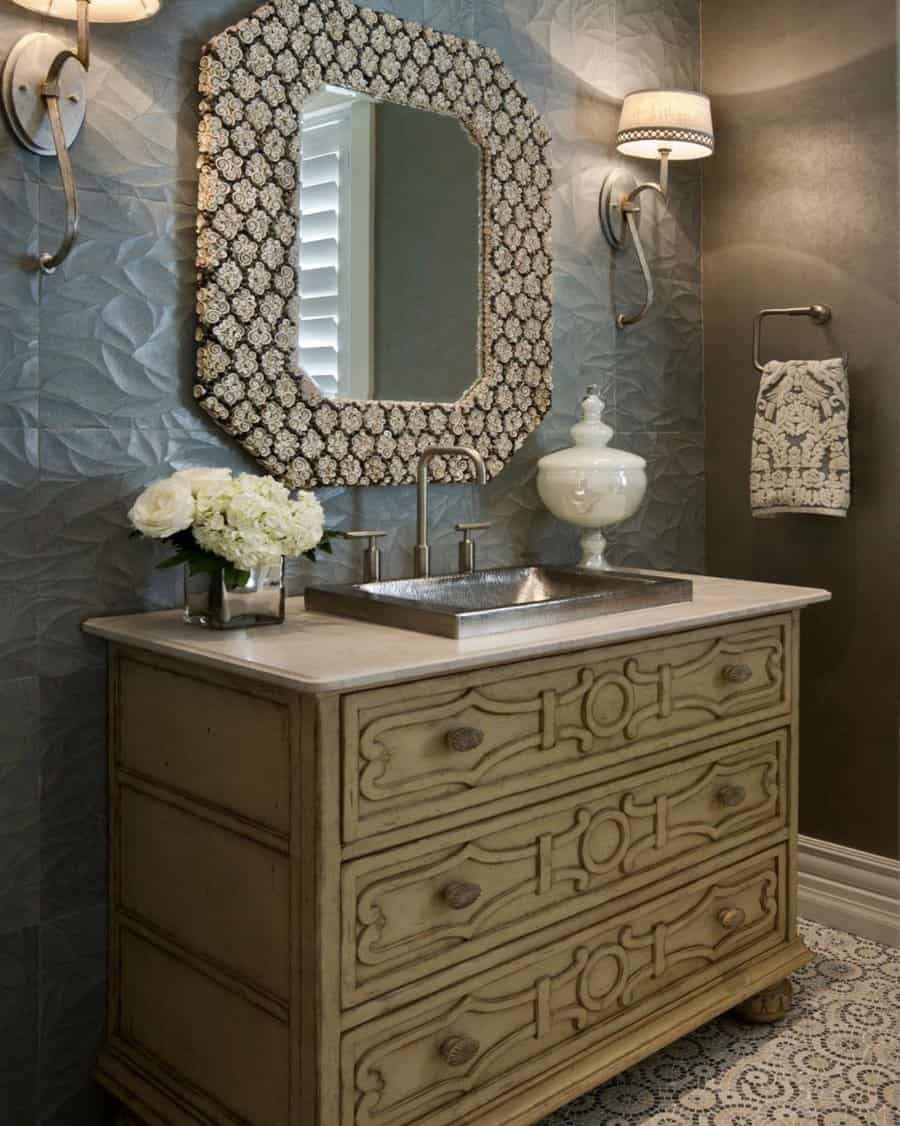 14. Organize Gracefully with a Ladder Shelf
A ladder shelf blends functionality with aesthetic appeal, offering tiered storage in a space-efficient manner. Its leaning design allows you to store or display items, from towels to toiletries, in an accessible and stylish way. Whether made of rustic wood, sleek metal, or a combination of both, ladder shelves can suit various design themes.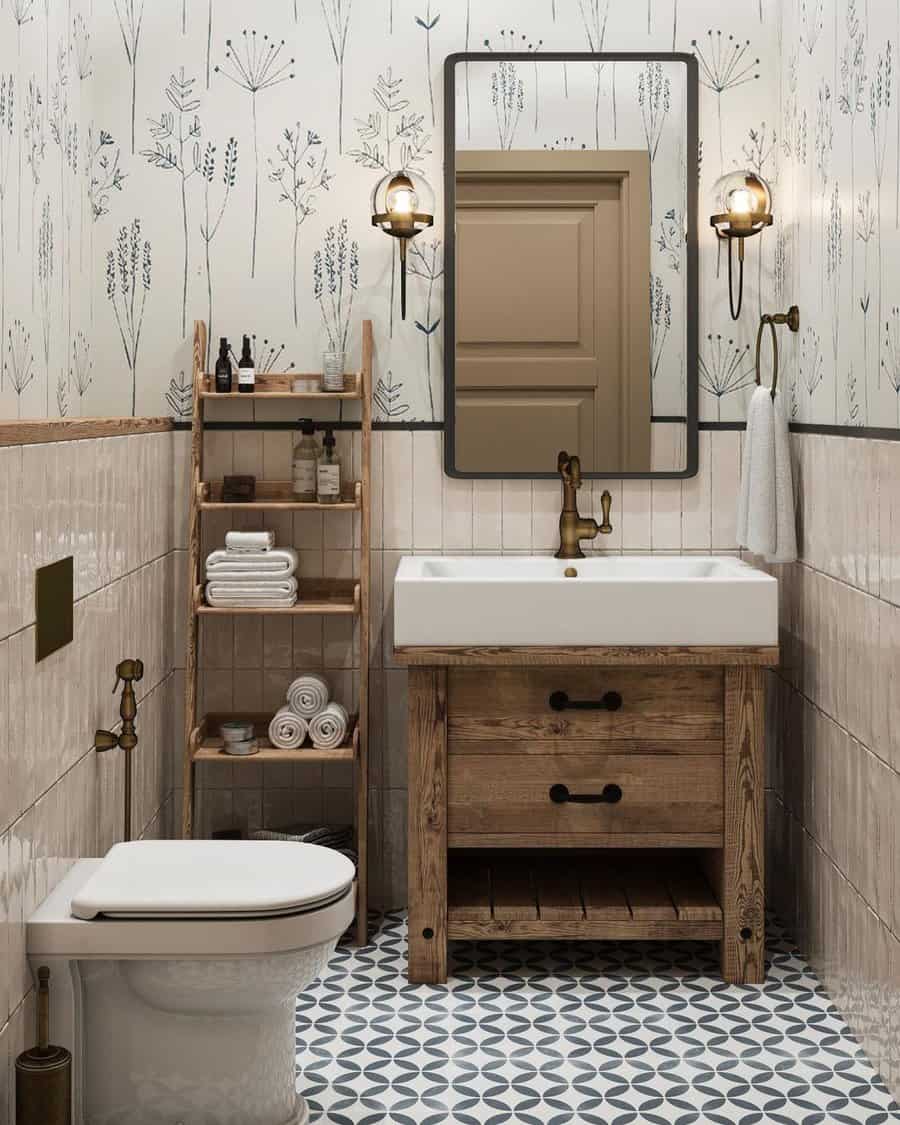 15. Embrace Warmth in a Rustic-Themed Powder Room
A rustic-themed powder room exudes warmth, charm, and a sense of history. Drawing inspiration from nature and old-world charm, it's characterized by raw textures, distressed finishes, and natural materials like wood and stone. Think weathered vanities, wrought-iron fixtures, and handcrafted details to transport anyone into a cozy countryside cottage or a vintage farmhouse.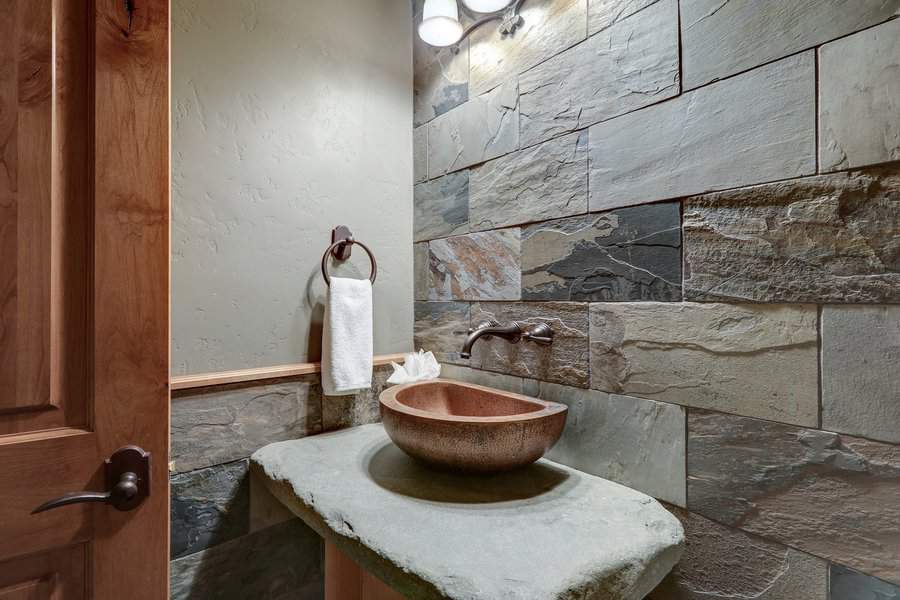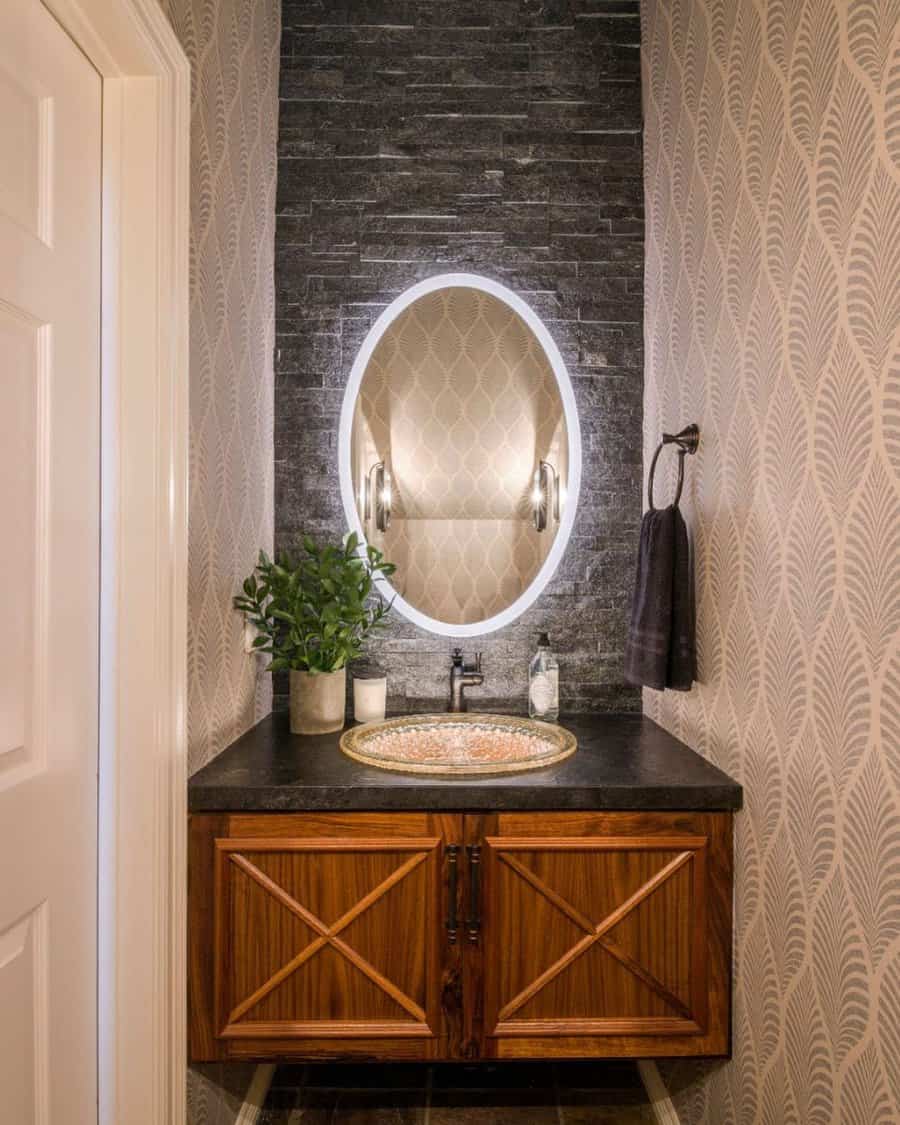 16. Utilize Every Inch with a Corner Toilet
Corner toilets are a smart solution for optimizing space, especially in compact powder rooms. By fitting snugly into a corner, they free up floor space and make the room appear less cluttered. With modern designs available, you don't have to sacrifice style for functionality.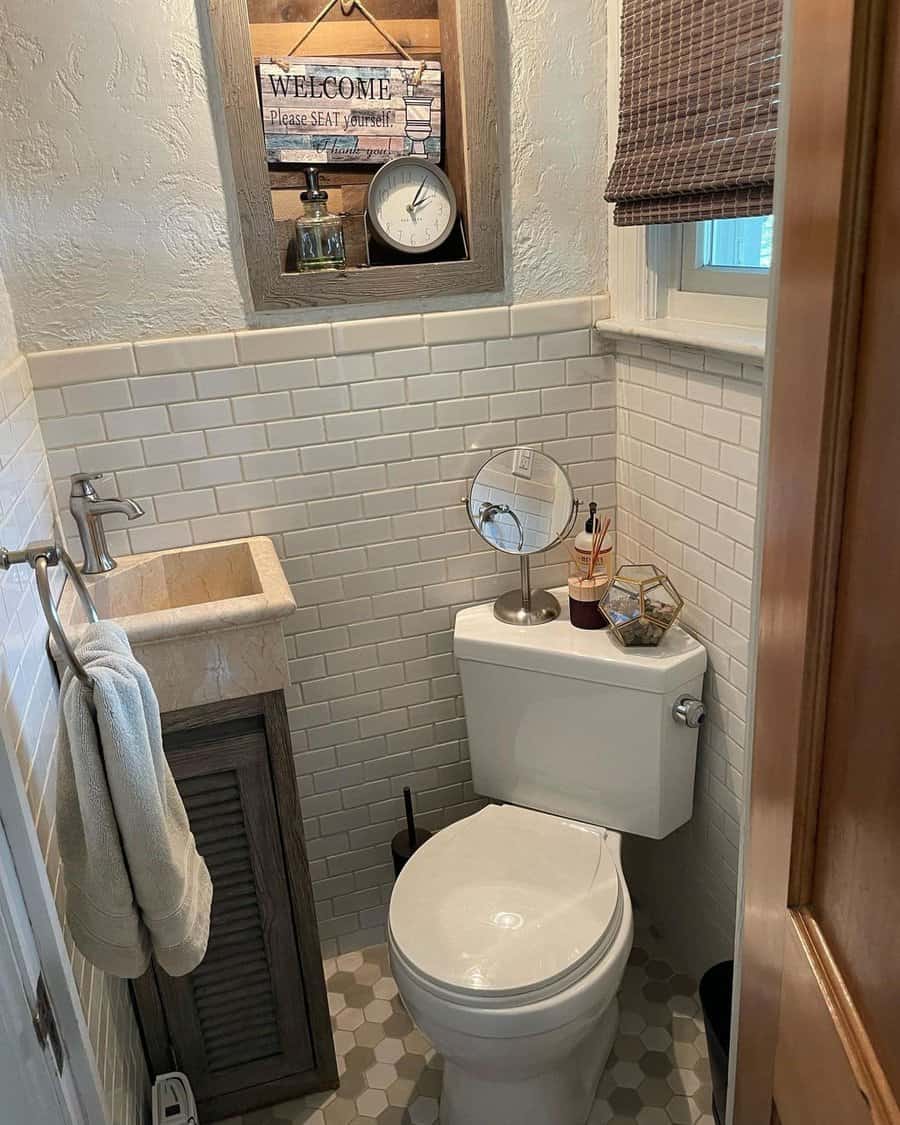 17. Tidy Up with Chic Basket Organizers
Basket organizers are not only functional storage solutions but also add a touch of texture and warmth to the powder room. Whether woven, wire, or wooden, baskets can store towels, toiletries, and other essentials in style.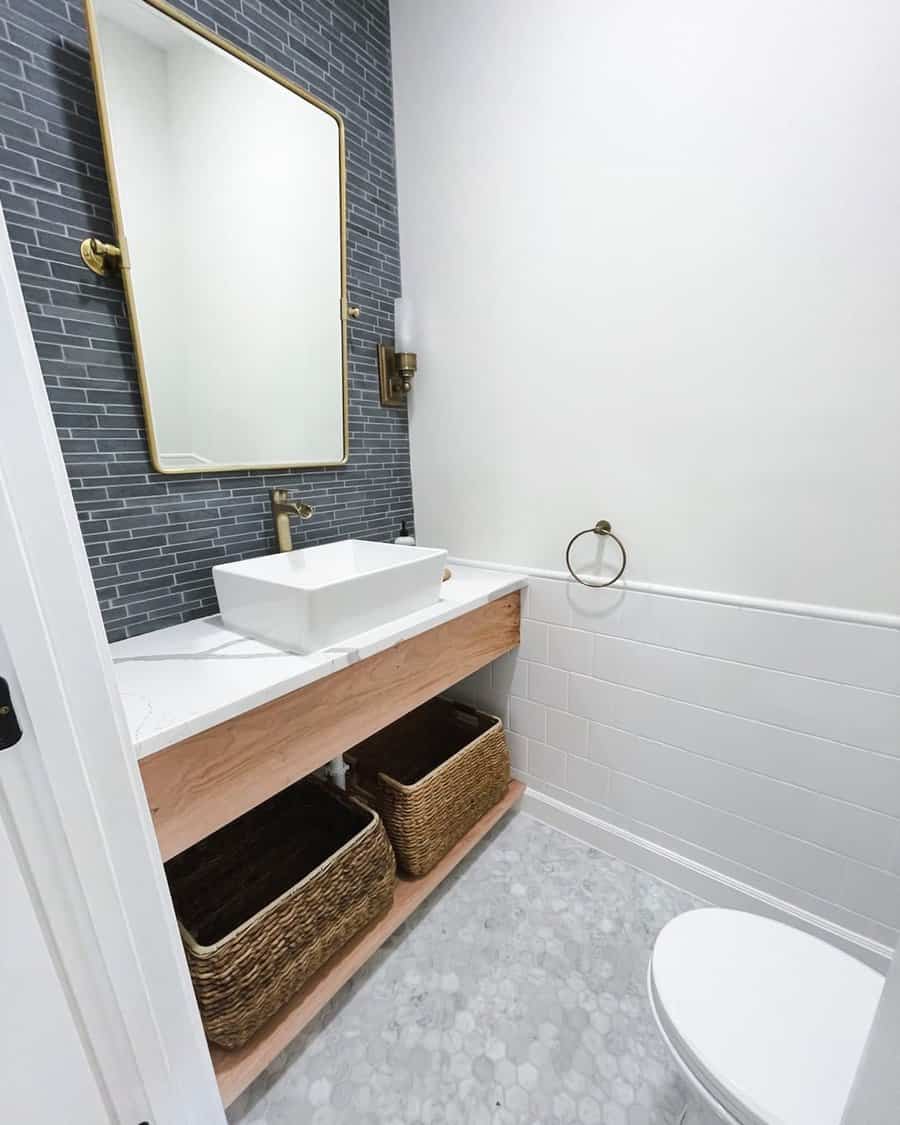 18. Achieve a Timeless Look with an All-White Powder Room
A white powder room embodies elegance, cleanliness, and timelessness. The neutral palette offers versatility, making it easy to update or accessorize as trends change. With white fixtures, tiles, and paint, the room feels brighter and more spacious.