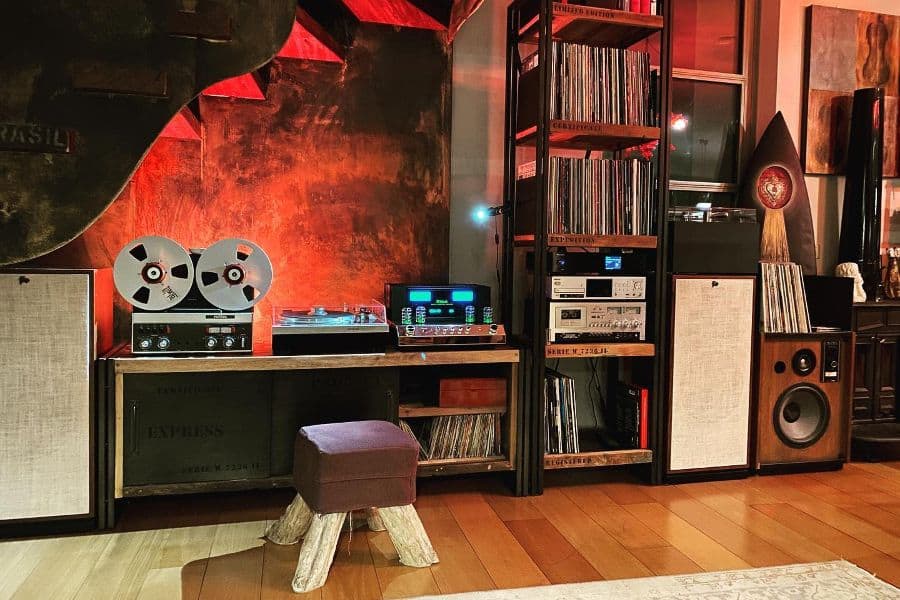 The Top 84 Record Storage Ideas
by — Kari Apted

Published on June 28, 2021

Updated on June 5, 2023
"I remember opening up my first vinyl and seeing the incredible artwork it had. There's nothing like it. You also get that true gritty sound on vinyl that really makes a rock record sound great, which CDs can never achieve." – Nikki Sixx
Serious music lovers know that there is something special about LP records. Although it once appeared that vinyl records had gone the way of the dinosaur, record collecting has enjoyed a resurrection. A whole new generation has discovered vinyl's retro appeal.
Vinyl collection culture is thriving today, leaving collectors wondering what are the best—and best-looking—vinyl record storage options. Scroll through our carefully curated record storage ideas and learn how to care for your collection while showing it off.
1. Standalone Record Cabinet
A standalone cabinet not only offers a designated space for your vinyl but also provides a convenient countertop for your turntable and stereo system. This allows you to create a functional and visually appealing music setup, where you can easily access your records and enjoy the immersive experience of vinyl listening. With its sleek design and thoughtfully designed storage compartments, the record cabinet adds a touch of sophistication to any room.
Whether you place it in your living room, home office, or dedicated music room, it becomes a statement piece that reflects your love for music and adds a nostalgic vibe to your decor. With a standalone record cabinet, you can showcase your collection, protect your vinyl, and enjoy the convenience of having everything you need for a great listening experience in one place.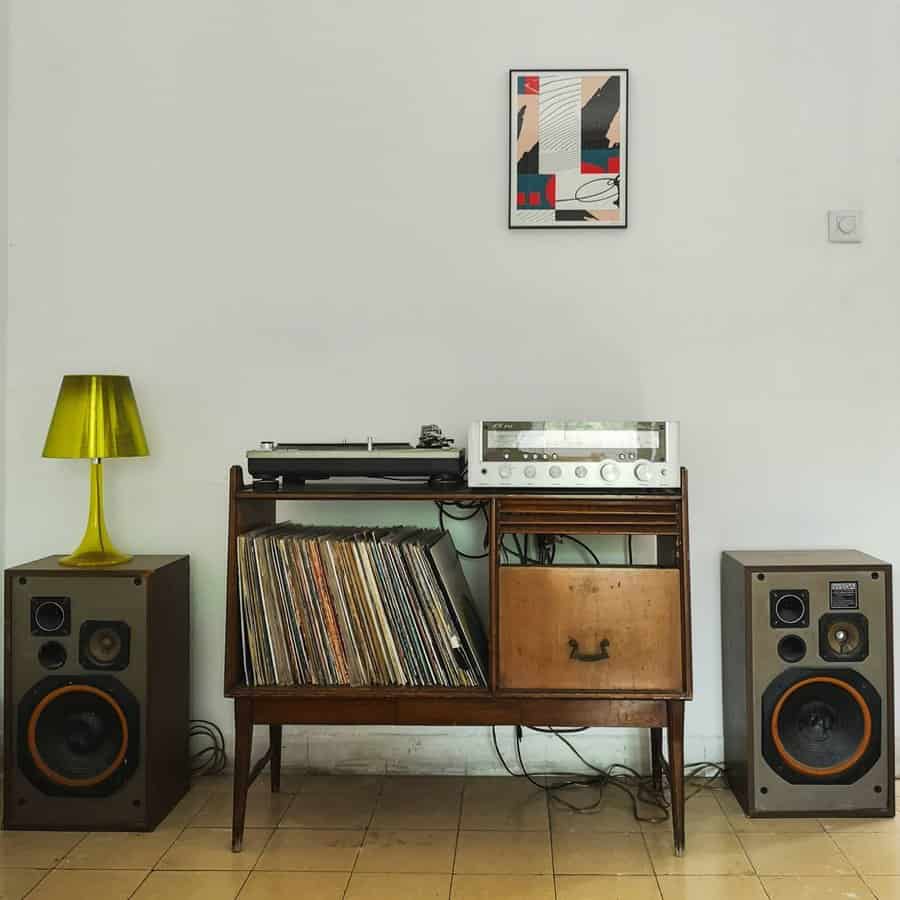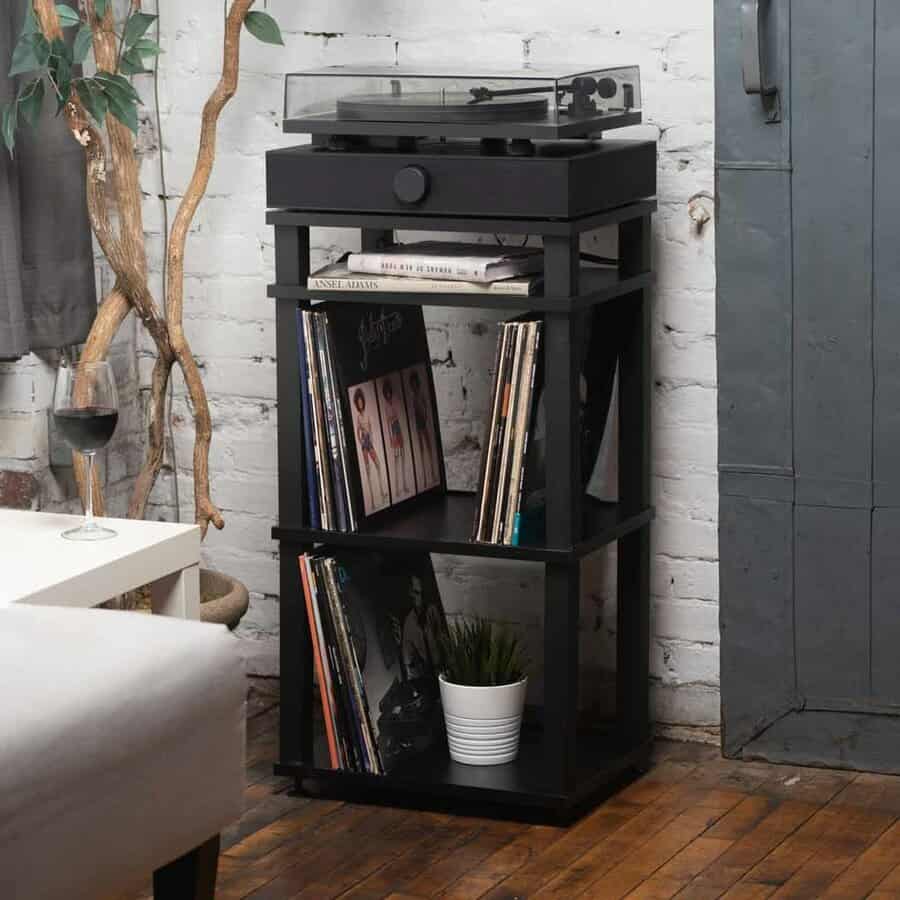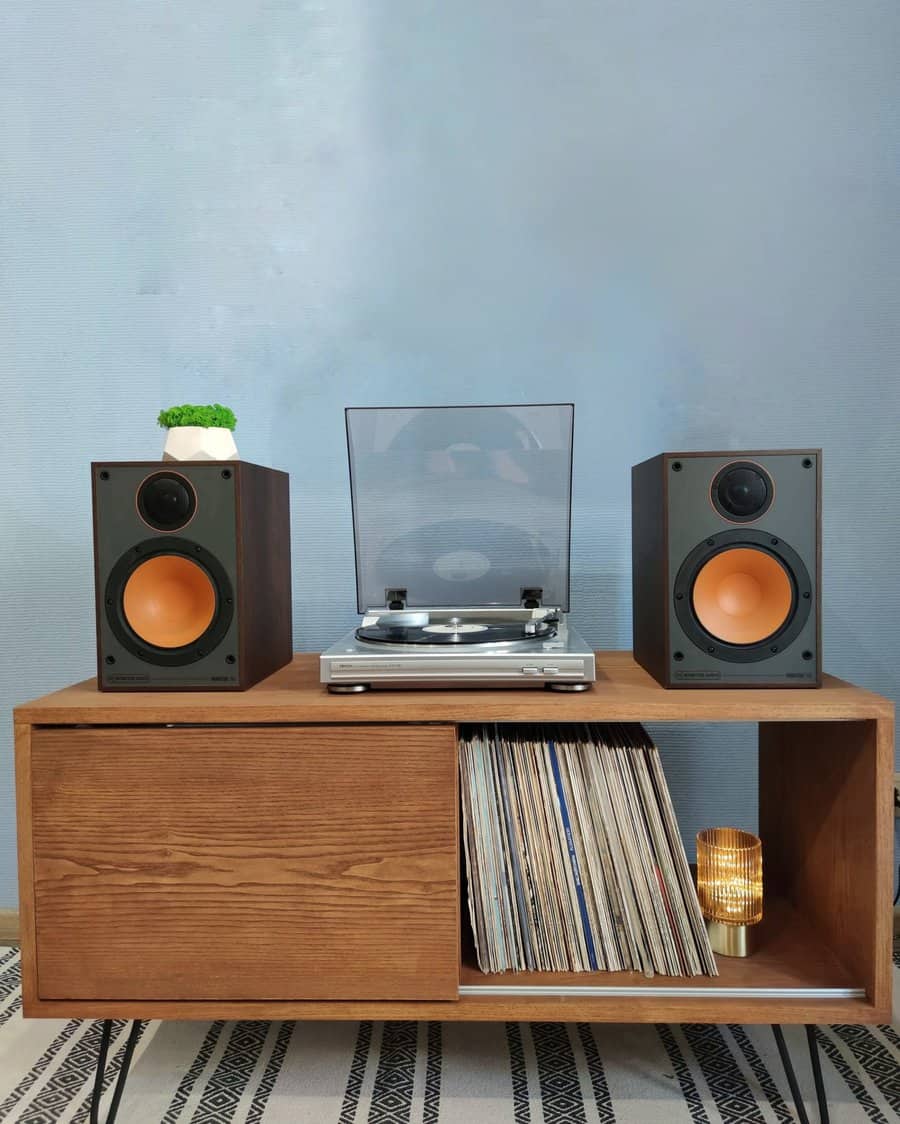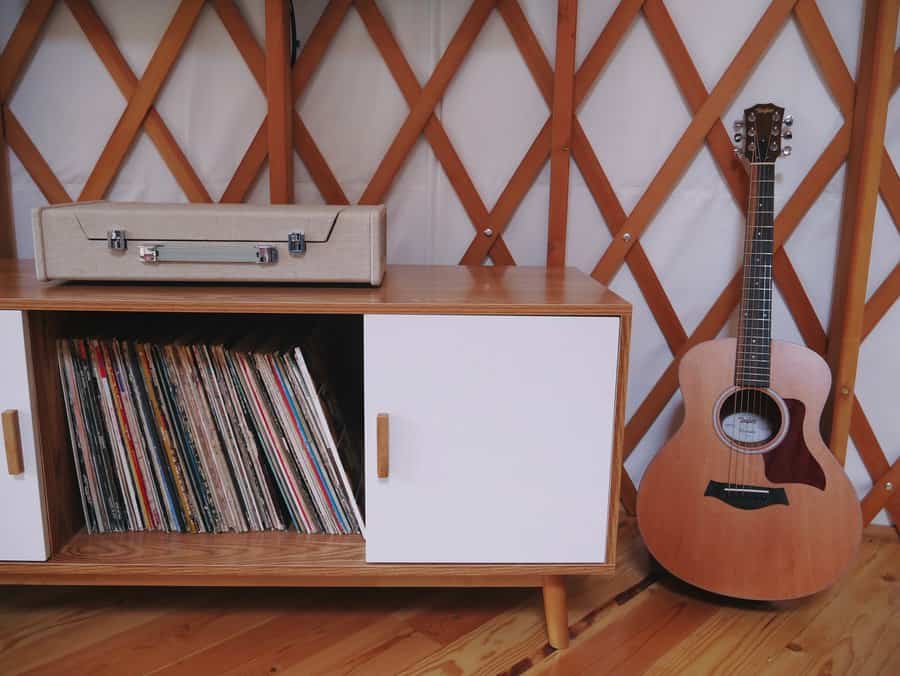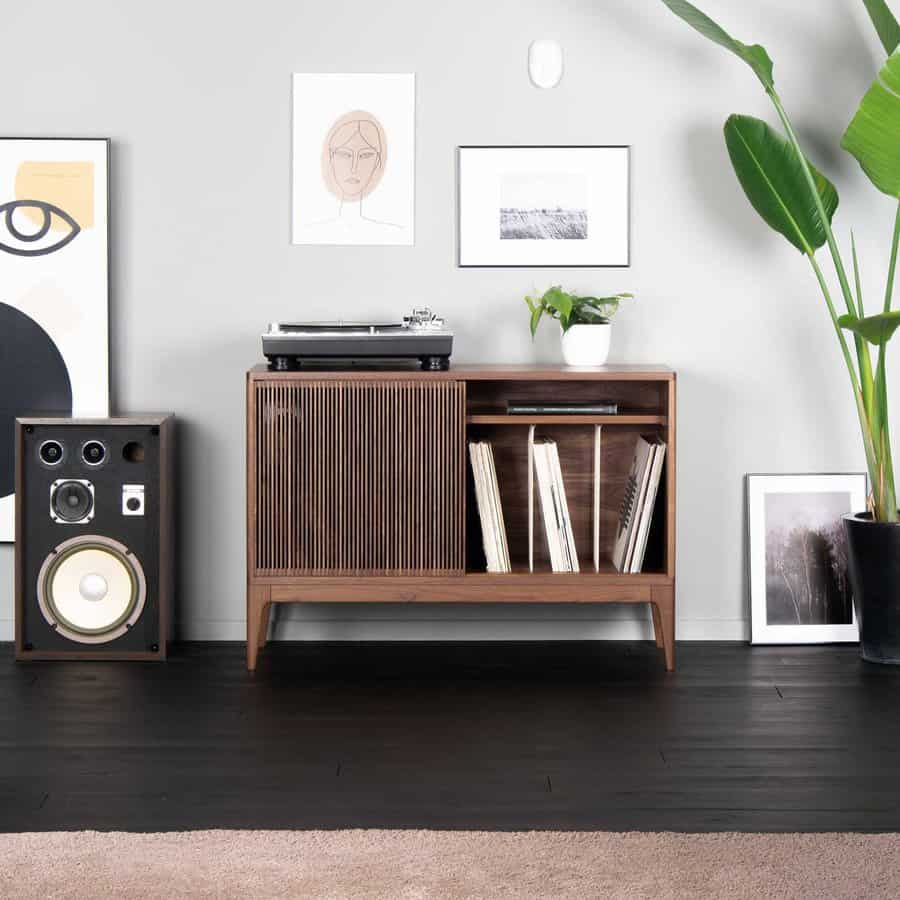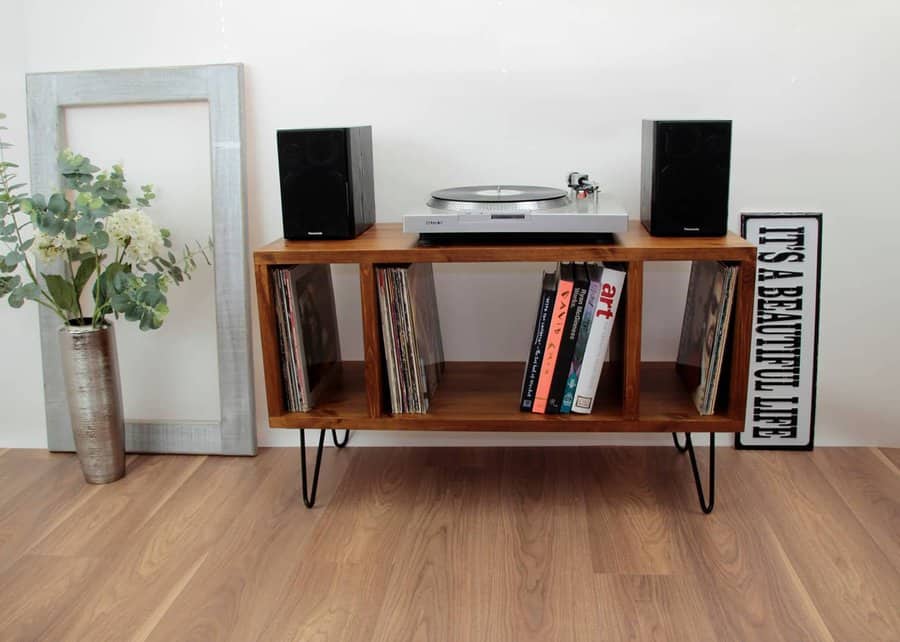 2. Cubby Record Shelf
The cube shelves provide ample space to neatly arrange your albums, allowing you to easily browse through your collection and select the perfect record for any occasion. With their sleek and minimalist design, record cubby shelves not only serve a practical purpose but also add a touch of modern elegance to your space.
Moreover, the empty spaces between the record cubbies offer an opportunity for creative expression, allowing you to display small decorative items or accent pieces that enhance the overall aesthetic. The advantages of using record cubby shelves extend beyond their functionality and aesthetic appeal. They help protect your vinyl collection by keeping them upright and preventing damage caused by improper storage.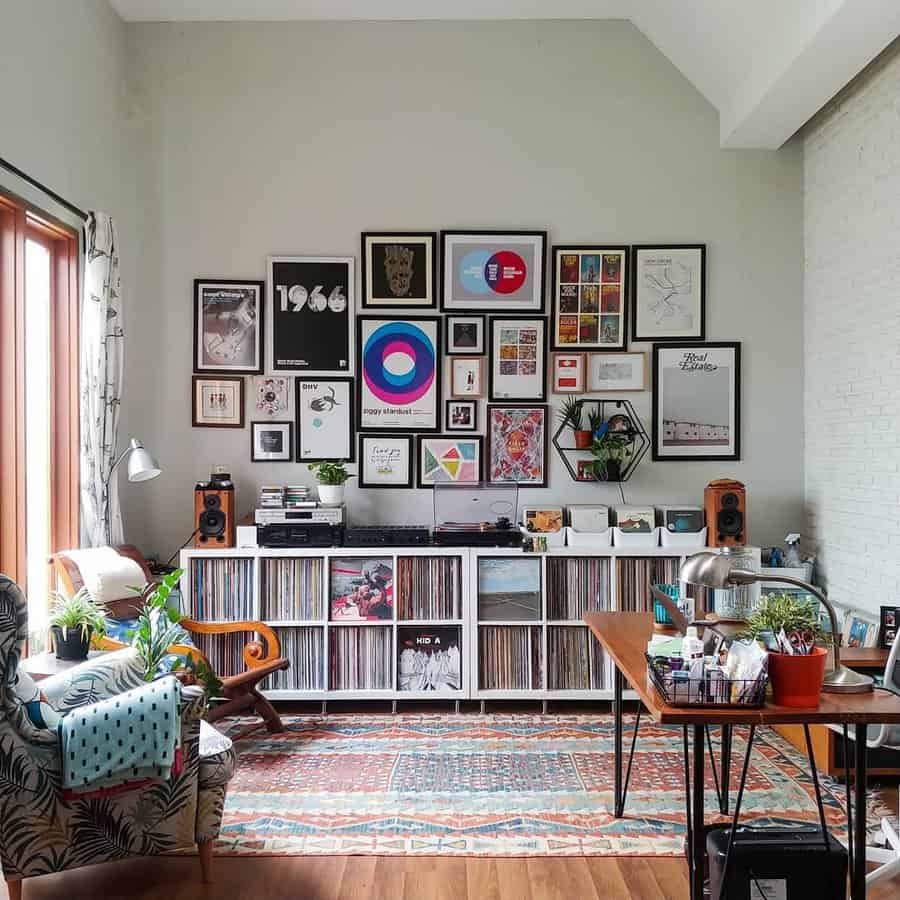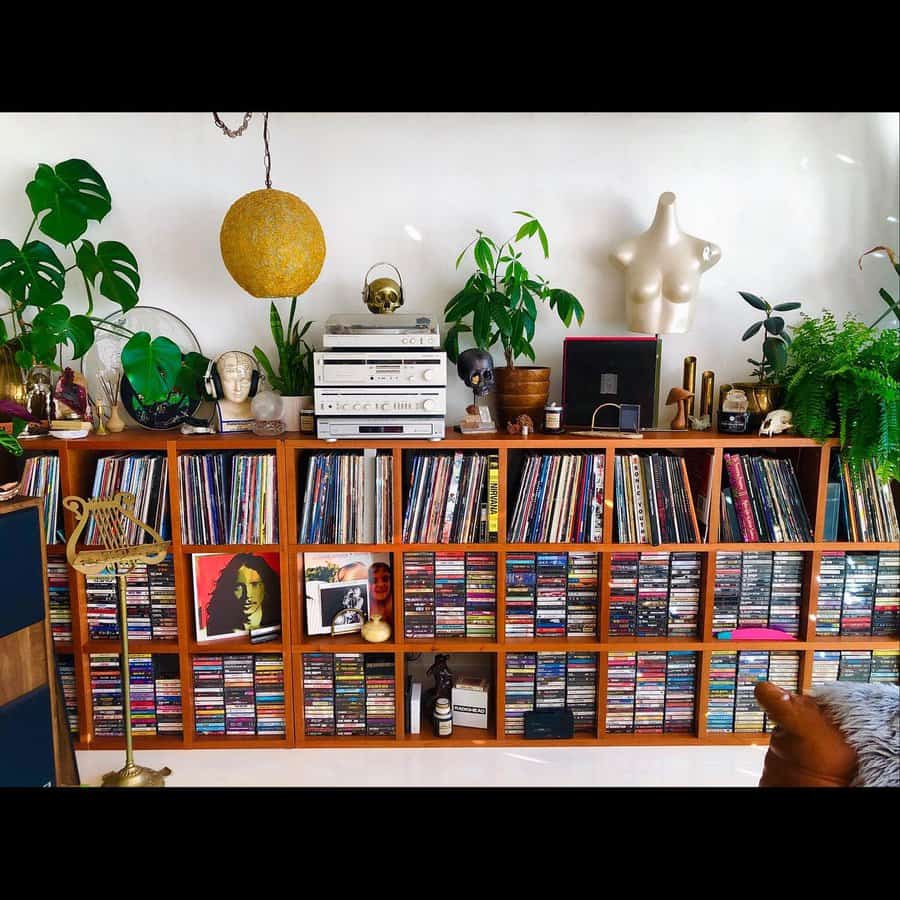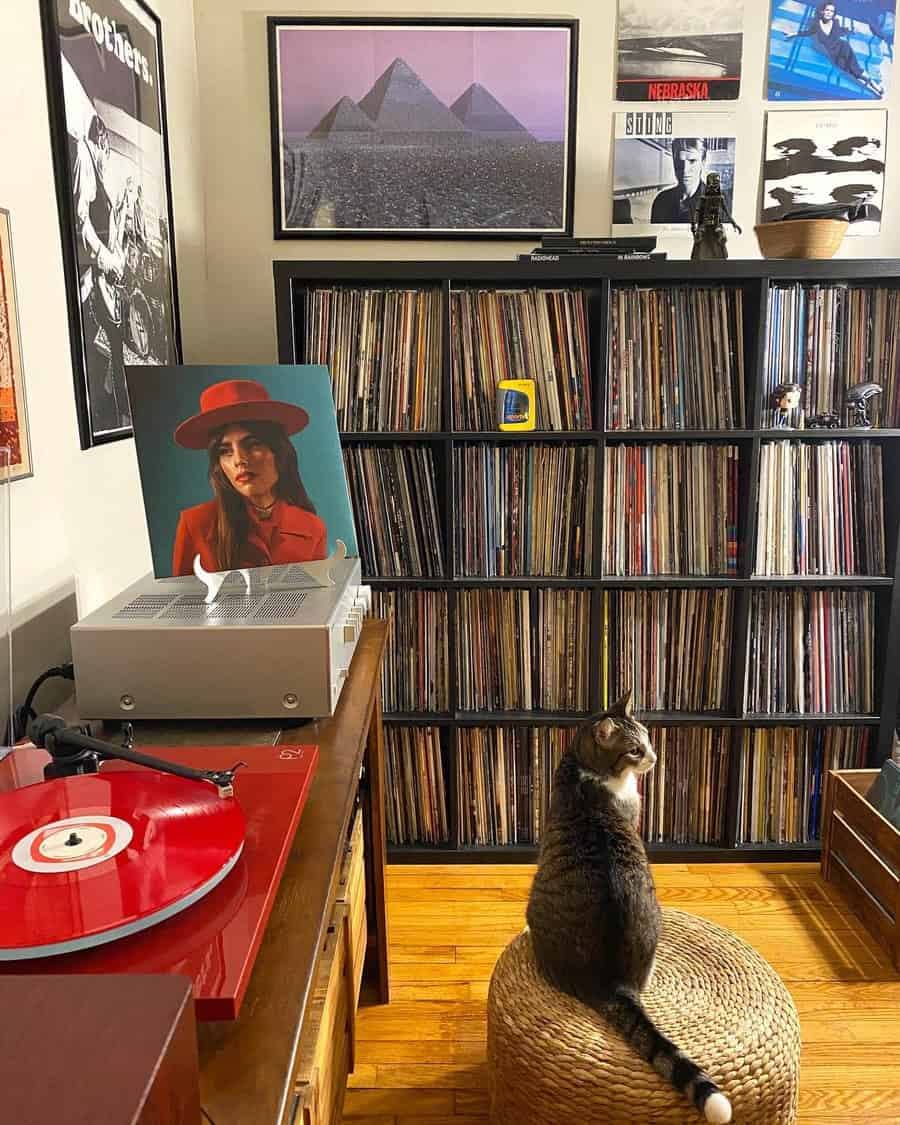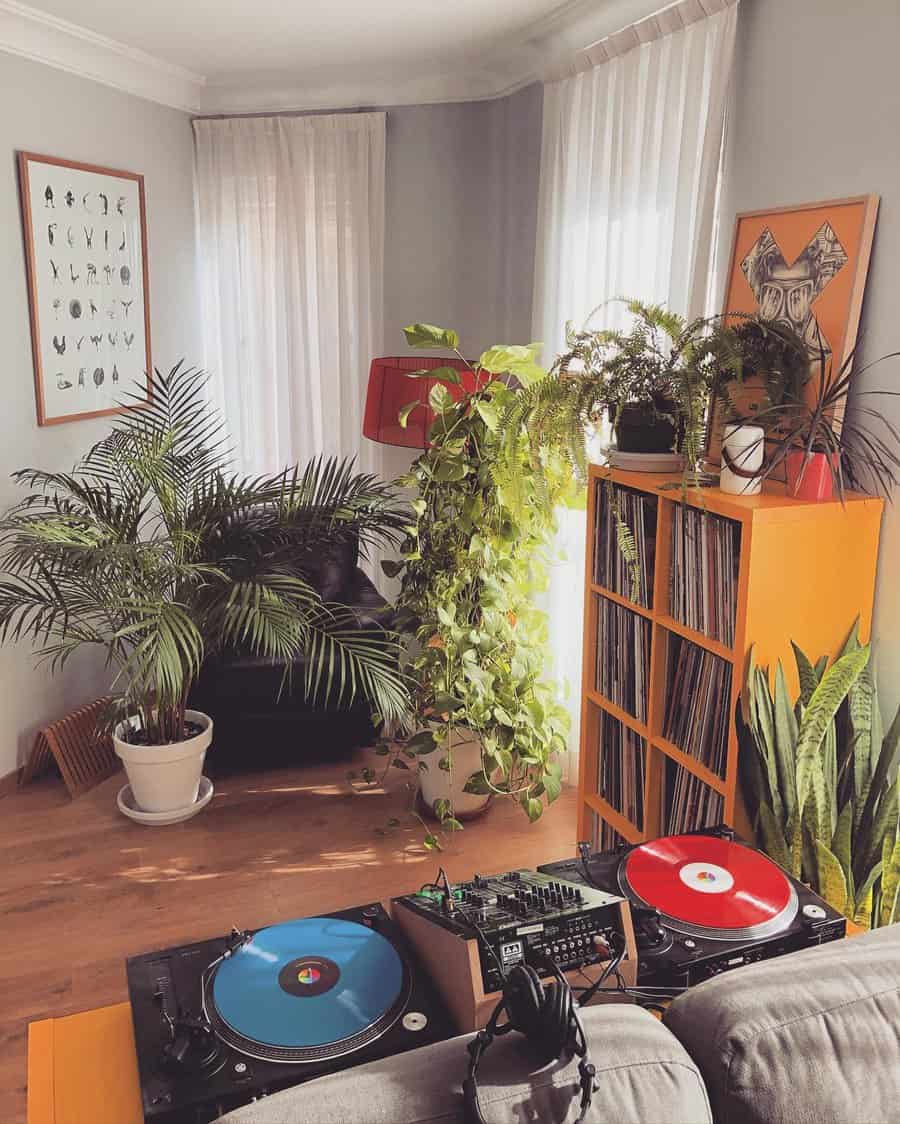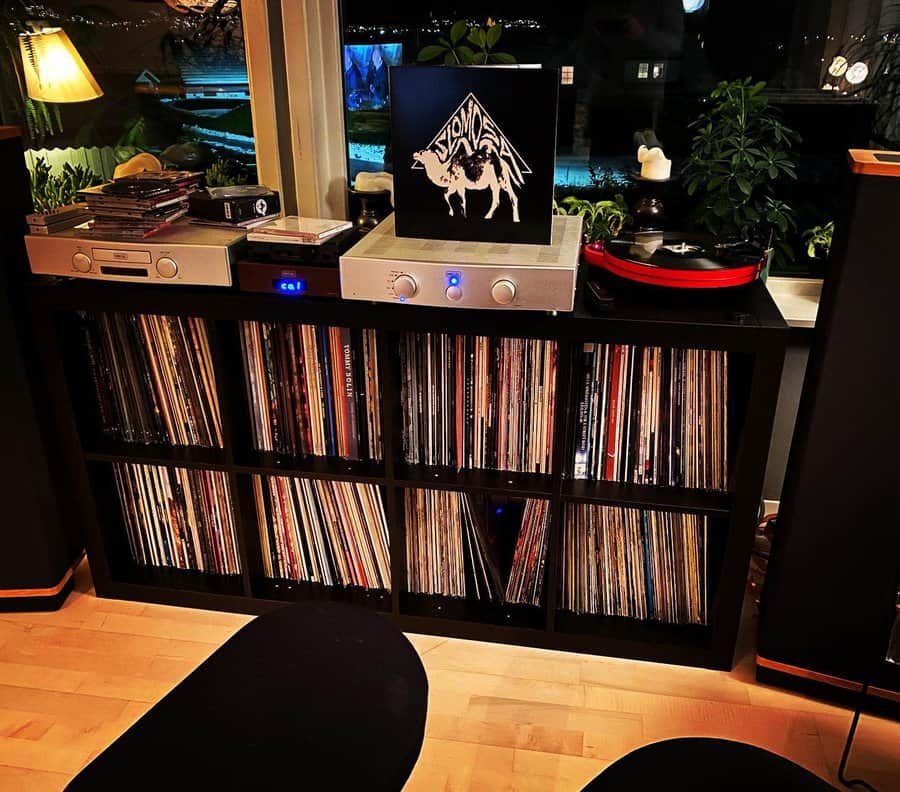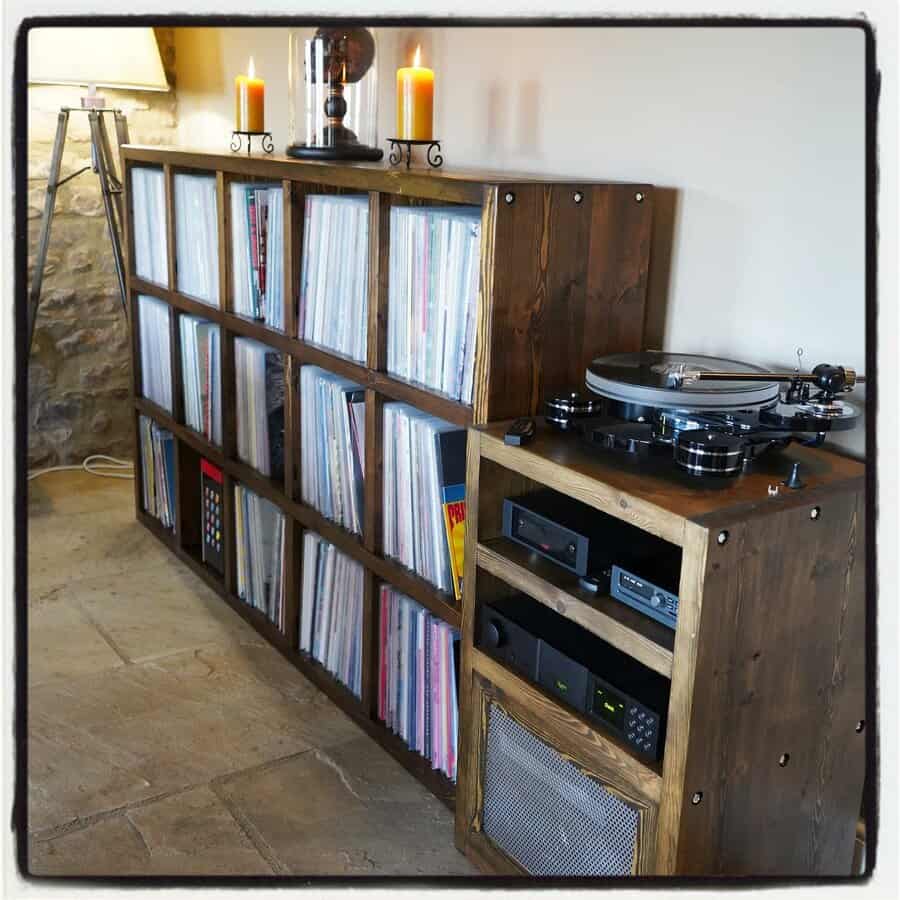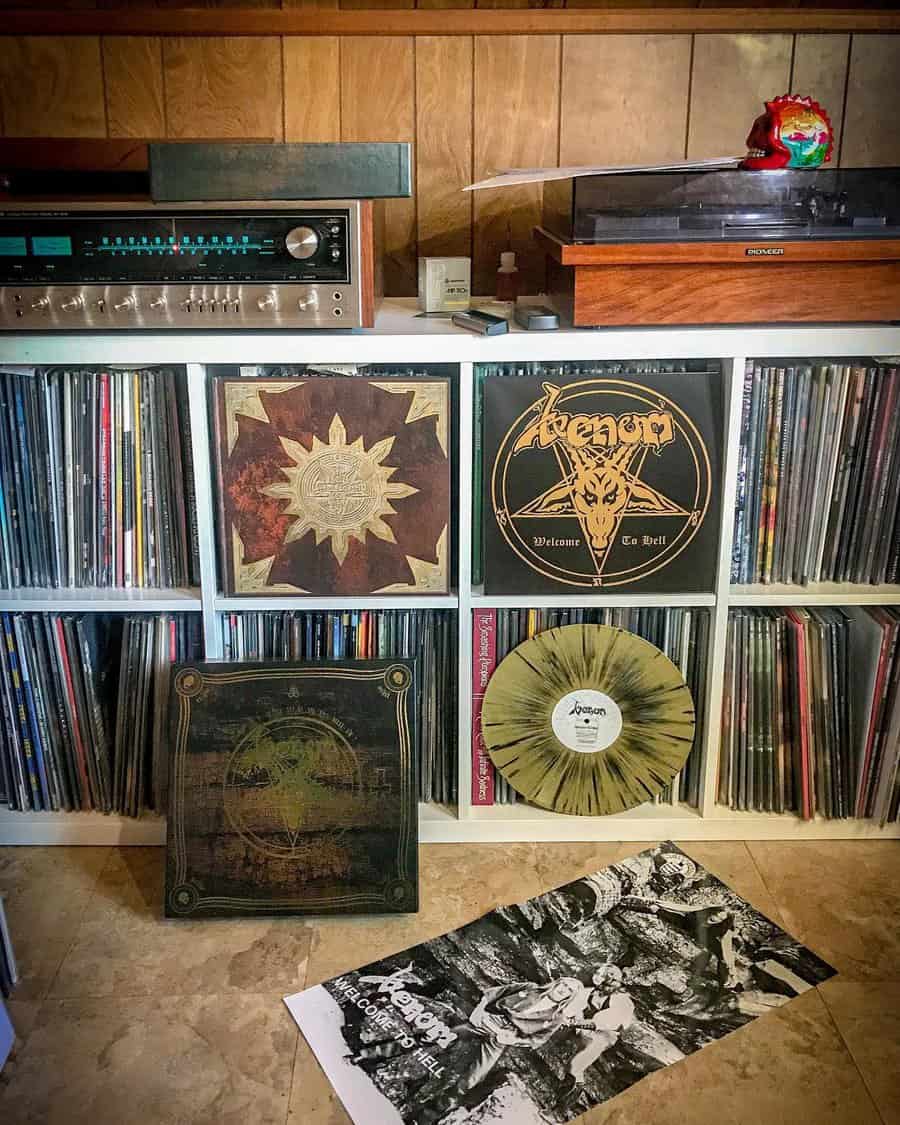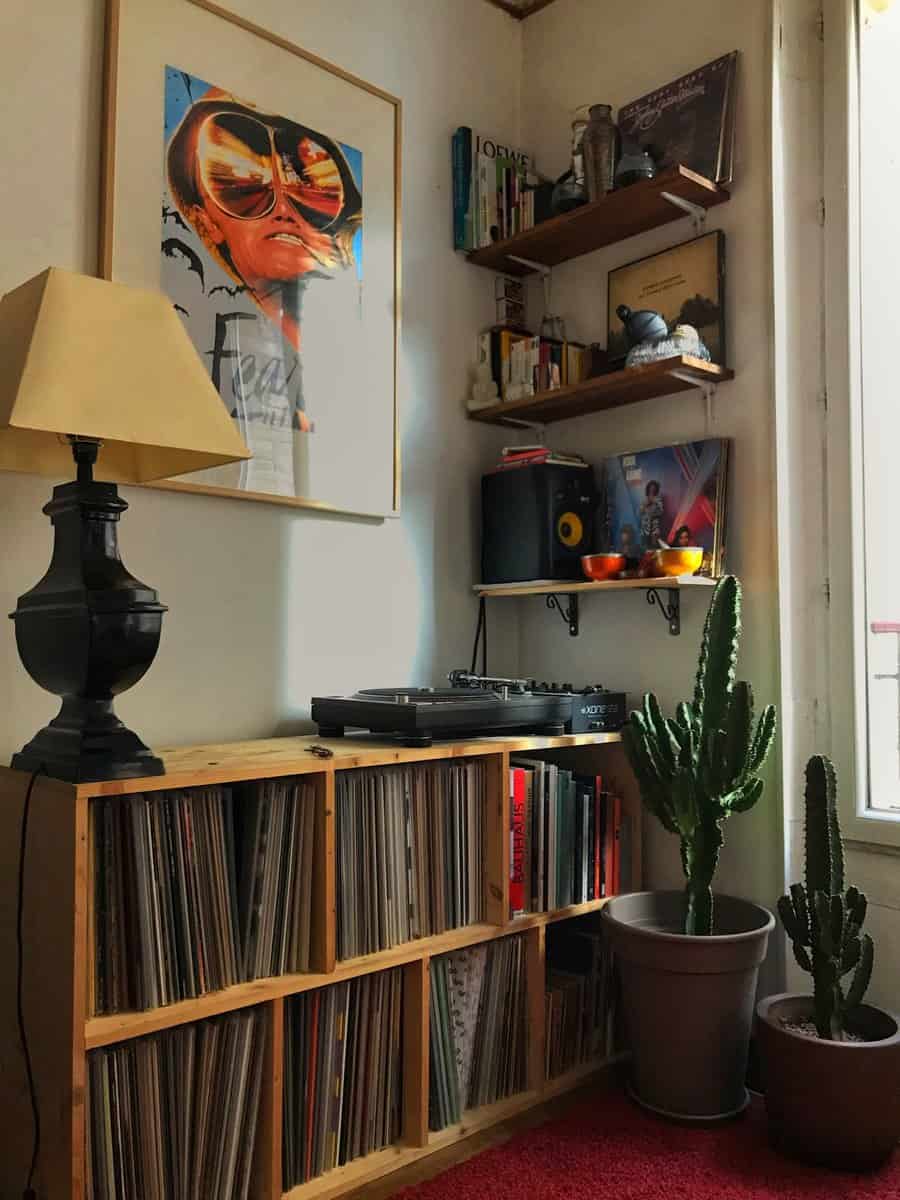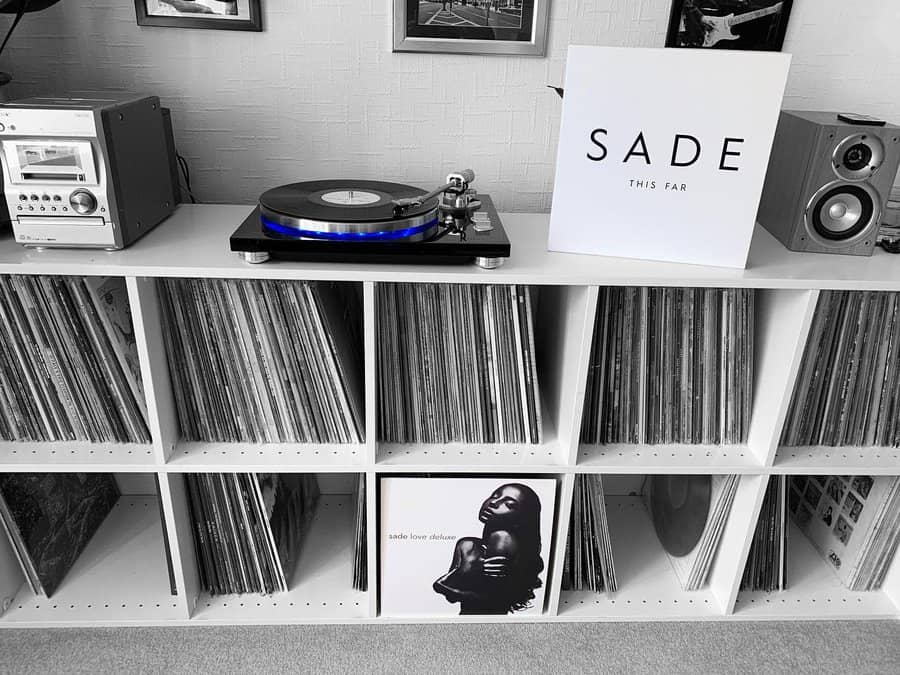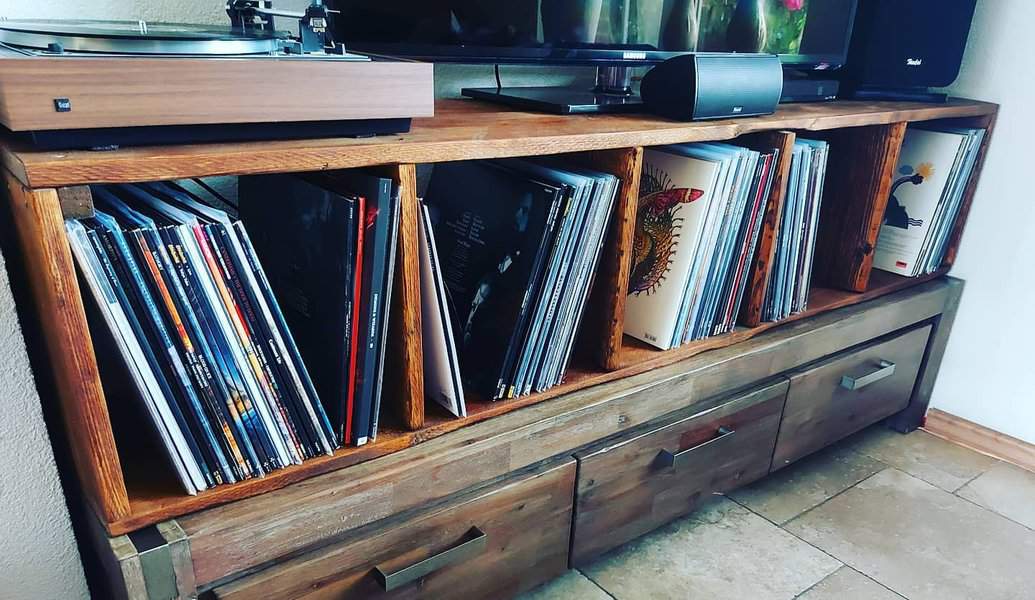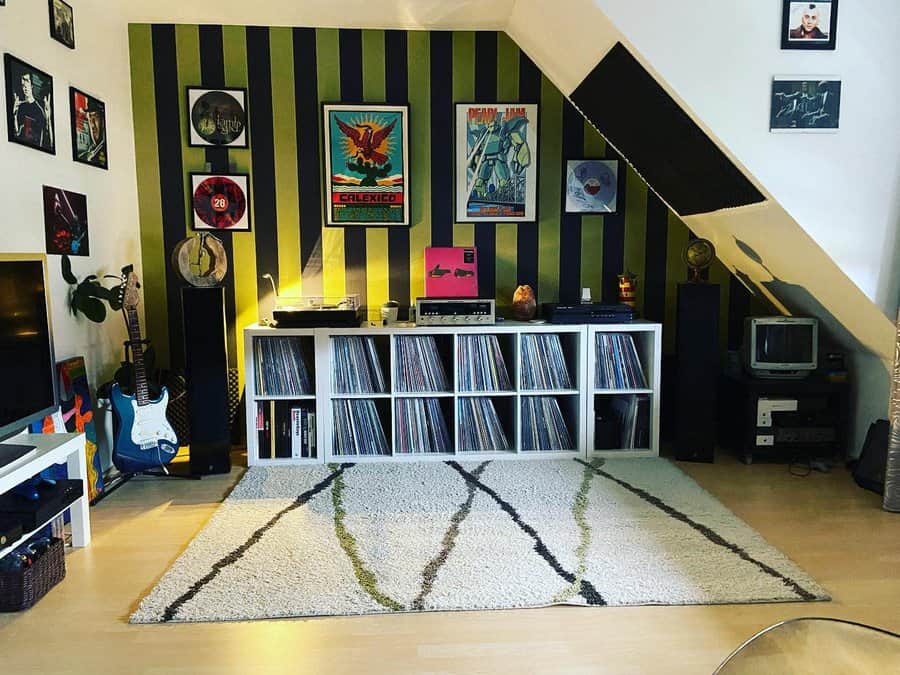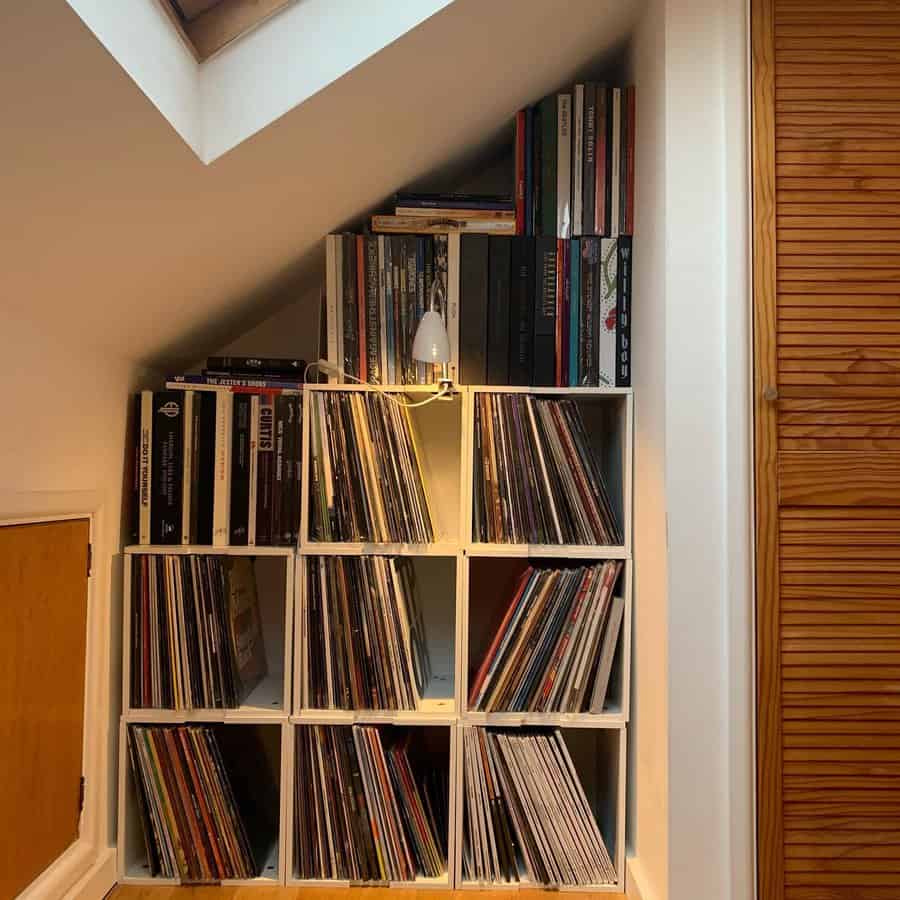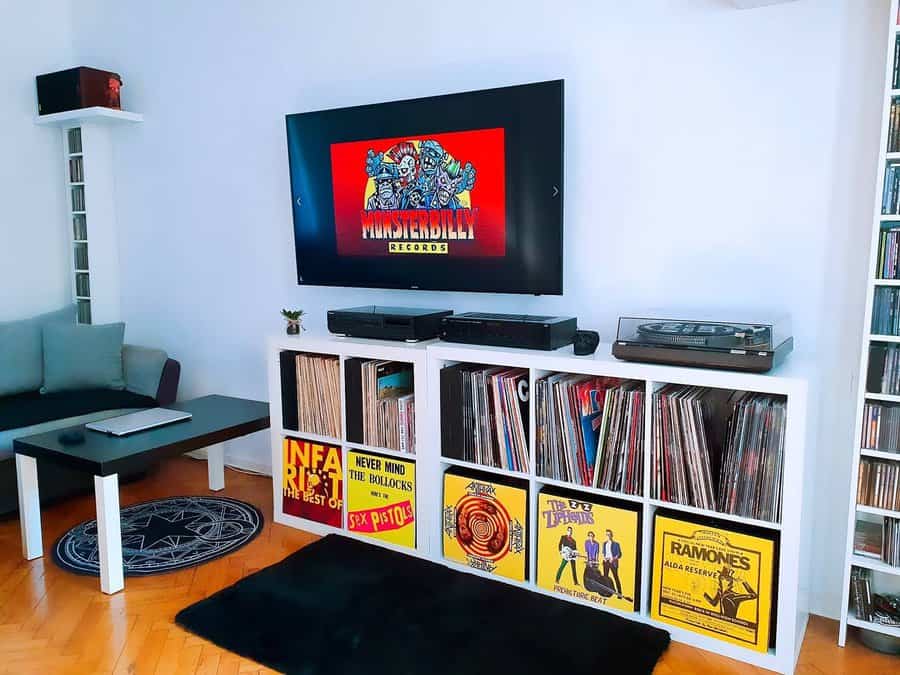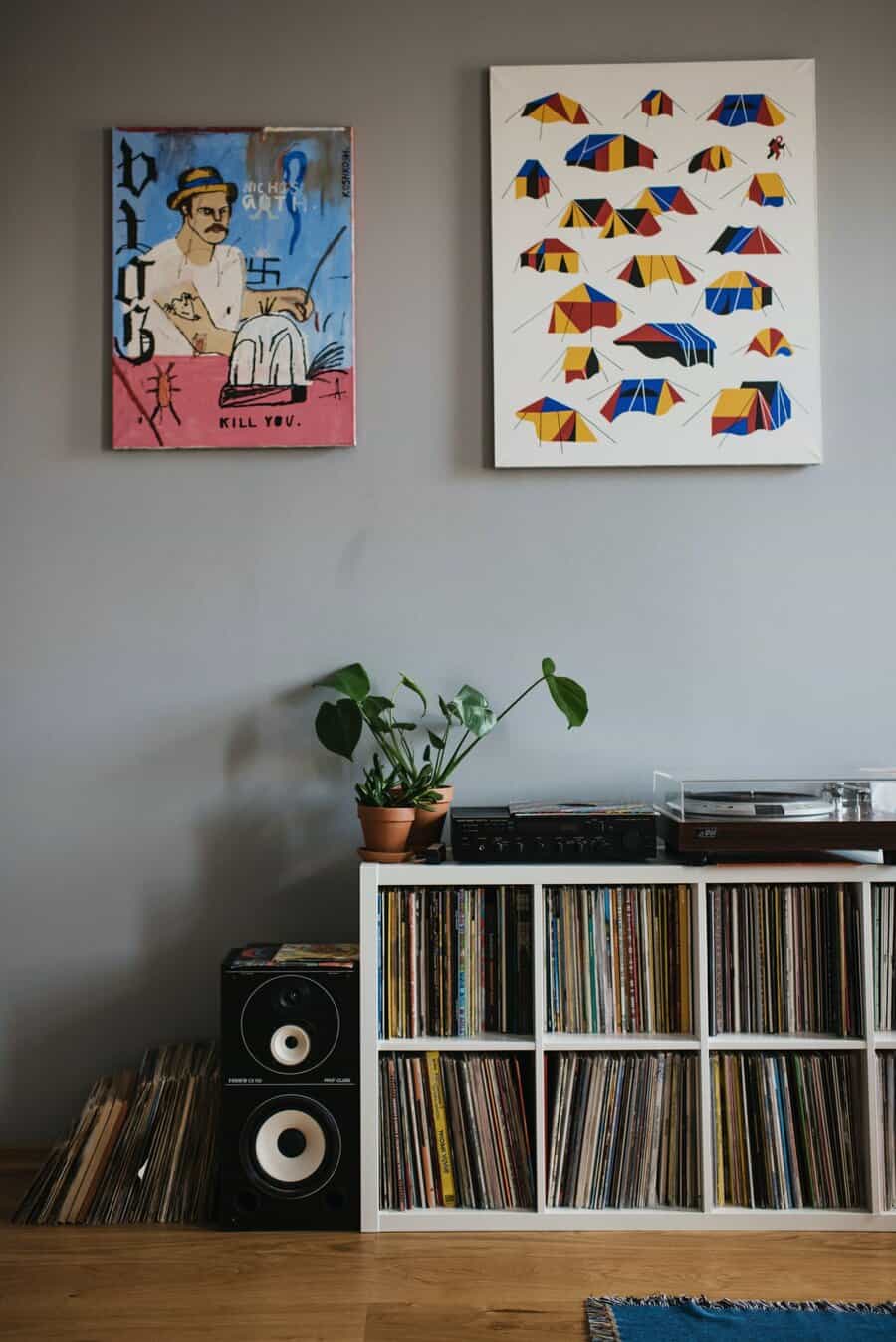 3. Record Crates
One fantastic idea to organize your vinyl collection is to utilize record crates. Not only are they a cost-effective option, but they also offer a charming vintage appeal that complements any room decor. These crates are designed specifically to hold and protect your cherished records while keeping them easily accessible.
The stackable feature allows you to create an impressive wall of records, showcasing your collection like a work of art. With record crates, you can effortlessly browse through your albums, finding the perfect one for every mood and occasion. The advantages of this storage solution extend beyond aesthetics and convenience. The crates provide proper support and protection for your records, preventing warping or damage.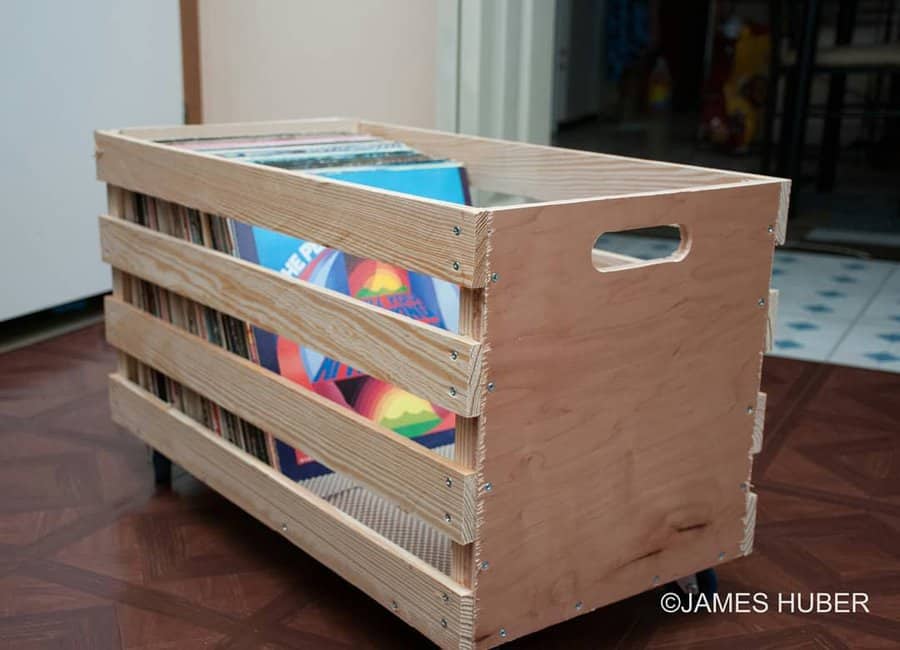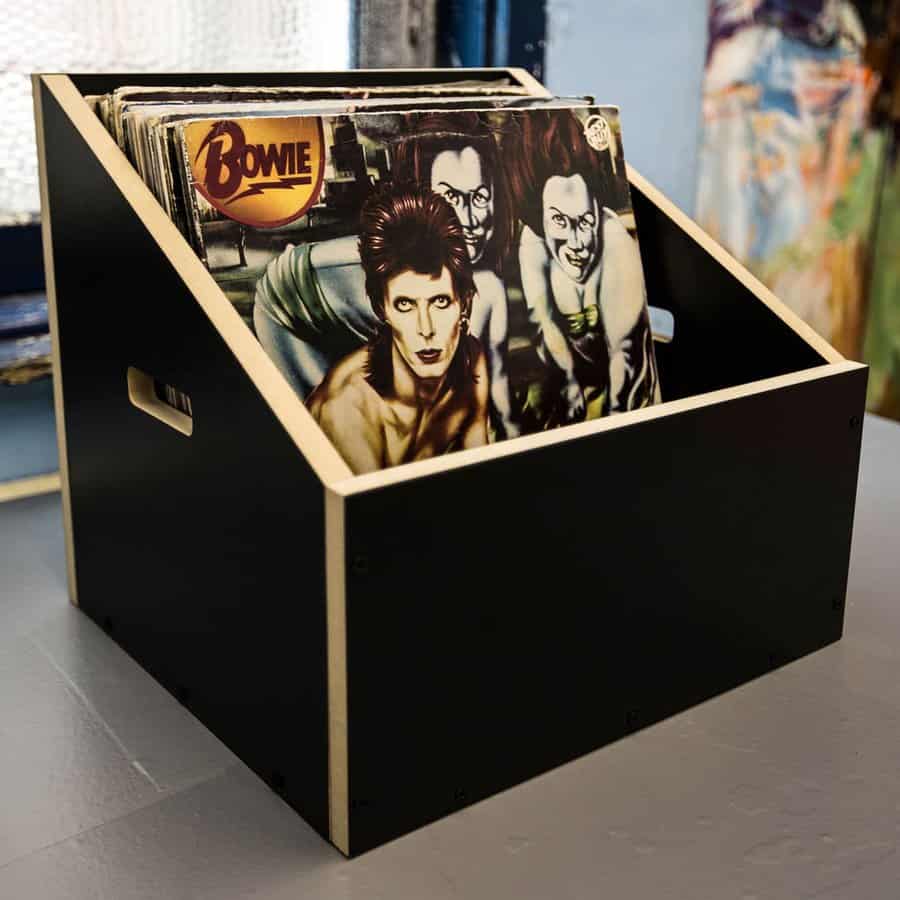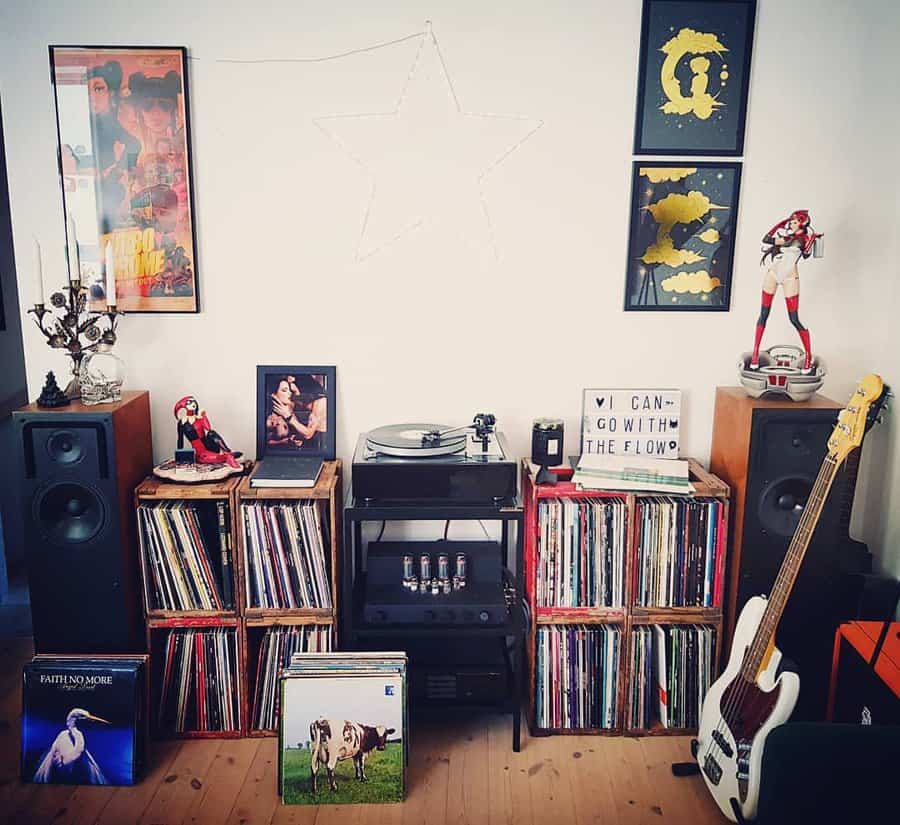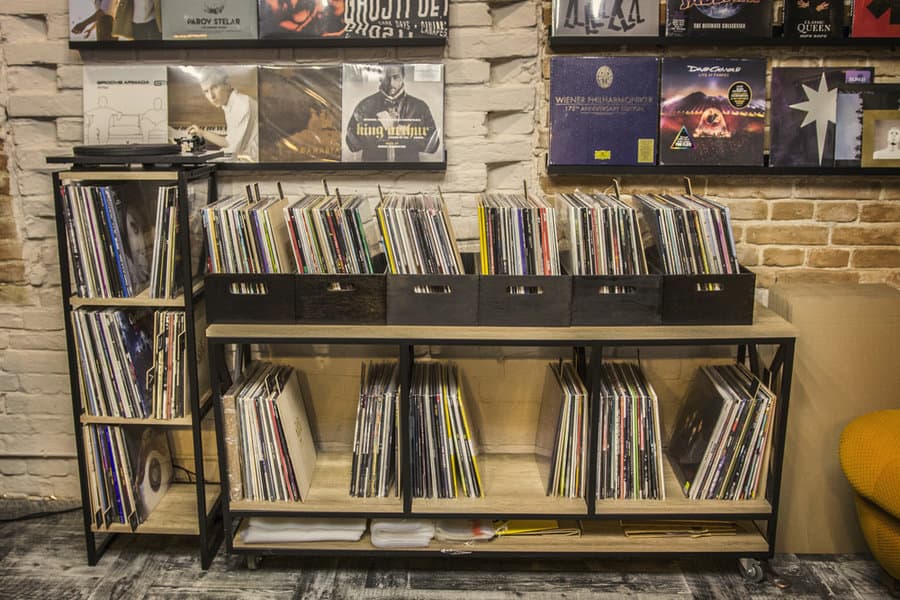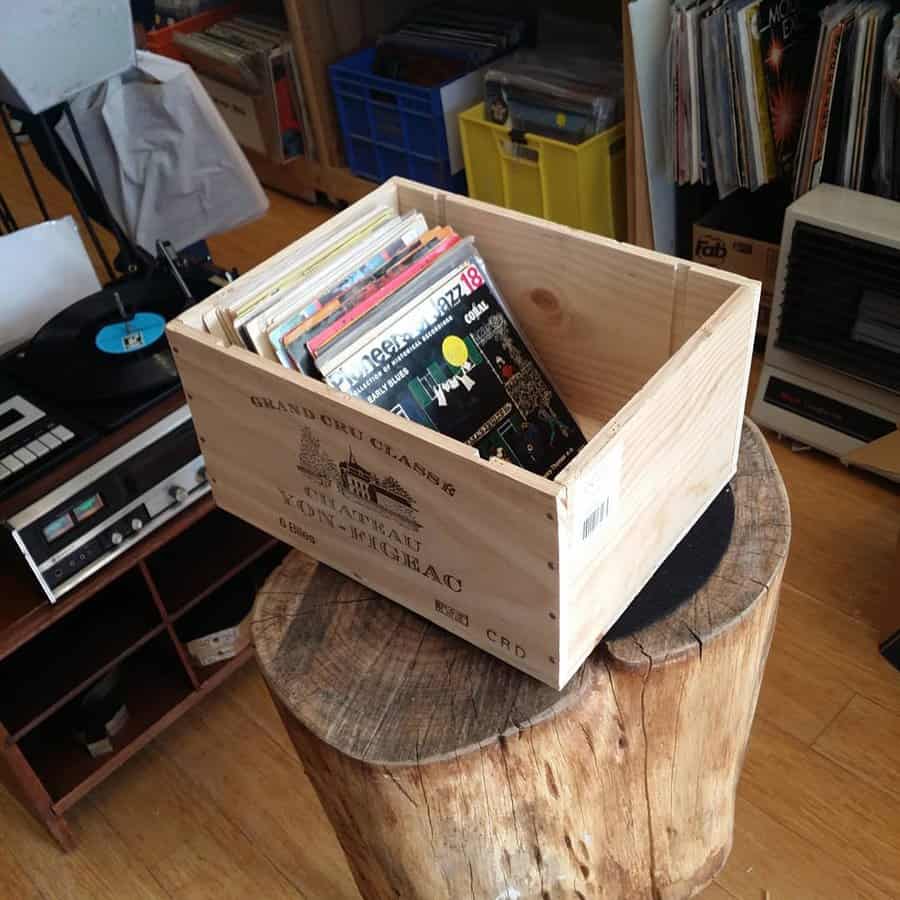 4. Customized Record Player Cabinet
A customized record player cabinet not only keeps your records easily accessible but also adds a touch of sophistication and functionality into your space. The advantages of a customized record player cabinet are abundant. Firstly, it provides proper storage and protection for your vinyl records, keeping them in pristine condition and extending their lifespan.
The dividers keep the record player secure and stable, preventing any accidental bumps or falls. Additionally, the shelves allow you to organize your collection in a visually appealing manner, making it easy to find and select your favorite albums. Moreover, a customized cabinet adds a personalized touch to your space, reflecting your passion for music and becoming a focal point that sparks conversation.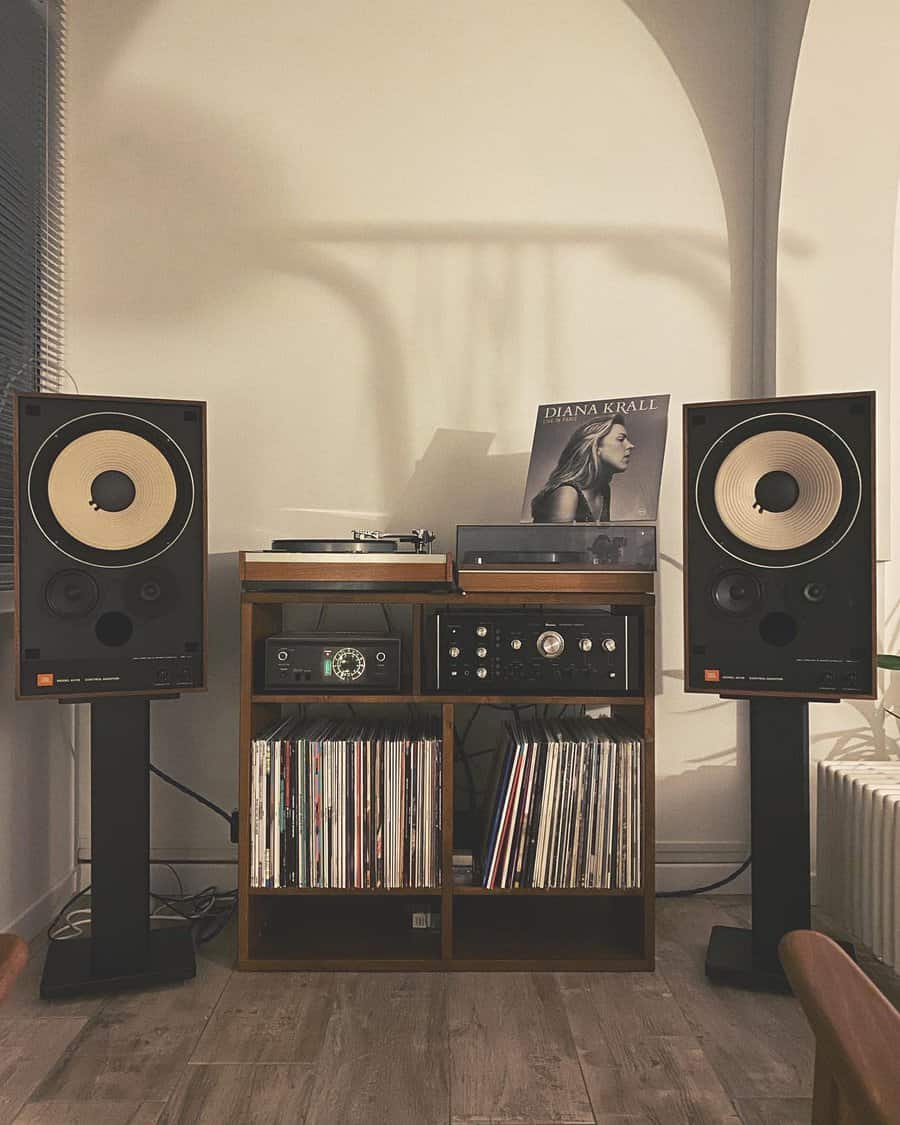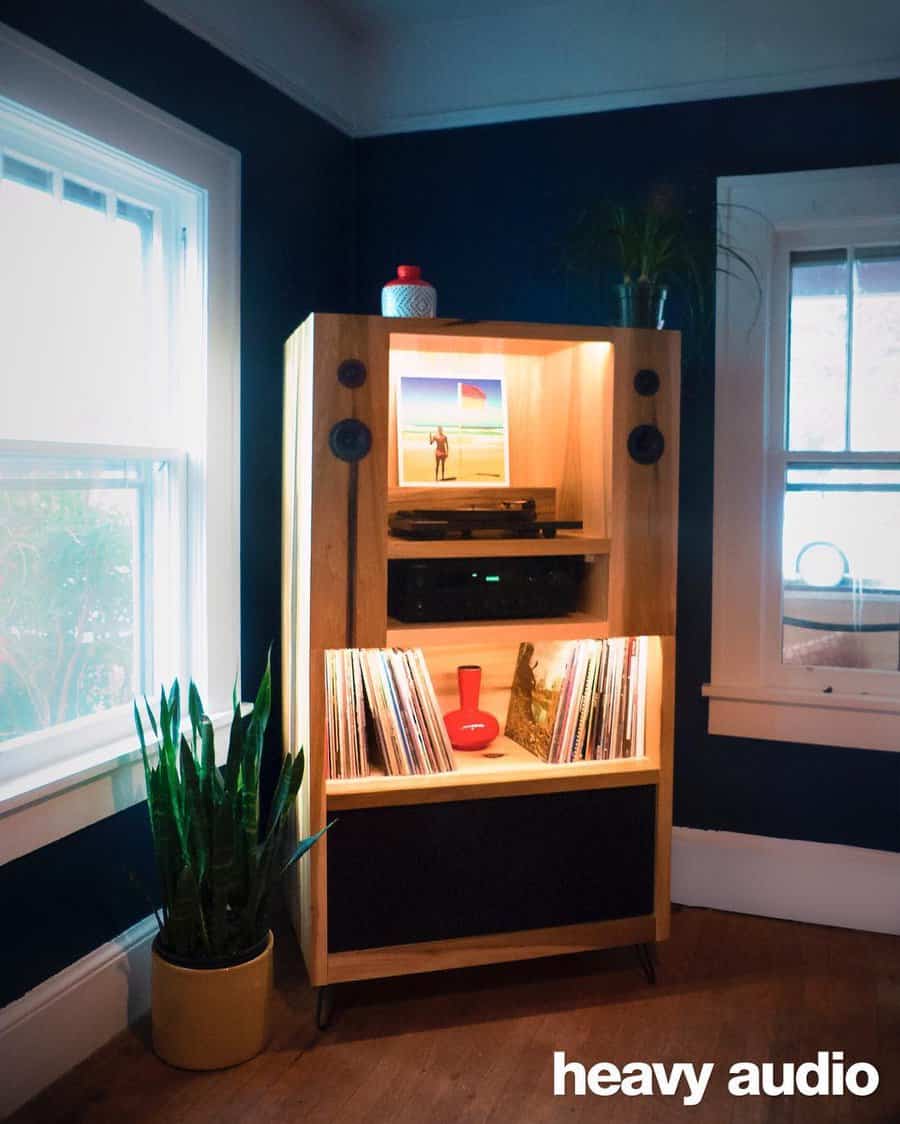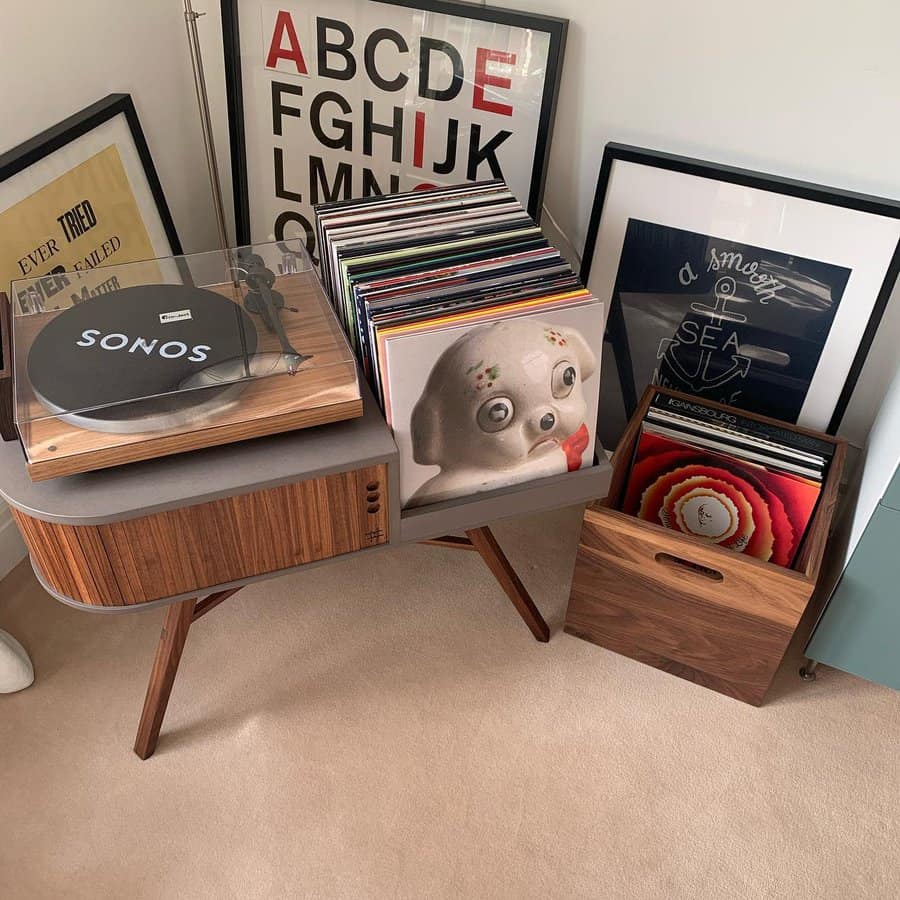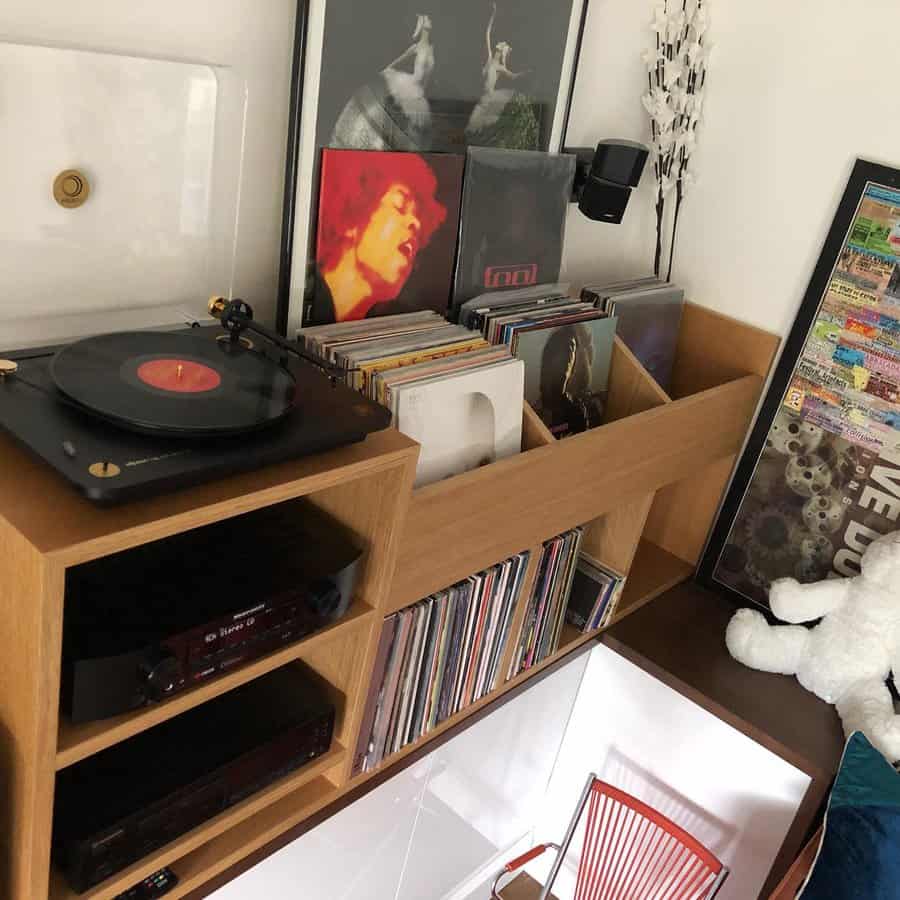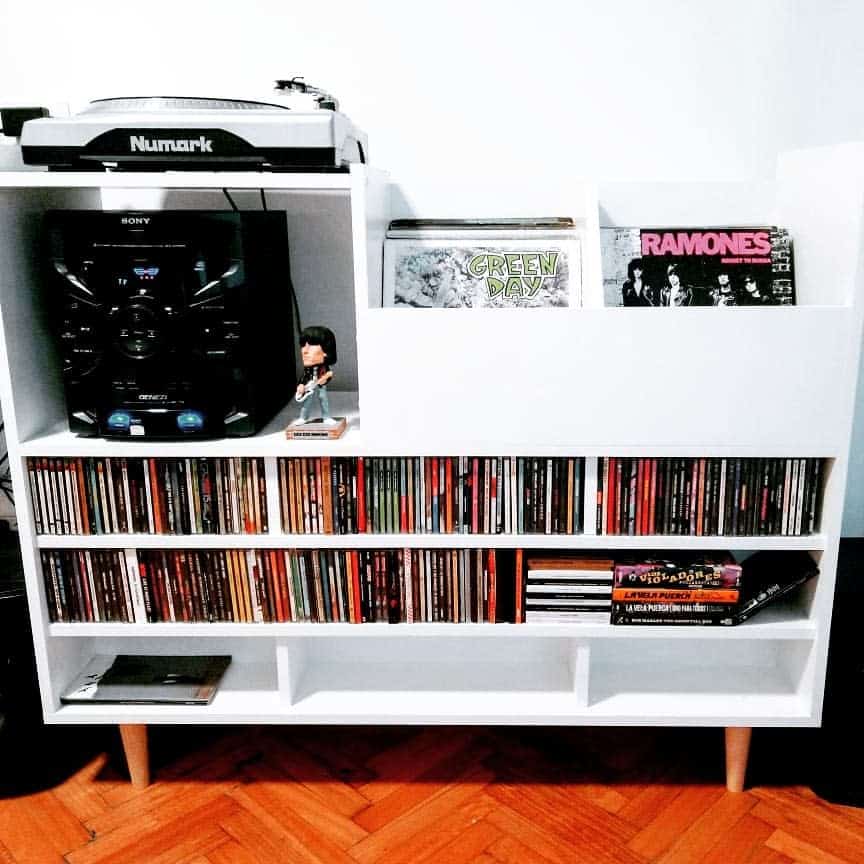 5. Front-Facing Record Rack
With this setup, your records stand tall, showcasing their vibrant album covers and inviting you to explore your musical treasures. The front-facing design allows for effortless browsing, making it a breeze to find that perfect album for your mood. Imagine the satisfaction of flipping through your collection, just like you would in a record shop, as you rediscover old favorites and stumble upon new musical gems.
Not only does the front-facing record rack offer practicality and convenience, but it also adds a unique and eye-catching element to your space. Its sleek lines and classic appeal make it a standout piece of furniture that complements various interior styles.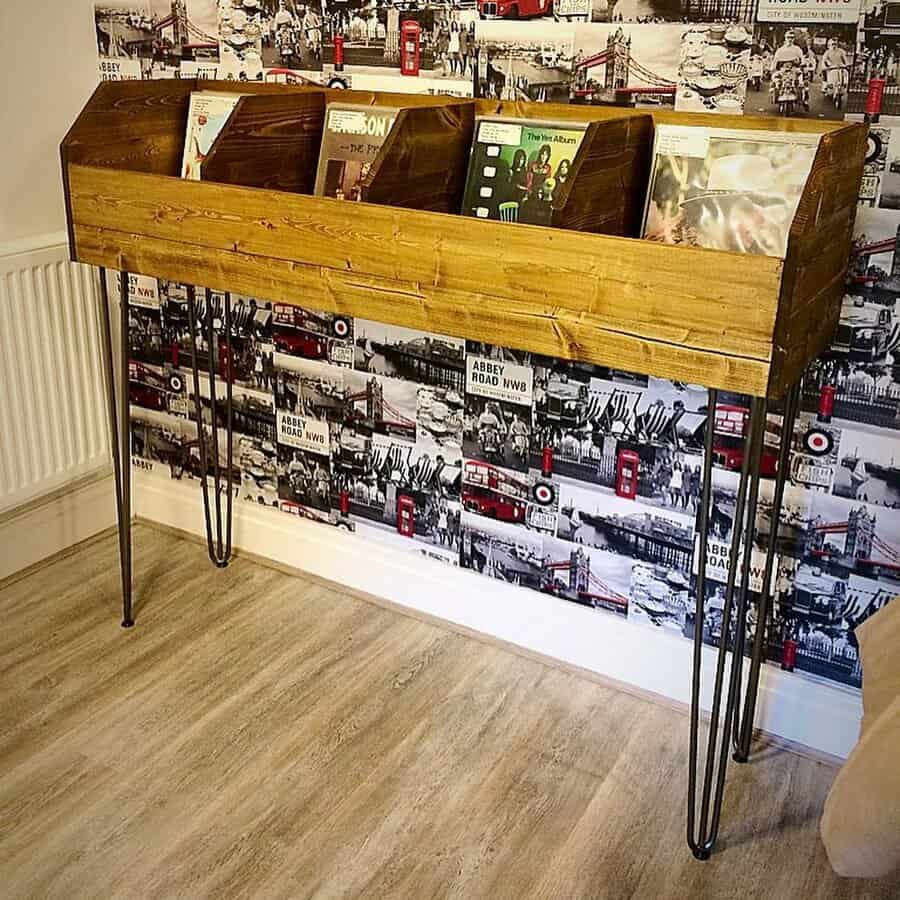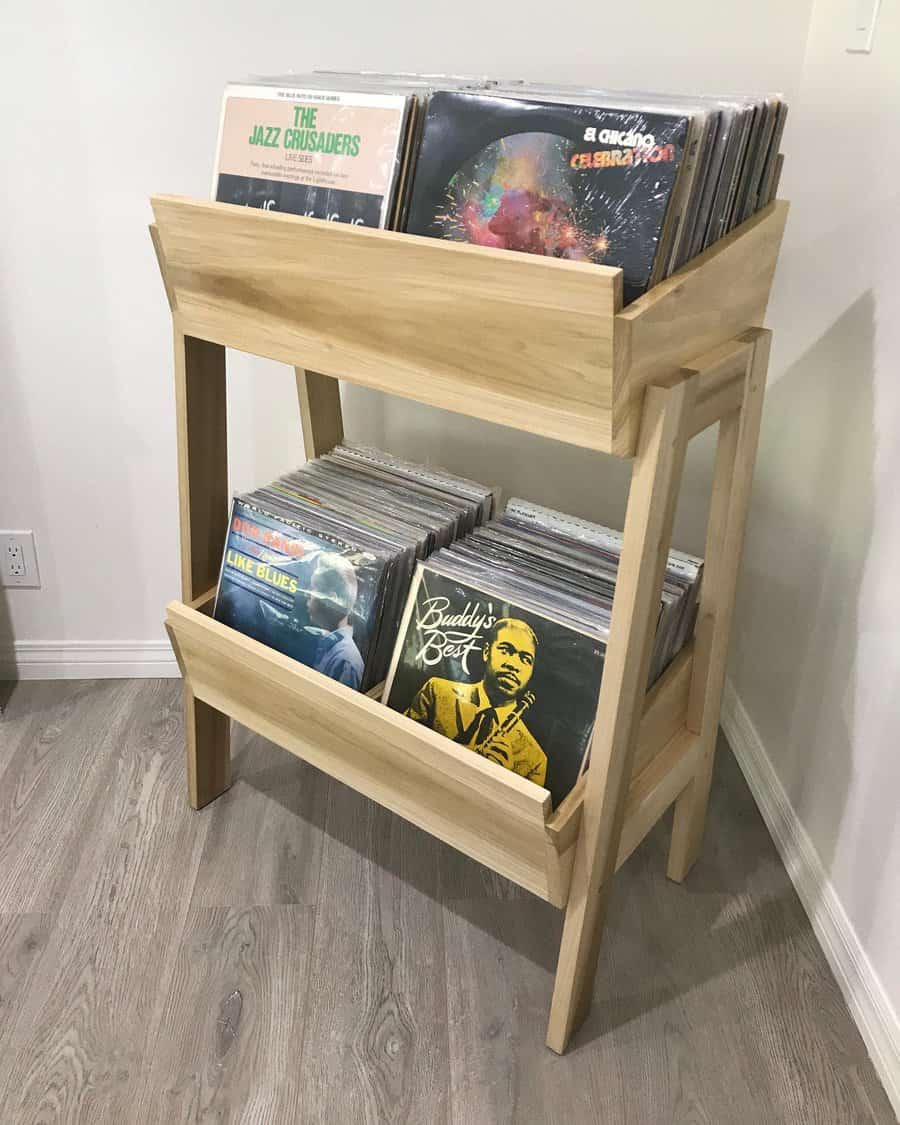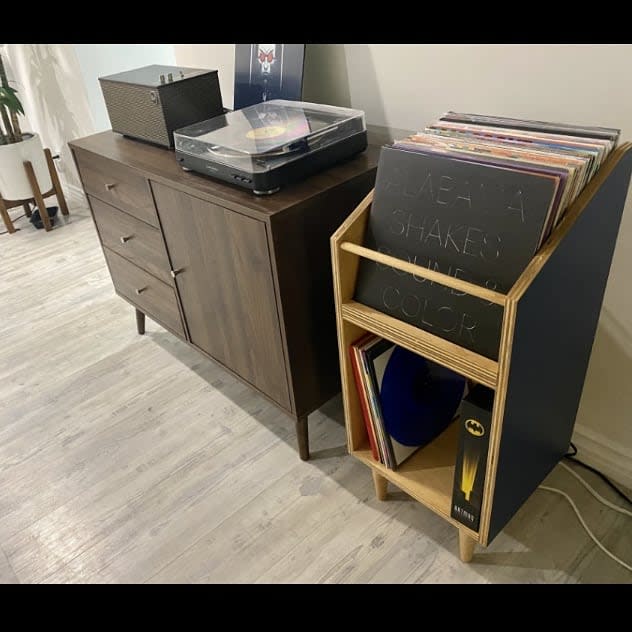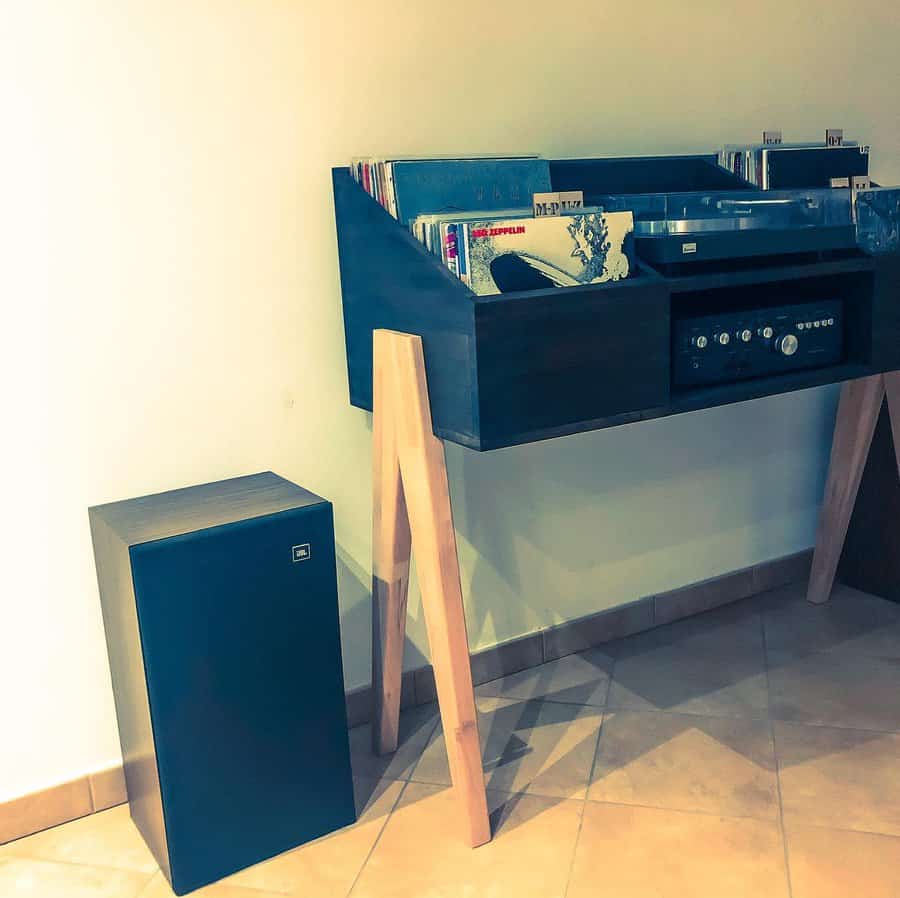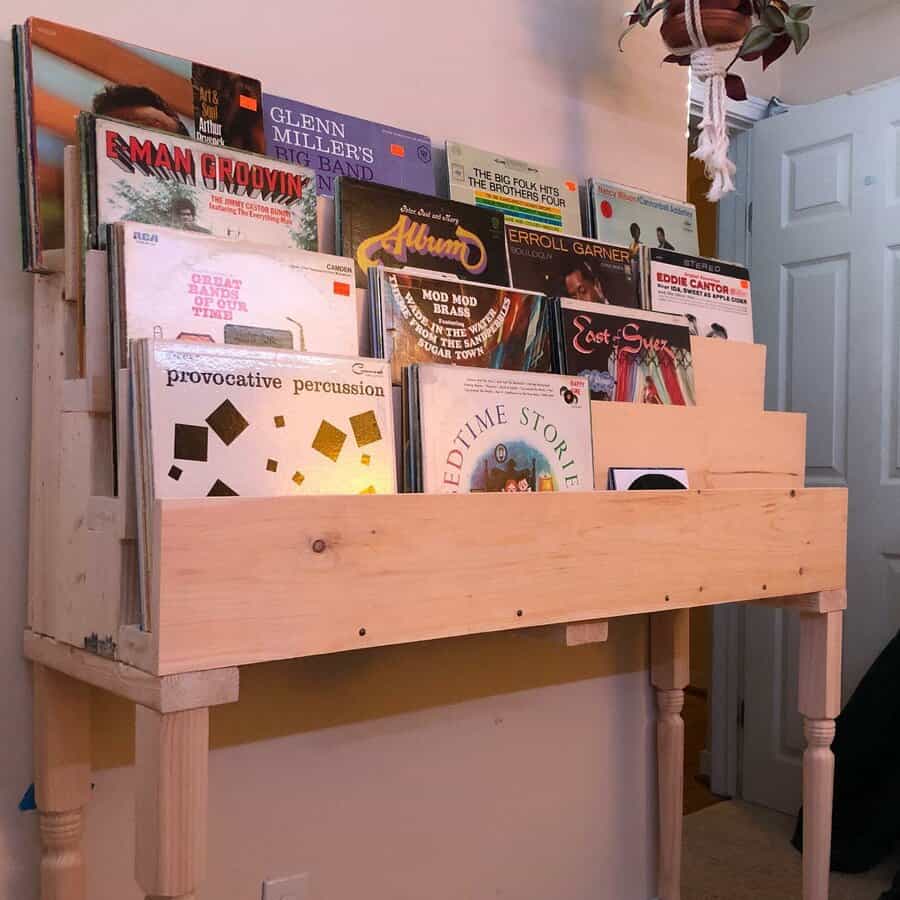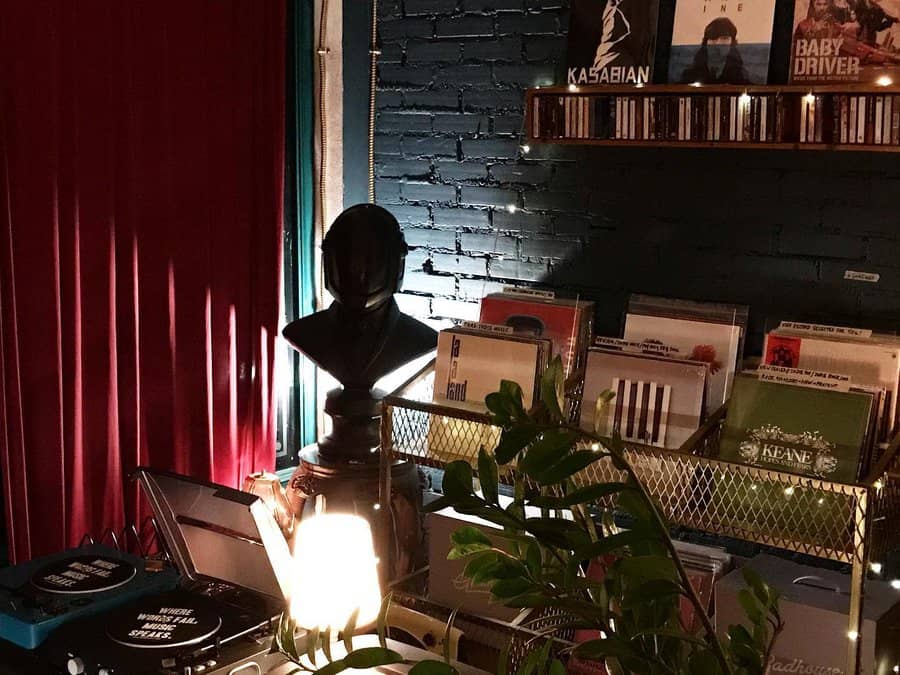 6. Distressed Vinyl Rack
This creative storage idea not only keeps your precious record collection organized but also adds a notable decorative element to your interior. The distressed finish of the rack brings a rustic and nostalgic feel, perfect for those who appreciate a vintage aesthetic.
To enhance the overall design, consider placing the vinyl rack in a dedicated music corner or alongside other retro-inspired decor pieces. Incorporate elements like vintage posters, old radios, or antique speakers to create a cohesive and immersive atmosphere. Additionally, you can play with contrasting textures and materials by pairing the distressed vinyl rack with natural wood accents or industrial-inspired metal shelving.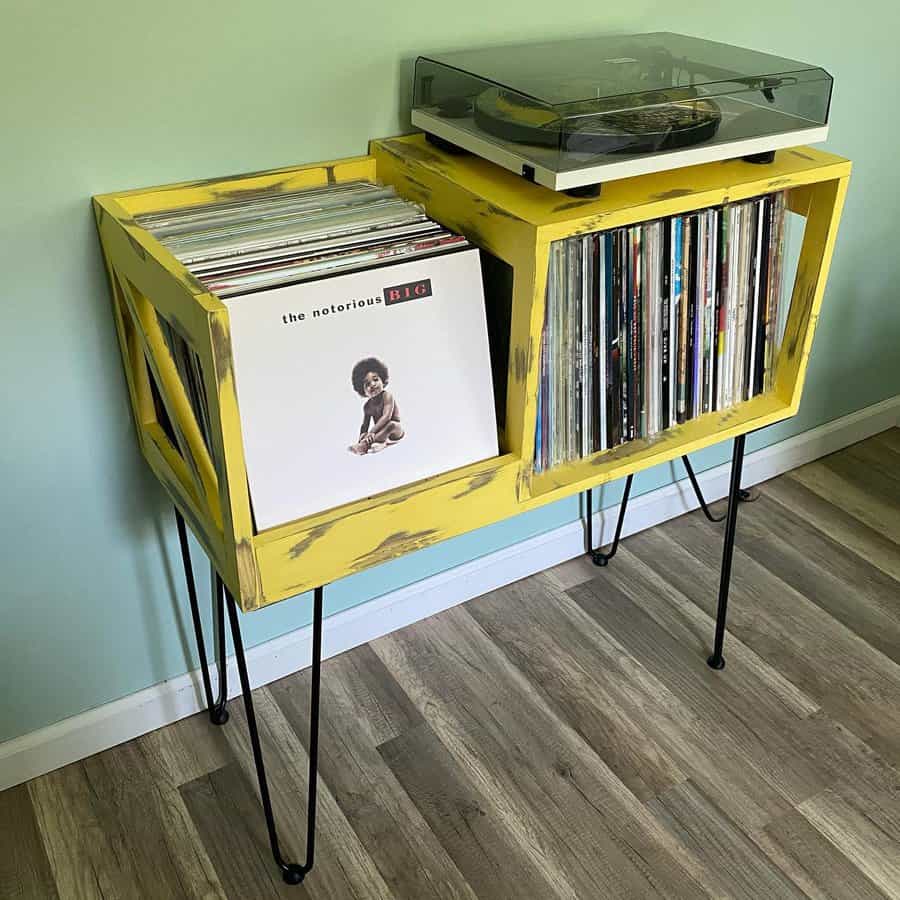 7. Vinyl Inspired Shelf
A DIY record shelf designed to mimic the look of a vinyl record creates a unique and eye-catching display for your cherished albums. Consider incorporating music and vinyl-inspired elements into the design, such as using circular shapes, bold colors, or even album cover artwork as decorative accents. To add a vintage touch, repurpose old records by transforming them into wall art or using them as decorative elements on the shelf.
When arranging your records, consider organizing them by genre, artist, or color for a visually appealing and organized display. Incorporate design elements like lighting, such as LED strips, to highlight your collection and create a captivating ambiance. Remember to ensure the shelves are sturdy enough to hold the weight of your records and provide ample space to accommodate your growing collection.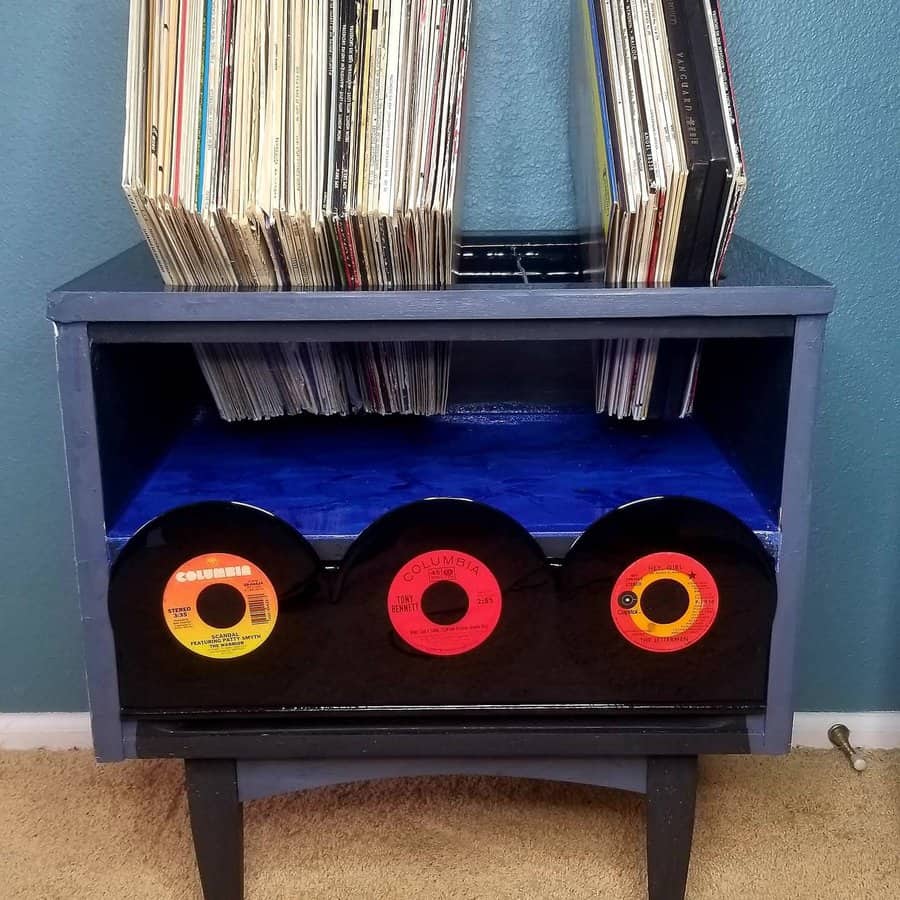 8. Scandinavian Backless Vinyl Shelf
With their open design and backless structure, they create an airy and spacious feel, allowing your records to take center stage. Arrange your records by genre, artist, or personal preference to create a visually appealing and functional display. Consider organizing them alphabetically or by release date to make it easier to find your favorite albums.
For an added artistic touch, intersperse some vertical or horizontal dividers to create sections or add small decorative items that complement the vibe of your music collection. Whether you're a vinyl enthusiast or a casual listener, these Scandinavian backless record shelves will not only keep your records neatly stored but also become a striking focal point in your space, showcasing your passion for music in a stylish and organized way.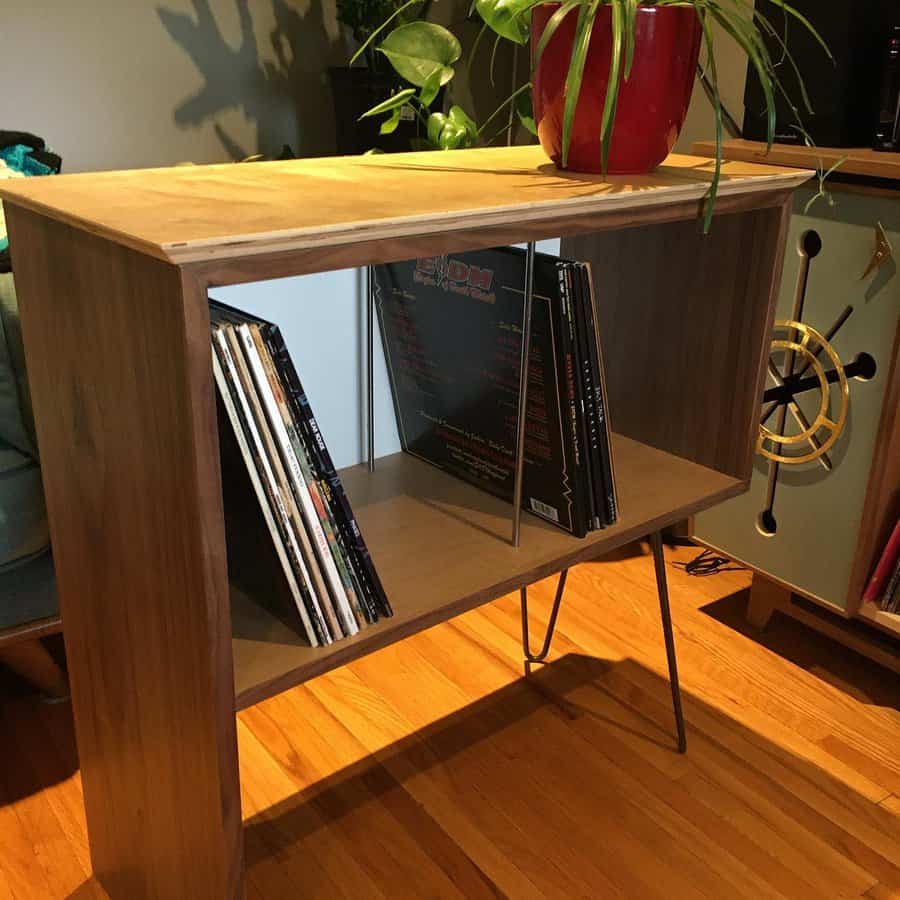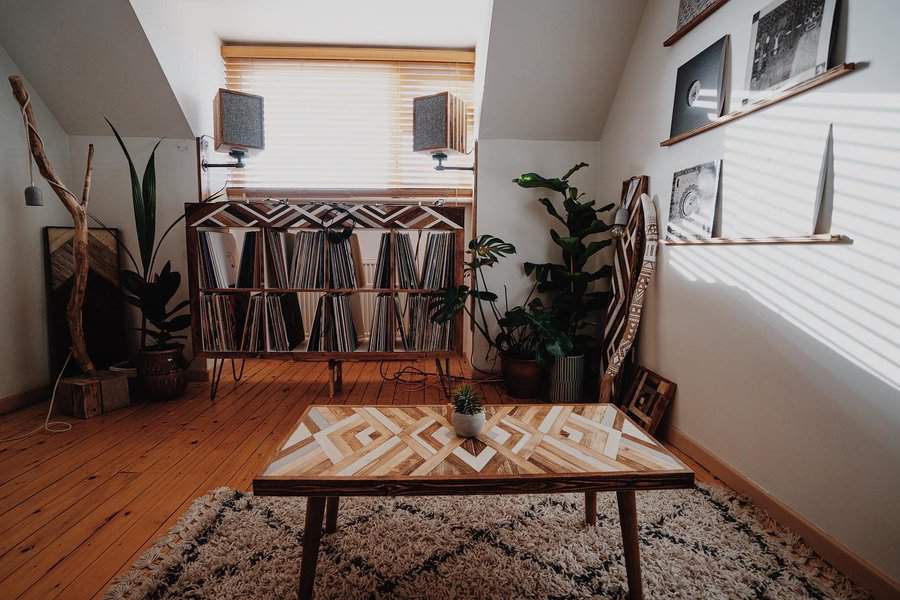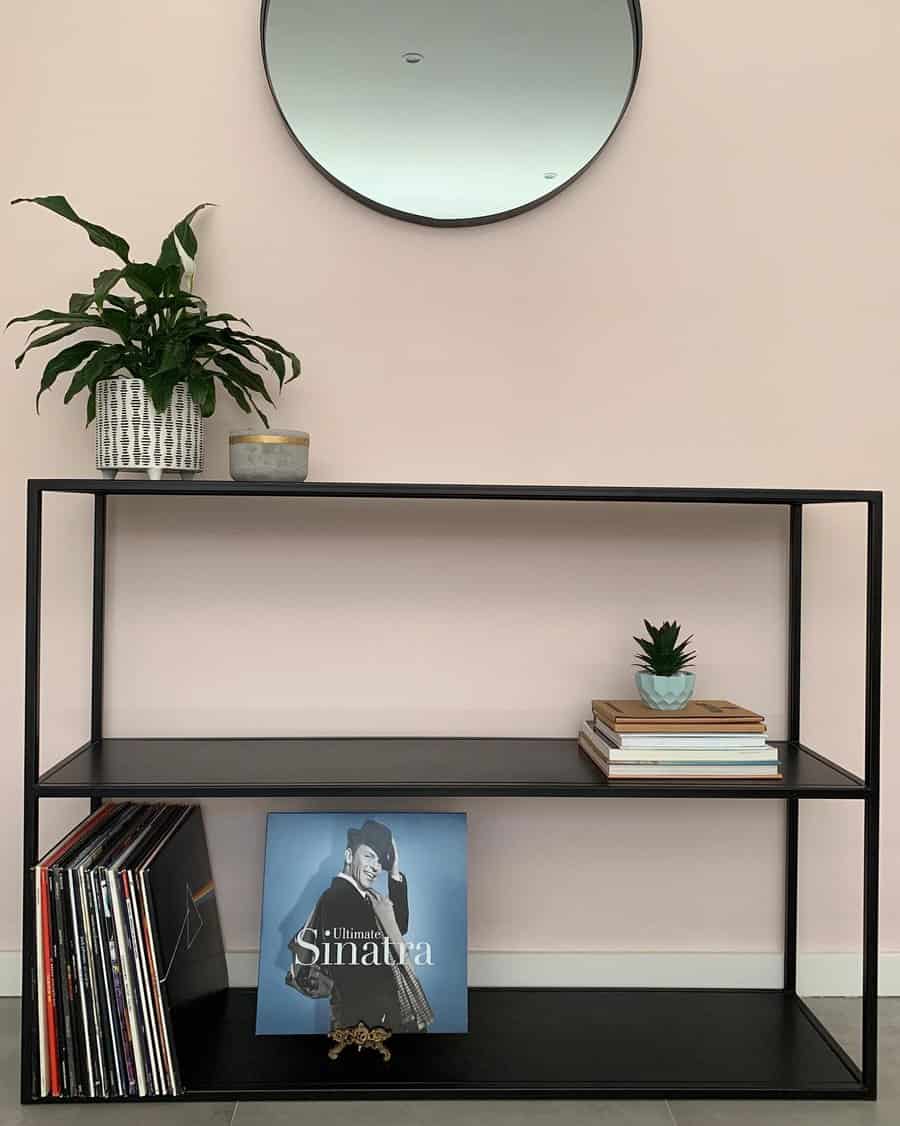 9. Repurposed Bookcase
Elevate your music collection and showcase your love for vinyl records with a stylish and functional vinyl bookcase. Repurposing a classic bookcase gives your space a touch of nostalgia and adds a unique charm. Imagine a weathered bookcase with its shelves adorned with neatly organized records, creating a visual symphony of colors and album covers.
Not only does a vinyl bookcase provide an aesthetically pleasing display, but it also offers practical benefits. With dedicated compartments and dividers, it keeps your records upright and prevents them from warping or getting damaged. Whether you're a casual collector or a die-hard vinyl enthusiast, a vinyl bookcase is the perfect storage solution for your records, combining functionality with a touch of vintage elegance.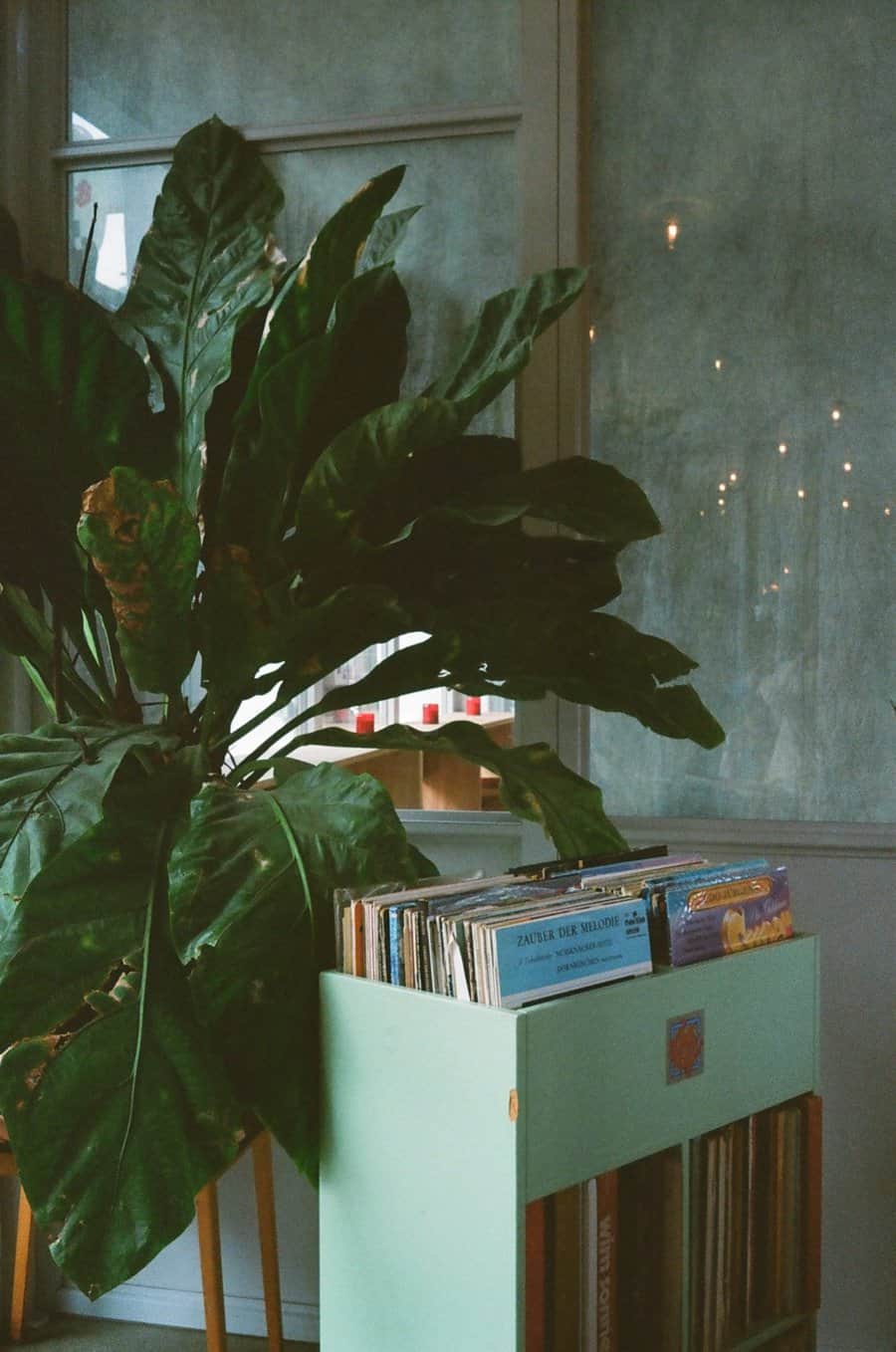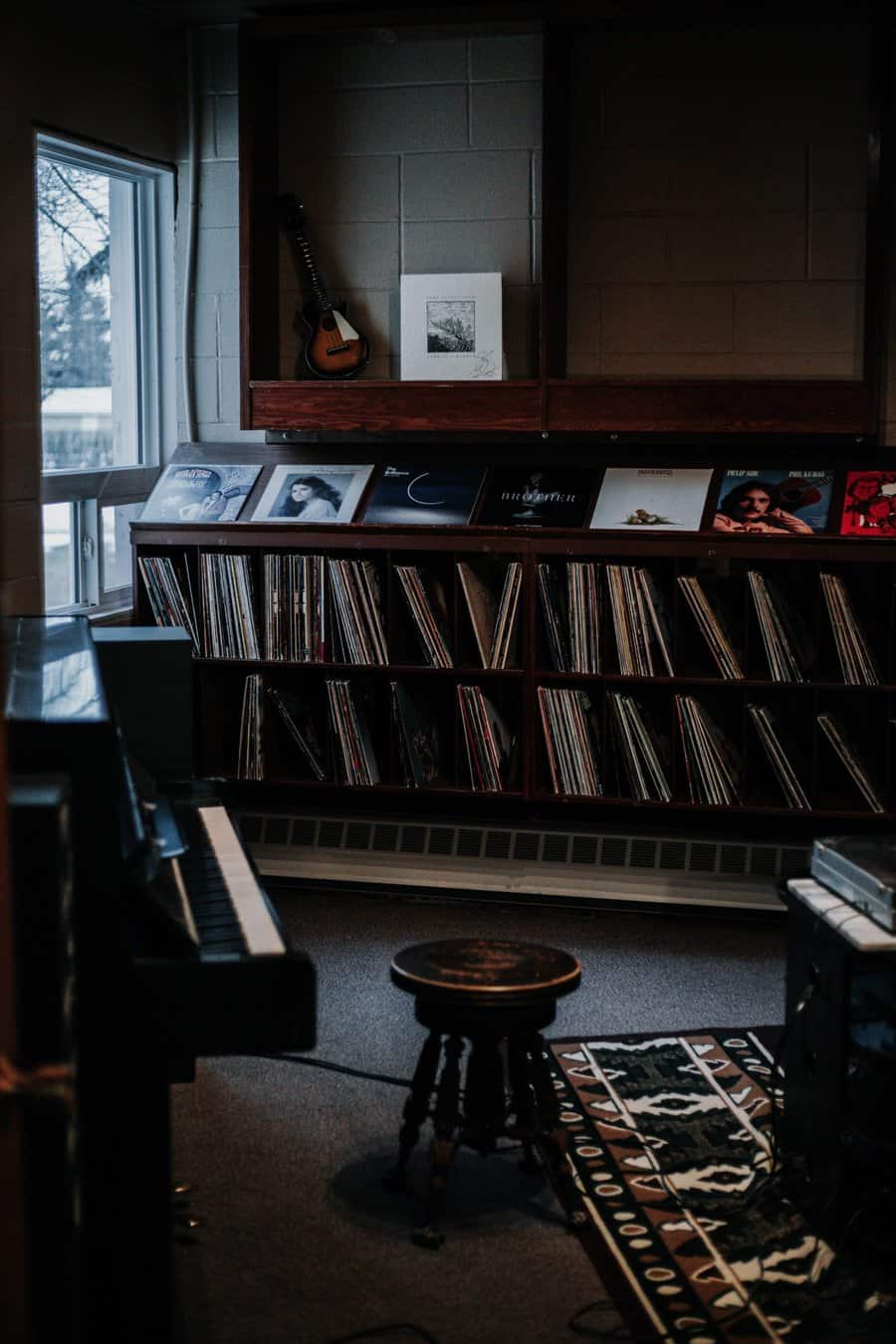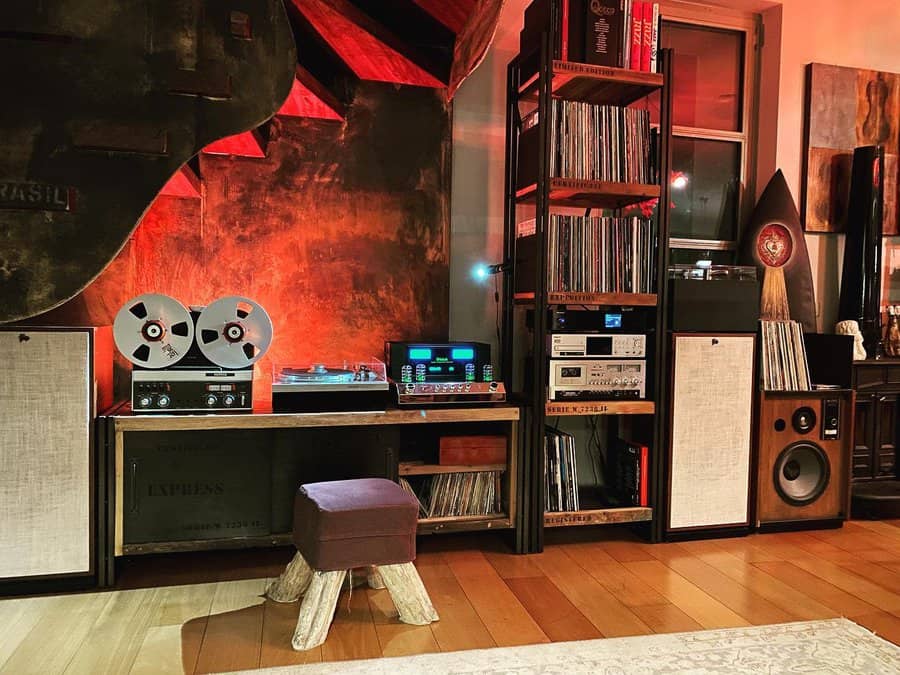 10. Desk Vinyl Rack
A desk vinyl rack serves as a compact and space-saving storage solution, allowing you to keep your records within arm's reach while you work or relax. With its sleek design, it seamlessly blends into your workspace, creating a harmonious balance between work and play.
By having a dedicated vinyl organizer for your desk, you can easily browse through your collection and select the perfect soundtrack to accompany your day. The desk vinyl rack not only showcases your love for music but also keeps your records in pristine condition, protecting them from dust, scratches, and potential damage.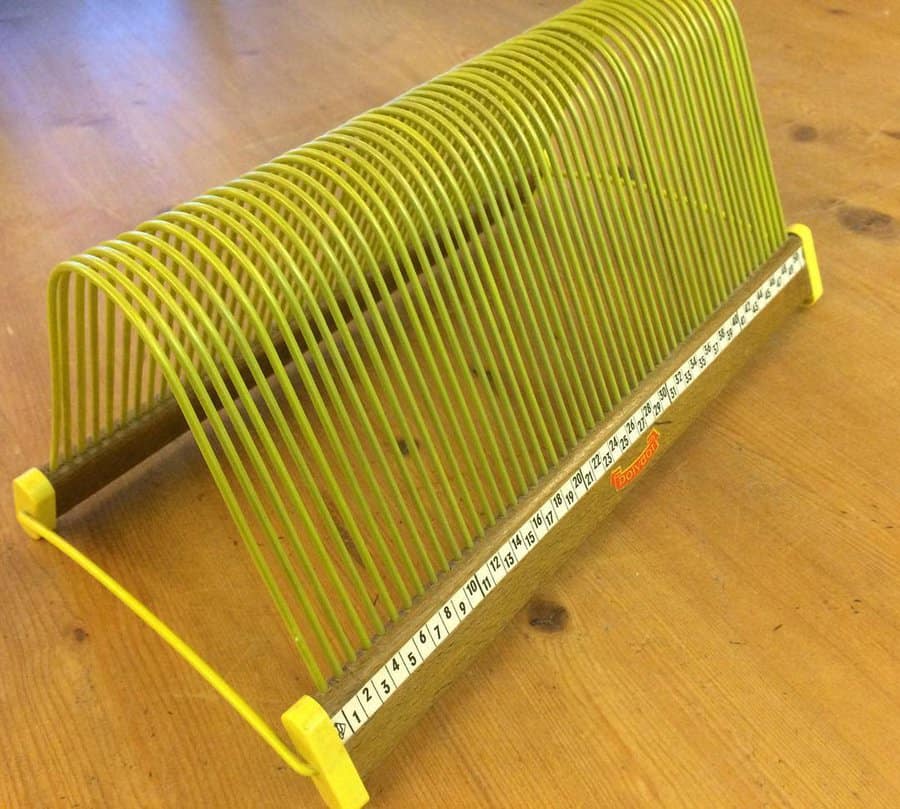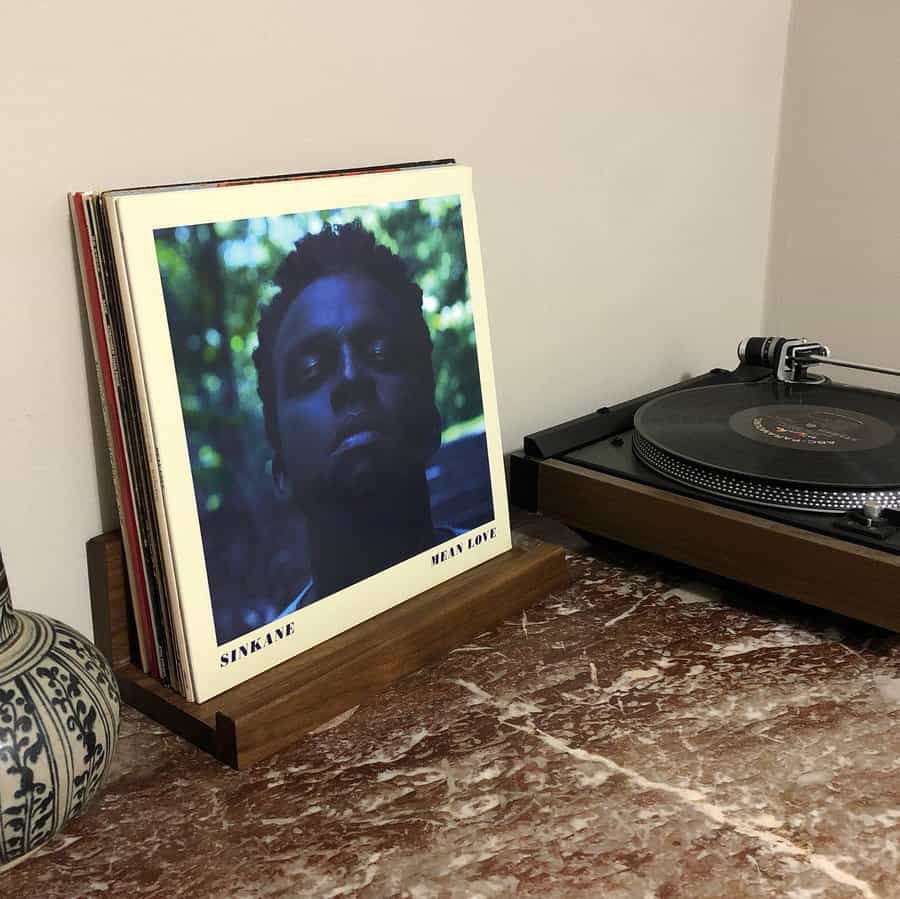 11. Rolling Vinyl Rack
With a rolling vinyl rack, you can easily move and organize your records, allowing you to curate your perfect listening experience wherever you desire. The cart-like design provides a compact and space-efficient storage solution, making it ideal for small apartments or music rooms with limited space. The adjustable shelves cater to various record sizes, ensuring that your entire collection is neatly organized and easily accessible.
The wheels add a playful touch and practicality, allowing you to effortlessly roll the rack to different areas of your home or even take it outside for a relaxing vinyl session in the sun. Not only does a rolling vinyl rack provide a stylish display for your records, but it also offers the benefits of easy organization, portability, and the flexibility to create your own music corner wherever inspiration strikes.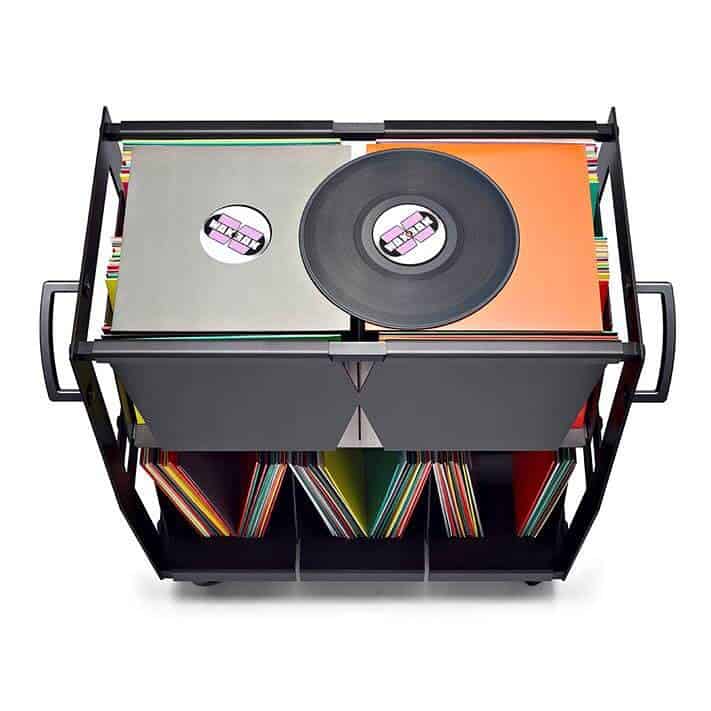 12. Stackable Vinyl Shelf
The stackable design of these shelves offers versatility, enabling you to easily adjust and expand your storage as your collection grows. With their sleek and minimalist aesthetic, these shelves effortlessly blend into any interior, whether it's a cozy living room or a dedicated music corner. The best part is that these shelves can be tailored to fit your specific needs.
Whether you have a small collection or an extensive library of vinyl, these shelves can be customized to accommodate your records, ensuring that they are stored safely and neatly. Say goodbye to cluttered spaces and embrace the organized and stylish allure of stackable vinyl shelves for your record storage needs.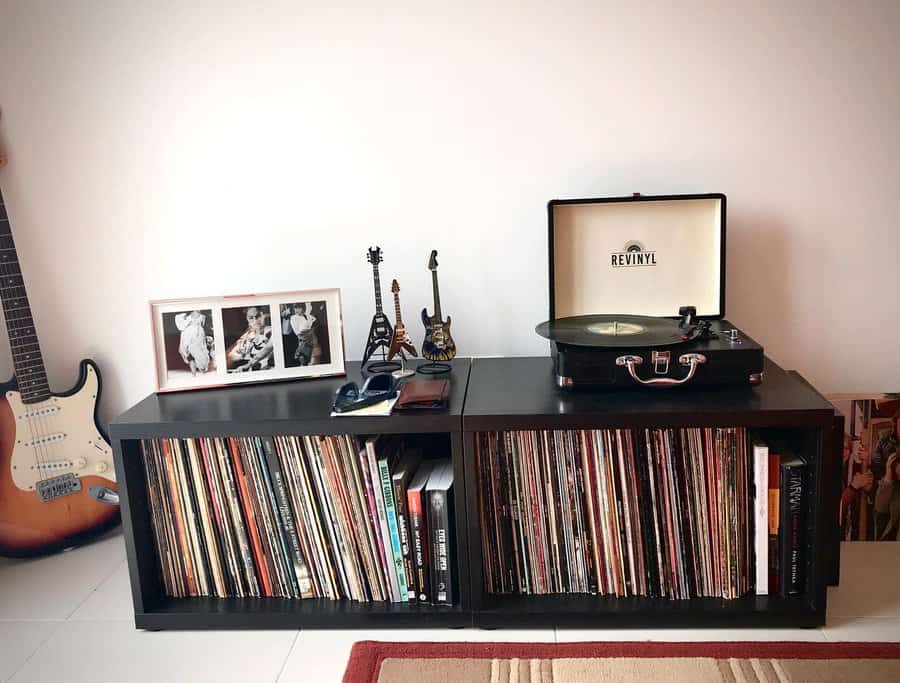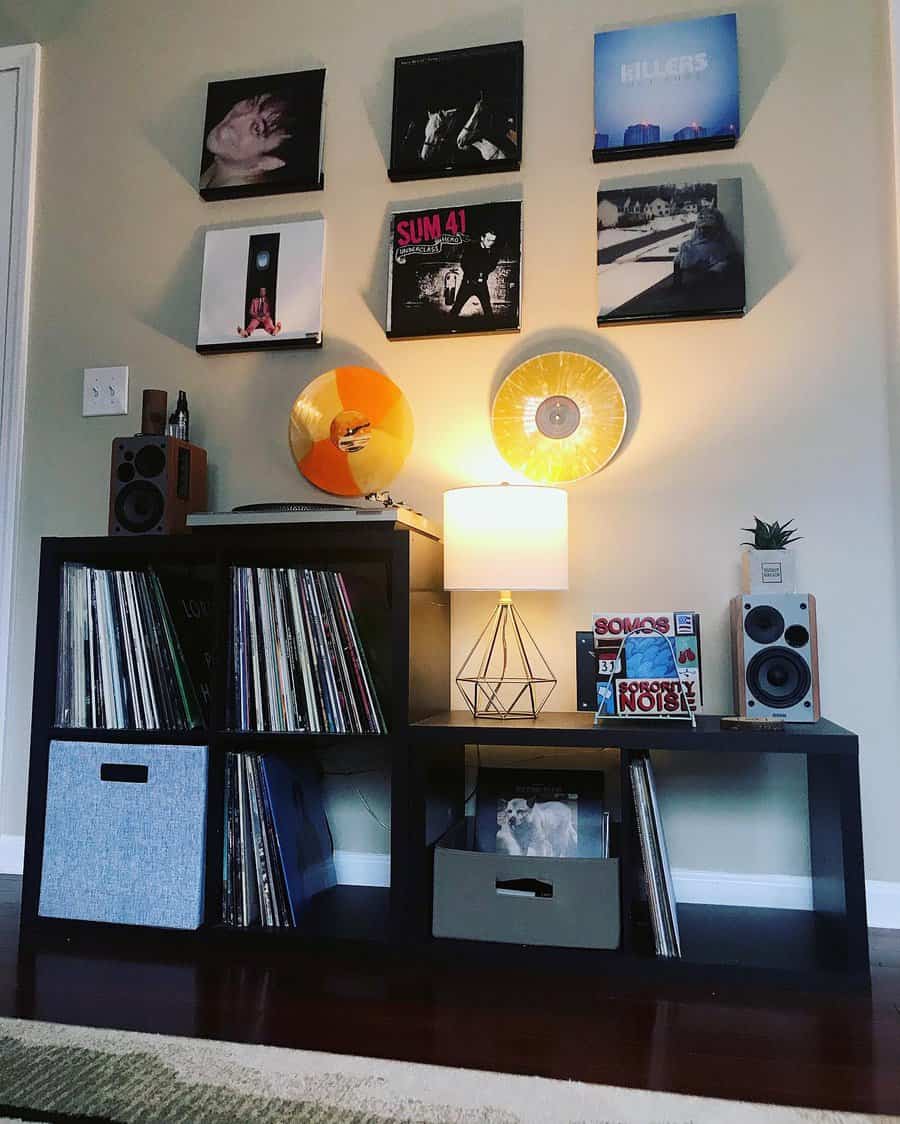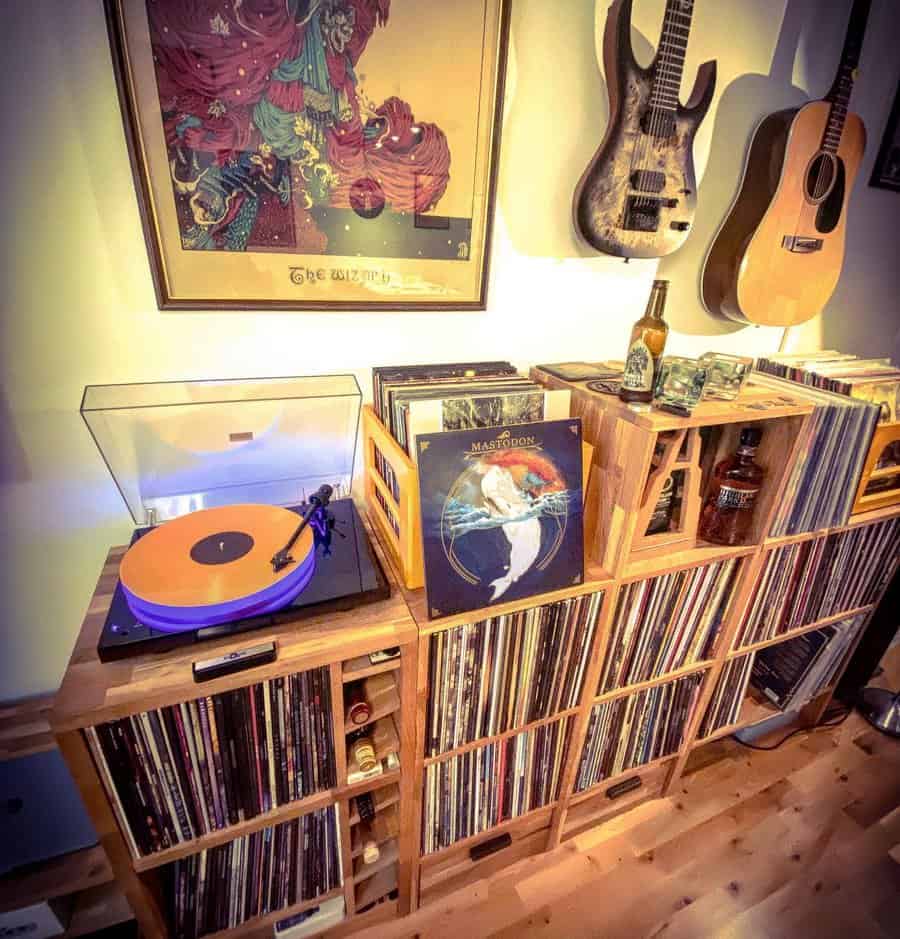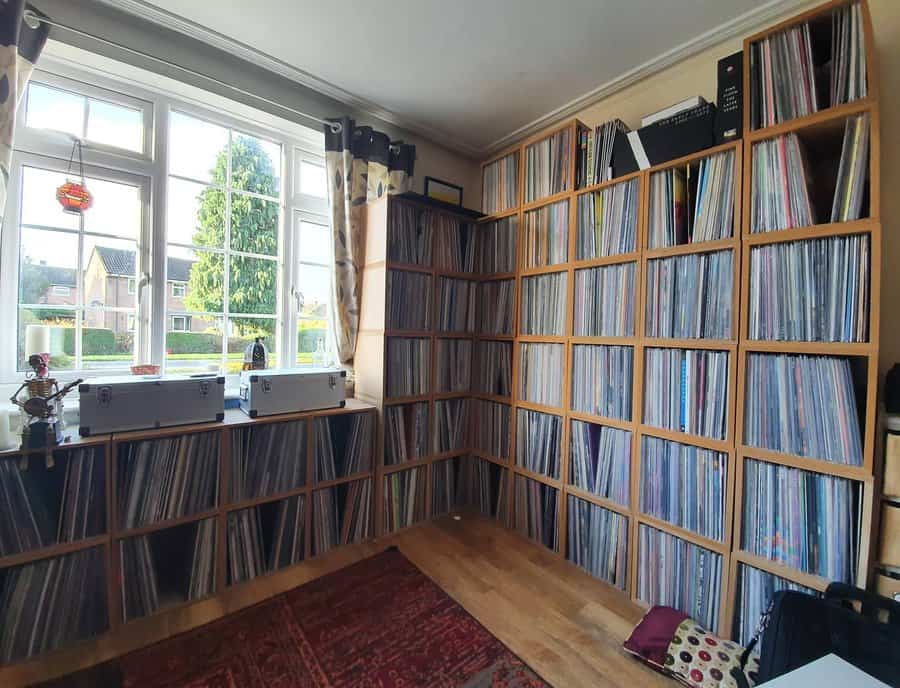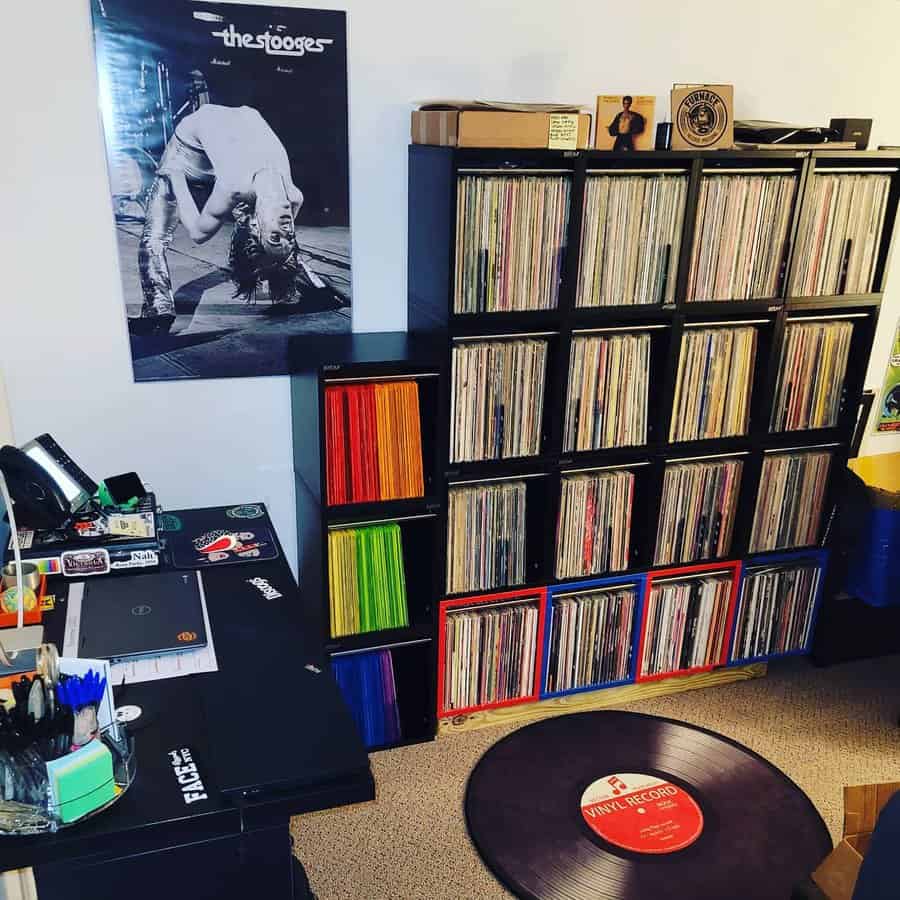 13. Record Display Ledges
With record display ledges, you can create a captivating feature wall, transforming your music collection into a work of art. Arrange your records in a visually pleasing way, showcasing album covers and artwork that reflects your personal taste and musical preferences.
The ledges provide easy access to your favorite records, allowing you to browse and choose the perfect album for any occasion. Whether you're a vinyl enthusiast or a casual listener, these display ledges bring a sense of nostalgia and charm to your interior. They also provide a functional and space-efficient way to store and protect your records while adding a touch of vintage flair to your home decor.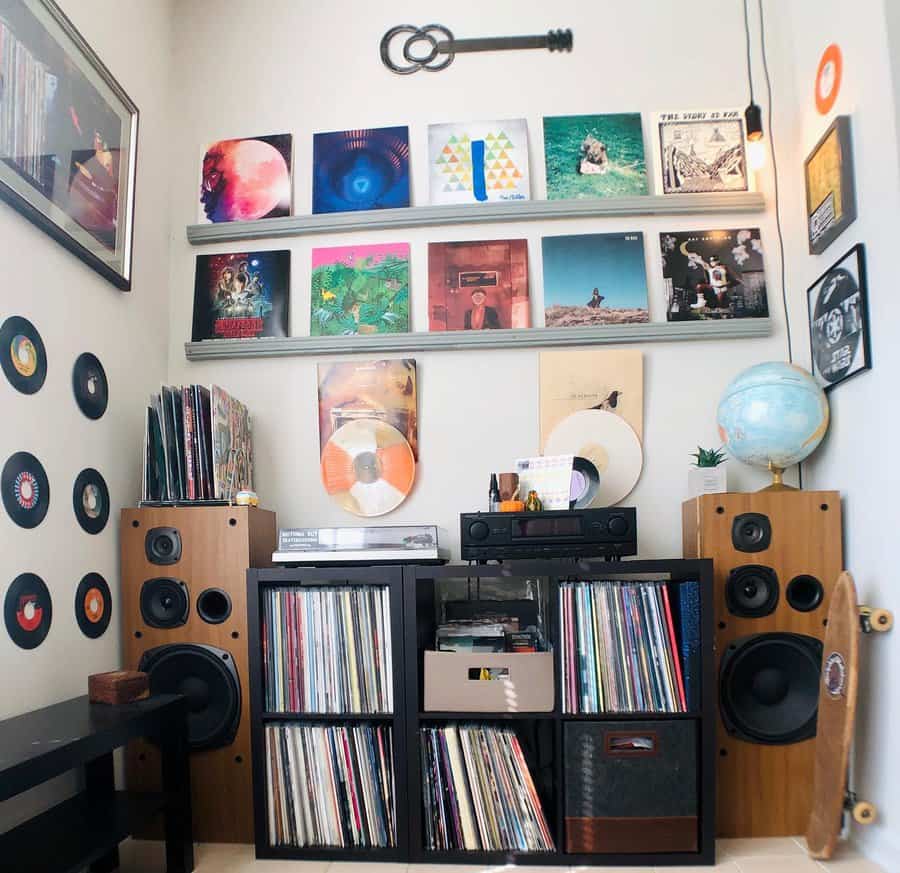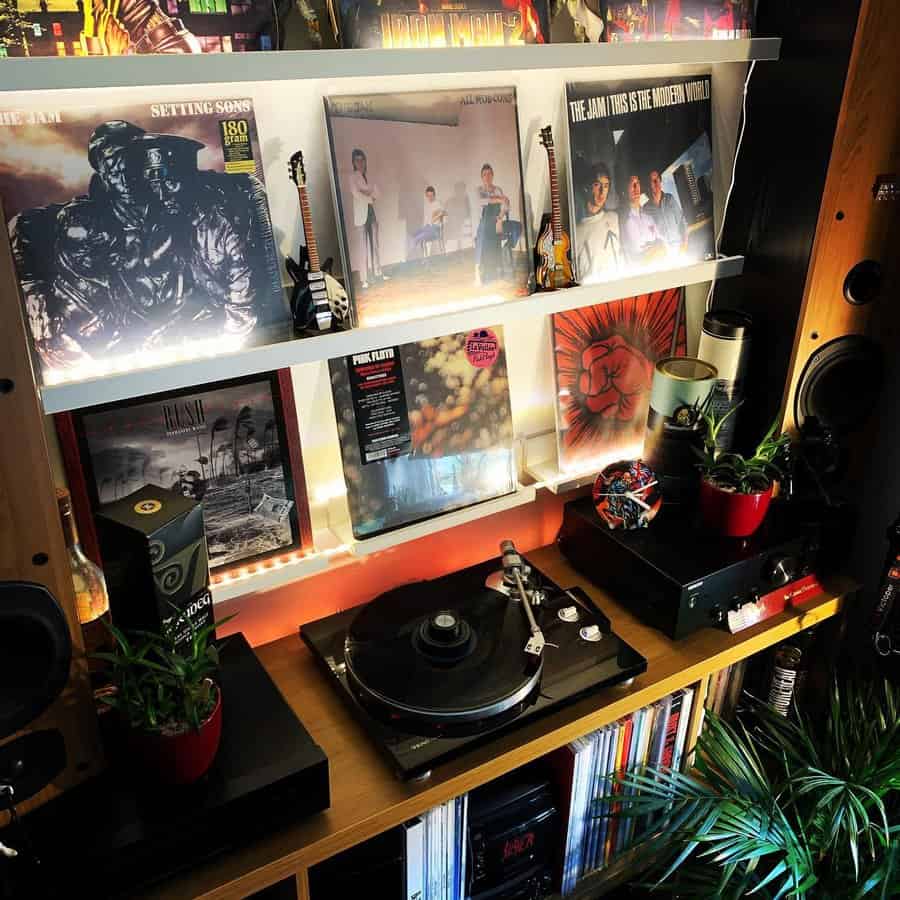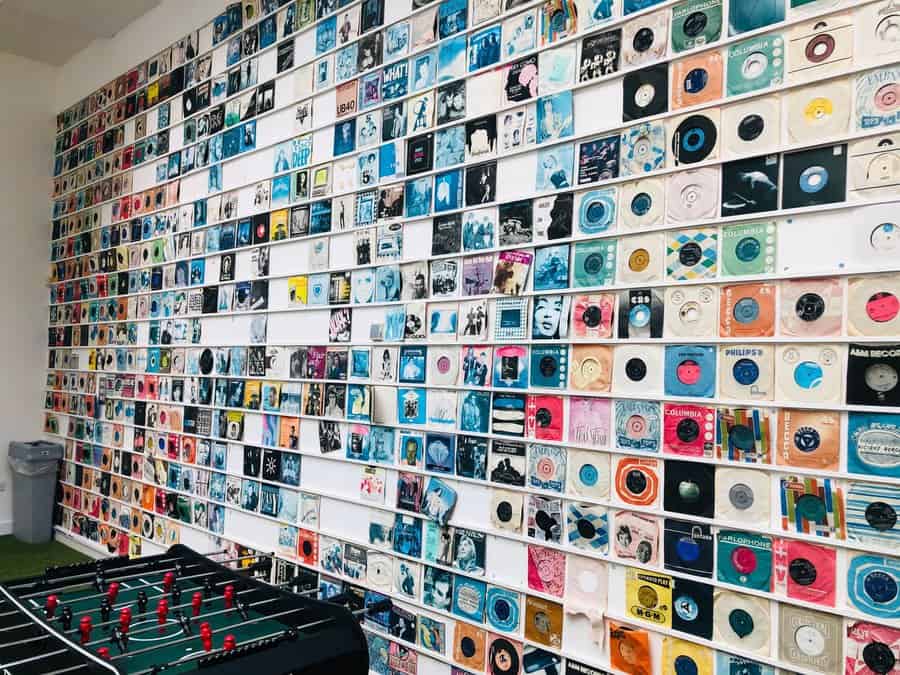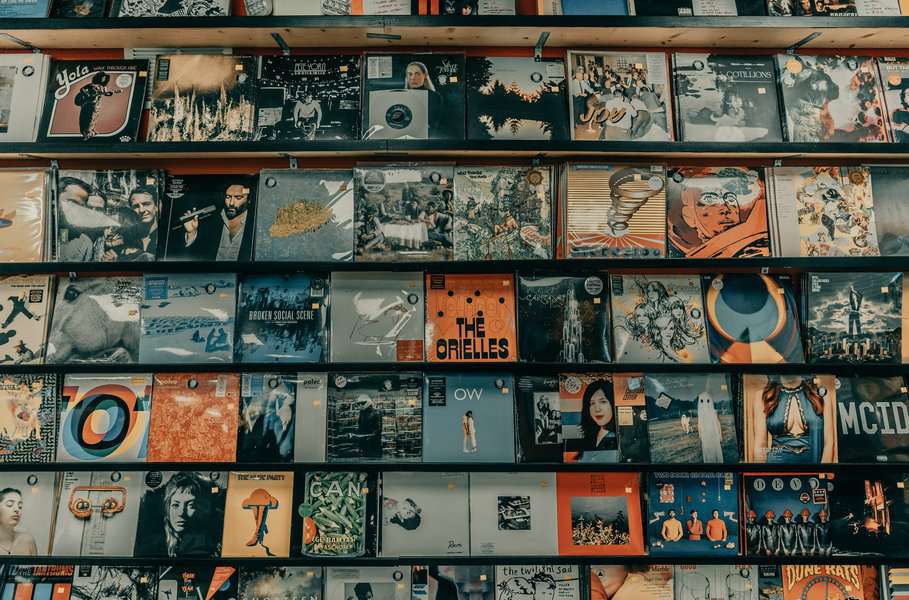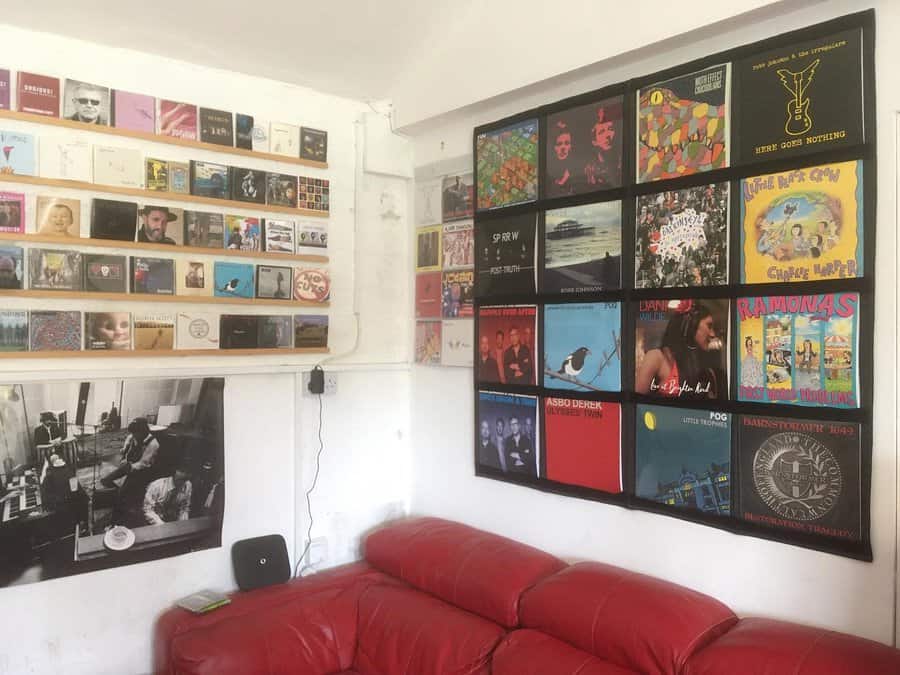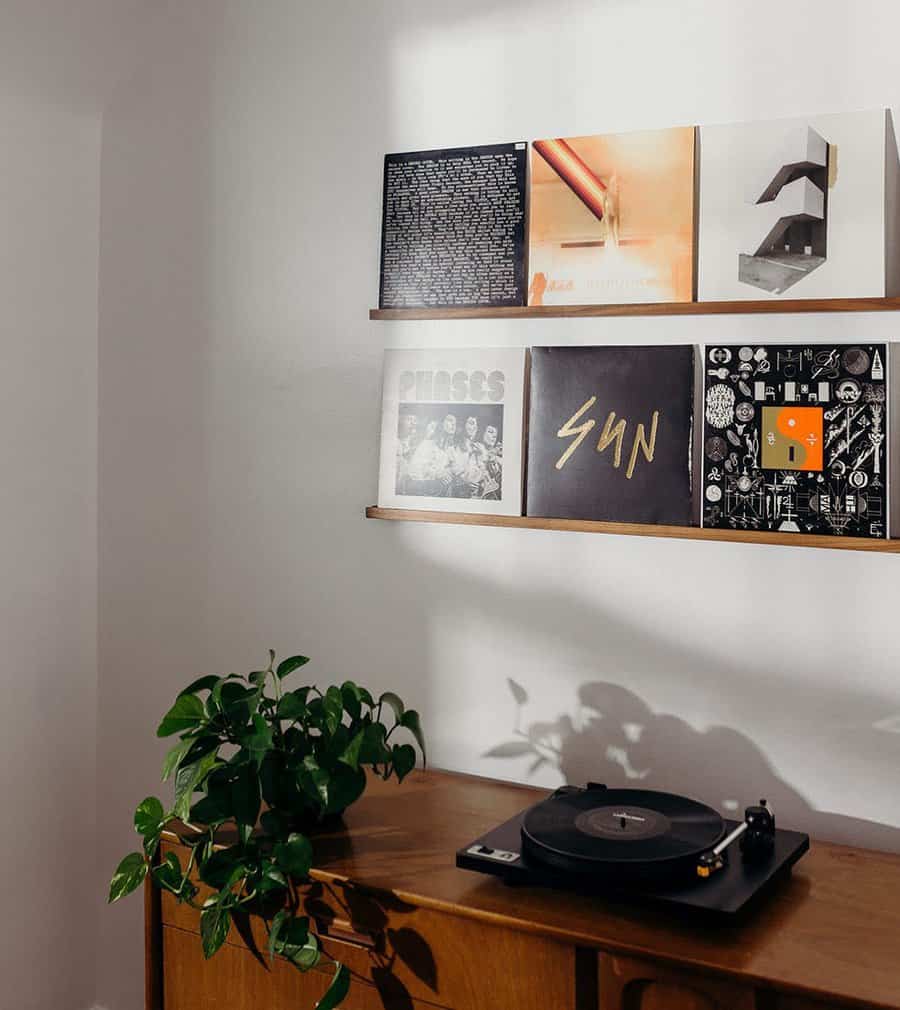 14. Pull-Out Vinyl Drawers
Elevate your music-loving space with a stylish and functional record storage solution: pull-out vinyl drawers. These innovative storage units are designed to keep your precious vinyl collection organized, protected, and easily accessible. With their sleek and modern design, they seamlessly blend into any interior, adding a touch of sophistication to your room. The pull-out feature allows you to effortlessly browse through your records, finding the perfect album for the moment.
Each drawer is designed to accommodate multiple records, ensuring ample storage capacity for your growing collection. The removable drawers make it convenient to browse, sort, and rearrange your records, allowing you to curate your music collection with ease. Whether you're a vinyl enthusiast or a casual listener, these pull-out vinyl drawers offer a practical and stylish way to showcase your love for music while keeping your records organized and ready to play at a moment's notice.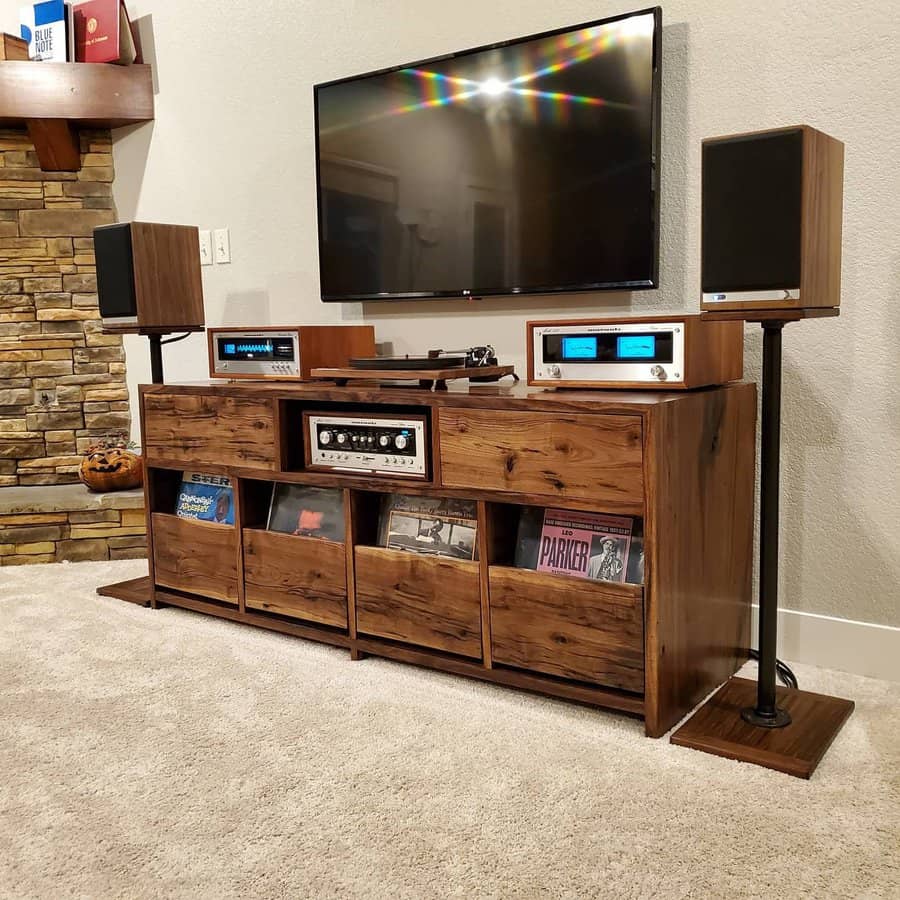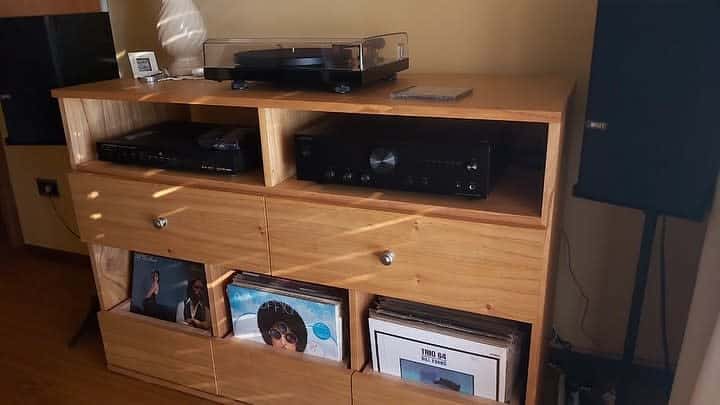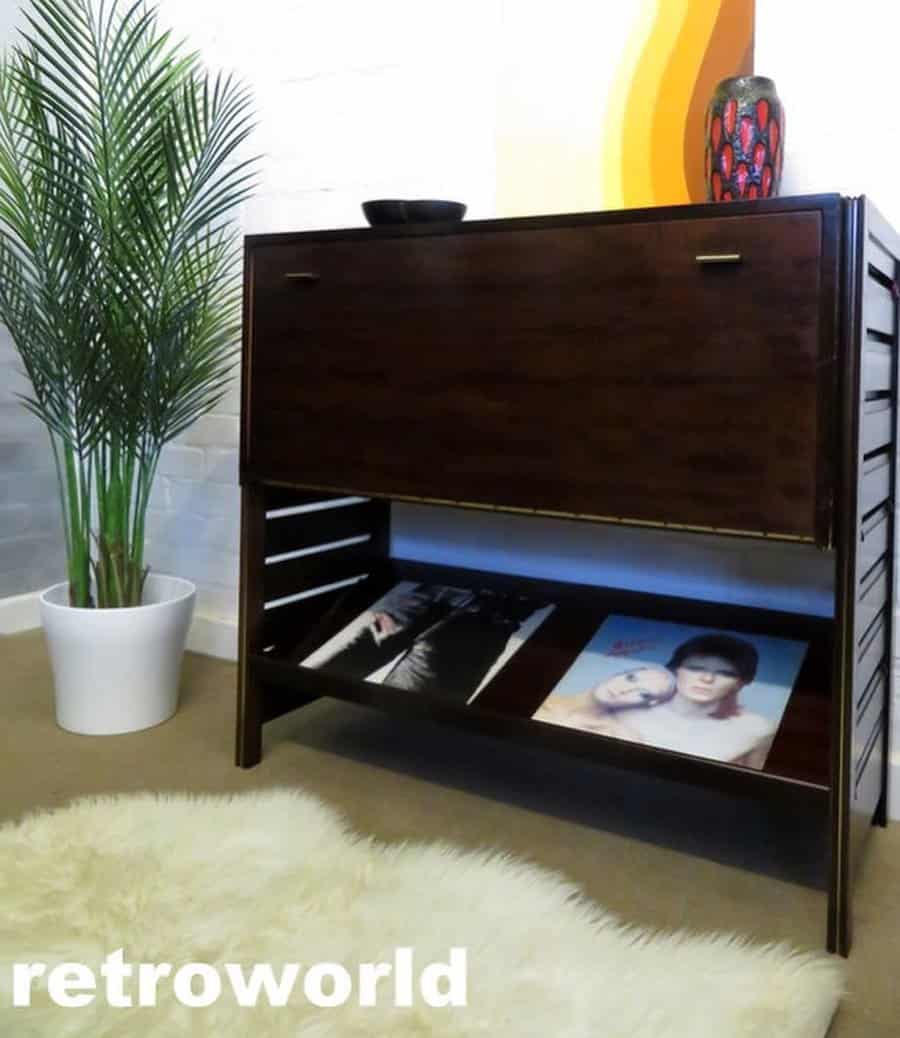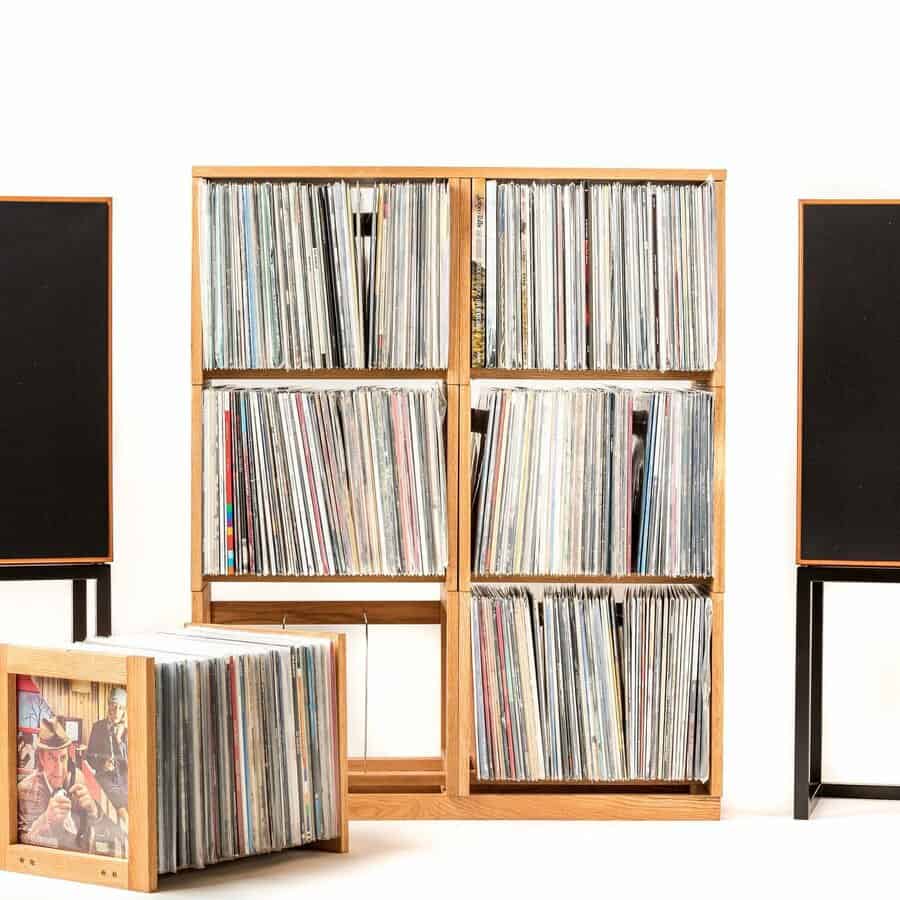 15. Wall Vinyl Shelves
An end-to-end shelf provides ample storage for your growing collection, allowing you to showcase your favorite albums in a visually striking manner. The wall vinyl shelf creates a unique focal point, drawing attention to your love for music and creating a conversation piece for guests.
Its functional design ensures easy access to your records, making it a breeze to select and play your favorite tunes. Whether you have a small collection or a vast assortment of vinyl, this storage solution accommodates it all.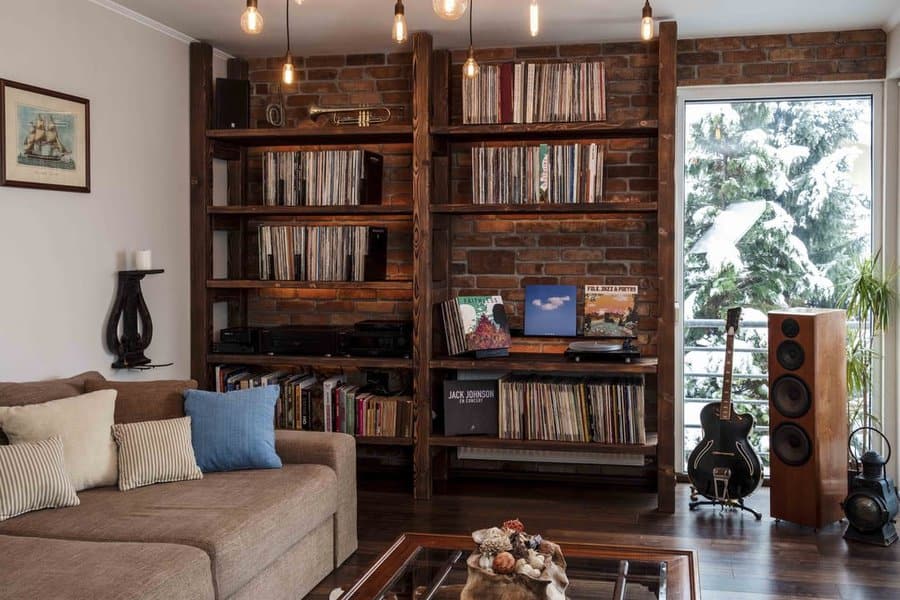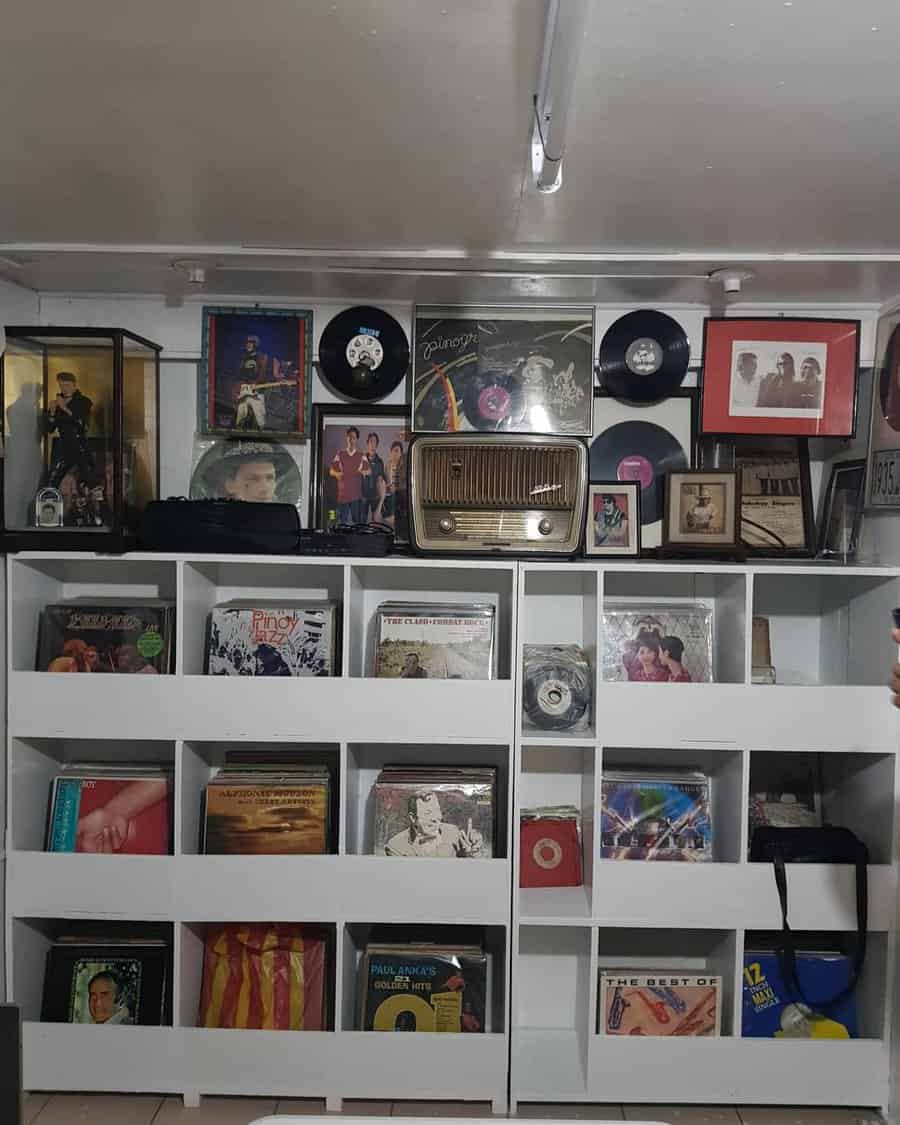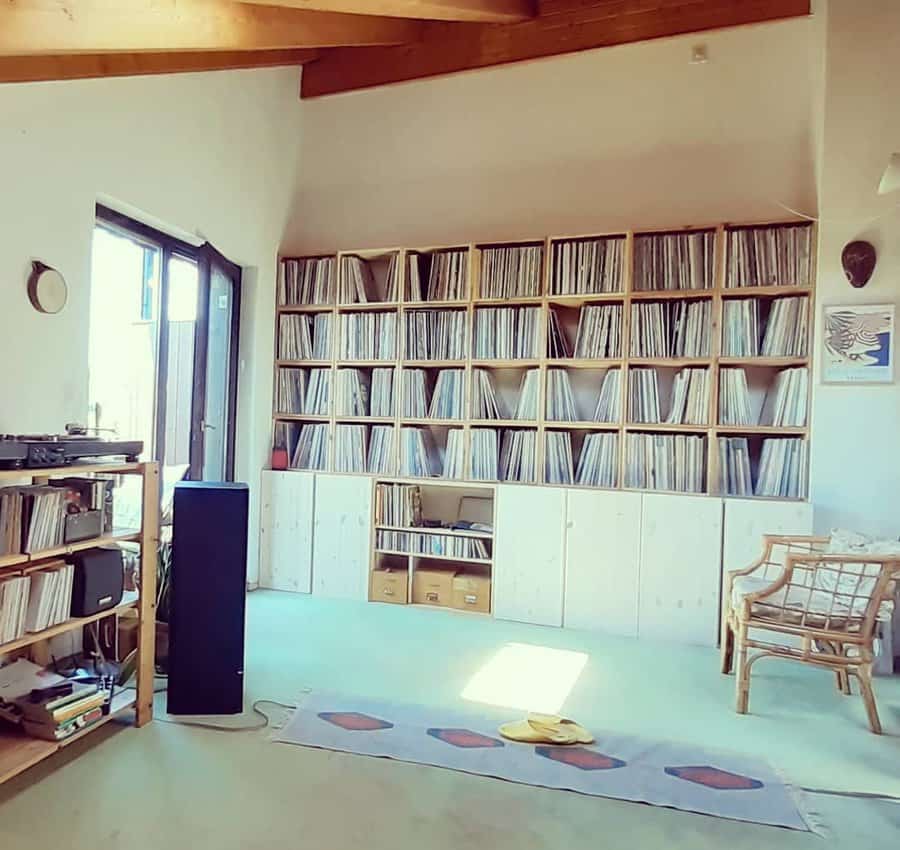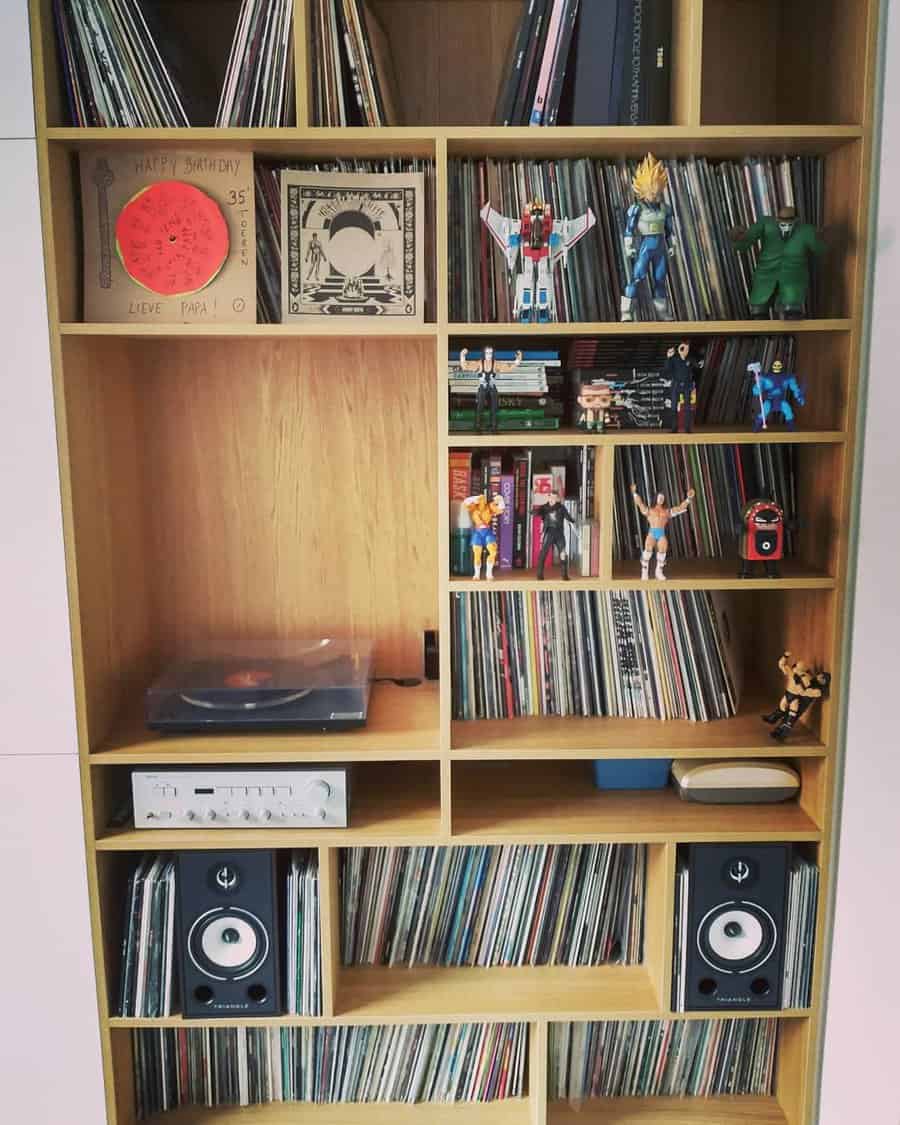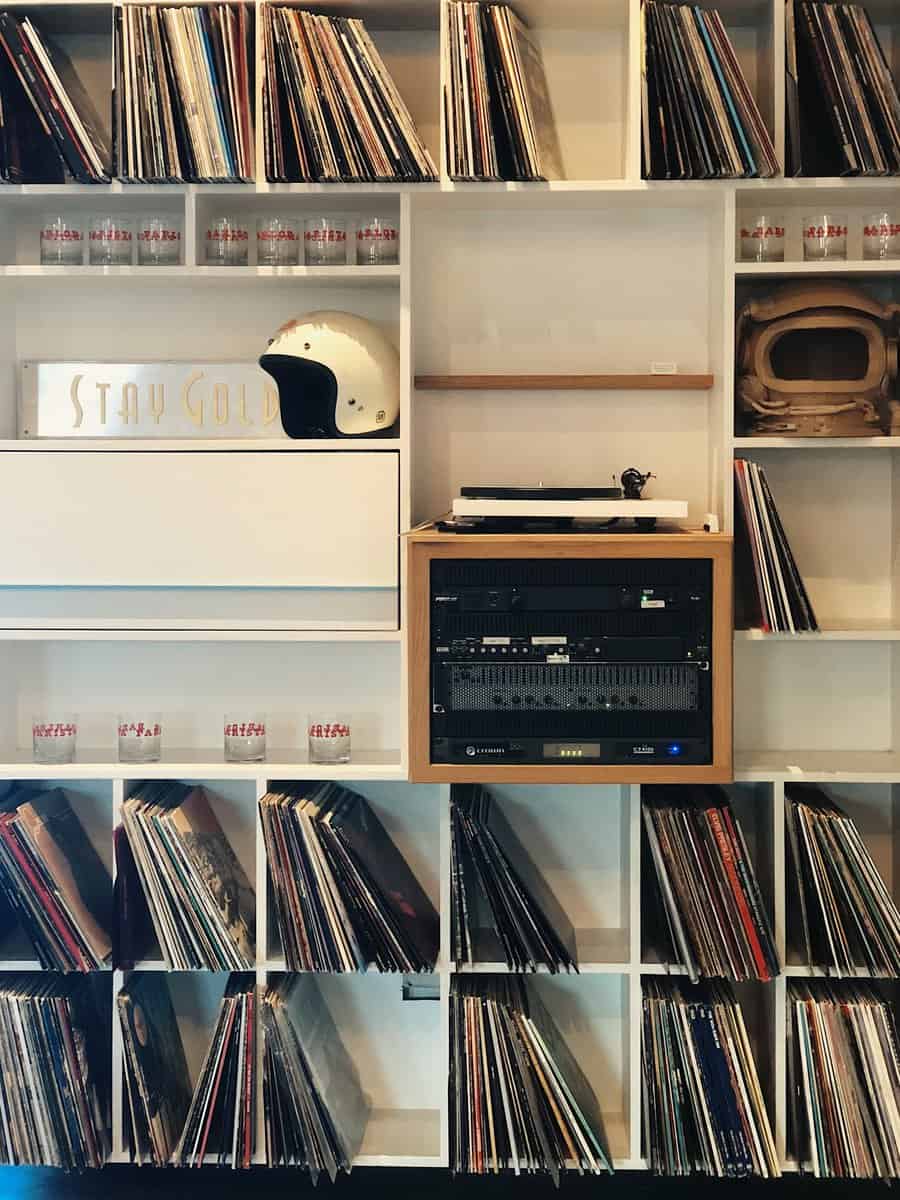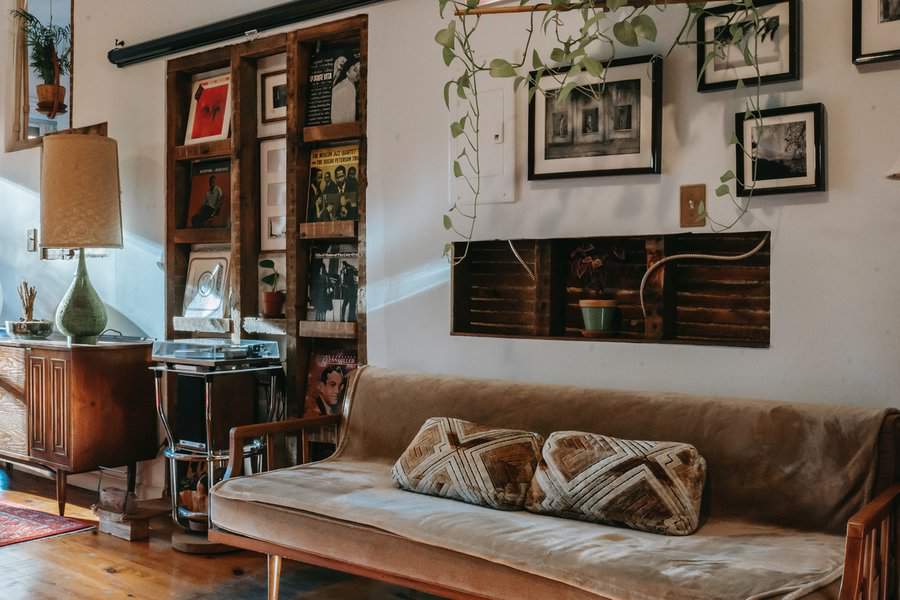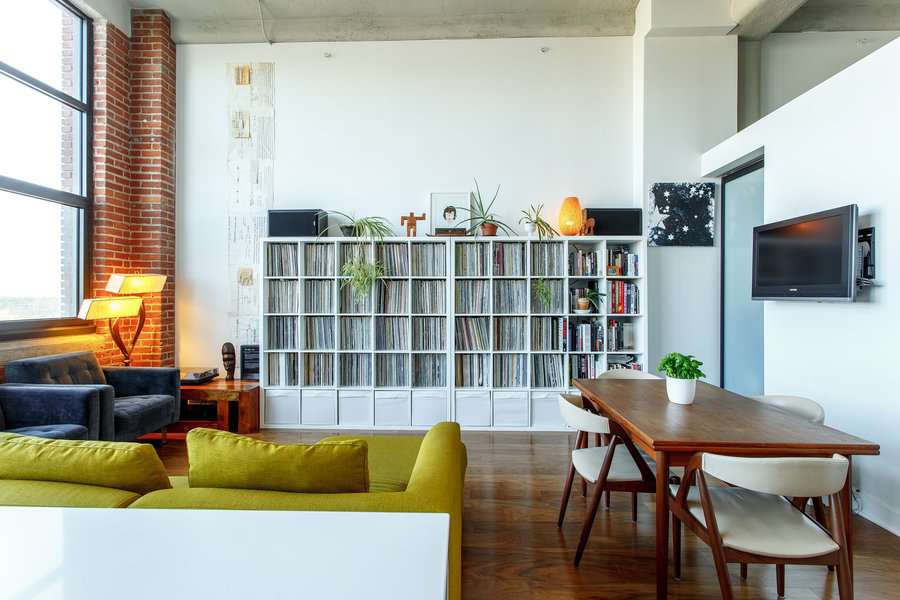 16. DIY Wood Pallet Vinyl Shelf
Crafted from light wood pallets, this unique storage unit offers a warm and inviting aesthetic that complements any interior. With its versatile design, you can customize the size and configuration of the shelves to accommodate your growing collection.
The sturdy wooden slats provide excellent support, ensuring your vinyl records are safely stored and easily accessible. Whether you're a casual listener or a devoted audiophile, this DIY wood pallet vinyl shelf adds character to your room while keeping your records organized in a visually appealing manner. So, embrace your love for music and showcase your collection with this creative and stylish record storage solution.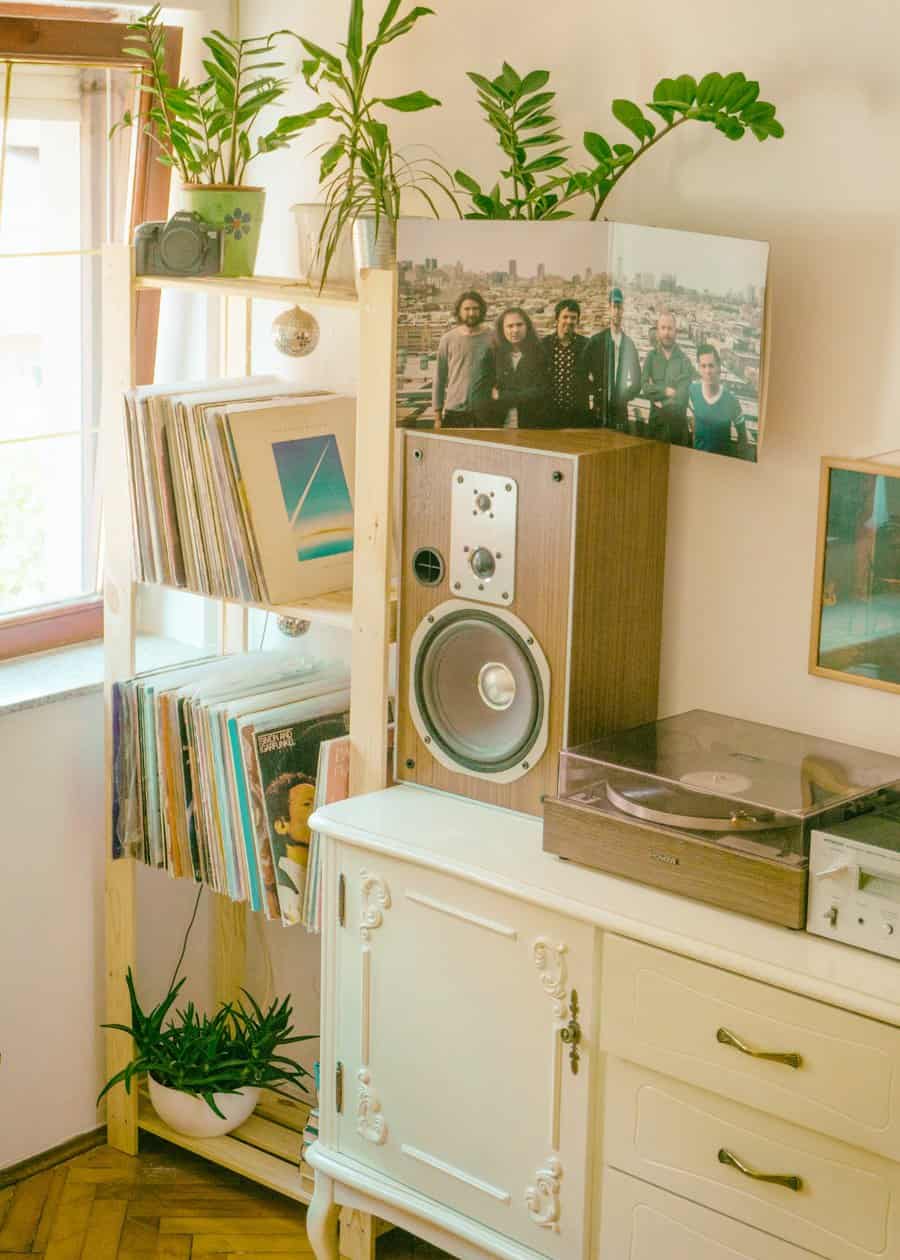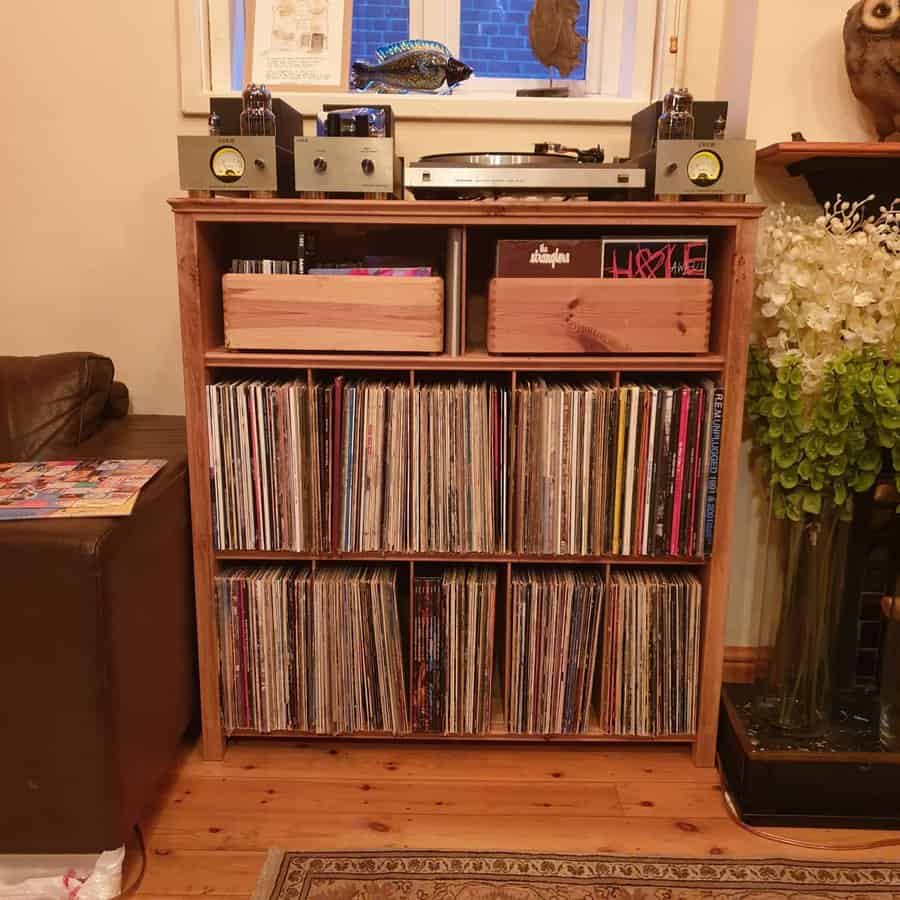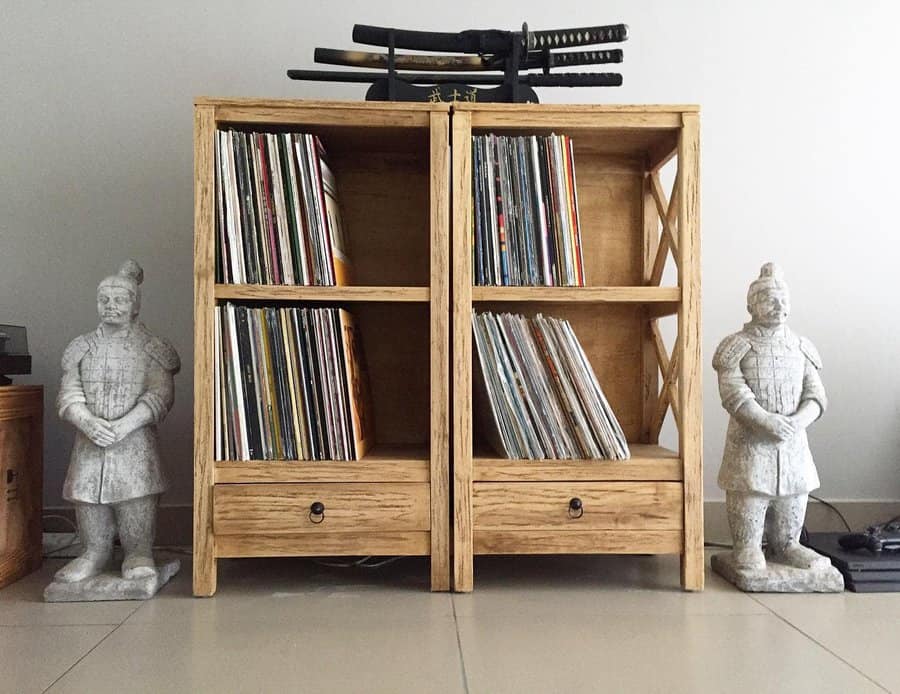 17. Retro-Inspired Vinyl Shelf
Take your love for music to the next level with a retro-inspired vinyl shelf that brings both functionality and style to your space. Imagine a quirky, geometric design that captures the essence of the vinyl era while adding a touch of vintage charm to your room.
This unique storage solution allows you to proudly display your record collection, turning it into a captivating focal point that showcases your musical tastes. With its retro shapes and eye-catching design, the vinyl shelf not only provides a practical storage solution but also becomes a conversation starter, inviting guests to admire your eclectic taste in music. Organize your records in a way that allows easy browsing and quick access, making every listening session a joyous experience.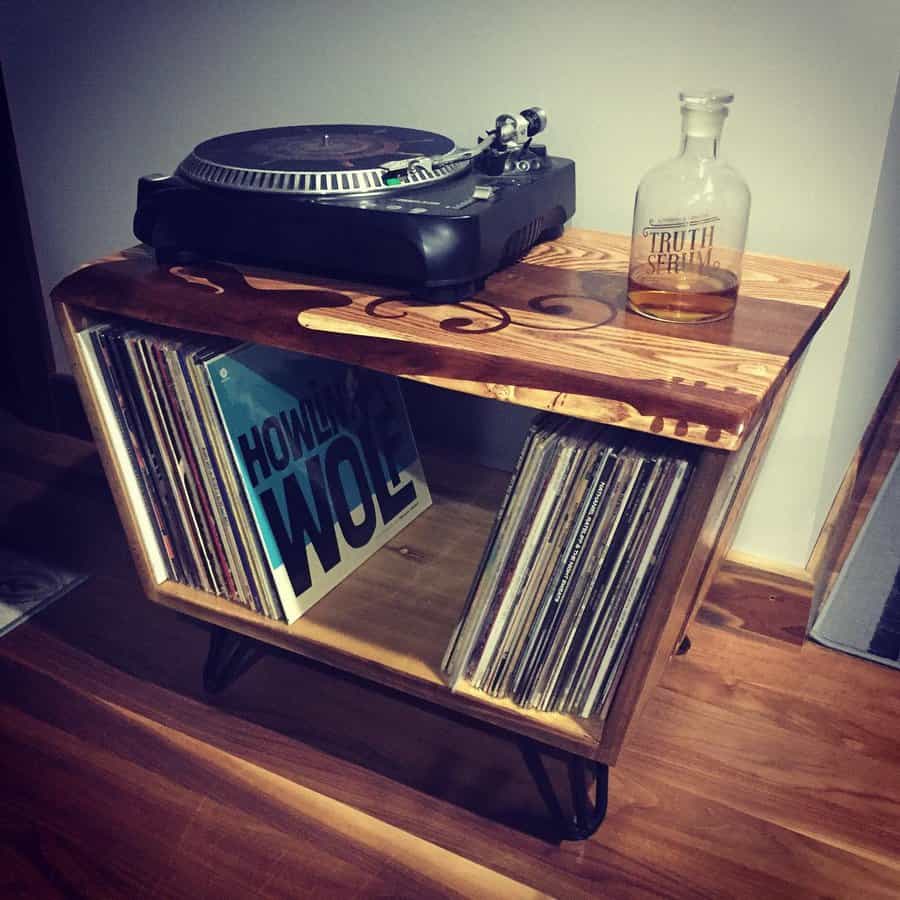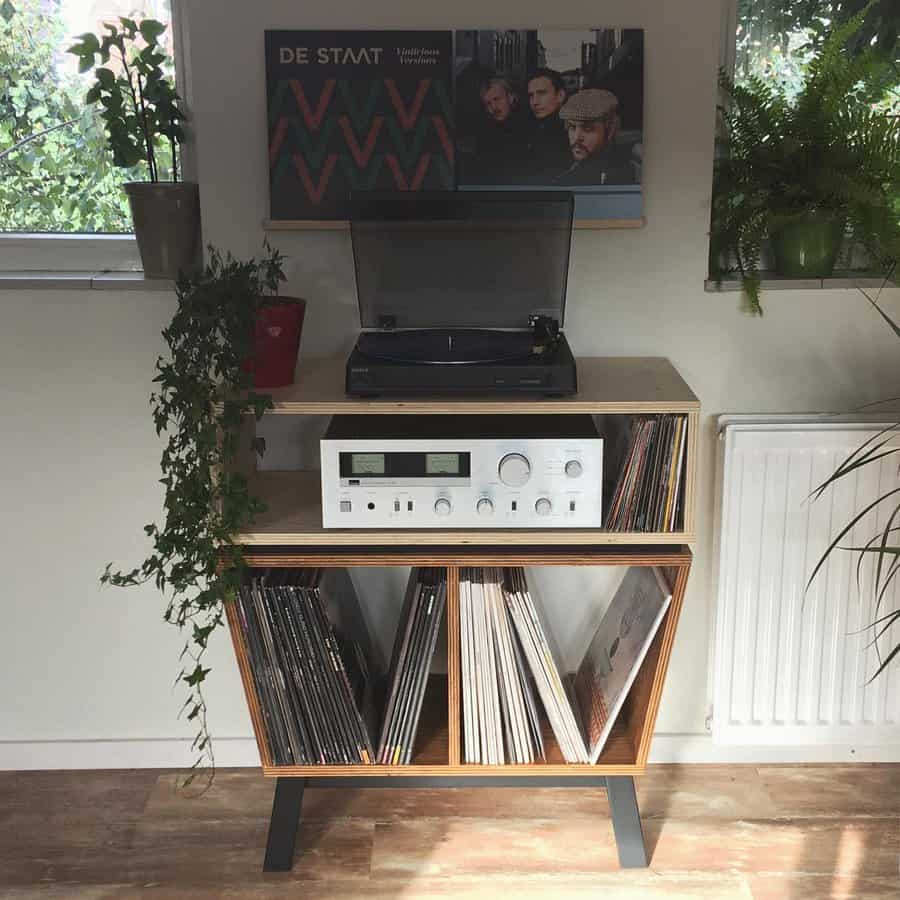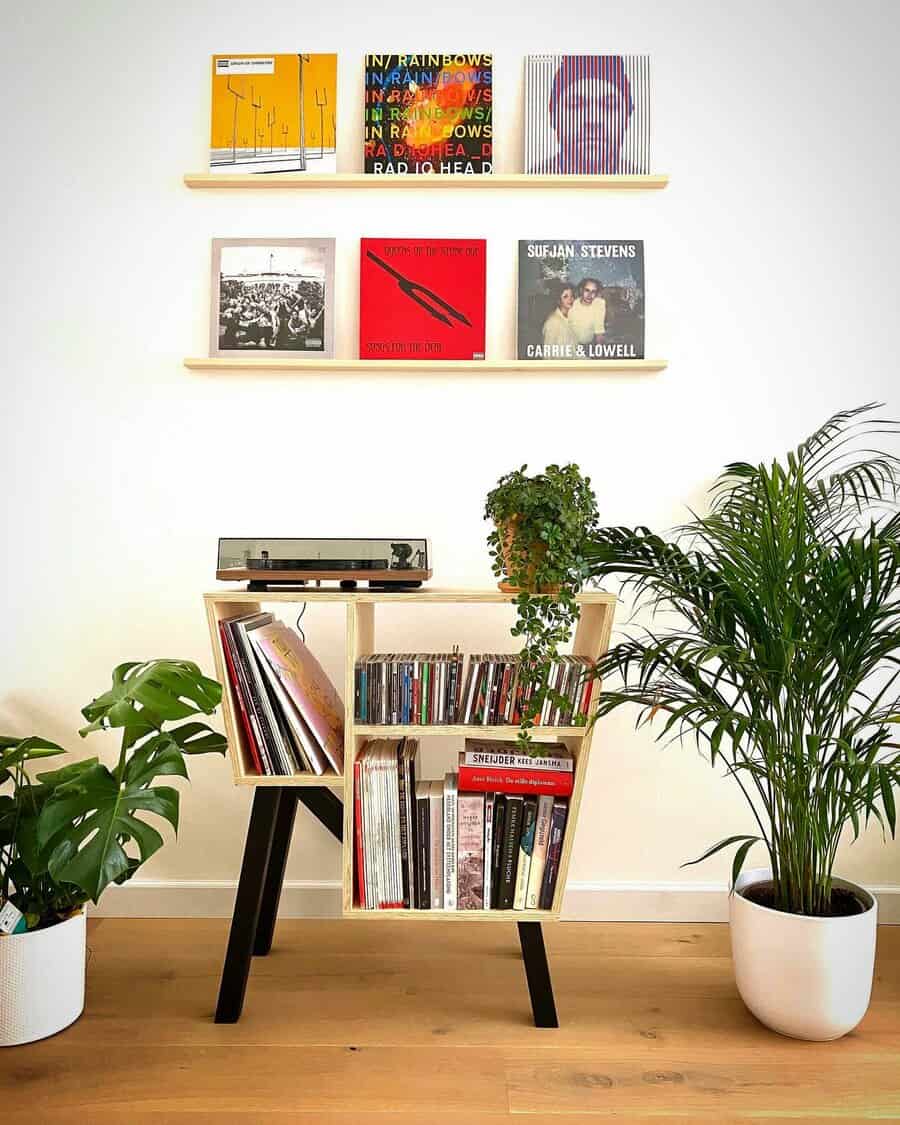 18. Trunk Vinyl Storage
Picture a classic trunk that not only serves as a functional storage solution but also adds a touch of nostalgic charm to your space. Enclosed within its sturdy and vintage exterior, this trunk storage for vinyl keeps your records protected from dust and damage, ensuring their longevity. Its spacious interior provides ample room to organize and showcase your collection, allowing you to browse through your favorite albums with ease.
The trunk's vintage decor seamlessly blends with various interior styles, adding a timeless and eclectic flair to your room. Whether you place it in a dedicated music corner or use it as a statement piece in your living room, this record storage idea brings together practicality and aesthetics in perfect harmony.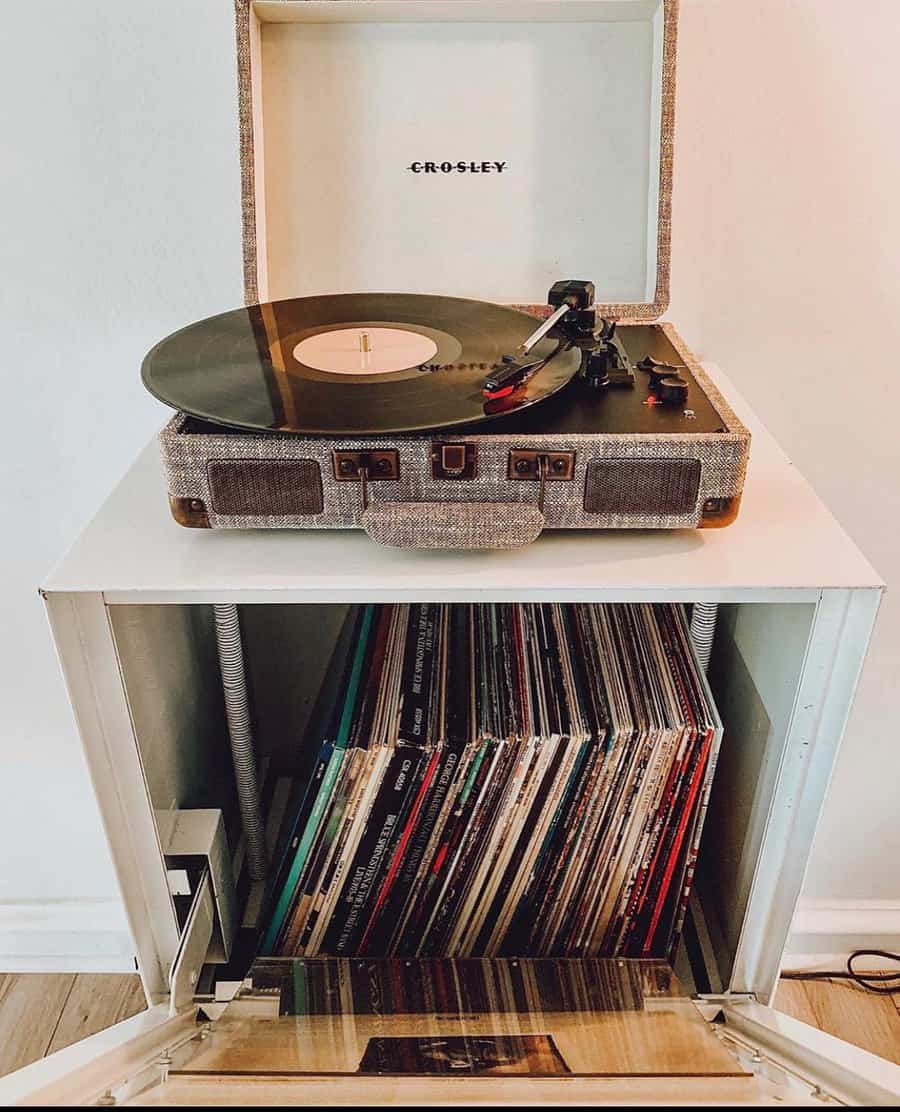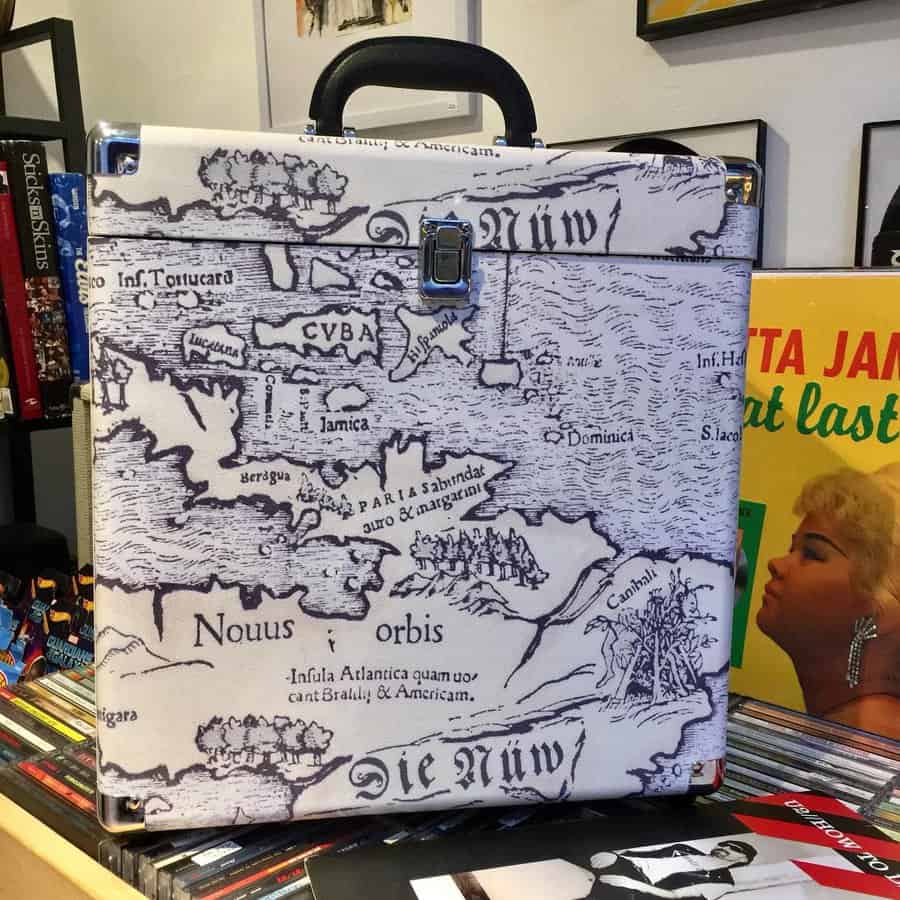 19. Repurposed Magazine Rack
Consider repurposing a magazine holder stand into a unique record storage unit. This innovative idea not only adds a touch of creativity to your space but also maximizes the functionality of a simple item.
The compact size of the magazine holder stand makes it ideal for those with a smaller record collection. Its vertical design allows you to easily organize and display your vinyl records, keeping them within reach while adding a decorative element to your room.
Whether you opt for a sleek and modern stand or a vintage-inspired piece, the repurposed magazine holder stand adds character and personality to your space while providing a practical storage solution for your beloved records.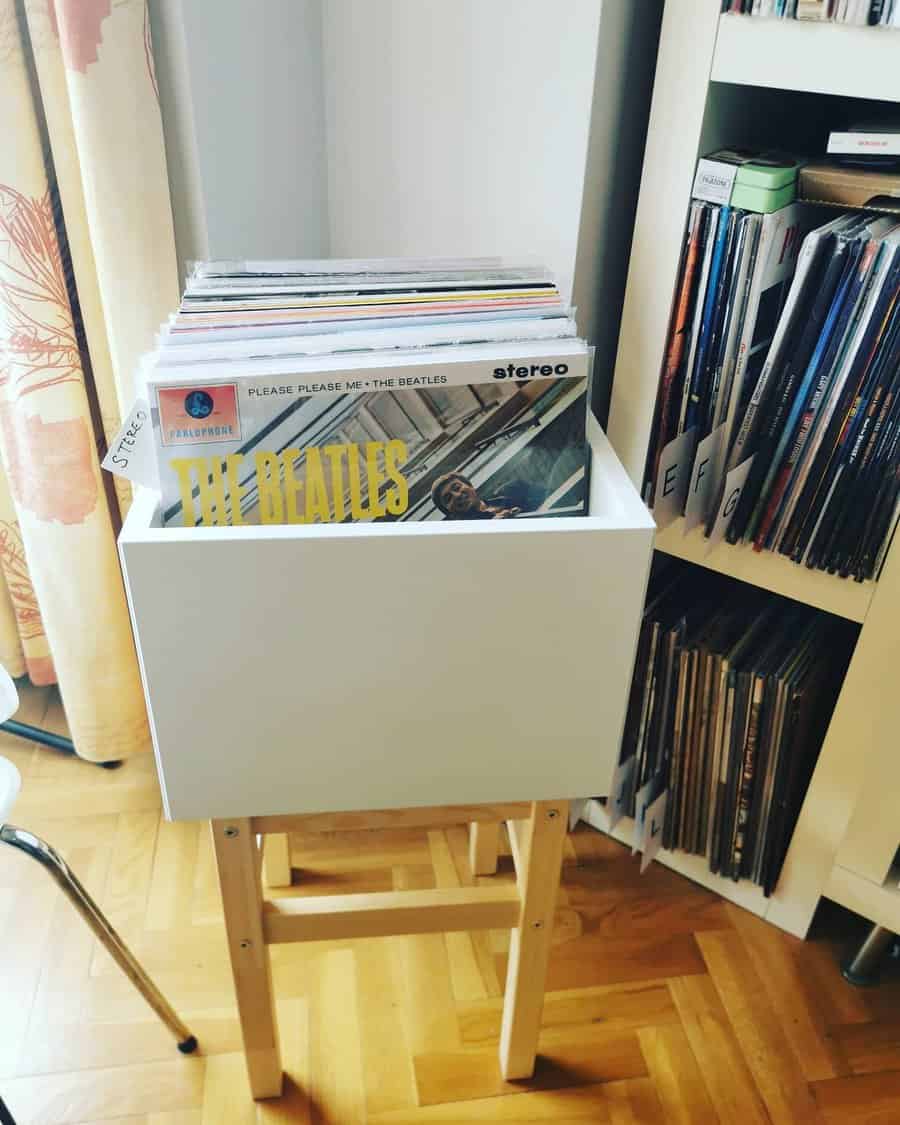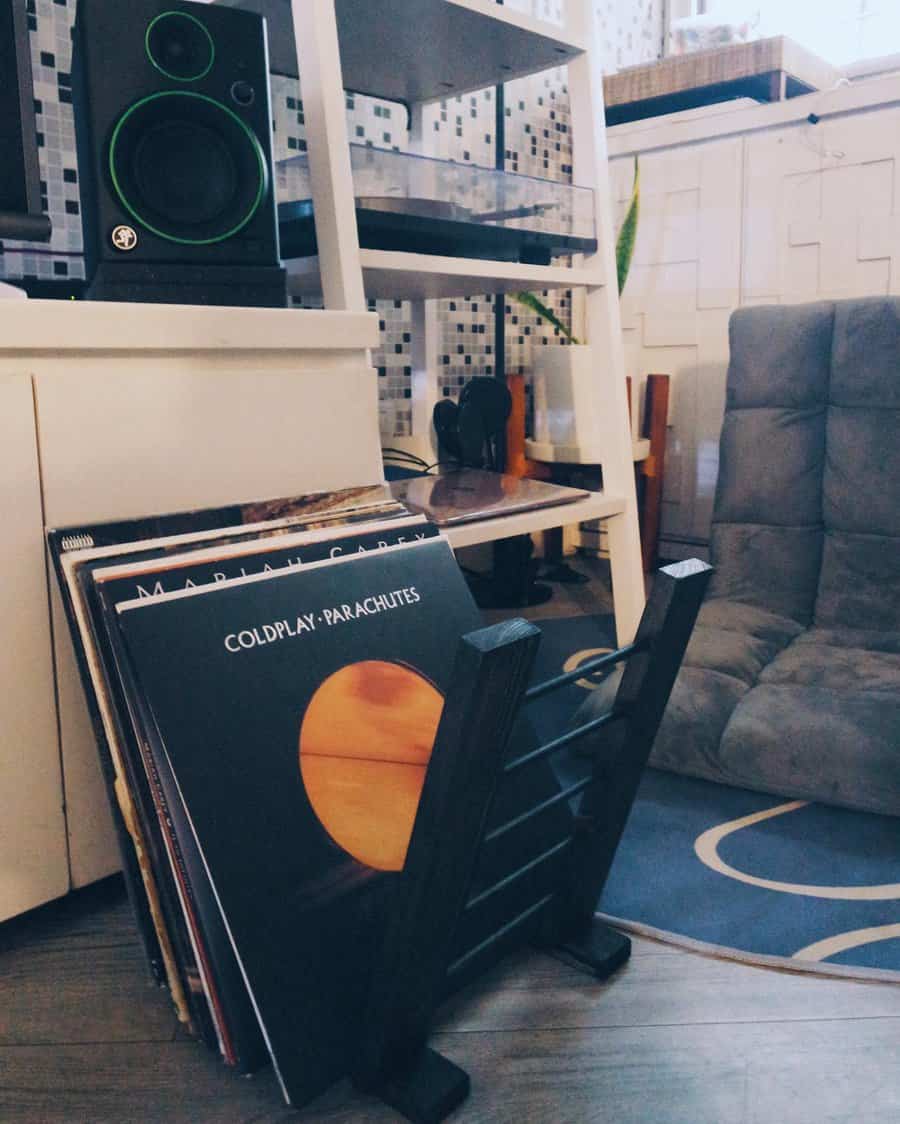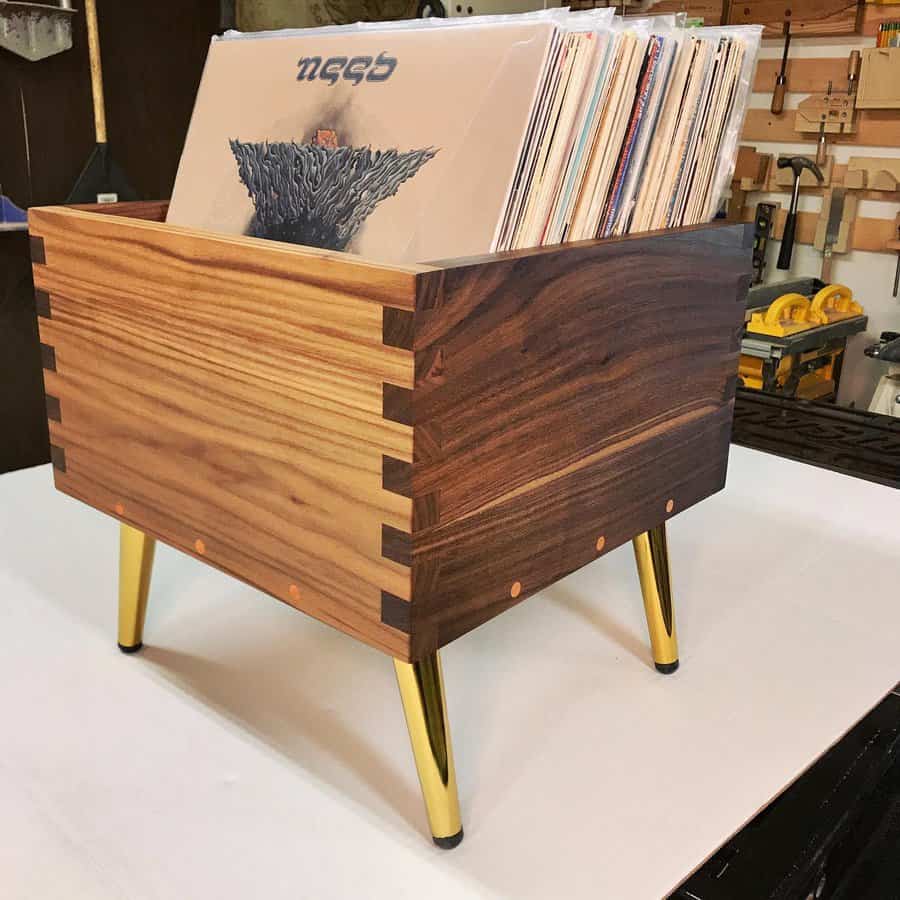 20. Floating Vinyl Shelf
A floating vinyl shelf adds a touch of modernity to your space, creating a sleek and minimalist aesthetic that beautifully complements your passion for music. Its clever design allows the records to appear as if they are floating on the wall, creating a visually captivating display that will surely impress your guests. With the ability to hold a large number of records, this shelf is perfect for those with an ever-growing collection.
By utilizing wall space instead of occupying precious floor real estate, you can create a more open and spacious atmosphere in your home. Say goodbye to cluttered shelves and hello to a streamlined and organized display of your favorite albums. Let your record collection take center stage with a floating vinyl shelf that combines functionality and style in perfect harmony.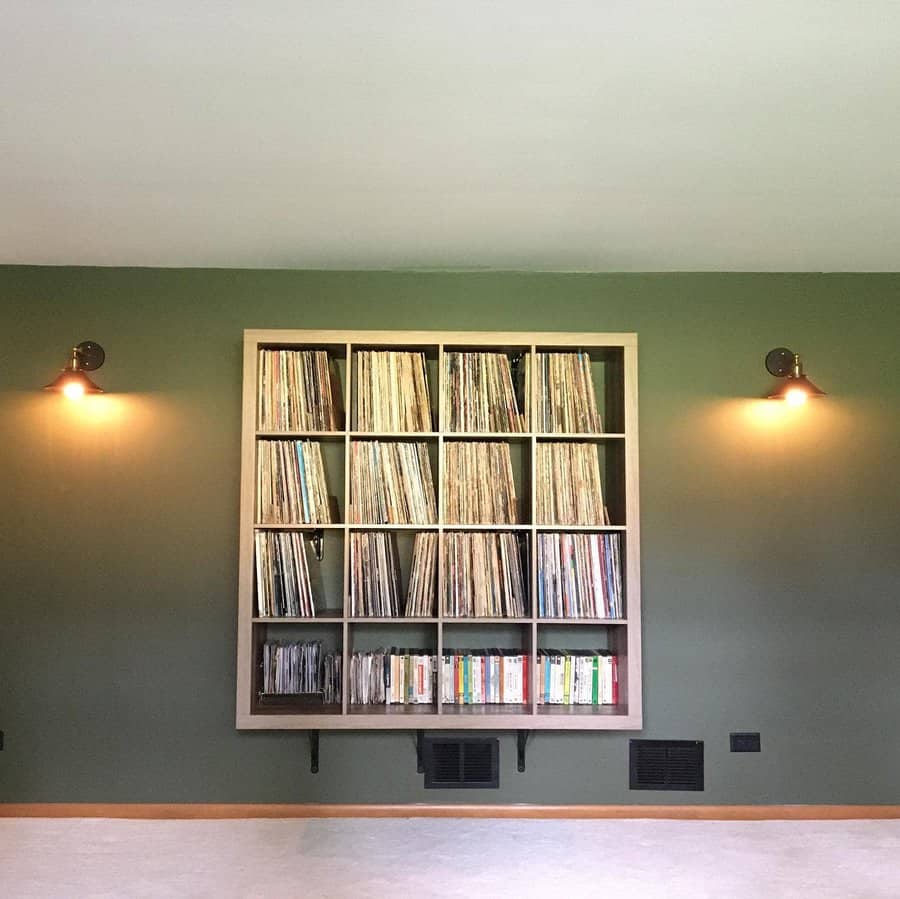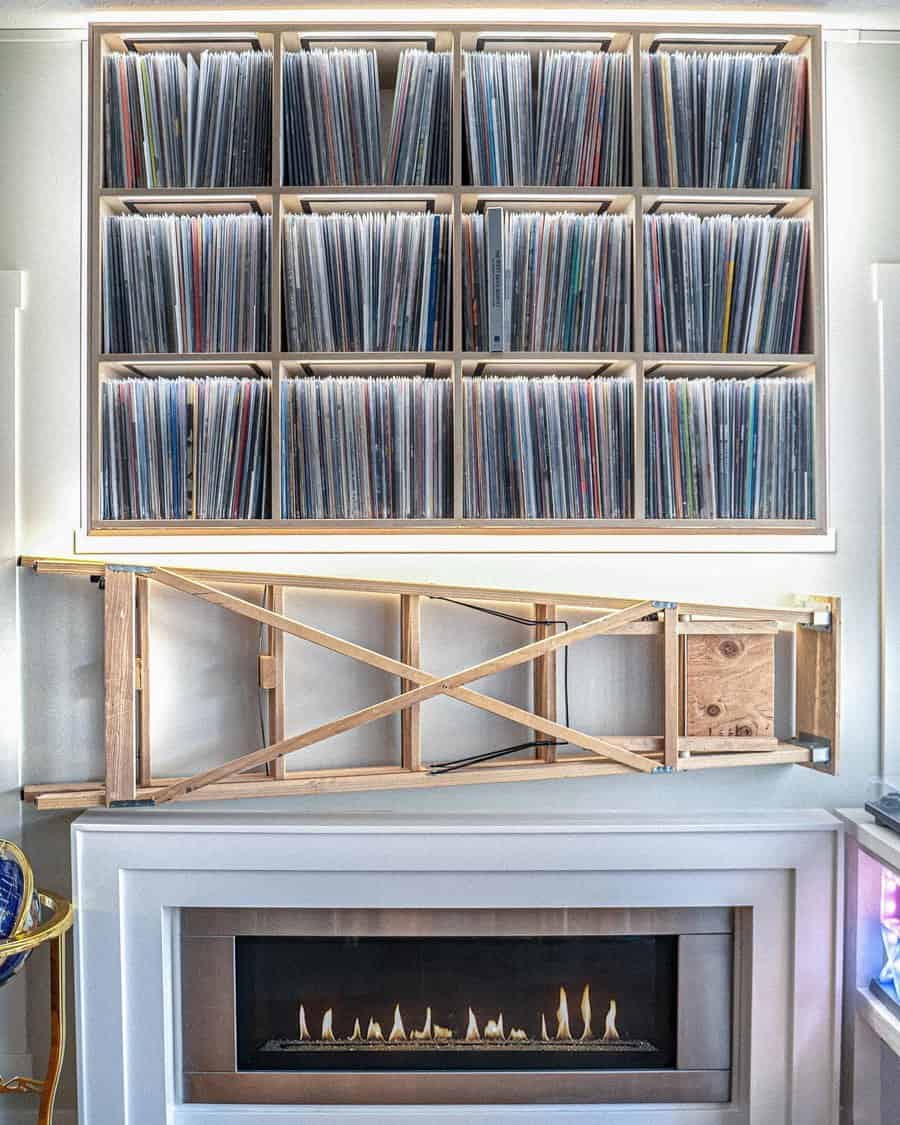 Record Storage FAQs
What is the best way to store vinyl records?
To avoid warping, store vinyl records vertically. They should be placed on shelves or in well-packed boxes. Stacking them horizontally could make them unplayable.
What is a good temperature to store vinyl records?
Avoid storing your vinyl record collection where it will be exposed to direct light or heat. Average room temperature around 70 degrees Fahrenheit is ideal. Try to avoid exposing your record collection to high levels of humidity.