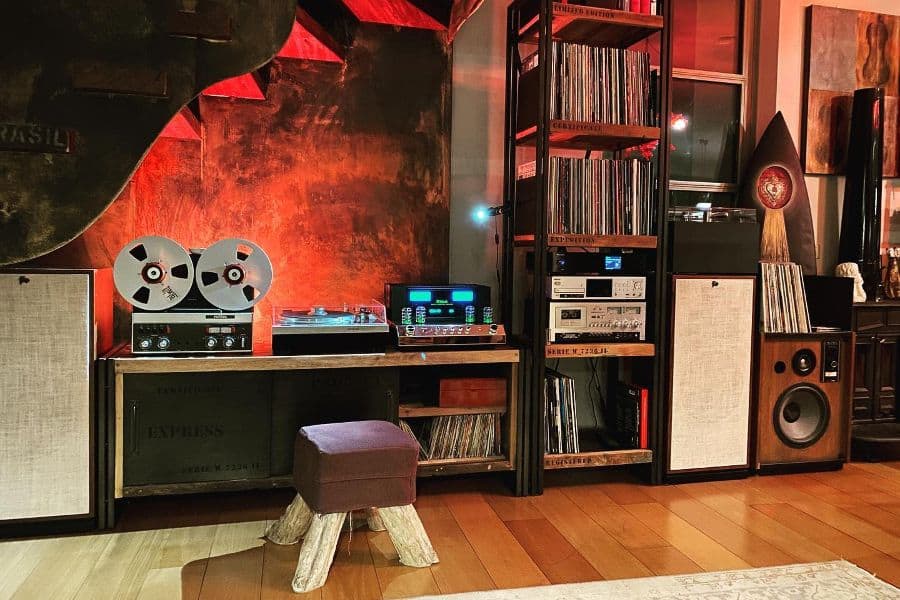 The Top 84 Record Storage Ideas
"I remember opening up my first vinyl and seeing the incredible artwork it had. There's nothing like it. You also get that true gritty sound on vinyl that really makes a rock record sound great, which CDs can never achieve." – Nikki Sixx
Serious music lovers know that there is something special about LP records. Although it once appeared that vinyl records had gone the way of the dinosaur, record collecting has enjoyed a resurrection. A whole new generation has discovered vinyl's retro appeal.
Vinyl collection culture is thriving today, leaving collectors wondering what are the best—and best-looking—vinyl record storage options. Scroll through our carefully curated record storage ideas and learn how to care for your collection while showing it off.
1. Console Table
Console tables were first used in France during the 17th century. They consisted of a rectangular or semi-circle table top supported by wall-mounted brackets instead of the usual four legs.
Modern console tables may be wall mounted or freestanding. Because of its narrow profile, a console table is a good choice when space is at a premium.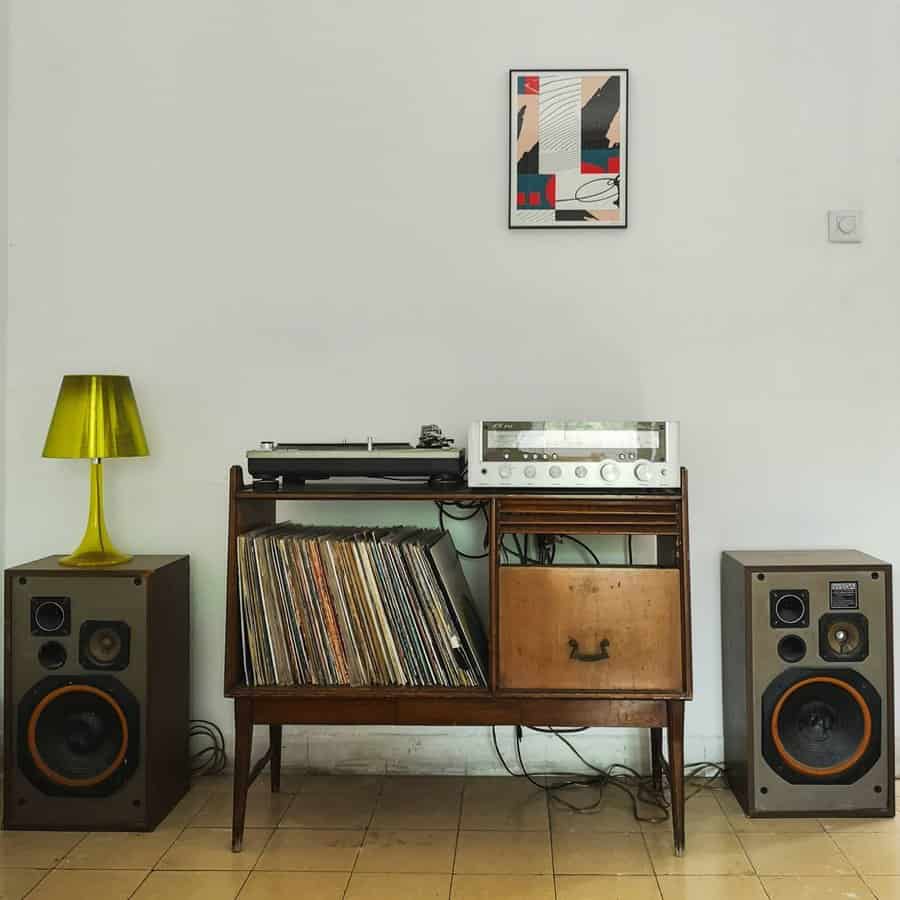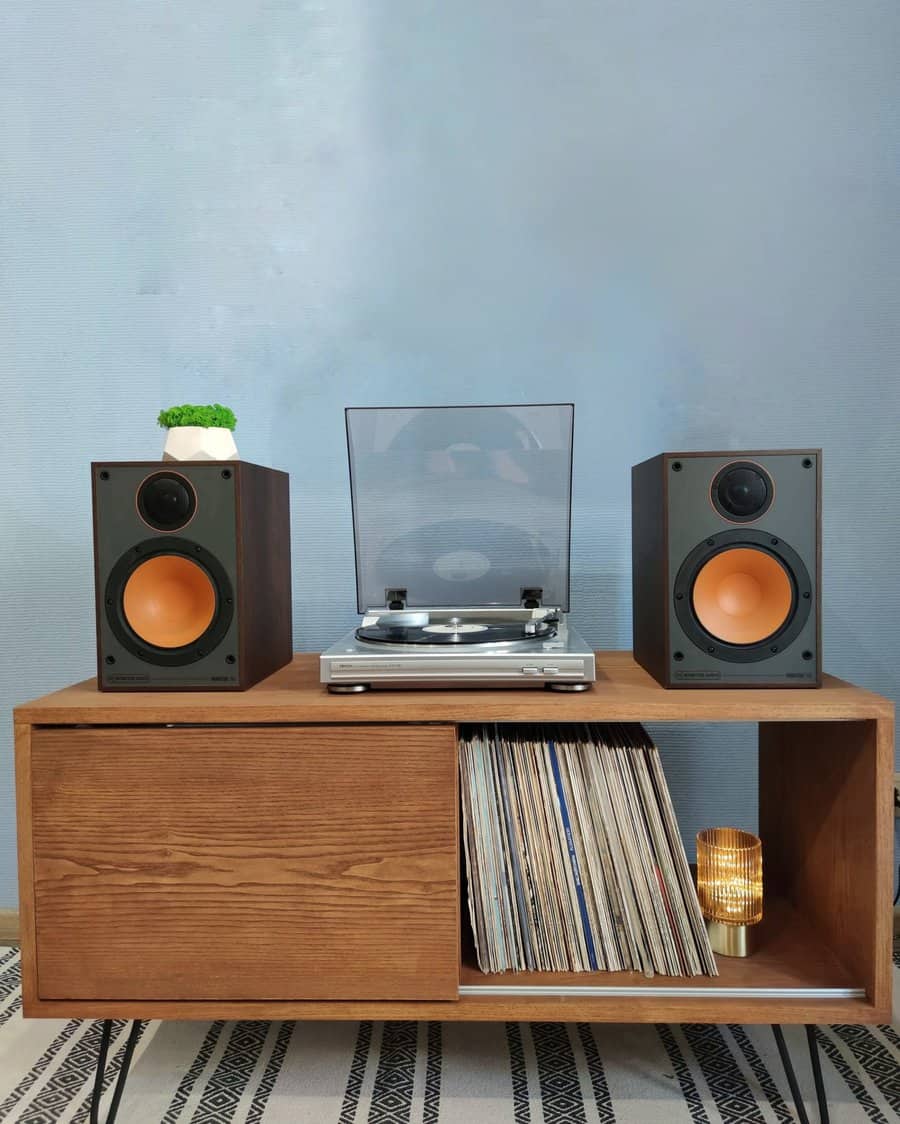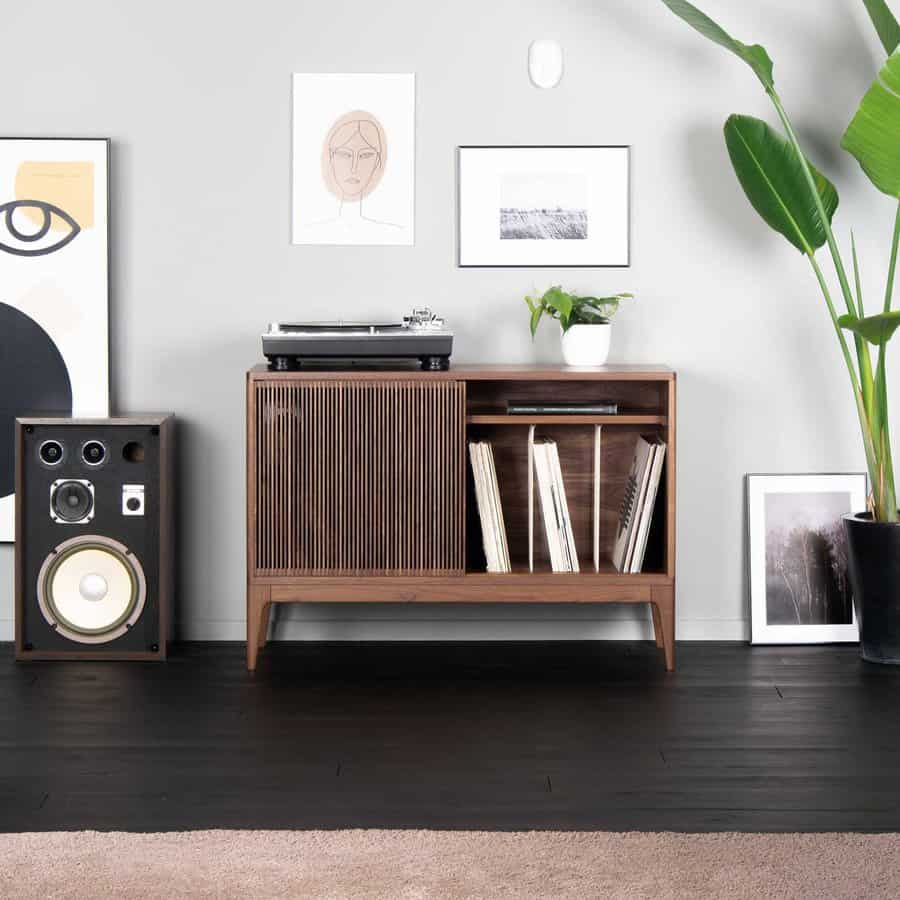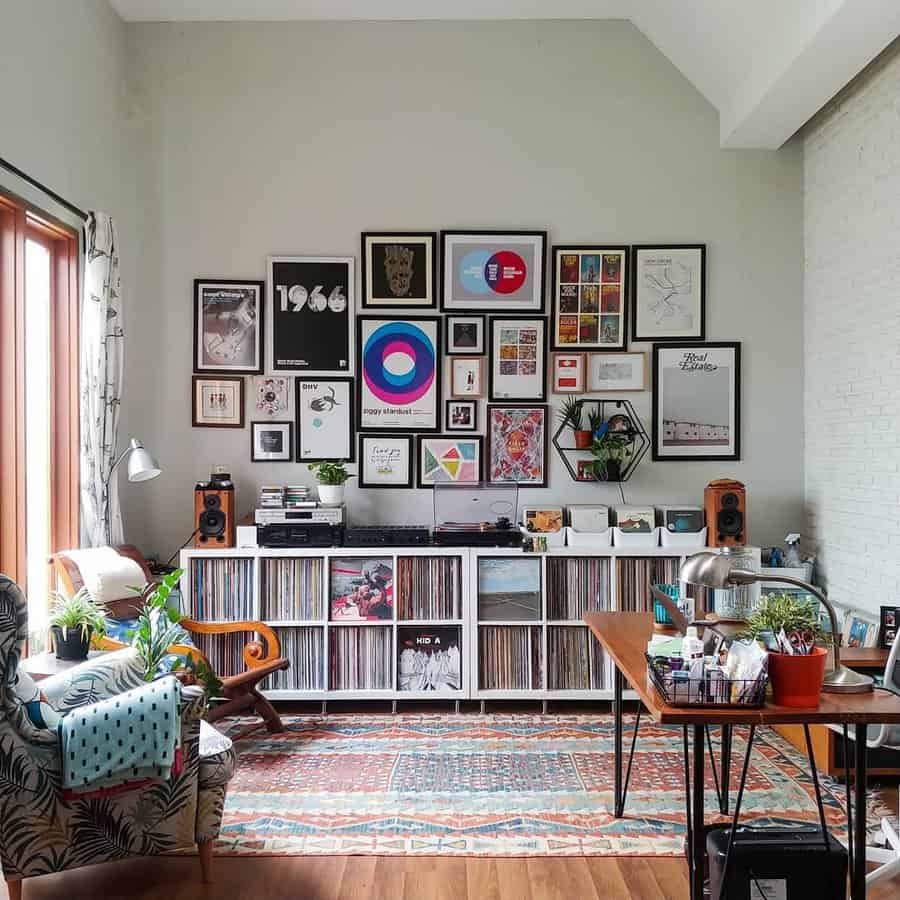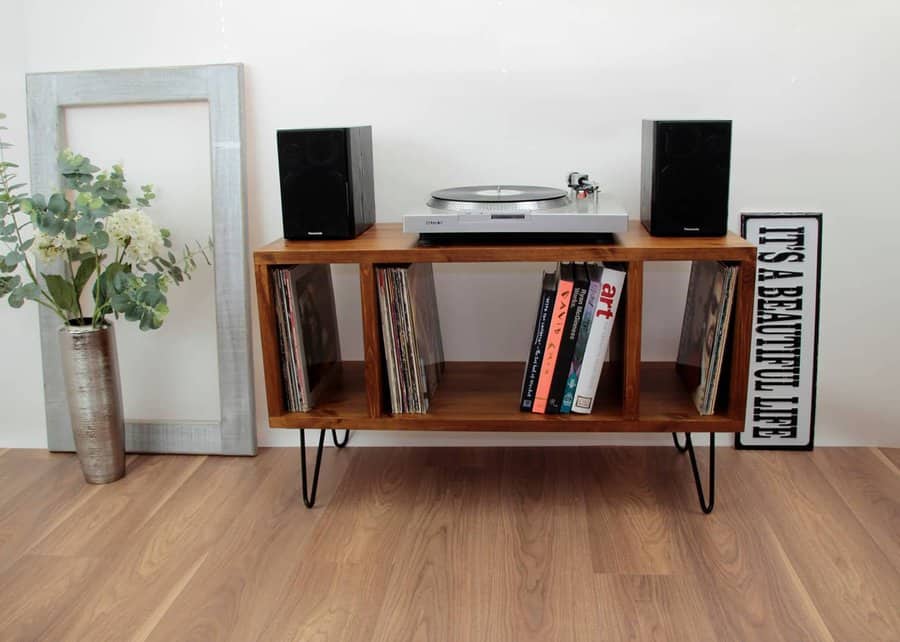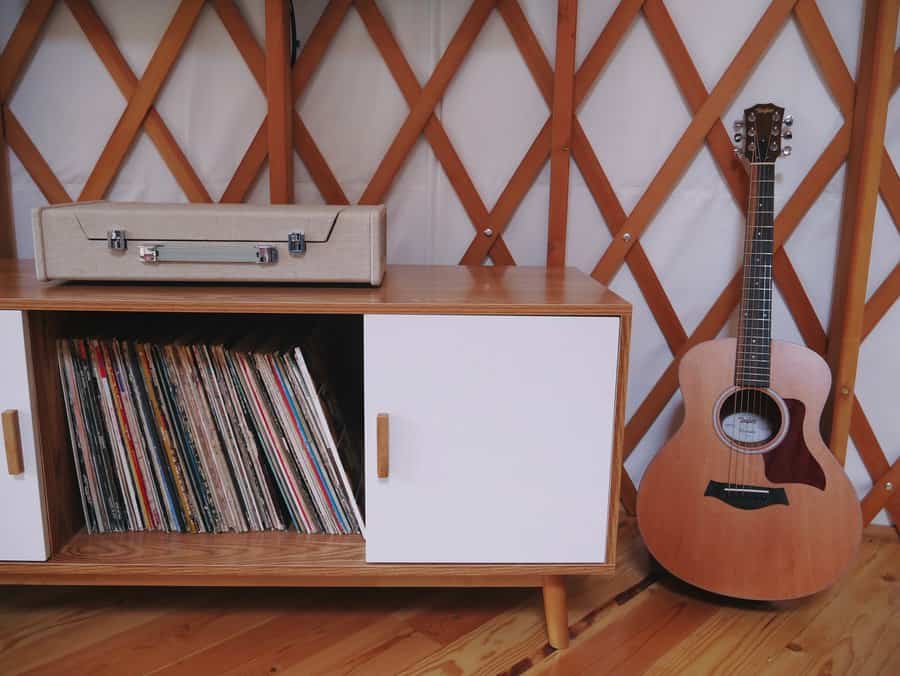 Mid century furniture was made for vinyl record storage, as everyone had a record player in that era. Search second-hand and antique shops for genuine mid century console tables. If you prefer something new, look for simple, trendy consoles with clean lines and a shelf or rack tall enough to stand each vinyl record on end.
2. Crates and Boxes
Crates and boxes are perhaps the original vinyl record storage solution. They are affordable, stackable, and available in a range of materials to fit into any style of interior décor.
Look for natural wood or manufactured wood crates, plain or with embellishments. Serious collectors can sometimes find vintage record boxes engraved with record store names and logos.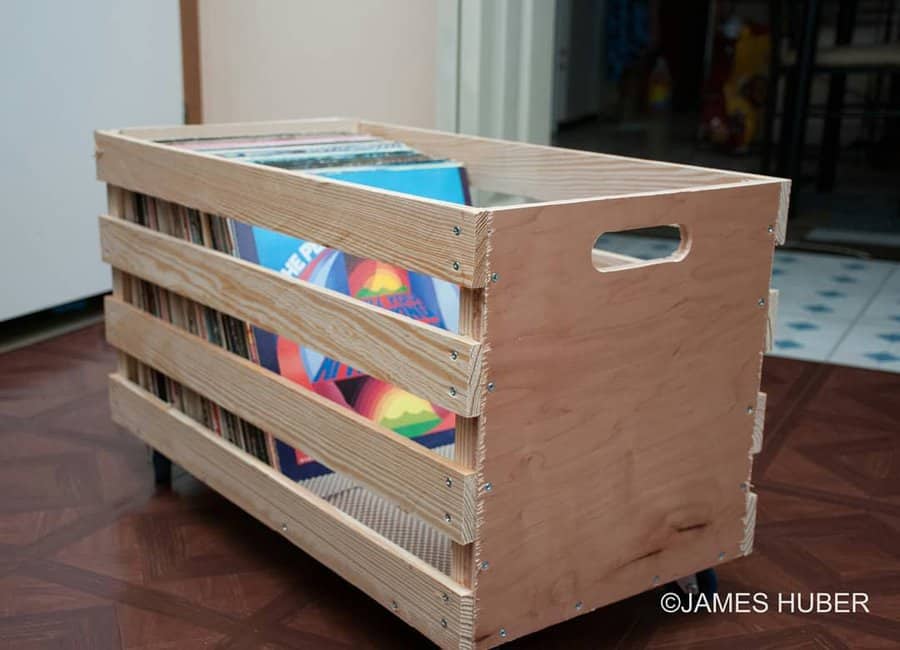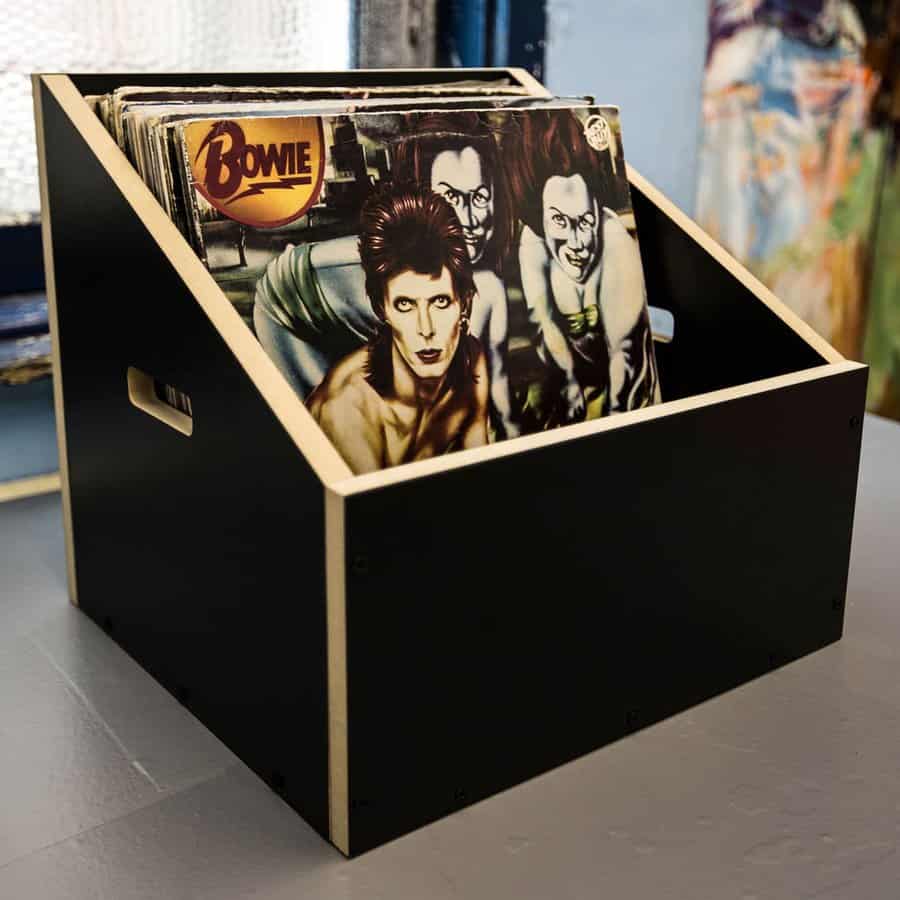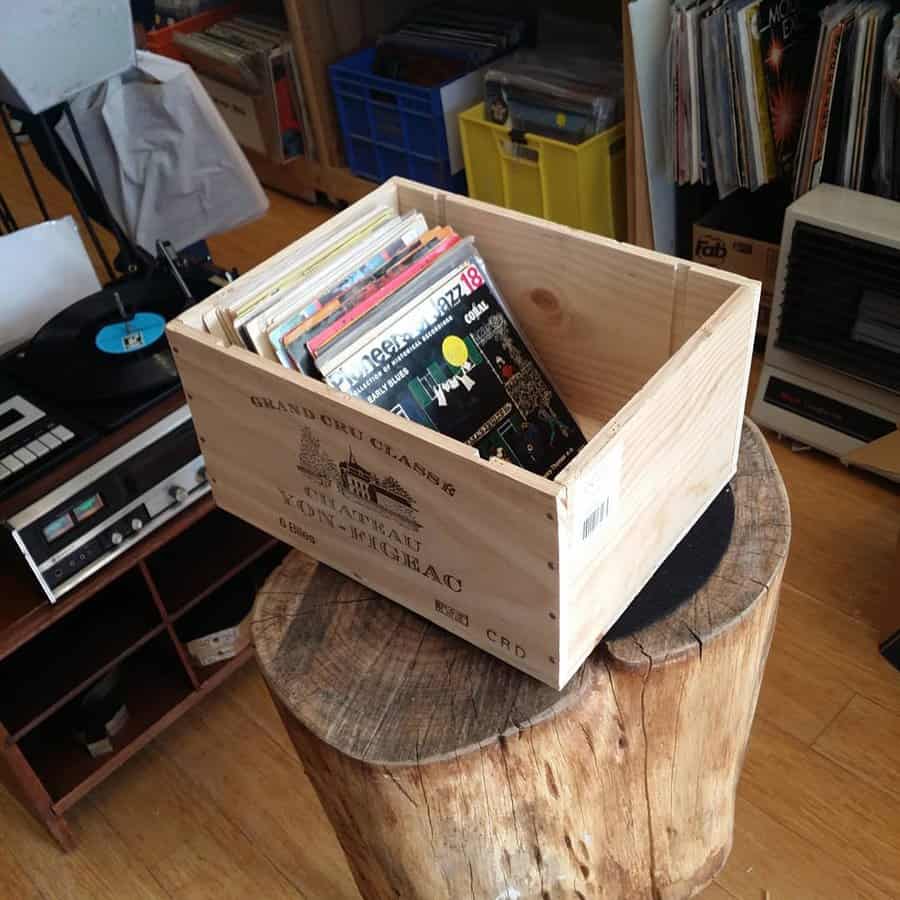 You don't need a certain kind of record box, however. A basic wooden crate available at any container store works well for vinyl storage. A classic plastic milk crate is another great vinyl record storage idea. For an edgier, industrial look, buy metal crates or boxes to hold your record collection.
3. Cube Shelves
Cube shelves are perfect for vinyl storage provided that they're the right size. Traditional record album sizes are seven, 10 and 12 inches in diameter. Therefore, each individual cube should have an inside measurement about one inch bigger than the records you plan to store there.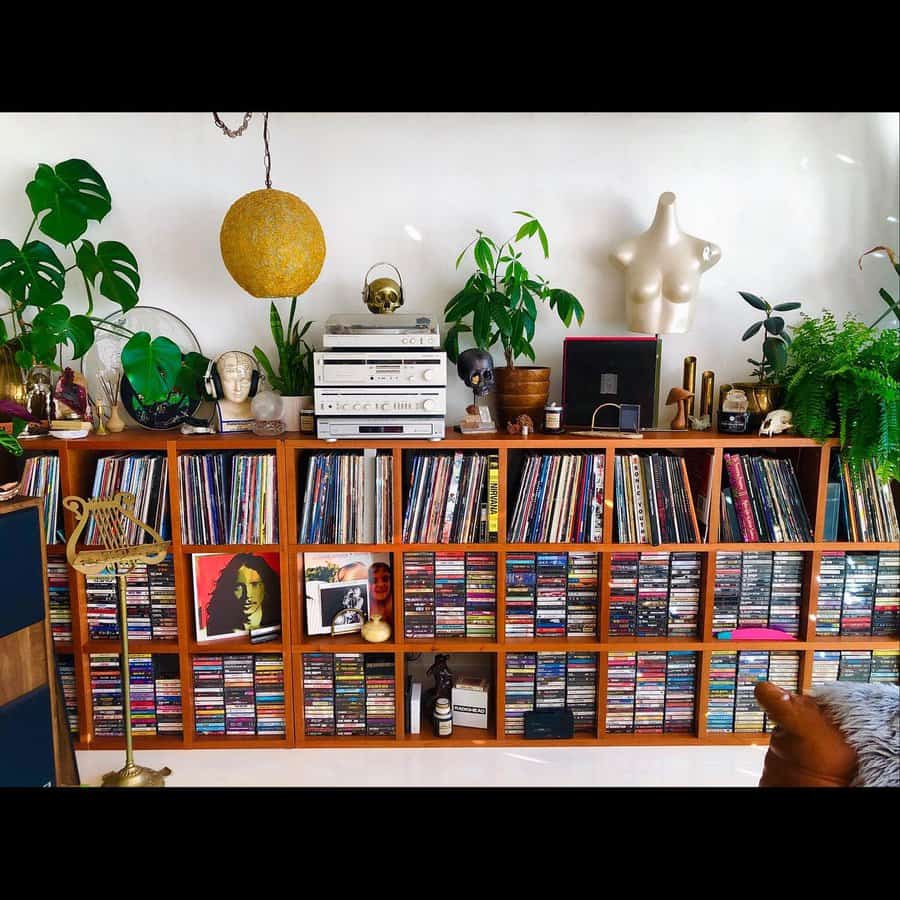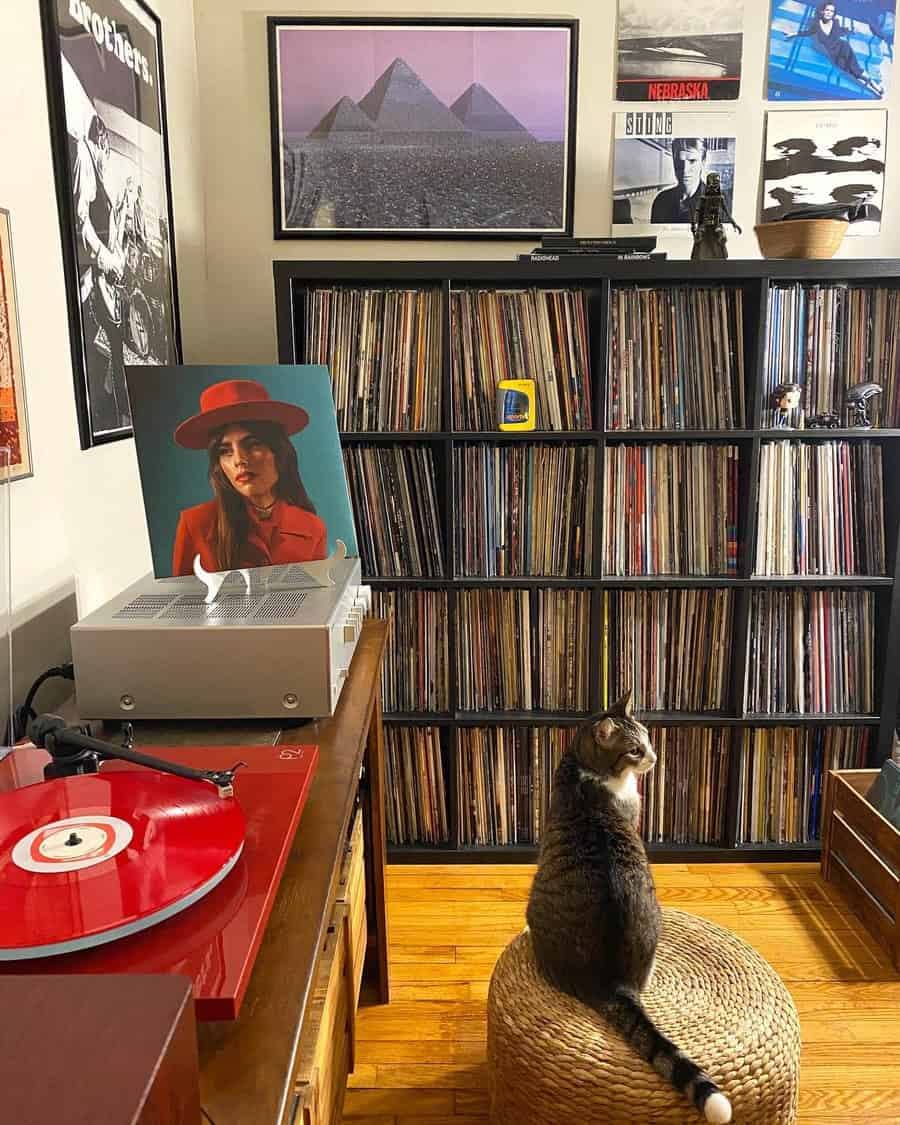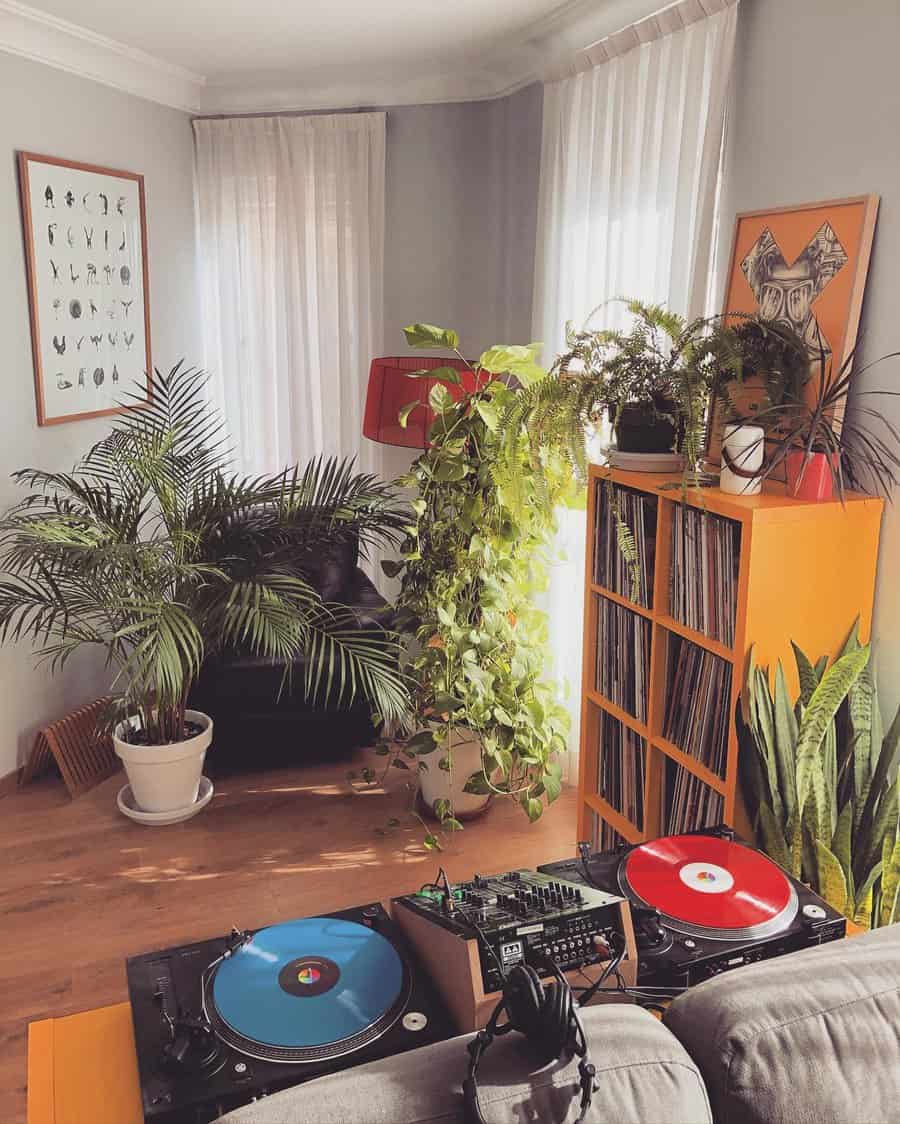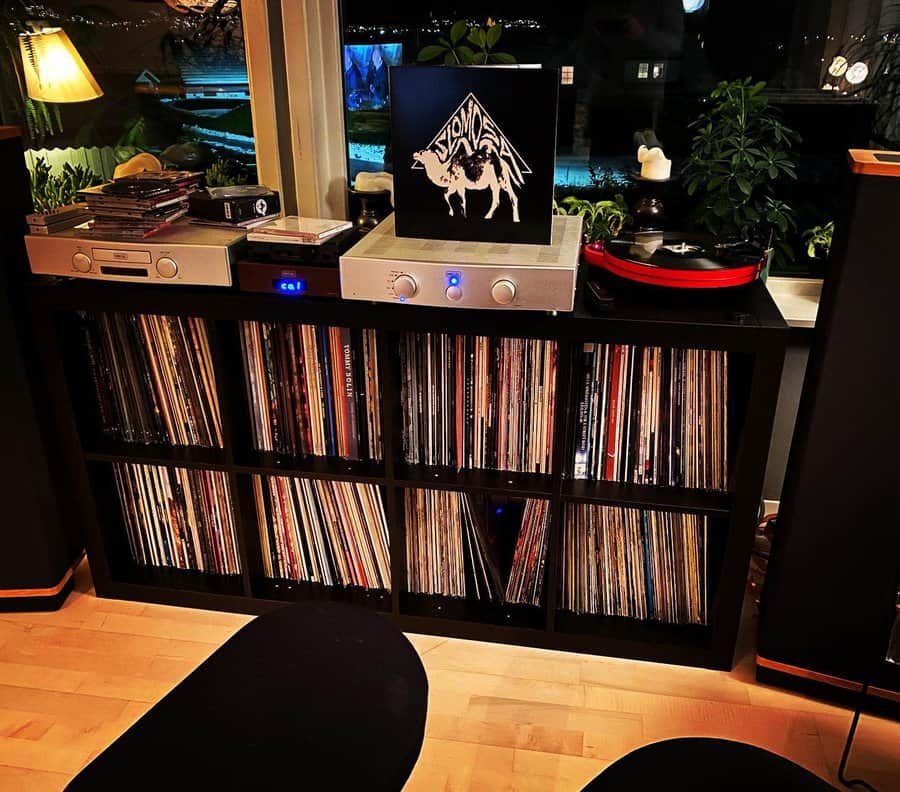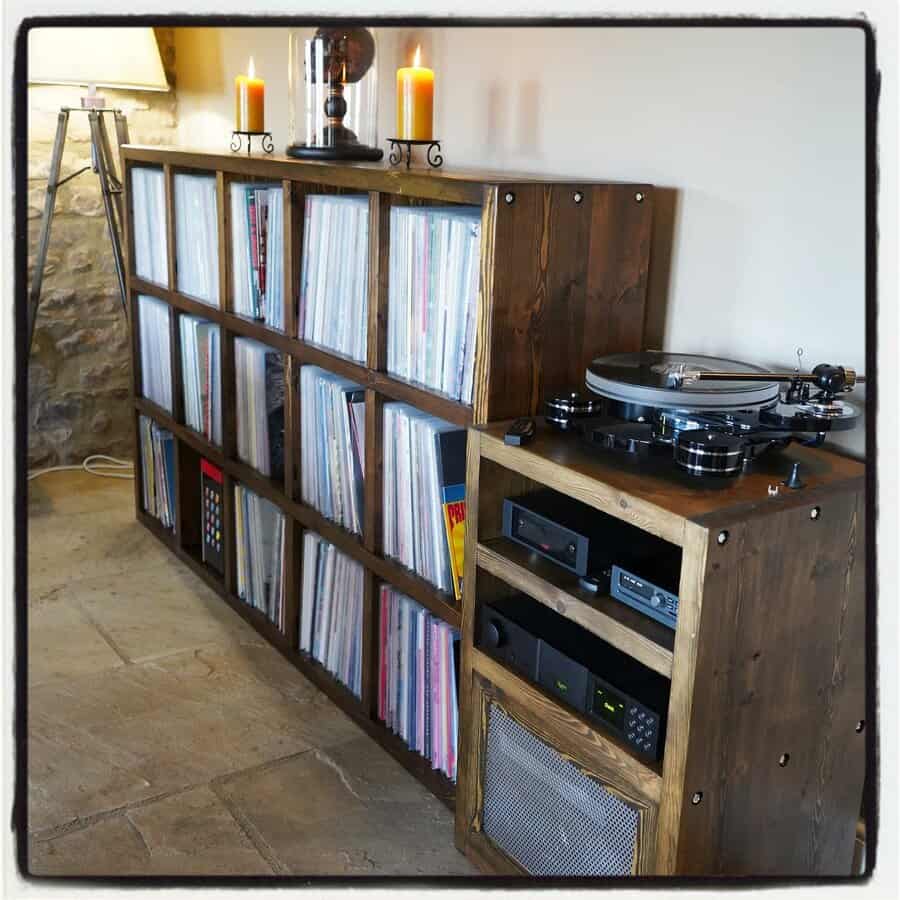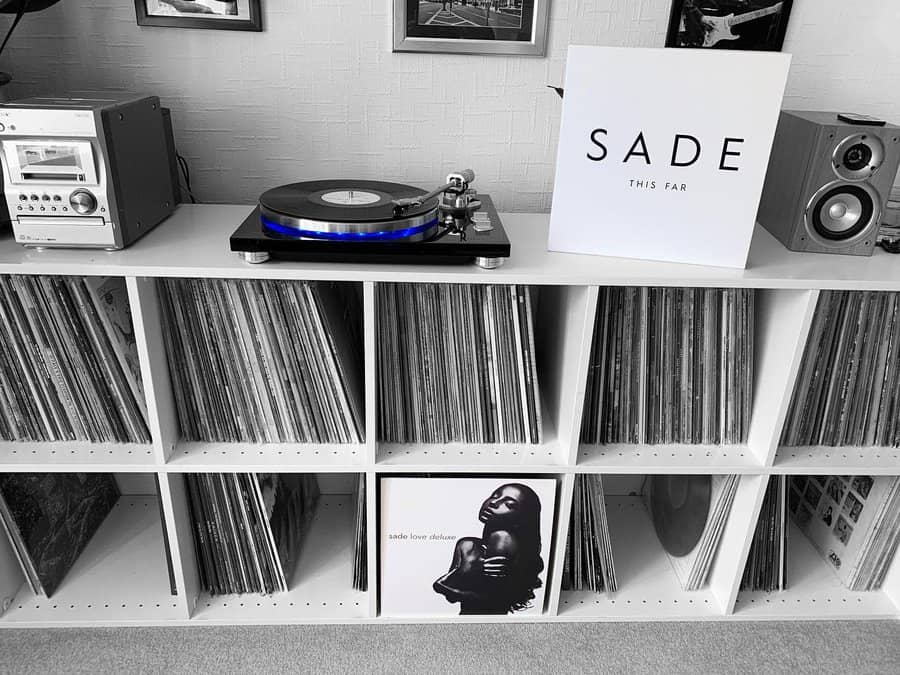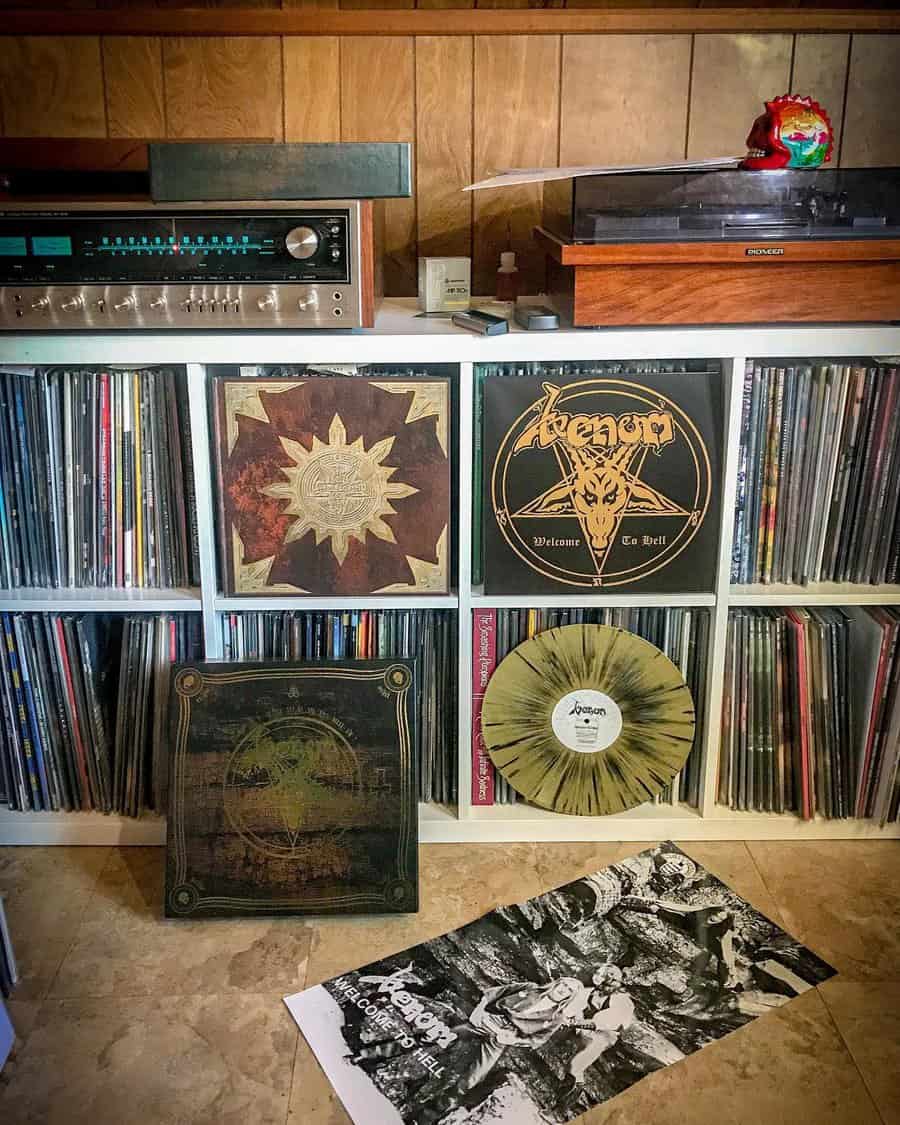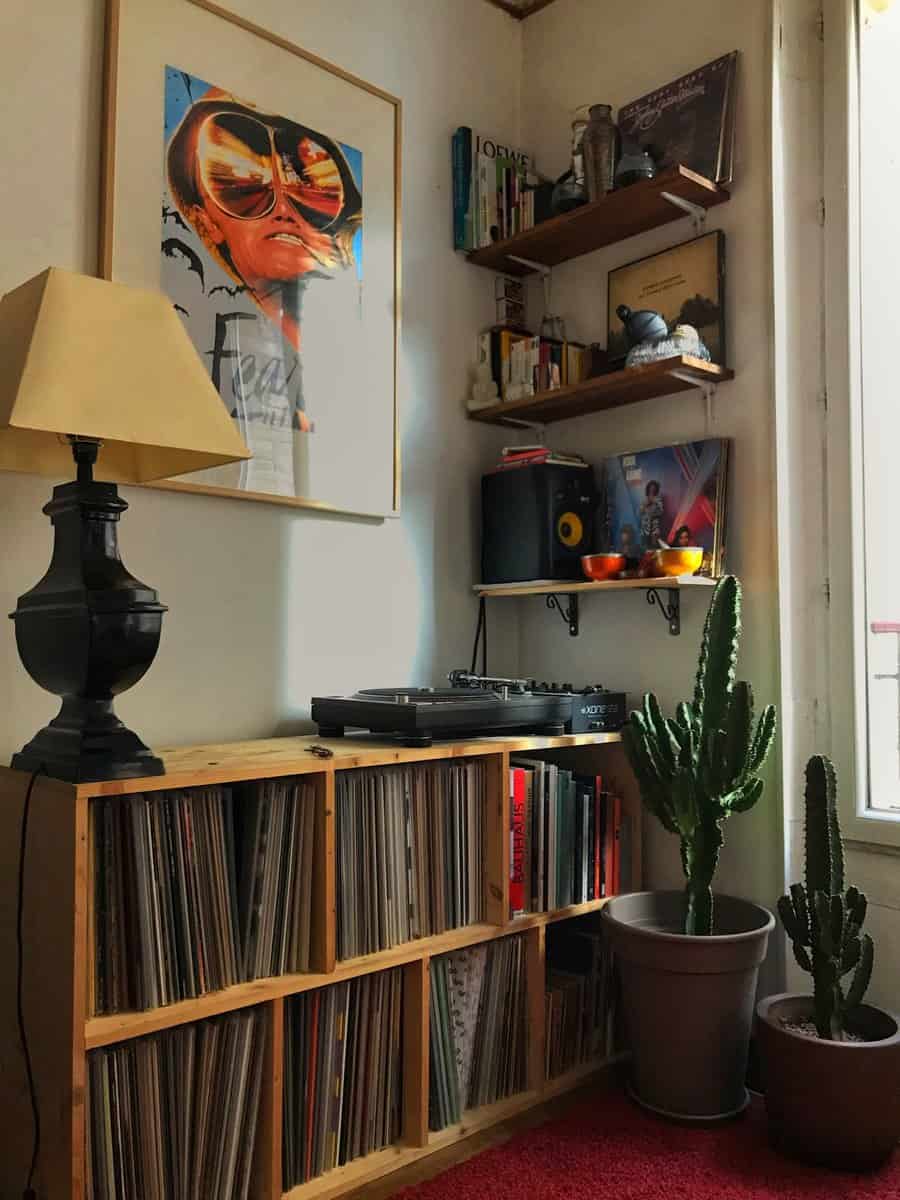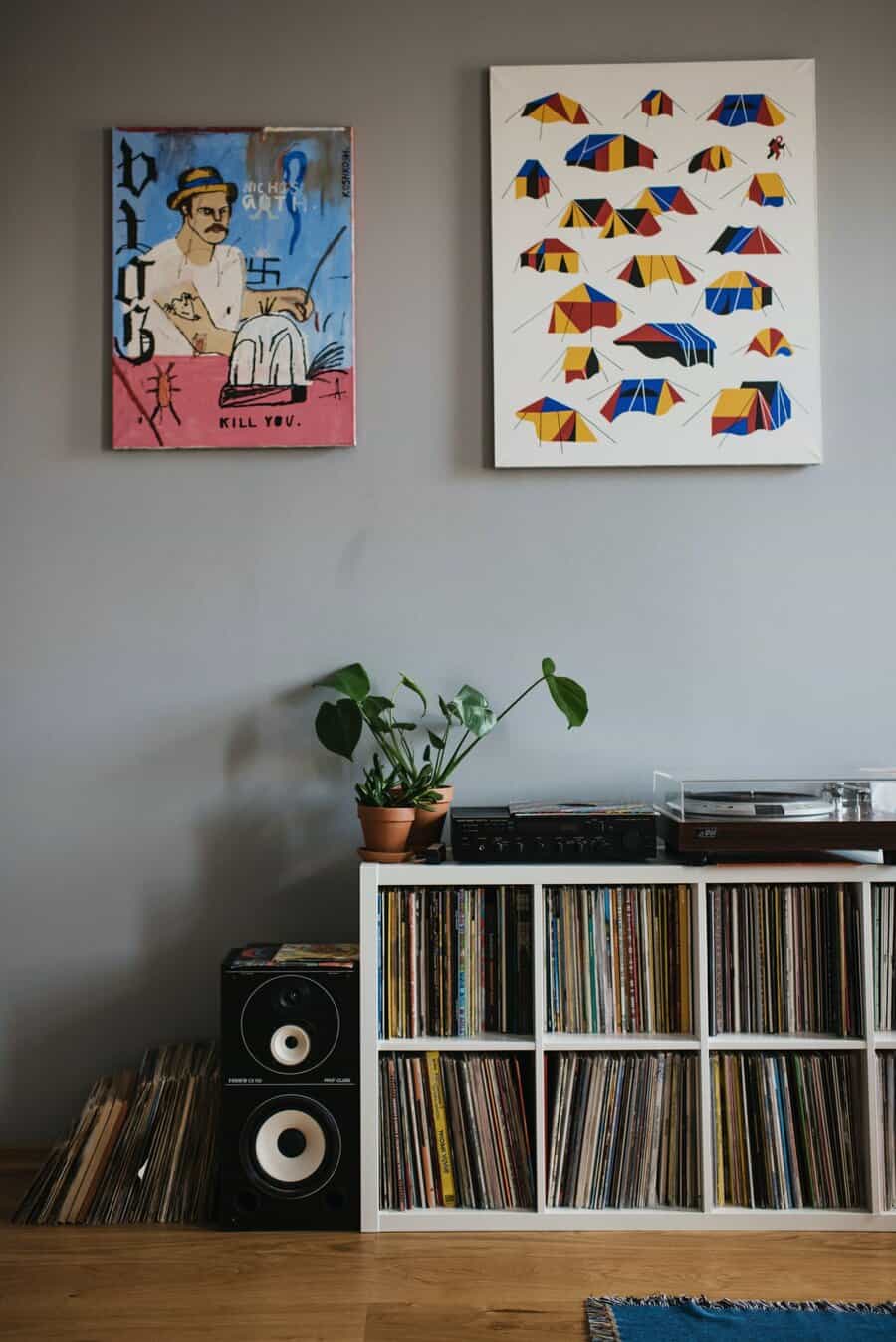 A cube shelving unit usually has three to five cubes across and at least two vertical rows. For a modern, perfectly square storage unit choose shelving that has an equal number of cubes on each side. If the cubes lock together and the top is deep enough, you may be able to display your turntable on top.
4. Custom Cabinet
A custom built cabinet may be the best record storage system for your personal collection. This is especially true if your music collection includes different sizes of record albums along with cassette tapes or CDs.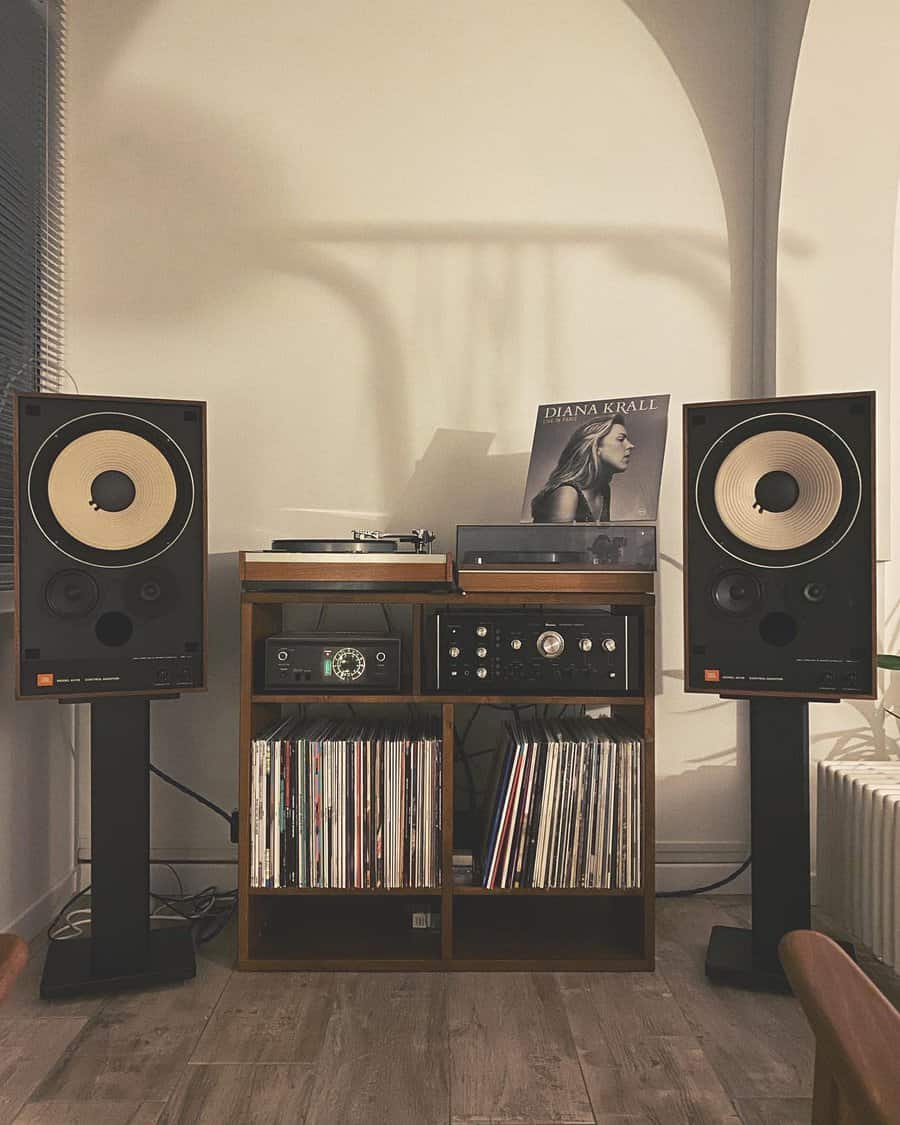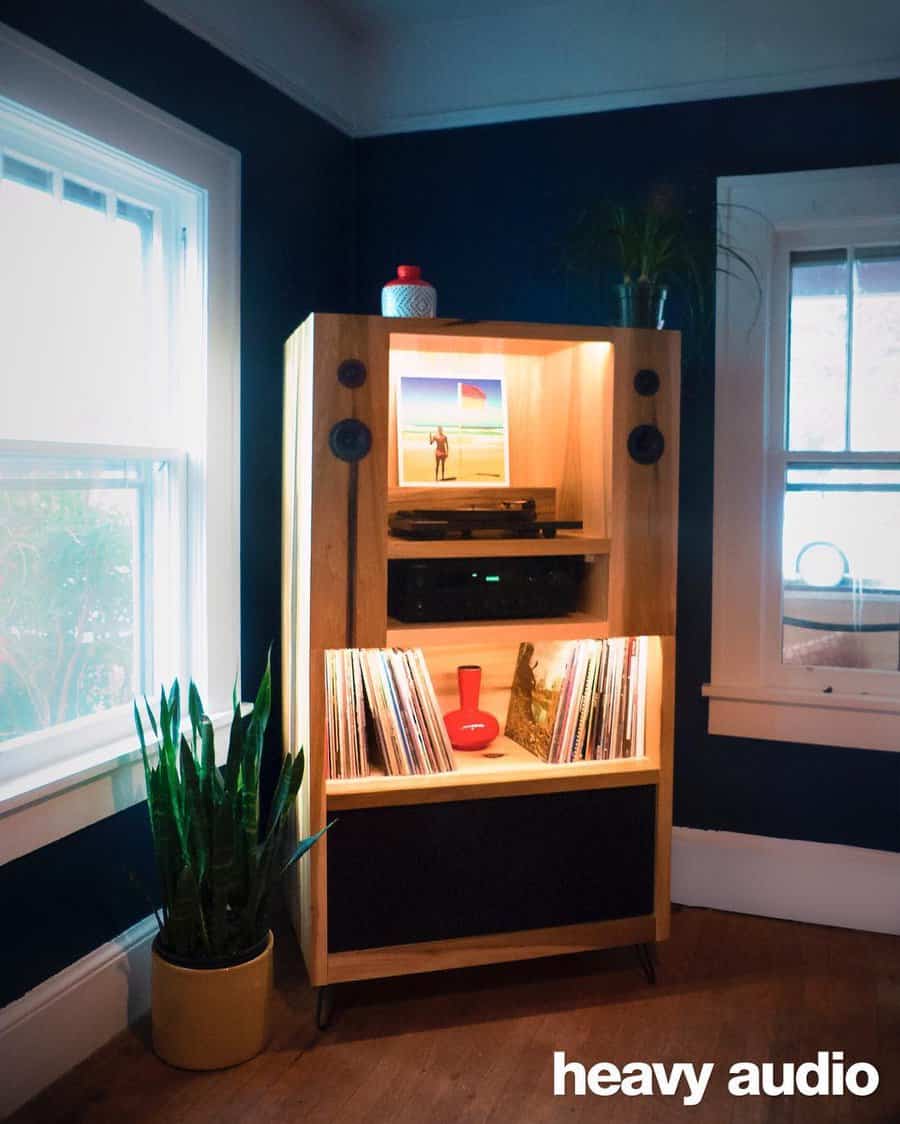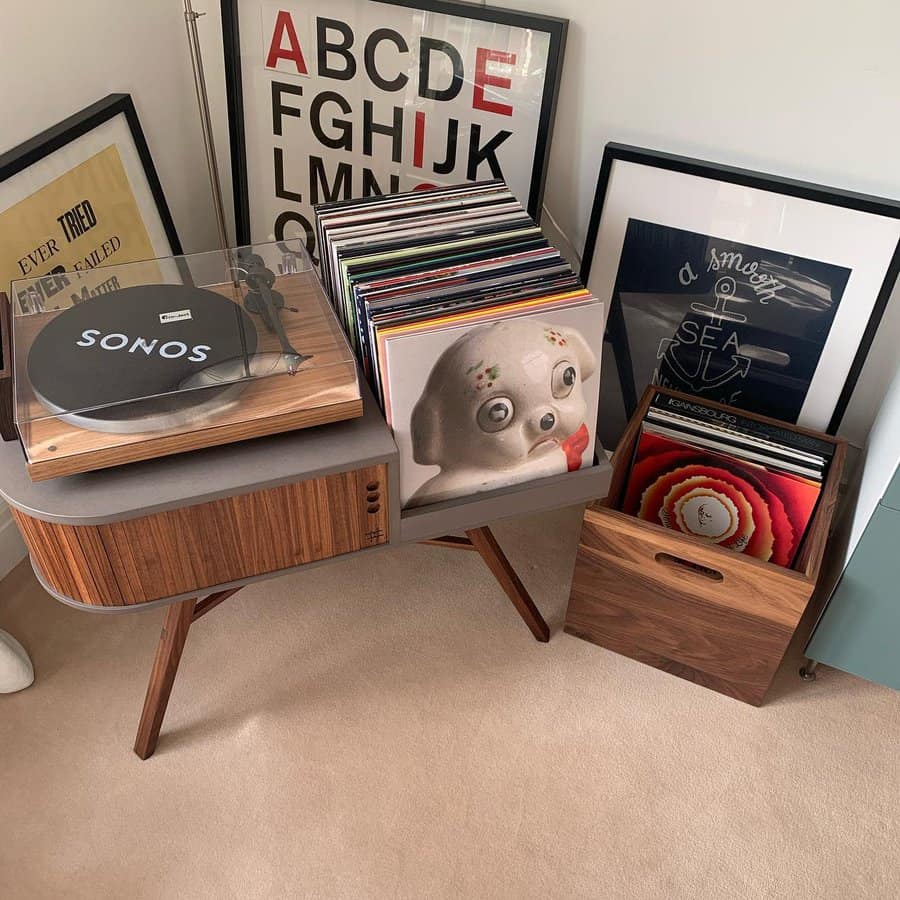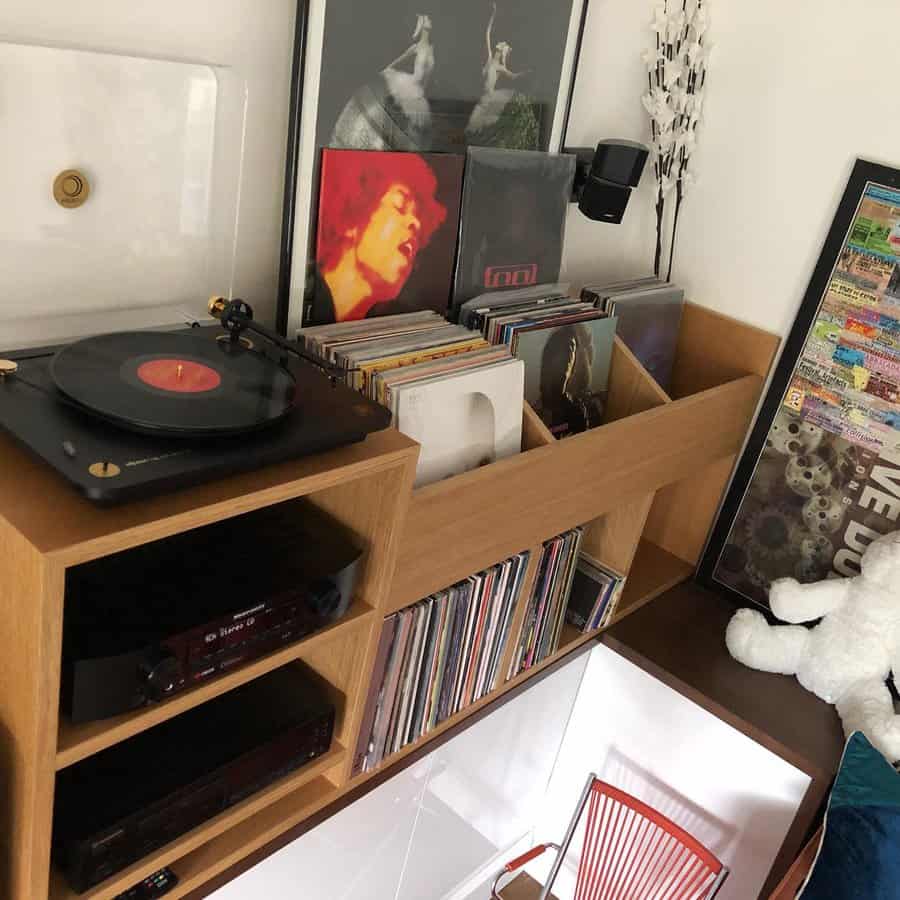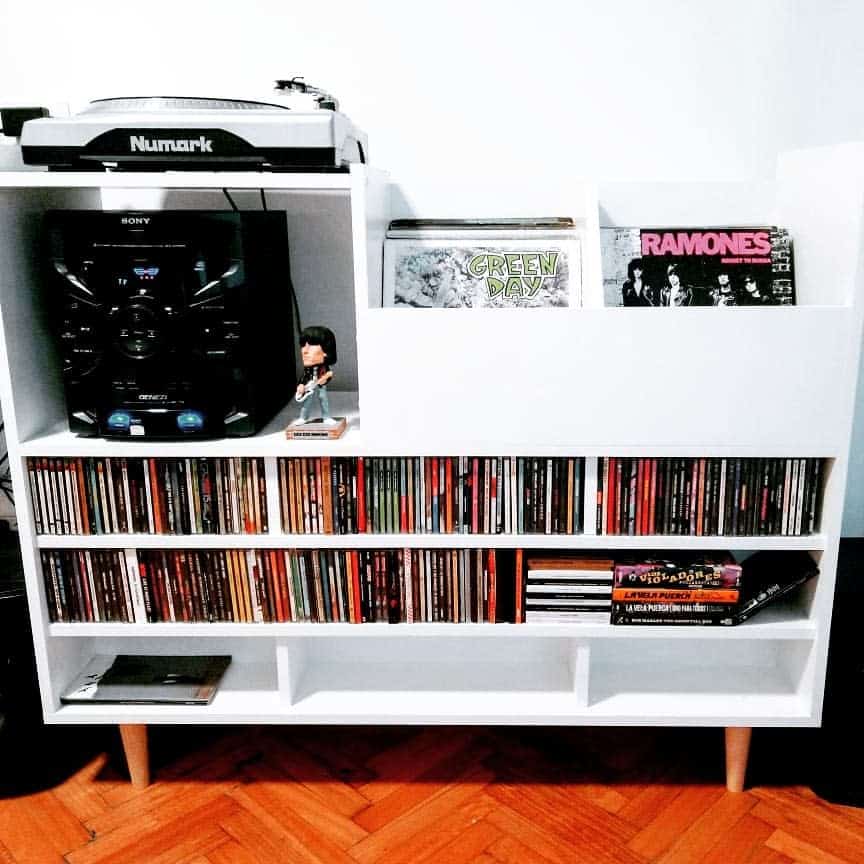 An experienced furniture builder or cabinet carpenter can work with you to create the perfect record cabinet. They can also help you reconfigure a storage cabinet you already own to serve as a record storage unit. Be sure to leave room for your record player and speakers.
5. DIY
A DIY record storage system can take one of two forms. You can purchase a ready-to-assemble cabinet from a big retailer or look online for instructions on building your own storage furniture from scratch.
Virtually any type of record storage cabinet, cube shelf, rack, console, or shelving is a contender for your next DIY project.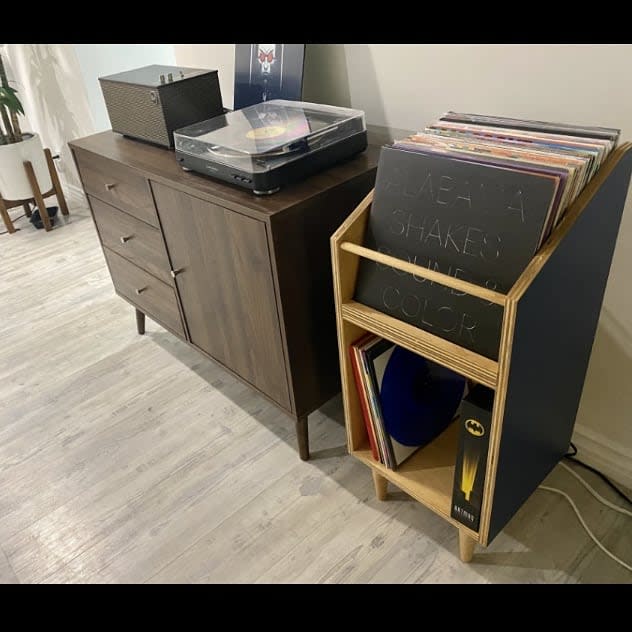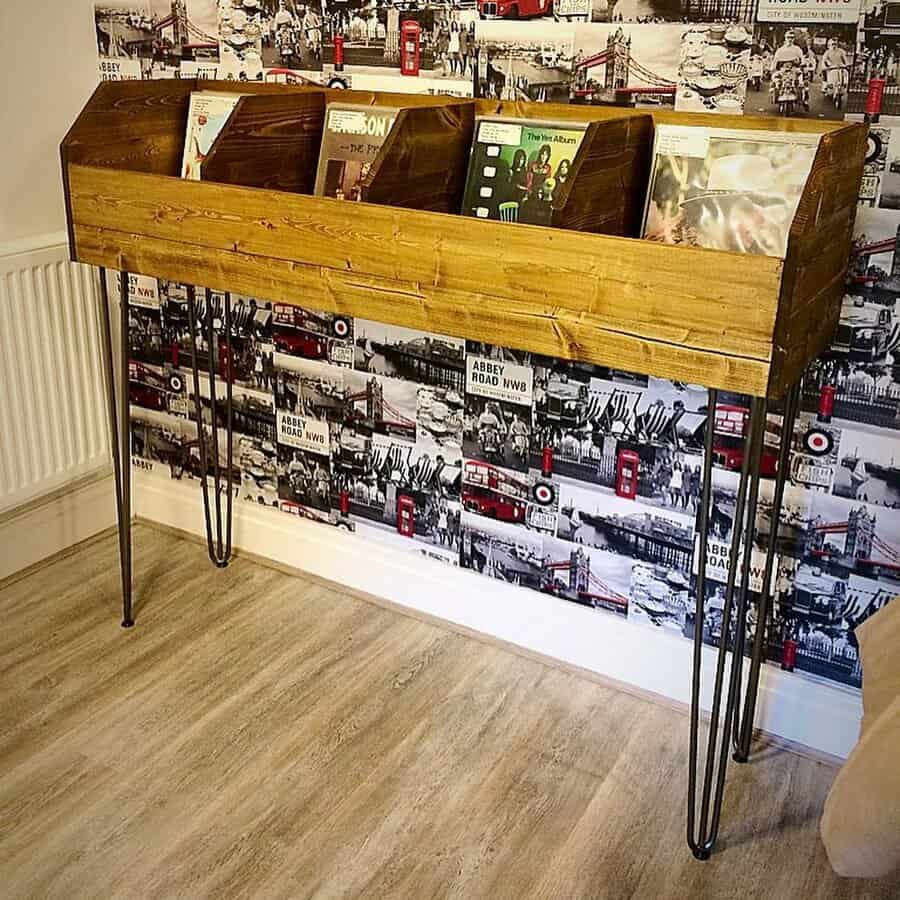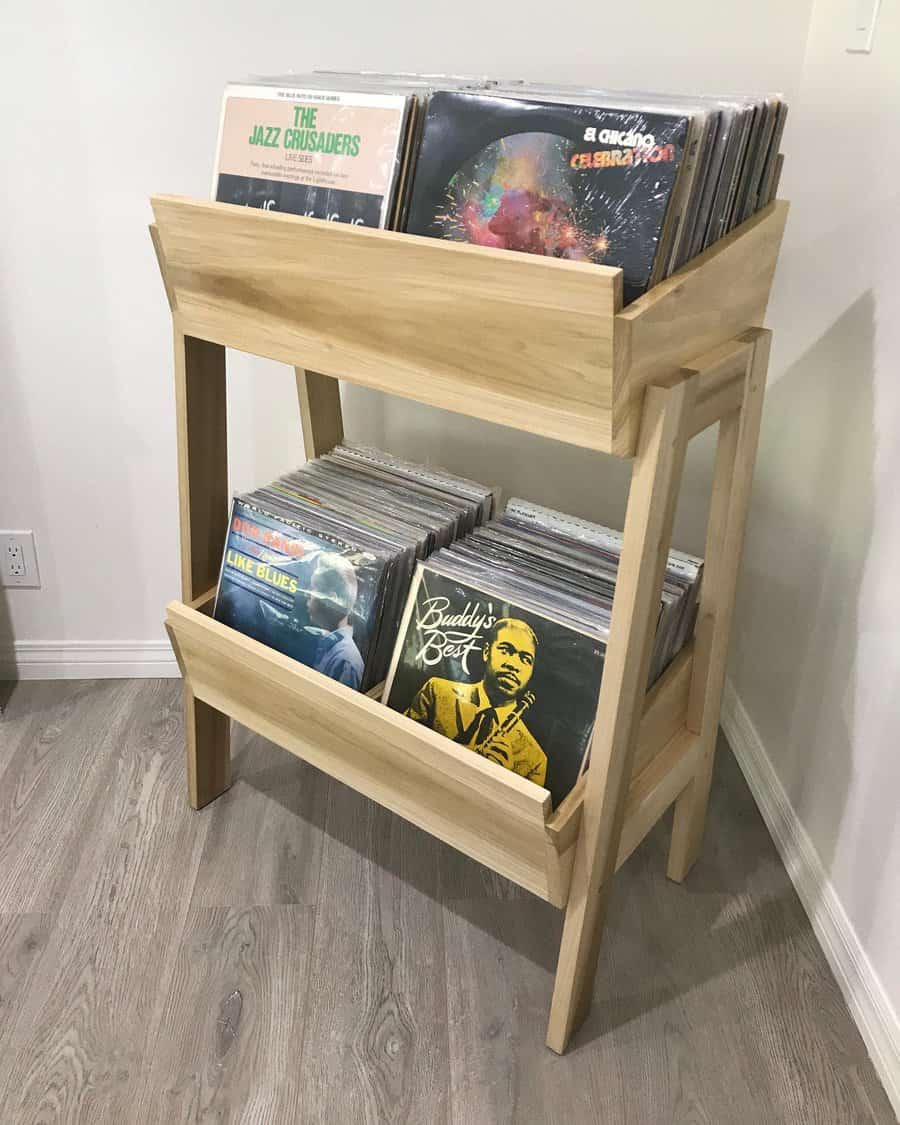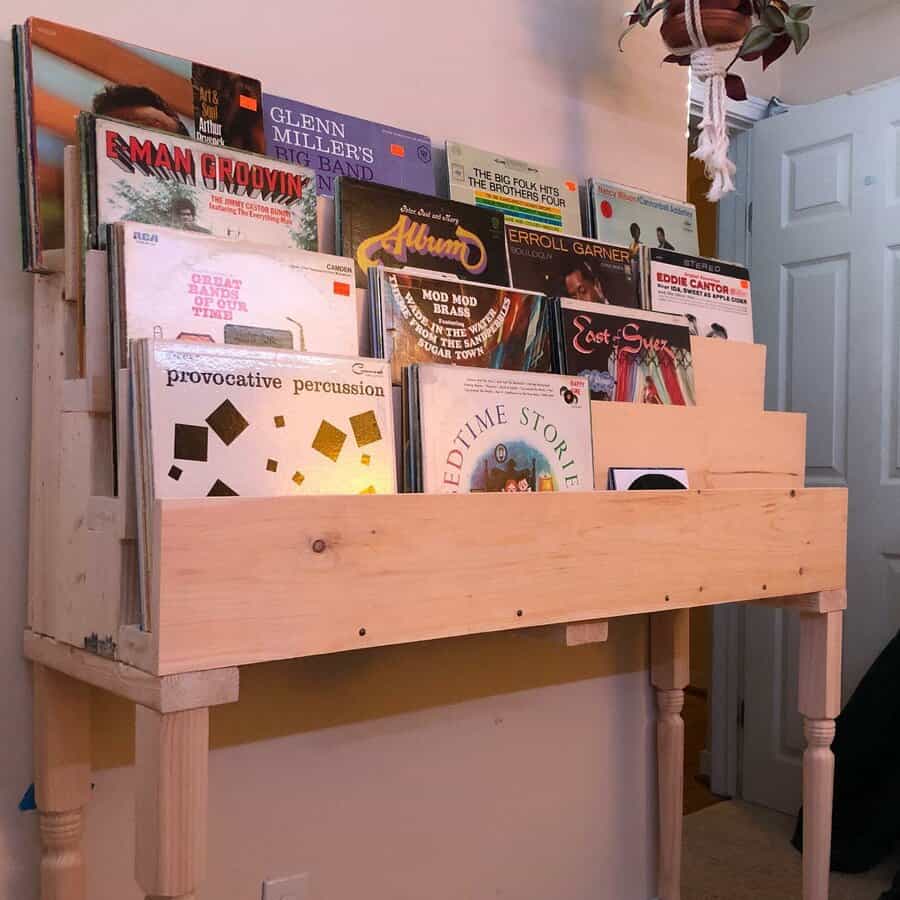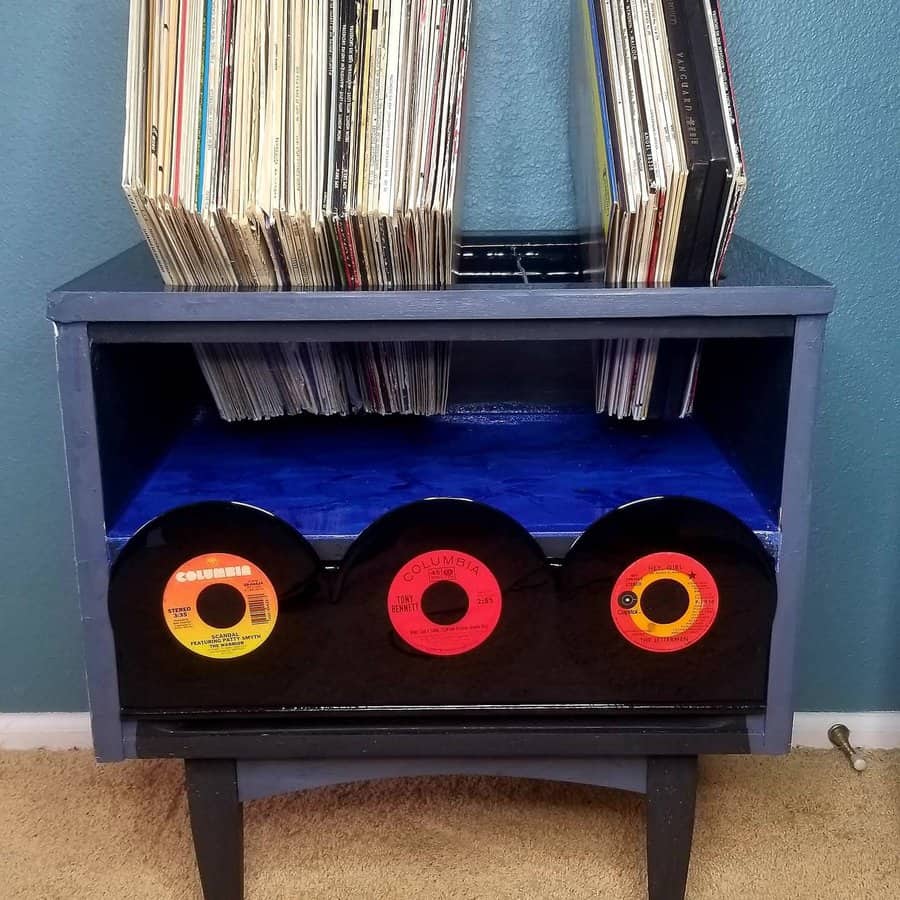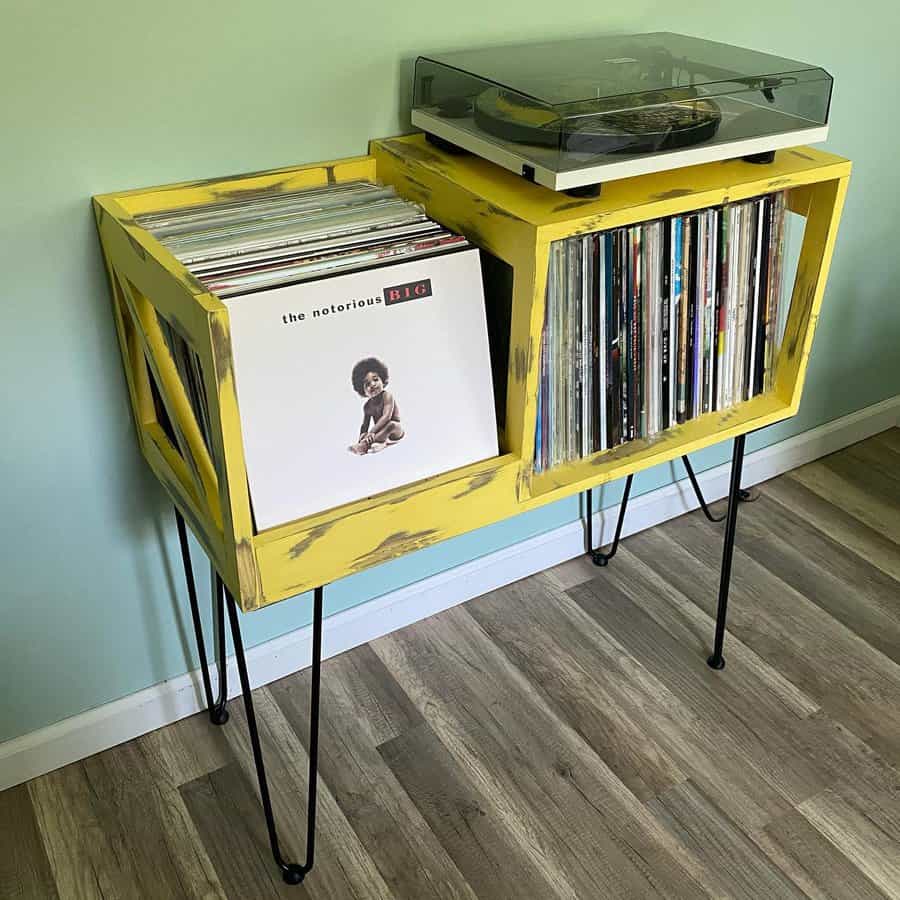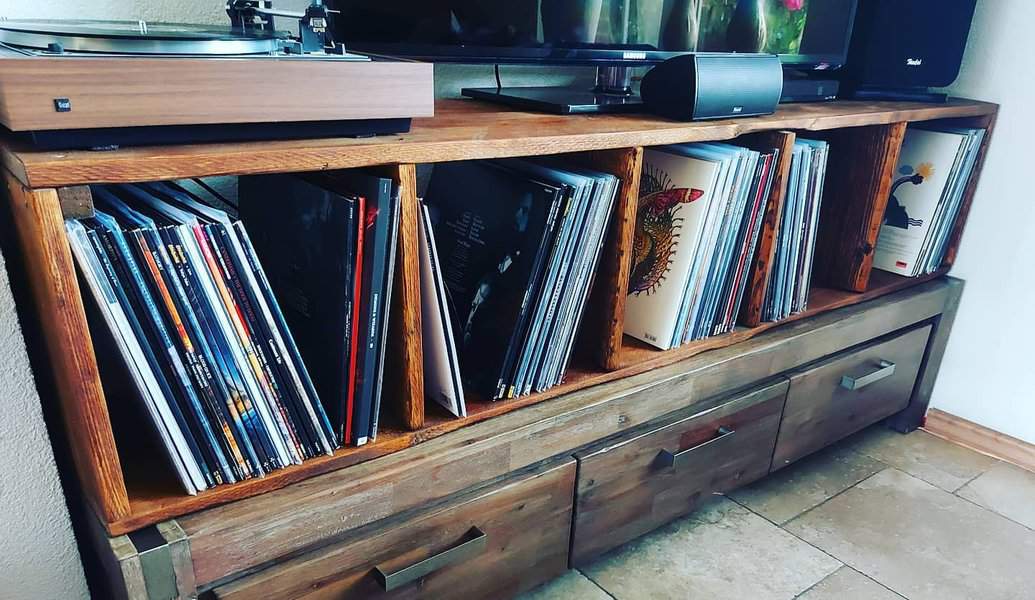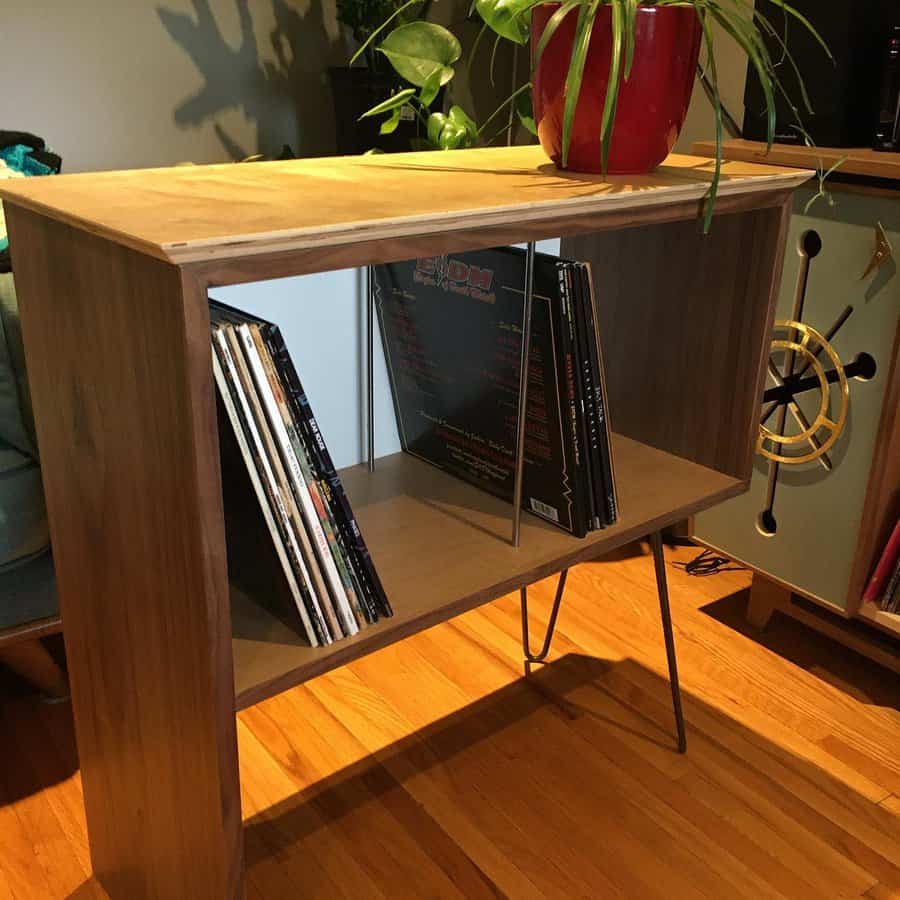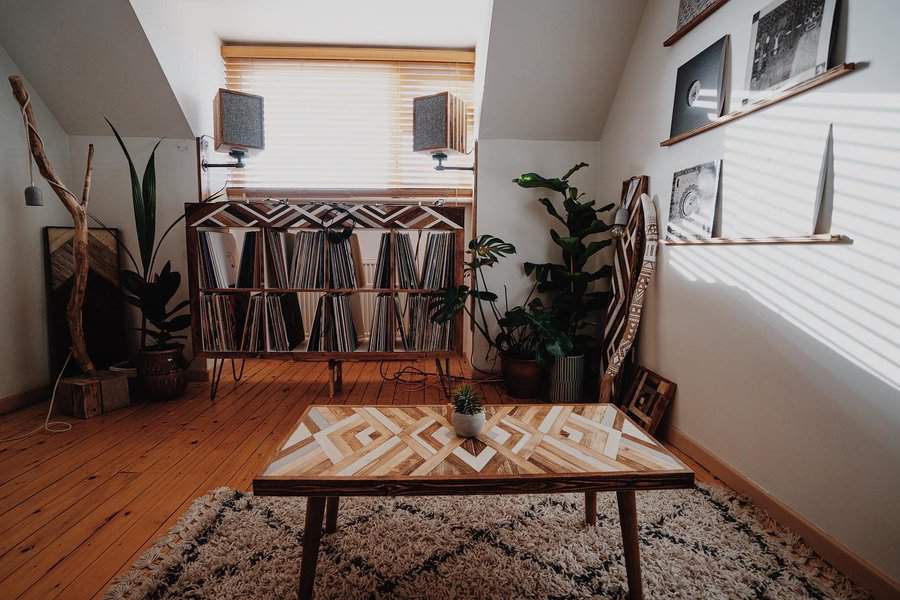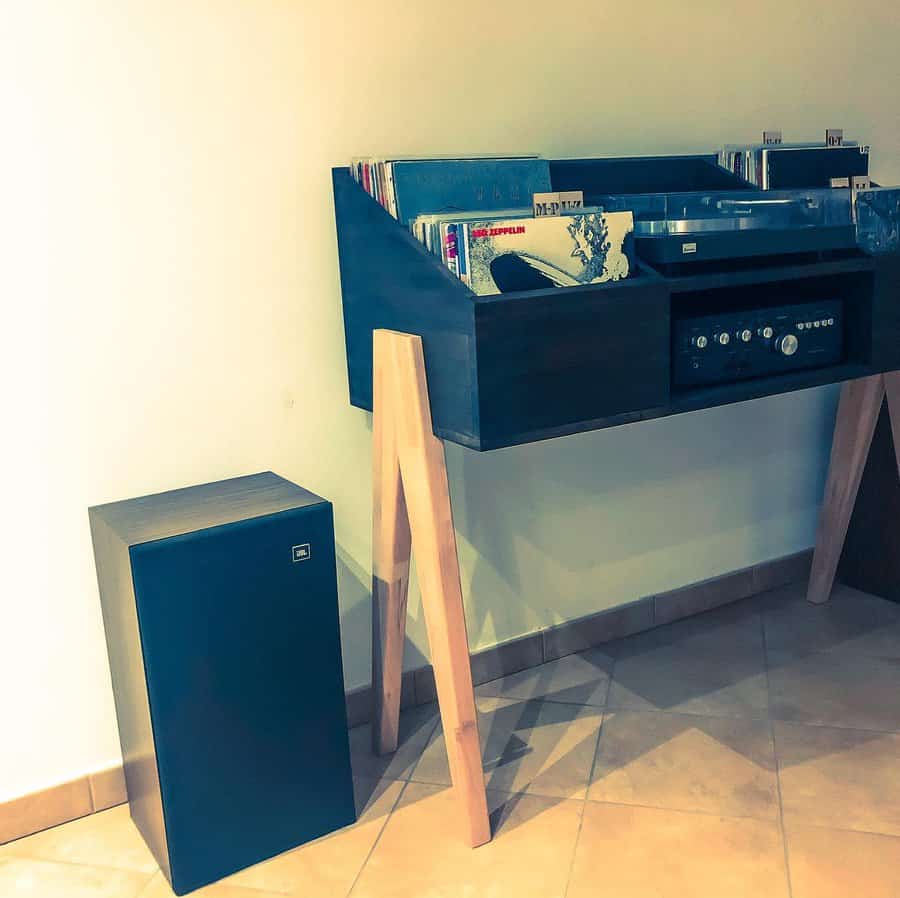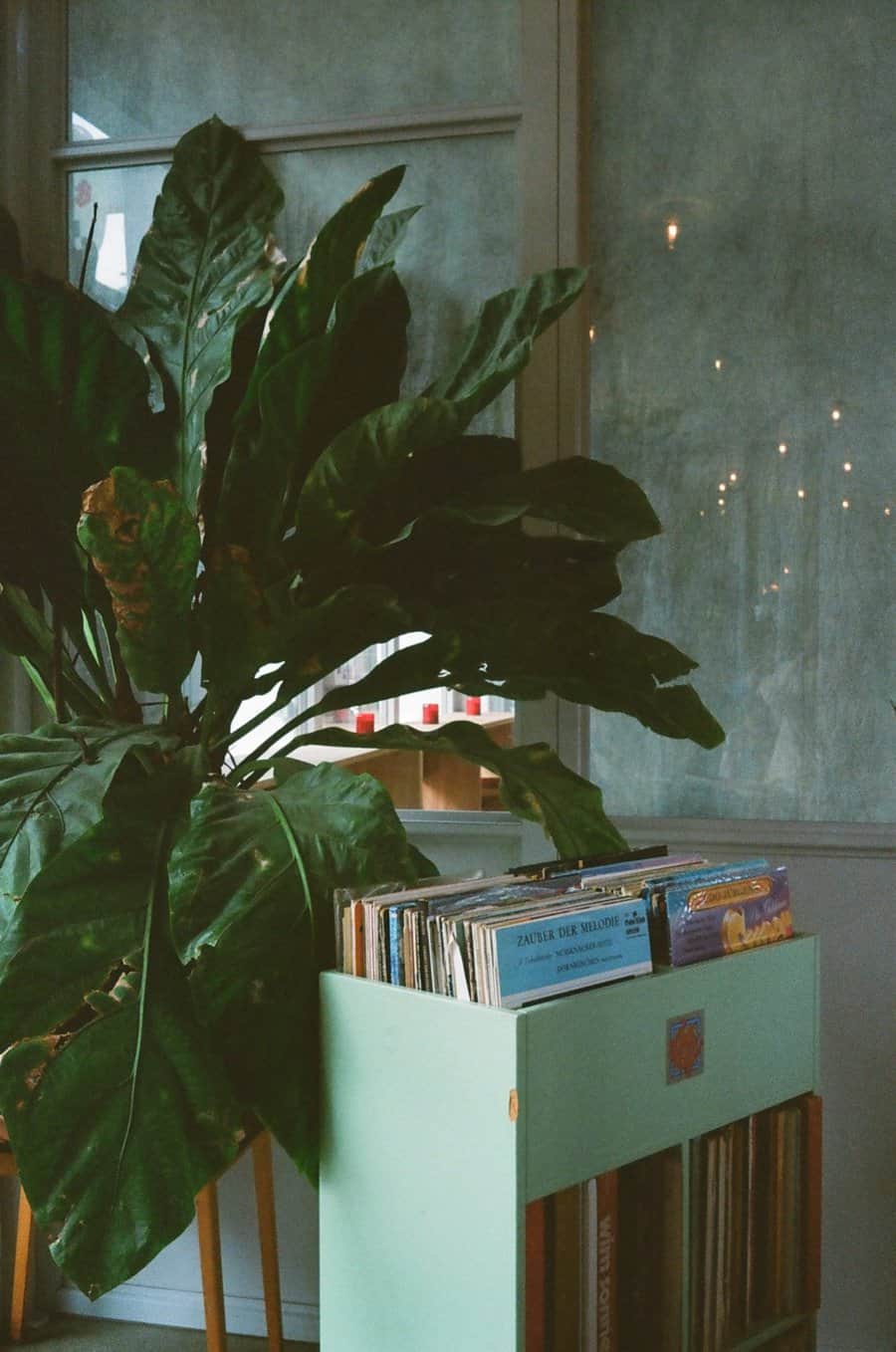 If you are new to DIY, a simple wood record storage crate may be a good starter project. After you build one record storage crate, you may want to make several more to house a large vinyl collection.
If you have advanced DIY skills and access to a wood workshop, you can build this amazing record player cabinet with integrated vinyl storage:
Note the space it includes for your turntable and other audio components.
6. Metal or Industrial Style
Modern, industrial, and farmhouse décor all merge well with metal vinyl record storage ideas. Whether your chosen storage furniture is all metal or a combination of metal and wood, look for sturdy pieces with shelving or racks big enough for your album storage.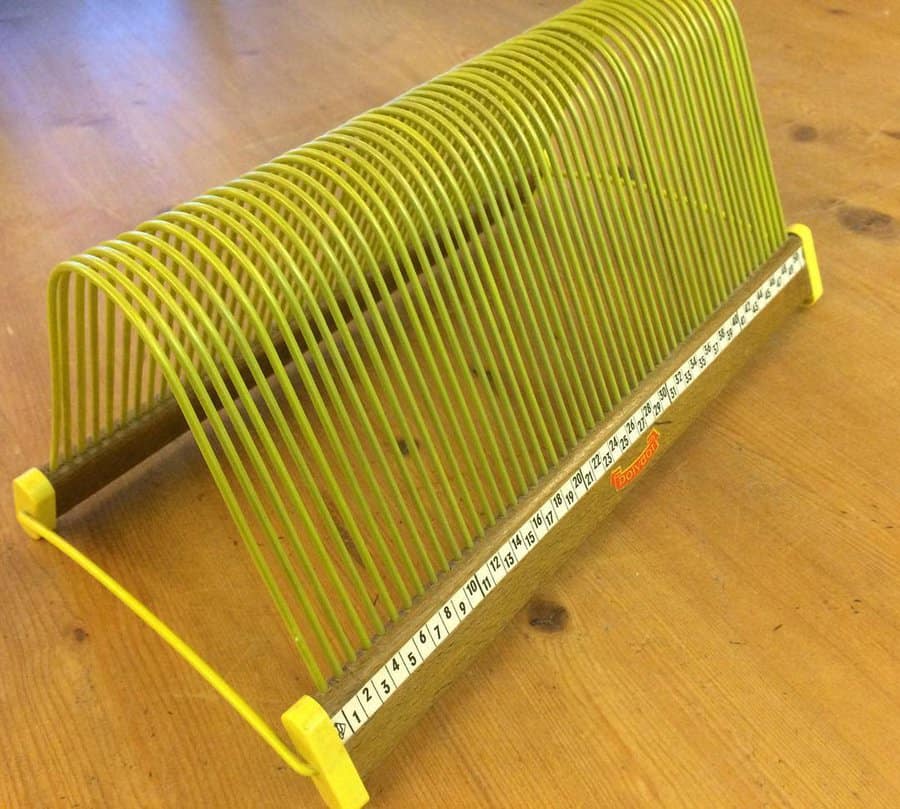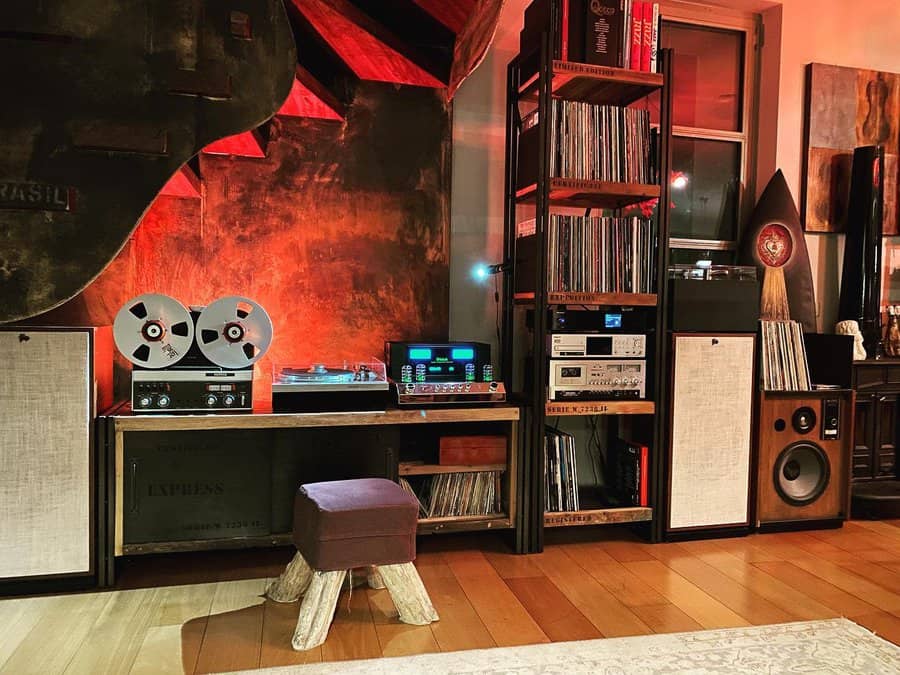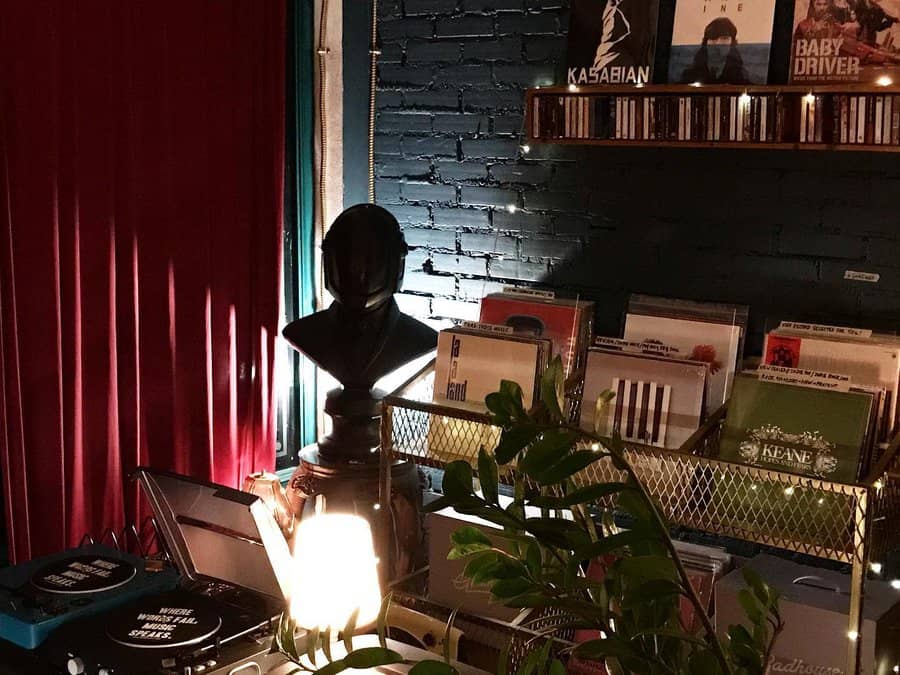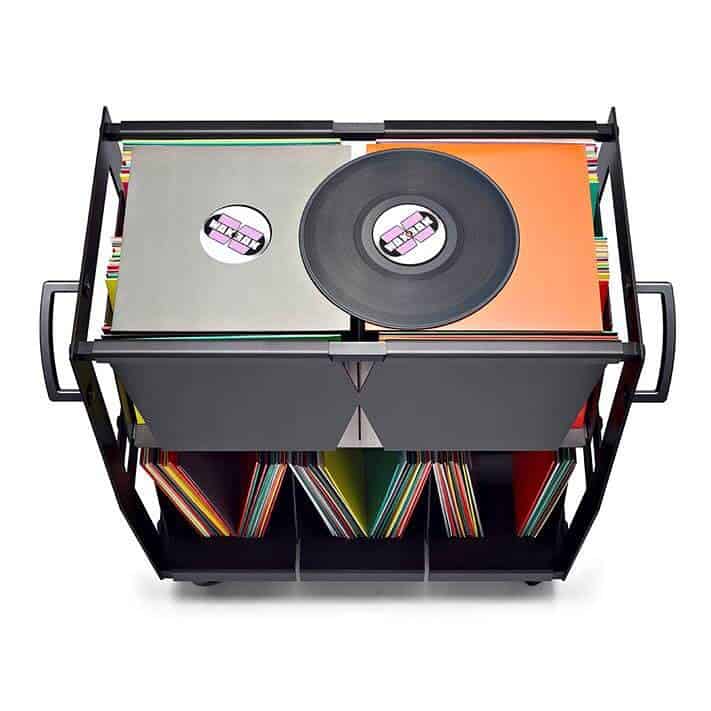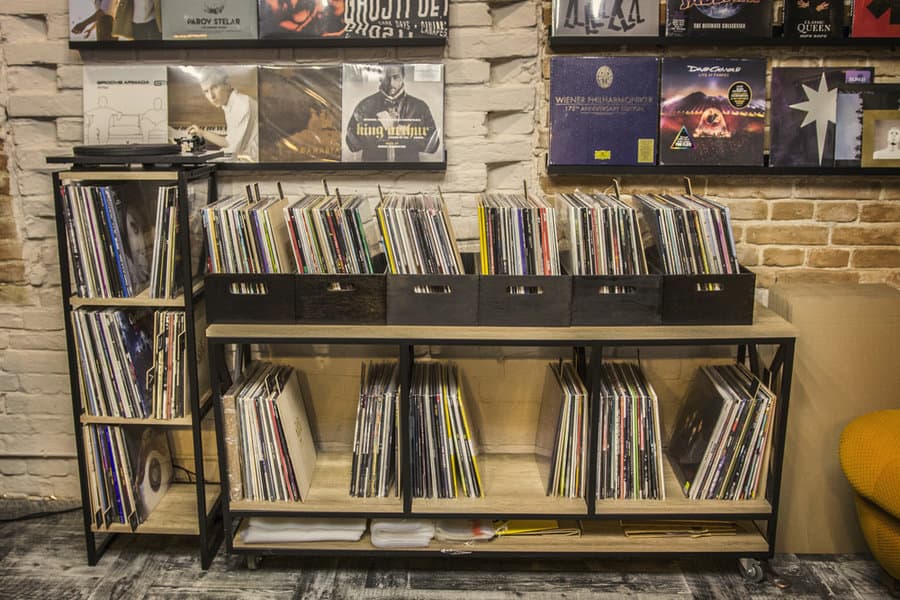 A matte black metal finish looks amazing next to large black speakers and allows your records' cardboard sleeve art colors to pop. Copper is another great choice for a metal storage rack, as its warm hue is unexpected and will take on an attractive patina over time.
Gold-tone or brass storage pieces add a glamorous touch to the room housing your album collection.
7. Modular Shelves
Modular furniture is popular among collectors because it's a highly flexible storage solution. Modular shelving is made from individual units that can be used alone or connected to other modules to create a larger bookshelf.
If you move house often, modular shelving is ideal. Not only is it easy to break down and put back together, it's much lighter than moving one big shelf unit.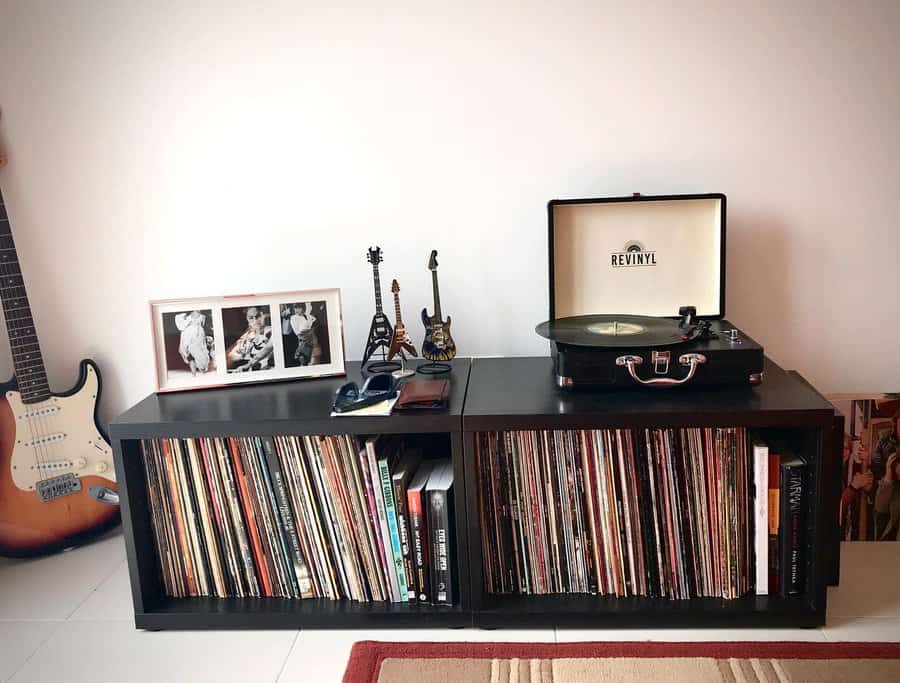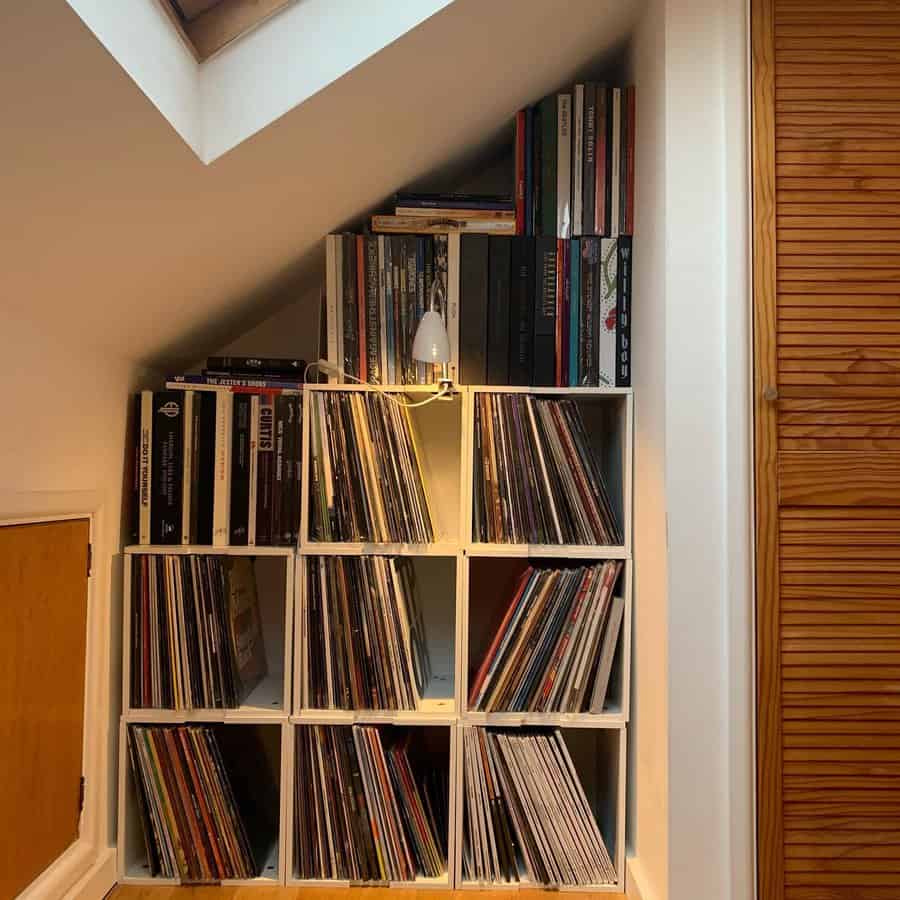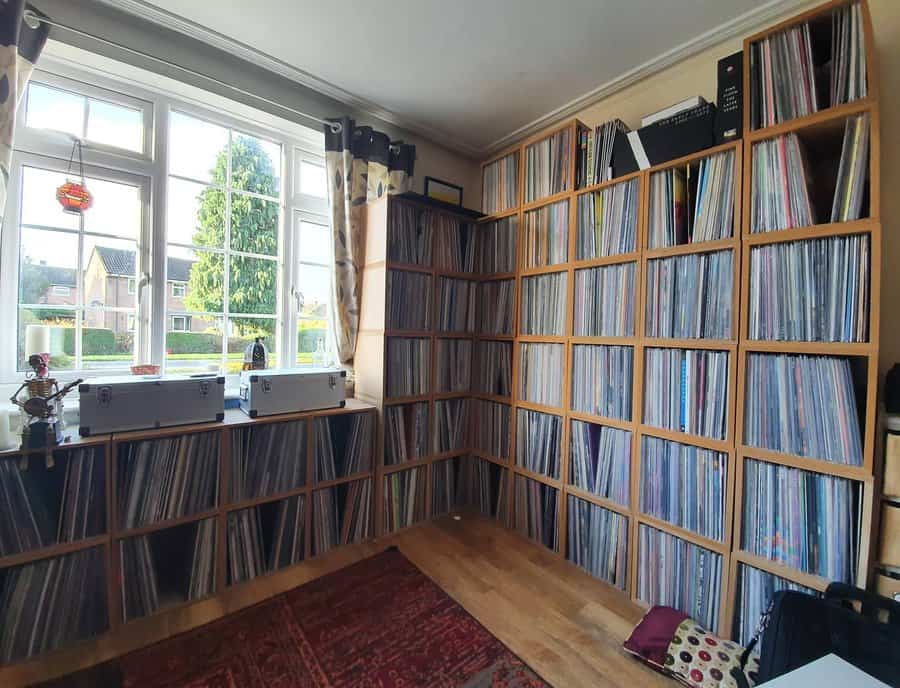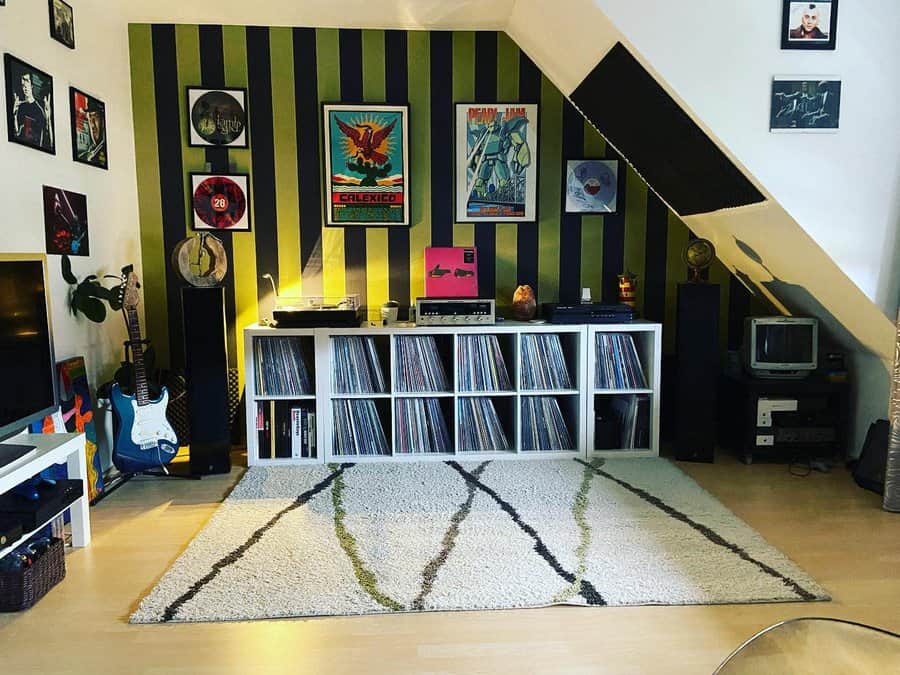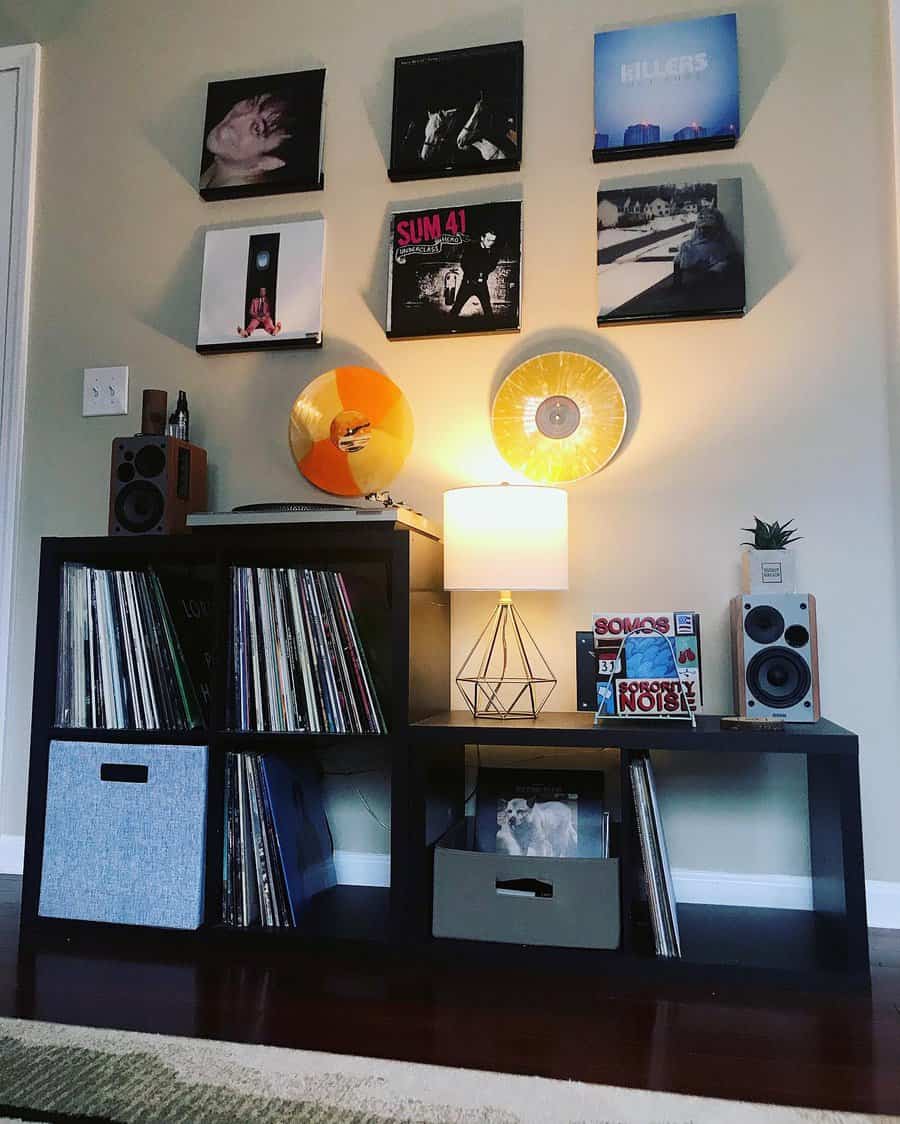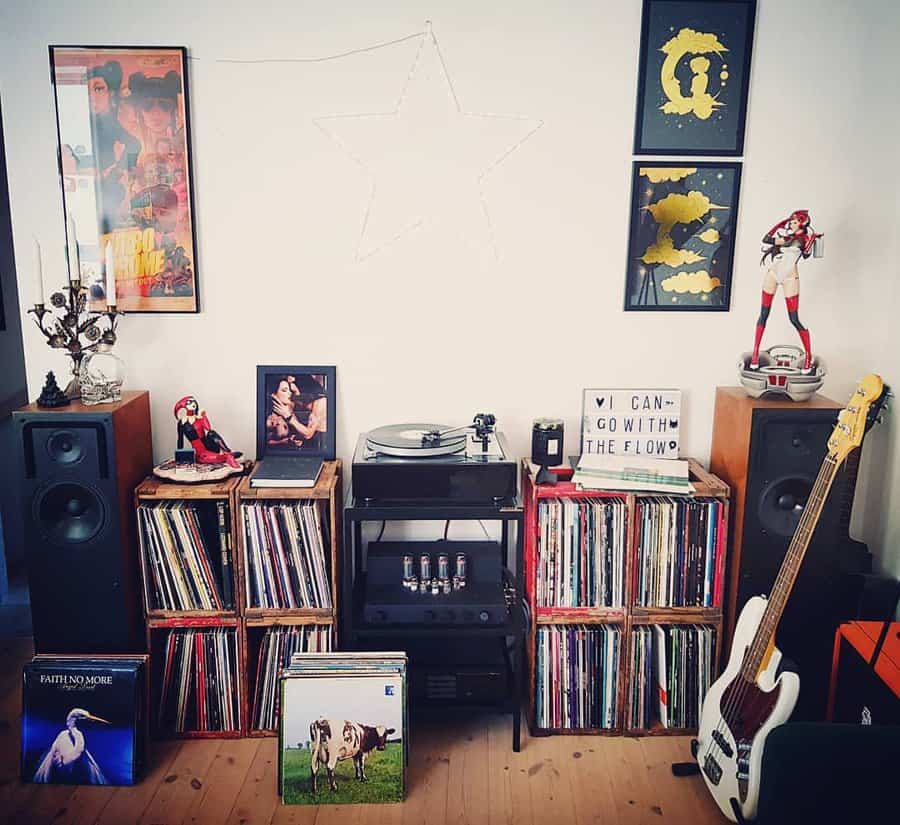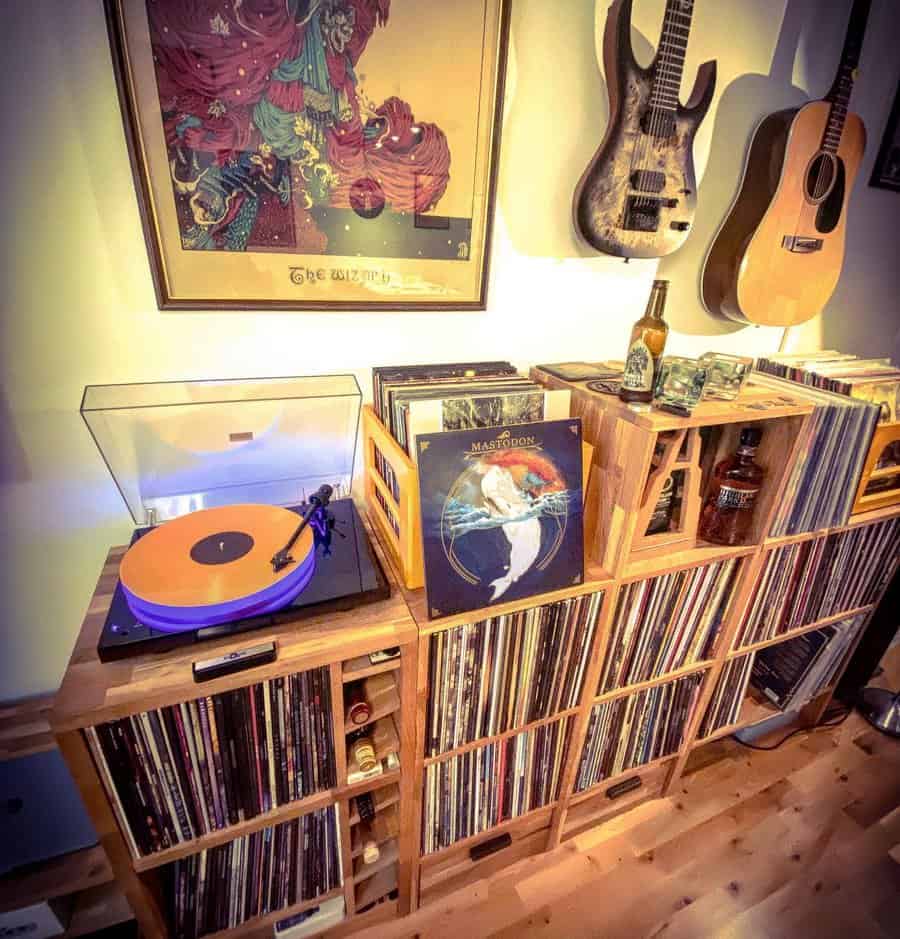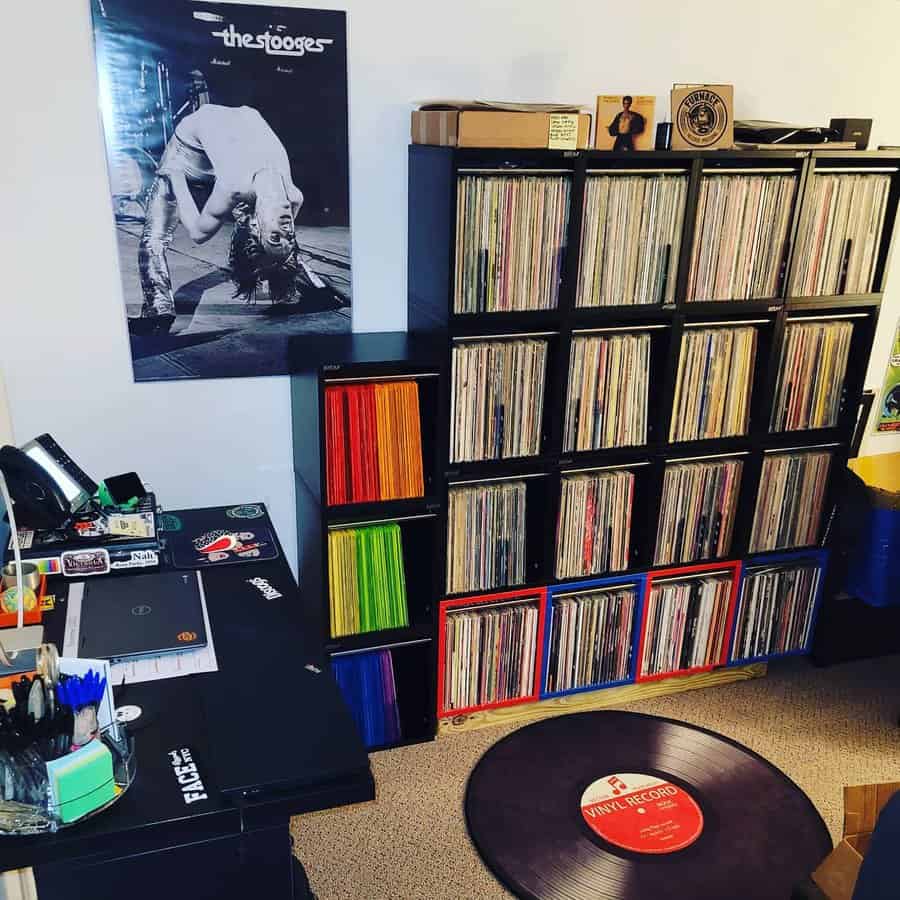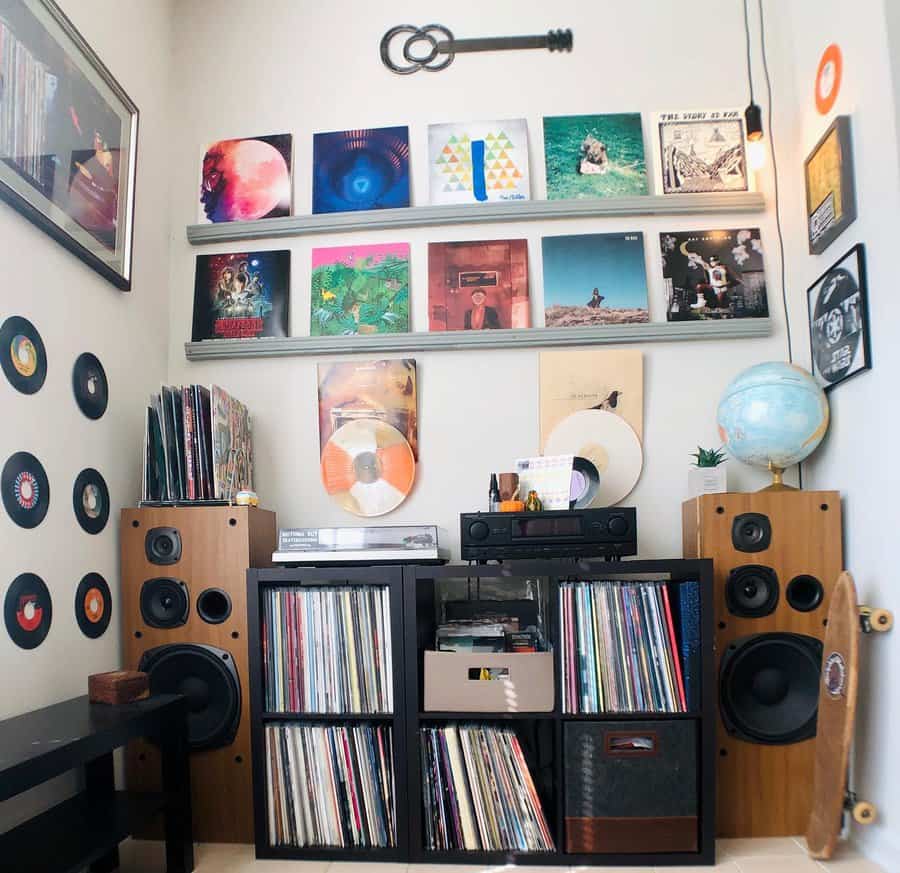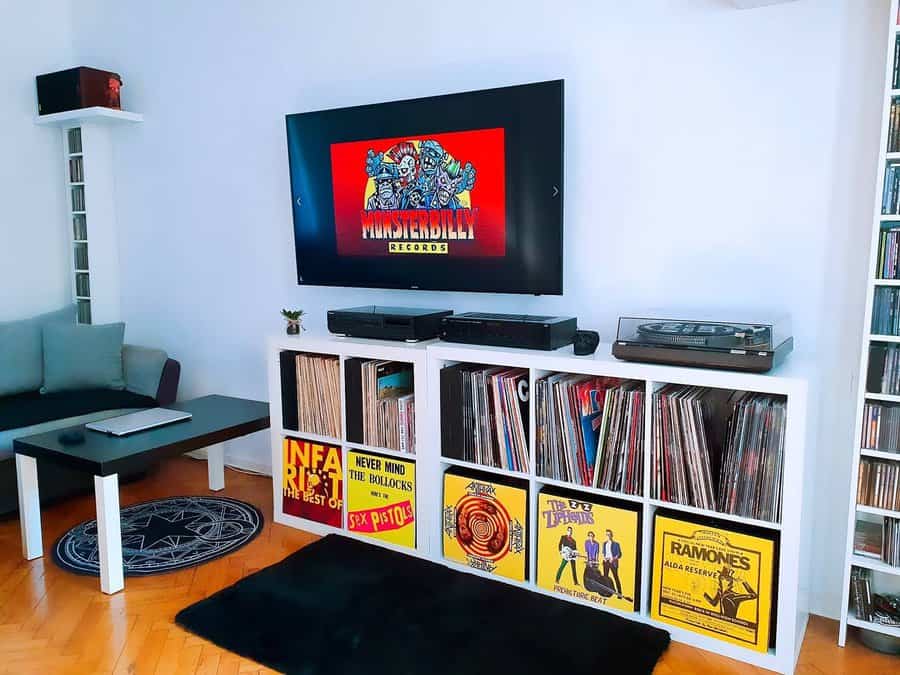 Modular shelves can be stacked into a shelf that sits on the floor, or they can be mounted to the wall. A serious record collector might use a modular shelving unit as a room divider, if such a large structure is necessary. This type of storage unit has a minimalist aesthetic that's welcoming with modern or mid century home décor.
8. Record Cabinet
In the 1960s and 1970s, nearly every American home had a record cabinet. Original pieces are now coveted finds at flea markets, with solid wood mid century units the most desirable type.
These pieces often have drawer storage space sized to hold 12-inch albums in the proper vertical form. If you can find one, look for drawers with cut-out holes or half-fronts to show off your favorite record album cover art.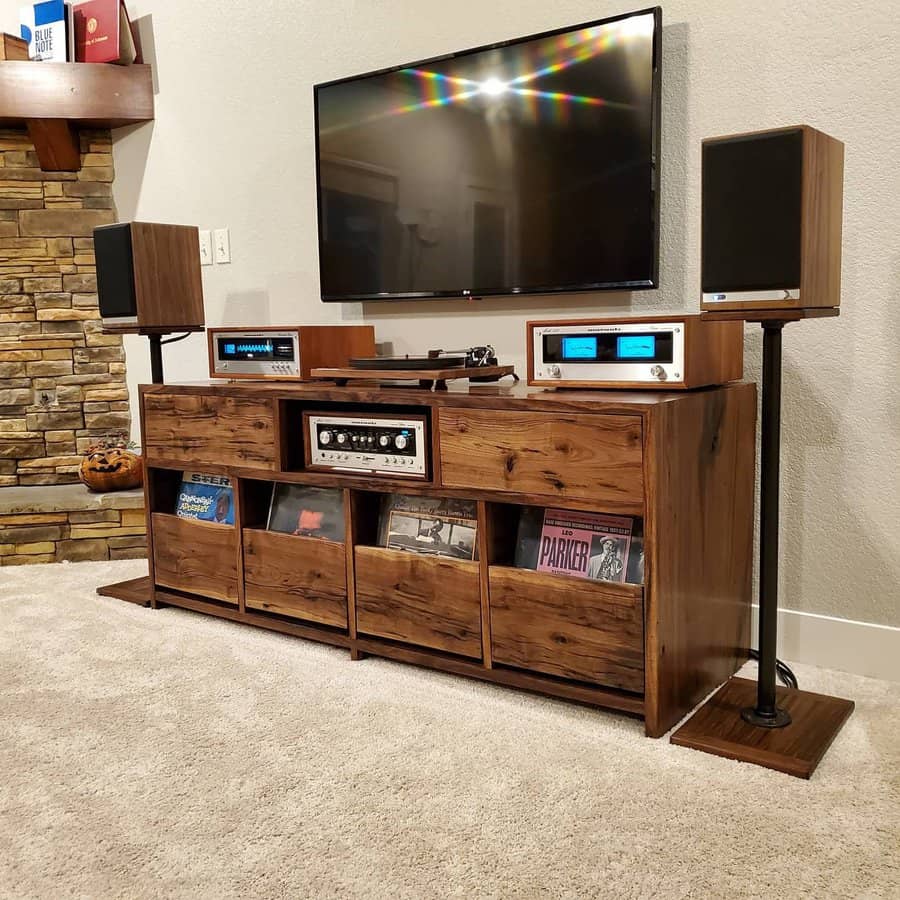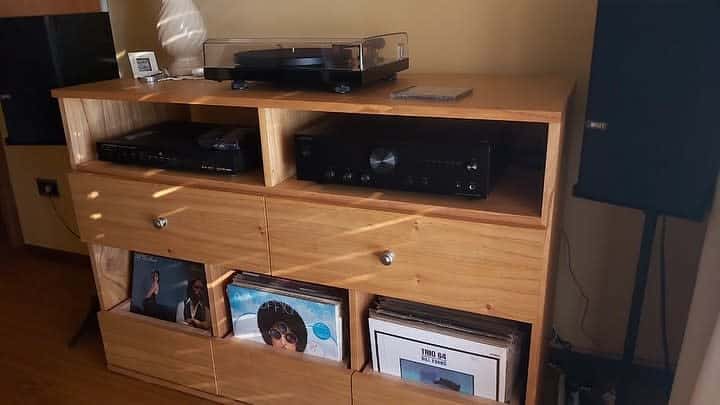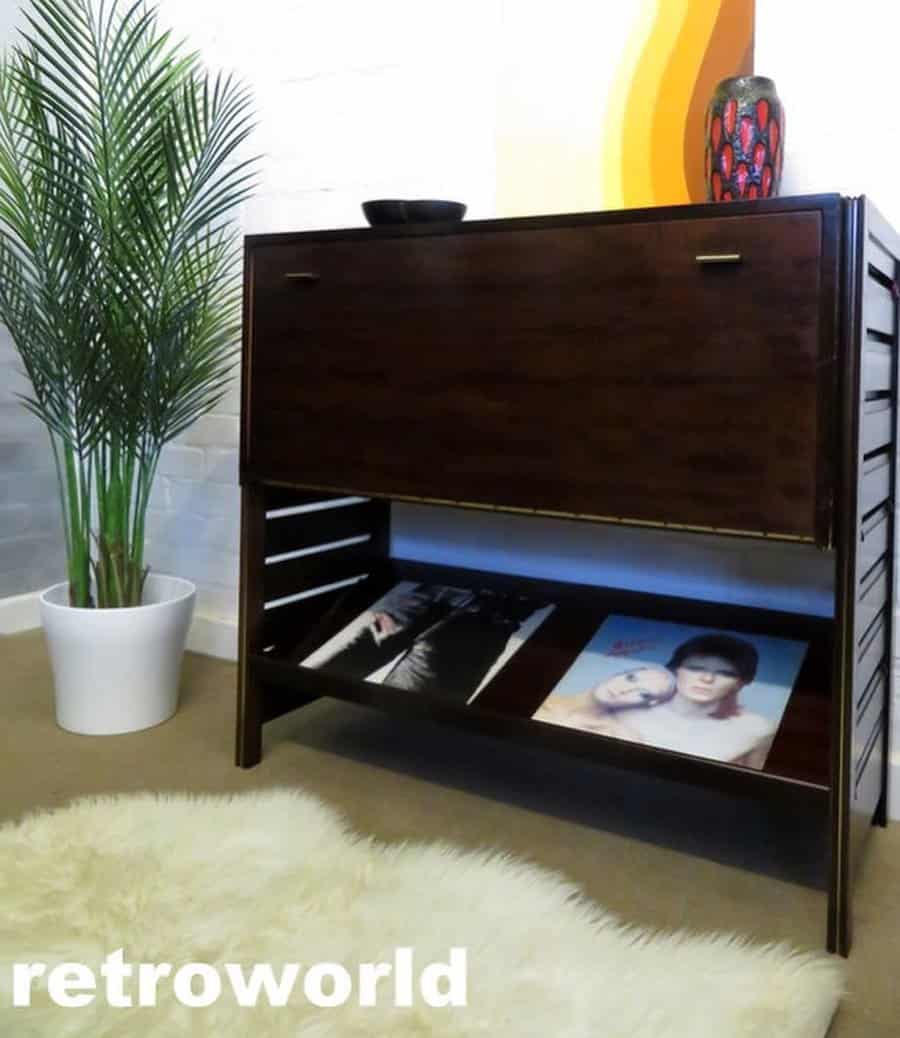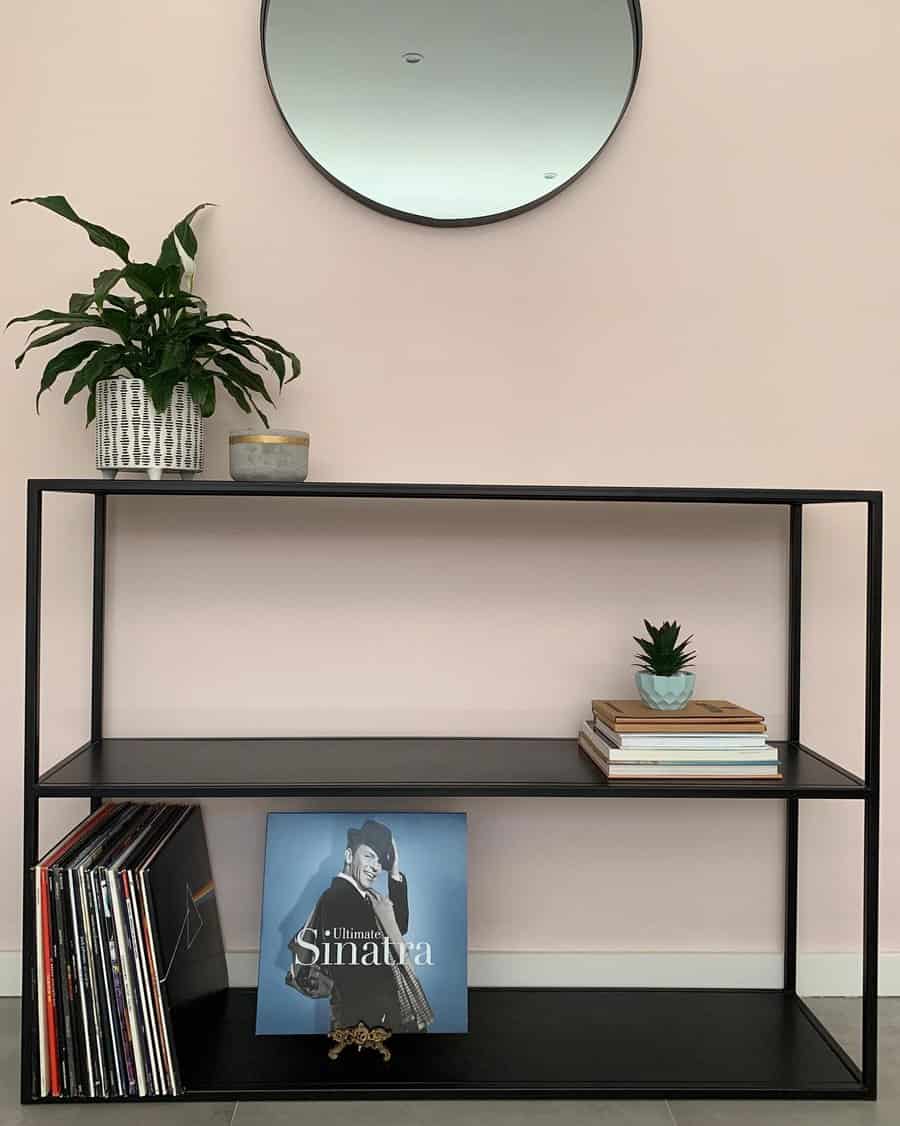 A record cabinet's top is the perfect place to park your turntable and any other stereo components. If you're a vinyl collector with limited floor space, find a functional use of the record cabinet's top surface.
Create a small bar with your favorite spirits displayed on a tray and prop a favorite album on a small record stand for a decorative accent.
9. Shelf or Rack
When storage space is limited, a wall mounted record shelf or rack may be your best bet. If you already have a built-in bookcase, it might be perfect for vinyl shelf storage.
As long as the shelves are spaced far enough apart to hold records stood on end—and deep enough to accommodate a record album's width—any bookshelf you already own could be your vinyl storage solution.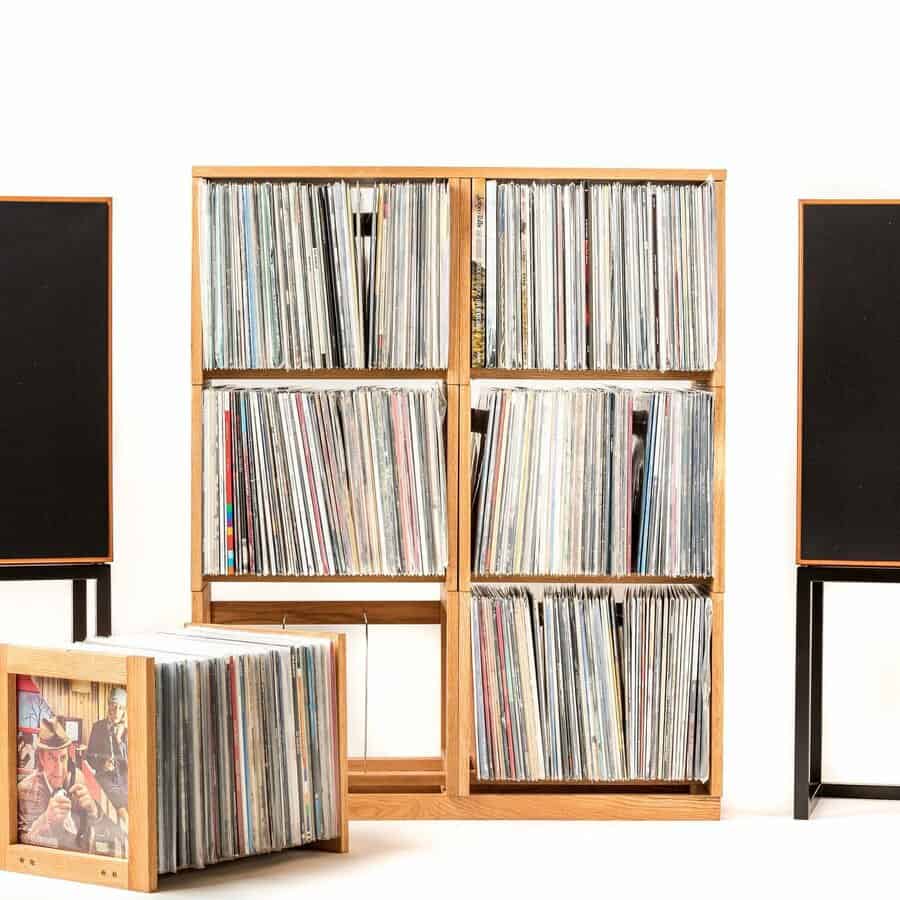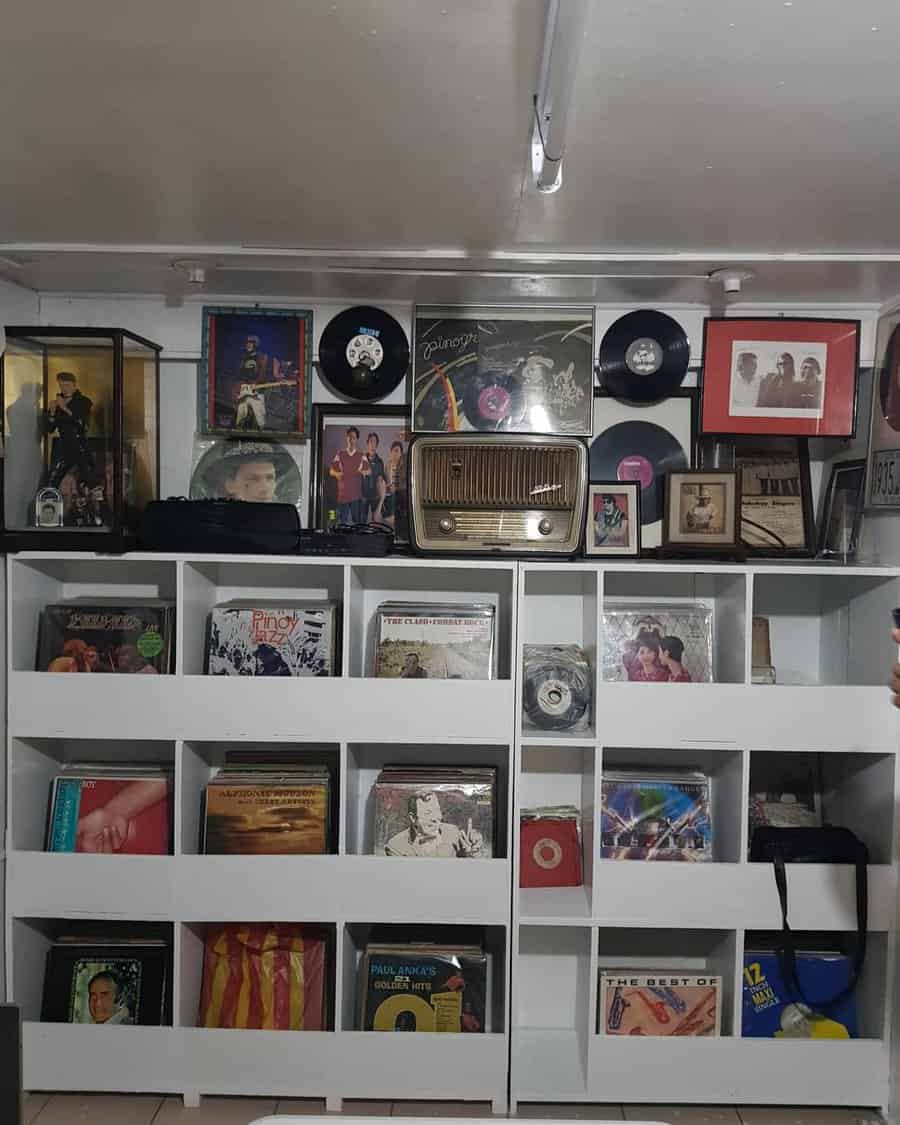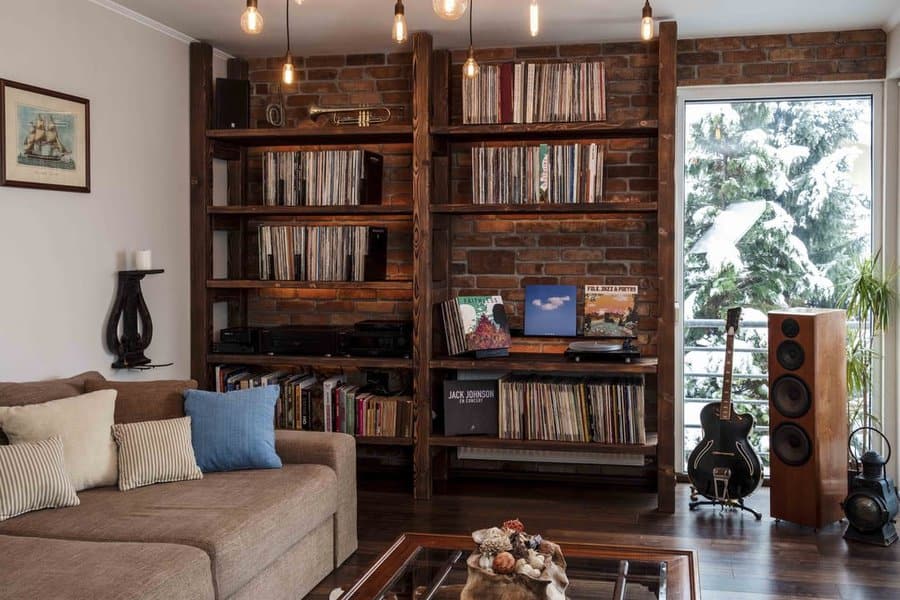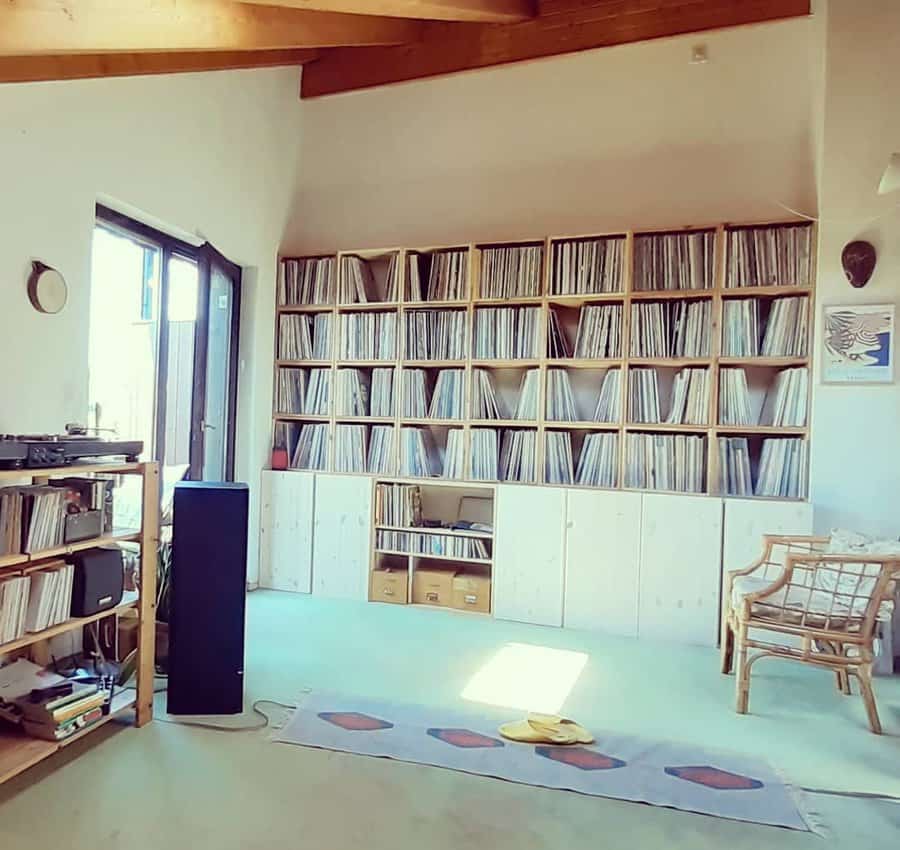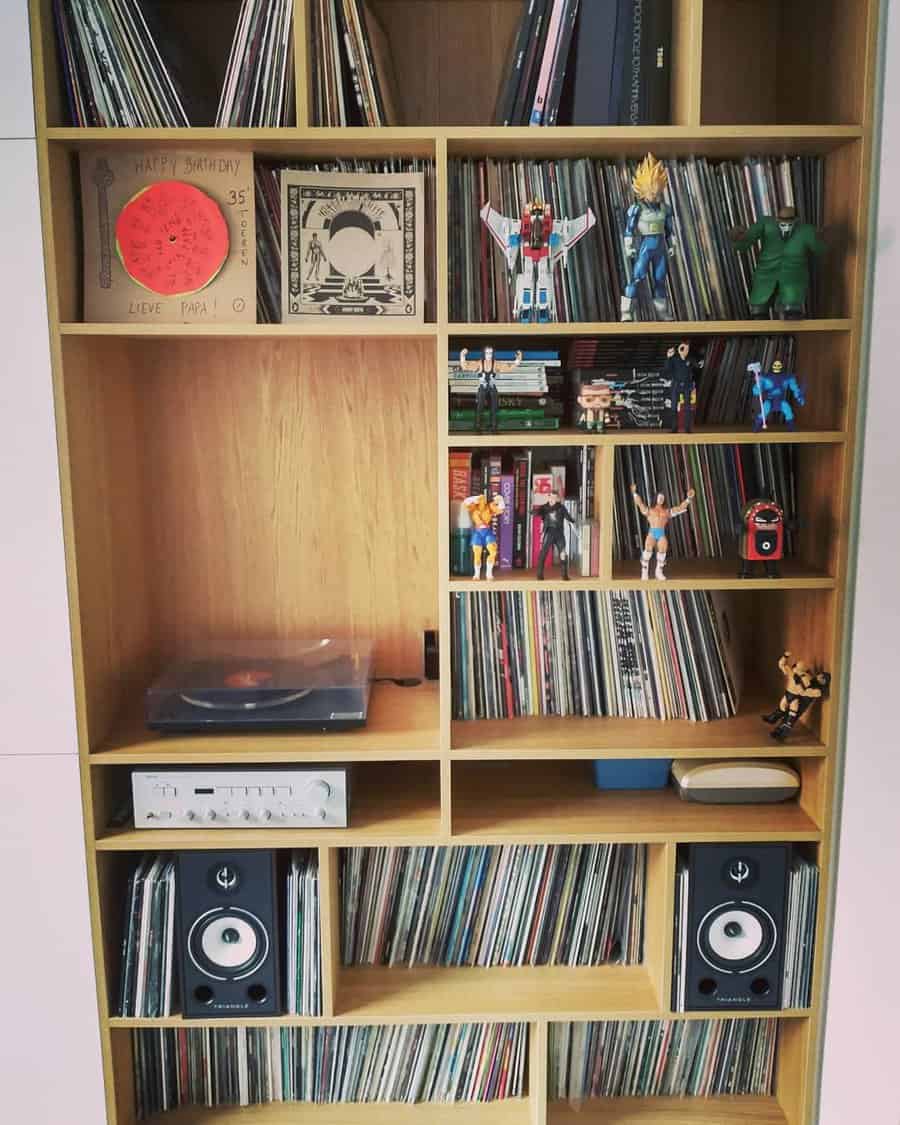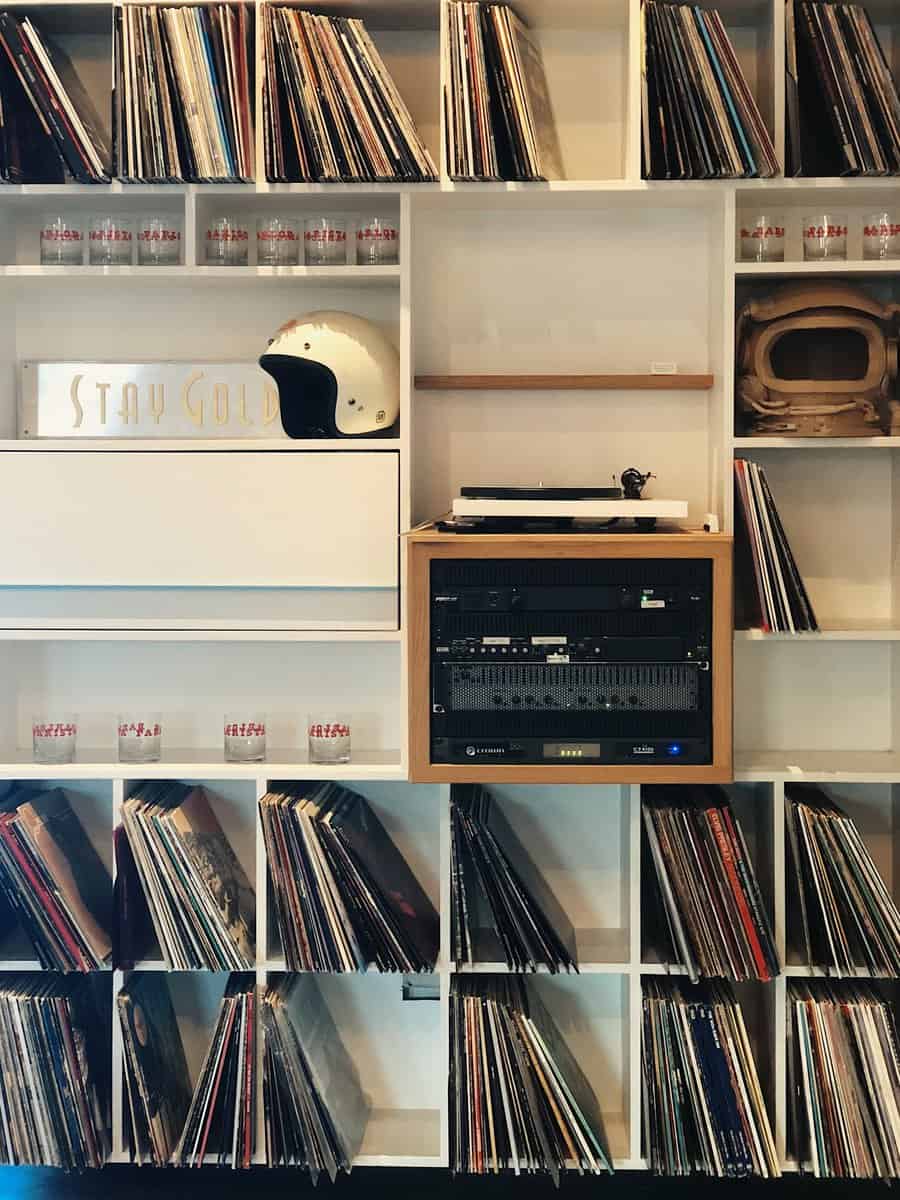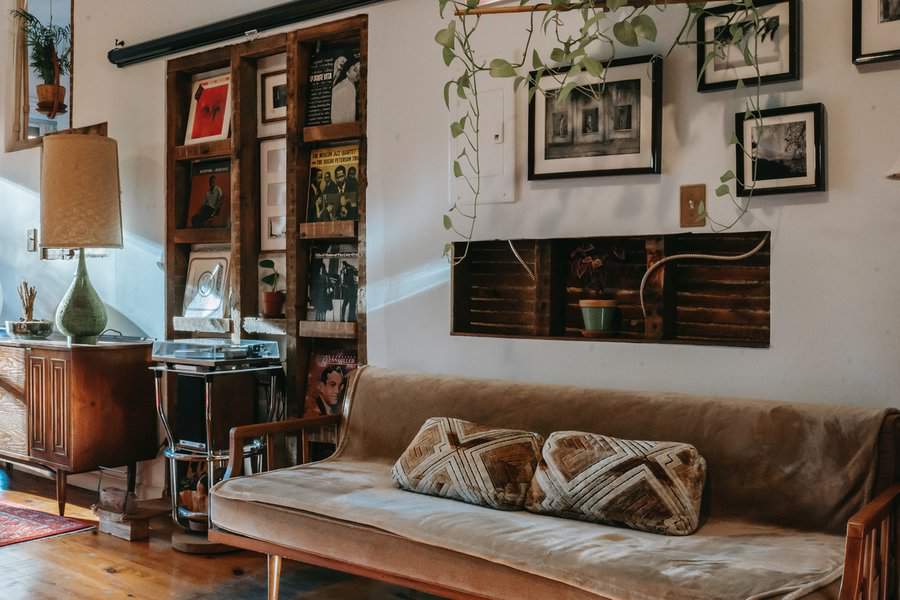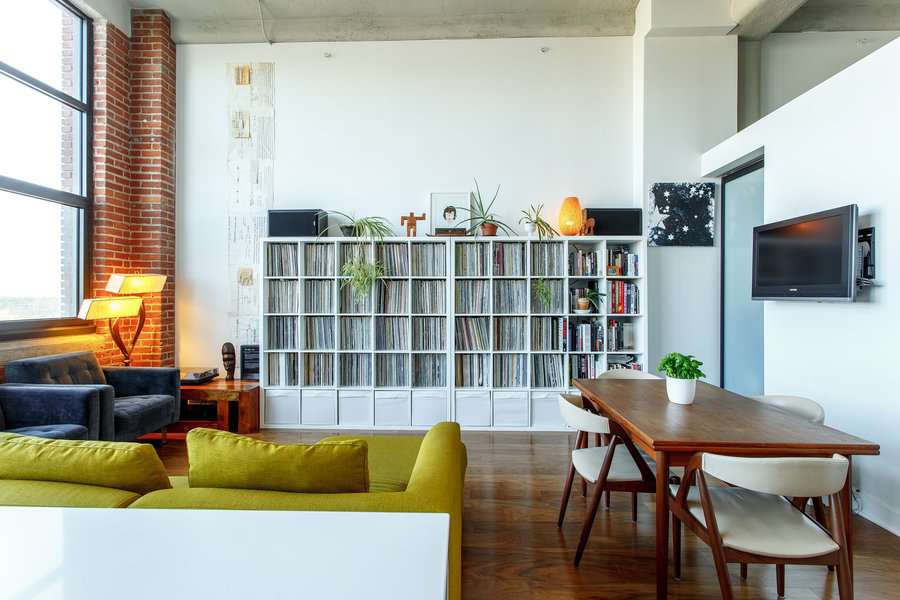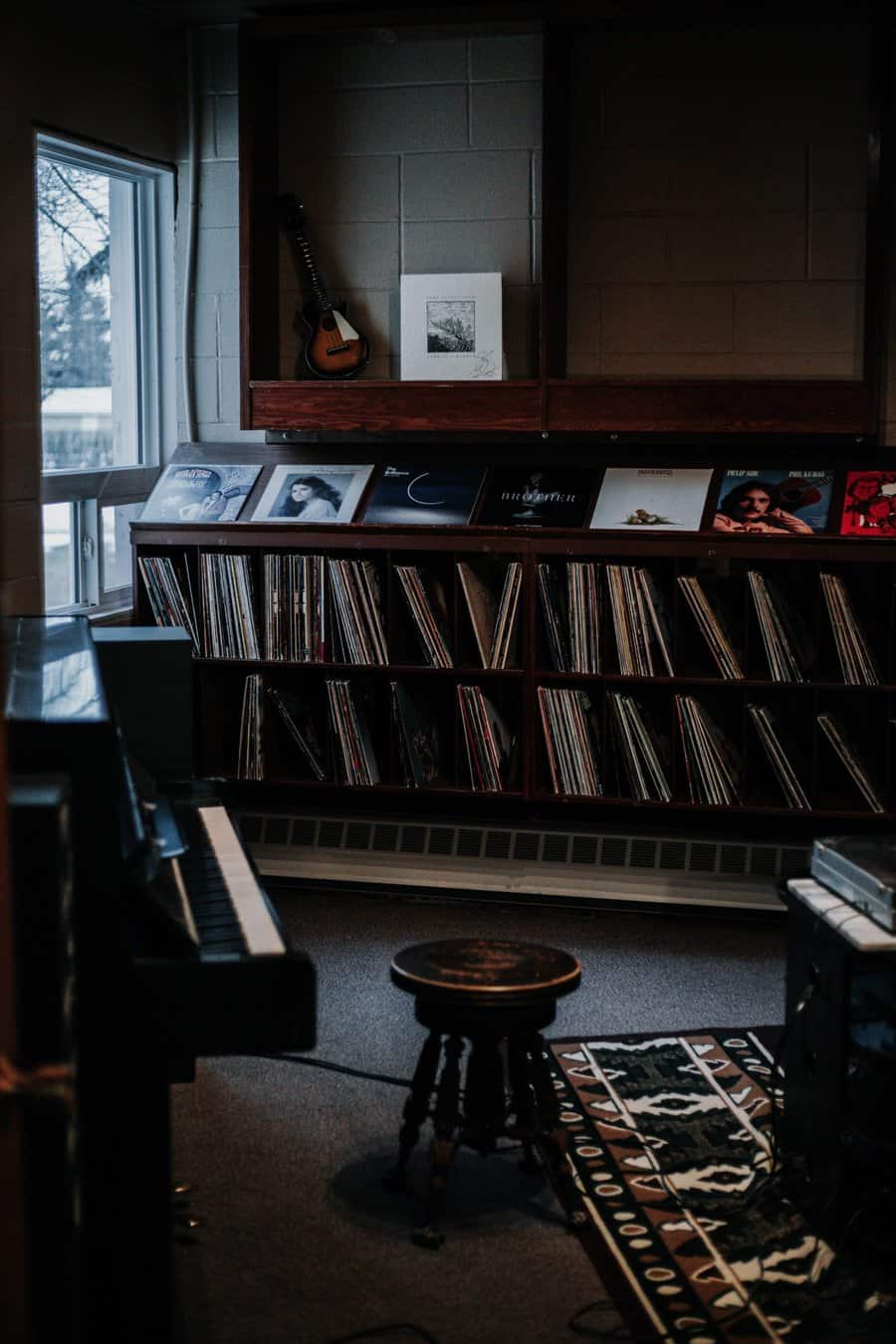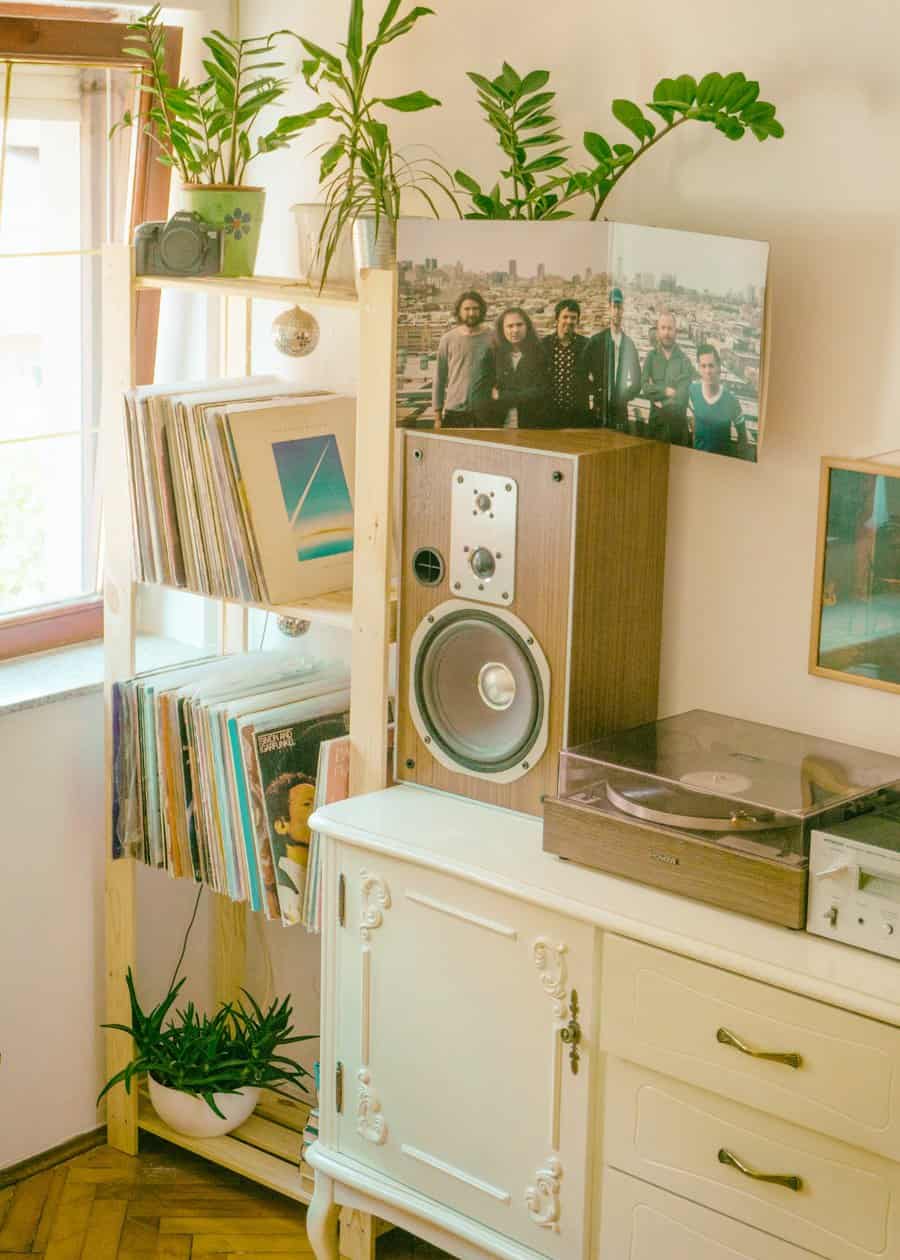 Metal or wood-and-metal vinyl racks provide an old-school record store vibe to your home. You can flip through stacks of records easily when they're stored standing inside a quality record rack. Buy divider cards and organize your record rack alphabetically or by musical genre.
10. Small
Vinyl records are cool—but they do take up a lot of room. If your house or apartment is small, it can be a challenge to make room for a large record collection. You may have to keep some records in boxes, stashed in the closet, while your favorites remain handy in a small crate in the living area.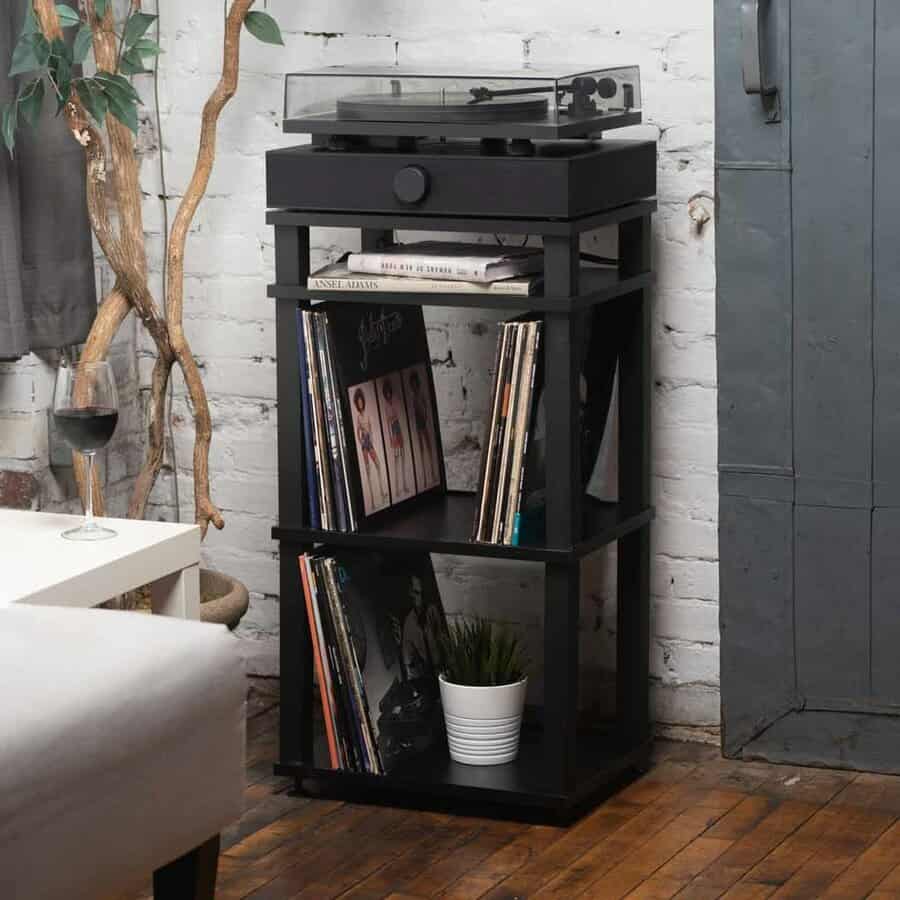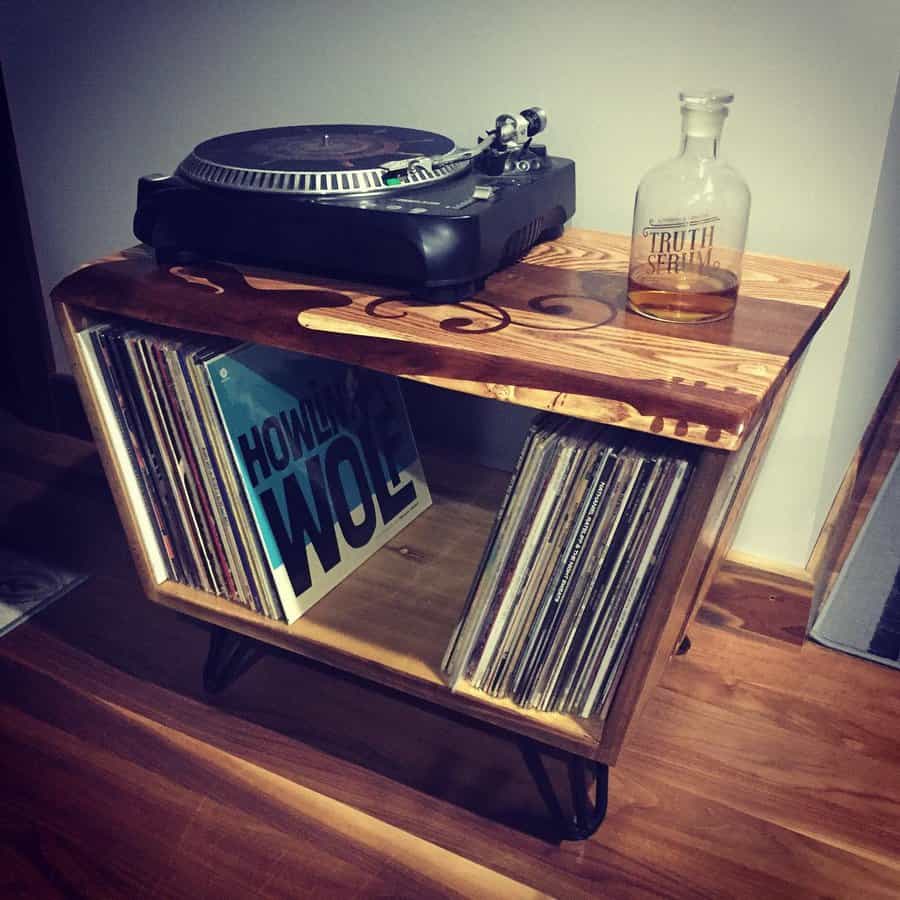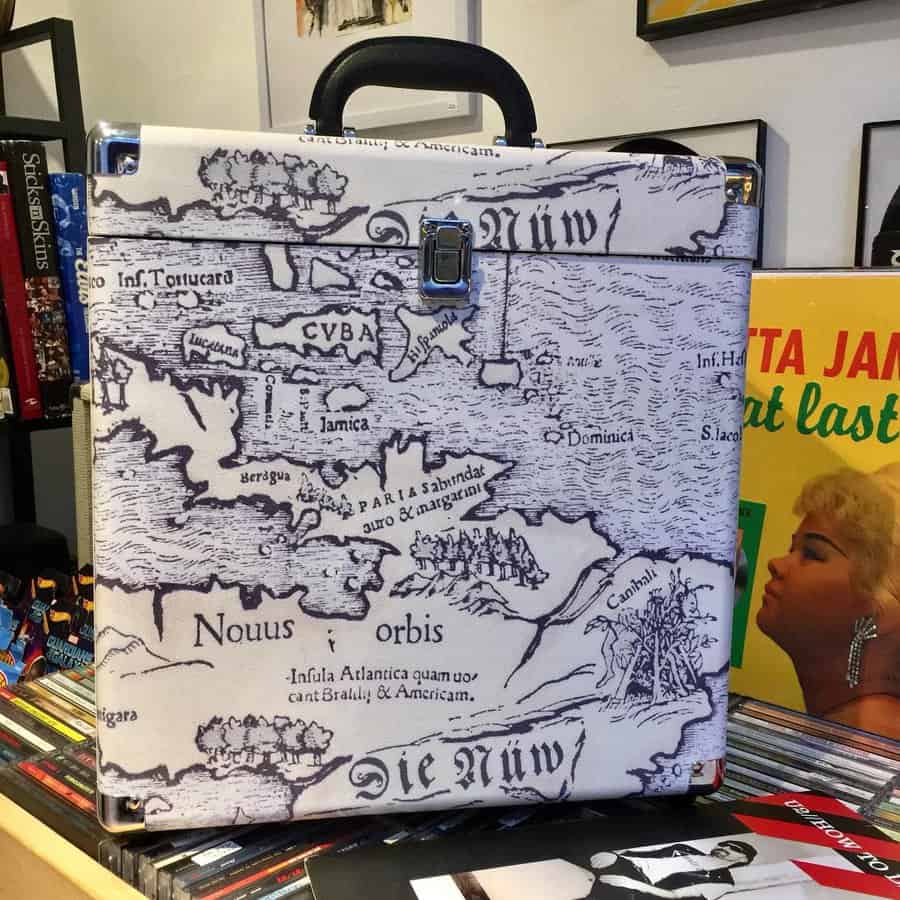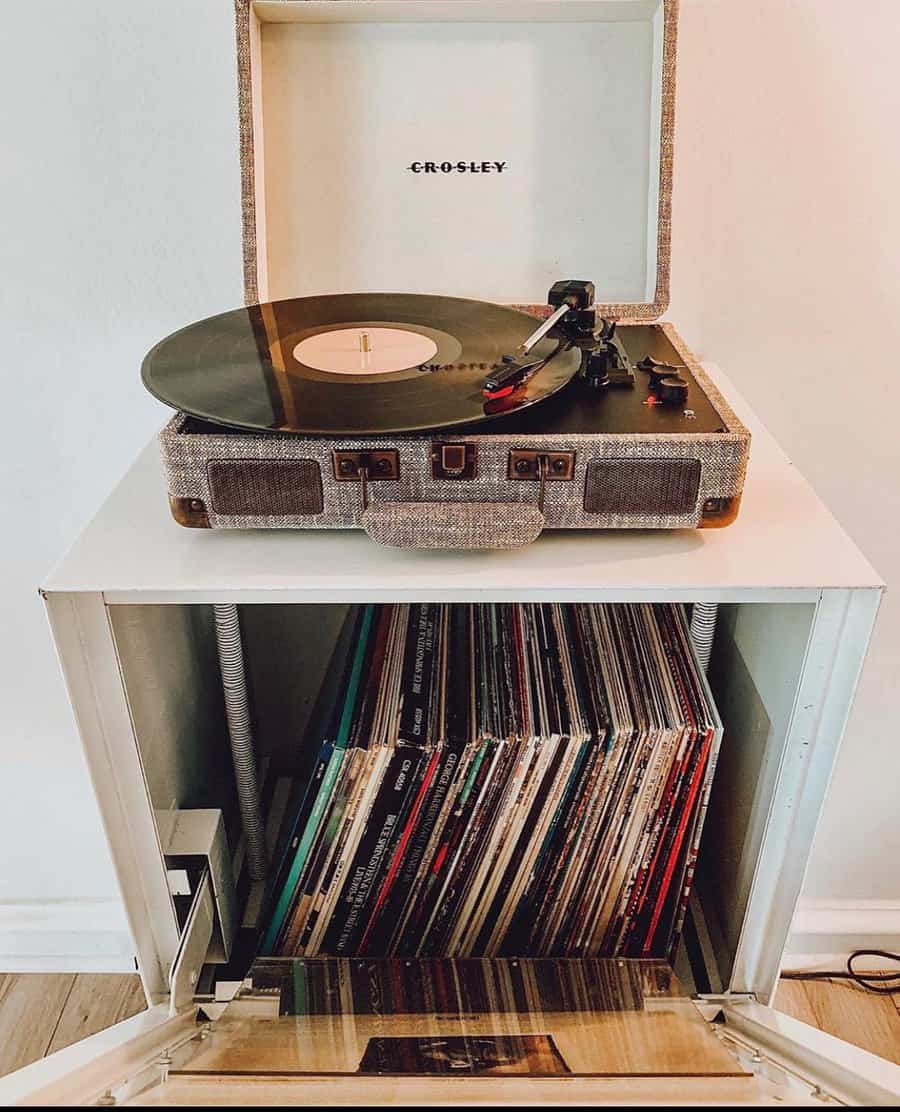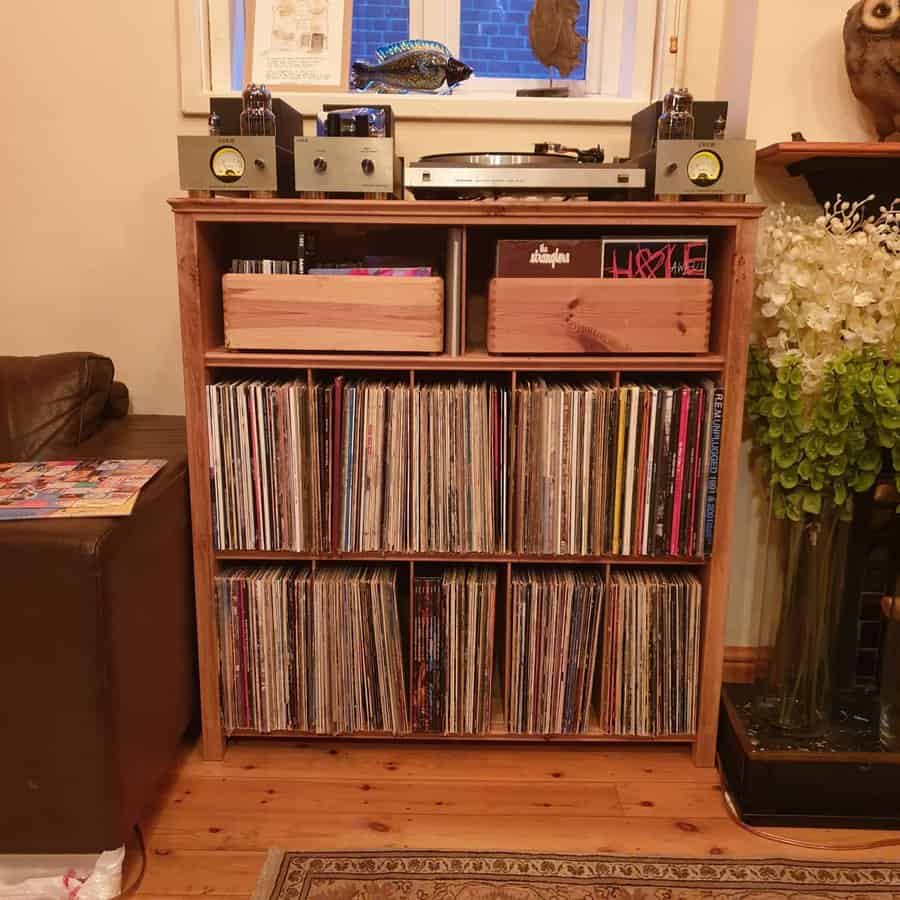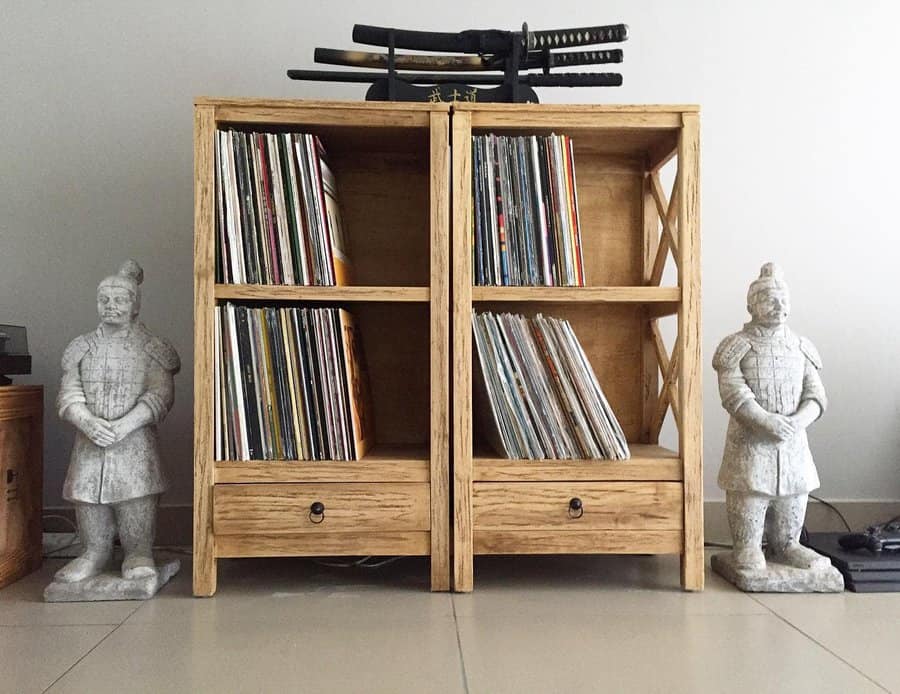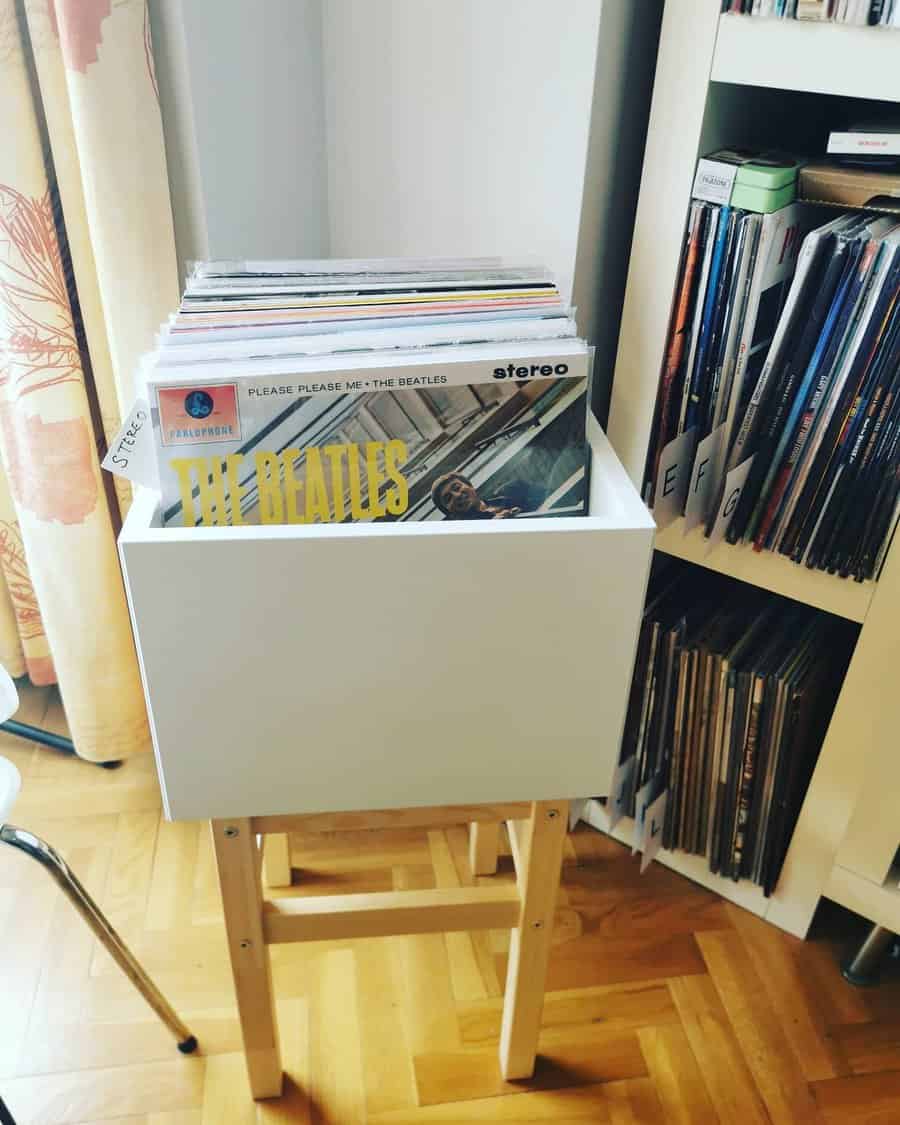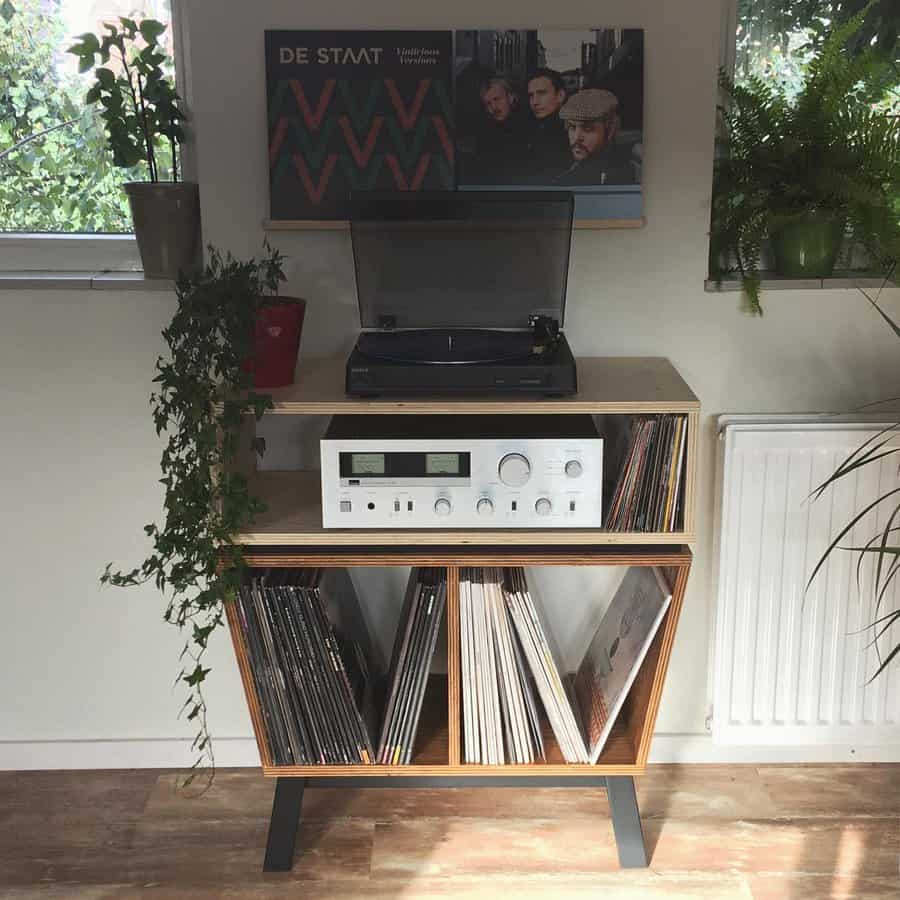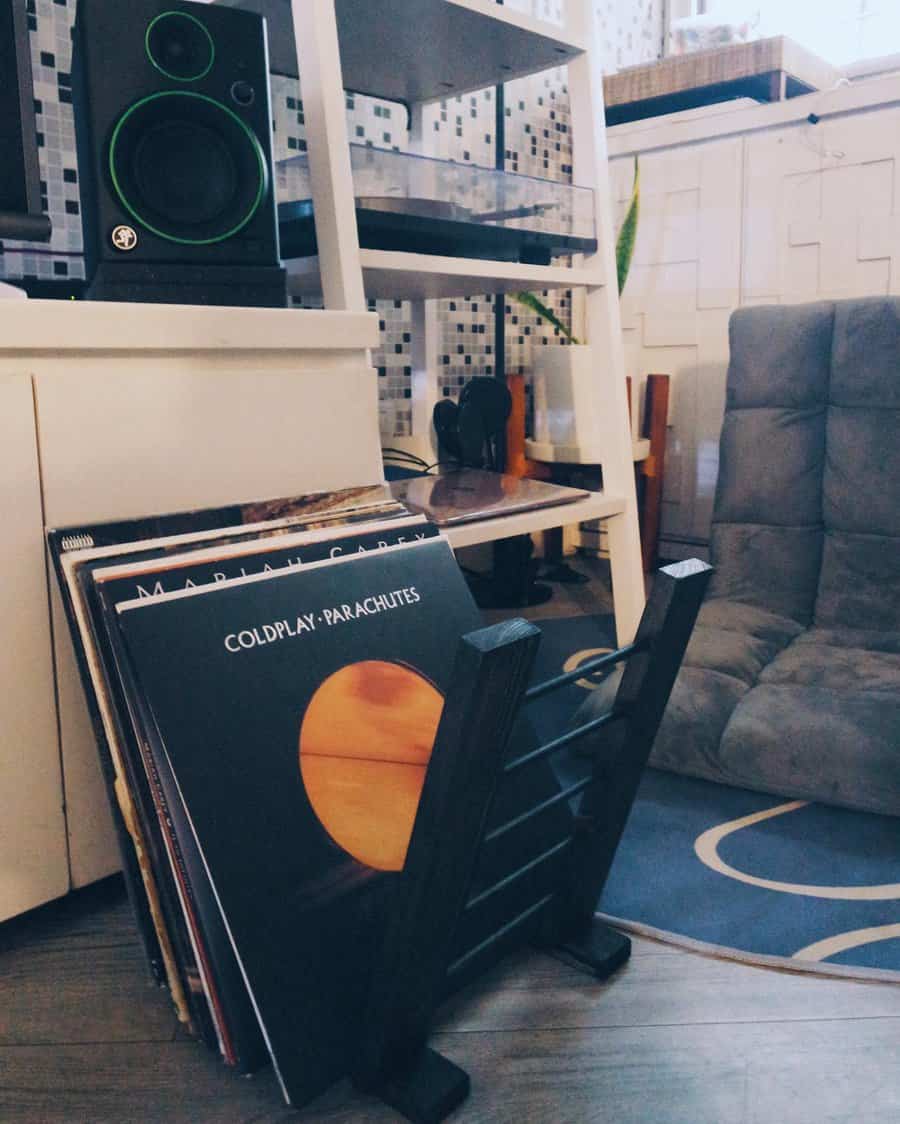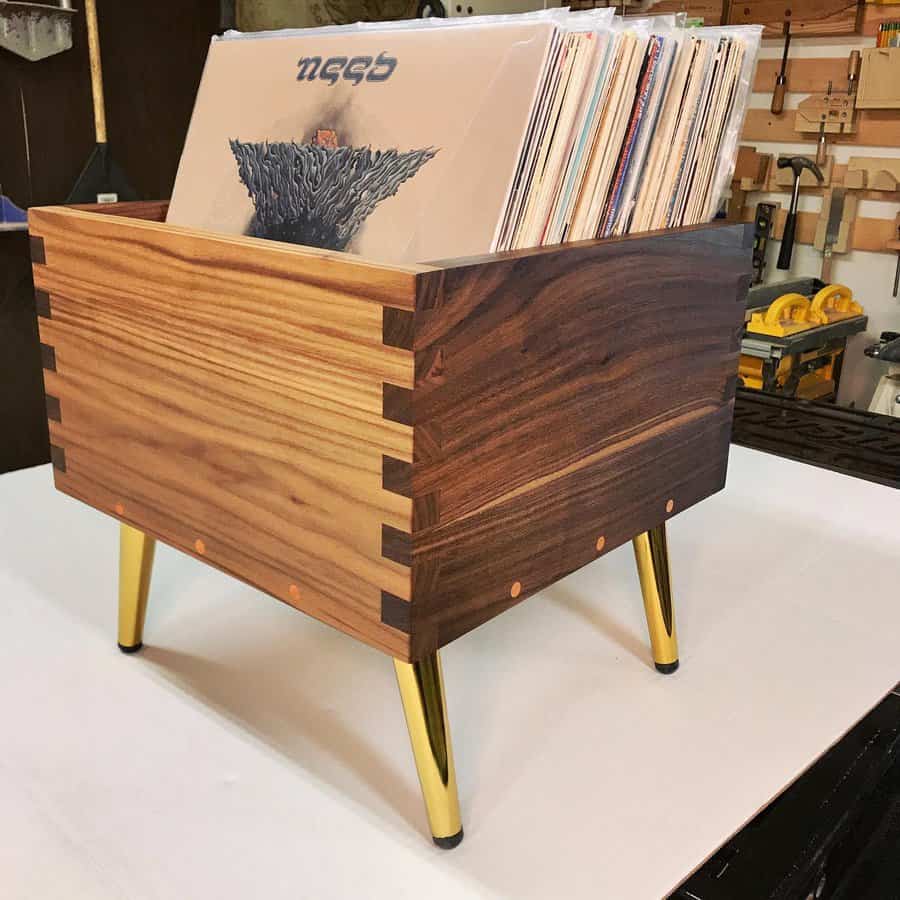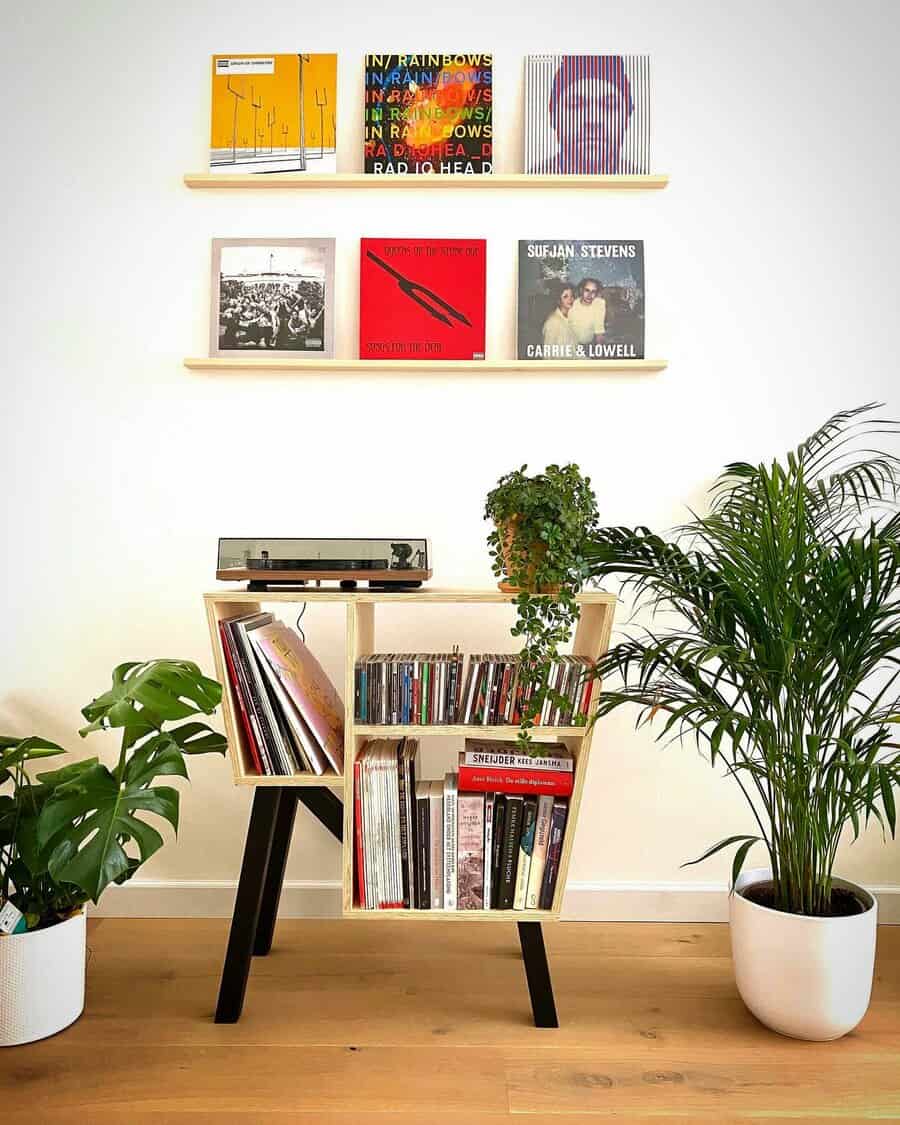 A small turntable stand with a shelf beneath may be sufficient for a small vinyl collection. This type of miniature entertainment center needn't take up more than a foot or two of valuable floor space.
11. Wall Display
Because so much album cover art is so fantastic, many vinyl collectors display their favorites as wall art. A couple rows of narrow picture rails is enough to display eight to twelve albums, which you can rotate to keep it interesting. There are also individual album brackets made to easily display albums on the wall.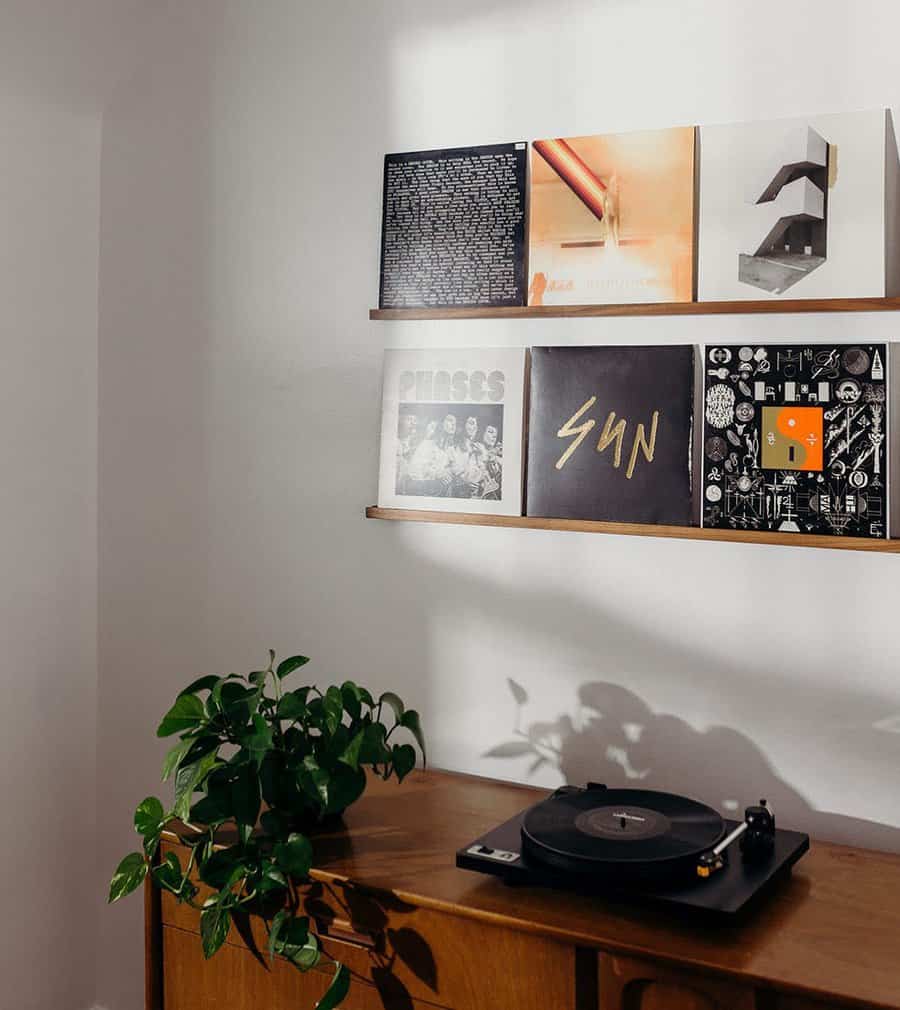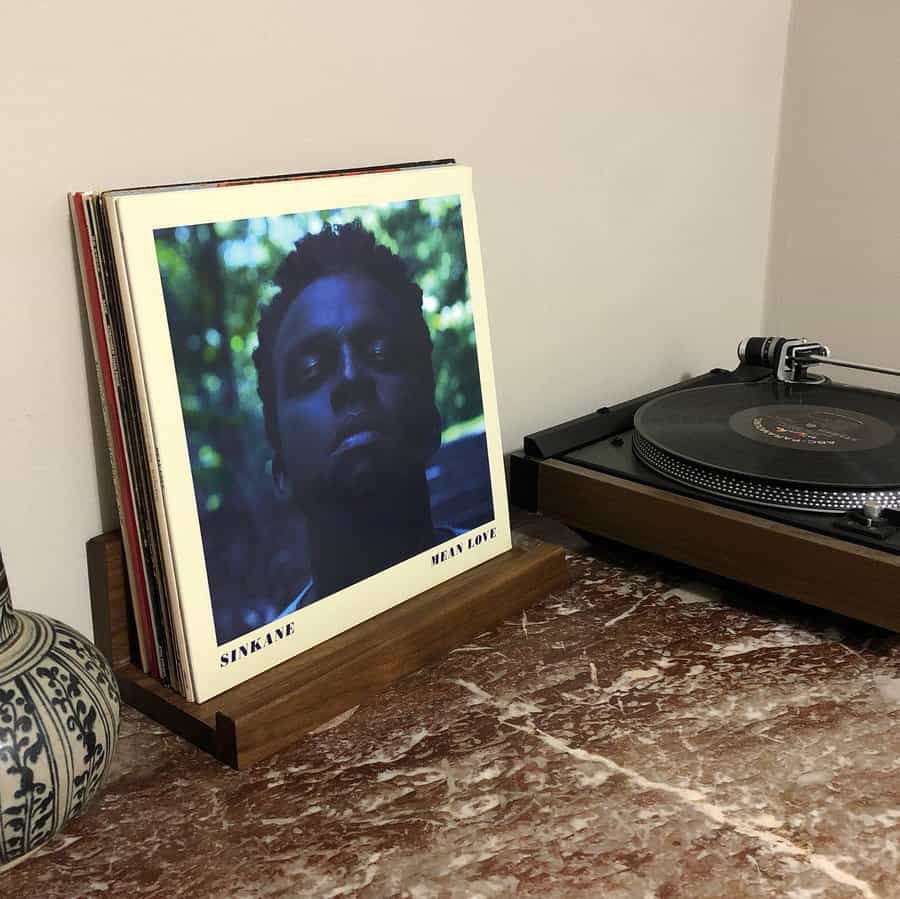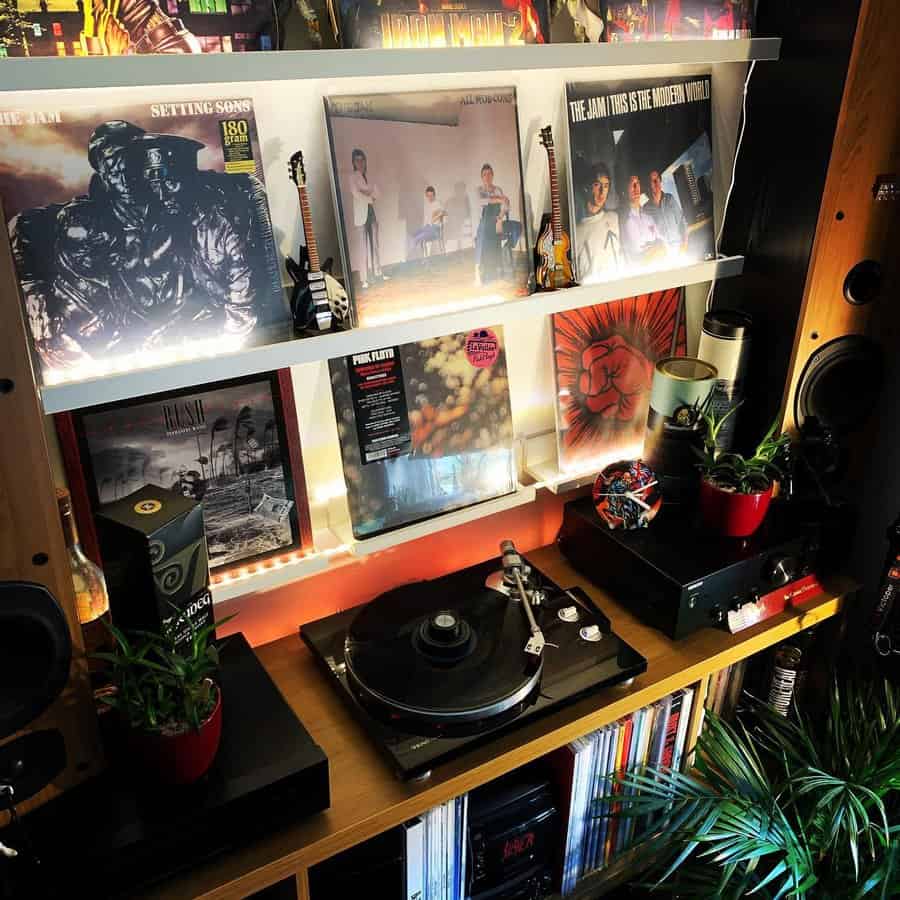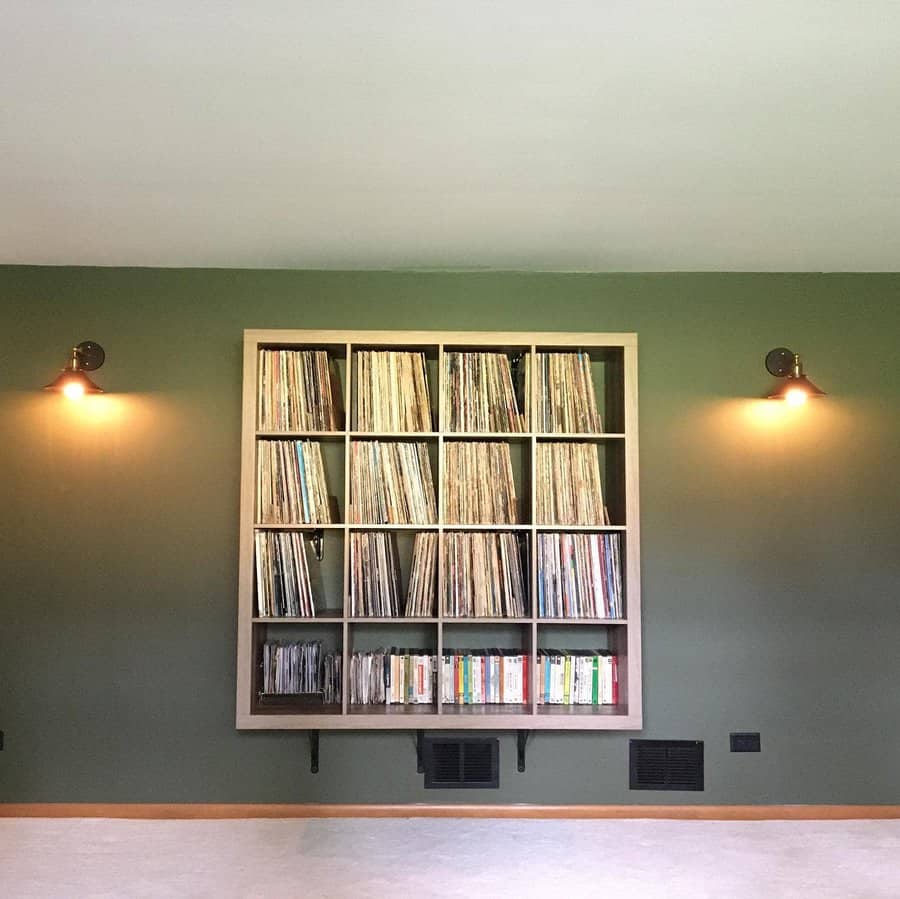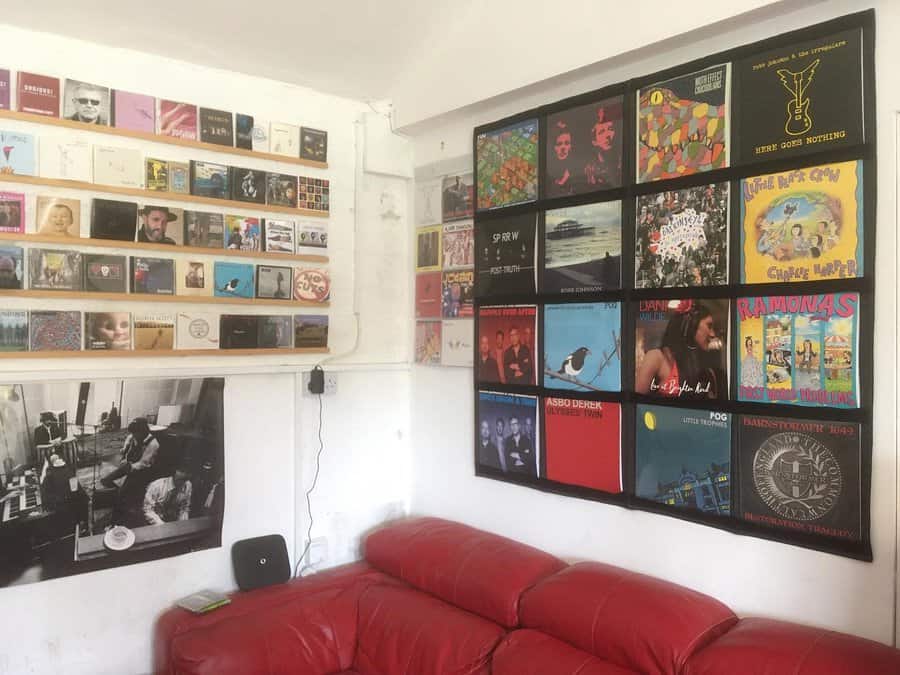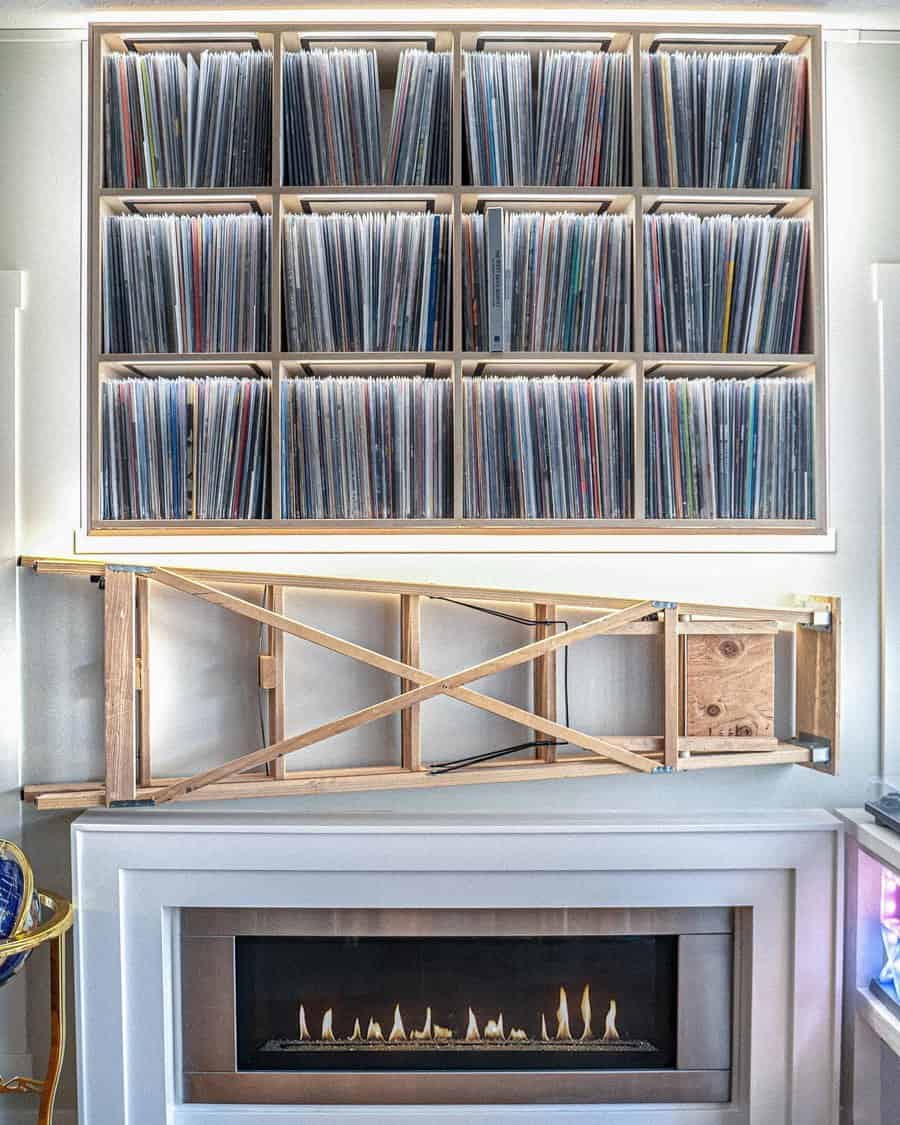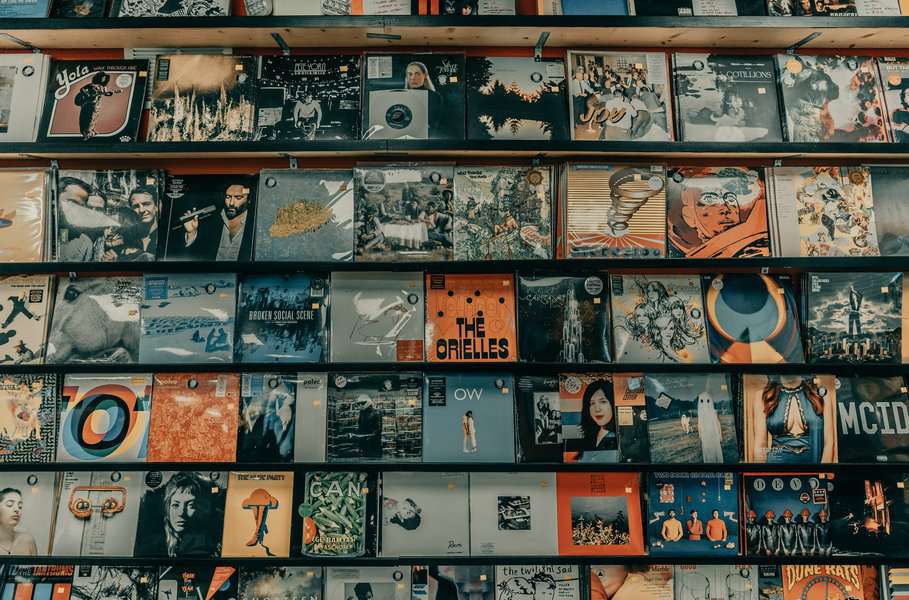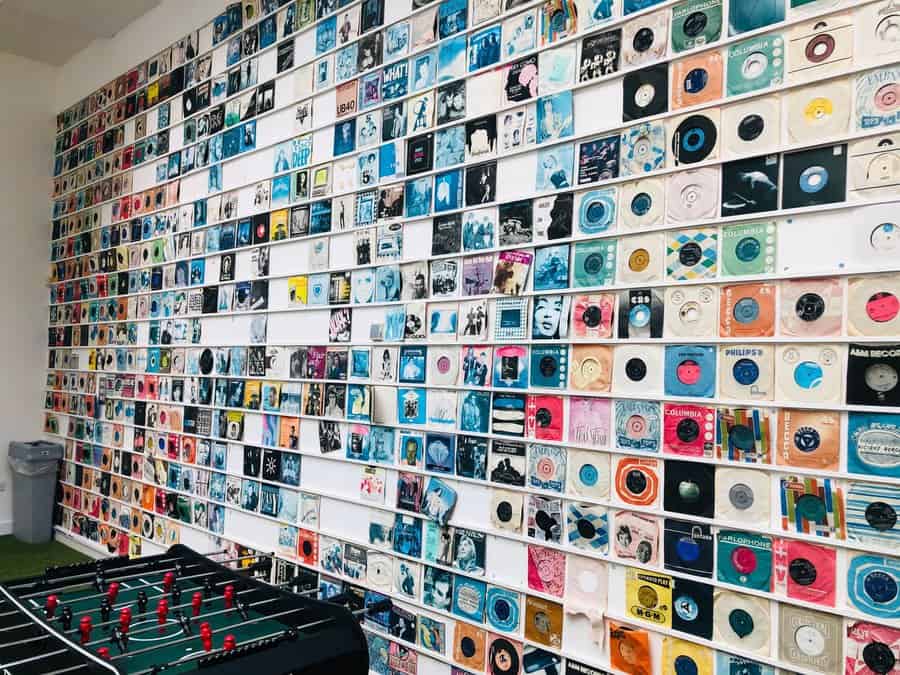 If you choose to display your records on the wall, get a small turntable stand to keep your record player nearby. Mount a few picture lights over your favorite album covers to make them really stand out as intentionally displayed works of art.
Record Storage FAQs
What is the best way to store vinyl records?
To avoid warping, store vinyl records vertically. They should be placed on shelves or in well-packed boxes. Stacking them horizontally could make them unplayable.
What is a good temperature to store vinyl records?
Avoid storing your vinyl record collection where it will be exposed to direct light or heat. Average room temperature around 70 degrees Fahrenheit is ideal. Try to avoid exposing your record collection to high levels of humidity.