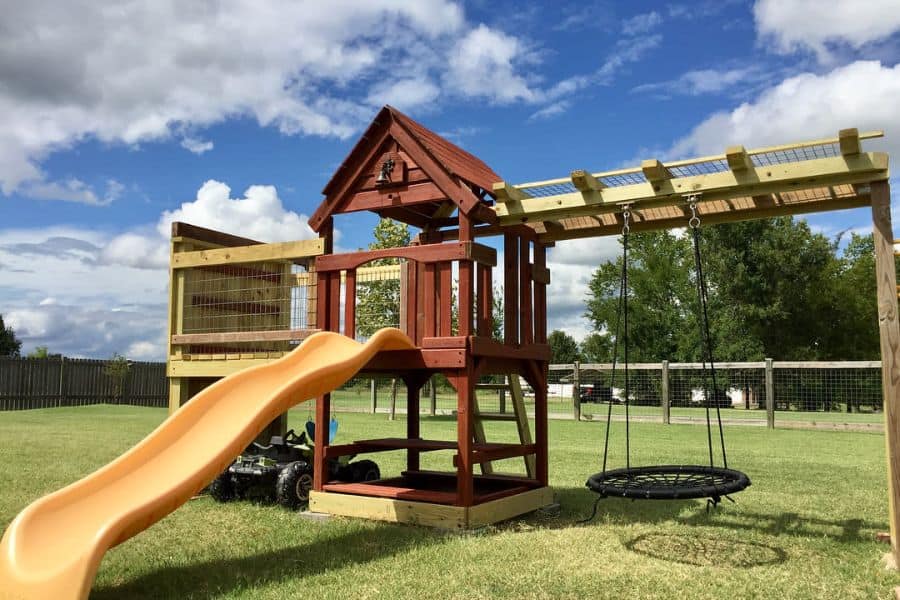 The Top 36 Backyard Playground Ideas
by — Kari Apted

Published on August 4, 2021

Updated on October 6, 2023
"You could hear the wind in the leaves, and on that wind traveled the screams of the kids on the playground in the distance, the little kids figuring out how to be alive, how to navigate a world that was not built for them by navigating a playground that was." – John Green
Outdoor play is a vital part of the childhood experience and what better place to experience it than in your own backyard?
Children who spend ample time playing outdoors gain multiple physical, social, emotional, and intellectual benefits. Therefore, if you have a private backyard of any size, designing a fun backyard playground is a must.
Scroll through our gallery to see dozens of fun DIY backyard playground ideas suitable for kids of all ages. Whether you start with a premade playset or design a DIY backyard play area from scratch, you'll be on your way to having the best kid-friendly yard on the block.
1. Lifelike Playhouse Retreat
Nurture your children's creativity with a lifelike playhouse retreat. Design a space that sparks their imagination, whether it mimics a real house or transforms into a whimsical wonderland.
Enhance their learning experience by incorporating educational activities like birdhouse building, fostering an appreciation for nature. Integrate natural elements like twig structures and mud kitchens to blend seamlessly with your garden. Encourage curiosity and knowledge through these engaging ideas.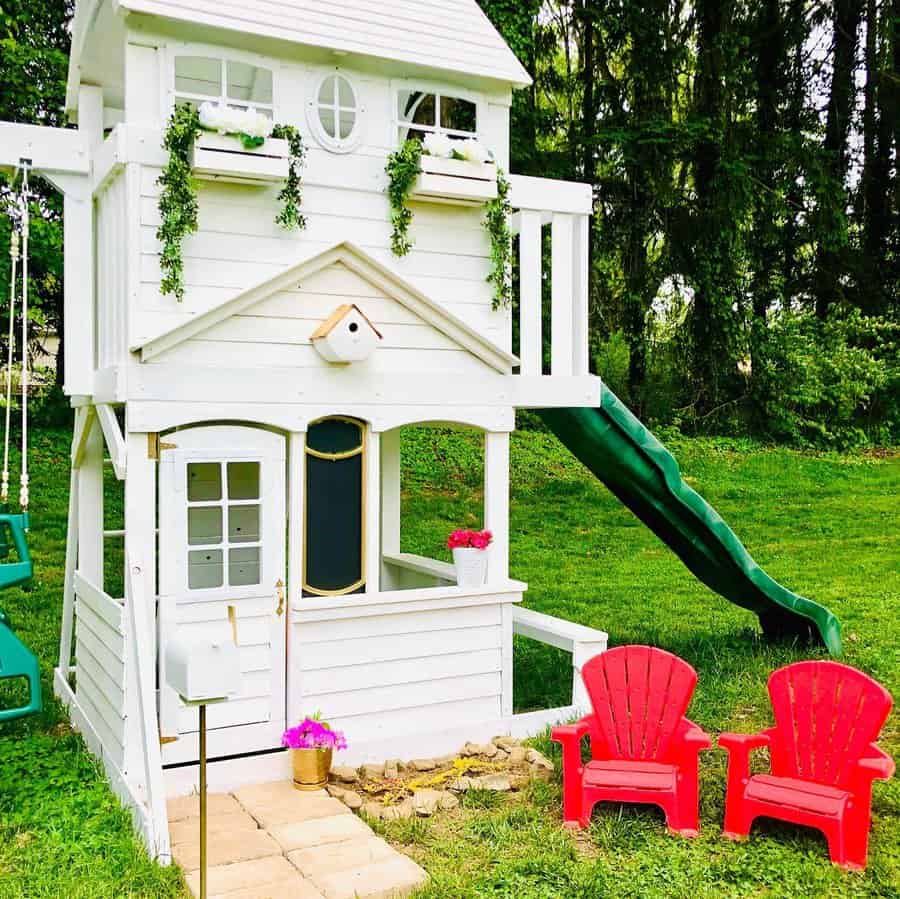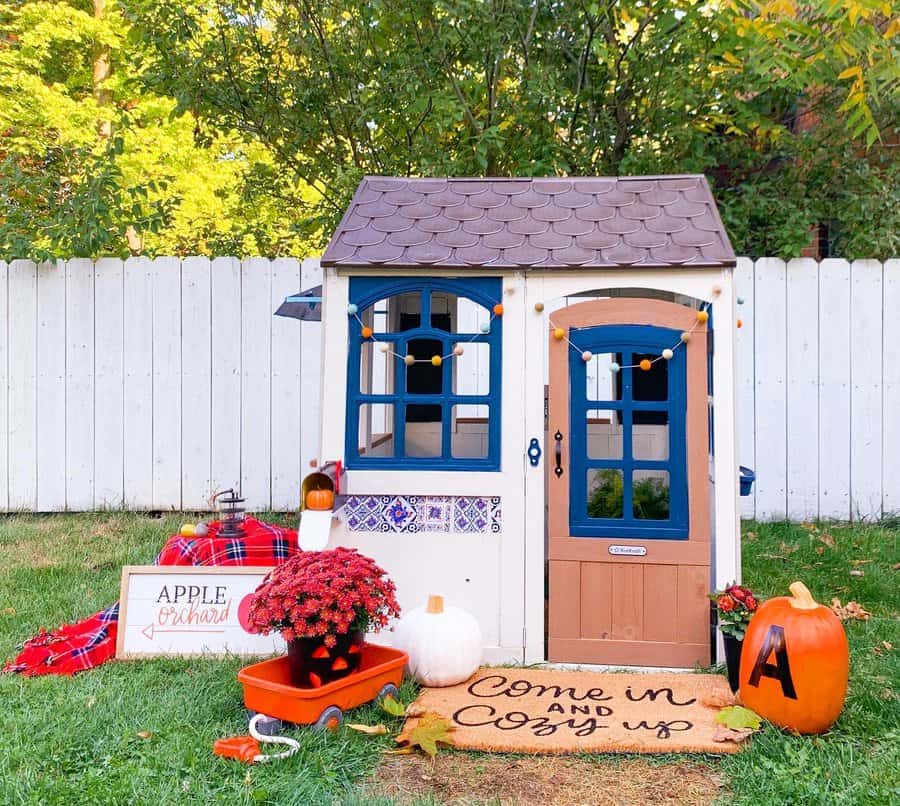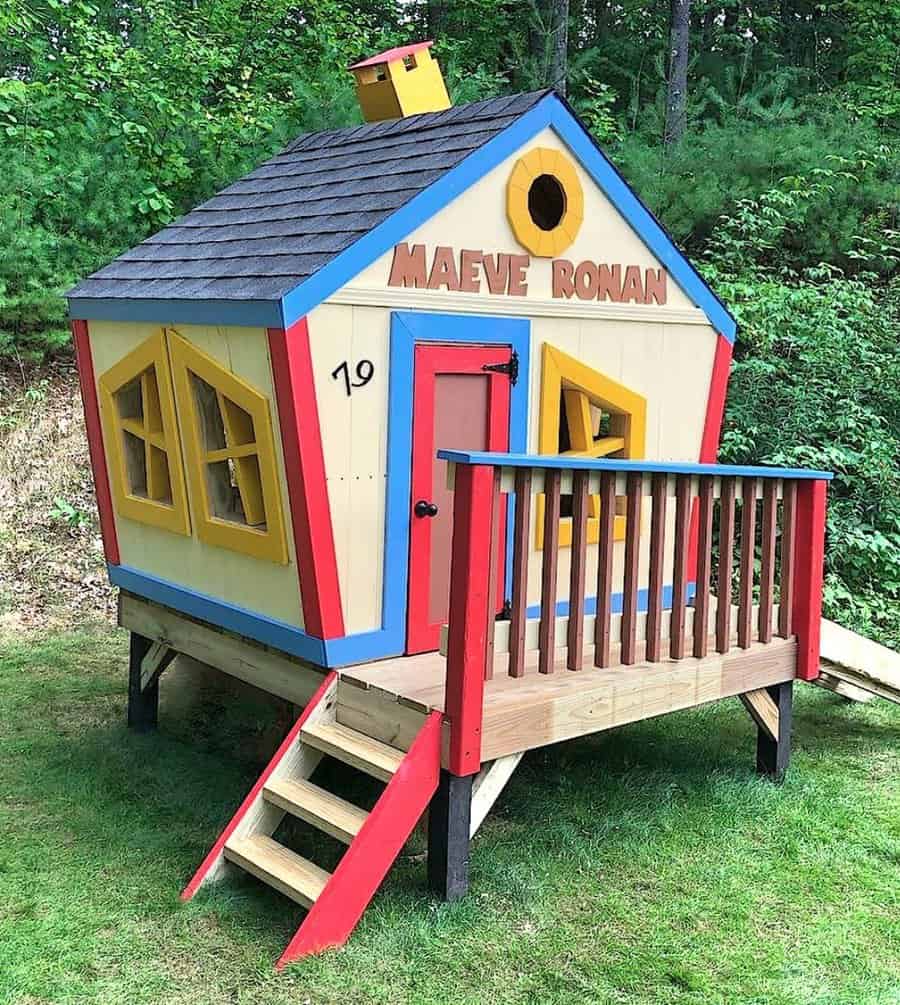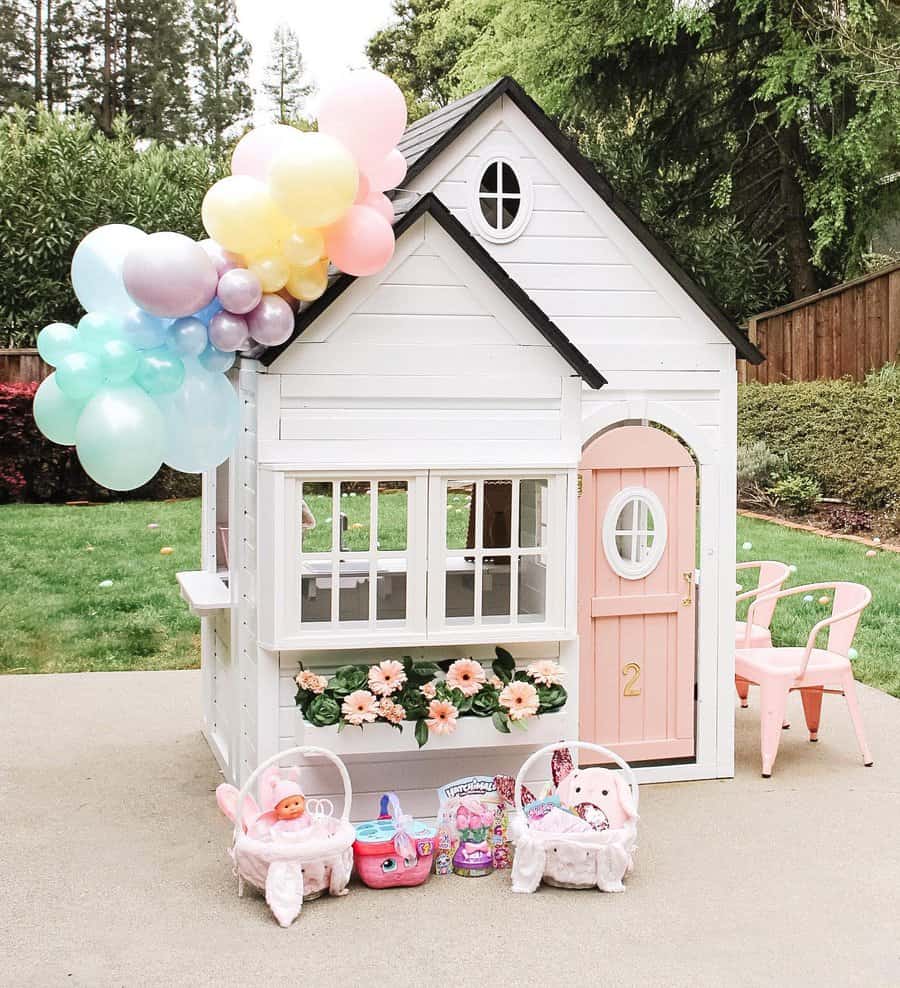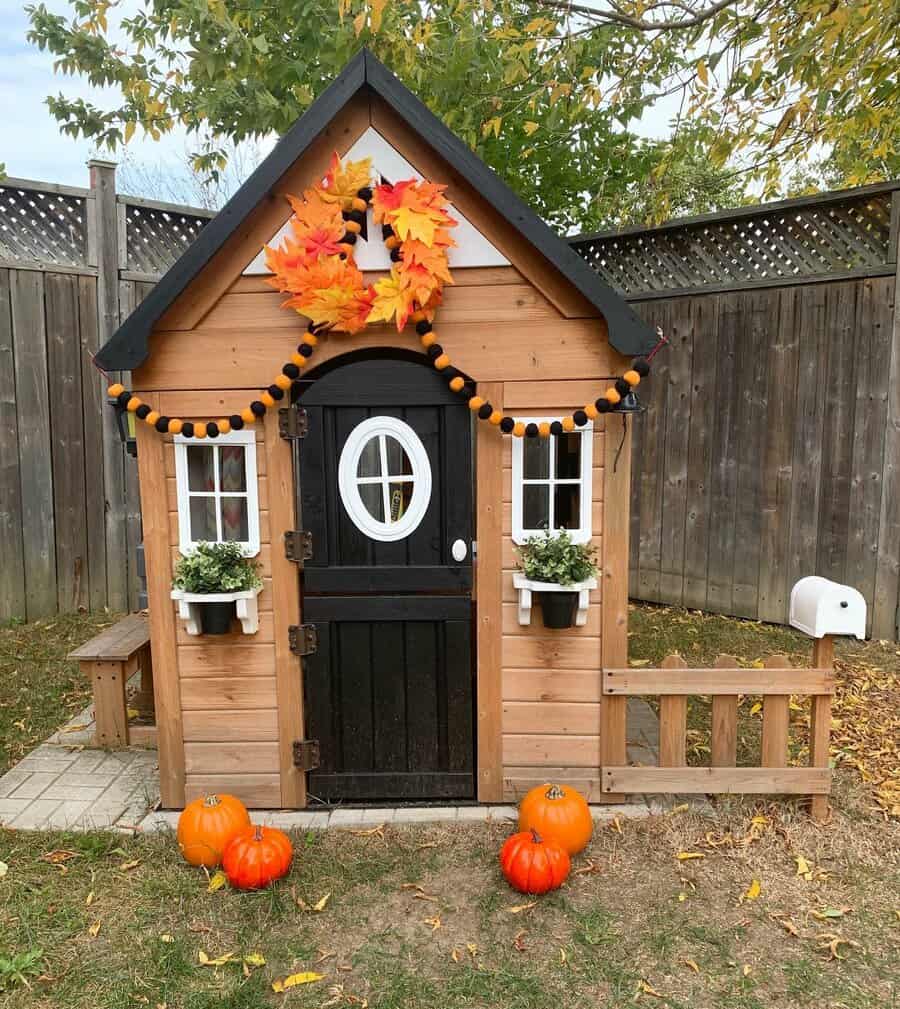 2. Swinging Adventure with Slides
Elevate your backyard fun with a swinging adventure featuring slides. Consider installing a prefabricated swing and slide set for a convenient option.
For a unique touch, explore custom creations like a treehouse with a ladder or a spacious sand pit. Enhance the experience with playful accessories such as hanging ropes and engaging tunnels. Create lasting family memories with these imaginative backyard playground ideas.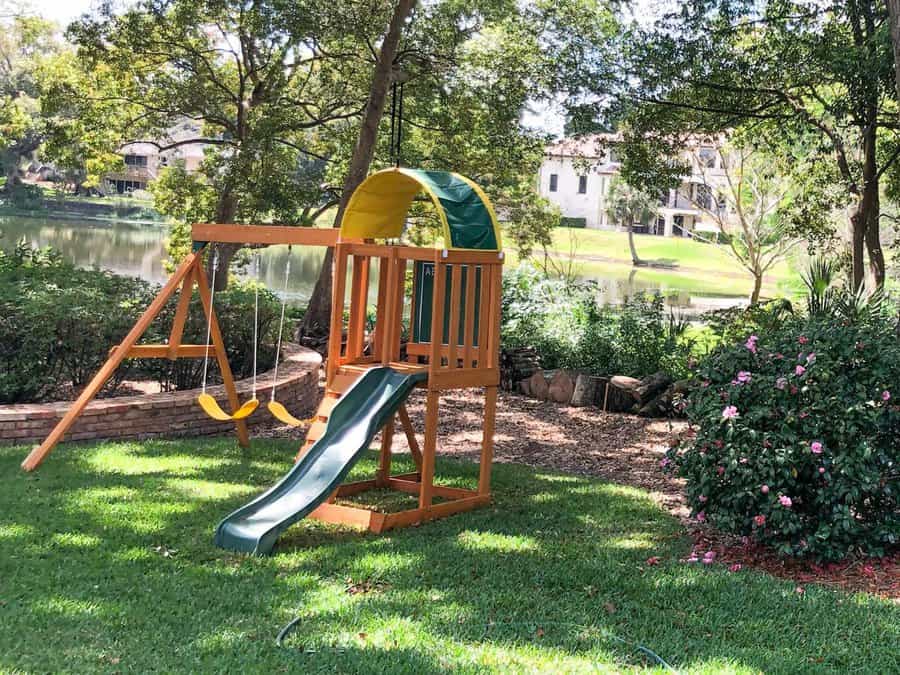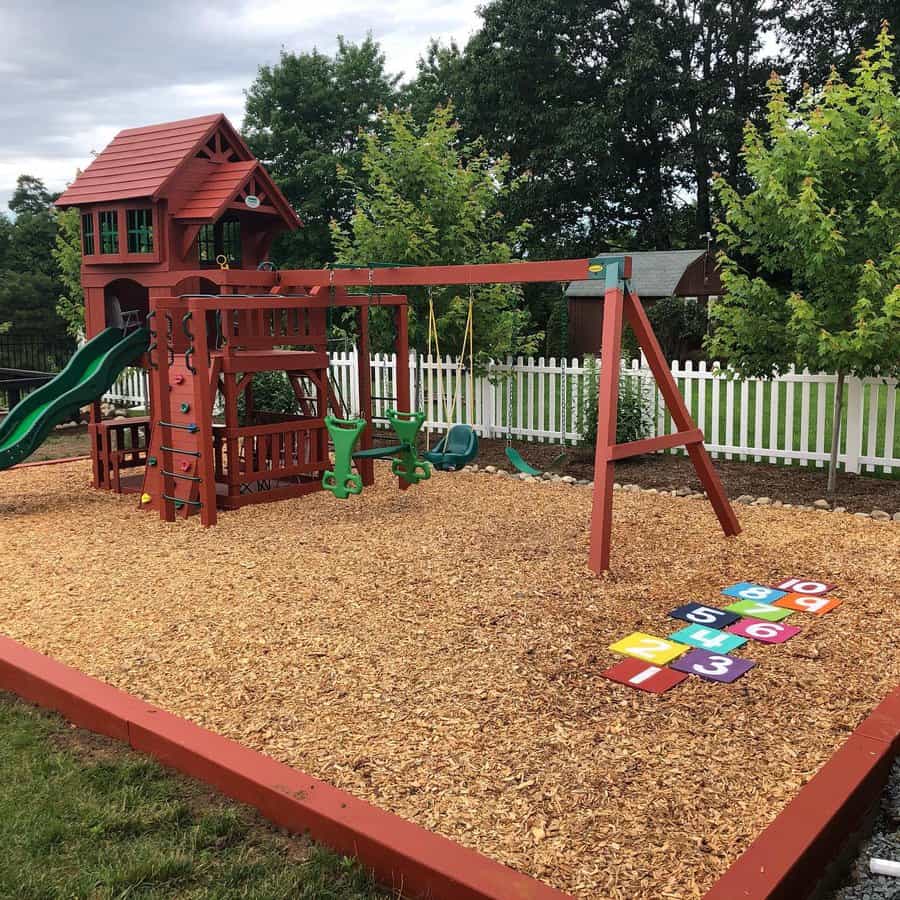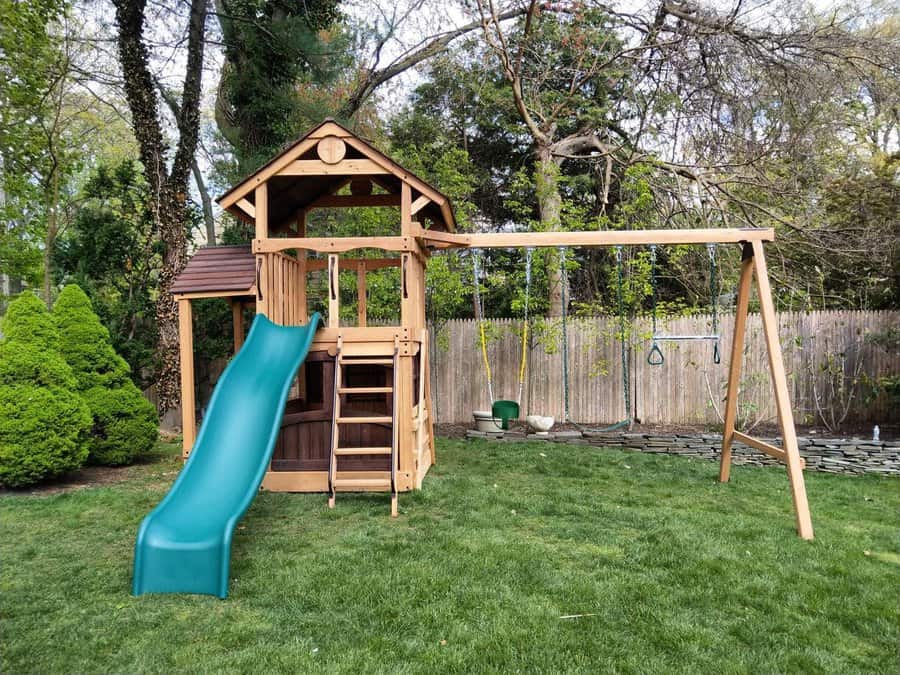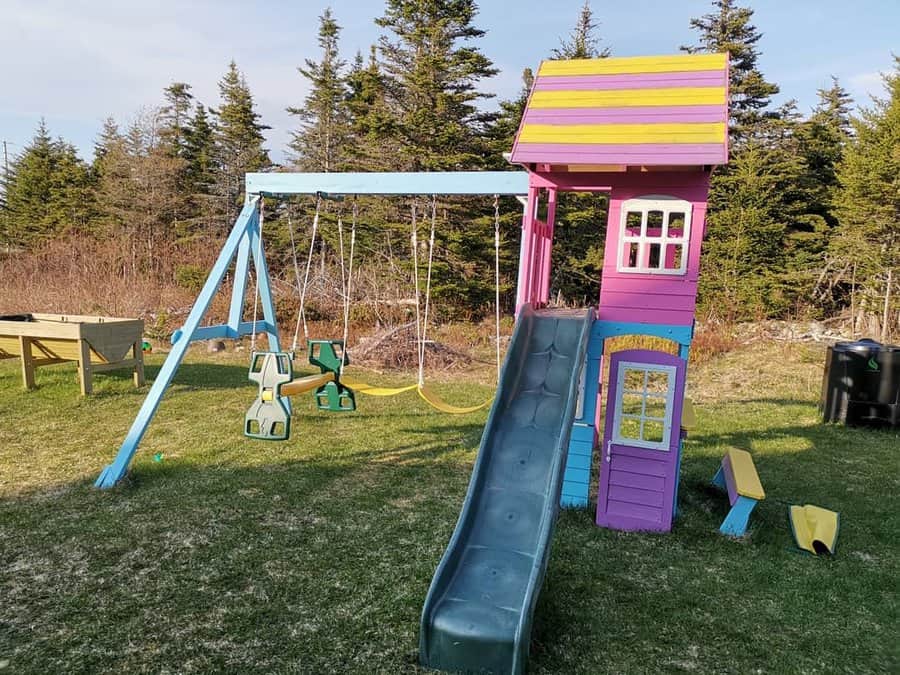 3. Creative DIY Pallet Playset
Inject character and affordability into your backyard playground with a creative DIY wood pallet playset. Utilize readily available materials to craft a unique play space for your kids.
Select a theme and layout that complements your backyard's size and let your creativity shine. Not only will your children adore their one-of-a-kind playhouse, but you'll also save money in the process. Dive into this DIY project to make your playground special and budget-friendly.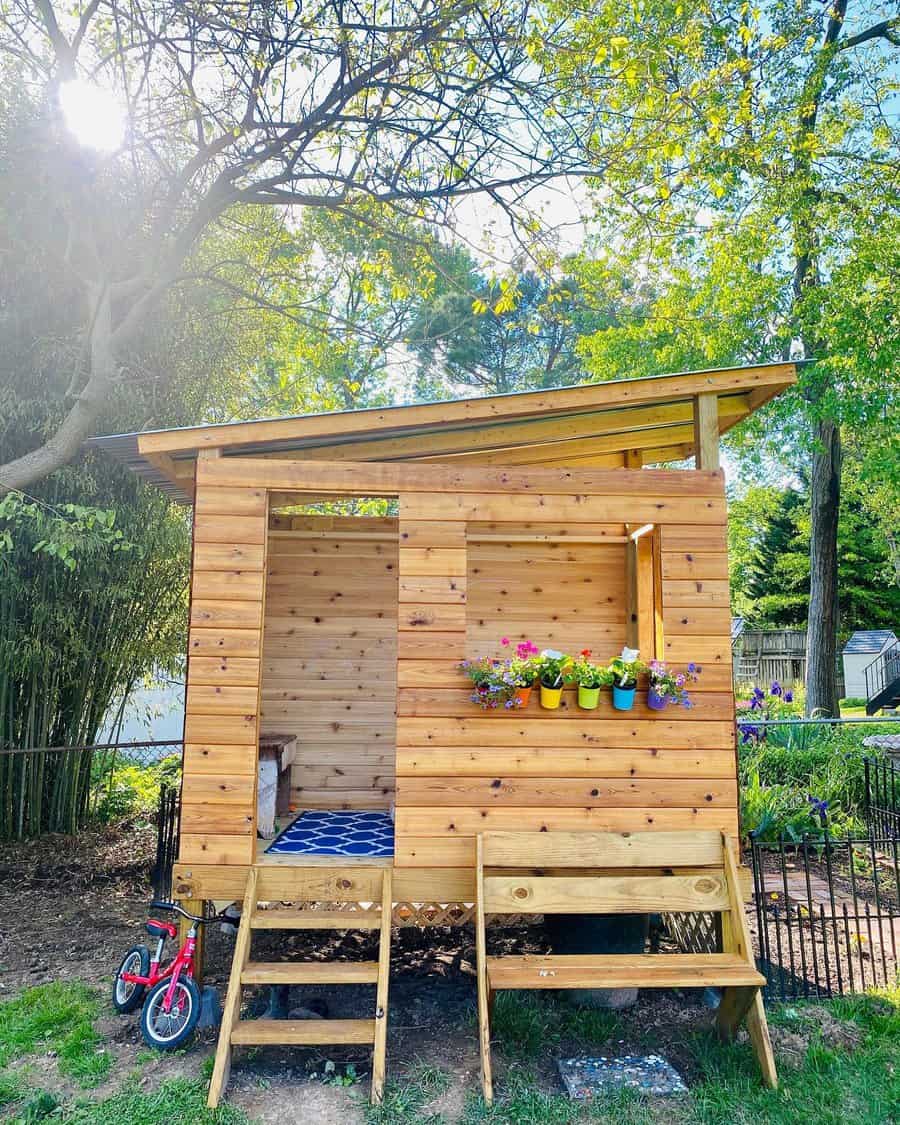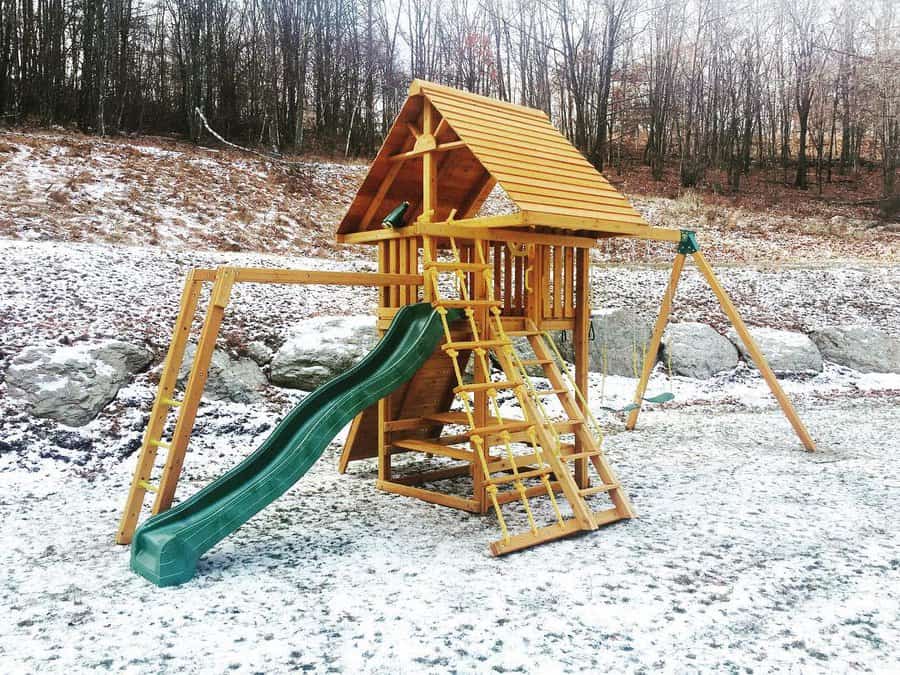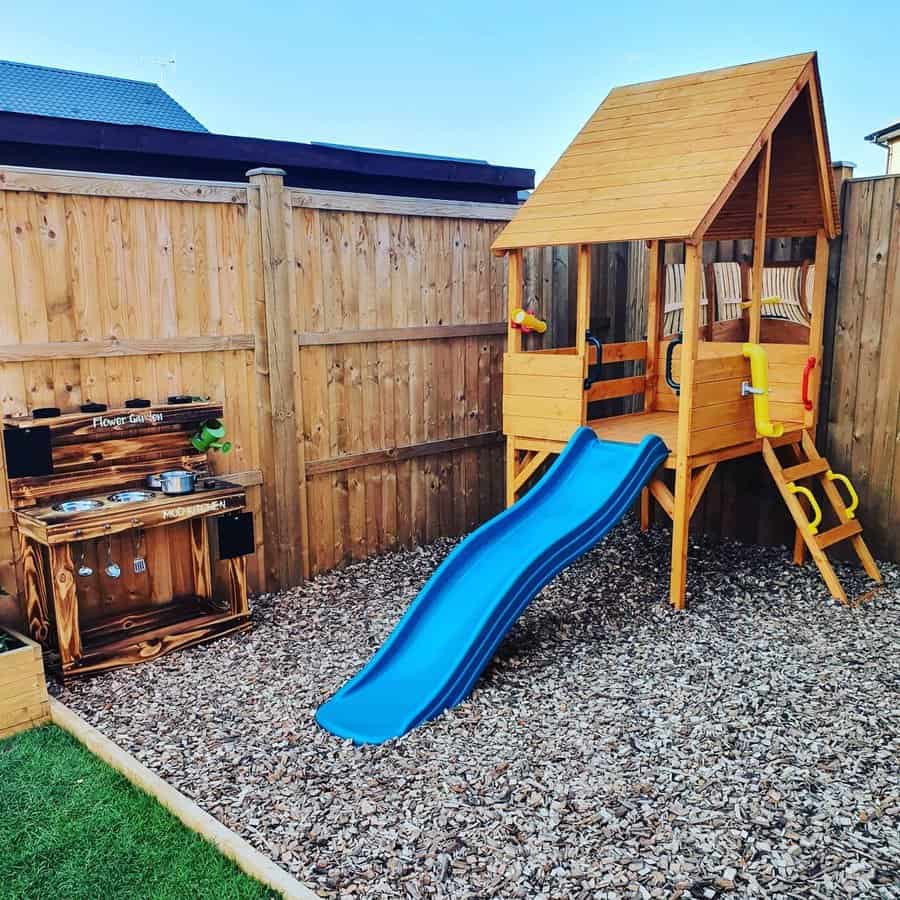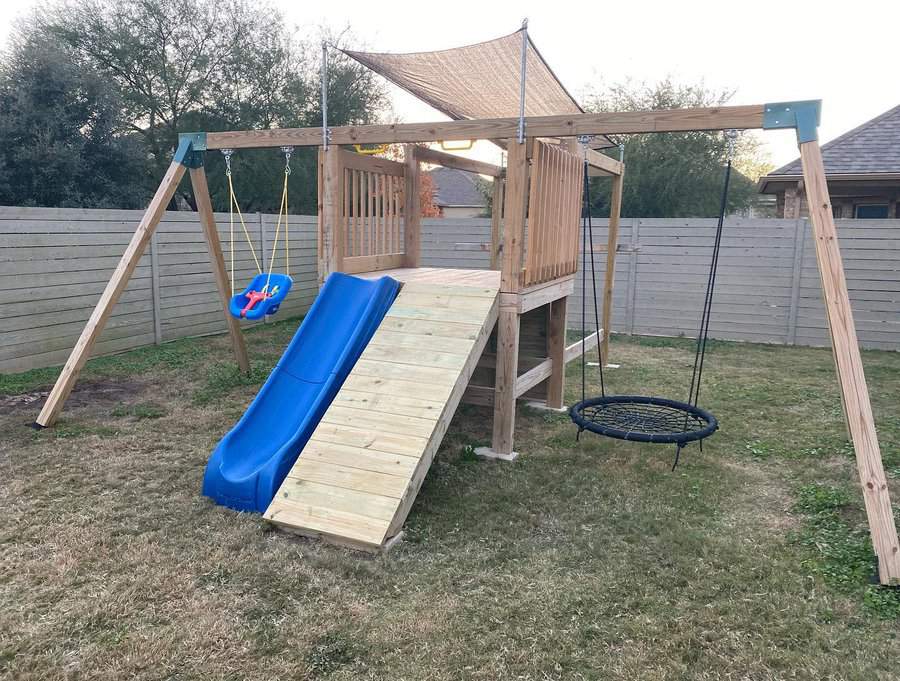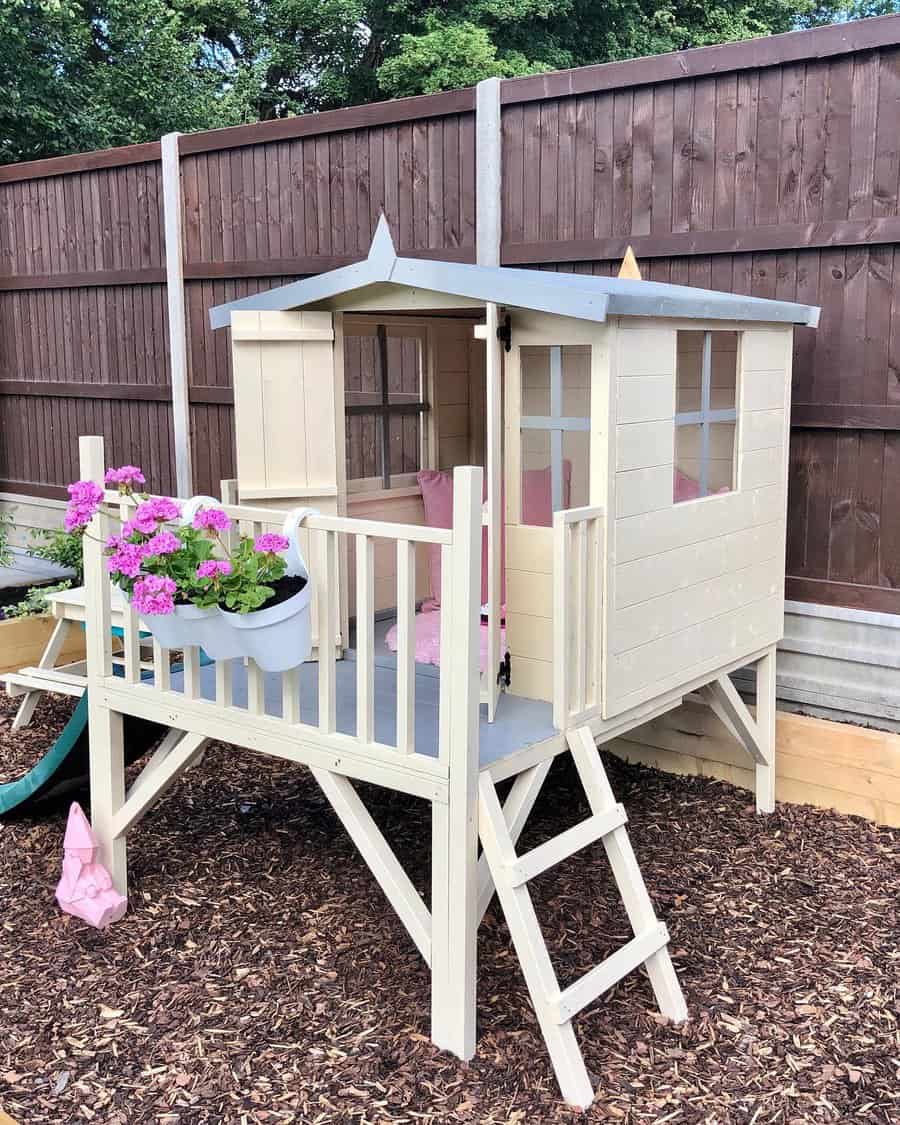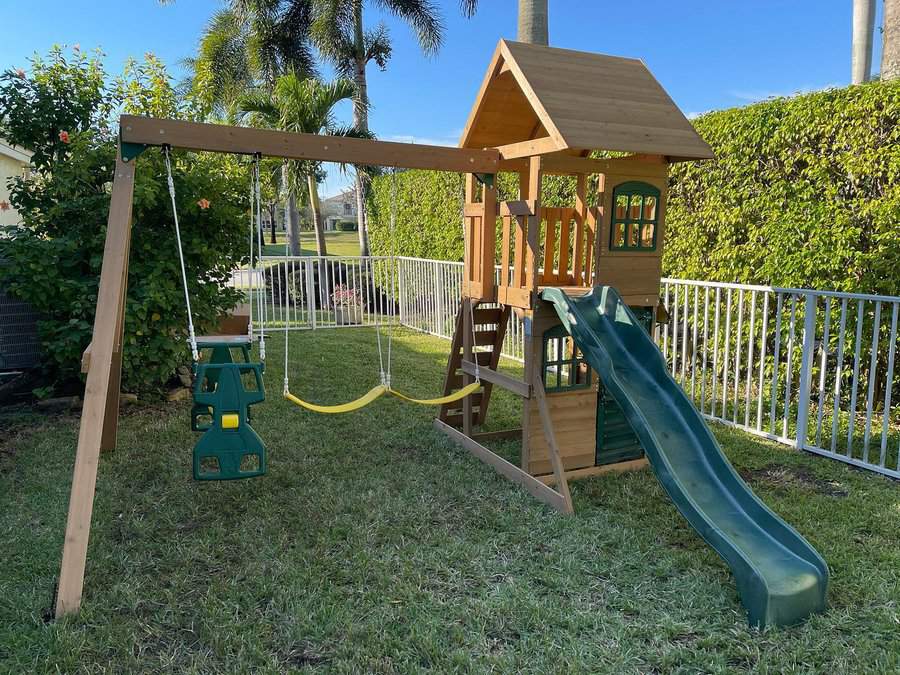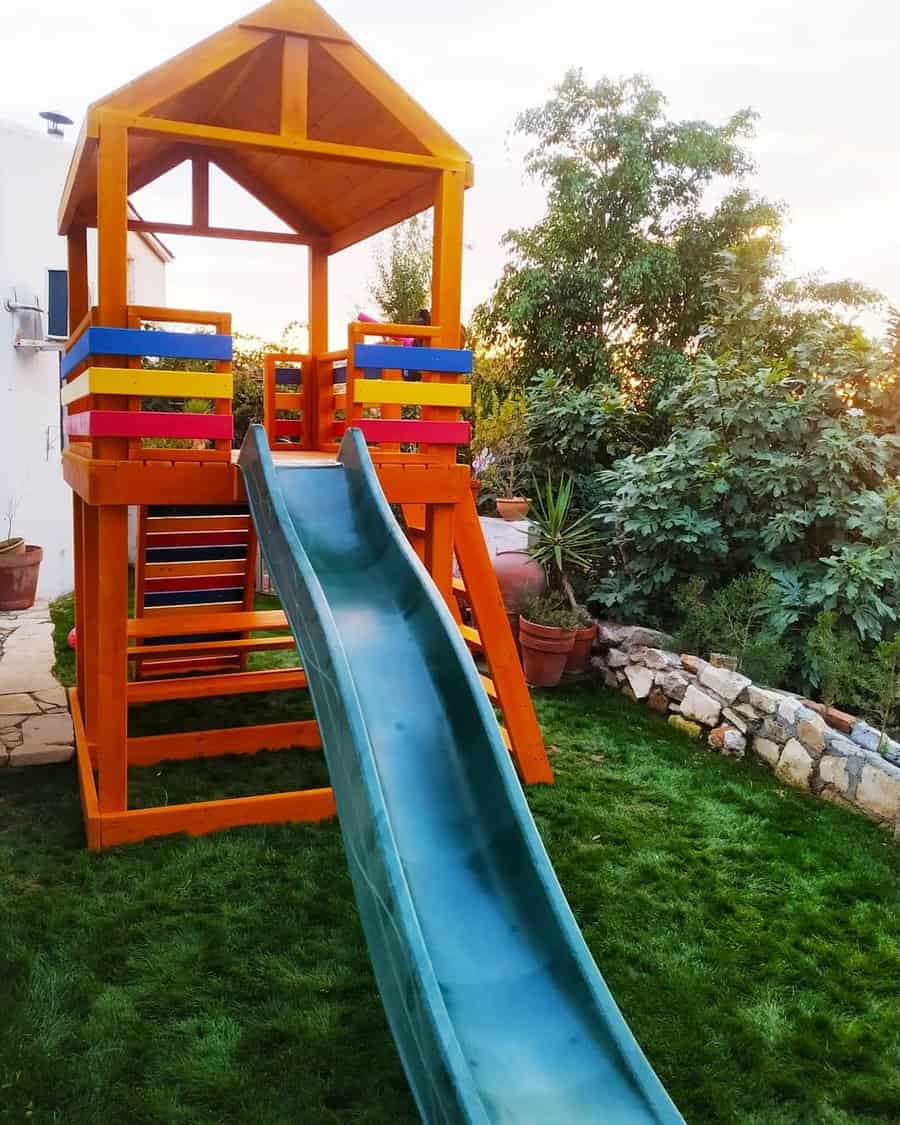 4. Thrilling Climbing Wall
Enhance your backyard with a thrilling climbing wall in your playground set. This exciting addition not only encourages outdoor activity but also sparks endless imaginative obstacle courses for kids.
Make it a family affair by choosing between an elaborate setup or a more minimalistic approach. Whether you opt for all the bells and whistles or just the essentials, a climbing wall is a fantastic way to keep your family healthy, happy, and connected in your outdoor space.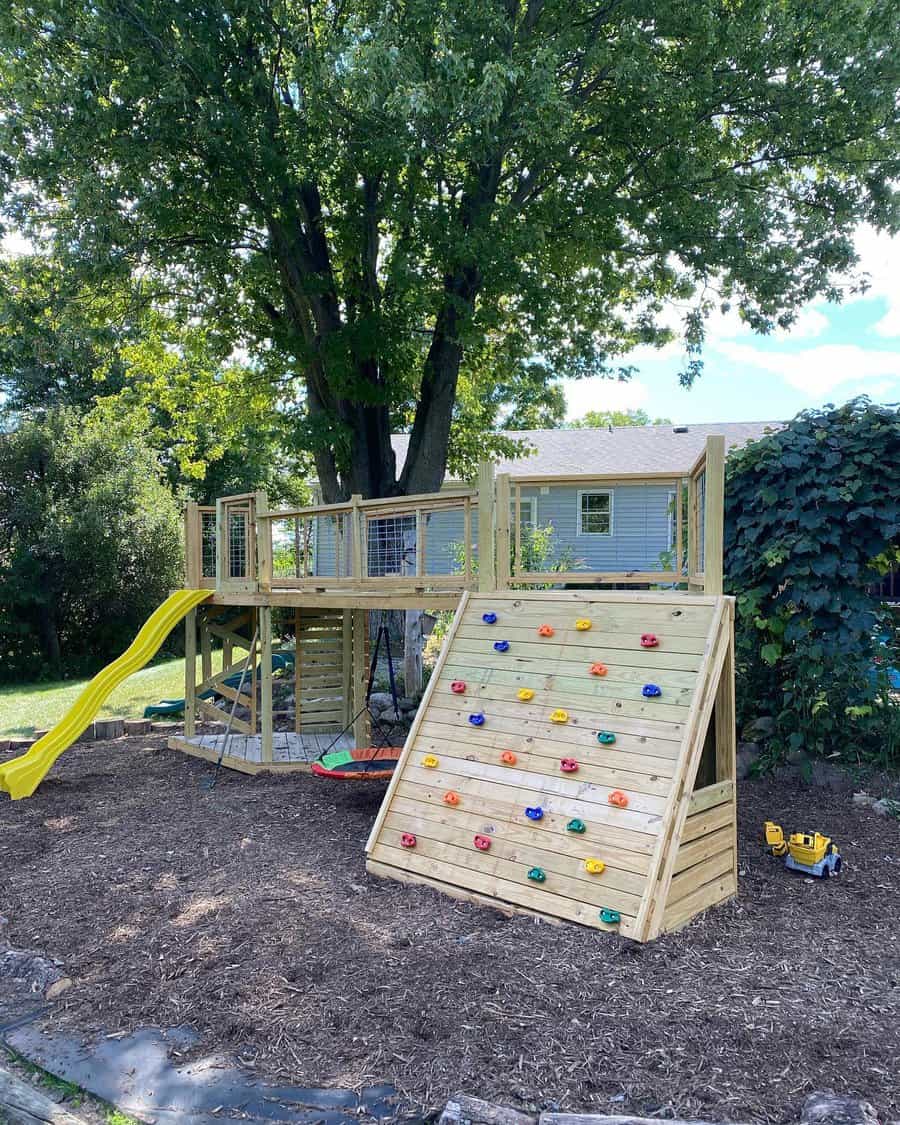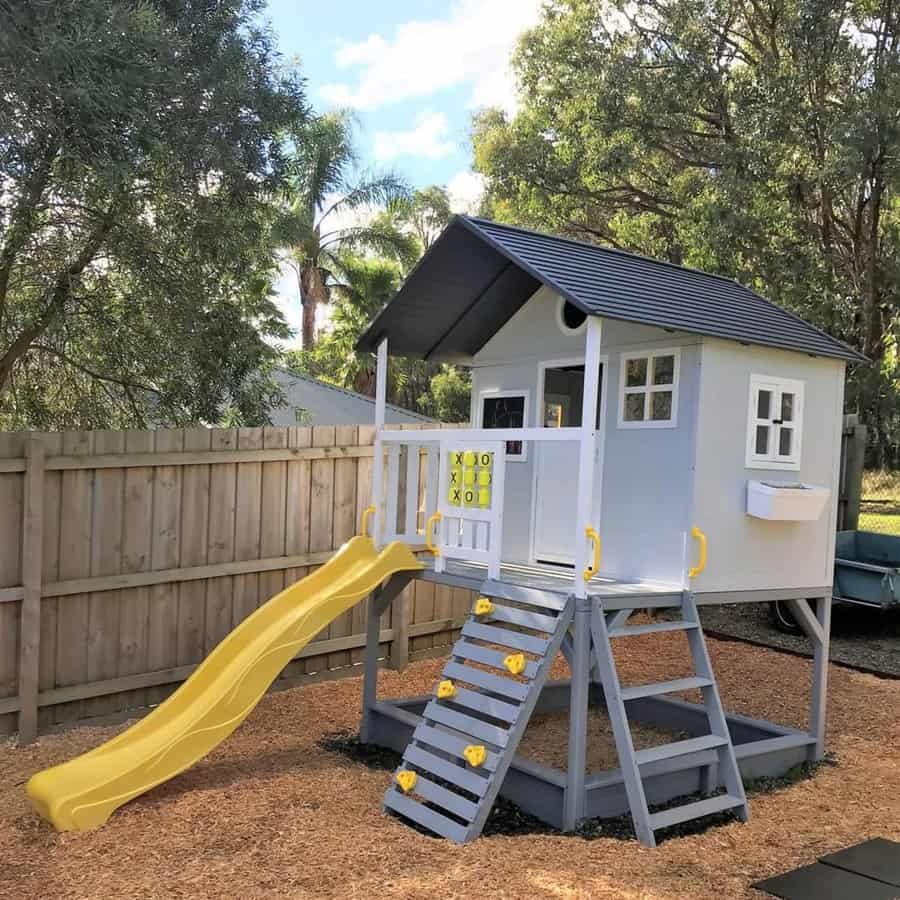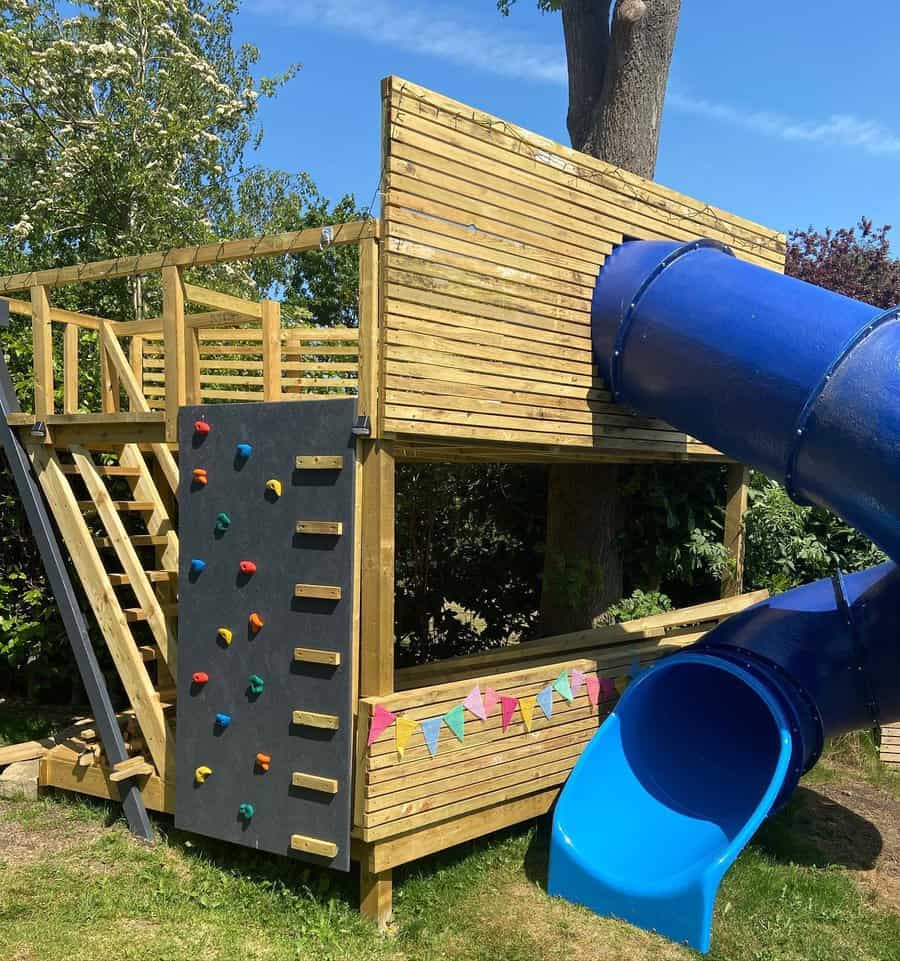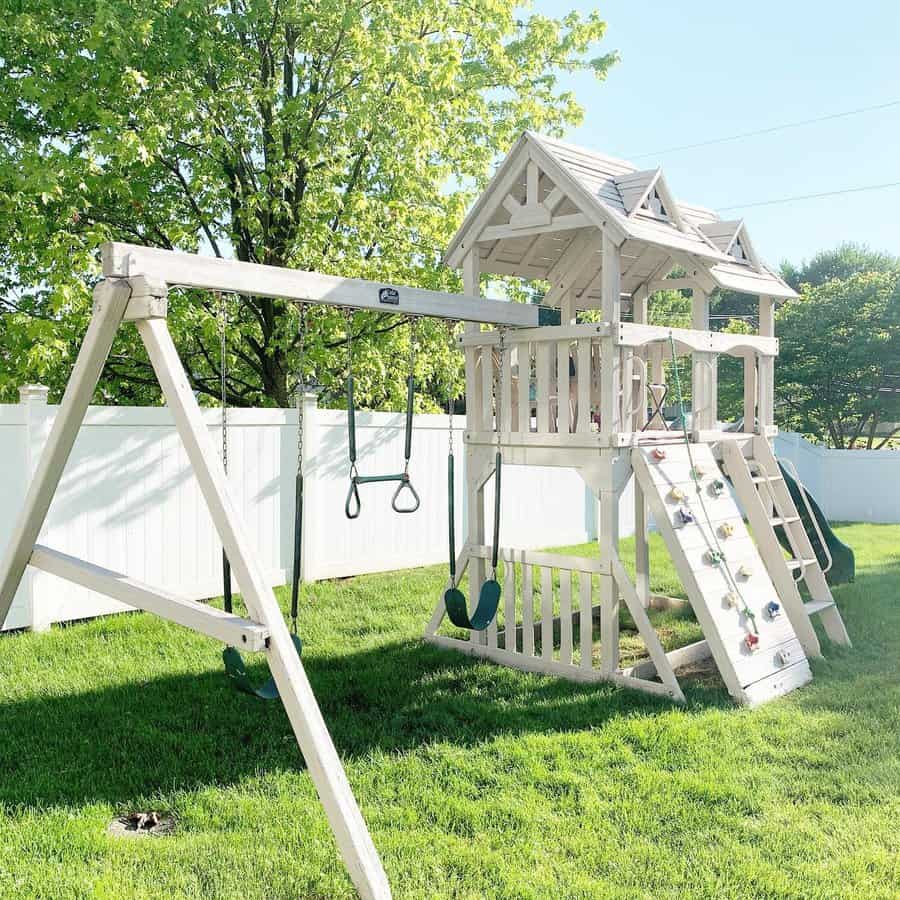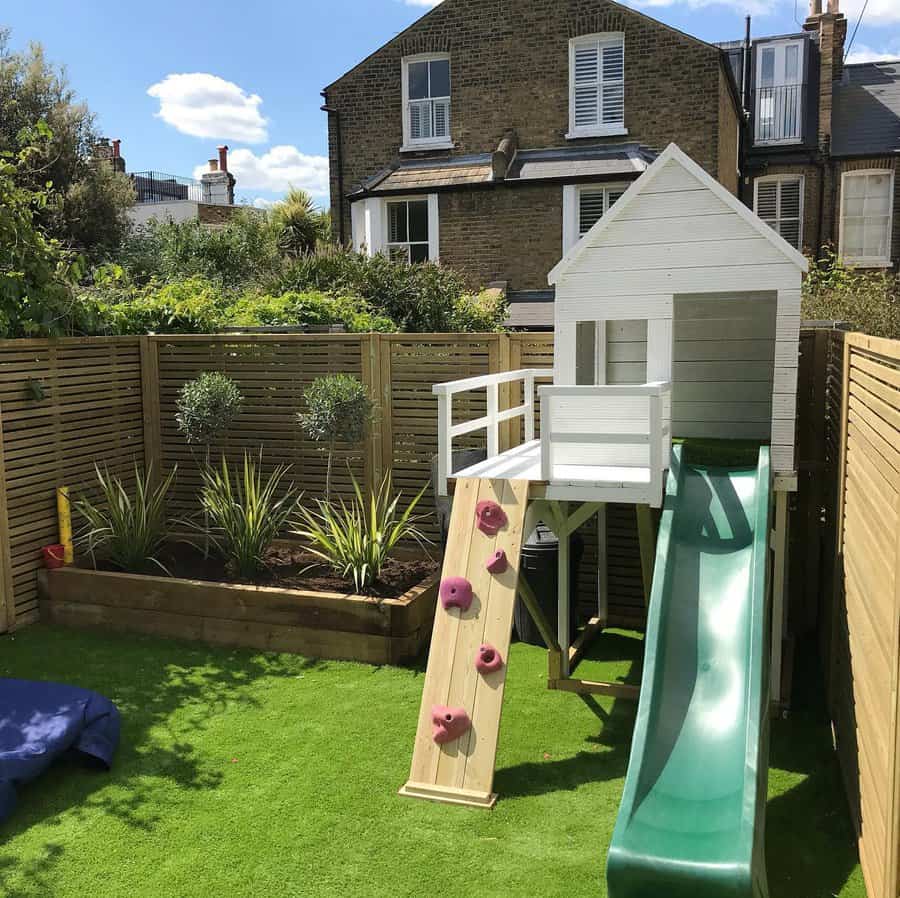 5. Sleek & Simple Swing Combo
Revitalize your backyard playground with a sleek and minimal swing combo. This versatile addition complements any yard and caters to kids of all ages.
Consider adding thrilling elements like zip lines or monkey bars for older children, ensuring age-appropriate and sturdy construction for safety. Create an inclusive play space that the whole family can enjoy safely and comfortably.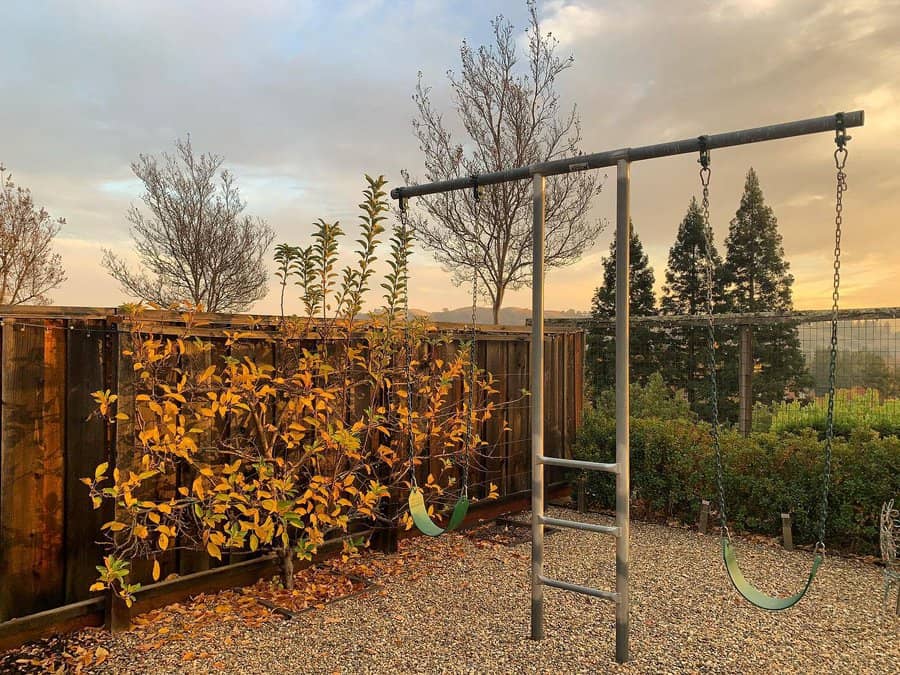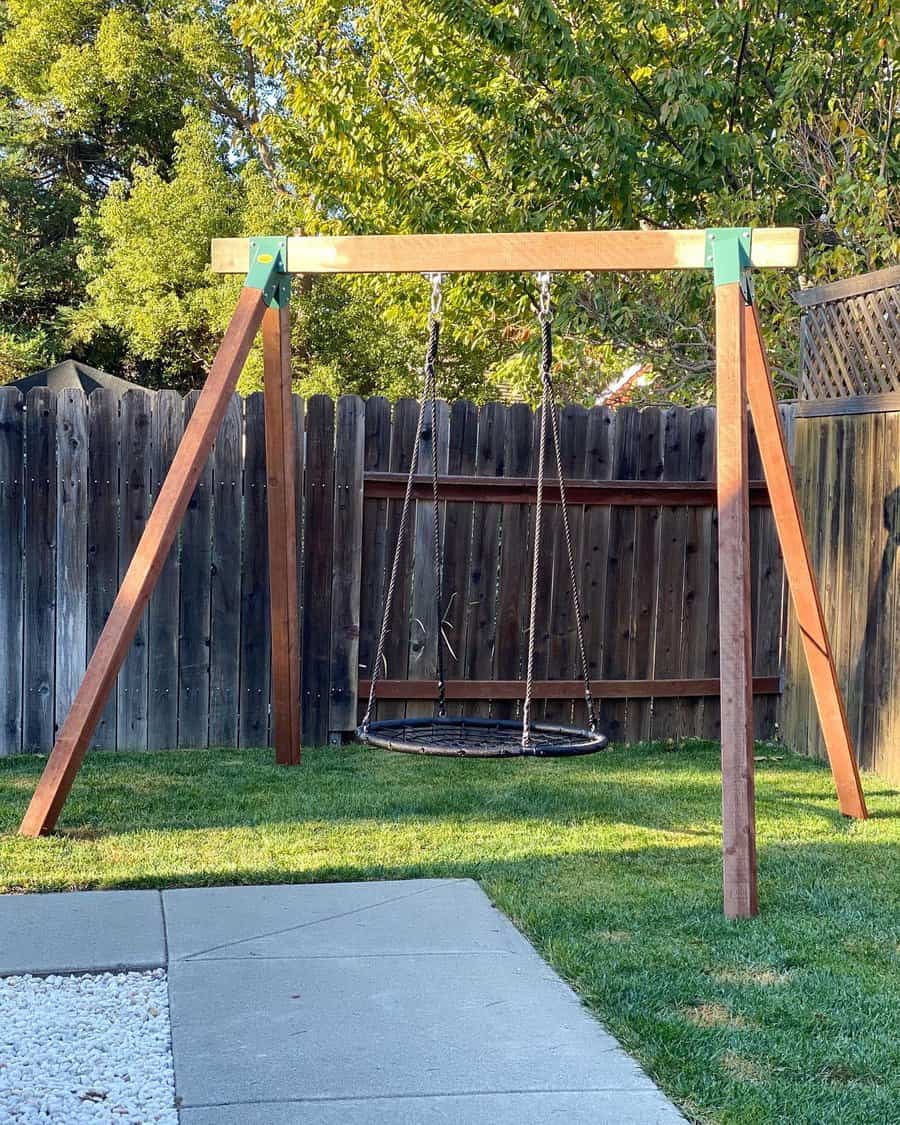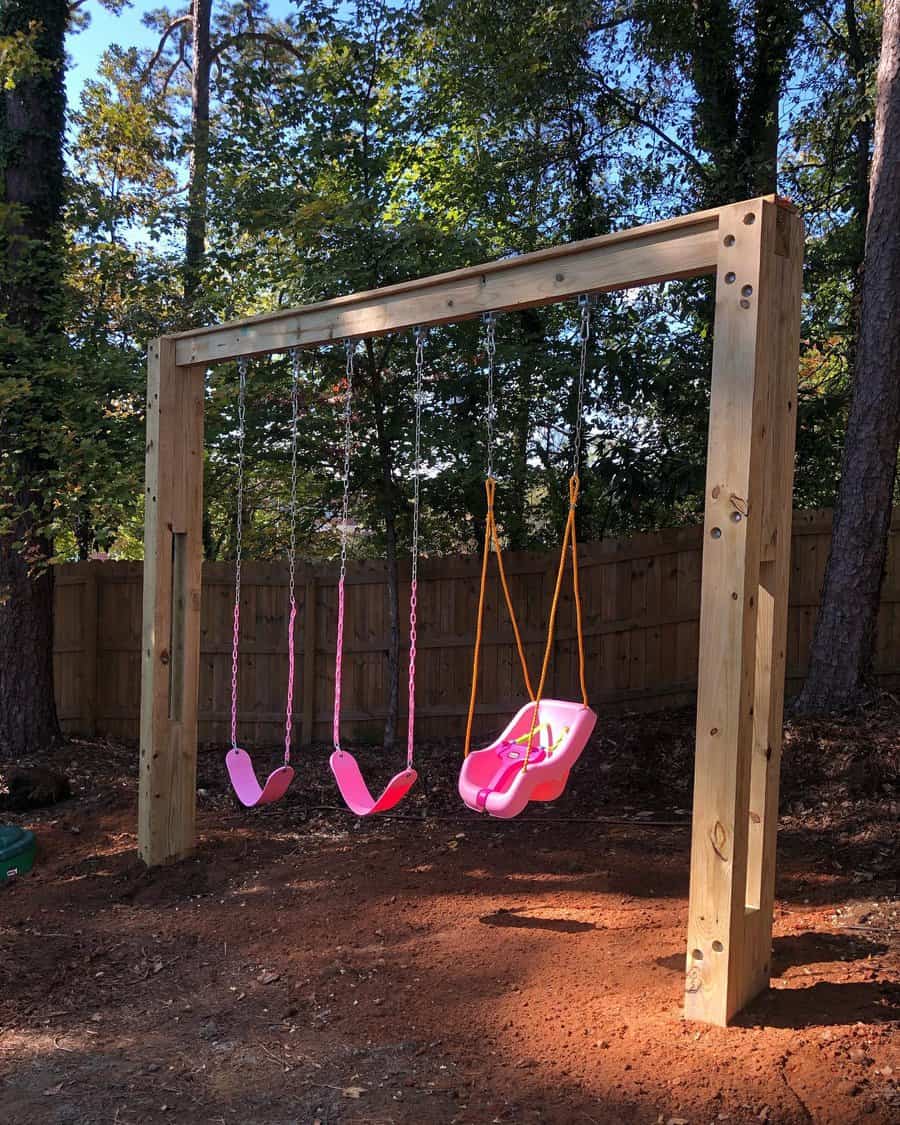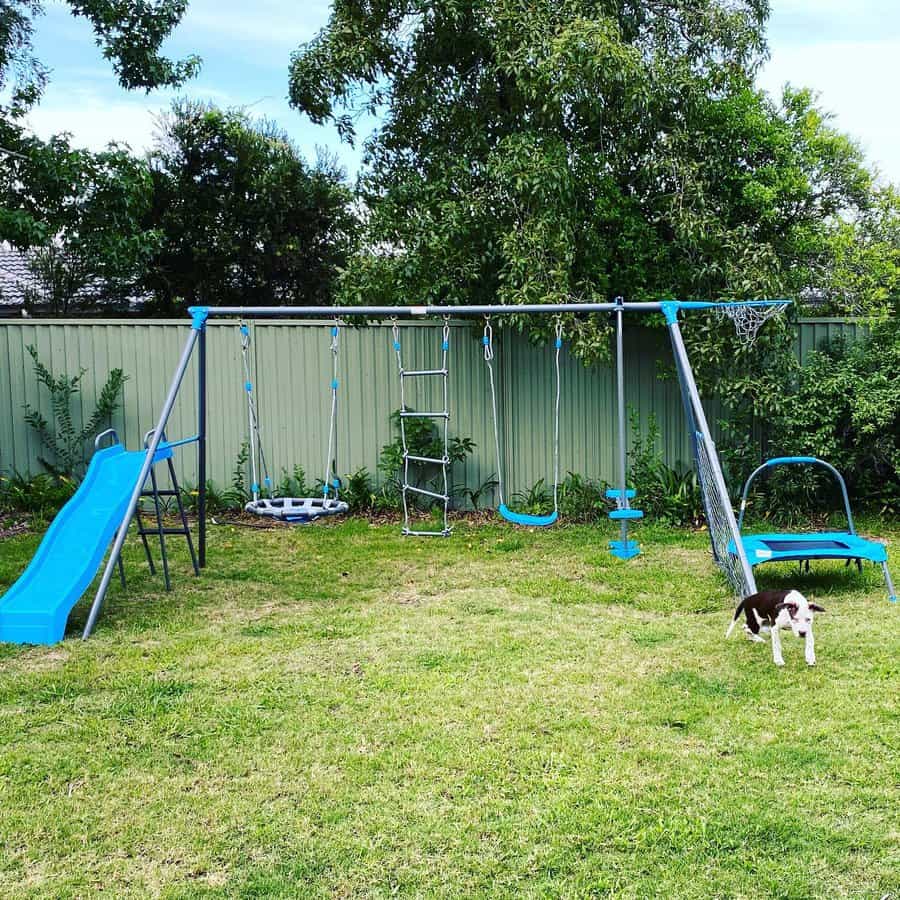 6. Pallet Paradise Sandbox
Transform your backyard with a budget-friendly wood pallet sandbox, providing an engaging sensory play area for children.
Fill it with sand, shovels, and beach toys, allowing your kids to enjoy hours of outdoor fun right at home. Enhance the experience by adding shade nearby to keep them cool on hot summer days. Create a backyard oasis for endless imaginative play.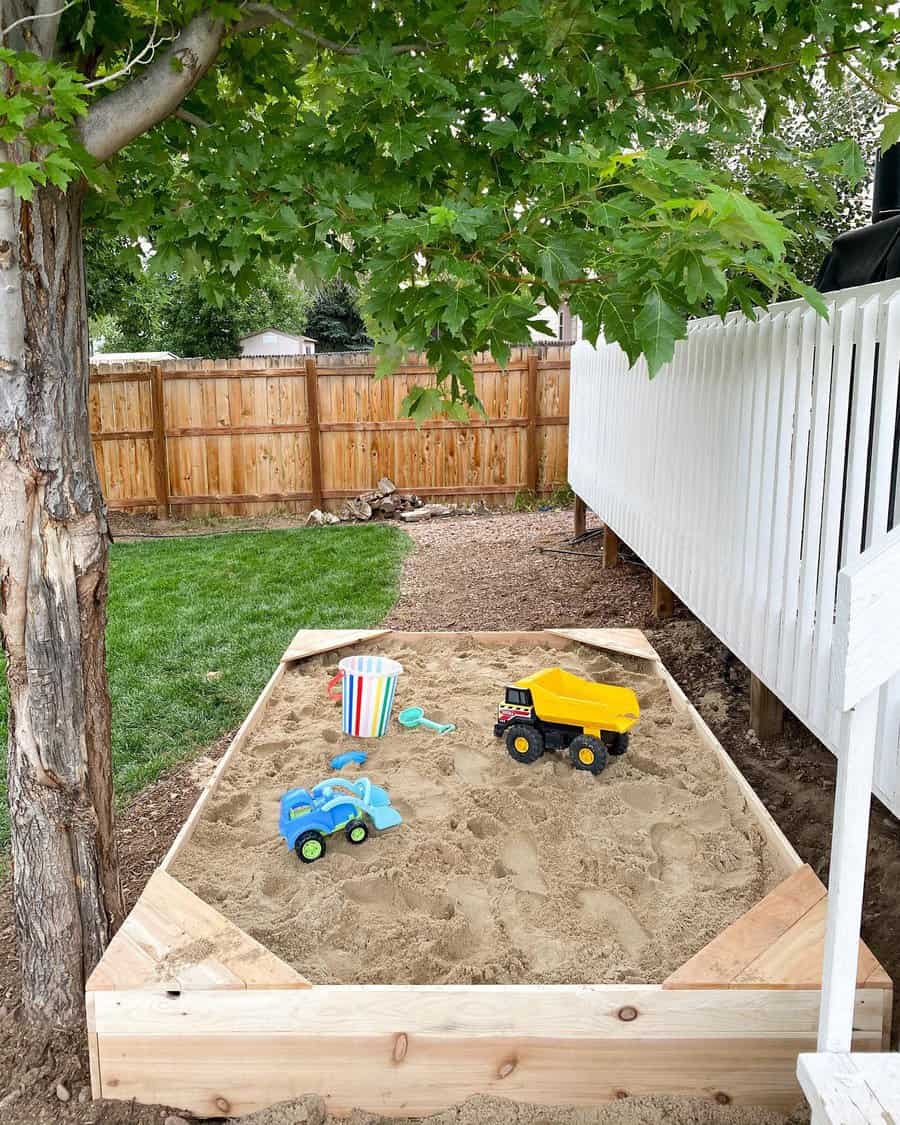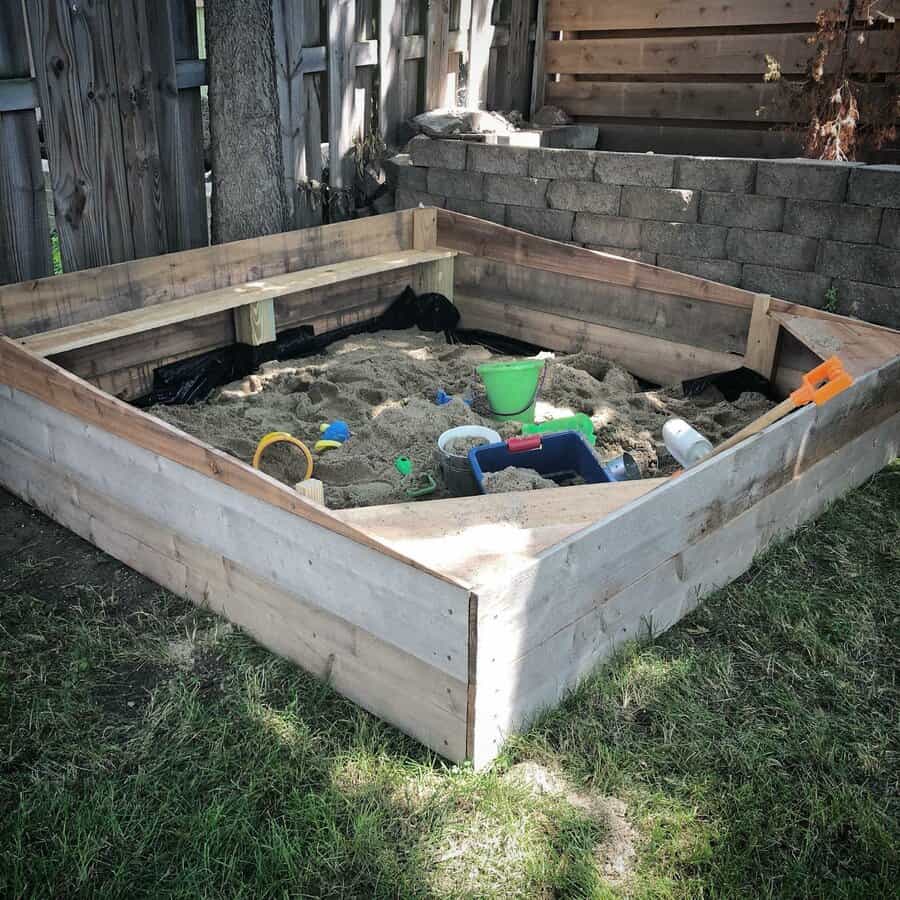 7. Lofted Playhouse Delight
Elevate outdoor fun with a complete playhouse featuring a loft and slide in your backyard playground. This setup ensures hours of entertainment while promoting physical activity.
Enhance your play area by incorporating swings or consider an all-inclusive playground set for a comprehensive experience. With these key elements, you'll create a family-friendly outdoor haven that promises years of joy for your children.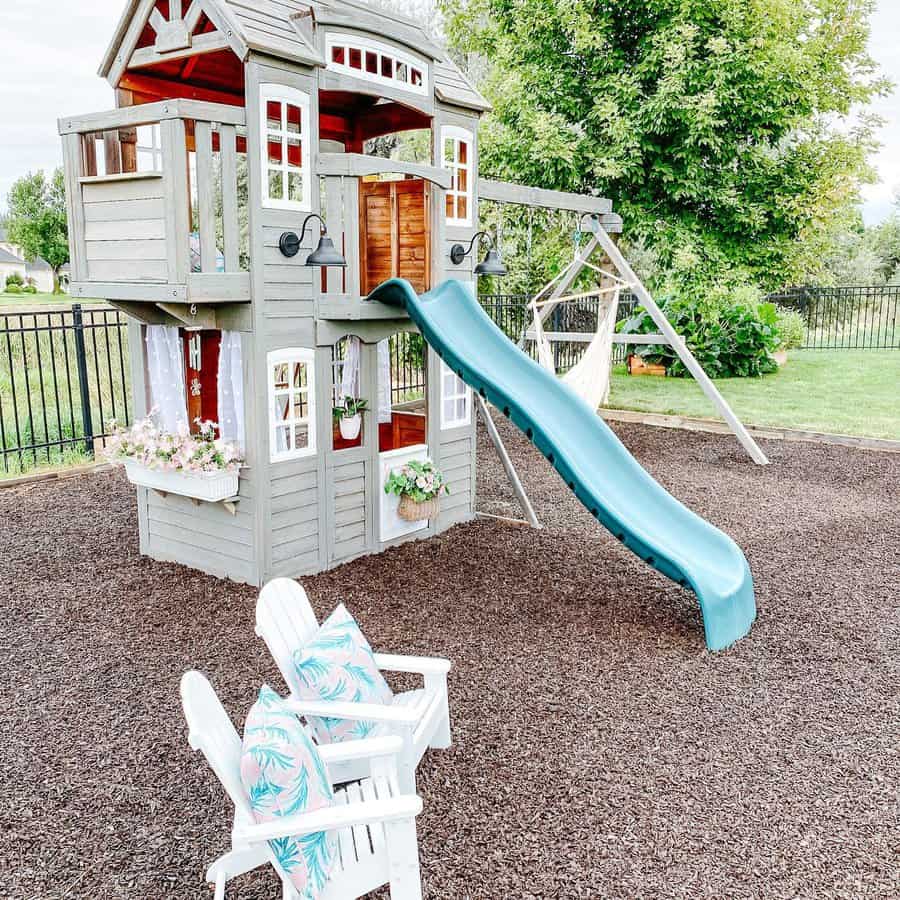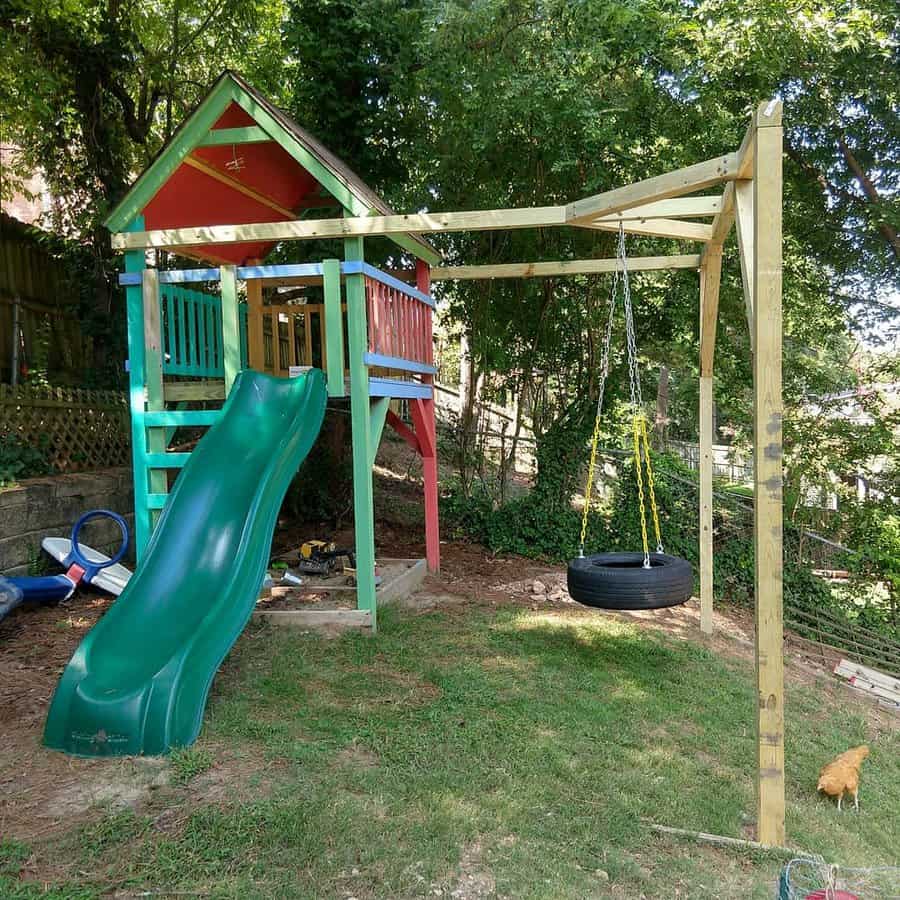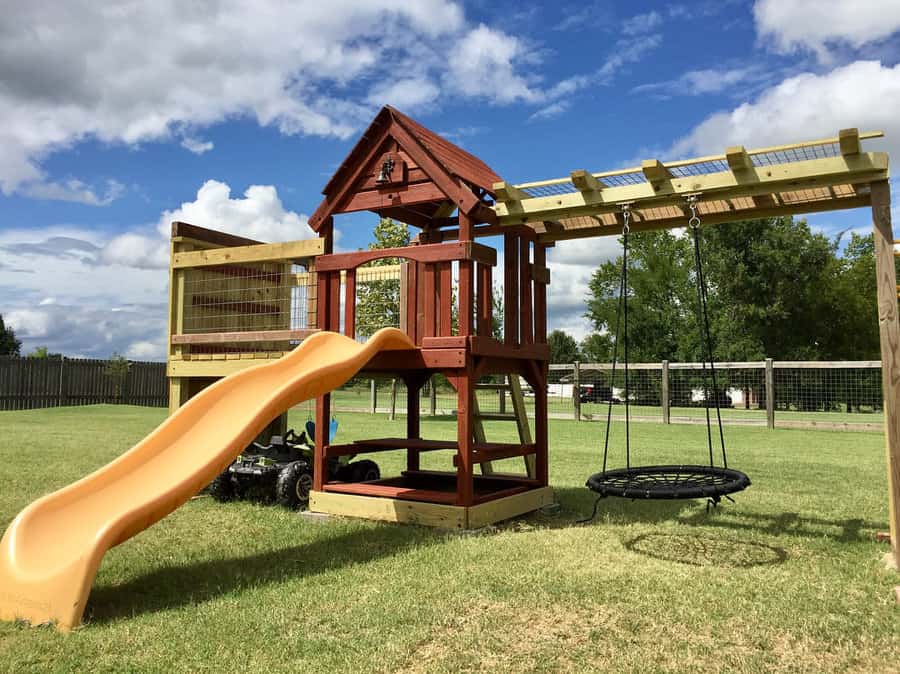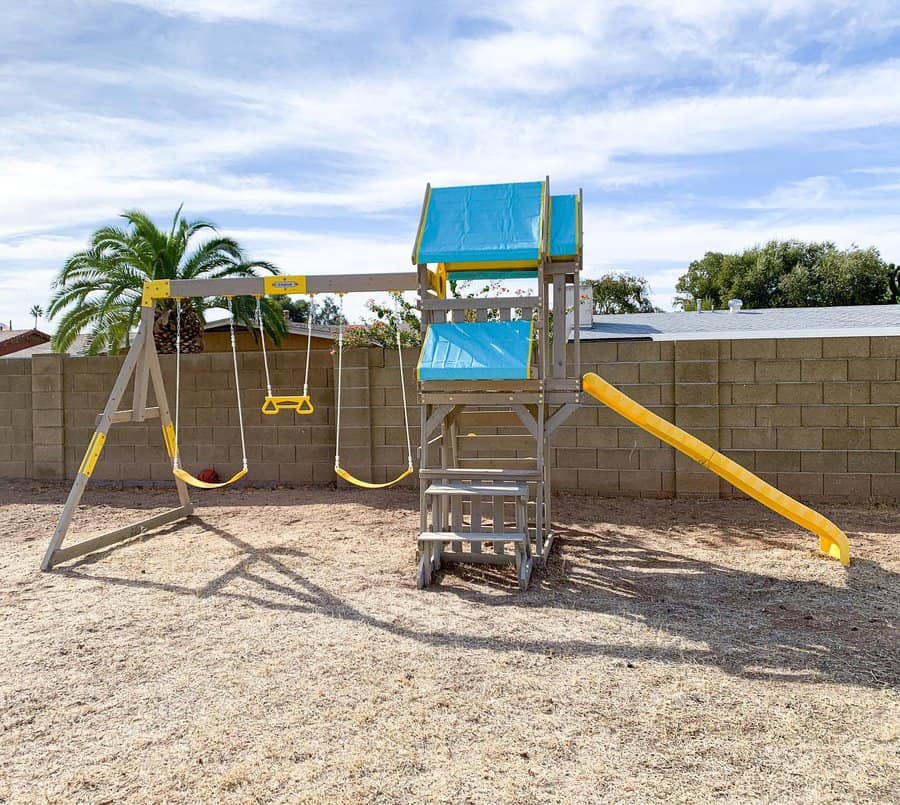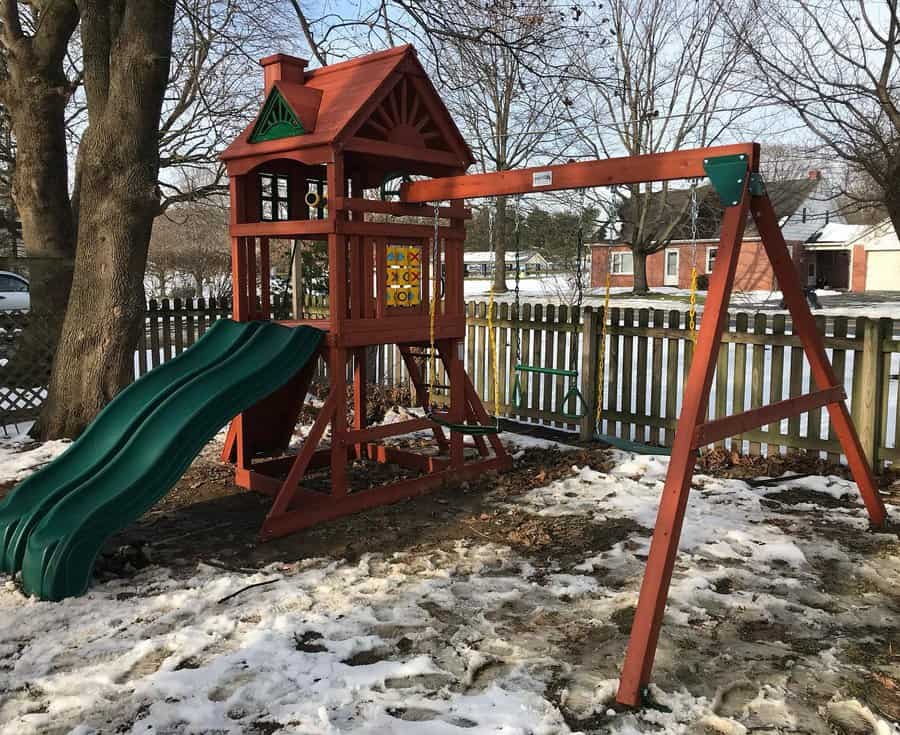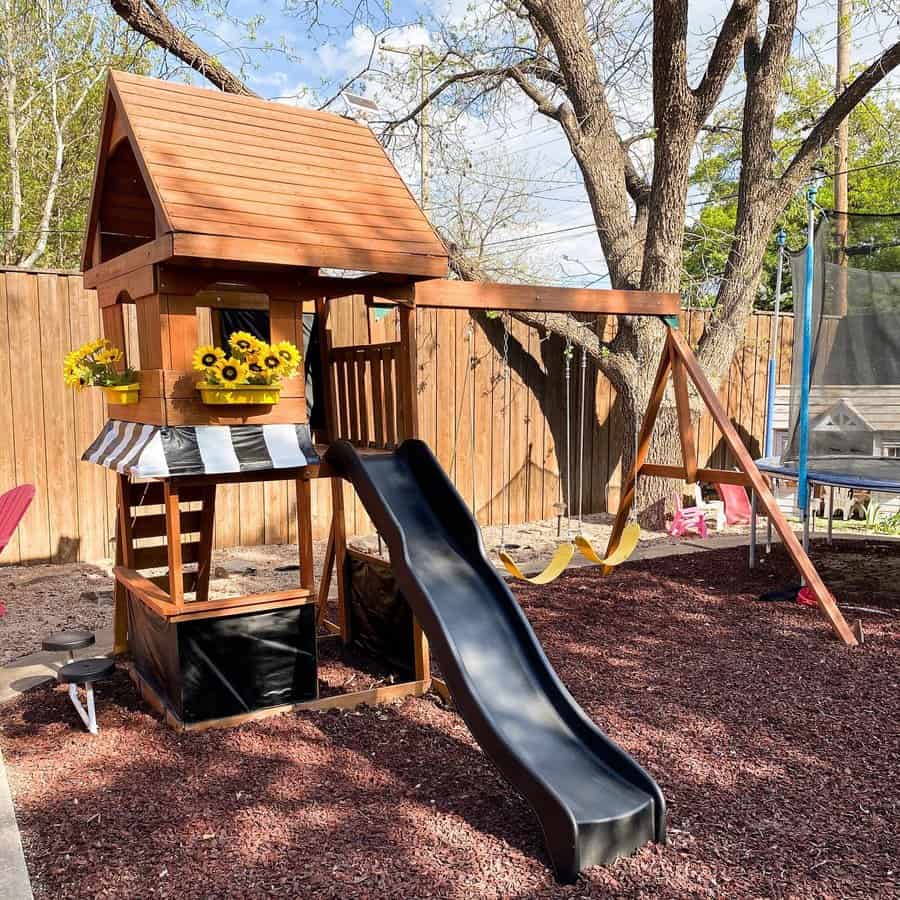 8. Bouncing Trampoline Fun
Transform your backyard into a kid-friendly playground effortlessly with a trampoline. Easy to install and store, trampolines offer hours of entertainment for all age groups.
With a robust galvanized steel frame, they withstand weather conditions and provide endless bouncing joy for both toddlers and teens. Make your outdoor space an instant source of fun and exercise for the whole family.
9. Lush Artificial Grass Haven
Elevate your backyard with a vibrant and personalized playground, starting with the addition of artificial grass for long-lasting appeal.
Enjoy the convenience of minimal maintenance and mud-free play for kids. The added padding and impact absorption of artificial grass ensure safe and enjoyable outdoor playtime. Infuse creativity with classic tree swings or a mini rock wall to give your backyard a unique identity and provide endless entertainment for the entire family.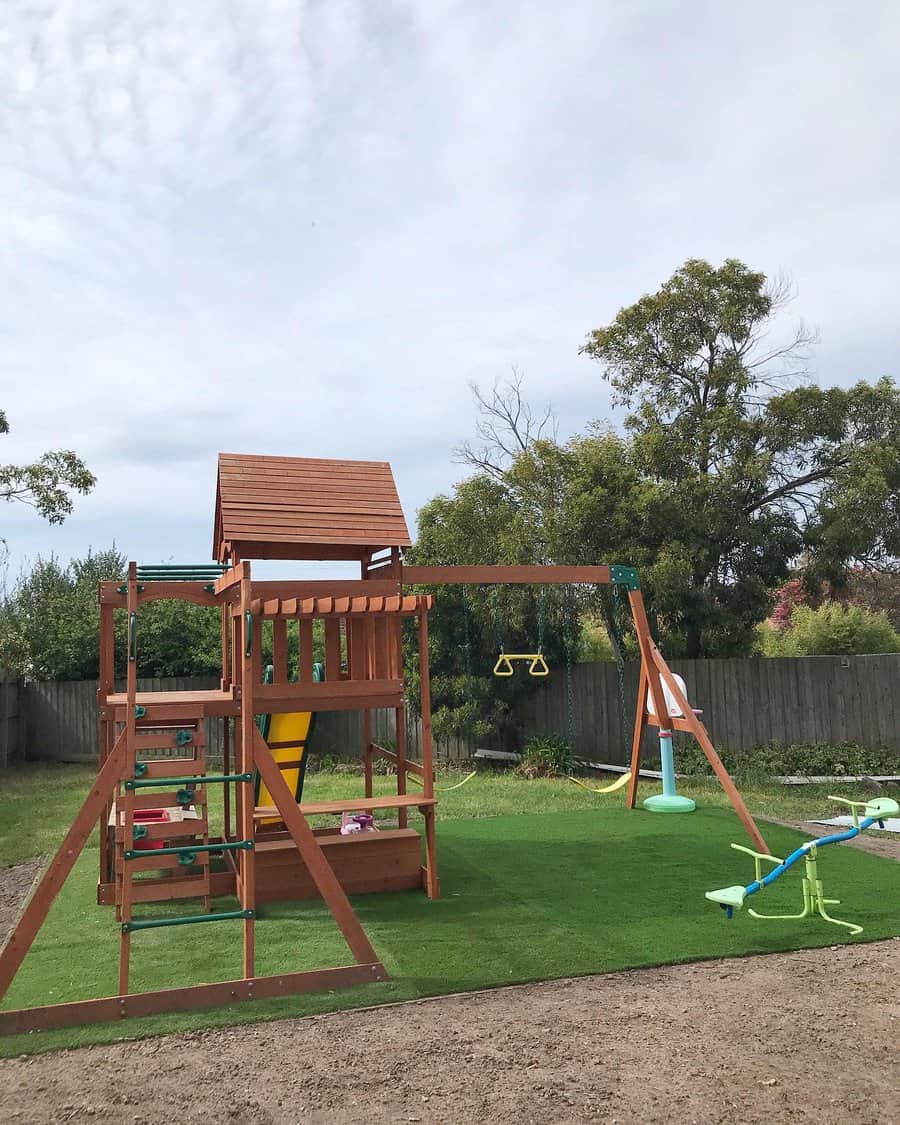 10. Sheltered Playground Oasis
Ensure your kids' safety from UV rays by creating a covered playground in your backyard. This protective canopy offers shade from the sun's heat, shielding them from light rain and wind as well.
With the added security of a covered playground, children can extend their playtime and engage in various activities with friends, while parents can have peace of mind. Maximize outdoor fun and family time while prioritizing safety and comfort.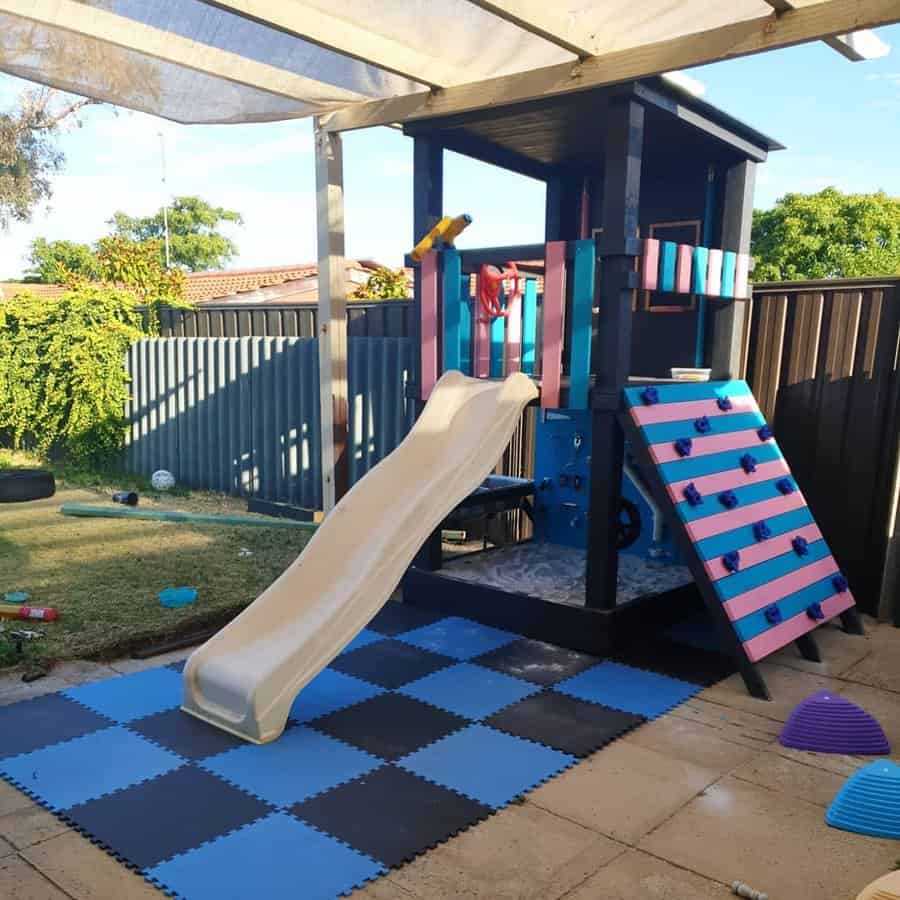 Backyard Playground FAQs
What do you put around a playground?
A playground's surface is an important safety issue to consider. Its main purpose is to protect little ones from serious injuries while enjoying their play area. The materials most commonly used for backyard playground surfaces are:
Wood mulch

Rubber mulch

Pea gravel

Sand 

Living grass

Artificial turf

Rubber tiles
When should you replace backyard playground equipment?
Most play equipment can be expected to last around eight to ten years. You should frequently inspect your backyard play area, searching for cracks, loose bolts, and broken objects. A poorly maintained playground structure may only last for five years. Wooden mulch will need refreshing every year or two.