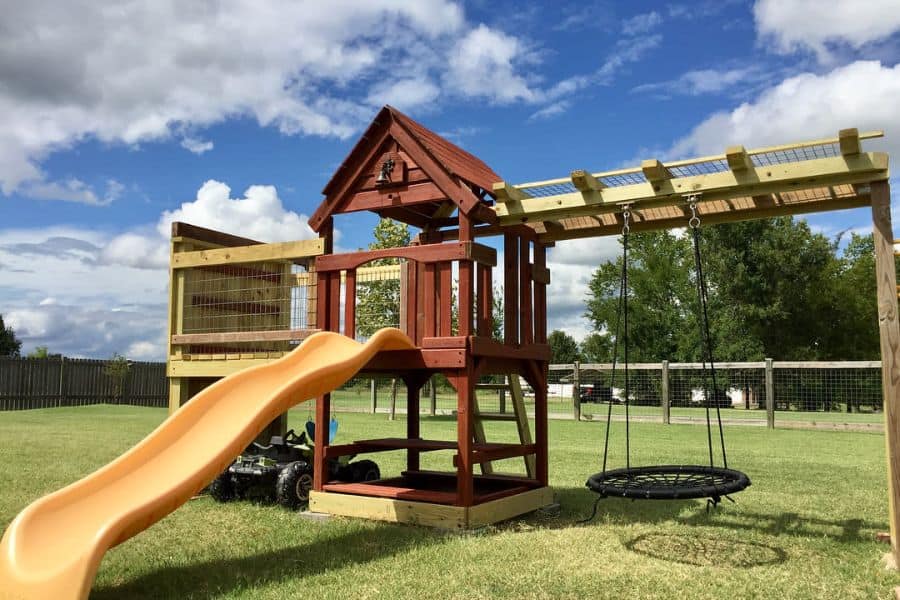 The Top 36 Backyard Playground Ideas
"You could hear the wind in the leaves, and on that wind traveled the screams of the kids on the playground in the distance, the little kids figuring out how to be alive, how to navigate a world that was not built for them by navigating a playground that was."  –  John Green
Outdoor play is a vital part of the childhood experience and what better place to experience it than in your own backyard?
Children who spend ample time playing outdoors gain multiple physical, social, emotional, and intellectual benefits. Therefore, if you have a private backyard of any size, designing a fun backyard playground is a must.
Scroll through our gallery to see dozens of fun DIY backyard playground ideas suitable for kids of all ages. Whether you start with a premade playset or design a DIY backyard play area from scratch, you'll be on your way to having the best kid-friendly yard on the block.
1. DIY
A DIY backyard playground is a great project to take on if you have solid do-it-yourself skills. Free or inexpensive plans for various backyard ideas abound online.
There are countless instructional videos that demonstrate how to build everything from a simple sandbox to an elaborate playhouse or swing set.
Watch this video to get an idea of what's involved in DIYing a medium-sized playset:
If your DIY skills aren't strong, shop for a pre-designed playground equipment kit instead of configuring one yourself. Ask a friend or two to join you for a DIY backyard playground assembly party and your kid will be having fun in no time.
2. Design Ideas
Playground design ideas are limited only by your imagination. Before investing in playground equipment, measure your backyard to make sure it will fit the way you have it planned.
Take aesthetics into consideration when ordering your play structure. Decide if you prefer natural wood play equipment that blends into the landscape, or if you want something more colorful and fun.
If you have a large backyard and a big budget, create a sprawling play area with multiple activities that will grow with your child. Include various sizes of slides and swings, a climbing wall, and a multi-level playhouse.
There are plenty of play set options for a small backyard, so don't worry if space is tight or your budget is limited. A simple tire swing and sandbox can be fun enough.
3. Playhouse
If given a choice, many a kid would rather have a playhouse than a swing set. A playhouse is a mini-retreat for an imaginative child; a perfect place for reading books alone or hosting tea parties with friends.
A playhouse can also be integrated into a play structure, either at ground level or elevated with a sandbox tucked beneath. Backyard ideas for play house design can mimic the exterior of your main home.
Or you can go another direction entirely. Design a charming cottage for a creative little girl, or make a small red barn—a perfect touch behind a farmhouse.
A tree house is another great type of backyard playground shelter. Watch this video for tips on locating the perfect tree to hold your treehouse:
4. Inexpensive
Inexpensive backyard ideas often make use of materials you already have on hand. For example, use leftover landscape ties and deck screws to make a simple sandbox.
Browse social media marketplaces for PVC pipe and other material that can safely be repurposed into a swing set frame or teepee poles.
Hang a tire swing from a sturdy tree for an easy, affordable DIY swing. If you have a friend whose kid has outgrown their outdoor playset, ask if you can disassemble it and reuse some of the parts.
Sturdy plastic slides, rock wall footholds, and other features are usually structurally sound well after wooden playset parts have worn out.
5. Playsets
You can find a playset kit that includes just about any fun feature your child could want. Everything from a climbing wall to a built-in trampoline is an option, or you can opt for a basic swing set structure.
If you live in a hot climate, consider adding a water wall to your backyard playground. A covered outdoor play structure is also ideal in sunny regions, to limit sun exposure.
Home improvement centers are a great place to start if you want to see what type of playset configuration you can create. Some will have an area dedicated to playset equipment.
Although it isn't safe for your child to test assembled play equipment in the store, it will allow you to see the product up close before buying.
6. Sandbox
A sandbox is the stuff kid dreams are made of. Who doesn't have happy memories of digging for hours, creating roads, tunnels, and construction sites? While many playset kits come with an integrated sandbox, it's easy and inexpensive to build your own.
Note that a sturdy lid is a must for any backyard playground sandbox. It will keep cats and wild animals from urinating or defecating into the sand between play sessions. It will also help keep the sand and outdoor play toys clean.
7. Slide
I'm sure your child would agree: a backyard swing set isn't complete without a fun slide or two. A slide is a great addition to any playset as it encourages climbing. Getting to the top and repeating it helps build physical coordination—an important benefit of backyard play.
Playset slides come in many configurations. Get a short toddler slide if your children are very young.
Tall slides can be a climbing hazard for very small children, but tall, twisting, tunnel slides are ideal for big kids. Make sure you have a soft pad of artificial grass or a thick layer of wood chips beneath for a soft landing.
8. Swing
Swings are another vital feature when shopping for a playset or designing a DIY swing set. For safety reasons, look for swing set chains that are adjustable for height. A swing set for young children should include at least one swing that has a backrest and safety strap.
Mix up the types of swings on the swing set by adding a swinging teeter totter and a set of gymnasts' rings. A skateboard swing, web swing, and hammock swing are other fun additions to an ordinary playset.
9. Trampoline
Trampolines have long been great ways for active kids to burn off excess energy.
Whether you have a full-sized, freestanding trampoline or a small bouncer pad for toddlers, try to include one in your backyard playground.
Prevent injuries from spoiling the fun by making sure your trampoline has a proper net enclosure. On a small toddler trampoline, a padded bar to hold on to is usually enough.
10. Wooden
Many people consider wooden backyard playground structures to be the most attractive, as their earth-toned color palette blends into the surrounding scenery.
As with other wood products, you can usually stain a wood swing set to match other wood surfaces in your outdoor space. If you want your playset to stand out from the rest of the outdoor play area, paint it bright colors instead of showcasing the natural wood.
If you are handy with tools, you can follow plans to build a wooden jungle gym complete with an integrated picnic table scaled to fit your kids. A wooden climbing wall is a fun addition that builds little muscles and coordination skills.
Backyard Playground FAQs
What do you put around a playground?
A playground's surface is an important safety issue to consider. Its main purpose is to protect little ones from serious injuries while enjoying their play area. The materials most commonly used for backyard playground surfaces are:
Wood mulch

Rubber mulch

Pea gravel

Sand 

Living grass

Artificial turf

Rubber tiles
When should you replace backyard playground equipment?
Most play equipment can be expected to last around eight to ten years. You should frequently inspect your backyard play area, searching for cracks, loose bolts, and broken objects. A poorly maintained playground structure may only last for five years. Wooden mulch will need refreshing every year or two.