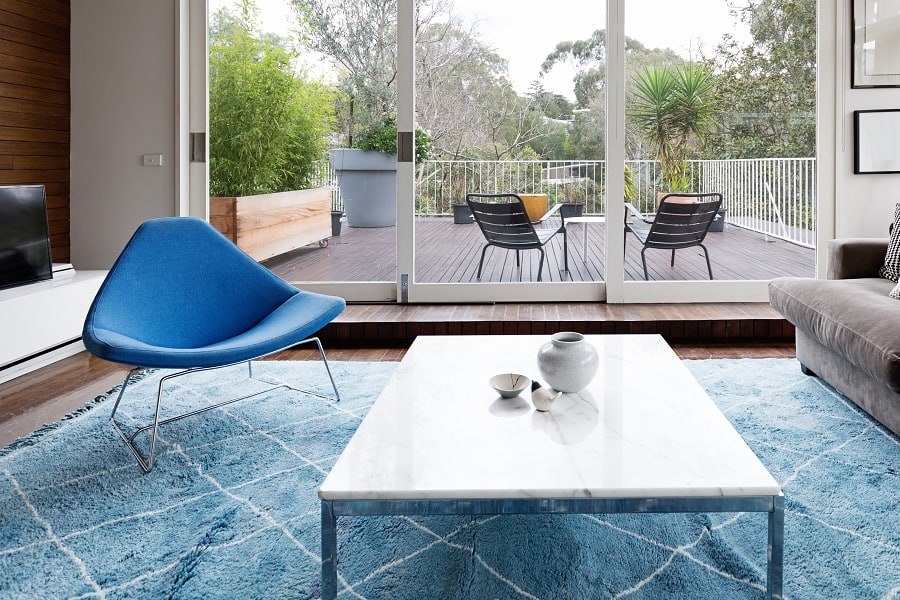 Trendey may earn a commission when you buy through links on our site.
As an Amazon Associate we earn from qualifying purchases.
The Top 10 Best Accent Chairs in 2022
Accent chairs are single-seat pieces of furniture that add form and function to a room. Whether a lounge chair, recliner, or armchair, accent chairs provide valuable extra seating. Also called occasional chairs, they're often chosen because they add an interesting focal point to the room's decor.
Focus on comfort and style when shopping for these great chairs for any room. Here are 10 of the best accent chair options for 2022.
1. Leni 33.5-in Wide Manual Standard Recliner
If comfort is key, you might find that a well-made recliner is the best kind of accent chair available. Recliners come in many different styles and sizes. The Leni Manual Standard Recliner has clean lines and minimalist styling that will compliment your decor better than a big and bulky recliner.
While the word "manual" implies using a handle to recline the chair, there are no levers or buttons to manipulate. Simply push back to tip this living room chair into a lounging position. Note that unlike some recliners, this living room accent chair doesn't rock or swivel.
We've linked to a beautifully bold Caribbean blue linen fabric, but you have over a dozen other solid and print upholstery choices to suit your living space. The seat is 21 inches wide and the weight capacity is up to 300 pounds. Each exposed wood leg features turned detailing. This and other design elements allow you to enjoy the comfort of a recliner without it being an eyesore.
2. Bengtson 30.75-in Wide Slipper Chair
A slipper chair is an upholstered, armless chair that first came onto the interior design scene in the 18th century. Slipper chairs got their name because upper class Victorian women enjoyed sitting on these low, plush seats while they—or their ladies' maid—would put on their slippers.
Traditional slipper chairs usually have solid wood legs that are shorter than other living room or dining table chairs. Therefore the seat is closer to the ground. Elegant and stylish, Bengston's Slipper Chair comes in six satiny faux leather upholstery choices: ivory, brown, grey, teal, purple, and orange.
This slipper chair seat is 19.5 inches from the floor, and the chair is wider than it is deep. It is embellished with brass tack trim and will support up to 250 pounds. It's a solid, decent value for such a stunning piece.
3. Moran 29-in Wide Club Chair
Traditionally, a club chair is a well-padded, dark brown leather armchair with a low back, wide armrests, and a luxurious feel. Their popularity in gentlemen's country clubs is how club chairs got their name.
Modern club chairs come in a variety of colors and styles today. An excellent example is this elegant Moran Club Chair from the Kelly Clarkson Home Collection at Wayfair. You'll notice that this chair is considerably pricier than similar pieces, but its French country frame is crafted from solid oak. Inspired by Louis XV style, it has curved, embossed cabriole legs and a gently curved camelback.
Club chairs no longer need to be covered in leather, either. This piece has rich, charcoal grey upholstery with a soft, velvet like texture. The exposed wood on this decorative chair has an intentionally distressed light oak finish. It supports people weighing up to 250 pounds and has a removable seat cushion.
4. Yaheetech Faux Leather Accent Chair
If midcentury modern is your style, check out this Faux Leather Wingback Accent Chair. Its biscuit-tufted polyurethane leather upholstery is waterproof, durable, and comfortable to the touch. The curved wingback is tall, offering great support for larger individuals. It has a higher weight capacity than many occasional chairs, supporting up to 297.6 pounds.
The sturdy metal frame is supported by four metal legs painted in a wood like finish. Each leg has a non-slip protective foot to keep your floors safe from scratches. Your arms will rest on gently curved armrests that angle slightly inward.
This is a great, moderately-priced modern accent chair suitable in any room. It looks considerably more expensive than it is and would be equally awesome as a dining chair—provided that your dining space is big enough for several of them.
5. Coaster Home Furnishings Coaster Traditional Winged Accent Chair
An accent chair is supposed to be a piece that gets talked about, and that will definitely be the case with this Traditional Winged Accent Chair. A wing chair is an armchair with a high back that has wing-like side pieces projecting on each side. Winged chairs were originally designed to protect the sitter from drafts, but now people find comfort in resting their head against the wings.
From the front, this chair looks like a classic, cream colored accent chair with metal nail head trim and dark wooden legs. However, a few steps to the side and you see what makes this lounge chair a stylish addition to your space. The back is covered in a beautiful French script fabric that matches the accent pillow in front.
This living room accent chair is an excellent choice for larger people. It has a 375-pound weight capacity and people over six feet tall find the exceptionally tall back comfortable and supportive.
6. Signature Design by Ashley Clarinda Upholstered Wingback Accent Chair
Designed and manufactured by Ashley Furniture, this Tufted Wingback Accent Chair conveys a clean elegance that merges equally well with modern or traditional decor. It is armless and sits low, like a slipper chair, with modern dark wood legs.
This lounge chair is covered in a linen-like polyester fabric with subtle tufting details. The chair we've linked is a gorgeous deep teal, but you can purchase the same style chair in navy blue, cream, and several shades of brown and grey.
The chair supports up to 280 pounds and some assembly is required. Note that the legs, brackets, and hardware are shipped inside the seat.
7. Daygen 26.5-in Wide Lounge Chair
Sleek, contemporary styling is the first thing you notice about the Daygen Lounge Chair. Perfect for the office or as a living room accent chair, this wooden arm chair features a solid wood frame in a medium espresso finish. The arms are slightly flared for comfort.
The back and the seat are thickly cushioned and covered in a linen-type polyester fabric. Color choices include azure blue, charcoal grey, and a dark sea green, any of which would coordinate well with a neutral colored sofa. Its seat is lower than some—just over 17 inches above the floor—and it has a weight capacity of 250 pounds.
This chair may not be ideal for a cozy reading nook, as the hard wooden arms would be uncomfortable after sitting there a while. However, it's a stylish occasional chair for the bedroom, living room, or anywhere you need extra seating.
8. Volans Mid Century Modern Swivel Accent Chair
It might not be the classic midcentury Eames lounge chair, but this Velvet Volans Swivel Chair is equally mod. While designated as a vanity chair, this lush velvet accent chair adds an affordable retro vibe to any small space.
The 360-degree swivel feature makes it a great choice for the vanity, desk, or anywhere that you frequently shift between tasks. The round seat is designed to support your back for all-day comfort. The seat is approximately 16 x 17 inches and is set upon four solid beech wood legs. This chair supports people weighing up to 286 pounds.
Choose from orange, pink, or grey tufted velvet upholstery. If you have room for more than one accent chair, check out the coordinating chairs that come with a rocking base.
9. HUIMO Upholstered Button Tufted Accent Chair
Avid readers know how important it is to have a comfortable sofa or chair to relax upon. This Huimo Tufted Accent Chair fits the bill and offers clean modern style as well. Whether tucked into a bedroom's cozy reading nook or situated in the living room corner, this piece is ideal in modern, contemporary, or Scandinavian interiors.
It has a solid wood frame that can support up to 350 pounds. The legs are a dark espresso brown and the rest of the chair is covered in natural beige linen fabric. The armrests are at a comfortable height and the back features button tufted detailing.
Removable cushions would be ideal on a chair covered in fabric this pale, but this cushion isn't reversible. However, you can easily spot clean the fabric with any standard upholstery cleaner. If you have pets or small children, spray the chair with a fabric protectant to help keep it looking new.
10. Rosevera Duilio Club Style Barrel Armchair
As its name implies, a barrel chair is designed to suggest the shape of a wooden barrel. While most accent chairs have a square footprint, barrel chairs have a circular footprint and overall curved design. This makes them fit well into corners or other small spaces.
The Rosevera Duilio Club Style Barrel Armchair provides all the elegance of a real leather chair at a fraction of the cost. Covered in polyurethane leather, it's also a more ecologically-friendly choice than real leather furniture. Choose from seven faux leather colors: espresso brown, pear green, caramel, scarlet, ivory, grey, and olive green.
Whichever color you choose, the chair has a dark espresso finish on the real wood legs and the front edge is classically trimmed in brass furniture tacks. This chair supports up to 300 pounds and is a great choice for the traditional or urban/rustic home.
Note that at just over 16 inches above the floor, the chair sits rather low. This might not be a problem for a shorter person, but a tall adult may feel that their legs are too strained. While it looks great beside an end table, it's probably too low-profile to work as a dining chair.
Our Favorite
Choosing the perfect chair is a highly personal matter. What's ideal for one person may be too small, too big, or too modern for another. Out of our list of favorite seating options above, we've reserved our top spot for the standard man cave fixture: the Leni Manual Standard Recliner.
Although style is high on the list of priorities, we believe that having a comfortable accent chair is the most important factor—especially if this piece of furniture will be used on a daily basis in the living room. This chair gets high marks for comfort and style.
Because this reclining occasional chair is available in several different fabrics, it should be easy to find one that coordinates with your sofa and other furniture. It's also more affordable than many popular brands of reclining chairs—helpful if you're just starting out or on a strict budget.