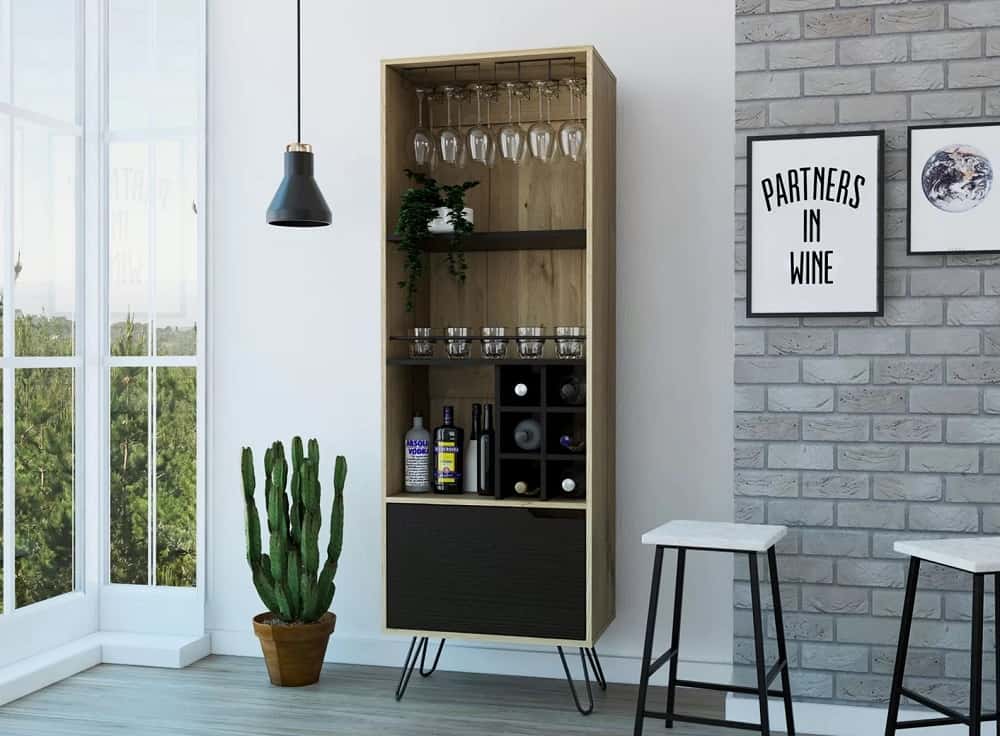 Trendey may earn a commission when you buy through links on our site.
As an Amazon Associate we earn from qualifying purchases.
Best Bar Cabinets
You've planned a dinner party or get-together at your home and will have several people come over. How do you plan to serve all of these people?
You could have a cabinet in your dining room or living room where you keep your liquor, but this isn't convenient. You end up off in another area of your home by yourself, making drinks and not socializing with your guests. You need a bar cabinet that neatly organizes and holds your home bar.
These are the best bar cabinets that are both functional and stylish.
Top Picks
Best Overall: Kelly Clarkson Home Amabel Bar Cabinet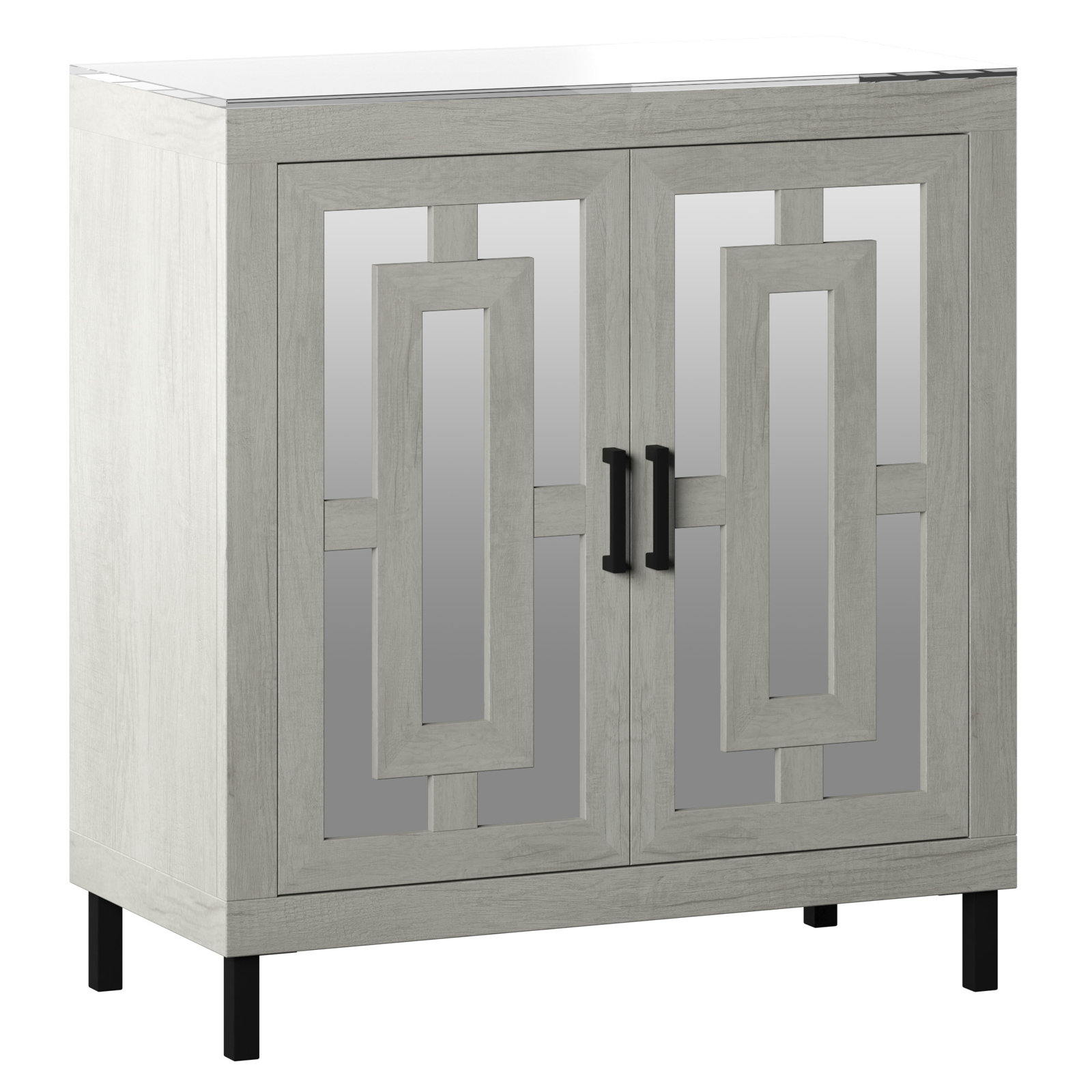 Specs:
Dimensions: 34 H x 31.5 L x 15.5 D inches
Material: Tempered glass and manufactured wood
Style: Modern French Country
This wood bar cabinet makes a statement with its unique doors that feature mirrored fronts with a geometric overlay. The wood finish has a rustic feel but is still fashionable with the geometric overlay. To keep the cabinet from looking too glam, there are slender black legs supporting the cabinet. Behind the two doors, there are three shelves and a wine rack that can hold up to 12 bottles. What's nice about this unit is that you don't have to use the wine rack if you don't want to. This would give you four shelves instead of three. You can also choose to add the glassware rack if you need it. These options let you customize your storage to your bar needs. Another really nice feature is the piece of glass that covers the top. This increases the cabinet's durability and style.
One drawback is that it's manufactured wood. It's best to place this cabinet against a wall to hide the back panel. It can also be hard to align the doors.
Check Price
Best Budget Pick: Bon Augure Industrial Bar Cabinet
Specs:
Dimensions: 13.39 D x 47 W x 30.12 H inches
Material: Metal and MDF
Style: Industrial
This long bar cabinet is perfect for someone looking for more storage. This cabinet has an industrial feel with a wood and metal combination, and styling gives this cabinet an industrial feel. You can see this in the cabinet doors that are made of black metal mesh. There is plenty of flexibility in the storage with glassware racks that hold up to six stemware, multiple shelves for liquor bottles, and two wine bottle racks that can hold up to ten wine bottles. Then there is the long top that gives you plenty of room for decor display and drink prep. The top of the cabinet can support up to an impressive 350 pounds, and each shelf can hold up to 110 pounds.
The drawback of this cabinet is that the unique styling and look won't make sense in everyone's home. It's also not ideal if you don't have a large wine collection. There is also no hidden storage or drawer for small items and accessories.
Check Price
Best Mid Century Modern Design: Walker Edison Furniture Company Modern Bar Cabinet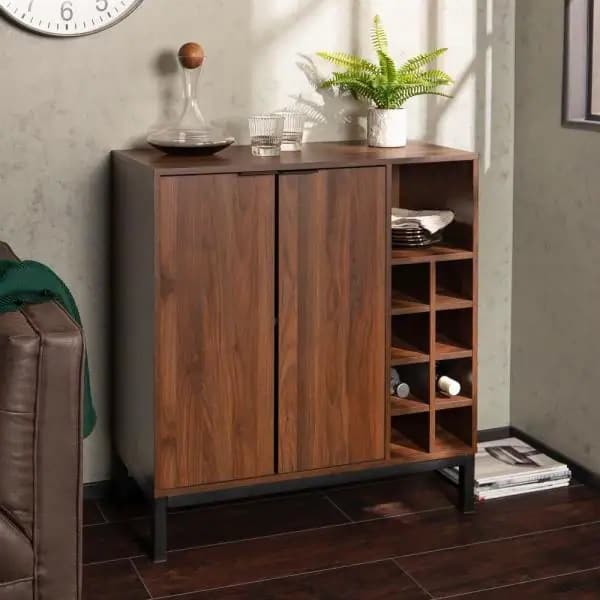 Specs:
Dimensions: 36 H x 34 L x 16 W inches
Material: Metal and MDF
Style: Modern
The dark walnut finish of this bar cabinet and black metal accents give this cabinet a modern look. A standout feature o this cabinet is that all four sides are finished, so you have complete freedom in where you place your cabinet. The metal accents are powder coated for sleek looks and lasting durability. On one side, there are eight wine bottle holders and a small shelf. There are two large shelves and three glassware racks hidden behind two cabinet doors. The compact size of this cabinet is perfect for smaller rooms and apartments. Style the top of your cabinet with a lamp, vase with flowers, or picture frames. Because all four sides are finished, you can use this cabinet as a space divider to create a more intimate area in a larger room.
Unfortunately, the shelf in the cabinet is fixed, so you can't adjust it to a custom height. The height is also a bit low for using the top as a prep station.
Check Price
Best Premium Pick: Westelm Hayward Bar Cabinet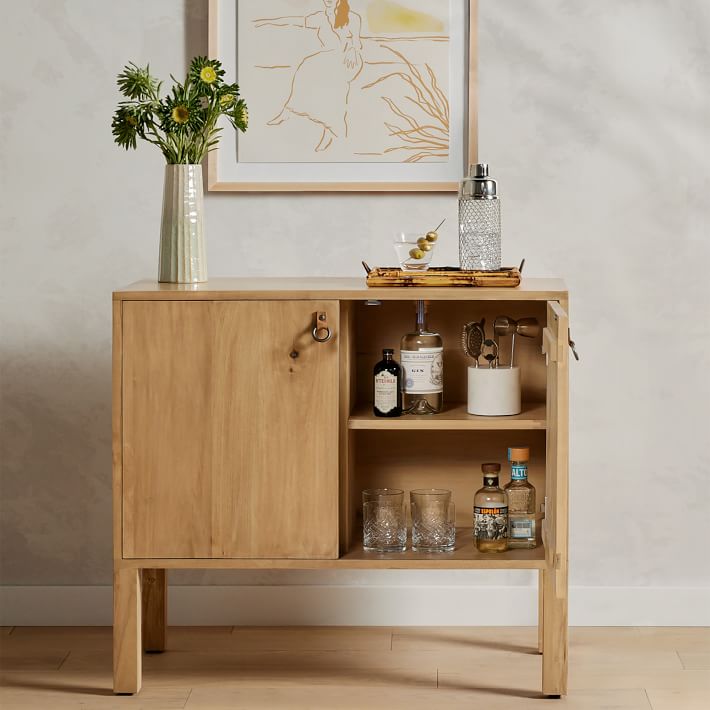 Specs:
Dimensions: 36 W x 19 D x 32 H inches
Material: Poplar wood
Style: Scandinavian
If the rest of the furniture in your home is a light wood, then this is a perfect bar cabinet for your home. Its Scandinavian design keeps things simple while also feeling contemporary. The solid poplar top with box joints securing it to the side panels gives this cabinet a high-quality feel despite it being a plain wood cabinet. Another nice accent is the door hardware which are metal rings wrapped in leather. Behind one door, there are two shelves. Behind the other door are a small drawer and a wine rack that can hold up to 16 bottles. Unlike other cabinets on this list, the cabinet is made from solid kiln-dried wood that's stronger and sturdier than MDF. The rich graining and hue of the wood add warmth and texture to the room.
One drawback of this cabinet is that it's very small and not deep. This limits the amount of storage it can provide. The shelves may not be tall enough to hold larger bottles. There is also no dedicated glassware storage.
Check Price
Best Farmhouse Pick: Contemporary X-door Wine Bar Cabinet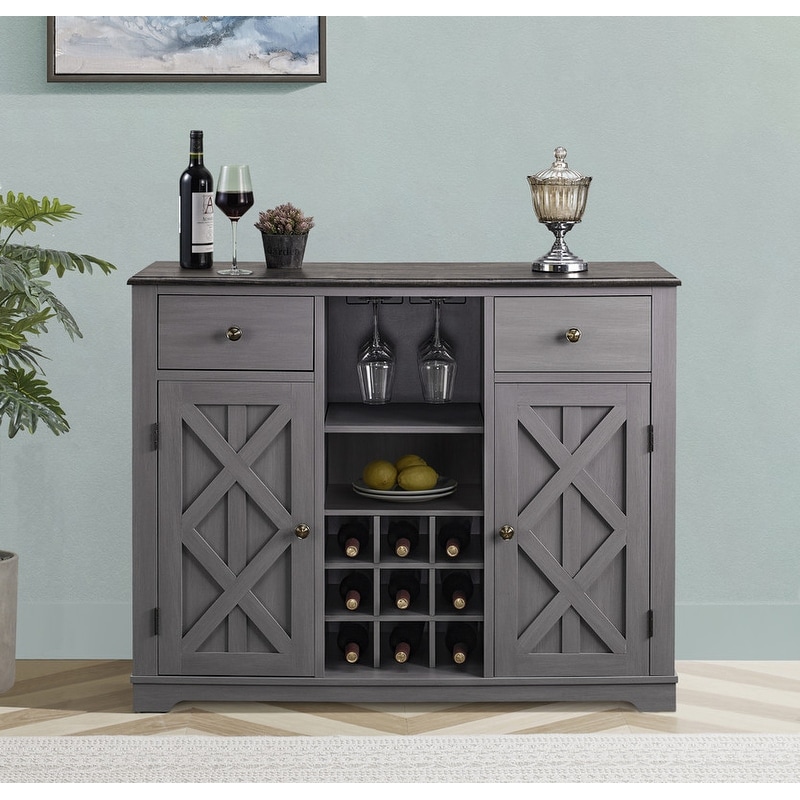 Specs:
Dimensions: 38 H x 47 W x 16 D inches
Material: MDF
Style: Farmhouse
This wood cabinet with x-door styled doors will blend perfectly into a farmhouse styled homes. It comes in three beautiful colors, white, gray, and blue. This solid and sturdy cabinet gives you plenty of storage options with two doored cabinets that each have two shelves, two open shelves, nine wine bottle cubbies, a glassware rack, and two drawers. What's nice about this cabinet is the symmetry of the design, creating a balanced look. The smooth top in different colors contrasts and accents the cabinet to give it a more thoughtful design while also staying functional. The bright nickel hardware and uniform finish keep the cabinet from looking rustic or worn out.
One drawback of this cabinet is that the finish scratches easily. This may not be the best cabinet for an active home that has children and pets. It also requires assembly that can be challenging to someone not experienced with using tools.
Check Price
Best Corner Pick: Home Source Industries Corner Bar Cabinet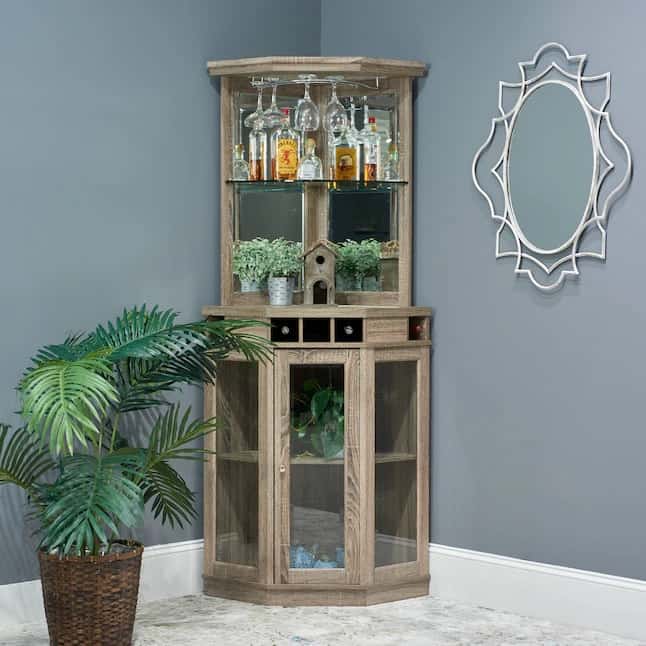 Specs:
Dimensions: 73.23 H x 31.5 W x 23.62 D inches
Material: Composite
Style: Contemporary
This uniquely shaped cabinet is designed to sit in a dead corner. The backside is at a 90-degree angle, while the front has an elegant multi-sided rounded front. This unit has a traditional design with a contemporary twist. This keeps it from looking too old and outdated while also blending with your moe traditional wood furniture. The bottom had two shelves that are enclosed with glass panels. Above this, there are four wine bottle cubbies. Then there is a small workspace that's backed by a mirror. Above this are a glass shelf and glassware rack. The mirror reflects the bottles on the shelve, making your collection look larger and more impressive.
The drawback of this unit is that it can only go in a corner. Don't have it in a corner and it will look strange. It also has limited storage capacity, so it's best for someone with just a few bottles. There is also no hidden storage, so everything is on display.
Check Price
Best Modern Design: Briese Aster High Bar with Wine Storage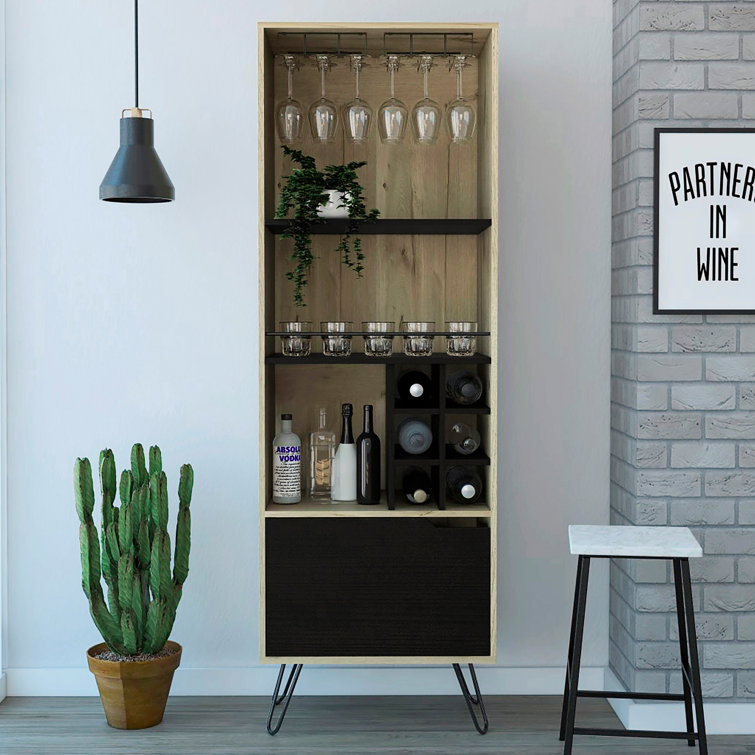 Specs:
Dimensions: 70.87 H x 23.5 L x 15.35 D inches
Material: Manufactured Wood
Style: Mid-century modern
If you don't have a lot of floor space to space, this tall bar cabinet is the perfect solution. Its angled four wire hairpin legs create lightness to this dark wood cabinet. There is a flip-down door cabinet at the bottom, and the rest of the cabinet is open. This visually creates heaviness at the bottom, which creates lightness in comparison to the top. This cabinet has a simple mid-century modern design that will blend well into homes. What's nice about this cabinet is the variety of storage solutions. There are thee open shelves, one with a guard bar to hold items securely on the shelf. At the top is a glassware rack. There are also six cubbies for a small wine collection.
One drawback of this unit is that you have to assemble it. This wouldn't be an issue, except there are many pieces, and it will take a while. The unit also has a woof veneer, which isn't as durable as solid wood and can make the unit vulnerable to moisture.
Check Price
Best Glam Pick: Lifestorey Valen Channel Front Sideboard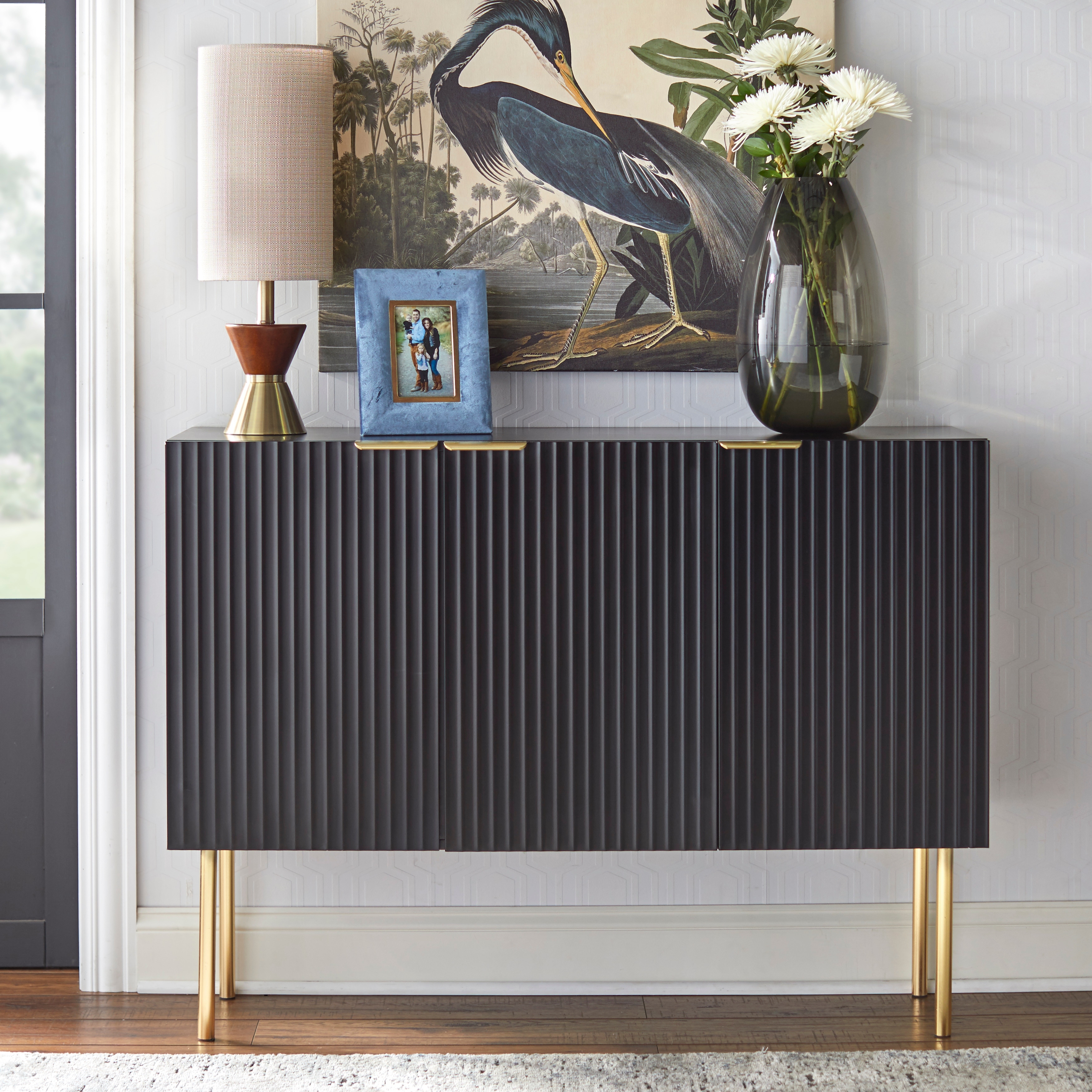 Specs:
Dimensions: 47.25 L X 35.5 H X 15.75 D inches
Material: Metal and MDF
Style: Modern
Add a touch of modern style with this channel front black and gold cabinet. What's nice about this cabinet is that it doesn't obviously look like a bar cabinet, making it perfect for someone who isn't ready to advertise their drinking habits. If you aren't a fan of the black, it also comes in taupe, dark green, white, and charcoal, making it versatile for a wide variety of color schemes. To add a bit of drama, there are gold accents for the cabinet door hardware and long slender legs. Unlike other furniture on legs, this cabinet has extra-long legs measuring 11.75 inches, giving the cabinet a taller stance. The taller height makes it easier to use the top as a workstation. The longer legs also make it easier to clean underneath. On the front, there are three doors, two open to a single cabinet, and one opens to a smaller cabinet.
The drawback of this cabinet is that it's not a dedicated bar cabinet. While this makes it versatile for your changing needs, it may not hold your bottles and accessories perfectly.
Check Price
Best Sophisticated Pick: FUFU&GAGA Black Wooden Bar Cabinet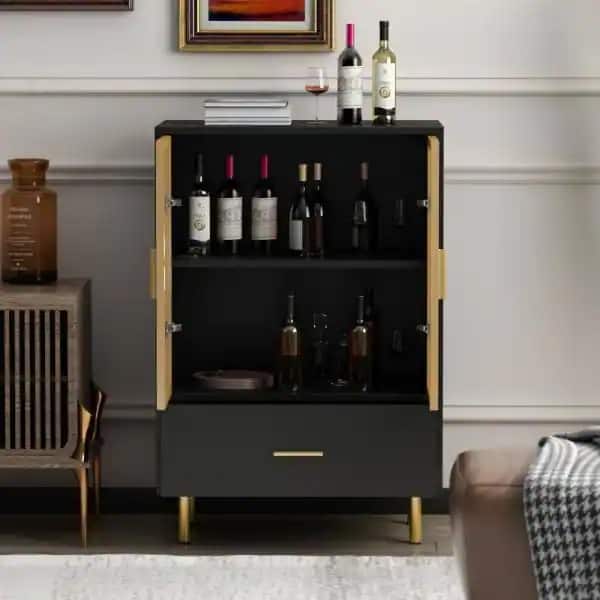 Specs:
Dimensions: 24 L X 35 H X 16 D inches
Material: Metal and MDF
Style: Glamorous
The glass panels in the cabinet door of this unit make it the perfect display piece for showing off your wine collection. The deep lower drawer is perfect for storing extra tableware and linens. Inside the cabinet, there are two shelves for plenty of storage. Don't be afraid to load up the cabinet as the legs can hold up to 250 pounds, and each shelf can hold up to 120 pounds. The black and gold color combination gives this cabinet a glamorous touch that is perfect for a formal dining area. The long slender gold legs that the unit sits on elevate the cabinet and give it a lightness that makes this cabinet ideal for smaller spaces.
One drawback of this unit is that the top of the unit isn't plain black. Instead, it has a veneer that looks like faux black marble. It cheapens the look of the cabinet a bit. You can easily diminish this by arranging decor on the top to cover and distract from it.
Check Price
Best Minimalist Design: Furniture of America Ping Dining Buffet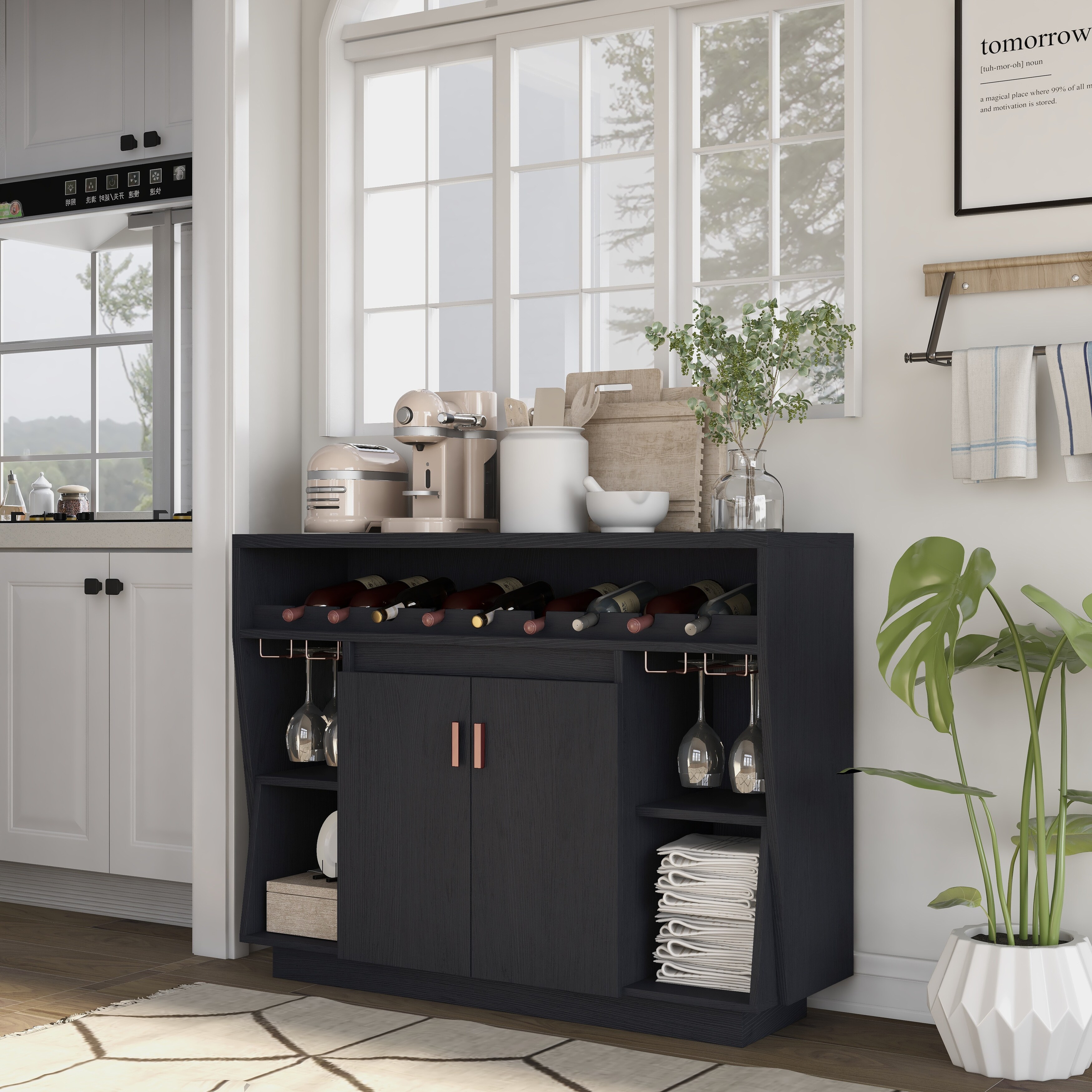 Specs:
Dimensions: 47.24 W X 35.28 H X 15.75 D inches
Material: MDF and veneer
Style: Contemporary
The simple and clean design of this cabinet with its black finish and rose gold hardware will add an elegant accent to your home. There are two central cabinet doors for hidden storage and several open shelves for arranging items to display. This cabinet has everything you need with four glassware racks, a wine rack that holds up to nine wine bottles, and shelves. The variety in storage solutions make it the perfect all-around storage solution for those who enjoy a bit of everything. The slight angles built into the front of this unit create visual interest and design that elevates this unit beyond the standard square shape. The large surface on the top of this cabinet gives you plenty of space for displays or preparing drinks.
Avoid getting this cabinet wet or using chemical cleaners on it. This can create discoloration in the finish. The solid construction can also make this unit feel imposing and heavy in smaller spaces.
Check Price
How to Choose a Perfect Bar Cabinet?
Dimensions
There are two approaches to choosing the size of your bar cabinet. The first is that your cabinet needs to fit within your home. Measure the space where you plan to put your bar cabinet and buy a furniture piece that fits into it. Secondly, you need a bar cabinet that will be big enough to hold your collection of alcohol and accessories. There's no point in buying a cabinet that only has enough space for half of your liquor bottles or glassware.
Storage Features
What do you want to keep in your bar cabinet? If you have a lot of specialty glassware, you need the space for it. Hanging racks can be perfect for organizing your glassware. Wine racks are necessary if you have a bottle collection. Large compartments are necessary if you have many liquor bottles in various sizes. Then there are the mixing tools and any other accessories that you may have.
Styling
The style and design of your bar cabinet should make sense with the rest of your home. For example, if you have all mid-century modern furniture, your bar cabinet should match. Look at your current furniture to determine what style you should look for. Pay attention to the finish, construction material, amount of ornamentation, if it is on legs and color. You don't have to make the bar cart match perfectly, but it should complement and coordinate with it.
Functionality
What do you want your bar cabinet to do? If you want to simply use it as storage, then a cabinet with no workspace will work for you. If you want your cabinet to serve as a mini-bar station, you'll need a countertop workspace. Cabinets that are designed for storage will have doors that hide everything away. In contrast, a showpiece will have elements exposed so that they are on display.
Conclusion
Our top pick for the best bar cabinet is the Amabel Bar Cabinet with its customization options and bold mirrored doors with a geometric overlay give it a glam yet timeless appeal. The hidden storage of glassware, bottles, and tools keeps your home looking neat and organized.
For a more affordable option, the Bon Augure Industrial Bar Cabinet has a unique industrial design. The combination of wood and metal adds warmth and stability to your room. There's also plenty of room for bottle and wine storage.
FAQs on Bar Cabinets
Where should a bar cabinet go?
You should place your bar cabinet in a place where you entertain the most. Smart places to add your bar cabinet are in the living room, lounge, or den. If you don't have the space, you could place it in your kitchen.
How do you arrange a bar cabinet?
Start by removing everything from the bar cabinet and arranging them into groups by type. Start by placing your least often used liquor bottles into the back of the cabinet. Then move forward by group with the most often used bottle in the front. Add any glassware that you plan to store in the cabinet. Then arrange your ice bucket and mixing supplies.
How deep should bar cabinets be?
You don't want your bar cabinet to be too deep. This would make it difficult to reach into the back of the cabinet and access all of your liquor bottles. Typically a bar is at least 18 inches deep. However, 20-24 inches deep gives you more space to work.