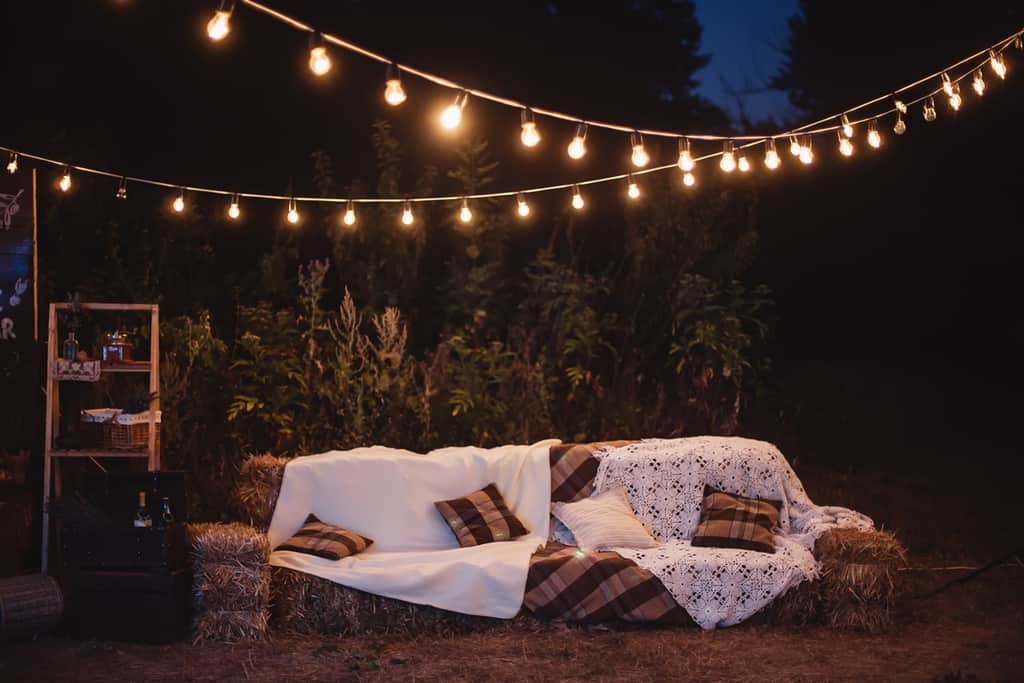 Trendey may earn a commission when you buy through links on our site.
As an Amazon Associate we earn from qualifying purchases.
Best Outdoor String Lights
Without outdoor lighting, your backyard living space is only usable during daylight hours. This significantly reduces the amount of time you can spend on your patio, enjoying your backyard. You could add an outdoor light to the side of your house, but this won't give you the ambient light you're looking for. Instead, you can hang patio string lights overhead to create a gentle wash of light across the entire patio.
To help you make the most of your outdoor living space, we've found the best outdoor string lights that will look great and last for years to come.
Top Picks
Best Overall: Blairsden Bulb Globe String Light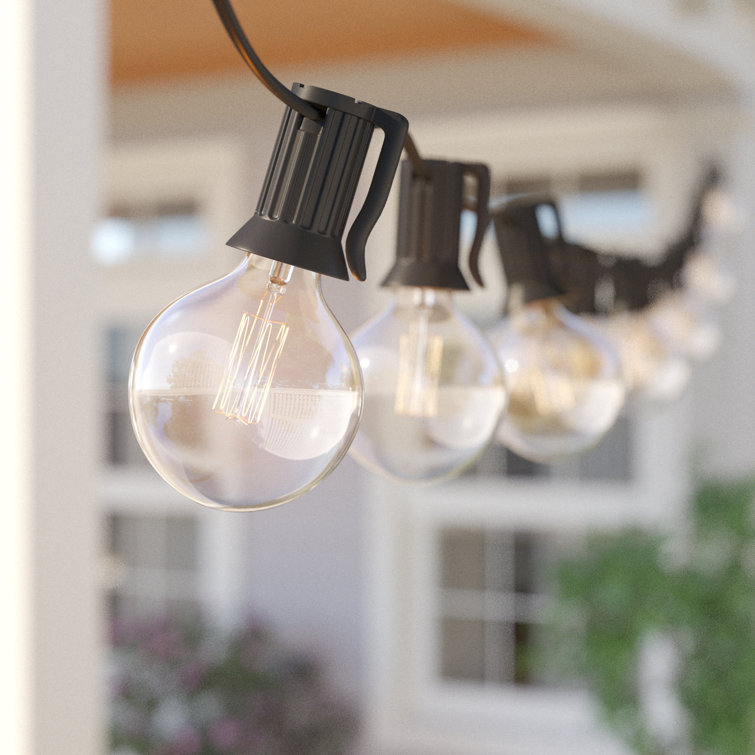 Specs:
Overall Length: 100 feet
Number of Lights: 100
Bulb Type: Incandescent
This globe string light is the perfect addition to your outdoor living room, dining table, or patio bar. The globe lights are large with sizeable filaments to create plenty of light for a large space. Each string is 100 feet in length and has 100 bulbs. This is long enough to extend the entire length of a long patio or criss-cross several times over a smaller patio. While the traditional look is the black cable, there are also green and white cable color options. The light produced is a warm light at 2600K and 35 lumens. You'll need to have an outlet within reach for the plug.
One potential drawback for these lights is that the bulbs are incandescent and made of glass. This makes them fragile. Thankfully, they come in a box separate from the cable, so be sure to hang the string where you want it before you attach the bulbs.
Check Price
Best Budget Pick: Brightown Outdoor String Lights
Specs:
Overall Length: 25, 50, 100 feet
Number of Lights: 25, 50, 100
Bulb Type: Incandescent
If you're working with a limited budget, then this string light option with incandescent bulbs is a great option. It comes in three lengths, 25, 50, and 100 feet, with a matching number of light bulbs of 25, 50, and 100 glass bulbs. This set of lights has impressive durability and is rated IP44 waterproof. You'll like the warm light the bulbs produce at 23 lumens. Your set also comes with two spare bulbs, which is nice in case one gets broken or burns out. What's nice about these lights is that you can connect them together. Buy multiple strings of different lengths for a customized set up in your backyard.
The drawback of these lights is that they are incandescent, which makes them less durable than LEDs. However, this string is UL certified for use outside. This means they are weatherproofed to be safe for exposure to extreme temperature changes, water, rain, snow, and wind.
Check Price
Best Solar: Brightown Outdoor String Lights Solar
Specs:
Overall Length: 34 feet
Number of Lights: 34
Bulb Type: LED
Unlike many other strands on this list, these lights are solar-powered. In addition to the 34-foot long string of lights, you will get a small solar panel that acts as the power source. Just four hours of charging are required to have these lights illuminate at night. You can even remove the solar panel to charge it in the ideal spot and then return it to the lights for use. The light bulbs are impressive, with a shatterproof construction and IP 65 waterproof rating. There are four lighting modes to choose from, steady on, slow flash, fast flash, and pulsating. This style o string lights are perfect for your campsite or RV where you don't have access to electricity. They are also useful on a garden pergola or other sitting area away from your home. The Edison design of the bulbs gives them a retro look but the LED shatterproof bulbs ensure their longevity and durability.
One drawback of these lights is that they aren't very bright. If you plan on using them as the primary or only light source, you may want to replace the bulbs with brighter ones. The set also doesn't come with extra bulbs, so if one is defective or damaged, you will have to replace it on your own.
Check Price
Best Premium Pick: Solar String Light – Rectangular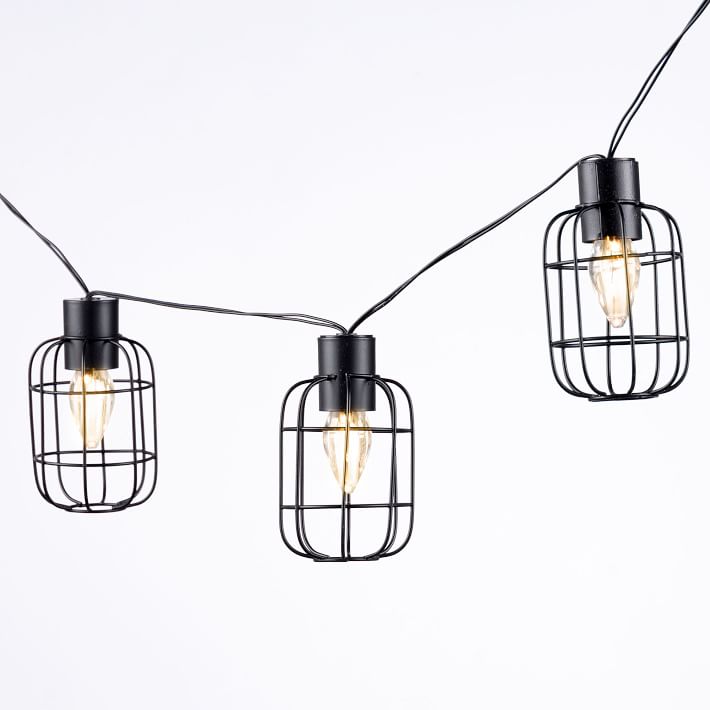 Specs:
Overall Length: 6 feet
Number of Lights: 10
Bulb Type: LED
Don't just hang the same outdoor lights that everyone else has on their patio. Elevate the look of your backyard with this string of caged lights. This string from West Elm is six feet long and features ten lights. This LED string light produces a soft warm glow that is perfect for creating ambiance on your deck. They won't be your main light source, but they make a nice accent. The fact that they are solar makes them affordable to run since you don't need to use electricity or batteries.
Unfortunately, this string is really short at six feet. However, the lights are closer together, so you have more lights in a shorter space. However, you'll need to buy several strings if you want to have them extend across an entire patio space. The fact that they are solar can also be an issue because how bright they depend on the amount of sun exposure they get.
Check Price
Best Globe Bulbs: Renfroe Bulb Globe String Light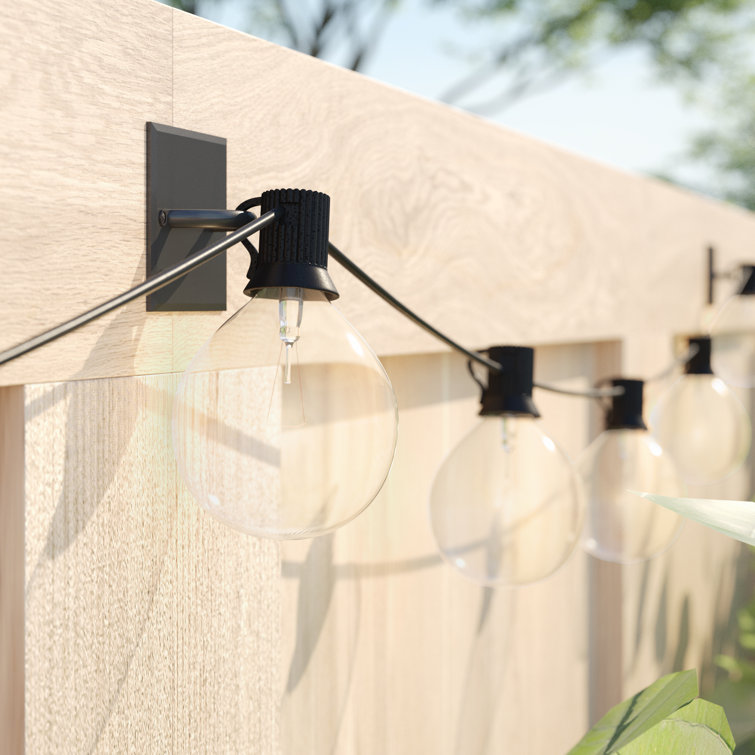 Specs:
Overall Length: 100 feet
Number of Lights: 100
Bulb Type: Incandescent
This string of incandescent globe lights is an impressive 100 feet long with 100 bulbs. This makes it ideal for large decks or patios. You could also string it back and forth over a gazebo or pergola. You can choose from black, green, or white for the cable color. This set of lights is rated for outdoor use, and durable enough to withstand bad weather. However, the string comes with a spare bulb and fuse. The light produced is a soft, warm white light at 45 lumens and 2600K. If you want something brighter, you can replace the bulbs thanks to the standard-sized base. While the lights use a plug for the power source, they are dimmable if you connect them to a dimmer controller.
Unfortunately, the size of the globes is smaller on this string than others. This isn't necessarily a bad thing but can result in a different effect than what some buyers are going for. The bulbs are also made of glass, which makes them more delicate than shatterproof plastic options.
Check Price
Best Curtain Pick: Caln Bulb Curtain String Light
Specs:
Overall Length: 6 feet
Number of Lights: 150
Bulb Type: Incandescent
Instead of having a string of lights over your outdoor space hang this curtain of mini string lights instead. They look like a combination of fairy lights and icicle lights. You have the option of choosing between non-twinkle and twinkle lights. There are 150 bulbs on each set of lights, making them perfect for adding plenty of decorative accent lighting to your outdoor space. If you plan to hang them on a wall, a single set will cover 72 inches wide and 60 inches high. The bulbs are incandescent.
The drawback of these lights is that it's only six feet long. You may need more than one string to cover an entire wall. You can connect up to three strings together. The construction could be more durable, with plastic being the primary material used for the housing.
Check Price
Best Lanterns: Bulb Paper Lantern String Light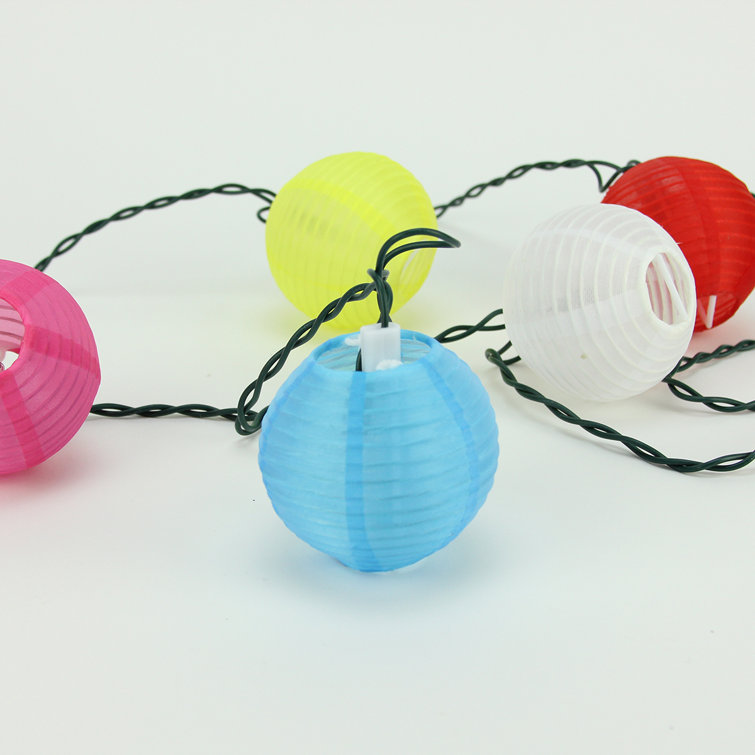 Specs:
Overall Length: 12 feet
Number of Lights: 10
Bulb Type: Incandescent
Give your patio or deck a party or festive atmosphere with this string of paper lanterns. While the string of lights is UL rated for indoor or outdoor use, you won't want to leave the paper lanterns on the lights all of the time. They are not durable enough to be exposed to the elements. The lights are mini size and produce a bright white light. The lanterns that go over them are yellow, white, pink, red, and blue. While a single string may only be 12 feet in length, you can easily connect more than one string together. You will need to have the plug end near an electrical outlet so that you can power them.
The drawback of this light set is that you can't install them and leave them up. If you wanted to do this, you would have to remove the paper lanterns and then put them back up when you are planning to use your backyard.
Check Price
Best LED Pick: Portfolio White Outdoor LED String Lights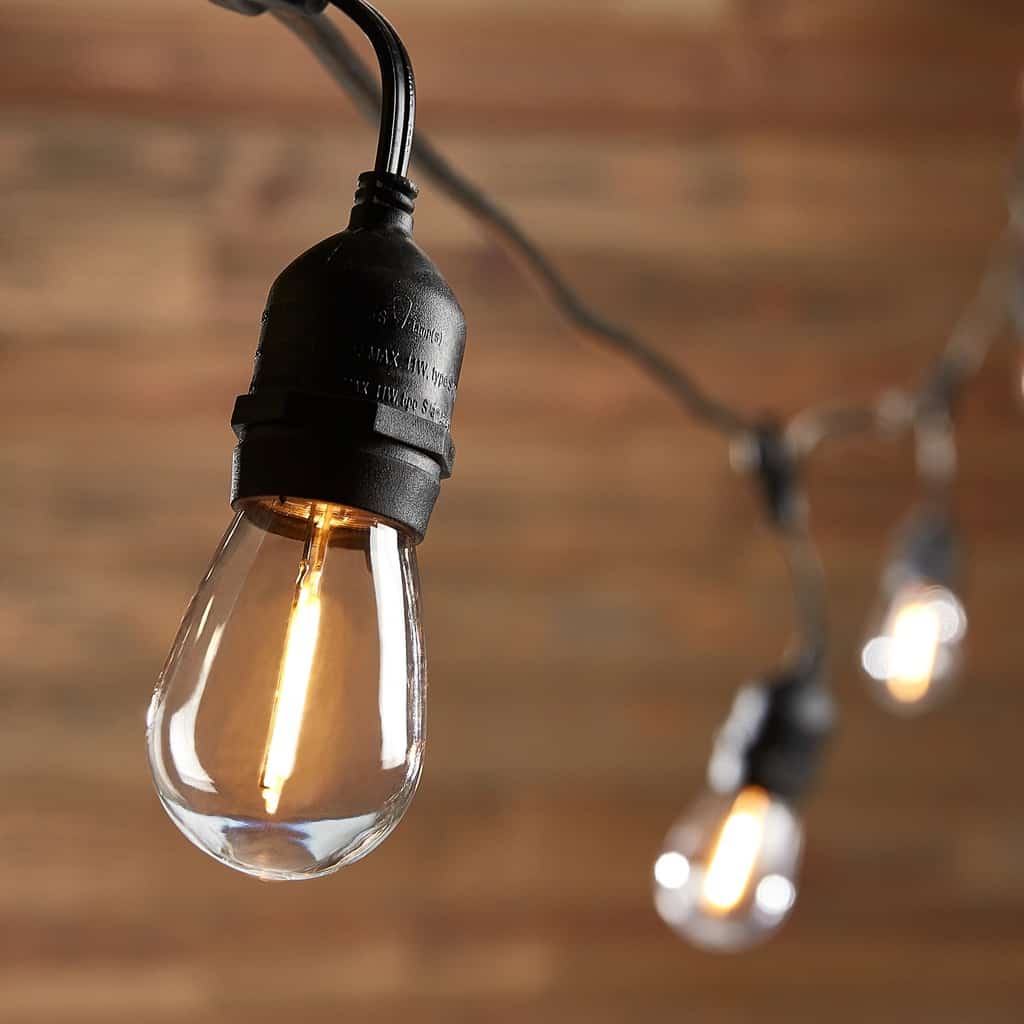 Specs:
Overall Length: 45 feet
Number of Lights: 18
Bulb Type: LED
These vintage string lights have the look of incandescent bulbs but are actually LED lights. However, what makes this string stand out is the commercial-grade construction. They are UL rated for wet locations, making them safe for use anywhere outside. The bulbs may look like traditional bulbs but are actually shatter-resistant plastic. The string also comes with two replacement bulbs and one replacement fuse, just in case. The light produced by the bulbs is warm white light and bright enough to use as your primary light source in your backyard.
The downside of these lights is that you cannot connect more than two strings of light together. Any more than this and it overloads the fuse. The bulbs can also develop condensation, which causes the bulbs to have water in them.
Check Price
Best Multi-Colored: Solar Powered LED Outdoor String Lights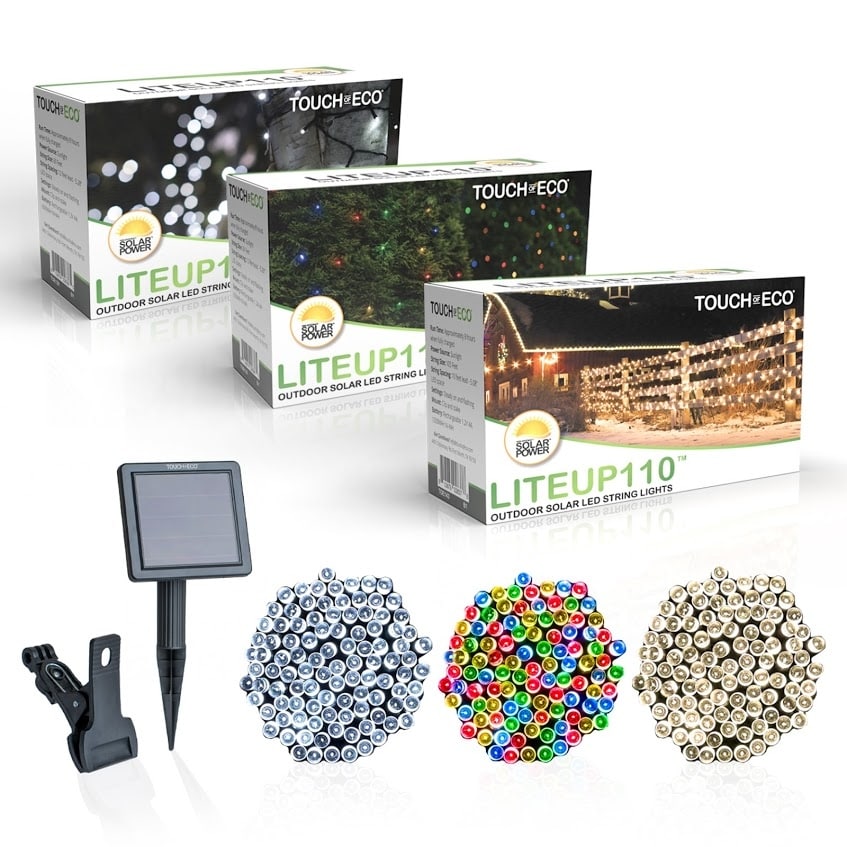 Specs:
Overall Length: 10 feet
Number of Lights: 110
Bulb Type: LED
If you love the look of Christmas lights, then these are the perfect lights for your outdoor area. They are solar lights, so you can use them almost anywhere on your property. Wrap them around a tree trunk, weave them through a fence, or drape them in the branches overhead. There are three color options to choose from, multi-colored, cool white, and warm white light. Each strand is 10 feet in length and has 110 individual LED bulbs. The bulbs are incredibly durable, making them perfect for use during the Christmas season or all year long.
The drawback of these lights is that they look like Christmas lights. This may or may not be a good thing. The short ten-foot length also makes them limited in where you place them. If you want a more elaborate display, you'll need to buy multiple sets. As with anything that is solar-powered, if your solar panels don't get enough sun exposure, your lights will be dim or not illuminate at all.
Check Price
Best Commercial Grade: Addlon Outdoor String Lights
Specs:
Overall Length: 24 or 48 feet
Number of Lights: 8 or 15
Bulb Type: Incandescent
This set of white, orange, or black string lights will give your backyard a vintage feel with large Edison bulbs. There are two lengths to choose from 24 or 48 feet. They have 8 and 15 bulbs, respectively. You can connect multiple strings together to cover your entire space. What makes this strand better than similar options is that it has a sturdy construction. It has high-grade copper with individual insulation and a PVC cable jacket. This helps the lights to be UL listed weatherproof. Because these lights are so durable, they are perfect for a permanent installation over an outdoor living space. Each sock has a loop that you can use to secure the lights along a support wire for coverage of a large square footage.
Unfortunately, the bulbs on this light string are not as durable as the string itself. This can lead to several bulbs breaking in inclement weather. Additionally, the hanging loops are perpendicular to the cable, making the lights hang crooked.
Check Price
Read also: 26 Landscape Lighting Ideas
How to Choose the Perfect Outdoor String Lights
Length
The length of the outdoor string lights is how long the cable is from one end to the other. The more area you need to cover the longer the lights need to be. Longer string lights also have more individual lights, which can create more illumination on your patio. Longer string lights also weigh more, which means they need more support. Consider the square footage of the area and structure you plan to mount the lights on when choosing the right length of lights.
Number of Lights
Look at the number of lights a string has to ensure you get plenty of light from a single string. The average distance between each bulb is about 8-12 inches. However, some can have them as far as three feet apart. When choosing how many bulbs your string should have, consider how much light you want on your patio. More lights mean more illumination. However, fewer lights can create a dimmer atmosphere that creates a different type of ambiance.
Power Source
The majority of outdoor string lights have an electrical plug that you connect to an outdoor electrical outlet on the facade of your home. This is the simplest installation method. However, you can also find commercial-grade string lights that hardwire into your home's electrical system. These lights tend to be more expensive, but are worth the investment for a clean install. Consider how many lights you plan to use on your patio. Some string lights can easily connect to each other for the easy installation of multiple lights.
Bulb Style
The bulb style of your outdoor string lights will help to create a particular atmosphere and aesthetic. A traditional bulb will look a bit commercial but can provide plenty of light. Edison bulbs can give your patio a funky vintage or retro feel. However, these bulbs also tend to have a warmer light that looks yellow. Globe lights are round and can come in a range of color temperatures from yellow to white. Consider the size of the bulbs in addition to the shape, too large and they will be heavy and cumbersome to hang.
Durability
You don't want to have to take the lights up and down constantly. This will become tedious and time-consuming. Instead, buy a durable set of lights that can withstand the weather elements to be left up throughout the year. Generally, even the most basic of outdoor string lights are rated for outdoor use. However, higher-quality lights have additional qualities that make them more durable. This could include insulated cables, reinforced connections, waterproof ratings, and UV protection. Pay attention to both the cable and the bulbs. You don't want delicate bulbs cracking or breaking.
Conclusion
Our top pick for the best outdoor string lights is the Blairsden Bulb Globe String Light because it's an incredibly long string of lights with plenty of bulbs. They are perfect for adding a traditional look to your backyard. For a more budget-friendly option, the Brightown Outdoor String Lights are a great alternative because they come in several lengths. They are incredibly durable and produce plenty of light for your backyard.
FAQs on Outdoor String Lights
Can you leave outdoor string lights out in winter?
Yes, you can leave your outdoor string lights up during winter. Even in freezing temperatures, your lights should continue to work. String lights designed for outdoor use should be durable enough to withstand wind, rain, and cold temperatures.
Can you leave string lights on all night?
Yes, string lights are safe to leave on all night. Modern LEDs are durable enough to continue to run for hours without overheating or burning out. However, leaving them on all night will put additional wear and tear on them, causing them to burn out faster.
How can I power my outdoor lights without an outlet?
While many string lights use a plug to connect them to a power source, this isn't your only option. If you have access to a plug, but it's far away, you could use an extension cord. If you don't have easy access to an electrical plug, you could use string lights that use battery or solar power.