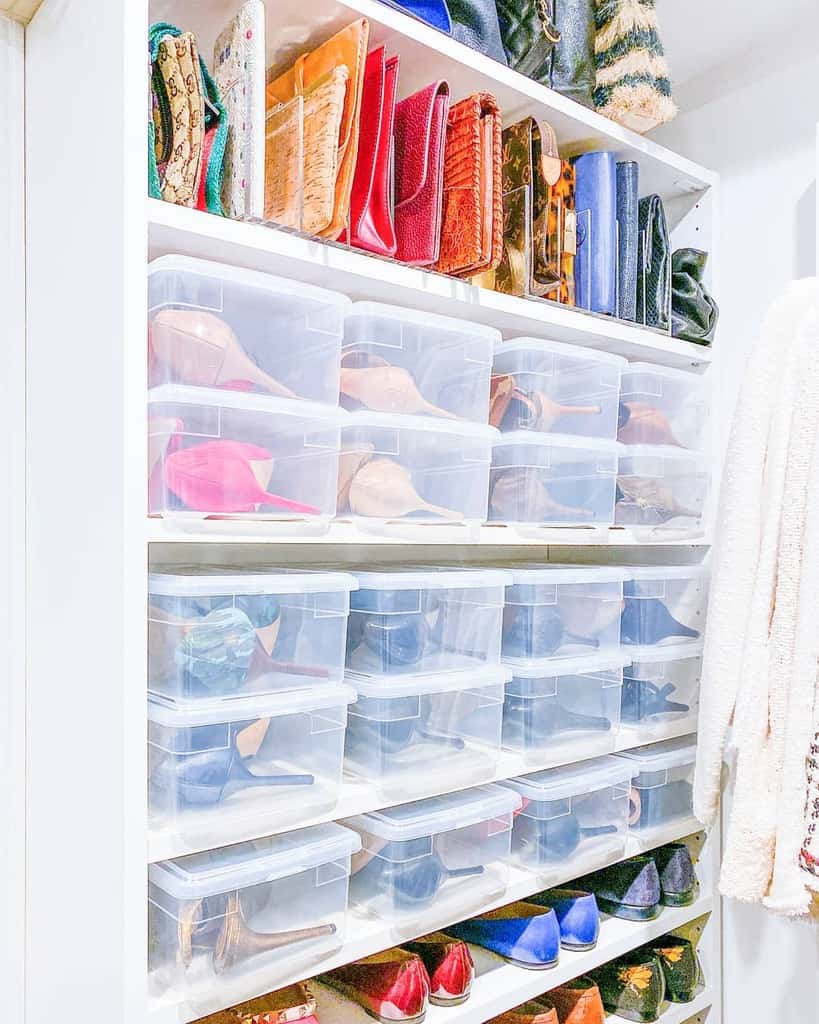 Trendey may earn a commission when you buy through links on our site.
As an Amazon Associate we earn from qualifying purchases.
Best Storage Containers for Clothes
Do you have more clothes than what will fit in your closet or dresser? If the answer is yes, then it's time to find the best storage containers for clothes. These are additional containers you can use in your closet or make it easier to store clothing in another place, such as a hall closet, under the bed, garage, or storage unit.
Get your clothing collection organized with these useful clothing storage containers that come in a range of sizes and materials.
Top Picks
Best Overall: Three Post Teen Fabric Box Set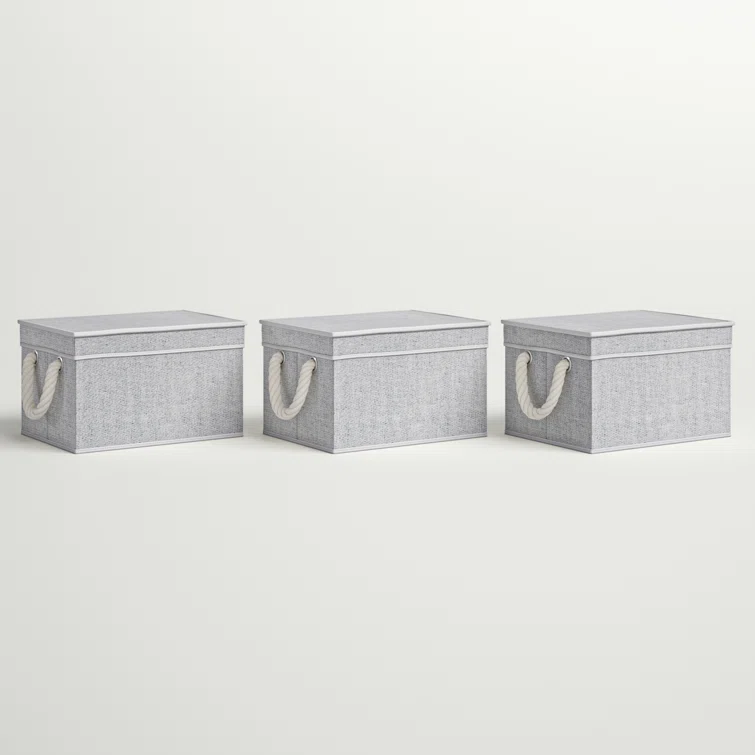 Specs:
Dimensions: 10.4" H x 12.8" W x 17.1" D
Material: Polyester blend
Set Size: Three pack
These stylish storage boxes are perfect for organizing your clothes in your bedroom or in your closet where they will be seen. They look like storage cubes with matching lids. Their fabric construction adds a contemporary style that pairs perfectly with the white rope handles. What's nice about these boxes is that they may be fabric bins, but they have the durability and strength of storage totes or moving boxes. If you live in an apartment, they are perfect because you won't have to get cardboard boxes to move your clothes. Just pick up the boxes and go. When you aren't using these boxes, you can fold them flat for easy storage. Then pop them up, and the reinforced sides will give the boxes stability for stacking them on top of each other. Because the boxes are made of fabric, they are breathable, which helps keep your clothes fresh. The stiff lid protects your clothes while providing a stable base for whatever you place on top of them. You could line these boxes on the floor or place them on a shelf.
Check Price
Best Budget Pick: Lifewit Clothes Storage Bag
Specs:
Dimensions: 23.6 x 16.9 x 13.7 in / 60 x 43 x 35 cm
Material: Non-woven fabric and PVC
Set Size: Three pack
If you have a lot of seasonal clothes, then these fabric storage bins will help you organize your closet. The extra-large size of these storage bins makes them perfect for keeping all of a single clothing type in each one. You could use one for sweaters, another for long underwear, and the third for lightweight winter jackets. Then when you're using these clothes in winter, you could keep your beach towels, bathing suits, and summer dresses in this convenient clothes storage solution. What's nice about these containers is the clear vinyl panel on the front. This lets you quickly and easily see what is in each bag without having to open them. Large handles on the sides make moving and carrying each bag easy. You can place them next to each other or stack them on top of each other. The non-woven fabric used in the construction has three layers to make it tough yet also breathable. To close your bags, a sturdy zipper encircles the top of the storage bag. This opens up the entire bag, making it easy to load the storage bags.
Check Price
Best Shelf Pick: Wayfair Basics Open Fabric Storage Bin Set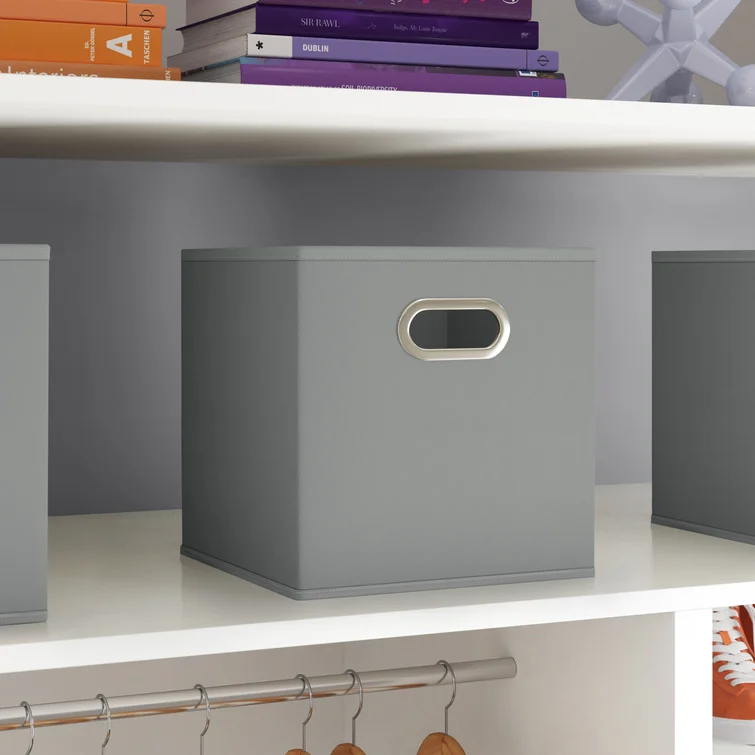 Specs:
Dimensions: 11" H x 11" W x 11" D
Material: Poly-woven canvas fabric
Set Size: Six pack
Organize your closet shelves with these sizable storage bins. They come in five soothing colors, black, aqua, natural, navy, and teafog. This lets you pick a color that matches the color scheme in your bedroom and closet. What's nice about these fabric bins is that they have handles that are lined with metal. This gives the handle strength and reinforces the bin while you are carrying it fully loaded. Unfortunately, these bins don't come with lids, which would have been nice so that you could have stacked them. However, the square footprint shape makes them versatile and easily placed on shelves. These are ideal for organizing clothing that you regularly use, making it easier to find. They also organize folded clothing items on the shelves so that clothing stacks aren't messy or falling over. A total of six bins come in each pack, so you get plenty of storage with just one purchase, which is nice because you know that all of your bins will match. You could also use them throughout your home, such as in the bathroom, office, bedroom, or even living room.
Check Price
Best Premium Pick: Westelm Bamboo Soft Closet Organization Essentials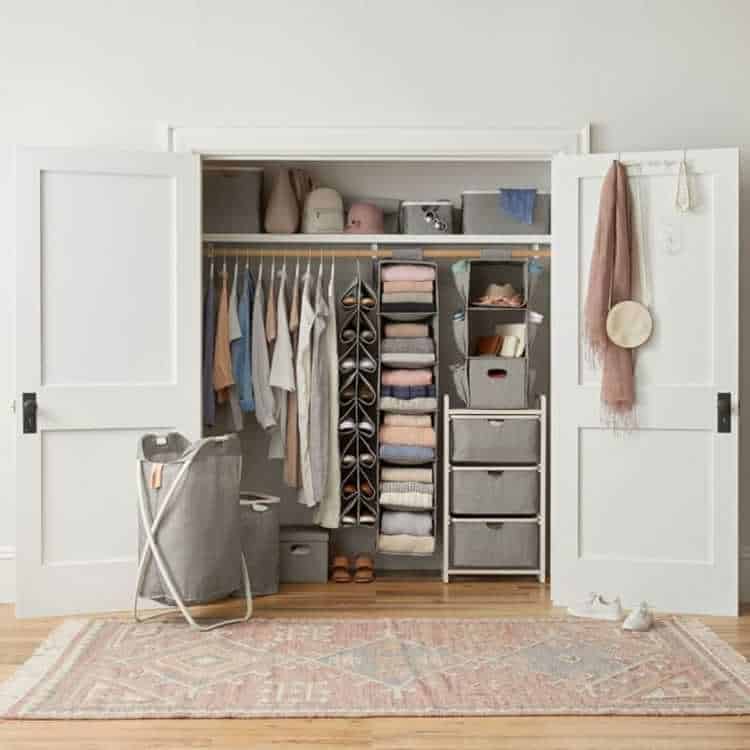 Specs:
Dimensions: 24″w x 12.5″d x 27″h.
Material: 100 percent cotton
Set Size: One
Make over your entire closet with this collection of bamboo and fabric closet organizational solutions. There is everything from hampers to storage bins and hanger compartment options. This ensures you have easy access to all of your clothing, shoes, and accessories. The sturdy storage bins come in a variety of sizes, with decorative leather and rope handles or clear windows for seeing what is inside. Optimize your closet storage with the hanging clothing organizers. They have open spaces that act like shelves, letting you place individual clothing items on each shelf. There are also shoe compartments that can condense the space that your shoe collection takes up. With this type of system, you can purchase one piece or multiple. That way, your closet looks more organized and uniform because every storage container and organizational piece match. The dark gray coloring of the cotton fabric has a subtle variation in color that gives it a sophisticated feel. Accenting the fabric are light bamboo wood elements that bring freshness to the collection. There are 14 different pieces in the collection, so there are plenty of storage solutions for your needs.
Check Price
Best Durable Pick: IRIS Stackable Plastic Storage Drawer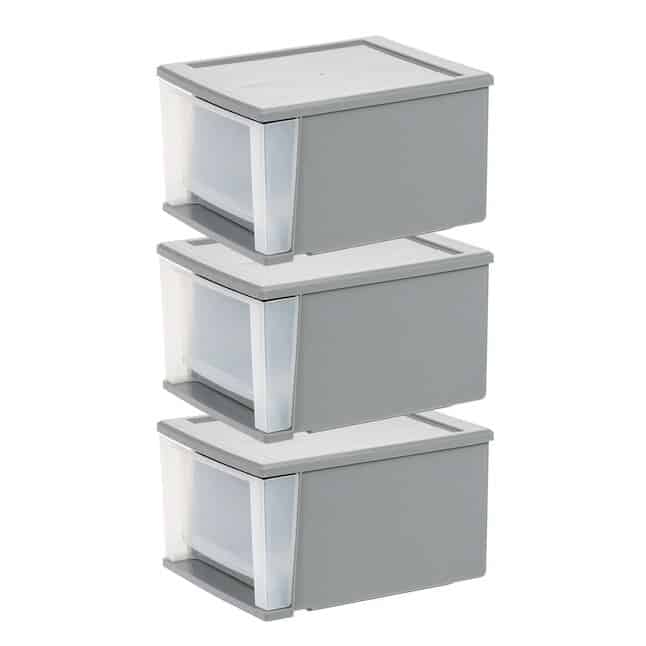 Specs:
Dimensions: 14.25-L x 12.05-W x 8.39-H
Material: Plastic
Set Size: Three pack
These plastic storage bins are perfect for adding temporary functional storage to your closet or bedroom. They are ideal for apartments and dorm rooms where space and storage are seriously limited. What is nice about these containers is that they are drawers so that you can use them on a daily basis for clothes that you are actively wearing during the season. You can find them everywhere from Lowes to Walmart and even expensive fancy versions at the Container Store. This pack is nice because you get more than one drawer. With the set of three, you can have enough storage for all of your clothing items. The large handles that are built into the front of the drawers make them easy to open and close. The top of each drawer is flat with a raised outer edge. This securely holds the drawer that is stacked on top of it in place. The plastic construction helps the drawers to slide in and out smoothly. At the back of each drawer, there's a stop to prevent the drawer from sliding out all the way.
Check Price
Best Under Bed Pick: ClosetMaid Capsule Fabric Underbed Storage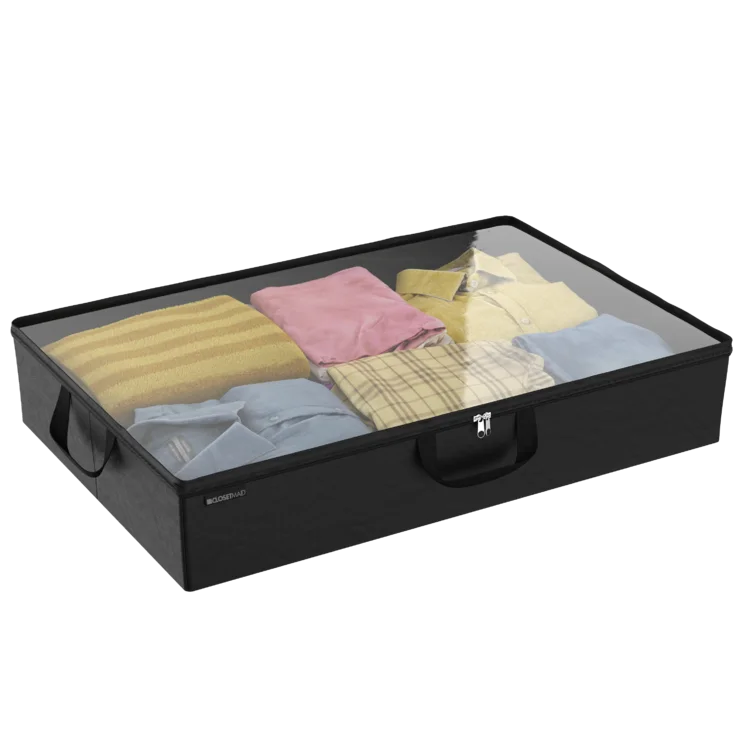 Specs:
Dimensions: 5.55" H x 30" W x 19.92" D
Material: Fabric
Set Size: One
Take advantage of the storage space under your bed with this convenient under the bed storage container. What is nice about this under-bed storage container is that the top is clear. This makes it easy to see what is in each container without having to open them. The rigid sides of this particular model make it stand out from others because it provides additional structure and support, which better protects the clothing in the container. A sturdy zipper with dual pulls allows you to completely open the top, making it easy to access the storage space inside. Because under-bed storage is less than convenient, this type of storage container is perfect for holding seasonal clothing. The sleek design of this storage container makes it more attractive than similar comparable models. This makes it look nicer when placed under your bed. An extra nice touch on this storage container is the multiple handles. There is a handle on each side, so you can place it under your bed in any orientation that works for you.
Check Price
Best Space Saving Pick: Ziploc 3-Count 39-Gallon Plastic Storage Bags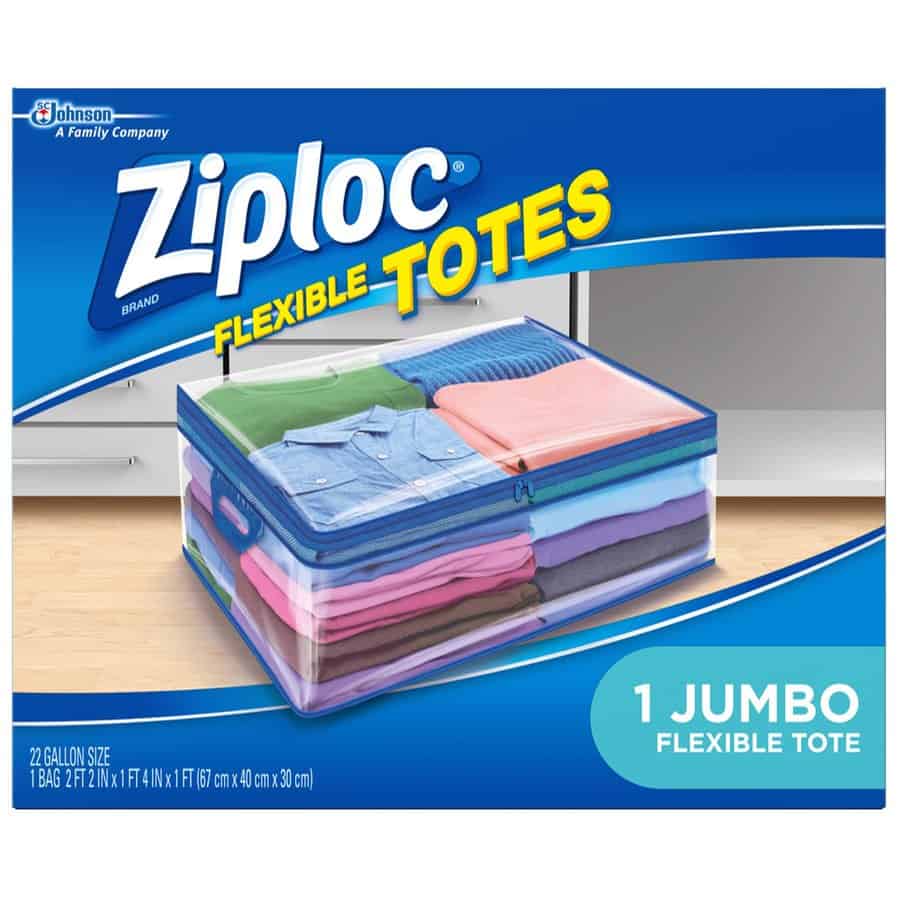 Specs:
Dimensions: 21-in x 33-in
Material: Plastic
Set Size: Three pack
If you know you won't need the clothes in storage for a long time, then consider packing them away in these vacuum seal plastic bags. They are perfect for long-term storage because they remove all of the air inside the storage container. Without air, mildew, mold, and bacteria cannot flourish. This keeps your clothes fresh and prevents them from prematurely degrading. Vacuum sealing the bags also compresses the amount of space the clothes take up. With each bag taking up less space, you can pack more away into the same amount of available storage space. Ziploc claims you can reduce up to 75%, which would triple your storage capacity. The bags are also waterproof, so as long as your clothes are completely dry when they go in, they will stay fresh for when they come out. One thing to note about these bags. To use them, you need to have a strong vacuum cleaner that can effectively pull all of the air out of the bag. Otherwise, you won't receive the full benefit of the bags. What makes these bags stand out from similar bags is that the plastic does not become brittle over time. This ensures your clothes stay protected.
Check Price
Best Stackable Pick: OpenSky Stackable Storage Box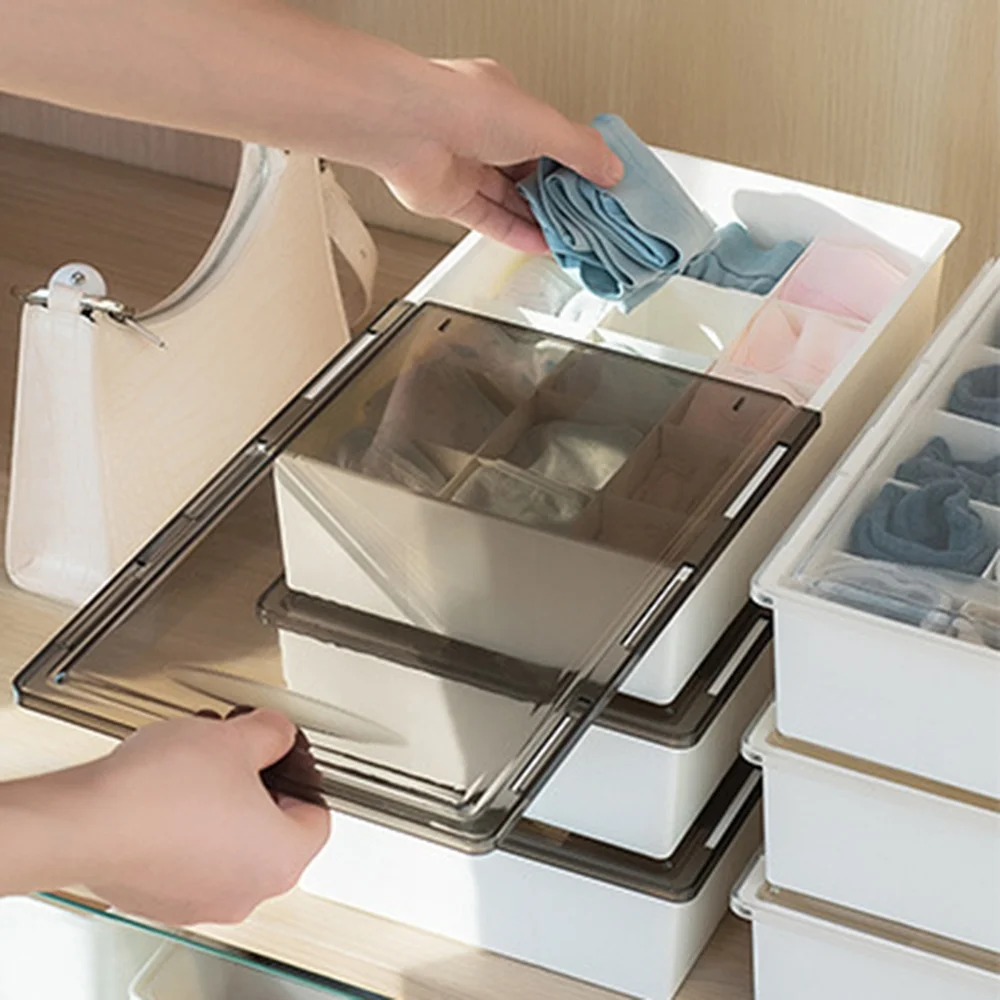 Specs:
Dimensions: 12.5 X 7.1 X 3.1 inches
Material: Plastic
Set Size: One
The smallest items are the toughest to find storage for. You know they easily fit into small spaces, but you also want them to stay organized. These plastic containers are the perfect solution. There are two color options, one with a clear transparent lid and the other with a smoked tawny color. The lid conveniently slides out from the base, giving you access to the inside. Each storage container has 15 individual compartments that are the perfect size for socks or underwear. While these containers are stackable, this is not the most convenient method for using them. You would need to unstack them every time you wanted to get to a lower box. However, they would work well in a drawer on a narrow shelf. A unique feature of this storage container is that you can use the included adhesive strips to mount the container on a wall. Do this in your closet, and you can make sure of available space that would otherwise go unused.
Check Price
Best Shoe Storage Pick: See Spring Shoe Storage Box
Specs:
Dimensions: 13.1 x 9 x 5.5 inches
Material: Plastic
Set Size: Twelve pack
If you have a large shoe collection, then you know and understand the struggle of organizing and keeping your shoe collection safe. Then you also want to be able to see your collection to make getting dressed easier. These storage boxes are nice because while they are made of plastic, they are vented, so they allow plenty of air to flow through them. These will keep your shoes fresh and prevent them from degrading prematurely. You can stack multiple boxes on top of each other and keep them stable with the locking mechanisms on the top and bottom of each container. The front of each box has an easy-open door, so you never have to fight with the stack when you want a pair that is lower in the stack. There are multiple sizes, so measure your shoes to ensure you buy the right sized box for the shoes you need to put in them. What is nice about these containers is that you can use them for things other than shoes. Use them to store your camping gear or outgrown baby clothes.
Check Price
Best Portable Pick: Rimax Three Drawer Rolling Cart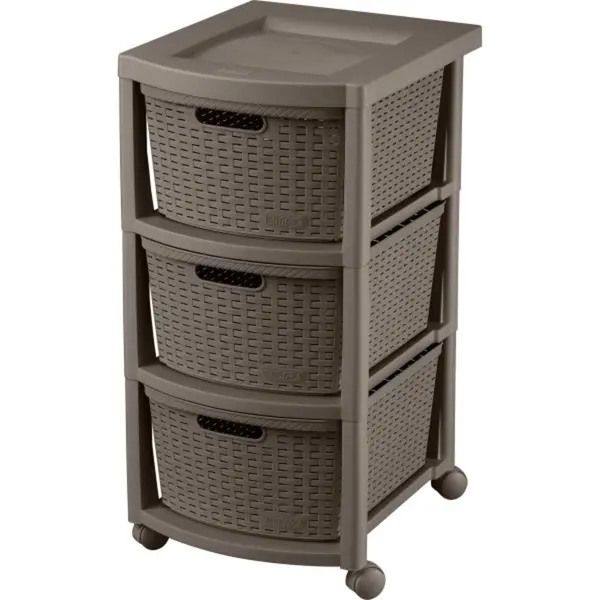 Specs:
Dimensions: 26 inches high x 13 inches wide x 15.4 inches deep
Material: Plastic
Set Size: One
Wouldn't it be nice if you could roll out your storage when you need it, and then tuck it away when you don't? This rolling storage basket features three plastic bins that are deep enough to store plenty of clothing items. There are two colors available, white and mocha. This drawer unit stands out from other plastic storage containers with its textured weave design on the bins. The drawers have locks to ensure they stay securely closed. The wheels on this unit are durable and smooth-rolling, making it easier to move the unit around. While this may not be the most stylish of storage containers, it is highly convenient. It is also versatile. You can use it for clothing or convert it into a craft supplies or office supply storage container. If you need additional storage, you can easily place a second rack next to it. However, because of the wheels, you won't be able to stack them.
Check Price
How to Choose a Perfect Storage Container for Clothes?
Construction Material
You will typically see storage containers made out of plastic or fabric. These are affordable and durable materials, which is what makes them popular. However, be careful with both. Clothing storage containers need to be breathable. So, while plastic is protective and popular, you don't want a seal on the lid so that air can still get in. Similar to fabric, there are treated fabrics to make them stiffer and more durable. They may also have a clear vinyl window. Check for breathability to ensure the fabric treatment does not inhibit airflow too much.
Storage Capacity
This is probably the most important feature of your storage container. The container that you choose needs to be large enough to fit everything you want to store while also being small enough to fit into your closet. For most people, it is more practical to use multiple smaller containers than one extra large container. When choosing your container, consider the dimensions of the container and the overall storage capacity. A long rectangle shape may fit better on your closet shelf where you can stack multiple boxes on top of each other than a single large, deep, square box.
Breathability
You should never store your clothes in sealed containers. Moisture gets trapped in the container, and when temperatures change, this creates condensation. Over time mold, mildew, and bacteria that get trapped in the container will begin to cause unpleasant smells and quicken the breakdown of the fabric. Non-airtight containers allow air to flow in and out of the container, preventing this from happening. Your other option is to look for a storage solution that removes all of the air. This would essentially "starve" the mildew and bacteria, preventing them from growing.
Design
If you plan to hide your storage boxes away in the closet, garage, or storage unit, then the design probably won't be a crucial factor for you. However, if they will be readily visible in your closet or stored in your bedroom, then you will want an attractive design. Look for a storage container that more closely resembles a decorative bin than a rugged storage container. They are typically made of fabric, woven rattan, or wood. They will also have larger and more prominent handles. Try to choose a storage container that complements the rest of the room's interior design style. Some containers look more rustic, while others look more modern.
Versatility
You may need a container to store your sweaters right now. What happens when fall comes, and you'd like to move the sweaters into our closets to make them more convenient? If you have versatile containers, you can convert them into summer clothing storage containers. This reduces the number of storage containers. Conversely, sometimes you need a very specific type of clothing storage container. For example, if you need to store shoes or underwear, there are containers specifically designed to hold these items. Shoe containers are sized like the cardboard shoe boxes that new shoes come in but are more protective and durable. Underwear and accessory storage containers have several small compartments to individually hold each item, helping the storage container to stay organized.
Conclusion
Our top pick for the best storage containers for clothing is the Three Post Teen Fabric Box Set. These stylish boxes are perfect for holding clothes because they are attractive and a nice size. They also conveniently stack so that you can place several of them on top of each other.
For a more affordable option, the Lifewit Large Capacity Clothes Storage Bag set is a perfect option because it will give you large capacity bags for long-term storage. They are perfect for tucking up on a high closet shelf because you can easily see what is in each bag through the clear vinyl panels on the front.
FAQs on Storage Containers for Clothes
How do you keep clothes fresh in storage containers?
Thoroughly clean clothes before putting them in a storage container. Any lingering smells will remain trapped in the container. Place dryer sheets in the container with the clothes. Use baking soda to absorb offensive odors. Use containers that have ventilation to allow for air to flow. Use a dehumidifier to take extra moisture out of the air.
Should clothes be stored in airtight containers?
You should not store your clothes in airtight containers. Textiles need air circulation to help them last. Without it, the fabrics of your clothes will break down faster. The trapped moisture will encourage bacteria and mildew to flourish, which feeds on the clothing, breaking down the fibers.
Why do clothes turn yellow in storage?
The yellow hue that develops on fabrics in storage is a result of them not being clean properly before getting placed in storage. Dirt, grime, oil, and body fluids like sweat all break down over time. As this happens, they turn to yellow spots and staining on the fabric.