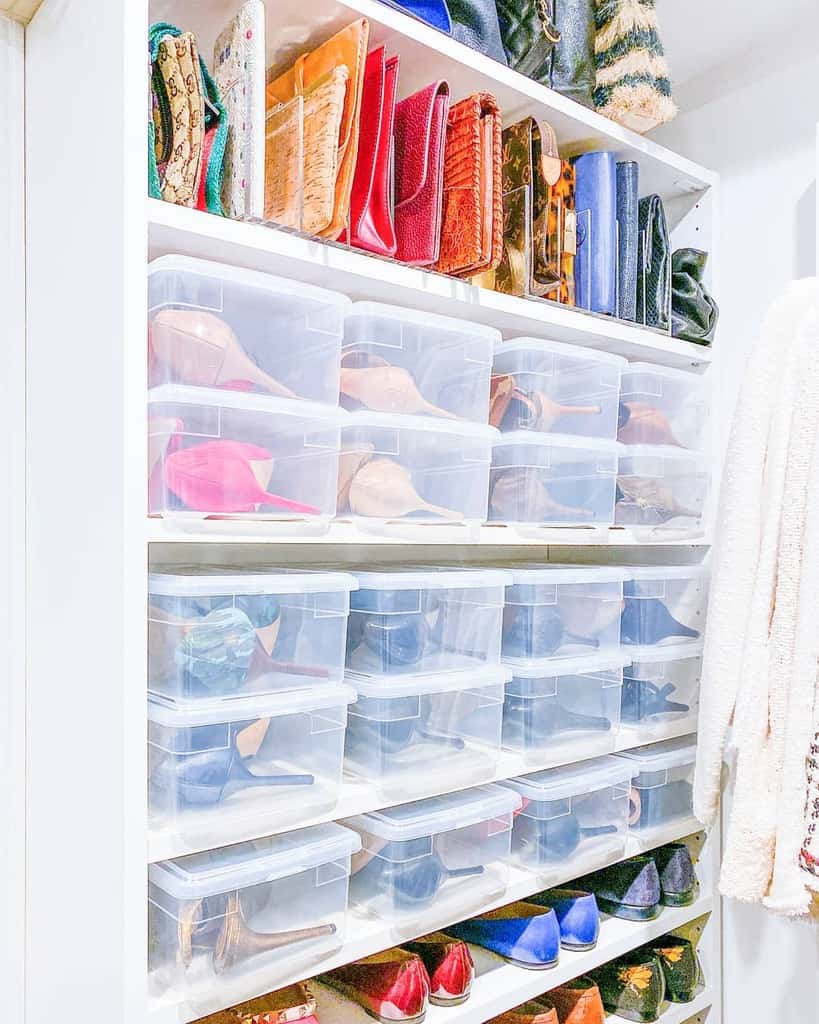 Trendey may earn a commission when you buy through links on our site.
As an Amazon Associate we earn from qualifying purchases.
Best Storage Containers for Clothes
Do you have more clothes than what will fit in your closet or dresser? If the answer is yes, then it's time to find the best storage containers for clothes. These are additional containers you can use in your closet or make it easier to store clothing in another place, such as a hall closet, under the bed, garage, or storage unit.
Get your clothing collection organized with these useful clothing storage containers that come in a range of sizes and materials.
Top Picks
Best Overall: Three Post Teen Fabric Box Set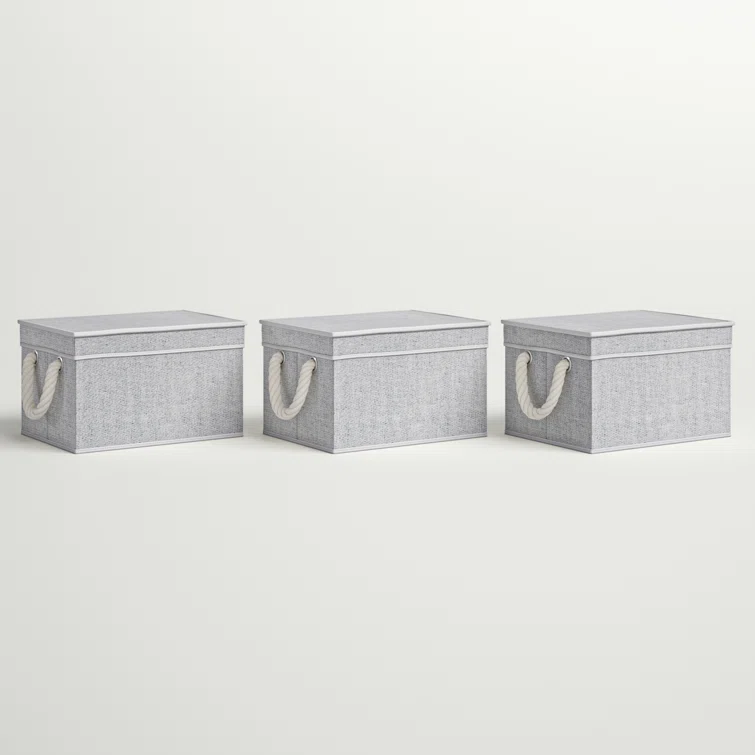 Specs:
Dimensions: 10.4" H x 12.8" W x 17.1" D
Material: Polyester blend
Set Size: Three pack
Experience an evolution in storage solutions with the Three Post Teen Fabric Box Set. These chic and versatile boxes elevate both organization and aesthetics in any space, be it your bedroom or a walk-in closet. Designed resembling stylish cubes, each box comes with a complementing lid, infusing modern charm with its fabric exterior and contrasting white rope handles.
Ditch the misconception that fabric means frailty. These storage wonders deliver the resilience you'd expect from rugged storage totes or moving boxes. Especially for urban dwellers in apartments, the days of sourcing cardboard boxes for shifting clothes are gone. With the Three Post boxes, moving becomes a breeze – lift, shift, and you're done!
But the beauty of these boxes doesn't end there. When not in use, they easily fold flat, saving precious space. Need them again? A simple unfold and the sturdy, reinforced sides provide stackable strength, optimizing vertical space. Their fabric nature ensures airflow, preserving the freshness of your garments. Topped with a firm lid, not only do your clothes remain shielded but the top surface becomes a dependable base for other essentials.
Whether adorning your floor or perched on a shelf, these boxes seamlessly integrate functionality with style. Make the choice for smart, elegant storage.
Check Price
Best Budget Pick: Lifewit Clothes Storage Bag
Specs:
Dimensions: 23.6 x 16.9 x 13.7 in / 60 x 43 x 35 cm
Material: Non-woven fabric and PVC
Set Size: Three pack
Meet the perfect companion for your seasonal wardrobe transition – the Lifewit Clothes Storage Bag. These fabric bins have been thoughtfully designed to handle the ebb and flow of your ever-evolving clothing collection, making wardrobe rotation as smooth as possible.
The generous dimensions of these storage bags mean each can be dedicated to specific garment categories. Think chunky sweaters in one, thermal wear in another, and perhaps your winter jackets in the next. And come summer? They're equally efficient, housing your beach essentials, sundresses, and more.
But where the Lifewit truly shines is in its user-friendly features. The crystal-clear vinyl panel up front provides a sneak peek into the bag's contents, ensuring no more rummaging through bags to find what you're looking for. Paired with robust side handles, moving them becomes an effortless task, whether you're arranging them side-by-side or stacking them vertically.
Crafted with a tri-layered non-woven fabric, these bags strike the ideal balance between strength and breathability, ensuring longevity and freshness for your stored clothes. Accessing and packing away items is a breeze with the full-perimeter zipper that grants complete access to the interior. Choose Lifewit for a streamlined, accessible, and aesthetic clothing storage experience.
Check Price
Best Shelf Pick: Wayfair Basics Open Fabric Storage Bin Set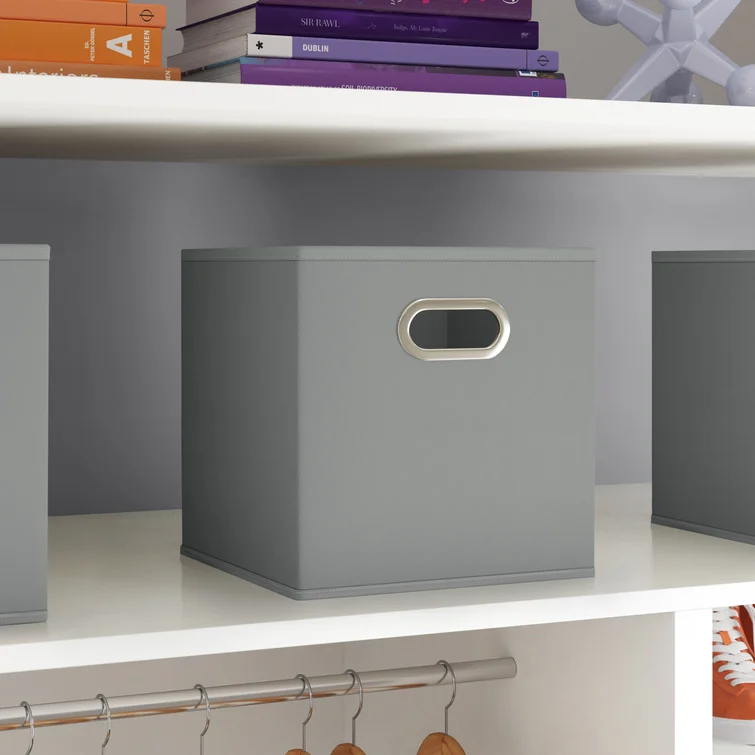 Specs:
Dimensions: 11" H x 11" W x 11" D
Material: Poly-woven canvas fabric
Set Size: Six pack
Elevate your storage game with Wayfair Basics Open Fabric Storage Bin Set. Tailored to harmoniously blend with your interiors, these bins are available in a curated palette of five hues – sleek black, refreshing aqua, timeless natural, sophisticated navy, and the subtle teafog. Whatever your style, there's a shade that'll resonate with your room's aesthetic.
These bins are more than just a pretty face. Functional features like metal-lined handles don't just add a dash of elegance but provide robust support, ensuring effortless portability even when brimming with contents.
While a lid might have added to their stacking capabilities, their uniform square design ensures optimal utilization of shelf space, preventing clothes from toppling over. Be it your daily wear, folded shirts, or those cozy scarves, these bins offer efficient organization, so no more chaotic mornings!
With a set comprising six bins, you not only get ample storage space but also the pleasure of cohesive aesthetics. Beyond the closet, their versatile design effortlessly transitions into other spaces – be it the bathroom, your home office, or even the living room. Embrace organized living across your home with this chic and functional storage solution.
Check Price
Best Premium Pick: Westelm's Bamboo Soft Closet Organization Essentials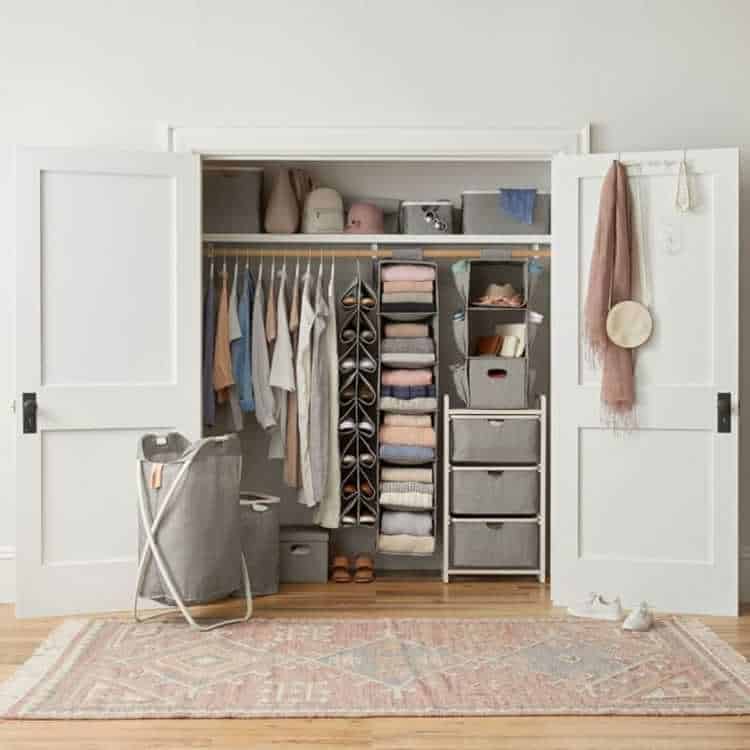 Specs:
Dimensions: 24″w x 12.5″d x 27″h.
Material: 100 percent cotton
Set Size: One
Discover a transformative closet experience with Westelm's Bamboo Soft Closet Organization Essentials, where bamboo meets fabric in a dance of style and functionality. Designed to cater to every storage need, this range embodies an assortment of solutions, from sleek hampers to multi-functional storage bins and intricate hanger compartments.
Each storage bin showcases finesse with decorative leather and rope handles, blending aesthetics with utility. For those who appreciate a sneak peek into their stored items, some bins feature clear windows, making identification a breeze. As for the hanging organizers, they cleverly mimic shelf-like spaces, offering each garment its deserving spot.
But there's more! Shoe enthusiasts can rejoice as the dedicated compartments work wonders in streamlining your footwear collection, giving your shoes their neat niches.
What sets this collection apart is the commitment to a cohesive look. Whether you opt for a single piece or indulge in multiple, the uniformity in design ensures your closet radiates organized elegance. The deep gray hues of the cotton fabric, punctuated with subtle color variations, exude an air of sophistication, while the gentle bamboo accents breathe a touch of organic freshness into the ensemble.
Boasting 14 distinct pieces, the collection promises tailored storage answers for all your wardrobe wonders. Dive into a realm where storage meets style, and every piece narrates a tale of sophistication and utility.
Check Price
Best Durable Pick: IRIS Stackable Plastic Storage Drawer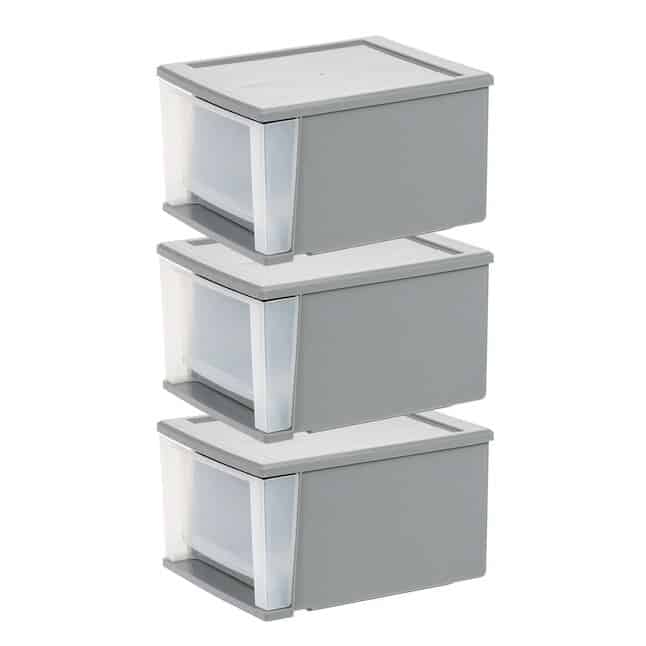 Specs:
Dimensions: 14.25-L x 12.05-W x 8.39-H
Material: Plastic
Set Size: Three pack
Revamp your space with the IRIS Stackable Plastic Storage Drawers, the ultimate go-to for those seeking a blend of simplicity and efficiency. Especially designed for spaces like apartments and dormitories where every square inch counts, these drawers effortlessly optimize your storage needs.
The standout feature is their drawer-based design, ensuring easy access for your frequently used items. No more rummaging through stacks; just a simple pull, and your favorite garments are at your fingertips. And their ubiquity – from major retailers like Lowes and Walmart to the upscale aisles of the Container Store – is a testament to their versatility and wide appeal.
The ensemble, which includes a set of three, ensures ample storage space. Whether you're organizing your seasonal attire or daily wear, these drawers have got you covered. The large, ergonomically designed handles promise effortless operation, while the flat top with its raised outer rim offers a secure stacking foundation, allowing you to build vertically without any wobble.
Durably constructed from plastic, these drawers ensure a seamless glide, accompanied by the thoughtful addition of a rear stopper to prevent overextension. Choose the IRIS Storage Drawer for a blend of convenience, style, and durability.
Check Price
Best Under Bed Pick: ClosetMaid Capsule Fabric Underbed Storage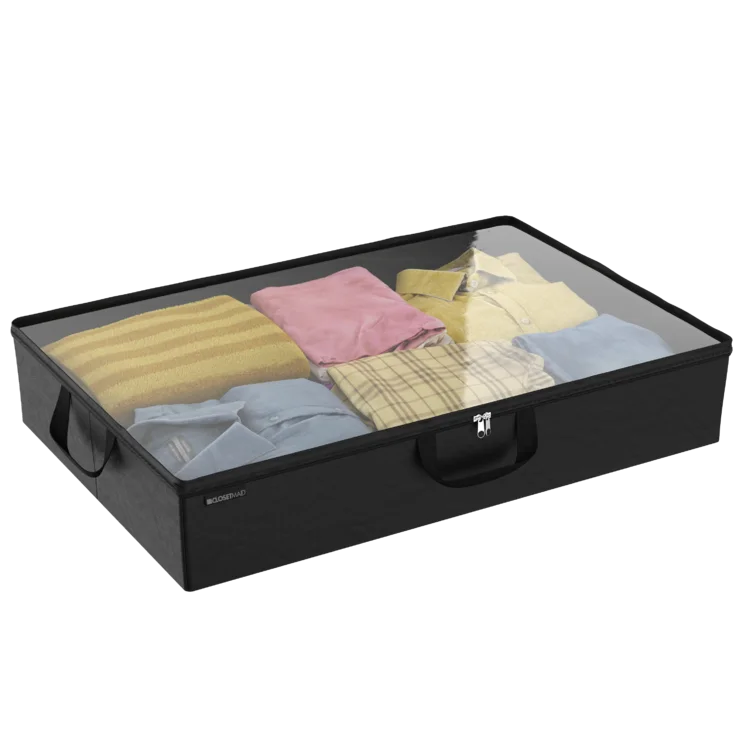 Specs:
Dimensions: 5.55" H x 30" W x 19.92" D
Material: Fabric
Set Size: One
Unlock the potential of the often-overlooked space beneath your bed with the ClosetMaid Capsule Fabric Underbed Storage. Designed with convenience in mind, this storage container effortlessly combines practicality with a touch of elegance.
A standout feature is its clear top, eliminating the age-old struggle of identifying contents. No more guessing or endless unzipping; a simple glance is all it takes. But it's not just about visibility; it's also about protection. The rigid sides offer an enhanced structural integrity, ensuring your clothes remain safeguarded from potential wear or damage.
Accessibility is key, and the sturdy zipper with its dual pulls ensures you have full reach to your stored items. And, speaking of items, its design lends itself perfectly for storing seasonal attire, ensuring they stay dust-free and ready for when the seasons change.
Aesthetically, its sleek design gives it an edge over many counterparts in the market, making it a discreet yet stylish addition beneath your bed. But functionality isn't compromised for style; the inclusion of handles on all sides offers unparalleled flexibility in positioning, adapting to your room layout effortlessly.
In the ClosetMaid Capsule, you don't just get a storage container; you get a thoughtfully designed piece tailored for the modern home. Embrace clutter-free living with elegance.
Check Price
Best Space Saving Pick: Ziploc Plastic Storage Bags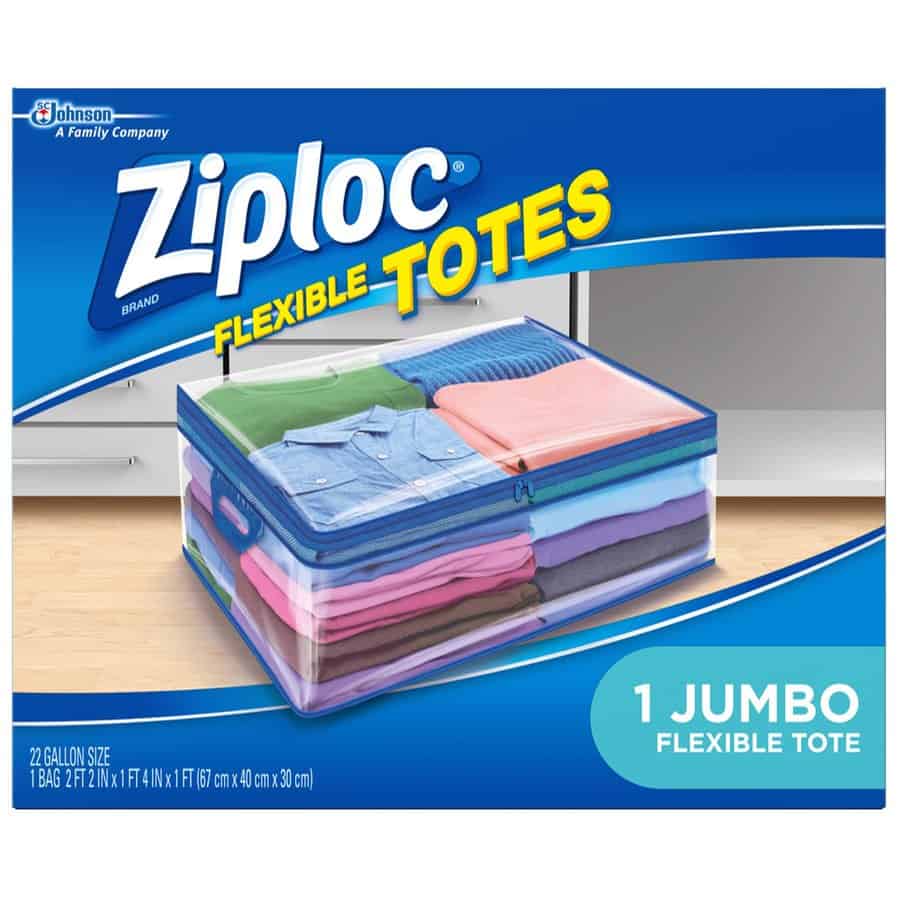 Specs:
Dimensions: 21-in x 33-in
Material: Plastic
Set Size: Three pack
For those eyeing long-haul storage for their clothes, Ziploc's vacuum seal plastic bags emerge as a prime choice. More than just storage, these bags offer an advanced preservation system.
Central to its design is the vacuum-sealing capability. By eliminating air from the equation, it wards off common storage enemies: mildew, mold, and bacteria. This ensures not only cleanliness but also extends the lifespan of your cherished garments. An added benefit? The space-saving magic. As the bags compress your clothes, you'll be amazed at the newfound storage space. Ziploc's claim of a whopping 75% space reduction is akin to magically tripling your closet space!
Beyond this, there's the assurance of waterproof protection. As long as your garments are bone dry when sealed, they emerge as fresh as the day they went in. However, a small heads-up: to harness the full power of these bags, a potent vacuum cleaner is essential. It's this strong suction that guarantees the utmost compression and airtight sealing.
But what truly differentiates Ziploc from its peers is the premium quality of its plastic. Forget the usual brittleness encountered with storage solutions; these bags promise flexibility and durability throughout their tenure.
In a nutshell, Ziploc Plastic Storage Bags aren't just storage; they're a garment sanctuary, promising protection, longevity, and maximized space.
Check Price
Best Stackable Pick: OpenSky Stackable Storage Box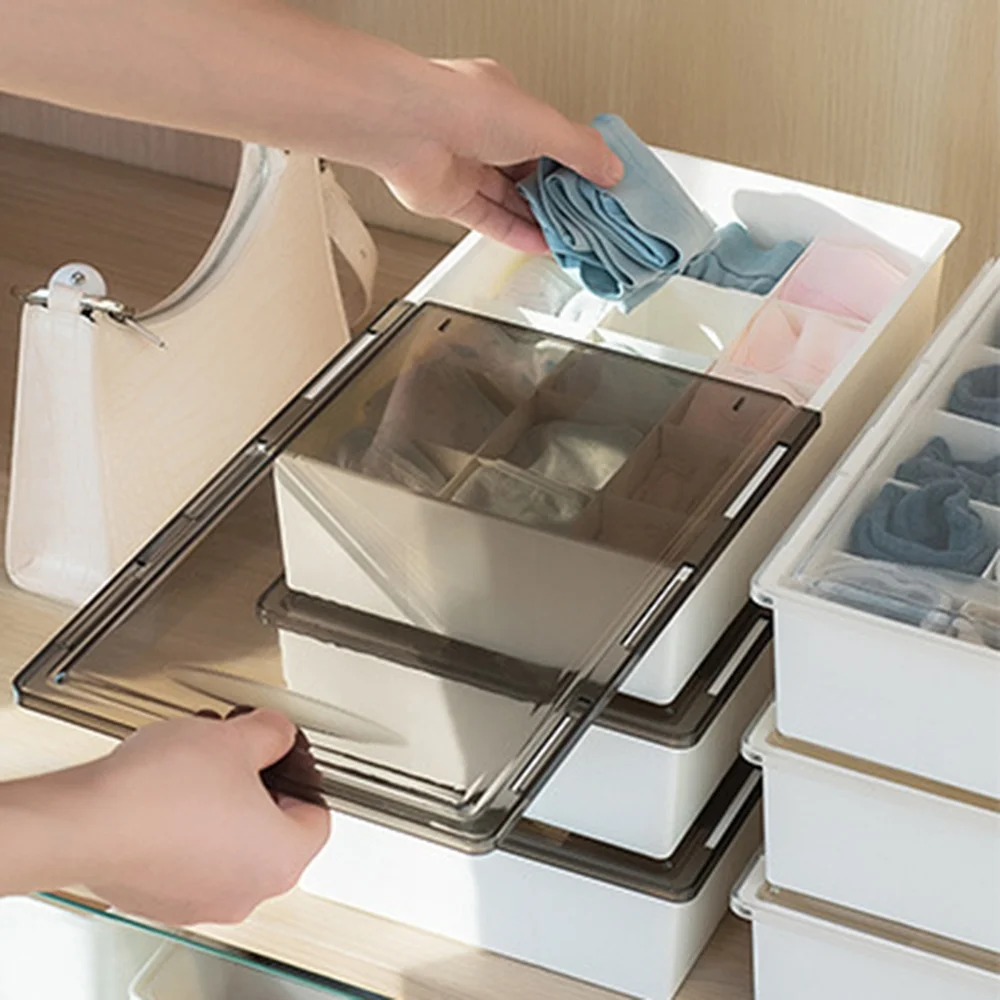 Specs:
Dimensions: 12.5 X 7.1 X 3.1 inches
Material: Plastic
Set Size: One
Small items often pose the biggest organizational challenges. OpenSky's Stackable Storage Box gracefully rises to the occasion, proving that the best solutions sometimes come in compact sizes.
Choose from two chic designs: one with a crystal-clear lid for those who prefer a direct view of their belongings, and another with a sophisticated smoked tawny hue, lending a touch of elegance. The sliding lid mechanism ensures that accessing your items is both swift and smooth, without the hassle of completely removing the lid.
Diving into its interior, 15 meticulously designed compartments await. Whether it's an eclectic collection of socks or an assortment of delicate underwear, every item finds its niche. Though stacking is an option, these containers truly shine when placed within a drawer or on a slender shelf, ensuring every space, no matter how tight, is utilized efficiently.
But OpenSky goes the extra mile. With the inclusion of adhesive strips, these storage boxes can be transformed into wall-mounted wonders. Imagine the sheer convenience of adhering these to your closet walls, bringing both order and a dash of style to often overlooked spaces.
OpenSky's Stackable Storage Box isn't just storage; it's a statement in space optimization and stylish organization. Dive into an orderly world where every little thing has its special spot.
Check Price
Best Shoe Storage Pick: See Spring Shoe Storage Box
Specs:
Dimensions: 13.1 x 9 x 5.5 inches
Material: Plastic
Set Size: Twelve pack
For every shoe enthusiast, the eternal conundrum is how to showcase their prized collection while maintaining its pristine condition. The See Spring Shoe Storage Box elegantly merges visibility with protection, creating an organizational haven for your footwear.
Crafted from durable plastic, what sets these boxes apart is their clever ventilation design. This ensures your shoes not only remain in prime condition but also enjoy a breath of fresh air, curbing any unwelcome odors and preventing premature wear and tear.
Stacking capabilities are another hallmark of this product. Thanks to the intuitive locking mechanisms situated at the top and bottom, these boxes nestle seamlessly atop one another, ensuring your collection remains secure yet accessible. No more toppling towers of shoes!
Accessibility is further enhanced with the inclusion of an easy-open door at the front of each box. Whether you're reaching for those pumps at the pinnacle or the sneakers at the base, each pair is just a gentle tug away.
It's also essential to note the versatility of these boxes. Available in various sizes, they accommodate more than just footwear. From storing camping equipment to preserving cherished baby memorabilia, the See Spring Shoe Storage Box proves its adaptability time and again.
In essence, the See Spring Shoe Storage Box offers more than just shoe storage—it's a versatile sanctuary for your valuables, ensuring they remain protected, organized, and always within reach.
Check Price
Best Portable Pick: Rimax Three Drawer Rolling Cart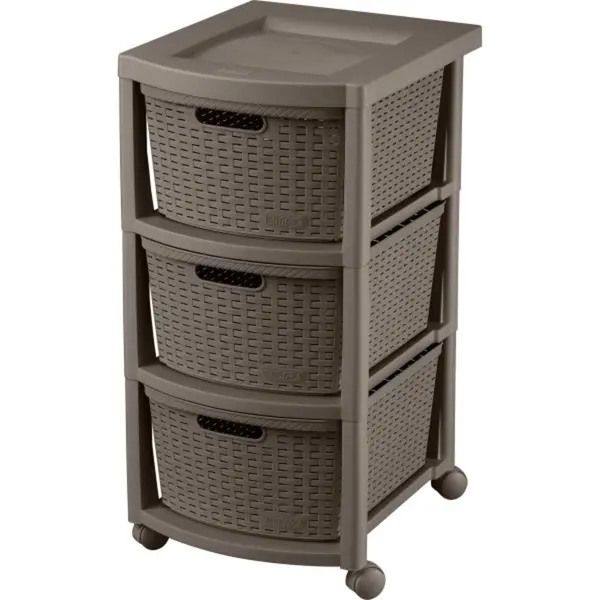 Specs:
Dimensions: 26 inches high x 13 inches wide x 15.4 inches deep
Material: Plastic
Set Size: One
Picture this: a mobile storage solution that comes to you, instead of you rummaging through fixed closets or cabinets. The Rimax Three Drawer Rolling Cart is exactly that — a blend of mobility, capacity, and design finesse.
Coming in two classic shades — pristine white and earthy mocha — this cart doesn't just make storage accessible but also visually appealing. A notable feature is the woven texture on the bins, which lends a touch of elegance to its otherwise utilitarian design, making it more than just another plastic storage option.
Each of the three spacious drawers boasts a lock mechanism, ensuring your belongings remain secure. Whether it's your winter clothes or craft supplies, everything finds a snug spot within these deep bins.
Maneuverability is the game-changer here. Thanks to its robust and smooth-rolling wheels, transporting this unit becomes a breeze, be it from one room to another or just a few feet away. This convenience factor might just make it your favorite storage companion, especially in spaces where flexibility is key.
Though the Rimax Rolling Cart prioritizes mobility over stackability, its compact design ensures it occupies minimal space. Need more storage? Simply roll in another unit and expand your storage landscape without compromising accessibility.
In a nutshell, the Rimax Three Drawer Rolling Cart is not just about storage; it's about moving with the times, literally. Perfect for dynamic spaces and lifestyles that value both form and function.
Check Price
How to Choose a Perfect Storage Container for Clothes?
Construction Material
You will typically see storage containers made out of plastic or fabric. These are affordable and durable materials, which is what makes them popular. However, be careful with both. Clothing storage containers need to be breathable. So, while plastic is protective and popular, you don't want a seal on the lid so that air can still get in. Similar to fabric, there are treated fabrics to make them stiffer and more durable. They may also have a clear vinyl window. Check for breathability to ensure the fabric treatment does not inhibit airflow too much.
Storage Capacity
This is probably the most important feature of your storage container. The container that you choose needs to be large enough to fit everything you want to store while also being small enough to fit into your closet. For most people, it is more practical to use multiple smaller containers than one extra large container. When choosing your container, consider the dimensions of the container and the overall storage capacity. A long rectangle shape may fit better on your closet shelf where you can stack multiple boxes on top of each other than a single large, deep, square box.
Breathability
You should never store your clothes in sealed containers. Moisture gets trapped in the container, and when temperatures change, this creates condensation. Over time mold, mildew, and bacteria that get trapped in the container will begin to cause unpleasant smells and quicken the breakdown of the fabric. Non-airtight containers allow air to flow in and out of the container, preventing this from happening. Your other option is to look for a storage solution that removes all of the air. This would essentially "starve" the mildew and bacteria, preventing them from growing.
Design
If you plan to hide your storage boxes away in the closet, garage, or storage unit, then the design probably won't be a crucial factor for you. However, if they will be readily visible in your closet or stored in your bedroom, then you will want an attractive design. Look for a storage container that more closely resembles a decorative bin than a rugged storage container. They are typically made of fabric, woven rattan, or wood. They will also have larger and more prominent handles. Try to choose a storage container that complements the rest of the room's interior design style. Some containers look more rustic, while others look more modern.
Versatility
You may need a container to store your sweaters right now. What happens when fall comes, and you'd like to move the sweaters into our closets to make them more convenient? If you have versatile containers, you can convert them into summer clothing storage containers. This reduces the number of storage containers. Conversely, sometimes you need a very specific type of clothing storage container. For example, if you need to store shoes or underwear, there are containers specifically designed to hold these items. Shoe containers are sized like the cardboard shoe boxes that new shoes come in but are more protective and durable. Underwear and accessory storage containers have several small compartments to individually hold each item, helping the storage container to stay organized.
Conclusion
Our top pick for the best storage containers for clothing is the Three Post Teen Fabric Box Set. These stylish boxes are perfect for holding clothes because they are attractive and a nice size. They also conveniently stack so that you can place several of them on top of each other.
For a more affordable option, the Lifewit Large Capacity Clothes Storage Bag set is a perfect option because it will give you large capacity bags for long-term storage. They are perfect for tucking up on a high closet shelf because you can easily see what is in each bag through the clear vinyl panels on the front.
FAQs on Storage Containers for Clothes
How do you keep clothes fresh in storage containers?
Thoroughly clean clothes before putting them in a storage container. Any lingering smells will remain trapped in the container. Place dryer sheets in the container with the clothes. Use baking soda to absorb offensive odors. Use containers that have ventilation to allow for air to flow. Use a dehumidifier to take extra moisture out of the air.
Should clothes be stored in airtight containers?
You should not store your clothes in airtight containers. Textiles need air circulation to help them last. Without it, the fabrics of your clothes will break down faster. The trapped moisture will encourage bacteria and mildew to flourish, which feeds on the clothing, breaking down the fibers.
Why do clothes turn yellow in storage?
The yellow hue that develops on fabrics in storage is a result of them not being clean properly before getting placed in storage. Dirt, grime, oil, and body fluids like sweat all break down over time. As this happens, they turn to yellow spots and staining on the fabric.