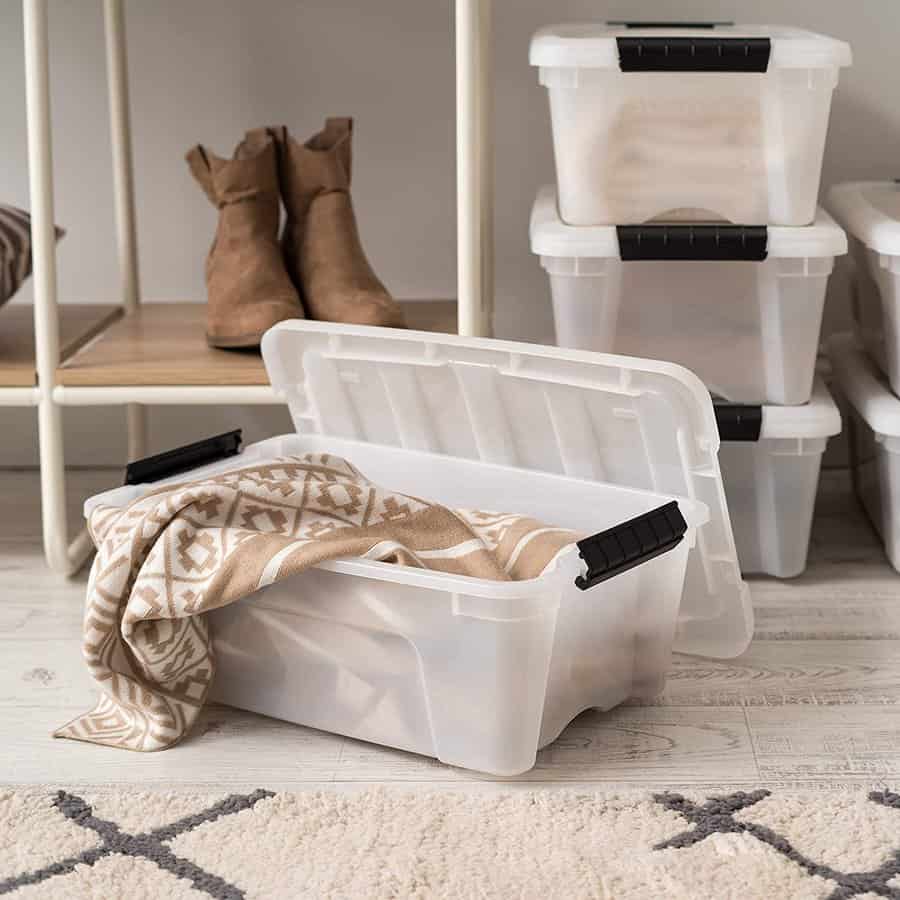 Trendey may earn a commission when you buy through links on our site.
As an Amazon Associate we earn from qualifying purchases.
Best Storage Containers
One of the most popular pieces of advice for homeowners is to reduce their clutter. It is human nature to gather and collect items. But this leads to a home that feels overstuffed and messy.
You know that you can't just get rid of everything, so how do you reduce clutter? The answer is buying and using the best storage containers.
With the right containers, your home will look and feel organized, giving you peace of mind and reducing your stress. Find the right storage container from this list that gives you storage solutions for a variety of needs in your home.
Top Picks
Best Overall: Prep & Savour Pantry Storage Set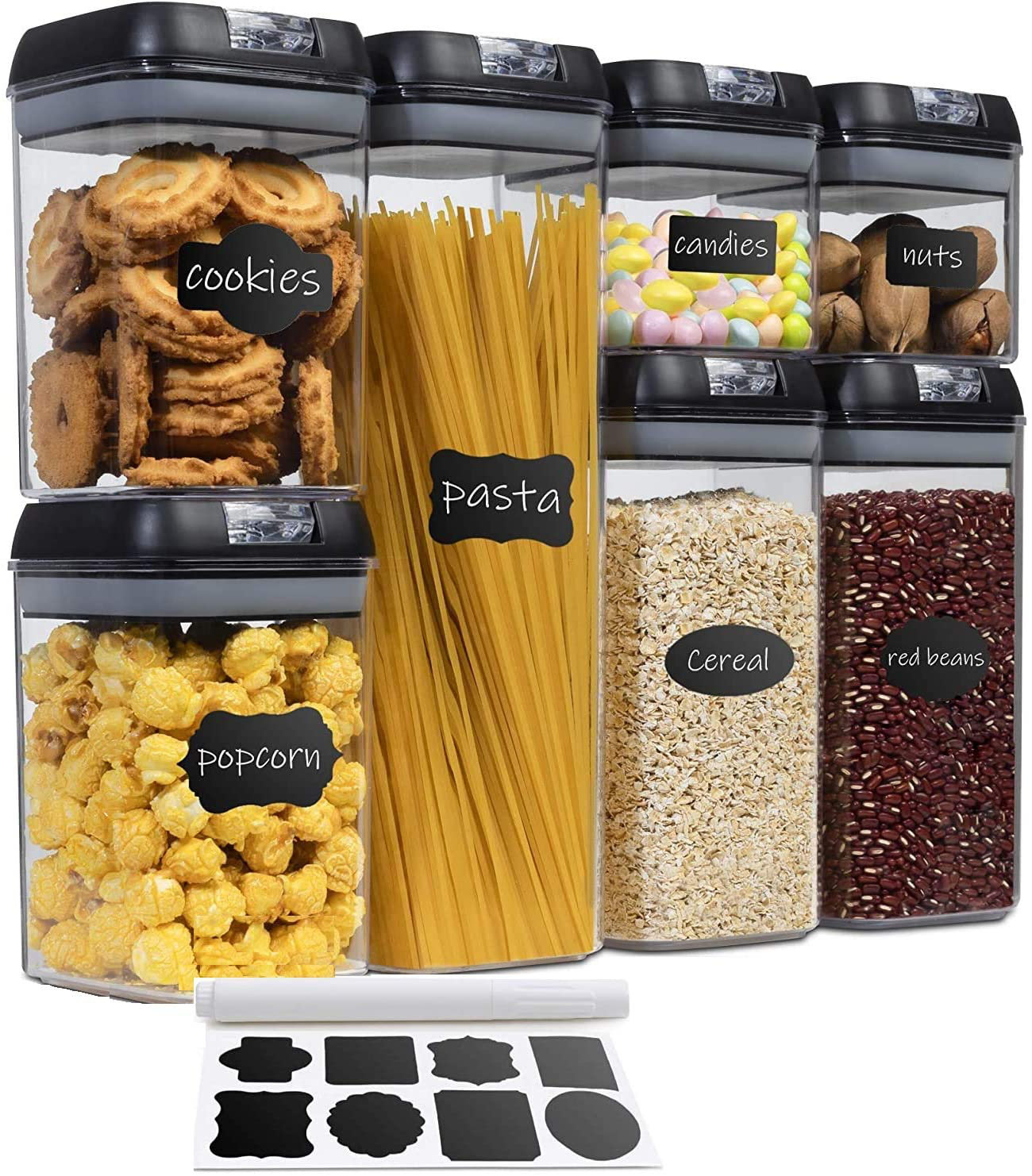 Specs:
Dimensions: Varies
Material: Plastic
Number of Pieces: 7
This set of seven food storage containers will have your pantry storage looking organized and clutter-free. The BPA-free plastic is food safe and comes with a plastic lid that's lined with a silicone ring for an airtight seal. You can use them as food containers or for anything else, such as dog food storage containers.
The different sizes are perfect for selecting the exact size you need to reduce air in the container and keep the content fresher for longer.
What makes these plastic food storage containers stand out is the included labels. Not only can you see through the clear containers, but you can add custom labels.
The shatterproof plastic marks these containers durable enough for heavy use in your pantry and kitchen.
One potential issue is that the lids have flip tops. This is a weak point in the lids, and if you are too aggressive with them, they can break.
Check Price
Best Budget Pick: IRIS Plastic Storage Bin
Specs:
Dimensions: 16.49 x 10.98 x 6.53 inches
Material: Plastic
Number of Pieces: 6
This set of six clear storage bins is convenient for organizing any room in your house. Each container holds 12 quarts, making them a nice size, not too large and not too small. These high-quality bins are made in the USA of polypropylene with a pearl treatment. This lets you see what is inside but also camouflages it so that the contents aren't readily seen. This makes them the best storage bins for places like the bathroom or craft room, where the bins will be seen but are not intended to be a part of the decor.
You can easily stack them, making it easy to keep them organized. The 2-in-1 handles are comfortable to hold while also acting as a latch to secure the lid to the container's body. A unique feature of these containers is the built-in pull handle on the bottom of the container, making it easy to pull these containers down from high shelves.
Unfortunately, these totes aren't as durable as other options on this list. This can cause them to crack or break if you bang them around.
Check Price
Best Rugged Pick: Rubbermaid Roughneck Rugged Stackable Storage Tote Container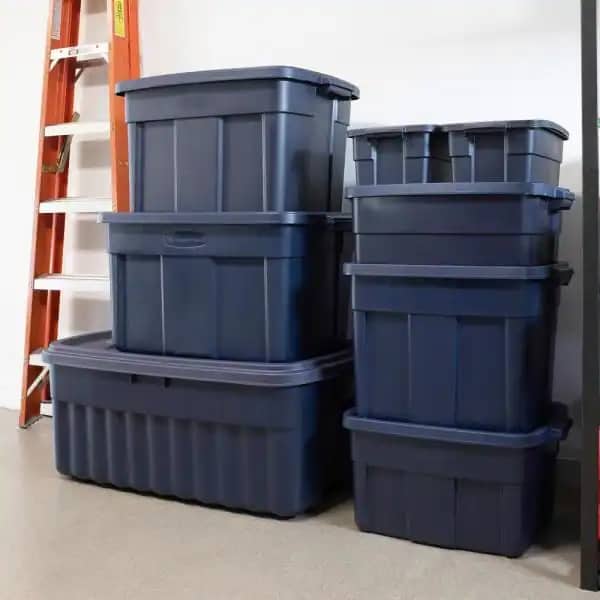 Specs:
Dimensions: 16.38 H x 15.88 W x 23.88 D inches
Material: Plastic
Number of Pieces: 6
Organize your entire garage storage with this set of six plastic containers from Home Depot. These storage totes are a nice size, each holding 18 gallons worth of stuff. The containers are made from impact-resistant material that can withstand the extreme temperature changes of your garage.
The lids are shaped with a raised outer lip, which holds the stacked containers in place and keeps them secure in your garage.
The body of the totes is constructed with reinforcement to prevent buckling, cracking, and warping from keeping them stacked for long periods of time. A nice touch is the heavy load handles that are designed to stay strong while carrying the totes fully loaded.
One drawback is that they are dark blue, so you will need to make and add labels if you want to quickly know what's inside without opening each box. The lids also do not securely latch in place, so they can easily pop off if you overload the container.
Check Price
Best Premium Pick: Modern Weave Rattan Storage Bins Collection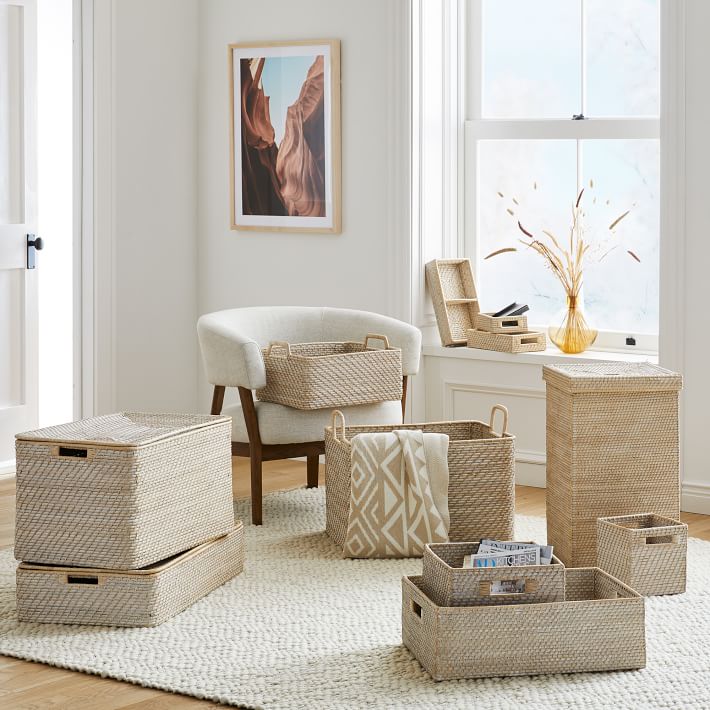 Specs:
Dimensions: Various
Material: Rattan
Number of Pieces: Multiple available, sold individually.
Sometimes you need storage containers that are also decorative. These woven rattan containers are the perfect solution. They come in a range of sizes, from small baskets to large bins with lids. You could place multiple rectangular containers on a shelf as decorative storage boxes.
Their construction of natural materials adds an organic touch to the room, while the woven design adds texture. They also have a whitewashed finish, giving them a bit of extra design and polish. These containers would make a perfect accent in a farmhouse, contemporary, or bohemian room.
Unlike other similar baskets, these also have functionality with large handle holes or added on woven handles that make carrying the bins easier.
Unfortunately, woven rattan has one major drawback. Over time, the rattan dries out and becomes brittle. This can cause it to splinter, break, and become unwoven. This will degrade the look of the baskets.
Check Price
Best Heavy Duty Pick: Rubbermaid Brute Tote Commercial Products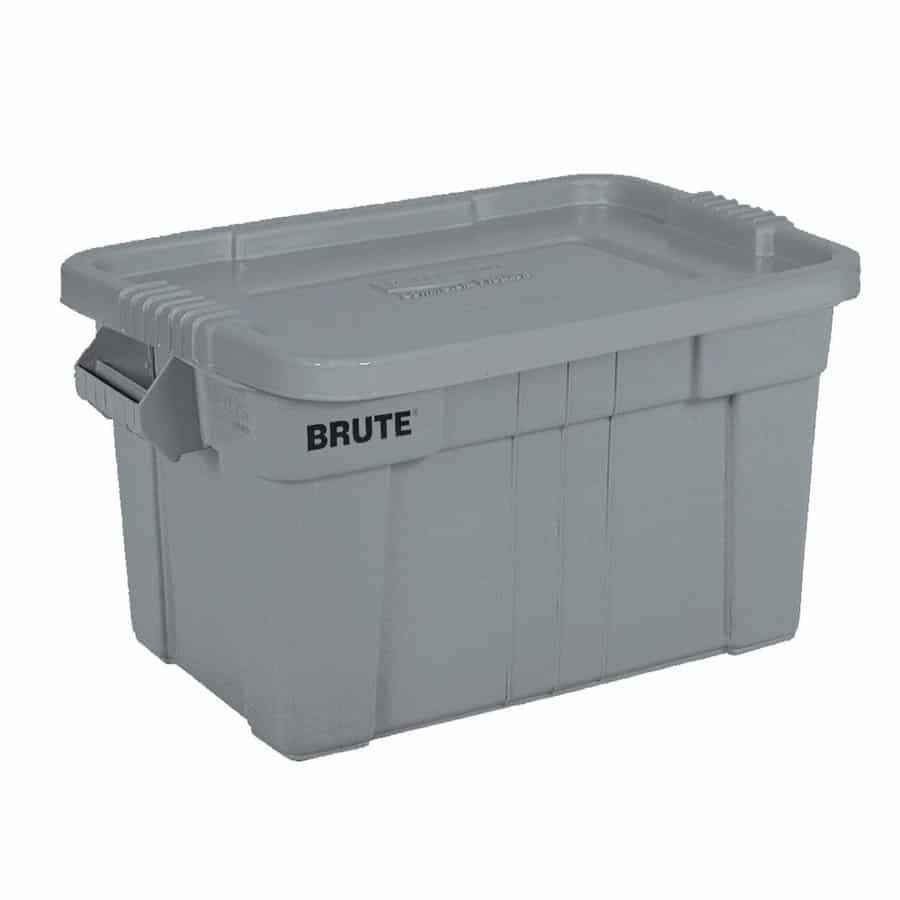 Specs:
Dimensions: 15.1 H x 17 W x 27.9 D inches
Material: Plastic
Number of Pieces: 1
Not all plastic storage bins are built the same, and this rugged tote proves that with its commercial-grade construction. Feel free to throw this tote around, as its heavy-duty construction makes it durable enough for the most extreme conditions and use. It has an impressive 20-gallon capacity, making it large enough to hold everything from sporting goods and toys to tools.
On either end, there are large handles that allow for easy mobility when full. An additional nice touch to the handles is the holes that allow for drainage and reduced risk of bacteria buildup. You can choose from two colors, dark gray or white. Feel free to use these for food storage as they meet NSF/ANSI standard 2 for food handling and processing.
For all their beneficial features, it would be nice if they had wheels. These totes can get heavy once they are full, making them hard to move about.
Check Price
Best Underbed Storage: BIKAHOME Solid Wood Underbed Storage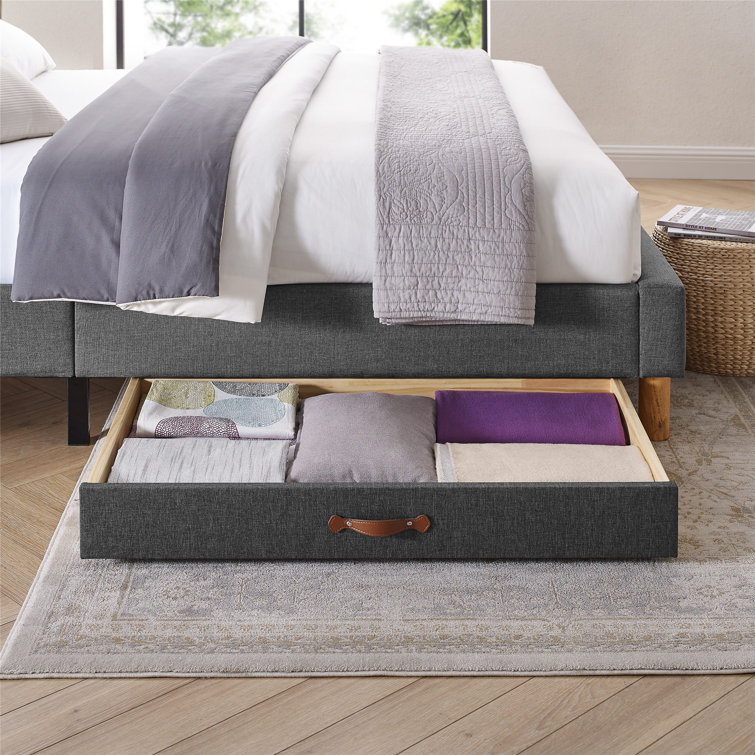 Specs:
Dimensions: 5.83 x 32.9 x 19.68 inches
Material: Solid pine
Number of Pieces: 1
The unused space under your bed is a prime location for creating more storage space. This elegant wood tray is perfect for utilizing this space. Its quality solid wood construction and upholstered gray front will add a contemporary feel to your bedroom. The front upholstery gives the drawer a finished look that adds a polished touch to your bed. To make it easier to use, a leather handle is attached to the front.
Underneath, there are four sturdy caster wheels that roll smoothly as you pull and push the drawer. There are two available sizes, making it possible to have a custom fit under your bed. You could purchase two and have a complete set that filled the entire space under your bed.
One drawback of this container is that it isn't enclosed, so everything you keep in it will eventually collect dust and have to be cleaned. The wood is also not treated, so it can develop rough spots and splinters over time.
Check Price
Best Linen Storage: Rebrilliant Fabric Storage Bag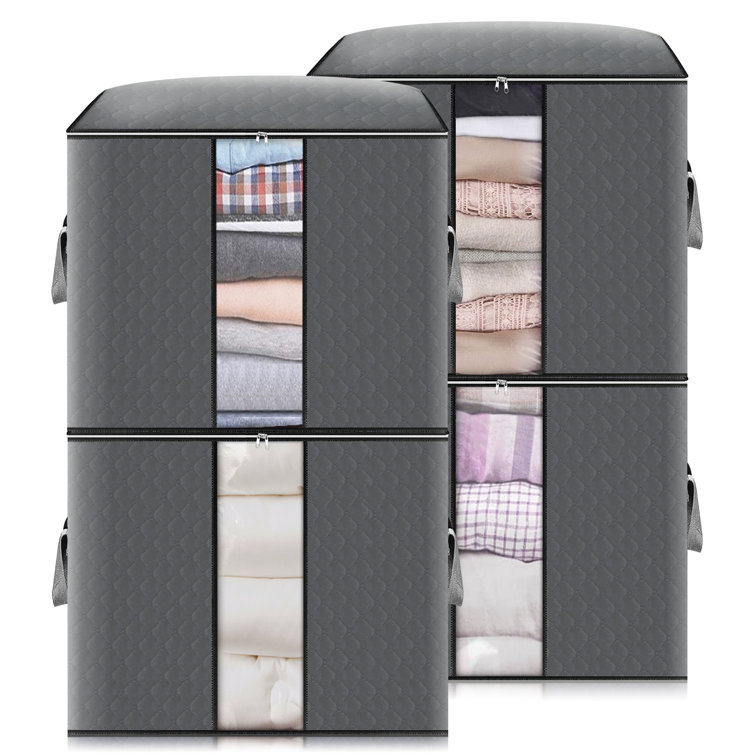 Specs:
Dimensions: 19.5 H x 19.5 W x 12.4 D inches
Material: Fabric
Number of Pieces: 4
Having your sheets, blankets, and towels stacked on shelves can become a piled mess. Then there are the seasonal linens that you only use a few times during the year. This set of four storage bags will keep all of your linens neatly organized and protected.
The upgraded durable material construction will keep fabrics odor-free. It is a three-ply composite fabric that's non-woven to ensure the greatest strength and protection.
Stainless steel zippers keep each bag securely closed and a reinforced handle makes it easy to transport each bag from storage to where you need it. A clear window in the front makes it easy to see what each bag has in it without opening them, saving you time and effort. Each bag is large enough to hold a king-sized comforter or up to ten blankets.
One drawback of these containers is that they are not rigid, so there is no internal structural support. This can cause the container to fold in on itself if it isn't completely filled.
Check Price
Best Food Storage: Rubbermaid Brilliance 20-Piece Food Storage Container Set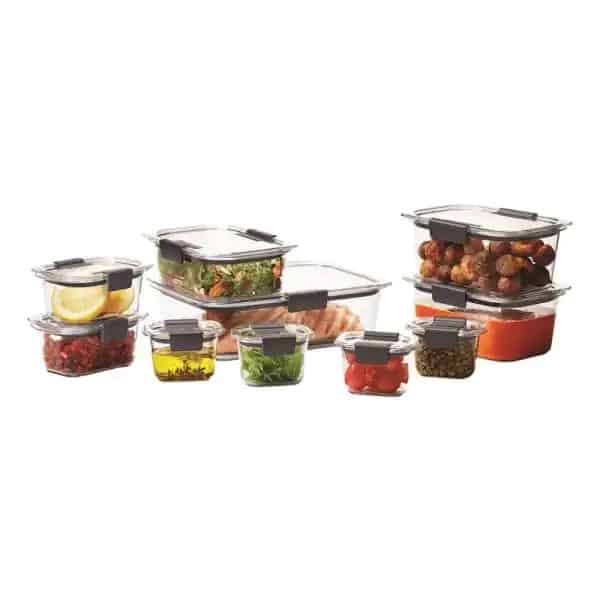 Specs:
Dimensions: Varies
Material: Plastic
Number of Pieces: 20
This large set comes with an impressive 20 pieces that are in a wide range of sizes. This makes it an ideal set for organizing your food storage in your pantry. However, the plastic containers are also dishwasher and refrigerator safe, making them functional in your kitchen.
The BPA-Free plastic containers are guaranteed to not leak thanks to the airtight leak-proof seals and secure latches. The plastic is stain and odor resistant. This means they will continue to look crystal clear for a long time to come.
What makes these containers stand out are the vented lids that allow steam to escape while you heat them in the microwave. The modular design of the containers means you can use them for storing dry goods or as deli containers.
One potential issue with these containers is a common one that plagues plastic food containers. Over time, hairline factors can develop in the clear plastic.
Check Price
Best Wheeled Storage: Sterilite Wheeled Storage Box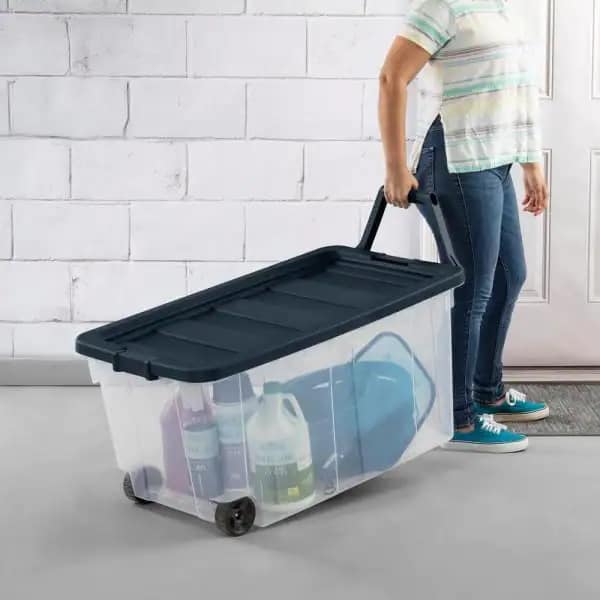 Dimensions: 21.25 W x 37 D x 17.75 H inches
Material: Plastic
Number of Pieces: 1
This large storage container has plenty of space for giving you a large amount of storage. The clear design of the plastic container makes it easy to see what's inside. You could use this container for holding holiday decorations, keepsakes, or tools.
The solid construction of the lids makes it possible to stack multiple of these containers on top of each other. Each lid has a recessed design that securely holds the stacked boxes.
A large hinged handle makes it easy to pull the container on its large wheels. The large handle means you do not have to bend over as much, making the design more ergonomic. Heavy-duty latches ensure the lid stays securely in place and closed.
One potential drawback of this storage container is that the wheels are set into the container. This reduces some of the internal storage capacity and can make it awkward to load boxed items inside.
Check Price
Best Glass Storage: Pyrex Storage Bakeware Set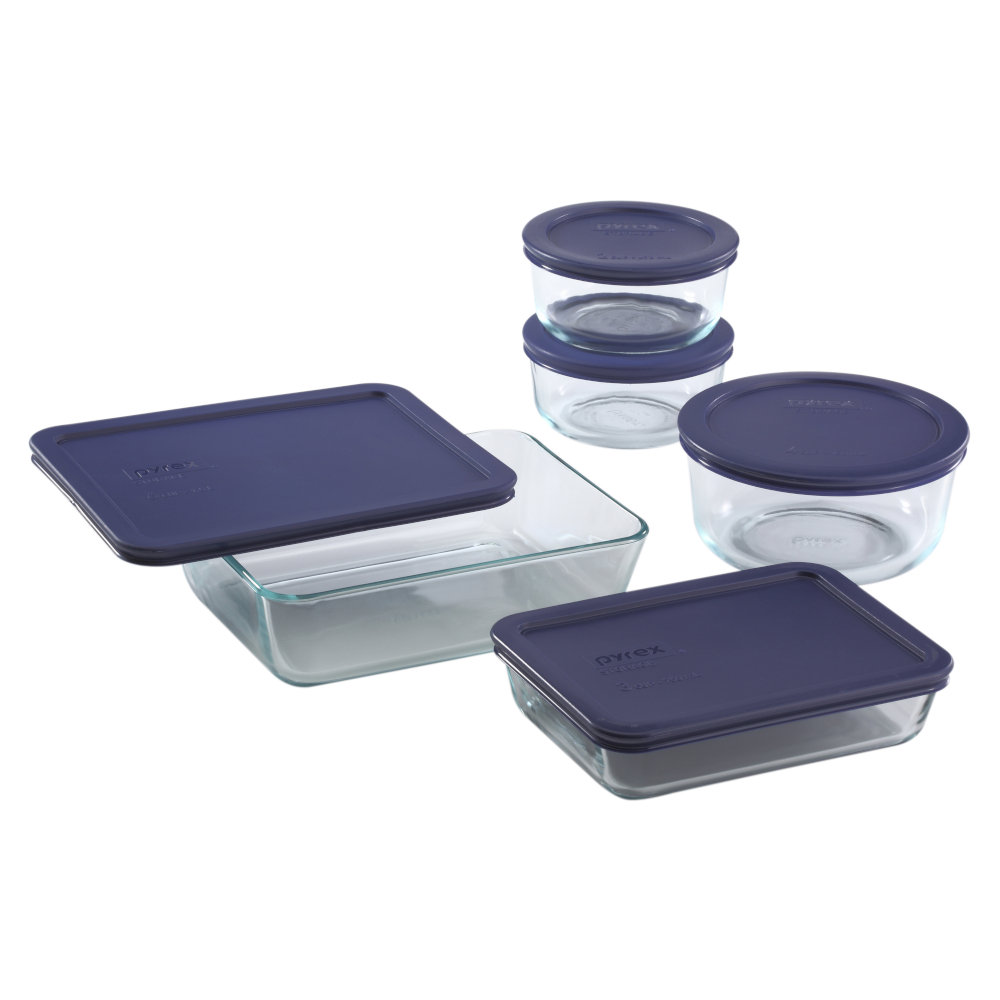 Specs:
Dimensions: Small round bowl 5.29 diameter x 2.36" H Large round bowl 5.87 diameter x 2.87" H small rectangle bowl is 7.37" W x 5.5" D x 1.75" H Large rectangle bowl is 8.26" W x 6.62" D x 2.25" H
Material: Glass
Number of Pieces: 10
This glass set is one of the best food storage container options out there, especially for meal prep. The multiple sizes allow you to hold a variety of food, both prepared and not. Each of the ten pieces is oven, microwave, refrigerator, freezer, and dishwasher safe. This lets you do everything in a single container, reducing the number of dishes you dirty and the amount of cleaning you have to do.
The nonporous glass does not absorb stains or smells, ensuring your food never has any unwanted flavors. It also means you can thoroughly clean and sanitize the containers. You can safely heat these glass containers up to 475 degrees. The clear container makes it easy to see what's in each container, making it simple to have an organized refrigerator.
While glass containers are more fragile than plastic, these are not your typical low-quality glass. Pyrex has built a reputation over the decades for being strong and durable.
Check Price
How to Choose a Perfect Storage Container?
Storage Capacity
When you head to the Container Store or any other retailer, it is easy to get overwhelmed by the numerous size options. Look at the storage capacity of the units to determine which container is the right size for the items you want to store in it. This is especially important for smaller glass storage containers. You need containers with airtight lids that won't trap a lot of air inside to keep dry food fresh. You also do not want huge containers taking up more room than necessary for meal prepping.
Style
For some uses, style does not matter so much, such as when you are looking for storage containers that will organize your garage. Those could be rugged totes that you stack or line up. For other storage containers, style is important because you will see and use them daily. Basket, woven, cloth, or metal storage containers give your storage solution style to help them blend into the interior design of your home. This creates hidden organization and storage.
Wheels
Some storage containers will function better and make your life easier if they have wheels. Containers that are meant for under your bed or oversized containers meant to hold a lot will be easier to move with wheels. Typically, they will have two wheels on one end. You will then lift the container with the handle on the opposite end. Larger wheels roll better, but larger wheels can make the container bulkier or reduce the internal storage capacity.
Handles
The handles are how you will carry and hold your storage container. Small containers meant for food storage and meal prepping typically do not have handles because they are small enough to not need them. Larger containers will have a simple handle, such as a hole in the side or molded plastic. The largest containers will have separately attached handles that should be large enough to wrap your hand around. The handles need to be large enough that you can securely hold the container. Look for a handle with ergonomic qualities to make it more comfortable.
Durability
The durability of the storage container will dictate how protective and long-lasting it is. A rattan woven or plastic basket won't last as long as a plastic, wood, or metal bin. A plastic container won't last as long as a glass food storage container. A thin-walled large tote won't last as long as one with reinforcement at the stress points.
Conclusion
My top pick for the best storage containers is the Prep & Savour Food Storage Set because it comes as a complete set with a variety of container sizes. The BPA-free plastic makes them safe and durable for use in your home and to hold food. 
For a more affordable alternative, the set of IRIS Plastic Storage Bins gives you six nicely sized bins for holding anything and everything around your home. You could have one in your bathroom, another in the pantry, and another in your laundry room.
FAQs on Storage Container
Is it OK to store clothes in plastic containers?
Plastic bins are a practical and affordable choice for storage. They are durable and keep bugs away from your clothes. However, they aren't breathable. They can trap moisture, which can allow mold or mildew to flourish.
Are glass containers better than plastic?
Glass is safer and more sanitary than plastic. Glass is a nonporous material that won't absorb food or germs. You can also sanitize it at high temperatures, which you cannot do with plastic. Over time, plastic will need to be replaced, while you can endlessly reuse glass containers. This saves you money in the long run.
Why do clothes smell when stored?
Clothes can smell for several reasons when coming out of storage. If you didn't properly launder them, then sweat or dirt left on the clothes can cause the smell. If the container isn't breathable, then trapped moisture can allow mold or mildew to flourish, which also has an unpleasant smell.