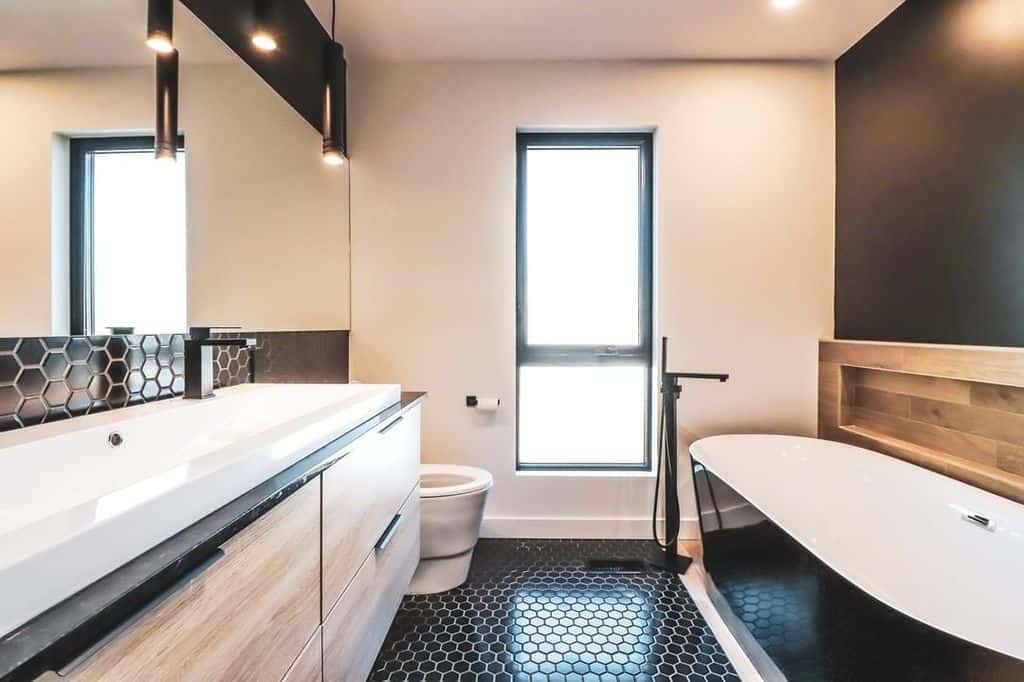 76 Black and White Bathroom Design Ideas
by — Kari Apted

Published on February 22, 2022

Updated on March 20, 2023
"Simplicity is the ultimate form of sophistication." -Leonardo da Vinci
Black and white is a classic color scheme that will never grow old, especially in the bathroom. Its simplicity and sophistication cannot be matched by any other bathroom design ideas.
The surge in simple farmhouse decor and minimalist concepts have fueled a new interest in black and white bathroom ideas. Scroll through our collection of the best black and white bathroom ideas for inspiration on creating your own unique bathroom design.
1. Incorporate Black Bathroom Fittings
A white bathroom with black fixtures is a striking and timeless combination. One can create a modern and elegant statement by bringing together white walls, floors, and countertops contrasted with black bathtub and shower fixtures.
To add an extra touch of sophistication, consider introducing a subtle gold accent into the mix. Whether you opt for a glamorous chandelier or simply a neutral gold tap, the combination of white and black with the extra pop of gold will make your bathroom feel like the lap of luxury.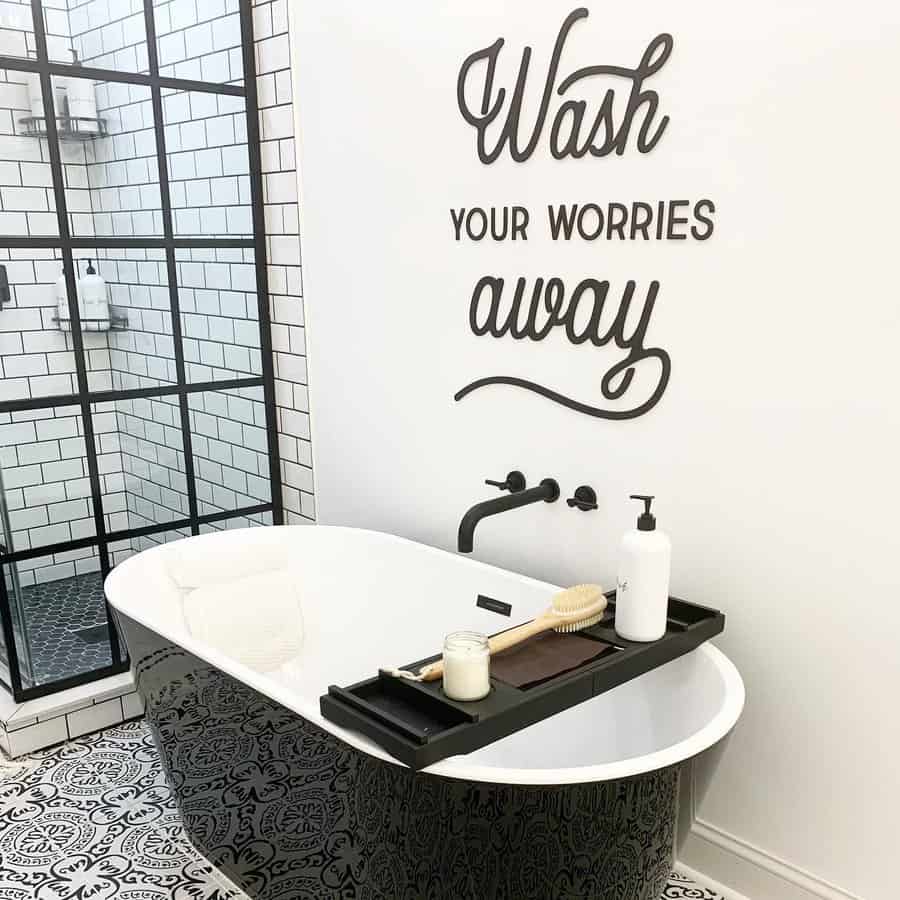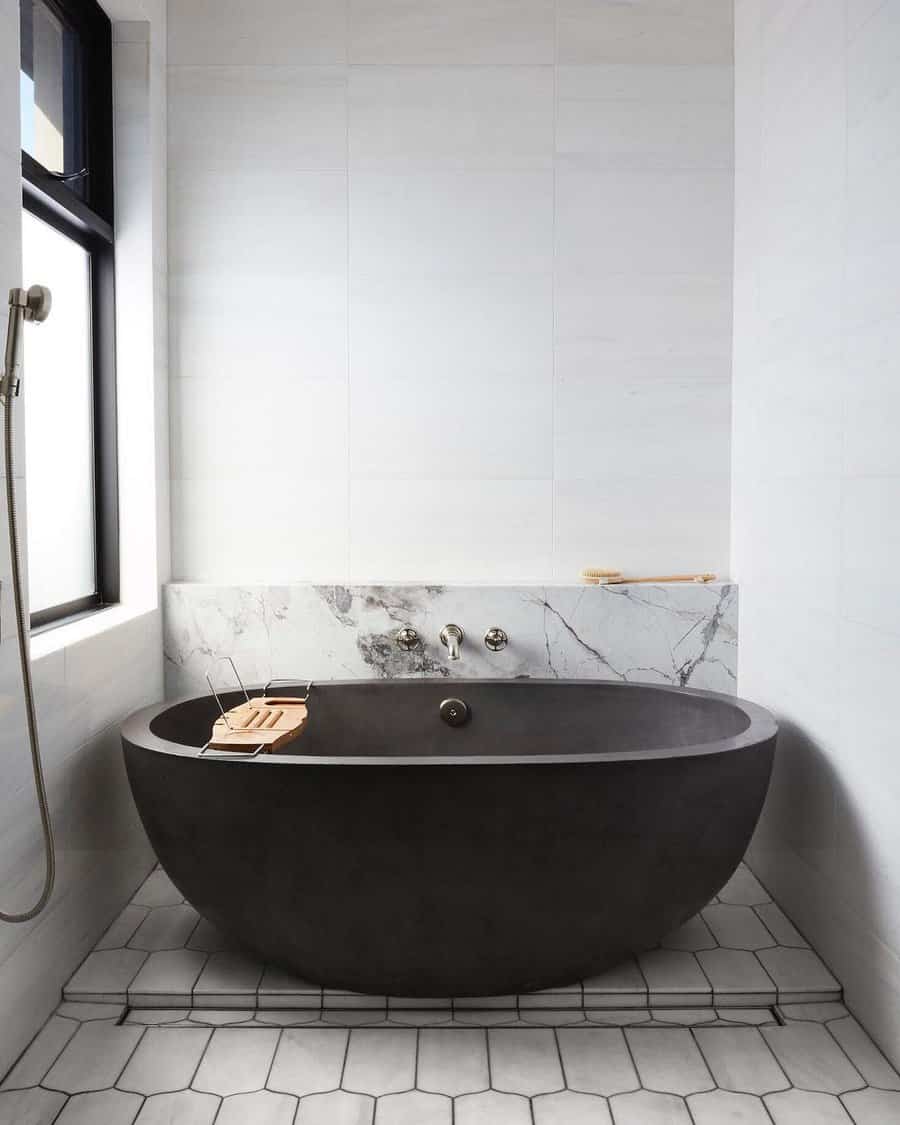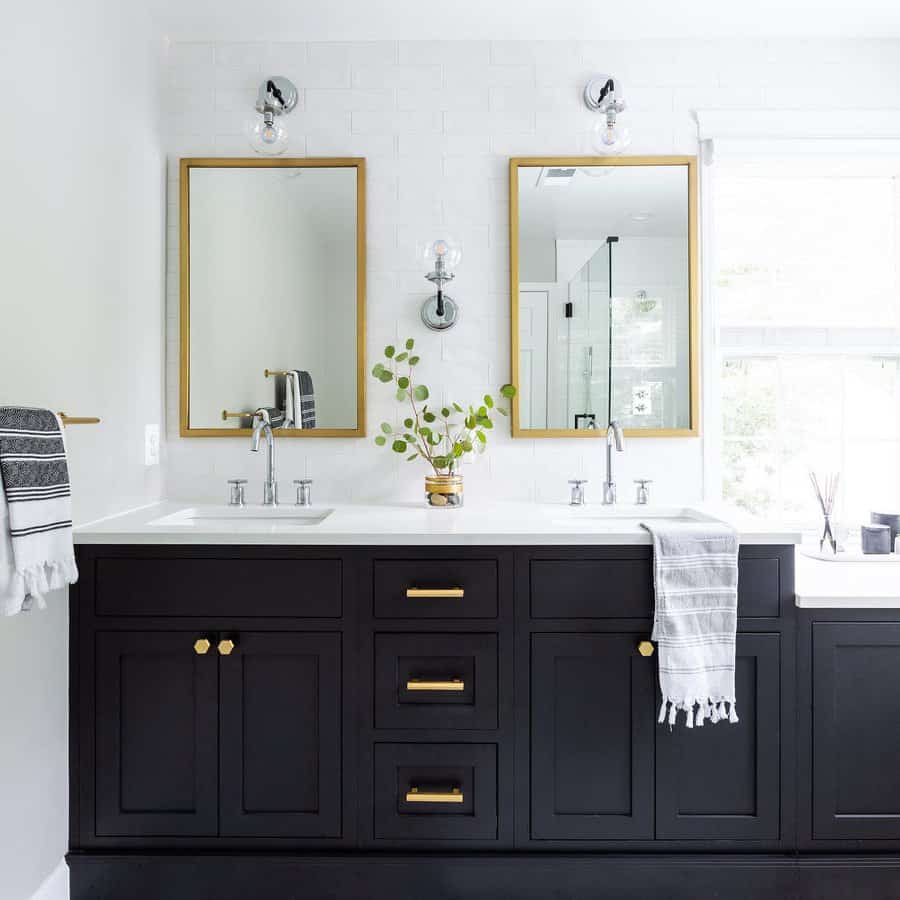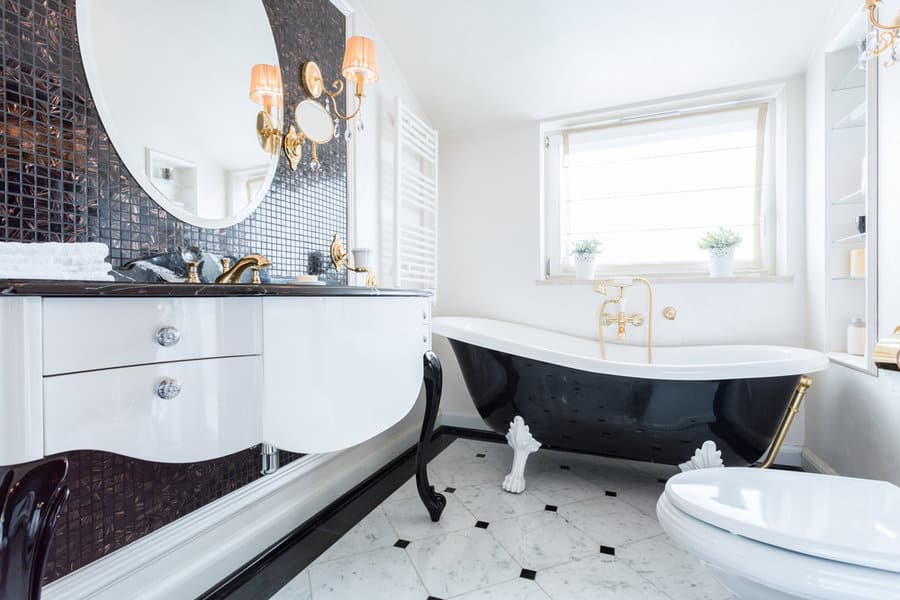 2. Play With Black & Gold For A Contemporary Look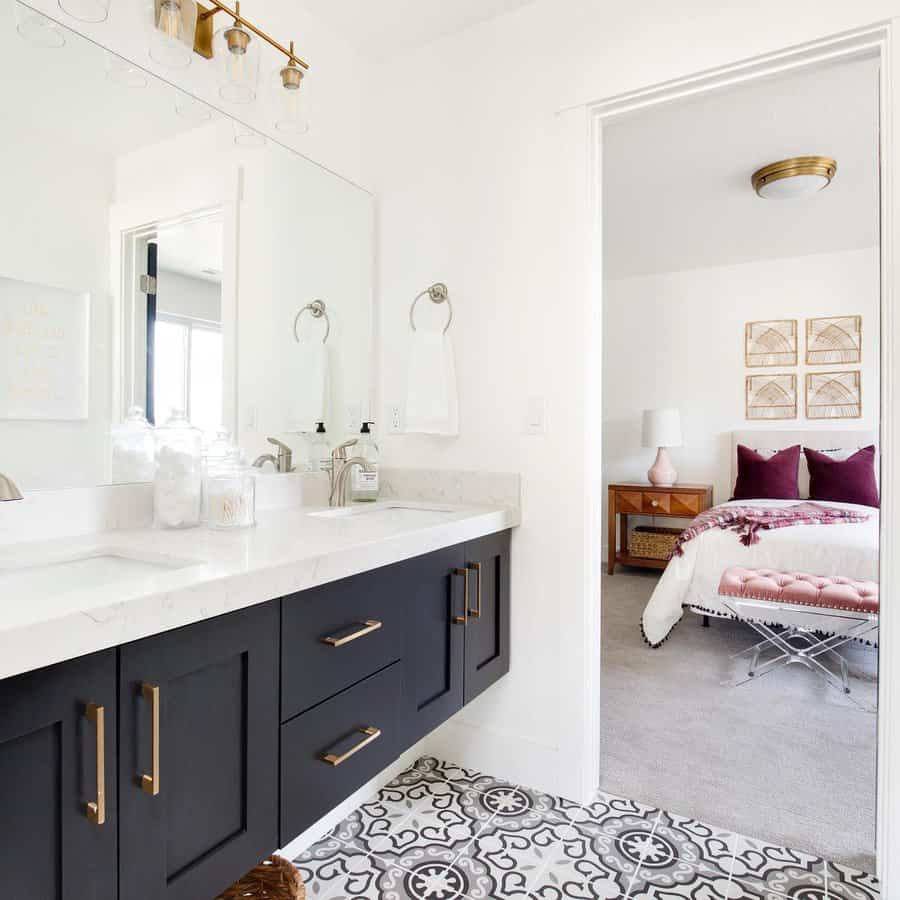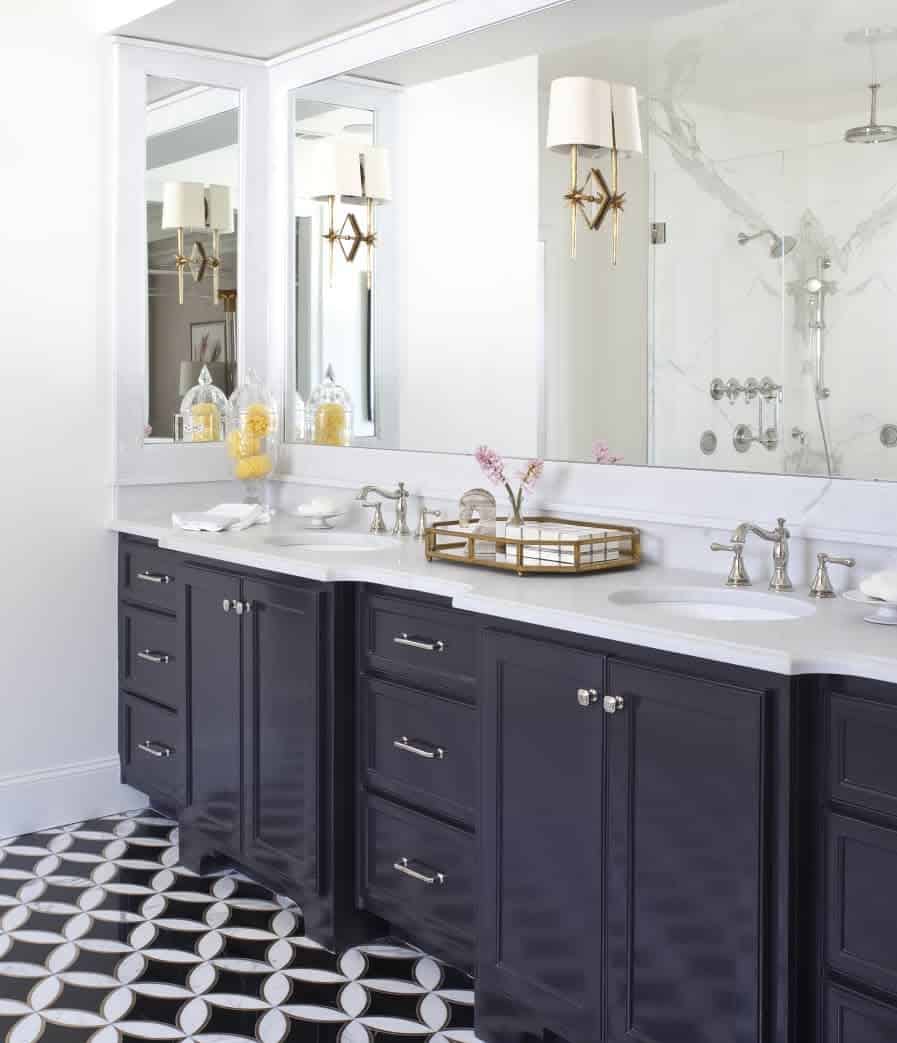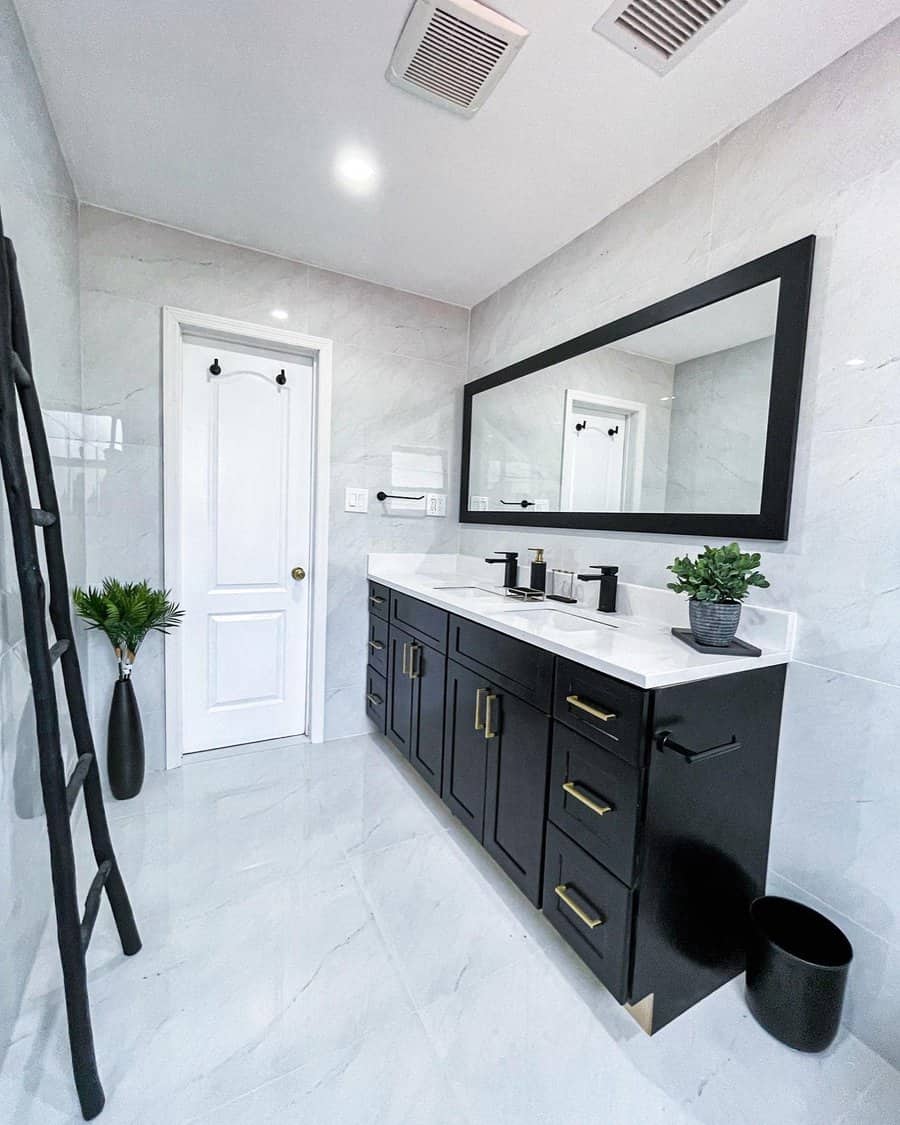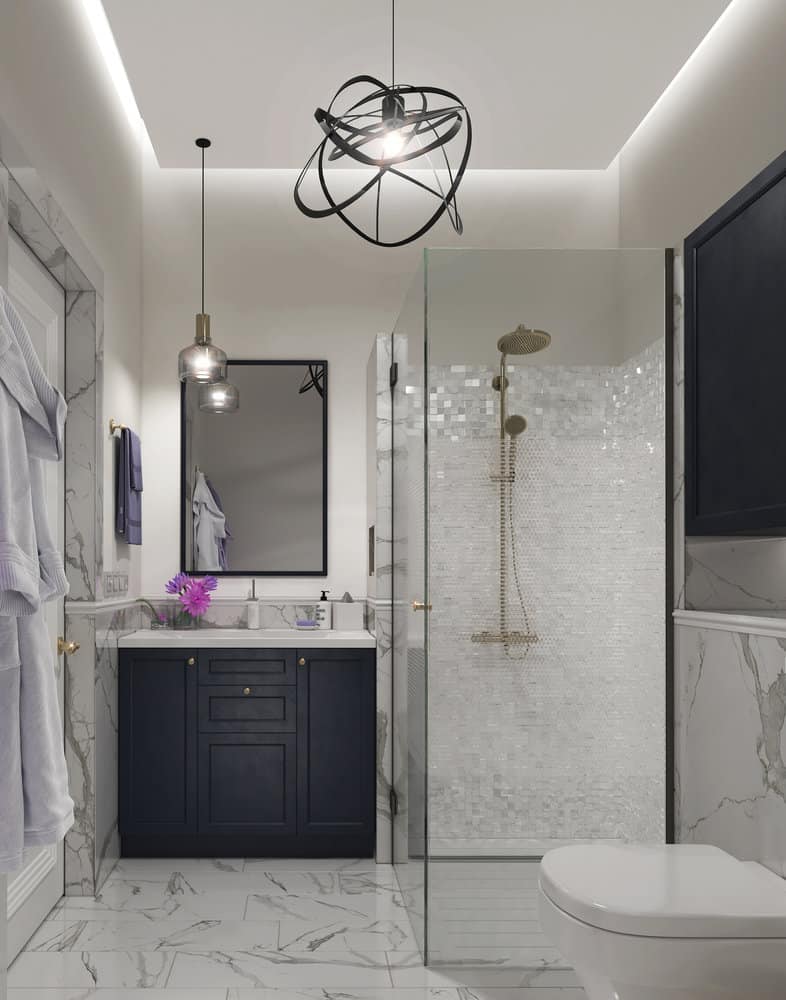 3. Black & White Floor Tiling
With black and white floor tiles, this classic colour duo is an easy choice for adding a touch of drama to any monochromatic space. Depending on the black and white tiles of your choice, you can give your bathroom a modern or antique vibe.
Sleek black and white subway tiles bring a classic vibe while bold black and white patterns with dynamic shapes lend themselves to a more contemporary look. Whichever style you choose, black and white bathrooms provide a fresh yet timeless atmosphere that won't be out of style any time soon.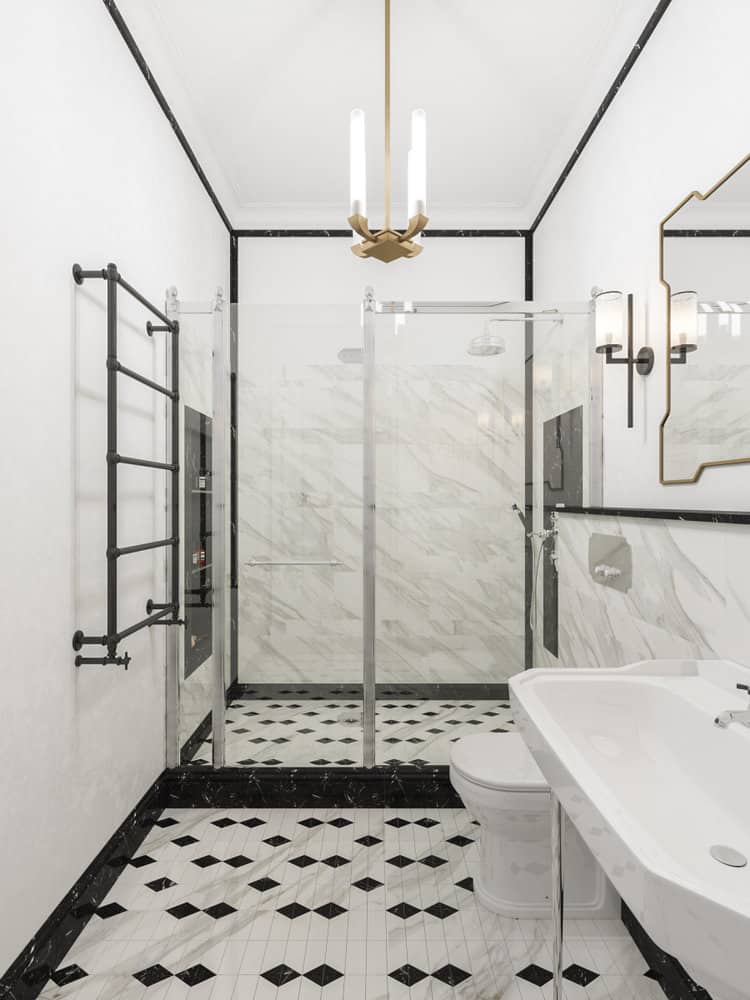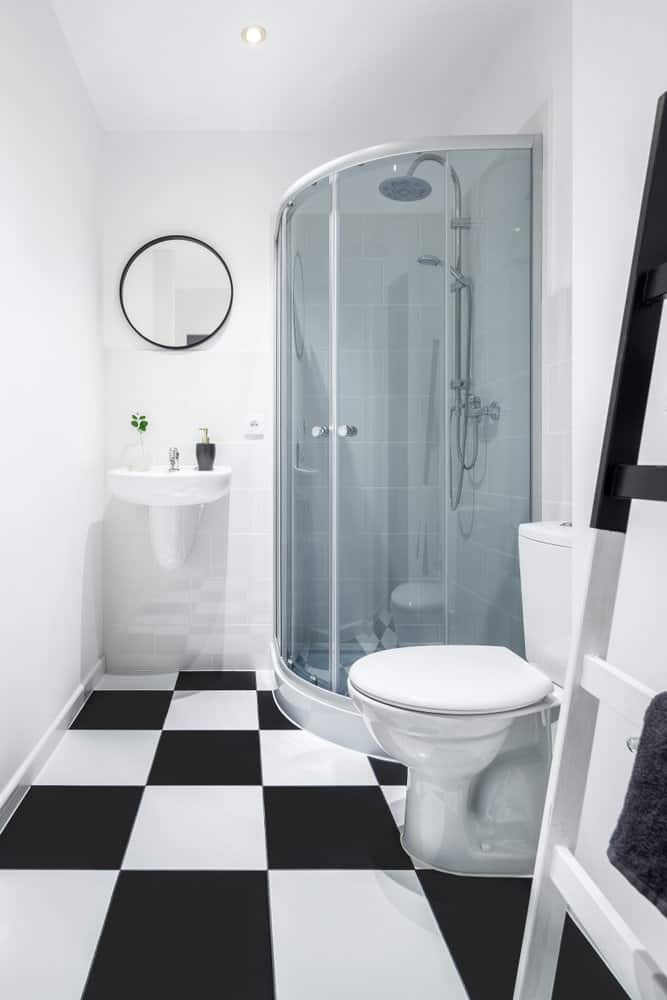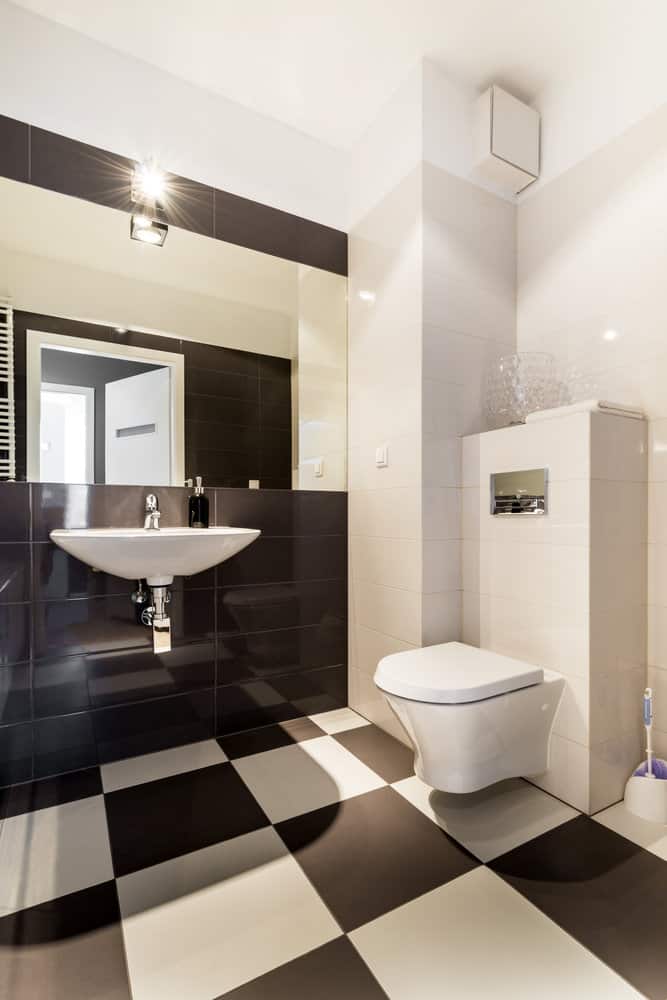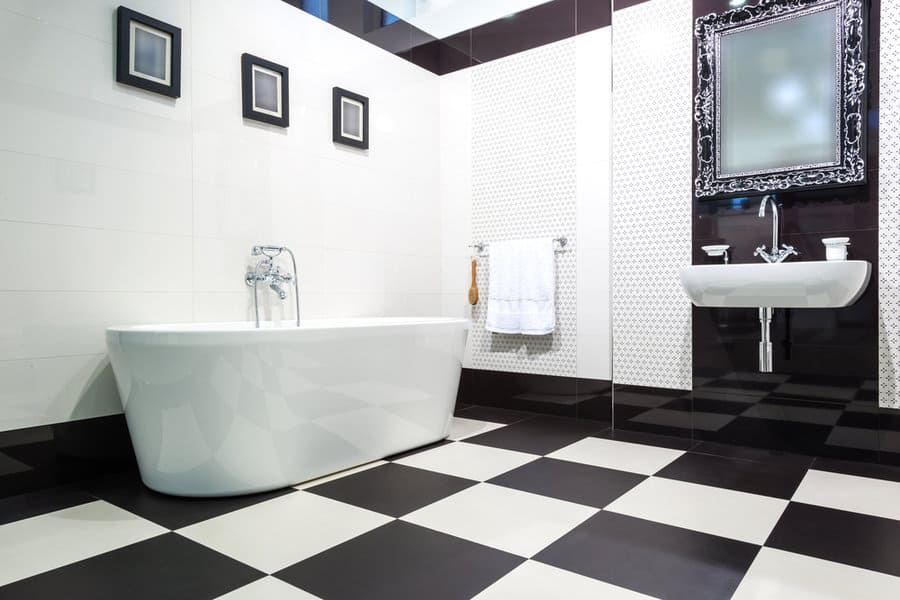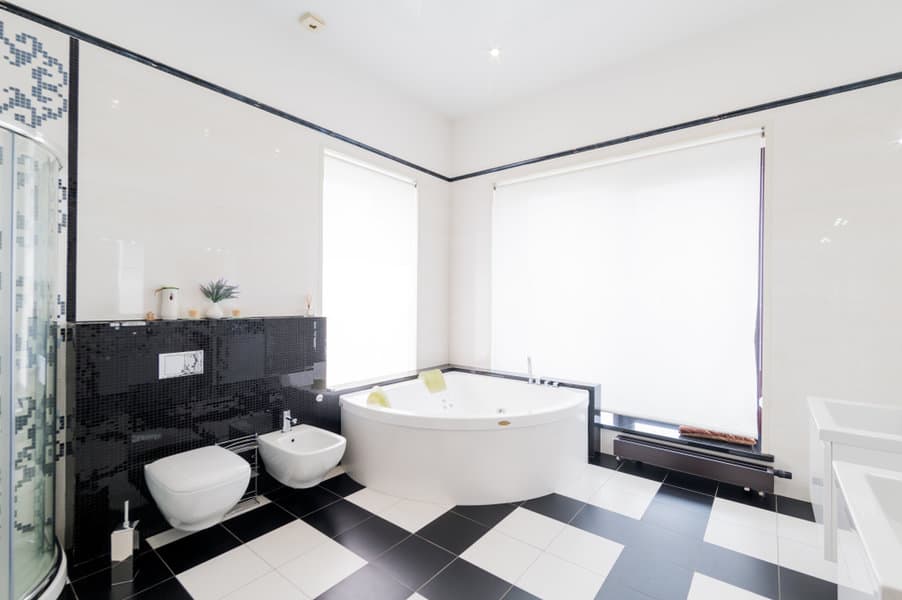 4. Set The Mood With A Dark Ambiance
Evoking luxury, deep dark tones make a statement of grandeur. Whether used boldly throughout the room or subtly around the edges with dark tiles and subtle white fittings, dark black creates an atmosphere of opulence in any bathroom.
It is a style that truly sets the ambiance. From metallic elements to dark finishes, dark black bathrooms prove a perfect marriage between modern and classic décor. Who wouldn't love to step into this dark and mysterious scene every day for home comfort?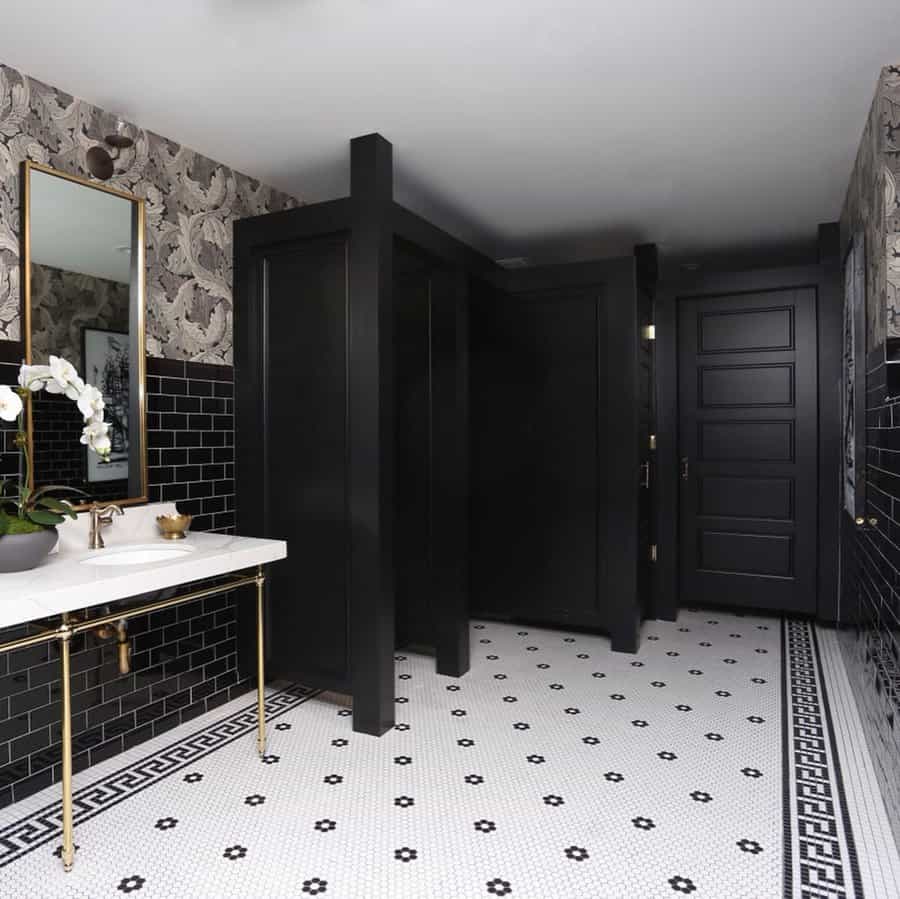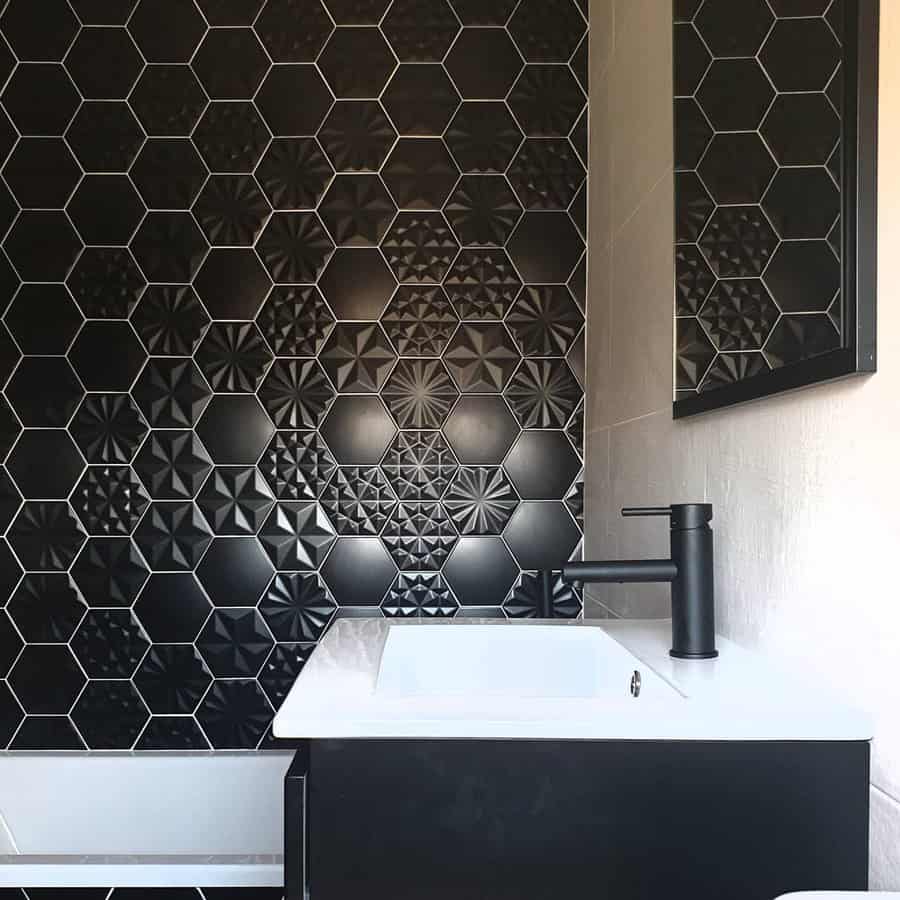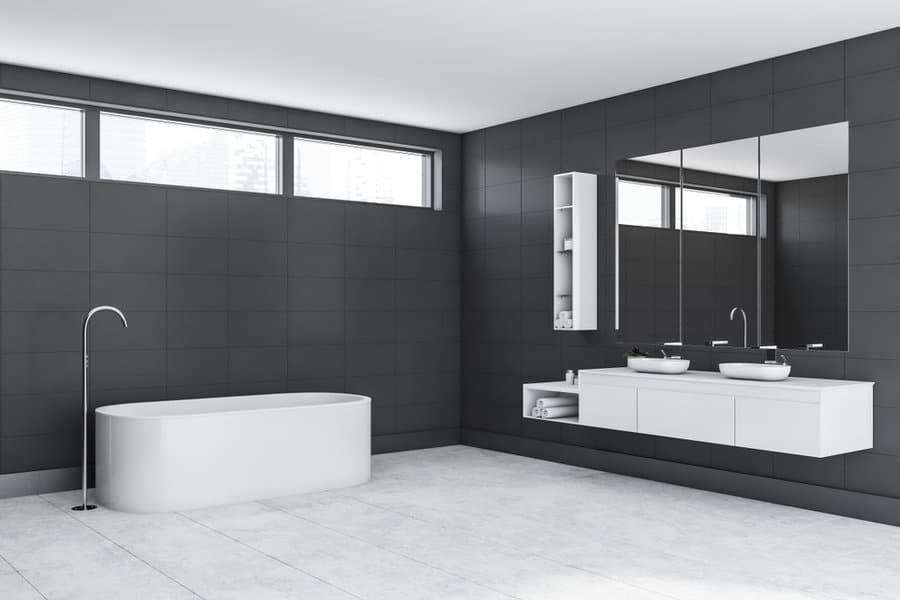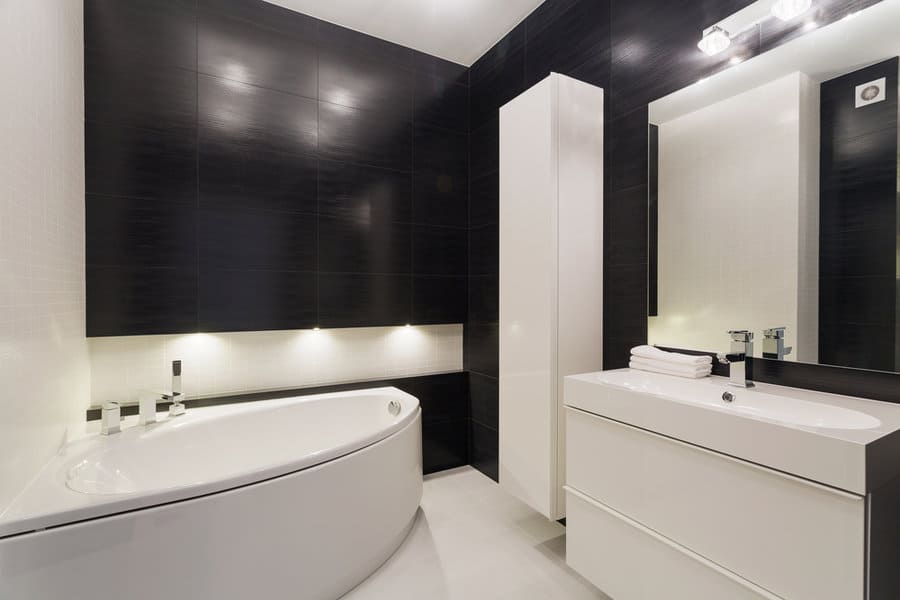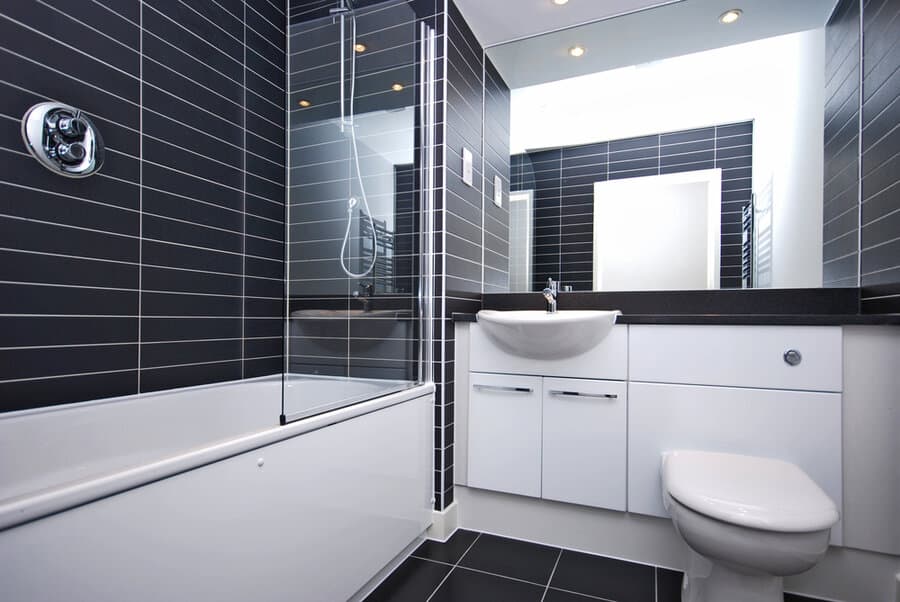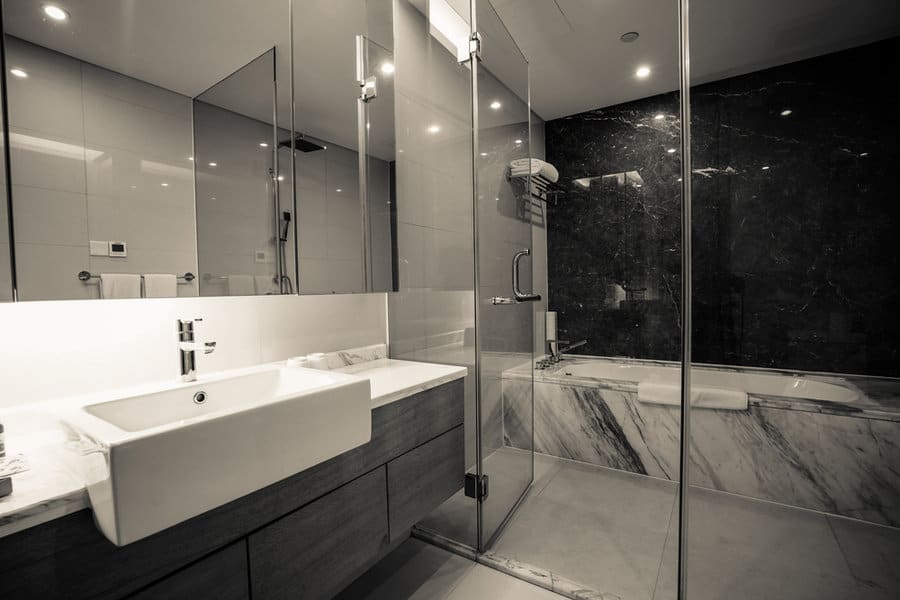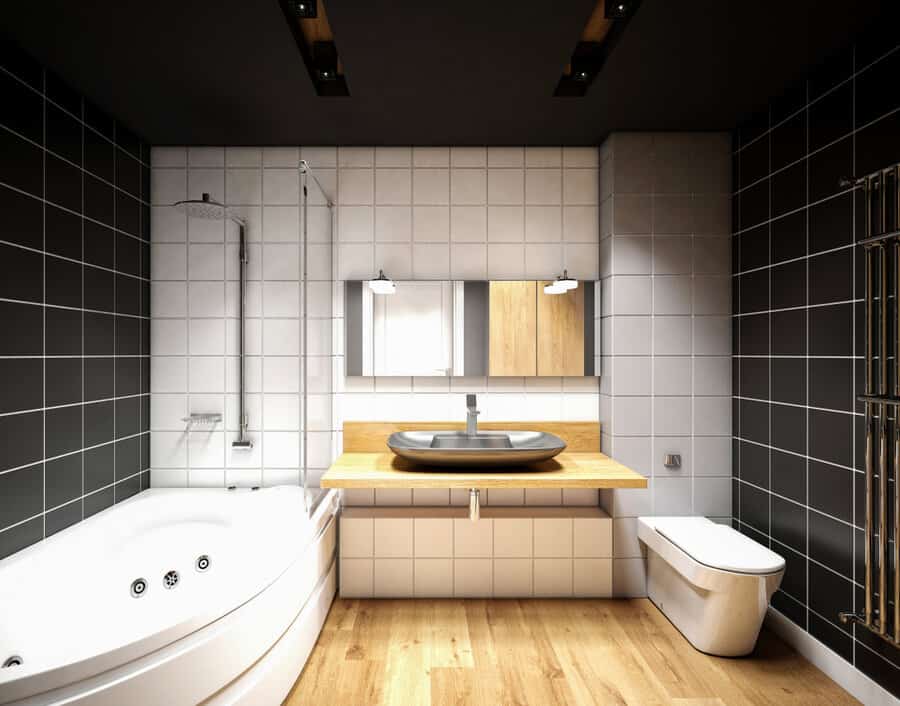 5. Add Purely Decorative Ornaments
For those who like a bit of contrast, black ornaments can provide the perfect addition to a white bathroom. Start with an eye-catching black geometric pendant shade to add interest and texture.
Then explore black sculpture decors, such as abstract shapes or ornate designs, to bring depth and intrigue to your space. Whether it's a daring statement you're after, or simply a subtle hint of drama, black ornaments can be your ticket to updated modern style.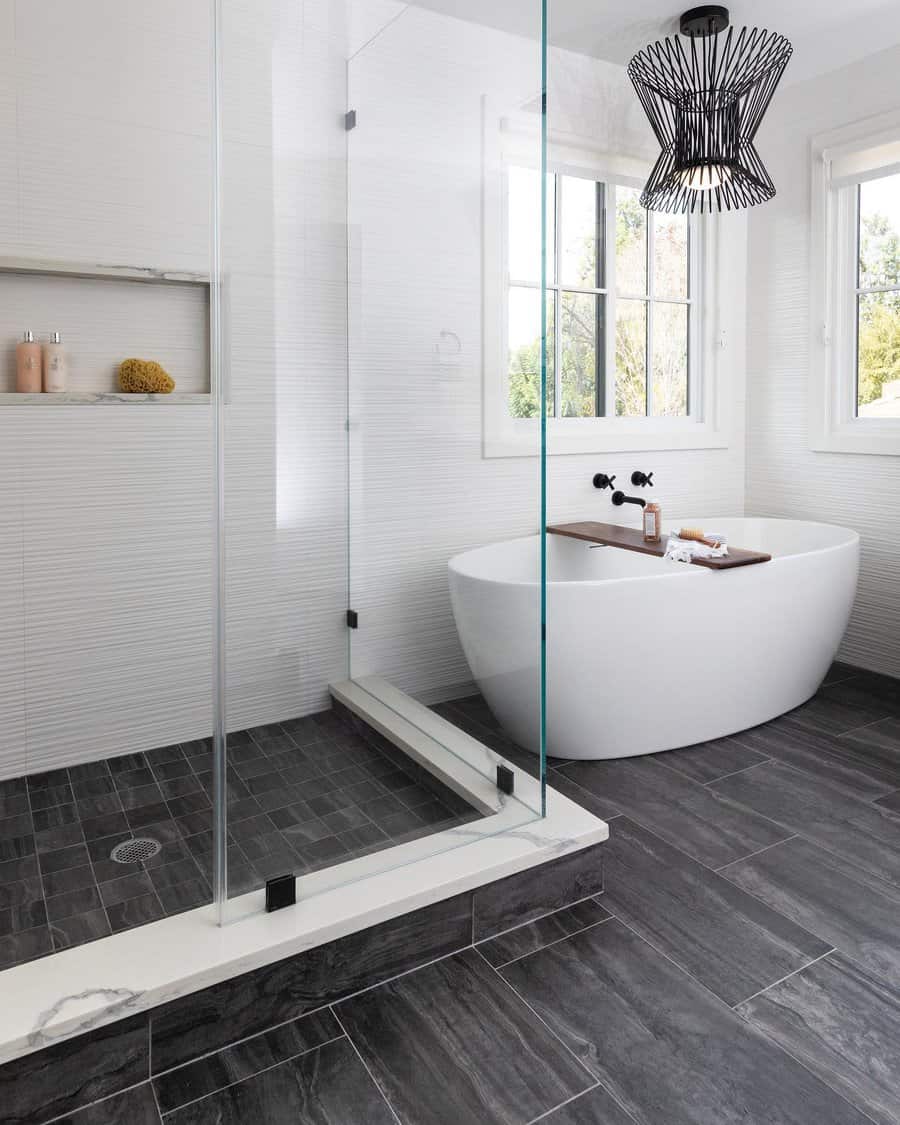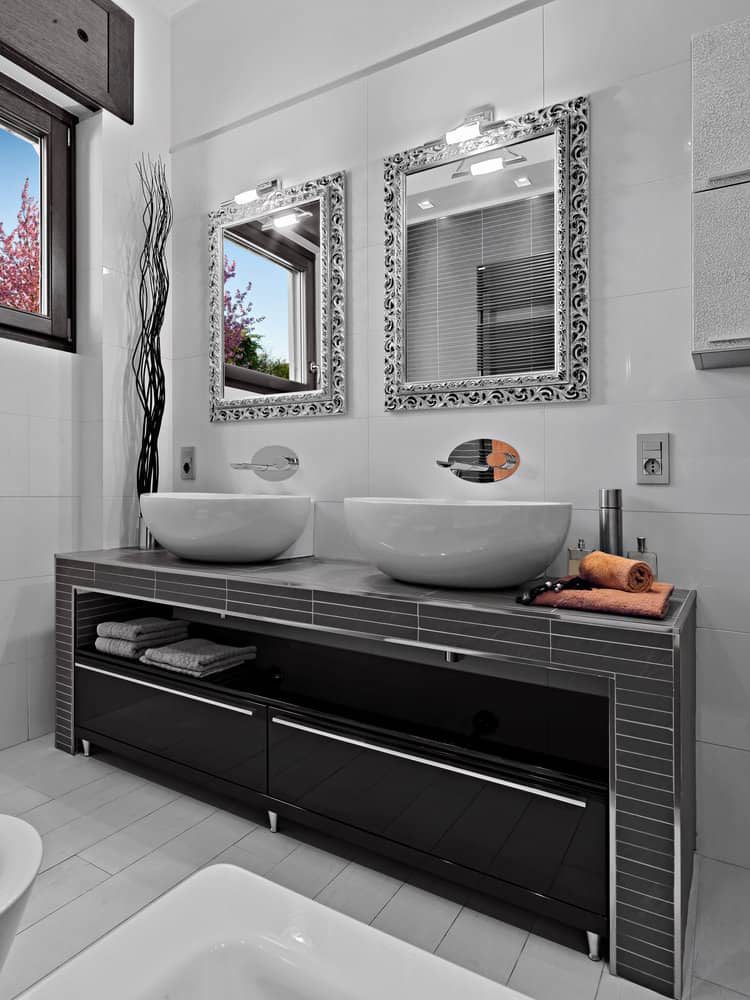 6. Consider Wood For A Warm Contrast
A black and white bathroom with a wood countertop creates an eye-catching contrast of cold and sunny warmth. The beauty of the warm contrast between black and white and wood is sure to enhance the atmosphere of your bathroom, creating a cozy oasis away from the stress of daily life.
Neutral tones surround you until you reach the natural maple countertop, its golden hues drawing you in and lifting your gaze.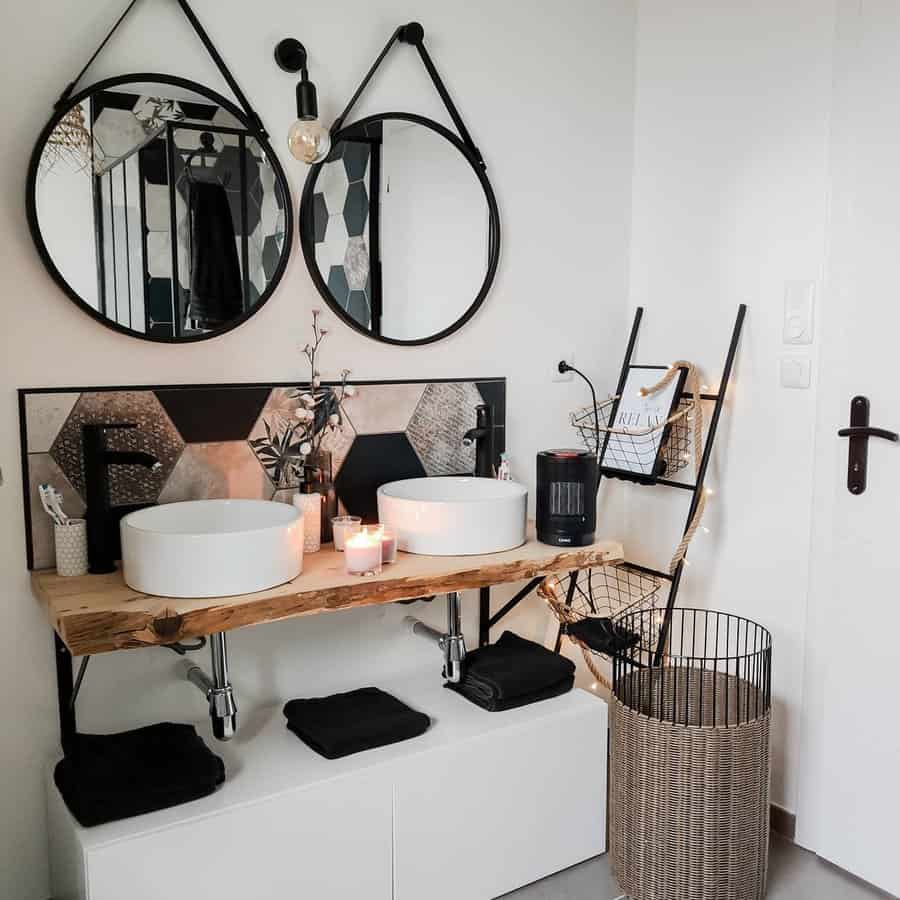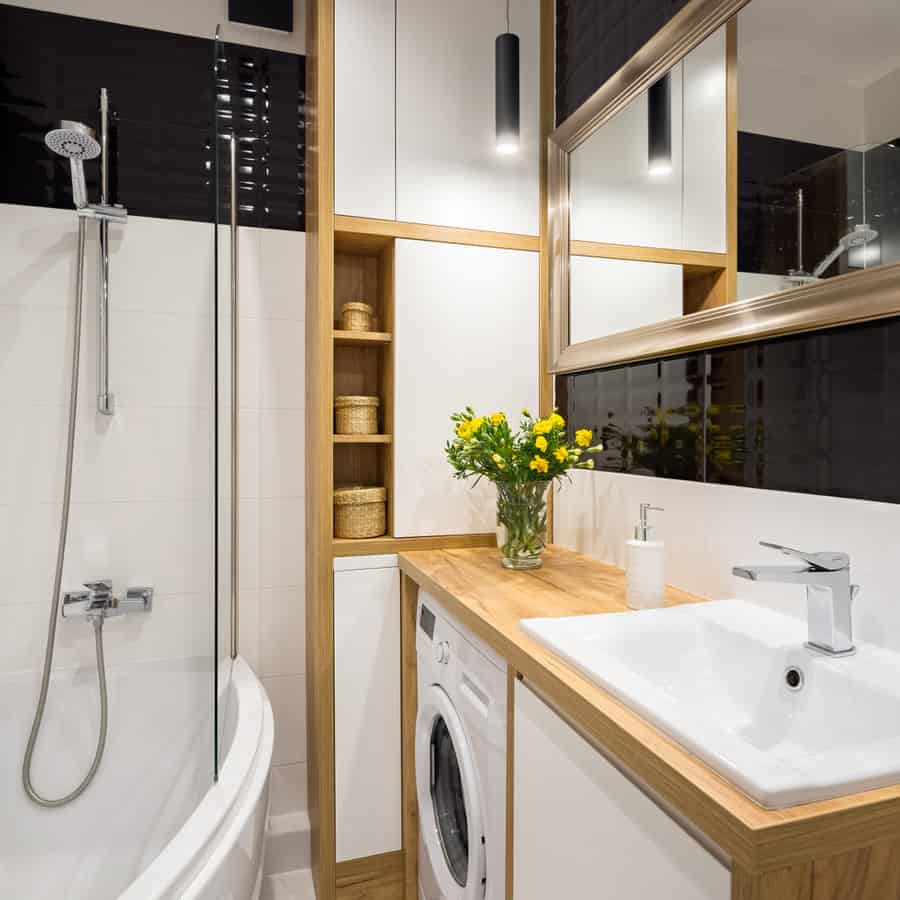 7. Bold & Graphic
Transform your regular black-and-white bathroom into a bold expression! Grouting between each black tile with black grout further emphasizes the edgy pattern created.
A framed divider creates a sharp separation between the walls, while black and white geometric tiles spark interest against the black grouting.
A black framed mirror adorned with sconces provides arresting visuals that come alive in the surrounding black and white.
Taking this concept further, a black tub could be boldly offset by black framed windows, creating an impactful room that stands out from its neighbors.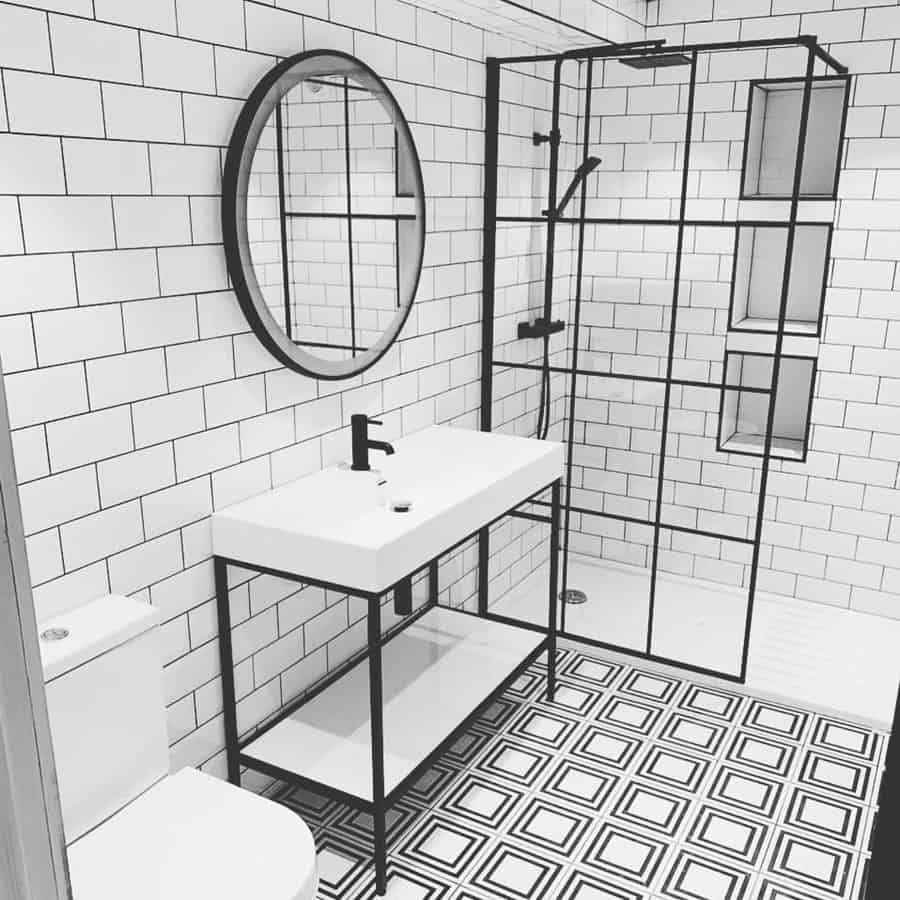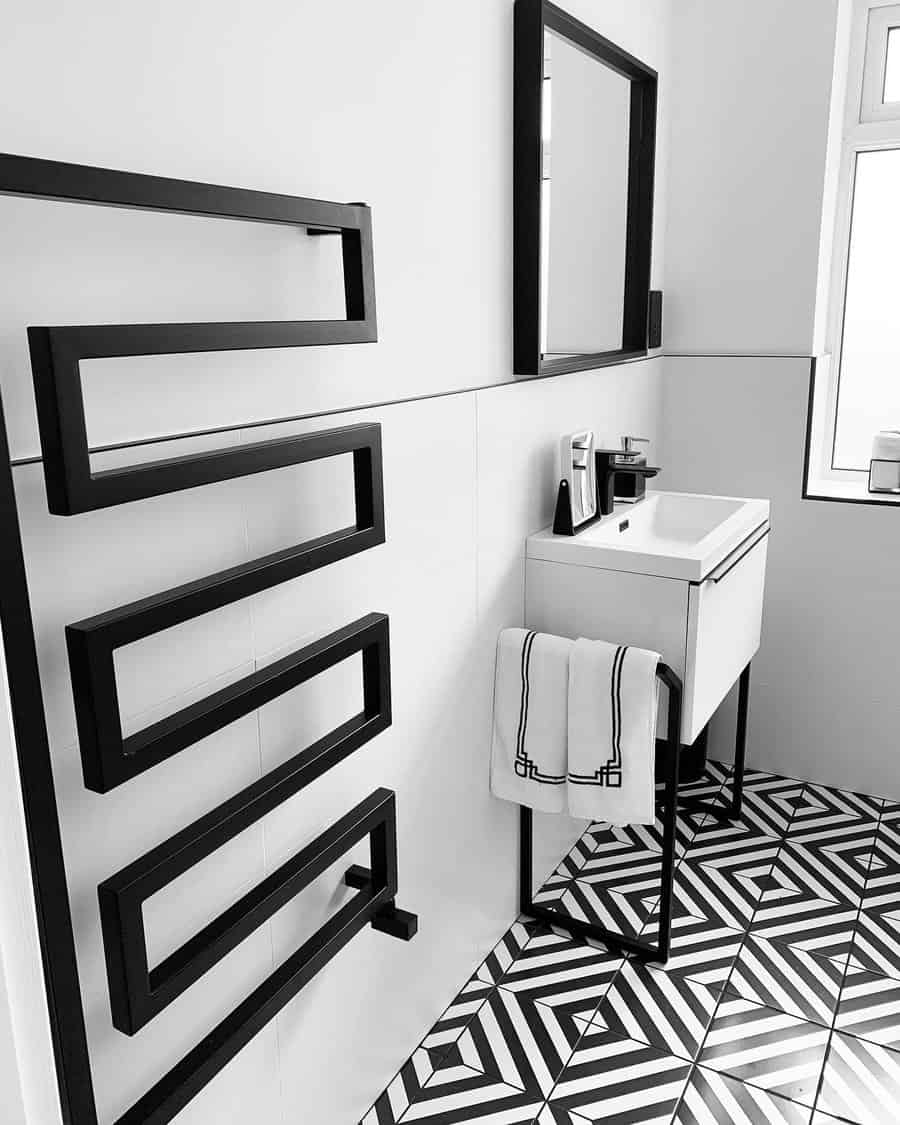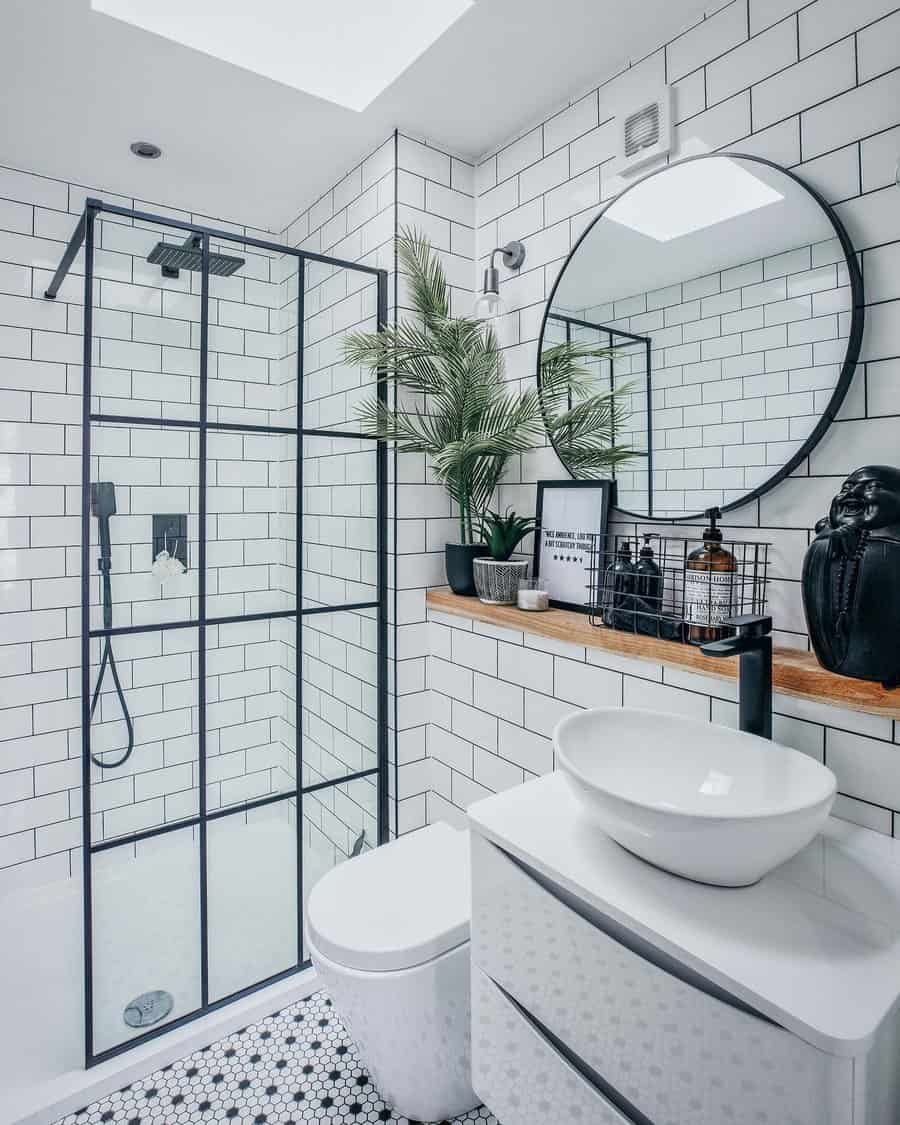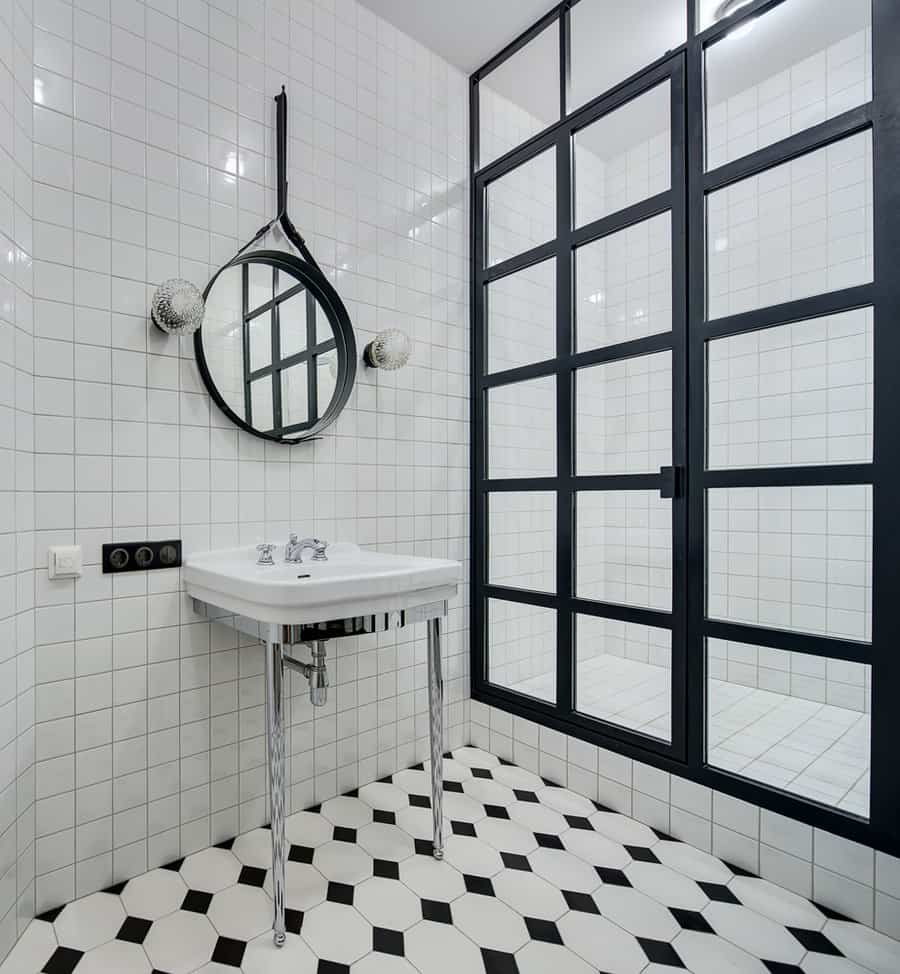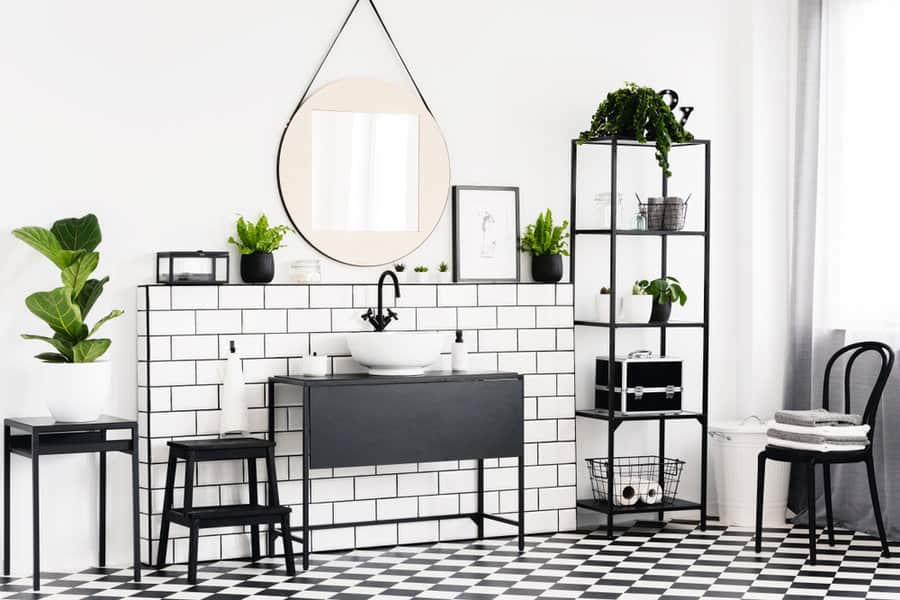 8. White Washed Brick Walls
A white-washed wall of a black-and-white bathroom is a great way to combine both industrial and contemporary styles. The monochrome combination creates an elegant yet modern atmosphere while the white-washed brick accent wall will instantly add texture to the space giving it a rustic charm.
No matter the style you're aiming for, this classic color palette allows endless opportunities for creative expression that can easily adapt over time.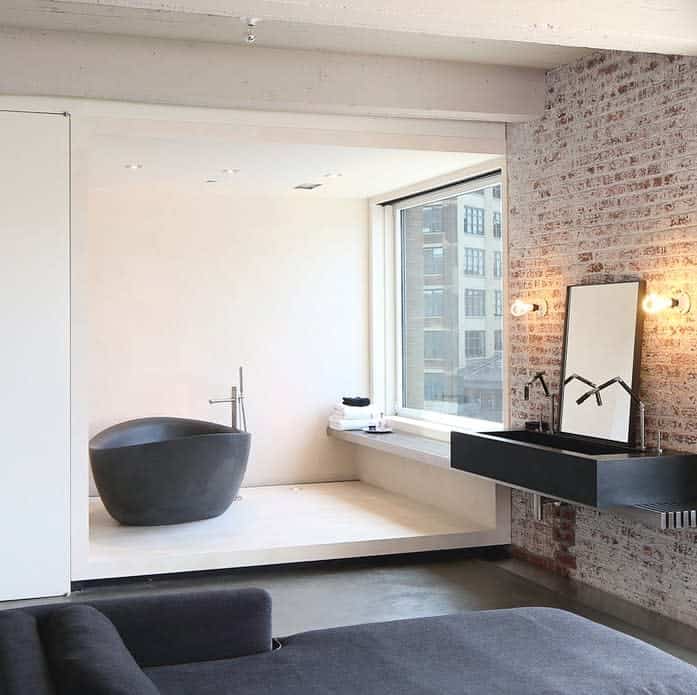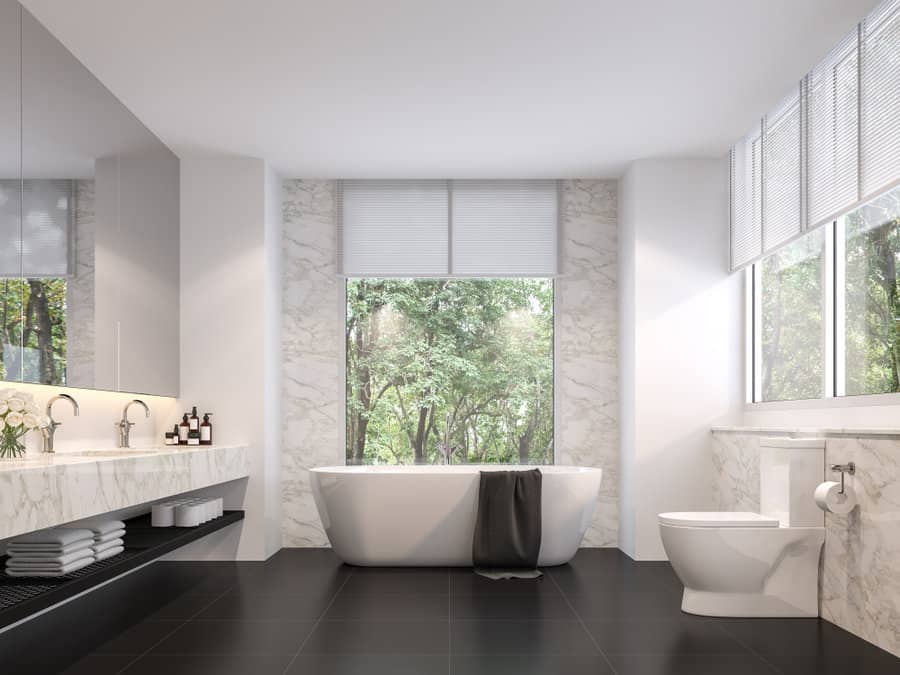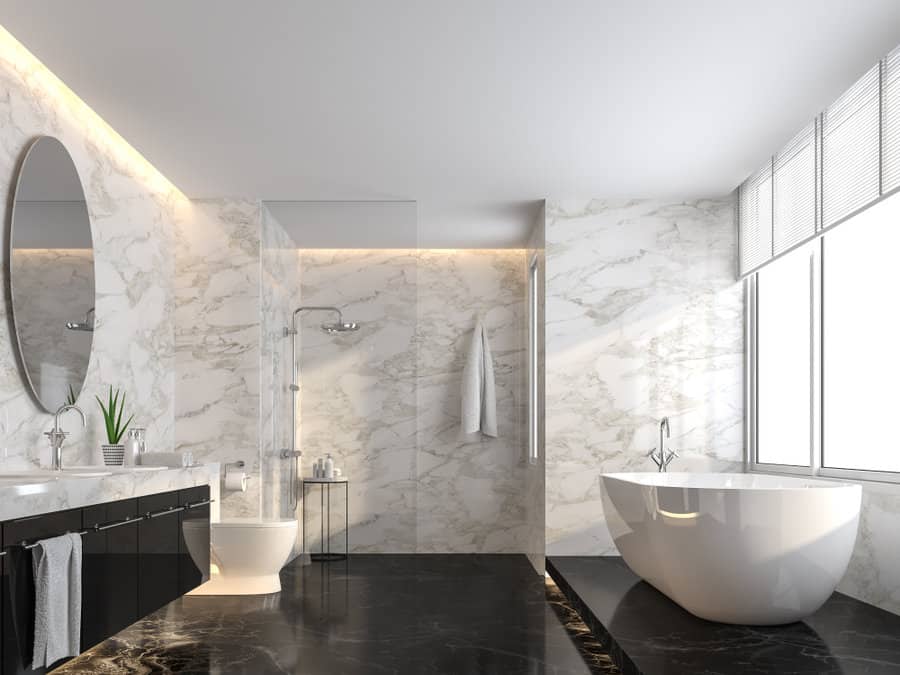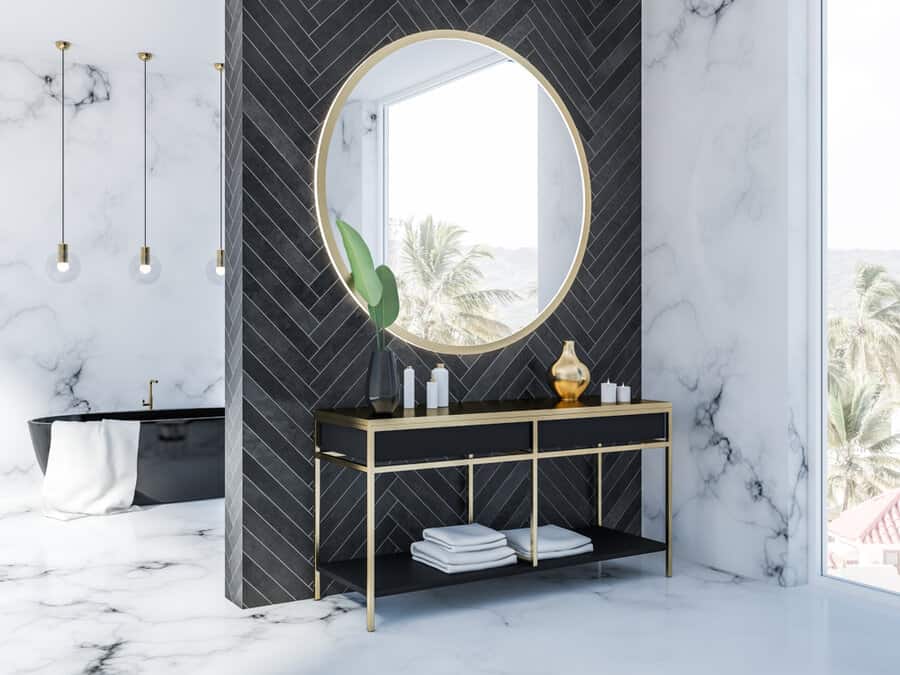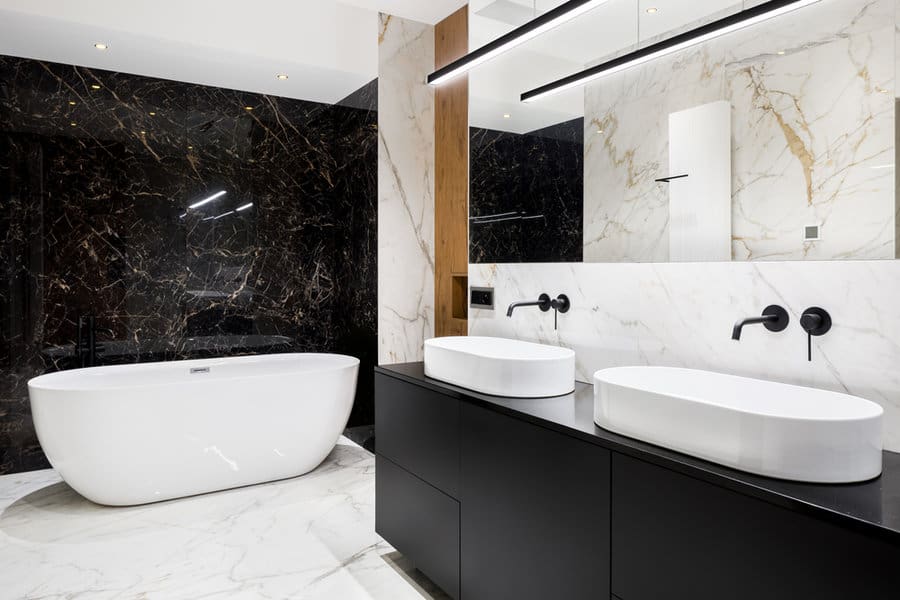 8. Opt For Marble
By combining marble walls with inky black tiles, the effect of a bathroom can be luxe and mysterious. The dark color scheme creates a dynamic contrast that creates a unique look for each marble wall. Adding mirrors can create the illusion of more space, while recessed lighting will emphasize the marble pattern even more beautifully.
For an extra touch, introduce some brass elements to bring out a modern style. Together, this will form an incredible atmosphere for you to enjoy every day.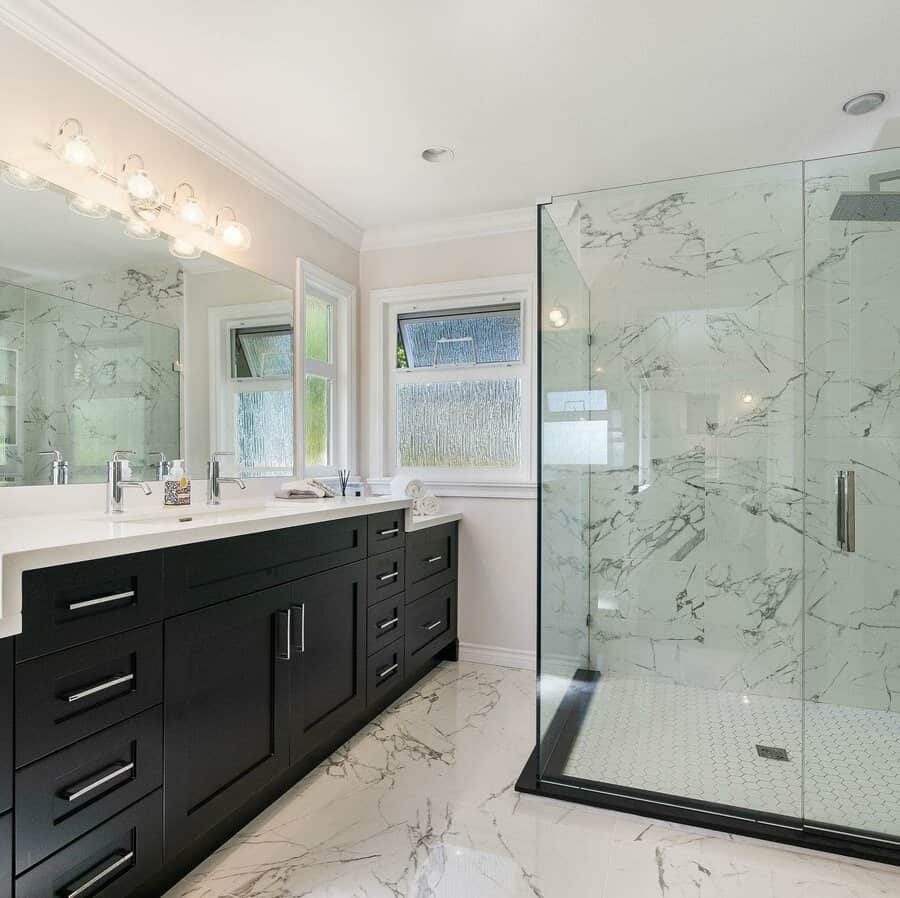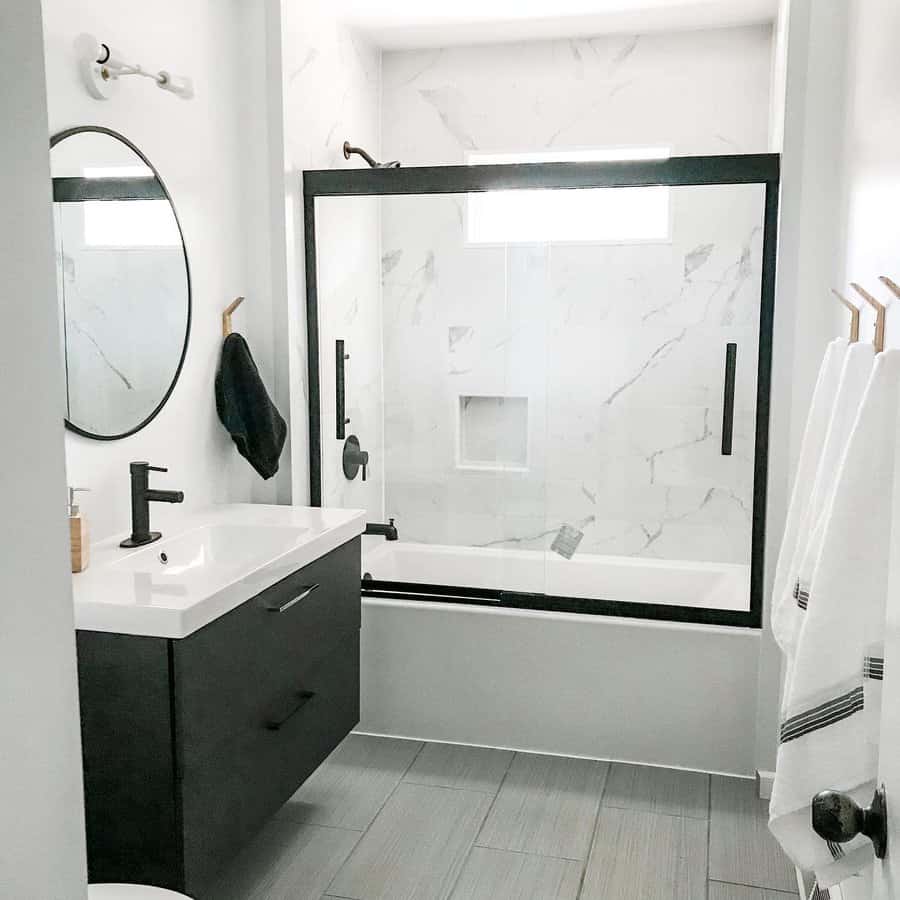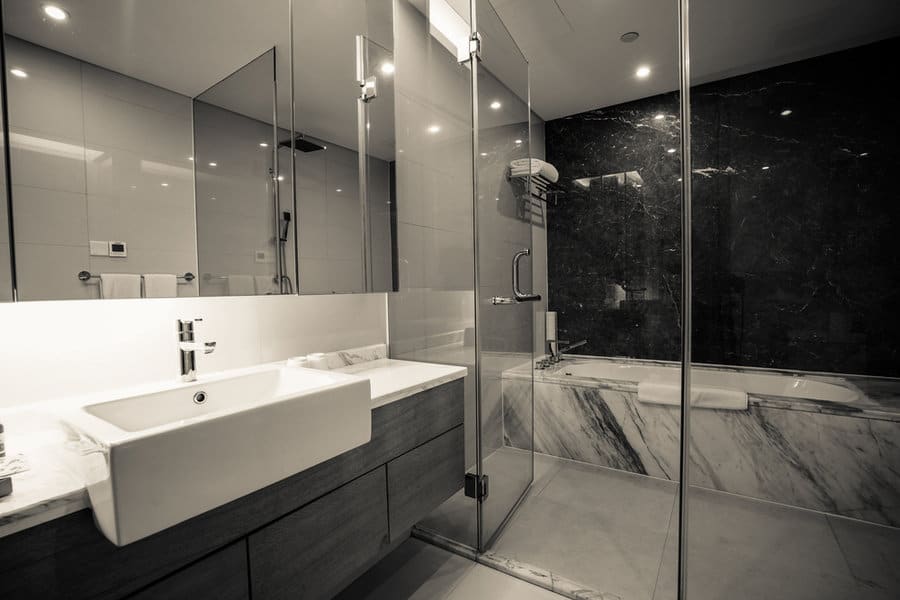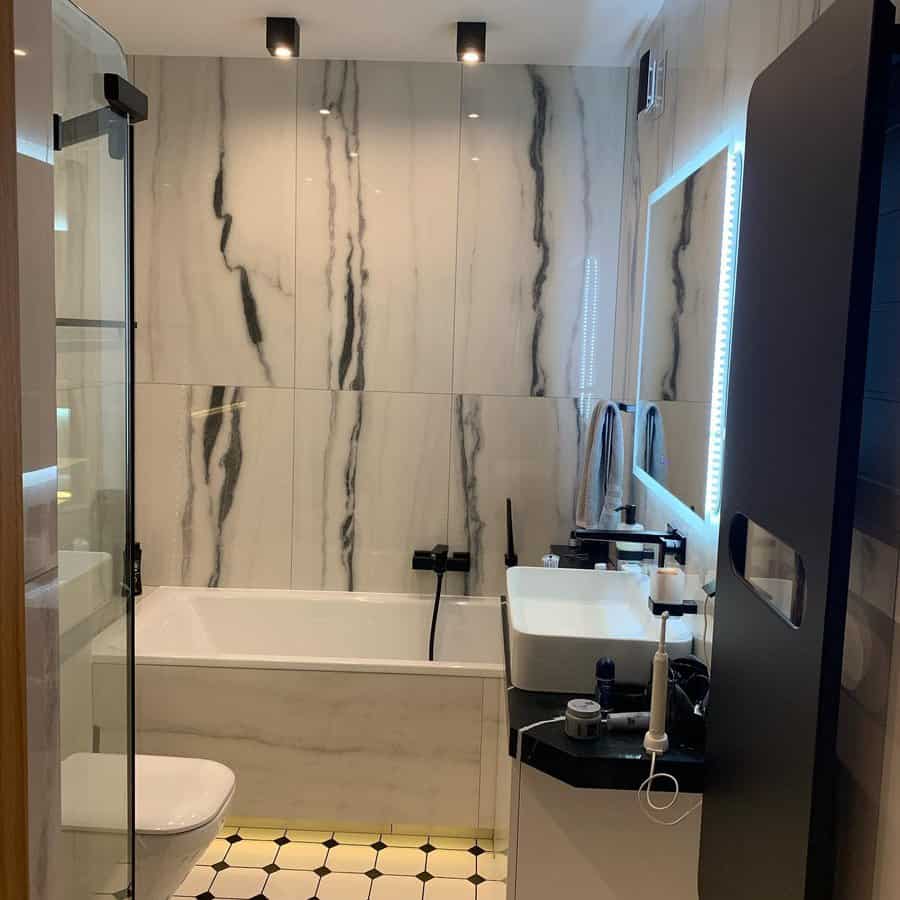 9. Matte Black Fixtures
Embrace the timelessness of black and white with a modern twist. Transform your bathroom into a chic black-and-white oasis, creating a sophisticated atmosphere with matte black fixtures. By unifying black and white together, you bring out the best in both colors, achieving a look that speaks volumes without saying a word.
Whether it's a Victorian-inspired black clawfoot bathtub with gold accents or an all-black shower set against black-and-white basketweave tiles – the clean design of this trend striking black-and-white palette puts modern luxury at your fingertips.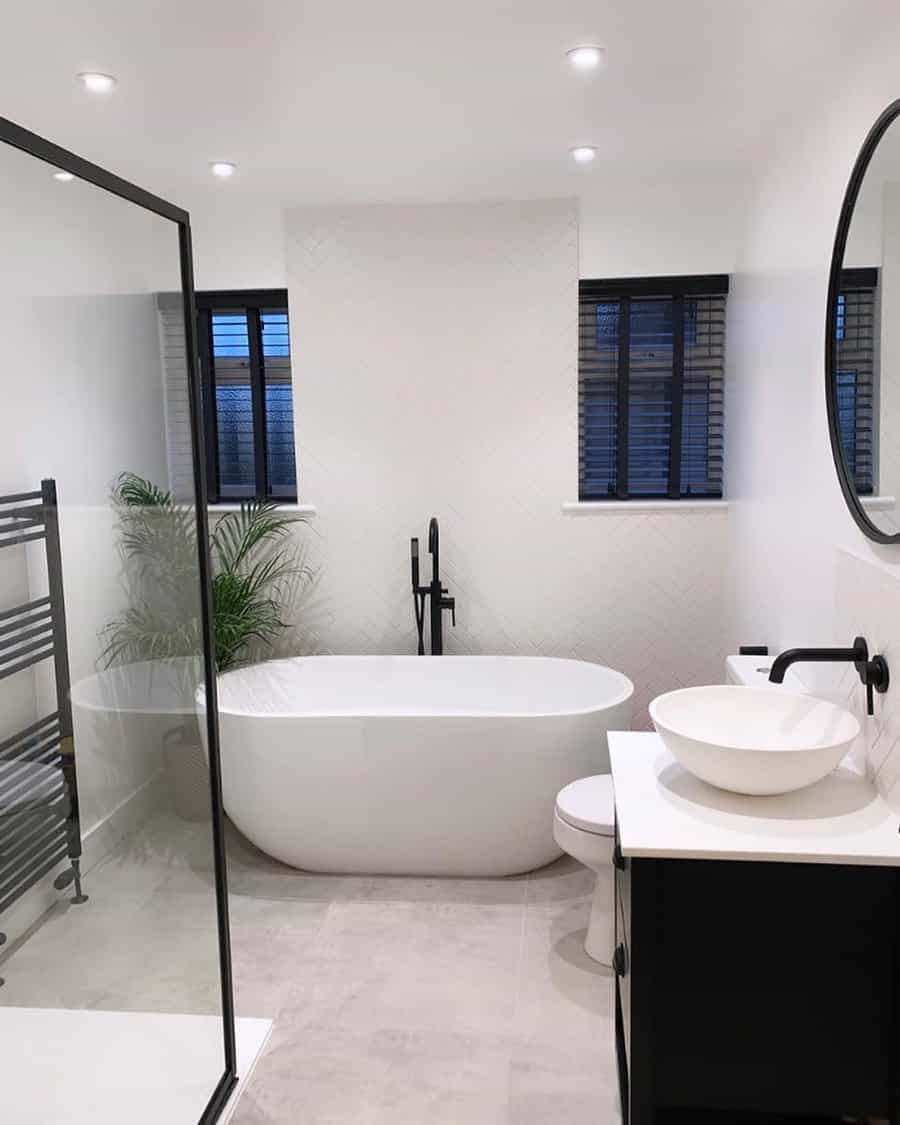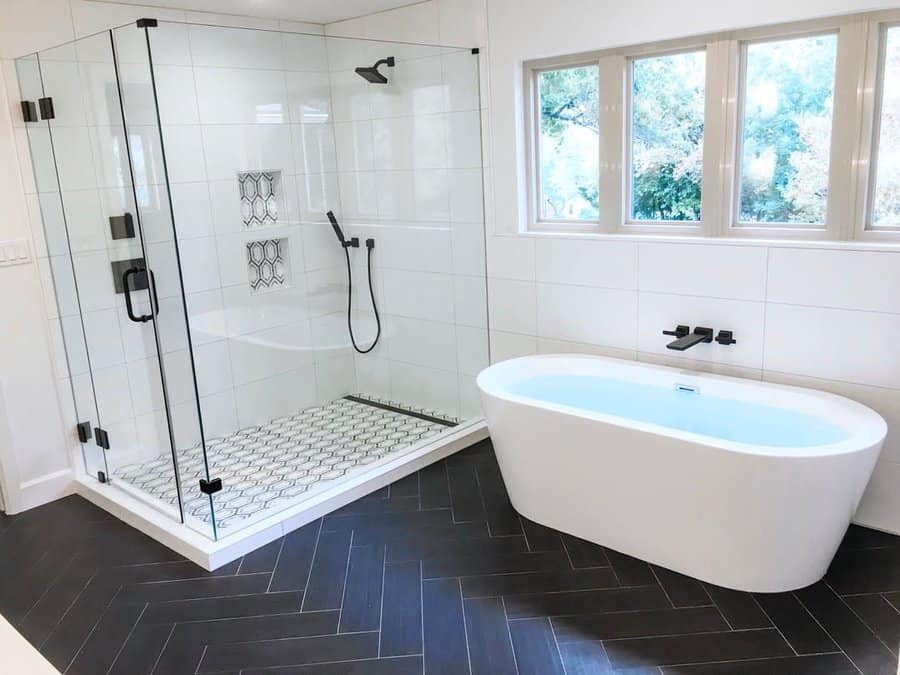 10. Add Gray Into The Equation
Transforming your bathroom with black and white doesn't have to be intimidating – with shades of grey and varying textures, you can create a striking monochromatic result. Consider adding a grey accent wall for a dramatic flair, or offsetting the shades with shades of beige or cream.
To keep it looking chic and clean, try pairing tile and grout in classic shades for contrast that captures the eye. However you choose to style it, you'll appreciate the timelessness of having a black-and-white bathroom.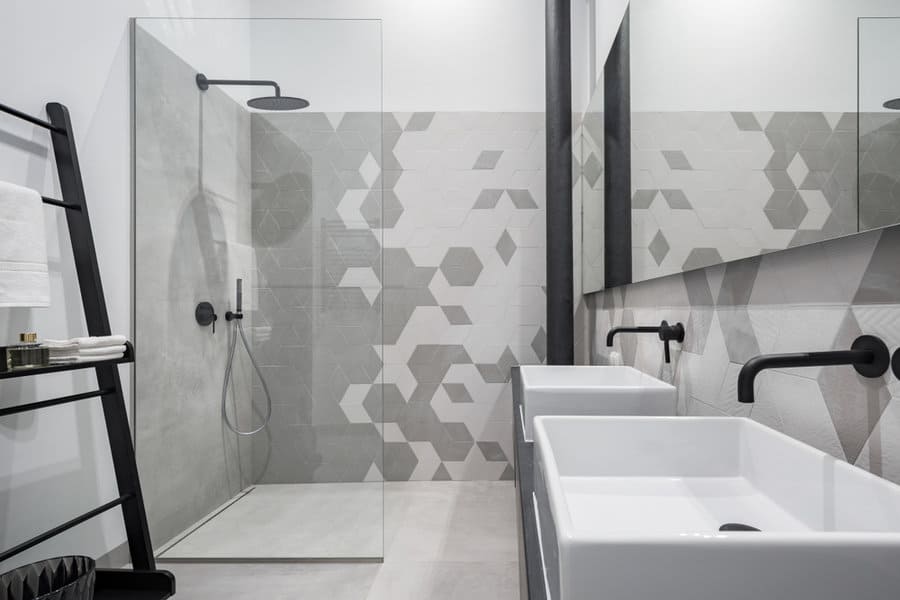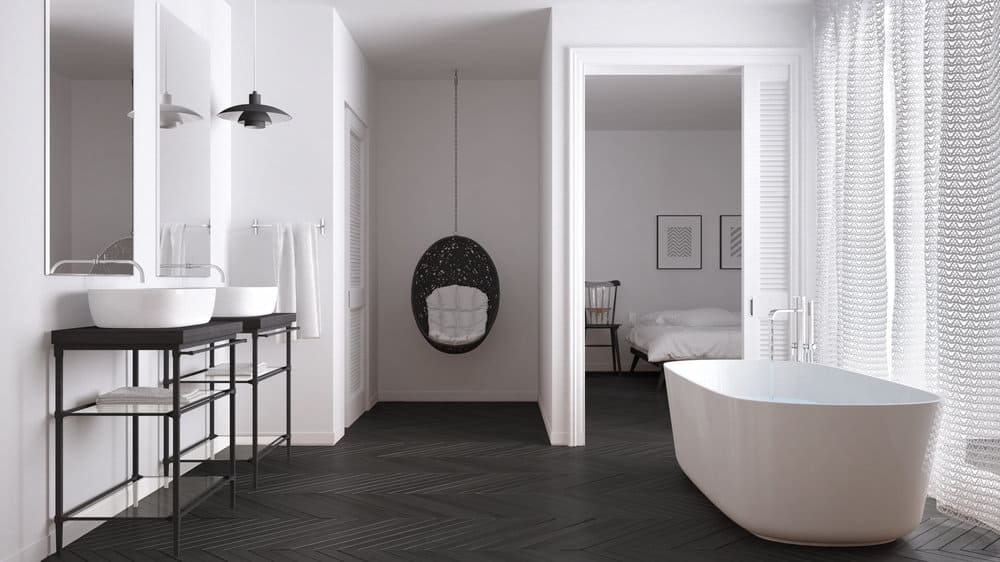 11. Install Dramatic Lighting For Accent
When decorating a black and white bathroom, why not add a splash of drama with some inspired lighting? A pendant light or ornate chandelier hung from the center of the room can add a hint of atmosphere and draw attention to the beautiful details that make your bathroom stand out.
Not only will this add more visual appeal but also create an inviting atmosphere that helps you relax as soon as you walk in.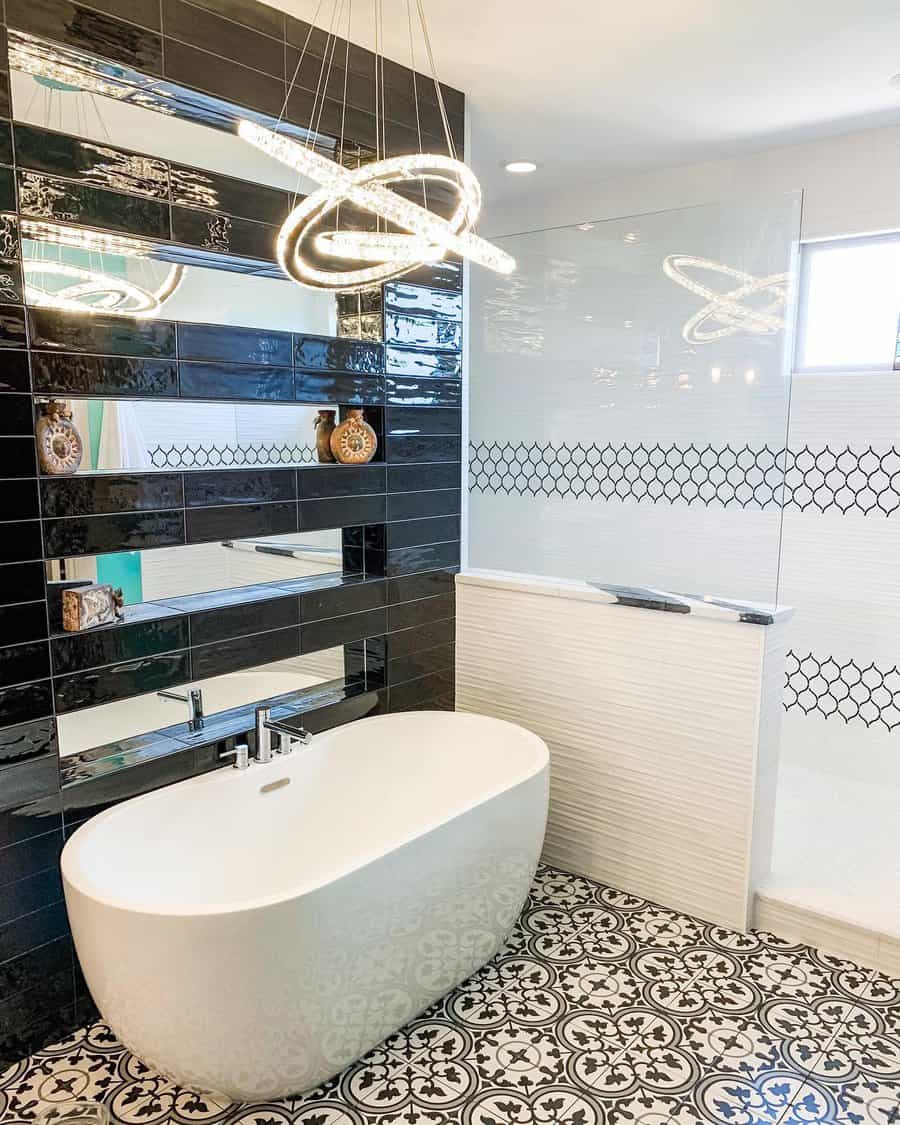 12. Mirror Walls For A Sleek Look
To achieve a bathroom with a sleek and modern feel, black mirror walls are a perfect choice, giving the illusion of an extra space that elongates the room. Paired with white minimalist fixtures, these black features will give it an edgy look you won't want to miss out on!
Whether you choose glossy black or neutral white as your primary color is up to you—whichever best speaks to your sense of style and allows for creative expression without taking away from the calming atmosphere of the room.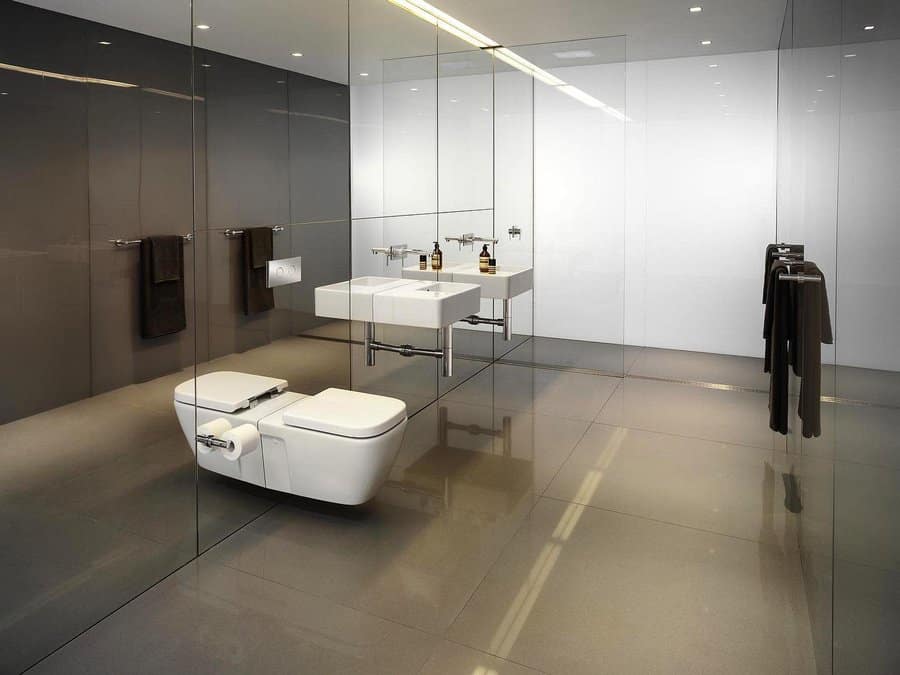 13. Mosaic Tiles For Accent
A great way to go about a black-and-white bathroom is to invest in black or white mosaic tiles for your floor; this will give your bathroom a classic look. It's subtle yet eye-catching, and if you want to add an extra layer of interest, think about doing a black or white mosaic tile strip with trim around the floors.
To really break up that black-and-white look, consider adding an accent wall in either black or white with accents of gold throughout. This will bring out a timeless look that will last for years to come.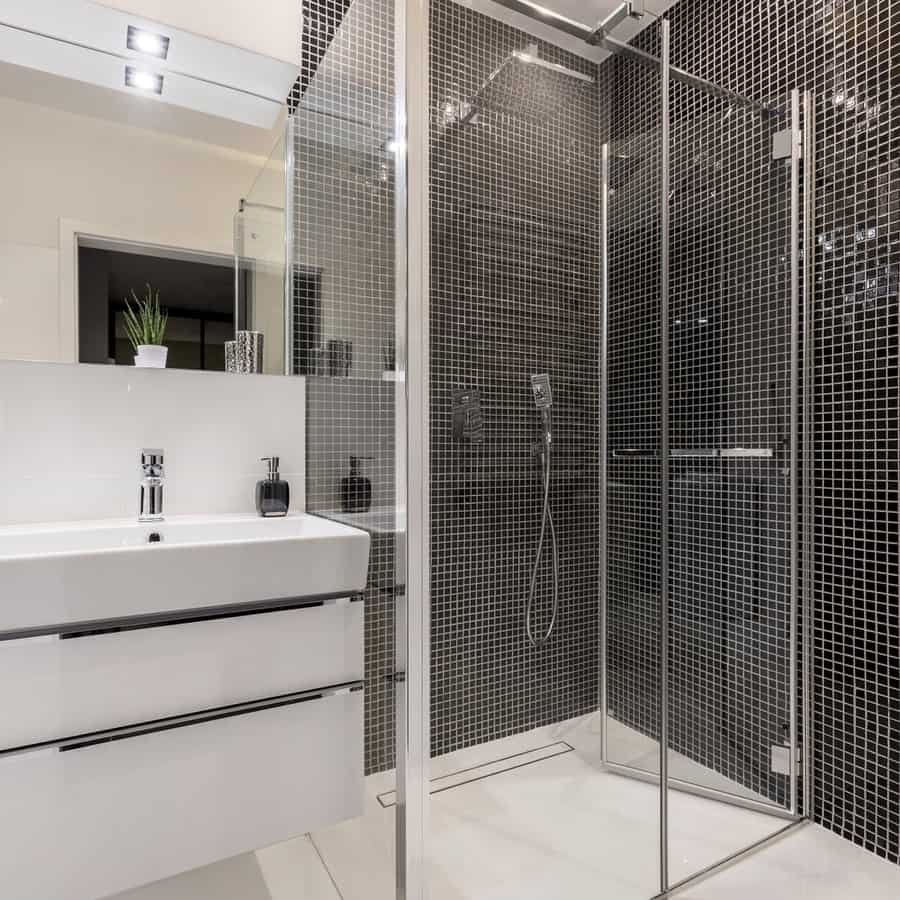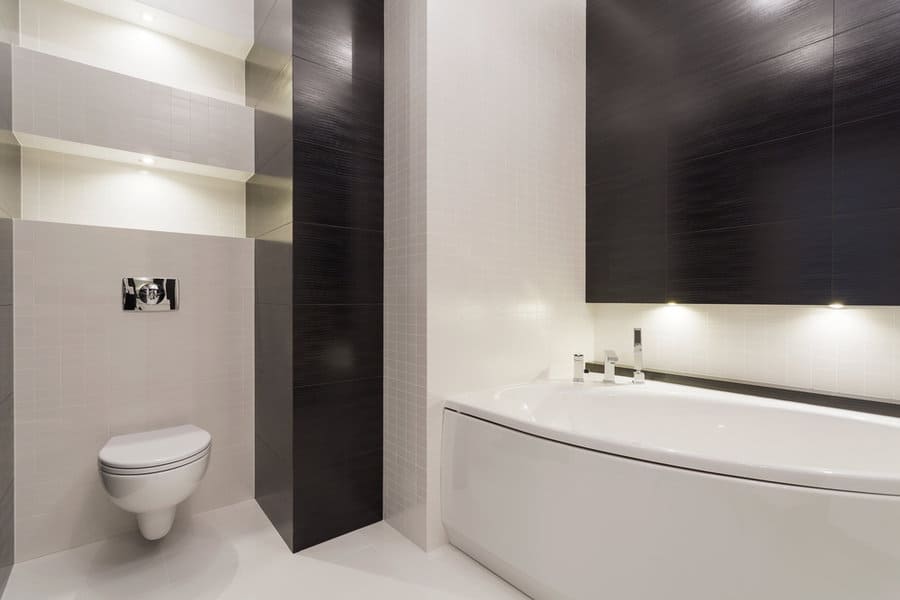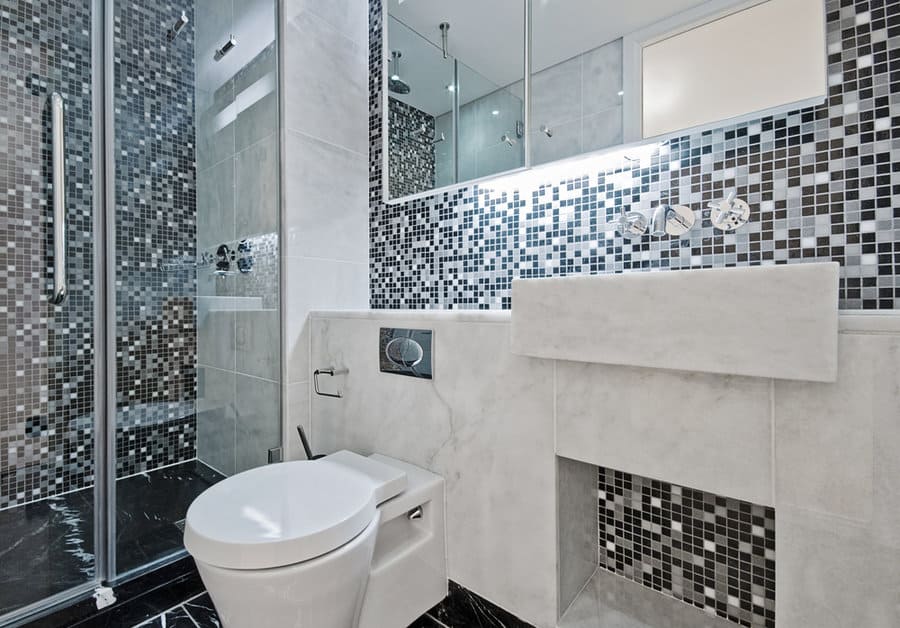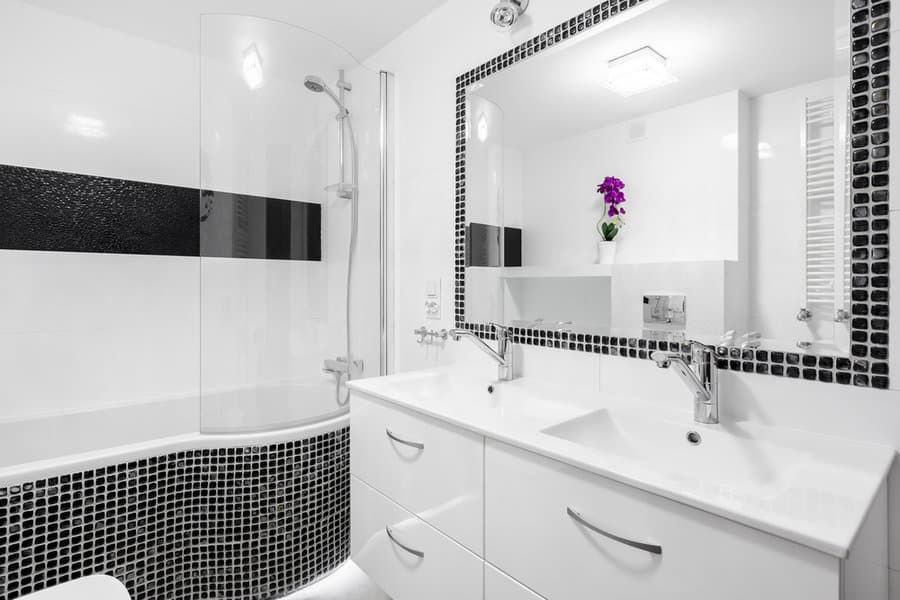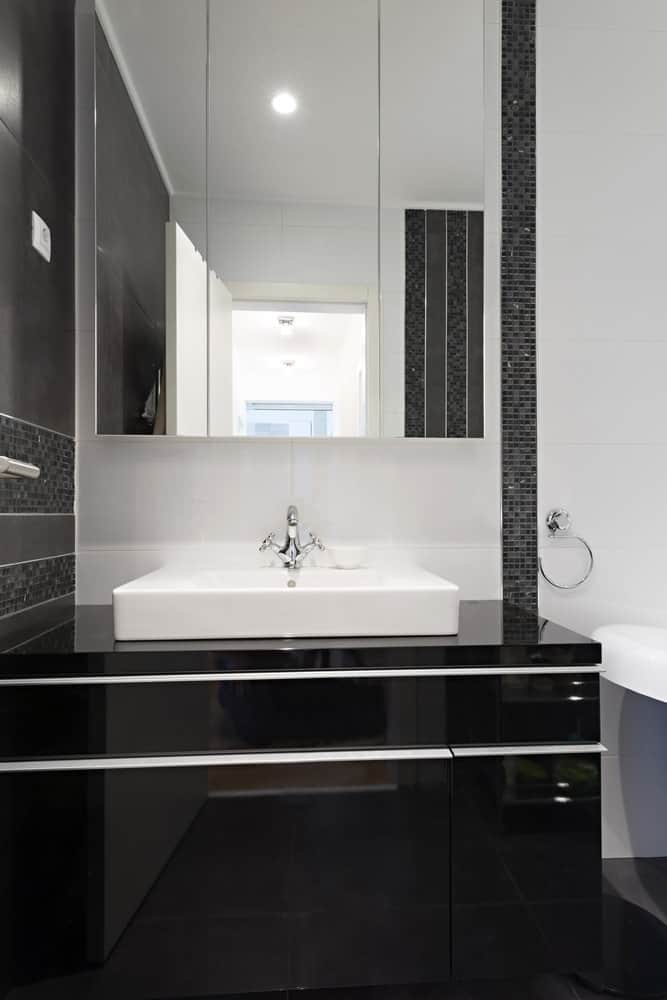 14. Black Tile Strips For Minimal Accent
Installing walls with black strip accent tile is a great way to add subtle but interesting detail while still keeping the minimalist approach. For a cost-effective design tip, consider including white tiles across the walls and floor to keep the space light and airy.
Adding a few choice pieces of accent furniture like vanity stools can easily pull the entire look together with minimal fuss.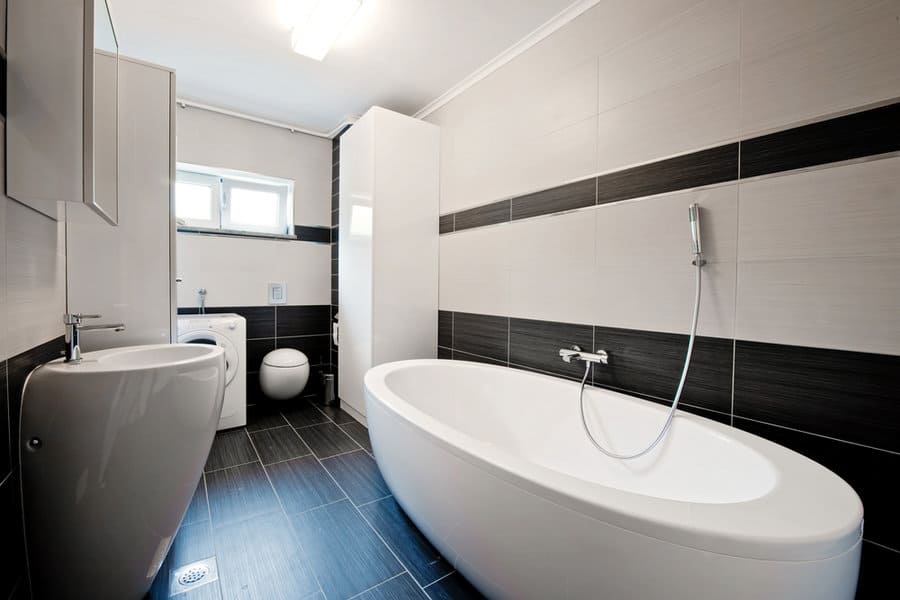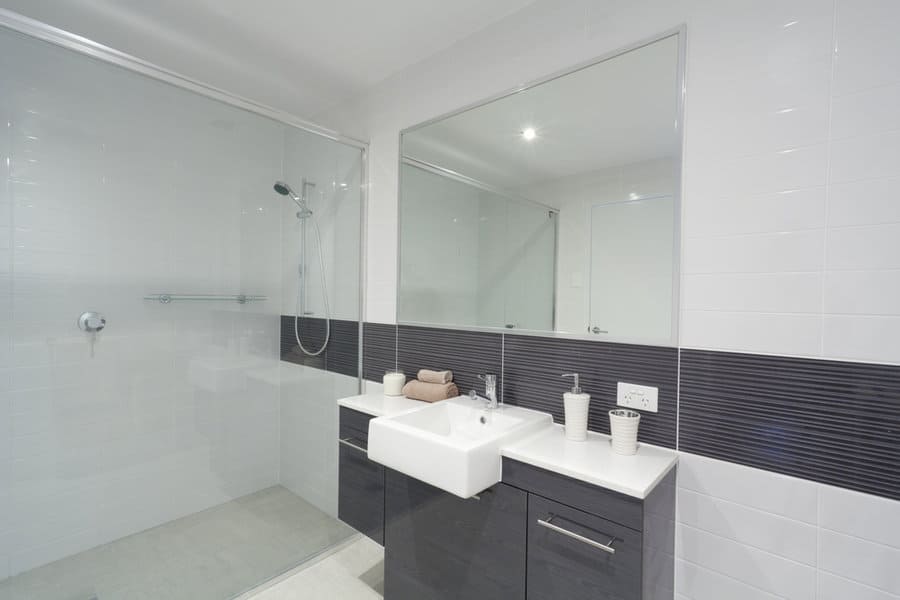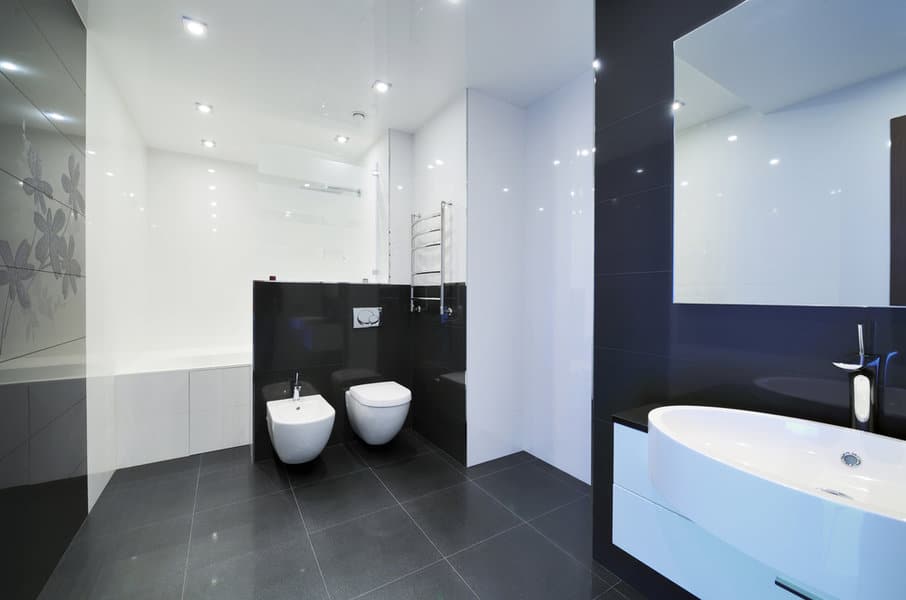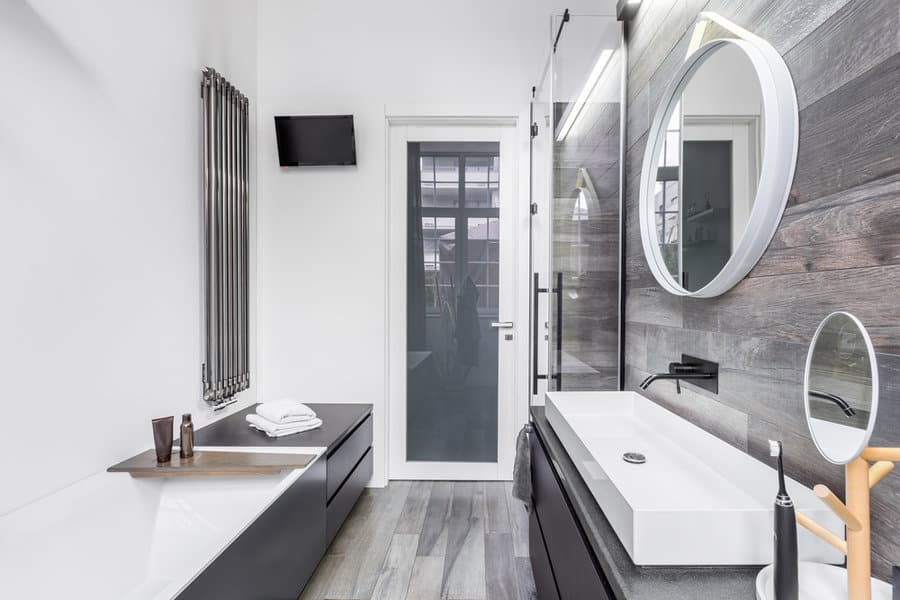 15. Be Creative With Deco Tiles
If you're looking to revamp your bathroom with some black and white hues, there are so many creative options available to give you an elegant yet timeless style. Try black and white deco tiles on the floor or black and white printed wallpaper for the walls – these bold designs are sure to add a real wow factor.
These fun elements are guaranteed to add an element of luxury to your black-and-white bathroom, adding layers of depth and pattern that will create a visually stunning ambiance.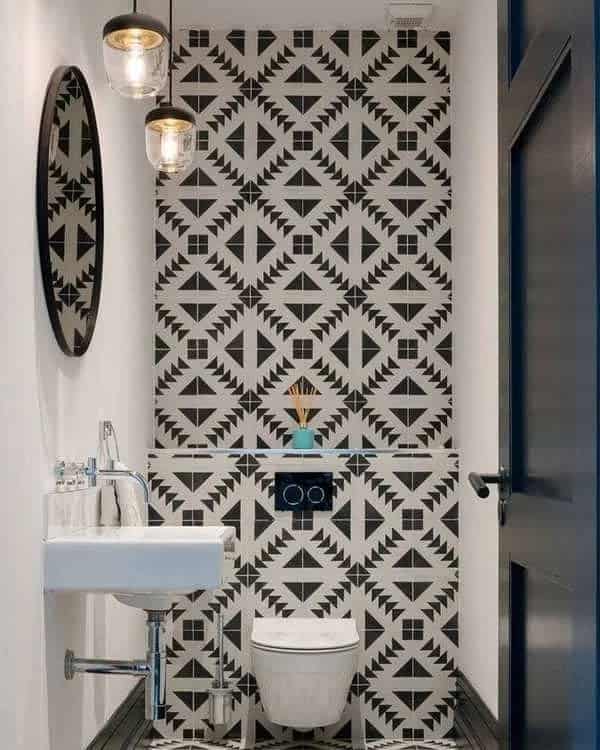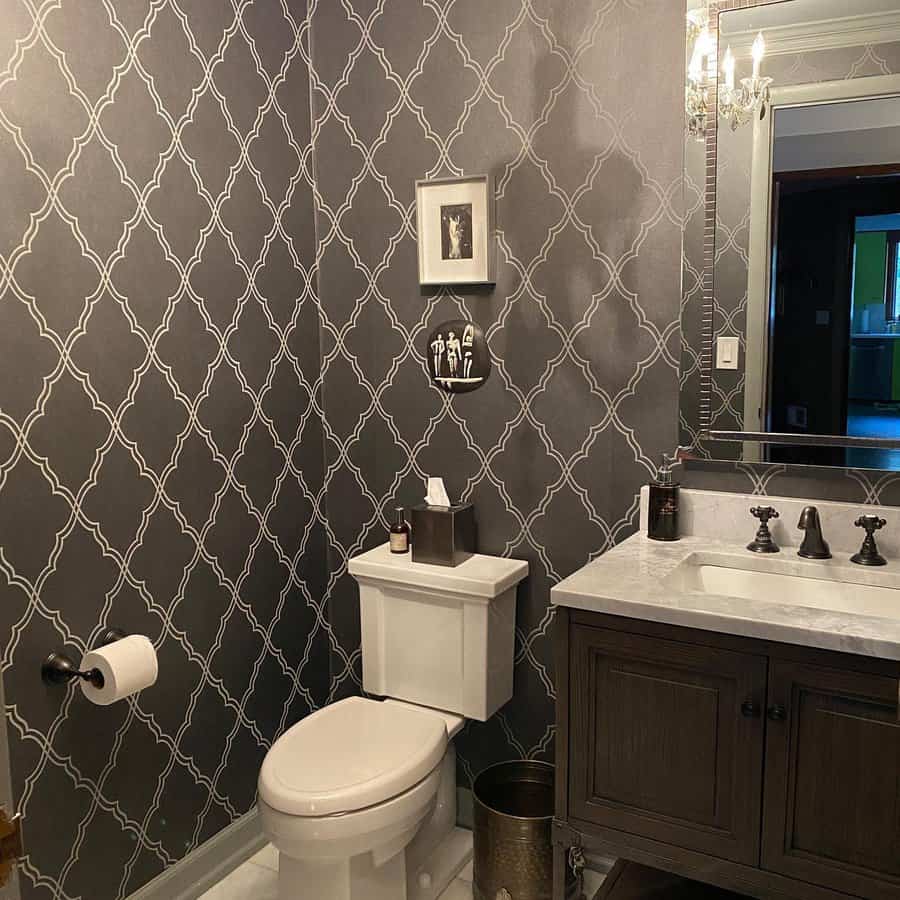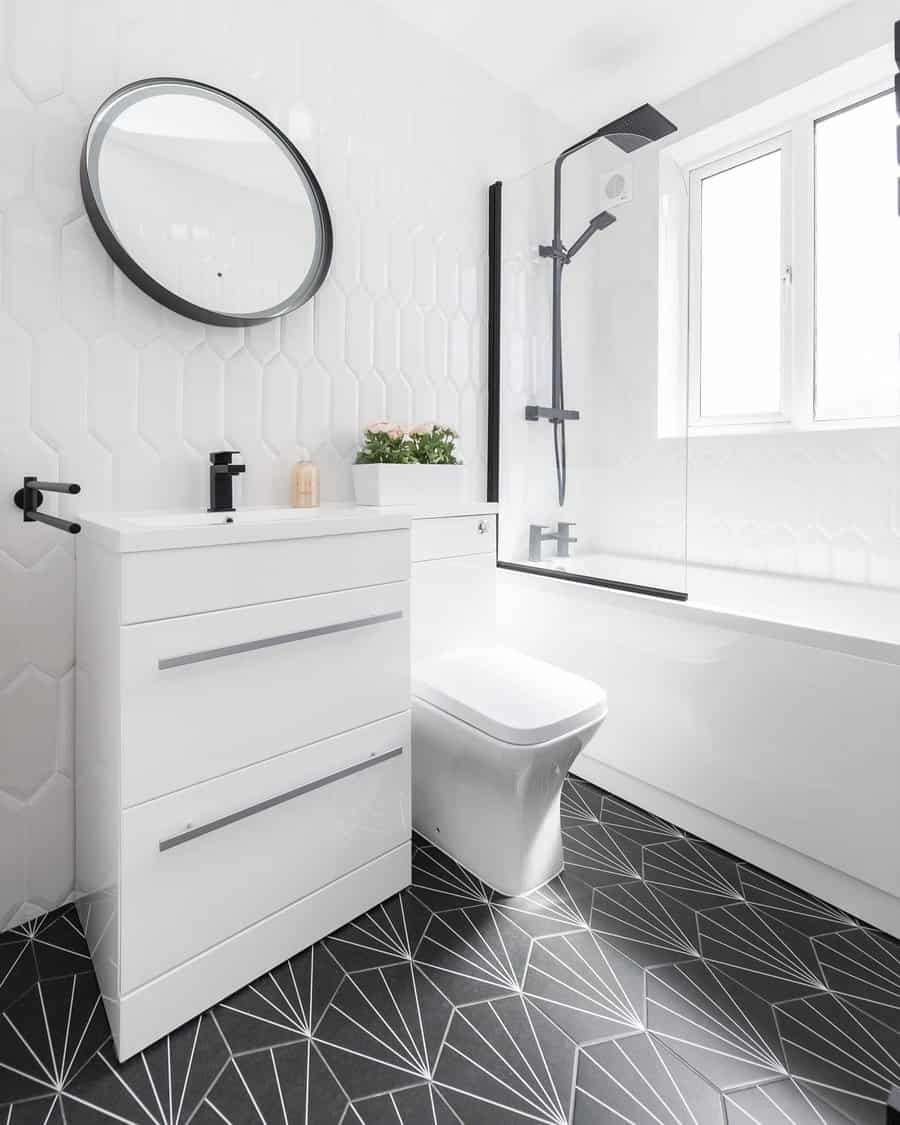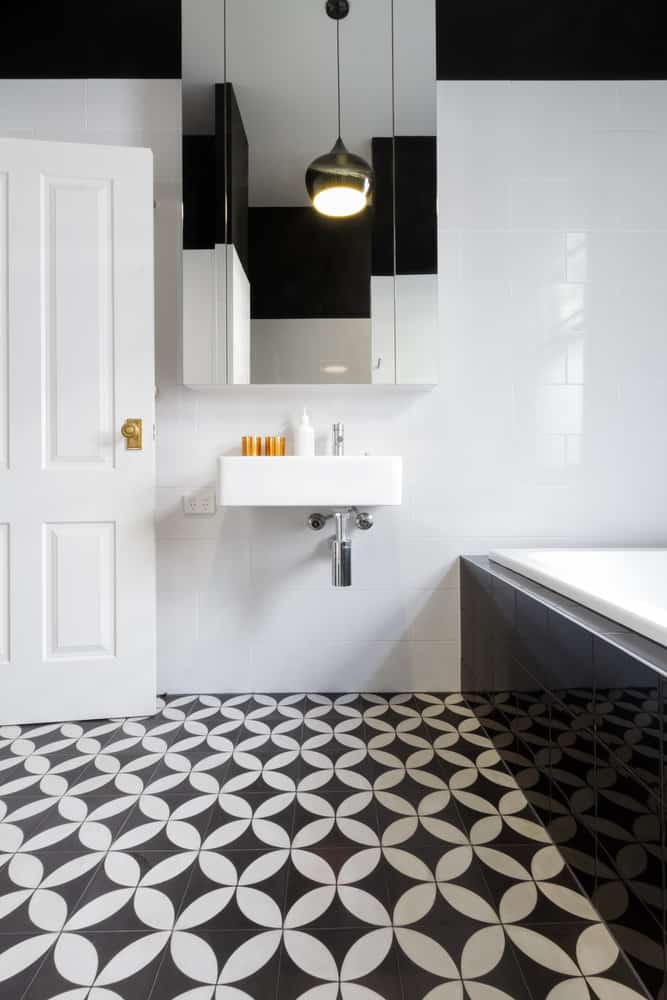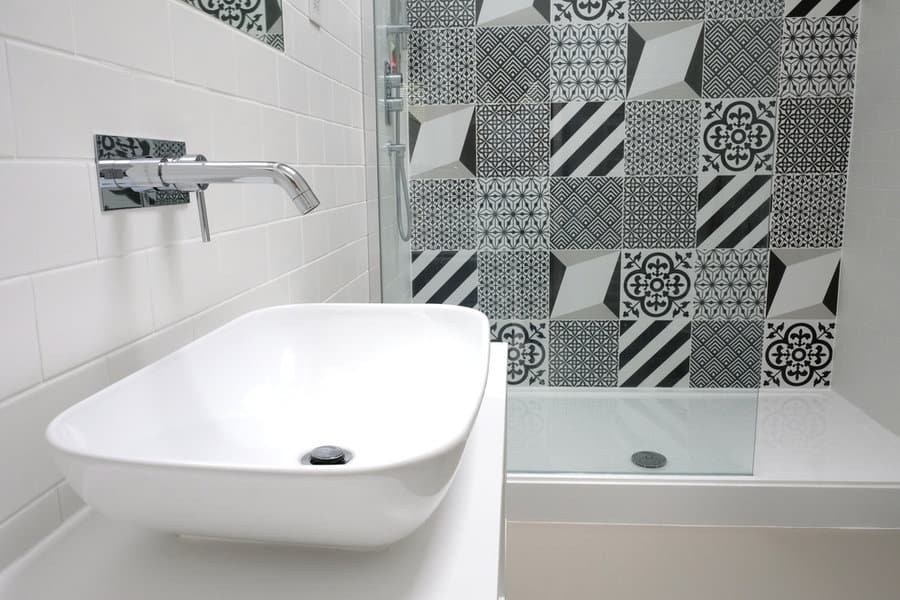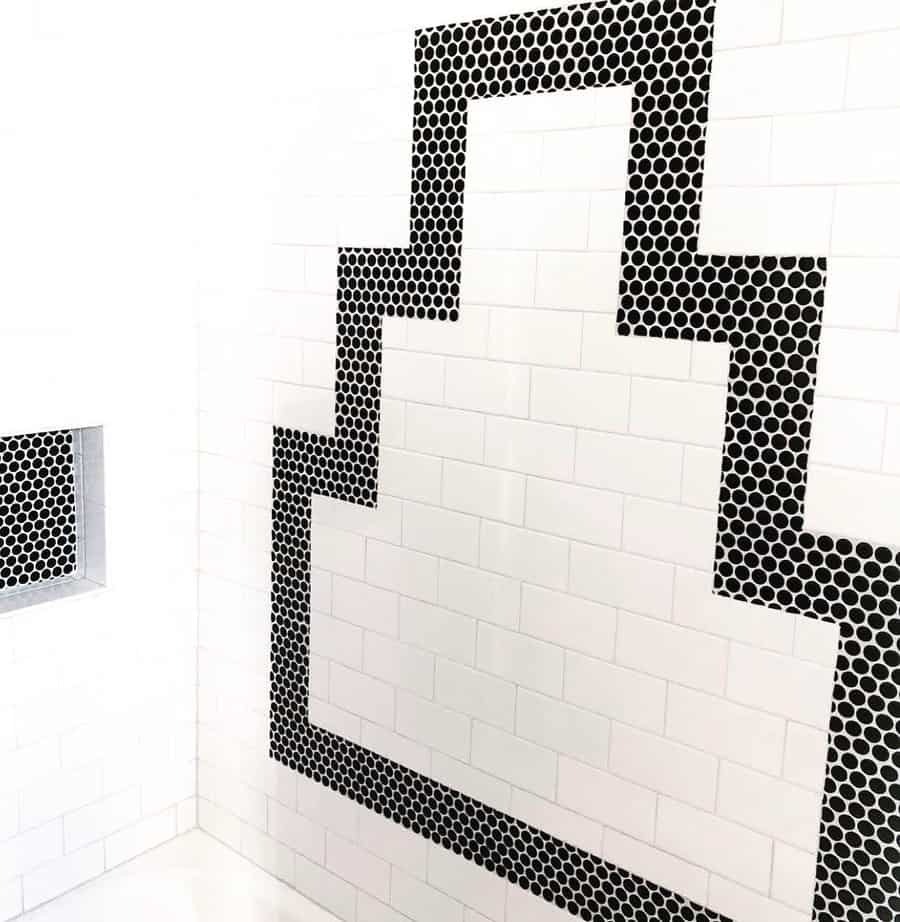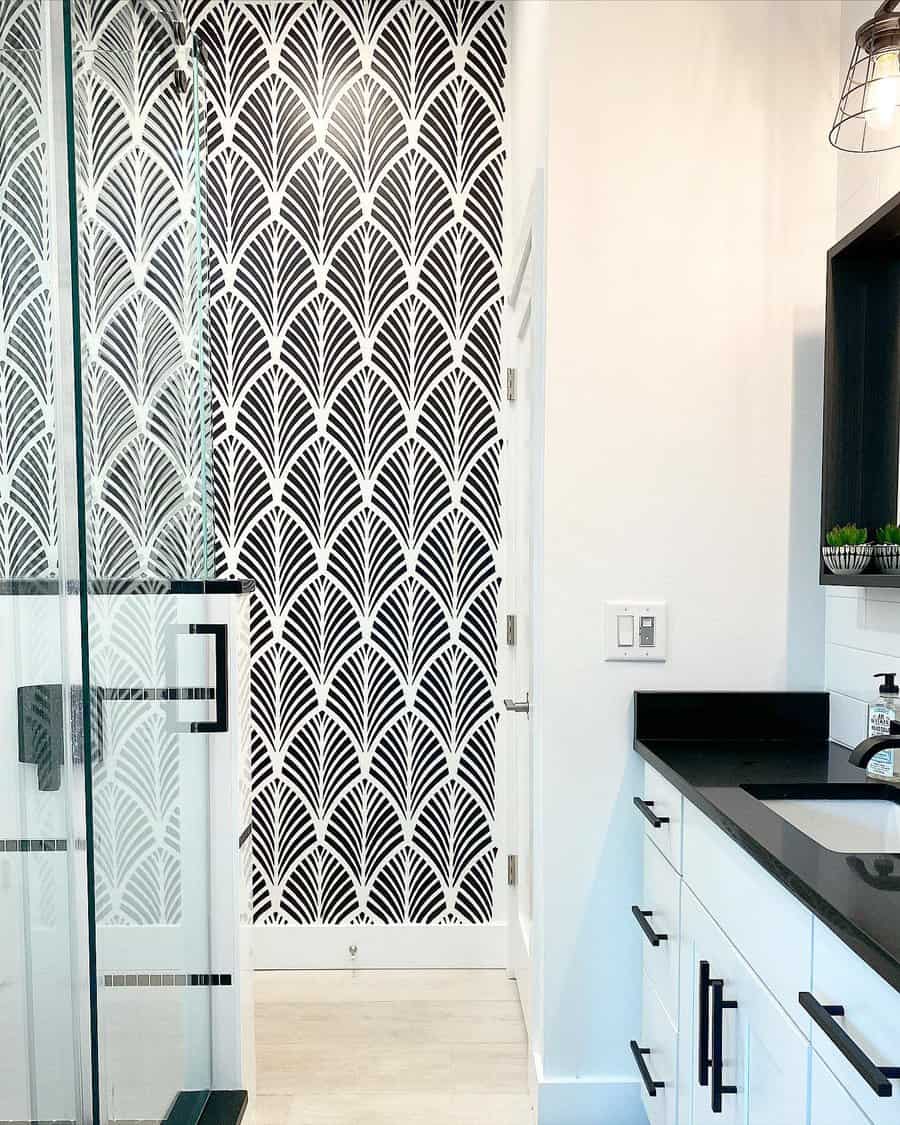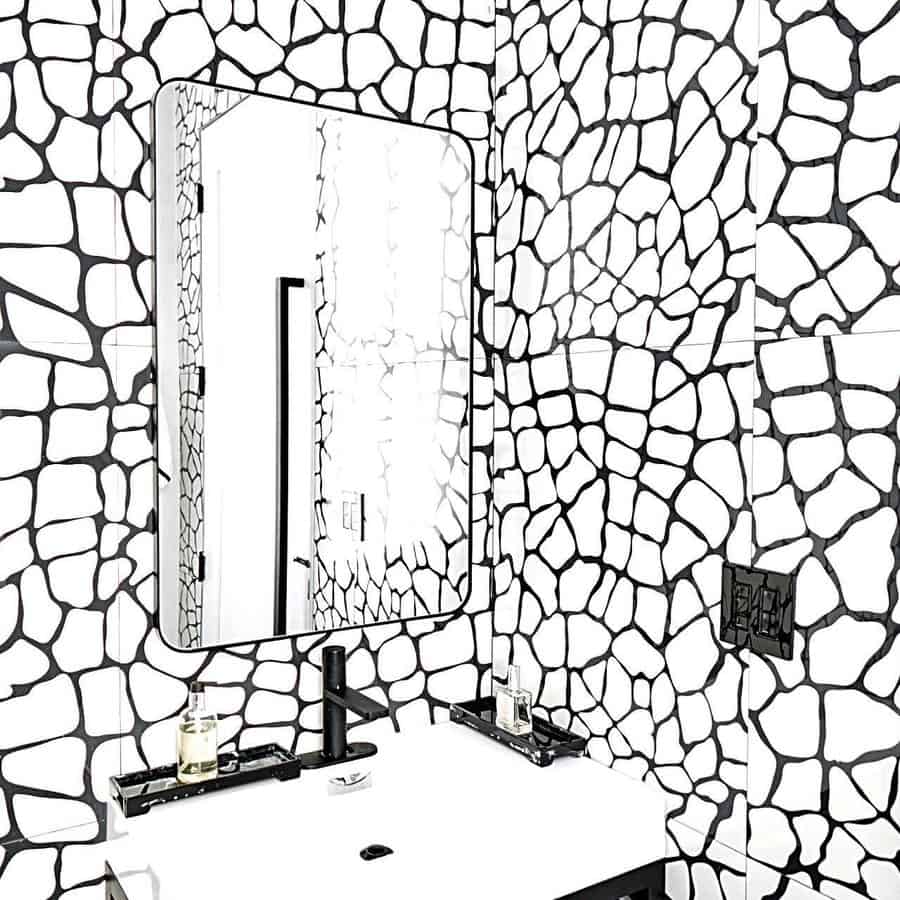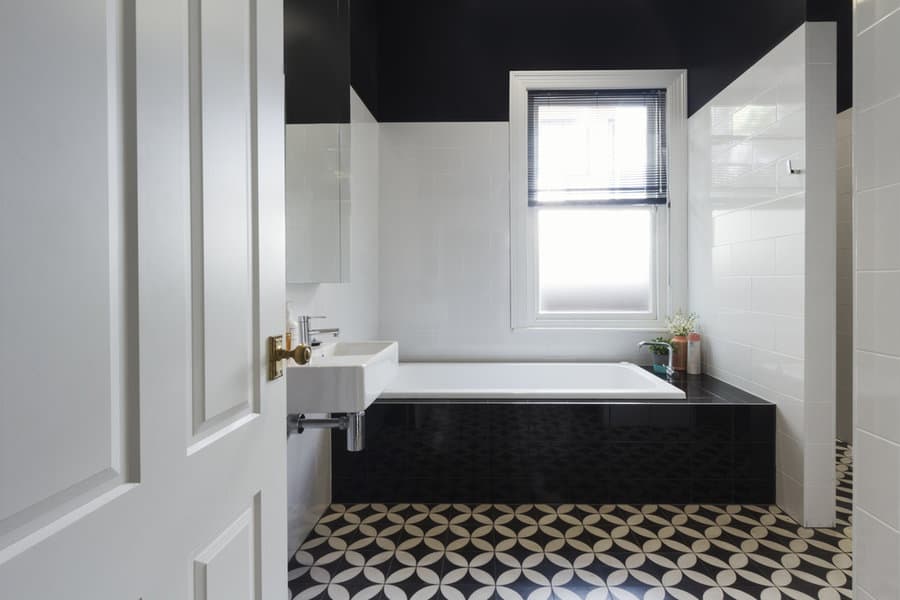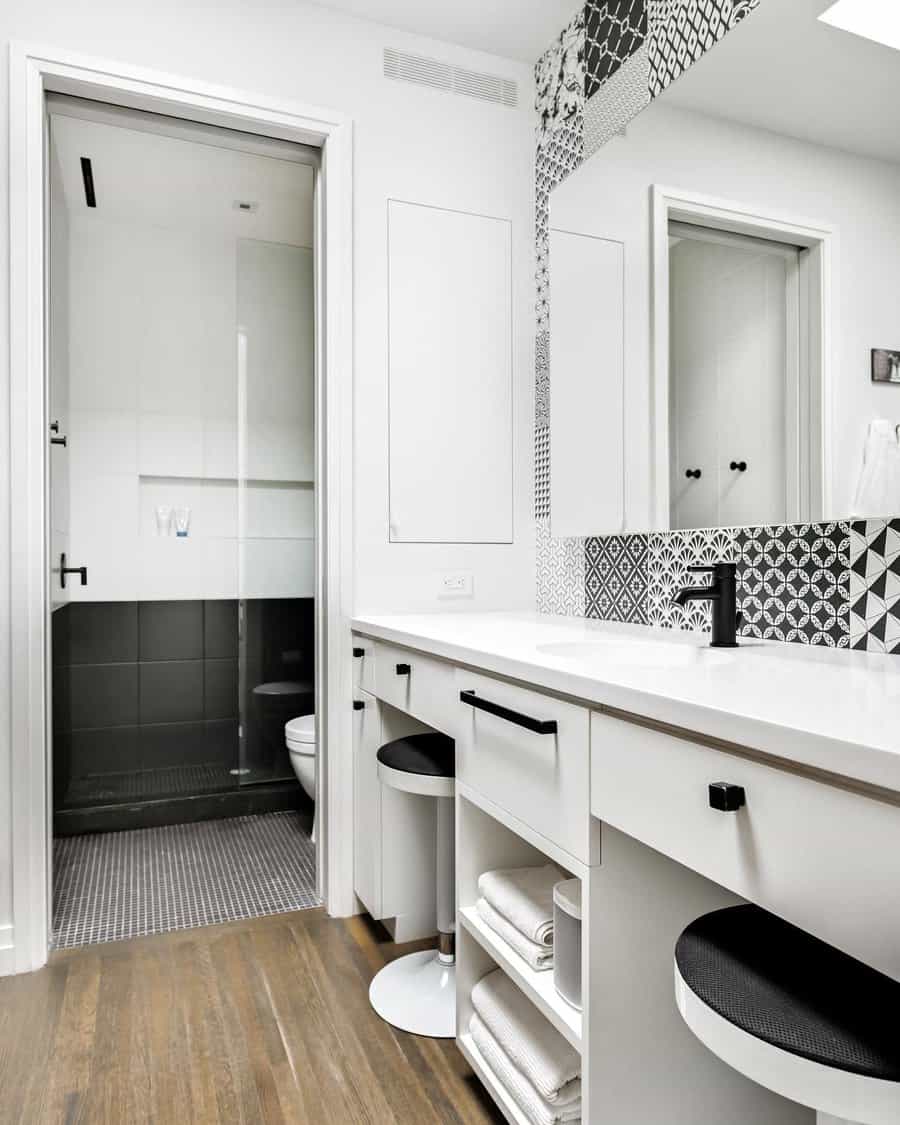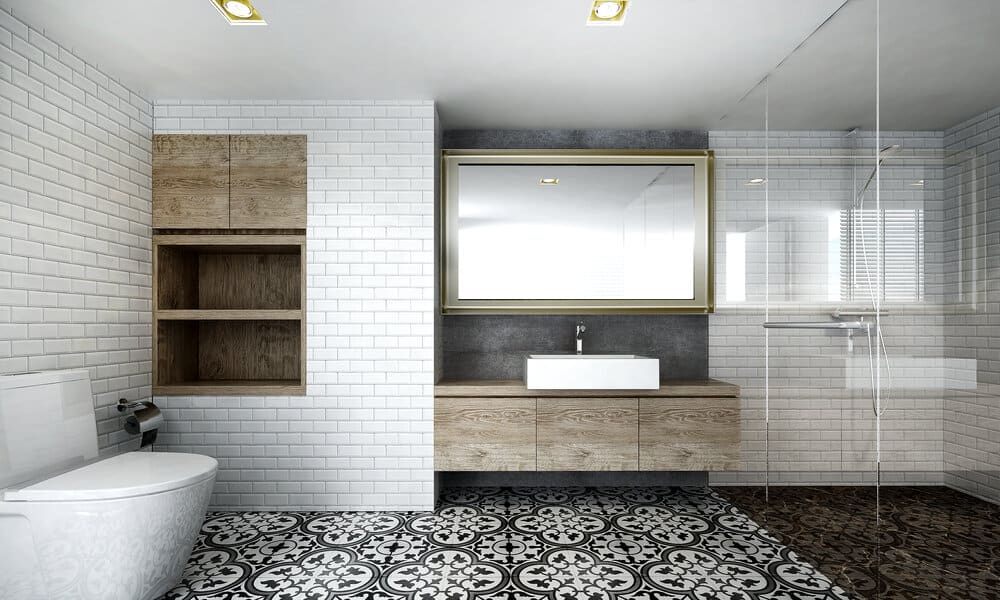 16. Dark Concrete Walls For Masculine Bathrooms
Installing black concrete tiles is the perfect way to make a statement while still keeping the look clean and modern. Utilizing dark concrete walls combined with white fixtures creates a beautiful contrast that can bring life to any bathroom.
To balance out the elements, opt for white fixtures that will stand out against their dark background. Don't forget some splashes of color to ensure your bathroom is anything but dull. Bold patterned tiles or bright towels can liven up a mostly monochromatic palette while still keeping an element of sophistication!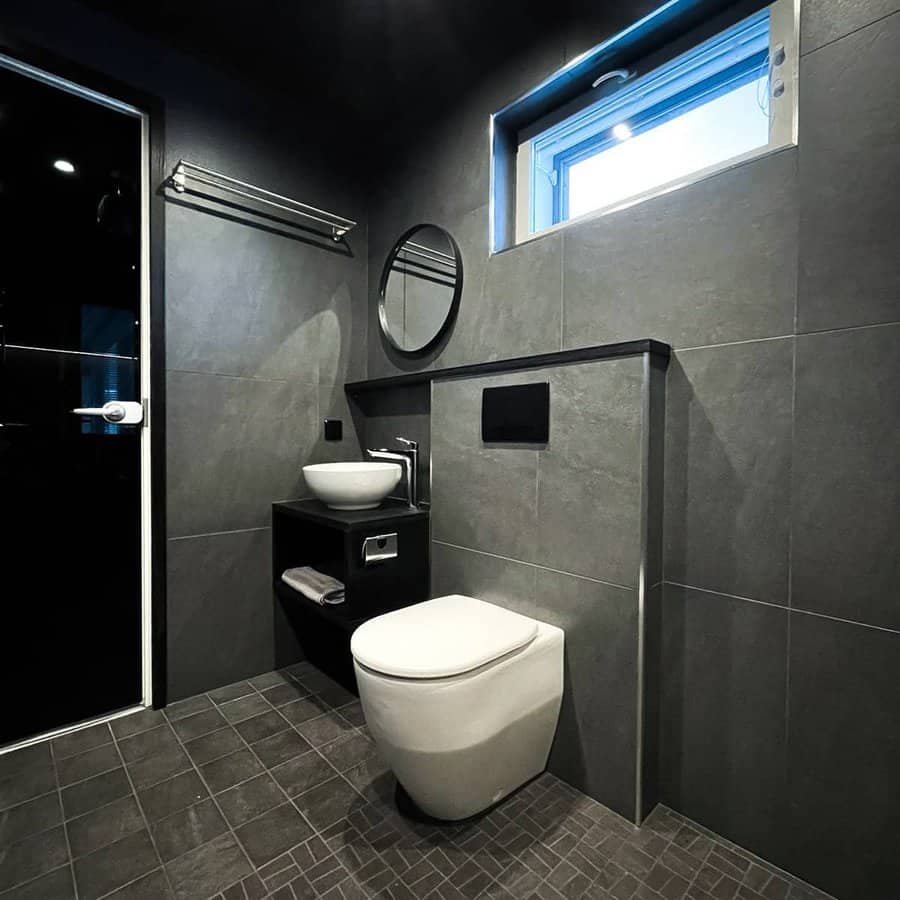 17. Install White Subway Tiles
An excellent way to achieve the black and white look is to pair black accents with a white subway tile wall. The striking contrast of black against white is classic and timeless, making for an eye-catching modern style that is surprisingly inviting.
Try combining black grout with black fixtures for a luxe theme or black glazed tiles for a subtle matte finish. Compliment the black and white look by adding textures through area rugs, towels, plants, or other decor. Such details bring personality to the bathroom while still keeping consistent with the black-and-white color palette.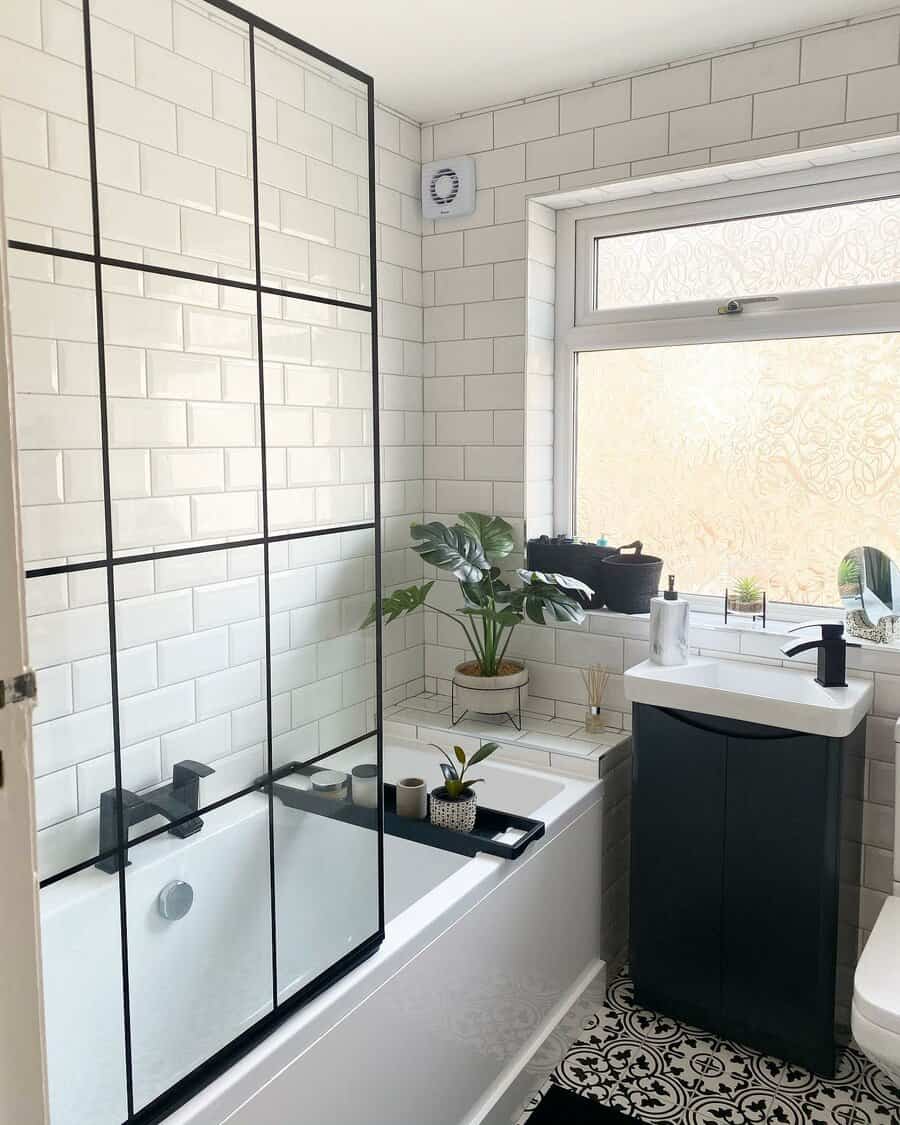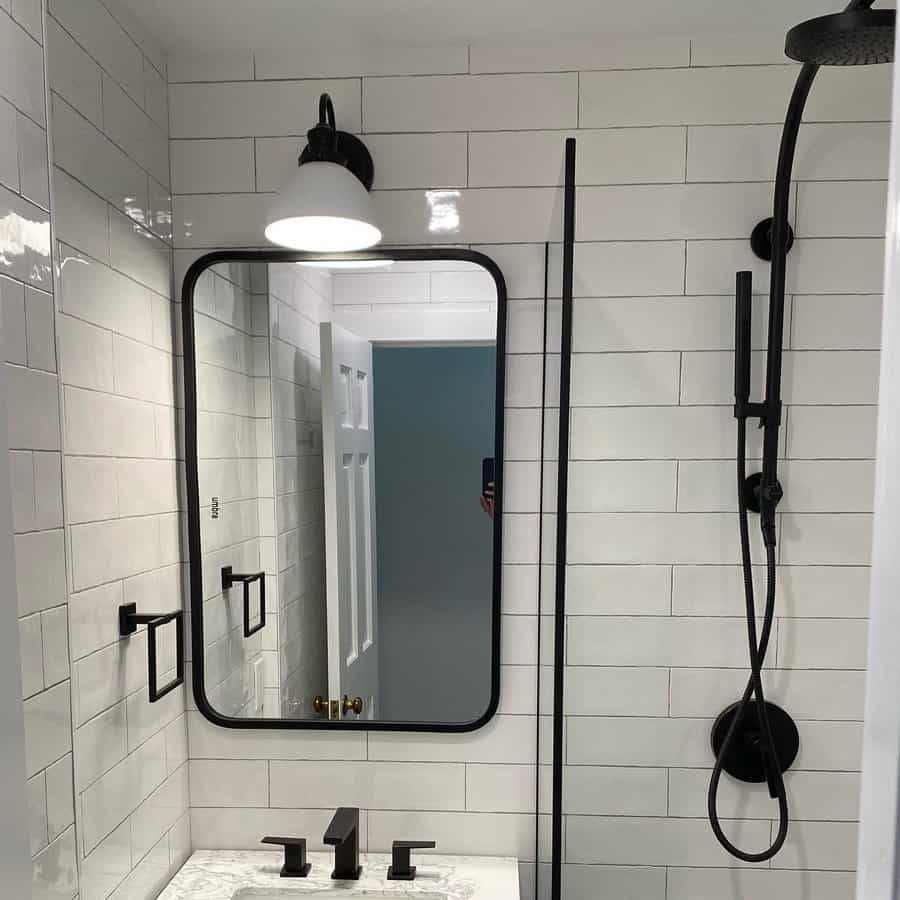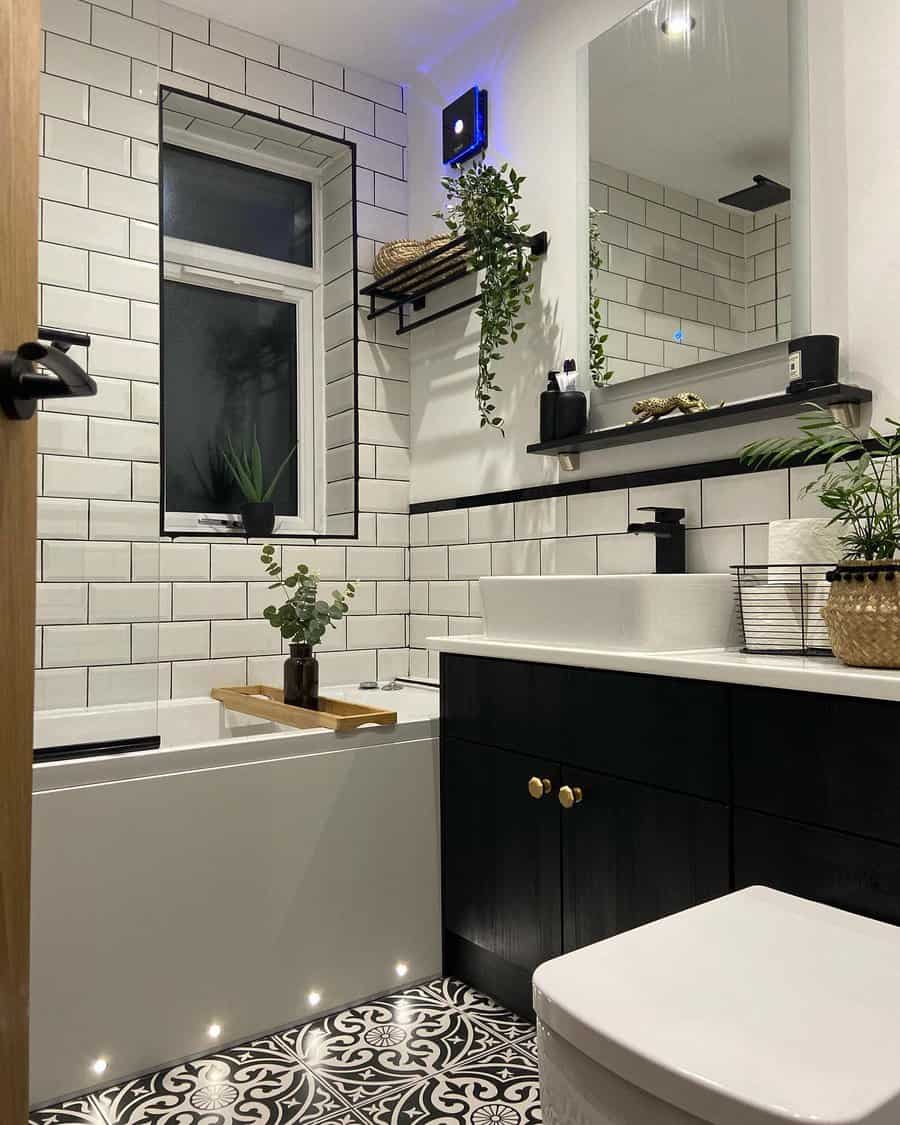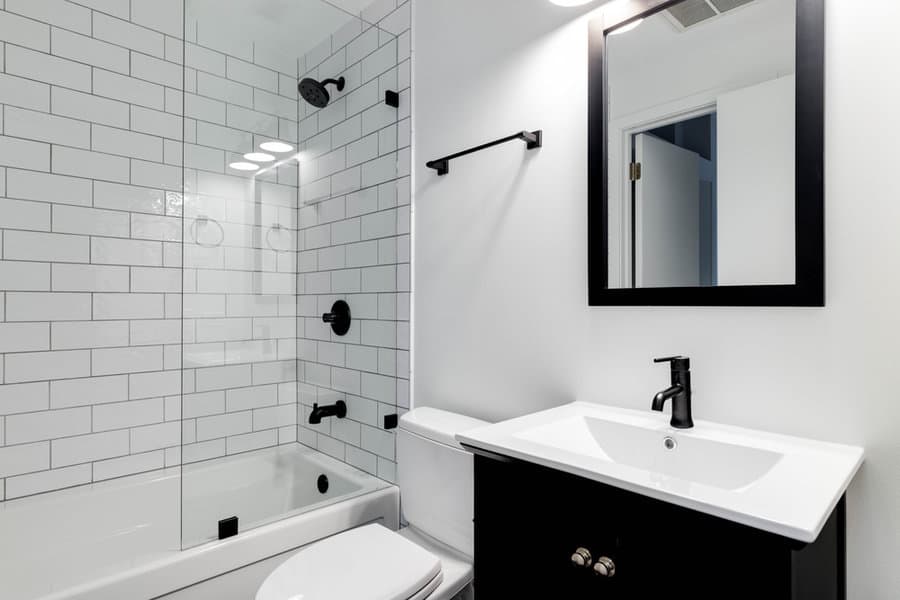 18. Mix & Match Prints For A Maximalist Look
Creating a maximalist black and white bathroom is an artform. To achieve this classic yet modern look, you should use printed walls to bring in some visual interest and combine it with chic, contrasting checkerboard flooring.
Reach for unique light fixtures that marry classic design with contemporary materials to enhance the overall effect and add splashes of color with accents such as towel sets or pot plants.
Finally, use patterned rugs to bring in a little more vibrancy while tying all the colors together. With just a few maximalist touches, your black and white bathroom will be elevated from drab to fab!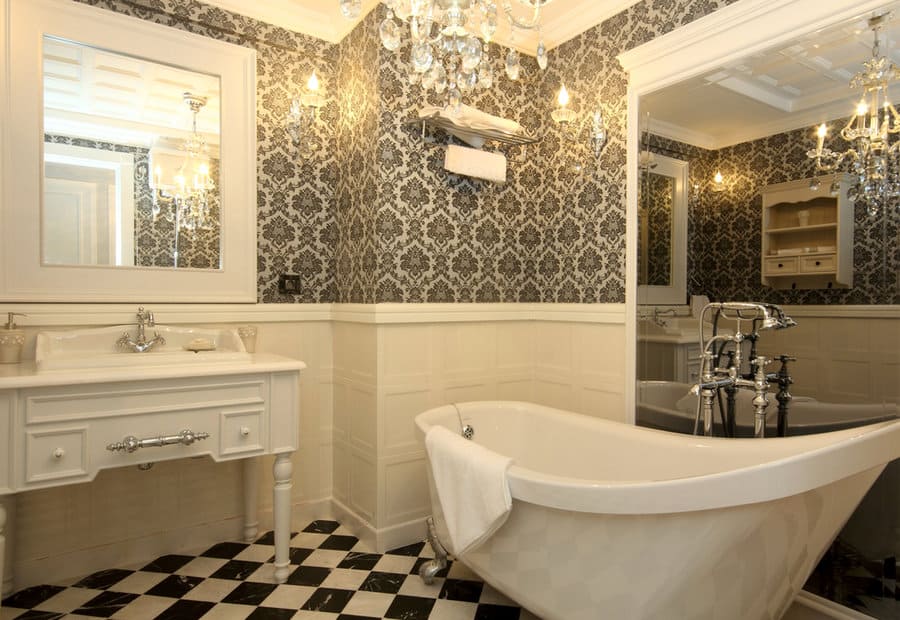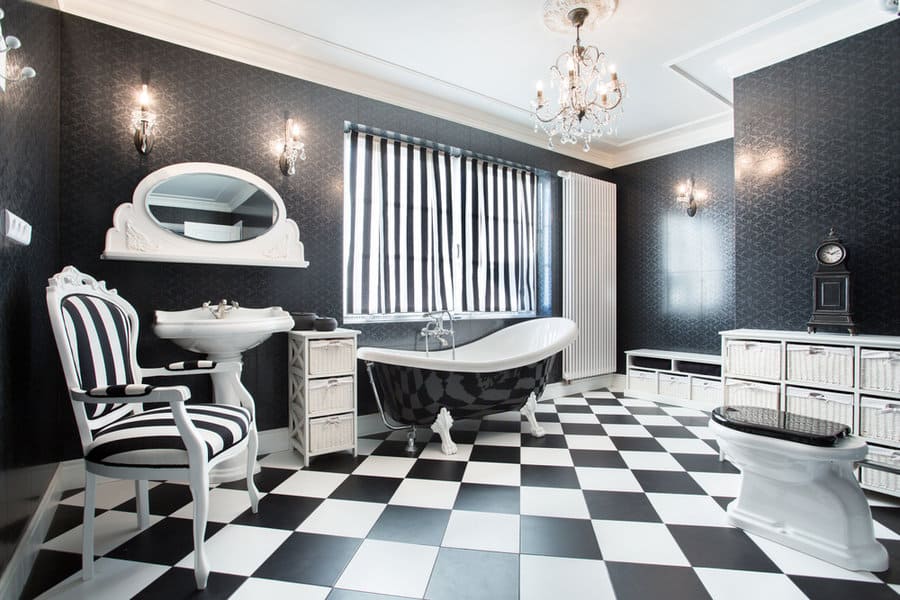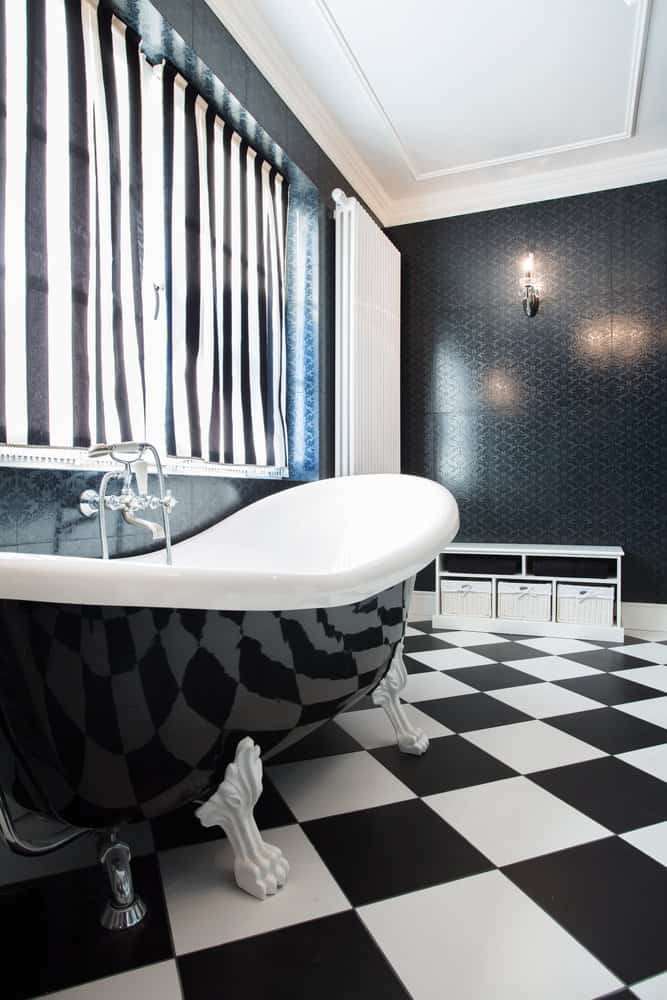 15. Wall
Black is perhaps the most unexpected wall color of all. People have long shied away from using such a bold wall accent color. But as black and white bathrooms gain popularity, we will start seeing more rooms including black in larger applications.
Black wall paint comes in different finishes. Go high gloss if you want a shiny surface that reflects light. Glossy paint is great for bathrooms and trim as it's easier to wipe clean. Choose a satin finish or flat enamel for a black matte finish on your walls.
Black and White Bathroom FAQs
Are black and white tiles in style?
This classic pairing is always in style, but now it's true more than ever. Interior design goes in and out of trends, and right now detailed black and white tiles are extremely popular. Whether you have a retro penny tile arrangement in mind, or you are considering white tile painted with black scrolls, it's easy to find a perfect black and white tile floor for your bathroom.
What goes with black and white tiles?
Black and white are great paired with just about any other color. Contemporary interior design color pairings with black and white tile include sky blue, sunflower yellow, sage green, and various shades of grey.