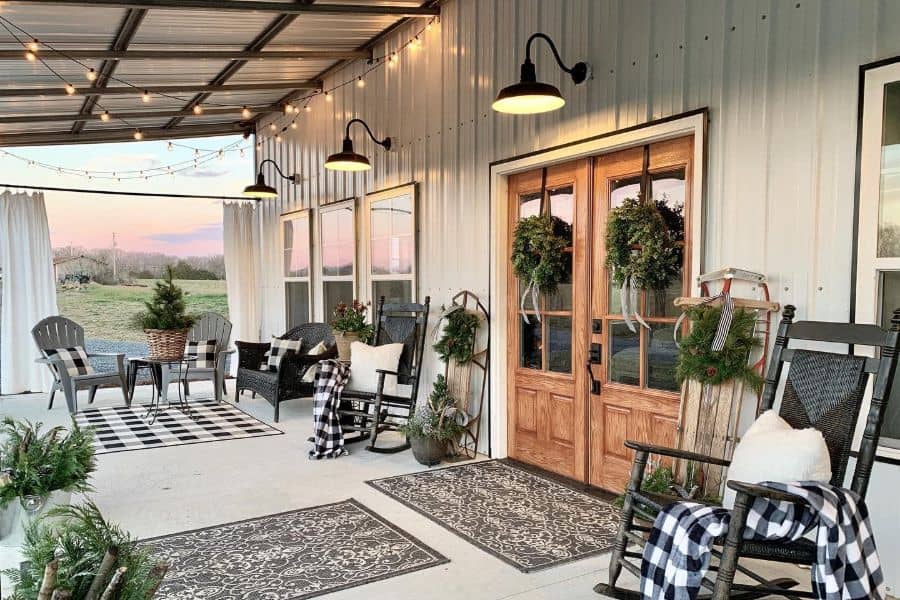 The Top 45 Front Patio Ideas
Most homeowners think of a patio as something relegated to the backyard. But including a separate patio space at the front of your home could be a game-changer in more ways than one!
A front patio is a great investment for anyone who enjoys entertaining or watching the neighborhood pass by. Even if you already have a standard porch, a patio could be just what your front lawn is missing.
Whether you're looking to increase curb appeal or just get more out of your current home, keep reading for our favorite front patio ideas!
1. Covered
In many ways, the front patio is an extension of your home's interior. And few elements make that fact more clear than the presence of a fully covered porch.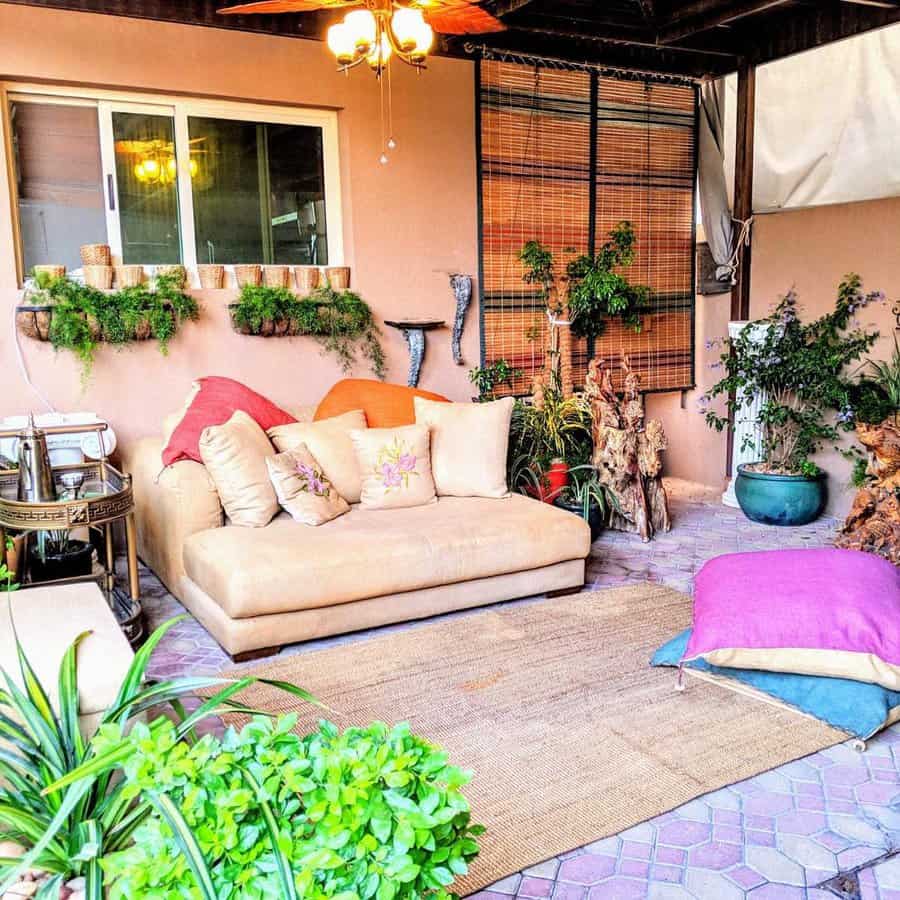 With a covered patio area, you can incorporate a wide variety of cozy amenities not possible in a traditional patio! Install powered ceiling fans if you live somewhere hot and humid. Or hang electric string bulbs overhead for ambient lighting at night.
Remember that your front porch doubles as the main entryway to your home. Avoid blocking off the area directly in front of the door with furniture or decor.
2. Front Entry
Designing a space that provides private comfort and a welcoming atmosphere isn't always easy. If you can pull it off, however, you'll be well on your way to the picture-perfect front patio.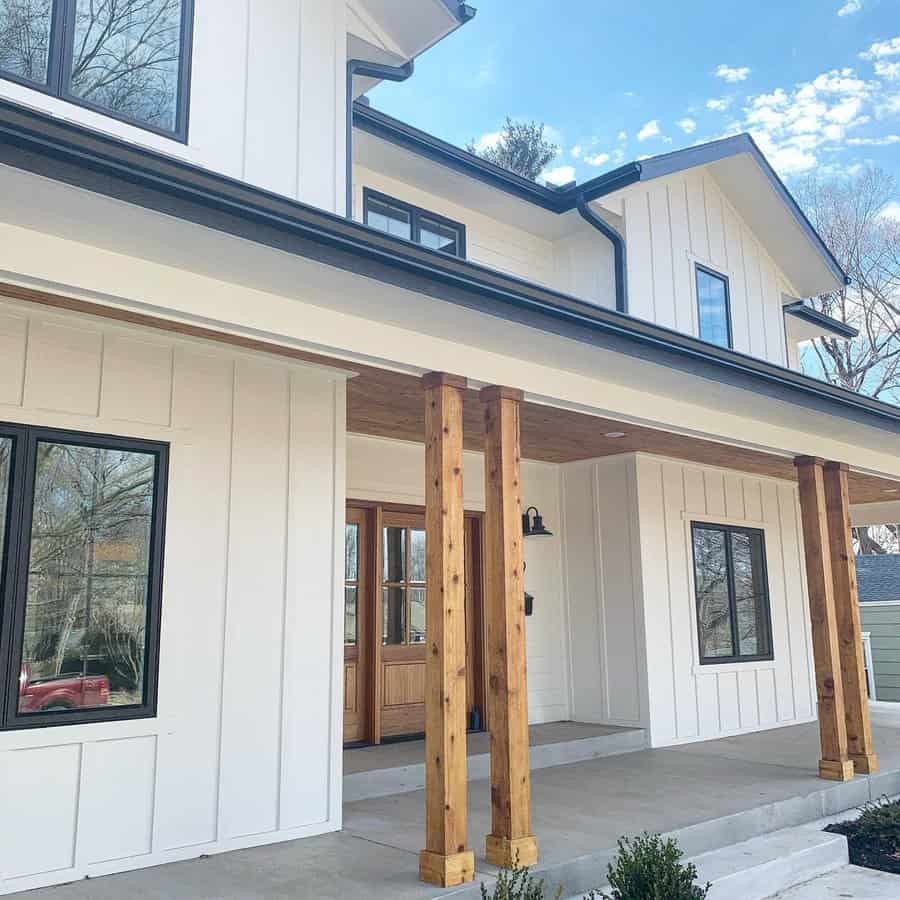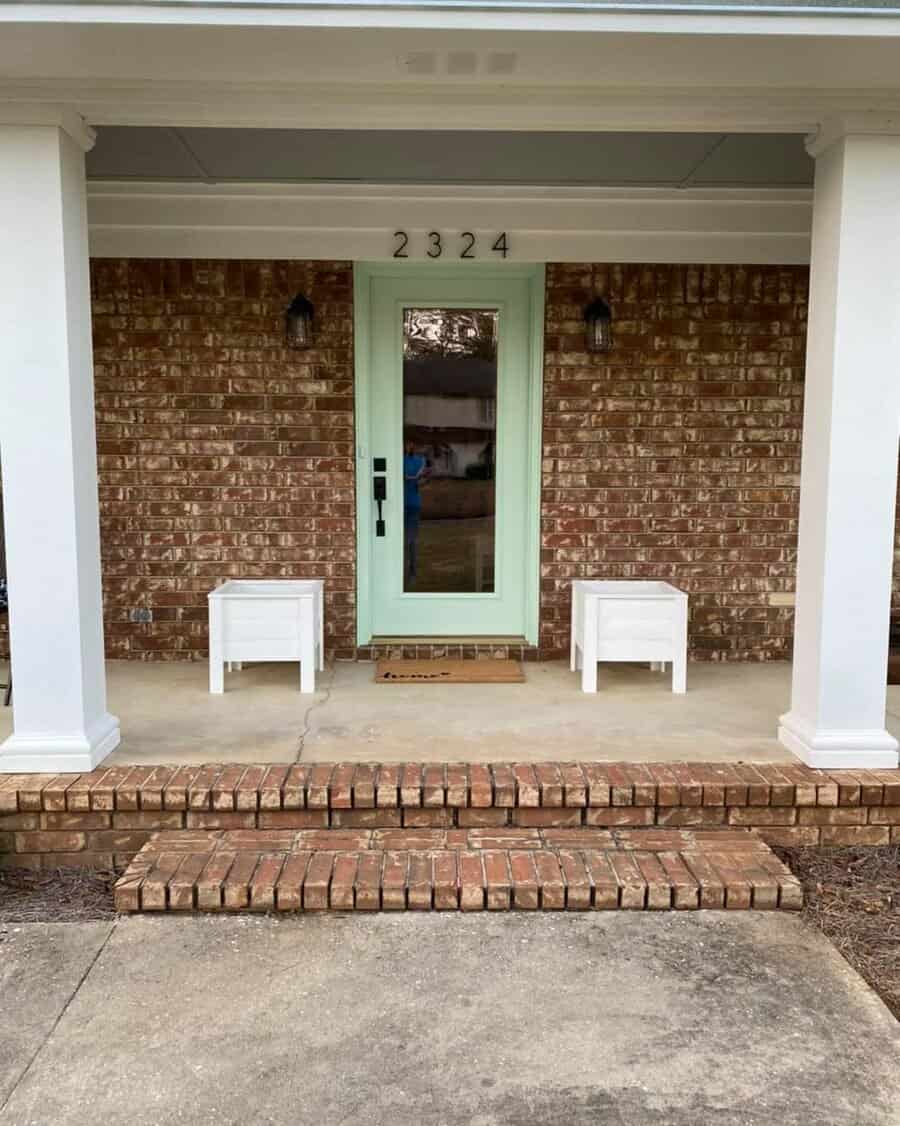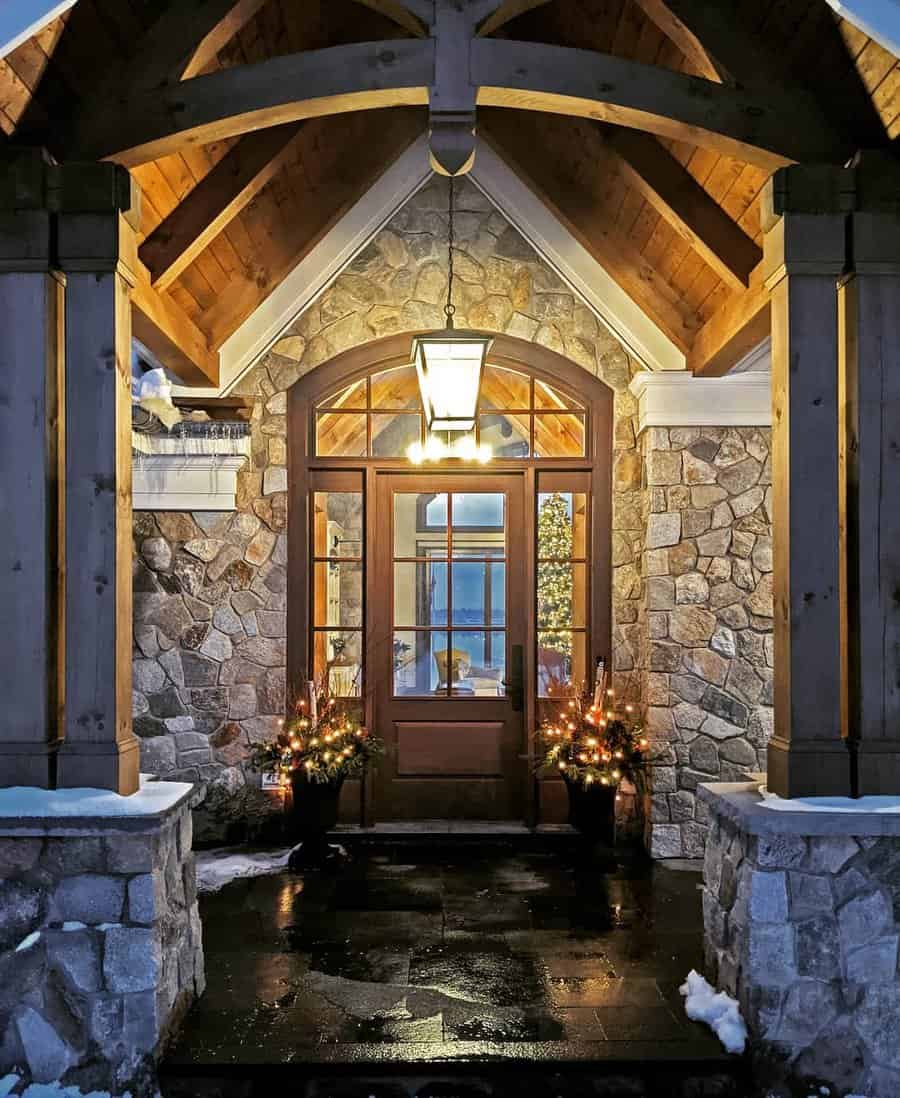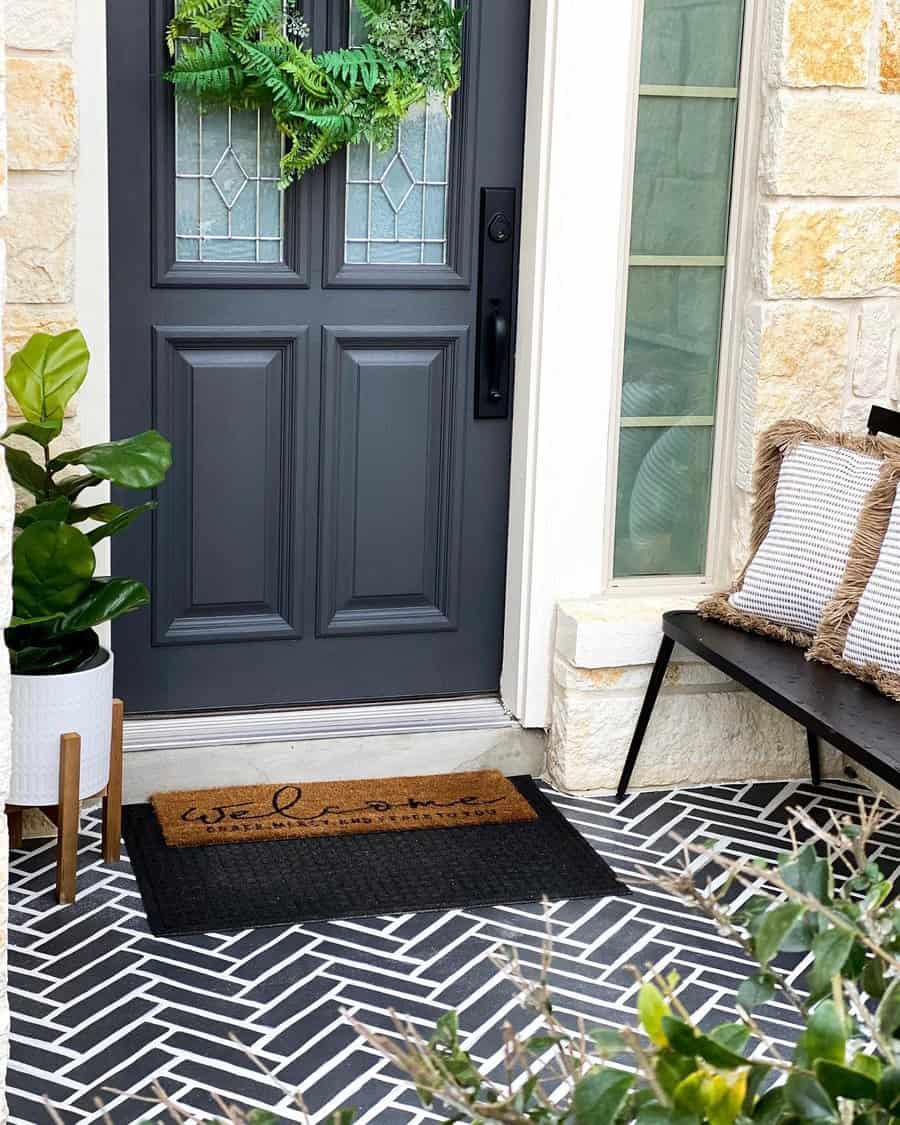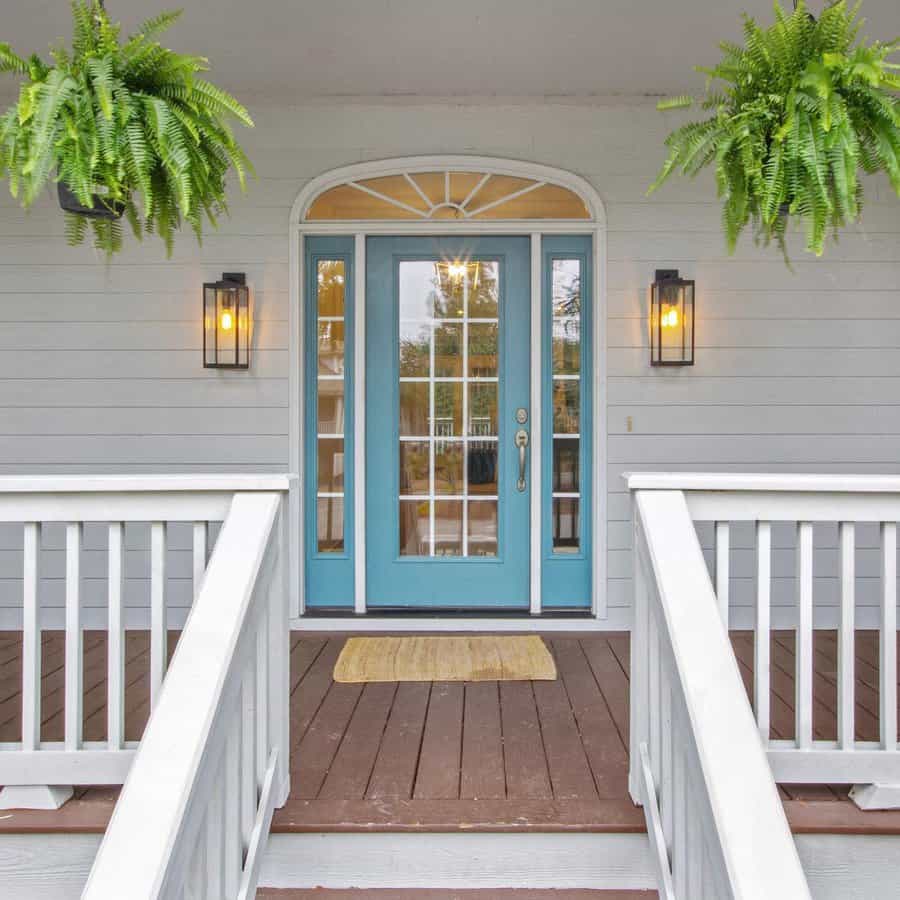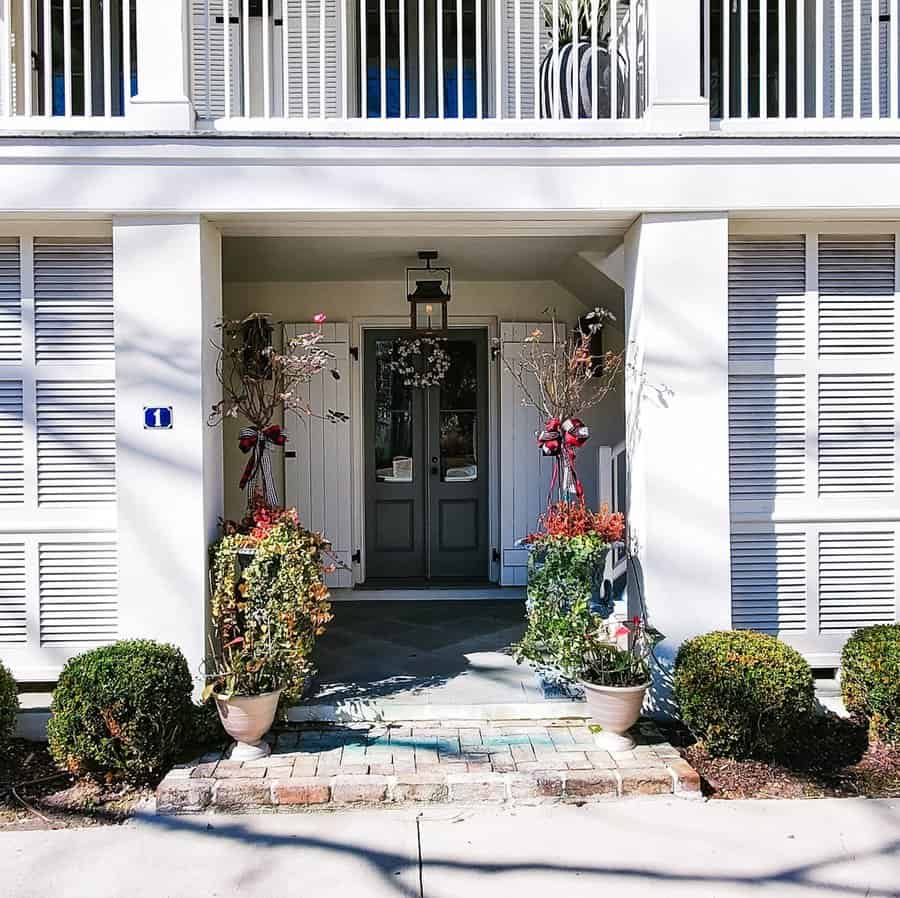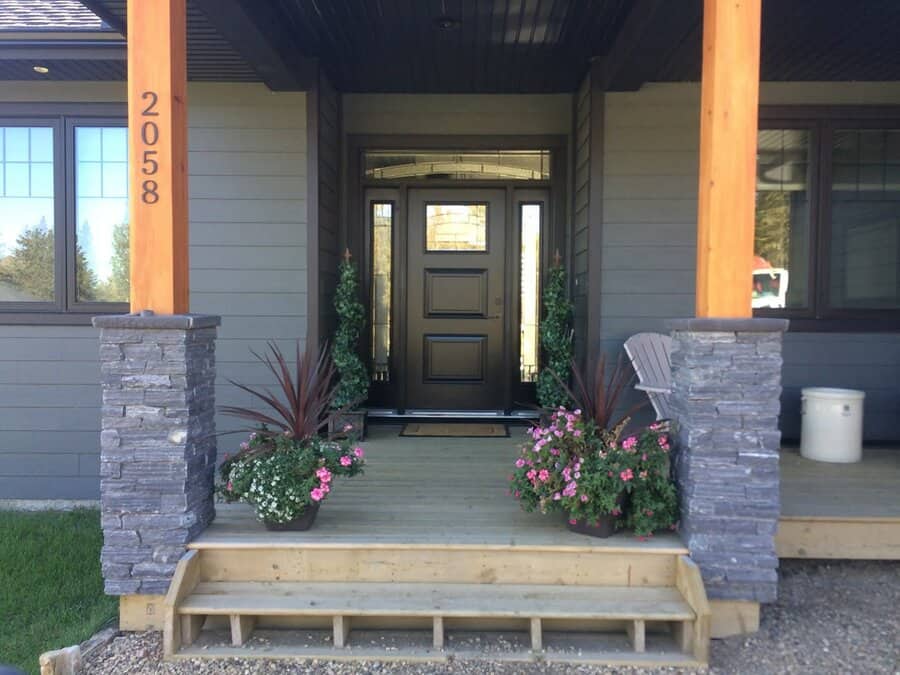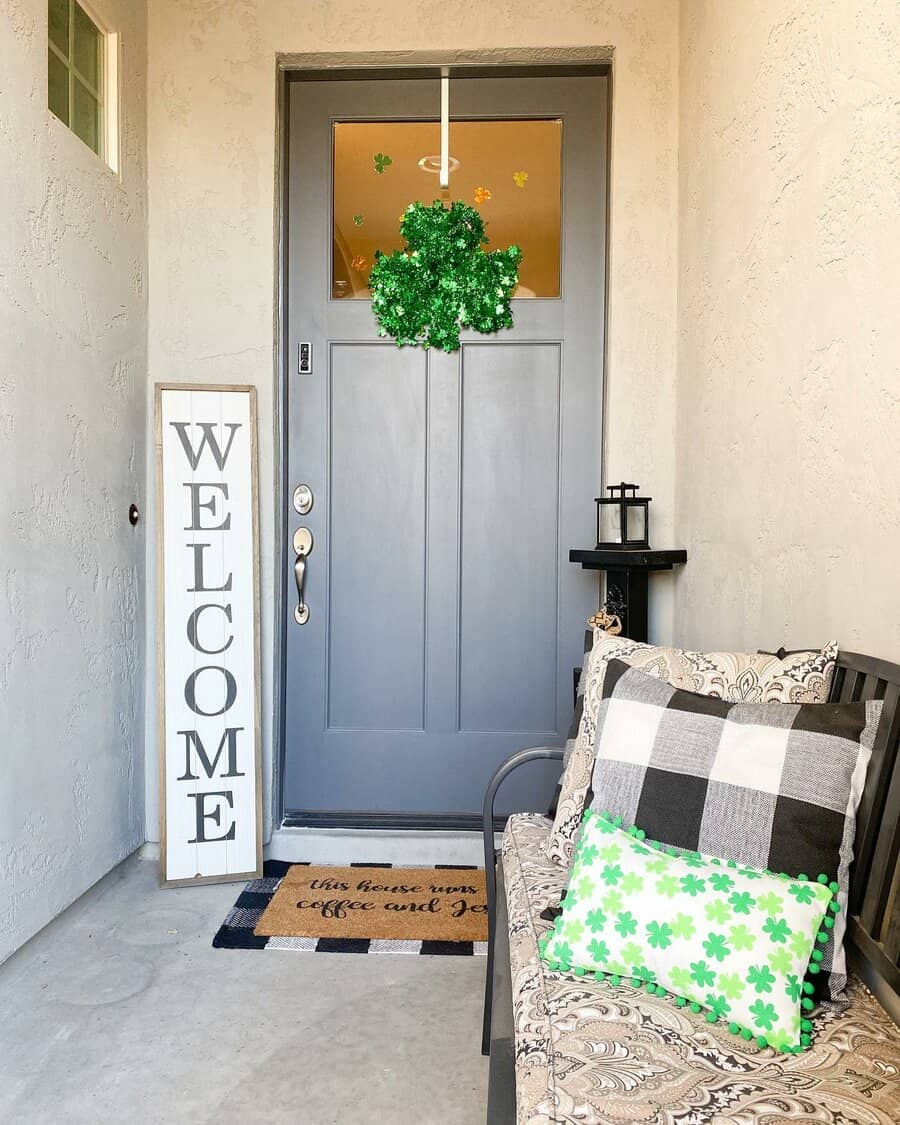 Treat your front door as the centerpiece of the design as a whole. Arrange furniture and decor on either side of the entryway — never in front of it — and consider how the space can invite guests inside rather than leave them feeling unsure.
Adequate lighting is essential to a quality entryway. Add a welcome mat for the aesthetic or a full-length runner for extra traction on wet days.
3. Ground Level
If your home lacks ample backyard space, constructing a patio could be a wonderful use of your front lawn!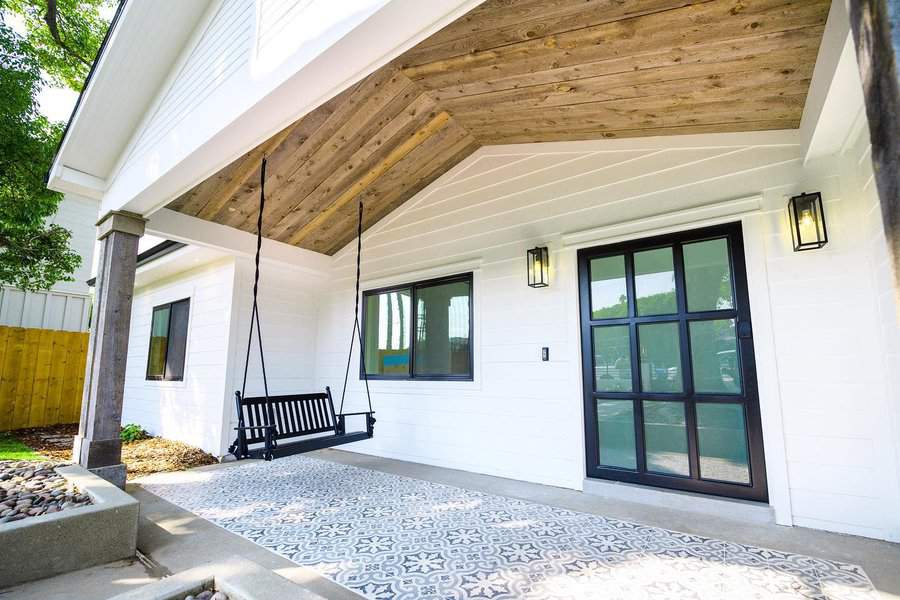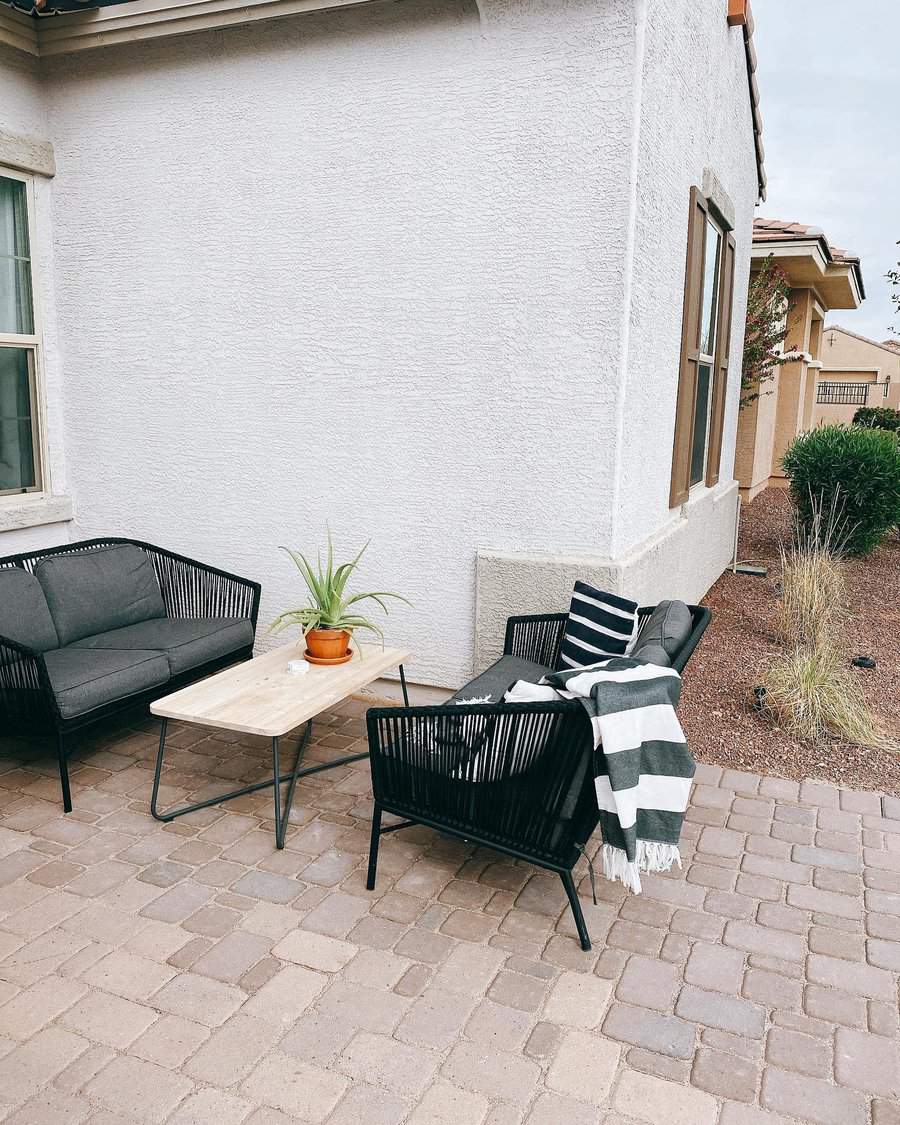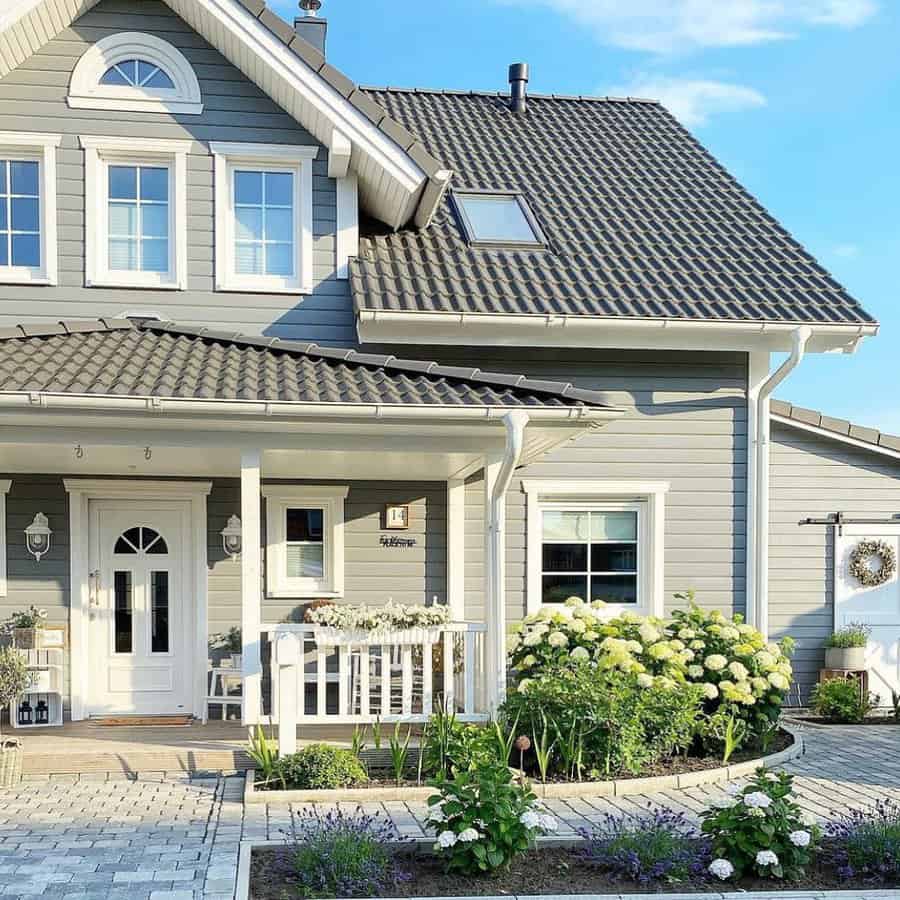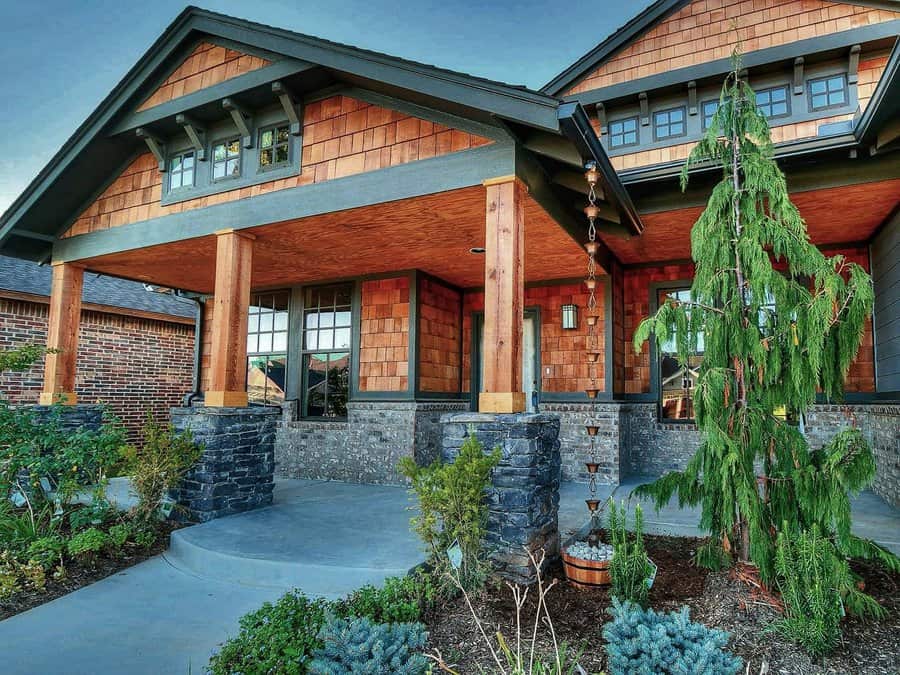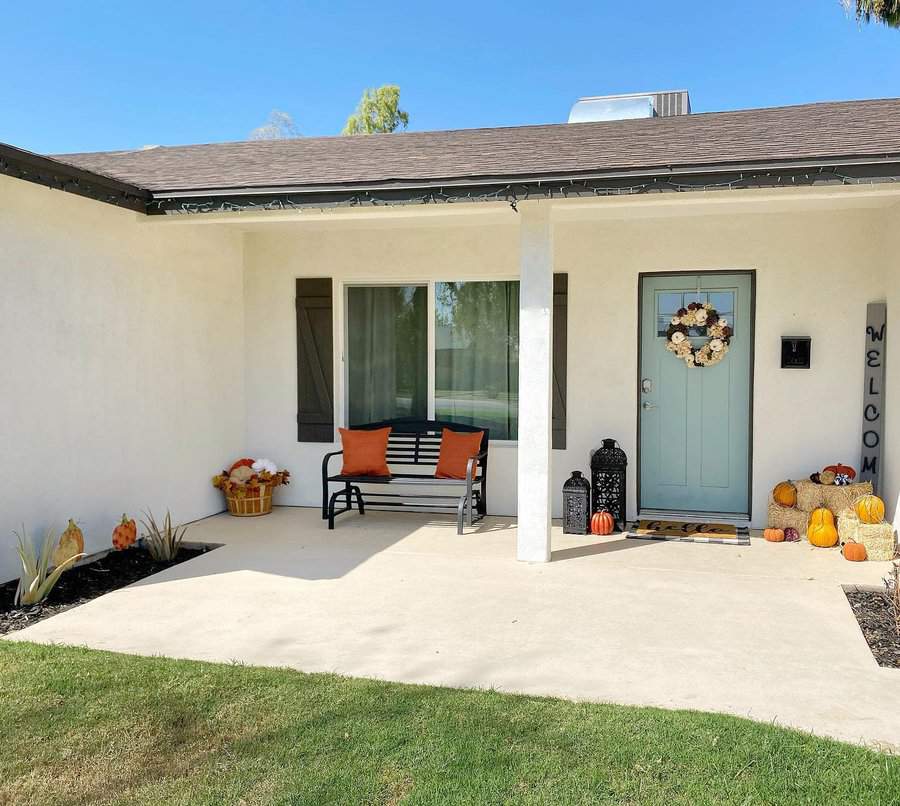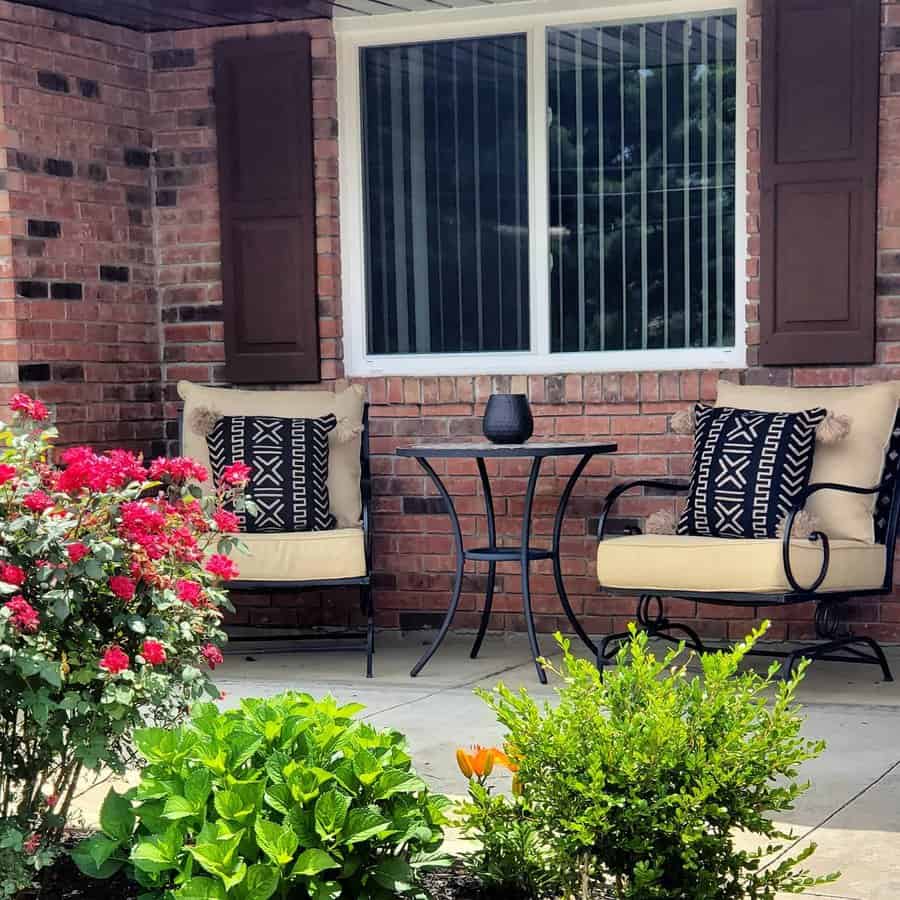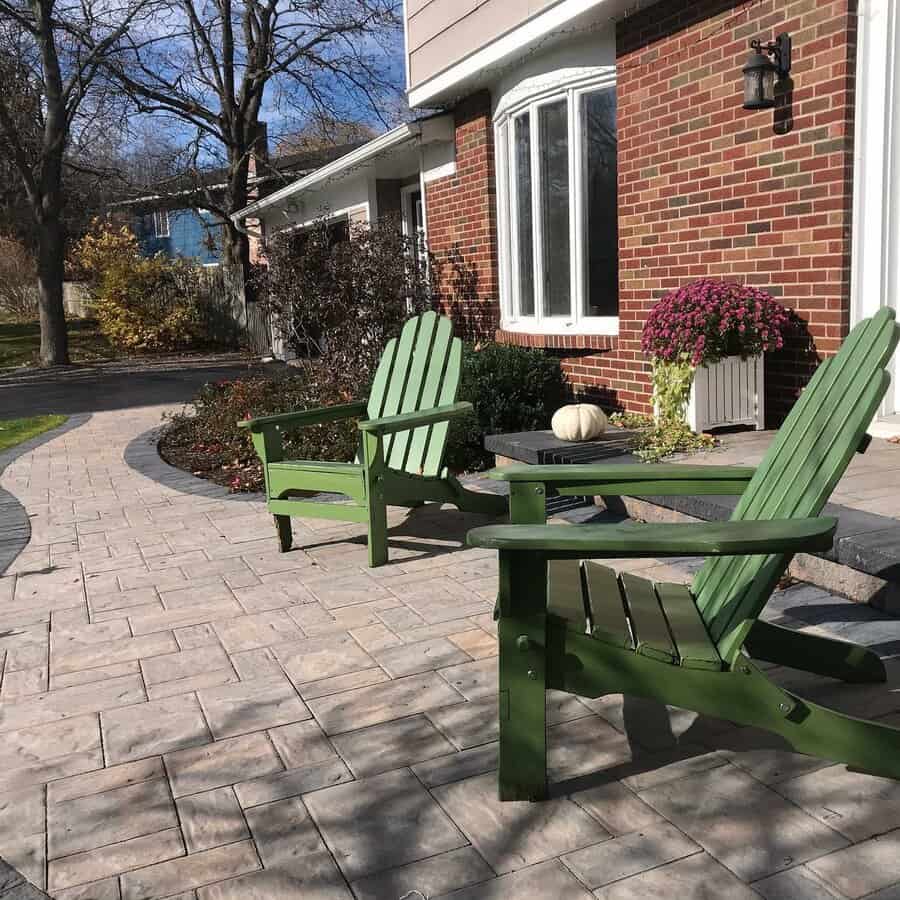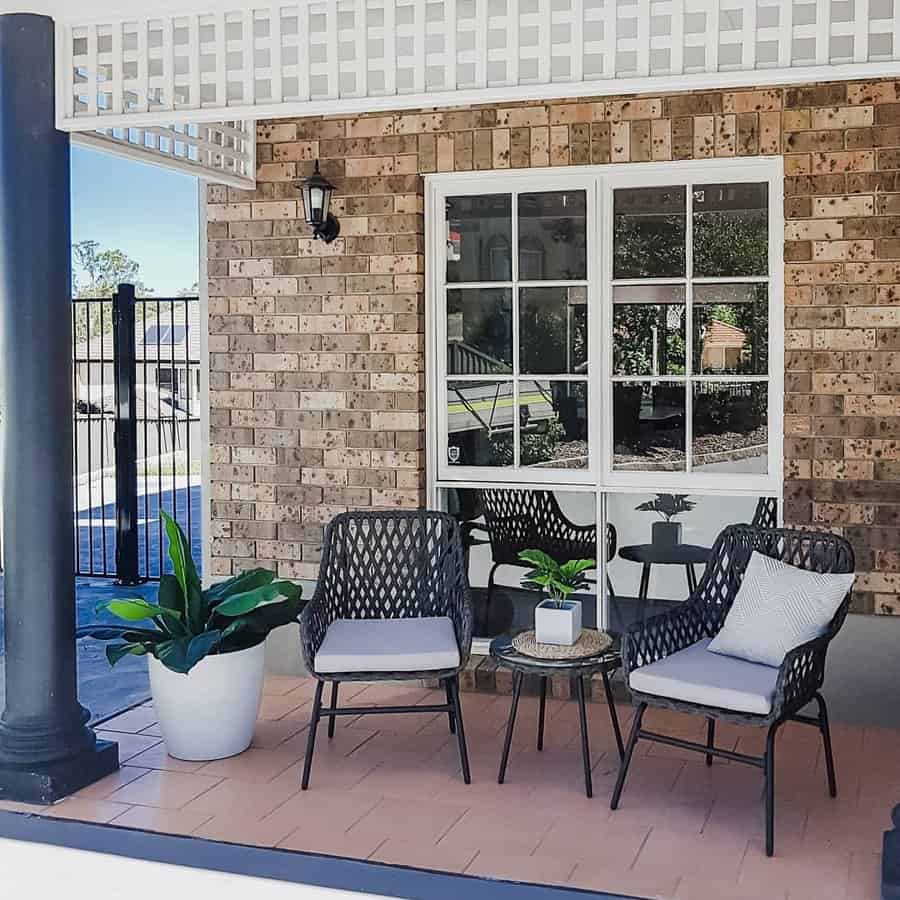 Creating a patio space does not need to be back-breaking work. While investing in a concrete or stone slab is ideal for many homeowners, you can also build a patio using pea gravel or mulch.
In most cases, a front patio won't offer the same degree of privacy as one located behind the house. Plant tall shrubs or ornamental trees around the perimeter to boost privacy without ruining the view.
4. Pergola
Pergolas serve several purposes — both decorative and practical — and are great additions to almost all patios. If you're looking to recreate the look and feel of a screened porch, a pergola may just be the best alternative.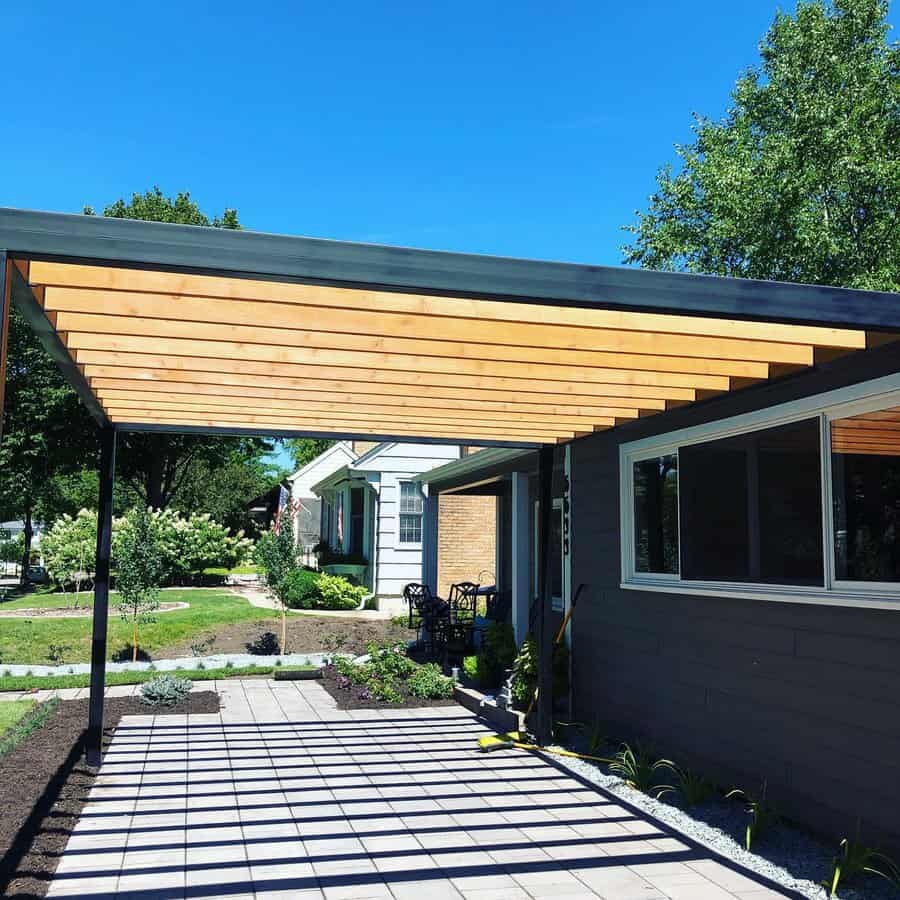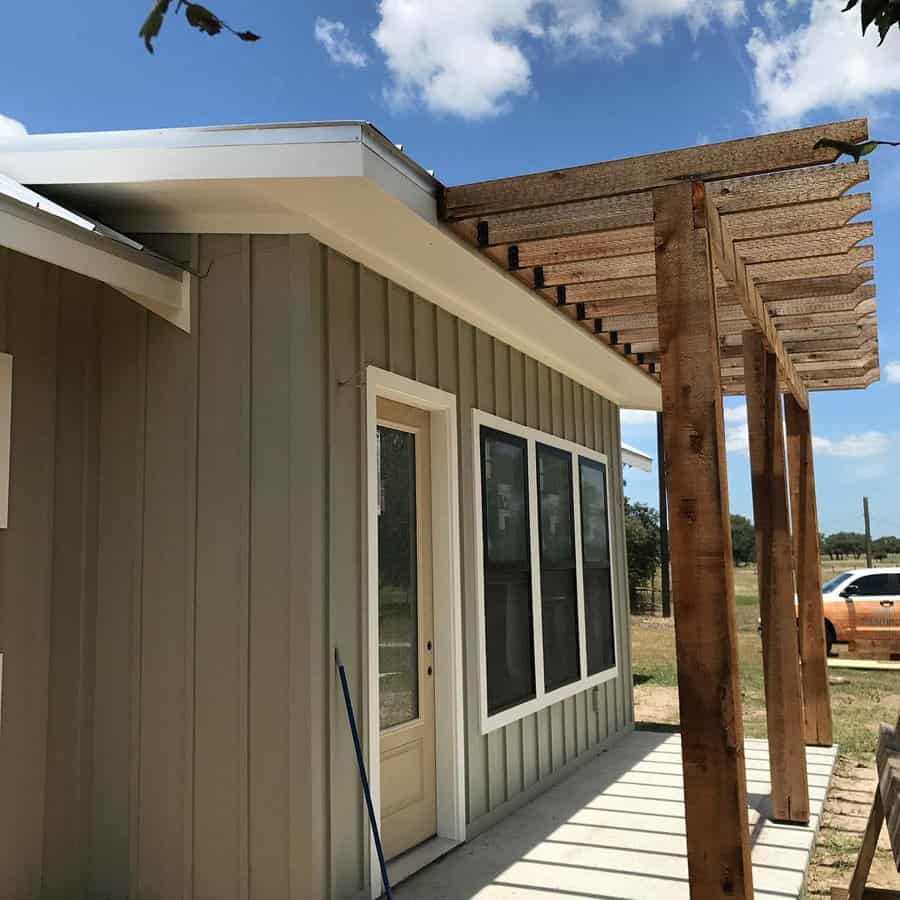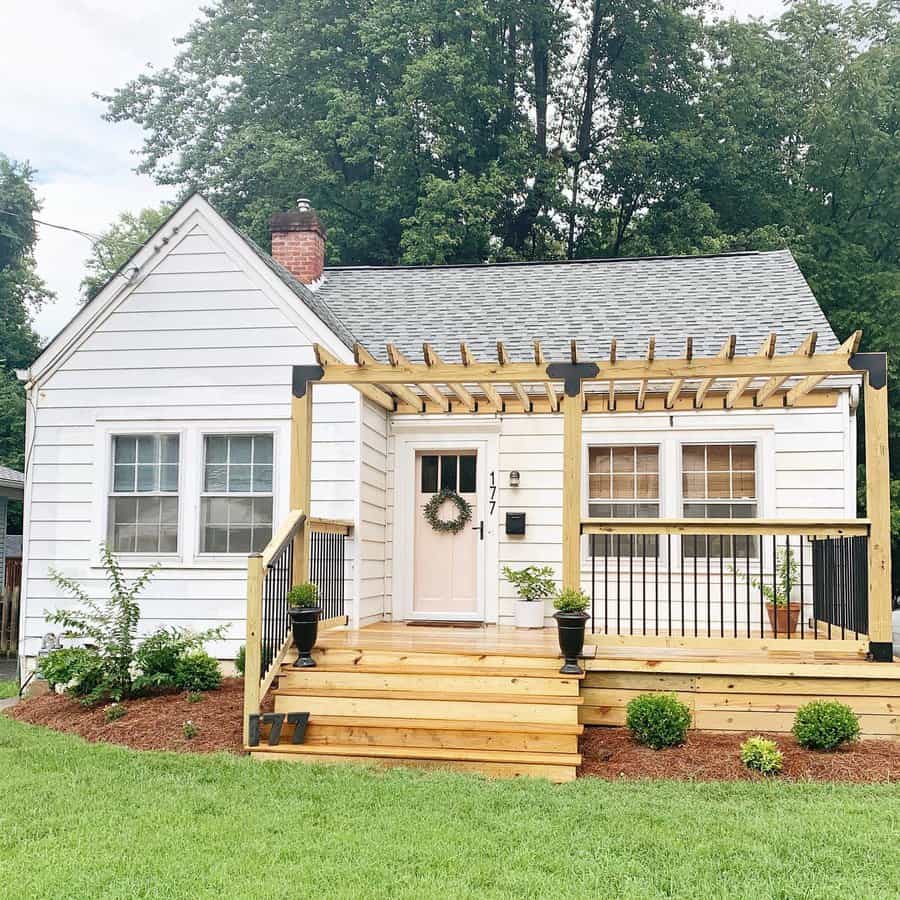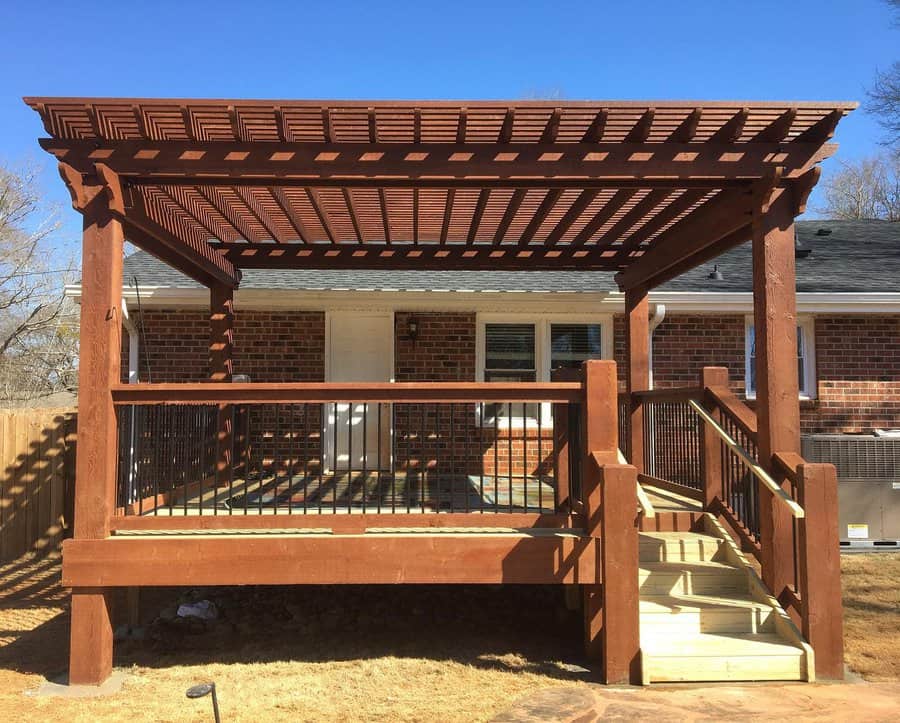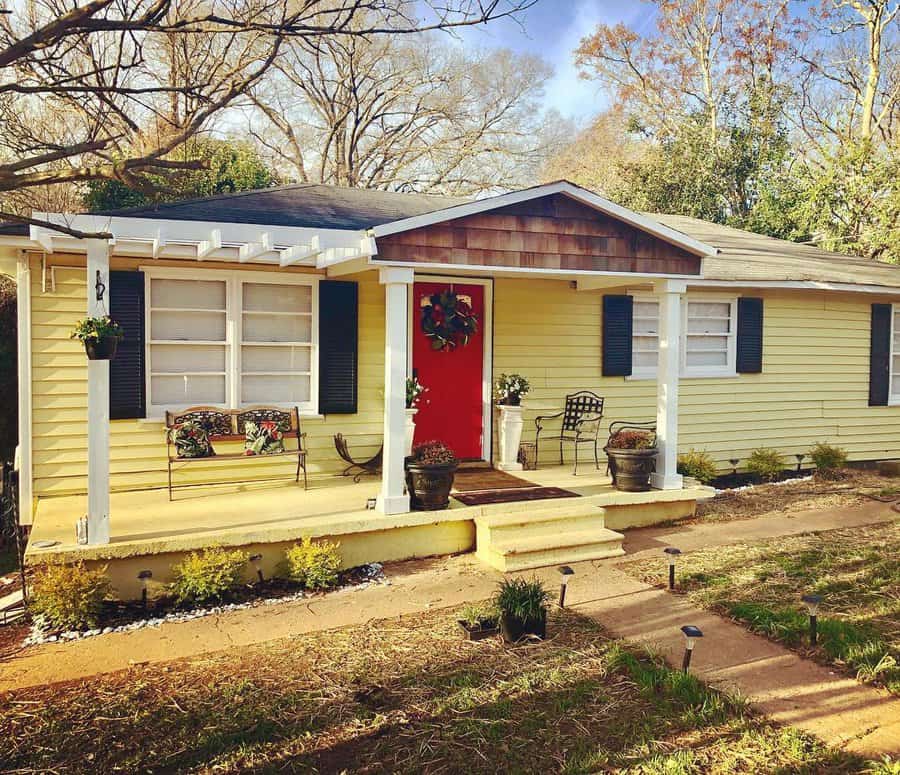 A pergola can provide partial shade to a patio that is otherwise completely exposed. Temporary panels can be hung to block the sun's rays on particularly bright days.
Pergolas are also the perfect structure to hang outdoor lights, hanging baskets, and other decor. You can even attach fabric curtains to the side for extra privacy and protection from pesky bugs.
5. Privacy
They say good fences make good neighbors. No matter where you stand on the matter of neighborly love, it's hard to deny the importance of privacy in front patio design.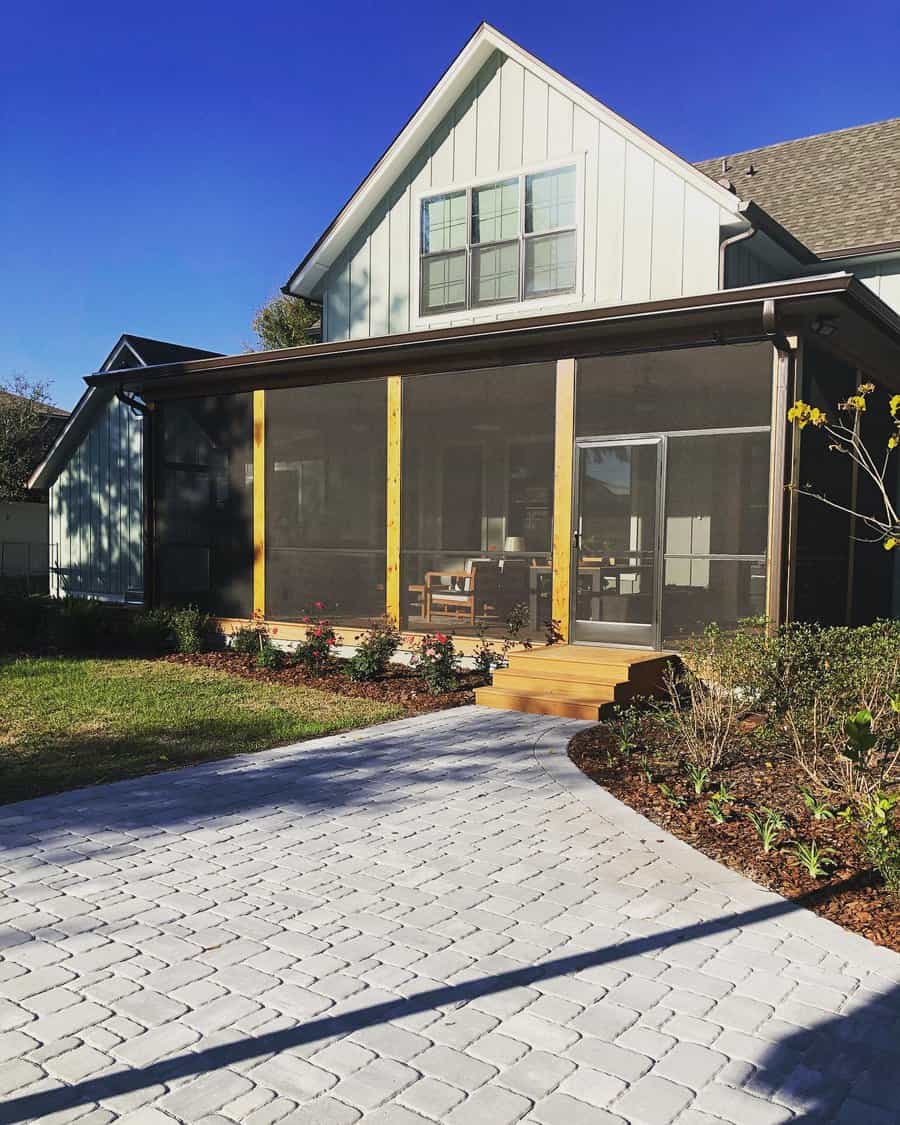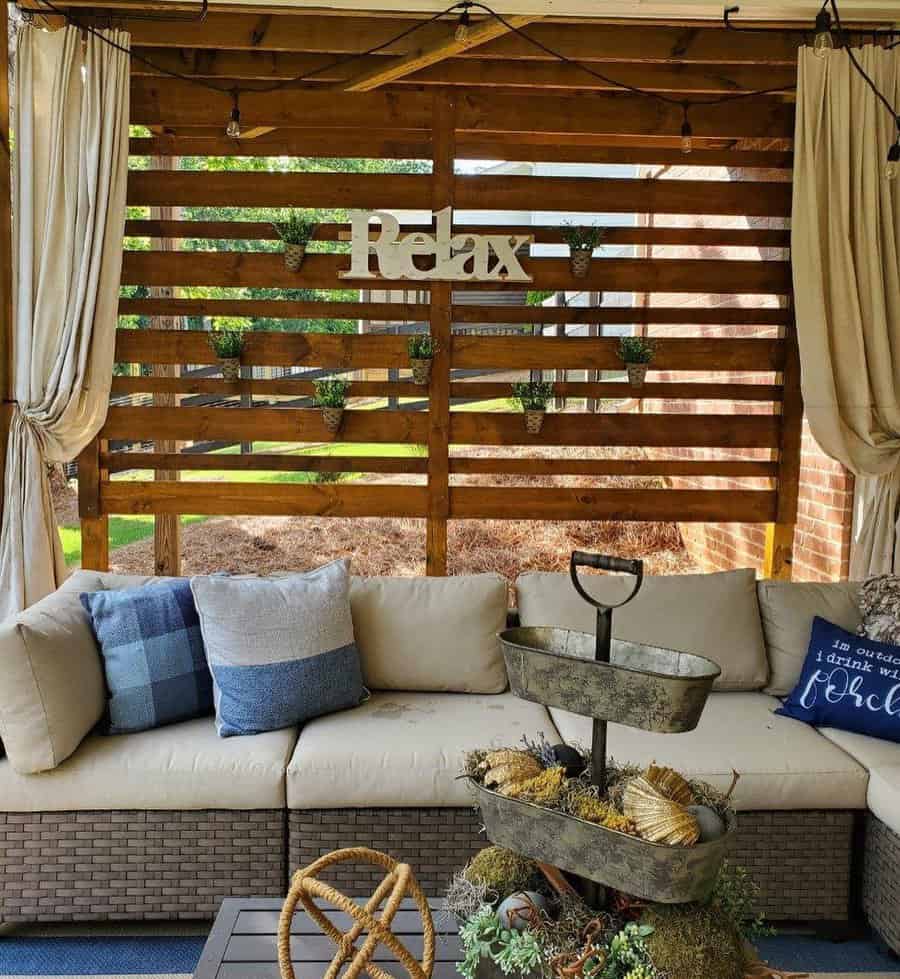 Privacy structures don't need to be intrusive or unattractive! Many of the most effective privacy screens are also the most stylish. And hanging plant baskets make a wonderful disguise as a last resort.
While there are countless innovative patio ideas to choose from that will boost privacy, few are as efficient as a traditional porch screen. Not only can you purchase screens that keep out prying eyes. But those same screens can protect you from UV rays and biting insects as well.
6. Railing
If you have a raised porch or patio, installing a railing could be a necessary safety precaution.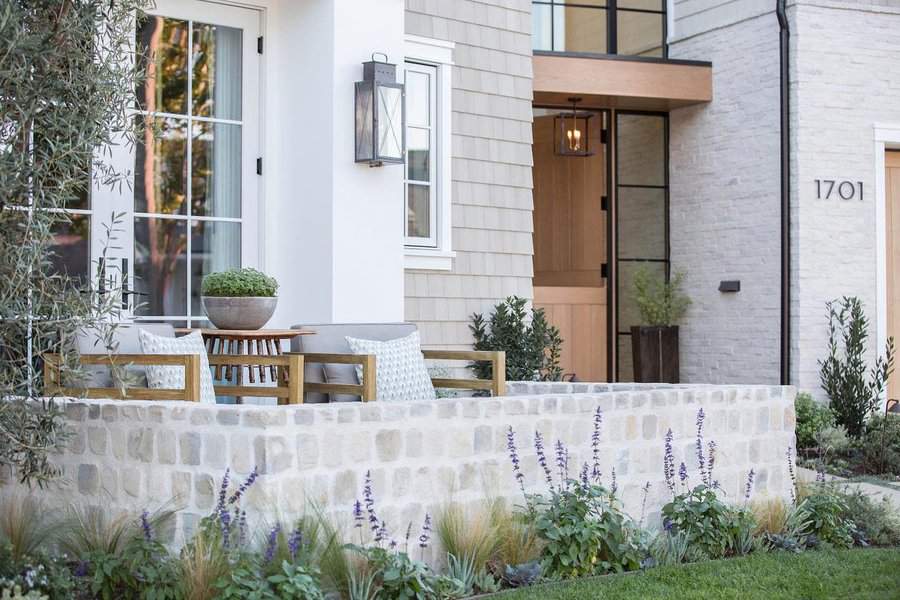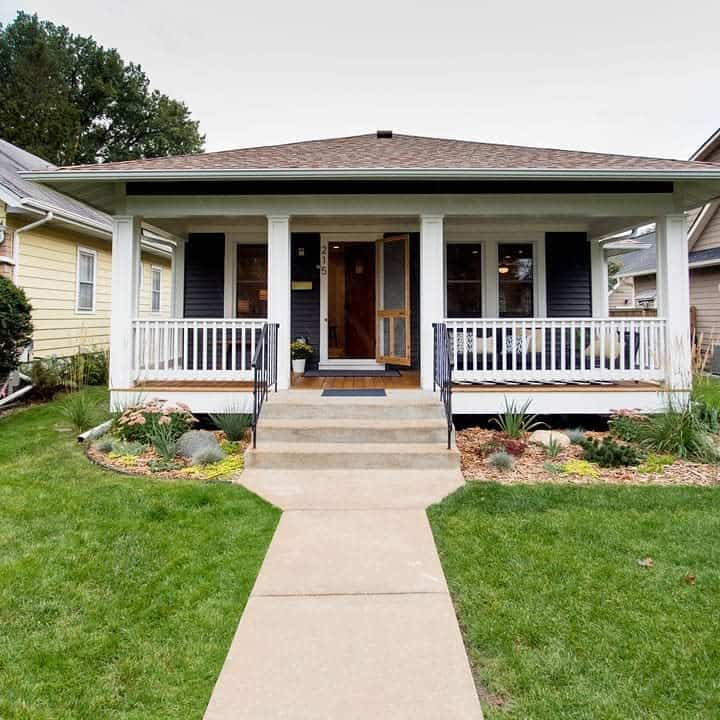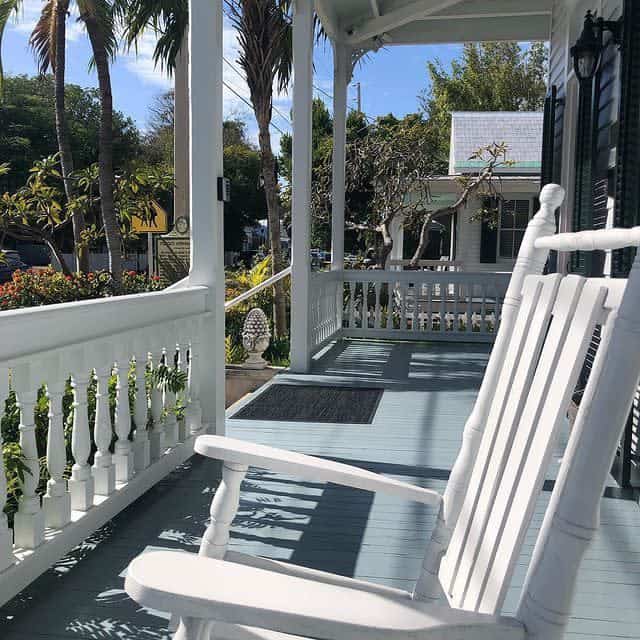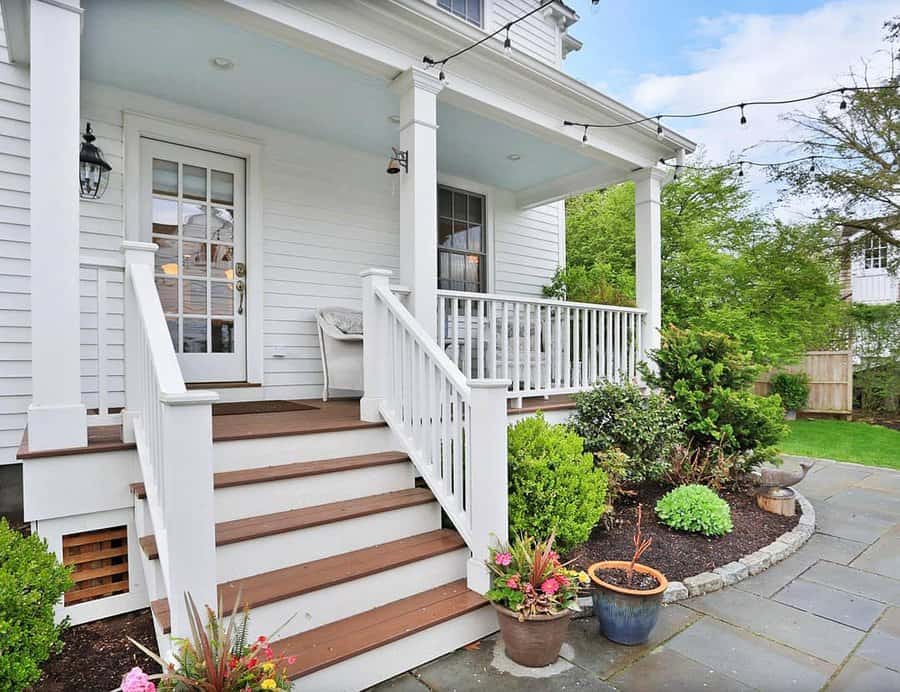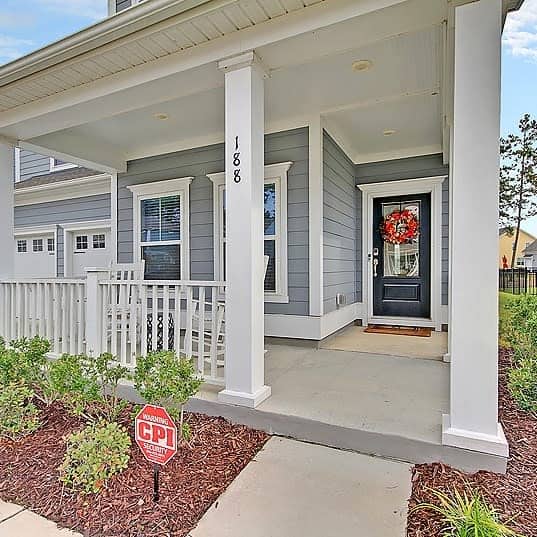 Railings are a wonderful way to add some unique personality to your home's front facade. The right railing will also allow you to mount hanging planters and other outdoor decor from your porch or patio.
Most architectural styles come with a standard type of porch railing. However, there's no rule that you must use this exact type of railing. Deviating from the norm can unlock all kinds of innovative designs that can boost curb appeal while helping your home stand out from the rest!
7. Raised
A raised front patio blurs the line between what is a porch and what is a patio in the best way possible.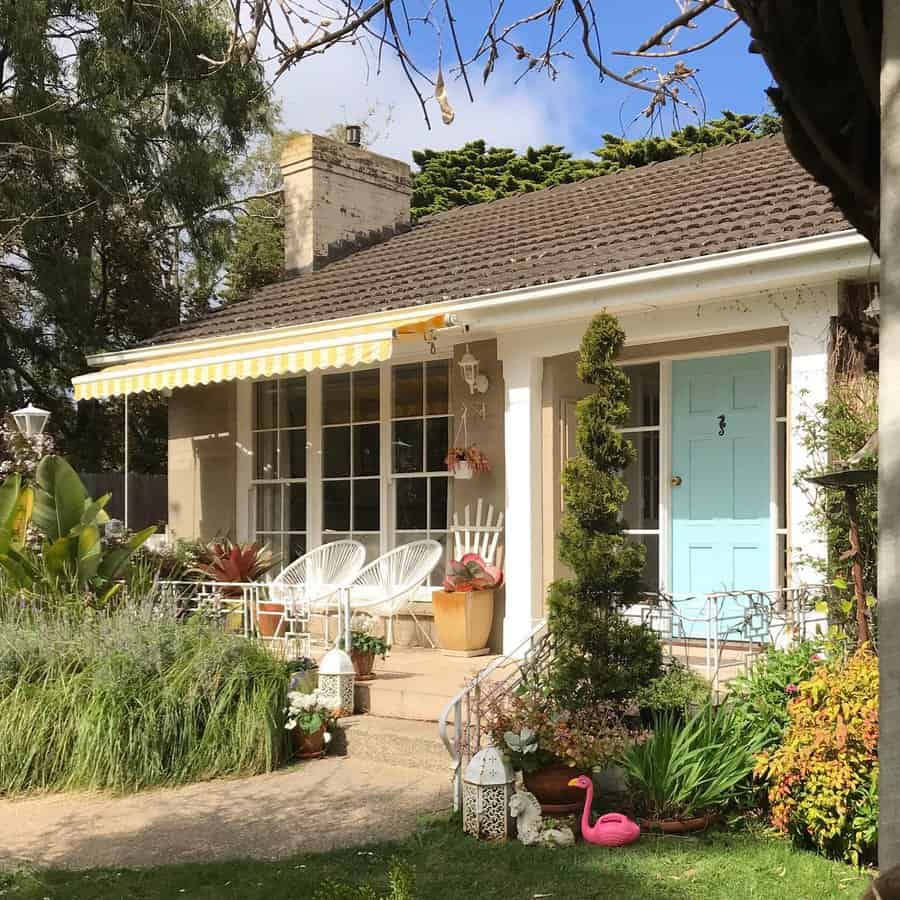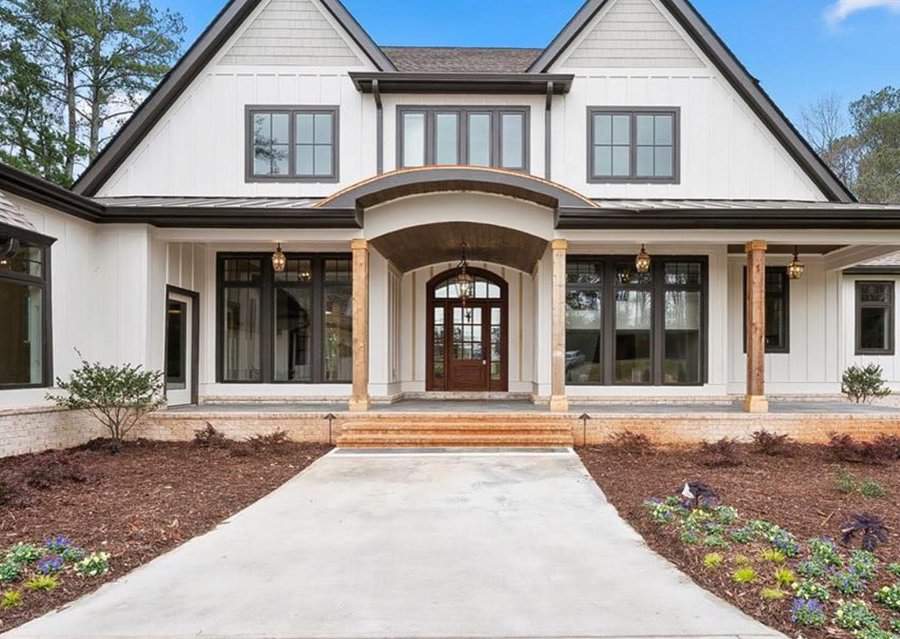 Opting for a raised patio can help distinguish your private outdoor living space from the lawn surrounding it. This is especially valuable if your front door is only a few feet away from the public street.
A raised patio also offers a better vantage point for watching the world on and around your property. If you live on a slope or near a scenic view, a few extra inches of elevation could make all of the difference.
8. Ranch
You don't need to live in the countryside to enjoy the rustic grandeur of a farmhouse-style front patio.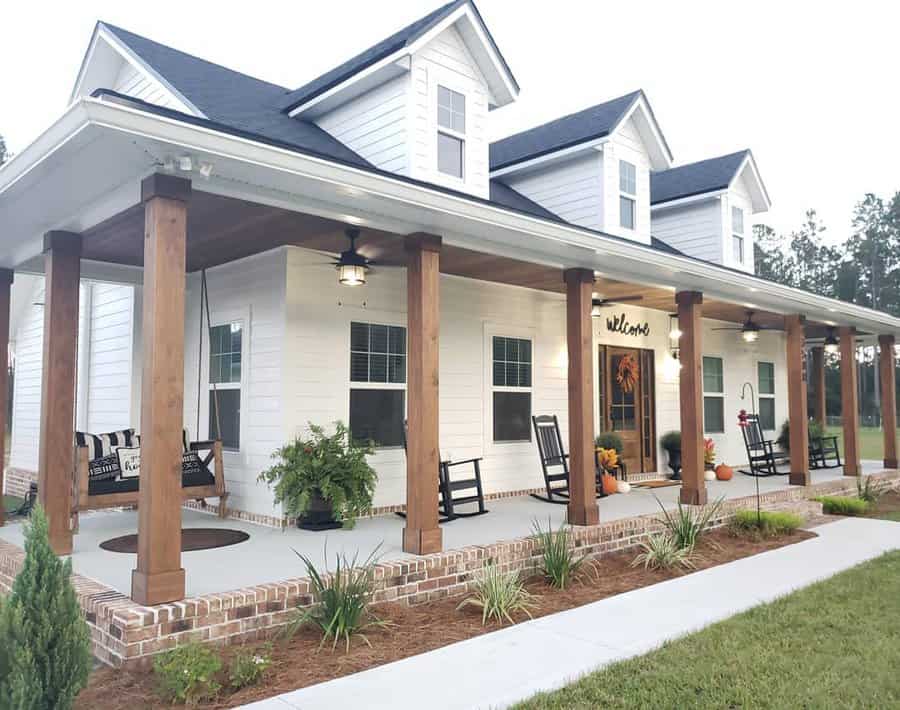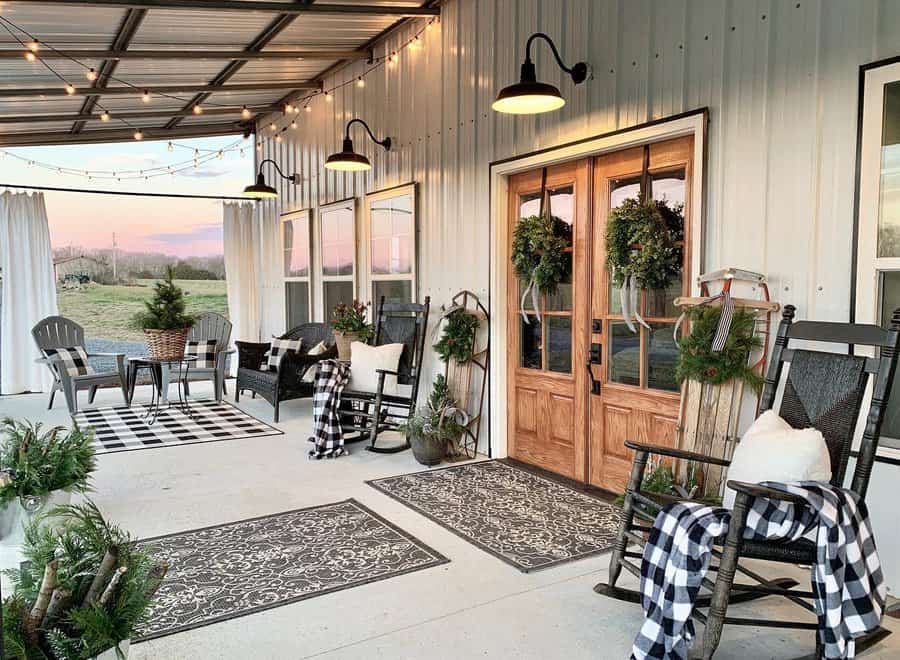 While completely exposed to the elements, this style of patio is 100% an extension of the interior living area. Whether you're entertaining guests or lounging outside by yourself, your farmhouse porch should offer all of the comfort and convenience of your main living room.
Despite the oversized footprint of this style of front patio, you don't need to go overboard with outdoor furniture and decor. A cozy porch swing or overflowing hanging baskets are great options to add a bit of charm to the space.
9. Rustic
Not all rustic homes are suited for the bright and airy aesthetic of a farmhouse-inspired porch. But that doesn't mean you need to give up your dream of an outdoor living space you can be proud of!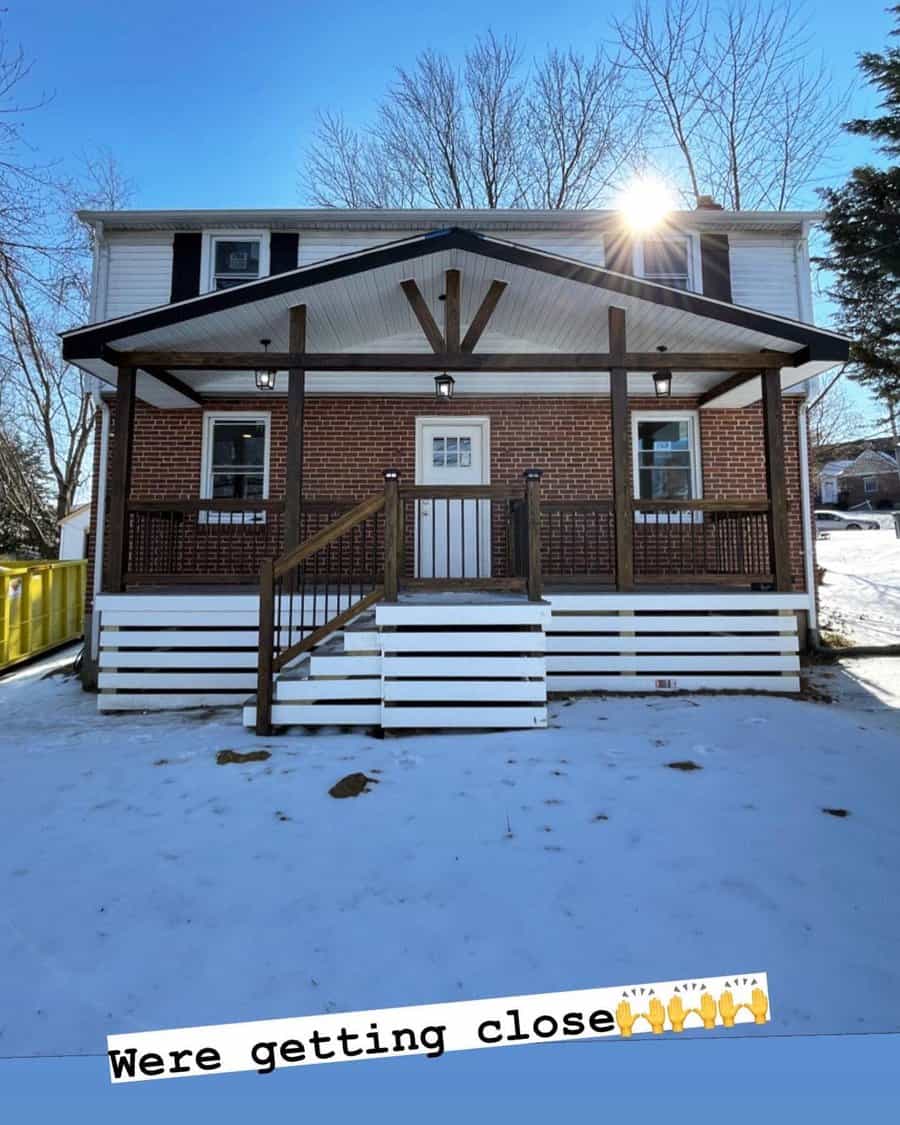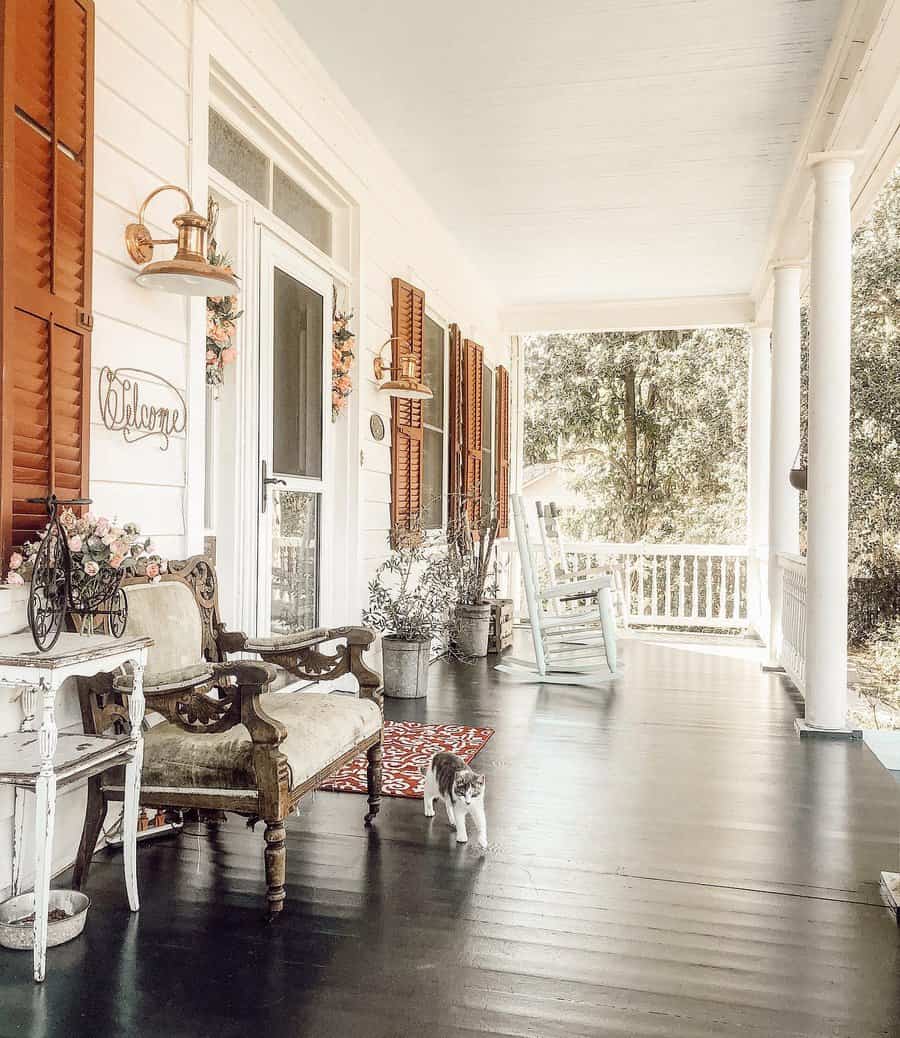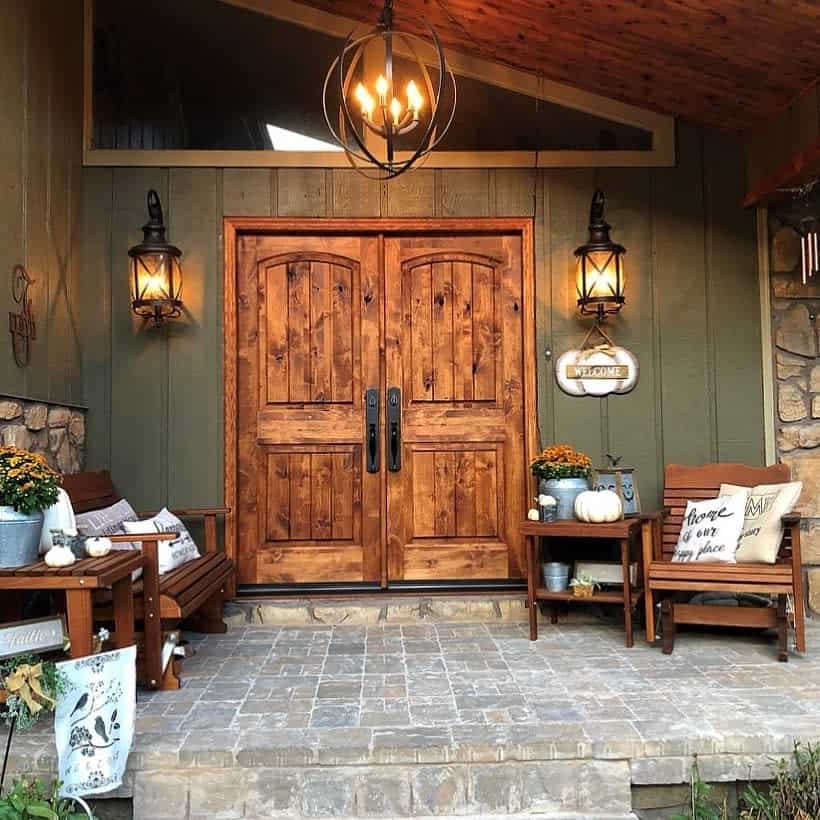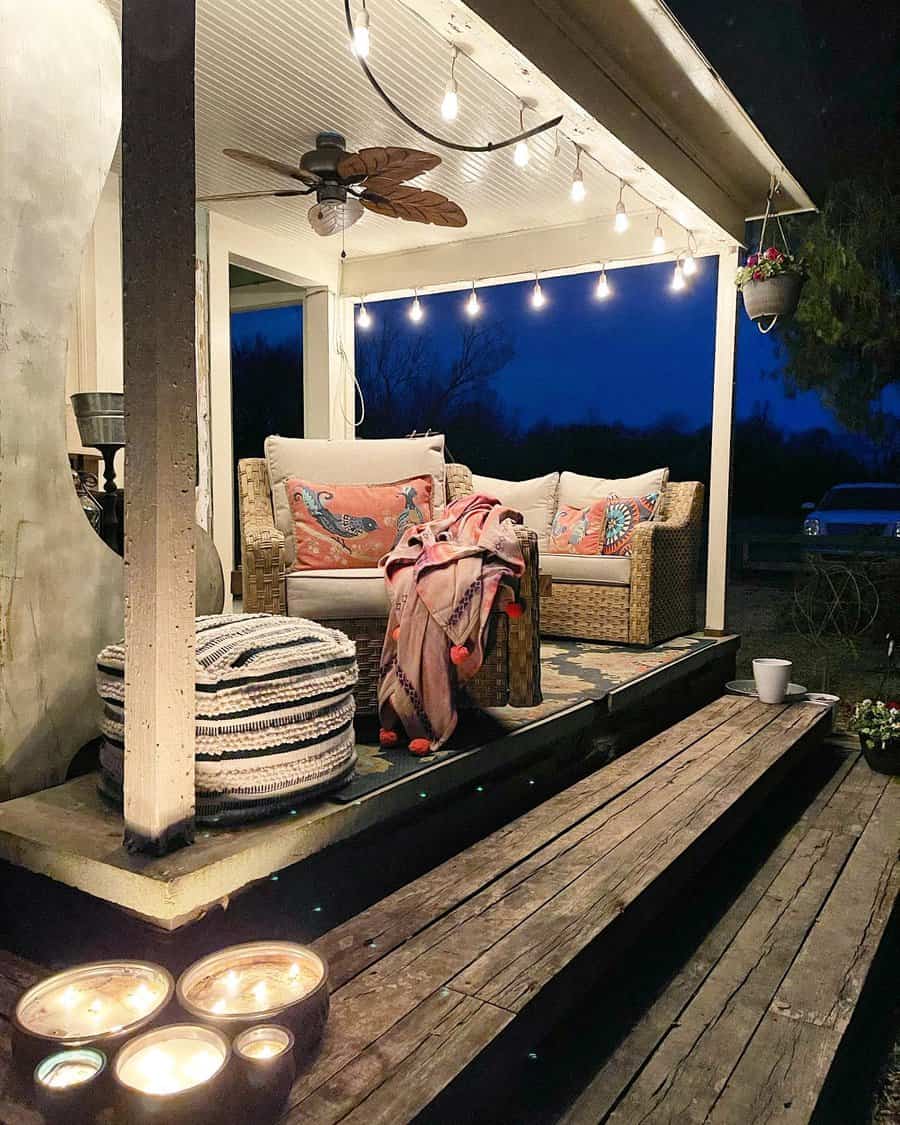 The perfect rustic patio blends the comfort of indoor living with organic elements like stone and timber.
Incorporating natural wood grain throughout your patio furniture and decor will help connect the space to nature. Contrast with green potted plants. Add modern amenities in the form of industrial light fixtures and simple seating.
10. Small
The best thing you can do is accept the natural limitations of your small porch or patio. Once you've embraced the reality of the space, you can get to work coming up with innovative ideas to make the most of it.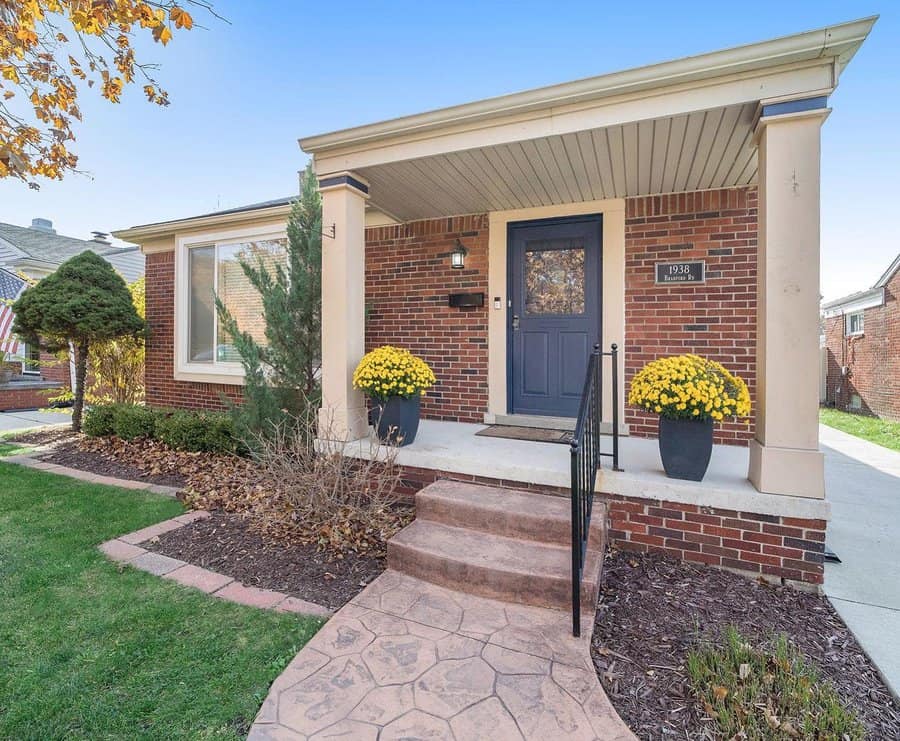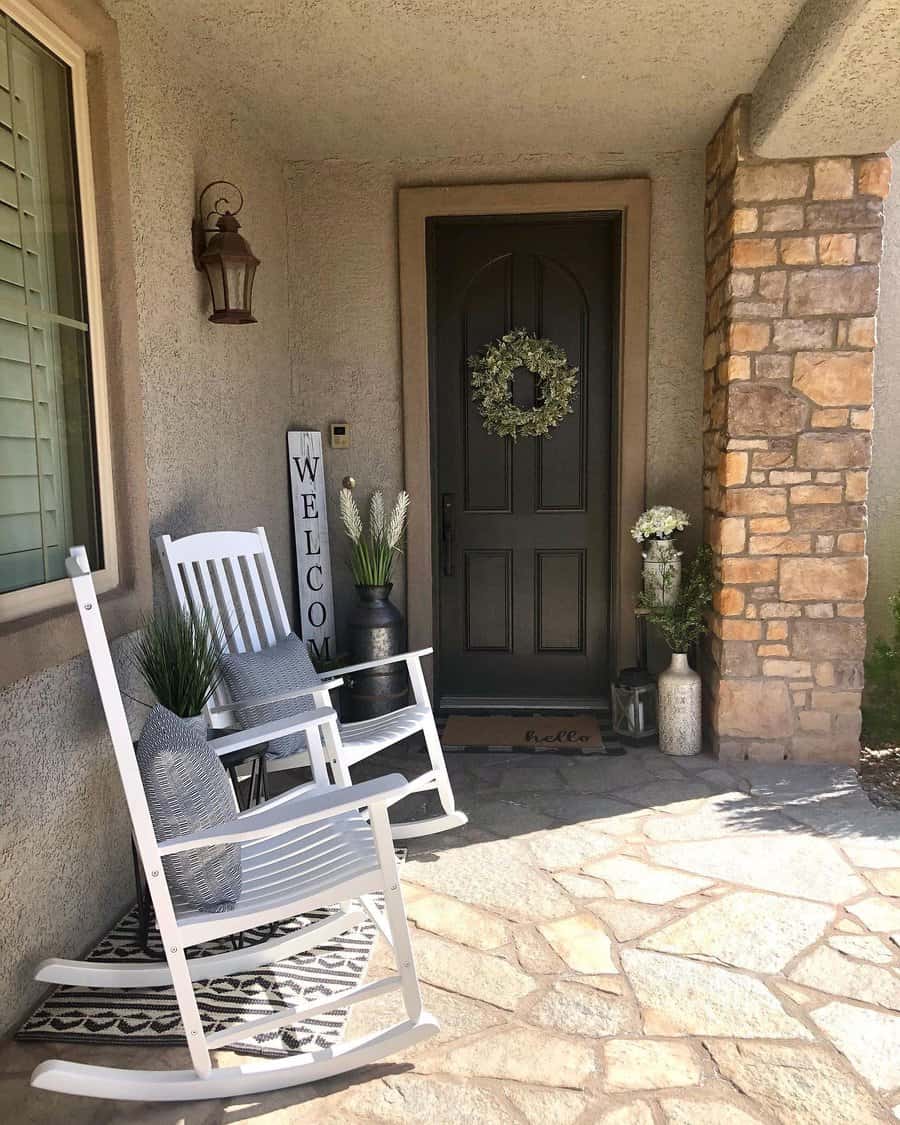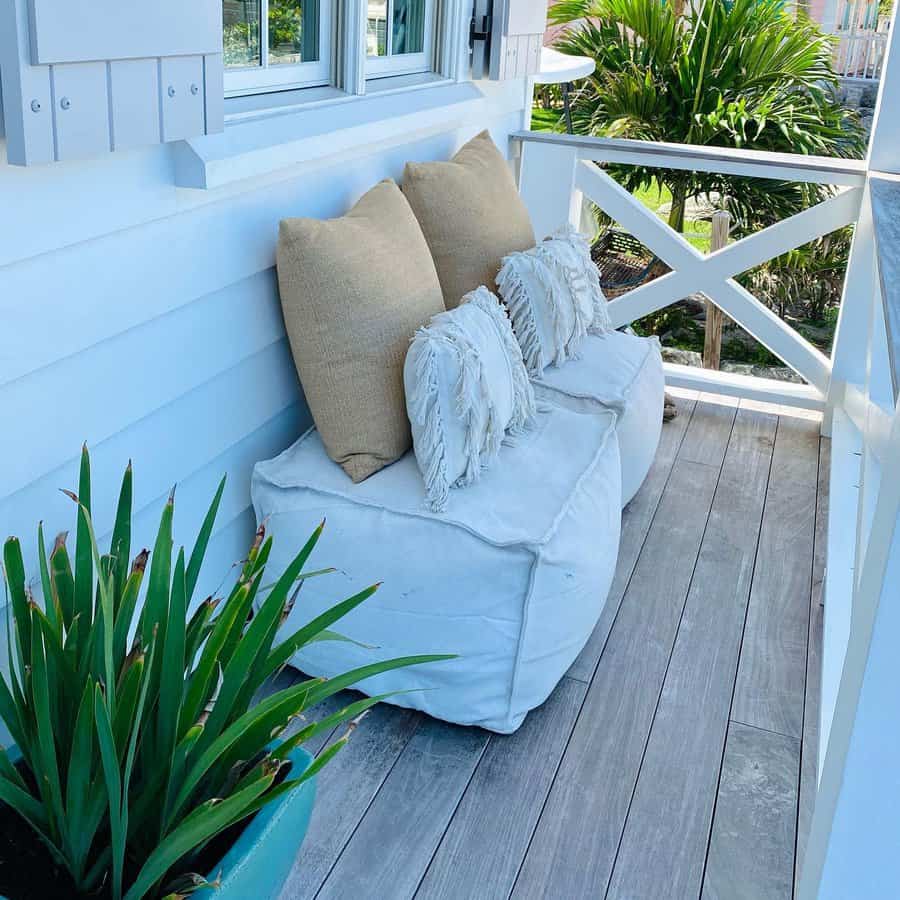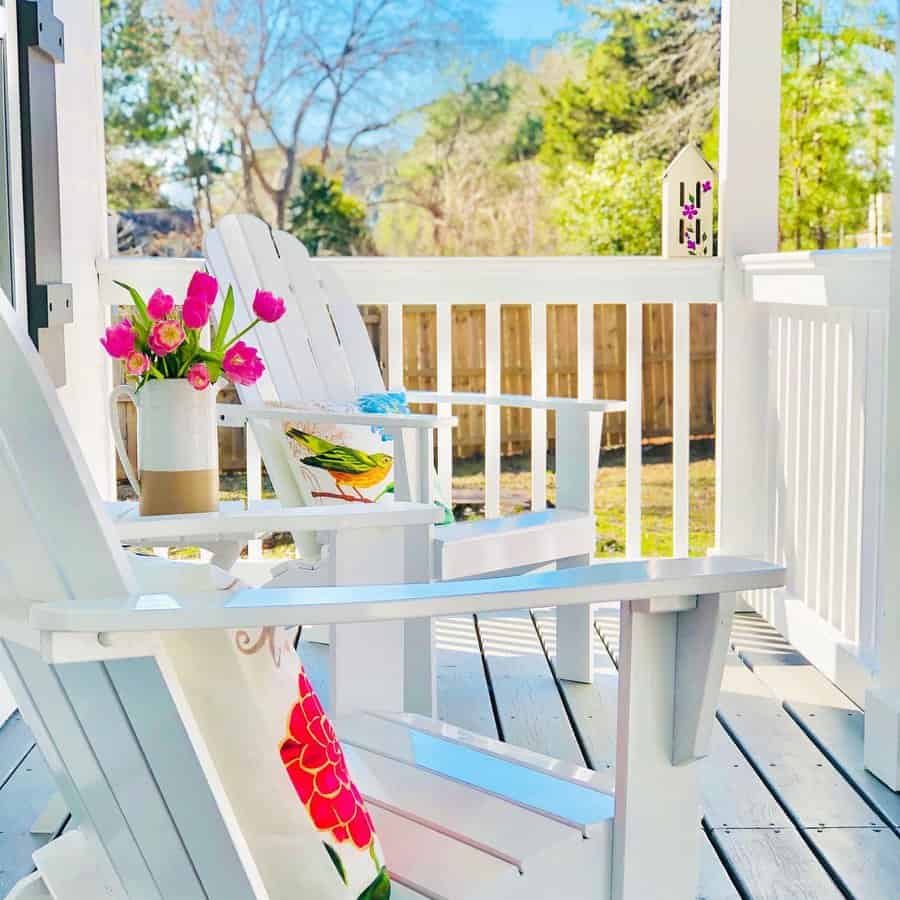 Versatile patio furniture is a must for any space-efficient porch design. Invest in folding patio chairs and tables that can be stowed as needed. Or keep things ultra simple with oversized bench seating.
Be sure to include a few decorative items throughout your small patio as well. Opt for hanging decor over objects that will take up usable square footage.
11. Uncovered
While the line between porches and front patios is permanently blurred, the vast majority of true patios are uncovered. This presents some unique challenges when designing the space to fit your needs.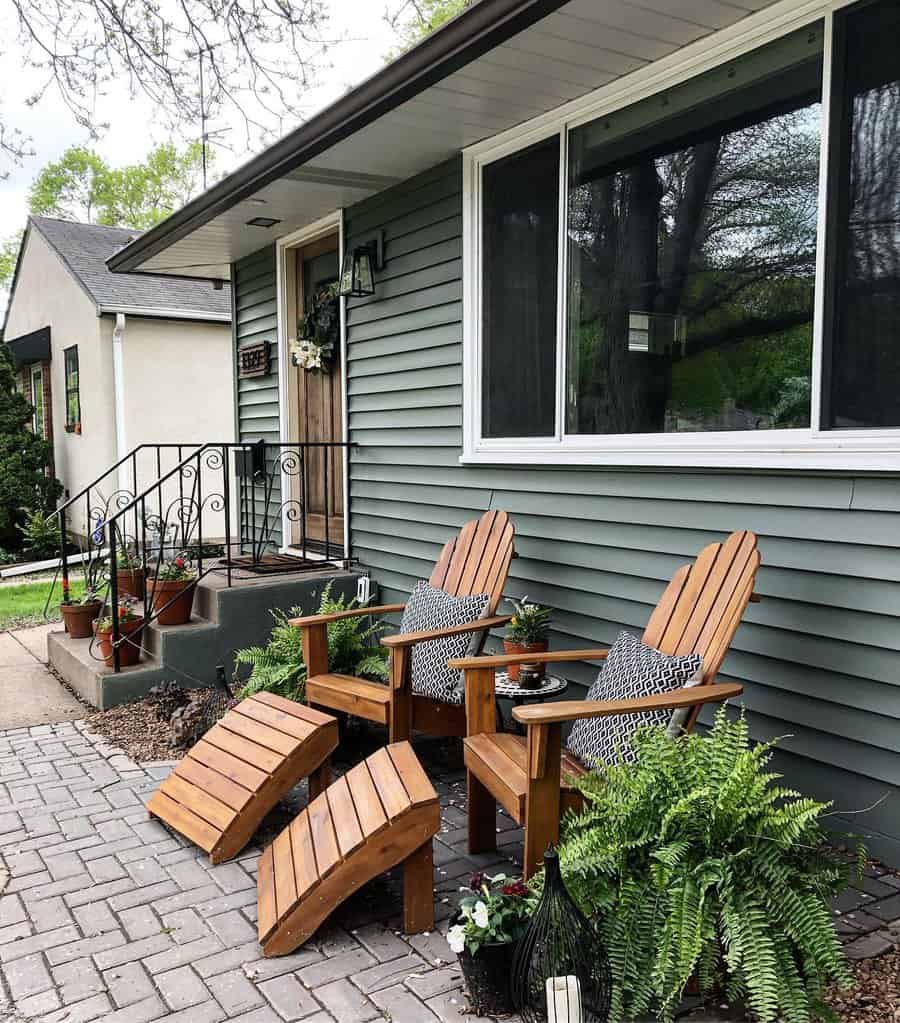 All patio furniture and decor should be outdoor-safe. This is particularly important when selecting items to decorate an uncovered front patio.
An uncovered patio is the perfect place to start a small container garden. Potted flowers add color and texture (and won't need to be watered as often as plants kept on a covered porch). You can even grow ornamental trees on your patio with a large enough container.
12. Wood
If you think the average paver patio leaves something to be desired, a wooden patio may be what you're in the market for.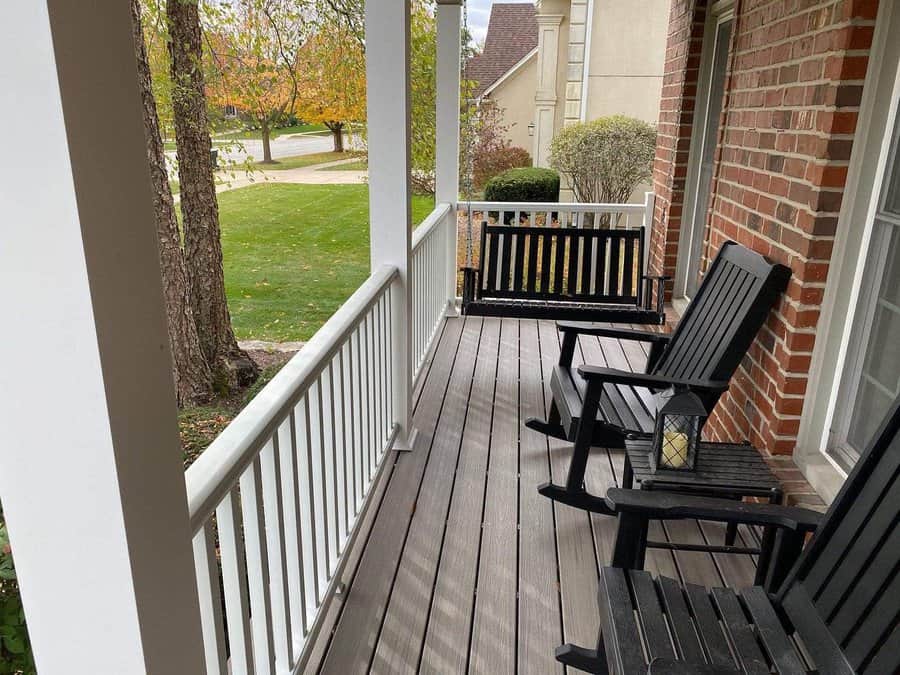 Constructing a wooden patio is relatively simple, especially if you opt for a structure that's flush (or a few inches above) ground-level. Raised patios can be finished with decorative railings and posts to create the front facade of your dreams.
You can easily upgrade an existing porch or patio by installing a shiplap overlay on top of the existing structure. Or apply a coat of fresh paint or stain to your wooden patio for a brand new aesthetic.
Front Patio FAQs
How do you heat a front patio?
For many homeowners, being able to heat an outdoor living space can significantly extend — if not double — the amount of time the area is comfortable enough to use!
On chilly evenings, you can heat up your front patio using an outdoor-safe electric heater. These come in a variety of styles and sizes, so you can coordinate the heater's appearance with the existing decor.
Another great option for many patios is to build or buy a fire pit. Stand-alone fire pits are a wonderful solution that can be stowed out of the way when not in use. Just be sure to leave enough space between the open flame and your home's exterior.
Can you have a front patio and a front porch?
While there's little reason to have both structures adjacent to a single home, there's also nothing stopping you.
Front patios and porches serve essentially the same purpose. The only real difference is that porches are often raised and attached to the home.
One reason to consider installing both is if your current porch or patio doesn't provide a large enough seating area for your needs.