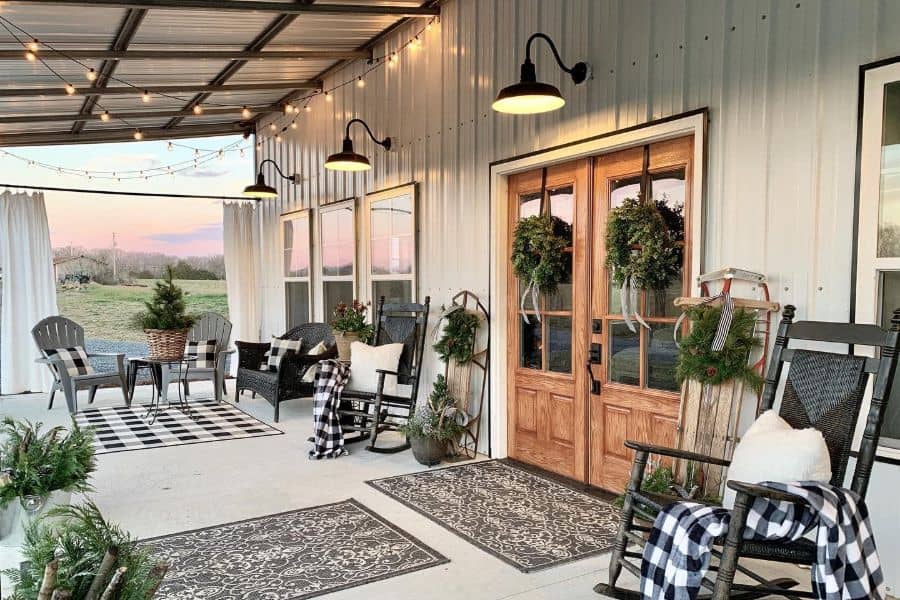 The Top 45 Front Patio Ideas
Most homeowners think of a patio as something relegated to the backyard. But including a separate patio space at the front of your home could be a game-changer in more ways than one!
A front patio is a great investment for anyone who enjoys entertaining or watching the neighborhood pass by. Even if you already have a standard porch, a patio could be just what your front lawn is missing.
Whether you want to increase curb appeal or just get more out of your current home, keep reading for our favorite front patio ideas!
1. Patio Daybed
Imagine curling up with a good book or taking a nap on a lazy summer afternoon on a cozy daybed. Not only does a daybed enhance the aesthetics of your outdoor space, but it also offers functionality that traditional patio furniture cannot.
Create an intimate seating area perfect for family gatherings, friendly conversations, or simply lounging solo. Whether you prefer a minimalist approach or bold and bohemian, there's a front patio daybed to suit your style. Upgrade your outdoor living space and indulge in endless relaxation with the addition of a front patio daybed.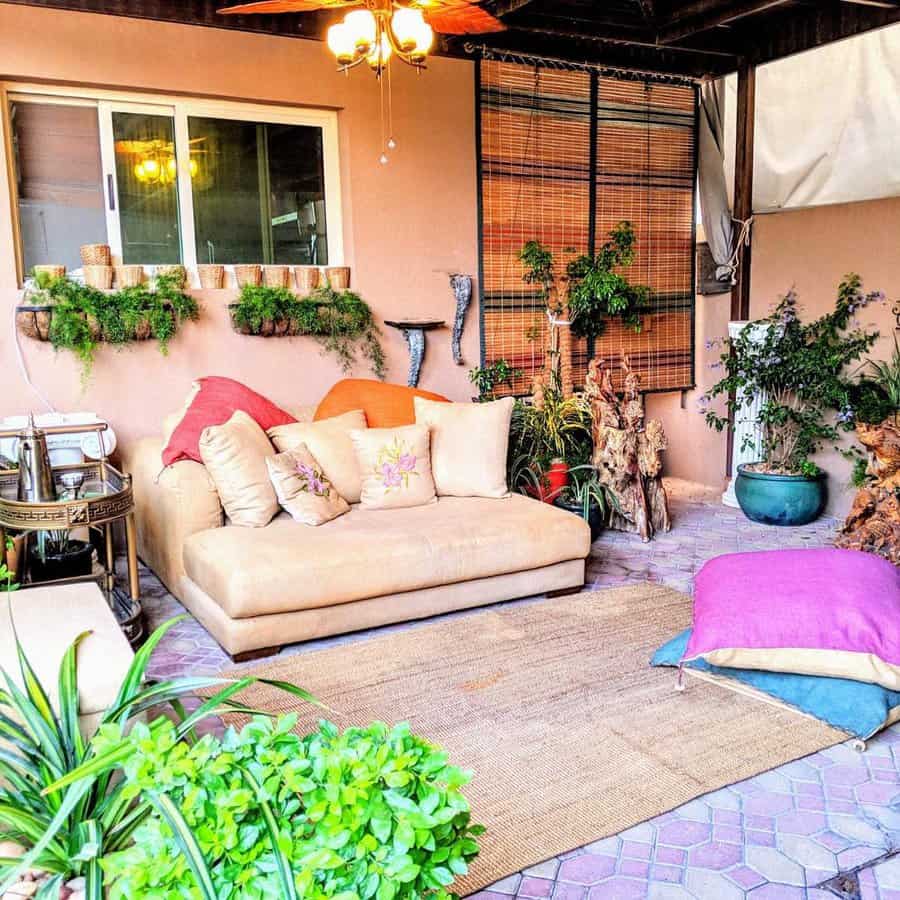 2. Entryway Posts
A front patio with posts is a charming addition to any home. Not only does it provide a cozy space for relaxing outdoors, but it also enhances the aesthetic appeal of your property. The posts themselves can serve as an interesting design element, providing a rustic or modern touch depending on the style you choose.
Whether you're sipping a cup of coffee in the morning sunshine or enjoying an evening chat with friends and family, a front patio with posts can create a welcoming atmosphere that exudes warmth and hospitality. Plus, with the right decorations and landscaping, you can transform your front patio into a true oasis that complements your home's exterior and suits your personal style.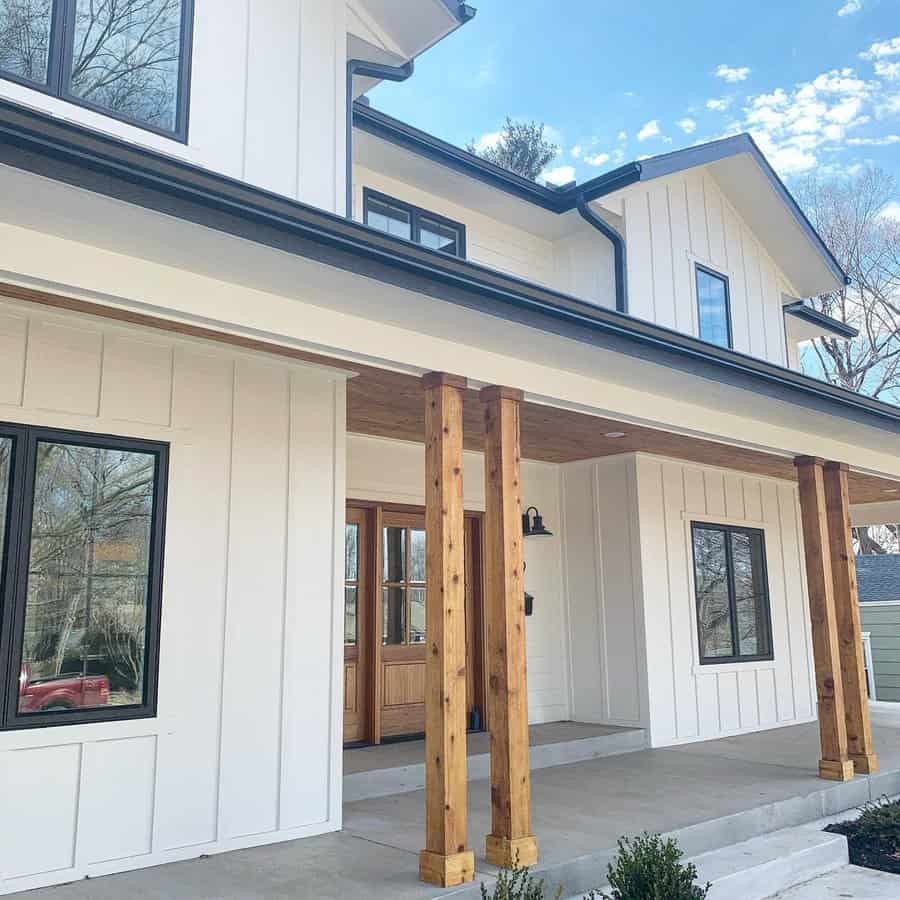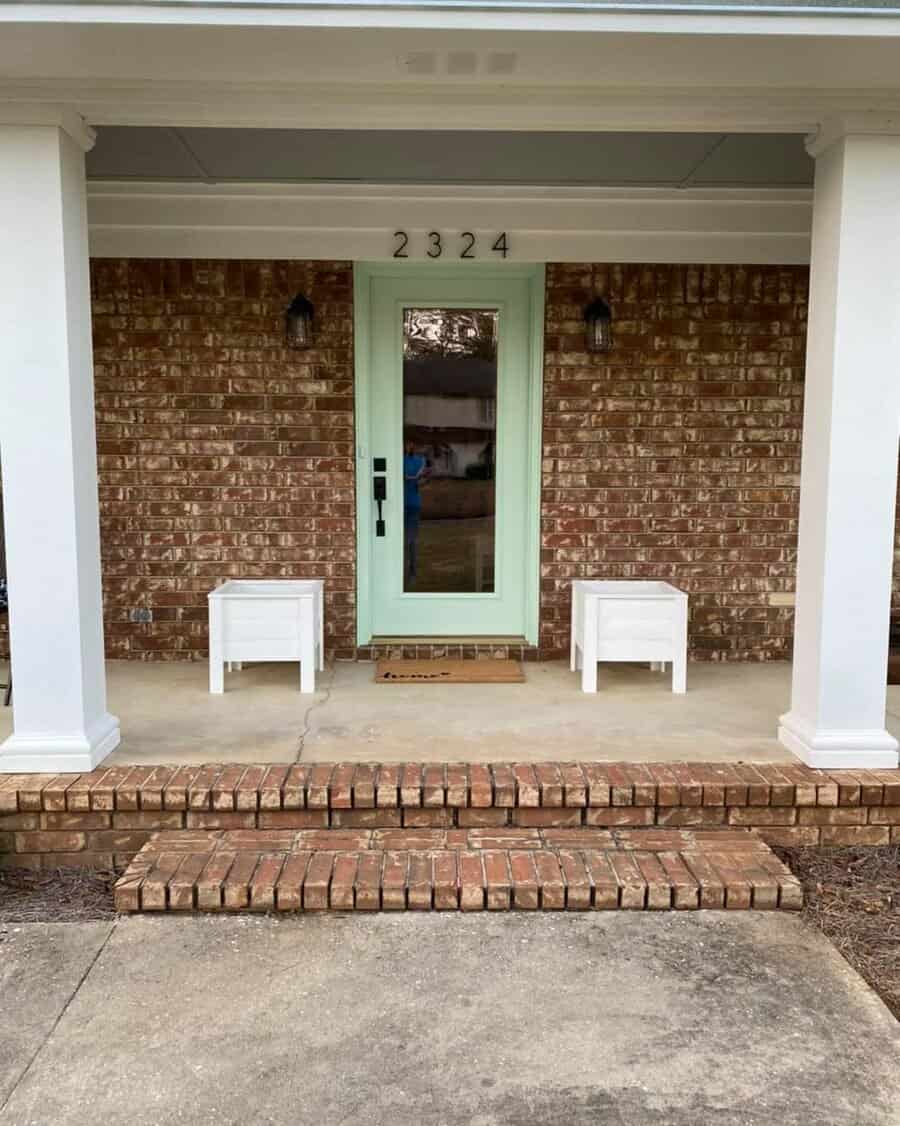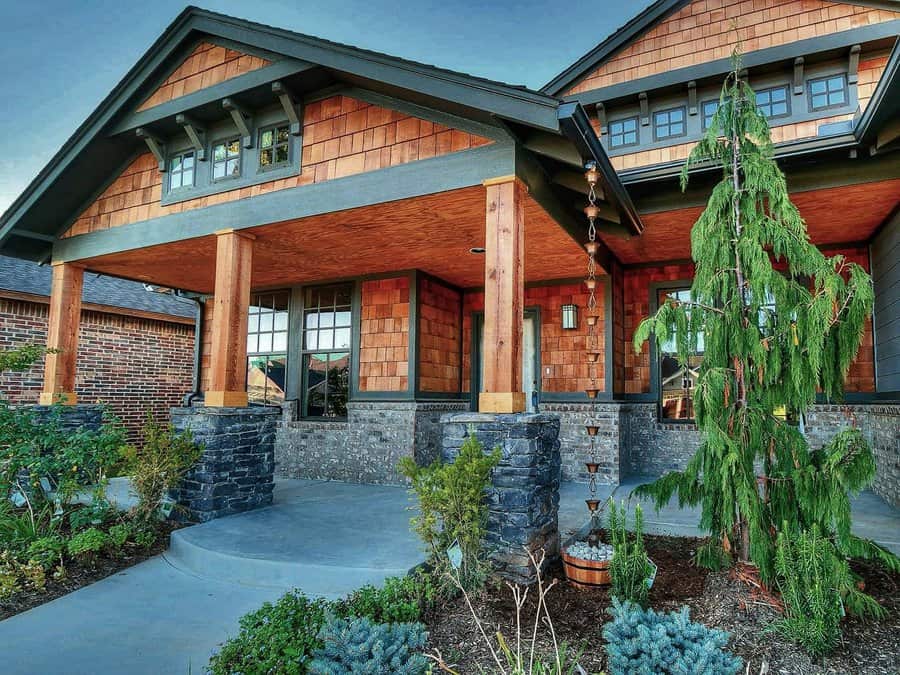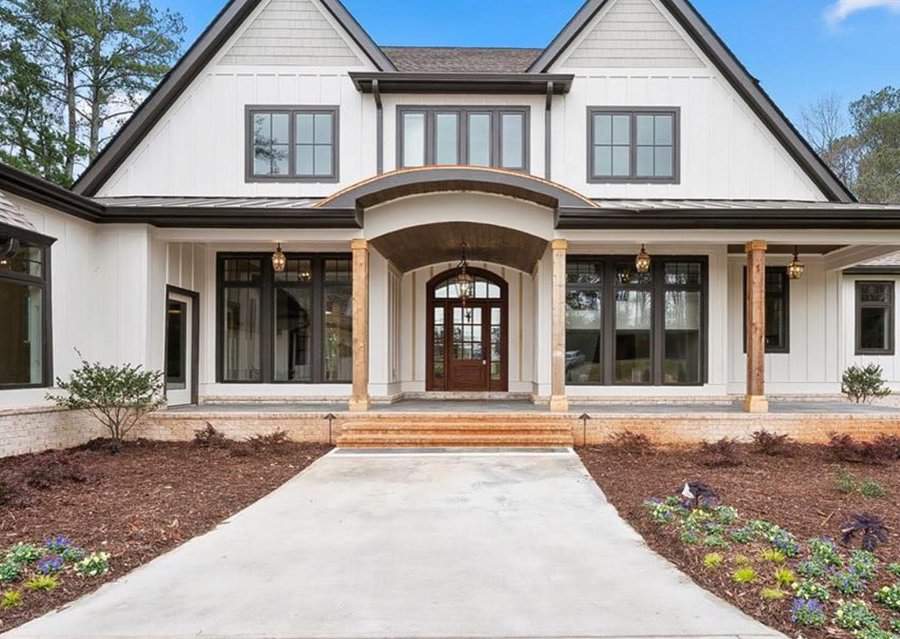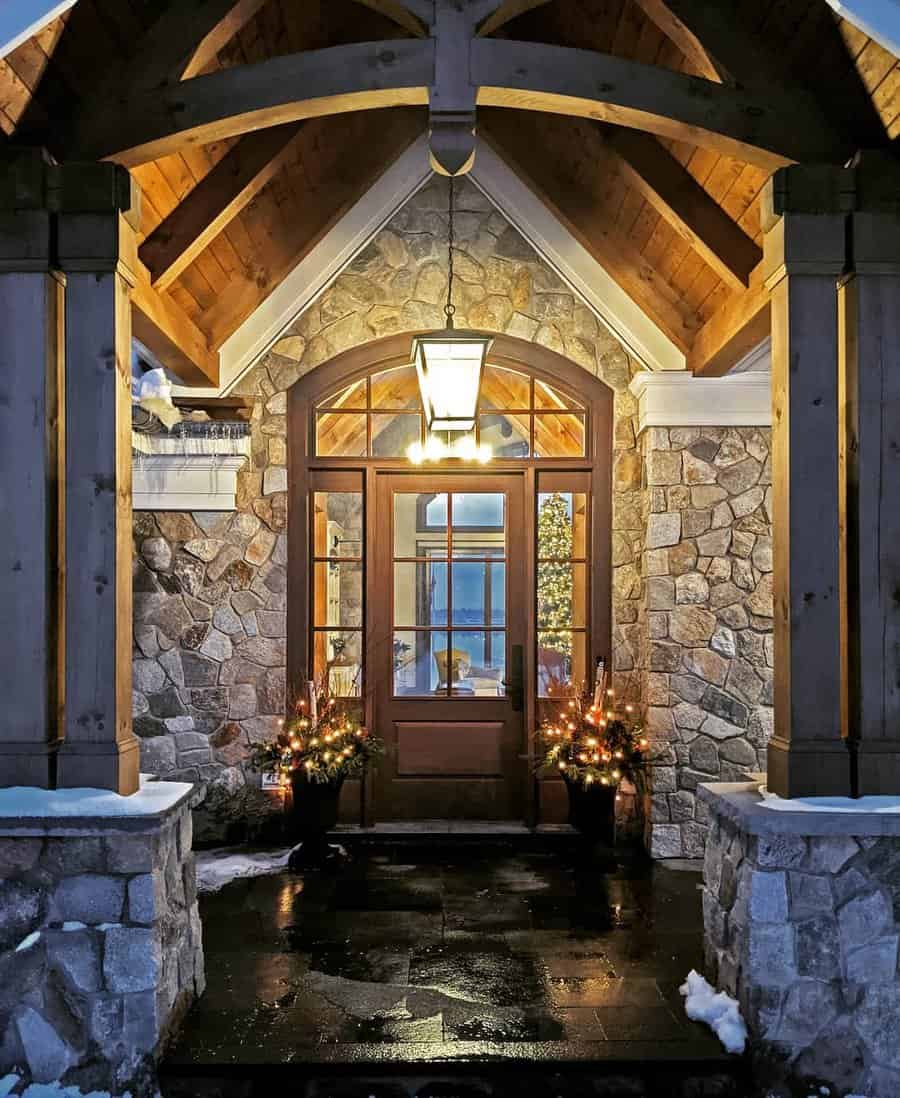 3. Welcome Mat
As the first impression of your home, your front patio plays a significant role in your guests' initial impression. The perfect way to make a statement and showcase your personality is by adding a welcome mat. A welcome mat is not just another home décor item; it's a greeting to all who pass through your threshold.
Whether it's a simple "hello" or a playful quote, your welcome mat can provide your visitors with a glimpse of the personality they'll encounter inside. Not only does a welcome mat add charm and personality, but it also serves a practical purpose by keeping dirt and mud from tracking into your home.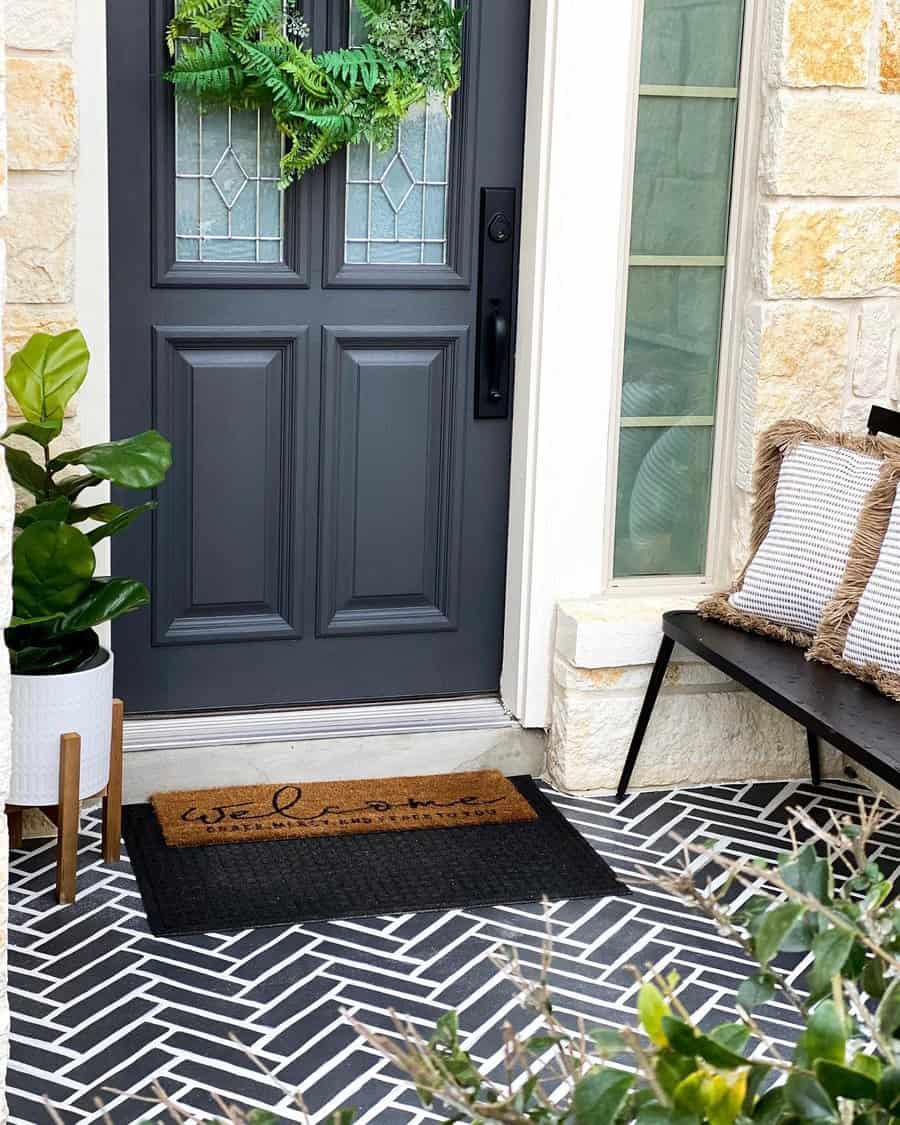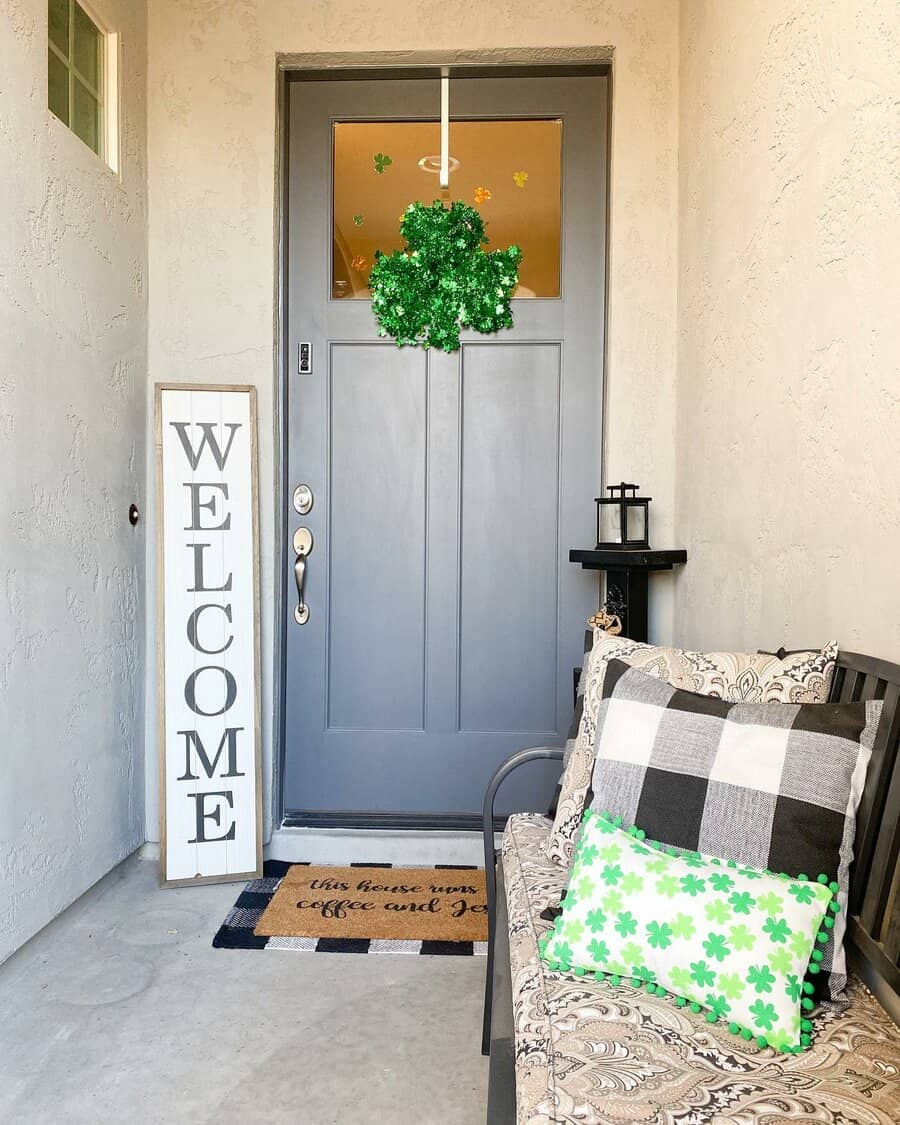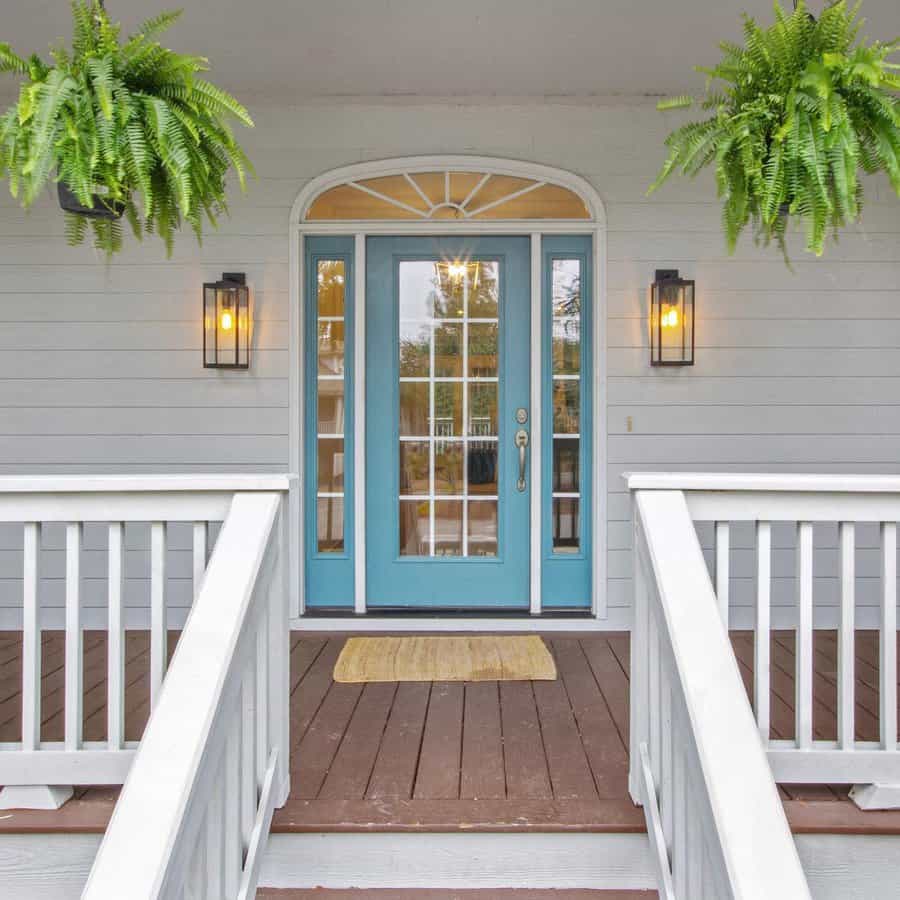 4. Potted Plants
Front patios with potted plants are becoming increasingly popular. What better way to add some life and color to your home than with a welcoming display of greenery? Not only does it create a visually appealing entrance, but it adds curb appeal and can even purify the air around your home. The great thing about potted plants is that they are versatile and can be easily switched out to match the changing seasons.
Add some colorful flowers in the spring and summer, or some festive foliage during the fall and winter months. Get creative and mix and match different textures, shapes, and sizes to create a unique and personalized display that will make your front patio the envy of the block.
So, whether you have a small stoop or a spacious front porch, consider sprucing it up with some potted plants and watch your home come to life.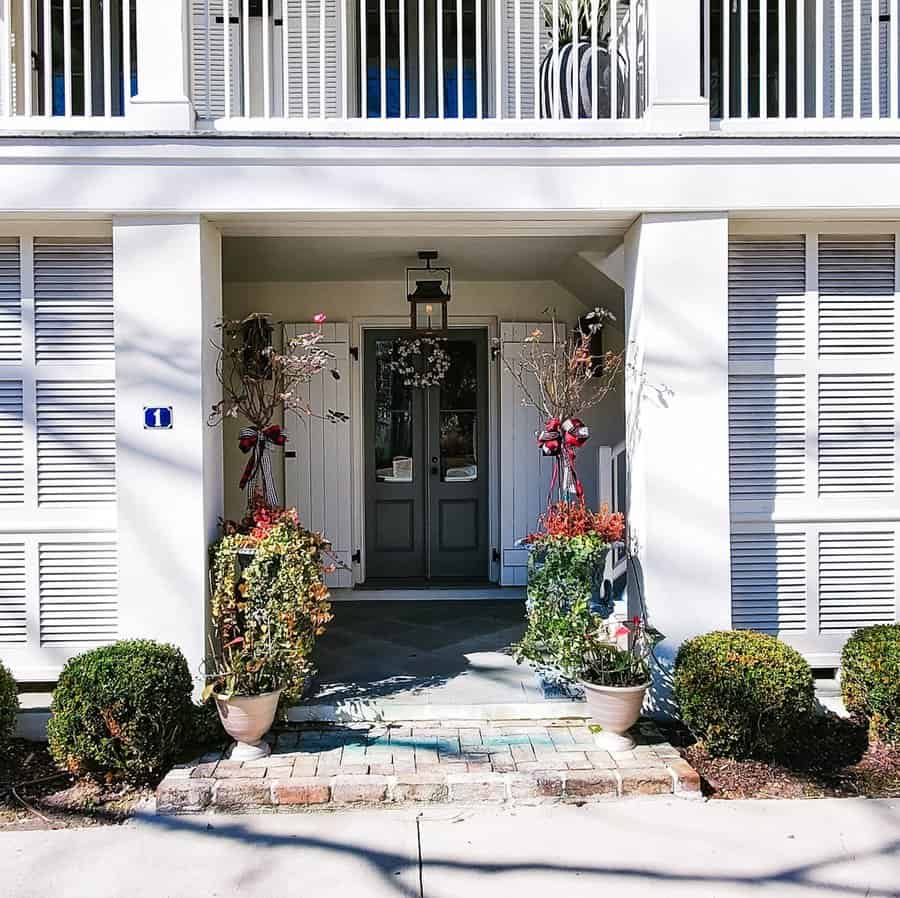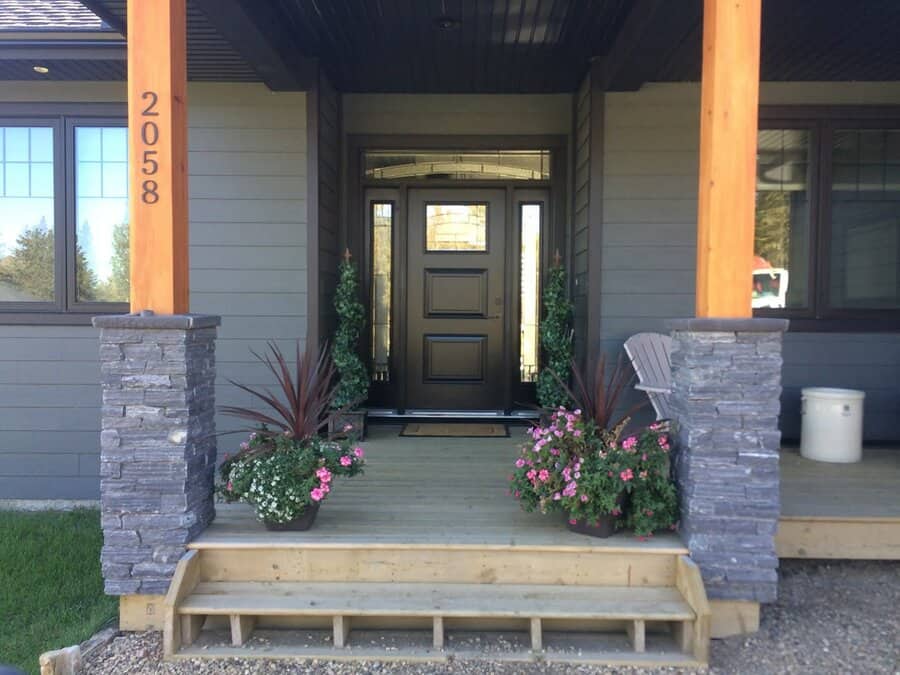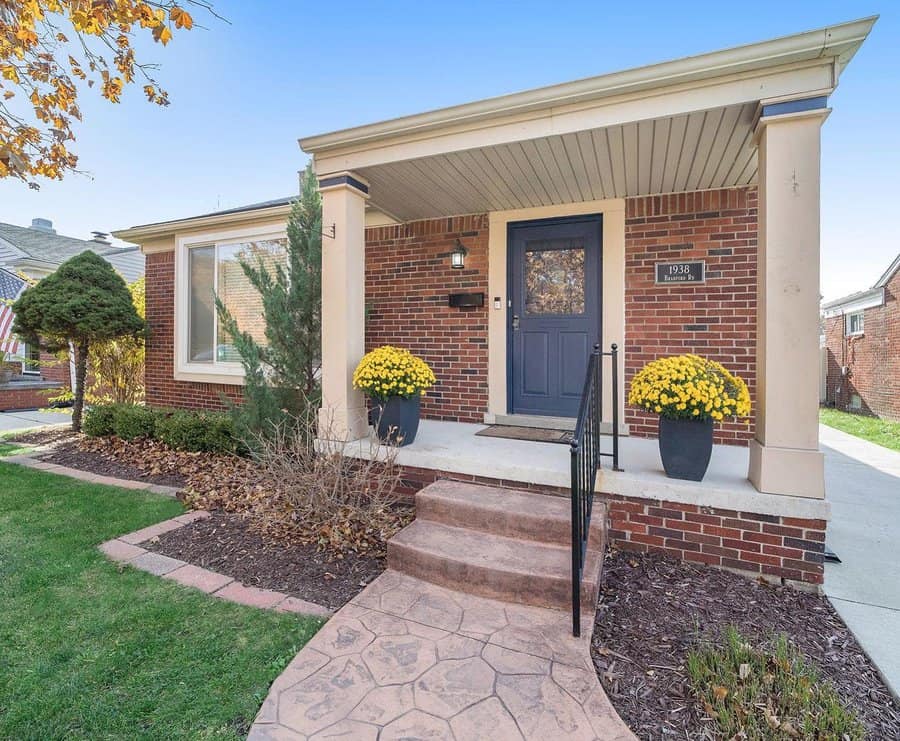 5. Porch Swing
Adding a porch swing to your patio is a great way to incorporate a touch of charm and relaxation to your outdoor space. This classic piece of furniture not only serves as a comfortable seating option but also brings a timeless feel to any area.
Whether it's enjoying a morning cup of coffee or sipping a glass of wine as the sun sets, a porch swing is a perfect place to unwind and appreciate your surroundings. With the gentle sway of the swing, you can let your worries fade away as you take in the beauty of your patio from a whole new perspective.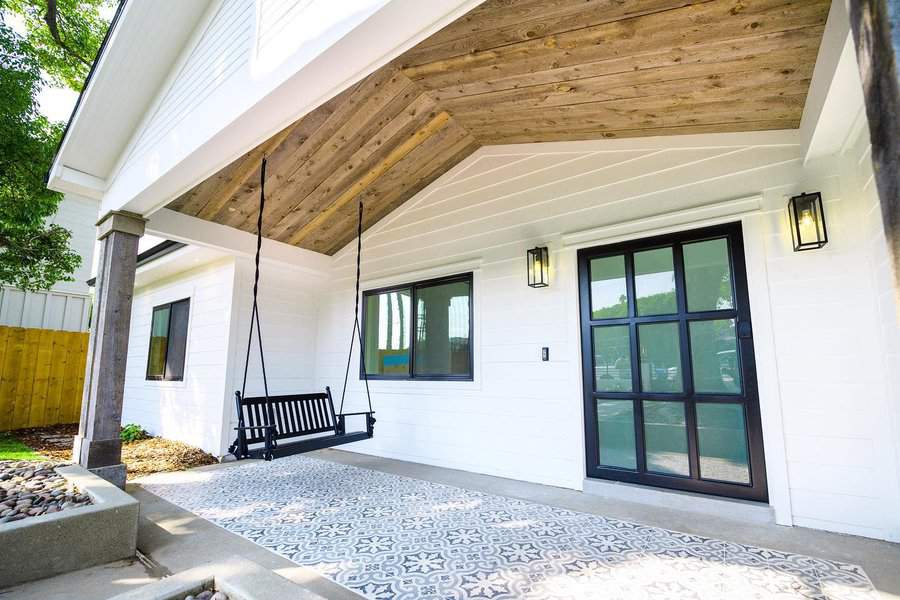 6. Outdoor Coffee Table Seating
The addition of a coffee table brings functionality and style to your outdoor oasis, making it easy to entertain guests or sip on your morning coffee in comfort. With so many options available, you can choose the perfect coffee table to complement your existing decor and enhance the overall aesthetic of your space.
Embrace the beauty of nature while indulging in the luxuries of your own backyard with a stunning patio that includes cozy coffee table seating.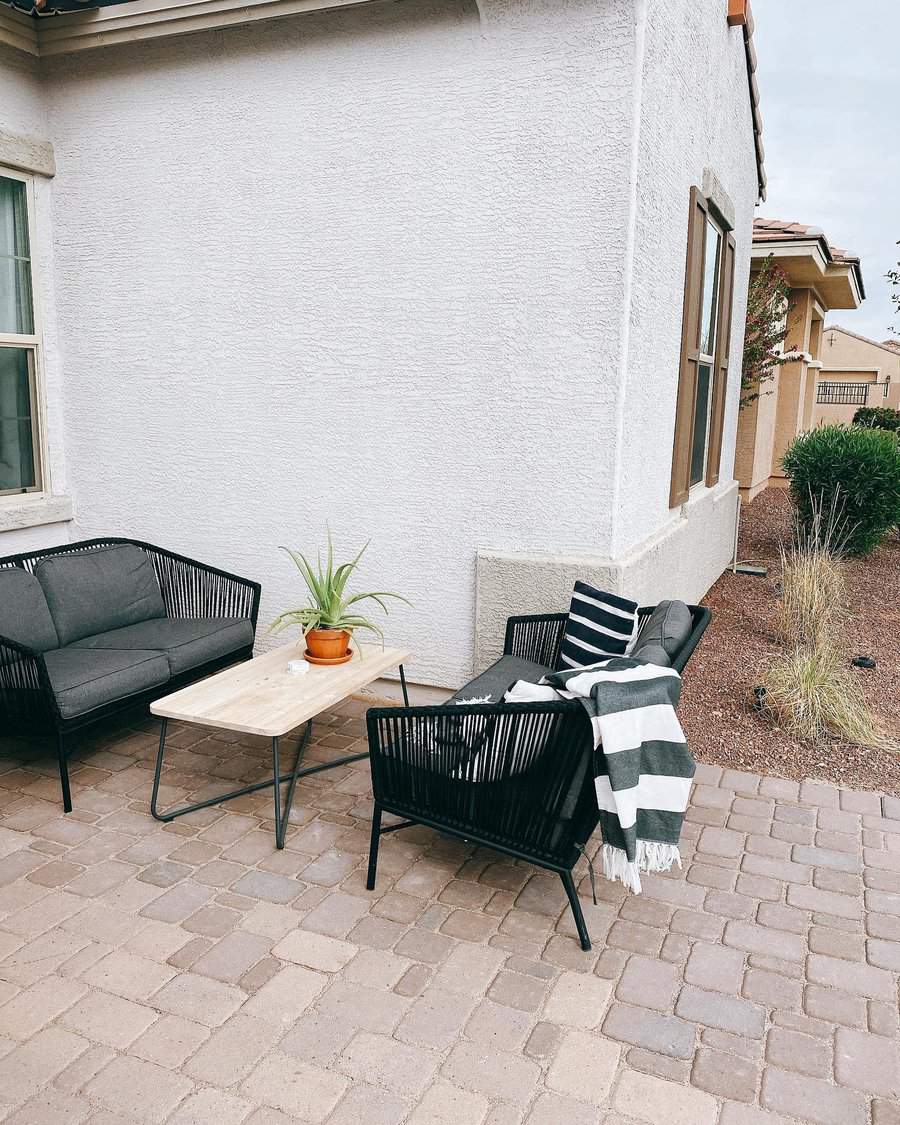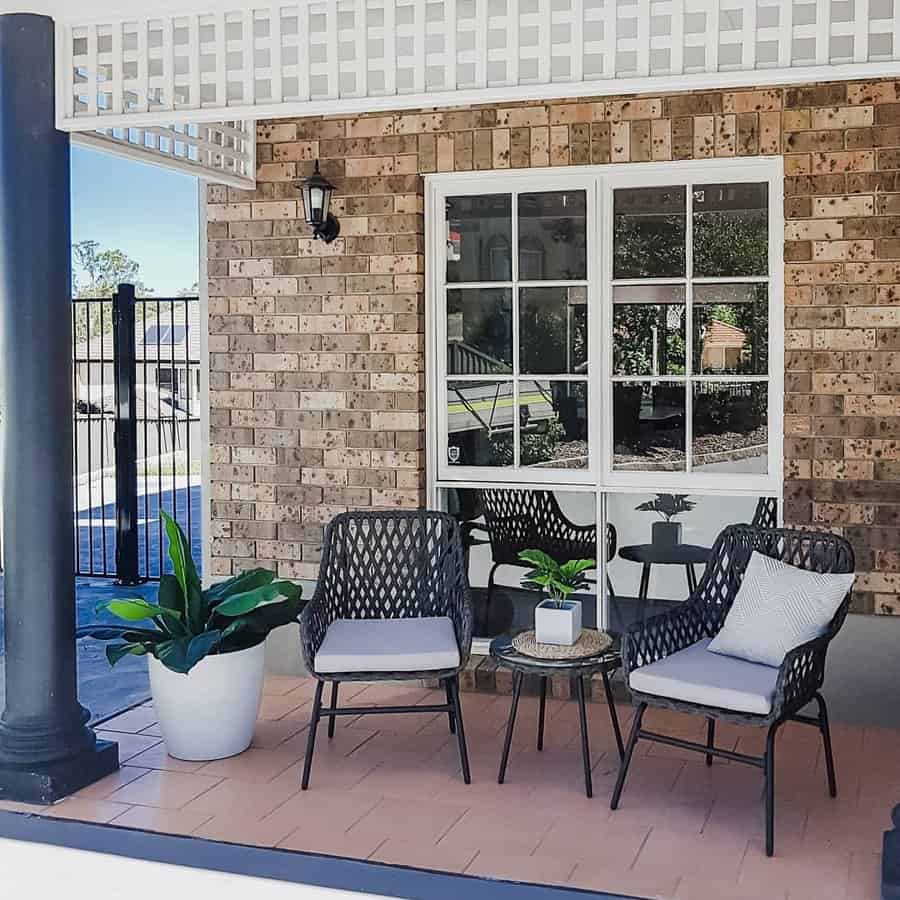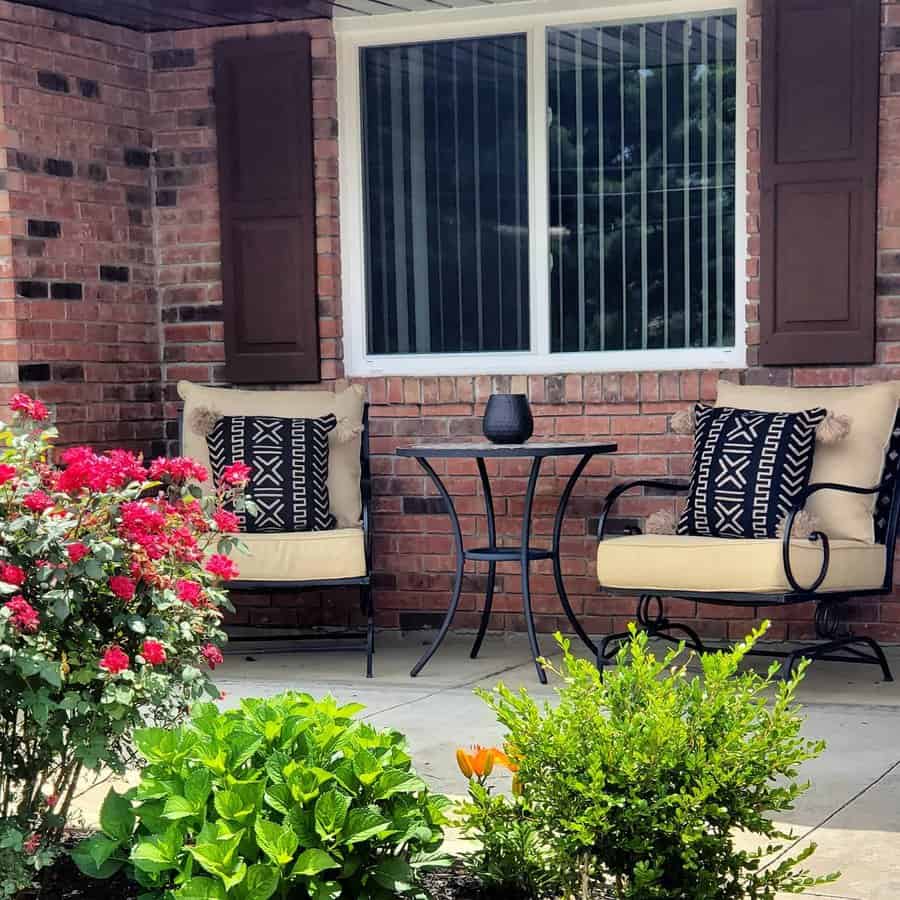 7. Patio Landscaping
Transform your backyard into an outdoor oasis with an inviting patio surrounded by lush landscaping. Incorporating plants, flowers, and trees not only add natural beauty but also provides privacy and shade. Consider native species for a low-maintenance and environmentally-friendly option.
Add pops of color with garden beds or container gardens filled with herbs, vegetables, or bright blooms. Incorporate lighting to create an inviting ambiance for evening gatherings. Your patio with landscaping will not only enhance your outdoor living space but also provide a serene retreat right in your own backyard.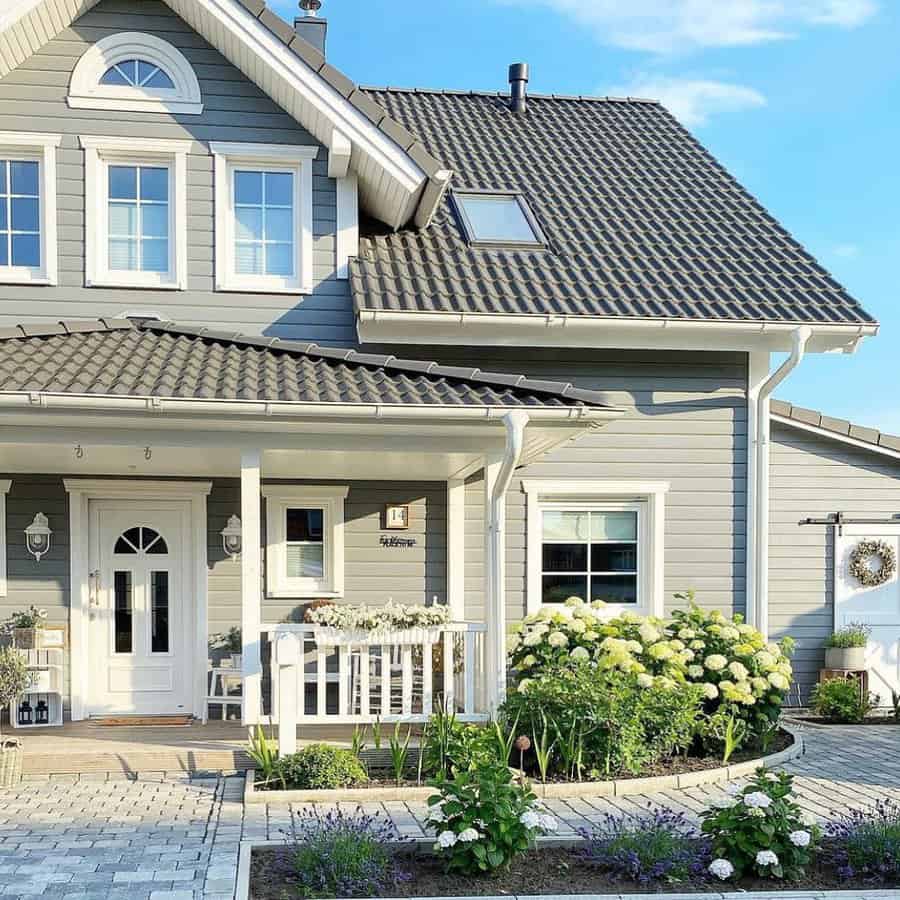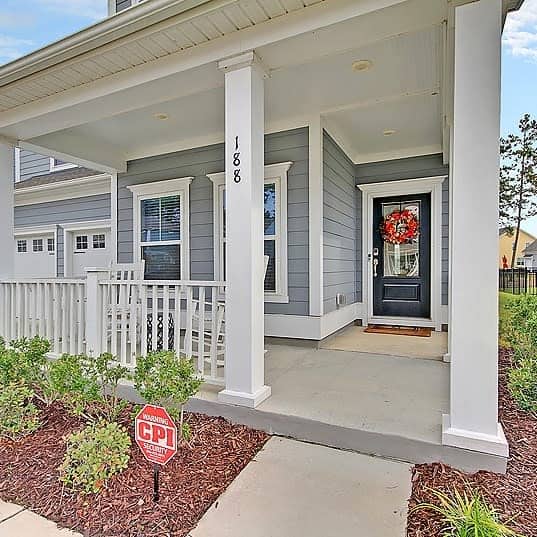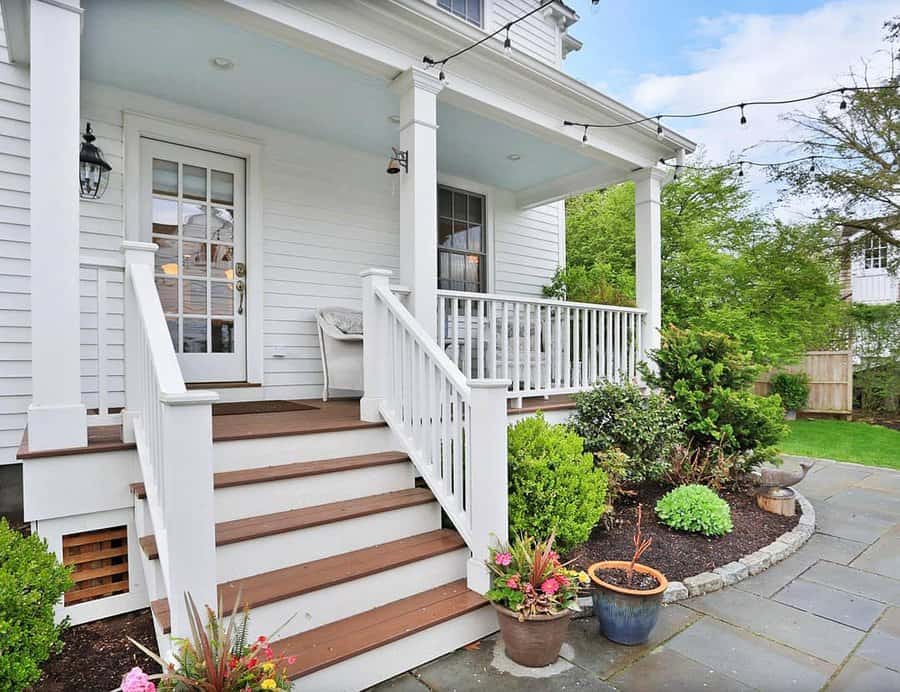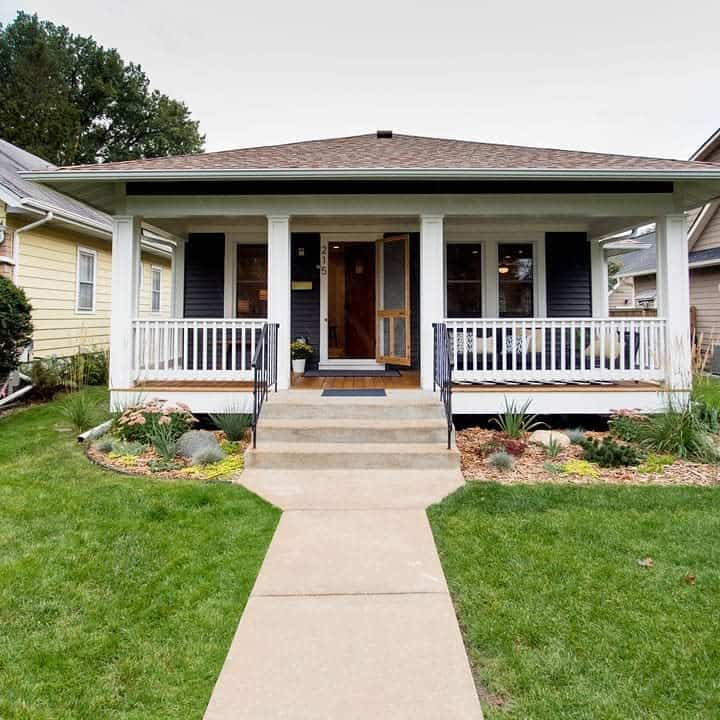 8. Bench
Transform your bare outdoor space into a comfortable oasis with a patio bench. Whether you're looking forward to hosting a summer evening soirée, or simply sitting with a good book or cup of coffee, an ideal outdoor bench can provide the ultimate relaxation zone.
There's nothing like enjoying the fresh air with your feet up on your comfy bench, while surrounded by nature's beauty. Here's a tip: opt for a bench made from durable, weather-resistant materials to ensure that it can stand up against the elements.
Adding decorative throw pillows and potted plants can help to complete the look, resulting in an appealing and inviting outdoor focal point that you'll appreciate for years to come.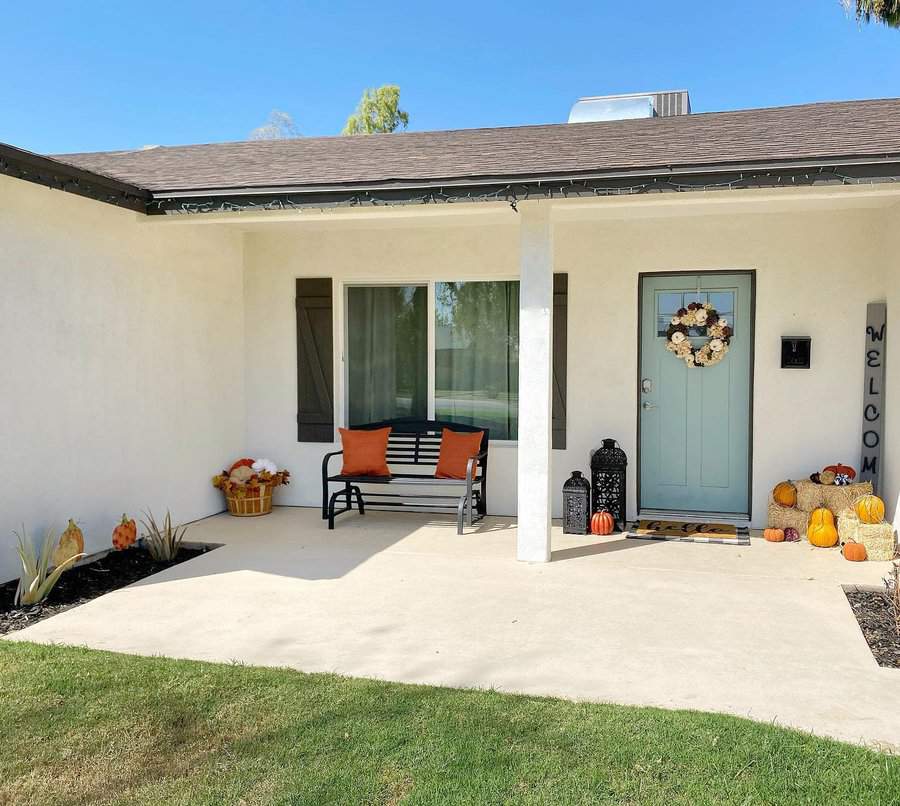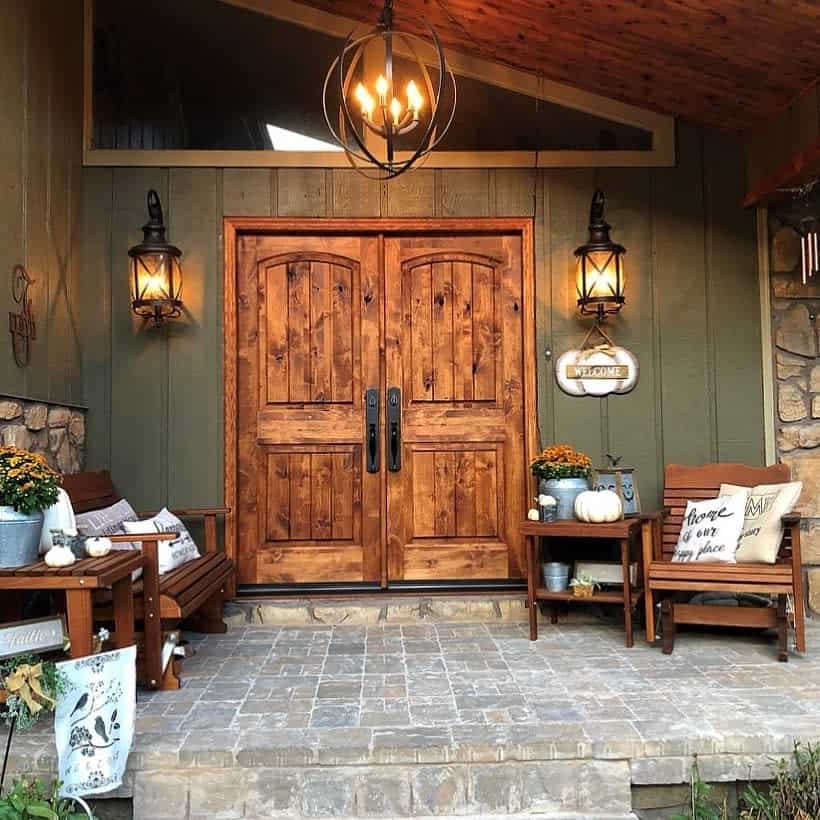 9. Adirondack Chairs
A patio with Adirondack chairs is the perfect addition to any backyard oasis. With their signature high backs and wide armrests, these chairs offer unparalleled comfort and relaxation. Sit back with a cold drink in hand and watch the sunset, or curl up with a good book and lose track of time.
The selection of Adirondack chair styles and colors is vast, so it's easy to find the perfect match for your personal taste and design aesthetic. Not only are these chairs functional, but they also add a touch of rustic charm to any outdoor space.
Whether you're hosting a summer BBQ or simply taking in the beauty of your surroundings, the patio with Adirondack chairs is the place to be.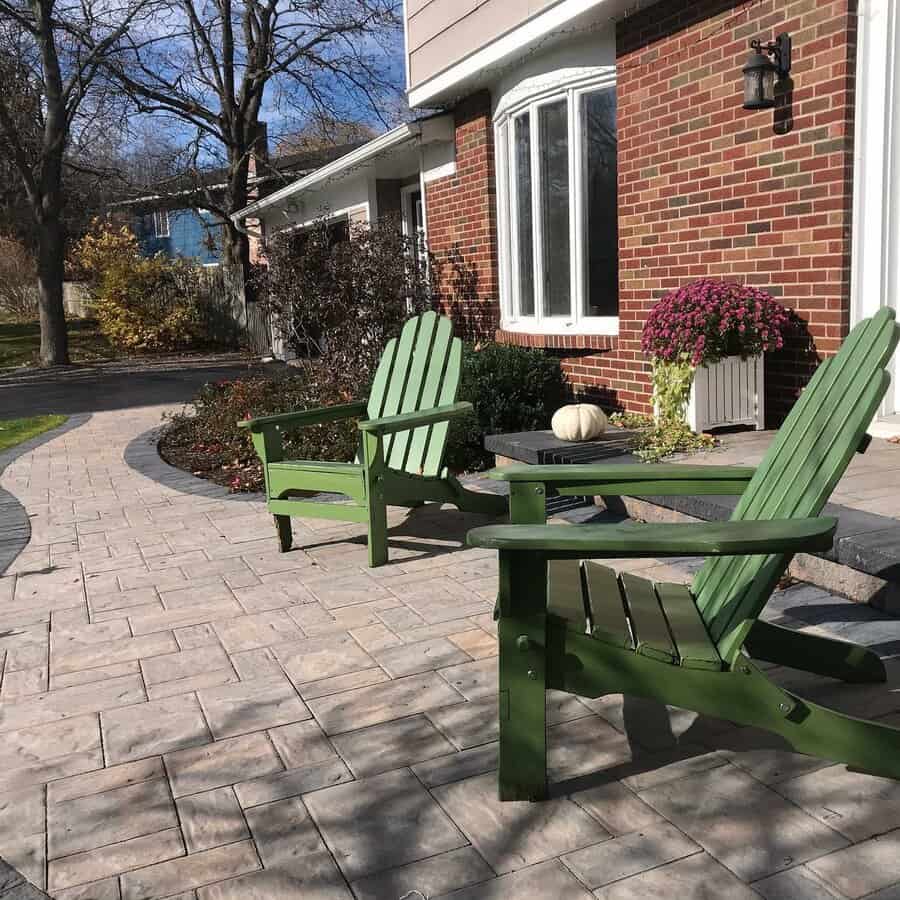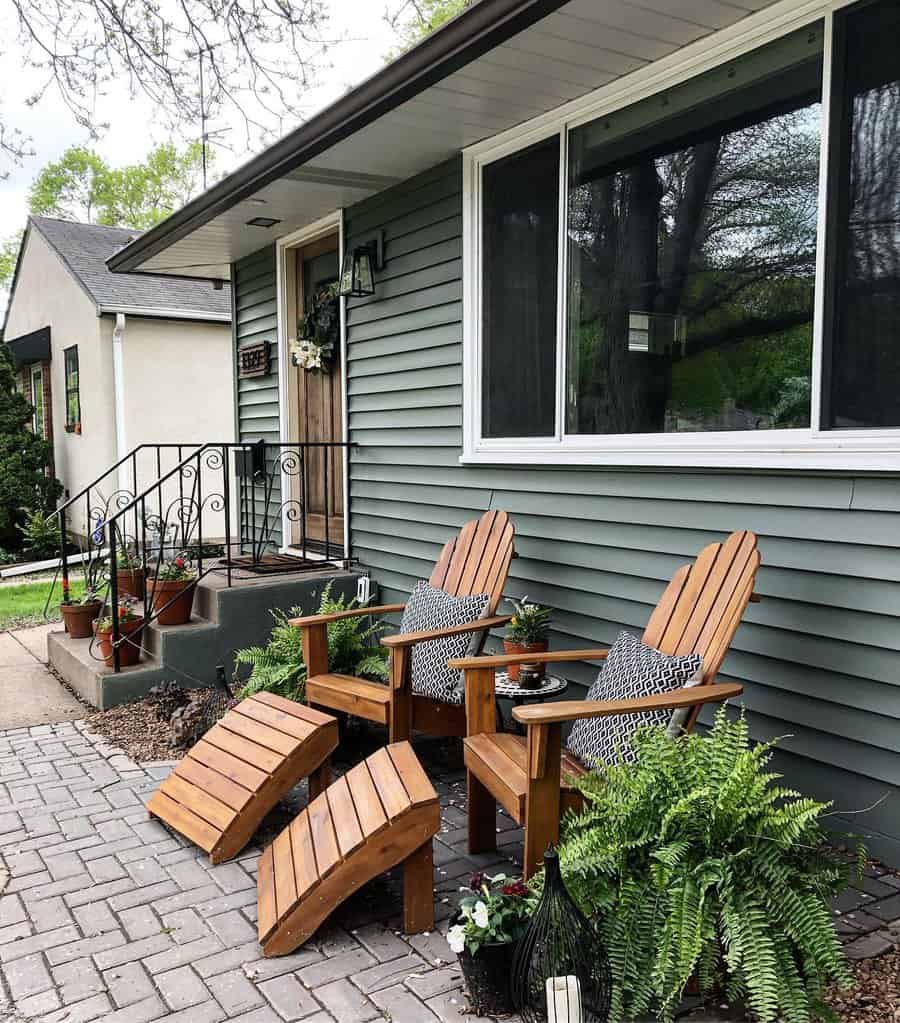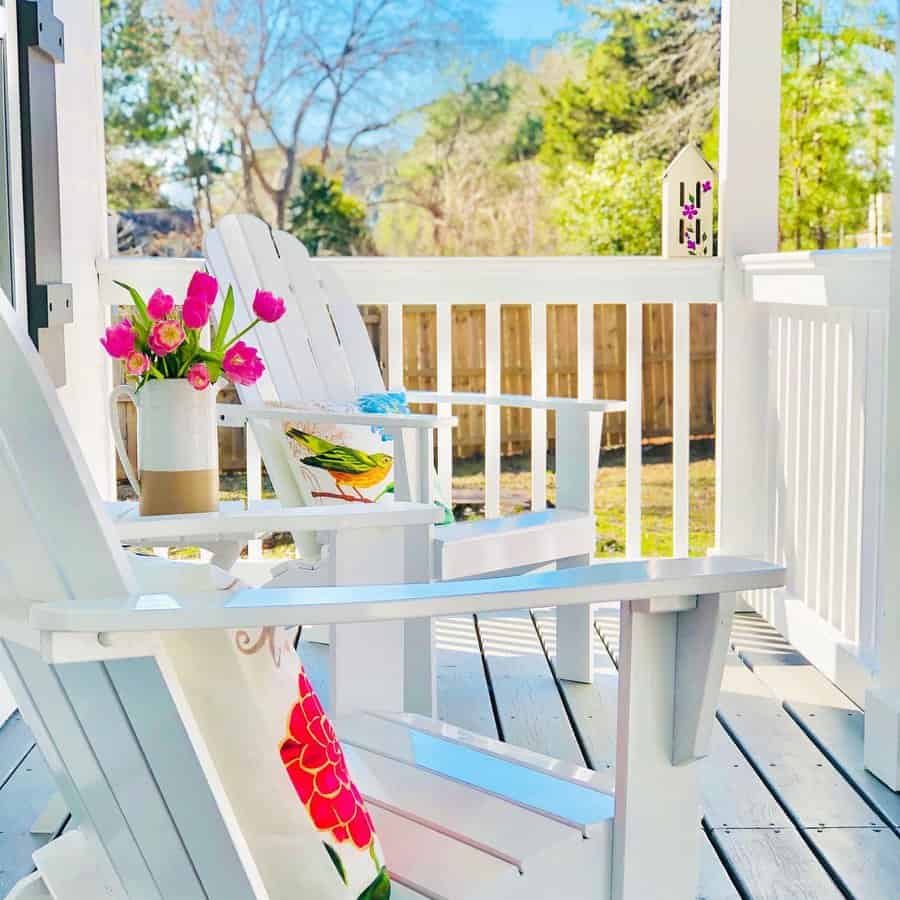 10. Pergola
If you're looking to enhance your backyard living space, a patio with a pergola is a fantastic option. The addition of a pergola allows you to create a defined outdoor area that provides shade and shelter from the elements.
With the ability to customize the pergola design and choose from a variety of materials, you can create a unique and inviting space that perfectly complements your home's exterior. Imagine dining al fresco under the dappled light of your pergola, surrounded by lush greenery and fresh air.
Whether you're looking to entertain guests or simply relax with your family, a patio with a pergola will elevate your outdoor experience to the next level.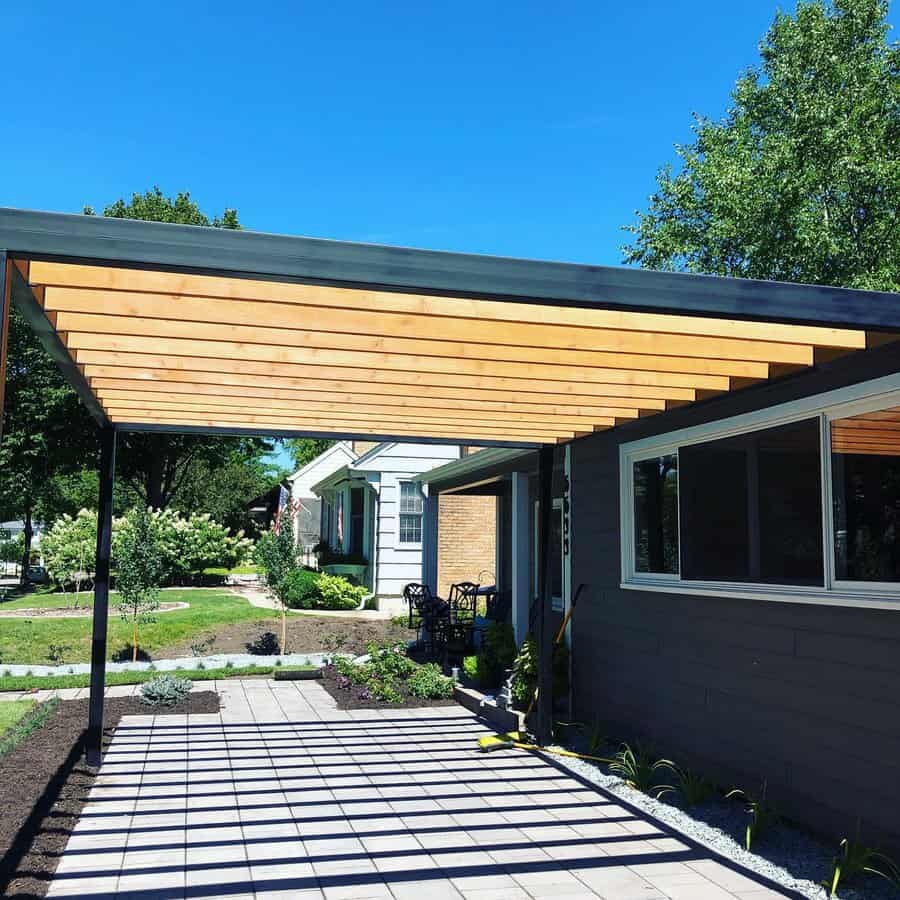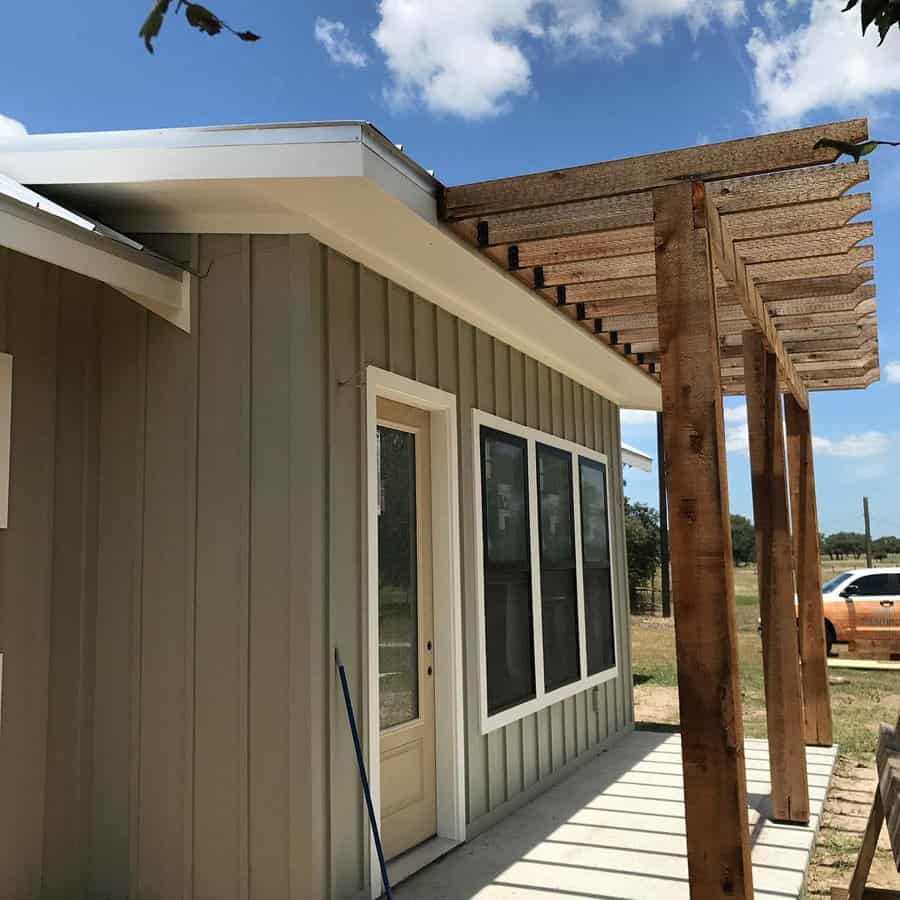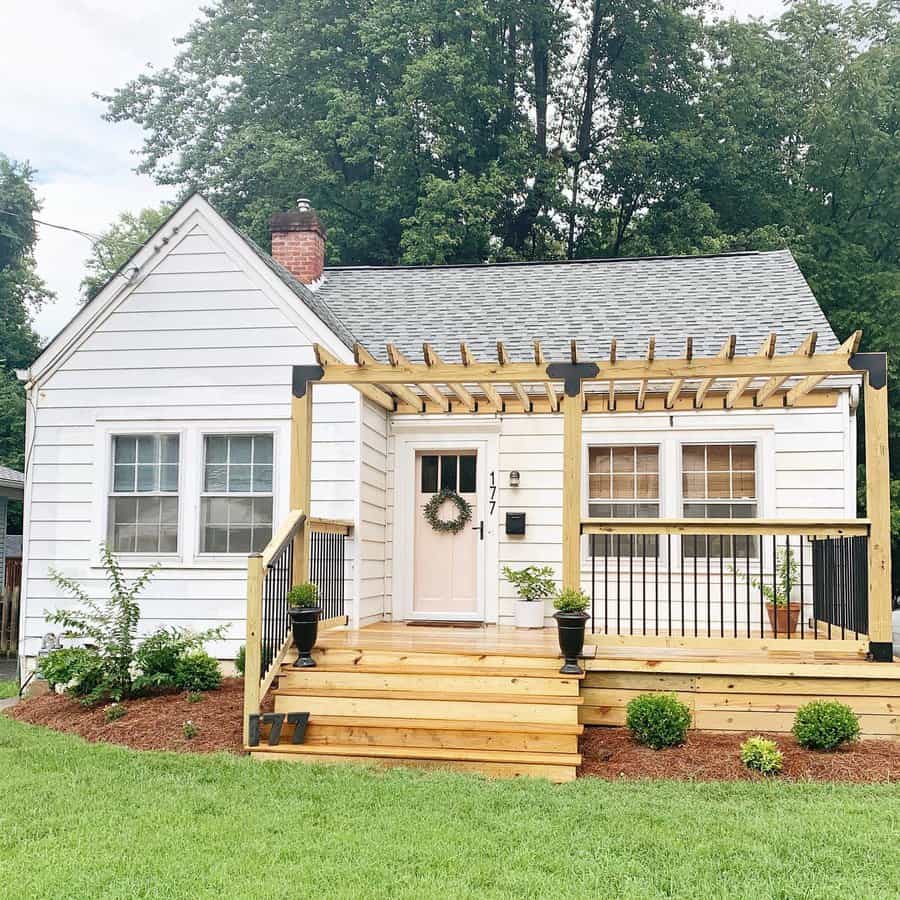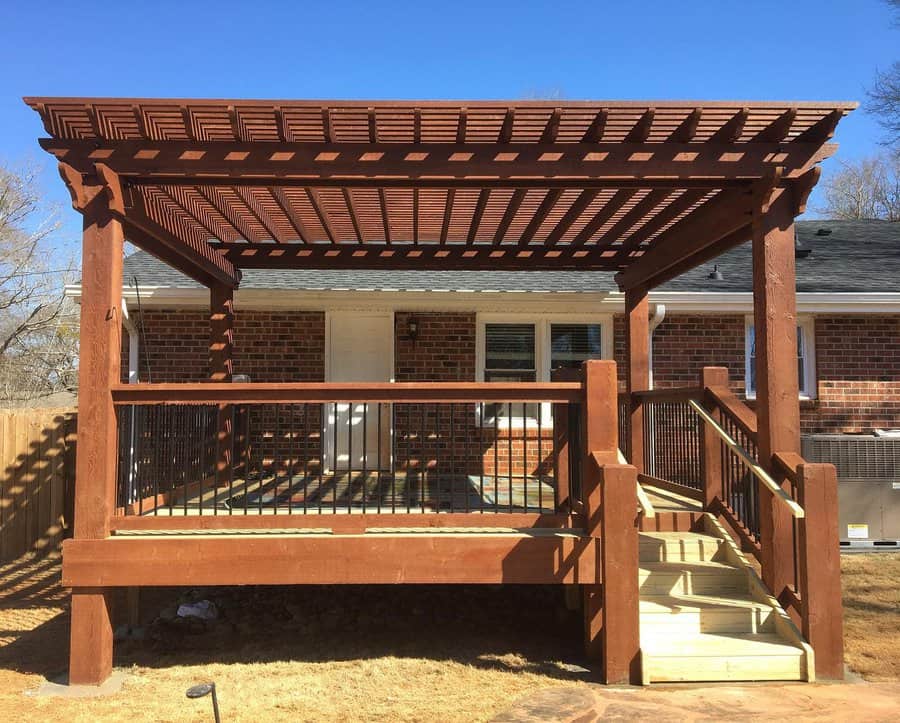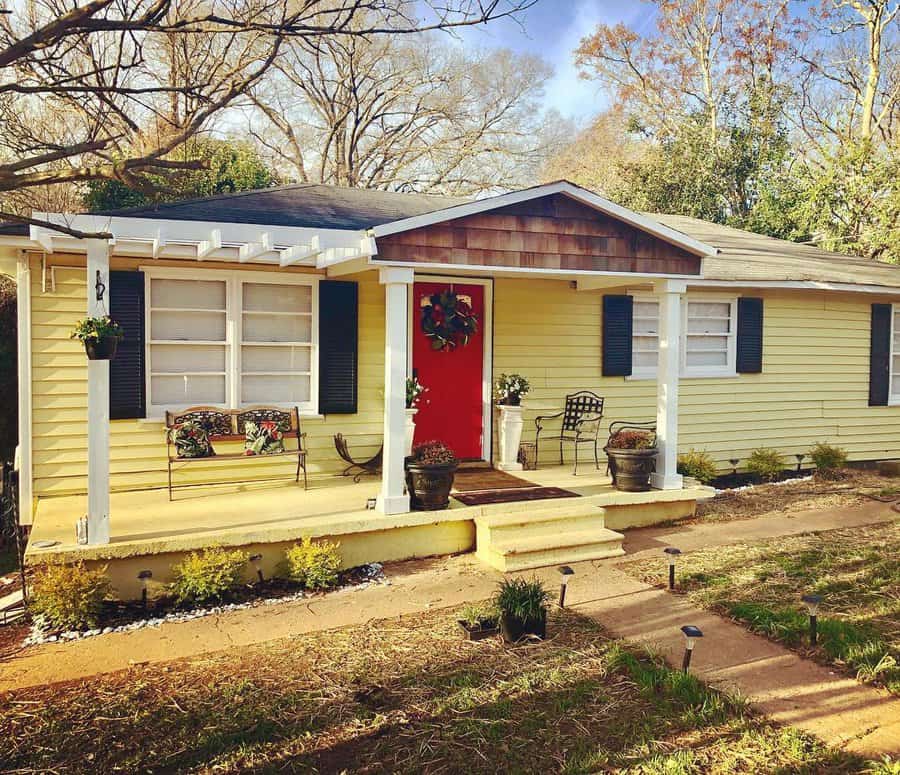 11. Mesh Screen
A patio is a wonderful addition to any home, providing a space for outdoor relaxation and entertaining. To take your patio experience to the next level, consider adding a mesh screen. Not only will this keep pesky insects at bay, but it will also help to create a more intimate atmosphere, making your patio feel like a secluded oasis.
Mesh screens come in a variety of styles, from classic to modern, so you can choose one that fits both your aesthetic and functional needs. With a mesh screen, you can enjoy your patio any time of day or night, without worrying about insect bites or other distractions. pace that truly feels like an extension of your home.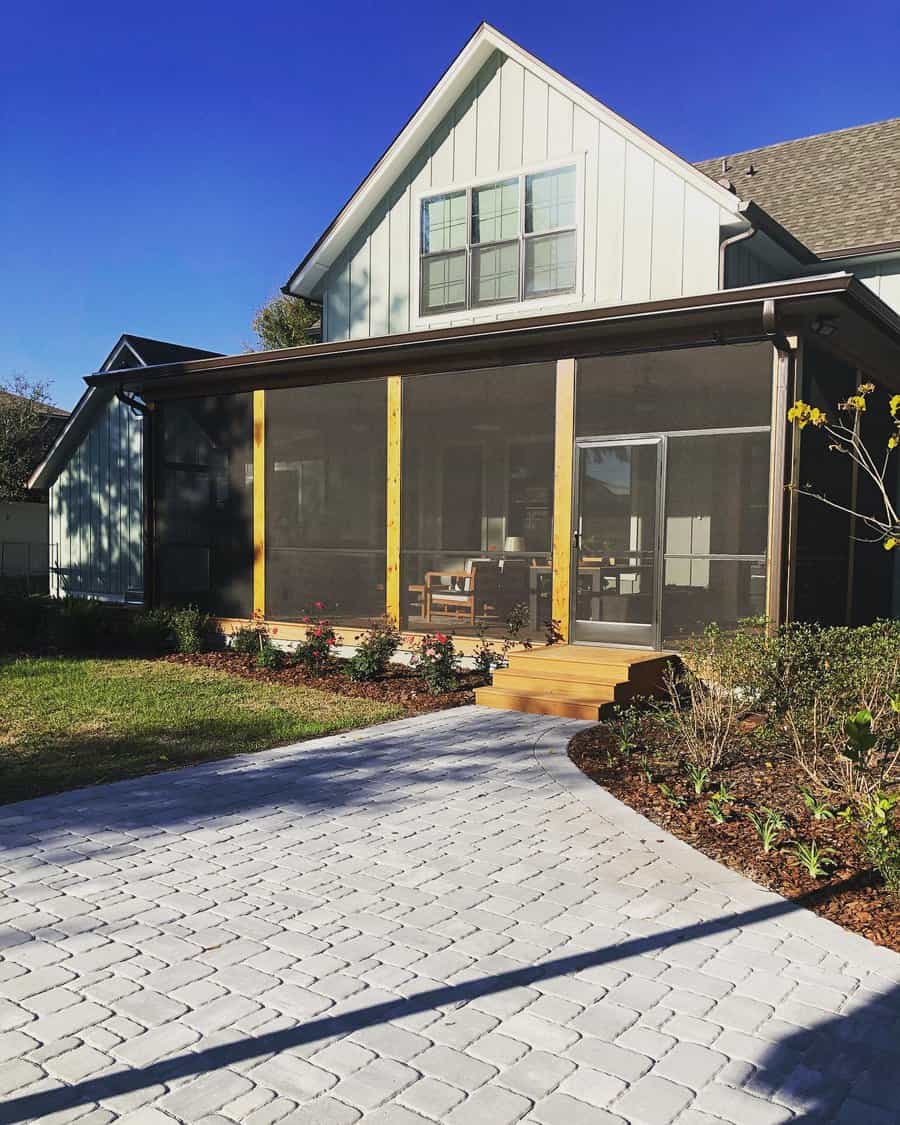 12. Privacy Wall
Transform your patio into a cozy oasis with a touch of creativity! No need to break the bank, a wooden pallet privacy wall spruces up your outdoor space while providing the perfect spot for relaxation and privacy. Time to put your crafty hat on and get started.
Start by cleaning and sanding the wooden pallets. Once the pallets are clean, it's time to put them together. A wooden pallet privacy wall can be designed in various ways. You can stack pallets on top of each other or make a lattice-style wall with multiple pallets.
Finally, add a pop of greenery with climbing plants like ivy, wisteria, or creeping figs. It's a simple and inexpensive way to create an entirely new look for your patio, inviting you to slow down and enjoy the comfort of your own outdoor paradise!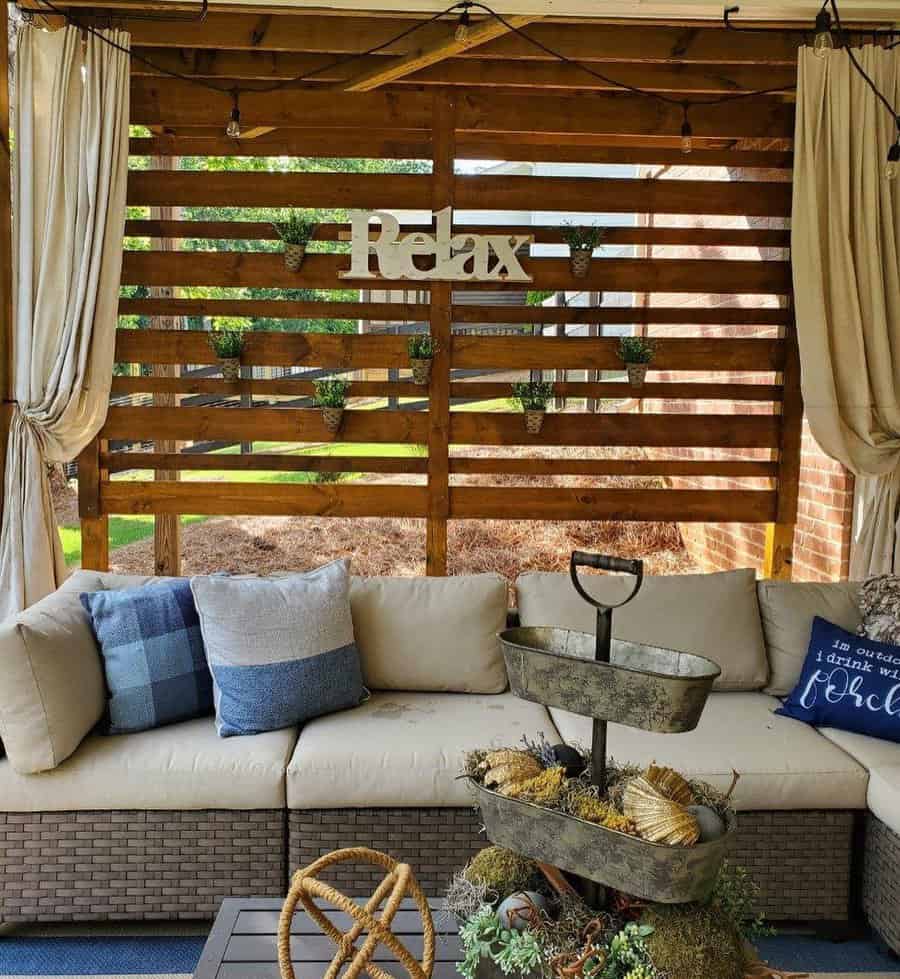 13. Retaining Wall
A patio retaining wall can be a game changer when it comes to your outdoor living space. Not only does it provide the necessary support for your patio, but it also adds a visually stunning element to your backyard.
The creative design possibilities are endless, from incorporating unique materials like natural stone or concrete to adding intricate patterns or textures. With the right retaining wall, you can transform your patio into an outdoor oasis that will impress guests and serve as a relaxing retreat for years to come.
So don't underestimate the power of a well-designed patio retaining wall – it might just be the missing piece that your backyard needs.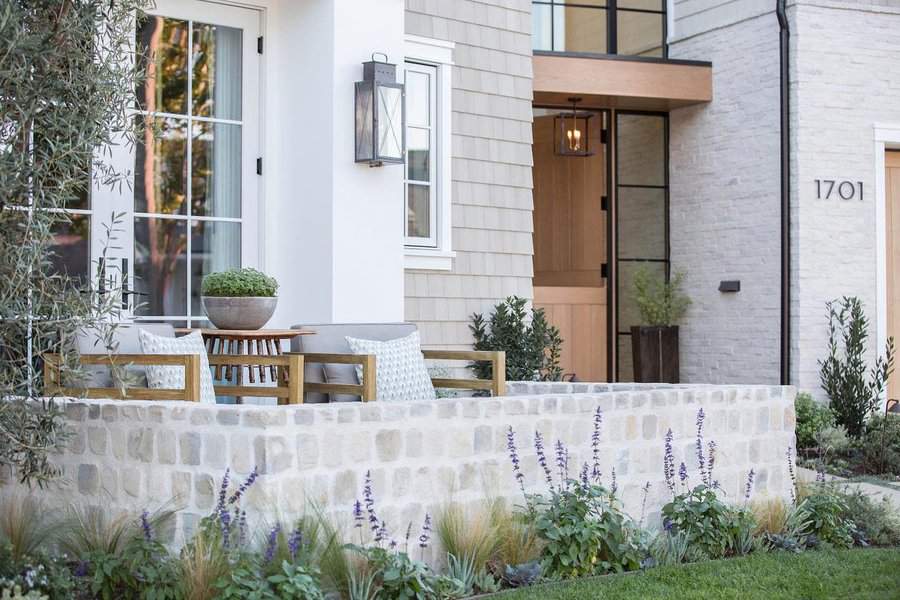 14. Rocking Chairs
Imagine yourself unwinding on a peaceful patio, with a gentle breeze blowing past you as you gently rock back and forth in a cozy rocking chair. This is an idyllic scene that many people wish to experience.
Adding a rocking chair to your patio can provide a place of retreat, where you can rest and enjoy the great outdoors. Not only is it functional, but it also adds a touch of classic charm to any outdoor space.
The gentle swaying motion provided by a rocking chair can be incredibly soothing, making it the perfect spot to relax during the warm summer months or any time of the year. Whether you're reading a book or simply soaking up the tranquil atmosphere, a rocking chair on your patio is a must-have for anyone who loves to spend time outside.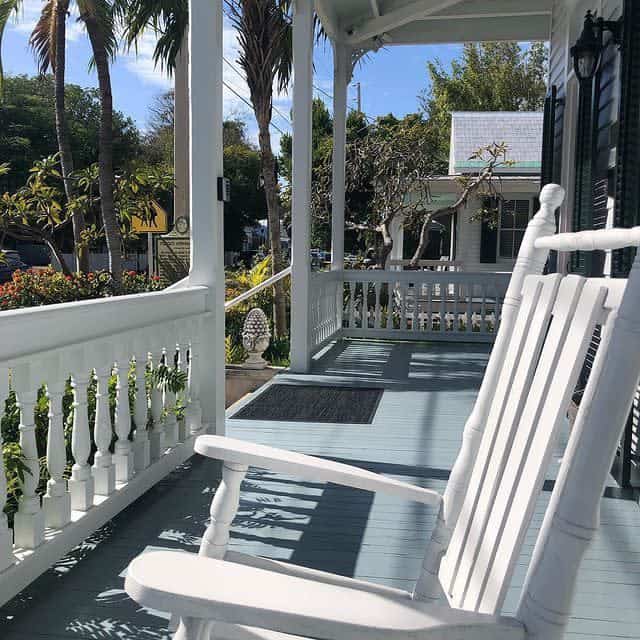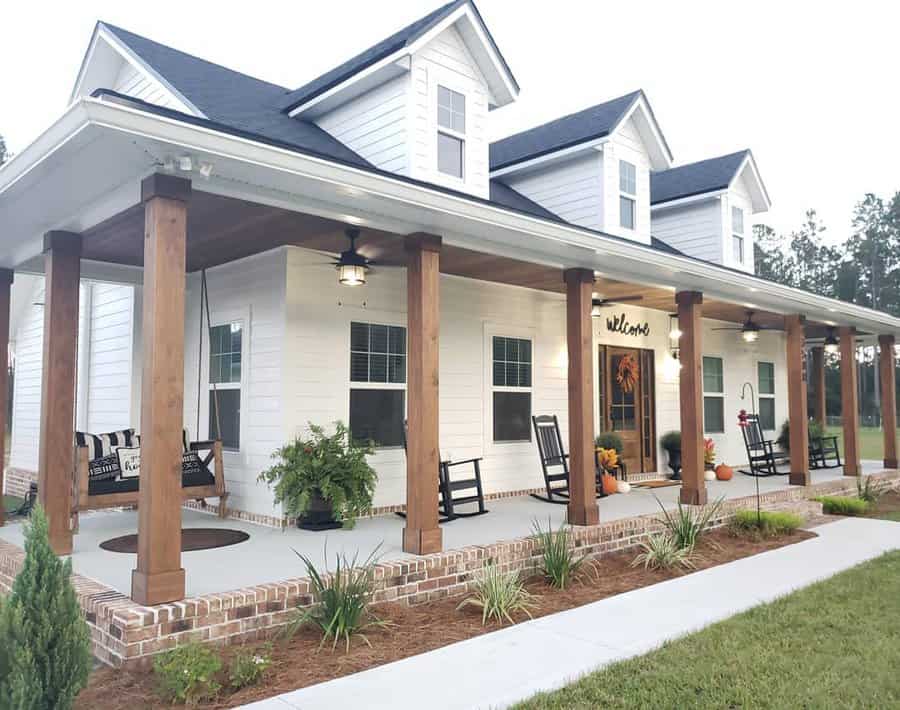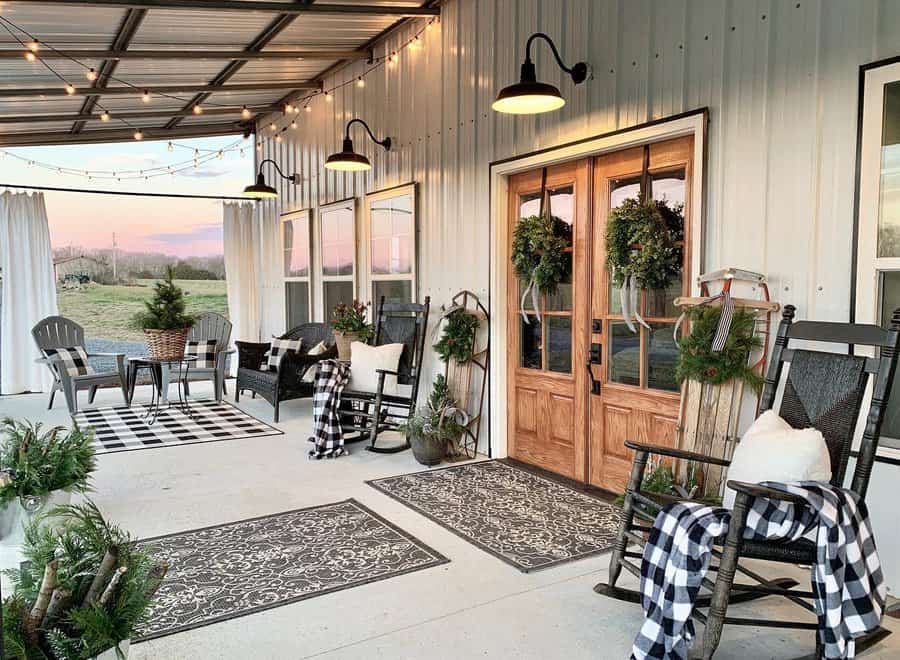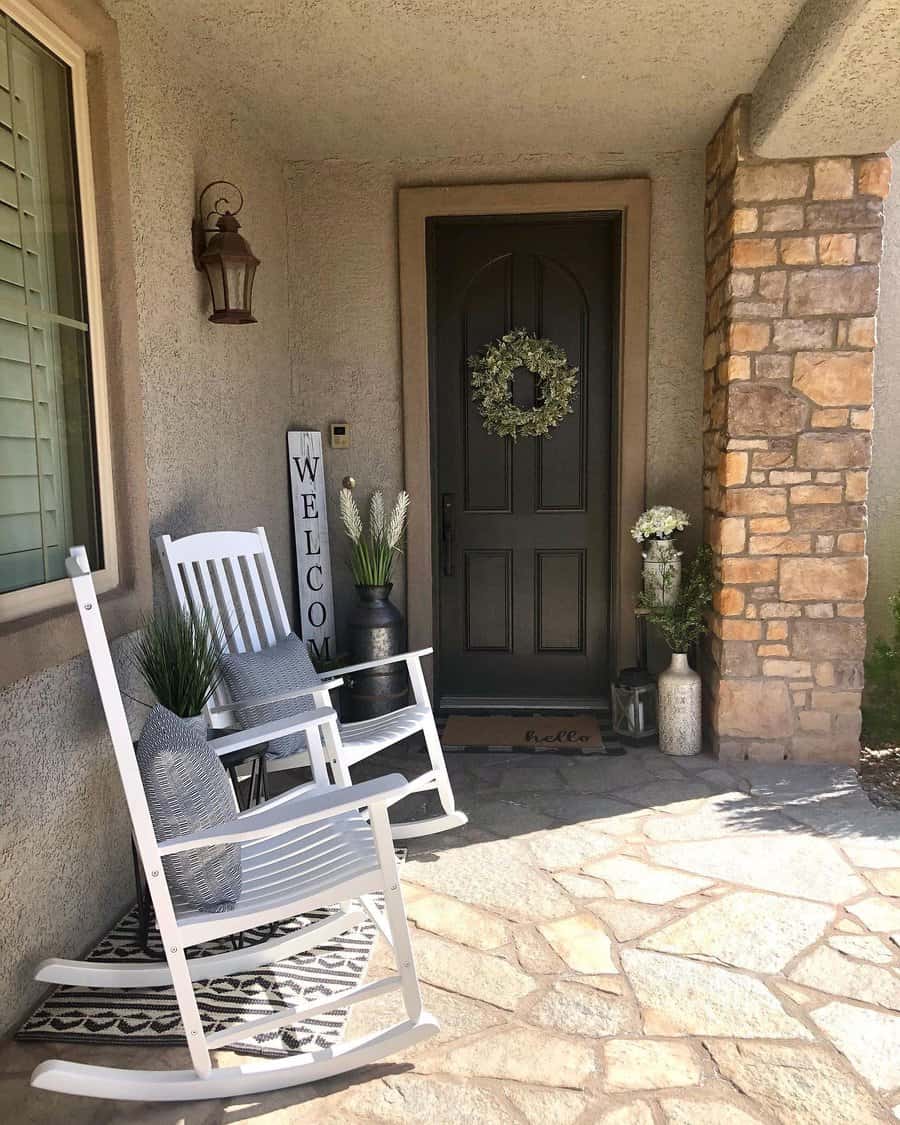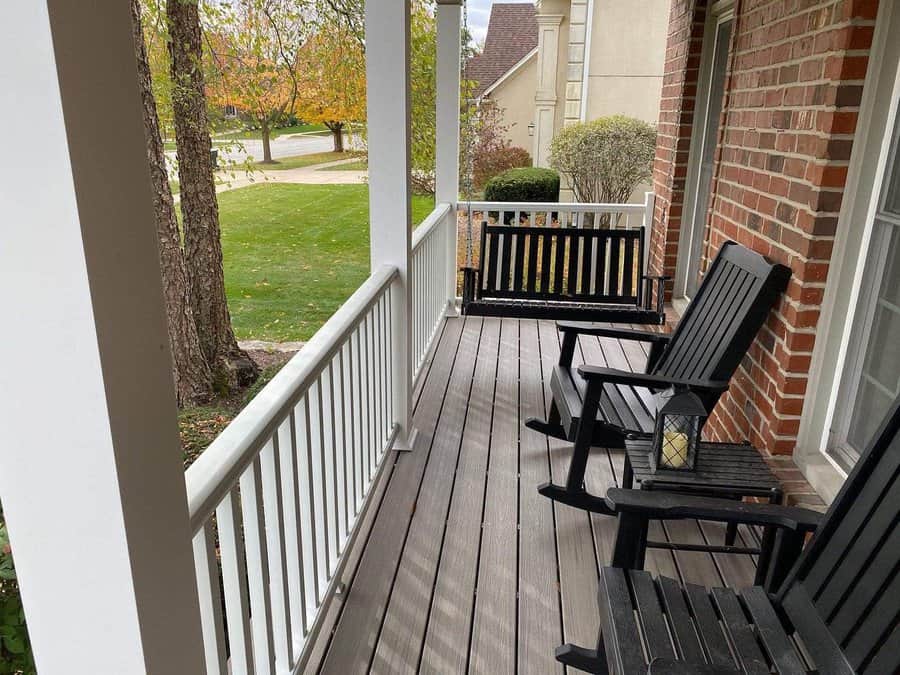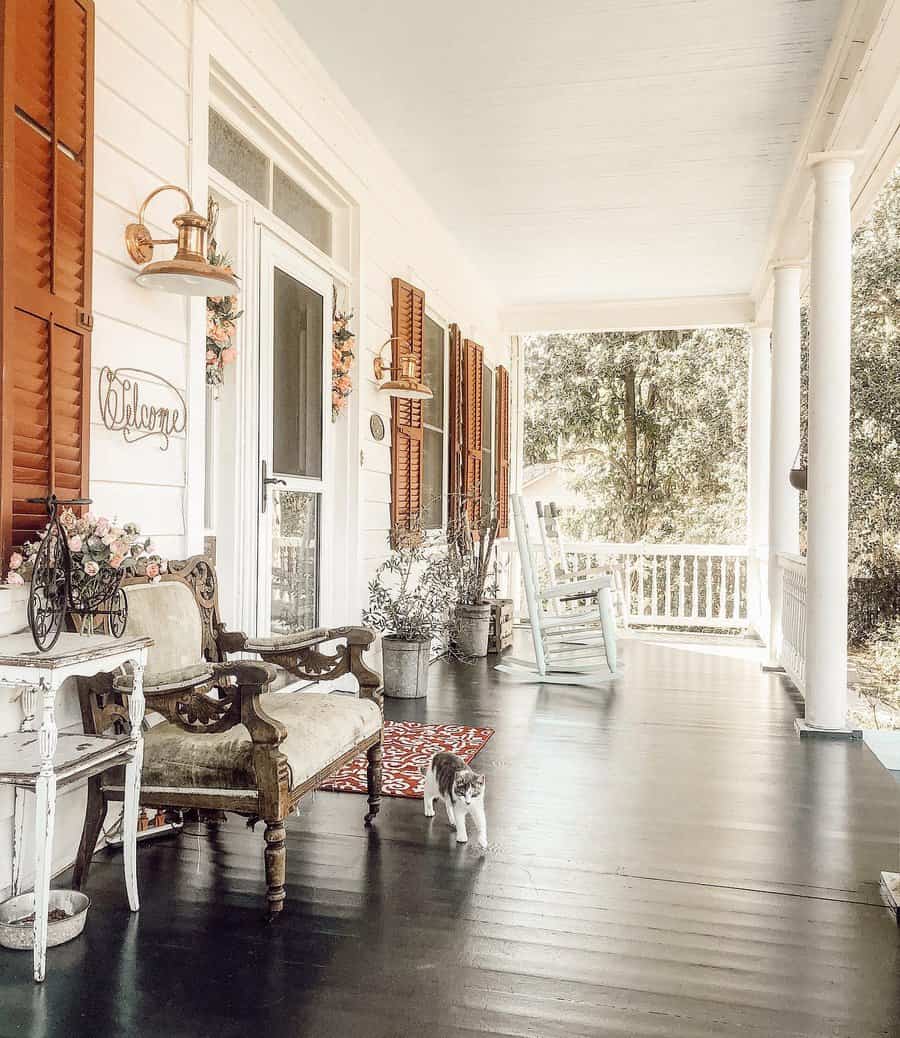 15. Retractable Awning
A patio with a retractable awning is the perfect outdoor space for those who love to spend time in the sun, but also value the shade. Not only does a retractable awning provide relief from the heat, but it also protects your patio furniture from fading in the sun.
Imagine sipping on a cool drink while lounging on a comfortable chair, protected by a stylish and functional awning. With the ability to control the amount of sunlight you let in, you can enjoy your patio all day long, whether it's for a relaxing afternoon or an evening barbecue with friends. Plus, with retractable awnings available in various colors and fabrics, you can easily incorporate them into your home's unique style.
Don't let the sun dictate your outdoor activities any longer, upgrade your patio with a retractable awning and make the most of your time outside.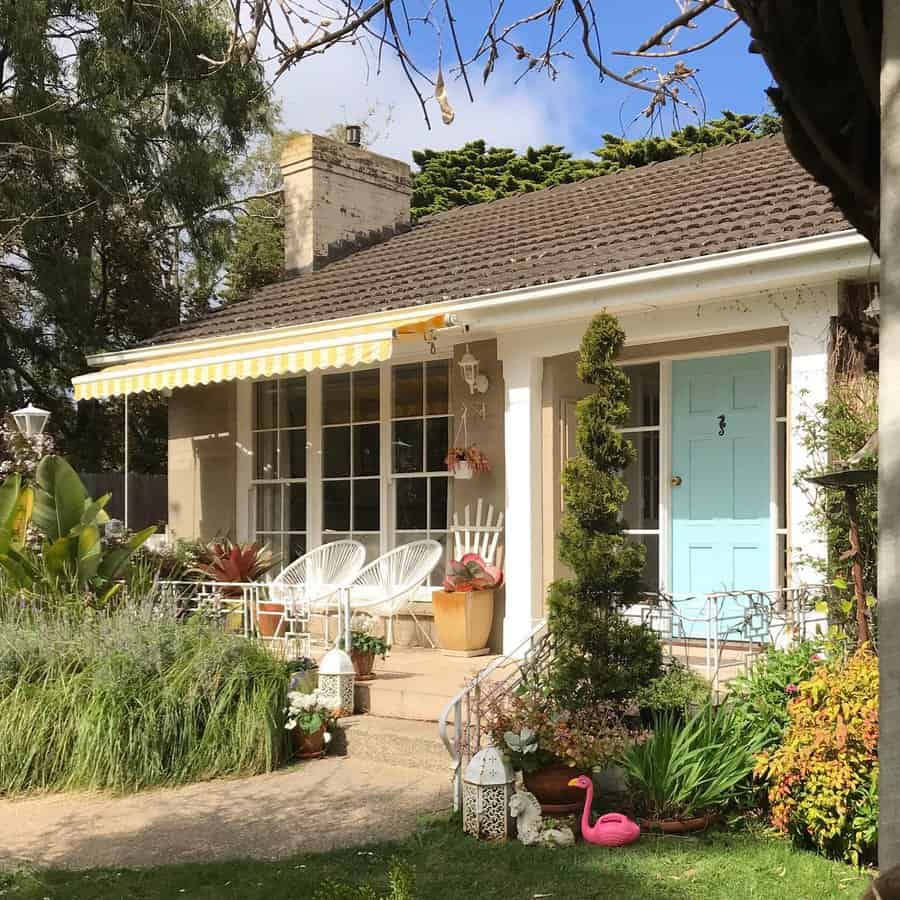 16. Side Door Entry Stairs
Imagine the perfect summer evening – cool breeze, warm ambiance, and of course, your own oasis in the form of a beautifully designed patio. Adding a side door entry to your patio not only enhances the aesthetics but also the functionality.
Think of it as an invitation to enjoy the lush greenery, or to pop back inside for a refill on your iced tea without disturbing the entire vibe. With seamless stairs leading up to the entry, it adds a touch of grandeur and elegance to your humble abode.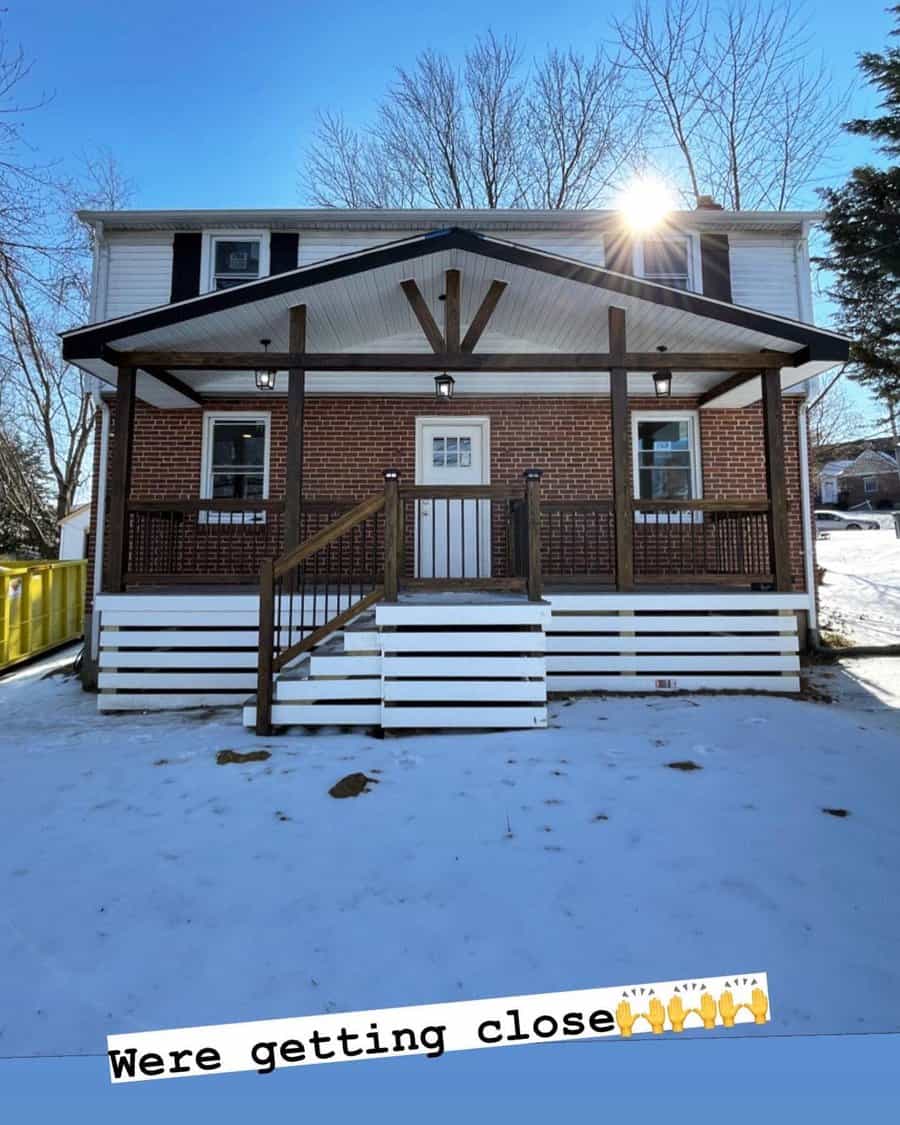 17. String Lights
Picture this: you step outside onto your front patio and are greeted by twinkling string lights overhead. The cozy, warm ambiance they provide invites you to take a seat in your patio seating area, where you can kick back with a cold drink and enjoy the fresh air.
With a front patio like this, your home becomes more than just four walls – it's a place to socialize, relax, and make memories. Whether you use it for unwinding after a long day or entertaining guests, a front patio with patio seating and string lights is the perfect addition to any home.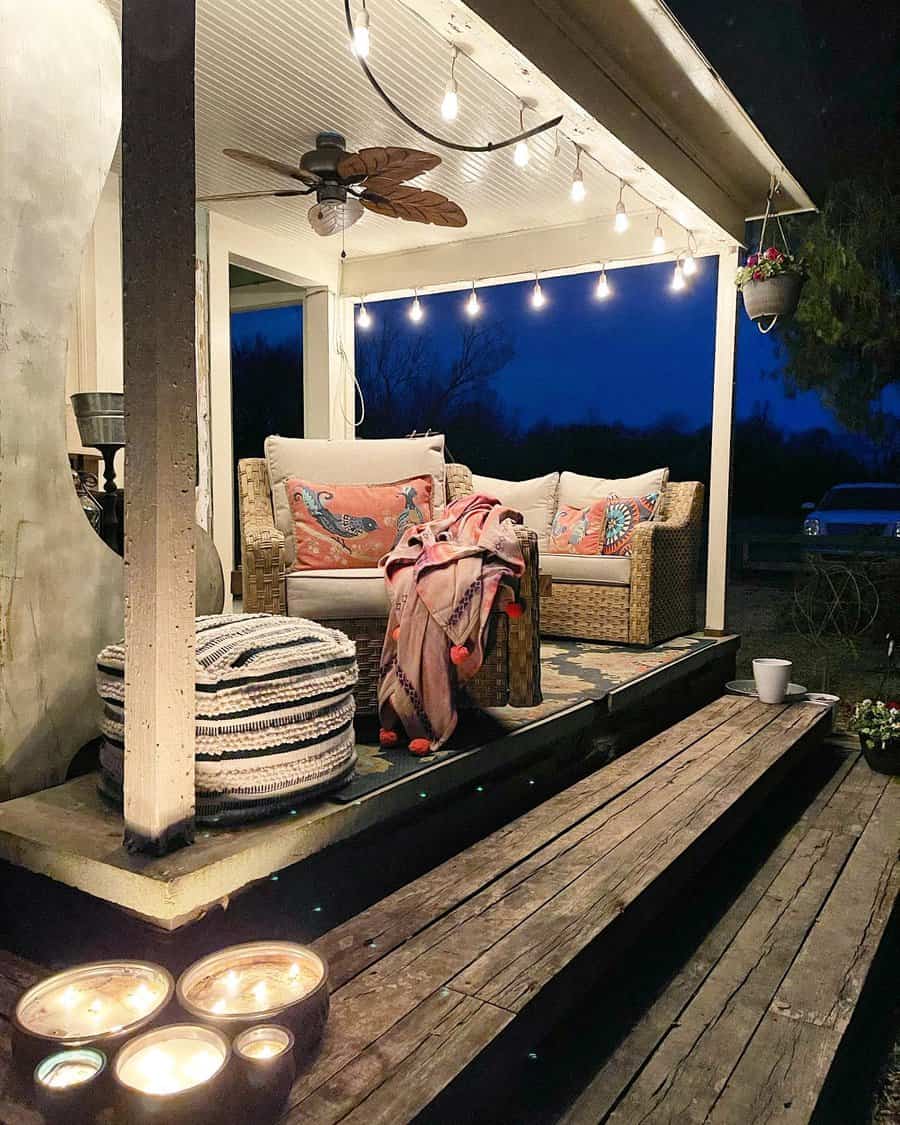 18. Seats With Cozy Throw Pillows
Make your front patio the place to be with cozy patio seating and throw pillows. Your outdoor space is an extension of your home, so why not make it as comfortable and inviting as your living room?
Spruce up your space with a plush throw pillows in colorful patterns to add a pop of personality to your patio seating. Whether you're looking to relax with a book, sip on a cool drink, or host a gathering with friends, a front patio with cozy seating and throw pillows is the perfect way to enjoy the outdoors in style.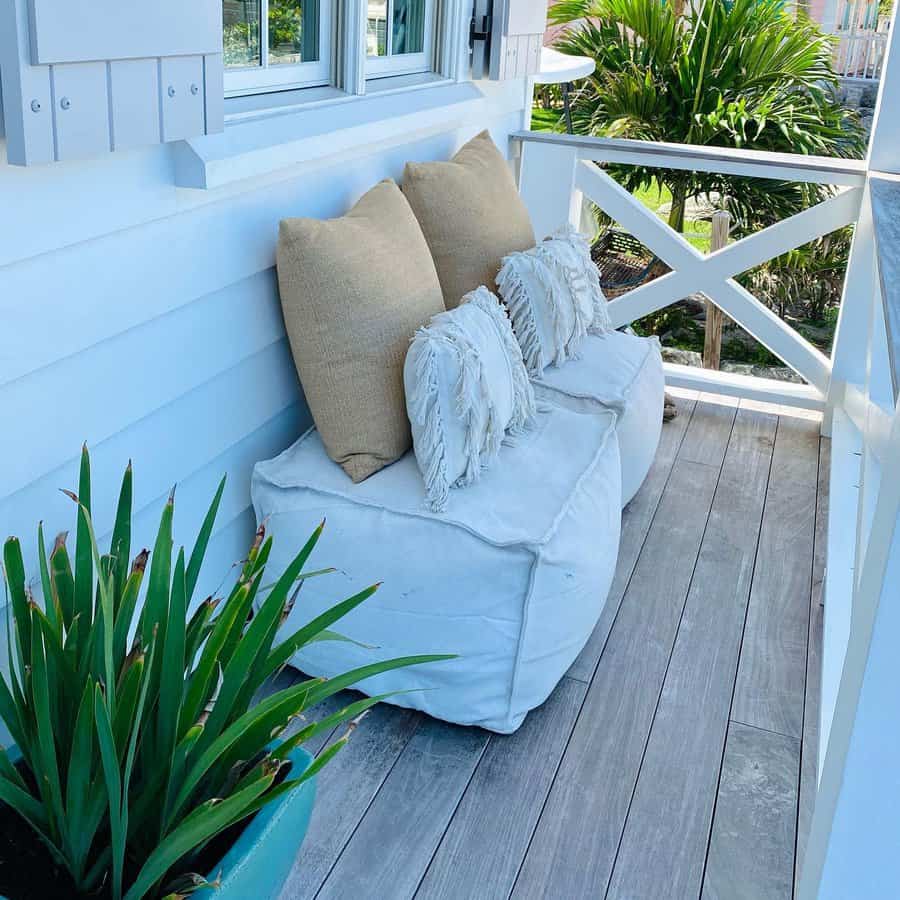 Front Patio FAQs
How do you heat a front patio?
For many homeowners, being able to heat an outdoor living space can significantly extend — if not double — the amount of time the area is comfortable enough to use!
On chilly evenings, you can heat up your front patio using an outdoor-safe electric heater. These come in a variety of styles and sizes, so you can coordinate the heater's appearance with the existing decor.
Another great option for many patios is to build or buy a fire pit. Stand-alone fire pits are a wonderful solution that can be stowed out of the way when not in use. Just be sure to leave enough space between the open flame and your home's exterior.
Can you have a front patio and a front porch?
While there's little reason to have both structures adjacent to a single home, there's also nothing stopping you.
Front patios and porches serve essentially the same purpose. The only real difference is that porches are often raised and attached to the home.
One reason to consider installing both is if your current porch or patio doesn't provide a large enough seating area for your needs.