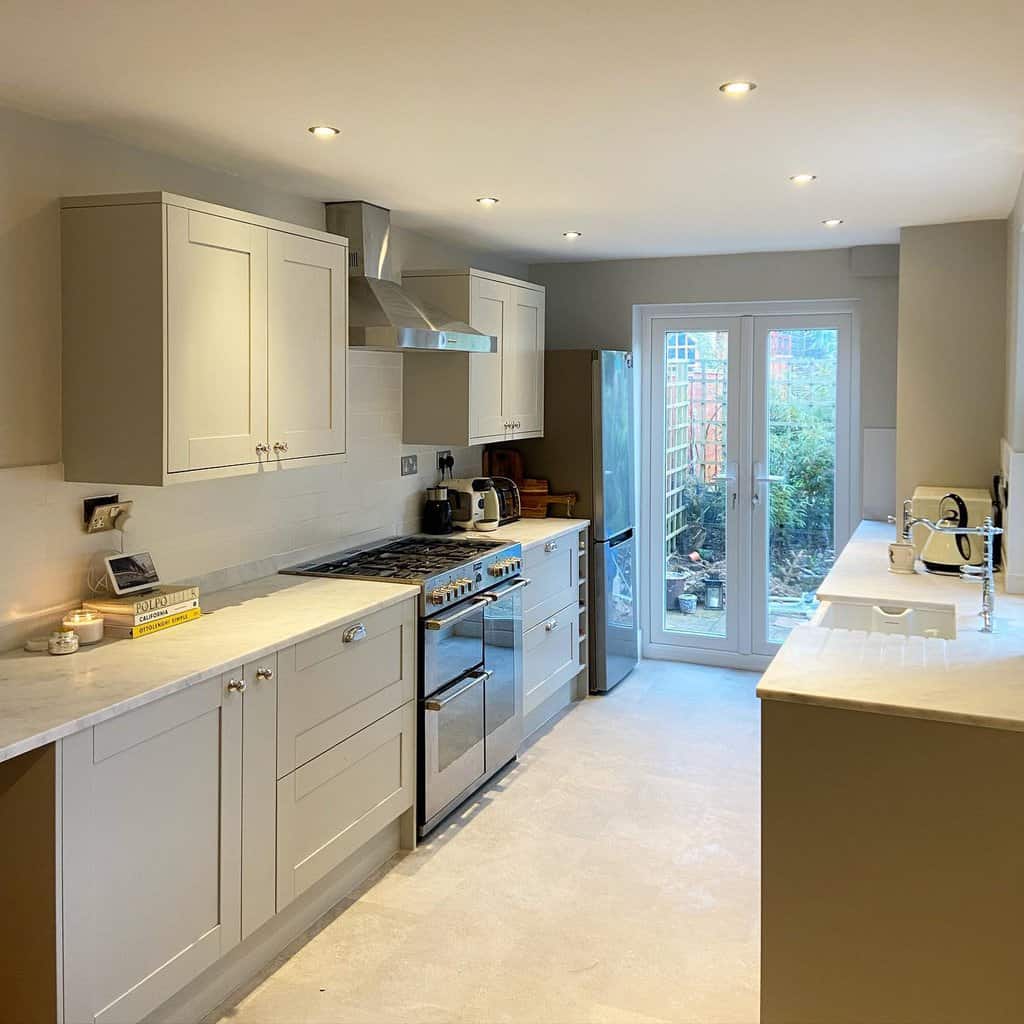 You're standing at the entrance to your long and narrow kitchen, wondering how you're ever going to make it feel like the open and airy kitchen of your dreams. It's time to look at design ideas that can show you how to make the most of your galley kitchen. You can turn a galley kitchen into a comfortable and functional space from the floor to the cabinets, paint choice, and lighting scheme.
These galley kitchen ideas will help you make small to big improvements and changes to your kitchen.
1. Install Proportional Furniture
A galley kitchen offers a simple but delightful surprise: its space-saving proportions bring out a creative spark that inspires one to make the most of every inch. Instead of trying to pack as much cupboard storage and counter space as possible, making a proportional kitchen island with stools can quickly open up the area and create an inviting atmosphere for socializing or craft projects.
Galley kitchens remind us that a small space doesn't need to be seen as restrictive; in fact, it may end up being the ultimate design solution.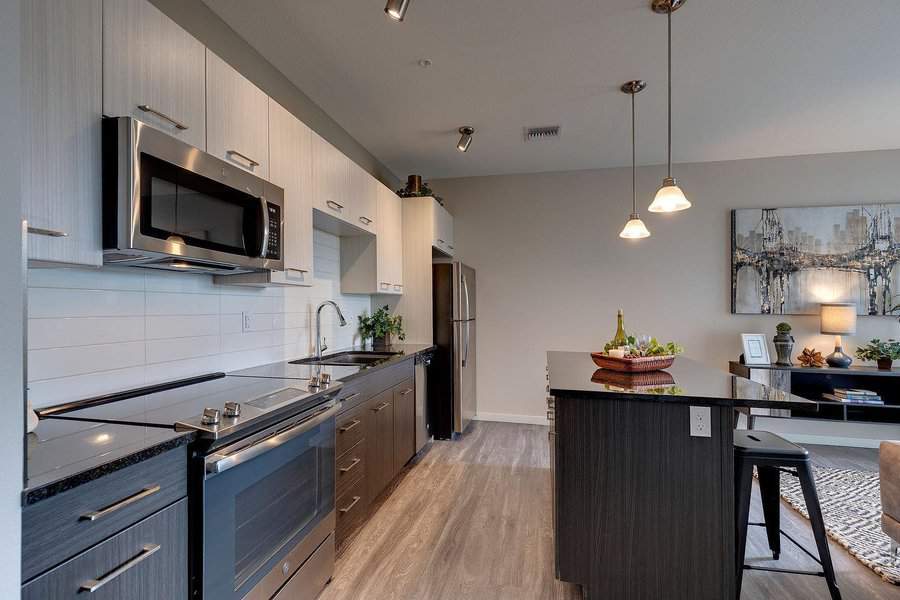 2. Paint It All White
The classic and timeless paint-it-all-white look is the ideal way to open up space and make this kitchen feel bigger than it actually is. Start by painting all walls, furniture, flooring, and ceiling in a classic white paint base that gives off vibes of luxury, calmness, openness, and cleanliness.
Additionally, any decorations or elements should be kept minimal in order to keep the kitchen light and airy rather than cluttered or busy.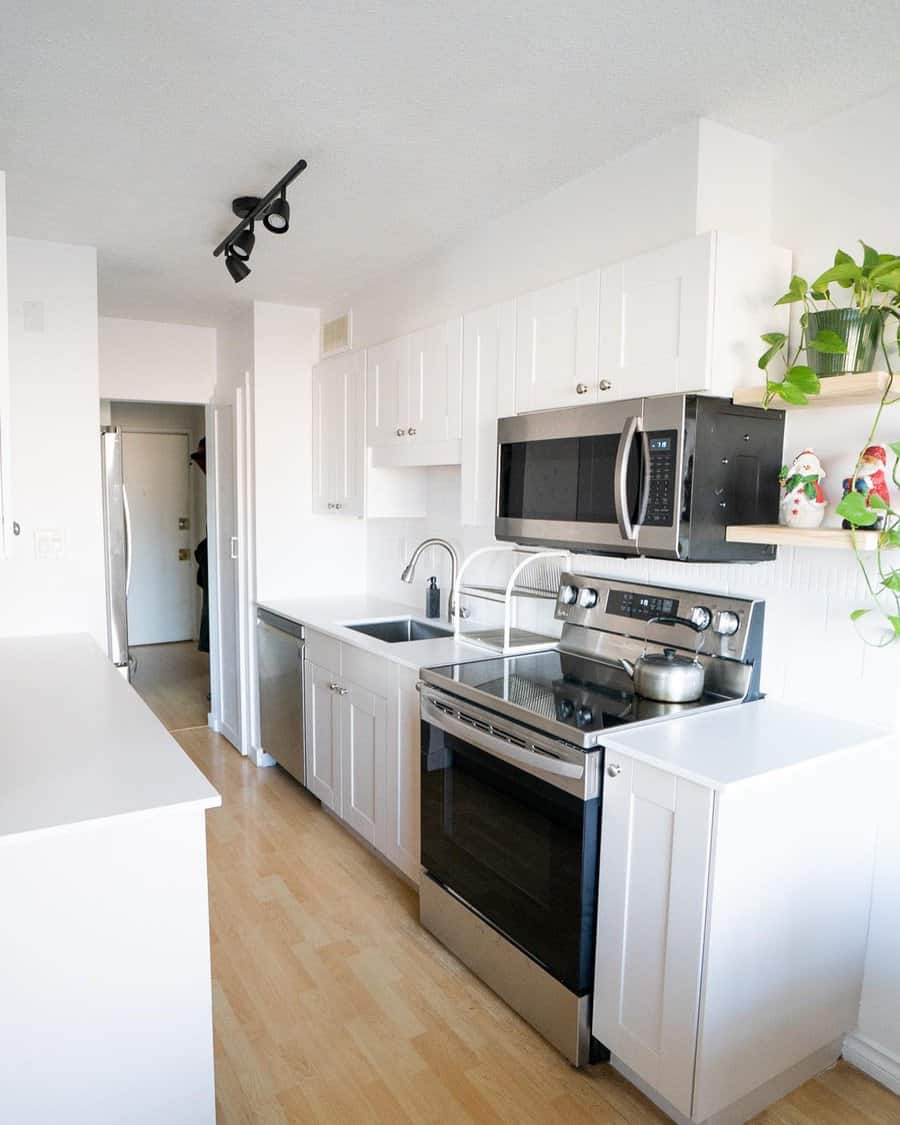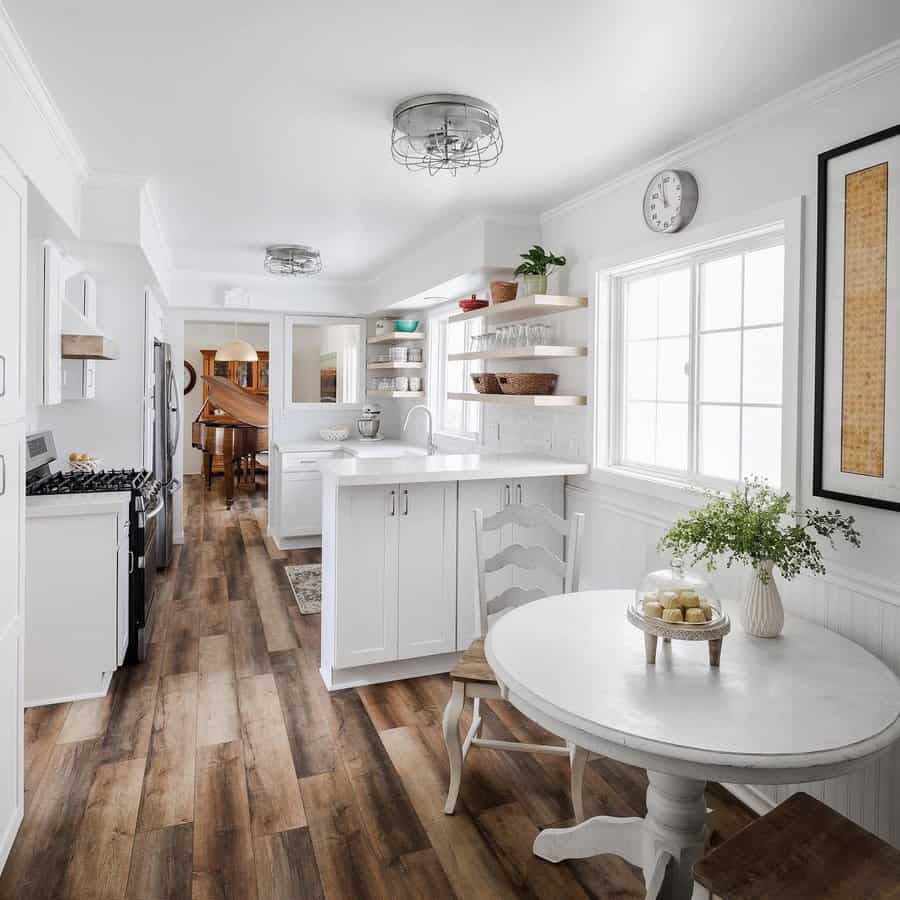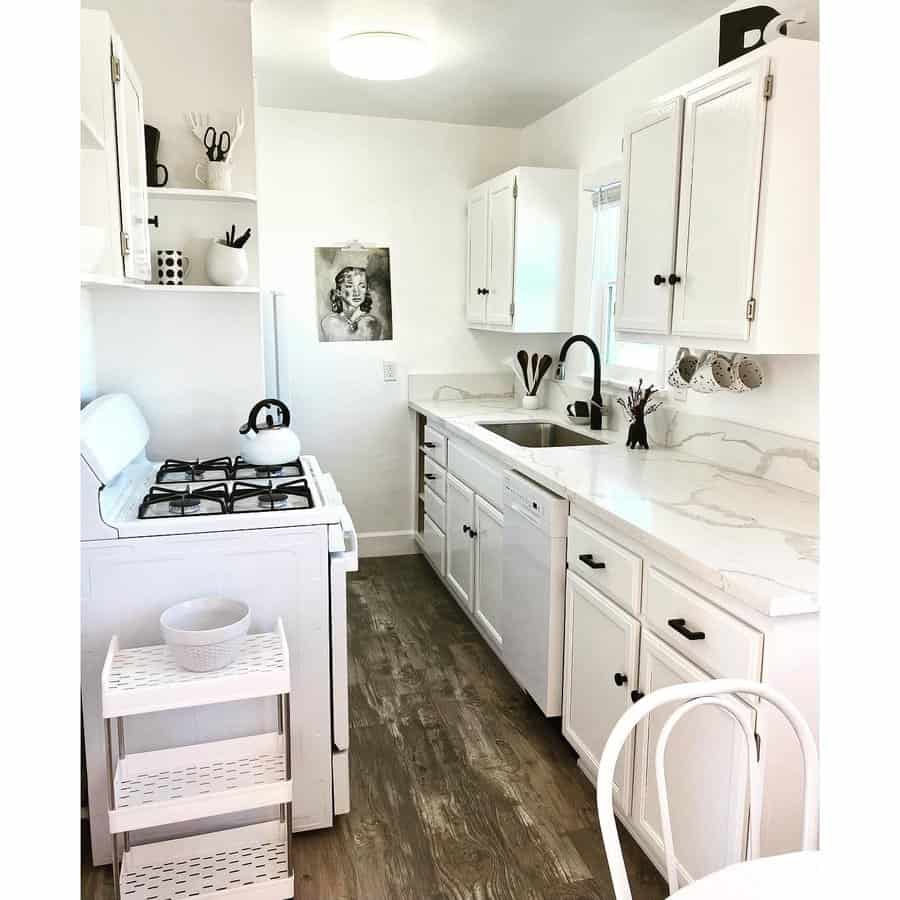 3. Put On A Window Cornice For Texture
A delightful window cornice curtain adds just the right dash of texture and pattern to the kitchen interior, giving it personality and warmth. As each window itself is different, custom-made window cornice curtains can be made to ensure a perfectly tailored fit that fits each window's exact size and shape.
These pieces of fabric do more than dress up windows – they create an inviting atmosphere in your galley kitchen, no matter what its size may be!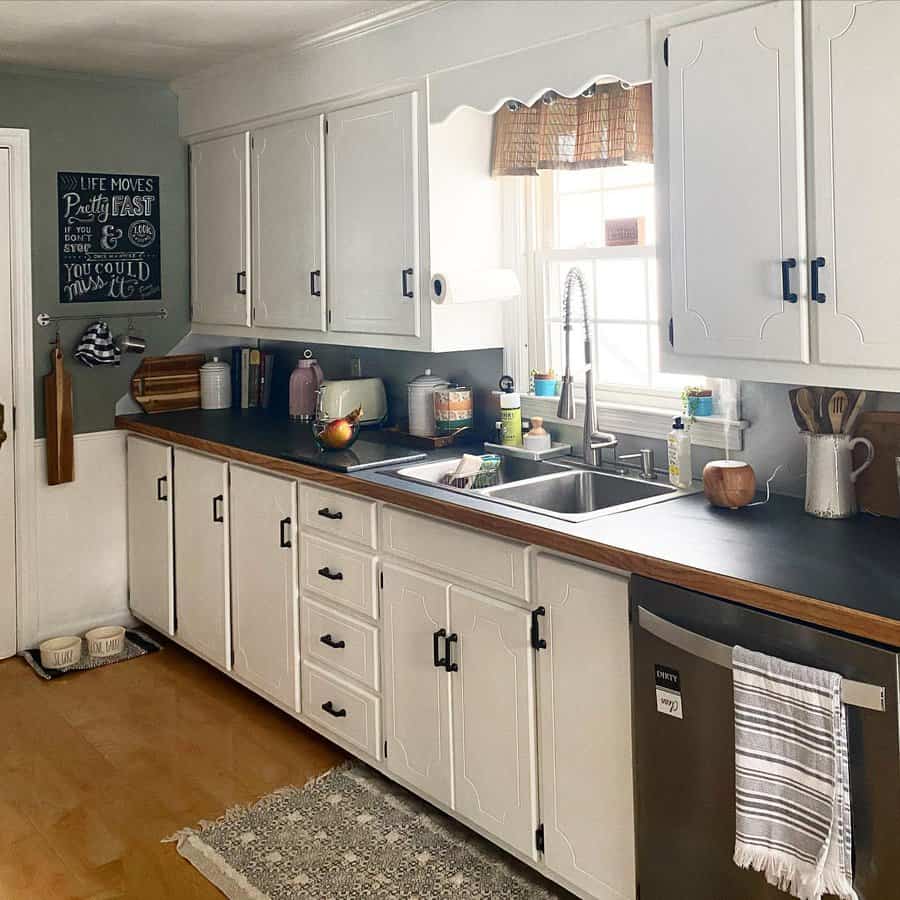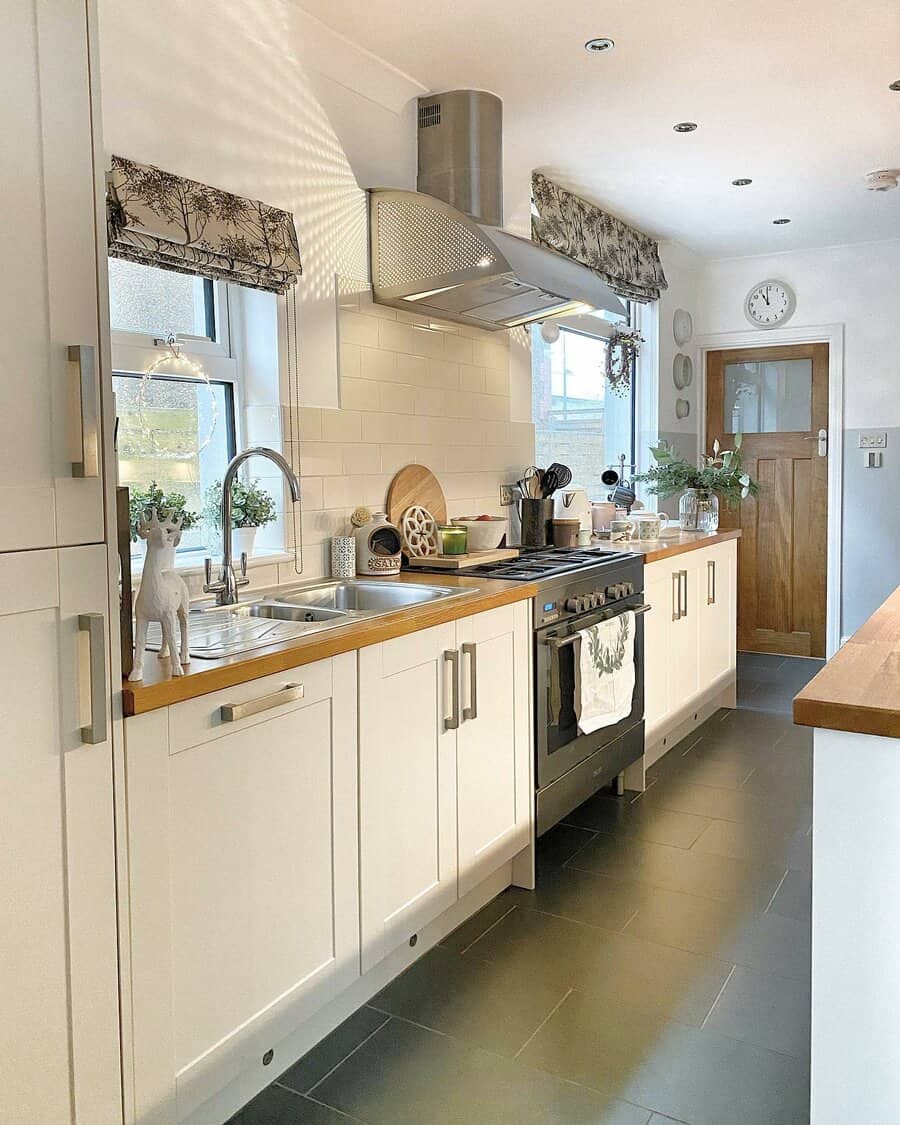 4. Add A Cozy Runner
If you're thinking of sprucing up your galley kitchen, a Persian runner is an easy and effective way to make your barren kitchen come alive. Not only does it add character and style to an otherwise bare-looking floor, but it also creates warmth and comfort in a space where much of the time spent is in close quarters with your cooking creations.
By simply introducing this small yet meaningful item into the mix, you can ensure your galley kitchen effectively reflects your personality and aesthetic.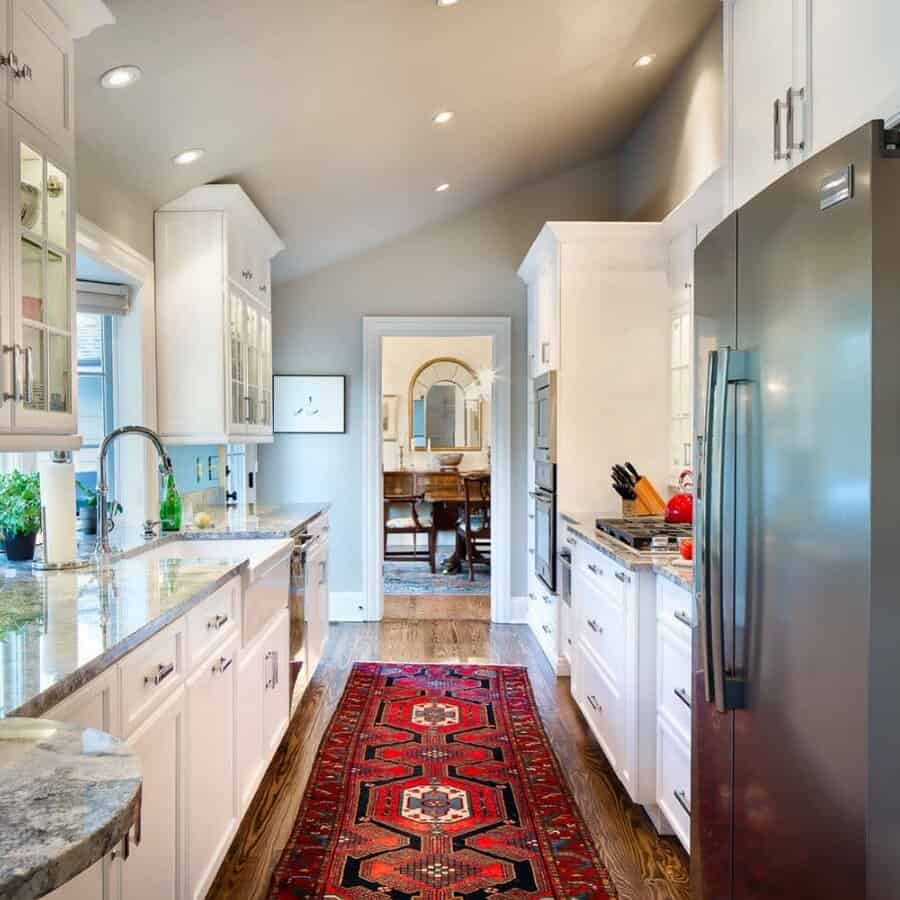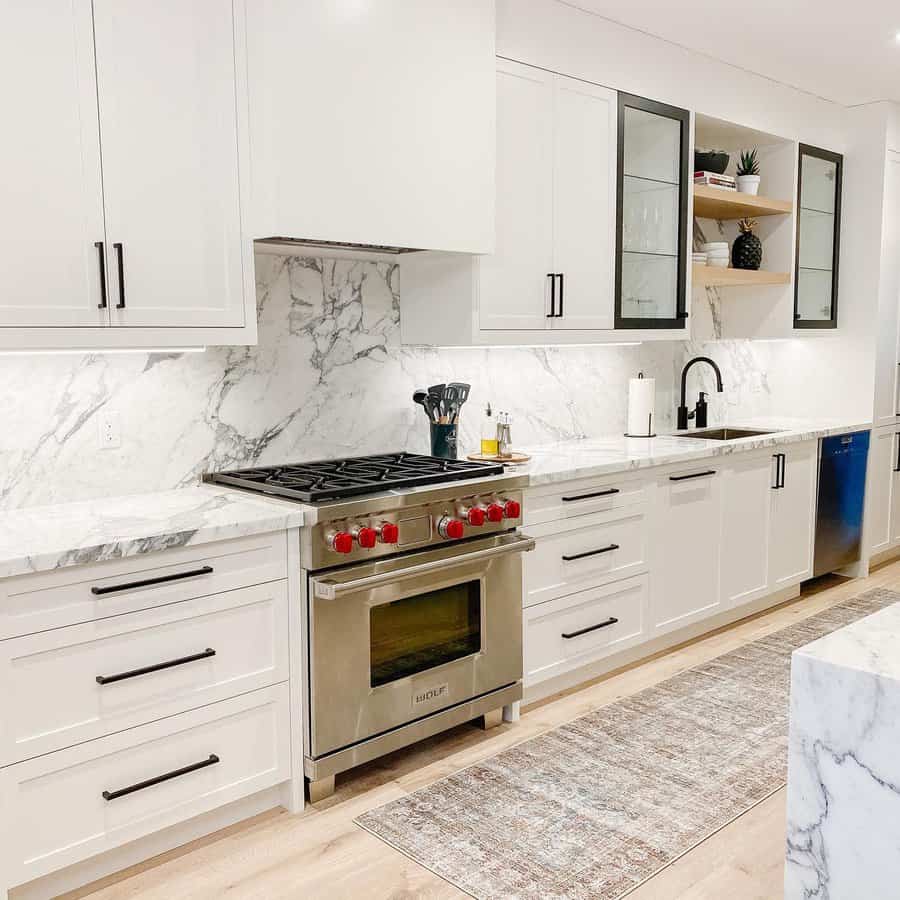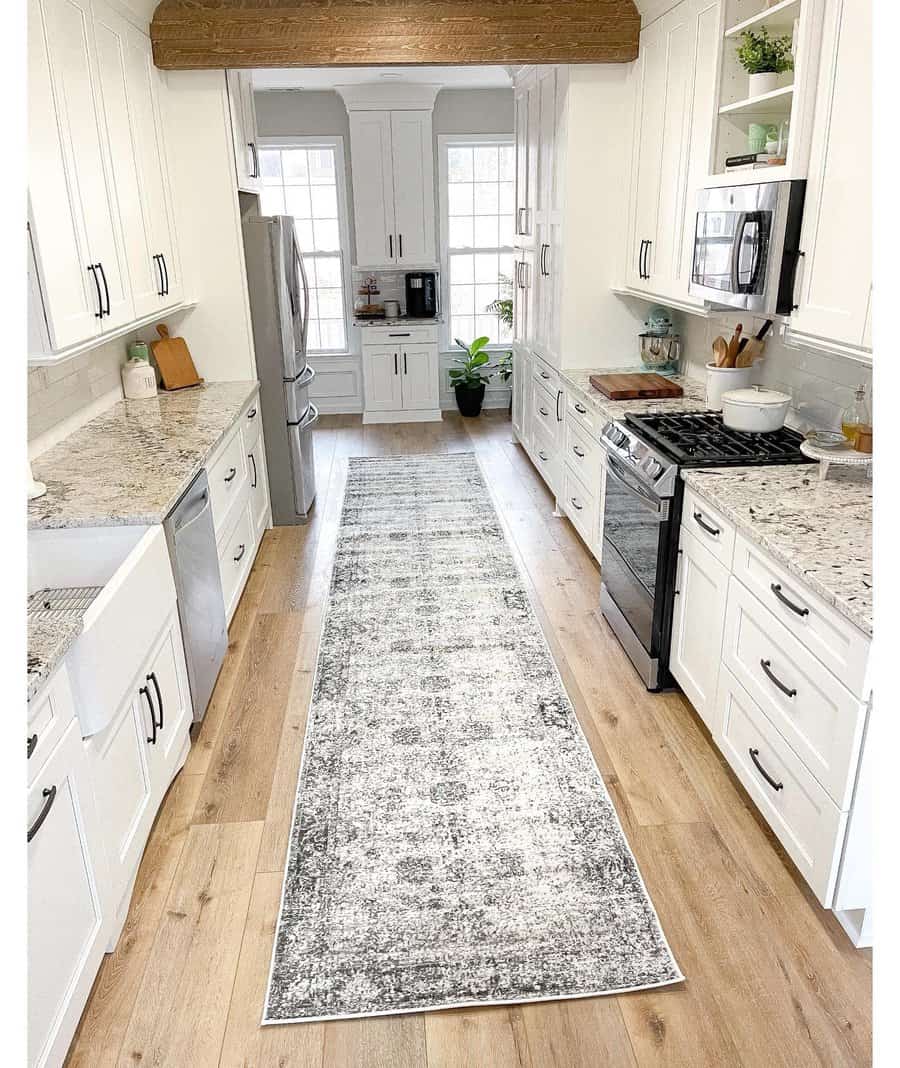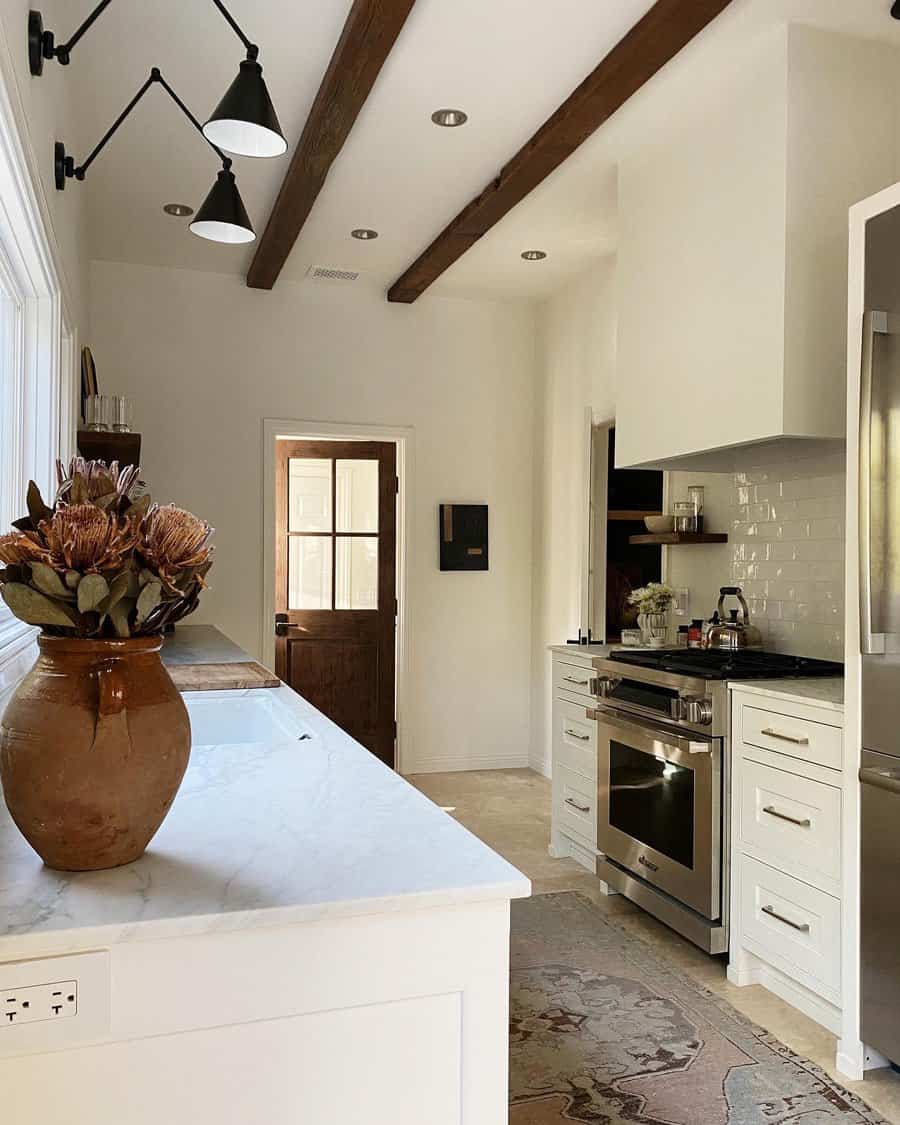 5. Opt For All-Wood
If you're searching for something to bring some warmth and charm into your kitchen, then an all-wood galley kitchen might be just the thing! From wood flooring that stretches out invitingly beneath your feet to wood countertops that gleam with spaciousness, there's no denying the timeless beauty of this classic style.
Whether you choose wood or stone countertops, this all-inclusive design keeps everything in close reach and ensures that running your daily errands is more fun than ever before.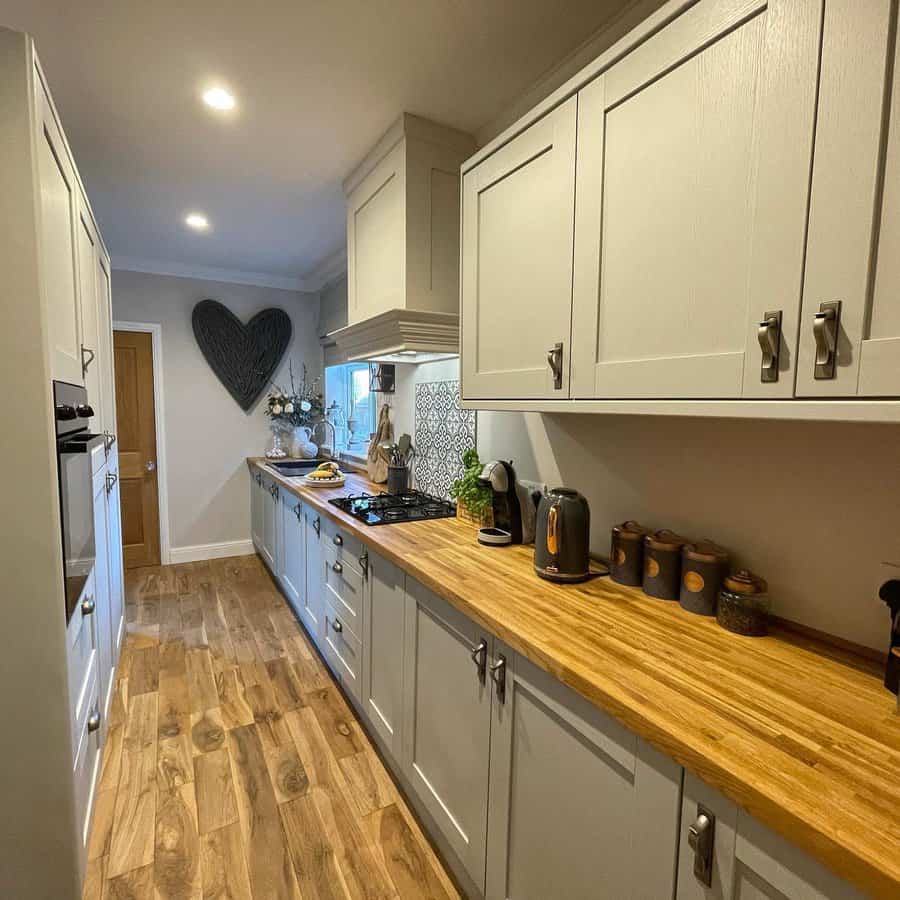 6. Affix A Skylight Window
The perfect galley kitchen starts with ample lighting and ends with all your culinary dreams. While skylights can add a great ambient glow, adding lamps and task lights can make sure you retain enough visibility to make your favorite recipes come to life.
With the right balance of skylight windows channeling natural light and other lighting fixtures working in tandem, your galley kitchen design will be the master chef's dream.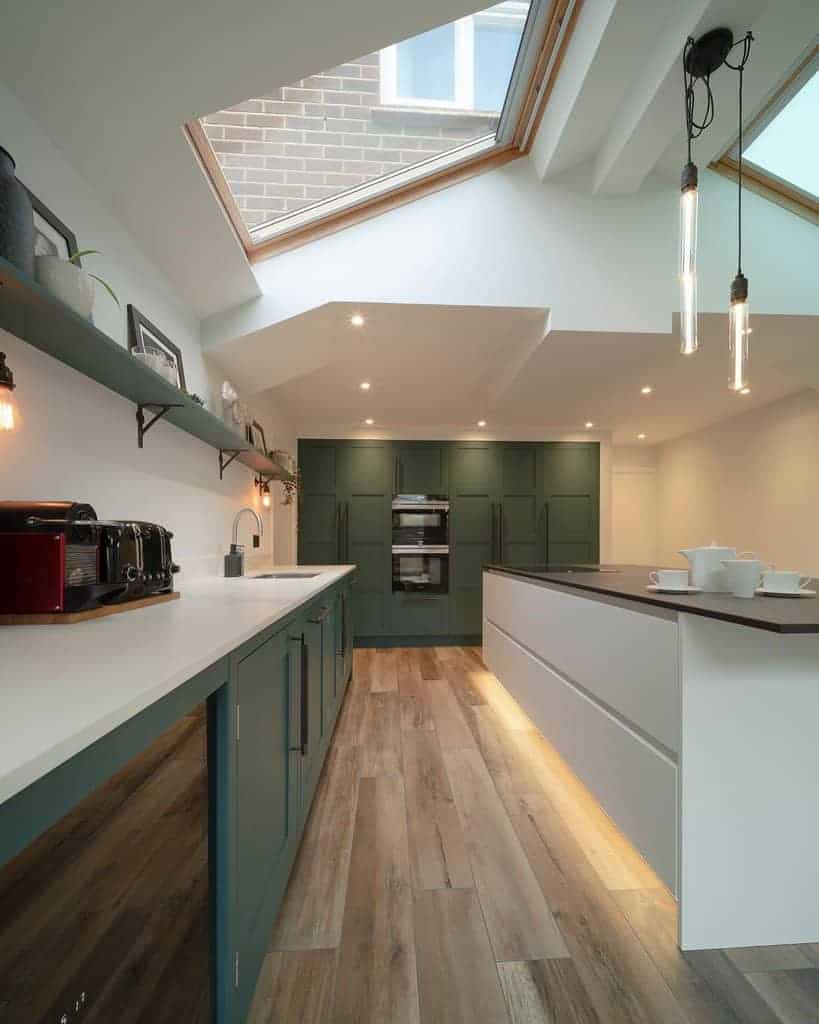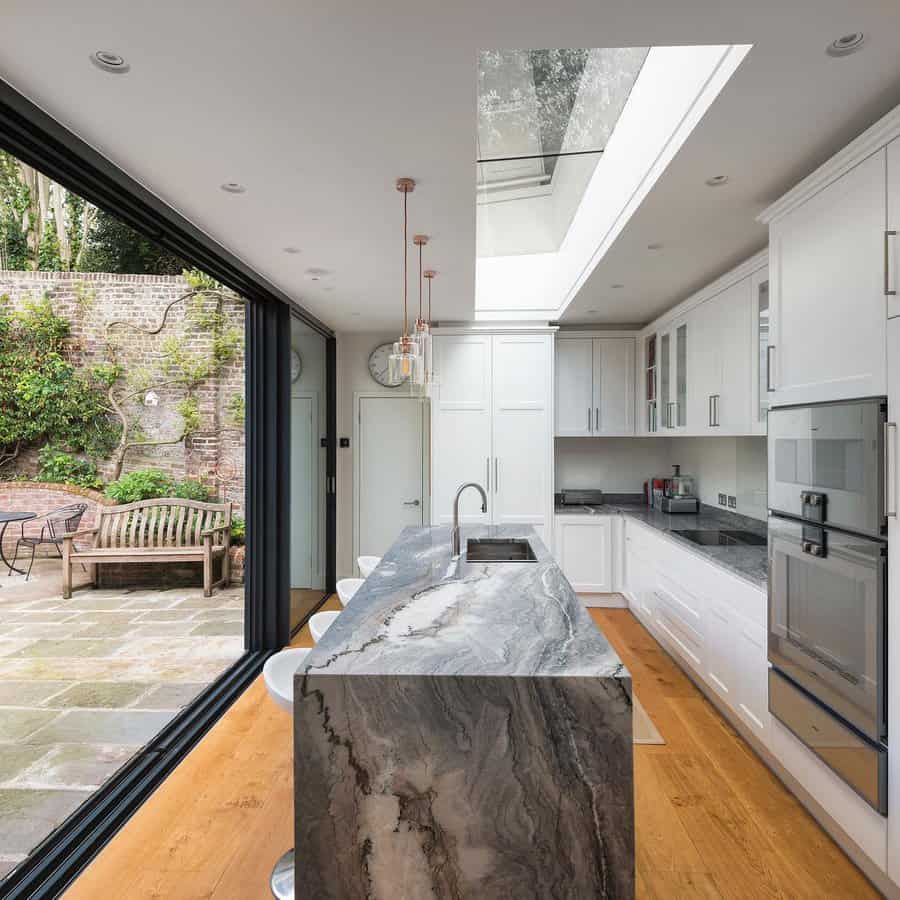 7. Install A Suspended Ceiling
Adding a suspended ceiling with LED lights gives it a modern yet sophisticated touch, while also providing superior lighting functions than simple overhead fixtures.
Take your galley kitchen to the next level by adding a dual-toned ceiling that has white light contrasted against deep navy or forest green for an eye-catching effect — this will instantly add a new level of character and energy to the kitchen.
With just these two details, your galley kitchen can easily become an inviting and creative space that you'll always want to come back to!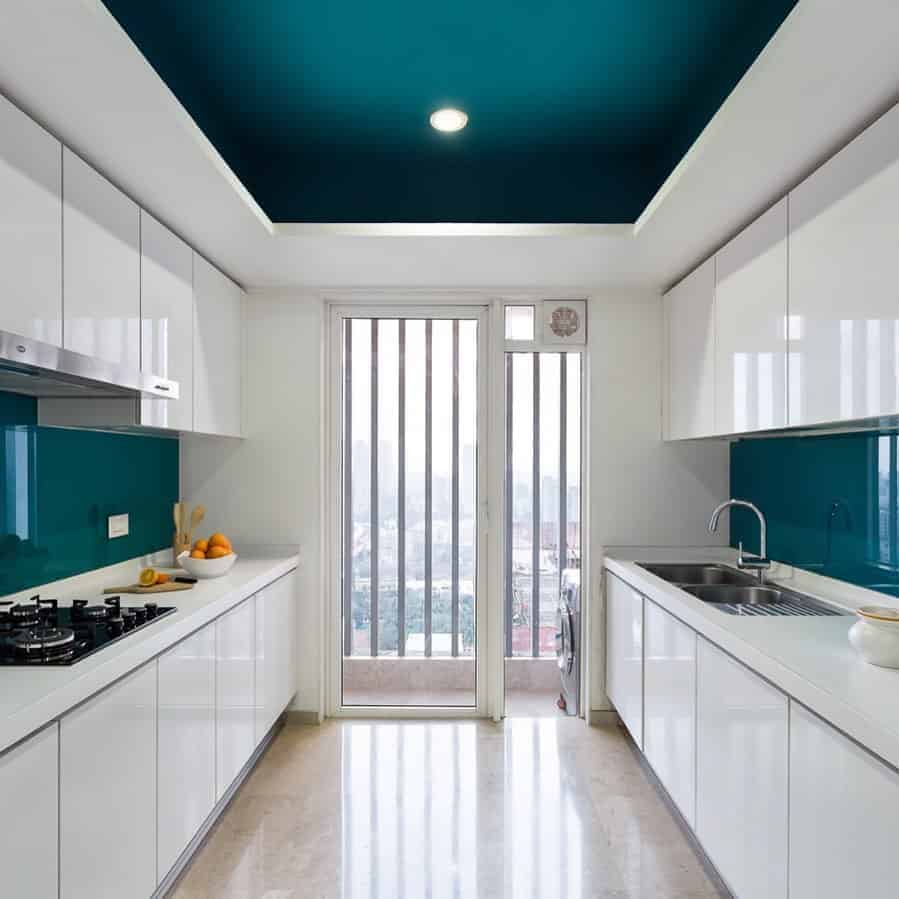 8. Include Multiple Cabinets For Storage
Galley kitchen cabinets are a great way to make the most of the limited space in your home. Create multiple storage cabinet solutions throughout the room, ensuring all necessary items and appliances are easily within reach.
Additionally, consider adding an island with multiple cabinets underneath and extra countertop surface area to extend your prep space for meals. You'll be able to move about the room comfortably, storing and preparing your food with ease.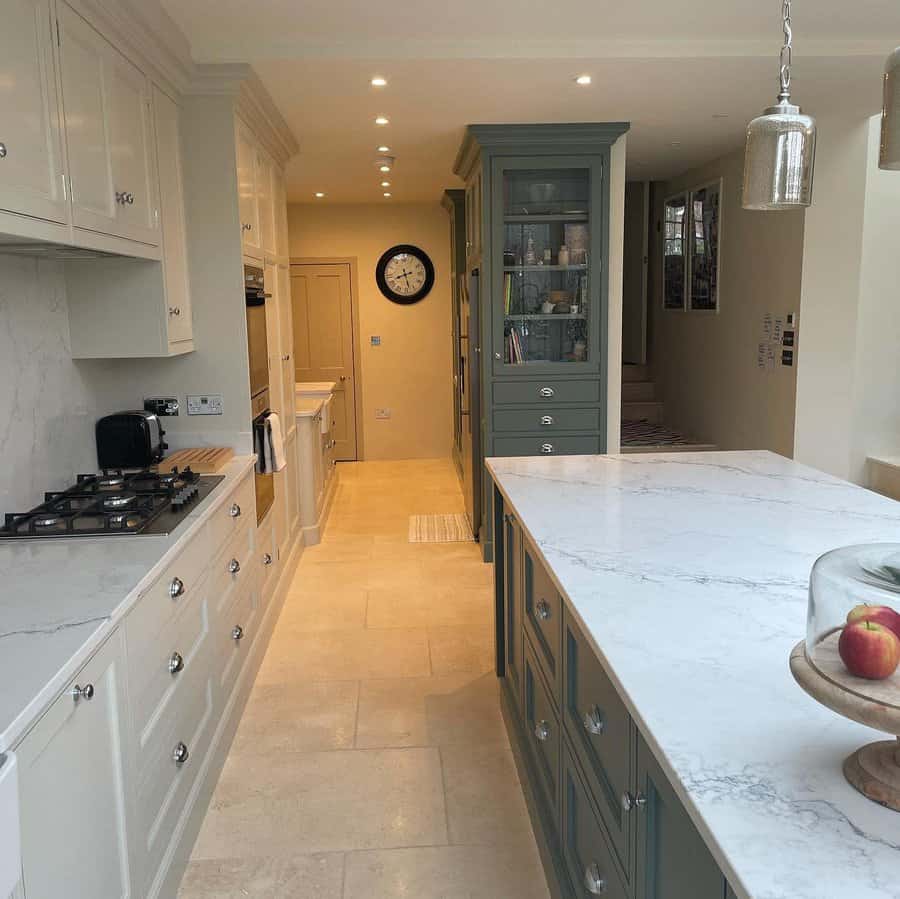 9. Utilize Wall Space With Shelves
Utilize the wall in your galley kitchen with multi-functional wall shelves that can store everything from condiments and cookware to books and dishcloths. This efficient storage solution will free up countertop space while creating a tidy and aesthetically pleasing setup.
Galley kitchens are often seen as small and cramped but they don't have to be – clever wall storage solutions can turn them into vibrant spaces you'll love spending time in.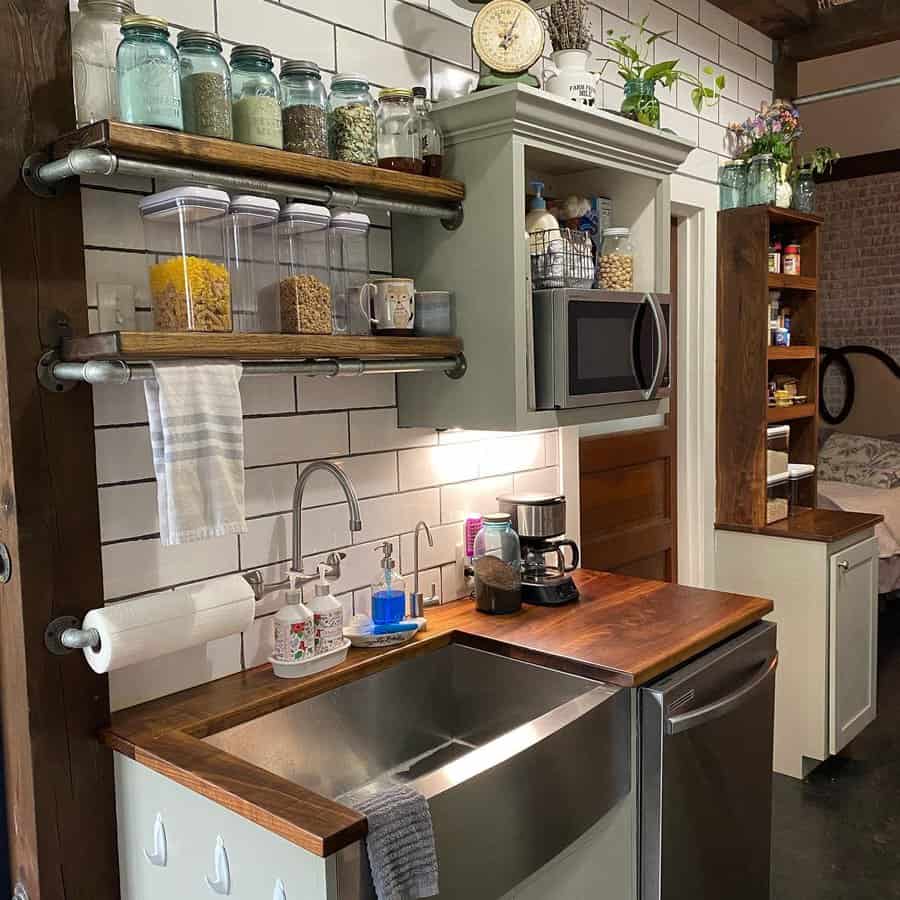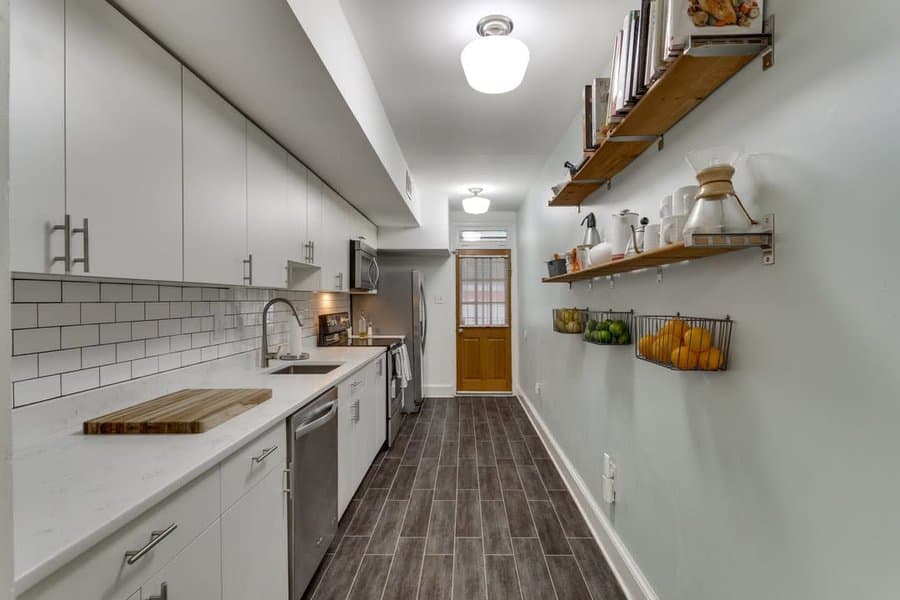 10. Curve Your Kitchen Island
If you're looking for a unique addition to add space and style to your galley kitchen, why not add a curved edge to your kitchen island countertop? This subtle yet effective modification will add visual appeal, drawing the eye away from a cluttered or cramped room.
The curved design also contributes to the flow of movement in the area, creating a natural transition between confined spaces.
Whether you add light accents or bold colors, this small adjustment can create big impact – transforming your galley kitchen into an inviting and spacious setting that's fit for cooking up delicious meals!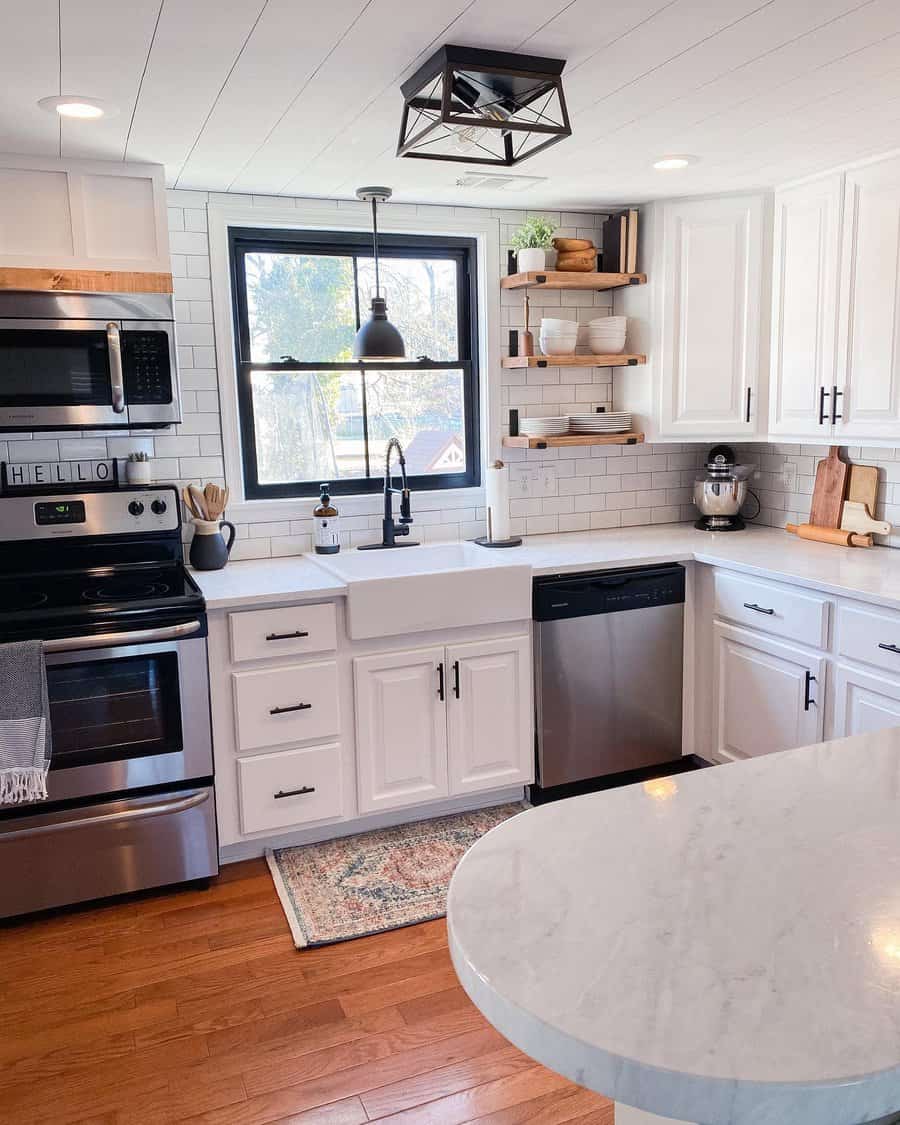 11. Separate The Kitchen With A Door
If you're looking for a separate kitchen with a living room but don't want to sacrifice either space, a galley kitchen door may just be the perfect solution.
The distinctive layout of this style ensures each room is kept separate from the other whilst still giving you the best of both worlds: separate cooking and living areas with a safely closed door. It's an ideal way to maximize your small spaces and keep your kitchen and living area separate whilst still connecting the two spaces.
With a bit of creative dynamism and eye-catching decor, this separate kitchen layout can become a beautiful centerpiece of any home.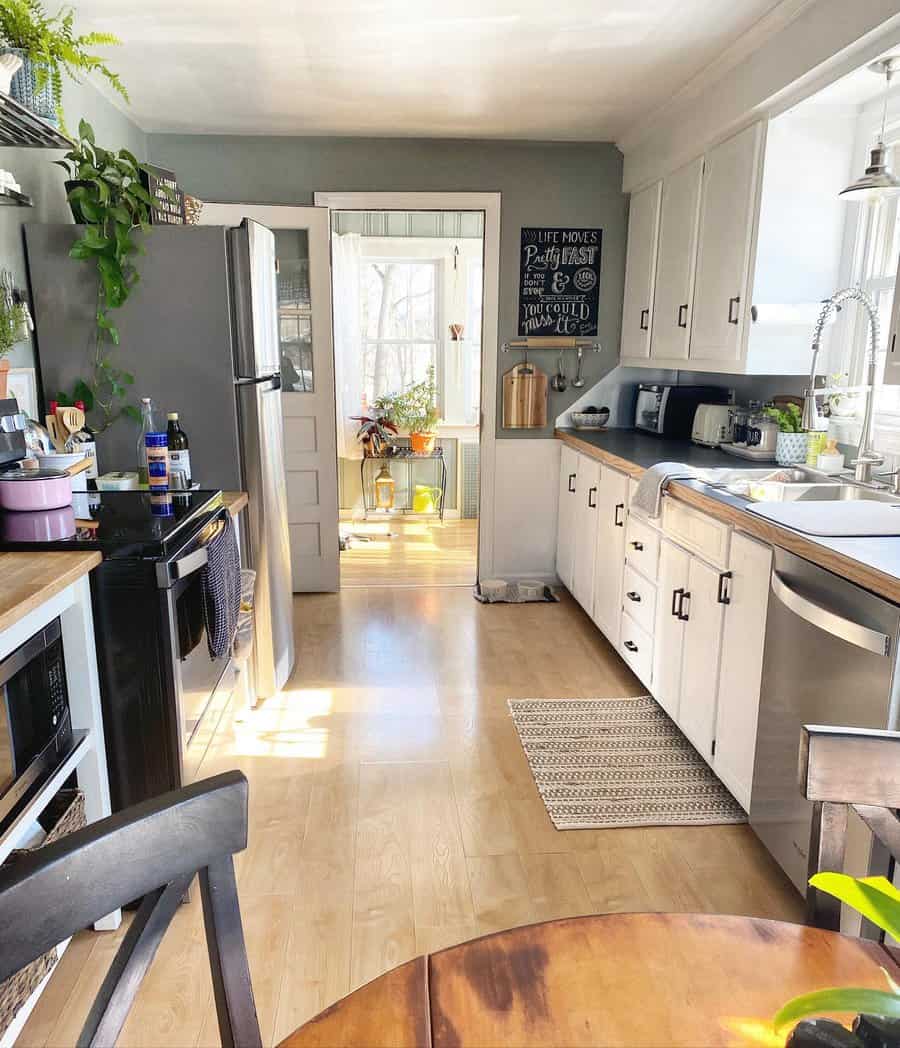 12. Add Wall Decor For A Rustic Charm
A galley kitchen is a perfect place to utilize rustic wall decor to add charm and interest. These pieces, such as rustic wooden signs or exposed shelves that are filled with rustic accessories, can bring a sense of rustic elegance to your kitchen space.
The rustic feel from wall decor like this will create an inviting atmosphere, causing family and friends to linger in the warmness of your kitchen for long periods of time than usual.
hether hosting an event or just making dinner at home, rustic wall decor adds a touch of sophisticated charm to the galley kitchen experience.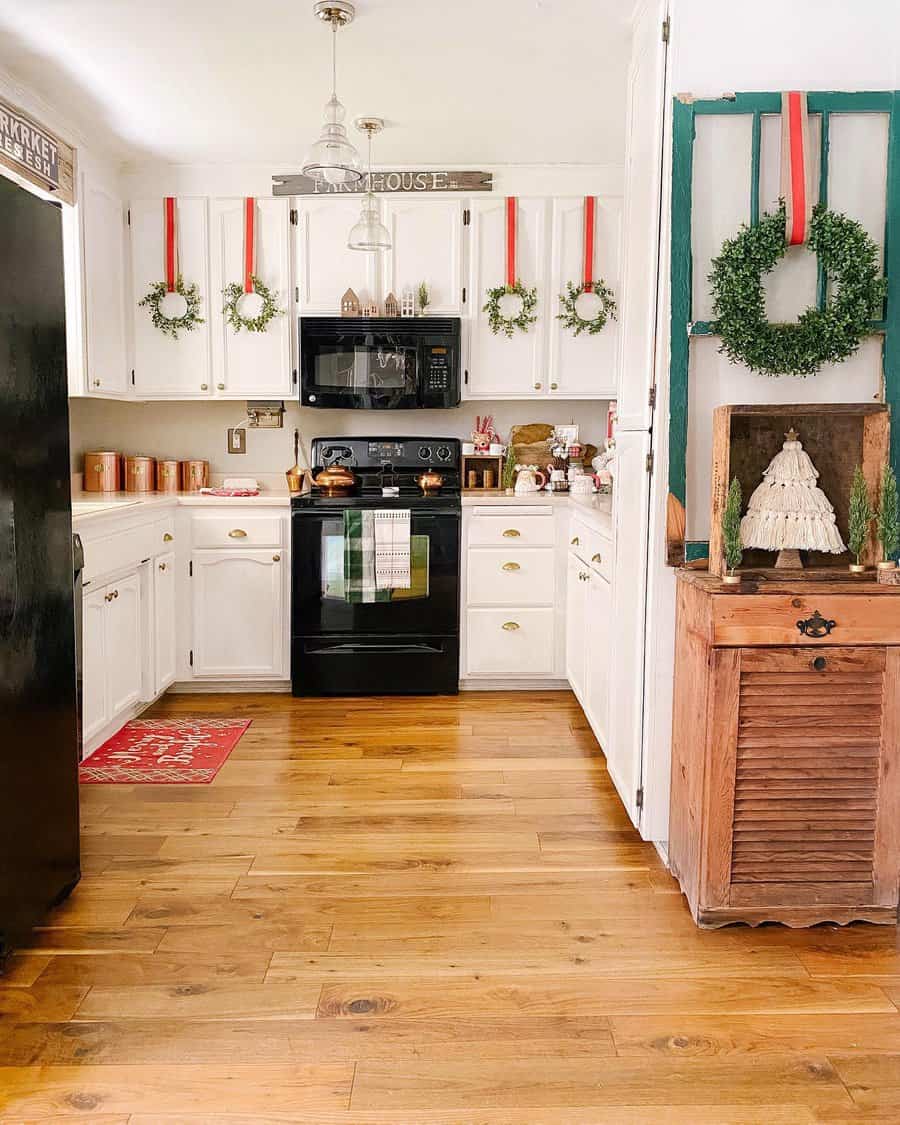 13. Install A Wall Rack To Hang Utensils
With limited counter space, you can install a wall rack above the stove or sink and hang all your pots, pans, and utensils with hooks. An added benefit of this storage solution is that it creates an eye-pleasing visual in the room.
Whether you're tapping into your inner Food Network star or just trying to get dinner on the table, a galley kitchen can provide everything you need to make all your culinary dreams come true.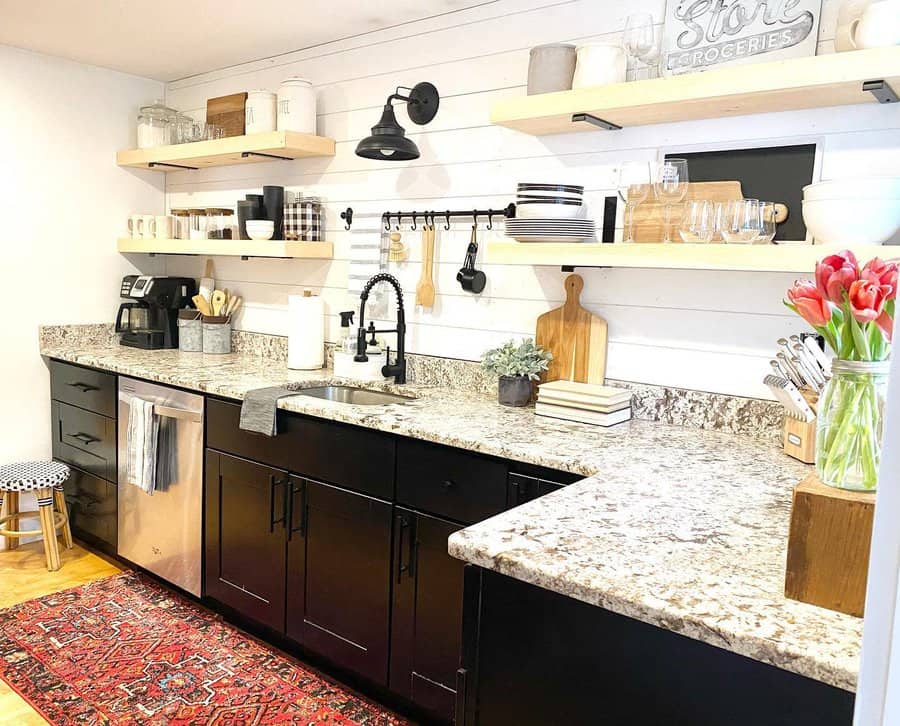 14. Opt For Dark Tiles
The evocative hue of dark tiles of a galley kitchen adds an exciting touch to your cooking space. Not only will it keep the kitchen looking sharp and chic, but dark tiling also helps obscure any drip or dirt that can accumulate while cooking – which means you'll have less cleaning to do later!
So why not bring a splash of mystery into your kitchen with dark tiles? Not only do they look great and hide potential mess; they make sure your nights in the kitchen are always filled with drama!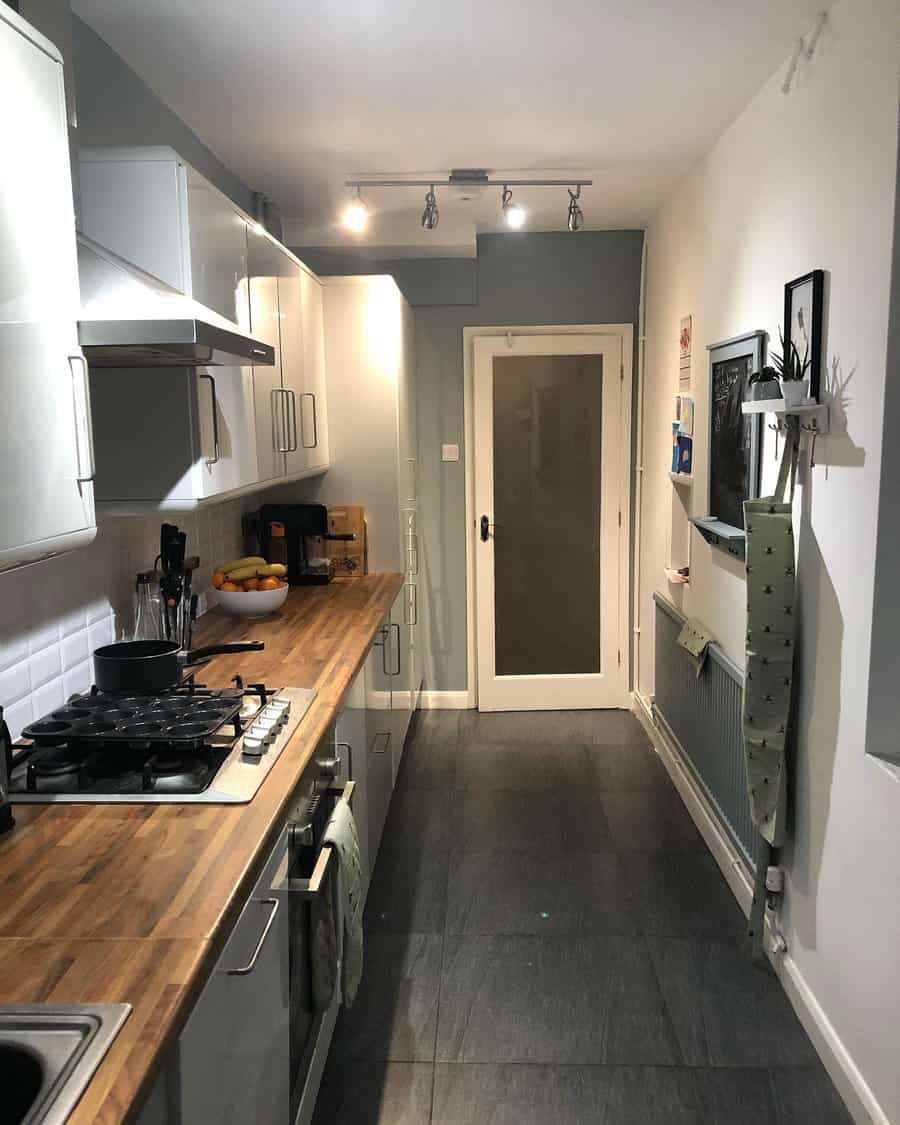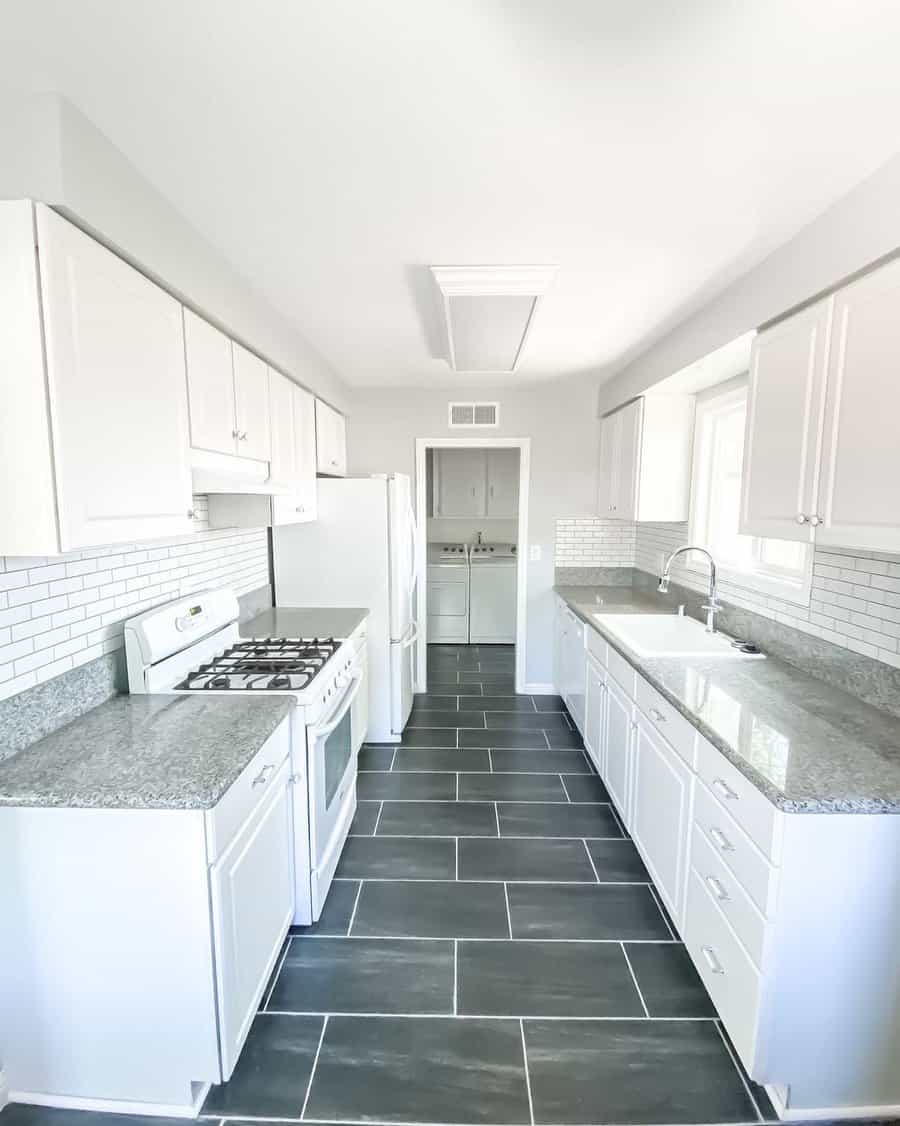 15. Stick The Kitchen Island To The Wall
A space-saving kitchen island is a great way to make the most of the space available. With narrow walls and small pathways, stick the kitchen island to the wall with command strips for more counter space and storage.
Keep other items in an under-sink organizer or choose to put them in drawers, so everything has its place. Make sure there's enough kitchen lighting that can be moved around as needed to create an inviting atmosphere while you cook up delicious meals.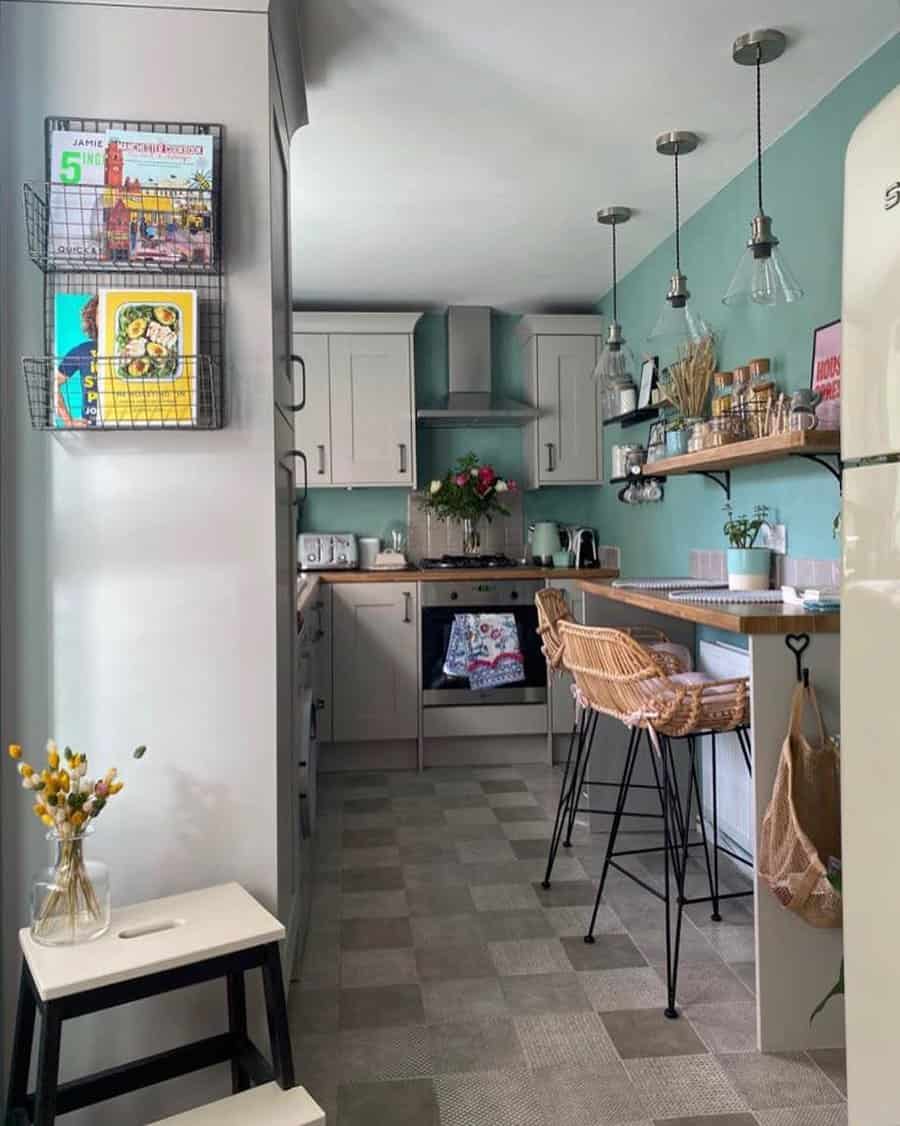 16. Pick Mirror Beveled Tiles
Adding mirror-beveled tiles to a galley kitchen is a creative way to make the space appear larger without having to tear down walls. Not only do mirror tiles create the illusion of more counter space, they also give the kitchen an extra touch of class and elegance.
With the right design, mirror-beveled tiles can turn any ordinary galley kitchen into a beautiful work of art.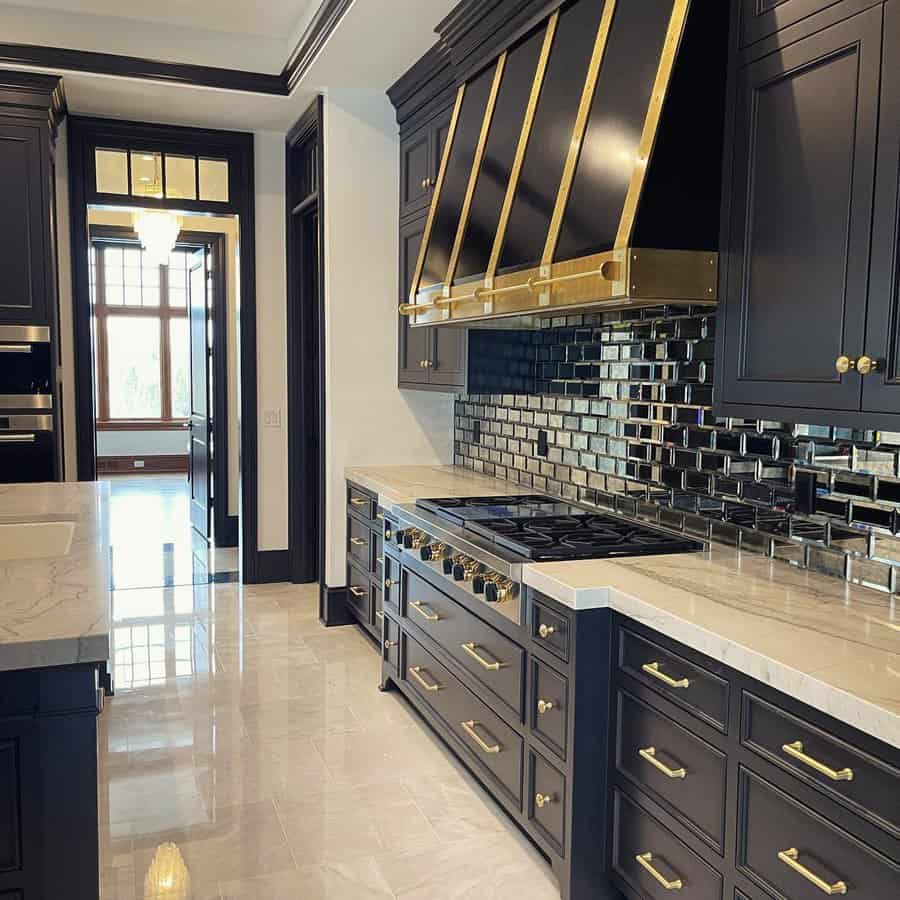 17. Add Drop Curtains To The Kitchen Window
Drop curtains in a galley kitchen add a vibe of grandeur and extravagance to the small space. Not only that, it can make the kitchen look bigger by drawing the eyes upwards and outwards, making the window seem larger than it is.
If you've ever felt cramped while cooking, adding some drop curtains will give your kitchen a whole new airy feel without you having to do any major remodeling or renovations. Easy to hang and practical too, drop curtains are an efficient way to add atmosphere without breaking the bank.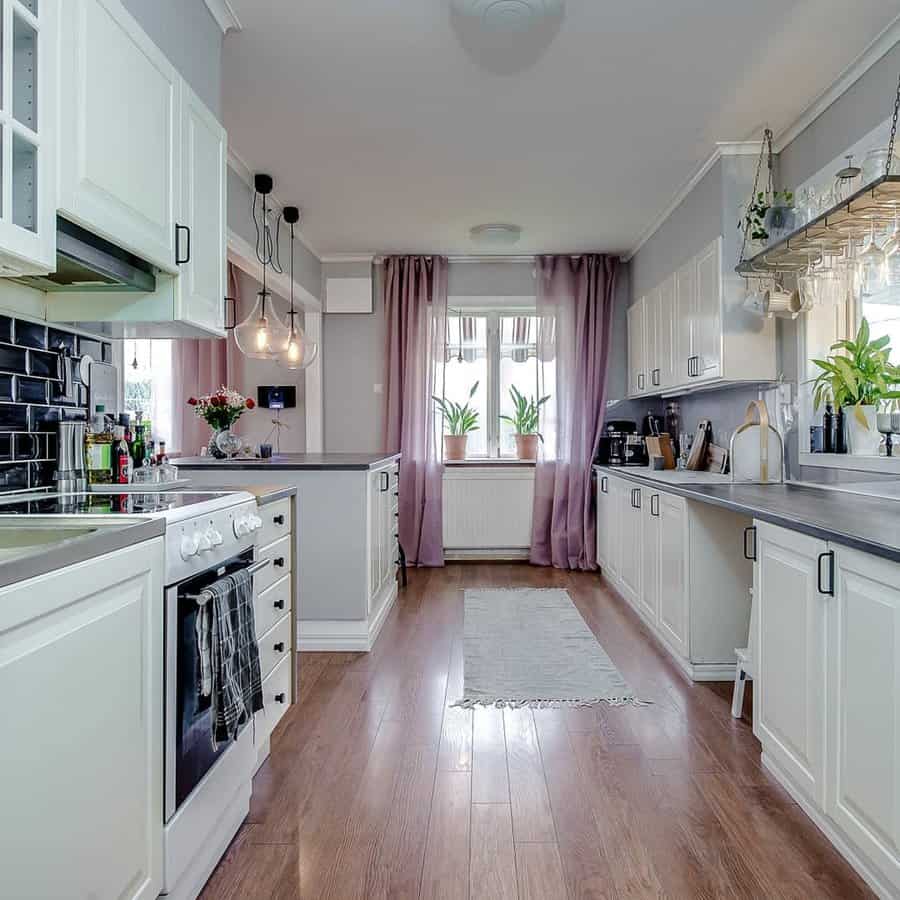 18. Make A Statement With Pendant Lights
Hanging pendant lights above a kitchen island is the ideal choice for adding accents to a tight galley kitchen space. Not only do pendant lights add a touch of style, but they can also brighten the room and break up the monotony of straight lines that are so common in galley designs.
Whether you choose pendants with warm incandescent bulbs, which evoke feelings of homey comfort, or pendants with LED lights that deliver a cool, modern vibrancy, pendants will bring new life to your galley kitchen.
With pendant light styles ranging from rustic to industrial, there's sure to be an eye-catching option that fits perfectly into your unique decorating style.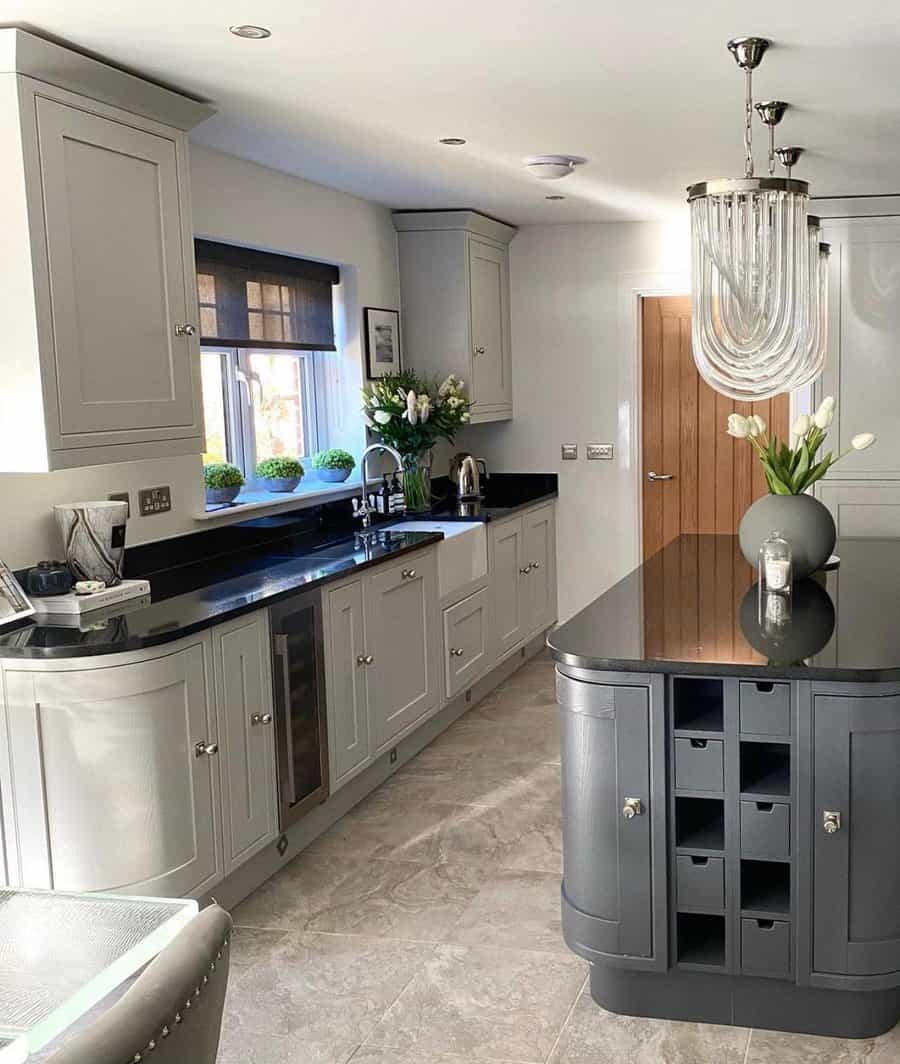 19. Replicate A Bar Set Up
A bar-style galley kitchen is a perfect solution for contemporary homes that revel in modern design. Instead of a classic island or counter space, a rolling counter replicates a bar setup and provides ample seating.
This modern kitchen style gives your home an inviting atmosphere, with features such as built-in counter stools, chic lighting, and bold finishes adding to its appeal.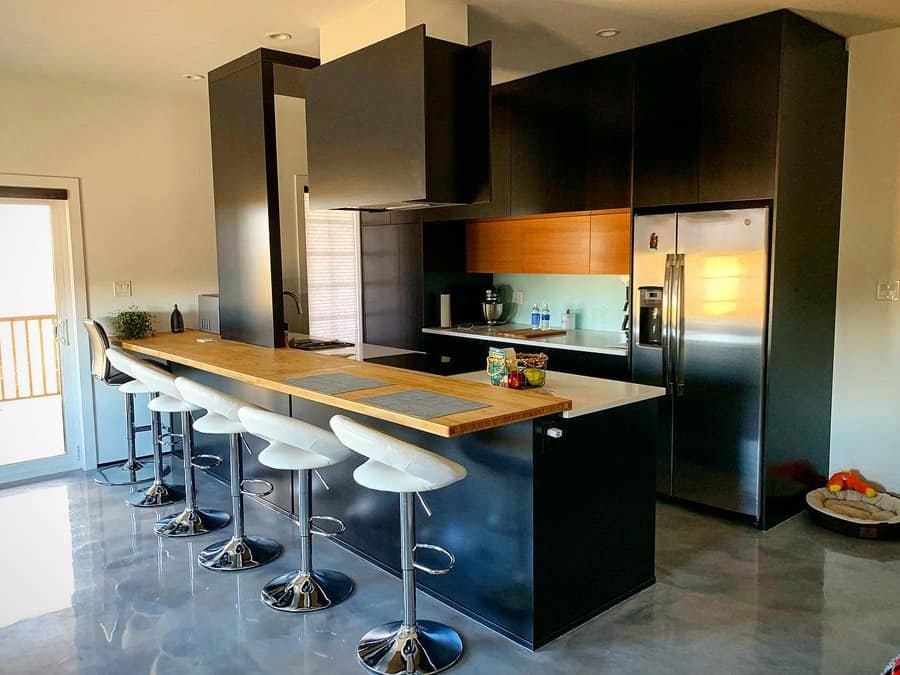 20. Utilize Space For Cabinets
For efficient and innovative use of space, cabinets are a great asset in any galley kitchen. Installing dedicated cabinetry has the dual benefit of both freeing up floor space and providing ample storage.
Incorporating cabinetry into the walls of your galley kitchen can make a recognizable shift in your cooking environment, creating a utilized space with your cabinets as a cornerstone that allows for creativity and convenience to dominate meal-preparation times.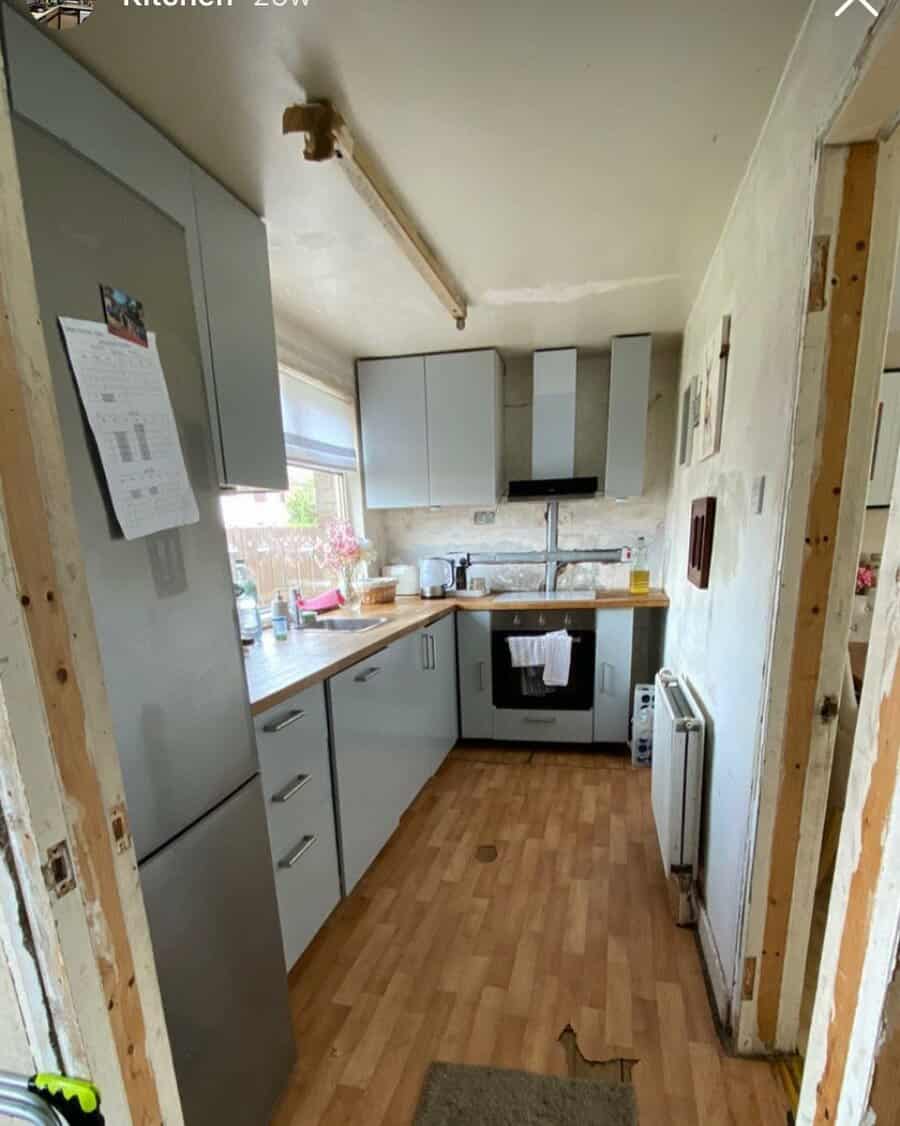 21. Line Up The Equipment With The Cabinets
An impressive galley kitchen can take your cooking from seamless to sensational. With equipment lining up with the cabinets, you will have immediate and easy access to all the tools of your trade. The seamless design maximizes counter space and ensures a visually aesthetic result.
Not only is this type of kitchen efficient, but it also allows focus on the best part; creation! Turn up the heat and get ready for some culinary inspiration.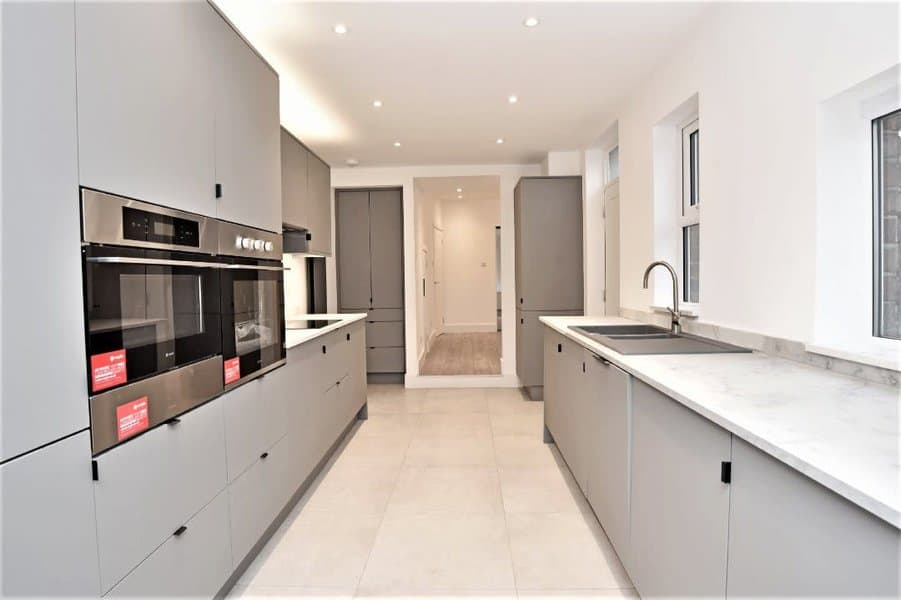 22. Install Vintage-style Fixtures
A galley kitchen with vintage-style fixtures is elegant, and aesthetic and will certainly be a conversation starter among your guests. With its rich materials and timelessness, it will surely transport you to yesteryears when home cooking was such an integral part of life.
Those fixtures are sure to bring your dream kitchen to life and be the center point of elegant conversations that span generations.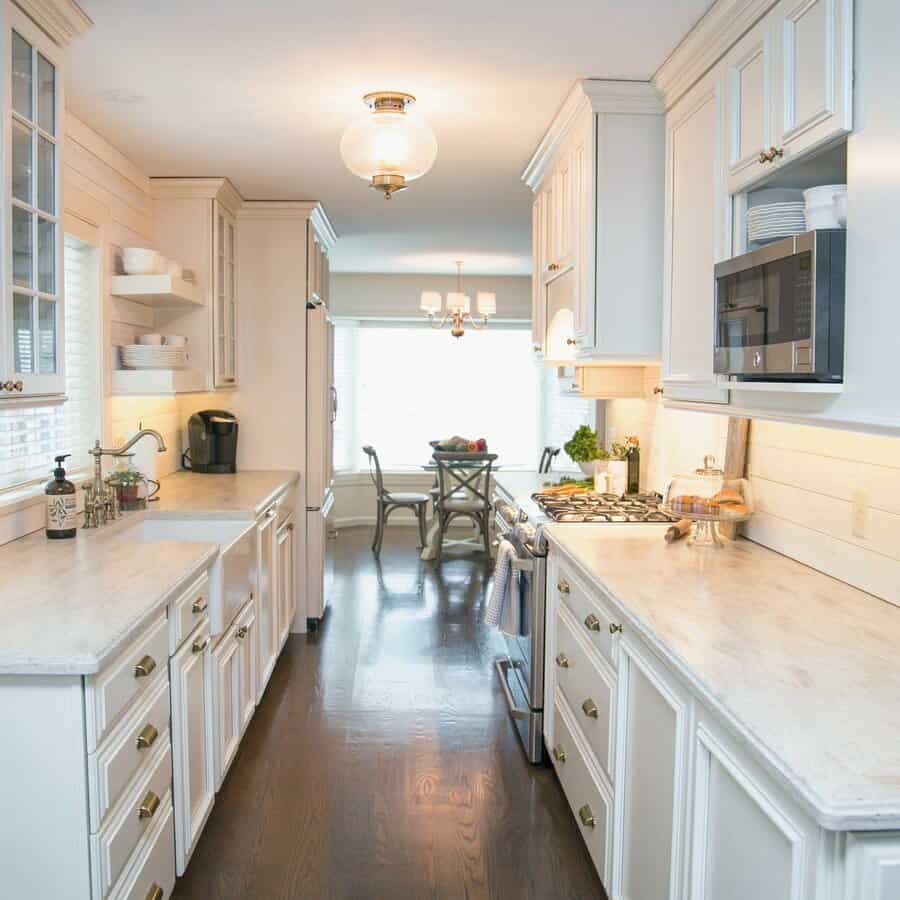 23. Pair Maple Wood Flooring With Black Cabinets
A galley kitchen with black cabinets and maple wood flooring is a great option if you're looking for straightforward and sleek aesthetics.
The black cabinets with soft maple wood floors make it both pleasing to the eye and calming; perfect for a contemporary take on kitchen design.
It's uncomplicated, leaving room for your own personal touches and decorations. Whether looking for balance or something a little edgier, this kitchen is sure to stand out in style.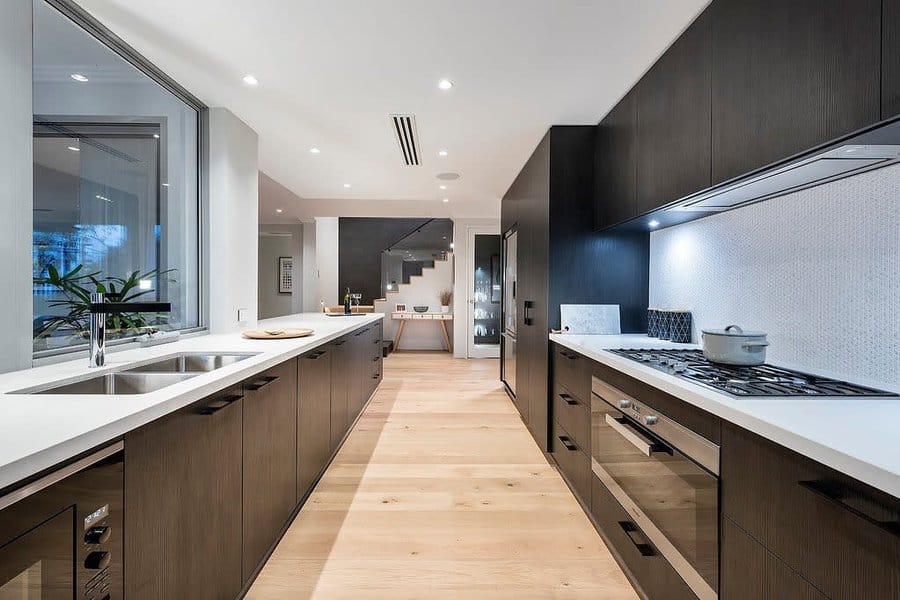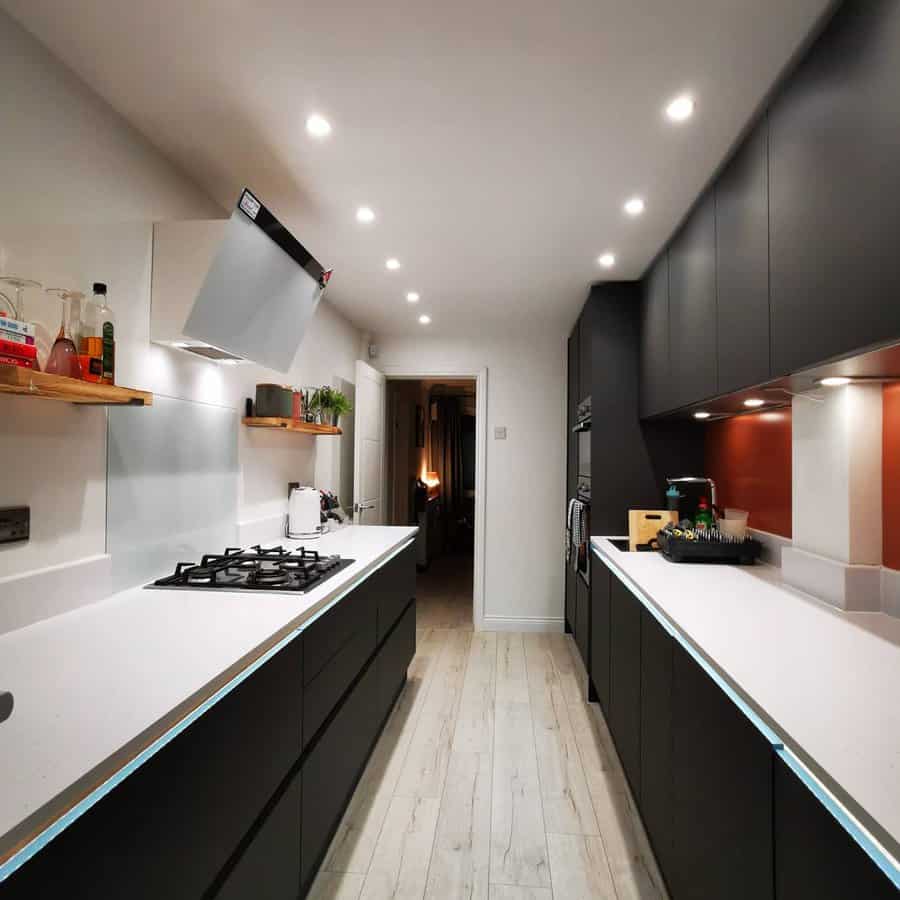 24. Opt For Herringbone Flooring
Who wouldn't love a galley kitchen with herringbone flooring? Not only is herringbone fabulous for adding visual interest, but it also adds character and class to a minimal kitchen aesthetic.
Together, you can have the luxury of form without compromising on function. The potential for transforming a tiny galley kitchen into something modern and elegant is within arm's reach with this timeless pattern choice.
It adds texture, warmth, and color to the heart of the home in an unexpected way that is sure to make any guest swoon.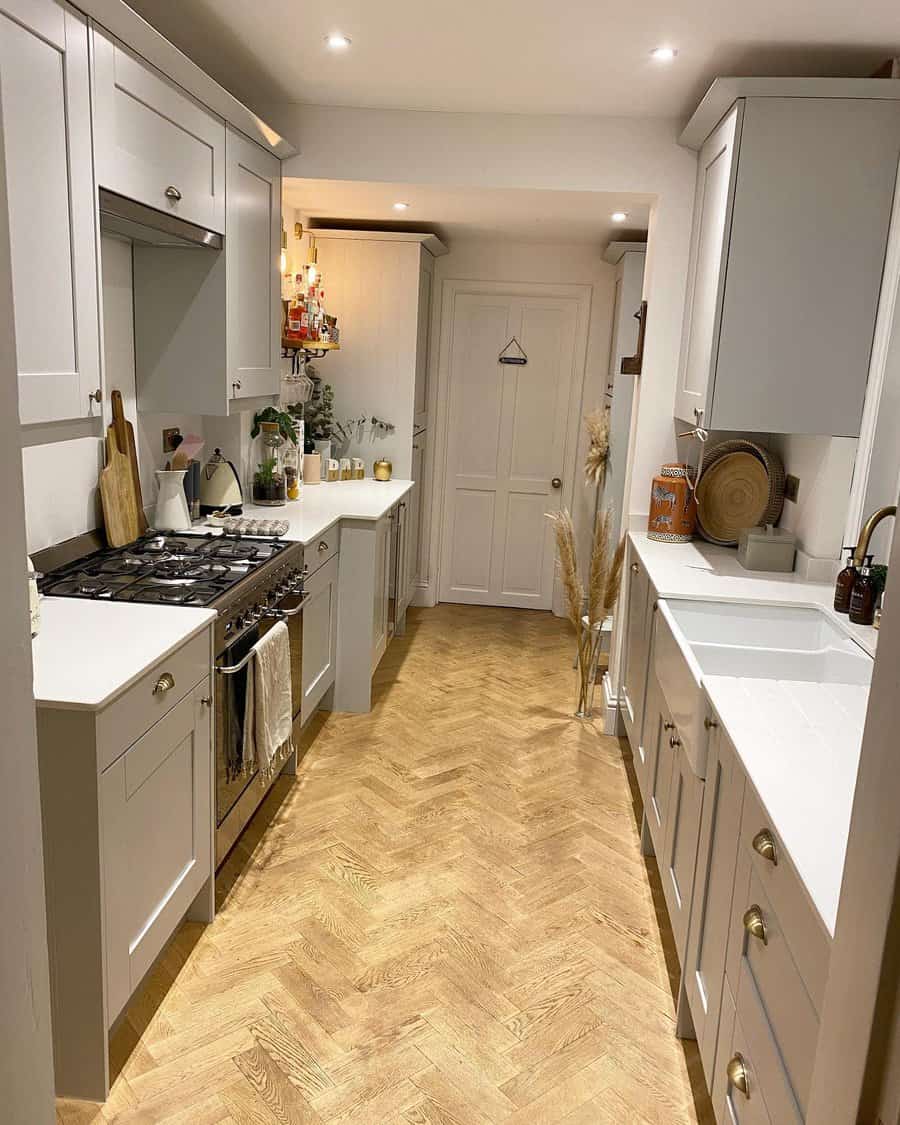 25. Install A Belfast Sink
If practicality and aesthetics are key to keeping a busy kitchen looking and feeling both organized and inspired, then a galley kitchen with a Belfast sink is the ideal combination. These deep sinks are more than just practical – they can also be wonderful focal points in any home, adding both practical function and creative style to your space.
Plus, their larger size means that they can accommodate larger items of cookware or multiple dishes and glasses at once – perfect for busy cooks who need to get tasks done quickly!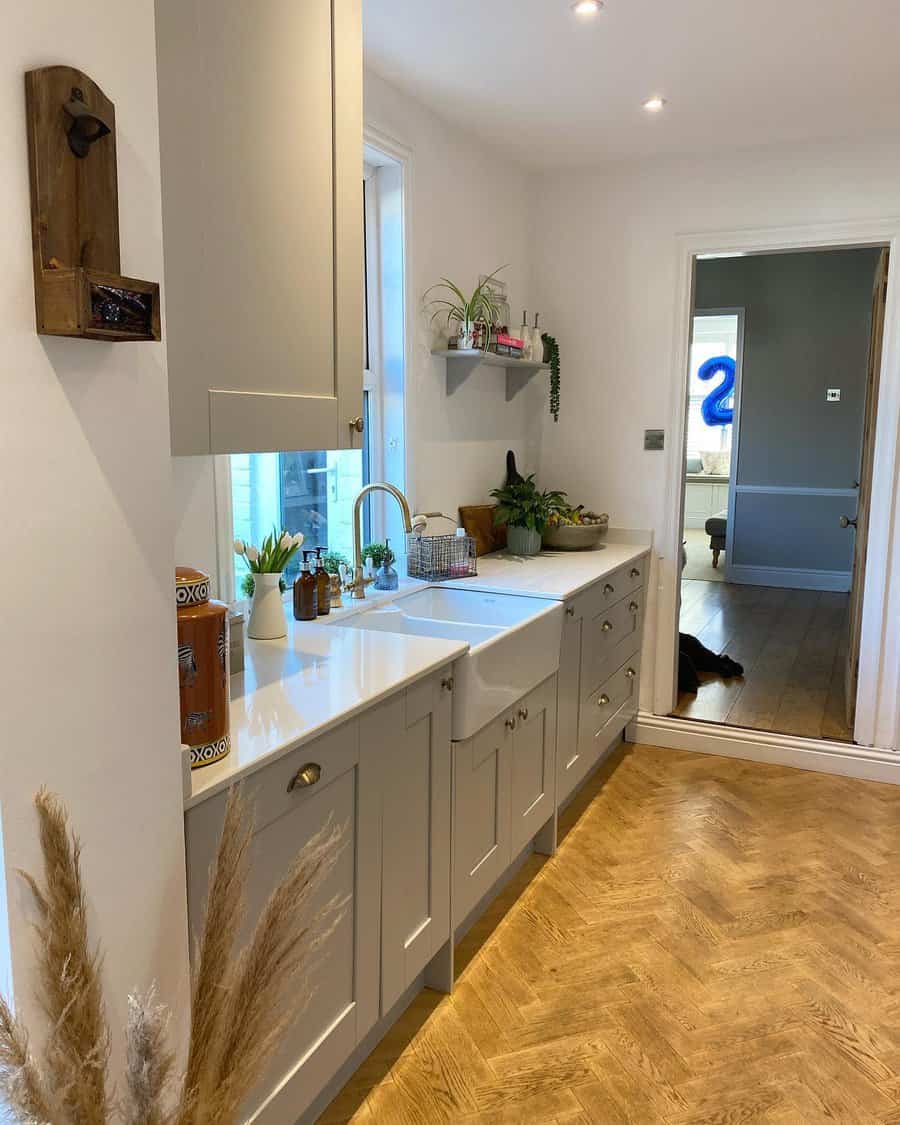 26. Install White Marble Countertops
A galley kitchen with a white marble countertop pairs functions with visually aesthetic elements. The flowing lines of the marble make it a timeless classic while its invitingly neutral hues allow any kitchen to stand out from the crowd with its own individual personality.
Not only is it visually pleasing, but the marble's smooth finish and cool temperature also make for ideal working space for prepping your favorite recipes. Whether you're entertaining dinner guests or going solo in the kitchen, this room can easily be the star.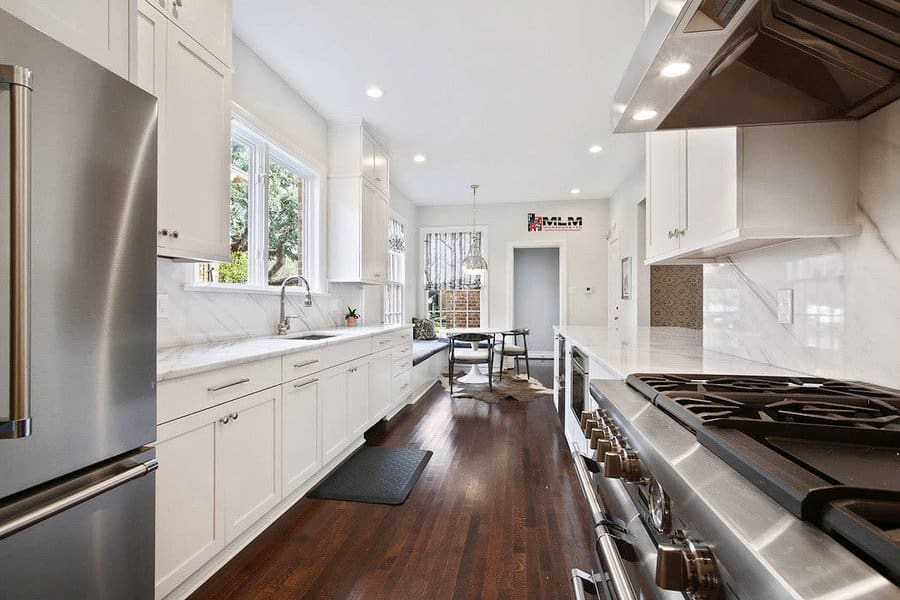 27. Hang An Abstract Wall Art For Visual Interest
A galley kitchen with abstract wall art adds visual interest, serves as a conversation starter, and provides an interesting source of inspiration. It adds extra life to the room – the bold colors from the art balance out the simplicity and order of your kitchen layout.
Not only that, but it allows for creative expression that can be tailored to fit any mood or design aesthetic. Whether it's geometric shapes or swirls of color, abstract wall art adds a unique touch to your galley kitchen and will definitely turn heads!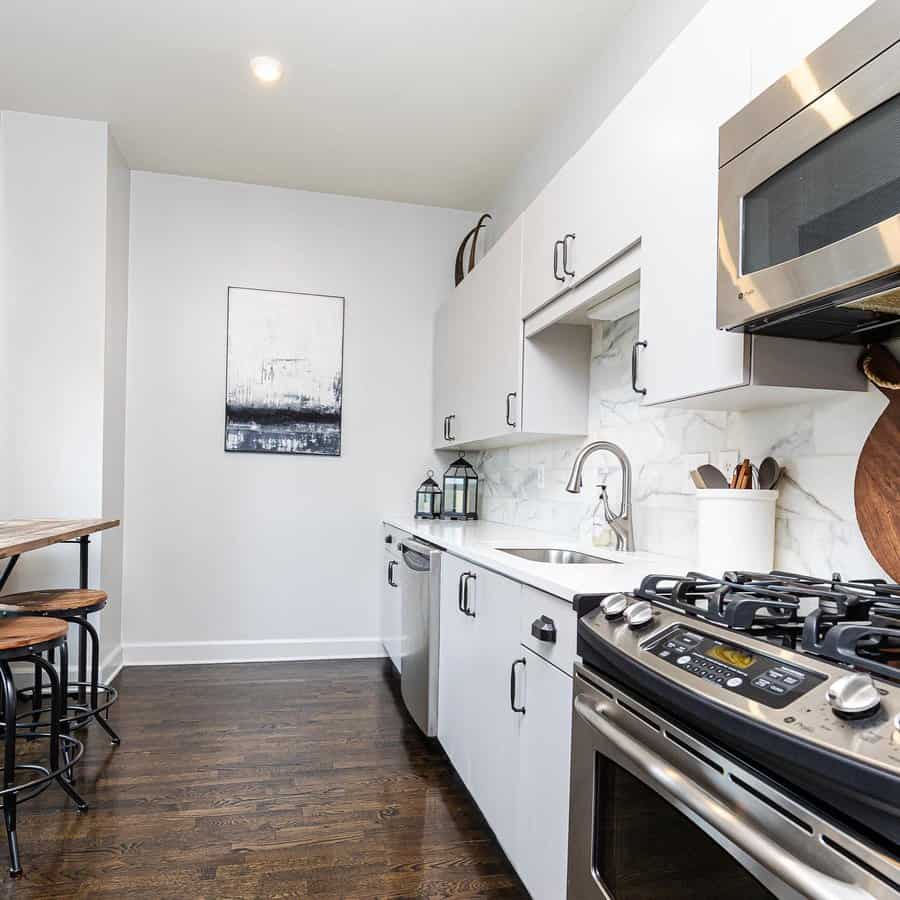 FAQs
Are galley kitchens functional?
A galley kitchen is functional because it's a compact space that's designed for maximum efficiency. Everything someone would need to prepare a meal is readily within reach. This makes the working triangle small for minimal steps and movement around the kitchen while cooking.
What are the benefits of a galley kitchen?
In addition to having everything within reach, you can easily create multiple working stations in a galley kitchen. This makes it possible for more than one person to use the kitchen without bumping into each other. You also can create plenty of countertop and storage space.
Why are they called galley kitchens?
The long and narrow shape of a galley kitchen is similar to the kitchen on a ship, which is referred to as the galley. The name from the ship has been taken to describe the similarly shaped kitchens in homes.