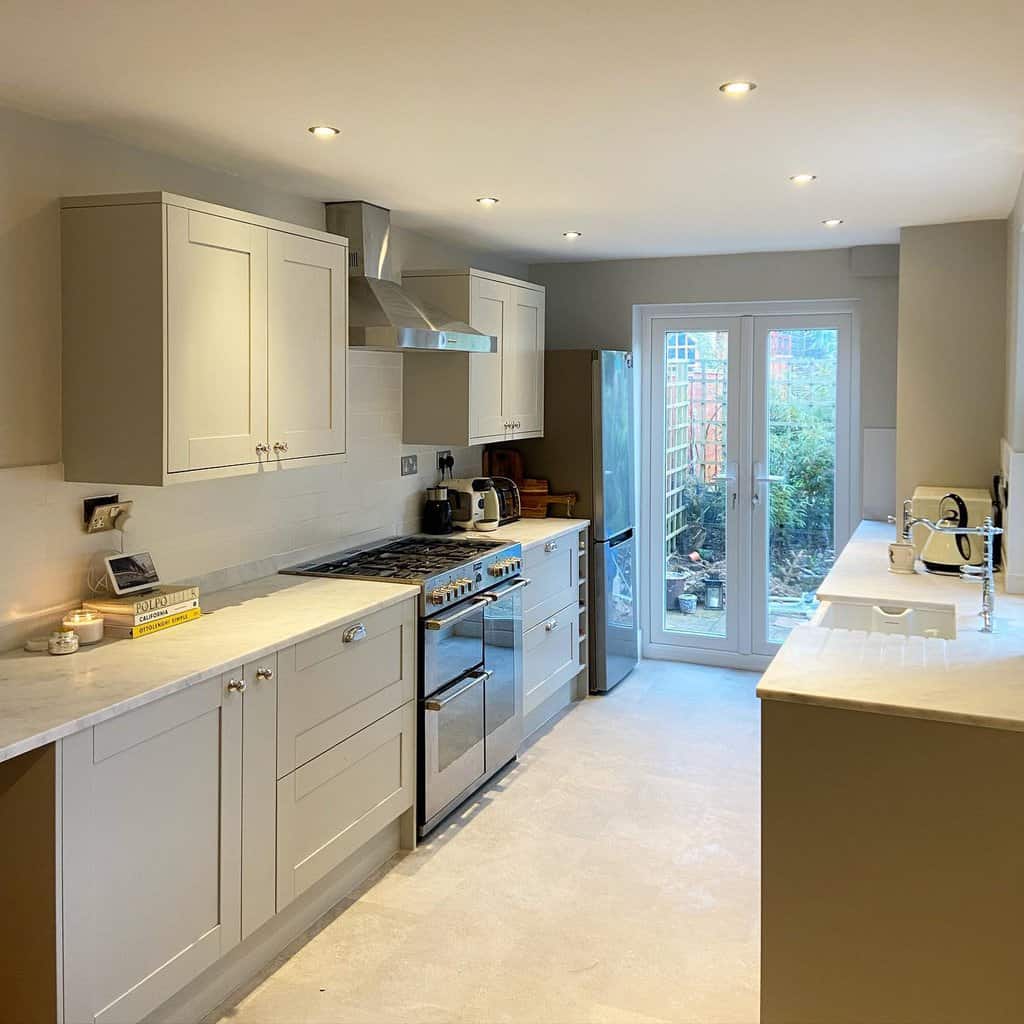 You're standing at the entrance to your long and narrow kitchen, wondering how you're ever going to make it feel like the open and airy kitchen of your dreams. It's time to look at design ideas that can show you how to make the most of your galley kitchen. You can turn a galley kitchen into a comfortable and functional space from the floor to the cabinets, paint choice, and lighting scheme.
These galley kitchen ideas will help you make small to big improvements and changes to your kitchen.
1. Apartment
A small galley kitchen is standard in apartment kitchens. Unfortunately, because you're renting, you don't have a lot of options when it comes to making a smaller kitchen larger or more functional.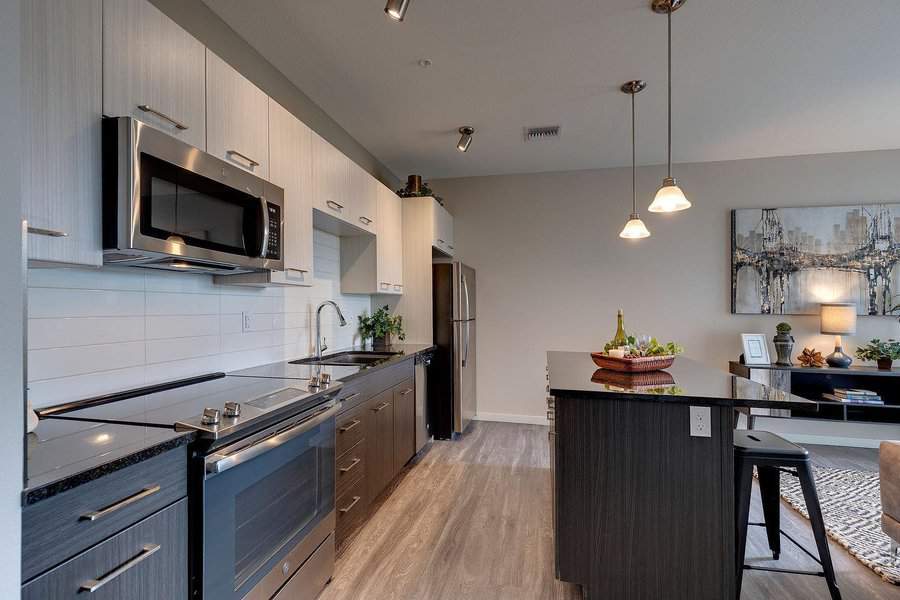 However, you can make the most of what you have with the right design accents. For example, add a long colorful runner rug on the floor. This helps the kitchen to feel longer and larger while also bringing life and color into what is probably a dull and neutral-colored kitchen.
See more apartment kitchen ideas and designs here.
2. Cabinets
Kitchen cabinets are handy because they give you enclosed storage space. This keeps your kitchen looking clutter-free and protects whatever you keep in them.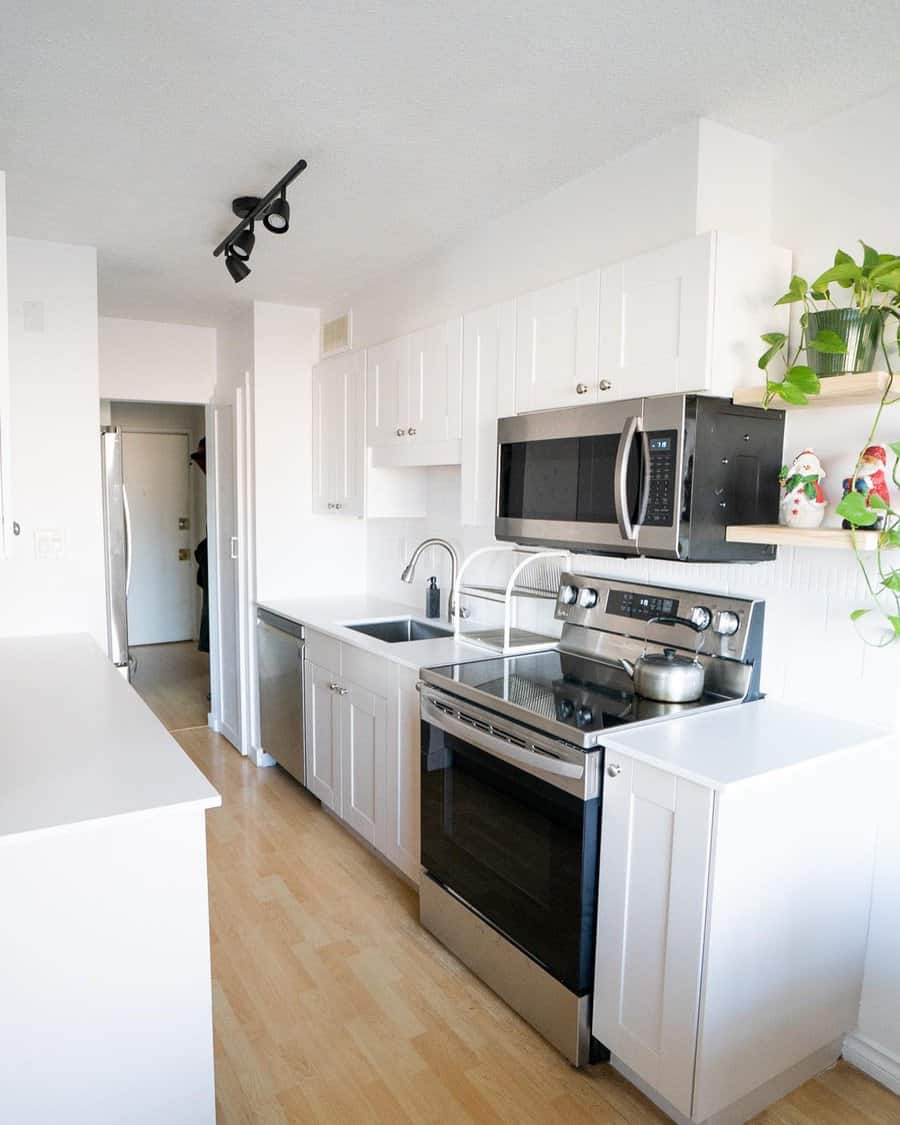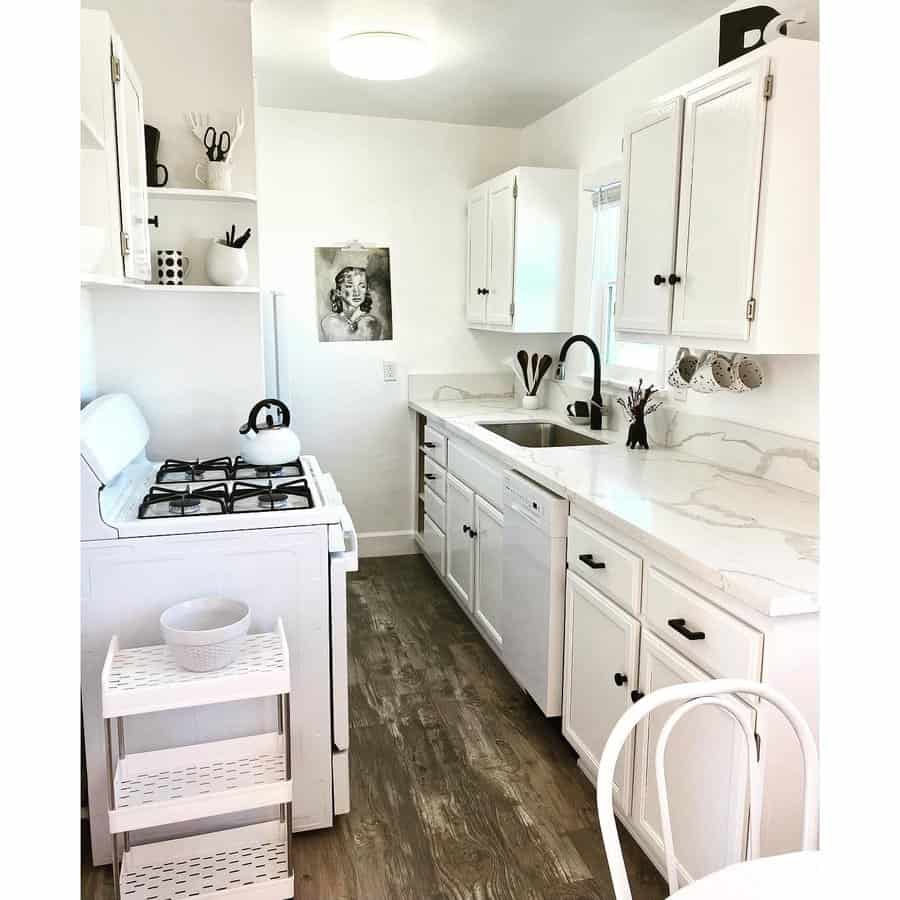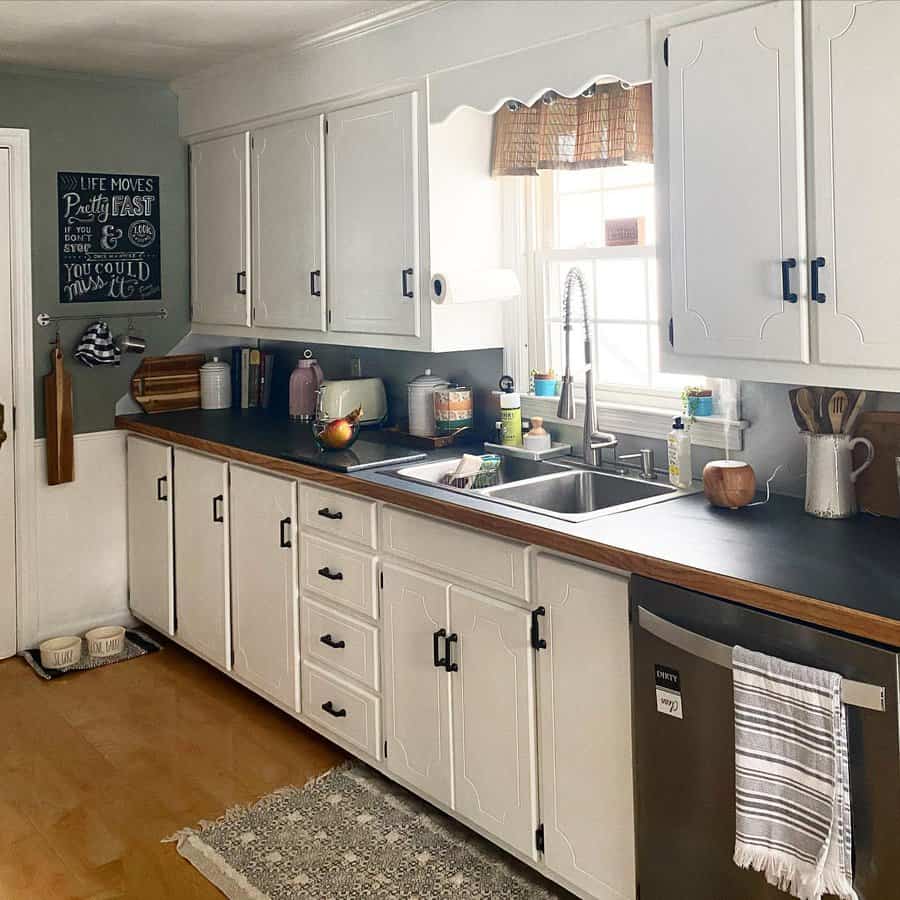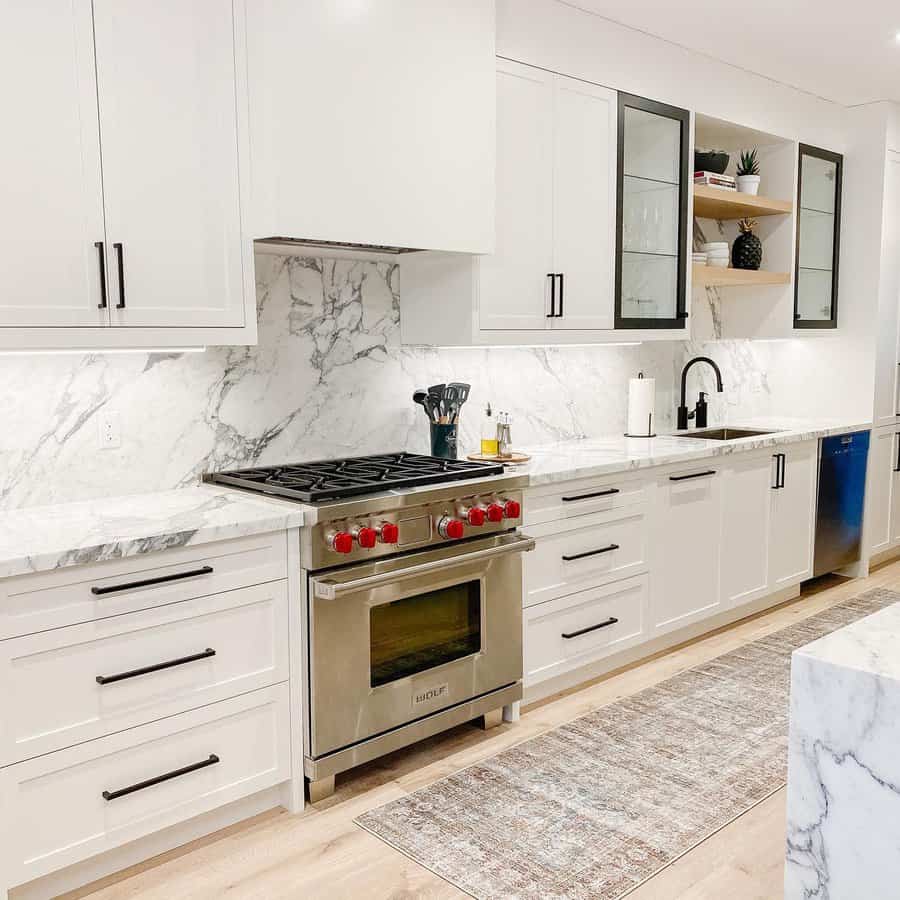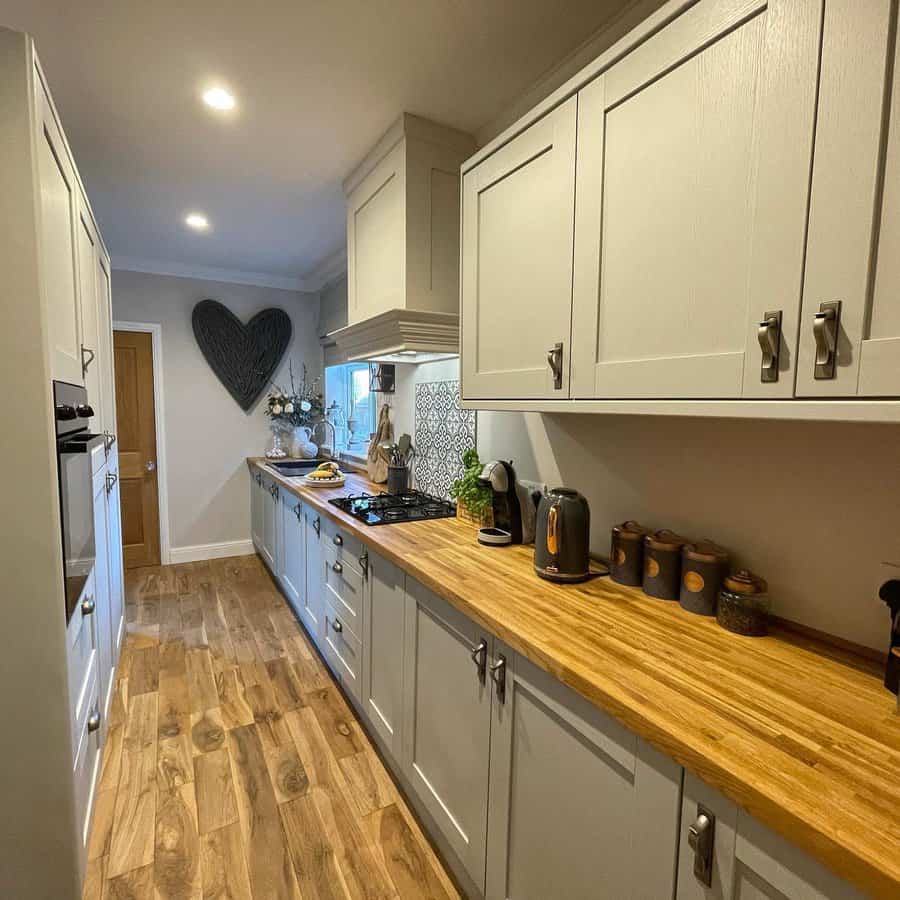 The downside of cabinetry is that in a galley-style kitchen, the wall cabinets can close the space in. While too many base cabinets can reduce the floor space, reducing the amount of room you have to move about. You may find that reducing the depth of the wall units or removing some of them entirely may be the best option for creating more space.
3. Contemporary
A small kitchen looks beautiful with contemporary home decor. The colors are light and neutral, helping the space feel bright and welcoming. Use light-hued wood for the cabinets or even the countertop.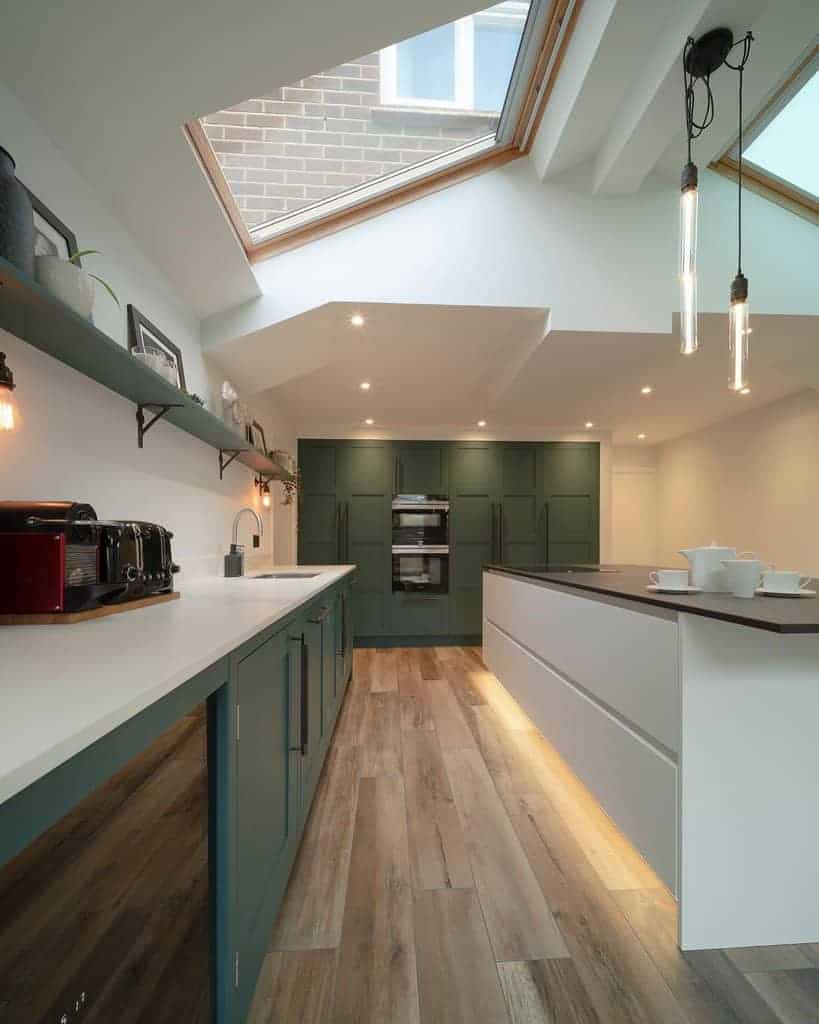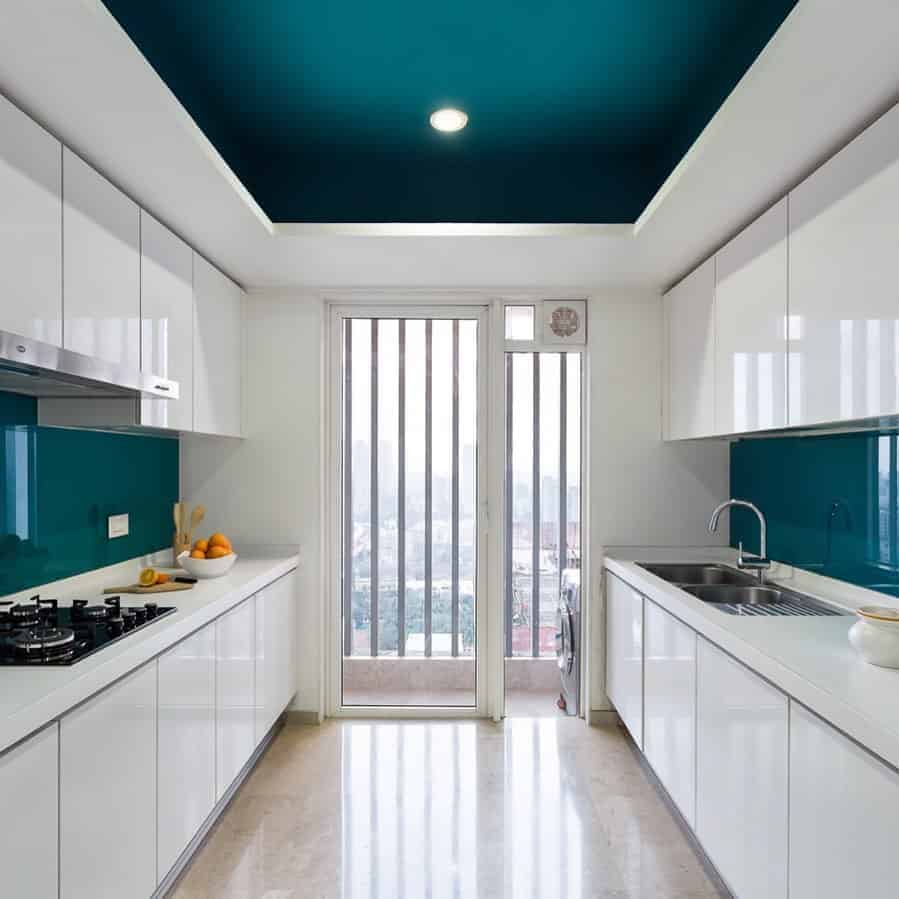 Balance the use of wood with other contemporary materials. For example, you could use a subway tile for the floor that's made from rough marble or a light wood laminate floor. Keep the cabinet design and hardware simple but not super sleek. You don't want the kitchen to look sleek and modern. A simple shaker cabinet would be a good choice.
4. Design
Adding a kitchen island probably isn't possible with a galley kitchen, but that doesn't mean you can't add some design. A breakfast bar is a great option. If you have a kitchen counter that extends out to create one side of the galley, turn the other side into a breakfast bar. Place stools on the other side of the counter and turn it into a space where people can sit.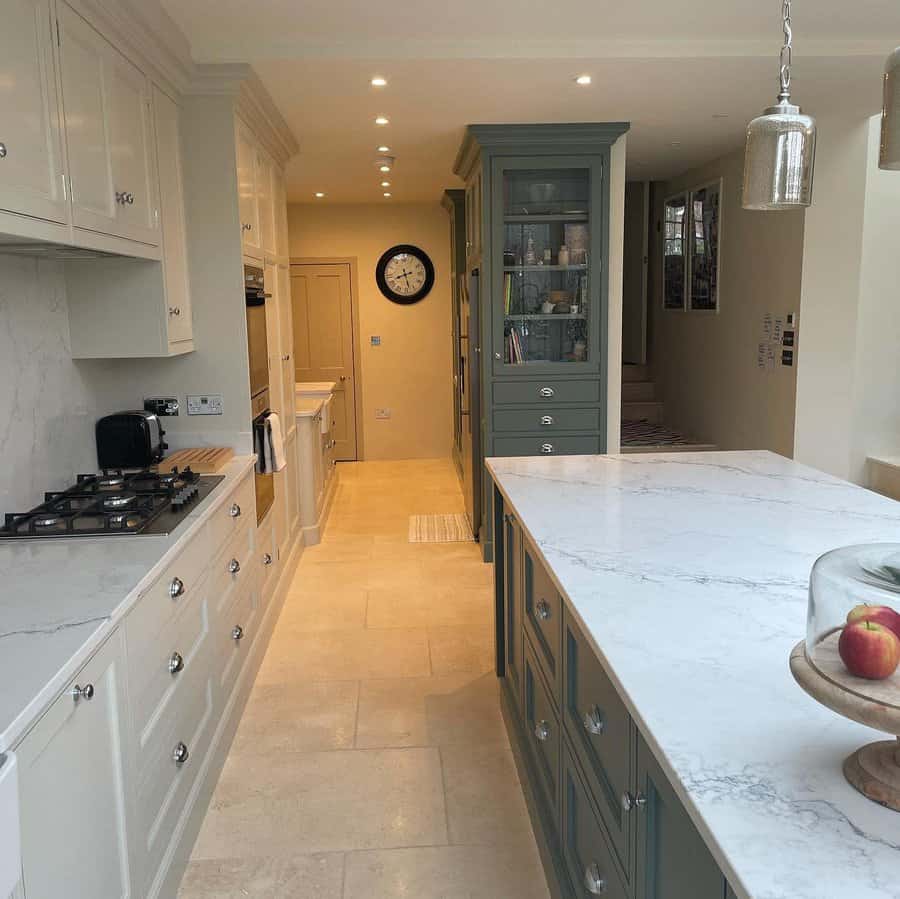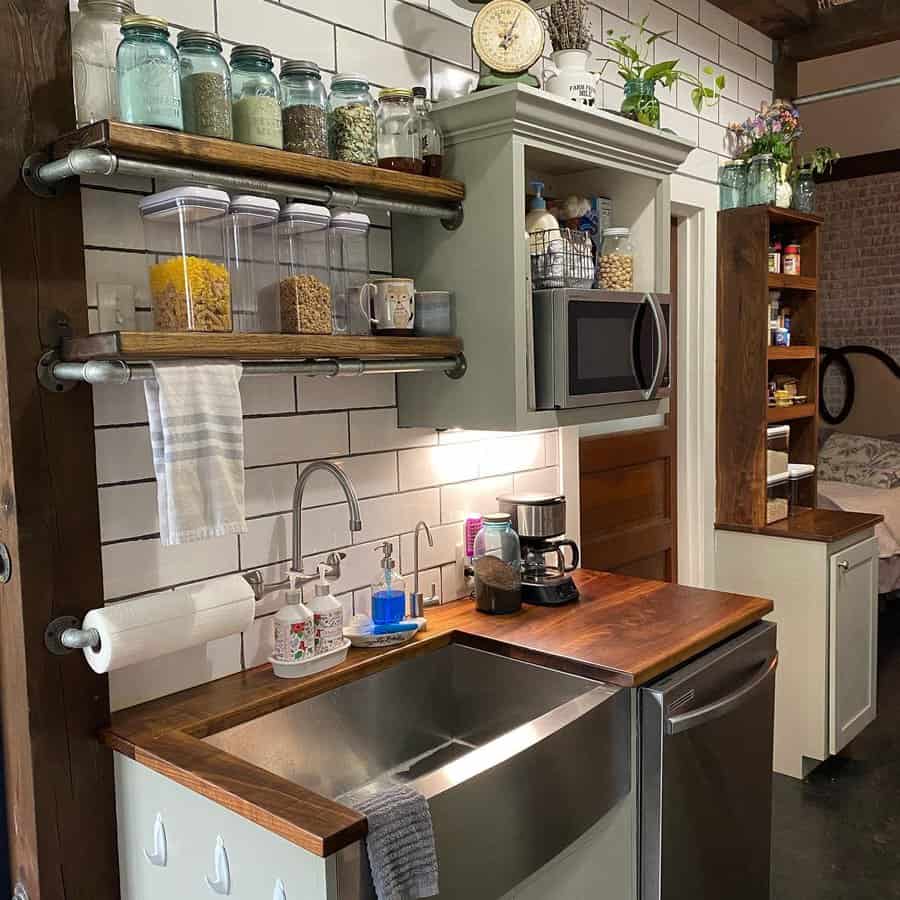 Another option is to make the space brighter. Add LED puck or strip lights to the underside of the upper cabinets. This easy design adds more light, makes the workspaces brighter, and can change the optical illusion of the kitchen.
5. Farmhouse
You can give your galley kitchen layout a farmhouse feel. Replace upper cabinets with long open shelving that runs the length of the kitchen. This can help it to feel longer and larger. However, doing this can limit your available storage space. This approach works best for small spaces because the benefit of a larger feeling space can outweigh the loss of storage space.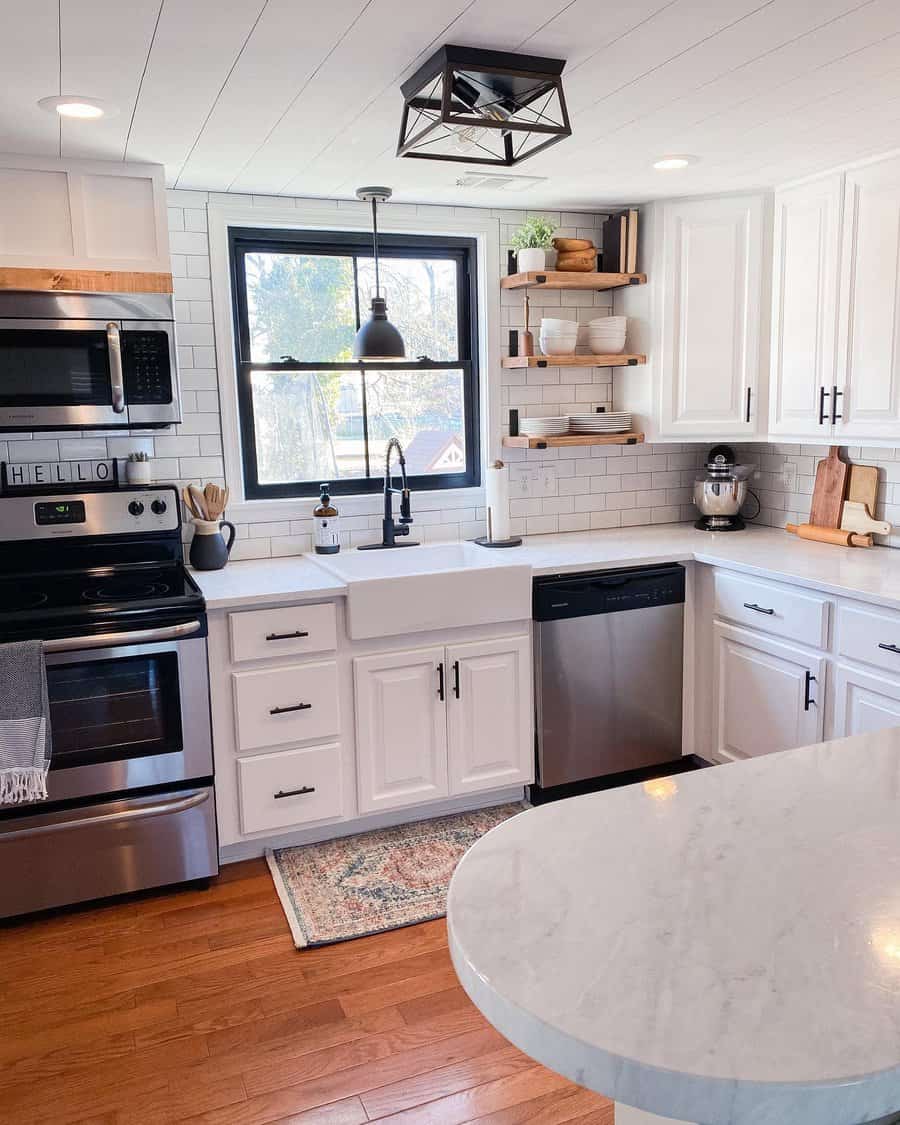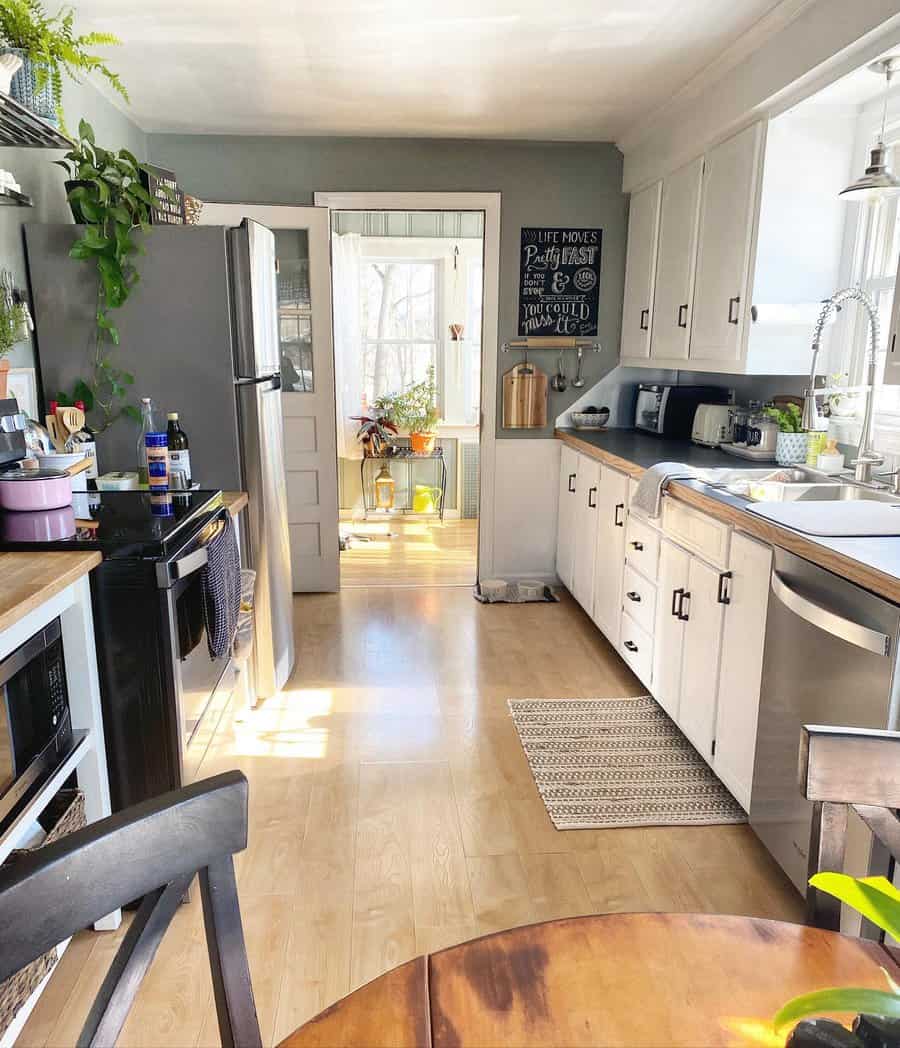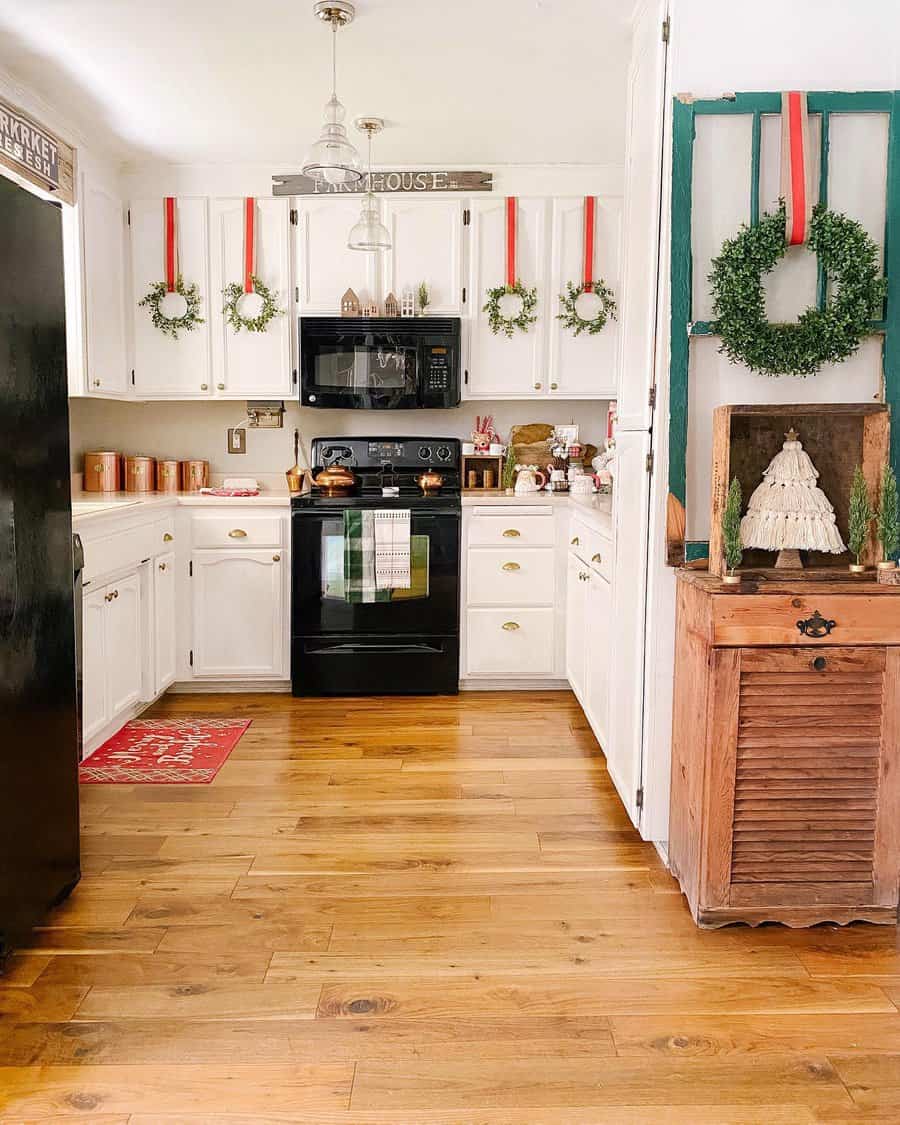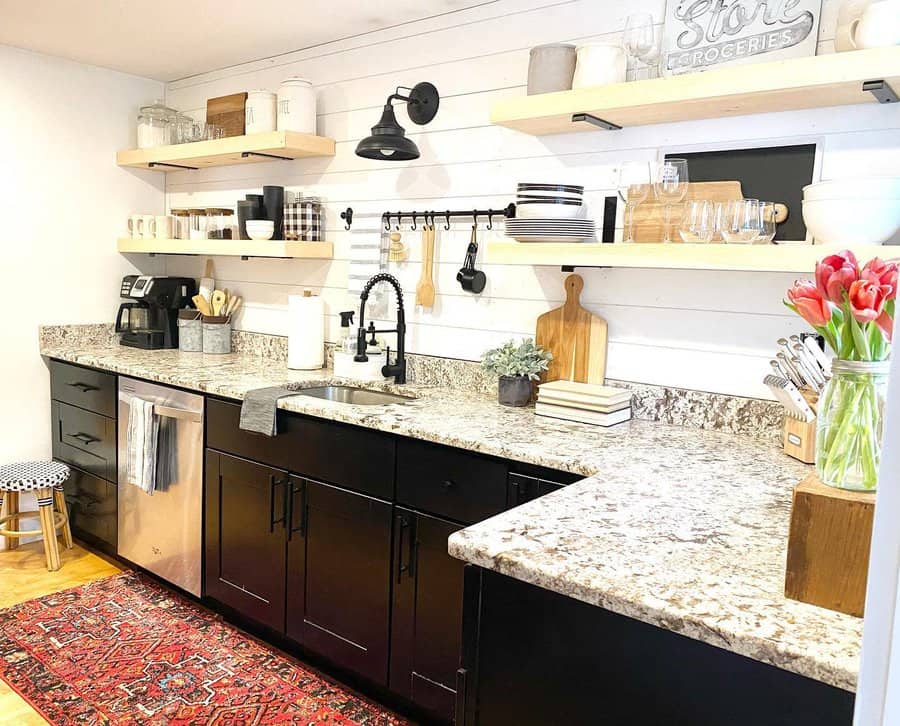 If you don't want to give up the cabinets, consider changing the cabinet doors. Add large cutouts to the doors and cover them in chicken wire. This allows you to see through the cabinet door, helping the space feel larger.
See more farmhouse kitchen design ideas here.
6. Lighting
Creating the right lighting scheme is crucial in a galley kitchen. The right kind of light can make your galley kitchen feel bigger and broader. The wrong type of lighting can make a galley kitchen feel like a cave, with many dark shadows throughout.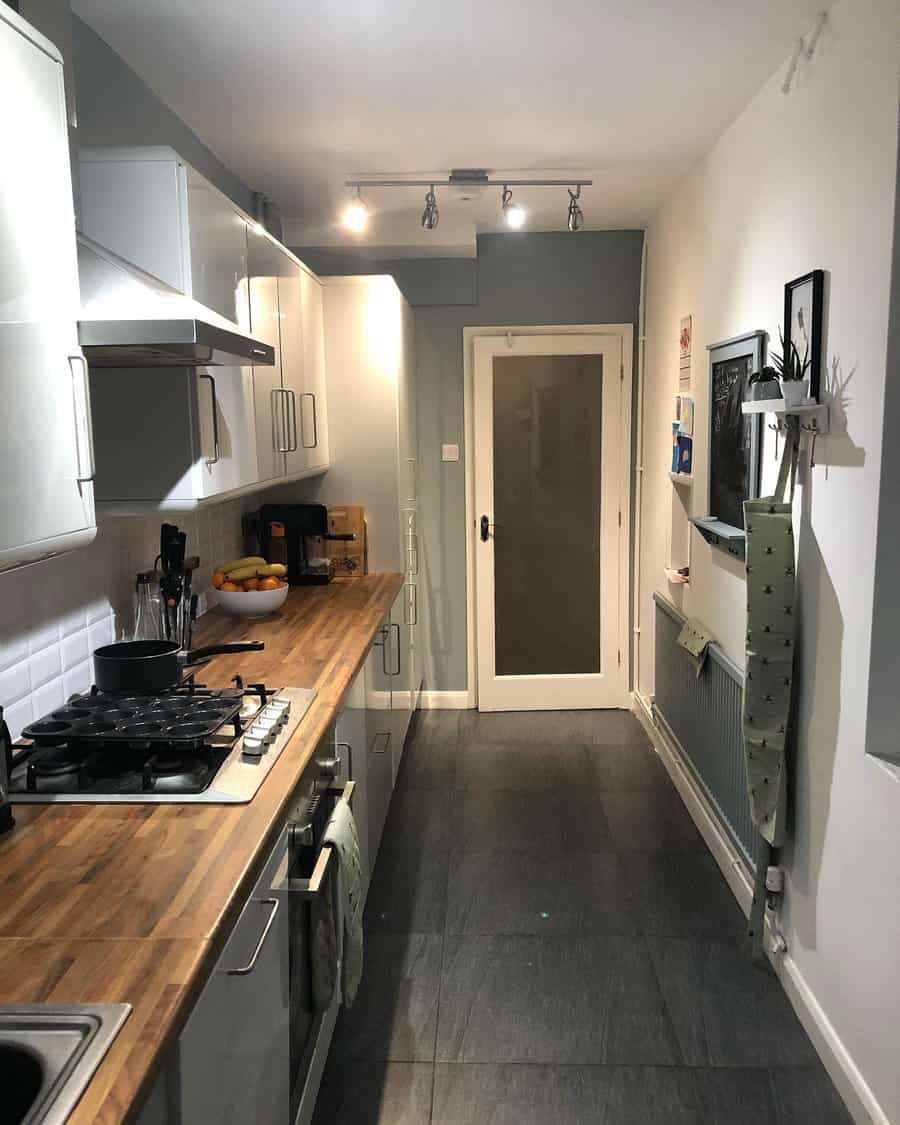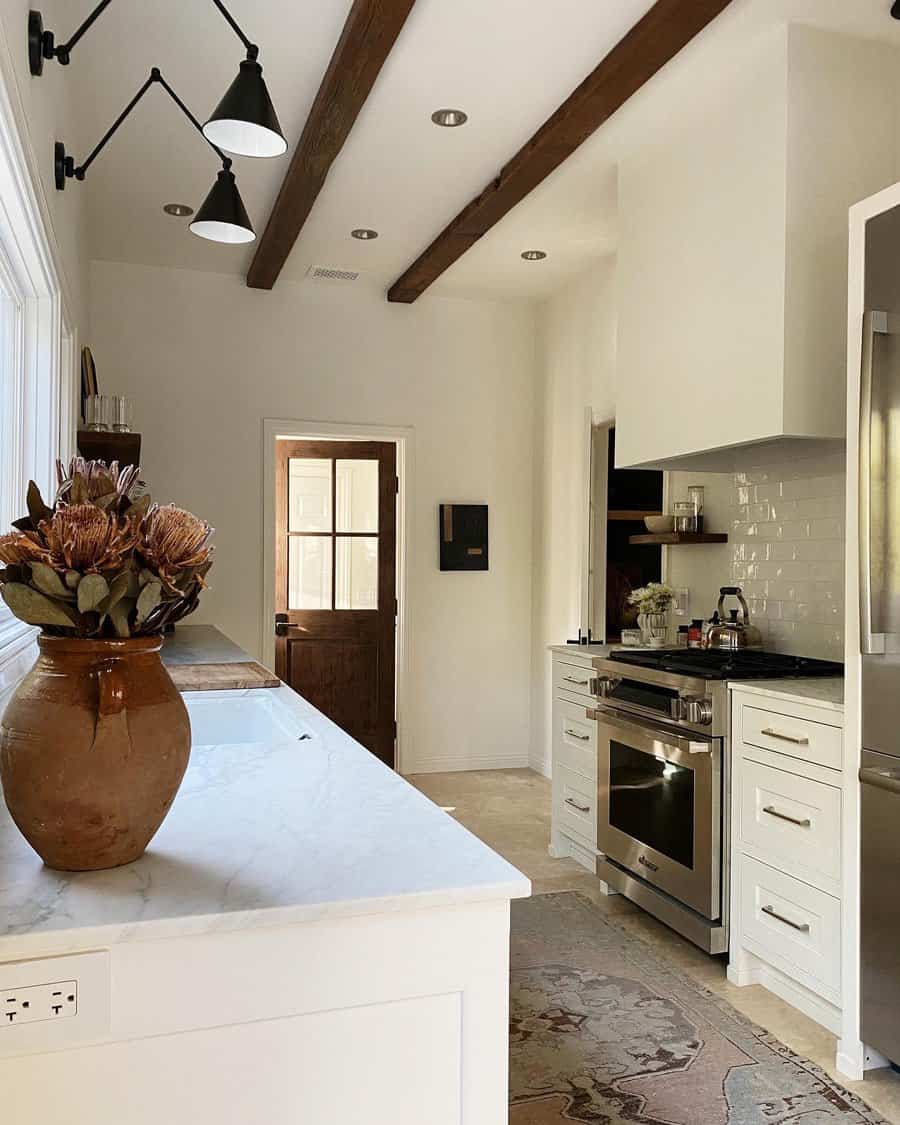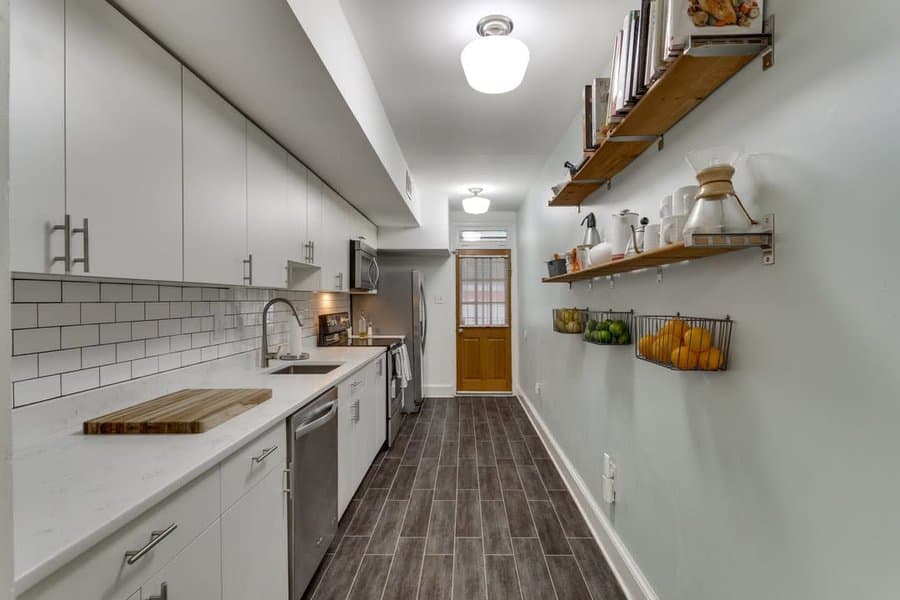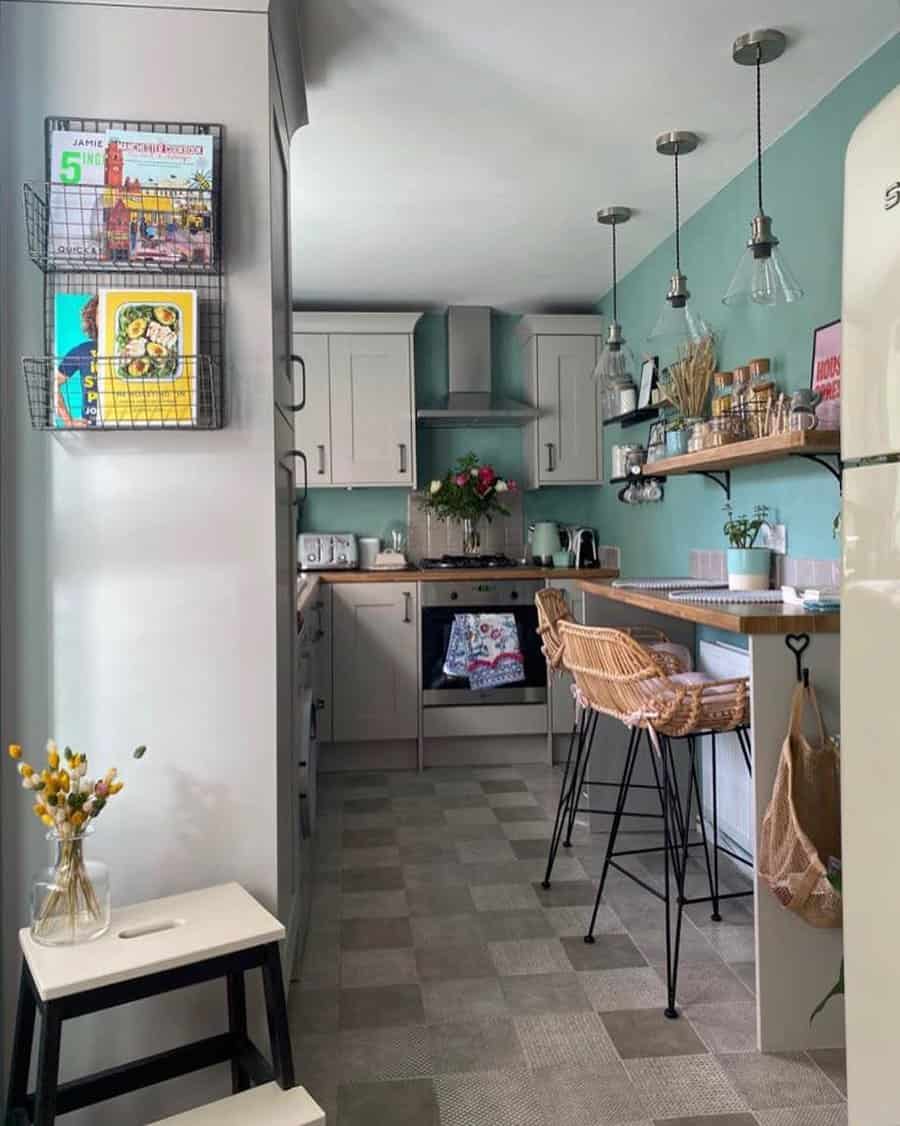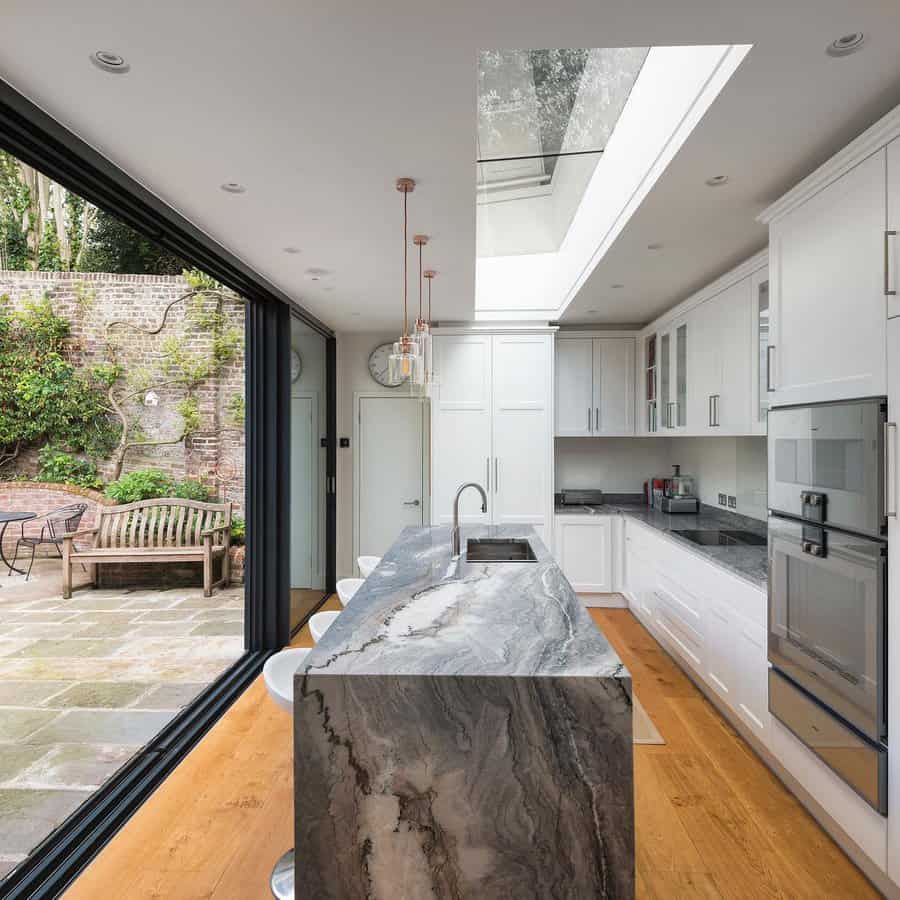 Ideally, you should have more than one type of lighting source in your kitchen. First, there should be ambient light overhead that illuminates the entire space. Then there should be task lighting that's bright and directed toward the workspaces. For example, adding lighting to the ceiling is good for ambient light, while adding light under the upper cabinets creates task lighting on the countertops.
7. Luxury
Just because you have a galley kitchen and they are typically smaller than other kitchens doesn't mean that it can't be a luxury kitchen. To elevate the look of your kitchen, use high-quality materials that will be more luxurious than standard builder-grade materials. For example, replace the laminate floor with real hardwood flooring.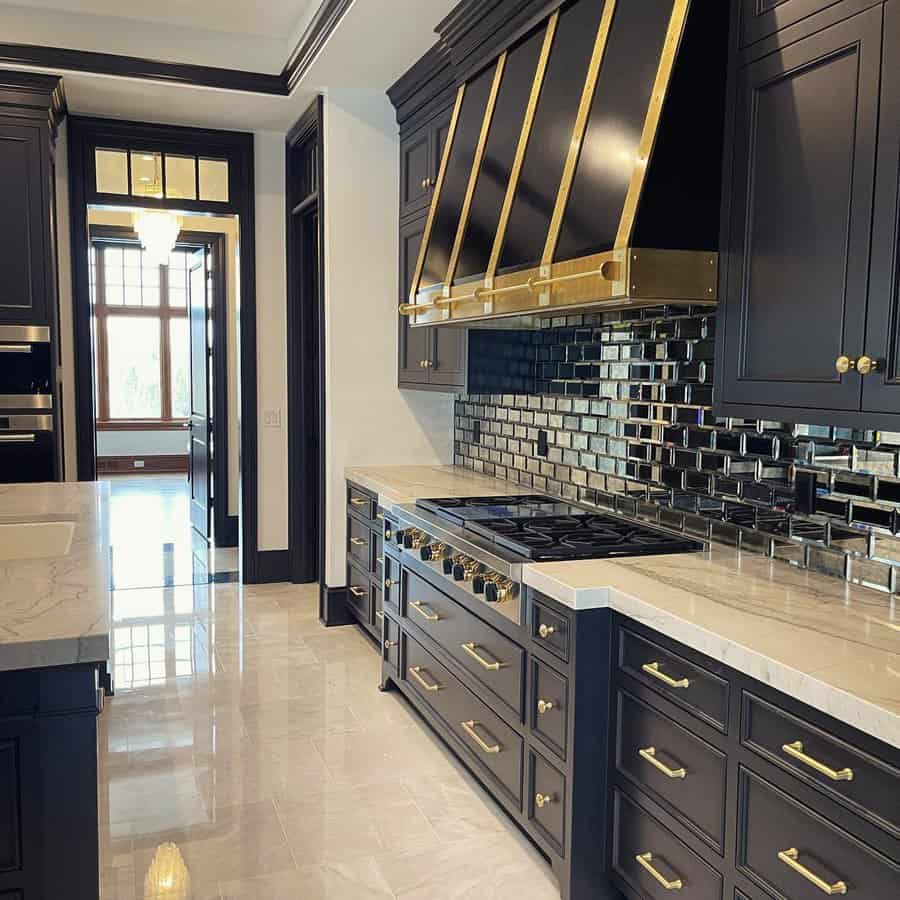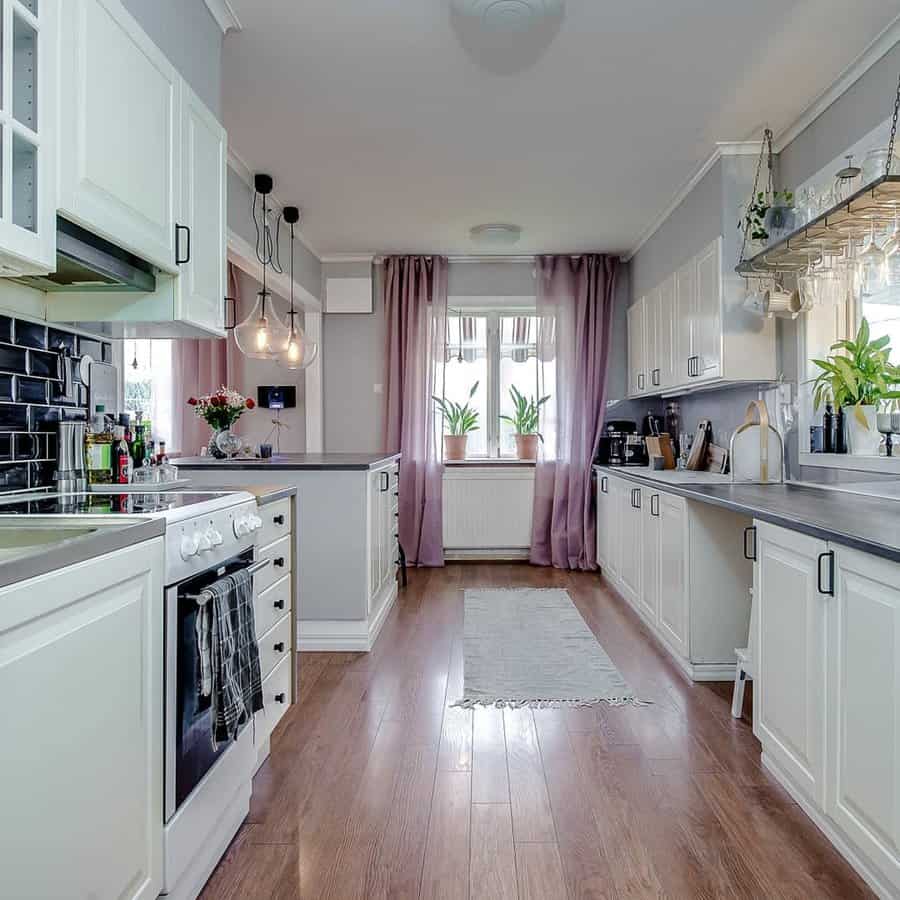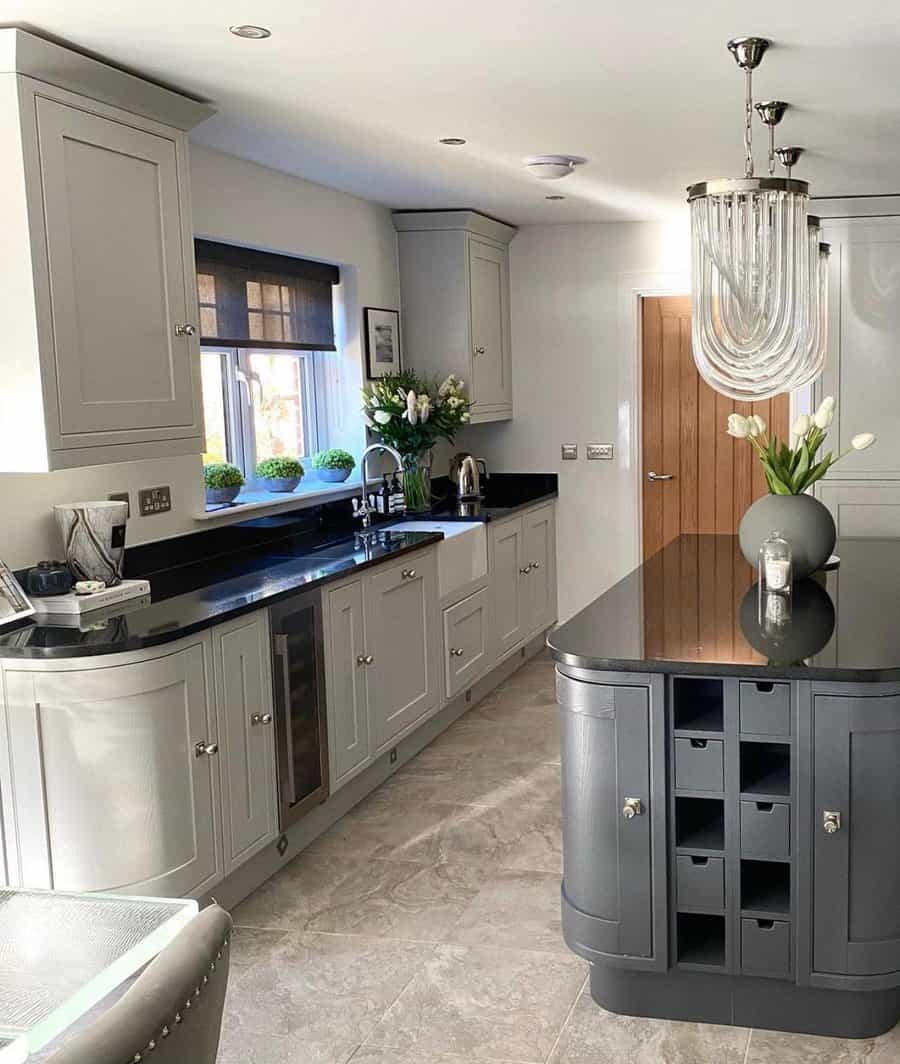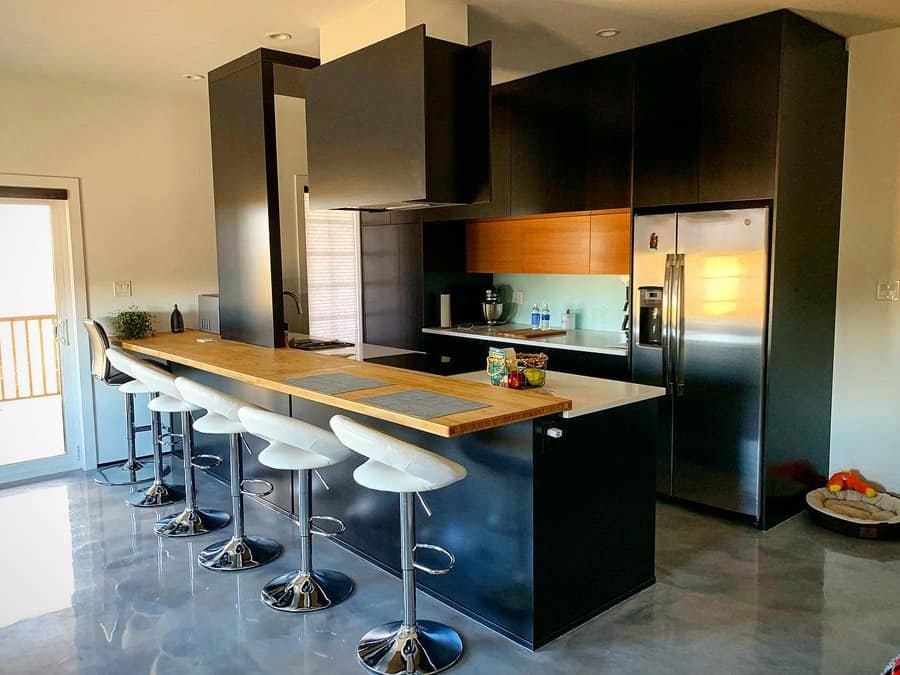 Consider decorating ideas that showcase materials like marble, custom lighting, or custom cabinets. Replace the builder-grade cabinet pulls with upgraded ones. Finally, look for ways that you can add innovative technology to your kitchen. Perhaps you add smart appliances, warming coils under the tile, or custom cabinet organizational units.
8. Modern
Taking a modern approach is smart for the interior design of a galley kitchen. A modern kitchen reduces clutter, opens the space, and creates a clean design. A white galley kitchen design uses white, black, dark gray, or neutrals.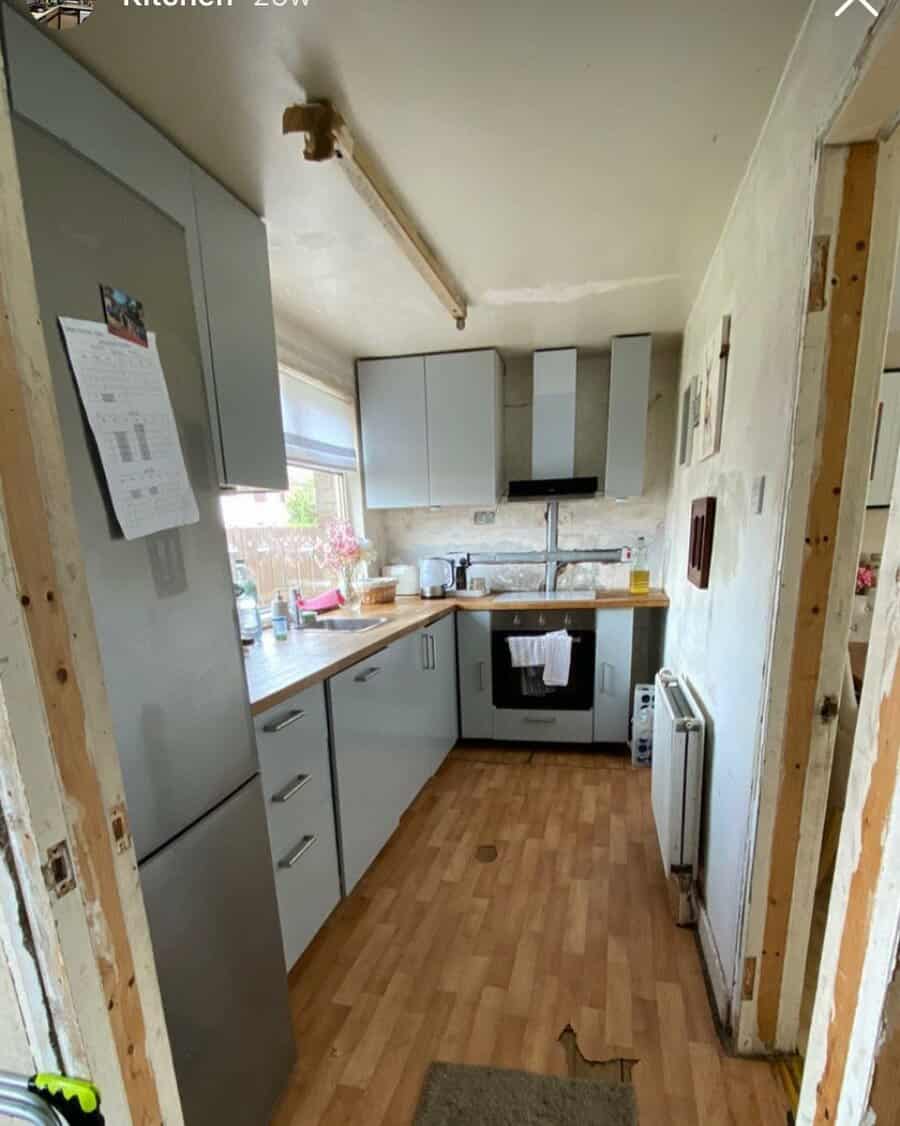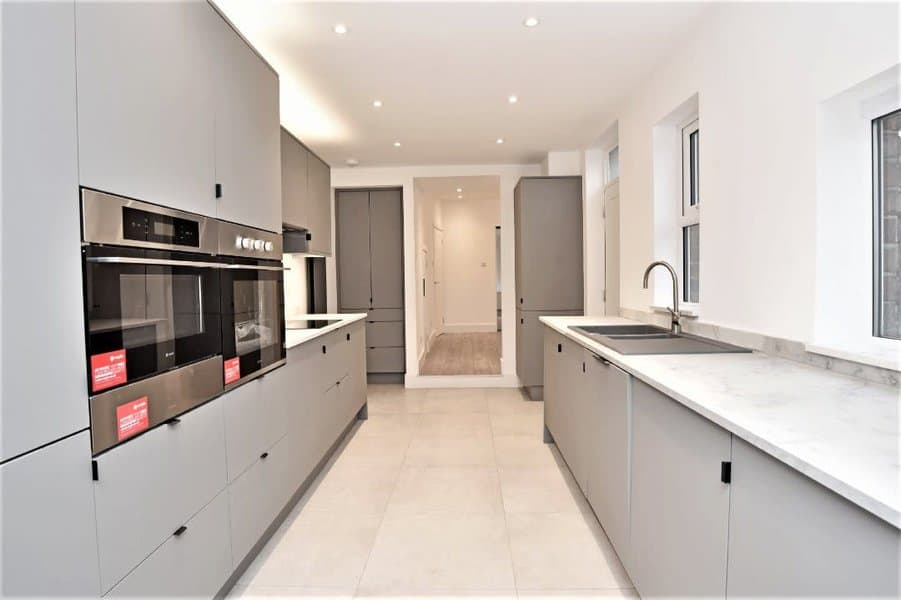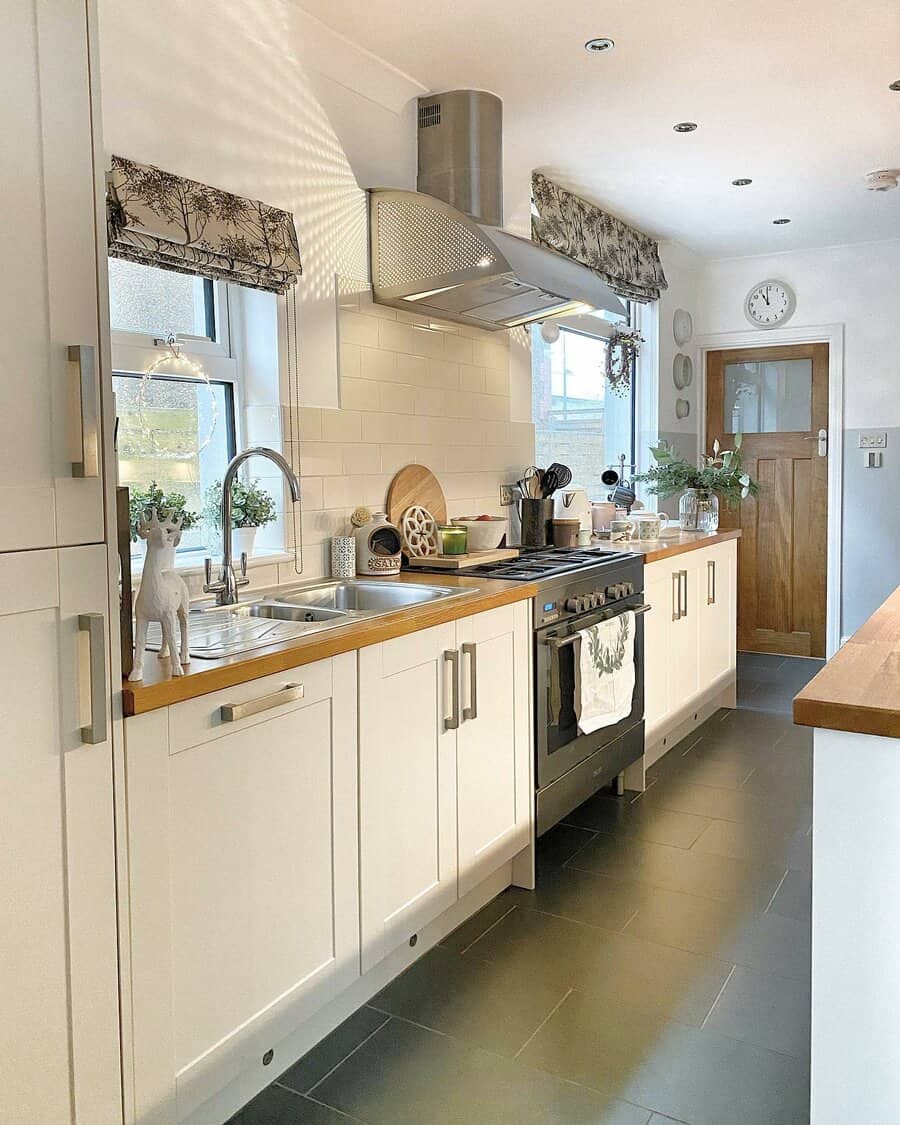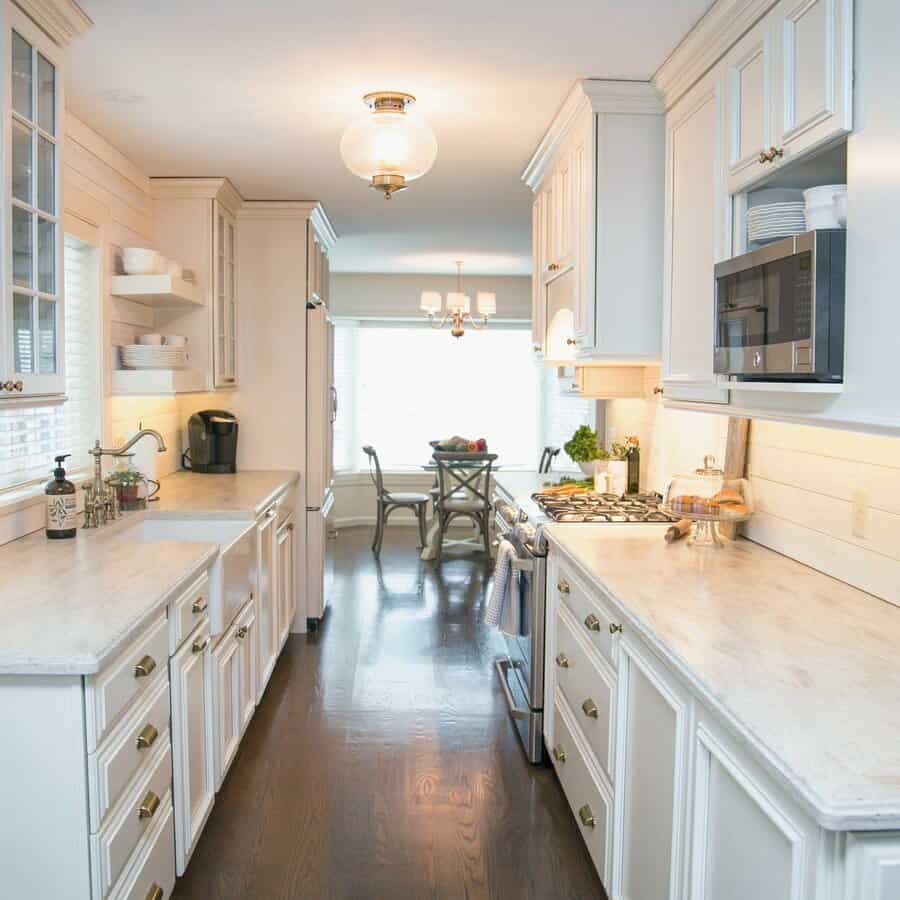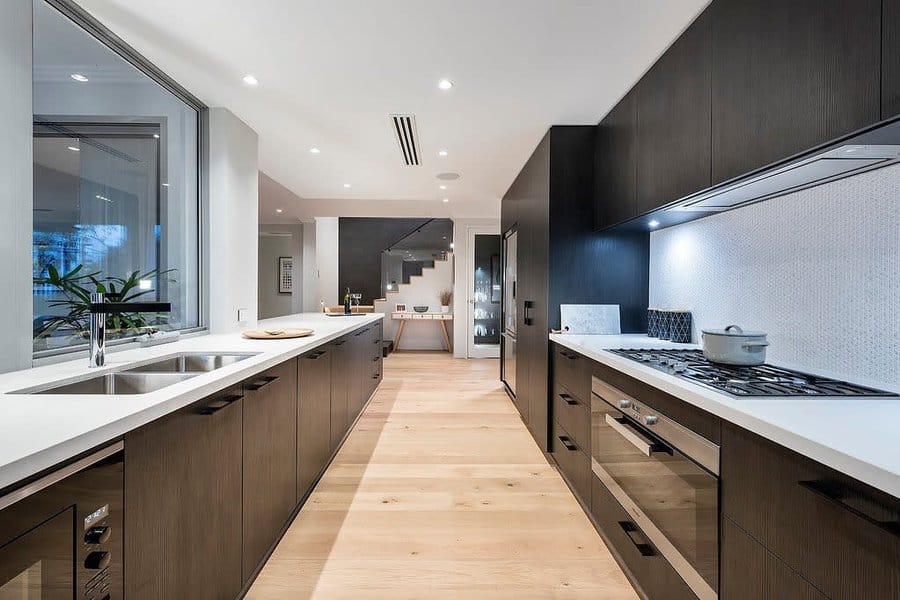 You could have white cabinets on dark walls, creating the illusion of a bigger space. Or have white walls with light wood cabinets for a fresh feel. White countertops reflect light back up, making a space feel brighter. Avoid an all-white kitchen, as this can be too bright and cause the design to fall flat as everything blends together. Using dark and light together can create depth, making the space feel bigger.
See more modern kitchen ideas here.
9. Narrow
It can be tough to make the limited space feel open and airy when you have a narrow kitchen. The kitchen space is long and narrow, which can feel restricting. The galley layout is made to feel more narrow by the upper cabinets. These cabinets are at eye level and extend out from the wall. You can remove the cabinets and replace them with open shelving to address this.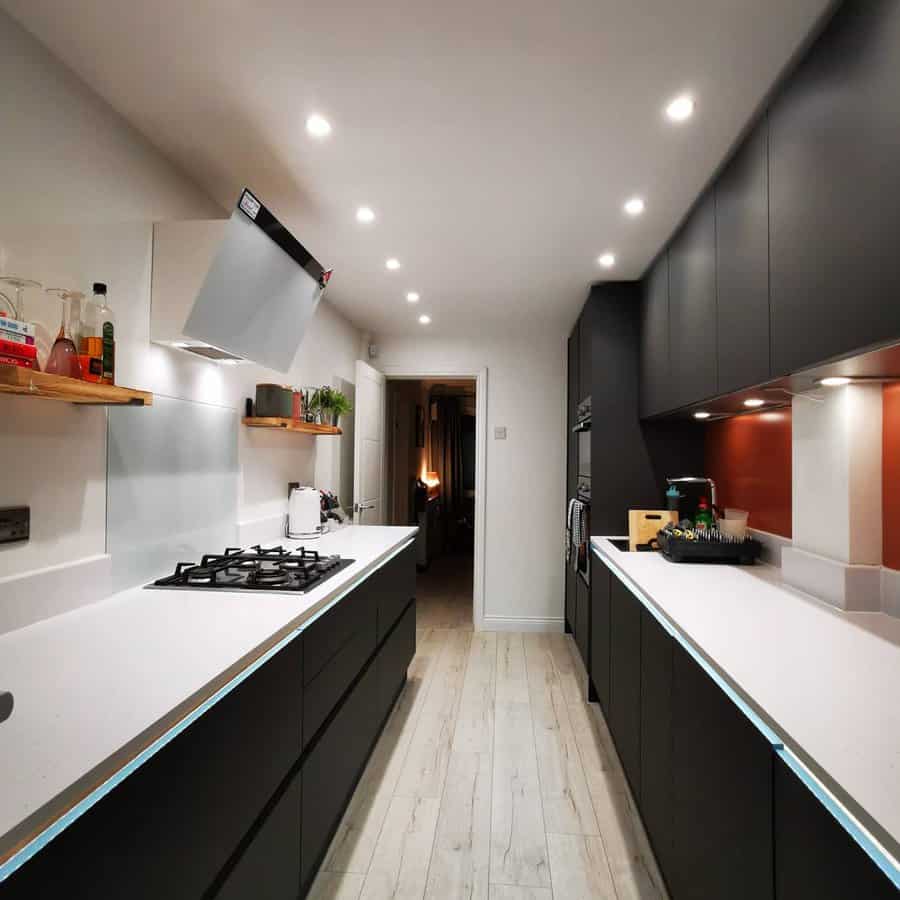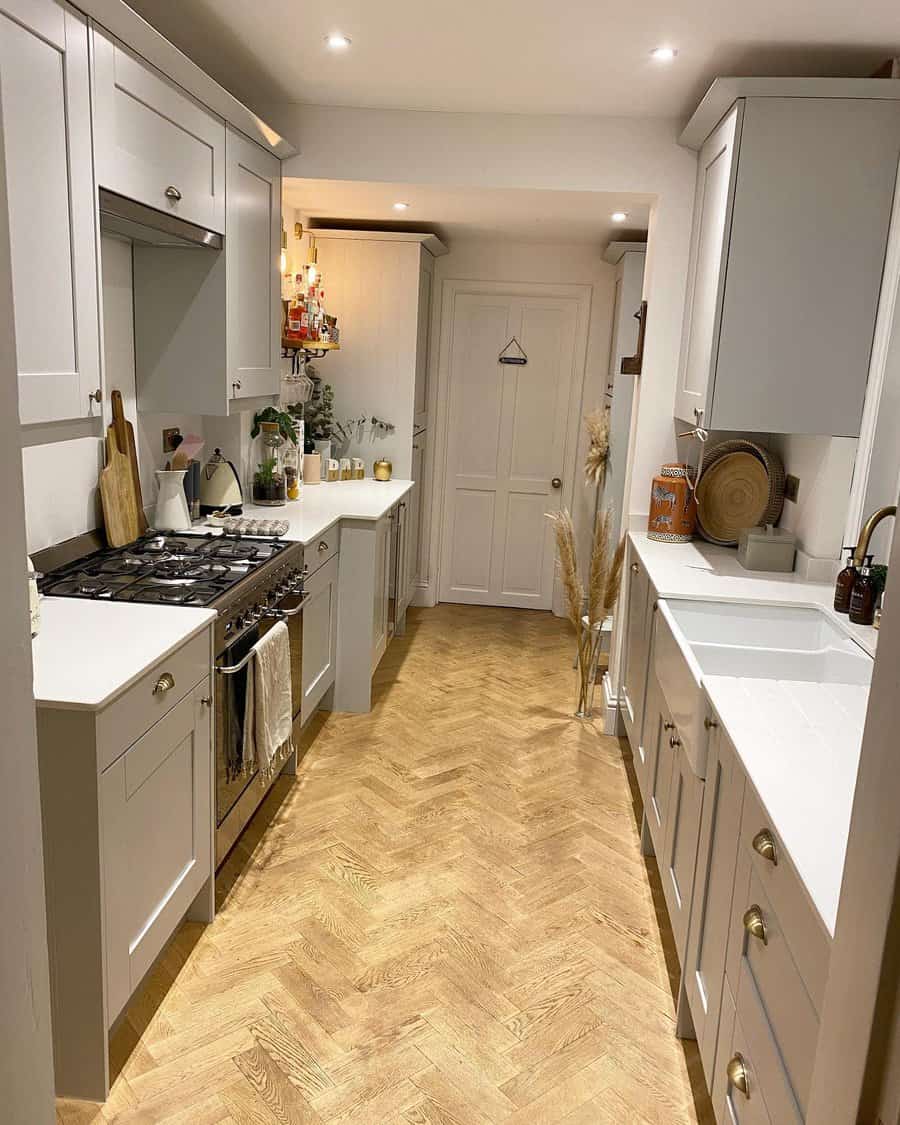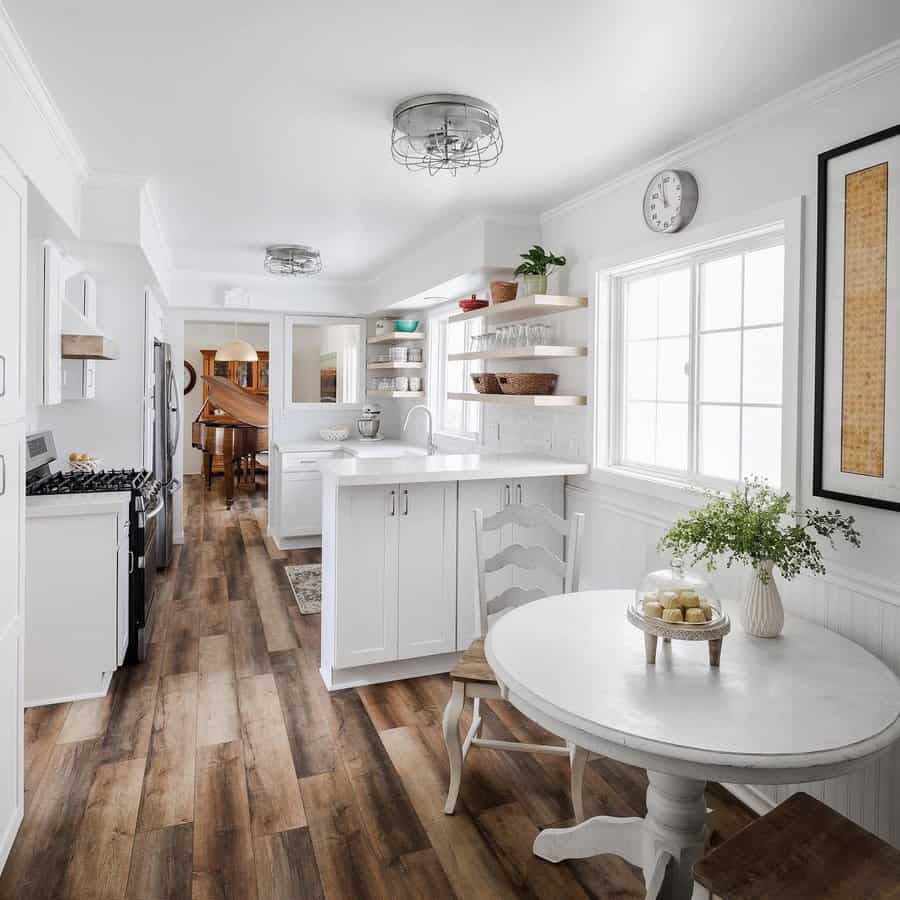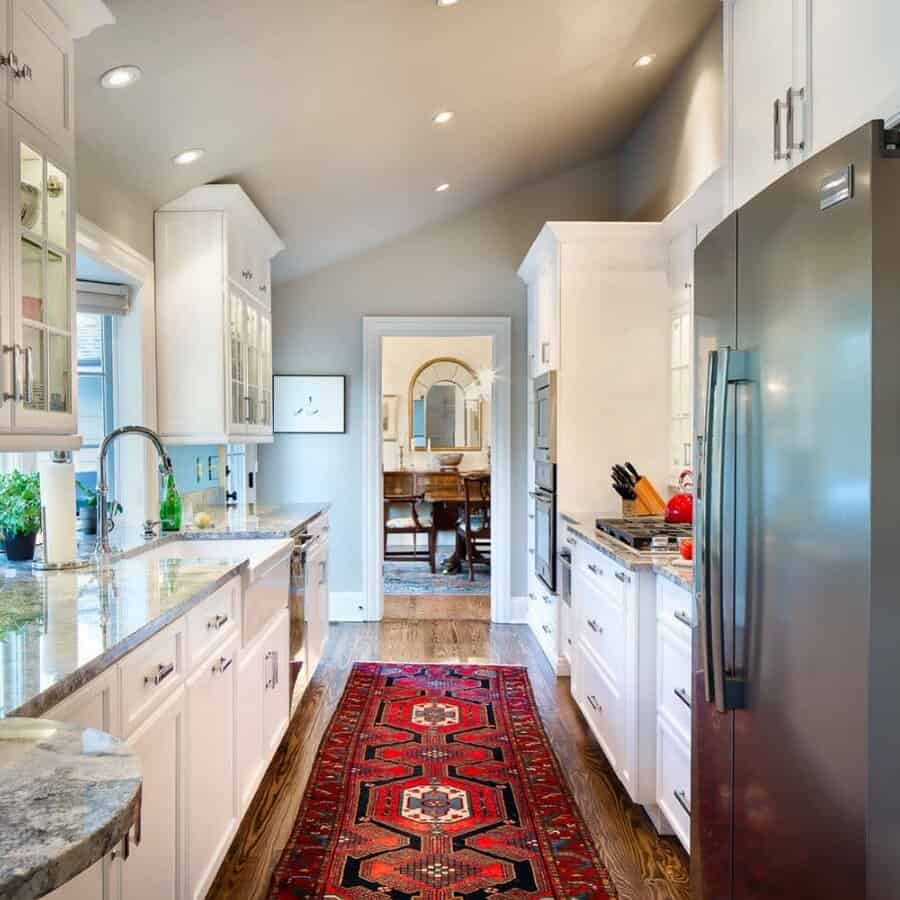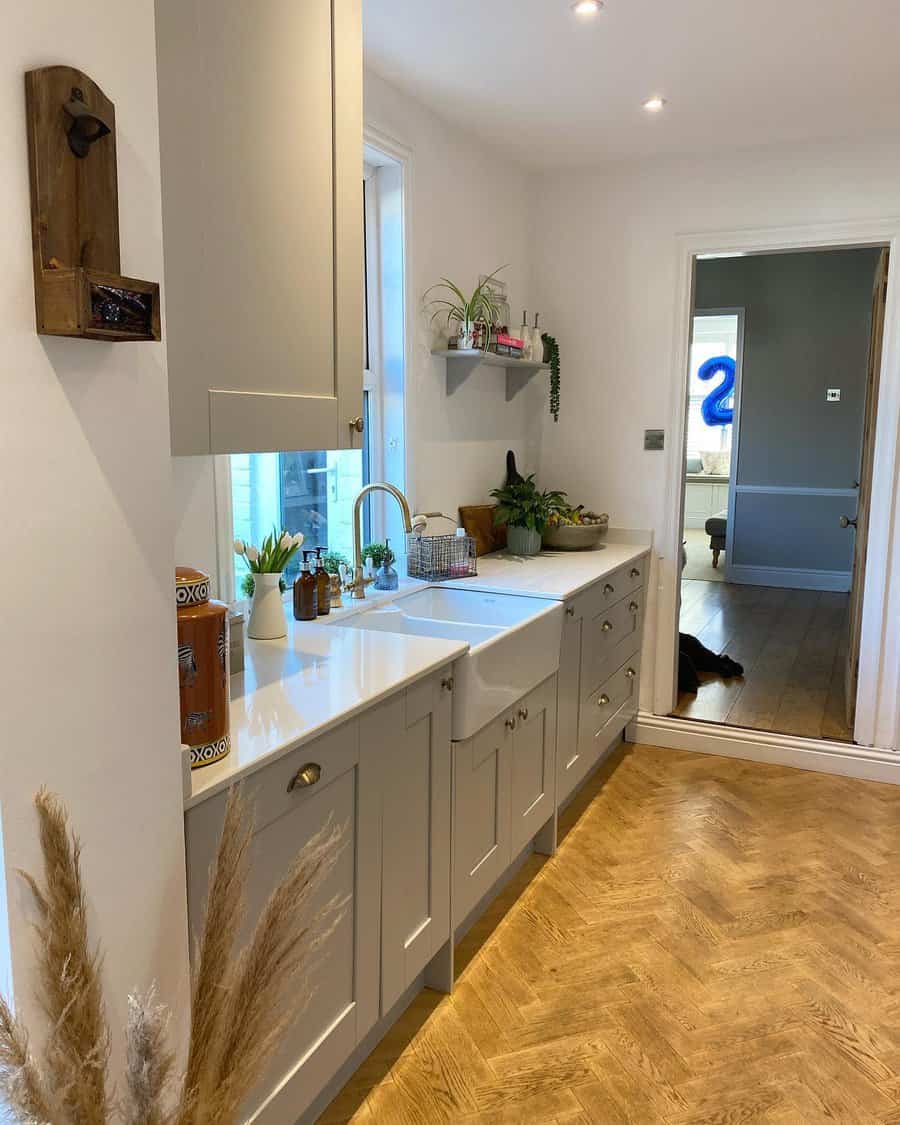 Another option is to keep the upper cabinets but replace the solid doors with glass ones. This allows you to retain the benefit of the enclosed cabinets while also creating more visual space in the galley layout.
10. Remodel
If you have the budget and ability to do a galley kitchen remodel, then you have the opportunity to make the most of the available space. Think about the final interior design aesthetic that you want to create.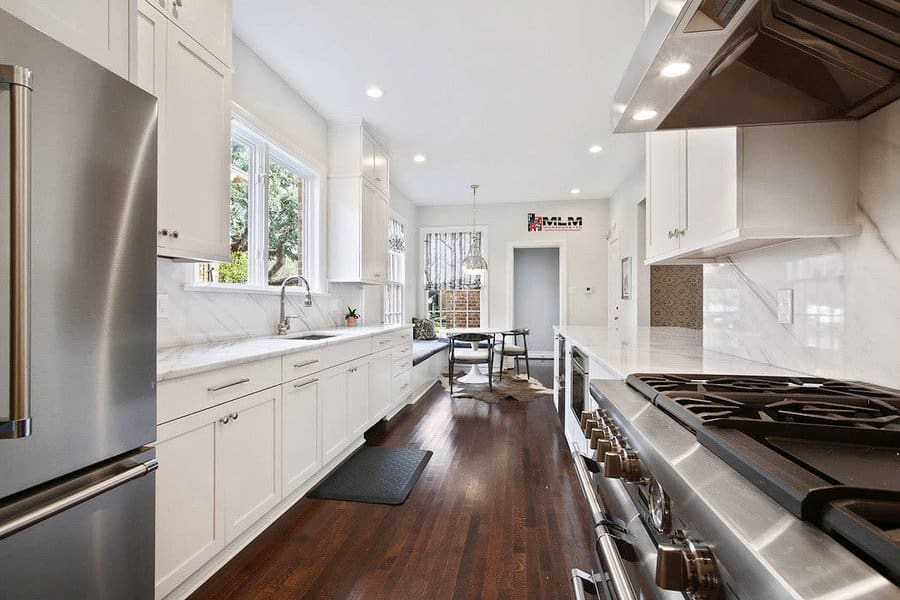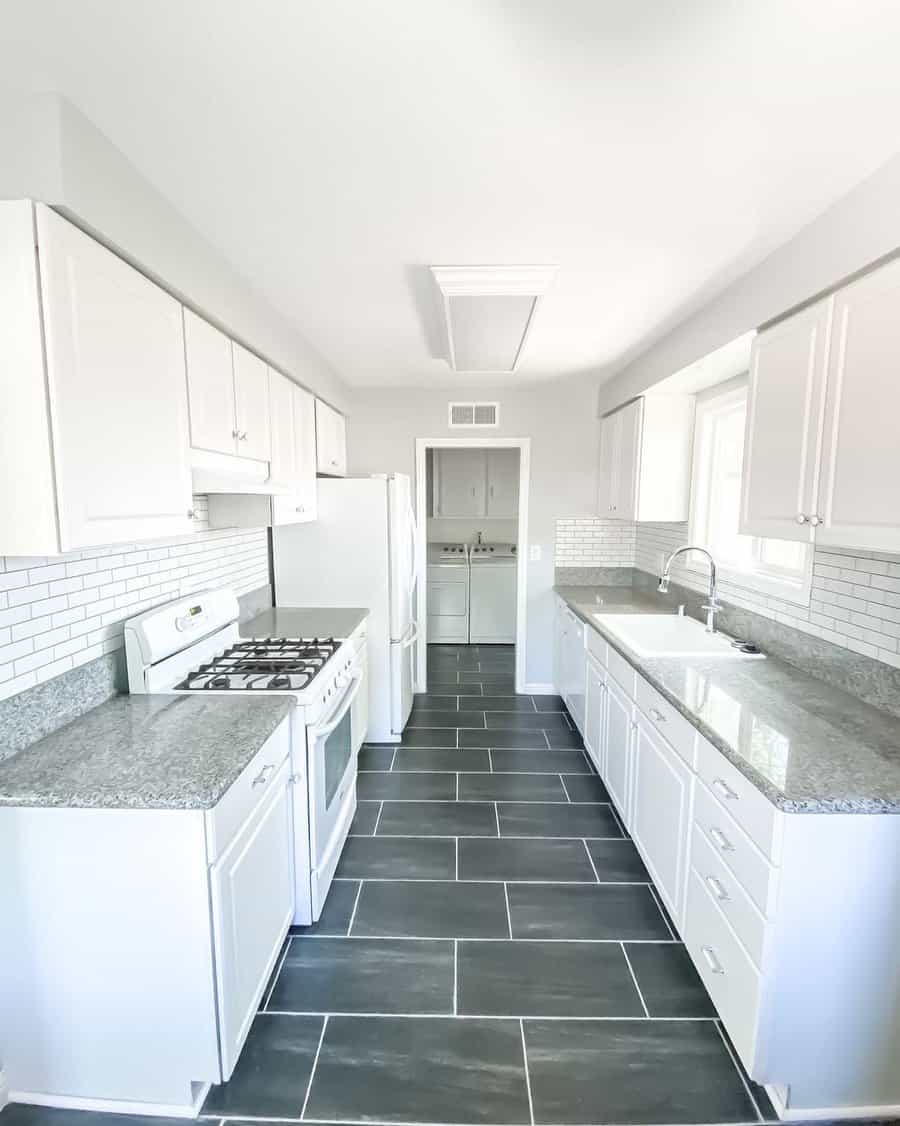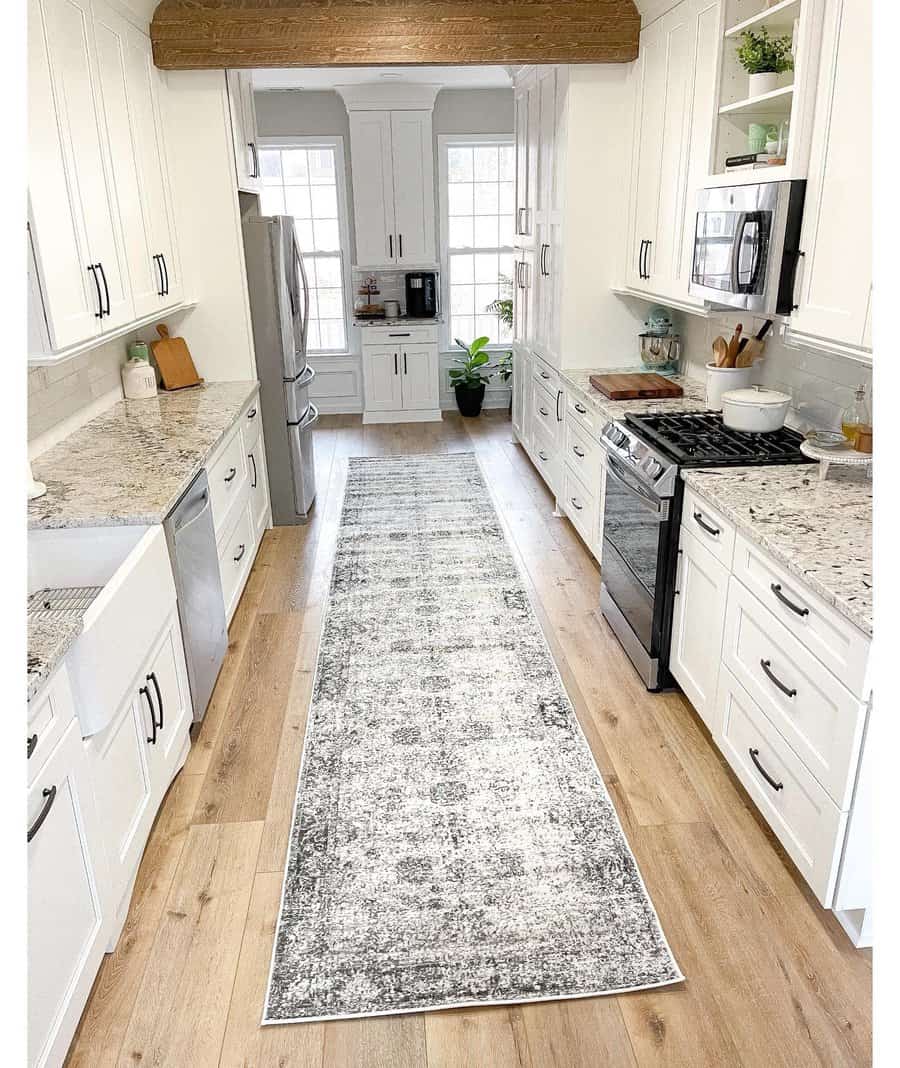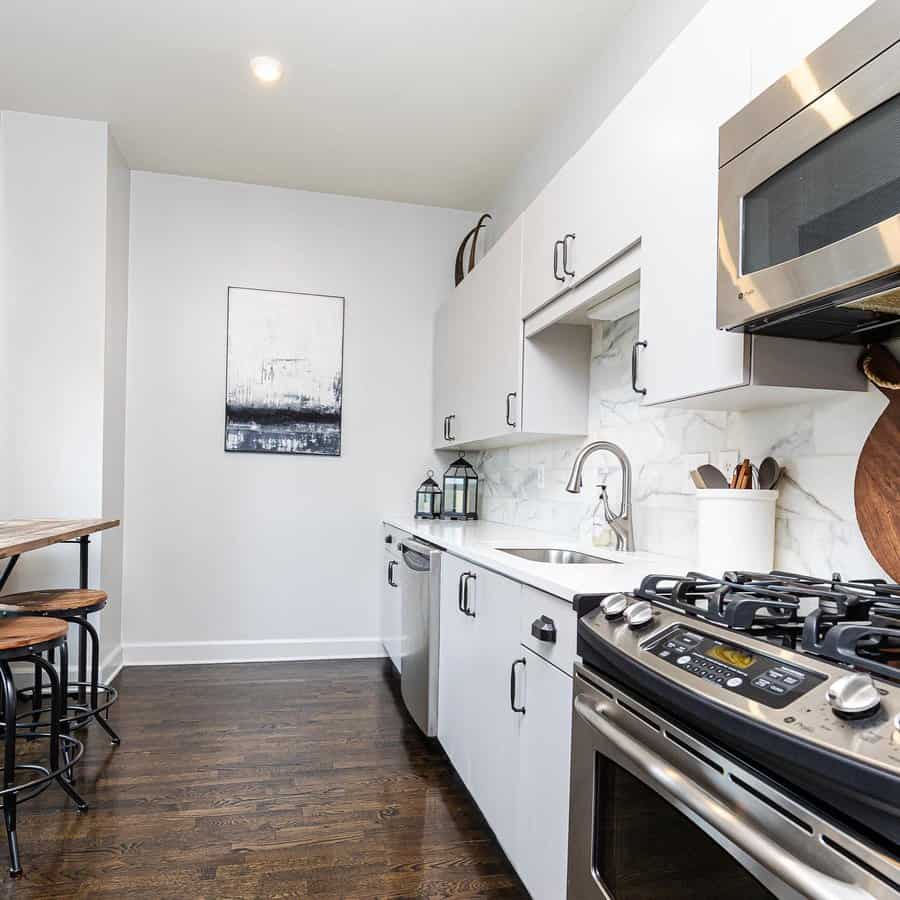 Perhaps you want to build in more counter space. This could require building out the kitchen counter to extend longer. Or perhaps you'd like to move some of the major appliances so that they are in better locations for improved functionality. Another option is to remove the upper cabinets to open up the space and replace them with long open shelves.
FAQs
Are galley kitchens functional?
A galley kitchen is functional because it's a compact space that's designed for maximum efficiency. Everything someone would need to prepare a meal is readily within reach. This makes the working triangle small for minimal steps and movement around the kitchen while cooking.
What are the benefits of a galley kitchen?
In addition to having everything within reach, you can easily create multiple working stations in a galley kitchen. This makes it possible for more than one person to use the kitchen without bumping into each other. You also can create plenty of countertop and storage space.
Why are they called galley kitchens?
The long and narrow shape of a galley kitchen is similar to the kitchen on a ship, which is referred to as the galley. The name from the ship has been taken to describe the similarly shaped kitchens in homes.