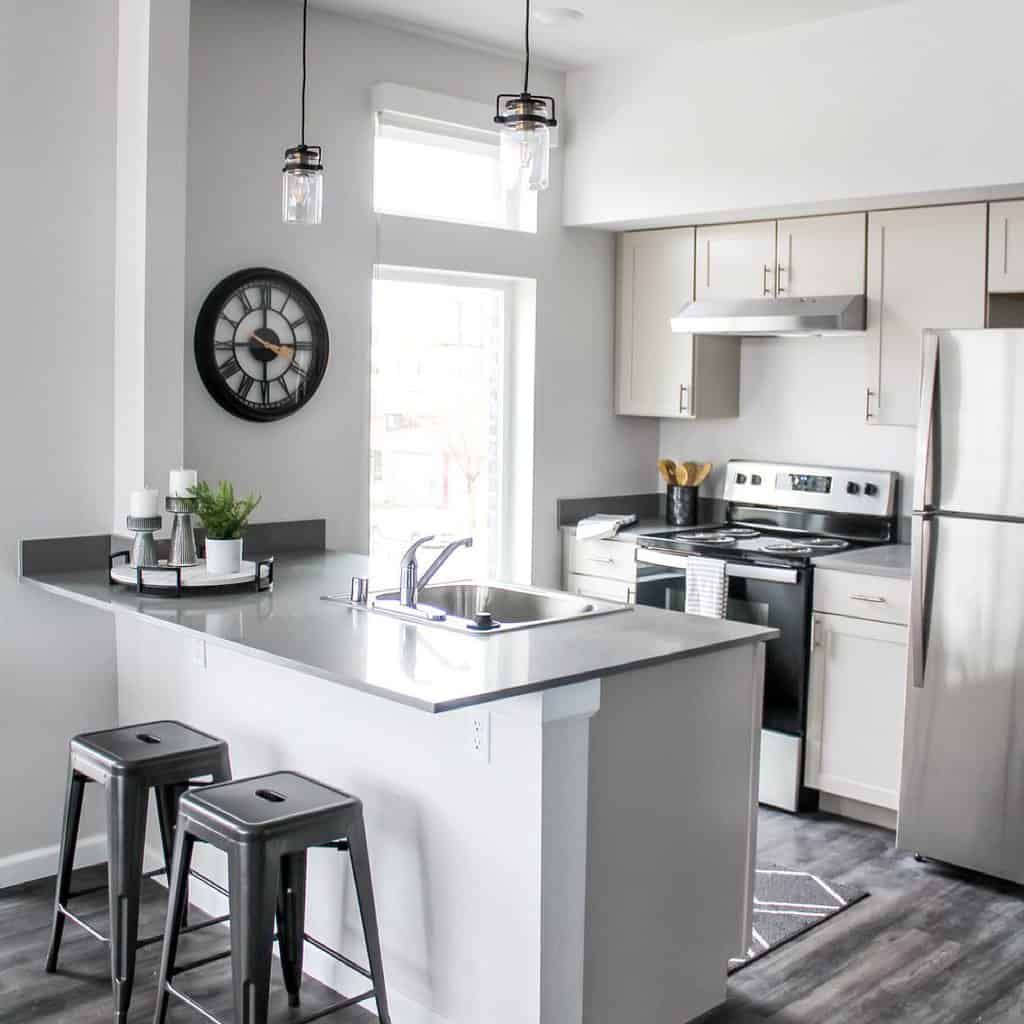 45 Small Kitchen Design Ideas
Living in a tiny kitchen can be frustrating. Its lack of storage and countertop space means you'll need to get creative. By taking advantage of your kitchen's features, you can make the most of your space. This could be adding shelving for more storage or giving it a cute theme to make it more inviting. Check out these tiny kitchen ideas and make the most of your small cooking space.
1. Apartment
Apartments are known for having small kitchens, as builders tend to reserve the majority of the square footage for the living spaces and bedrooms. If you live in an apartment with a small kitchen space, you'll need to look for ways to maximize the available space.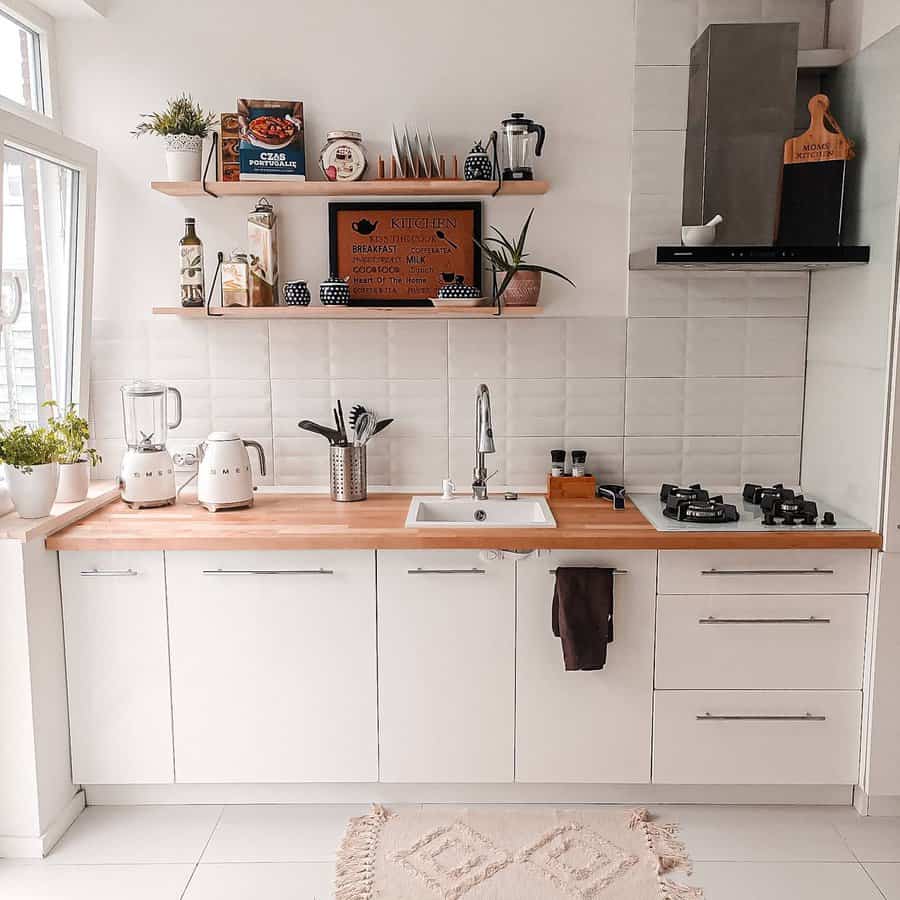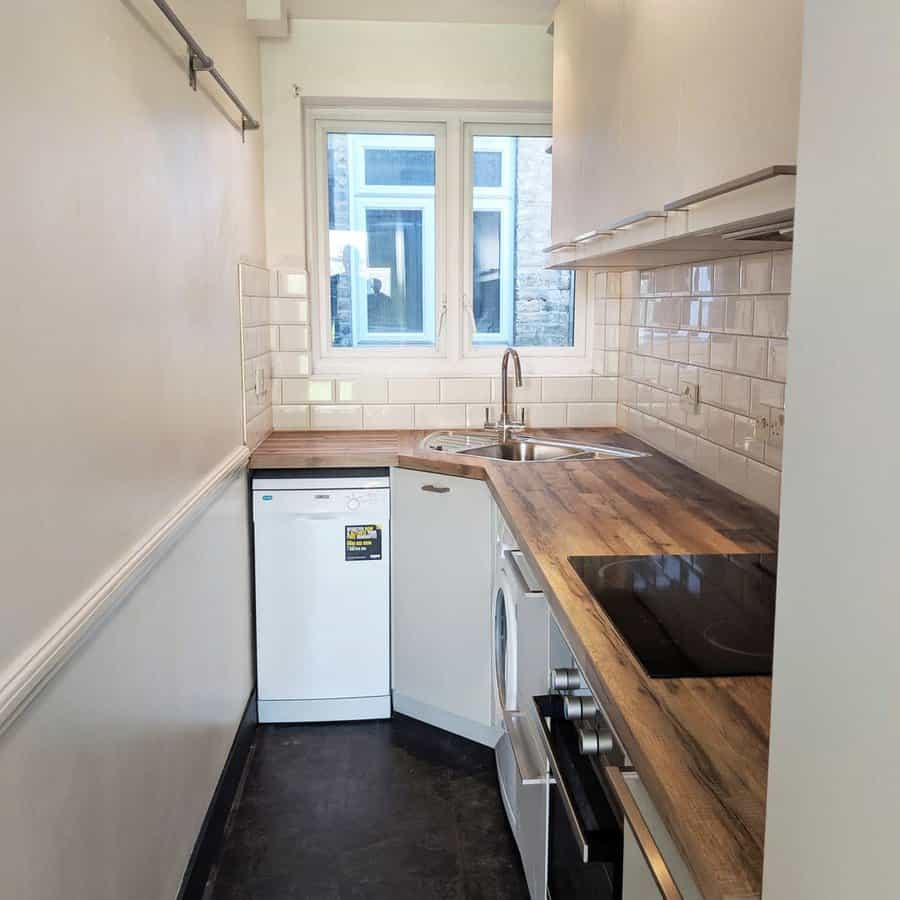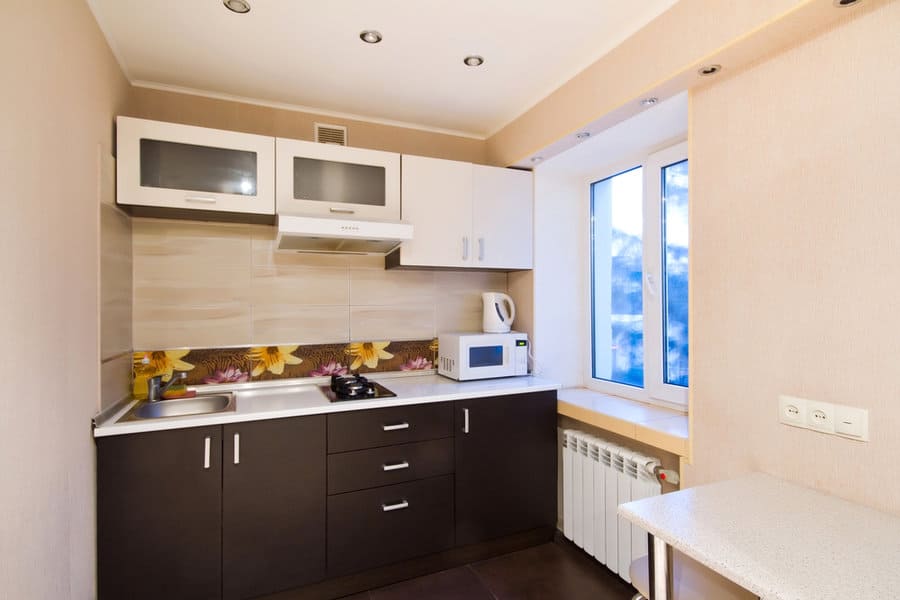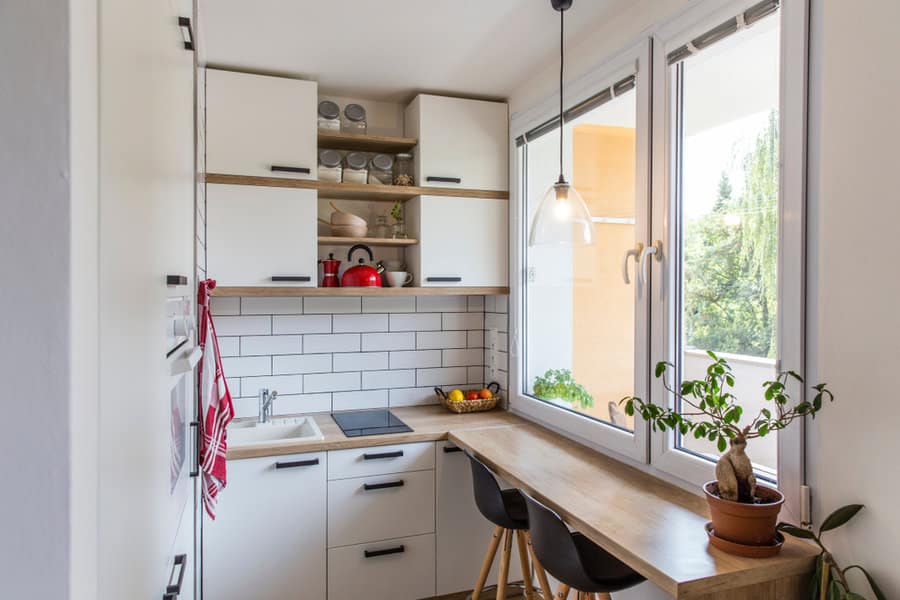 Add shelves to the backside of the cabinet doors. Add a kitchen island on wheels that you can roll out when needed and tuck away when not. Add a shelving unit or freestanding cabinet that you can use as additional pantry space.
See more apartment kitchen ideas here.
2. Boho
Embrace the intimate and cozy feeling of a tiny bohemian kitchen. Arrange fresh growing herbs in handmade pots on a floating shelf. Add home decor that you would normally place in other rooms to give it less of a kitchen feel and more of a homey feel.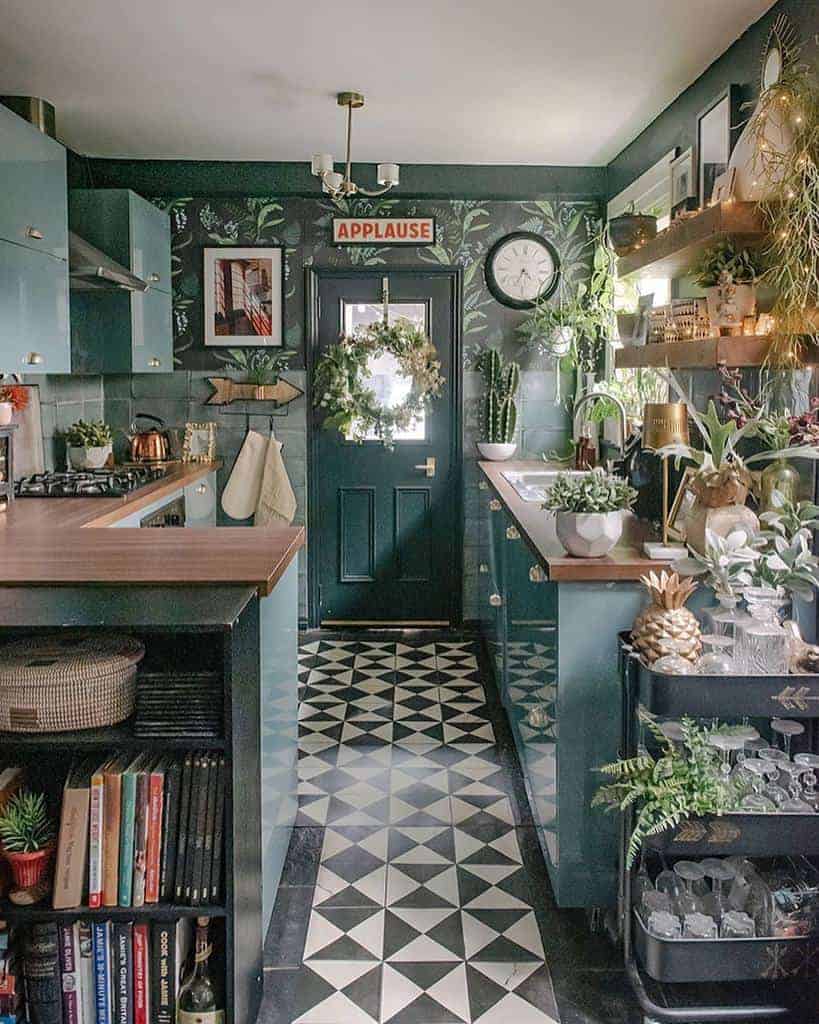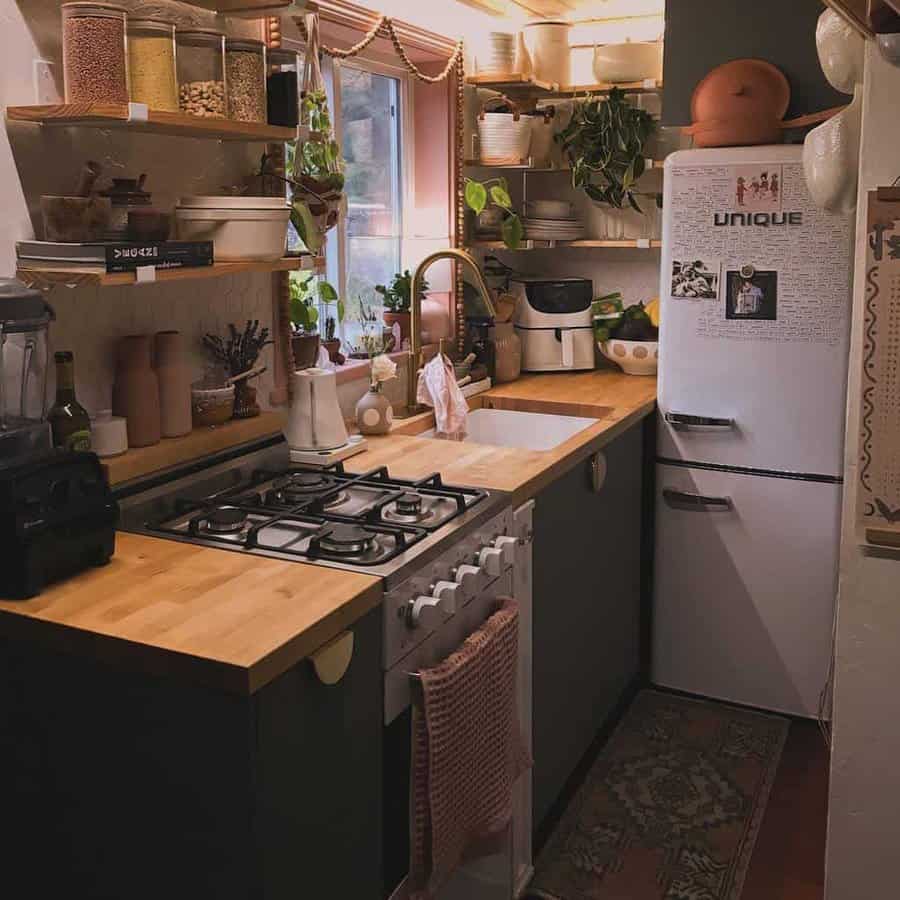 Emulate the kitchens of exotic places by hanging cooking pots from around the world. Spread a handmade area rug on the floor. Use cutting boards made from exotic woods. Display decorative jars that are full of spices that are used for preparing a variety of cuisines.
3. Contemporary
Creating a contemporary feel in your tiny kitchen is smart because it keeps the kitchen bright and clutter-free. Floating shelves, kitchen cabinets with organizational drawers, decorative lights, and marble countertops are common.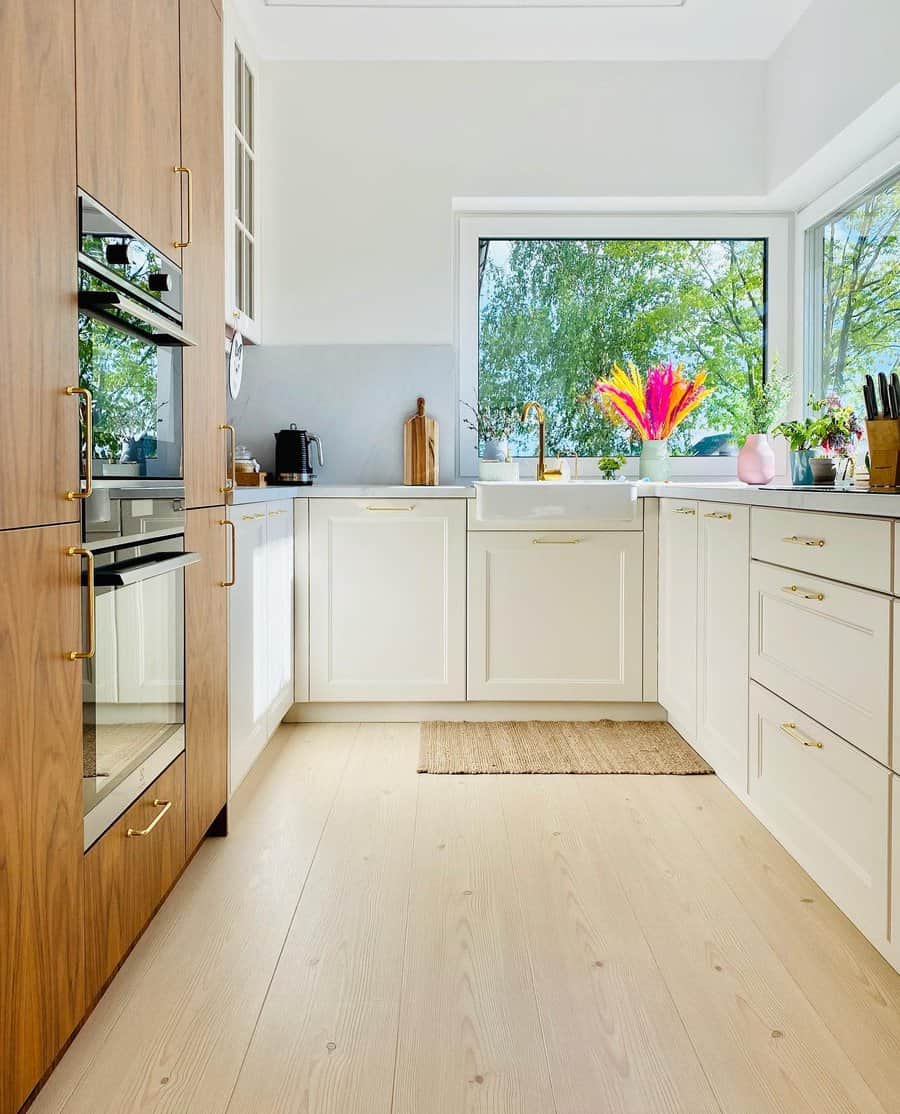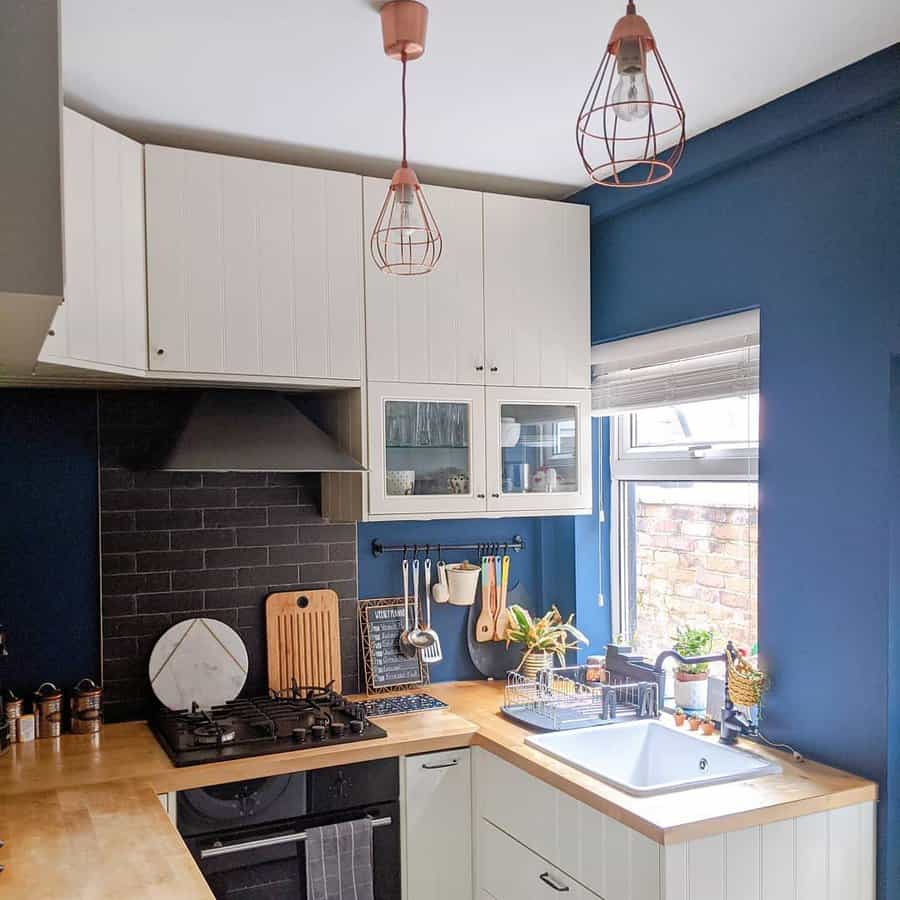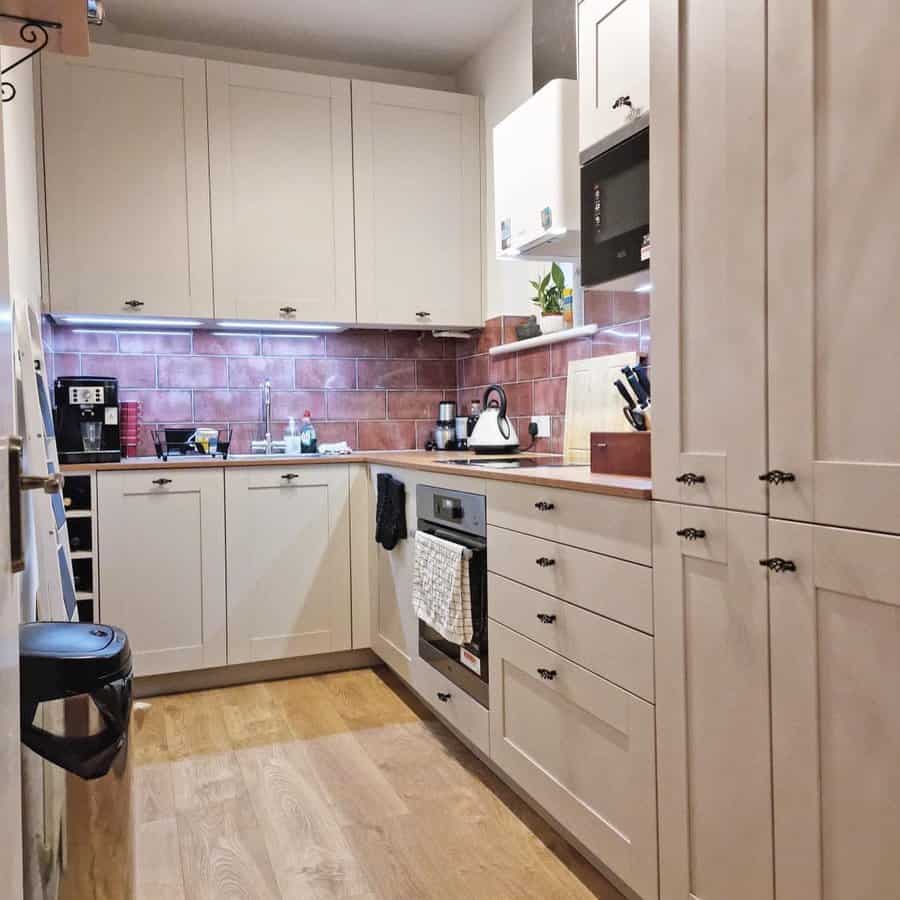 Focus on using a mixture of materials, which creates depth and dimension. This helps trick the eye into thinking the kitchen is bigger than it really is. Don't be afraid to use a combination of light and dark colors. Try to keep the dark shades low in the room to keep the heaviness low and help the upper half feel bigger.
4. Country
A tiny kitchen is perfect for embracing a country aesthetic. An open shelf gives you more storage and helps the kitchen feel spacious. Add a farmhouse apron kitchen sink that you can have storage underneath.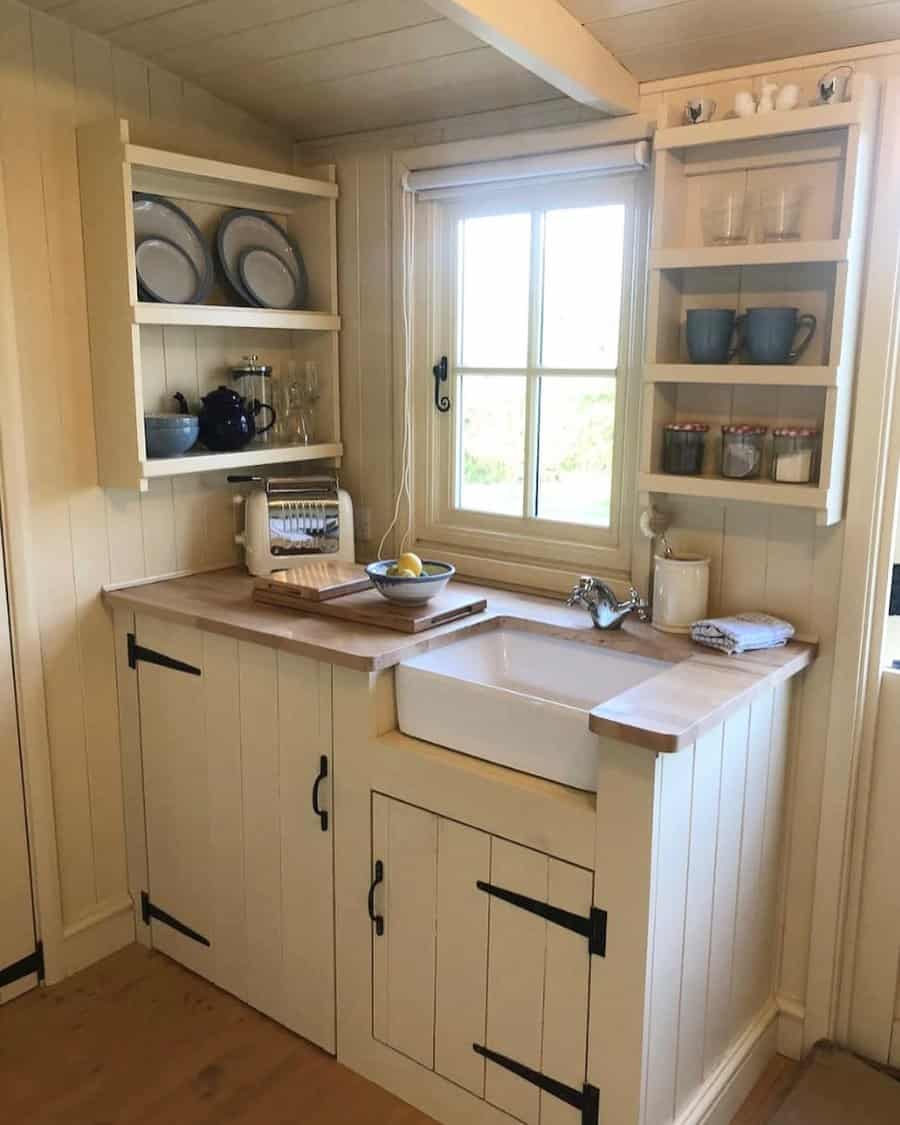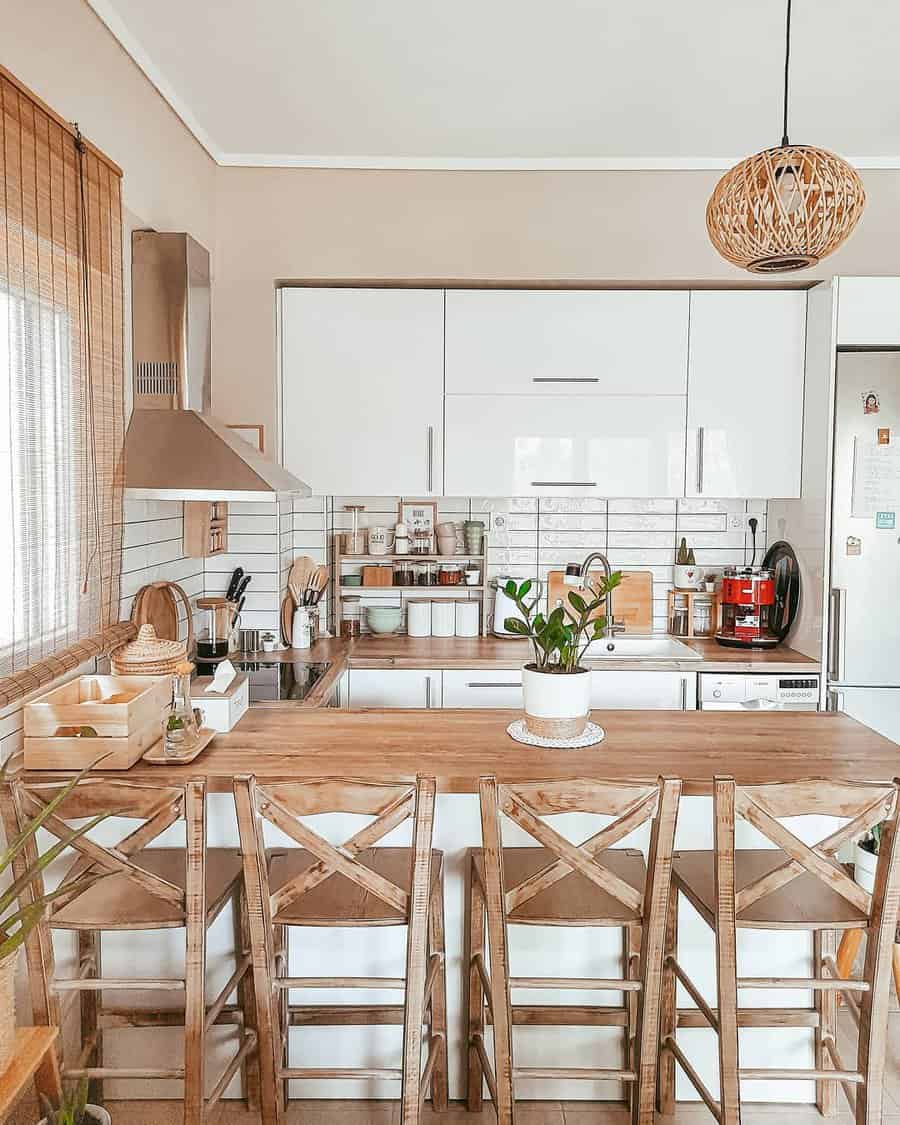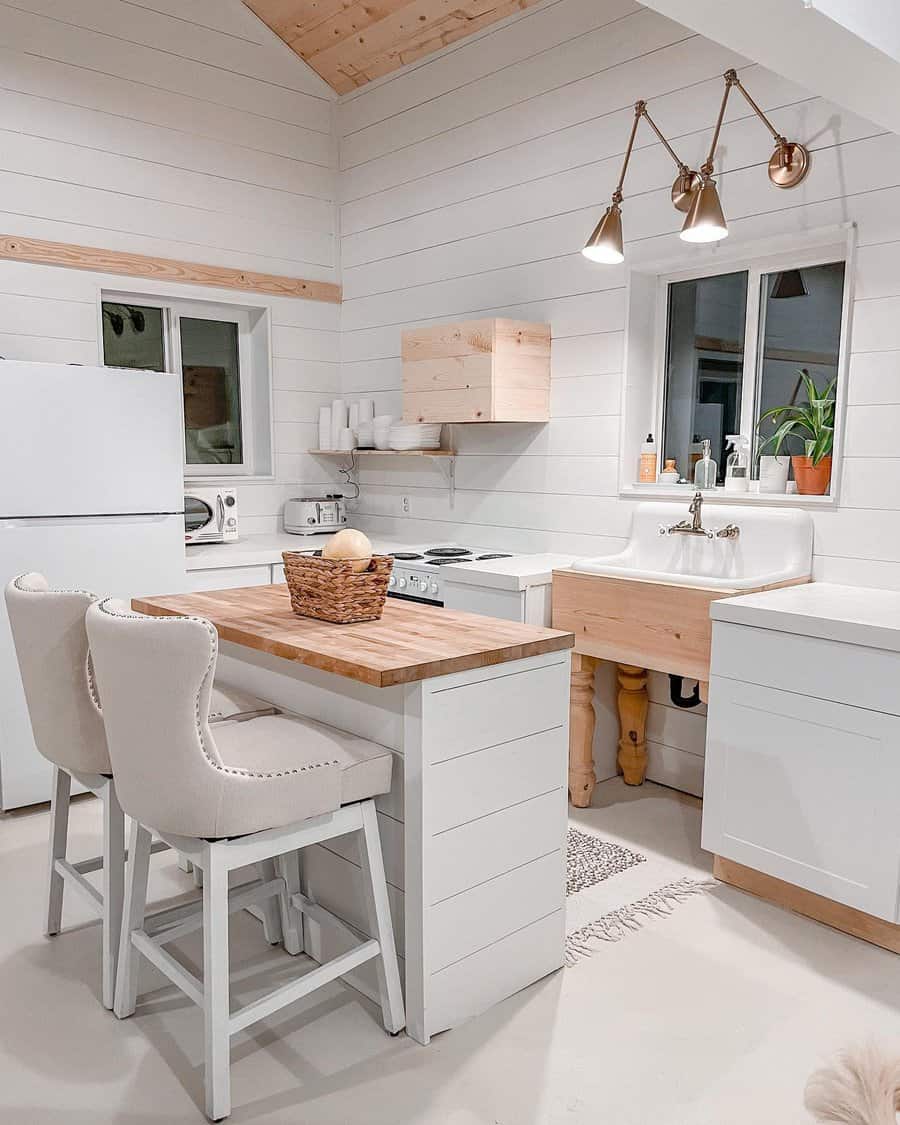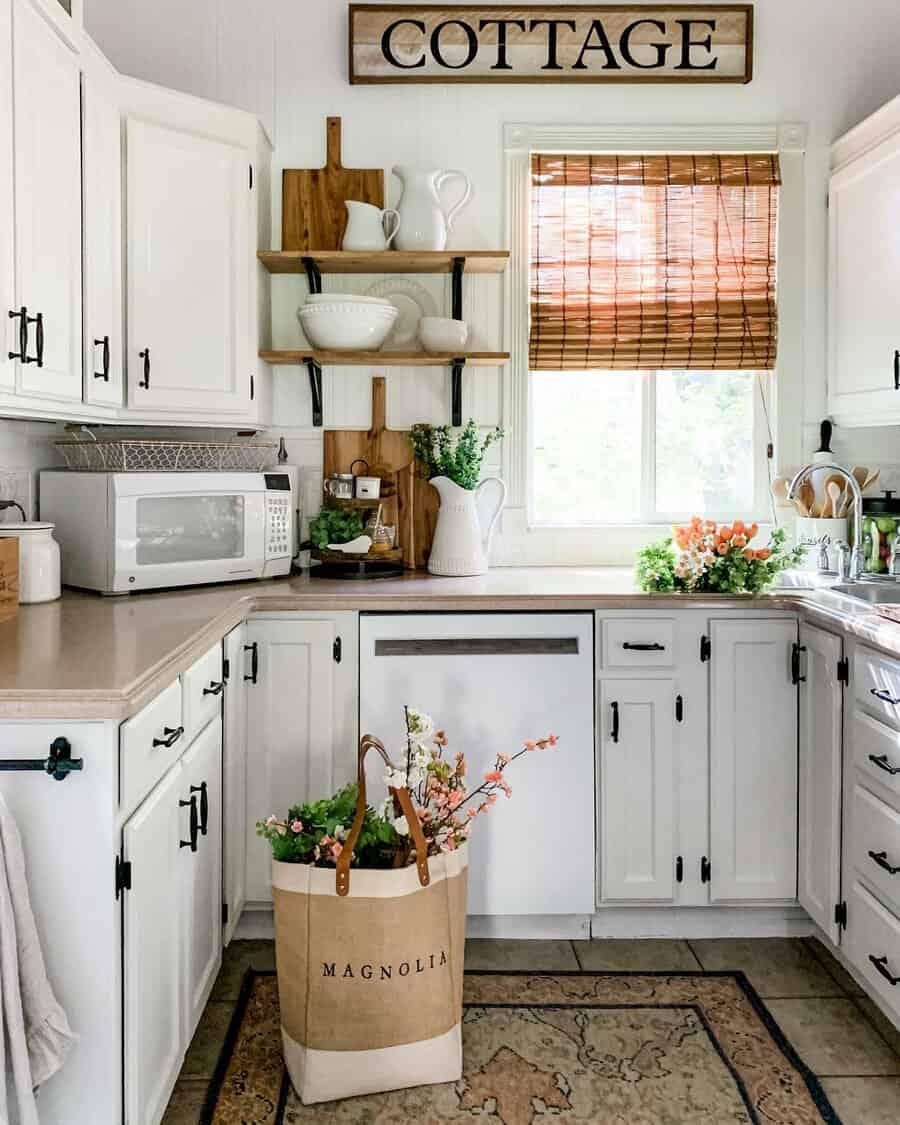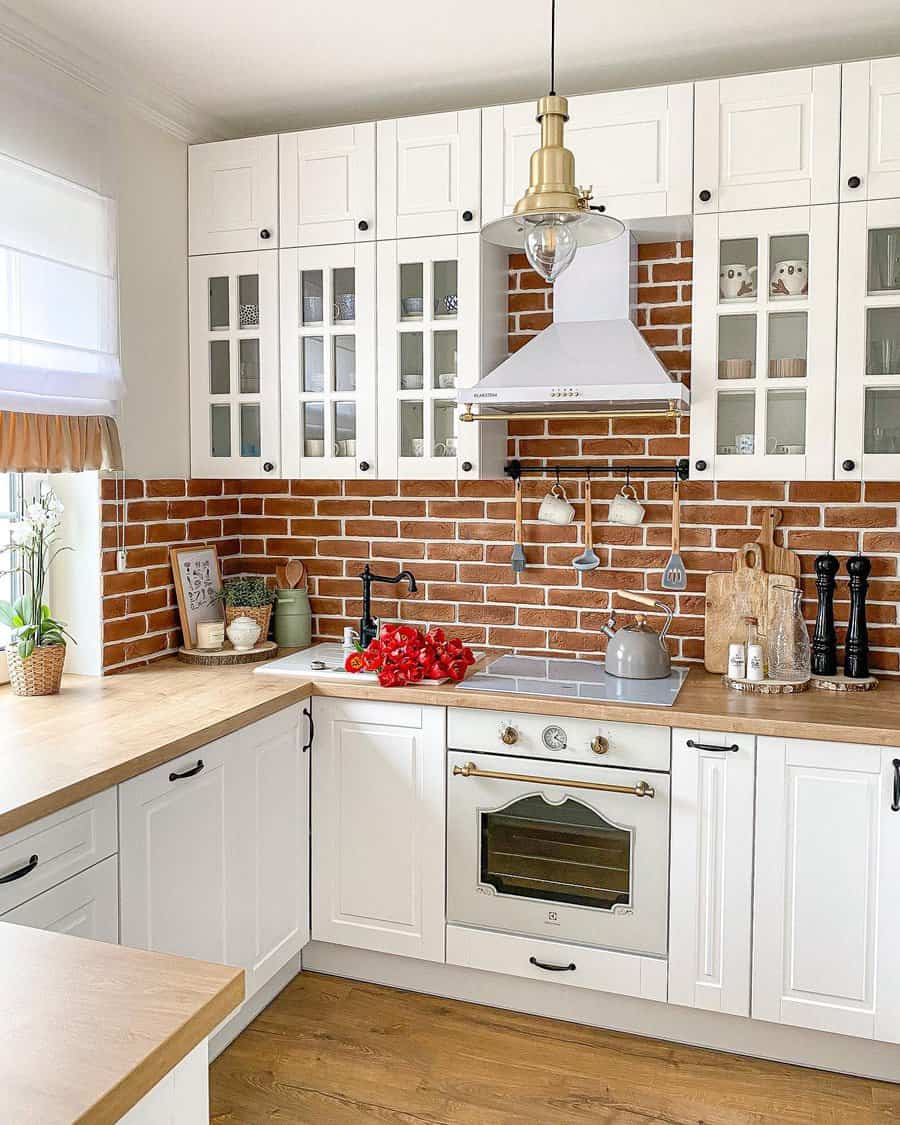 Add a shelf up high on the wall that gives you plenty of storage for less often used items like specialty appliances and serving dishes. Hang handwoven baskets from the ceiling that you can fill with produce. You could even hang a vintage produce scale with a large bin with plenty of space for storage.
5. Dark
Be careful when creating a dark kitchen. While it's possible, you need to choose the right shade and balance the dark colors with light or metallic accents. Dark small kitchen design ideas make a bold and polarizing statement, which also means that the design won't be appealing to everyone.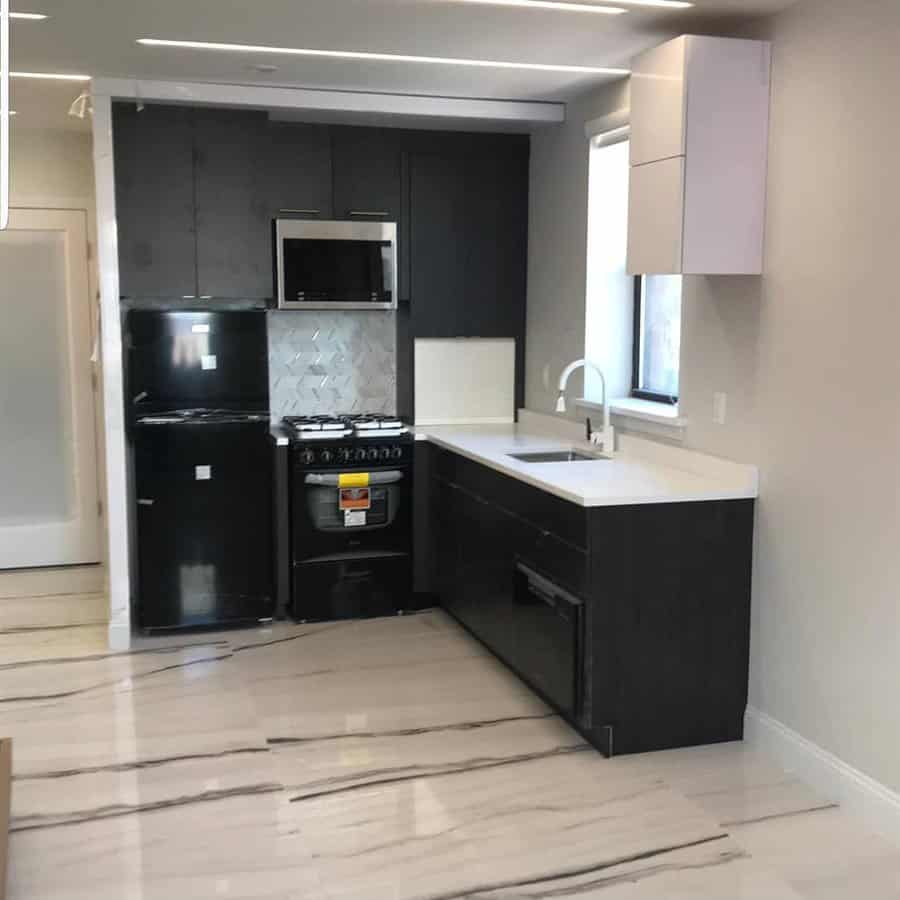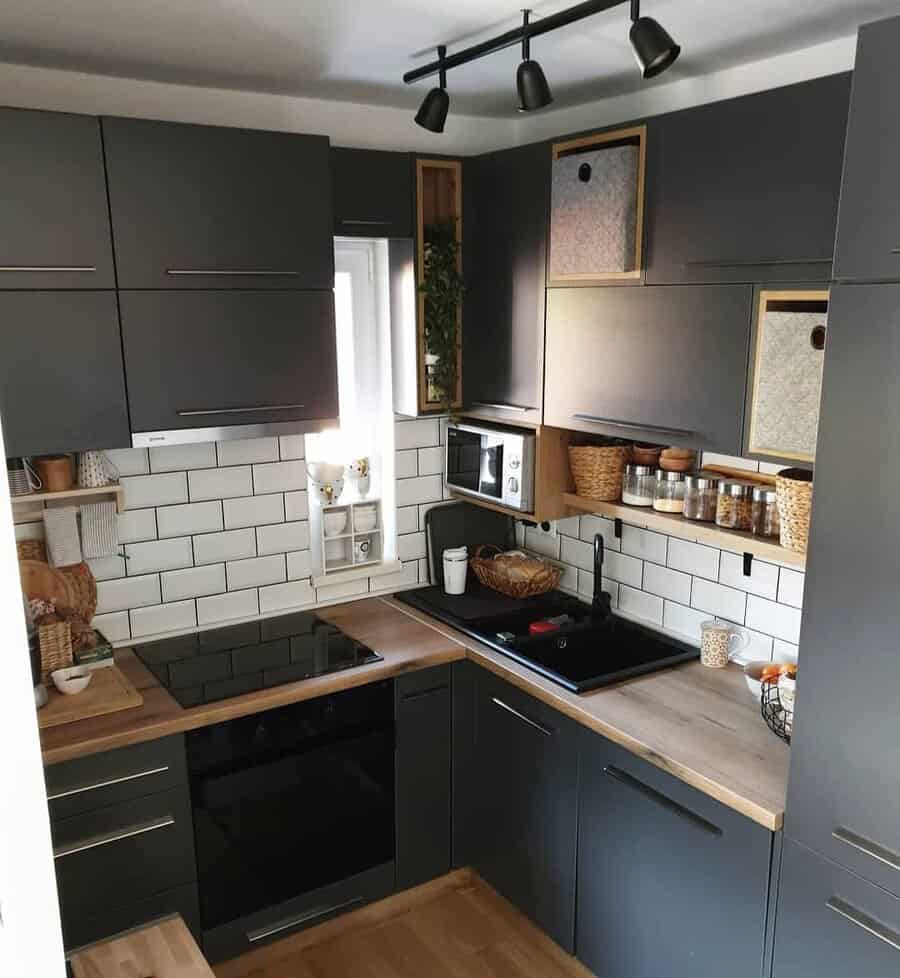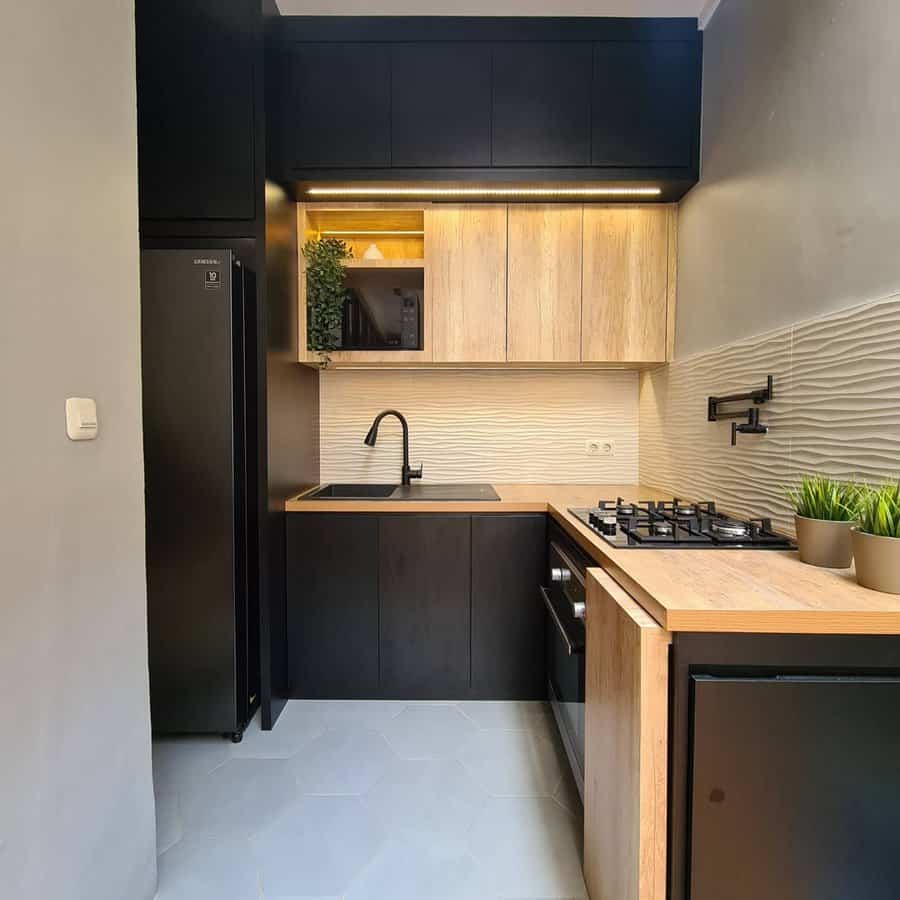 Instead of choosing a stark black color, soften the look by choosing another dark color. A deep navy, dark forest green, charcoal gray, or blood red are all good alternatives. Their deep hue and heavy saturation make them perfect for adding drama to your small kitchen.
6. Galley
A galley kitchen is a typical setup for a tiny kitchen. They are long and narrow, like a ship's galley, hence the name. The key to making a galley kitchen a comfortable space to be in is creating the illusion that it's wider. While it may have limited floor space, you can make the upper half feel bigger.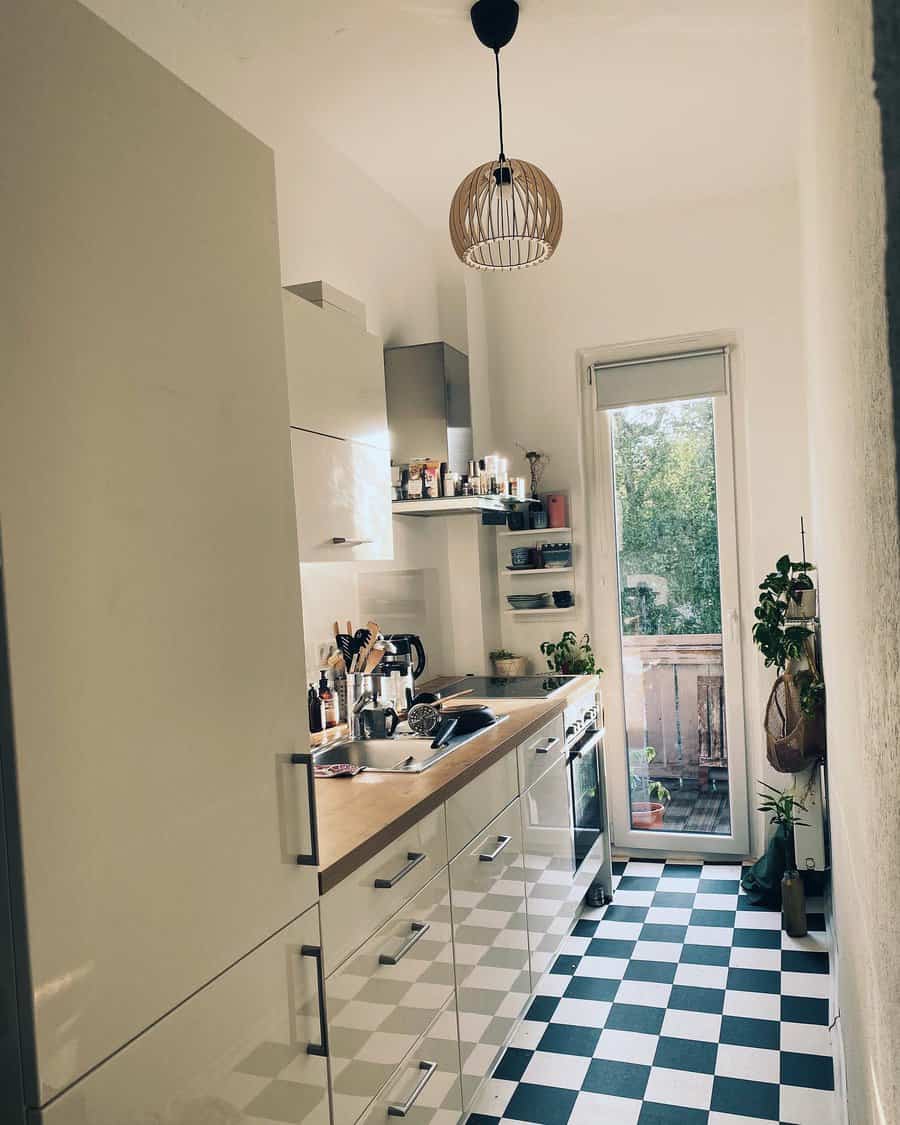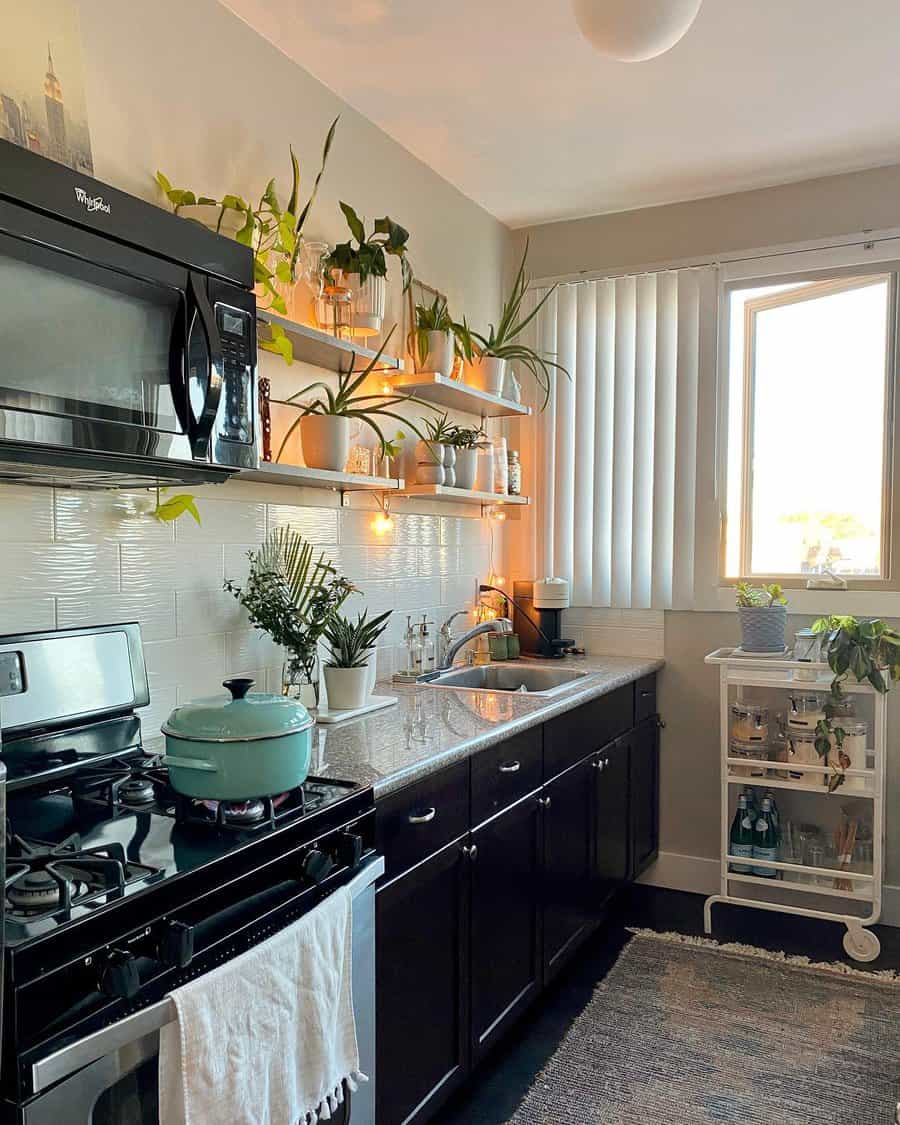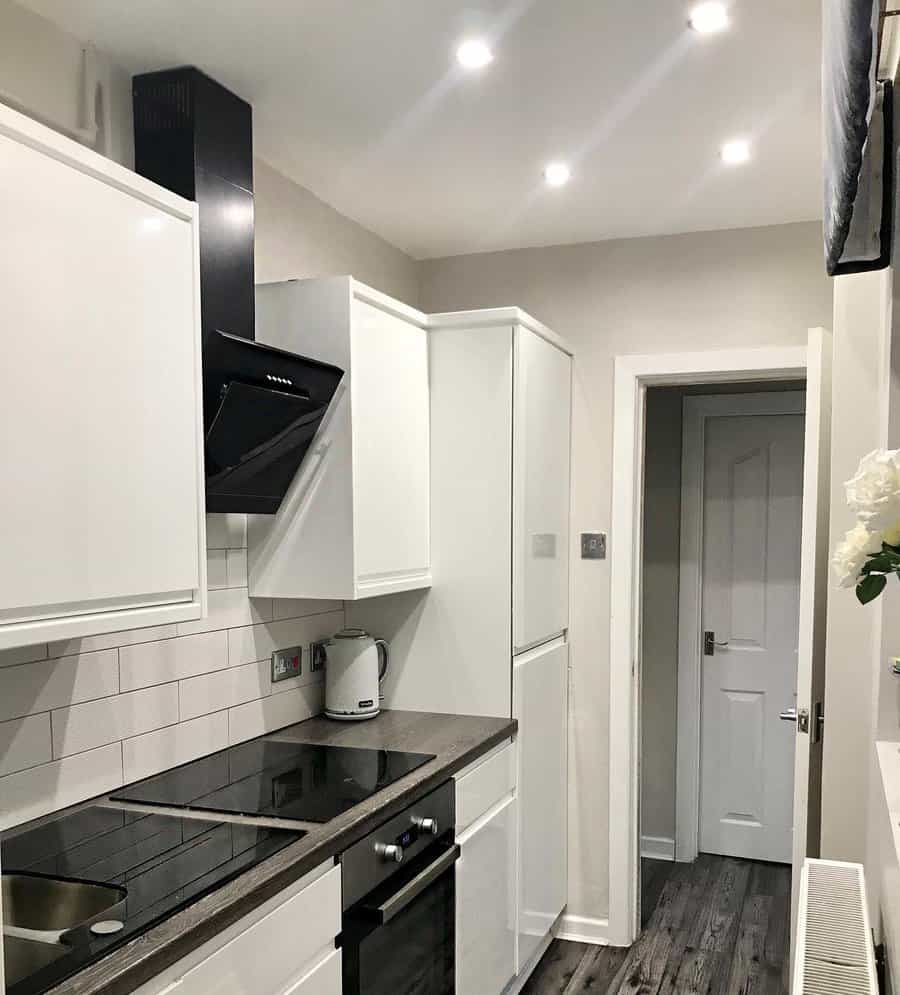 Paint the walls a darker color than the trim and cabinets. It doesn't have to be a drastic difference; even a slight one will do. The darker color on the walls will cause them to visually sink back from the brighter and lighter cabinets in front of them. Another option is to paint a line down the center of the ceiling. This creates the illusion that the kitchen is longer and bigger than it really is.
7. Gray
Gray has made its way throughout the entire home and is now making its presence known throughout the kitchen. The color works well in small kitchens because it's soft and unassuming.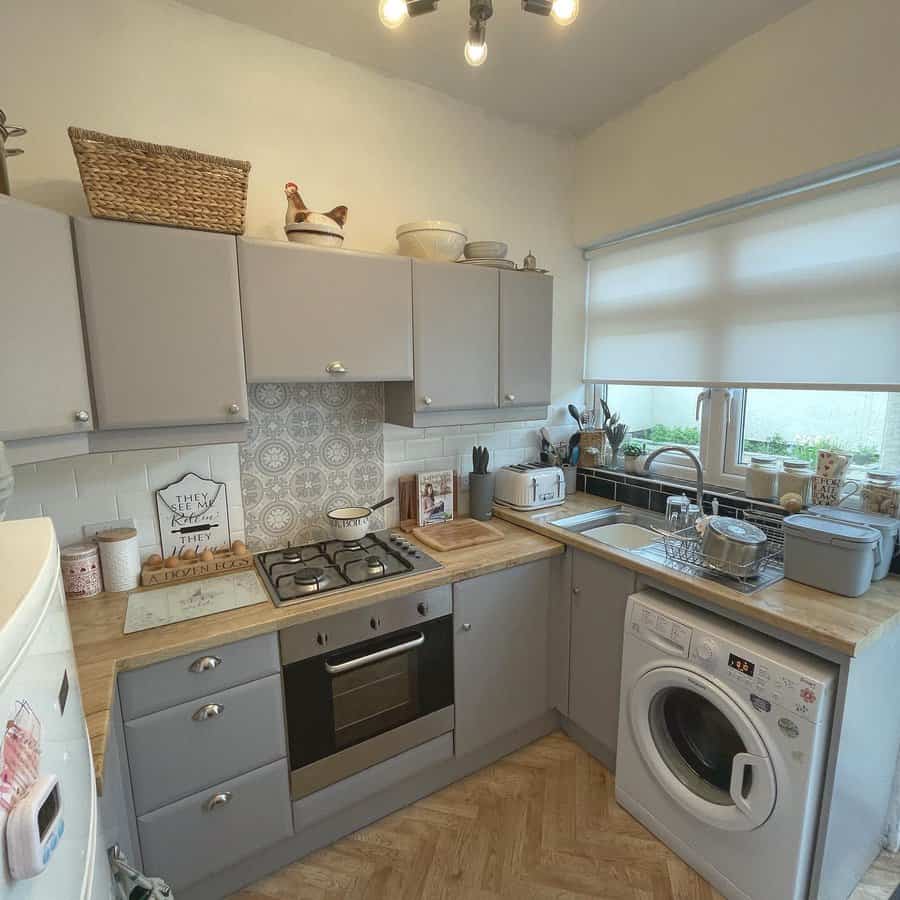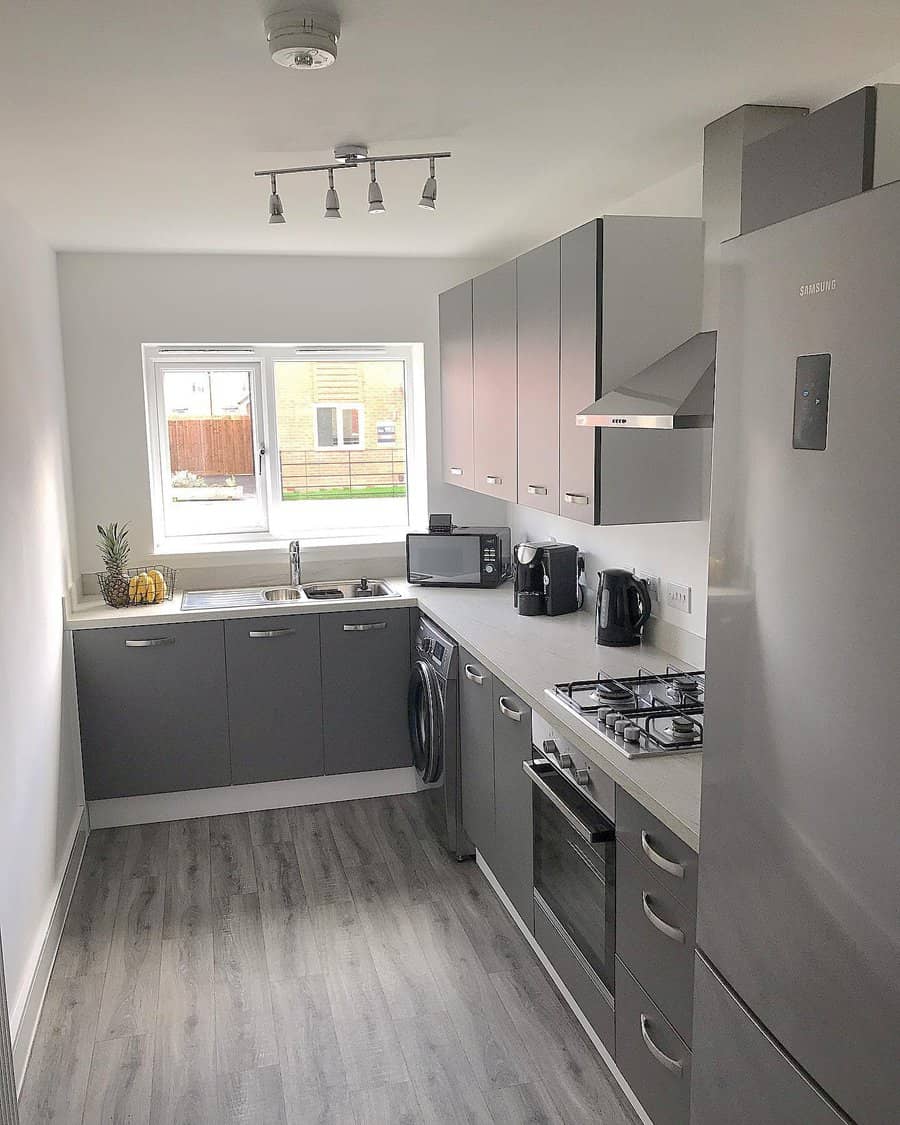 A light gray is best for a small kitchen because it still reflects plenty of light while being softer and less harsh than an all white kitchen. To create a well-designed gray kitchen, use more than one shade of gray. This creates depth and variation, which helps your kitchen feel bigger while also preventing it from falling flat.
See more gray kitchen ideas here.
8. Industrial
Use the small size of your kitchen to your advantage by giving it an industrial makeover. Strip it down to the bare essentials by taking out the cabinetry and replacing them with open shelves made of metal.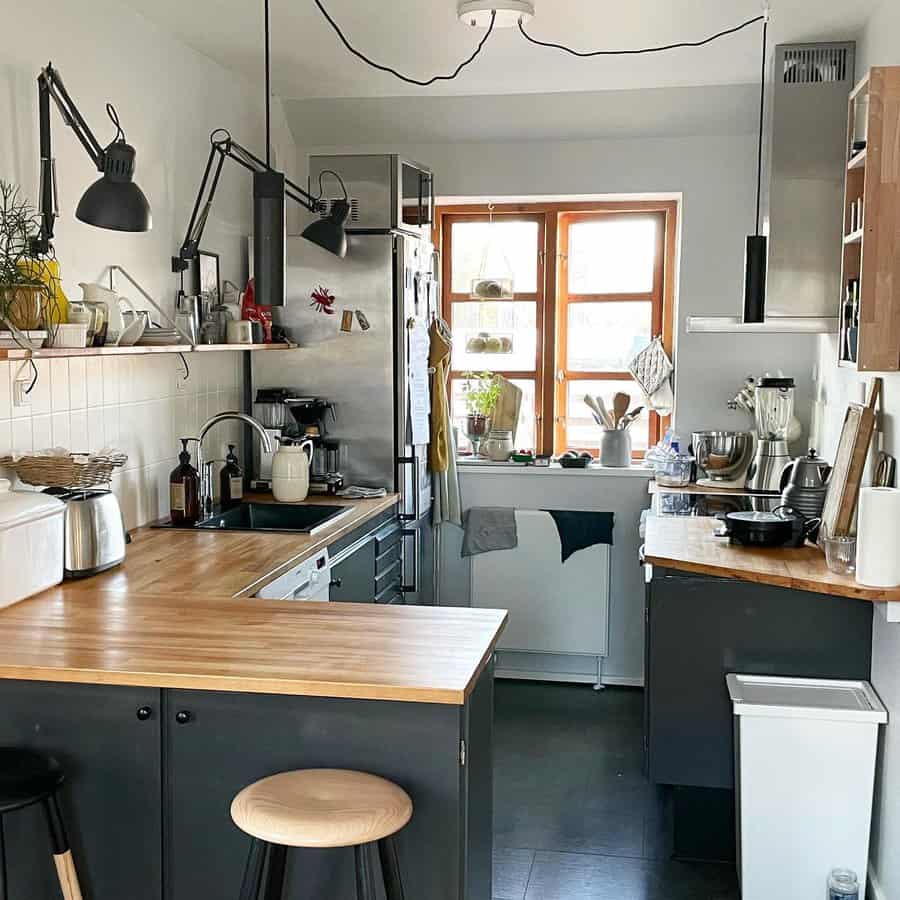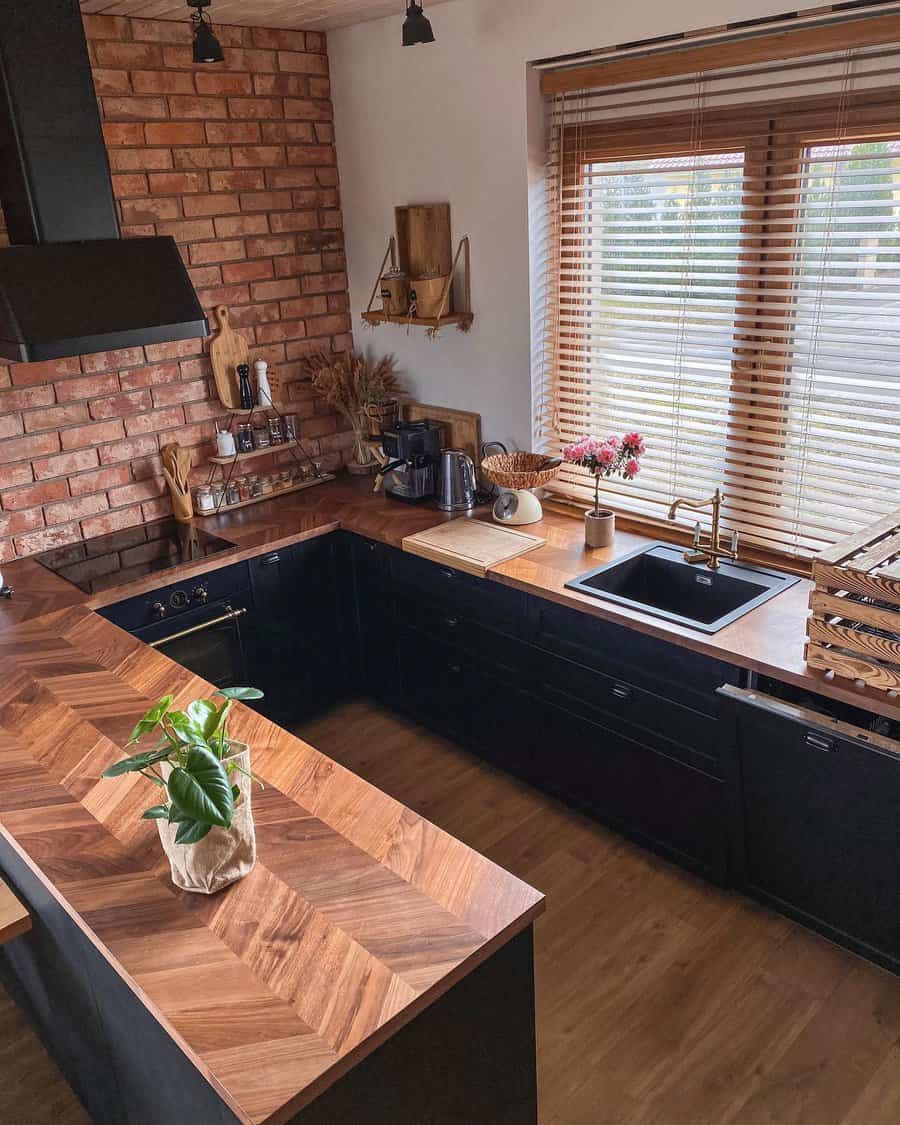 The bare-bones approach keeps the small space feeling bigger while also adding character. Replace your countertops with stainless steel to make them easier to clean. Install industrial lighting that is high and out of the way. This prevents a closed-in feeling from above. Add wood elements, such as bar stools or flooring, to bring some warmth into the space.
9. Minimalist
When working with a small space, a minimalist approach is one of the best decor ideas. Stick with a single color for the color scheme, preferably white or black. This creates a minimlist and uniform look throughout the space. Then accent the space with metal or wood.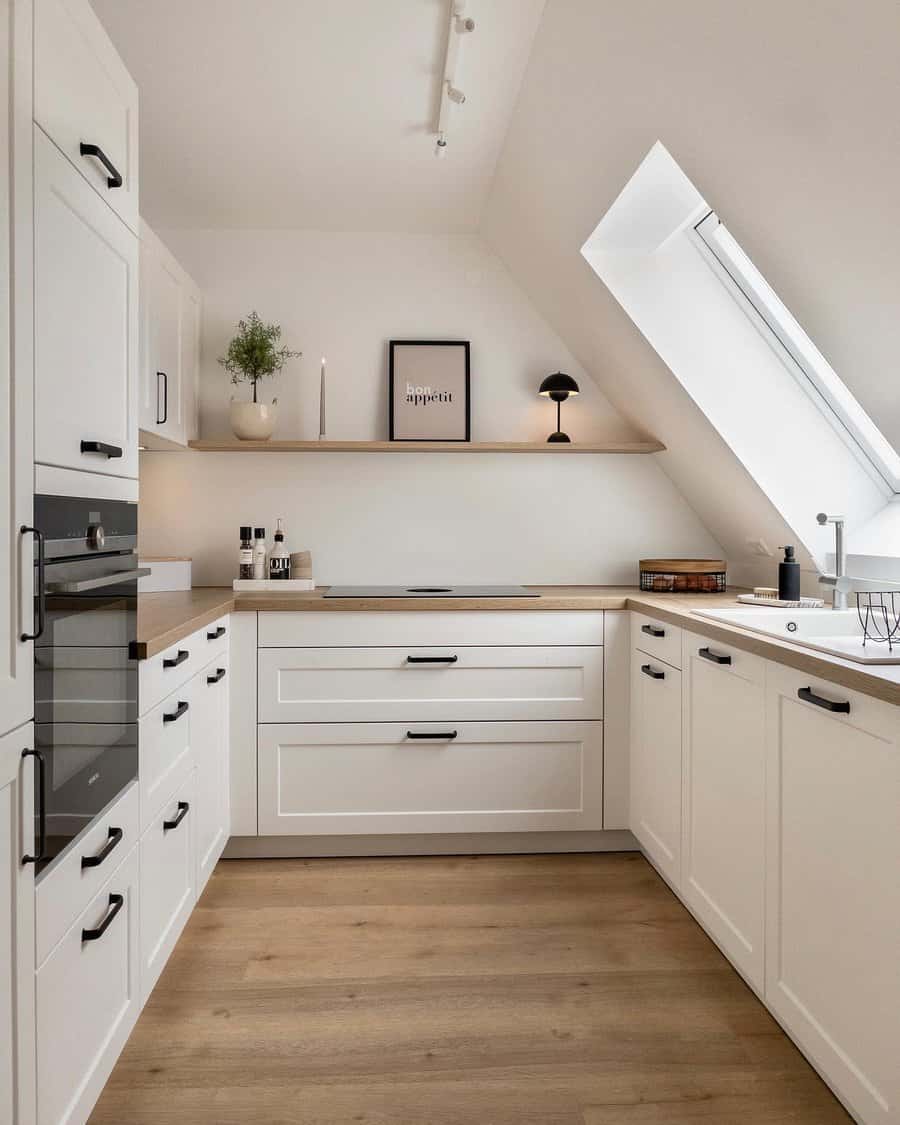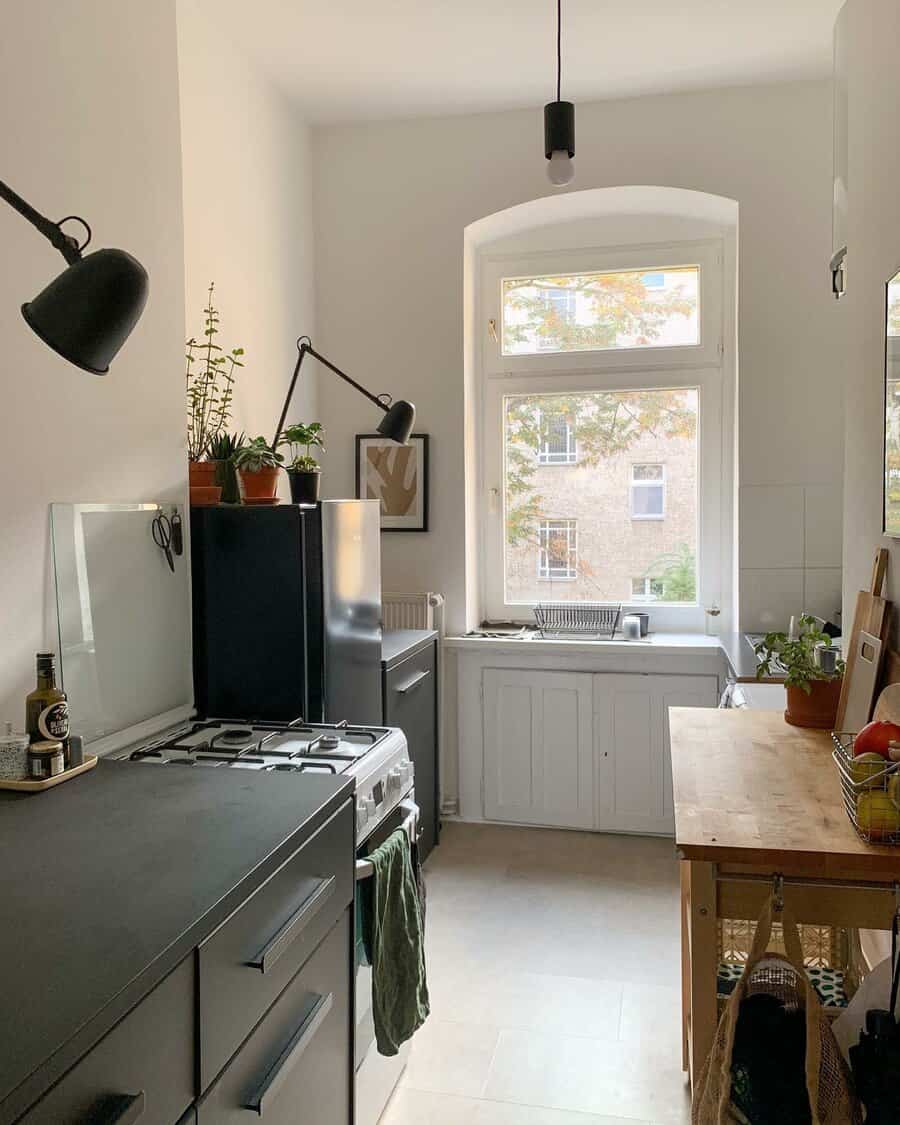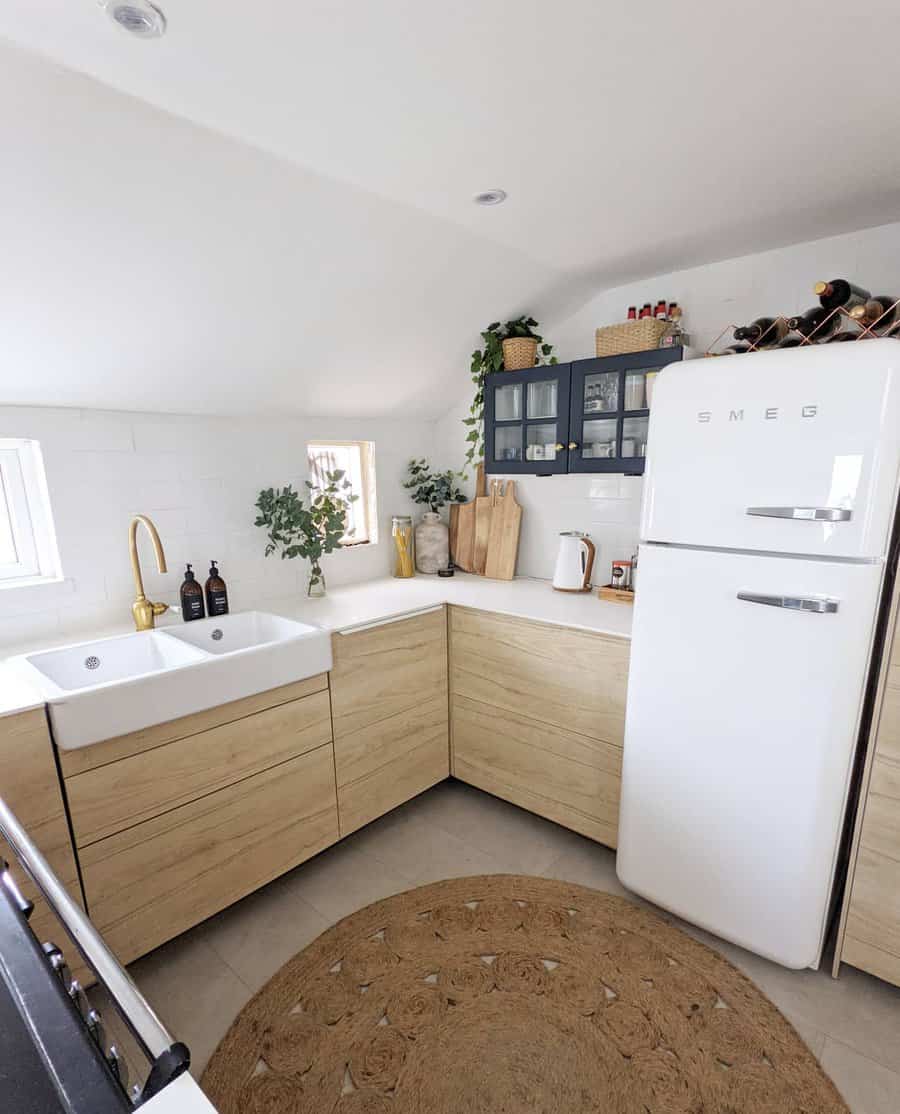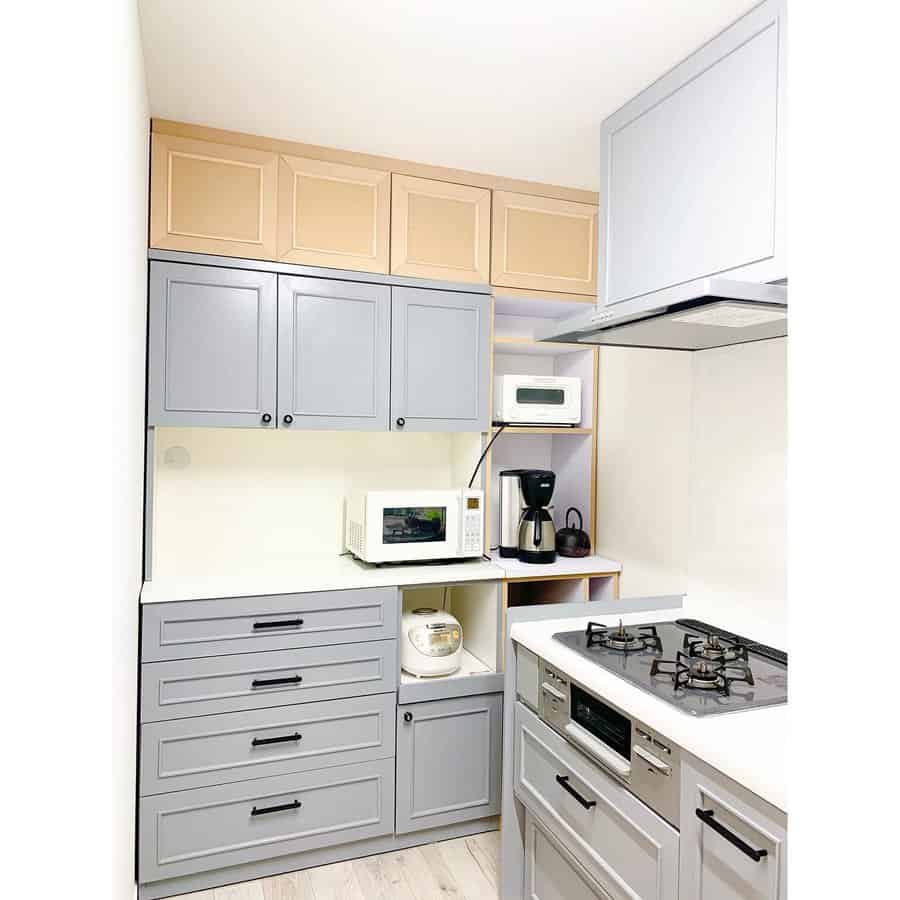 The cabinets should create a smooth and continuous front. It's also good to hide the fridge, stove, and any other major appliances. Elevate the minimalist design by using high-end materials, such as marble on the countertop. Use light fixtures that have a simple and slim design.
10. Modern
A sleek and modern small kitchen with its minimal clutter is perfect for a tiny space. Use accent lighting to highlight the long lines and sharp corners. Hide the kitchen appliances behind slab cabinet fronts that create a smooth and uniform front.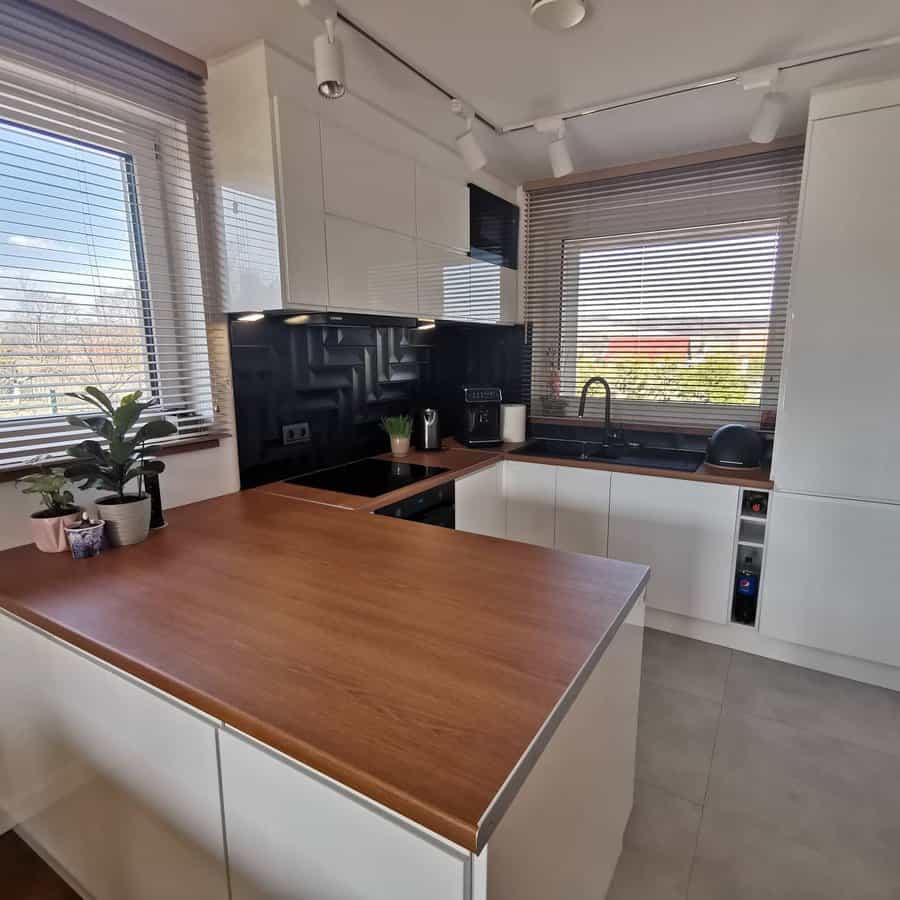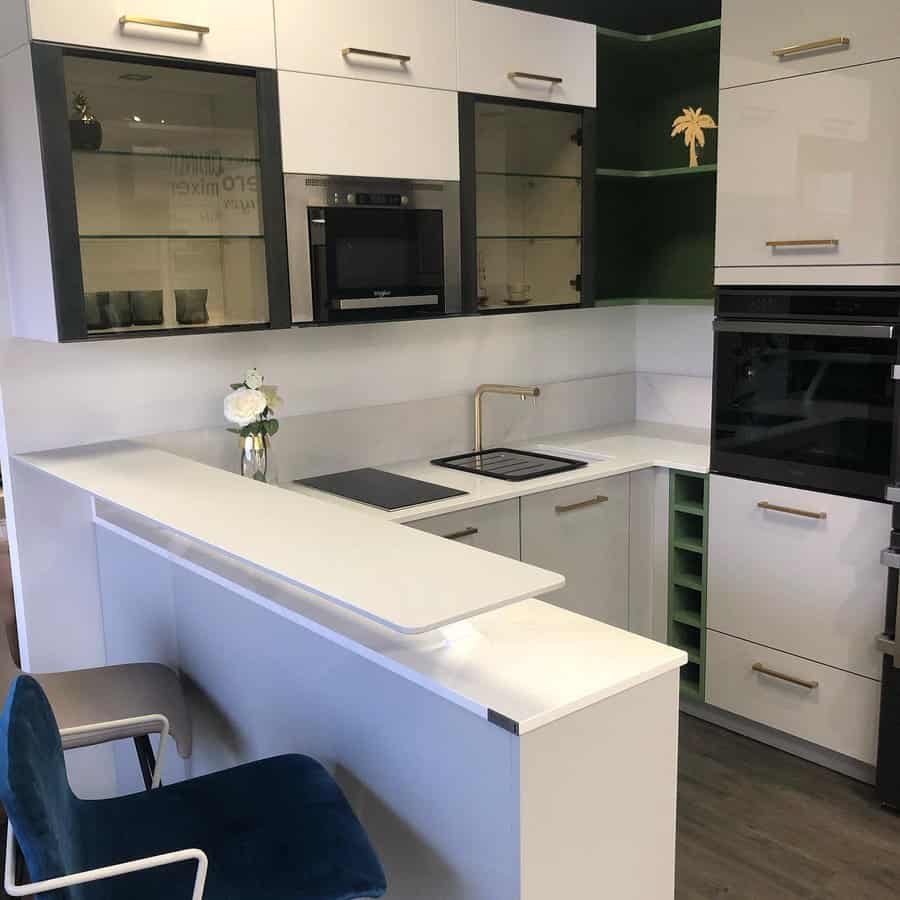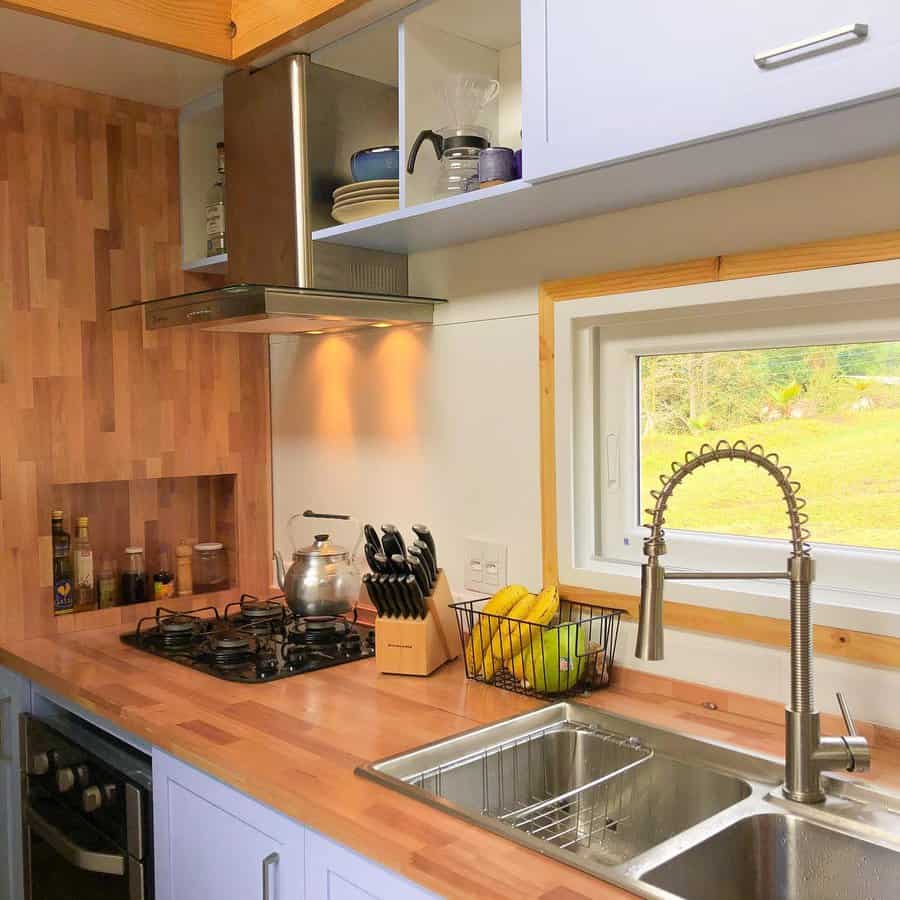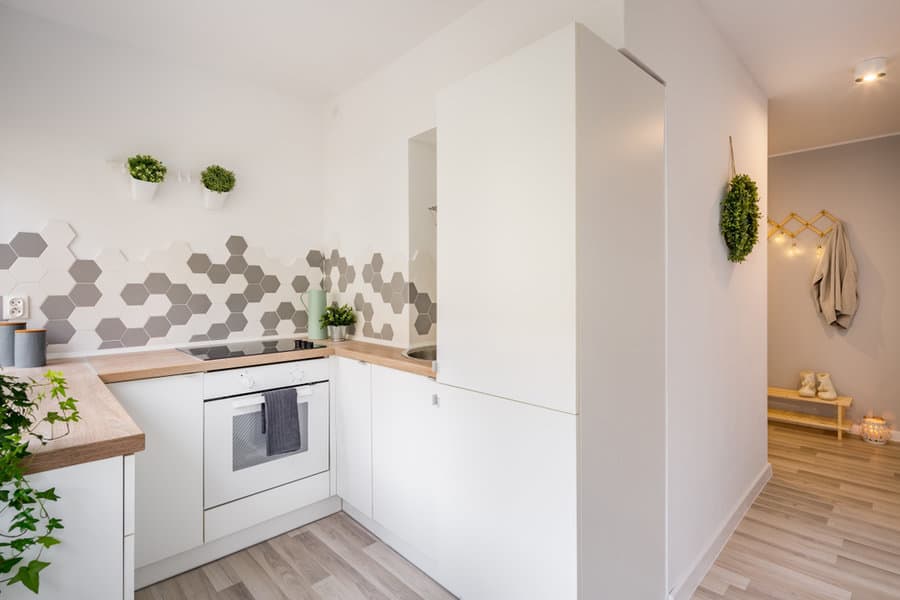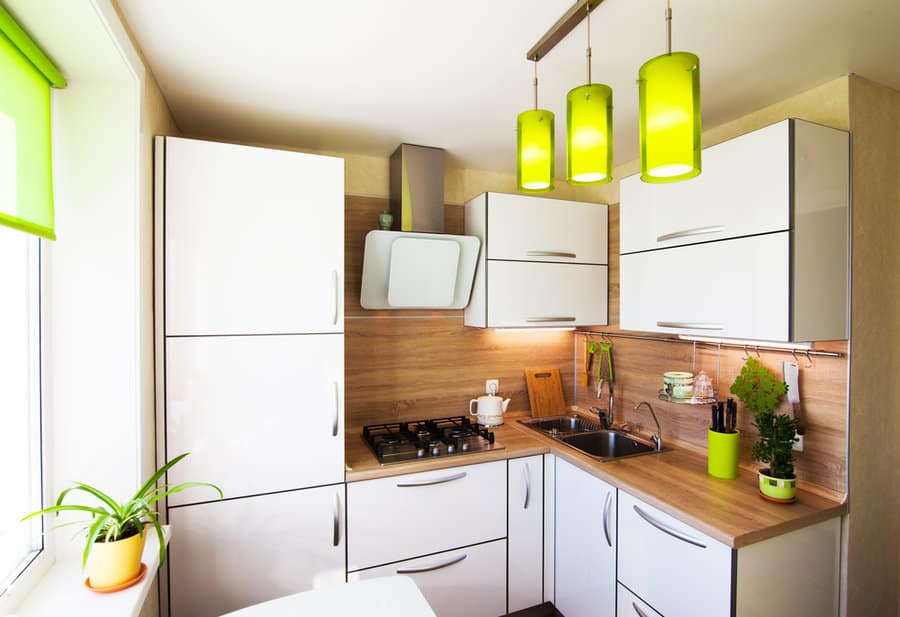 Replace cabinet doors that swing out on hinges with louvers or hydraulics that lift the doors out and up. This gives your kitchen a modern feel while also reducing the amount of required space needed for them to open. Stick with neutral colors that are a combination of light and dark.
See more modern kitchen ideas here.
11. RV
Step inside an RV, and you will see an example of some of the smallest kitchens. Use RV small kitchen ideas to get inspired for the kitchen in your home. Add a pull-out counter space that expands the available workspace when you need it but tucks away when you don't.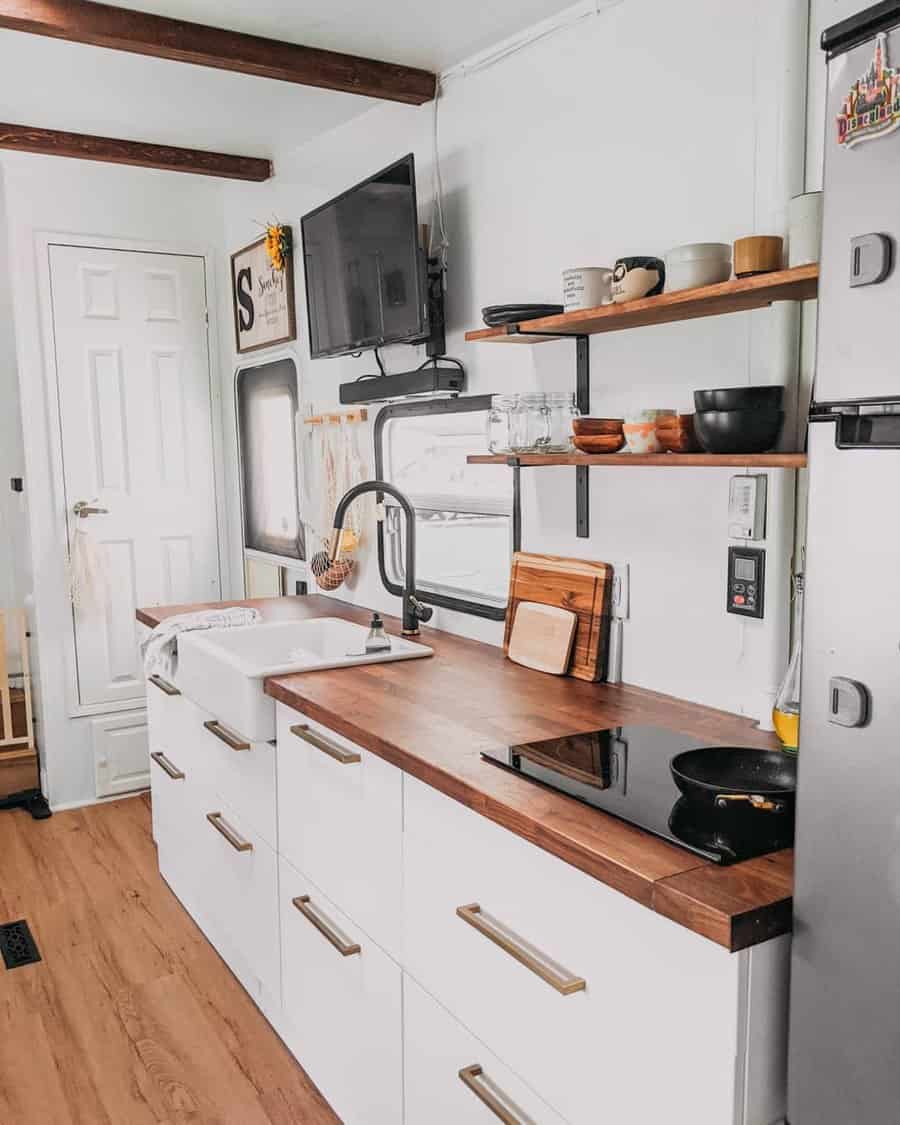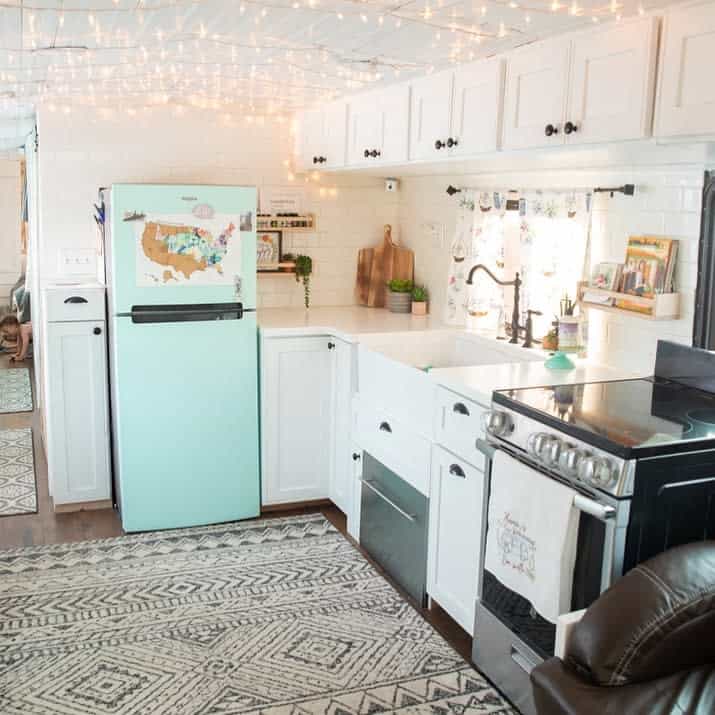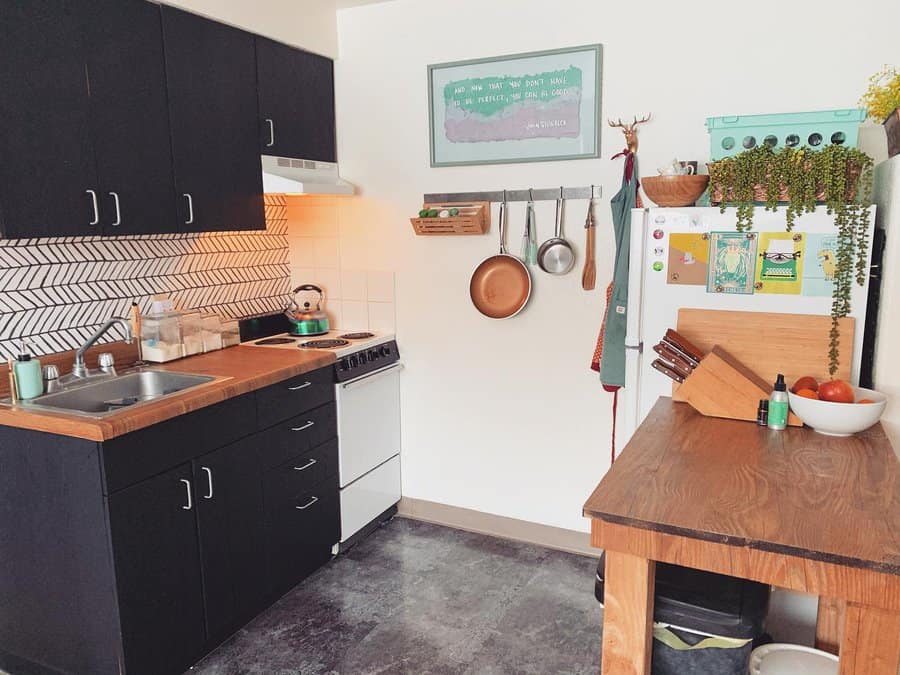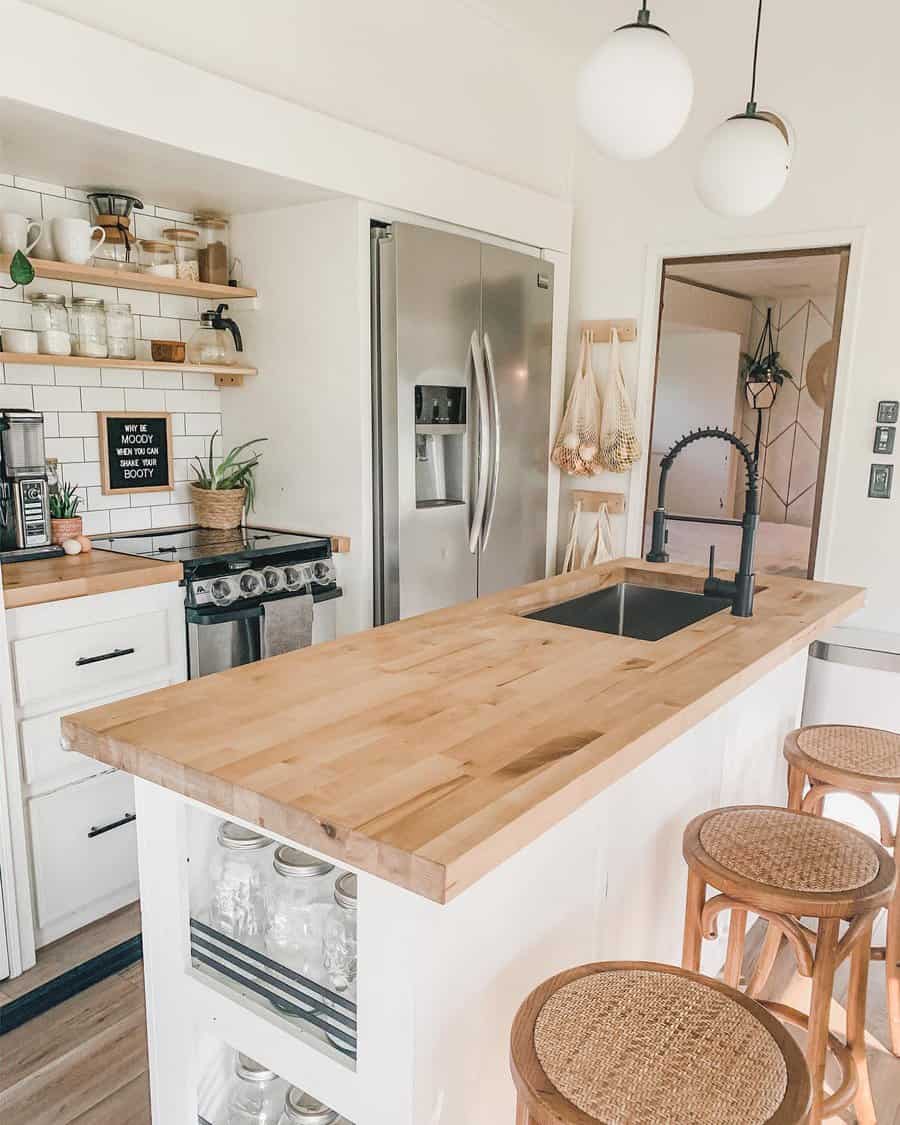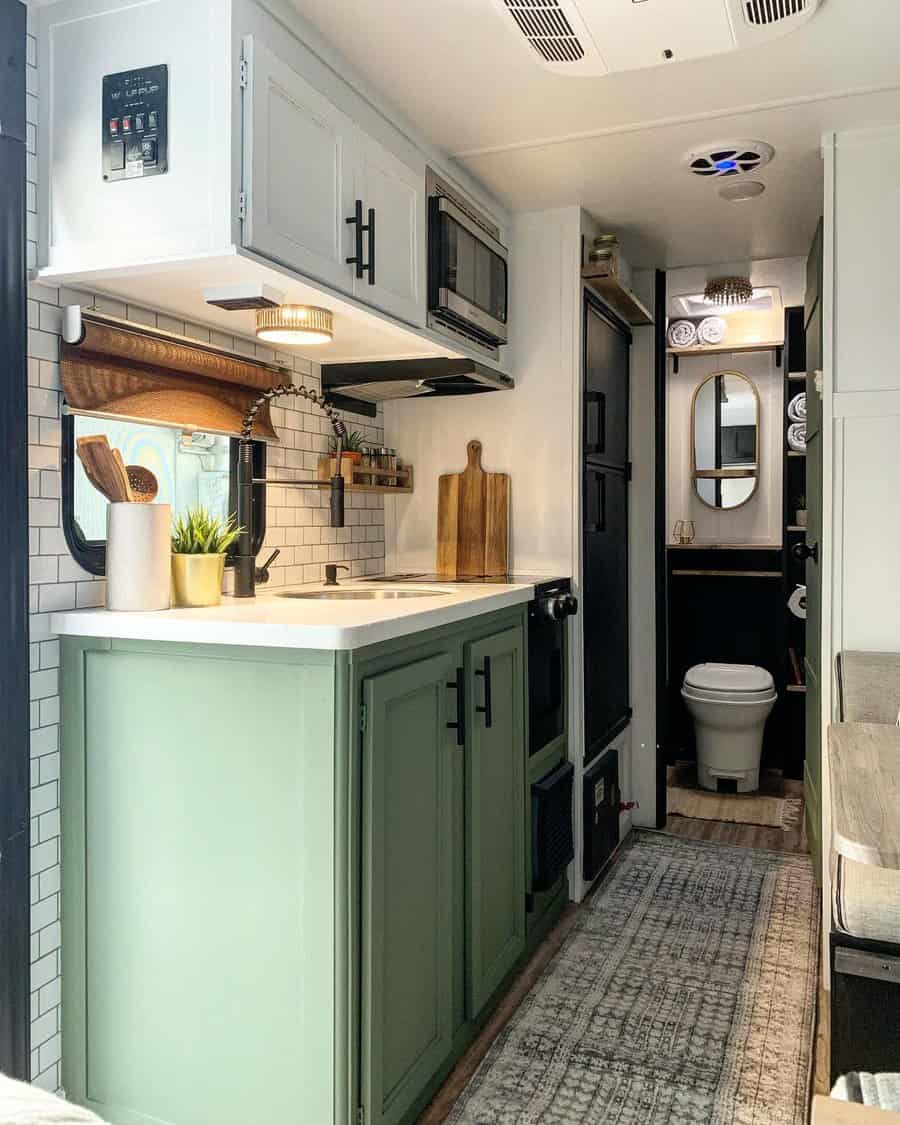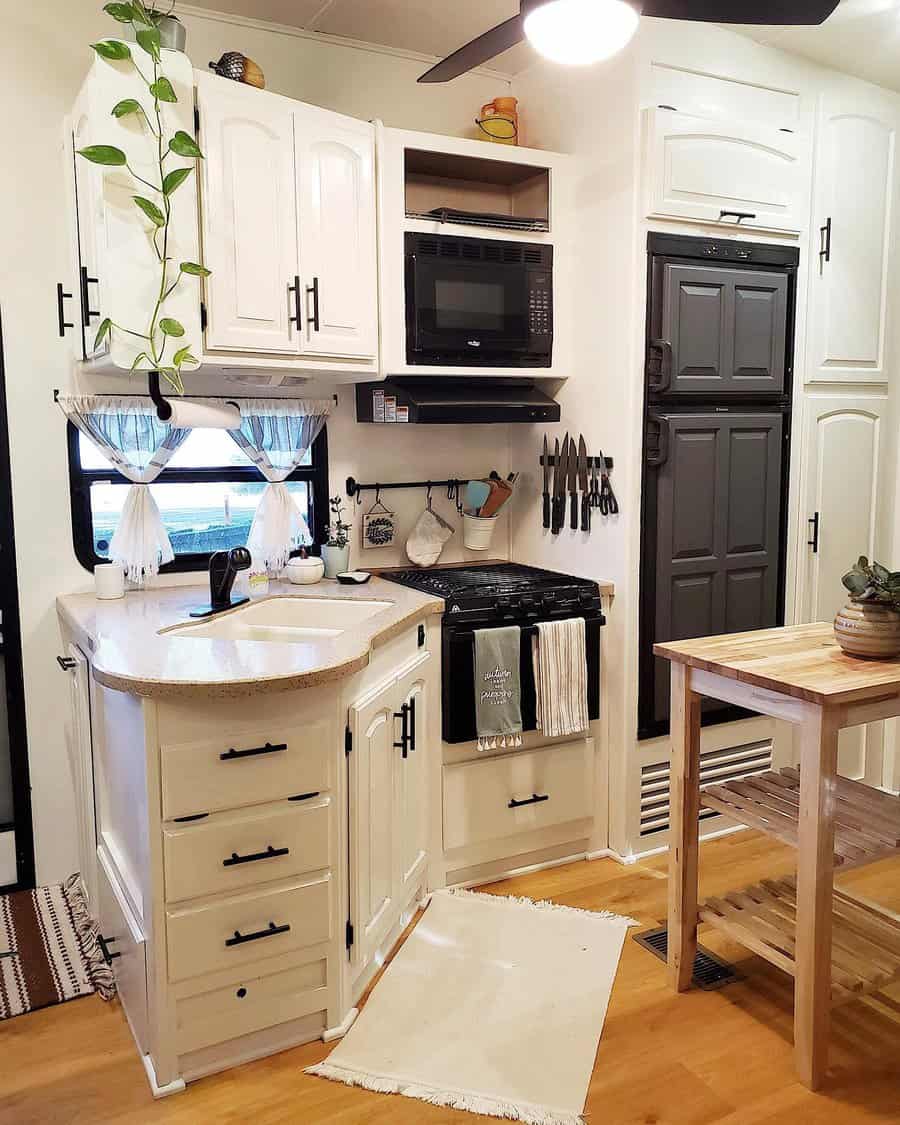 Additionally, look for multi-function small appliances. The more tasks a single appliance can perform, the more useful it will be. You'll also need less storage space to hold all of your kitchen appliances.
12. Rustic
Add open shelving to your kitchen by using rough-hewn planks with a raw edge. This gives your kitchen a rustic aesthetic. Vintage appliances are perfect for your rustic kitchen. They have a worn and aged look that fits perfectly. They also tend to be smaller, helping them to fit perfectly into a tiny kitchen.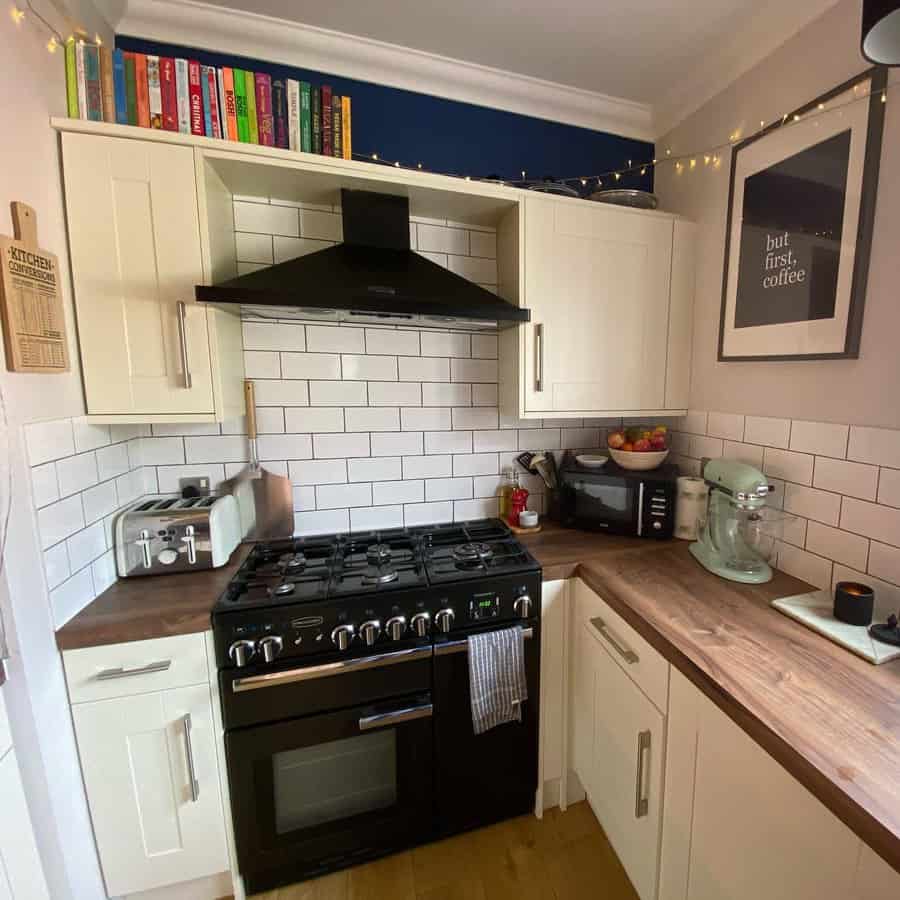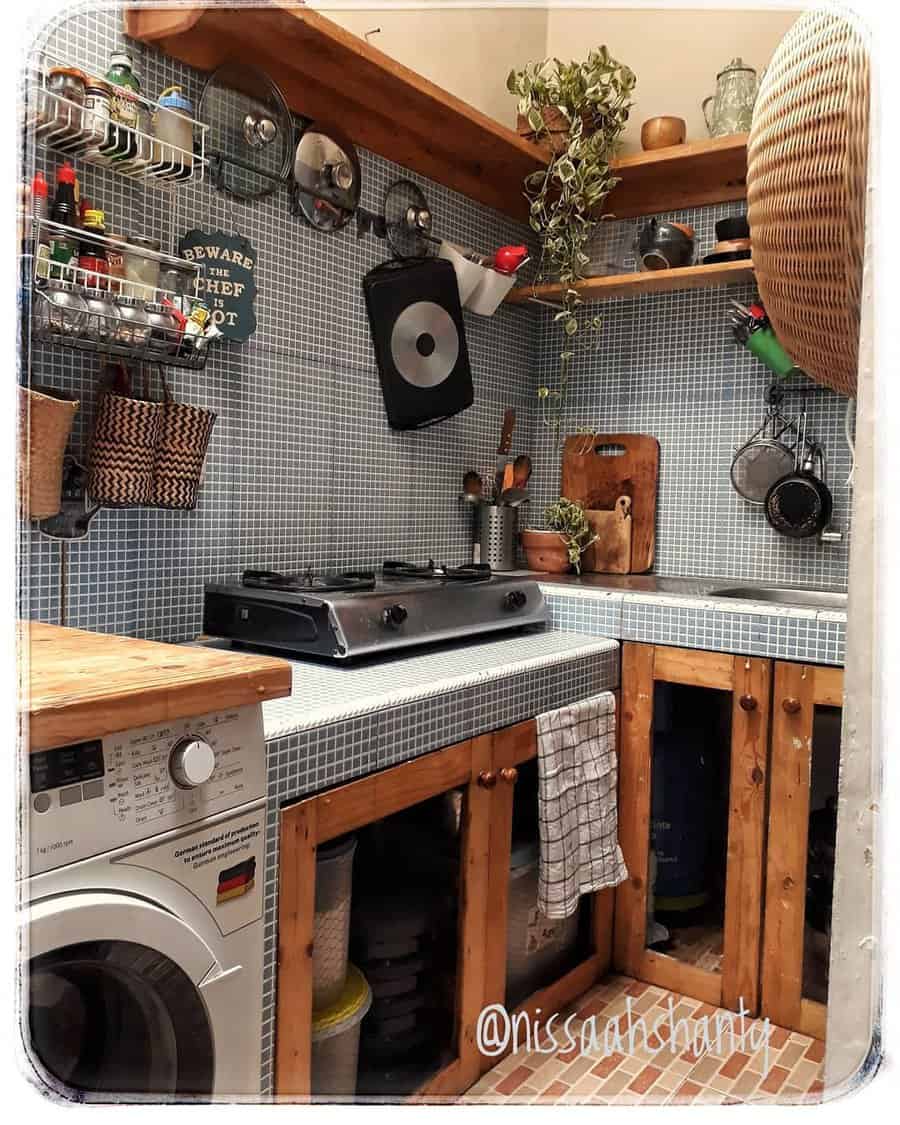 Add rustic touches to your kitchen by hanging vintage kitchen utensils on the walls as decor. Use more wood elements in your small kitchen than you would with other design themes. This could be wood beams in the ceiling, a wooden countertop, or furniture.
See more rustic kitchen ideas here.
13. Scandinavian
A Scandinavian design theme in your tiny kitchen is perfect because it embraces comfort and simplicity. The lack of clutter and over-styled details help your tiny kitchen feel comfortable and functional.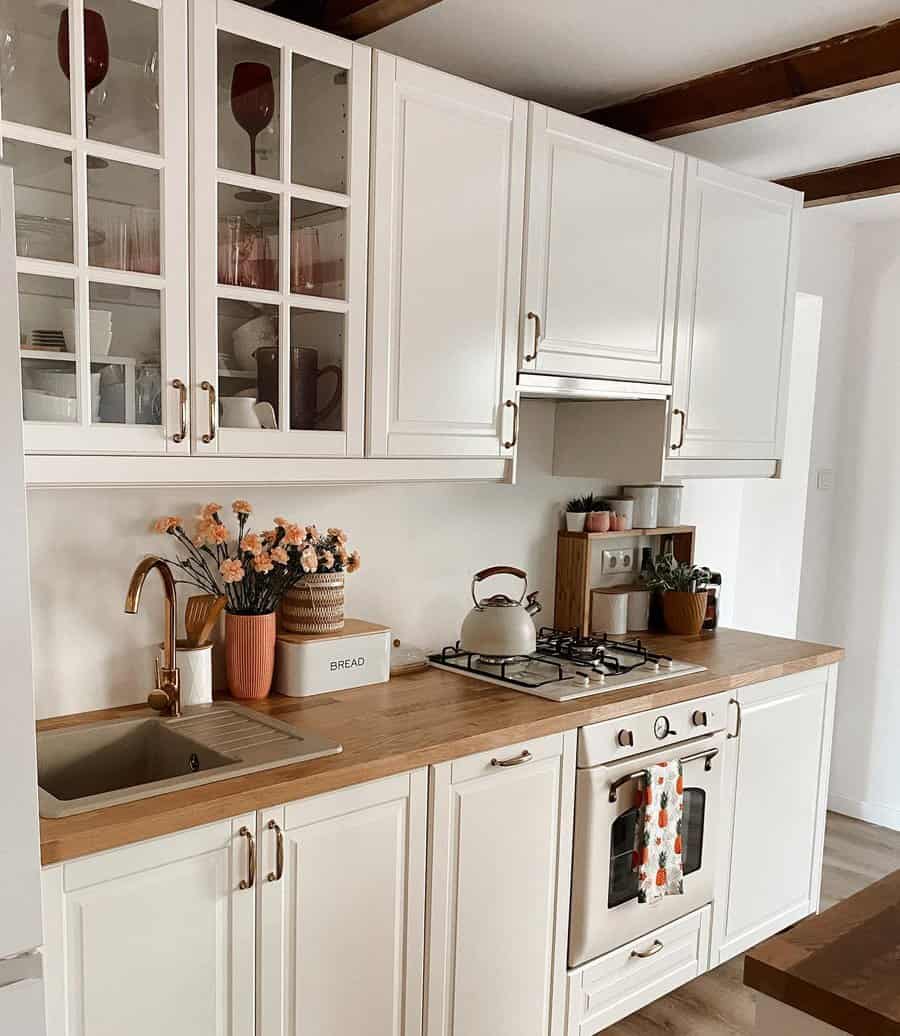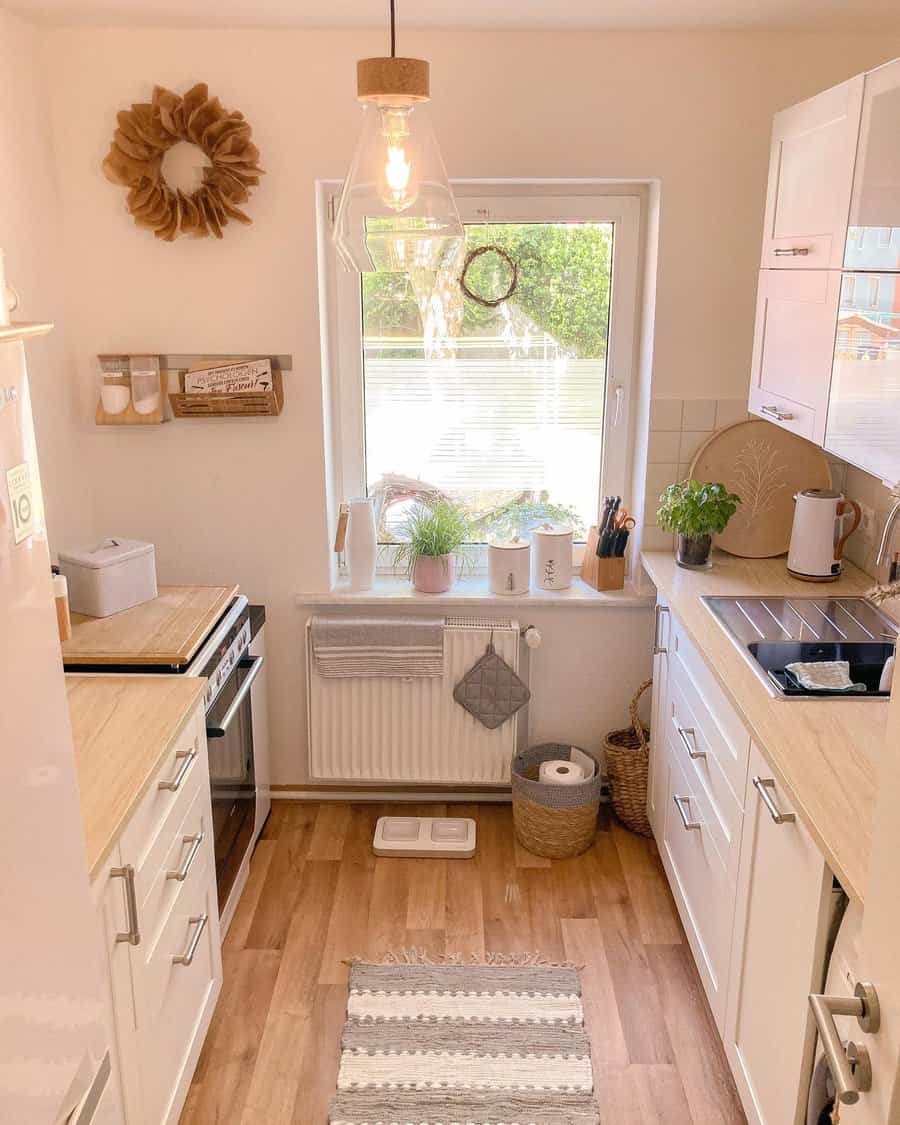 You can still have usable countertop space, a kitchen island, or upper cabinets despite the limited space. Laying down light wood flooring, paint the walls white, and add black or gray accents. Maximize the available cabinet storage space by optimizing the shelving and drawers with organizers and pull-out units.
14. White
White kitchens have been popular for decades and have no sign of ever going out of style. People appreciate the bright and clean feeling that the color white creates. When using white in your tiny kitchen, be sure to use a true white. Avoid whites that have a color undertone, especially a white with yellow undertones. It will end up looking dingy and dirty in your kitchen.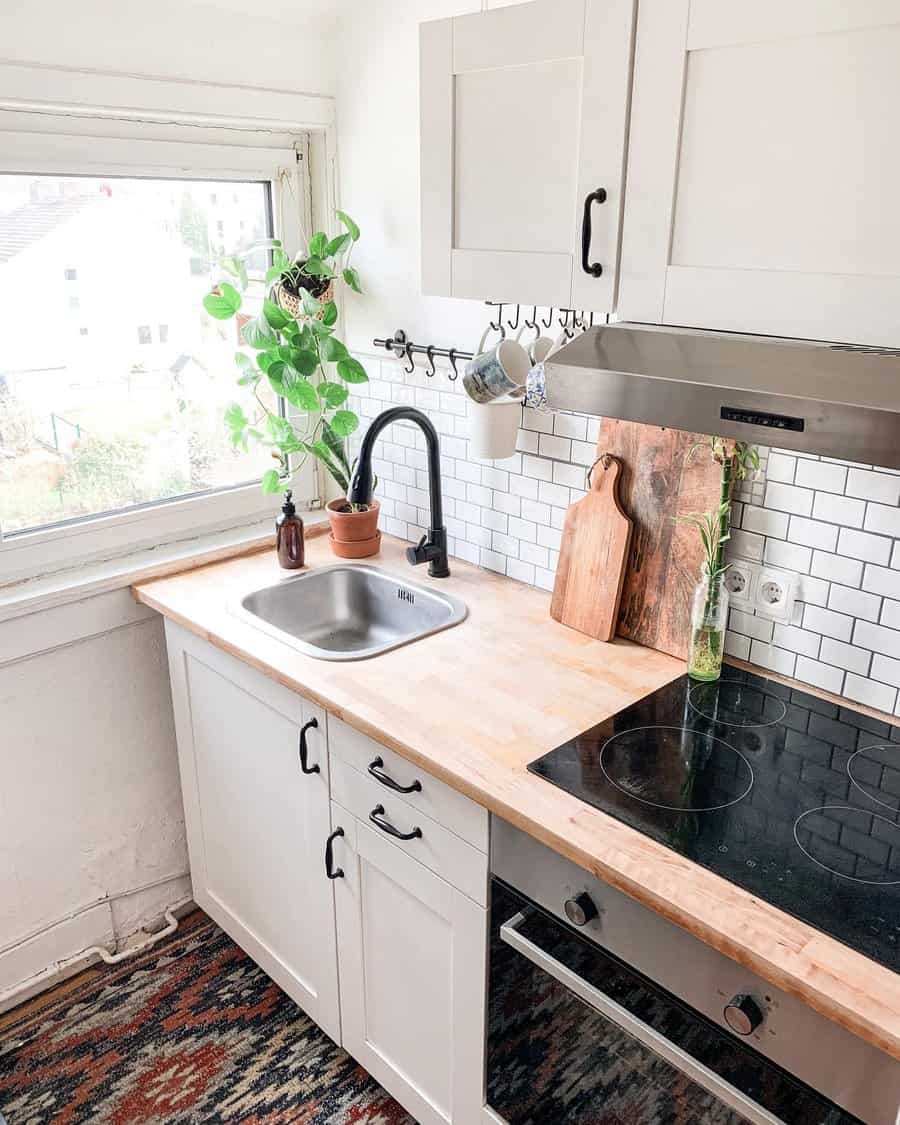 White cabinets look bright and reflect the most light. Because cabinets take up a large visual space in your tiny kitchen, making them white makes a big impact. Paint the inside and out of your cabinets white to prevent your cabinets from looking too dark.
FAQs
What is a micro kitchen?
When walking through the appliance aisle at Home Depot or another home improvement store, you may see something called a micro kitchen. This single appliance embodies all of the appliances you would typically see in a kitchen. It will have a sink, fridge, freezer, oven, microwave, and dishwasher all in one.
Why are small kitchens better?
Without all of the extra storage of a large kitchen, you can only buy so much food. This means that you're more likely to use everything you buy, decreasing food wastage. They also have less wall space, making everything closer together so that it's easier to cook.
Can kitchens be too big?
Yes, a kitchen can be too big. Not every home needs to have all built-in appliances, breakfast nook, and a host of specialty appliances like a wine fridge, produce refrigerator drawers, or trash compactor. Super-sized kitchens don't make sense in small homes where the kitchen would be disproportionately large when compared to the rest of the rooms in the home.