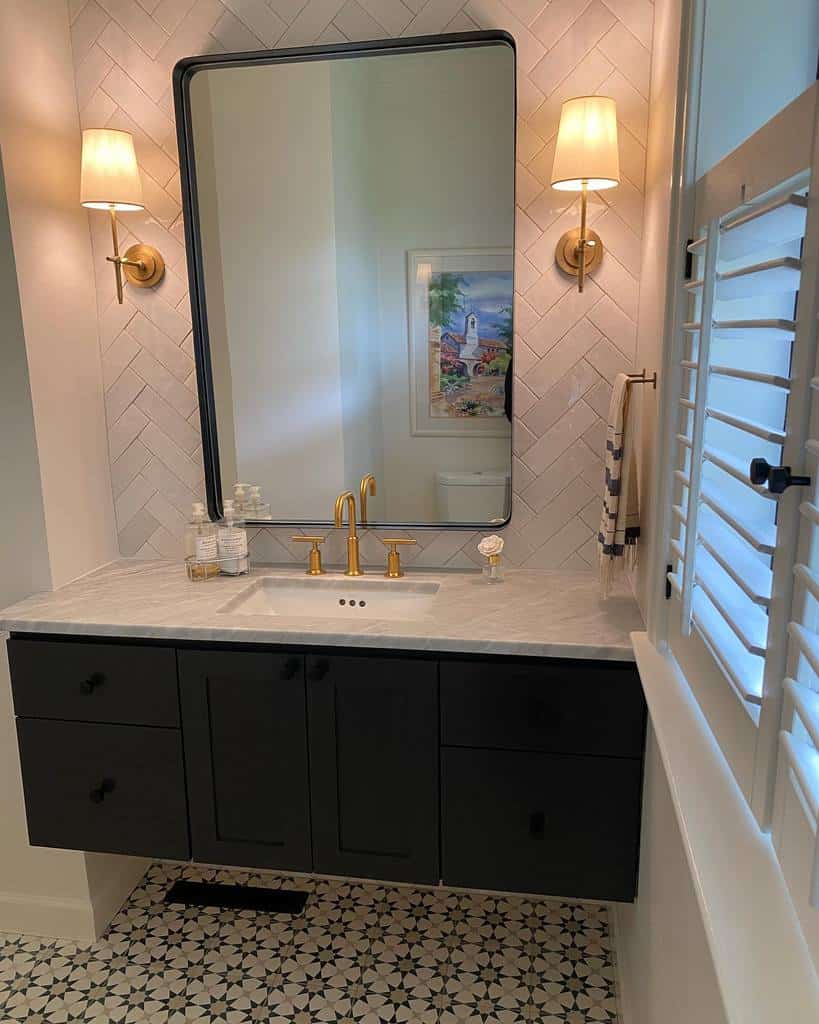 40 Half Bathroom Ideas and Designs
"How long is a minute? It depends on which side of the bathroom door you are."
Half bathrooms are the saving grace that keeps us from having to wait too long on the wrong side of the bathroom door. Called half bathrooms because they lack a shower or tub, they still provide the most basic functions of a bathroom.
A half bath or powder room is usually a small space that presents certain home decor challenges. Even so, there's no reason you can't turn it into a dazzling little room. Check out our 40 best half bathroom ideas and you'll see what we mean.
1. Fit A Vanity In A Recessed Wall
A half bathroom is the perfect way to save space in your home. With a recessed vanity, you can ensure that your bathroom doesn't stick out too far and create a cramped atmosphere. The snug design allows for efficient storage of essential items such as towels and toiletries.
You can set up this kind of bathroom strategically to maximize space even more, by putting it in an inconspicuous corner of the house or along a hallway wall. Take advantage of the clever half bathroom design – with recessed vanities, cabinet shelves, and minimal floor-space you'll find great value in one of these convenient fixtures!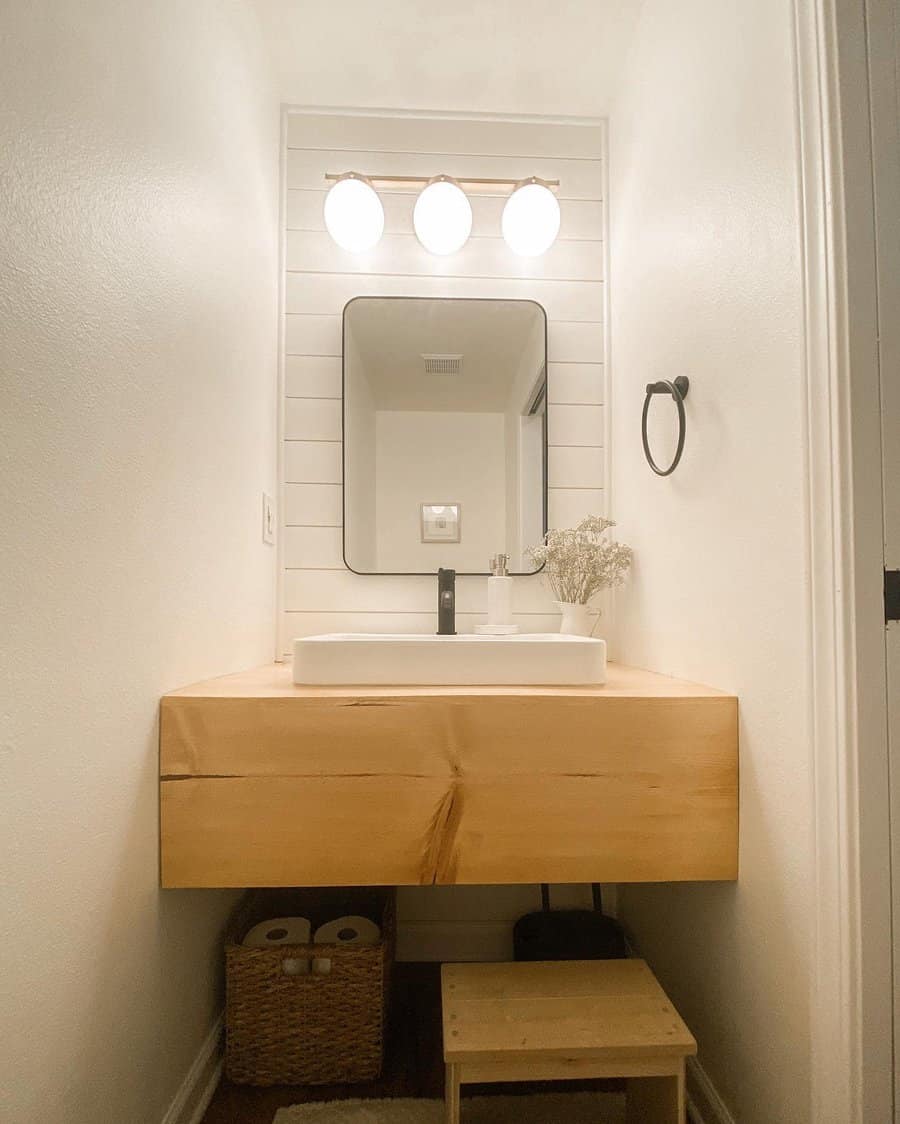 2. Install Vintage-style Fixtures
For those looking to make an impact with their half bathroom, vintage-style fixtures and decor can really create a nostalgic yet unique experience. The vintage detailing will bring you and your guests back to a different time, and allow for interesting conversation around the craftsmanship of years gone by.
Moreover, the vintage pieces give you freedom when it comes to design–forget about complicated tile designs and sleek finishes; vintage style is all about finding that perfect piece that encapsulates your aesthetic.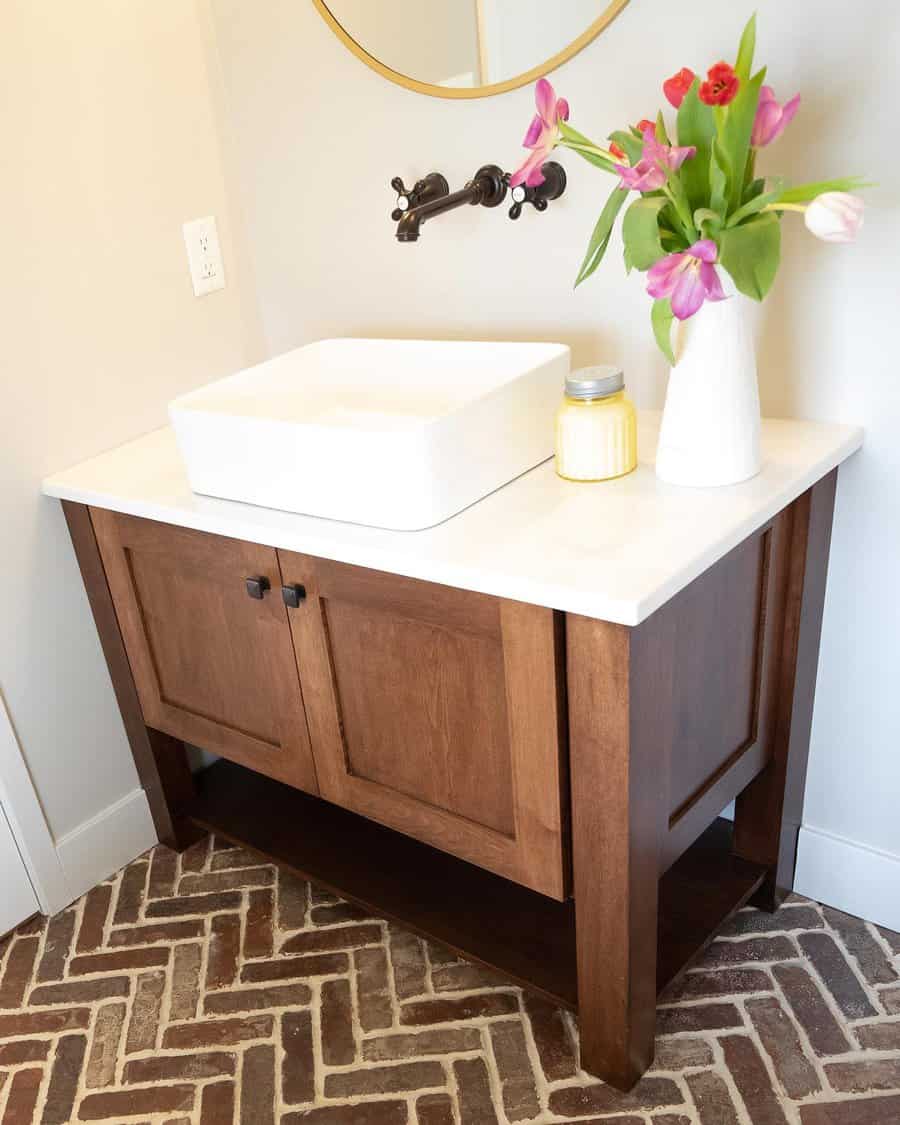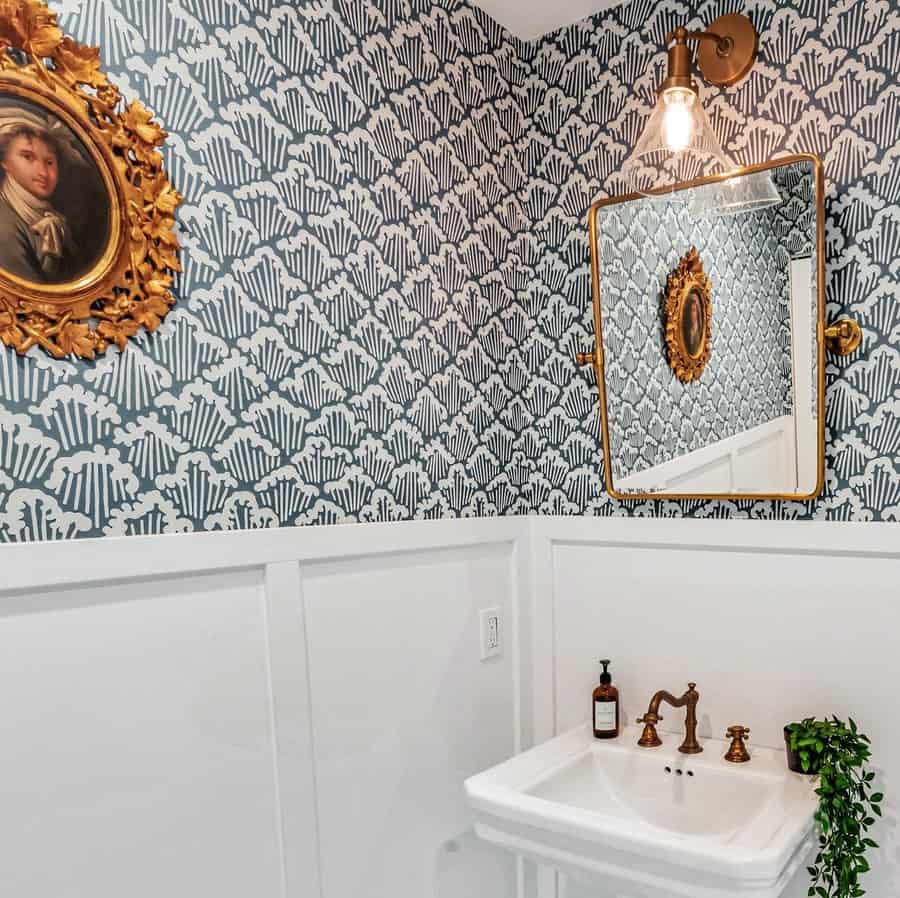 3. Install Black Fixtures
A half bathroom is a unique opportunity to explore your creative side and pack a huge punch of style into a small space. From black fixtures to sleek matte black accents, these simple elements create an eye-catching, minimalist look that fits perfectly in modern homes.
Designed to suit any taste or budget, half bathrooms are easy to redesign and make for one of the most popular locations for transforming your home with a modern style.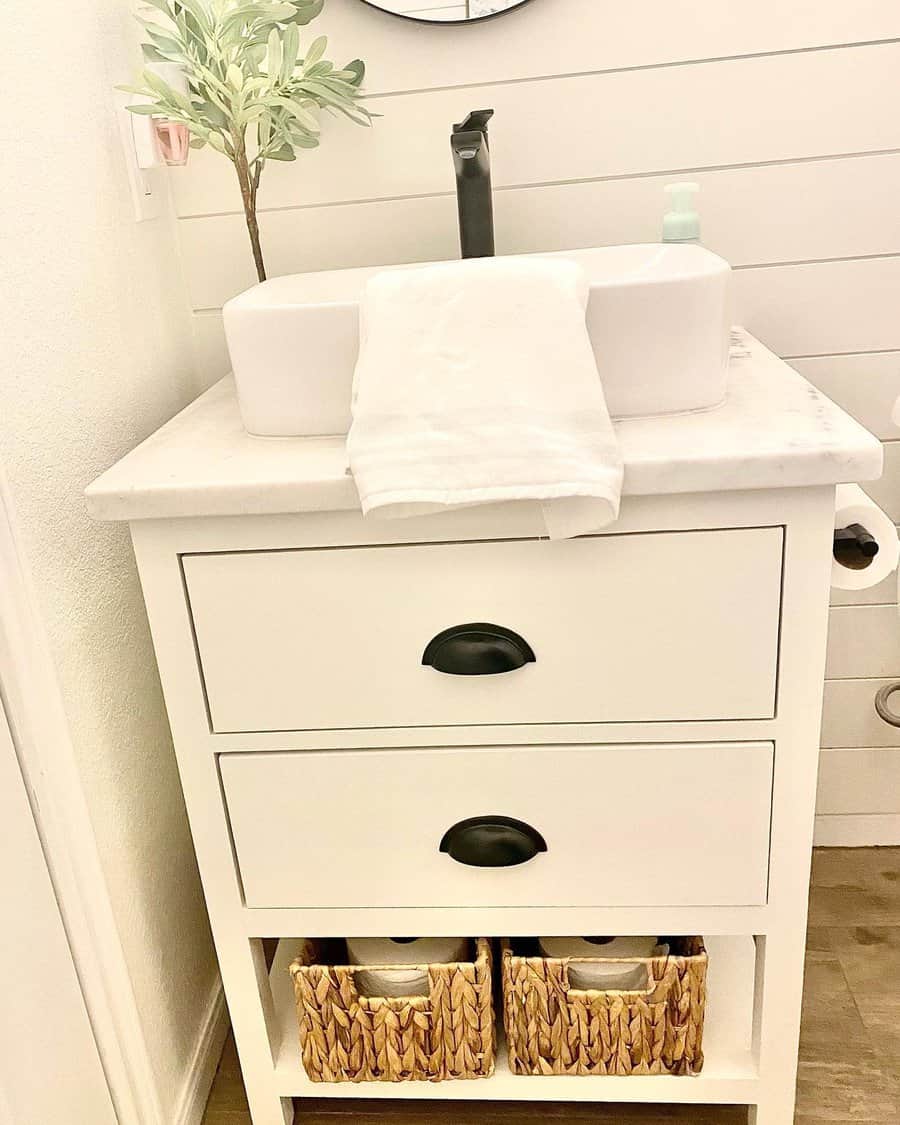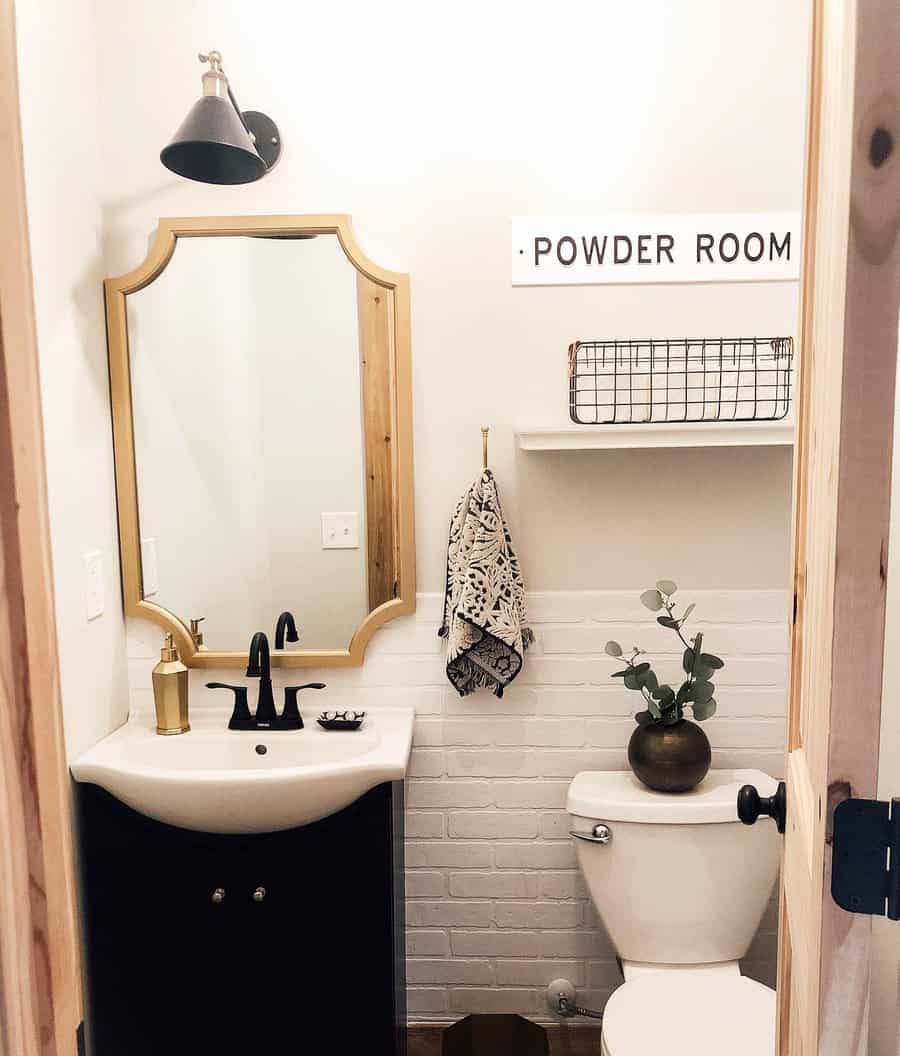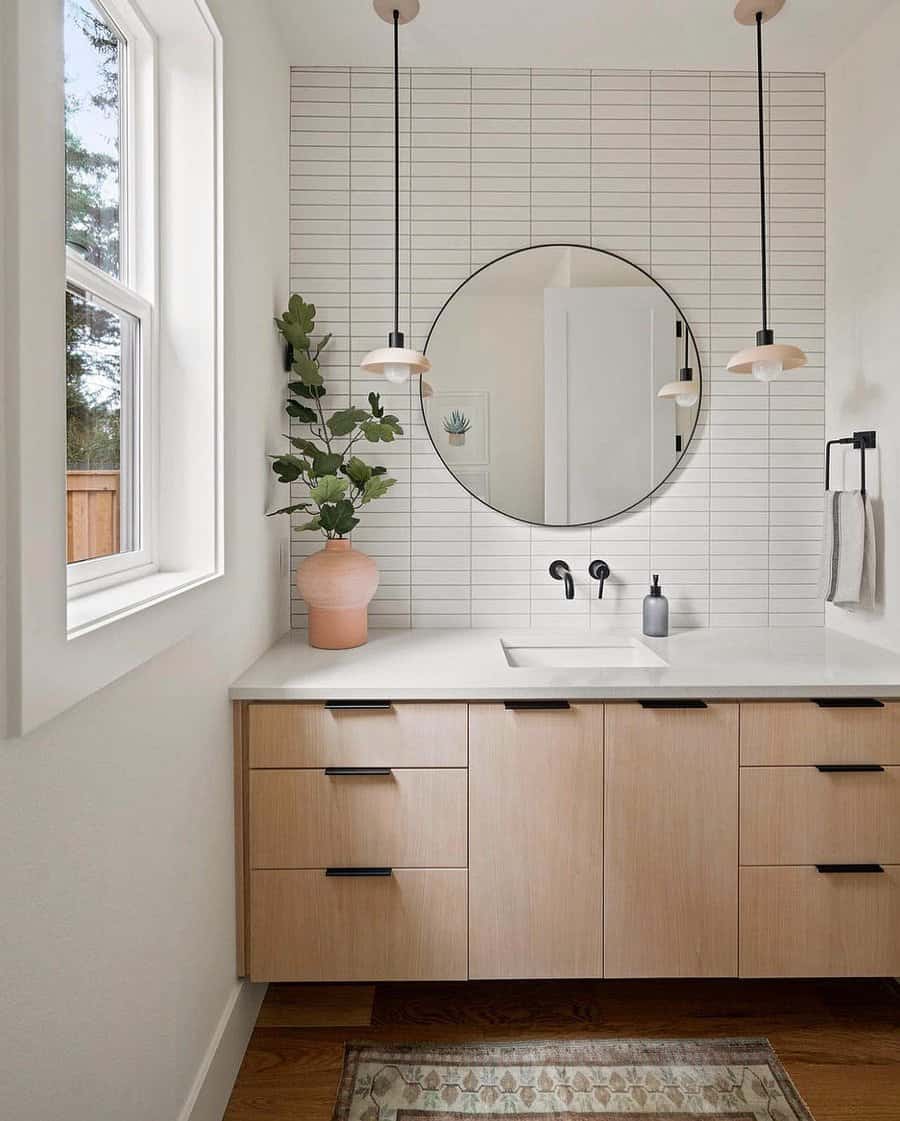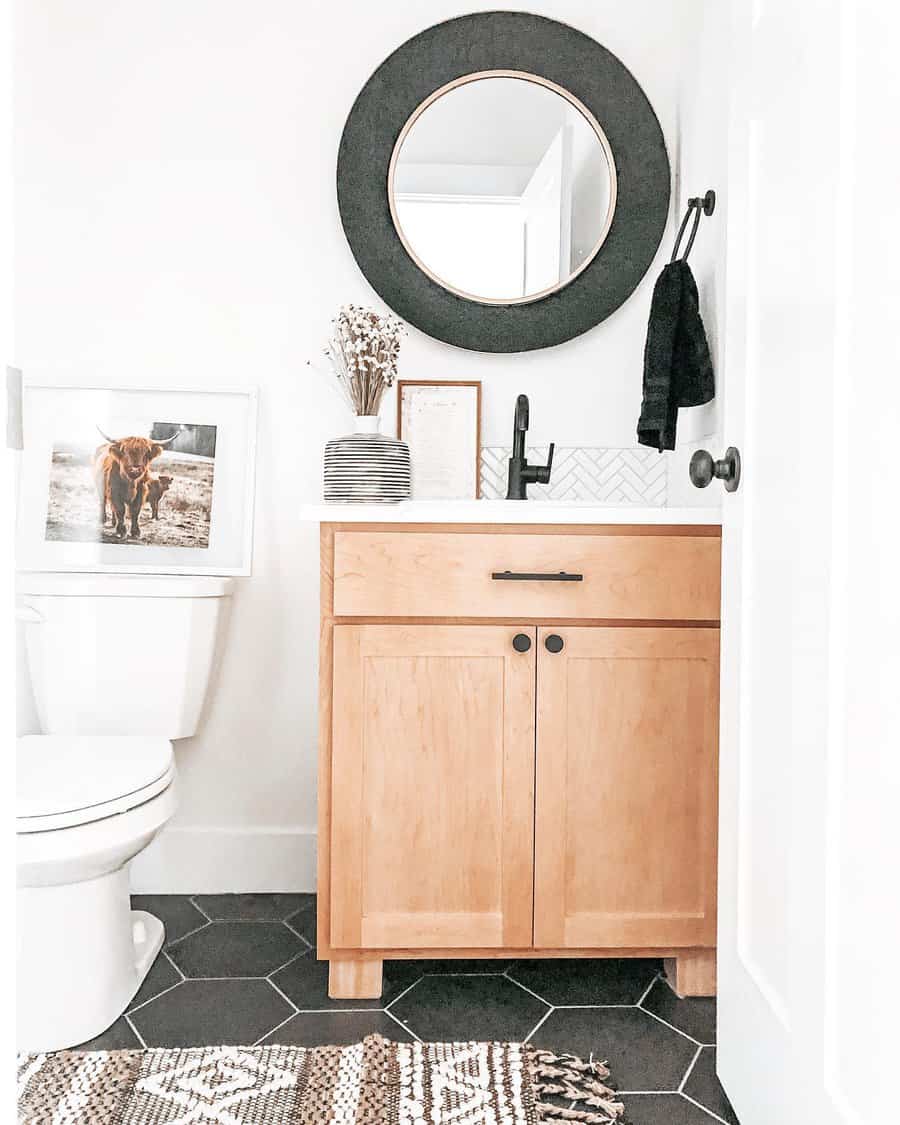 4. Fill The Room With Greens
A half bathroom with plants is a great way to add a touch of nature and beauty to your home. Dried flowers or plants are the perfect choices for this space due to their low maintenance requirements, but that doesn't mean you have to sacrifice style!
Depending on the look you're going for, dried floral bouquets in lovely vases create a beautiful, boutique-style atmosphere. If dried plants aren't quite your thing and you want something more natural, consider adding some potted plants like succulents and ferns. An additional bonus benefit would be the addition of some eucalyptus branches in a ceramic vase – not only will it add greenery and life, but the scent can also even help create an inviting atmosphere.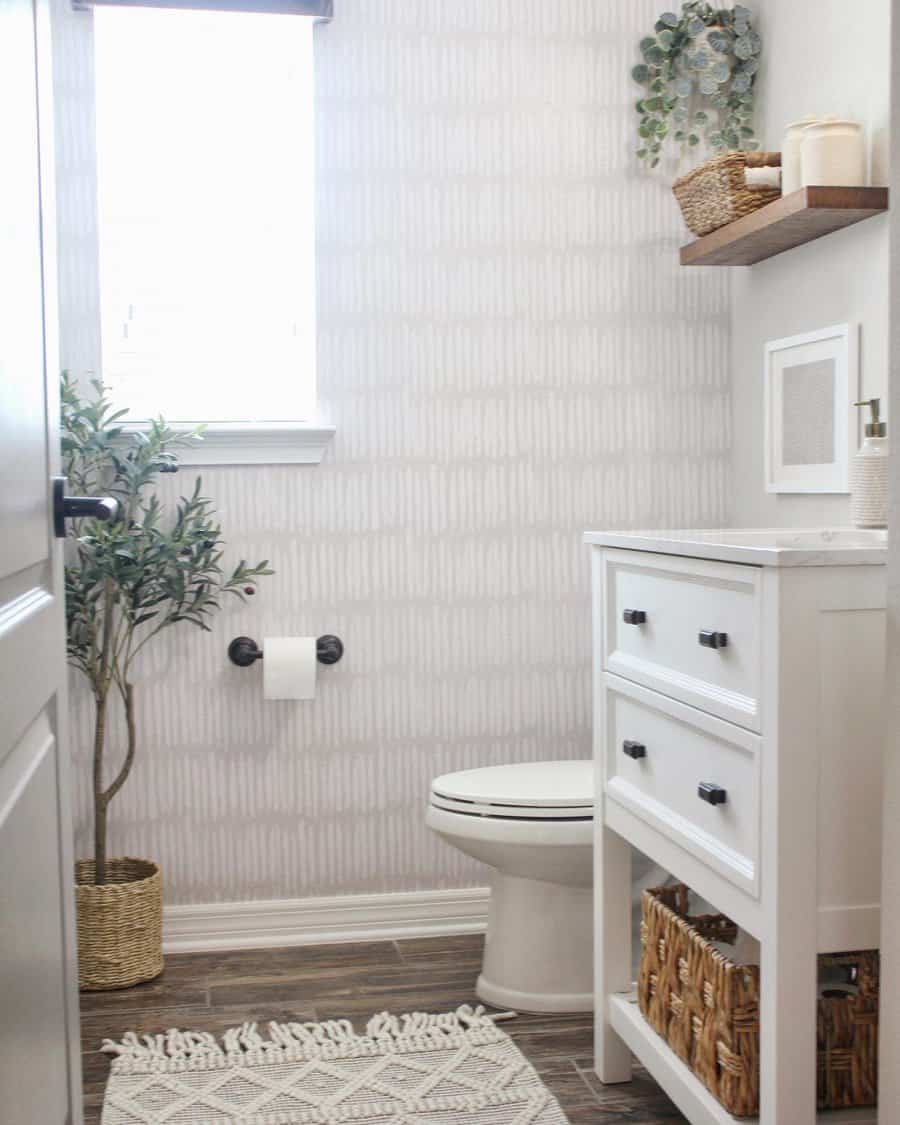 5. Put On A Fun Wallpaper
Making your small half bathroom lively with wallpaper is an easy decorating task! Have some fun in this room by playing with prints, because the smaller space creates the perfect opportunity to mix and match multiple designs.
Whether you choose a subtle pattern to play up your focal point or go for something bold and eye-catching, doing so with wallpaper can instantly add character to your half bathroom. Start dreaming of what you could create today!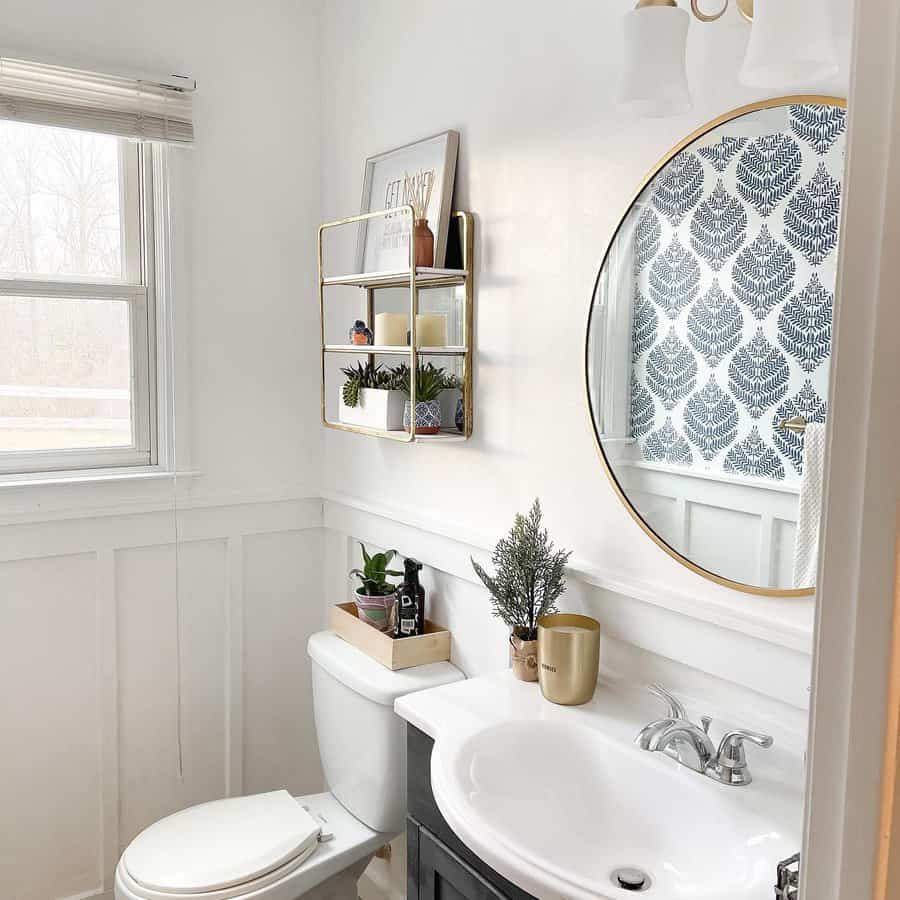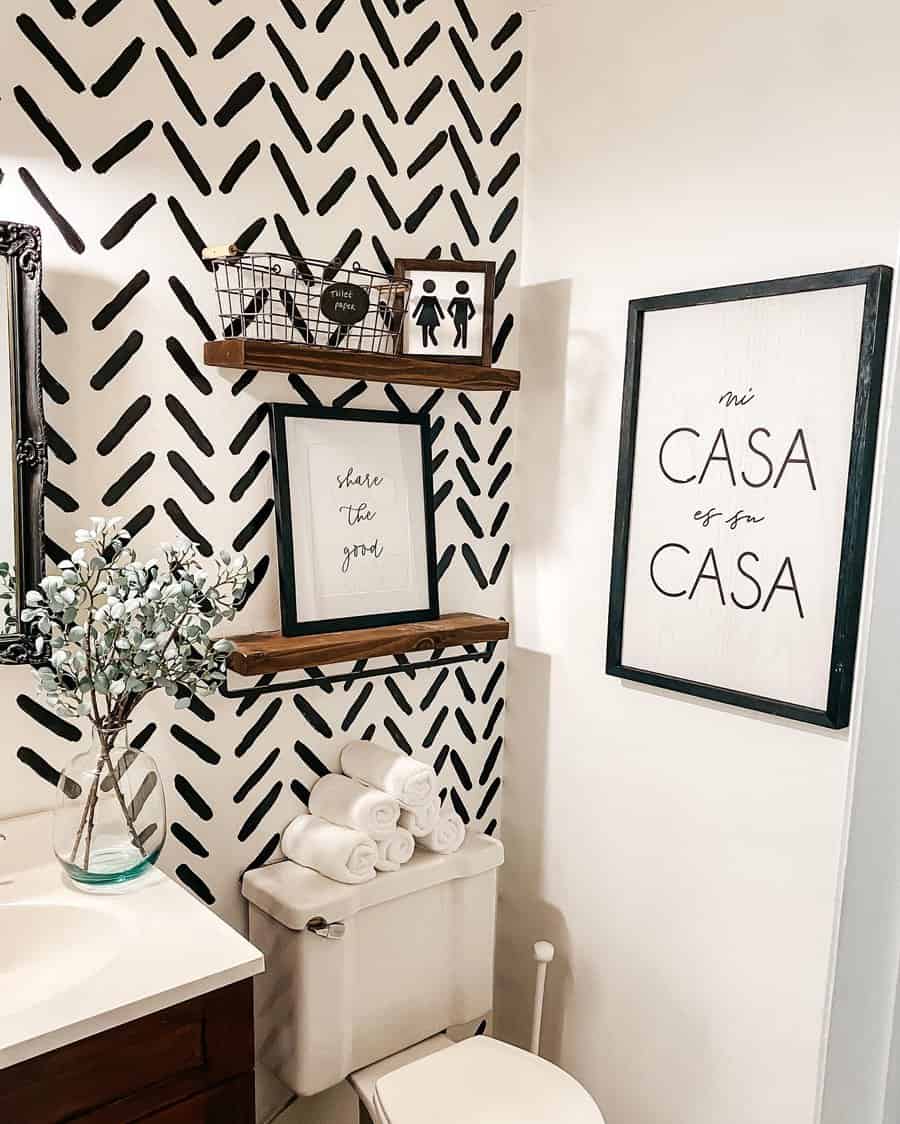 6. DIY A Styling Shelf
Give your half bathroom a styling boost with a wall shelf! Hang it above the sink to set the vibe and put some decor, such as candles or plants, in the mix.
Even better, you can organize small essentials like facial cleansers, toothpaste, and more—no need to clutter your countertop. A simple touch like adding a wall shelf can help bring your half-bathroom look to life!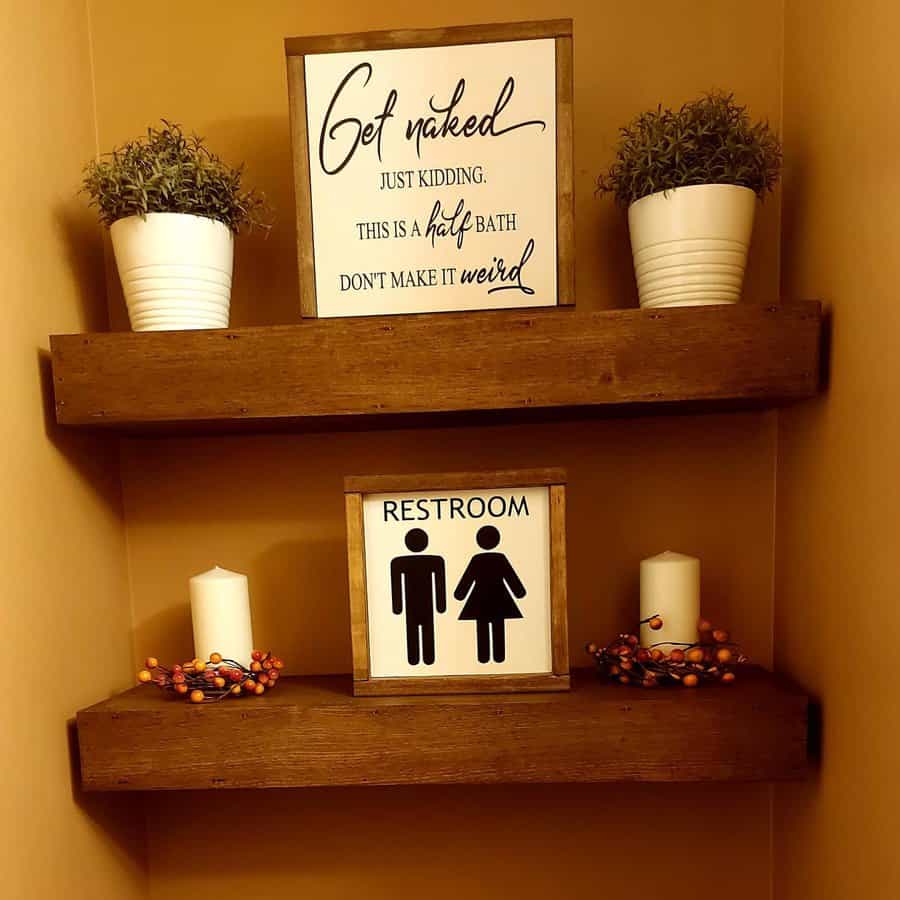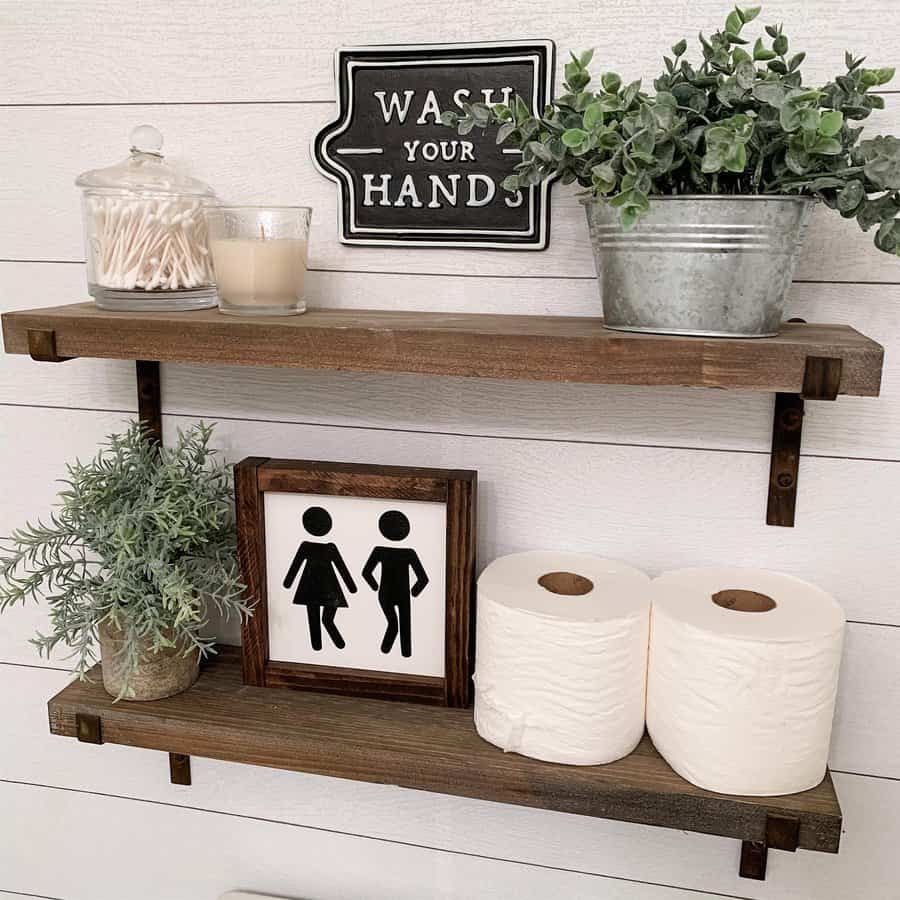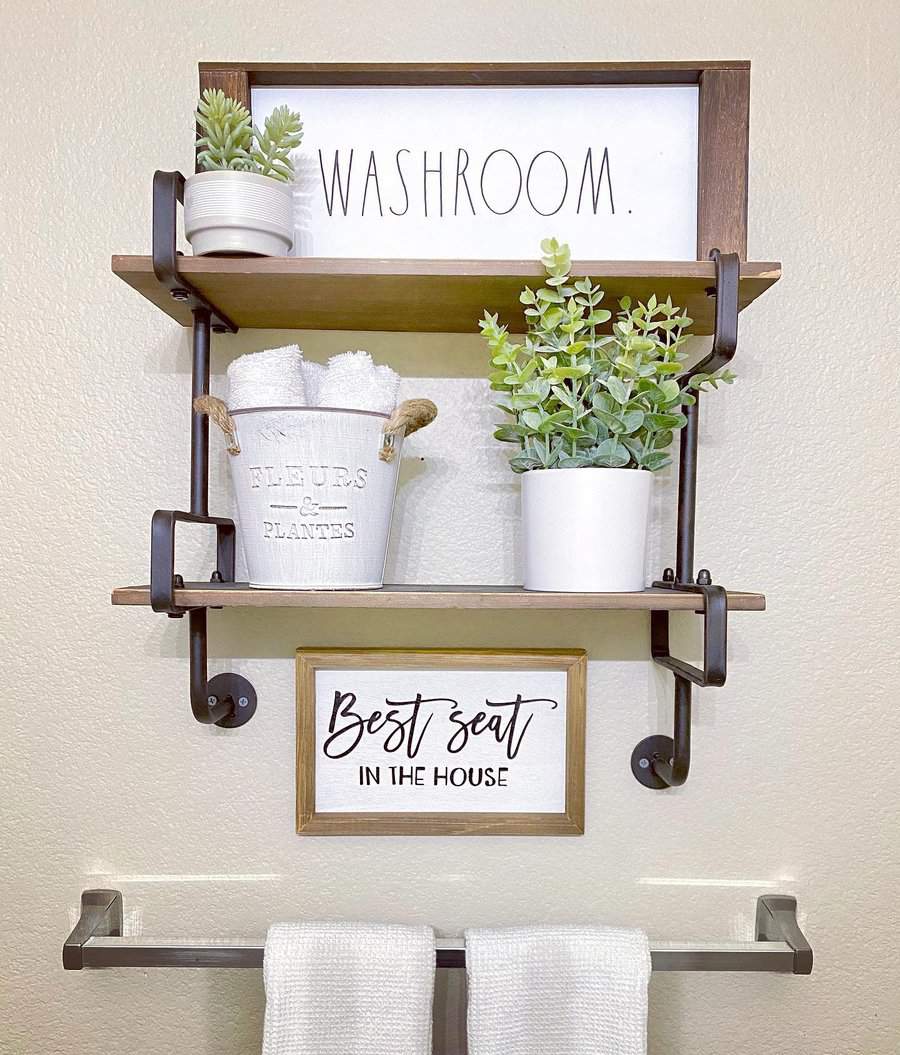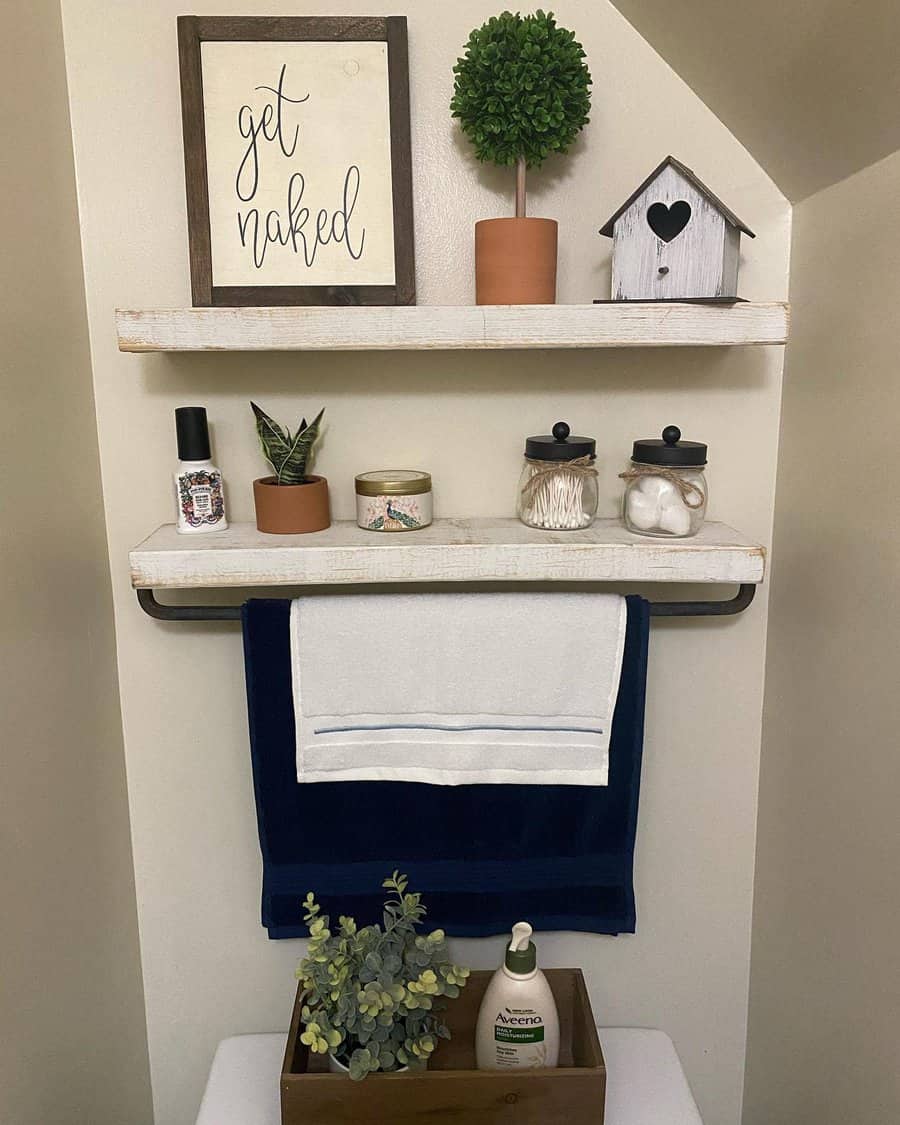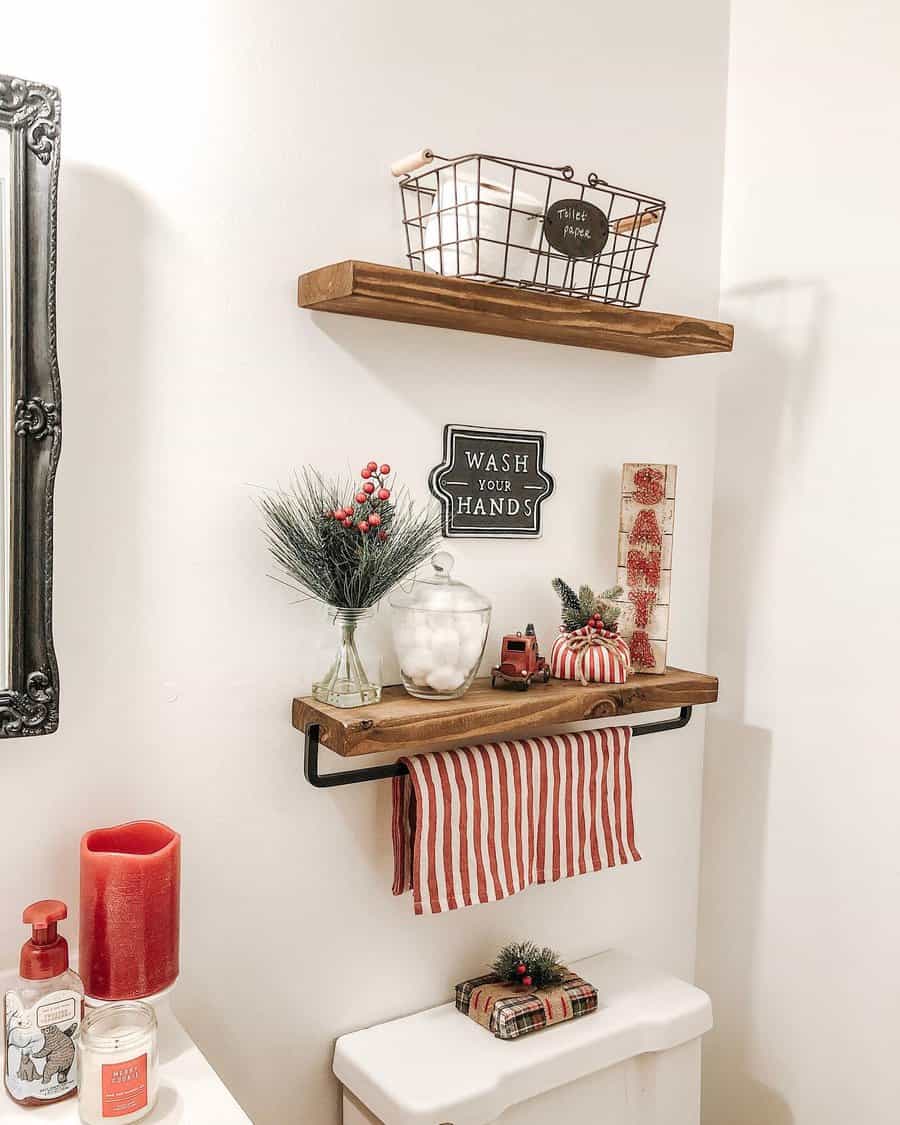 7. Get A Standalone Vanity
Creating an elegant half bathroom? Opt for a standalone vanity to make it truly stand out in the crowd! Usually small, these vanities usually come as packages, making them easy to install. Perfect for a half bathroom as they usually have spacious countertops and drawers that are great for tucking away all your essentials.
Plus, they come in all shapes, sizes, and styles – giving you plenty of options when it comes to creating just the right look.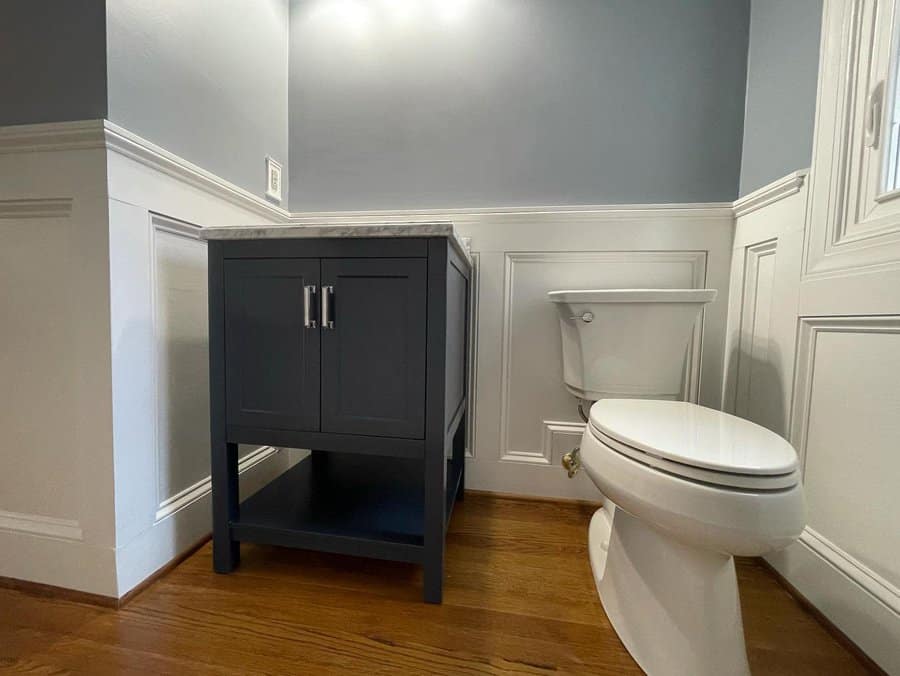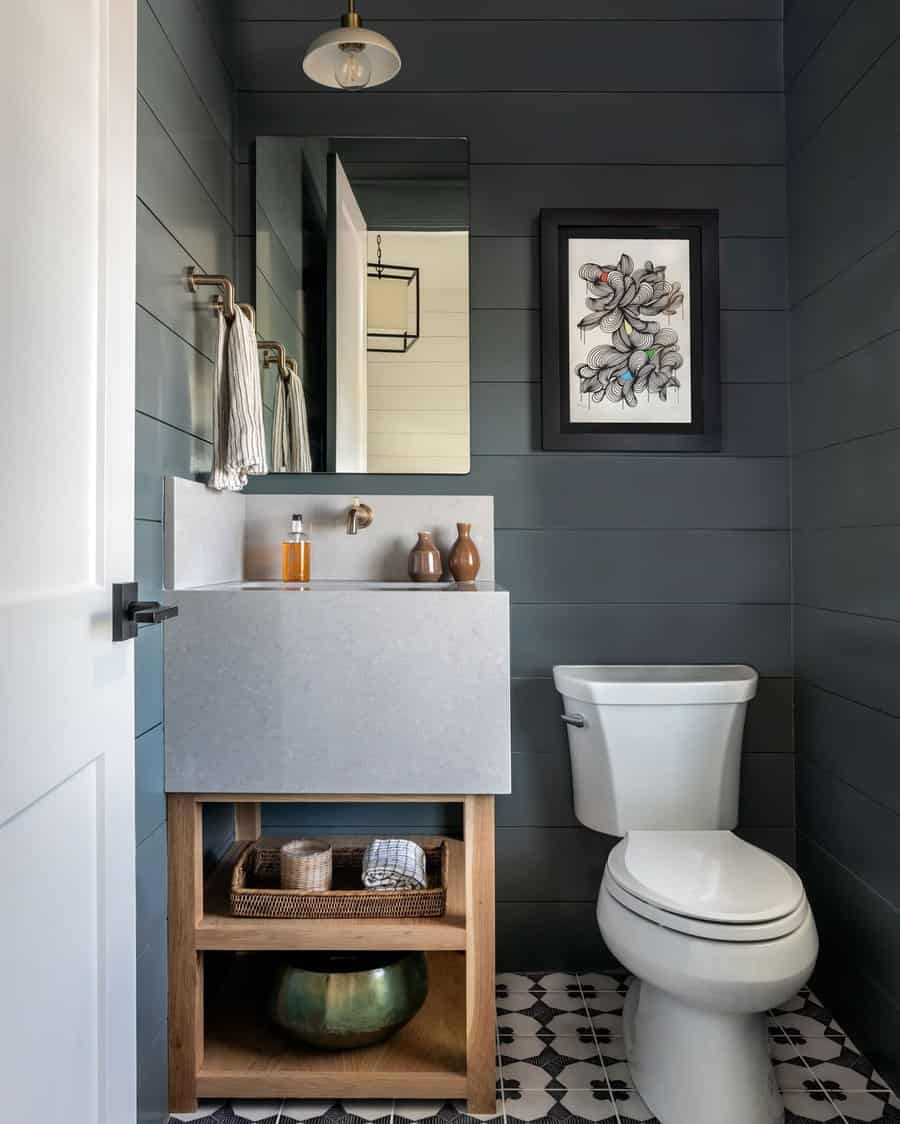 8. Half-paint The Wall
A half bathroom with a half-painted wall creates a bold accent and adds visual interest. The contrast of color and texture creates an exciting atmosphere that can stir the imagination. This unique design brings life to this small space that may have been bland or conventional without it.
A half-painted wall can also be defined by other elements, such as wallpaper, different shades of paint, or patterned tiles for an interior with extra flair. With minimal effort, you can make your half-bathroom stand out and provide an inviting atmosphere for guests.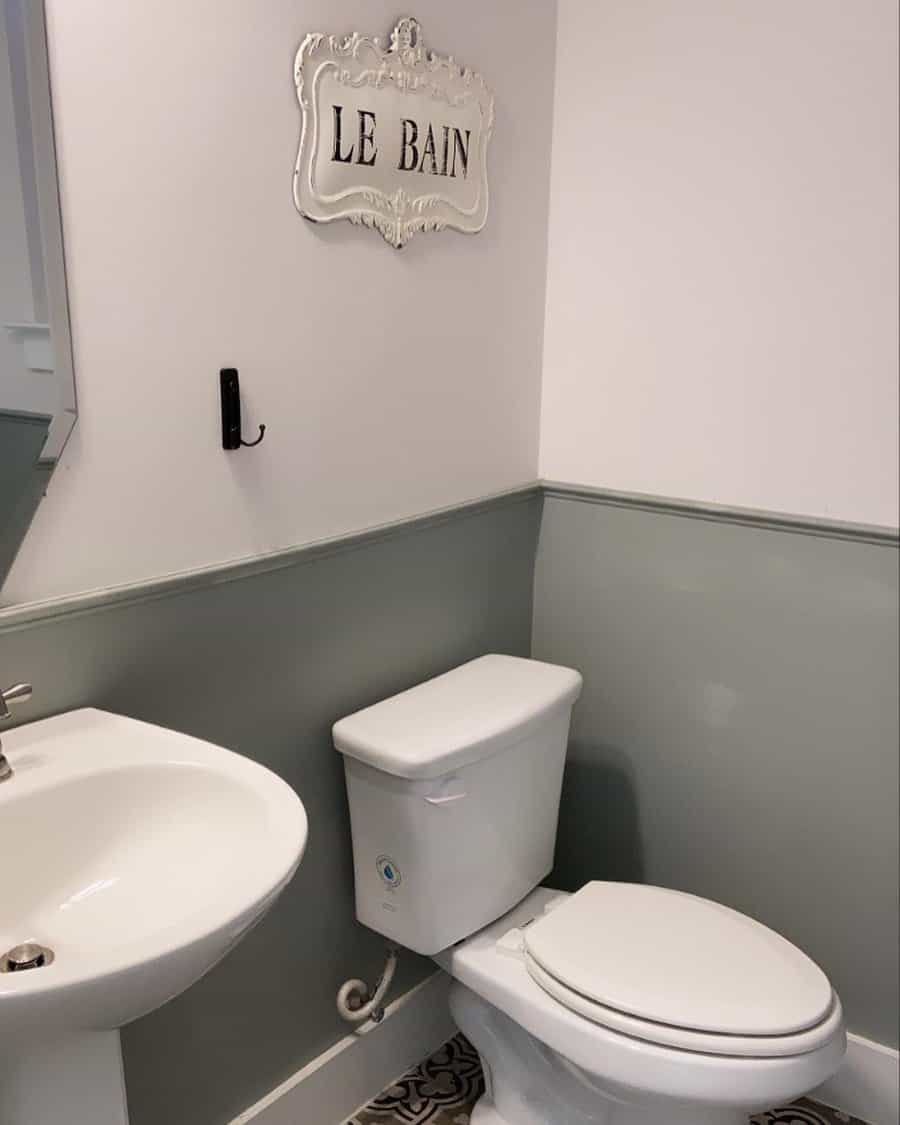 9. Install Decorative Tiles
A half bathroom with decorative tiles is a one-stop shop for easy, stylish decor. With easy to install tiles, adding a bit of character to your bathroom can be easy and fun! No need to worry about clutter or taking up too much space – just pick the perfect tile pattern and watch it come alive in your space.
Decorative tiles are great because they require little maintenance and no need for much additional decor – giving you the perfect modern touch in no time!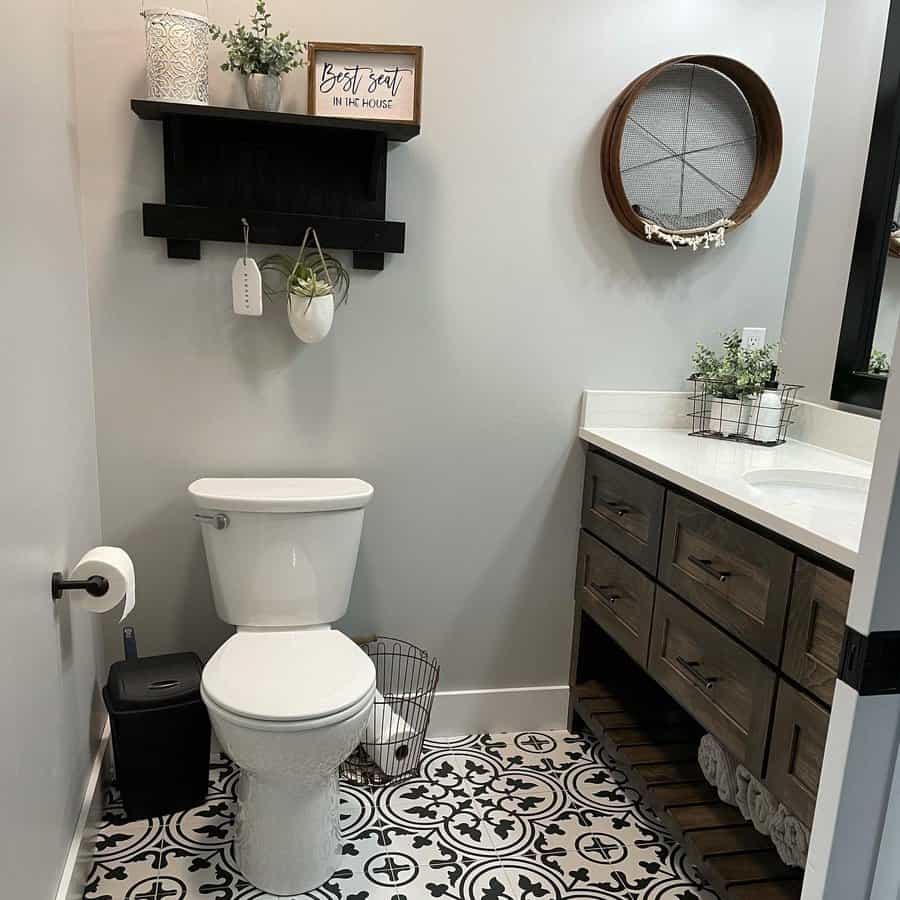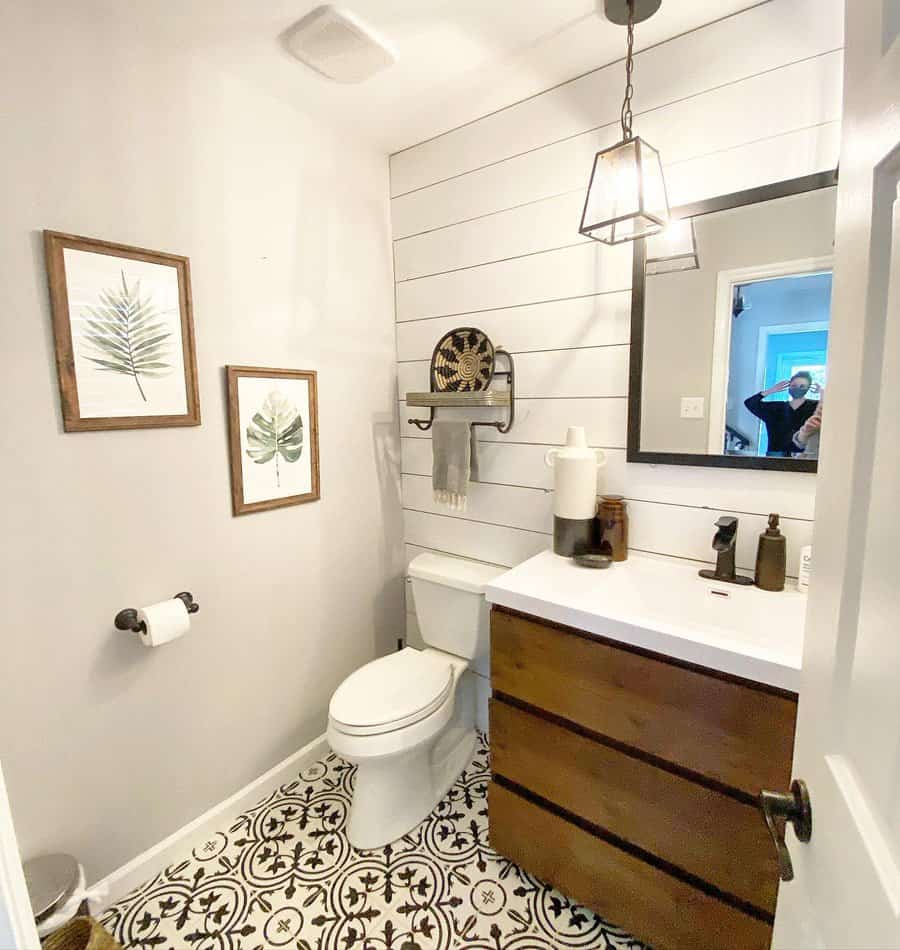 10. Paint It White
A white half bathroom is the epitome of clean and minimalist design, allowing for an incredibly versatile aesthetic. It creates a clean, hygienic atmosphere that's perfect for a studio-style space, yet can also blend seamlessly with more colorful and busy themes.
Add a few modern fixtures and accents to spice it up, or keep it clean and simple with basic whites. White half bathrooms may be small, but they offer the most in terms of cleanliness and versatility!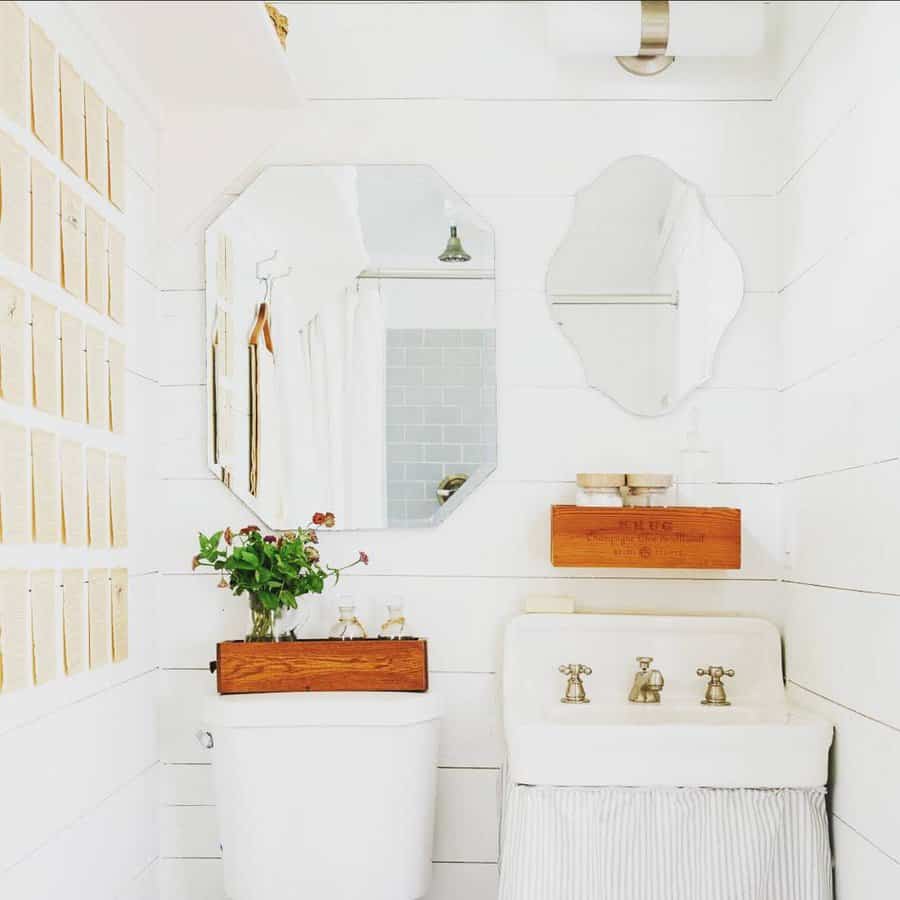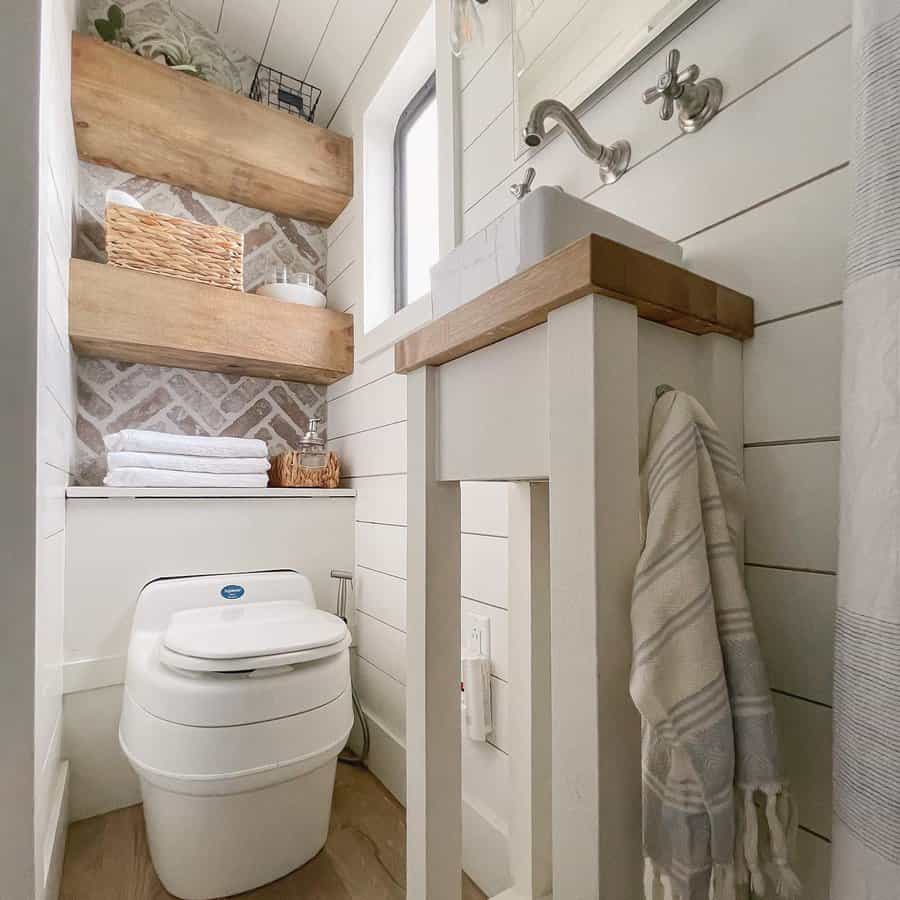 11. Add Graphic Tiles
Make your half bathroom stand out by adding some accent with graphic tiles! This modern, eye-catching alternative to the classic white bathroom adds a unique and stylish touch to any home.
Pair your graphic tiles with plants and small decorations for an extra punch of style that guests are sure to appreciate. This easy upgrade adds depth and beauty to even the smallest powder room for a truly personalized experience.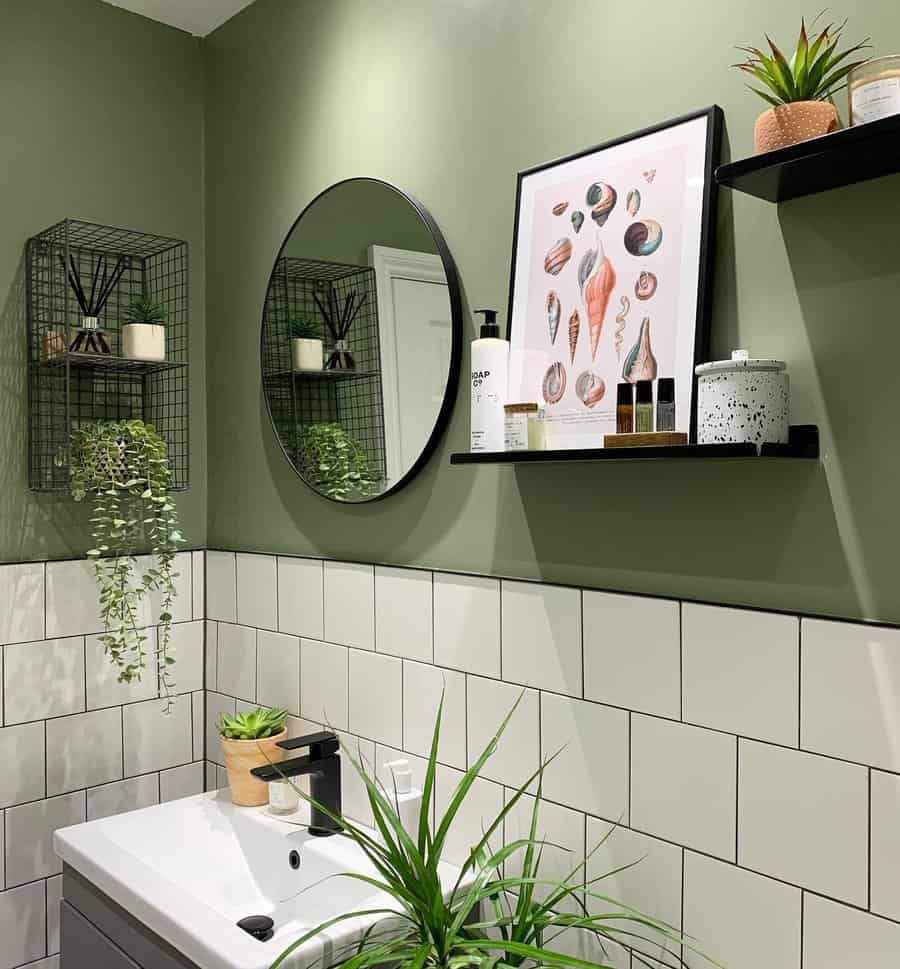 12. Add A Skylight Window
A half bathroom with a skylight window lets natural light flood into the room during the day, helping to create an inviting yet calming atmosphere. Additionally, it allows you to save energy during this time as you won't need to rely on electric lighting. In the evening, when darkness falls, you can enjoy an astral light show as night draws in and stars start twinkling above your bathroom.
Such a hidden feature lets you soak up the beauty of nature from within the comfort of your home – a unique experience not often found nowadays!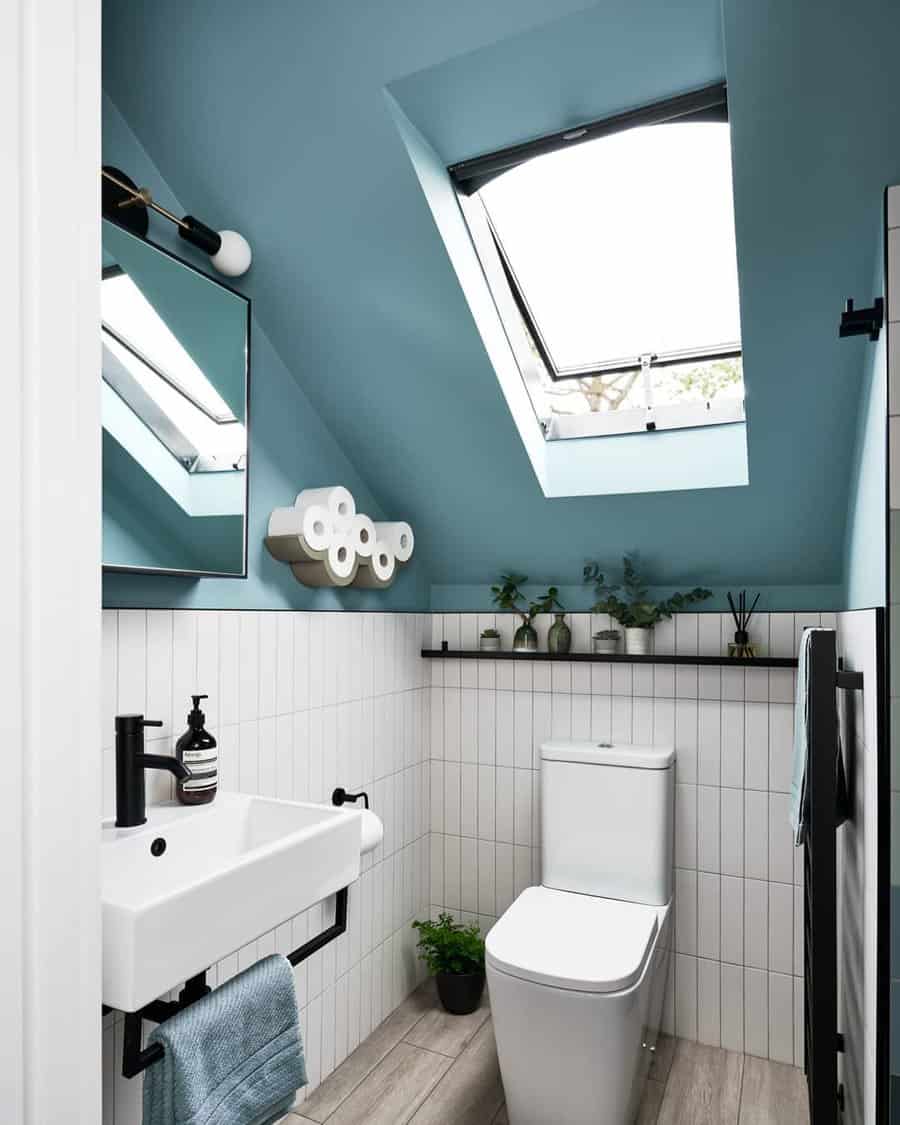 13. Install A Mirror With A Shelf
A mirror shelf is a great way to add an extra surface area in a small space. Perfect for extra storage, the shelf above the sink provides extra space to keep items like extra toothbrushes or small items like jewelry.
If you're working with limited counter space, adding a handy mirror shelf can help keep your items within reach – saving time and reducing stress.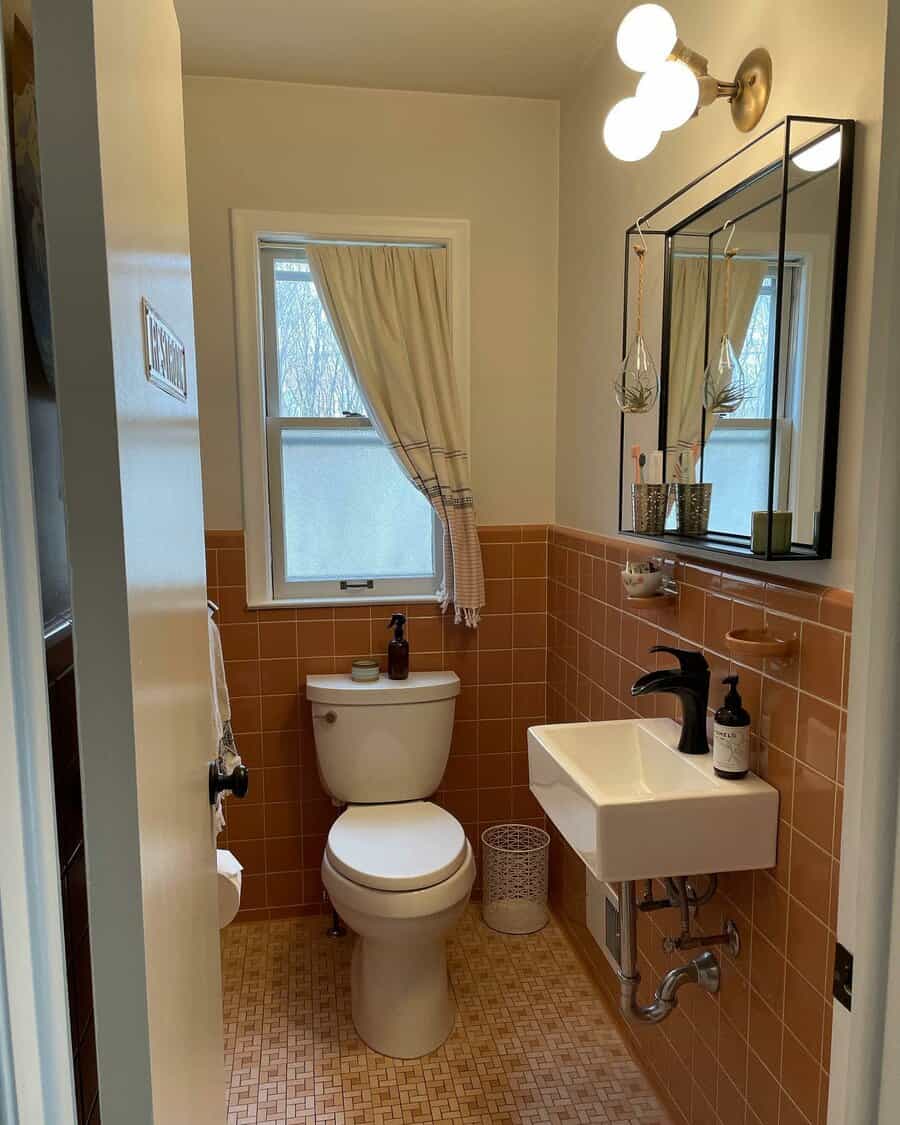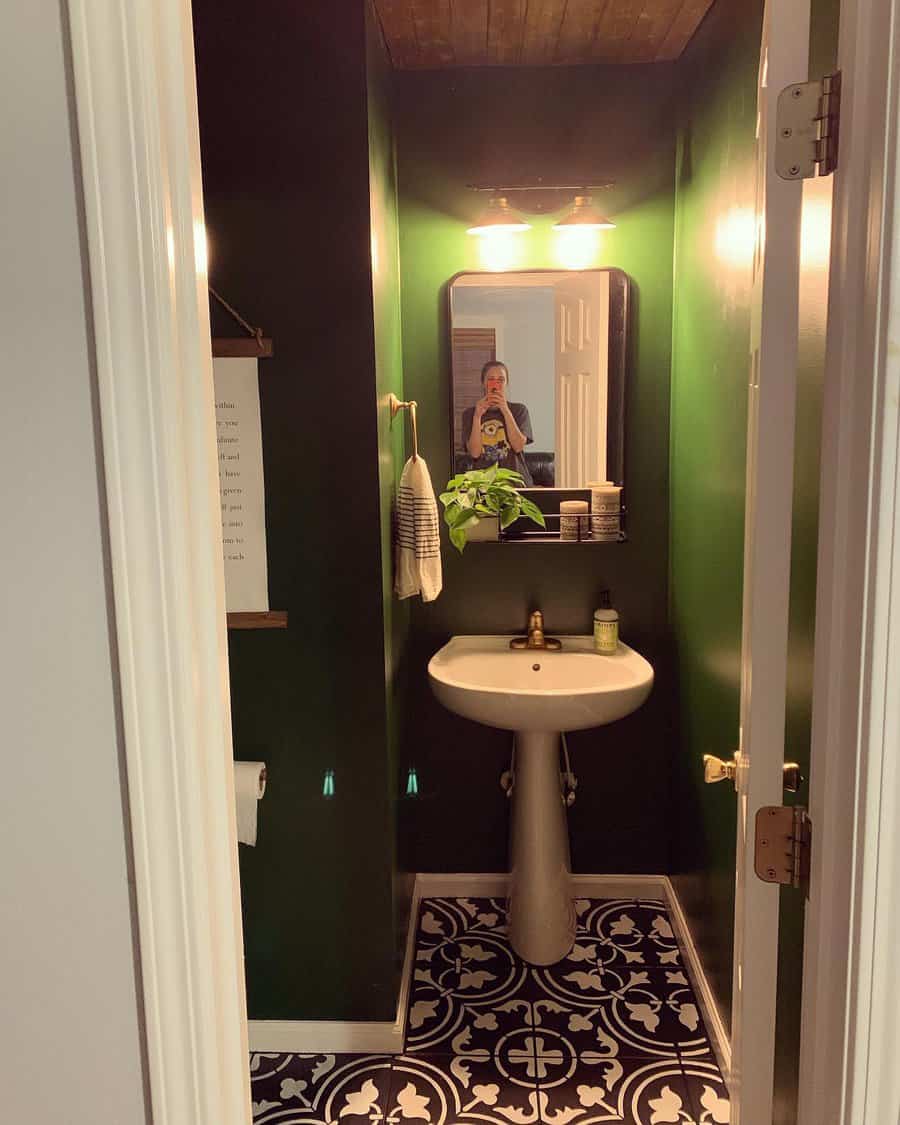 14. Make A Statement With The Mirror
Adding a vintage framed or gold or metal-framed mirror to your half bathroom can be the perfect way to add major impact and give a luxurious feel. Not only does it bring in light and reflect a unique, vintage touch, but it also works to tie together the entirety of the space. T
o take it one step further, and incorporate a decorative mirror for an added element of grandeur that will accommodate all of your guests with its eye-catching design.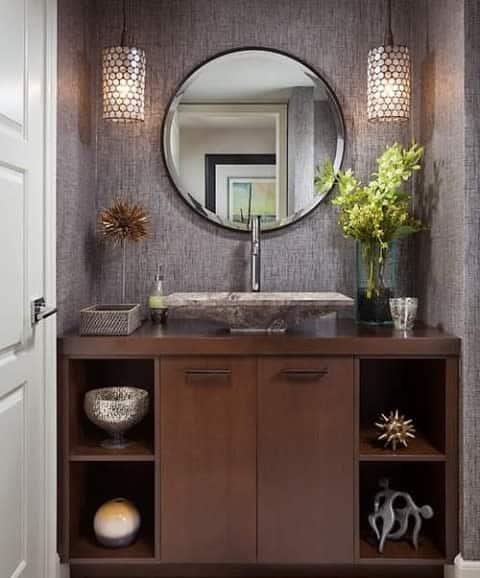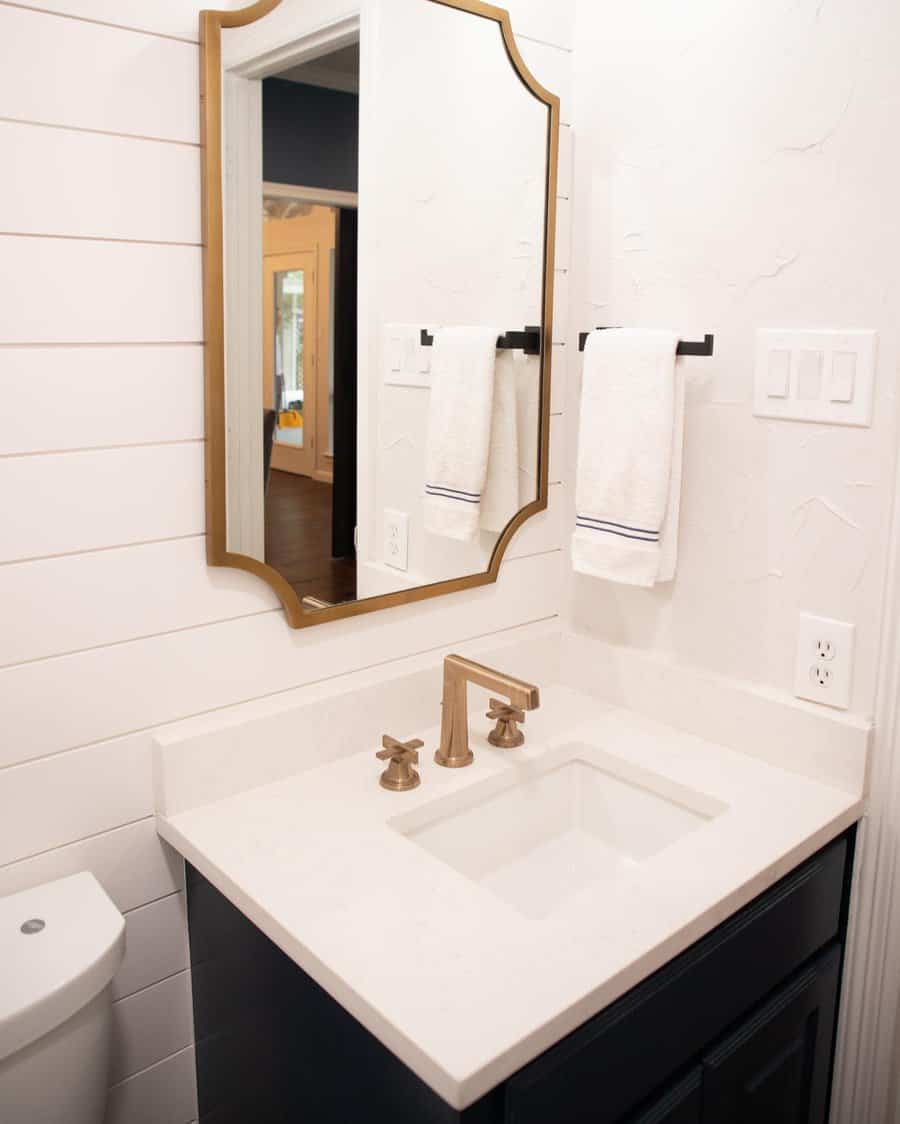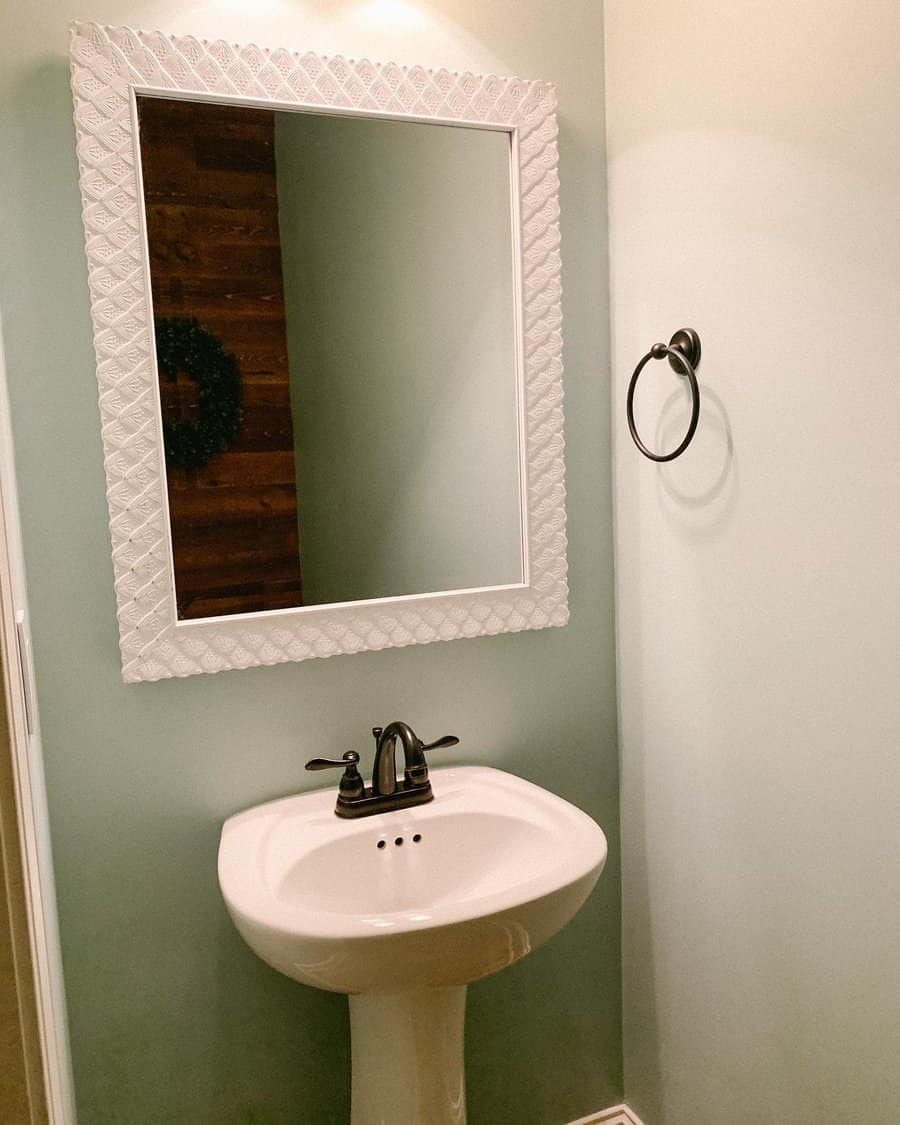 15. Create Easy Access To Essentials
Create a half bathroom that will take convenience to the next level. With storage for all essential items, you'll always have easy access when you need them. Keep towels, toiletries, cleaning supplies, and other must-haves organized in one space to ensure everything is right there when needed.
Brighten up the room with a vibrant storage cabinet or include storage baskets for additional storage opportunities. Make your half bathroom a functional space where storage won't be an issue!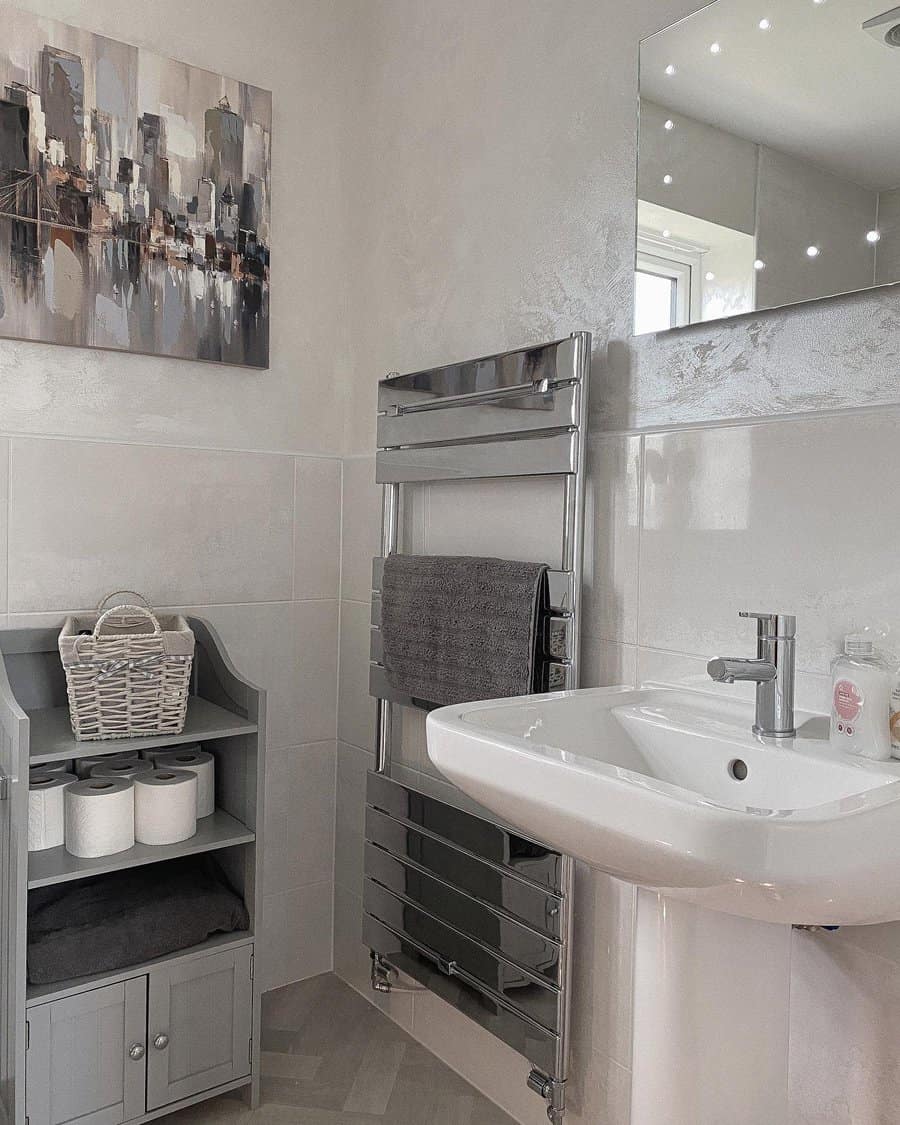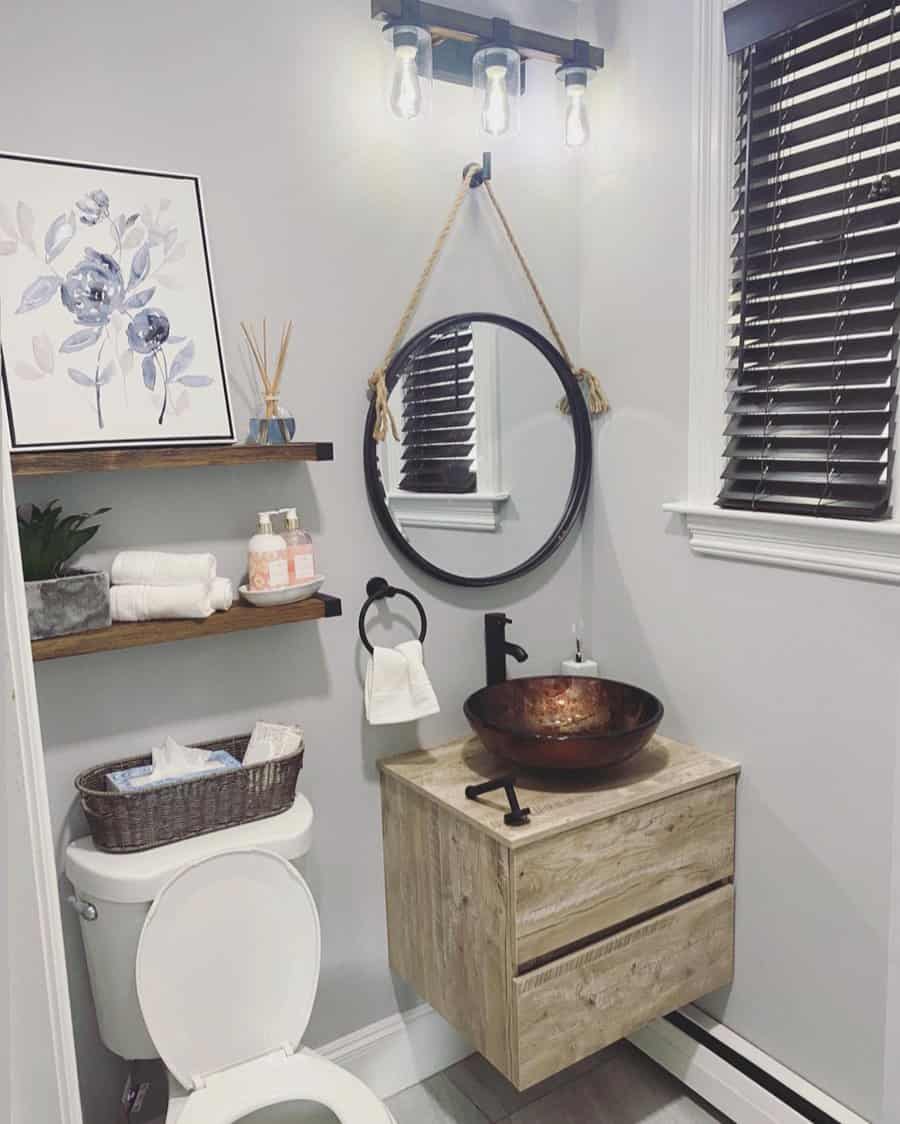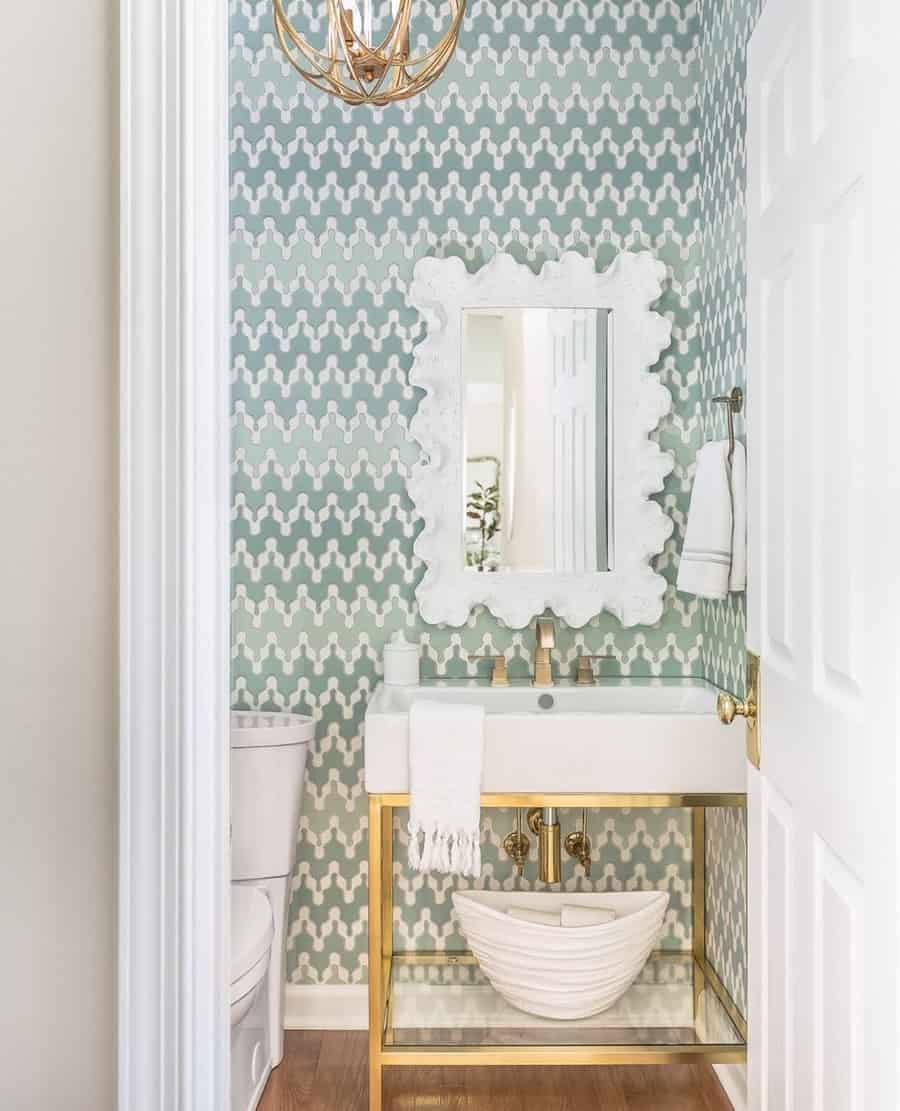 16. Add Pendant Lamps
Transform your half bathroom into a stunning accent to your home with the addition of some pendant lamps. Not only will this give your space an instant wow factor, but it will also light up the small bathroom, adding charm and comfort when dealing with those midnight toilet trips.
Whether you choose a contemporary or classic lamp depending on the existing decor of your room, pendant lamps are sure to be an eye-catching upgrade that you won't regret making.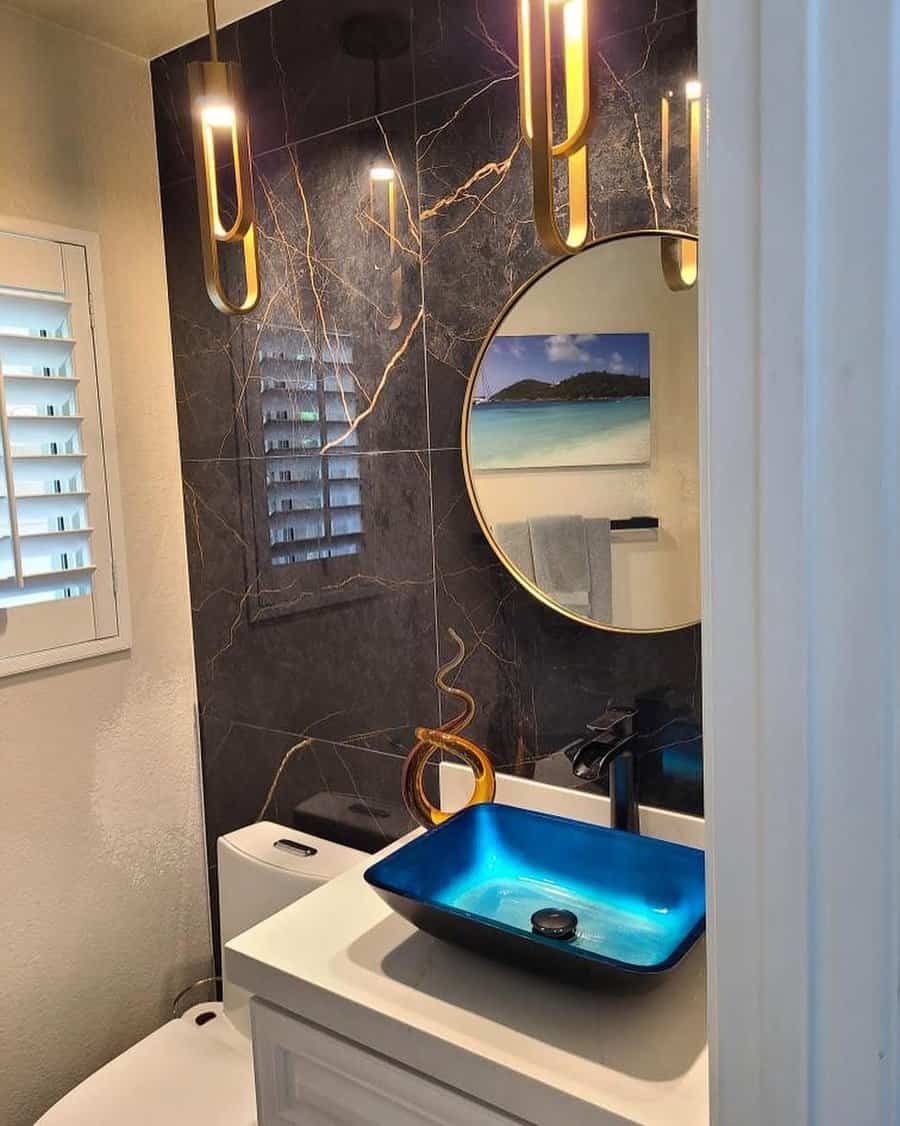 17. Keep The Flowers Fresh
A touch of life makes a huge difference in any room, and the addition of fresh flowers makes a half-bathroom truly alive. Nothing is more inviting than walking into a bathroom with the soft scent of petals mixed with the cool air and a feeling of cleanliness.
Not to mention, it adds a splash of color that makes even the smallest space appear larger and brighter. Adding fresh flowers to a half bathroom is an inexpensive way to make any houseguest feel right at home!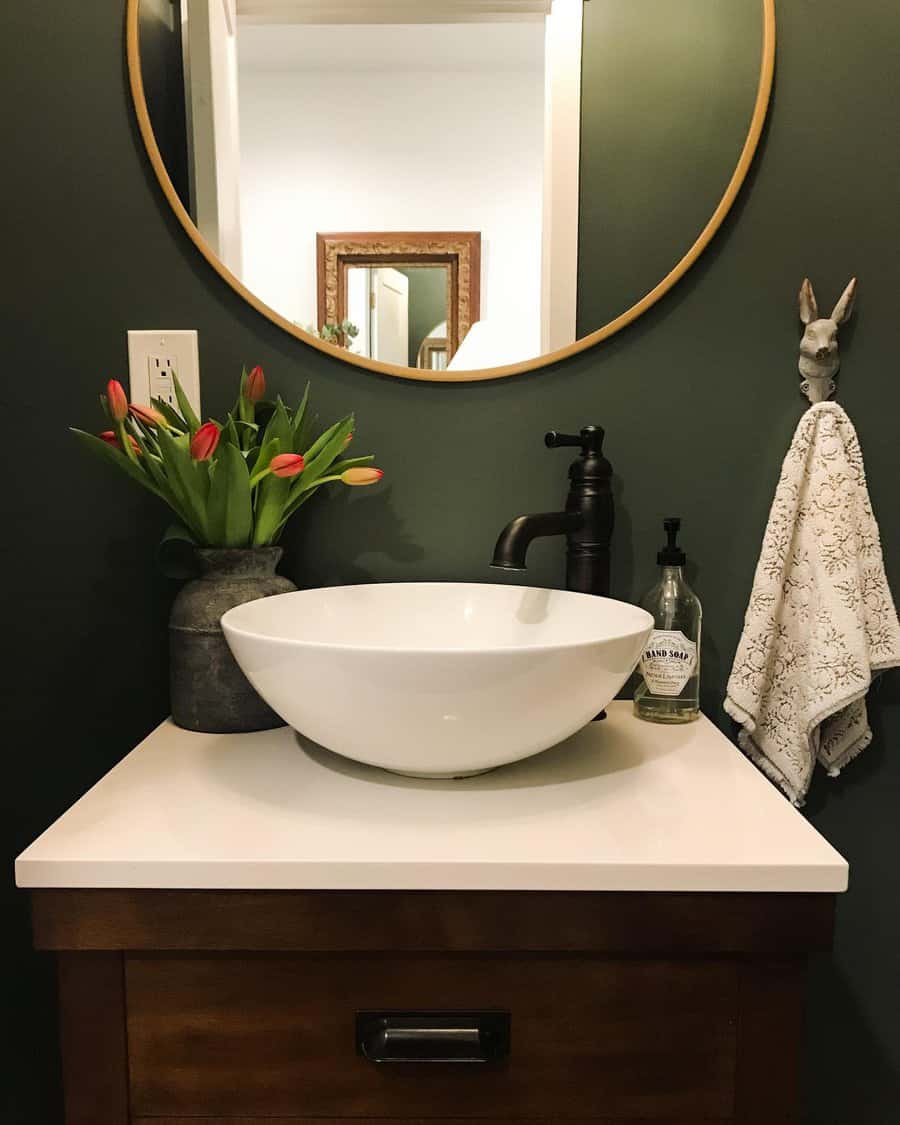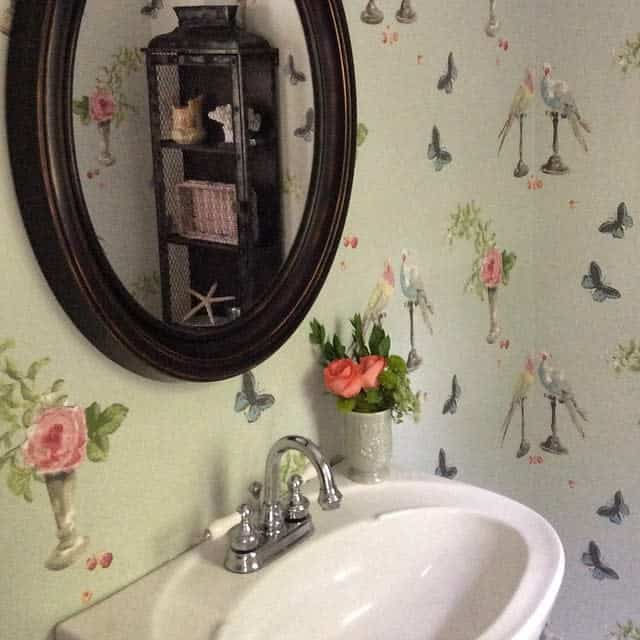 18. Install Gold Fixtures
Spark up your half bath with elegant and sophisticated gold fixtures! From the towel bar to the toilet paper holder, everything in your bathroom will be dripping in style. Gold fixtures come in a variety of timeless designs that are sure to make an impression.
Whether you opt for bright or matte gold, art deco, or traditional Victorian, it's sure to add unparalleled glamour to your bathroom. Enhance the look further by contrasting gold fixtures with black accents for a timeless look.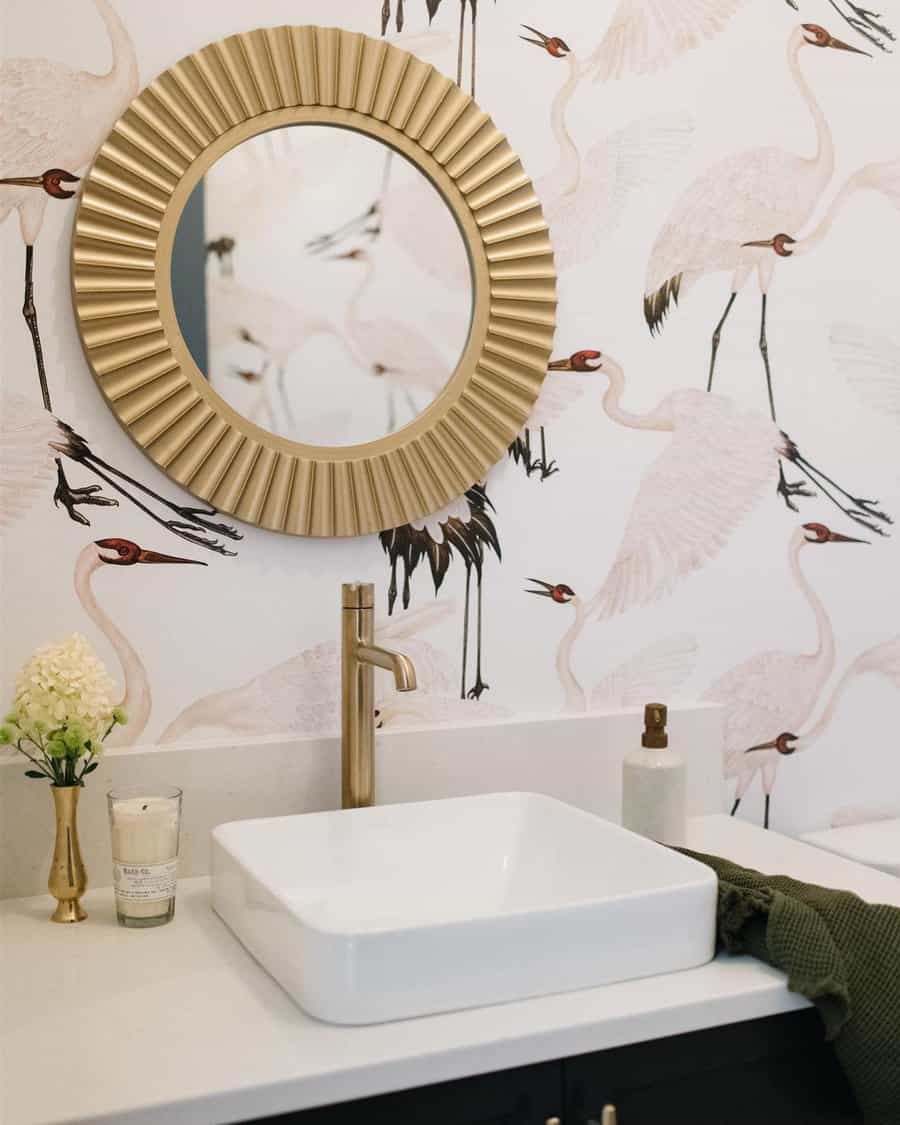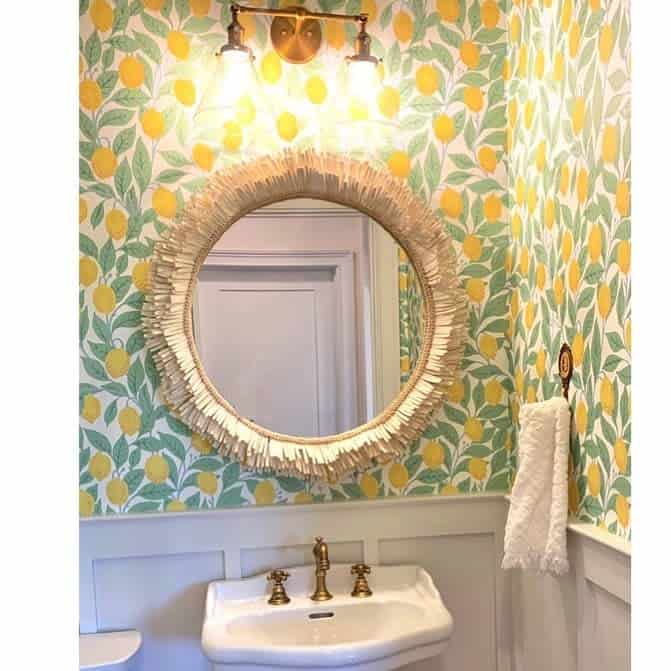 19. Set Up A Shabby Chic Interior
If you're looking for a feminine and light bathroom with country charm, a shabby chic half bathroom could be the perfect addition to your home. Opt for off-white cabinets to give the room an airy and bright tone, balanced out by soft floral wallpaper to add texture and warmth.
Soft neutral colors on accessories like faucets and towel holders help bring a romantic atmosphere, while distressed mirrors and simple lighting fixtures help add the vintage vibe that gives shabby chic its signature style.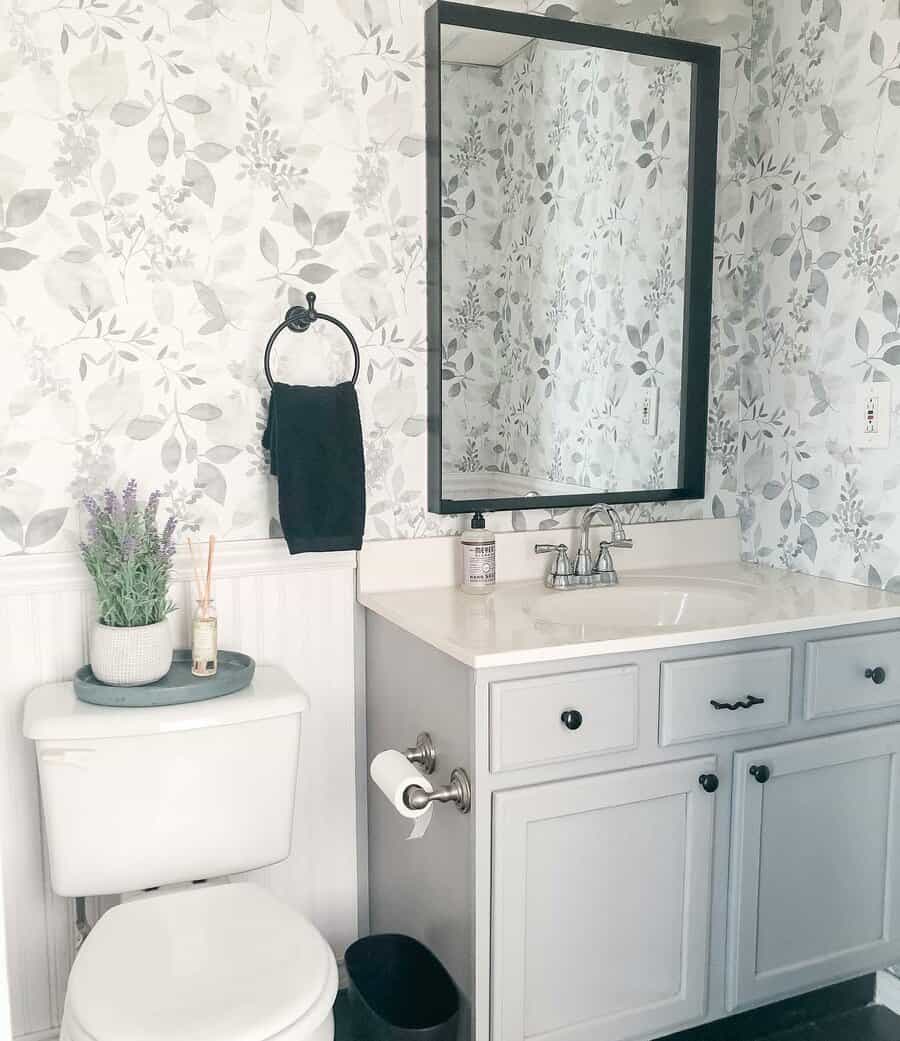 Half Bathroom FAQs
How do you brighten a small half bath?
The best way to brighten a tiny bathroom is to decorate with a light, airy, and bright color palette. A white bathroom often feels roomier than any other type, but sometimes all-white spaces can feel clinical. If so, use very pale shades of blue or green for a calm, soothing half bath. If you prefer warmer hues in the bath, paint your powder room barely-there blush pink or butter yellow.
What wall should be the accent wall in a half bathroom?
An accent wall is one of the most powerful decorating ideas in a small space. In a small half bath, put your beautiful wallpaper or contrasting color on the wall behind the sink and vanity, or the wall behind the toilet. Ideally, it should be the first wall you see when you walk into the powder room.