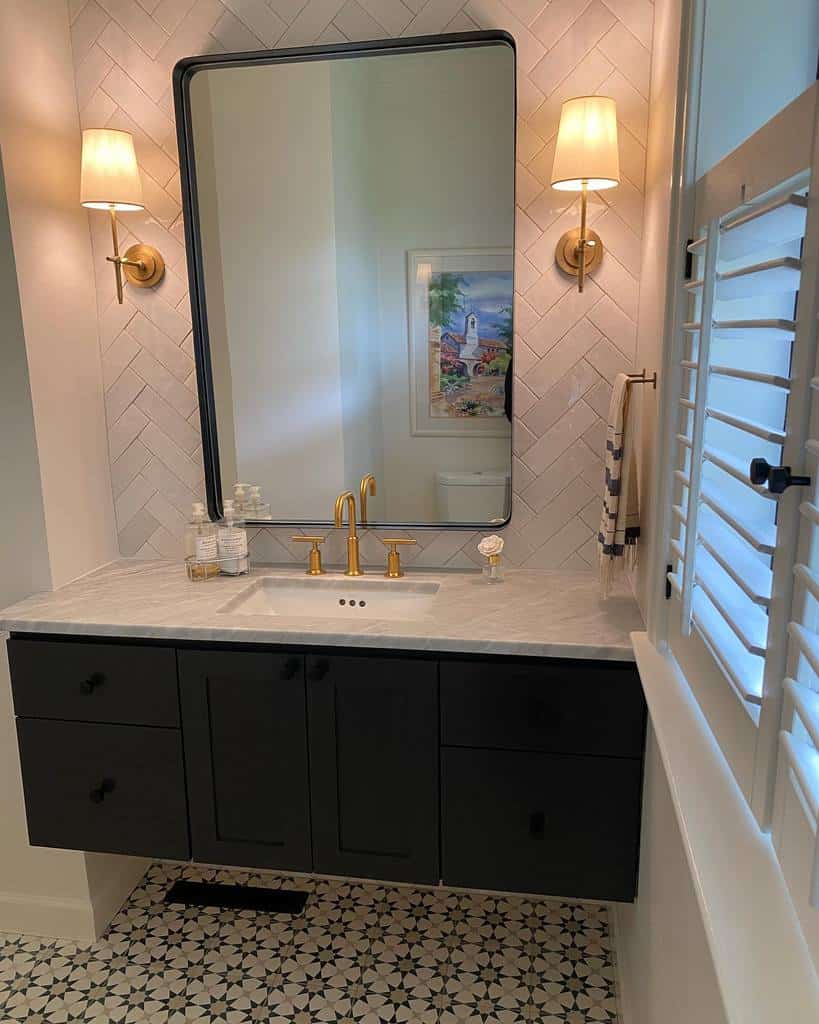 40 Half Bathroom Ideas and Designs
"How long is a minute? It depends on which side of the bathroom door you are."
Half bathrooms are the saving grace that keeps us from having to wait too long on the wrong side of the bathroom door. Called half bathrooms because they lack a shower or tub, they still provide the most basic functions of a bathroom.
A half bath or powder room is usually a small space that presents certain home decor challenges. Even so, there's no reason you can't turn it into a dazzling little room. Check out our 40 best half bathroom ideas and you'll see what we mean.
1. Boho
Creative, artistic, and unconventional are all great adjectives to describe boho, or bohemian home decor. Focusing on the eclectic, a boho space includes global design influences, natural materials, mixed patterns, and bright colors.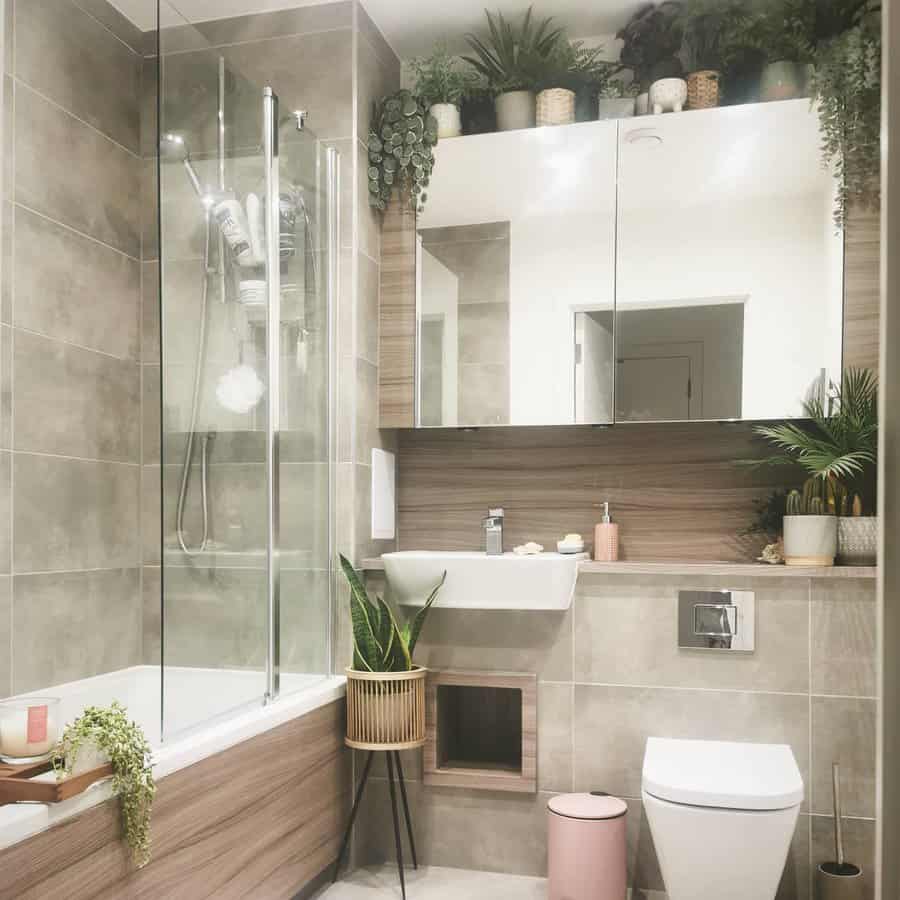 In the powder room, this translates into woven baskets and macrame hangings filling blank wall space. Bohemian bathroom design ideas comfortably incorporate a neutral background with rich splashes of color and pattern in bath rugs and accessories.
2. Cabinet
If there's one thing that's limited in a small bath, it's storage space. So try to incorporate a cabinet wherever you find the room. Either a vanity cabinet or a wall-mounted cabinet will suffice. If there's enough room, include both.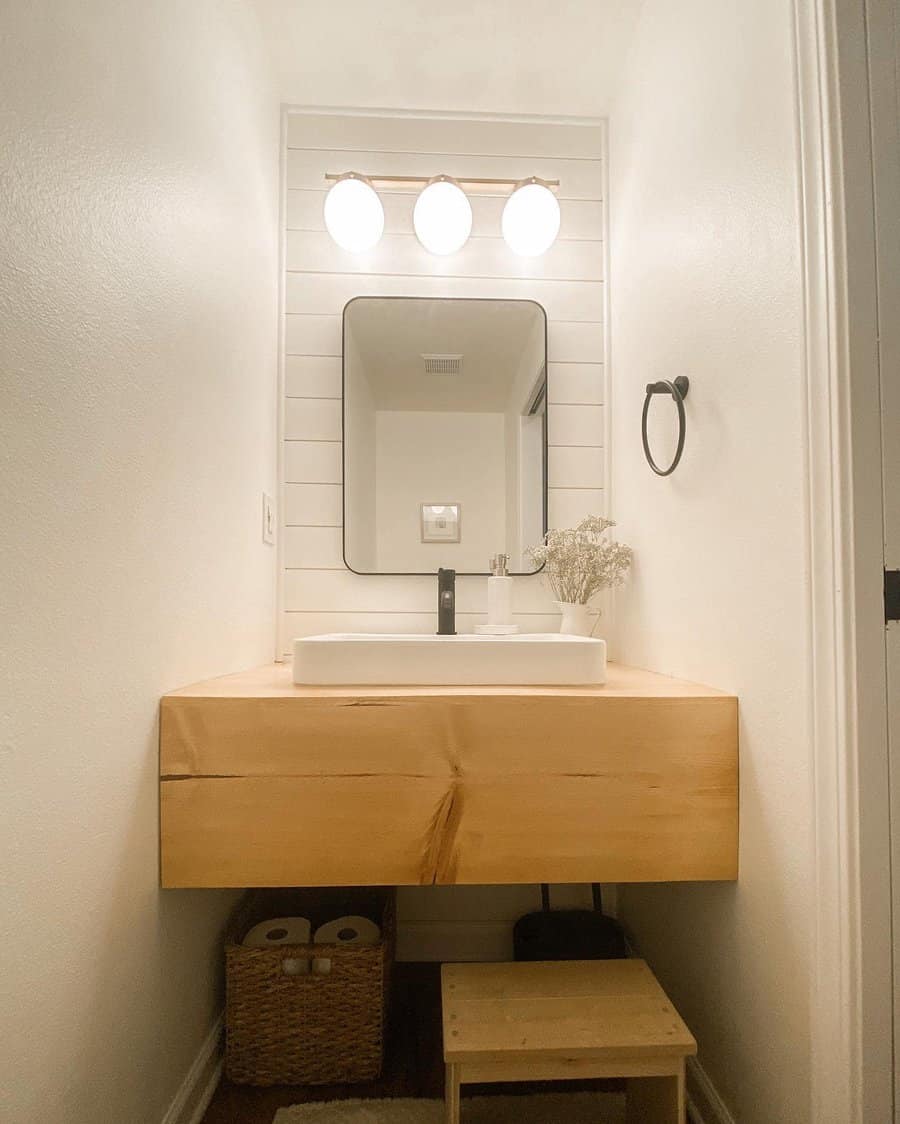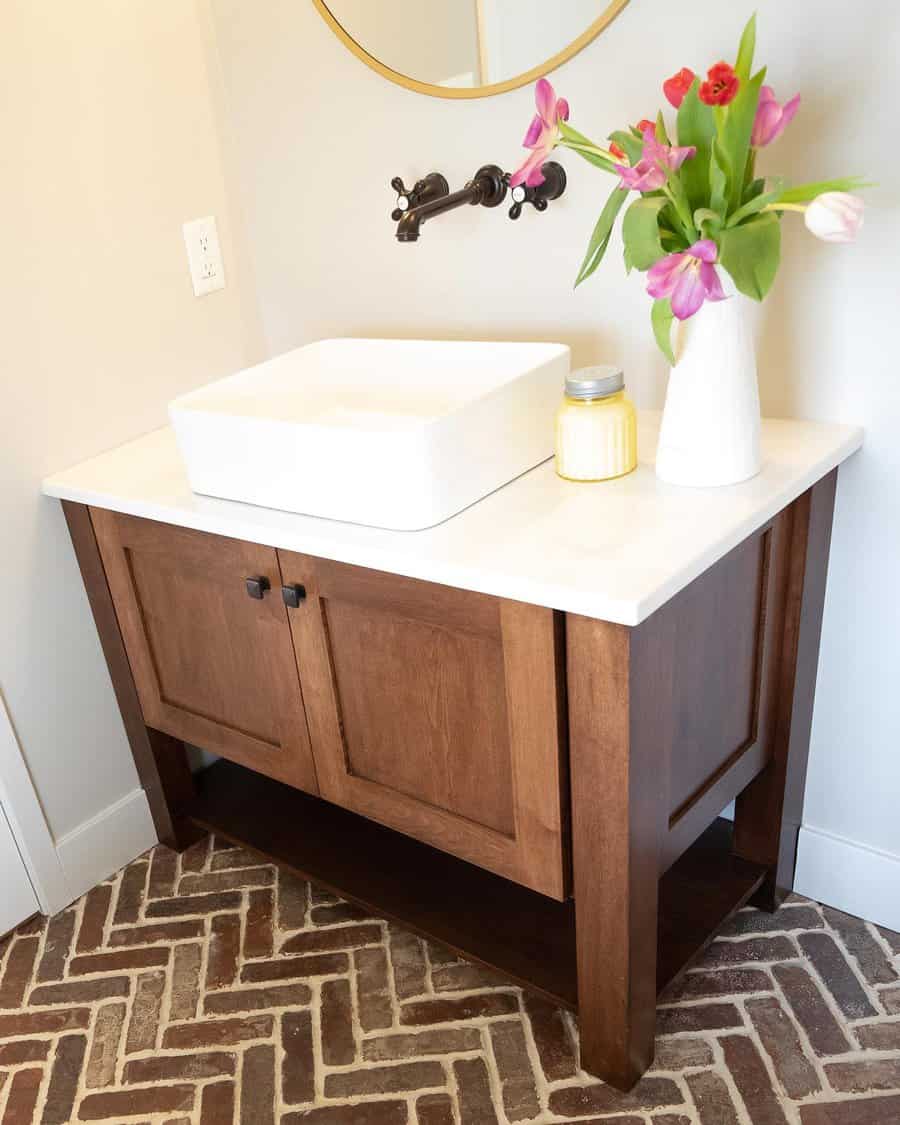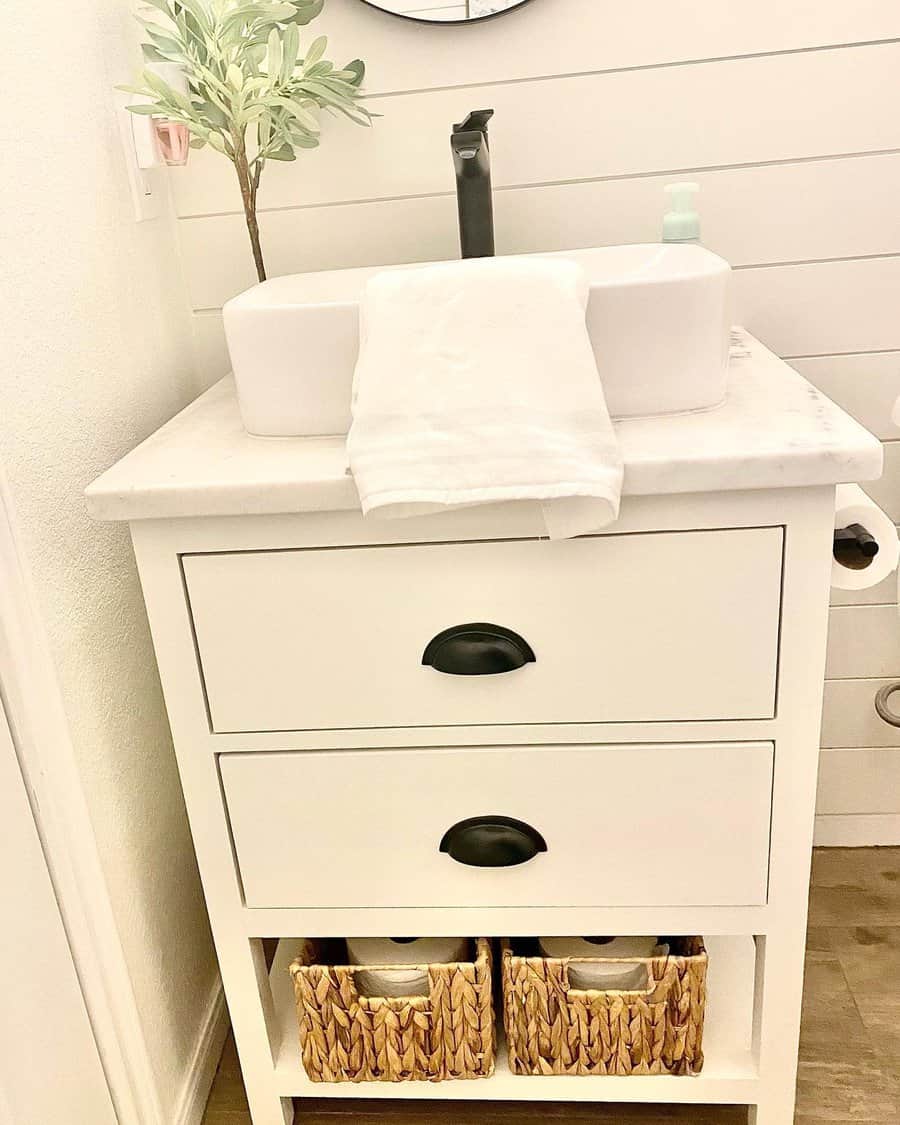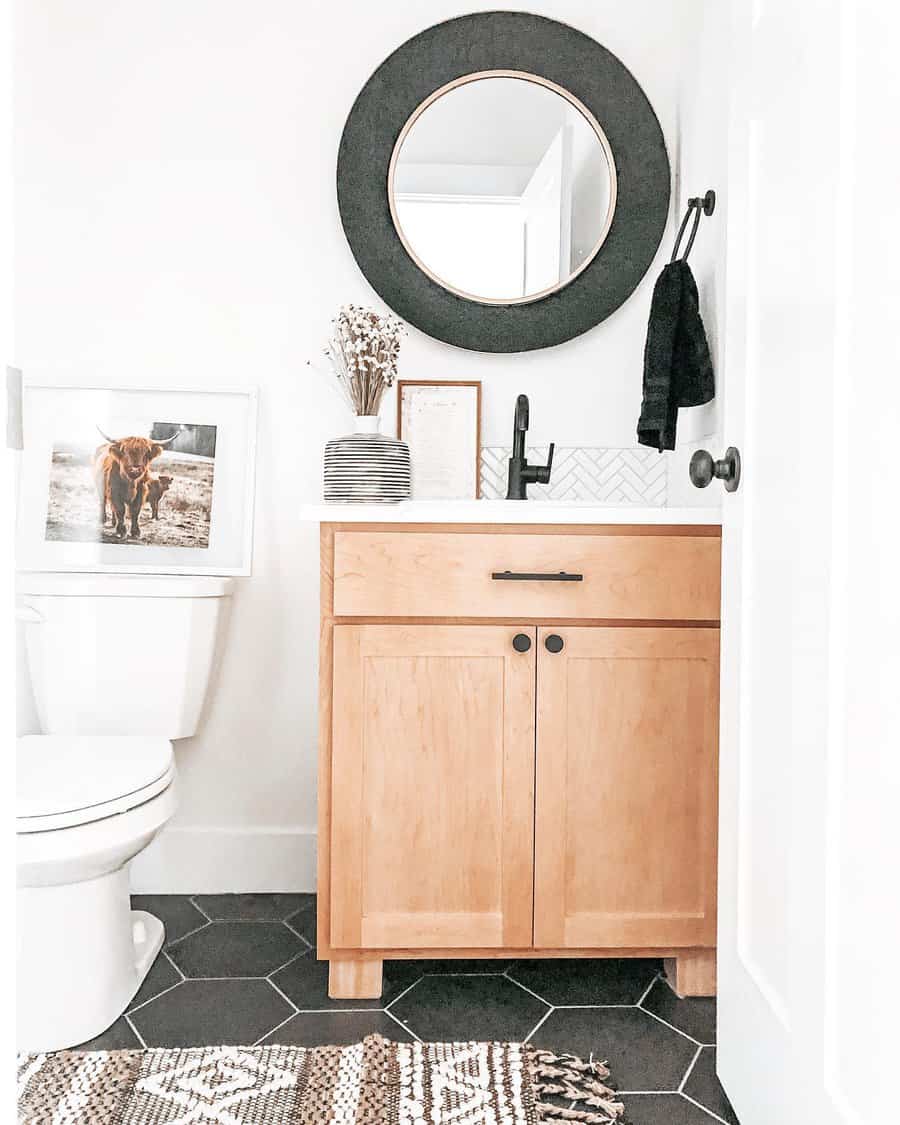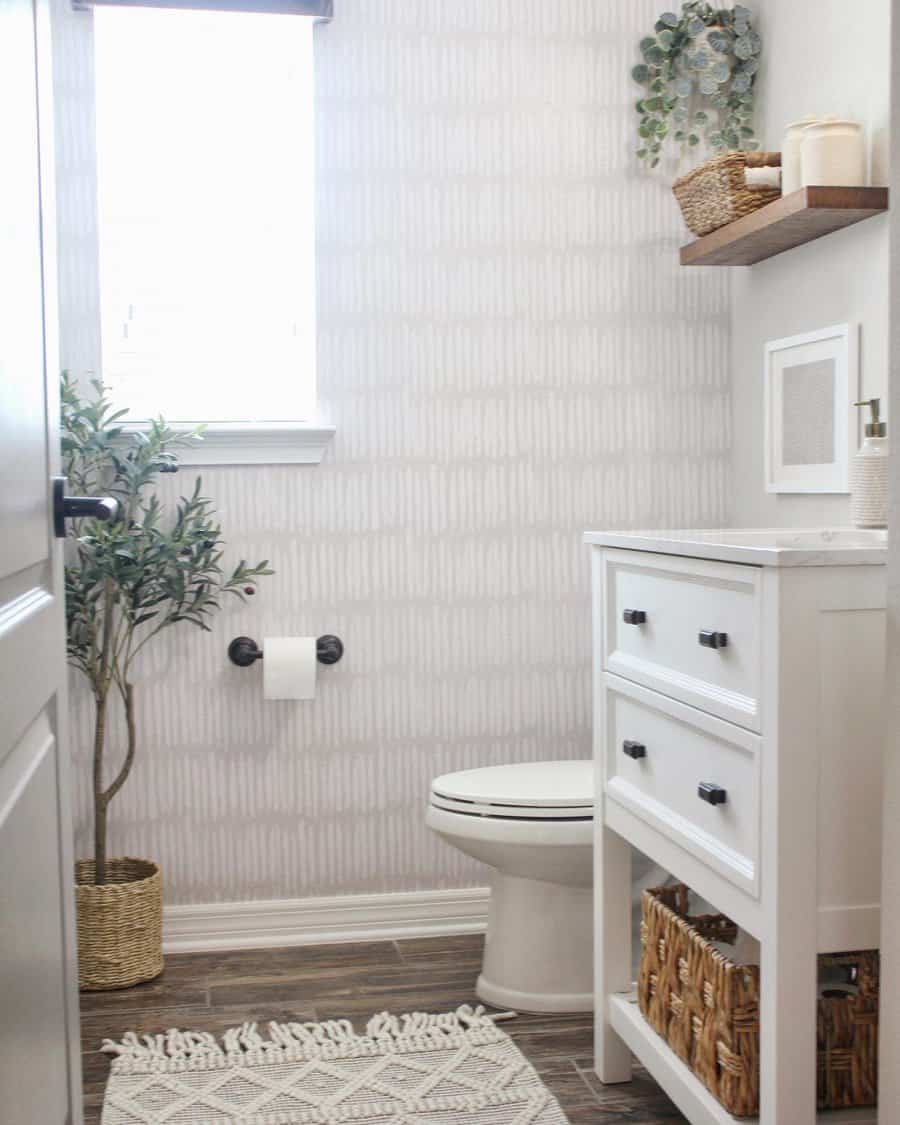 A cabinet is a great way to incorporate real wood finishes into your half bathroom. Look for narrow cabinets with a slim profile scaled to your space.
3. Decor
Your bathroom fixtures, towels, rugs, wall art, and other designer touches are the details that make or break your half bath. Because this type of bath doesn't have a shower or tub, you don't have a shower curtain to build your color scheme around.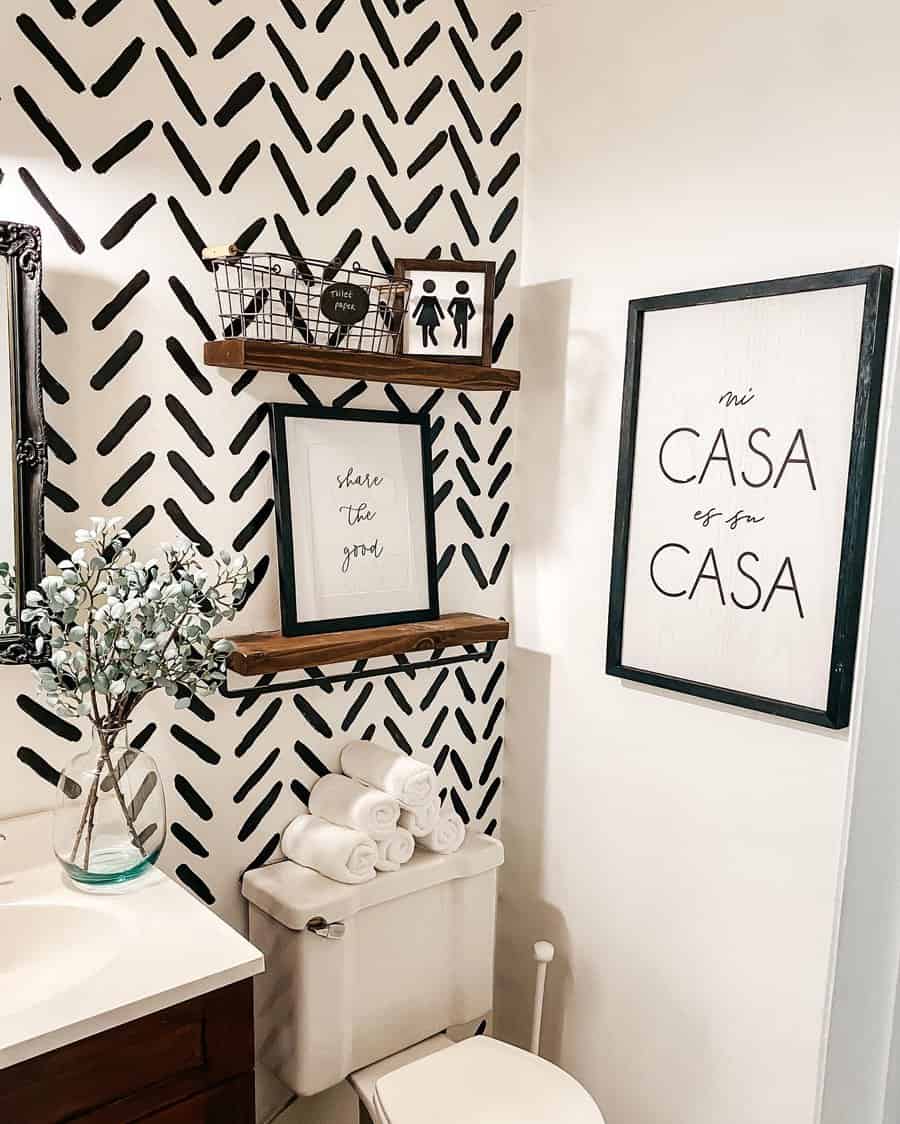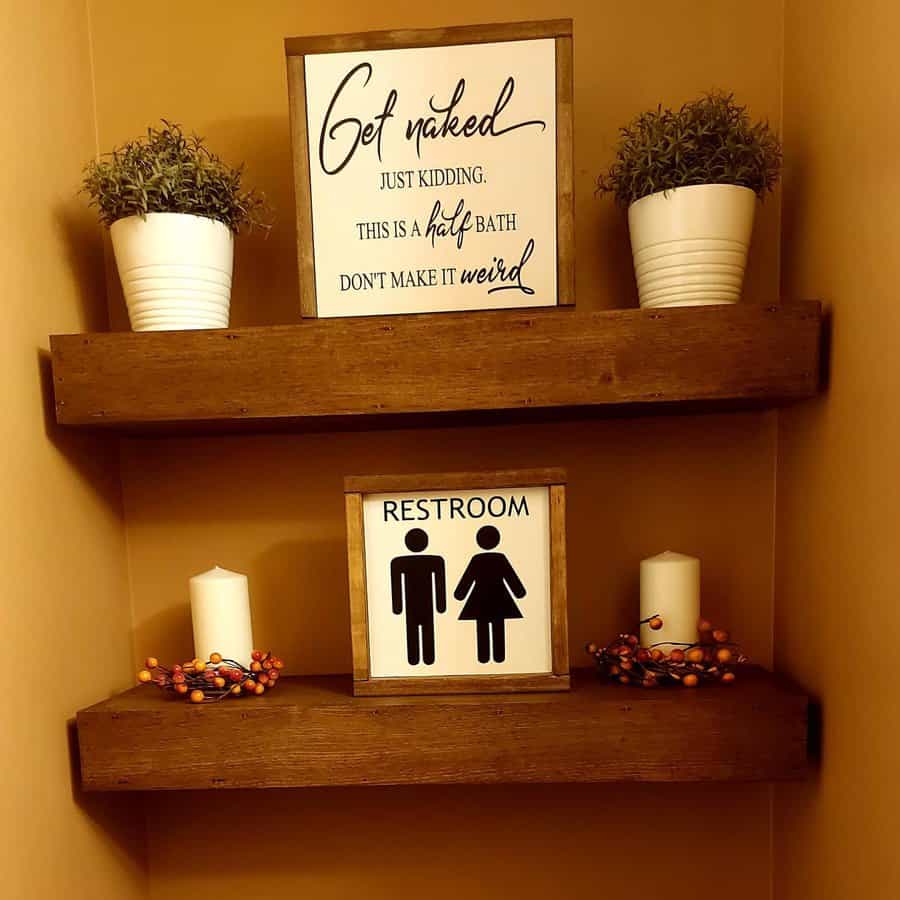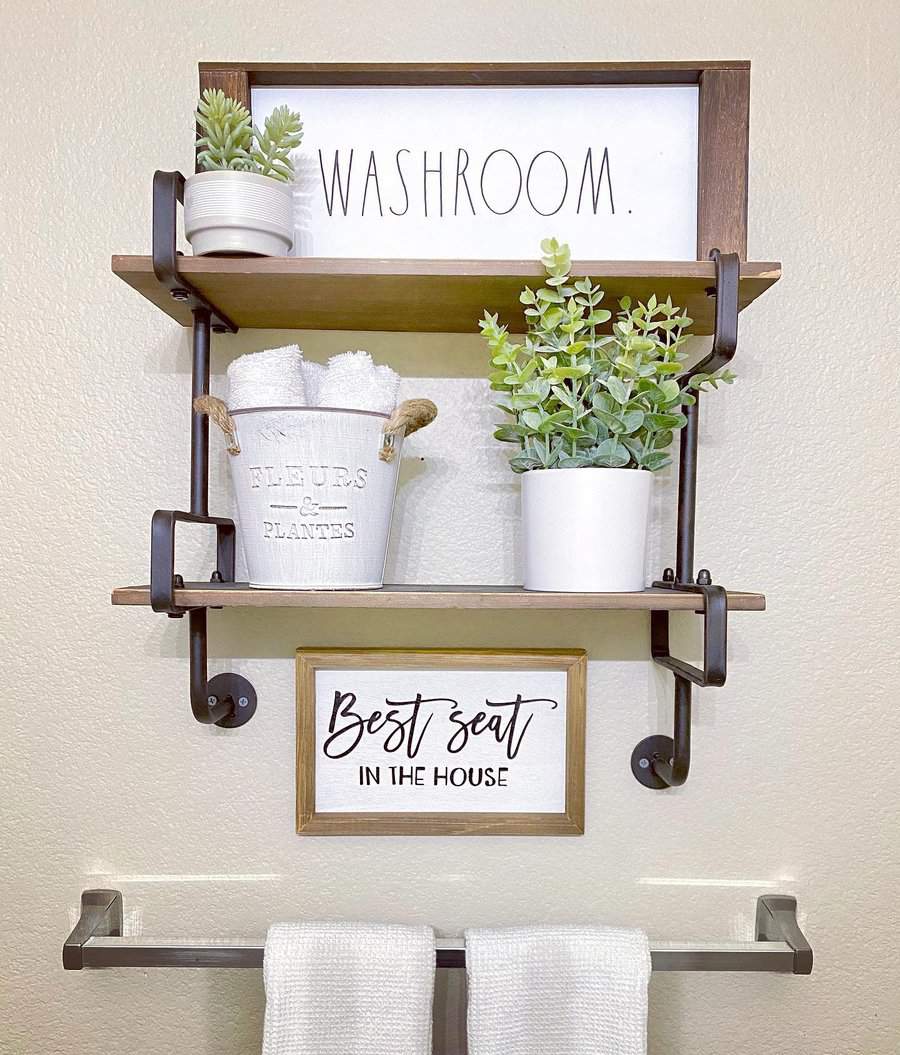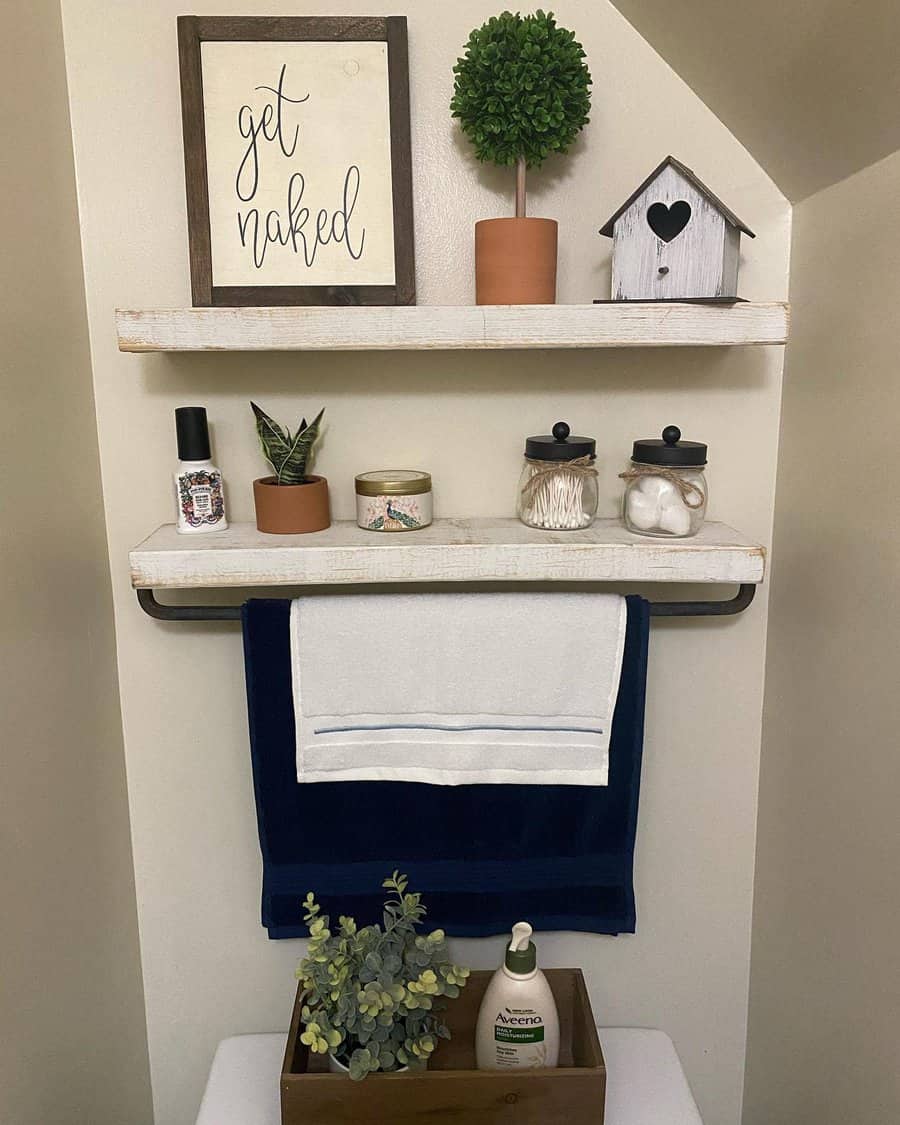 A patterned floor adds detail to your bathroom design. Whether it's a painted floor tile or a herringbone vinyl plank floor, using pattern in this way also can make a small room feel more spacious.
4. Farmhouse
Farmhouse decor is an excellent choice for a powder room or small bathroom remodel. Why? It includes a lot of white—which visually expands a room. It also features shiplap and subway tile, two materials with horizontal lines that also make a small space feel bigger.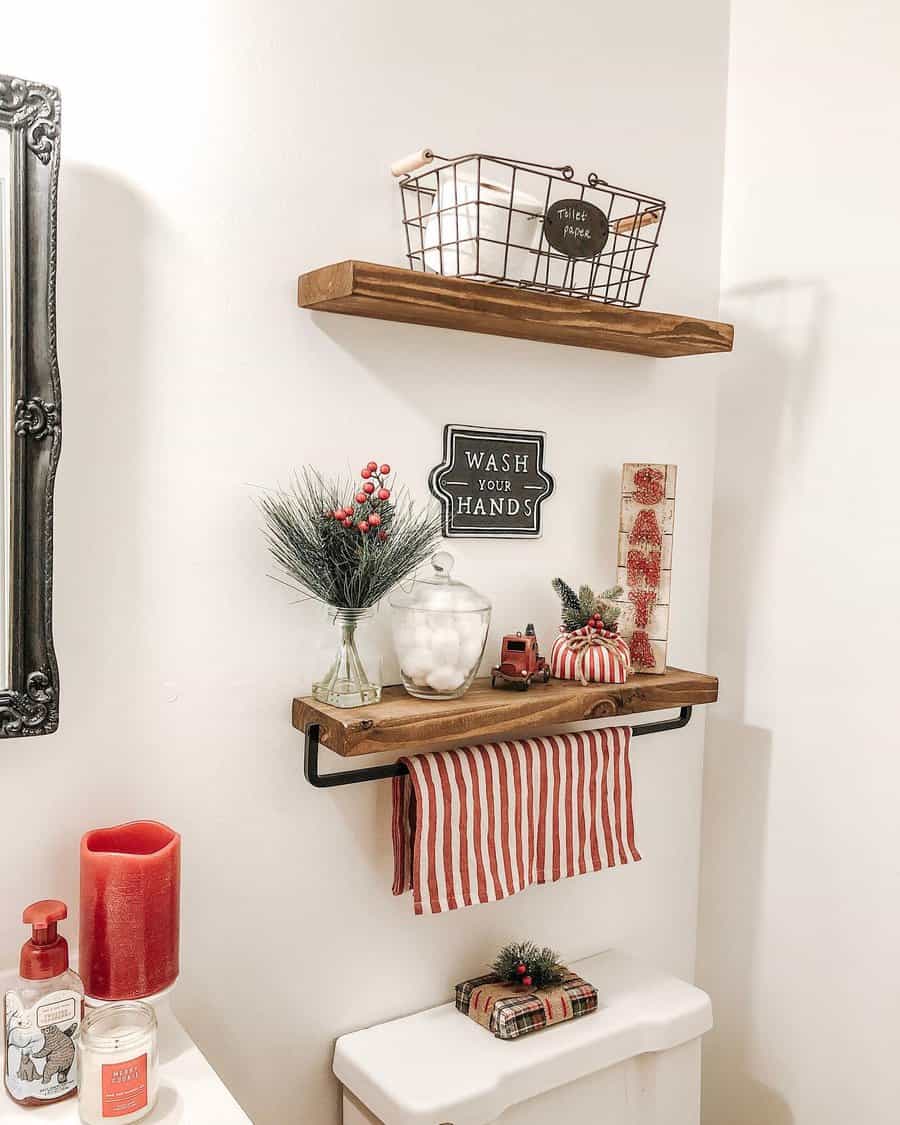 It's easy to take farmhouse style in a rustic or industrial direction if that suits your interior design style. Farmhouse rustic half bath ideas include black wrought iron cabinet hardware and shelf brackets. Burnished bronze is another great small half bath idea for fixtures and rustic accessories. Mix and match wood finishes and metals for an eclectic industrial farmhouse half bath.
5. Gray
Grey is everywhere in interior design today, and it is a great addition to a neutral or monochromatic half bath color palette. Warm grey wainscoting with white walls above, white countertops, and a white and grey floor is an excellent background for any color you'd like to pair it with.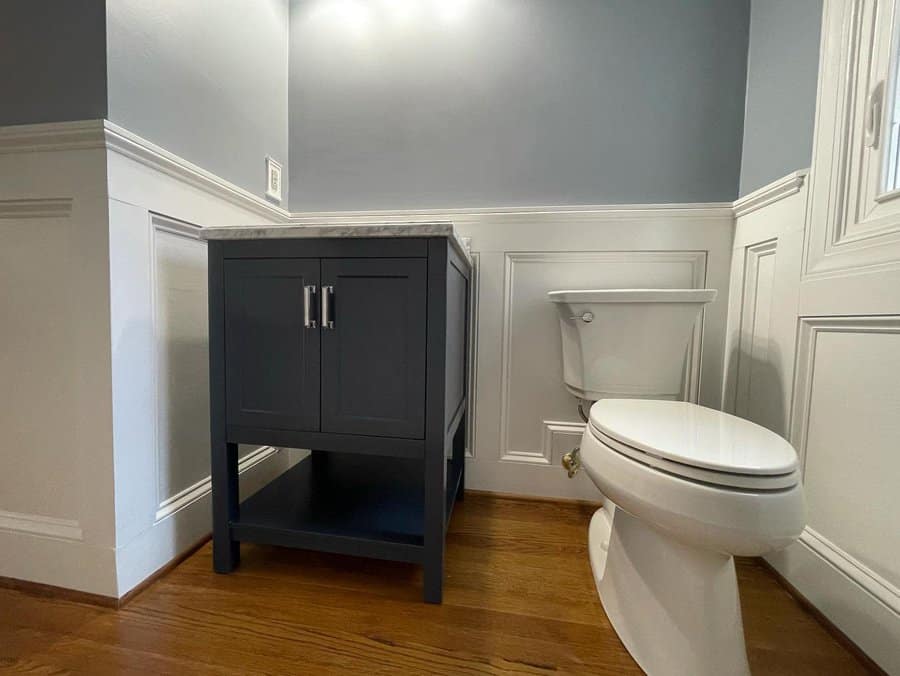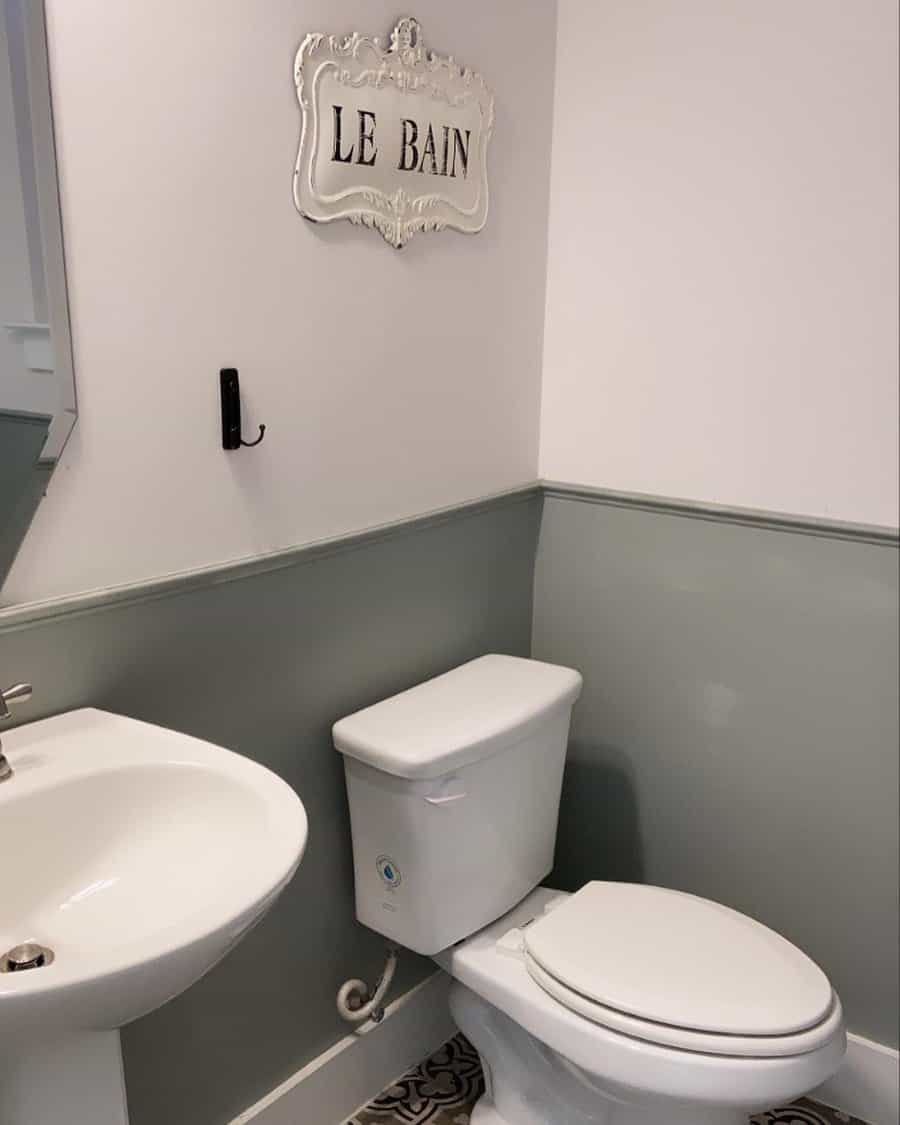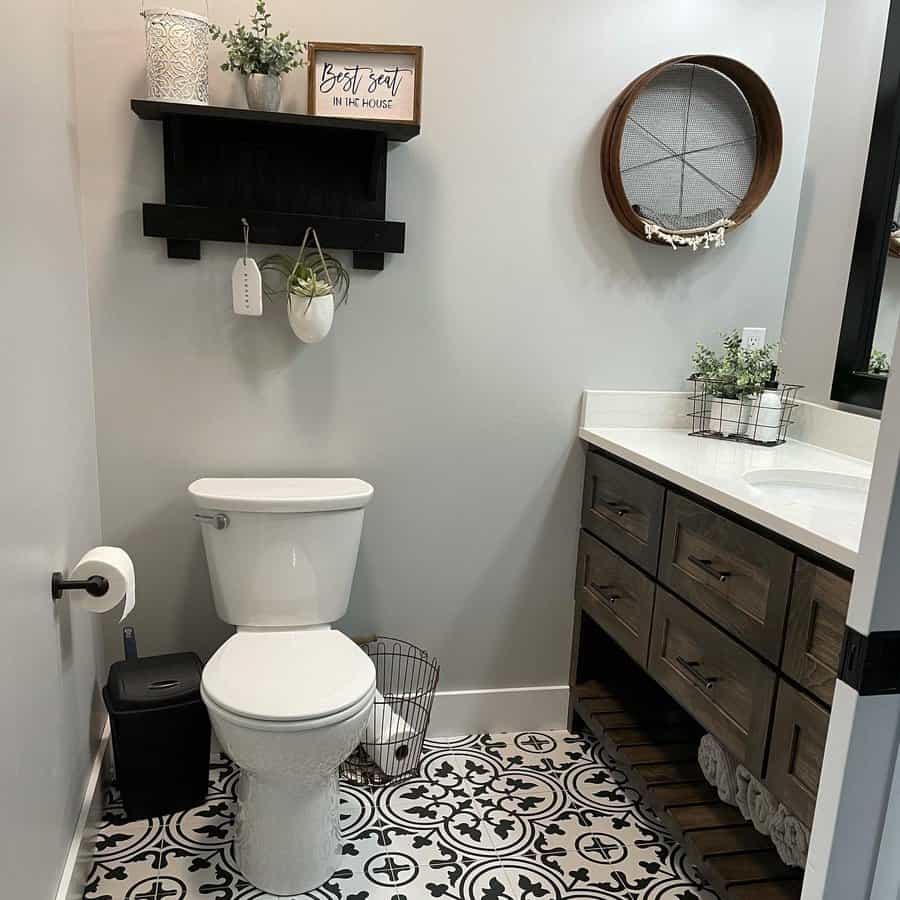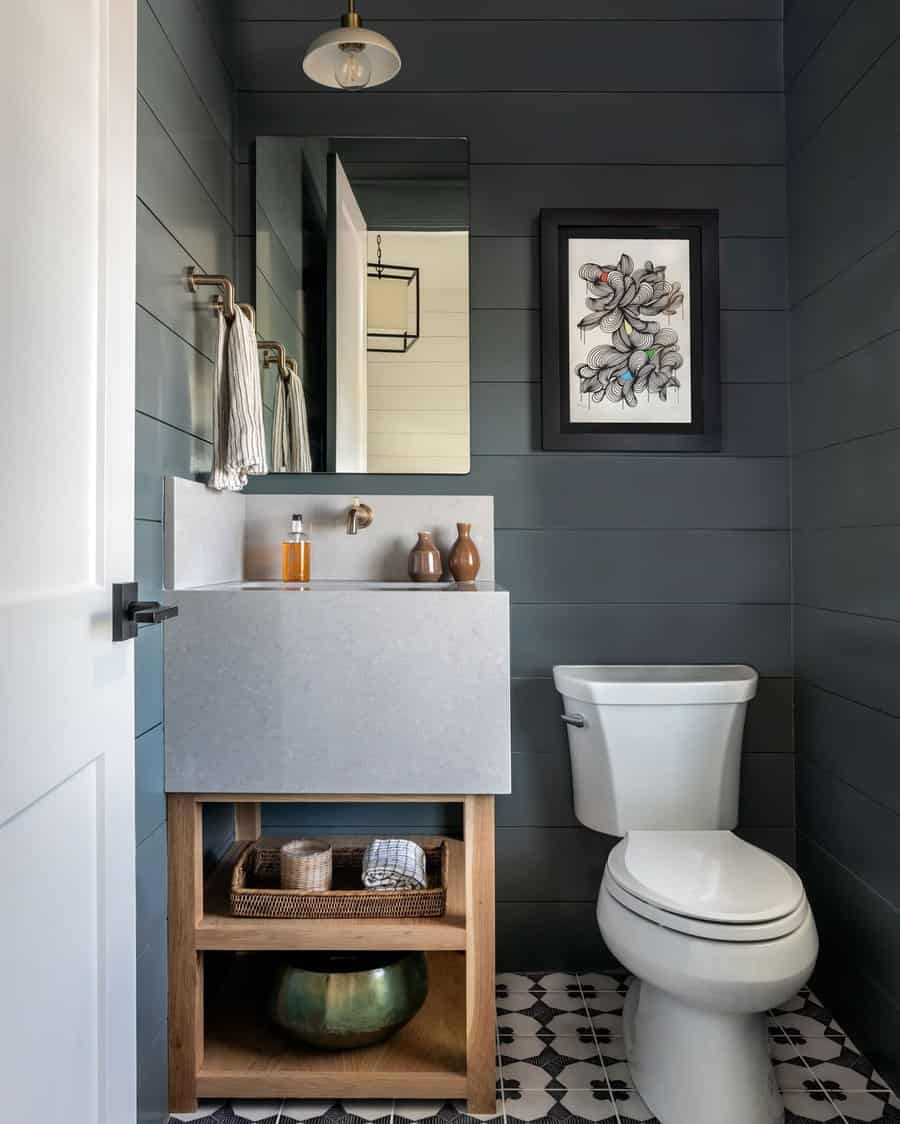 When shopping for grey paint for the bath, bring home lots of paint swatches before settling on a color—especially if you don't plan to replace your flooring or tile. Grey comes in a huge range of cool and warm shades, all the way from charcoal to "greige"—an attractive mixture of grey and beige.
6. Mirror
You don't have to settle for just one mirror over your powder room sink. Consider hanging mirrored tile on one entire wall in your small half bathroom. If that's not feasible, at least choose the biggest mirror you can fit over your sink or vanity area.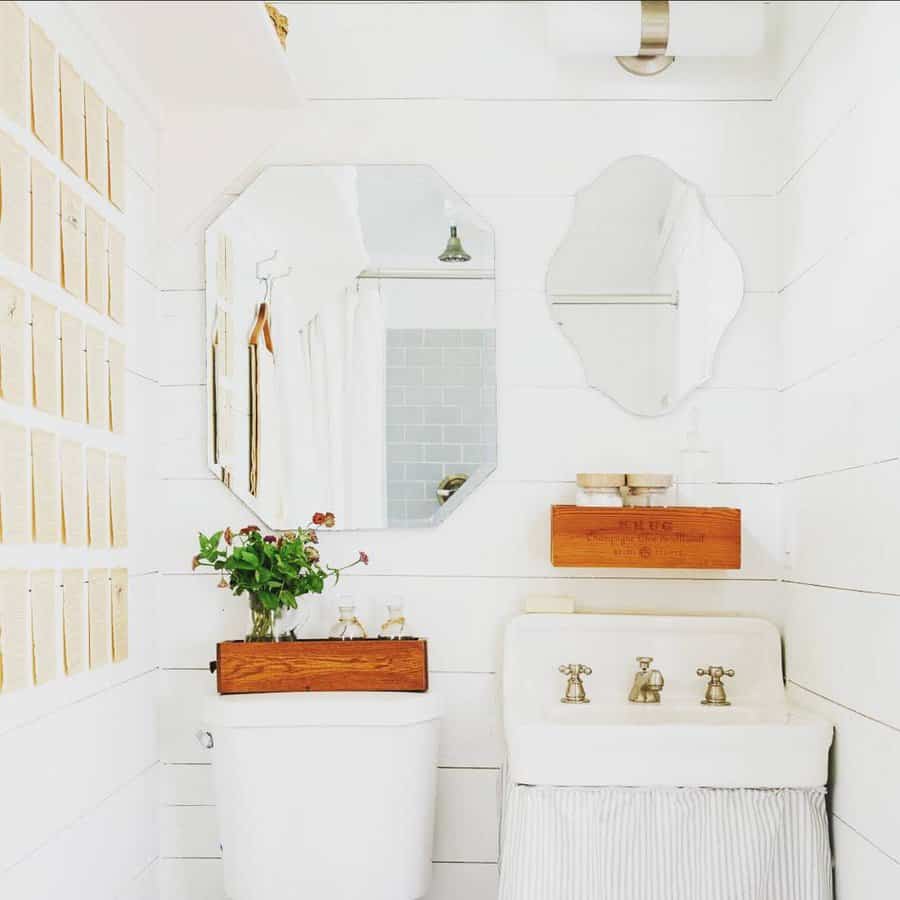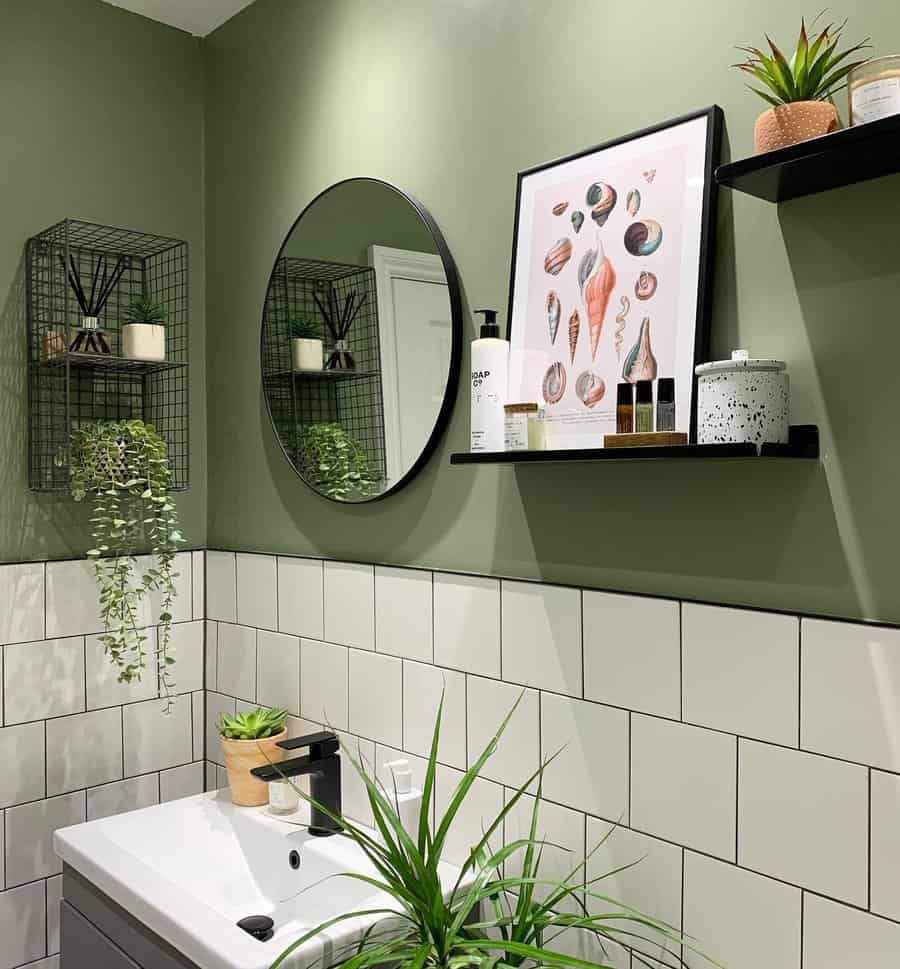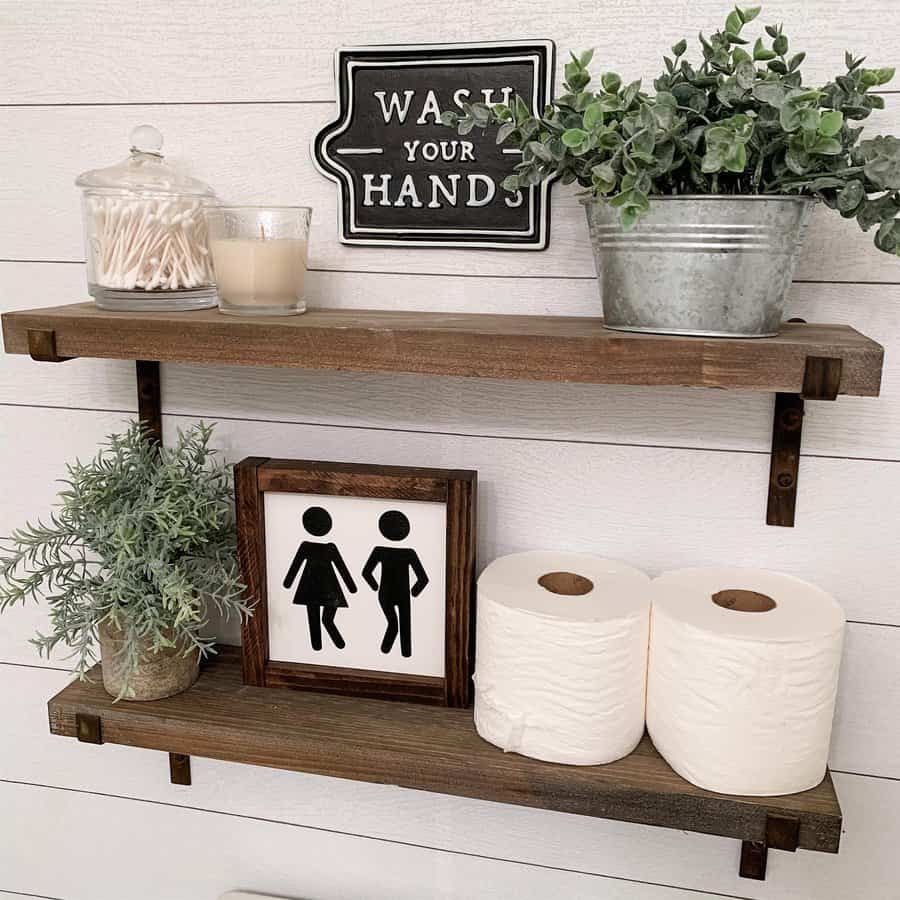 A backlit LED mirror is a modern small bathroom idea that can also eliminate the need for a vanity light fixture. That means you can hang up a taller mirror than might fit otherwise, while also embracing a more minimalist bathroom design.
See more bathroom mirror ideas here.
7. Narrow
Some homes and apartments have an exceptionally narrow half bathroom layout that poses its own unique challenges. Anything that visually widens the room is welcome, including horizontal lines on the wall and flooring.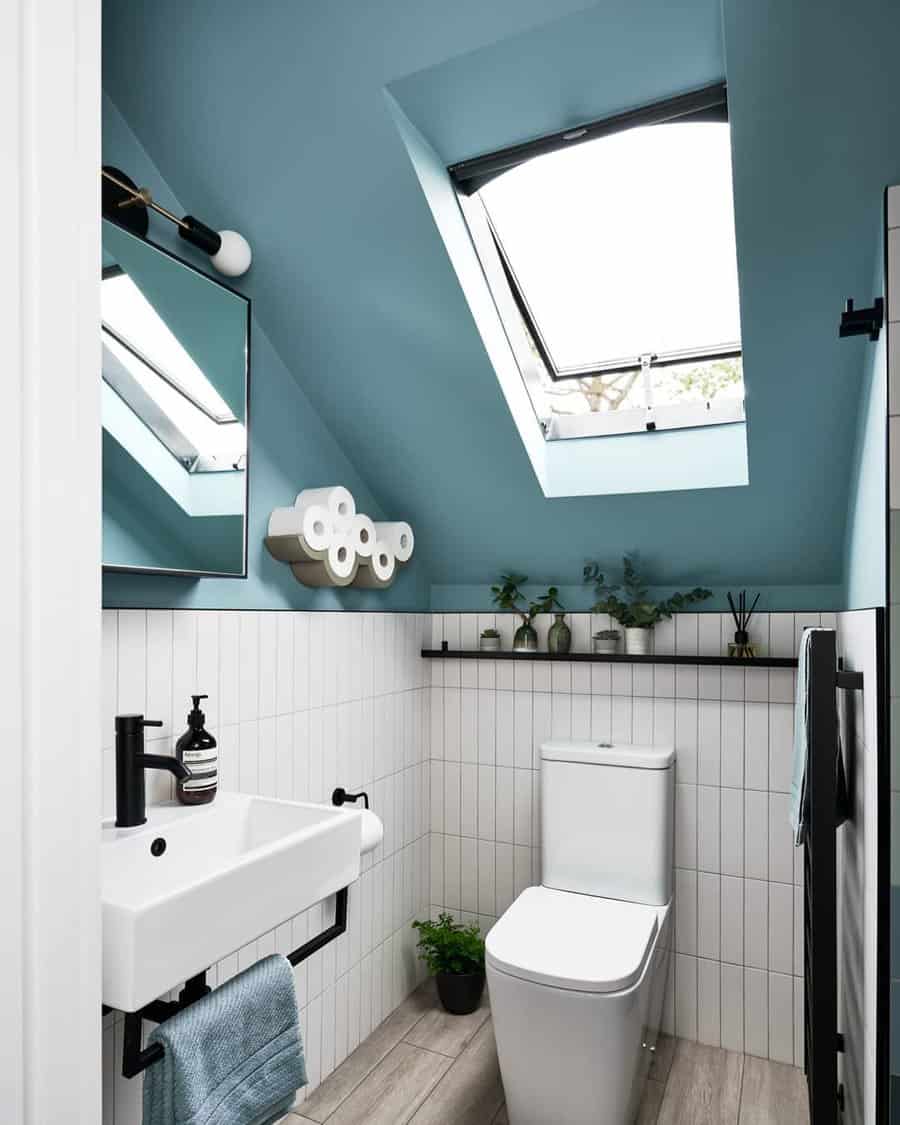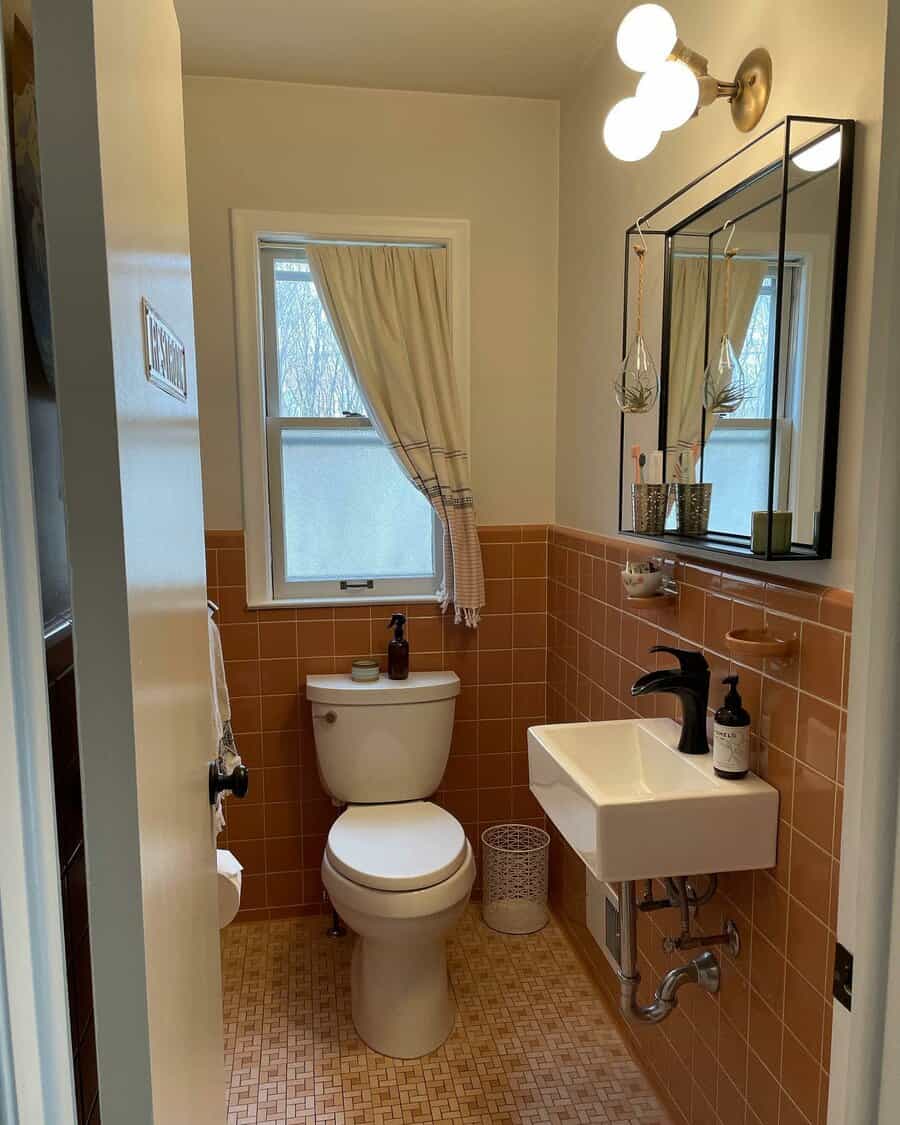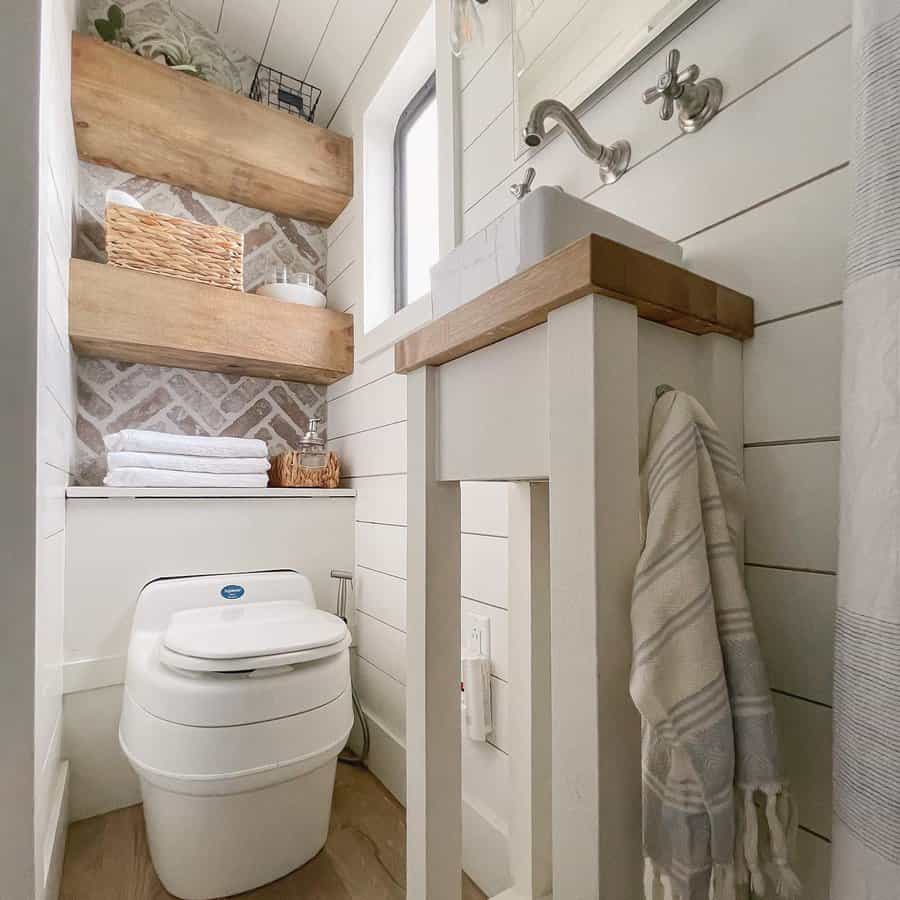 Replace a bulky vanity with a pedestal sink or floating vanity sink. Although you'll lose some cabinet storage space, you will gain floor space and bring a more open feeling to the powder room. A pocket door can free up more floor and storage space in a very narrow bathroom.
8. Powder Room
The term "powder room" is just another name for a small half bathroom, especially when it's located near the home's main living space. It originated after World War II, when women began to wear makeup more frequently and "I'm going to powder my nose" became a euphemism for going to the toilet.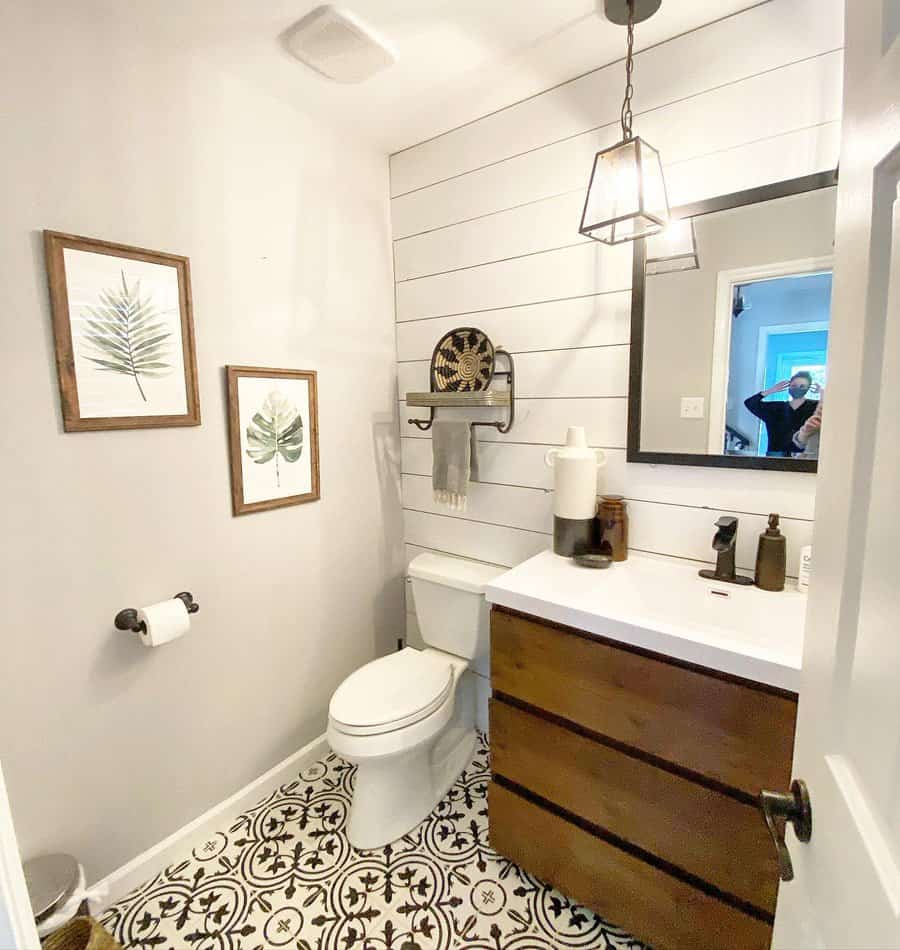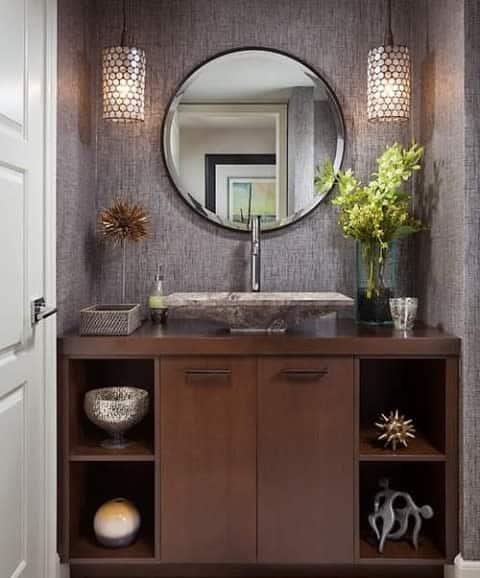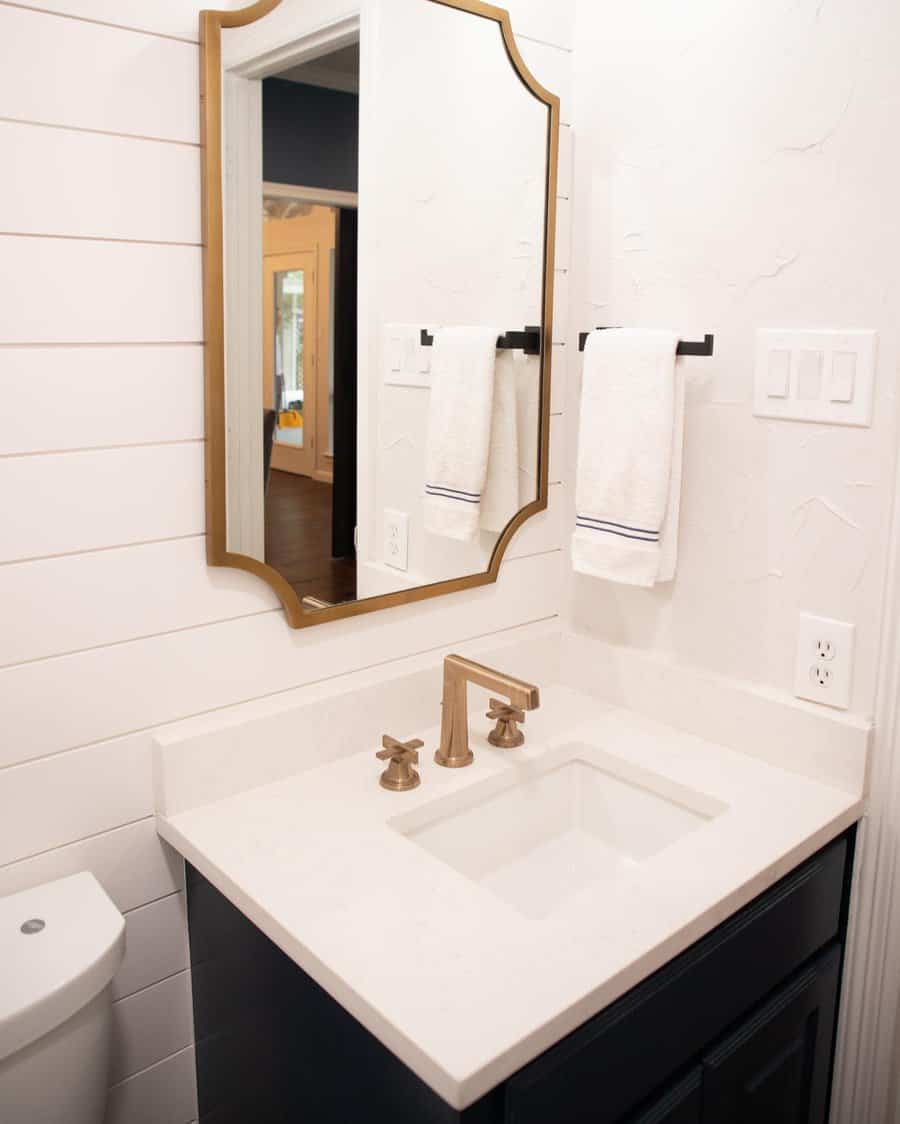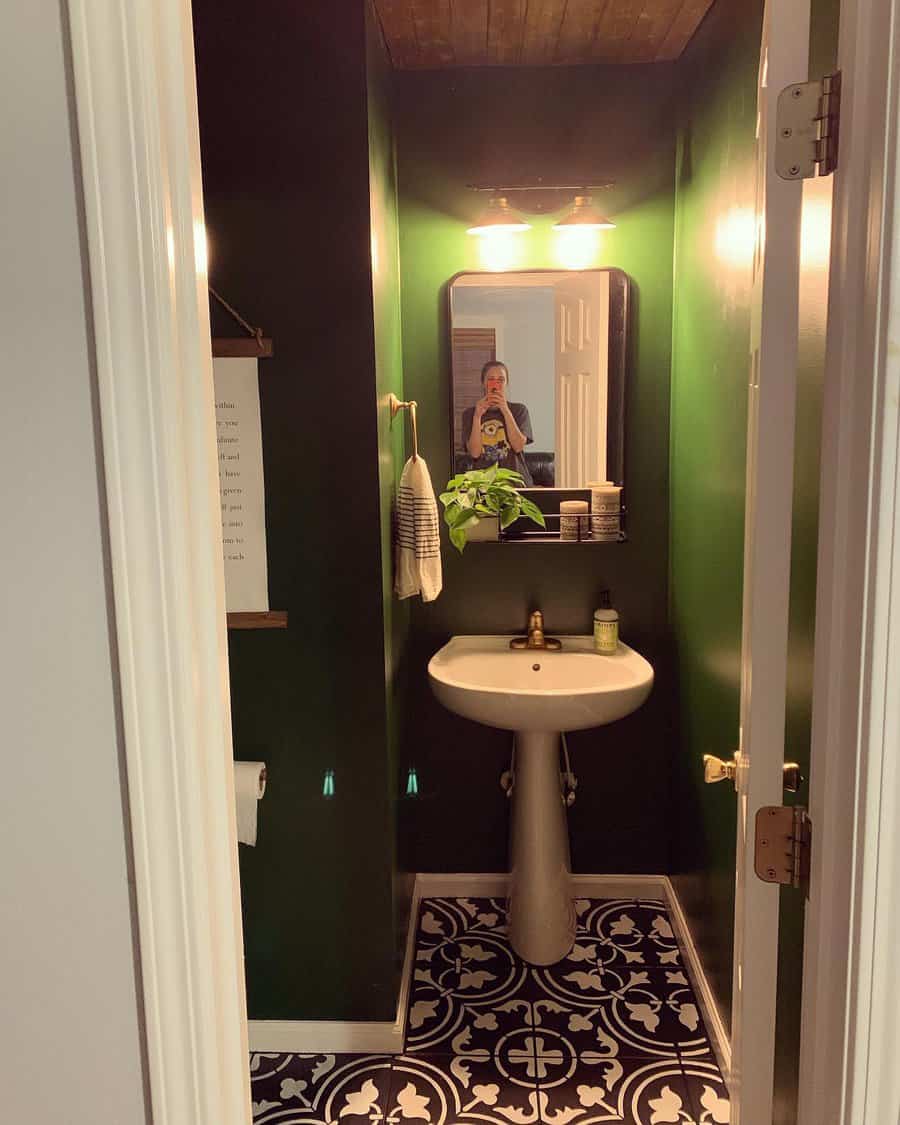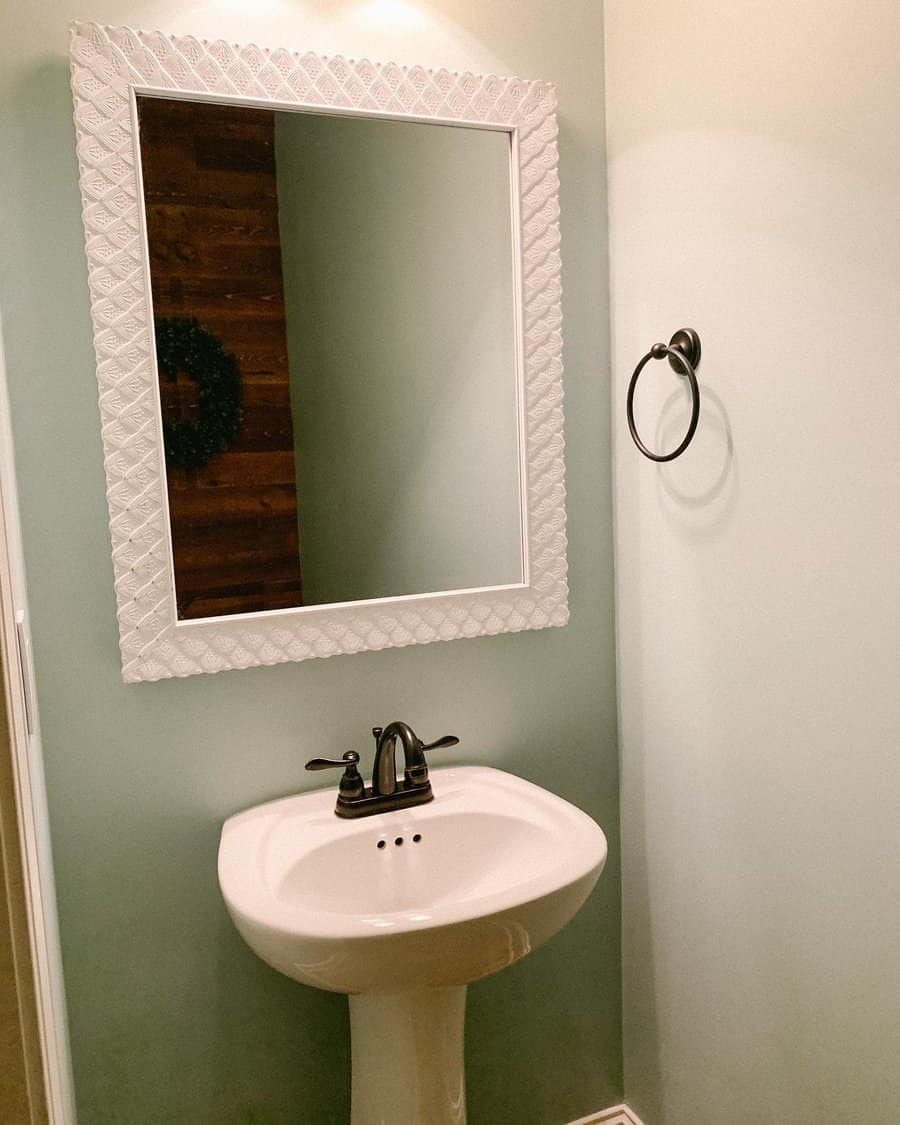 These half bath rooms became more common in new home construction after the war, and are still a common way to increase a home's bathroom count with limited square footage. If you love the euphemism, look for wall art that says, "Powder Room" and display it in your half bath.
9. Shelf
A shelf is a great small bathroom idea to stylishly expand your storage options. Hang floating shelves on any blank powder room wall, or make a recessed shelving unit in the space between wall studs. Nearly every small bath will have a few blank feet above the toilet—plenty of room to add a shelf or two.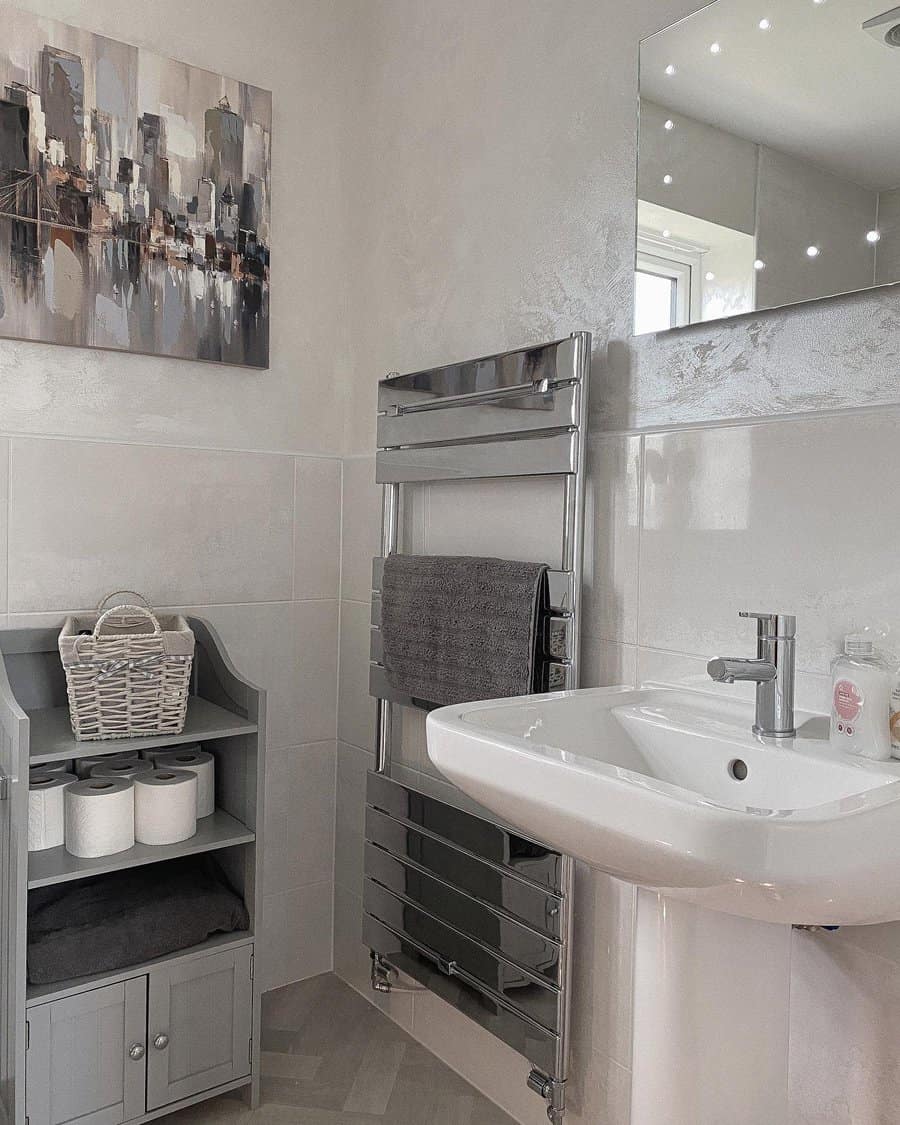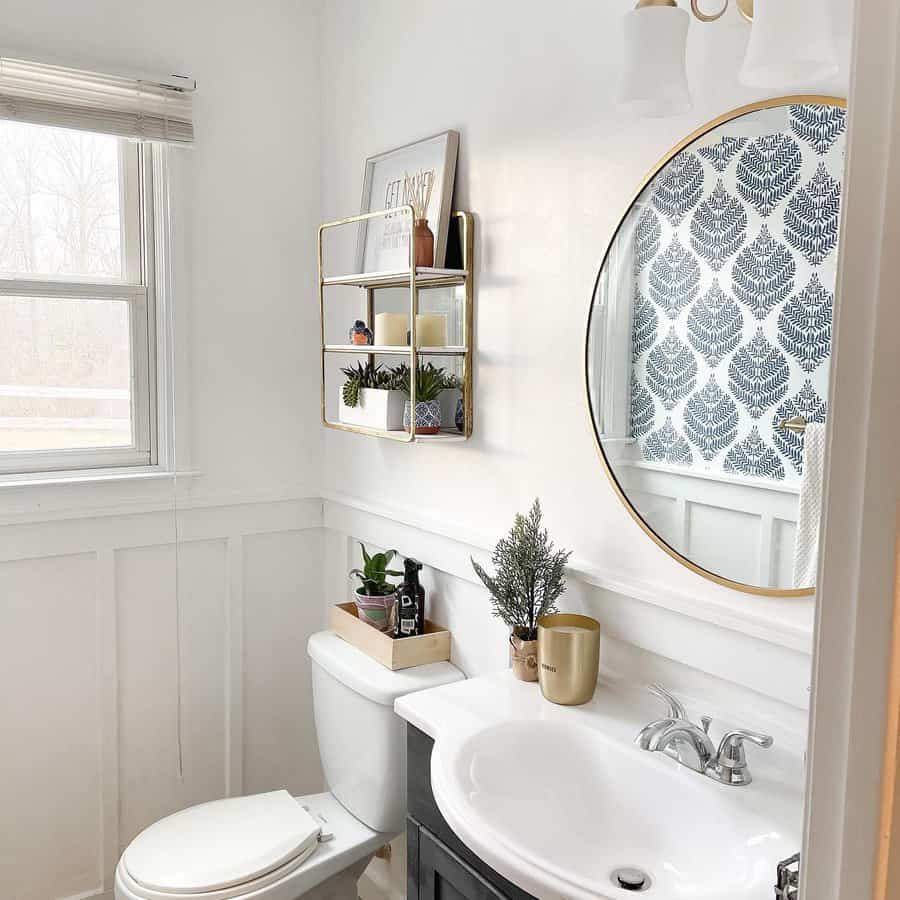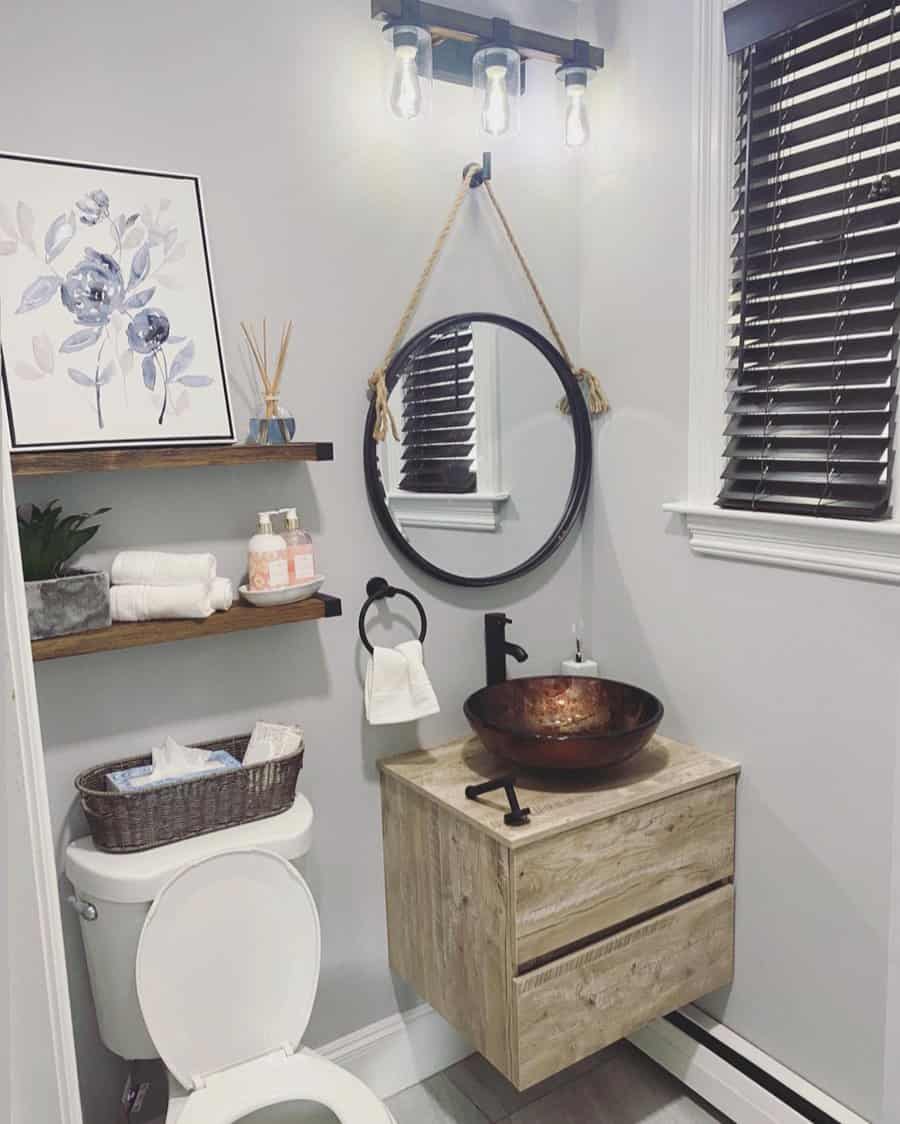 Use your shelves to add style to your bathroom space. Decorate them with toiletries in decorative baskets, and add some small potted plants (faux if your half bath doesn't have a source of natural light).
See more shelf ideas for bathroom here.
10. Sink
You don't have to worry about leaving room for shower space in a half bathroom remodel, but a traditional vanity can occupy a lot of your sparse square footage. Thankfully, there are tons of new sinks designed to fit into small bathroom design.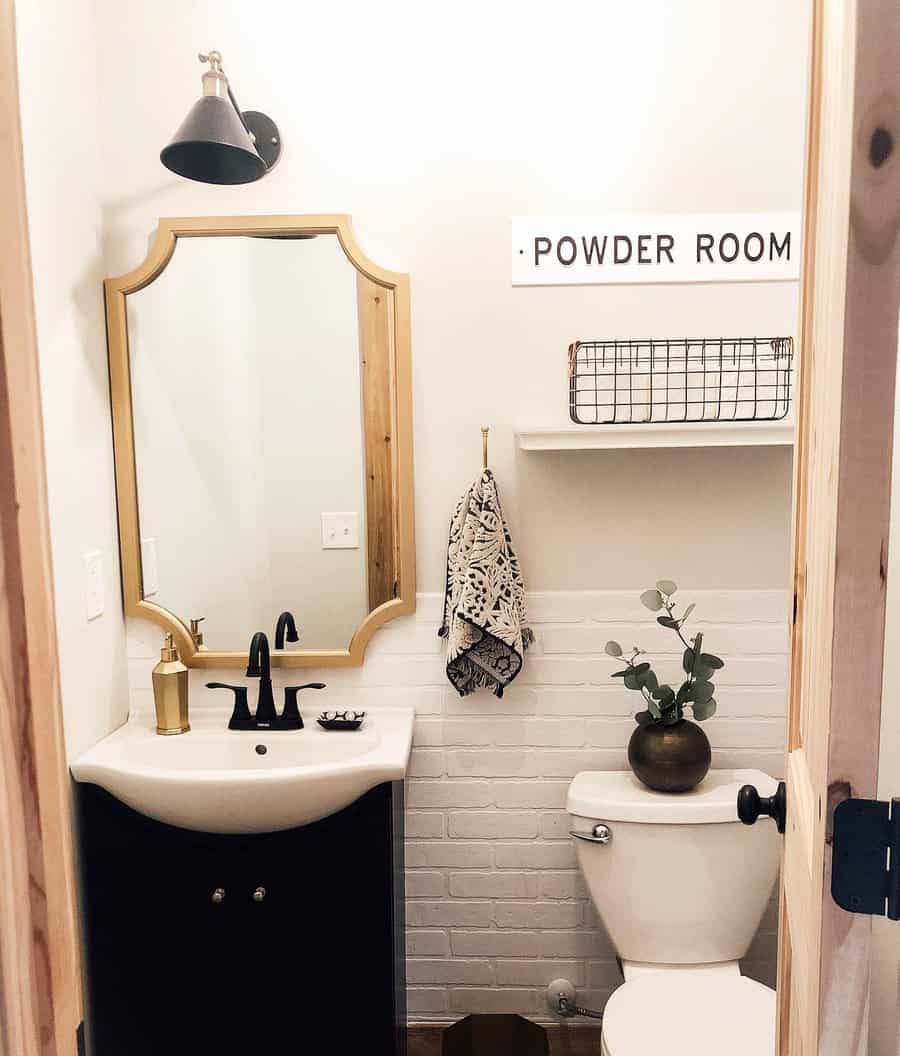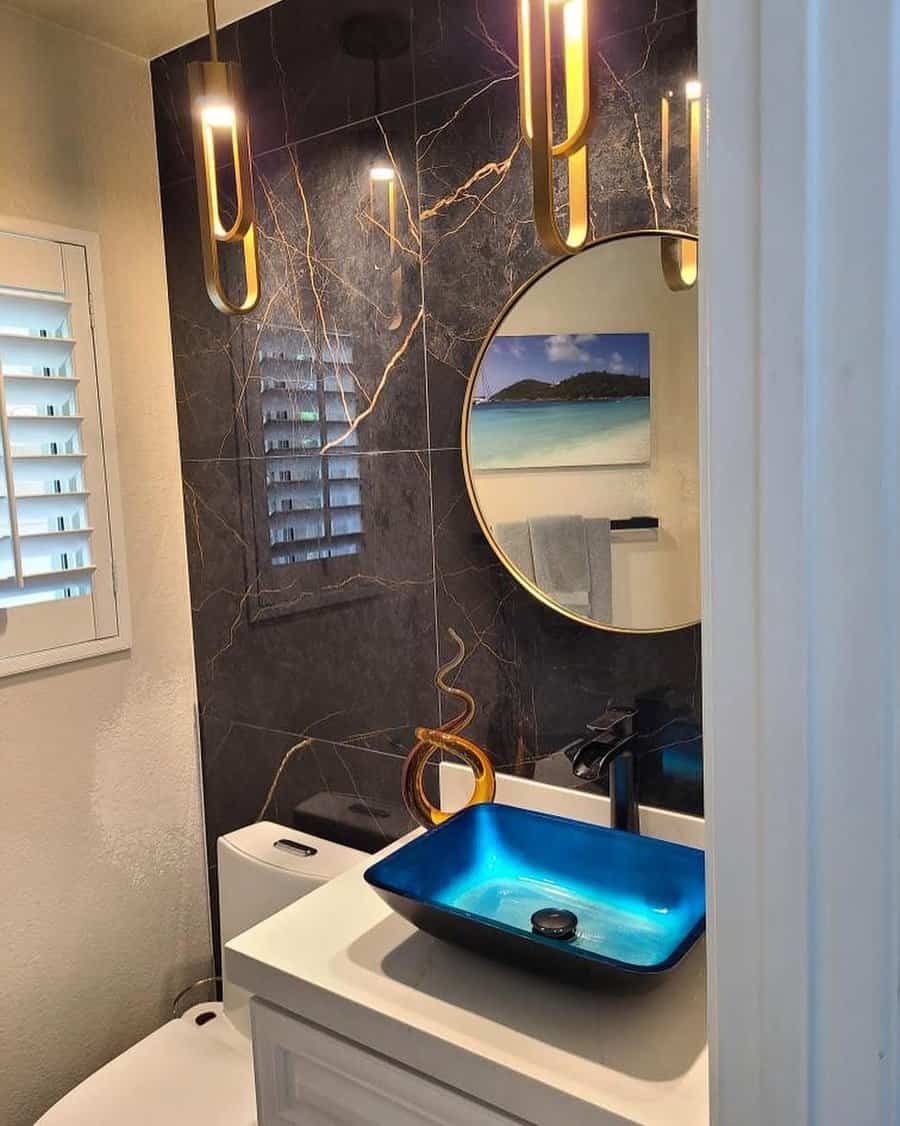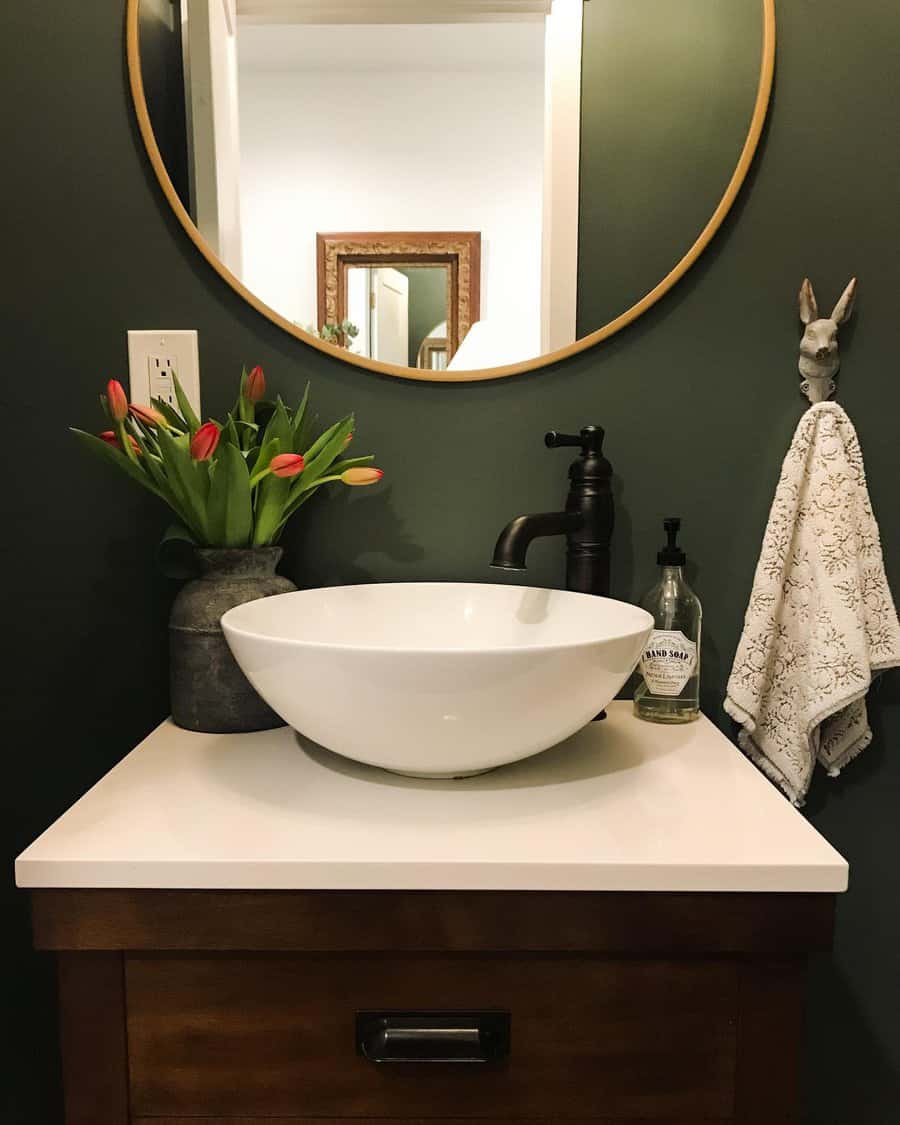 From slim profile sinks to tiny corner sinks, you can easily replace a big bath vanity with something better scaled to fit. If your tiny sans shower bath also serves as a guest bathroom, be sure to include some counter space so your guests have somewhere to place their toiletries. A narrow vanity with a raised bowl basin is a great idea for making the most counter space in a small bath.
See more bathroom sink ideas here.
11. Wallpaper
Wallpaper can be dramatic or delicate, colorful or monochromatic. It is often one of the best small bathroom design ideas because it adds so much character to a smaller space.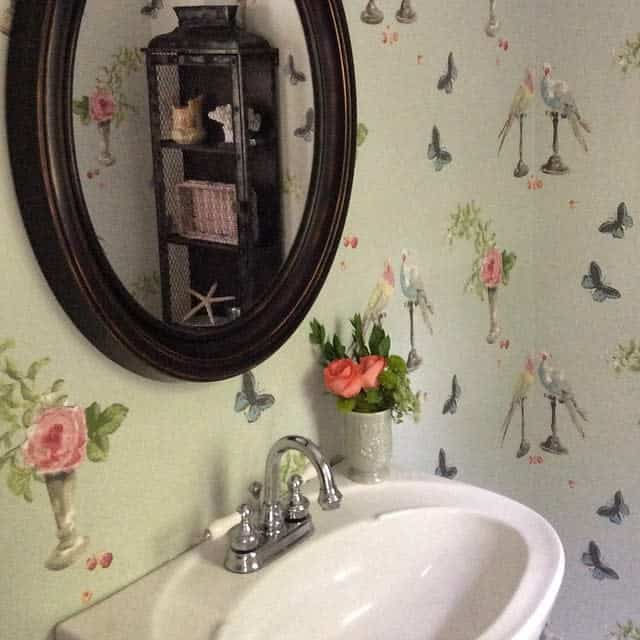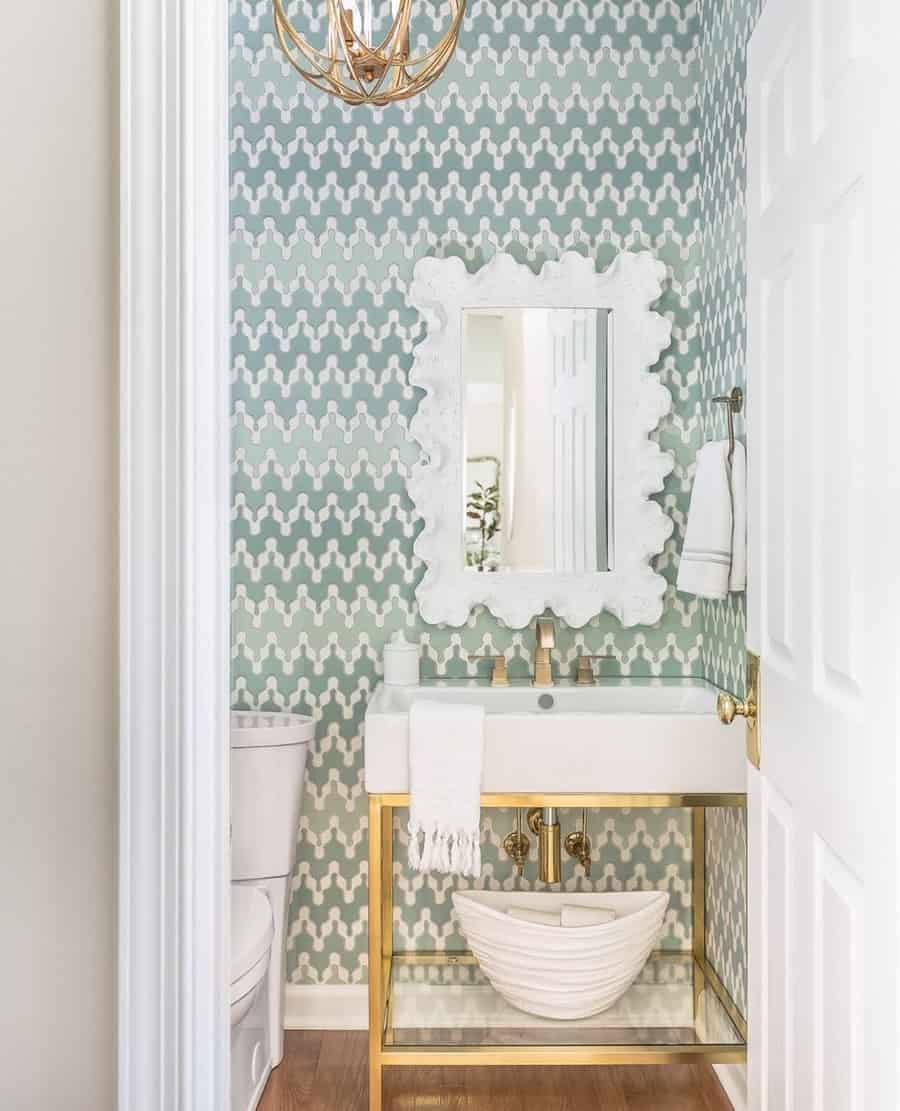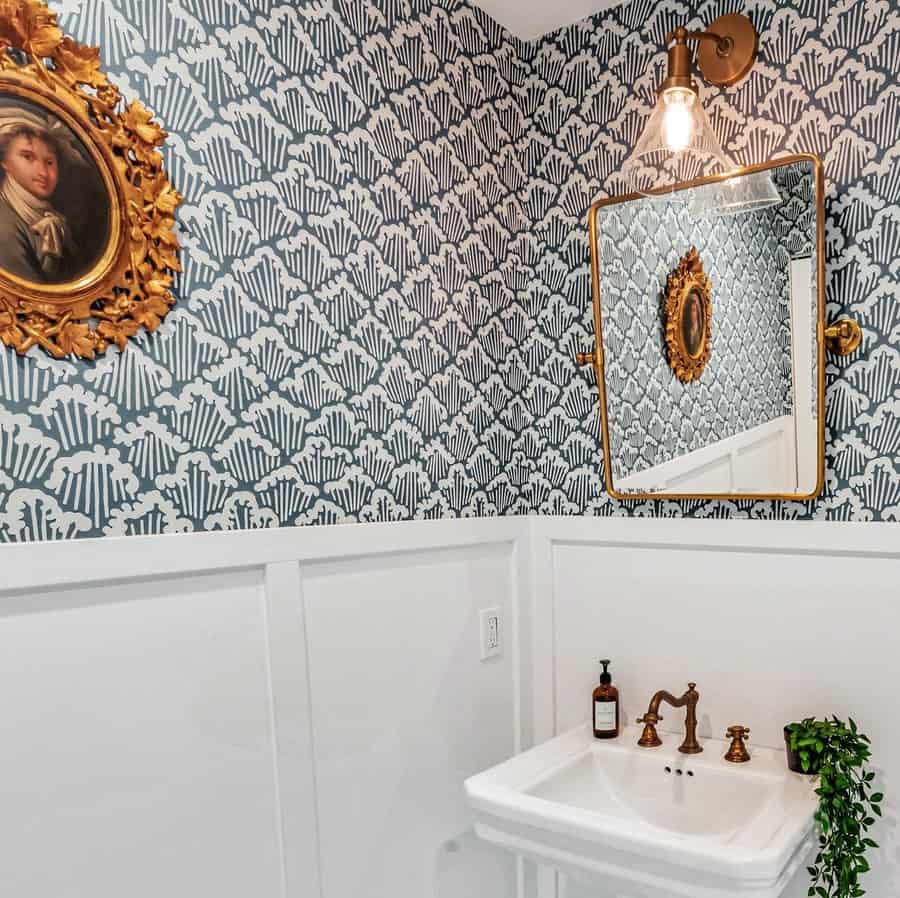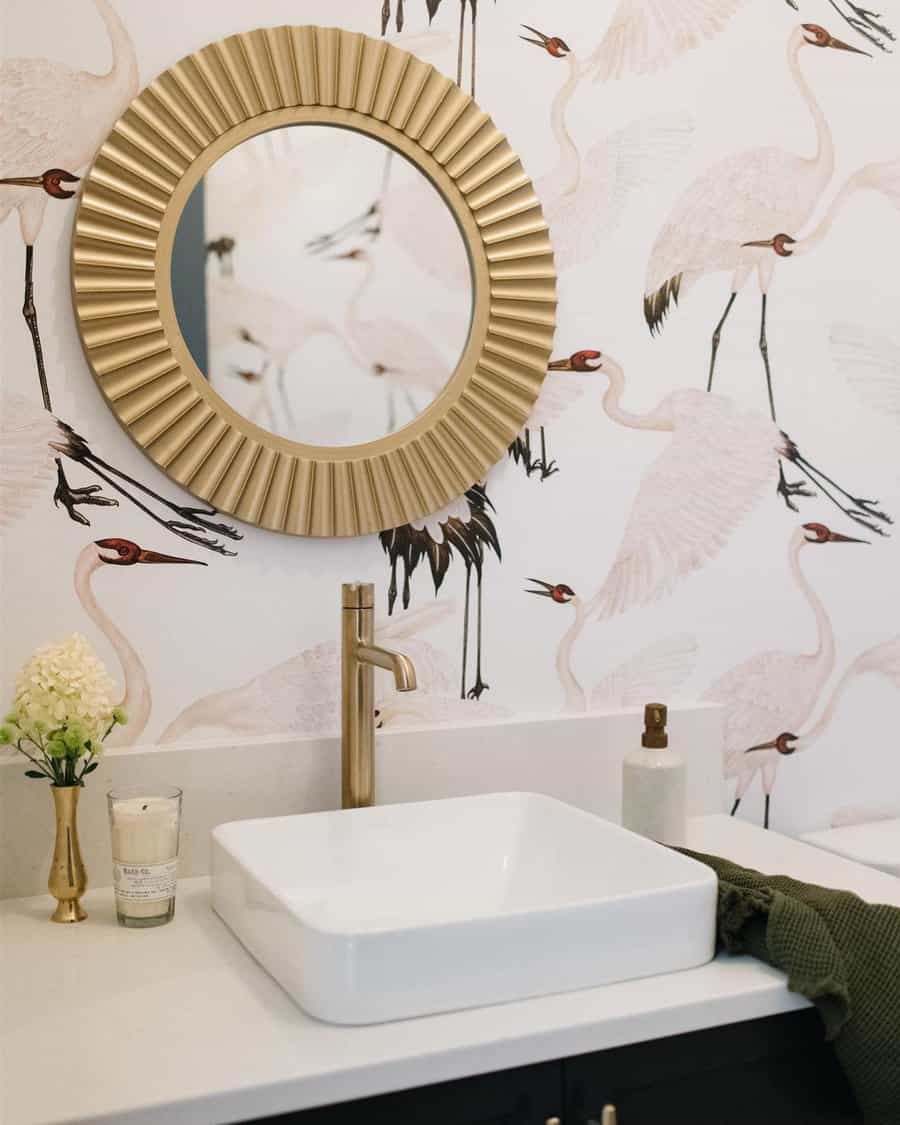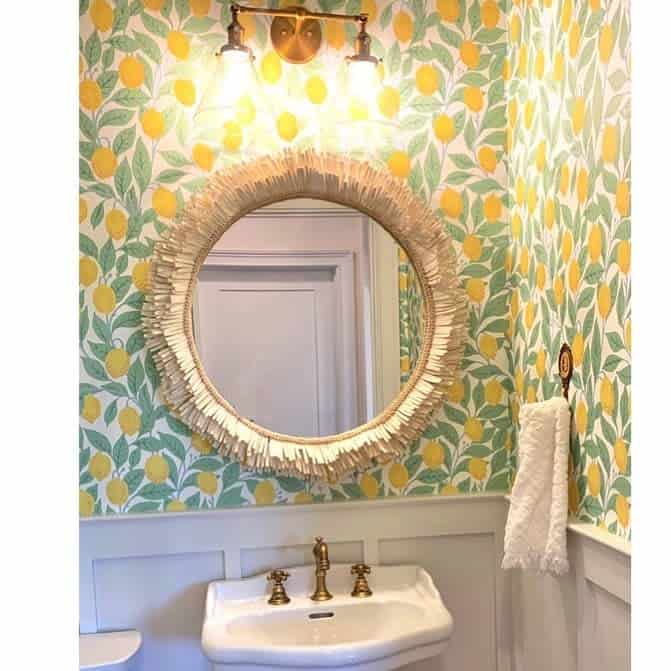 While you can wallpaper all four walls in a half bathroom, it's not necessary. In fact, doing so may make the powder room feel more cramped. Save wallpaper for an accent wall, unless it's a small print that doesn't take over the room. Use high-gloss paint on the other walls to help reflect all the available light.
12. White
White is always appropriate in the bathroom. Its clean simplicity is a great background for all your small bathroom ideas, whether it appears as a singular white wall or a white subway tile idea.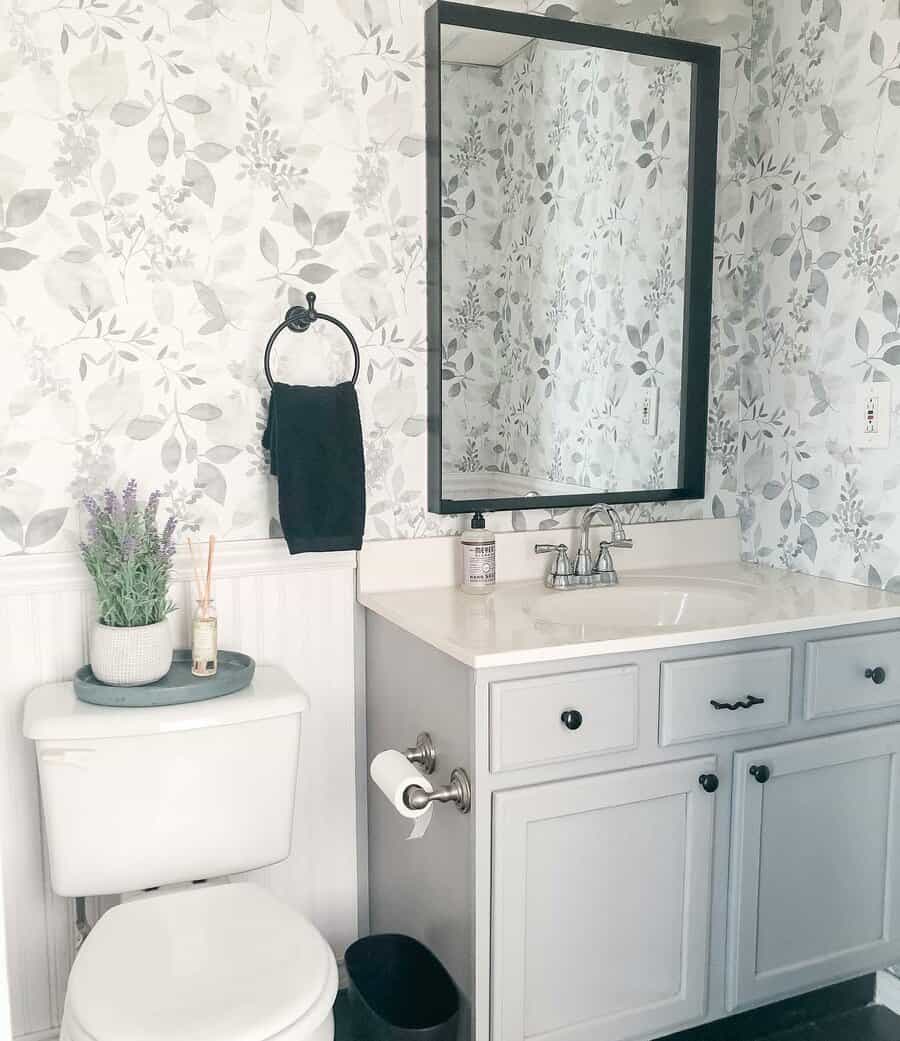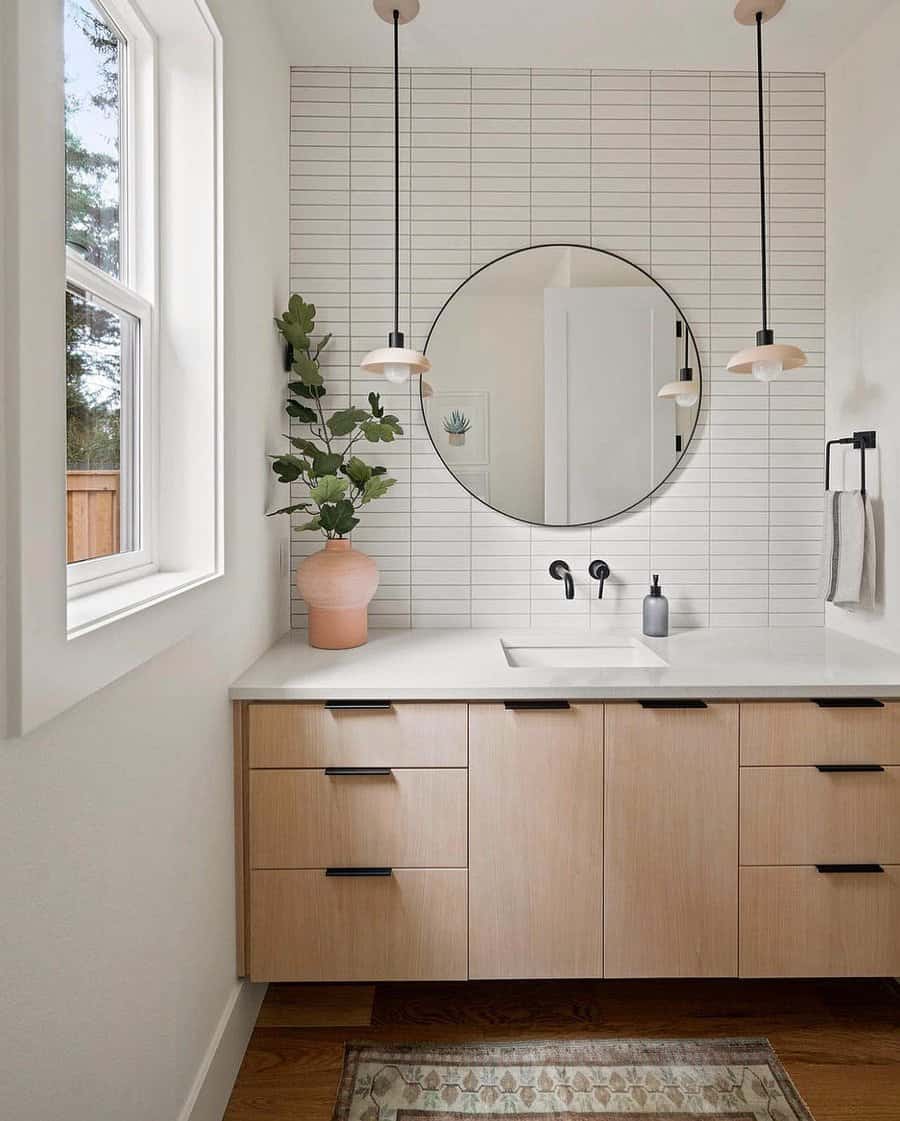 White is also a great powder room idea if you're on a tight remodeling budget because white sinks and toilets are almost always cheaper than other colors. Break up a sea of white with black hardware and fixtures, and a black frame around the mirror.
Half Bathroom FAQs
How do you brighten a small half bath?
The best way to brighten a tiny bathroom is to decorate with a light, airy, and bright color palette. A white bathroom often feels roomier than any other type, but sometimes all-white spaces can feel clinical. If so, use very pale shades of blue or green for a calm, soothing half bath. If you prefer warmer hues in the bath, paint your powder room barely-there blush pink or butter yellow.
What wall should be the accent wall in a half bathroom?
An accent wall is one of the most powerful decorating ideas in a small space. In a small half bath, put your beautiful wallpaper or contrasting color on the wall behind the sink and vanity, or the wall behind the toilet. Ideally, it should be the first wall you see when you walk into the powder room.