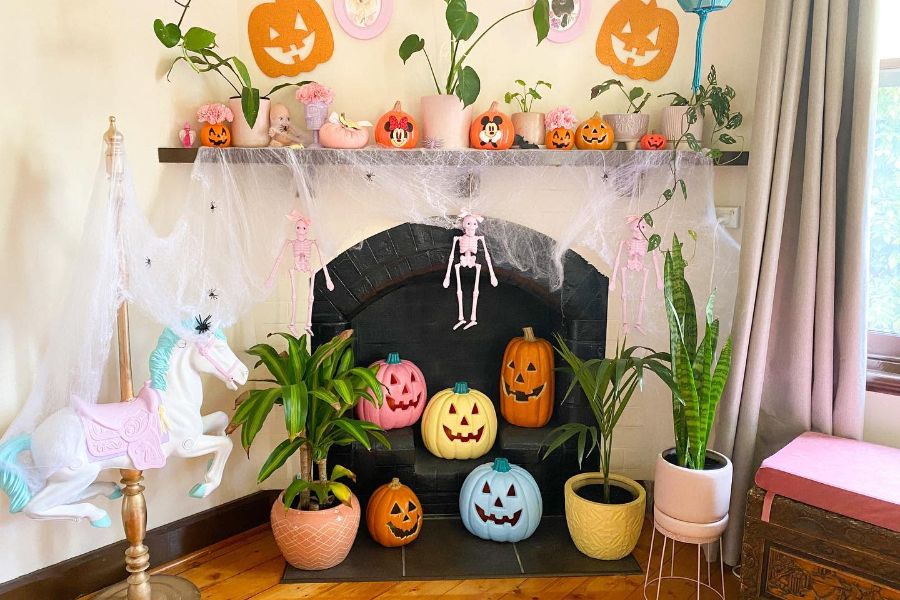 34 Halloween Decoration Ideas
"Halloween is not only about putting on a costume, but it's about finding the imagination and costume within ourselves." – Elvis Duran
Are you the type of person that looks forward to the fall harvest, pumpkin carving, and dressing up? For some, Halloween is a pit stop on the way to Christmas; for others, Halloween is the holiday they look forward to each year. It doesn't matter if you're a passionate Halloween advocate or passively hand out candy.
Decorating is the best way to embrace the Halloween spirit. The easiest place to start is on the outside of your home. But you don't have to stop there. Check out these creative and spooky Halloween decoration ideas. They're sure to get you inspired to do a little October decorating.
1. Classy Mutel Pastel Fall Decor
If you're looking to give your home a spooky but sophisticated look this Halloween season, muted pastel fall decor is the perfect way to do it. Think muted colors of lavender, muted blues, and muted yellows for your wall hangings, table centerpieces, and more.
For an extra touch of creepy, add in some faux crows – perfect for perching atop bookshelves or countertops! With muted pastel fall decorations and a few faux crows here and there, your home will be transformed into a frightfully elegant Halloween getaway.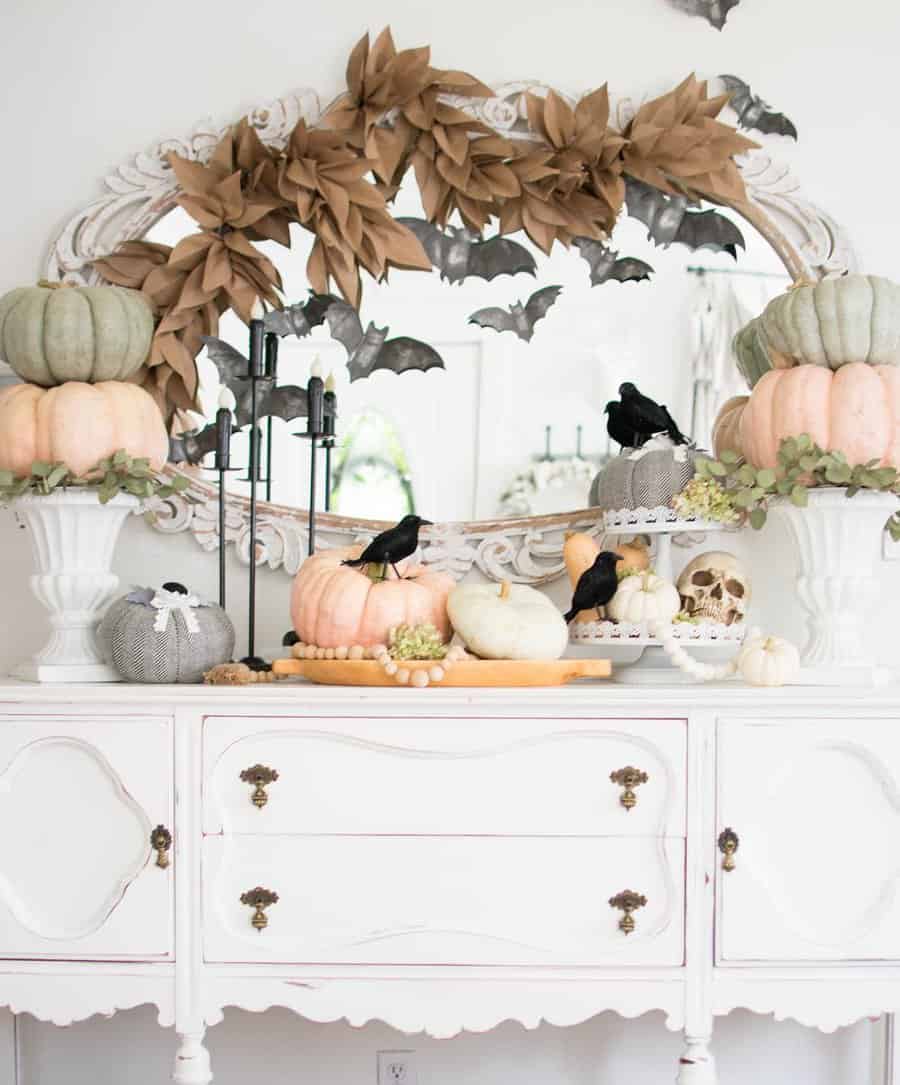 2. Minimalist Halloween Decor
Black and white is the perfect color scheme for a minimalist Halloween look. An easy but creative DIY idea could be to decorate shelves with black and white pictures of your favorite spooky characters, phrase puns like "boo-k shelf" or black and white silhouettes – this would be sure to add some subtle yet spooky flair to any room!
Furthermore, black accents like bats, pumpkins, black streamers and strings of Halloween lights can all complete the desired minimalist look. With just a few black and white decorations here and there, you'll create a unique space that will surely enchant your guests this Halloween season!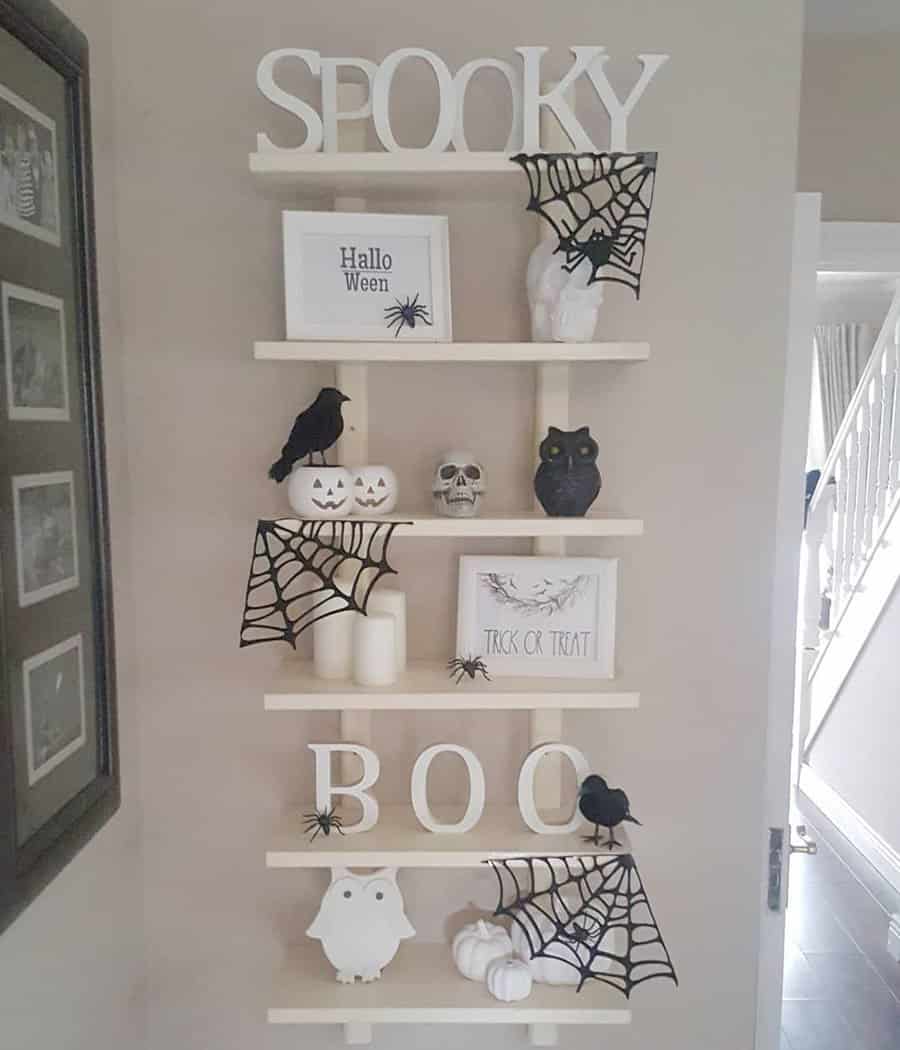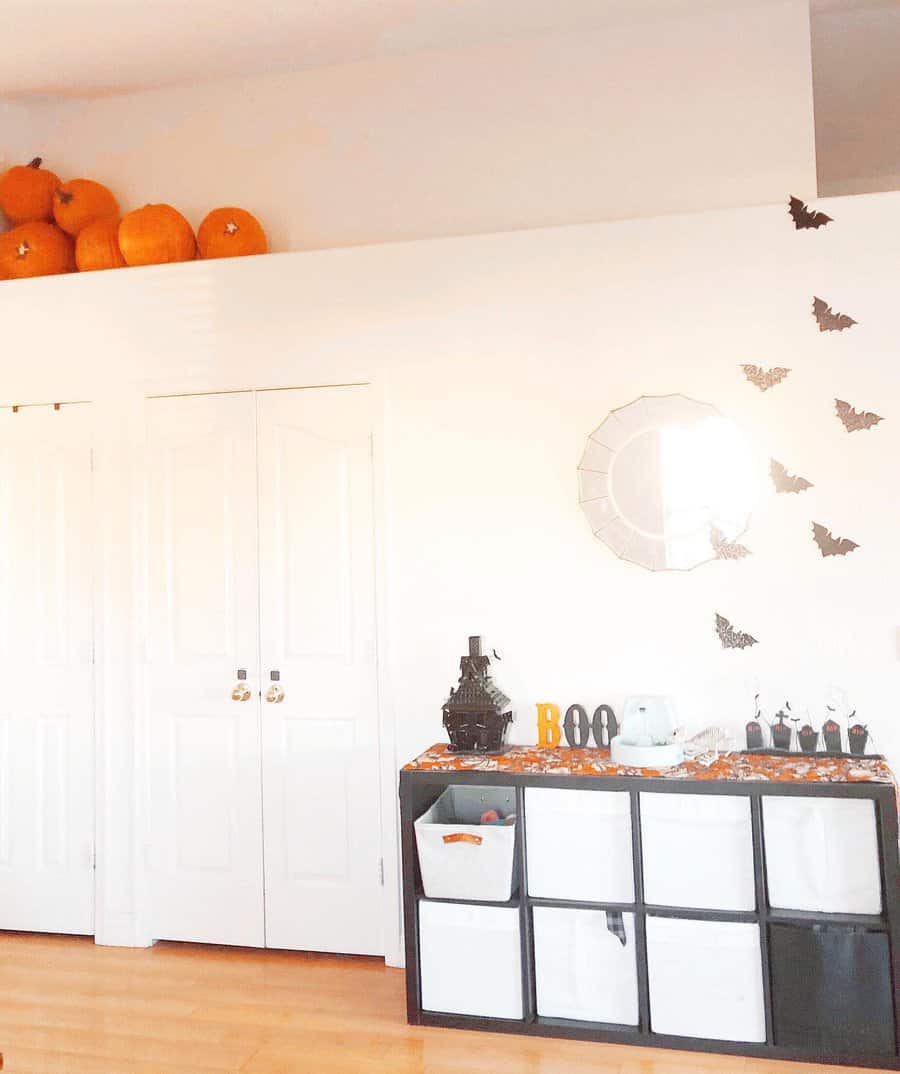 3. Movie Themed Halloween Decor
If you're looking to get creative with your Halloween decorations this year, why not take movie-themed Halloween decor for a spin? Dust off those movie posters and find a new way to put them on display! Drape fake cobwebs around them in order to create an eerie atmosphere.
You can also hang movie posters down hallways or around door frames as a unique way to welcome trick-or-treaters into your home. Movie-themed decorations are sure to scare up some fun this spooky season!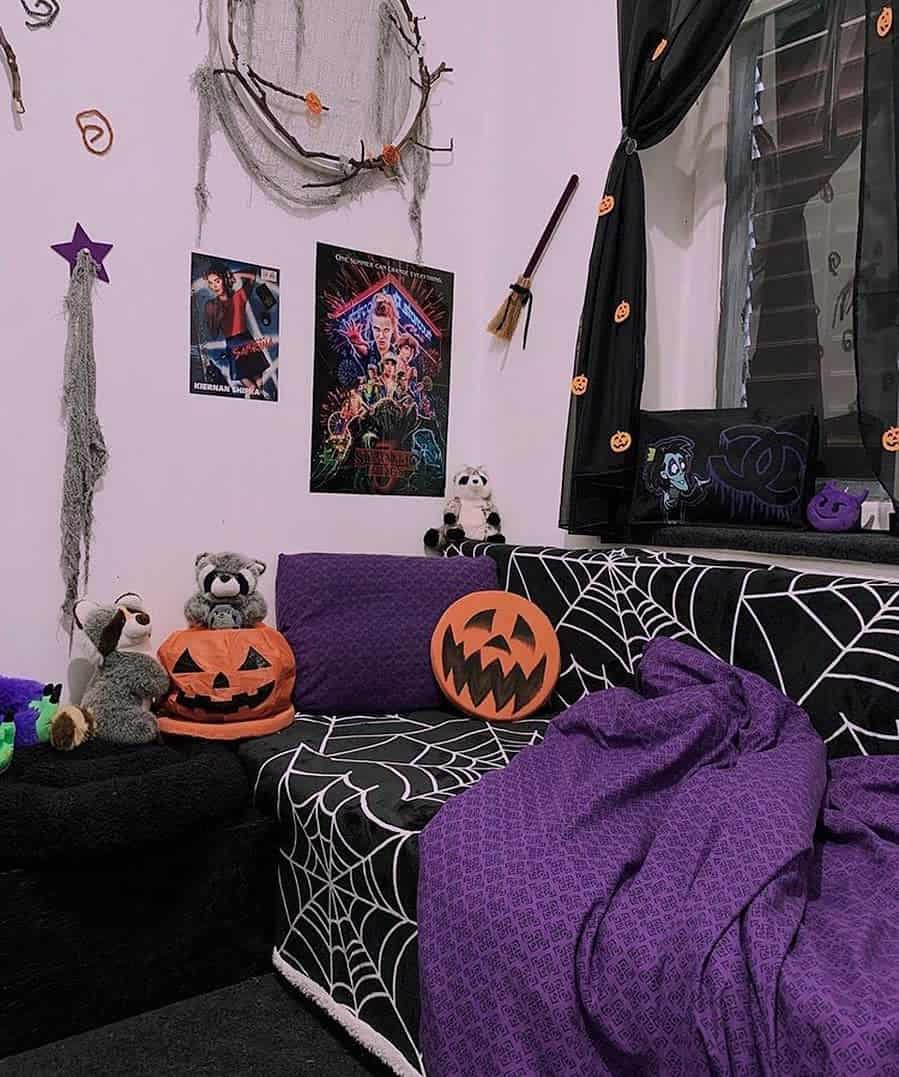 4. Wordplay Minimalist Halloween Party Decor
When it comes to Halloween decorations, there is no limit to your creativity. Whether you are looking for something spooky or sweet, black word balloons will give your Halloween party a fun and unique atmosphere.
For those who love crafting, why not use thread and needle to create a cobweb crochet table mat? This will give your Halloween home a magical touch! With these decorations, each corner of your home will become more mysterious and inviting.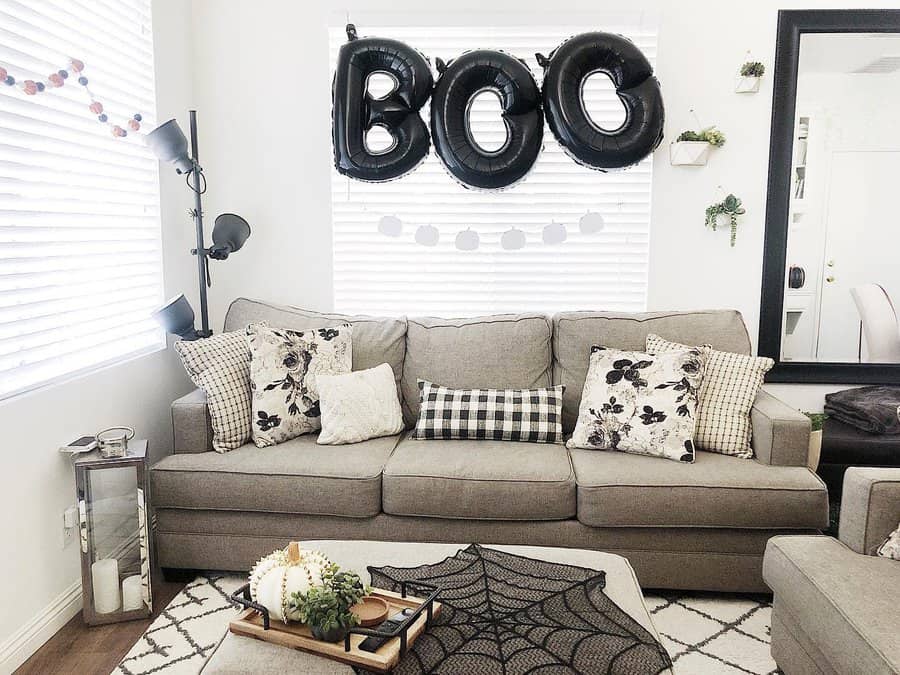 5. Orange Palette Halloween Decor
When it comes to Halloween decorations, orange is the classic choice. From your front door to the mantelpiece, a palette of orange shades creates an inviting and warm atmosphere when paired with maximalist decorations.
Pumpkins are a staple of autumn, whether lit up in orange as lanterns or crafted into creepy jack-o'-lanterns. Together, these orange Halloween decorations create an elegant yet fun and playful atmosphere for anyone who enters your home during this spooky season!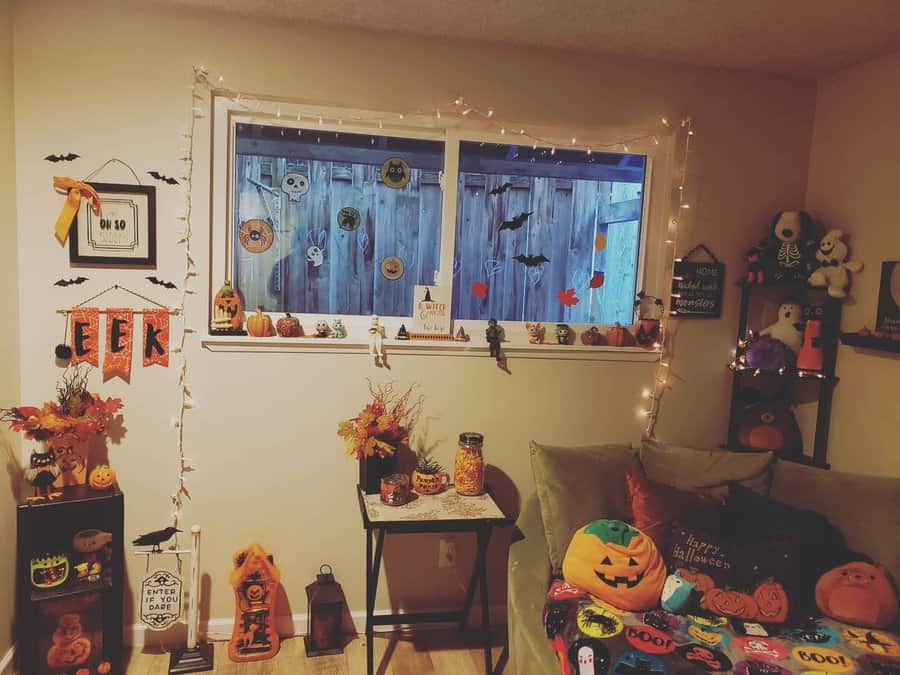 6. Subtle Halloween Decor
Halloween is the perfect opportunity to enjoy subtle Halloween decor without making your house look too spooky. One creative decoration idea that I have seen this year is button bunting – it makes for a subtle, but powerful effect when crafted appropriately.
Button buntings are usually made from sewing buttons, thread, and string, and arranged in a series of shapes, depending on the design you choose. With an array of different colors and sizes to pick from, the possibilities are endless. This subtle decor will undoubtedly bring out the spirit of Halloween without being too over-the-top, guaranteed to make your house stand out this October!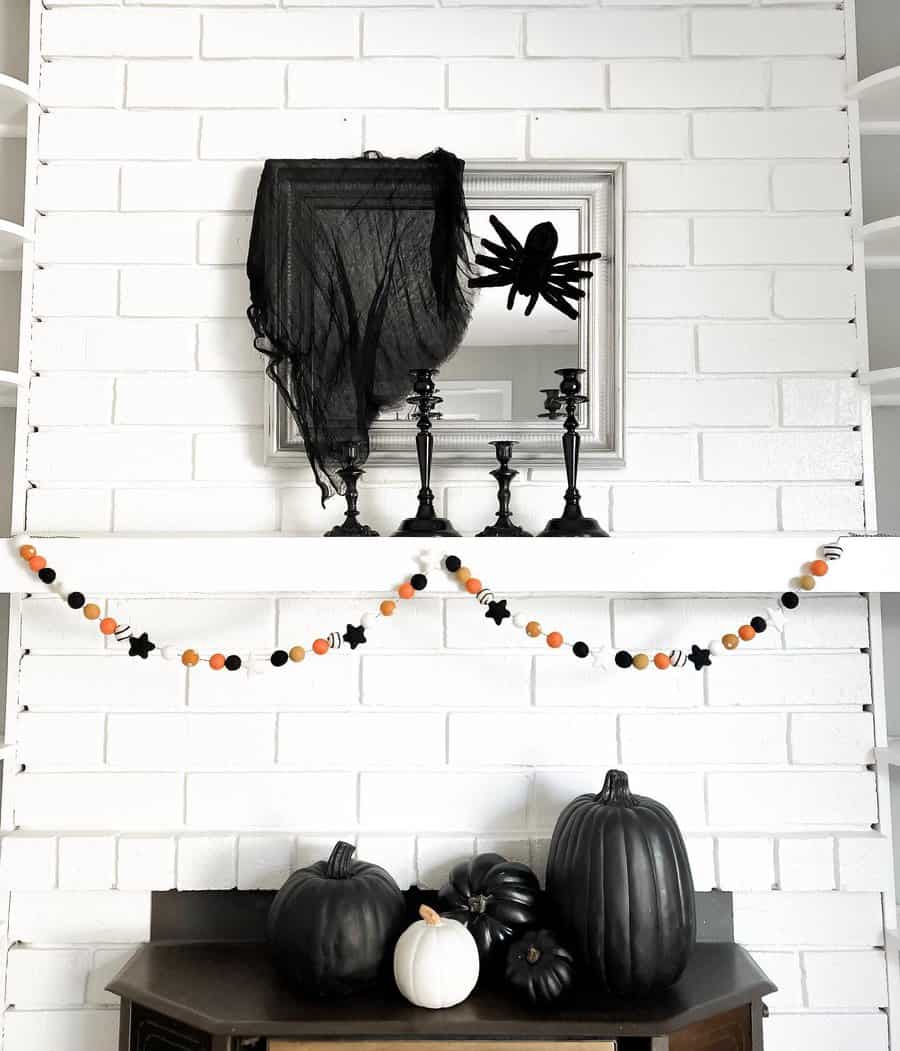 7. Victorian Halloween-themed Lamps
Halloween season is all about creating the right atmosphere, so why not take that a step further with Halloween-themed Victorian lamps? From ultra-luxe velvet couches to gothic revival art, these Halloween-themed lamps will add an extra touch of horror to any spooky setup.
Even for maximalist decor fans, Halloween-themed lamps are the perfect idea to create a grandiloquent and striking look. Whether you opt for an eerie candlelight effect or glamorously grand chandeliers, these Halloween-themed lights will make sure your home is the envy of trick-or-treaters!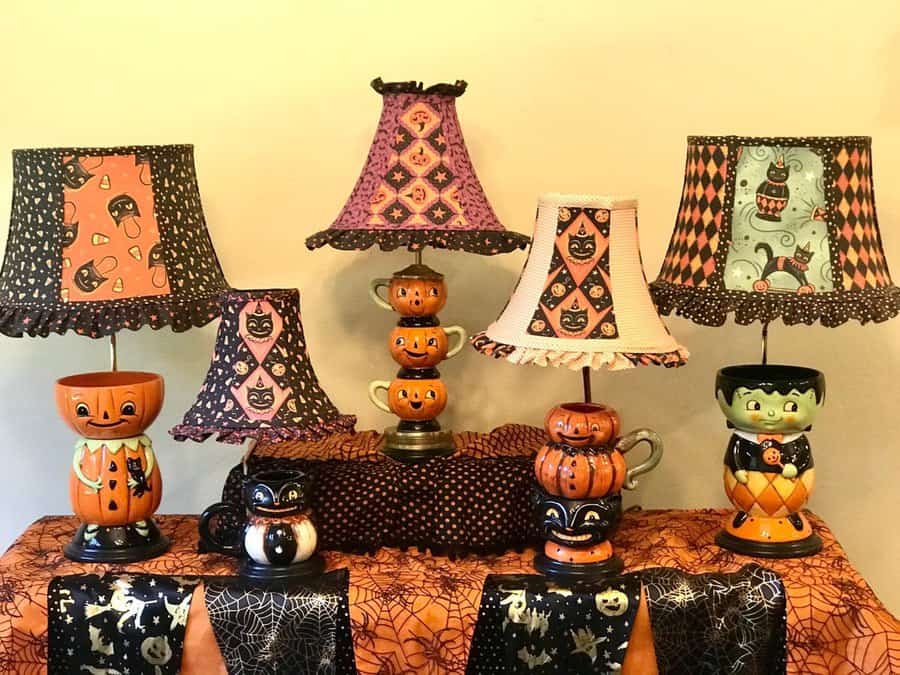 8. DIY Halloween Buntings
Halloween is the perfect time to unleash your creativity and DIY some spooky decorations! Whether you're looking to add the finishing touches to your scary setup or just create something unique and fun, DIY Halloween buntings can be a great way to liven up any space.
Not only do they look beautiful on any wall shelf around the house, but they are also easy and inexpensive to create – pick some fabric of all sorts of sizes, shapes, and colors, cut them in interesting patterns, attach strings and there you have it: DIY Halloween buntings that are sure to make your home extra special this time of year!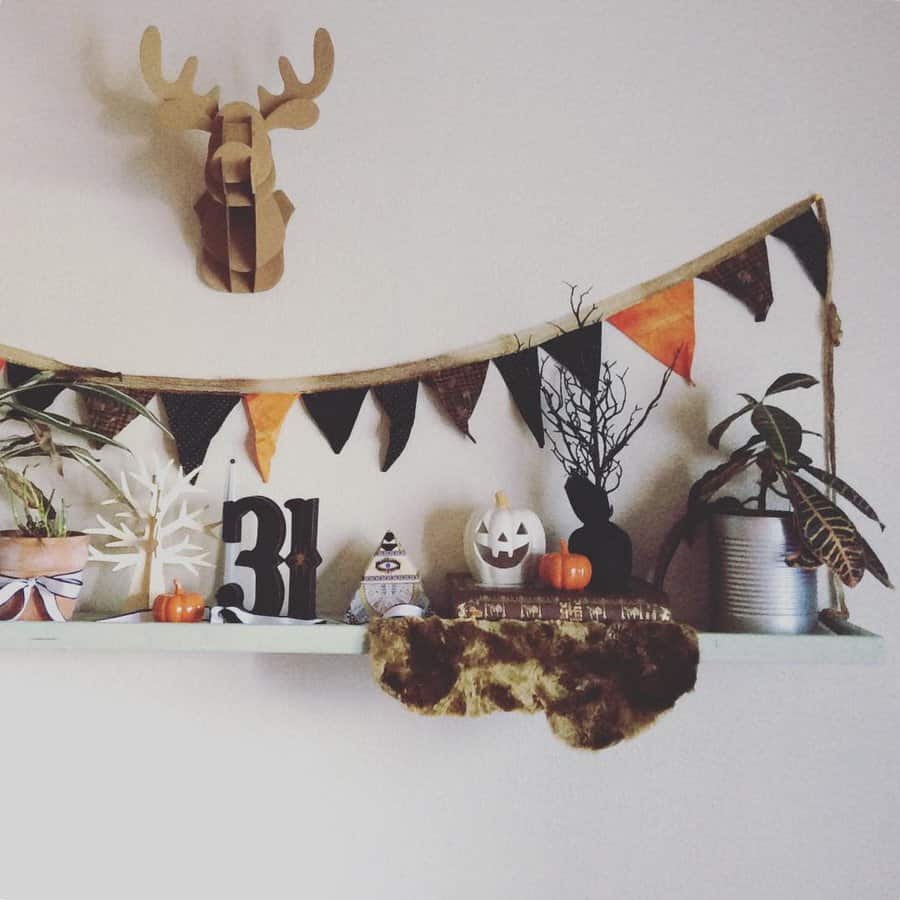 9. Colorful Halloween Wall Art Collage
Halloween decorations can be as creative or spooky as you wish! What better way to get in the Halloween spirit than by adding some Halloween flair to your walls? A Halloween wall art collage is the perfect way to add some color, creativity, and of course, Halloween spirit to your home.
Create a colorful color palette with traditional Halloween colors such as deep oranges and purples, along with neutrals like whites and grays. When it comes to Halloween decorating, let your creativity take charge! Have fun putting together the perfect Halloween wall art collage this season.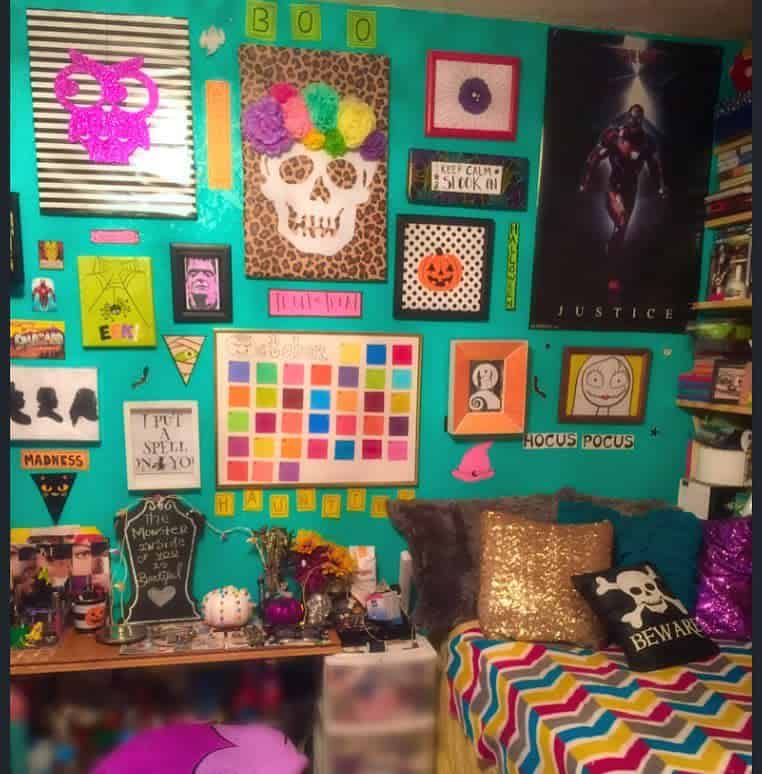 10. Rustic Halloween Decor
Create a rustic, natural feel in your home this Halloween. Start by rustling up some rustic Halloween decorations, like faux branches adorned with fairy lights and paper cutouts of spooky shapes. Cover any existing furniture or furnishings with beige and white covers for an interior that's inviting yet subtly creepy.
Decorated pumpkins, jack-o-lanterns carved from real gourds, and pots of fragrant witches' herbs scattered around the room will all finish off the rustic subtlety of your decor perfectly!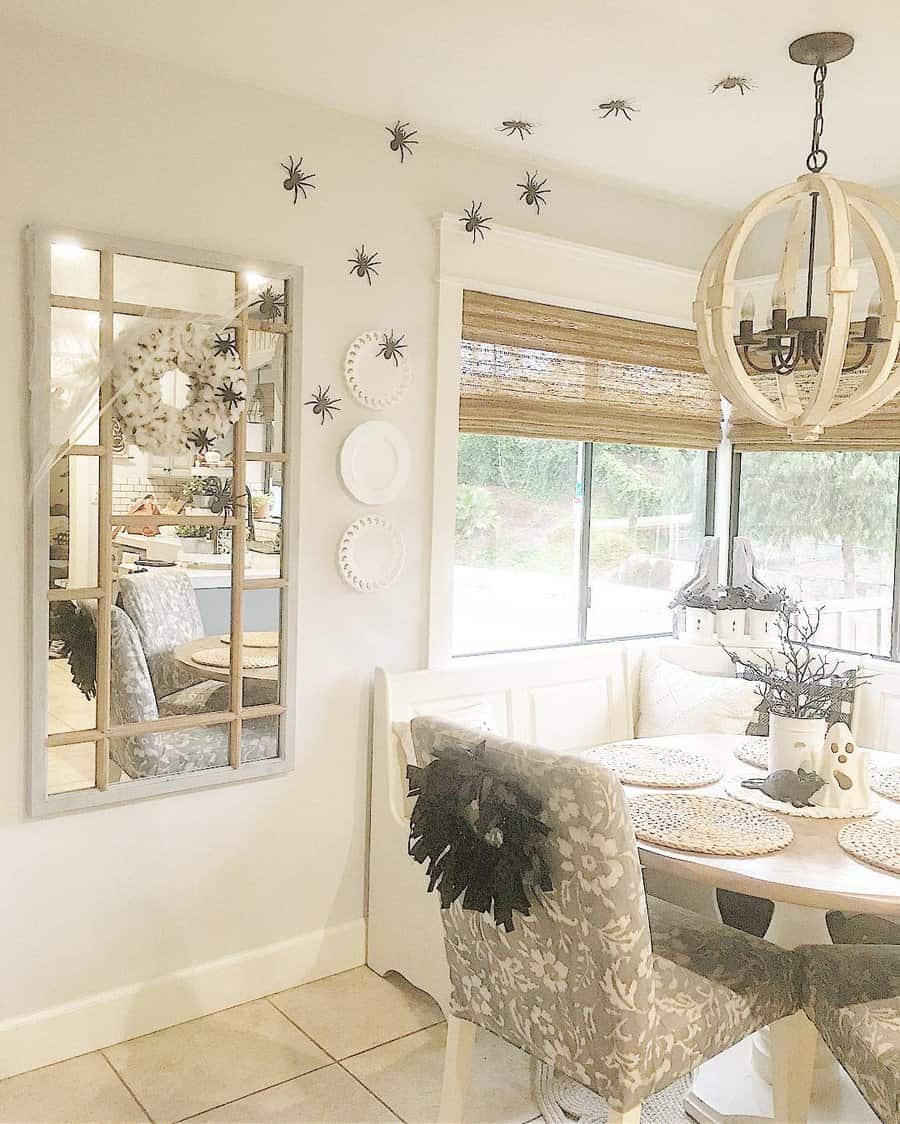 11. High-Ceiling Bat Display
Create an entrancing atmosphere in your home this Halloween with high-ceiling oversized bat displays and corner shelves of decor! Hang up a few high-ceiling bats and you'll be amazed at how quickly they create a festive feel. A mesmerizing, high-ceiling canvas is perfect for inviting your guests into the room.
Accompany it with a corner shelf of some spooky sculptures, grotesque figurines, and vintage garlands, and get ready to create a truly unforgettable vibe!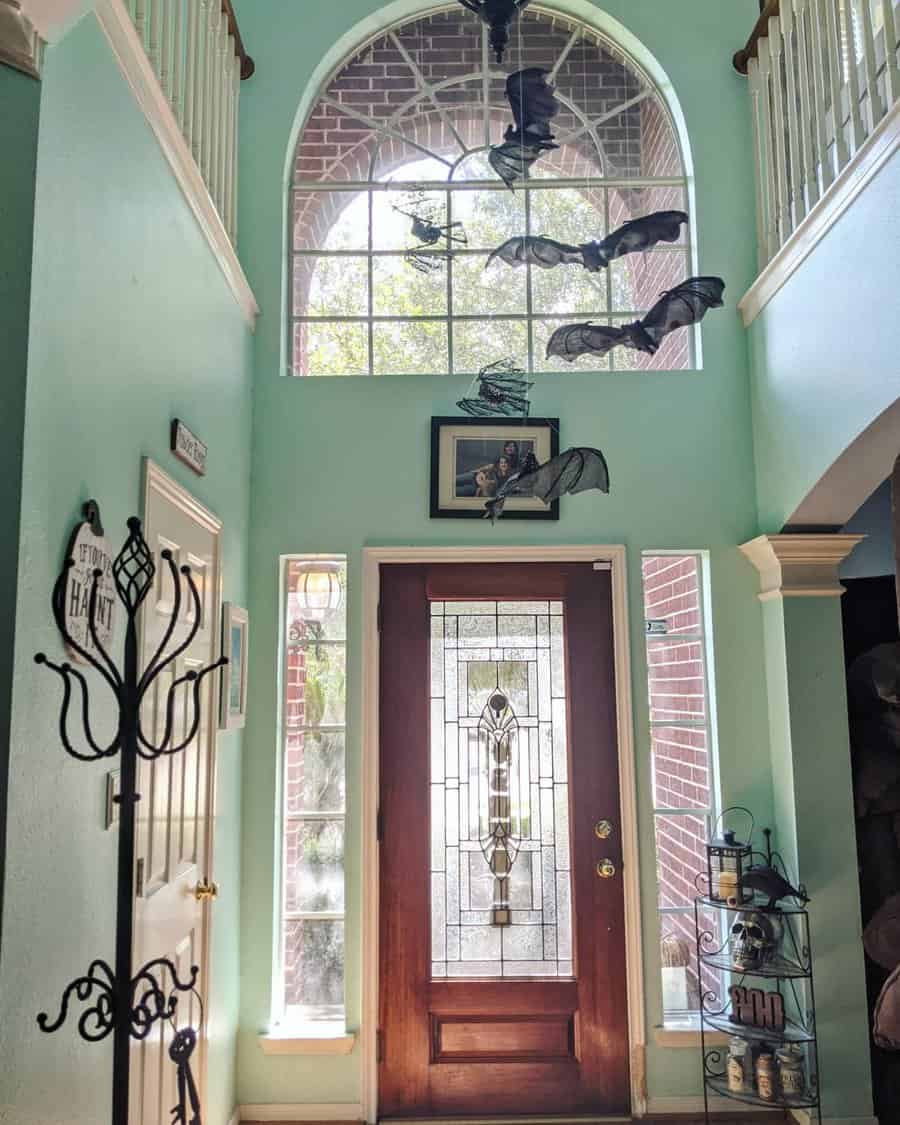 12. Black & Gold Halloween Party Decor
Halloween decorations are a great way to bring the spirits of the season alive! This year, black and gold is an especially popular theme and it's easy to find unique and creative black and gold Halloween decor. From golden pumpkins to bewitching cobweb buntings, you can find something festive to put on your walls or in the windows.
Try adding black and gold wreaths, candles, or black cats for a classic twist on traditional Halloween decorations. Bring some spookiness indoors this season with black and gold Halloween decor that is sure to draw attention from visitors.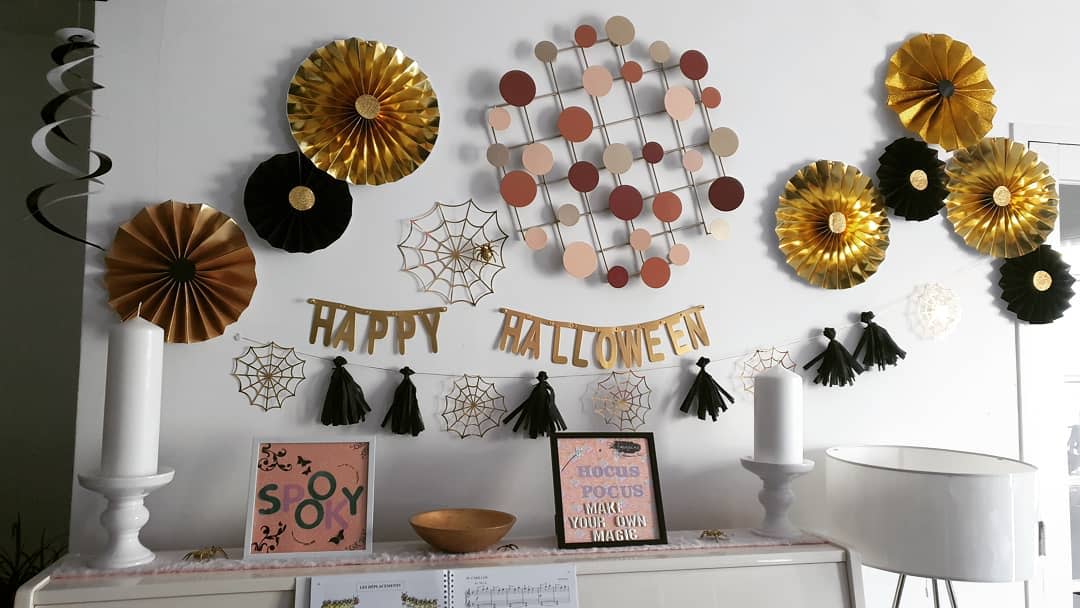 13. Front Door Halloween Decor Ideas
Your front door is the perfect spot to celebrate your love of all things fall and Halloween. It's essential for Halloween night since this is where you hand out candy to trick or treaters.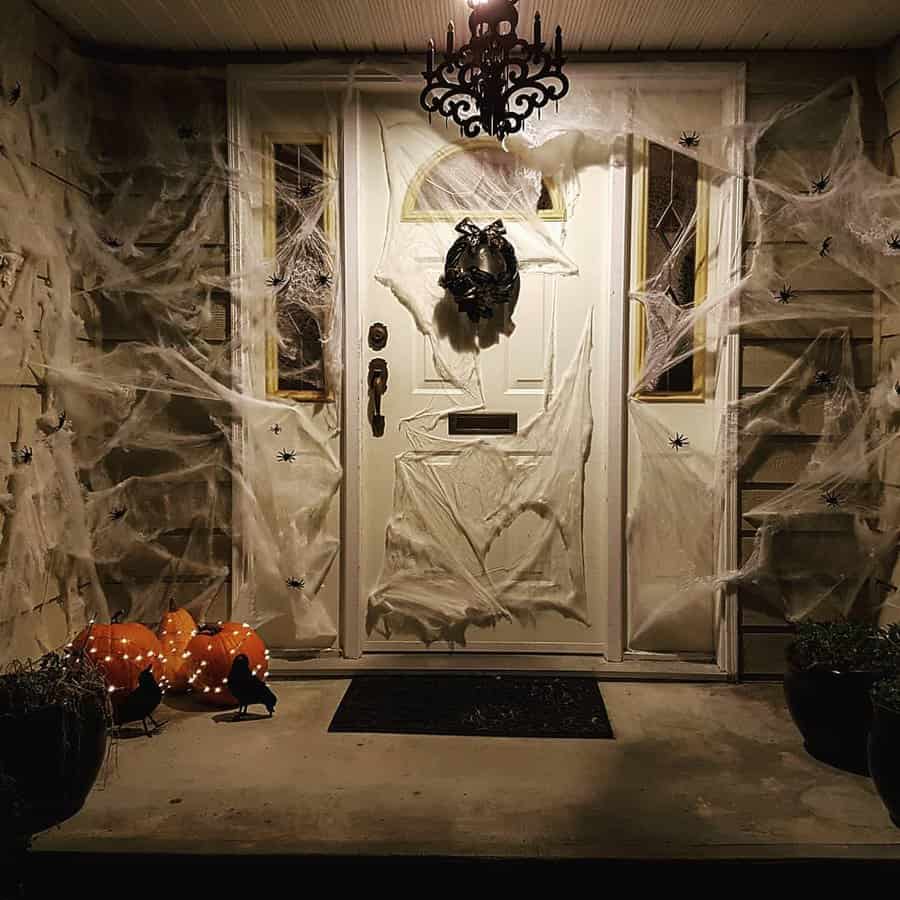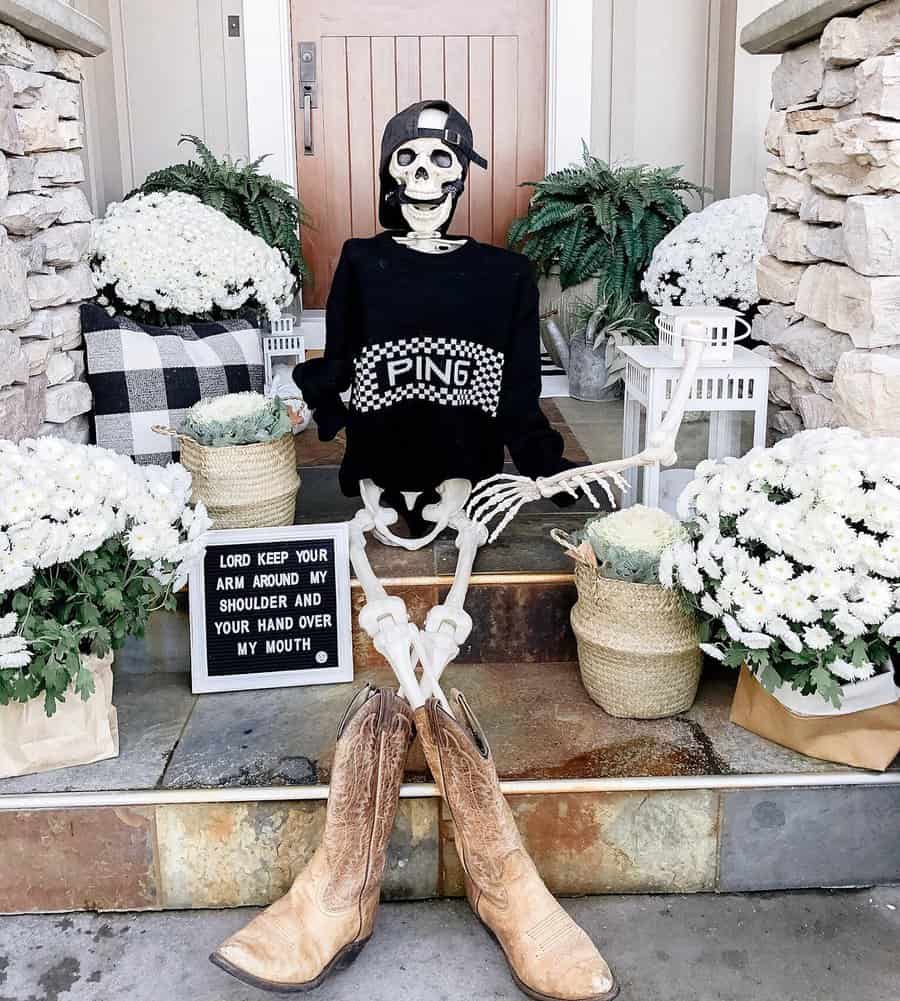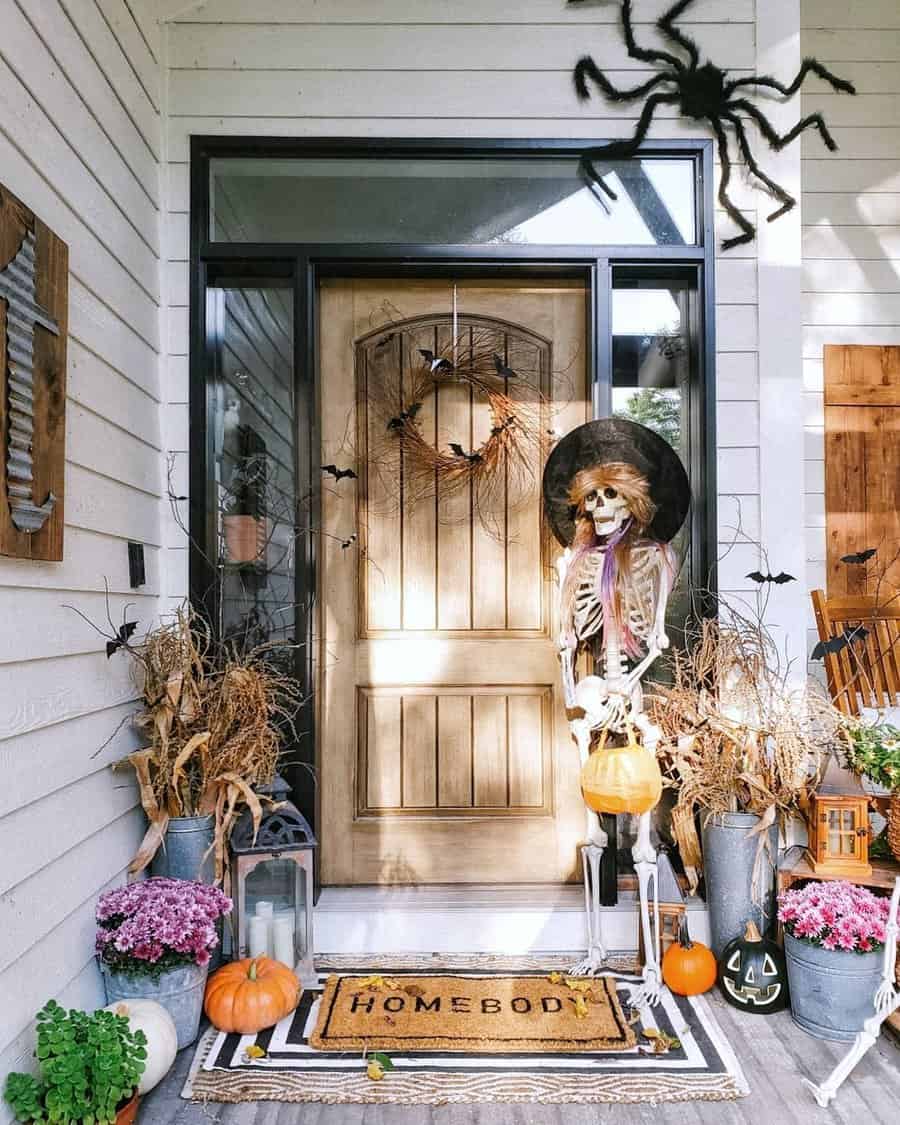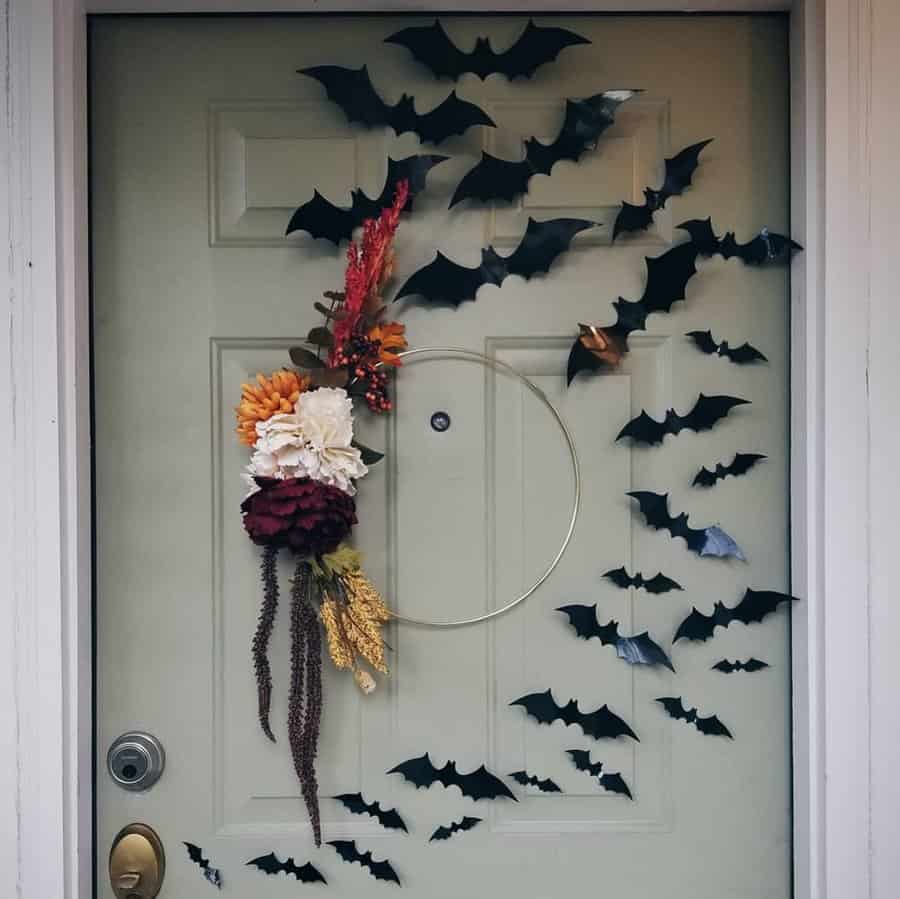 The simplest thing you can do is hang a wreath. Have a fall harvest-inspired wreath with grasses, foliage, and fall blooms. Or you embrace the creepiness of the season and use a black bow, feathers, ribbon, and branches. Another option is to hang garland around the door for a seasonally themed frame.
Finish your front door display with an arrangement on one or both sides of your front door. You could have potted plants with flowers in yellow and orange. Or you could have a couple of pumpkins arranged in a grouping. Give your front porch area a spooky touch with some cobwebs.
14. Fireplace Halloween Decorating Ideas
In your living room, create a Halloween display on your fireplace. Have decorative items placed on the coffee table and side tables. Build a Halloween-themed table display in the dining room, or add small skulls or cobwebs to your chandelier. Your front entry could have pumpkins or hanging bats.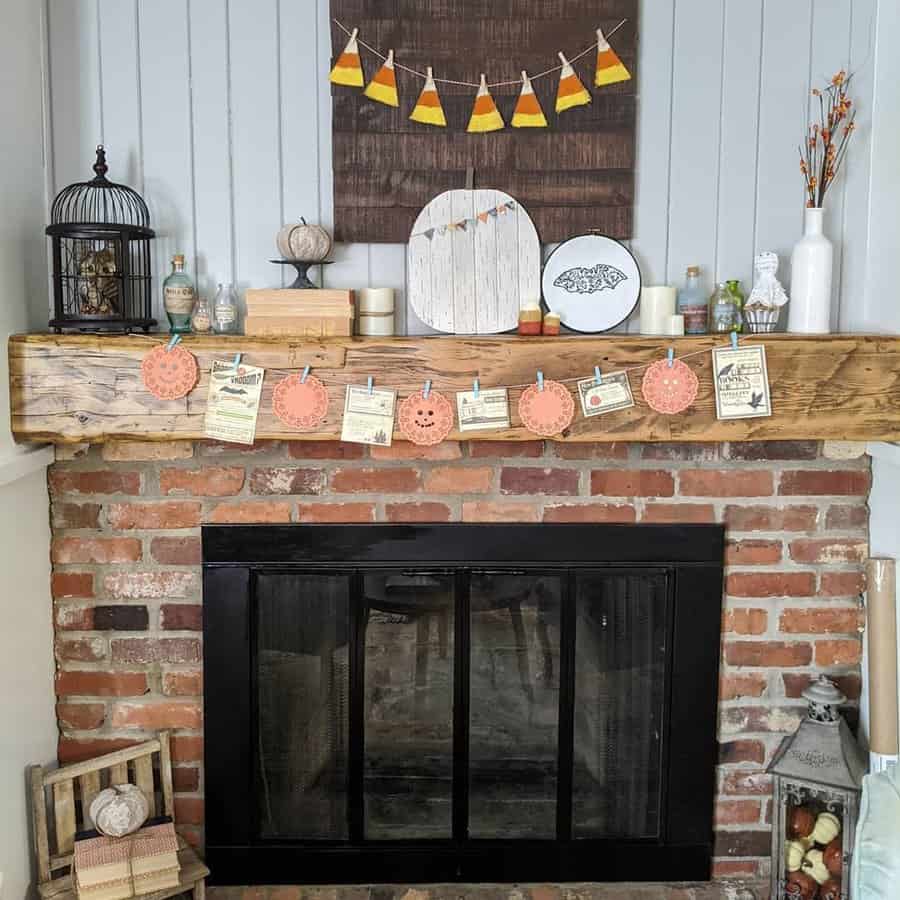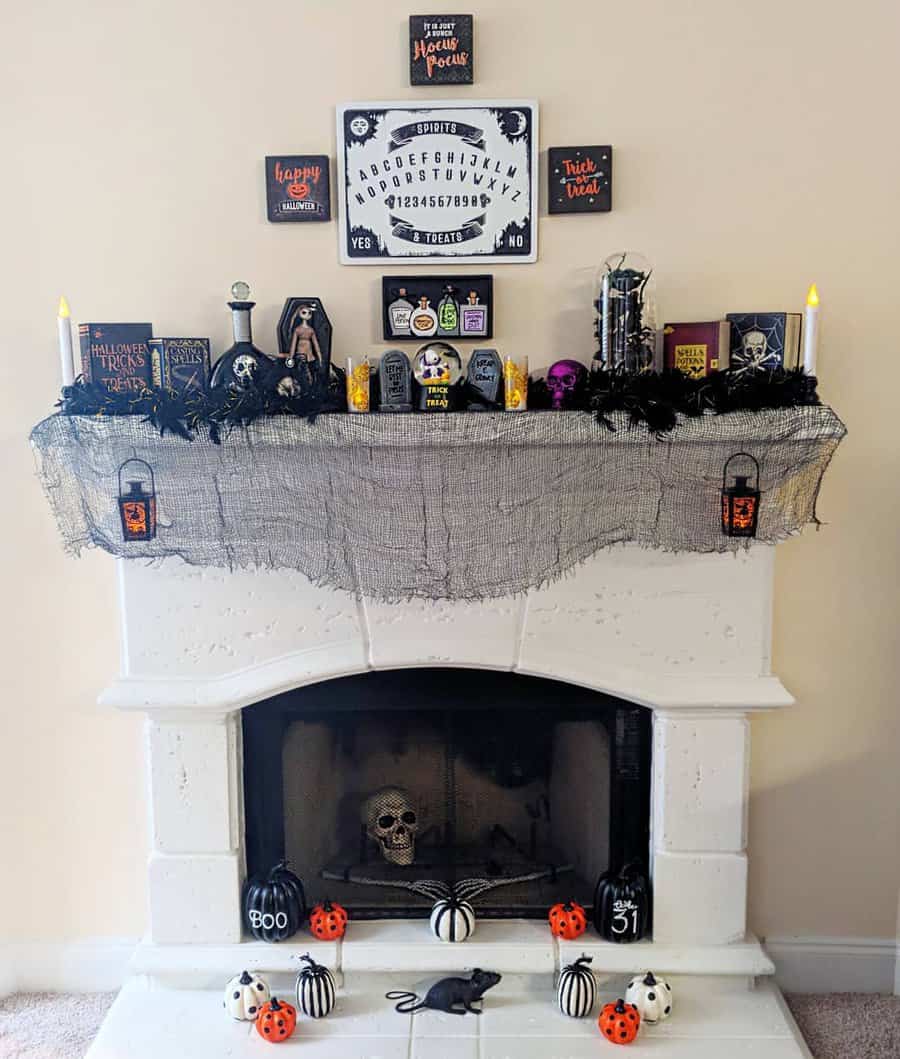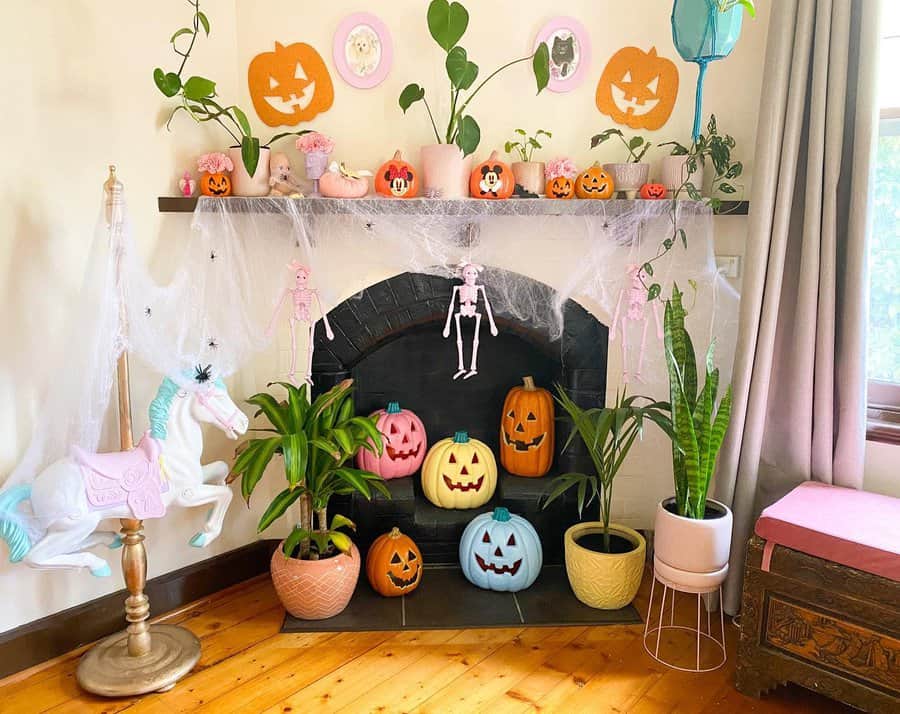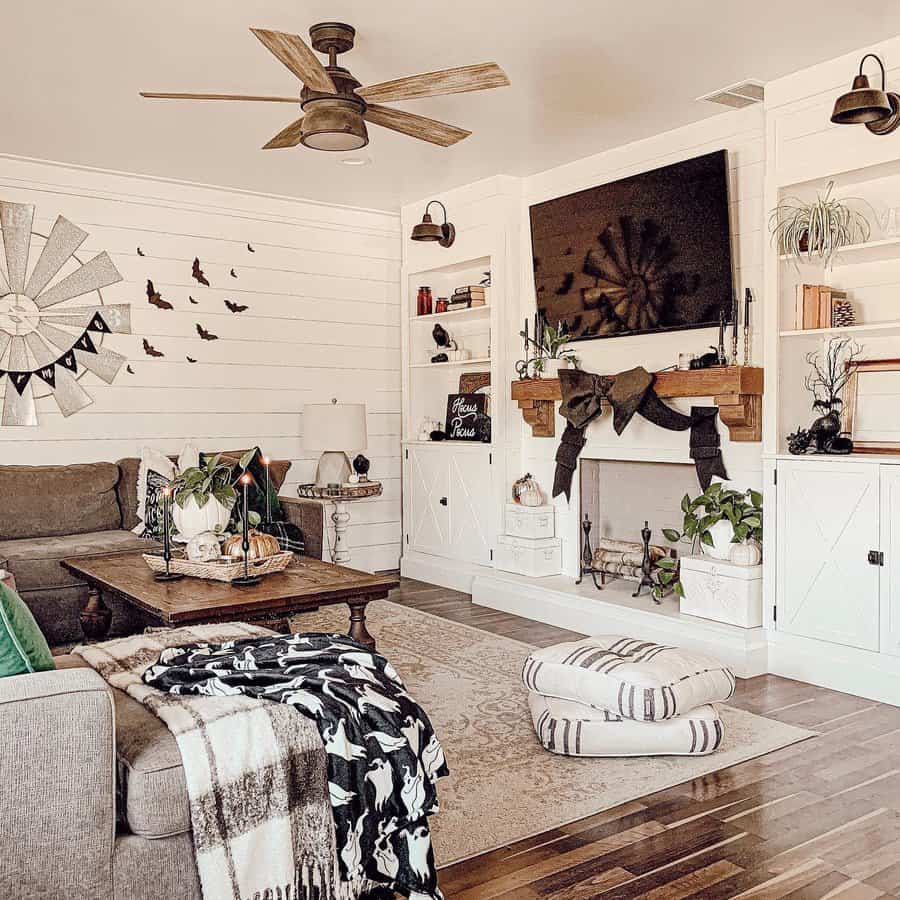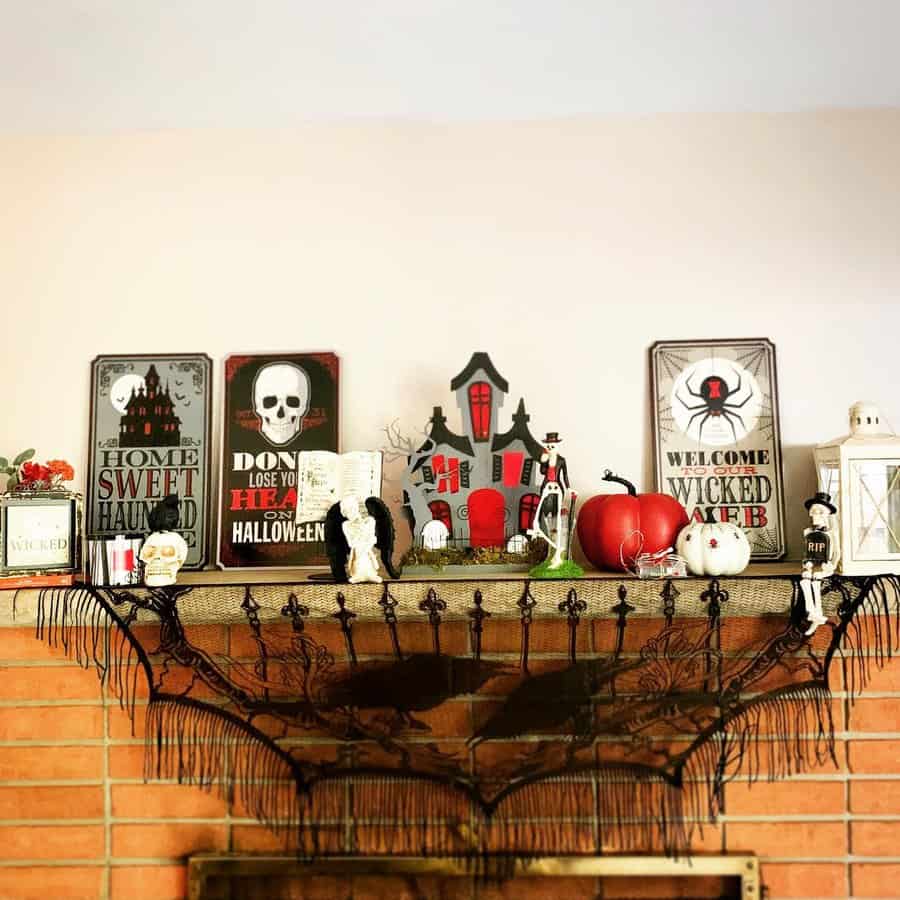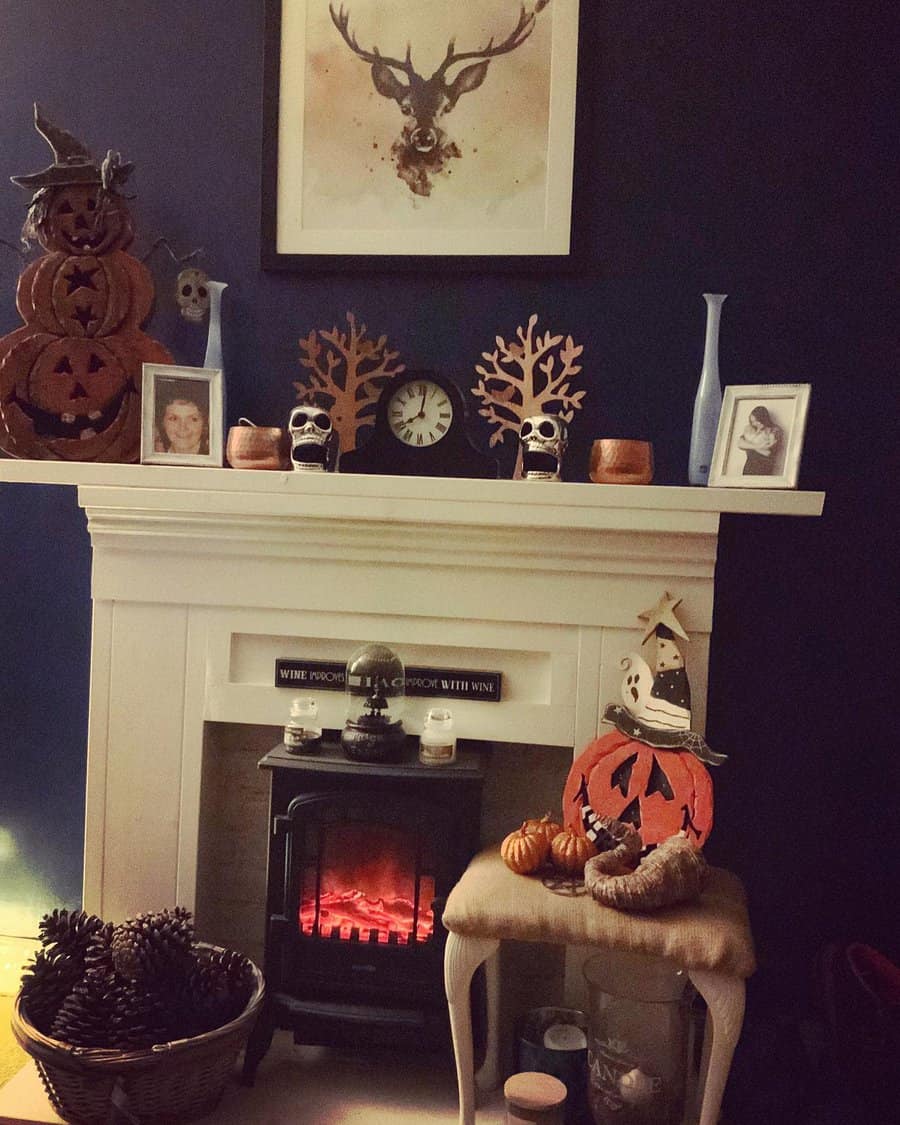 If you prefer the minimal approach, you could add Halloween themed candles. Make an arrangement on the table with several mini pumpkins and candles. Scatter a few spiders or even a rat to increase the creep factor.
If you love Halloween, you could commit to turning your entire home into a haunted house. However, this takes a significant amount of time and money as you invest in decorations and put them up and take them down each year. Instead, you can give your home a Halloween feel without having to decorate every inch of your home. Look for key focal points in each room where you can add Halloween themed accents.
15. Outdoor Halloween Decor Ideas
The first step is deciding what type of theme you want for your Halloween yard decorations. Do you want a fall harvest look with corn stalks, flowers, and pumpkins? Do you want a haunted house with skeletons, spiders, and cobwebs? Or do you want to go full-on Halloween explosion with gravestones, skeletons, lights, pumpkins, witches, and monsters?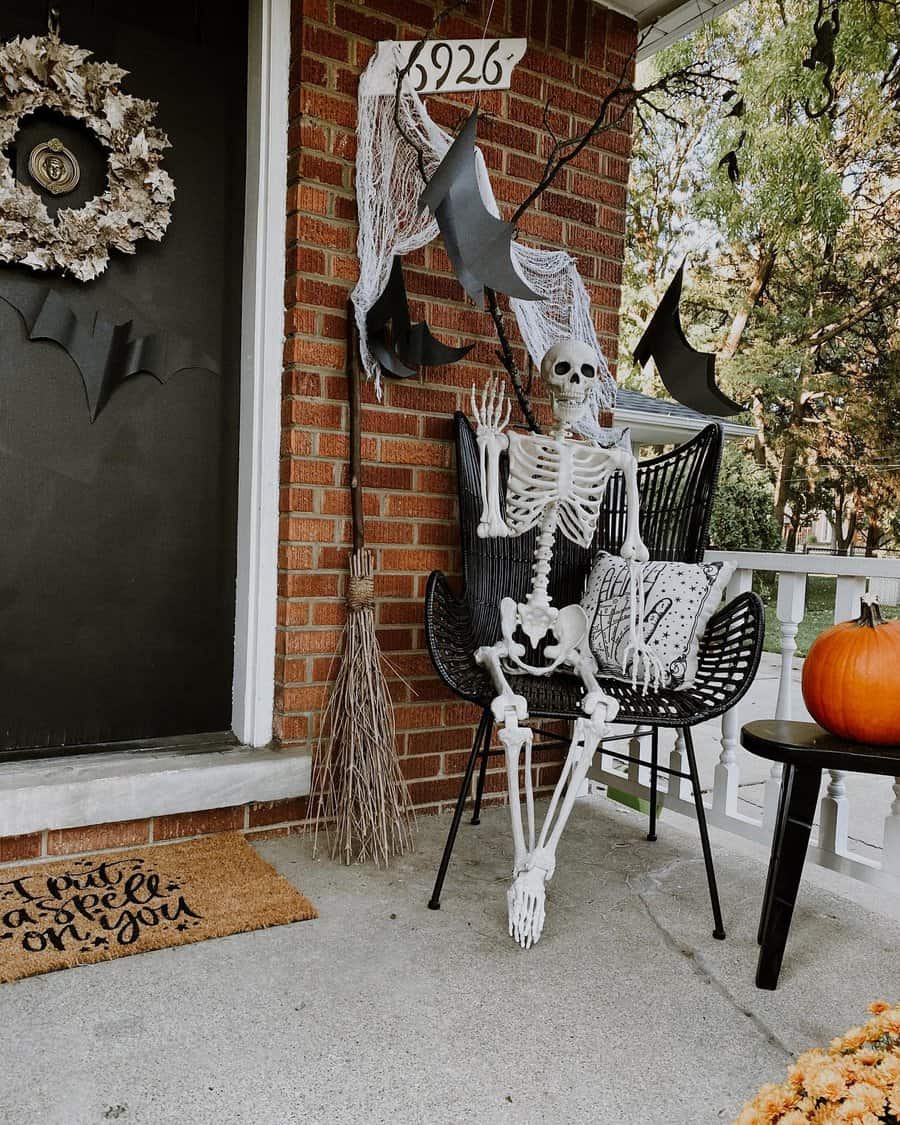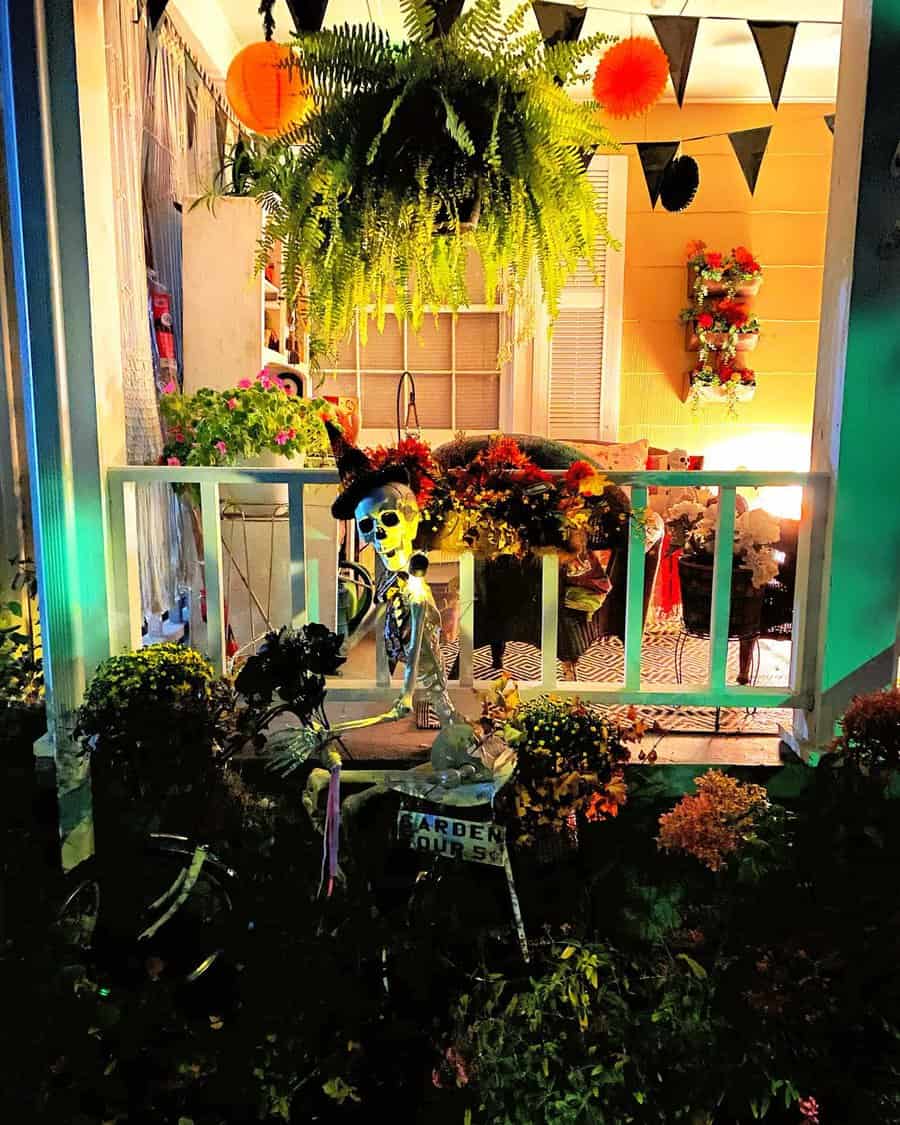 Not all outdoor Halloween decorations have to be scary or creepy. Express your style and personality through your decorations. They could be more elegant or even funny. Halloween with a sense of humor is sure to stand out in your neighborhood.
When choosing decorations for your yard and the outside of your home, consider how durable they are. You want to only use decorations that will withstand the weather elements and not break down or corrode.
16. Skeleton Ideas
The skeleton is one of those classic Halloween decorations that is perfectly spooky. You can use them both inside and outside as a decorative Halloween prop. You could place a full posable skeleton in a chair either inside or outside of your house. Wrap some cobwebs around it for an aged and creepy look.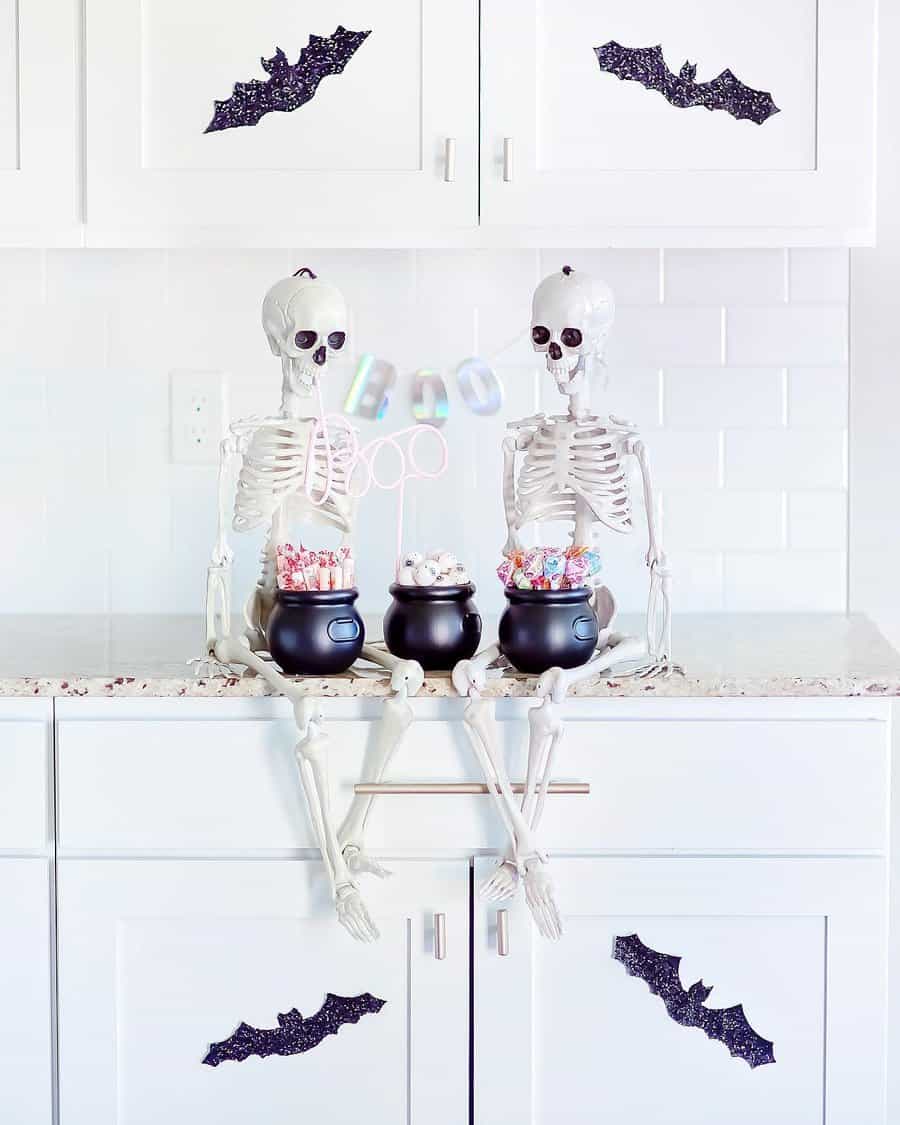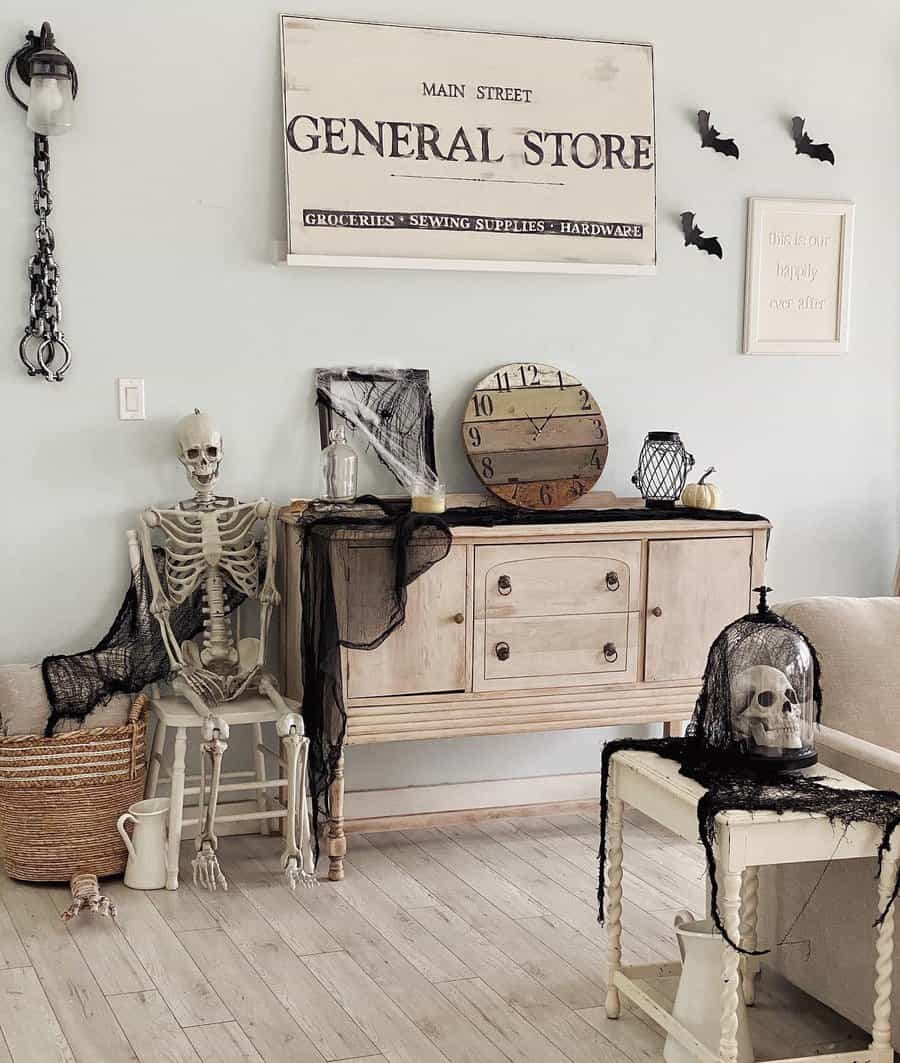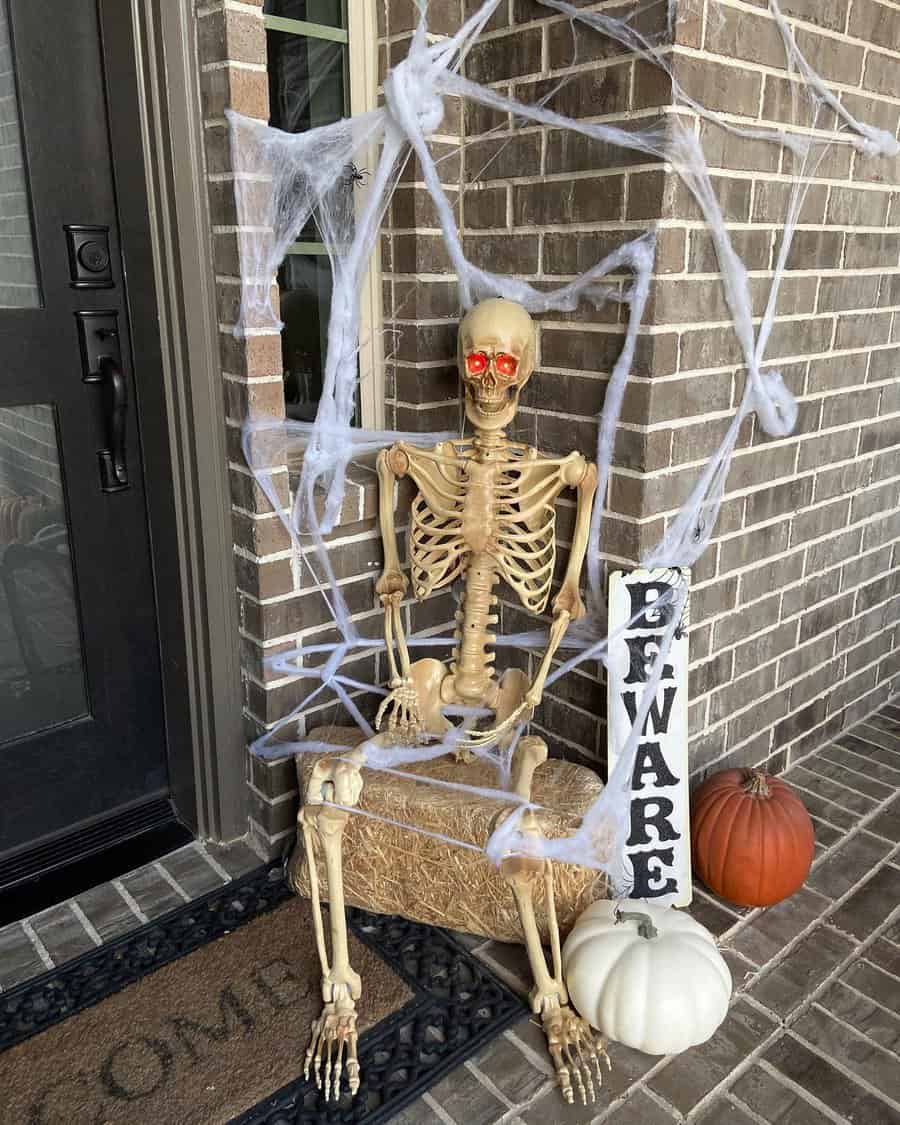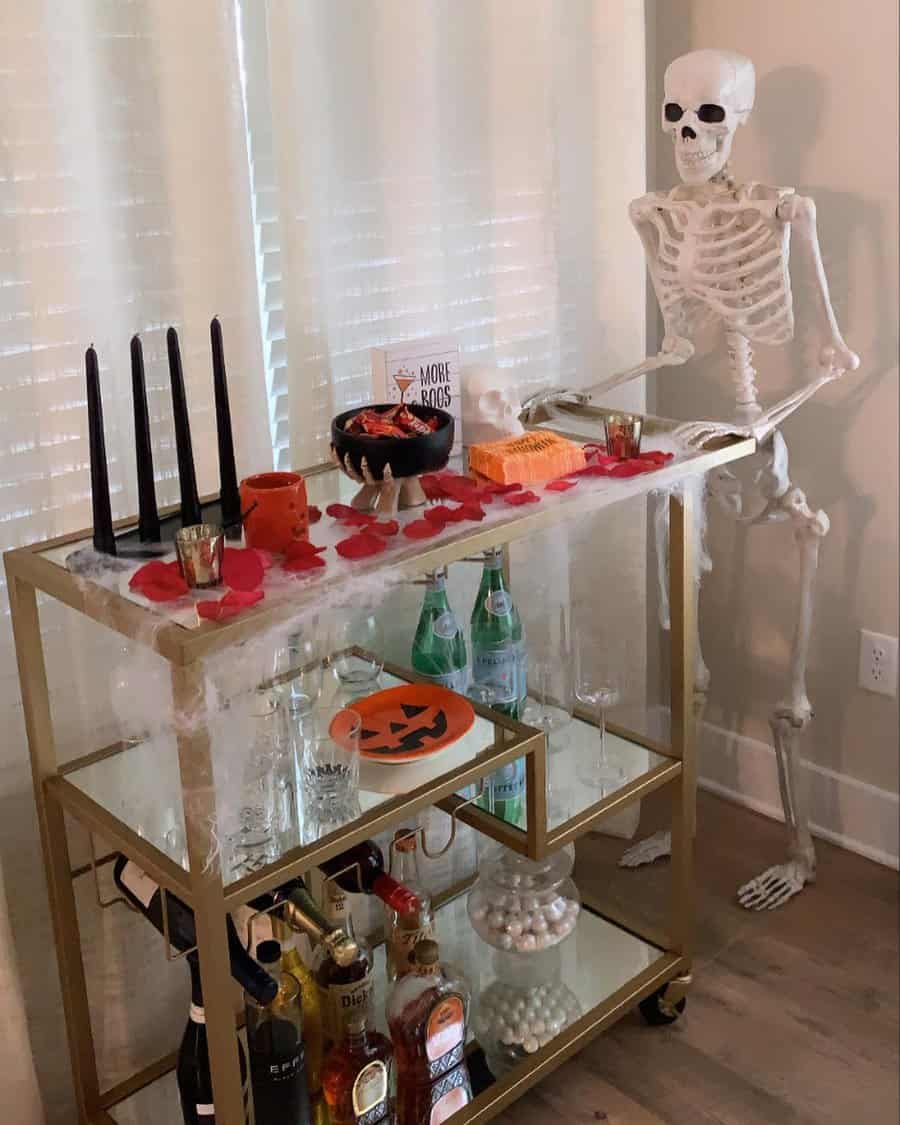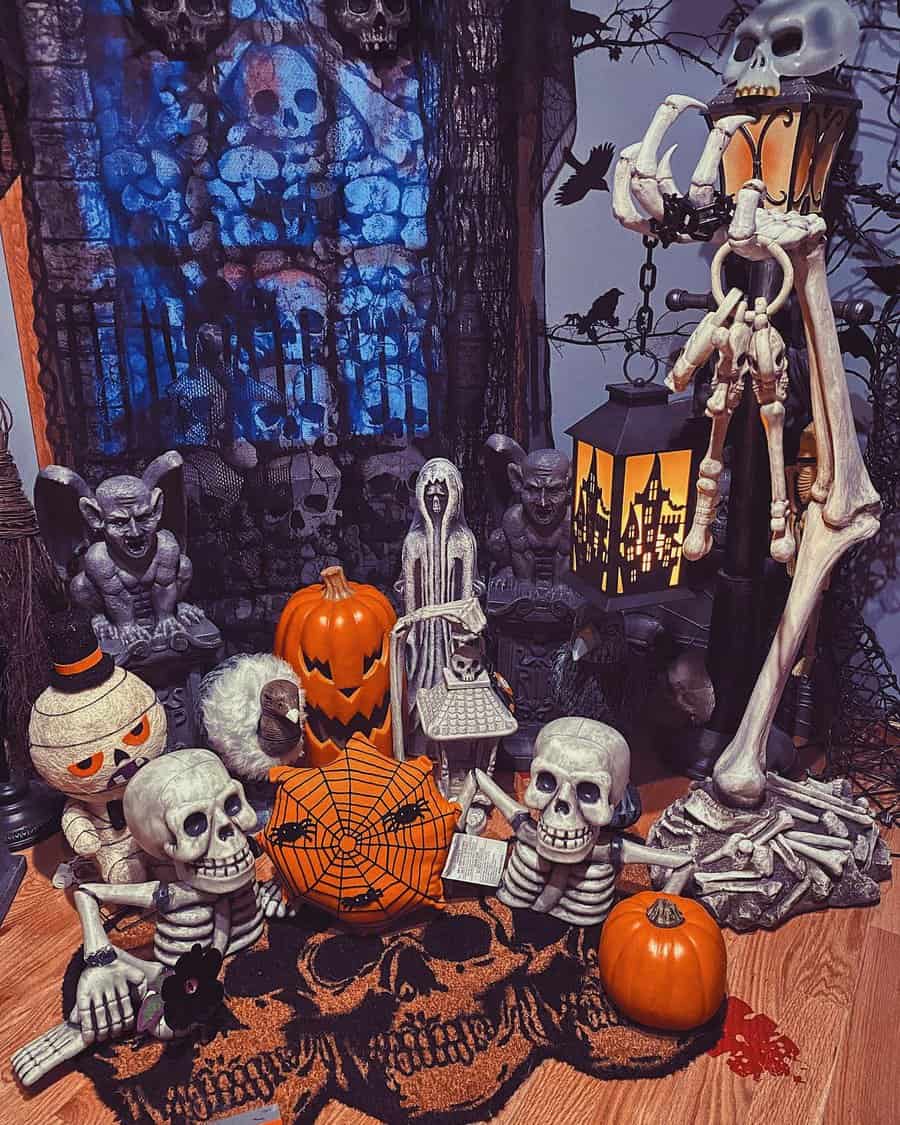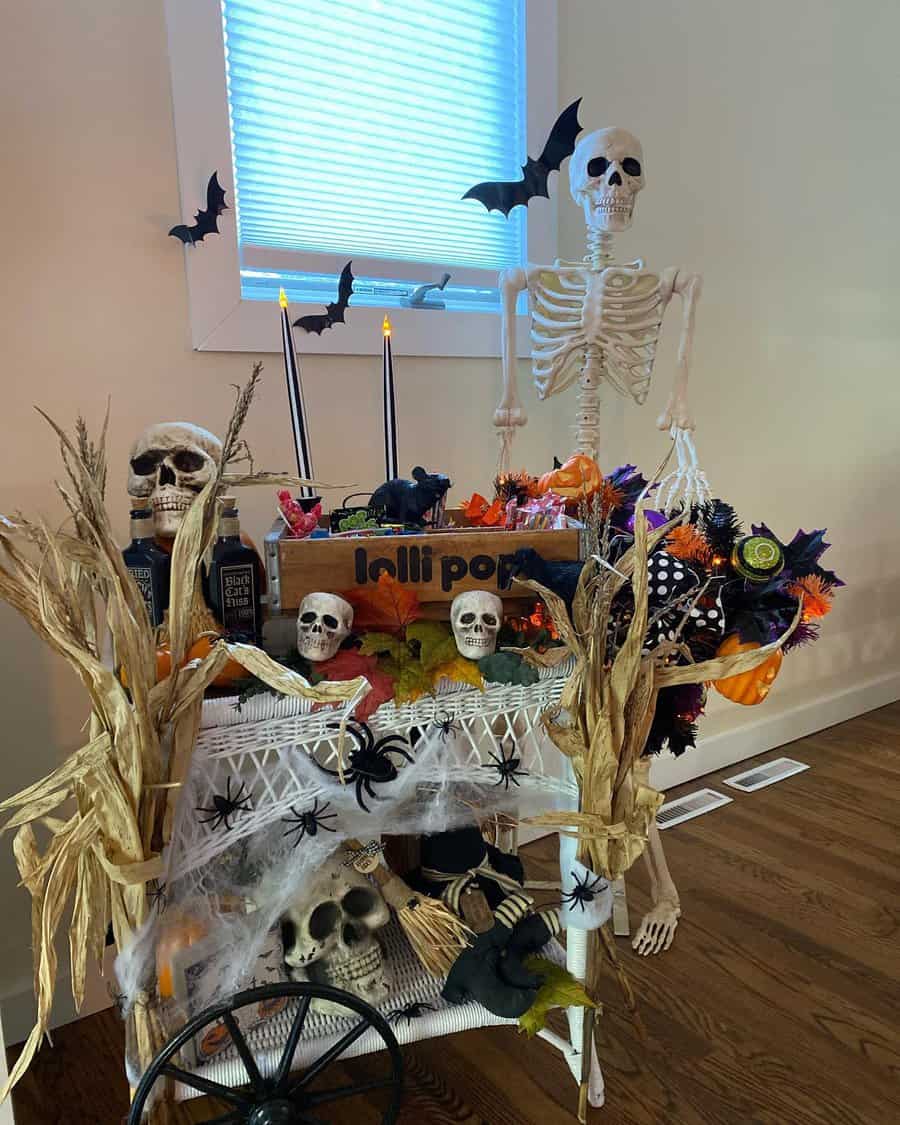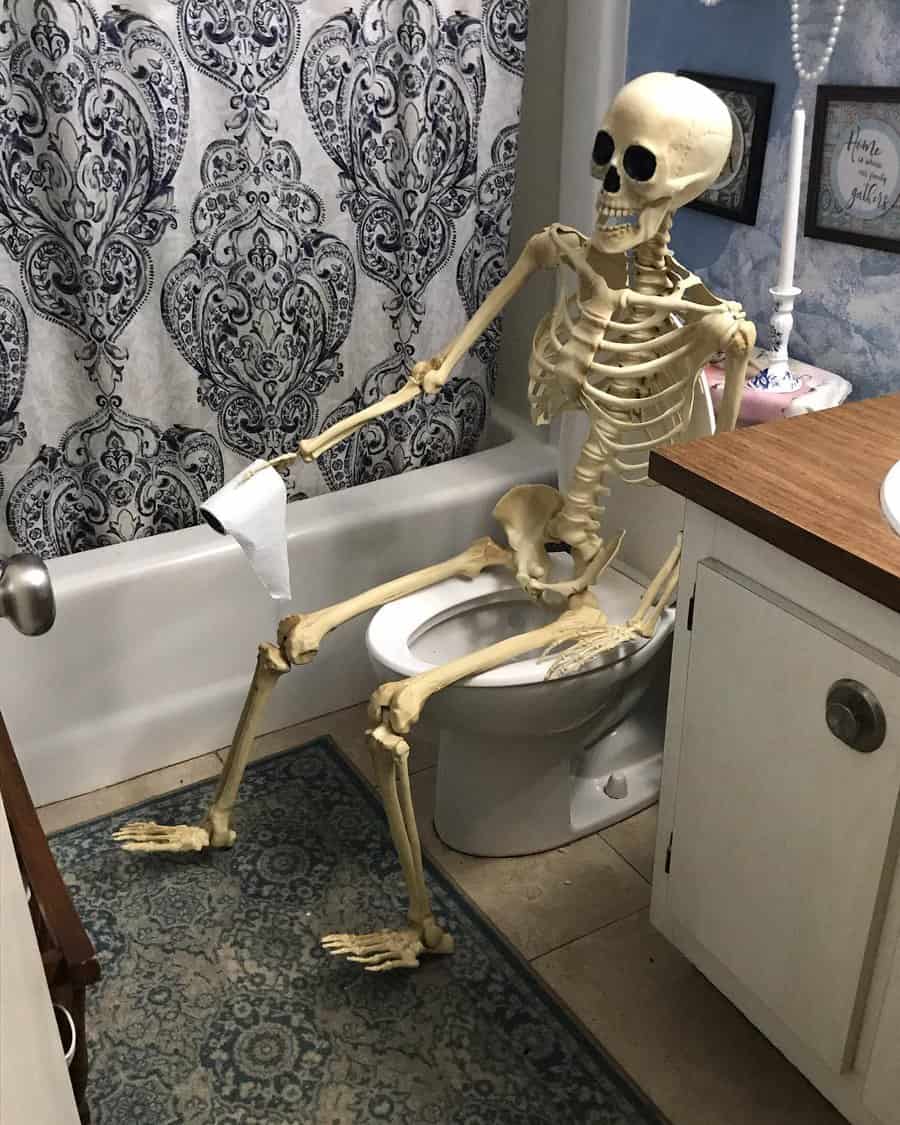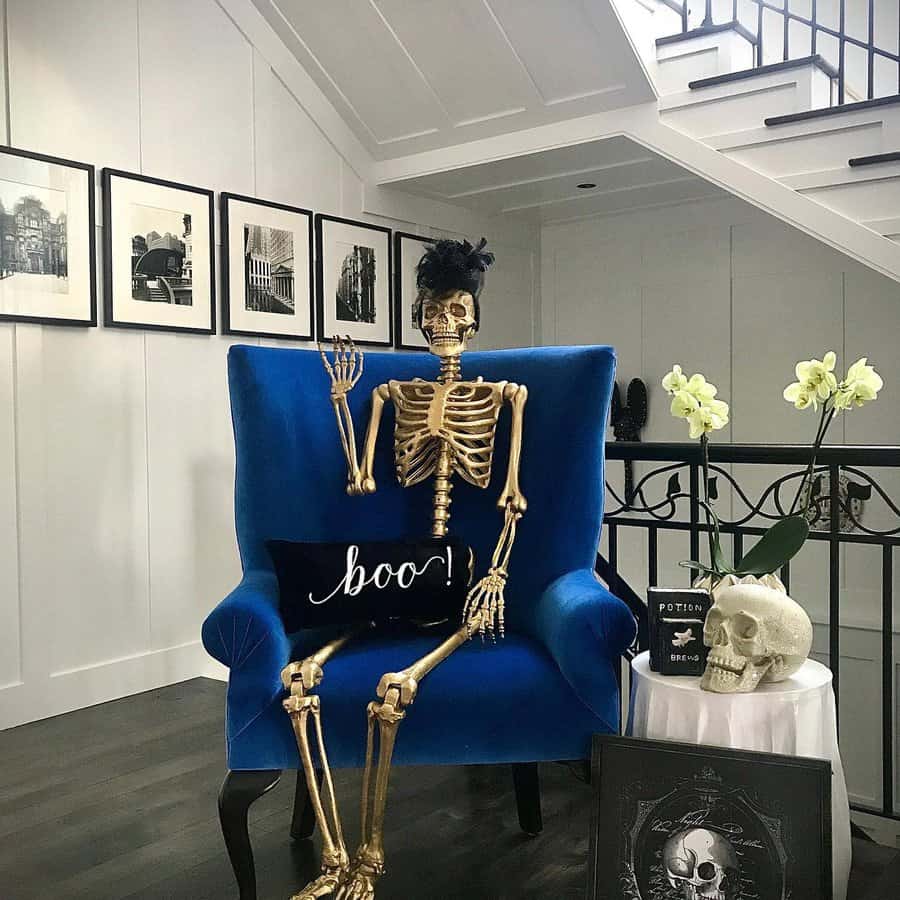 If investing in a full skeleton isn't your style, you could use a partial version or just the skull. Partially bury an arm to look like the skeleton is reaching out of the ground. Try placing only the upper body to make it look like he's climbing out.
Place skulls around your home for a cryptic look. Get glamorous with your skulls and choose ones made of fancy stone, covered in crystals, or made of metal.
17. Table Halloween Decoration
Whether you're hosting a party or just looking to add some pizzazz to your table, embrace the season with a creepy and fun table display. Start with the right tablecloth or runner. A skull damask or a spooky spider pattern can look seasonally themed and elegant. You could go all out with Halloween-themed dinnerware or keep it simple and plain white.
You'll want to create a centerpiece that is the focal point of the table. A simple idea is to use a candelabra-style candle holder that can hold several candles. A long and low option works best so that you can see over it while sitting at the table. Intertwine spider webs around it.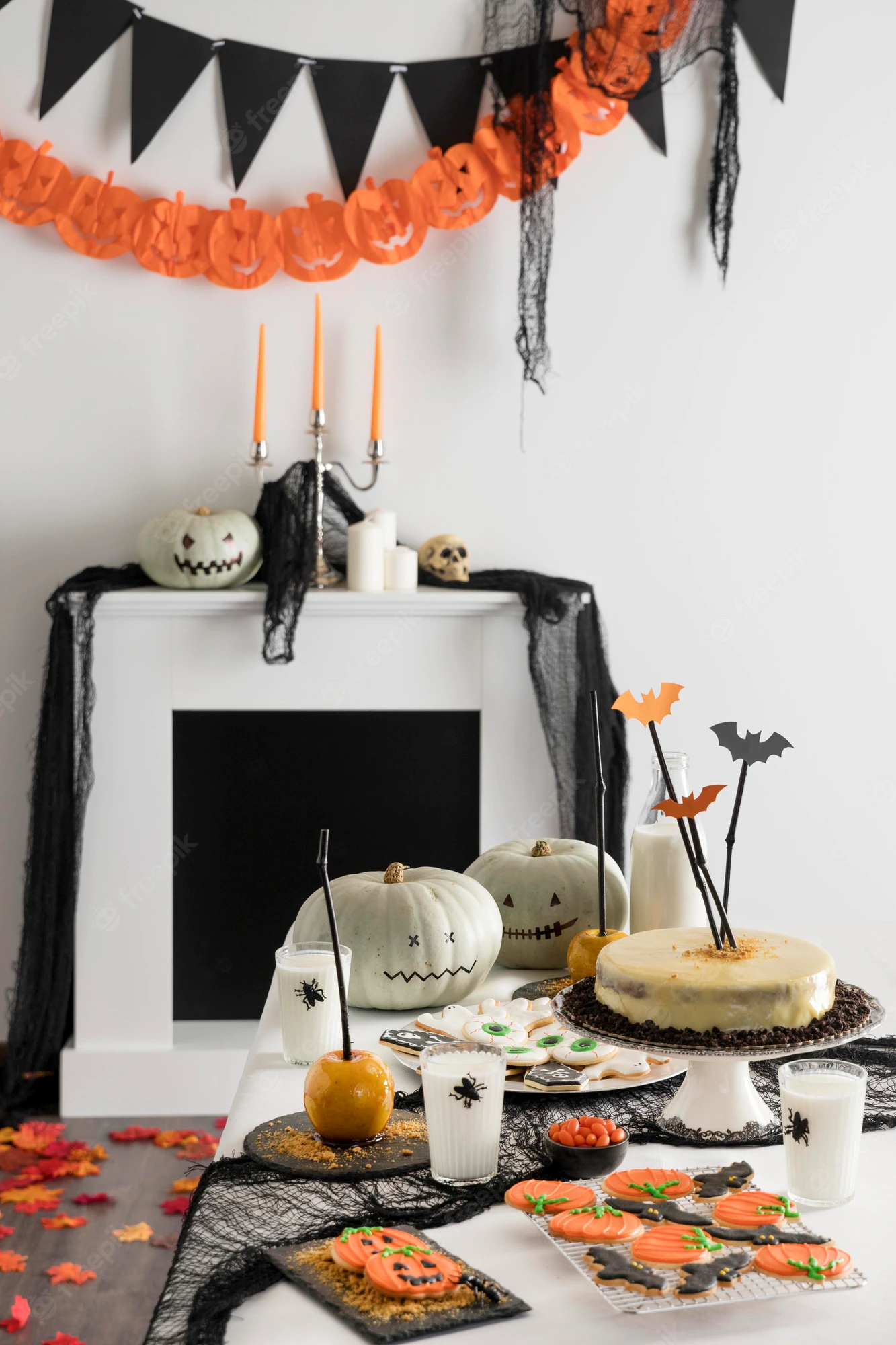 Another cute idea is to use mason jars partially filled with classic Halloween candy, such as candy corn. Place small votive candles on top of the candy in each jar. Don't be afraid to go bold with a large vase painted black and several large black painted branches arranged in it. Hang black paper bats from the branches to float above the heads of your guests.
If you're hosting a Halloween party, add small creative touches. Some unique Halloween party ideas are using vampire teeth as napkin holders, placing fake eyeballs in the center of your flowers, or using an oversized pumpkin filled with ice as your drink cooler.
FAQs
Where can I get cute Halloween decorations?
Not all Halloween decorations need to be spooky, creepy, or grotesque. Consider taking a cute approach. You can find several options at home decor stores, arts and craft stores, or even online. Check out stores that you know sell home decor you like. They're more likely to stock decorations that will appeal to you.
How do I decorate for Halloween on a budget?
Use items you already have around the house to make your own Halloween decorations. This limits the number of items you'll need to buy. Another great option is to plan ahead. Buy decorations at a deep discount after Halloween and put them away from next year.
When should you put up Halloween decorations?
The most popular time to begin decorating for Halloween is the first week or two of October. This gives you plenty of time to get the decorations up and enjoy them. The more elaborate and complicated your decorations are, the more time you'll need to put them up. You should start earlier rather than later.