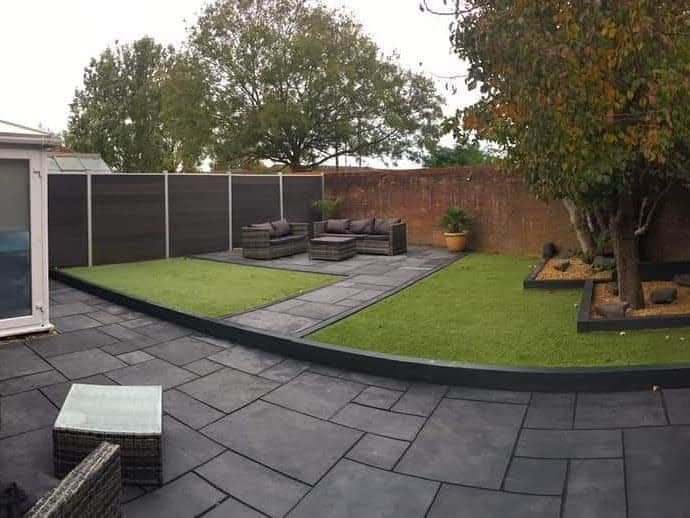 The Top 41 Lawn Edging Ideas
Do you have grass growing around your single-family home? Then you aren't alone. You also aren't alone in your struggle to maintain it. Sure, most people focus on getting it to grow evenly while avoiding brown spots or dirt patches. However, there's another unspoken struggle.
You need edging around your lawn to keep it contained. Most people resort to plastic garden edging, but this doesn't always have the best curb appeal.
These lawn edging ideas will help you contain your lawn while also improving the look of your property.
1. Brick Edging
A well-manicured lawn is the pride and joy of any homeowner, but what makes a great addition to any green space is stylish and functional lawn edging. One option that has stood the test of time is red brick lawn edging. With its classic look, it adds an extra layer of sophistication to any yard without detracting from the overall charm of the space.
Plus, the durability of the bricks ensures that they can withstand the wear and tear that comes with being outside year-round. So if you're looking to spruce up your lawn and give it that perfect finishing touch, consider adding red brick lawn edging to your outdoor space.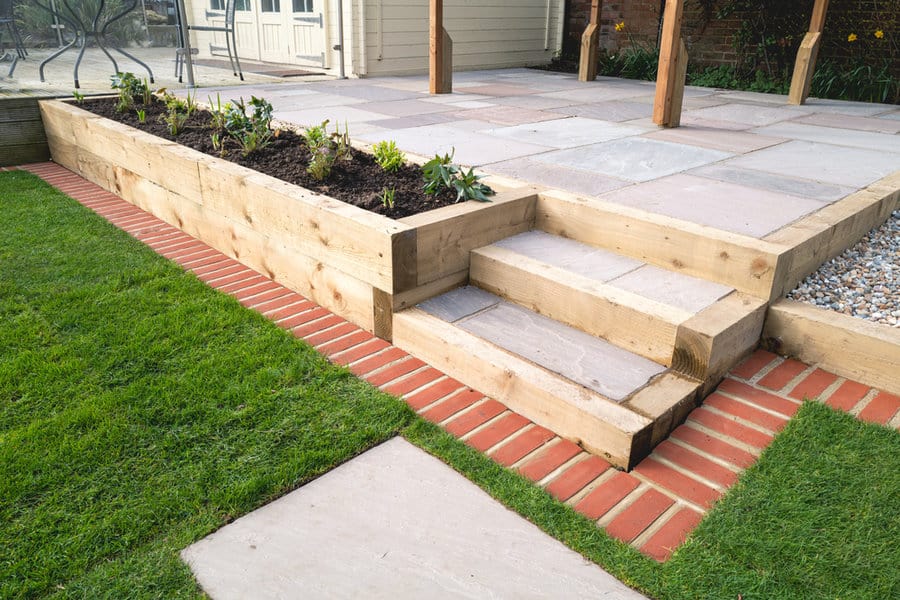 2. Freeform Cast Concrete Edging
If you're looking for an eye-catching way to edge your lawn, consider freeform cast concrete lawn edging. This type of edging is a unique and functional addition to any outdoor area. Freeform casting allows for a natural-looking design that can seamlessly blend with the surrounding landscape.
Not only does it add a touch of elegance to your yard, but it also serves as a barrier to keep grass and weeds from overpowering your plants. Plus, concrete edging is incredibly durable and long-lasting, so once you have it installed, it will require very little maintenance. With the variety of colors a concrete edging can be stained too, you can get the exact look you desire for your lawn.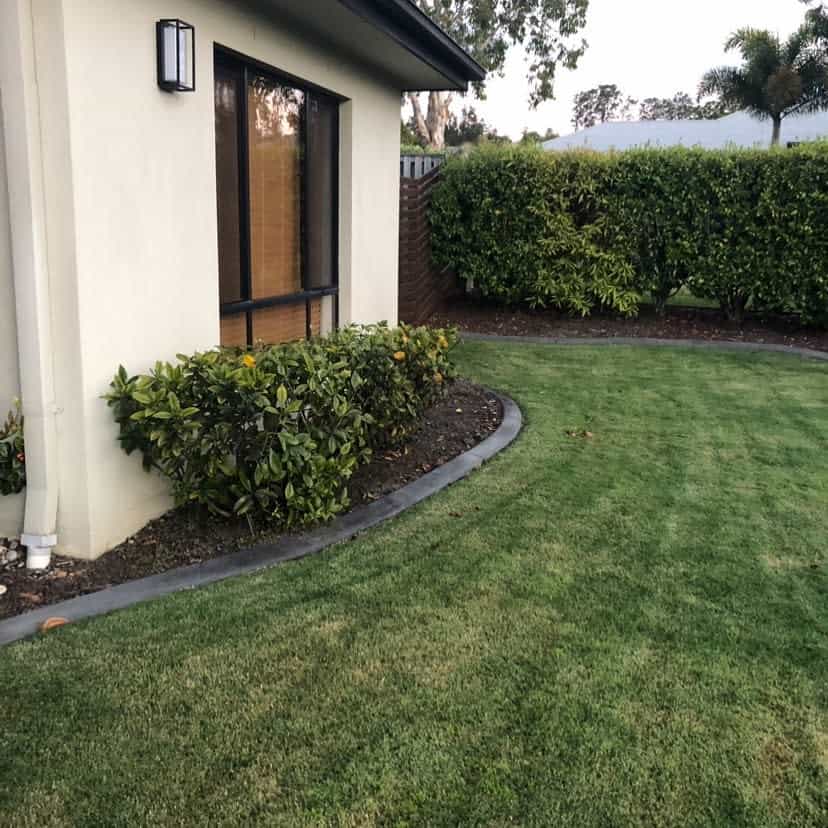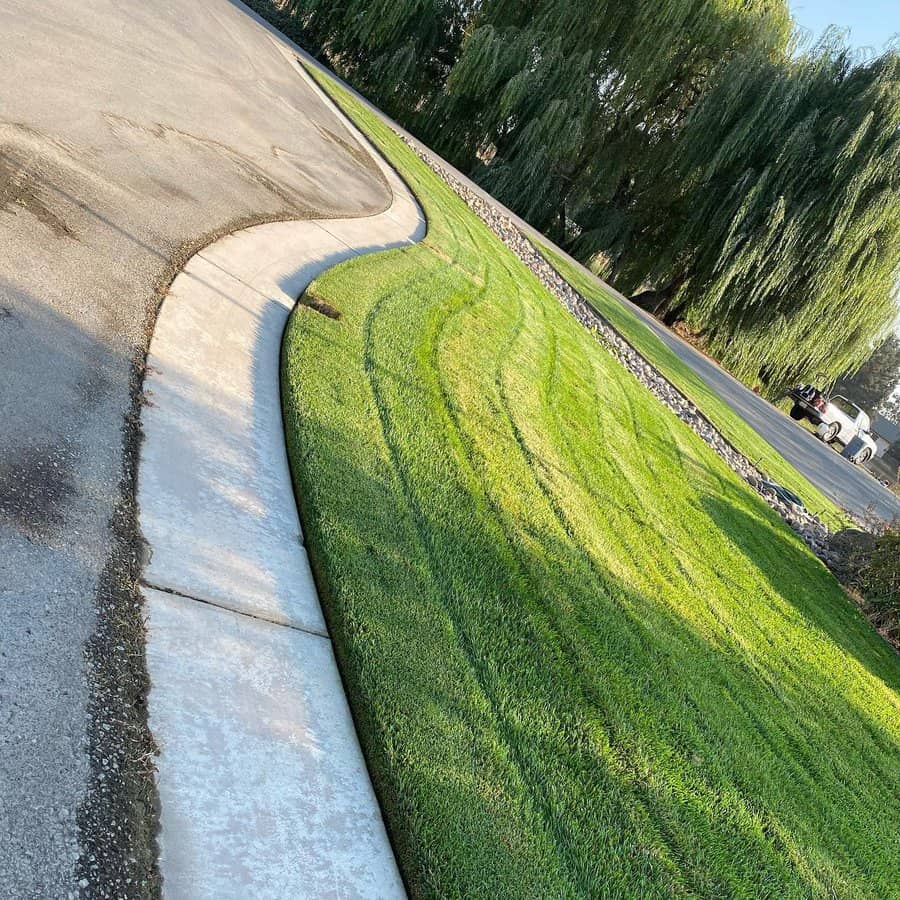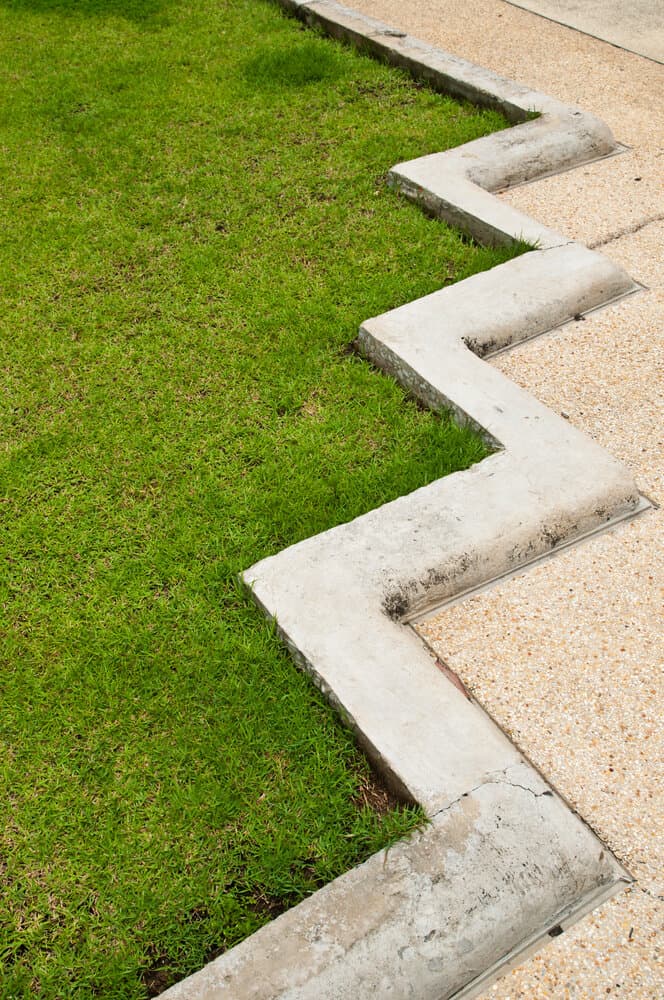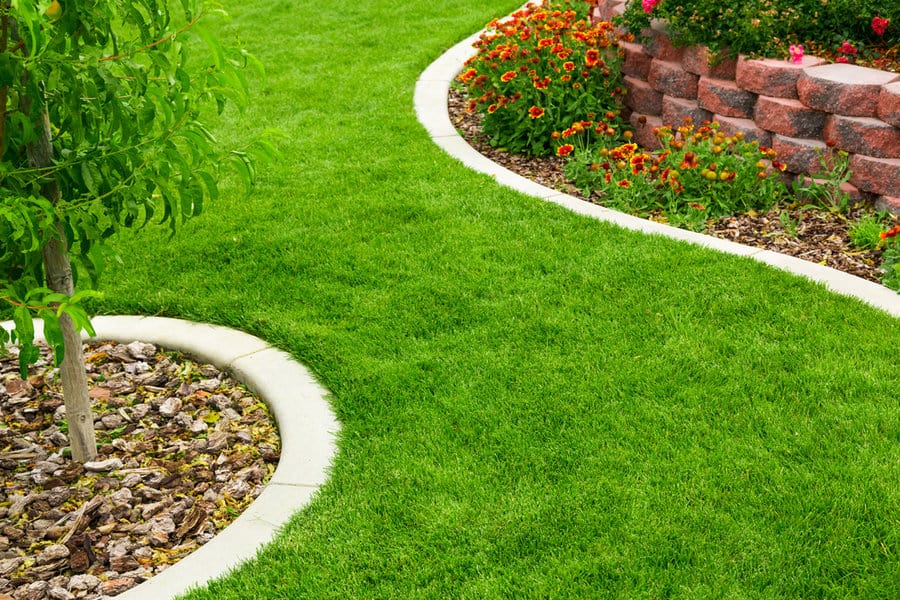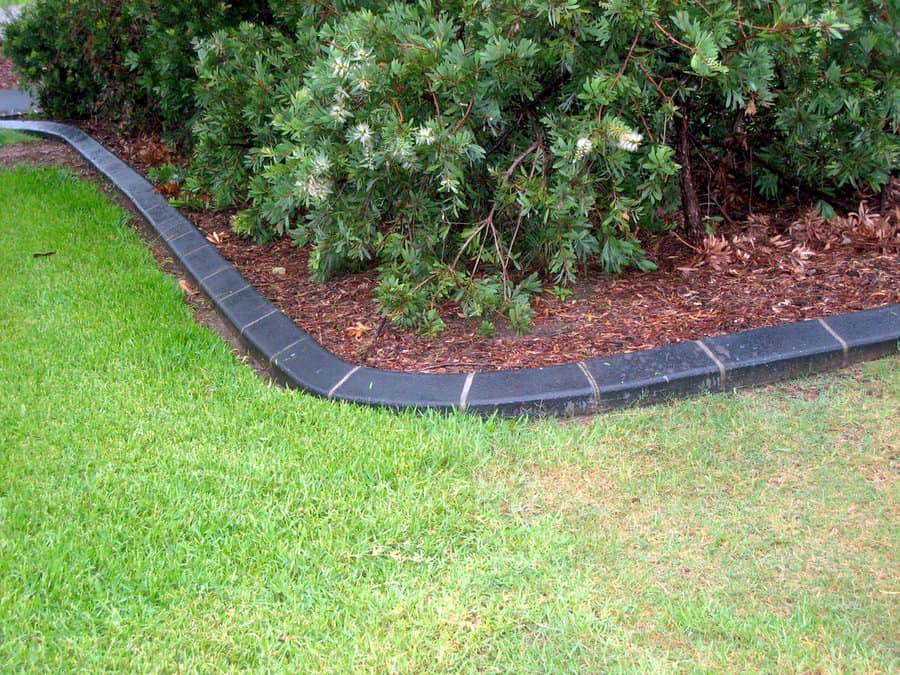 3. Granite Curb Edging
If you're looking to give your yard a polished and professional look, consider incorporating granite curb lawn edging. Not only does it add an elegant touch to your landscaping, but it's also incredibly durable and can withstand harsh weather conditions.
Whether you choose a traditional gray granite or opt for something more unique like a jasper, the natural beauty of the stone is sure to impress.
Plus, lawn edging can be a practical solution to preventing soil erosion and keeping your lawn and garden areas separate. Invest in this stunning landscape addition that will elevate the beauty and functionality of your outdoor space.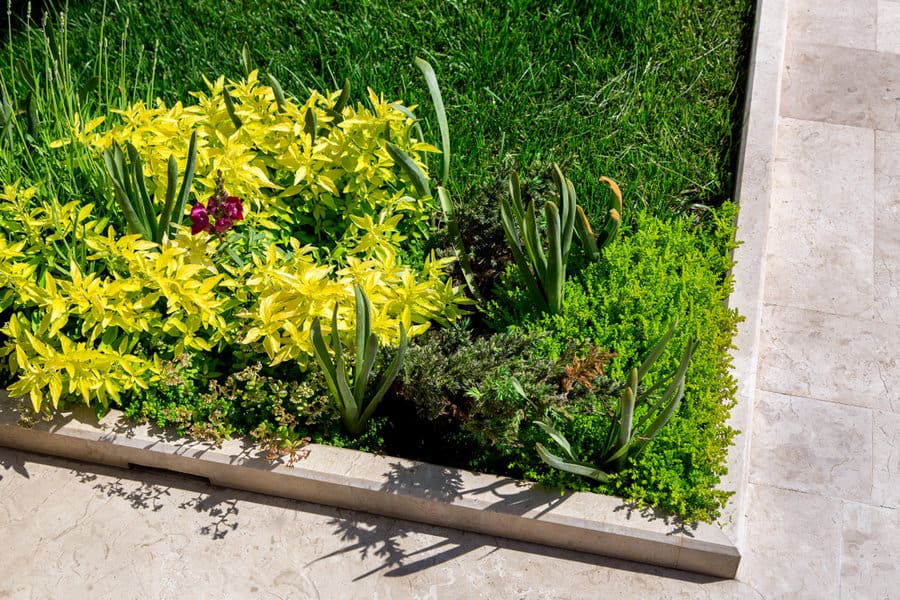 4. Bamboo Lawn Edging
Bamboo lawn edging is a natural and stylish way to keep your garden neat and tidy while adding a touch of Zen. Not only is bamboo an eco-friendly choice, but it is also sturdy and long-lasting. Its warm color and unique texture blend well with any landscaping style, from modern to rustic.
By outlining the flower beds or pathways with bamboo edging, you can define the space and prevent the grass from invading the beds. Plus, it's easy to install and maintain. Simply dig a shallow trench along the border, insert the bamboo strips, and voila! your garden is transformed into a peaceful retreat.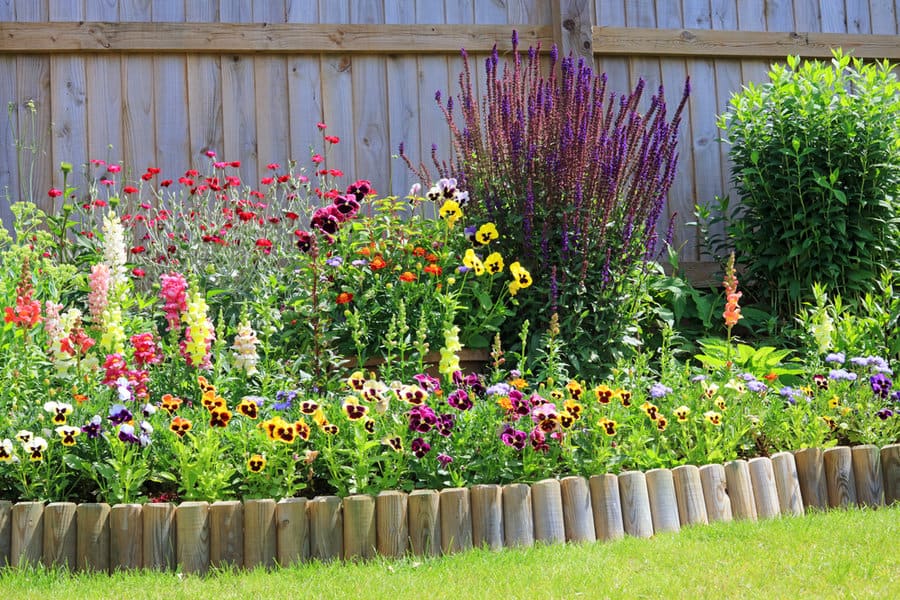 5. Edging With Plants
If you're looking to add a touch of greenery to your lawn while also improving its overall appearance, consider lawn edging with plants. This landscaping technique involves planting low-maintenance vegetation along the border of your lawn, creating a natural and seamless transition between your yard and garden beds or pathways.
Some great options for lawn edging plants include ornamental grasses, sedges, and groundcovers, all of which can provide texture and color while offering environmental benefits such as reducing erosion and providing habitat for beneficial insects.
Plus, with the right selection and placement of plants, you can create a stunning and unique look for your lawn that's both practical and beautiful.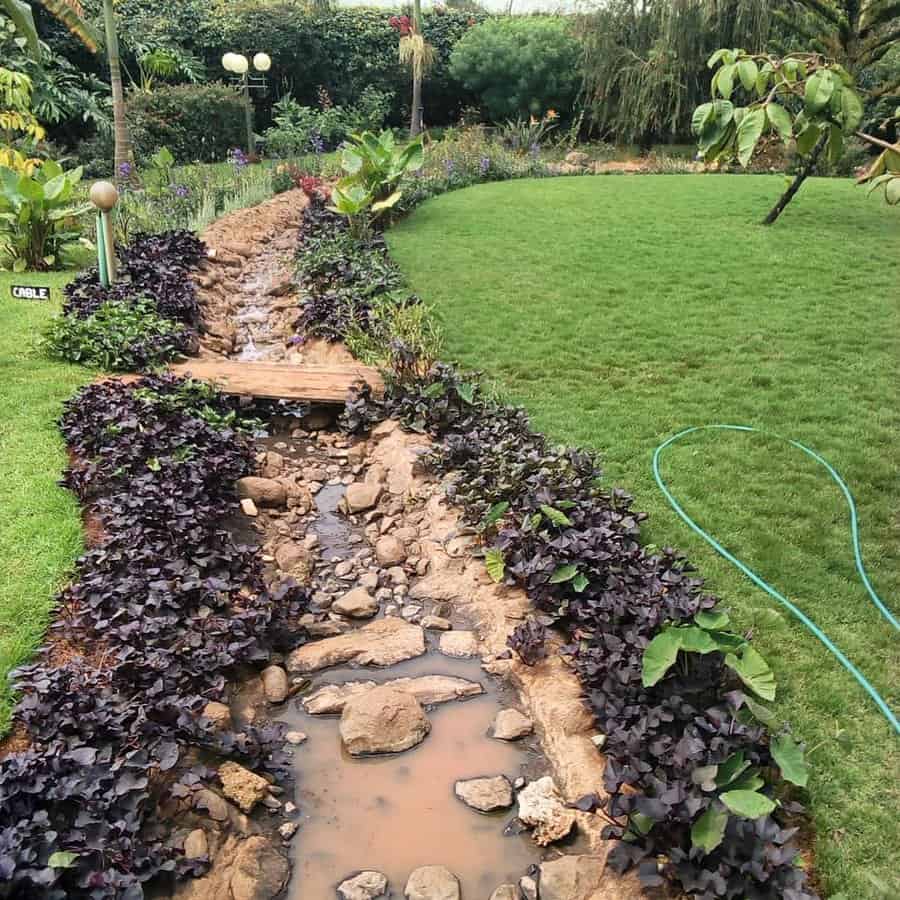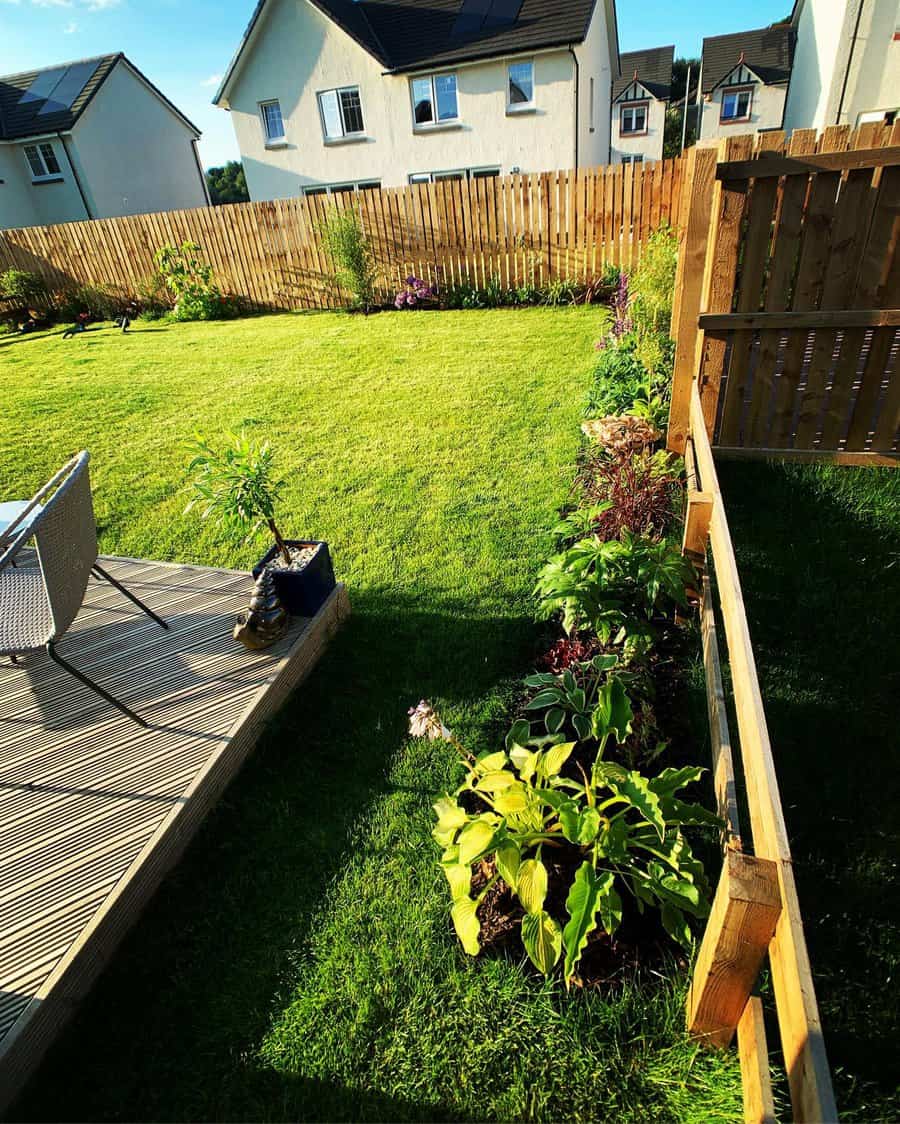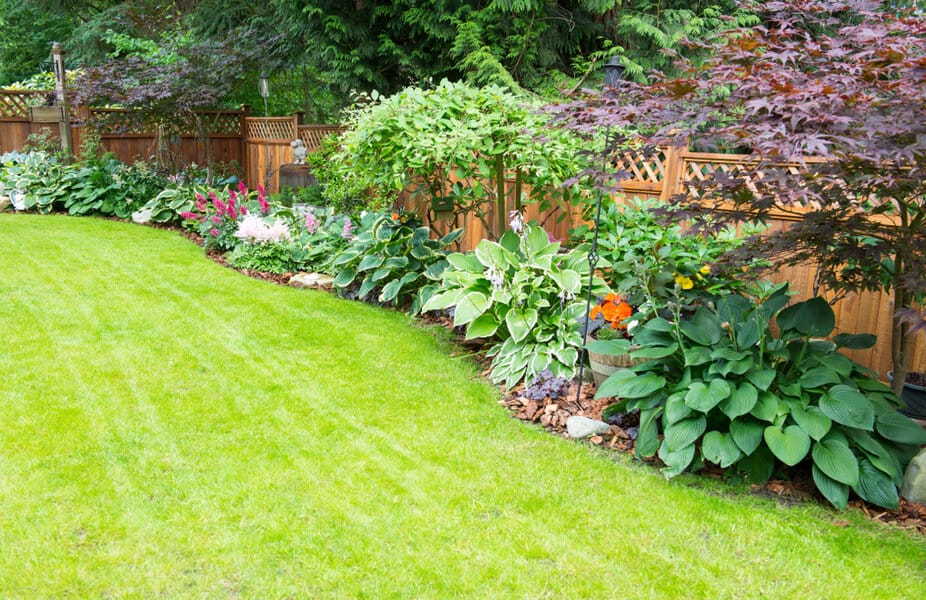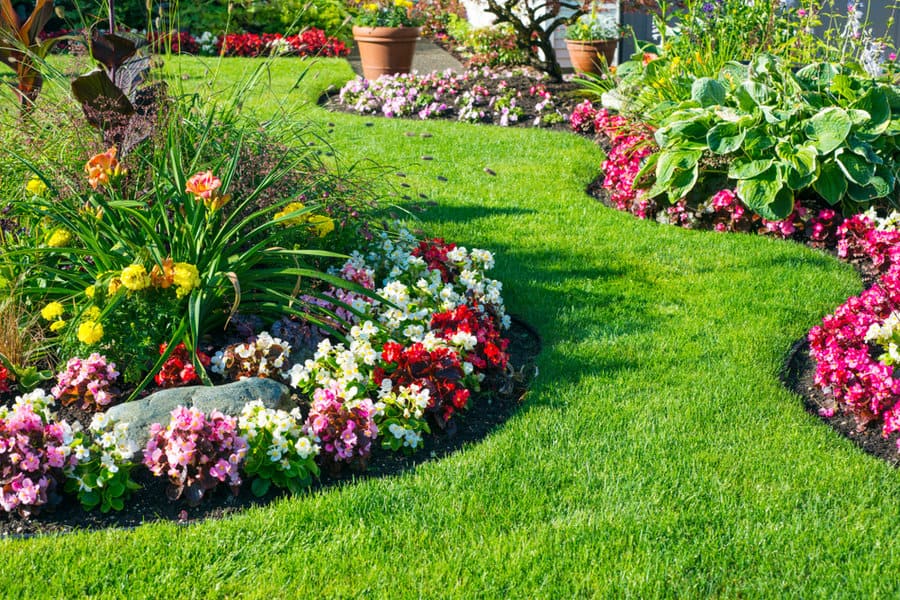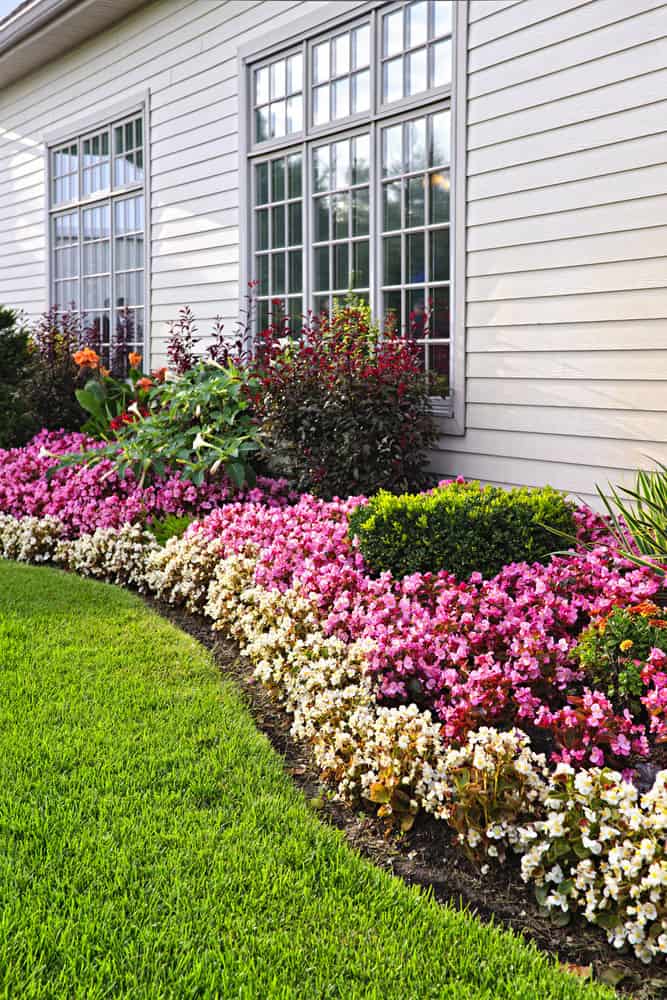 6. Hedge Lawn Edging
Transforming your backyard into a picturesque oasis has never been easier with hedge lawn edging. Not only does it create a seamless transition between your lawn and garden beds, but it also adds a touch of elegance to your outdoor space.
With the versatility to shape and trim the hedges to your desired height and width, you can achieve a neat and polished look that complements the rest of your landscaping. And let's not forget the added benefits of reduced weed and erosion control.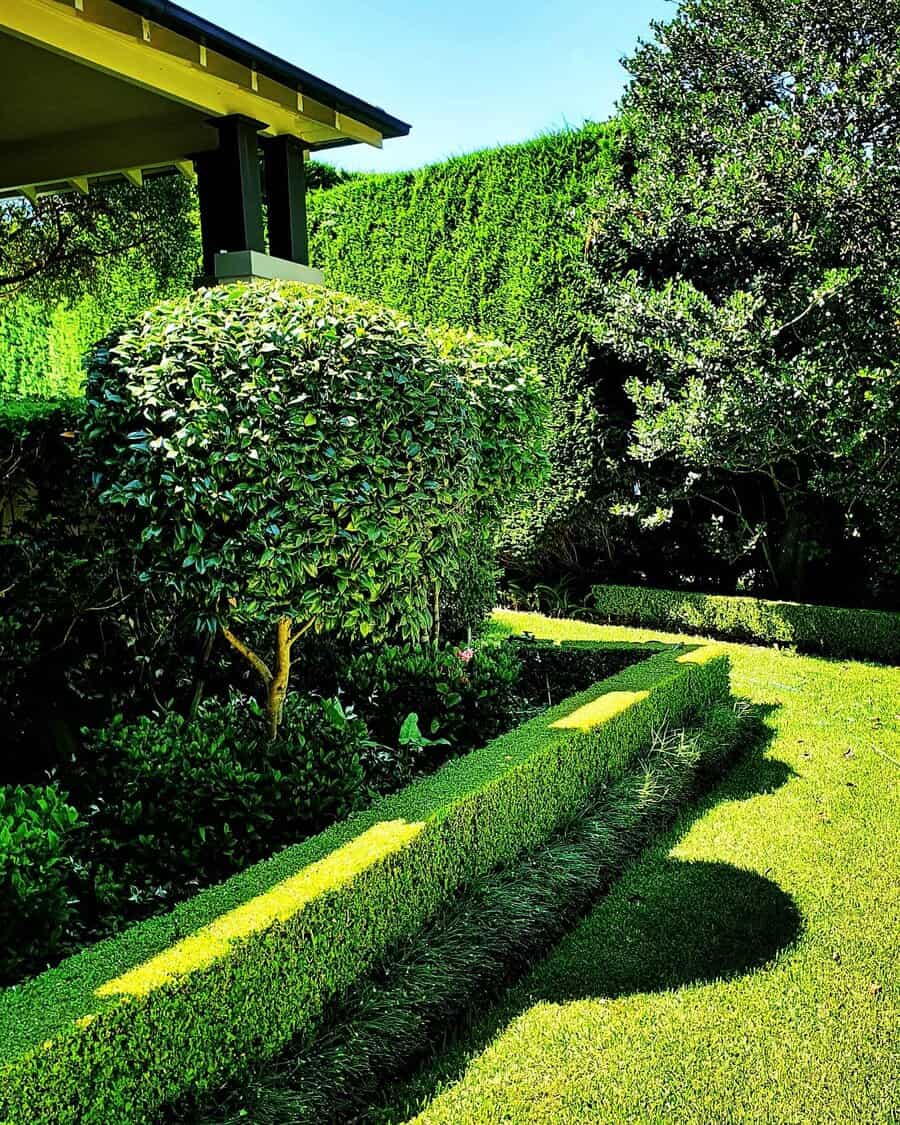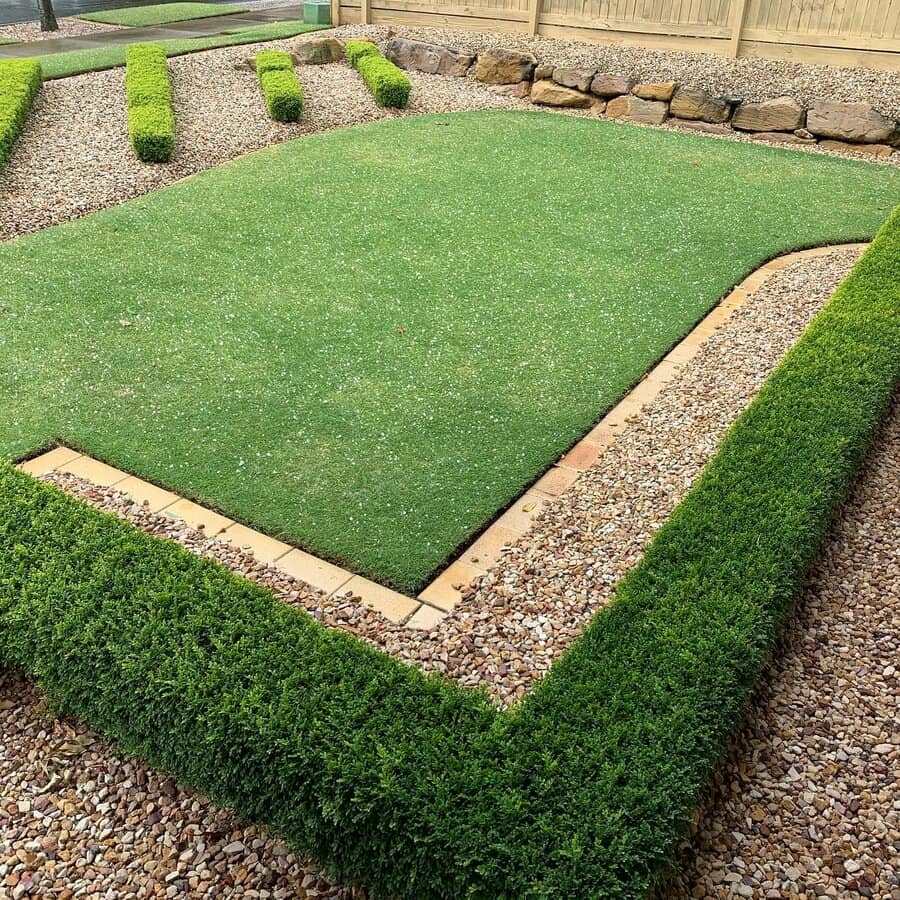 7. Stamped Tile Edging
If you're looking for an eye-catching addition to your lawn, stamped tile lawn edging is a fantastic option. With its elegant and intricate designs, it adds a touch of sophistication to any landscape. Not only does it give your lawn a polished look, but it also serves a practical purpose by keeping your grass and flower beds separated.
Made from durable materials, this type of edging is built to withstand the elements and last for years to come. Whether you're going for a traditional or modern look, stamped tile lawn edging is sure to elevate the aesthetic of your outdoor space.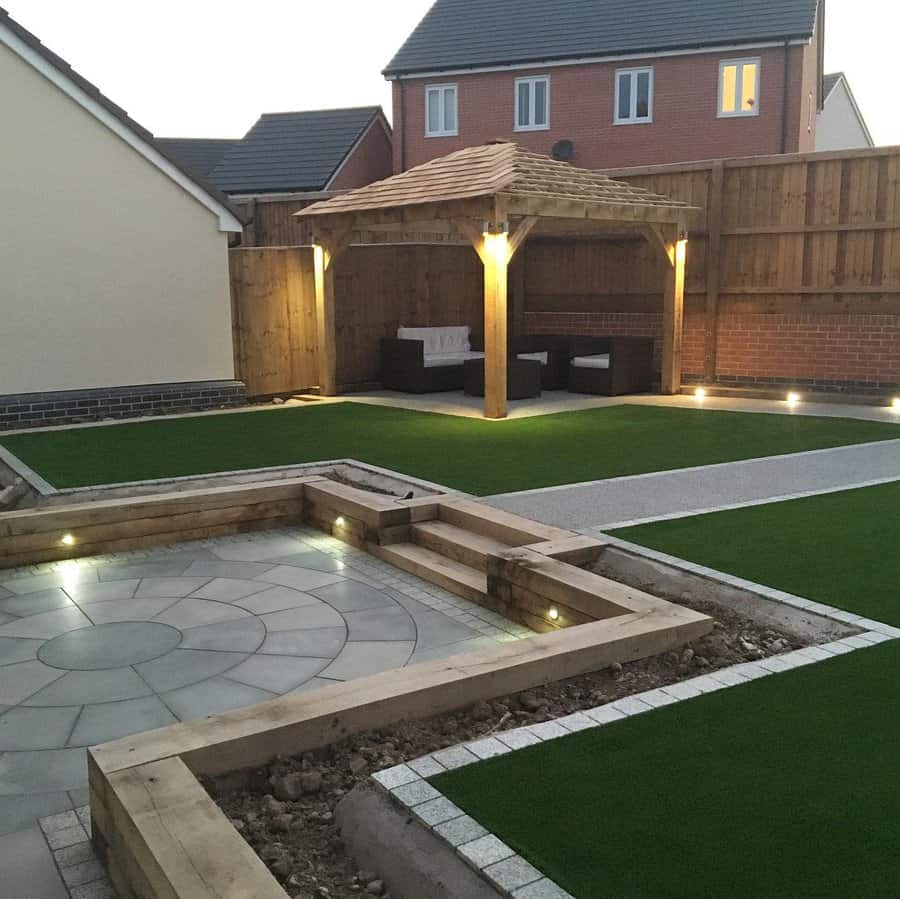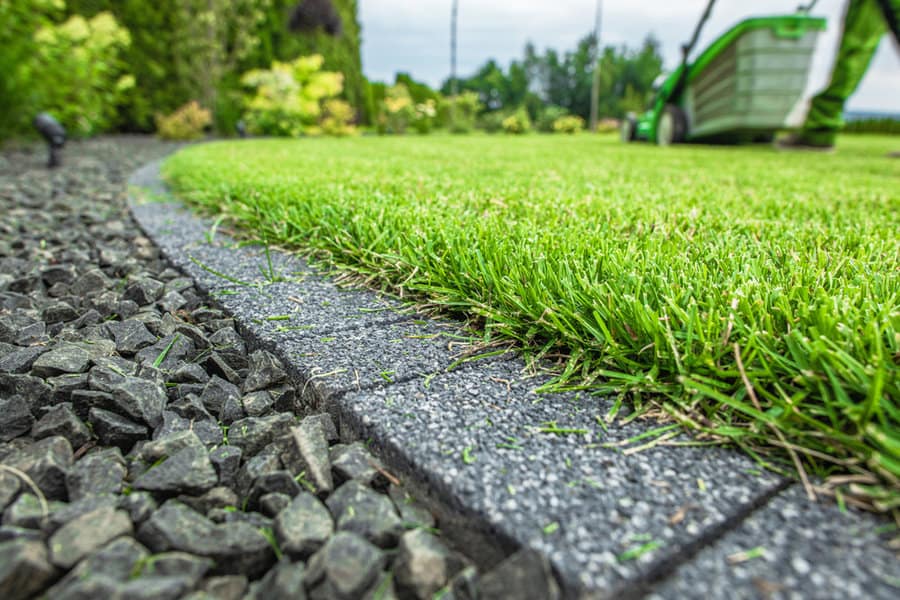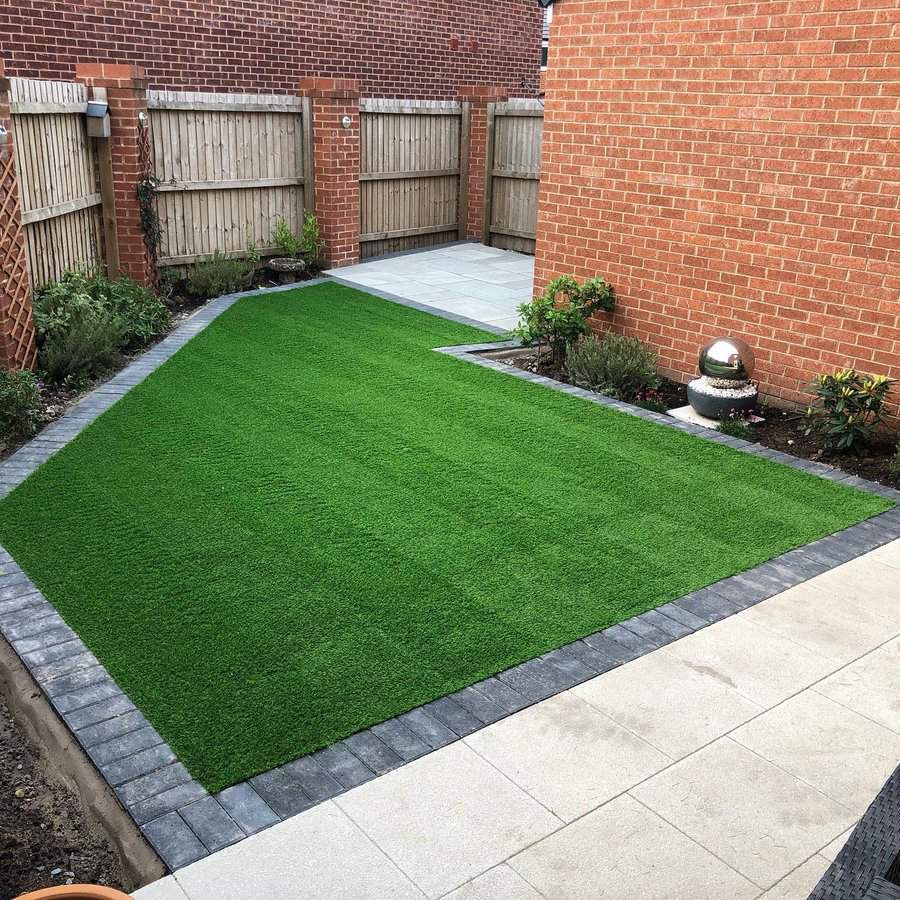 8. Pebbles & Stones
Pebble lawn edging is an amazing way to add a charming touch to your outdoor space. These natural stones come in a variety of sizes and colors, allowing you to personalize your edging to match your existing landscaping seamlessly.
Not only do they create a beautiful border for your lawn, but they also serve as an effective method for preventing grass from spreading onto pathways and garden beds.
The sound of pebbles crunching underfoot adds to the serene atmosphere of your garden. With the added benefit of being incredibly low-maintenance, pebble lawn edging is an excellent choice for anyone looking to elevate the look of their backyard.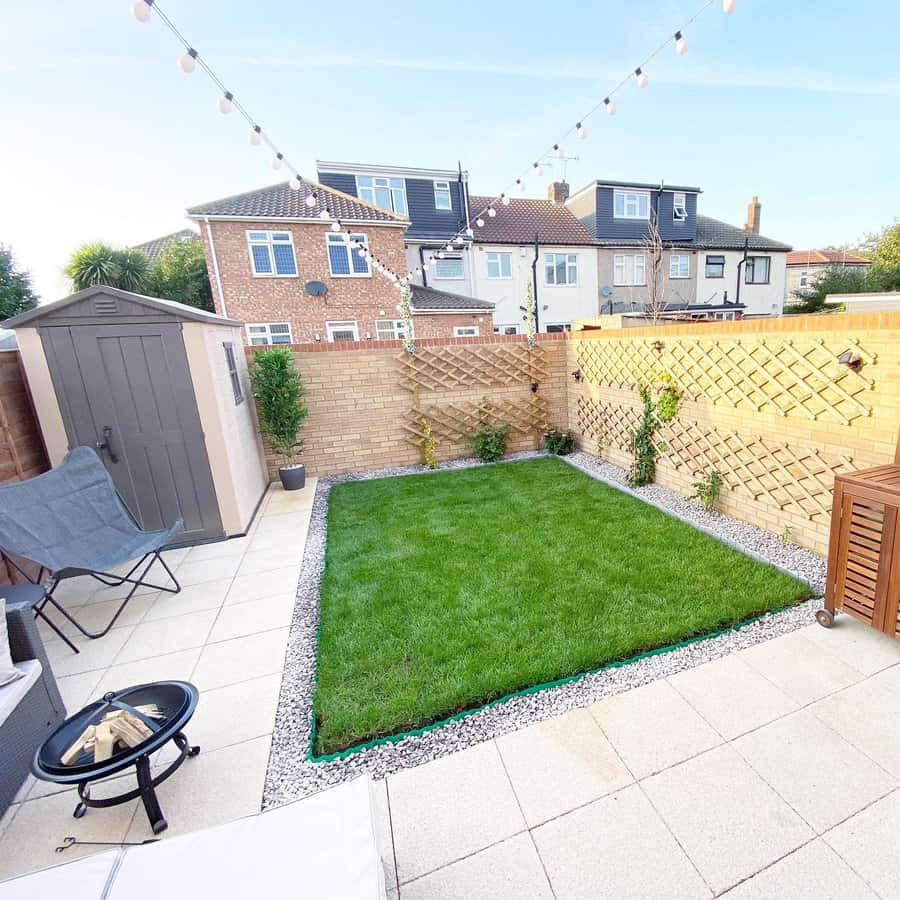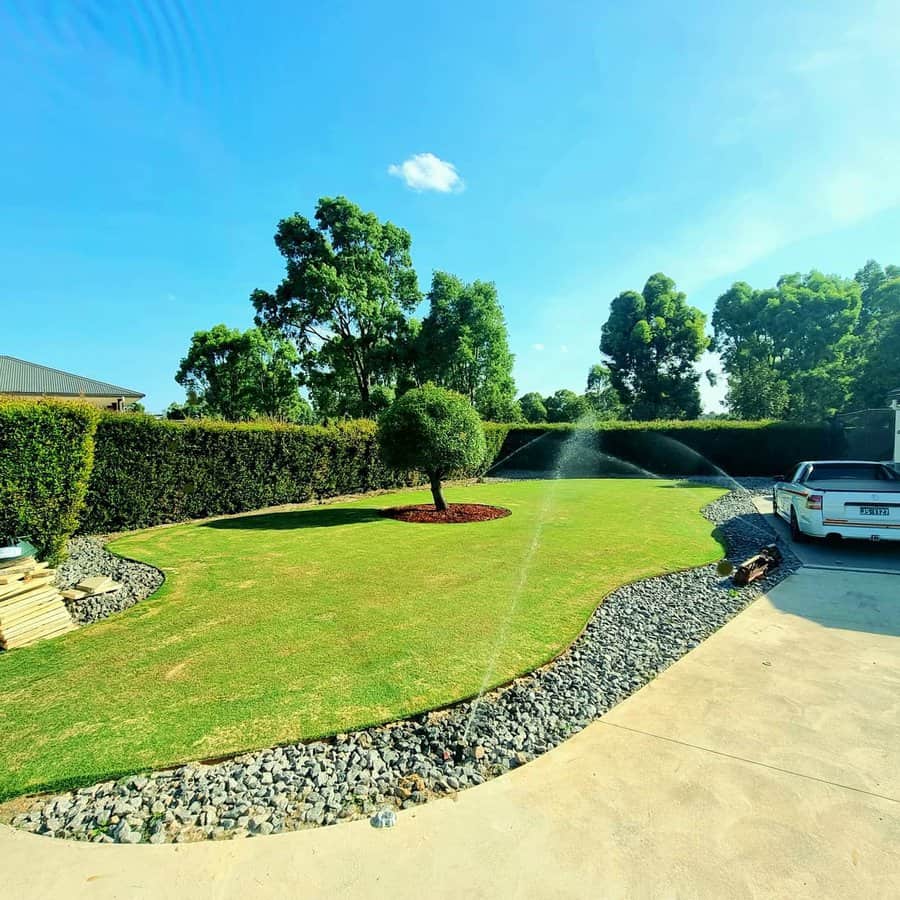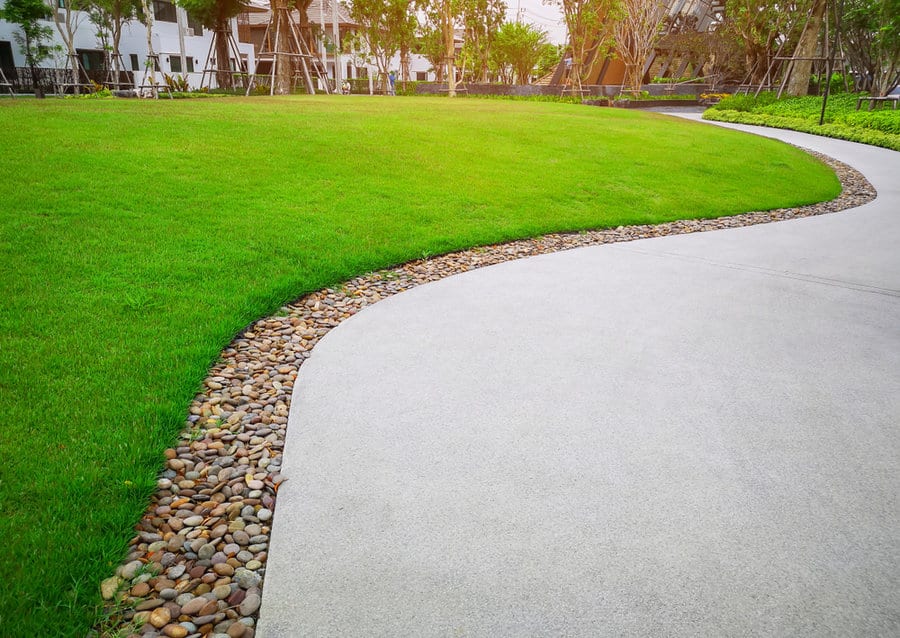 9. Drift Wood Edging
There's nothing quite as charming as a well-manicured lawn, and adding driftwood edging is a unique way to really make it pop. Not only does it add a touch of beauty and whimsy, but it's also an eco-conscious choice as the driftwood is repurposed from nature.
Imagine taking a leisurely stroll around your property and stumbling upon a picturesque display of driftwood lining your lawn. It's like your very own natural work of art that also serves a practical purpose.
Plus, the variety of shapes and sizes of driftwood available means you can truly customize your lawn edging to fit the aesthetic you're going for. Give your lawn the driftwood treatment, and you'll never look back!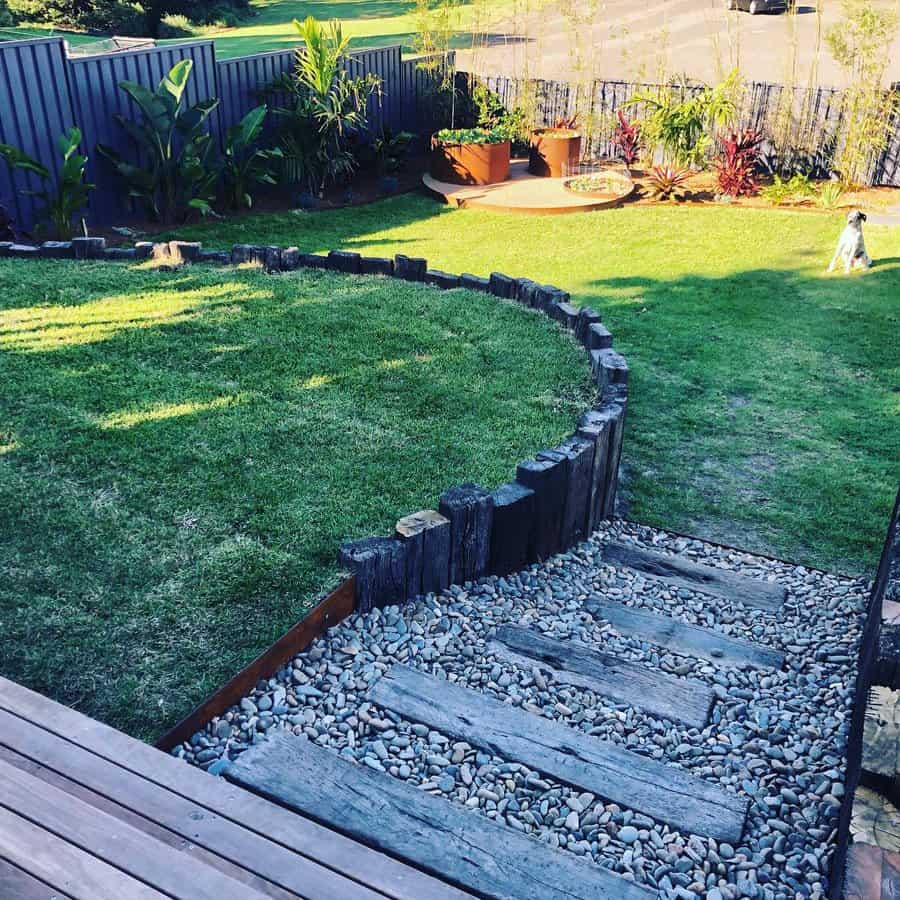 10. Wooden Pallet Lawn Edging
Add character and definition to your garden with the natural beauty and rustic charm of wooden pallet lawn edging. This simple, yet effective landscaping technique creates a defined border for your lawn, keeping the grass from growing into your flower beds while providing a unique and visually appealing accent to your outdoor space.
Installing wooden pallet edging is also an environmentally friendly way to repurpose old pallets while saving you money compared to purchasing pre-made options.
With the added bonus of customization, you can paint or stain the pallets to match your personal aesthetic or the overall look of your garden. Transform your lawn into a backyard masterpiece with the classic and versatile touch of wooden pallet lawn edging.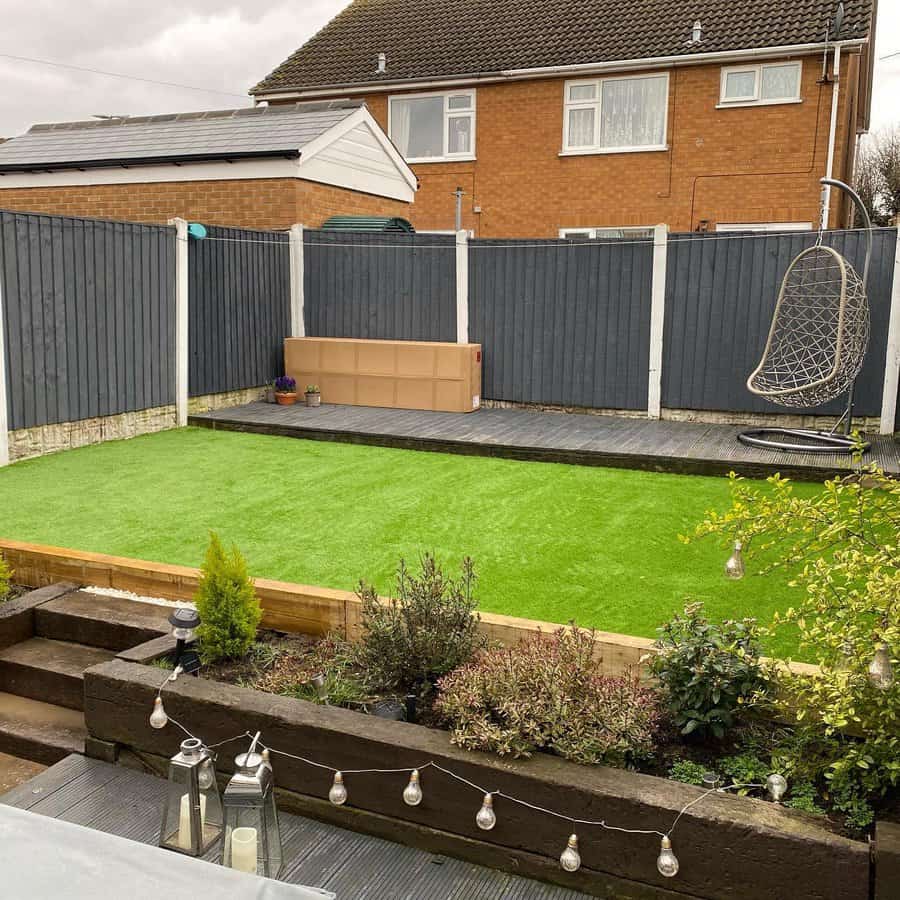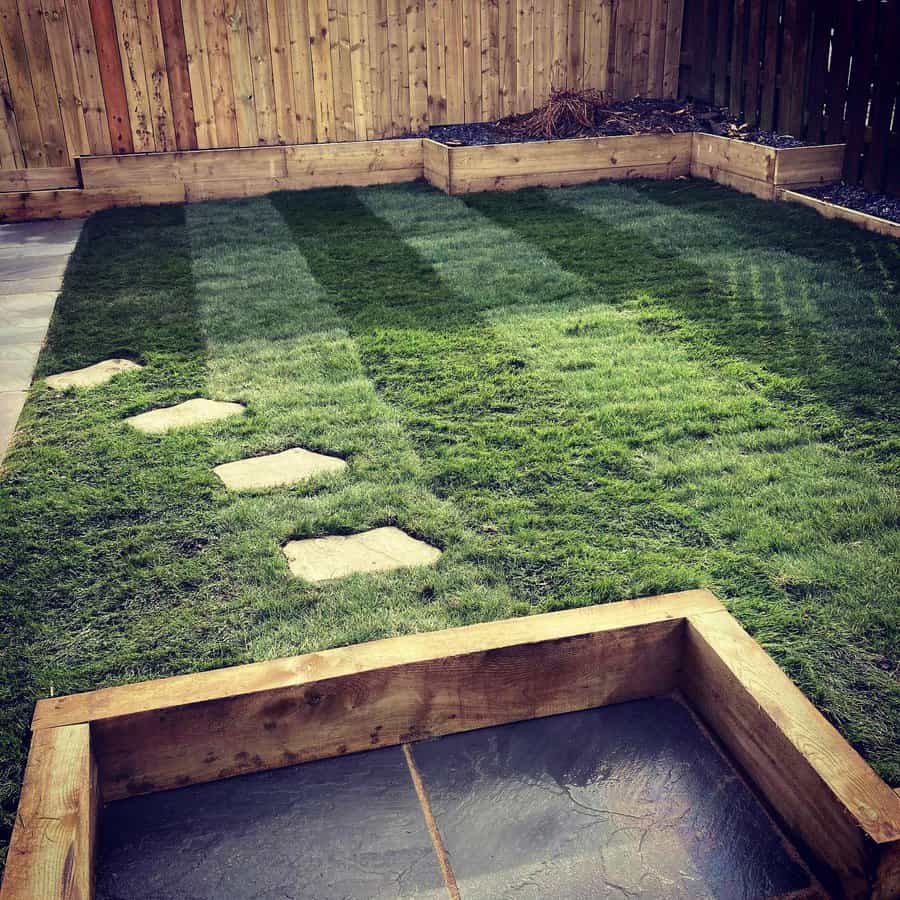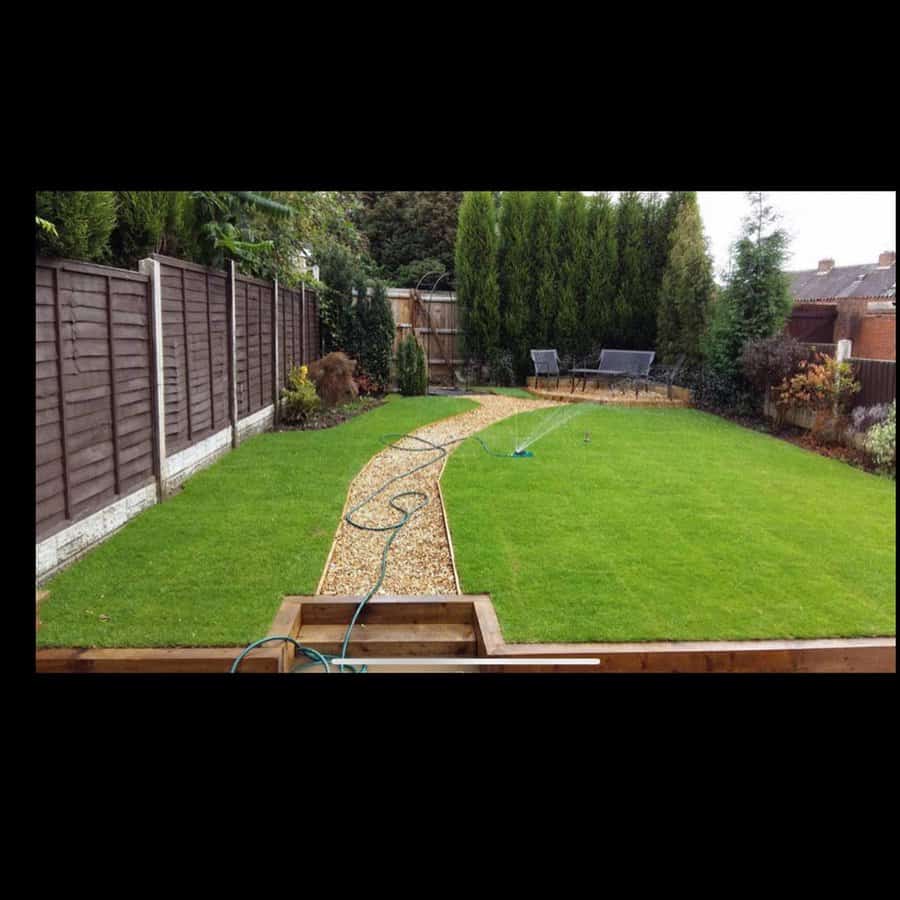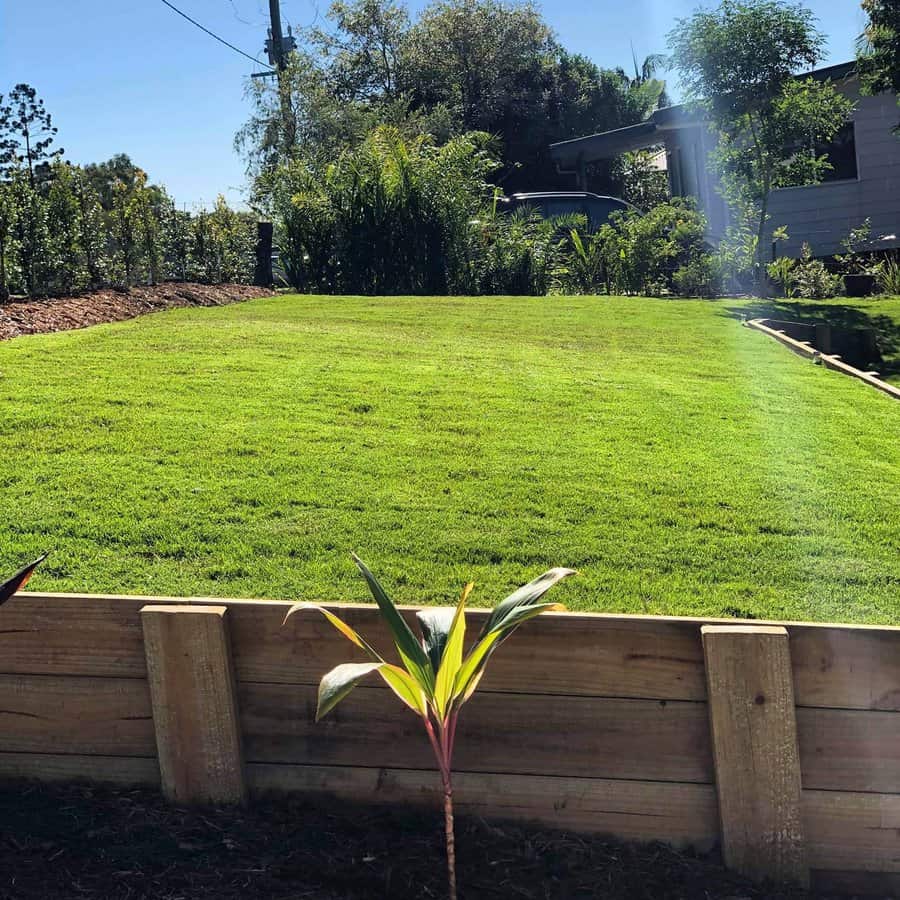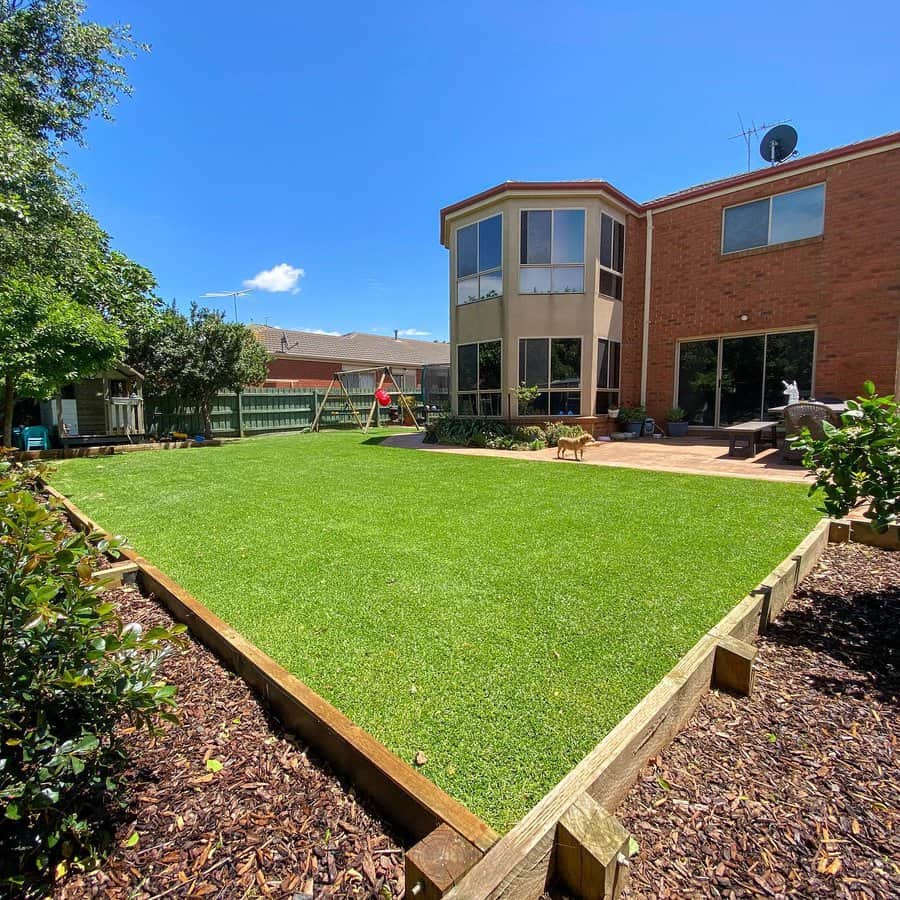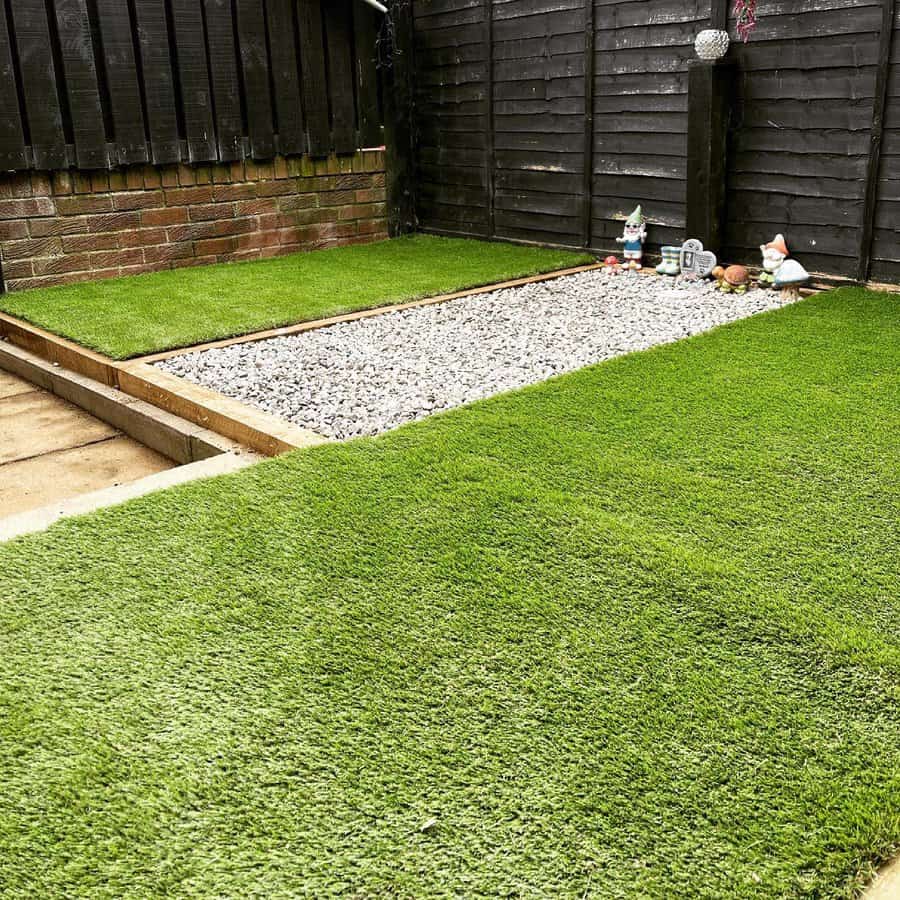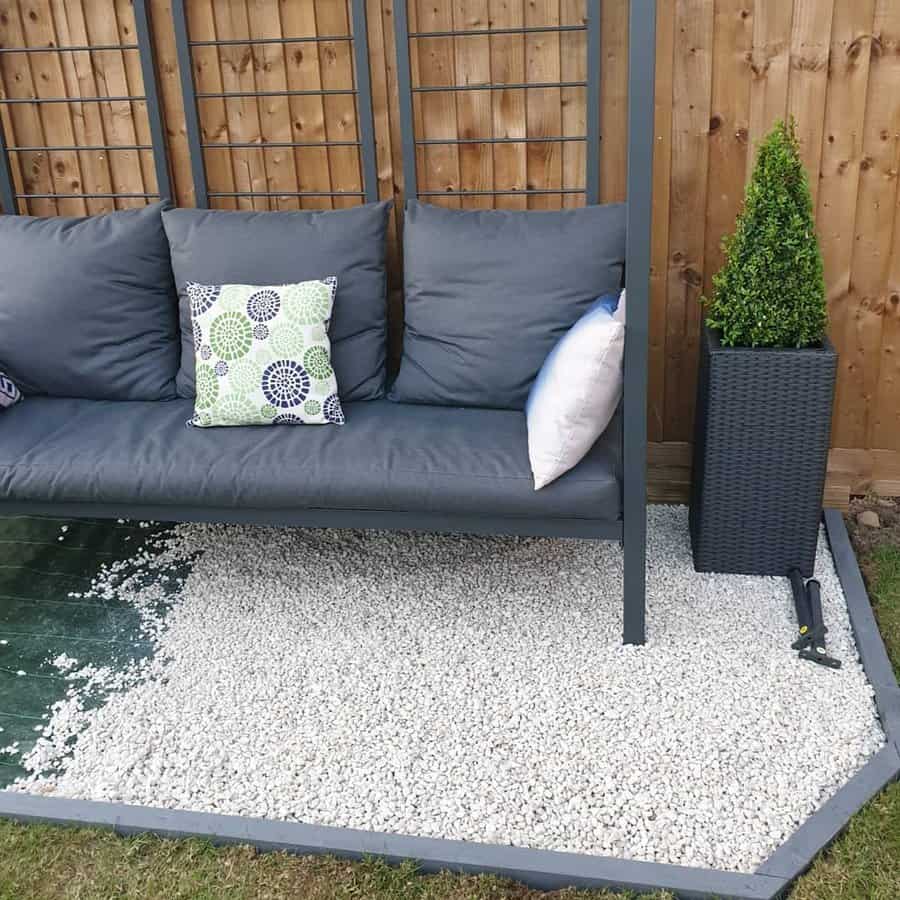 11. Aluminum Tin Edging
Tired of your garden edges constantly crumbling away? Aluminum tin lawn edging might be just the fix you need. This durable, long-lasting material not only adds a sleek, modern touch to your landscaping but also keeps your garden looking neat and tidy by keeping grass and soil from encroaching onto walkways and other areas.
Aluminum tin edging is also easy to install, so you can upgrade your garden quickly and easily without breaking the bank. Plus, its resistance to weather and corrosion makes for an investment that will keep your garden edges looking sharp for years to come. Try aluminum tin lawn edging today and see the difference it can make for your garden.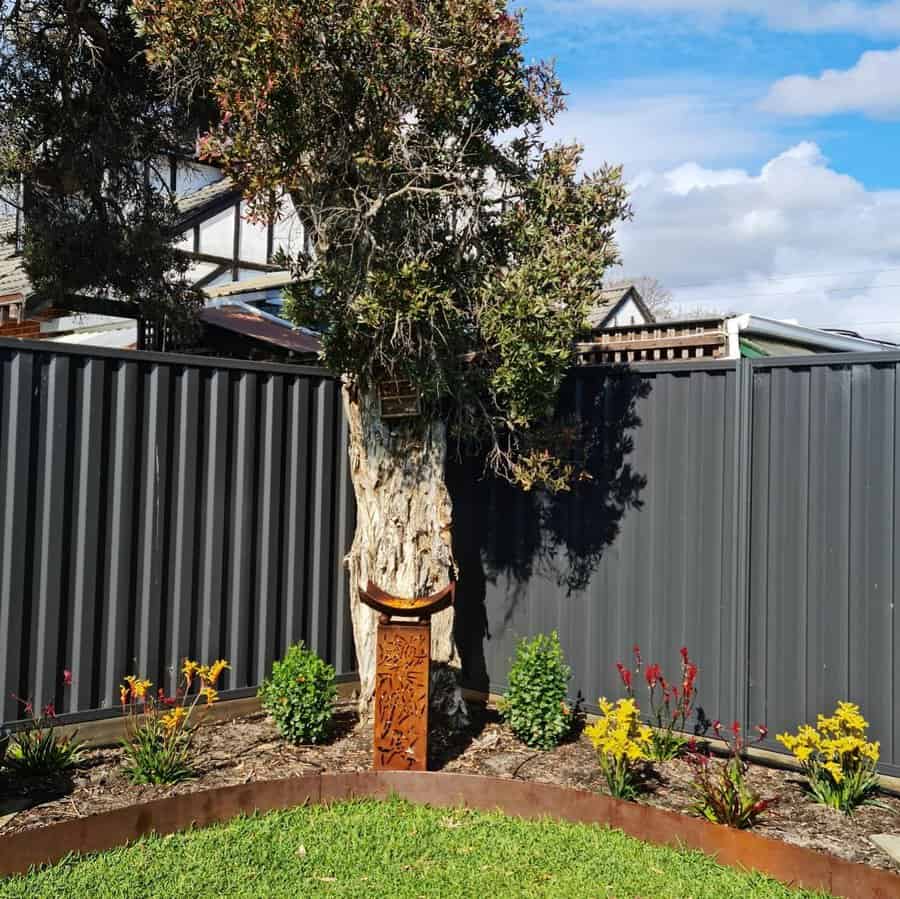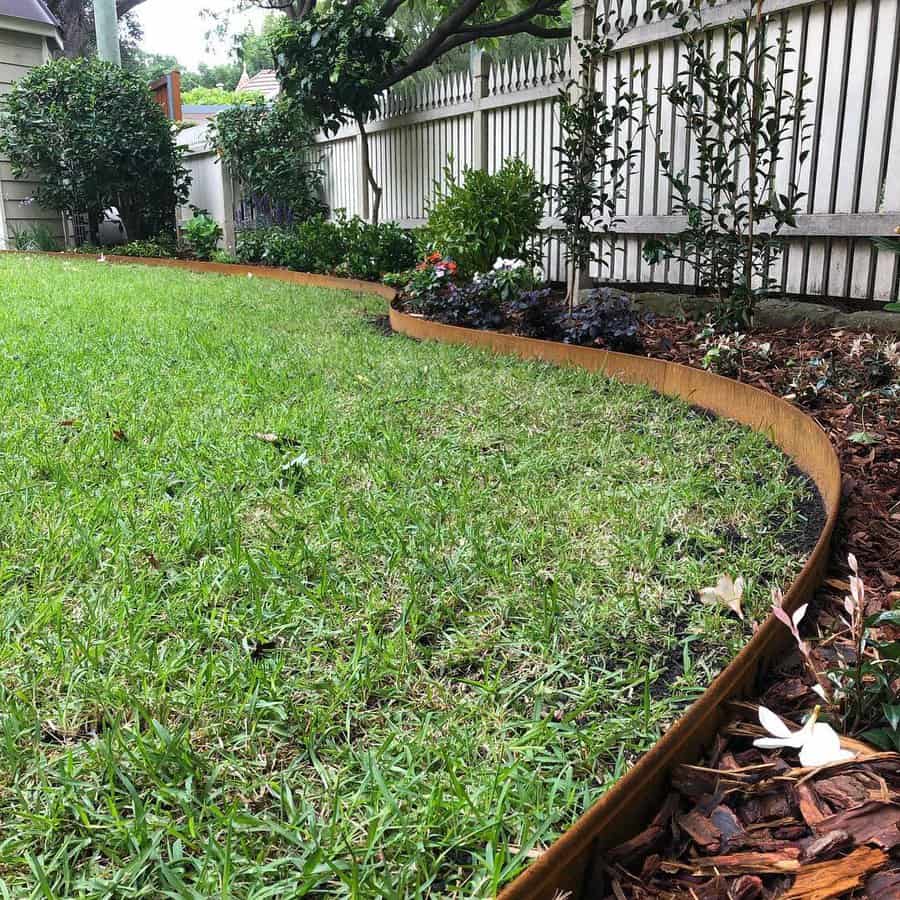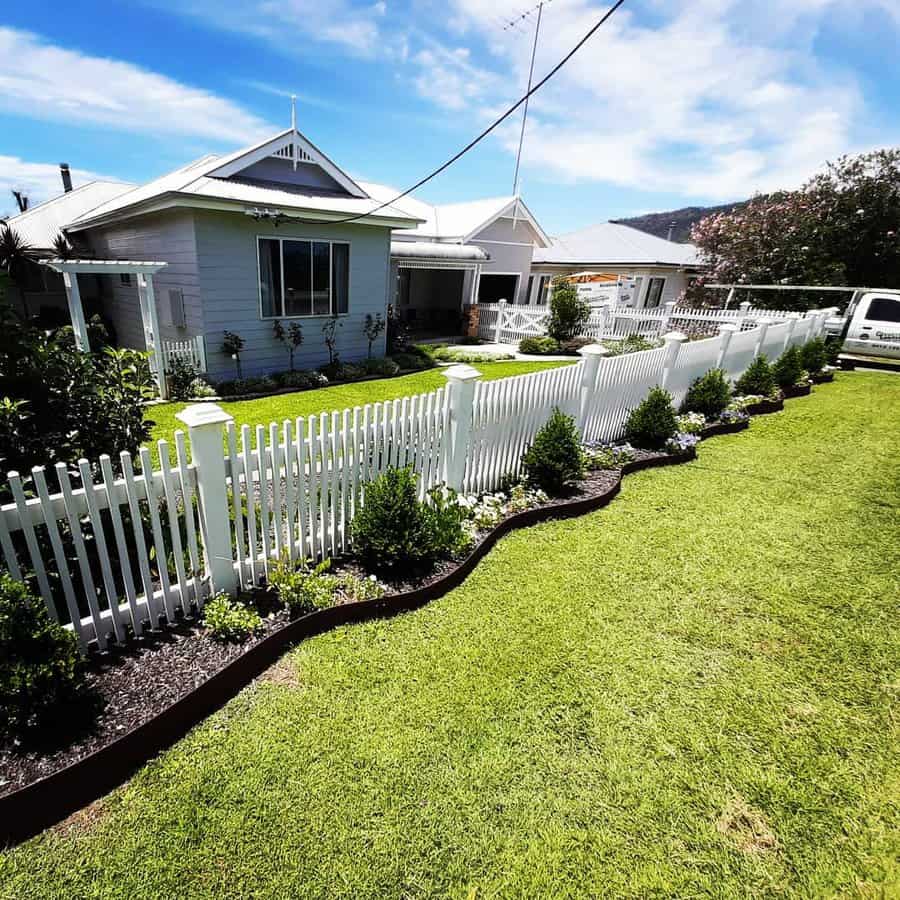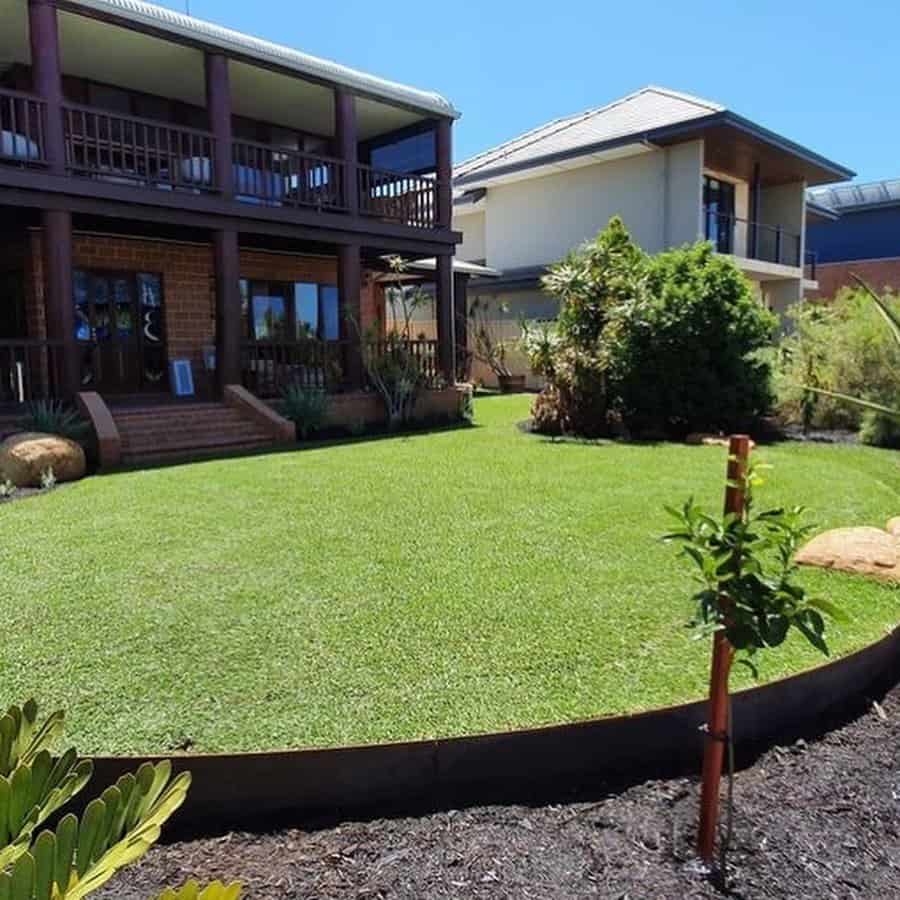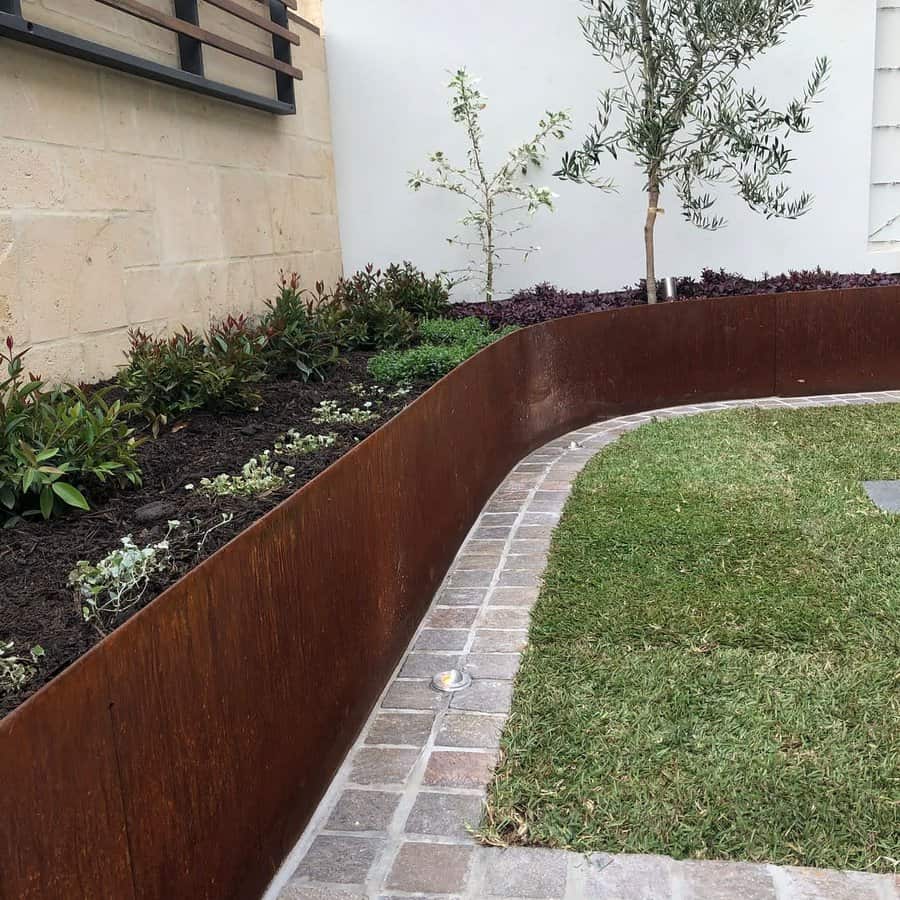 12. Cobblestone Edging
Transform your lawn into a timeless masterpiece with cobblestone edging. Not only does it add a touch of rustic charm to your landscape, but it also serves a practical purpose in keeping your grass and garden beds neatly contained.
You'll love the way the textured stones perfectly complement your yard's natural beauty. Plus, the durability of cobblestone means it will withstand the elements and last for years to come.
With cobblestone edging, you can create a sophisticated and elegant border that will make your lawn the envy of the neighborhood.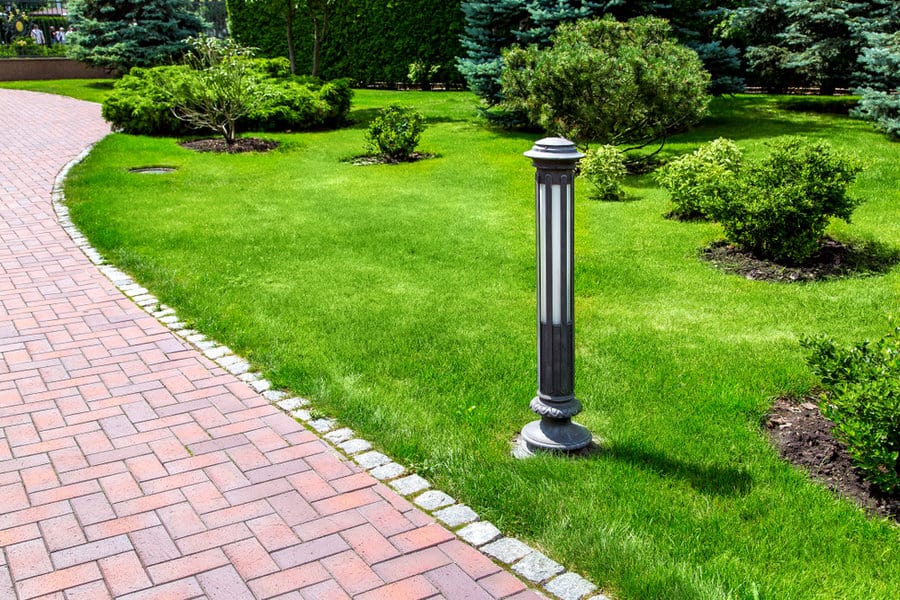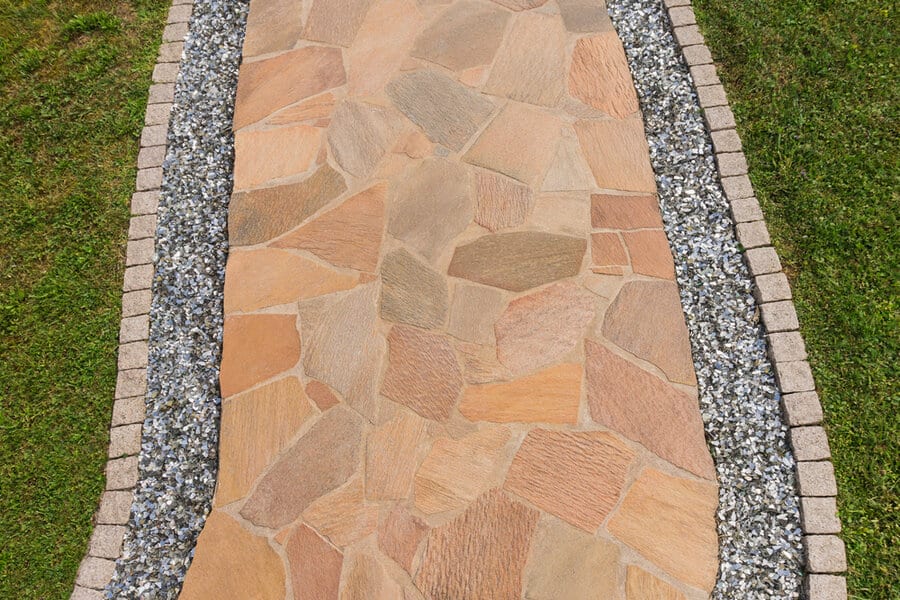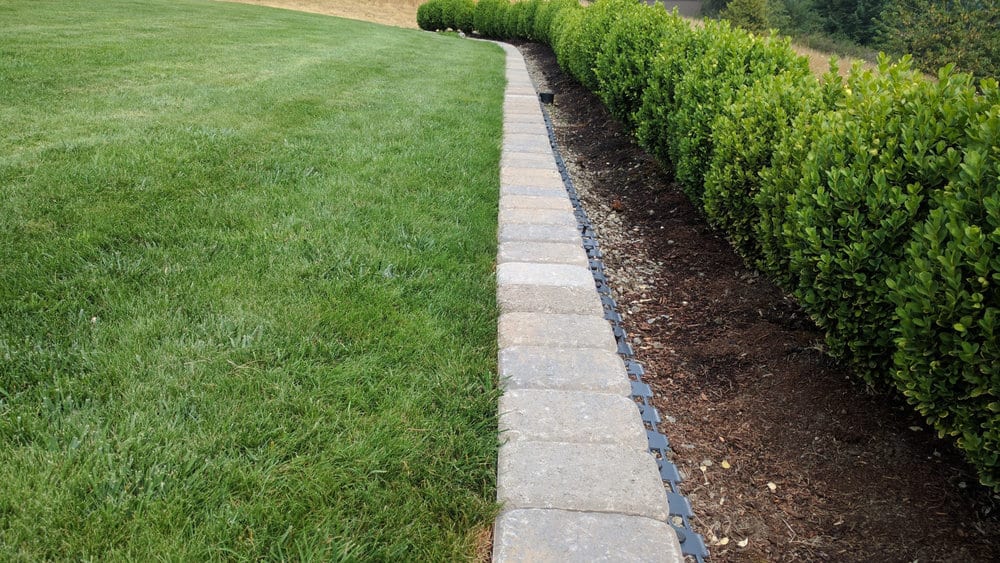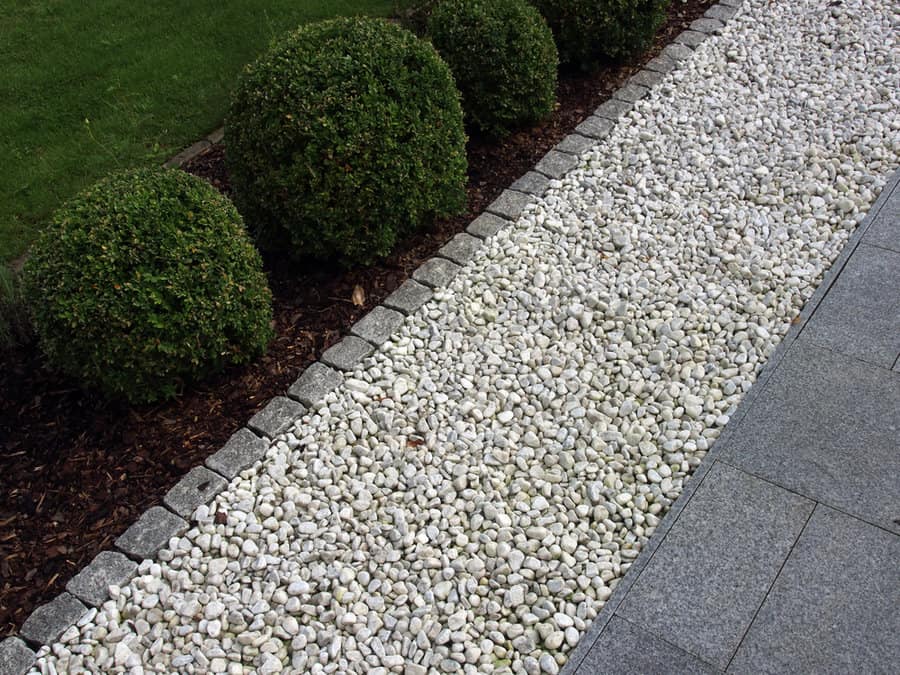 Lawn Edging FAQs
What is the cheapest lawn edging?
The cheapest edging to install is plastic. The material is affordable, and the manufacturing is low-cost. This makes it an affordable edging material. It also comes in rolls, so you can buy exactly how much you need without overspending. 
What is the easiest landscape edging to install?
The easiest lawn edging is one that doesn't require any digging. To install it, you pound stakes into the ground to hold the edging in place. Metal rails or plastic edging use this method for installation.
Is landscape edging necessary?
In short, yes, edging is necessary because it keeps your lawn contained. Otherwise, it will spread out and send shoots into your garden beds, landscaping, and under your concrete. Edging also keeps your lawn looking nice, which improves the curb appeal of your property.