The Top 51 Loft Bed Ideas
"In a modern loft, you can't just fill a space with furniture. Each piece has to be perfect." – Nate Berkus
When you run out of space in your home or apartment, it's time to look at using your vertical space. One of the best ways to use this often unused space is to lift one of the biggest pieces of furniture.
A lofted bed raises your sleeping space and gives you access to the floor space underneath. It can also make it possible to have two beds in a single bedroom. Before deciding that bunk beds are just for children, consider the modern and mature versions.
These loft bed ideas will help you figure out the best method for adding a loft bed to your bedroom.
1. Add A Floating Shelf
A loft bedroom with a floating shelf is the perfect combination of modern and minimalistic design. The floating shelf provides a clean and sleek look while also serving as a practical solution for storage needs. Its minimalist design allows for a more open and spacious feel to the room, making it perfect for small apartments or lofts.
You can decorate the shelf with various plants, books, or any other personal items to create a cozy and personalized atmosphere. This design is also ideal for those who enjoy DIY projects as it is relatively easy to install and can be customized to fit any style or aesthetic.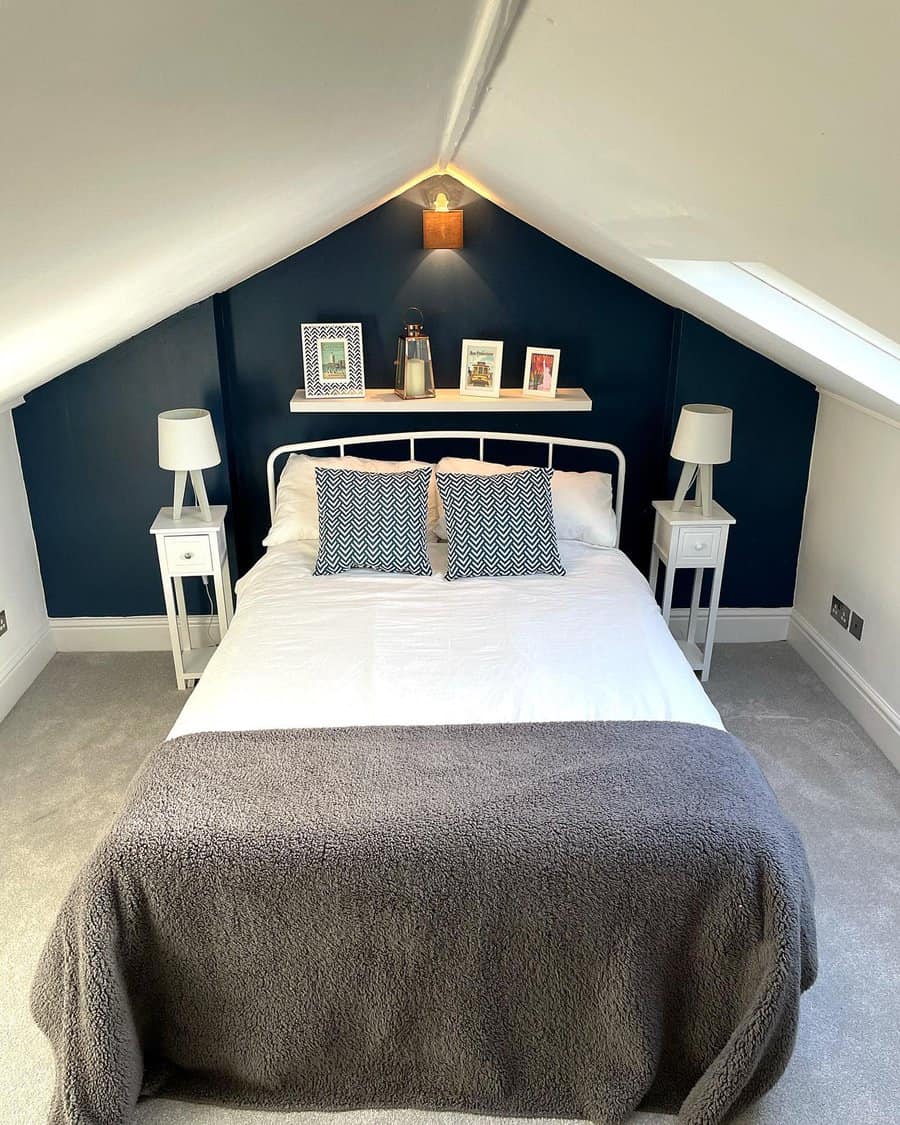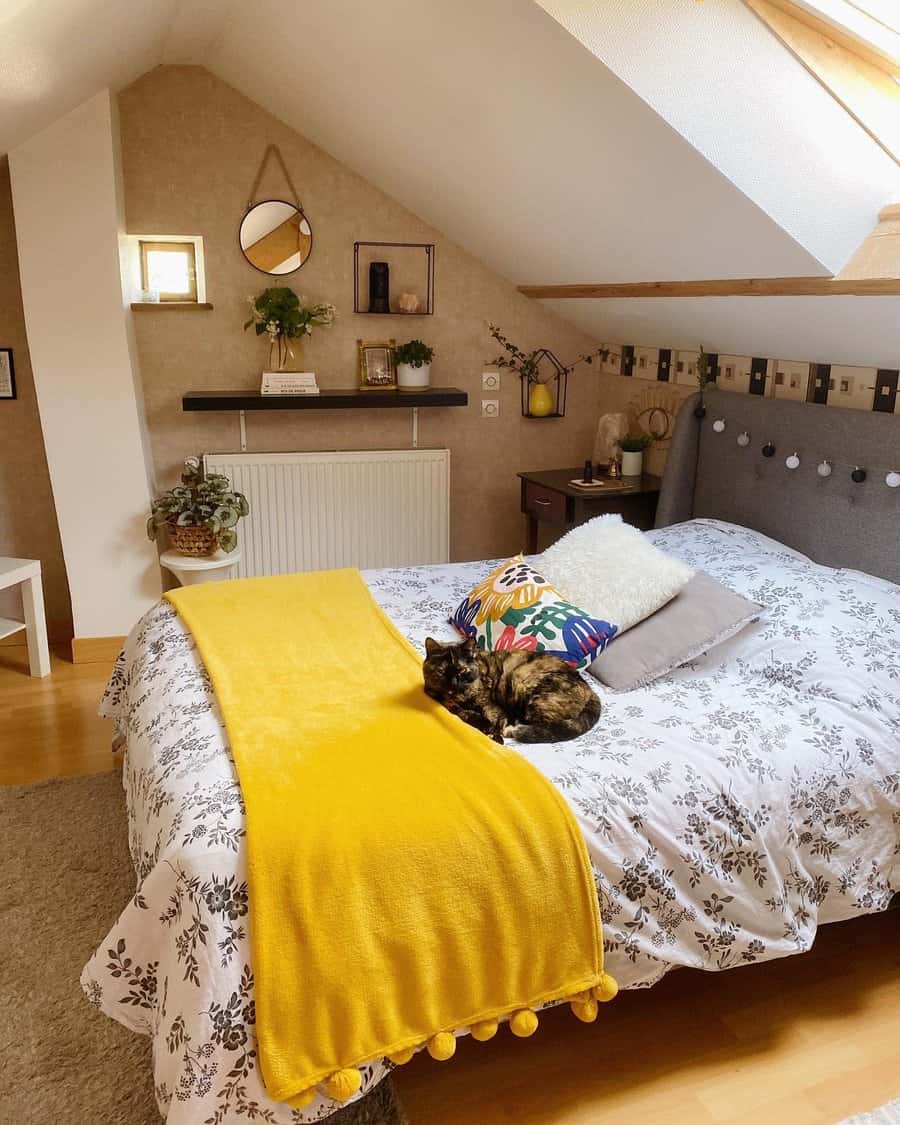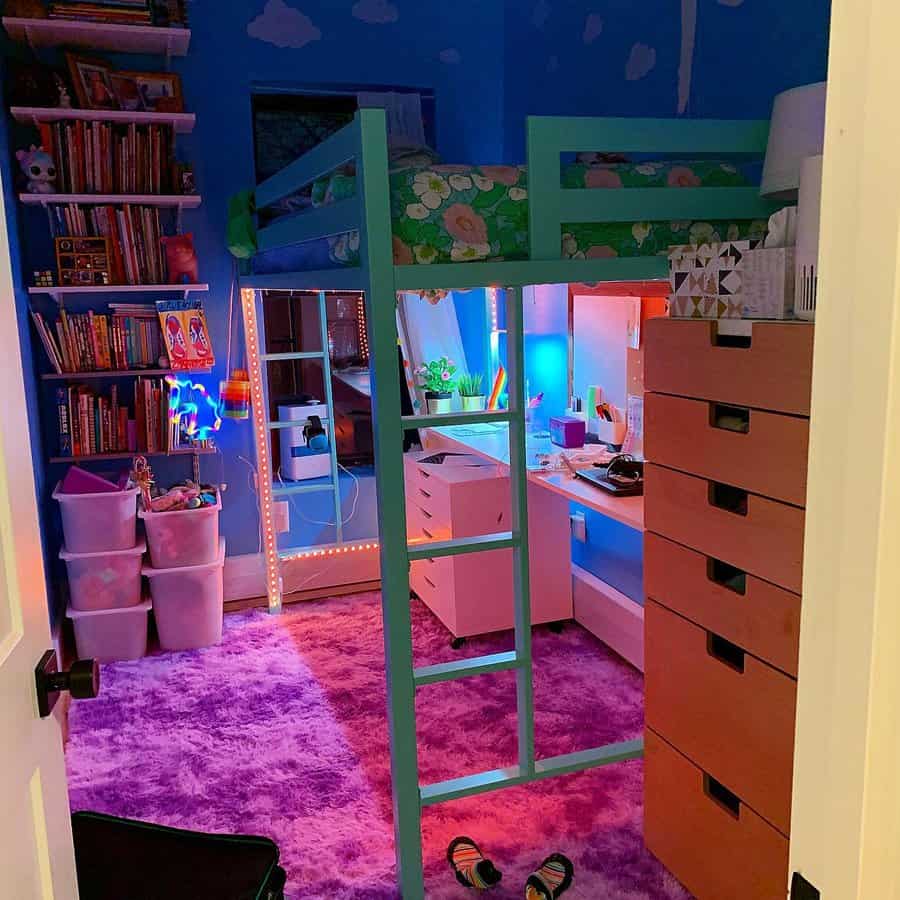 2. Build A Skylight Window
A loft bedroom with a skylight window can be a dreamy space for those who love natural light and a cozy atmosphere. The skylight allows for stargazing from the comfort of your own bed and brings in plenty of natural light during the day. You can accentuate the beauty of the skylight by adding some greenery, such as hanging plants or potted succulents.
To make the most of the vertical space, consider adding a loft bed with storage underneath and a ladder for access. A neutral color palette and soft textiles, like plush blankets and oversized pillows, can enhance the cozy factor of the room. A loft bedroom with a skylight is a unique and charming space that can make you feel like you're sleeping under the stars.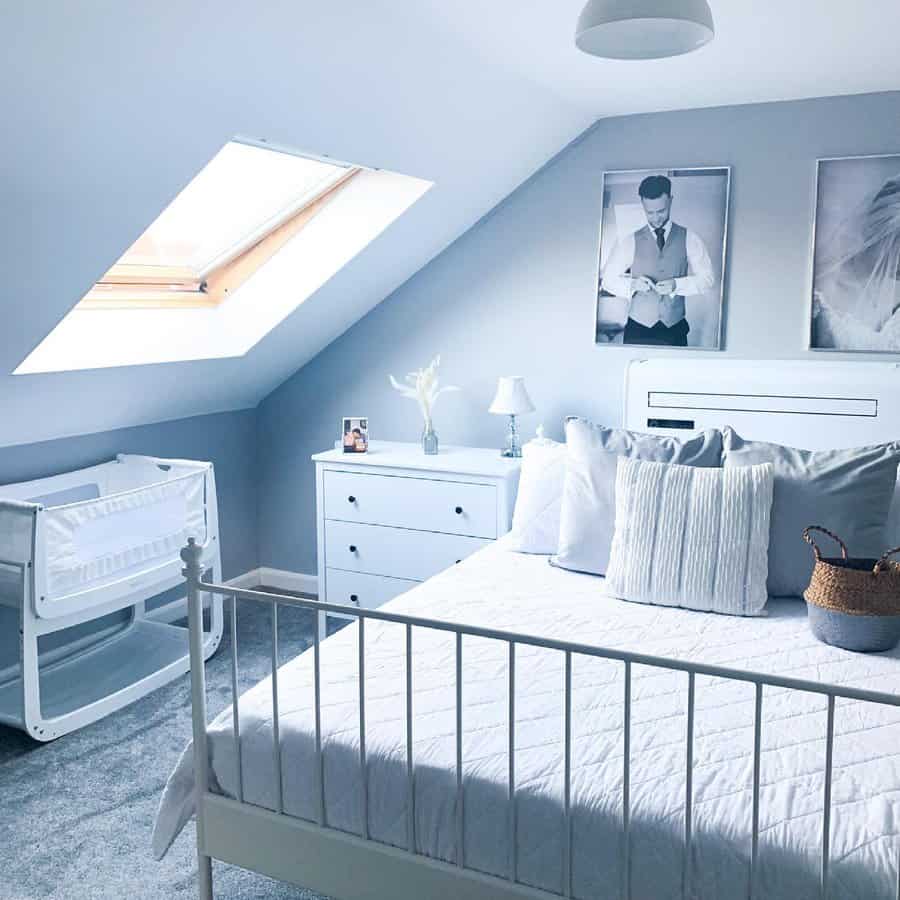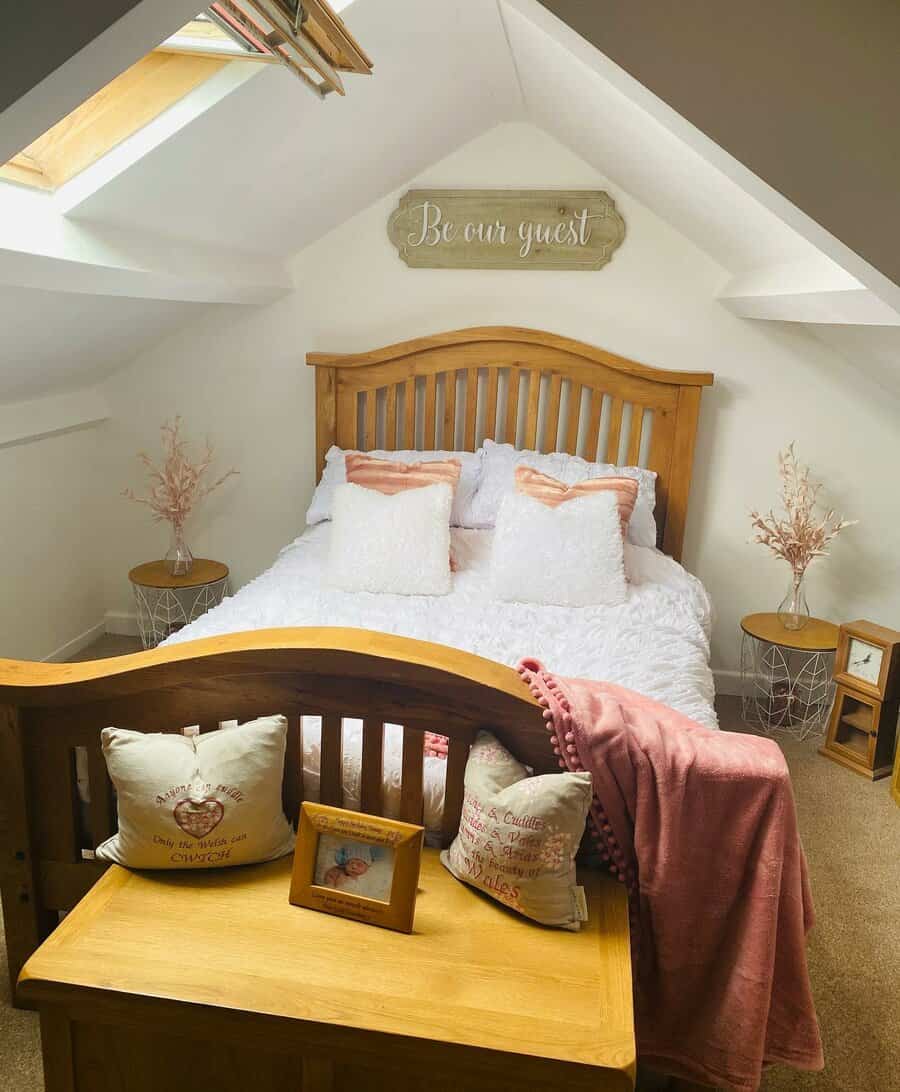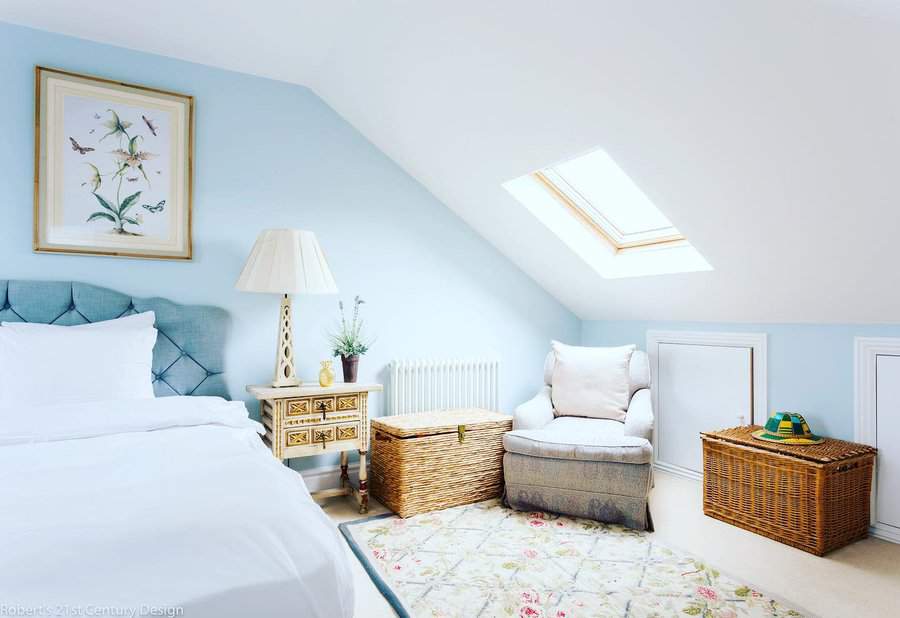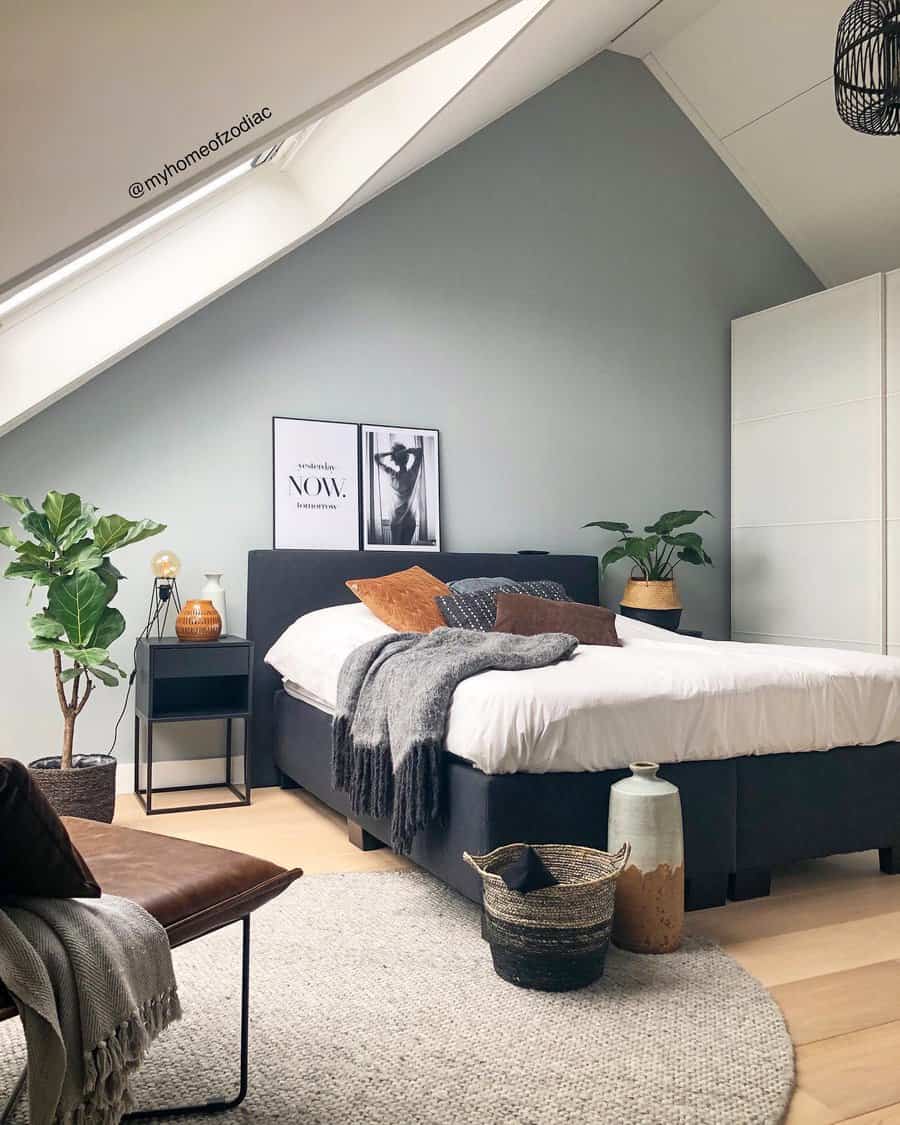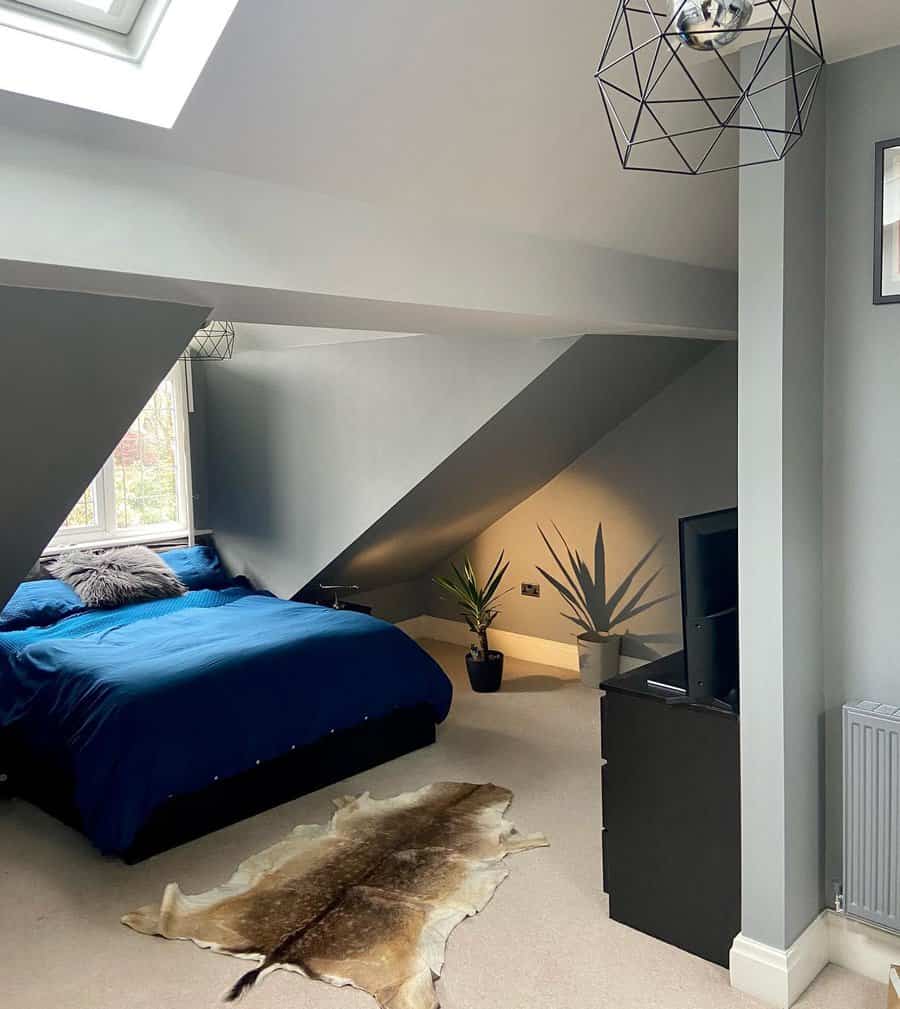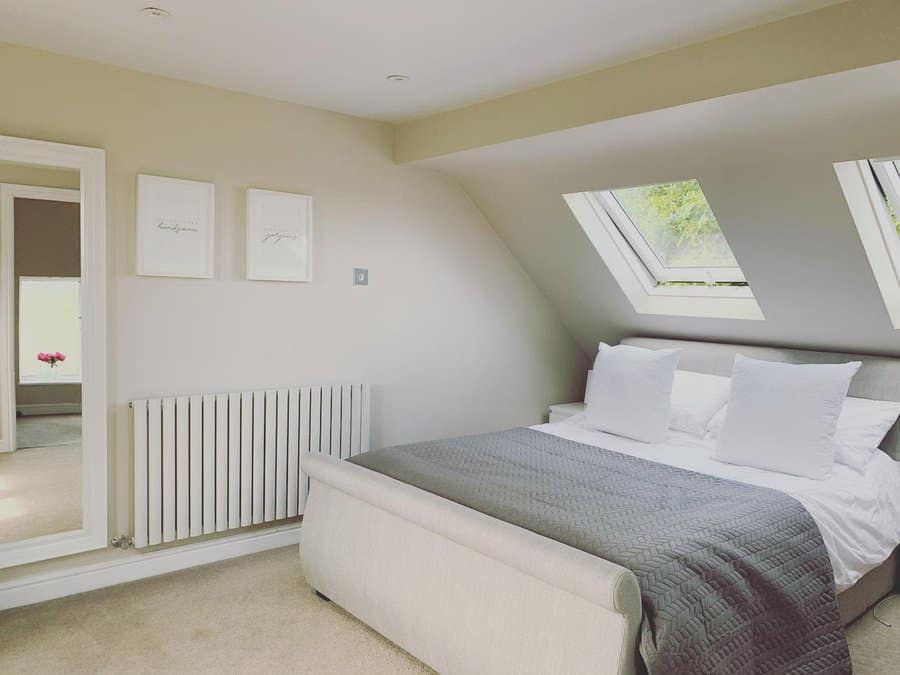 3. Install A Moon Window
A loft bedroom with a moon window near the work desk is the perfect spot to unwind and relax. The hint of light that enters the room creates a tranquil atmosphere that can soothe even the most restless of souls. Whether you're stargazing or enjoying the serene view of the night sky, a moon window in your loft bedroom is a creative and dreamy addition.
The beauty of this feature is that it's not just a pretty sight; it's practical too. The natural light that streams in during the day create a perfect spot for working or reading. It's like having a piece of art in your room that changes every night.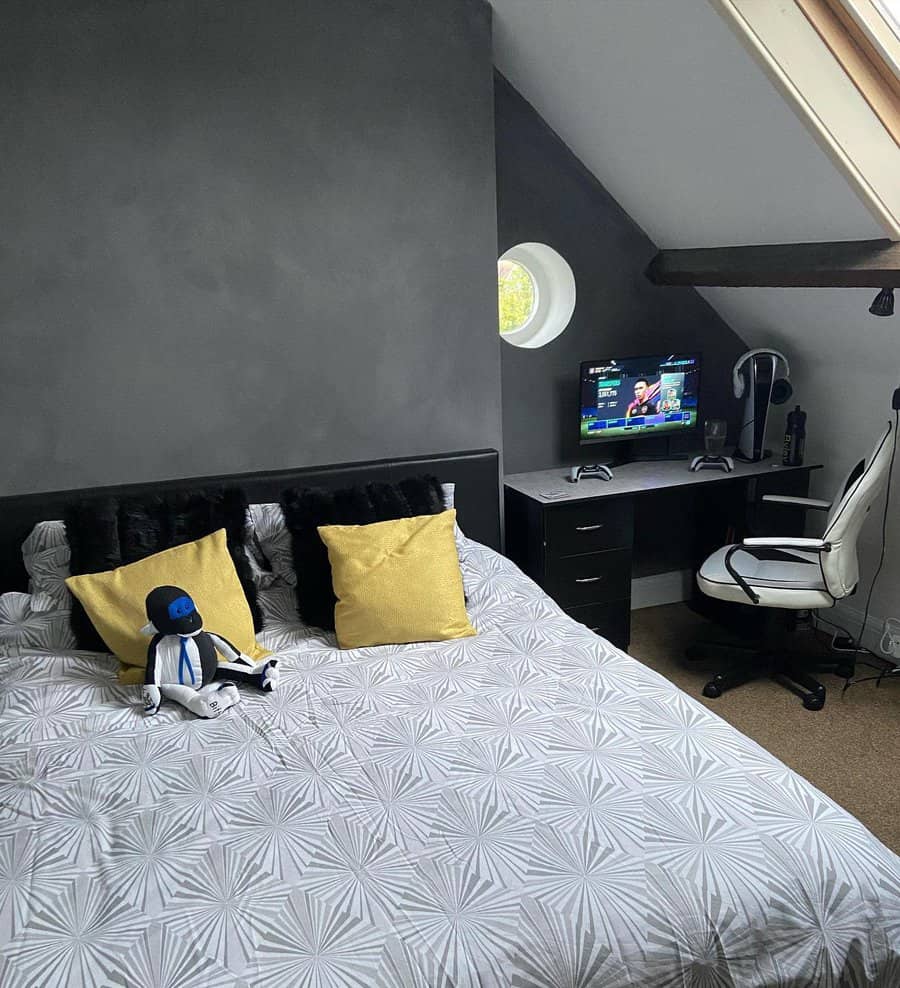 4. Hang Pendant Lighting
Looking for a way to add a statement decor piece to your small loft bedroom? Look no further than pendant lighting! These hanging fixtures not only provide ample lighting for your space but also add a focal point to the room.
Choose a bold design or a unique shape to really make a statement. And don't worry about taking up precious floor space, as pendant lighting hangs from the ceiling, leaving more room for other essential furniture pieces.
Not only do these fixtures provide much-needed light for your space, but they also add a touch of personality and style.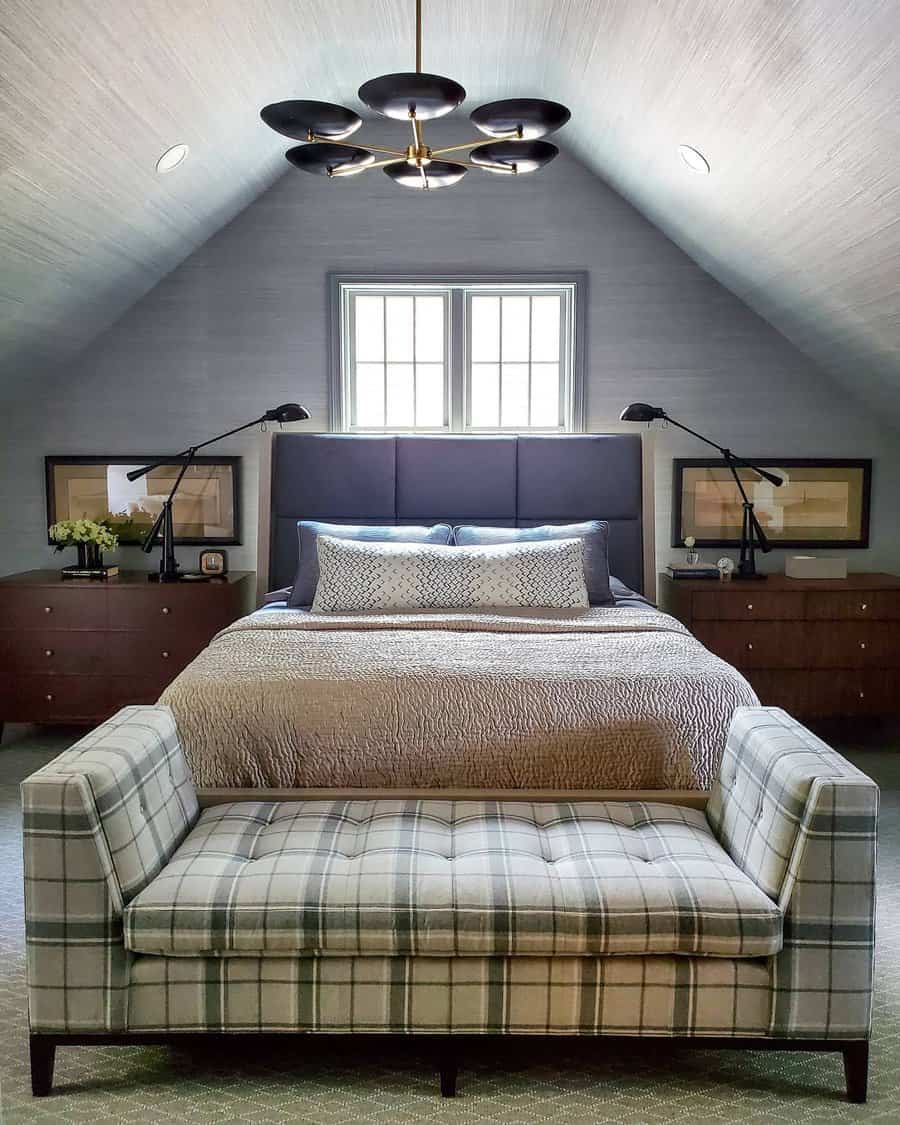 5. Install Mirrors
Mirrors are a perfect way to make a small loft bedroom feel more spacious. By reflecting the available light, mirrors create an illusion of depth and space. Plus, they add a touch of glam and sophistication to any room.
Whether you opt for a full-length mirror or several smaller ones, mirrors can help transform a cramped loft into a bright and airy sanctuary. With the right placement, you can maximize the effect of mirrors and turn your loft bedroom into an open and inviting space.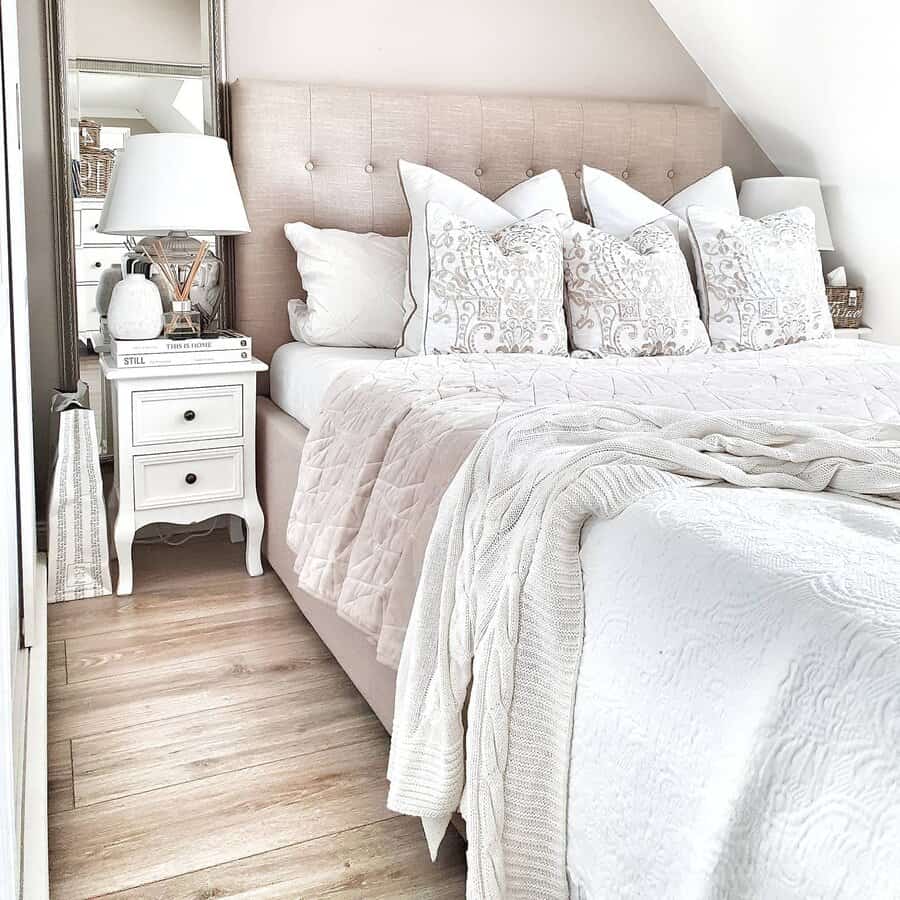 6. Use A Monochromatic Palette
A monochromatic loft bedroom can bring a sense of tranquility and simplicity to your living space. With a consistent color palette throughout the room, you can create a cohesive and visually pleasing atmosphere. The use of a single color or shades of the same color can make the space feel more spacious and less cluttered.
Monochromatic decor can be especially effective in a loft space, where there may be less room for visual separation between areas of the room. By keeping the color scheme consistent and minimal, you can create a sleek and sophisticated look that is both calming and inviting.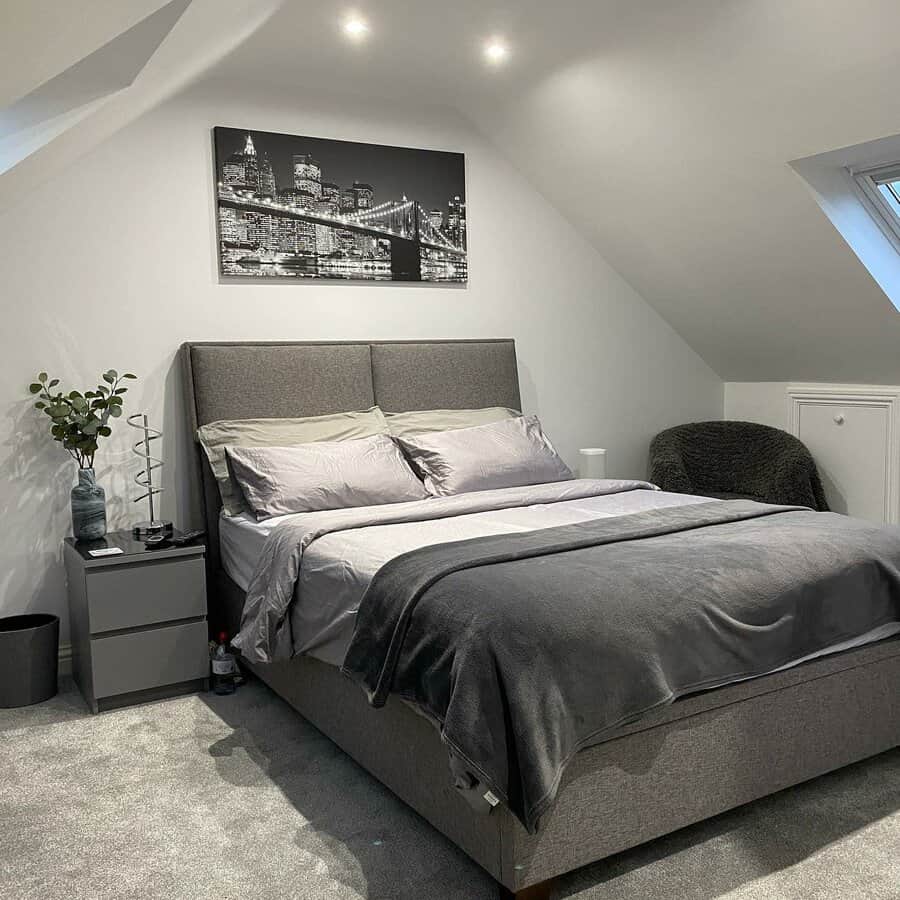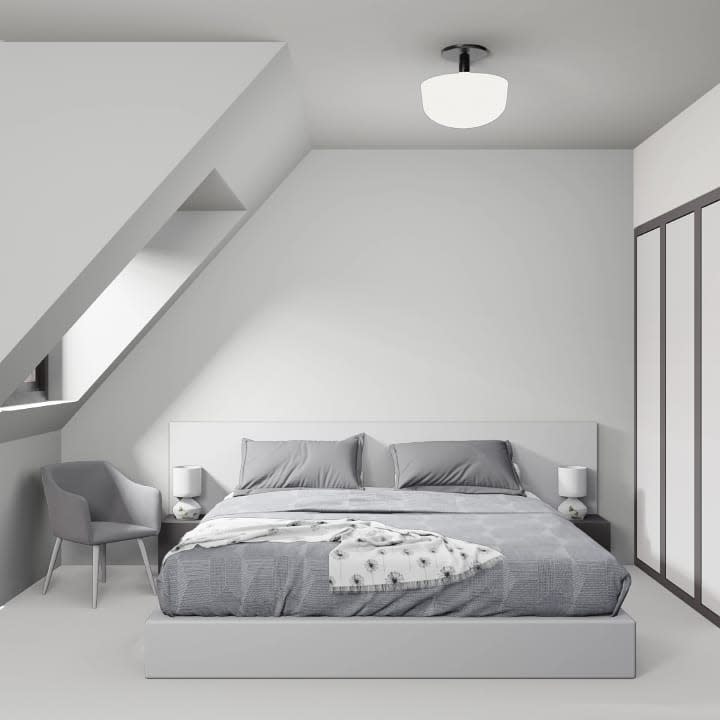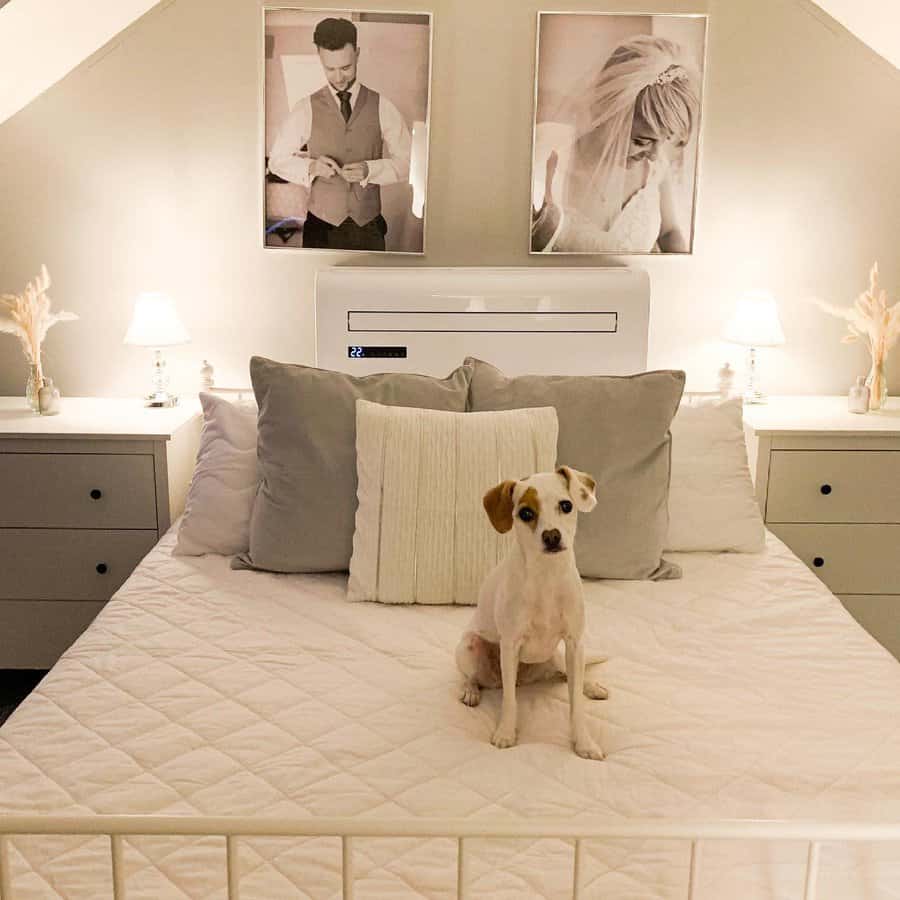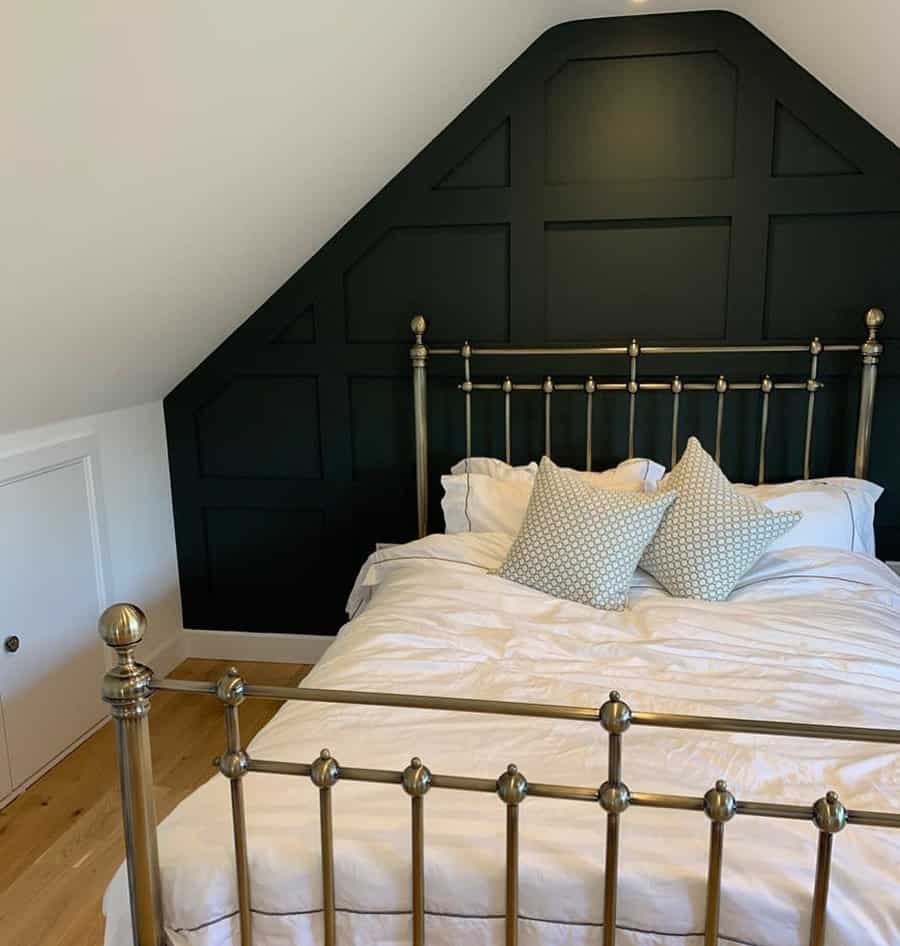 7. Diversify Lighting With Lamps
Creating a cozy and inviting atmosphere in a loft bedroom is all about diversifying lighting. Lamps are a great way to add character and warmth to the space. Consider using a mix of table lamps and floor lamps to create a layered and dynamic effect.
You can choose lamps in different styles and colors to add interest to the room. For a more intimate and romantic feel, use warm-toned bulbs. With the right combination of lamps, you can create a space that is both functional and stylish.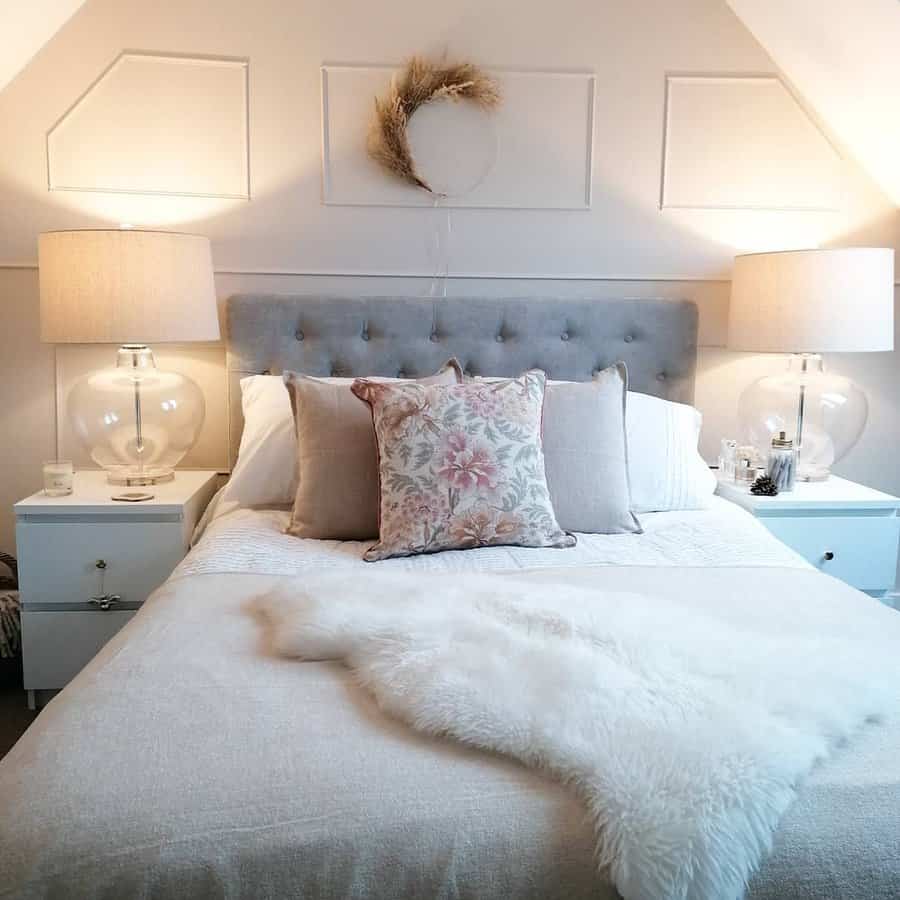 8. Consider An Headboard Mural
A loft bedroom with a headboard mural is the perfect way to add a personal touch to your sleeping space. With the ability to customize the mural to your liking, you can create a unique and captivating feature wall that perfectly matches your style.
Whether you choose a bold graphic design or a tranquil nature scene, a headboard mural is sure to make a statement in your loft bedroom. Plus, it's a cost-effective way to add drama and interest to the room without having to splurge on expensive artwork.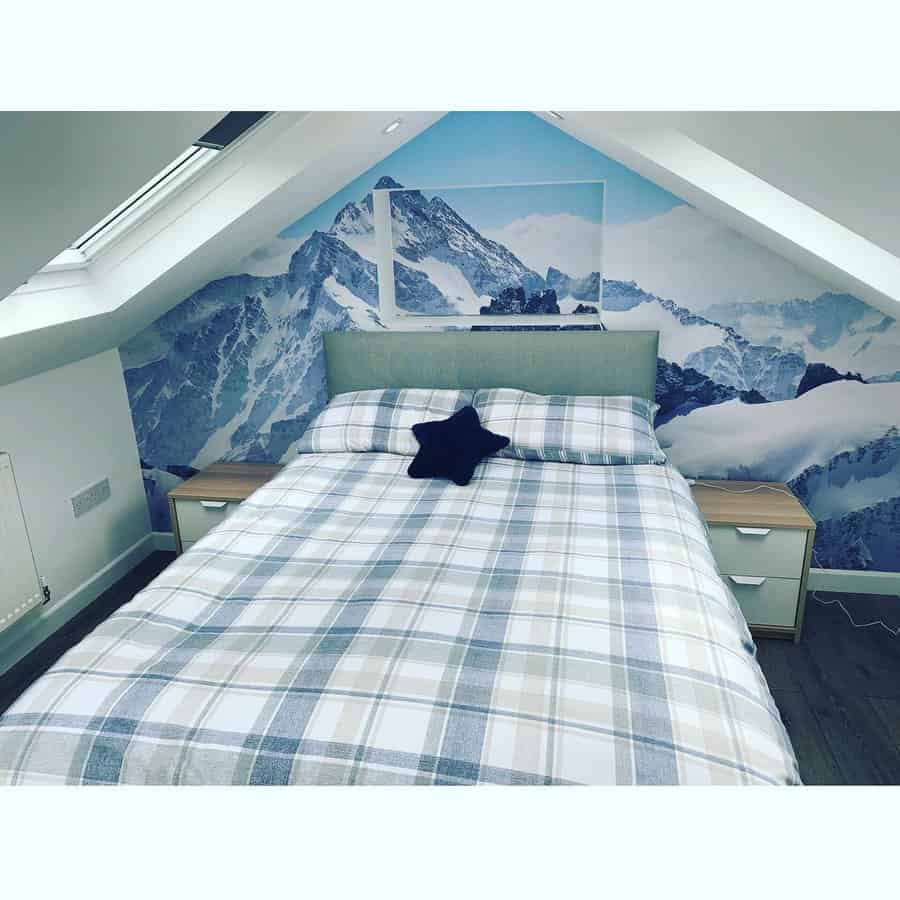 8. Get A Floor Bed
A loft bedroom with a floor bed is a bold and trendy way to transform your living space into an urban sanctuary. This type of bed is both practical and chic, allowing you to make the most of your space while keeping it stylish and comfortable.
With the bed low to the ground, you can create an effortless and relaxed atmosphere that fosters creativity and inspires you to unwind after a long day. Add some colorful pillows, playful artwork, and a few hanging lights, and you'll have a cozy and inviting space that everyone will love.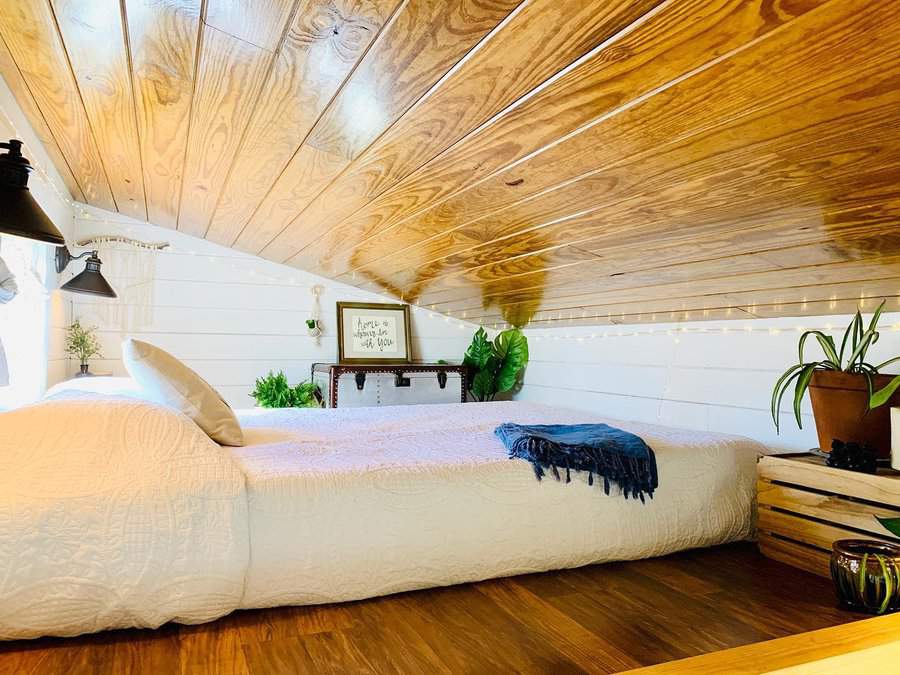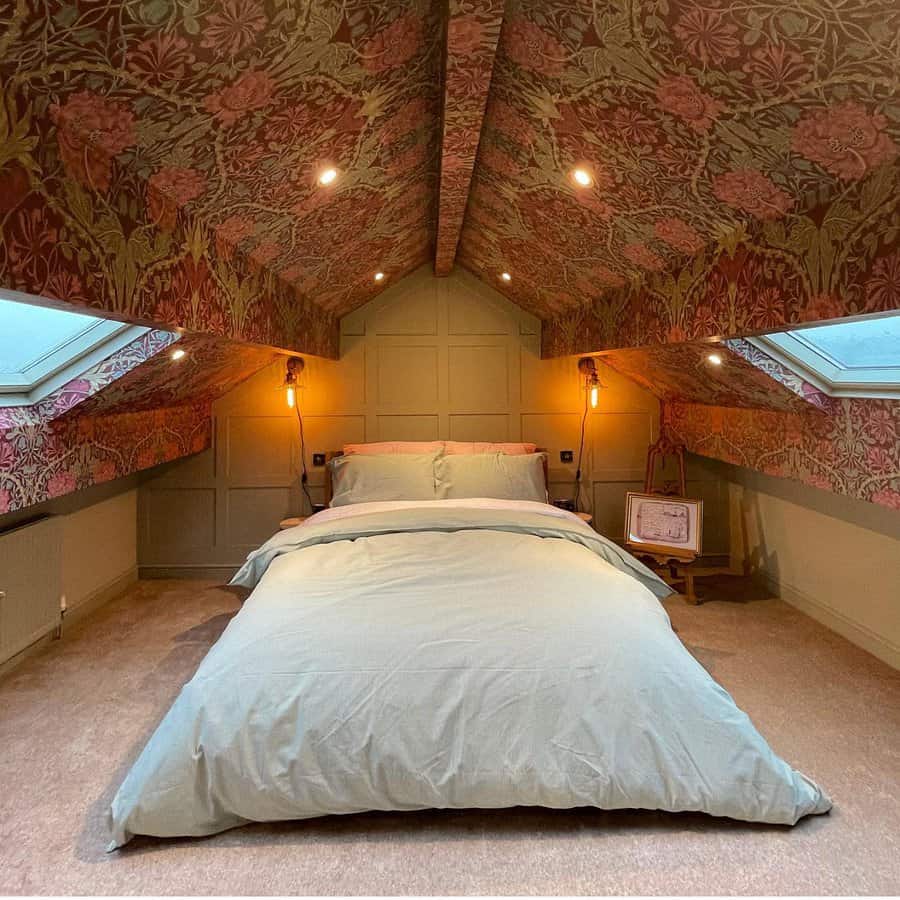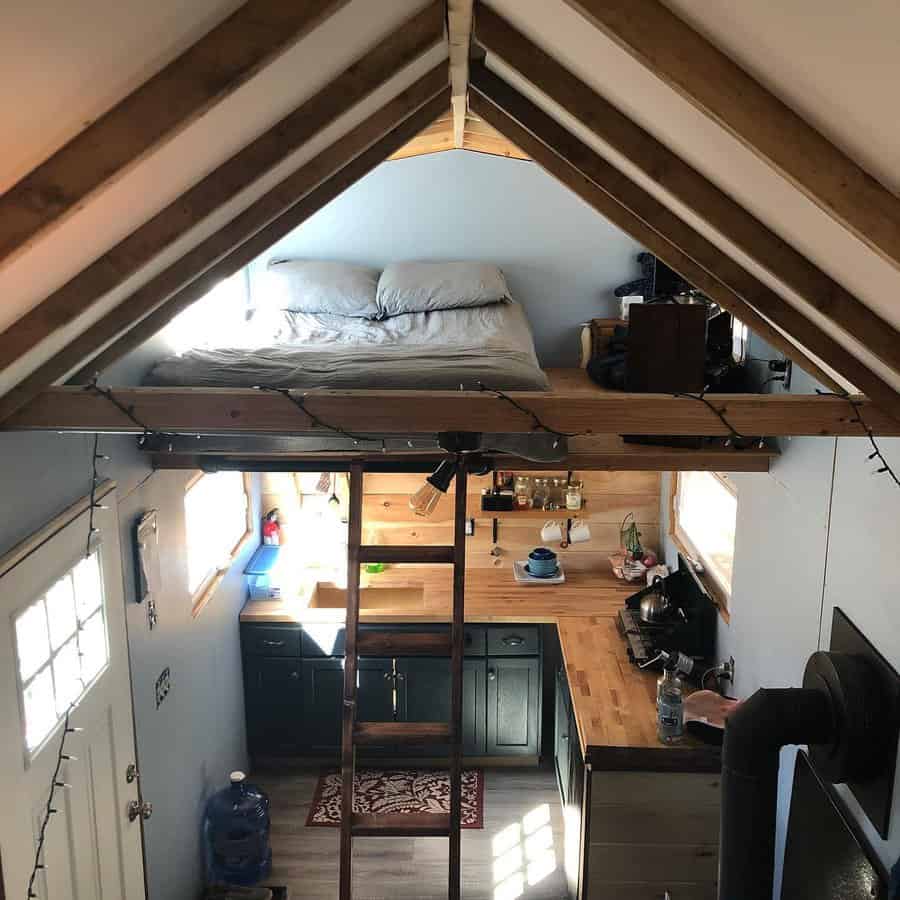 9. Loft Bed With Study Area
Do you dream of having a cozy nook where you can read, write, or draw, but feel like you don't have enough space in your bedroom? Consider a loft bed with a work desk! This clever piece of furniture lets you use the vertical space in your room to create a separate area for working or studying.
And with the bed raised above the desk, you'll have a private and quiet space where you can concentrate on your tasks without distractions. Add some fun decor and soft lighting to create a comfortable and inspiring atmosphere, and you'll be all set to tackle your to-do list in style.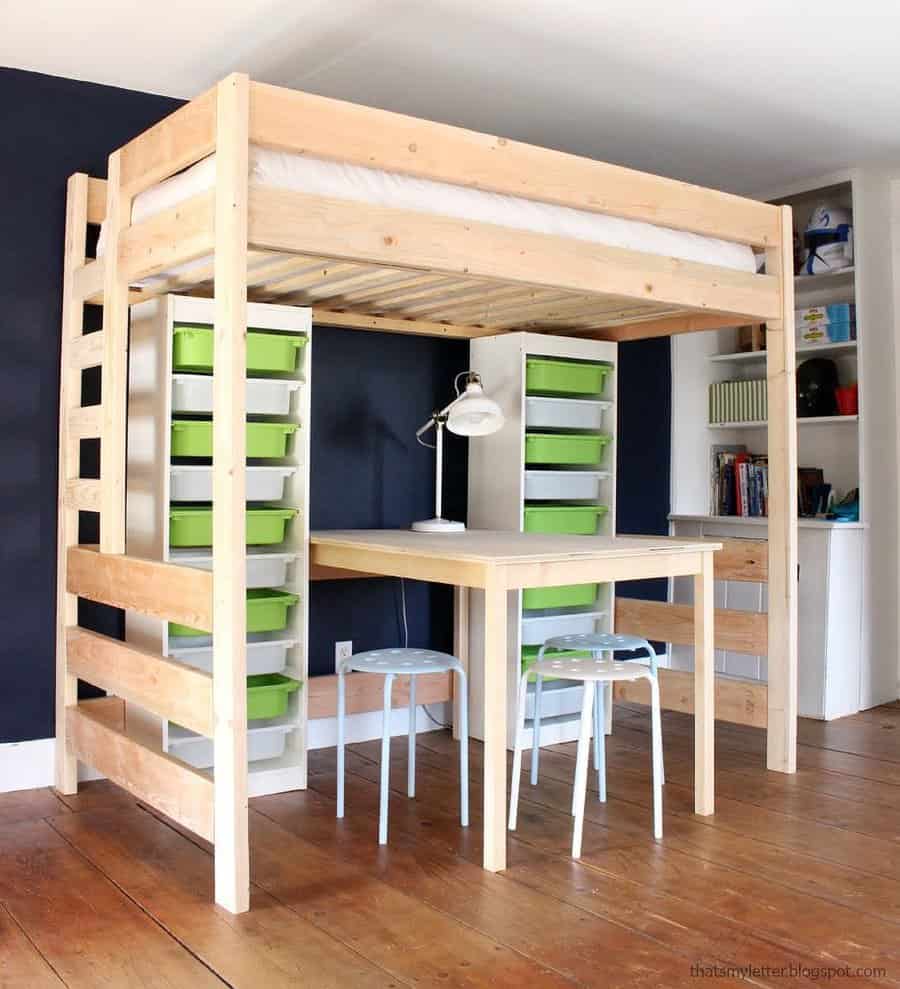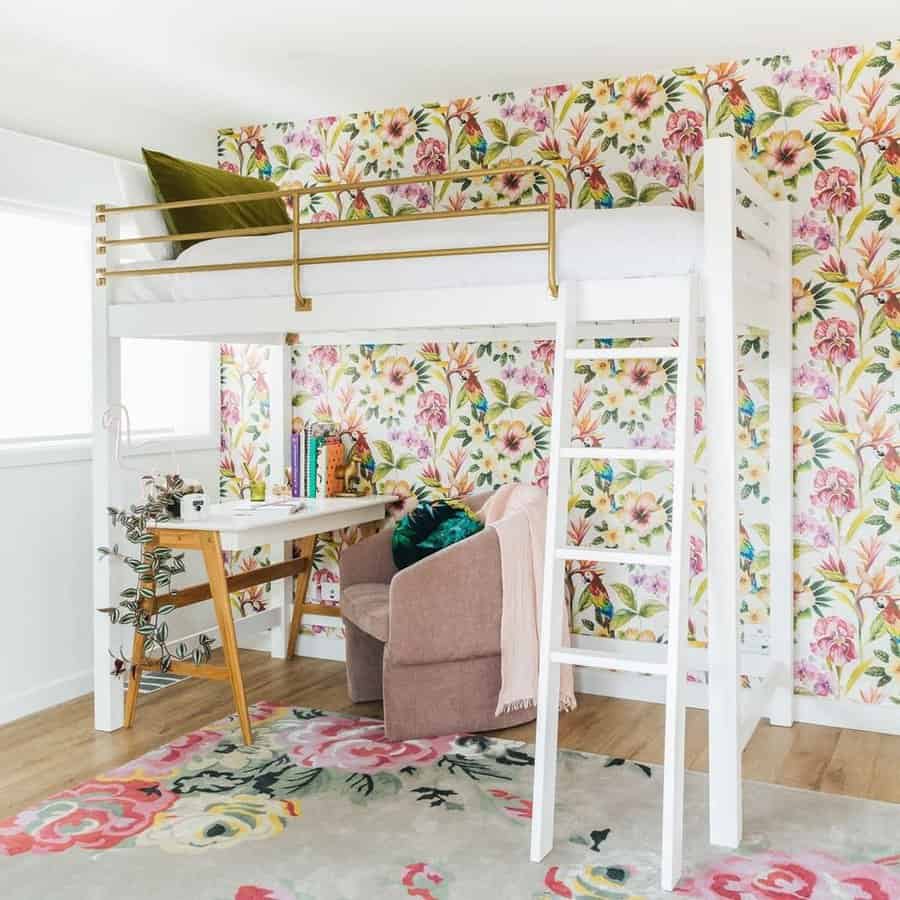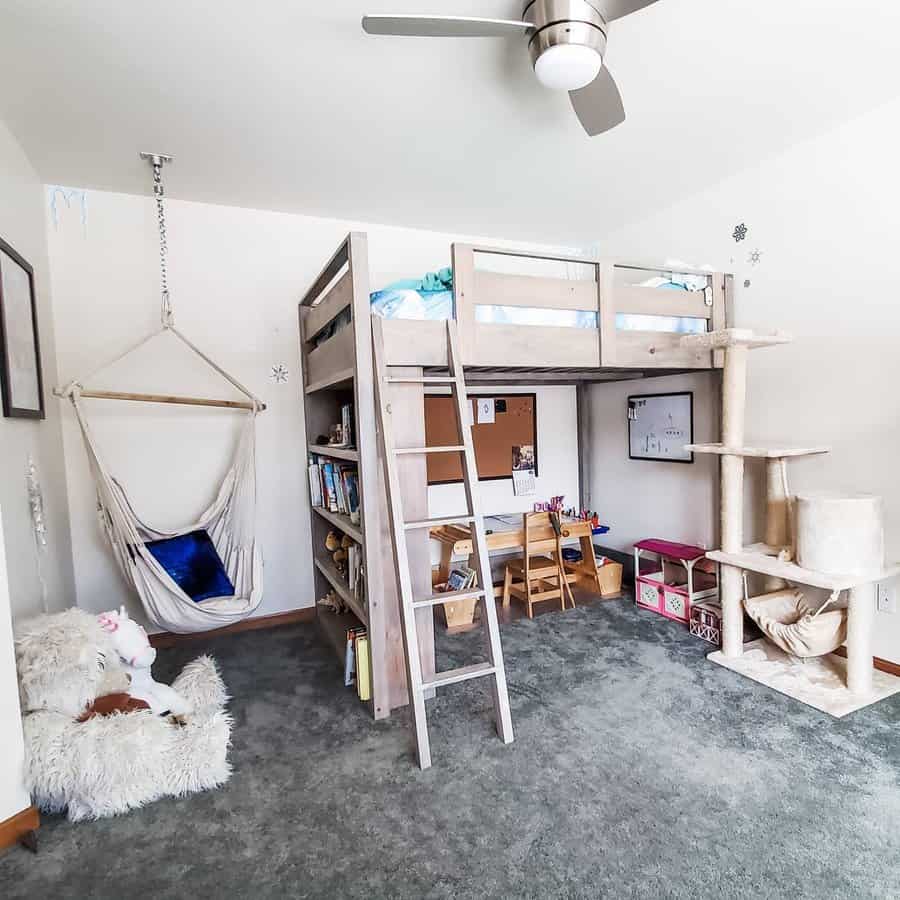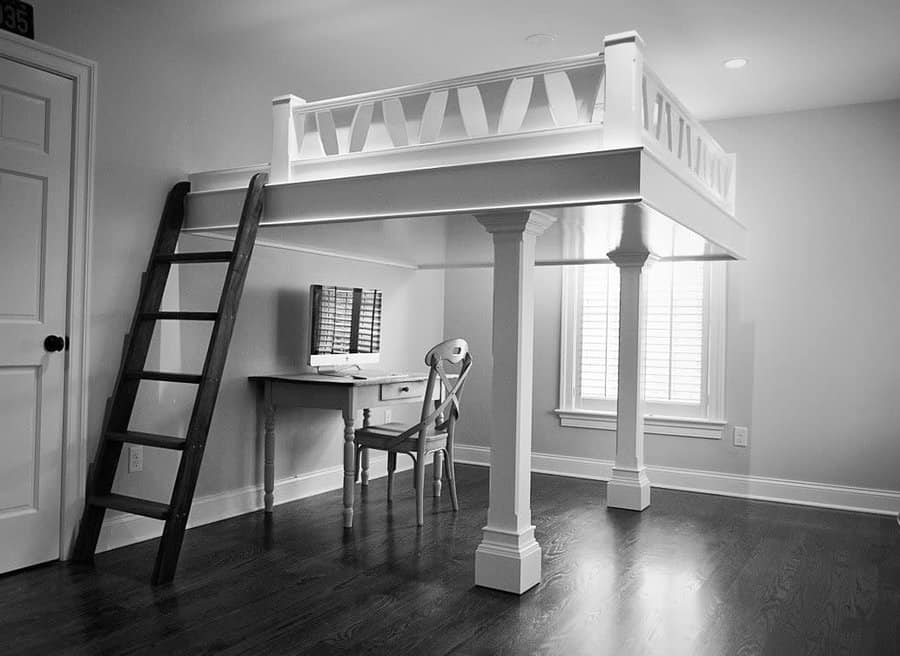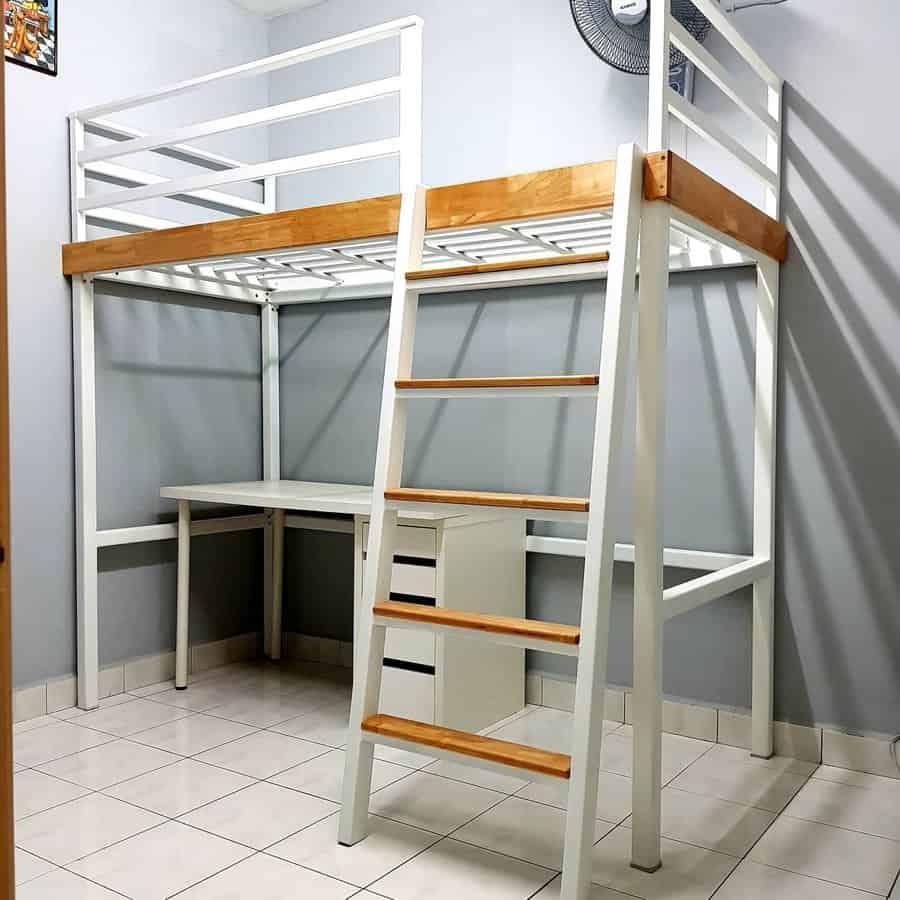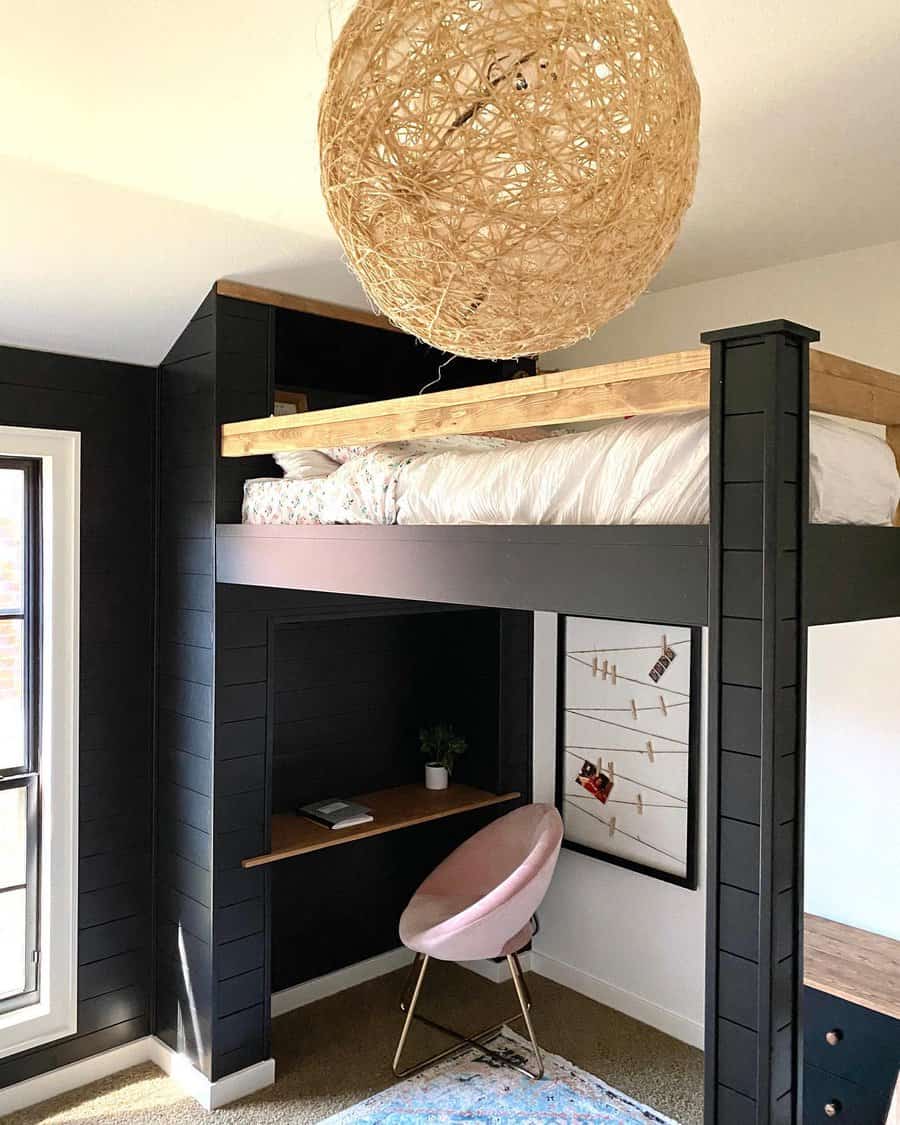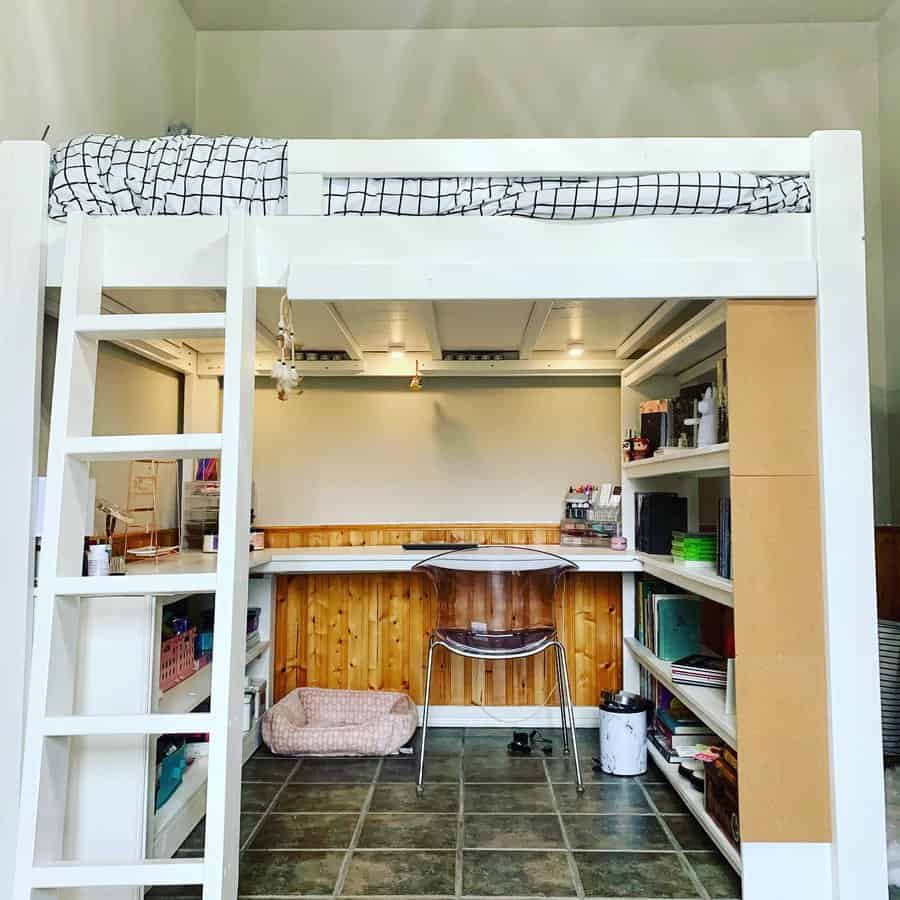 10. Loft Bed With Couch
If you're looking for a practical and stylish way to add more seating and sleeping options to your small space, a loft bed with a couch or daybed underneath is the way to go! This innovative design is perfect for those who want to create a multifunctional living space without taking up too much room.
Not only does it provide a comfortable and cozy place to relax, but it also frees up valuable floor space for other furniture or activities. And with so many different styles and designs to choose from, you're sure to find the perfect one to match your personal taste and decor.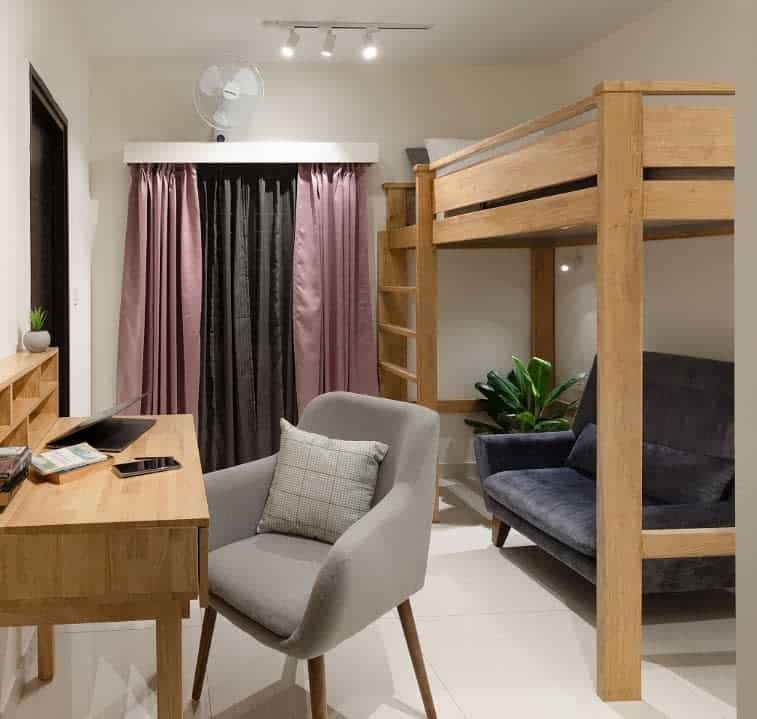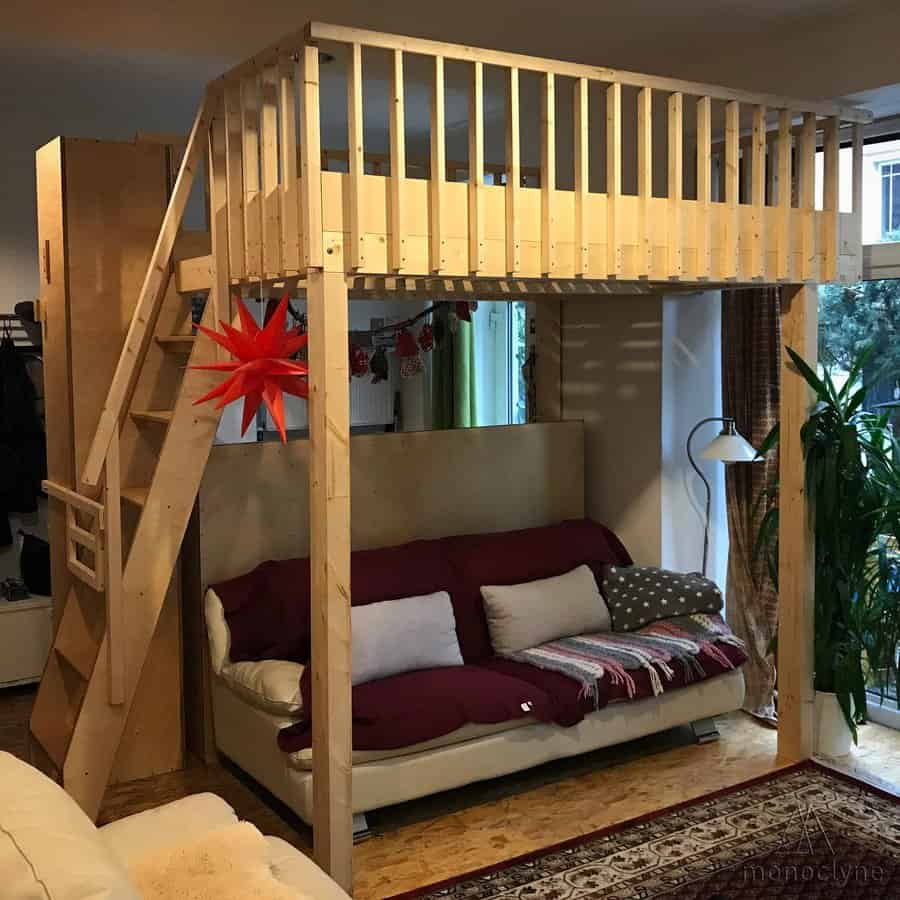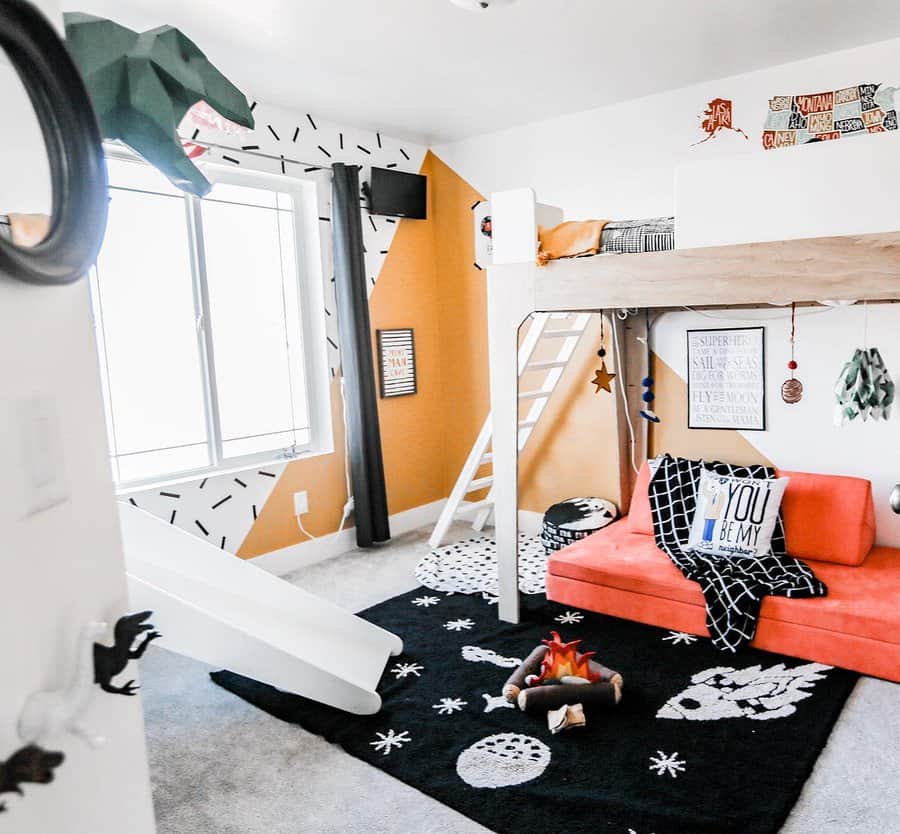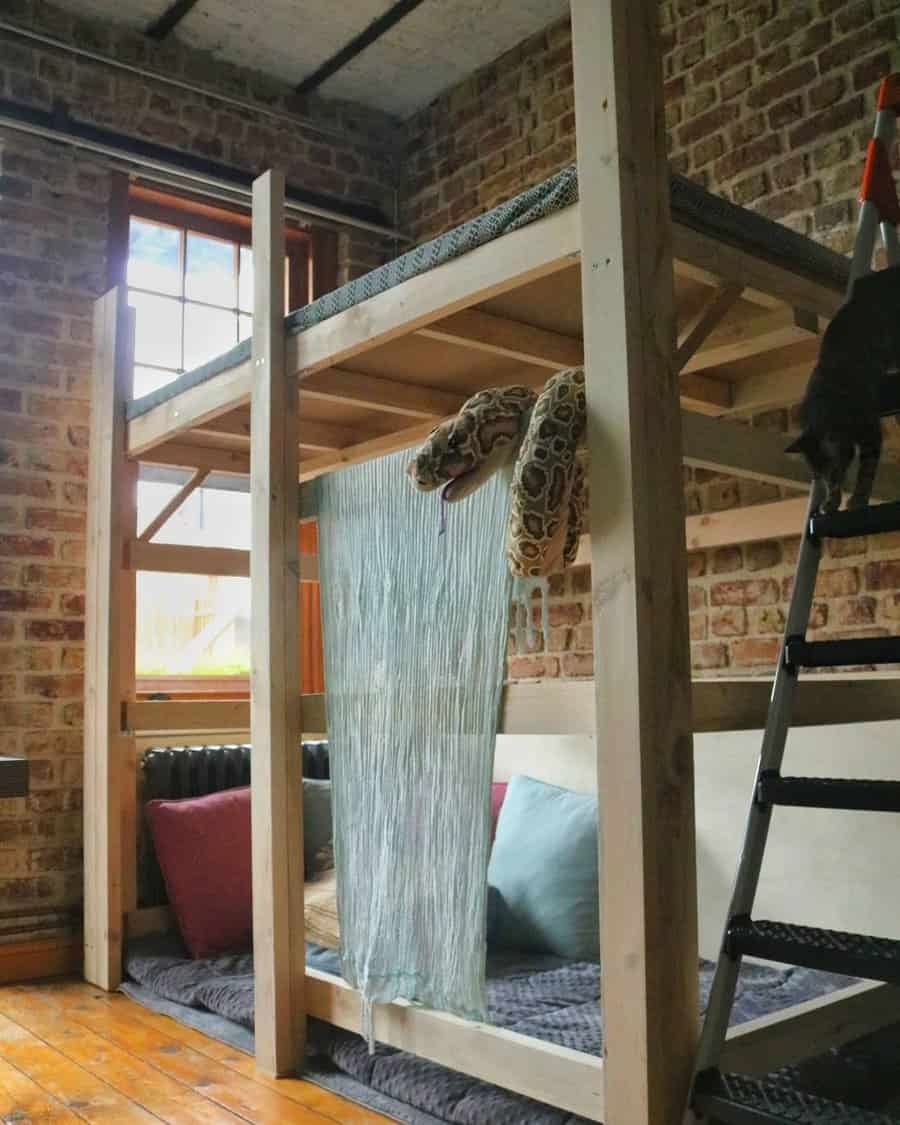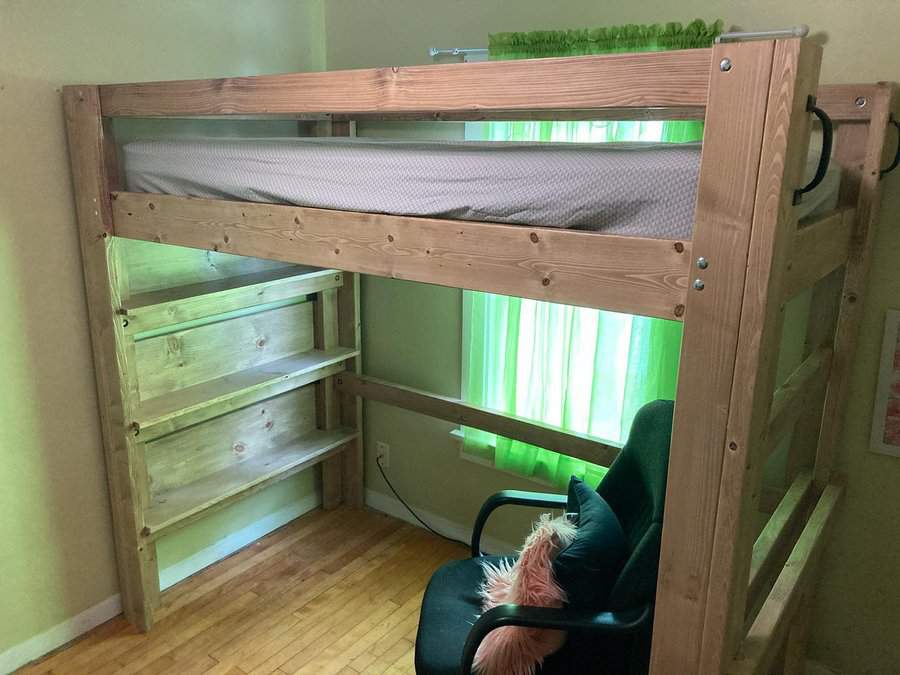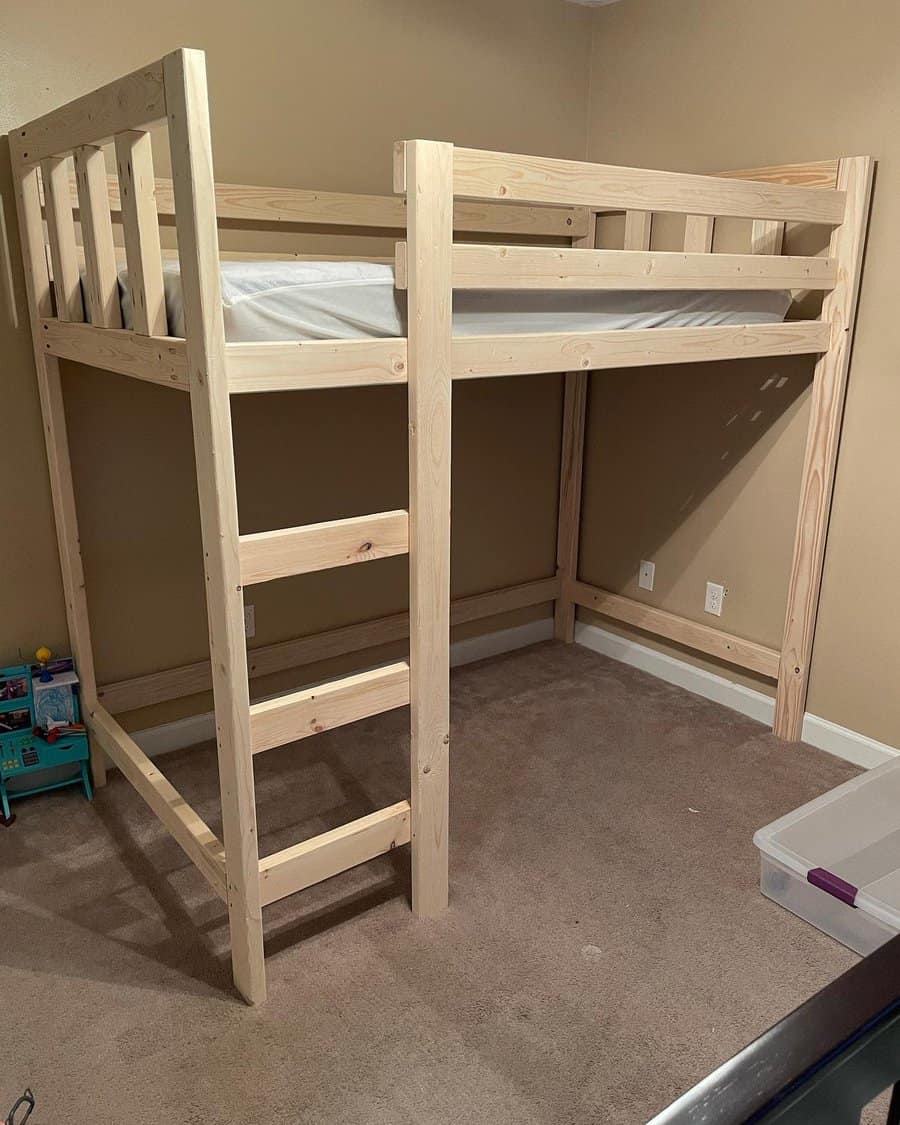 10. Rustic-Style Loft
Experience the rustic charm of a cabin in the woods with this beautifully designed loft bedroom. The wooden door provides an entryway into a space filled with natural textures and earthy tones. The rustic wooden decor adds to the cabin ambiance, creating a cozy and inviting atmosphere.
The plush bedding and soft pillows invite you to snuggle up and relax, while the skylight brings in natural light and adds to the rustic feel. Whether you're gazing at the stars through the skylight or curling up with a good book, this rustic-style loft bedroom is the perfect retreat.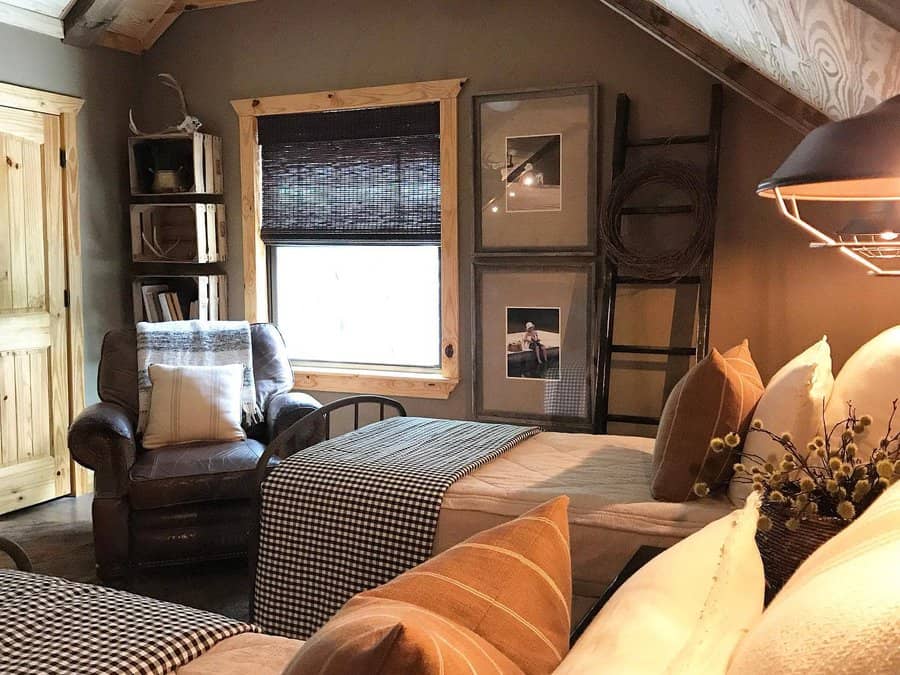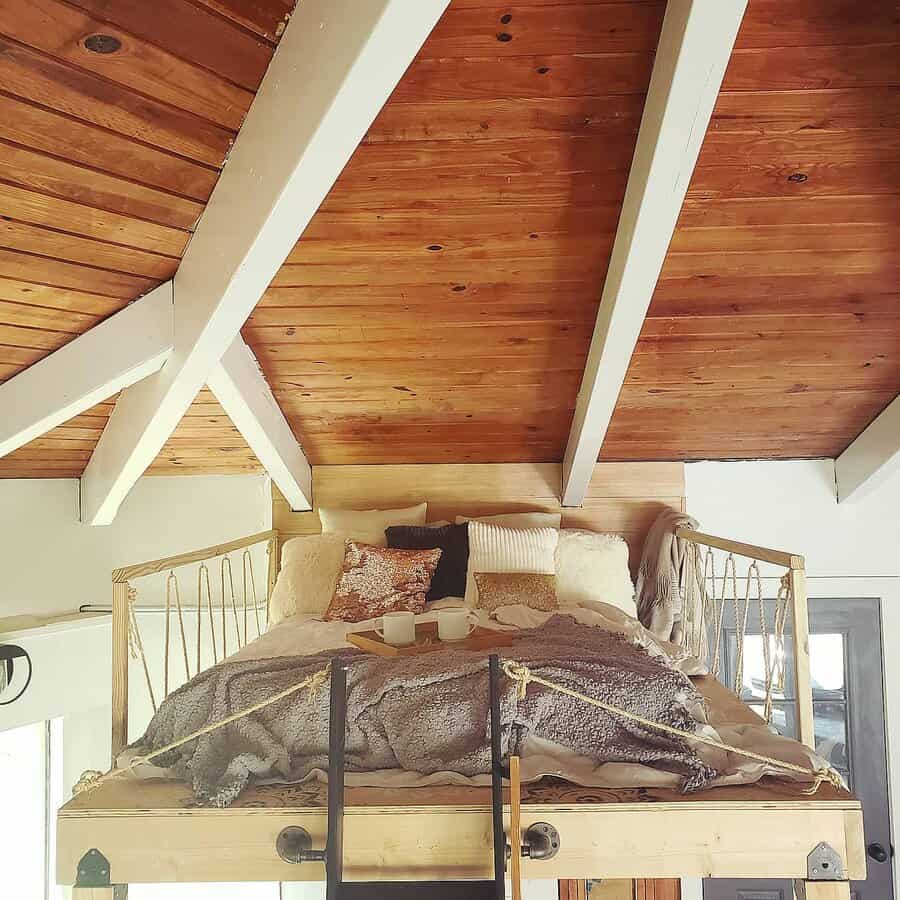 11. Loft Bedroom With Full-Length Window
A loft bedroom with a full-length window is a unique way to bring the outdoors into your living space. This sunroom-style loft is the perfect spot to relax and enjoy the view. Imagine waking up to natural light and feeling like you're outside without even leaving your bed.
The full-length window not only provides ample natural light but also allows for stunning views of your surroundings. Whether you live in the city or the countryside, a loft bedroom with a full-length window is sure to impress.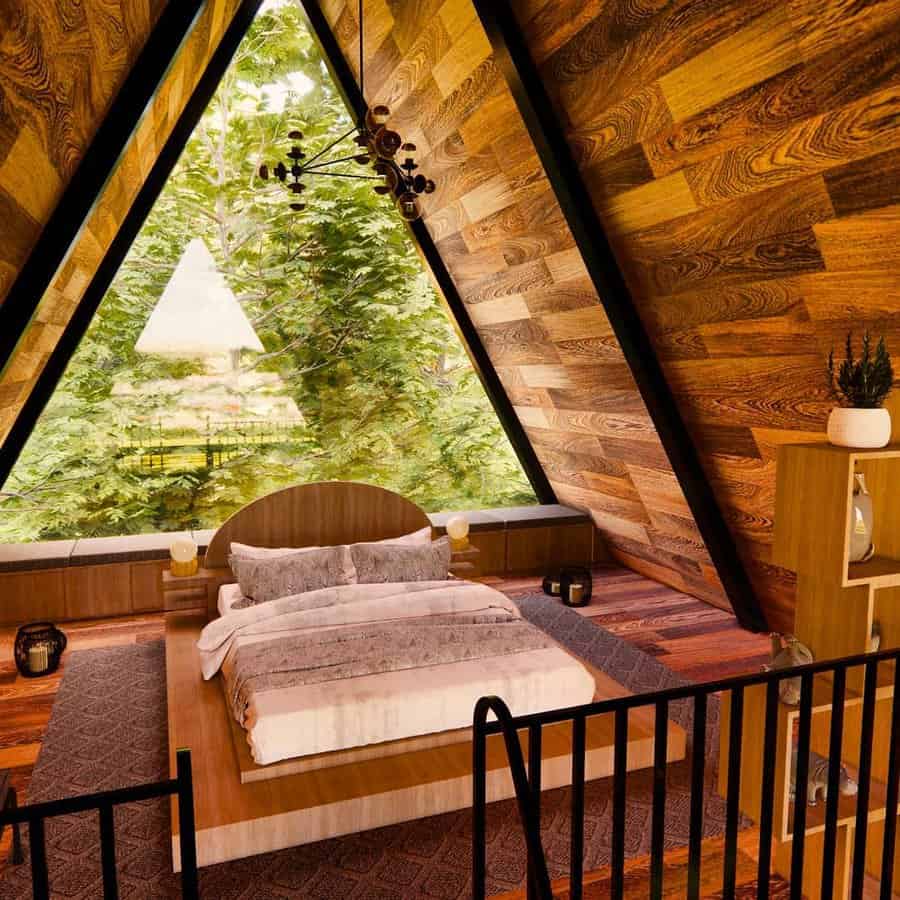 12. Kids' Loft Bed With Toy Storage
Loft beds with toy storage are a great way to maximize space and encourage organization in your child's room. With cleverly designed storage compartments built right into the bed, your child will have easy access to their toys without having to worry about tripping over them.
It's a win-win situation: your child gets a cozy sleeping space and a play area all in one, while you get to keep the rest of the room clutter-free. Plus, the added bonus of having a loft bed is that it creates a fun and adventurous vibe that kids love.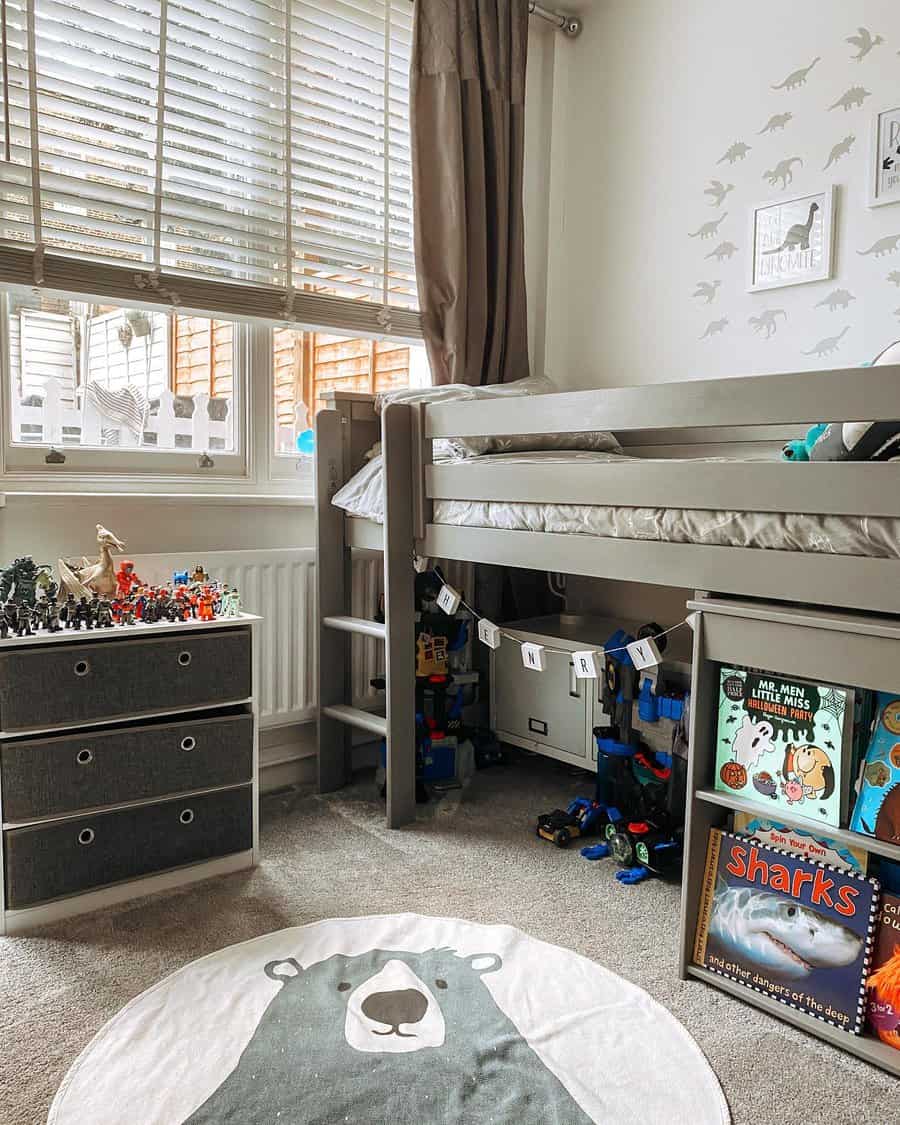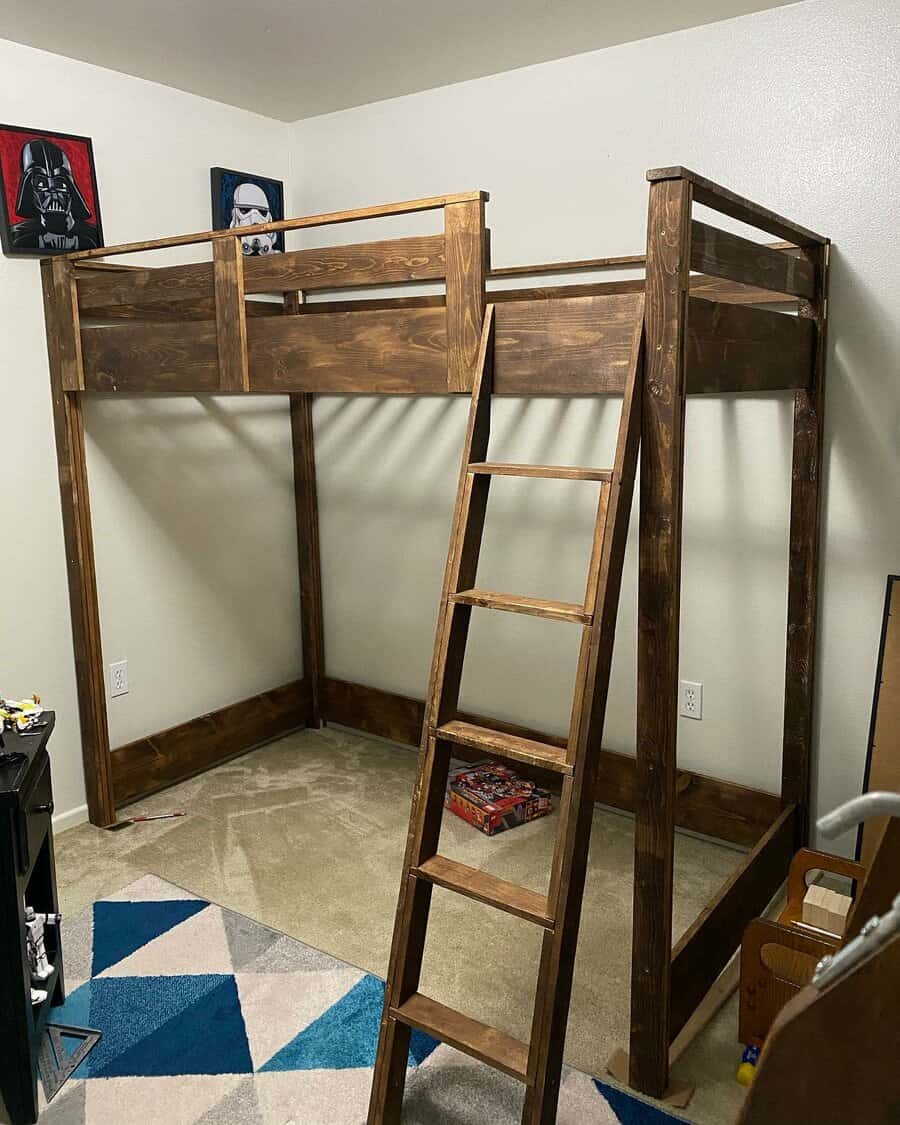 13. Floating Overhead Loft
If you're looking to create a truly unique and eye-catching living space, consider installing a floating overhead loft. These innovative structures allow you to make the most of your vertical space, creating a cozy and comfortable retreat that's perfect for relaxing or sleeping.
With their sleek and modern designs, floating overhead lofts are perfect for any contemporary home or apartment. And with so many different customization options available, you can easily create a one-of-a-kind living space that reflects your personal style and taste.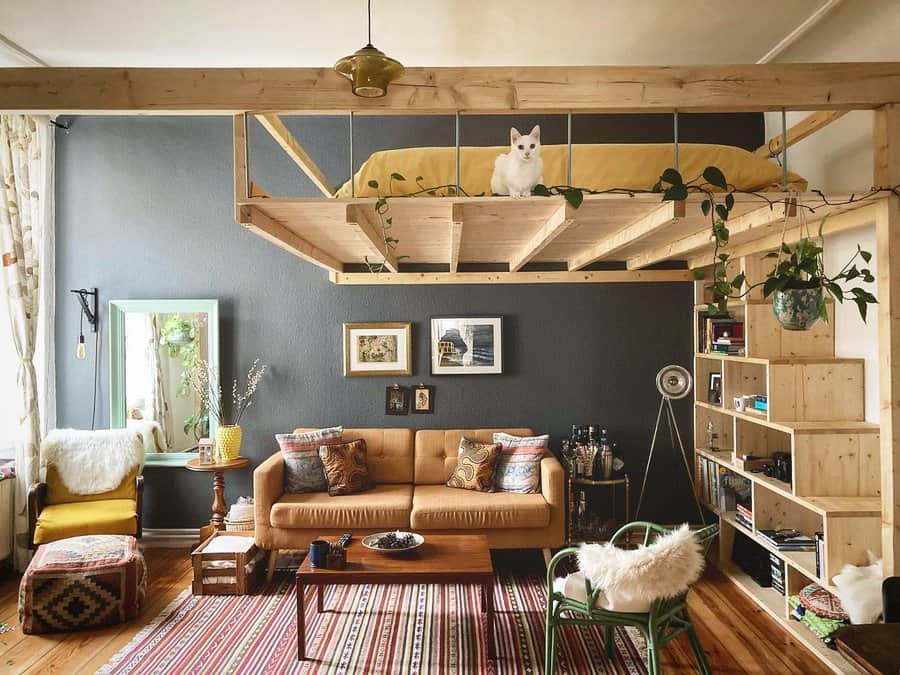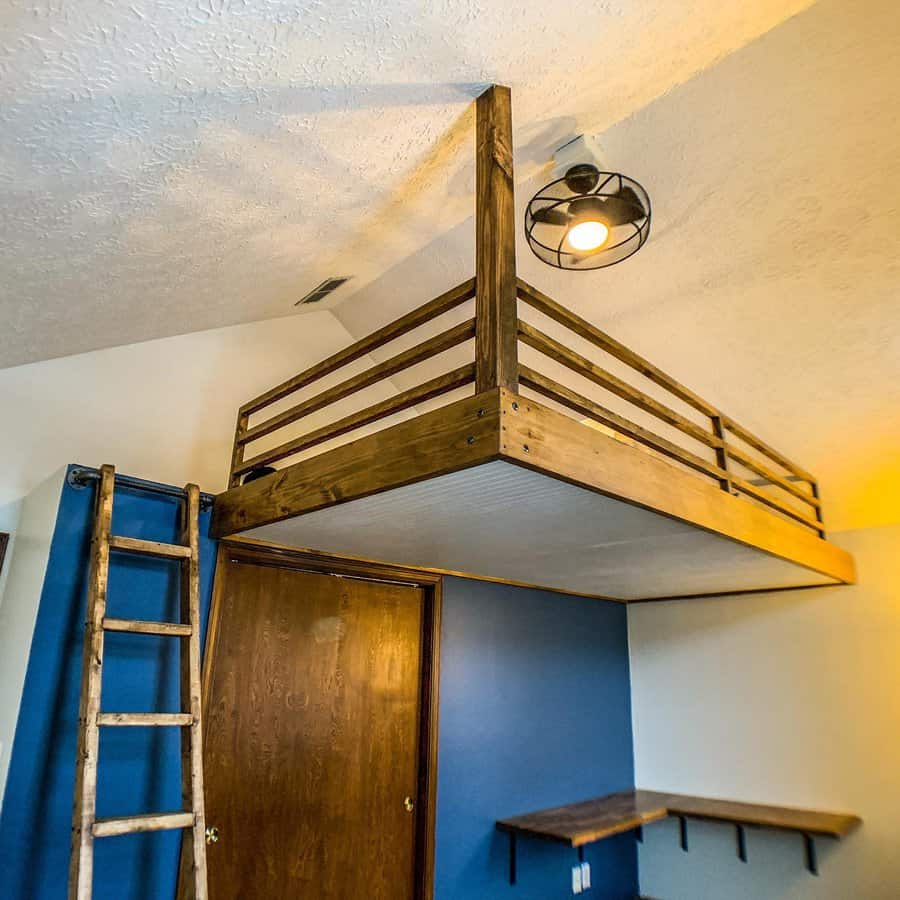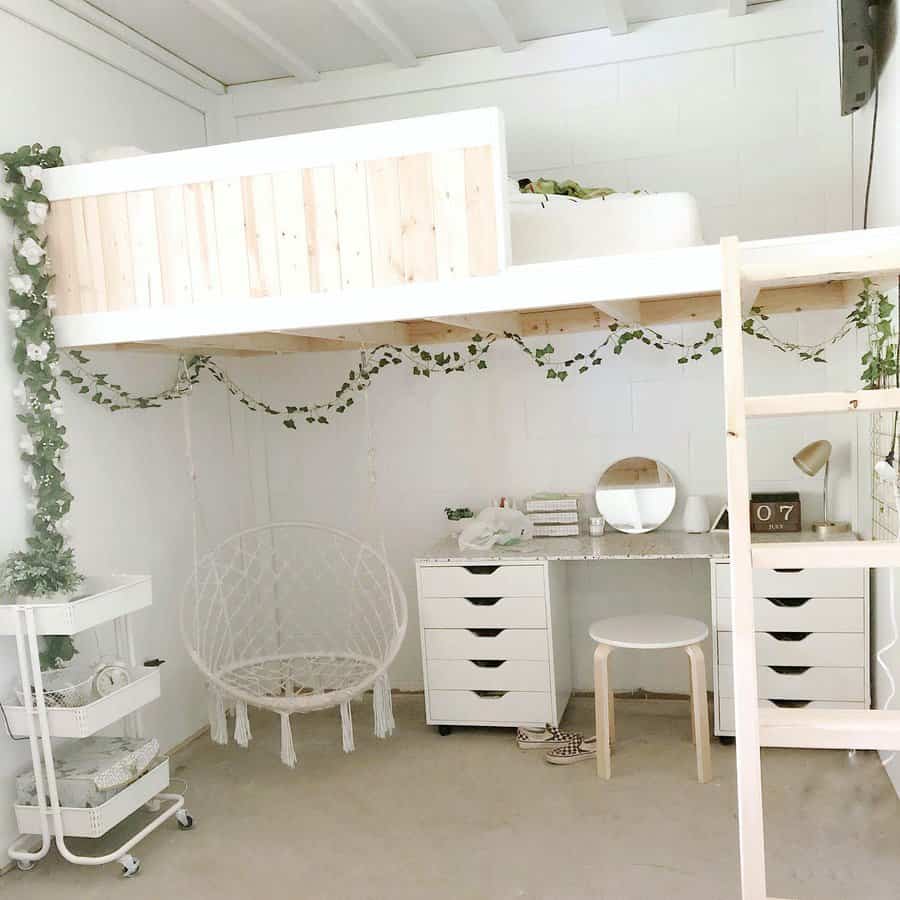 14. Kids' Loft Bed With Slide
Looking for a fun way to upgrade your child's bedroom? Look no further than a kids' loft bed with a slide! This unique piece of furniture is the perfect combination of function and playfulness. Your little one will love climbing up to their cozy sleeping space and then sliding down to start their day.
Plus, it's a great way to save space in a smaller room. With a range of styles and designs available, you're sure to find the perfect loft bed with a slide to suit your child's personality and bedroom decor.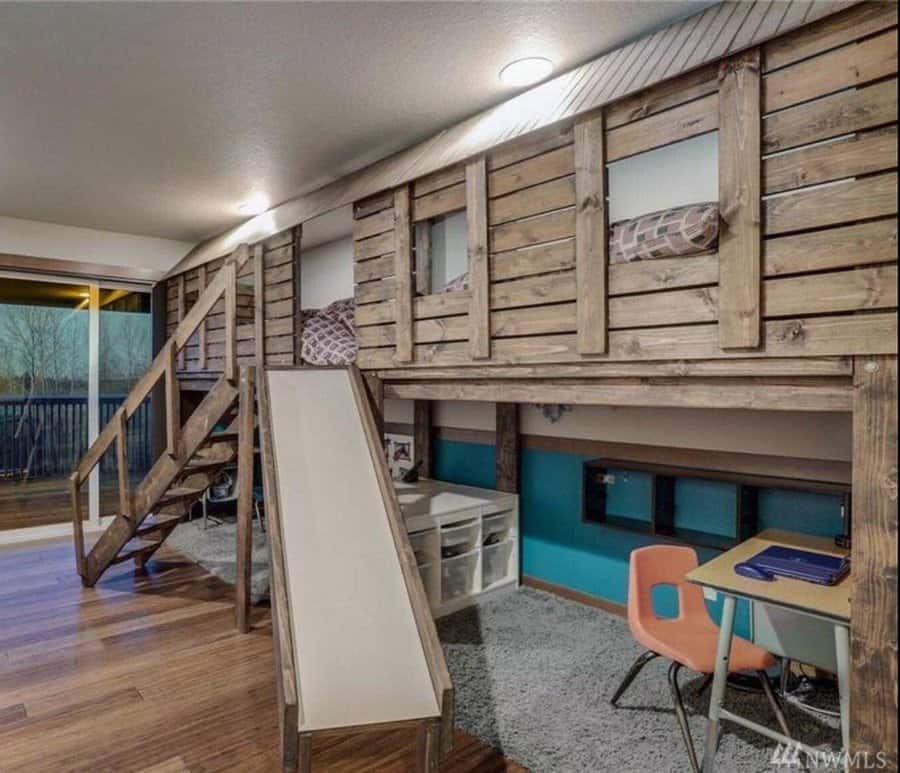 15. Loft Bed With Built-In Shelves
If you're looking for a creative way to maximize space in your bedroom, a loft bed with built-in shelves might just be the answer. The shelves can be customized to fit your needs and can be used to display your favorite books or decorative items.
Not only do they provide functional storage, but they also create a stylish and unique look that is sure to impress. Whether you're living in a small apartment or just want to make the most of your bedroom, a loft bed with built-in shelves is a great choice.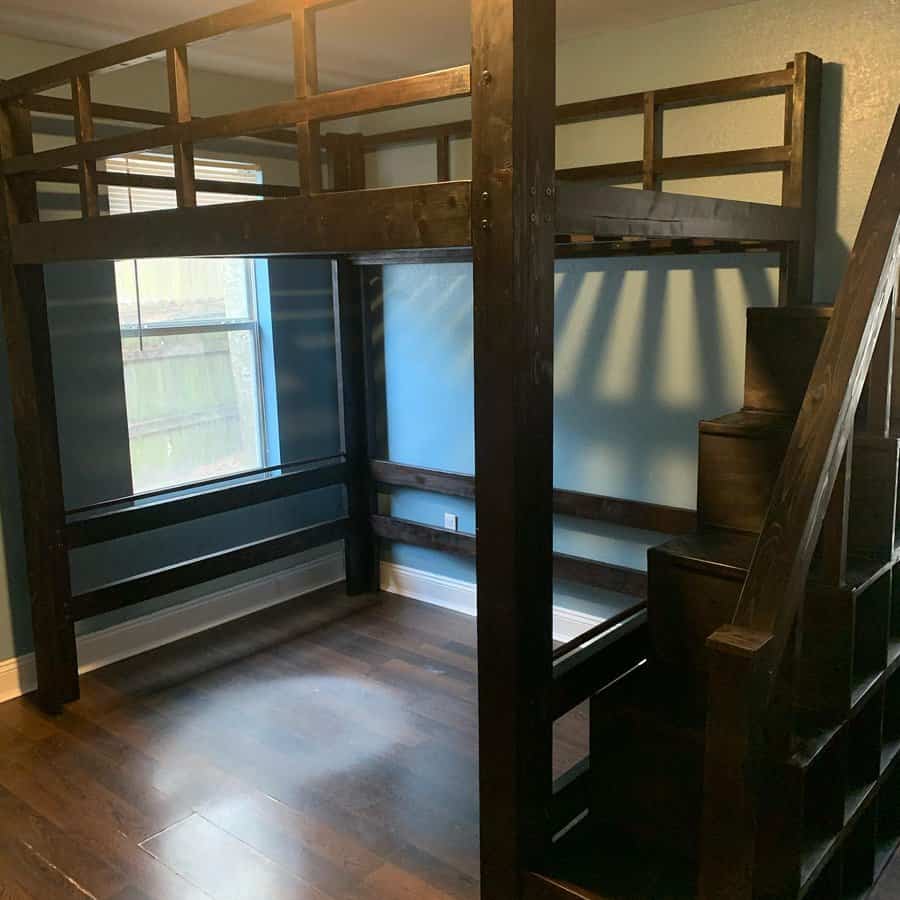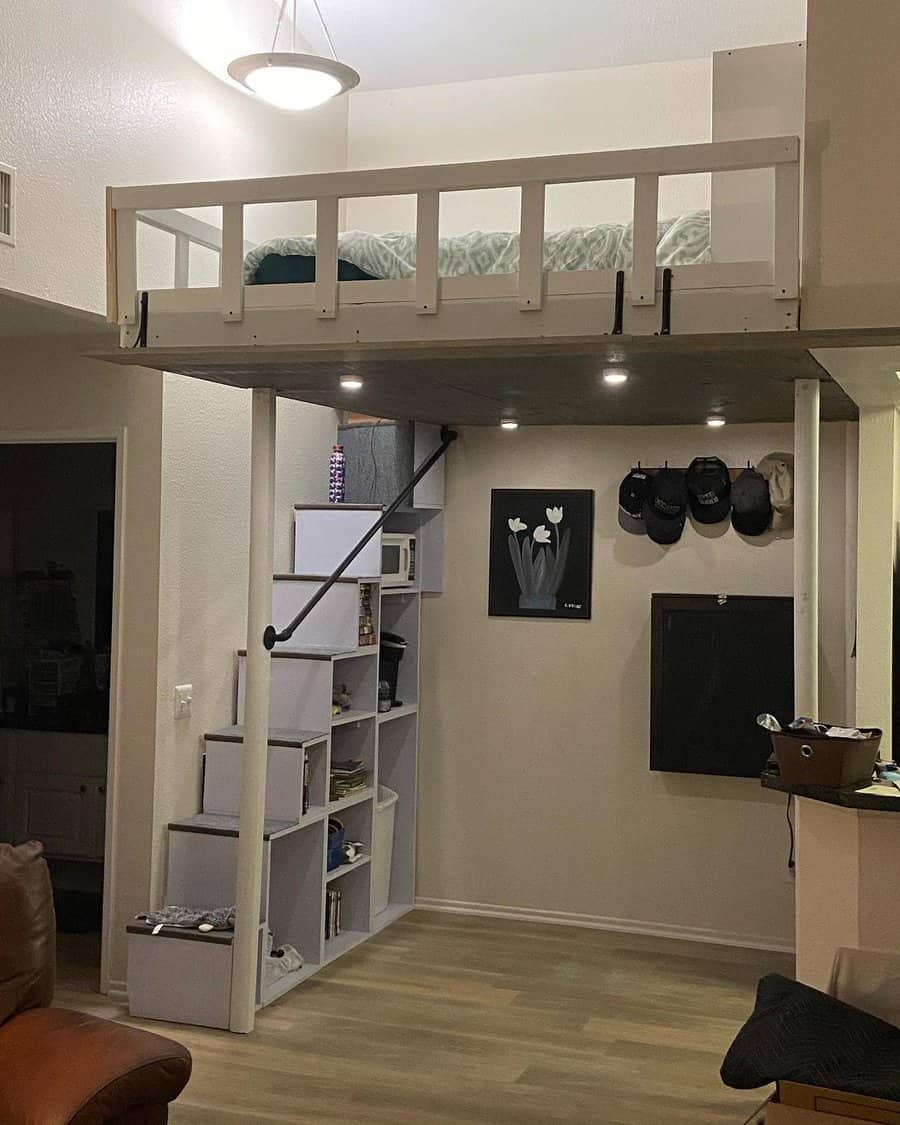 16. Loft Bed With Tiki Hut
Looking for a creative way to transform your kids' bedroom into an island oasis? Consider a loft bed with a tiki hut underneath! This unique design creates the perfect hideaway for your little ones to escape to, complete with bamboo and natural wood accents.
\And what better way to add a touch of rustic charm than with a loft bed made from reclaimed wood pallets? Your kids will love climbing up to their elevated sleeping space, while the tiki hut below provides a fun and cozy area for playtime.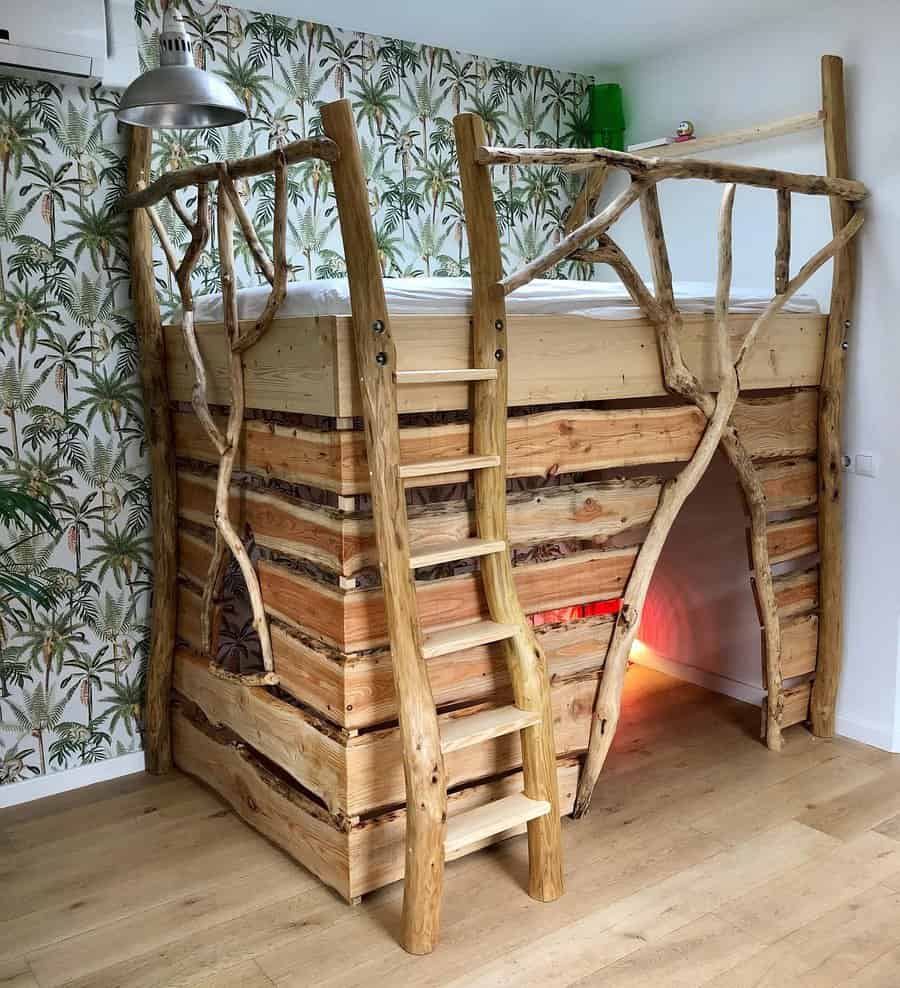 17. Loft Bed With Built-In Closet
A loft bed is an excellent space-saving solution for a small room, but what if it could also double as a closet? That's where a loft bed with a built-in closet comes in. By incorporating a closet into the design of the loft bed, you can create a seamless and practical storage solution that maximizes your floor space.
With the built-in closet, you can keep your clothes and accessories organized and out of sight, creating a clean and spacious feel to your room.
Not only does this type of loft bed provide ample storage for clothes and accessories, but it also adds a touch of creativity and innovation to your bedroom decor.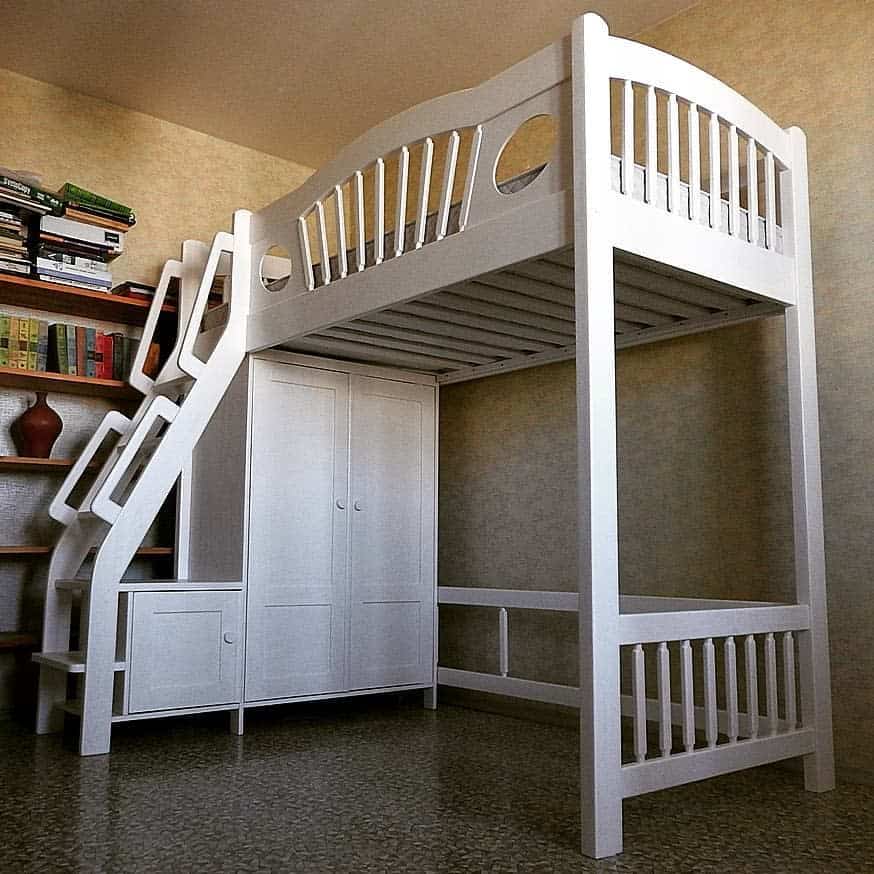 Loft Bed FAQs
Can adults sleep in loft beds?
Of course, they can! If you live in a small apartment, then having a loft bed can give you much-needed space. By raising your bed, you gain the space underneath for adding a sofa, desk, or for any other use. As long as the lofted bed is large enough to hold a twin or full-size mattress, it is comfortable enough for an adult.
Are loft beds a good idea?
Loft beds are a good idea when you have limited space. They work especially well in a child's room or guest bedroom. These are rooms that are typically smaller than a master bedroom, so the gained space is useful.
How much weight can a loft bed hold?
Typically, a loft bed can hold 200-300 pounds. However, the amount your loft bed can hold will depend on the size and construction quality of the lofted bed. If your bed is intended for adults, you will want a stronger bed that can support more weight.