The Top 51 Loft Bed Ideas
"In a modern loft, you can't just fill a space with furniture. Each piece has to be perfect." – Nate Berkus
When you run out of space in your home or apartment, it's time to look at using your vertical space. One of the best ways to use this often unused space is to lift one of the biggest pieces of furniture.
A lofted bed raises your sleeping space and gives you access to the floor space underneath. It can also make it possible to have two beds in a single bedroom. Before deciding that bunk beds are just for children, consider the modern and mature versions.
These loft bed ideas will help you figure out the best method for adding a loft bed to your bedroom.
1. Bedroom
When you live in a small space, your bedroom may not be large enough for everything you want to have in it. Having a loft bedroom means you create more floor space for the rest of your furniture.
For example, raising your bed high means you can place your dresser underneath. This opens up the rest of the room for another dresser, an accent chair for a reading nook, or a freestanding clothing rack.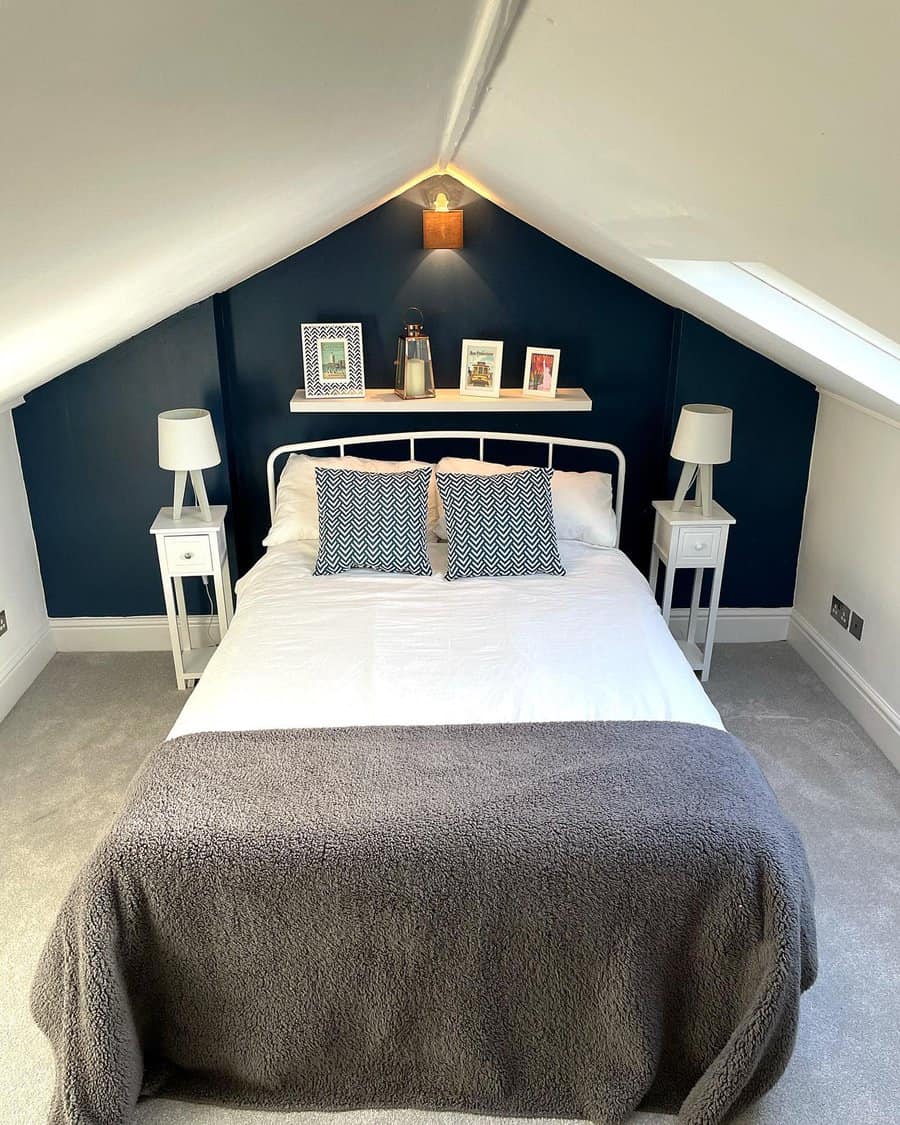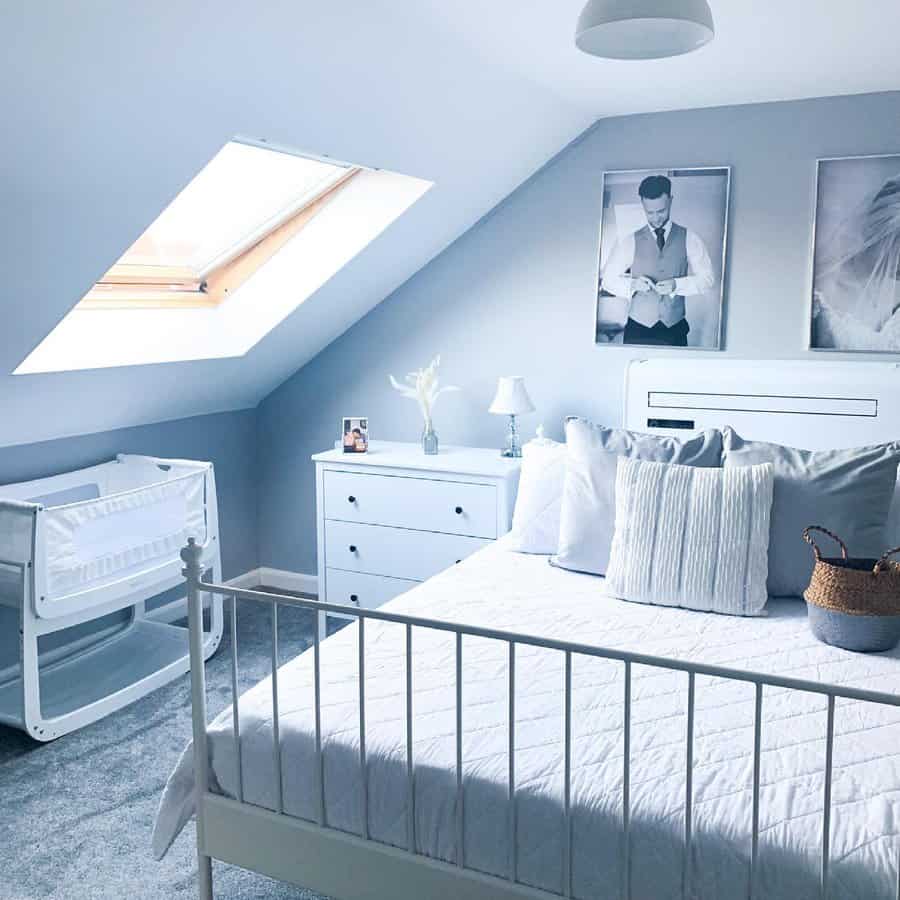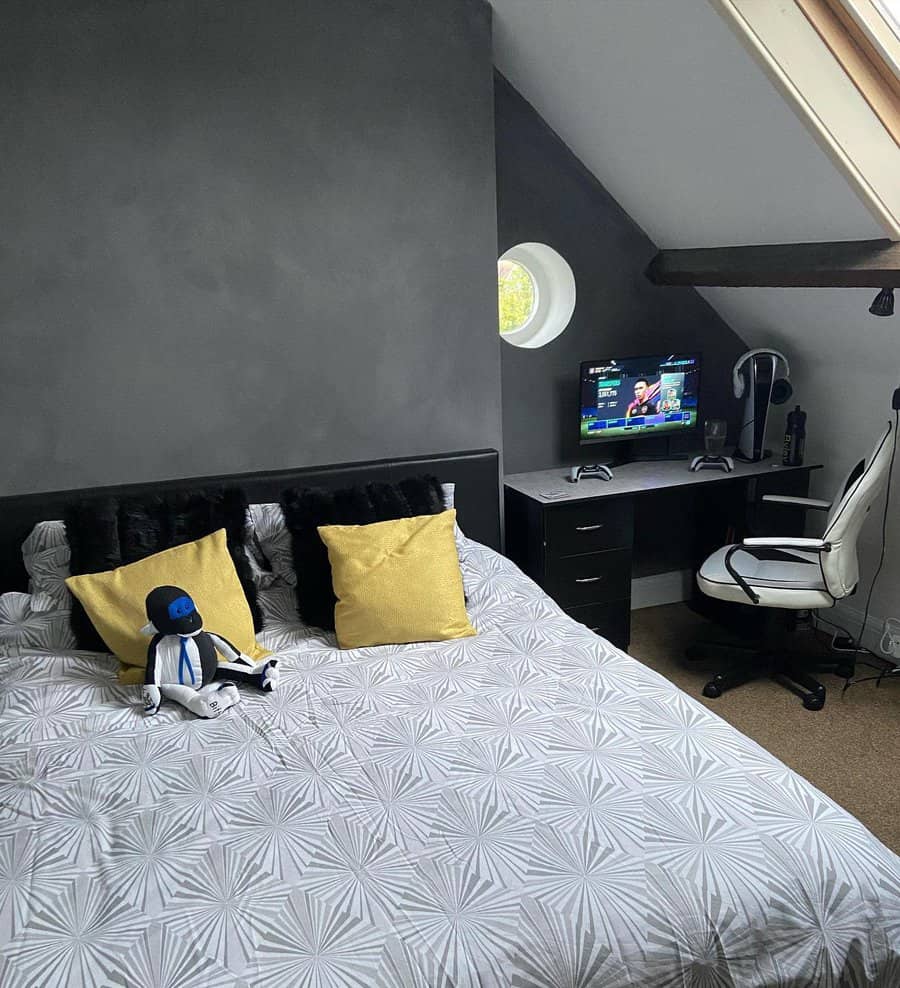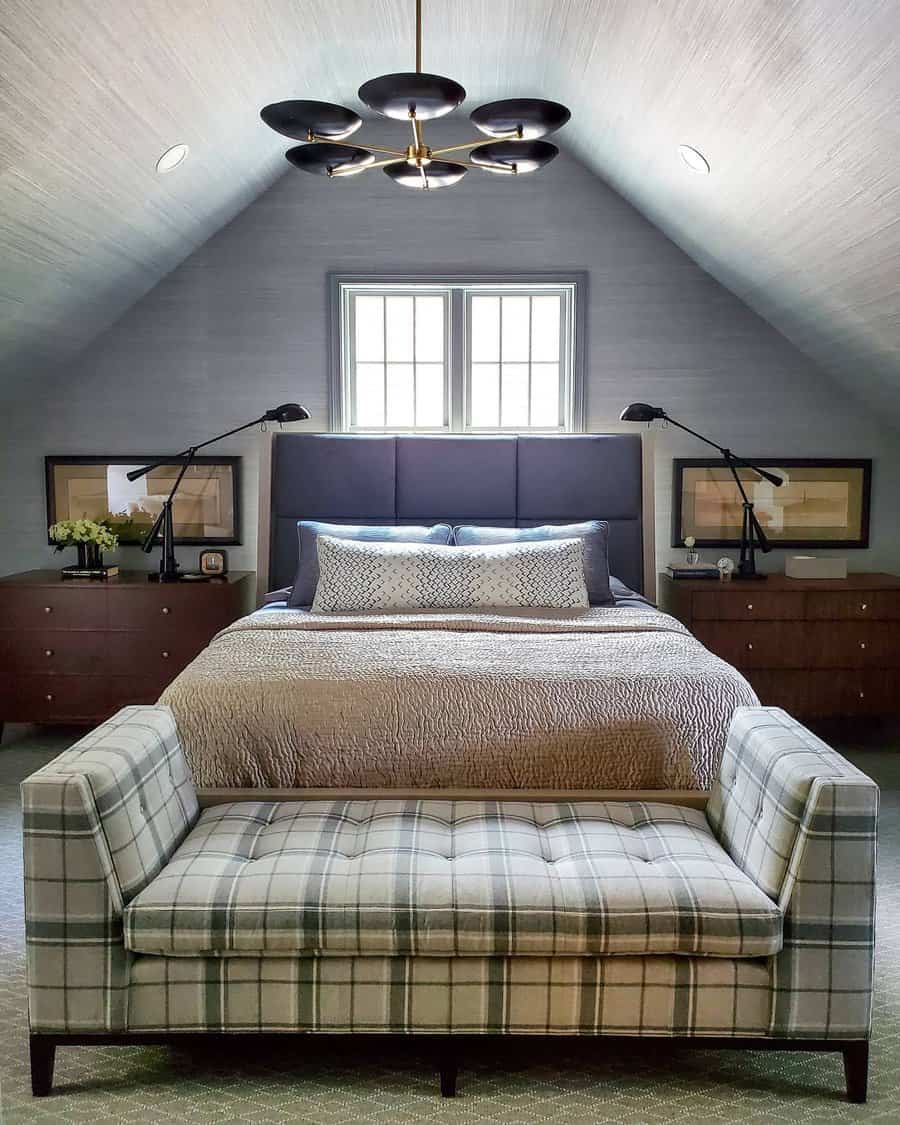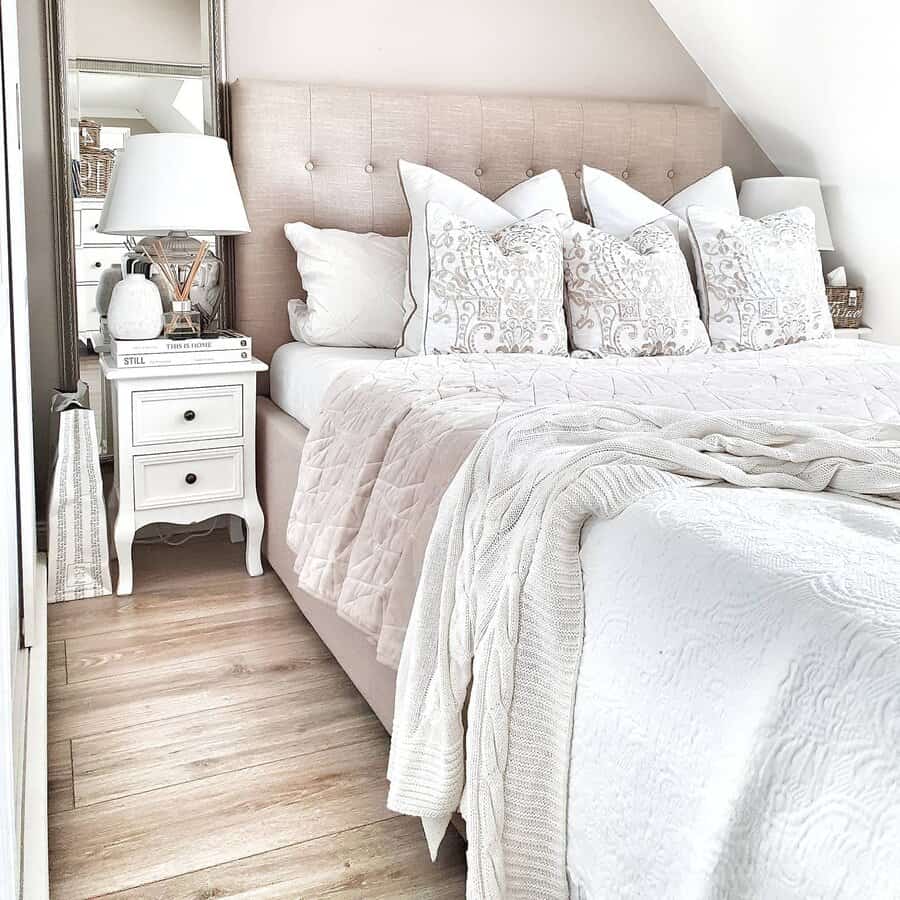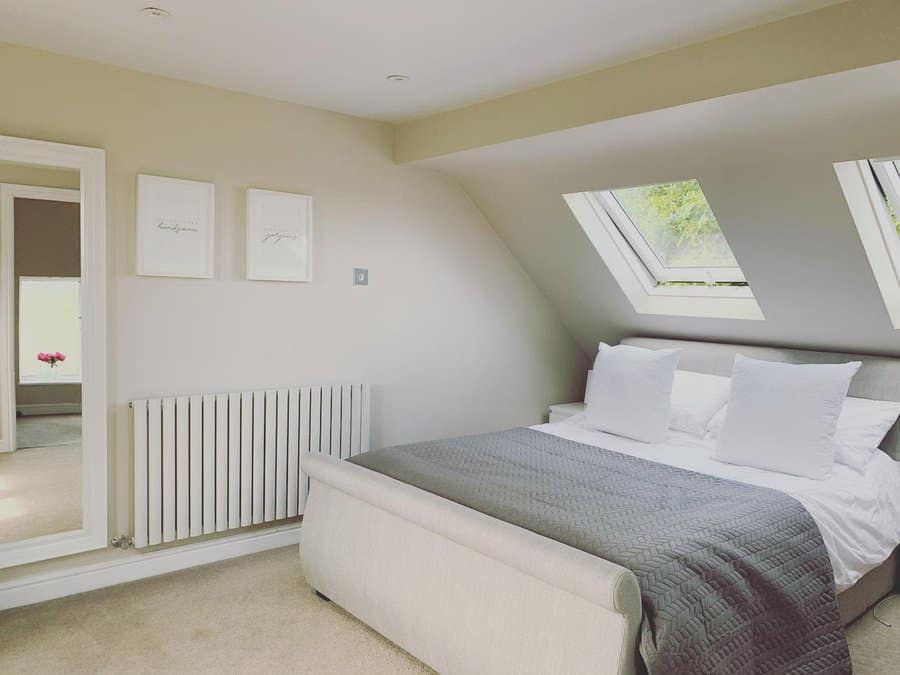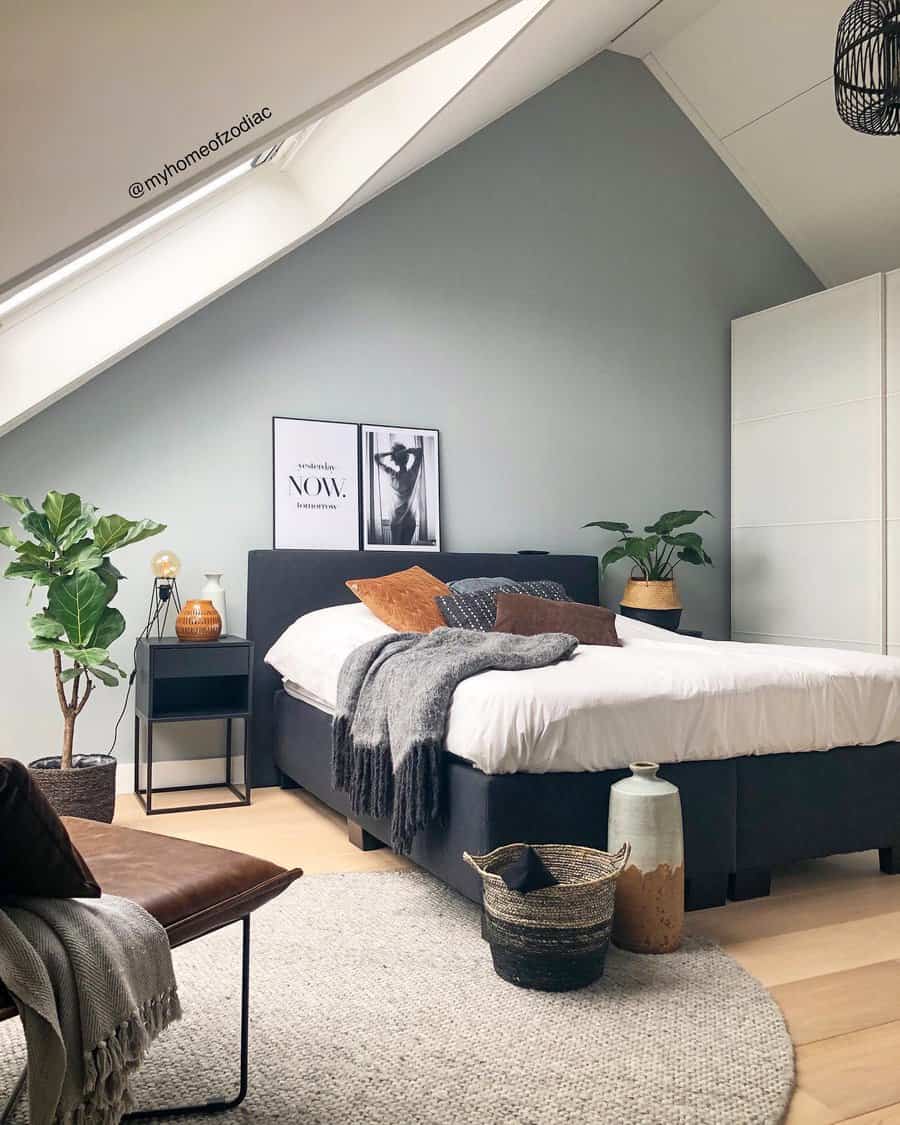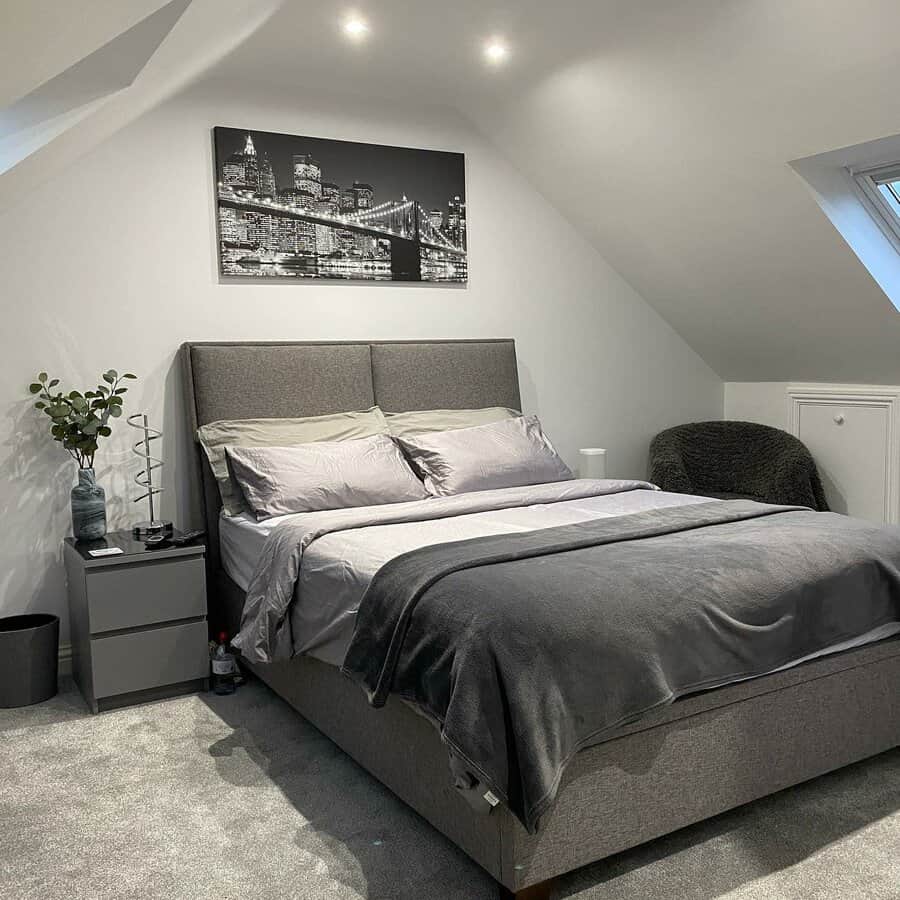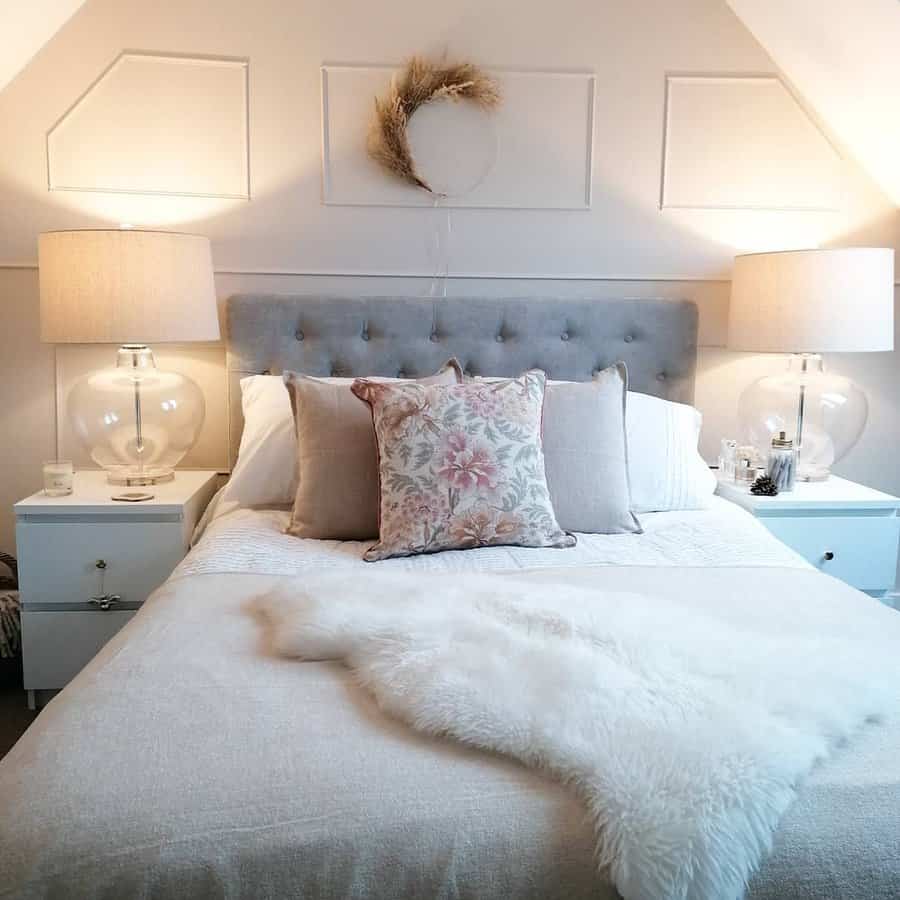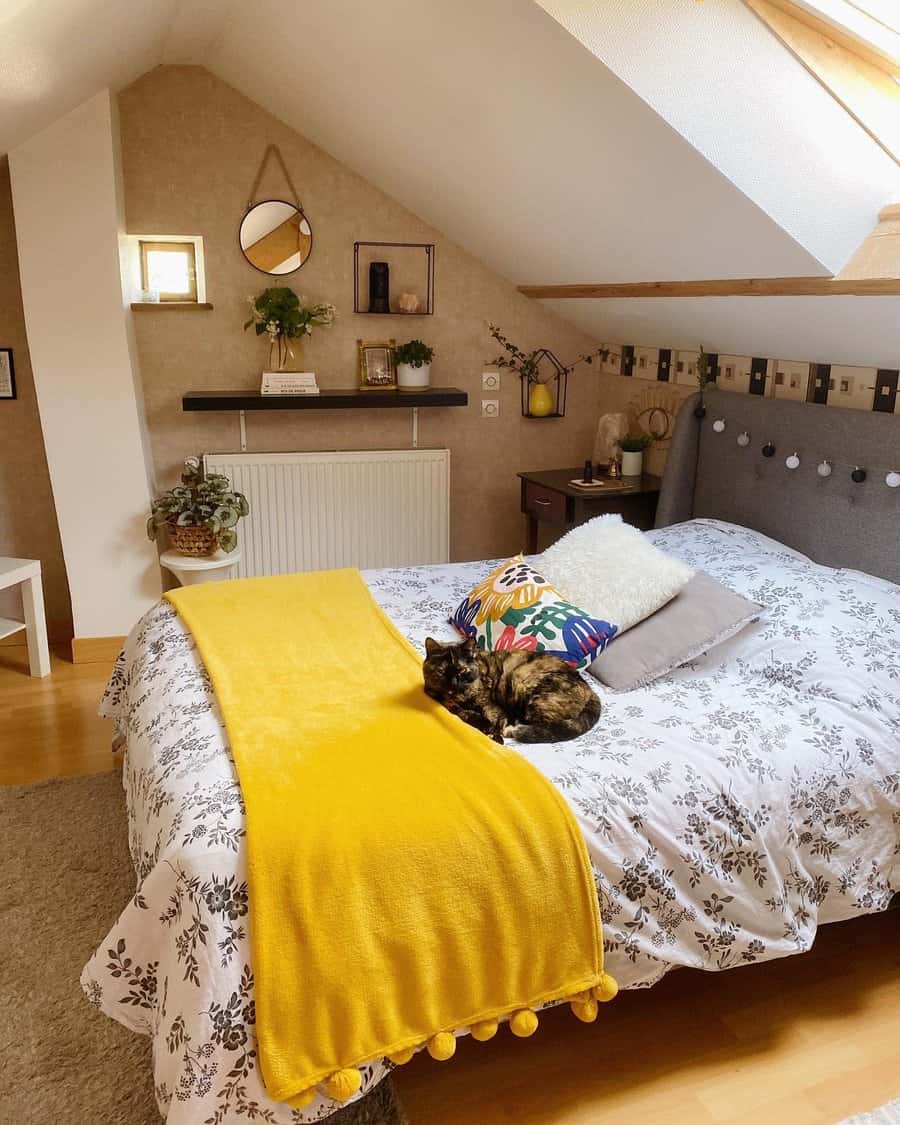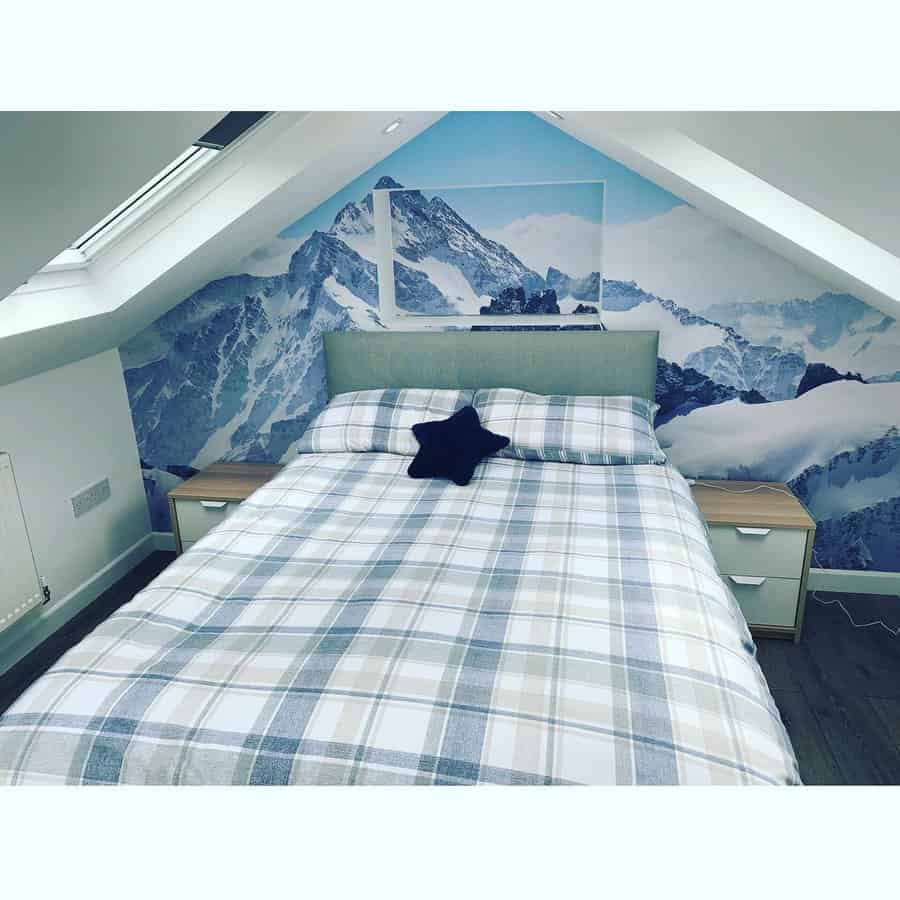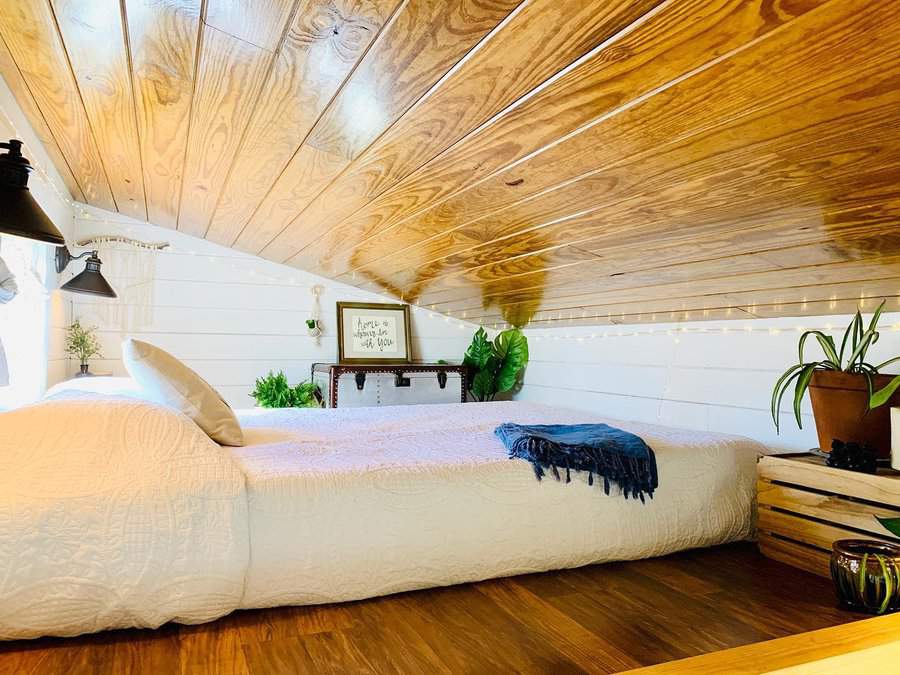 If you need to, you could also place a desk in your bedroom. This also works well if you live in a studio apartment where your living and bedroom spaces can blend together.
2. Couch
A natural addition or your lofted bed is to turn the lower bunk into a sofa. This is one of the most popular bunk bed ideas for dorm rooms because it makes the most of a small space.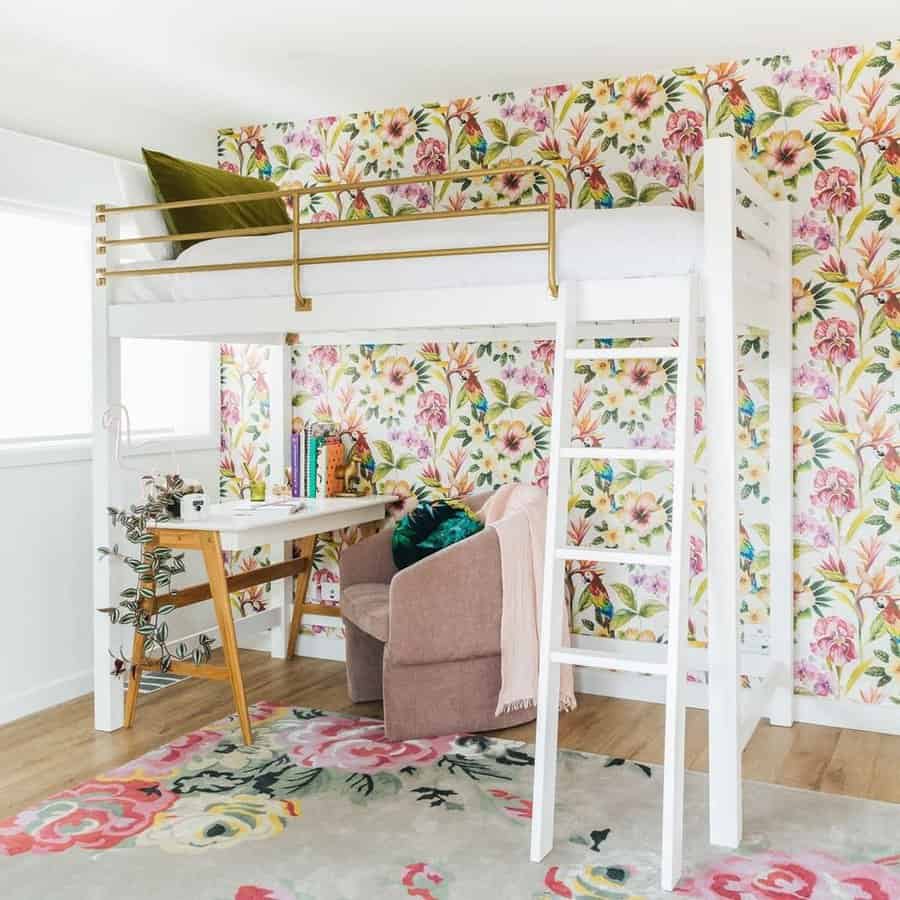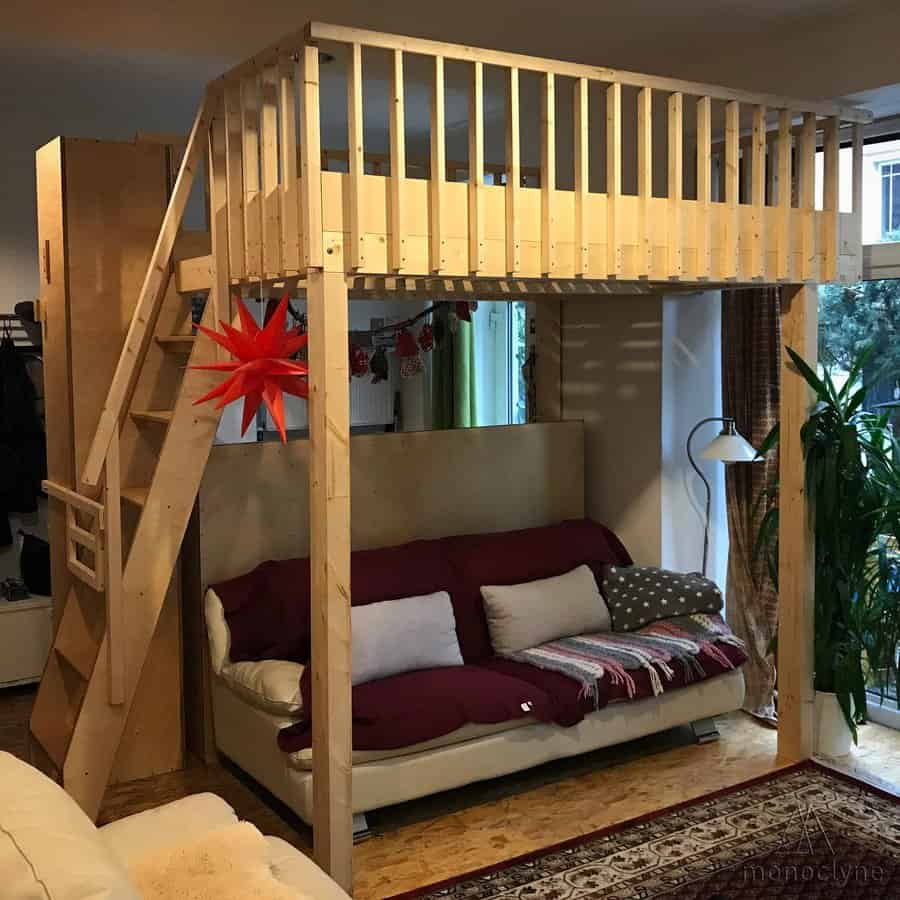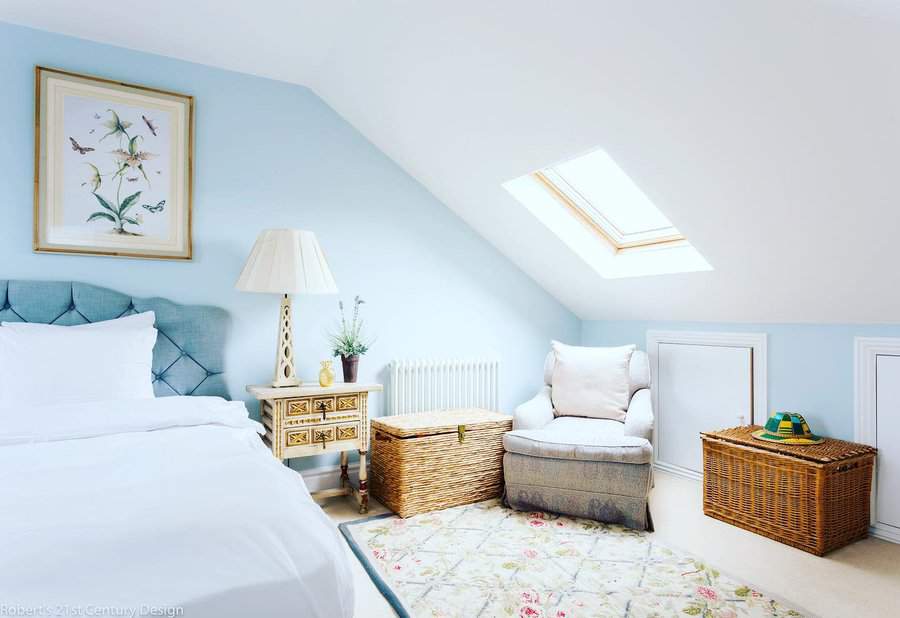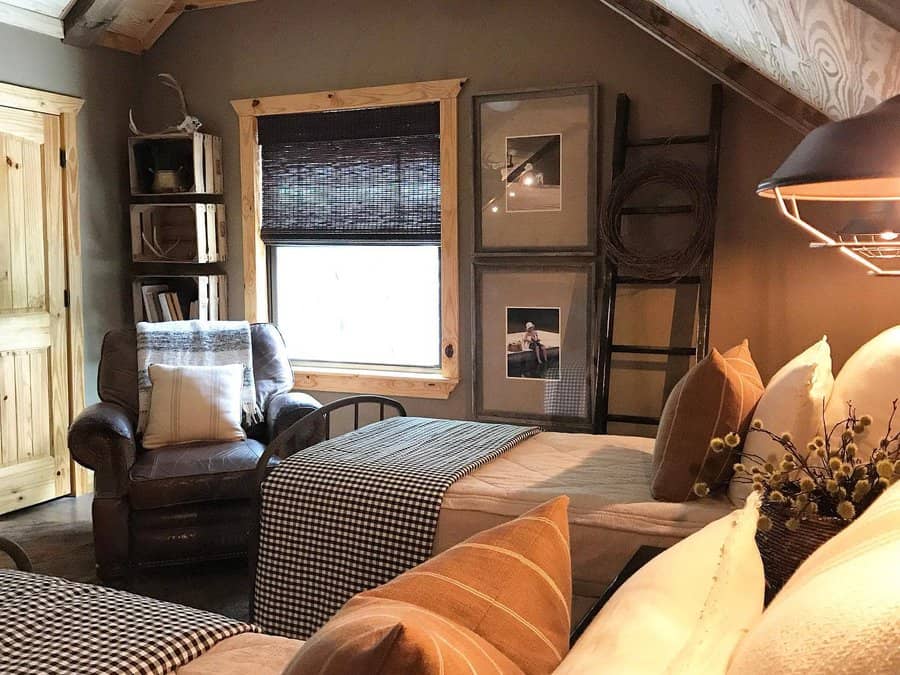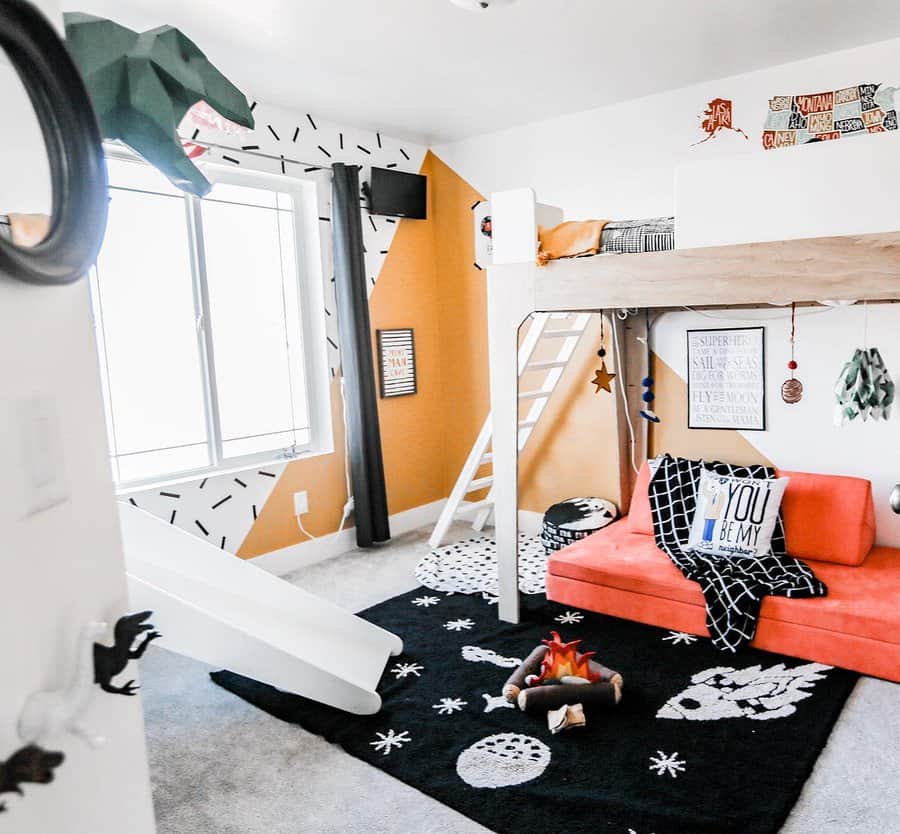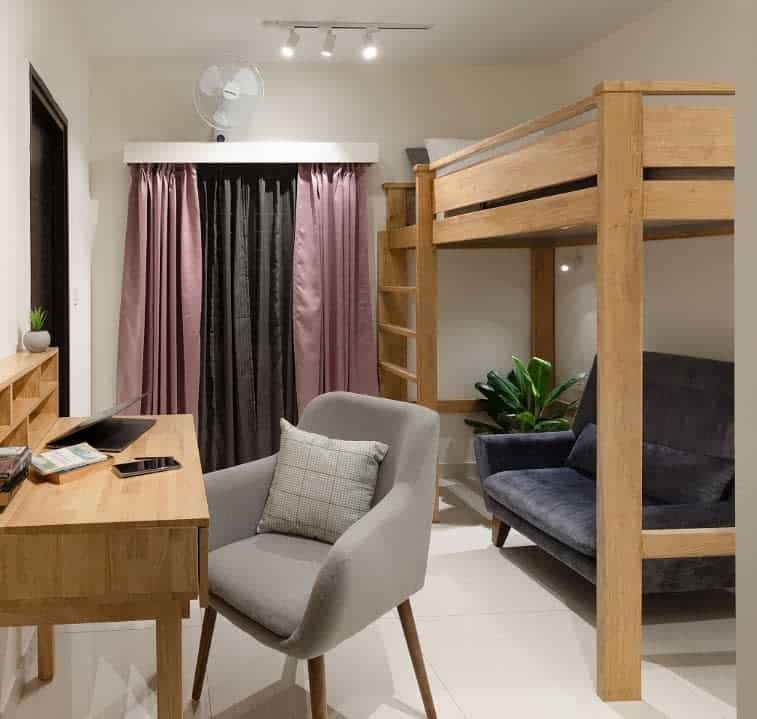 If you live in a single room, lofting your bed and arranging a sofa underneath gives you a place for people to sit without them having to sit on your bed. You can do this by placing an actual sofa under a lofted bed. You can also turn the lower bunk of a bunk bed into a sofa.
Place large, firm throw pillows along the back, leaning against the wall. Place smaller long ones on either end to serve as armrests.
3. DIY
Building a DIY loft bed requires knowing what you are doing with metal or woodworking tools. The finished product needs to be strong enough to support weight and stable enough to stay standing when someone climbs up or moves around. However, building your own DIY bunk bed is the best solution if you know what you're doing.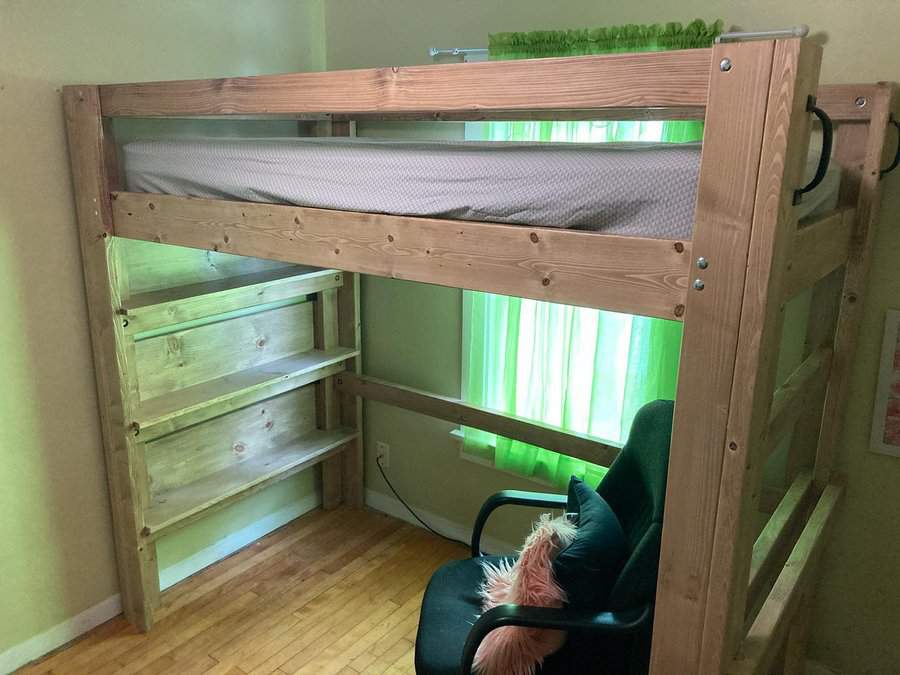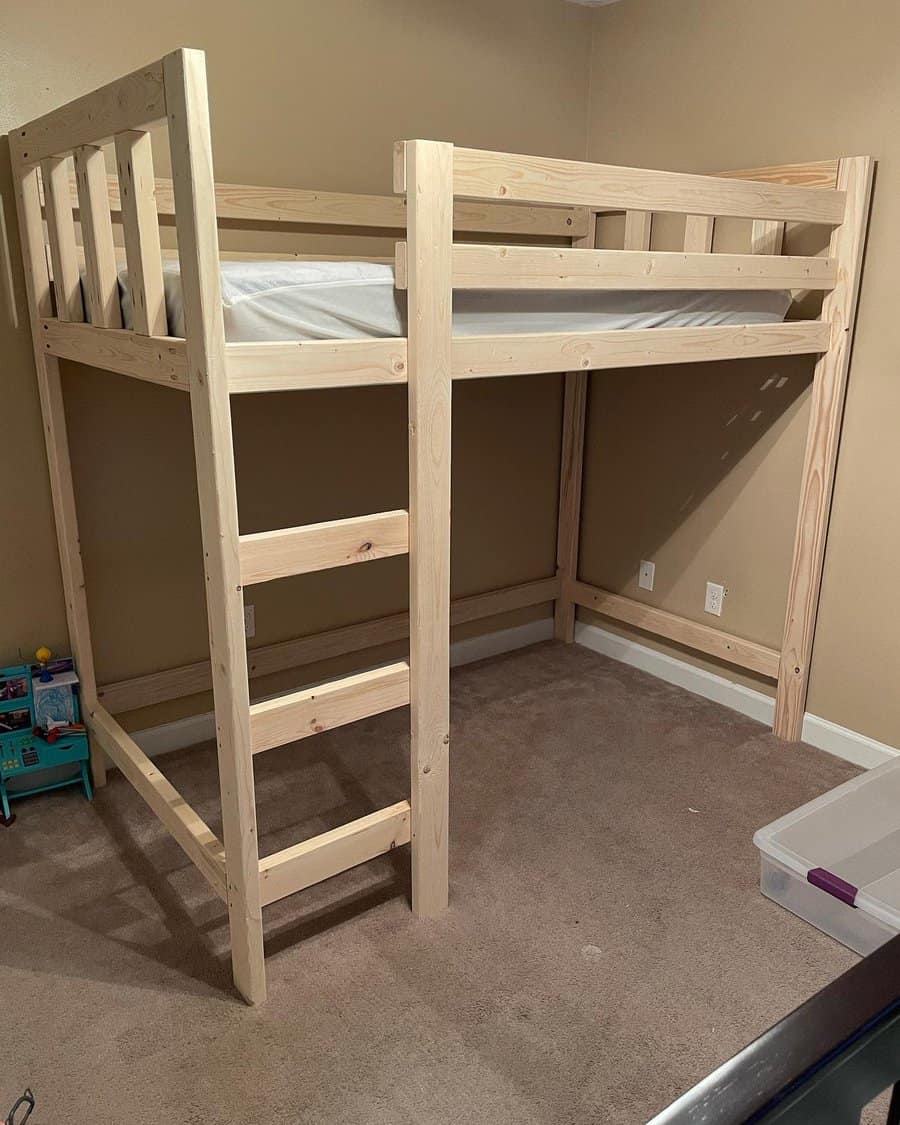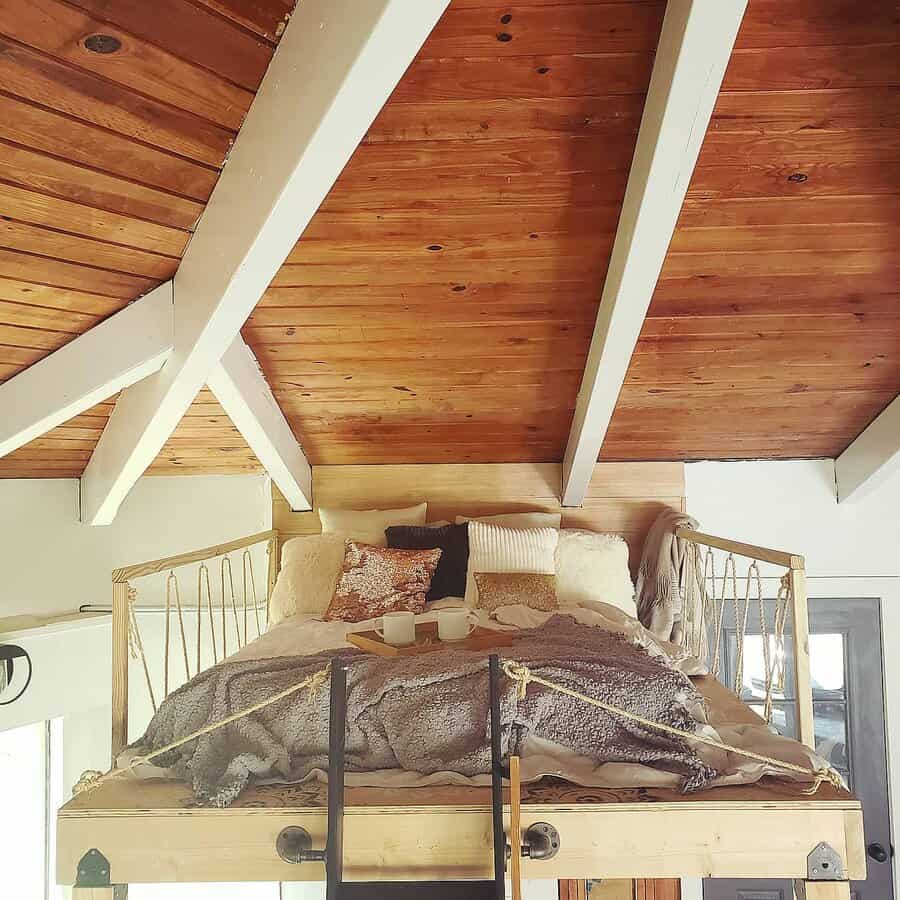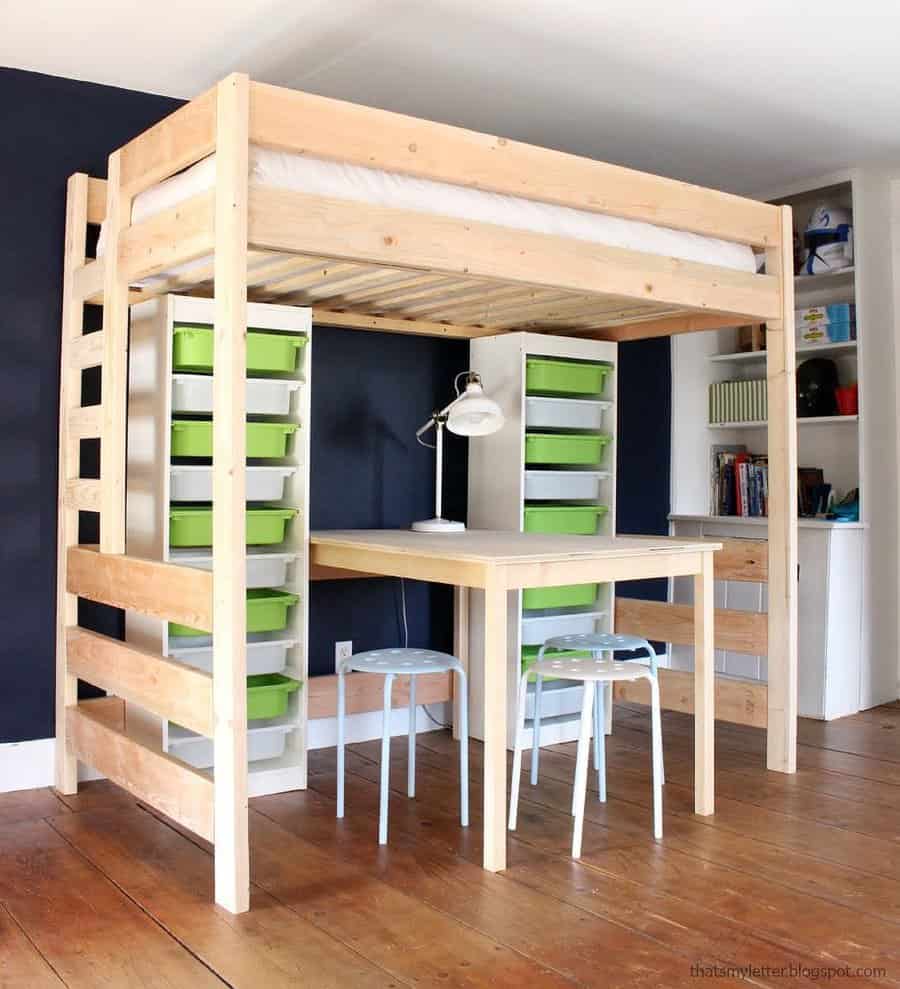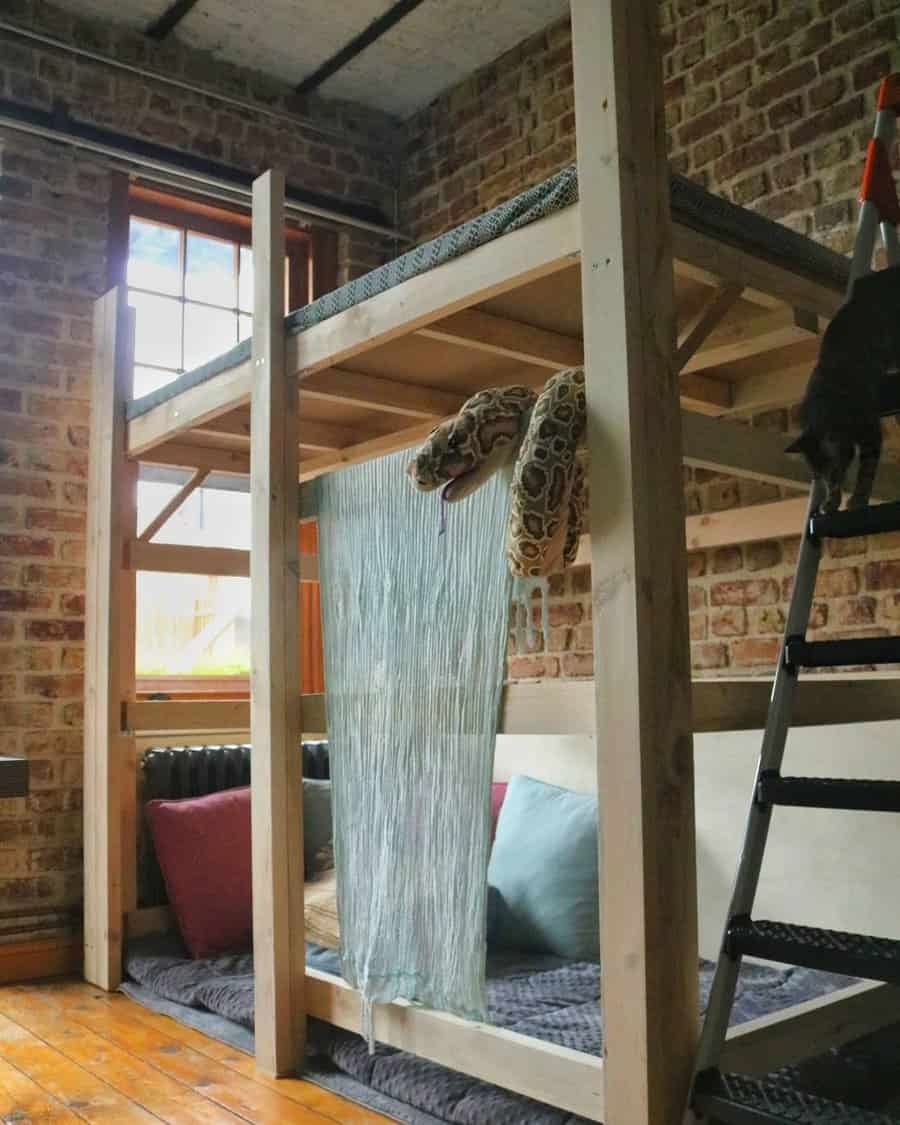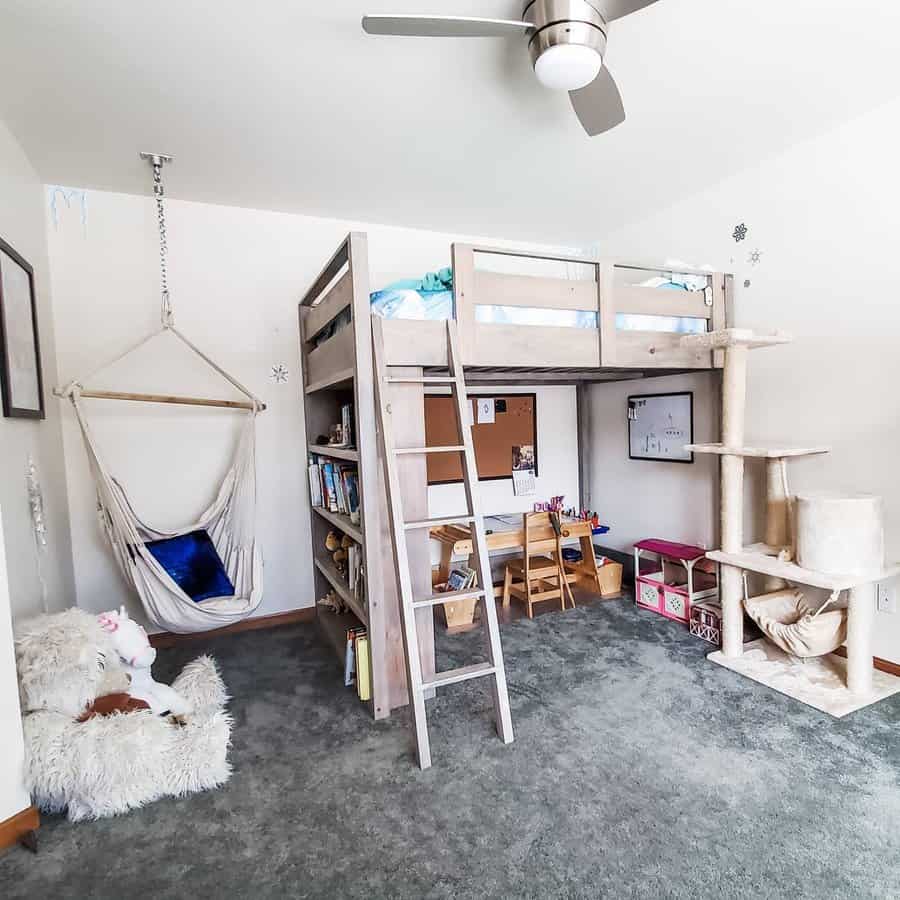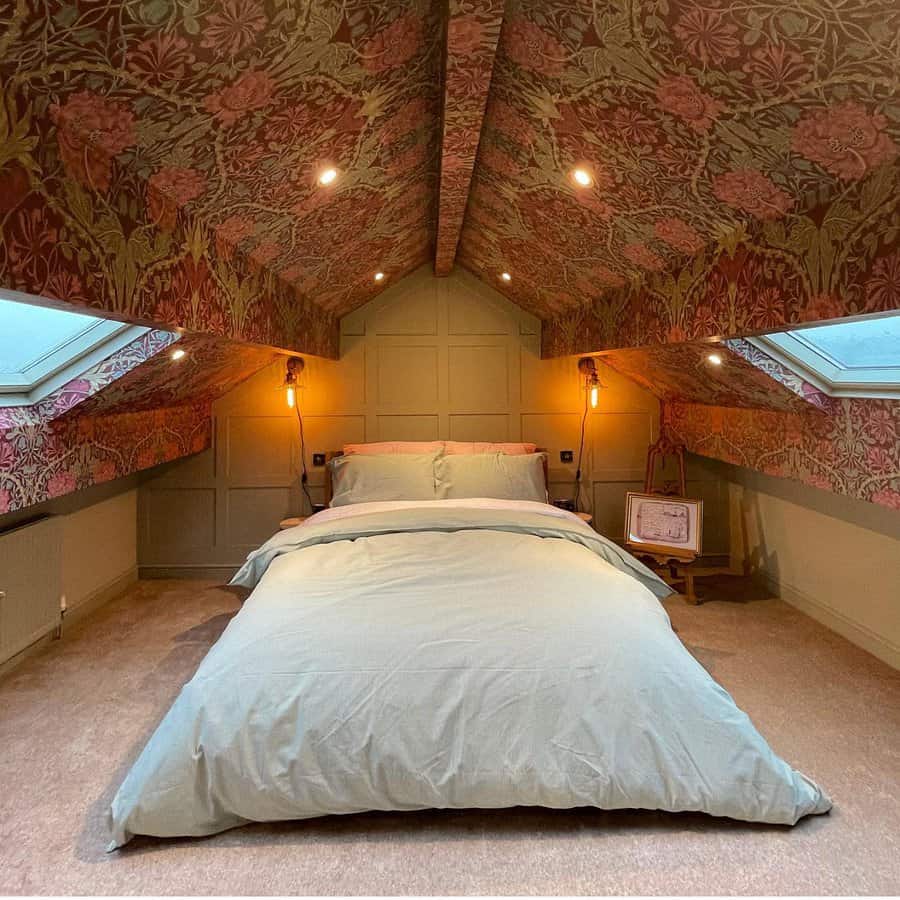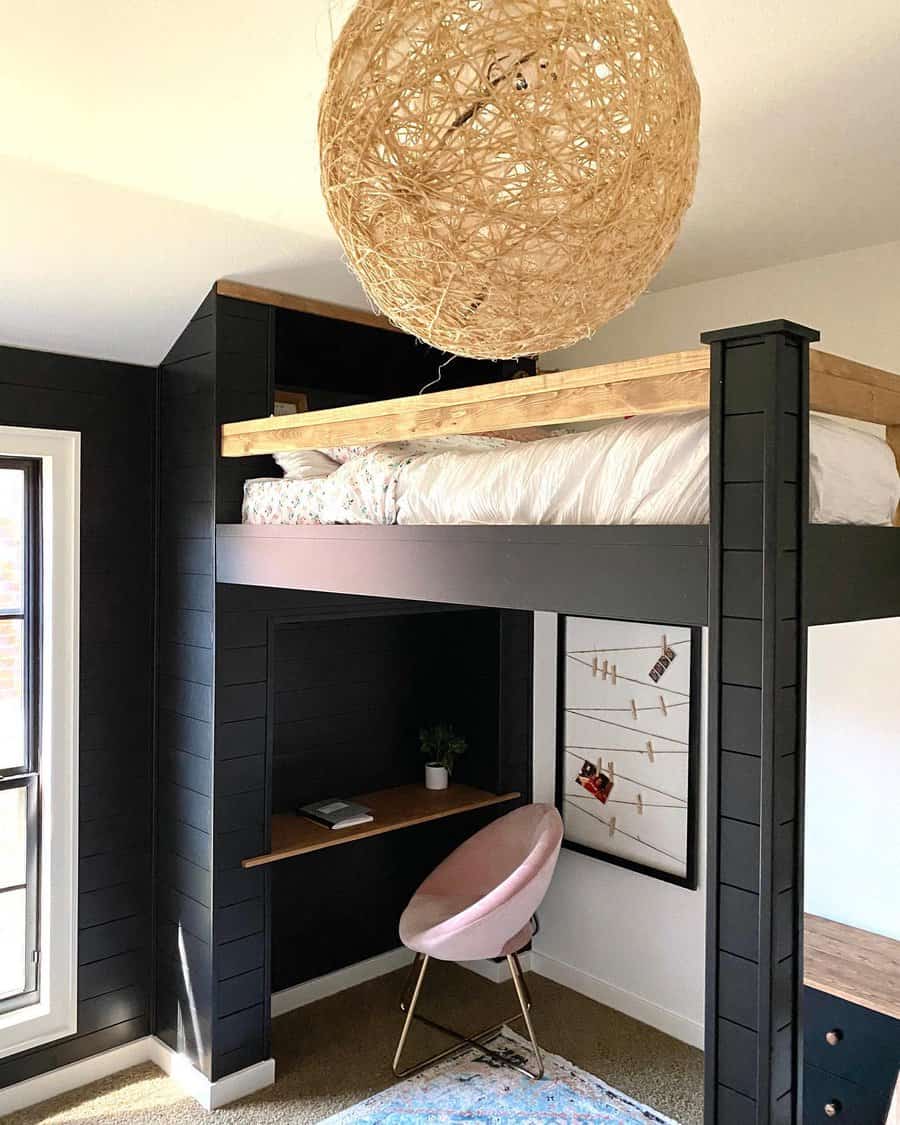 You could build a triple bunk bed for your kid's room. Or, instead of a plain kid's loft bed, you could create a playhouse loft bed. Now you're making the most of your children's room with a bed utilizing the vertical space and a playhouse underneath.
4. Metal
A simple and affordable twin loft bed has a metal bed frame. These beds are typically smaller with a twin bed mattress. What's nice about these beds is the slim design of the frames that help them take up minimal space. They also come in a wide range of colors, making it possible to create a custom look beyond the basic white or black.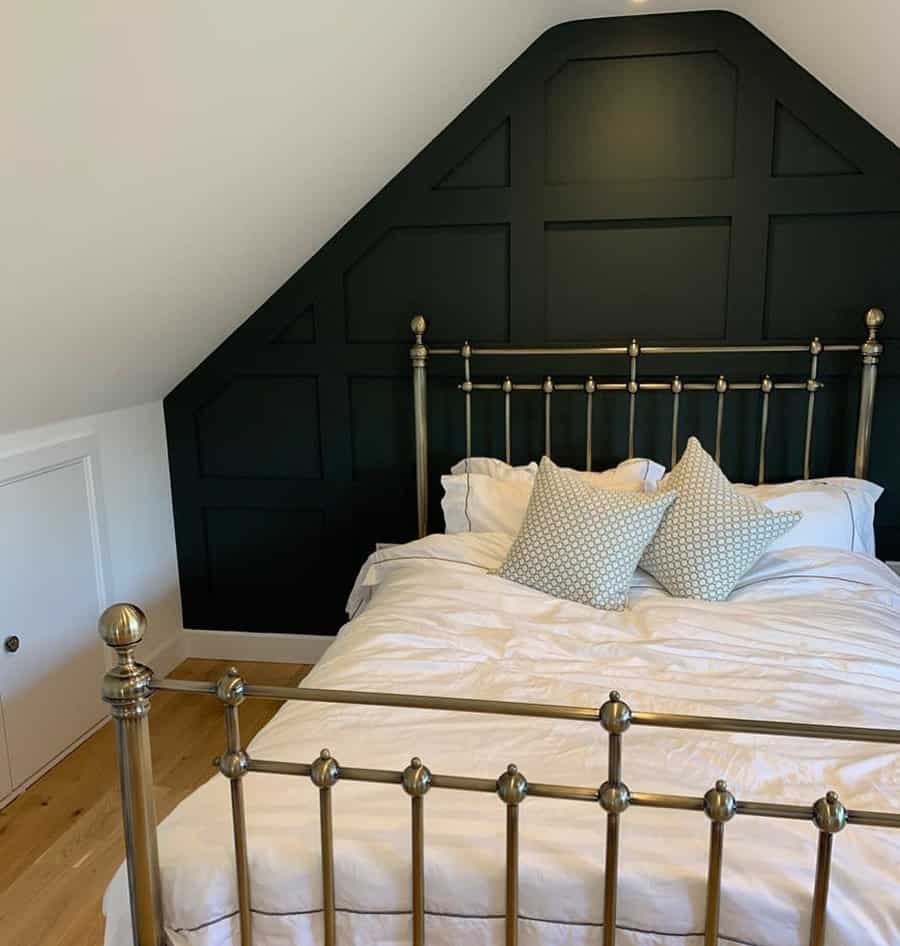 A metal-framed loft bed will fit well if you live in a dorm or small apartment. Most metal frames have simple designs with crisp straight lines, making them perfect for minimalist and modern designs.
5. Modern
A modern loft bed has a unique design or additional features. They have a larger loft area, letting you have a mattress that's bigger than a twin bunk bed. Some have a full queen mattress. This makes it possible to have a larger desk or even a shelving unit underneath.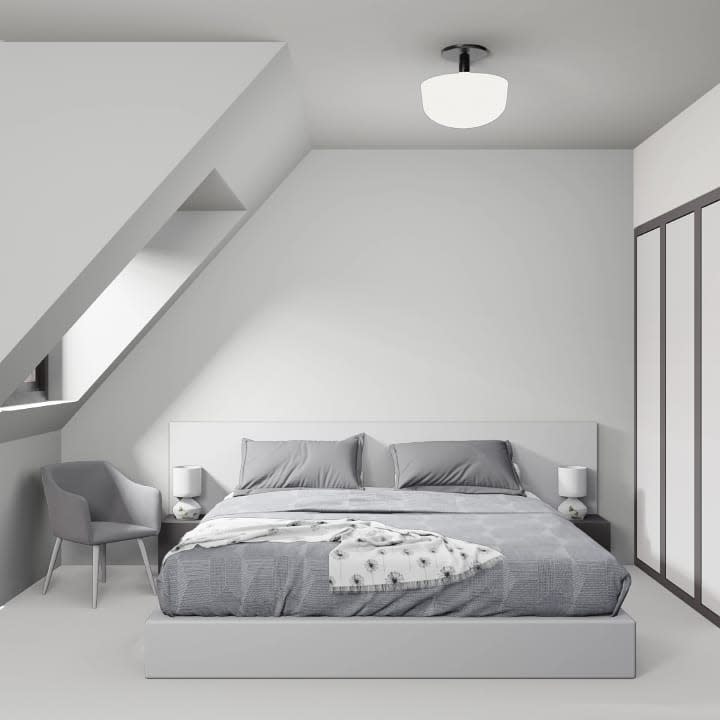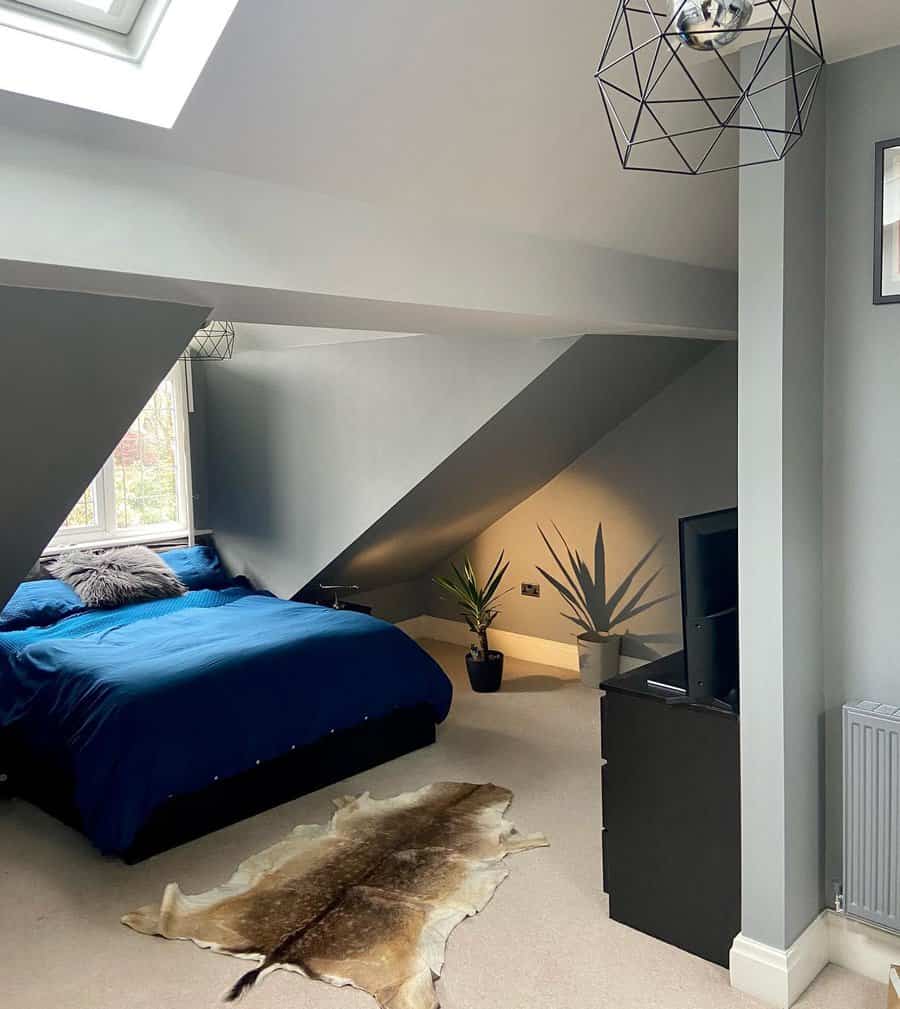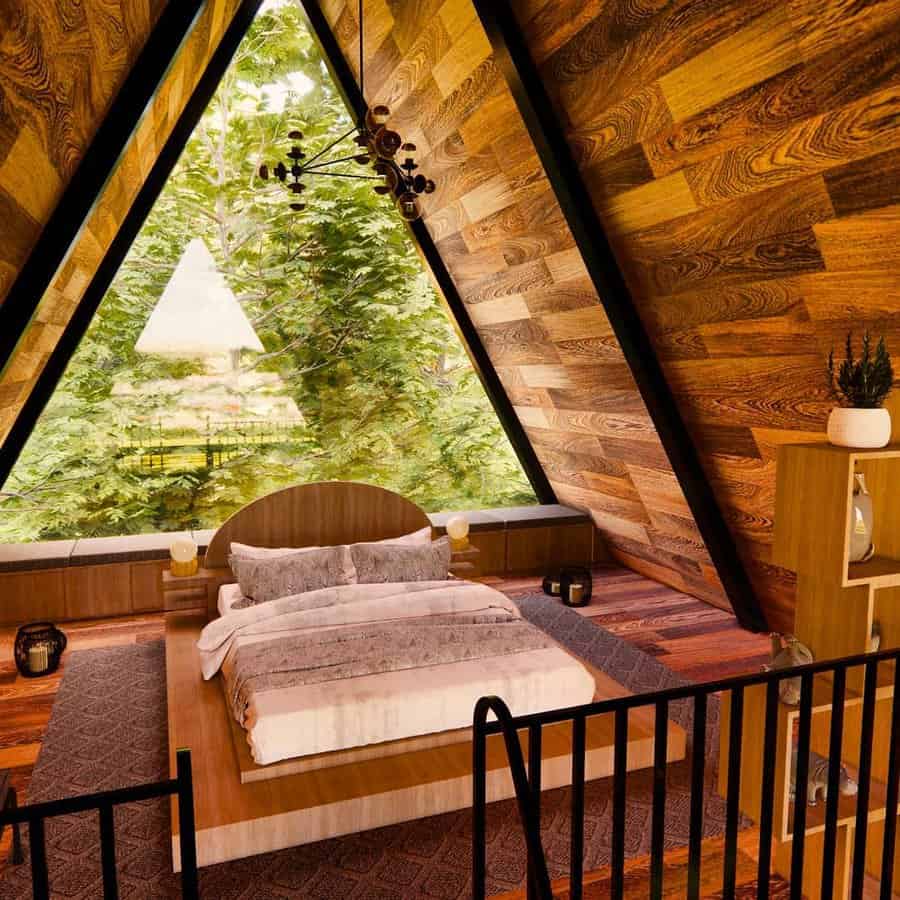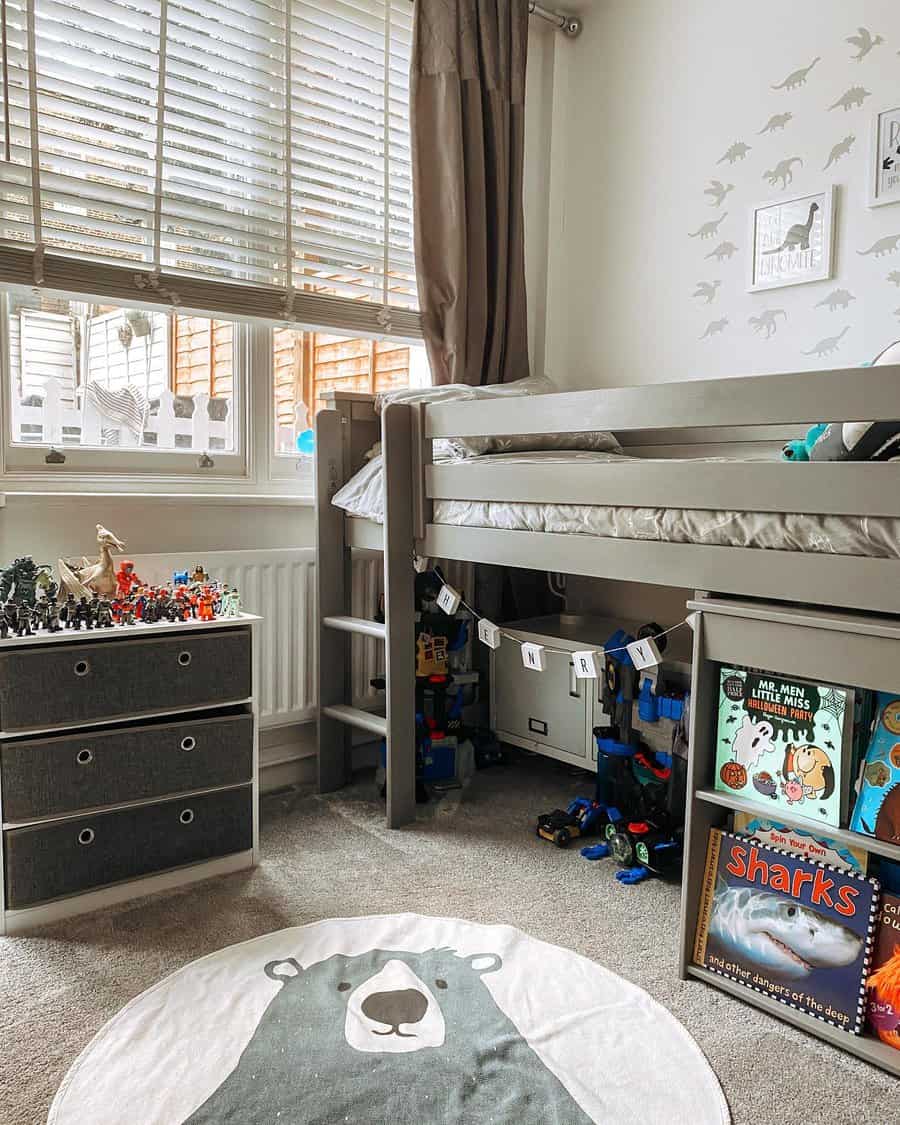 Another modern design is to build the loft bed directly into the wall. Adding accent lighting is also a common feature of modern loft beds. This could be LED strip lighting or lights built into the shelving unit to highlight the items on the shelves. It could also have power or USB plugs to make charging your devices easy.
6. Rustic
Adding wooden bunk beds to your rustic-inspired bedroom is perfect for creating a cabin-like feel. It's not uncommon to find loft cabin beds in large country homes that you rent for vacation. You can have this look at home in your home by adding a rustic bunk room.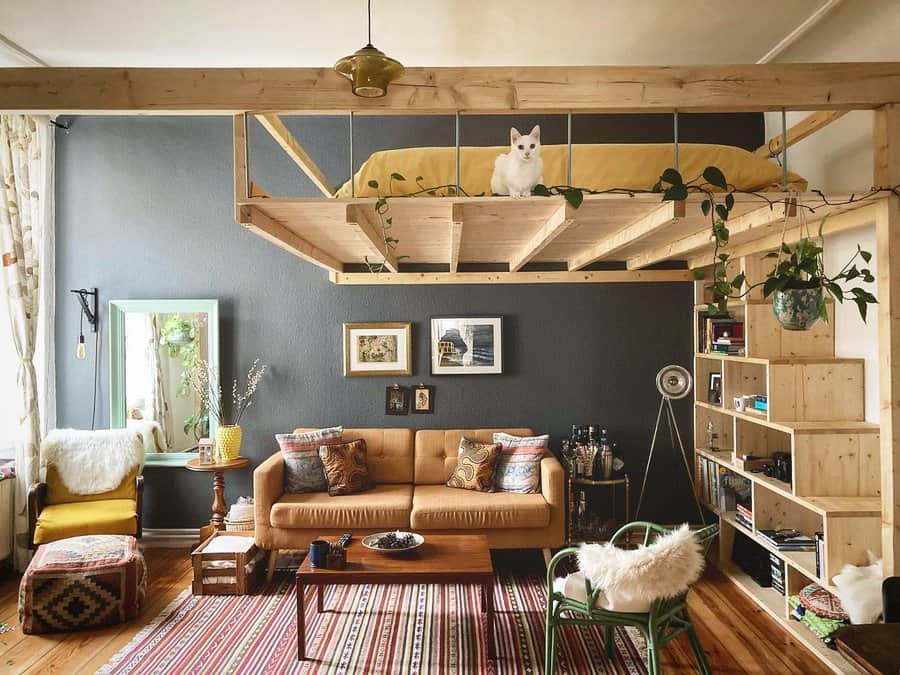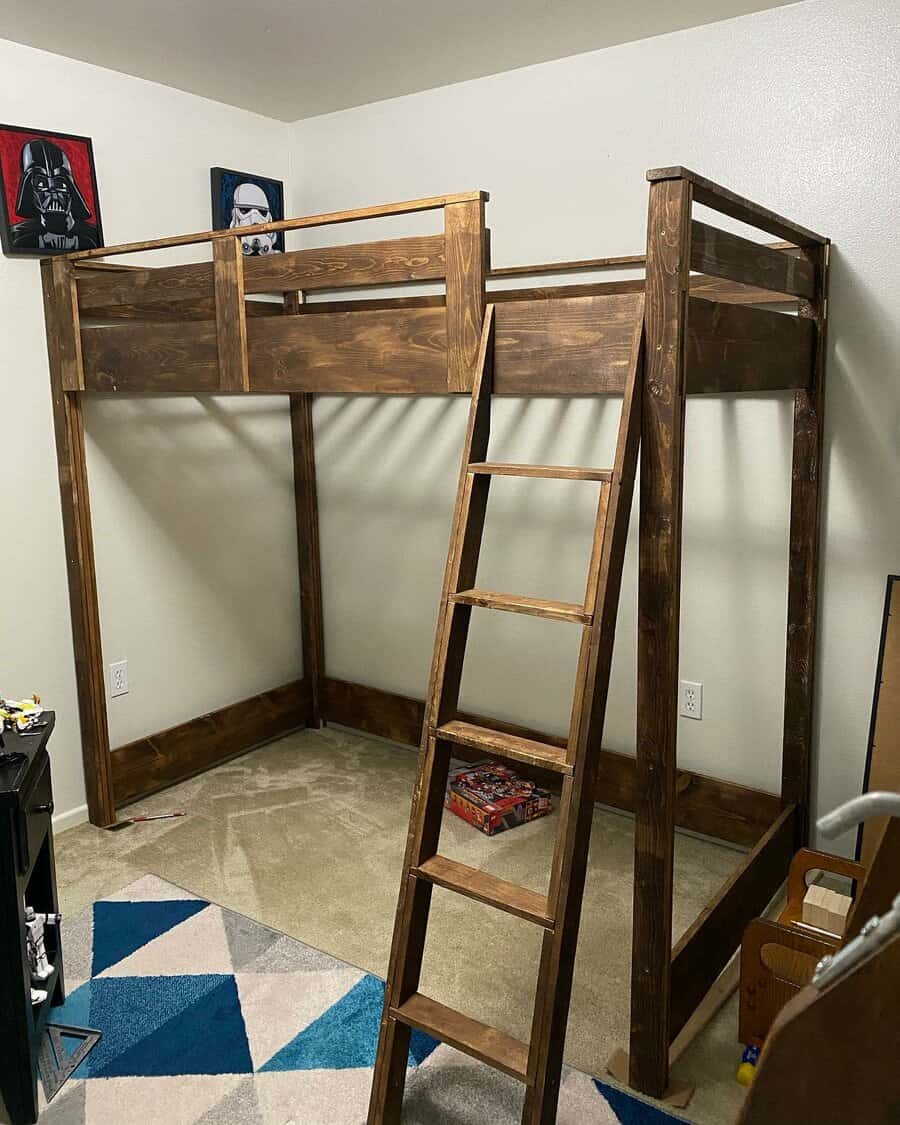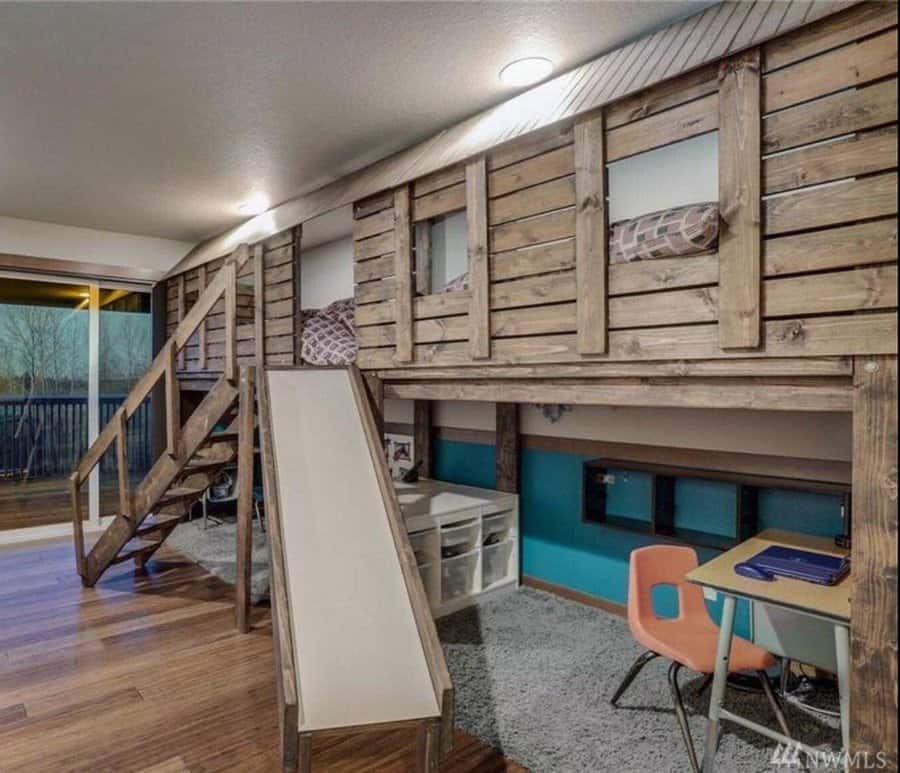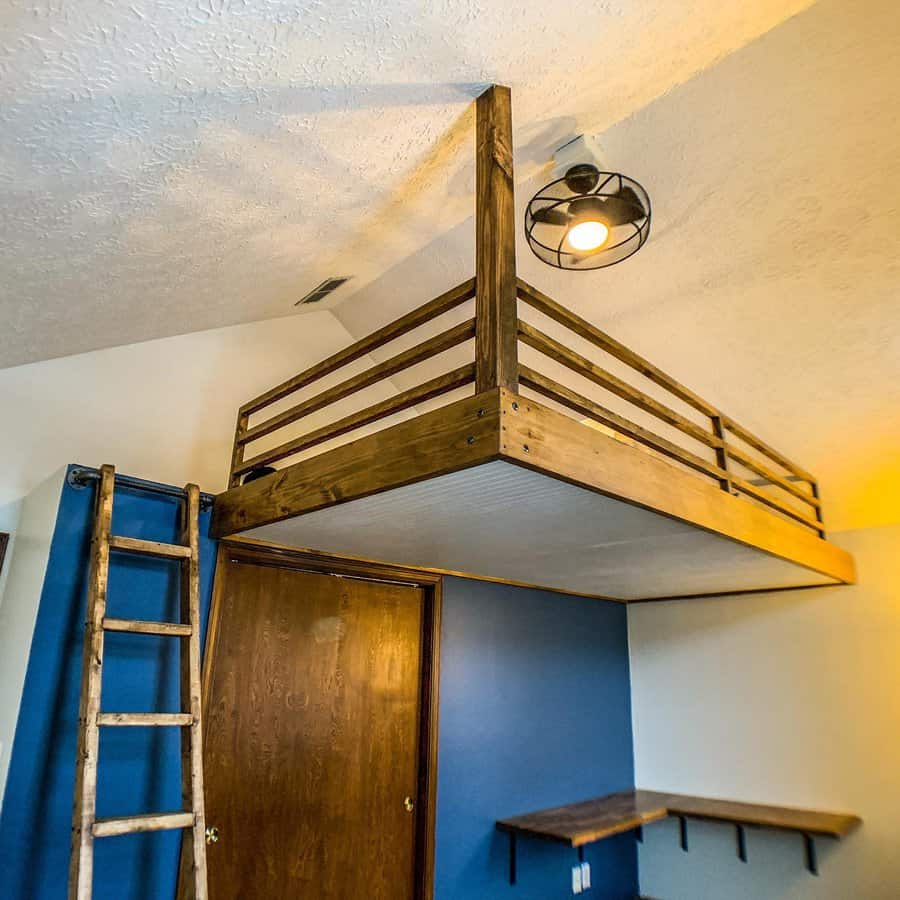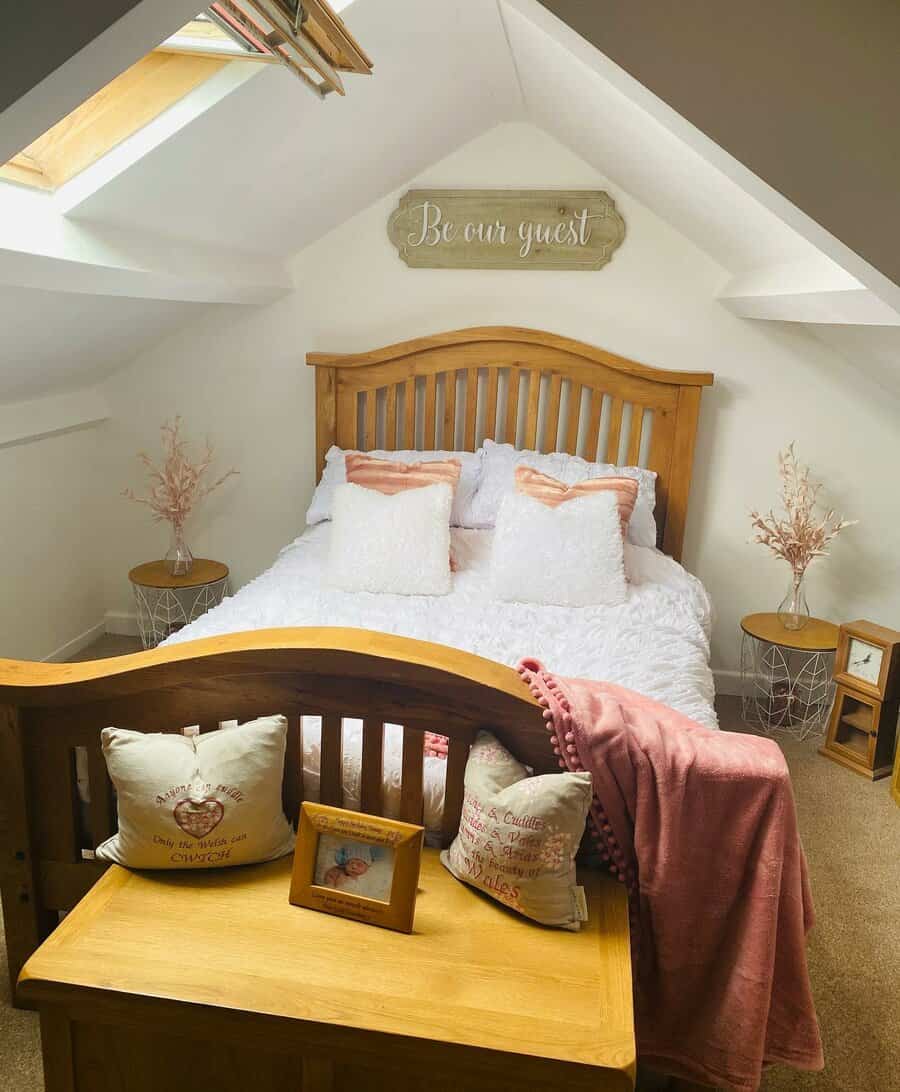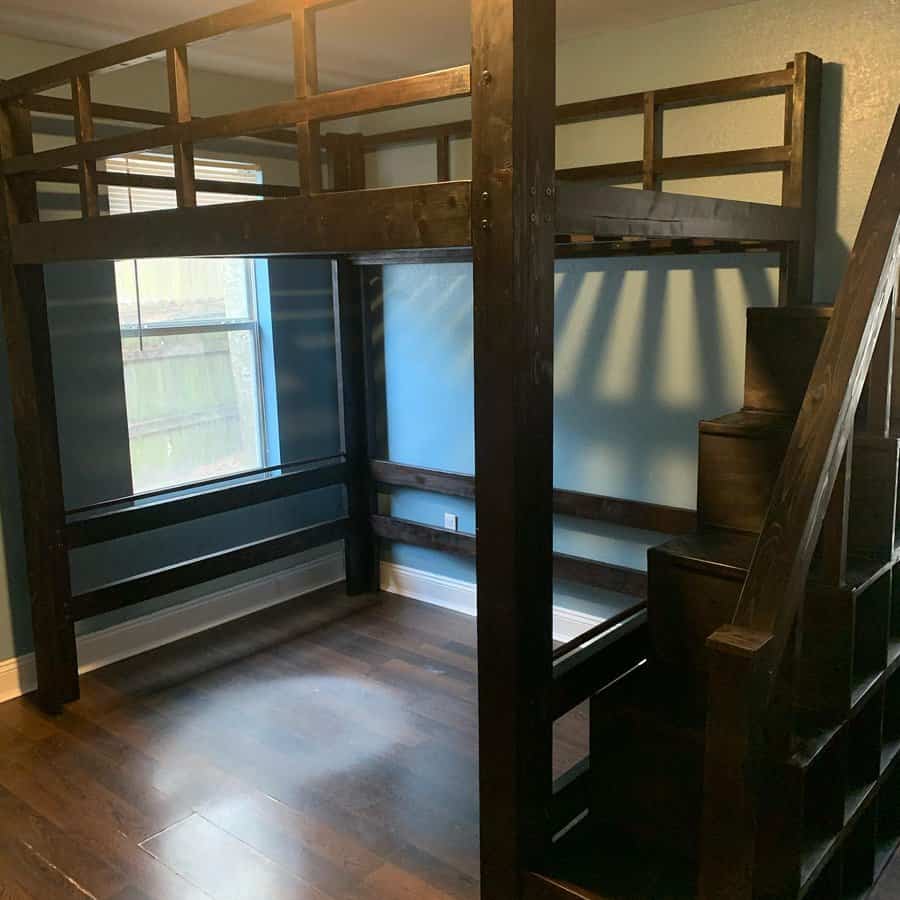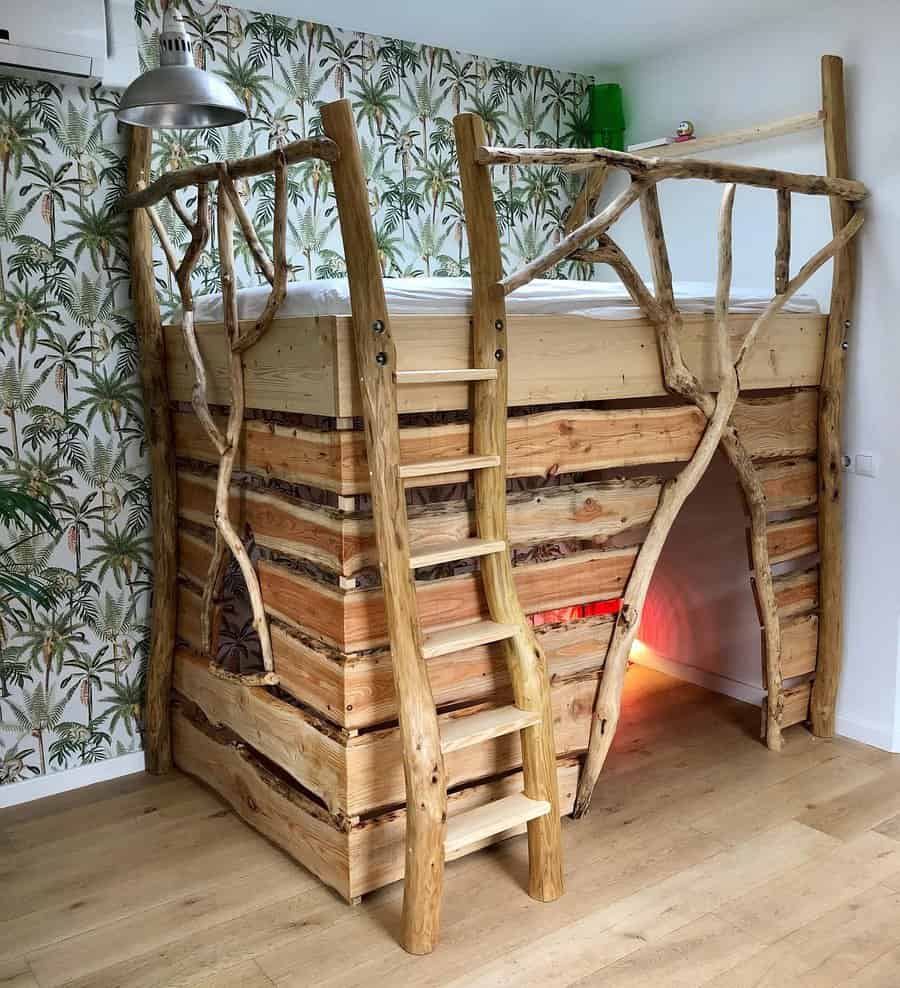 You could make a rustic bunk bed out of reclaimed or salvaged wood. If you aren't handy, you could buy a rustic bunk bed. Look for one that has raw wood that isn't expertly finished. It should have an imperfect feel and features signs that it's handmade.
7. Space Saving
When you live in a small apartment or have a small bedroom to work with, you also have a limited amount of floor space.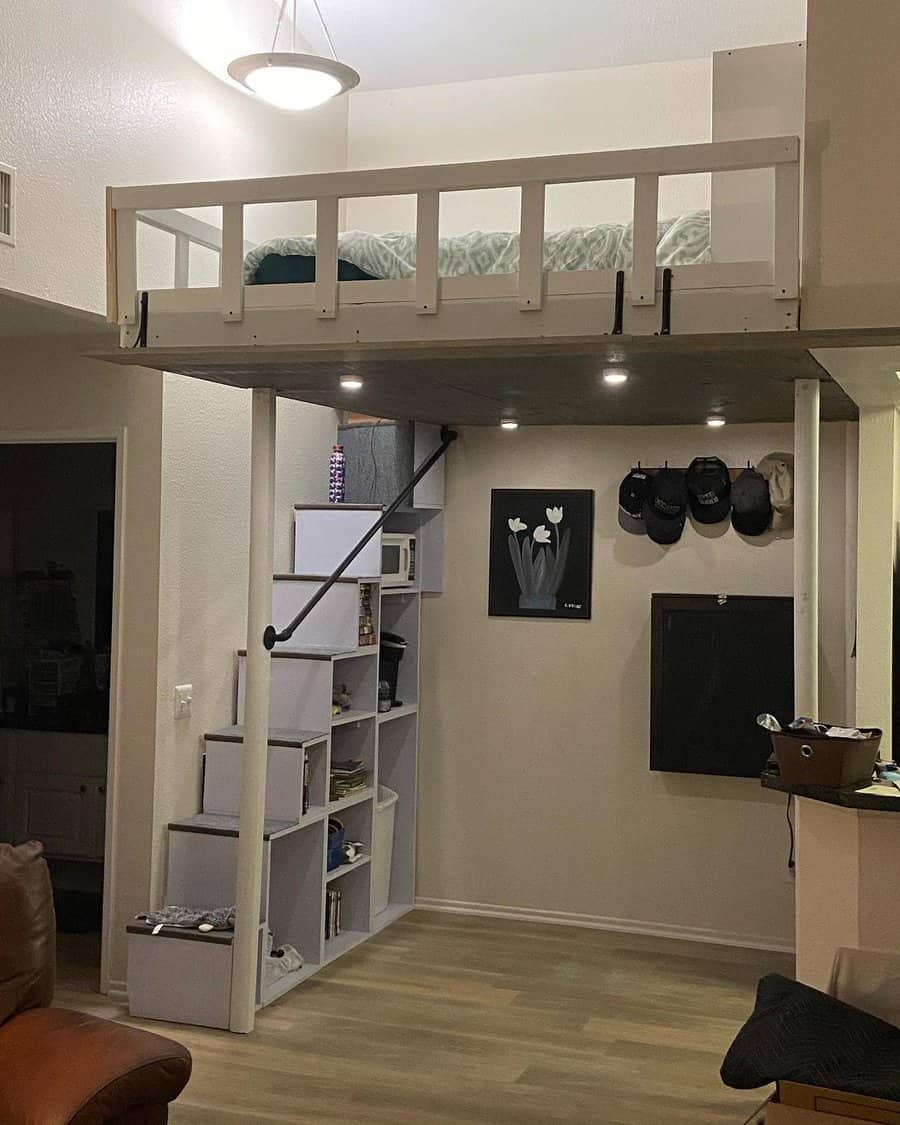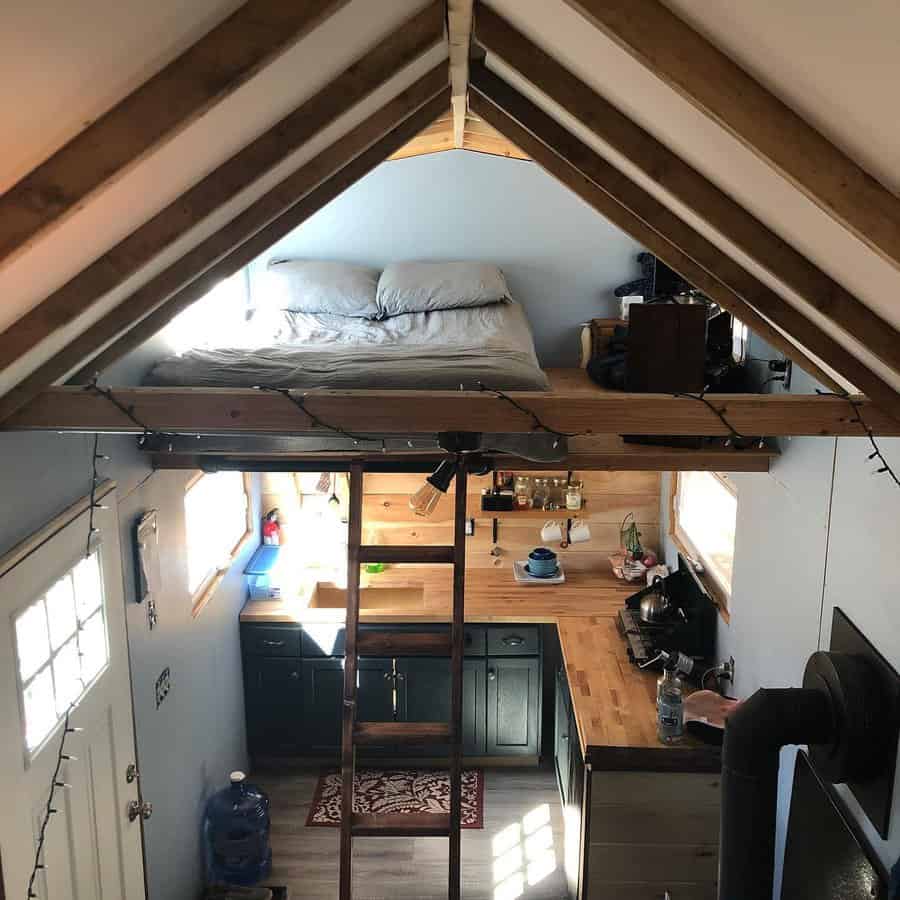 A loft bed works well when you have a small room that you want to turn into a guest room. This lifts the bed out of the way so that you can use the rest of the room for other purposes. That way, you don't have an entire room that goes unused when you don't have someone staying with you. It could be your home office space, art room, man cave, or teen hang-out room.
8. Storage
If your home lacks extra space, you can use your raised bed to create more storage space. The bed doesn't have to be fully lofted; it could be just raised more than a standard bed.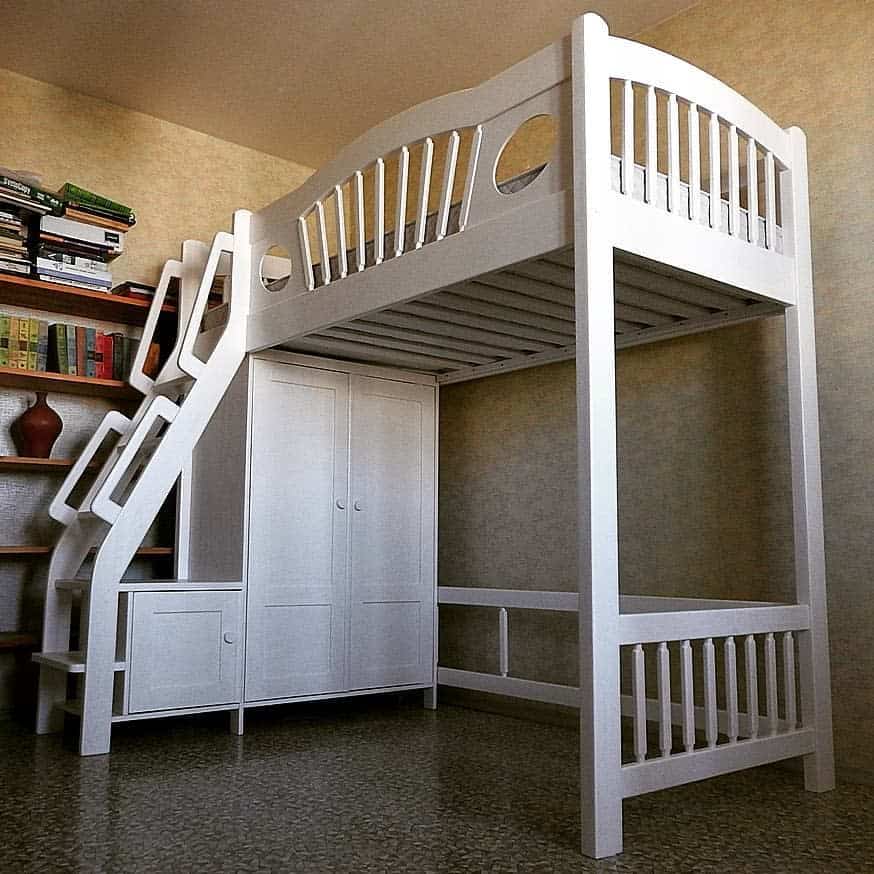 Add stairs on the side or end to make it easy to get in and out of the raised bed. This works well in a kid's room where you can have drawers under the bed for clothes, books, or toys. The stairs could have built-in shelves that you can place books, games, or toys on.
9. White
If the rest of the furniture in your bedroom is white, then it's wise to choose a white loft bed too. You'll create a cohesive design in your bedroom, with your loft bed design matching your other furniture.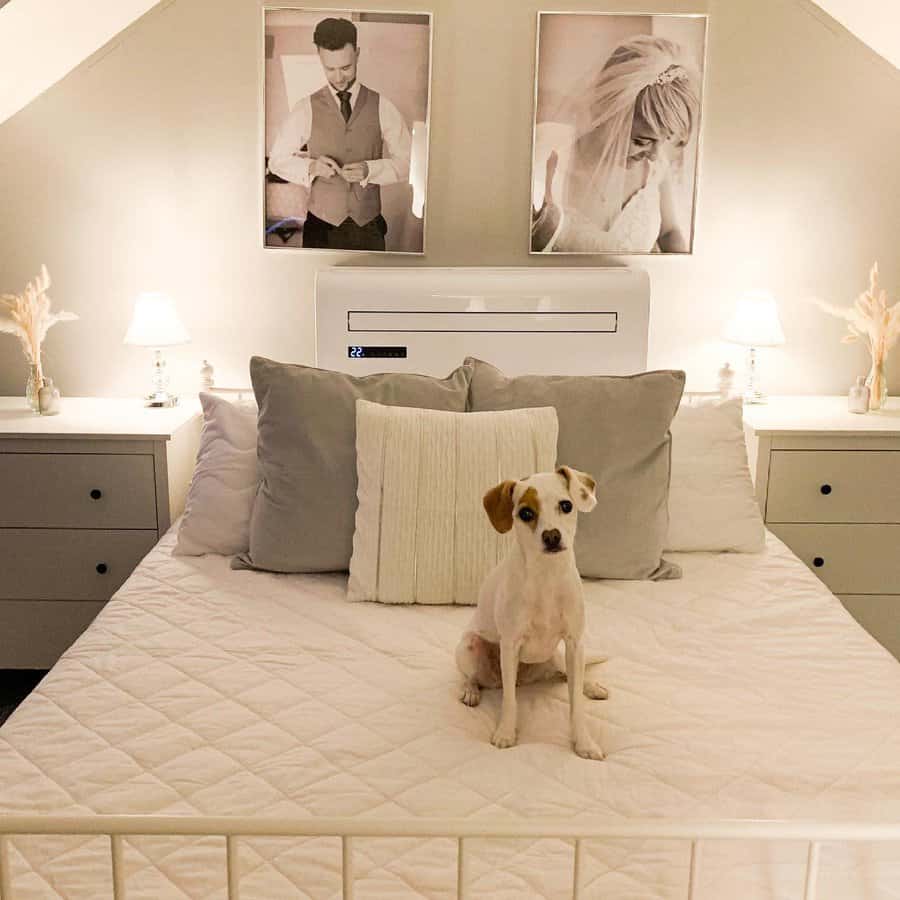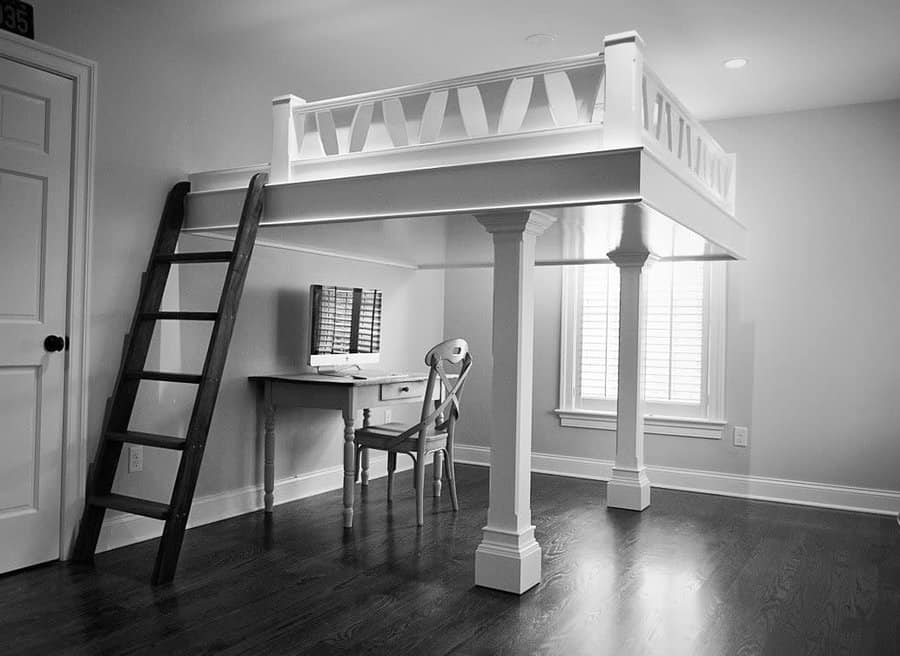 When creating your loft bed plan, think about the look you're trying to create in your bedroom. If your bedroom walls are also white, then a white loft bed frame will blend into the walls, helping the space feel bigger. You can find loft beds in a variety of materials, including both metal and wood. This lets you find a white loft bed that also suits the rest of your interior design theme.
10. With Desk
Using a loft bunk bed with a desk underneath is perfect for a child's room or dorm room. Instead of having a second bed underneath, there is a desk setup. The bed doesn't need to be uncomfortably high because you sit at the desk that is positioned under the bulk of the bed.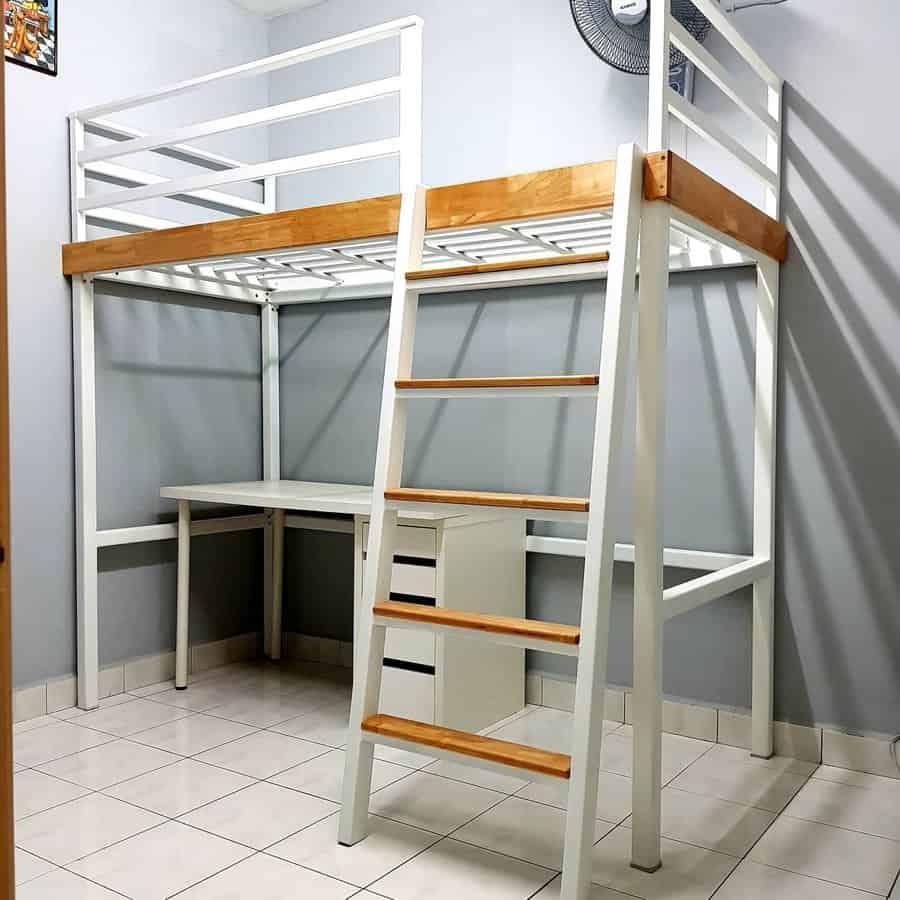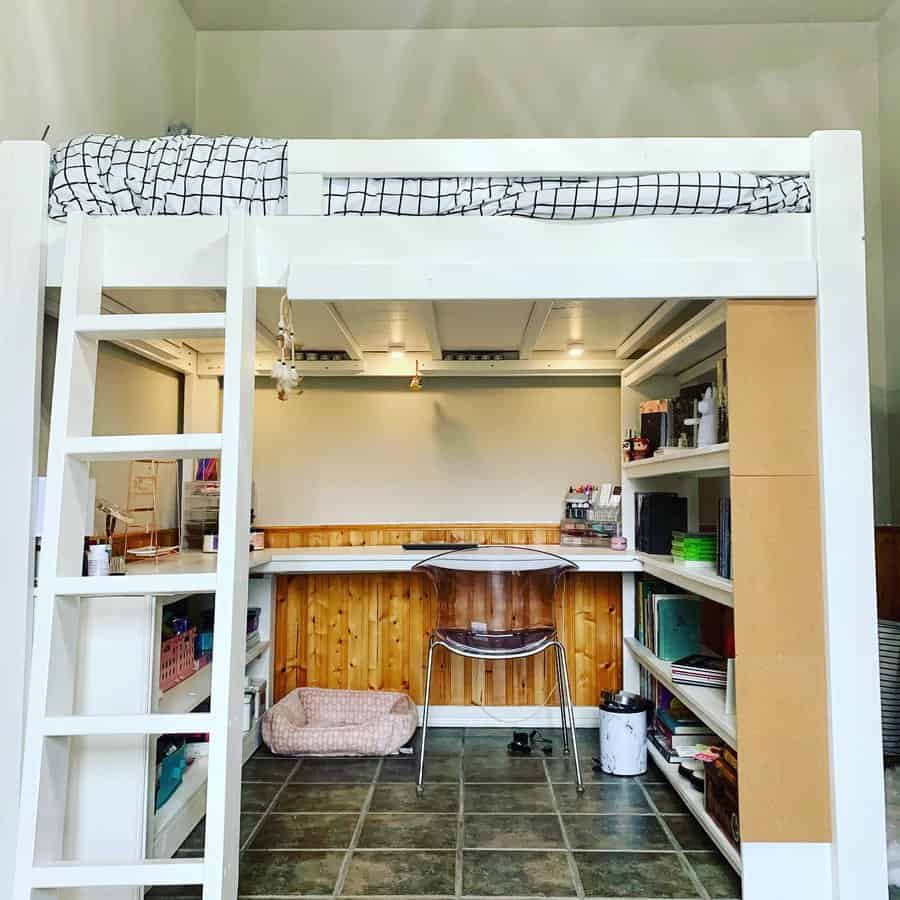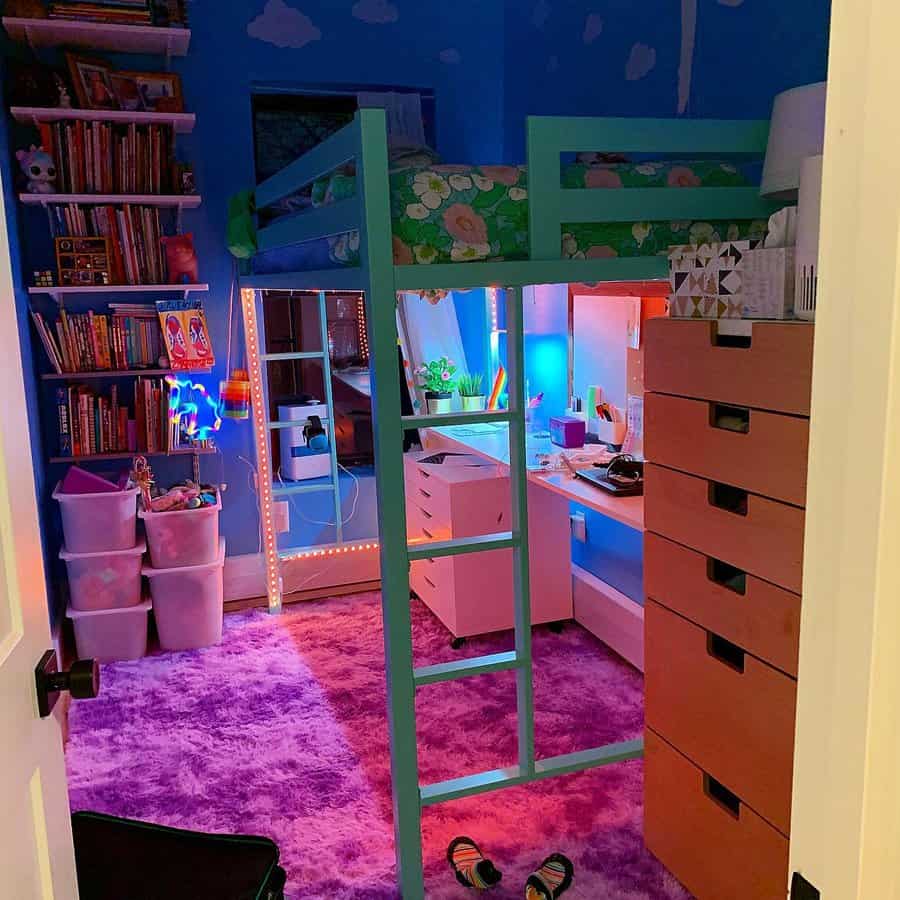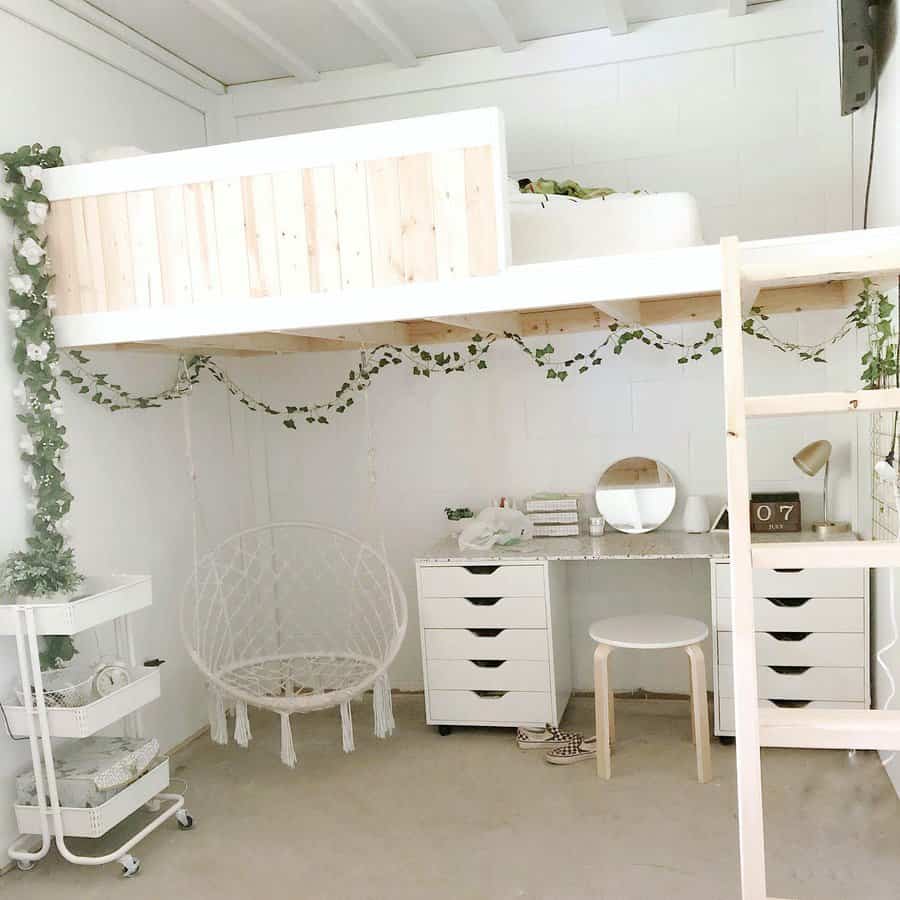 Hang lights from the underside of the bed to create plenty of light for the desk. Use the wall behind the lofted bed and the inside of the frame to hang organizational storage solutions. If you can't build a desk into the loft bed, you can buy a separate desk and slide it into place under the bed.
Loft Bed FAQs
Can adults sleep in loft beds?
Of course, they can! If you live in a small apartment, then having a loft bed can give you much-needed space. By raising your bed, you gain the space underneath for adding a sofa, desk, or for any other use. As long as the lofted bed is large enough to hold a twin or full-size mattress, it is comfortable enough for an adult.
Are loft beds a good idea?
Loft beds are a good idea when you have limited space. They work especially well in a child's room or guest bedroom. These are rooms that are typically smaller than a master bedroom, so the gained space is useful.
How much weight can a loft bed hold?
Typically, a loft bed can hold 200-300 pounds. However, the amount your loft bed can hold will depend on the size and construction quality of the lofted bed. If your bed is intended for adults, you will want a stronger bed that can support more weight.