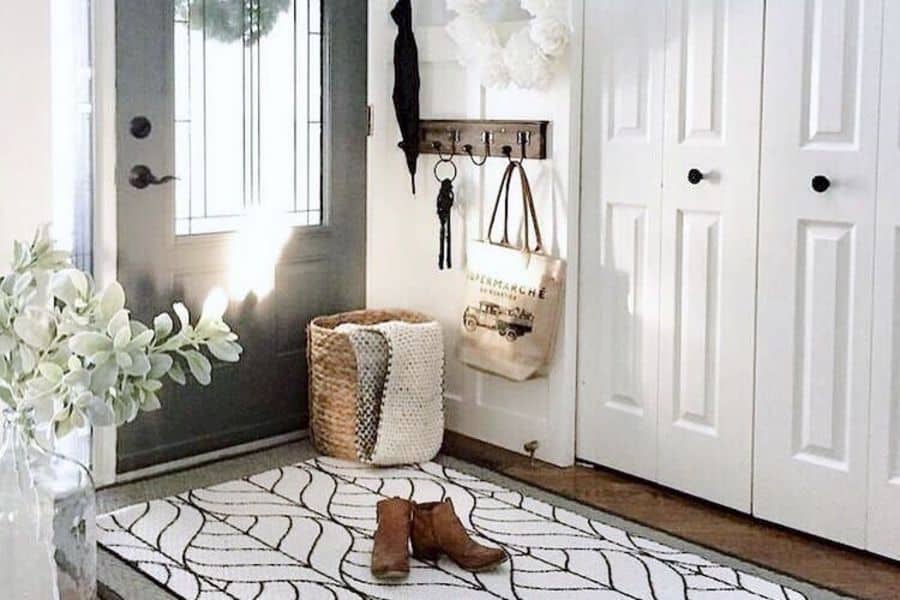 The Top 69 Small Entryway Ideas
Creating a small entryway in your home gives you a place to welcome guests. No matter how small this space is in your home, you can style it to be functional and beautiful.
Start by measuring your space and knowing what you need to place here. Then look for pieces that will have multiple functions and add to the appeal.
These small entryway ideas will help you with your small entryway makeover project. Add a bench, hooks, cabinets, and ambient decor.
With the right combination, your small entryway will be the perfect place for welcoming guests and getting situated when you come home.
1. Entryway Bench
Welcome guests into your home with style and functionality by incorporating an entryway bench into your small entryway. This versatile piece of furniture serves as a focal point while providing a practical solution for storage and seating.
Choose a sleek and modern design that complements your overall decor, or opt for a rustic and charming bench to add character to the space. The entryway bench offers a convenient spot for guests to take off their shoes or set down their belongings, ensuring a clutter-free and organized entryway.
Enhance the functionality of your bench by selecting one with built-in storage compartments or shelves, perfect for stashing away shoes, umbrellas, or other everyday essentials. You can also personalize your entryway bench with decorative pillows or cushions to add a pop of color and comfort.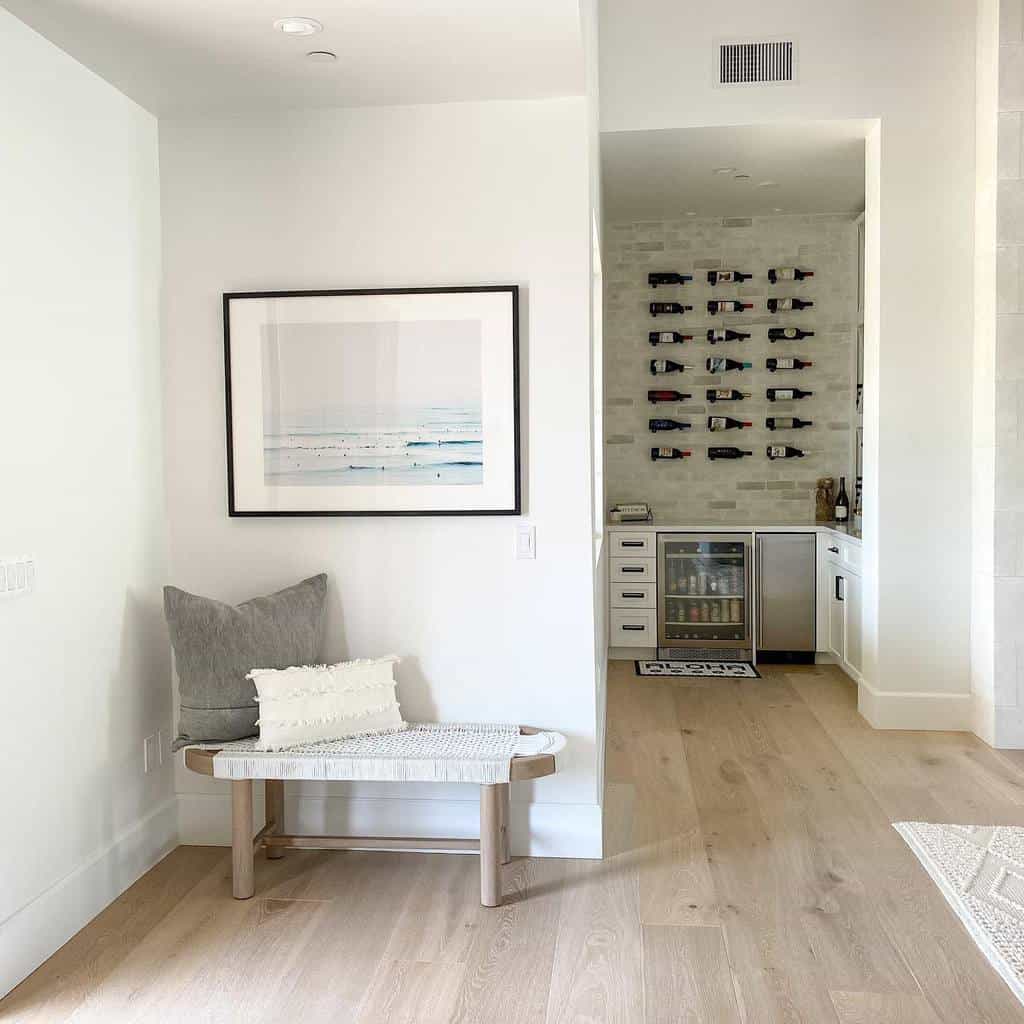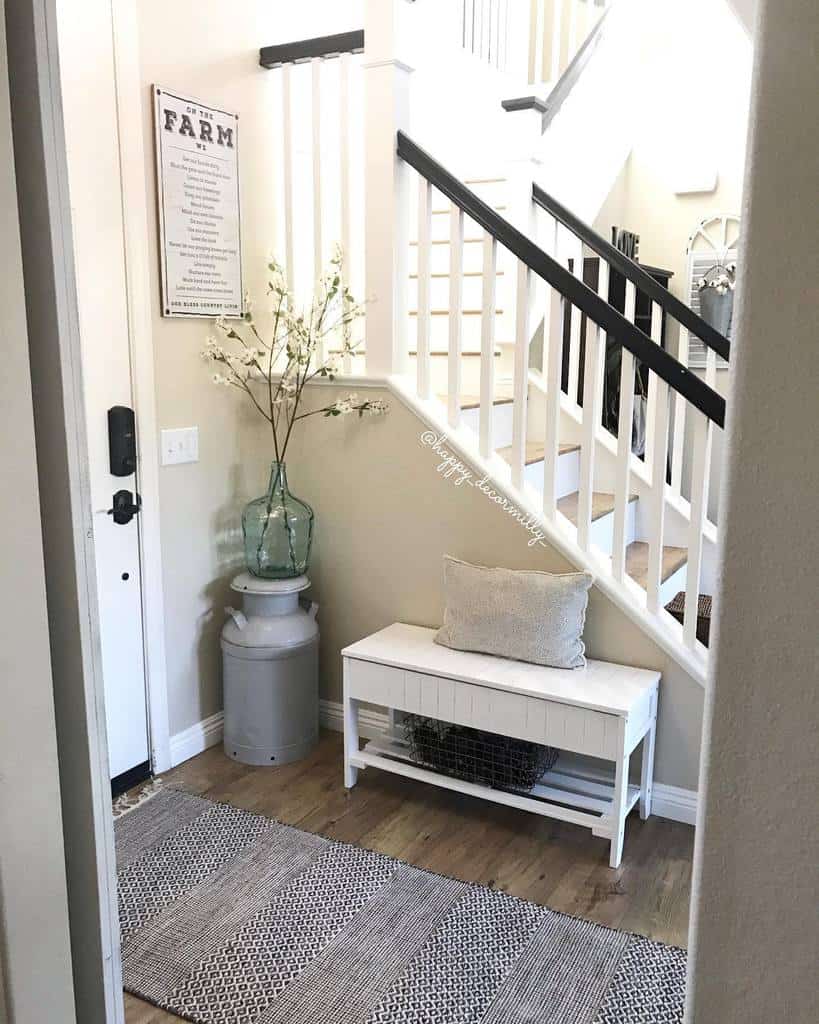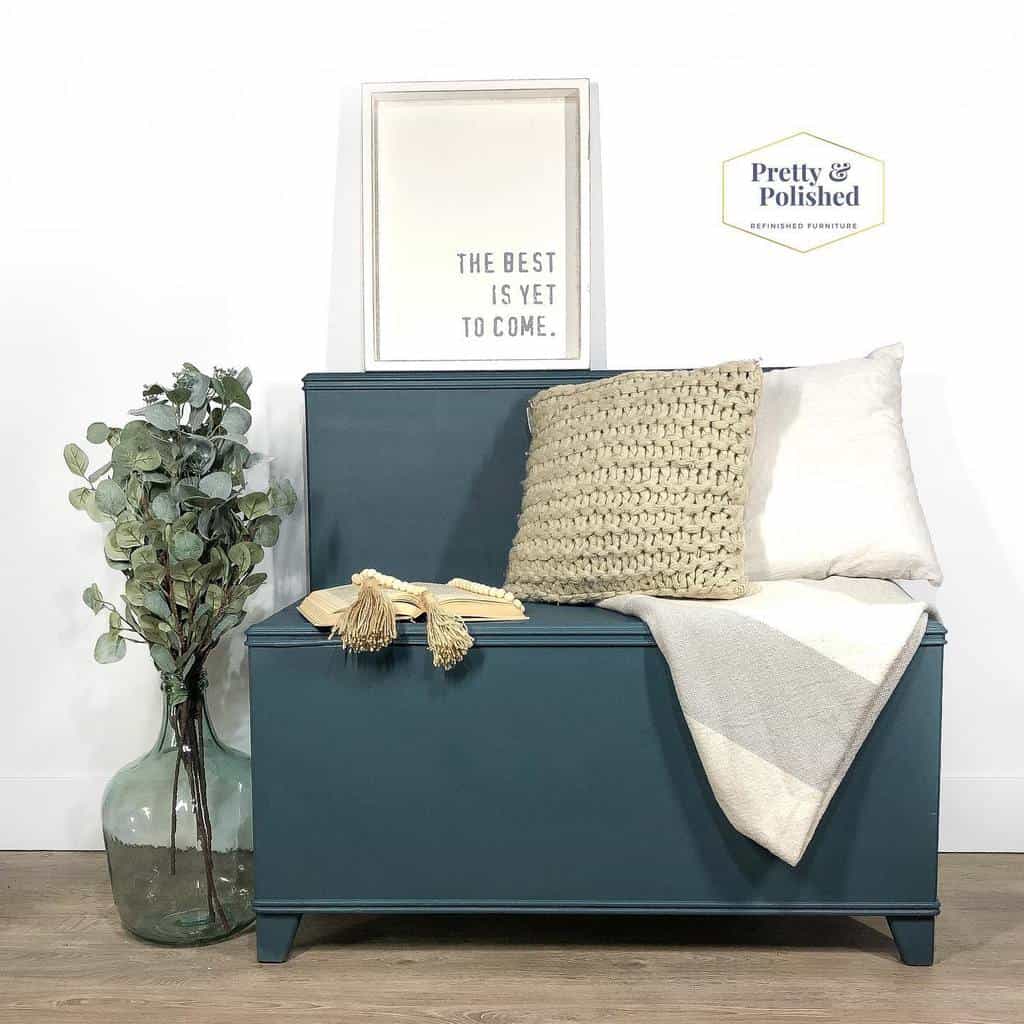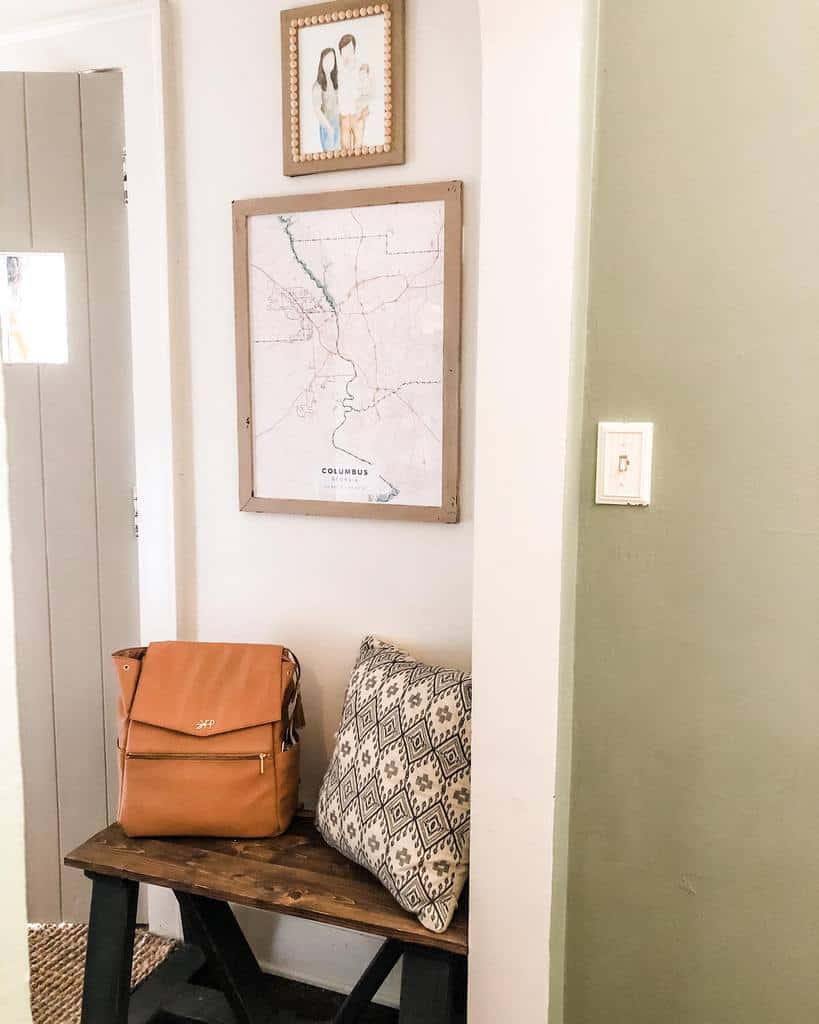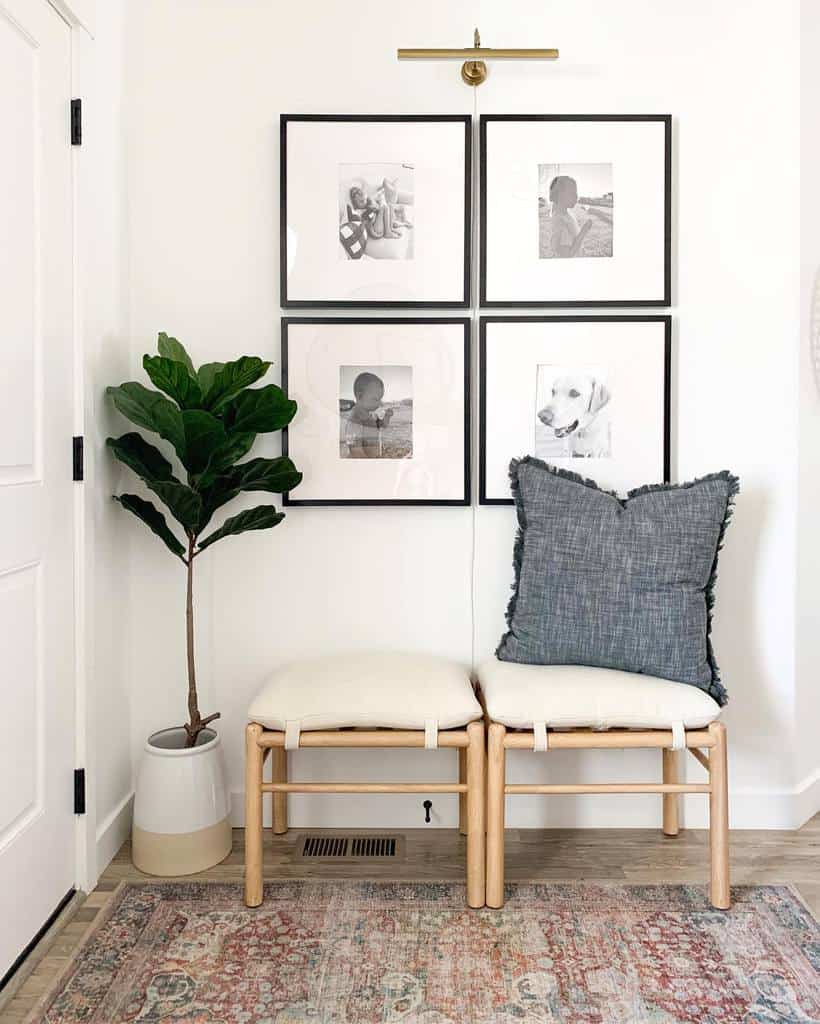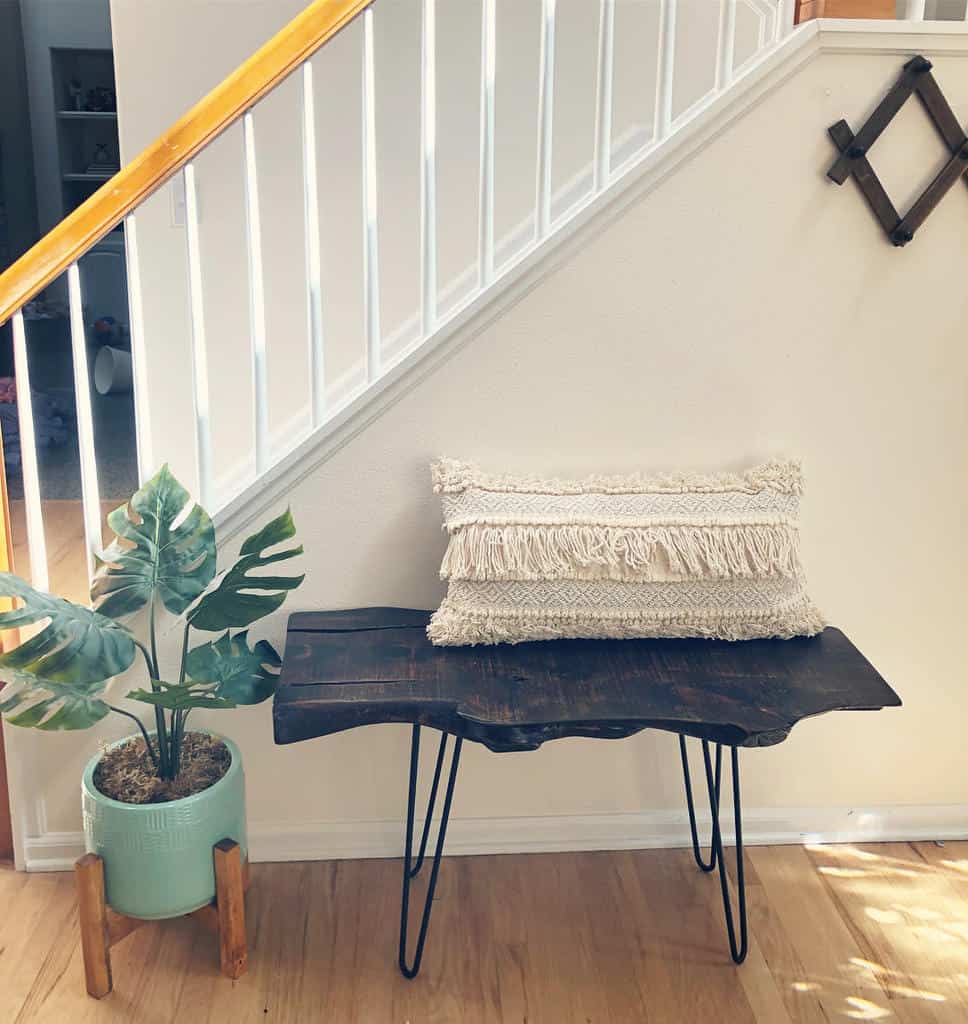 2. Wall-Mounted Hooks
Transform your small entryway into a stylish and functional space with the help of wall-mounted hooks. These nifty little accessories not only save precious floor space but also add a touch of charm to your entryway. Hang them at varying heights and in different configurations to create a visually appealing display.
Whether you need a place to hang your keys, jackets, or bags, these hooks have got you covered. Mix and match different styles and finishes to suit your personal taste and complement your existing decor. From sleek and modern to vintage-inspired, the options are endless.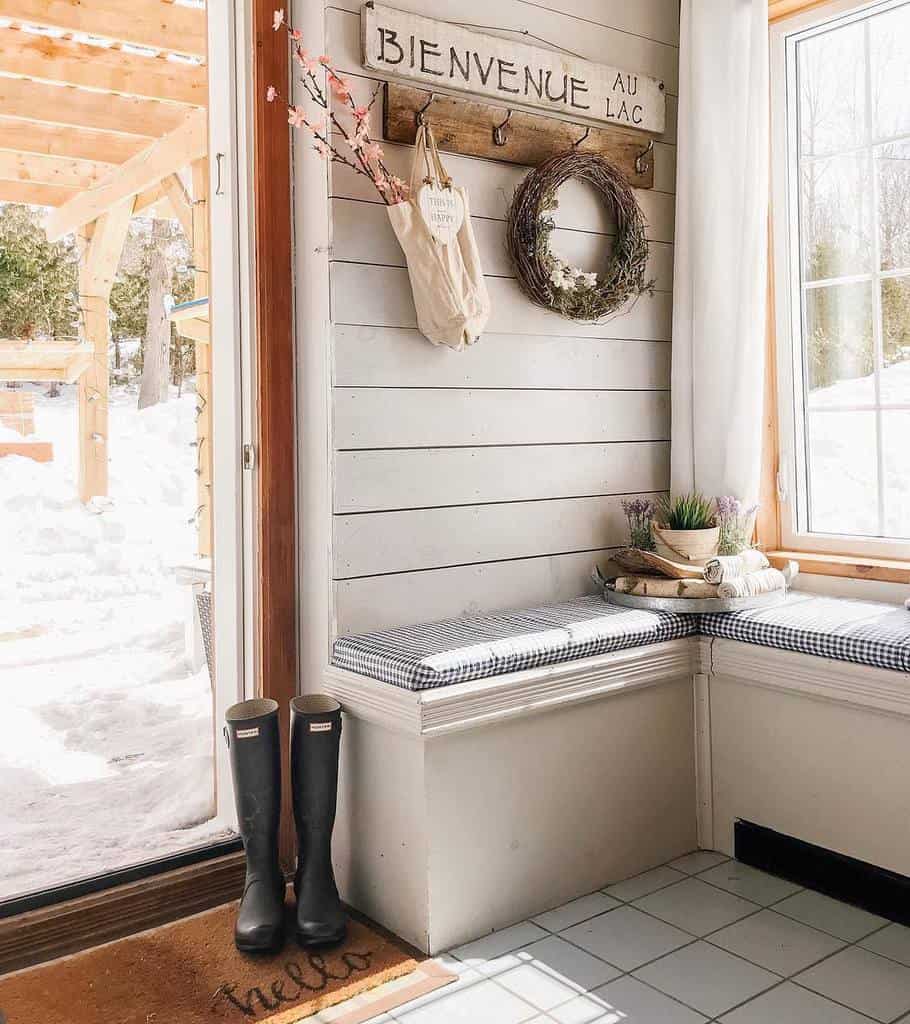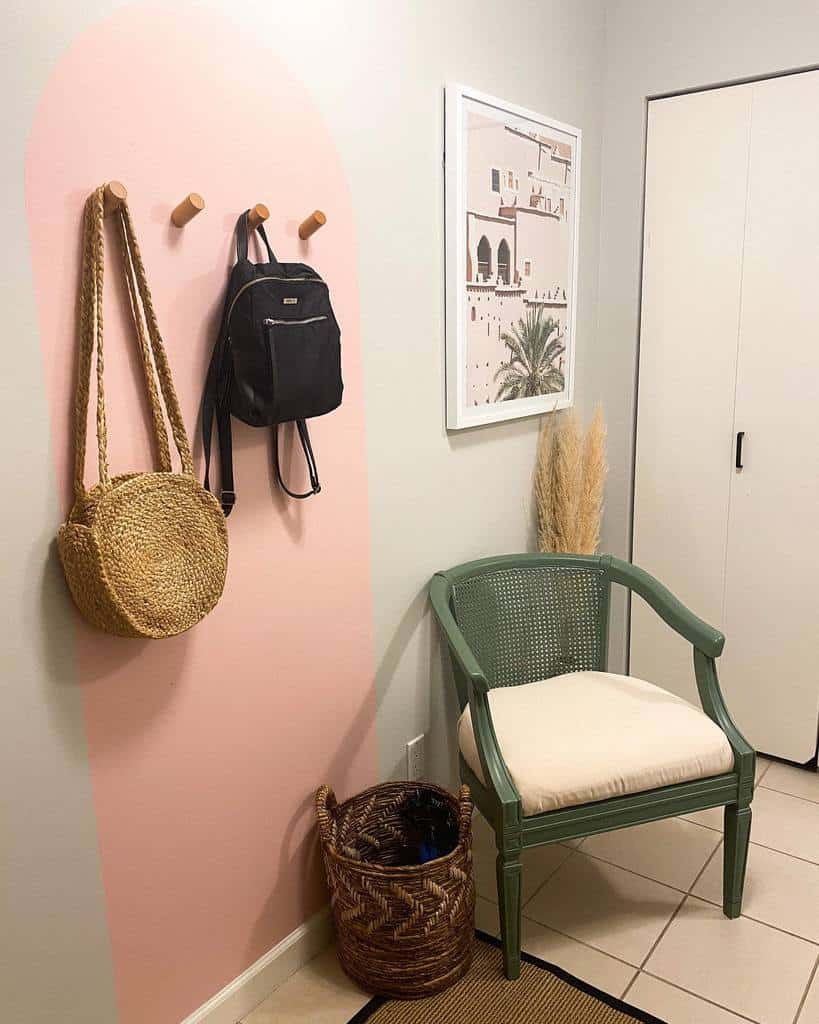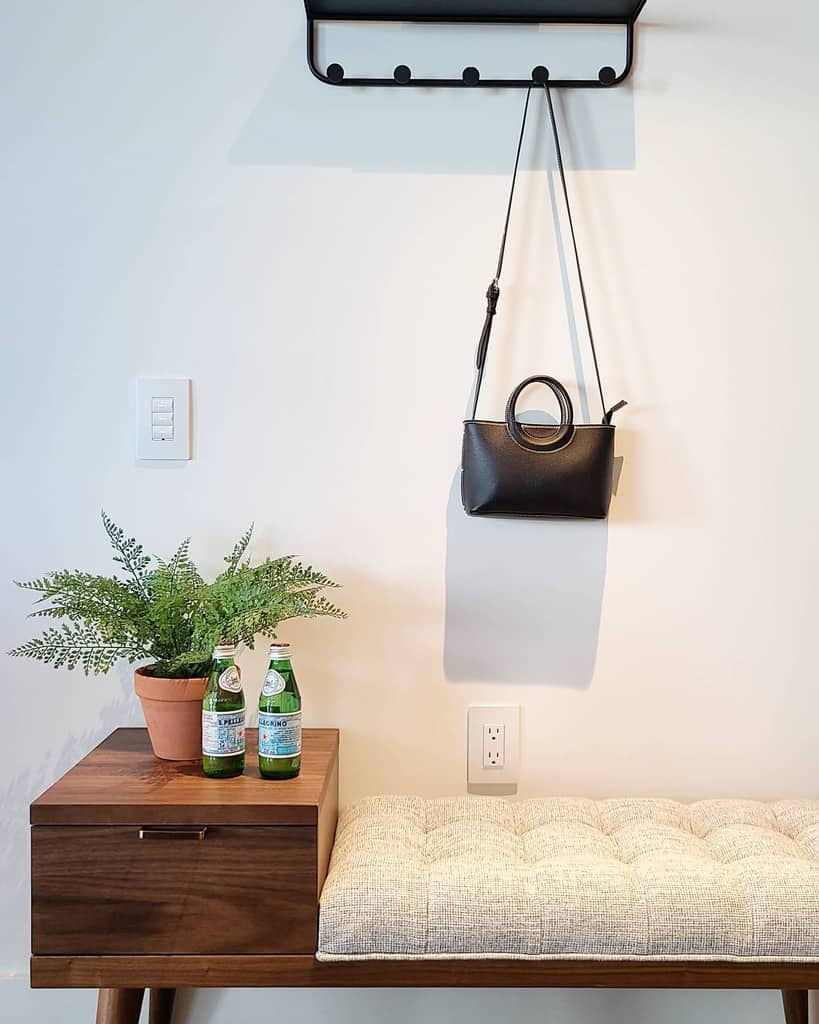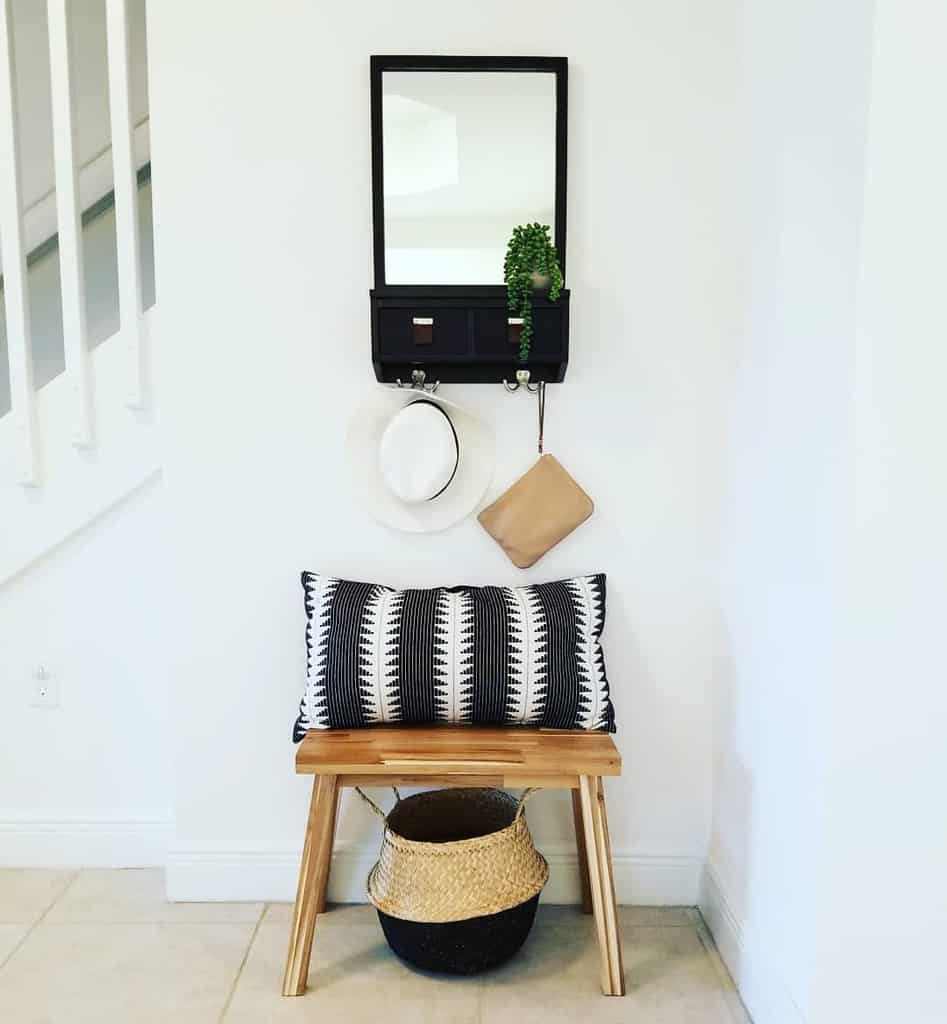 3. Rustic Wall Art
One creative idea to achieve this is through the use of rustic entryway wall art. Opt for die-cut wood pieces that feature intricate designs or meaningful messages. These wall art pieces not only serve as eye-catching decor but also add a personal touch to your entryway. Consider incorporating welcome signs with distressed finishes to create a warm and inviting atmosphere.
The worn look adds character and a sense of history to the space. Choose wall art that complements your overall design theme, whether it's a farmhouse, cottage, or bohemian. By incorporating rustic entryway wall art, you can instantly transform your small entryway into a cozy and welcoming space that sets the tone for the rest of your home. It's all about creating a homey ambiance that makes your guests feel instantly comfortable.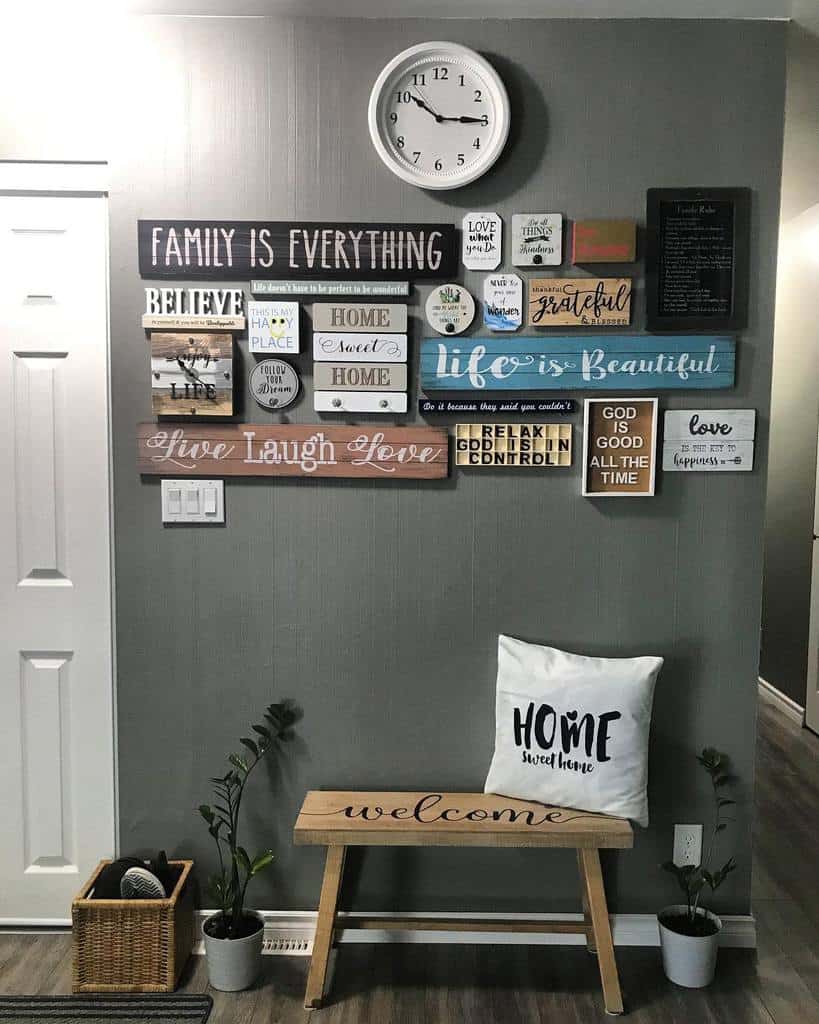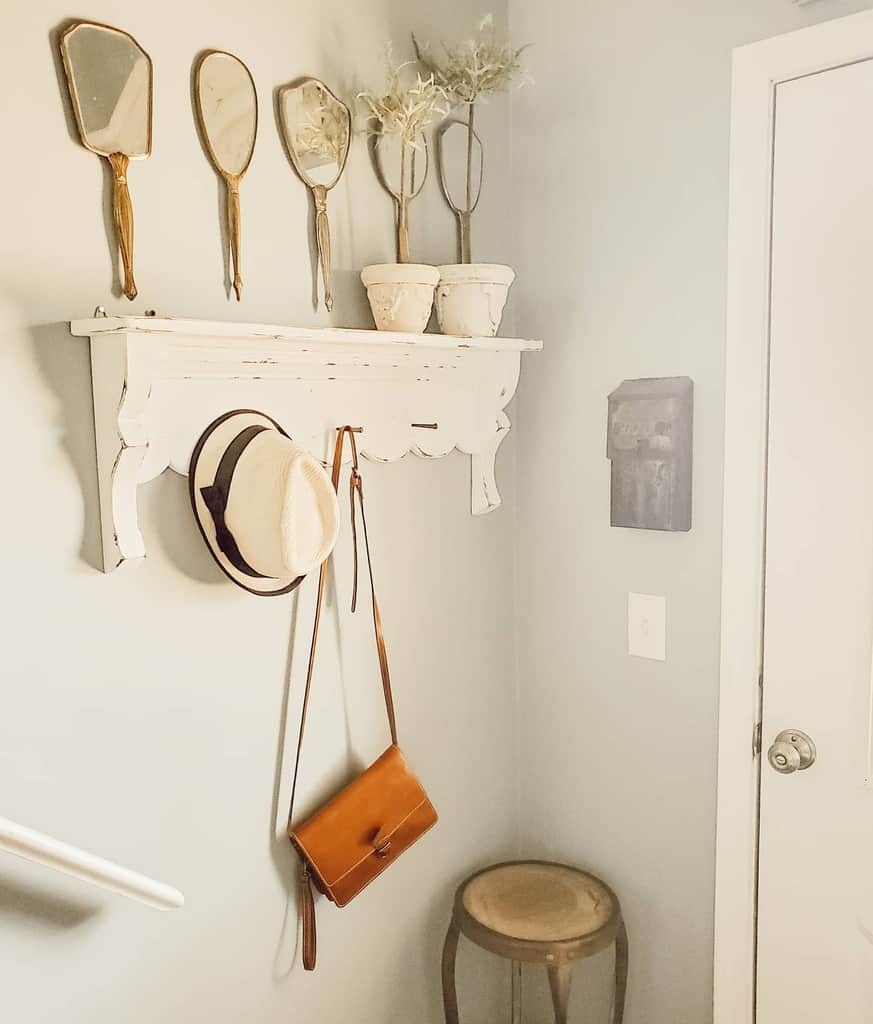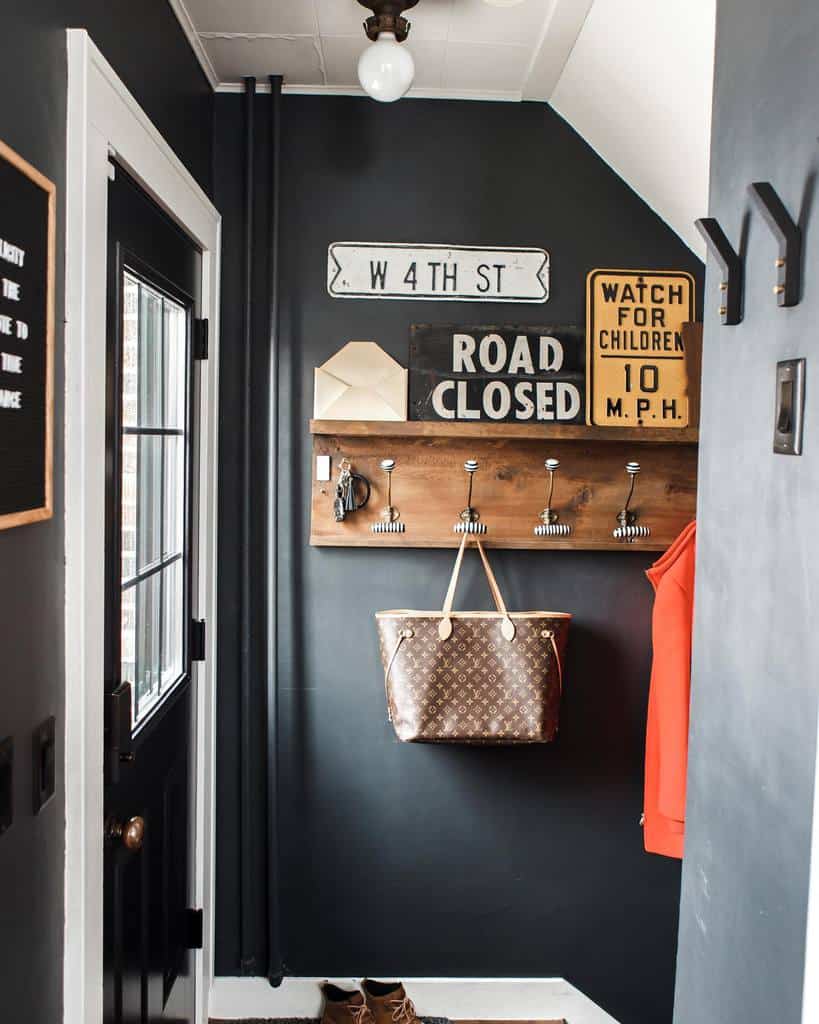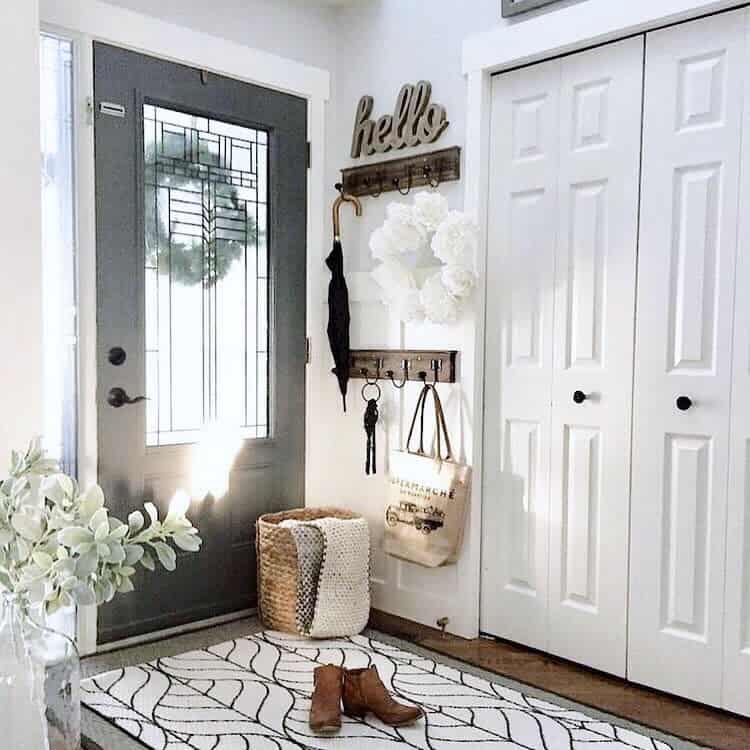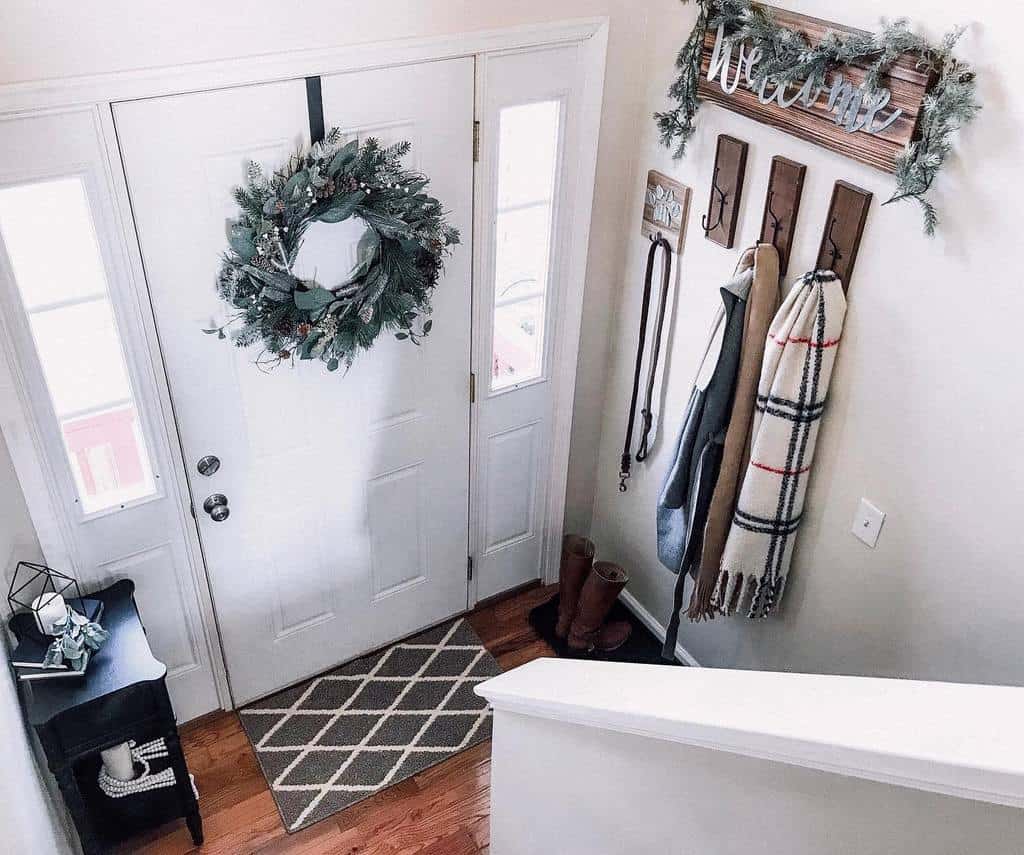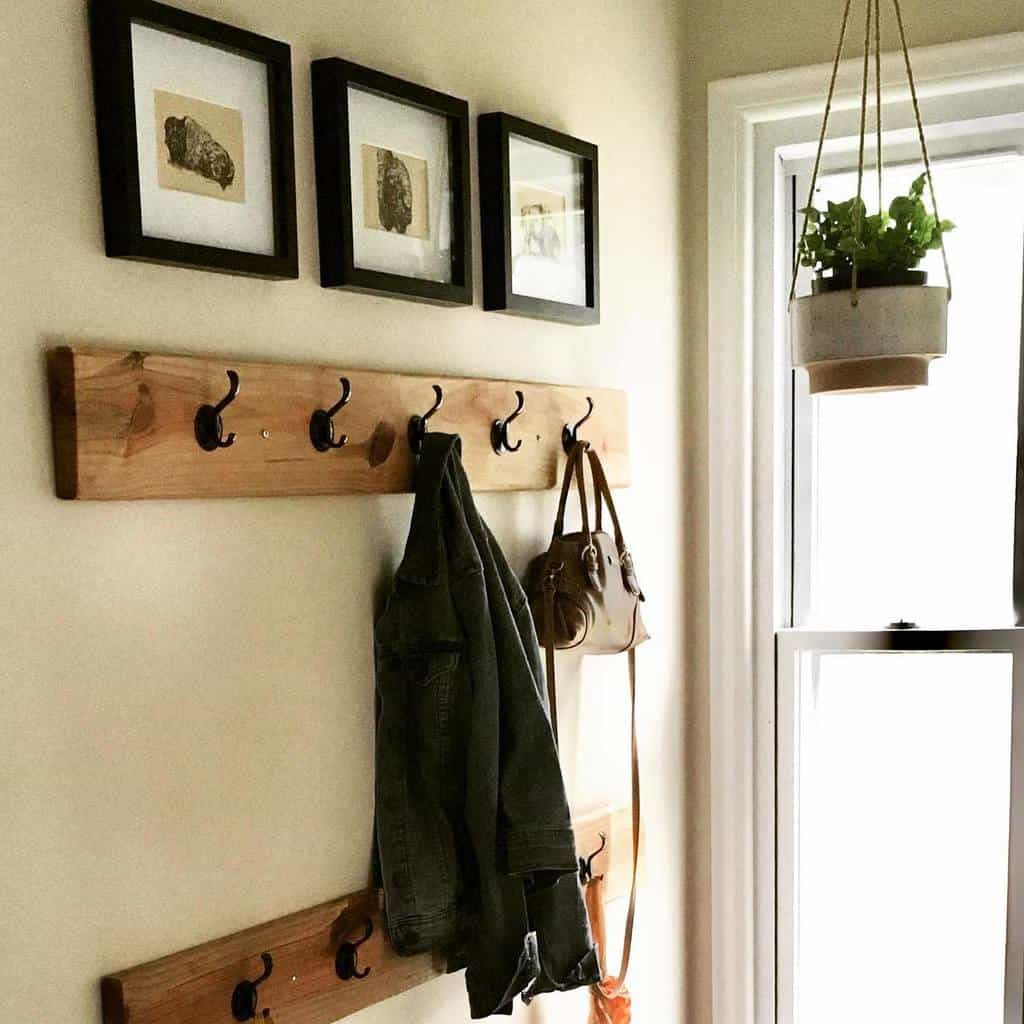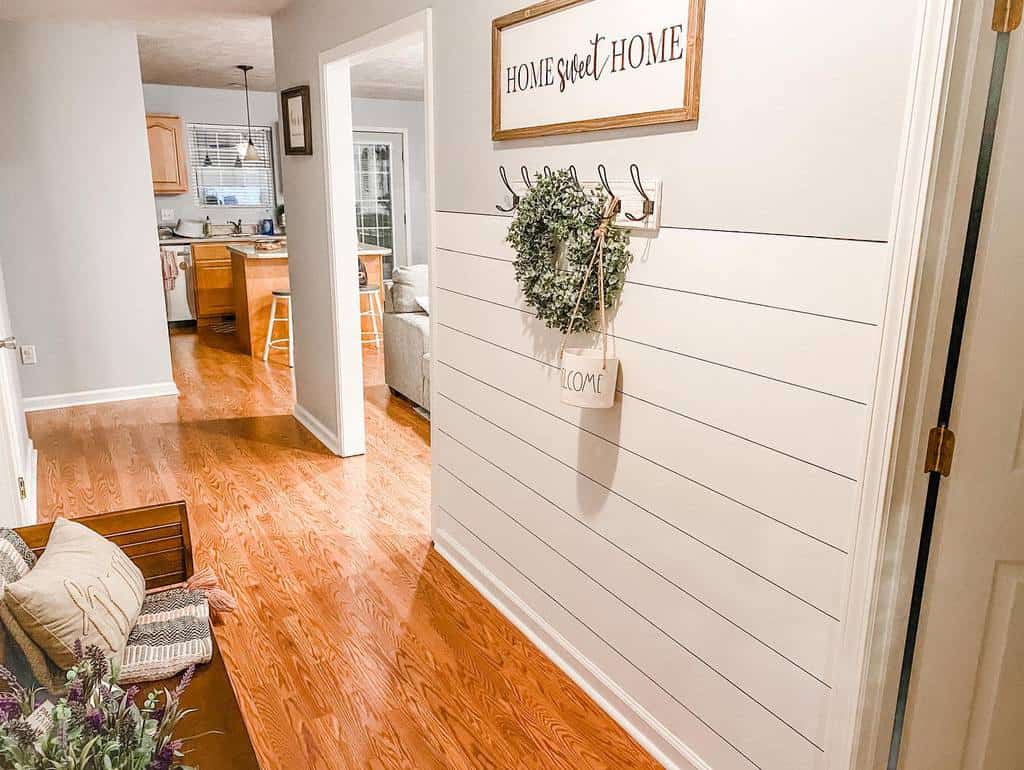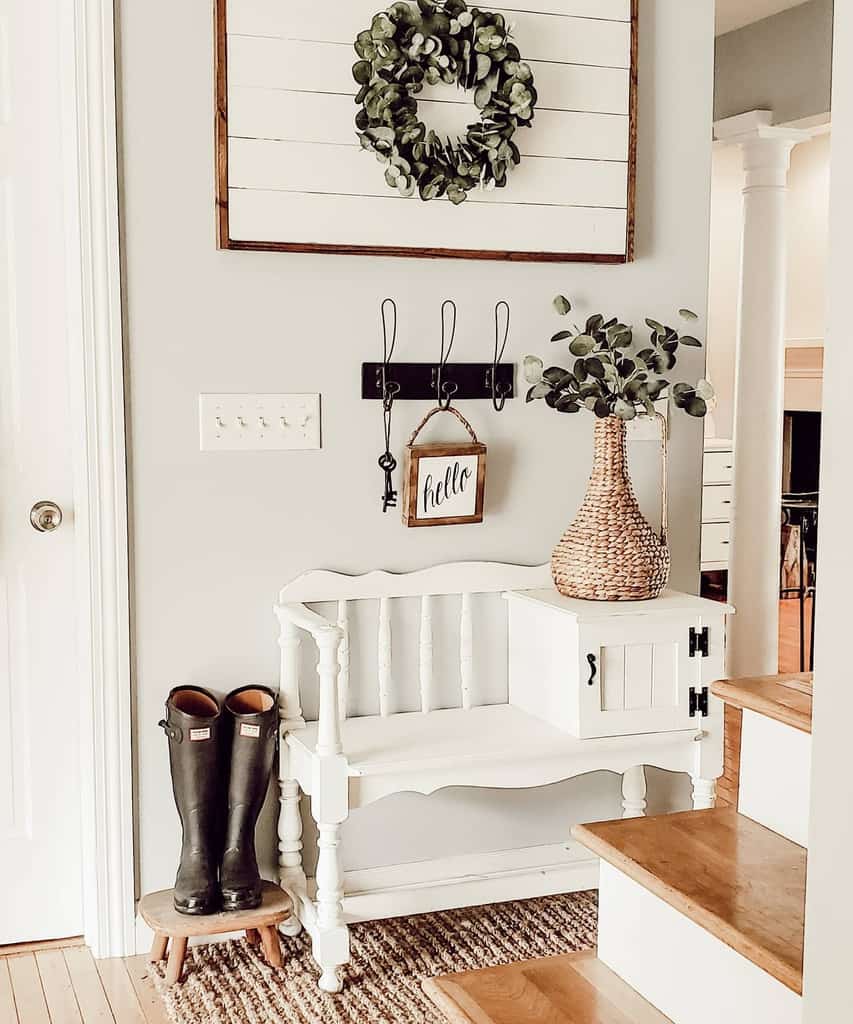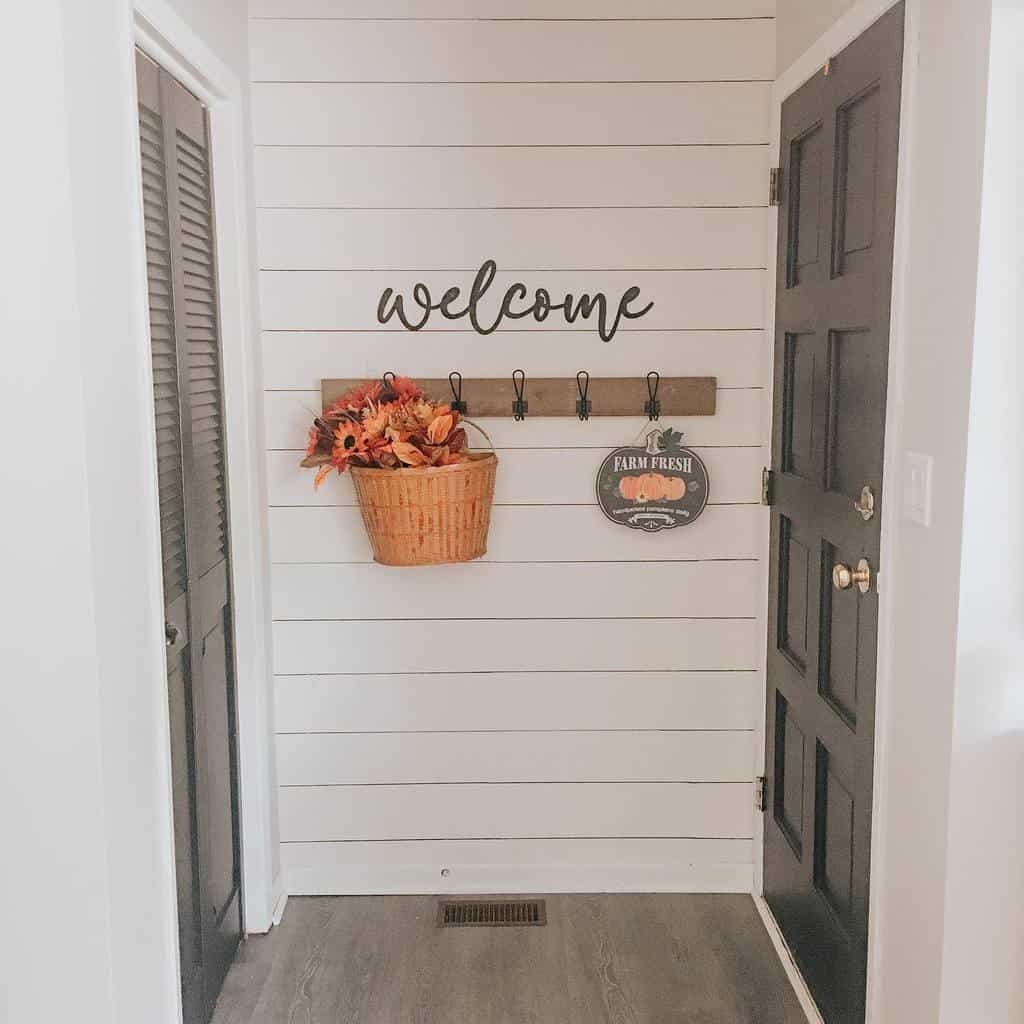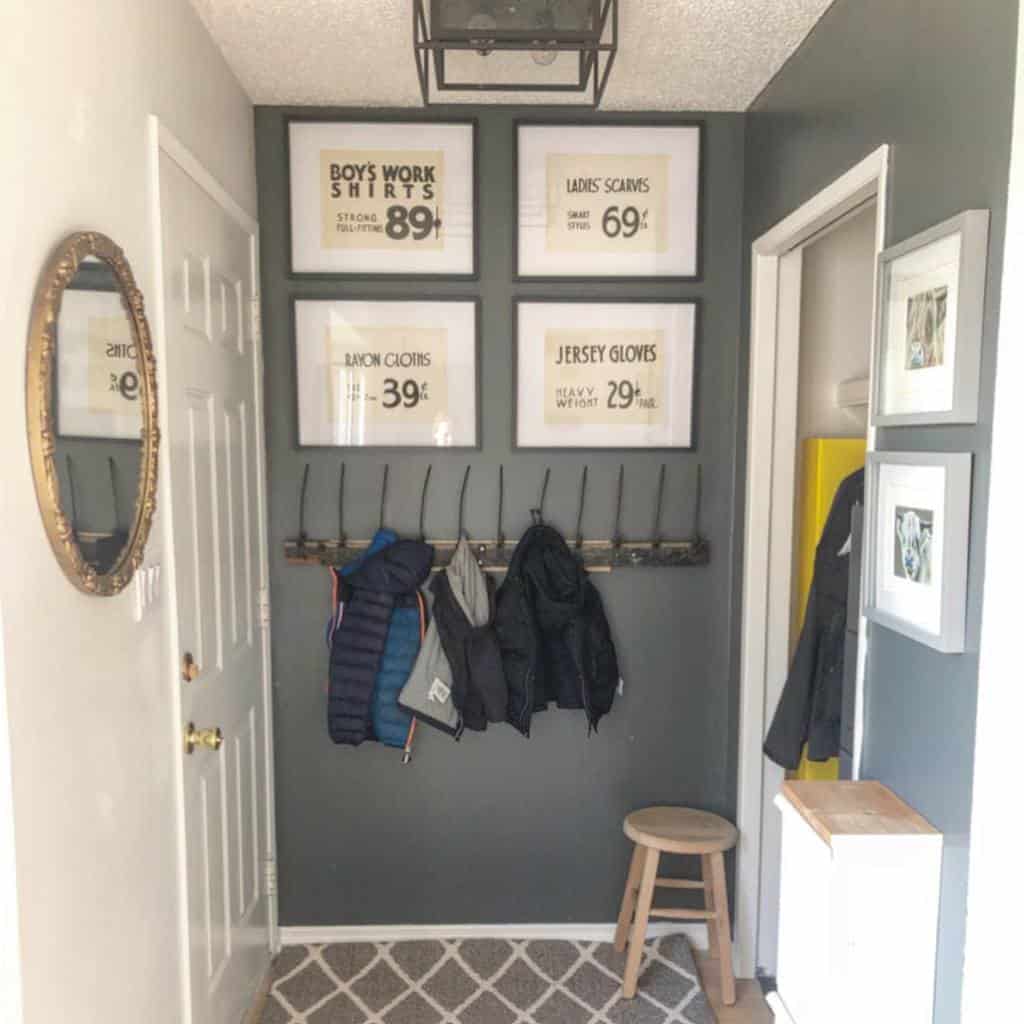 4. Mudroom Unit
Welcome guests into your home with style and functionality by incorporating an entryway mudroom unit in your small entryway. This clever and versatile solution maximizes the use of limited space while keeping your entry organized and clutter-free.
The mudroom unit features a combination of hooks, shelves, and storage compartments, providing a designated spot for coats, bags, shoes, and other essentials. With its compact design, it seamlessly blends into your entryway, making the most of every inch.
Choose a unit that matches your decor style, whether it's modern, rustic, or minimalist, to create a cohesive look. Not only does the entryway mudroom unit offer practical storage, but it also adds a touch of charm and character to your entryway.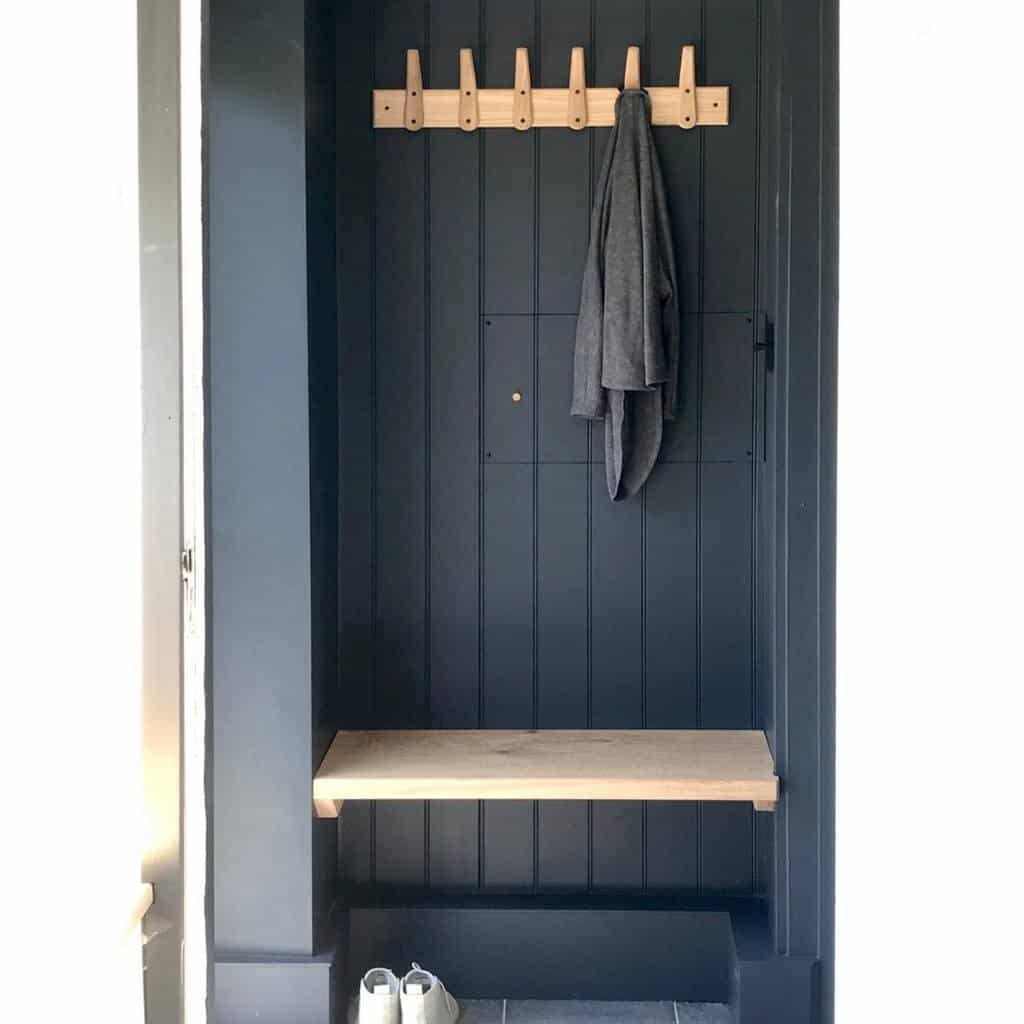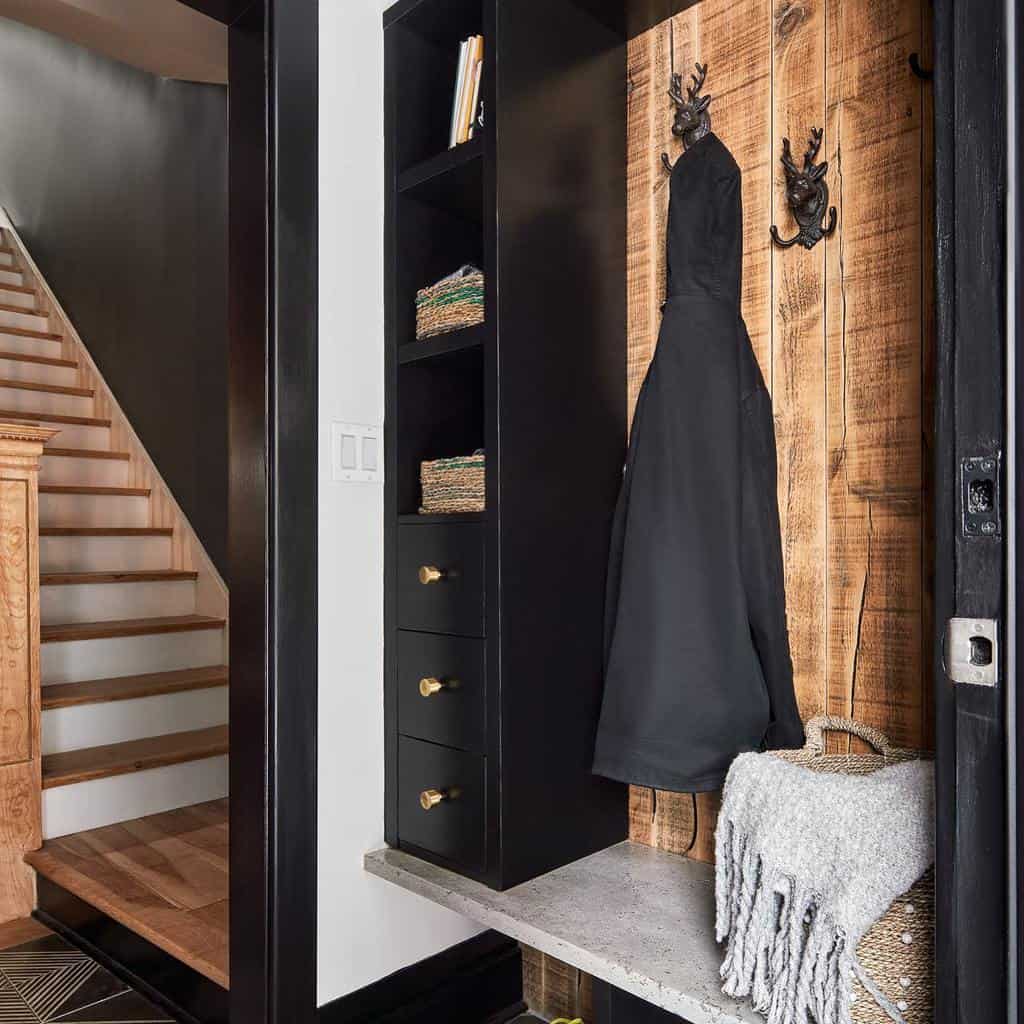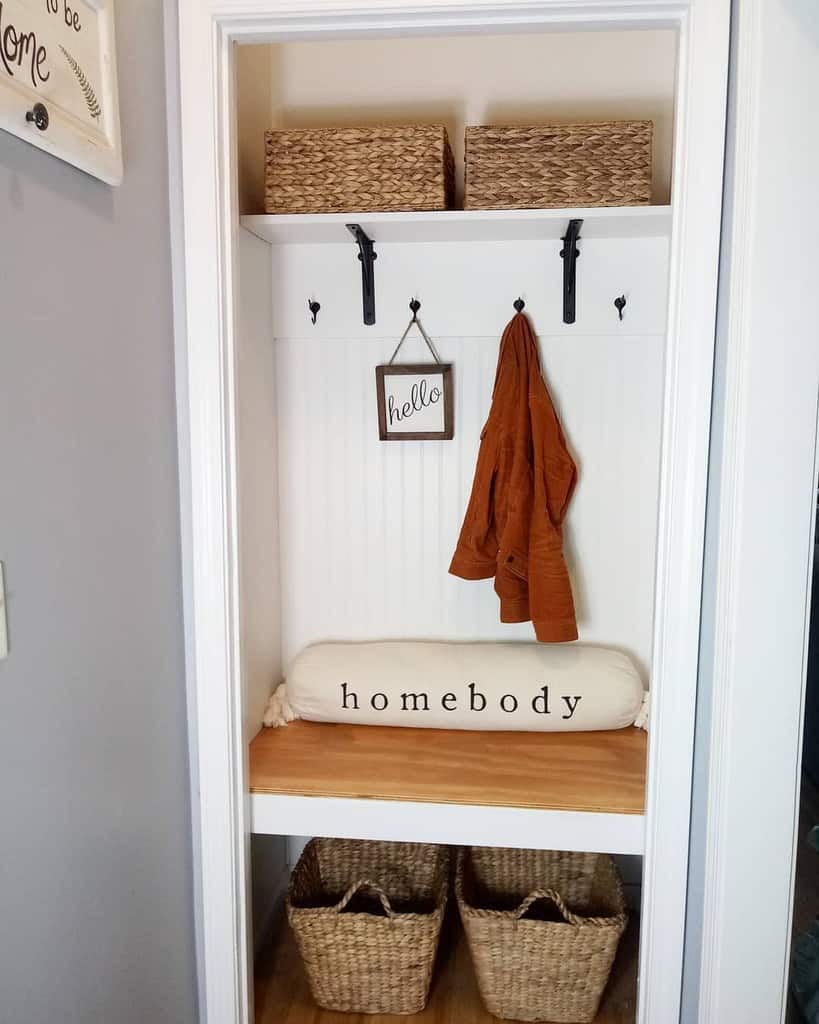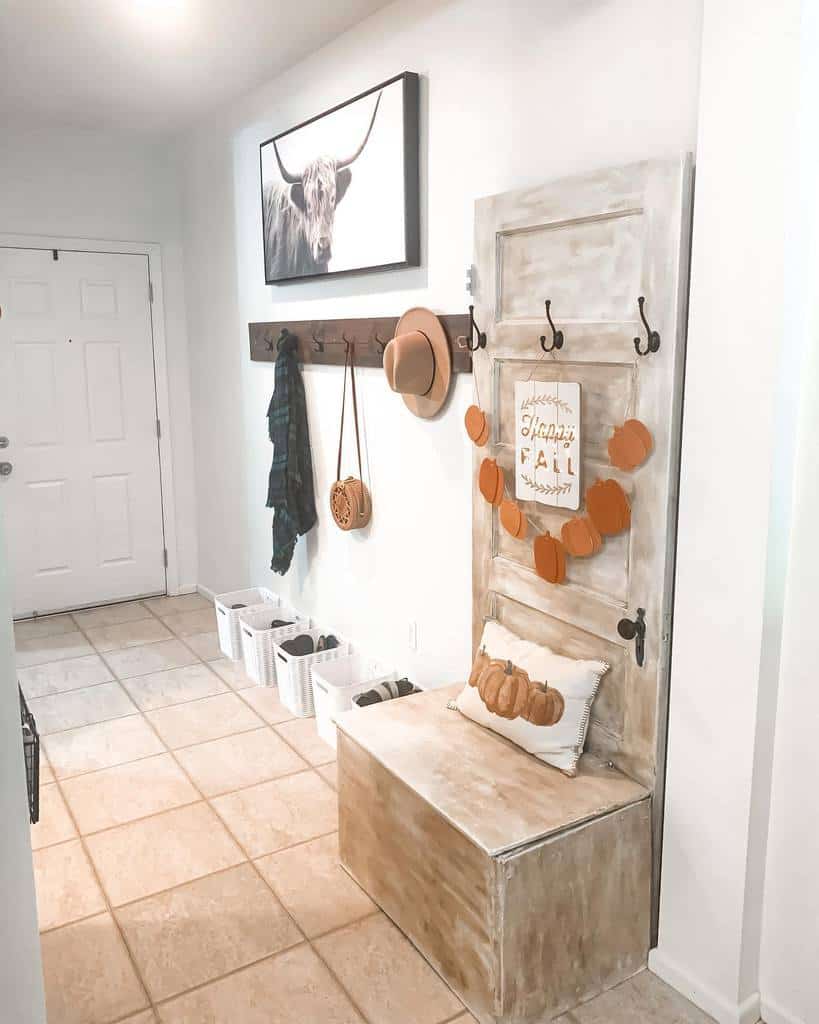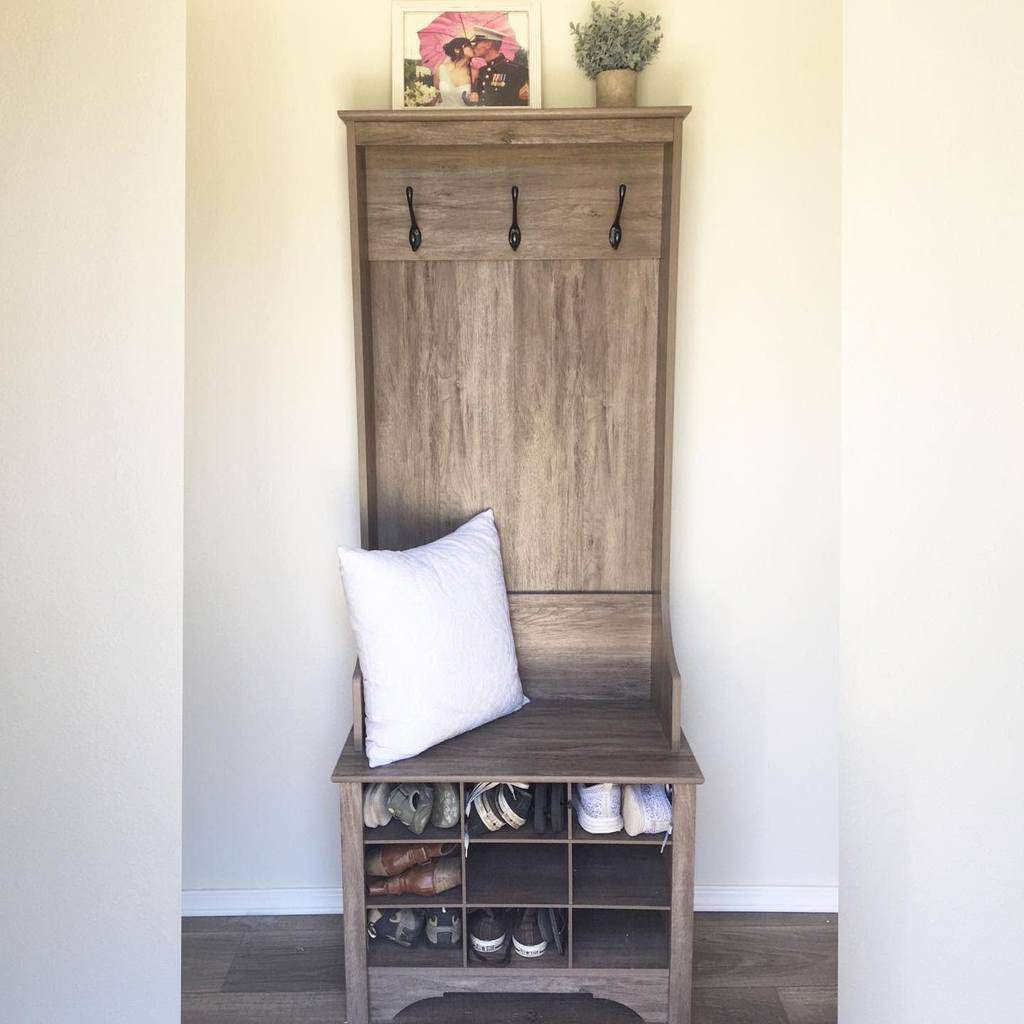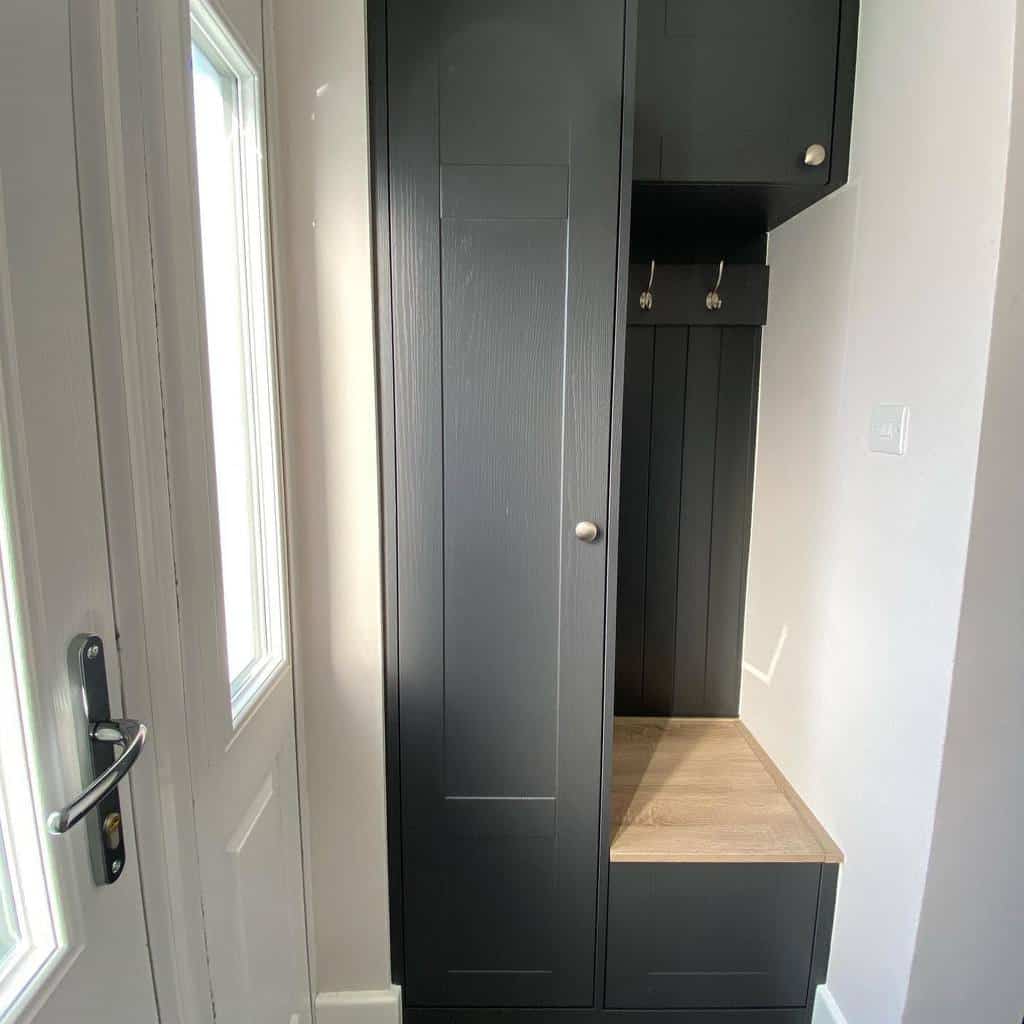 5. Console Table With Ambient Decor
A console table with ambient decor can easily set the mood as soon as you walk in the door. Choose a sleek and stylish console table that fits well in your entryway and adorn it with carefully curated decorative items. Consider placing a beautiful table lamp to create a warm and inviting ambiance. Add a small vase of fresh flowers or a potted plant to bring a touch of nature indoors.
Display a captivating piece of artwork or a decorative mirror above the table to visually expand the space and make a statement. Don't forget to include a decorative tray or bowl to corral keys, mail, or other small essentials.
With well-designed and thoughtfully arranged ambient decor on your entryway table, you'll make a lasting impression on your guests from the moment they step through your door.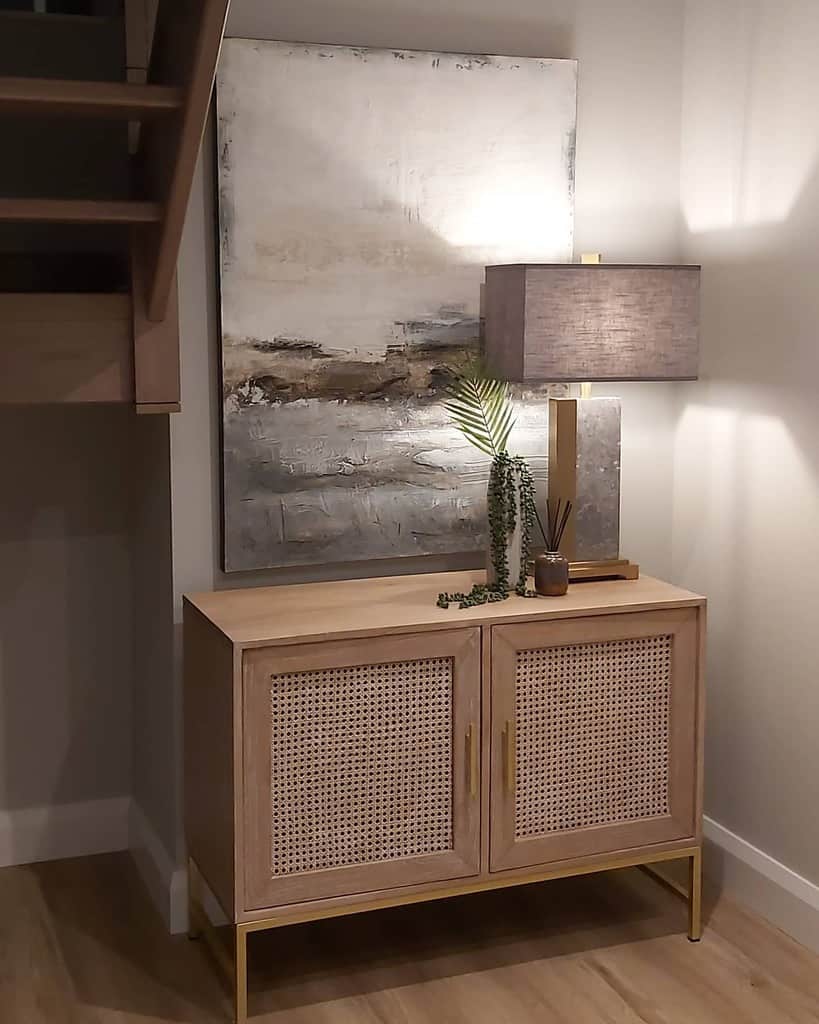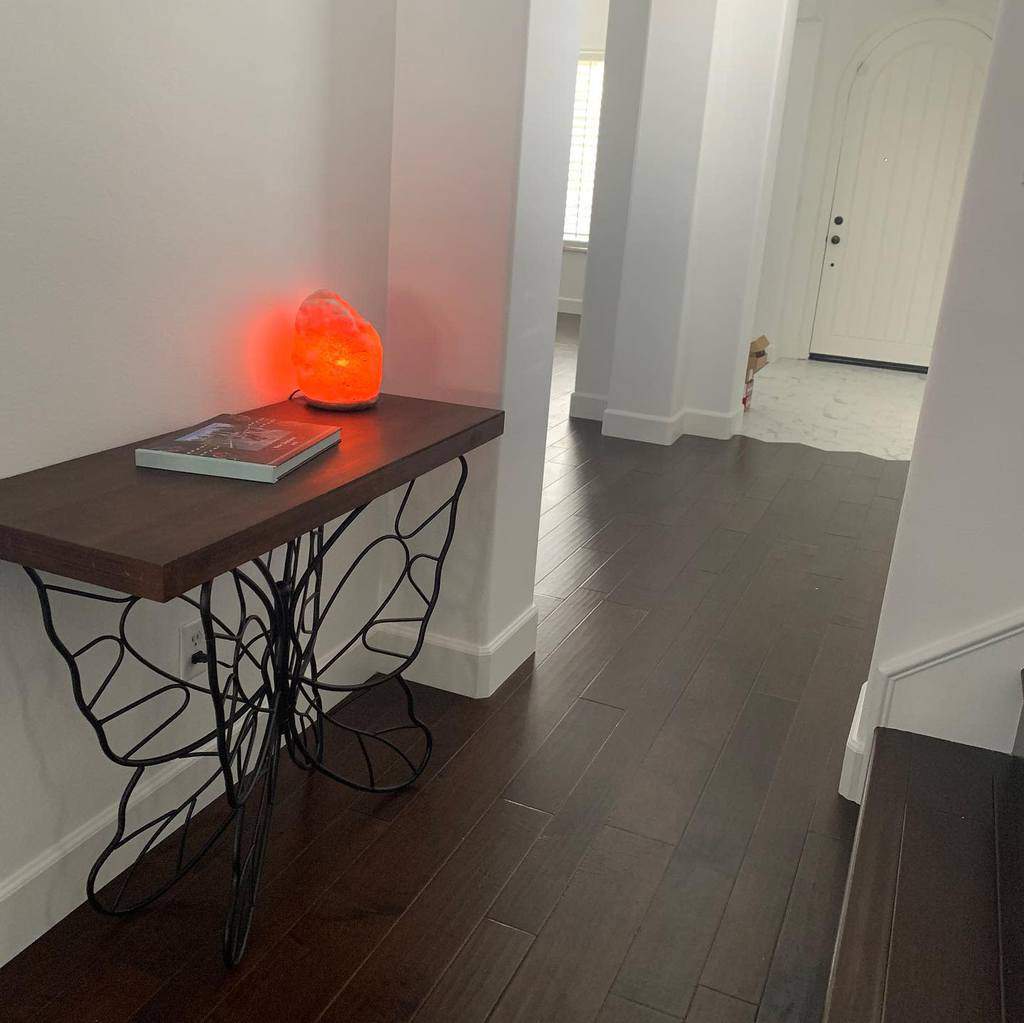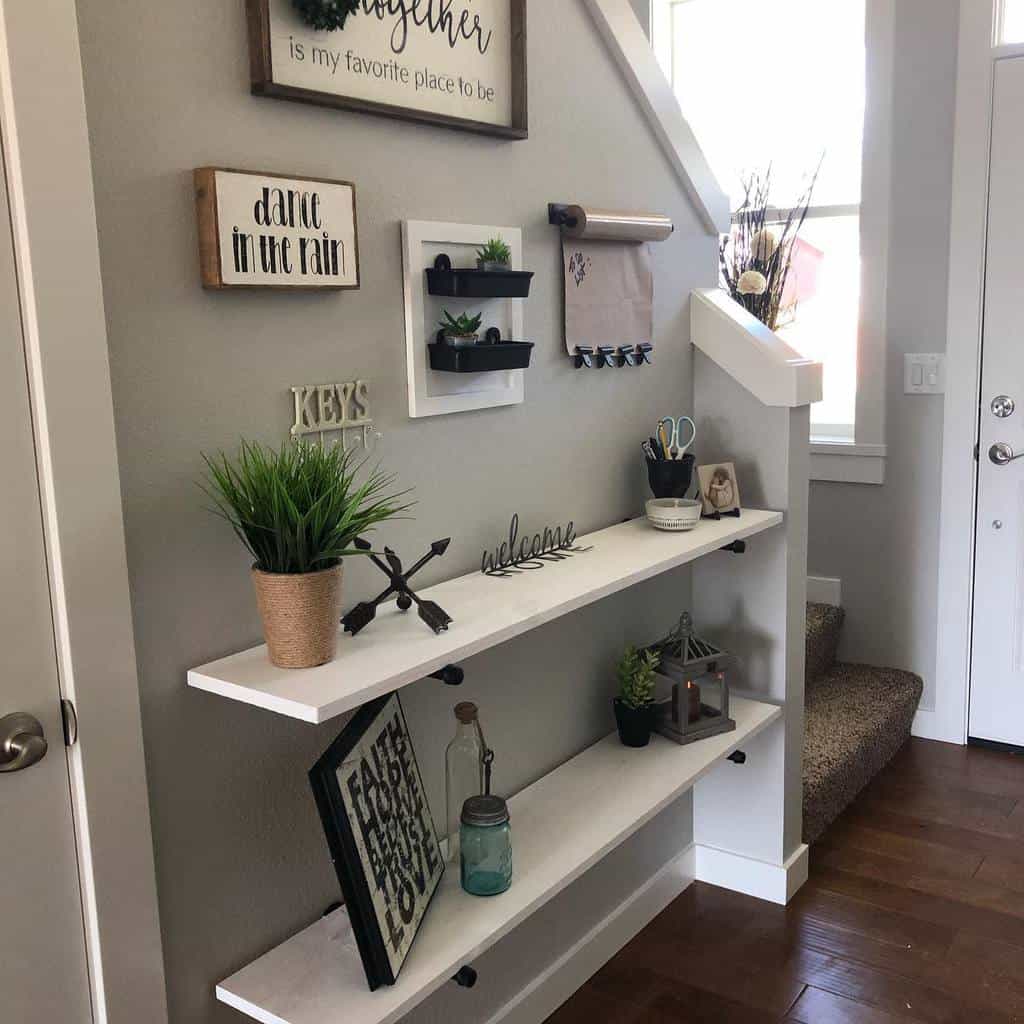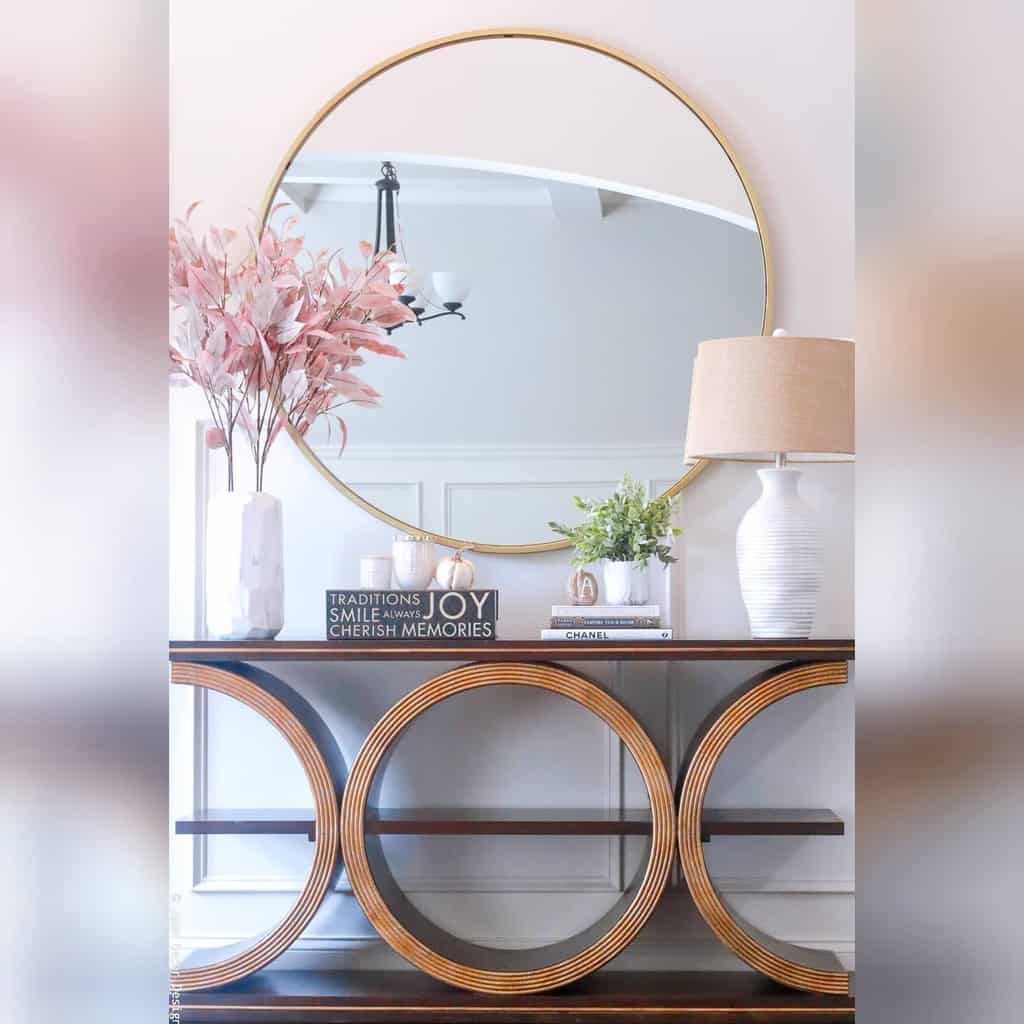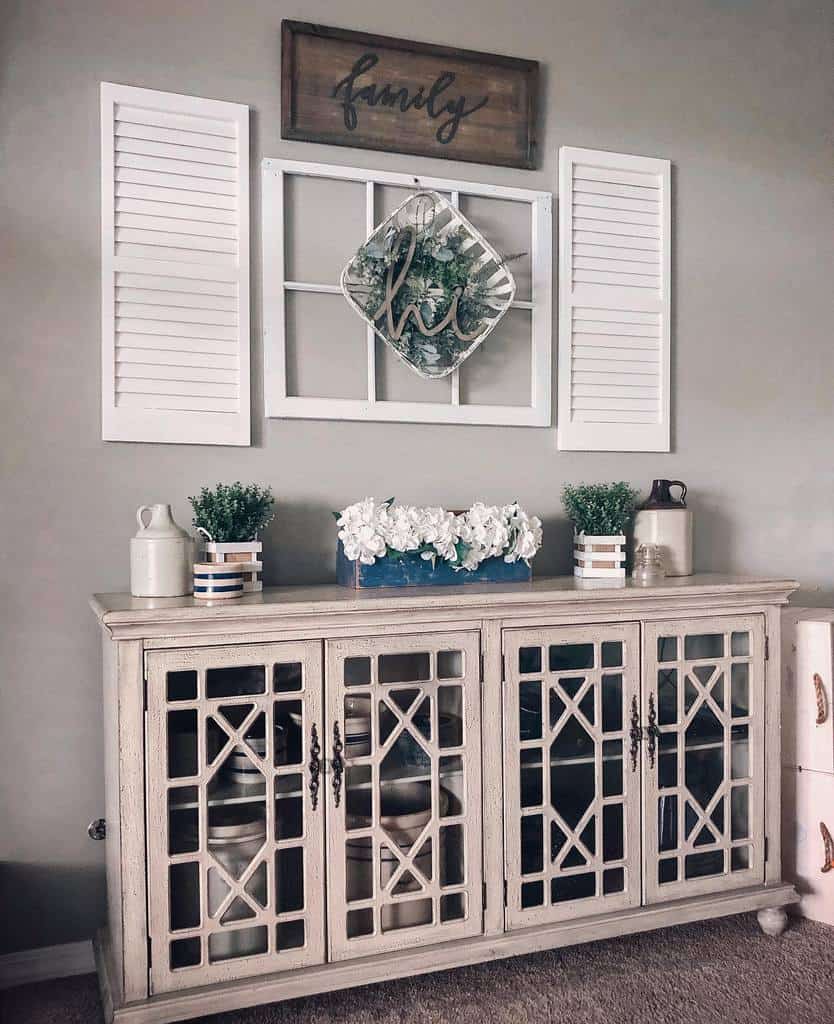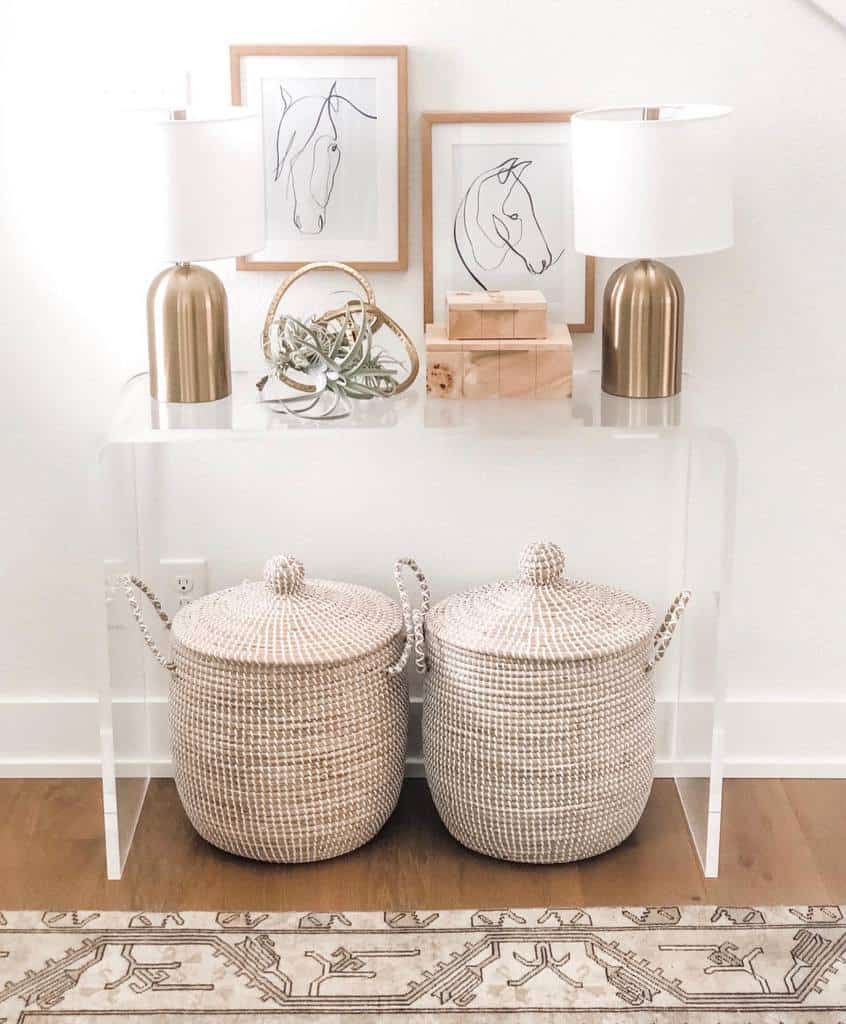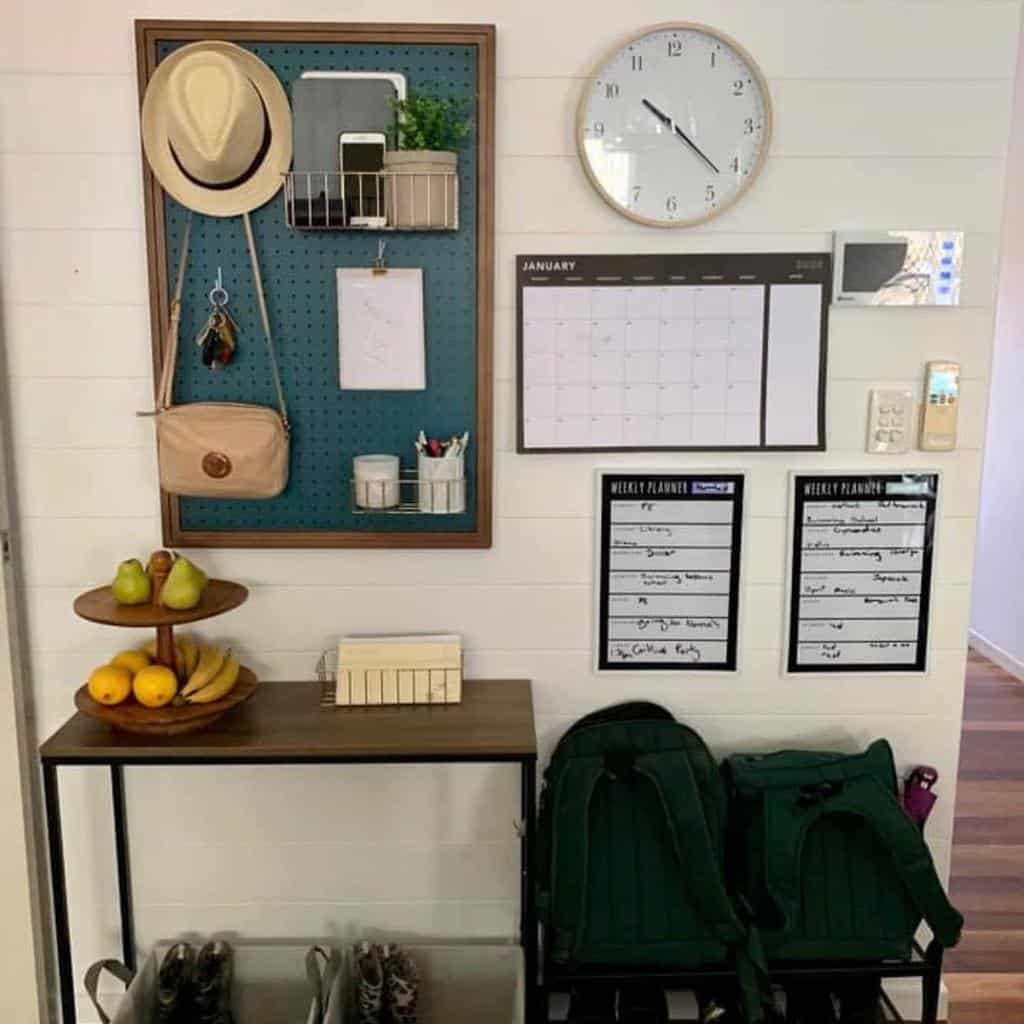 6. Mail Catalog
Transform a small wall space into a practical organization station by mounting a stylish mail catalog. This compact and versatile storage solution provides designated pockets for mail, keys, and other essentials, keeping your entryway clutter-free and organized. Choose a mail catalog with different-sized compartments to accommodate various items, such as letters, magazines, and small accessories.
The design possibilities are endless—opt for a sleek and modern catalog for a contemporary look or go for a vintage-inspired one to add a touch of nostalgia to your entryway. Personalize it with decorative accents, such as a small potted plant, a framed inspirational quote, or a decorative mirror, to infuse your own unique style.
The entryway mail catalog not only keeps everything in its place but also adds a charming and functional element to your small entryway.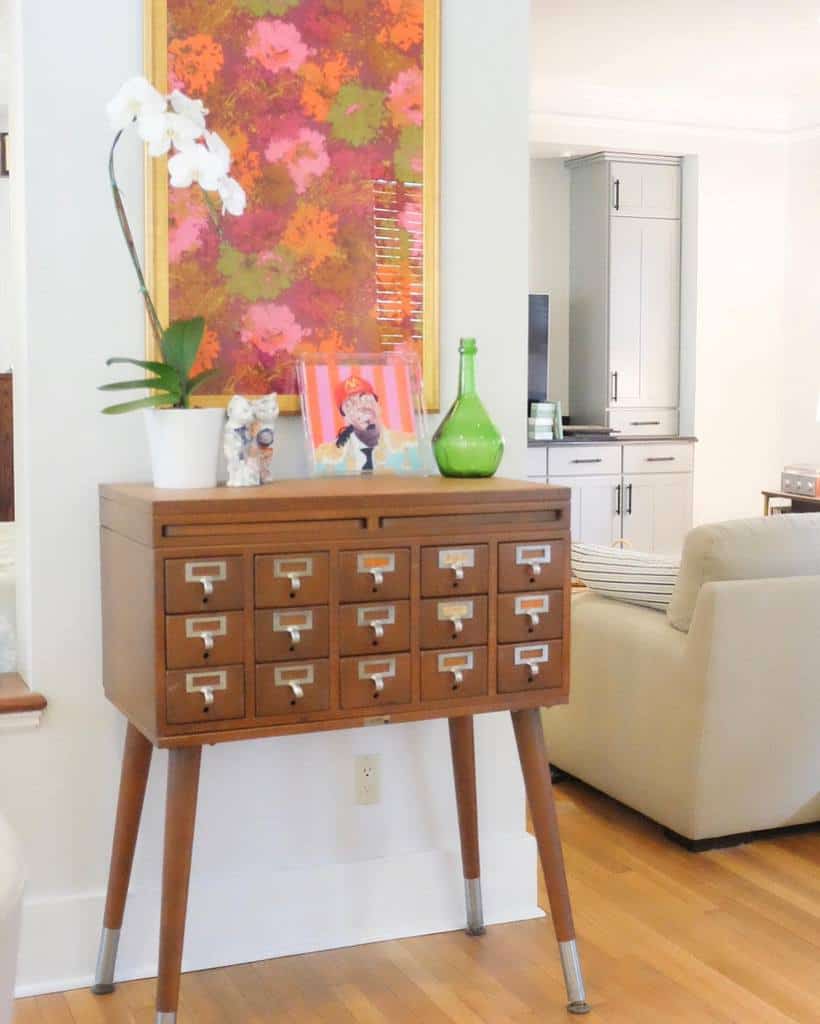 7. Wall Mirror
A well-placed mirror not only creates the illusion of a larger space but also serves as a convenient spot for last-minute outfit checks before heading out the door. Choose a statement mirror with an interesting frame design to add a touch of personality to your entryway.
Whether it's a sleek and modern frame or an ornate vintage-inspired design, the mirror becomes a focal point that sets the tone for the rest of your home. Additionally, the reflective surface of the mirror helps to bounce natural light around the entryway, making it feel brighter and more inviting.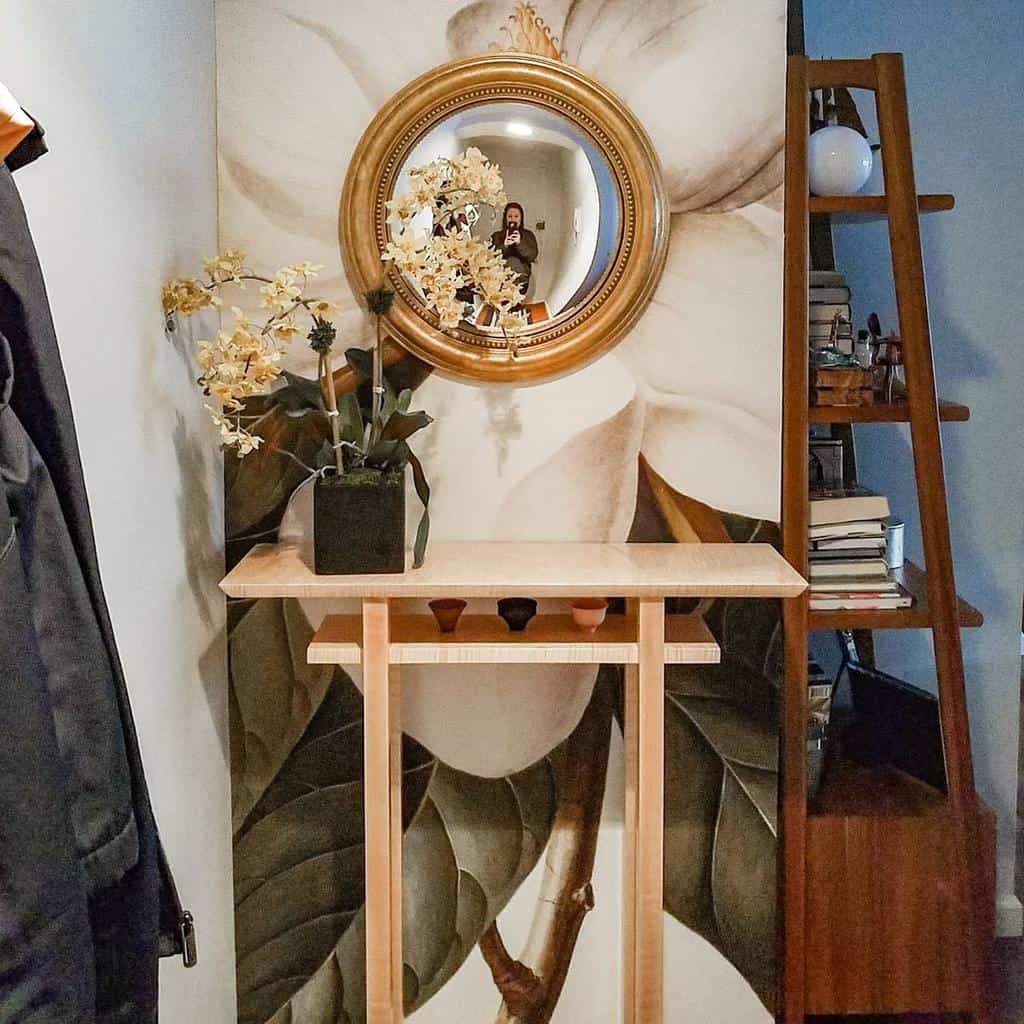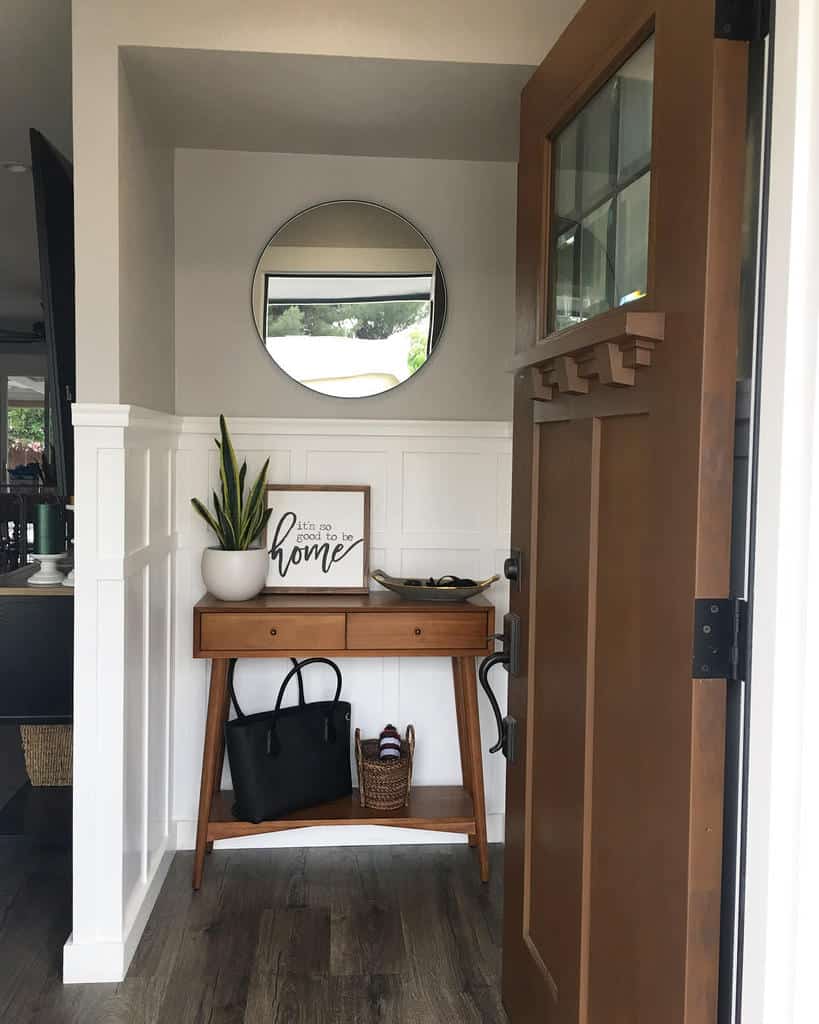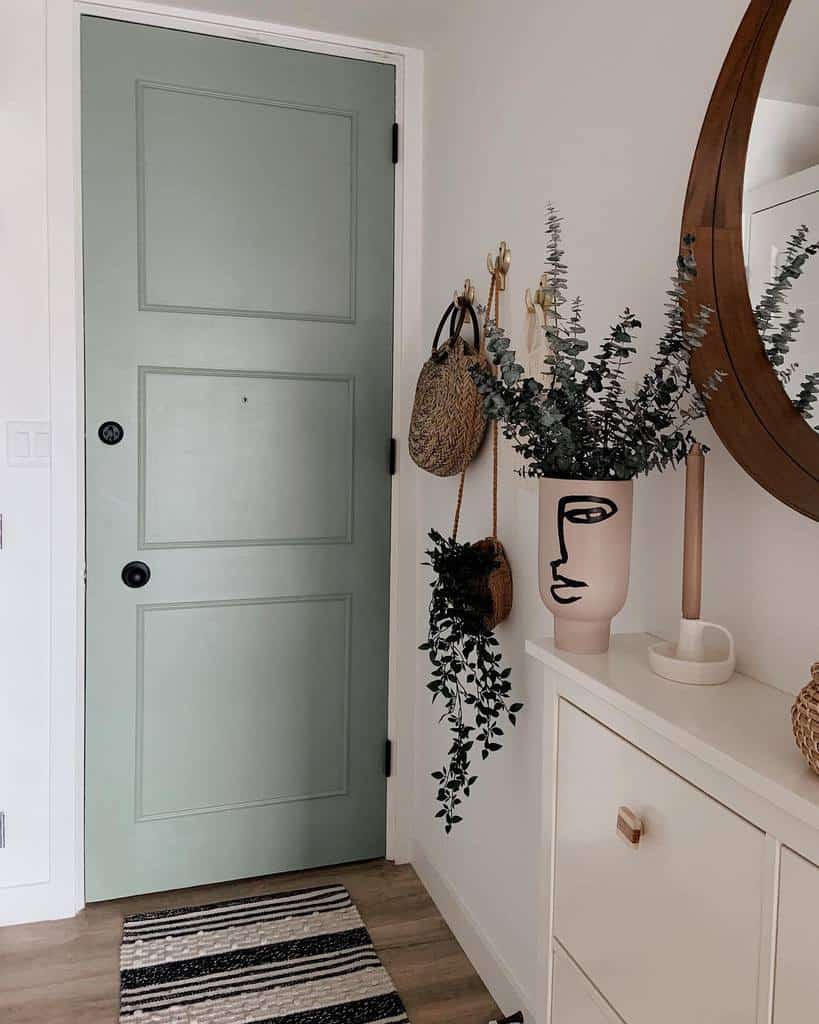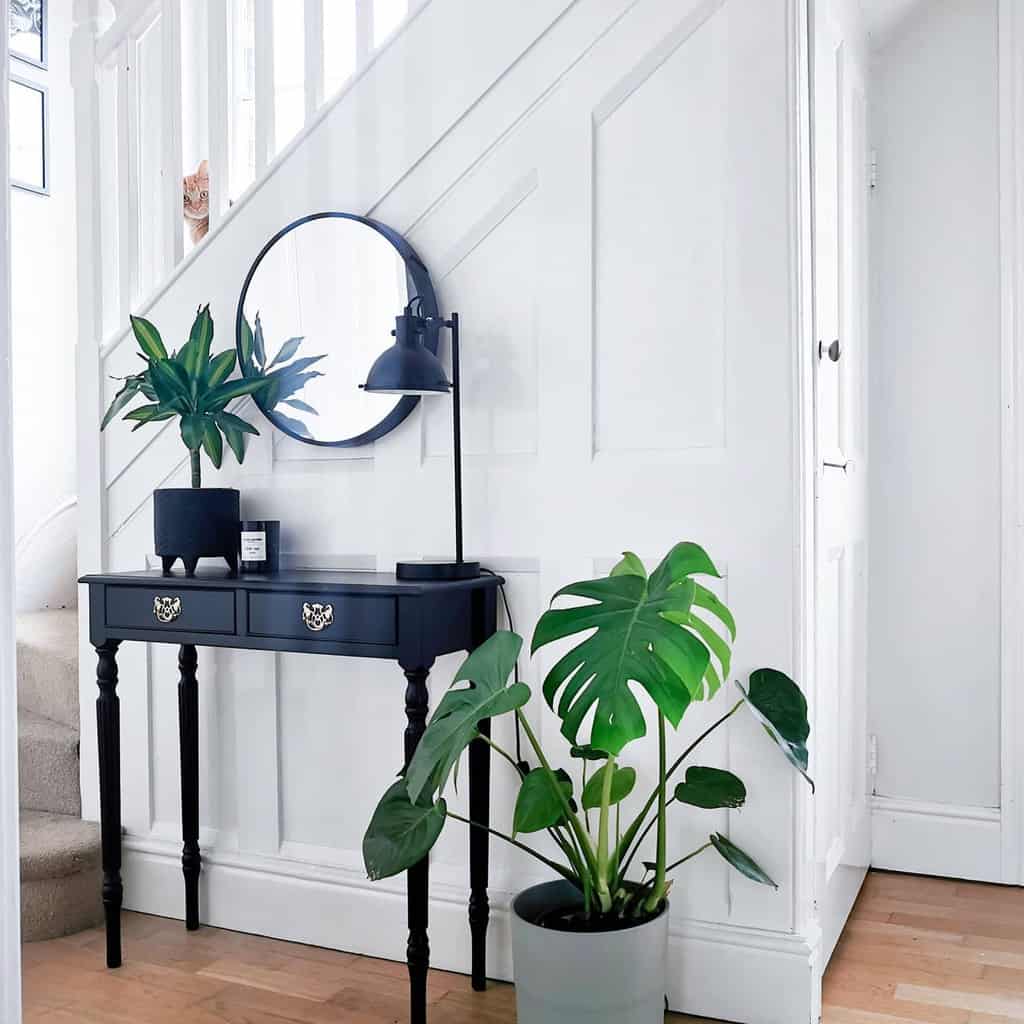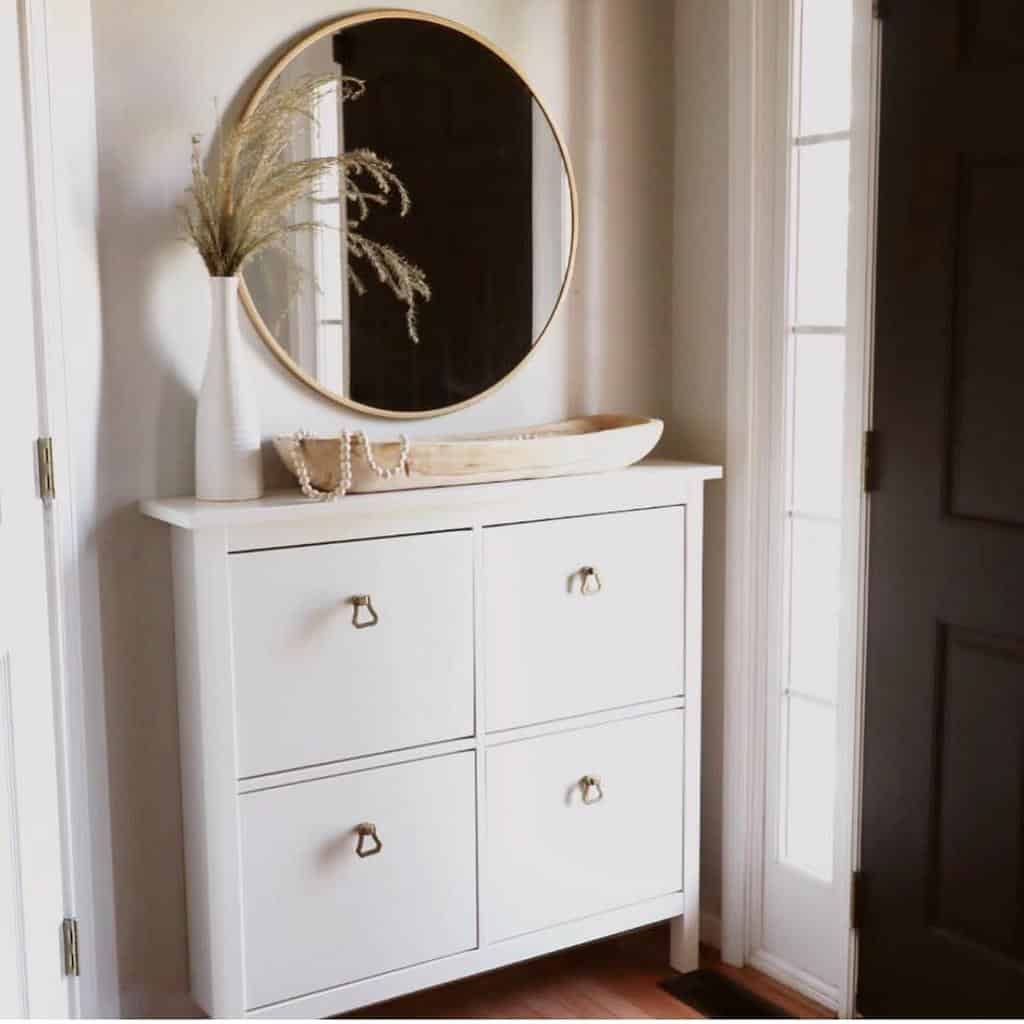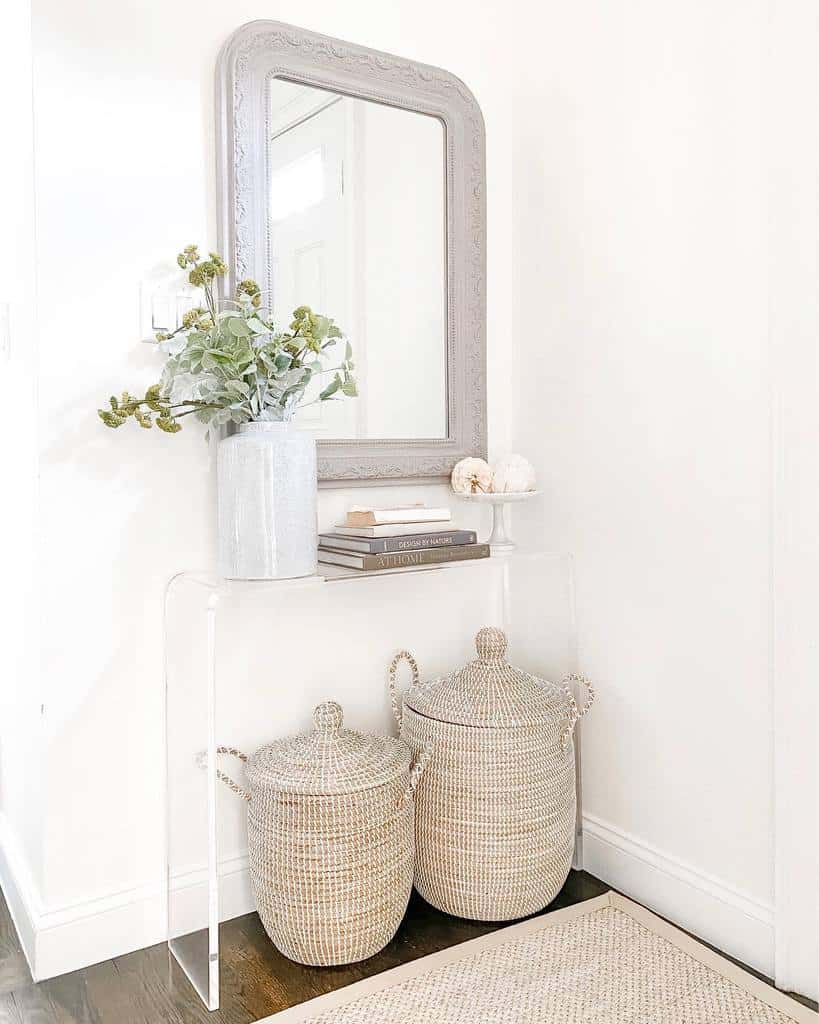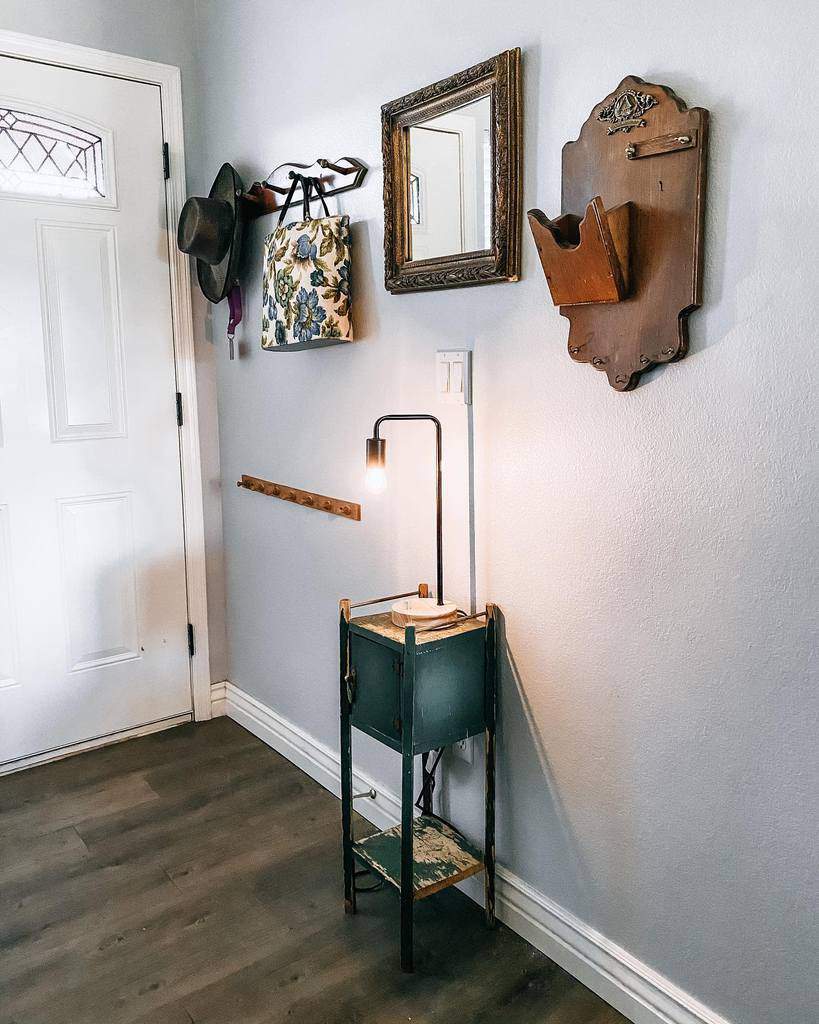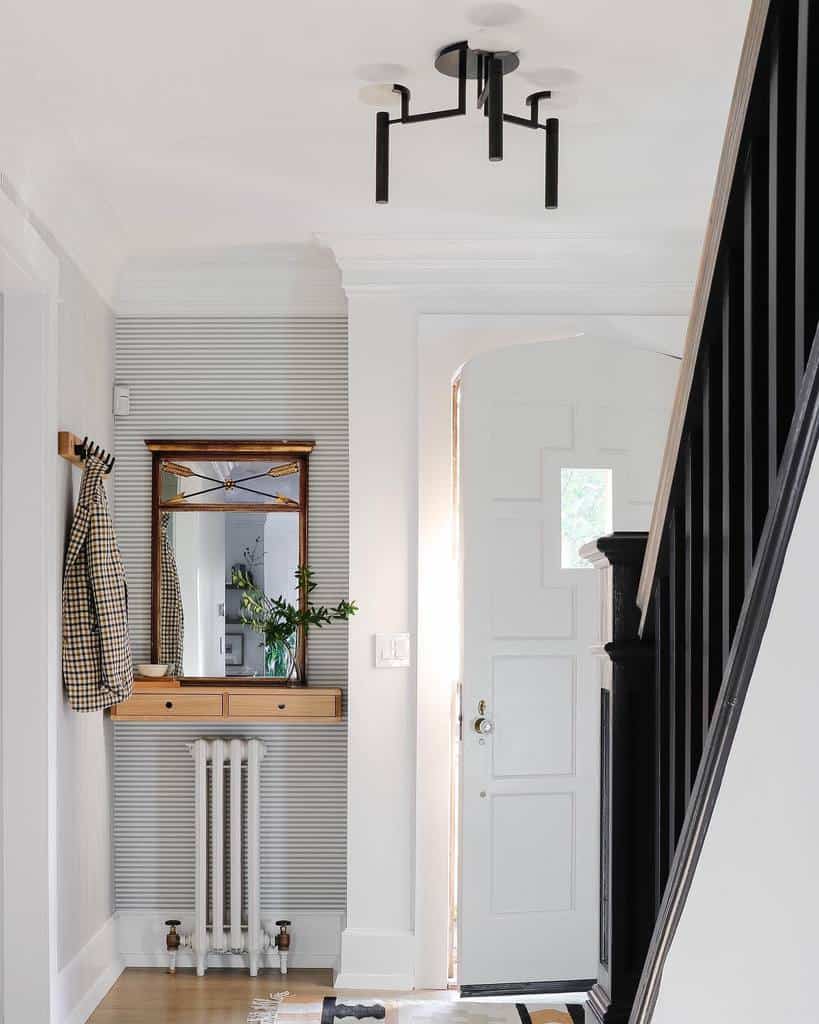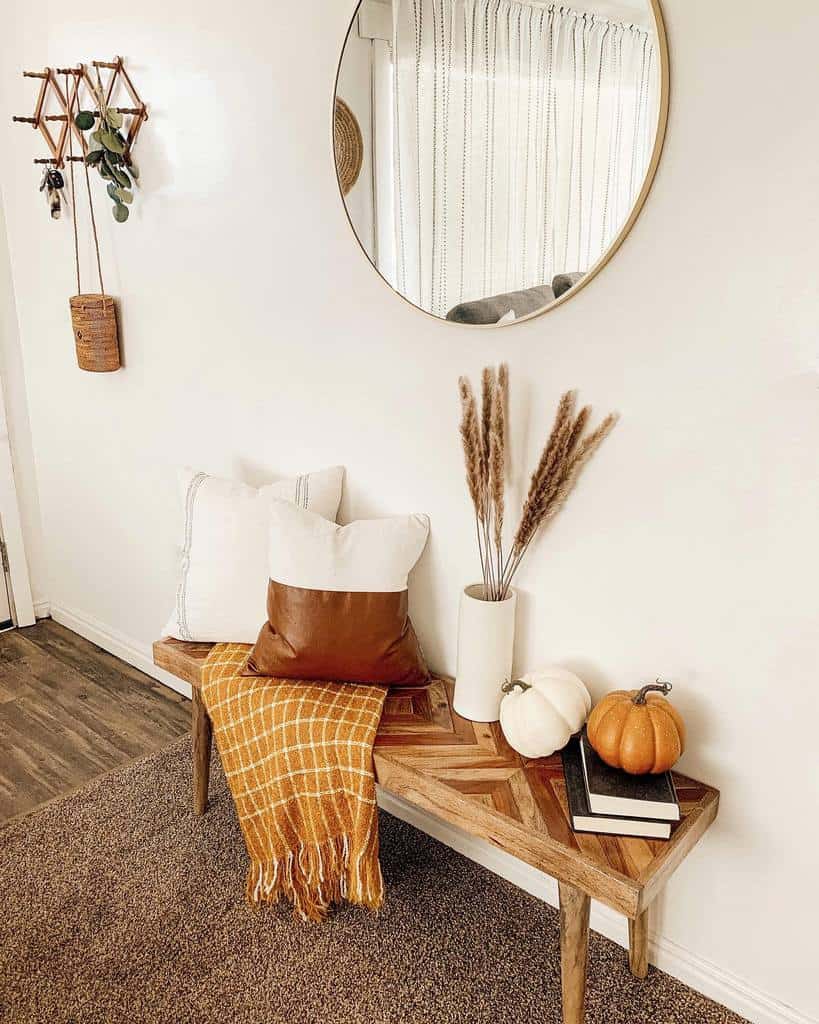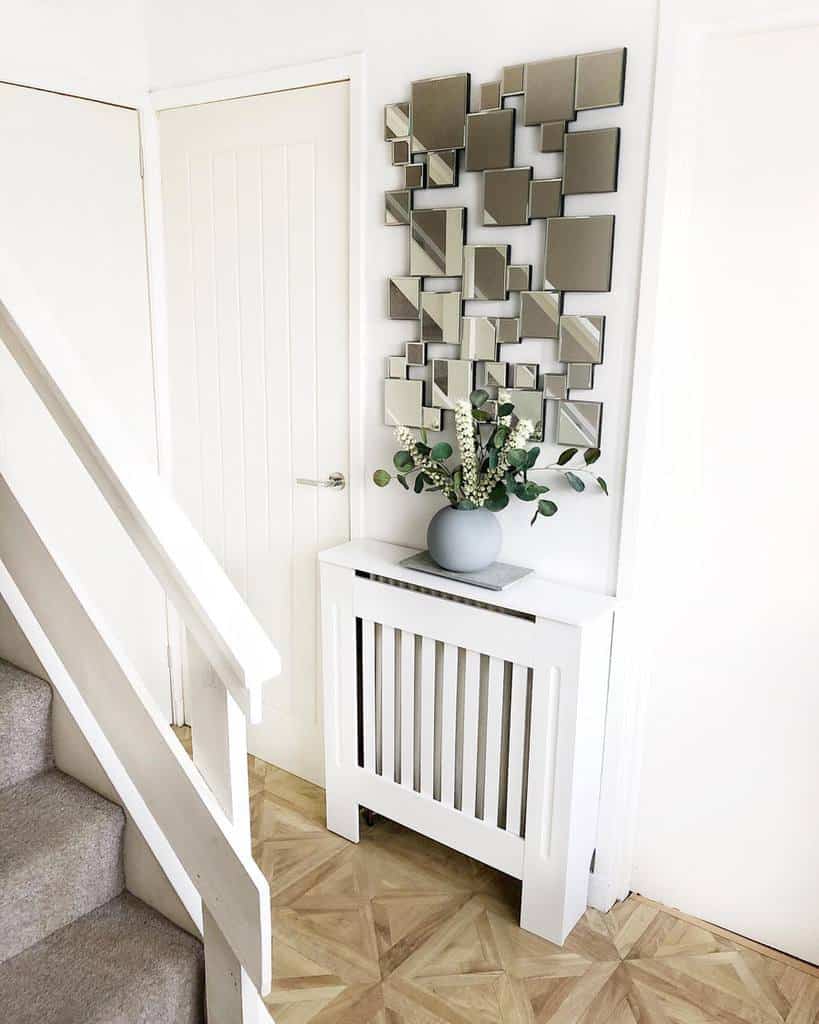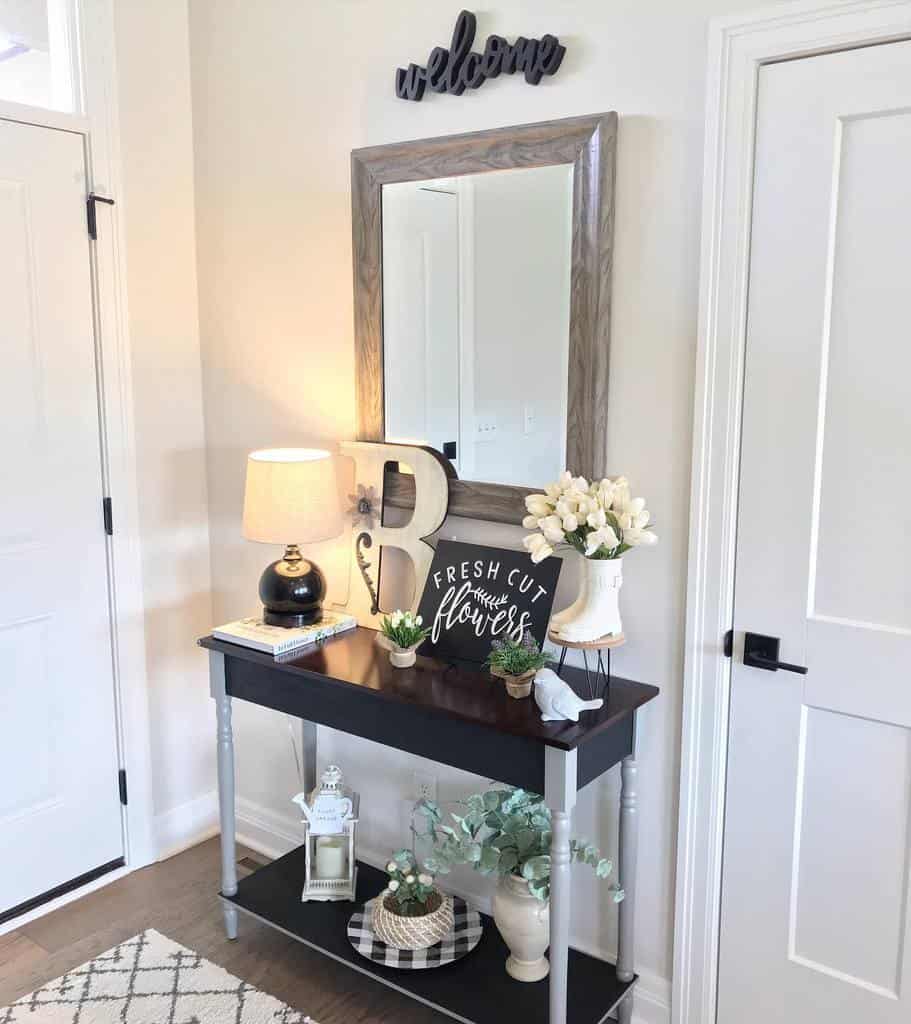 8. Under-The-Bench Storage
A bench with built-in storage and organizers is the perfect addition to keep your small entryway tidy and organized. Not only does it provide a convenient seating area for putting on or taking off shoes, but it also offers hidden compartments and cubbies to stow away everyday essentials like shoes, bags, and umbrellas.
With a variety of storage options, you can easily customize the bench to suit your specific needs. Alternatively, you can choose to repurpose a trunk chest to maximize its enclosed under-the-bench storage.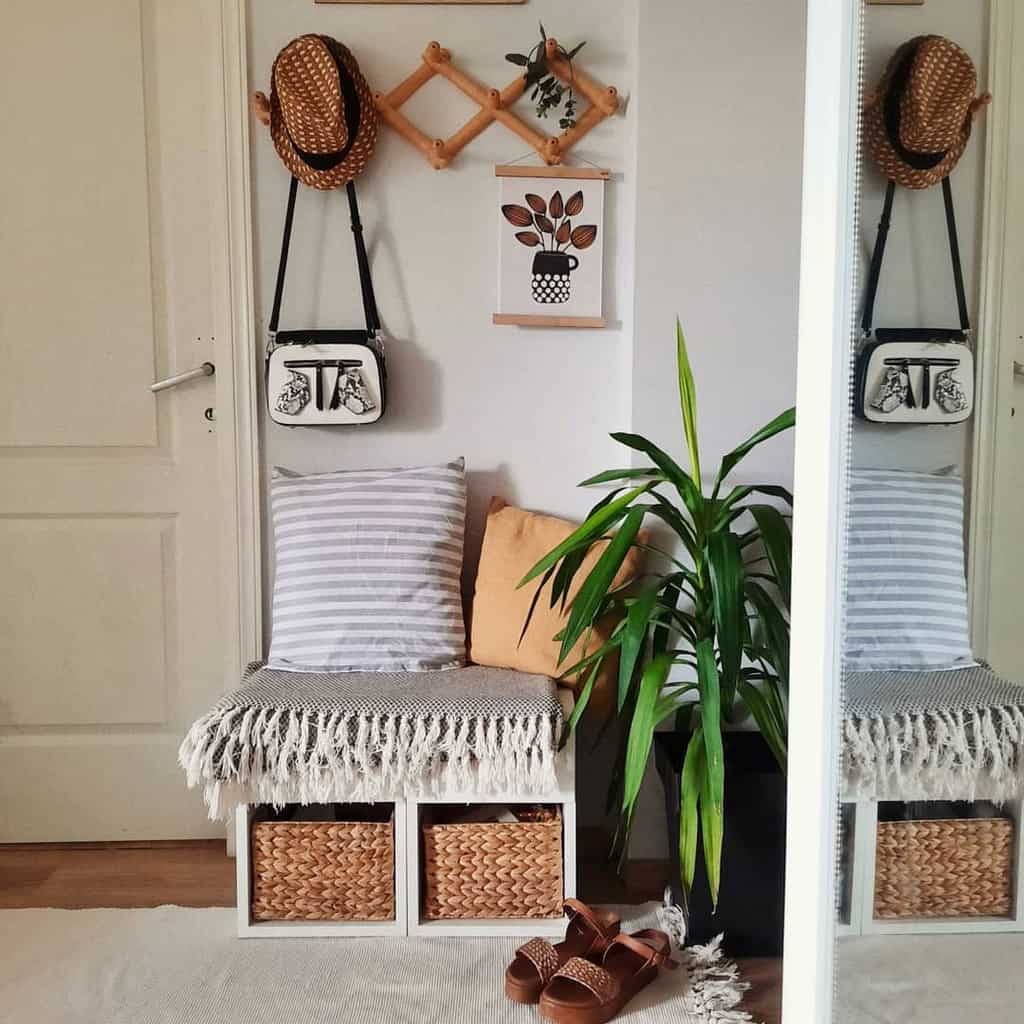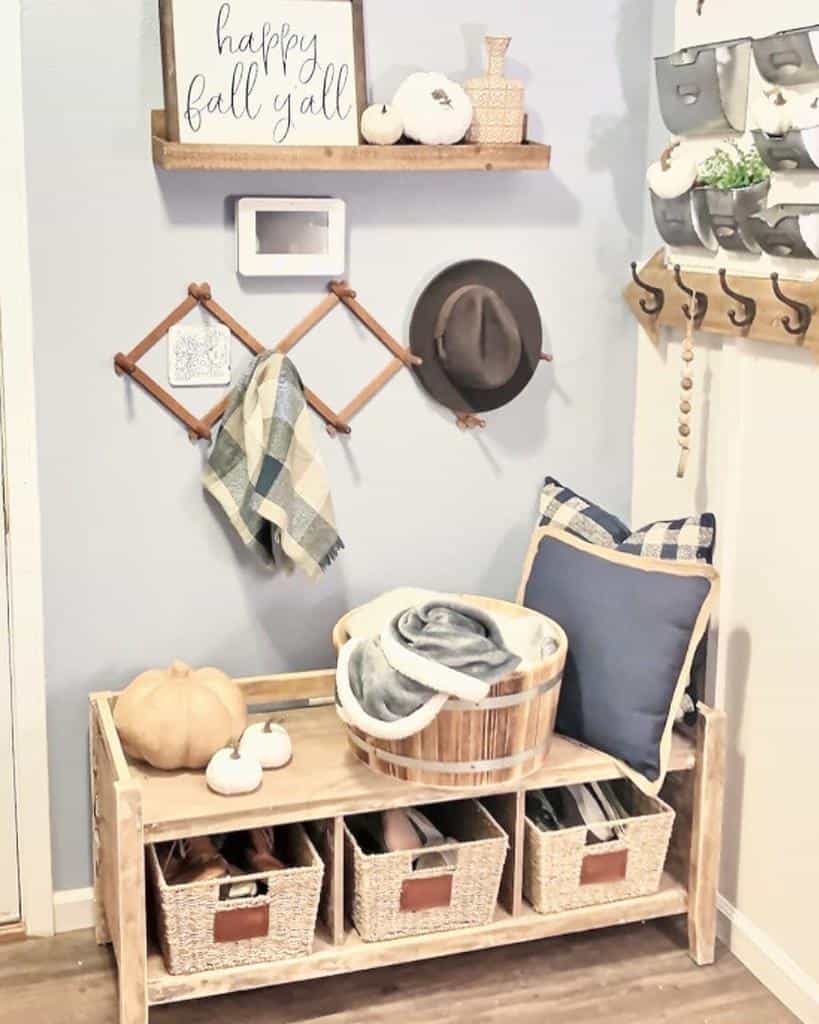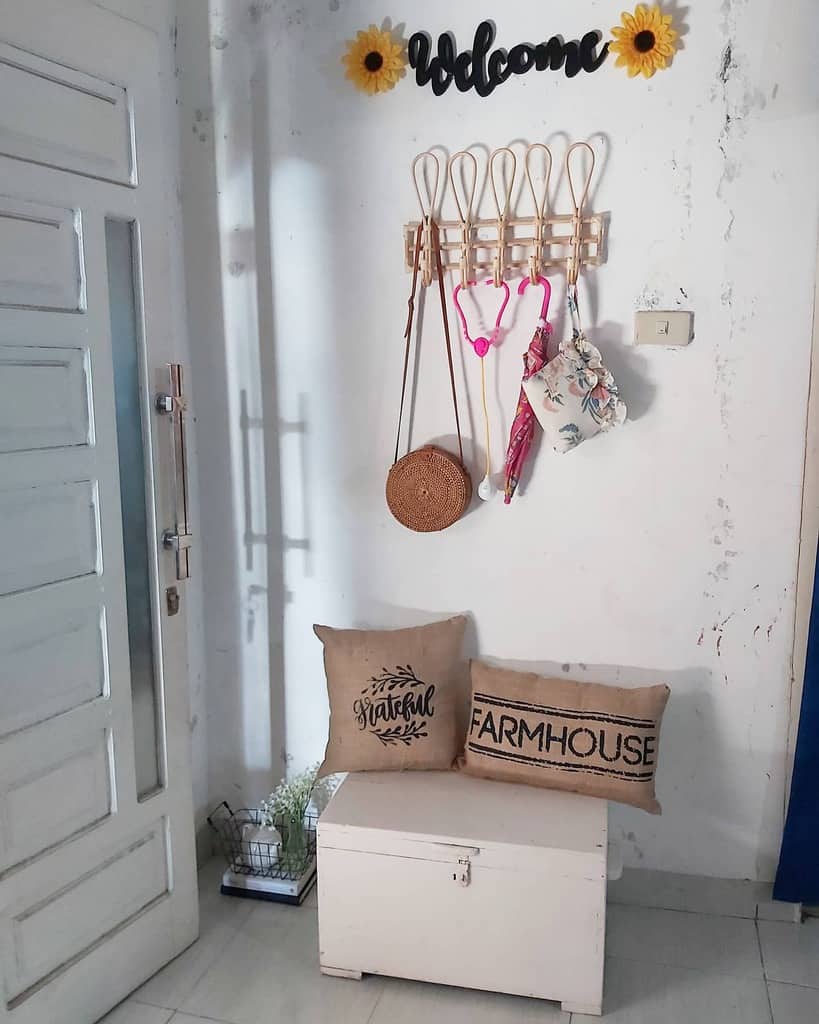 9. Peg Board Storage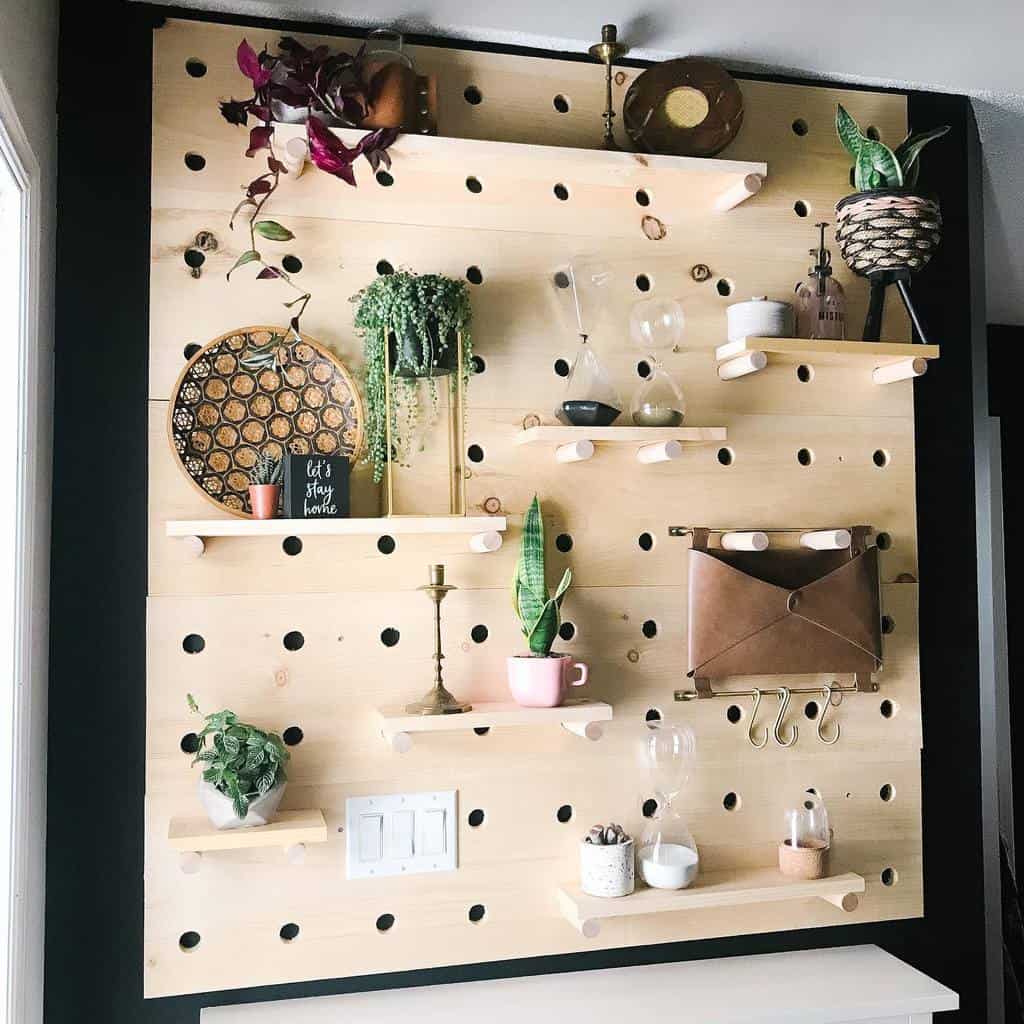 10. Entryway Rug or Mat
With its versatile design and array of hooks, a peg board provides the perfect solution for organizing and displaying small items in your entryway. Hang your keys, hats, scarves, and even small bags on the hooks for easy access and tidy space. The peg board not only keeps your essentials within reach but also adds a touch of visual interest to your entryway.
Customize the arrangement of the hooks to suit your needs and create a personalized display that reflects your unique style. Additionally, you can incorporate small shelves or baskets to hold mail, sunglasses, or other small accessories.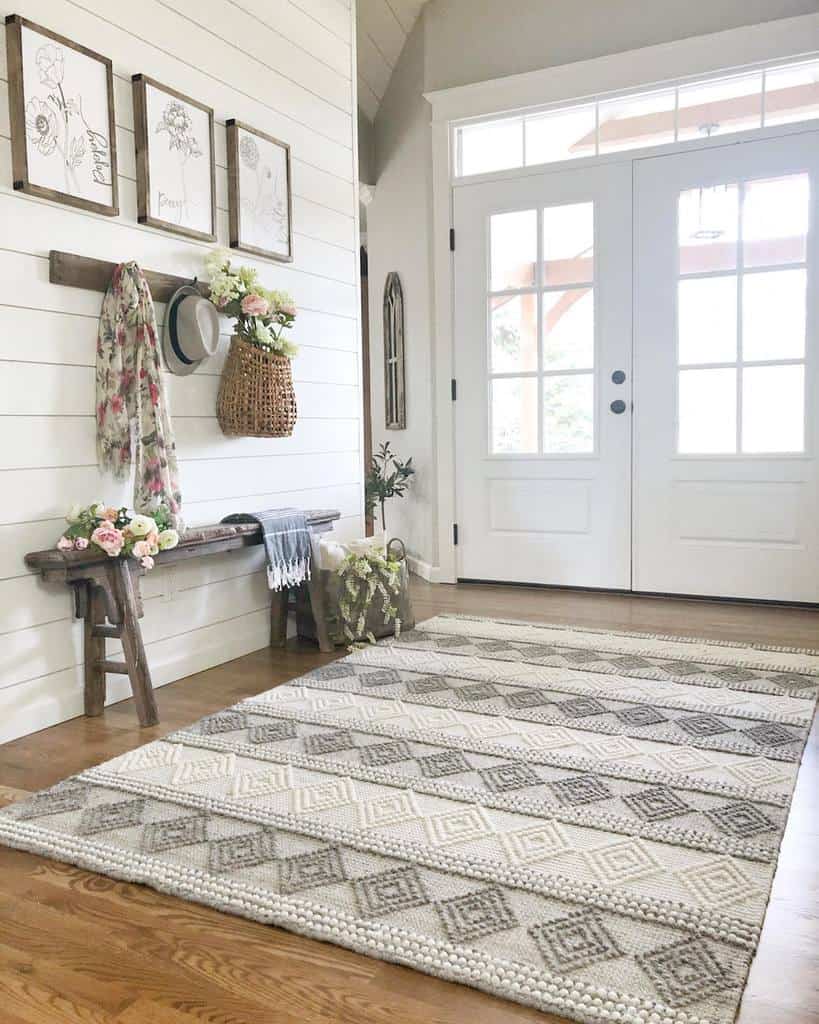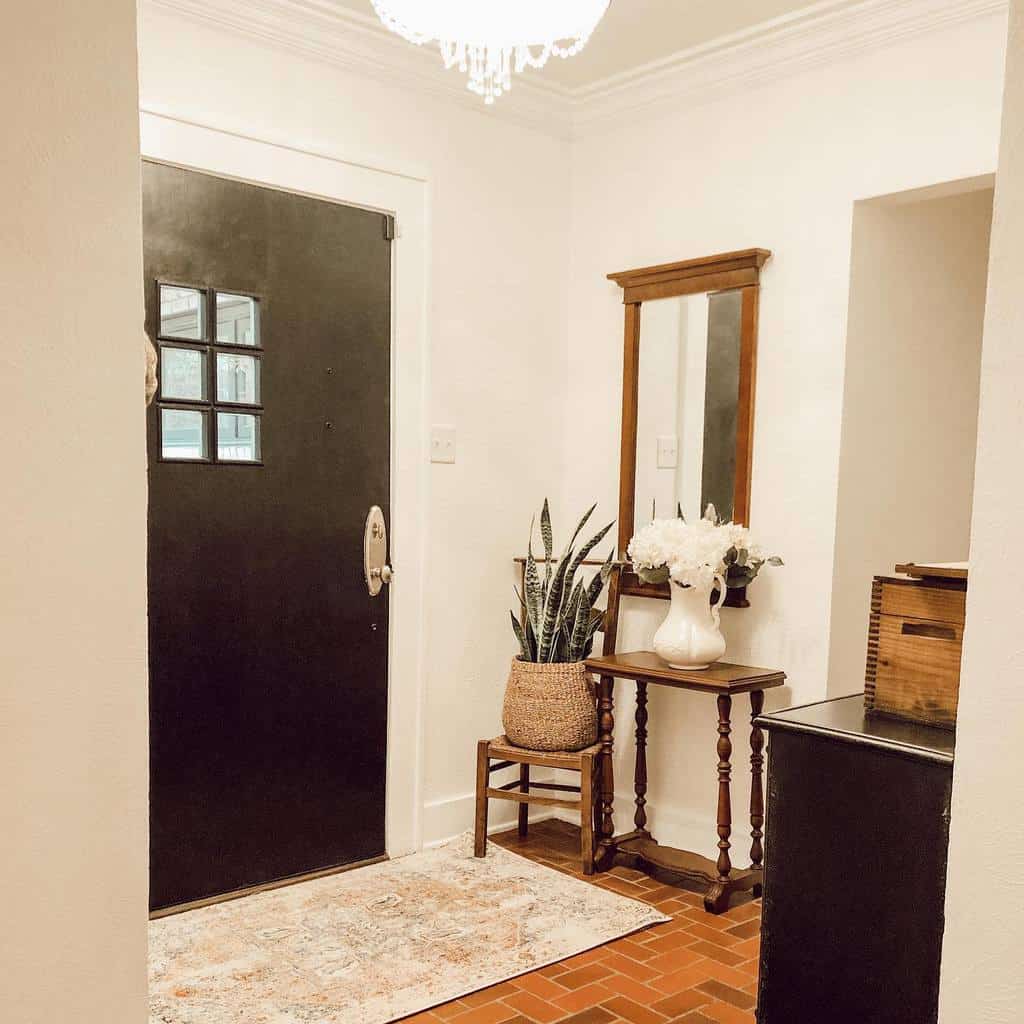 11. Floating Shelves
Floating shelves not only add a touch of modern elegance but also provide the perfect opportunity to showcase your favorite decor pieces. Display a collection of vibrant potted plants, decorative vases, or a gallery of family photos to instantly personalize your entryway. The beauty of floating shelves lies in their ability to maximize vertical space, making them ideal for small areas.
But that's not all—they also offer additional storage options. Utilize woven baskets or stylish boxes on the shelves to tuck away keys, gloves, or other small items, keeping your entryway neat and organized. Whether your style is minimalist, bohemian, or eclectic, floating shelves offer endless possibilities to transform your small entryway into a stylish and functional space.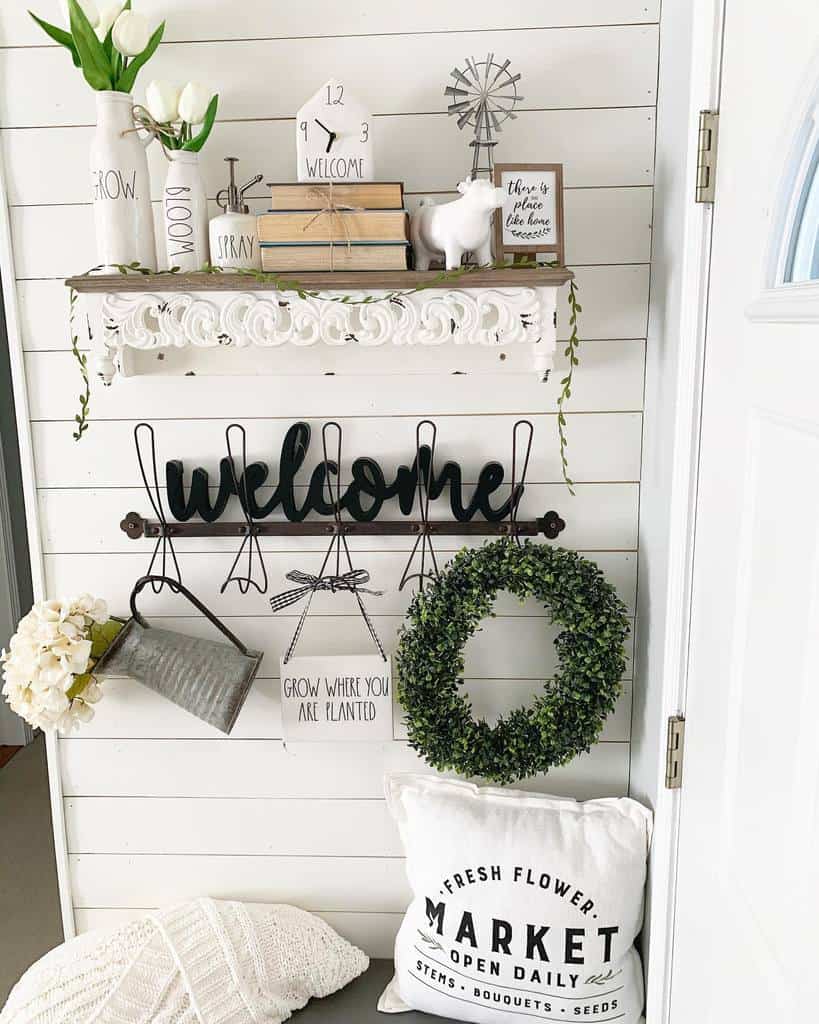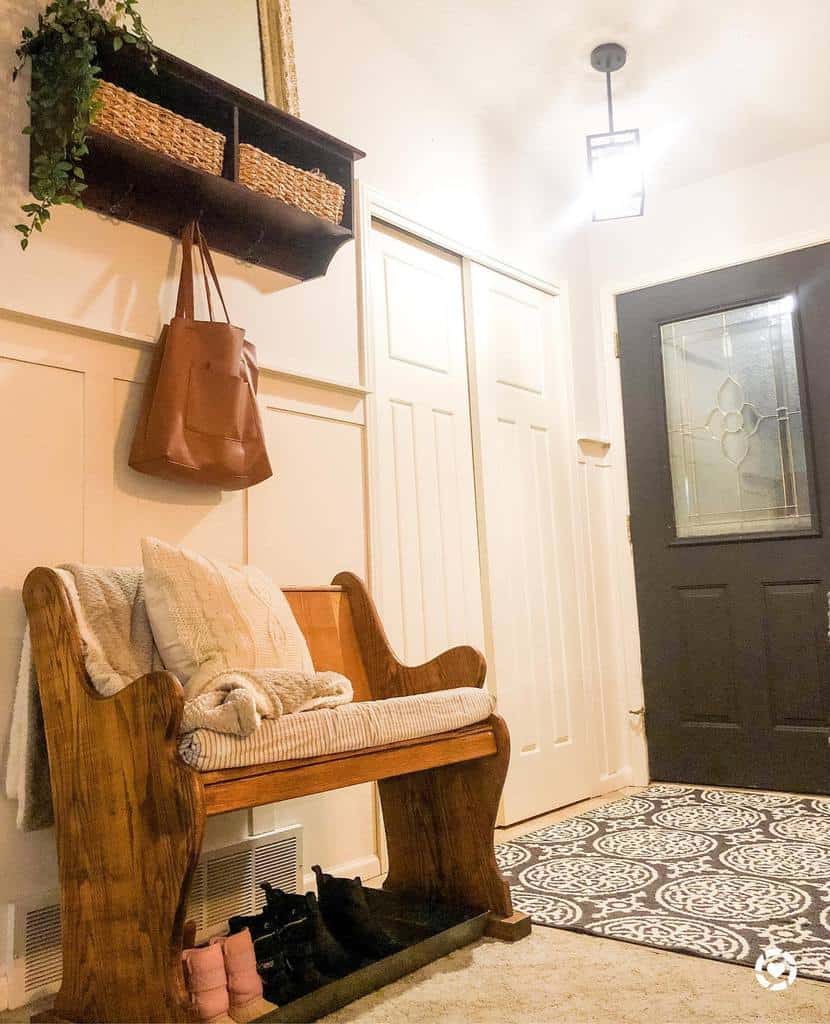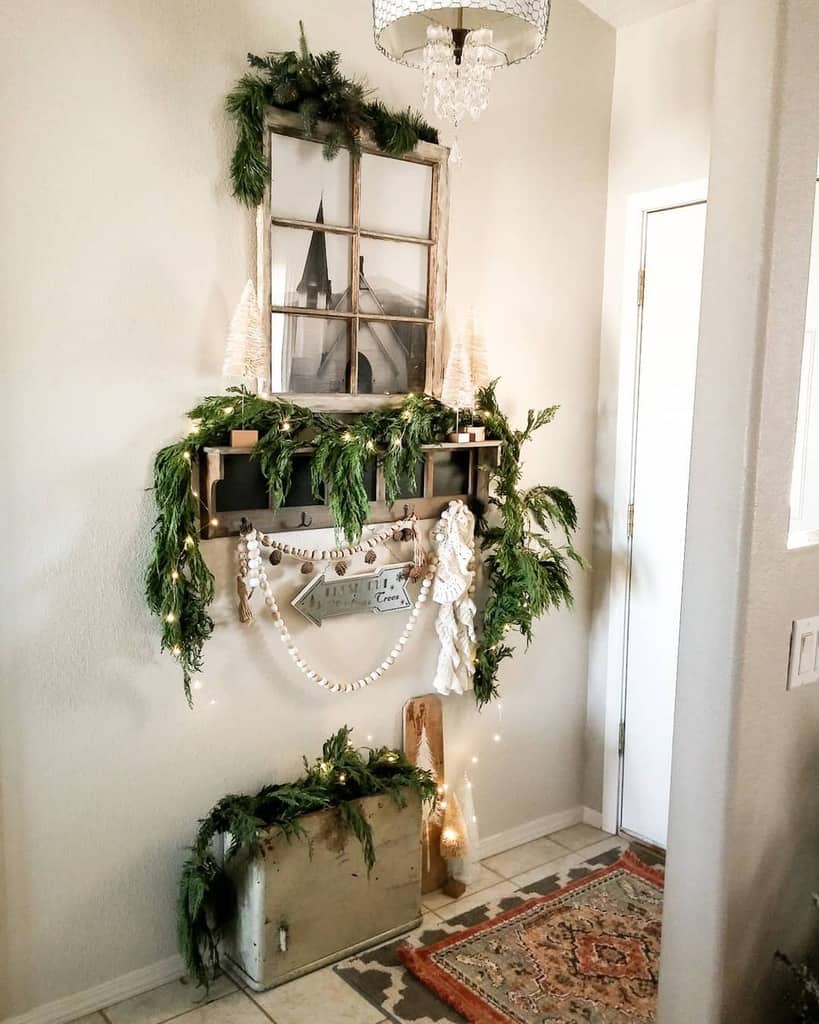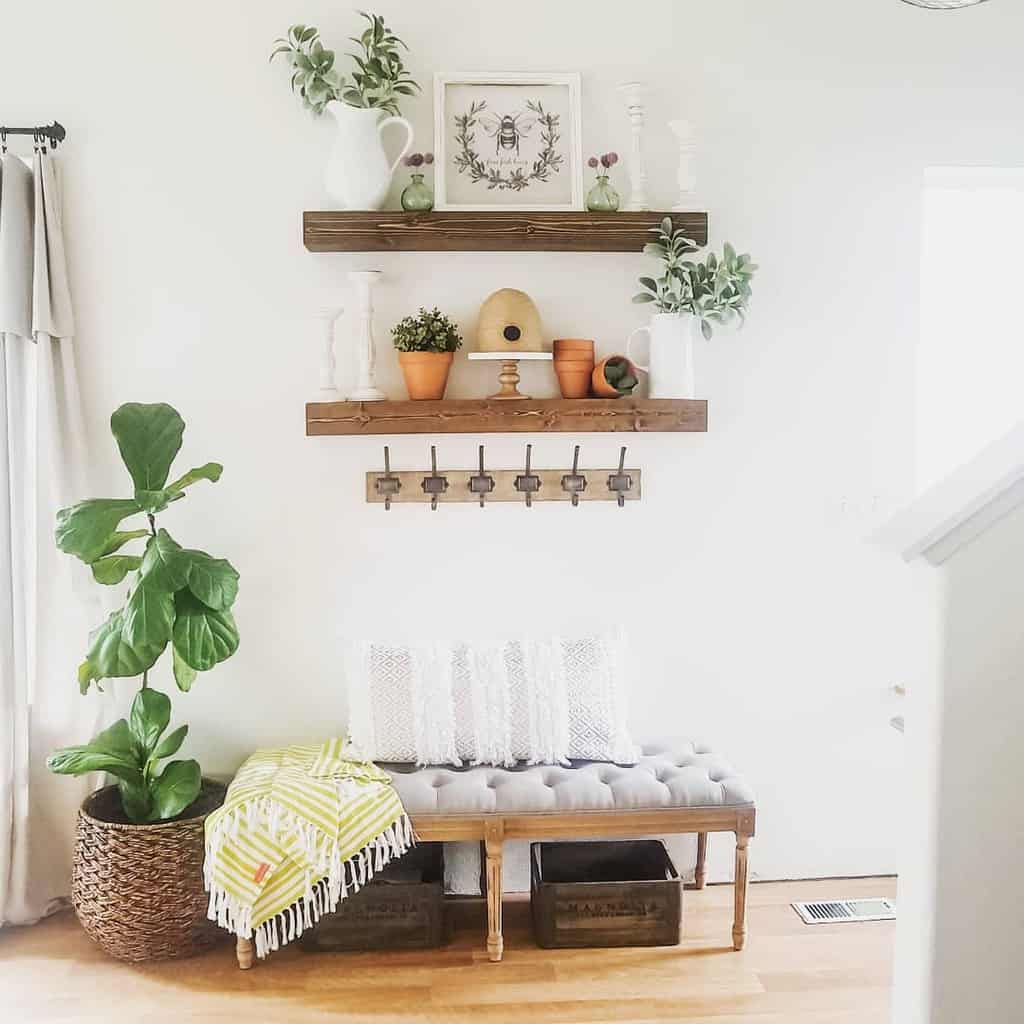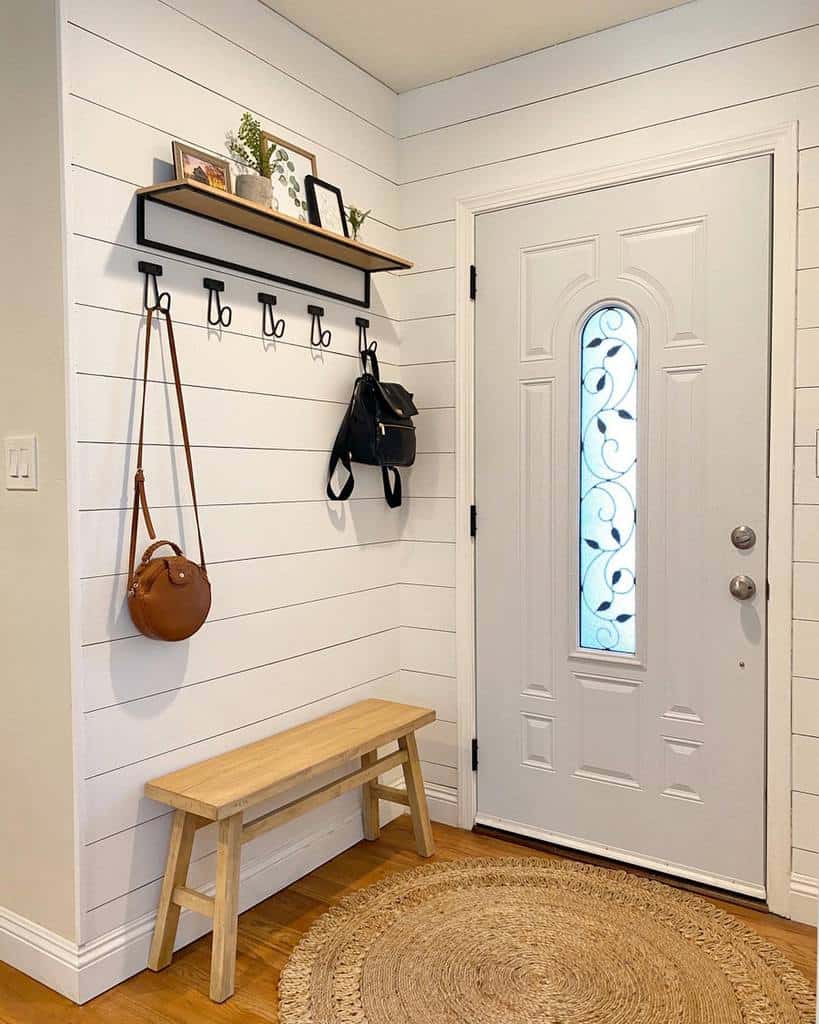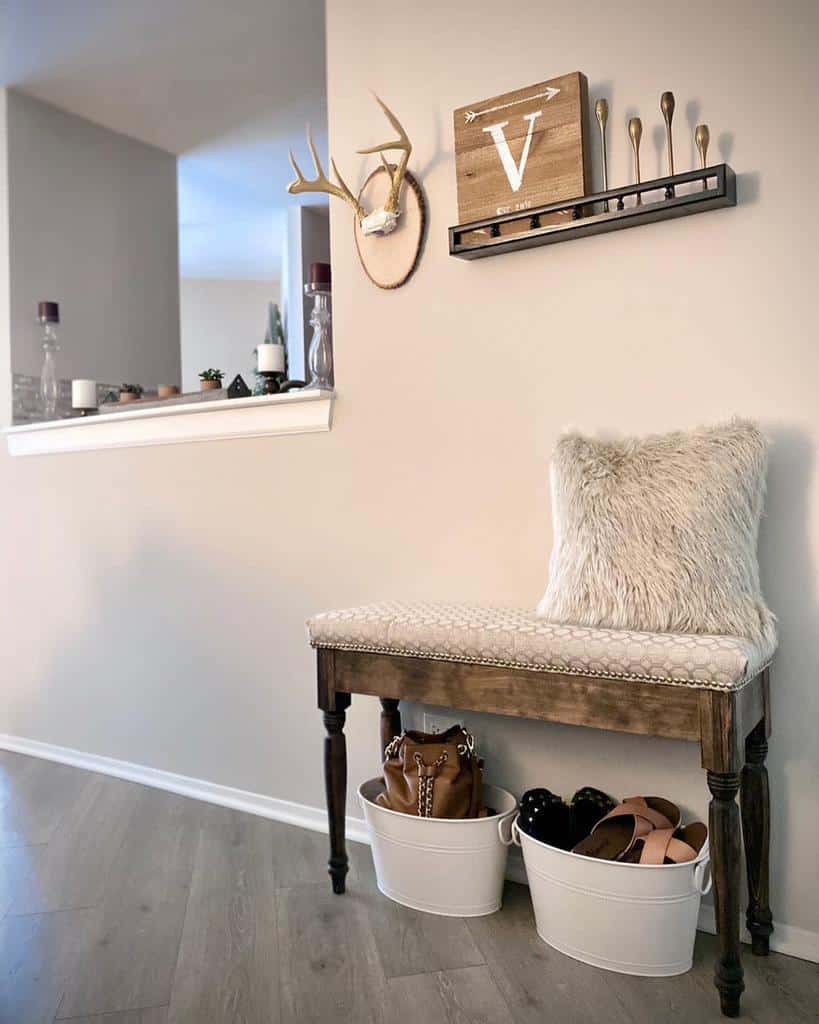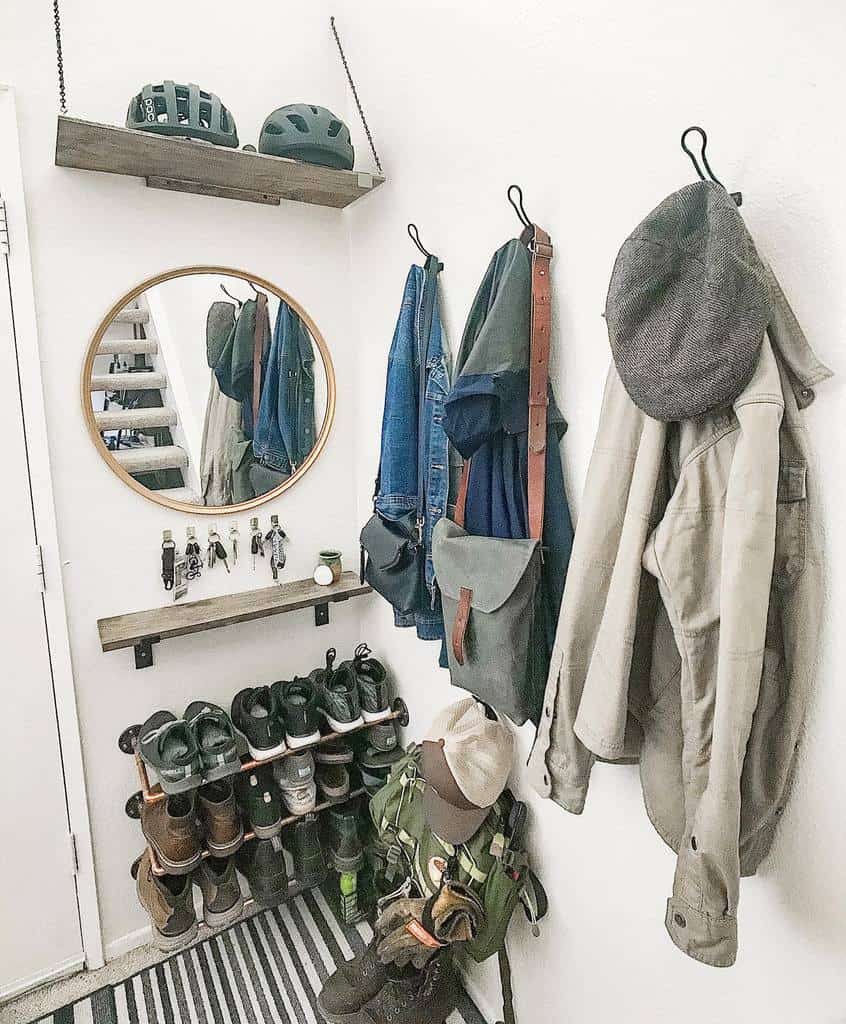 12. Wall-Mounted Mail Rack
A wall-mounted mail rack is the perfect solution to keep your entryway organized and clutter-free. With designated slots for incoming mail, keys, and other small essentials, this sleek and compact storage solution adds both practicality and charm to your entryway.
Choose a mail rack with ample space for placing other miscellaneous items maximizing and opt for a design that complements your decor style, whether it's modern, rustic, or eclectic. To add a personal touch, consider incorporating small rustic touches or artwork beside the mail rack to create a focal point and make your entryway feel more inviting.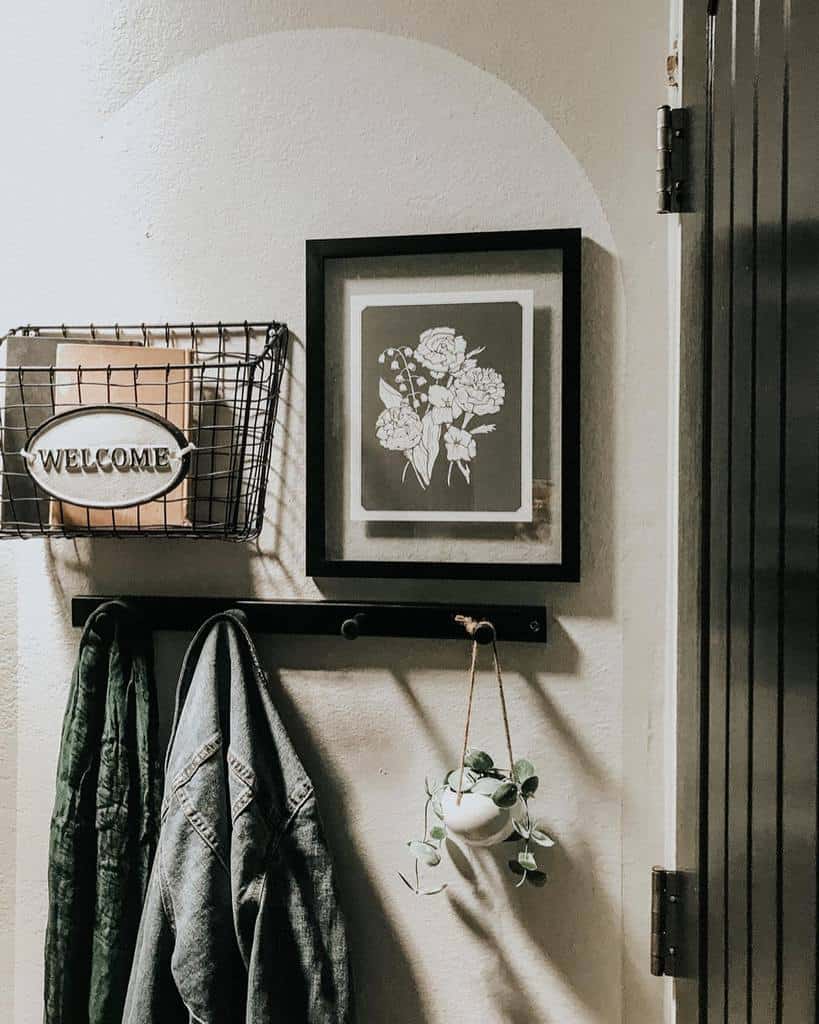 13. Ladder Rack
Hang the ladder horizontally on the wall, securing it in place, and voila! You now have a practical storage solution for coats, bags, and hats. Enhance the functionality by adding hooks to the rungs of the ladder, allowing you to hang additional items such as keys, scarves, or even umbrellas.
The ladder rack not only keeps your entryway organized but also serves as a decorative statement piece. You can customize it to match your style by painting it in a vibrant color or leaving it in its natural finish for a rustic touch.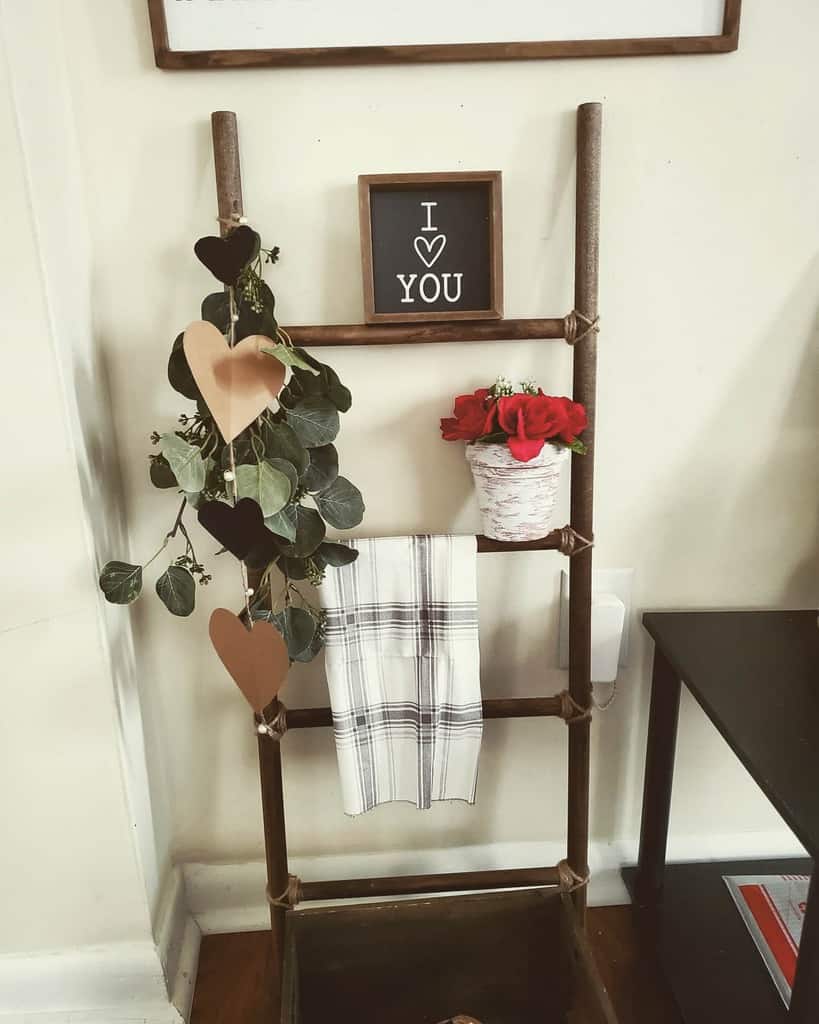 14. Enclosed Shoe Cabinet
Say goodbye to scattered shoes and hello to a clean and inviting space. The compact size of the cabinet makes it ideal for small entryways, maximizing the available space without compromising on style. The enclosed feature also keeps the entryway space free from visual clutter. Choose a cabinet with multiple shelves or drawers to accommodate different types of footwear and keep everything within easy reach.
Complete the look with a decorative mirror or artwork above the cabinet to add a personal touch and make the entryway feel more welcoming. Transform your small entryway into a stylish and organized space with an enclosed shoe cabinet, and make a lasting impression on your guests from the moment they step through the door.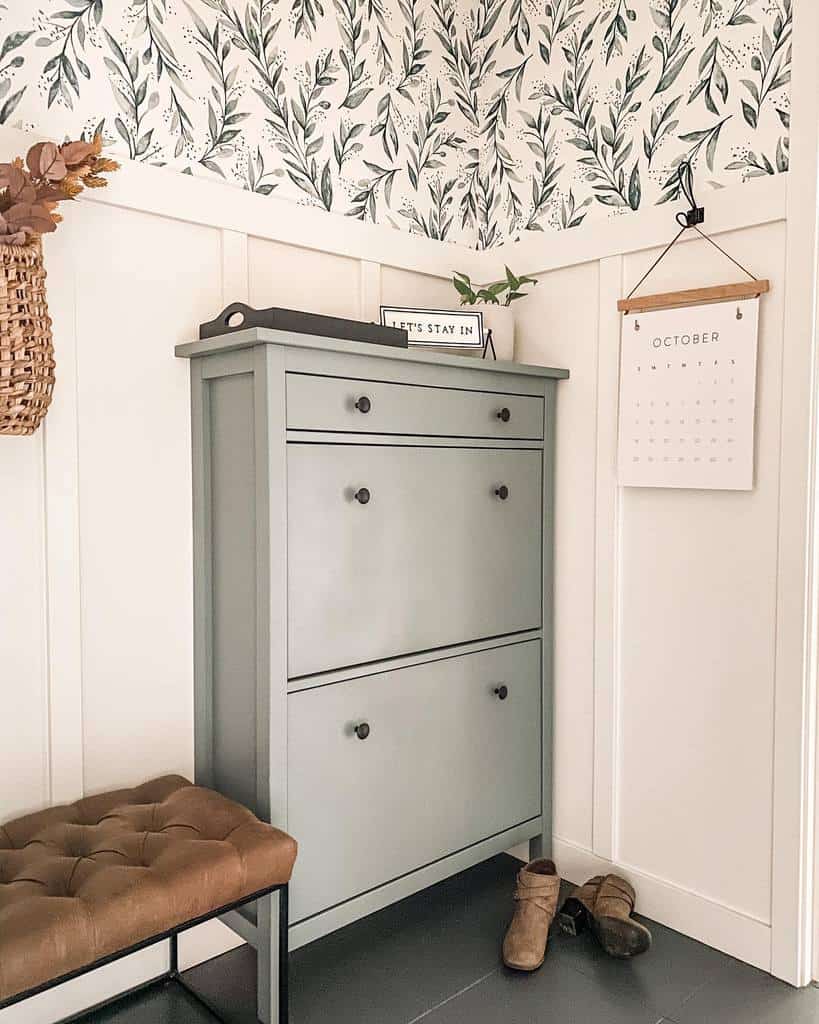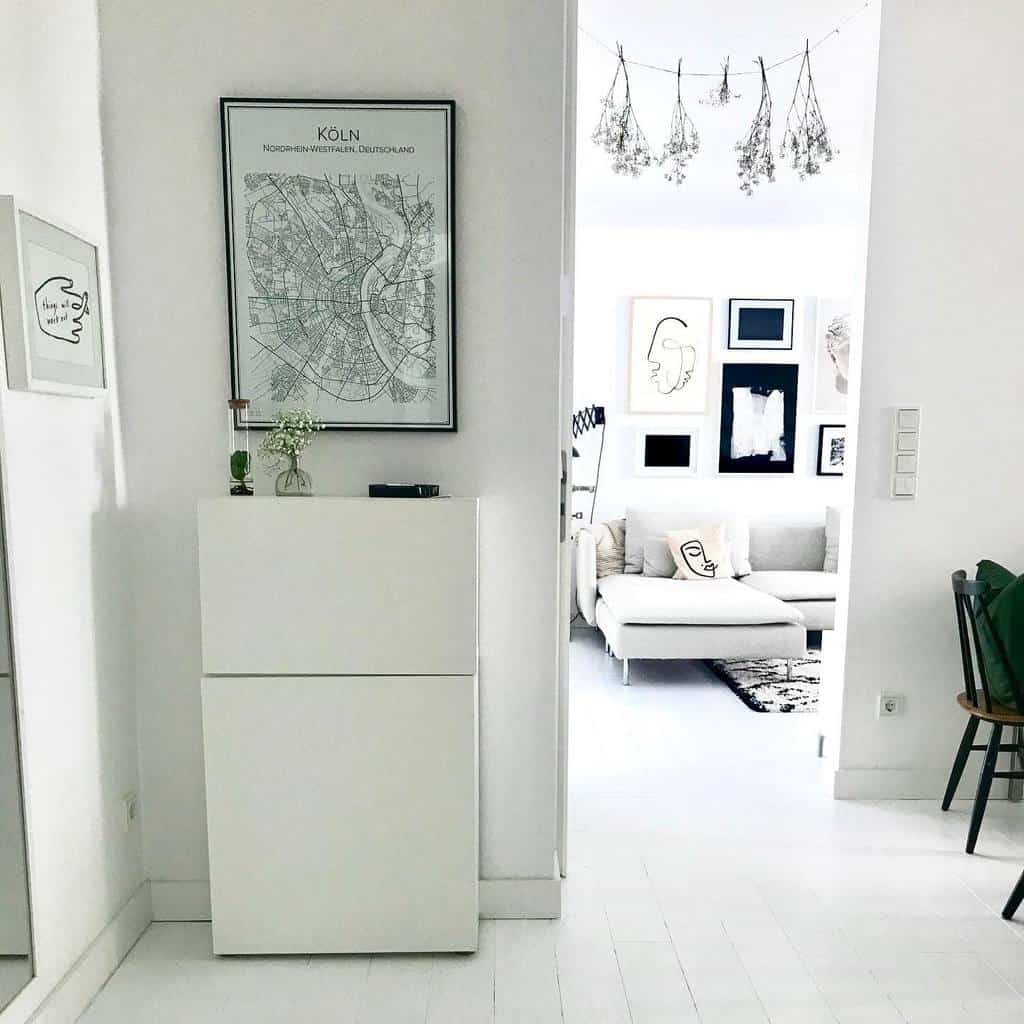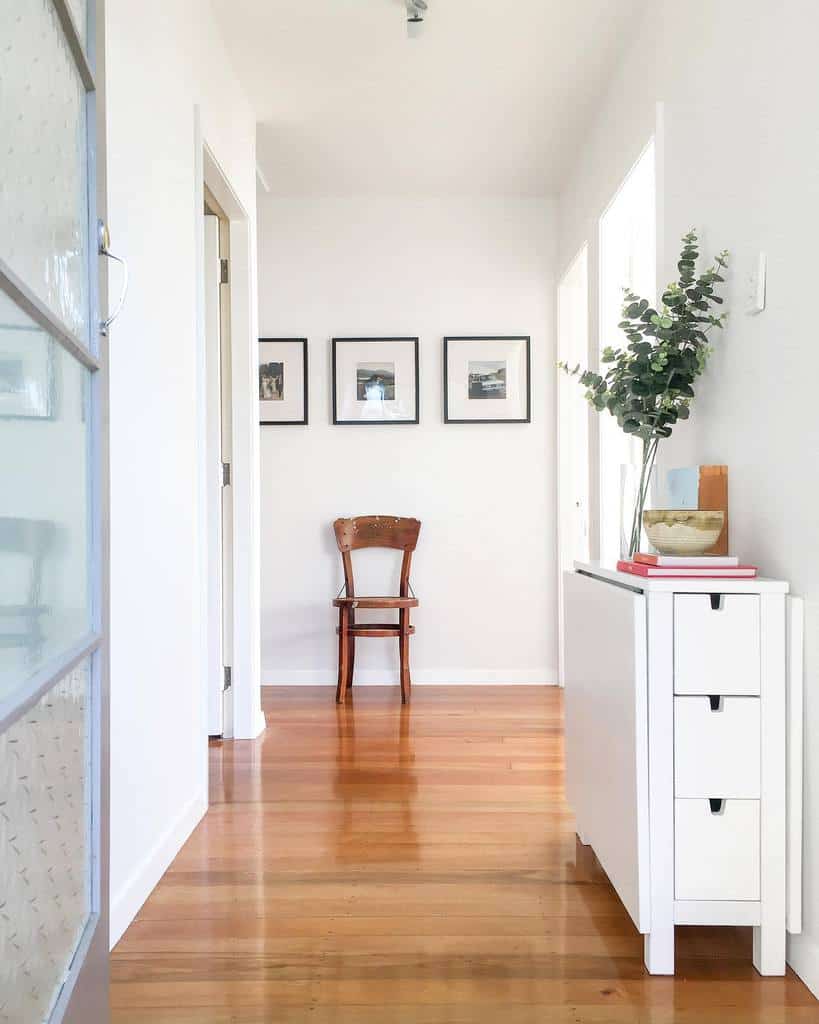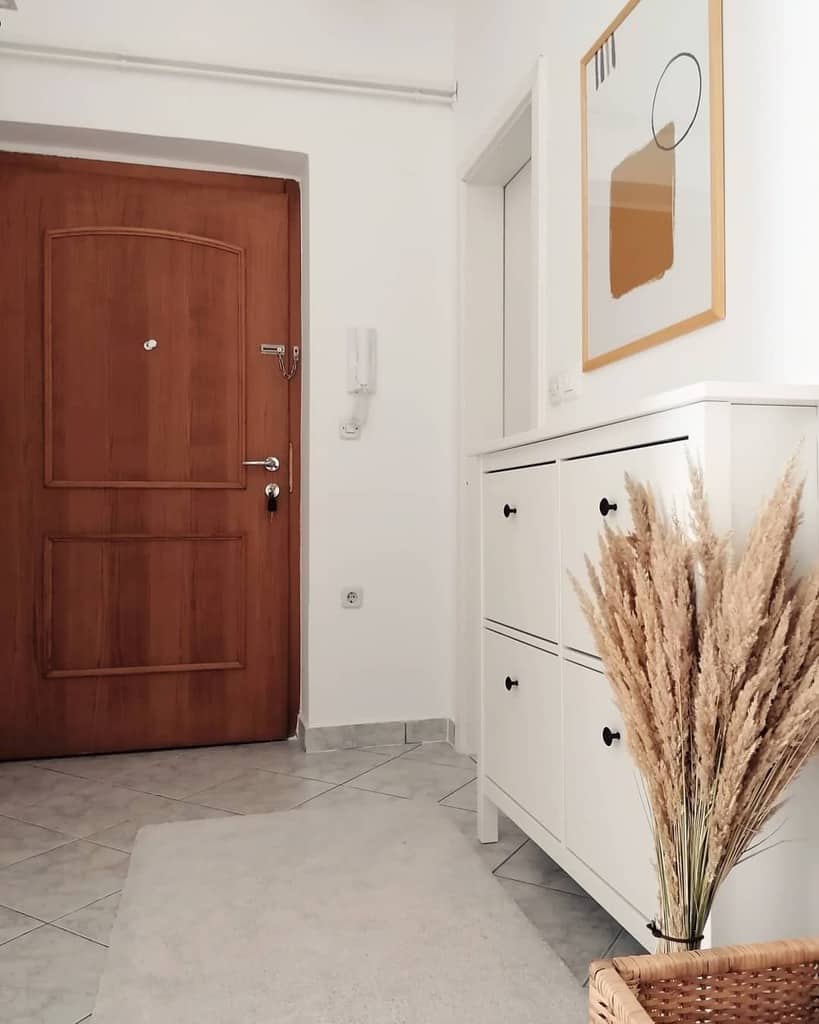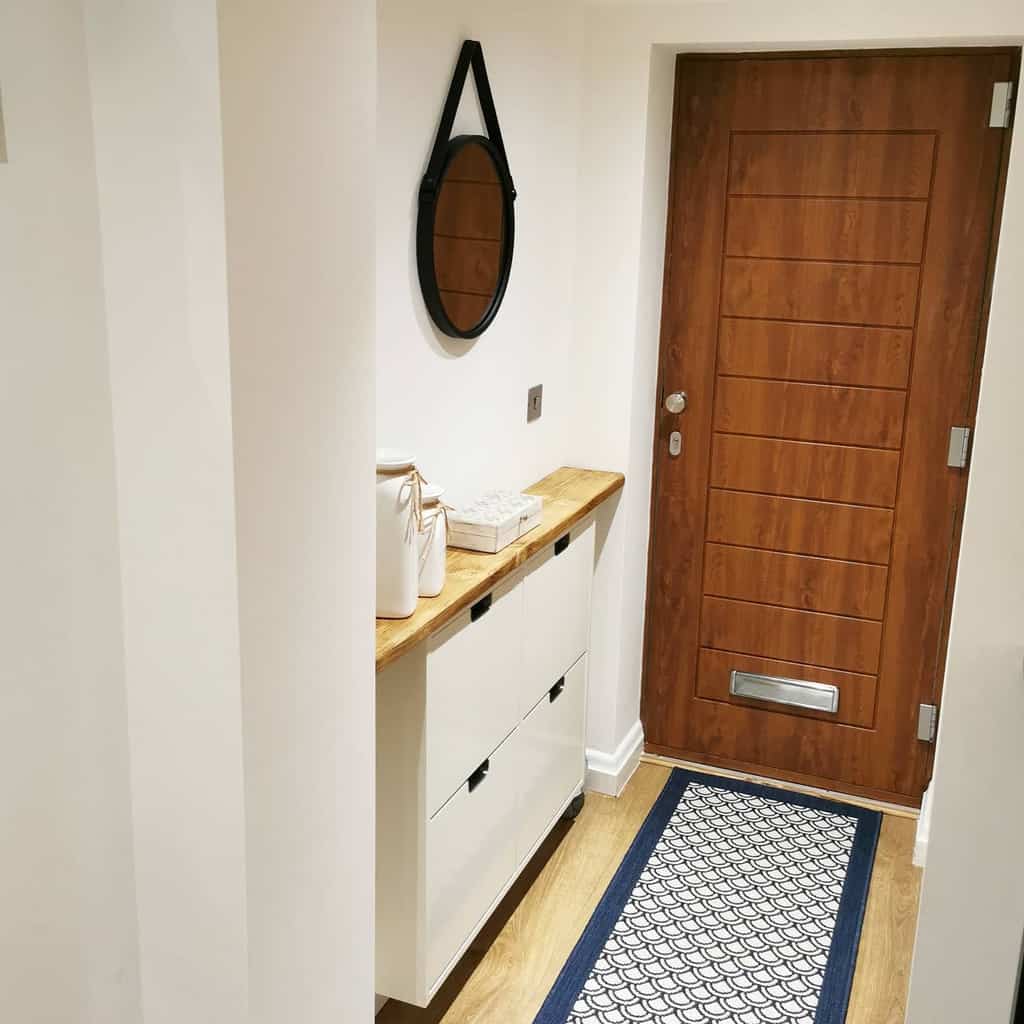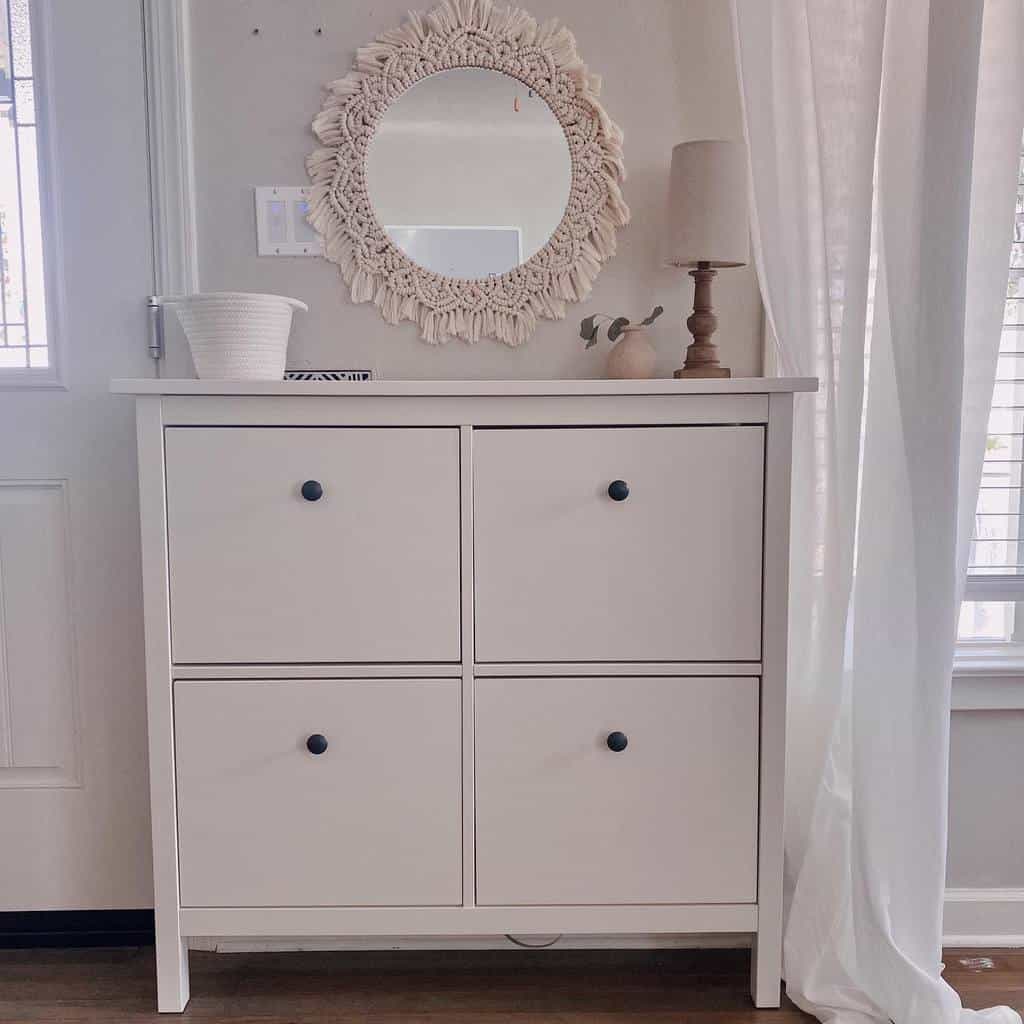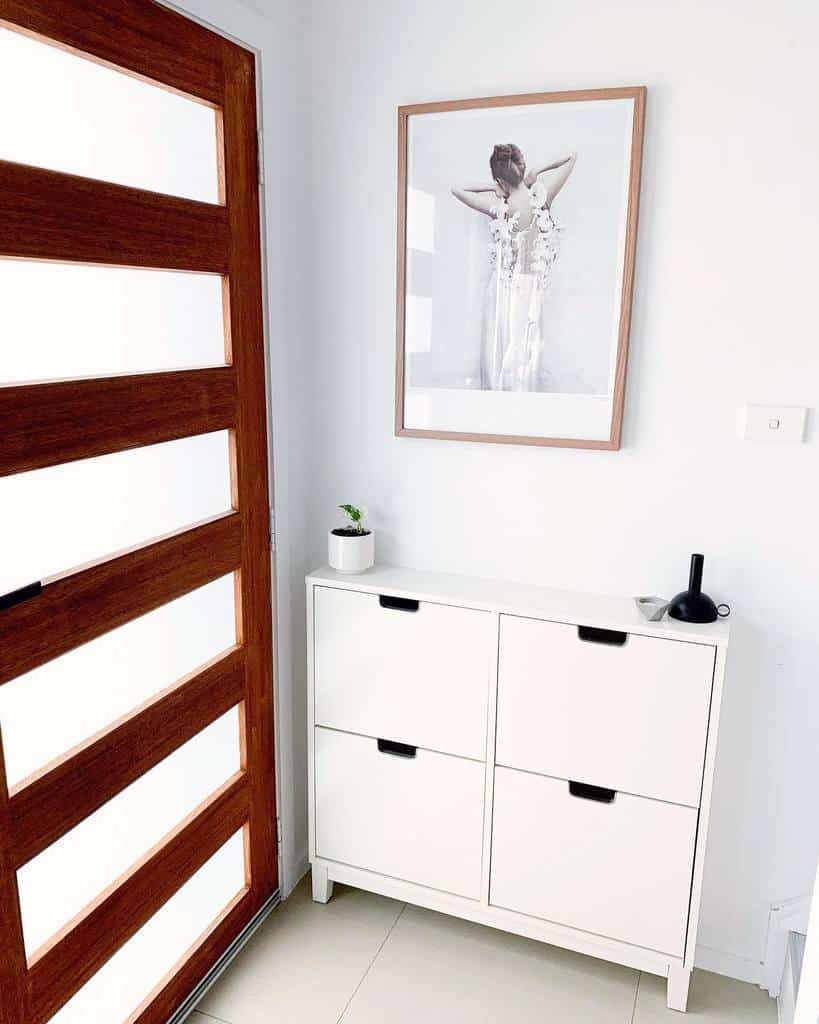 Small Entryway FAQs
What should be in an entryway?
Every entryway should have a place to hang coats. You also need a weather-resistant rug or mat to protect your floors from dirty shoes. Place lighting in the space, preferably overhead. A small storage area is nice. A simple seating area is also convenient.
How can I hide my shoes at the front door?
The easiest way you can hide shoes is by placing them in a storage bench. This piece of furniture is multi-functional and sturdy. Another option is to have a woven basket for you to throw them in. Cubbies are good if you have children because you can assign them each their own cubby.
How big should the entryway mirror be?
If you decide to hang a round mirror, choose one that's bigger than 20 inches. Otherwise, you risk creating a pothole look that can create a claustrophobic feeling. Choose a large enough mirror to see yourself in while the bottom is only a few inches above the console.