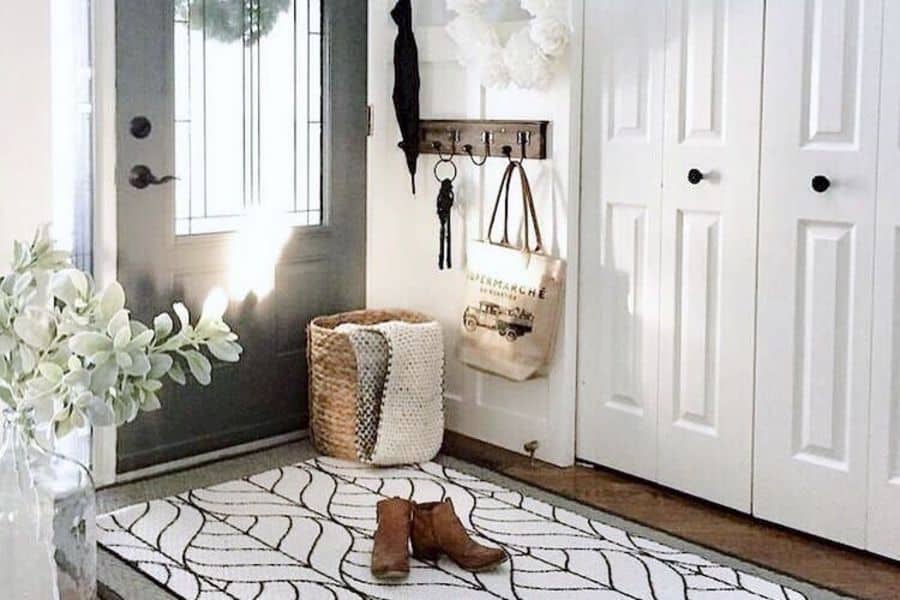 The Top 69 Small Entryway Ideas
Creating a small entryway in your home gives you a place to welcome guests. No matter how small this space is in your home, you can style it to be functional and beautiful.
Start by measuring your space and knowing what you need to place here. Then look for pieces that will have multiple functions and add to the appeal.
These small entryway ideas will help you with your small entryway makeover project. Add a bench, place to hang coats, table, and decorative elements.
With the right combination, your small entryway will be the perfect place for welcoming guests and getting situated when you come home.
1. Bench
Place a bench in your entryway and give yourself and others a place to sit down. This entryway furniture is a must if you want people to take their shoes off when entering your home.
Having a limited amount of space means that you should look for a storage bench instead of having an open style with a platform and legs. Then you can hide items inside of it. If you have limited space, try using a storage ottoman instead.
Decorate the bench with a throw pillow or two. You could even choose ones that are seasonal for a festive touch to the space. This will make your home feel warm and welcoming.
Read more: 85 Entryway Bench Ideas
2. Coat Hanger
Where do you put your coat when entering your home? Where do your guests put their coats when they visit? If you have coat hooks in your entryway, you have a quick and easy place for people to stow their coats. They can slip it off and get comfortable or grab it on their way out.
A stand-alone coat rack will take up too much floor space. A closet is nice, but if it's not near your entryway, it's inconvenient.
Mounting wall hooks directly on the wall is perfect because they're off of the floor, low profile, and easy to use. Anything that can get hung can get looped over the hooks, making them useful for bags and backpacks too.
3. Console Table
Large entryways have large entryway tables that sit in the center of the foyer with a seasonal display of flowers. Your small entryway can't support such a grand display, but that doesn't mean you can't have a table. Instead, look for a small console or foyer table.
A slim and long table works with narrow entry spaces. A triangle-shaped table will perfectly fit into a corner that would otherwise go empty. Skip a round table because they take up too much room. Consider the height of the table; this can affect how cramped your entryway feels.
4. Decor Ideas
You'll notice that small entryway decor ideas include wall decor. Just because the space is small doesn't mean you have to accept blank white walls. Try hanging small framed pictures and create a gallery wall.
Other popular foyer decorating ideas advise using a mirror. This trick reflects the opposite wall and tricks the eye into thinking that the room is bigger than it really is. This is also the perfect place to have a bud vase. These small vases are just large enough to hold a single flower or sprig of greens.
5. Farmhouse
Give your small foyer a farmhouse feel by turning it into a mudroom. This creative entryway idea is perfect for places where your shoes get dirty and muddy.
You can have a boot brush outside or a boot cleaning station just inside of the door. It can also help to have a low tray to place dirty shoes on. This keeps your floor clean and makes cleaning up easier.
Place a vintage wooden stool that was once used for milking cows. Hang farmhouse-inspired decor on the walls, such as landscape artwork or traditional farm tools.
You could even find vintage farmhouse hooks that are mounted on a reclaimed piece of wood to serve as your coat rack.
6. Modern
Create a modern feel in your narrow entry by taking a modern approach. Choose a console piece that's on legs to create visible space below the console. This helps to keep the space feeling bigger. Mount the coat rack hooks above the console to maximize your square footage.
Instead of hanging decor on the wall, decorate the small room with bold wallpaper. This similar approach is often done in small bathrooms, but it works just as well in your small foyer too. A bright color with a big patterned design will look welcoming.
7. Rustic
Give your narrow hallway a rustic touch by choosing pieces that are handmade, salvaged, or vintage.
You could use reclaimed or salvaged wood for the floating shelves. Or use vintage hooks for the coat hooks that you mount on the wall. A salvaged window frame over a large mirror will give your tiny entryway a larger feel.
Don't try to over-style your entryway design. Rustic interior decor needs to feel relaxed and lived in. Too much styling and faux aging will give your entryway a fake look that doesn't feel comfortable or welcoming.
8. Shoe Storage
If you require people to take their shoes off when coming into your home, you need a place to put them. Otherwise, you'll end up with a massive pile of shoes by your door. This is messy and isn't good for your shoes. You can add a small piece of furniture that acts as shoe storage space in your entry.
Narrow entryway ideas will use a small storage bench against the wall. This gives you a place to hide the shoes and sit while you take them off and put them on.
Another option for your narrow foyer is to have a floating shelf mounted low to the ground. Then people can line their shoes on the shelf, and you don't lose valuable floor space.
Read more: 42 Shoe Storage Ideas
9. Simple
One of the best ways to keep your small entry feeling spacious is to keep things simple. All you need is a small table for setting down your keys and bag. Then hang a single piece of art or a mirror on the wall.
Another option is to have a floating shelf for small items and a few hooks on the wall behind your door. This removes everything from the floor in the small space and helps it to feel more open.
Choose decorative elements that are open in design to allow the eye to look beyond them.
Small Entryway FAQs
What should be in an entryway?
Every entryway should have a place to hang coats. You also need a weather-resistant rug or mat to protect your floors from dirty shoes. Place lighting in the space, preferably overhead. A small storage area is nice. A simple seating area is also convenient.
How can I hide my shoes at the front door?
The easiest way you can hide shoes is by placing them in a storage bench. This piece of furniture is multi-functional and sturdy. Another option is to have a woven basket for you to throw them in. Cubbies are good if you have children because you can assign them each their own cubby.
How big should the entryway mirror be?
If you decide to hang a round mirror, choose one that's bigger than 20 inches. Otherwise, you risk creating a pothole look that can create a claustrophobic feeling. Choose a large enough mirror to see yourself in while the bottom is only a few inches above the console.