54 Smart Tool Storage Ideas
by — Liz Bittar

Published on March 16, 2022

Updated on October 19, 2023
If you enjoy DIY projects, you will surely have a lot of tools. And maybe your first DIY job is to store them properly. That may be a bit easier if you have a spacious garage, but tends to be a little more complicated if you live in a small apartment and like to spend time with home improvements that need tools.
So, we have selected some awesome tool storage ideas that will inspire you to create a functional solution. And when it comes to storage, creativity and organization are far more important than square footage.
1. Closet Transformed: Smart Tool Storage Solution
Upgrade your tool storage by making the most of your closet's corners. Maximize your closet's potential by adding hooks and baskets to those overlooked corners. This simple, cost-effective solution keeps your tools organized, including power drills, hammers, and saws, while maintaining a stylish and efficient closet.
Say goodbye to cluttered rooms and reclaim valuable shelf space – let closet corner storage work its magic and discover the extra space you've been missing! For added appeal, consider integrating it with your room's overall design.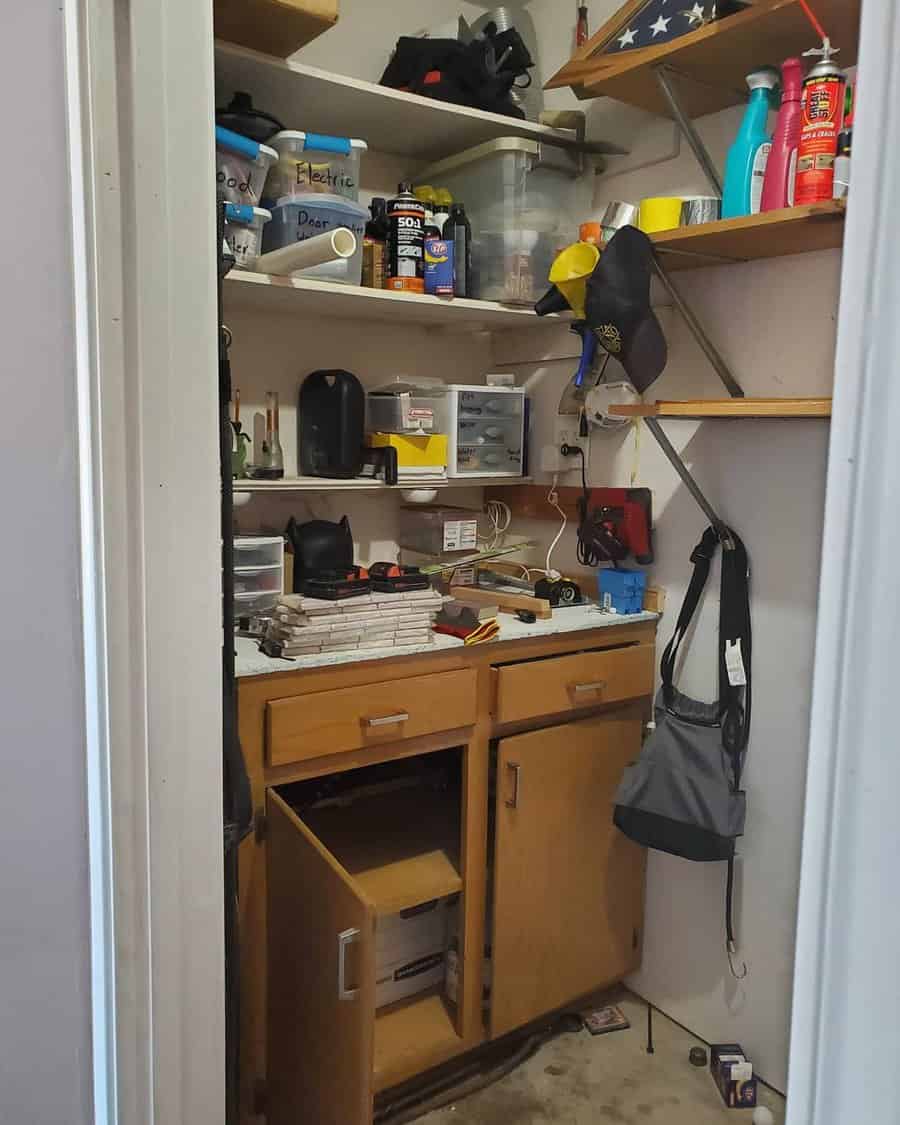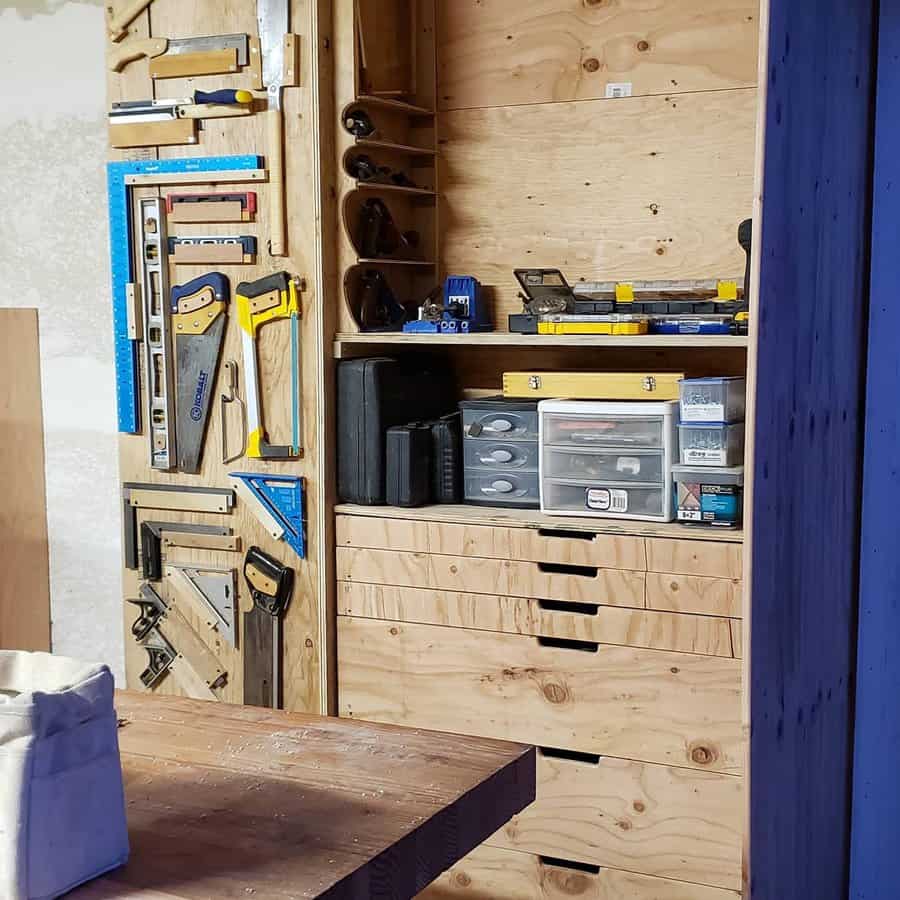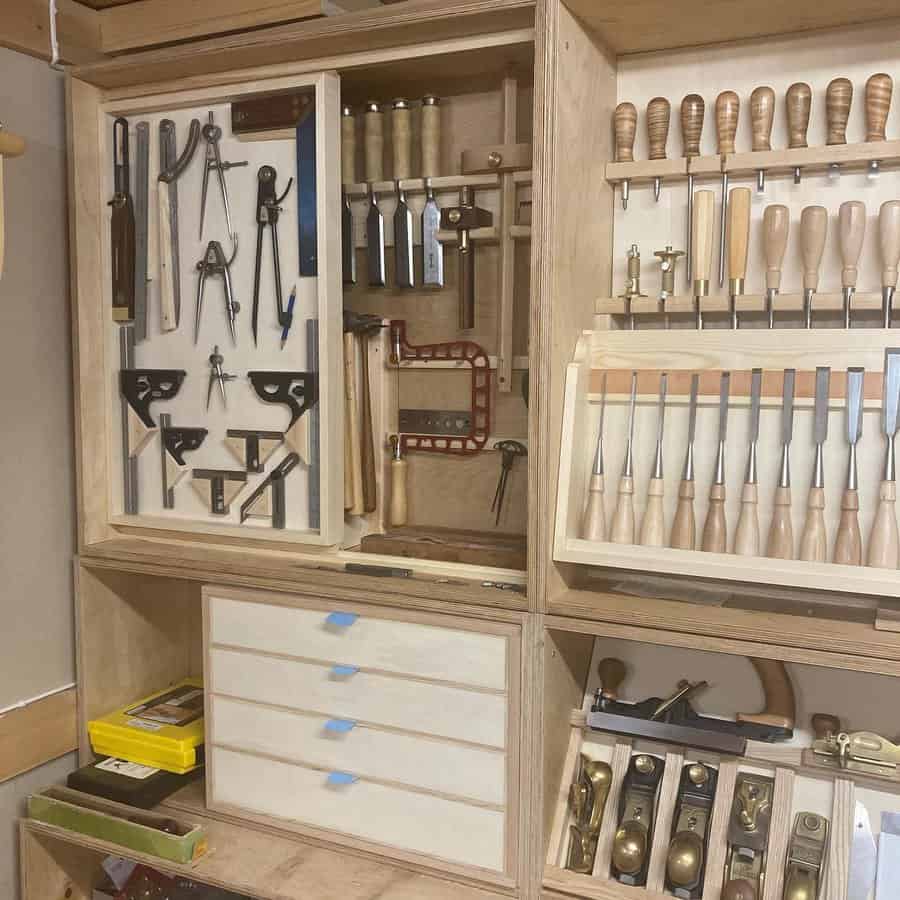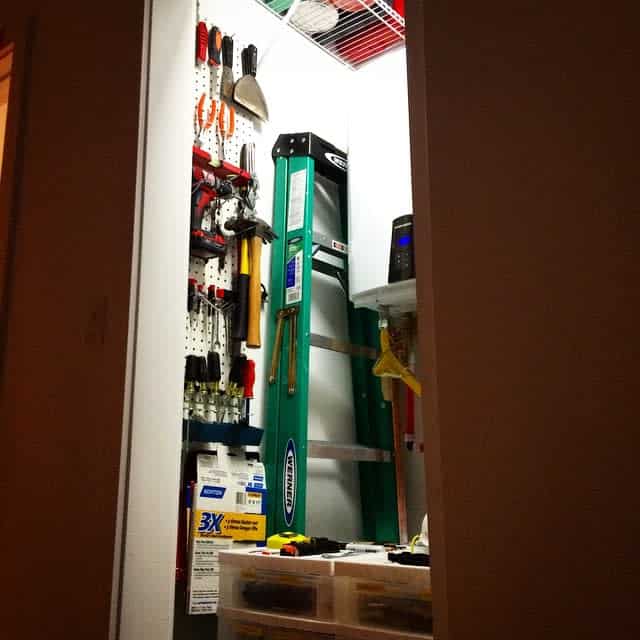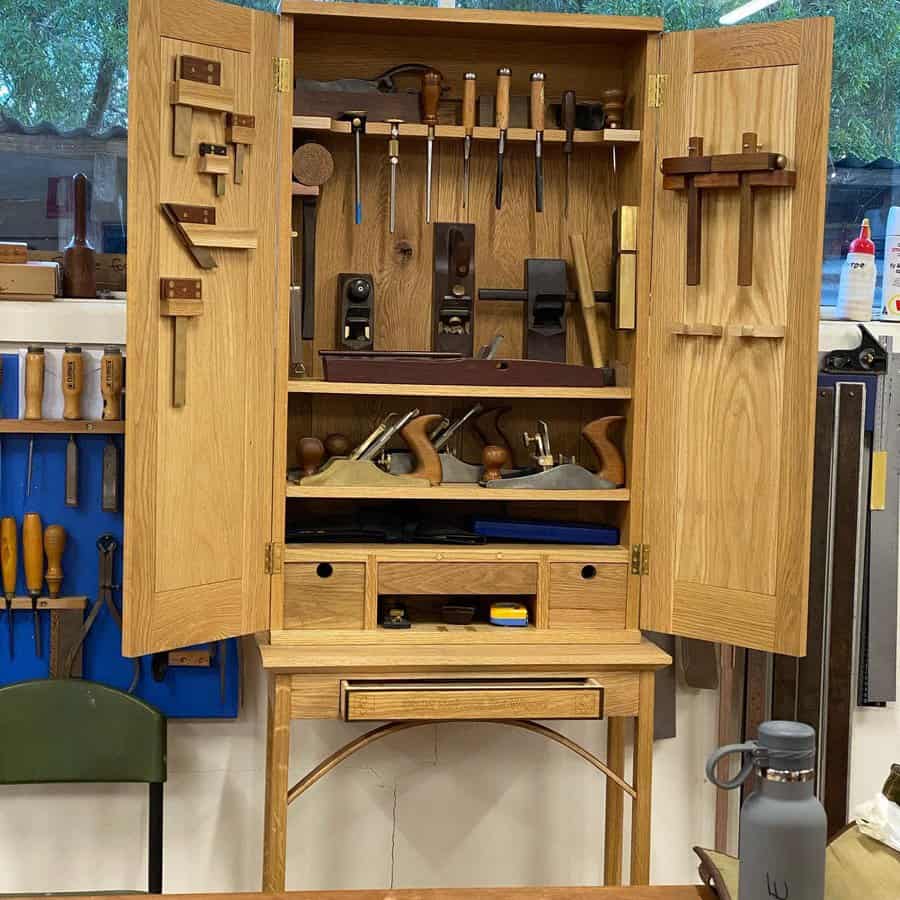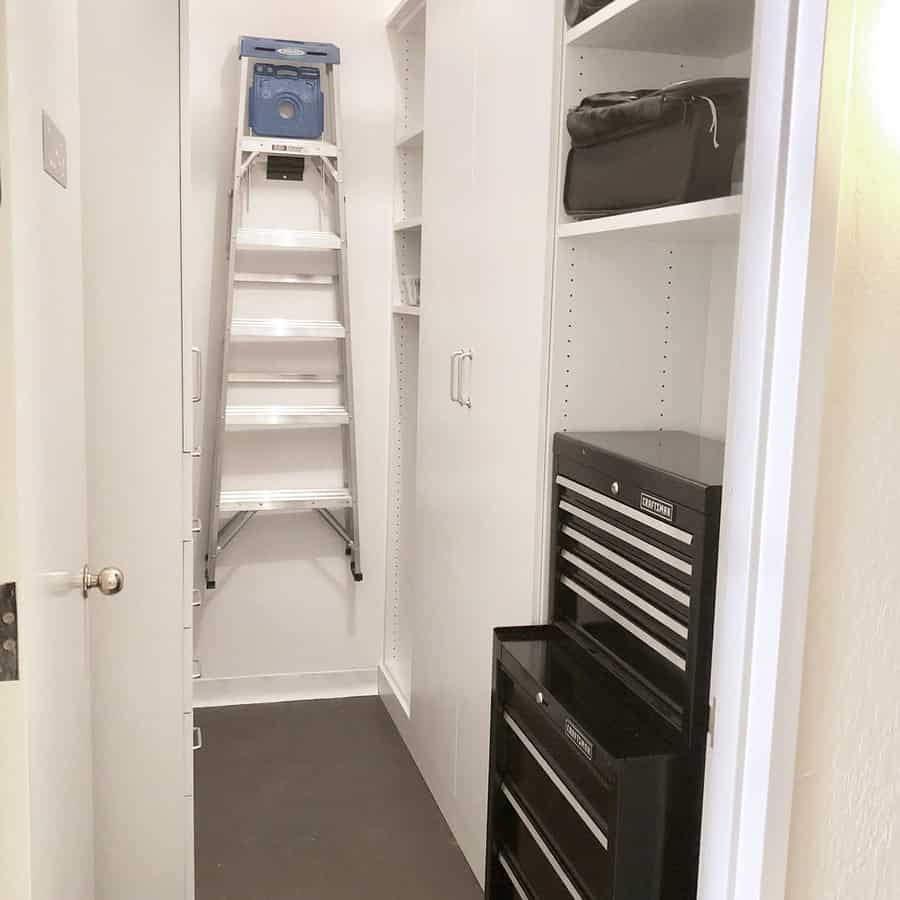 2. Craft a Pallet Station for Smart Storage
For a unique and budget-friendly tool storage idea, craft your own storage station from wood pallets. This simple DIY project can bring a rustic charm to any space. Upcycle pallets and incorporate basic storage elements to efficiently organize various tools. This cost-effective solution not only looks great but also stands the test of time. To enhance its appeal, consider matching it with your room's decor.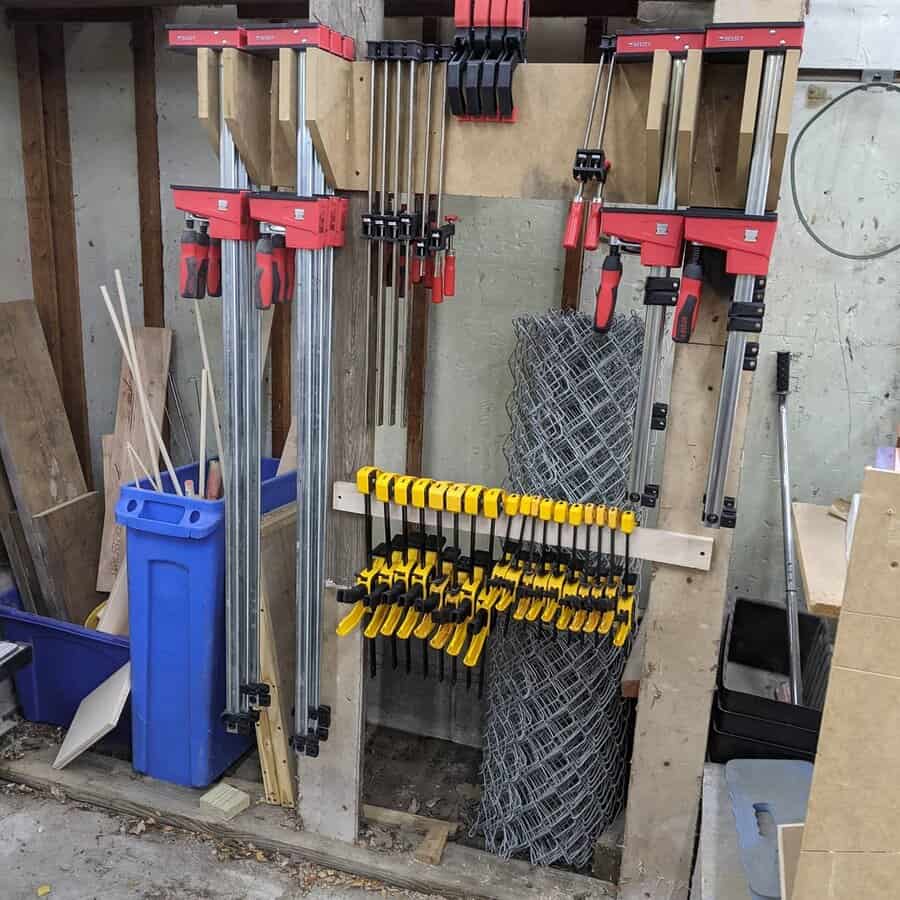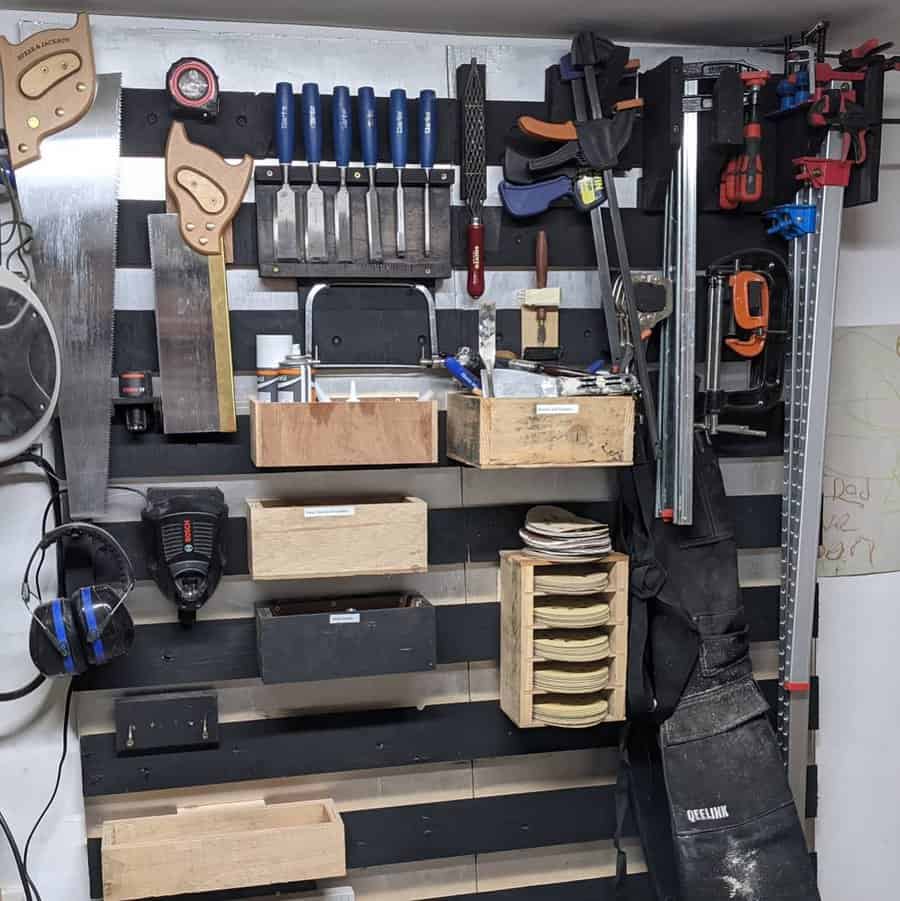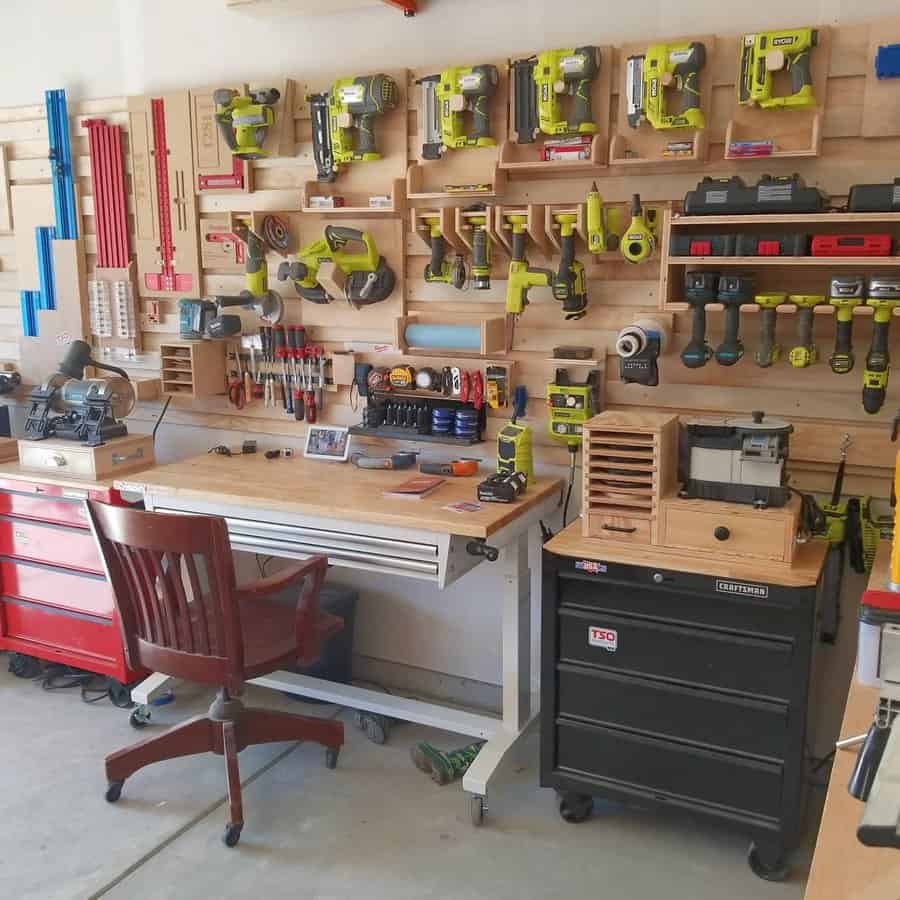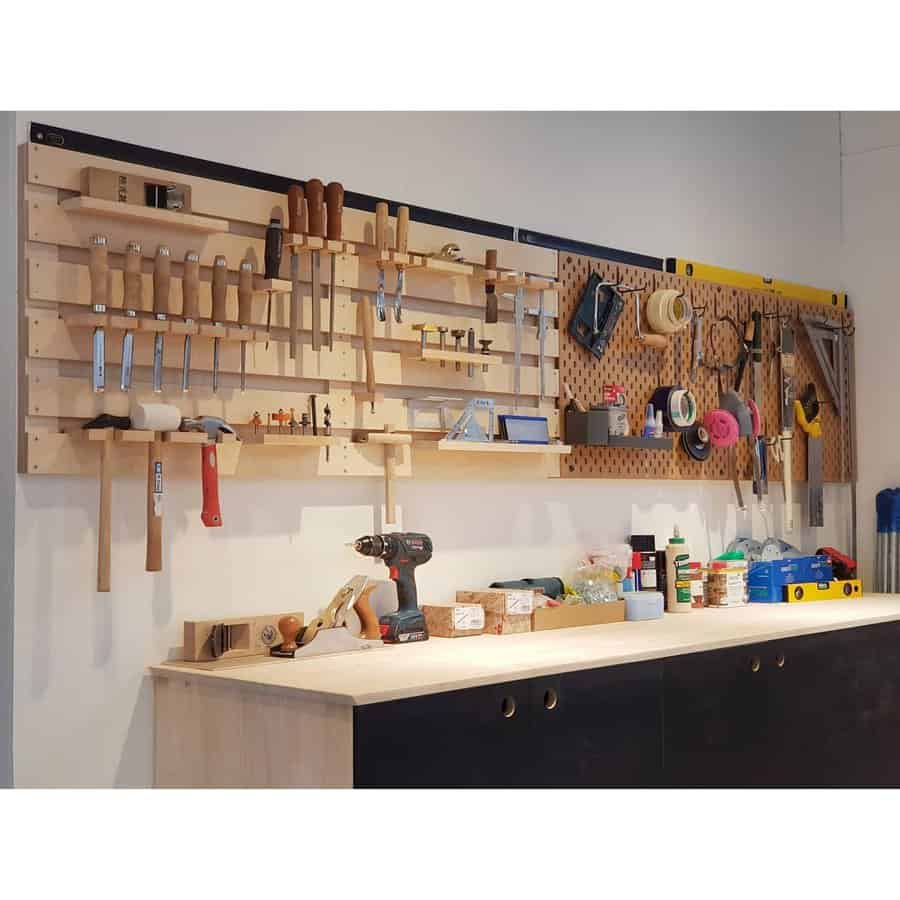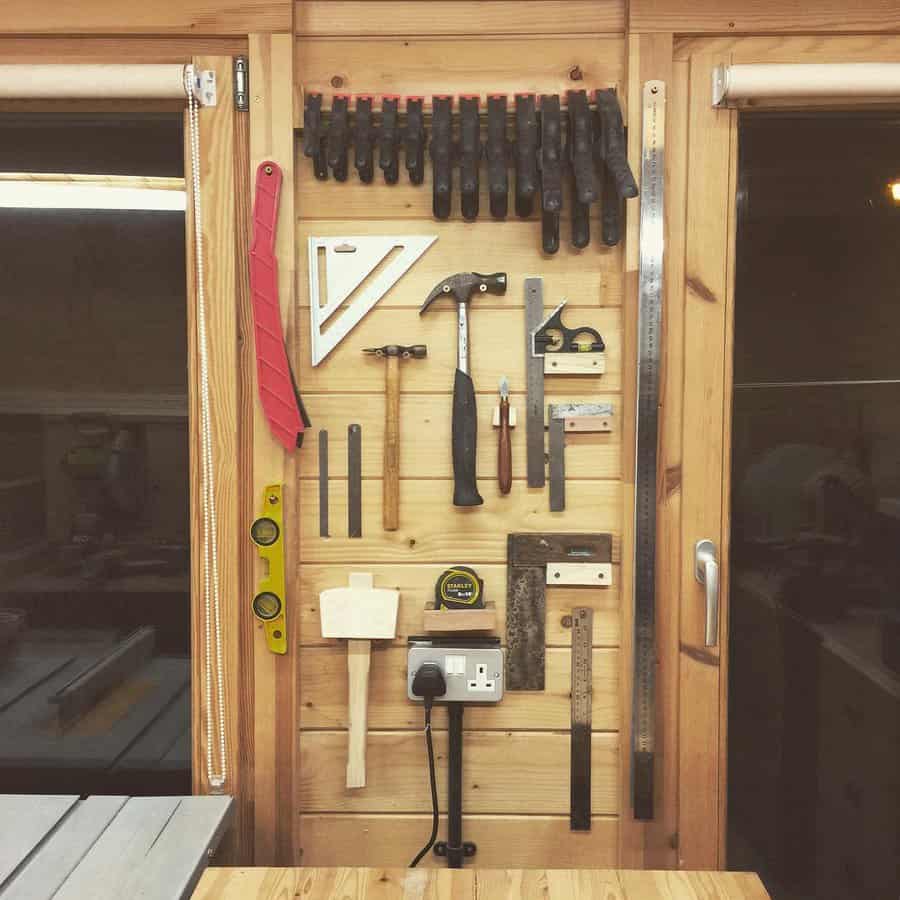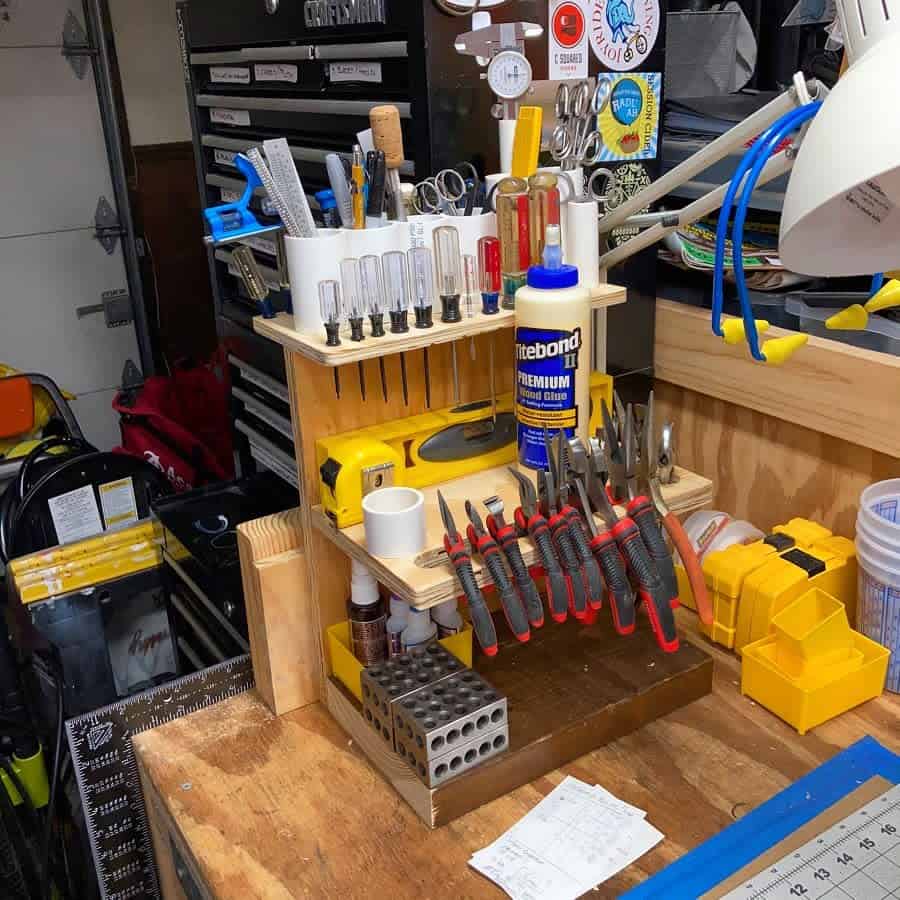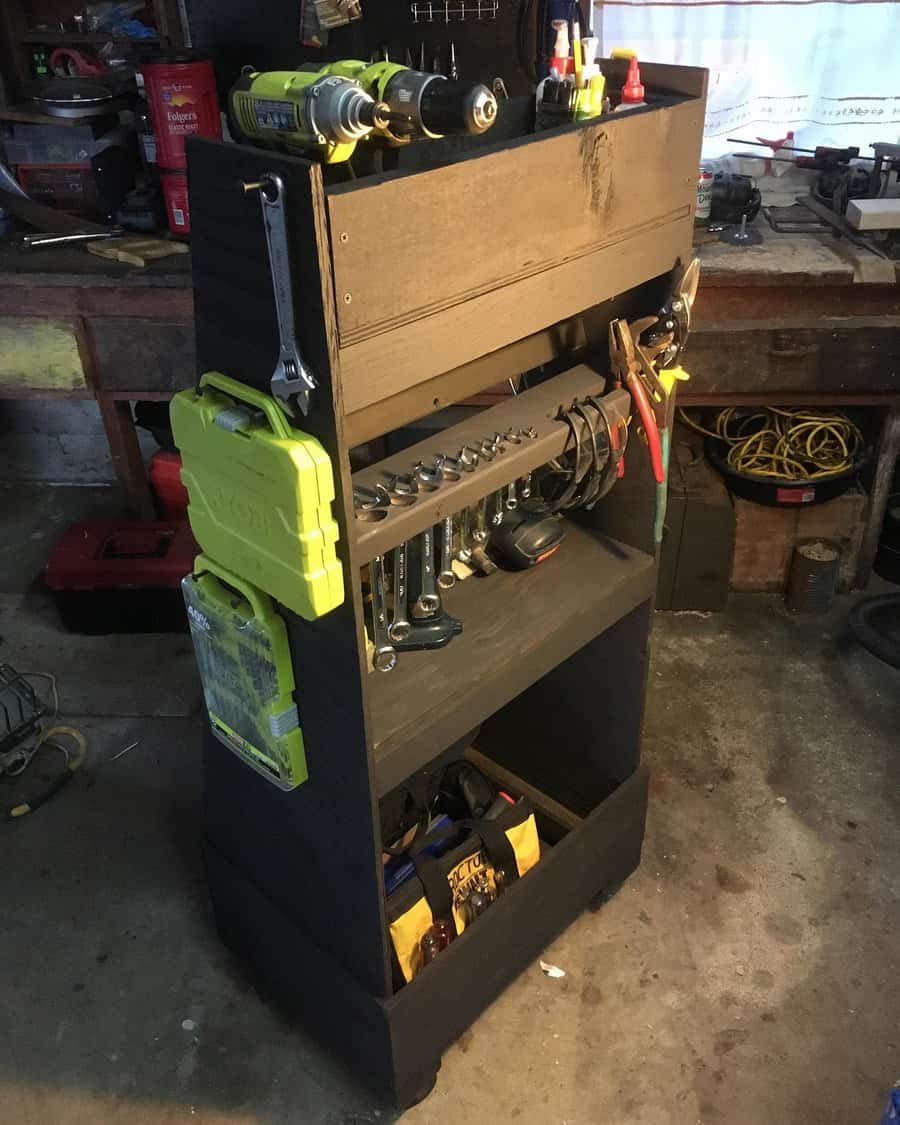 3. Overhead Storage: Ceiling System Mastery
Ceiling tool storage systems are a savvy solution to declutter your garage and ensure easy tool access. By installing overhead storage racks, you optimize underutilized overhead space, leaving your floor area unobstructed.
Tailor your overhead tool storage with a variety of shapes, sizes, and materials to suit your preferences and lifestyle. This not only enhances tool organization but also elevates the overall aesthetics of your workspace. Explore overhead storage options to fully maximize your garage's space without compromising its visual appeal.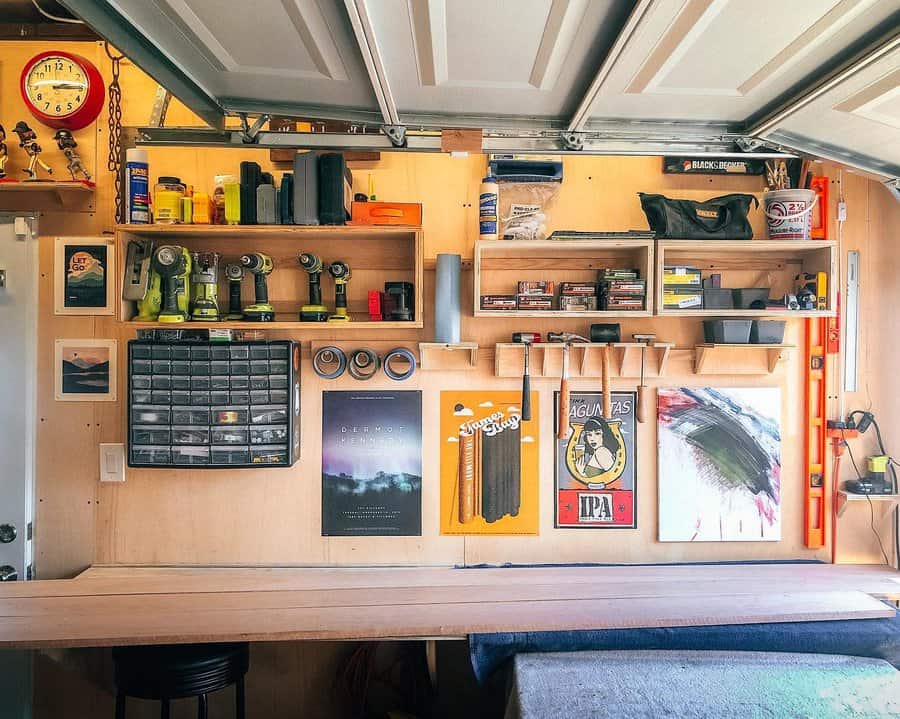 4. Organize with Rollout Shelves and Sliders
When it comes to tool storage in your workshop, choosing the right solutions is crucial. Rollout shelves and sliding units are top choices for streamlining your workspace and keeping your tools efficiently organized. Whether you're a craftsman or a DIY enthusiast, roll-out shelves offer easy access to all your equipment, eliminating the need to search for tools.
Sliding units create a neat and efficient vertical storage system, making the most of limited space. Selecting roll-out shelves or sliding units will resolve your tool storage challenges and enhance your workspace. To make the most of this storage solution, consider color-coding or labeling the shelves for even easier access to your tools.
5. Mobile Toolbox: Your Handy Companion
Standalone rolling toolboxes are the go-to solution for convenient tool storage. These portable units are ideal for easy transport and quick access, especially in tight spaces. Whether you have a compact workshop or need to move your tools around frequently, a mobile toolbox can save you time and frustration.
Explore various options, such as metal toolboxes, to securely organize both frequently and seasonally used tools. This portable storage ensures your essential tools are within reach whenever you need them. To make the most of this solution, consider labeling or color-coding compartments for quick identification and retrieval of tools.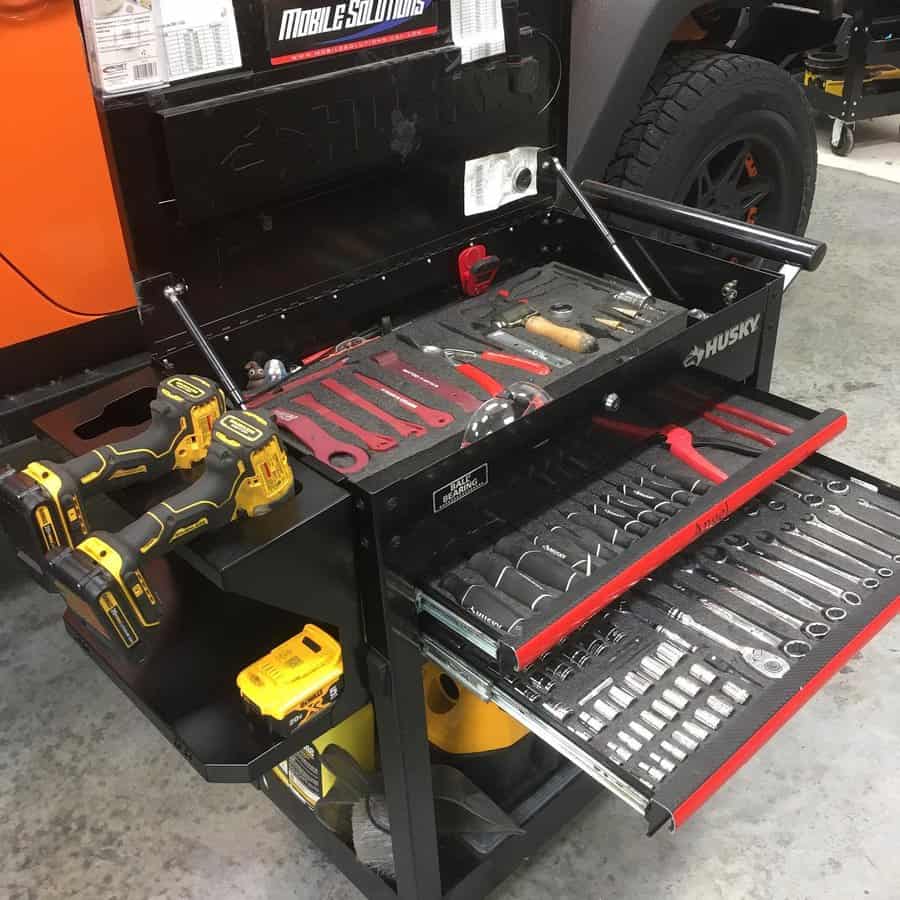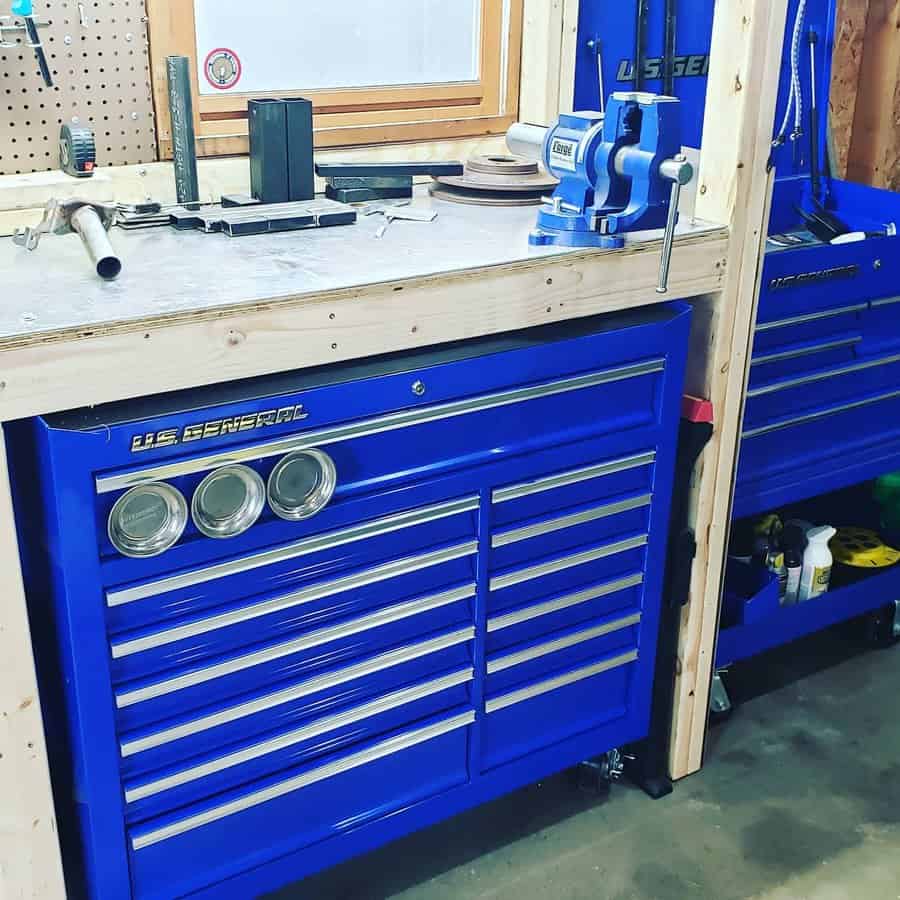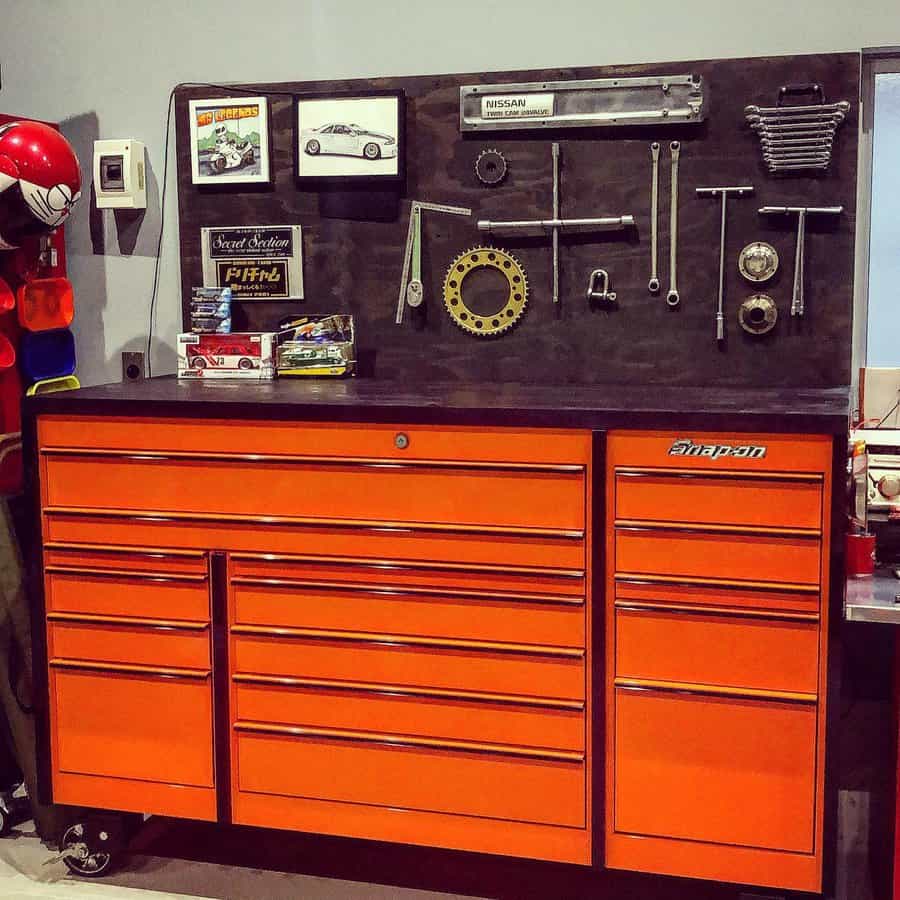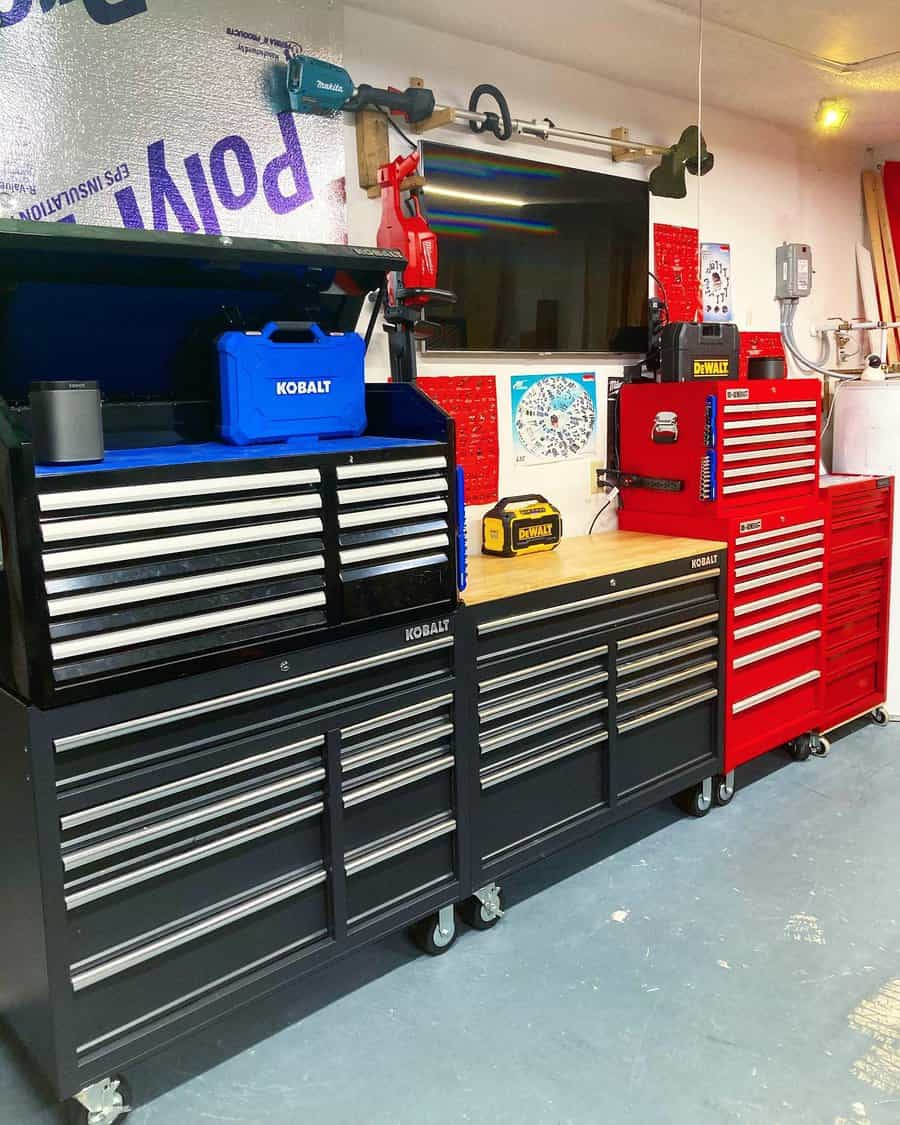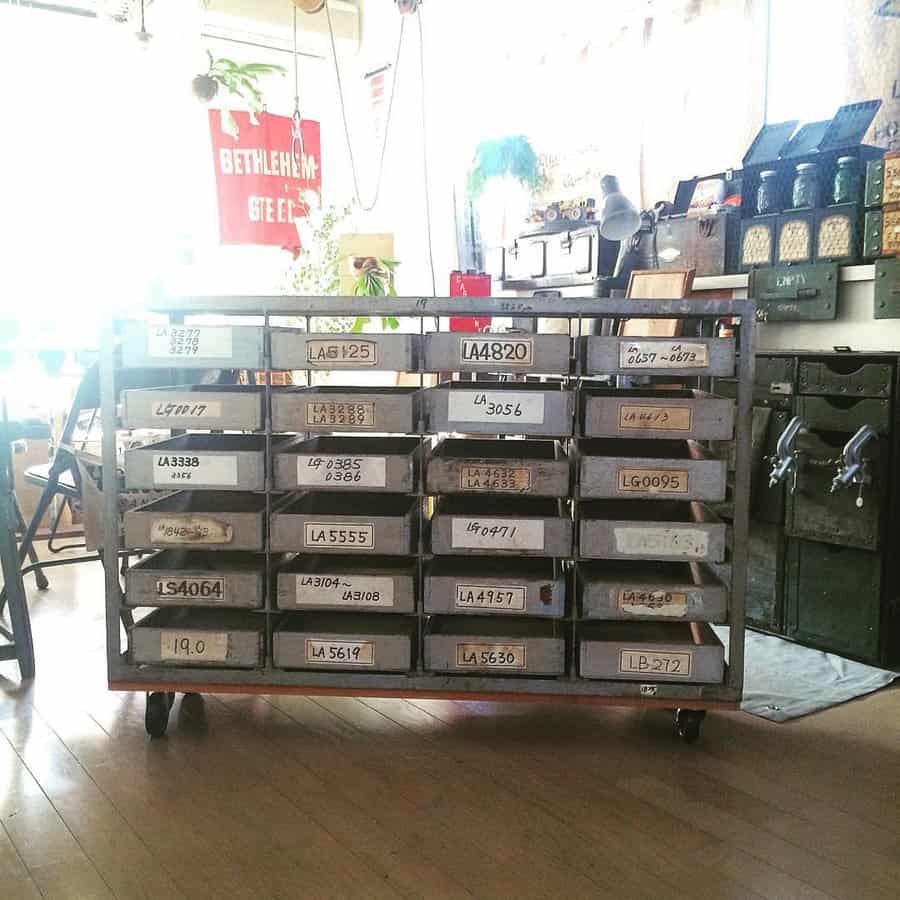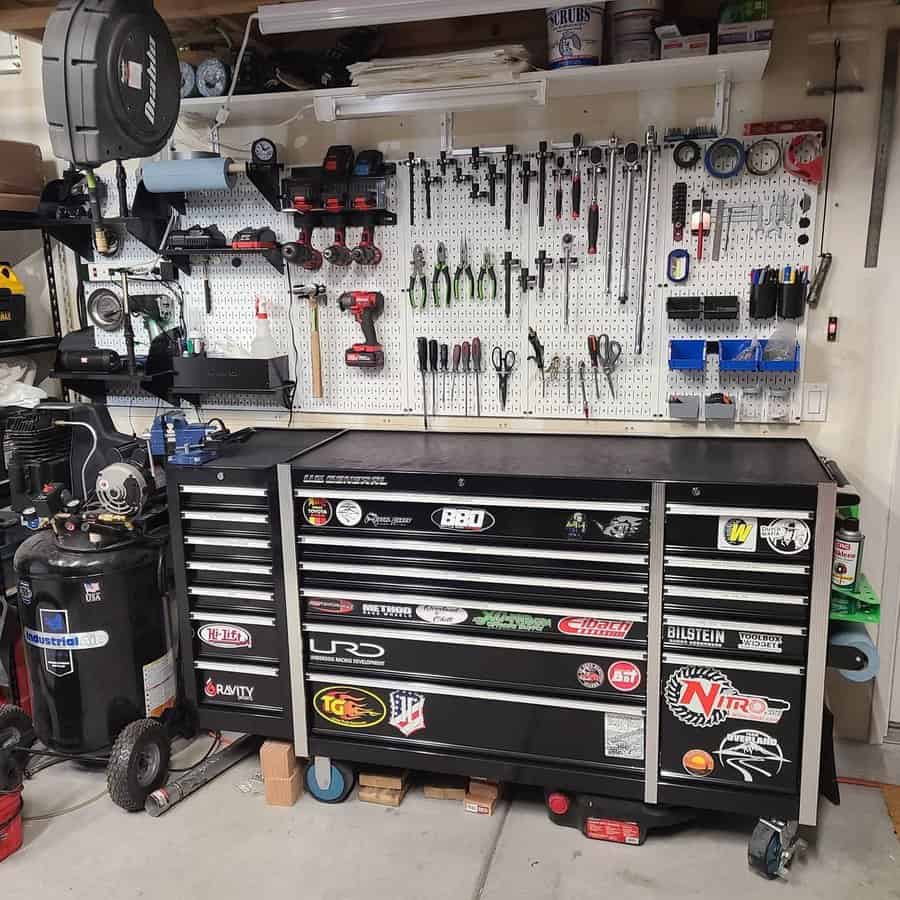 6. Floating Shelves: Stylish Tool Storage
Optimize your workspace with floating tool storage that combines organization and style. Floating shelves are a versatile, sturdy, and easily mountable option for your tools. Explore various materials like wood, metal, plastic, or suspended cabinets to find the ideal floating shelf that suits your needs.
Customize each shelf to accommodate tools and supplies precisely. Not only do floating shelves help maintain a clutter-free workspace, but they also save valuable floor and counter space. For added functionality, consider arranging the shelves in a visually pleasing and practical manner, complementing the overall design of your workspace.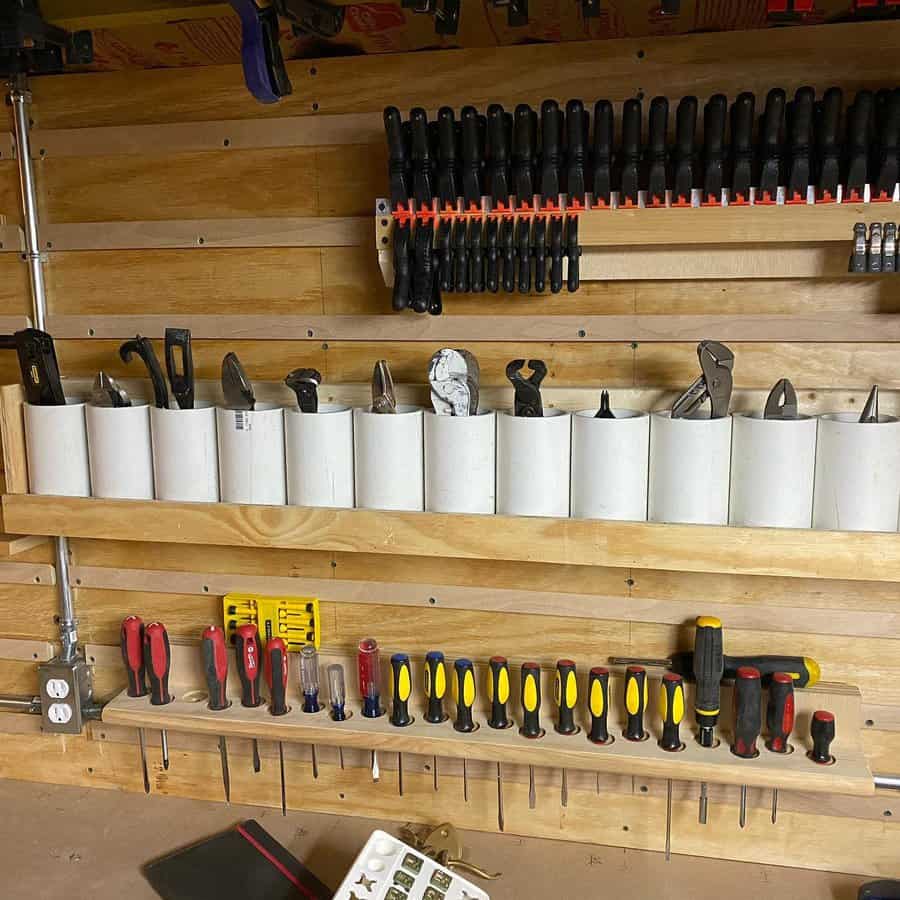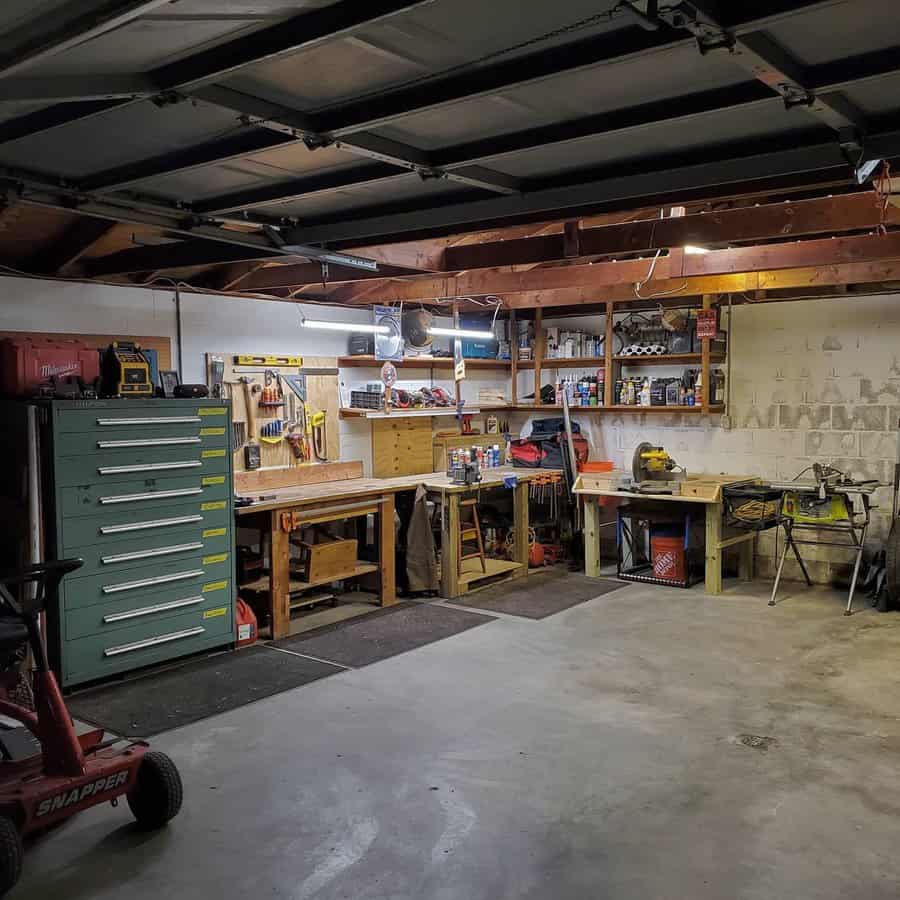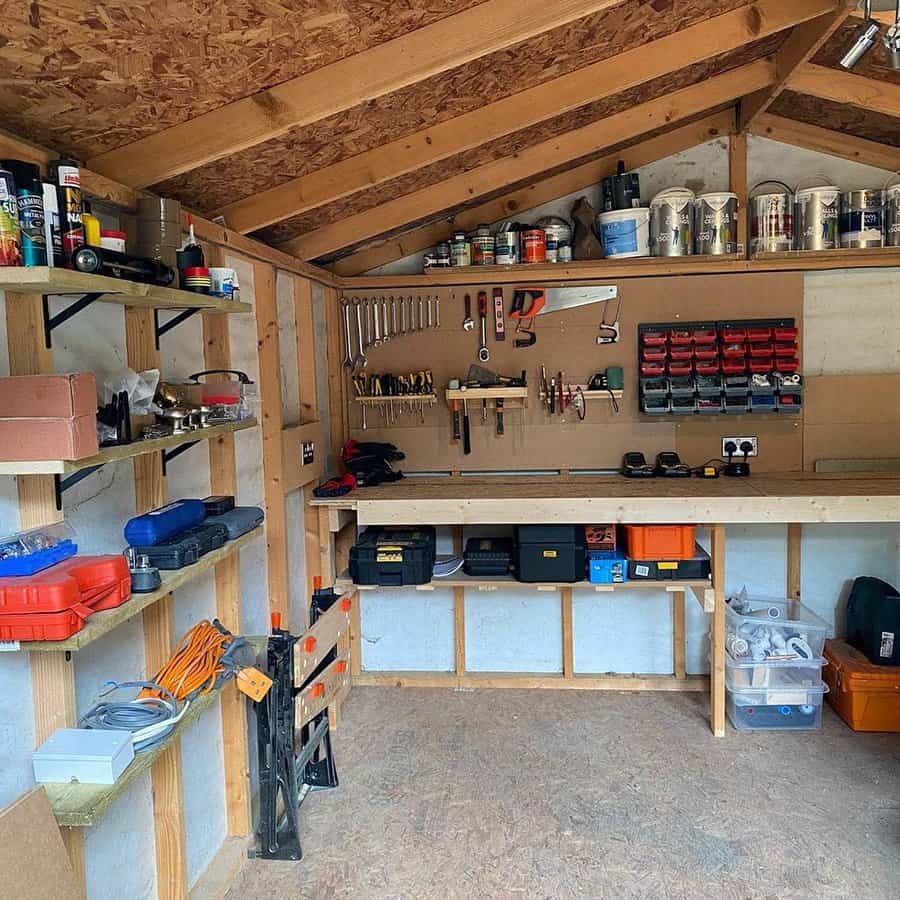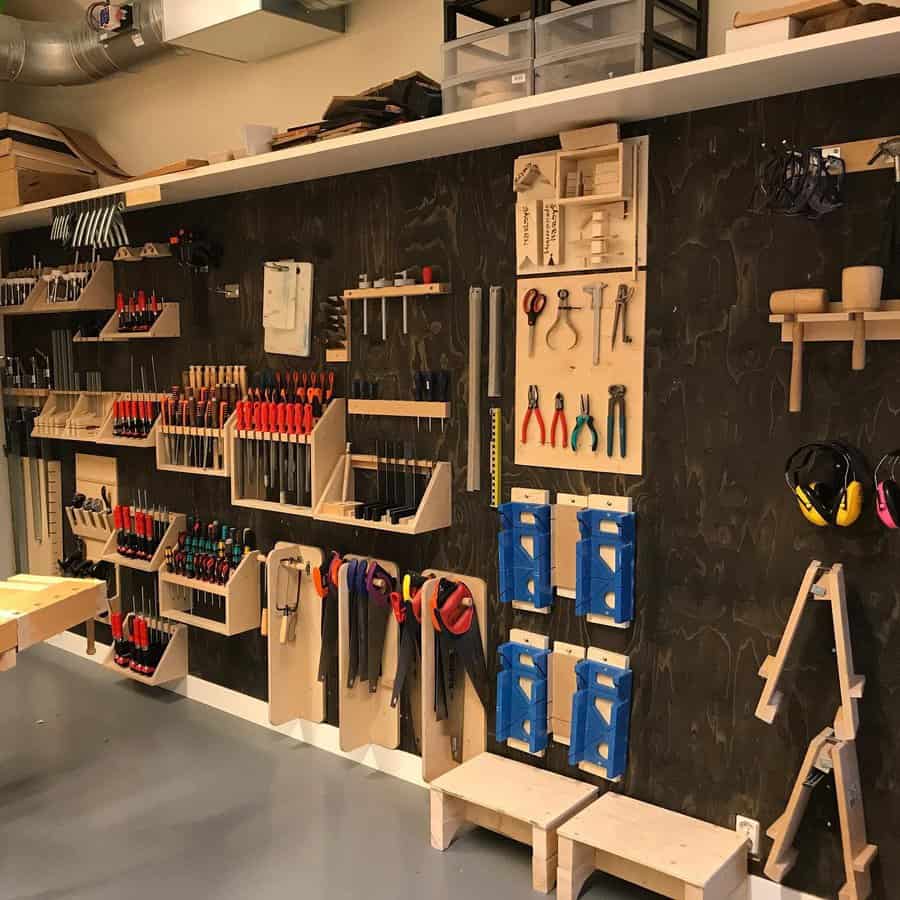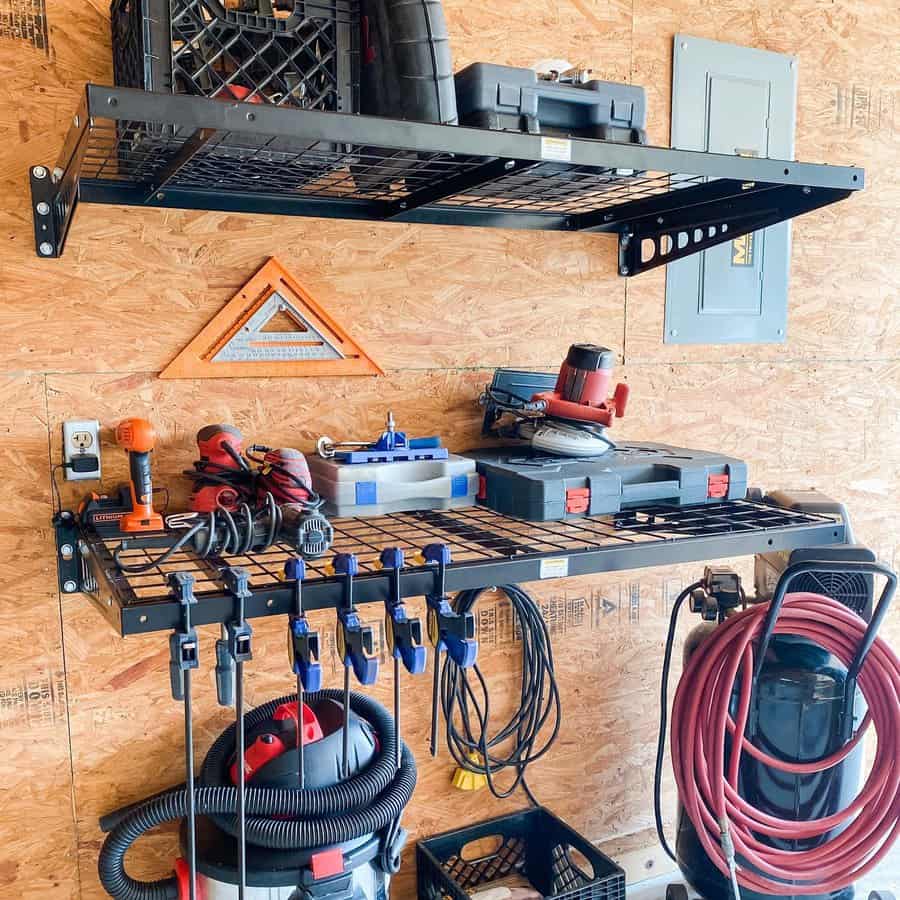 7. Repurpose Creatively for Unique Storage
Unlock the potential of repurposed items to give your old tools a new home. An old filing cabinet can efficiently store drill bits, wrenches, and metal tools. Consider repurposing a versatile holder for hammers, screwdrivers, and small items. When exploring creative tool storage, let your imagination and resourcefulness guide you.
Repurposing old items not only offers unique storage solutions but also adds a touch of character to your workspace. To complete the look, consider painting or customizing these repurposed items to match your overall design.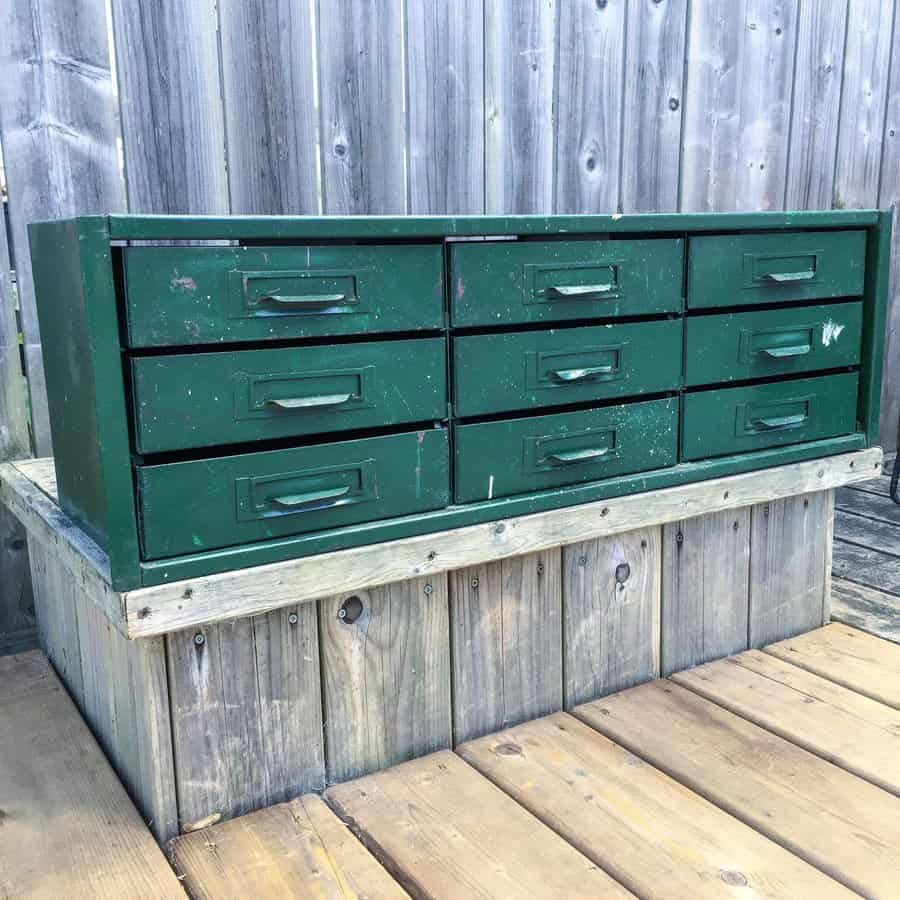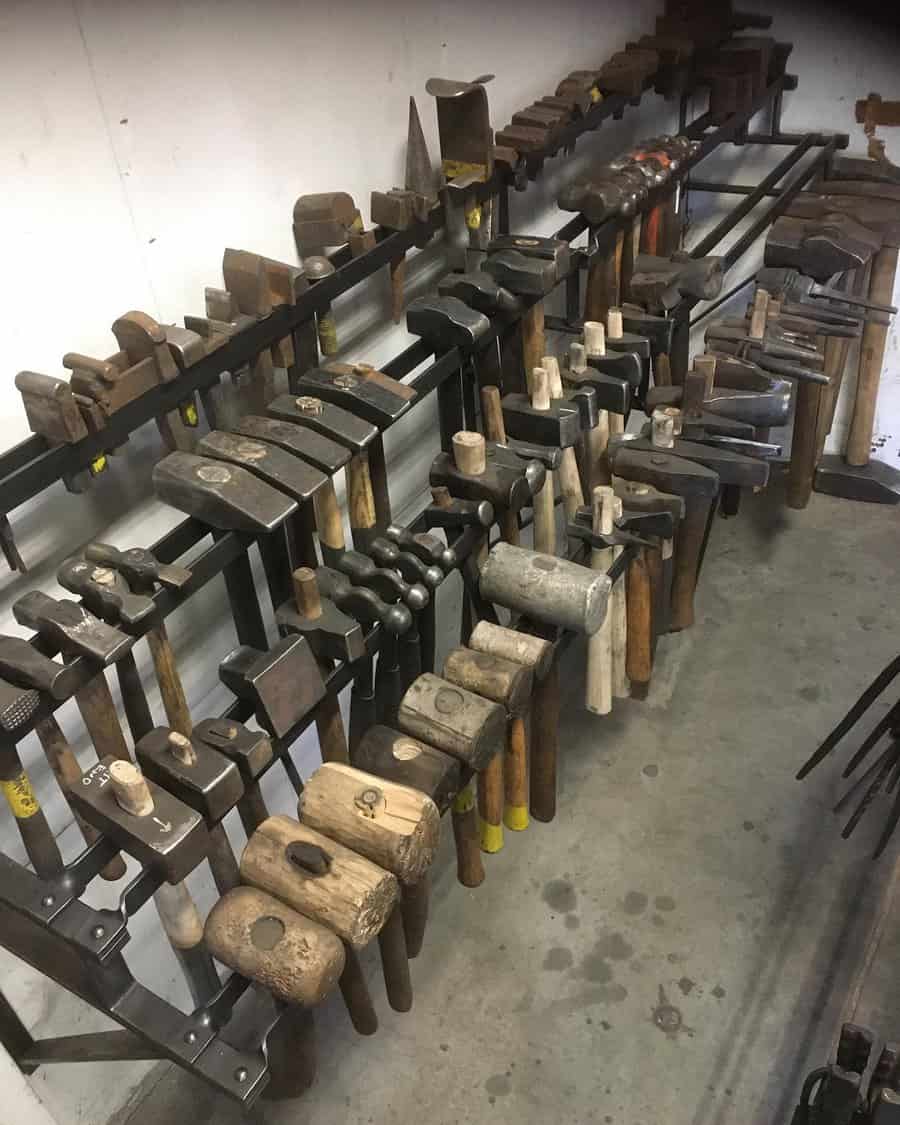 8. Toolbox Stacking: Maximize Space
Tiered tool storage is a smart strategy for keeping your tools well-organized and within reach. Rather than cluttering or stacking them haphazardly, consider using stacked toolboxes to optimize vertical space. Arrange your tools based on usage, size, or project-specific needs. Create a dedicated box for sharp power tools, emphasizing safety.
The beauty of stacked toolboxes lies in their flexibility – you can easily customize and rearrange them according to your workspace requirements. To elevate the functionality and aesthetics, you can label or color-code the boxes for quick identification.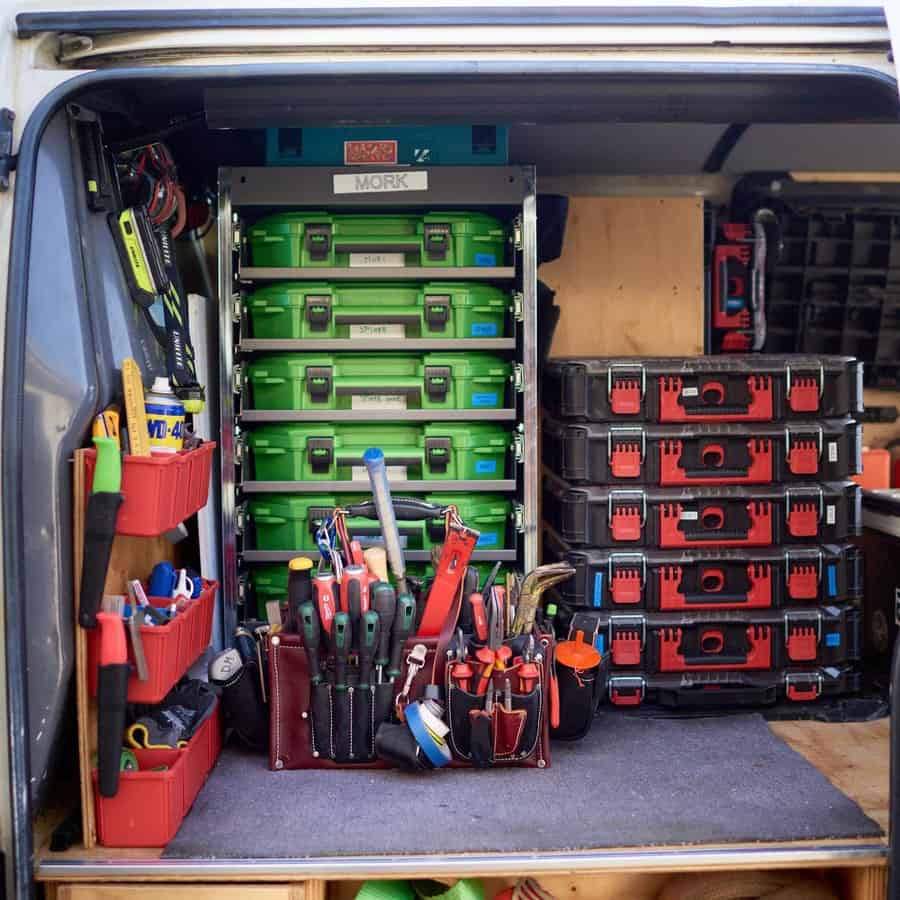 9. Peg Board Organizer for Easy Access
Simplify your DIY projects with pegboard tool storage. This practical solution keeps your tools organized and easily accessible. To set up pegboard tool storage, choose a location above your workbench or in a frequently used area. Customize the appearance by painting the plastic holders in different colors for added visual appeal.
Hang your tools on pegs or pegboard accessories for a neatly organized workspace. To enhance the functionality, consider labeling or outlining tool shapes for quick identification. Pegboards are not only efficient but also enhance the overall design of your workspace.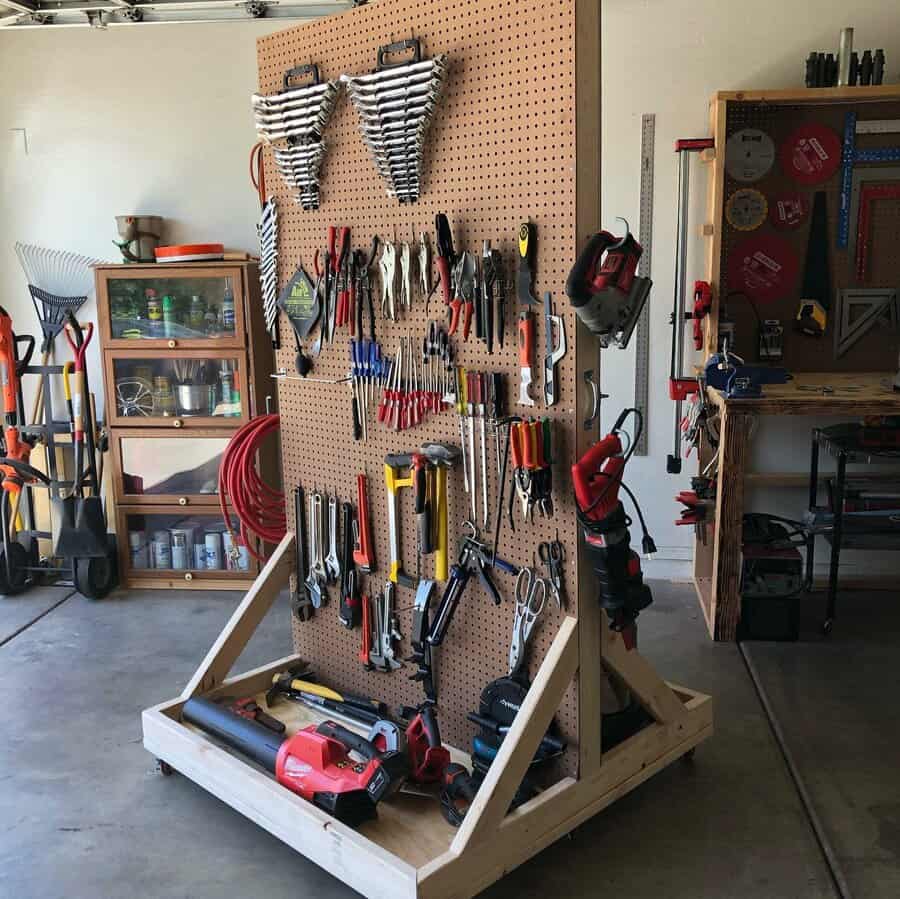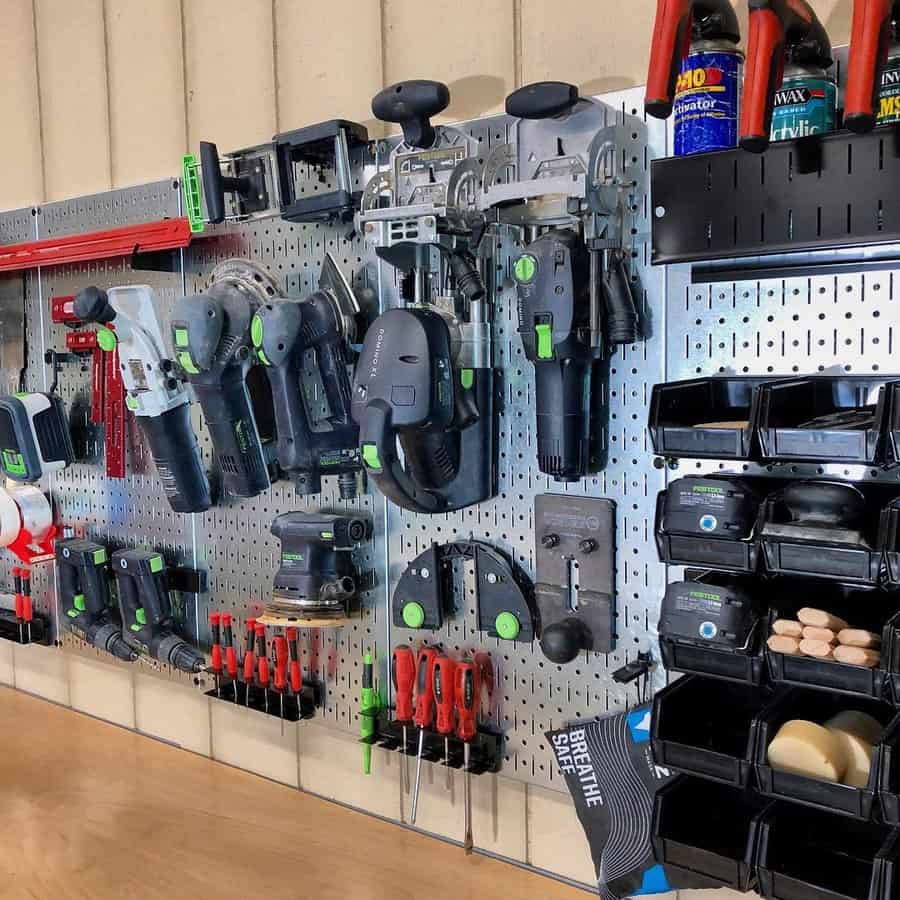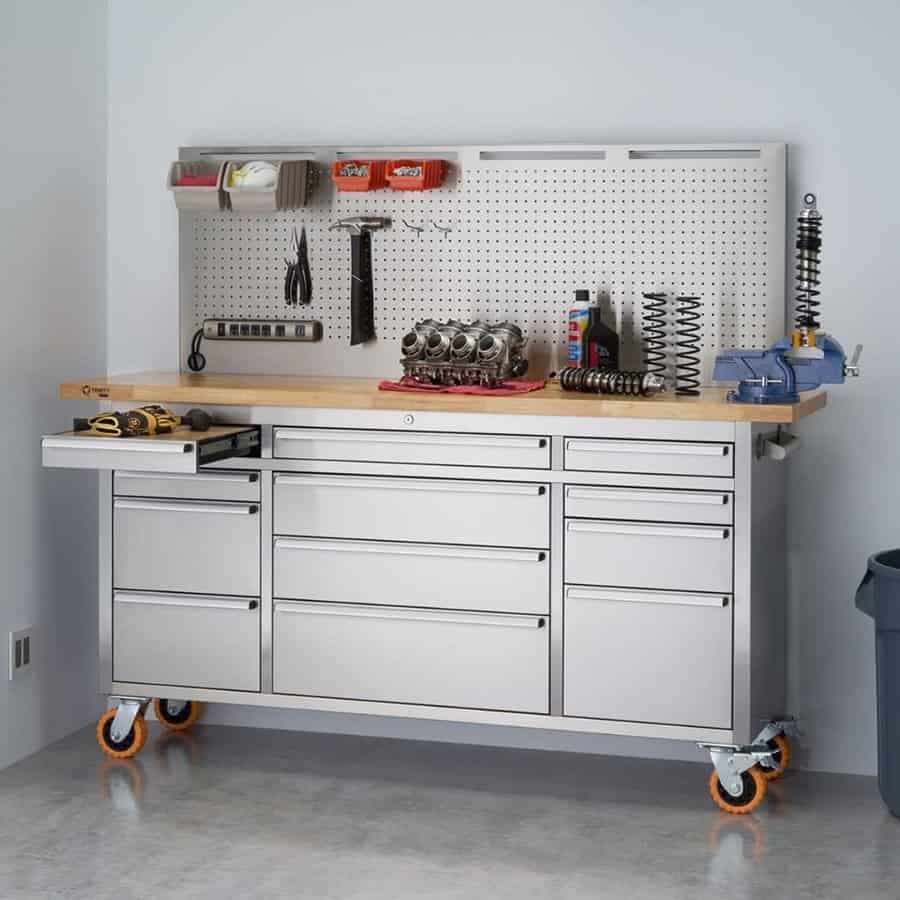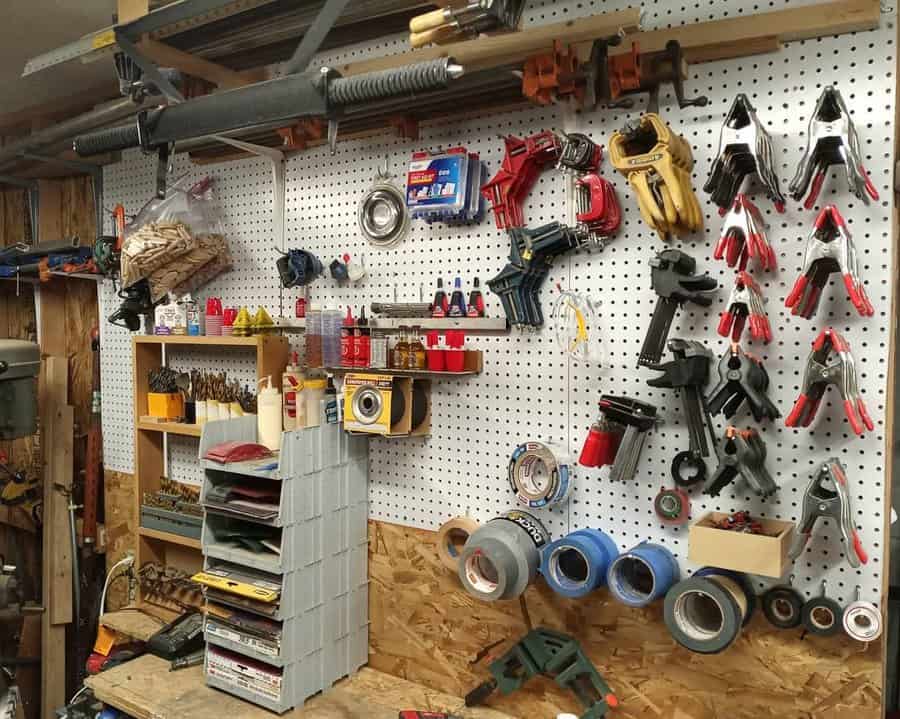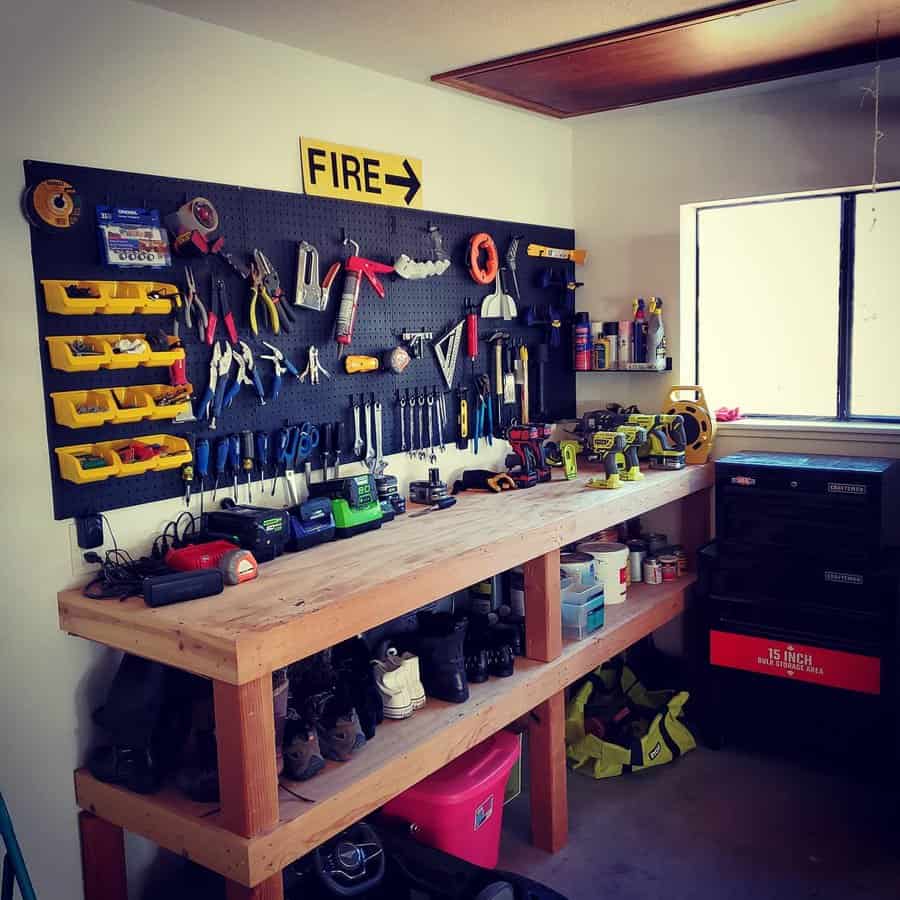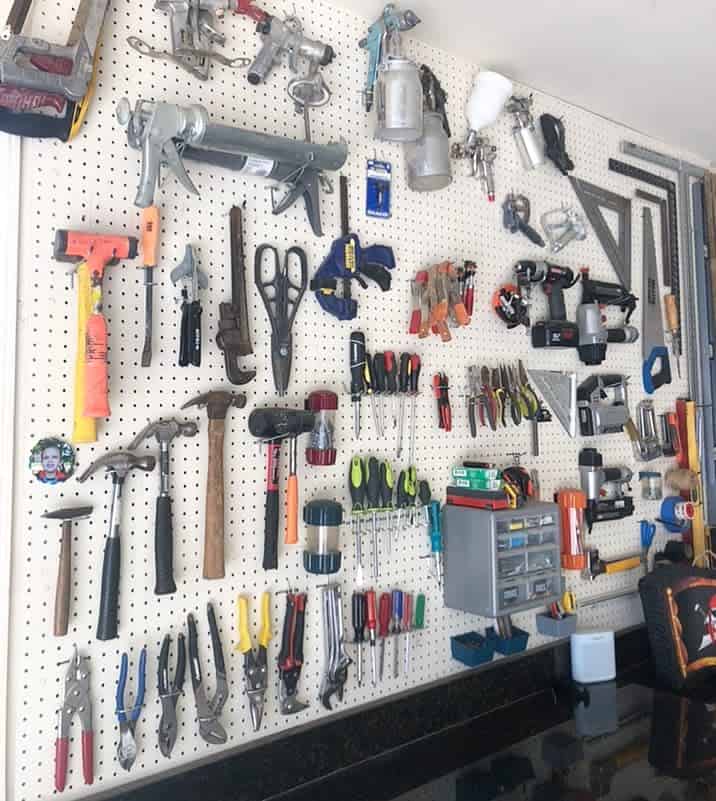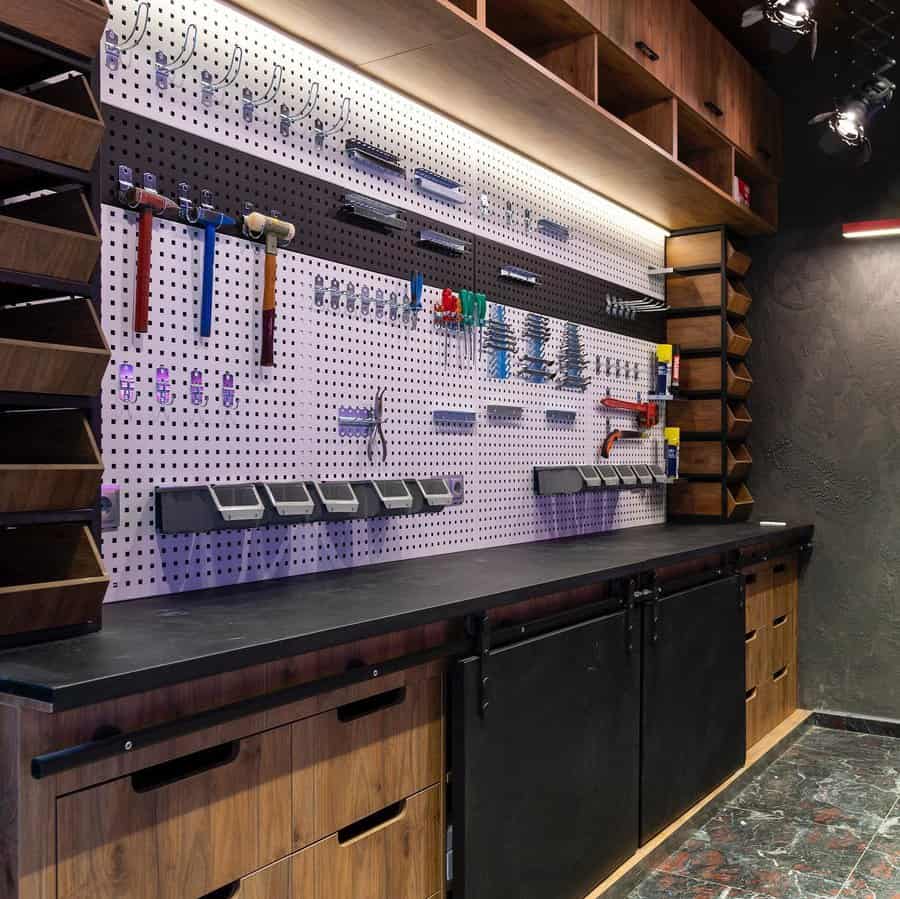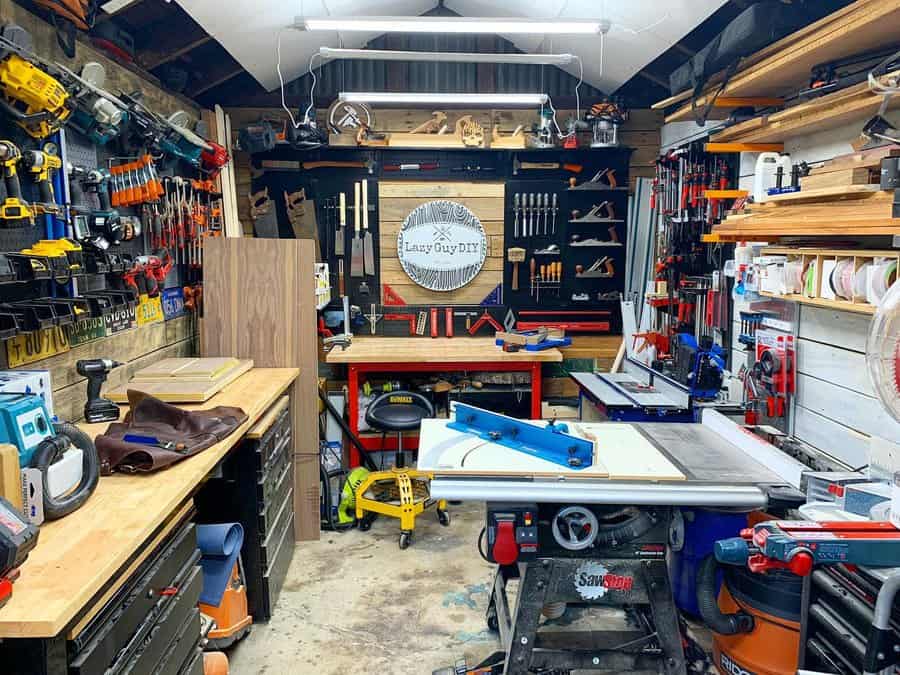 10. Portable Trunk Pull-Out System Installed
Don't let portability be a hassle when it comes to tool storage. Portable trunk pull-out systems offer a convenient and simple solution for transporting your tools. Enjoy the flexibility of taking your tool storage wherever it's needed without the inconvenience. This innovative design streamlines organization and transport, ensuring quick and easy access to your tools whenever required. For added utility, consider securing your tools in foam-lined trays or using custom dividers within the trunk to prevent damage during transit.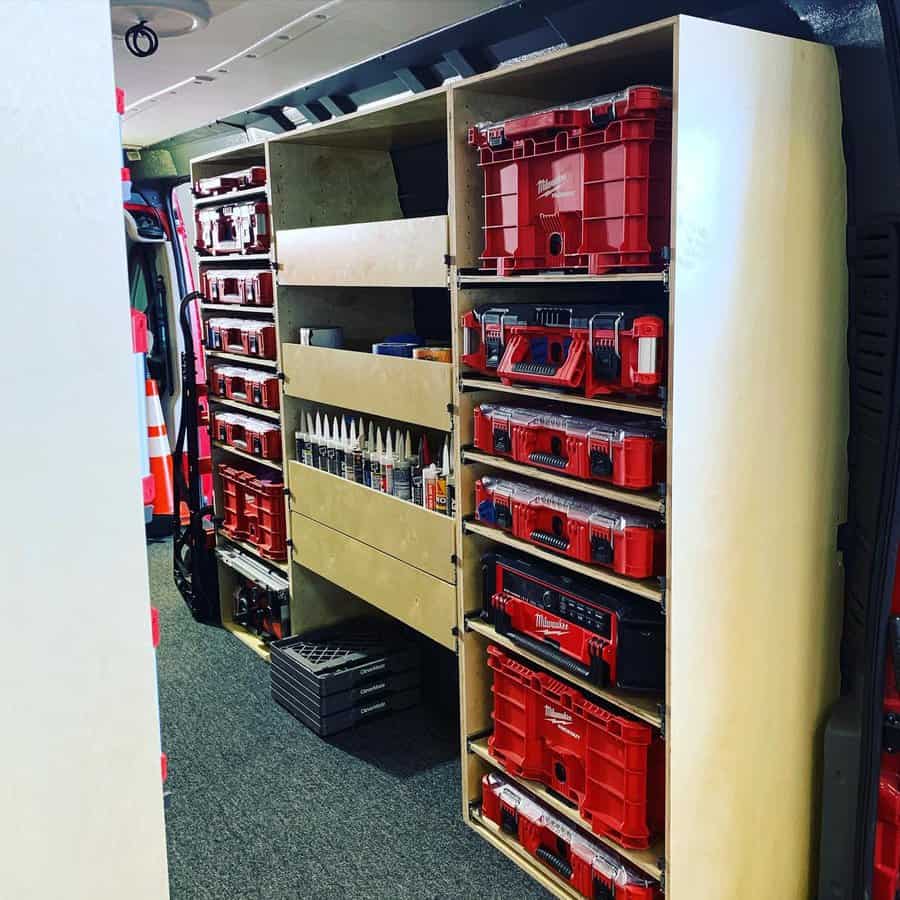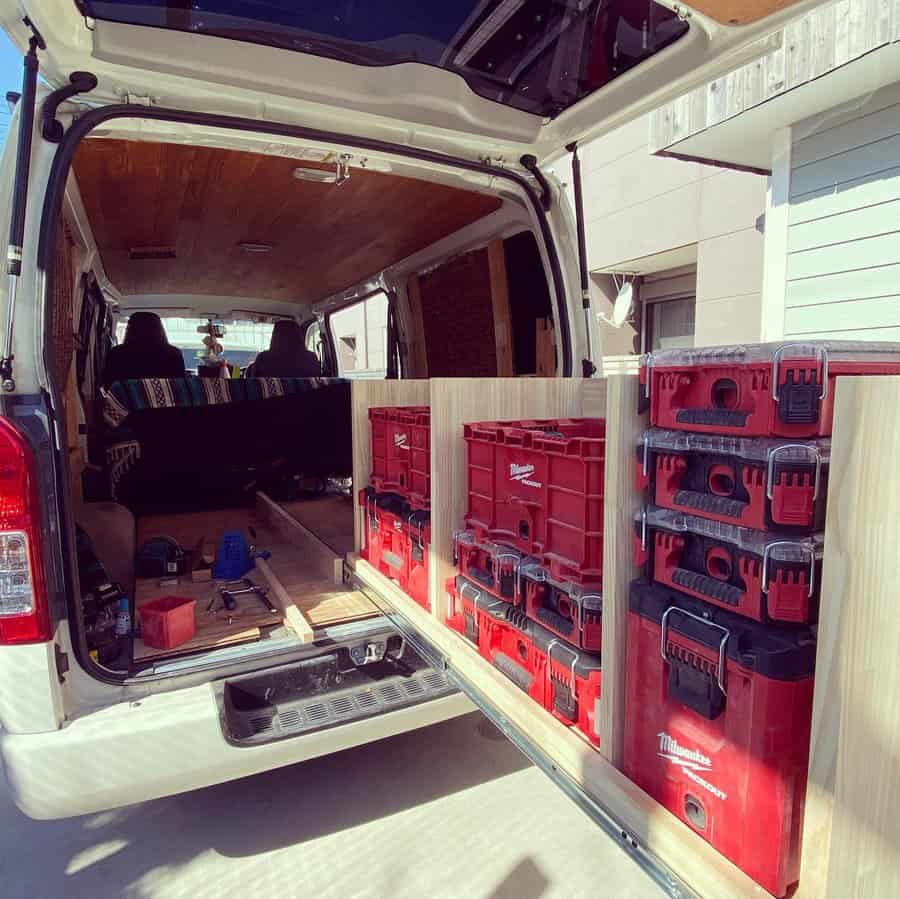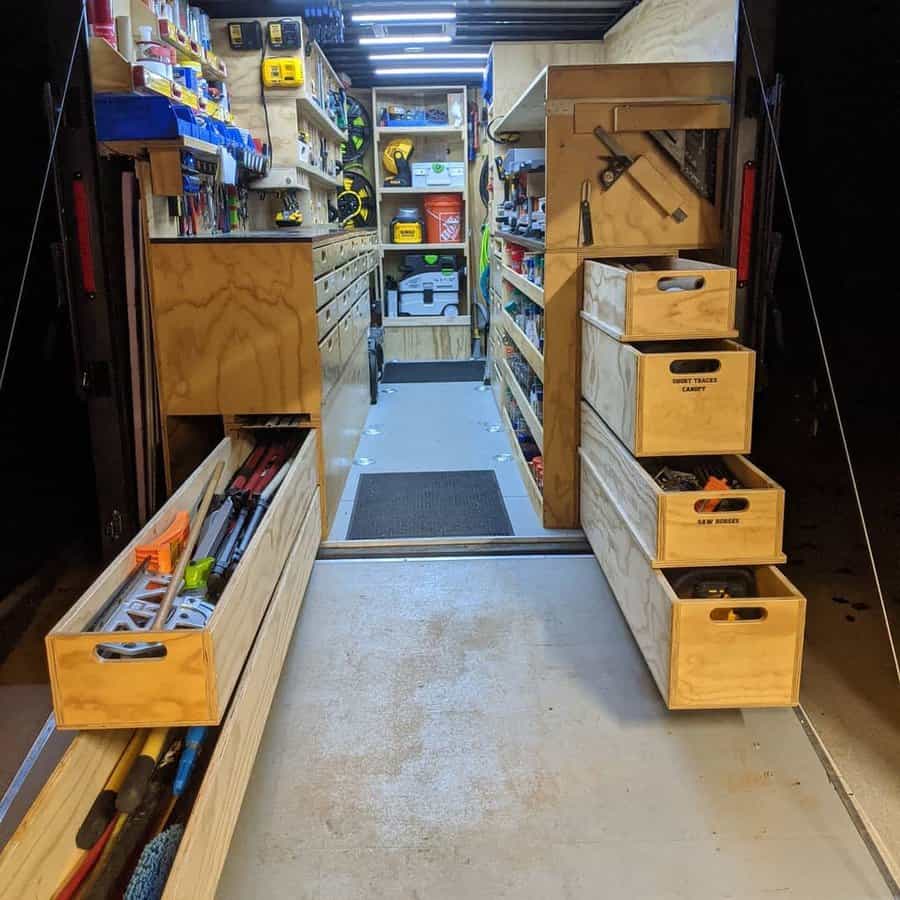 11. Efficient Tool Compartmentalization
A well-organized tool storage shelf is a cornerstone of any functional workshop or home improvement area. Efficiency is the key, and that begins with easy access to your tools. Invest in a shelf with compartments to categorize your tools – hammers, screwdrivers, and more – ensuring quick and hassle-free retrieval.
Sorting your tools not only saves time but also minimizes frustration, allowing you to focus on your projects. Consider labeling or color-coding the compartments for even faster tool identification. To complete the look and enhance functionality, incorporate the shelf design into the overall layout and design of your workspace.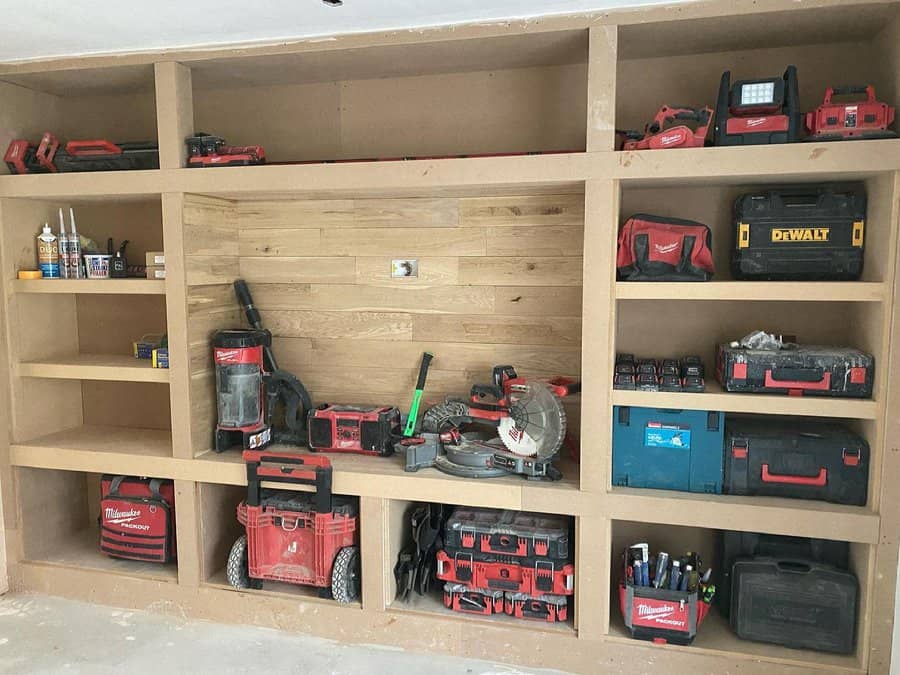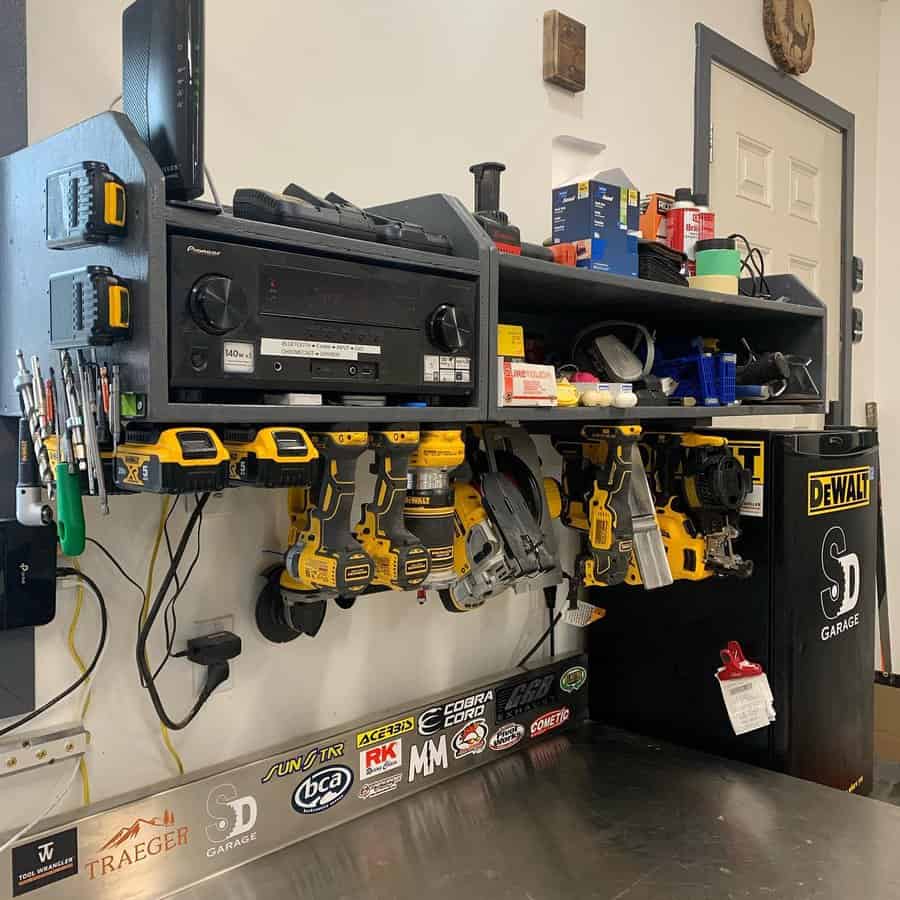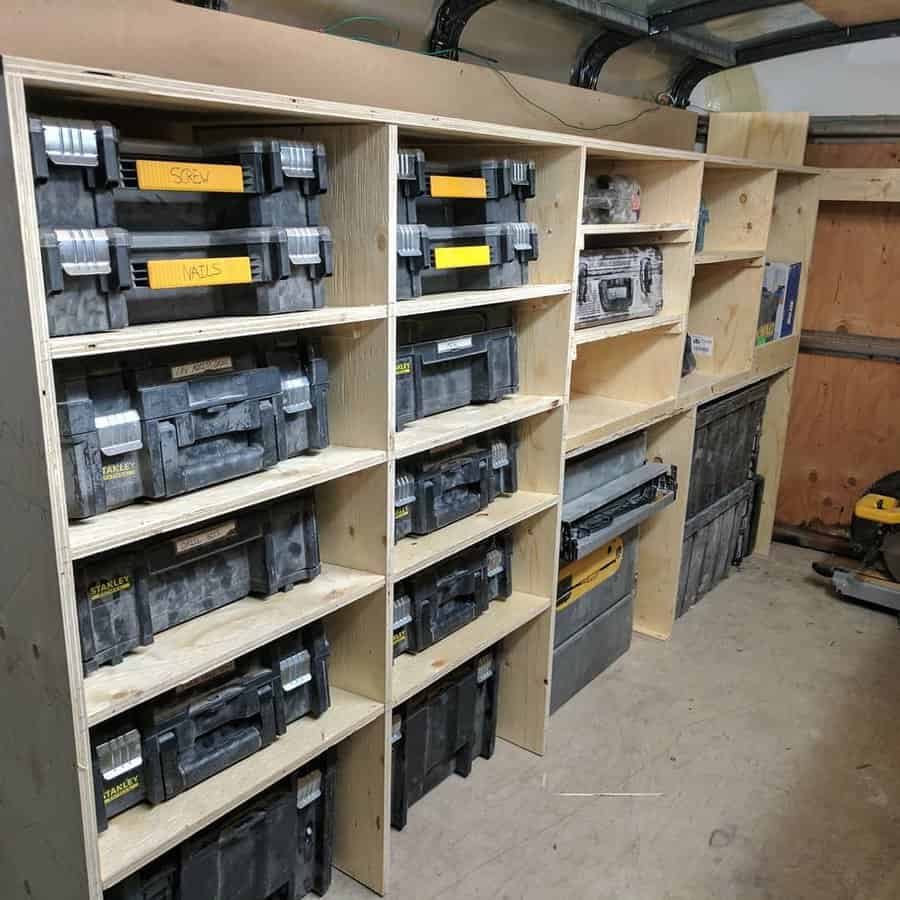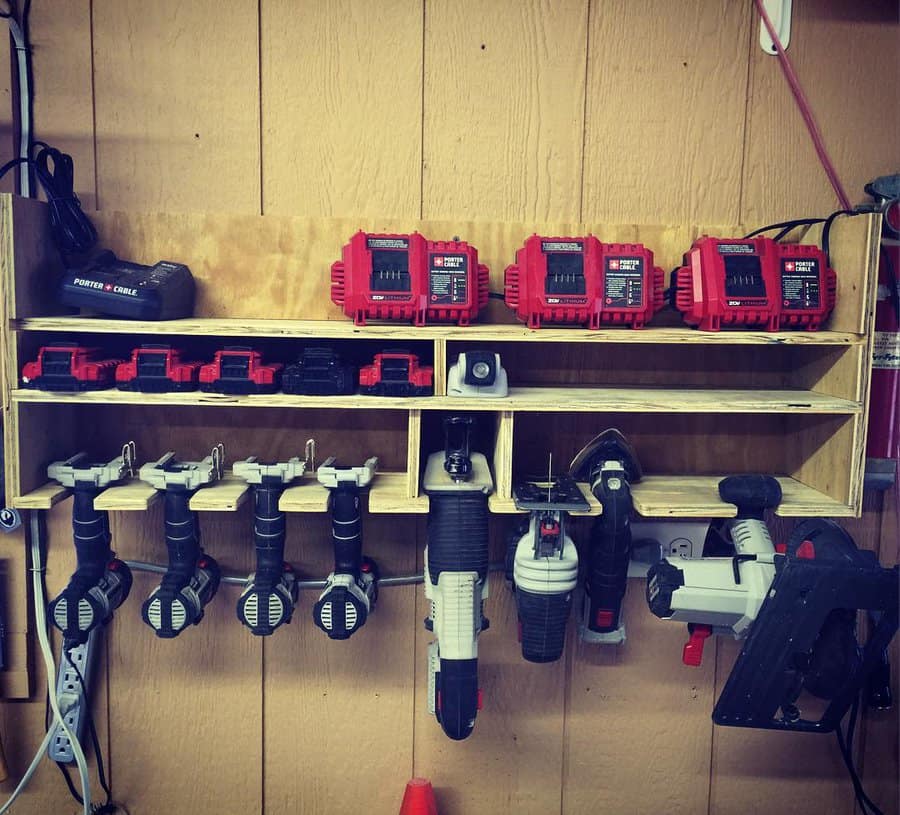 12. Small Tools, Big Storage on Pegboard
Taming the chaos of small tool storage is a common challenge, but the solution lies in organization. Small pegboards offer an ideal solution, as do magnetic metal pegboards, providing a creative and versatile approach to keeping your tiny tools in check. Create a designated space for small items to prevent them from getting misplaced, and consider labeling or color-coding the pegs or hooks for swift tool retrieval.
To complement your workspace design, ensure the pegboards are placed within easy reach and in a well-lit area, making it a breeze to locate small tools. Additionally, arrange your small tools in a logical order, ensuring you have quick access to frequently used items.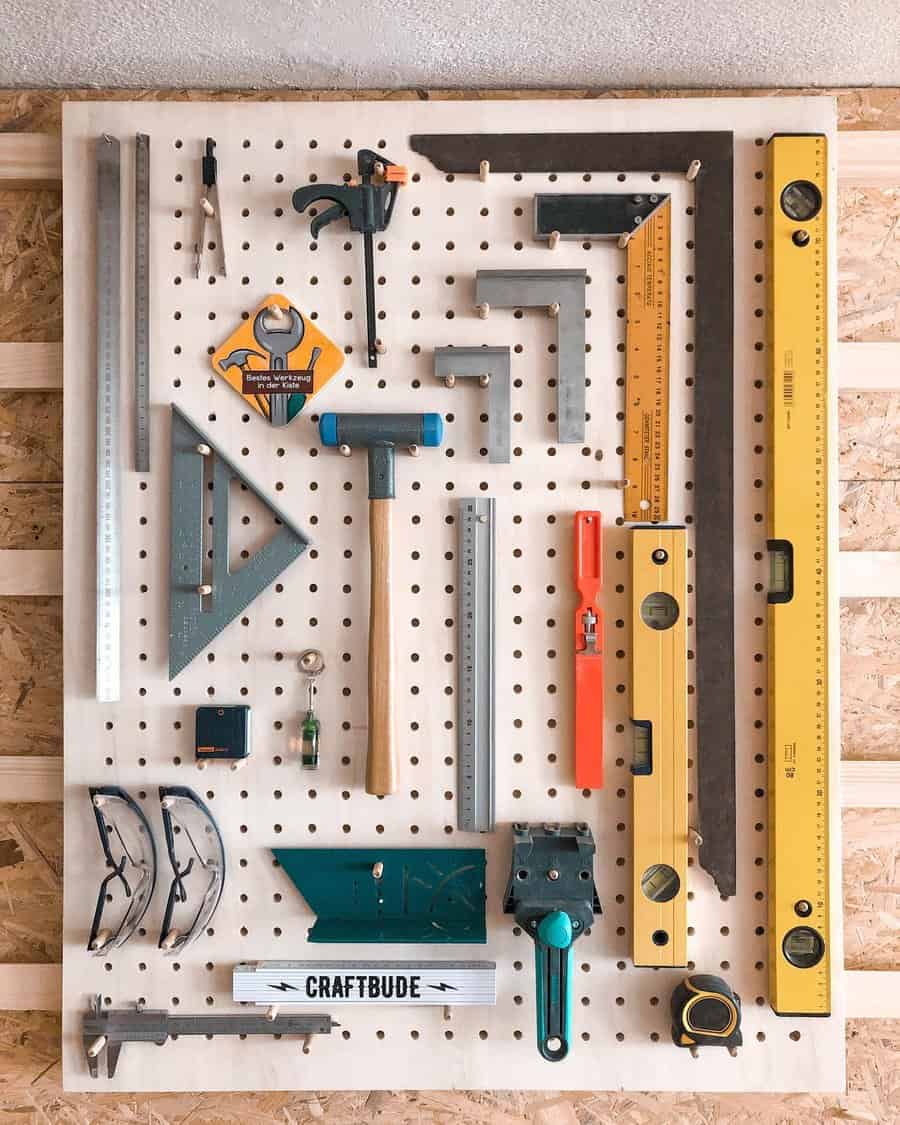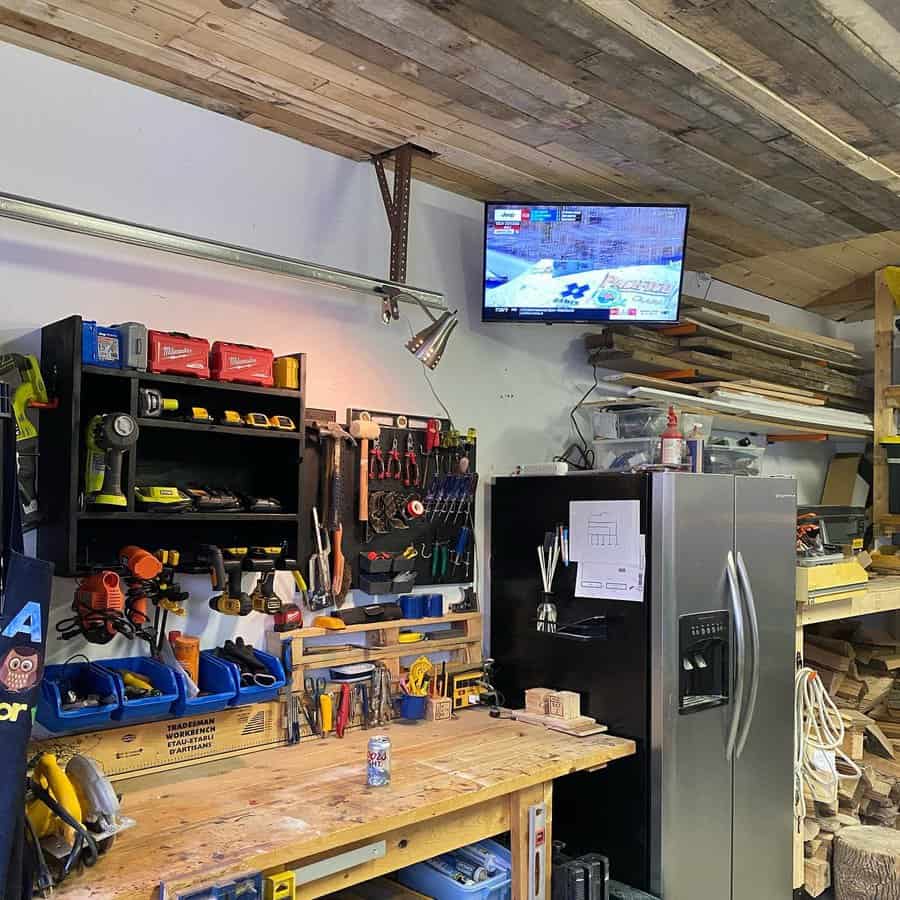 13. Customized Storage for Perfect Fit
Efficient tool storage is a game-changer for DIY enthusiasts and professionals alike, and customization is the key. When it comes to organizing your tools, customized solutions ensure everything is in order and easily accessible.
Design your tool storage to match your specific needs by selecting the right compartments and drawer sizes. This guarantees that each tool has a dedicated place. To maximize functionality, consider integrating the customized storage with your workspace layout and design for a seamless and efficient setup. Additionally, label or categorize your compartments to streamline tool identification and retrieval.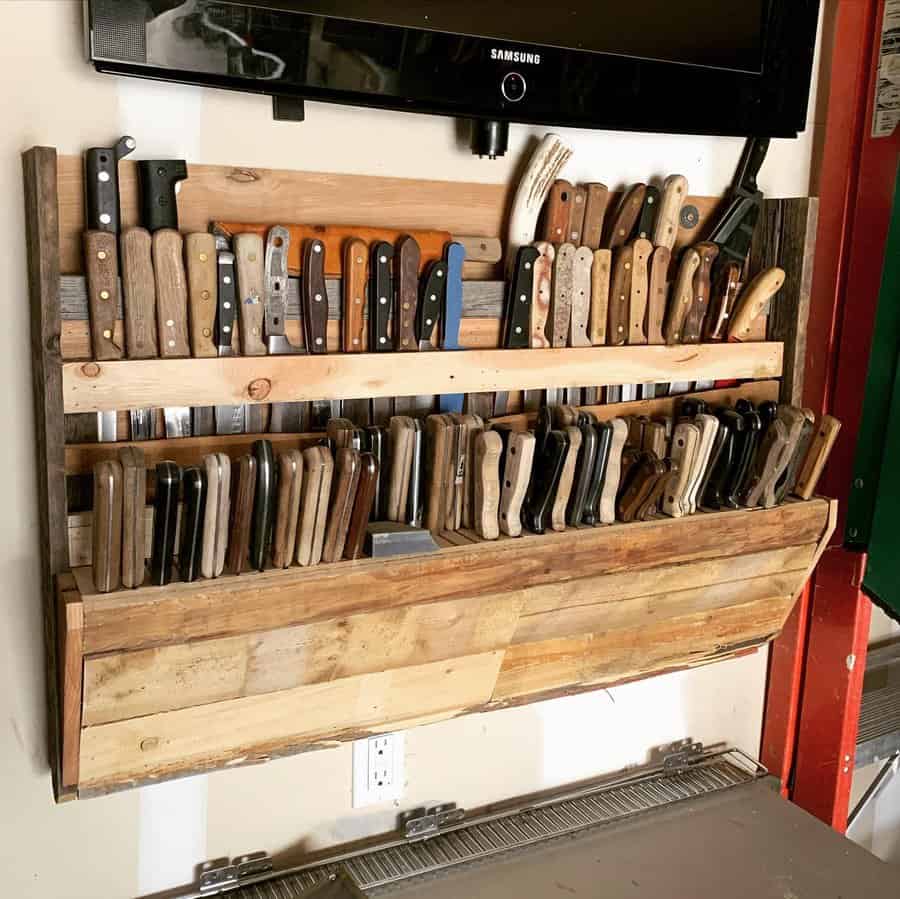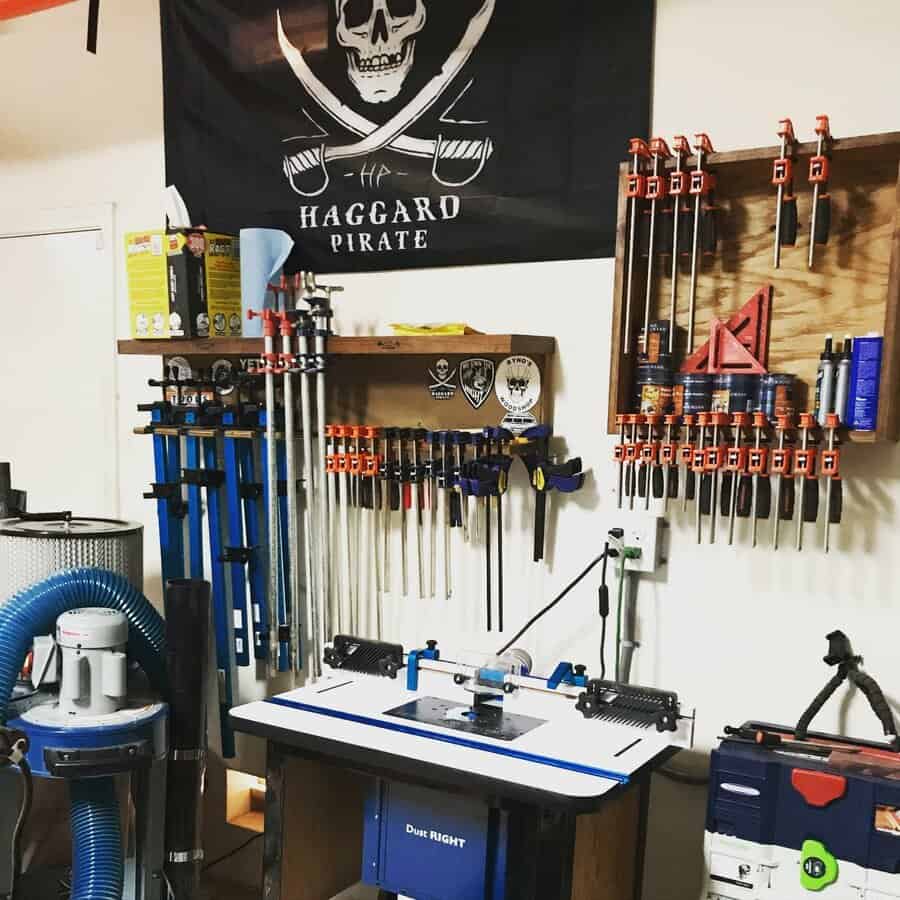 14. Wall-Hanging Chest: Secure Your Tools
Enhance tool storage efficiency and save space with a wall-hanging tool chest. This innovative solution not only offers a wall-mountable storage system but also secures your tools, eliminating the hassle of searching through clutter.
The wall-hanging design ensures quick access and easy tool identification, making your projects smoother and more organized. To enhance its functionality, consider integrating the wall-hanging chest with the overall design of your workspace. Additionally, label or categorize the compartments for faster tool retrieval and an organized look.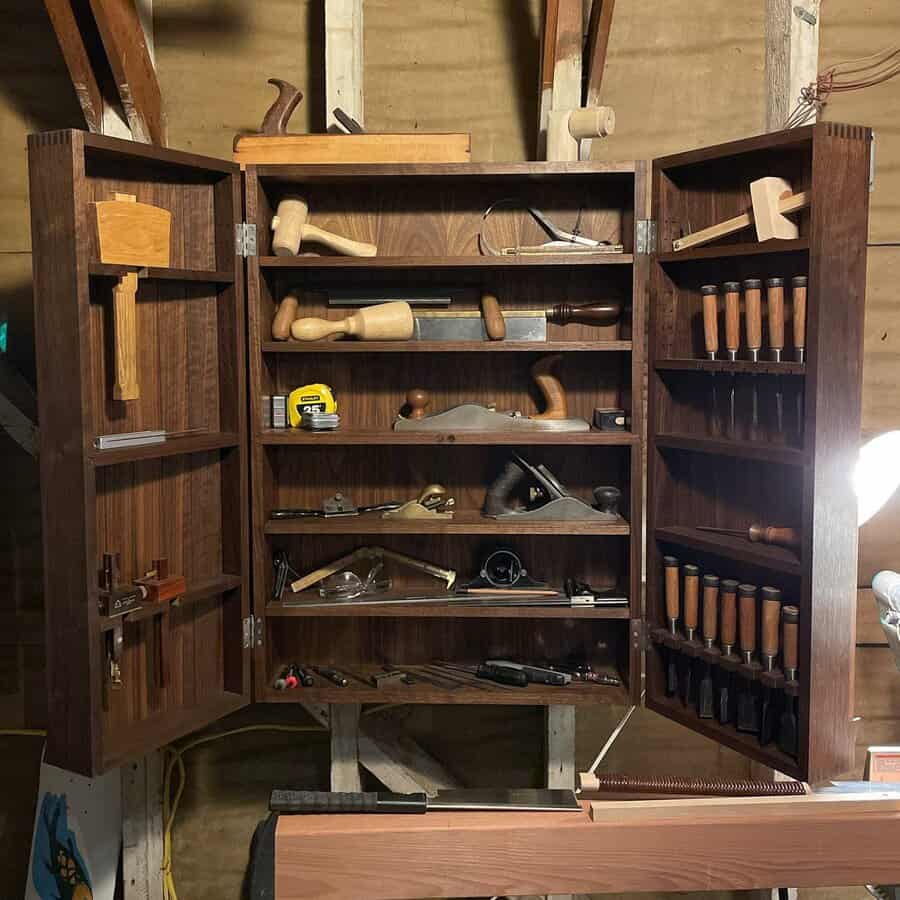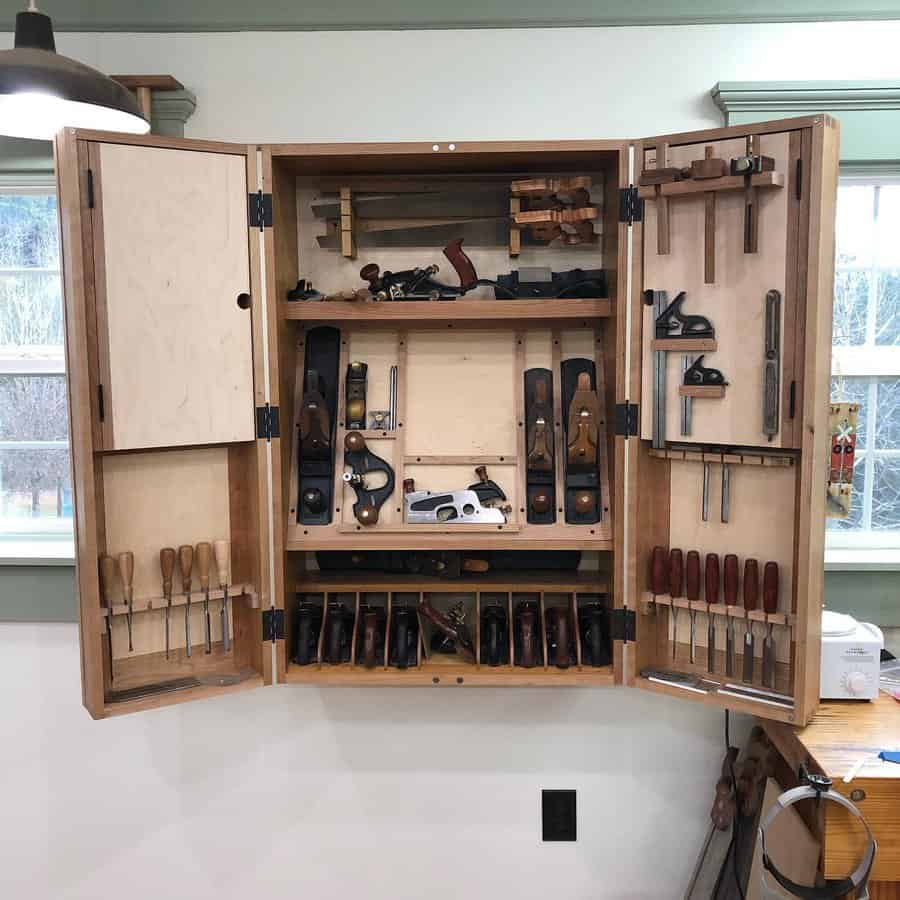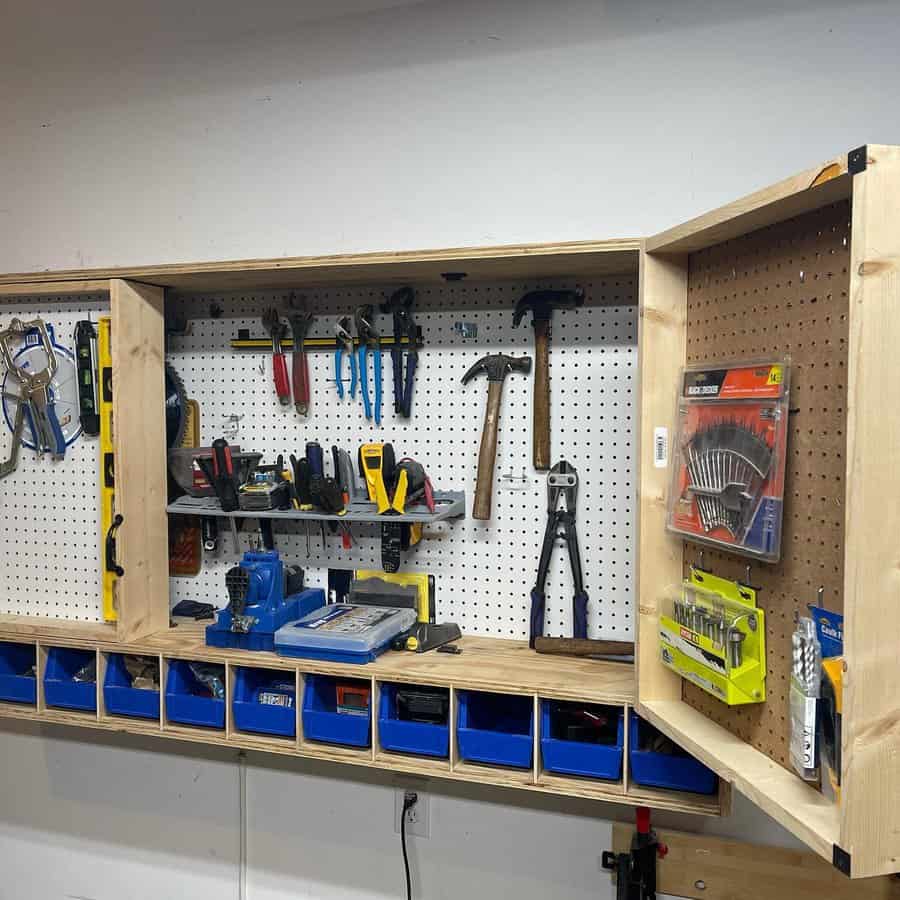 15. Workbench Setup with Ample Storage
A well-organized workbench with ample storage is a must for any workspace, be it your home, garage, or workshop. It simplifies your work process by providing easy access to tools and materials right when you need them. Say goodbye to the frustration of searching for tools; they're readily available within your workbench storage. Having this extra space at your fingertips equips you to tackle a wide range of projects with ease.
To maximize the utility, ensure that your workbench design complements your workspace aesthetics and layout. Consider installing additional shelves or drawers to keep your tools and supplies organized, and don't forget to label or categorize them for quick retrieval.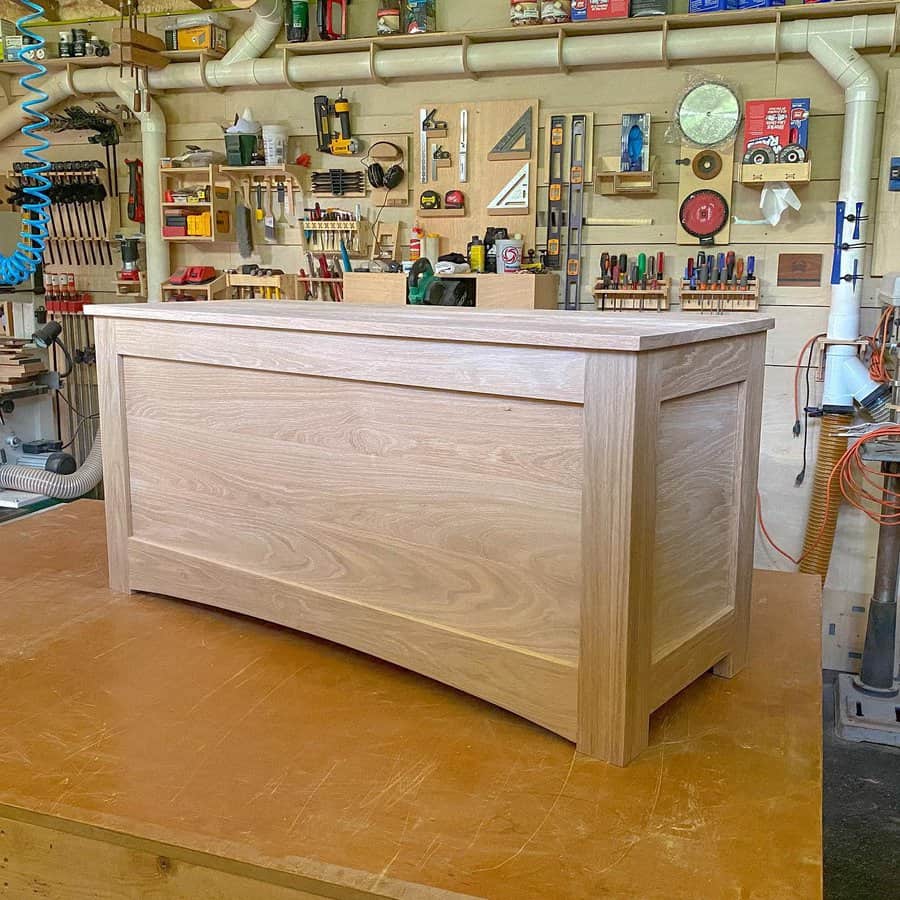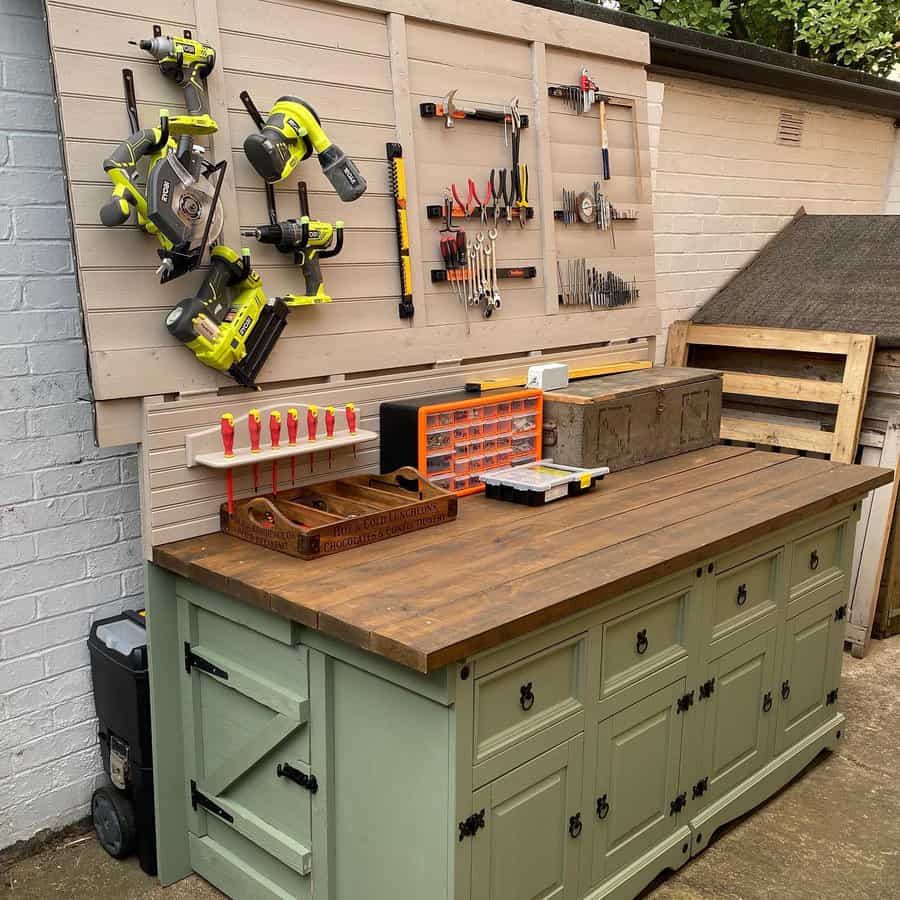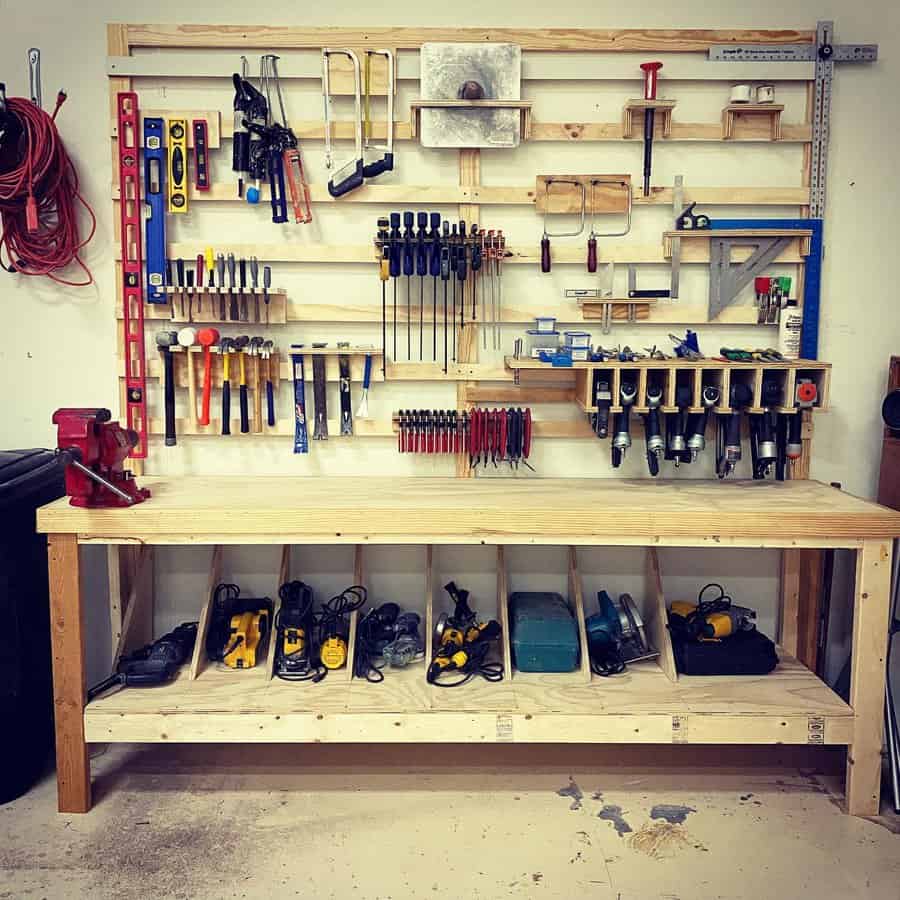 FREQUENTLY ASKED QUESTIONS
What is an easy DIY solution for my storage needs?
A system with vertical slats and various hooks and shelves is an easy fix, that you can customize to your specific needs.
What is an efficient way to hang several bikes on the garage ceiling?
There is a ceiling-mounted glider system that allows you to store 4 bikes. You place the bikes mounted on glides, and once they are on the hooks, you can slide them closer to the wall. The hooks can slide back and forth and bikes can be stored together, taking up less space. Two-bike add-ons are available for you to expand the storage capacity.