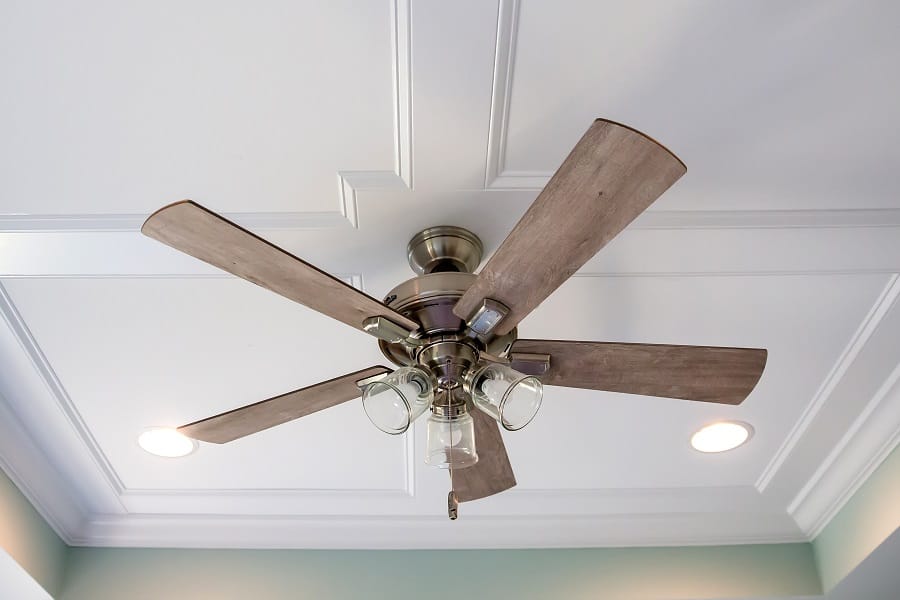 6 Best Ceiling Fans for High Ceilings
As castles, mansions, and cathedrals have long proven, high ceilings add a lofty elegance to a building. Today, even average-sized homes take advantage of this design element, featuring tall spaces such as double-story living rooms and vaulted ceiling bedrooms.
If you have high ceilings, you must take ceiling height into account when choosing a ceiling fan for your tall rooms. If the fan is positioned too high, you won't be able to feel air movement at floor level. And if the fan blades are too close to an angled ceiling, this can also pose a problem.
We've searched high and low to find the best ceiling fan for high ceilings. Check out our list of favorite fan options, and read the FAQs for tips on calculating the right size ceiling fan for your tall-walled rooms.
Ceiling Fan FAQs
Is a bigger ceiling fan better?
Not necessarily. You can only feel the air flow when you're directly under a ceiling fan—or no more than two feet away from its radius. So if you have a long room, or an open floor plan, you'll get a better cooling effect from two smaller fans spaced apart than one big fan in the middle.
If you have a tall but small room, definitely scale down your ceiling fan size. A big fan will visually dominate the space.
A fan that is too big and powerful for the room's size can blow around papers and dust, and dry out your eyes. You should follow the size recommendations below to make sure you end up with the right size fan for your space.
What diameter should a ceiling fan be in a large room with tall ceilings?
Always measure your room before buying a ceiling fan—whether the space has tall ceilings or not. As a general rule, you should follow these guidelines to size the fan to your space. The first number represents the room's square feet. The second number is the fan size in inches.
0-75 sq ft: 0-36 in.
76-144 sq ft: 36-42 in.
145-225 sq ft: 42-50 in.
226-360 sq ft: 50-54 in.
360-550 sq ft: 54-70 in.
500+ sq ft: 70+ in.
If you have sloped, angled, or vaulted ceilings, make sure there's at least 18 inches between the tip of the ceiling fan blades and the nearest wall or angled ceiling surface.
How do I calculate how long of a downrod I need?
Building codes state that there must be at least 7 feet from the floor to the bottom of the fan's light kit. Ideally, position your ceiling fan 8 or 9 feet above the floor.
To know how long of a downrod you need, measure from the floor to the ceiling, then subtract at least 7 but not more than 9 feet. That will tell you the size downrod to buy.
Be sure to check the downrod length your ceiling fan can accommodate. If you have particularly high ceilings, you may have to mount your fan higher than 9 feet above the floor.
What's the difference between an AC motor and a DC motor?
You may notice that there are two different kinds of electric motors used in ceiling fans: AC and DC. AC stands for alternating current and DC stands for direct current.
An AC motor is directly connected to the power source that provides the energy required to rotate the fan's motor. A DC motor uses the same power source, but has a transformer that converts the power to direct current. This lowers the amount of energy it takes to run the fan.
DC ceiling fans are usually much quieter than AC ceiling fans. They're also lighter and more compact, which allows the fan to have a smaller motor. This is helpful with smaller flush mount ceiling fans, such as a hugger fan where every inch counts.
Although DC ceiling fans use up to 70 percent less electricity than AC fans, most of the ceiling fans on the market have an AC motor. This is because DC motor technology is still new and is usually more expensive.
Also, with few exceptions, DC motors require remote control. Ceiling fans with AC motors can be operated with a wall control, pull cord, or remote control. That said, ceiling fans are naturally energy efficient, using considerably less electricity than other household appliances. You can find an excellent ceiling fan with either type of motor.
Conclusion
If we could only choose one ceiling fan for our high ceiling rooms, we'd go with the number one item on our list: the Alexa 5-Blade Standard Ceiling Fan. It's a great-looking fan that will fit into many different home decor styles, and we love that it comes with everything you need—including the light kit.
The dark metal housing is elegant and compliments the two wood finishes on the five reversible blades. Being able to choose between pull string and remote control is another big benefit to this ceiling fan.
The seeded glass bell lights are different from the usual clear or frosted glass, and the manufacturer including Edison bulbs is a particularly nice touch.