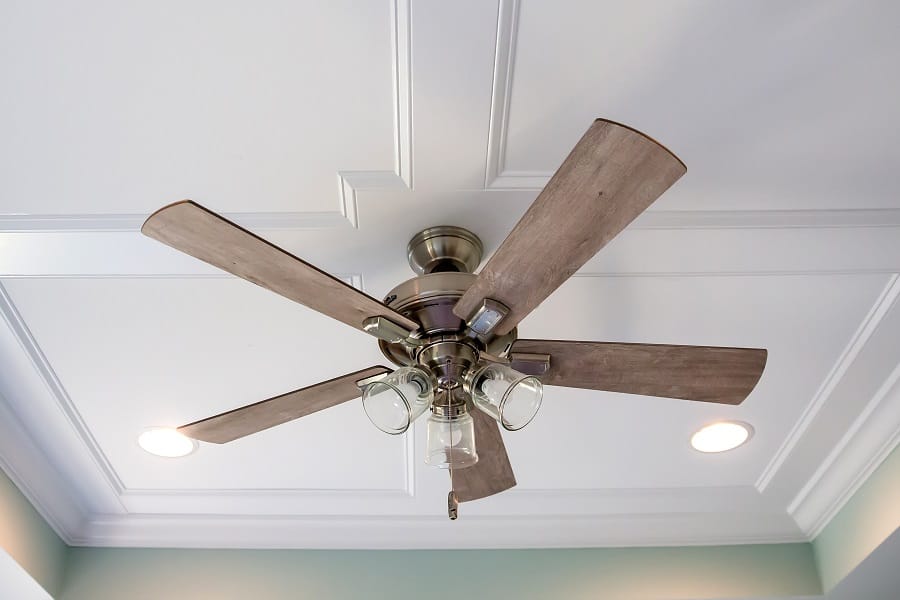 Trendey may earn a commission when you buy through links on our site.
As an Amazon Associate we earn from qualifying purchases.
6 Best Ceiling Fans for High Ceilings
As castles, mansions, and cathedrals have long proven, high ceilings add a lofty elegance to a building. Today, even average-sized homes take advantage of this design element, featuring tall spaces such as double-story living rooms and vaulted ceiling bedrooms.
If you have high ceilings, you must take ceiling height into account when choosing a ceiling fan for your tall rooms. If the fan is positioned too high, you won't be able to feel air movement at floor level. And if the fan blades are too close to an angled ceiling, this can also pose a problem.
We've searched high and low to find the best ceiling fan for high ceilings. Check out our list of favorite fan options, and read the FAQs for tips on calculating the right size ceiling fan for your tall-walled rooms.
1. 52-in Alexa 5 - Blade Standard Ceiling Fan
The Alexa Standard Ceiling Fan is a generous 52 inches in diameter and has five blades for excellent airflow. It's shipped to you complete with a light kit, light bulbs, and a 4-inch downrod.
The reversible blades are finished in rough pine on one side and a warmer tumbleweed shade of brown on the other. The ceiling fan's metal parts are a dark matte antique bronze that may look matte black or matte grey in different kinds of lighting.
The dimmable light kit is exceptionally stylish, with a rustic farmhouse vibe. The clear seeded glass bell lights have an open lantern appearance and the kit includes three Edison bulbs for an extra dose of vintage charm.
The fan plus light kit is 19.3 inches tall. If you need a long downrod, you will have to purchase it separately. However, it is compatible with universal downrods and it shouldn't be hard to find one with the length and size you need.
Choose a three-speed remote control model or go for the classic pull chain model. The remote control allows you to effortlessly adjust the power, speed, and light brightness from your bed or chair. Both options have the same type of powerful motor.
2. Springer Collection Distressed Windmill Ceiling Fan
Why settle for boring ceiling fan style when you can invest a little more on this stunning 12-blade ceiling fan? The Springer Collection Distressed Walnut Coastal Windmill Ceiling Fan is a whopping 60 inches wide.
Although it only comes with a 6-inch downrod, it's compatible with universal downrods up to 72 inches long to meet your ceiling height needs. Be sure to order a downrod with a 1-inch diameter, as smaller styles won't fit.
The metal parts of the fan are an architectural bronze color that's very close to black. The blades have a distressed walnut finish and are shaped like windmill blades. The fan has a strong rustic vibe that's ideal for industrial, farmhouse, and transitional interior design styles.
It doesn't have a light kit, so if that's important to you, choose another type of fan. It does have a dual mount canopy that can safely be mounted on a flat or sloped ceiling. It also has a reverse feature that allows you to circulate air conditioning in the summertime, then click it in reverse to move warm air around in the wintertime.
3. Harbor Breeze Classic 52-in Matte Black Indoor Ceiling Fan
For traditional ceiling fan style, check out the Harbor Breeze Classic Matte Black Indoor Ceiling Fan. Its generous 52-inch diameter blades are powered by a reversible AC motor that provides good airflow efficiency. Each fan blade is also reversible, with one side finished in black and the other in warm auburn.
This large ceiling fan has a matte black housing and can be purchased with or without a light kit. It can be installed as a flush mount low profile ceiling fan, with the 4-inch downrod, or with a separately-purchased longer downrod.
Note that this is not an outdoor ceiling fan, as it's not designed to withstand the higher moisture levels an outdoor fan is exposed to. Even so, it's one of the best ceiling fans at this price point. It produces a strong air flow and has a surprisingly quiet motor even at a high fan speed.
4. Harbor Breeze Grace Bay 52-in Bronze LED Indoor Ceiling Fan with Light
At 52 inches in diameter, the Harbor Breeze Grace LED Indoor Ceiling Fan is perfect for a large living room or any room with a high ceiling and up to 400 square feet to cool.
Although we've featured the model with a bronze finish on the metal housing, you can buy the same model with brushed nickel, matte black, or white housing. This is one of the best large ceiling fans at its affordable price point.
The included LED light kit features four 6.5W LED light bulbs and frosted white glass shades. If you prefer a different style of light bulb, Westinghouse Lighting has many decorative ceiling fan bulbs to choose from.
Like other ceiling fans designated as transitional style, it will coordinate with any style of home decor. The reversible fan blades allow you to decide which wood finish better suits your large space: cherry or walnut.
Air circulation and light are controlled by pull chains that operate the three-speed AC motor and LED light fixture. Installation is quick and easy—as far as large ceiling fans go. If the included downrod isn't long enough for your high ceiling, Harbor Breeze makes longer downrods that are compatible with its ceiling fans.
5. Minka-Aire F844-DK Light Wave 52-in Ceiling Fan
Minka Aire is a modern fan company that produces ceiling fans that are a work of art. The Minka Aire DK Light Wave Modern Ceiling Fan only has three fan blades but generates amazing airflow. It's similar in style to the Monte Carlo Maverick Max fan, but costs half as much.
This is perhaps the best ceiling fan for someone who hates the way ceiling fans look, but recognizes how vital they are for keeping a room comfortable year-round. The most unique ceiling fan on our list, it has simple lines, wavelike curves, and a distressed koa wood finish.
Its gently curved blades practically melt into a round LED light unit that has a 50,000-hour lifespan. This integrated light system is great when you have a high ceiling—no need to climb up a ladder to change the bulb.
The quiet Minka Aire motor efficiently moves air through the room regardless of ceiling height. Like many ceiling fans, the motor may hum at higher speeds. Some people welcome that type of white noise, especially while sleeping.
6. Harbor Breeze Tilghman II 52-in Bronze Indoor/Outdoor Ceiling Fan
One of the more decorative large ceiling fans on our list, Harbor Breeze's Tilghman Bronze Indoor Outdoor Ceiling Fan conveys a fun, tropical vibe. Perfect for a holiday home or beachy cottage, the wide, oval fan blades have a warm brown woven basket pattern.
This is a great ceiling fan for a home with tall ceilings and an integrated indoor/outdoor living area. Because it's wet rated for outdoor use, you can have matching ceiling fans inside and outside your home. Just make sure your outdoor ceiling fan is protected by a covered porch or patio.
The Tilghman fan comes with a 6-inch downrod and pull chain controls. Though it doesn't come with a light kit, you can purchase the matching light kit separately. Both the fan and the light kit have bronze metal housing.
It's relatively easy to mount as a flush mount fan on a low ceiling. Use the included downrod for an angled ceiling. You can also purchase a longer downrod to extend the fan the proper length away from the ceiling.
Ceiling Fan FAQs
Is a bigger ceiling fan better?
Not necessarily. You can only feel the air flow when you're directly under a ceiling fan—or no more than two feet away from its radius. So if you have a long room, or an open floor plan, you'll get a better cooling effect from two smaller fans spaced apart than one big fan in the middle.
If you have a tall but small room, definitely scale down your ceiling fan size. A big fan will visually dominate the space.
A fan that is too big and powerful for the room's size can blow around papers and dust, and dry out your eyes. You should follow the size recommendations below to make sure you end up with the right size fan for your space.
What diameter should a ceiling fan be in a large room with tall ceilings?
Always measure your room before buying a ceiling fan—whether the space has tall ceilings or not. As a general rule, you should follow these guidelines to size the fan to your space. The first number represents the room's square feet. The second number is the fan size in inches.
0-75 sq ft: 0-36 in.
76-144 sq ft: 36-42 in.
145-225 sq ft: 42-50 in.
226-360 sq ft: 50-54 in.
360-550 sq ft: 54-70 in.
500+ sq ft: 70+ in.
If you have sloped, angled, or vaulted ceilings, make sure there's at least 18 inches between the tip of the ceiling fan blades and the nearest wall or angled ceiling surface.
How do I calculate how long of a downrod I need?
Building codes state that there must be at least 7 feet from the floor to the bottom of the fan's light kit. Ideally, position your ceiling fan 8 or 9 feet above the floor.
To know how long of a downrod you need, measure from the floor to the ceiling, then subtract at least 7 but not more than 9 feet. That will tell you the size downrod to buy.
Be sure to check the downrod length your ceiling fan can accommodate. If you have particularly high ceilings, you may have to mount your fan higher than 9 feet above the floor.
What's the difference between an AC motor and a DC motor?
You may notice that there are two different kinds of electric motors used in ceiling fans: AC and DC. AC stands for alternating current and DC stands for direct current.
An AC motor is directly connected to the power source that provides the energy required to rotate the fan's motor. A DC motor uses the same power source, but has a transformer that converts the power to direct current. This lowers the amount of energy it takes to run the fan.
DC ceiling fans are usually much quieter than AC ceiling fans. They're also lighter and more compact, which allows the fan to have a smaller motor. This is helpful with smaller flush mount ceiling fans, such as a hugger fan where every inch counts.
Although DC ceiling fans use up to 70 percent less electricity than AC fans, most of the ceiling fans on the market have an AC motor. This is because DC motor technology is still new and is usually more expensive.
Also, with few exceptions, DC motors require remote control. Ceiling fans with AC motors can be operated with a wall control, pull cord, or remote control. That said, ceiling fans are naturally energy efficient, using considerably less electricity than other household appliances. You can find an excellent ceiling fan with either type of motor.
Conclusion
If we could only choose one ceiling fan for our high ceiling rooms, we'd go with the number one item on our list: the Alexa 5-Blade Standard Ceiling Fan. It's a great-looking fan that will fit into many different home decor styles, and we love that it comes with everything you need—including the light kit.
The dark metal housing is elegant and compliments the two wood finishes on the five reversible blades. Being able to choose between pull string and remote control is another big benefit to this ceiling fan.
The seeded glass bell lights are different from the usual clear or frosted glass, and the manufacturer including Edison bulbs is a particularly nice touch.