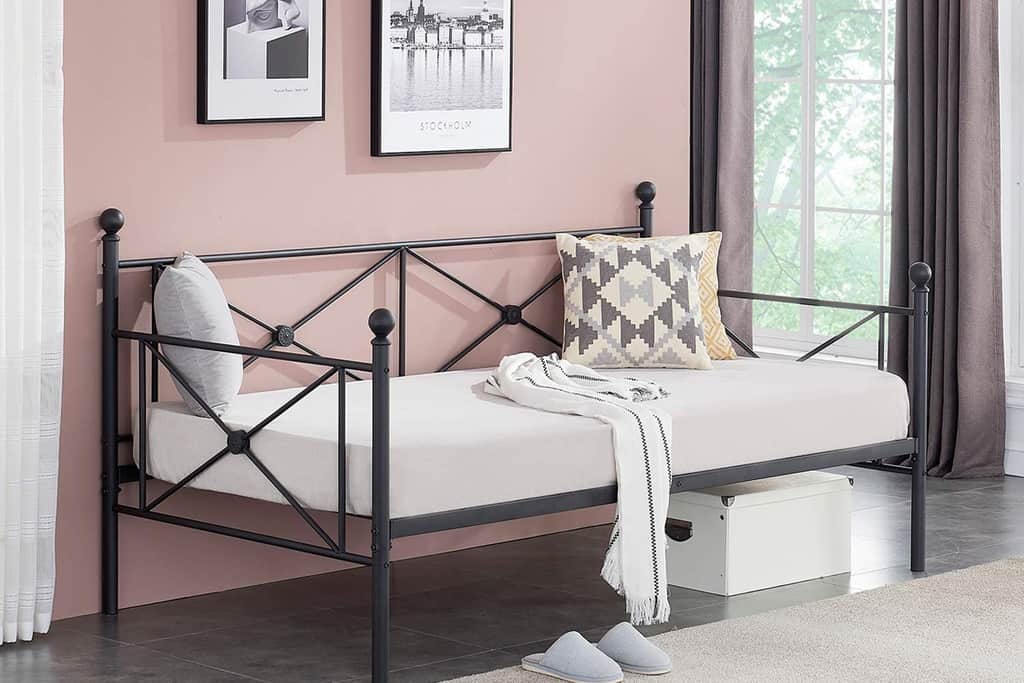 Trendey may earn a commission when you buy through links on our site.
As an Amazon Associate we earn from qualifying purchases.
The 10 Best Daybeds to Relax In
Having a spare bedroom is useful for when friends and family come to visit. But dedicating an entire room to the single-use as a guest bedroom is not practical in today's world. This does not mean you have to give up the idea of having a guest space. It just means you need to think outside of the box.
A daybed is a perfect solution because it is a versatile furniture piece that you can use daily as a sofa and occasionally as a guest bed. Consider adding one of these high-quality daybeds to your home.
Related read: 73 Daybed Ideas
Top Picks
Best Overall: George Oliver Chadlee Daybed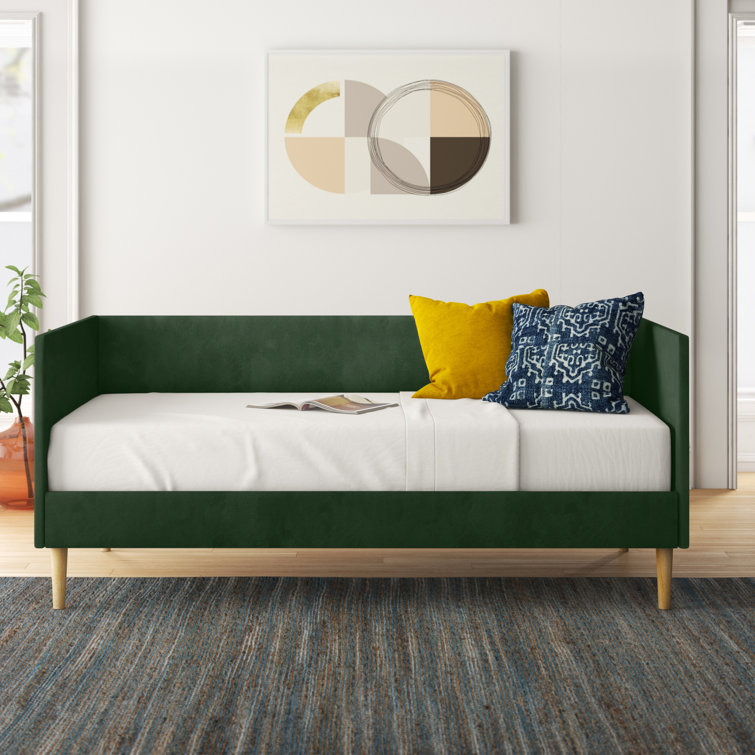 Specs:
Dimensions: 33 H x 78 L x 41.5 W inches
Material: MDF and polyester
Color Options: Gray, tan, black, navy, and green
The classic mid-century modern styling of this daybed makes is the perfect timeless accent for your home. The slim straight lines of the legs elevate the daybed off the floor to give it a lighter and more spacious feel. The slim design makes it ideal for small spaces, such as an apartment.
What makes this daybed stand out is what you cannot see. The slatted base improves air circulation, keeping the bed cooler and fresher. The uniquely designed base ensures that the slats stay securely in place for maximum support and comfort. Choose from twin, full, or queen for the size of the bed. This lets you customize the size of the daybed to fit the space in your home.
One potential drawback of this daybed is that the slats are slender and thin. This can make them susceptible to breaking. It probably won't be an issue of occasional use, but not good if you plan to use this daybed daily.
Check Price
Best Budget Pick: Vecelo Classic Metal Daybed
Specs:
Dimensions: 41 H x 78 L x 39 W inches
Material: Metal
Color Options: Black, white
If you have a small space or are looking for a minimalist design, then this is the perfect daybed frame to add. it is made of metal and black in color. The slender design leaves plenty of open spaces. Unlike other designs, this one features an X design that helps hold the mattress in place.
Another nice feature is the totally open space underneath. This leaves room for adding a trundle bed later or large storage bins. The metal frame gives the daybed strength and stability, so despite its slender design, it is quite strong.
Unfortunately, the metal is not corrosion-resistant treated, so it will rust if exposed to high moisture levels. It will also begin to creak over time, which will be annoying and disruptive when trying to sleep on it. you will also want to add caps or rubber feet to it, or you will risk scratching or scuffing your floor.
Check Price
Best Bohemian Pick: Middlebrook Solid Wood Spindle Daybed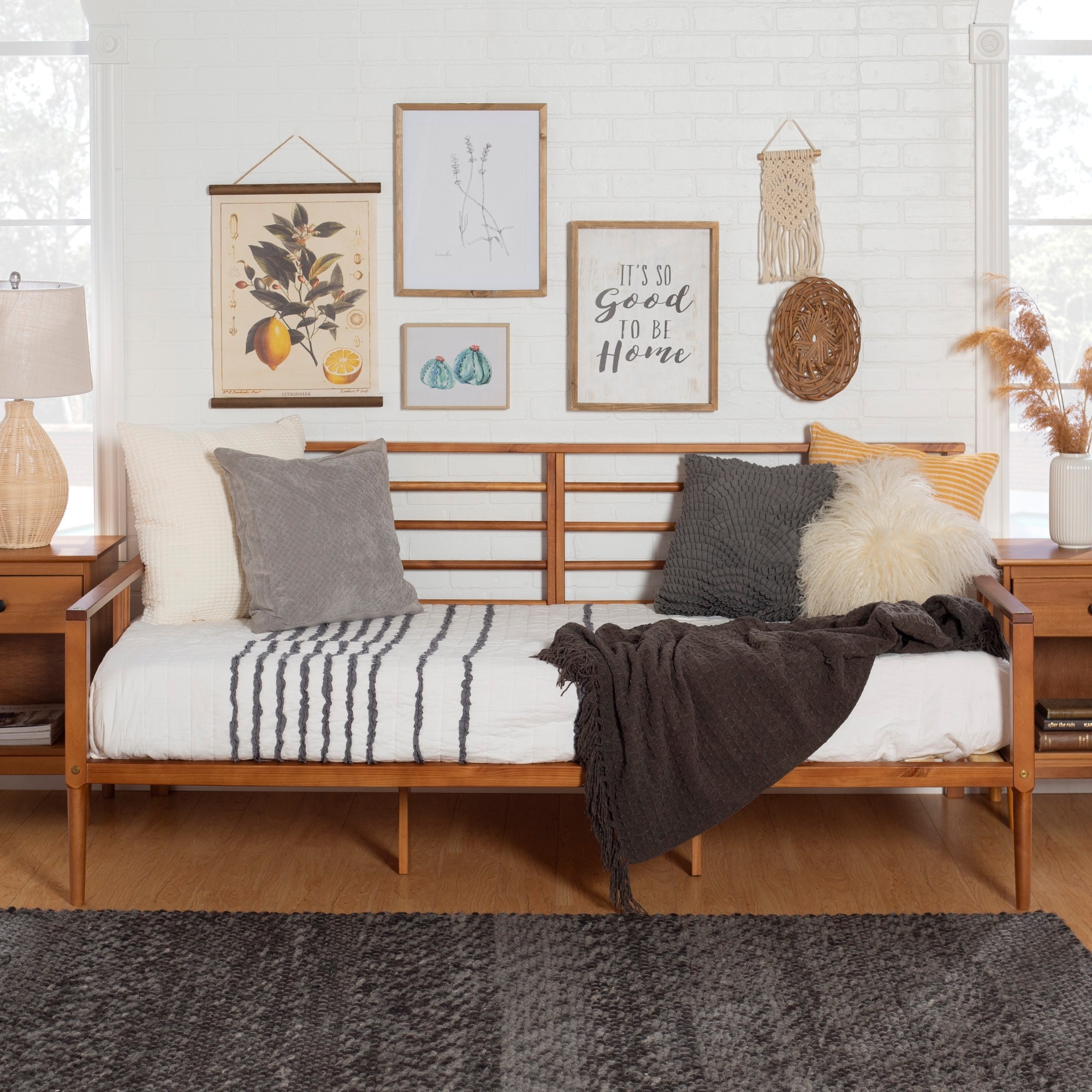 Specs:
Dimensions: 34 H x 78.25 L x 42.75 W inches
Material: Pine
Color Options: Walnut, caramel
The wood frame of this daybed makes it the perfect accent piece to your farmhouse or bohemian styled room. The slim wood styling helps to keep this daybed feeling light and airy, which is nice for smaller spaces. The solid wood construction and two color options bring warmth to the space.
While some would say this daybed has a mid-century modern design, it is so subtle that you wouldn't notice. The frame is made of pine and then given a warm finish in either walnut or caramel. Add rustic warmth to this daybed by using a colorful handmade blanket. It could have rich American southwest colors, and an Apache or Navajo inspired pattern. Or it could have the bright colors of India.
Unfortunately, this daybed looks a bit plain. The wide gaps between the spindles create large gaps that blankets, pillows, or someone sleeping can start to slip through. There is also a lack of functionality underneath the daybed with support legs. This means you can't add a trundle and are limited with the storage bins you can use.
Check Price
Best Premium Pick: West Elm Jamie Daybed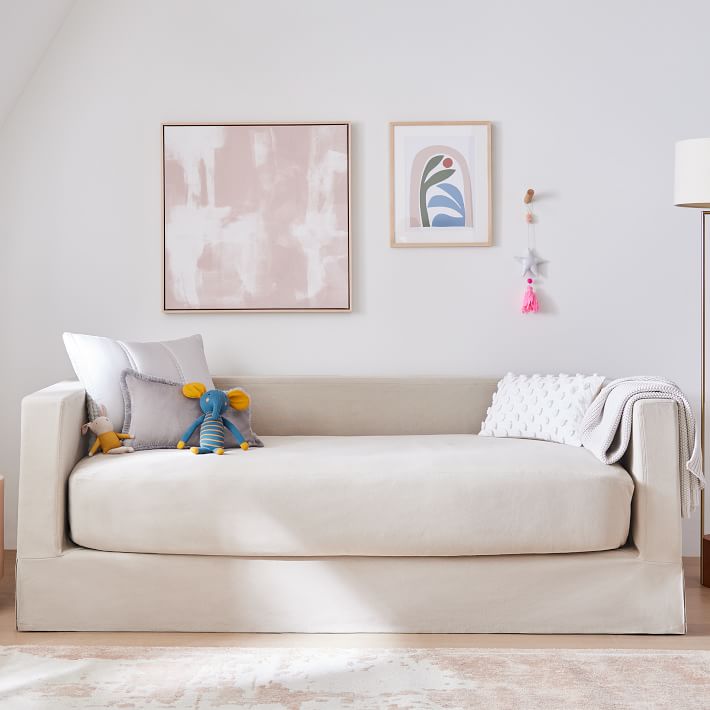 Specs:
Dimensions: 30.5 H x 86 L x 44 W inches
Material: Solid mahogany
Color Options: 17 colors
This daybed may look simple, but that is the beauty of it. This is a piece to invest in to last you a lifetime. The solid mahogany frame is strong and durable, making it ready for many years of use. The simple design of the frame and the smooth upholstery means the design will look contemporary throughout changing trends.
You can choose from two sizes, twin and full. There are also several colors and fabrics to choose from. The saddle-colored faux leather creates a sightly masculine and sophisticated look. While the velvet is soft and plush, the basketweave is perfect for busy families with pets and children. The soft neutral color options mean you will be able to blend it into a wide range of color schemes.
Unfortunately, this daybed is not ideal for smaller spaces. Because the design is solid, it will add a visual heaviness to the room. This can be overpowering in small spaces.
Check Price
Best Vintage Pick: Twin Iron Daybed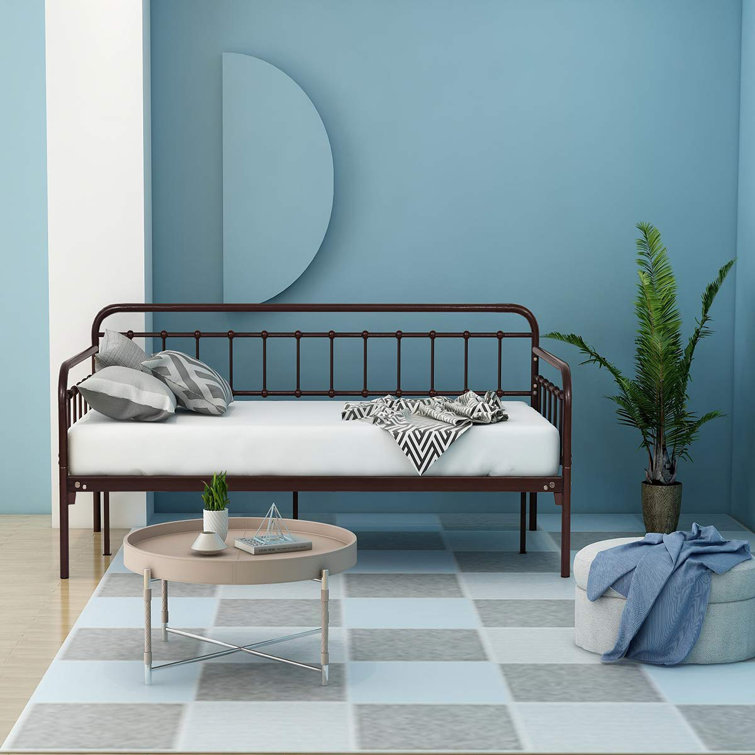 Specs:
Dimensions: 35.63 H x 78.35 L x 40.16 W inches
Material: Iron
Color Options: White, brown, or black
Add a touch of vintage with this iron framed daybed. The crafted tubular metal frame is solid, harkening back to a time when furniture was handmade and designed to last. The frame's main tubes are larger in size with smaller accent tubes throughout.
Choose from white, black, or brown for the color of the frame. A plastic cap is on the bottom of each leg to protect your floors from scratching. Style this daybed with a vintage accent blanket to highlight the vintage styling of the frame. Then you can arrange a few handmade throw pillows with a crocheted or knitted design.
The drawback of this daybed is that it does not have wide supportive slats. There are metal bars that support the mattress, but they are spaced out, which can create ridges of support. there is also an open gap on the back, so there is no support on either side of the mattress to hold it in place.
Check Price
Best Built-In Pick: Charcoal Gray Series Full Size Daybed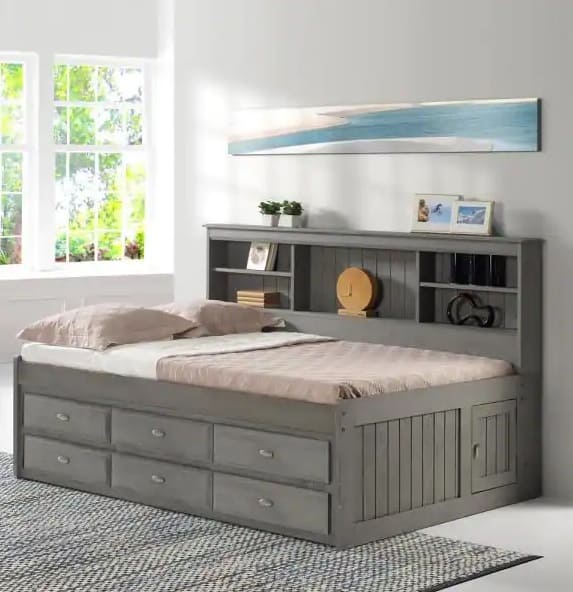 Specs:
Dimensions: 50 H x 82 L x 21 W inches
Material: Wood
Color Options: Charcoal gray
Create a whole statement piece with this daybed that comes with an entire built-in bookshelf. This is not just a small furniture piece; it is for placing against a wall and creating a display piece. The entire unit is made out of wood with bookshelves that are located above the bed and storage drawers underneath.
There are an impressive six storage drawers located on the front of the daybed. The charcoal gray finish gives the daybed a weathered look that is slightly rustic and farmhouse. The added framework around the bed gives this furniture piece a more solid and custom feel as if it were built into the wall of the home and not bought after the fact. Embrace the cozy feel of the space it creates with plenty of plush accent blankets and throw pillows.
Unfortunately, you can't get this daybed with a trundle bed option. This can limit the number of sleeping spaces you have. The large size and additional bookshelves make this piece quite large and visually imposing. This makes it best for a larger room, as it can look imposing and cramped in a small space.
Check Price
Best Industrial Pick: Barrett Twin Solid Wood Daybed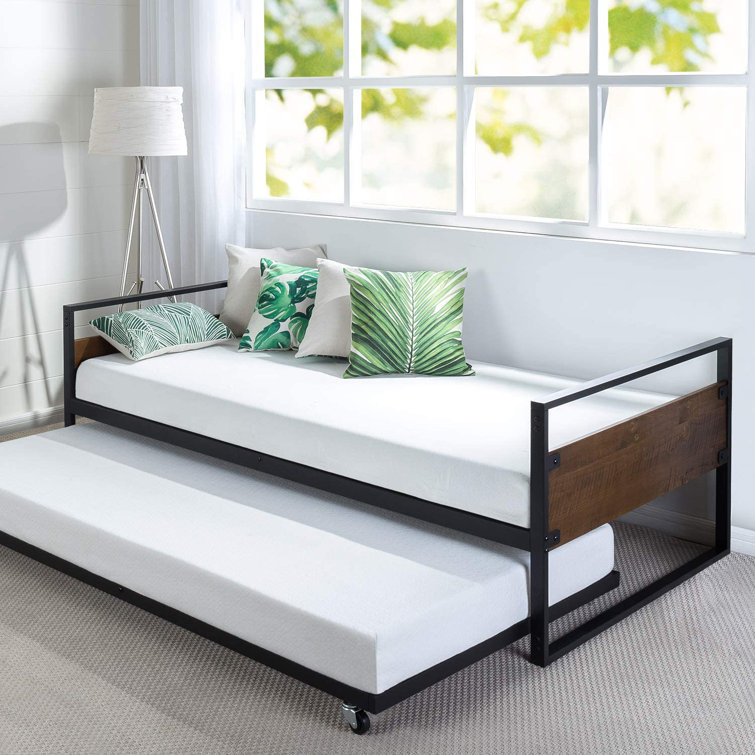 Specs:
Dimensions: 25.8 H x 78 L x 39 W inches
Material: Solid Wood
Color Options: Black/Brown
This daybed proves that you do not have to add an ornate or large piece of furniture. The simple black metal frame and wood panels create a combination of materials that adds structure and warmth to the room. The steel frame is strong and secure, giving this daybed longevity.
A unique feature of this daybed is that it comes with a trundle bed, but it is not connected or attached to the day bed. The mattress lays on a metal frame that is supported by swiveling metal casters.
A nice design touch to this daybed is the detailing in the wood with natural wood knots and grain color variation. This gives the wood a touch of rustic and industrialism. You could embrace this look with leather pillows and neutral-colored sheets. Or you can soften the look of the daybed with more delicate fabrics.
One potential issue with this daybed is that there is not a lot of space underneath. This means you will need a low-profile mattress for the trundle bed frame. Otherwise, you won't be able to fit it underneath the daybed frame.
Check Price
Best Outdoor Pick: Natural Wood Outdoor Daybed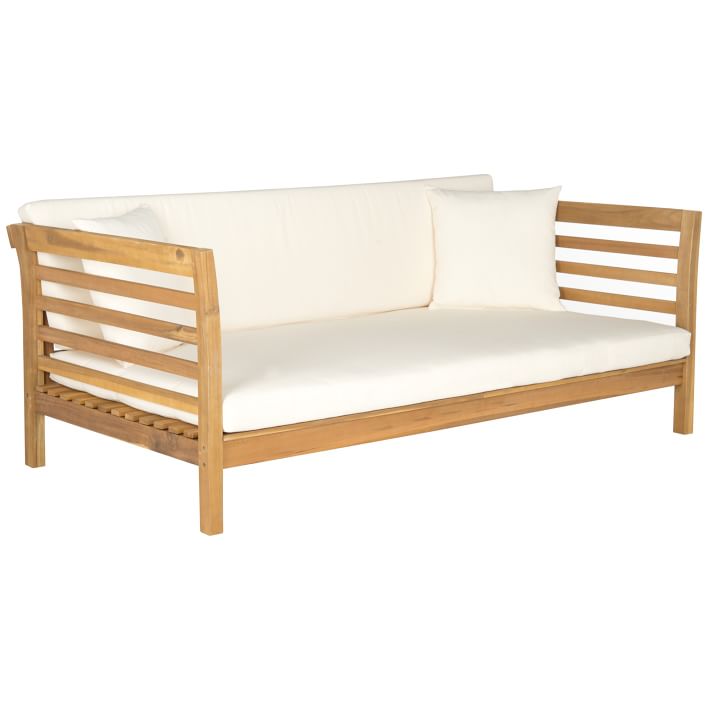 Specs:
Dimensions: 27.2 H x 71.7 L x 39 W inches
Material: Acacia wood
Color Options: Teak finish
Daybeds are not just for the interior of your home. You can place this daybed in your outdoor living space for more comfort and seating areas. The frame is a durable acacia wood with a teak finish. This gives the daybed a classic outdoor furniture look while also being durable enough to last.
This daybed stands out because the cushions are included, making this daybed usable upon purchase. The cushions are made from 100% polyester that is moisture resistant, so you do not have to worry about maintaining the daybed. The narrow and close-together slats give the seat cushion plenty of support. The light wood and white cushions give this daybed a contemporary feel that will help your outdoor space look fresh and modern.
Unfortunately, this is not a daybed for sleeping. it is a bed for lounging because the included seat cushion is quite thin, so it lacks enough support for sleeping on it for an entire night.
Check Price
Best Elegant Pick: Twin Daybed with Trundle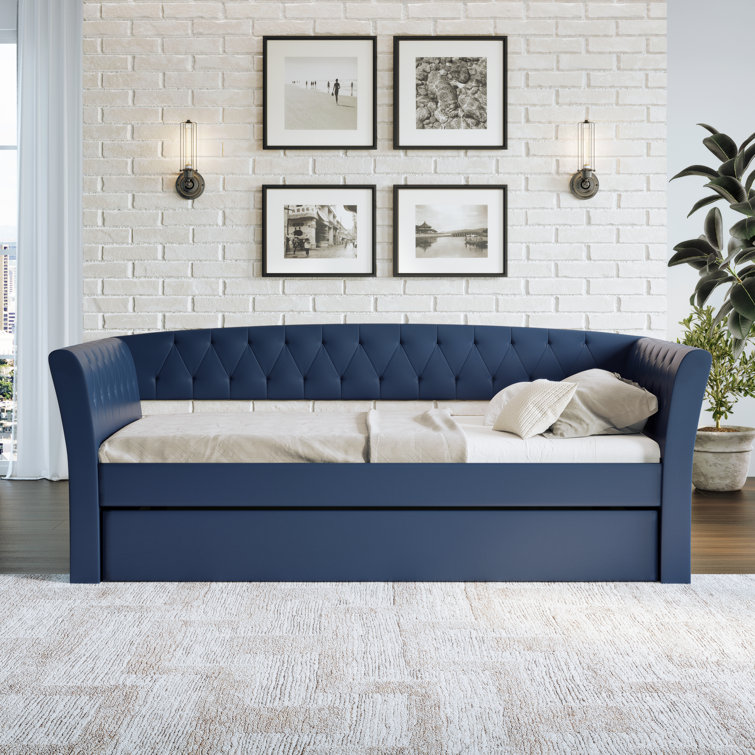 Specs:
Dimensions: 34.5 H x 85 L x 42 W inches
Material: MDF and faux leather
Color Options: White, gray, or blue
The classic design of this daybed gives it a timeless style that will blend into a contemporary home. The faux leather finish gives the daybed a sense of quality and sophistication. The tufted design emulates traditional furniture. The solid styling of the frame creates a sense of presence. Combine this with the trundle bed, and you have a solid furniture piece with plenty of sleeping capacity. A nice subtle touch to this daybed is the shaping. The gentle curve of the back and armrests softens the look of the daybed and keeps it in line with current furniture trends.
One potential drawback of this daybed is that the leather is smooth, which can feel cold. The slats are also oddly placed, which can make them less supportive if you have a memory foam mattress.
Check Price
Best Glamorous Pick: Little Seeds Valentina Velvet Daybed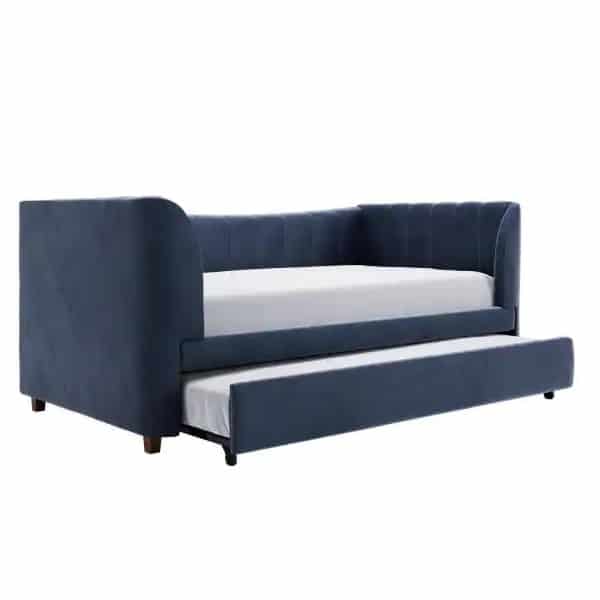 Specs:
Dimensions: 36 H x 83.5 L x 45 W inches
Material: Composite and velvet
Color Options: Blue, gray, or pink
The elegant and sophisticated styling of this daybed makes it the perfect accent to any room in your home. Bring it out of the spare bedroom and place it in your formal entertaining space or living room. The high sides and back add a touch of drama, helping this daybed to make a statement and become a focal point. The velvet upholstery comes in three colors, blue, gray, and pink. Hidden underneath the daybed is a trundle. This gives you space for two mattresses. The smooth-rolling casters make it easy to move the trundle in and out.
One issue with this daybed is that it is designed for kids. This can make it too small for use by adults. It can still be a small sofa in a hallway or entry area. However, because it is meant for kids, this daybed is the perfect piece for your children's room. Sleepovers become a breeze as you pull out the trundle and everyone gets a comfortable sleeping space.
Check Price
How to Choose the Perfect Daybed?
Frame Material
The frame material is crucial because it dictates the strength, stability, and durability of the daybed. Metal is the traditional material, but can be expensive and typically comes in a vintage or ultra-modern style. Wood is another popular material that is more versatile. Depending on the quality of the wood, it can be more affordable or more expensive than metal. Solid hardwood is expensive, but the highest quality. MDF has pressed particles that are more affordable than metal.
Trundle
A trundle is an extra bed that is underneath the daybed. Not all daybeds have a trundle bed. For some, it is an optional addition that you can purchase. For others, it is a built-in piece. You may not need the trundle part of the daybed. Instead of a trundle bed, you could leave the underside of the daybed open, which helps the room to feel lighter and bigger. If you need more storage space, you could look for a daybed that has cabinets or drawers underneath.
Upholstery Material
The upholstery material can transform the look and style of your daybed. This is the material that is attached to the frame, similar to a sofa or armchair. Not all daybeds have upholstery, such as a metal frame. A cotton or linen fabric upholstery will give the daybed a more casual feel. Fabrics like velvet or silk will give the daybed an elegant and sophisticated feel. If you have pets or children, look for a fabric that is easy to clean.
Style
The style of daybed that you buy should make sense with the rest of the furniture in your home. A metal frame makes sense if you have a rustic, farmhouse, or vintage style. A mid-century modern design works well in a contemporary, modern, or Scandinavian style. A daybed with a built-in bookshelf will make sense in an American craftsman-styled home.
Mattress
Typically, the mattress won't come with the daybed. it is sold separately, which gives you the opportunity to buy your preferred type of mattress. You won't need a box spring because most daybeds come with slats to support the mattress. If your daybed does come with a mattress, you will want to look at its quality. Often, the daybed will be high quality and the included mattress won't be nearly as nice.
Conclusion
Our top pick for the best daybed is the Chadlee Daybed with its simple yet classic styling that gives this mid-century modern daybed a timeless appeal. The three richly saturated colors and light wood accents give this daybed a clean design.
The Vecelo Classic Metal Daybed is a more affordable alternative with its farmhouse inspired metal frame that features slender tubular supports and an extra frame design.
FAQs on Daybeds
Are daybeds good to sleep on?
Modern daybeds are a big improvement from their old school counterparts. They have actual supportive mattresses that are designed to give you maximum comfort. This makes them comfortable to sleep on.
What's the point of a daybed?
The purpose of having a daybed in your home is to give you a convertible piece of furniture. You can use it as a sofa or love seat during the day. Then you can use it as a bed when you need an extra sleeping space. This makes it an ideal piece of furniture in your guest bedroom.
What is a trundle?
A trundle bed is slightly different from a daybed. The trundle is a separate bed that is mounted on wheels. It rolls out of the way and underneath the sofa or daybed piece. When put away, your sofa or daybed looks like any other. When pulled out, you have a separate lower bed that an additional person can use to sleep on.