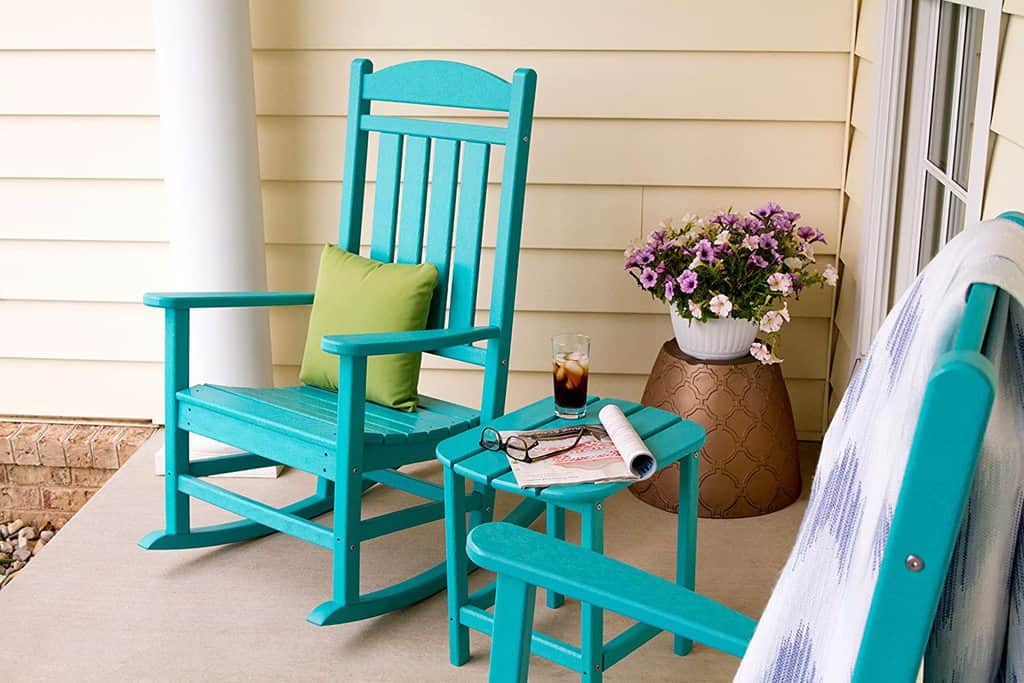 Trendey may earn a commission when you buy through links on our site.
As an Amazon Associate we earn from qualifying purchases.
Best Patio Chairs
You have a patio, and you're ready to increase the outdoor use of your property. This means adding furniture and decor. You need furniture that's the right style and size for the type of atmosphere you want to create on your patio. We did the research for you and found some of the best patio furniture options to turn your boring and bare space into one that's comfortably styled.
Top Picks
Best Overall: Cain Patio Chair with Cushions
Specs:
Style: Club Armchair
Material: Resin, Wicker, Steel
Dimensions: 34.45" H x 31.50" W x 32.48" D
Color: Gray and blue, gray, and tan
This set of wicker and armchairs are perfect for creating a conversation zone on your patio. The chairs have a sturdy steel frame to give them strength and durability. Wrapped around the frame is woven wicker for a classic patio furniture design. The large armrests and slanted backrest make these chairs comfortable to sit back into. Two large cushions come on each chair, one for the seat and one for the backrest. Filling the cushions is a polyester foam blend to prevent enough support but also be soft so that you sink down into them. To ensure their durability, the materials are weather, UV, and rust-resistant. Keeping them clean is easy; just use a damp cloth to wipe them down. The classic design in the neutral color scheme helps these chairs to blend in with any patio design style.
Unfortunately, the seat can begin to sag over time with heavy use. You may need to add additional support to the cushion to keep the chair feeling like new.
Check Price
Best Budget Pick: Best Choice Products Zero Gravity Lounge Chair Recliners
Specs:
Style: Zero Gravity Lounge Chair
Material: Textilene fabric and steel frame
Dimensions: 32.5″D x 25″W x 44″H
Color: beige, black, blue, brown, burgundy, burnt orange, camouflage, cobalt blue, crimson red, forest, green, grey, light blue, pink, tan stripe
Feel as if you are floating on air in these suspended zero gravity chairs. The sturdy steel frame is heavy-duty and weather-resistant to prevent rusting or wearing out. Suspended from it, there is Textilene fabric woven to the chair with elastic cords. The flex and stretch of the cords help to cradle your entire body. The smooth-moving joint allows the chair to recline back 160 degrees. The detachable holding tray is a nice extra touch that can hold your tablet, phone, and two drinks. Each chair has a 250-pound weight capacity, while the chair itself is lightweight and easy to move about. To help you achieve maximum comfort, a removable headrest comes with each chair to give you the support you need for your head and neck.
The drawback of these chairs is that they look more like beach chairs than permanent patio furniture. They lack the style and design that other chairs on this list have.
Check Price
Best Natural Wood: Summerton Teak Patio Chair with Cushions
Specs:
Style: Armchair
Material: Teak and polyester
Dimensions: 35.5" H x 30.75" W x 34" D
Color: natural, weathered gray, gray
Sometimes you just want a simple chair that serves its purpose. This wood-framed chair has a contemporary design with subtle details that give it a timeless appeal. The wood frame is made from teak, which is one of the best materials for outdoor furniture. There are three color options for your chair, natural teak with an off-white cushion, a grey frame with blue cushions, or weathered grey with white cushions. It's durable, moisture-resistant, easy to maintain, and beautiful. The wood frame has a slatted design for the seat and back. Then placed on the chair are a seat and back cushion. Unlike other patio chairs, the two cushions have a different construction. The seat is constructed of dense and supportive foam. The back is constructed from a softer foam that lets you sink back.
Unfortunately, this patio chair does require ongoing maintenance. You need to clean and oil the teak to keep it looking new. If you neglect to do this, it will patina and eventually turn a weathered grey.
Check Price
Best Included Cushions: Style Selections Avery Station Conversation Chairs
Specs:
Style: Armchair
Material: Steel and wicker
Dimensions: 31.5" H x 32.68" W x 30.71" D
Color: Natural and White
This set of two conversation chairs is perfect for creating a living room feel to your backyard patio. Place them angled toward each other and a sofa with a side table between them or a coffee table in front of them. The unique rattan weave gives the chairs an exotic feel that brings the retro design of the frame into modern times. The nice shape of the chairback wraps around you to provide plenty of support without being too confining. The heavy-duty frame feels substantial and sturdy; to give these chairs lasting durability, they are weather and UV-resistant.
Unfortunately, the chairs have a maximum weight capacity of 225 pounds, which is lower than some of the other chairs on this list. You will also need to assemble the chairs before use. However, they are simple to put together, making them perfect for those who lack experience with home DIY projects.
Check Price
Best Premium Pick: Portside Outdoor Textilene Lounger
Specs:
Style: Loung chair
Material: Textilene® fabric and wood
Dimensions: 27″w x 81.8″d x 13.3″h
Color: light or dark wood
This elegant and modern-looking lounge chair is the perfect addition to your backyard pool oasis. Even if you don't have a pool, laying back on this lounge chair will have you relaxing as you soak up the sun. It comes in two color options based on the type of wood the frame is made out of. Choose from weathered grey or driftwood made from either mahogany or eucalyptus. Both of these woods are incredibly durable and moisture resistant, making the frames of these patio chairs durable enough for your patio. Mounted on the frame is Textilene fabric in grey, cafe, or white. Its breathability will keep you cool and comfortable while it resists mold, mildew, fraying, or fading. The weight limit for this chair is 275 pounds. When sitting in this lounger, there are three positions to choose from for the back. These chairs are perfect for a relaxed coastal feel with the weathered finish on the wood and clean design of the frame.
The drawback of this lounger is that you can't stack multiple chairs like you can with other similar chairs. It's also designed to be perfectly flat, so it lacks ergonomic comfort that can leave you feeling less supported in key areas.
Check Price
Best Statement Piece: Dixion Teardrop Patio Chair with Cushions
Specs:
Style: Egg chair
Material: Polyethylene rattan
Dimensions: 60.25" H x 37.8" W x 33" D
Color: Black
This unique-looking chair may not be your first choice, but it's the perfect addition to any bohemian or wanderlust-inspired patio design. Unlike chairs, with a similar design, this one is nice because it doesn't take up any more room than a typical armchair. This makes it usable in a wide variety of patio spaces. The teardrop shape of the chair adds an organic feel and height to your patio design. Placed inside of the chair is an overly plush cushion that you'll sink back into. Additionally, this egg chair doesn't require you to hang it from the ceiling or have a bulky base frame with a hook. You'll appreciate the sturdy and stable feel of the chair, making it easy to get in and out of it.
Unfortunately, this chair isn't great for conversation. You'll only be able to easily converse with people directly in front of you. However, this chair is perfect for independent relaxing with a book or admiring the view.
Check Price
Best Rocking Chair: Polywood Presidential Rocking Chair
Specs:
Style: Rocking chair
Material: Recycled lumber
Dimensions: 33.75 x 26.25 x 42.5 inches
Color: Aruba, black, lemon, lime, mahogany, sand, Pacific blue, red, green, brown, white, slate gray, and tangerine.
Sit back into this brightly colored rocking chair and feel the gentle back and forth that the expertly shaped rails create. The chair has a classic design with flat armrests and a slatted construction for the seat and back. Instead of traditional wood construction, this chair uses a Polywood construction. It's made from recycled wood that won't stain, peel, chip, splinter, crack, or rot. These are also durable enough for use near saltwater. Unlike other wood chairs, these require no staining, waterproofing, painting, or any other maintenance. If they get dirty, you can easily clean them with soap and water. They also come with an impressive 20-year warranty.
The drawback of this chair is that it has limited applications. They also take up a lot of room because you need to leave clearance for when the chair rocks. Some people find the recycled Polywood to have an offputting feel when sitting in the chair.
Check Price
Best Metal Chair: Englewood Outdoor Hammock Weave Patio Chair
Specs:
Style: Disk chair
Material: Steel and rattan
Dimensions: 33.5" H x 28.25" W x 31.25" D
Color: White, orange, teal, yellow, and black
This set of two disk chairs comes in a range of colors and will add a funky retro feel. The hammock weave gives the chairs an organic feel while the bright colors add a pop of color and freshness. Thanks to the scaled-down size and open design, these chairs are perfect for small patios. They won't close the space in or feel heavy. Despite the minimalist design, the steel frame is strong. You'll appreciate how easy the chairs are to maintain with a simple wipe of a clean cloth. The chair legs have protective feet to keep your patio protected from damage.
One issue that plagues these chairs is the unraveling of the weave. It tends to happen around the disk frame of the chair and not in the seating area, though. These chairs aren't meant for use at a table and can be awkward to sit in while eating or using a coffee table. Stick with small side tables to avoid having to look overly far forward.
Check Price
Best Adirondack Chair: Mitchem Adirondack Patio Chair with Cushions
Specs:
Style: Armchair
Material: Stainless steel and wicker
Dimensions: 35" H x 34.5" W x 34" D
Color: brown
If you have a larger patio that can accommodate a chair that takes up more space, this Adirondack chair will give you a comfortable place to sit. Its contemporary style of woven rattan is an updated version of a classic chair design. The large and slanted backrest is comfortable to sink back into. While the cushion on the seat adds a bit of extra support. The high position of the armrests makes them comfortable to lean on. The chair's frame features elegant curved lines, giving the chair a sophisticated feel instead of the typical rustic look that Adirondack chairs tend to have.
Unfortunately, you'll have to assemble these chairs, and it can be challenging. Additionally, the wicker weave design is not made from rattan. The plastic material used to mimic rattan can be vulnerable to long exposure to direct sunlight.
Check Price
Best Dining Chair: Abrahamic Stacking Patio Dining Chair
Specs:
Style: Dining chair
Material: Aluminum and rattan
Dimensions: 28.5" H x 21.75" W x 23.5" D
Color: brown, gray, beige, and black
These bistro dining chairs are perfect for turning your patio into an outdoor dining space. They come as a set of four, making them perfect for a square or long rectangular table. They feature a lightweight aluminum frame that's rust and weather resistant. You can easily stack them when not in use for compact storage. Despite these chairs not having any cushions, they are comfortable to sit in thanks to the subtly curved shaping the seat and back have. The metal and rattan construction blends the two materials perfectly to give them a versatile design style. The aluminum frame has a powder-coated finish to improve the look of the aluminum and help protect it. Each chair has a maximum weight capacity of 352 pounds. A nice touch is the plastic feet to protect your patio from damage.
One potential issue with these chairs is that they are on a small scale, making them slightly uncomfortable for larger individuals. However, their scaled-down size makes them ideal or patios with limited space.
Check Price
How to Choose the Perfect Patio Chairs?
Design
The design of the outdoor seating is the shape and styling of the chair. This goes beyond whether you buy an outdoor sofa, loveseat, or chair. For example, lounge chairs have deep seating and slant backward to create a more relaxed sitting position. Lawn chairs have an upright design that puts you into a 90-degree sitting position. A chaise lounge puts you into a stretched-out and almost laying down position. The design you choose will depend on the space you have available, your chosen design style, and the interpersonal interactions you want to have while sitting in the chairs.
Material
There are several materials to choose from, including wood, plastic, acrylic, rattan, and metal. Some modern chairs are even made from recycled plastic. These chairs use recycle plastic or wood materials that are ground up and then reformed into the parts that make up the chair. You may hear of wicker chairs. Wicker is a weave style, while rattan is the actual material. Consider the durability and maintenance requirements of your chosen chair material. You can find all materials in all price ranges. However, high-quality metal and wood construction tend to be more expensive than lower-quality versions.
Style
To take your outdoor living space to the next level, look for furniture pieces that have style. Many options mimic the look of indoor furniture. Style often works in conjunction with design. For example, the design of the chair could be a conversation chair. The style is if it is vintage, retro, bohemian, modern, or contemporary. To keep your patio design cohesive, try to choose chairs that have a similar style. Then you can use this style as a guide for choosing the decor for your outdoor space.
Number of Pieces
While you could buy a single chair, you'll likely need more than one to complete the design on your patio. Some chairs come in patio furniture sets. This is perfect if you plan to have patio seating around a fire pit or as a dining set. When you buy several pieces at once, you can usually get a better deal for the entire package. Measure the pieces and the space you have available to ensure they will all fit on your patio. You'll also need to leave room for additional accent pieces, such as a coffee table, side table, patio umbrella, or grill.
Warranty
Looking for outdoor furniture that comes with a warranty can give you some security with your new purchase. The best patio chairs have high-quality construction, and they typically come with a long warranty. Patio furniture manufacturers are in business to make money, so they won't offer a long warranty if they don't think the chair will last. They would lose money on people making warranty claims as the chairs reach the end of their useful life. Read the fine print, as some only warranty construction and other warranty construction and materials.
Conclusion
Our top pick for the best patio chair is the Cain Patio Chair with Cushions. Its comfortable design will have you relaxing into the supportive cushions on these chairs.
For a budget-friendly option, a set of two Zero Gravity Lounge Chair Recliners will give you the functionality you need without requiring a major investment. The elastic cord construction flexes and moves to provide you with a supportive frame that reclines back.
FAQs on Patio Chairs
What are some well-known patio chair brands?
There are a few brands that are known for manufacturing quality outdoor patio furniture and providing their customers with reliable customer service. Consider buying your next set from Home Depot, Pottery Barn, West Elm, Christopher Knight Home, Grandin Road, Hampton Bay, and Wayfair.
What is the most comfortable outdoor chair?
The most comfortable outdoor chairs are supportive but also allow you to relax back into them. They should have a chair back that's angled slightly back, a seat that angles up slightly towards the front, and are wide enough to not feel cramped. Adirondack chairs have this design, making them comfortable. Zero gravity chairs also provide you with plenty of support and lounging comfort.
How do you maintain outdoor chairs?
Use a damp cloth to wipe down your patio chairs. This removes any dirt, debris, tree sap, or bird droppings. At least once a year, give your patio furniture a good scrubbing with a soft-bristled brush and safe cleaning products. Allow the furniture to completely dry and then cover the chairs when not in use.