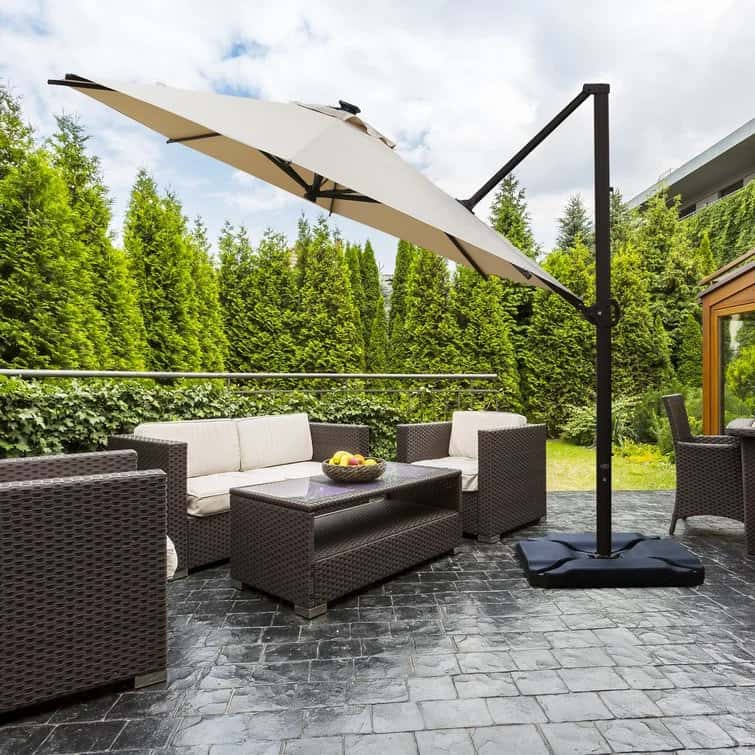 Trendey may earn a commission when you buy through links on our site.
As an Amazon Associate we earn from qualifying purchases.
Best Patio Umbrellas for Windy Conditions
You've gone all-in and now have a stunning backyard and patio. It's the perfect outdoor living space for enjoying time with friends and family. There's just one problem. It's hot and sunny. No one likes sitting in a pool of their own sweat as they bake in the sun.
What you need is an outdoor patio umbrella. A Tommy Bahama beach umbrella won't do, you need one of the best patio umbrellas for windy conditions. It should shade the entire space while not detracting from your enjoyment of your new outdoor living space.
This list of the 10 best patio umbrellas will help you add the finishing touch to your patio space.
Top Picks
Best Overall: Arlmont & Co. Lena Patio Umbrella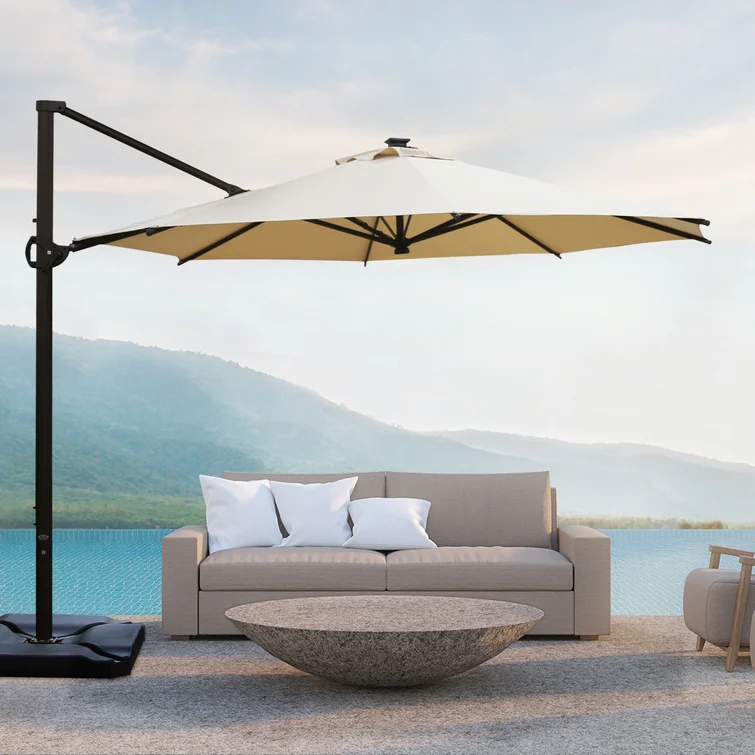 Specs:
Canopy Dimensions: 11′ W x 11′ Octagonal
Pole Material: Metal
Canopy Material: 100 percent post-consumer recycled polyester fabric
The reason this umbrella is the best for windy conditions is because it comes with a sturdy tiger drylac powder-coated steel frame and eight ribs. It has a bronze finish that protects against rust and corrosion while also giving the umbrella an elegant design.
The umbrella stand has a stabilizing cross brace for increased stability in sustained winds. The easy-to-operate crank lift handle lets you control this tilting umbrella, choosing from the five tilt settings.
Choose from three colors for the canopy, beige, cocoa, and dark red. The polyester fabric is UV resistant, giving you protection. The fabric is weather, water, and stain-resistant, making the fabric durable.
A solution-dyed process was used to ensure the fabric has superior color locking technology. The UV protection not only protects you but also helps to keep your patio cool during the hot summer months.
Check Price
Best Budget Pick: Blissun Outdoor Aluminum Patio Umbrella
Specs:
Canopy Dimensions: 9′ Octagonal
Pole Material: Aluminum
Canopy Material: 100 percent polyester
Made from 100 percent polyester fabric, this affordable umbrella is waterproof and UV resistant. The umbrella pole is made of aluminum and mounted on eight aluminum ribs. You never have to worry about it rusting or corroding. Air vents are located on top to filter wind gusts and reduce stress on the umbrella. A simple manual crank mechanism opens and closes the umbrella and a push-button operates the tilt feature. Open and tilt the umbrella to allow for the least wind resistance. When open, the umbrella canopy covers a nine-foot span. This makes it large enough to effectively cover a 42-54 inch table with four to six chairs. The total weight of the umbrella is 13 pounds, making it lightweight enough to easily bring in should you expect inclement weather. It would be nice if the fabric had greater durability and more protective features, such as a UPF rating for sun protection.
Check Price
Best Rectangle Pick: Clihome Market Patio Umbrella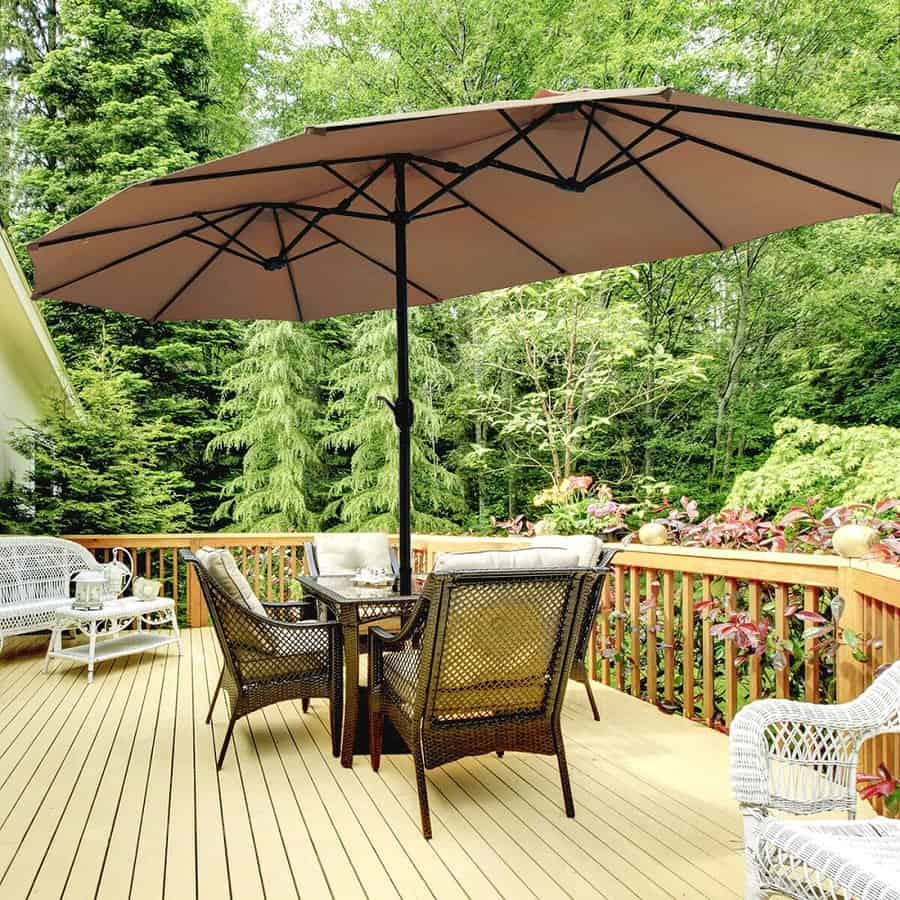 Specs:
Canopy Dimensions: 15′ W x 9′ Rectangle
Pole Material: Steel
Canopy Material: Polyester
Give your patio table plenty of coverage with this rectangular-shaped umbrella. Despite this umbrella's large size, it is resistant to high winds. First, it has a strong powder-coated thick steel pole and support ribs. There are twelve ribs throughout, giving the umbrella strength and stability. There are three vents throughout the length of the umbrella, allowing for plenty of airflow through.
Another feature that makes this a wind-resistant umbrella is the included umbrella base. Fill the base with sand and it can weigh up to 220 pounds.
Despite there being so many ribs, there is a single crank mechanism that controls the opening and closing of the entire umbrella. This makes it easier to operate.
The light neutral beige color for the canopy keeps it feeling light while also blending well with a majority of patio furniture designs. One potential drawback of this long umbrella design is that it doesn't provide much coverage to the sides.
Check Price
Best Premium Pick: Westelm Round Cantilever Outdoor Umbrella
Specs:
Canopy Dimensions: 11' Round
Pole Material: Aluminum
Canopy Material: 100 percent acrylic Sunbrella fabric
This elegant offset umbrella features a cantilever design where the pole and base are set off to the side. This gives the umbrella full coverage over your patio without the pole getting in the way. There are seven colors to choose from, white, black, beige, navy, green, yellow, and orange.
You can have confidence in the durability of the fabric because it is Sunbrella Canvas. It is made from 100 percent acrylic for weather and UV resistance.
What makes this option one of the best cantilever patio umbrellas is that it has 90 square feet of shade coverage. Use the crank mechanism to easily and smoothly open the umbrella. You can then tilt the umbrella for perfect shade coverage.
One drawback of this umbrella is that you will need to buy the base separately. It's not a universal design, so you need to buy the matching base from West Elm.
Check Price
Best Illuminated Pick: Round Solar LED Aluminum Offset Patio Umbrella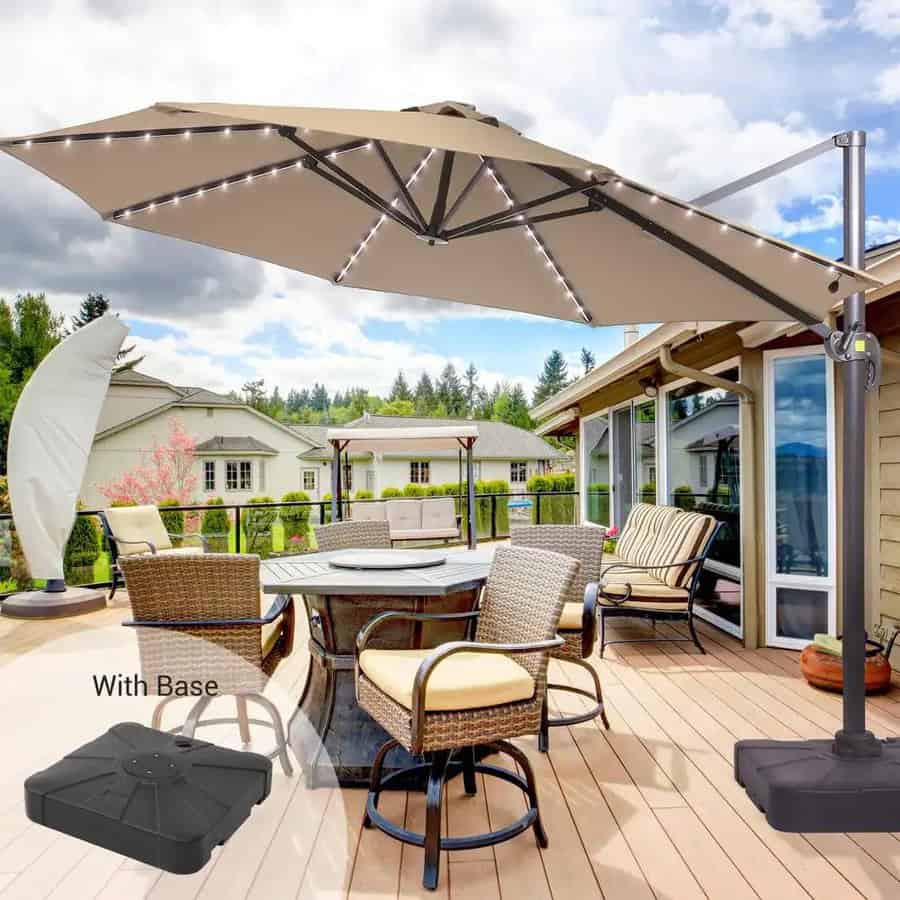 Specs:
Canopy Dimensions: 11' Round
Pole Material: Aluminum
Canopy Material: Polyester
Enjoy your outdoor space long after the sun sets with this umbrella that has LED lights lining the underside of the umbrella canopy. The umbrella canopy comes in four colors, sand, red, navy, and gray.
The cantilever design comes with full tilt and 360-degree rotation. There are five tilt positions to choose from when angling your umbrella over your patio. The LED lights are solar-powered, so you'll want to place your umbrella somewhere that receives plenty of light. When charged, the lights will remain lit for six to eight hours.
The quality of the canopy and pole are impressive. The all-aluminum pole and eight support ribs are strong and rust-proof. The umbrella canopy is made from 270gs, fadeless and water-repellent fabric. It's solution-dyed to maintain its color. You'll also enjoy 80+ UPF sun protection. A top air vent keeps the umbrella steady in high winds. A weighted base comes with this umbrella, so you don't have to buy anything else to set up your umbrella.
Check Price
Best Contemporary Pick: Abba Patio Market Outdoor Patio Umbrella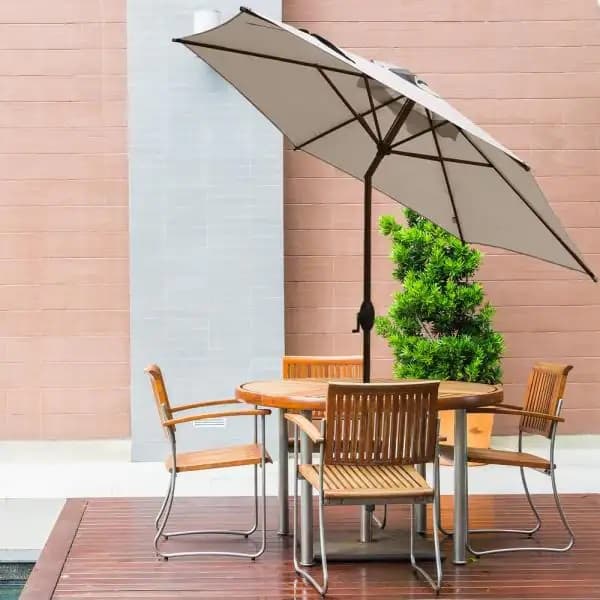 Specs:
Canopy Dimensions: 9' Round
Pole Material: Iron
Canopy Material: 100 percent Polyester
This classic market umbrella will remain in place when strong winds kick up. There are large air vents on the top of the umbrella, making this a wind-resistant patio umbrella.
You never have to worry about this umbrella succumbing to the wind thanks to the heavy-duty iron metal pole and canopy support ribs. Built into the six ribs, there are end screws that reinforce the umbrella when there is high wind. They also hold the umbrella flat and steady, which enables rain to flow off and not gather on the umbrella.
A durable easy clip system makes it fast and simple to operate the umbrella. The extra and unique features that are included on this umbrella help it stand out and make it more functional and durable. However, you will need to buy a stand separately to use with this umbrella.
Check Price
Best Beach Styled Pick: California Umbrella Patio Umbrella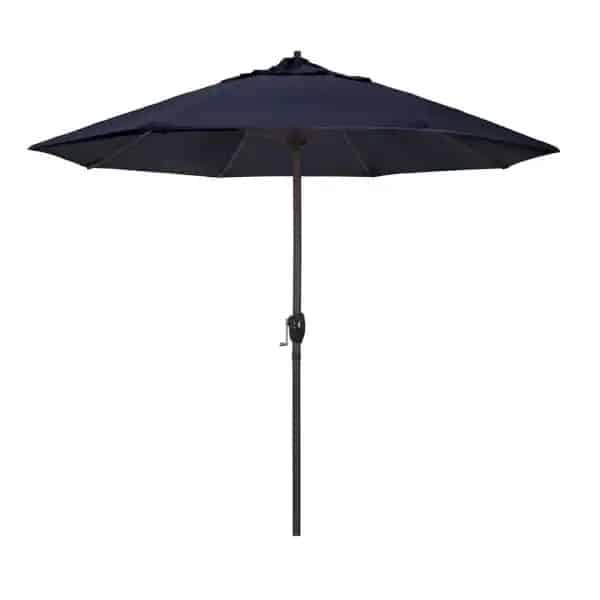 Specs:
Canopy Dimensions: 9' Octagon
Pole Material: Aluminum
Canopy Material: Olefin
Choose from 21 colors and patterns when buying this umbrella. The canopy fabric is made from Olefin, which is one of the more durable outdoor fabrics on the market. It is fade, mildew, rust, stain, UV, water, and weather resistant. This ensures that your patio umbrella will last for years to come. If you have doubt, the fabric comes with a one-year color retention and corrosion resistance warranty on the fabric.
Supporting the canopy is an aluminum pole and ribs. It has a bronze finish to elevate the look of the metal. This gives the umbrella a modern or transitional design. The umbrella design isn't too flat, which helps to keep the umbrella dry. A nice feature of this umbrella is the auto crank tilt, making it easy to adjust the umbrella to your desired position. This umbrella doesn't come with a stand, so you will need to purchase one separately.
Check Price
Best Half Umbrella Pick: Pure Garden Half Round Patio Umbrella
Specs:
Canopy Dimensions: 9' Half-round
Pole Material: Alloy Steel
Canopy Material: Polyester
If you have a small patio, then you may not have room for an entire umbrella. Perhaps you live in a condo or apartment and have a small patio or balcony. Or you could have a small cafe table and chairs that are placed next to your home. What you need is a patio umbrella like this one that is shaped to only be half of the umbrella. The umbrella measures nine feet wide and extends out from the flat side 54 inches. This gives you just the right amount of protection and coverage. A strong alloy steel pole and five ribs support the canopy.
There are eight colors to choose from, with each capable of adding a bright pop of color to your patio. One complaint about this umbrella is that the crank hardware is plastic, which isn't as durable as metal cranks.
Check Price
Best Colorful Pick: International Caravan St. Kitts Crank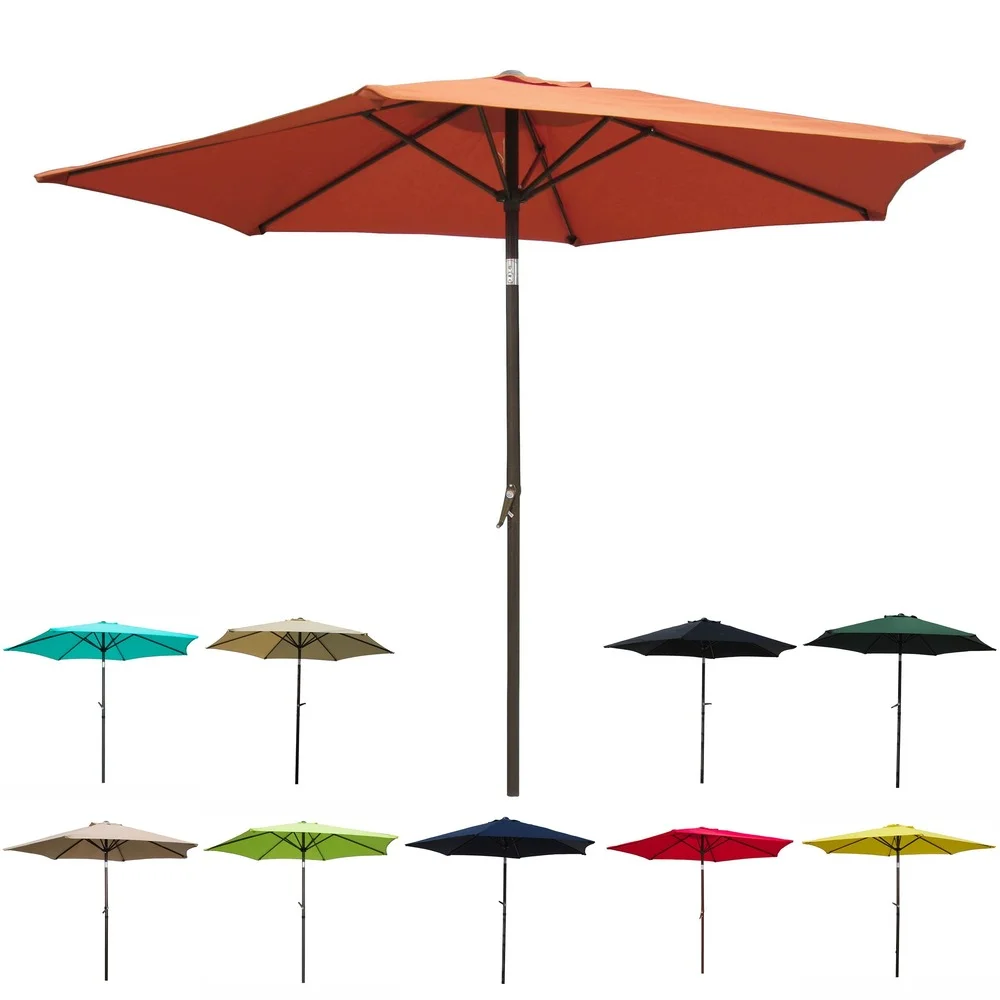 Specs:
Canopy Dimensions: 8.2' Hexagonal
Pole Material: Aluminum
Canopy Material: Polyester
This brightly colored umbrella comes in twelve colors from the conservative neutrals to the vibrant colors of the Caribbean. This lets you create any look or design you want with your patio umbrella. Match your patio furniture or choose a contrasting color. It has a crank and push-button tilt feature for complete control. You can tilt the umbrella up to 33 degrees to the left and right. The frame is constructed from aluminum with six aluminum ribs that support the polyester fabric canopy.
What's nice about this umbrella is that the fabric is UV-resistant, giving you greater protection from the harmful UV rays of the sun. It's also water-resistant, helping to keep you dry while you're sitting under the umbrella. Just like the beach umbrellas of St Kitts, there are generous vents on the top to create plenty of airflow, making this a windproof beach umbrella. Unfortunately, a base is not included with this umbrella.
Check Price
Best Striped Pick: Arlmont & Co. Haney Market Umbrella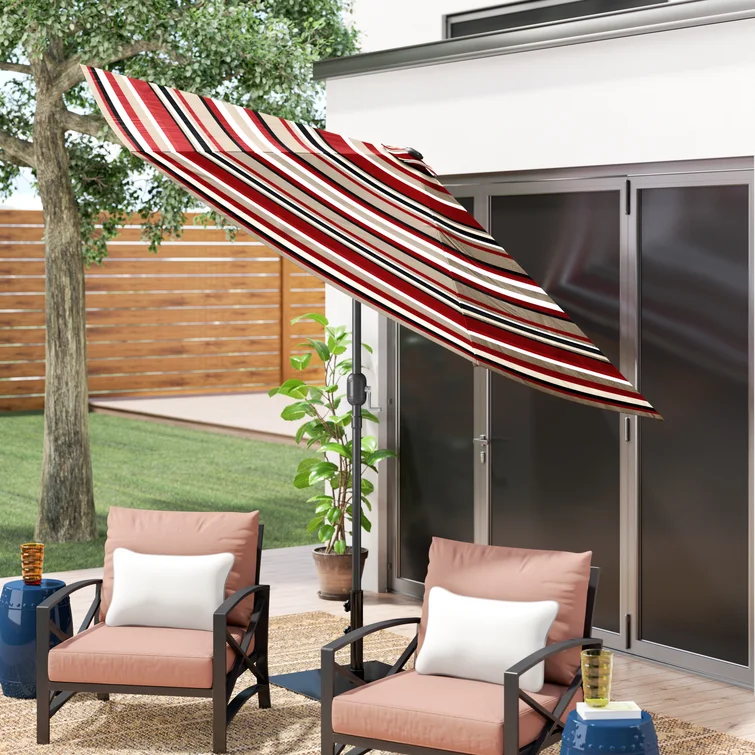 Specs:
Canopy Dimensions: 8' Octagonal
Pole Material: Powder-Coated Aluminum
Canopy Material: Polyester
Stay cool on your patio with this market-style umbrella that comes in three colorful striped patterns. The woven polyester fabric provides plenty of shade with its eight-foot space in an octagonal shape. It's mounted on a powder-coated aluminum pole that is strong, durable, and corrosion-resistant.
The black powder-coated finish gives the pole a sleek and minimal look, letting the focus be on the canopy. There is a crank lift and push-button tilt operation so that you can get the perfect angle for the most protection.
A nice feature of the canopy fabric is that it's water-resistant, helping you to stay dry while underneath it. It also has venting on the top to allow for airflow when wind or gusts occur. One drawback of this umbrella is that it doesn't come with a stand, so you will need to purchase one separately to use with this umbrella.
Check Price
How to Choose a Perfect Patio Umbrella for Windy Conditions?
Size
The first step in buying an umbrella for your patio is to measure the size of the umbrella you need to cover the area that you want to be protected. If you have an outdoor dining table, then you may want the umbrella to only cover this area. If you have a living room-style set up with a sofa and coffee table, then you may want a larger umbrella that can cover this entire area.
Style
There are two main styles to choose from for your umbrella, straight central pole or offset cantilever umbrella. Market umbrellas have a central pole that supports the umbrella from the middle. This is the most popular style and works well for covering a table. Cantilever umbrellas have support from above and the pole support is on the side. These umbrellas are perfect for shading a large area without having a pole getting in the way. They work well to shade a sofa or entertaining space.
Pole Material
Pole, frame, and canopy ribs material come in wood, metal, or fiberglass. The material you choose will depend on your budget and goals. If you have wood patio furniture, then the wood will match. It looks sophisticated and looks elegant but can be more expensive and eventually fade. Metal poles and frames are made from steel or aluminum. They tend to look more sleek and modern. Steel is more expensive and heavier than aluminum but also more durable. Fiberglass is the most durable because it's less likely to crack, break, or fade, and it won't rust or rot. Unfortunately, it's also one of the more expensive materials.
Shape
The wrong shape will leave areas of your patio exposed to the sun, causing people to crowd into the shaded areas, leaving portions of your patio unused. You'll choose from round, square, hexagon, octagon, and rectangle. Long outdoor dining tables benefit from a rectangle or two square umbrellas. Round or square tables benefit from a round umbrella. If your patio is symmetrical, then a square umbrella not only looks good but will fit into the space and shade it will. Round umbrellas work the best when you have a lot of trees or foliage around your patio because they reduce the amount of pruning you'll have to do.
Canopy Fabric
Choosing a canopy fabric is about form and function. It needs to be a color and pattern that complements the style of your patio. It also needs to be a fabric that's durable to the elements and heavy wind. Sunbrella fabric is one of the most popular because it comes in a range of designs and is durable enough for outdoor use. This fabric is made from acrylic. Other durable alternatives are polyester fabric from Pacifica, Olefin from Texsilk, and Polyethylene from Coolaroo.
Conclusion
Our top pick for the best umbrella for windy conditions is the Lena Patio Umbrella. This umbrella comes with several nice features that you won't find on other similar patio umbrellas. Its durability is what will ensure it lasts long after other umbrellas give out. 
For a more affordable option, the Blissun Outdoor Aluminum Patio Umbrella with its nice size, UV protection, and large vents for plenty of airflow won't disappoint.
FAQs on Patio Umbrella for Windy Conditions
How do I keep my patio umbrella from blowing away?
To keep your patio umbrella from blowing away, you need to secure it. You can do this by blocking it to a weighted base. Or you can mount it on a solid structure like your home or deck. If you place your umbrella in a weighted base it needs to be locked into place so that it doesn't rock, shift, or twist.
Should I leave my patio umbrella open or closed?
You should keep your umbrella closed when it is not in use. This will keep it in better condition, which helps it have a longer useful life. It will also have a reduced risk of catching wind and tipping over when it is closed.
What is the difference between a patio umbrella and a market umbrella?
There was a time when these two types of umbrellas were different. Traditionally, market umbrellas were used by street vendors and were designed to be taken up and put down for a portable and temporary shade solution. These days, patio and market umbrellas are virtually the same things, and the terms can be used interchangeably.