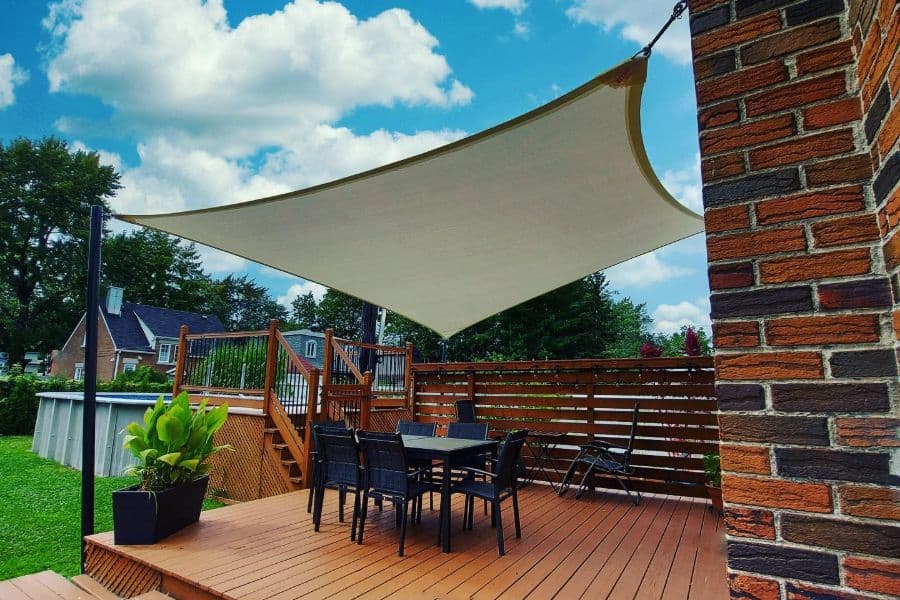 The Top 47 Inexpensive Patio Shade Ideas
"Someone is sitting in the shade today because someone planted a tree a long time ago." – Warren Buffett
You have a patio in your backyard, and you've done work to improve your outdoor space. The only problem is that the sun is scorching and makes it uncomfortable to be out there during the day.
What you need is a sun shade. It would provide you with much-needed protection from UV rays and help keep your patio cooler so that it's more comfortable to spend time on.
These inexpensive patio shade ideas will provide you with much-needed relief from the sun.
1. Awning
If your patio is small, you don't need a large structure or permanent roof to provide shade. A retractable awning is a perfect shade solution because you can extend it out when you need it and put it away when you don't. This is perfect for moderate climates that don't experience harsh sun throughout the year.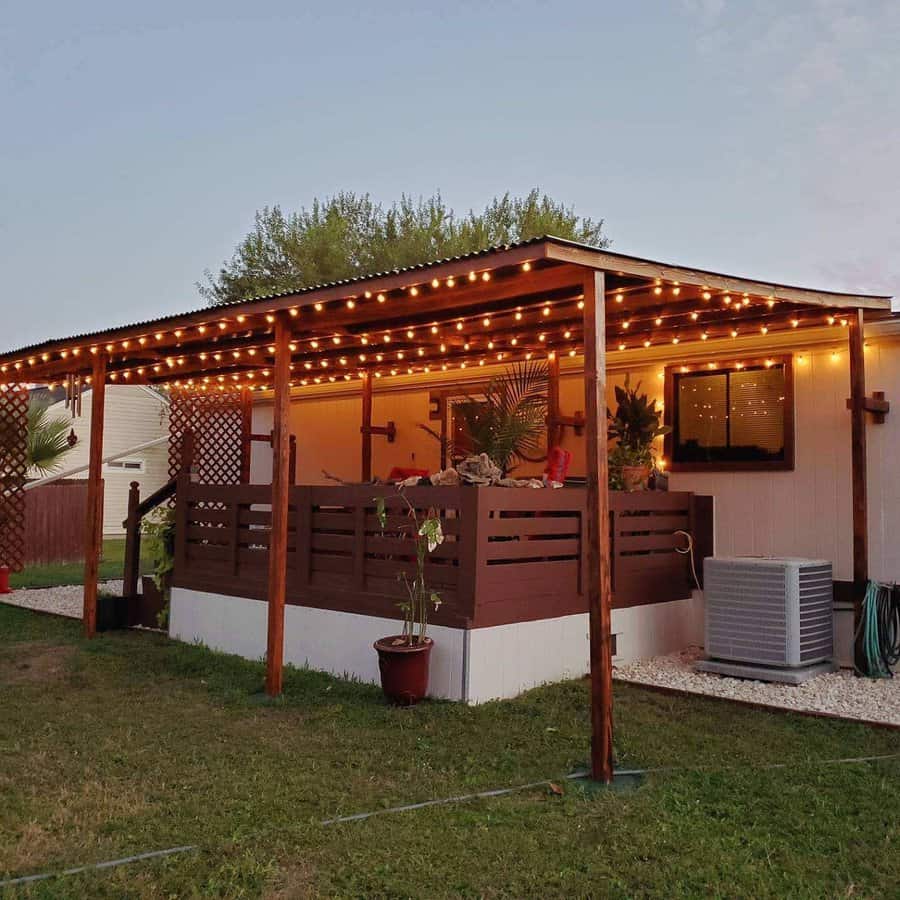 A retractable canopy or patio cover can be manual or motorized. The support frame permanently mounts on the outside of your home. There's a roll that the awning fabric wraps around.
What's nice about these awnings is that they are customizable to suit the size of your home and patio. You can also choose your fabric to match your design theme.
2. Bamboo Or Reed
Use bamboo or reed patio screens to create shade for your patio. These are large screens or curtains with thin reeds or bamboo shoots that get woven together with a cord to create a sheet. They block a large amount of light and create a perfect privacy screen.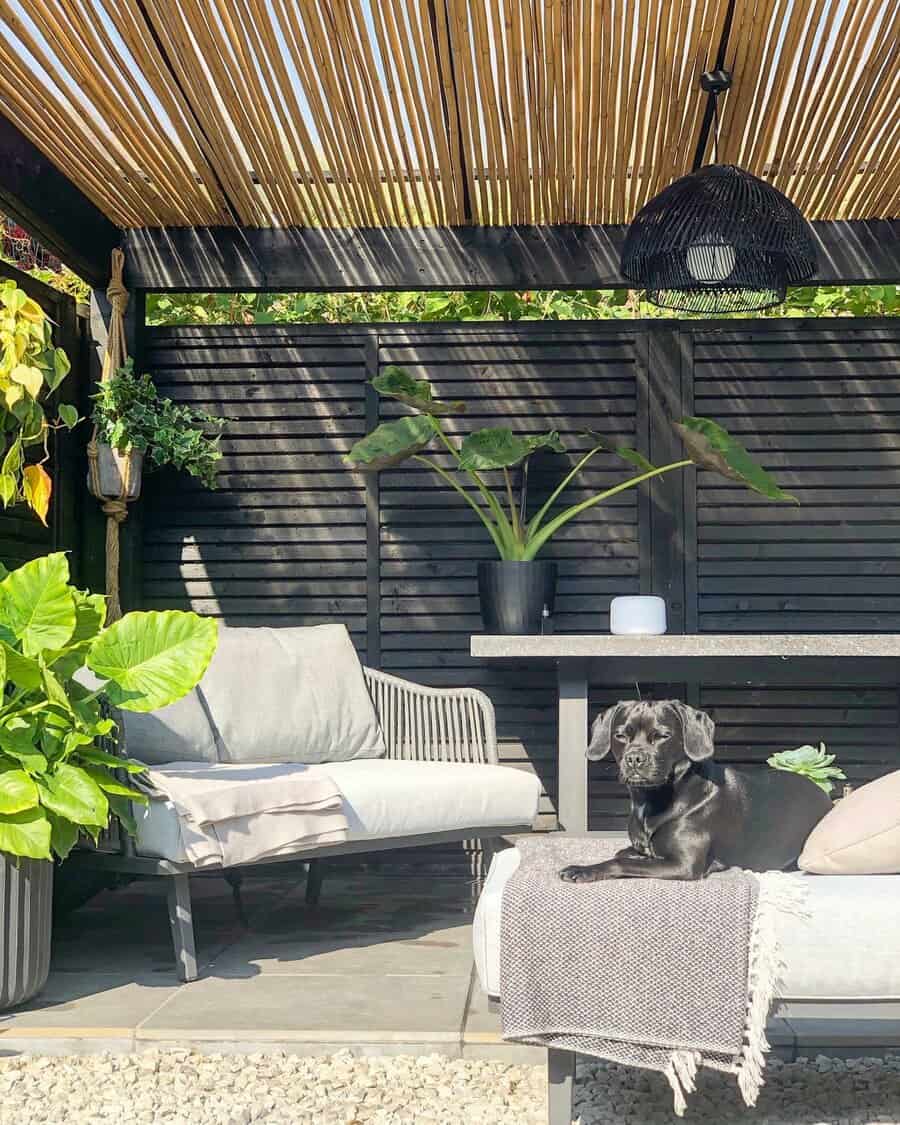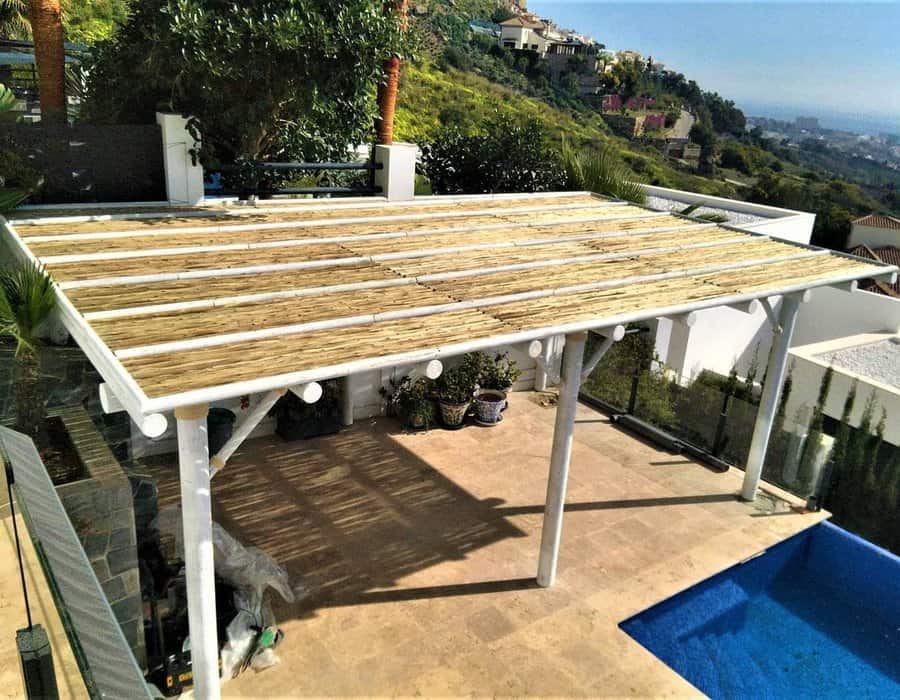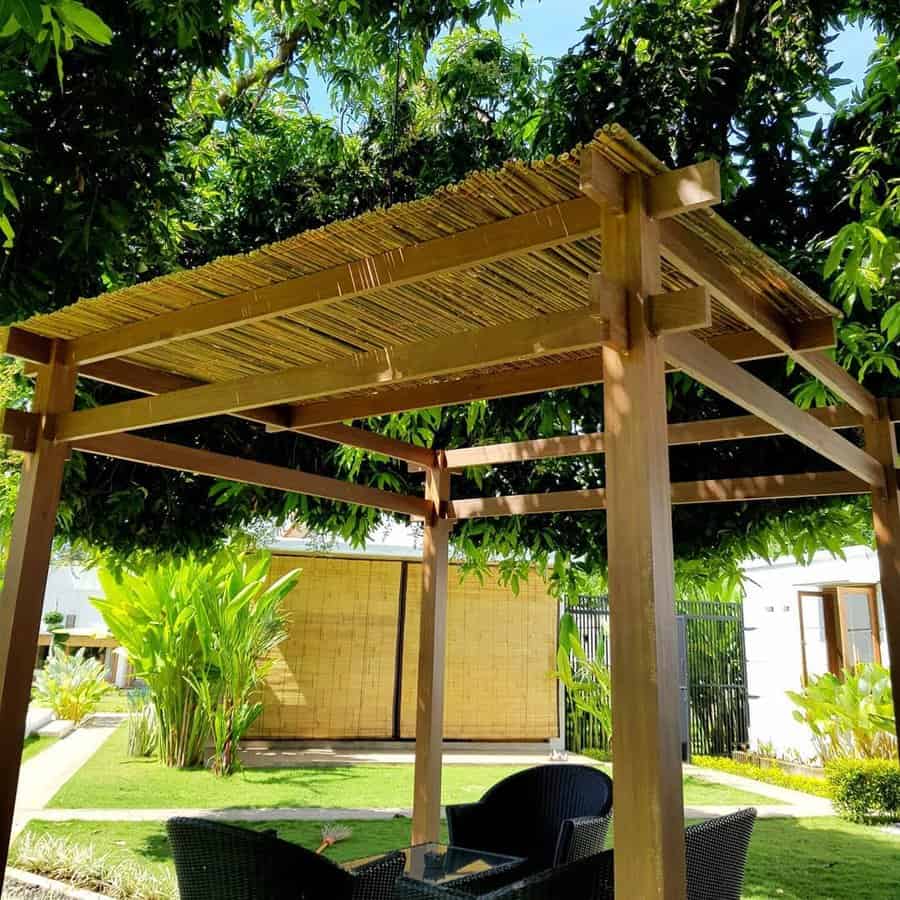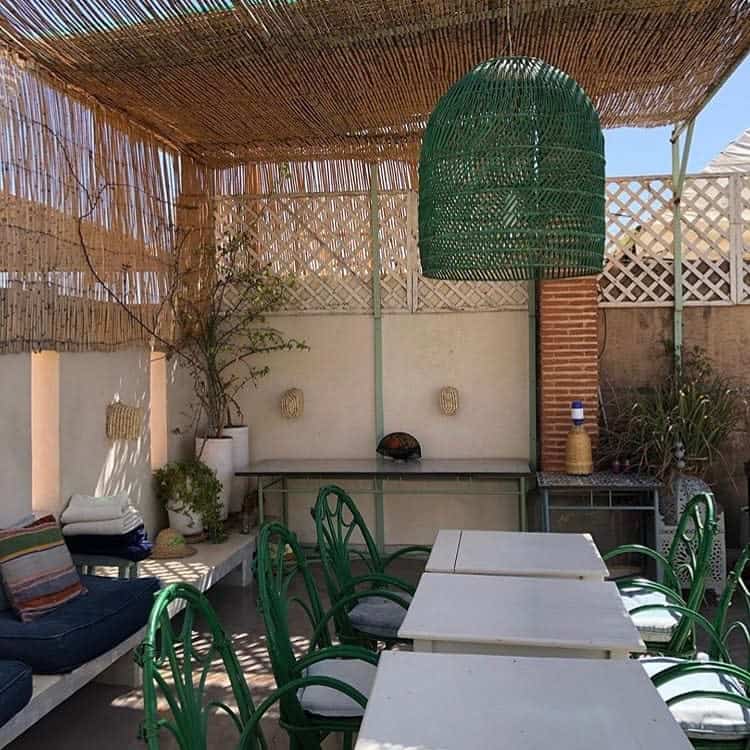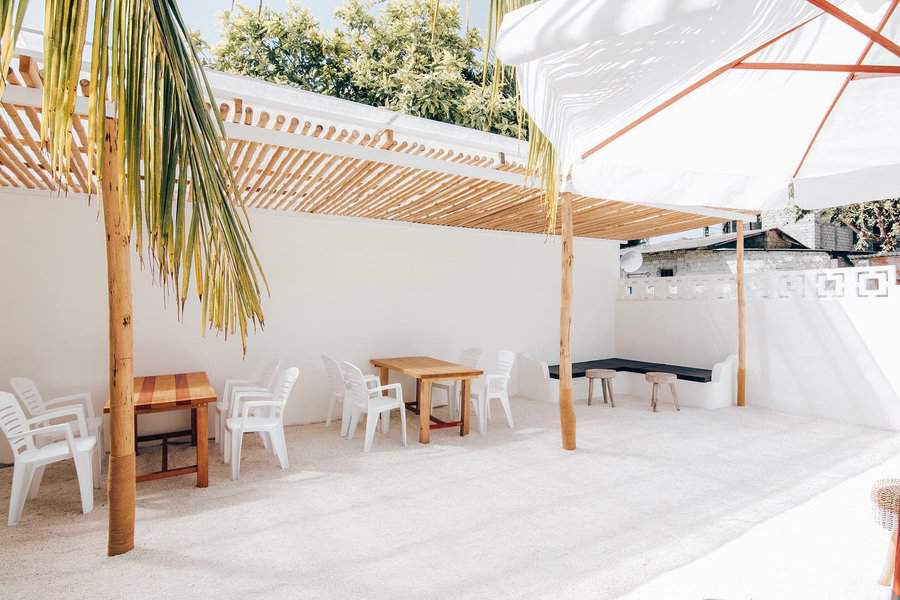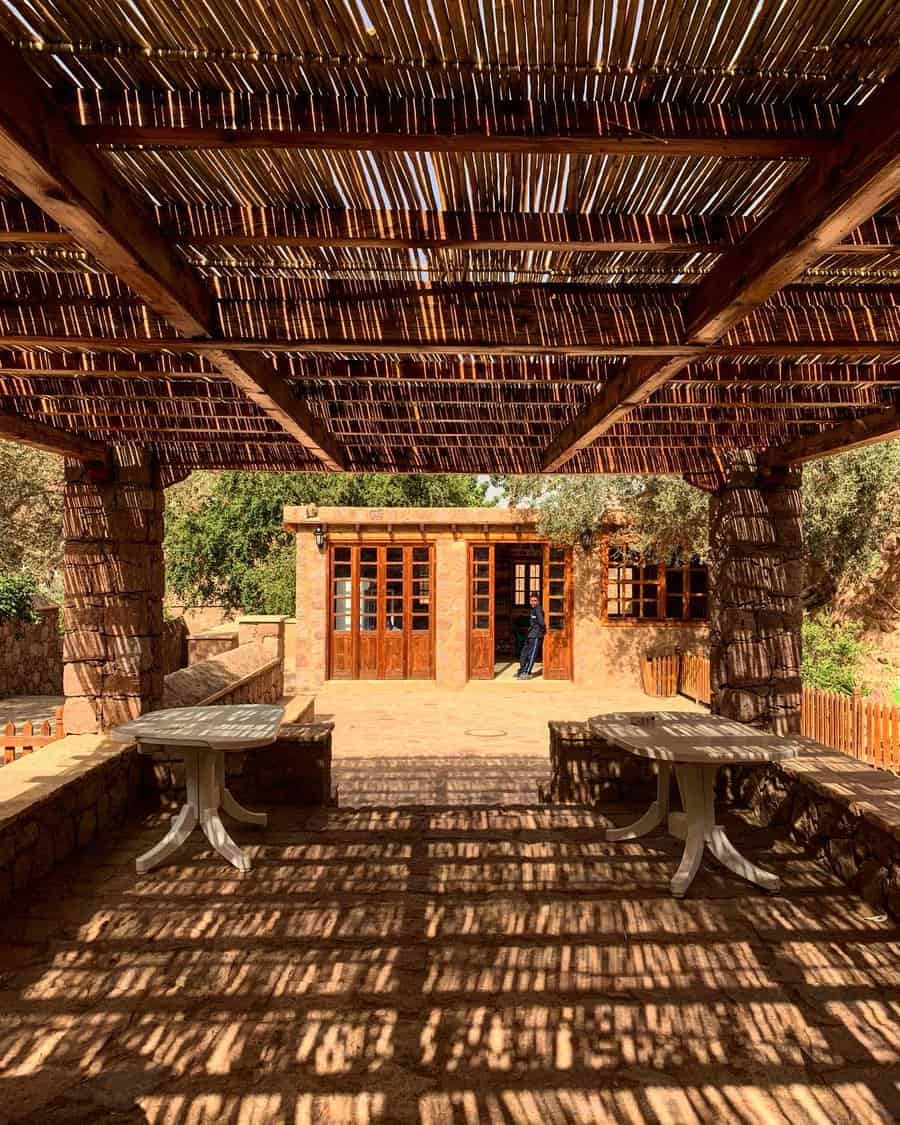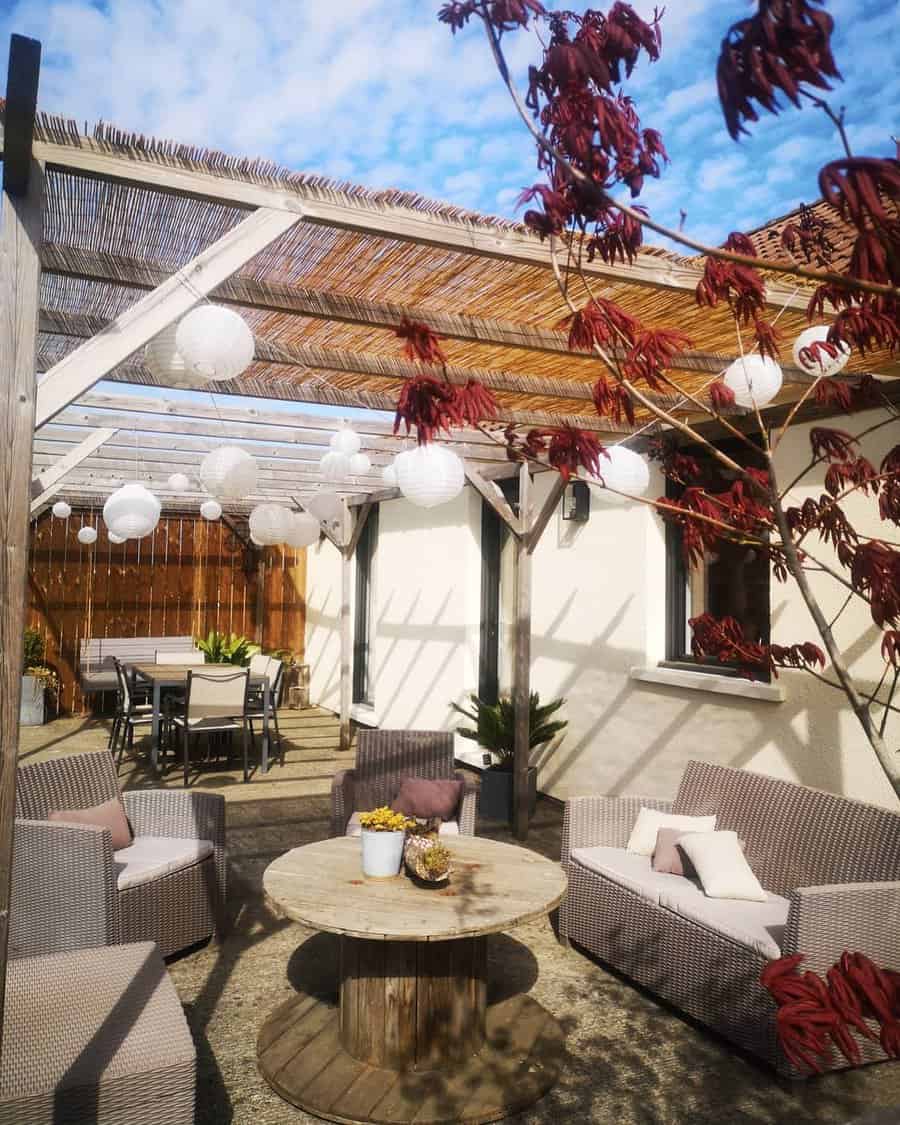 You can spread them out smooth and mount them to a frame. Or you can keep them on a roll that you extend up and down like you would with window curtains. This solution is better for an enclosed patio with large windows or screened-in.
The bamboo and reed will bleach with sun exposure and is susceptible to mildew when exposed to extended periods of moisture.
3. Canopy Tent
Give your patio a cabana feel by adding a fabric canopy tent. These shade structures use a metal frame that the fabric canopy secures over. This is one of the more popular shades options because they are affordable and easy to set up.
It's a home DIY project that you can set up before the beginning of the summer season. Just be sure to take it down if there's heavy wind, a rainstorm, or snow.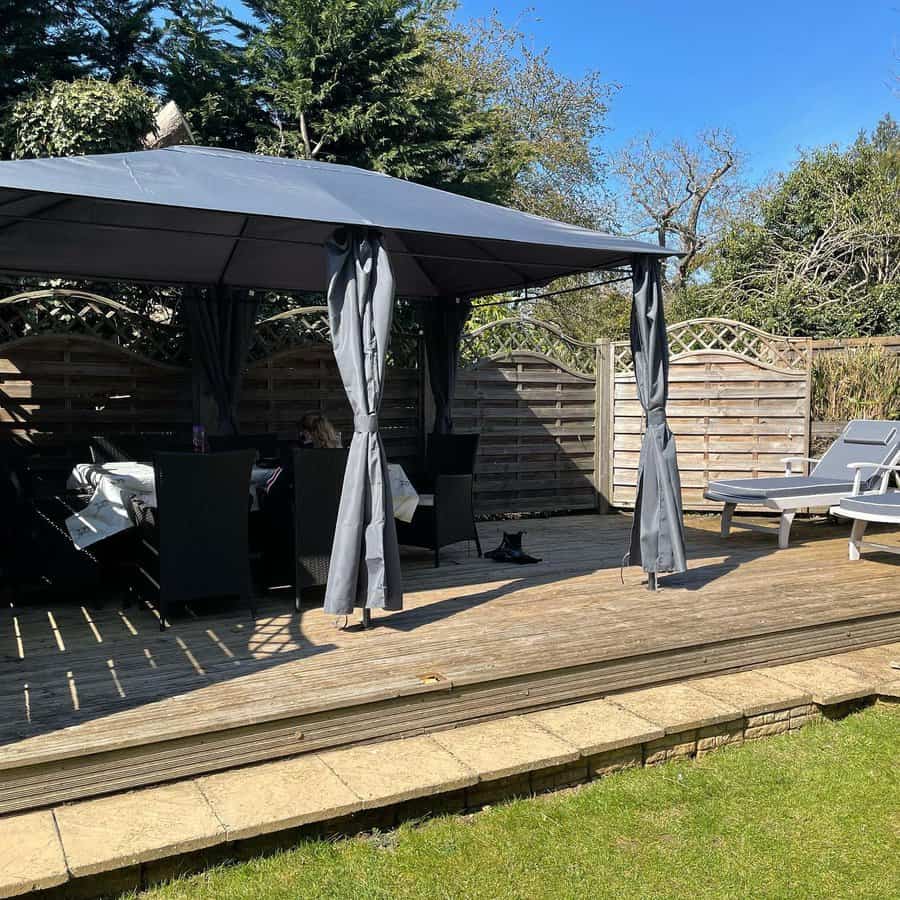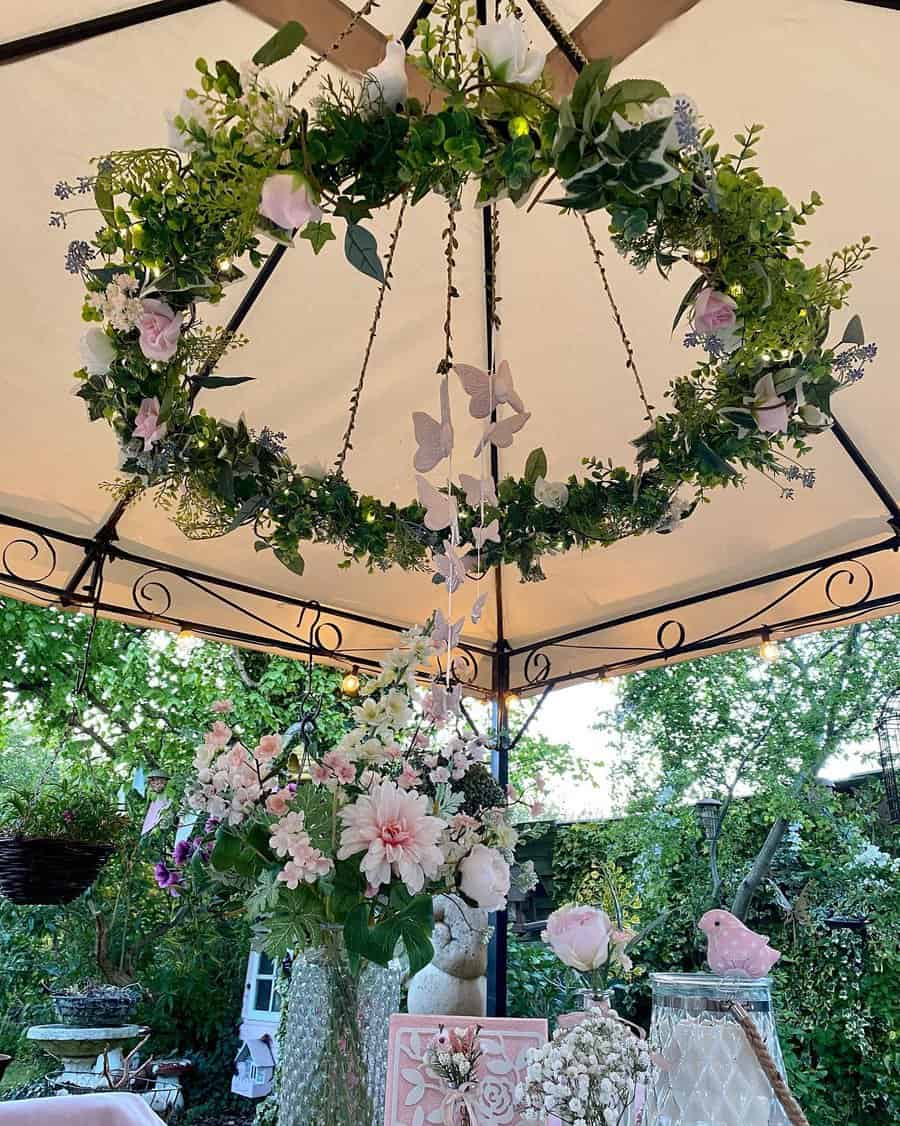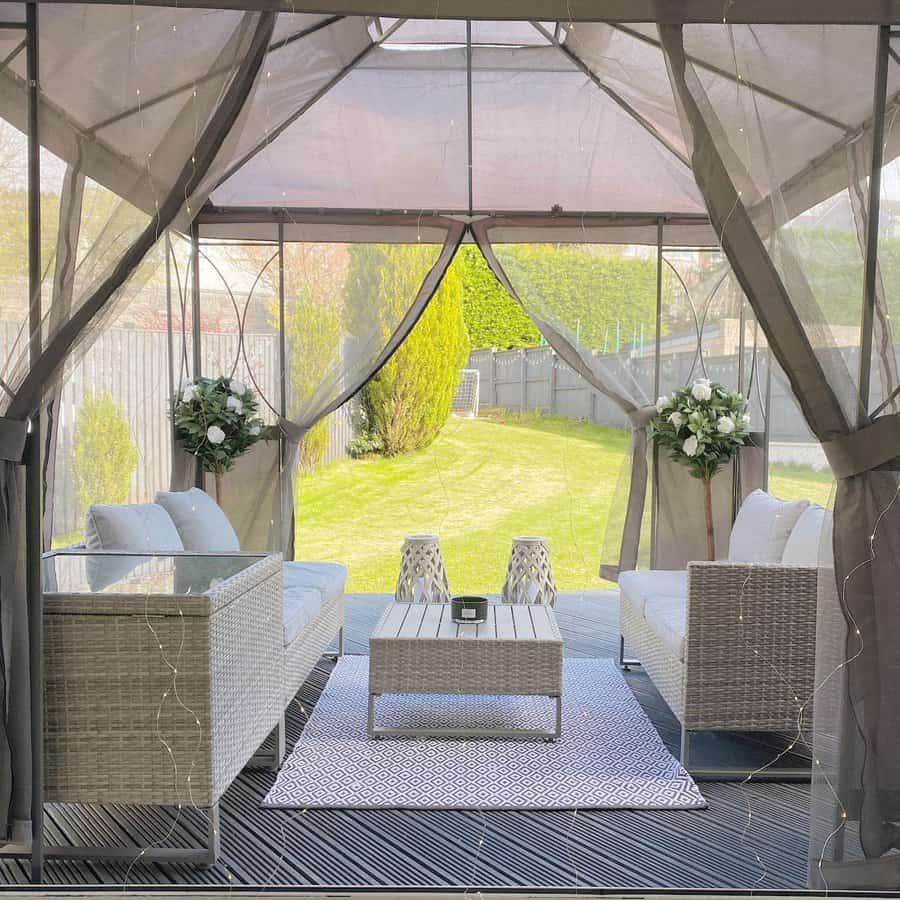 These canopies are designed to be permanent structures, and so they can't withstand harsher weather elements. For greater protection, look for one with UV protection added to the fabric. This will prevent you from getting burned while sitting on your patio.
For a luxury feel, look for one with side curtains. They are made from mesh and protect you from insects and mosquitoes.
4. Fabric
If your patio is small and you live in a condo, townhouse, or condo, you could use outdoor curtains to create sun shade while also increasing privacy. This DIY patio project is one that you can do on a balcony, too.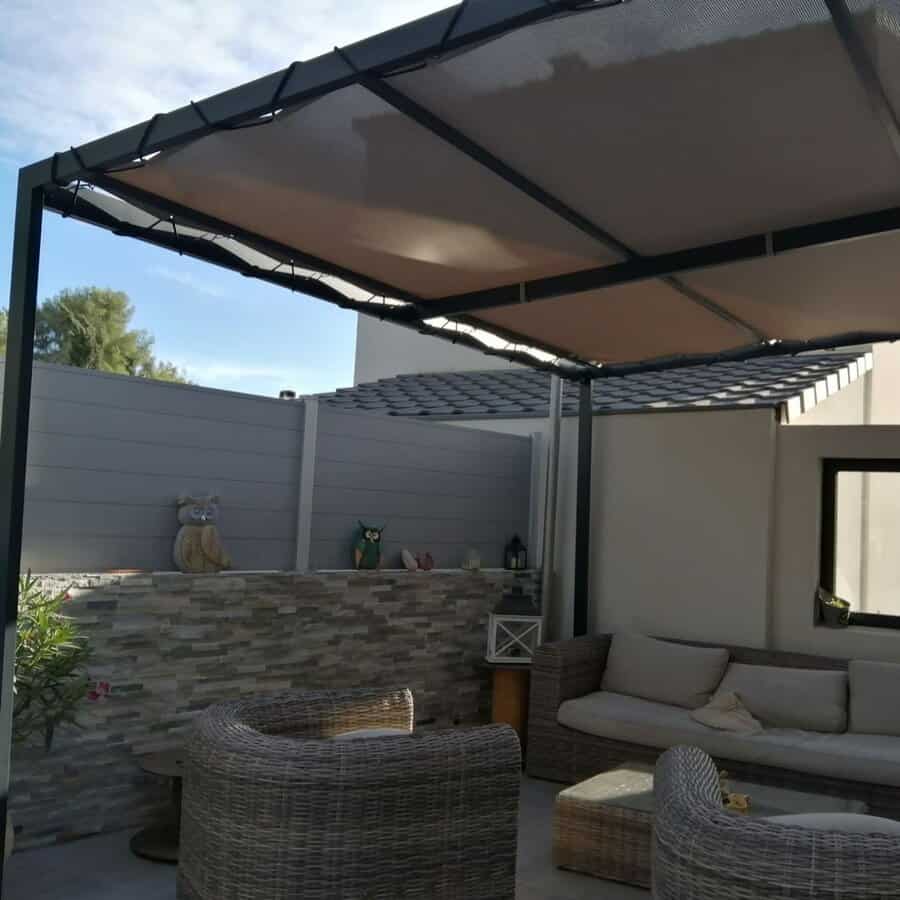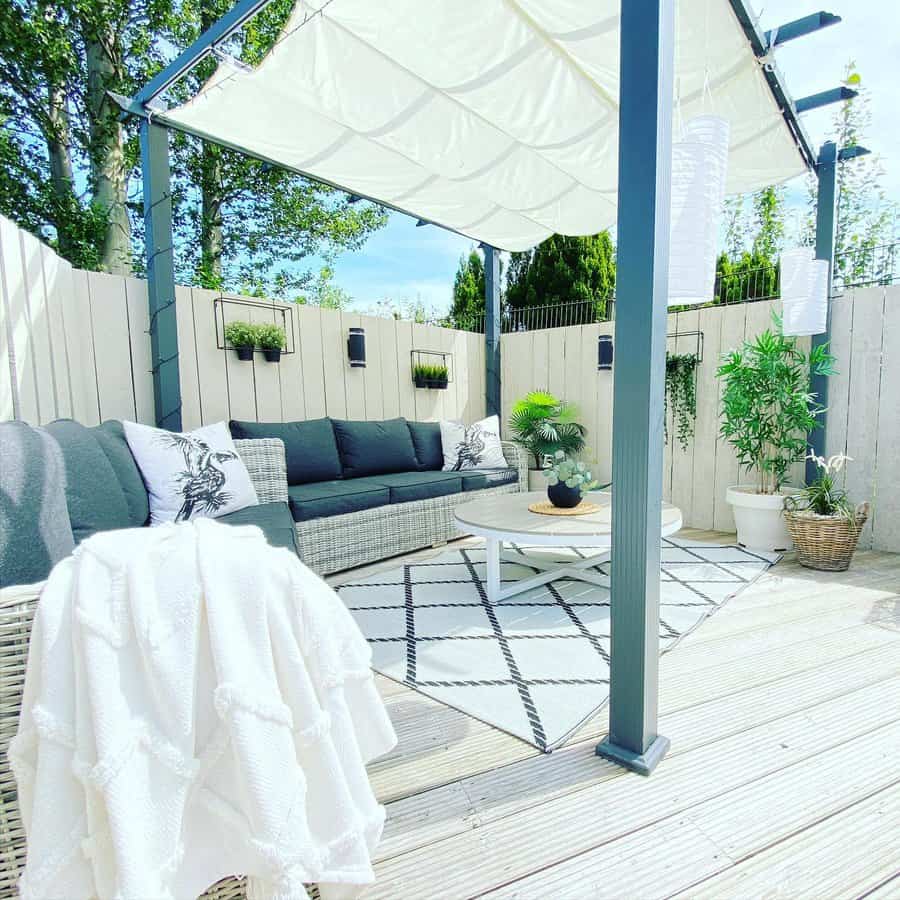 Mount curtain rods or erect a metal frame to hang your outdoor fabric from. Don't just use any fabric like a drop cloth or bed sheets.
Your shade cloth needs to be durable against mildew, mold, and UV fading. Spread the curtains out and have them block your patio when you need them. Then push them back and tuck them away when you don't need them.
5. Gazebo
Gazebos are one of the most popular covered patio ideas because it gives your concrete patio a finished look while also giving you plenty of flexibility for trying out other outdoor shade ideas.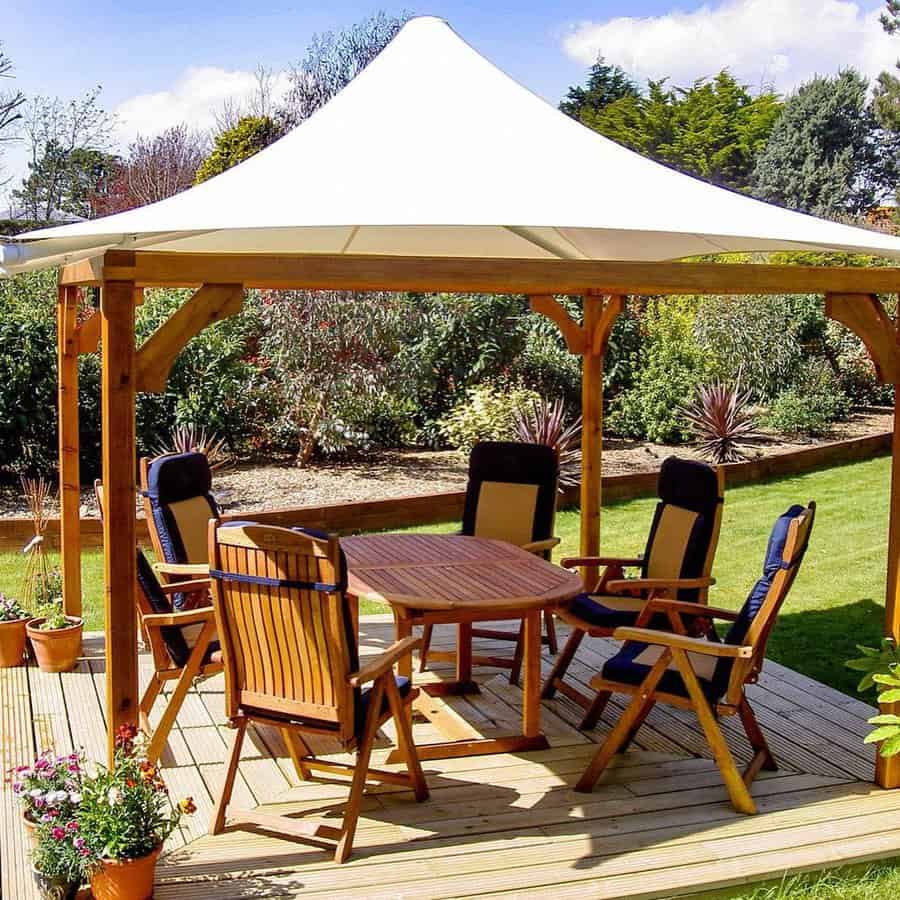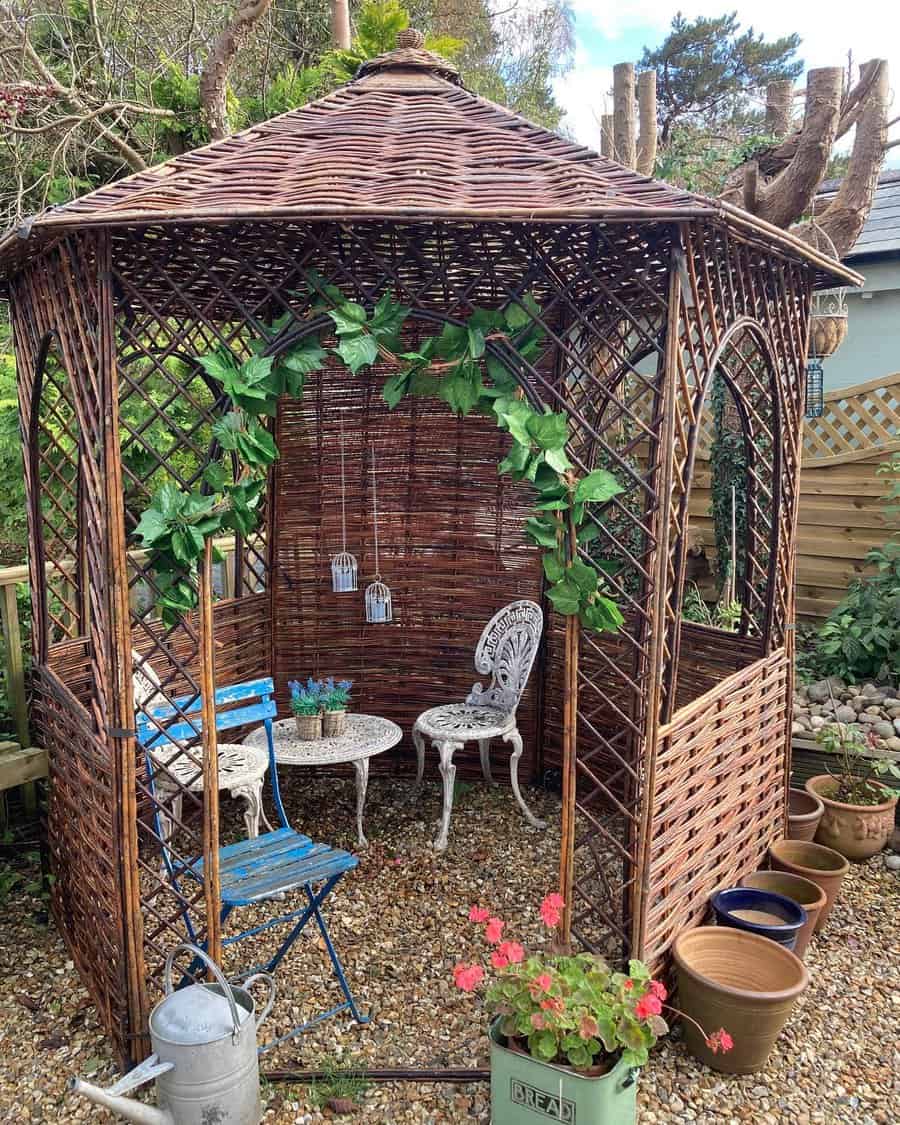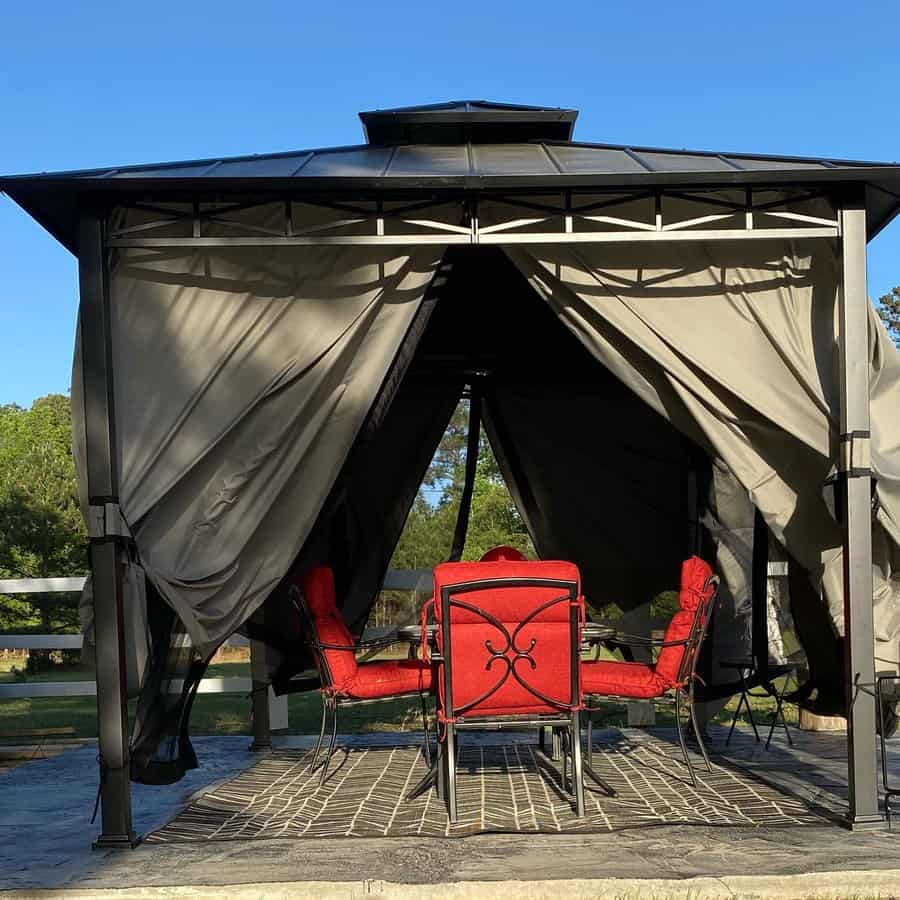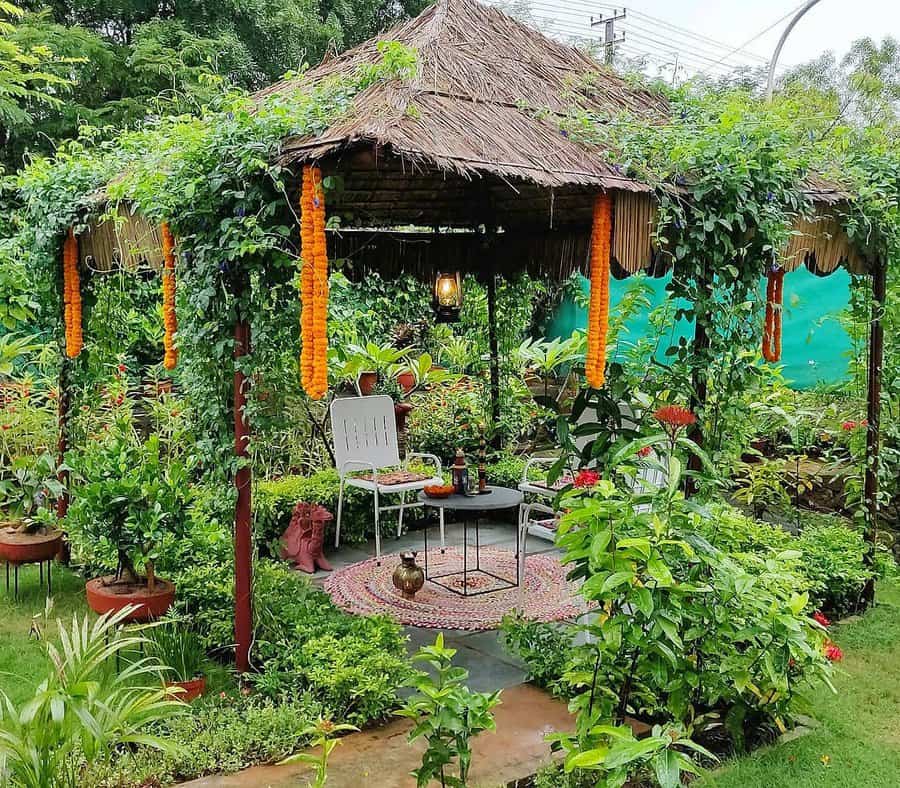 Upgrade from the basic gazebo and have the overhead beams be moveable. They get mounted on louvers that you either move manually or have them hooked up to a motor. This lets you change their angle for the best shade control.
Another option is to drape outdoor fabric over the roof for a Mediterranean feel. Let a vine plant like grapes or lemons grow over it for a Tuscan or Italian feel.
6. Metal Roof
A simple and affordable method for adding a cover to your patio is adding a metal roof. This simple shade idea uses corrugated metal sheets. This gives your patio a rustic or farmhouse look. They will look out of place on a ranch-style or contemporary home.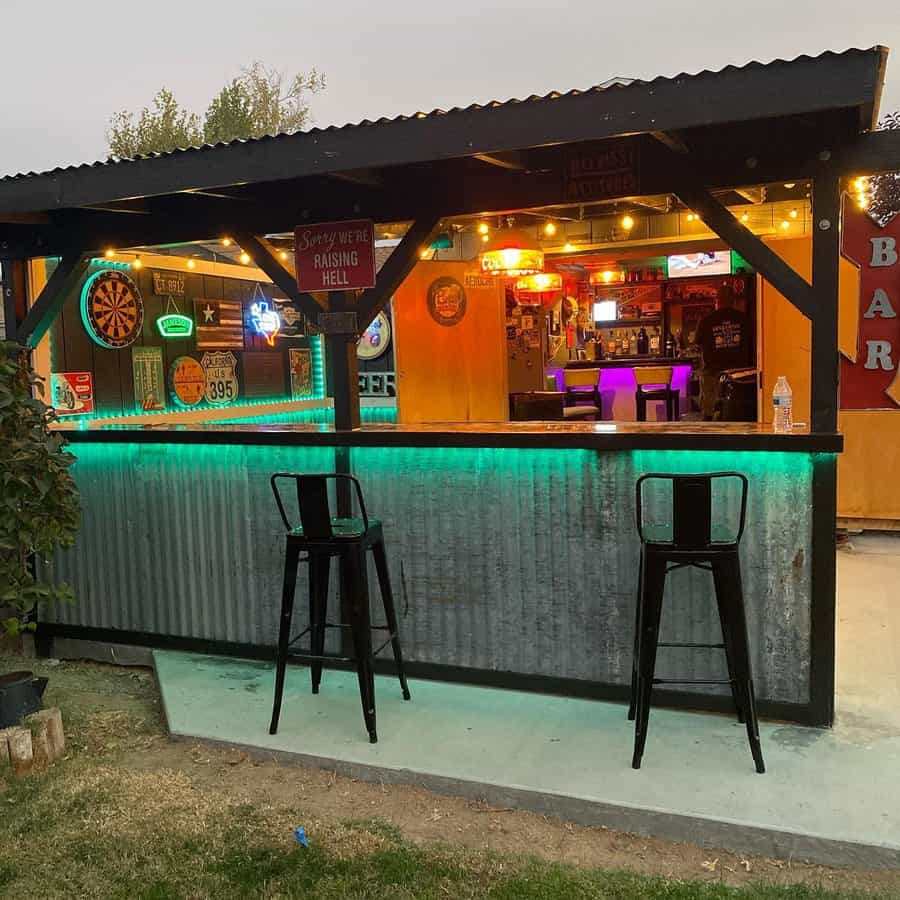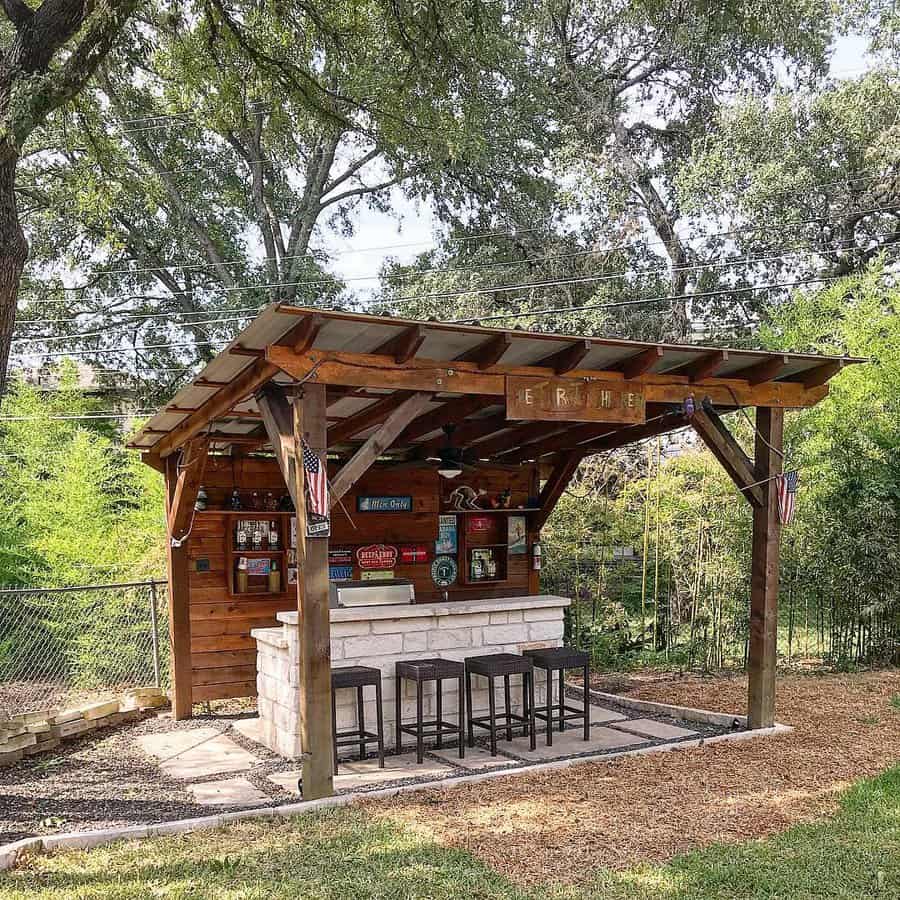 If you want a metal roof on this home-style, look for a contractor to install an aluminum roof. These are much more attractive and will look better with the architecture of your home.
It's best to have a professional install this roof style because it requires construction knowledge. You don't want the roof's weight to put harmful stress on the home's roof or exterior walls. You also don't want water pooling where the home's roof meets your new patio roof.
7. Plants
Create a natural oasis in your backyard by growing plants around and over your patio. You can do this by providing a frame for the plants to grow on. A pergola will be a large frame with four or six legs that support a frame overhead.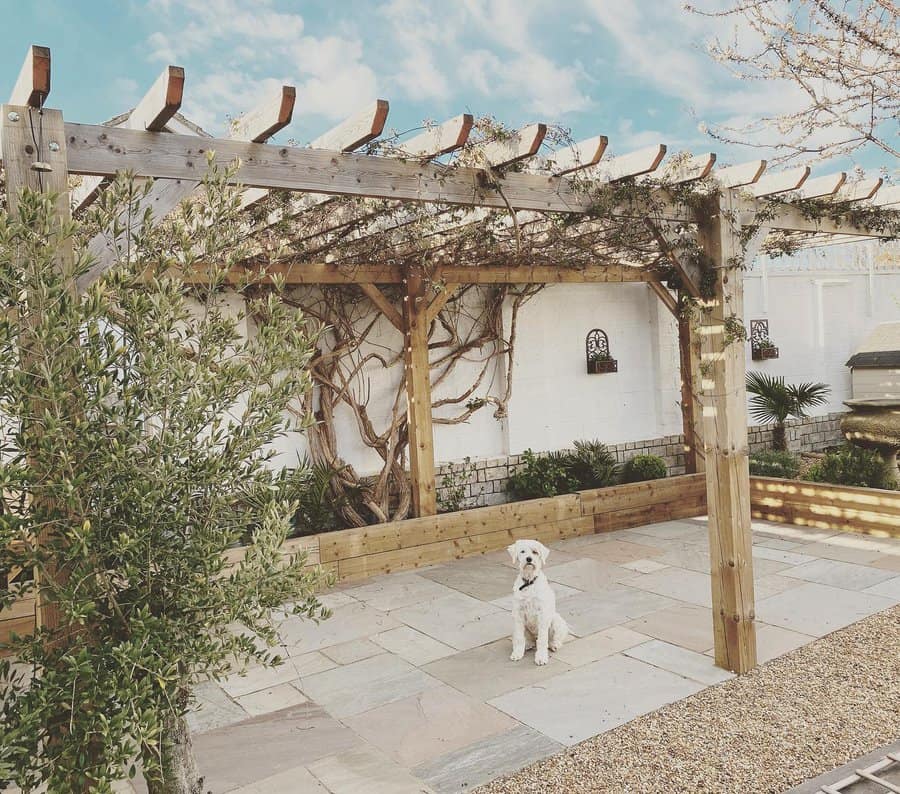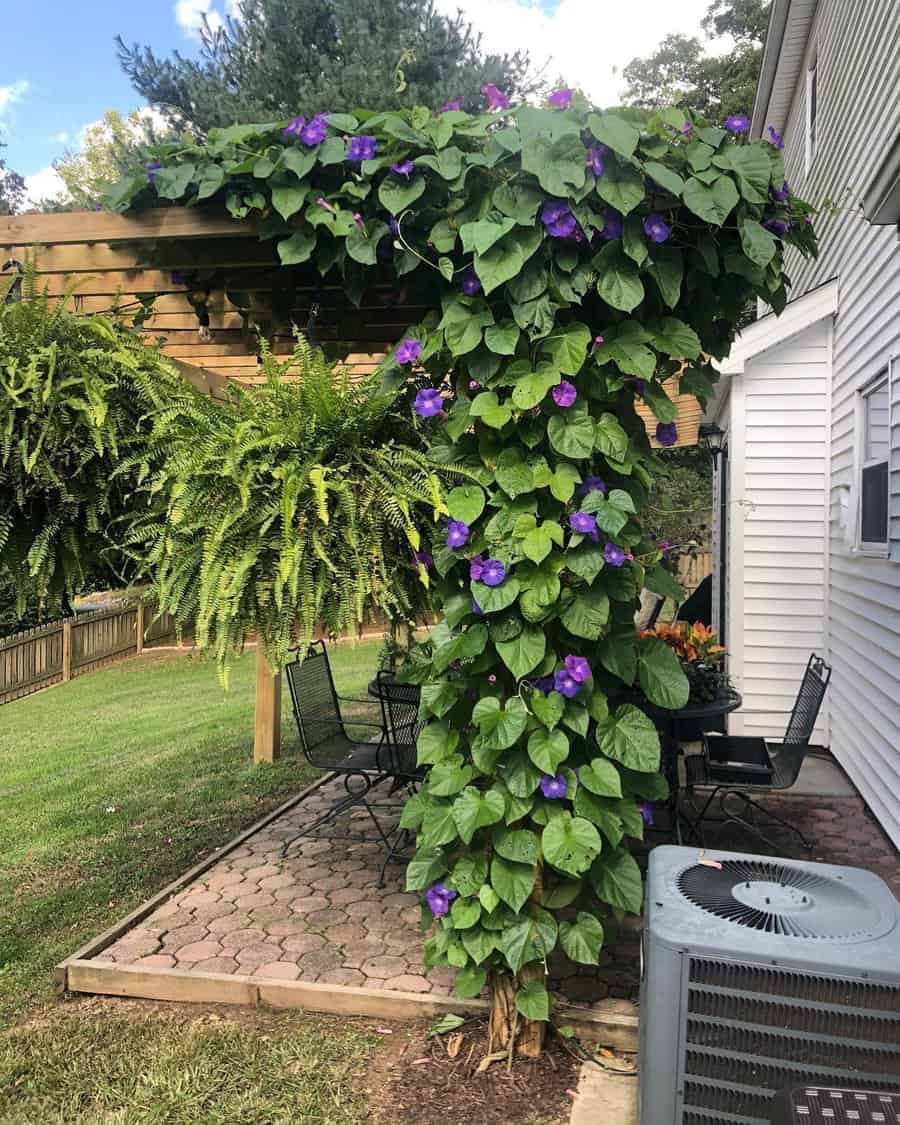 If you don't have an issue with the sun overhead, a trellis is another great option. It can provide relief from the late afternoon sun. Grow plants that vine and encourage them to make their way over the pergola or trellis.
The plants will filter the light and keep your patio shaded. This is one of the more backyard shade ideas because you can also add string lights from the pergola. This creates a romantic atmosphere.
8. Plastic Roofing
An affordable DIY solution for creating shade is to use plastic sheets for your patio roof. Overlap the sheets and secure them together to cover your entire outdoor area. This helps you create ample shade.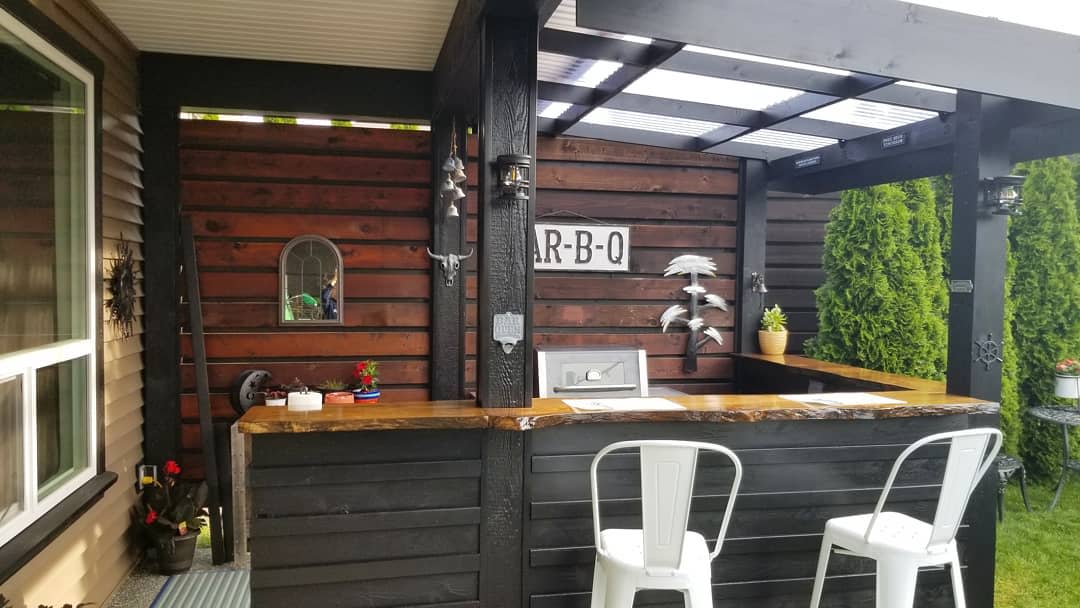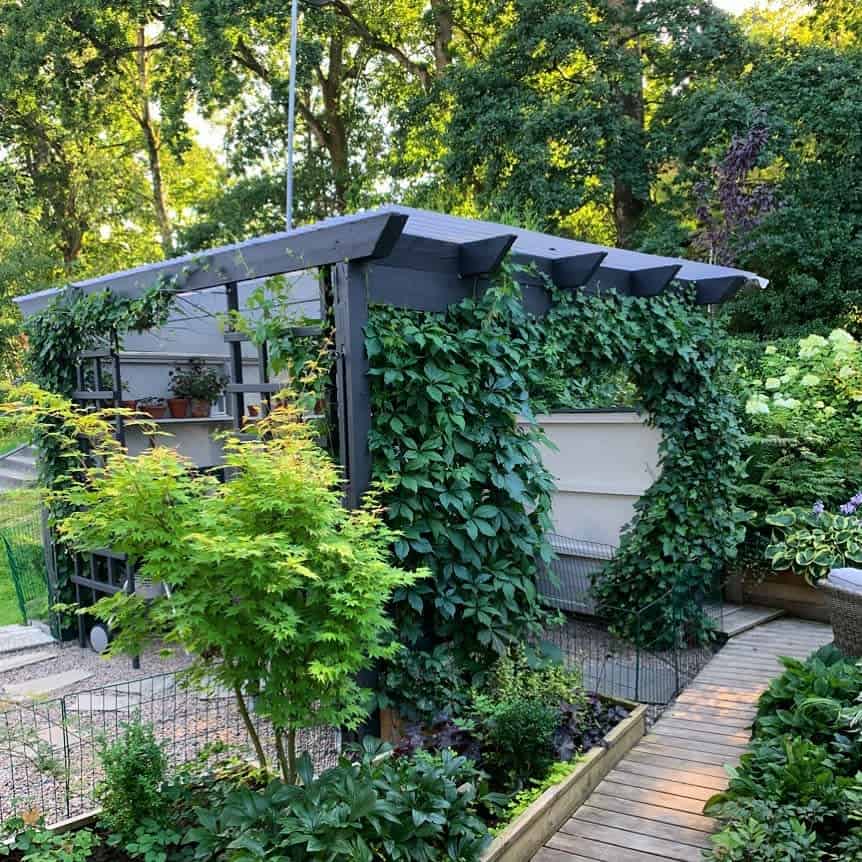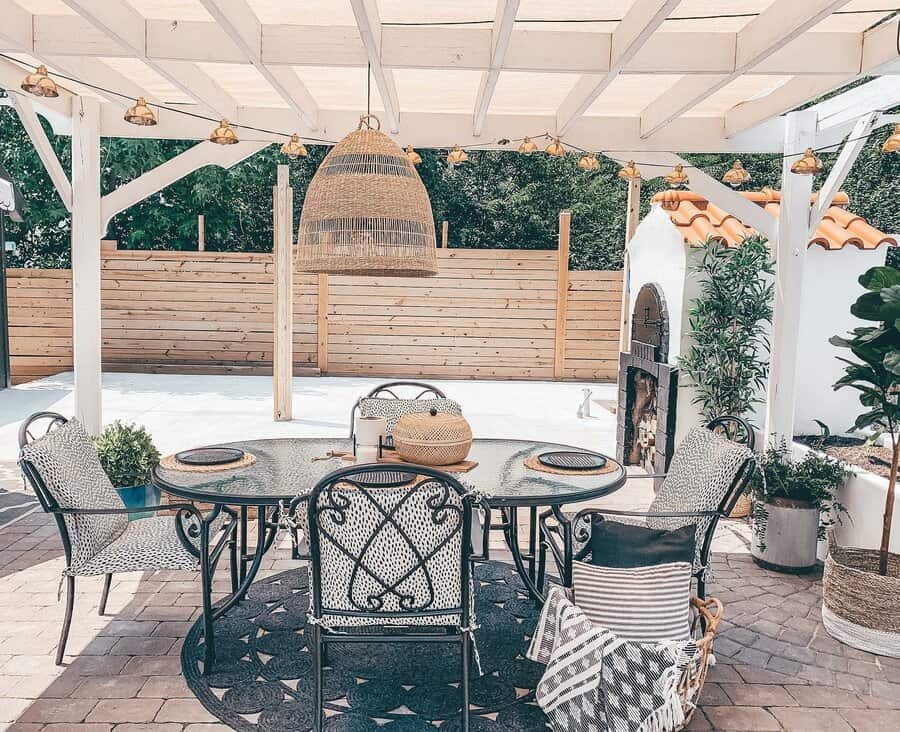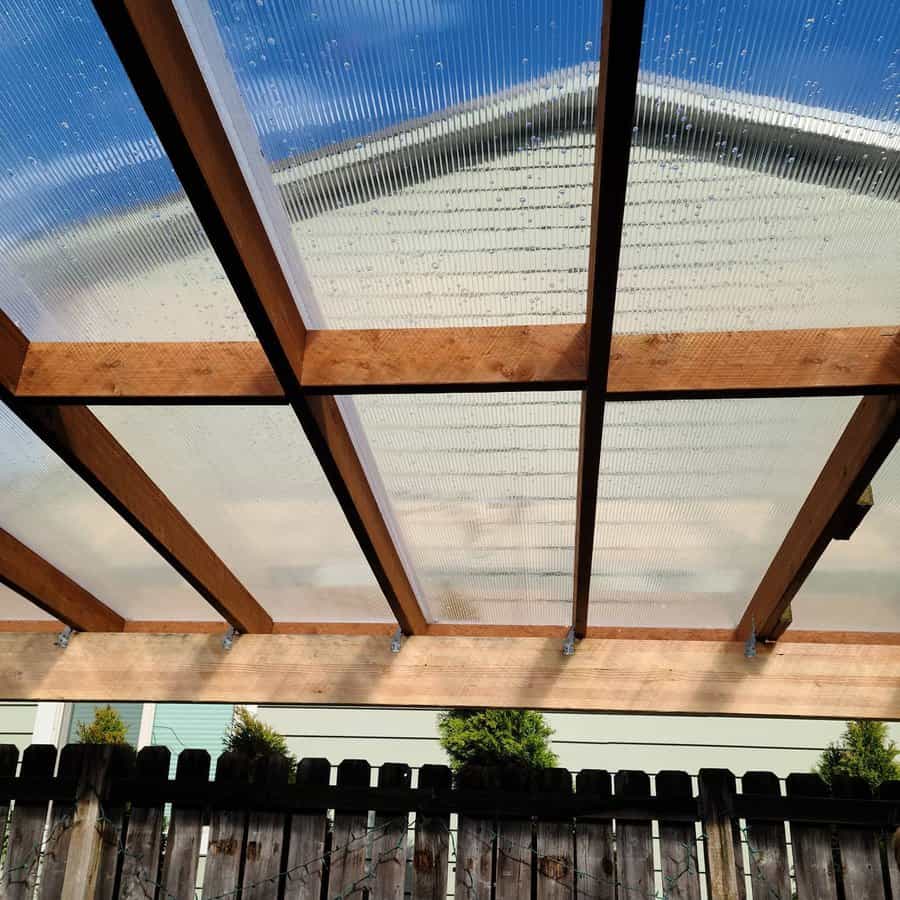 The plastic sheets are easily replaceable should one get damaged. You can purchase them in white, blue, black, green, or even transparent. The translucent sheets allow plenty of light to keep your patio feeling bright. One drawback to plastic is that it can look cheap. It can also get quite loud when it rains.
9. Shade Sail
Shade sails are the large pieces of canvas that you typically see in commercial applications. They are triangle-shaped pieces that get permanently secured overhead to create shady areas.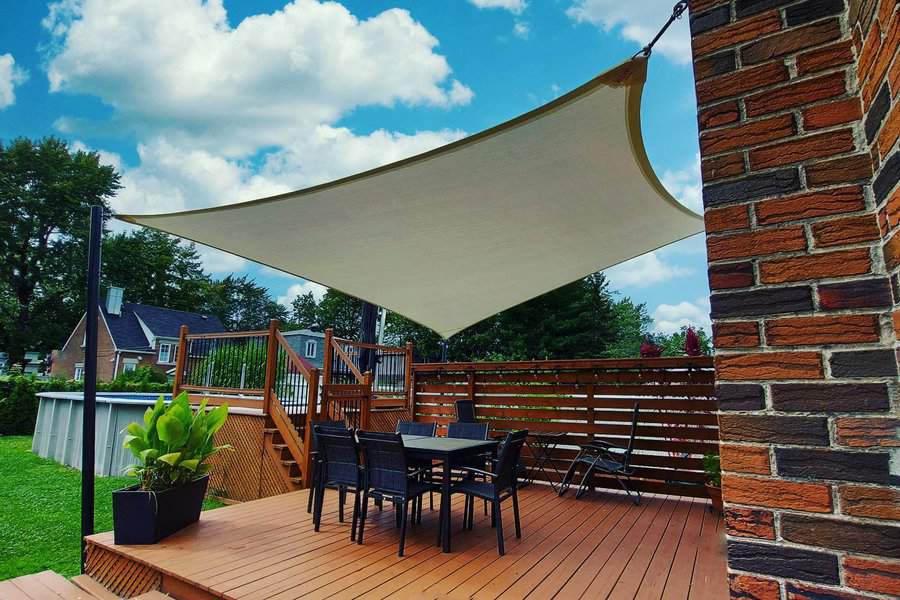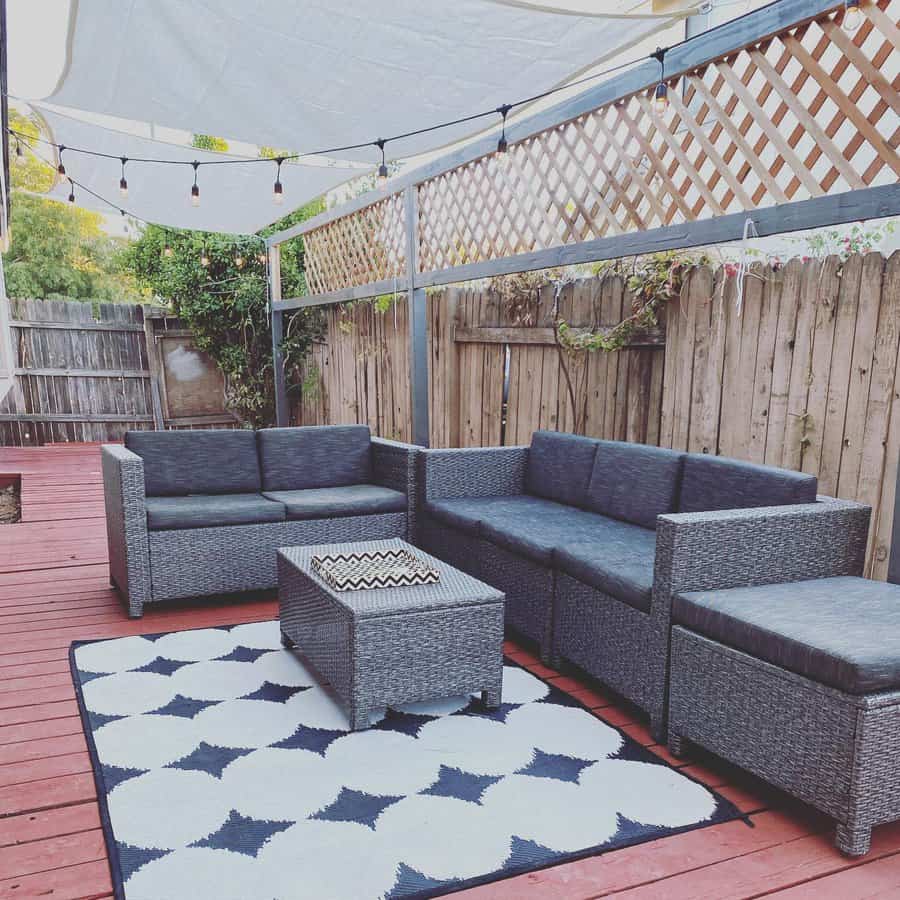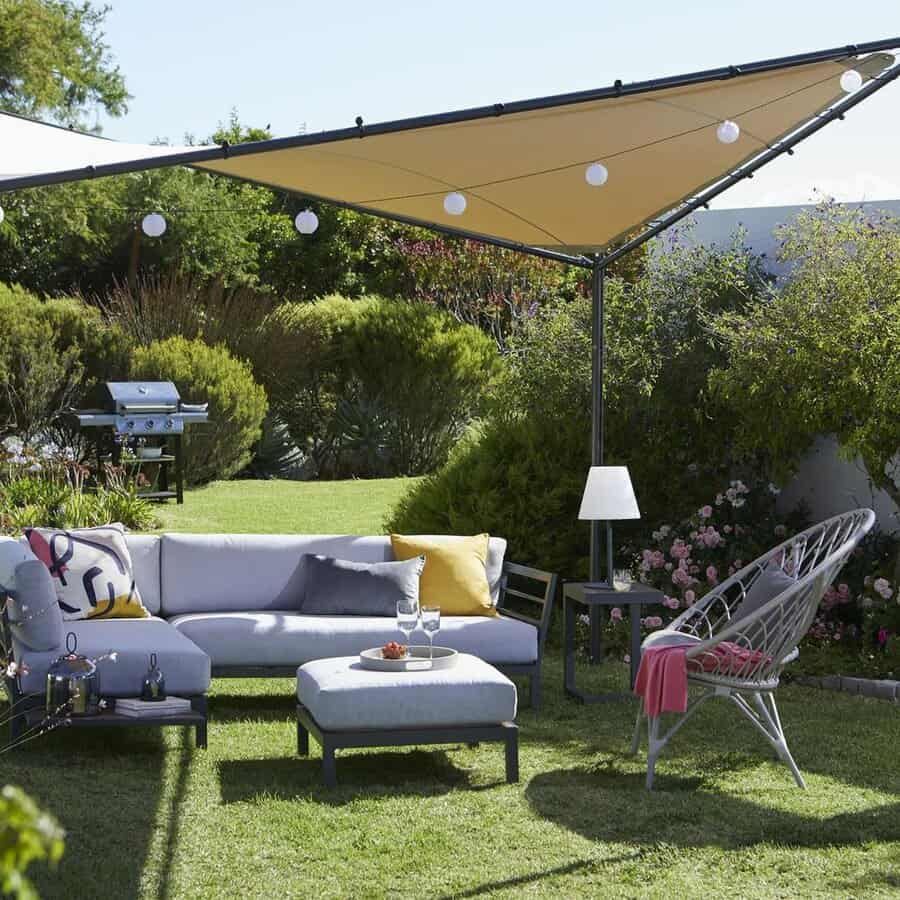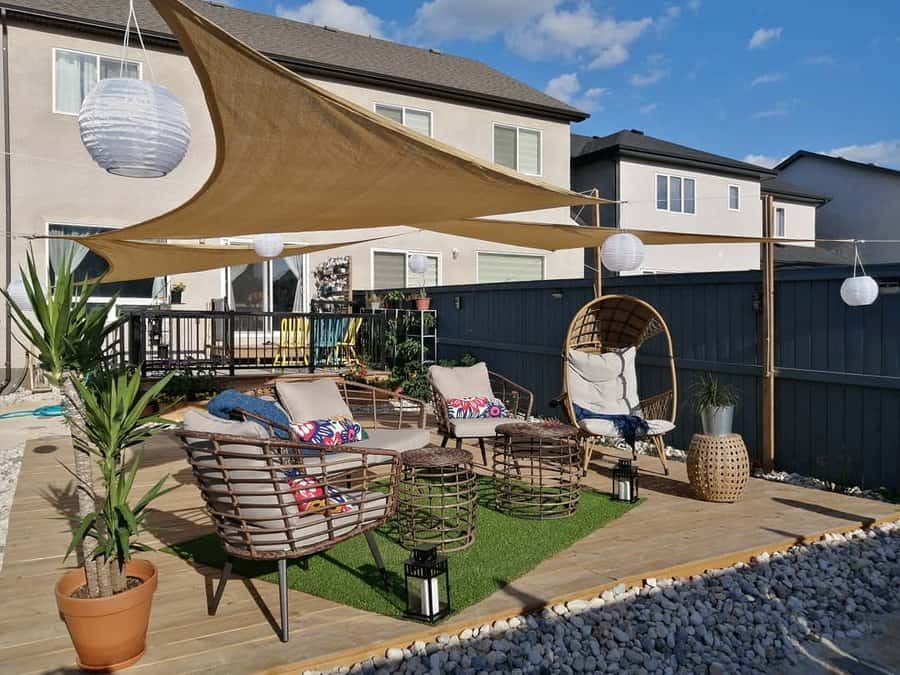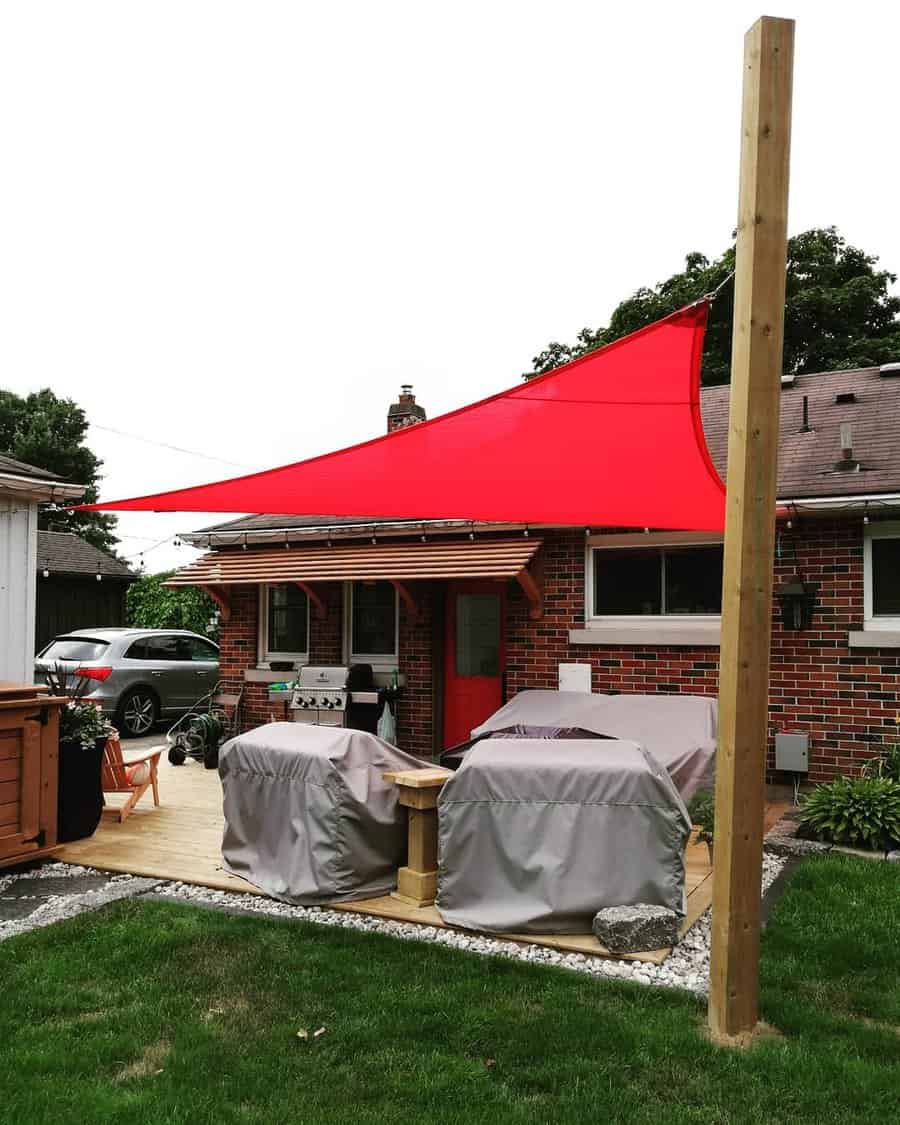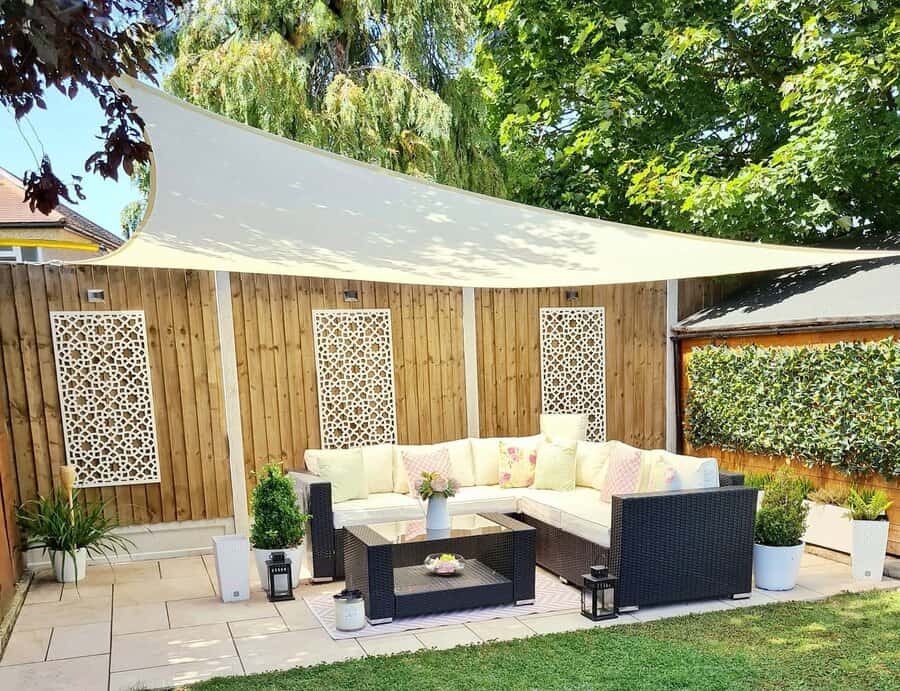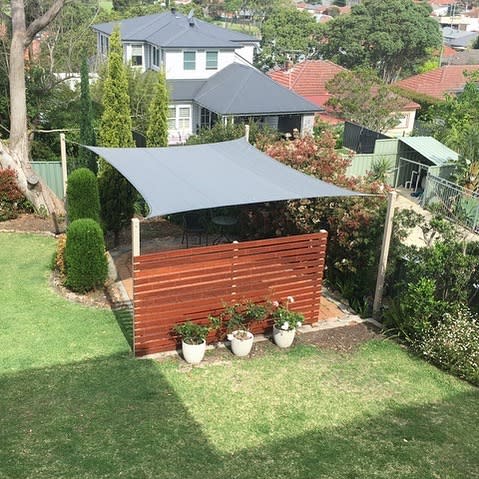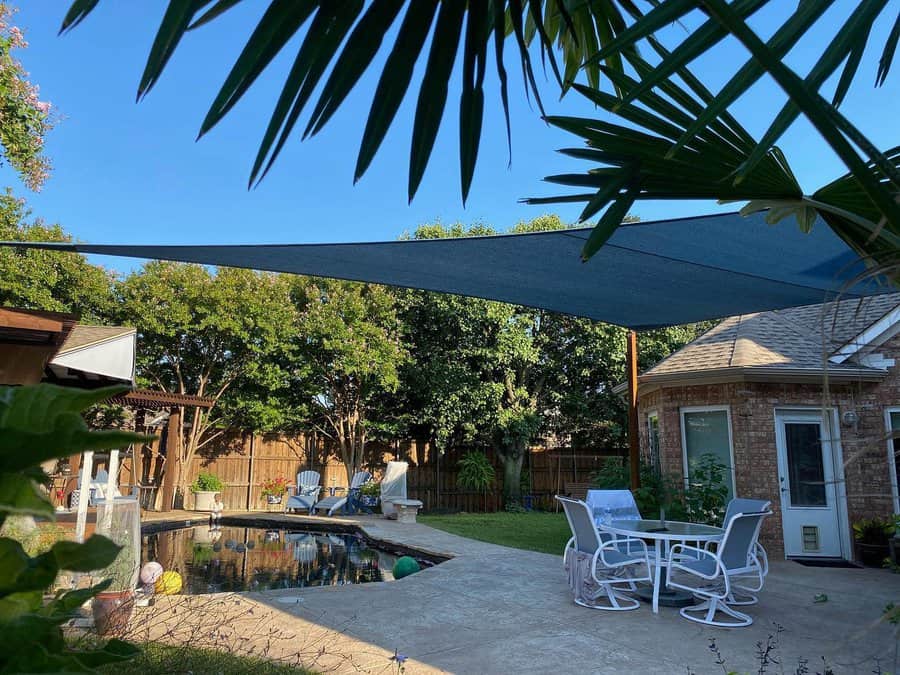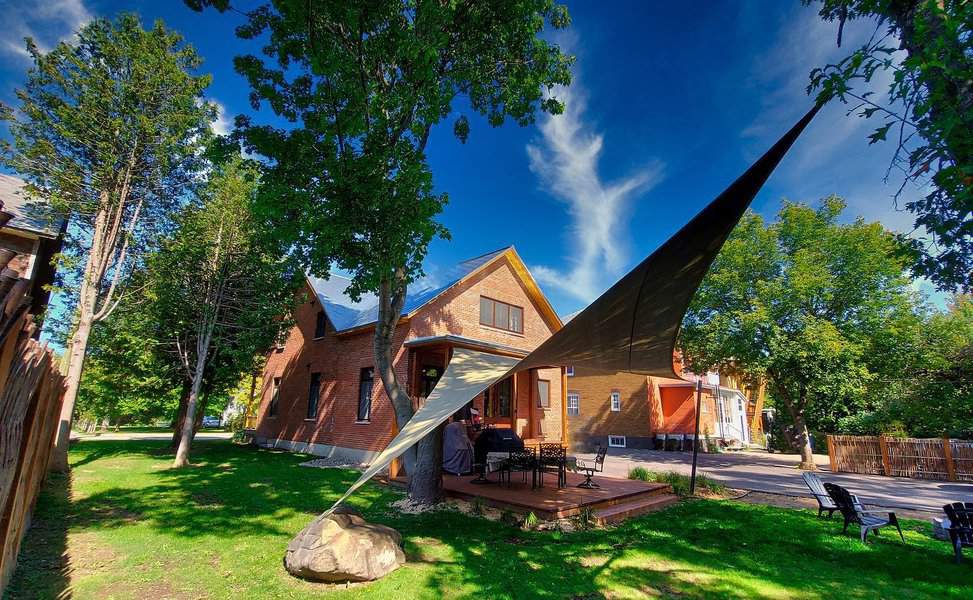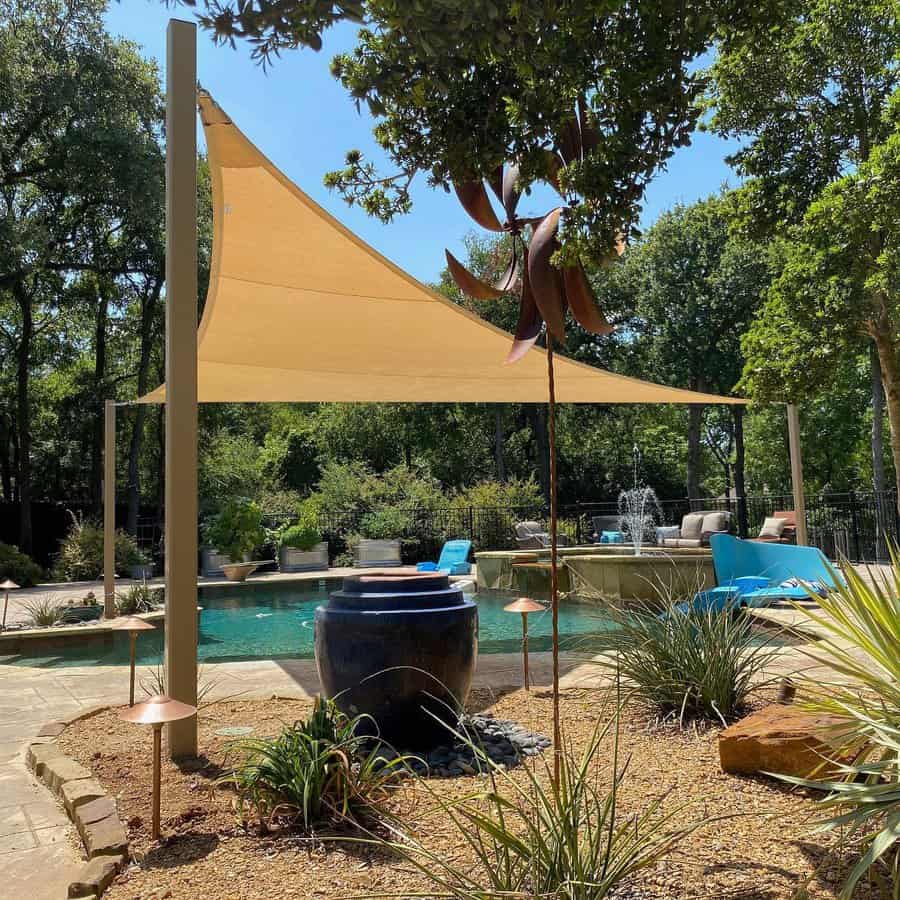 If you have a small patio, then you'll only need one sail shade that's strategically placed. However, if you have a large patio or one that experiences heavy sun exposure, you may need more than one sun sail.
It's best to work with a professional who can help you place your sails at the ideal position, height, and angle. Once installed, your sails should be durable enough to withstand the weather elements throughout the year.
10. Tarp or Shade Net
Similar to a shade sail, tarps and shade nets get strung up over your outdoor living space. The difference is that they are typically square or rectangular shaped. A single piece of canvas or netting fabric will cover your entire deck. These work well if you are looking for more coverage for your patio furniture.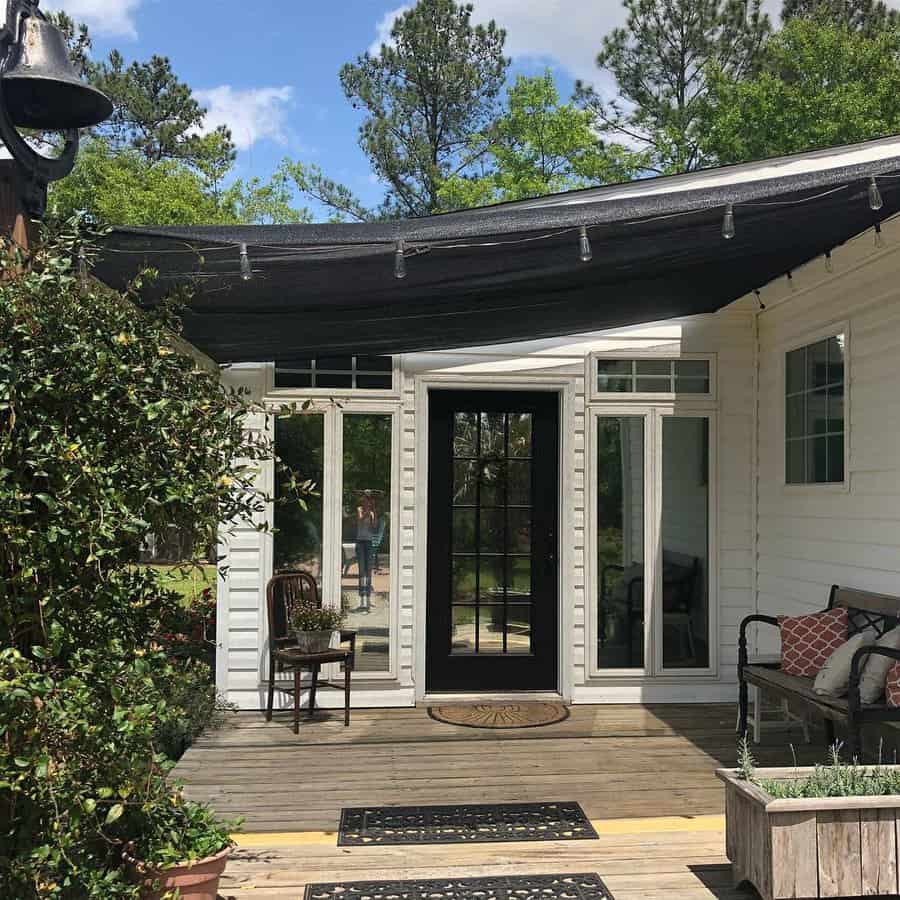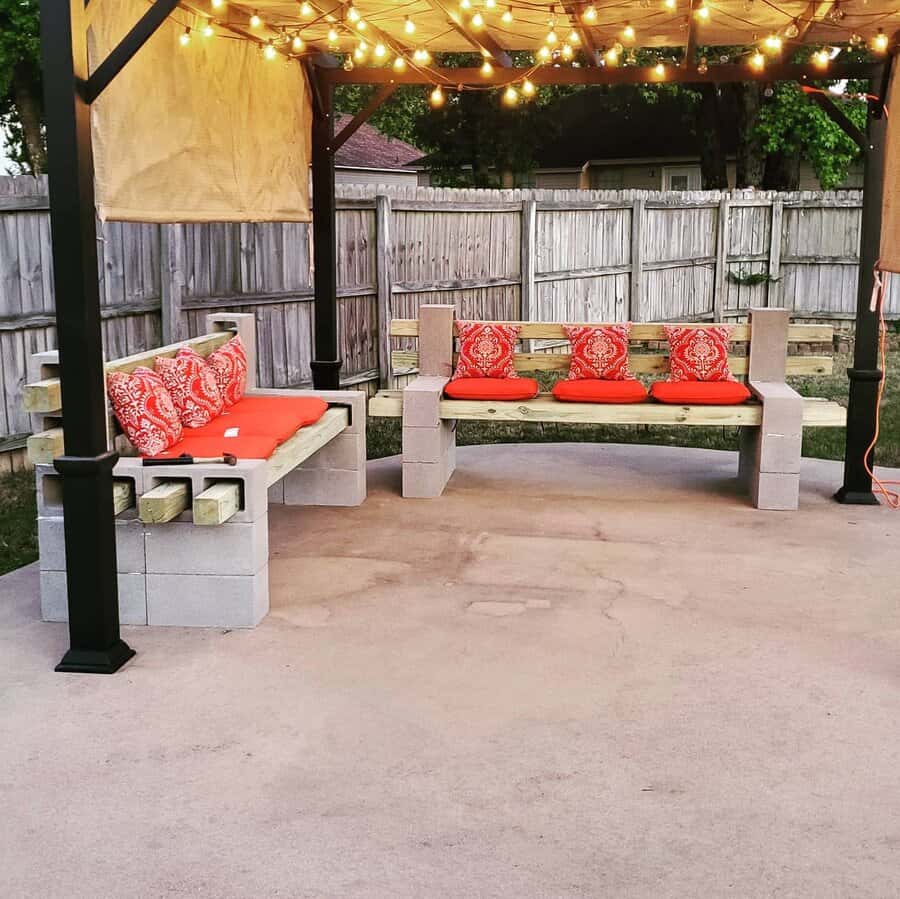 You could also install one over your swimming pool to provide it protection from falling leaves, pine cones, and debris. You will want to clean your overhead fabric regularly, though. Natural materials left on the fabric will stain it over time, which degrades the look of your covering.
11. Umbrella
A patio umbrella is perfect for when you only need shade in a specific area of your patio. Just place a cantilever umbrella behind your outdoor furniture and angle the umbrella to be over the sofa. Then you can move it around throughout the day as the sun moves across the sky.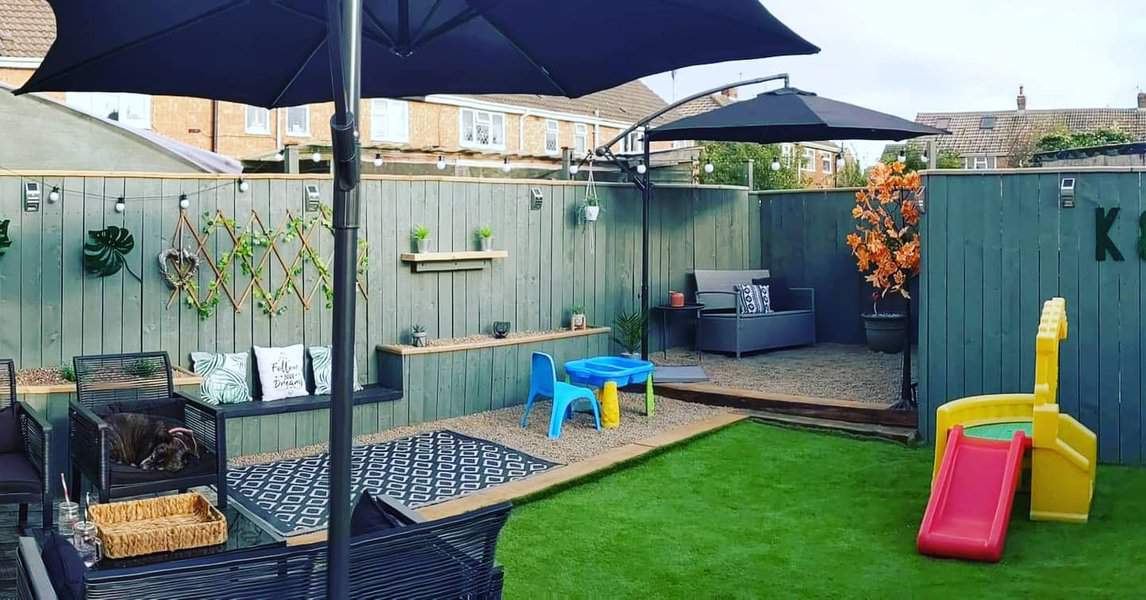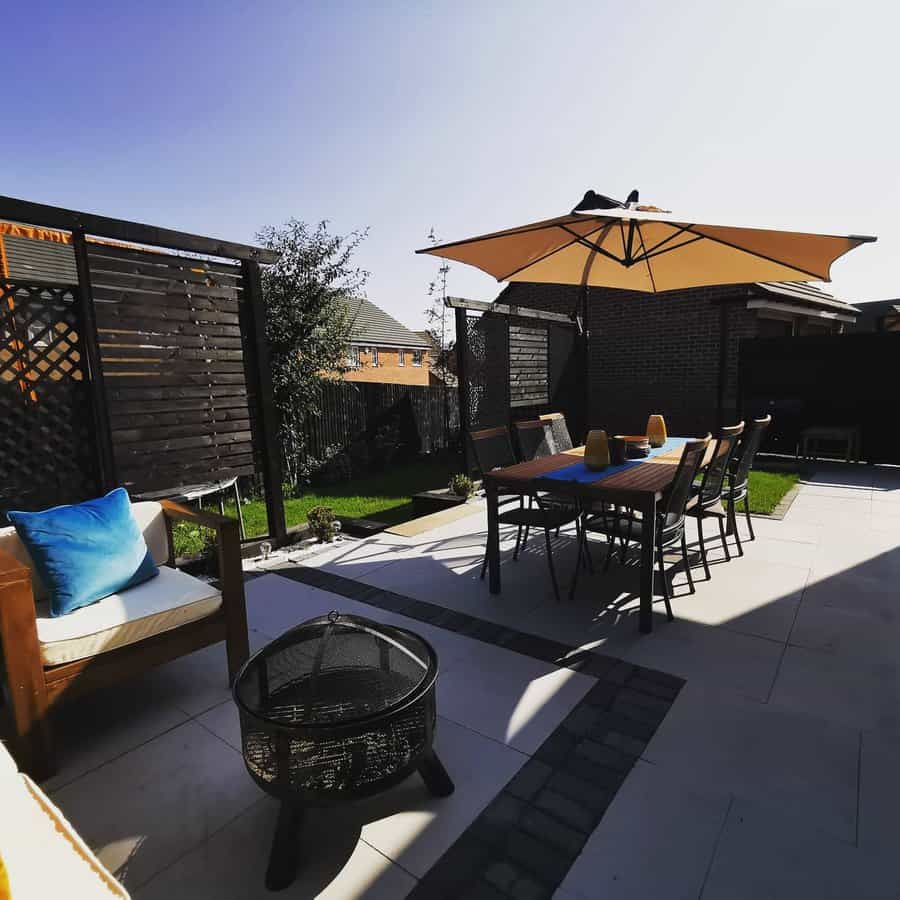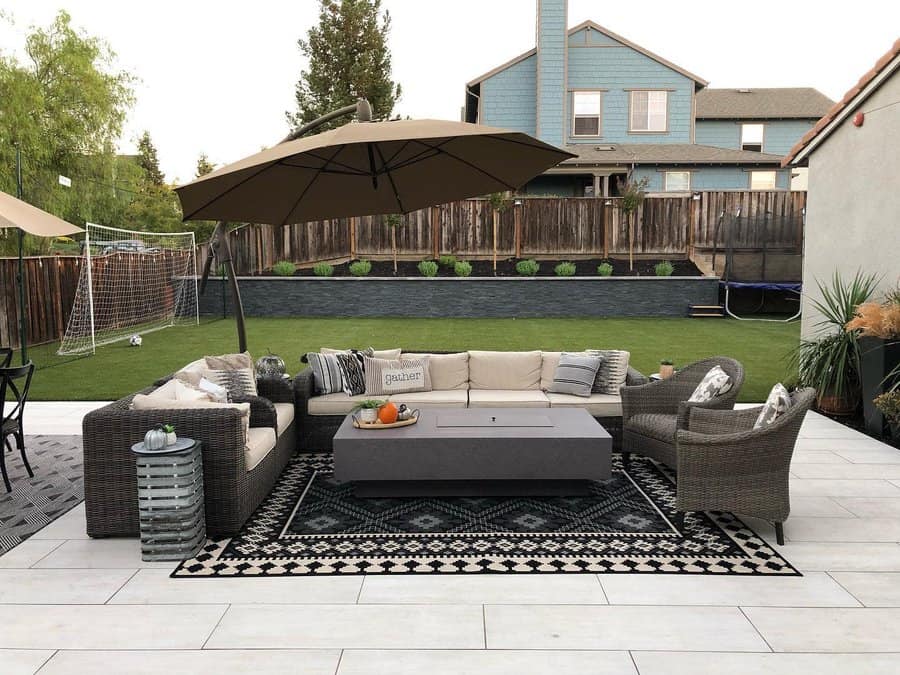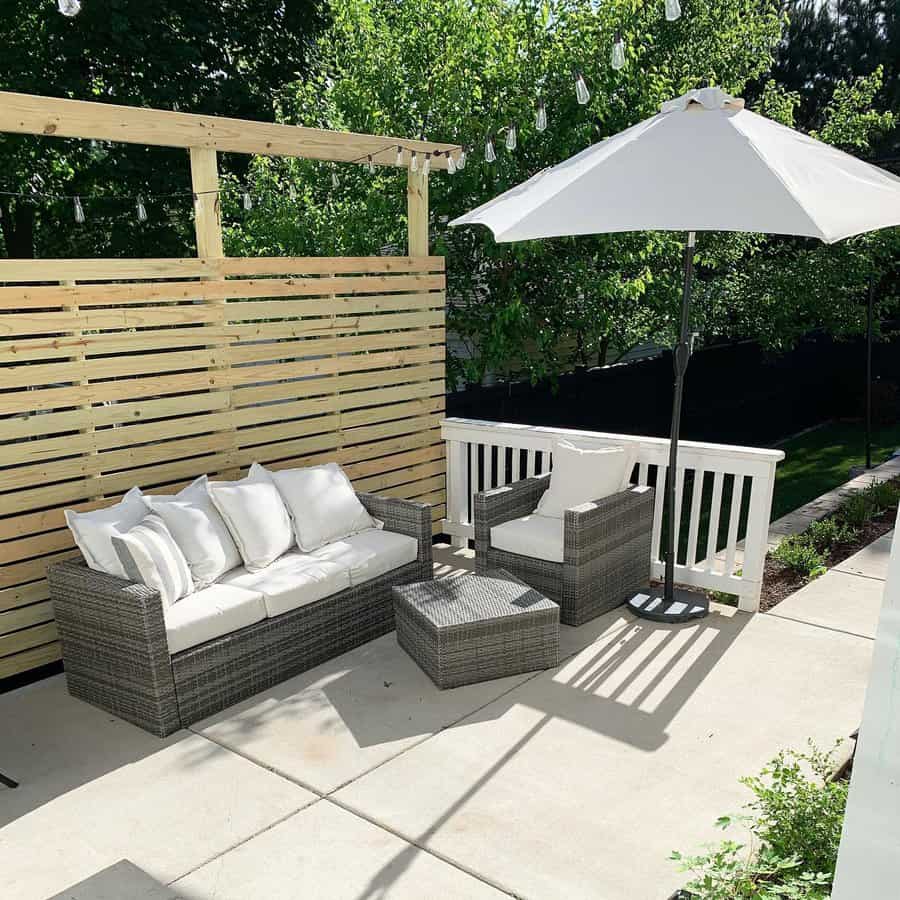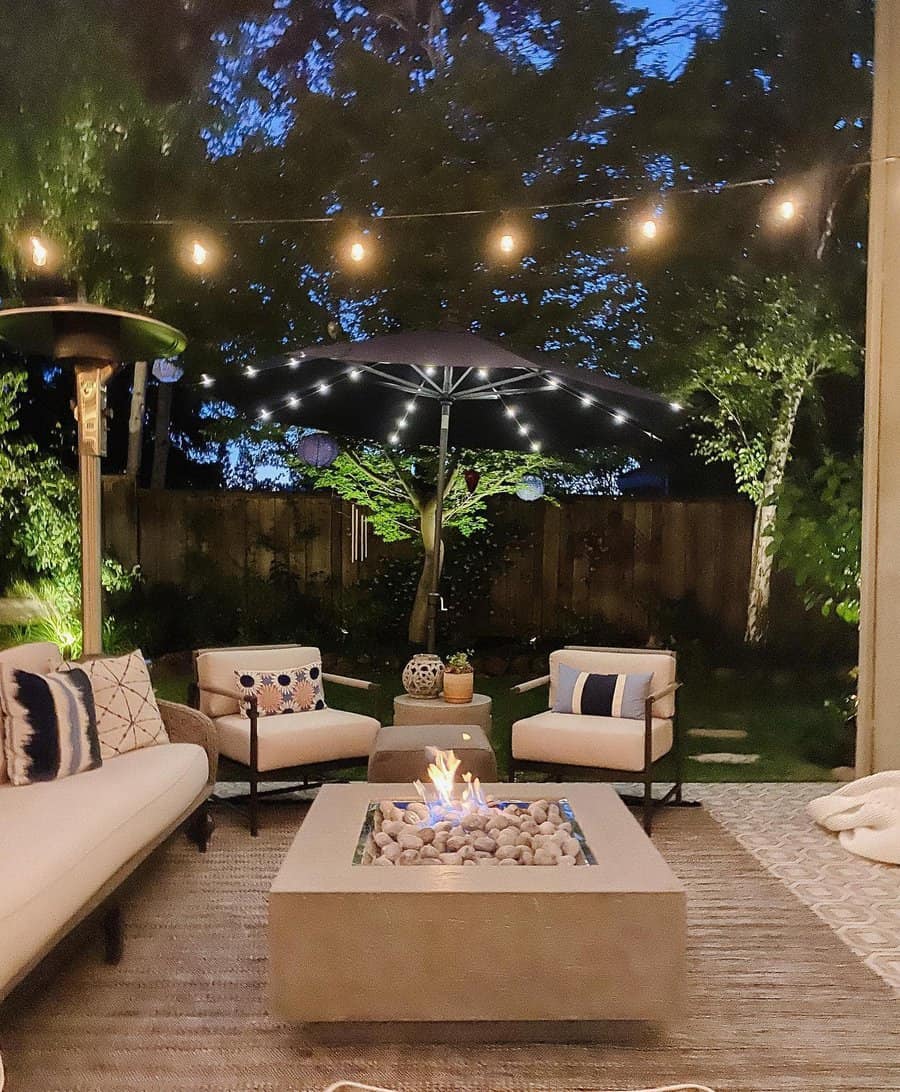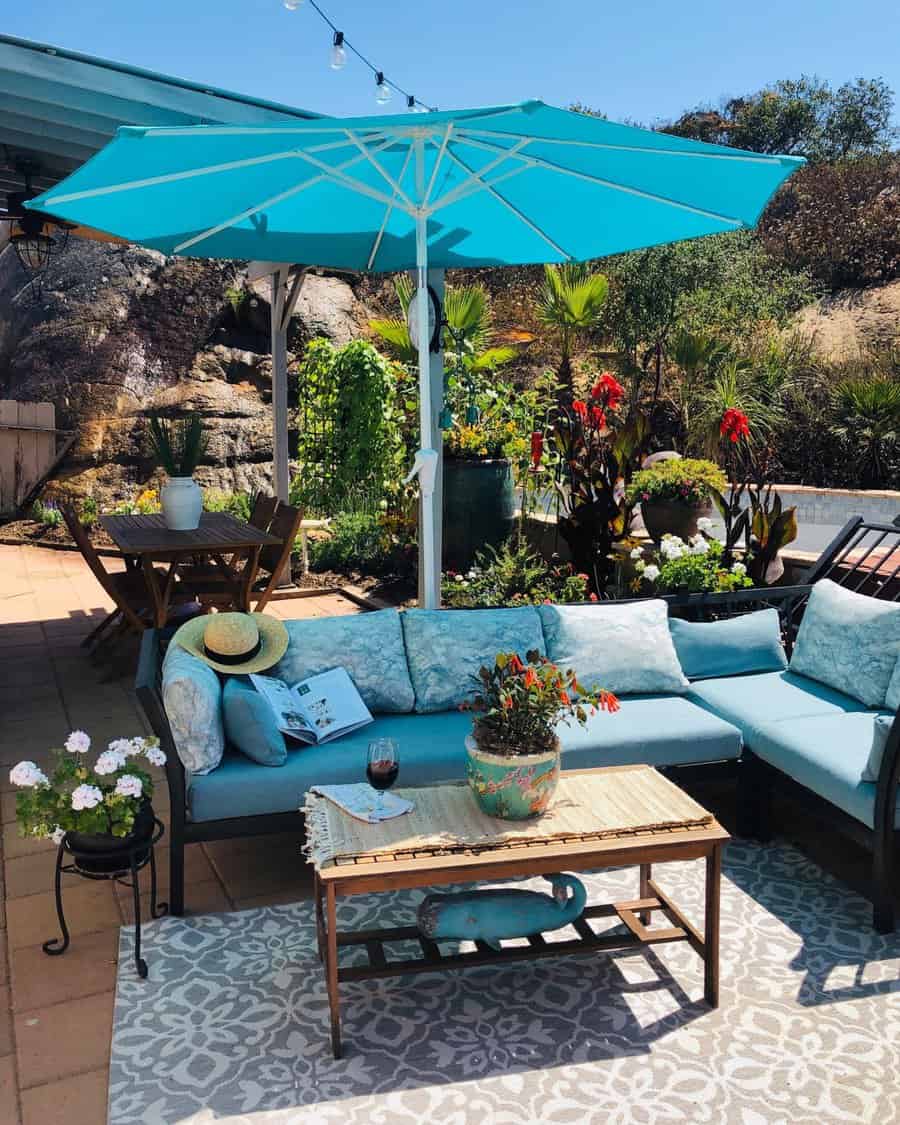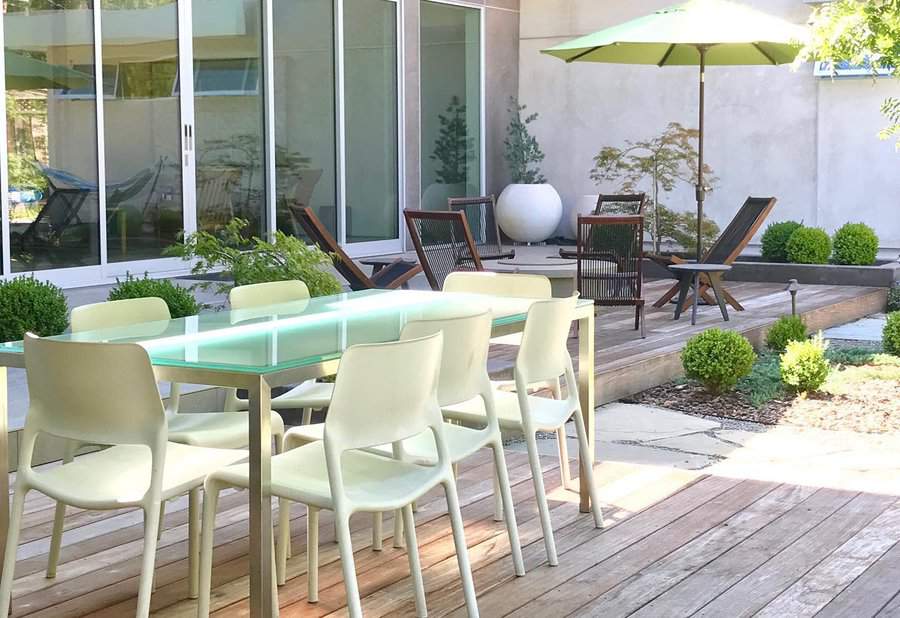 If you have more than one or two chairs that you want to shade, a market umbrella will do the trick. These are oversized umbrellas that will provide shades for the entire area. Choose a color for the umbrella fabric that will complement the other colors in your patio design.
Patio Shade FAQs
Are shade sails a good idea?
Shade sails are a great idea because they give you a modern solution for creating shade. They get mounted up high and provide a protective cover from the elements. The shades are made from a thick canvas with water and UV treatments. Once installed, they require little maintenance.
Can you put a canopy on a deck?
Yes, you can install a canopy on a deck. You can set one up wherever you want as long as it fits. Canopies come in a variety of materials, from metal to wood. They also come in various sizes so that you can buy the perfect canopy for the space you have available.
What color sun shade is best?
Darker colors provide better protection because they absorb more of the UV rays. This makes deep blue, black, and dark brown the most protective. However, the darker color can also make your deck feel darker. Lighter colors provide less protection, but they also help your deck. A market umbrella will do the trick to make your patio feel light and bright.