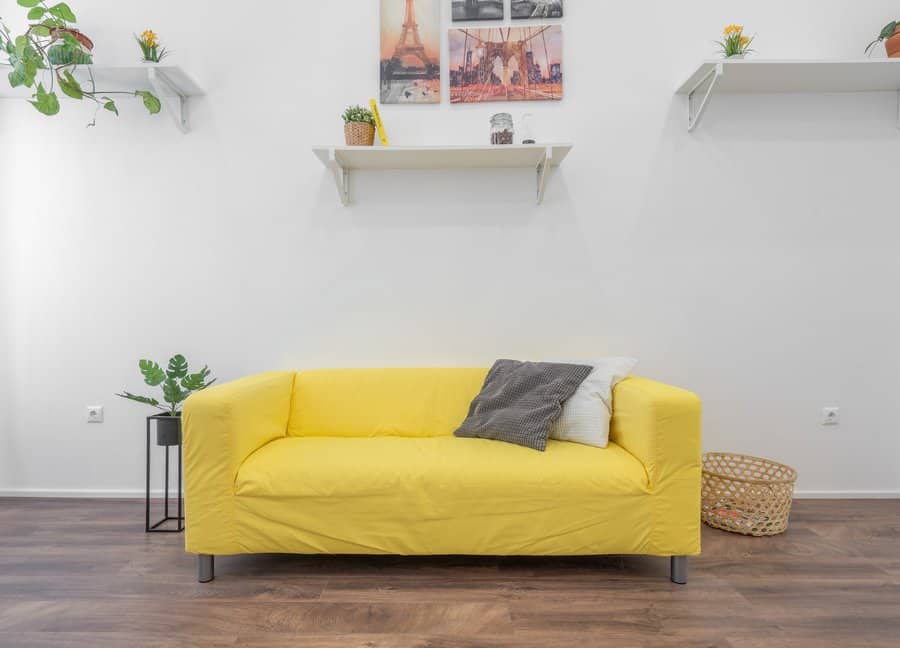 Trendey may earn a commission when you buy through links on our site.
As an Amazon Associate we earn from qualifying purchases.
Best Slipcovered Sofas
Choosing the right sofa is crucial when designing your living room. The sofa is the largest furniture piece and can act as the focal point in the room.
If you are struggling to find the right sofa for your taste, style, and lifestyle, consider the best slipcovered sofas. This unique sofa category features various designs, styles, and sizes. You don't have to sacrifice functionality or ease of care just because you want to have an attractive sofa.
Top Picks
Best Overall: Kelly Clarkson Aubagne Slipcovered Loveseat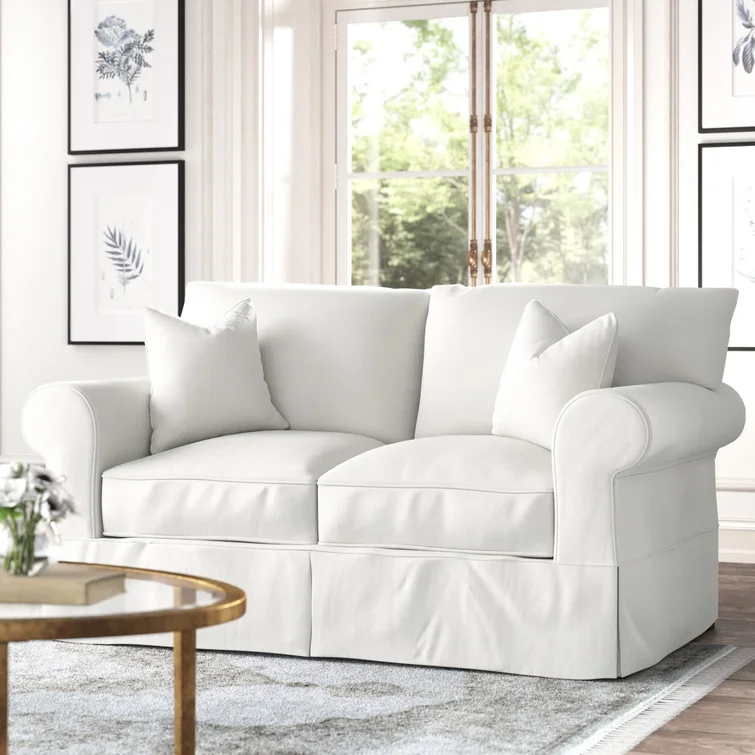 Specs:
Dimensions: 31" H x 65" W x 40" D
Frame Material: Solid and Manufactured Wood
Upholstery Material: 100 percent Cotton
Type: Loveseat
This slipcovered loveseat is a top pick because it's small enough to fit in small living rooms like apartments or be a comfortable accent piece in a large living room. The fitted cushions and armrest give this sofa a polished look, while the looser bottom portion creates a skirted look that gives the sofa a relaxed and comfortable feel. The bright white fabric feels fresh and will keep your living room feeling light. Go ahead and sit down. The standard seat depth and down fill cushions allow you to sink back into it, giving you a comforting feeling. There's just the right amount of support to prevent you from sinking too far in. This is thanks to the combination of sinuous springs and down fill in the seat and back cushions. The rolled arms and solid square shaping give this sofa a traditional feel. It would be perfect for your coastal, farmhouse, or contemporary living room design. A nice additional touch is the included two throw pillows. Arrange them in the corners, and you have a complete sofa setup. While you will need to spot clean the cover, you can remove the cushions, which makes cleaning them easier.
Check Price
Best Budget Pick: Stone & Beam Bryant Modern Sofa Couch with Slipcover
Specs:
Dimensions: 85.1″W x 39.1″D x 34.7"H
Frame Material: Hardwood
Upholstery Material: Viscose, linen, polyester, cotton
Type: Sofa
Upgrade your small space on a budget with this affordable slipcover sofa. It comes in two neutral colors, an off-white beige, and a gray taupe. Both are nice colors because the sofa cover will change how it looks based on the other colors you use with it. Use them in an all neutral room, or they can be the perfect neutral base for a bold color palette. This sofa's sharp square corners and crisp design give it a modern feel. Despite its affordable price, it has a hardwood frame, giving it strength and durability. The cover is removable and machine washable, making it easy to care for. You can remove both the sofa frame cover and the cushion covers. The cover fabric is a combination of fibers, giving it durability and stain resistance. This sofa is not a lounging sofa as the seat and back cushions are quite firm. However, that firmness gives the sofa a structured feel that's more formal. The frame cover fabric is tightly tailored to fit the entire sofa snugly, so there's no loose skirt at the bottom.
Check Price
Read also: What Colors Go With a Gray Sofa?
Best Contemporary Pick: Kian Square Arm Slipcovered Sofa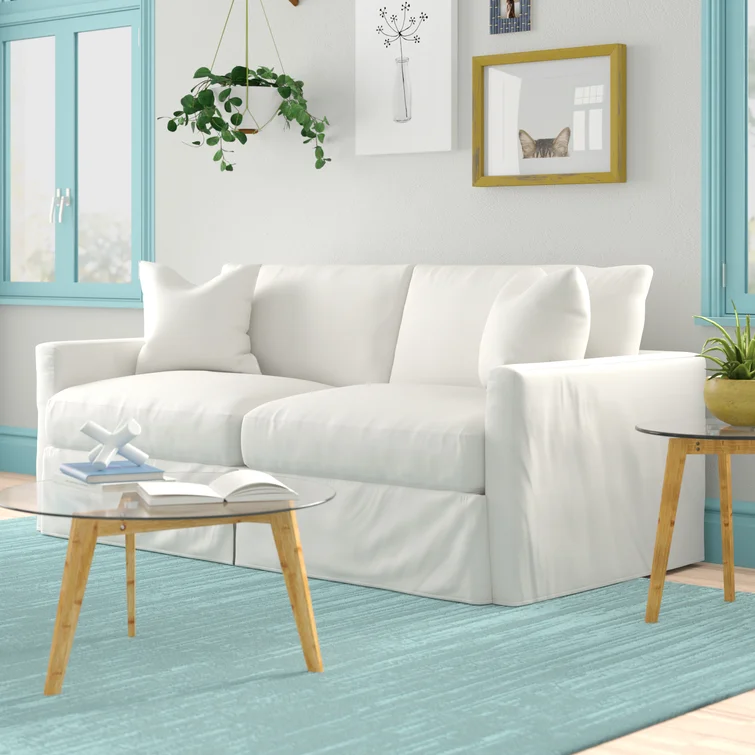 Specs:
Dimensions: 26" H x 84" W x 42" D
Frame Material: Solid and Manufactured Wood
Upholstery Material: cotton, polyester, fabric blend, Sunbrella, or Sustain fabrics
Type: Sofa
Choose from 48 color options and six fabric options for the furniture cover on this contemporary slip cover sofa. This sofa is a perfect option if you have low ceilings or limited natural light. It has a low profile silhouette, helping it to minimize its height and keep your living room feeling bright and open. The small footprint means it's perfect for smaller living rooms. The small size doesn't sacrifice comfort. The seat and back cushions have down fill, allowing you to sink back into this sofa. Two matching throw pillows come with the sofa for even more comfort. What's nice about this two seater sofa is that you can remove the covers on the frame and cushions, making cleaning a breeze. The cushions are also reversible, giving them an increased useful life. To keep the sofa small, the back frame and arms are trimmed down to have a thinner profile. Unfortunately, this also means that the armrests aren't as cushioned or comfortable as others on this list.
Check Price
Best Premium Pick: Westelm Remi Slipcover Modular Sofa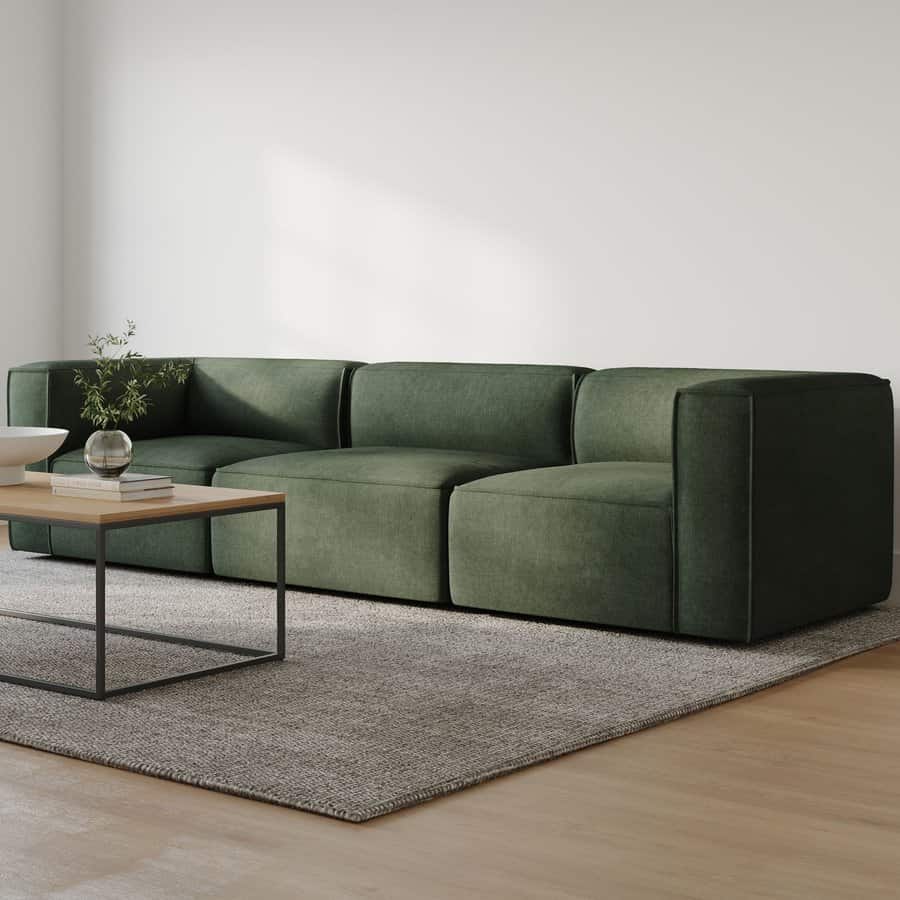 Specs:
Dimensions: 105″w x 35″d x 26.25″h.
Frame Material: Solid pine and engineered wood
Upholstery Material: Velvet, linen, chenille, twill, canvas, boucle, or basketweave
Type: Sectional sofa
Even the best slipcover sofas still look like they have a fabric cover on them. This one breaks the white slipcovered sofa mold and replaces performance fabric with several options, including luxe boucle, yarn-dyed linen weave, chenille tweed, deco weave, distressed velvet, and performance velvet. Another unique feature is the sectional design of this sofa. This lets you customize the size and shape of your sofa to perfectly fit the available space in your living room. Each piece is held in place by alligator clips to give the sofa stability. The quality of this sofa is impressive, with a hand built frame and hand stitched upholstery. The frame is kiln dried solid pine and engineered wood with reinforced joinery. While the look of this sofa may be modern and firm, it's actually quite soft and comfortable. However, you may want to add a few decorative throw pillows. The back of this sofa is also quite low, which can be uncomfortable for taller individuals. Unlike other sofas that use ties to hold the cover in place, this one uses Velcro. This helps hold the cover securely in place each when people sit on it.
Check Price
Best Traditional Pick: Birch Lane Torrington Rolled Arm Slipcovered Sofa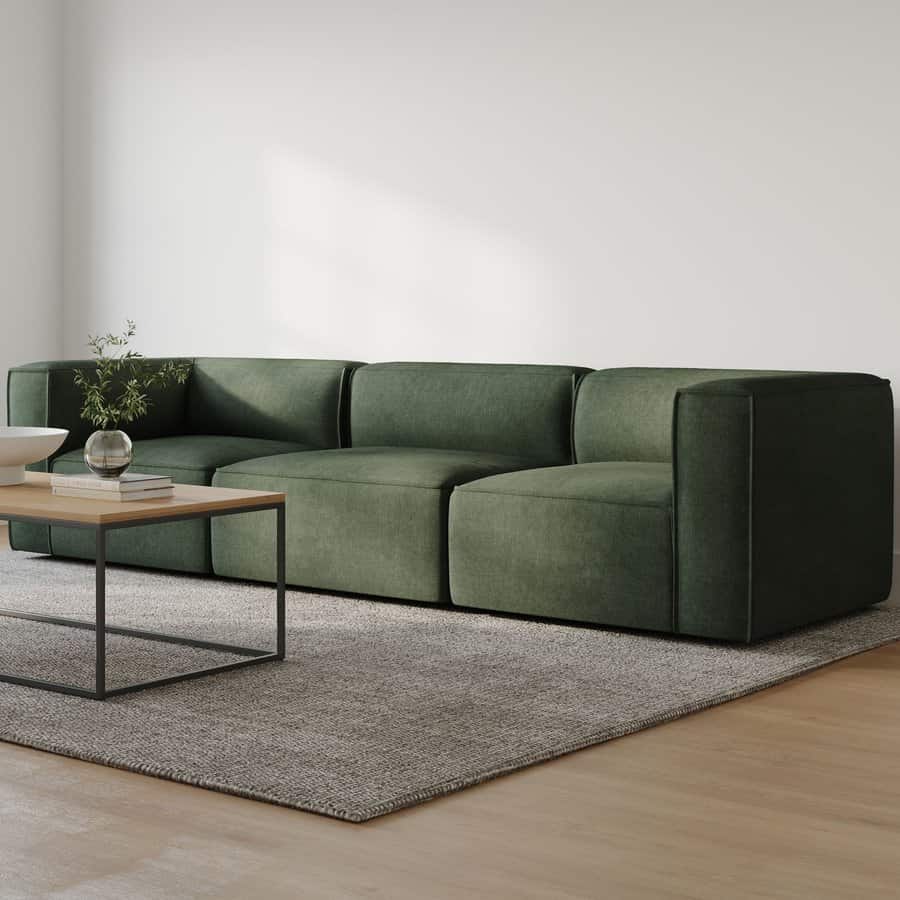 Specs:
Dimensions: 30" H x 98" W x 38" D
Frame Material: Solid and manufactured wood
Upholstery Material: 100 percent Cotton
Type: Sofa
Choose from over 50 fabric and color options when ordering this slipcovered couch. It features strong traditional styling with prominent rolled arms, a skirted bottom, and large backrest cushions. The tailored look of this sofa adds a craftsman feel to the sofa that makes it perfect for a more conservative interior design style. You'll find this sofa soft and comfortable as the large backrest cushions provide gentle and relaxed support as you sink back into the sofa. This sofa is perfect for families with pets and children because the fabric comes treated to resist stains. It also is water, UV, fade, and mildew resistant, making this sofa durable in even the toughest of living room environments. When styling this sofa, be aware that it does not have standard back cushions. Instead, there are several large cushions placed in front of each other. Add visual interest to your sofa by layering in colorful or patterned throw pillows.
Check Price
Best Farmhouse Pick: Lucia Slipcovered Sofa with Reversible Cushions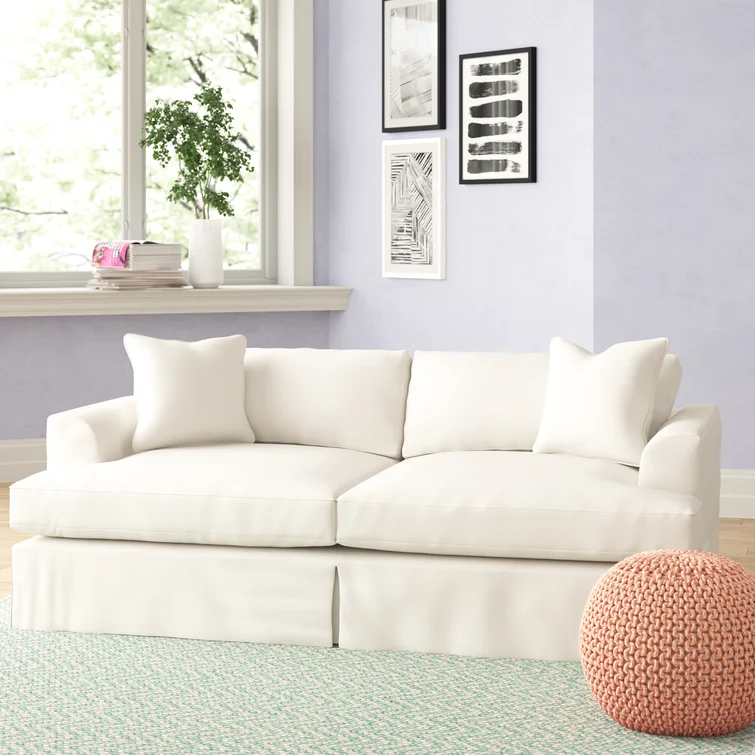 Specs:
Dimensions: 29" H x 93" W x 41" D
Frame Material: Solid and manufactured wood
Upholstery Material: 100 percent Cotton
Type: Sofa
The contemporary take on traditional furniture details give this sofa a timeless feel. It's perfect for achieving a French country cottage look in your living room. The seams have decorative piping details, the arms are recessed, and the cushions have long rectangle shapes. The skirt covering the legs has a tailored look with dressmaker pleats to give it more structure and definition. Quality is in more than just the looks with sinuous springs in the seat cushions and high quality down in the back cushions. The heavy gauge steel construction of the coils will prevent your cushions from sagging with use. Two matching accent pillows are also included. The solid wood frame construction will ensure your sofa lasts for years to come. You will need to spot clean this sofa when it needs it. However, if the entire slipcover needs cleaning, you'll want to have a professional take care of it.
Check Price
Best Modern Pick: Alanna Joss & Main Slipcovered Sofa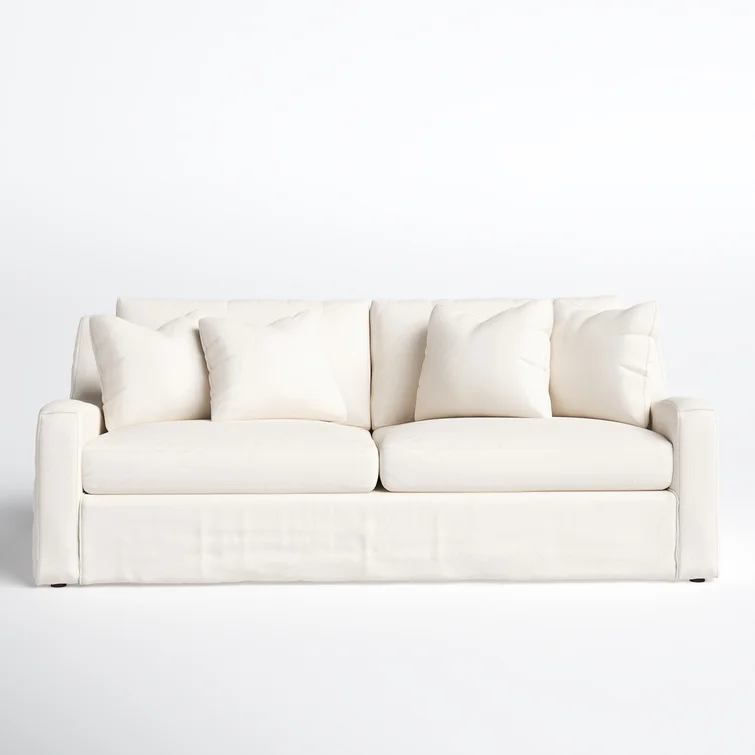 Specs:
Dimensions: 35" H x 88" W x 47" D
Frame Material: Manufactured wood
Upholstery Material: 100 percent Cotton
Type: Sofa
This modern sofa has all of the style and none of the shabby that typically comes with a slipcover sofa. The low cushioned armrests have a sweeping arch that makes them perfect for resting your elbow while you sink back into this comfortable sofa. The clean design features gentle curves that are on trend right now. The corners and edges are slightly rounded to soften the look of the entire sofa. The cotton fabric helps to make the upholstery strong and durable yet also modern and chic. Caring for this sofa is simple; remove the slipcover and throw it in your washing machine. In addition to the two large back cushions, four plush throw pillows are included. Arrange them how you want to customize the look of your sofa. Give your sofa a custom touch by adding patterned or colorful pillows in between the included white ones. This sofa is nice for large individuals because it has a higher seat height and maximum weight capacity than other sofas on this list.
Check Price
Best Sofa Bed Pick: Lucia Recessed Arm Slipcovered Sofa Bed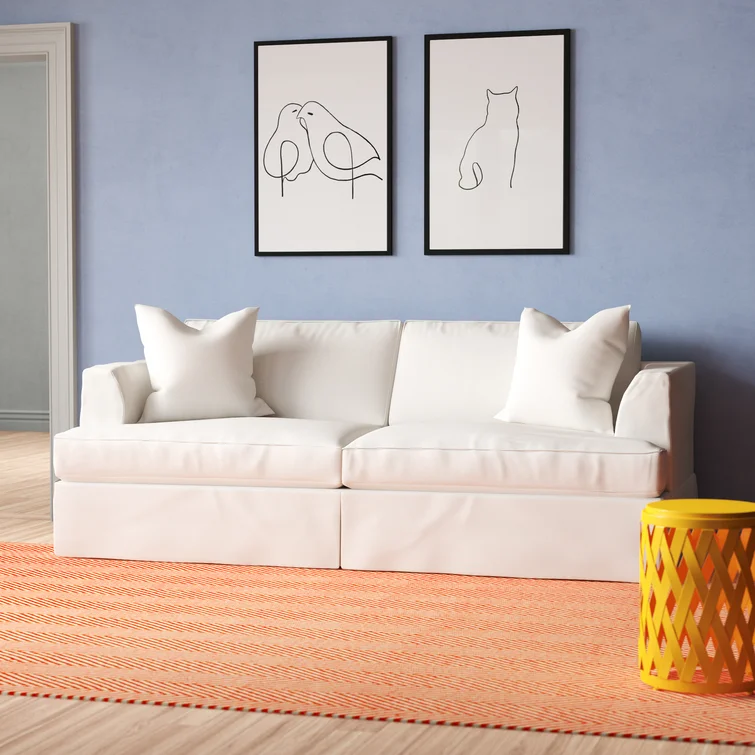 Specs:
Dimensions: 29" H x 93" W x 41" D
Frame Material: Solid and manufactured wood
Upholstery Material: 100 percent Cotton
Type: Sleeper sofa
Give your living room furniture a relaxed coastal style with this extra long sofa. While there are plenty of white sofas on the market, this one has a unique shabby chic look. If a white couch cover isn't your style, then there are over 43 other sofa slipcover colors to choose from. The overstuffed cushions and pillows on this sofa are filled with plush down and foam to give them a luxurious look and feel. What makes this sofa stand out, though, is hidden in the seat. The boxed base of this sofa hides a queen sized bed. The mattress included in this sofa has an innerspring construction, giving you plenty of support for your entire body for a restful night's sleep. The cover on this sofa is water, stain, mildew, UV, and fade resistant, so go ahead and get the white upholstery. The back cushions on this sofa are loose, so you can easily take them off to clean them.
Check Price
Best Mid-Century Modern Pick: Memomad Monet Removable Cover Sofa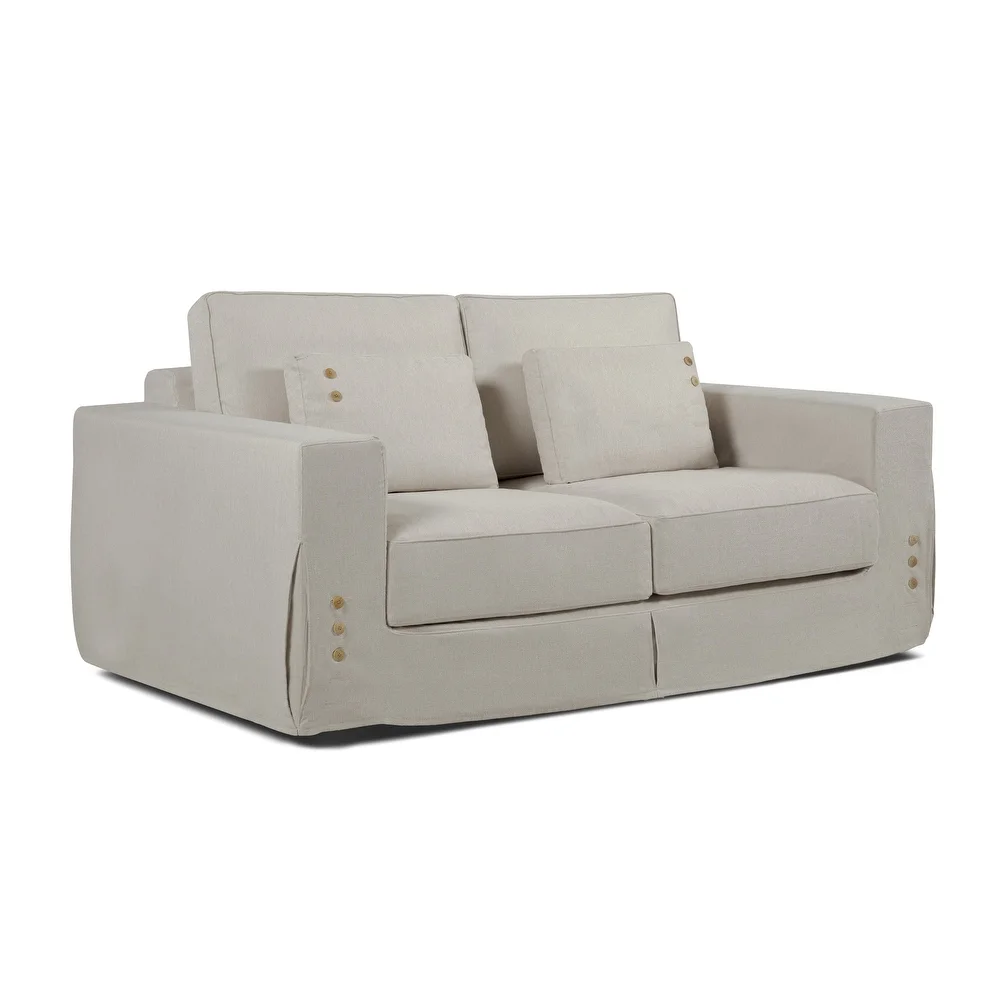 Specs:
Dimensions: 32.3" H x 70.9" W x 42.9" D
Frame Material: Standard plywood
Upholstery Material: Polyester blend
Type: Sofa
This may be a slipcover sofa, but you would never know it from the sharp design of the corners and seat cushions. This sofa has a bit of extra design style that you don't usually see in slip covered sofas. Accenting the front of the sofa and the two throw pillows are decorative colored wooden buttons. This gives your sofa a subtle decorative touch. Caring for this sofa is simple, thanks to the removable slipcover. Take it off and throw it in the washing machine, making it perfect for active and high traffic living rooms. The fill on this sofa is more durable than most, with silicone fiber and covered with a silicone fiber mat. The tall back cushions give your body plenty of support for the ultimate in lounging comfort. The sharp square and simple design of this sofa give it a modern feel while also helping it blend into a variety of interior design styles.
Check Price
Best Colorful Pick: Canterbury Upholstered sofa with Slipcovers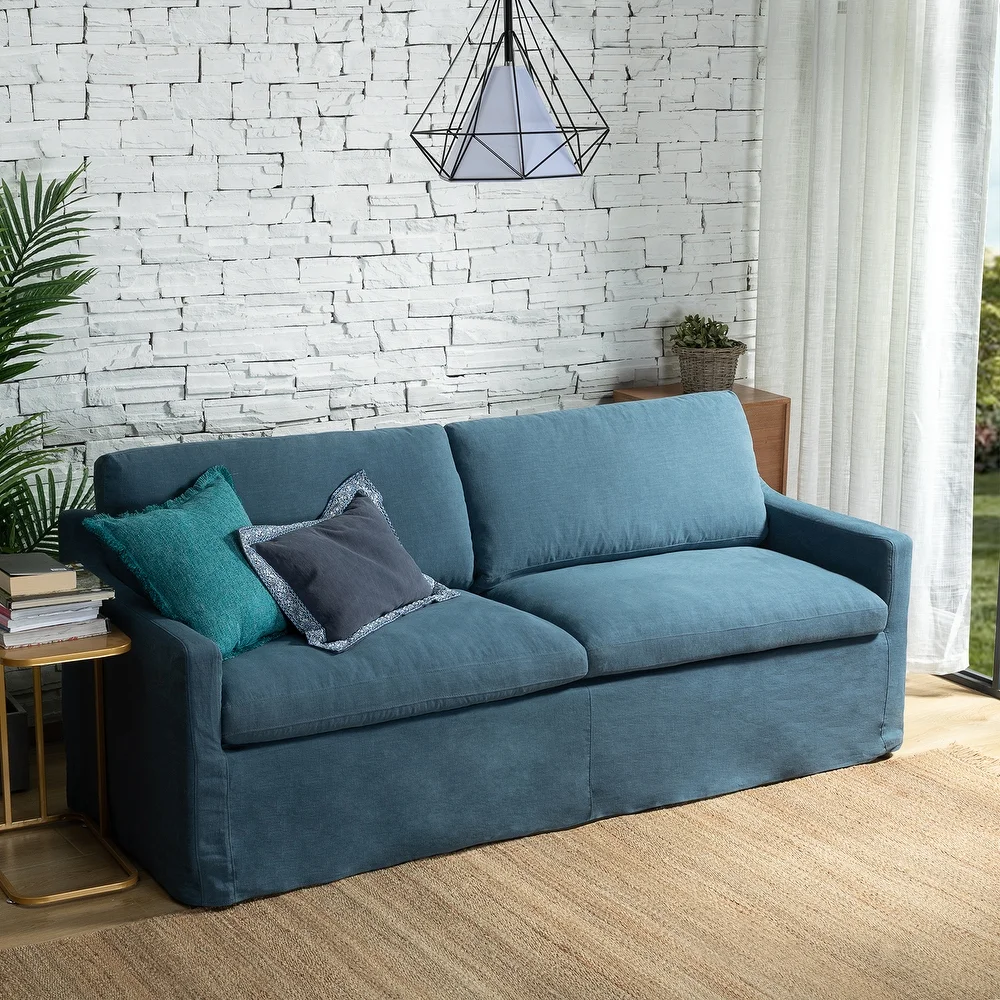 Specs:
Dimensions: 83"Wx31"Dx30.4"H
Frame Material: Manufactured Wood and plastic
Upholstery Material: Polyester
Type: Sofa
Unlike the other sofas on this list, this one only comes in colors. No white fabric to be found. This makes it an ideal choice for those looking for something other than a plain white sofa. The beige, teal, gray, and navy shades are perfect for active households because these colors hide minor dirt and spills. The cushion fill is a medium density foam, fiber fill, and feather combination. This helps them to feel soft enough to sink into but firm enough to be supportive. The streamlined look of this sofa gives it a clean design, making it versatile enough to use in a wide variety of interior design themes. This sofa may only have two seat cushions, but the overall length of the sofa is quite long, making it ideal for long or large living rooms. What's nice about this sofa is that the seatback is tall, balancing the proportions of this sofa nicely. While the cushions are removable, the slipcover is not. Keep this in mind when considering ease of cleaning, because it will have to be done while it is on the sofa.
Check Price
How to Choose a Perfect Slipcovered Sofa?
Style
The style of your slipcover sofa should match the style of your accent chair, other furniture, and wall decor in your living room. You won't want to have modern coffee tables and a farmhouse sofa. It's common to see farmhouse inspired slipcover sofas that have a fitted design on the arms and seat with loose hanging fabric on the bottom. White cotton is the most popular because it's durable, affordable, and easy to clean, but you can find other options like velvet, tweed, and linen. Cotton, linen, or canvas will look more casual. While a velvet will have a more formal appeal.
Quality of the Cover
The quality of the cover is crucial when choosing this type of sofa. The cover is designed to be protective and durable, so it needs to be made from durable fabric with sturdy stitching. This will ensure it holds up to being taken on and off the sofa during cleaning. If the fabric isn't high quality, it could run, pull, or even shrink. If the stitching isn't high quality, it can become frayed or pull on the fabric. Look at how the cover fits the sofa, it should be snug and fitted without loose gaps or wrinkles.
Maintenance Requirements
The primary reason for people buying a slipcover sofa is that it can easily be cleaned and replaced. However, not all slipcover sofas have a removable cover. Not all covers are easily washed at home in your washing machine. These are all factors to consider if easy maintenance is a priority for you. There are even some that can only be vacuumed or spot cleaned. With this, you might as well buy any sofa because there's no advantage. Some fabrics are easier to clean, like cotton and cotton blends. While others are more delicate, like some linens or velvet.
Size
As with any other sofa, you need to pay attention to the size of your chosen slipcover sofa. Measure the available space in your living room, and then look for a sofa that fits that space. Do not try to fit a sofa that's too large in your living room, or it will be cramped and overstuffed. A sofa that's too small will feel awkward, and your living room will feel bare. Additionally, think about how many people can sit on your chosen sofa. A love seat comfortably fits two people, while a standard sofa fits three people, and sectionals can fit even more people.
Conclusion
Our top pick for the best slipcovered sofa is the Aubagne 65" Cotton Rolled Arm Slipcovered Loveseat because it's small enough to fit in many living rooms. This sofa has a polished look yet is easy to care for. 
For a more affordable alternative, the Stone & Beam Bryant Modern Sofa Couch with Slipcover is a smart choice. Its high quality construction means it will be durable enough to last for years, while its clean design means it will look timeless in your living room. 
FAQs on Slipcovered Sofas
Who should get a slipcovered sofa?
A slipcover sofa is perfect for anyone who likes the style and fabric of the sofa. However, homes with pets or children will benefit the most from this sofa style. Look for a sofa with a removable slipcover that you can take off and easily clean. This will keep your sofa looking nice despite experiencing heavy wear and tear.
How do you clean a slipcovered sofa?
How you clean your slipcover will depend on the material the upholstery is made out of. If the cover is not removable, then you'll spot clean it the same way you would any other sofa. If the cover is removable, you may be able to machine wash it. Always check the care label to know what temperature water to use and if it requires dry cleaning.
Can you replace a slipcover on a slipcovered sofa?
Yes, you can buy a replacement slipcover. The easiest option is to buy a new slipcover from the retail company that you bought the original sofa from. This is easy with the ektorp sofa or any other Ikea sofa because you can buy specific pieces from the Ikea catalog. Other companies that sell beautiful slipcovers are Maiden Home, Ethan Allen, and Birch Lane. Be careful, though; if you have a Pottery Barn sofa, it may not have compatible dimensions with another brand.