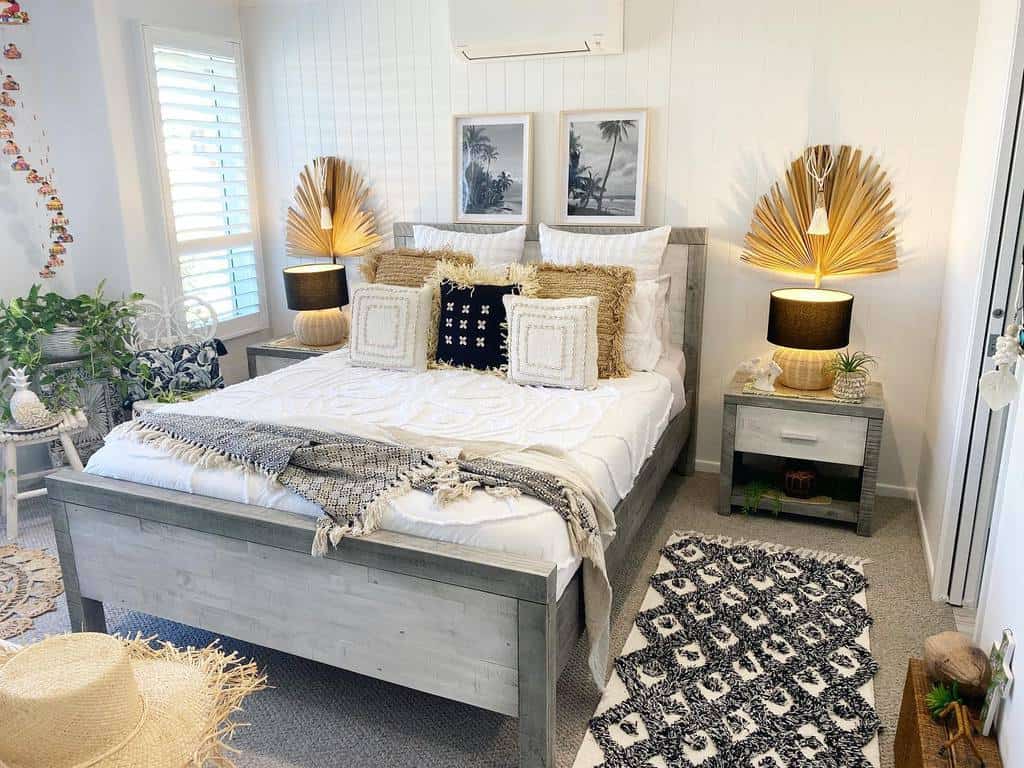 38 Boho Bedroom Design Ideas
It doesn't matter if you call it boho or bohemian—a boho bedroom is a welcoming, unique home decor idea. Bohemian bedroom decor projects a casual vibe and tells the story of your past and present.
Natural materials play a big role in bohemian style. A boho chic bedroom layers different colors, multiple textures, repurposed furniture, and cultural decor into a quirky, meaningful space. Scroll through our top boho bedroom ideas for inspiration on creating your own boho inspired retreat.
1. Coastal
Coastal and boho decor share some of the same clean, casual design elements. White beadboard walls convey a coastal cottage theme; adding woven window shades increases it. Decorating with nautical and travel themed accessories brings up memories of favorite beach vacations.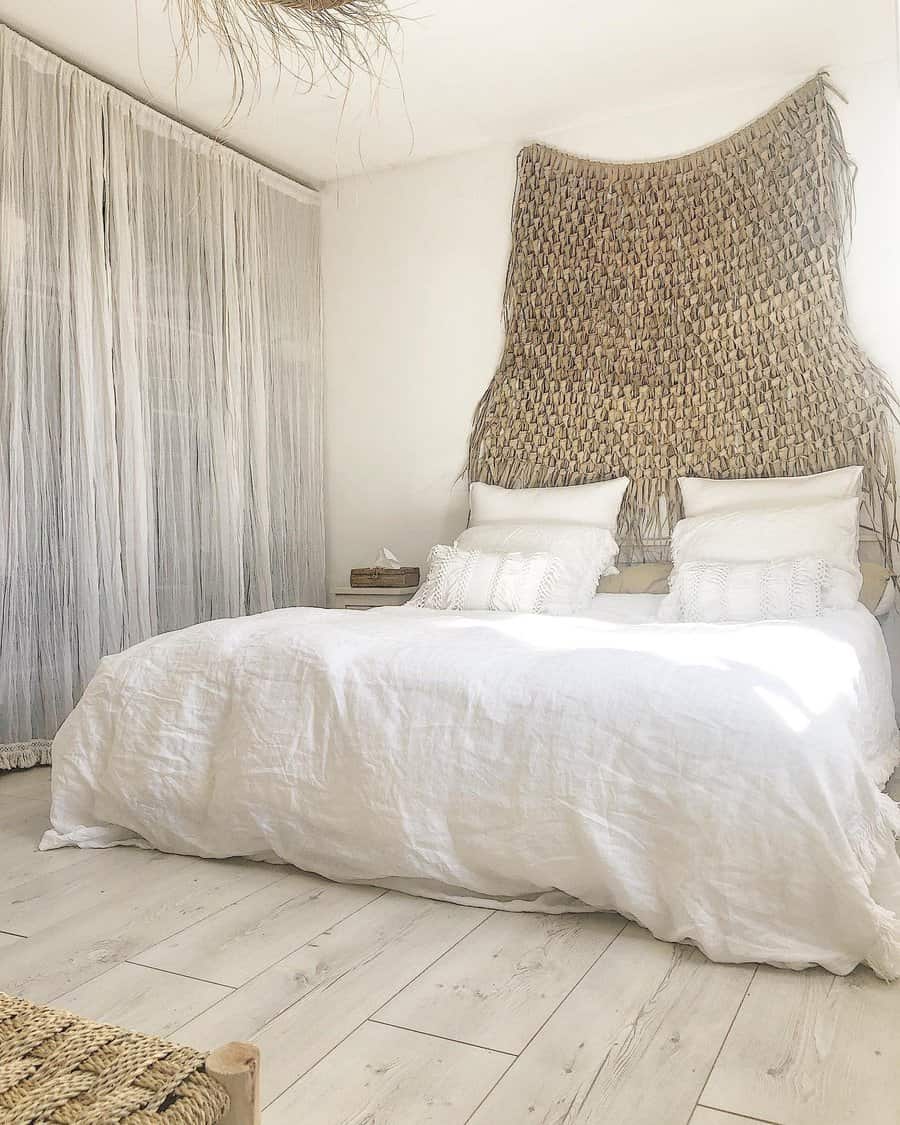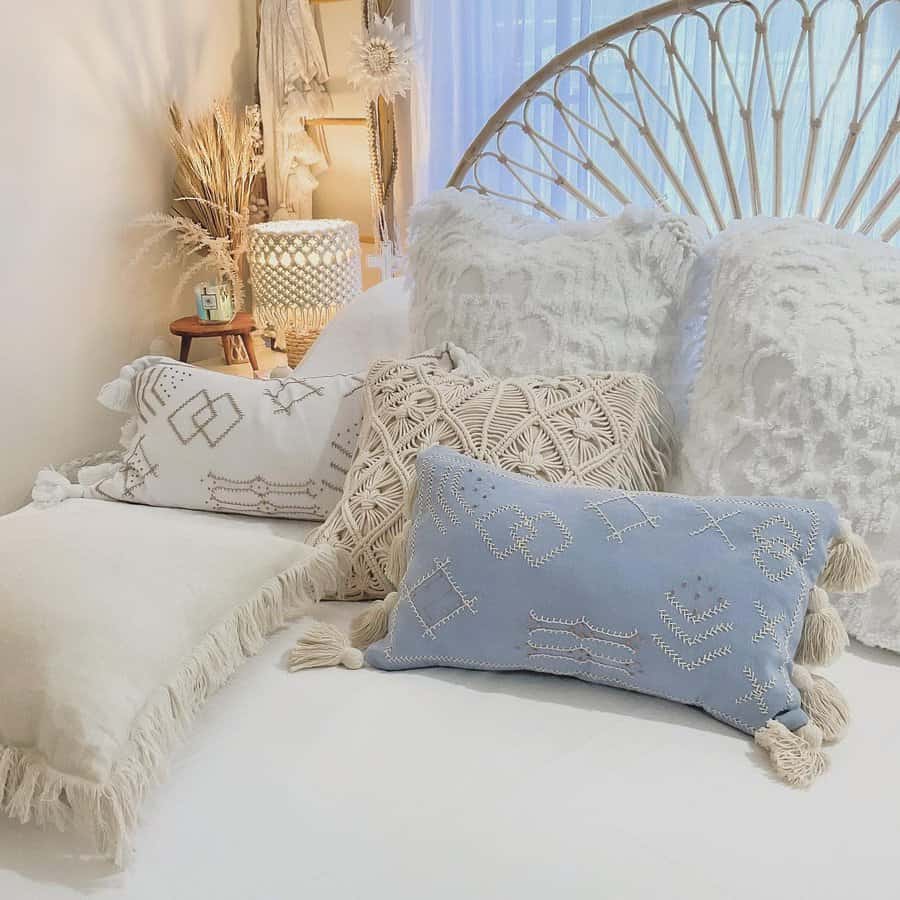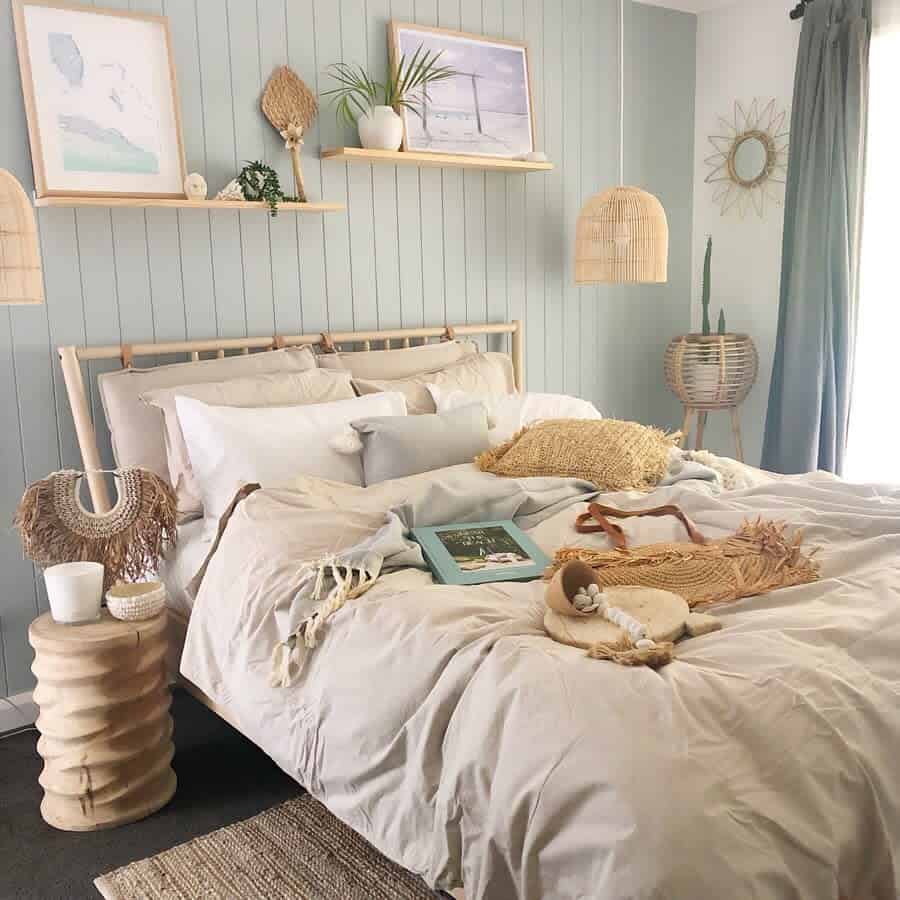 Look for a simple driftwood table and accentuate it with seashells from your journeys. While a white wall background is ideal, splashes of blue, sea green, grey, and sand all add to the coastal boho ambience. A large faux palm plant and perhaps a sea glass vase teeming with cattails are natural elements that bring you back to the sea.
See more coastal bedroom ideas here.
2. Dark Boho
Although a light, airy color scheme usually comes to mind at the word "boho," dark bedroom decor can also create a stunningly boho chic bedroom. Paint an accent wall behind the bed a dark shade of blue or grey, and include the color in some of your textiles.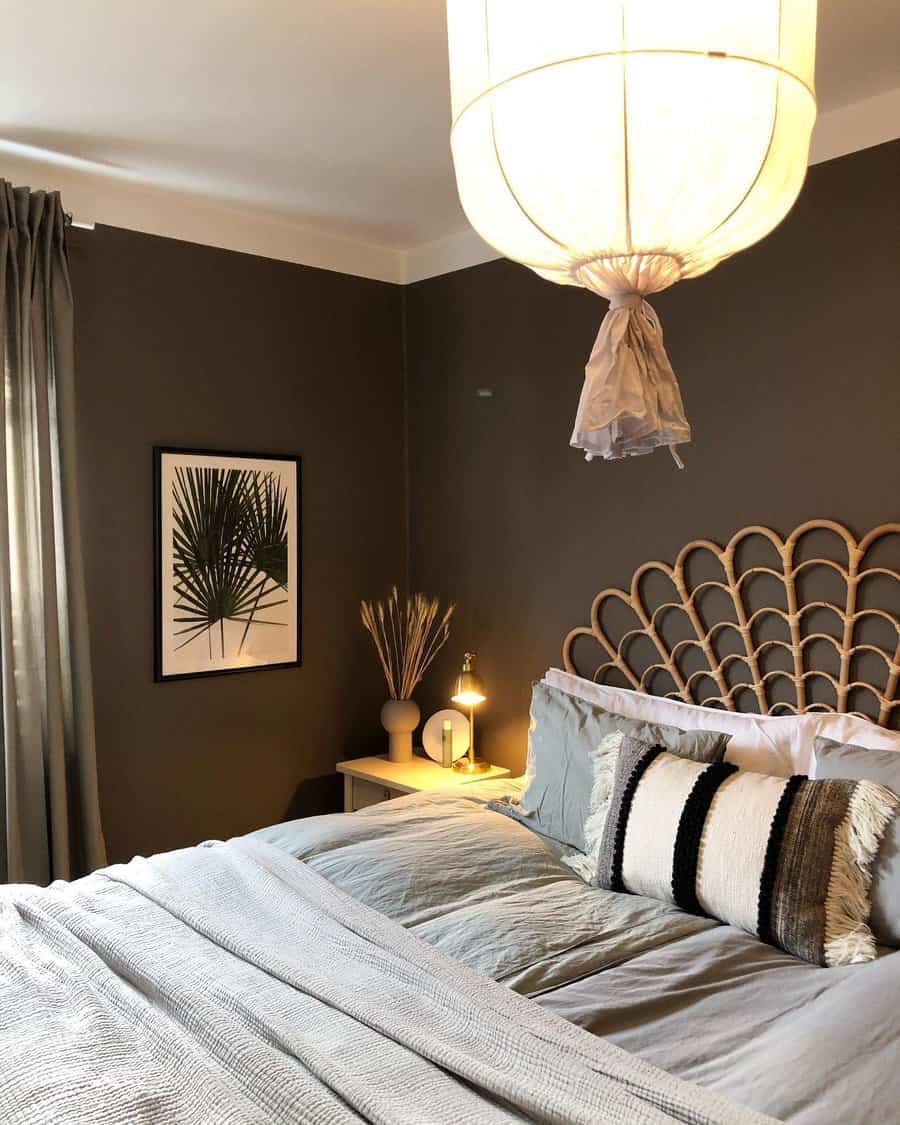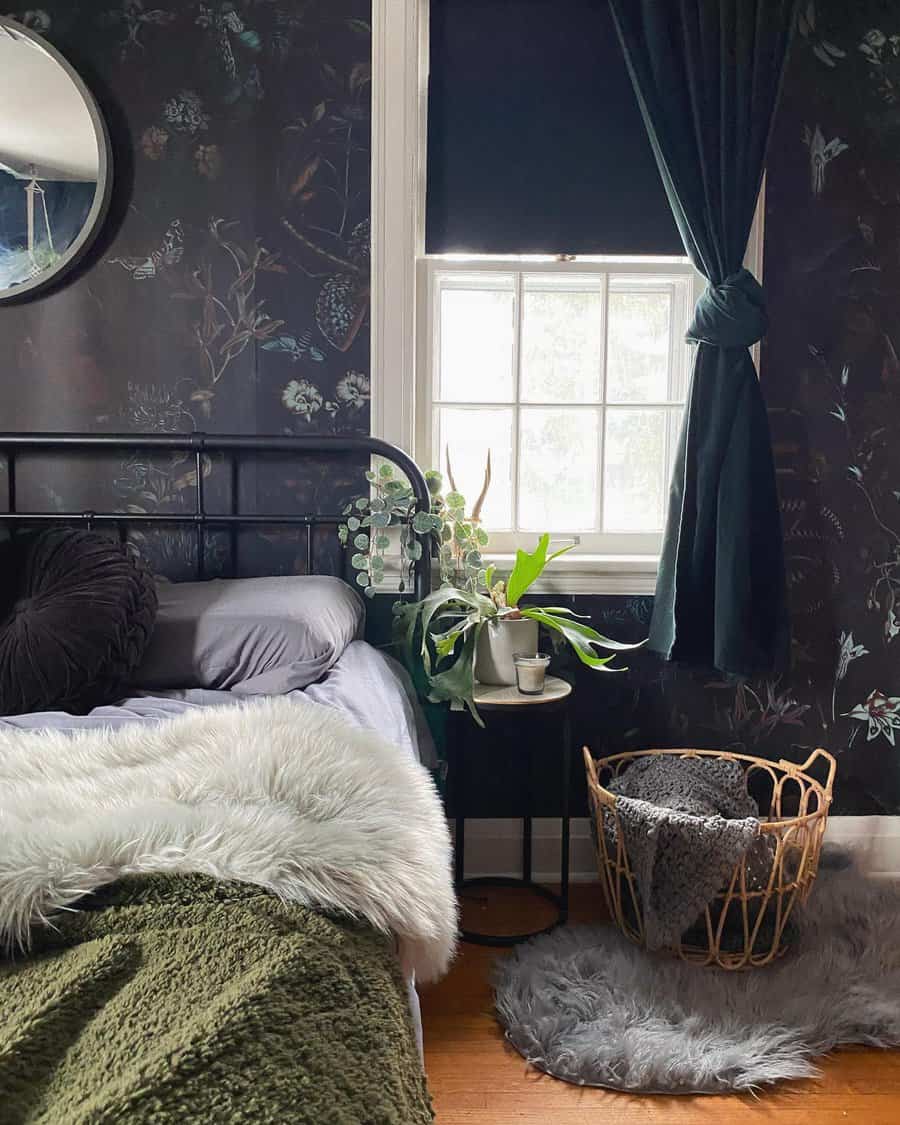 Deep chocolate brown is a beautiful idea for a dark color that adds depth when added to the lighter shades of brown and beige found in natural materials. Black and white is another brilliant duo for conveying a clear boho message, especially when it's accentuated with a bright color or two.
3. Wall Decorations
Boho wall decor is not the kind of style that forces you to go out and spend a lot of money. In fact, quite the opposite is true.
Although you may want to invest in a stunning wood bed frame or a perfect boho accent chair, reusing things you already own is a key bohemian decor element. However, since bohemian interior design has evolved into a more contemporary air, salvage pieces that are in good shape.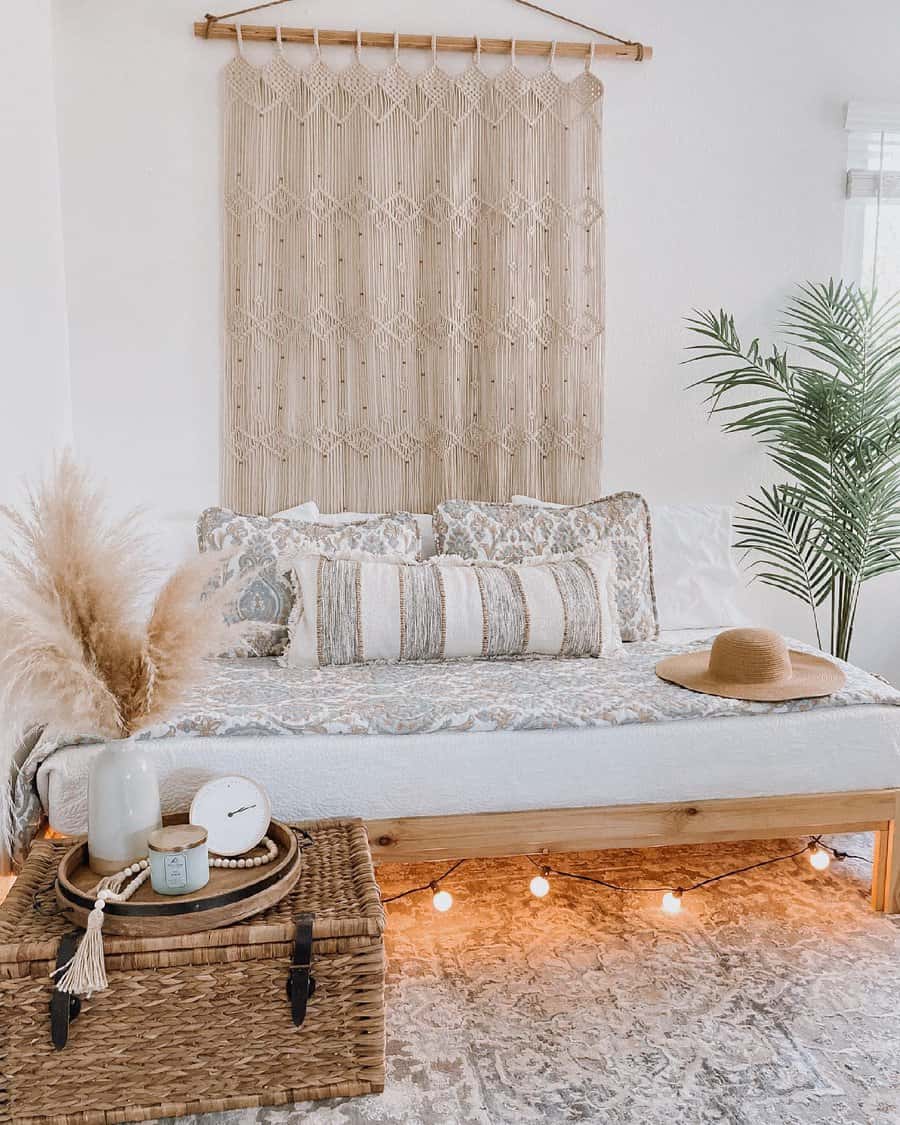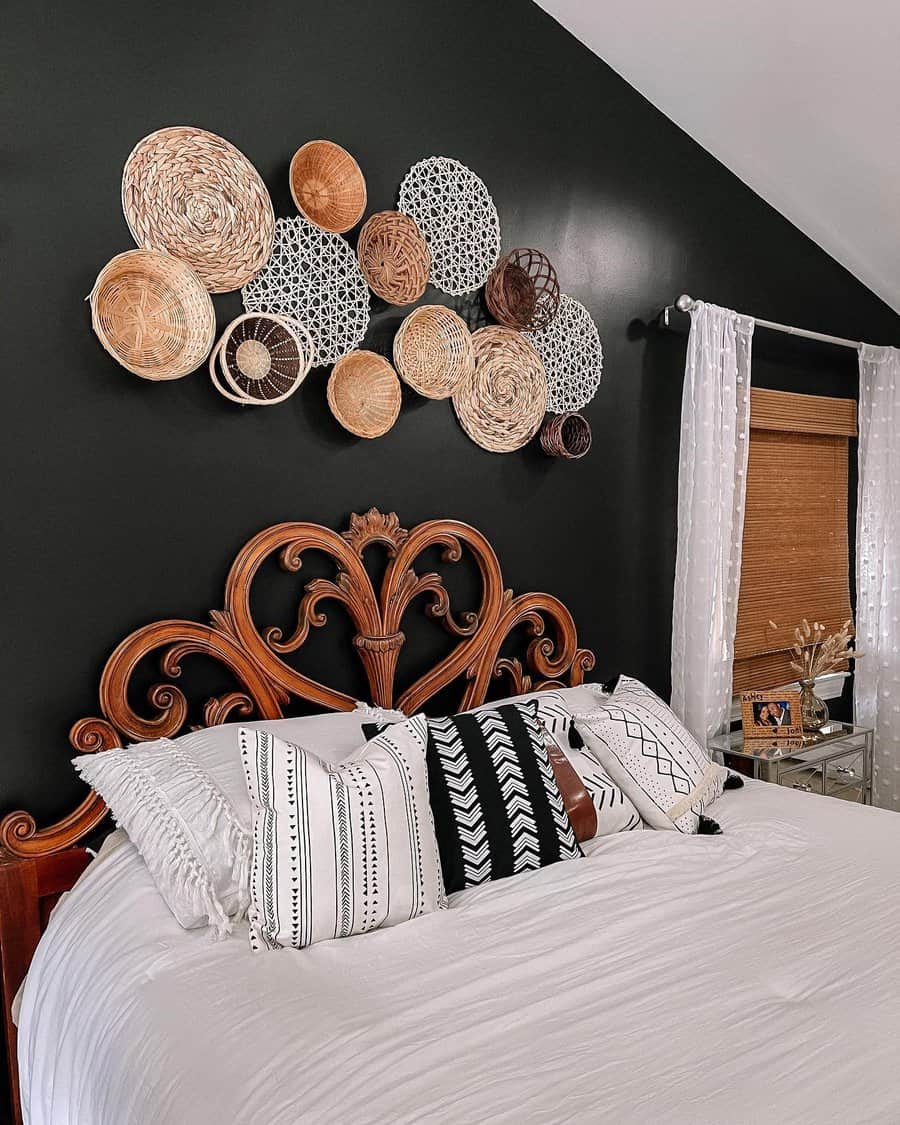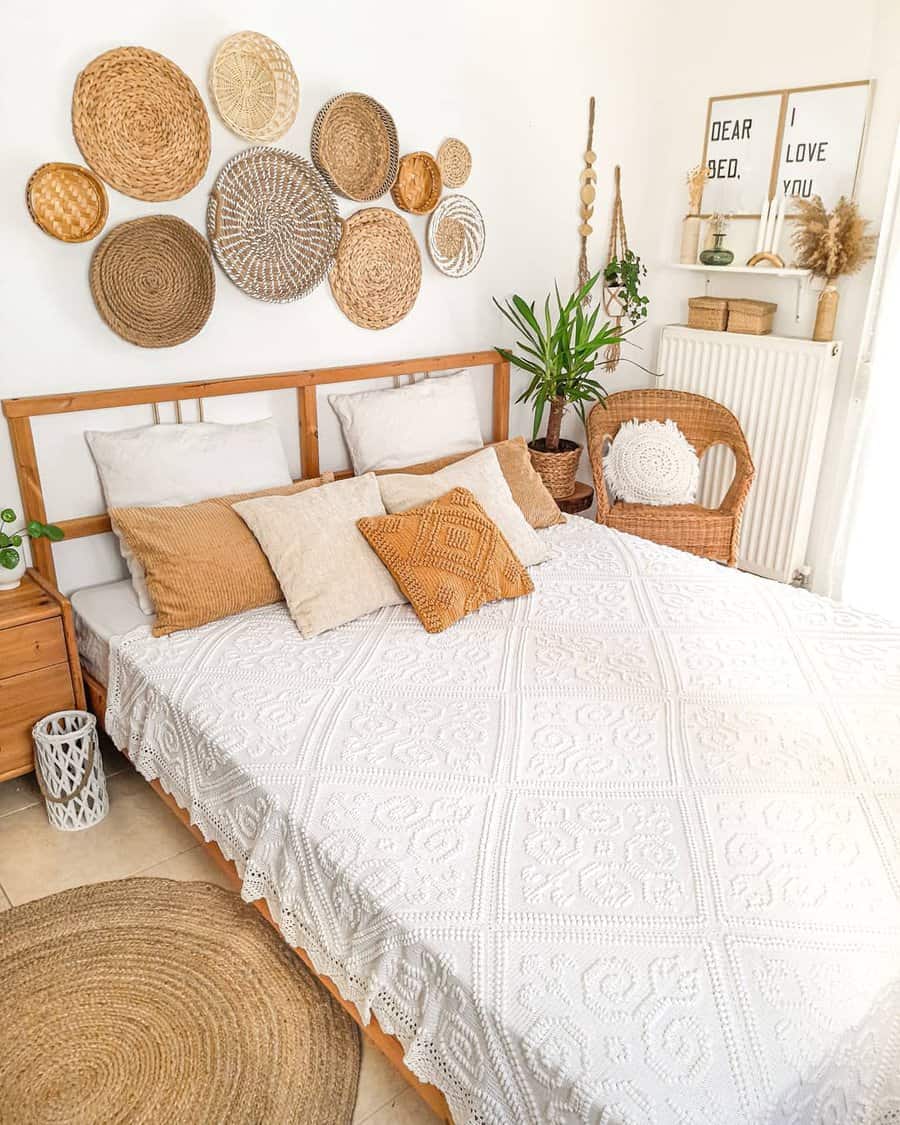 Your boho bedroom is the perfect place to repurpose grandma's vintage headboard, or your uncle's army footlocker. Raid older relatives' garages and attics for new-again pieces from the 1970s and 80s. Their bright colors and retro style make them fun additions to a boho room.
4. Eclectic Boho Decor
The word "eclectic" means deriving ideas, style, or taste from a broad and diverse range of sources. It's an ideal adjective to describe bohemian style. Although boho decor is eclectic at its core, you can increase it by adding an animal print duvet and a multi color throw pillow collection.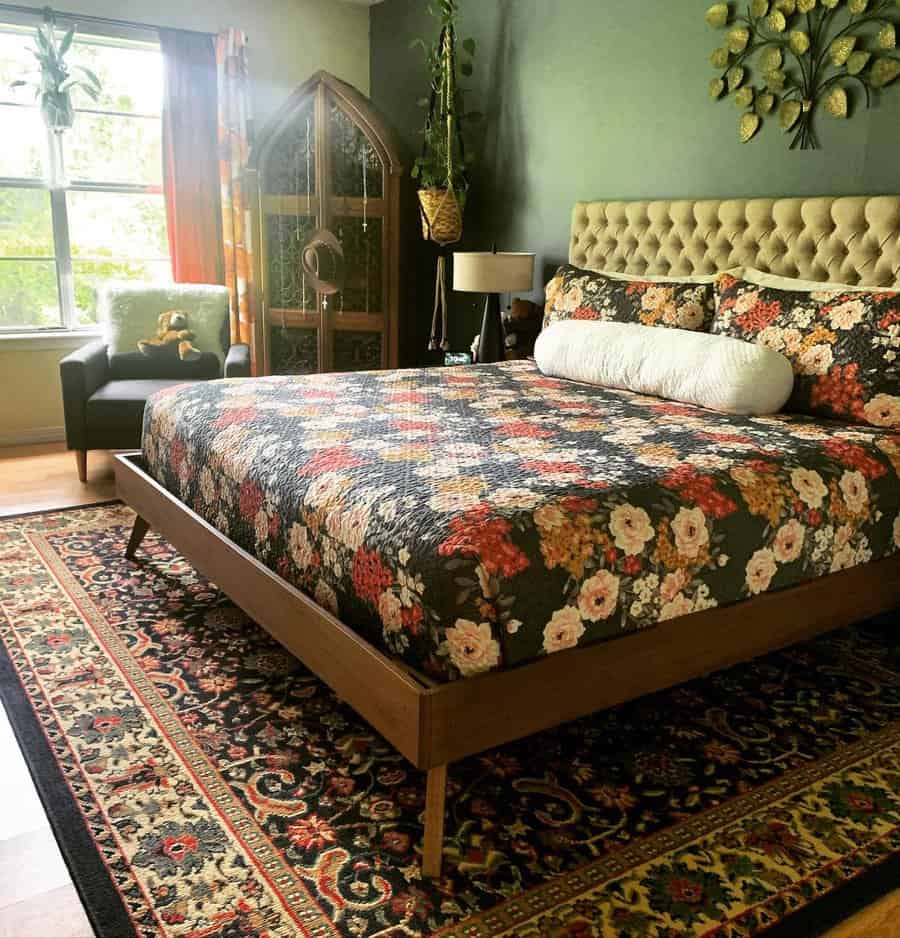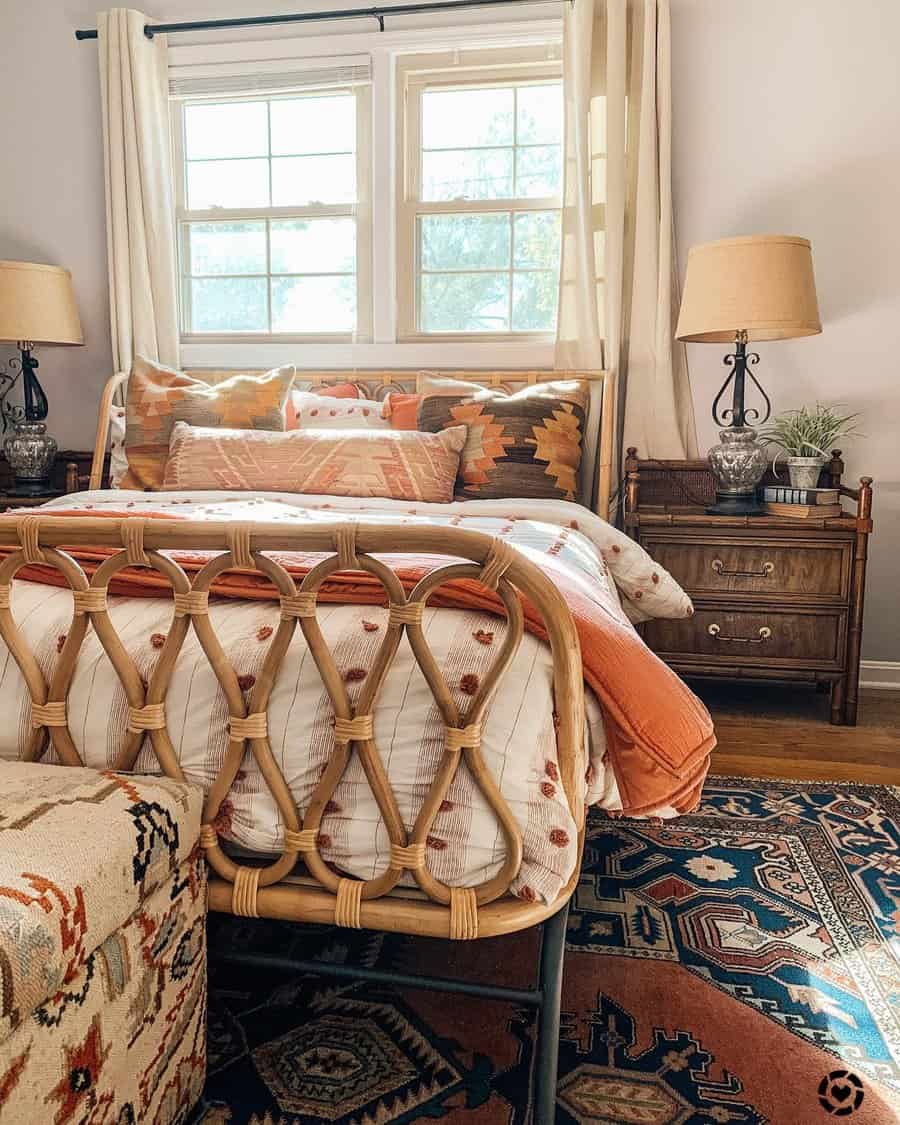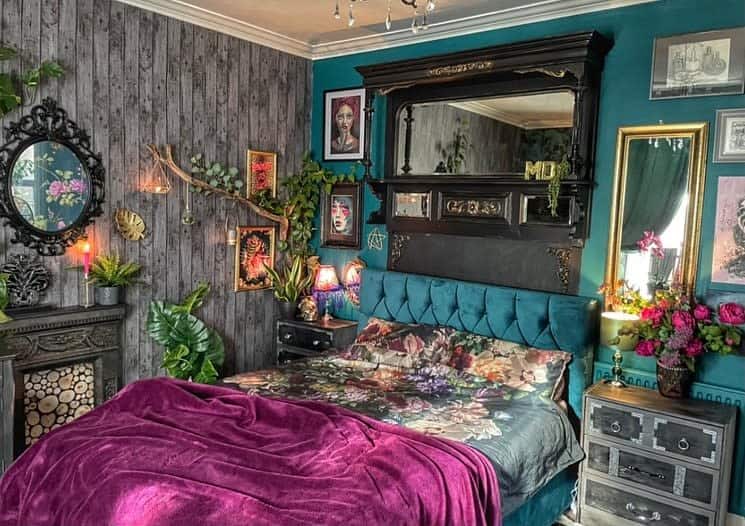 Distressed furniture, pompoms, tassels, and baubles are all whimsical additions to eclectic bohemian style. Don't be afraid to integrate various cultural fabrics and tapestries, mixing different patterns together. Hang playful fairy light strands over the bed and use them as a nightlight.
5. Minimalist Bohemian Style
Boho decor involves combining many elements into one design style. On the surface, that sounds like the antithesis to minimalist decor. But it is possible to merge the idea of minimalism with a boho vibe.
A simple color palette is key to making boho bedroom ideas minimalist. Stick with white, cream, and other earthy natural element color choices. Add texture in your rug and bedding choices.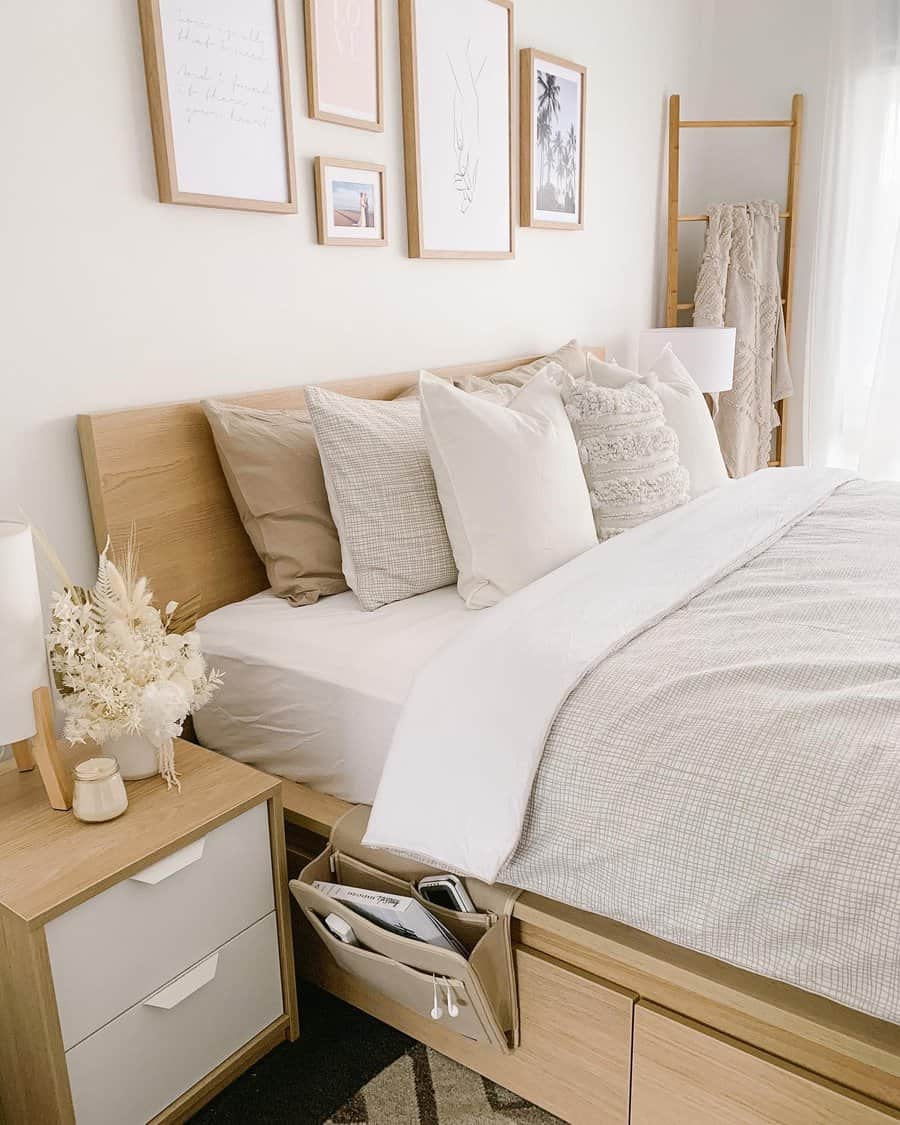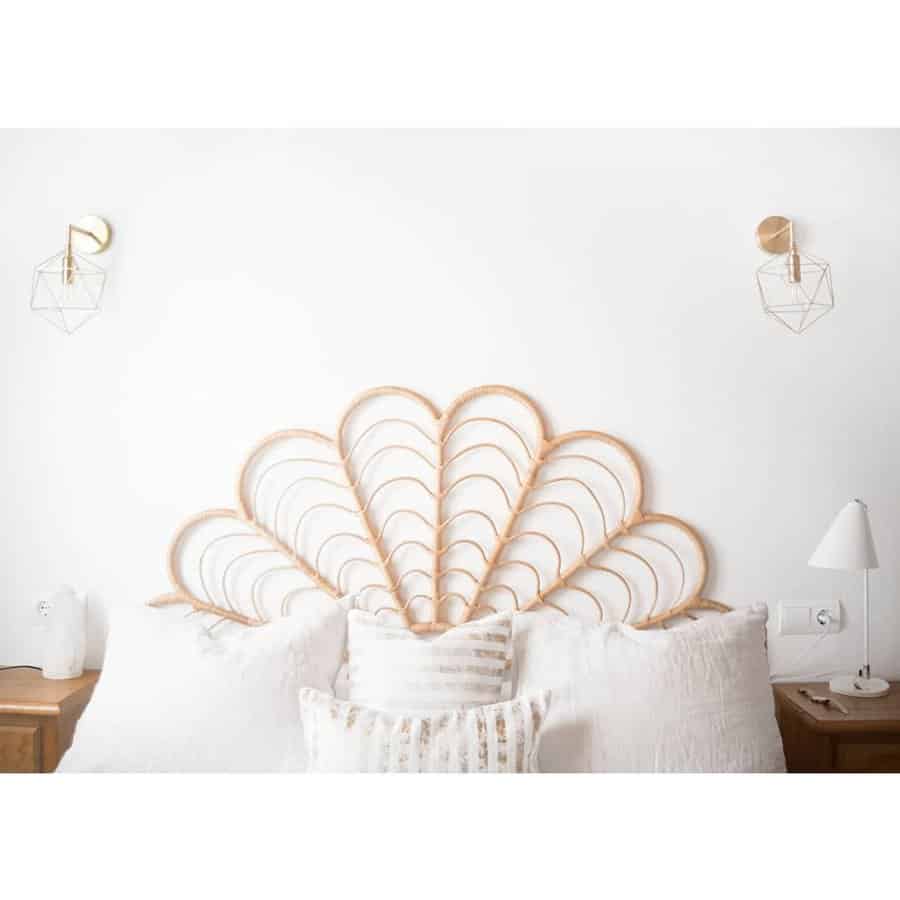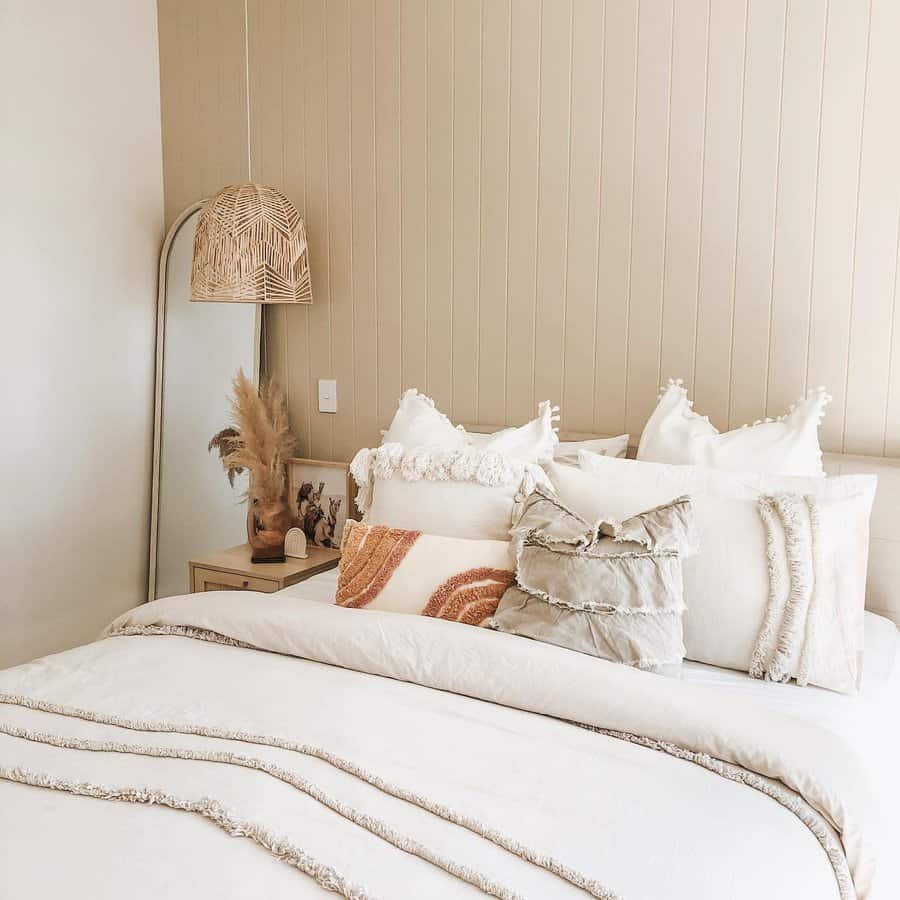 One way that boho style is the opposite of minimalism is in how many objects you should have in the room. Many people are drawn to boho decor because it allows them to show off collections in a fun, playful way. But collections and clutter cannot exist in a minimalist space.
6. Modern Boho Look
Modern is always a good addition to keep a boho bedroom looking elegant. It just works so well with natural boho design elements. When your walls and rugs are white or cream-colored, it makes it easier to add lots of interesting paintings and wall shelves.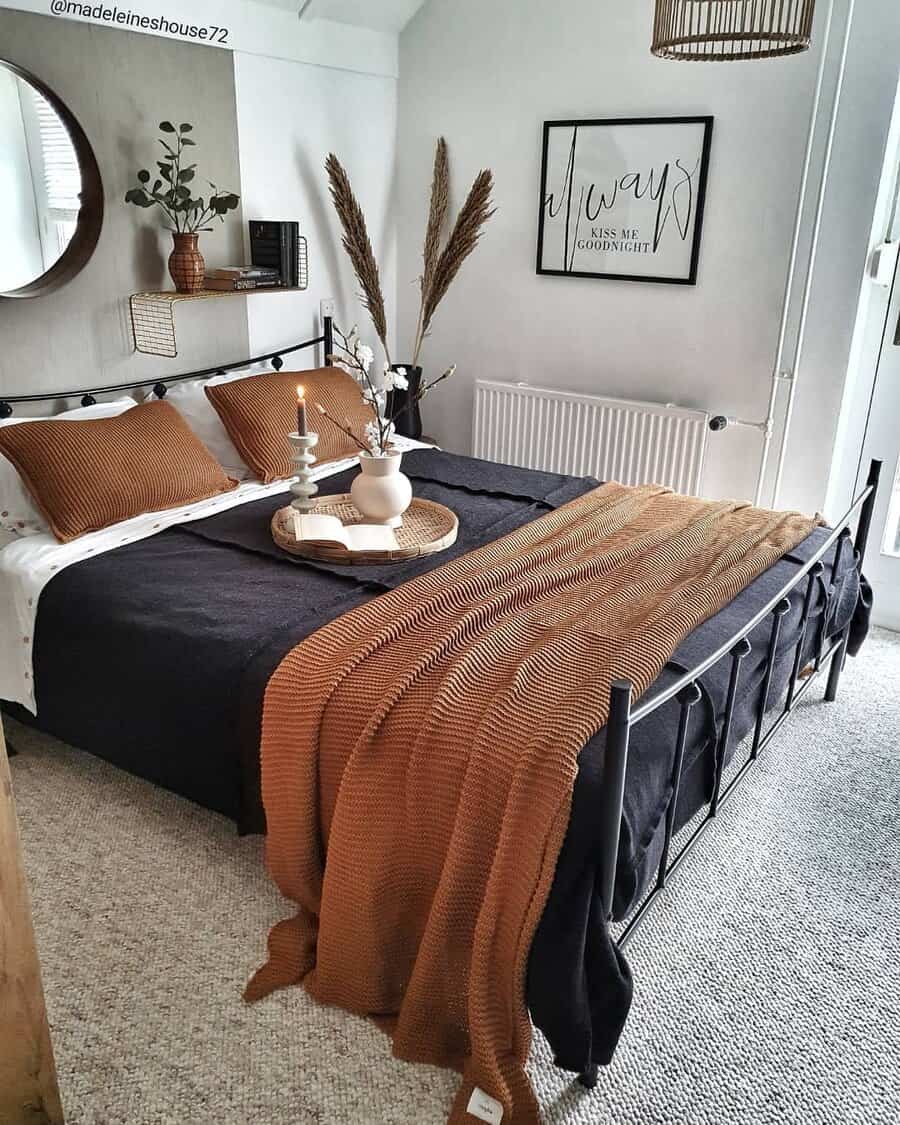 7. Neutral Tones
A neutral background is a helpful clean slate for building boho bedroom ideas. Splashes of bold color are appropriate in a boho bedroom space, but they aren't necessary if you prefer the calming vibe of a totally neutral room.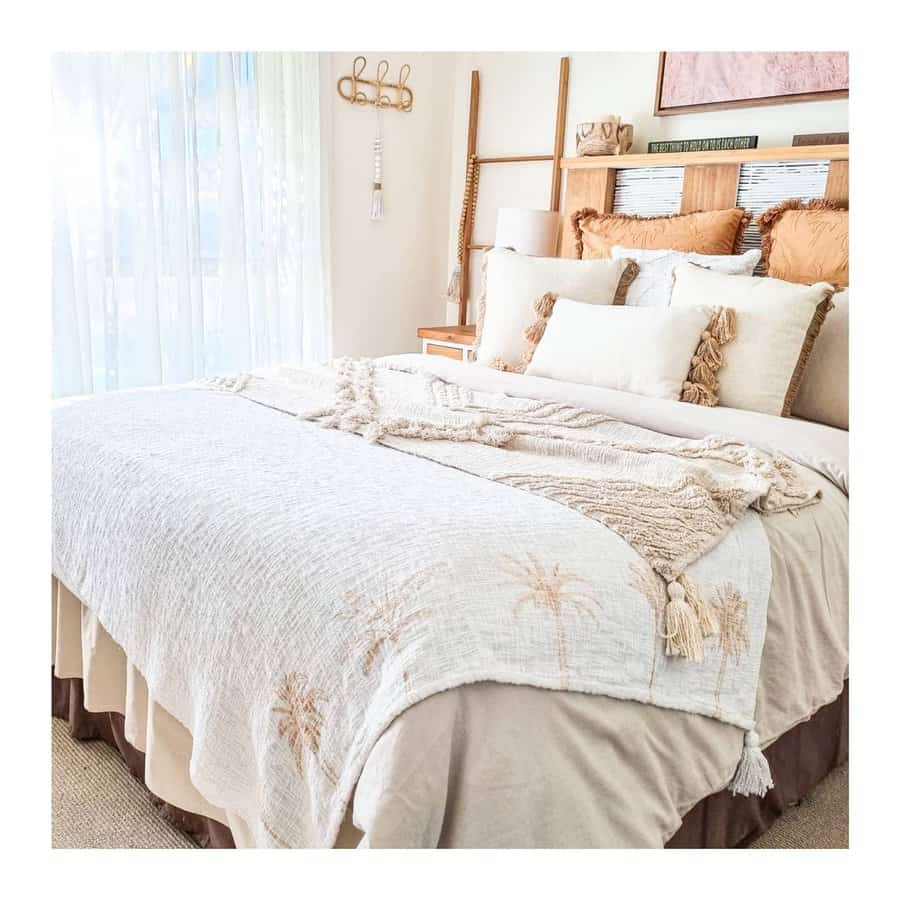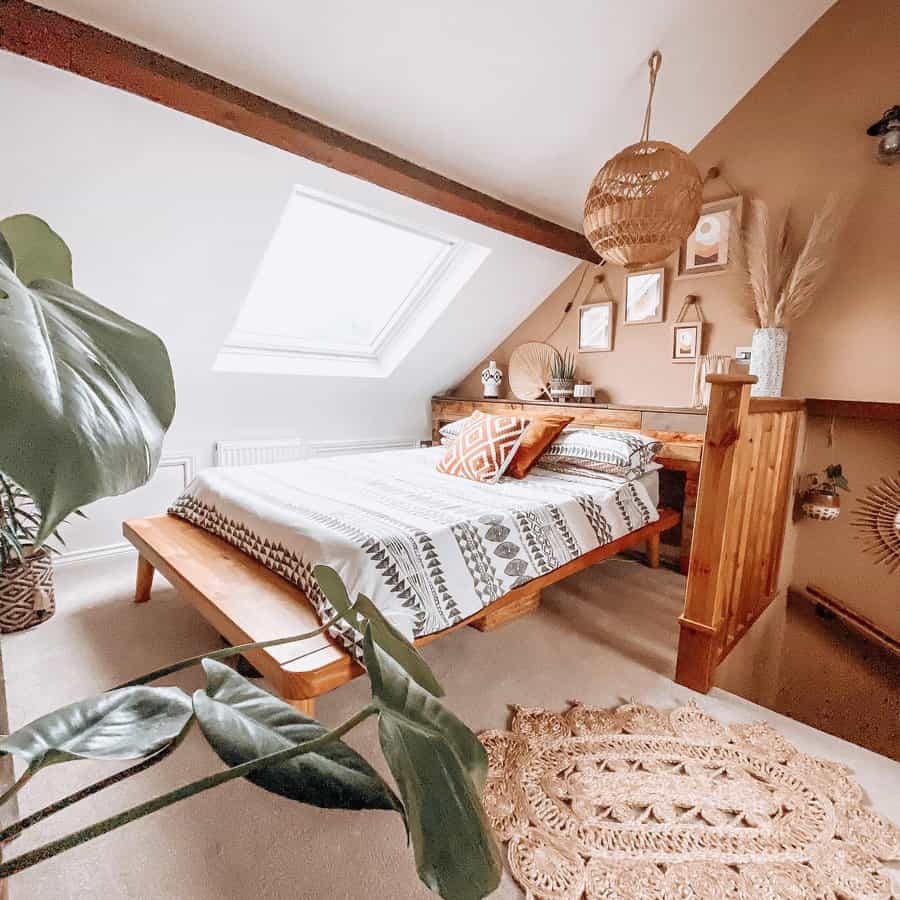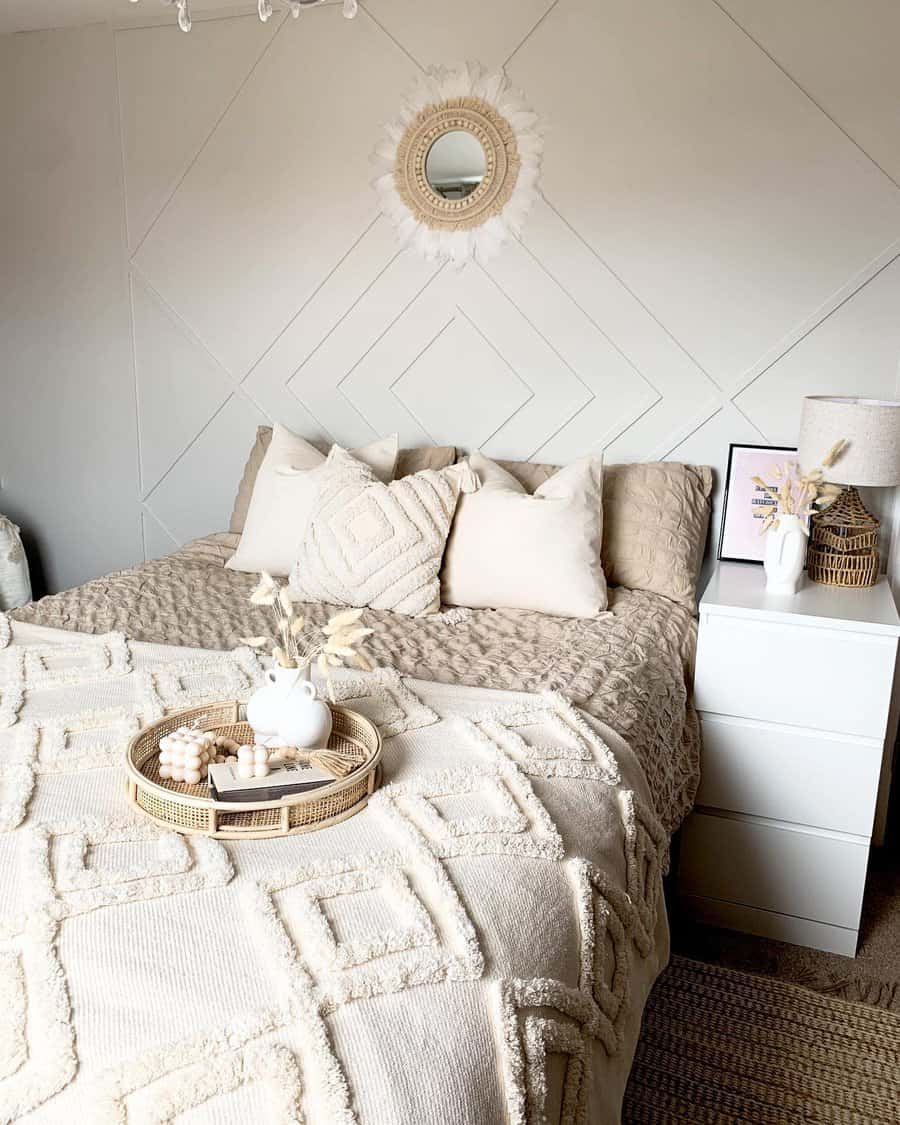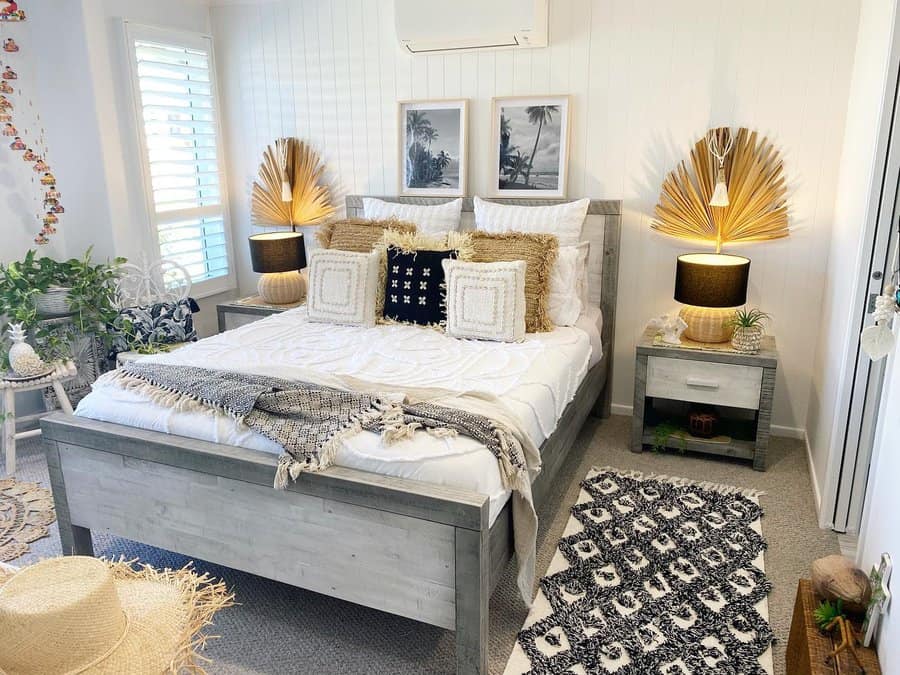 Whatever neutral foundation idea you have, see it as a rainbow of values. For example, choose a cream color wall paint, a beige duvet cover, light wood furniture, brown and white striped pillow shams, and dark bronze metal accents. You can do the same with grey, going from pale cloud grey to deep charcoal.
8. Boho Rattan Decor
Rattan is made from thin, flexible palm reeds woven together to make baskets, furniture, fans, and other interior design elements. It's a perfect addition to boho room decor, along with its similar friends, wicker and raffia.
A rattan or wicker headboard adds a perfect natural texture to your boho bedroom, especially if paired with a matching chair. Although you don't want to go overboard with rattan, oversized rattan fans and pendants make for chic boho wall decor.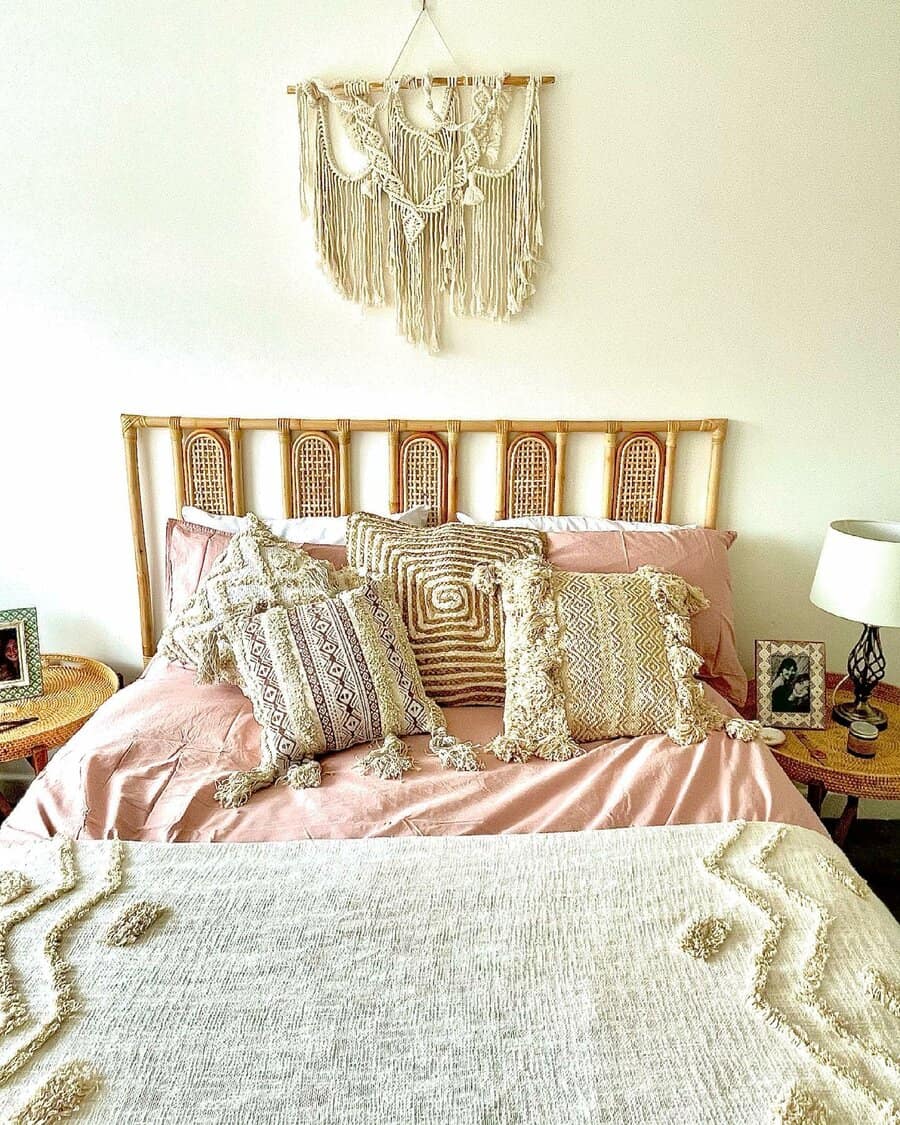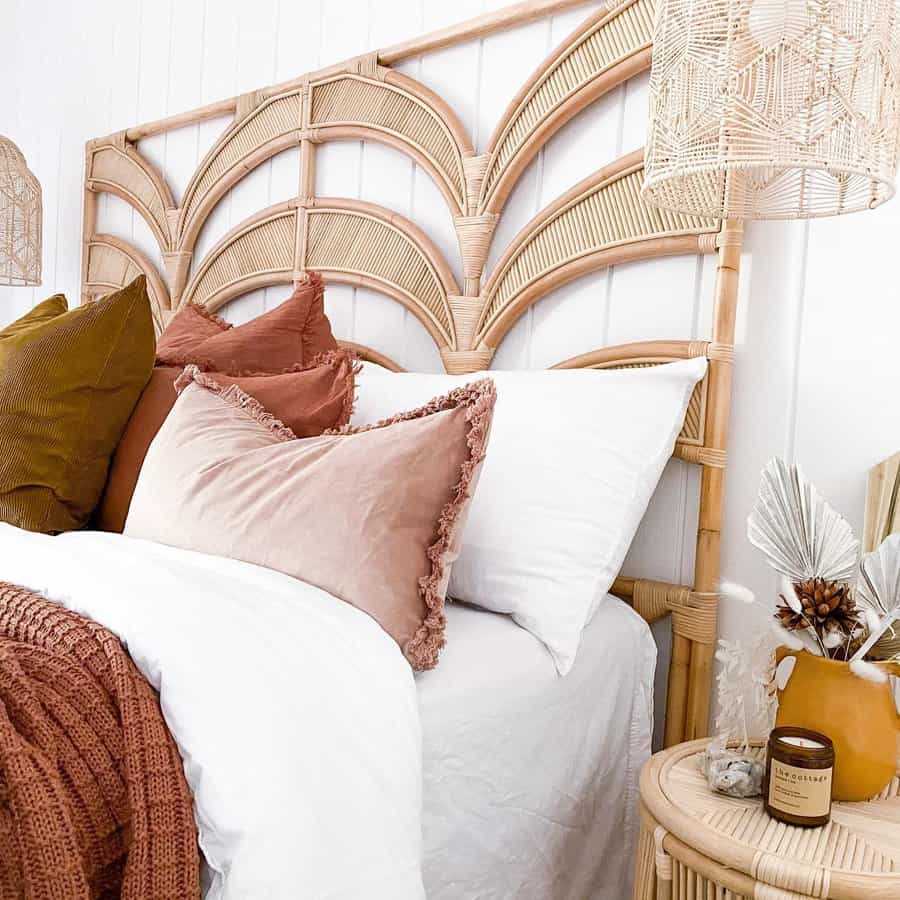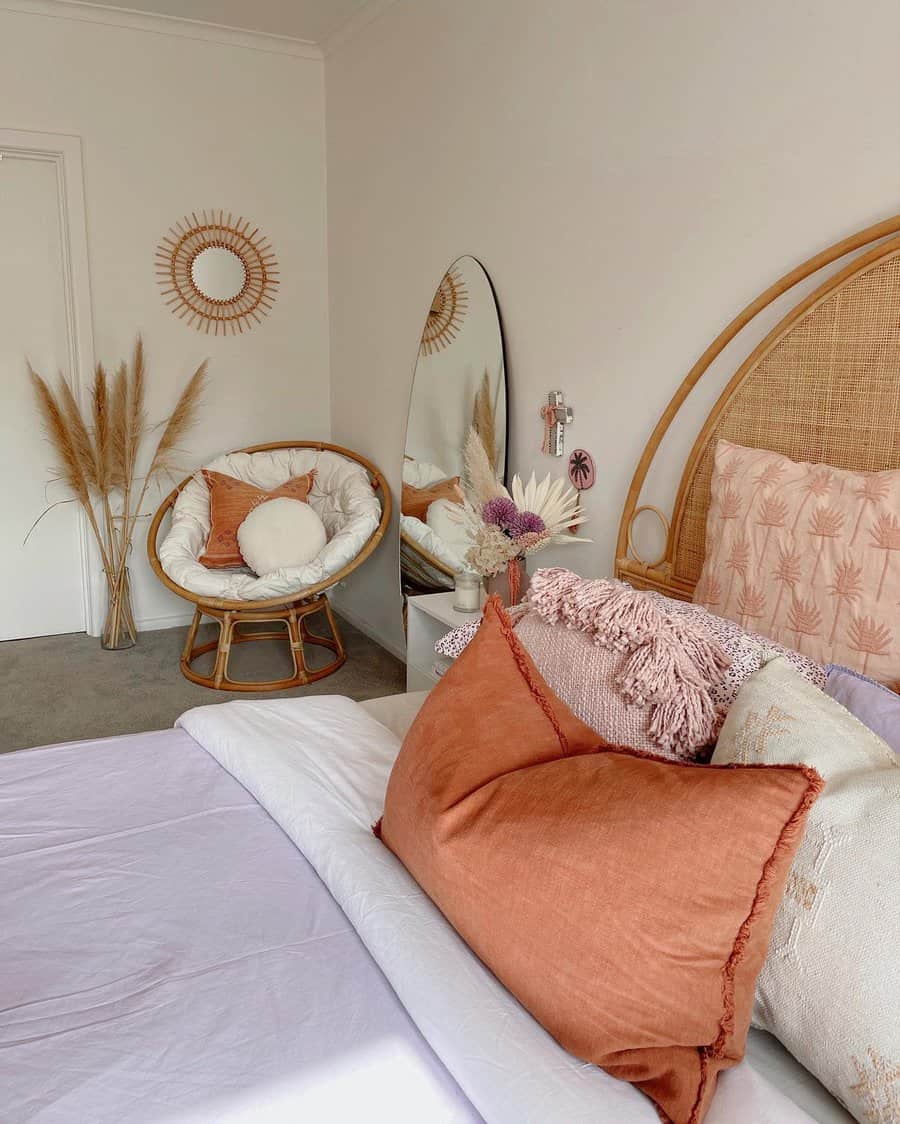 Use rattan baskets to display house plants. A large monstera plant, with its huge glossy leaves, is a beautiful contrast to its woven container.
9. Rustic Boho Decor
Rustic style centers around wood finishes, exposed brick, and organic materials. Stone and metal also show up frequently in rustic design. When combined with boho bedroom ideas, this focus on natural elements takes on a romantic, eclectic vibe.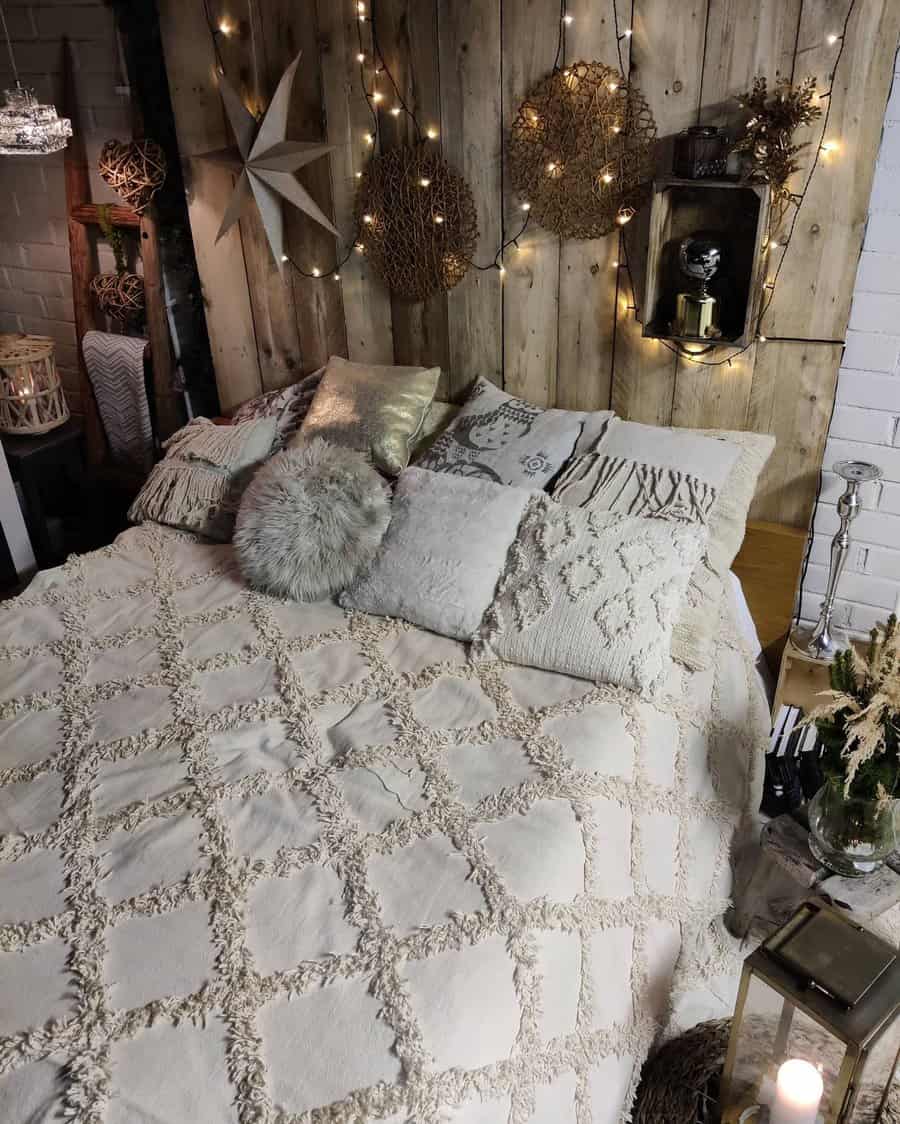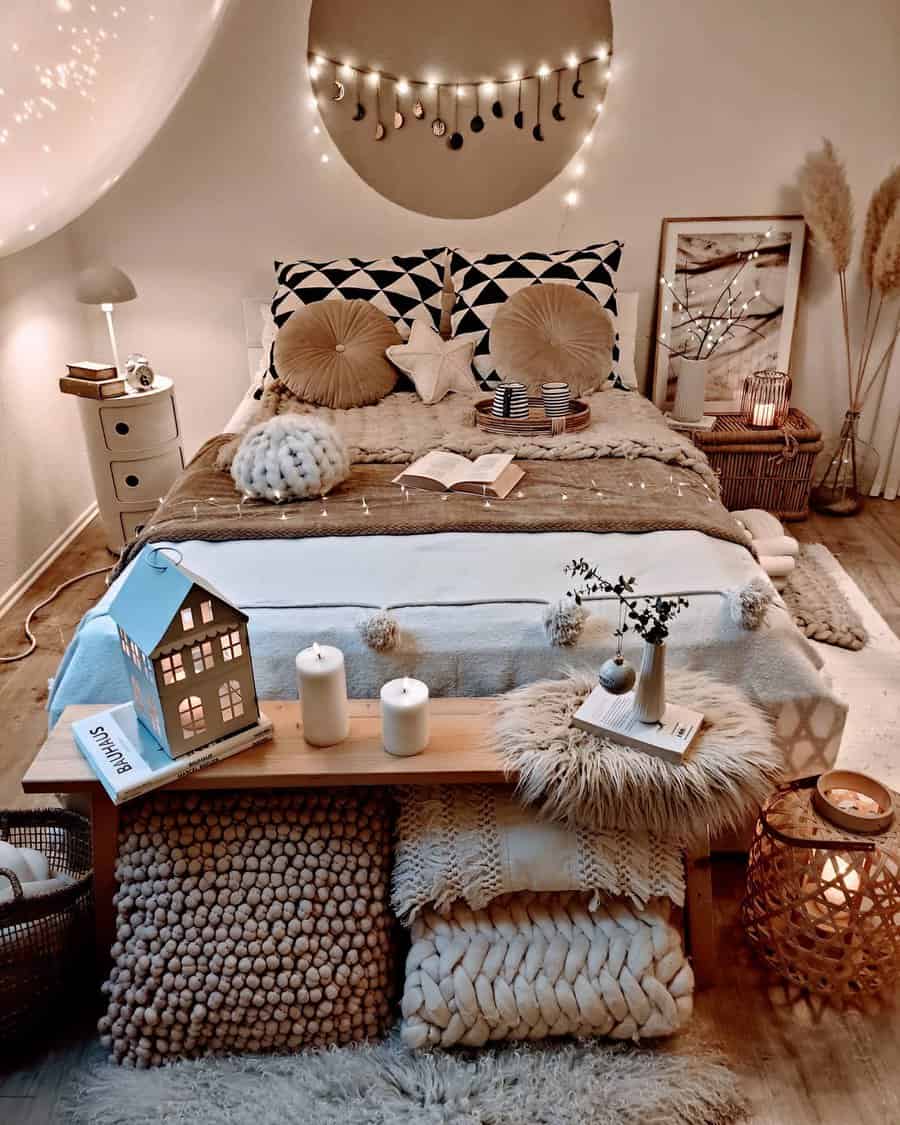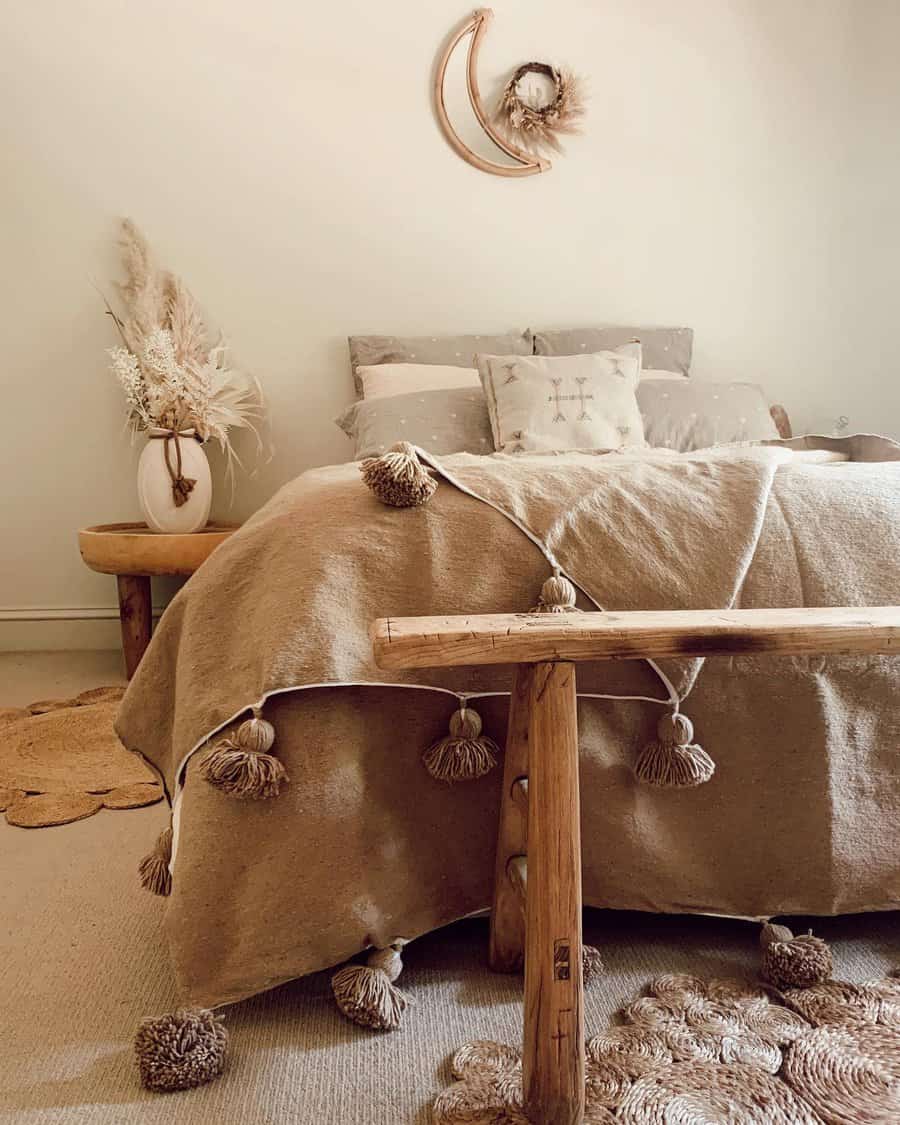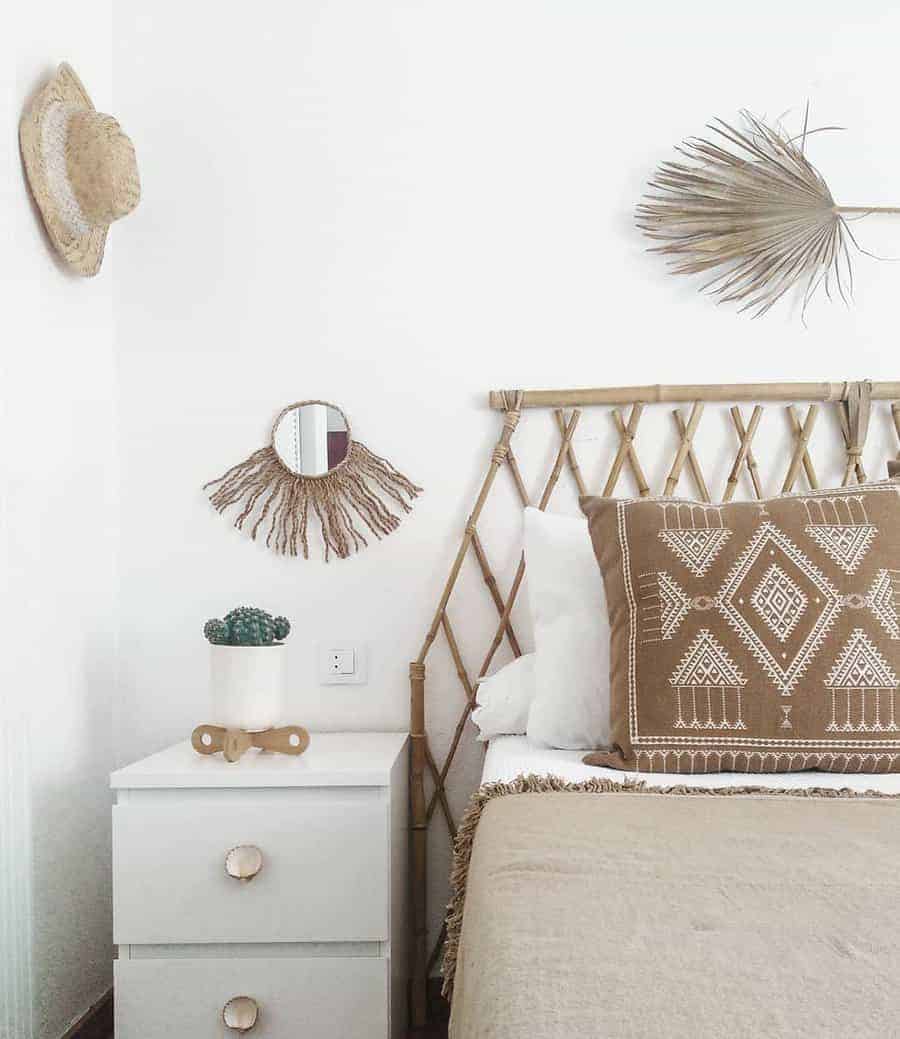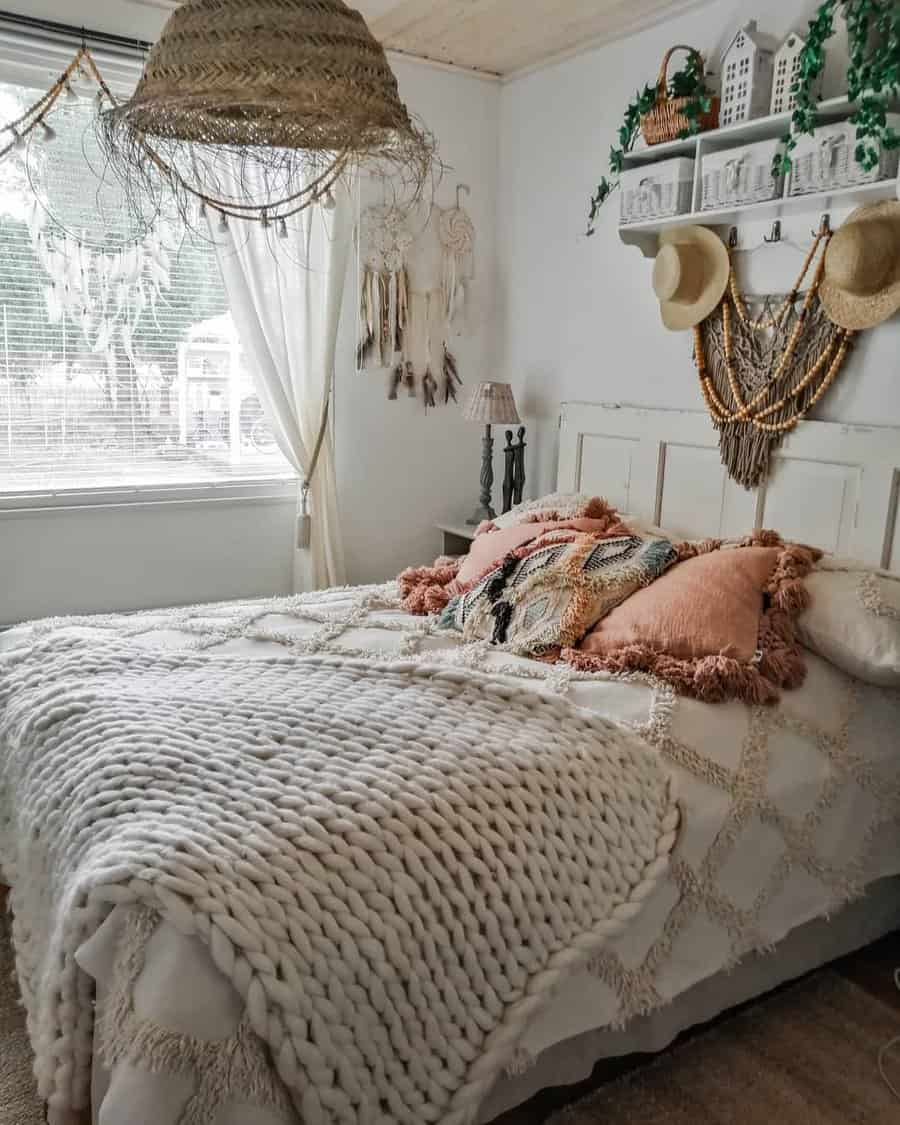 For example, you'd never see lace in an exclusively rustic space, but it is most definitely at home in a rustic boho bedroom. A metal woven basket is a classic rustic accessory. But fill it with flowers, and you cross the line into making it bohemian fabulous.
See more rustic home decor ideas here.
10. Boho Bedrooms for Teens
Teenagers love bohemian bedroom ideas because they reflect their own diverse thoughts and their emerging wanderlust. Teen-inspired boho bedroom ideas are usually the most whimsical of all, incorporating fun accessories from their younger years.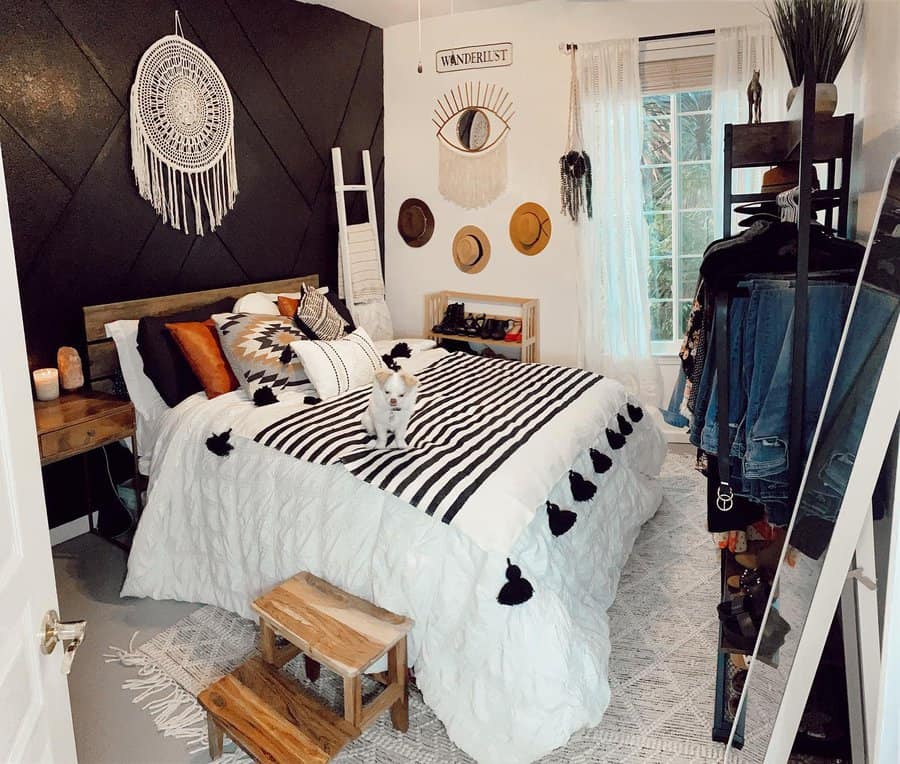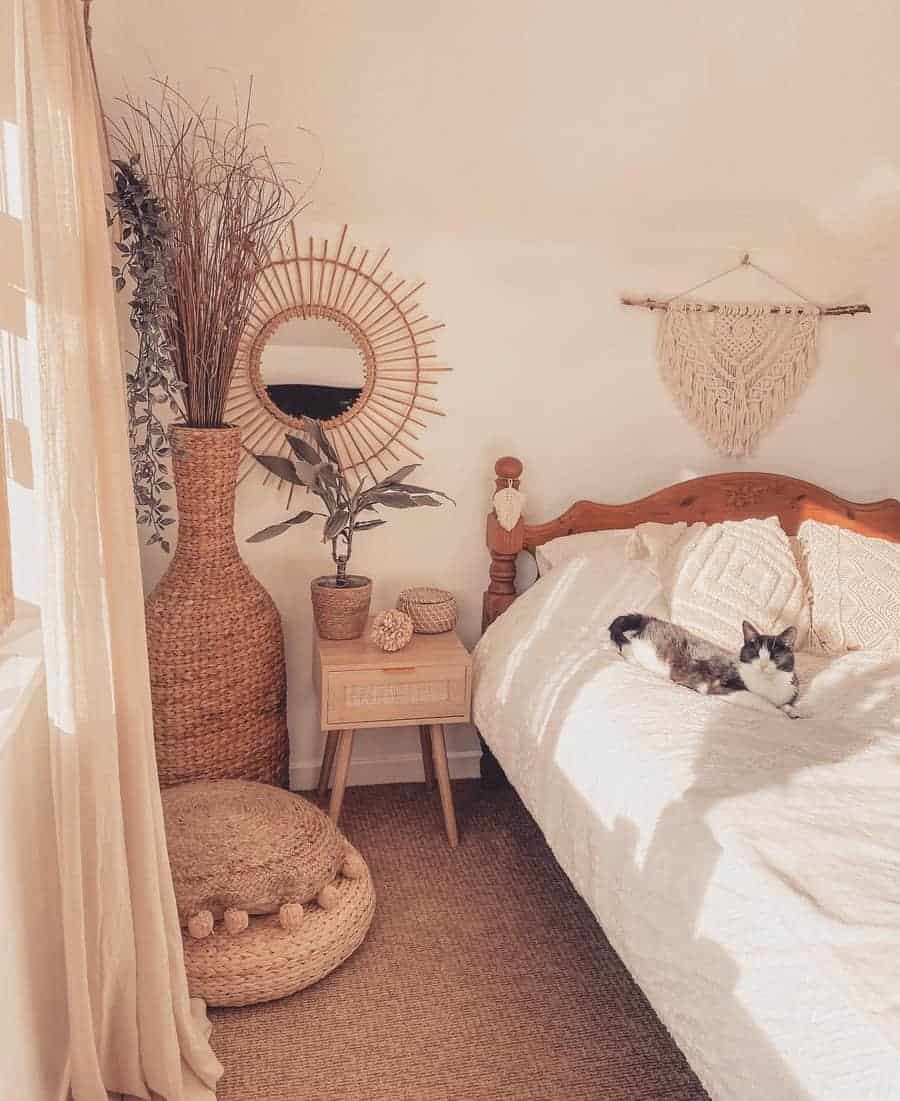 A teen boho chic bedroom can be all at once mature and playful. The beauty of going with a boho bedroom design idea is that parents can incorporate certain sensibilities while their teen embellishes them with unlimited creative touches.
11. Urban Jungle Boho Bedroom
Traditionally, an urban jungle referred to a large city metropolis packed with buildings, apartments, and businesses. When applied to home decor—and particularly bohemian style—an urban jungle is a city dwelling teeming with house plants.
A home's boho urban jungle could be located in the living room, kitchen, master bedroom—or every room in the house. Plants are the ultimate natural materials for giving life to a home, and collections of them greatly increase the peaceful style embodied in boho decor.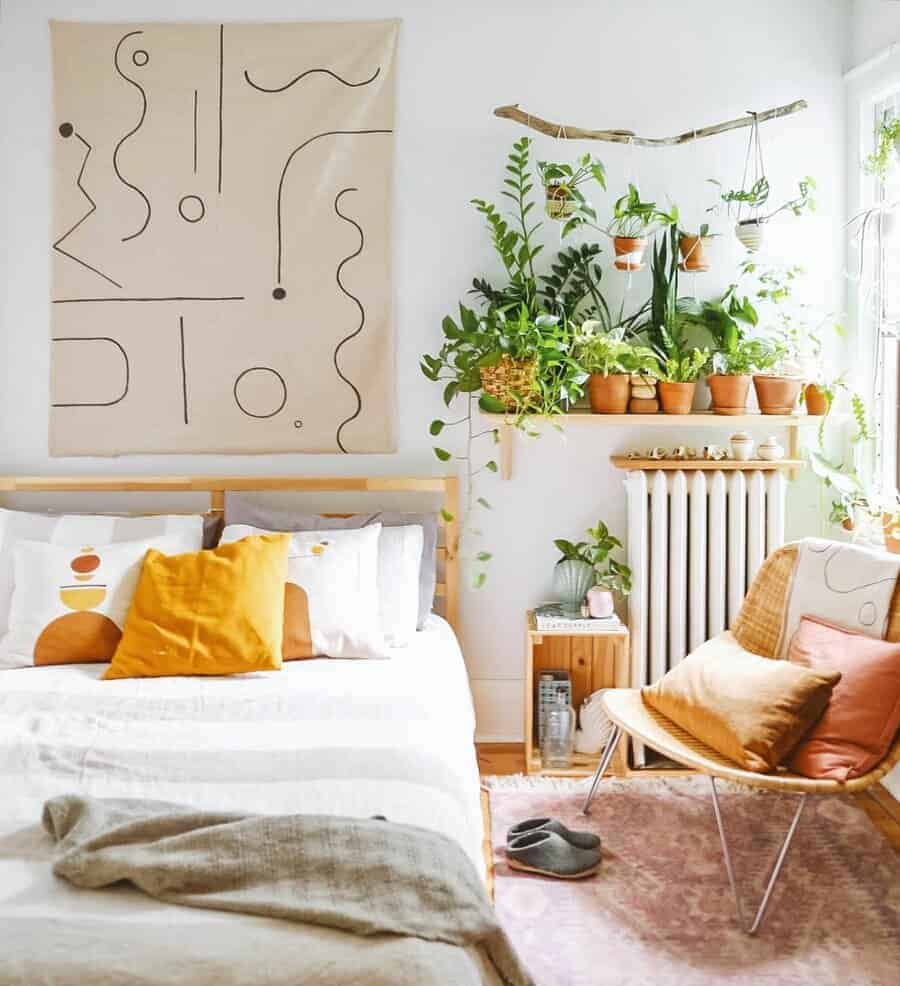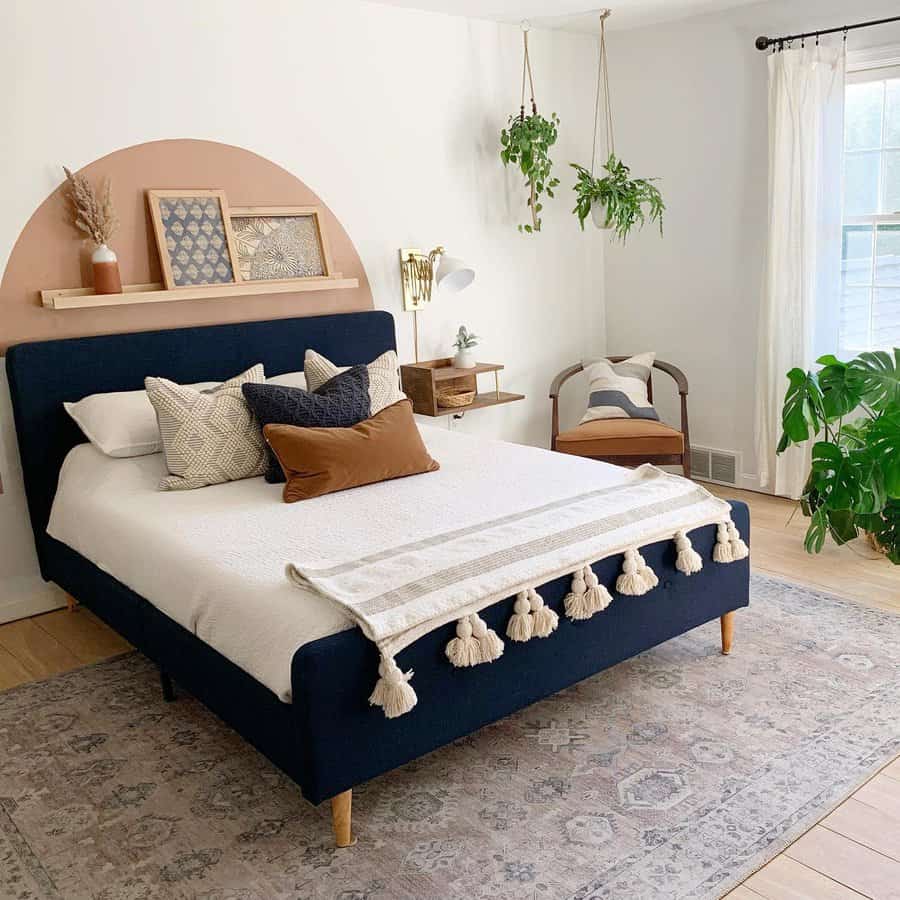 If you're not great at keeping plants alive, modern faux plants look stunningly realistic these days. Extend the green vibe with leaf and flower prints on fabrics and wall art. Hang trailing plants from macrame hanging baskets and train the tendrils to frame your window or door.
12. Warm Colors
Warm colors are always a good bedroom idea when you're creating a boho space. Terra cotta, dusty rose, and gold are good choices for creating a warm and inviting boho bedroom. Cayenne, rust and dark pumpkin are other trendy warm hues that add a spiciness to the bedroom.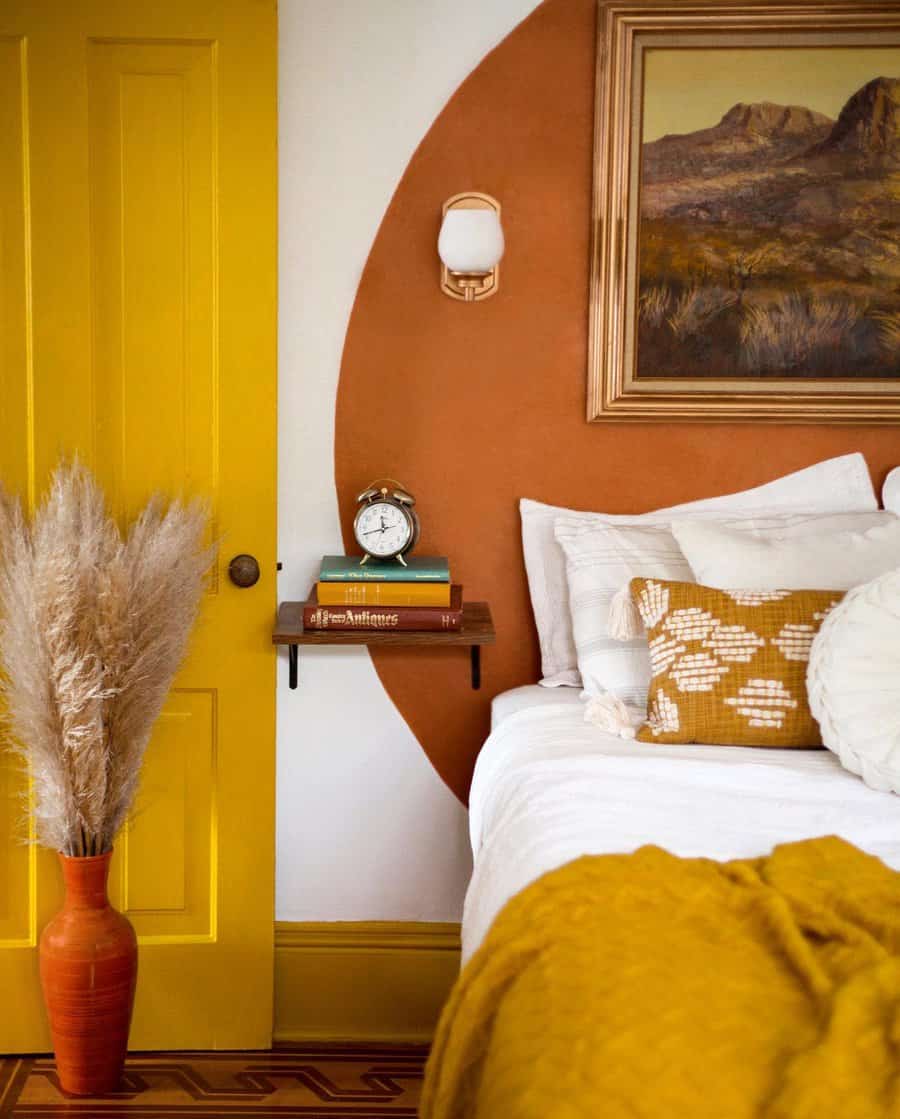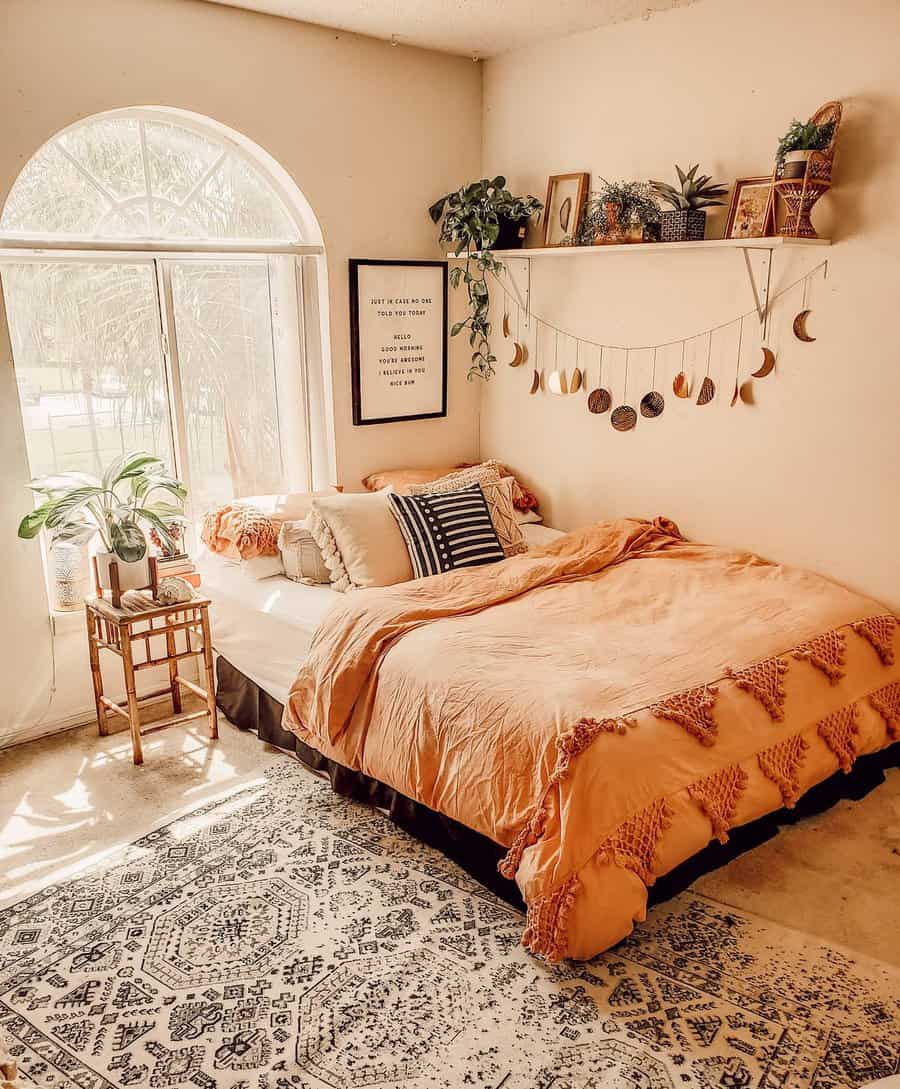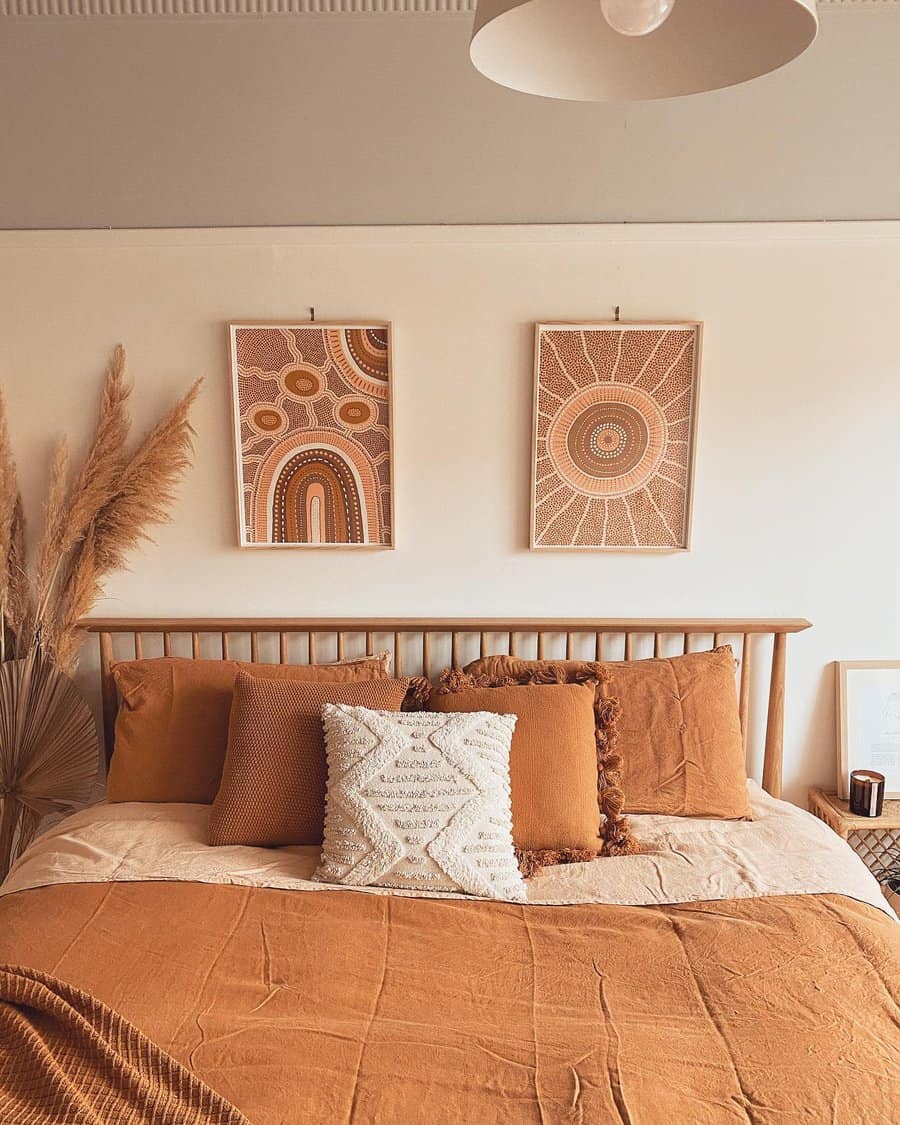 Pair them with creamy off white instead of bright white, and choose wooden furniture that has a warm finish, like maple or cherry. Add a splash of them in your blanket and pillow cover choices, mixing and matching patterns to keep to that eclectic boho aesthetic.
13. All White Boho Bedrooms
White is always a good foundation to keep a boho bedroom from looking cluttered. Its clean simplicity just works so well with natural boho design elements. When your walls and rugs are white or cream-colored, it makes it easier to add lots of interesting textures.
An all-white or all-cream boho bedroom is an elegant, contemporary take on classic bohemian design. Instead of adding splashes of color, add splashes of texture in the form of flokati rugs, chunky knits, macrame wall hangings, and rattan furniture.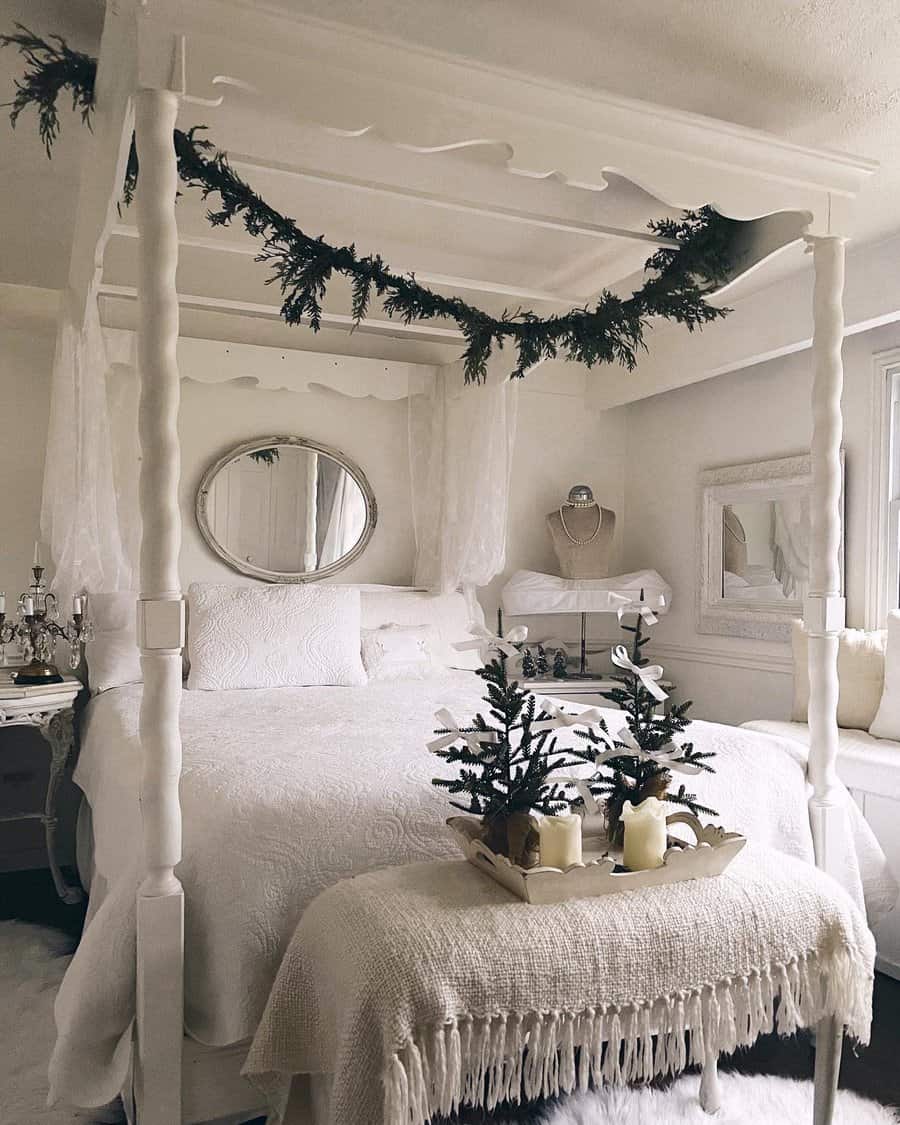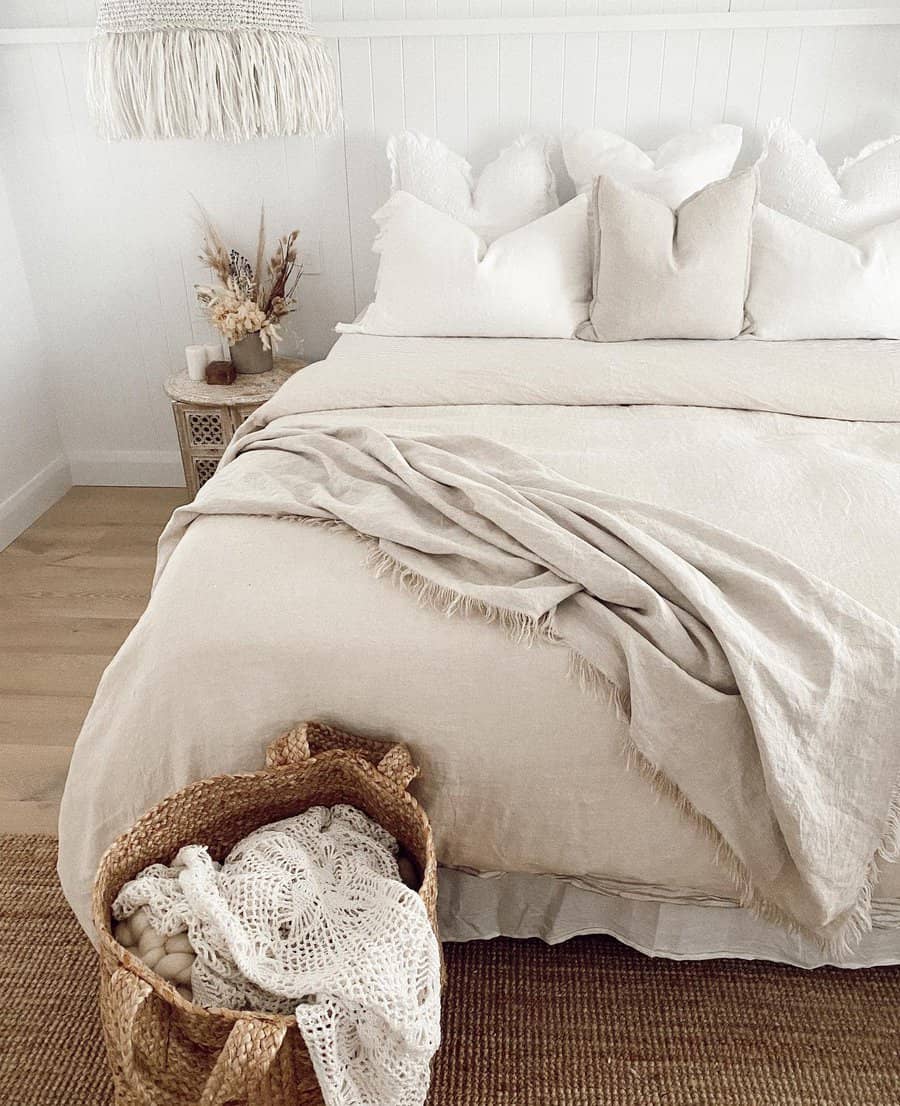 In a boho space, it's also okay to mix white and cream together, especially if you add slightly darker touches, like pale wood furniture or light grey textiles. You will still get the vibe of your all white space but the range of hues will add depth to your design.
Boho Bedroom Decor FAQs
How do you decorate a modern boho bedroom?
If your home mainly features modern interior design, you may wonder how to integrate the more casual boho design elements into your bedroom. Start with a white foundation: white walls, white bedding, and light wood furniture. 
Keep bedding, furniture, and rugs simple in design, but include natural textures such as rattan and potted plants. Hang up minimalist modern wall art to beautifully combine modern and bohemian design elements.
What colors are boho?
Honestly, any color can work in a bohemian bedroom. This style should reflect your personality and idiosyncrasies, so build the room around your favorite boho colors and patterns. 
Classic boho bedroom decor will begin with a neutral background and include earthy colors like brown and green. Yellow, white, blue, red, and grey are among the most popular color choices in a boho bedroom.
Can you mix farmhouse and boho?
Yes! Boho and farmhouse decor share a casual, relaxed ambience. Because of its popularity, farmhouse decor can feel a bit predictable. Taking it in a bohemian direction adds a healthy dose of whimsy that's sometimes missing from strict farmhouse interiors.