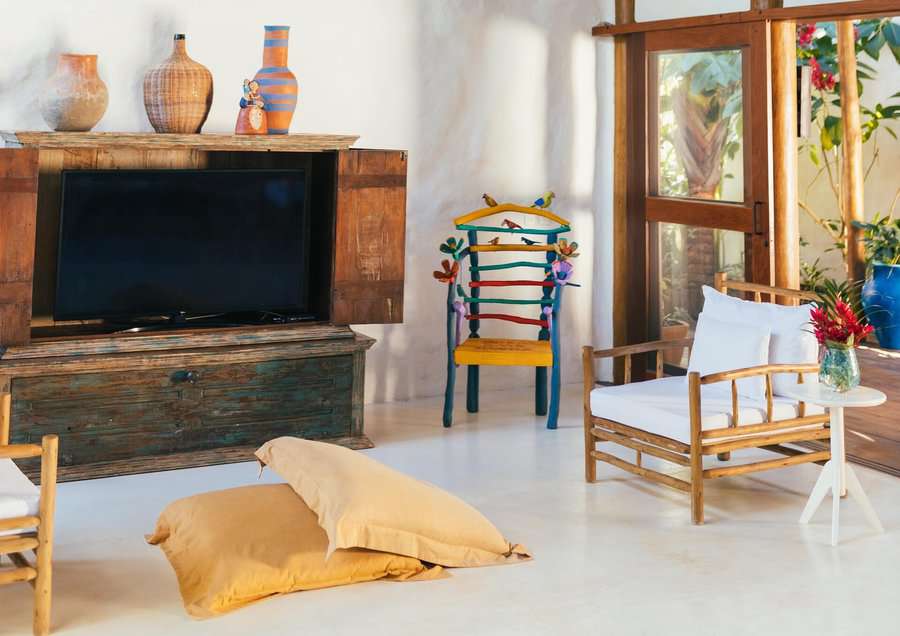 72 Rustic Home Decor Ideas and Designs
Few living room interiors are more welcoming than those featuring rustic decorating ideas. Rustic style is cozy, comfortable, and casual—the perfect combination for everyone's favorite room.
Rustic interior design has evolved from its simple origins into modern, traditional, and farmhouse versions. We've compiled 72 of our favorite rustic decor ideas to illustrate how natural it is to include this friendly style in your living room and beyond.
1. Wooden Slab Vanity Countertop
Rustic home decor is a great way to add a natural, timeless, and cozy touch to your home. One of the best ways to capture this look without much effort is by adding wooden elements, such as wooden slab vanity countertops.
These are sure to evoke the feeling of rural living while still remaining sophisticated and polished. To sum it up, wooden slab vanity countertops provide a perfect balance between rustic charm and modern refinement – making them a great choice for any home looking to celebrate its inner rustic nature!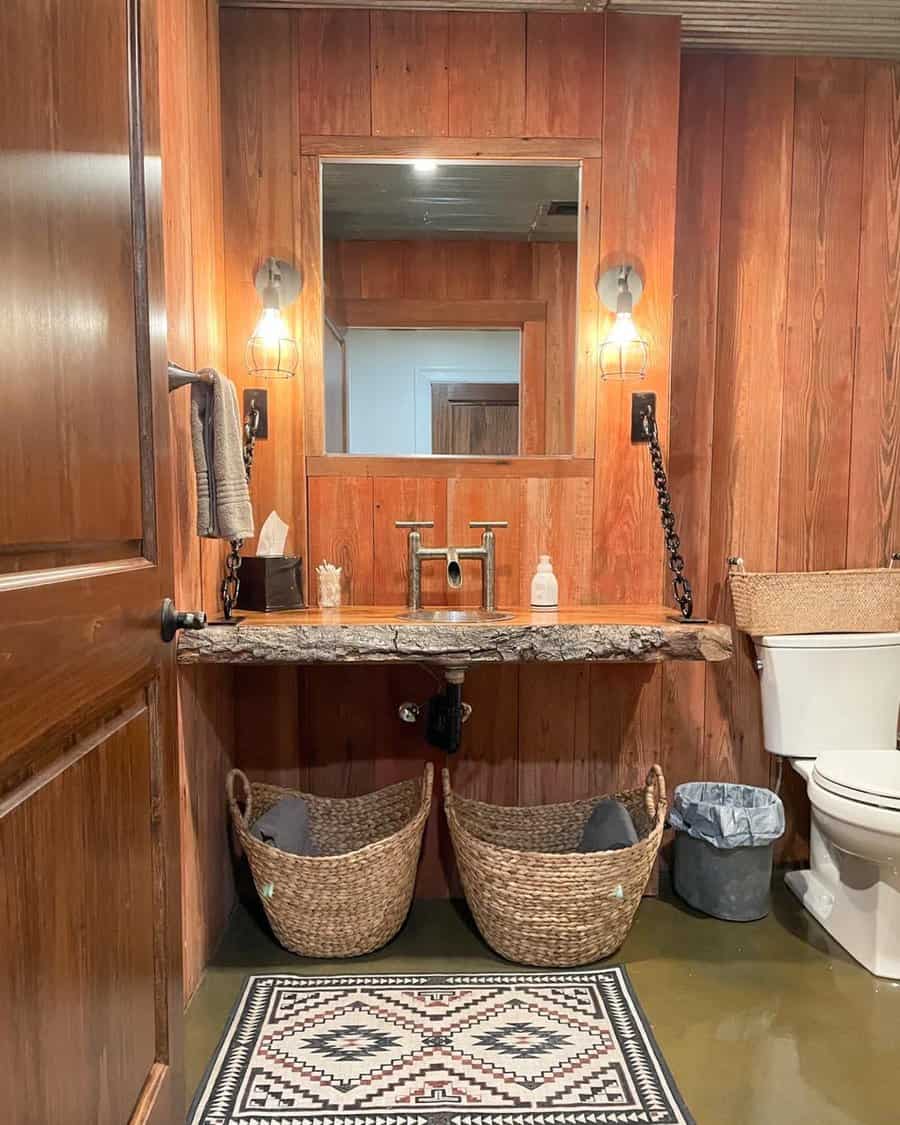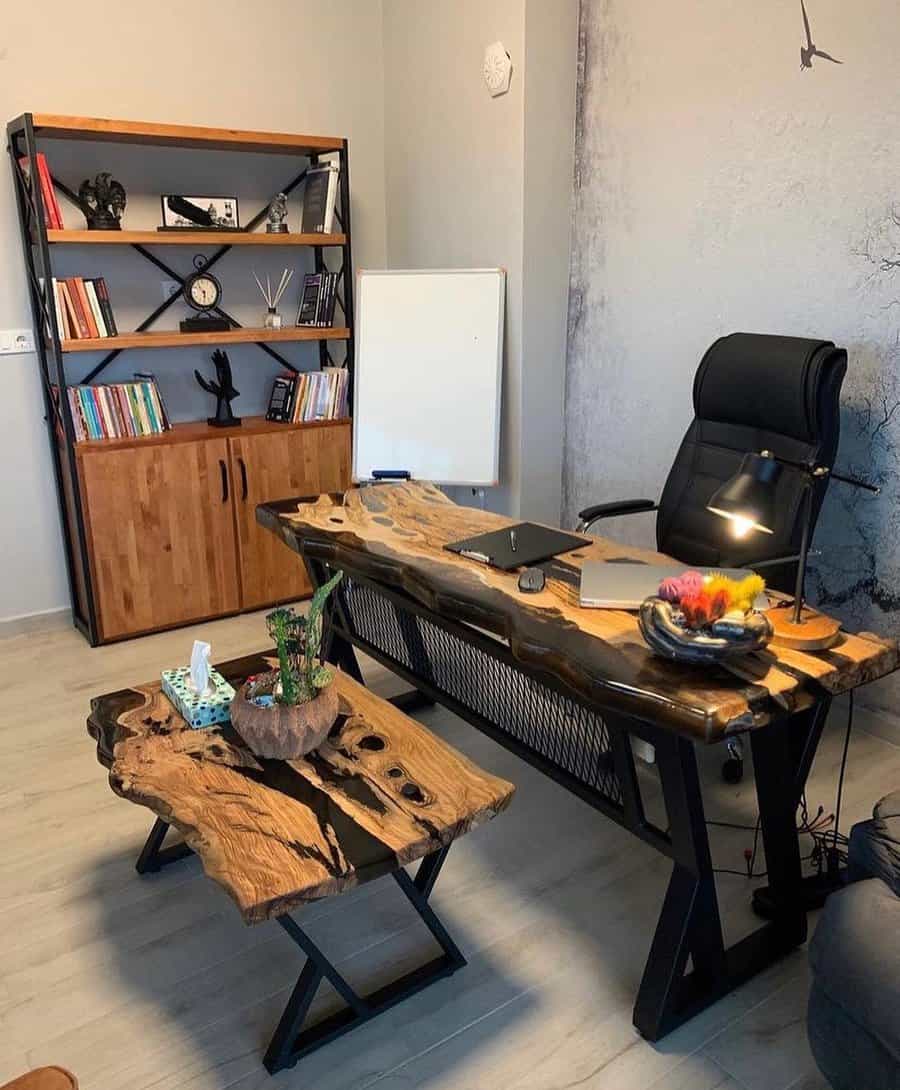 2. White-Washed Wood
Embrace the beauty of distressed white-washed furniture and natural accents to create a tranquil rustic home environment. Showcase nostalgic pieces that can be passed down for generations and bring character to your decor.
Stone, glass, and wooden fixtures can warm up any space, and cabinets with hints of weathered edges can give off a sense of timelessness.
To make any home feel more inviting, fill it with elements that you cherish from the past. Rustic home decor is perfect for bringing a touch of nostalgia into your living space.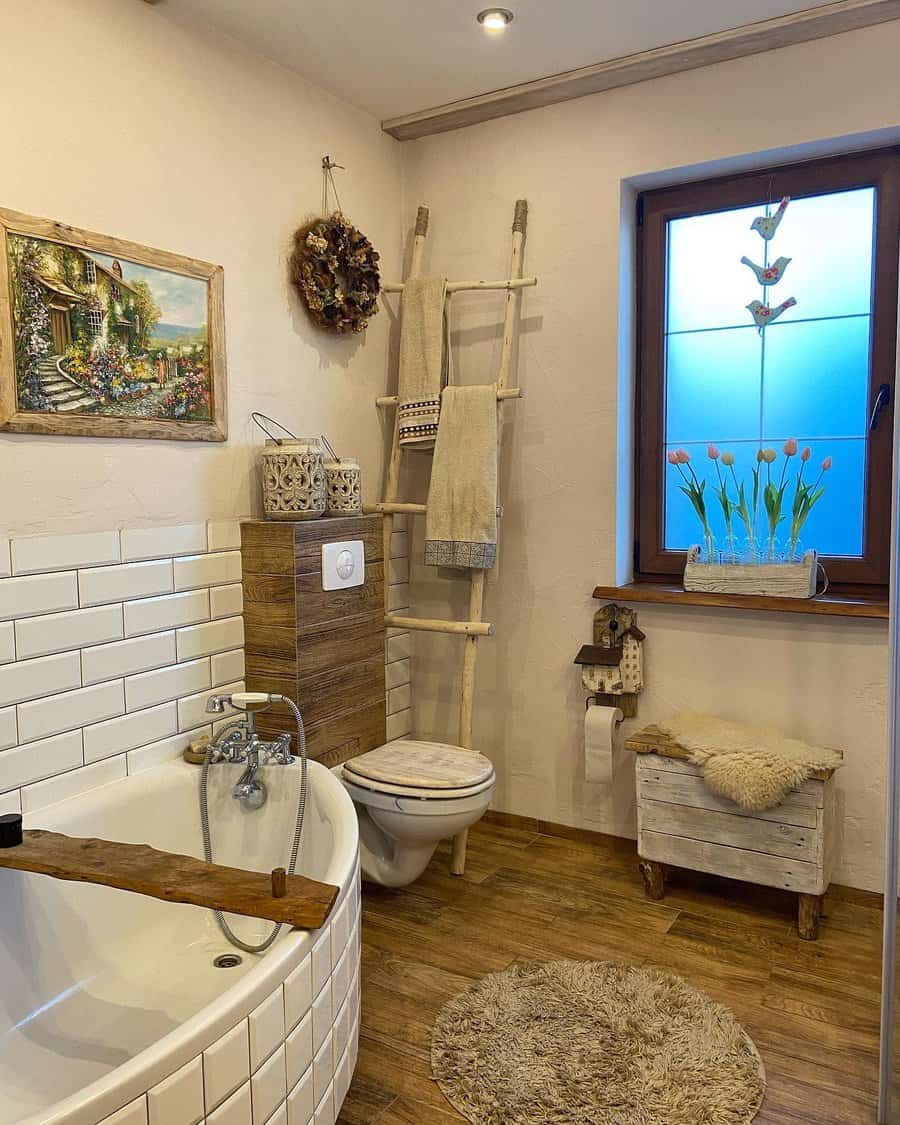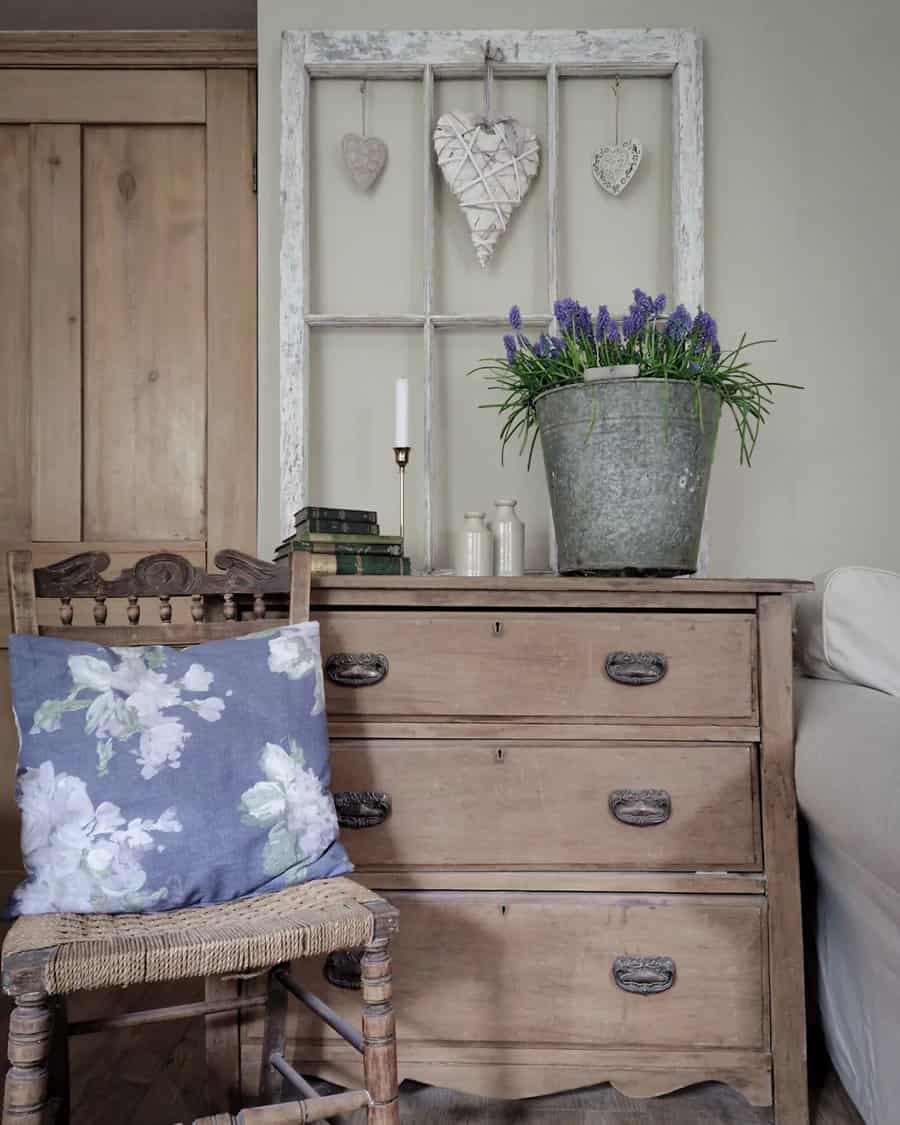 3. White-Washed Shiplap Walls
For a truly rustic feel, white-washed shiplap walls are a great addition to any home. Whether on an accent wall or throughout the entire room, white-washed shiplap gives off that rustic charm you're looking for.
Accentuate it with distressed wood furniture and aged copper fixtures for a complete look that is both charming and eclectic. The best part about this look is that it works in almost any home, no matter if its modern or traditional in style. Enjoy your rustic new space!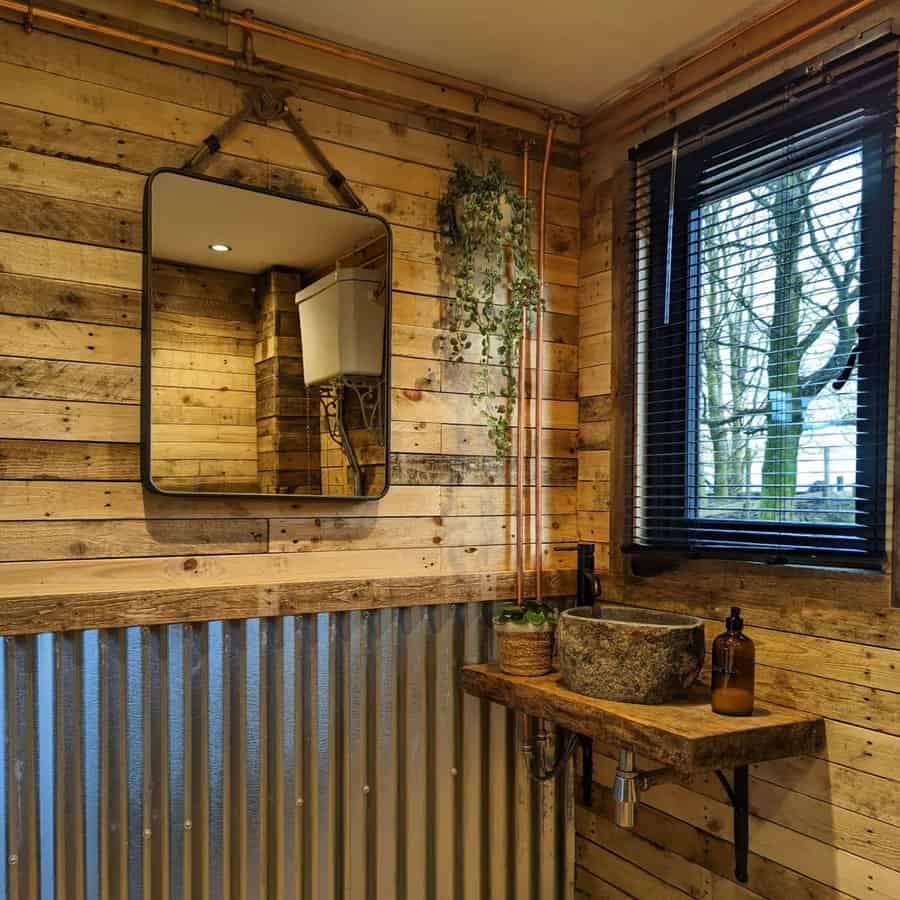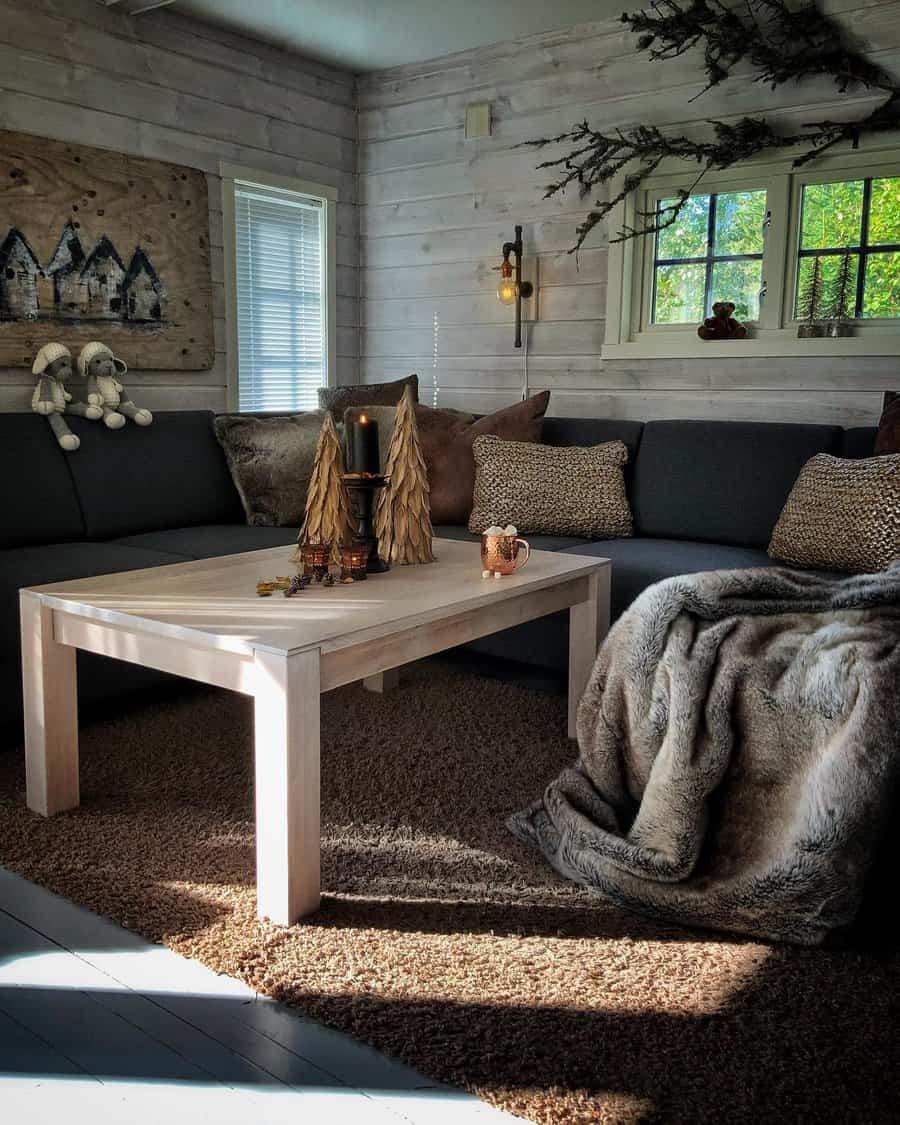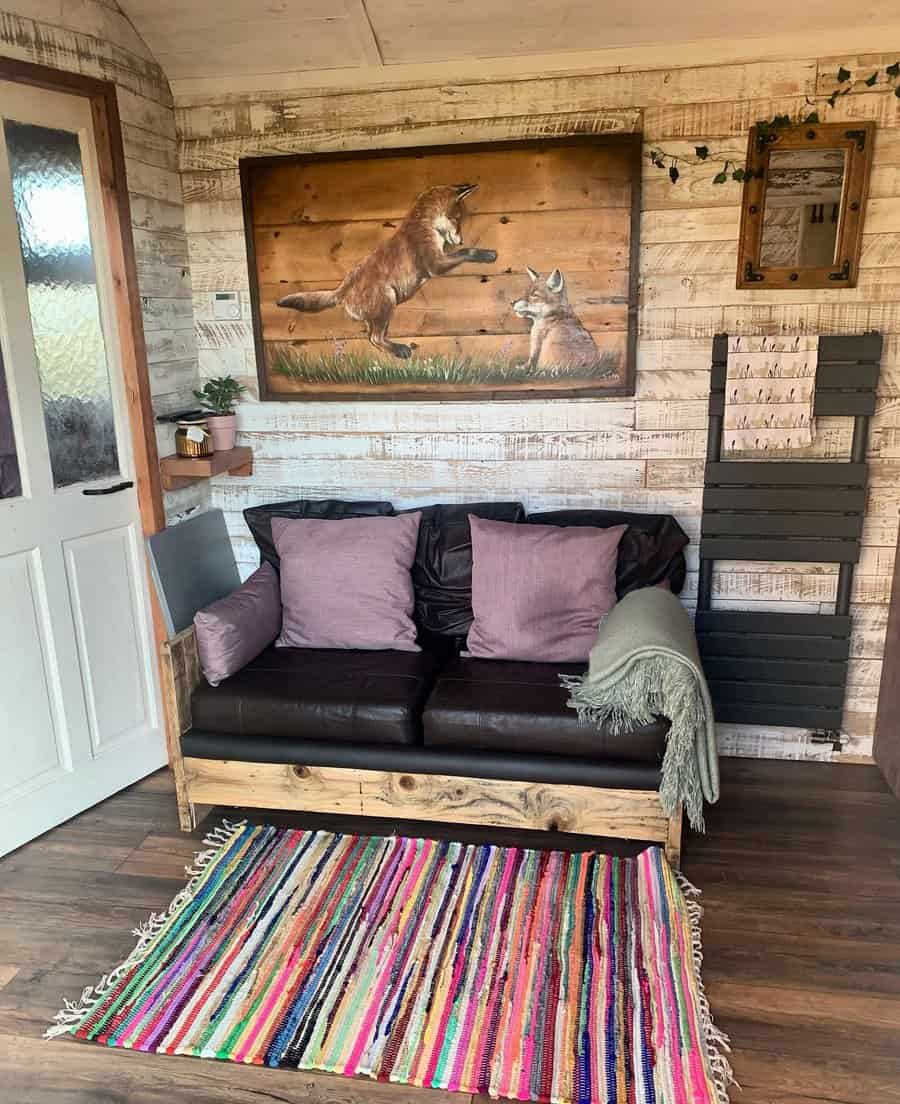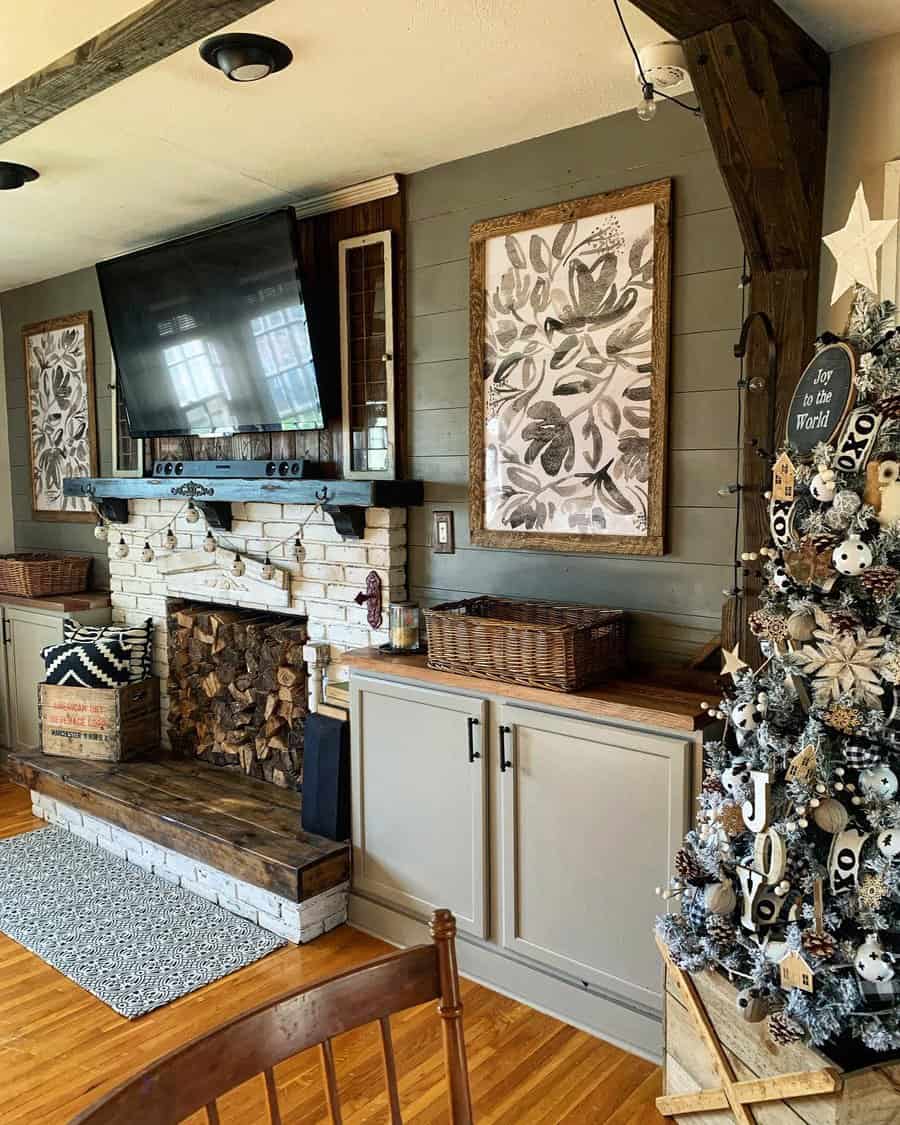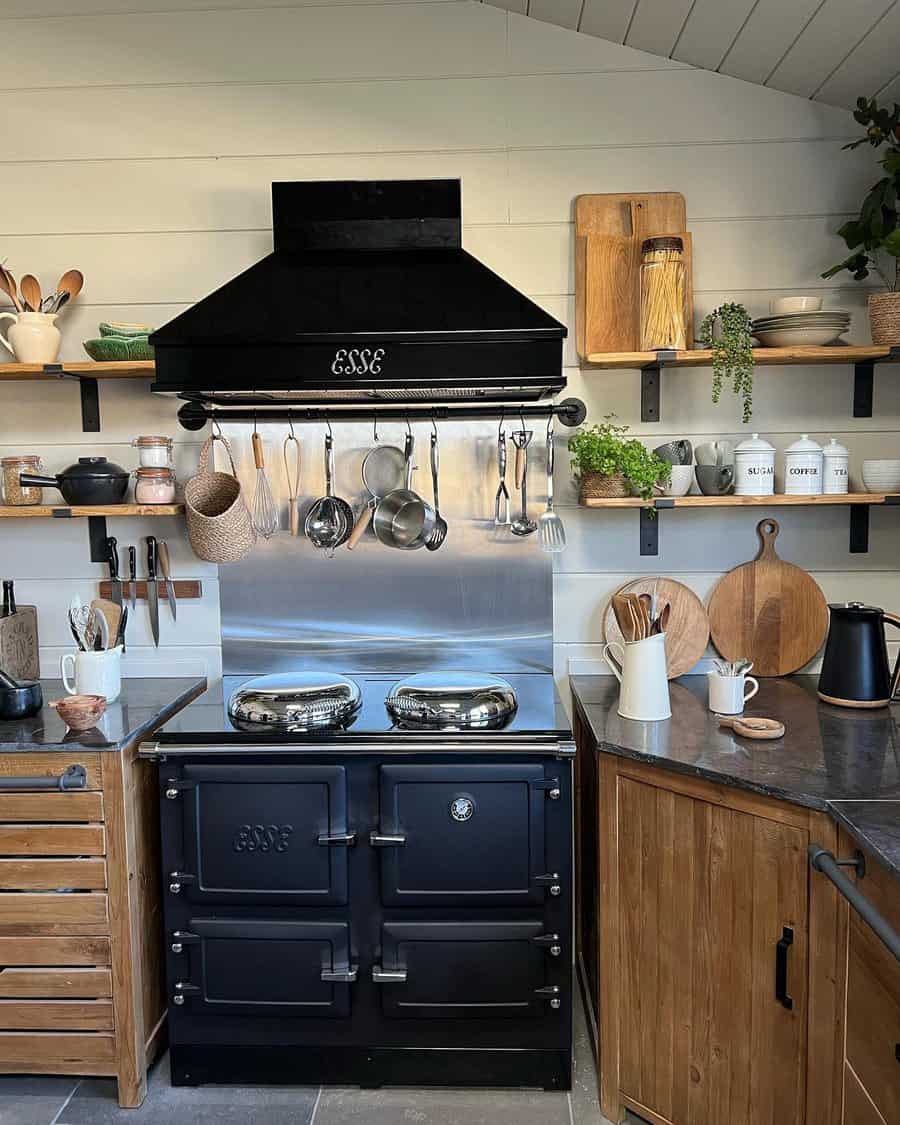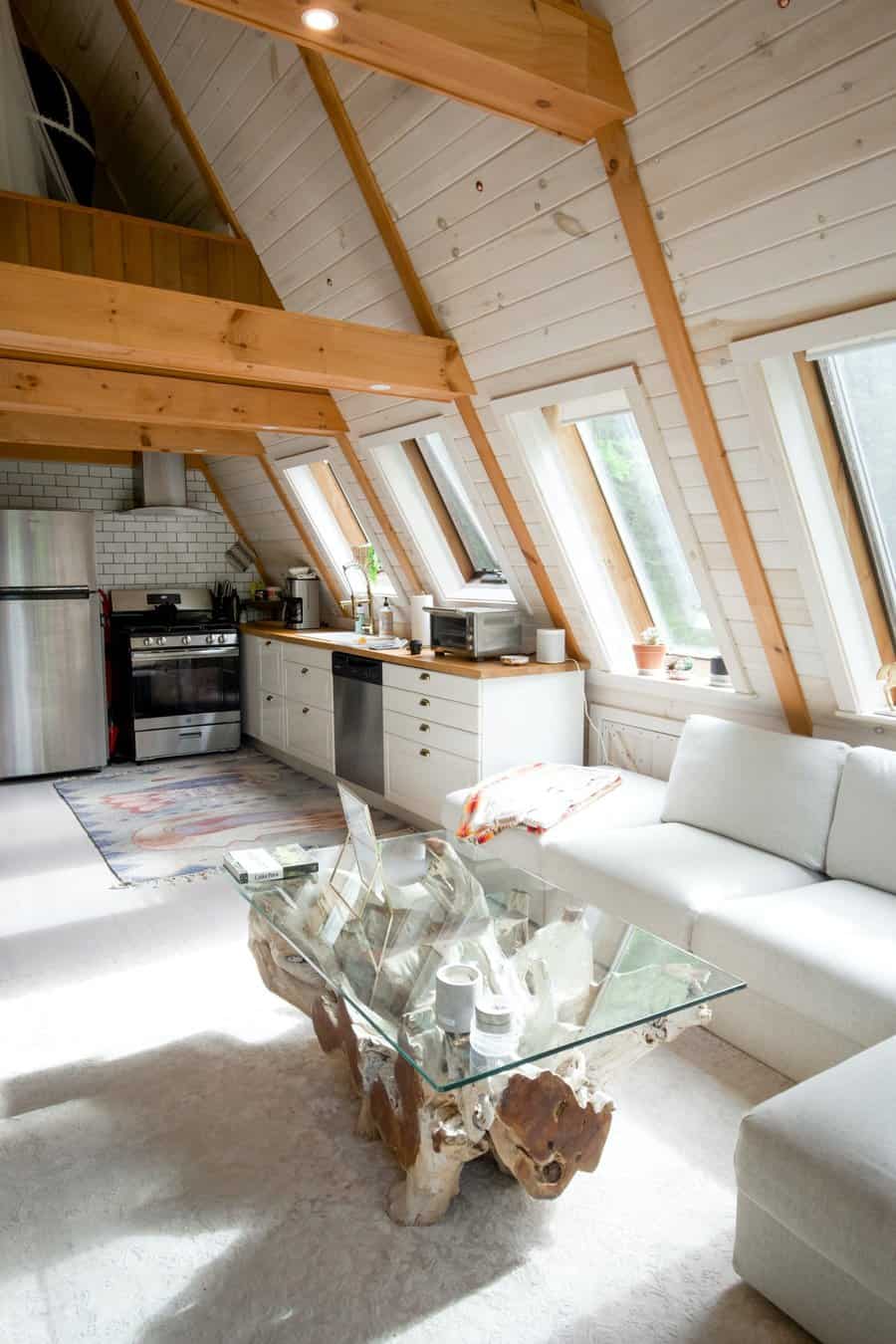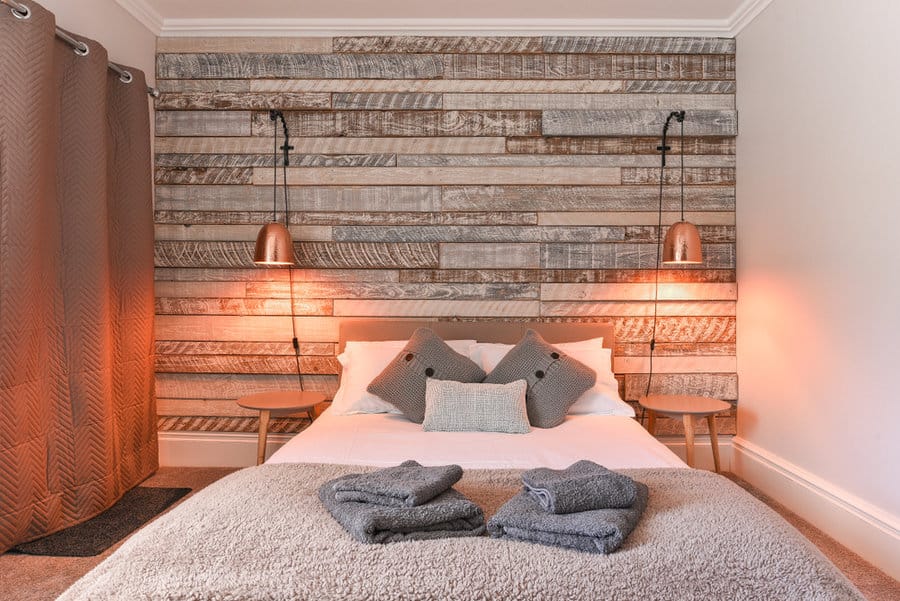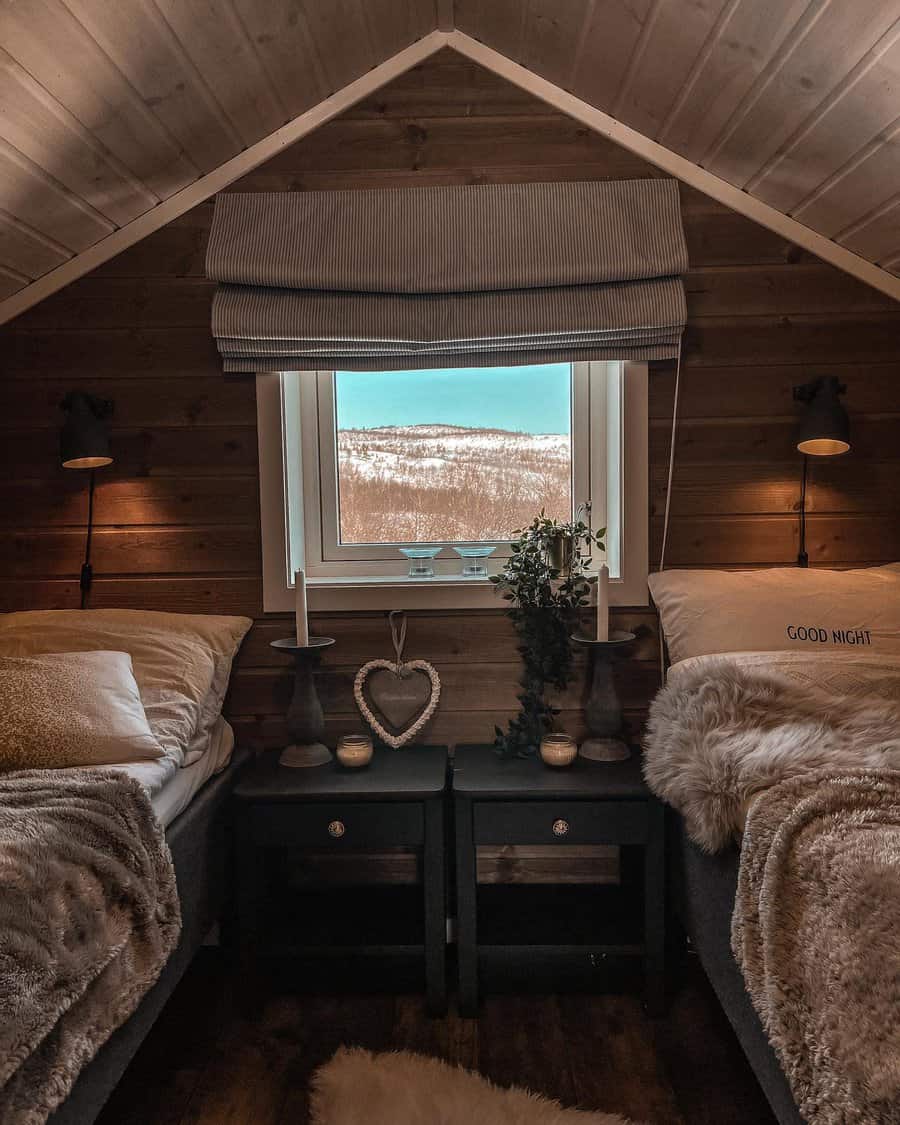 4. DIY Wooden Headboard
DIY headboards can be a great way to add some rustic flare to your bedroom. A DIY wooden headboard is inexpensive, easy to create, and adds texture and character to any room. To complement the DIY headboard, incorporate rustic elements like distressed wood, white-washed walls, and plenty of cozy pillows and linens.
For a standout look, layer elements of color and pattern with rustic furniture pieces like vintage nightstands or armoires. An upcycled console table set in front of an accent wall made from recovered wood planks is the perfect finishing touch for the perfect DIY rustic bedroom retreat.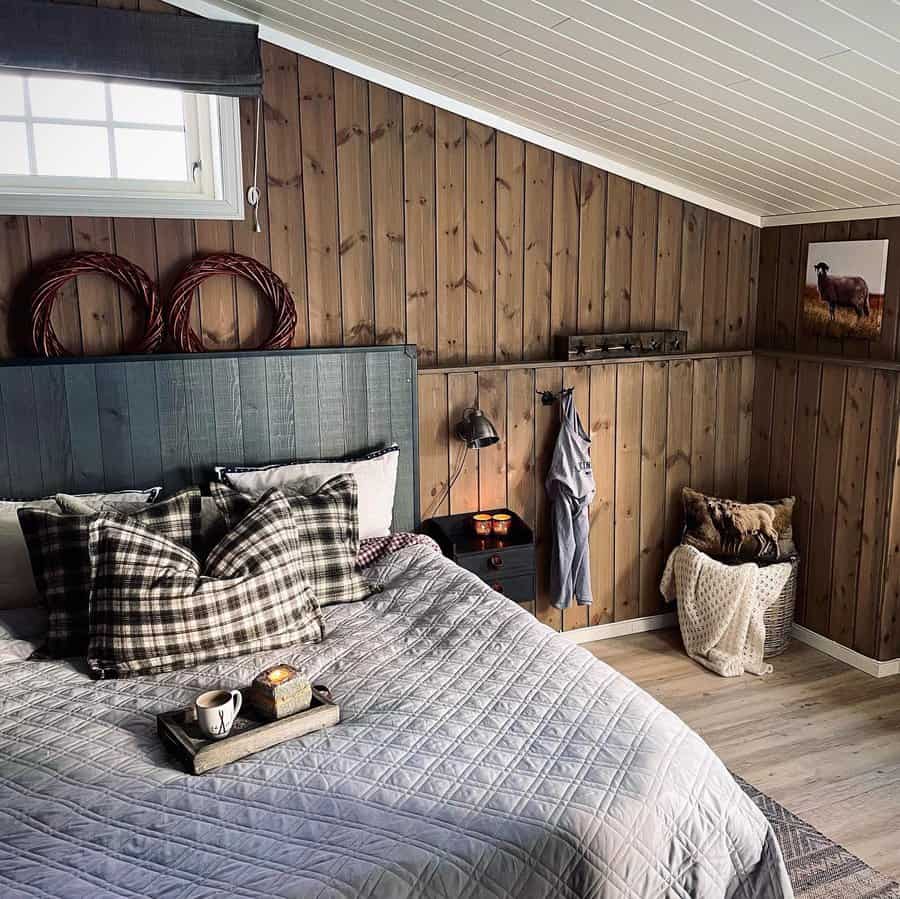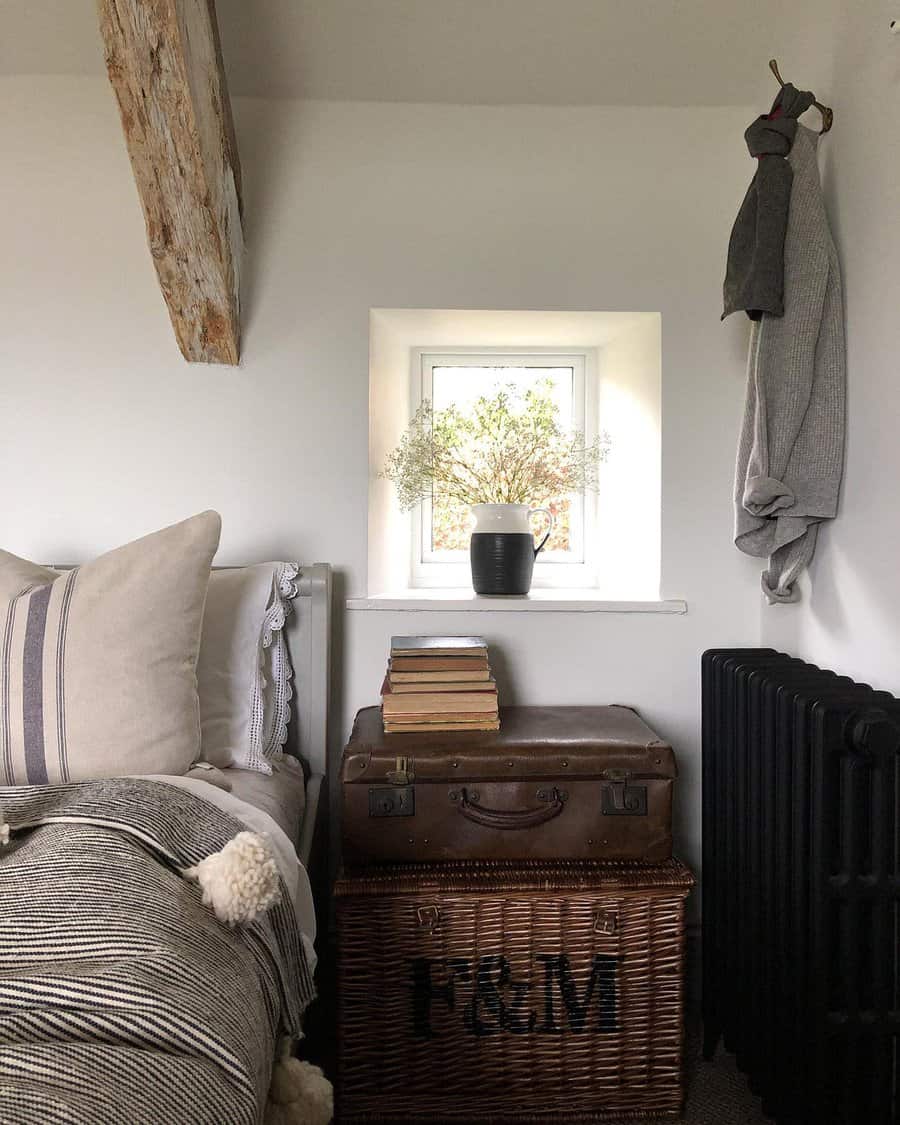 5. Macrame Fittings
For a truly rustic home decor look, macrame tapestries can't be beaten. Featuring intricate macrame fittings and rope-woven details, macrame tapestries add an organic flavor to any room. They are a great way to bring a classic yet creative style into your home, one that is sure to make guests take notice!
Whether you hang macrame near the bed for a home atmosphere of comfort and warmth or around the living area for an added dose of visual flair, macrame has something for everyone.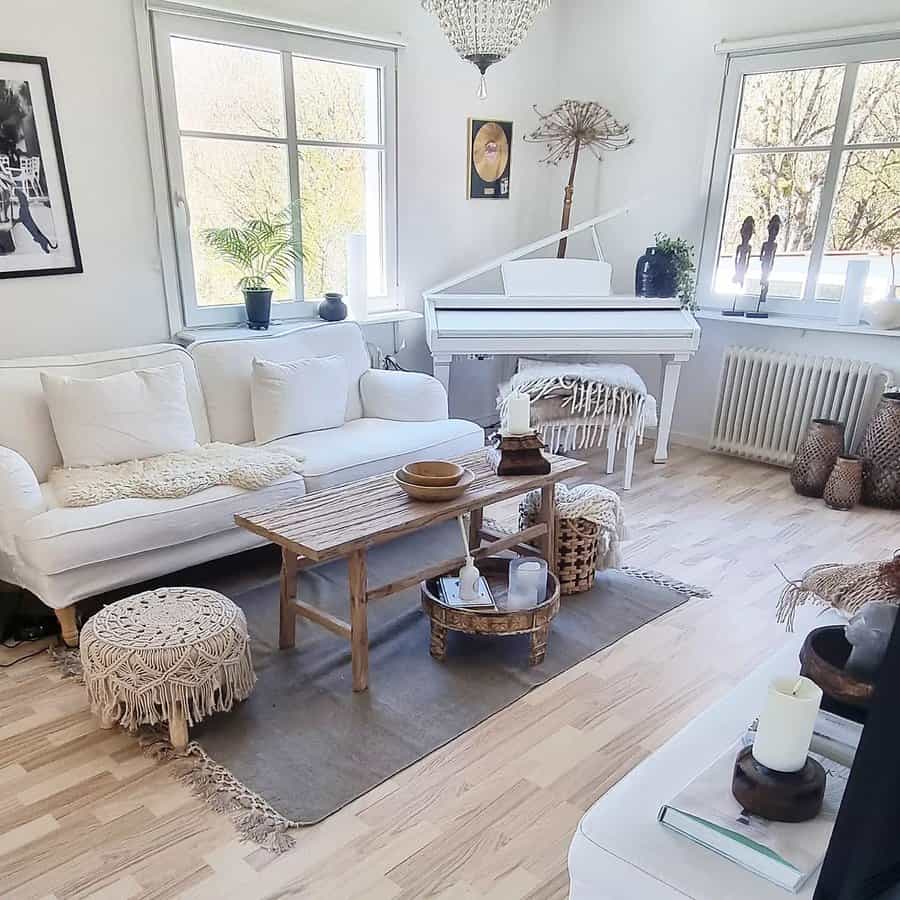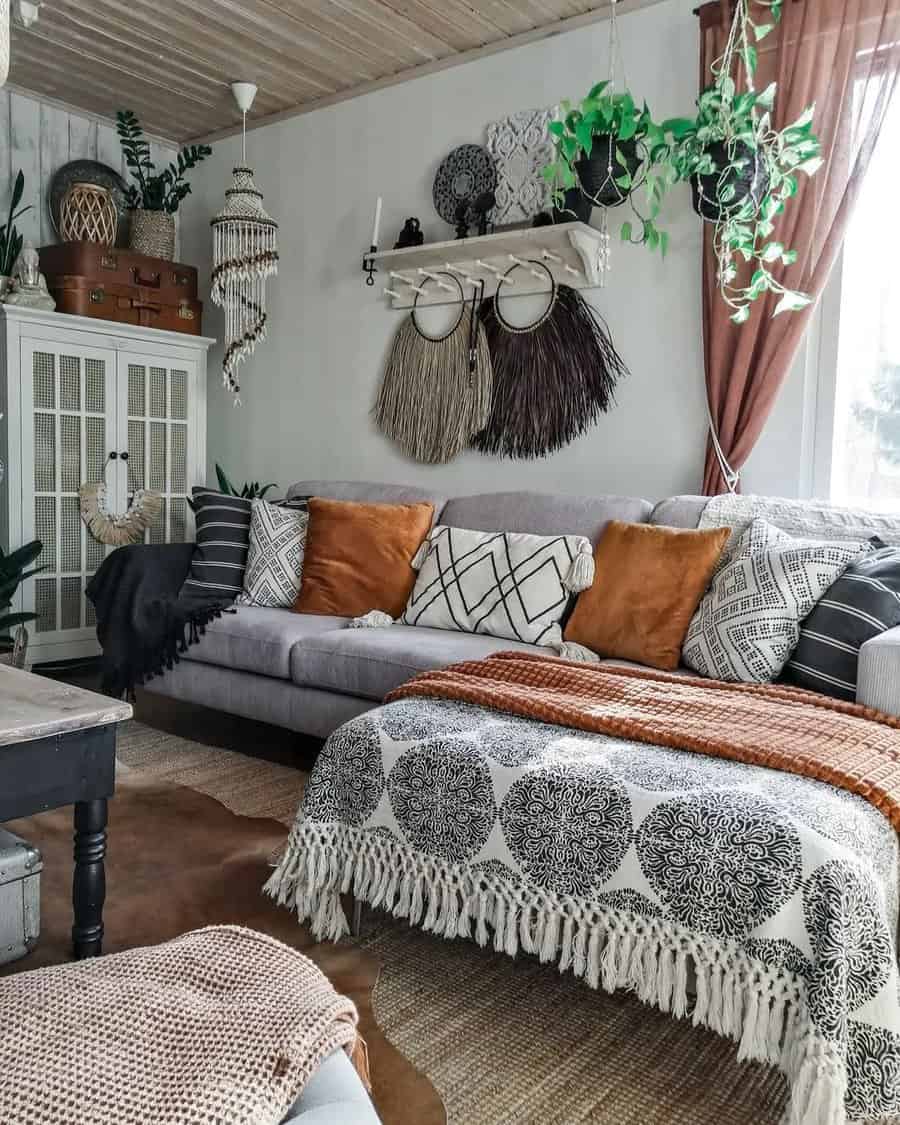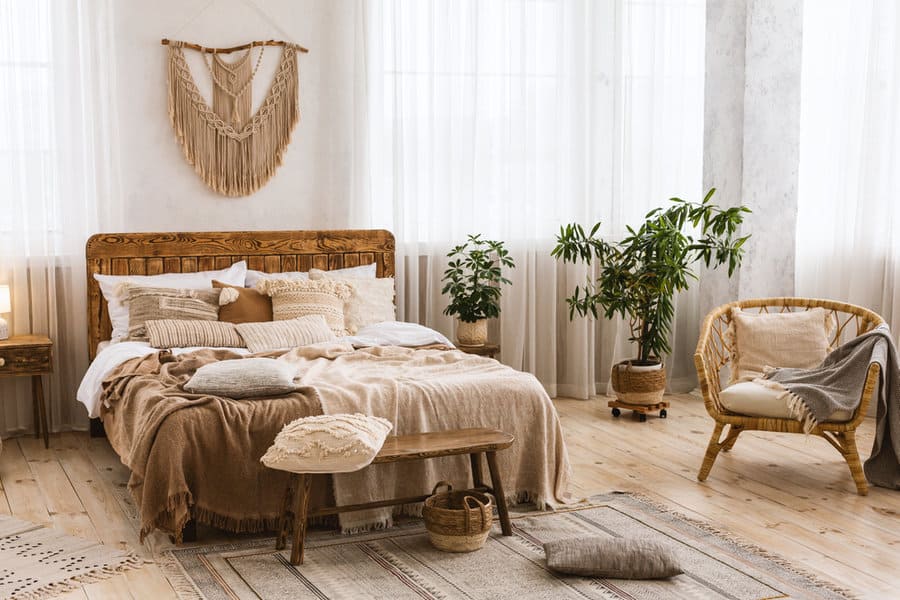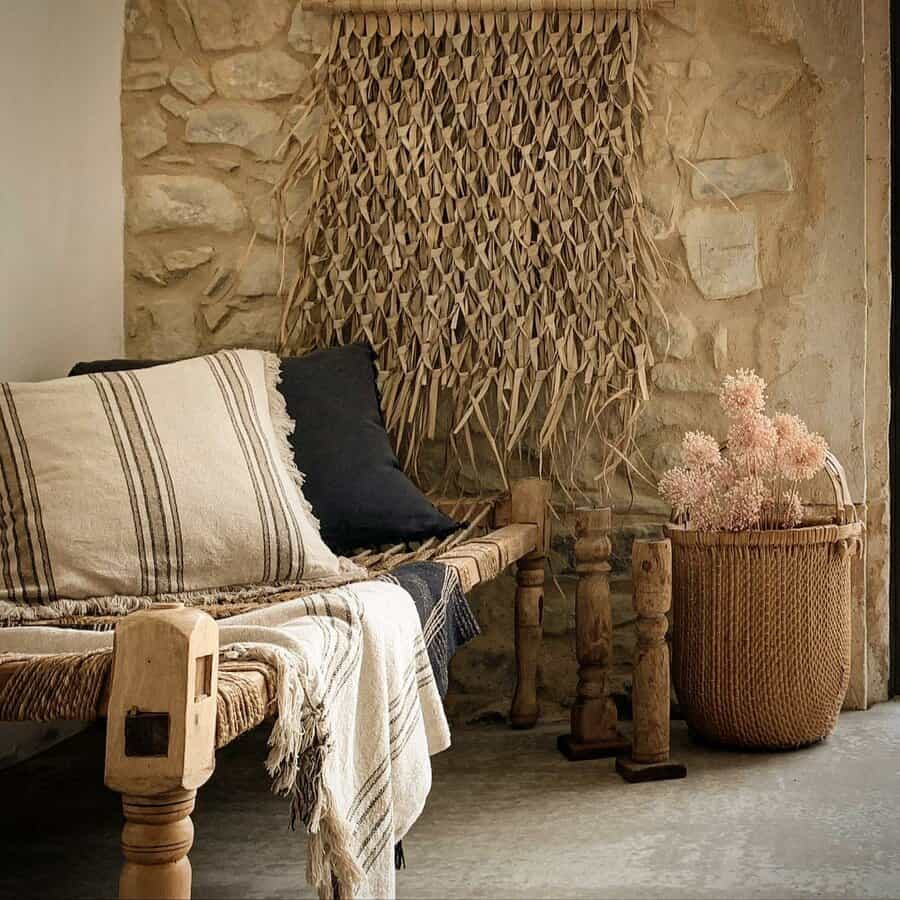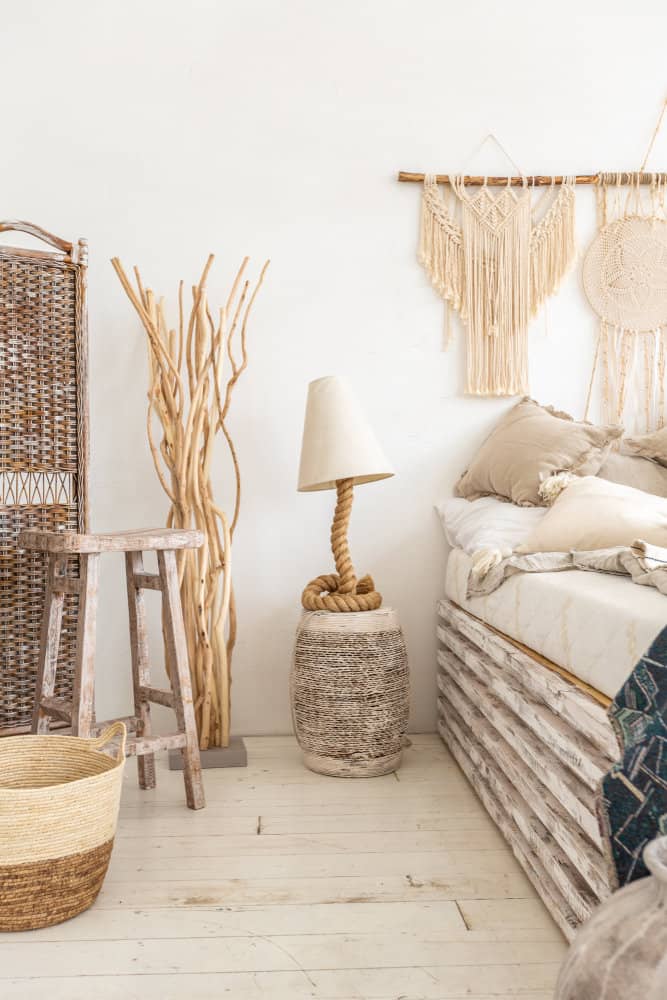 6. Woven Pendant Shade
Are you looking for a stunning way to liven up your home with rustic decor? One of the best ways to do this is to focus on materials. Wicker and woven pendant shades are an especially great choice since they bring a unique, textured look to your interior.
Make sure the woven material you choose has earthy tones to heighten the rustic feel. Hang them in any room where a touch of old-world glamour can complete the look. You won't regret it!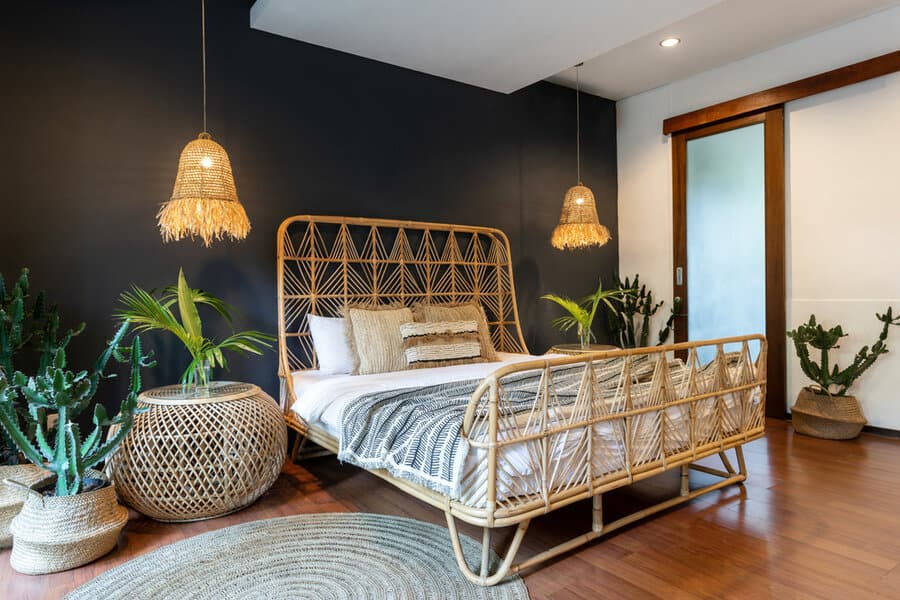 7. Rustic Wood Mirror
Crafting an inviting rustic home creates an environment of cozy comfort and timeless charm. If you're looking to bring hints of rustic elegance into your space, start with a rustic wood mirror. A rustic wooden framed mirror adds warm texture and elegant flair to any room while simultaneously creating the illusion of more natural light.
Not only are rustic wooden frame mirrors perfect for embracing rustic style, but they also offer practicality with their large reflective surface – ideal for ensuring your outfit looks as good as your home does!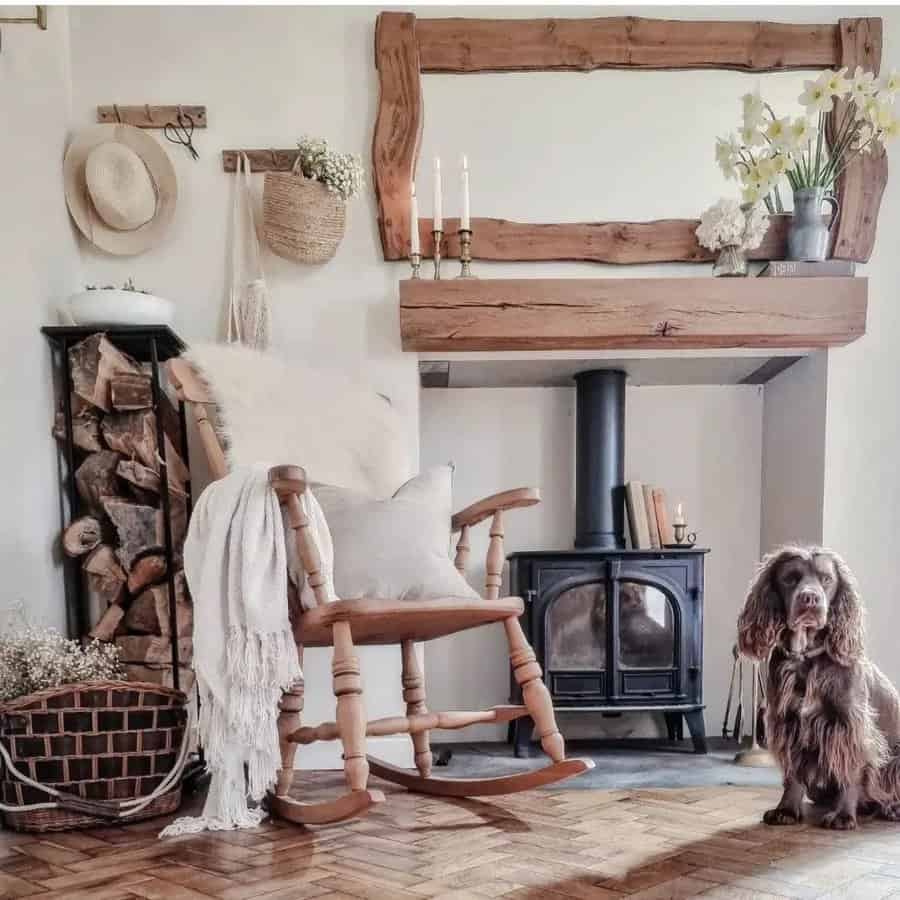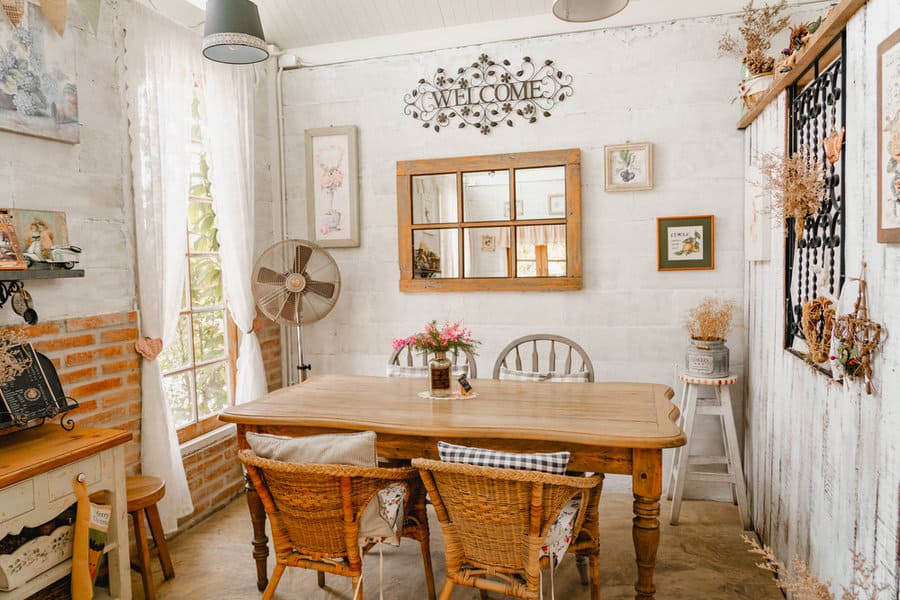 8. Wooden Wall Trimming
If you're looking for a way to bring rustic flair into your home, wooden wall trimming is an excellent place to start. It provides elegant wooden accents that can fit any kind of personality and design style. F
urthermore, wooden trimming can be customized with paint or stain to give it that extra special look that helps make our homes unique. There are plenty of options available, so have fun exploring and creating the perfect rustic look for your space!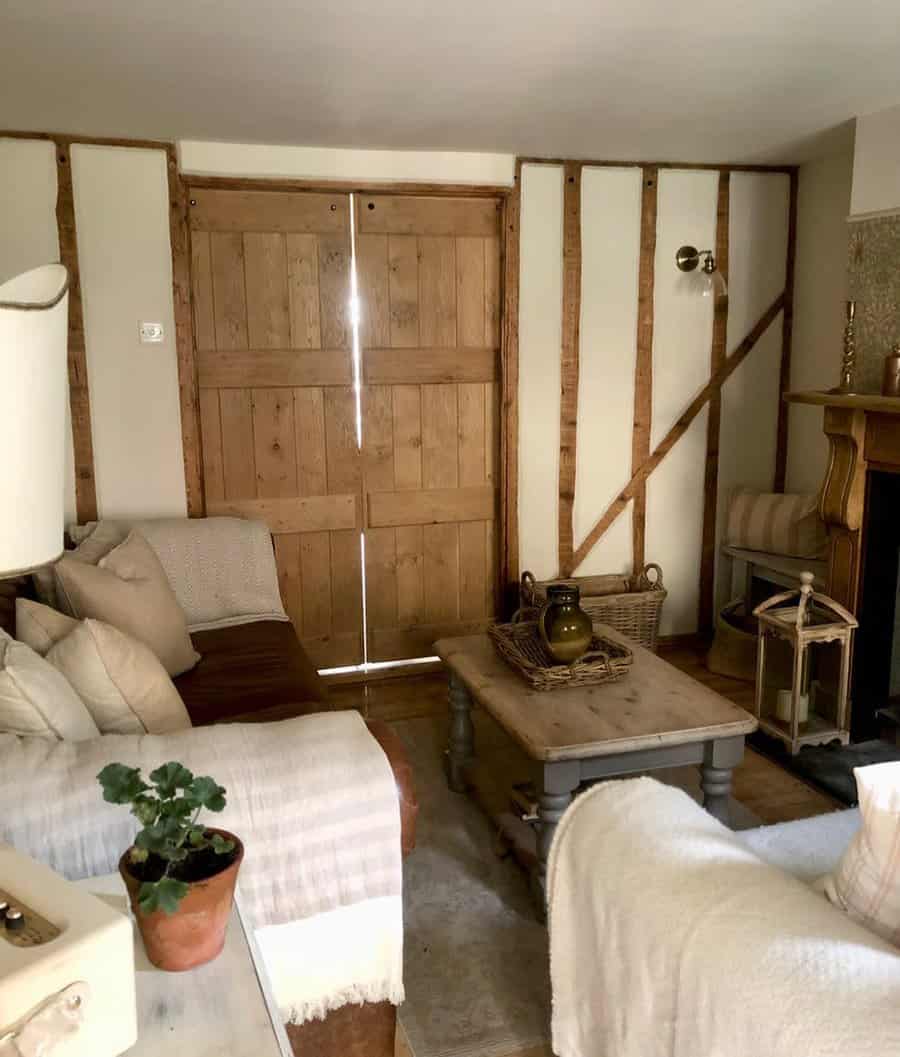 9. Limewash Walls
If you're looking to infuse your home with rustic charm and character, there are plenty of ways you can create an inviting and unique space. Consider limewashing your walls or adding some raw elements like concrete for a gorgeous finish.
Doing this yourself offers a creative boost, and gives your space an entirely new look as well as adding another level of rustic vibes. Have fun and experiment with different textures to make sure everything is perfect. Choose pieces with interesting shapes, warm hues, and natural fibers, creating an atmosphere of cozy comfort no matter if it's in the bedroom or living room.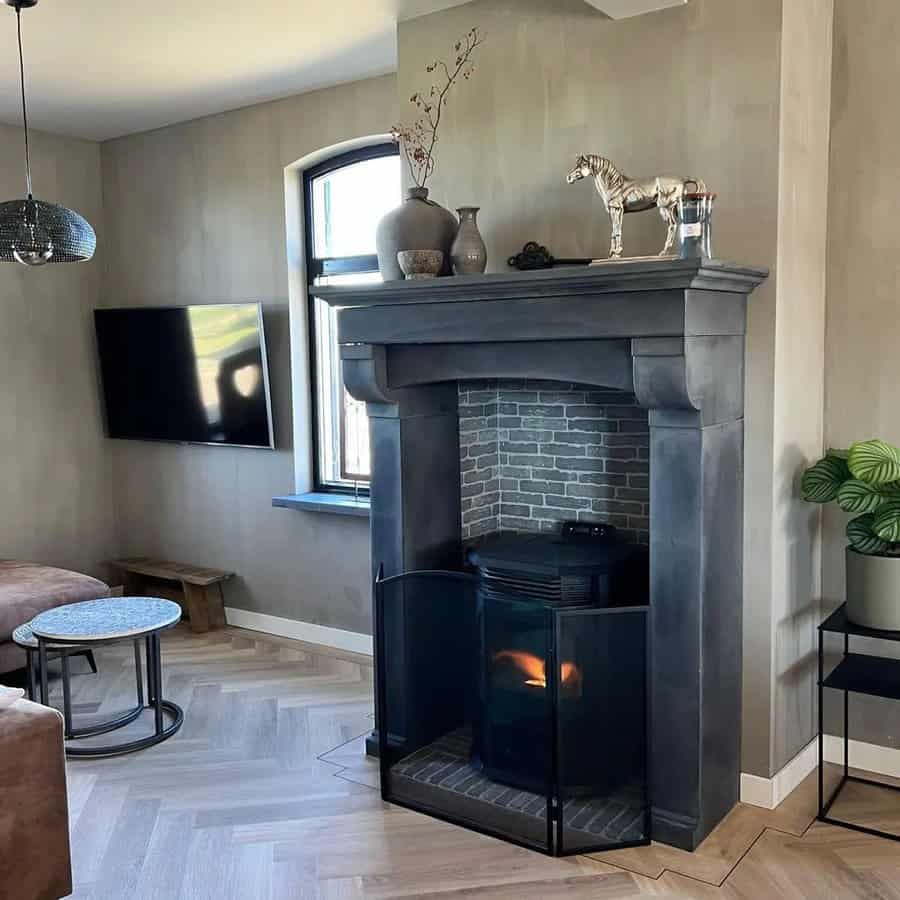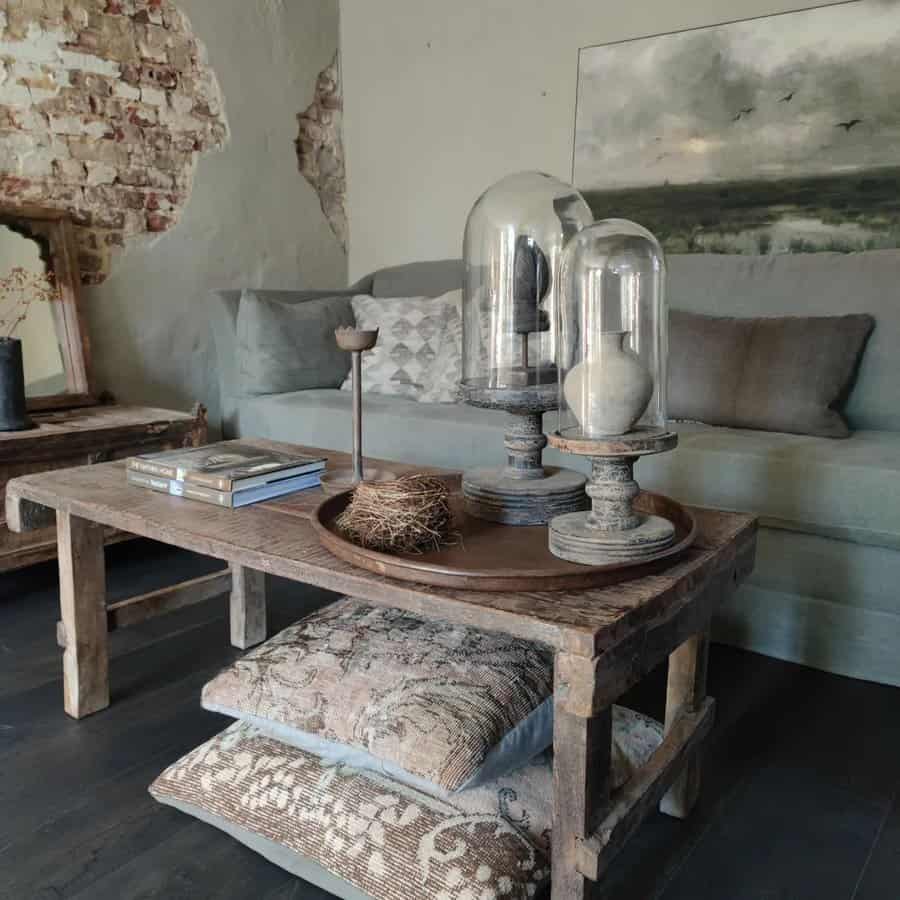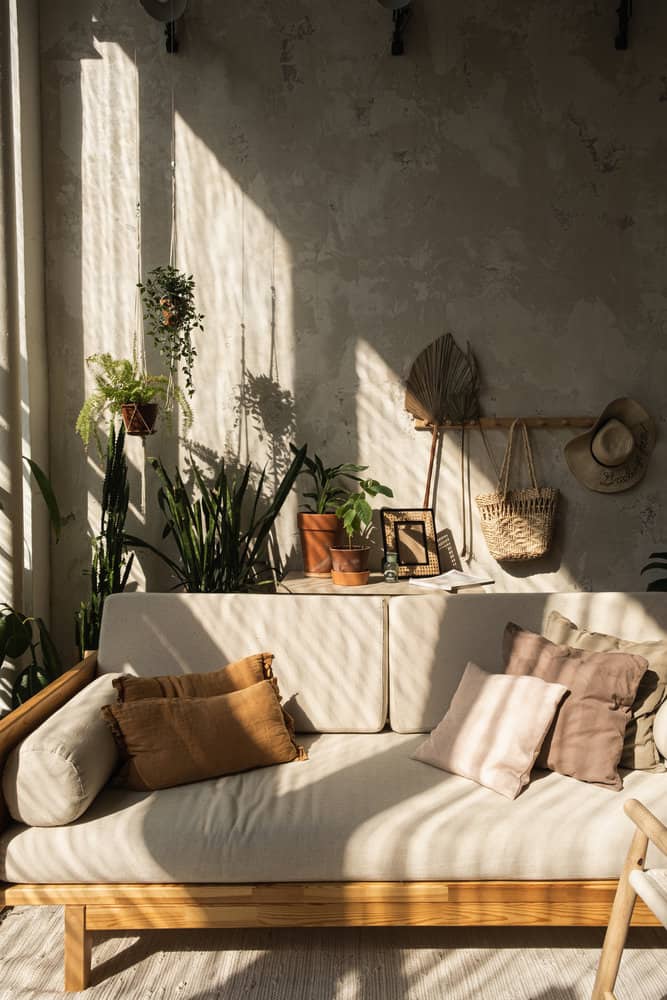 10. Incorporate Plants
If rustic home decor is the style you're aiming for, nothing beats a rustic living room with plants. Big, leafy plants help to create a natural and serene atmosphere, perfect for any rustic look. Consider visiting nurseries and thrift stores to find rustic-style indoor pots to group your foliage in or use rustic planters on the windowsill to brighten up any rustic space.
Hanging plants also make an attractive feature in rustic home decor – think macramé, terrariums, and beaded planters. Incorporating plants into your rustic décor will add life and vibrancy to any room!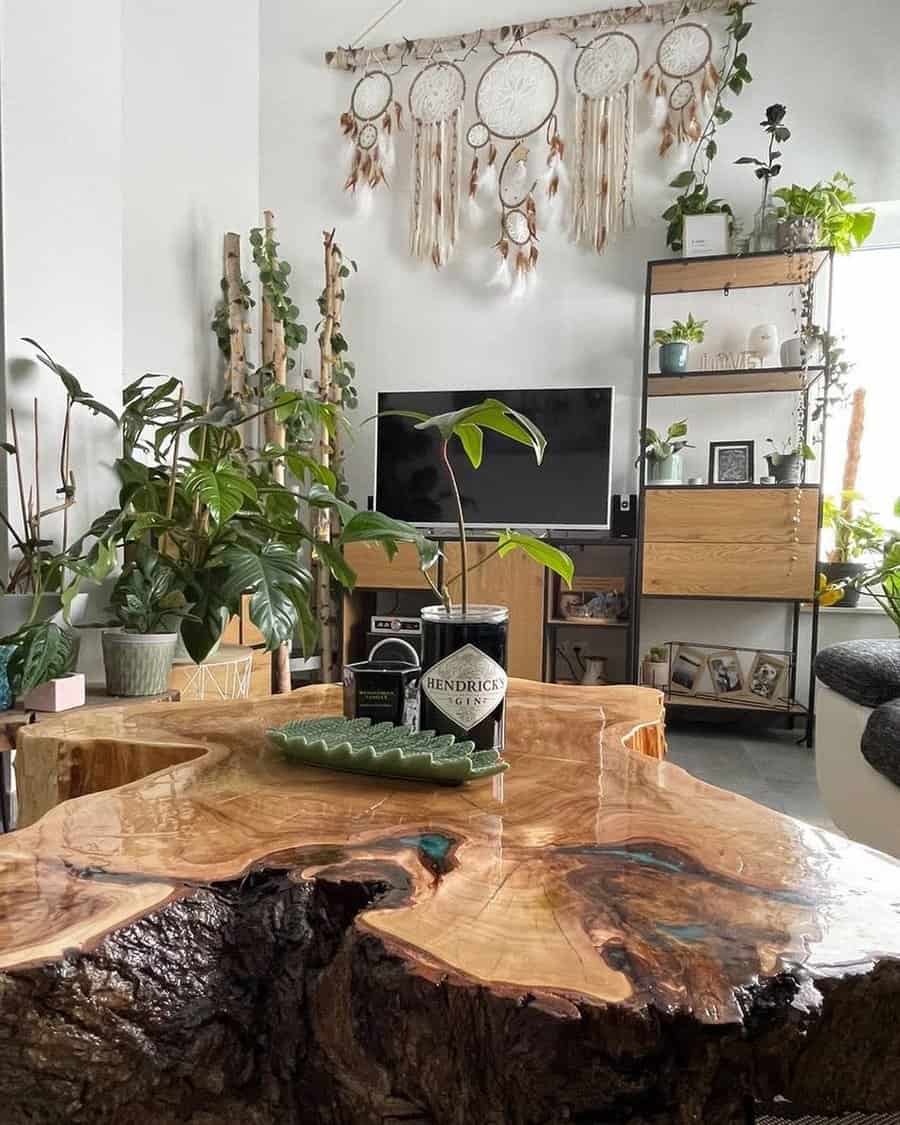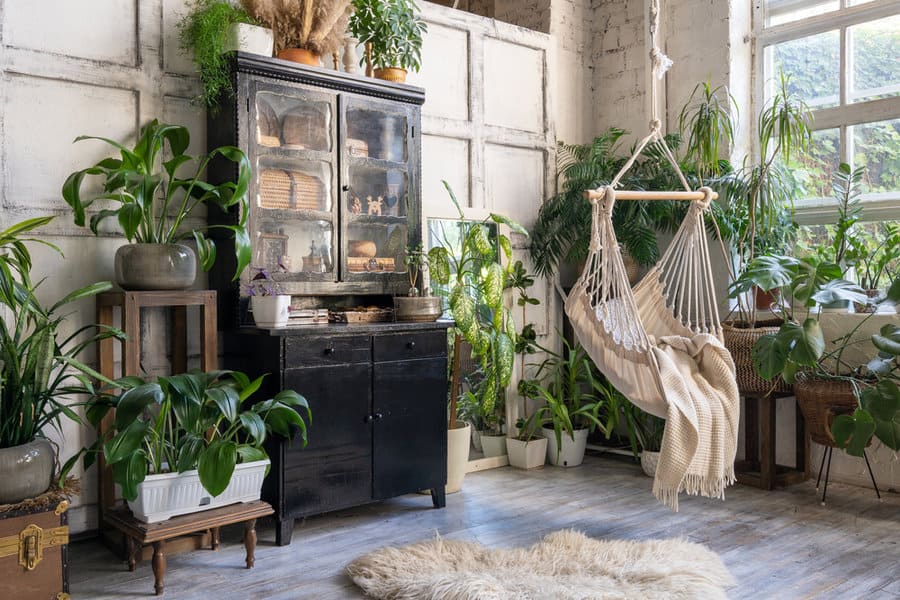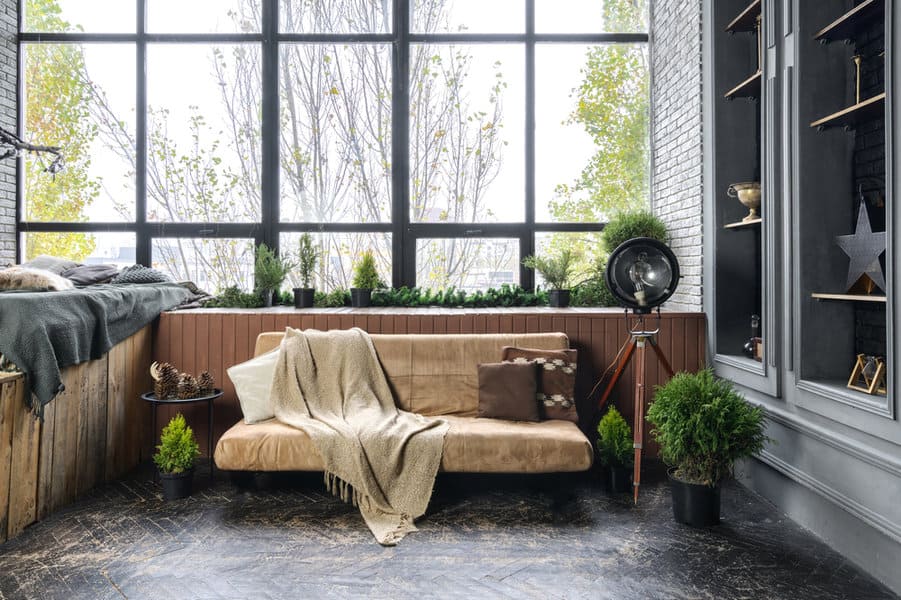 11. Add Some Candles
One of the simplest and most beautiful forms of rustic home decor can be achieved by incorporating a dining table with candle decor. Imagine a dining room adorned with candles, natural wood materials, and soft colors.
Add a few rustic pieces like a plaid blanket draped over the chair or use an old-fashioned apothecary cabinet to balance out the neutral colors in your dining space. Candles can be used to dimly light up the dining area and add warmth to an otherwise industrial-looking atmosphere. For extra incentive, consider adding some rustic-themed dinnerware as part of your dinner table.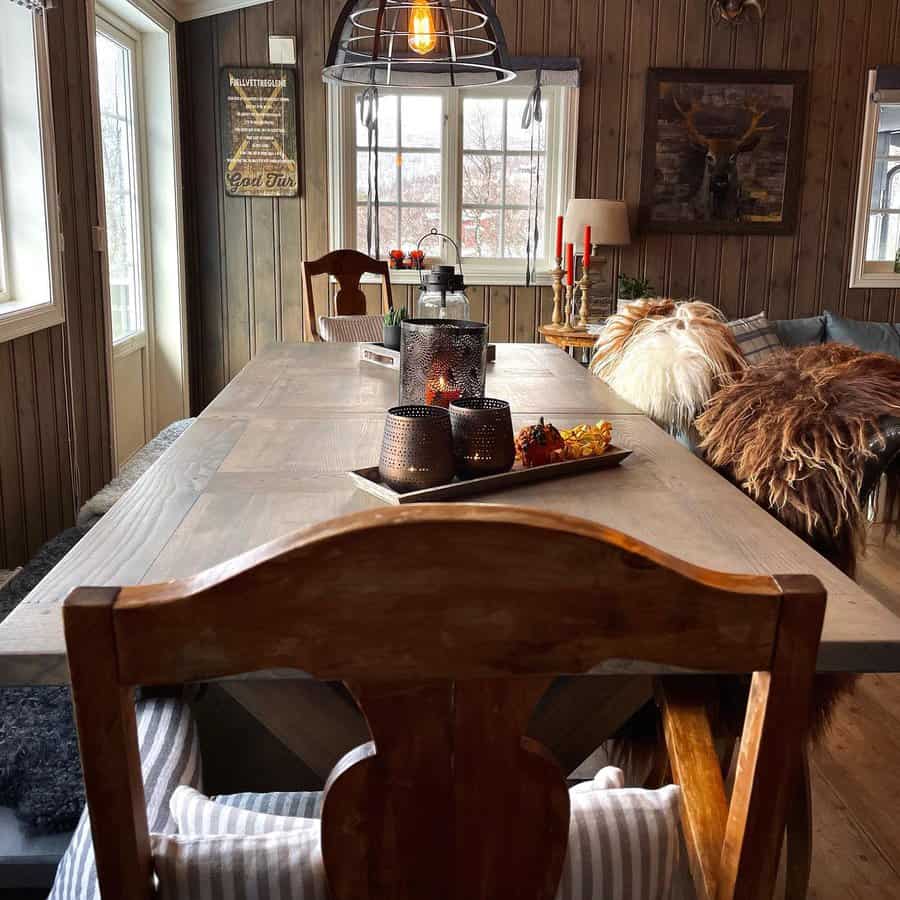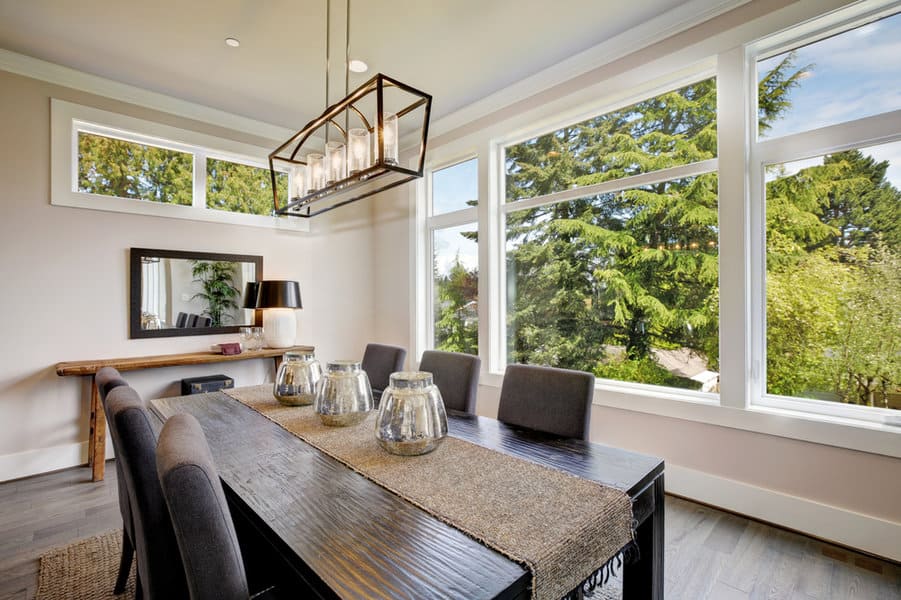 12. Exposed Brick Wall
Are you looking to add a rustic touch to your home? One of the most popular rustic home decor trends is a rustic kitchen with an exposed brick wall. This simply timeless design gives any kitchen a rustic, yet modern feel.
Exposed brick walls can be paired with rustic elements such as wooden cabinets and an island countertop, as well as furniture and lighting fixtures that are rustically inspired.
To add another rustic element to your home, consider an exposed brick wall fireplace, surrounded by other rustic elements like a wooden mantel or warm colors in the accents and furniture. With the right pieces in place, you can create a cozy and inviting atmosphere perfect for entertaining!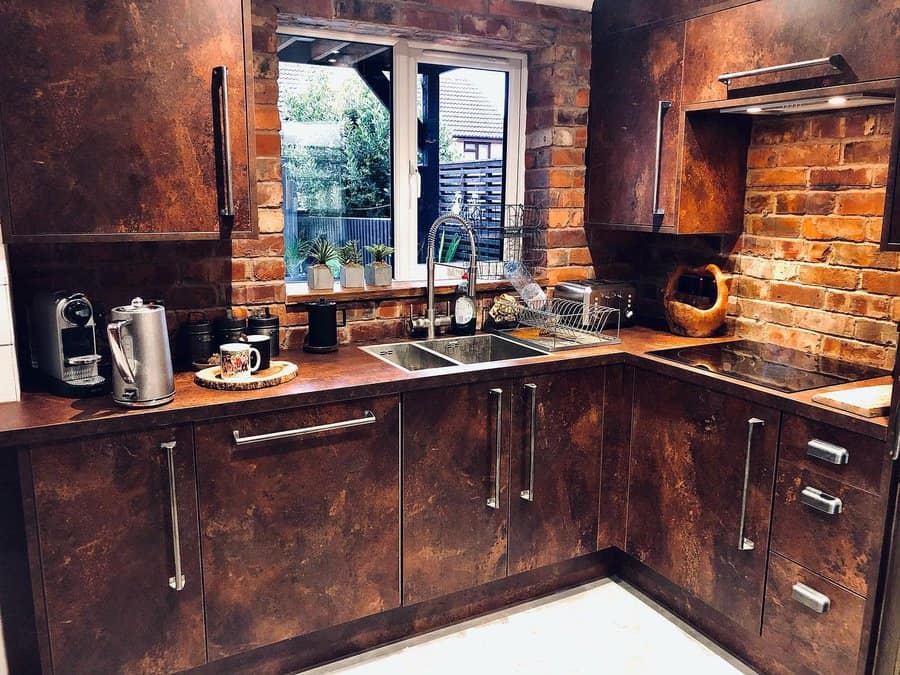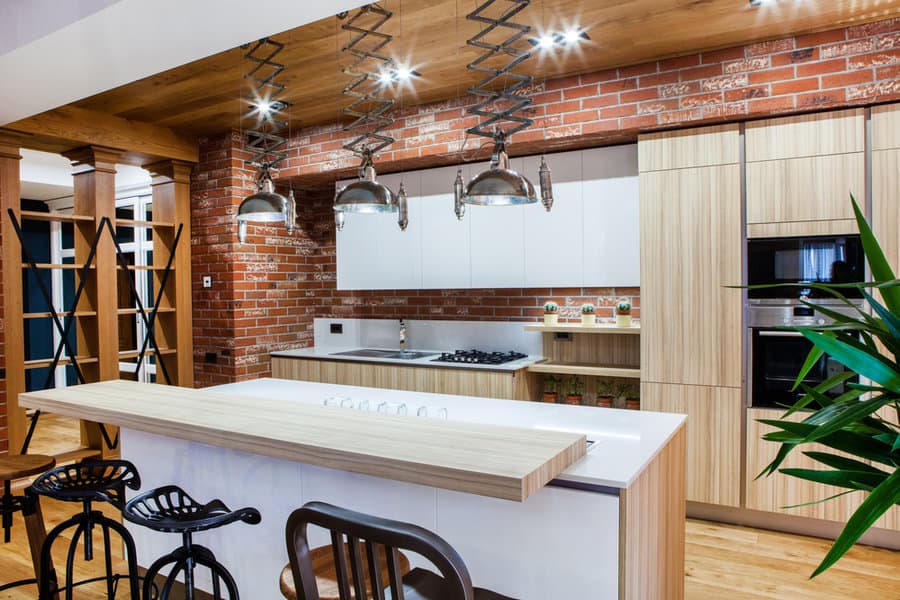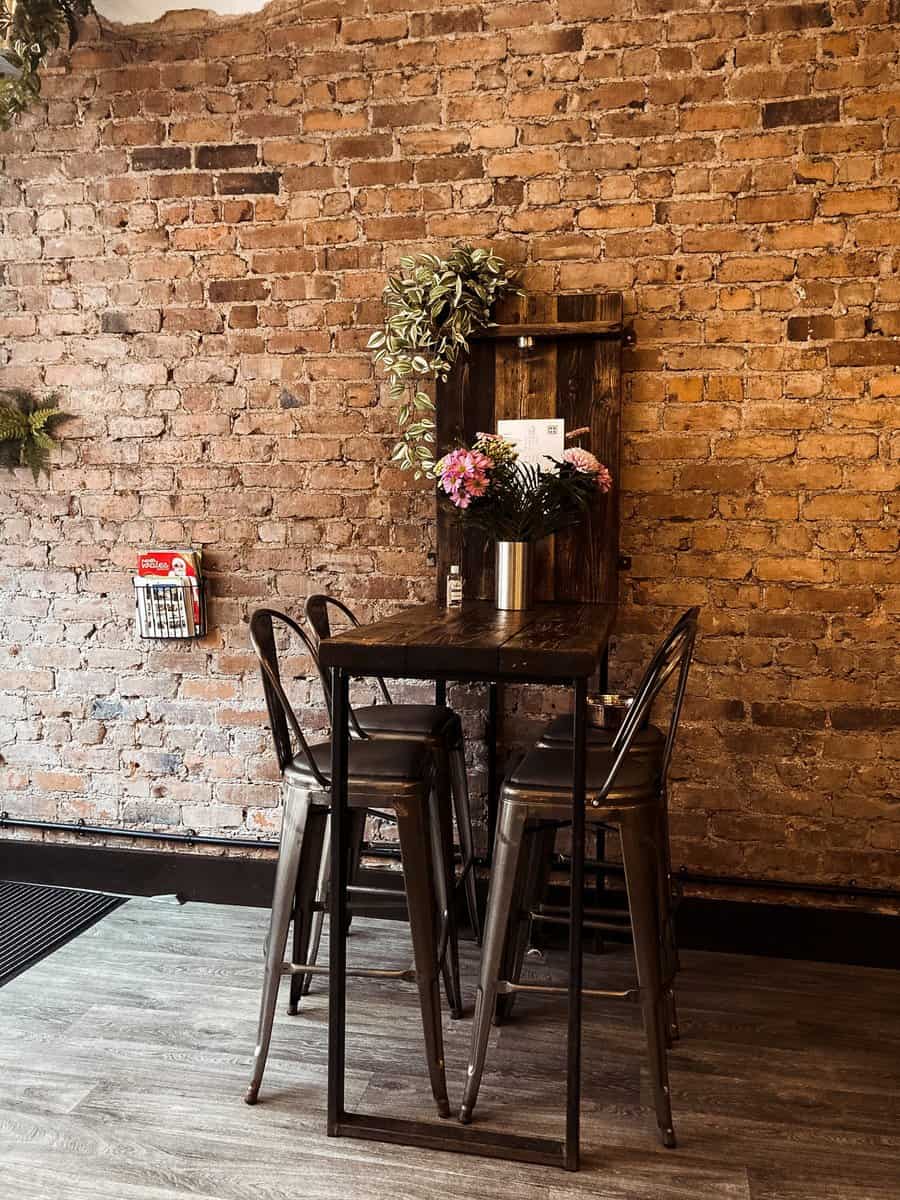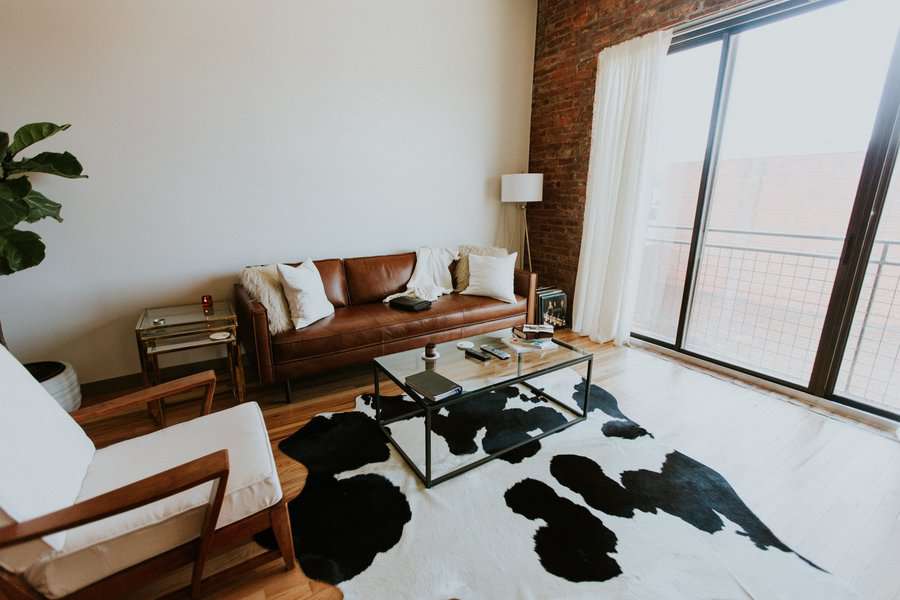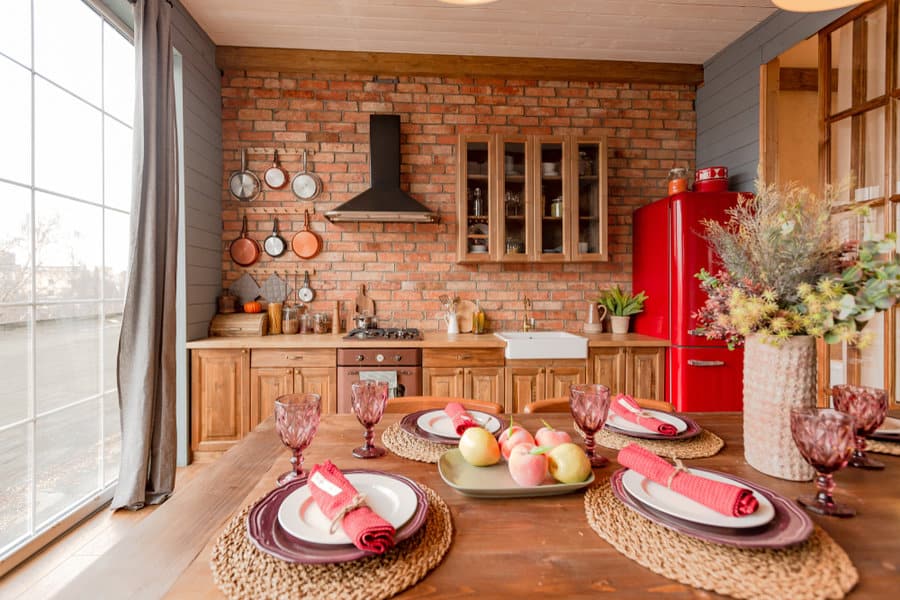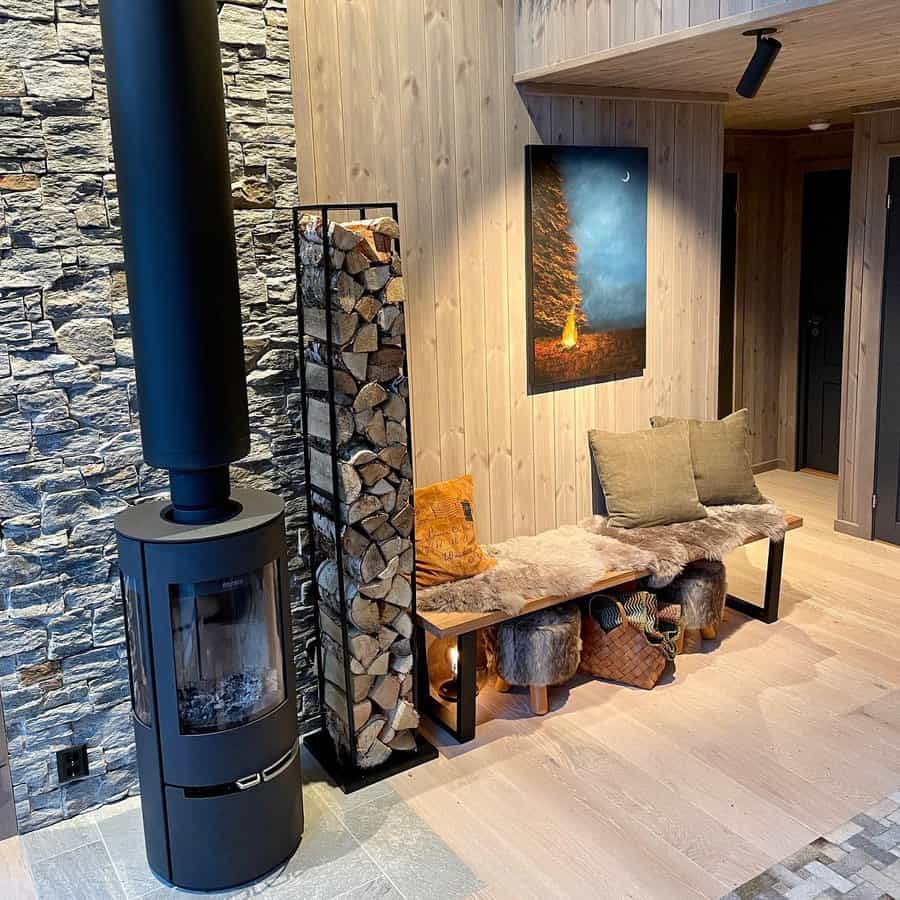 13. Repurposed Old Shelves
If you're looking for a creative way to add some rustic charm to your home decor, repurposed old shelves are a great and simple option. You can find these old beauties in antique shops, flea markets, and secondhand stores – it's an affordable way to showcase items in any room of your home. If you have kids, repurposing an old shelf is a great way to give their bedroom a unique look.
For example, you can repaint an old shelf with bright colors for a boy's bedroom or line it with exciting patterns for a girl's room. Not only will it complement your rustic decor style but your child will love the new custom piece!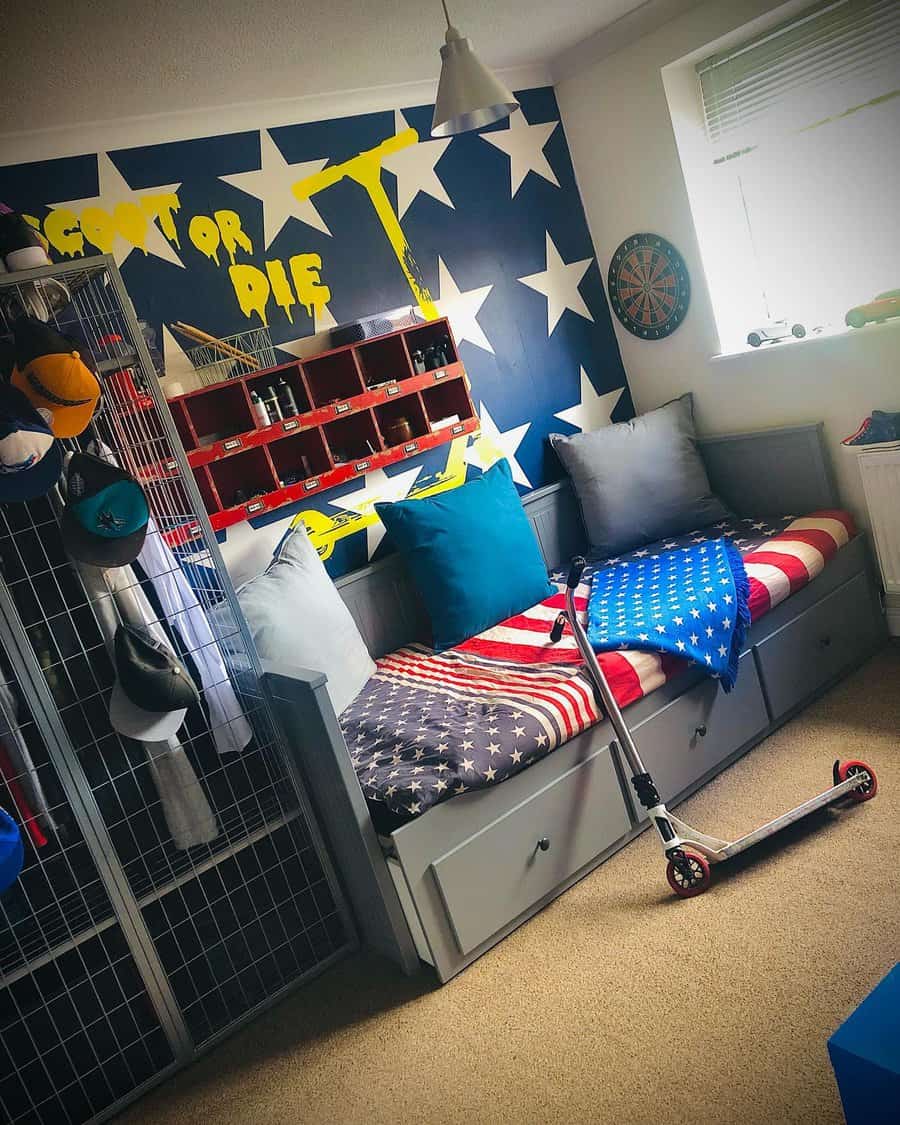 14. Bright, White Walls
Rustic home decor can brighten up every living space! Adding bright, informal touches to your interior is an easy way to complete the look. When you think of rustic decor, white walls are probably one of the first things that come to mind.
You may be surprised by how much impact bright wooden furniture or floors have when placed in contrast against stark white walls – which after all, have been a classic choice for those that prefer a more rustic and laid-back feel. Combining country charm with modern pieces creates a unique style, perfect for anyone looking to bring a little extra personality into their home.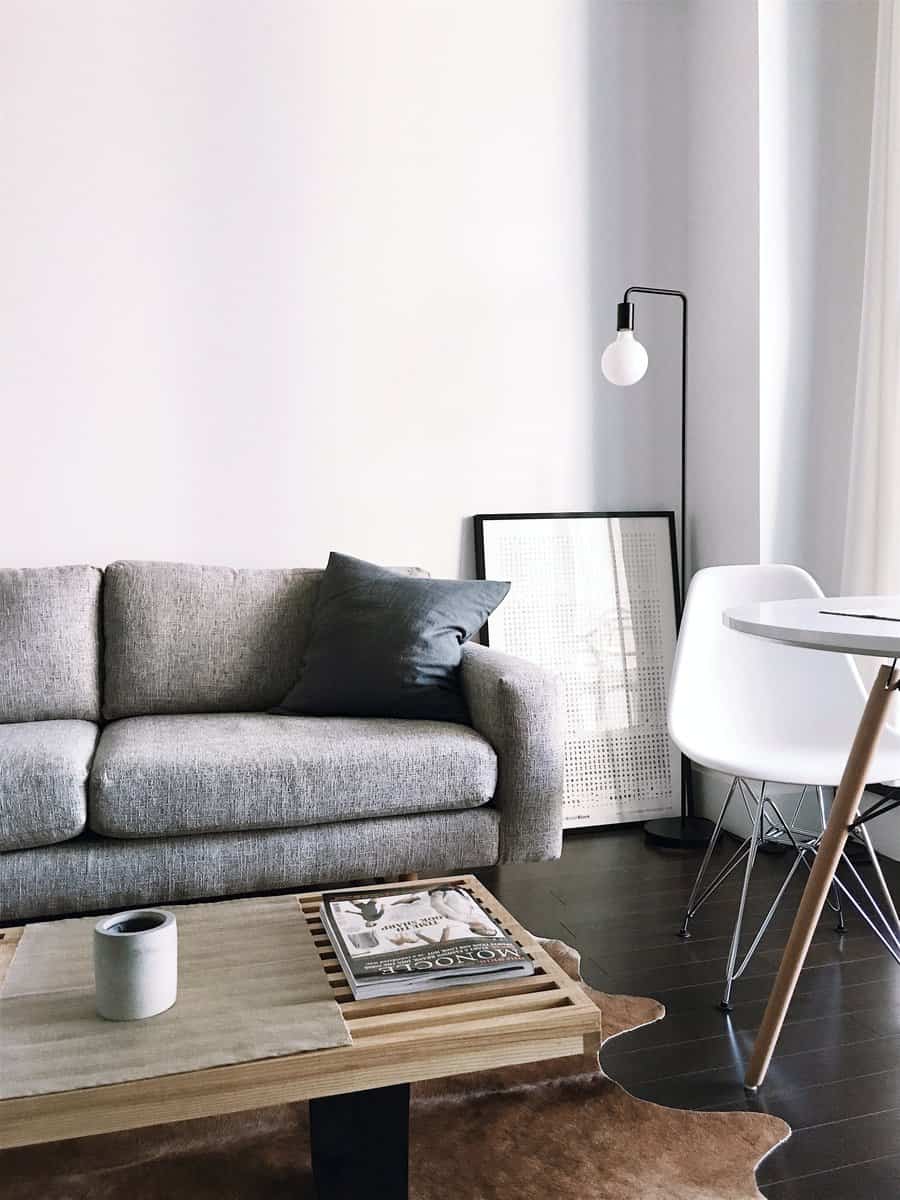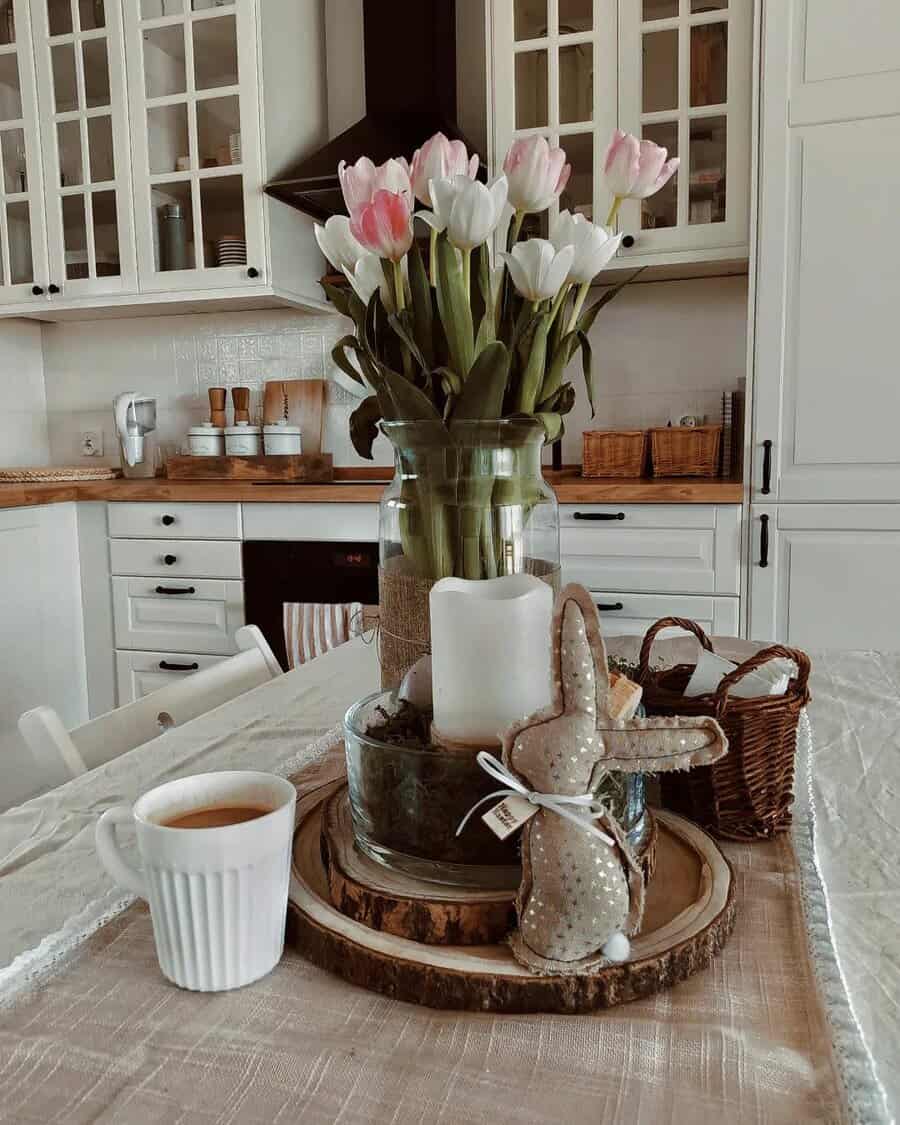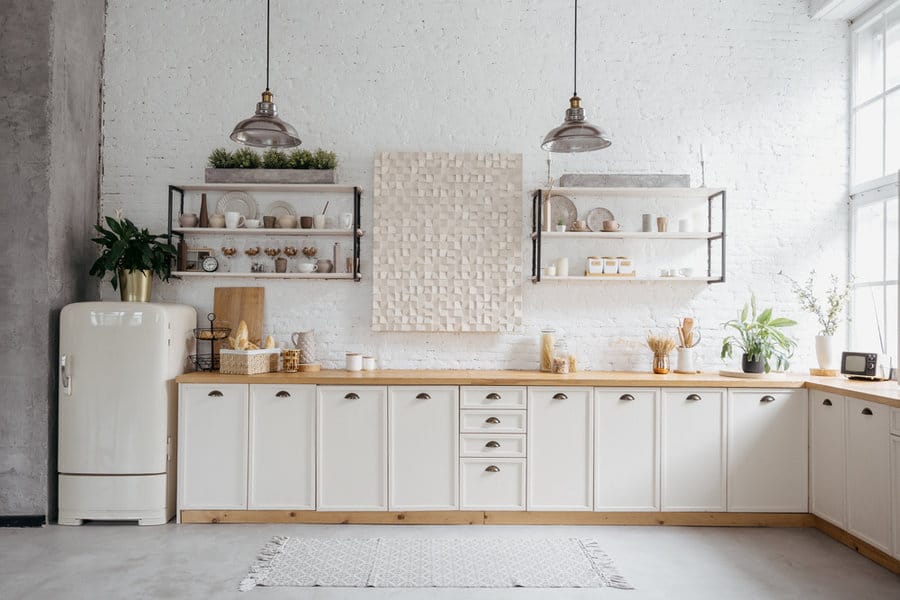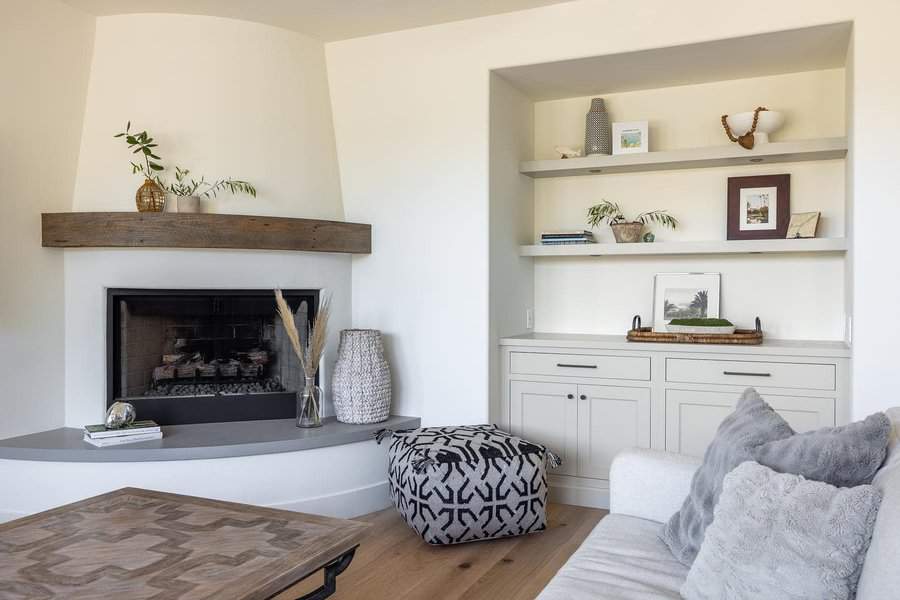 15. Throw Blankets
If you're looking to give your living room some rustic flair, adding throw blankets can be a great way to do so. Not only are they a cozy addition to any living room, but they come in a variety of designs and materials that can help add texture and dimension to the space. Whether you prefer cotton, wool or dual-texture blankets for added visual interest, there's sure to be something that complements the overall home decor style.
Plus, depending on which season it is, you can choose from cool throws for summer or thick ones for winter time. So don't underestimate the power of beautiful throw blankets – they're definitely one of the easiest ways to give your living room an extra boost of that rustic charm!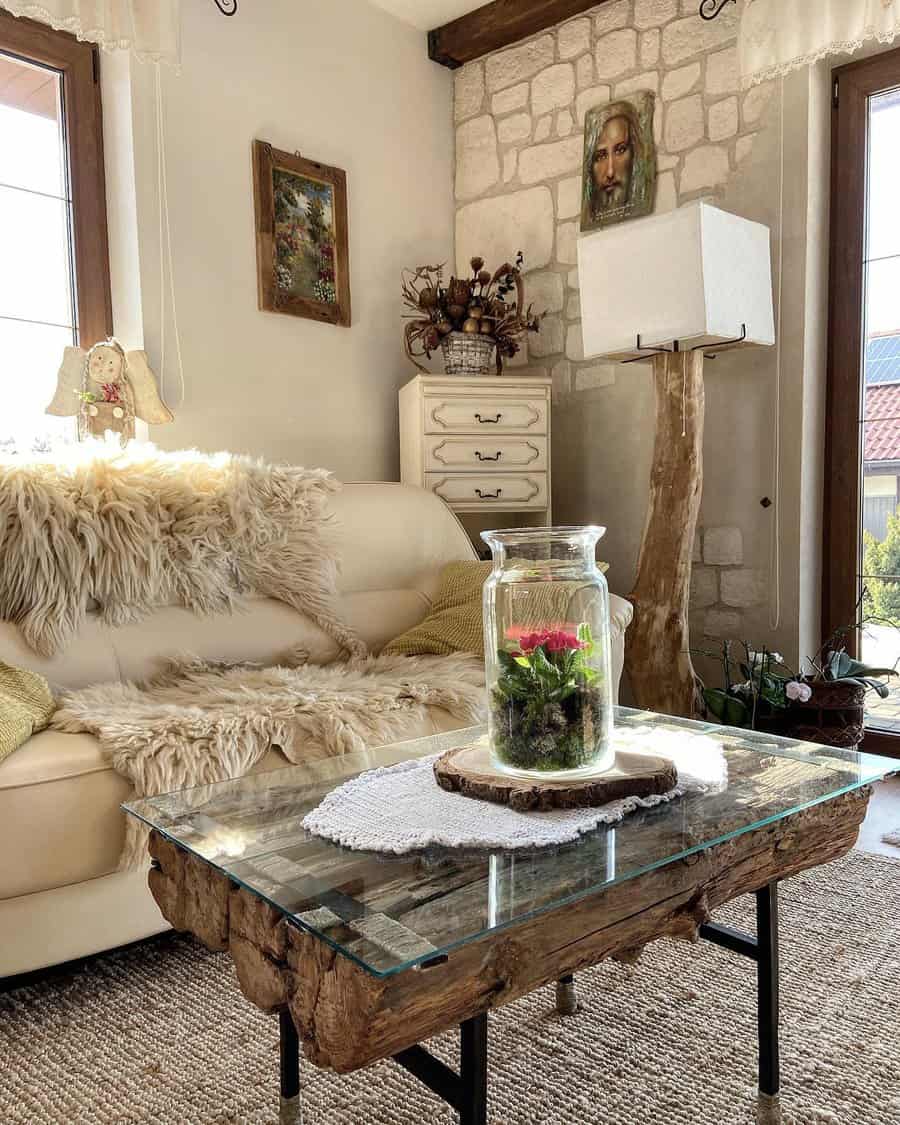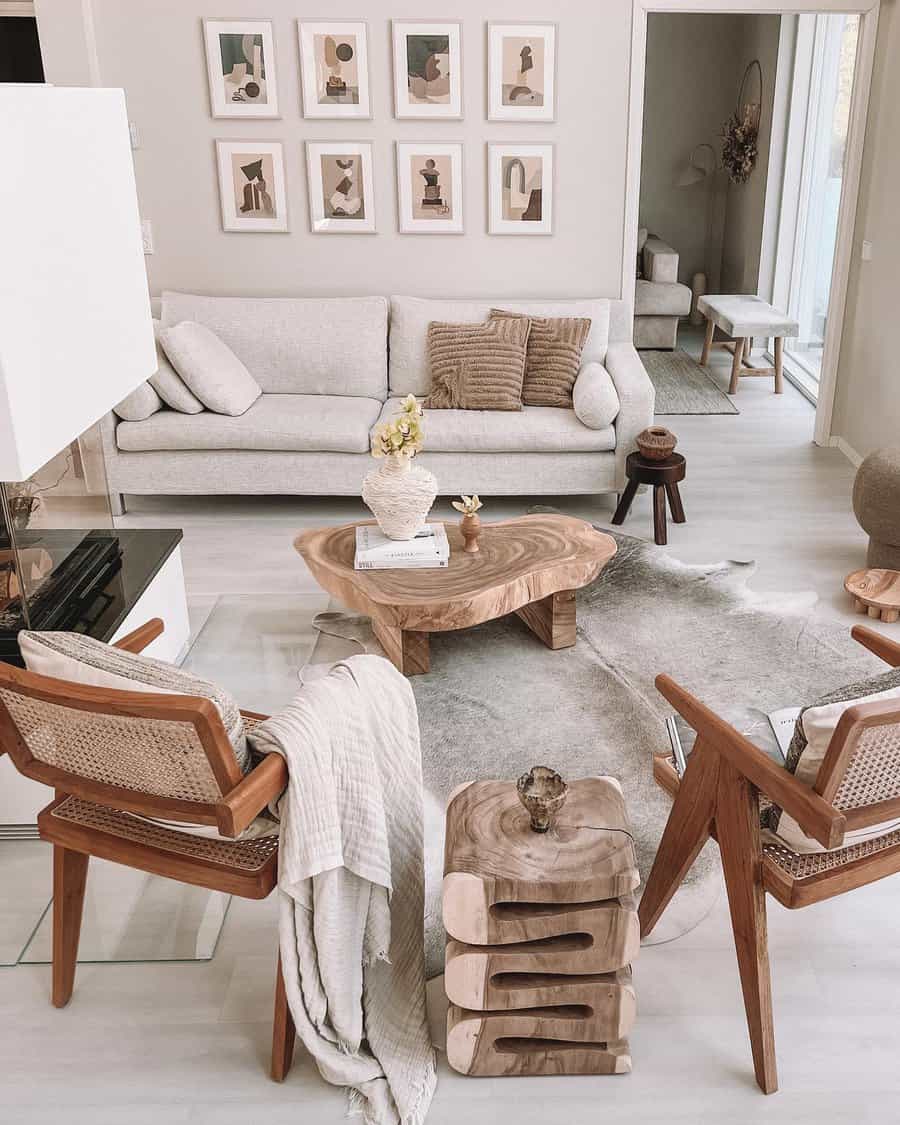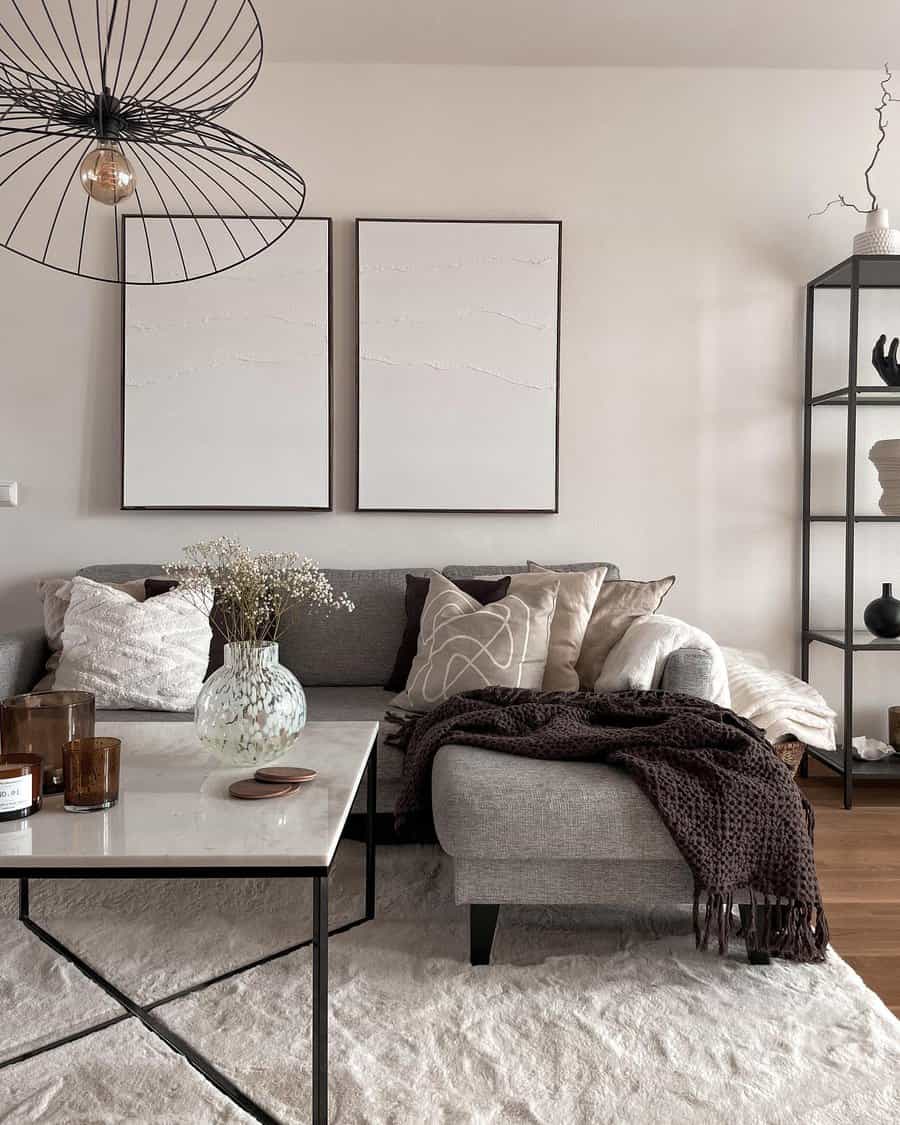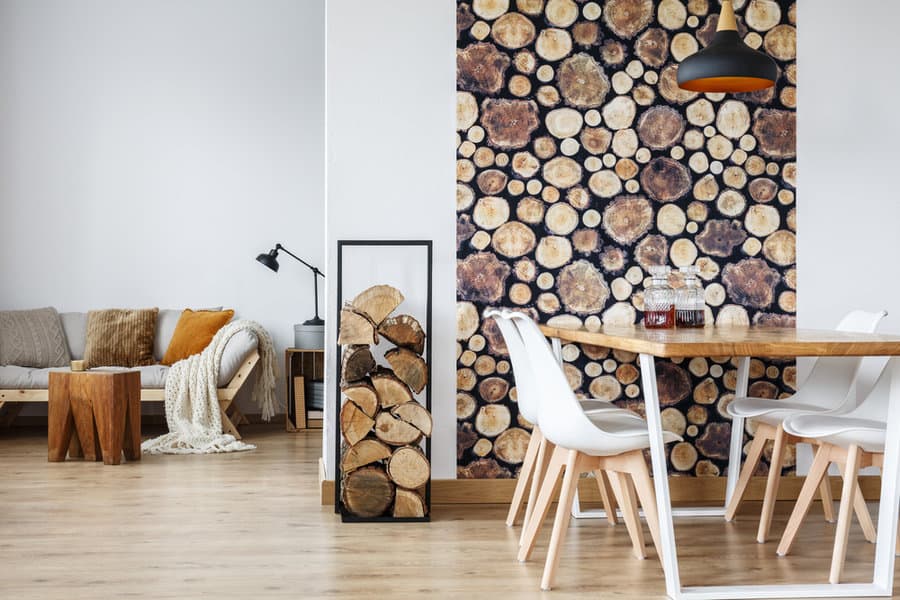 16. Linen Upholstery
Make your home look rustic by utilizing linen upholstery and bedding. Linen fabrics bring an organic and timeless feel to any living space. Consider linen drapes, linen armchairs, linen sofas, linen sheets, linen pillows, and linen covers to set the tone of your rustic home decor. P
lus, linen materials will guarantee longevity as they tend to get softer over time with wear and washing – perfect for a home with a calming atmosphere. Complement your linen base with warm colors and natural tones like mustard yellows, teal blues, and earthy greens. Add distressed wood furniture pieces too to carry out the rustic look.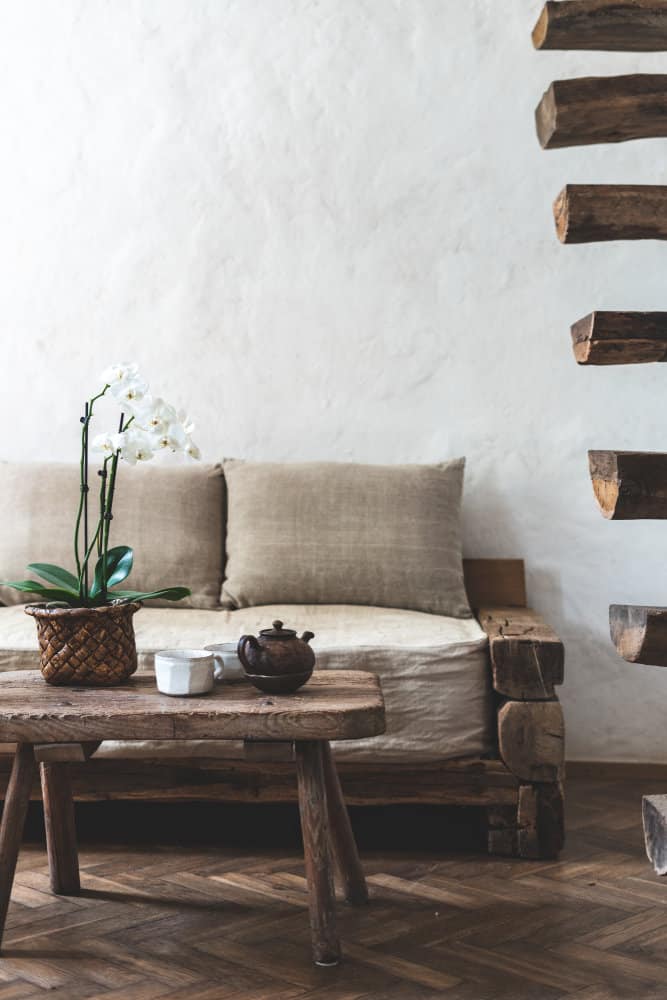 17. Clay Lime Plaster Shelves
Rustic home decor is a great way to add warmth and personality to any space. For a unique, natural touch, clay lime plaster shelves can be hand-crumbled for an organic texture and shape.
If you are looking for something a bit more freeform, clay shelves can easily be molded into odd shapes as needed or even used as wall decorations. Adding clay pies to your home gives it a special rustic charm that is truly one of a kind.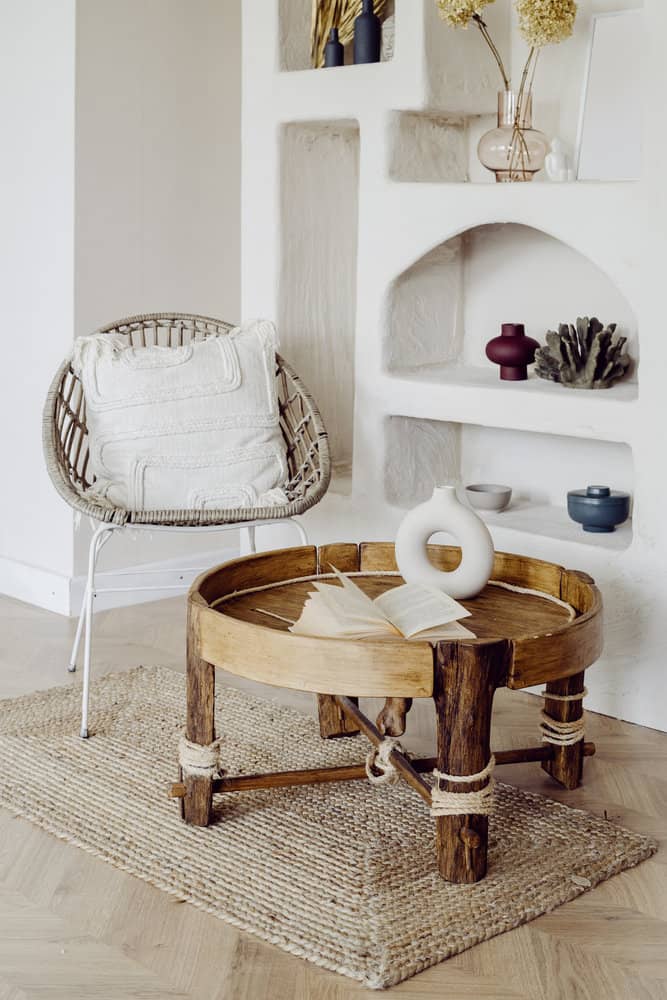 18. Coffee Table Books
Rustic home decor is the perfect way to bring a cozy and inviting feel to any home. If you want to embrace this look, coffee table books are absolutely essential! Choosing coffee table books with rustic-inspired themes, such as nature or country living, will help show off your unique style and provide an interesting talking point for guests.
Place these coffee table books in front of a sectional couch in a den or family room, which are ideal places to display rustic design pieces like vintage antiques and ceramic vases. Utilizing coffee table books as part of your rustic home decor strategy can be a fantastic way to add some personality while highlighting the charm of antique items in a modern space.
19. Wooden Furniture
Bringing a rustic vibe into your home is an excellent way to add some warmth and charm. An easy way to start is with wooden furniture, like wooden chairs and wooden tables, which give off that classic rustic feel. You can also collect items like weathered boards, old farm implements, and vintage industrial pieces for a unique touch.
Add neutral tones for the walls and flooring and warm lighting for maximum effect. With just a few edges of rustic decor, you'll have the perfect down-home feeling in no time.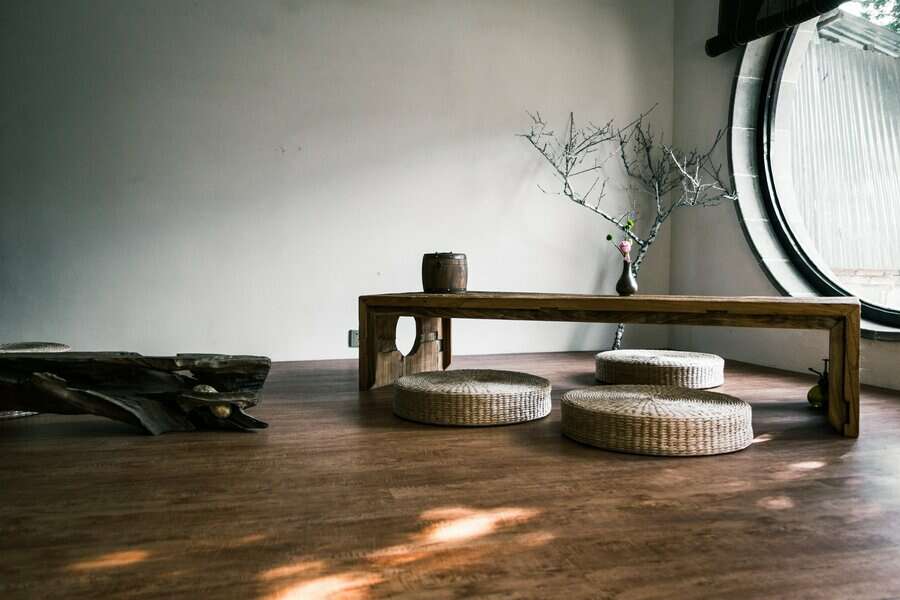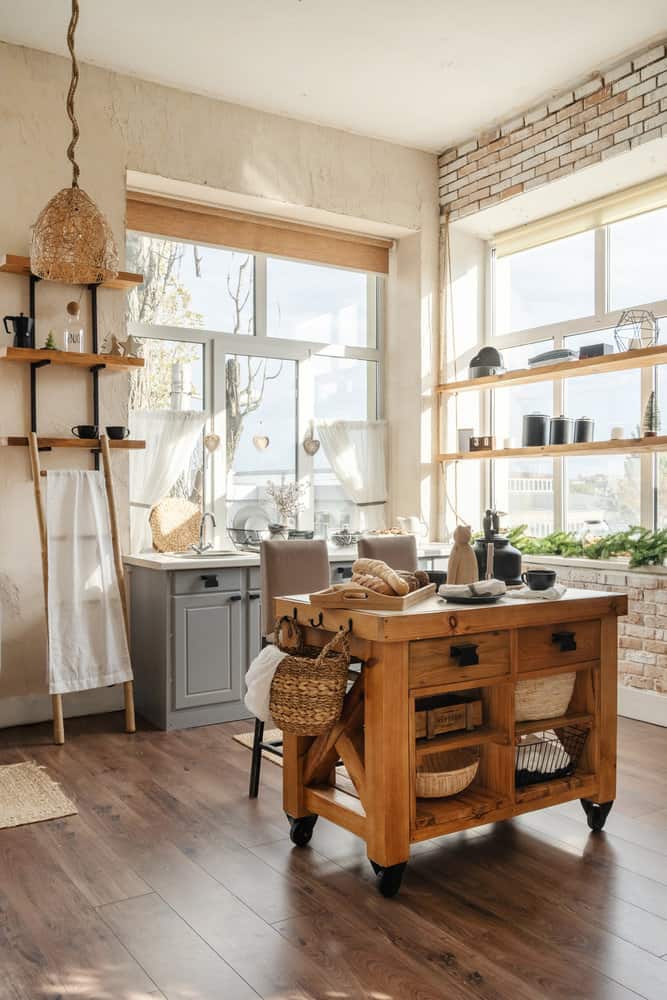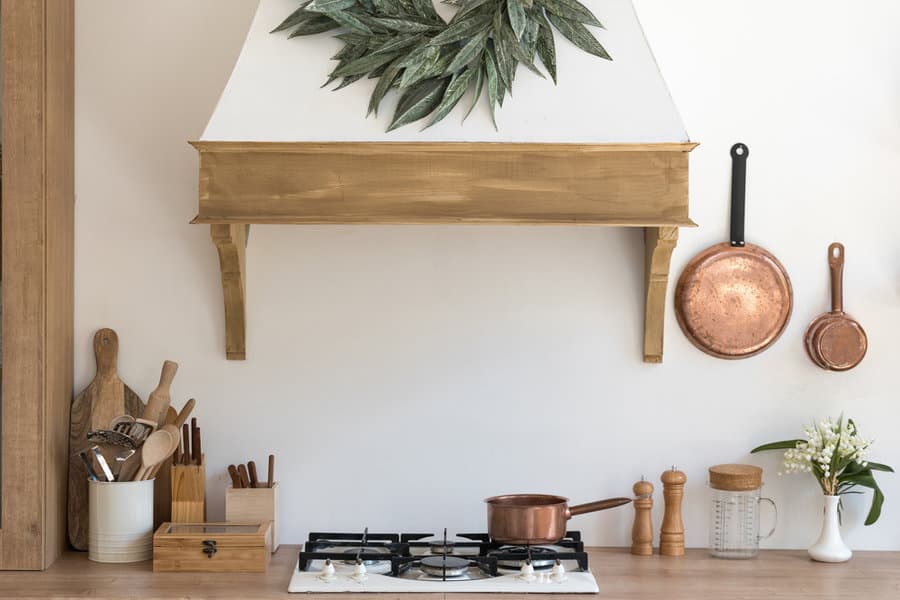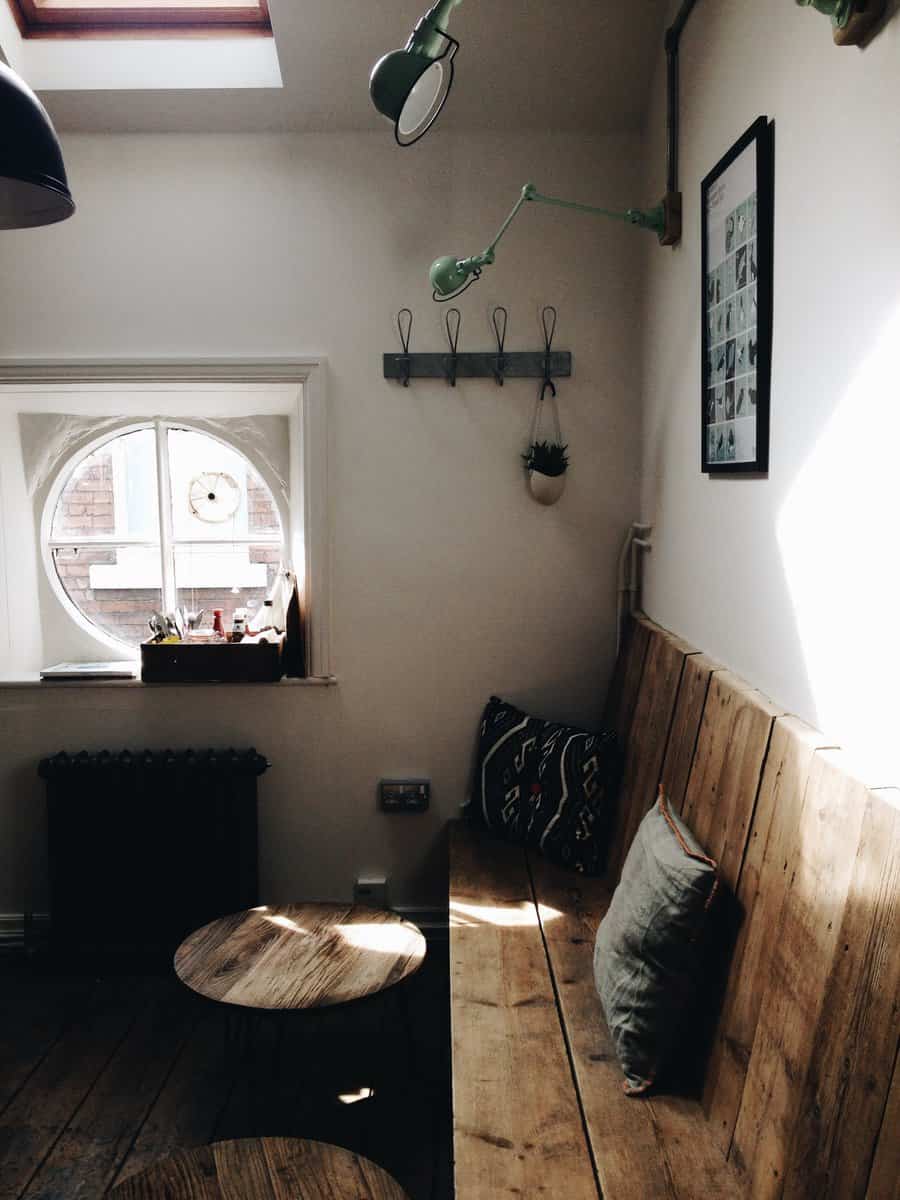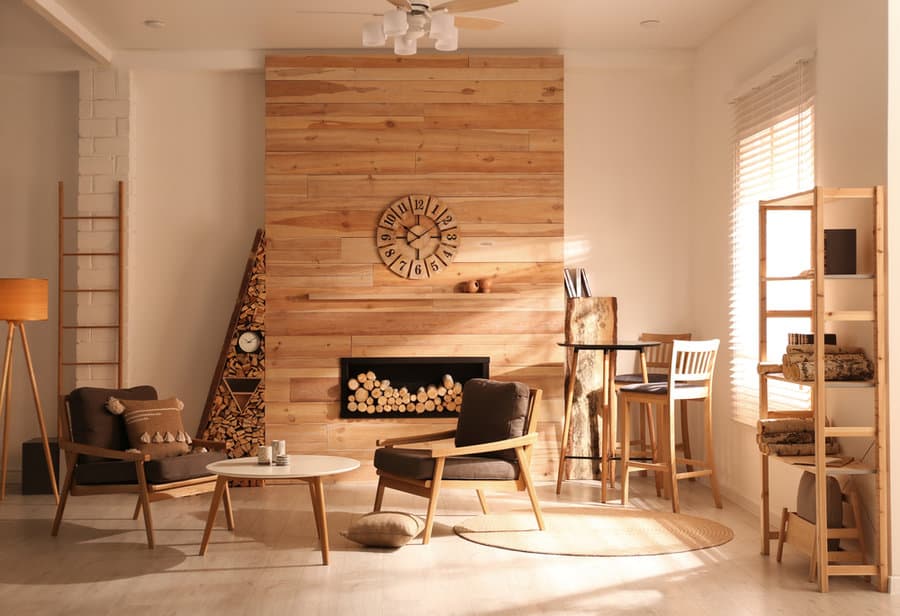 20. Warm Light Lamp
One great way to bring a rustic feel to your space is by having warm light lamps or Scandinavian minimalist lamps. These warm lighting pieces can add to the natural ambiance of the room and create a cozy atmosphere for every guest.
You don't have to break the bank for these pieces either – you can still achieve that warm farmhouse feel with many affordable options that are available at local department stores or online. Bring rustic home decor into your living room today!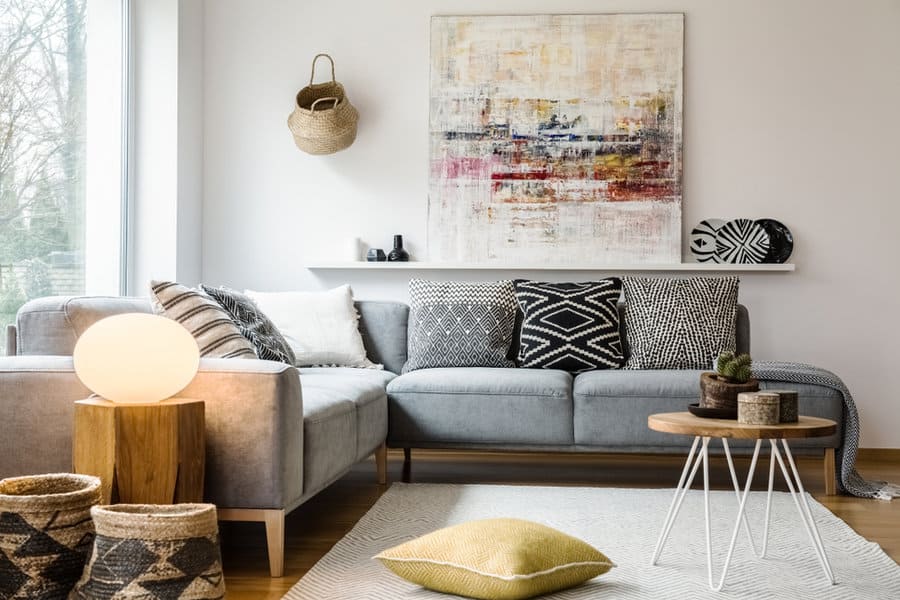 21. Vintage Decor
If you're looking for a rustic and cozy atmosphere in your home, thrifted decor is the way to go. Consider a vintage couch and add some thrifted paraphernalia to accent it.
Old doors, windows, and shutters too can be found at thrift stores or even reused from buildings that have been torn down. You can mix and match these with modern pieces to bring an eclectic feel while still maintaining a rustic vibe. For example, an old door that doubles as an accent wall paired with modern furniture can create the perfect balance of comfort and style.
An eclectic mix of thrifted pieces can bring in a comforting and inviting style that is sure to become one of your favorite rooms in the house.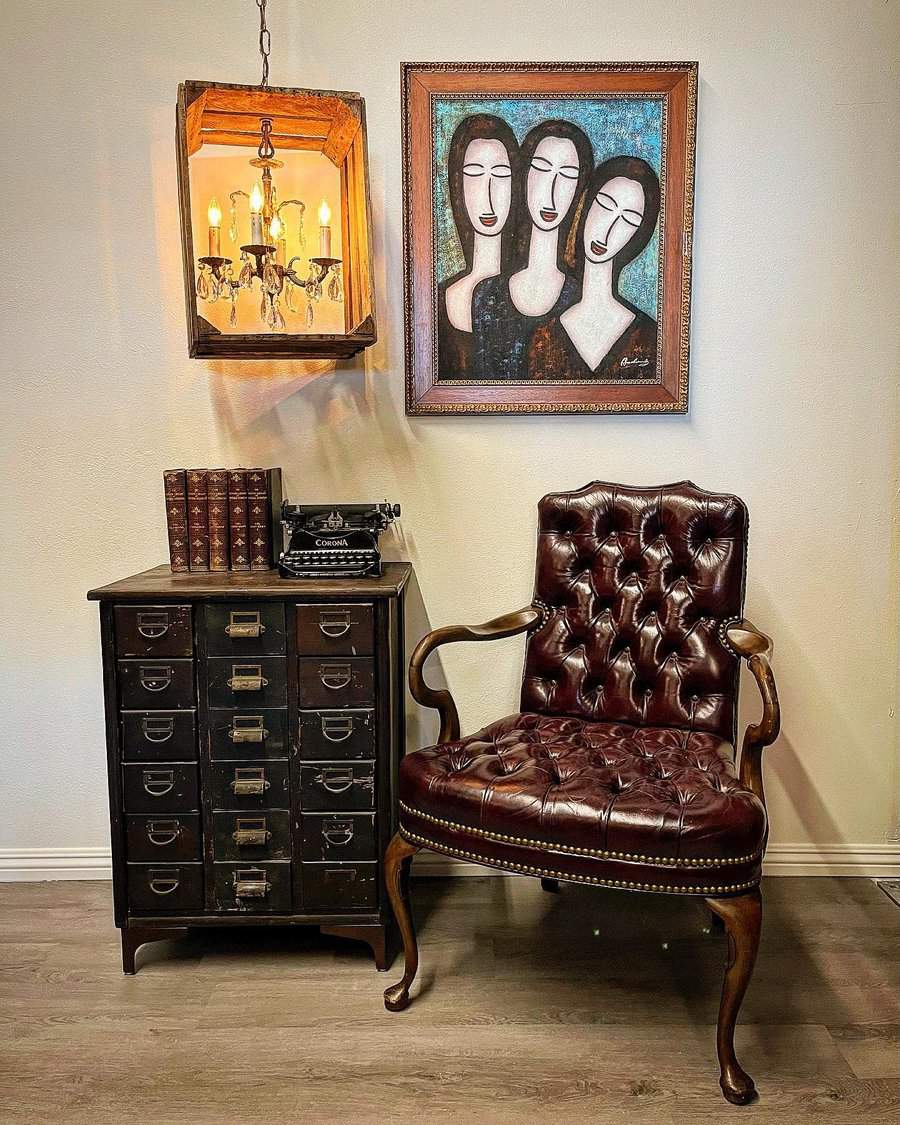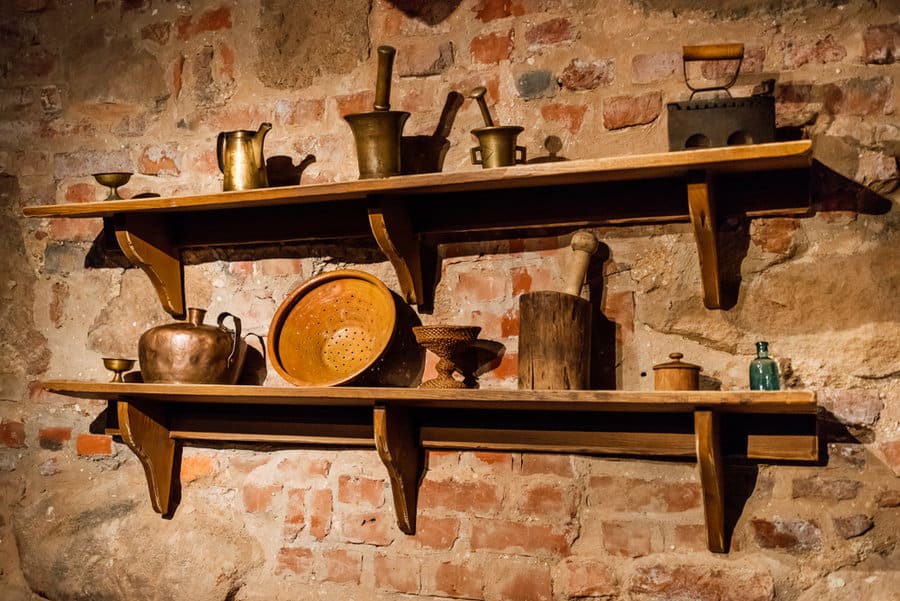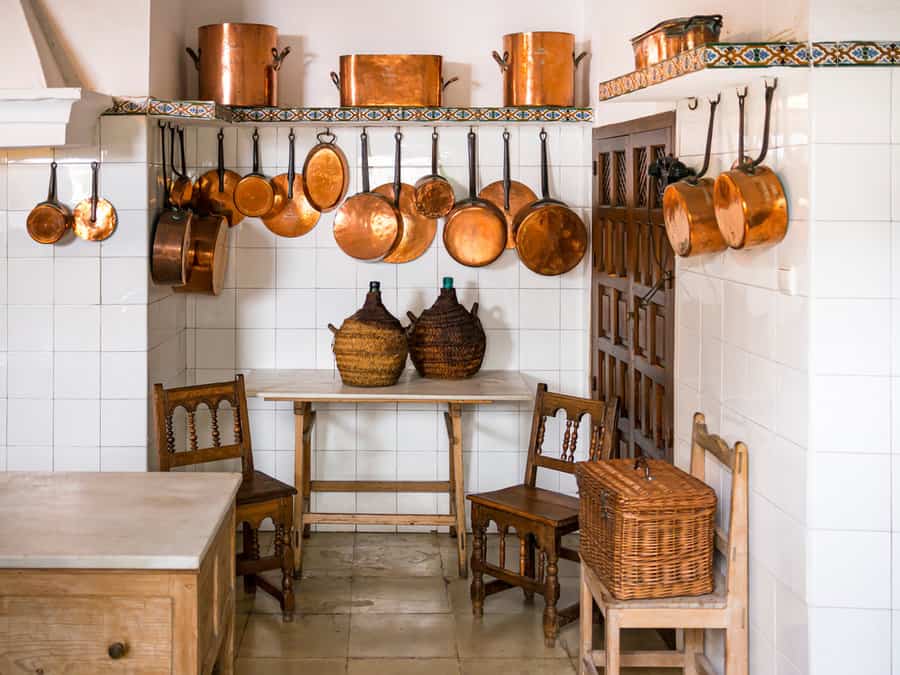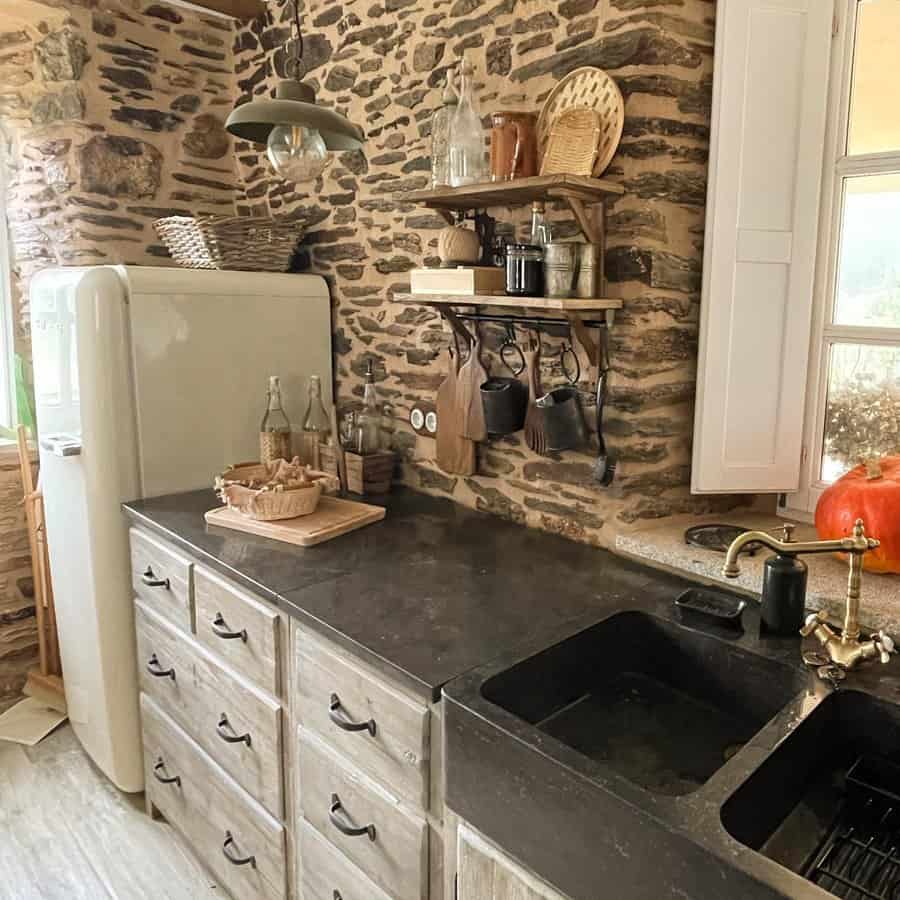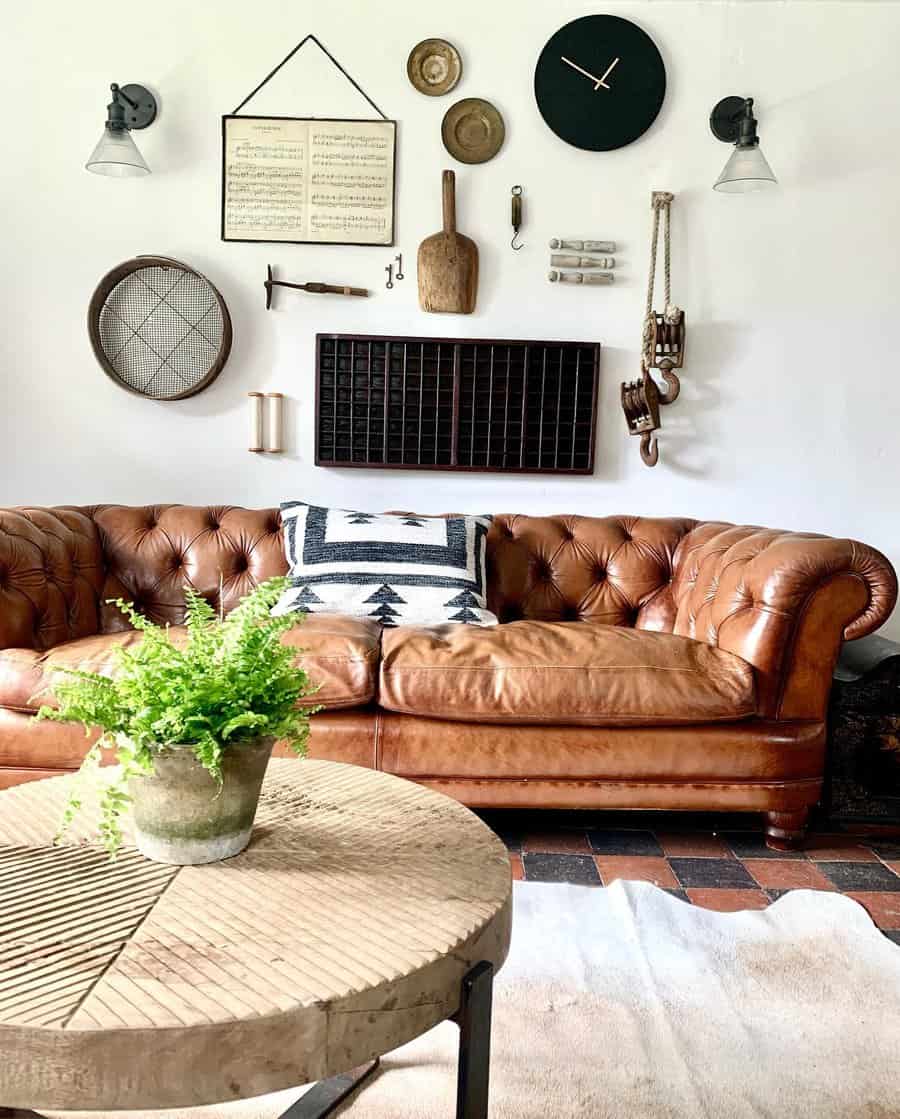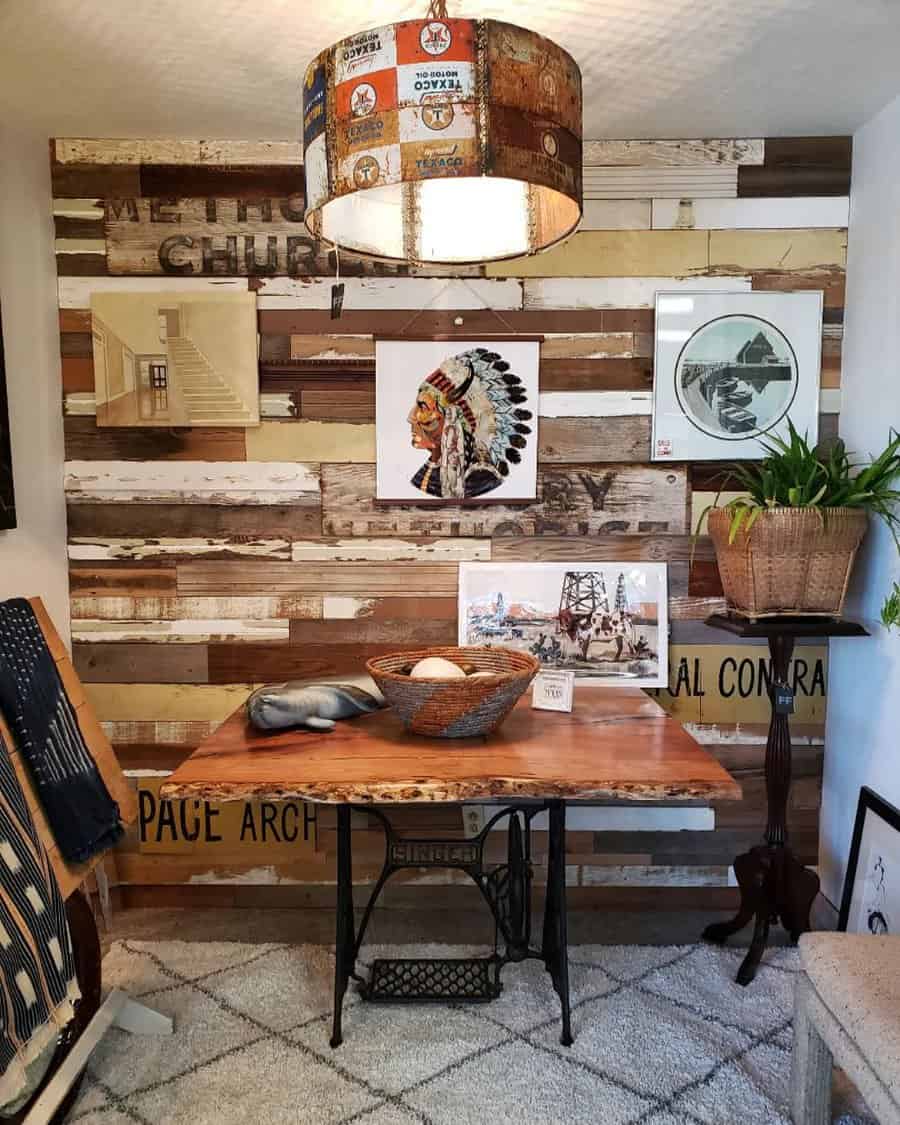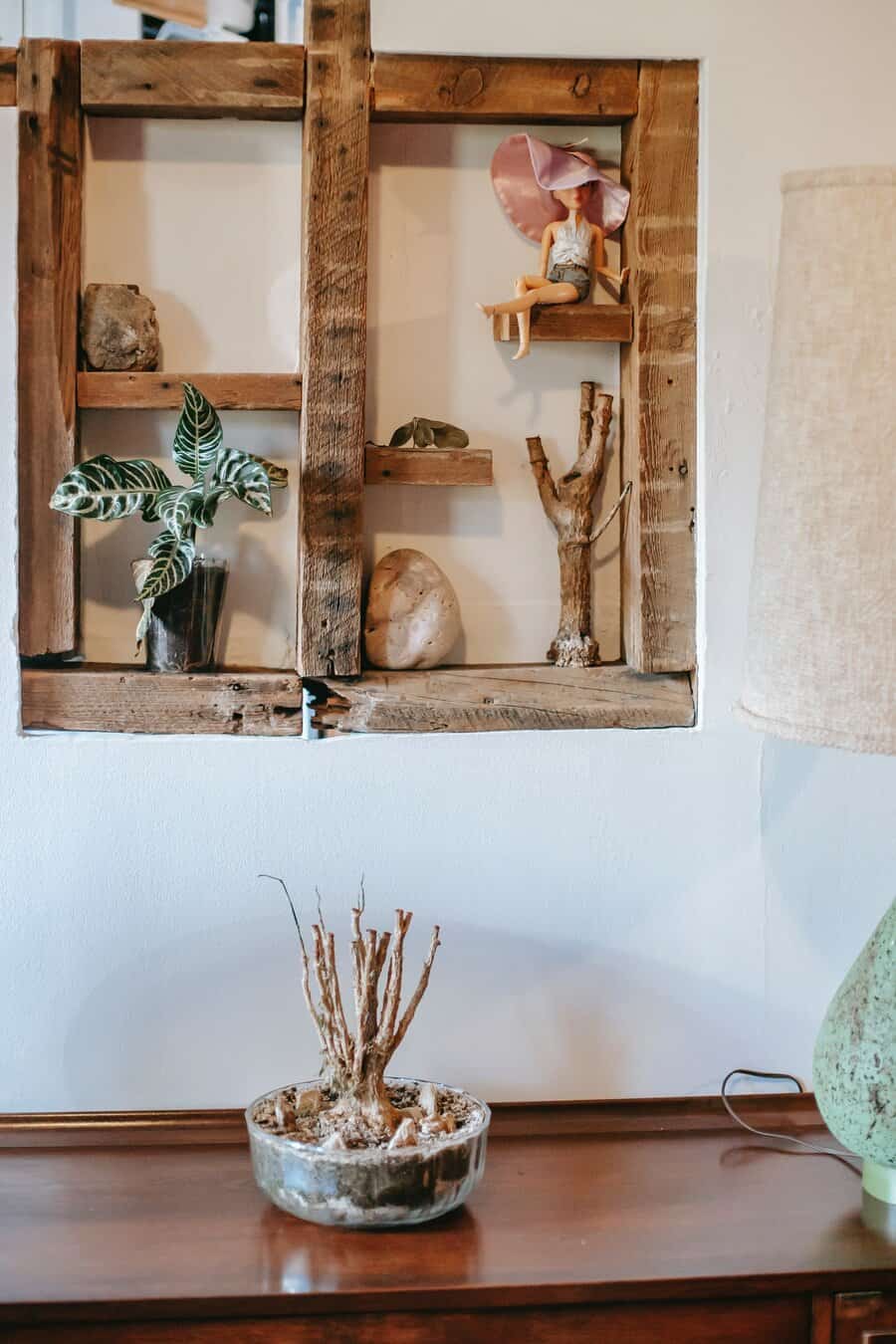 22. Distressed Furniture
Rustic home decor is an ideal way to bring a touch of character and enchantment into any room. Invigorate your interiors with distressed furniture, old-fashioned accents, and vintage finds. What's more, choose natural materials like distressed wood or jute carpeting to add texture and layers to your space.
Don't forget the details either – textured throws, distressed mirrors, distressed wall cladding or distressed picture frames can finish off a rustic look for a delightful bespoke look. With the right decor piece and some imagination, you won't believe the transformation you can achieve.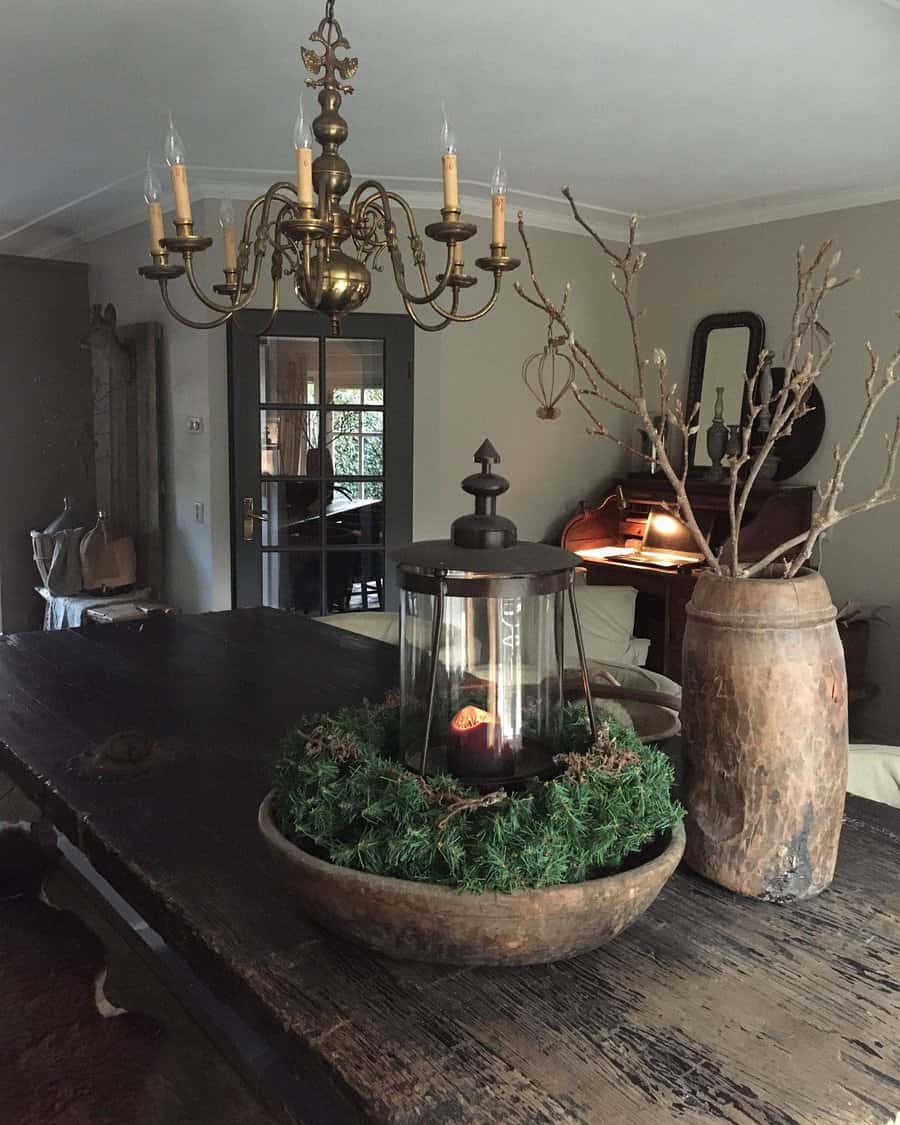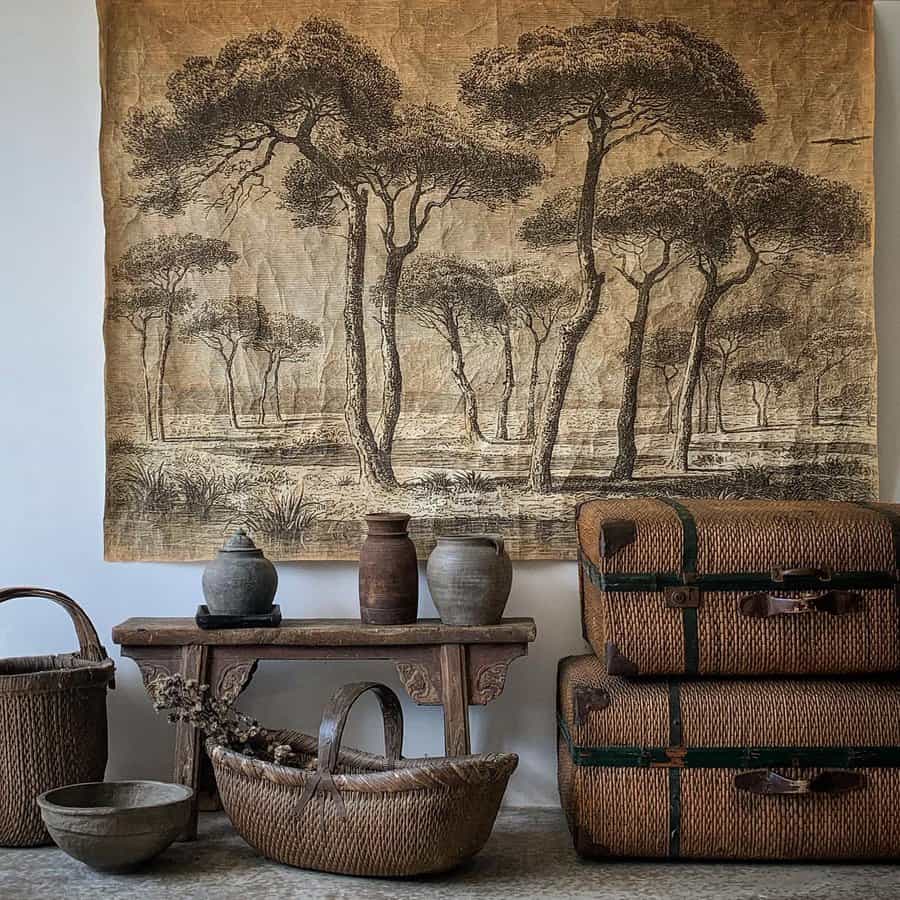 23. Farmhouse Styling Shelf
Rustic home decor is a great way to add character and warmth to your space. To really give off the homey and cozy vibe, try floating shelves accented with farmhouse decor items – antique figurines, bleached-wood candleholders, vintage terracotta pots, woven baskets filled with tea towels, and dried flowers.
Mixing and matching warm tones like taupes, beiges, and reds will bring that rustic look without feeling too country-kitsch. A floating shelf gives an airy feel to any area so along with bringing texture through fabric options such as blankets and throws, you can style the shelf for visual impact.
Layer eclectic items for even more character – jars of sea glass and lavender sprigs or a woven tray filled with mini jugs are just some ideas of what you could put together.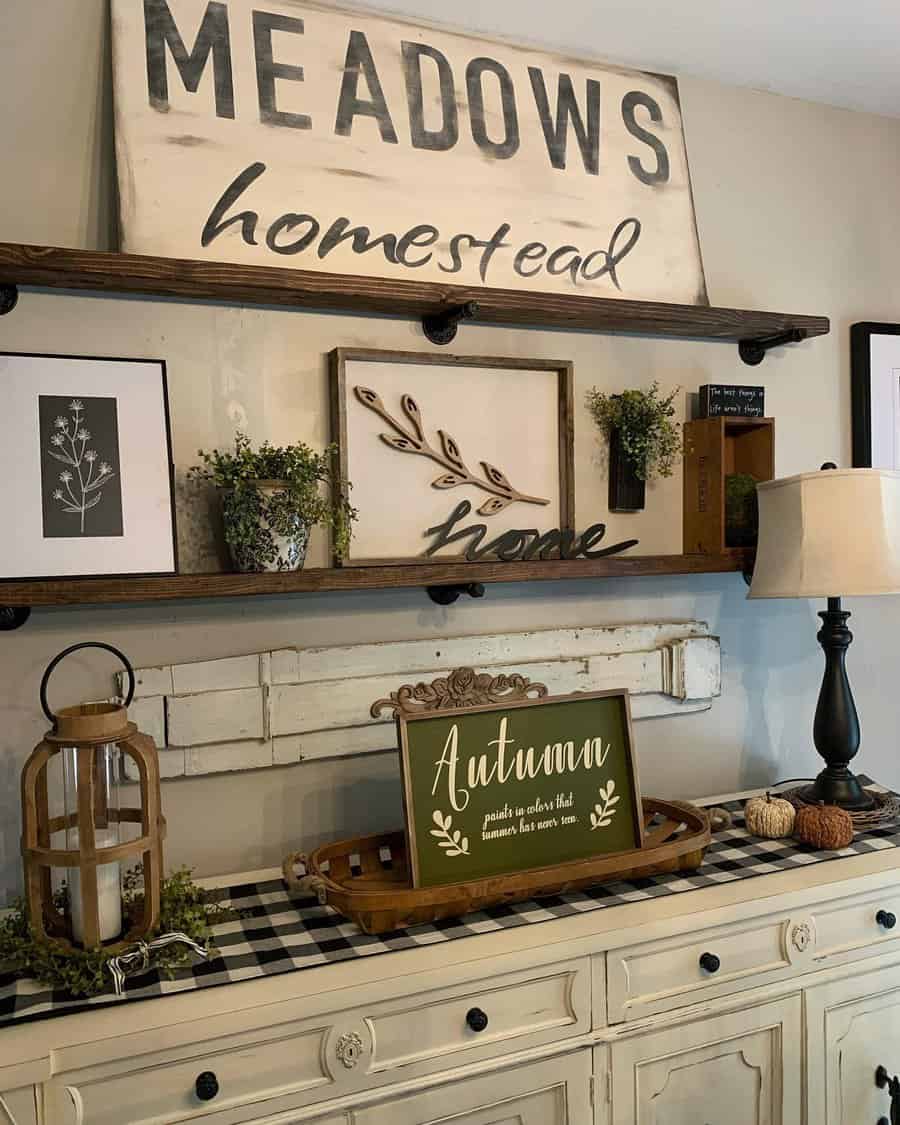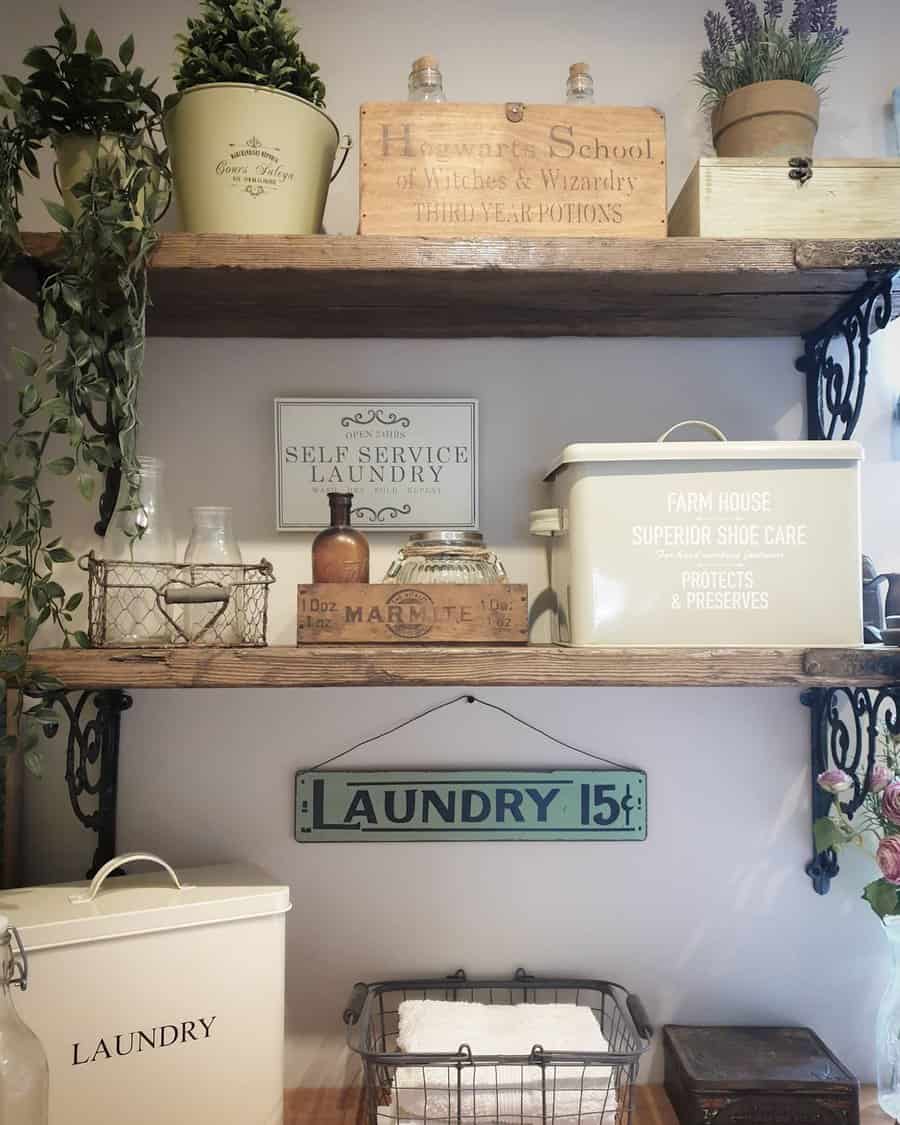 Rustic Decorating FAQs
What is modern rustic style?
A modern rustic living room sounds like a contradiction, but it's actually an inviting home decor style that combines the best of sleekness and roughness. Modern rustic spaces include white walls, black and white wall art, reclaimed wood furnishings, and exposed brick or other architectural details. Pottery Barn is a good place to shop for decor that captures modern rustic style.
What are rustic colors?
Rustic decorating has a strong emphasis on colors found in natural material. Deep hues are most common, such as deep leaf green, earthy mud brown, charcoal grey, and toasted wheat. A rustic color palette usually includes one strong neutral accompanied by several warm hues.