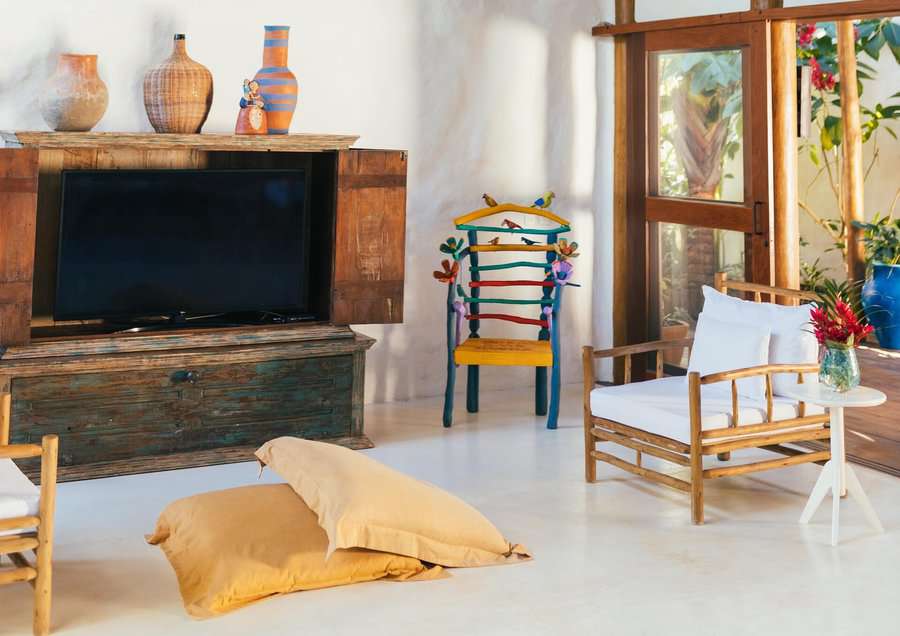 72 Rustic Home Decor Ideas and Designs
Few living room interiors are more welcoming than those featuring rustic decorating ideas. Rustic style is cozy, comfortable, and casual—the perfect combination for everyone's favorite room.
Rustic interior design has evolved from its simple origins into modern, traditional, and farmhouse versions. We've compiled 72 of our favorite rustic decor ideas to illustrate how natural it is to include this friendly style in your living room and beyond.
1. Bathroom
The bathroom is a good place to try out rustic home decor since it's such a small space. Try replacing standard doors with sliding barn doors, and put shiplap or wood paneling on an accent wall. Replace standard tile and flooring with tile that looks like stained or whitewashed hardwood.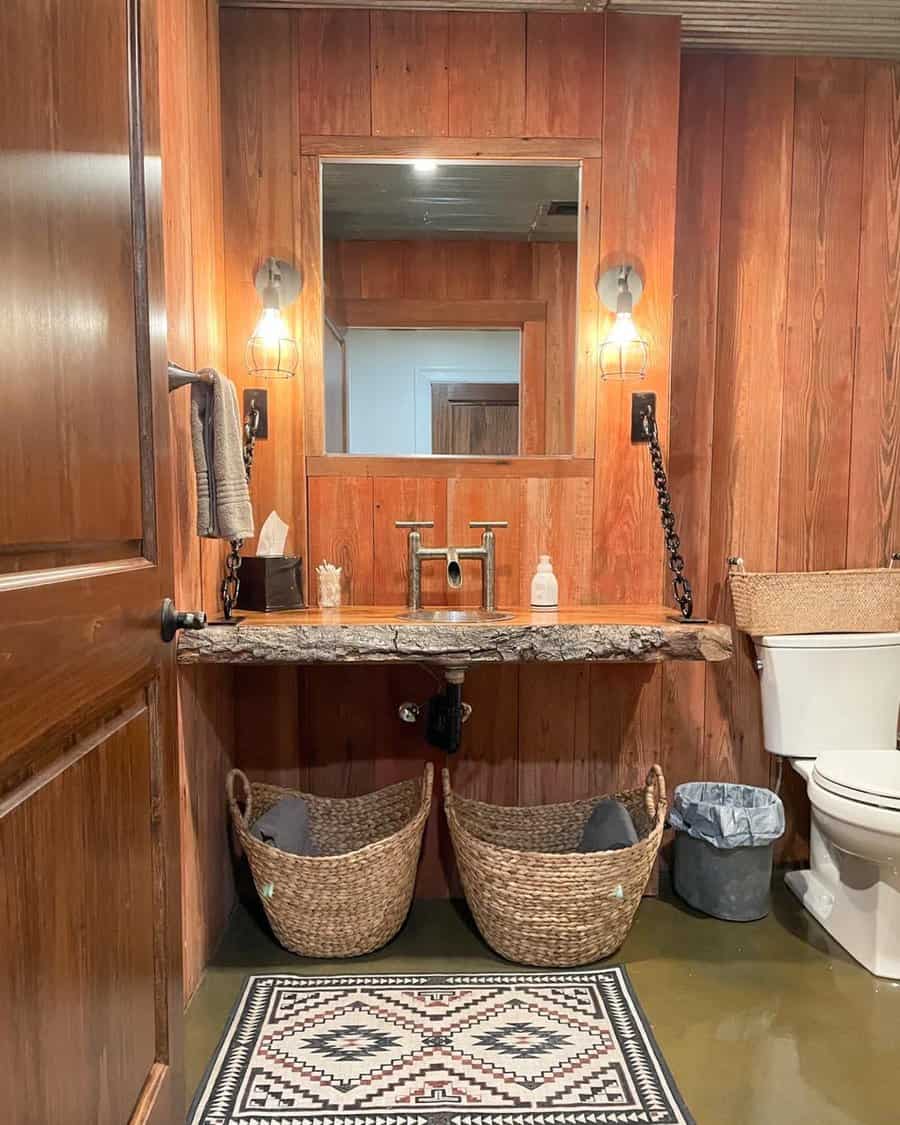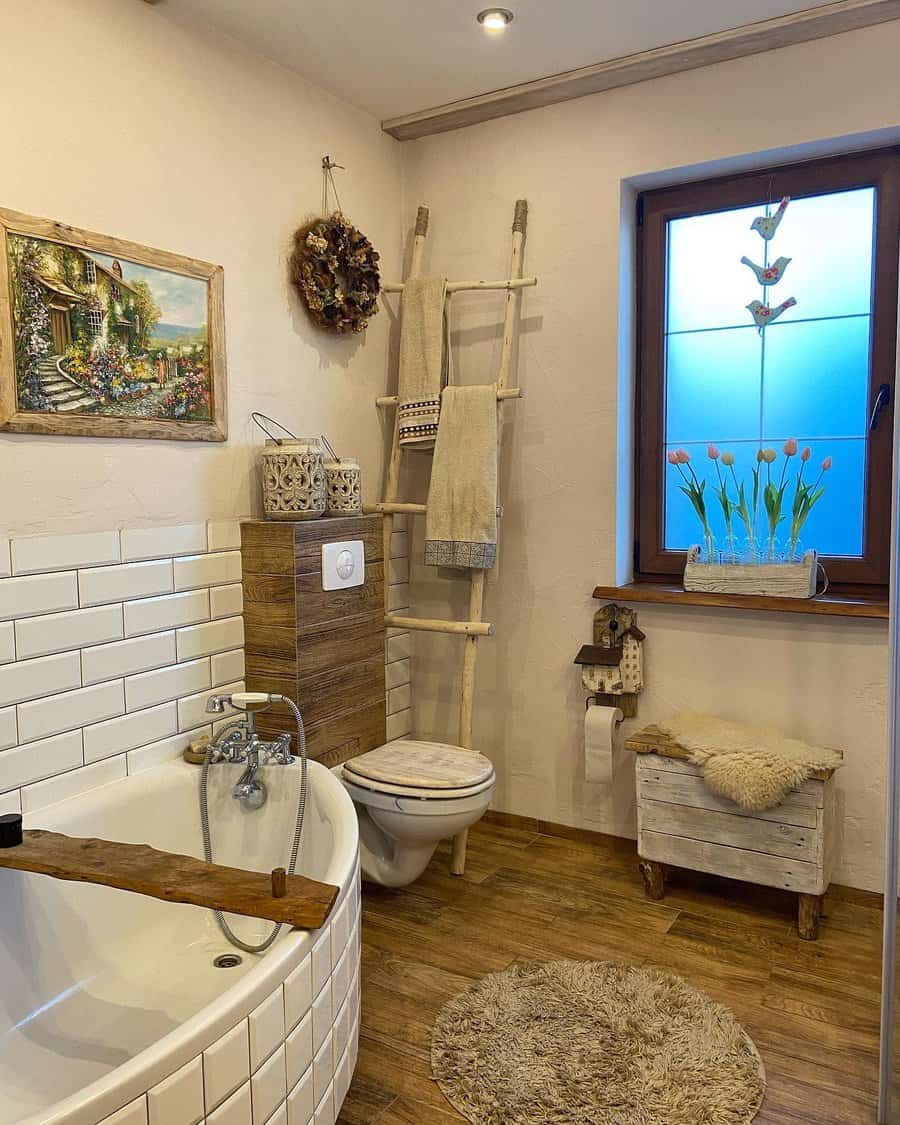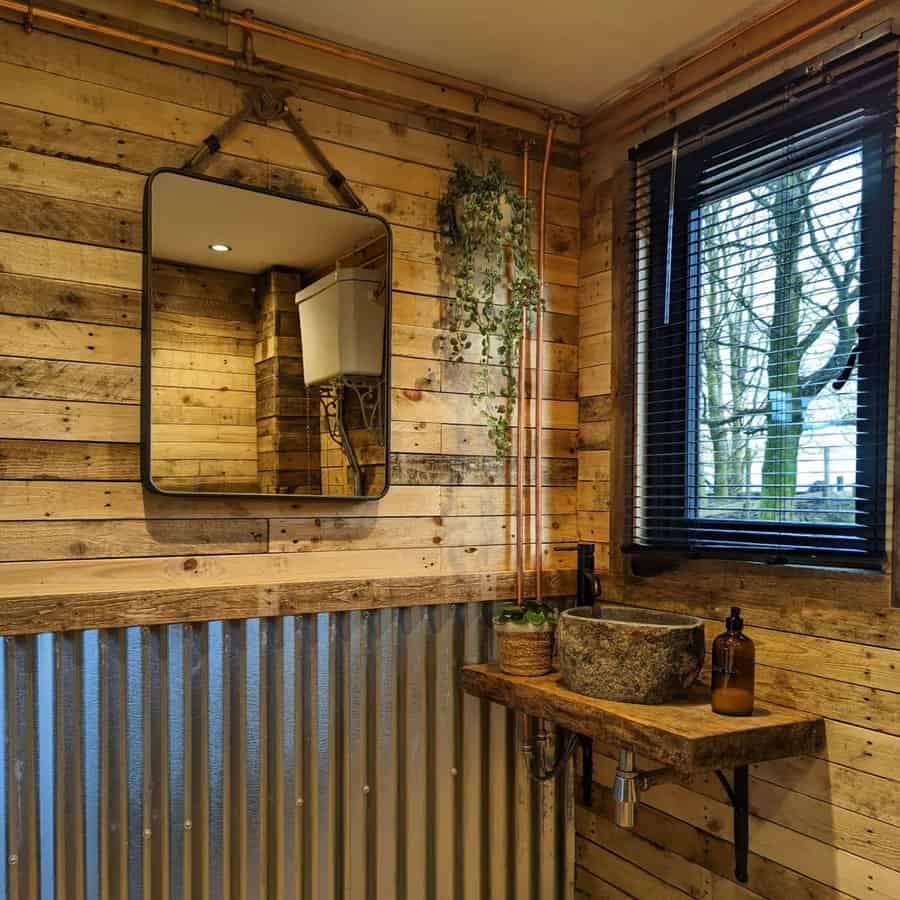 Look for rugs and window treatments that have strong rustic textures, such as burlap rolling shades and chunky sweater knit rugs. Rustic wall decor like animal skulls and wrought iron candle sconces complete the look.
See more rustic bathroom ideas here.
2. Bedroom
Your bedroom will instantly feel warmer when you introduce rustic style elements into your decor. Wooden beams on the ceiling add a strong dose of rustic charm. If your home doesn't have exposed beams, you can have someone install hollow prefabricated beams that provide the same rustic look.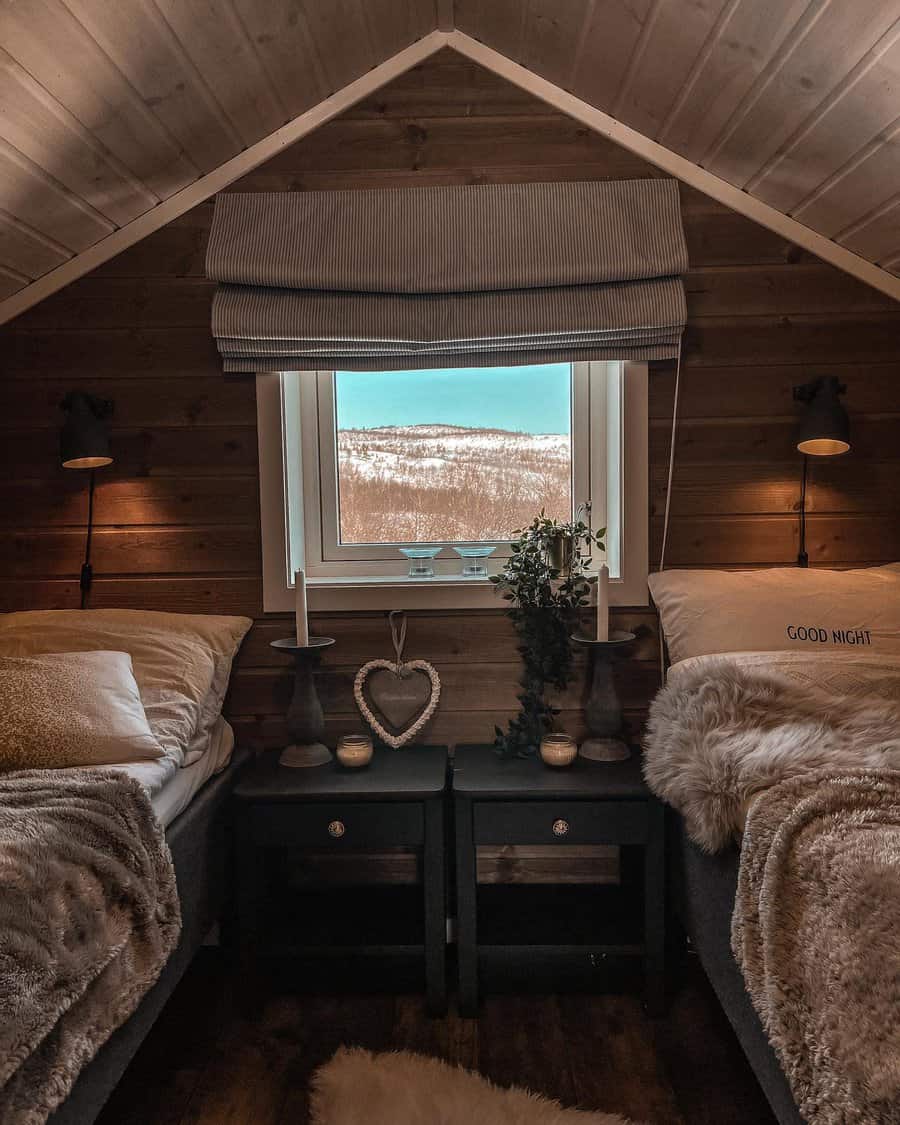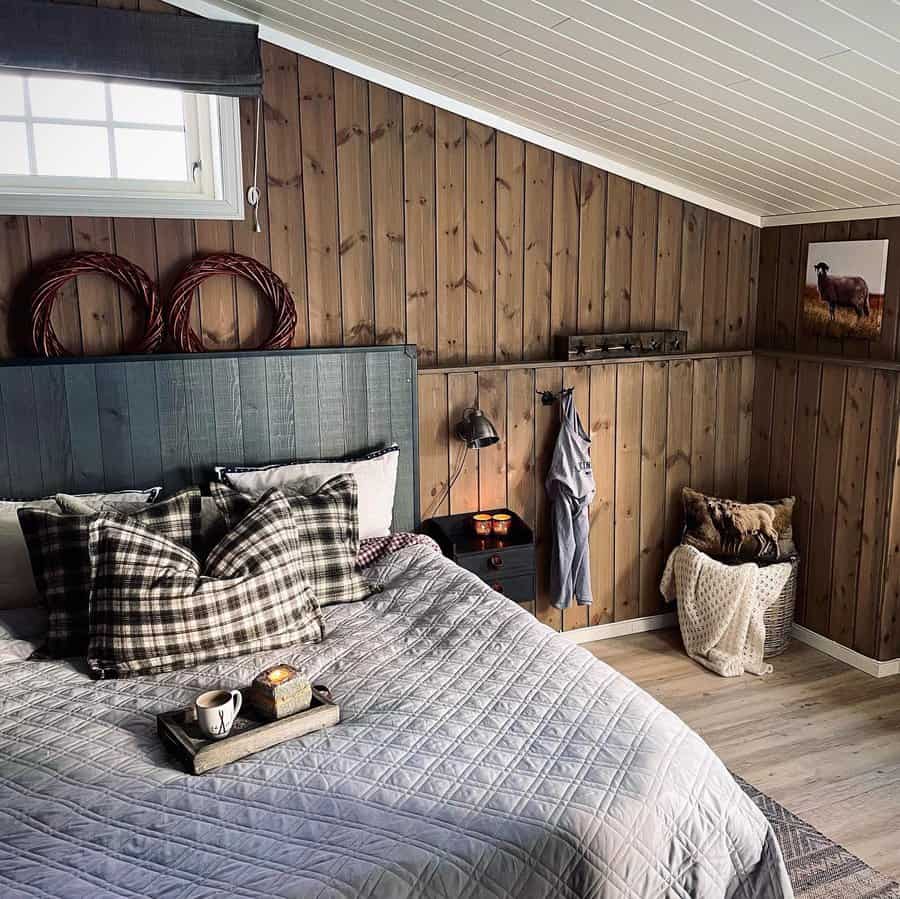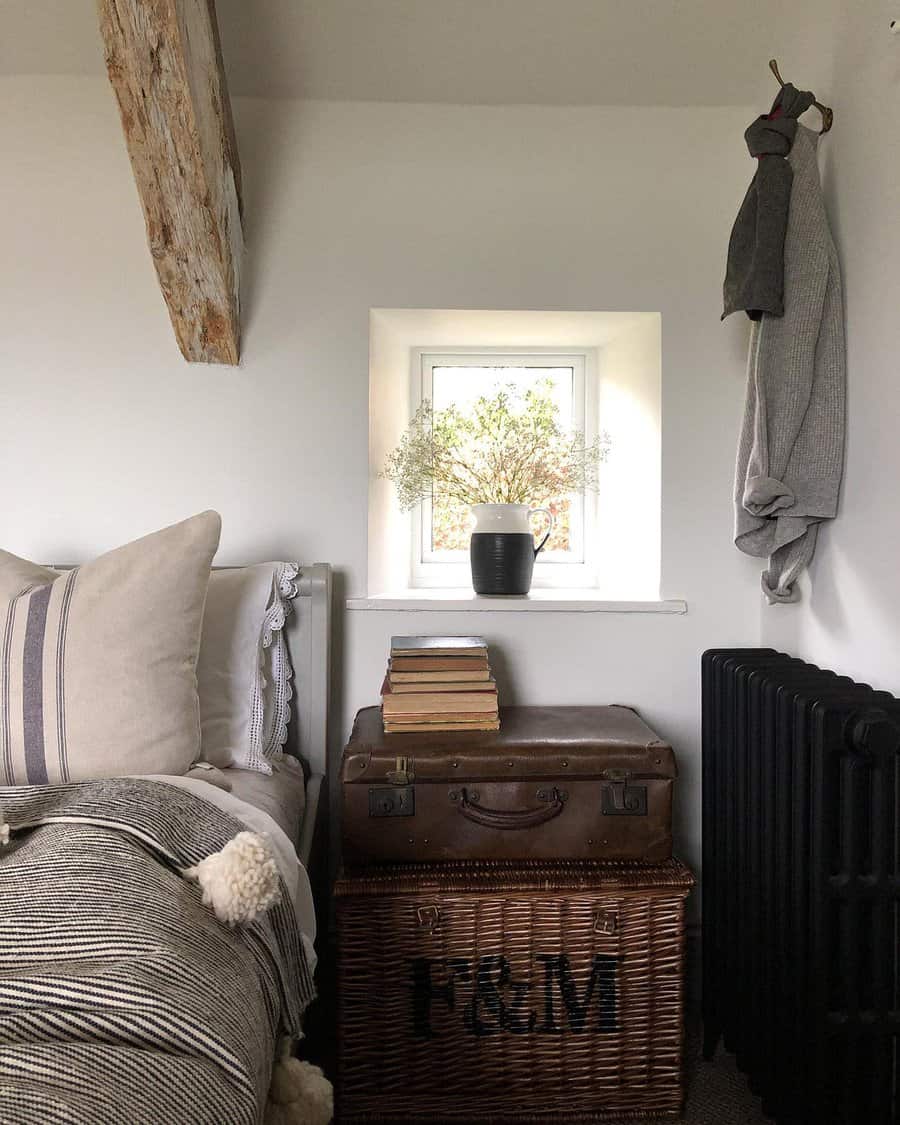 A rustic bedroom needs a country style headboard as the room's focal point. Look for an antique metal bed frame or a headboard made of reclaimed barn wood. Any type of reclaimed wood can be transformed into a gorgeous headboard for rustic decor, as shown in this DIY video:
3. Boho
Boho and rustic home decor share a lot of similarities. They are both warm, casual, relaxed approaches to interior design. Both rely on natural textures, warm wood finishes, and repurposed pieces.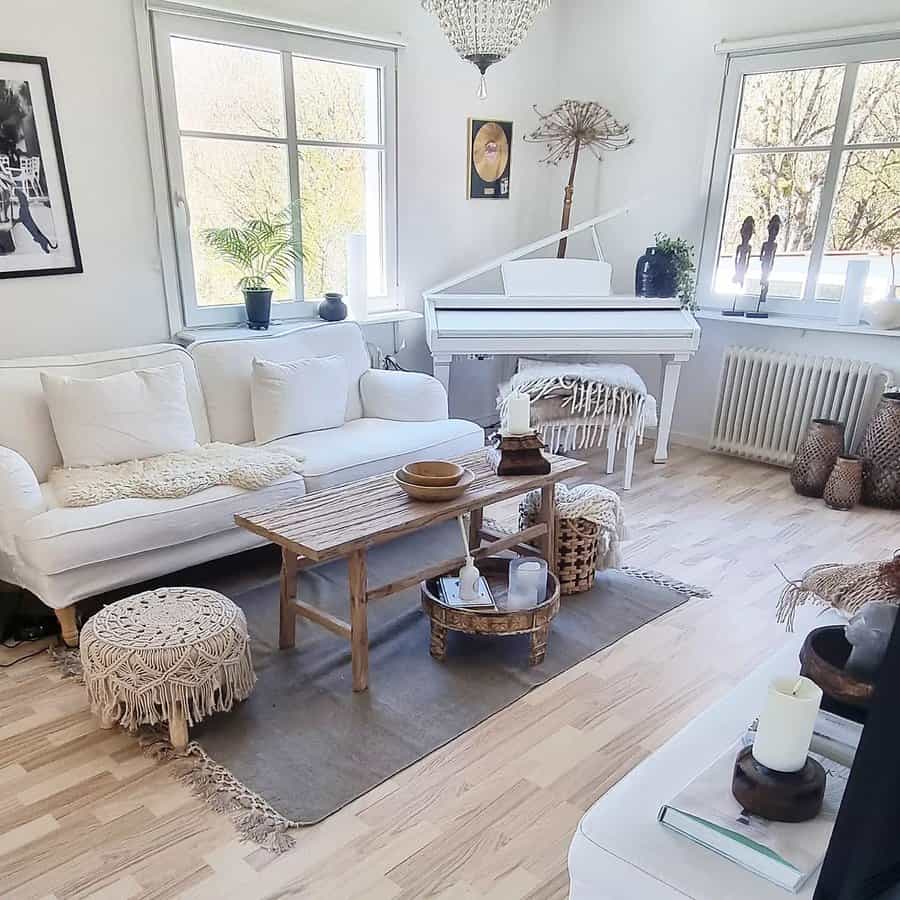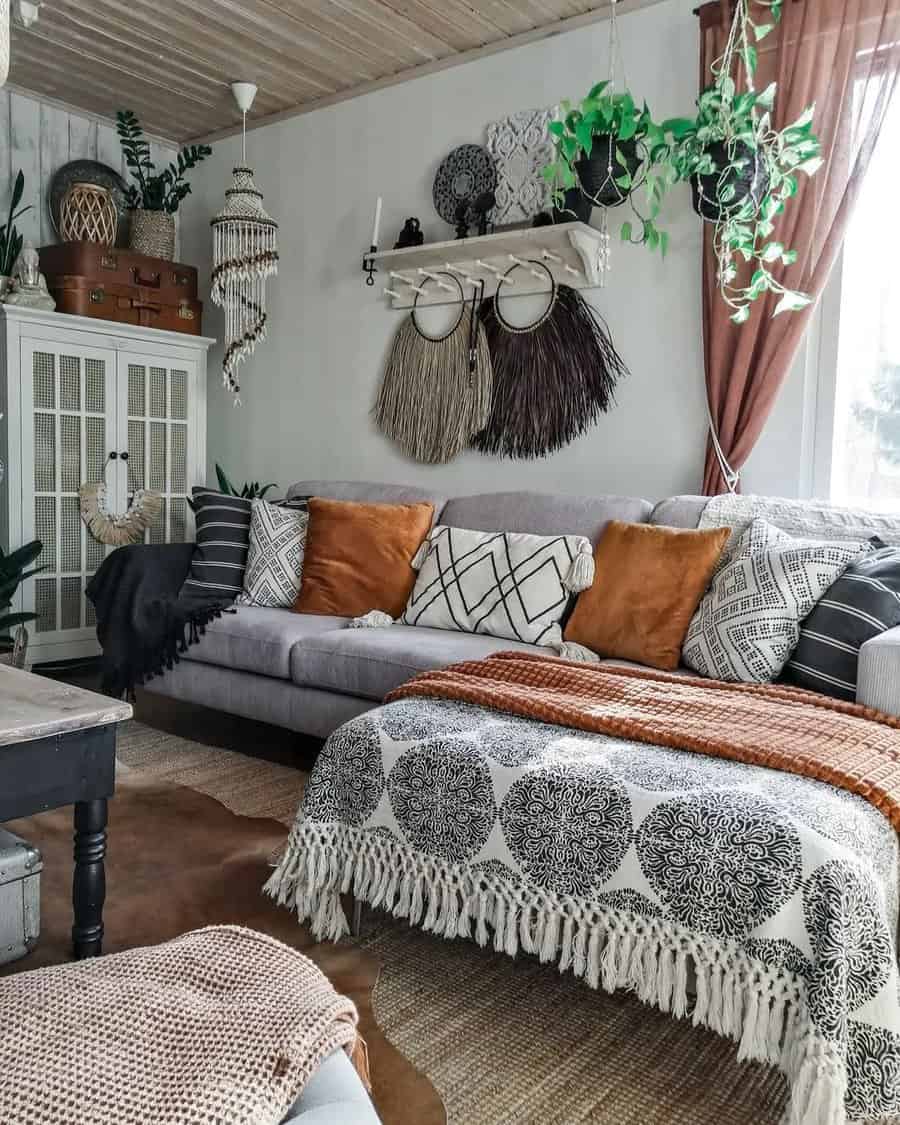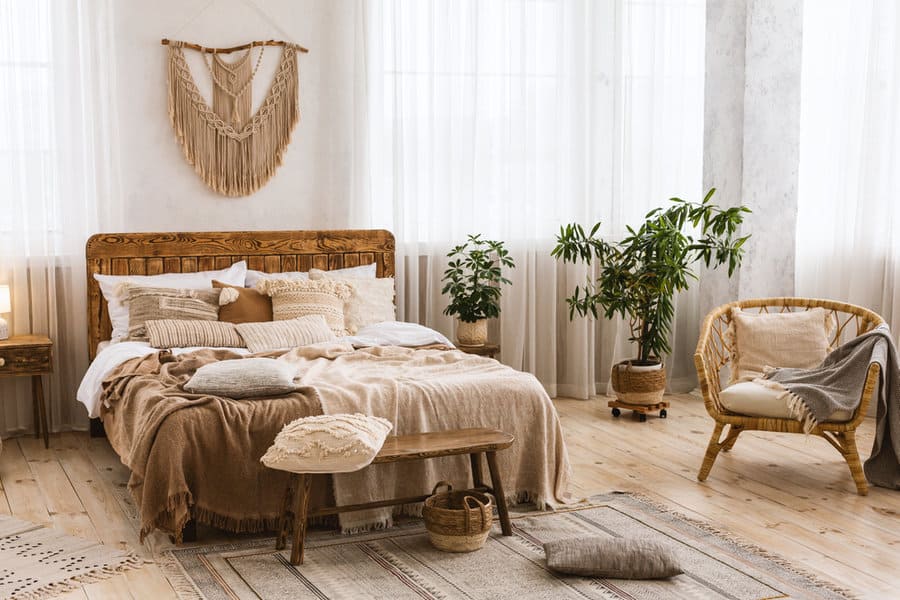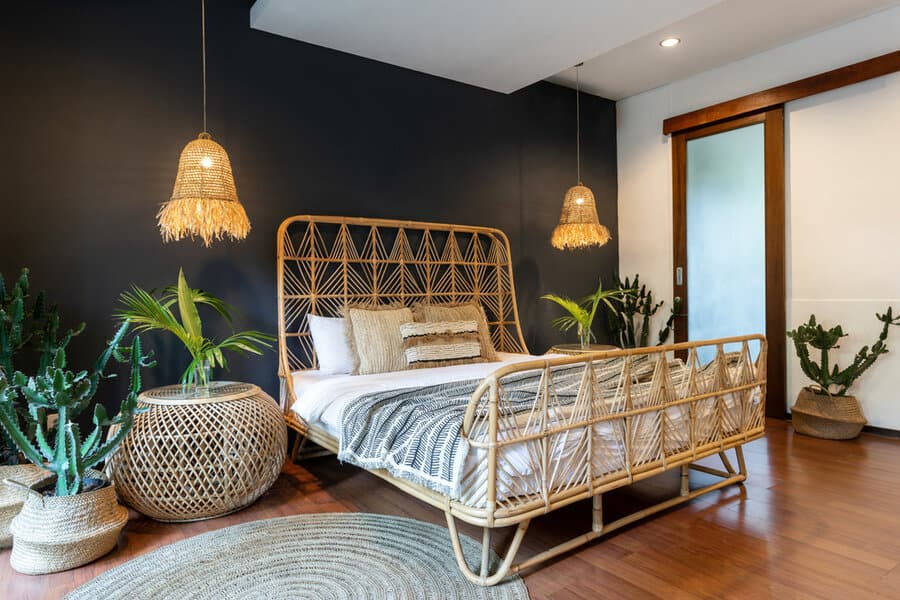 Bohemian home decor includes cultural design touches, so look for global decor that has a rustic flair. This could be an antique metal globe, or a pair of carved elephant candlesticks. Macrame wall hangings are a mainstay of boho decor that also help soften the sometimes harsh edges of classic rustic design.
4. Country
Rustic country style doesn't mean making your home feel like a barn's interior. Country living is casual at its heart and rustic touches have always been part of this interior design style. Walk into any Hobby Lobby store and you'll see plenty of decor that will work in a rustic country living space.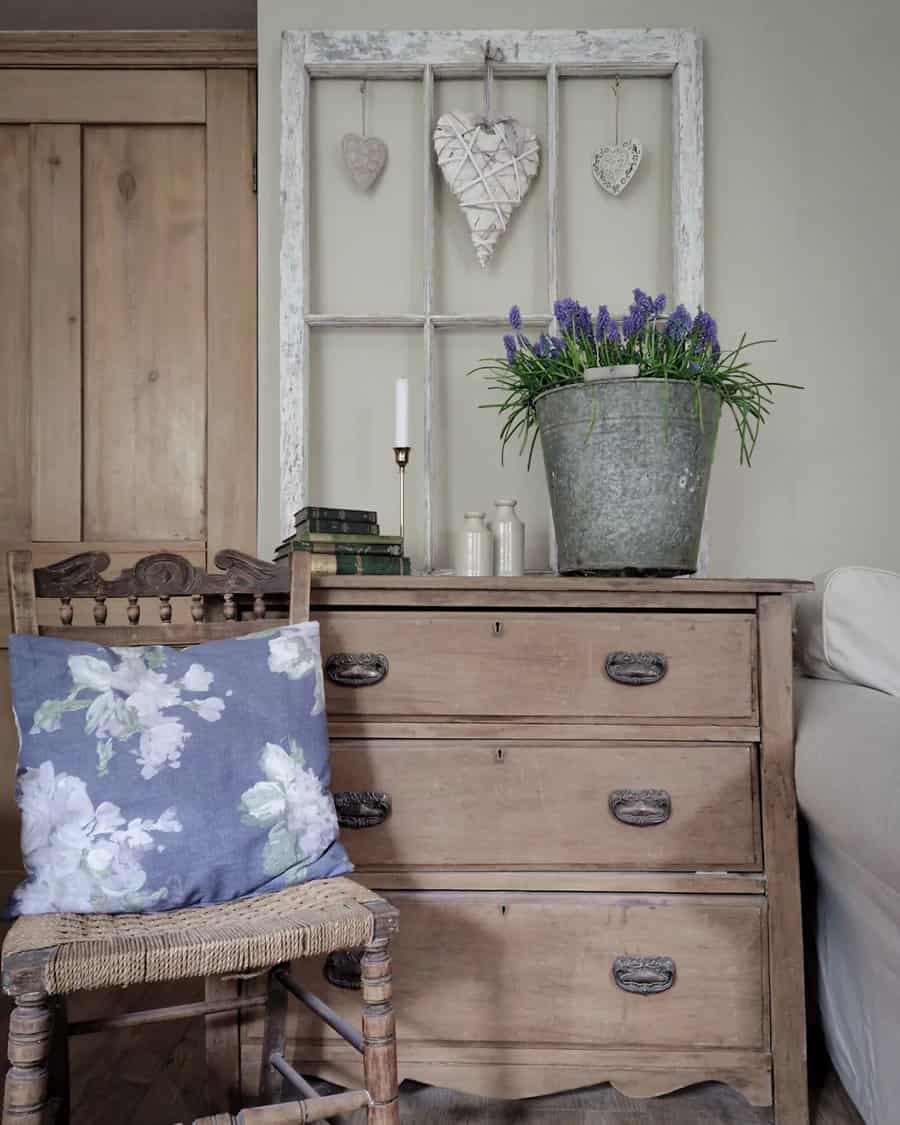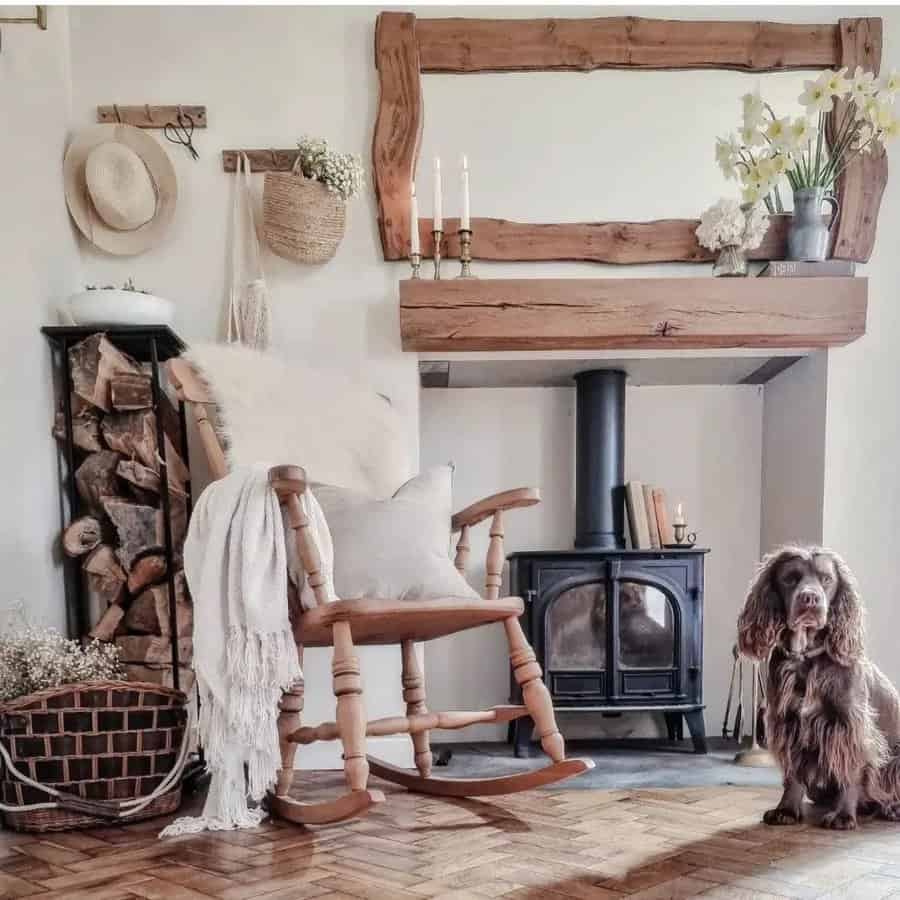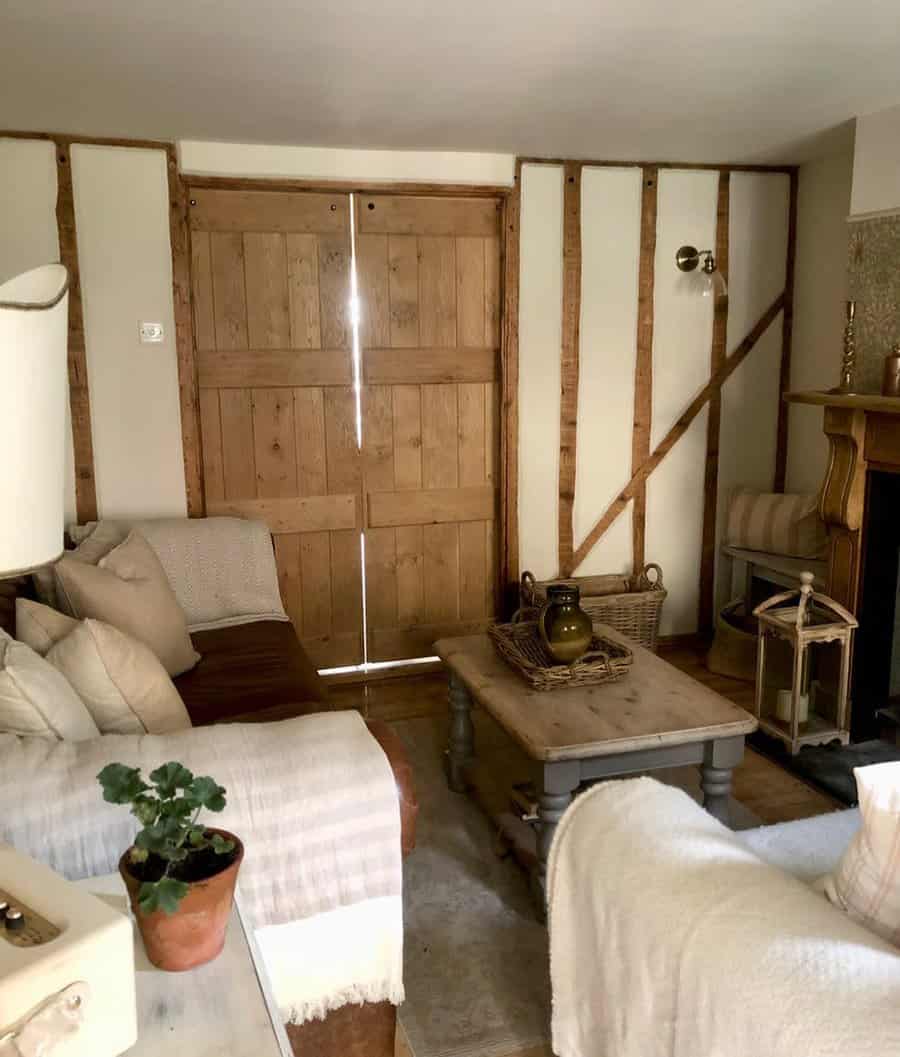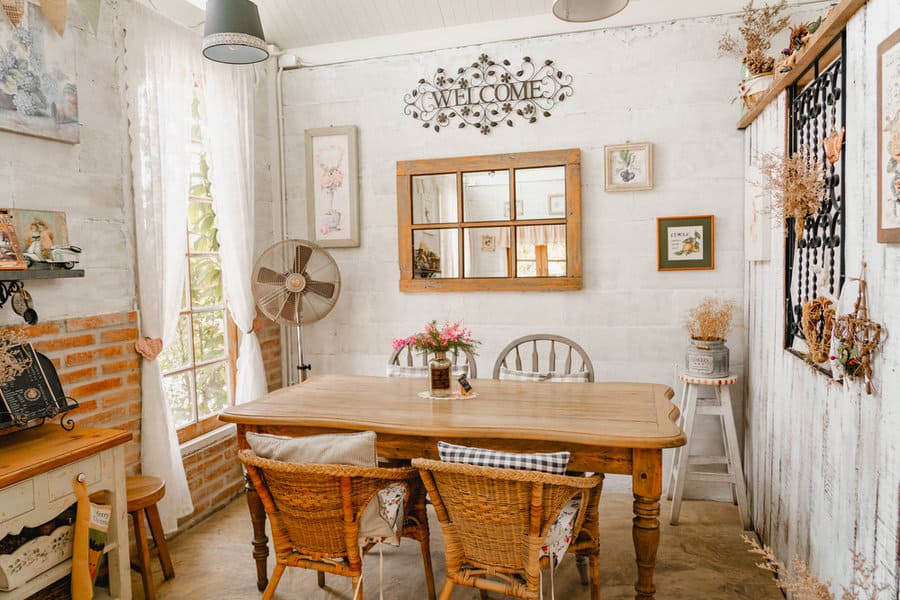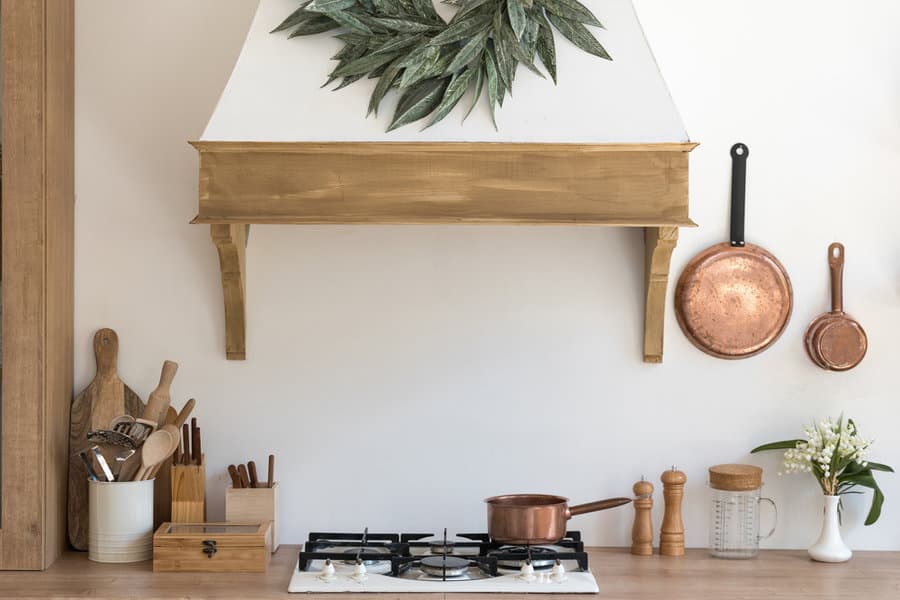 Color is one of the main differences between rustic and country home decor. While rustic color palettes focus on earth tones, neutrals, and muted hues, a country color palette eliminates no color option. Pinks, blues, yellows, and reds frequently appear on textiles, furniture, and accessories. A lace table runner and floral or plaid fabrics work great in country-rustic decor.
5. Decor Pieces
Your table, shelf, and wall decor choices all help bring your home decor together into one cohesive voice. Rustic decor ideas include metal lanterns, wooden crates, and stacked wood slices. On the walls, metal words, chalkboard art and quotes, and framed bucolic scenes all mesh well with rustic style.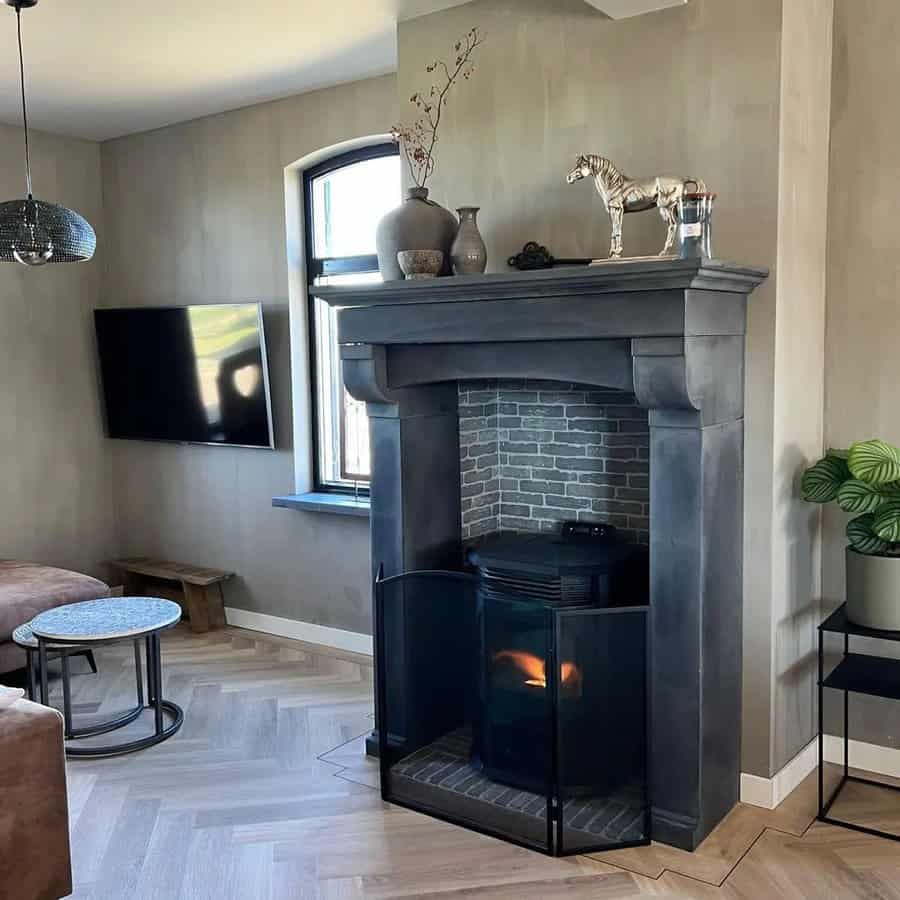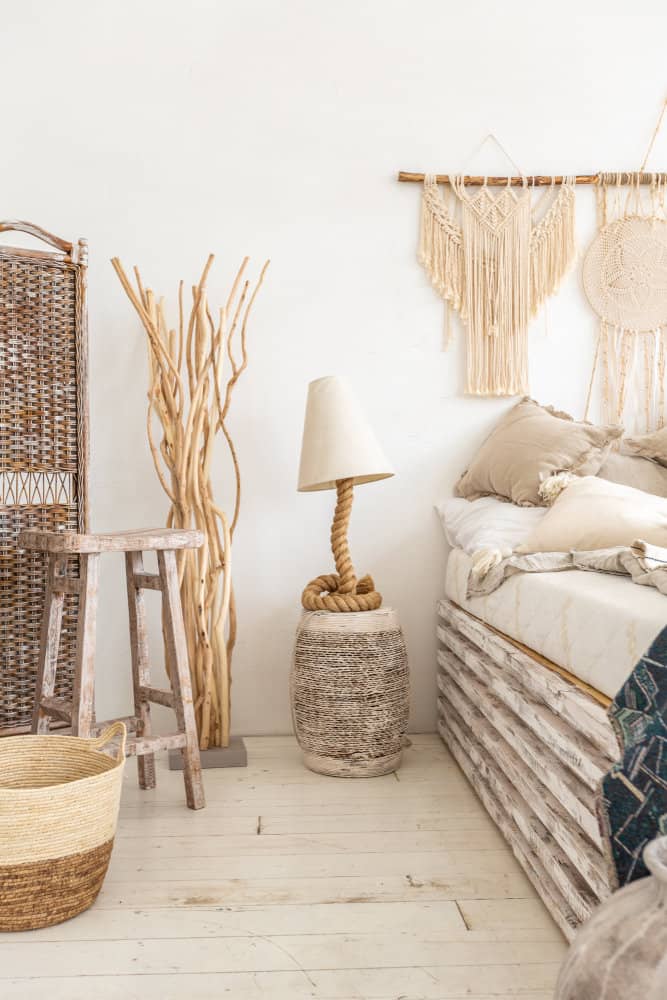 At the holidays, keep true to your home decor style by sticking to rustic Christmas decorating ideas. A live tree is a must. Replace glitzy garland with simple strands of wooden beads. Buy rustic Christmas ornaments, such as galvanized steel cutouts, plaid ribbons, painted wood slices, and twine balls.
6. Dining
The dining room is an excellent space to showcase rustic and farmhouse decor. A big reclaimed wood dining room table grounds the center of the space, especially when surrounded by mix-and-match dining chairs. Hang a large metal industrial chandelier over the table, but soften the look with a twig basket centerpiece overflowing with fresh lavender.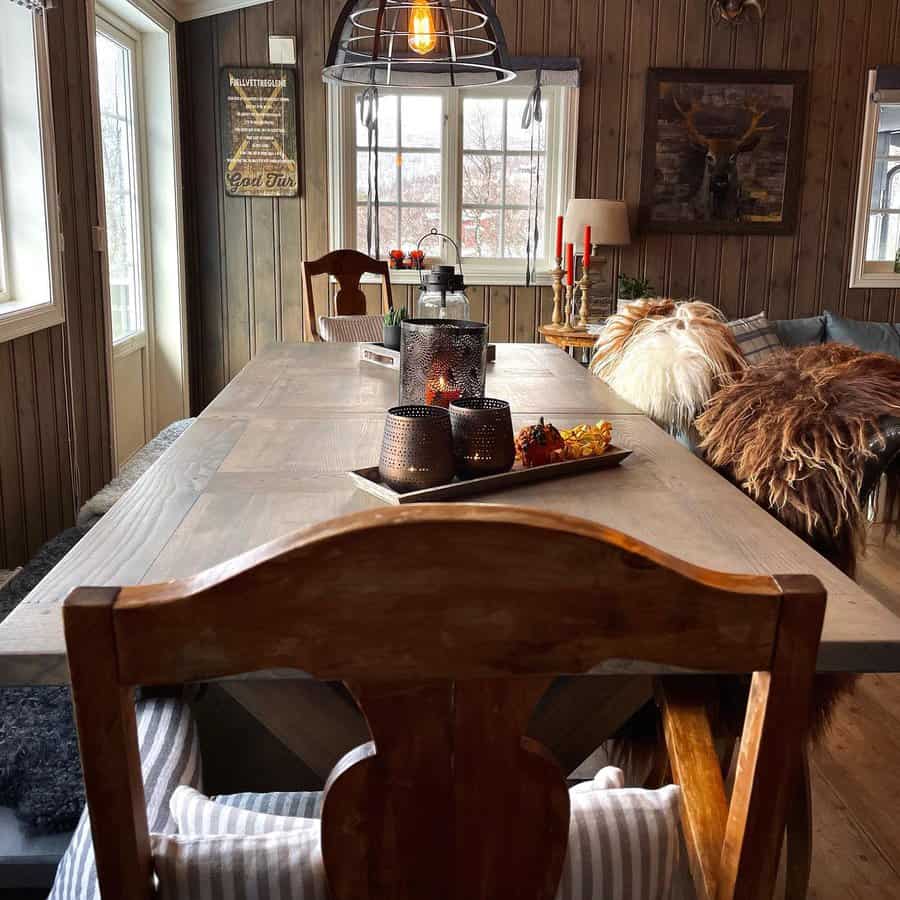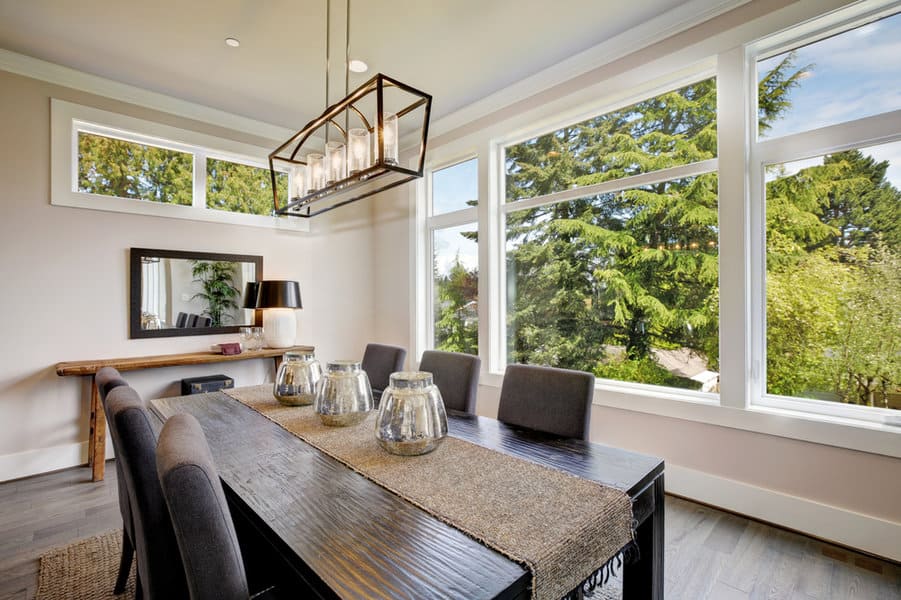 Replace a couple of your dining room chairs with a long bench for a rustic farmhouse vibe. Use a vintage dresser in place of a traditional buffet and consider adding faux brick or shiplap to an accent wall. Merge modern and rustic decor by placing velvet midcentury modern chairs around your rustic table.
7. Industrial
Industrial style is a trend inspired by abandoned factories turned into city loft apartments. As such, it's based heavily on giving new life to salvaged and recycled materials. Industrial decorating ideas turn mechanical and functional parts, such as gears and copper pipes, into creative decor elements.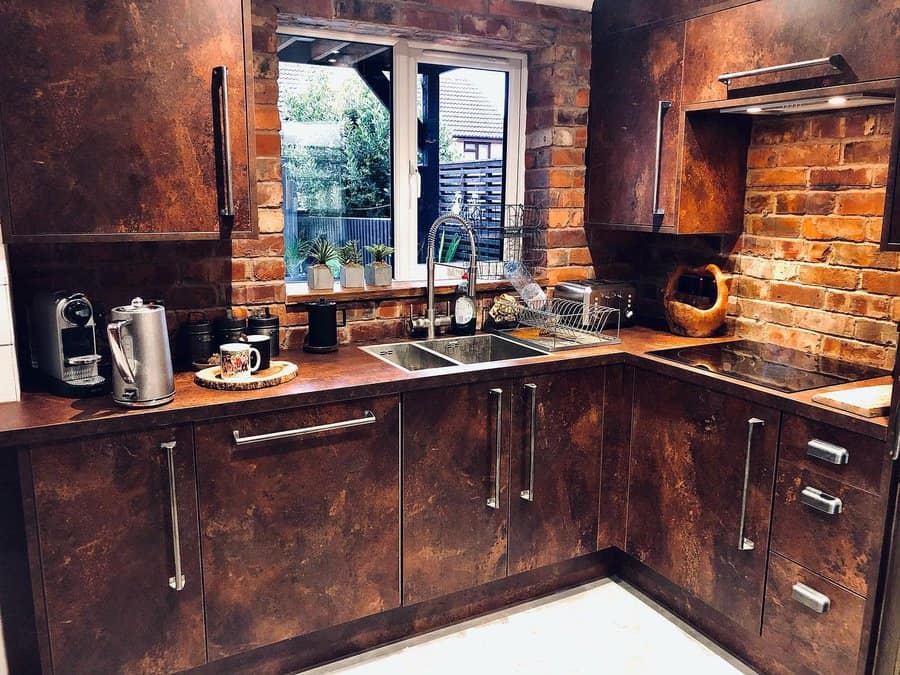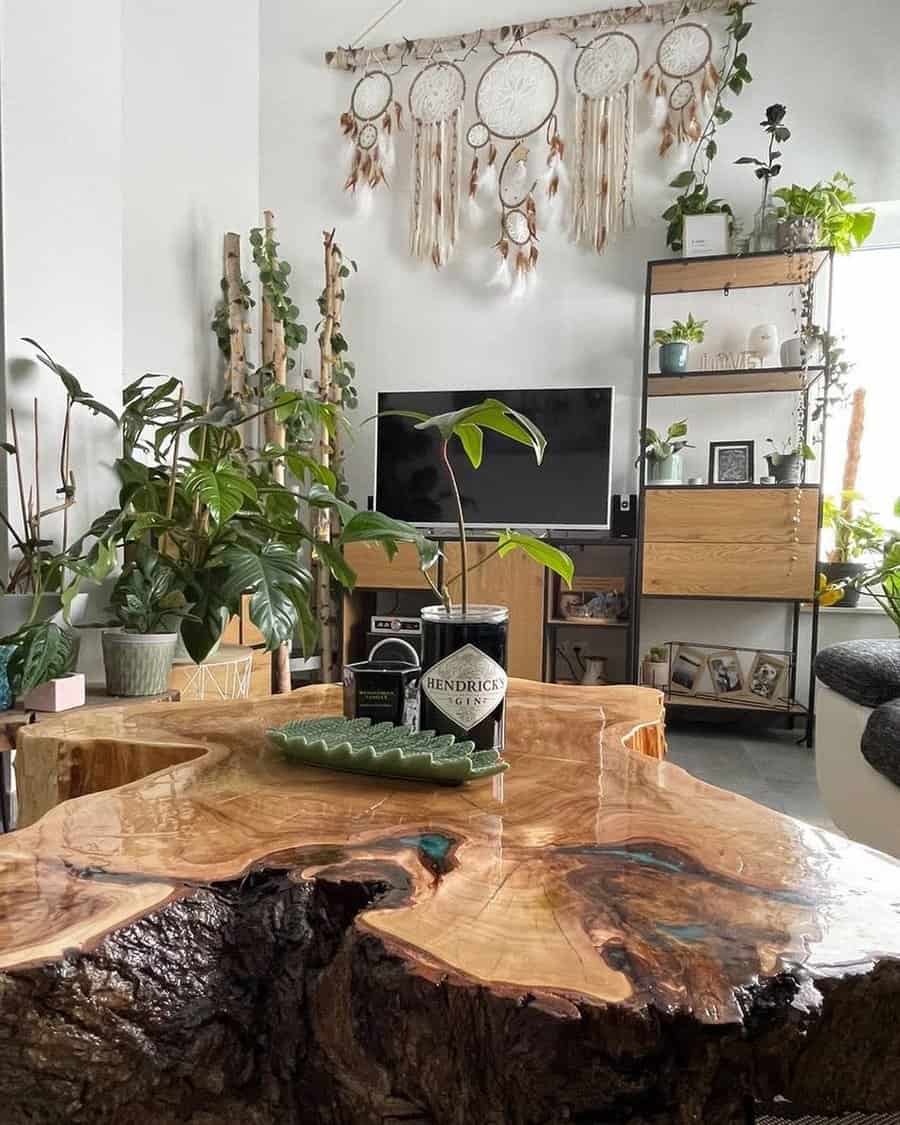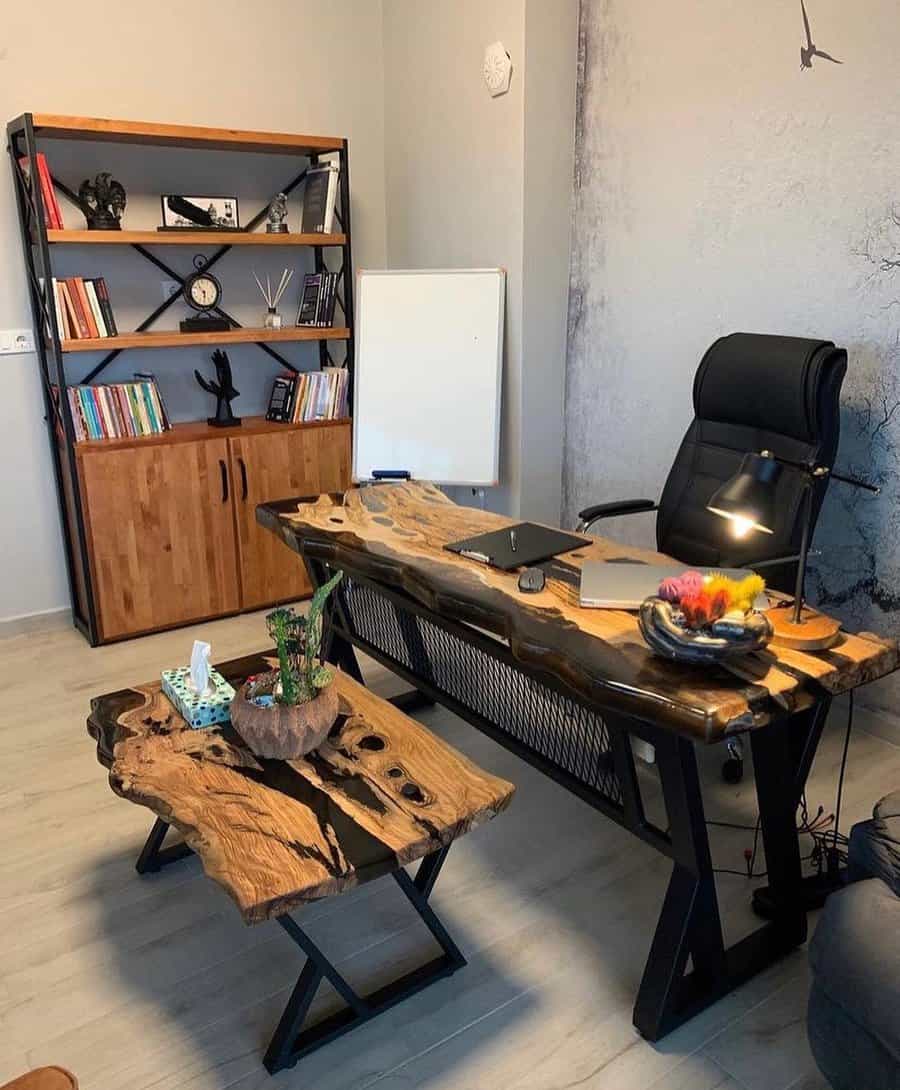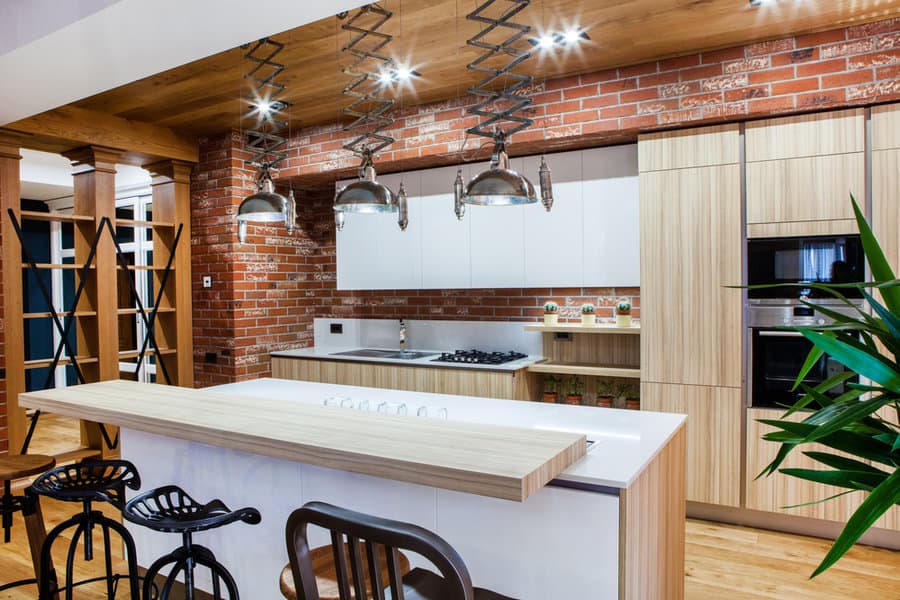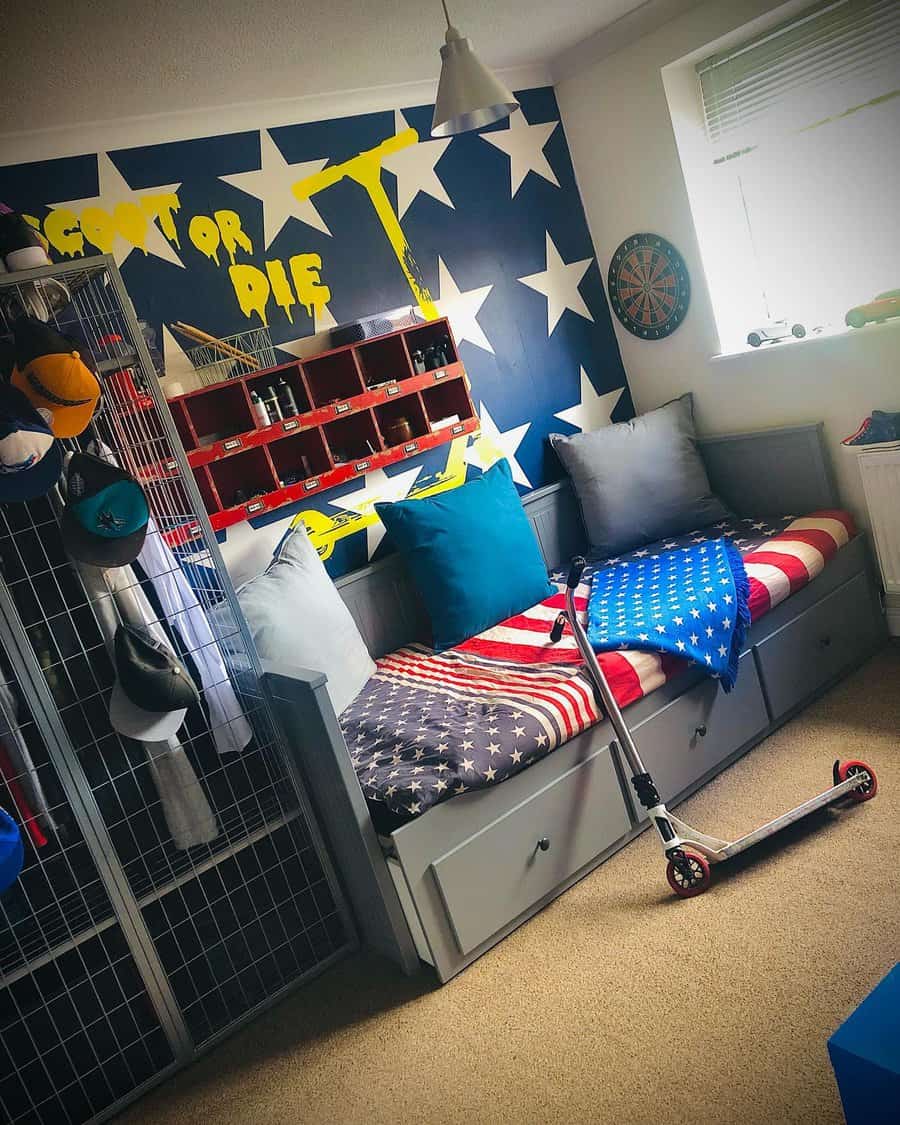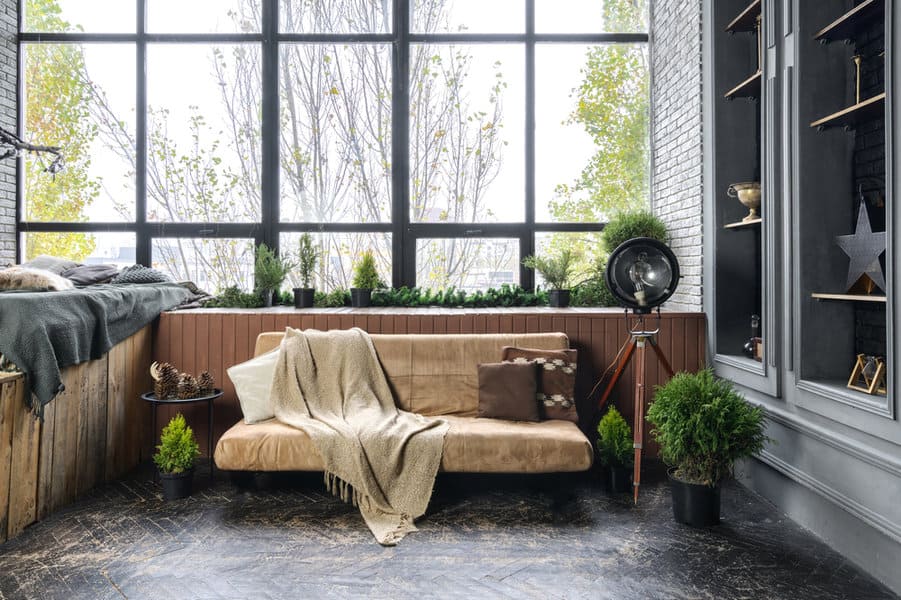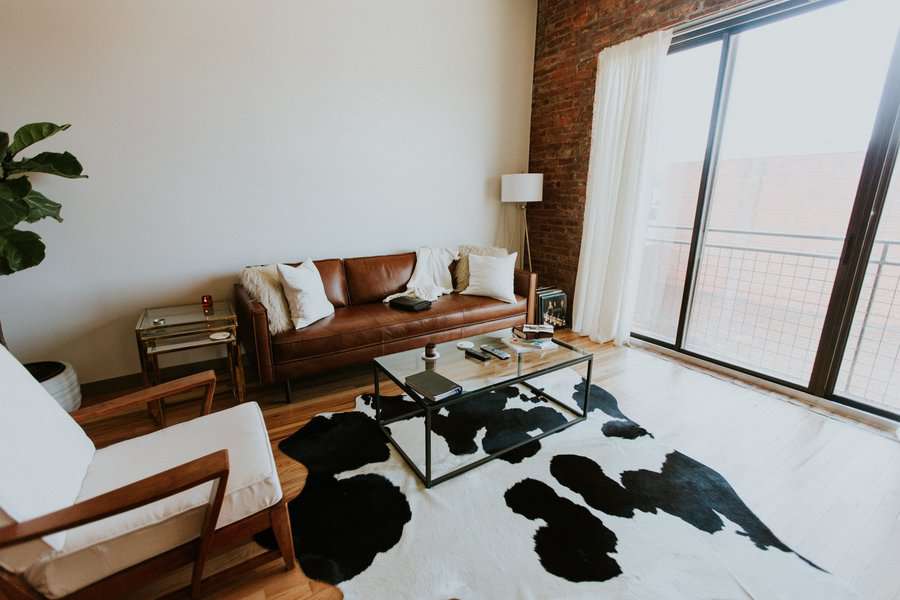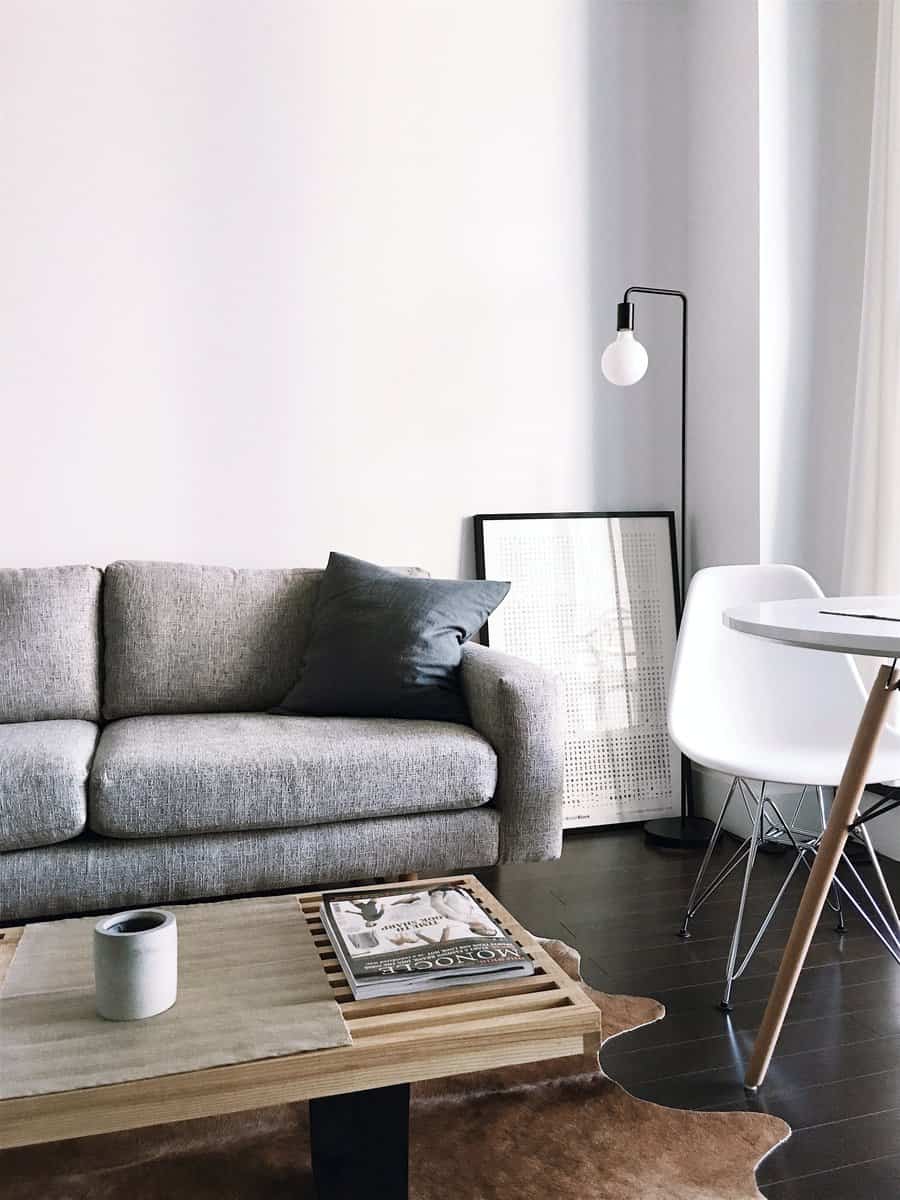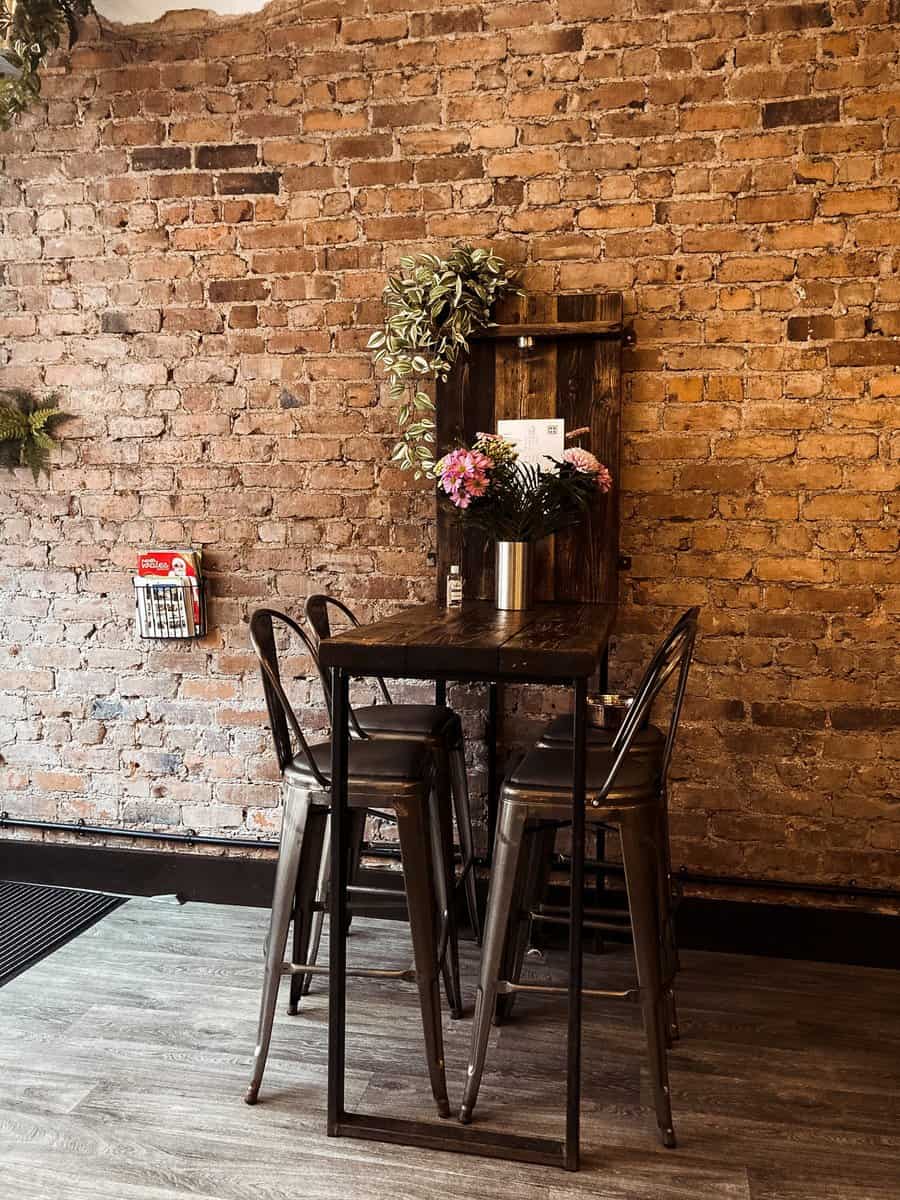 Industrial metal light fixtures are an excellent rustic home decor idea. They provide a dash of edginess that doesn't take anything away from your warm rustic wood or other natural element textures. Metal fixtures against exposed brick walls create an industrial foundation softened by rustic wooden furniture.
8. Kitchen
Rustic farmhouse decor is an excellent choice for many kitchens. Combine white walls and natural wood cabinets with dark metal accents. Install textured wall decor, such as beadboard or faux brick wallpaper to add an instant rustic flavor to the kitchen.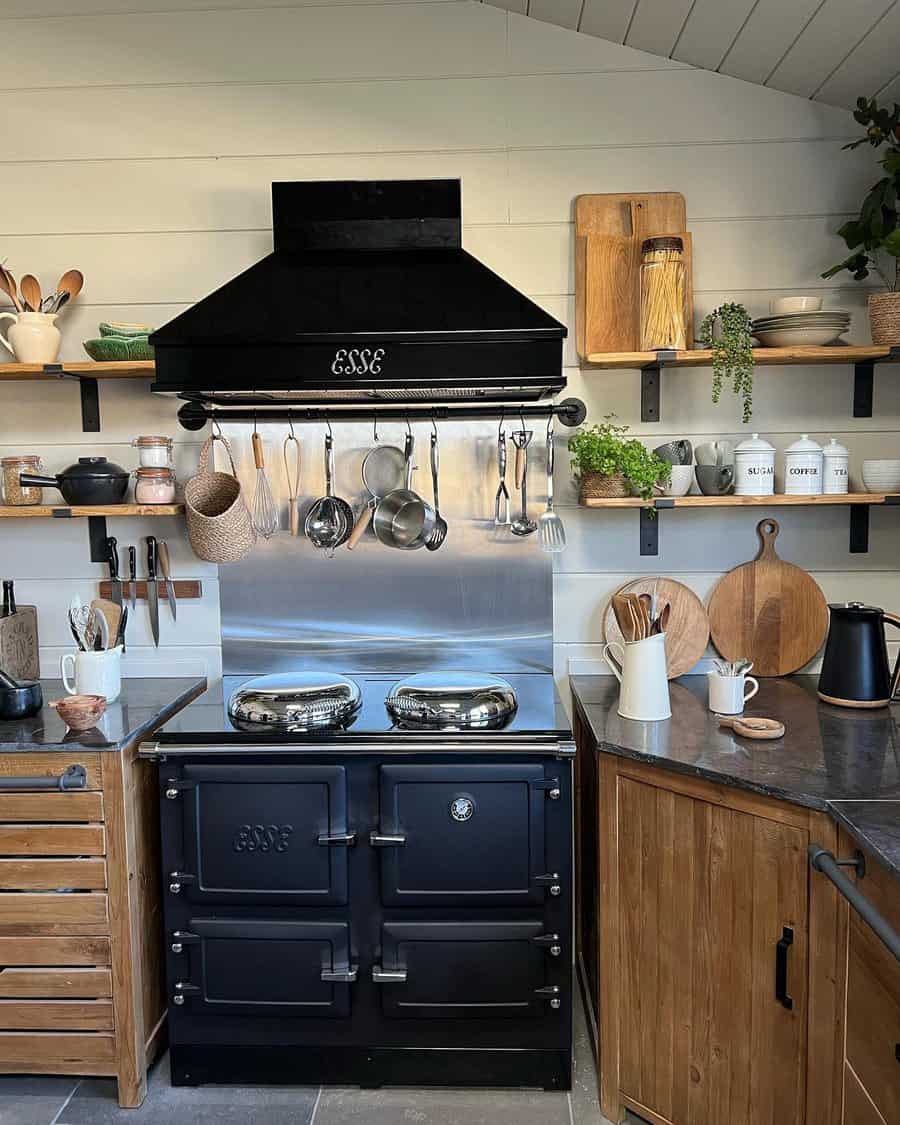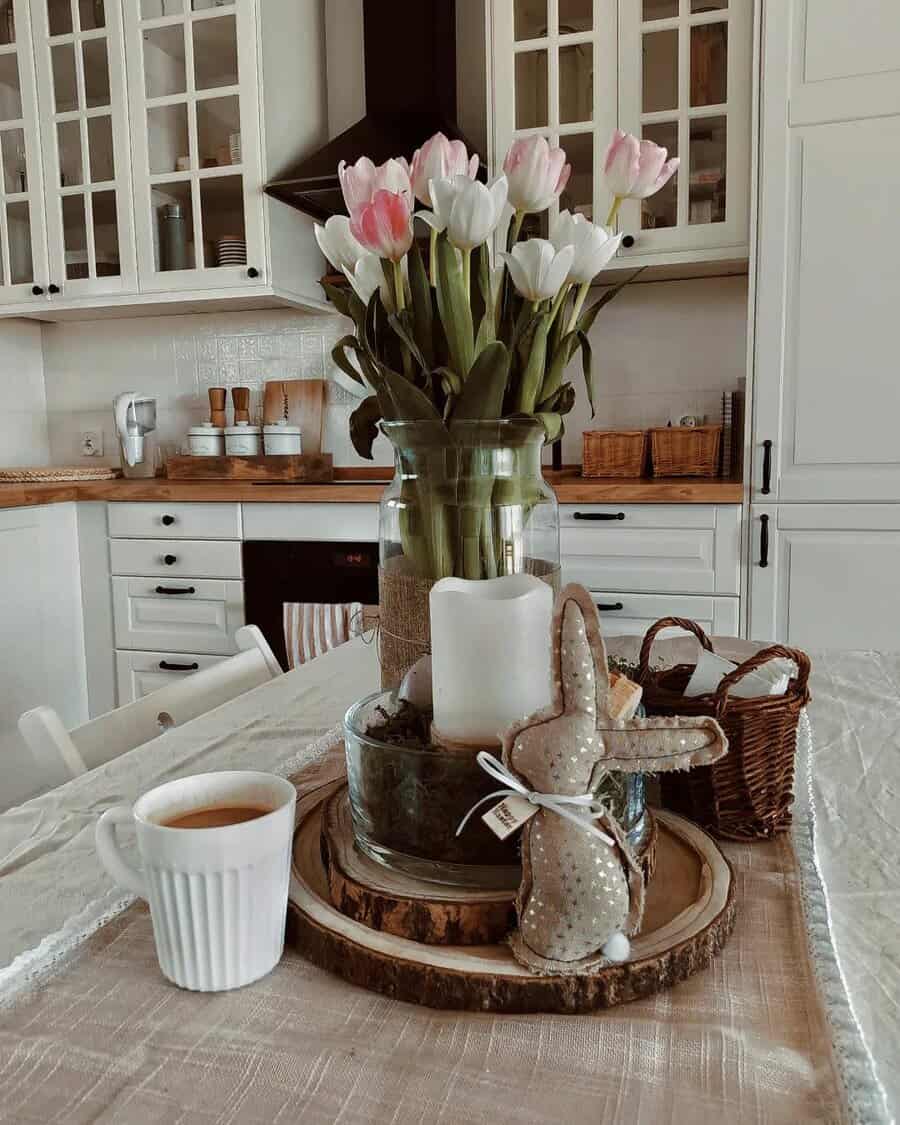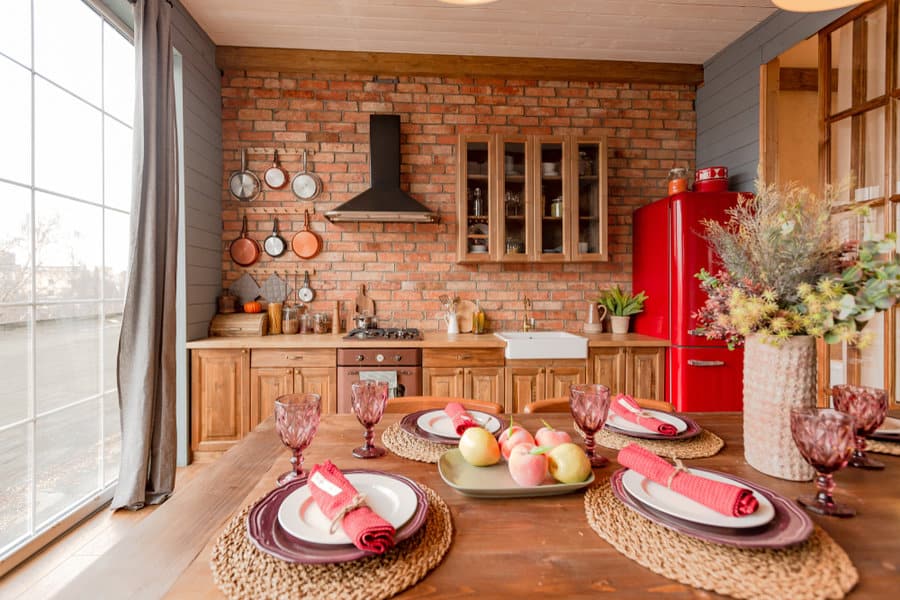 Extend the casual rustic vibe with wicker chairs around your wooden kitchen table and top it with woven rattan placemats. Although white is the classic wall color for farmhouse style, the rustic element means you can use deeper wall color choices. Think sage green or slate blue for a cool, rustic farmhouse decor touch.
See more rustic kitchen ideas here.
9. Living Room
A rustic living room will feature some of the most comfortable decor ideas, such as weathered leather sofas and chairs, a stone fireplace, and plenty of warm wood furniture. If you can install wooden beams on the ceiling, try to as they add so much rustic ambience to the living room.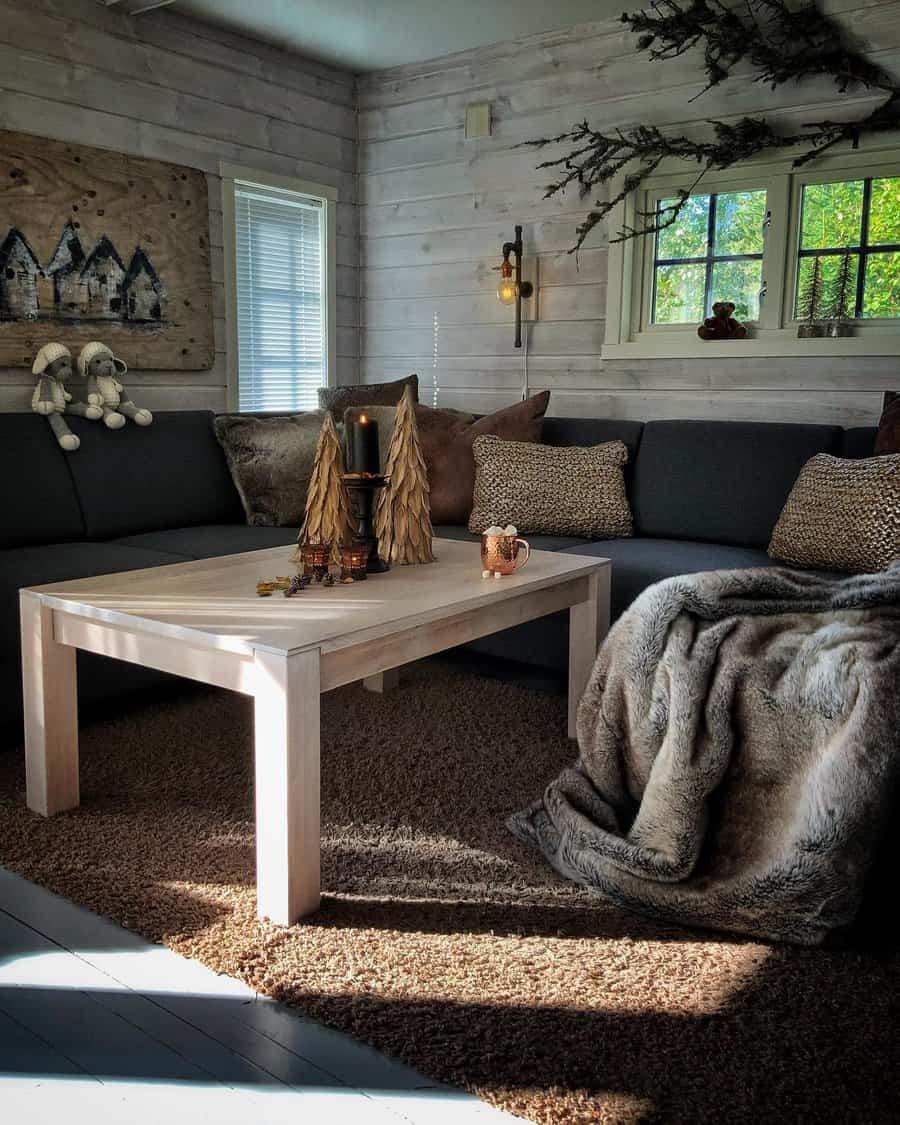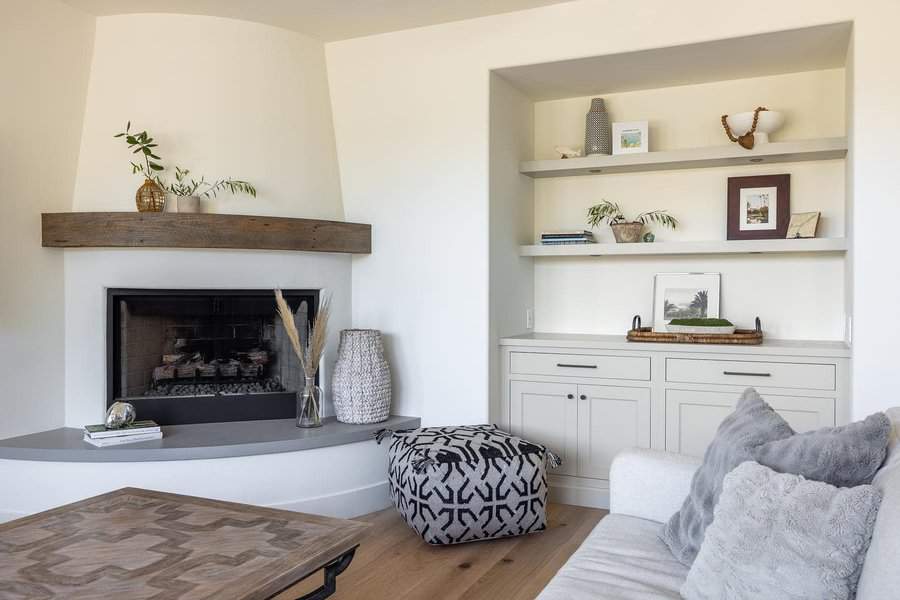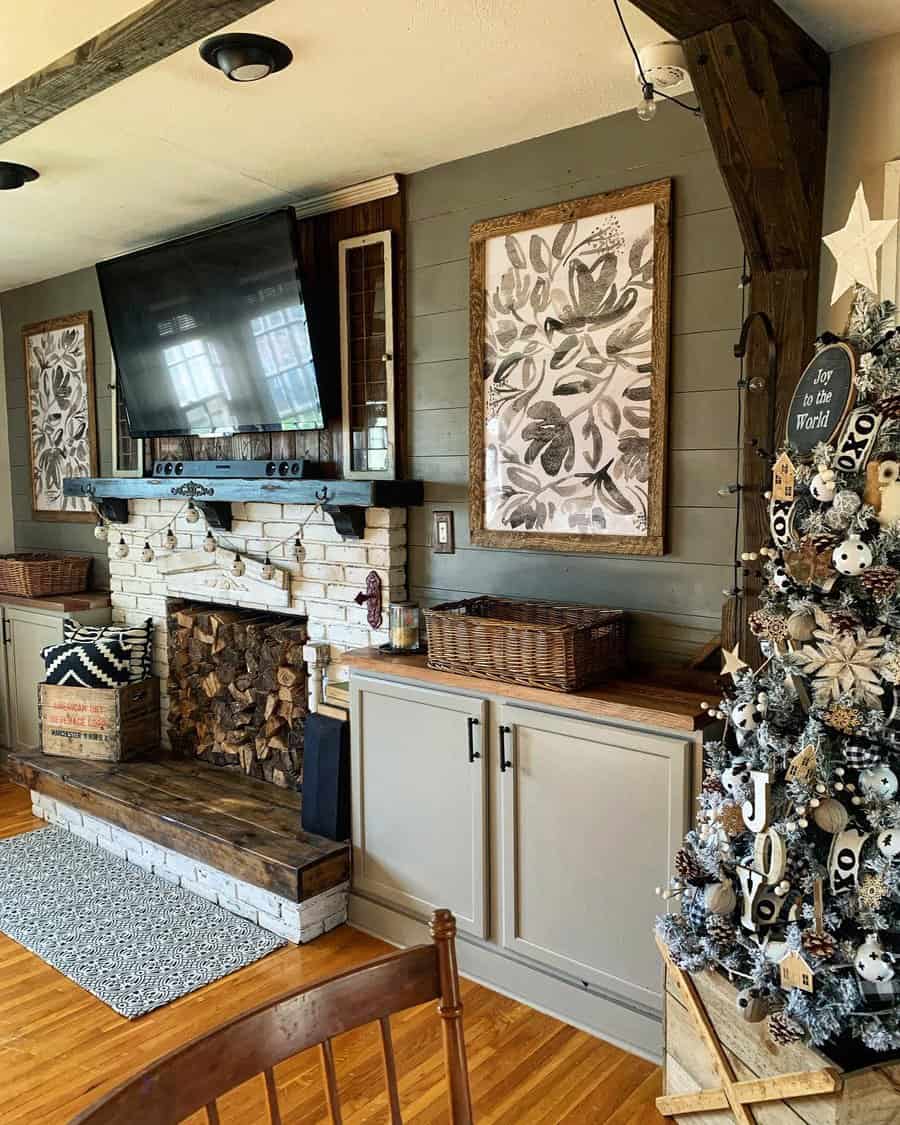 Wainscoting or chair rail paneling is another great architectural element that adds rustic or farmhouse charm to the living room. If your rustic living room is more industrial, consider corrugated metal for your wainscoting material. Otherwise, shiplap or beadboard are excellent living room wall additions.
See more rustic living room ideas here.
10. Reclaimed Wood
Anything made of reclaimed wood will fit into your rustic farmhouse decorating ideas. Whether it's a vintage trunk turned into a living room coffee table or a distressed-finish wood window frame hung over the porch rail, these highly-textured accents are the epitome of rustic decor.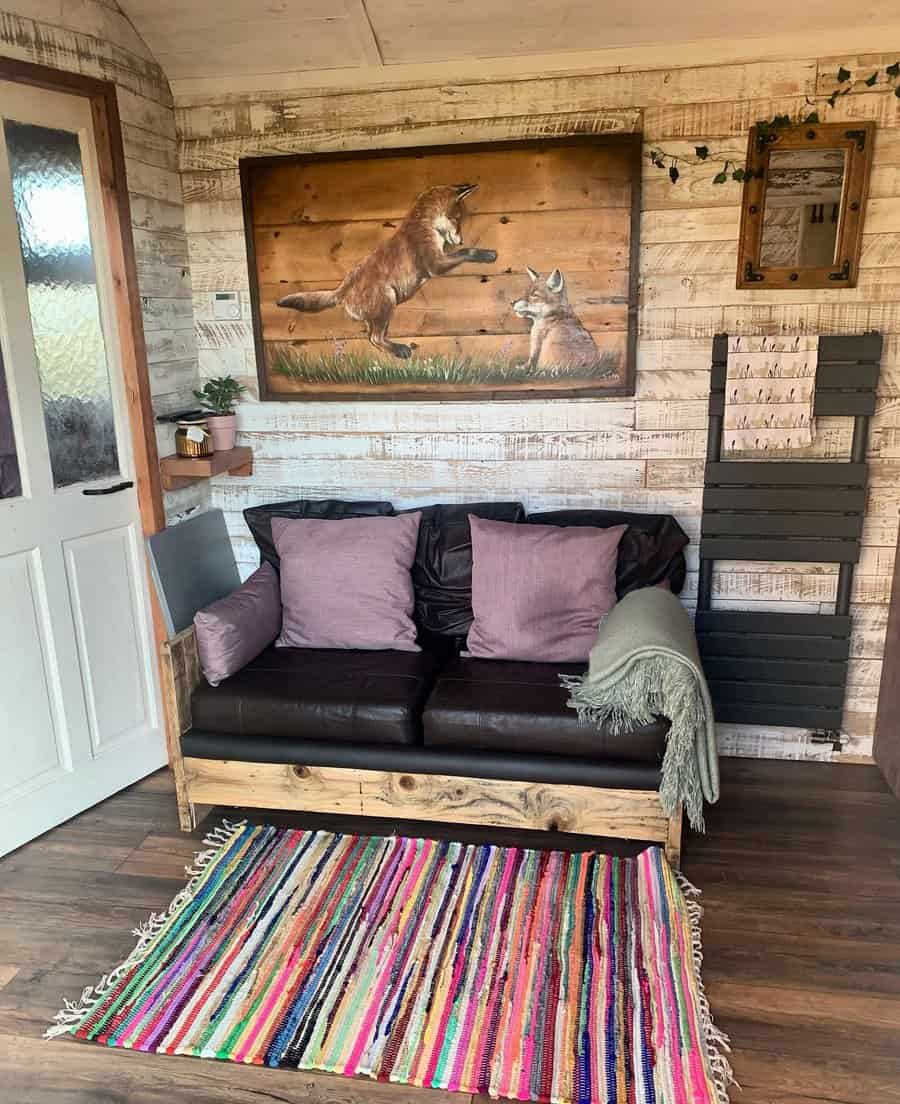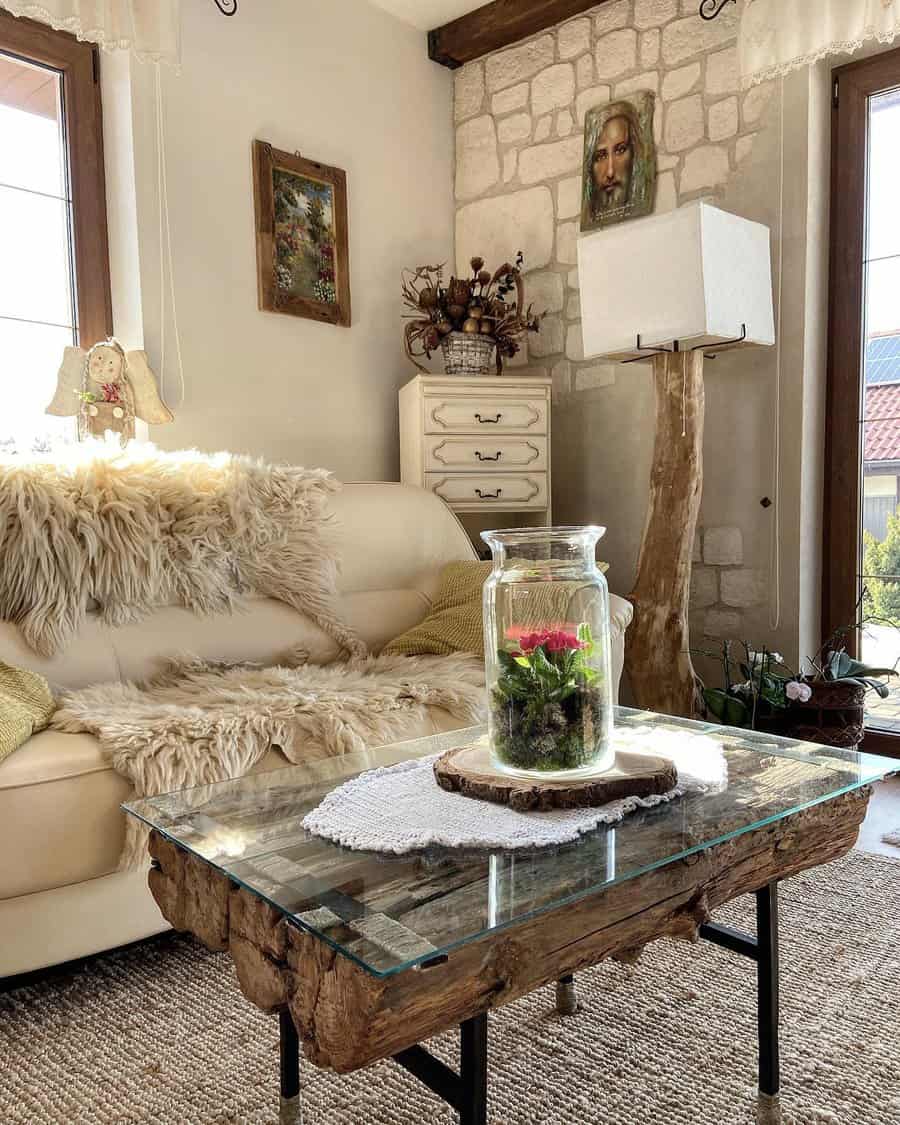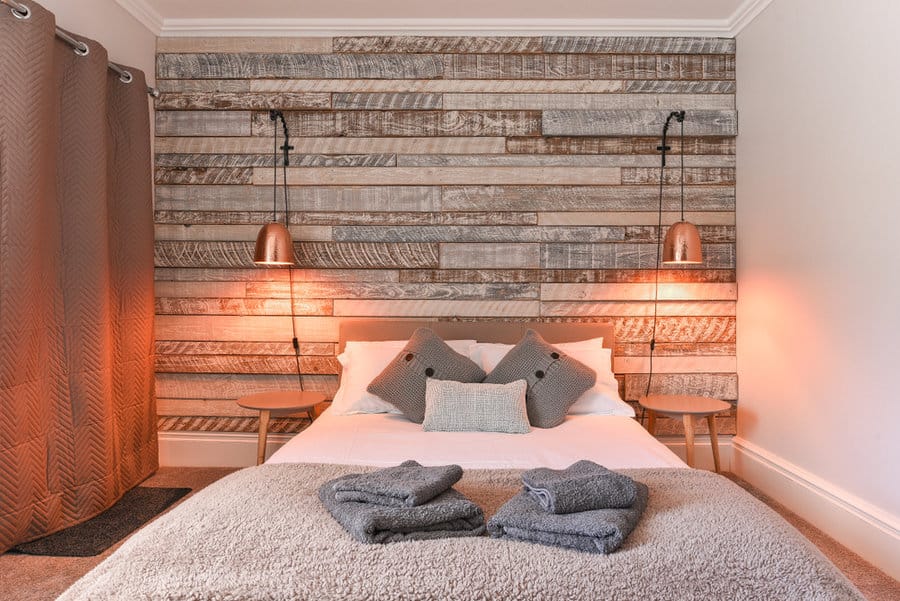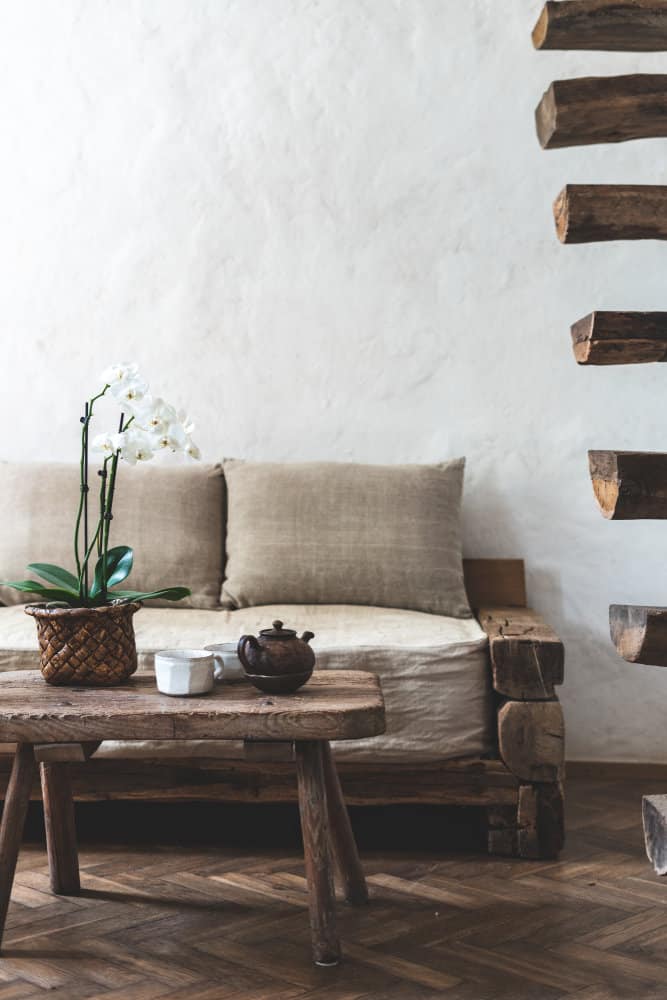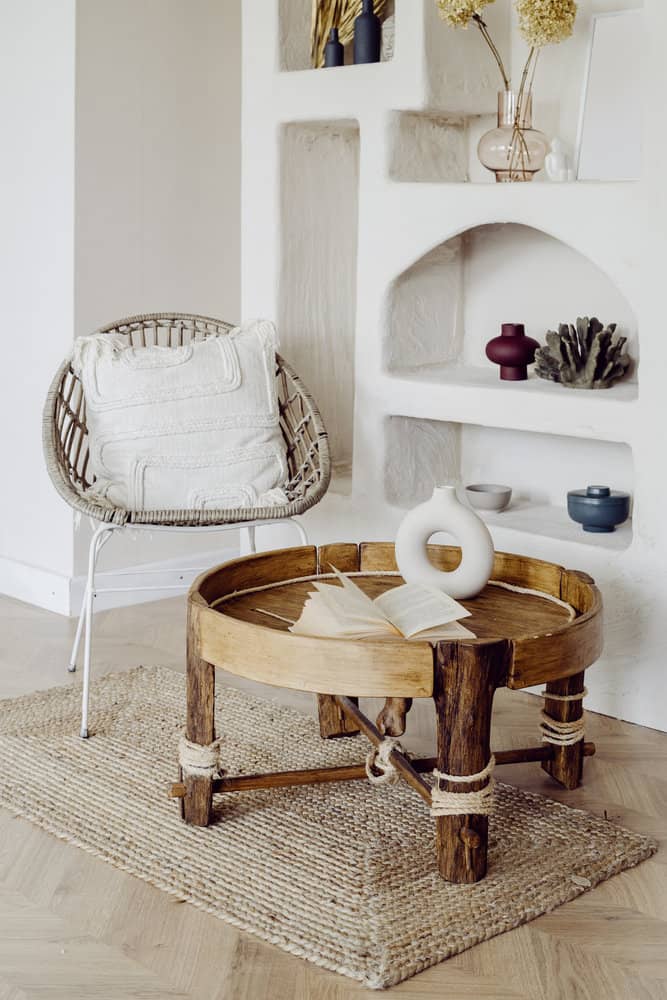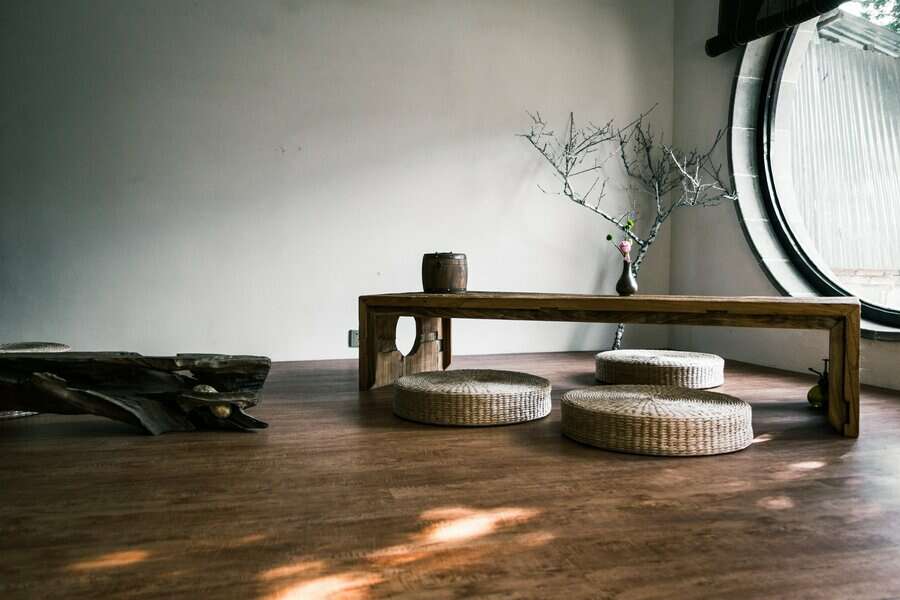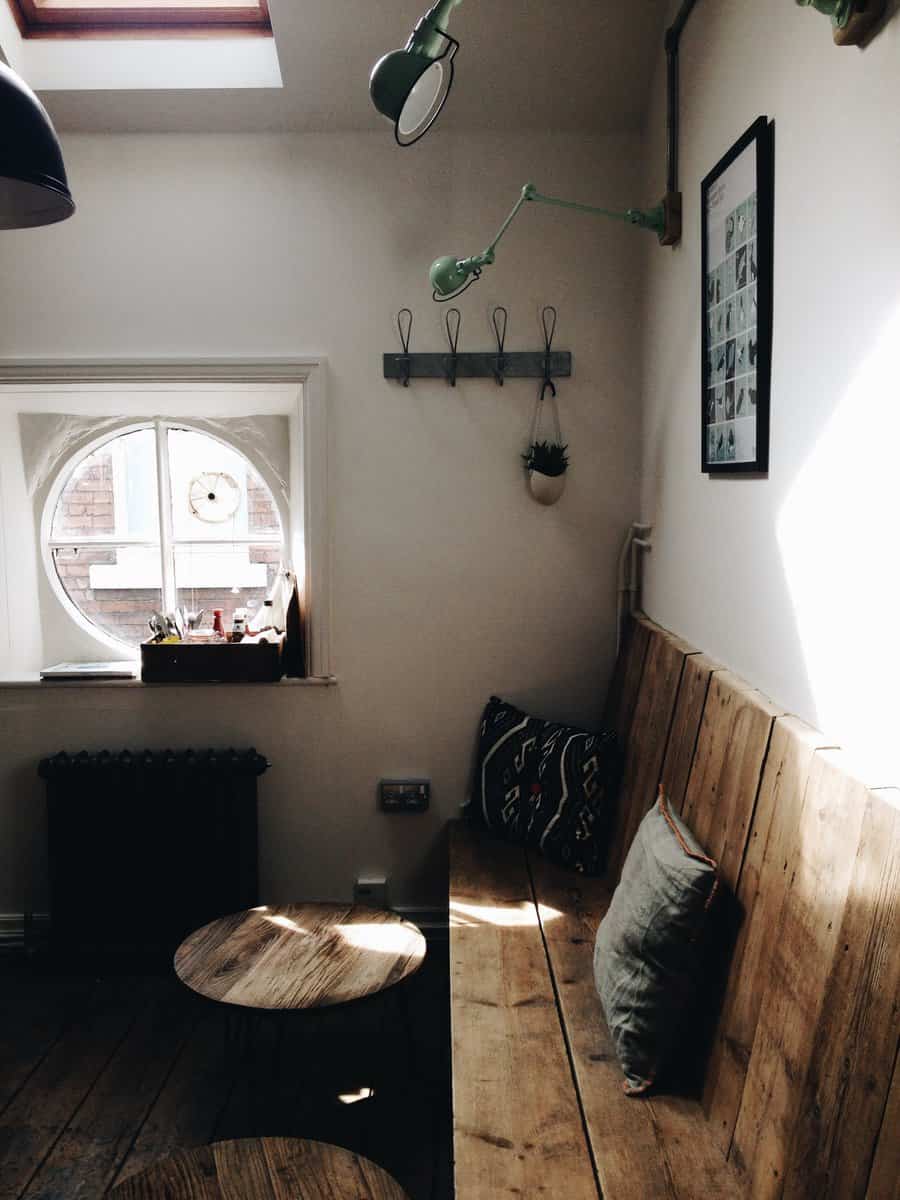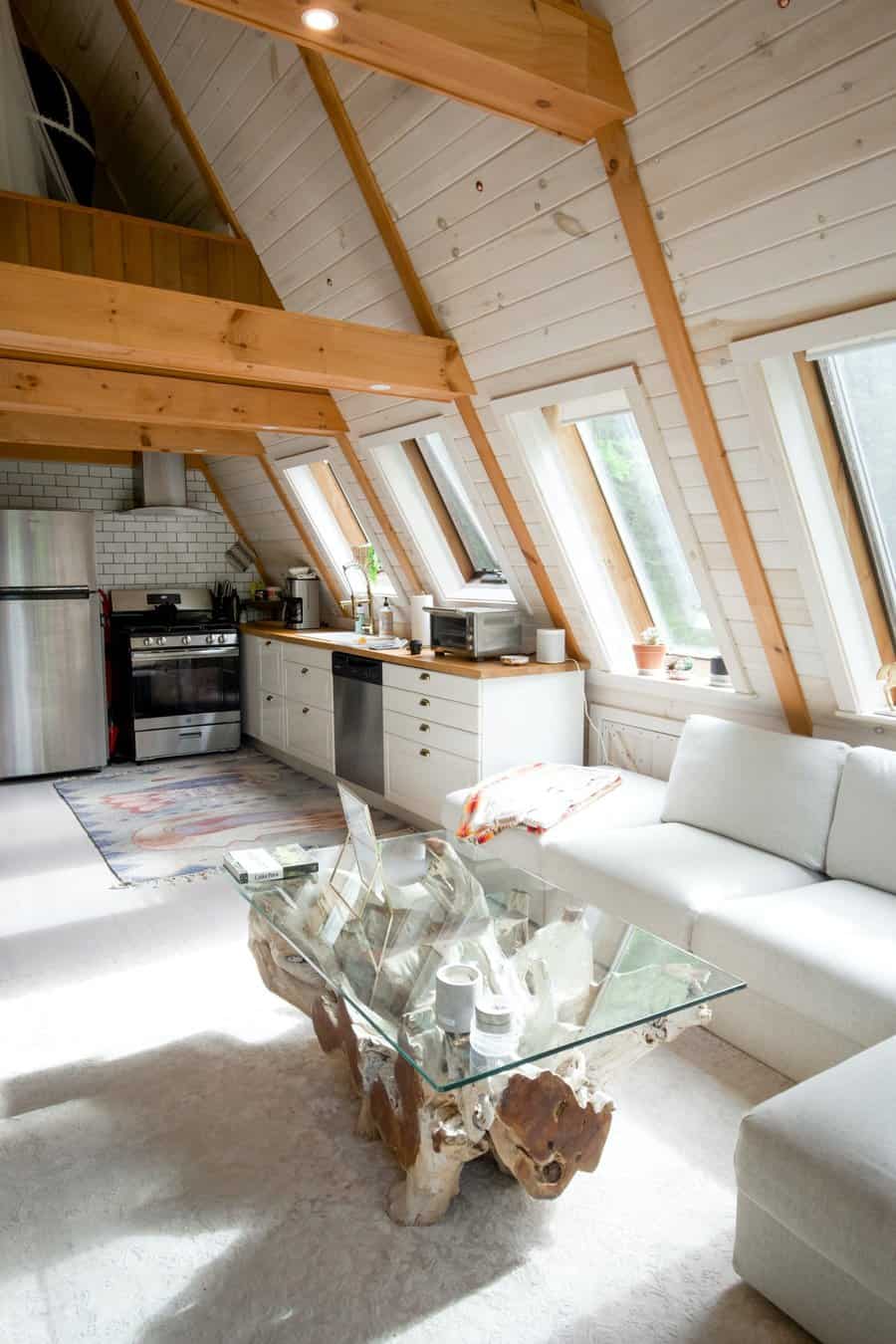 Reclaimed barn wood or siding makes an exceptional accent wall covering. Leave each plank its natural color or lightly whitewash the finished wall, depending on whether you want a more rustic cabin vibe or a white farmhouse feeling. Use reclaimed wood posts to build a simple console table or shelf unit—it's a great decorating idea for a rustic living room or office.
11. Scandinavian
Rustic Scandinavian decorating ideas merge the two design styles into a clean, welcoming interior. Traditional Scandinavian decor conveys a simplicity mindset through minimalism and functionality. Adding rustic design ideas means mixing old and new pieces together, opting for reclaimed wood instead of highly polished surfaces, and including natural textures such as wicker and rattan.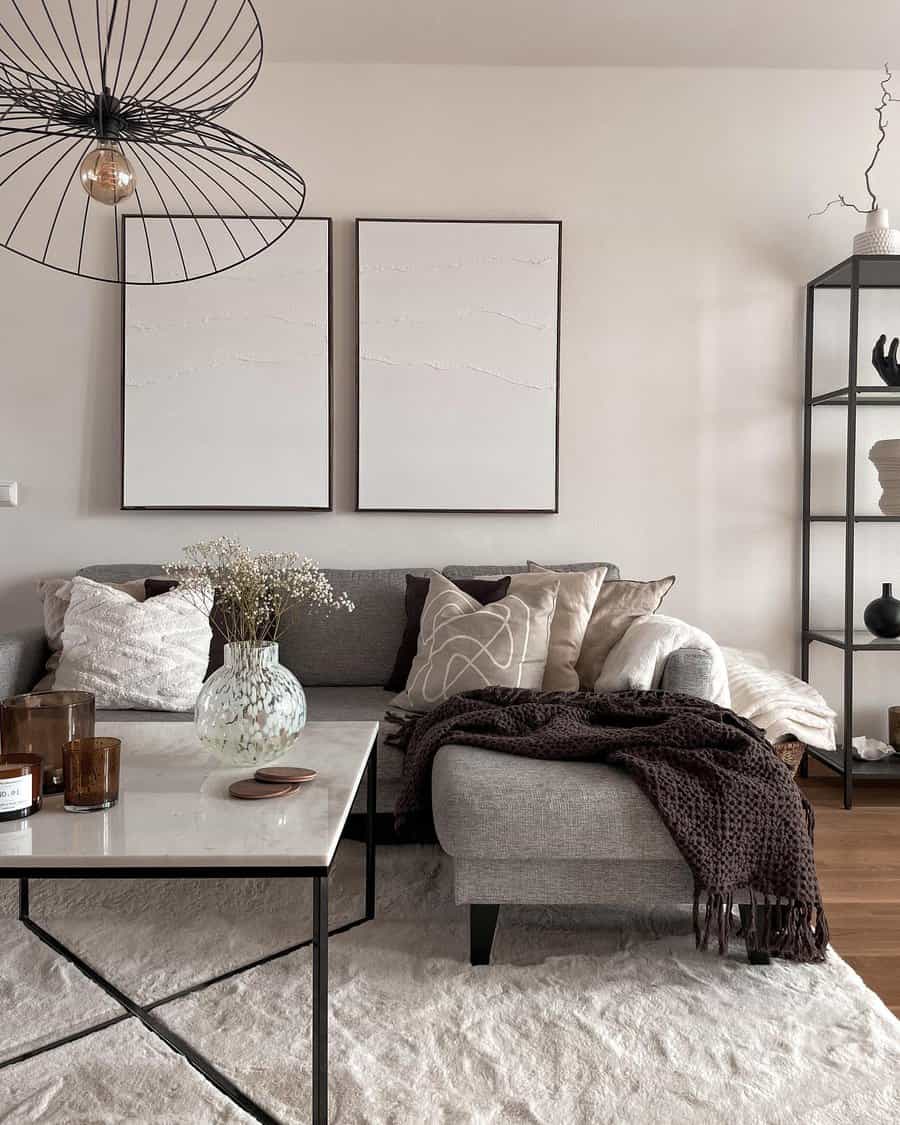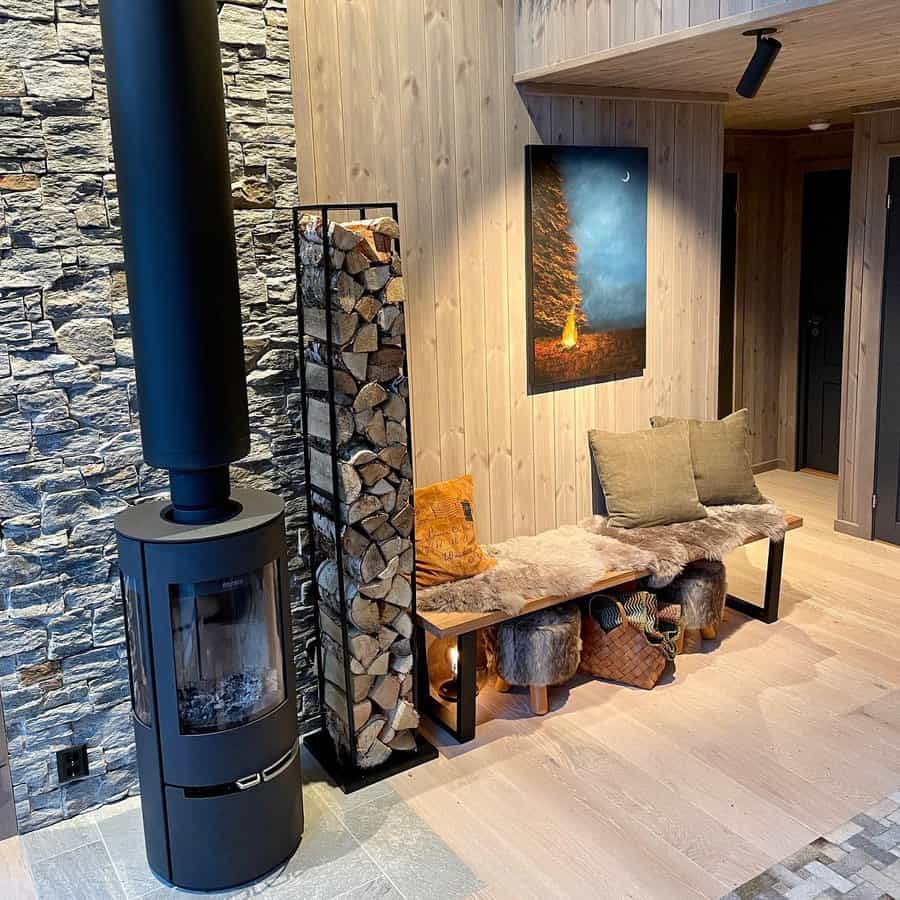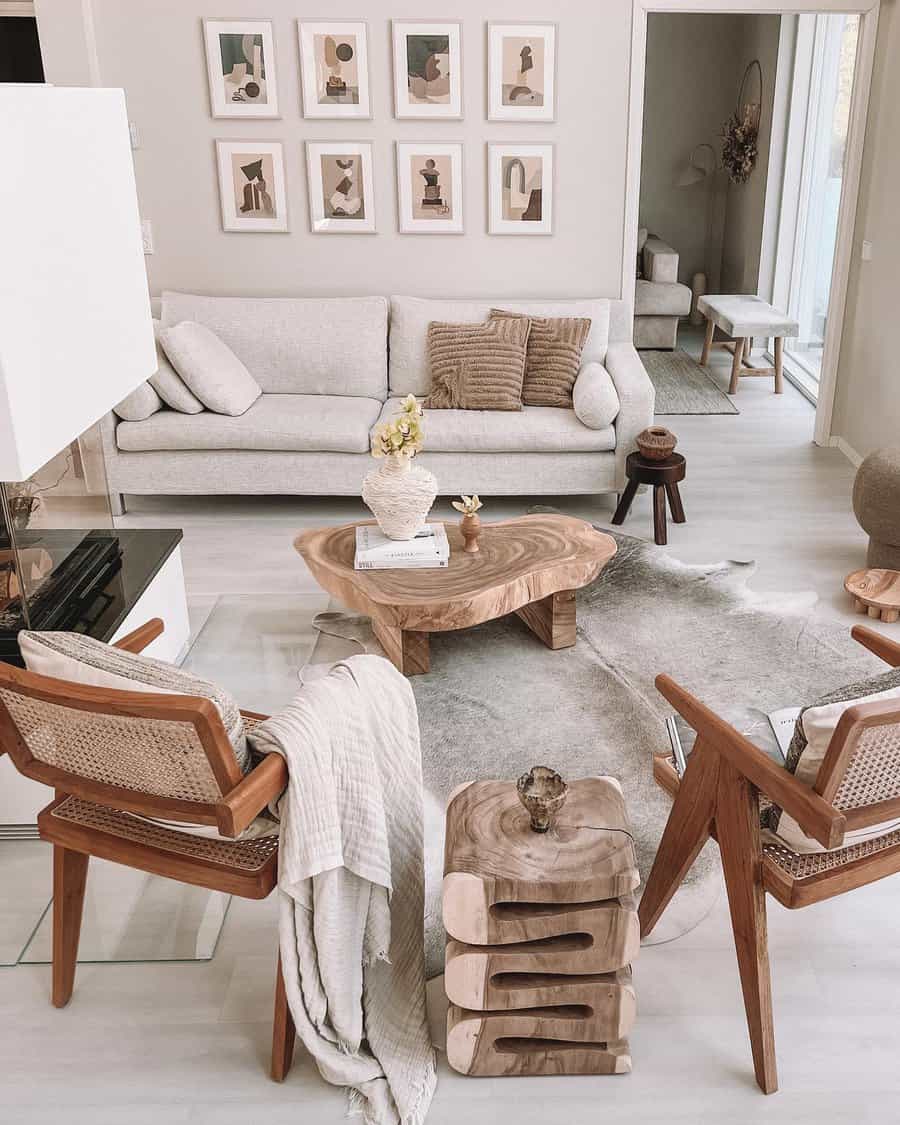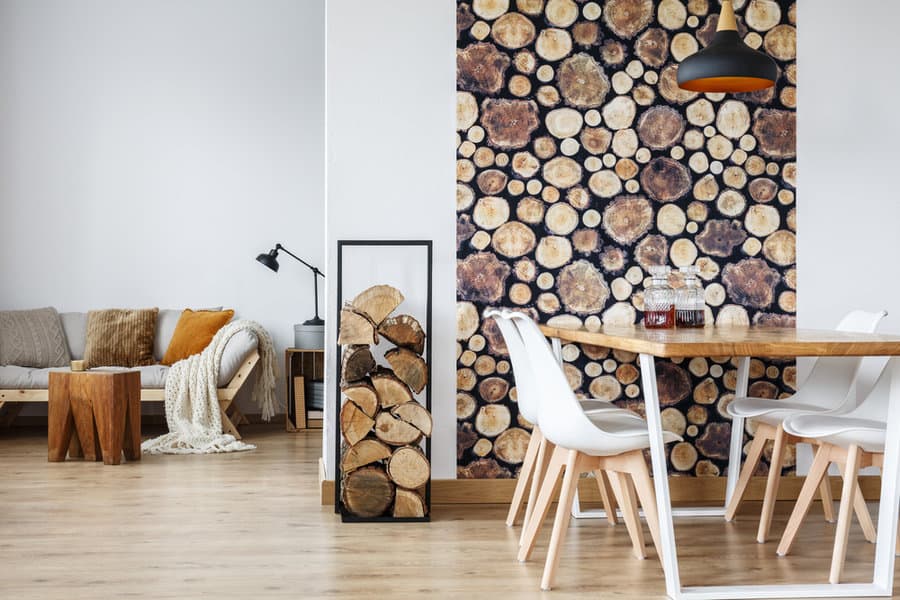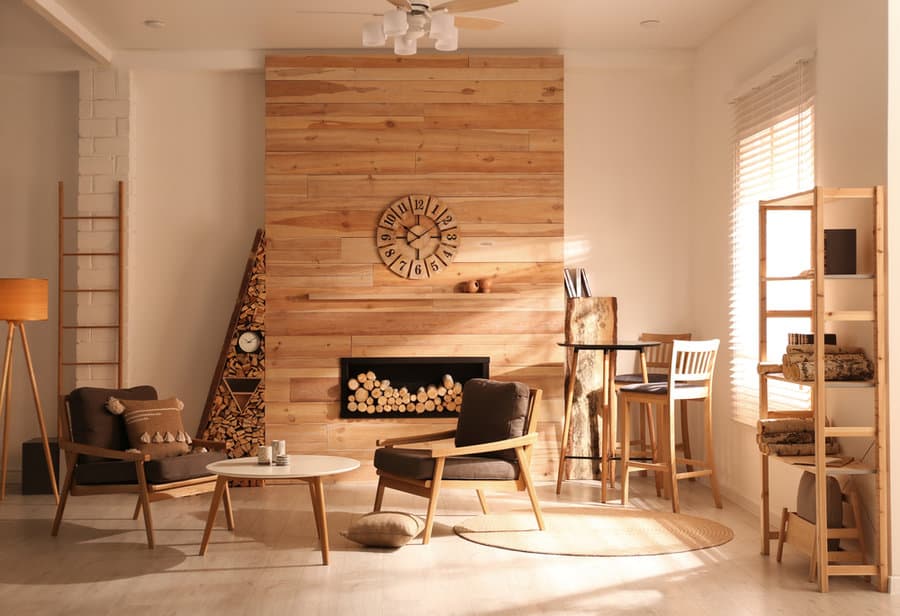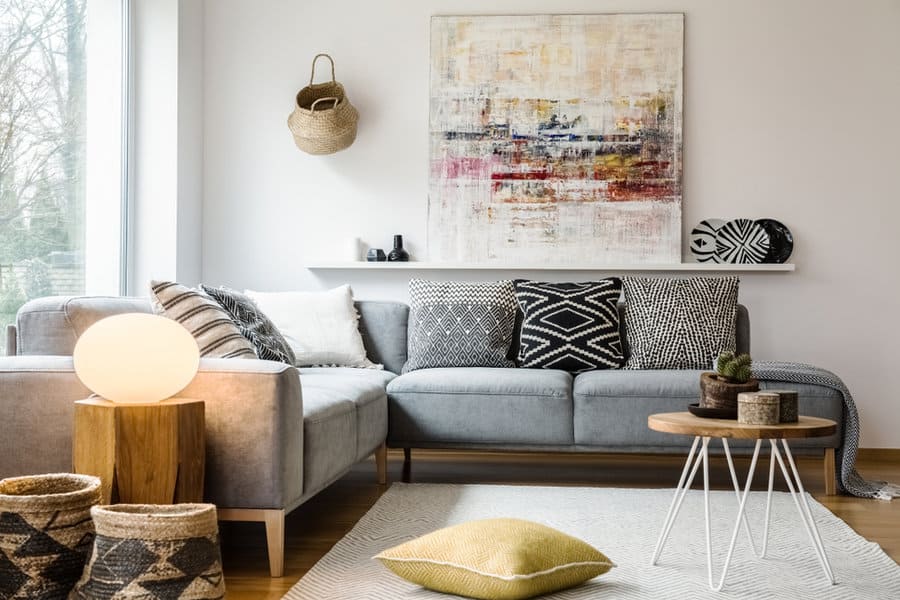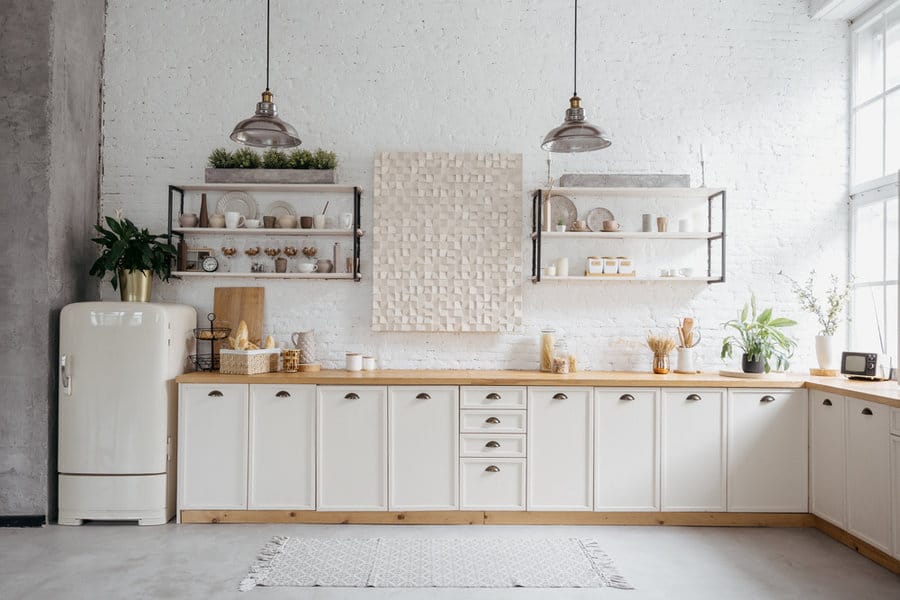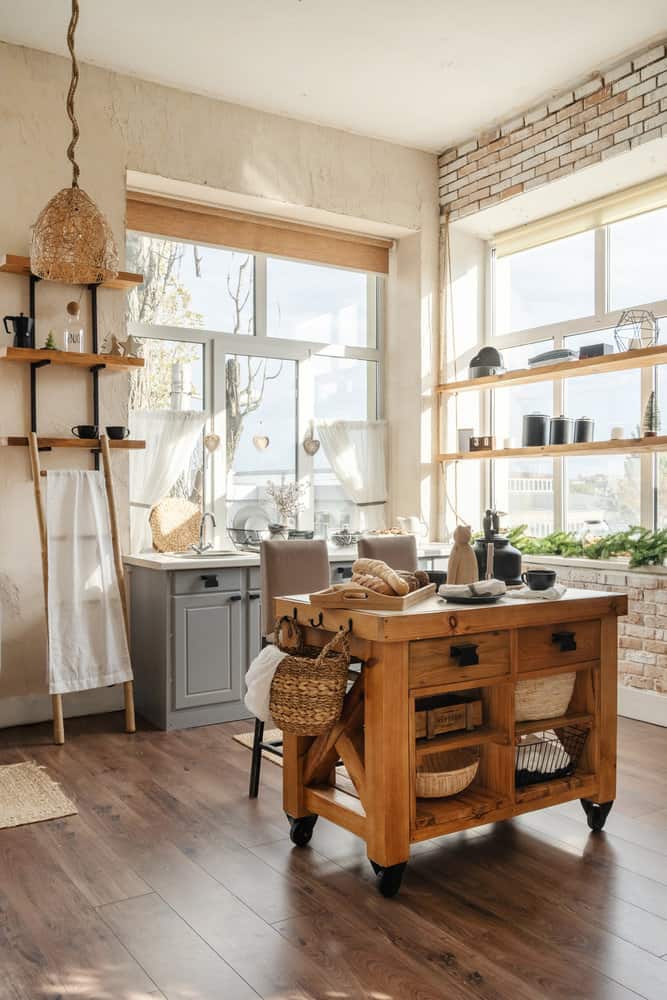 A classic Scandinavian color palette relies heavily on light neutrals, with smaller pops of color. Pale blues and greens dominate. But when you add rustic ideas to this design style, warmer rustic hues are welcome. Try to include gold, dusty pink, or coral along with darker hues of blue and green.
12. Vintage
At its heart, rustic interior design is already somewhat vintage. It focuses on comfortably worn items and reclaimed pieces that convey a welcoming vintage aesthetic. You can increase the old-fashioned vibe by displaying any antique collections you may have, such as plates, metal signs, or farm tools.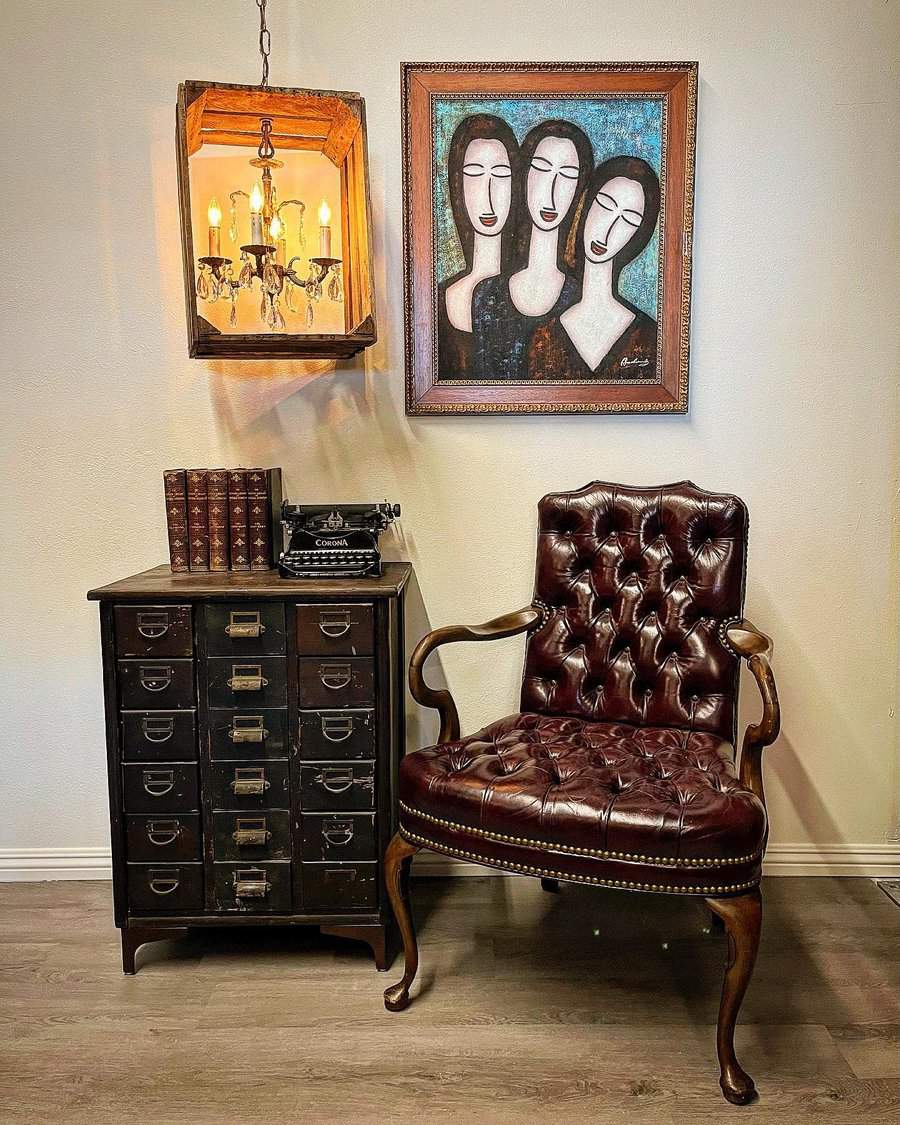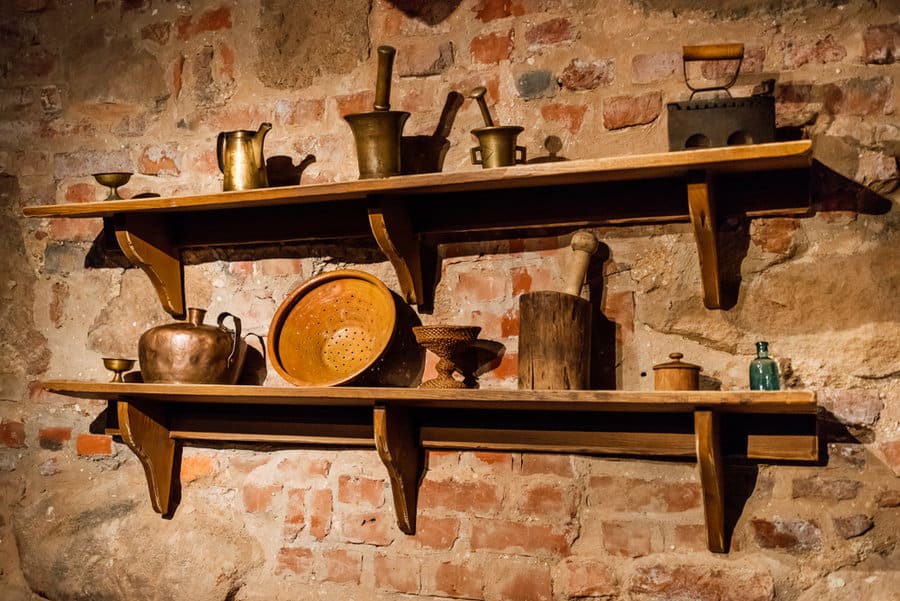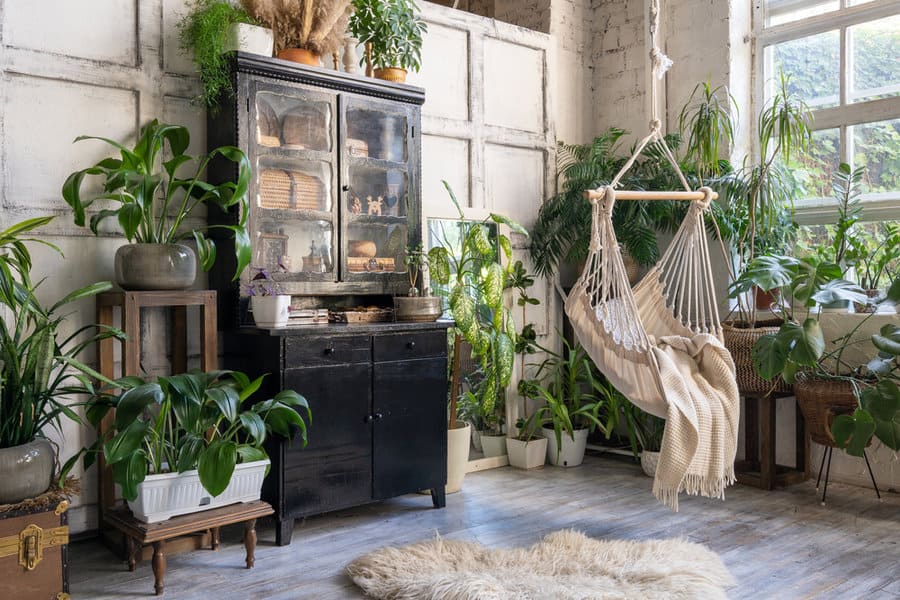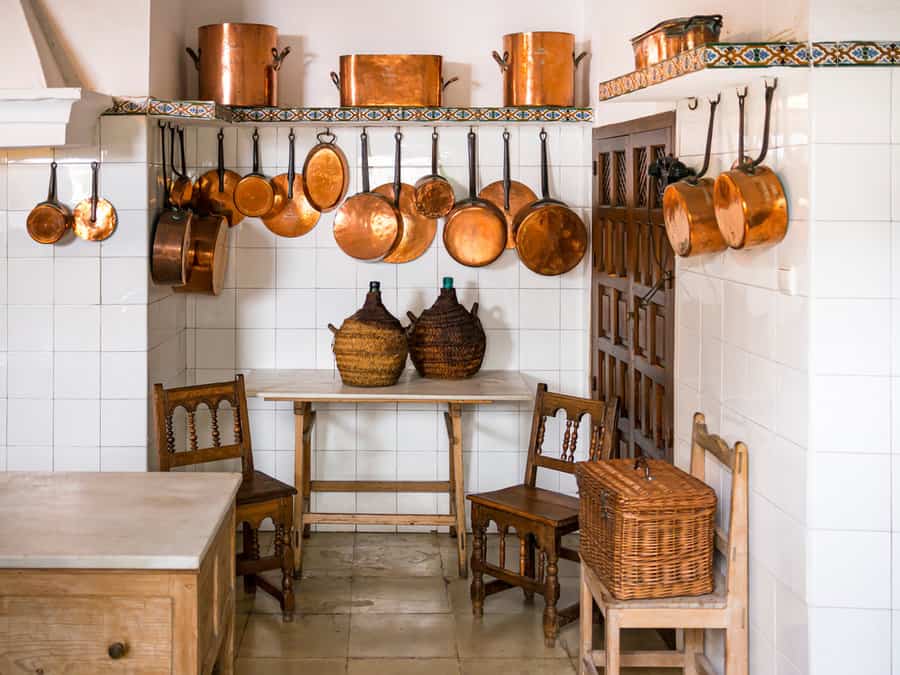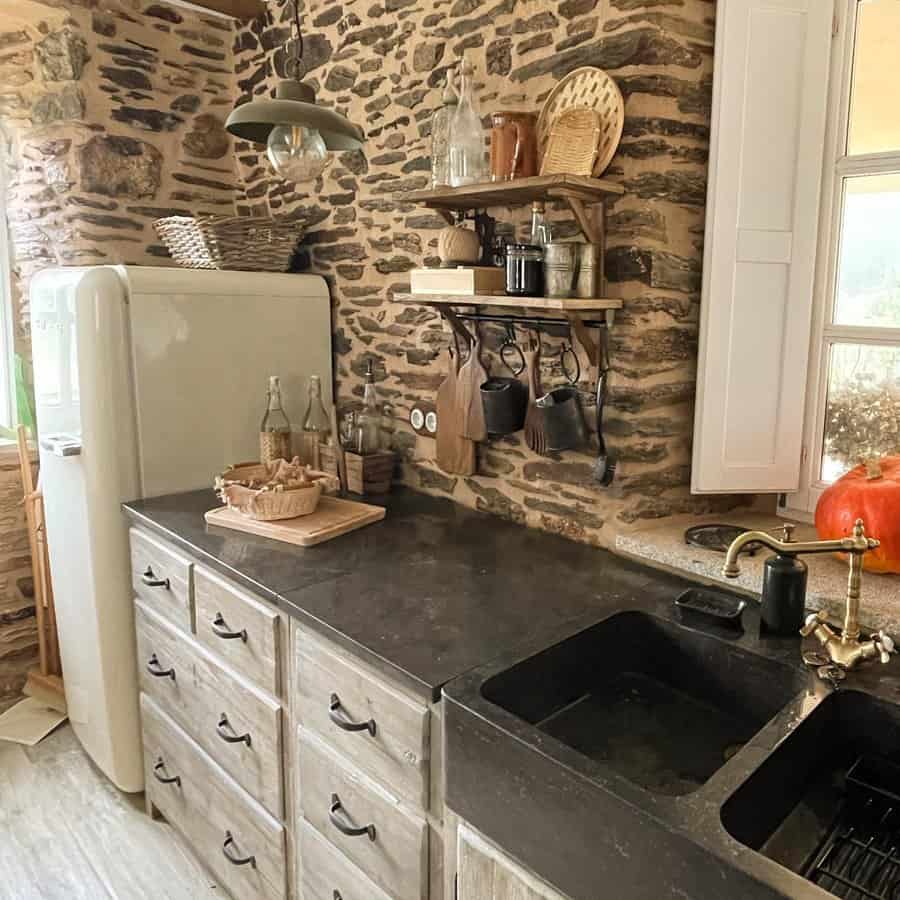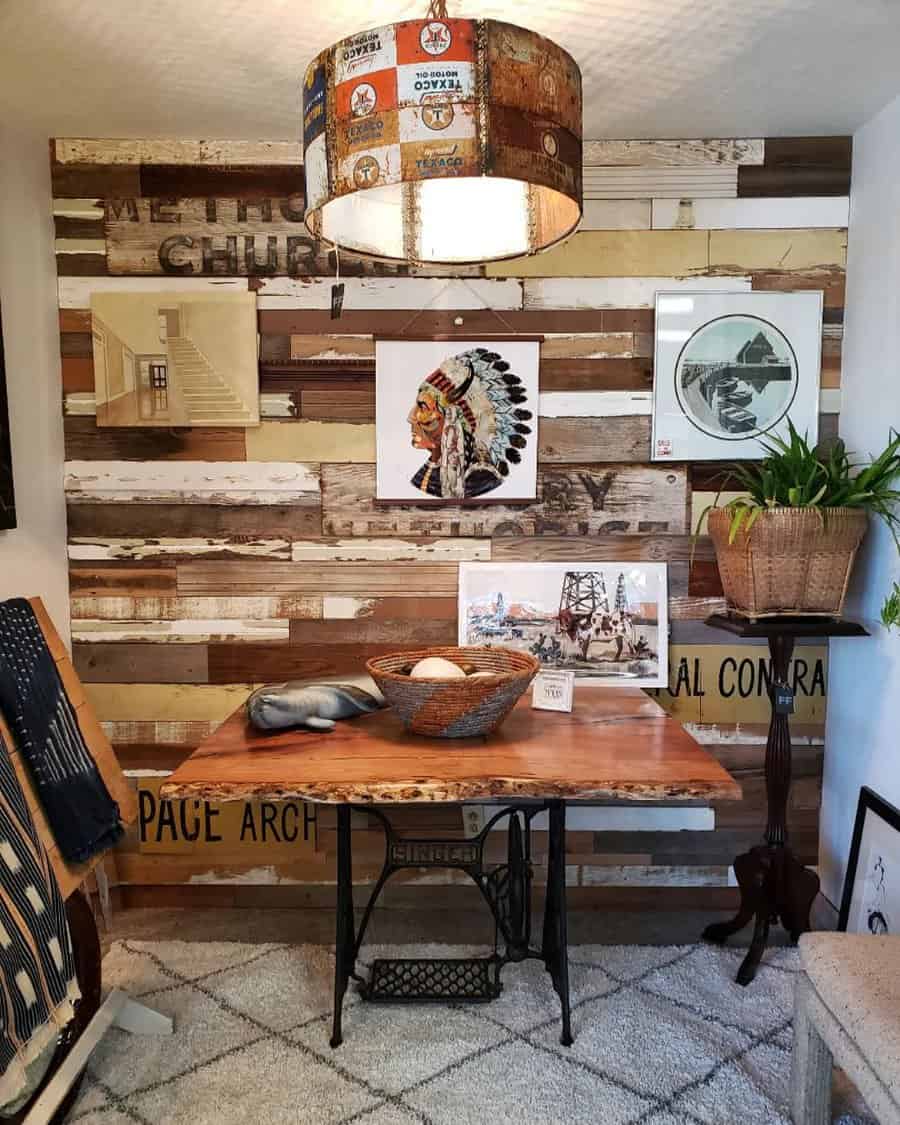 If your rustic style has a cottage or boho flavor, vintage macrame or lace will feel at home, displayed as wall hangings, plant holders, or framed art. Old doors and windows are other great vintage pieces to incorporate where you can. For instance, an old door makes a charming headboard. Prop an antique window frame on the mantel for a dimensional background behind your favorite knickknacks.
13. Wabi-Sabi
Wabi-sabi decor has been around since the 15th century when the Japanese philosophy arose to contradict the dominant tendency for lavish overdecorating. "Wabi" is defined as being one with nature and living with simplicity and humility. "Sabi" refers to accepting things in life as they are—flaws included.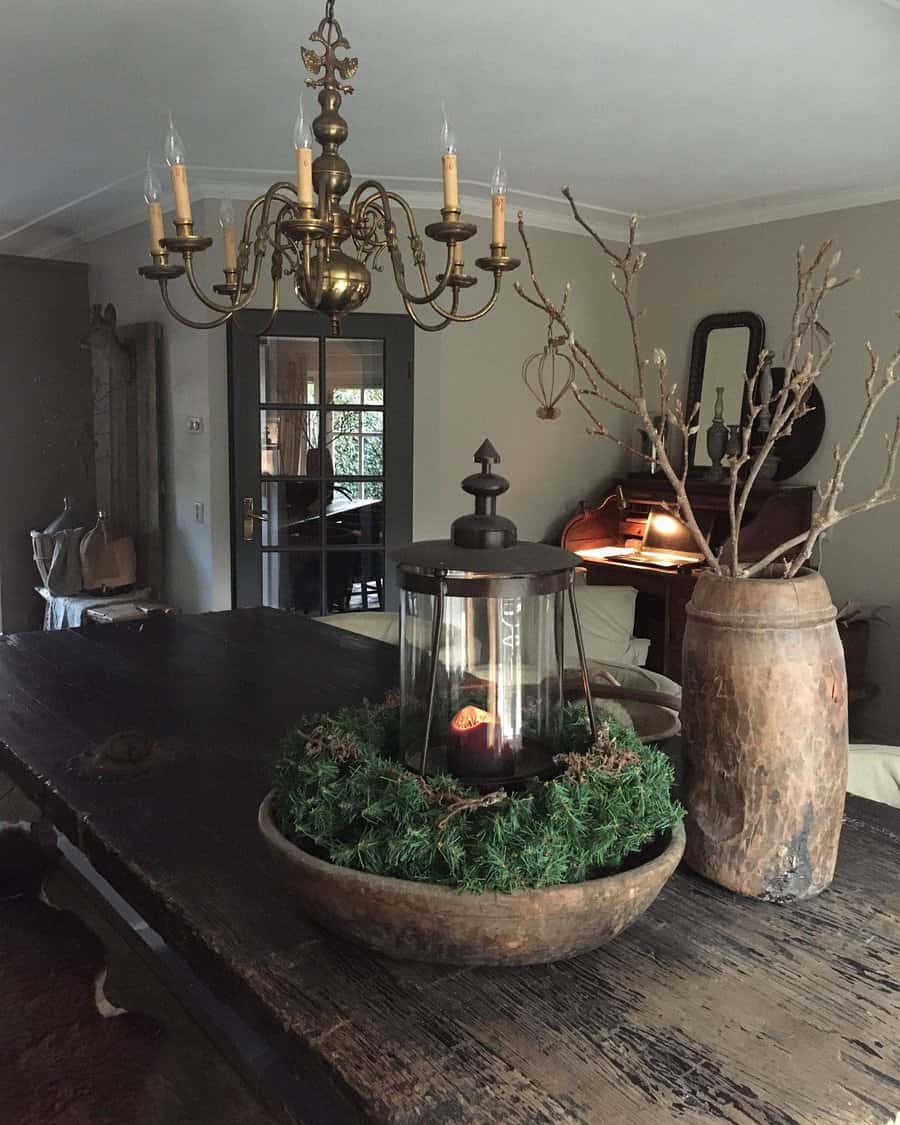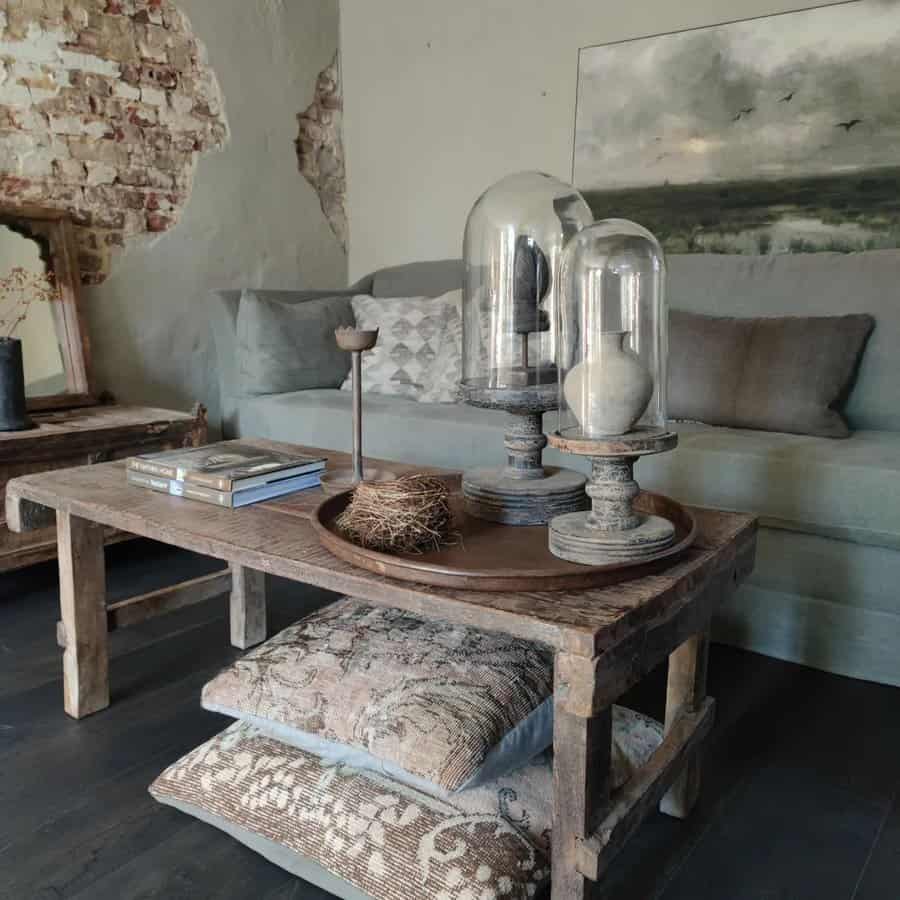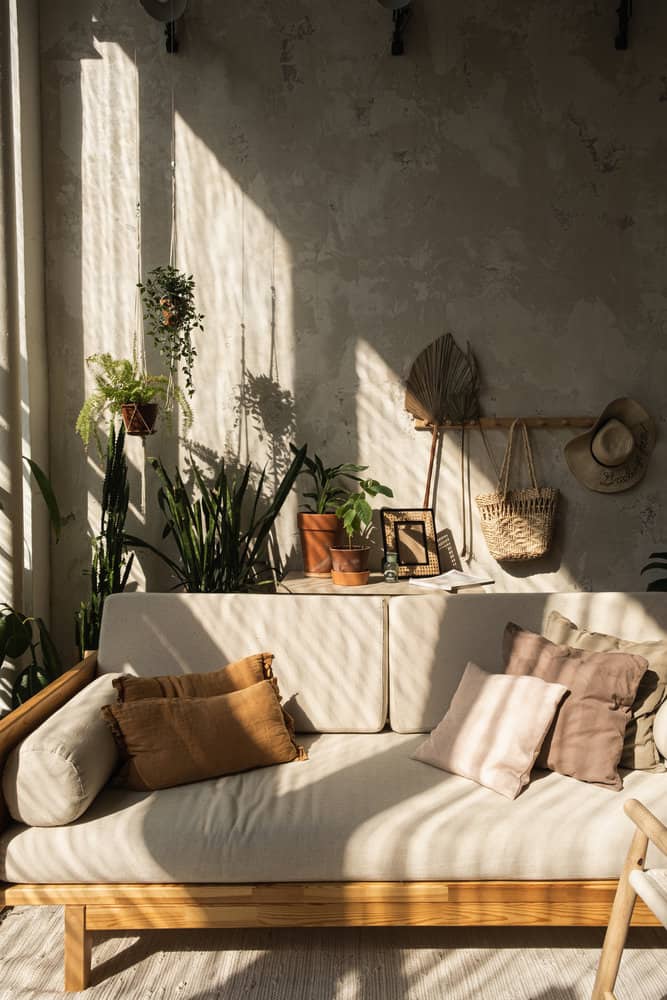 Wabi-sabi's focus on finding the beauty in imperfection is one that many people embrace, and it fits in well with overall rustic design concepts. Intimacy, simplicity, and warmth are created through the use of warm wood tones, interesting textures, and natural elements.
14. Wall
Rustic wall decor is often the finishing touch any rustic room needs. From framed photos to woven tapestries, from candle sconces to wire baskets, rustic wall decor options abound. Real mounted animal skulls—or paper mâché versions—add an instant rusticity to any space.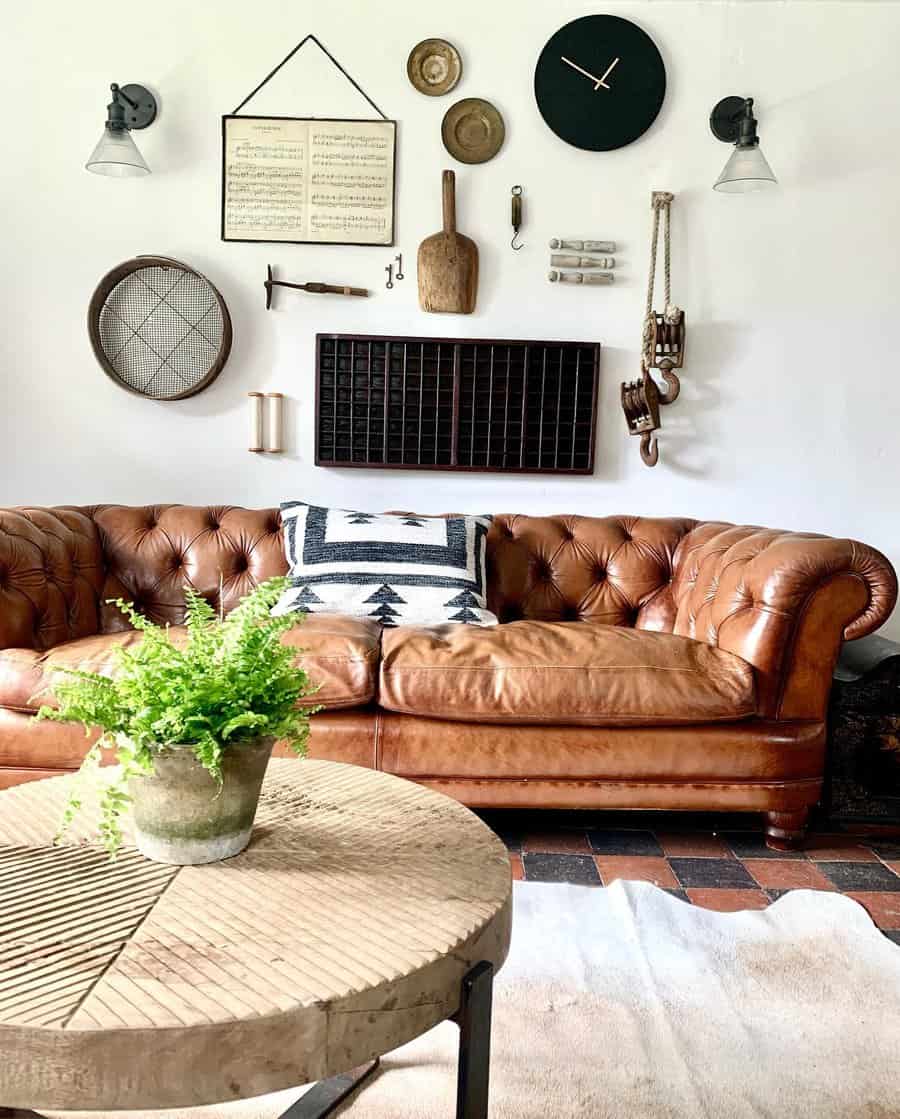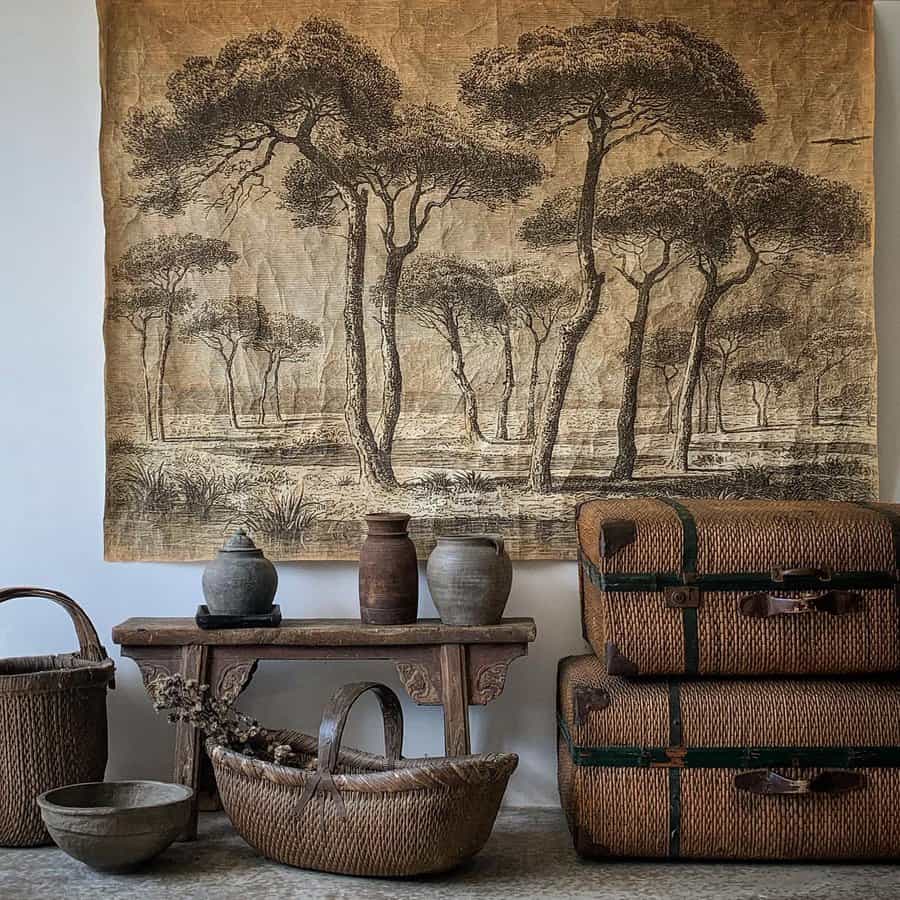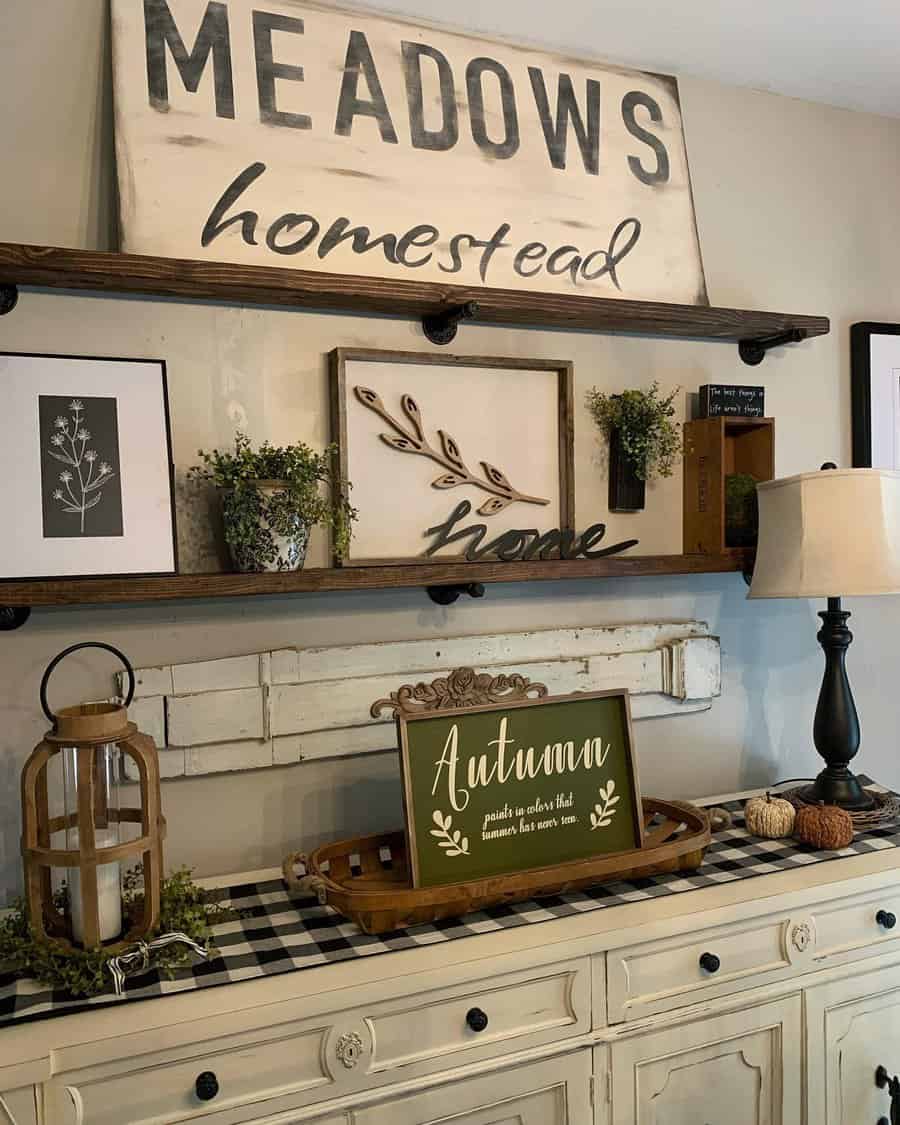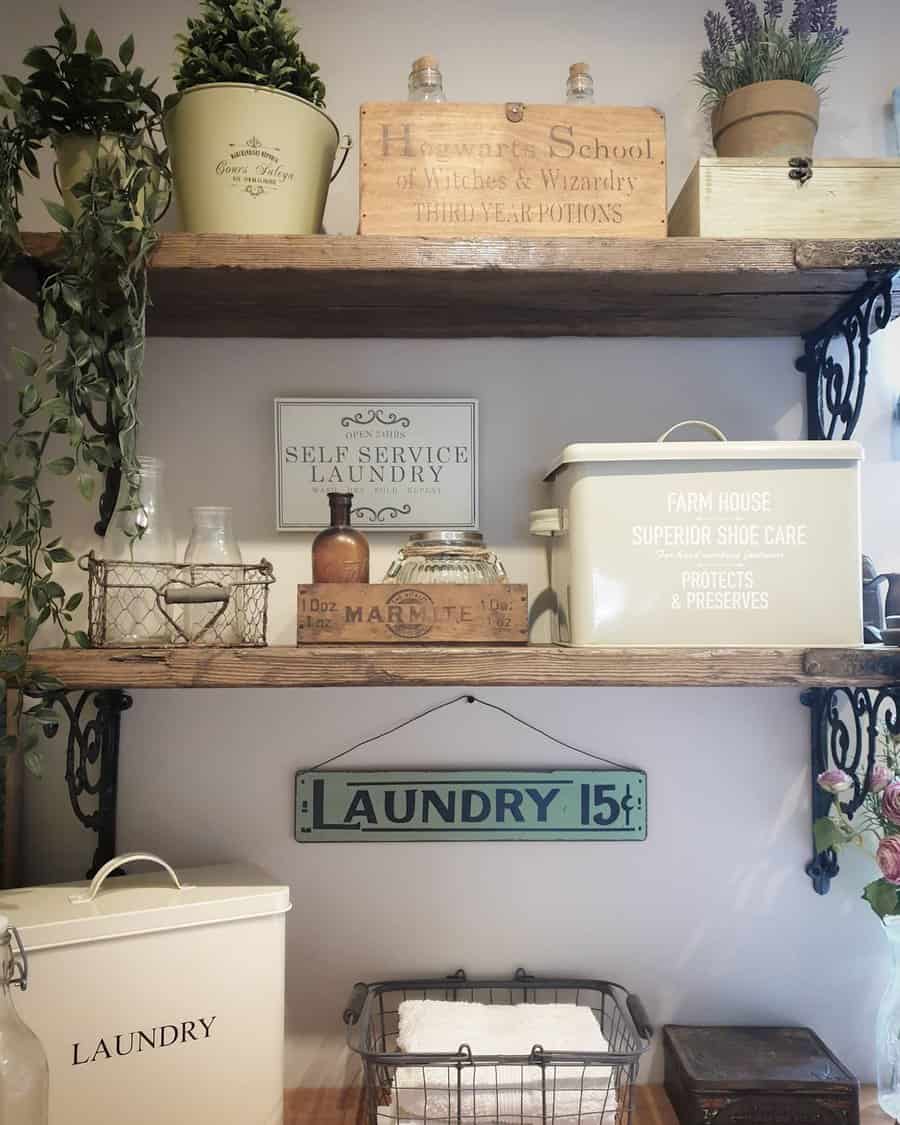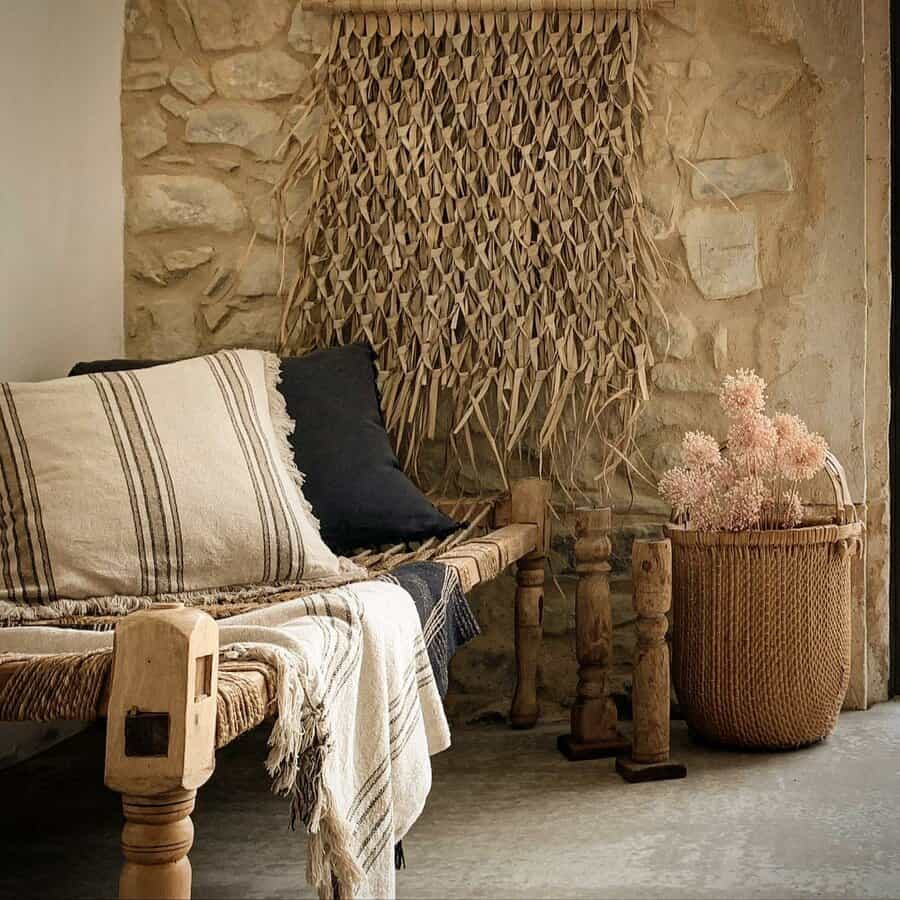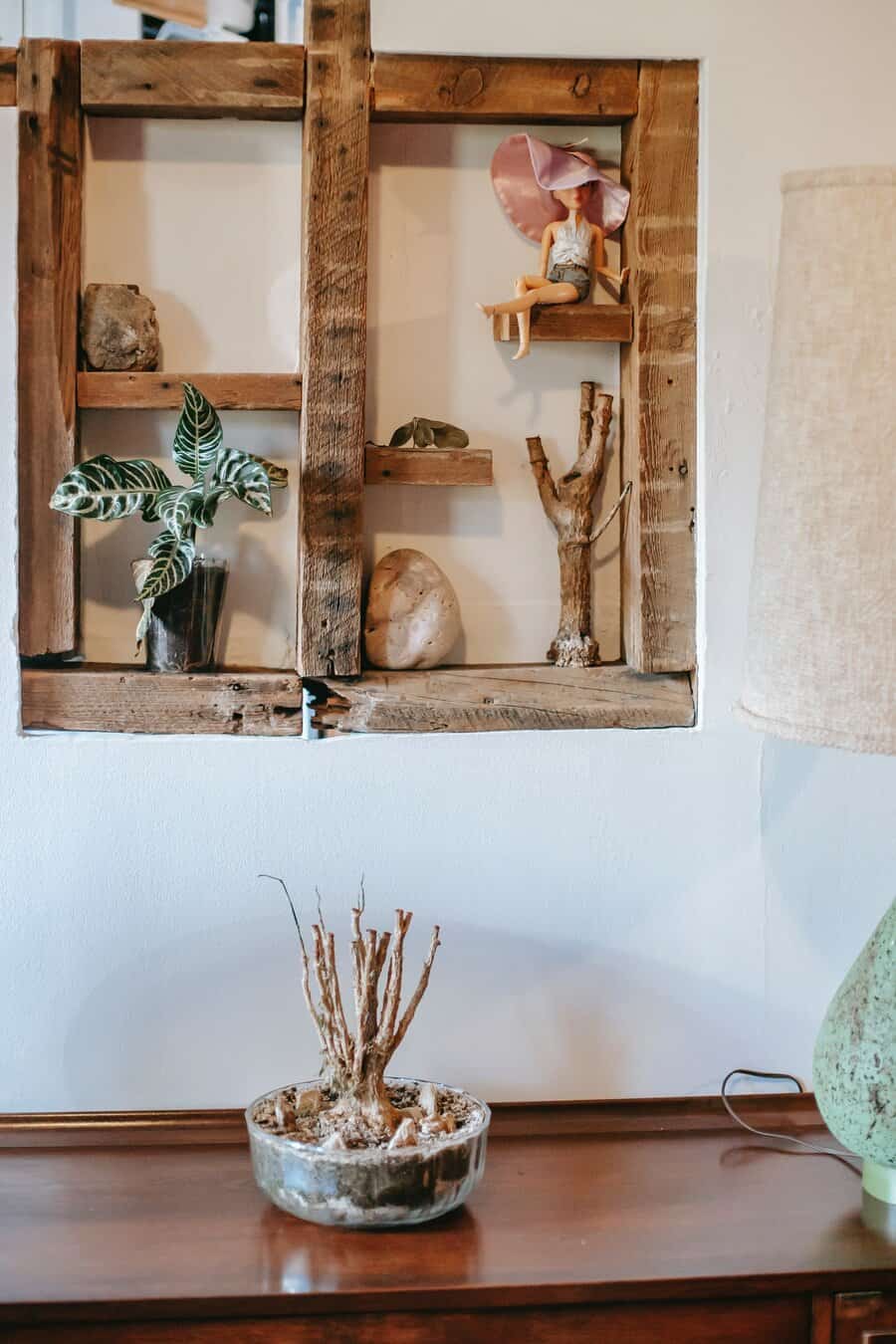 Some types of wall decor bridge the gap between traditional farmhouse and rustic style. Examples include floating shelves, antiqued wooden signs, and vintage architectural elements such as windows and doorknobs.
Rustic Decorating FAQs
What is modern rustic style?
A modern rustic living room sounds like a contradiction, but it's actually an inviting home decor style that combines the best of sleekness and roughness. Modern rustic spaces include white walls, black and white wall art, reclaimed wood furnishings, and exposed brick or other architectural details. Pottery Barn is a good place to shop for decor that captures modern rustic style.
What are rustic colors?
Rustic decorating has a strong emphasis on colors found in natural material. Deep hues are most common, such as deep leaf green, earthy mud brown, charcoal grey, and toasted wheat. A rustic color palette usually includes one strong neutral accompanied by several warm hues.