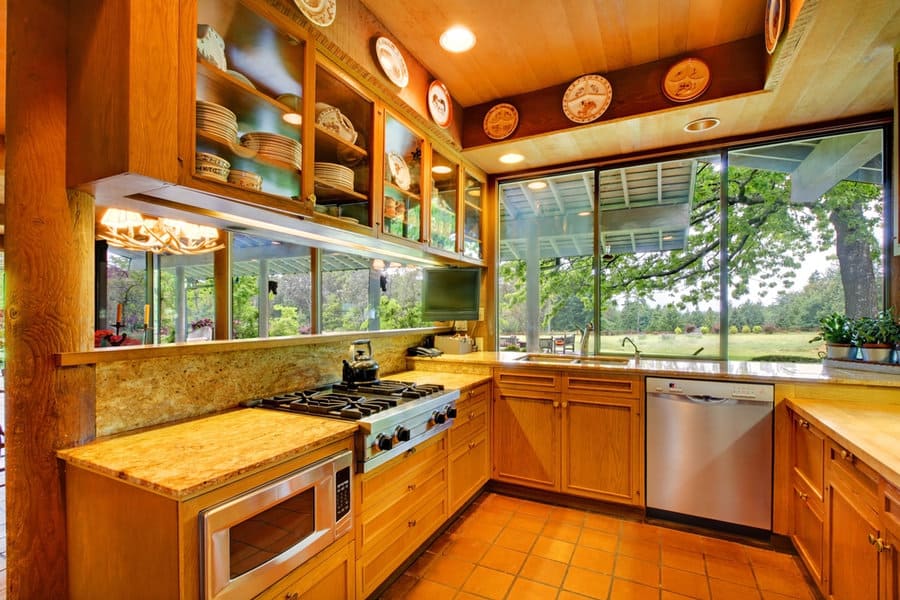 How to Make Oak Kitchen Cabinets Look Modern
While oak kitchen cabinets have long been a staple in traditional and rustic style homes due to their durability and classic aesthetic appeal, their charm may not always align with a more contemporary and modern design aesthetic.
However, this doesn't mean that you have to completely tear out your old oak cabinets to align with your modern design preferences. In fact, there are plenty of ways to give your old oak kitchen cabinets a modern touch.
This article will provide you with a step-by-step guide and creative ideas on how to transform your traditional oak kitchen cabinets into sleek and modern showpieces, without losing their inherent quality and character. By introducing contemporary colours, hardware, finishes, and layout concepts, you'll be able to enjoy the charm of oak in a fresh, new light.
1. Modern Paint Makeover
Oak is renowned for its strong grain texture which gives it a distinctive, traditional charm. While some prefer to let this feature shine, you may want it to take a backseat in your modern design.
Applying a fresh coat of paint in a modern shade can bring about a transformative change to your oak cabinets. Matte black, for instance, can add a dramatic and sophisticated edge, navy blue can bring in a rich, calm feel, and cool grey can exude a sleek, minimalist ambiance.
When painting, remember to prepare the surfaces properly. Start by removing the cabinet doors and hardware. Clean all surfaces thoroughly and sand lightly to help the paint adhere better. Next, apply a primer, which is especially important when painting oak to prevent the tannins from bleeding through the paint. Then apply your chosen paint color.
For a truly modern look, opt for a flat or matte finish which is currently on-trend for its ability to absorb light rather than reflect it, reducing any visual noise and helping to achieve a clean, streamlined look.
Finally, when choosing the paint type, consider an enamel-based paint, as it tends to dry harder and will stand up to the rough-and-tumble of a busy kitchen. Remember, the key to a successful modern paint makeover lies in the meticulous preparation and choosing high-quality paint for a lasting finish.
2. Minimalist Hardware Replacement
Hardware plays a significant role in the overall look and feel of your kitchen cabinets. Outdated or overly ornate hardware can make even freshly painted cabinets still seem trapped in a bygone era. Conversely, sleek and minimalist handles and knobs can give your oak cabinets an instant modern refresh.
Start by considering the finish. Brushed nickel offers a soft metallic appearance that works well in many modern kitchens. Chrome provides a shinier option for a sleek and contemporary vibe. Alternatively, matte black can be a bold and trendy choice that pairs beautifully with various modern paint colors.
Once you've chosen the finish, decide on the design. In keeping with the modern aesthetic, opt for simple, streamlined handles and knobs. Bar or T-bar handles, for instance, lend themselves well to a minimalist aesthetic due to their simple, clean lines.
Bear in mind the positioning of the hardware too. Modern design often favors a full-length style, with handles placed horizontally on pull-out drawers and vertically on doors.
Finally, remember to measure accurately before ordering new hardware to ensure it fits well with your existing cabinets. If your new hardware doesn't match the hole placement of the old, you'll need to fill and paint the old holes and drill new ones. With the right choice and careful installation, your new hardware can make a dramatic impact on the modern look of your oak cabinets.
3. Under-Cabinet LED Illumination
One effective way to add a sleek, modern touch to your oak cabinets while also enhancing the functionality of your kitchen workspace is to install under-cabinet LED lighting. Not only does this feature cast a warm and inviting ambiance, but it also provides task lighting that can make cooking and preparation tasks easier.
LED lighting has become a popular choice due to its energy efficiency, longevity, and the broad range of options available. Strip lights, puck lights, and light bars are all good choices for under-cabinet lighting, each offering a unique look and light spread.
To achieve the best effect, you should install the lighting toward the front of the cabinets. This ensures the light is cast onto your workspace, rather than just highlighting the backsplash.
As for color temperature, this will depend on the overall aesthetic of your kitchen. For a warm, inviting ambiance, choose LEDs around 2700-3000K. For a brighter, more invigorating light, opt for 4000-5000K.
Under-cabinet lighting can either be hardwired into your electrical system by a professional, or, for a quicker and simpler installation, you can choose battery-operated or plug-in units.
Regardless of your choice, under-cabinet LED illumination is a modern feature that can make your oak cabinets stand out, creating a stylish yet practical kitchen environment.
4. Open Shelving Layout
The open shelving trend has become a staple in modern kitchen design, and incorporating it into your oak cabinet layout can give your kitchen a contemporary, airy feel. Open shelves not only provide a modern aesthetic but also offer functionality by making frequently used items easily accessible.
To reconfigure your oak cabinets to incorporate open shelving, you could consider removing the doors of some of the upper cabinets. This could work particularly well if your kitchen layout includes a corner, where open shelves can often create a lighter, more open feel.
Alternatively, you could remove some cabinets entirely and replace them with custom or pre-made open shelves, which could either be made from matching oak or a contrasting material to create a more eclectic look.
When you're planning your open shelving, think about what you want to display on them. Plates, bowls, and glasses can all look great, especially if they're a part of a matching set. Cookbooks, plant pots, and other attractive kitchenware can also provide some color and personal touch to your kitchen.
Remember, though, open shelving will display everything, so it's essential to keep your shelves organized and avoid clutter.
By integrating open shelving into your oak cabinet layout, you'll create an attractive focal point that combines modern aesthetics with practicality, all while showcasing your personal style.
5. Glass Cabinet Door Installations
Incorporating glass into your oak cabinet doors is another excellent way to introduce a modern and sophisticated aesthetic to your kitchen. Glass cabinet doors not only lighten the overall look of your kitchen, but they also offer an opportunity to showcase chic kitchenware or decorative items, transforming your cabinets into a display case.
There are different styles of glass you could use for your cabinet doors, from clear to frosted, seeded, or even stained glass. Clear glass doors are a popular choice as they fully reveal the cabinet's contents, ideal if you have coordinating dinnerware or striking pieces to display. Frosted glass, on the other hand, offers a balance between openness and concealment, adding a sleek and modern look while lightly obscuring the cabinet contents. Seeded glass has a vintage look but can be made modern when paired with minimalist hardware and design elements.
Installing glass cabinet doors involves removing the center panel of your existing oak cabinet doors and replacing it with your chosen glass. This task requires precision and a certain level of handiness, so if you're not a confident DIYer, it might be a task best left to professionals to avoid damaging your cabinets.
Once the glass doors are installed, be mindful of what you display inside. Aim for a balance between functionality and aesthetics. Display items that complement each other in terms of color and shape for a harmonious look.
With thoughtful choice and installation, glass cabinet doors can truly elevate the look of your oak cabinets, adding a touch of modern elegance to your kitchen.
6. Modern Appliance Pairing
Pairing your oak cabinets with modern appliances and fixtures is an effective way to harmonize the classic charm of oak with the sleek appeal of contemporary design. Stainless steel appliances have long been favored in modern kitchens due to their professional look and neutral color that matches well with a variety of color schemes.
Choose appliances with clean lines and digital interfaces for an extra modern touch. This can include the refrigerator, stove, oven, dishwasher, and even smaller appliances like the toaster and coffee maker.
In addition to appliances, your sink and faucet fixtures also offer an opportunity to modernize your kitchen. A deep, undermount stainless steel sink with a high-arc faucet can bring a sleek, streamlined look. Alternatively, consider matte black or brushed brass fixtures for a more on-trend, yet still modern look.
Beyond the kitchen fixtures, you might also consider modern lighting fixtures. Pendant lights over the kitchen island or a contemporary chandelier in the dining area can further enhance the modern appeal of your kitchen.
It's important to remember, though, that while you're aiming for a modern look, you should strive for a balance between aesthetics and functionality. All the appliances and fixtures you choose should not only look great but also meet your specific needs in terms of functionality and usability. With the right pairings, you can transform your oak kitchen into a space that exudes modern sophistication while maintaining practicality.
7. Oak Stain Refinishing
Refinishing your oak cabinets with a different stain color can completely alter their look and feel, aligning them more with a modern aesthetic. Depending on your preferred modern kitchen color scheme, you might opt for either a lighter or a darker stain.
Lighter stains can give your kitchen a fresh, airy look and are especially suitable for smaller kitchens or those with less natural light. They're also a great way to blend in with a Scandinavian-style or minimalist modern design.
Darker stains, on the other hand, can add depth and drama to your space. They work well in larger kitchens and can give a striking contrast to lighter countertops or walls. A deep espresso or walnut stain can create a modern, upscale feel.
When staining, it's important to remember that preparation is key. Begin by removing the doors and hardware. Clean the surfaces and lightly sand them to help the stain adhere better. Apply the stain according to the manufacturer's instructions, which usually involves brushing on the stain, letting it soak in for a few minutes, and then wiping off the excess. You may want to apply two or more coats to get the desired color.
Once the stain has fully dried, apply a protective coat of clear finish to protect your cabinets from wear and tear. A matte or satin finish will maintain a more modern look than a glossy one.
Refinishing your oak cabinets is a project that requires time and patience, but it can make a huge impact on your kitchen, transforming it from a traditional space into a modern one.
8. Stylish Backsplash Integration
The backsplash in your kitchen plays a pivotal role in shaping the overall aesthetic of your space. Incorporating a modern, stylish backsplash can dramatically elevate the look of your oak cabinets and tie together your entire kitchen design.
Subway tiles are a classic choice that can effortlessly blend with a modern aesthetic. Traditionally white, subway tiles now come in a variety of colors and finishes, allowing you to add a touch of personal style to your kitchen. Laying them in an unconventional pattern, such as a herringbone, can also bring a unique, modern twist to your design.
Geometric patterns, on the other hand, can add a bold and contemporary flair. Whether it's large-format tiles with a striking pattern or smaller mosaic tiles, they can bring a splash of intrigue and modernity to your kitchen.
Alternatively, a sleek metallic finish can deliver a striking modern look. Metals like stainless steel, copper, or even a metallic-look tile can reflect light, making your kitchen feel larger and brighter.
When choosing a backsplash, consider the color and finish of your oak cabinets, as well as your countertop. The backsplash should tie these elements together and help create a cohesive look.
Installation can range from simple peel-and-stick options suitable for DIY, to more complex tiling projects that might require professional help. Regardless of your choice, a stylish backsplash can serve as the perfect backdrop for your oak cabinets, encapsulating a modern aesthetic.
9. High-Gloss Lacquer Finish
Applying a high-gloss lacquer finish to your oak cabinets can provide a sleek, shiny appearance that screams modernity. This type of finish reflects light, which can help to make your kitchen feel brighter and more spacious. Moreover, a high-gloss finish offers a smooth surface that's easy to clean – a practical advantage in a busy kitchen.
To achieve a high-gloss lacquer finish, start by preparing your cabinets. Remove the doors and hardware, clean them thoroughly, and lightly sand the surfaces. Once your cabinets are prepared, apply a primer. This step is crucial, as primer helps the lacquer adhere better and last longer.
Next, apply the lacquer. This can be done using a spray system, which typically results in the smoothest finish. Keep in mind that lacquer dries quickly, so you have to work efficiently to prevent overlapping spray marks.
Once the first coat is dry, lightly sand the cabinets again to ensure a smooth final finish, wipe off the dust, and then apply a second coat. This process may need to be repeated several times until you achieve the desired level of glossiness.
Remember, while a high-gloss lacquer finish adds a touch of modern luxury, it also tends to show fingerprints and smudges more easily than a matte or satin finish. Therefore, it might require more frequent cleaning to keep your cabinets looking their best.
With a careful application process, a high-gloss lacquer finish can transform your traditional oak cabinets into a modern marvel, creating a stylish and sophisticated centerpiece in your kitchen.
10. Modern Cabinet Insert Integration
While the external appearance of your cabinets plays a significant role in your kitchen's aesthetic, integrating modern cabinet inserts can combine style and functionality in a truly contemporary way. These additions enhance the usability of your oak cabinets, providing convenience while maintaining a sleek and organized look.
Pull-out spice racks are a fantastic way to keep your spices accessible and neatly organized. Installed on the inner side of a cabinet door or in a narrow, vertical cabinet, they offer a space-saving solution that makes cooking more efficient.
Drawer organizers can transform a cluttered utensil drawer into a neatly arranged storage space. Depending on your needs, these can be custom-made or bought ready-made to fit your drawers. They come in various materials, from wood to stainless steel, allowing you to match the interior of your cabinets to their exterior.
Built-in trash bins are another modern cabinet insert that can streamline your kitchen activities. Usually housed in a lower cabinet, these bins can be pulled out for easy access and hidden away when not in use. Many options come with multiple bins, making it easier to sort and separate waste and recyclables.
Adding these modern inserts to your oak cabinets can greatly improve your kitchen's functionality. Plus, the fact that these features are neatly hidden away within your cabinets means they can provide all their practical benefits without disrupting your kitchen's modern aesthetic. By integrating these modern touches, you can enjoy a kitchen that beautifully blends style and practicality.